in paid partnership with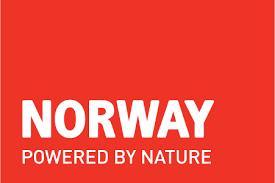 IT'S TOO EASY to fall in love with Norway. You arrive one August day when the sun has some warmth left, the night only falling after 16 or 17 hours of daylight. The light blue sky above the fjords seems to extend into infinity, while quietness has fallen over the colorful houses and their reflections on the water. Nobody seems to be in a hurry. People are usually found quietly minding their own business (the Scandinavian way), but will answer your questions in close-to-perfect English with an unexpected friendliness.
On the outside it's a simple country, but there's plenty to uncover — this guide is a start.
General travel tips
Let's start with the practical information: Many travelers walk away from Norway thinking it's an expensive country, but you don't have to be among them; approach with an open mind, and it can be budget-friendly. Hostels and other alternative accommodations are all over the place, but there's an amazing free option, too: You can pitch a tent basically anywhere in nature thanks to allemannsretten, the principle of "freedom to roam." Picture setting up camp near a secluded pond and whiling away the evening. Life doesn't have to cost a lot.
If you prefer staying in a hotel, calculate roughly $100US per room per night for your budget (depending on your tastes, of course), breakfast usually included. And if you didn't pack a tent to take advantage of the nationwide allemannsretten, public huts at campgrounds are available. If you sign up, the Norwegian Trekking Association has a list of 500 to choose from across the country.
In terms of food, expect to pay $15-$30 for a main course. Tipping is usually not expected. In most cafés, you'll order food and drinks directly at the bar, pay, and throw a coin or two in a glass on the counter.
In terms of time…you're gonna need it. With a coastline of 1,553 miles (that's without fjords and bays; with fjords and bays, National Geographic measures it at 63,000 miles!), mountains all over, and speed limits that often don't exceed 50mph in rural areas, it takes time to travel from one part of the country to the next. For professional purposes, Norwegians usually cover those distances by plane; the flight time between Oslo and cities like Bergen or Trondheim is around just one hour.
For travel of the more leisurely variety, however, why not go by car, train, or ferry and enjoy the abundance of natural landscapes and new views around each bend? If you're road tripping, driving 200 miles a day might really be enough, especially if you like to stop and take pictures — or pick the blueberries growing alongside the road.
Oslo
Many travelers' first stop will be Oslo. With a population of 658,000, the capital is by far the most populous city in the country and has a wide range of museums (more on that later), modern architecture (like the Astrup Fearnley Collection), vibrant big-city life (check out Blaa, Summit 21, and Enoteca Svanen), and, of course, nature — more than half the city is covered in protected area chock full of woods or water. Unsurprisingly, Oslo scores well in terms of quality of life and has a fast-growing population. By 2030, it's projected 819,000 people will be calling it home — because who doesn't want to live seaside in one of the world's happiest countries?
If you're passing through and looking for a place to stay, check out the Saga Hotel Oslo Central (technically a "poshtel"), Anker Hostel, and Oslo Youth Hostel Haraldsheim — all trusty options in the capital. There are also plenty of hotels to choose from: the Hotel Continental, the Grand Hotel, the Radisson Blu Plaza (one of the tallest in Northern Europe), First Hotel Grims Grenka, The Thief, Scandic Vulkan, any of the 15 Thon Hotels in Oslo — it's hard to go wrong if your wallet allows.
Food-wise, skilled budgeteers should stay on the lookout for convenience stores and foreign cuisine — things like schwarma, pizza, hot dogs, pad thai, and tacos will be your cheapest bets. Mathallen Oslo (one of the most impressive food halls you'll ever step foot into) is a reasonable option if you're feeling indecisive and want to be a bit more authentic, and the aforementioned Enoteca Svanen is worth a stop for the ambiance alone (the coffee, pastries, and wine don't hurt). But if you're more the go-big-or-go-home type, Maaemo has three — count 'em, three — Michelin stars, and there are a few more restaurants in the city with one. Whatever you choose, you won't leave hungry.
Let's talk things to do: The vast Frogner Park (usually referred to as Vigeland Sculpture Park) in northwestern Oslo is Norway's most-visited site, is free and always open, and contains — besides the country's biggest rose collection, with 14,000 plants of 150 different species — more than 200 massive bronze and granite statues by the Norwegian sculptor Gustav Vigeland. The statues depict people of all ages and situations, the most famous of them perhaps Sinnataggen, an angry little boy. If you're interested in learning more about Vigeland after seeing the statues in the park, visit the informative Vigeland Museum just south of the park's main gate.
Like Frogner Park, a visit to the Norwegian National Opera & Ballet is free — unless you plan to attend a performance or one of the highly recommended guided tours that take you behind the scenes. But you certainly don't have to — walking on the structure itself is an experience. The building's architects were awarded the Mies van der Rohe Award for European Contemporary Architecture in 2009, and the place towers like an iceberg over the Oslofjord. Its roof of white Carrara marble is angled so that pedestrians can walk right up it and take in views over the city and fjord. On the inside, the waving oak walls create a feeling of organic warmth, contrasting with the coolness and sharp lines of the exterior. It's the only opera house that truly invites all walks of life to enjoy it (and you'll notice accessibility is a common theme throughout the country).
If you end up caught in less-than-desirable weather, no worries. You could spend days inside Oslo's museums. Both the Munch Museum and the National Gallery feature different versions of Edvard Munch's ridiculously famous The Scream. For those interested in Norwegian heritage, the Norwegian Folk Museum contains more than 150 traditional buildings from all parts of Norway, including a stave church from the year 1200. At the Fram Museum, you can literally board the Fram, one of the strongest wooden ships ever built (circa 1900), holding the record for sailing farthest north and farthest south. And for Viking lovers, a visit to Vikingskipshuset (the Viking Ship Museum) is mandatory; the Oseberg ship is so well-preserved you'd think it was built last century…not in the ninth century.
As you're going about town to get to some of these places, be sure to take a shortcut through the Akershus Fortress — construction on this mammoth started in the late 1200s. It's stunning, has great views of the harbor, and is a good pit stop between the hip Aker Brygge area and the Opera House.
Bergen
You can't visit Oslo and assume you've "done" Norway. Take the time and travel west to Bergen, in the Fjord Norway region. If you're thinking about taking the train, you can watch the whole journey beforehand — it was filmed by NRK, Norway's public broadcaster, and the program's available as Bergensbanen minutt for minutt on DVD, YouTube, and Netflix (alternatively dubbed Slow TV: Train Ride from Bergen to Oslo). It'll prepare you for all the tunnels — and for the jaw-dropping, surreal views, too.
In Bergen, Norway's second-biggest city (population: 278,000), definitely visit Bryggen, a UNESCO World Cultural Heritage Site made up of more than 60 houses of German merchants from the Hanseatic League (the kind of red, gold, and white harbor-lining houses you're picturing in your head, yes). They're a must for any photographer, and most of the buildings are privately owned today and contain souvenir shops and restaurants.
If you want some history to go along with the photos and souvenirs, be sure to stop into the Hanseatic Museum and Schøtstuene (it's decked out in 18th-century style, and is right by the Det Hanseatiske Hotel). The Bryggen Tracteursted and Bryggeloftet & Stuene are two nearby historical restaurants totally worth a stop, too.
Apart from the Det Hanseatiske Hotel, Bergen has around 40 options in the city center and plenty more on the outskirts. Staying in the center can be a bit more expensive, but it'll put you within walking distance of just about everything. And it's likely not as expensive as you think — check out places like the Scandic Strand (just under $100/night, including breakfast). Other notable mentions are Clarion Collection Hotel Havnekontoret, First Hotel Marin, the Grand Terminus, the Bergen YMCA Hostel, Intermission Hostel, Marken Guesthouse, or, just like in Oslo, any Thon Hotel.
And even though Bergen is basically the Seattle of Norway, chances are decent you'll have a bit of sunshine every day. Use the time to take the funicular up to the top of Mount Fløyen — the views are nothing short of incredible. Once you arrive, grab lunch at the Fløien Folkerestaurant, take in the panorama, or go on a hike.
And though Mount Fløyen is the most popular, it'd be poor form not to mention Mount Ulriken (the highest of the seven mountains around Bergen) and the Ulriken Express, a two-hour cable-car ride taking you to the top of the 2,000ft peak. Tours start near the Fish Market, and now there's ziplining, too. Ideally, make time to do both — your Instagram will thank you later.
There's tons more to take in (like the aforementioned Fish Market), but if you're interested in classical music, there are some must-dos to add to your list, with two homes on the outskirts of Bergen particularly highly recommended. On the island of Lysøen, you'll find the fairy-tale villa of Ole Bull, a world-famous 19th-century violin virtuoso. This larger-than-life figure was involved in a variety of projects and even founded a colony for Scandinavian immigrants in Pennsylvania. A bit closer to the city center is Troldhaugen, home of Norway's most famous composer, Edvard Grieg, featuring his composing hut, his tomb, and a modern concert hall that showcases daily lunchtime concerts of his piano music.
To the fjords
Bergen is known as the "gateway to the fjords," and there's no shortage of ways to experience their breathtaking beauty — one of the many reasons they're listed as a UNESCO World Heritage Site. If you just have a day to see them, book a day tour from Bergen to the Nærøy or the Hardangerfjord. Some tours also include a ride on the spectacular Flåm Railway, named the world's best rail journey by Lonely Planet Traveller in 2014.
And if you want to do it all, check out the Norway in a Nutshell option: You'll see the Bergen Railway, the Flåm Railway, and take a fjord cruise down the Aurlandsfjord and the narrow Nærøyfjorden all on one trip. You can do it in a day, but it's wiser to arrange stops for hotels and activities like kayaking and hiking, taking as long as you want.
If you happen to have some spare time (and money), look into boarding one of the Hurtigruten ships — they depart from Bergen once a day and run along the coast all the way up to Kirkenes at the Russian border and back. The journey is considered the world's most beautiful sea voyage, stops at harbors along the way, and lasts for 12 days — though of course you can disembark at any harbor you want, such as Trondheim (just a day and a half from Bergen).
To do it yourself, rent a car and drive up to the Geirangerfjord. This gives you a chance to discover the huge landscapes both from your car window and by hiking, kayaking, or however else you want to experience them (this is when that allemannsretten really comes in handy). If you're looking for other excuses to get out of the car, you can definitely fish, raft, or cycle, too.
In any case, make sure not to miss Trollstigen, a mountain road with an incline of 9% and 11 hairpin bends. At Ørnesvingen, stop to take panoramic pictures of the sweeping fjord and the famous waterfall De syv søstrene (the Seven Sisters).
Of course, you could return to Bergen afterwards, but it'd be even better to take coastal road E39 and drive north to Trondheim, a charming city of 187,000 with a long history and vibrant student life. Make sure to visit — at least — the Nidaros Cathedral and the old wooden houses of Bakklandet before leaving. But if you have the time, plan another day or two to explore the city. Or use it as the starting point for your next trip to Norway — because, let's face it, you're going to want to come back.