These Las Vegas Airbnbs Offer the Best Vegas Experience on and Off the Strip
Hotel rooms in Las Vegas are expensive. Fortunately, the city is loaded with alternative options that offer pristine views of the Strip, convenience to everything, and epic features like high-rise balcony hot tubs and blackjack tables to boot. What's more, you can even rent many Vegas hotel suites on Airbnb, with top options noted below. These are the top Airbnb Las Vegas rentals in the city's hotspots.
Booking for a bachelor or bachelorette party? Check out the best party pads in Vegas
We hope you love the Airbnb Las Vegas properties we recommend! Just so you know, Matador may collect a small commission from the links on this page if you decide to book a stay. Listed prices are accurate as of the time of publication.
Palms Place Penthouse with balcony hot tub and best views in the city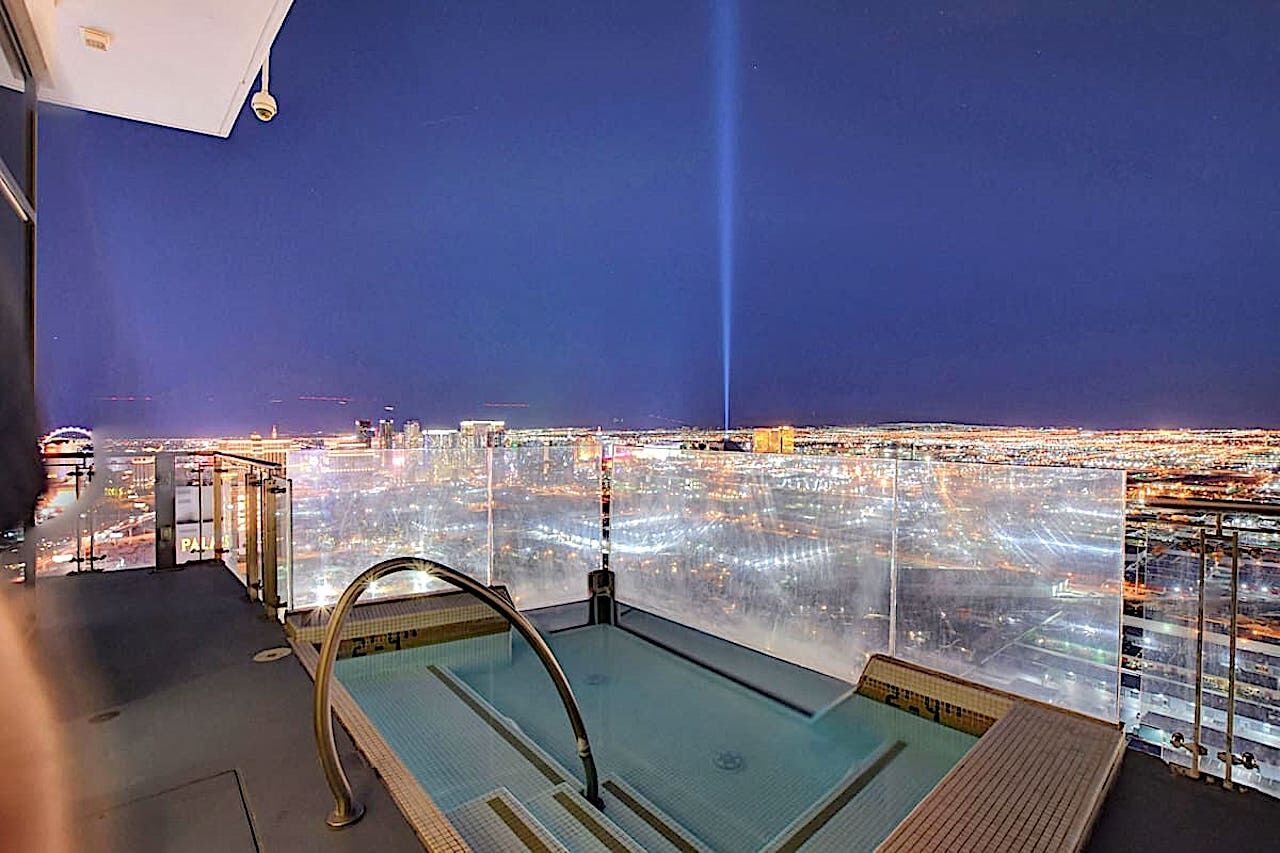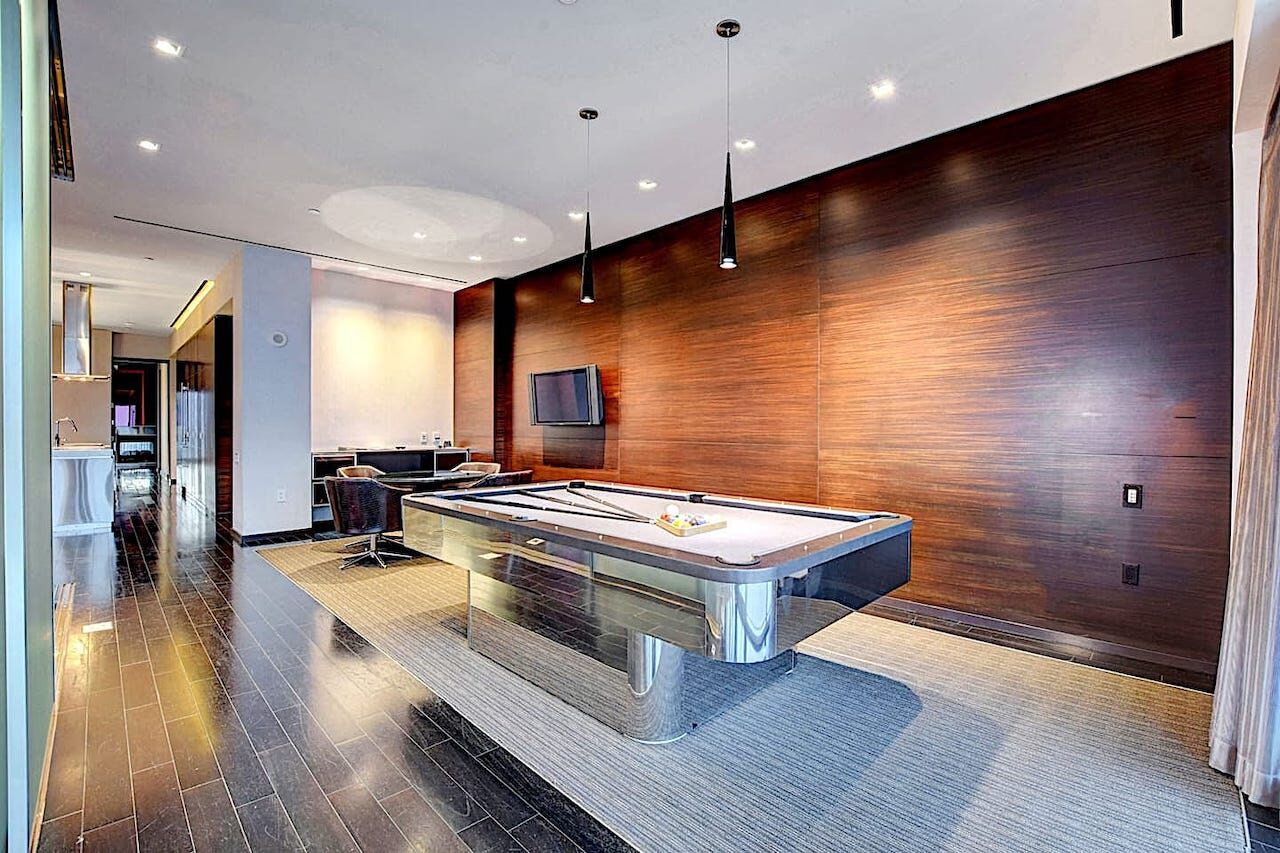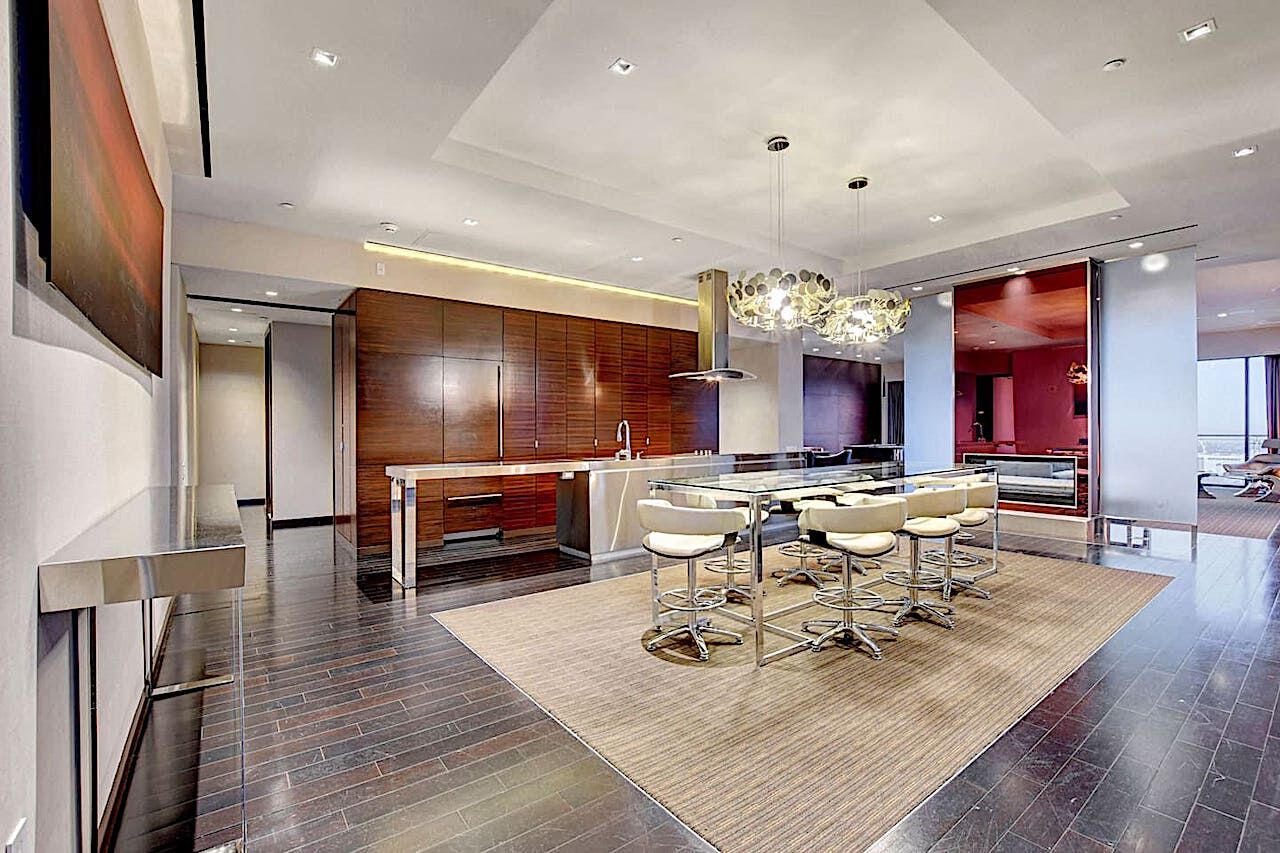 One thing you'll notice from looking up listings on Airbnb is that there are a lot of listings inside Palms Place. The second tower at the Palms Casino Resort is a mix of almost identical suites for rent and condos to own. Apparently, everyone in Las Vegas bought a condo here at some point, and they all have them listed on Airbnb. You'll have a lot to choose from, but we cherry-picked a few extra-special standouts. (But again, they're all nearly identical.) This one is very clean and looks exactly like the hotel version of the room but with colorful throw pillows. Bonus: A stay at the Palms puts you pretty much as close as you can be to the Strip without actually being on the Strip.
Three guests, studio
Price: $709 per night
Two-bedroom Vdara Penthouse with Bellagio fountain views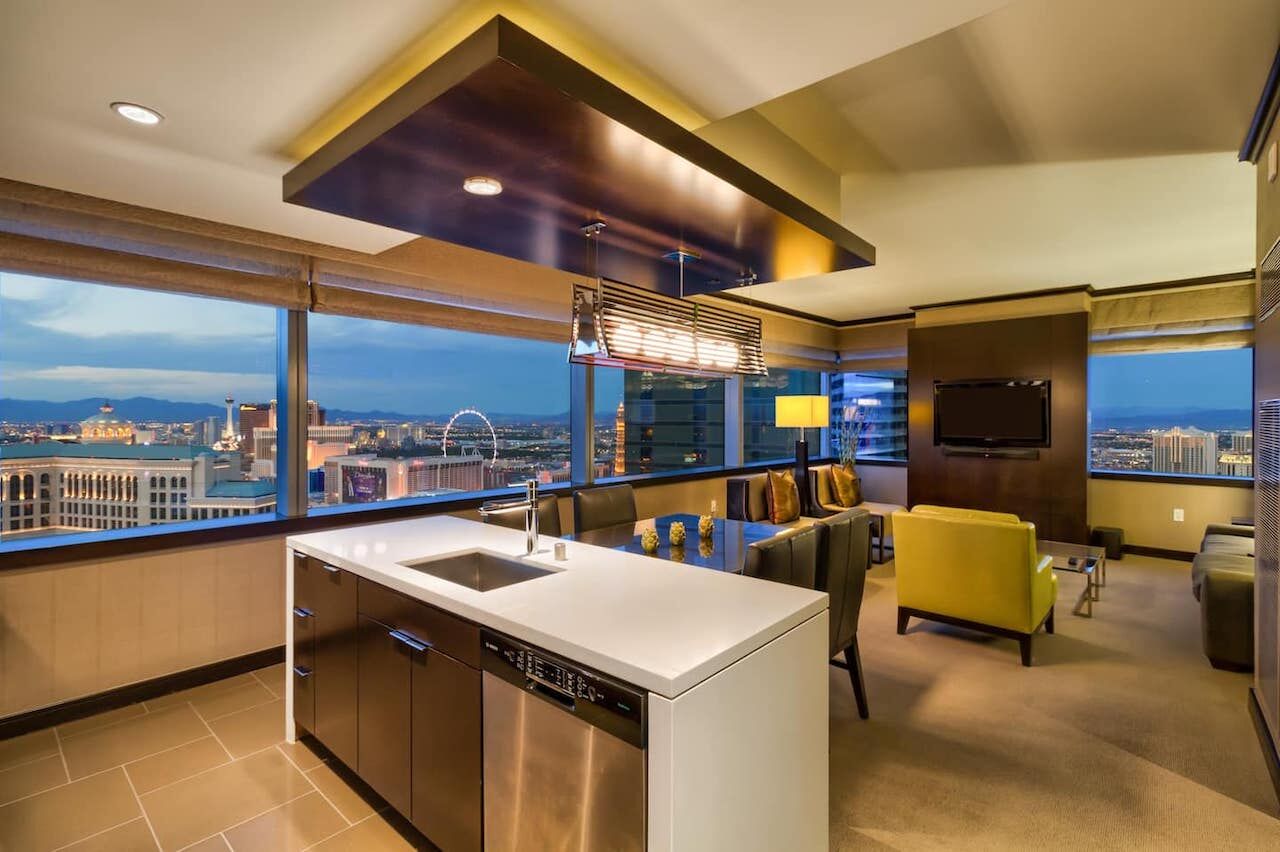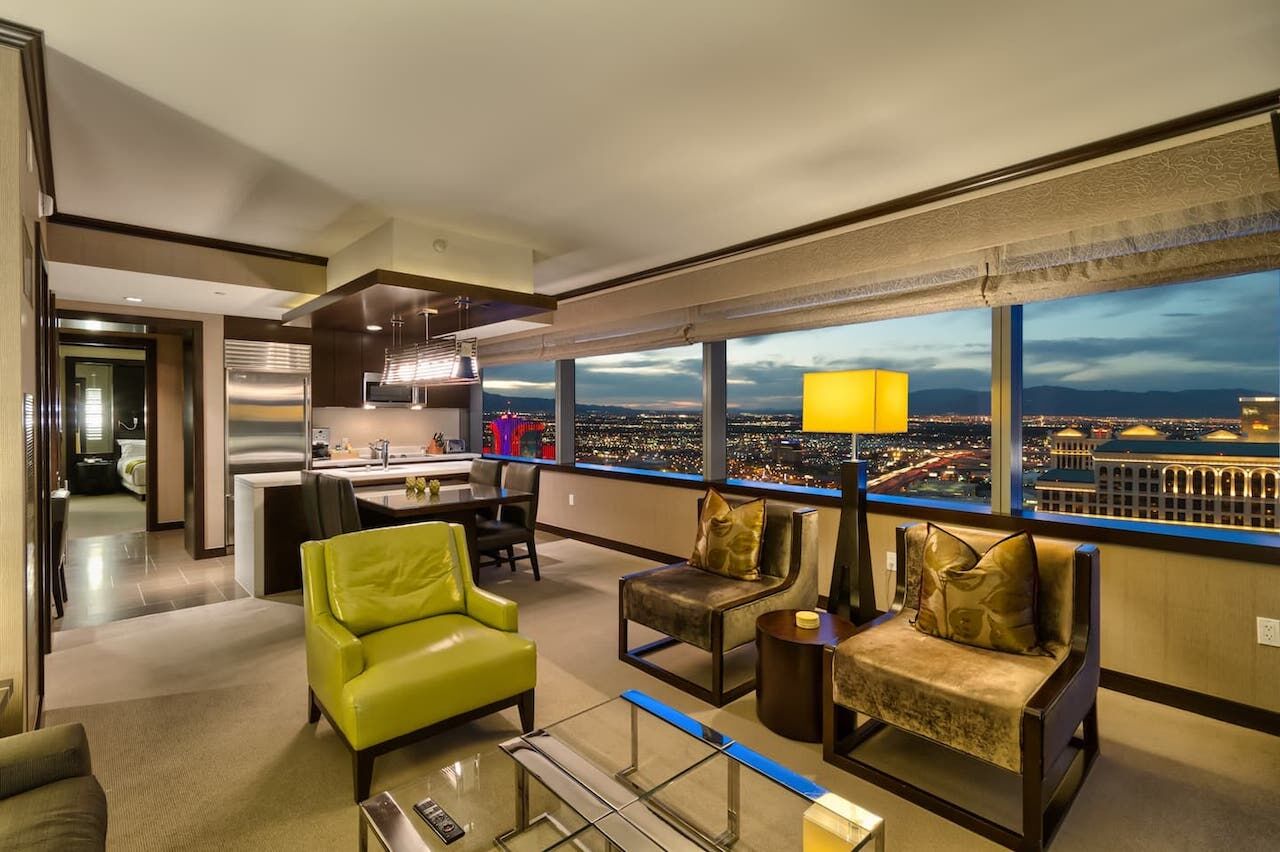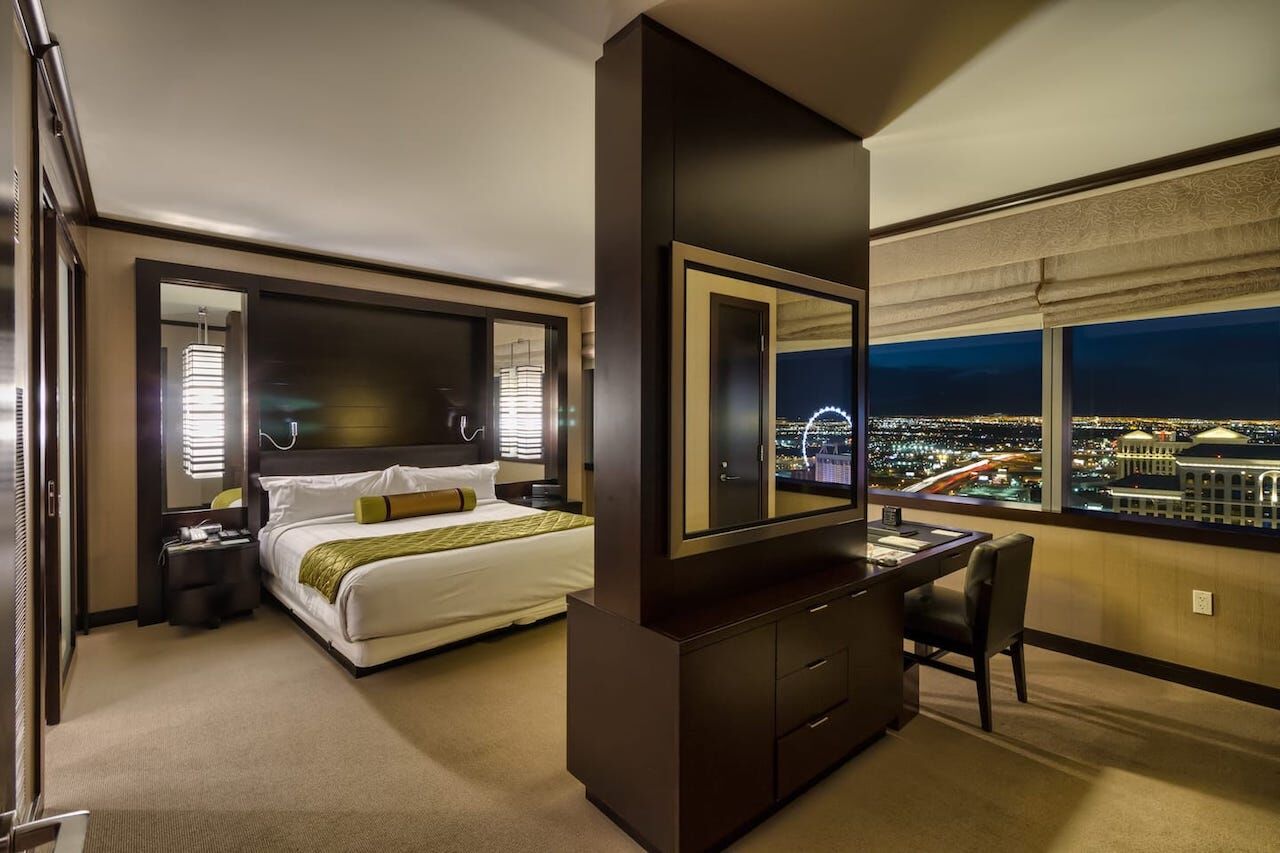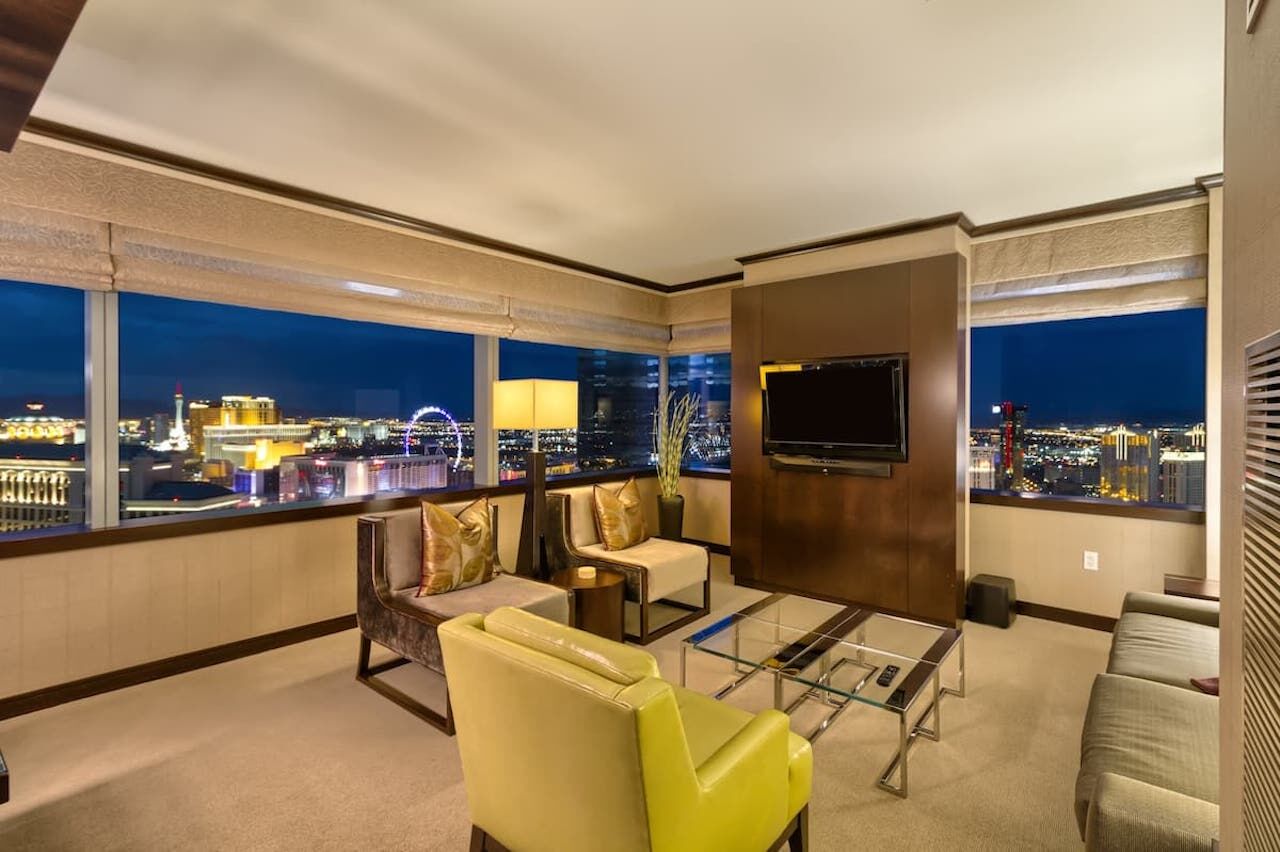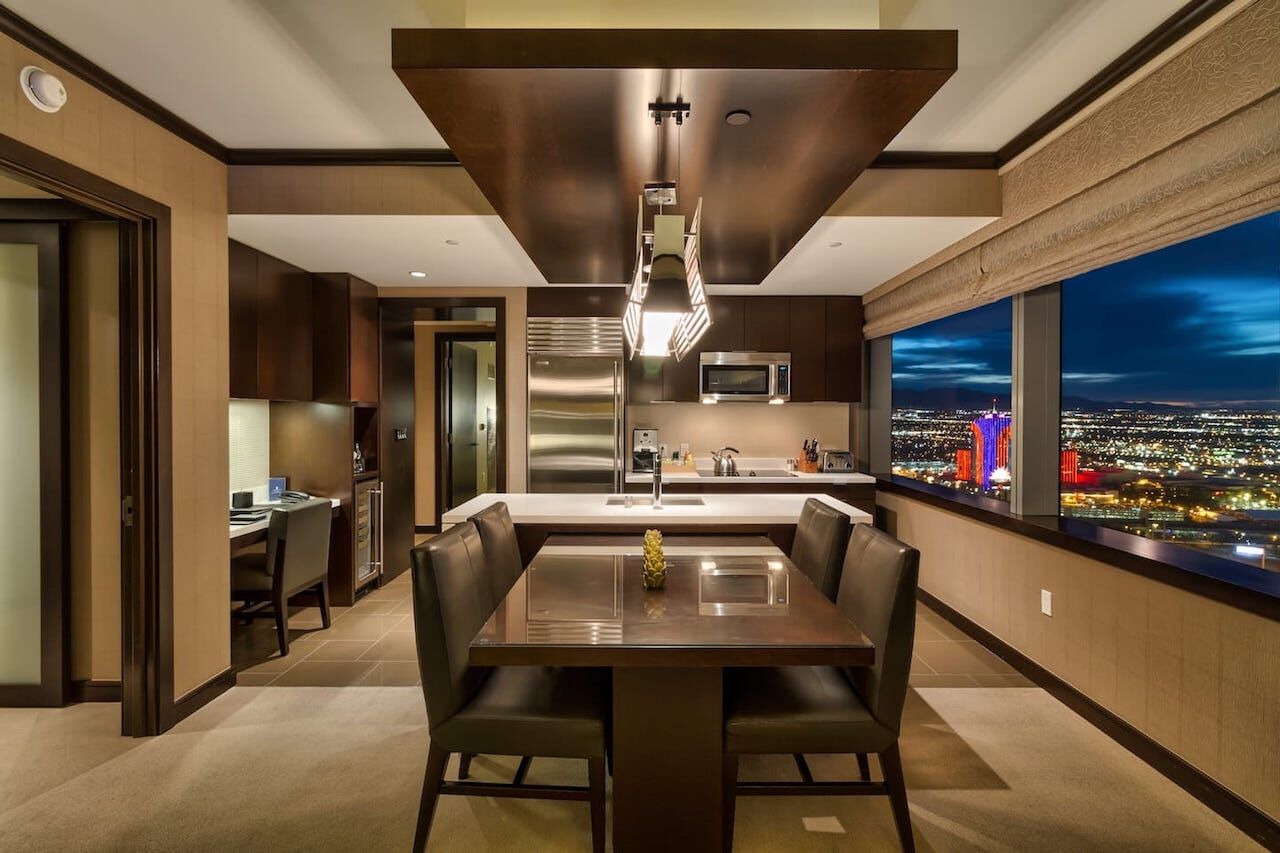 You can stay in a room at the Vdara, or you can stay in a high-end luxury suite at the Vdara, complete with views of the Vdara's pool deck and the rest of the sparkling Bellagio fountains. With two bedrooms and a high-end lounge space perfect for entertaining, you won't find a classier spot to post up with your Vegas crew. This spot is everything Vegas dreams are made of — expansive views of the strip and luxe amenities in the room to the point that even leaving it begins to feel like a questionable idea. But then you remember all the epic stuff happening down below . . .
Six guests, two bedrooms
Price: $584 per night
Penthouse inside a hip LV high-rise with balcony hot tub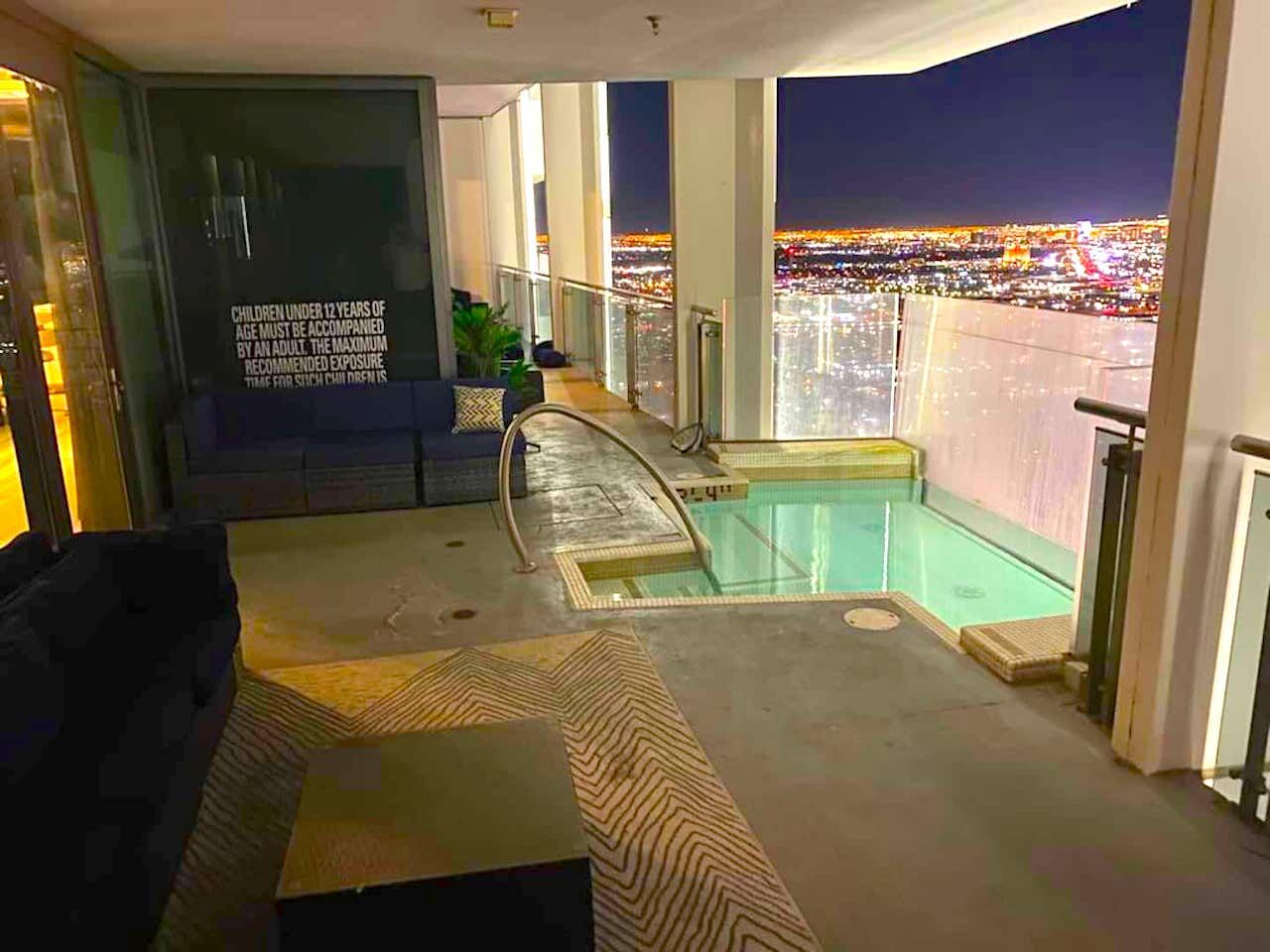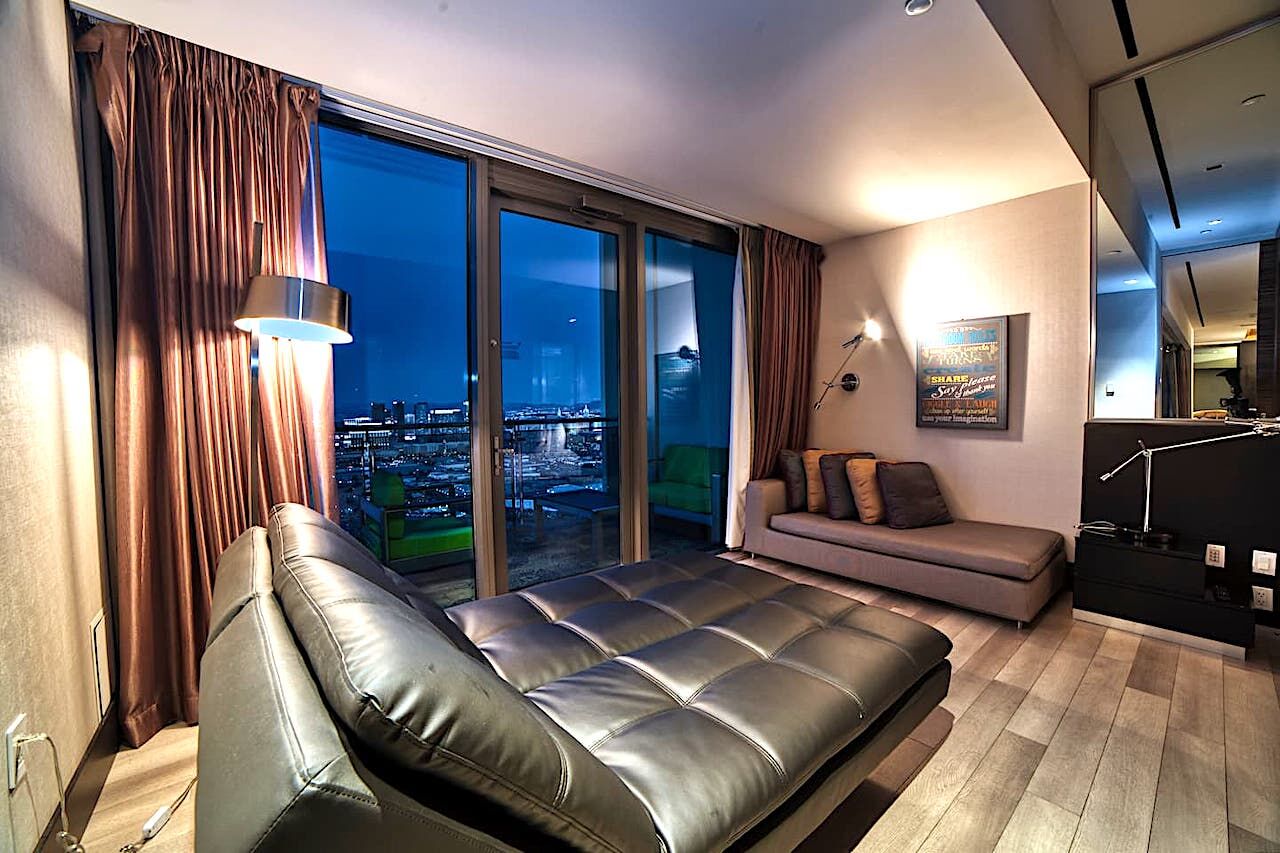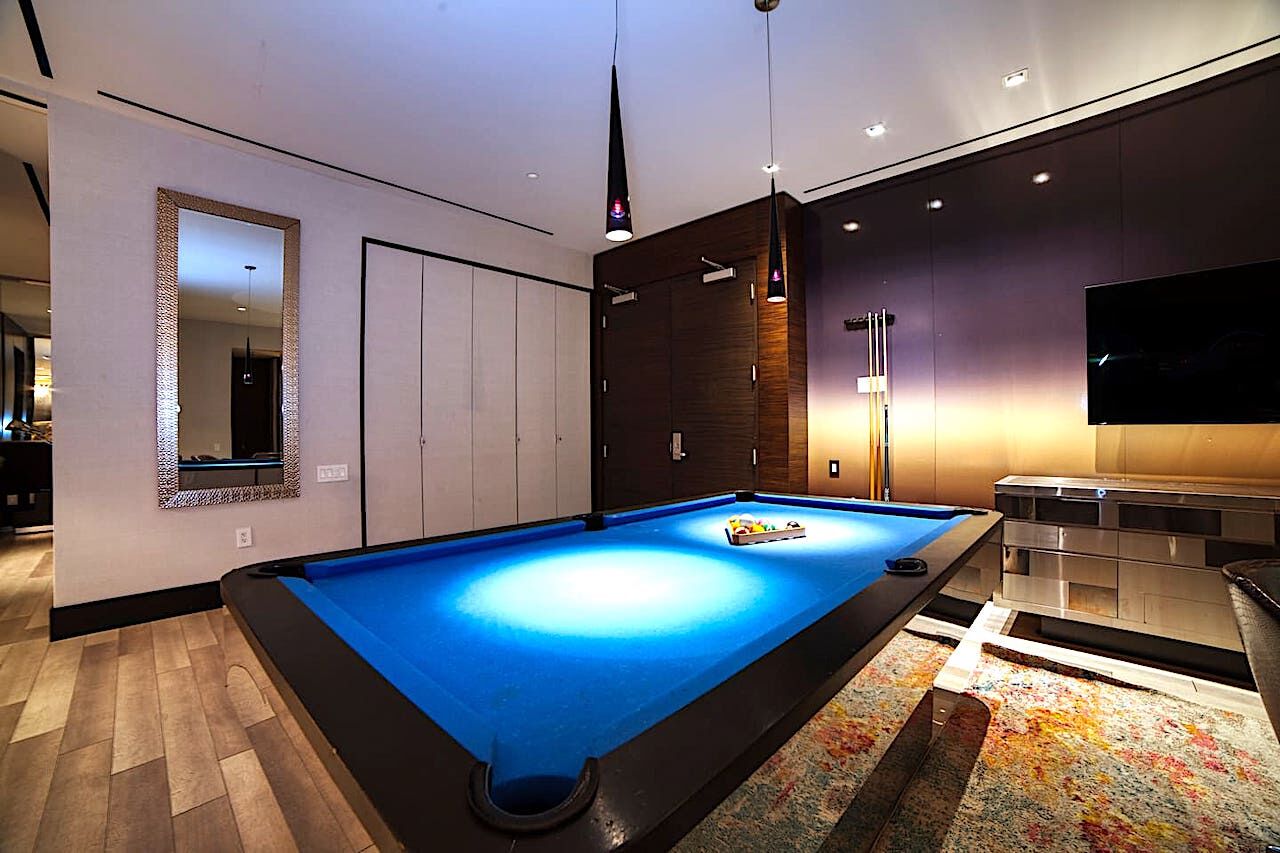 If you want to know what all the LV hype is about, stay in this comfortable-yet-stylish penthouse suite. You'll have a pool table and pristine views of the strip and downtown, along with ample lounge space for your entire party. If you want to experience what Vegas is really about, this is prime Airbnb Las Vegas Epicness. Both the strip and Fremont scenes are walkable, with plenty of options for dining, partying, and poker nearby. The hot tub itself is worth the cost of admission.
Eight guests, two bedrooms
Price: $1,428 per night
A big, beautiful, bright white estate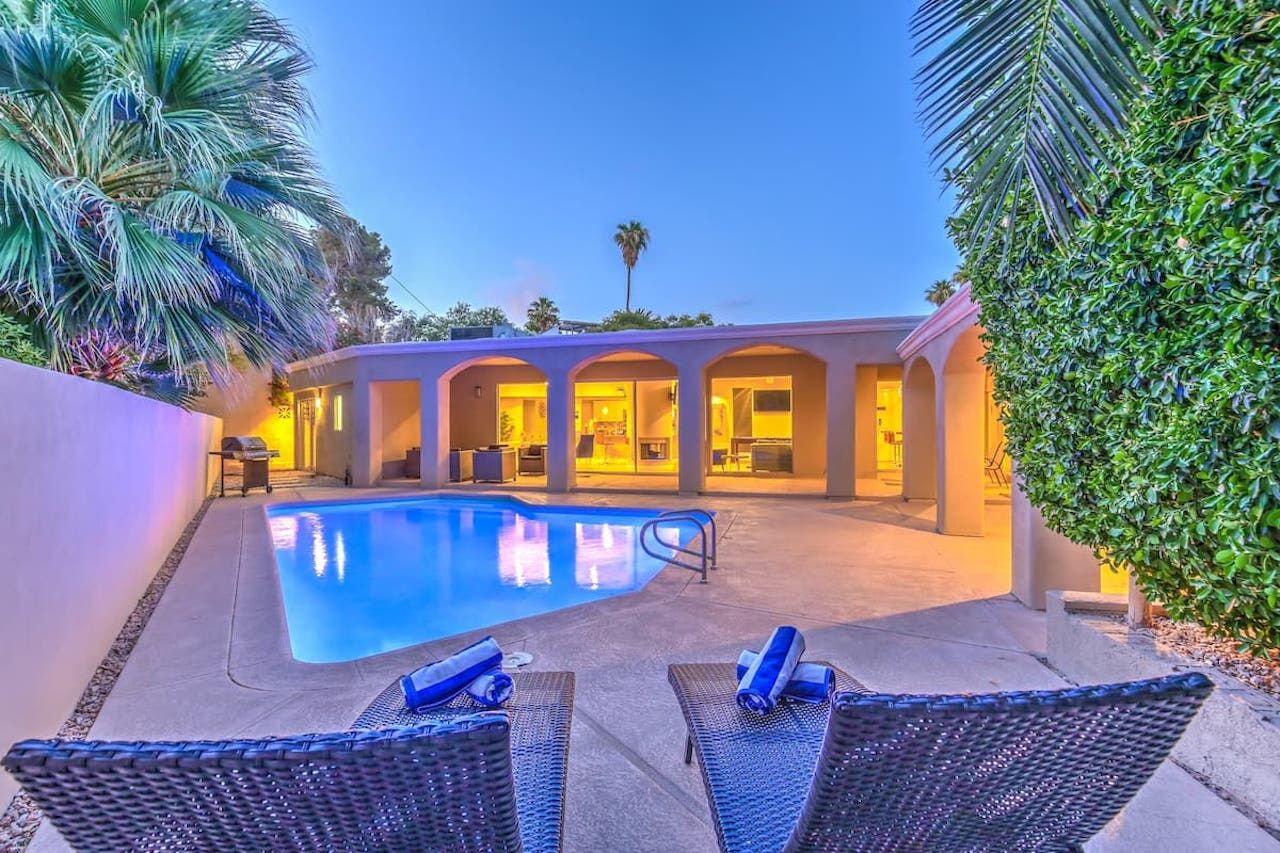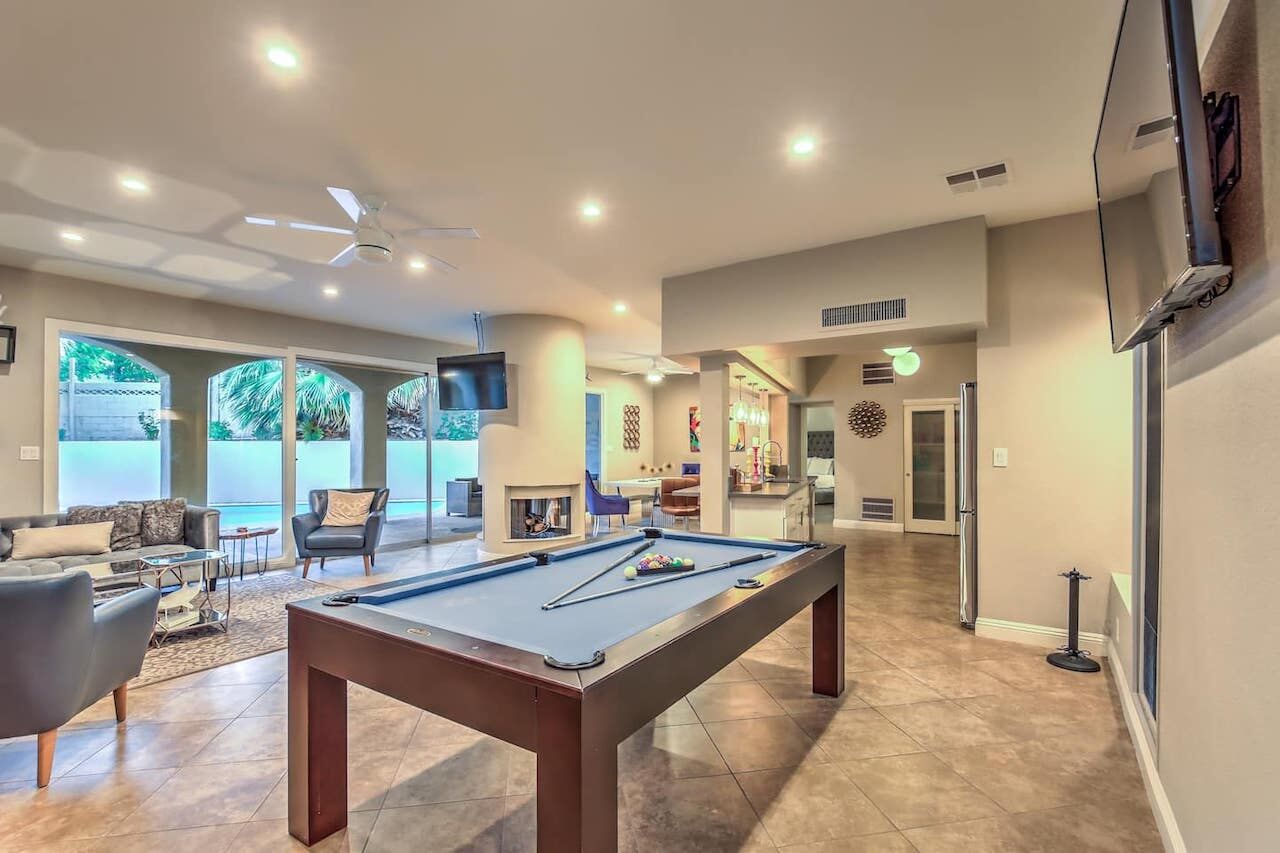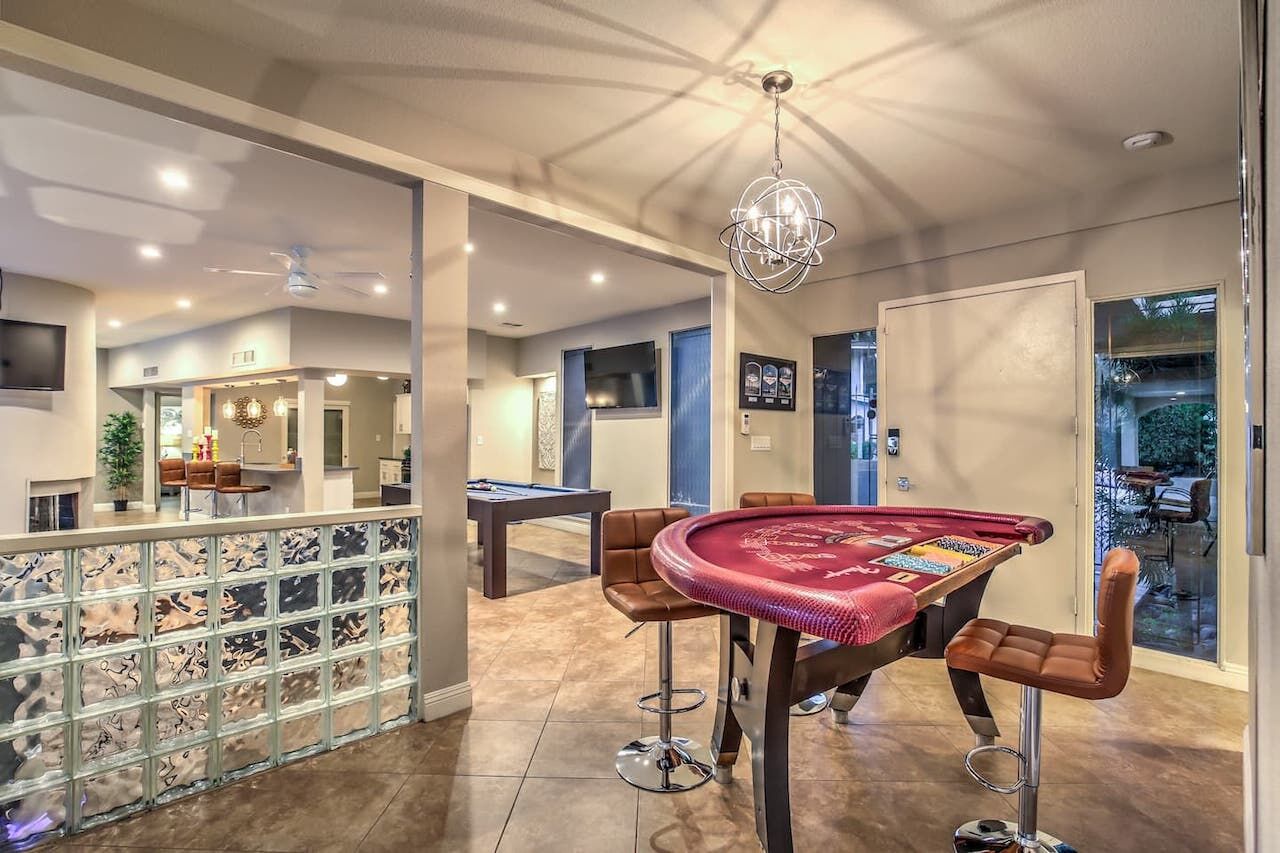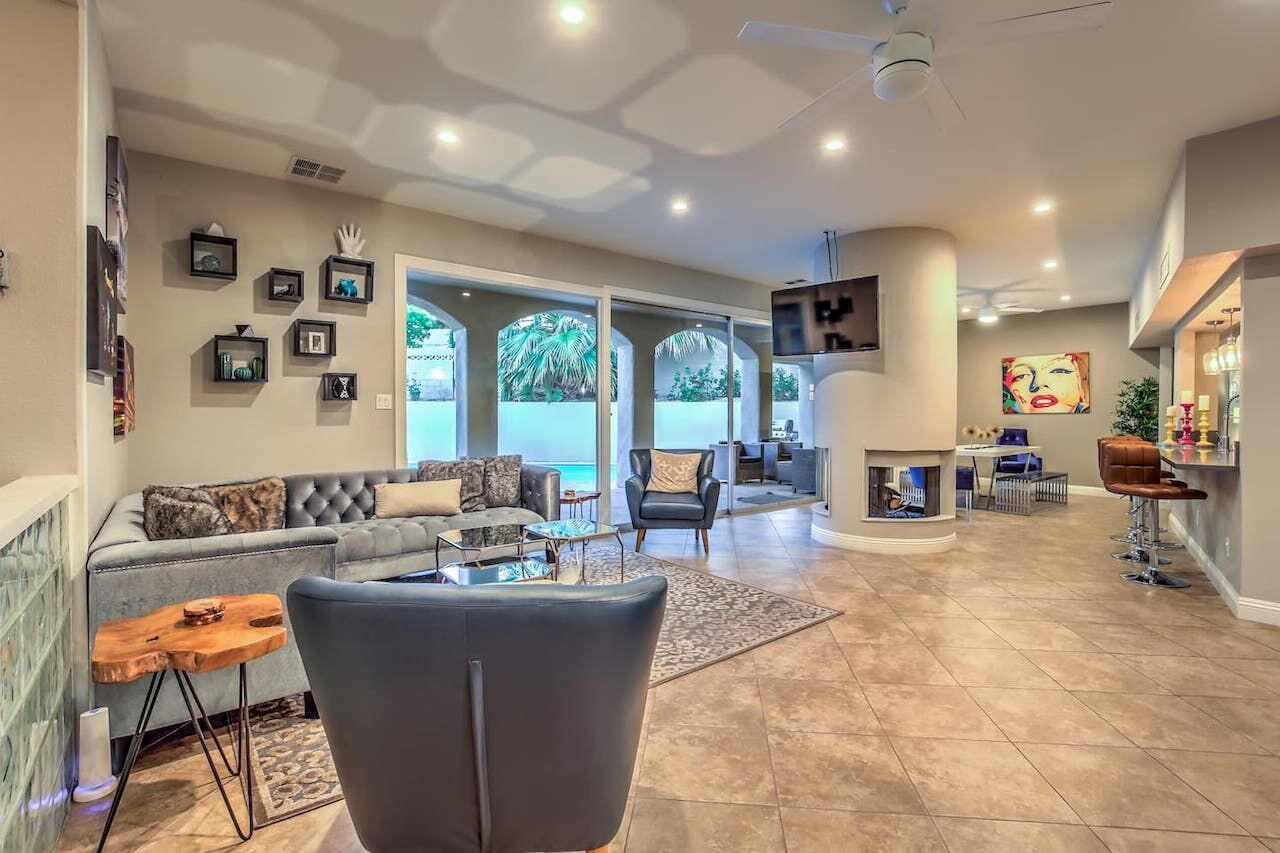 Not big on that high-rise life? Minimalists will love this large, five-bedroom home that is, frankly, way too pure and white and untarnished for a Vegas rental, where you'll enjoy a private pool and yard, all within a 10-minute Uber ride to the Strip. Onsite are a large pool, full kitchen, pool table, and five bedrooms to house your entire party. There's even a poker table and a hot tub. This is the spot for when spending quality time with your group is just as important as hitting the strip.
Eight guests, five bedrooms
Price: $468 per night
Modern luxe home in a historic neighborhood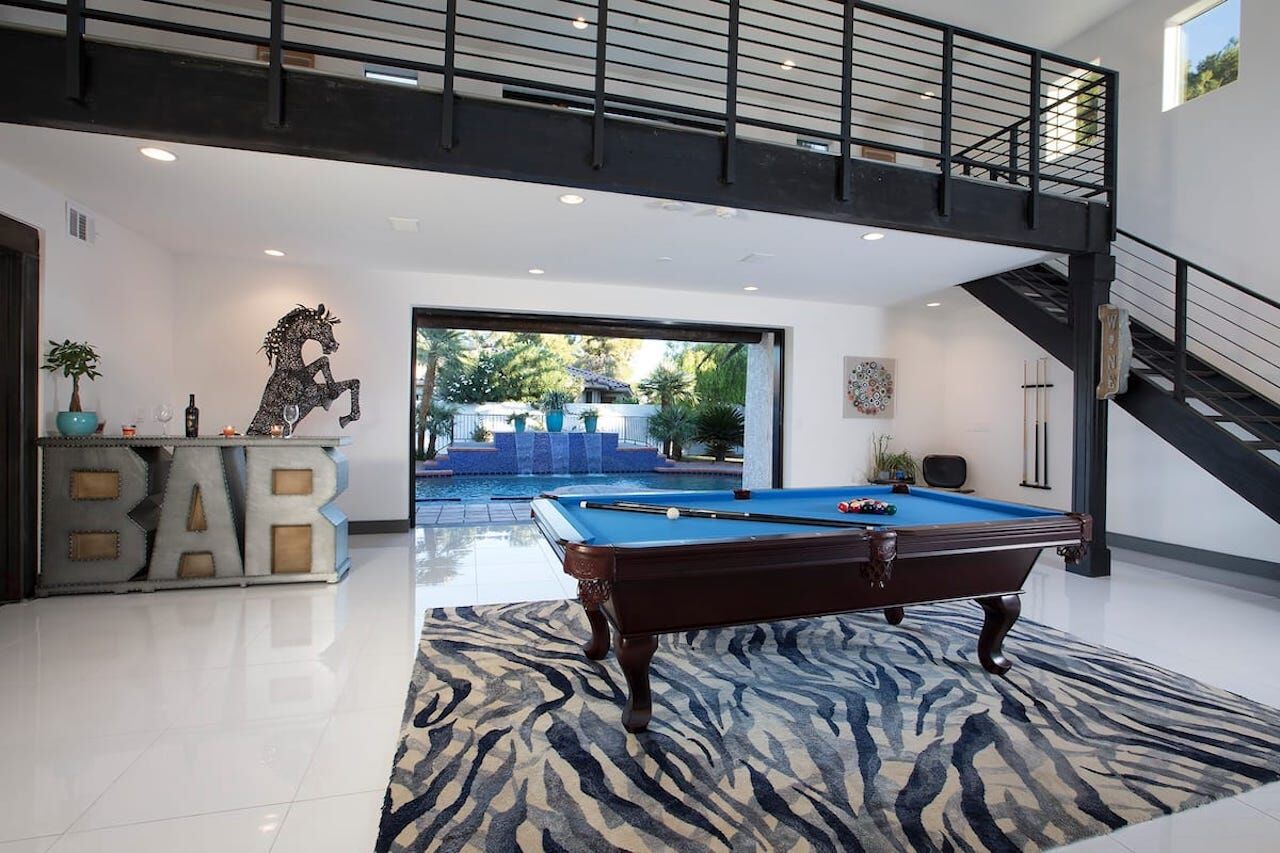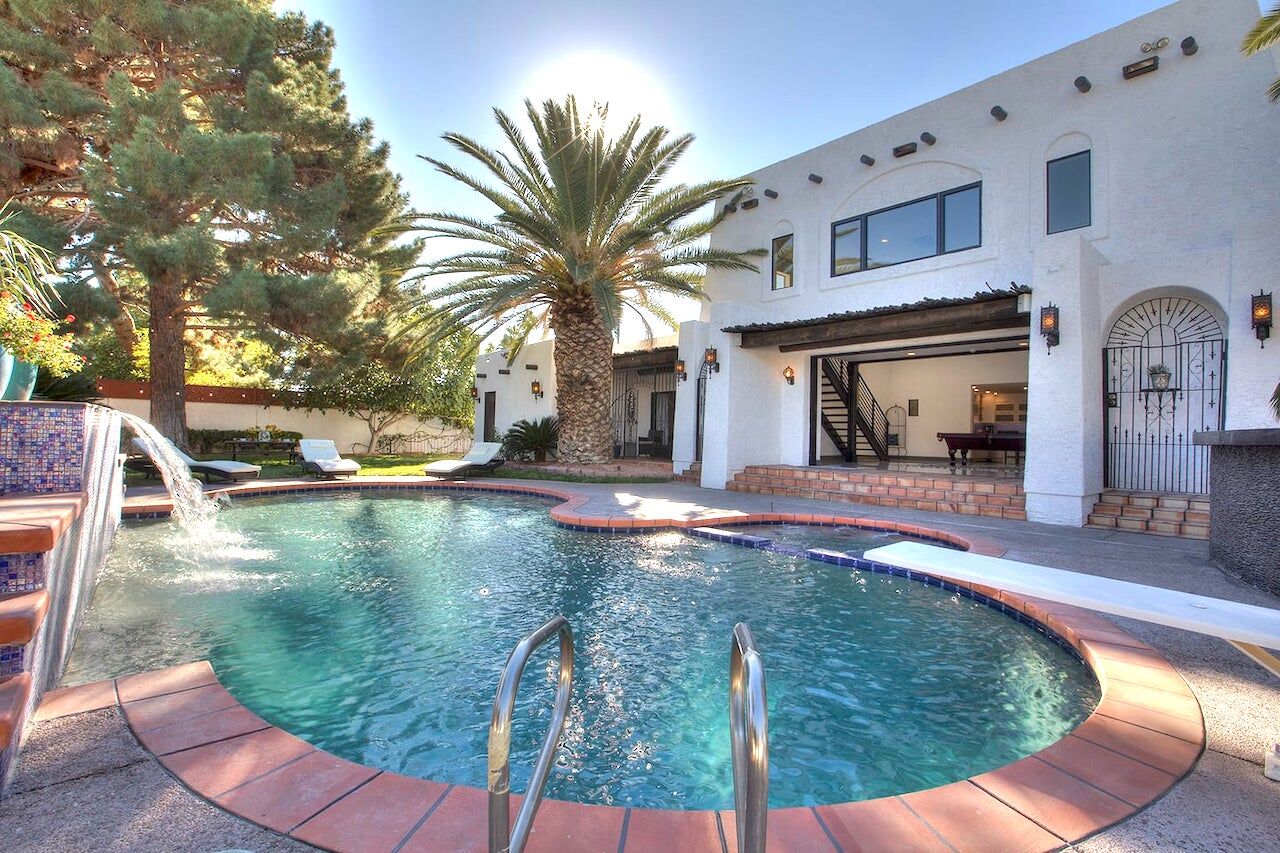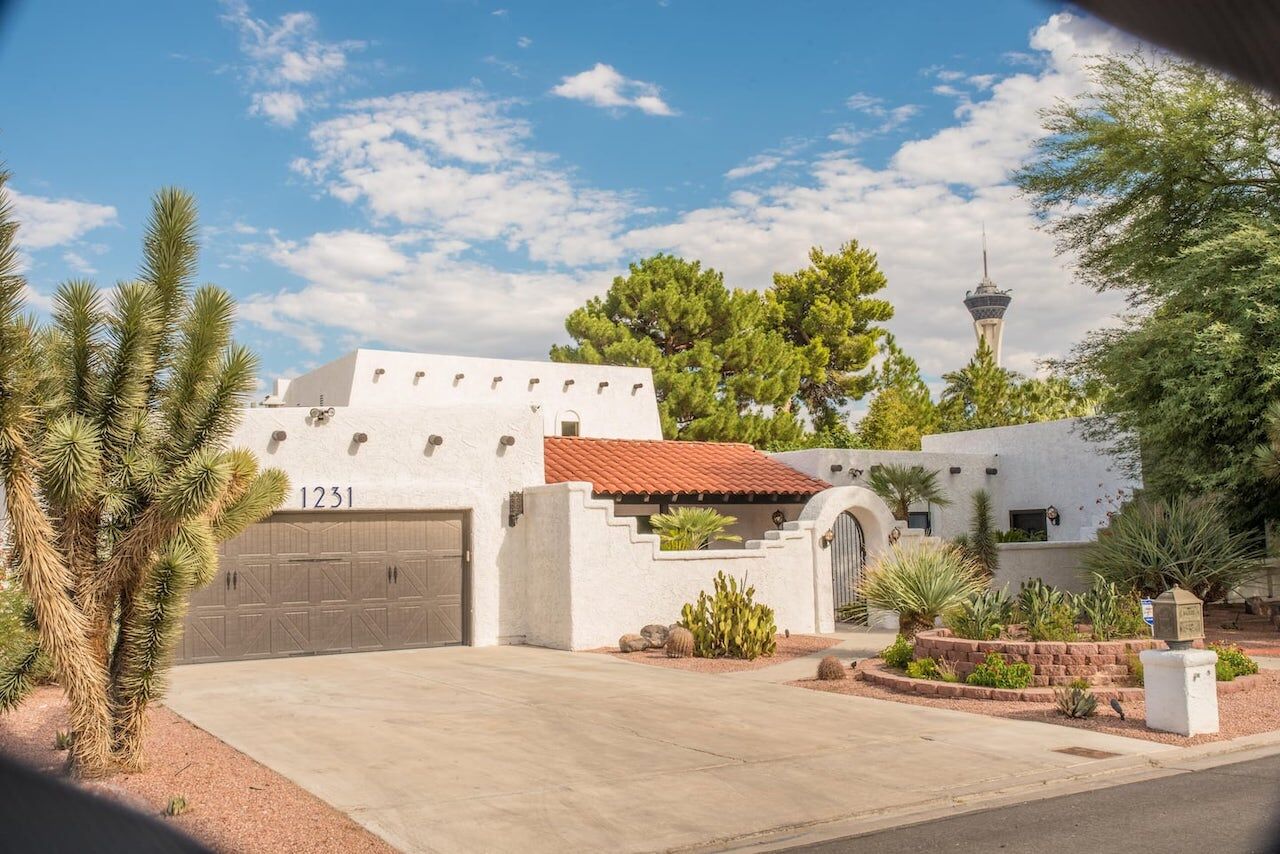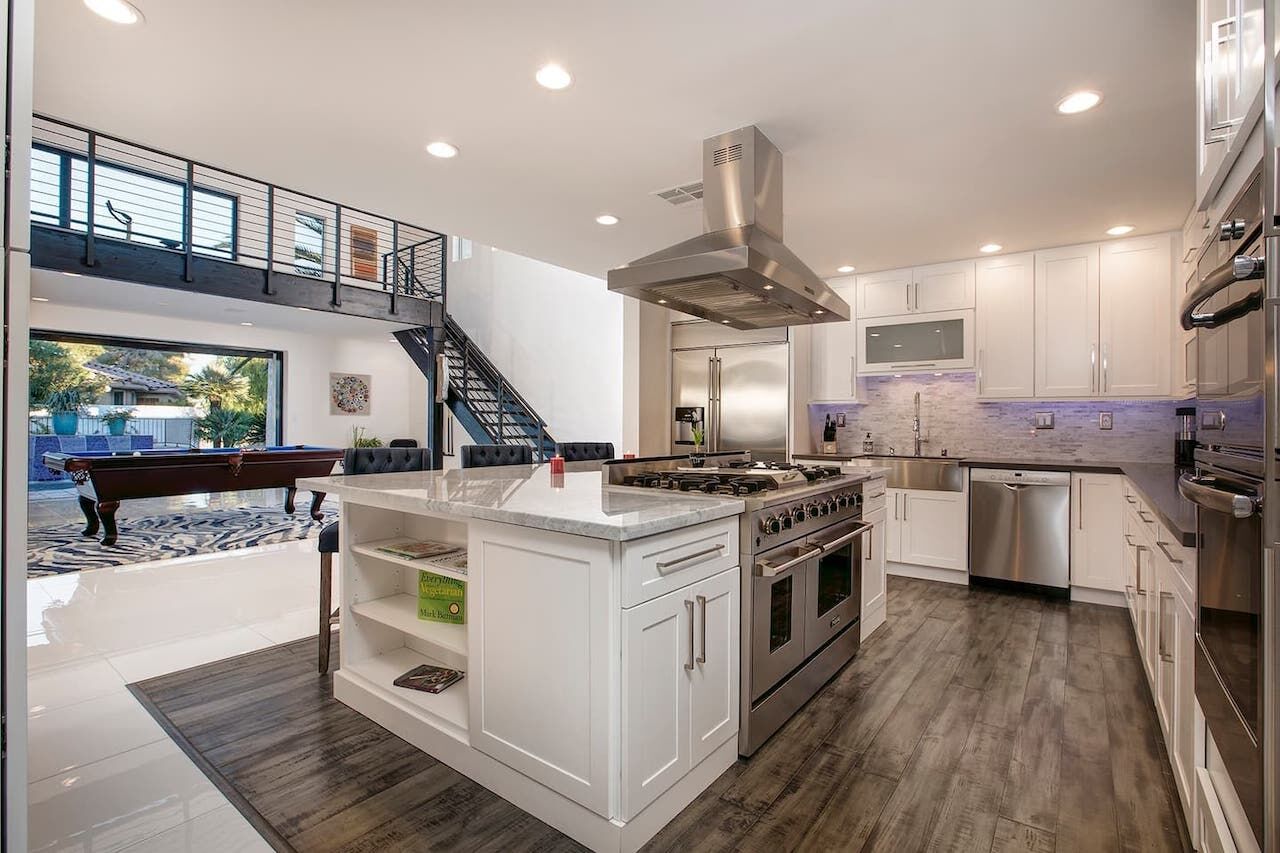 Yes, Vegas has historic neighborhoods! This home is full-on luxury complete with a waterfall pool, indoor game area with pool table, and all the trimmings you'd expect Oprah or The Queen to expect on a visit to Sin City. Grab your entire crew, because this spot is set to impress, and you'll like like a baller for holding the reservation.
Eight guests, four bedrooms
Price: $1,024 per night
Mini-mansion near Strip with a huge pool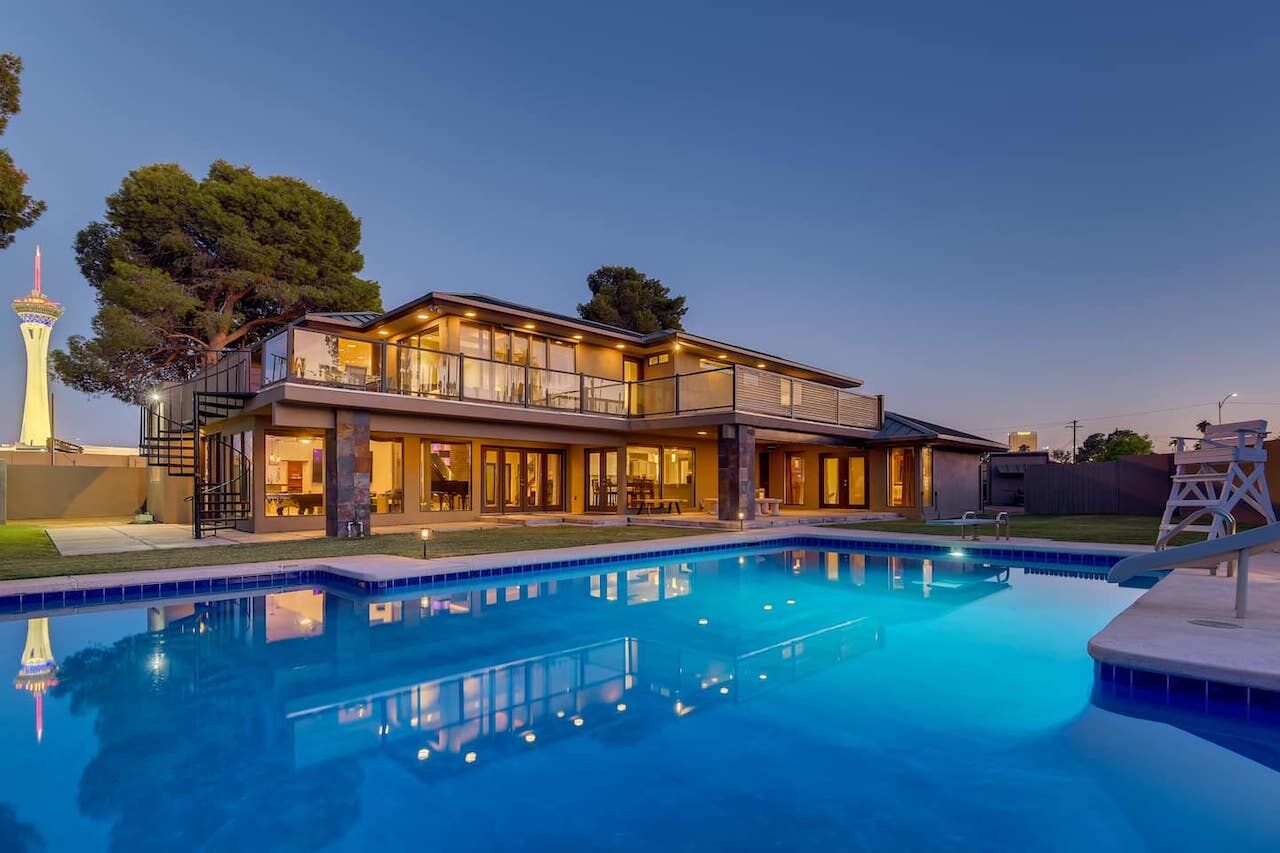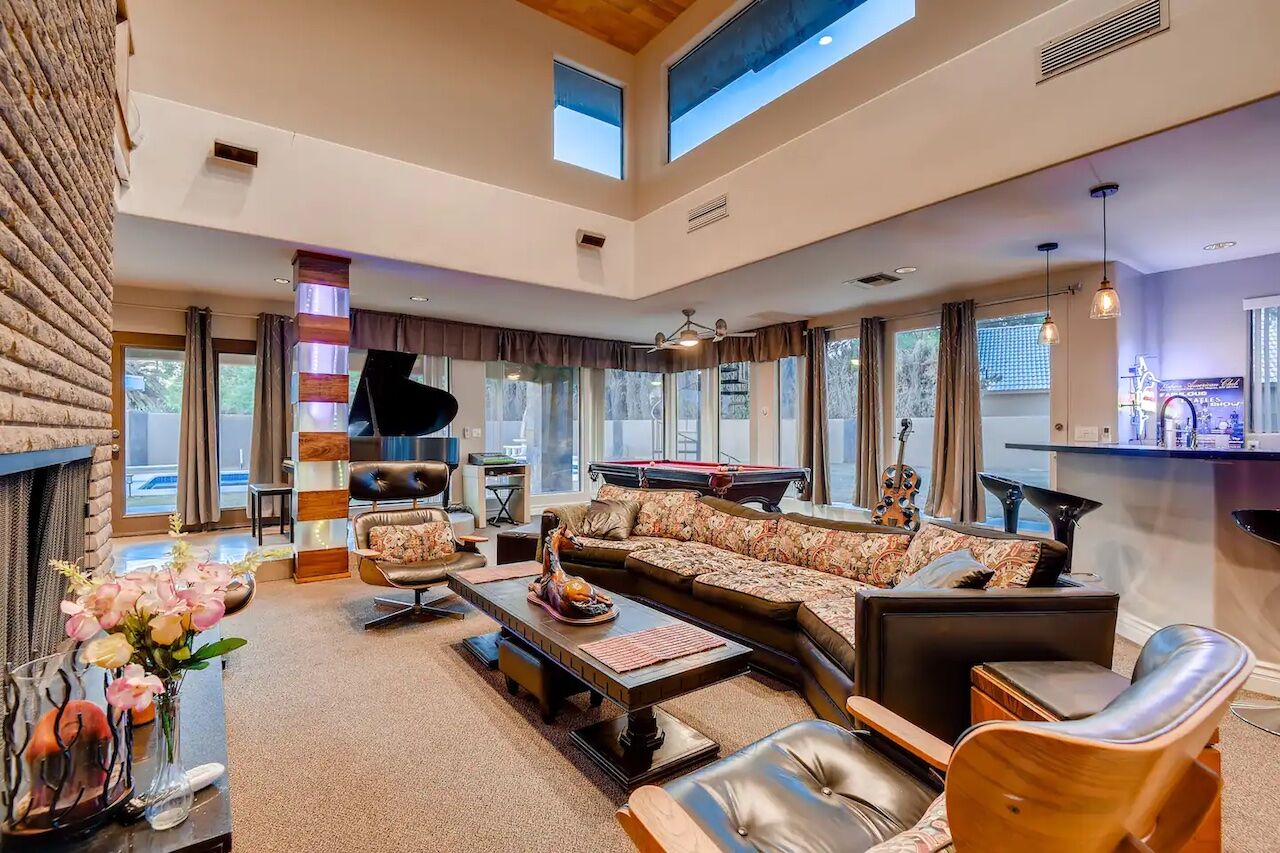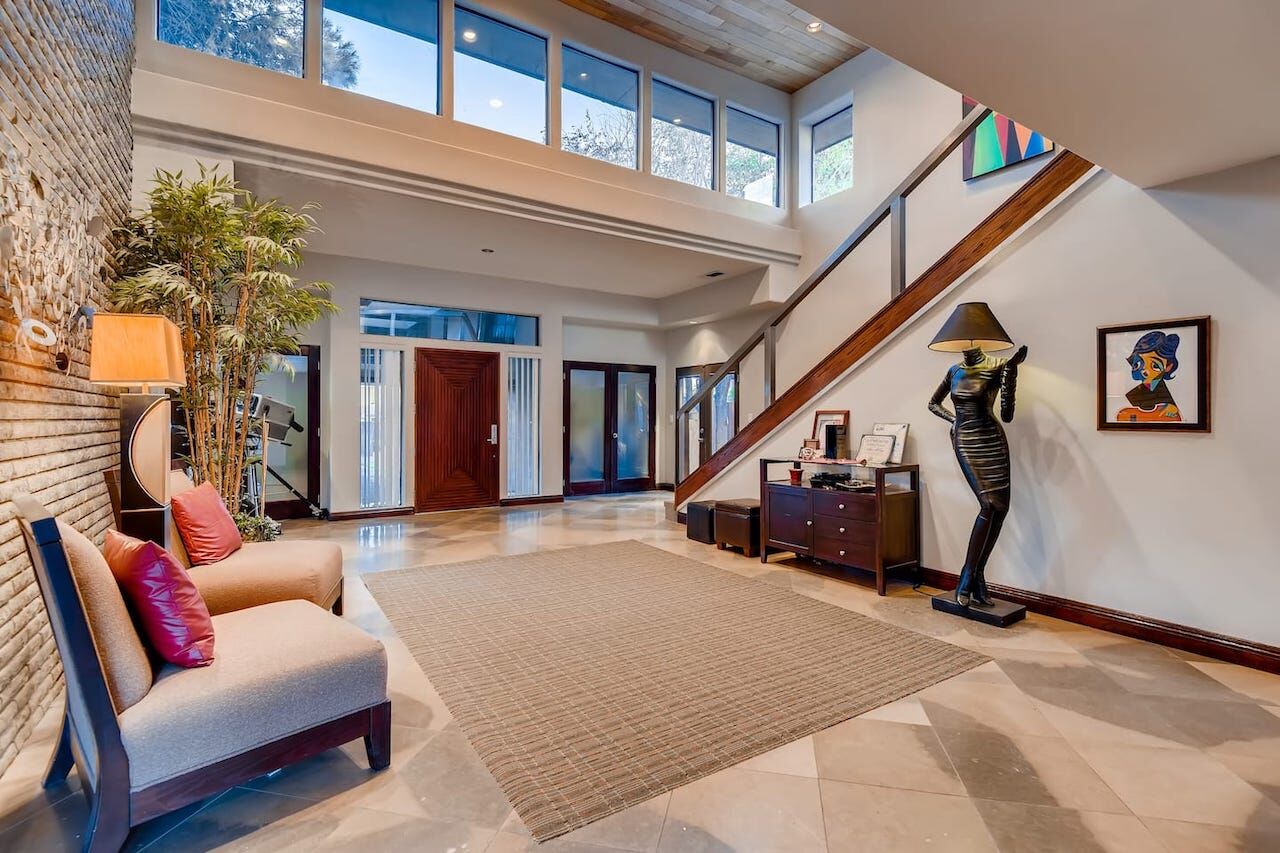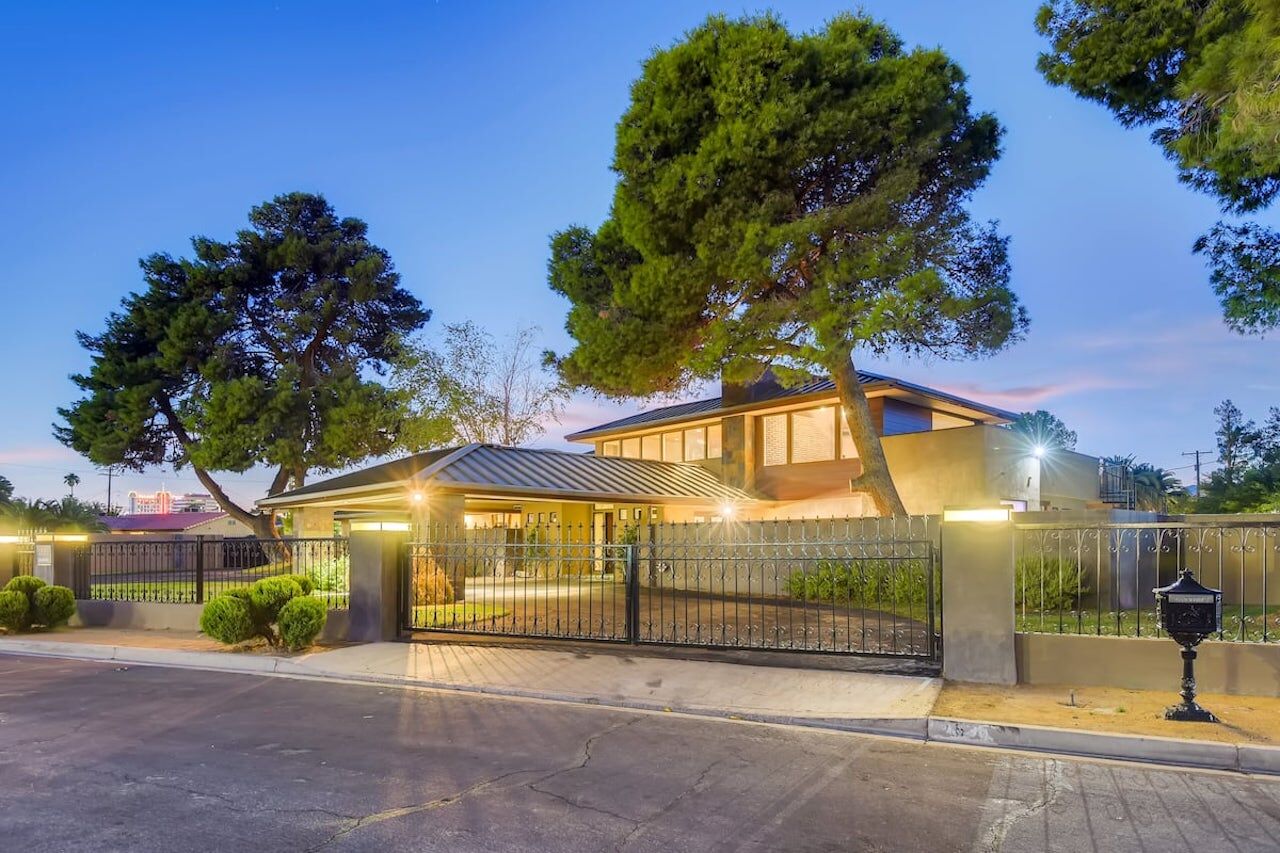 As advertised, this is a big, comfy home with a huge pool. Yes, huge. If you've ever wanted to feel as though you're in a private country club while lounging in your pajamas, this is the place to do it. The property is gated, with an open and well-lit floor plan that invites you to let go of the stresses at home and let go — Vegas style. This Airbnb Las Vegas home takes luxury up a notch, with the benefit of being a private residence rather than a hotel room or high-rise apartment. So feel free to turn up the music and have a good time — there's no one around to call down to the lobby with a complaint.
Eleven guests, four bedrooms
Price: $1,286 per night
Super-cute home with a super host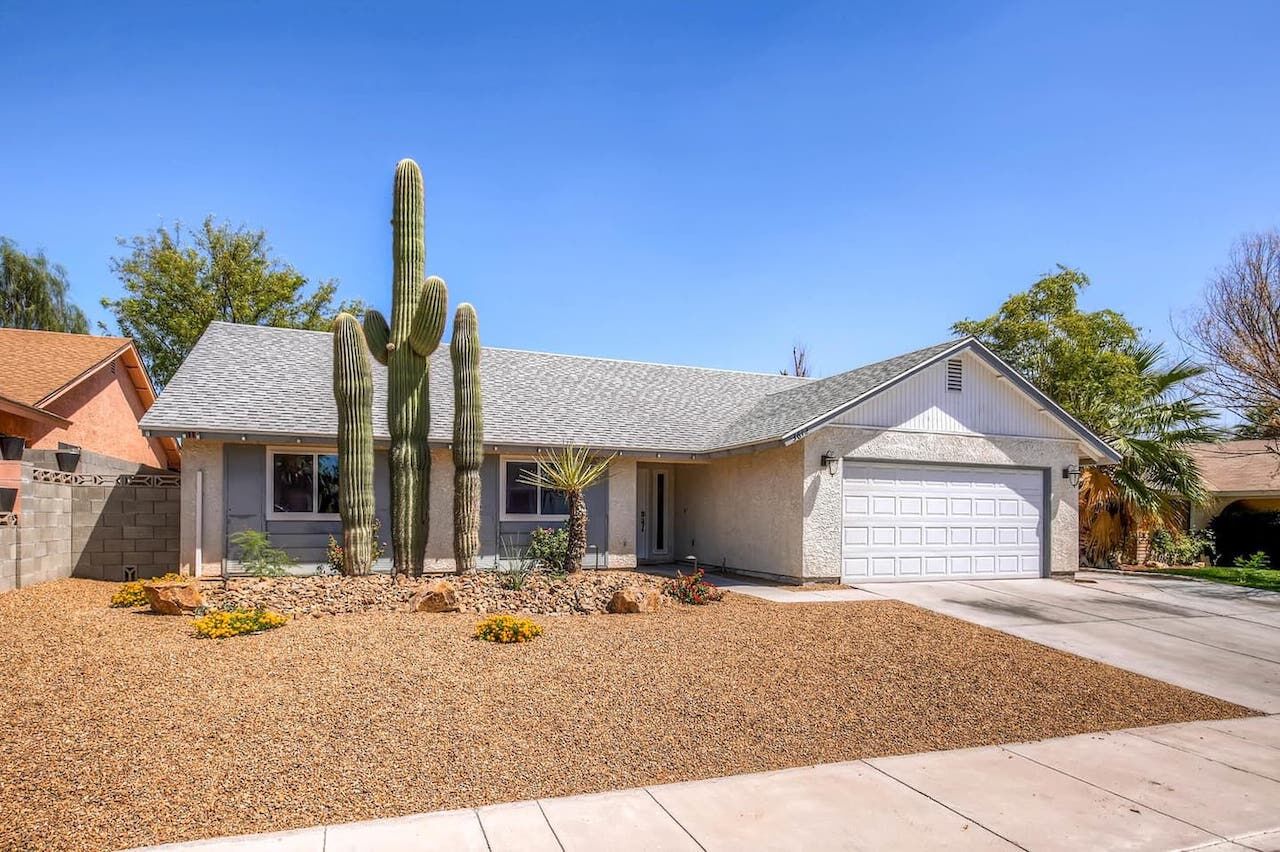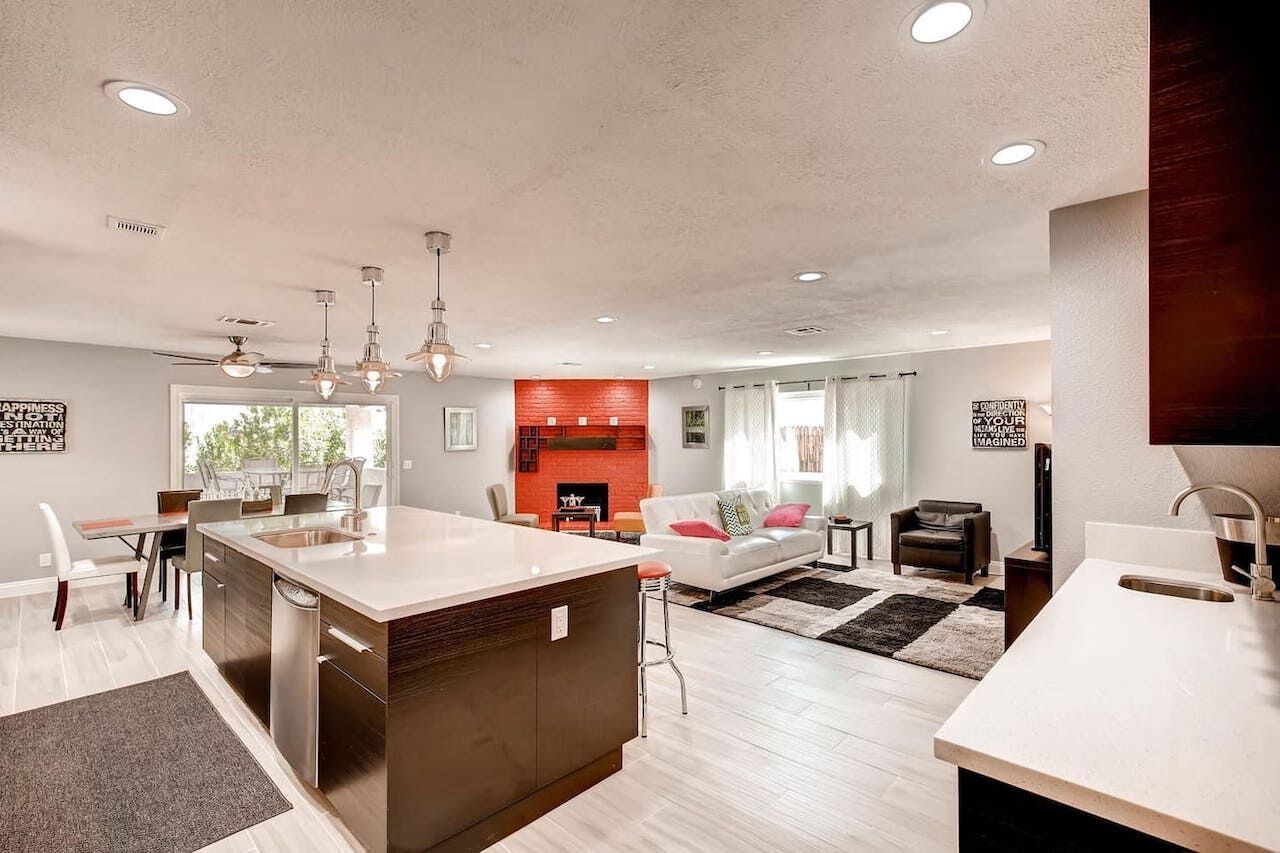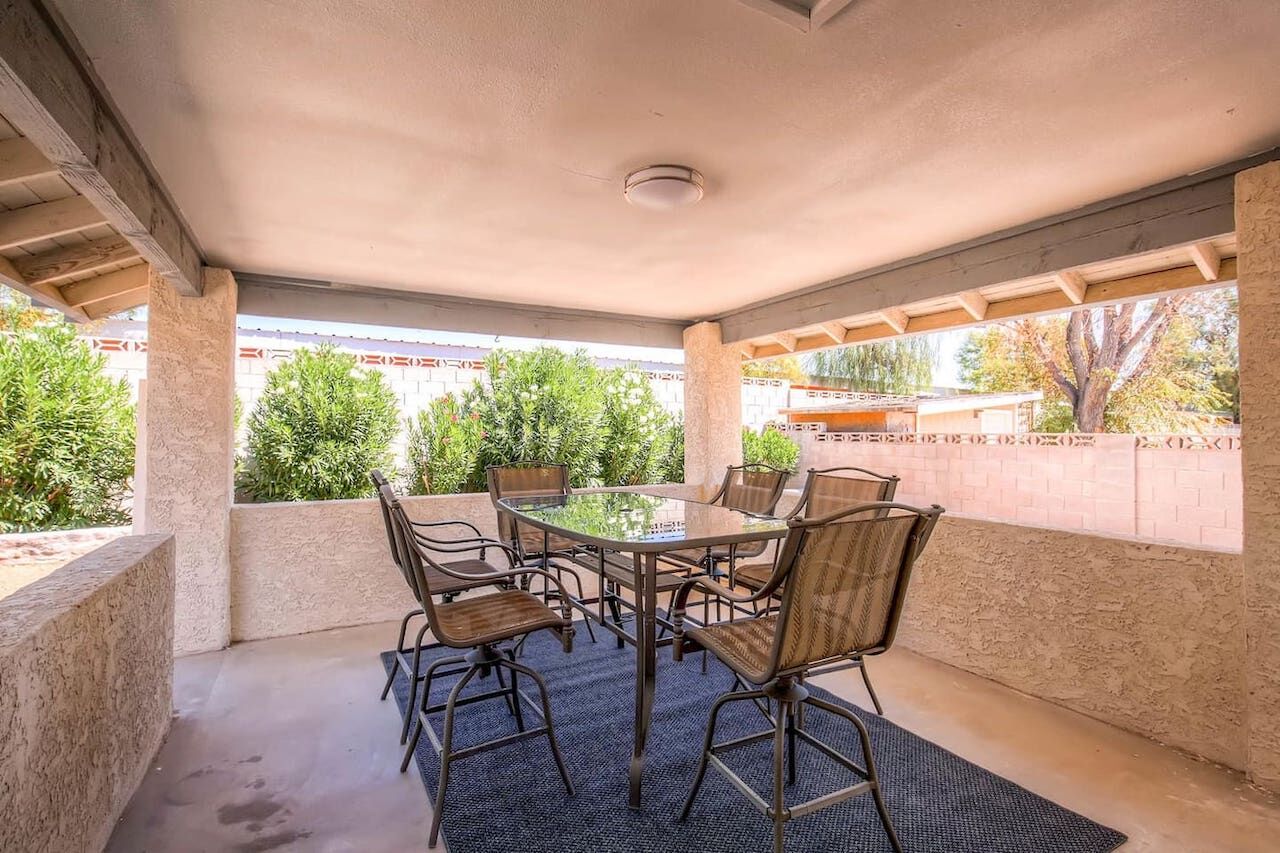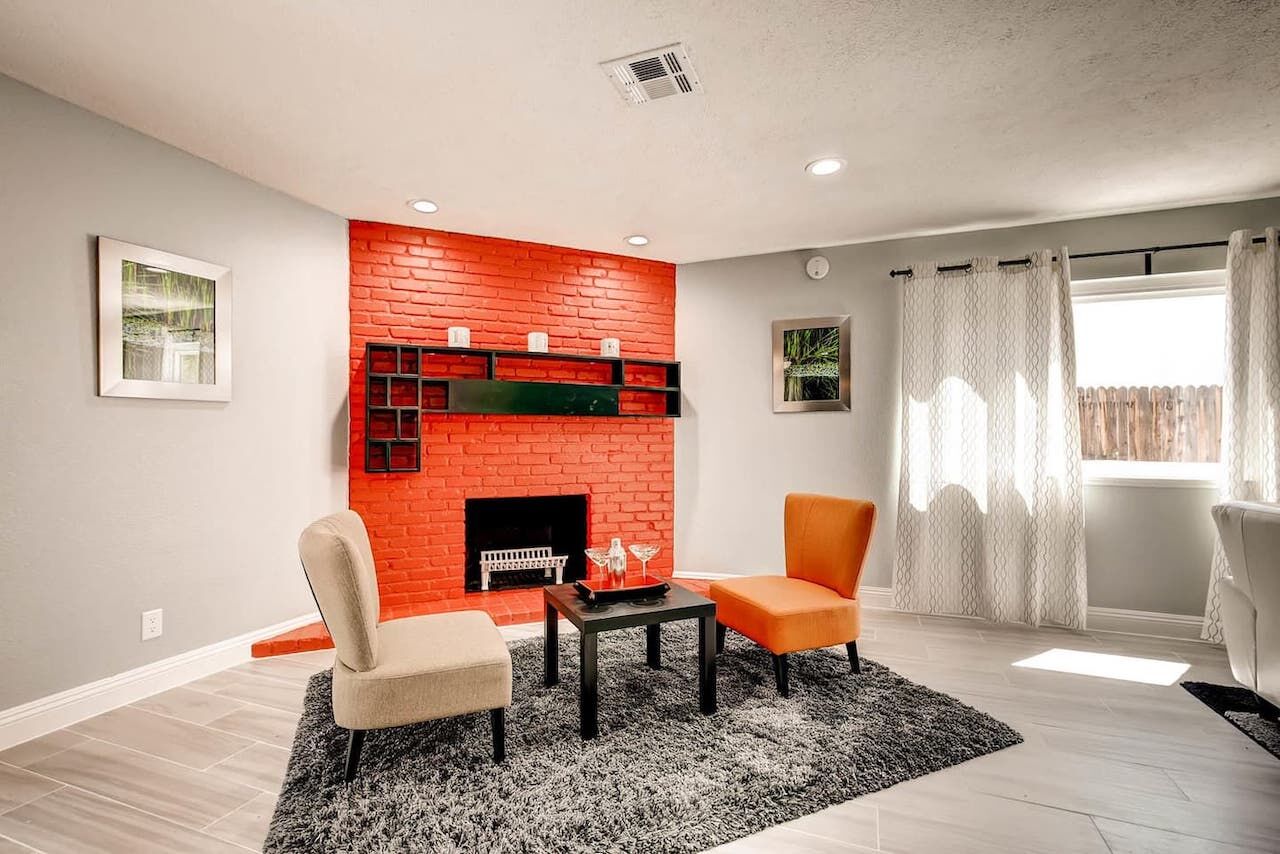 This place has a minimalist style but with lots of pops of happy colors and high-end finishes. It embodies the desert aesthetic and does so at a rate that makes it a good option for couples and small groups, even though the home is suitable for up to eight guests. Take some pics in front of the cactus garden, lounge out in the comfortable interior, and prepare gourmet meals at home before heading out to experience the city. The yard features a bocci court and cornhole.
Eight guests, three bedrooms
Price: $300 per night
A very nice, clean home close to downtown with a nice pool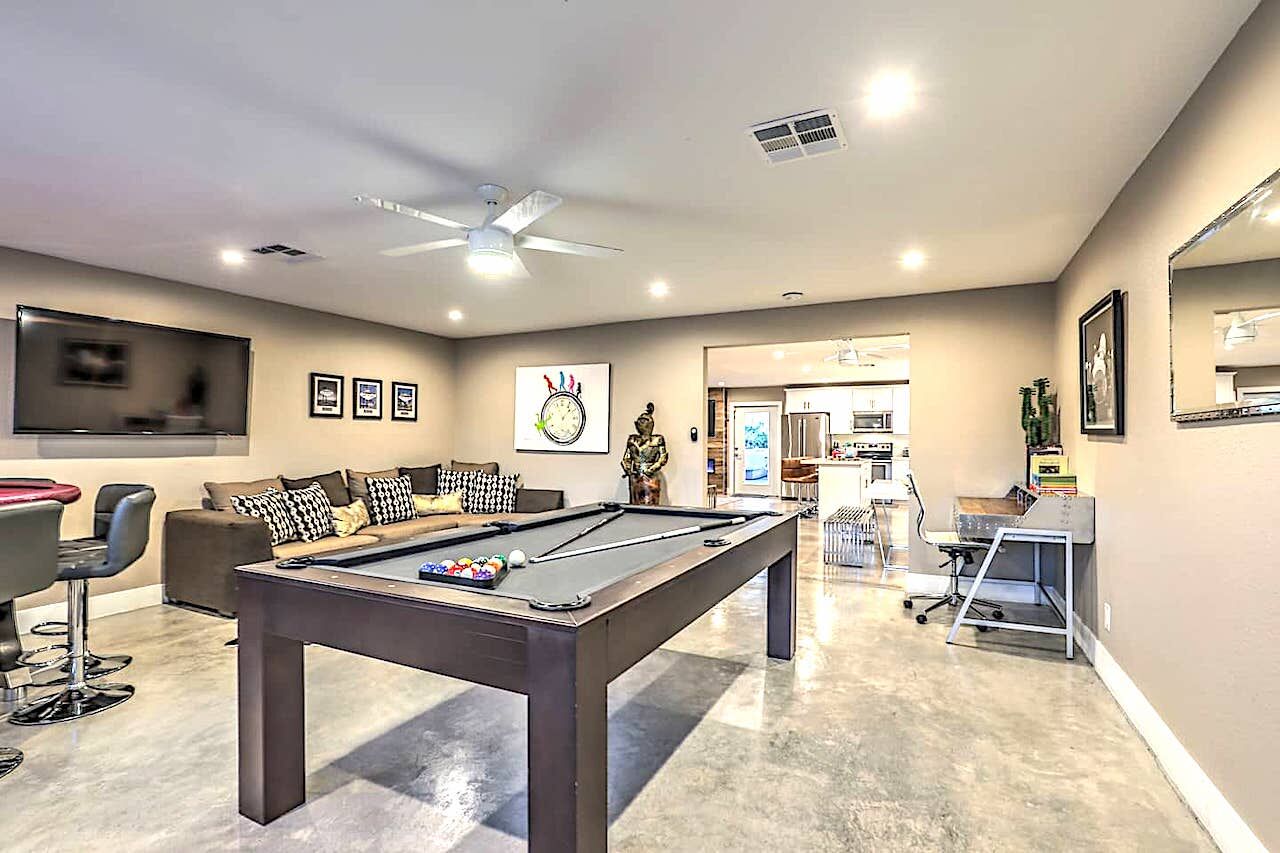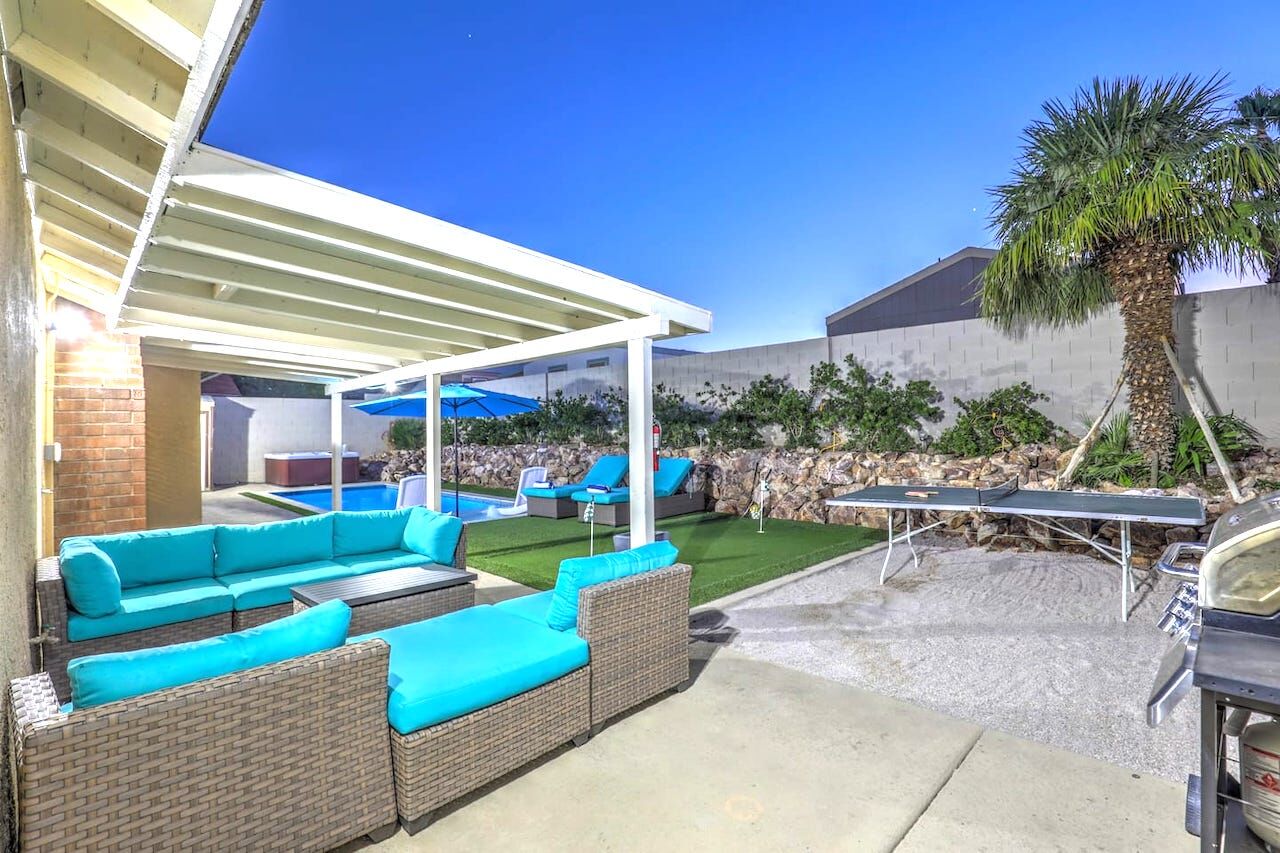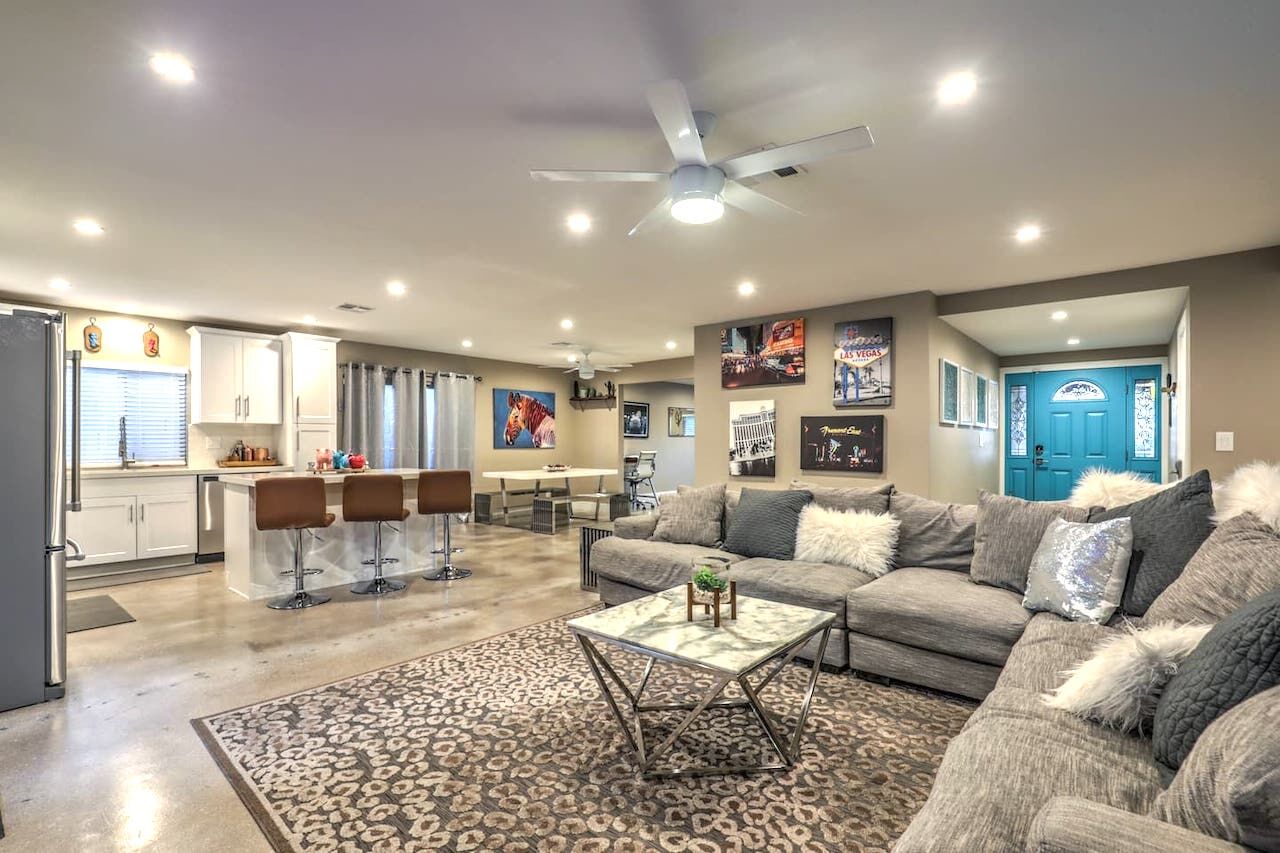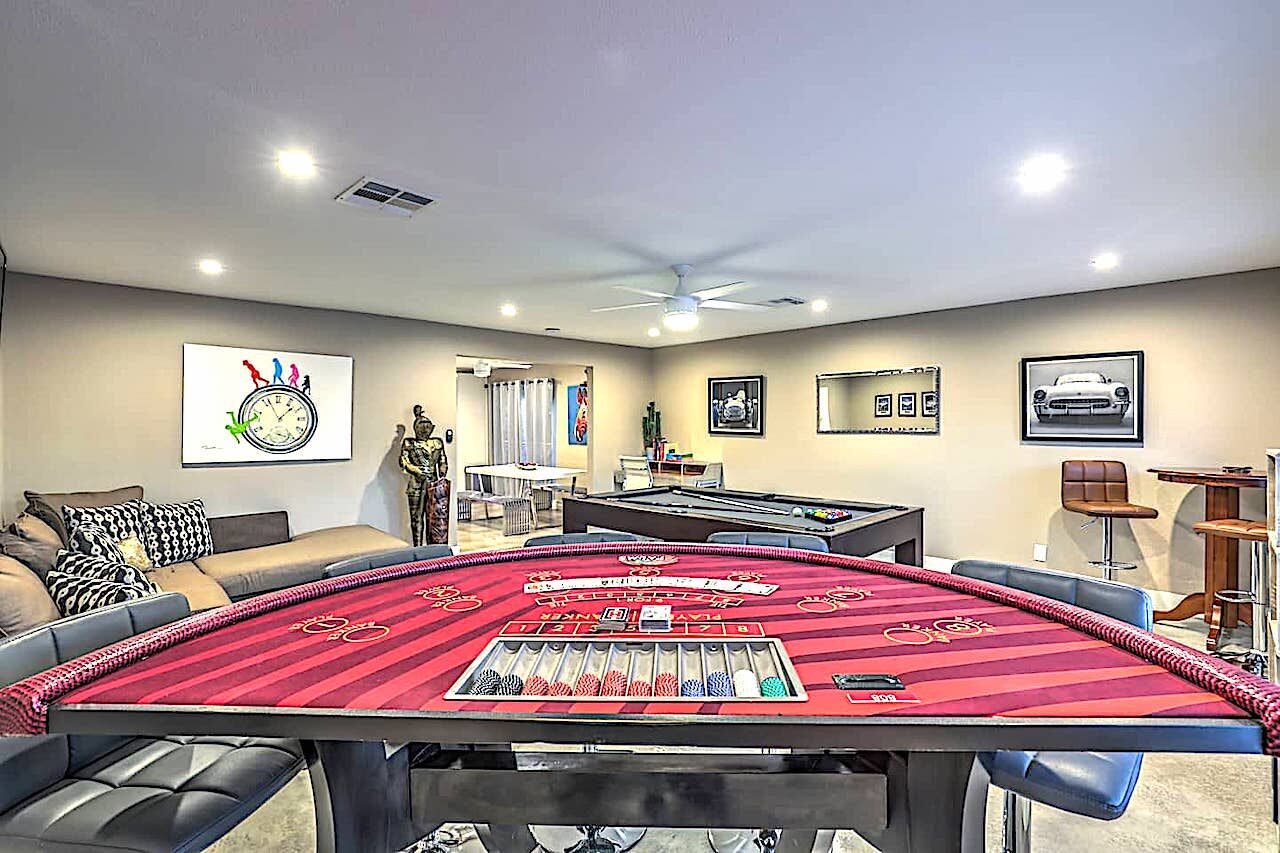 Affordable and conveniently located for people who want to do both downtown things and Strip things, this place has a great kitchen, living room with lounge area, and a pool deck with ping pong and games — there's a pool table, too, and a blackjack table, so you can get your game on and warm up before hitting the casinos. The home has a nice pool, a desert theme, and is perfectly suited to both groups and families.
Tropical retreat with heated pool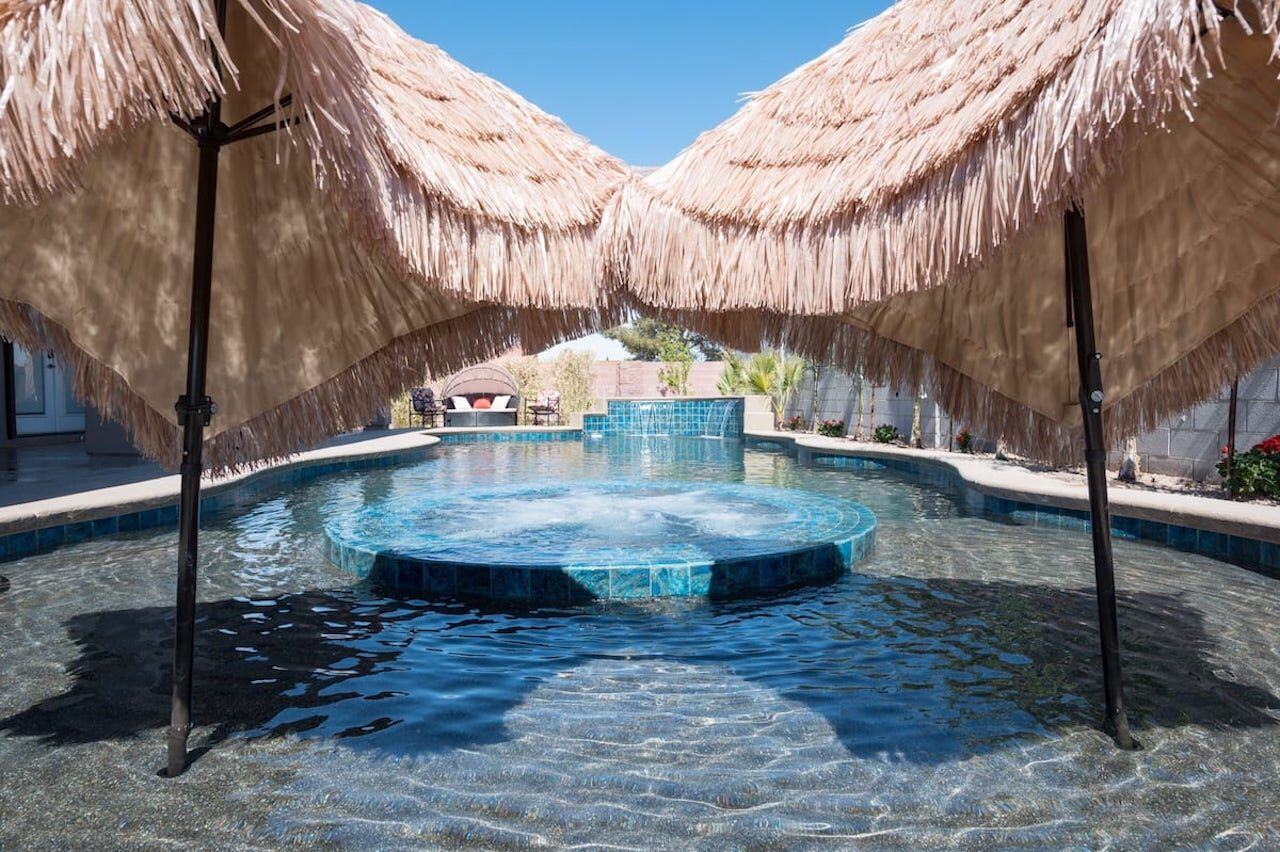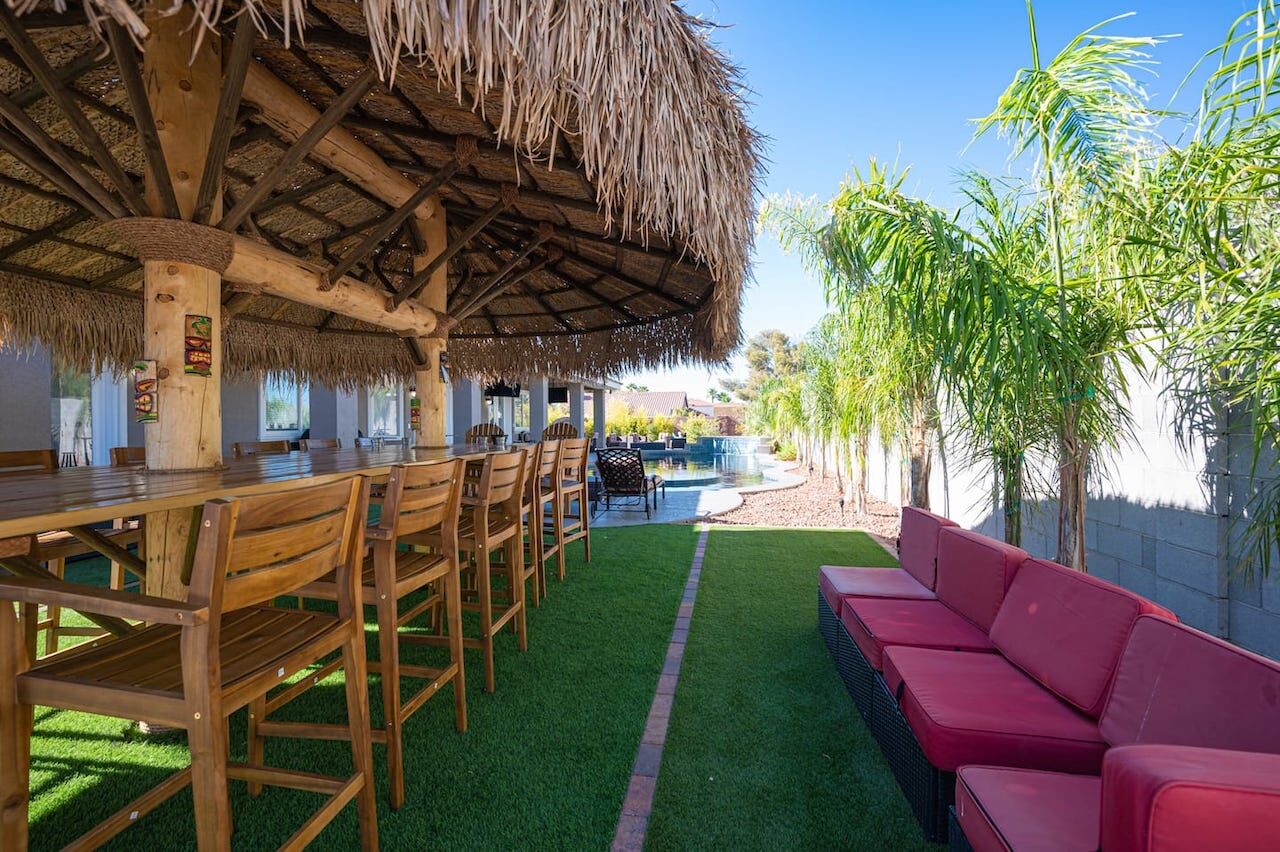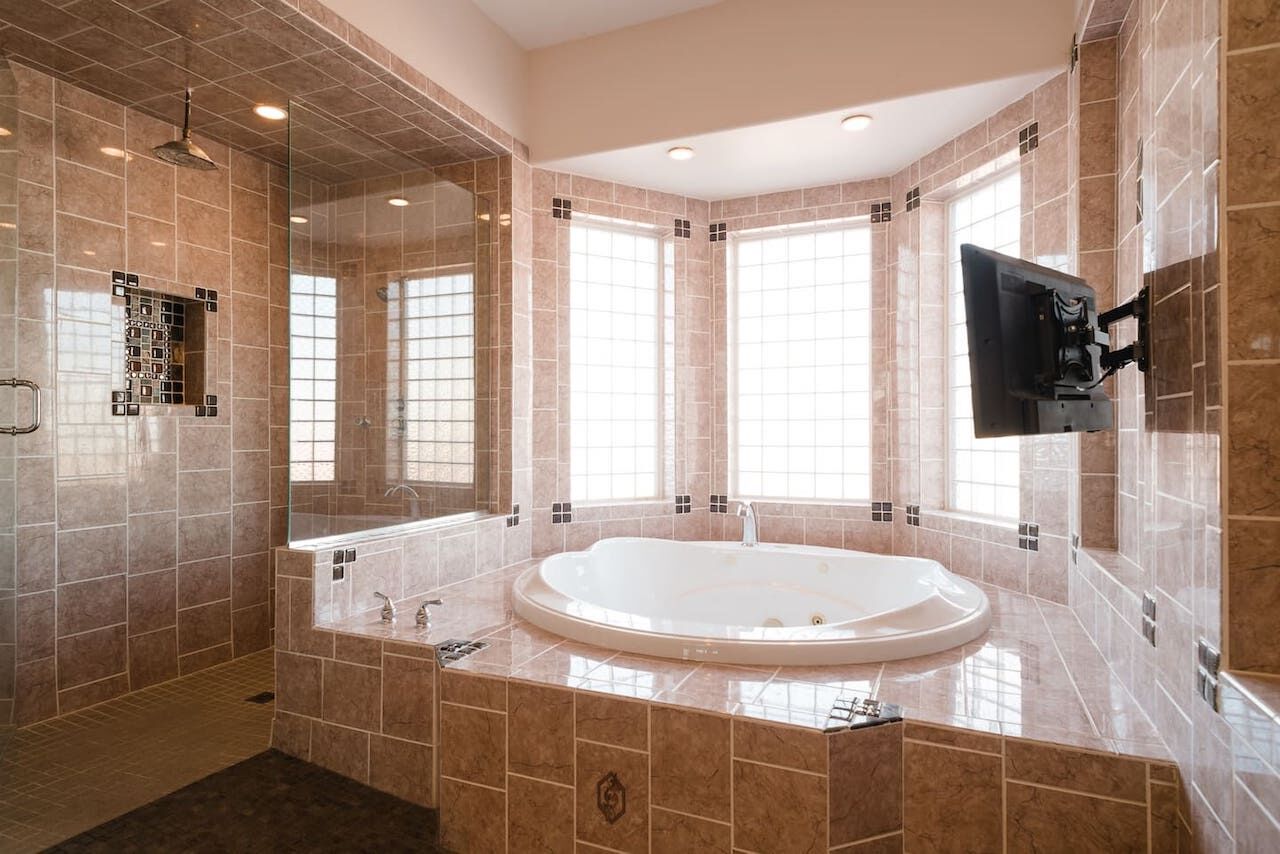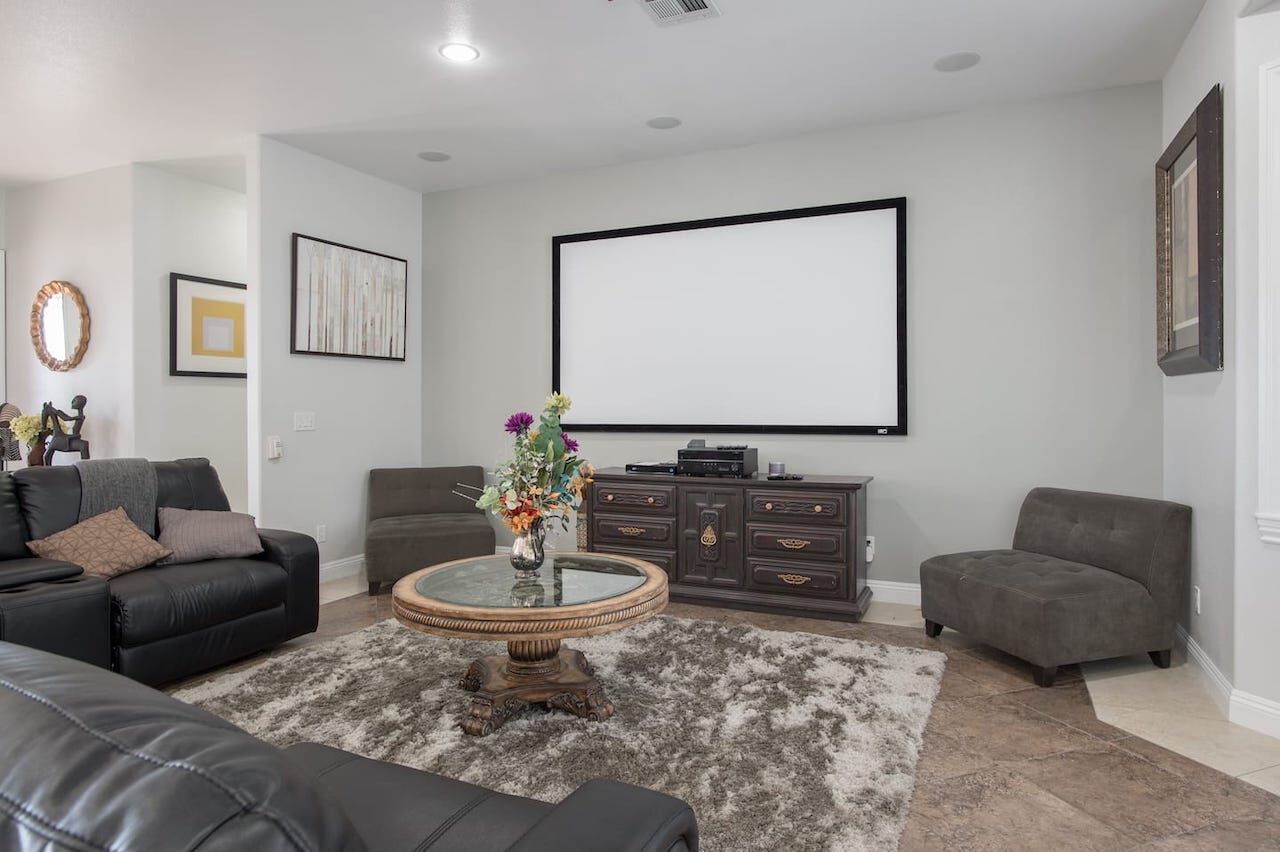 At this luxurious cabana house, you'll find a cabana surrounding a giant pool — waterfall included — as well as a high-class kitchen with outdoor table seating for your entire crew.  There's a smoker and grill, a flat-screen TV on the patio, and more lounge space than a room at any resort on the strip. And that's just outside. Also note the indoor jacuzzi, bright interior and high-thread-count sheets in the bedrooms, and you're set for a Las Vegas stay that feels as much like you're at a high-end resort as at a private pad, but hey — that's what Airbnb Las Vegas properties should be, right?
What did you think of this story?