in paid partnership with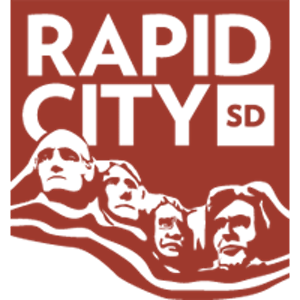 Sure, Rapid City is the gateway to Mount Rushmore, the Black Hills, and the Badlands, but go on. Lift the tourist veil. Get off I-90 and live a little. It's only then that you'll find a Midwestern city ready to defy your expectations, with music festivals, some serious elevation, and even a few European touches.
The city, it turns out, is the heartbeat of these hills. Here are 10 facts that will definitely surprise you — even if you've already pinched Washington's face between your fingers.
1. You can touch a piece of the Berlin Wall.
No, you haven't been redirected to a different article — there's a Berlin Wall exhibit in the center of Rapid City. In fact, it's one of the biggest Berlin Wall exhibits in the nation. Located in Memorial Park, this isn't some cheap knockoff — it includes actual sections from the Berlin Wall (that are free and open to the public to check out).
While at Memorial Park, take your time. Reflect. Walk and observe the displays, the WWII tank traps, the Veterans Memorial, Flood Memorial Fountain, and Memorial Lake. All of these elements are connected by picnic areas and pathways, and all have their own story.
2. Downtown is the top.
While plenty of South Dakota is forever flat, Downtown Rapid City is anything but. It actually rests on a peak — you're standing at 3,202 feet, just in the shade of Black Elk Peak (to the southwest) with a summit of 7,242 feet. Now you know why you're having that slight difficulty catching your breath walking around downtown.
And looking over it all is Dinosaur Park. The unmissable highlights here are the seven 80-some-year-old concrete dinos, and if you've got kids in tow, they're welcome to climb all over them. But what you'll probably appreciate from this spot are the views of the Badlands in the distance, the city below you, and the reminder that dinosaurs once reigned supreme right here — actual dino footprints have been found not too far away.
If you've never been to South Dakota, prepare to be blown away by what you see from the vantage point of Dinosaur Park. This region will forever undo any images you have of the prairie — think fields of sunflowers, granite spires, some of the world's longest cave passages, and Martian-esque badlands (all within driving distance of the city locals refer to simply as "Rapid").
3. Between the art galleries lies…just about everything.
There are several cool art galleries in Downtown Rapid. Don't miss the Suzie Cappa Art Center, where the Black Hills Works project provides a place for artists of all abilities to express themselves. Shaviq Studio & Gallery is a good stop for just about anything local — art, sure, but handmade goods, too. For a one-of-a-kind souvenir, head here.
And hiding among all this class? Art Alley. Walking through it, you'd have no idea where you are. It sits between 6th and 7th Streets and is one giant public art project that takes the form of constantly changing colors and amazing graffiti. Established in 2005, it's getting grander all the time.
4. You can go on a scavenger hunt for all the Presidents.
You know the four granite faces carved in nearby Mount Rushmore, but Rapid City doesn't overlook the 40-some other famous guys. As you stroll along the sidewalks of downtown, look out for 43 (and counting) bronze statues. These life-sized replicas range from John Adams and Thomas Jefferson to Richard Nixon and Millard Fillmore — and, yes, that last guy was a U.S. President.
Bonus points if you can spot the seven presidents with hats.
5. In spring, we go back to the wilderness…
After spending the winter ice skating at Main Street Square and getting our snowshoe on in Custer State Park, things get a little more…wild. For starters, there are the baby bear cubs at Bear Country USA and the baby buffalo, bighorn sheep, antelope, deer, elk, coyote, prairie dogs, and burros at Custer State Park. Take a drive down Wildlife Loop Road and you'll see for yourself. With all the animals awakening — and the hills popping into kaleidoscopic color — it's probably the hardest season to stay indoors.
But that's just as well, because on April 21, most of the "national everythings" are free (which is great, since Rapid City is super close to four of the state's most important and beautiful national parks, monuments, and memorials). And come May 18-20, South Dakota's state parks have their Open House Weekend. Get that sunscreen ready!
6. …and summer and fall are just as wild.
Both seasons are prime for getting outdoors — start off easy with a cruise down Needles Highway, Spearfish Canyon Scenic Byway, or through Skyline Wilderness Area. All these routes will make you feel like you've stumbled on a secret national park, with granite sprinkling the landscape everywhere you look.
Then it's time to get out of the area. Go rock climbing in the Needles-Sylvan Lake District. Hike just about everywhere. Take on the Crazy Horse Volksmarch. Float a canoe on Canyon Lake. Bonus: Everything we just mentioned is super near Downtown Rapid City.
7. The city hosts a huge powwow.
Celebrating its 32nd year in 2018, the annual Black Hills PowWow — or, rather, the He Sapa Wacipi Na Oskate — is one of the premier American Indian events in the U.S. Hosted at the Rushmore Plaza Civic Center every October, the gathering sees hundreds of dancers and singers from around North America, along with thousands of onlookers and other participants. Over the course of three days, the city lights up with American Indian tradition — and modern events, too. There's the He Sapa Win pageant, a parade, fine arts shows, dances, archery, hand-game tournaments, and the chance to win $33,000 in prizes in a singing contest. (Hey, can't win if you don't play.)
But celebrating the area's history requires more than just a three-day event. Make sure to check out Prairie Edge Trading Co & Galleries for American Indian wares and The Journey Museum & Learning Center for both traditional and contemporary looks into South Dakota's indigenous cultures. Both are good to go all year round.
8. There's a true British pub in South Dakota.
Get your bad British accent ready. At the Wobbly Bobby (say that three times fast) in Downtown Rapid, you can cozy up to a traditional bar offering more varieties of English ale than you can handle. Bet you weren't expecting that one.
There are plenty of local craft beer options, too — try the Firehouse Red from Firehouse Brewing Co., based right here in Rapid, or the Canyon Cream Ale from Crow Peak Brewing, out of Spearfish.
9. The local summer music festival is free.
The words "free" and "music festival" will get most people's attention, and here in Downtown Rapid, that's been the case for decades. For more than 30 years, the Hills Alive Summer Music Festival has been held in Memorial Park each July. Bring sunscreen, bring your friends, bring a blanket, and bring your appetite — there are tons of vendors, too.
As a family-friendly festival, there's plenty to do for the little ones, including a bouncy-house village and a children's tent. Lots of people come out for the three-day event, with around 20,000 showing up each day in previous years.
10. Downtown Rapid is your portal to everything good in South Dakota.
Blocks of art. Dinosaurs. European and Native American history. Beer, beer, beer. Live music. Rooftop bars. And that's just what's inside Downtown Rapid.
Then there's Mount Rushmore, Crazy Horse Memorial, Badlands National Park, Custer State Park, Needles Highway, Sturgis Motorcycle Rally, Wind Cave National Park, Jewel Cave National Monument…when it comes to awesome day trips out of Rapid City, there's almost too many options. Which will you choose?