in paid partnership with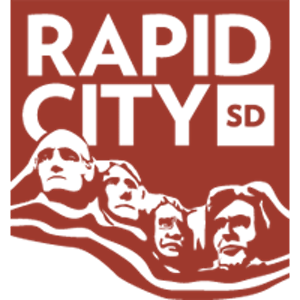 Rapid City occupies a unique position in the American landscape, sitting the confluence of two starkly different types of terrain. To the east are the Badlands and beyond them the endless prairie; to the west, the forested peaks and rocky outcroppings of the iconic Black Hills. You can find adventure pretty much anywhere you point yourself — or even if you're just staying put in town. From wild animals to even wilder nature, the Rapid City region is rugged and awesome. Here are eight outdoor adventures that prove it.
1. Exploring the Black Hills on horseback
When you think of these hills, images of cowboys should come to mind — that's very much still a part of the culture around here. And while theoretically you'd fit in arriving on the horse you rode in on, that's not really feasible for most travelers to the Black Hills.
But folks here have you covered, and your biggest concern will be deciding which type of horseback riding you want to do. There are plenty of companies that will take you riding all over the region, and you can choose from organized tours, trail rides, and even horse camping. This is one great way to see the true scale of South Dakota adventure.
2. Cycling a century on the Mickelson Trail
Bike lanes alongside busy highways is not what we're talking about. Nope. This is the full glory of a crushed limestone bike path traversing the entire Black Hills National Forest from north to south — that's 109 miles to spin to your heart's content, past the backwoods, meadows, mountain peaks, and creeks along the Mickelson Trail. The whole thing is well maintained and incredibly scenic.
Not feeling the full 109? Not a problem. There are more than a dozen trailheads, each with car parking, that let you pick and choose different sections to try. And you won't be alone on this bike trail — for many South Dakotans, it's a rite of passage to cover the full length at least once.
3. Mountain biking and rock climbing without ever leaving city limits
Given the terrain that surrounds Rapid City, you should expect to find a legit adventure spot a stone's throw from downtown. That's how Rapid rolls. And that's exactly the story with Hanson-Larsen Memorial Park, rising to the northwest of town (yes, the views are incredible).
Also known as M Hill, the park is a mountain biking hot spot, with 18+ miles of world-class trails (great for hiking and trail running too, incidentally). The network of single track allows you to put together rides of varying difficulty. The park is also the scene for the Black Hills Mountain Fest in June, featuring competitive riding events along with food, parties, and even a film festival.
But Hanson-Larsen is no one-trick pony — it's also the type of place that climbers write home about. Crack climbing, top roping, and bouldering on the Vegan is what you can look forward to. That is, if you're game. Spectating is respectable, too!
4. Spotting ancient petroglyphs and wild horses
One heck of a combination, eh? You'll get both when you visit the Black Hills Wild Horse Sanctuary, where some 500 mustangs run free across 11,000 acres of dry pine savanna. Watching curly, Spanish, and American mustangs and Choctaw ponies roam the Hills is never a bad way to spend an afternoon.
And then it's time to time travel. Among sandstone canyon walls, Native American petroglyphs thousands of years old peer out at you in plain sight…if you know where to look. The sanctuary provides guided tours that take you right to them. Dozens can be spotted throughout the Black Hills if you have a keen archaeologist's eye, but at the sanctuary you get an up-close-and-guided opportunity.
5. Hiking Black Elk Peak and dipping into Sylvan Lake
Black Elk Peak is the highest place you can be in the Black Hills, the highest place you can be in the U.S. east of the Rockies…and the highest place you can be from the Rockies all the way to the Alps. We're talking 7,242 feet, so getting to this zenith will take some dedication to the trail. But once you find your way back down the mountain, you have a cool reward waiting for you.
It's called Sylvan Lake, the most popular of the five Custer State Park lakes, and you should jump right in. The water is right next to the Black Elk Peak trailhead, and it's about as top-drawer as lakes get. Jutting granite formations surround the shore, and there's a beach, boat rentals, and a lodge and general store for every convenience you could need.
JSYK: Sylvan Lake was the backdrop for the final scene in National Treasure: Book of Secrets, starring the one-and-only Nicolas Cage. You're welcome.
6. ATV touring…pretty much anywhere
Equinophobia — fear of horses — is a thing. ATVphobia? Less likely. Hitch a ride through the Black Hills the modern way with an ATV tour from any of the ATV rental providers in the region. Services run the gamut, from the here's-a-map-and-good-luck types of experiences to professionally curated, guided tours. It's all about how confident you feel on the seat of a four-wheeler in this type of territory.
The Black Hills National Forest Off-Highway Vehicle Trail System gives you more than 650 miles of ATV trails to choose from, including some just out of town. If you're on your own, definitely grab a Black Hills Forest Service map (along with the required permit). It'll keep you off private property and out of damaged or sensitive areas, and it's updated annually. With so many trails, there's no need to trailblaze — keep in mind this is a national forest, after all.
7. Scaling the Needles
Get ready to thread the eye of the needle…with your body. In the northern section of Custer State Park, rock climbing gets real. Here's the gist: Along the 14-mile-long Needles Highway section of SD-87 are these skinny granite spires spiking into the air. At their tallest, you've got three to four pitches perfect for multi-pitch climbing, with names like Middle Earth, Cathedral Spires, and The Ten Pins. The crags, cliffs, grizzly peaks, and granite outcrops make a playground perfect for climbing, though note that the majority of the routes are old-school, with nuts and cams (but you can traverse most territory with minimal gear).
You'll know you're there when you're there. As your car climbs way higher above sea level than you realized the Midwest was capable of, your eyes will bounce around from navigating the hairpin turns to checking out the climbers already harnessed up on these popular peaks. But don't blink — once you drive through the narrow Needles Eye Tunnel, you're already leaving the scene.
8. Fishing the waters of Rapid City and beyond
From the creeks of the Black Hills to the reservoirs of the prairie, you have plenty of options if you're looking to cast a line on your Rapid City vacation. But even if you want to stay close to town, you're all set. The man-made Canyon Lake along Rapid Creek is within city limits, just off Route 44 as it climbs into the Hills, and is stocked with rainbow trout year-round. Head upstream from here along Rapid Creek and you've got what's probably the best brown trout fishing in the region.
Really, this is just scratching the surface. There are several different watersheds in the Black Hills, each with its own creek and fishing delights. But the best part — no matter where you choose to explore, Rapid City will be there waiting for you when you're done, with local craft brews and plates to re-energize, and a comfy bed to lay your head and rest up for tomorrow's adventure.