14 of the Best Airbnbs in Barcelona
Barcelona is among the most coveted destinations in Europe, and it's easy to see why — legendary nightlife, world-class dining and cafe culture, and an architectural style that is as well-preserved as the city's vibrant culture. Learn the Catalan language, take a local tour, experience the appetizing food, or roam the city and find unique treasures. For the easiest access to all Barcelona has to offer, book an Airbnb in the heart of the city. These are nine of the best Airbnb Barcelona rentals that put you close to the action, in style.
We hope you love the Barcelona Airbnbs we recommend! Just so you know, Matador may collect a small commission from the links on this page if you decide to book a stay. Listed prices are accurate as of the time of publication.
Penthouse with roomy terrace near Paseo de Gracia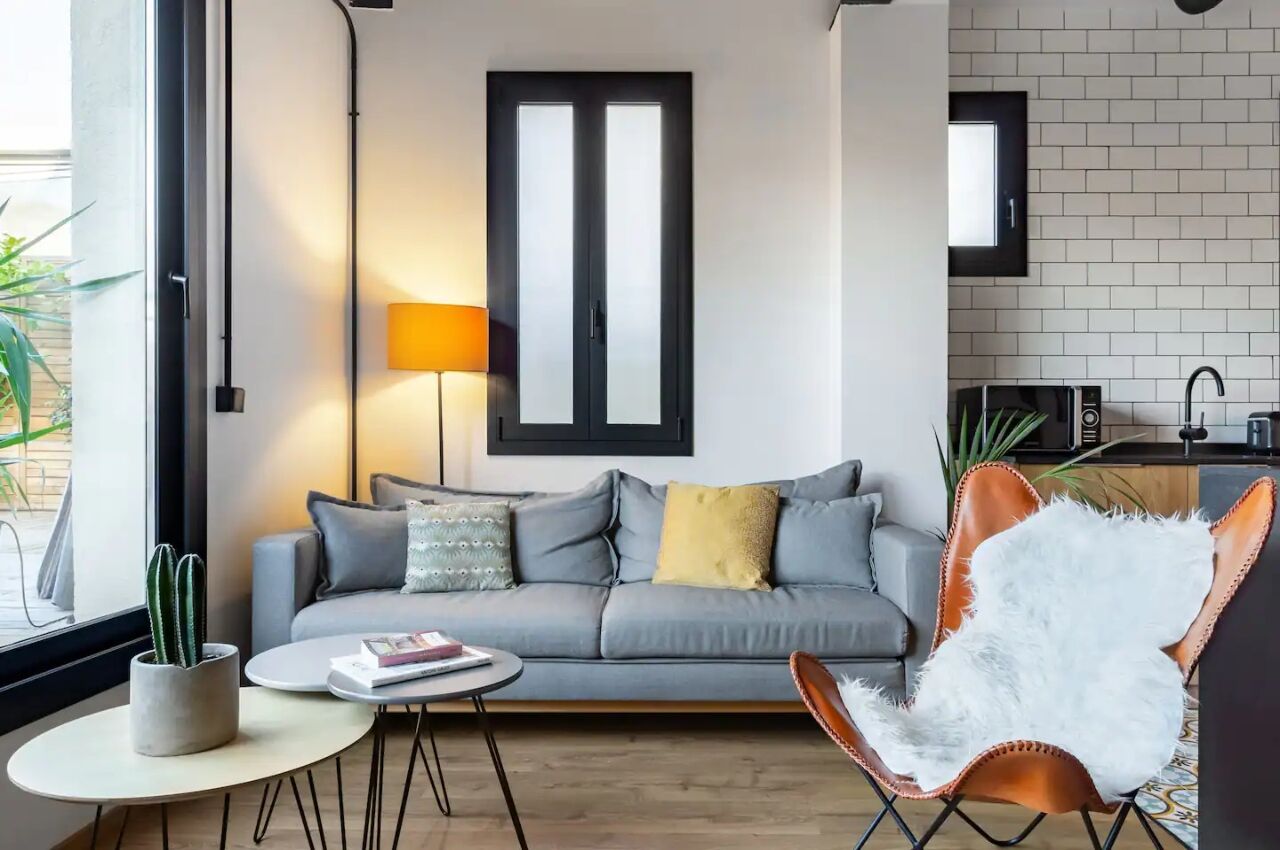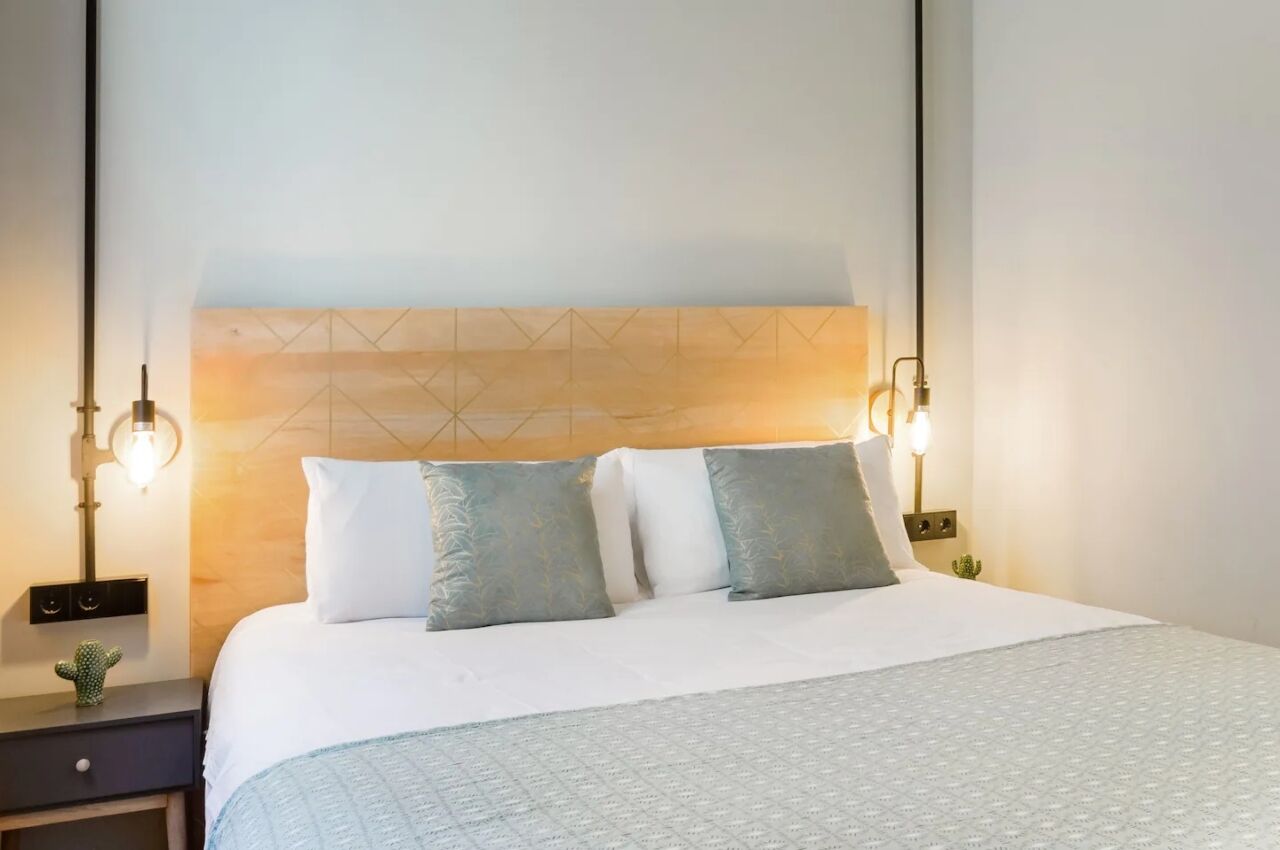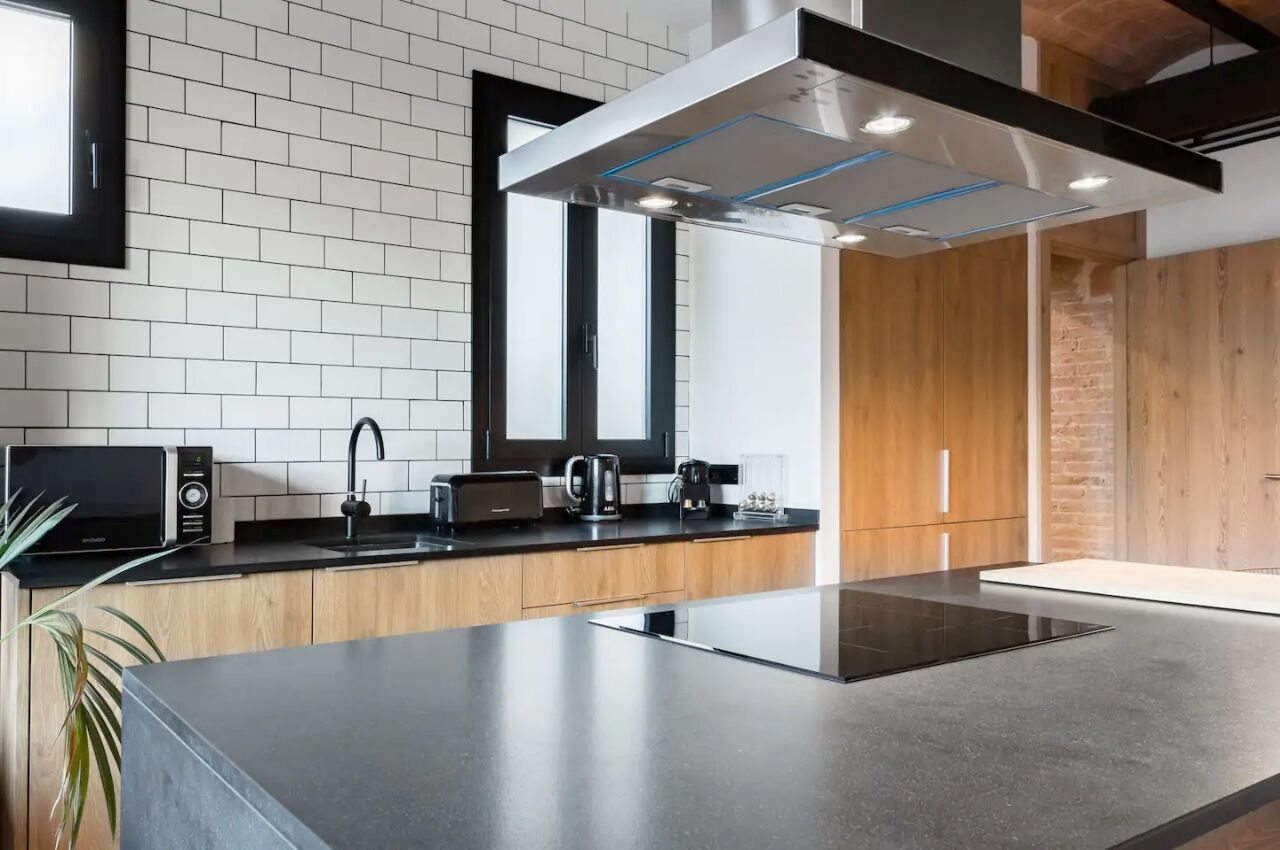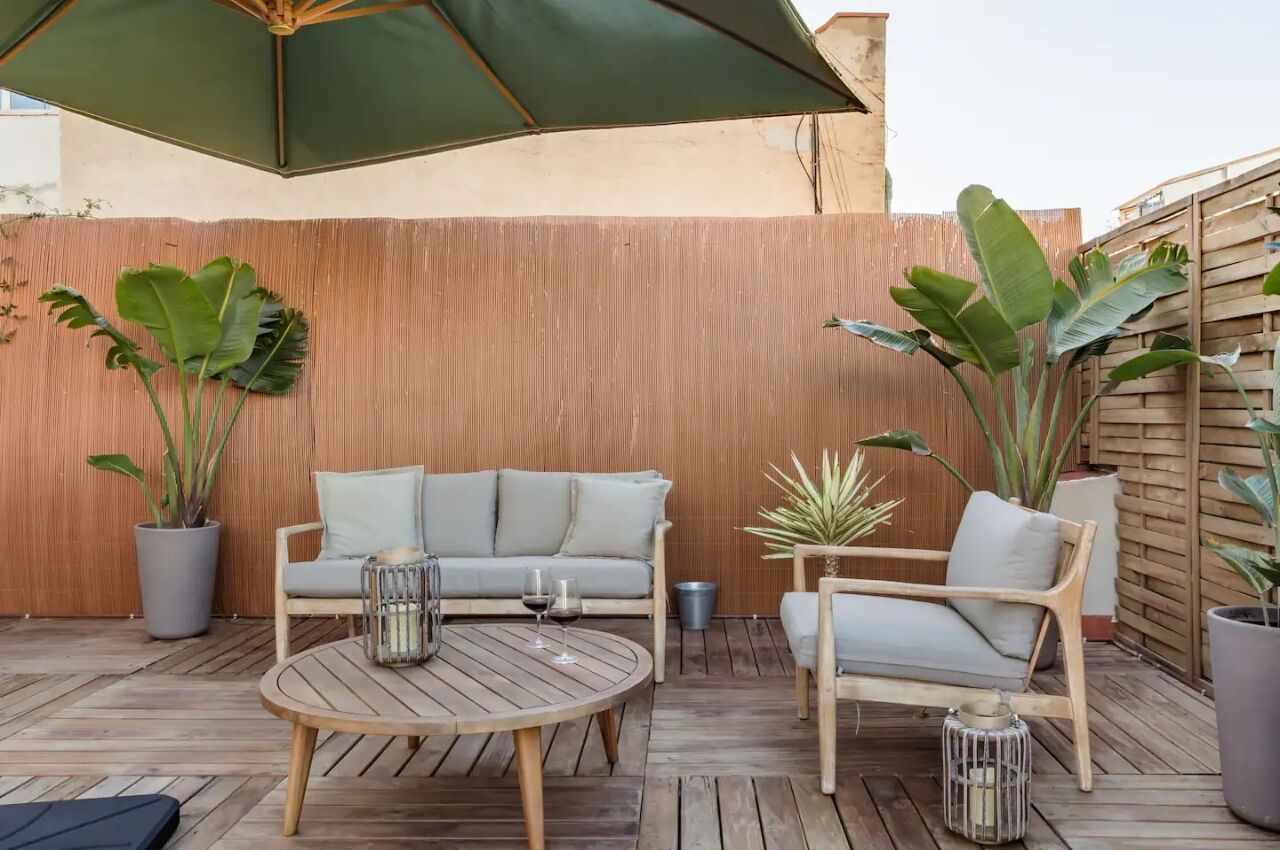 This spot is perfect for relaxing on the terrace and taking in the sun over a glass of wine. And that's just the outside. Inside this penthouse unit you'll find a modern kitchen, vaulted ceilings, and plenty of space to spread out and be productive (or just lounge in front of the television). Located in the heart of the city and not too far from the beach, you'll find this penthouse apartment to be convenient and charming, with a touch of local flare.
Four guests, two bedrooms
Price: $176 per night
Spacious Airbnb near Barcelona's city center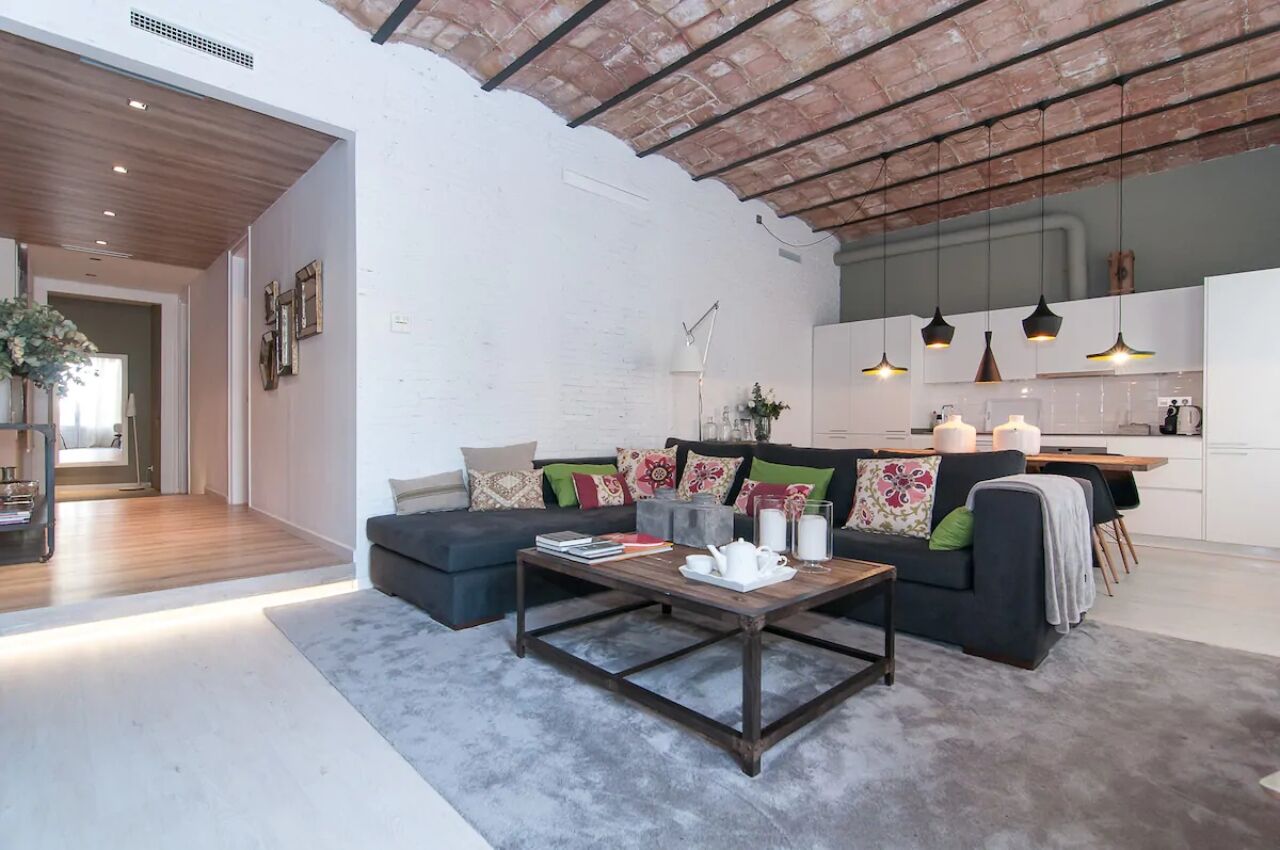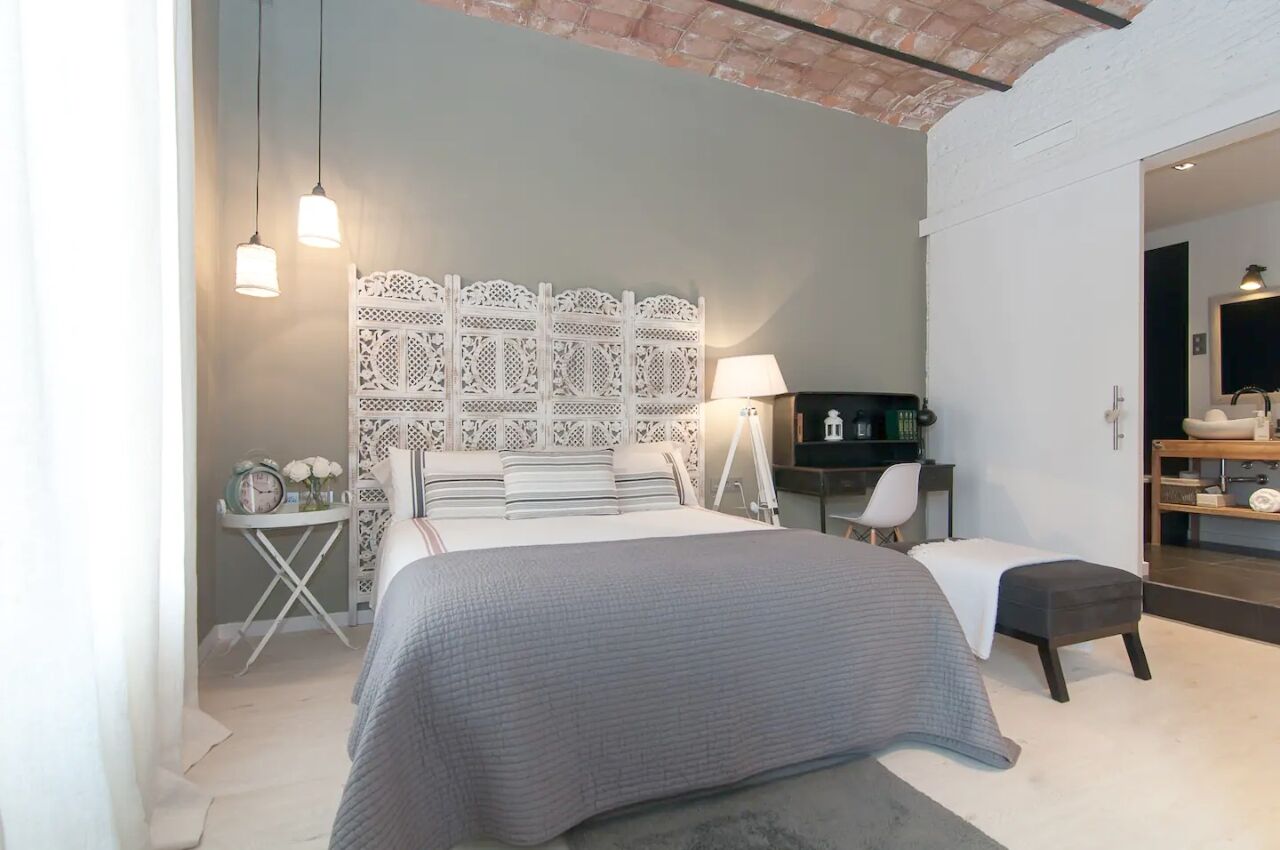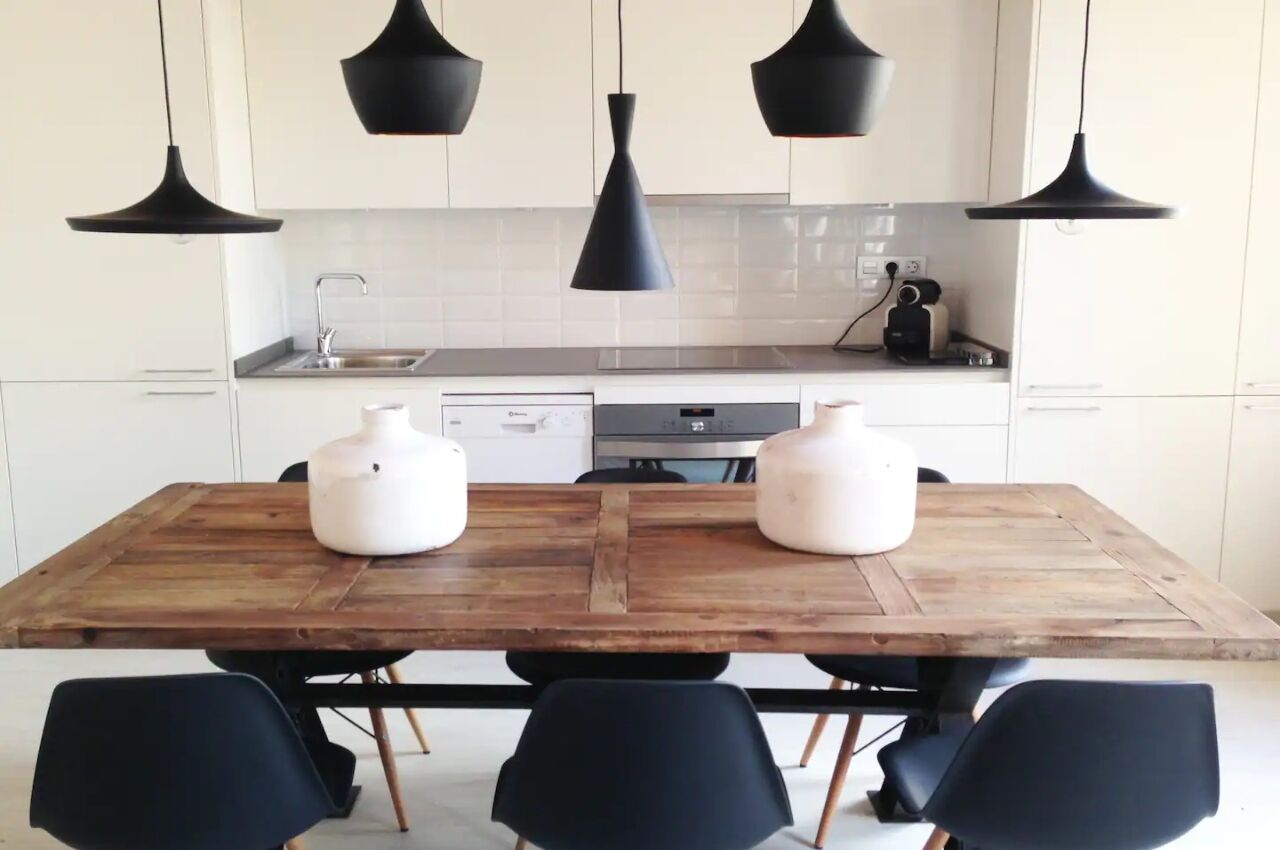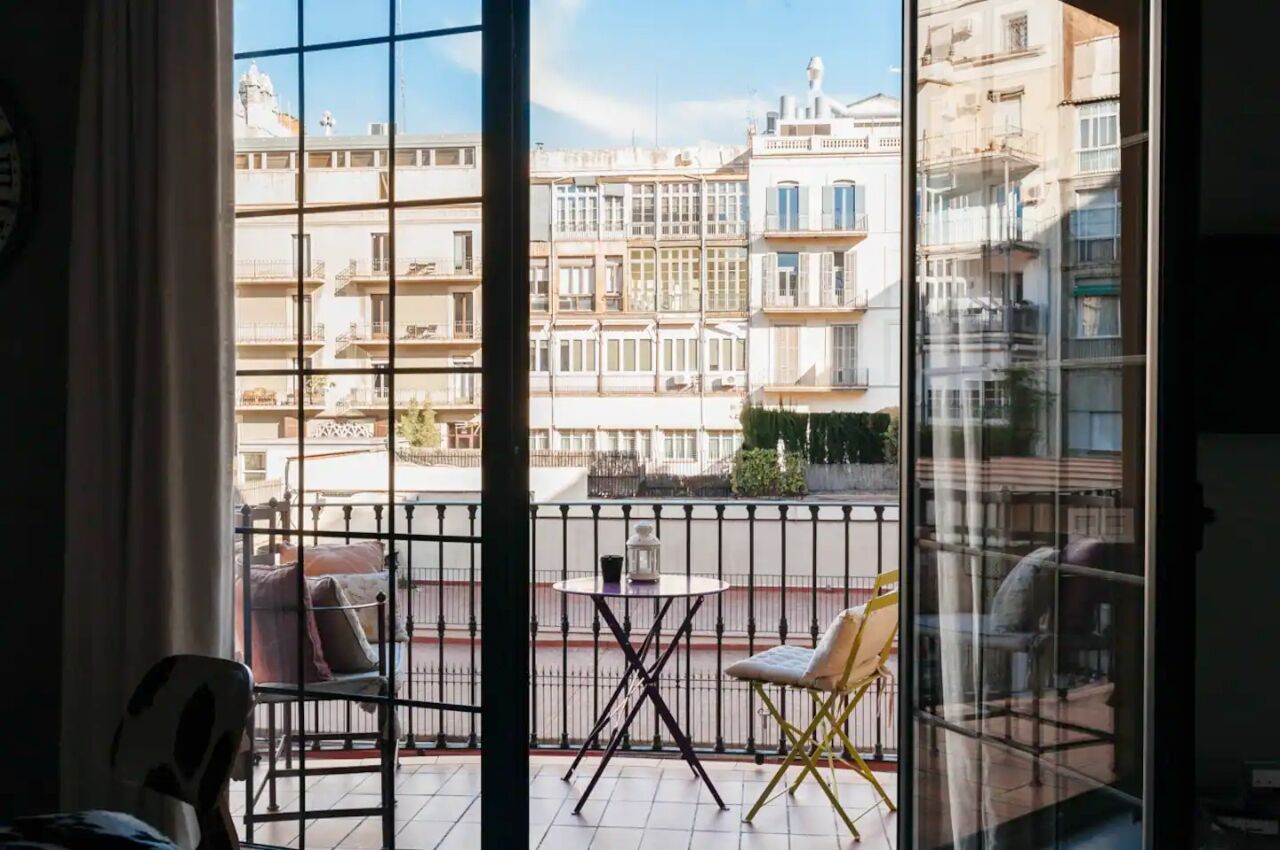 A short walk from Plaza Catalunya and the Paseo de Gracia metro station, this spacious apartment sleeps up to seven in three full bedrooms, with a bathroom to match each. Despite being in the center of one of Europe's most vibrant cities, the unit itself is secluded and quiet, a peaceful respite from the beaches, cafes, and museums likely to occupy your daily itinerary while in Barcelona. If you decide to spend a night in, take advantage of the well-equipped kitchen and prepare your own Escalivada.
Seven guests, three bedrooms
Price: $228 per night
Vintage concept flat in Eixample Derecha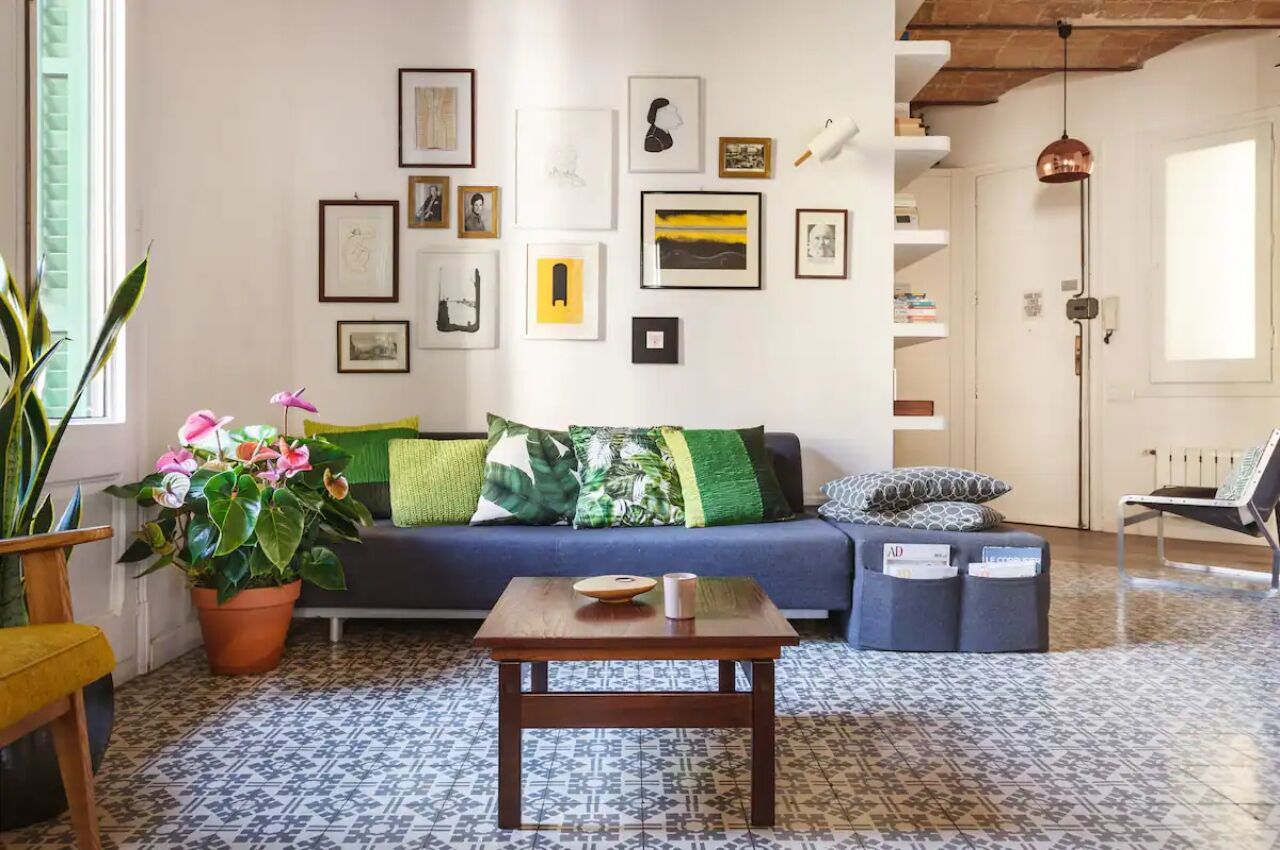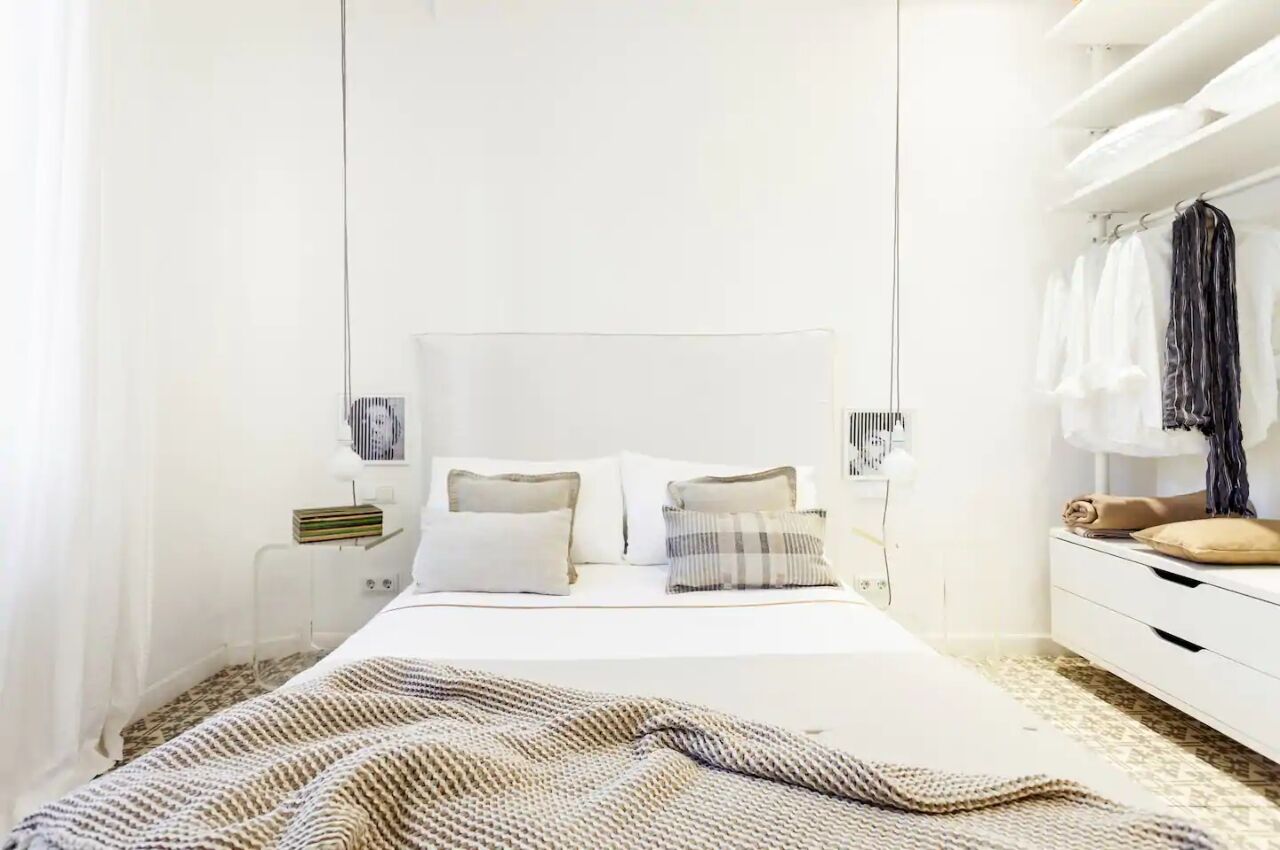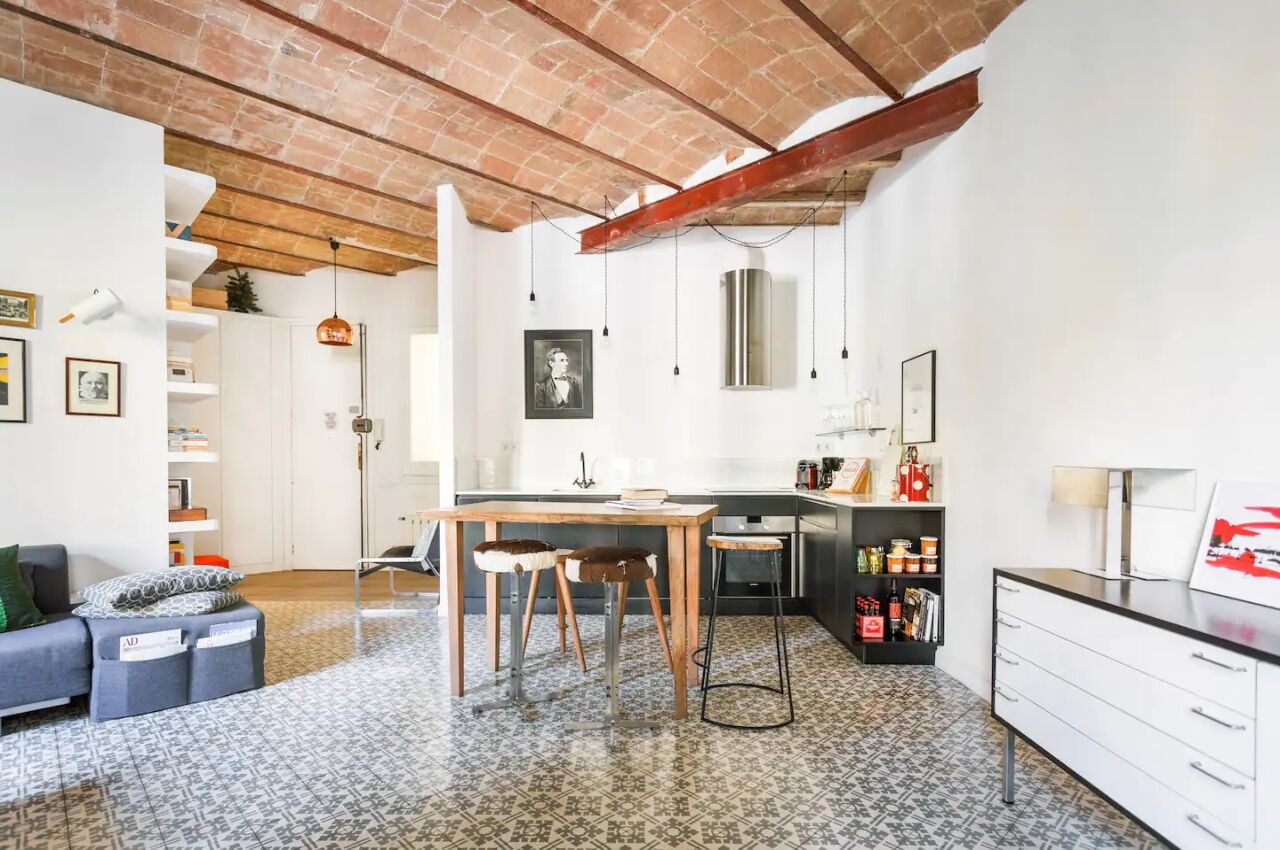 The owner of this vintage flat clearly has a taste for colorful art. In classic Barcelona style, the unit is defined by vaulted brick ceilings, but the yellows, greens, and blues of the adornments and decor give the unit a unique vibe. Nearby to trendy cafes, nightlife spots, and dining, this flat is also priced appropriately for a longer stay in the city, especially if you are traveling as a couple, family, or small group of up to five.
Five guests, one bedroom
Price: $117 per night
Barcelona villa in peaceful setting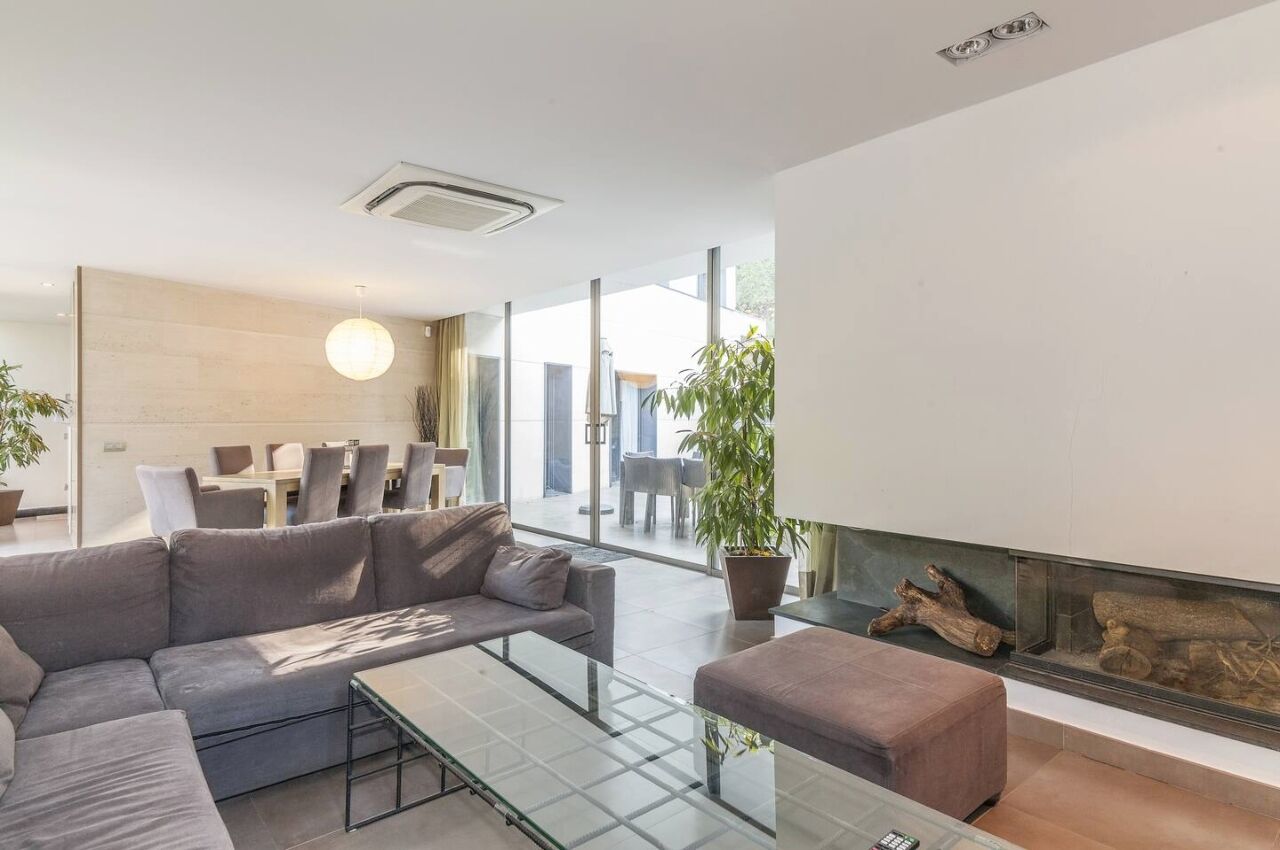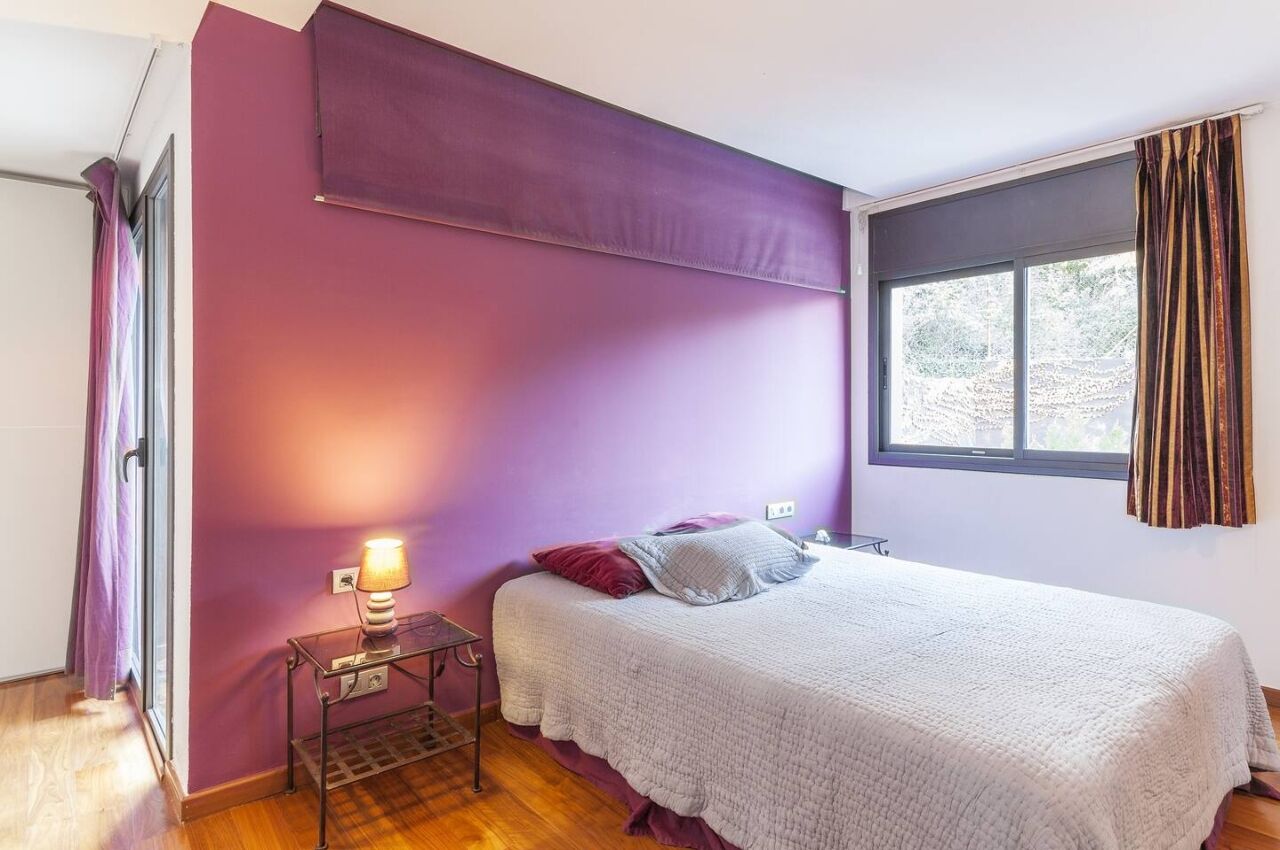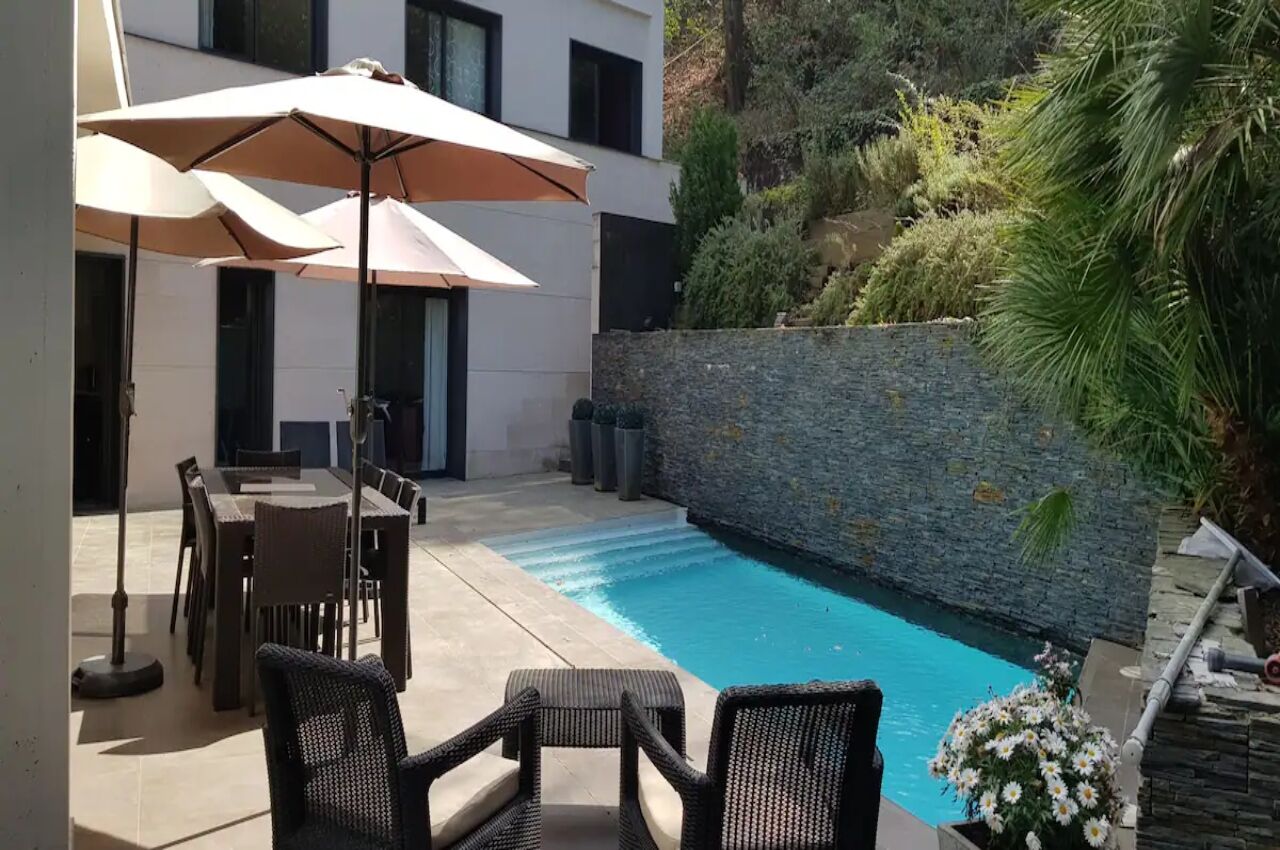 Set a short drive out of the city, this peaceful lodge comes complete with a pool and lots of space to lounge. Serenity is the vibe here, with nature taking a front seat and defining the stay as much as the well-adorned insides of this three-bedroom home. With large windows and fast internet, this house is perfect for a family or group of friends to set up basecamp for exploring Catalunya, whether that means a week in the city or a dash of escapes out to the countryside.
Six guests, three bedrooms
Price: $351 per night
Chic, sophisticated Airbnb in Eixample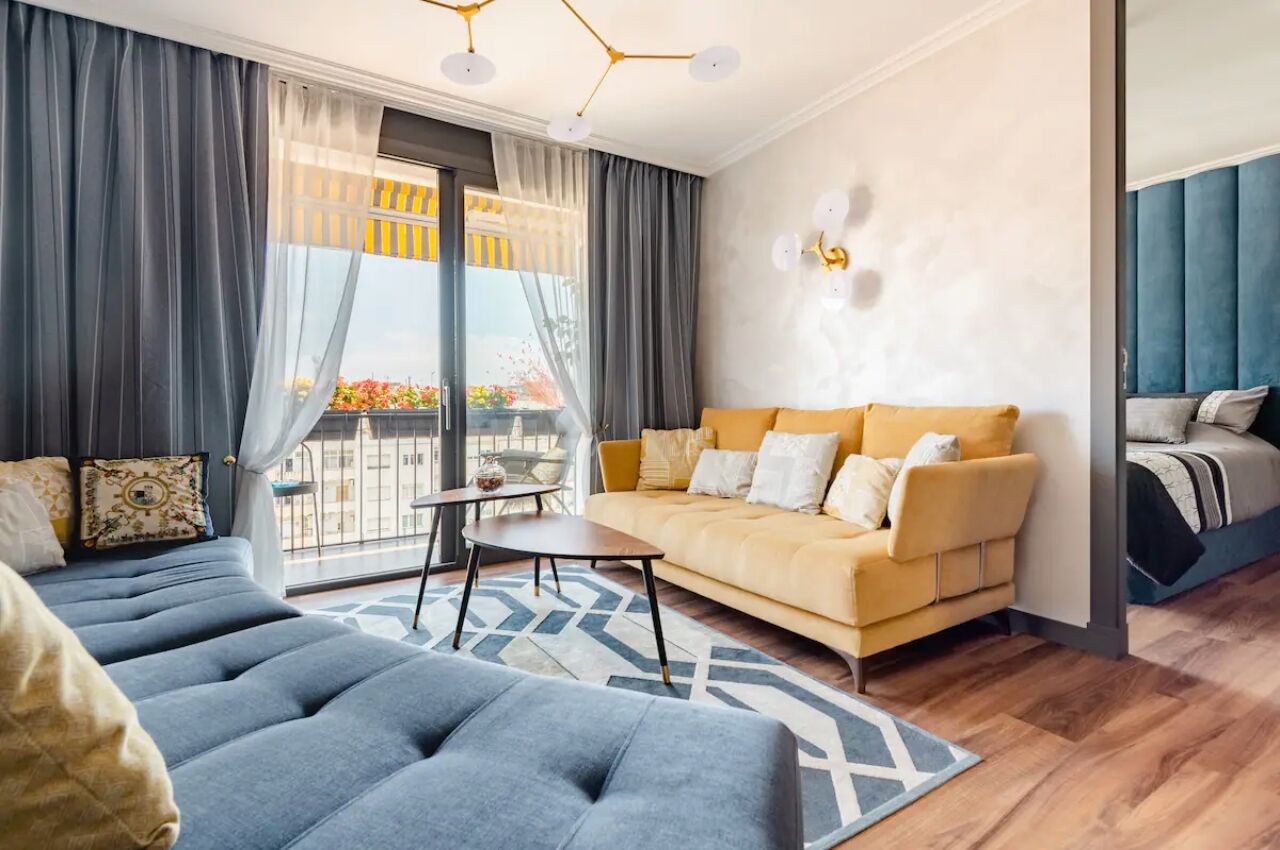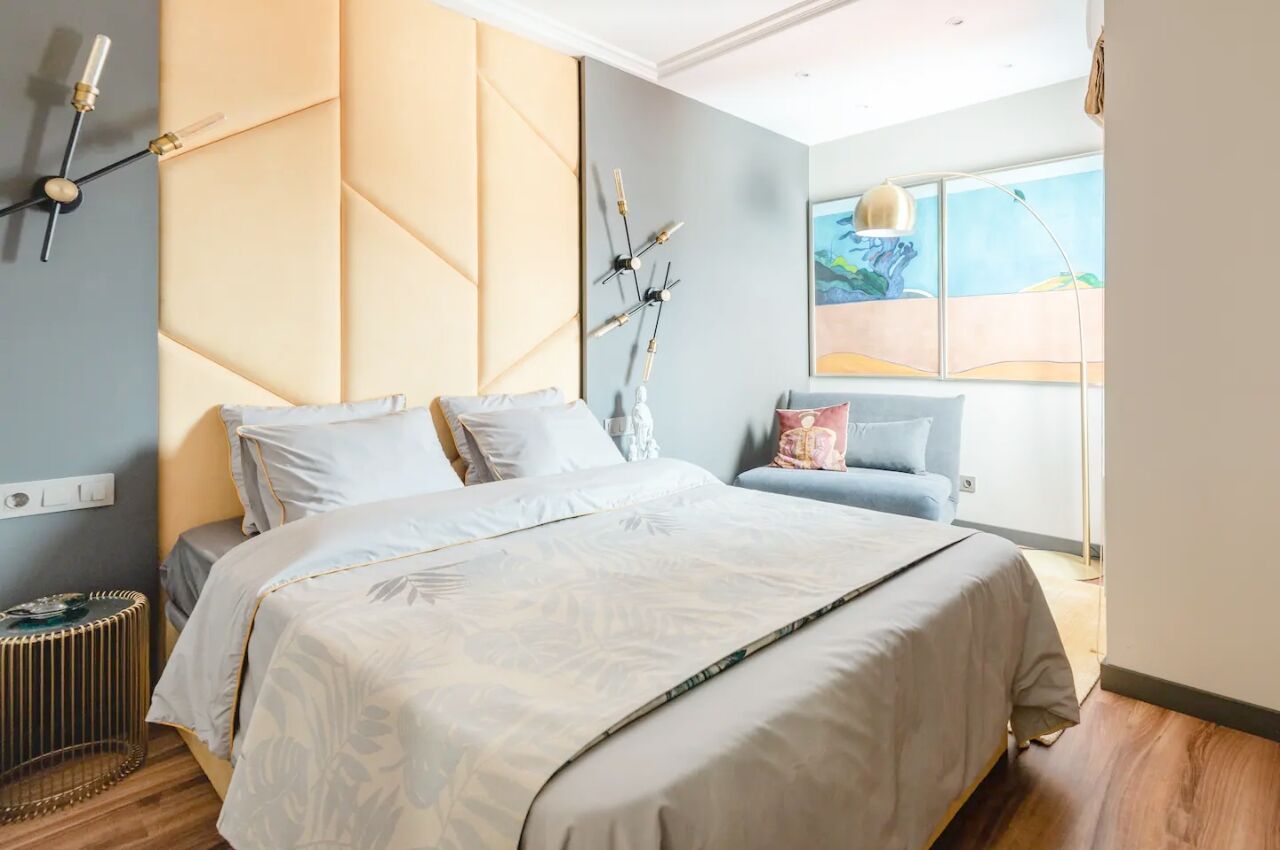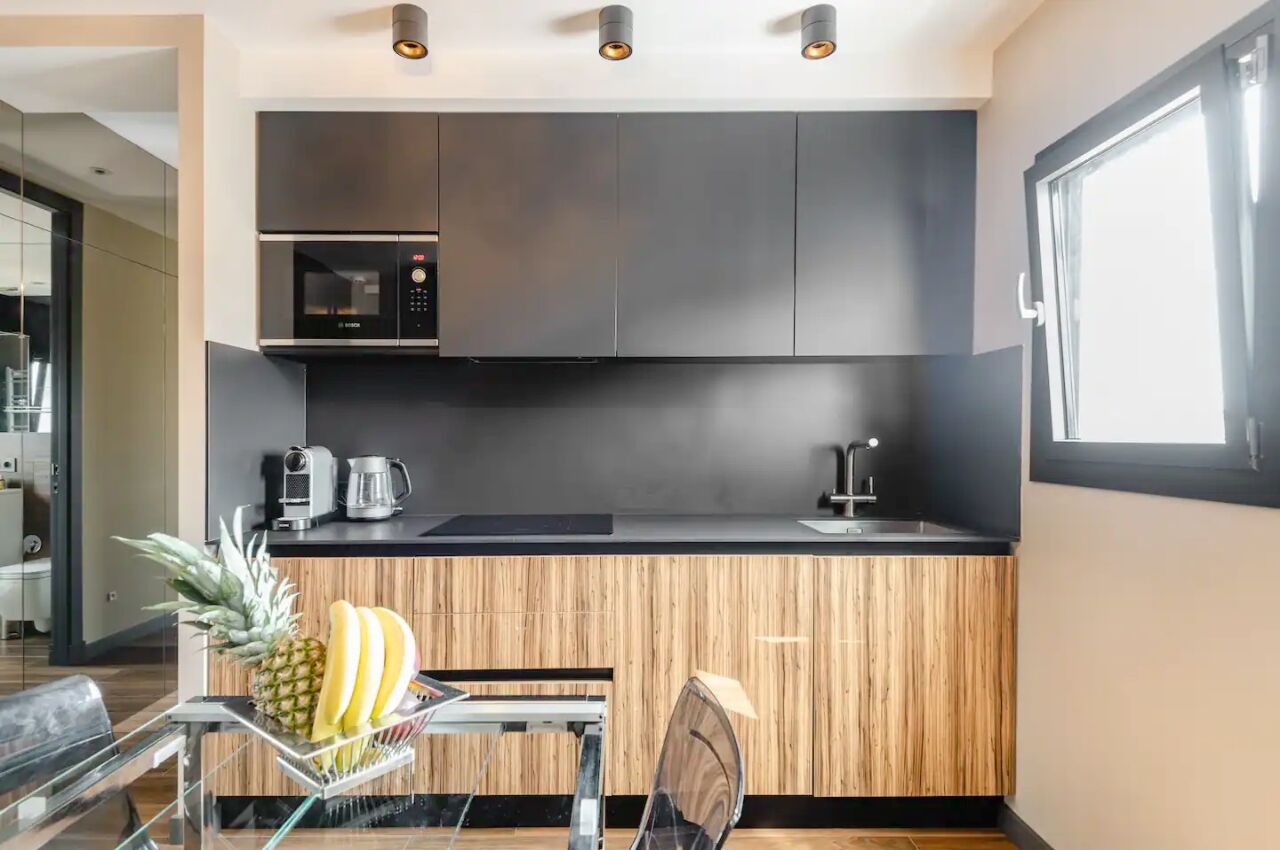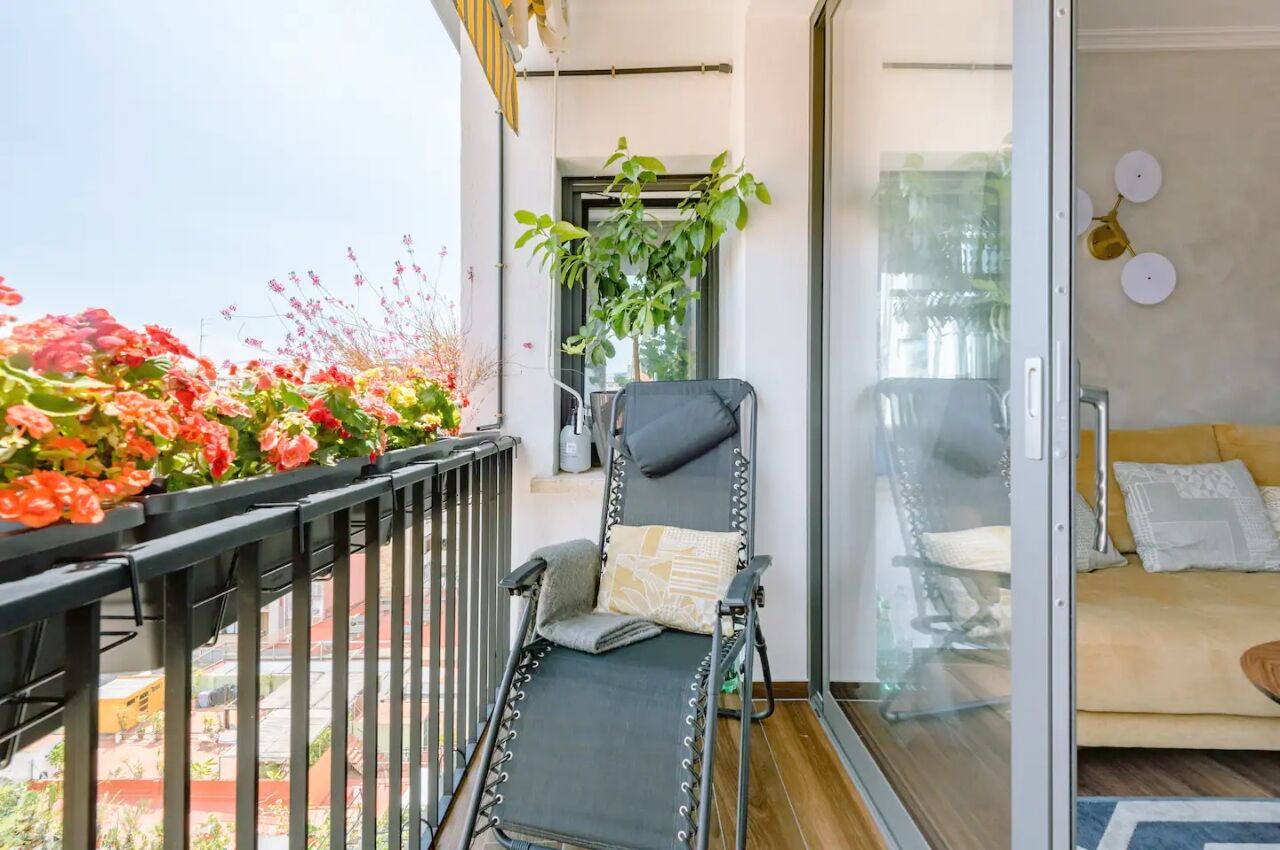 This sophisticated apartment in the trendy Eixample area is best described as minimalist meets artistic modern. Chill over the city views from the balcony, spoil yourself in the bathroom's spa vibes, and walk to nearby tourist attractions, restaurants, and bars — this apartment literally could not be more centrally located in Barcelona. There are two bedrooms, each bright and vibrant, setting the mood for exciting days exploring this historic city.
Four guests, two bedrooms
Price: $100 per night
Amazing penthouse Airbnb in Las Ramblas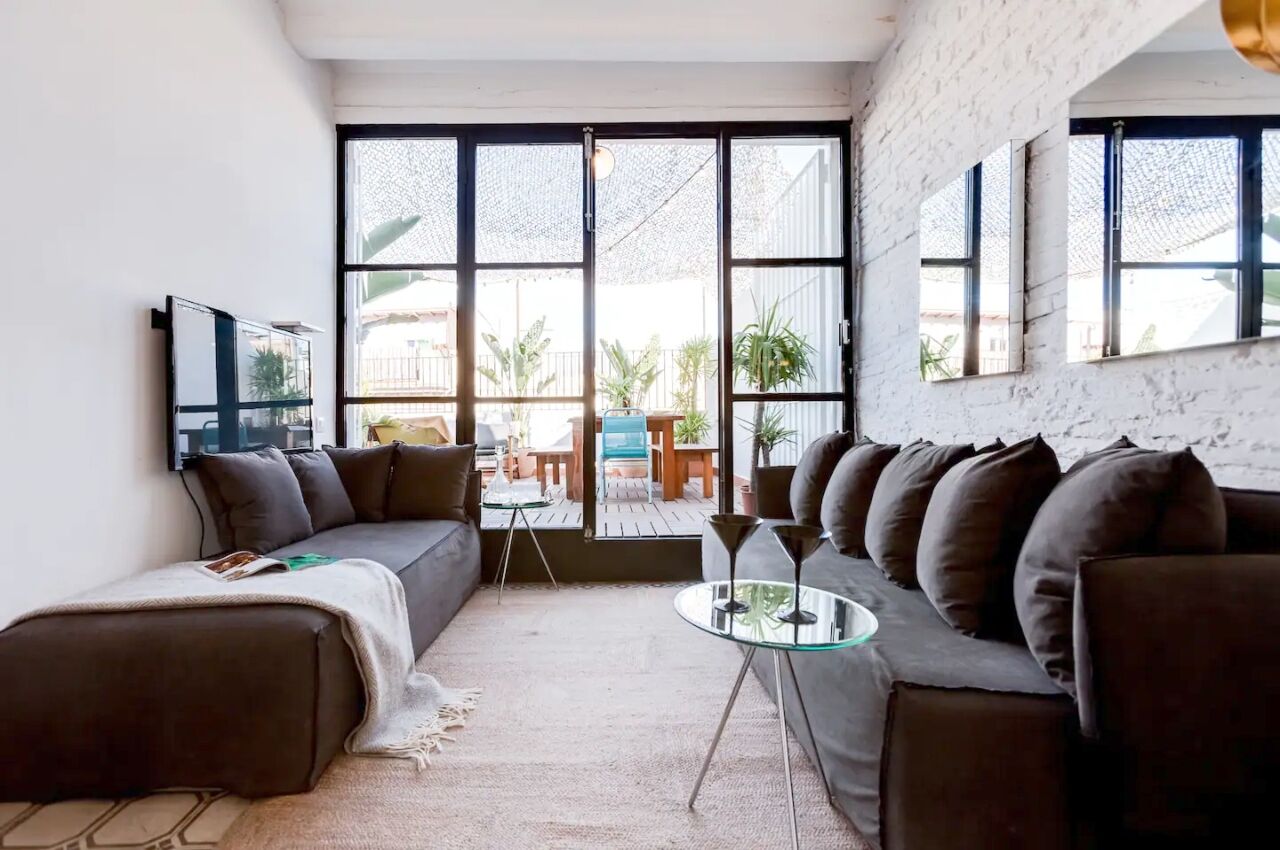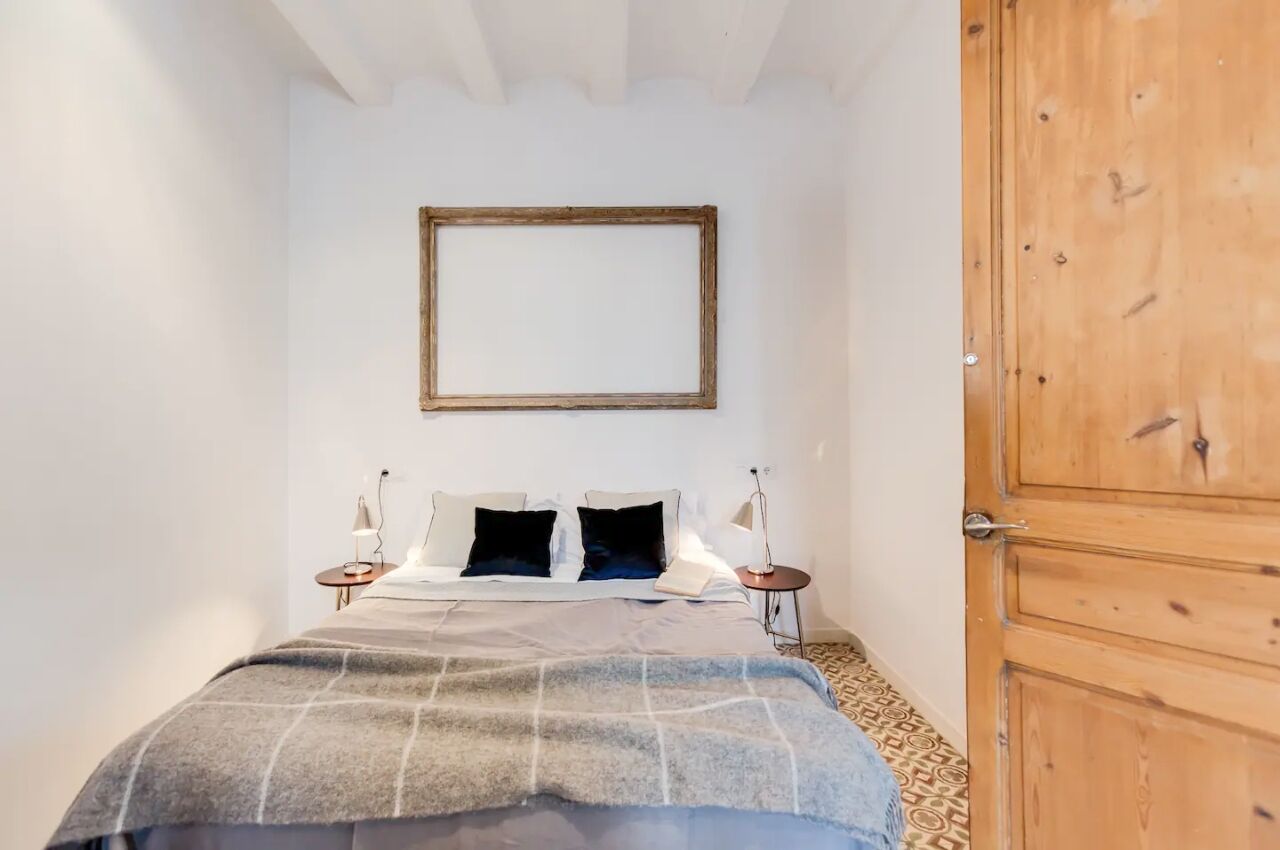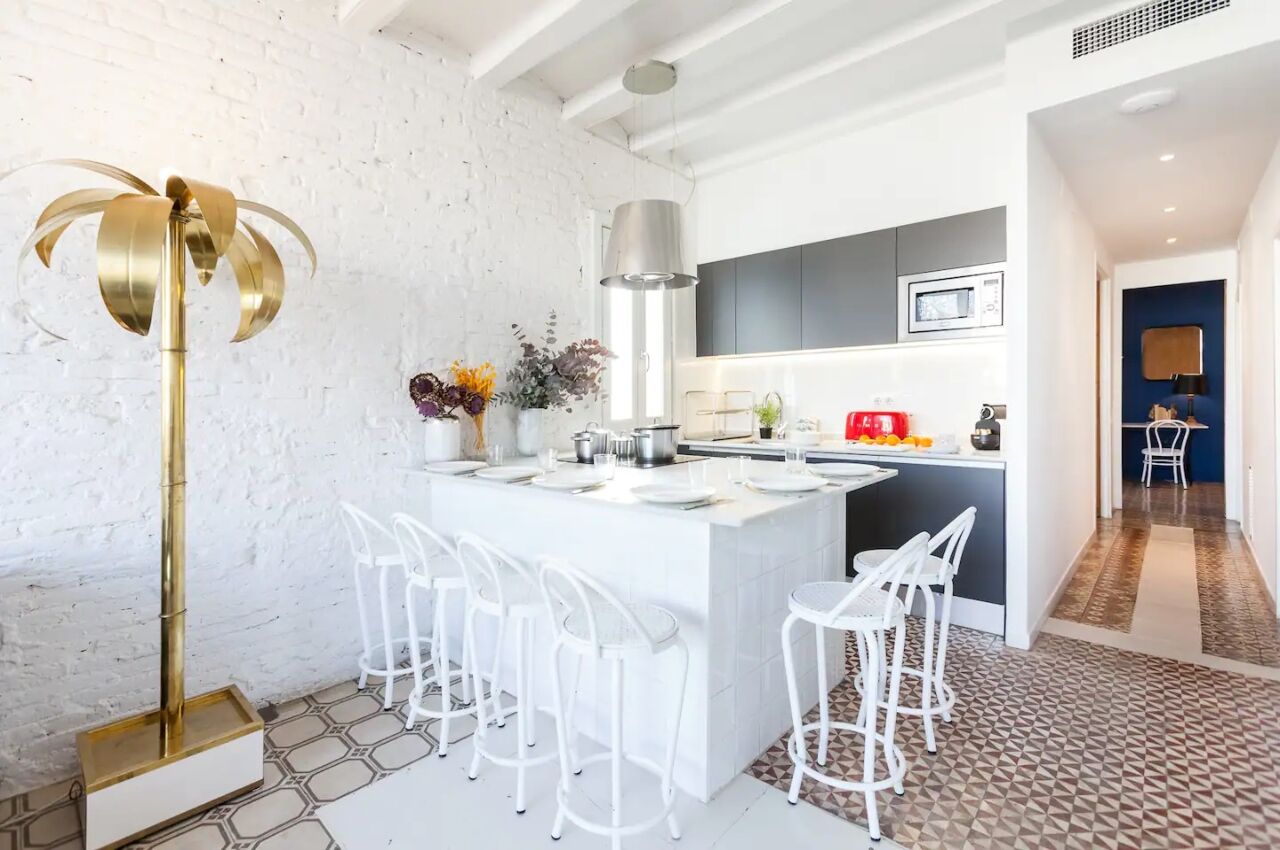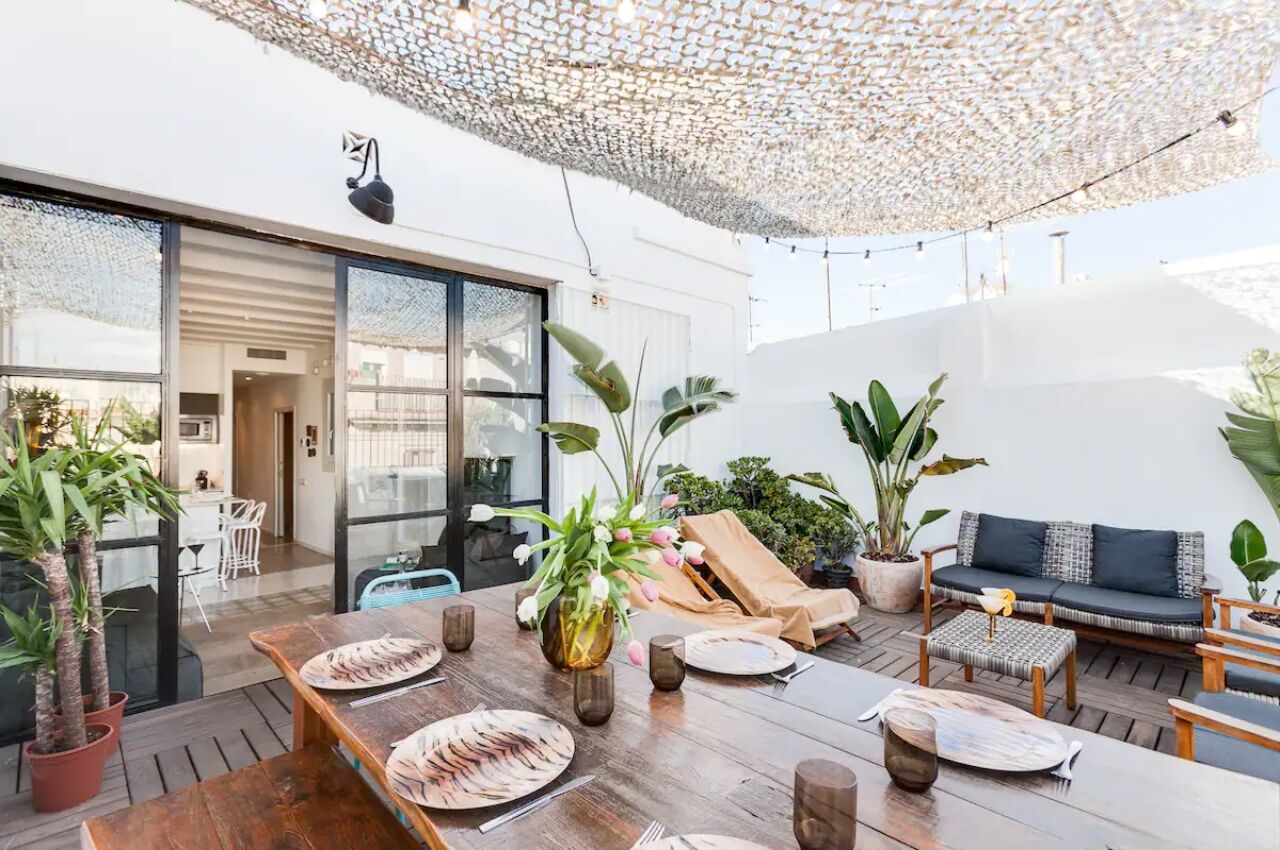 Spacious and with three bedrooms and a large outdoor dining and relaxing space, this Ciutat Vella penthouse apartment is centrally located and gives you a top-down view on the city. Walk to Ramblas and Plaza Catalunya for your shopping and sightseeing needs, or tour the nearby Contemporary Art Museum and Plaza Universidad for a taste of Barcelona's living history. Spend mornings strolling the Joaquin Costa, a pedestrian thoroughfare accessing the best of the city's cafe culture, and evenings sipping Cava on the veranda.
Five guests, three bedrooms
Price: $181 per night
Unique property in Old Barcelona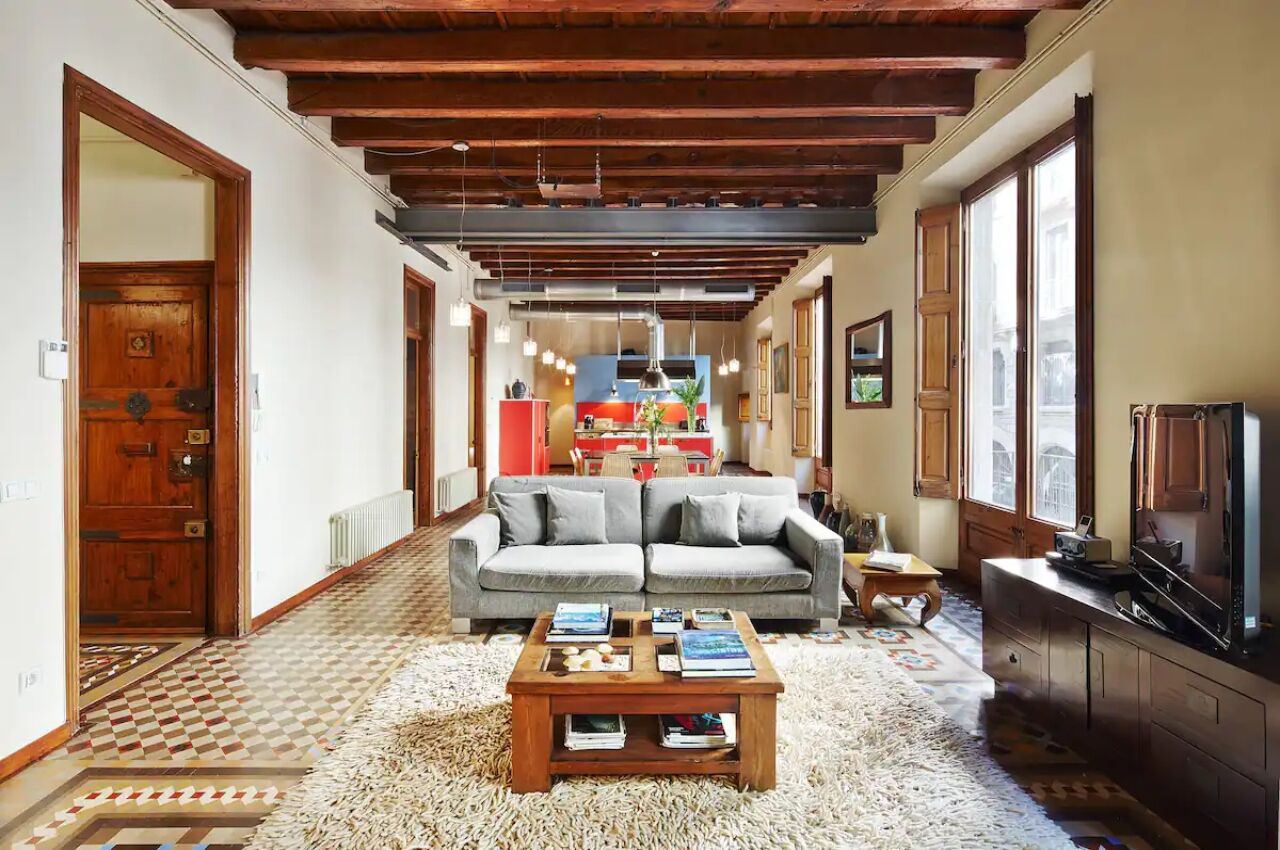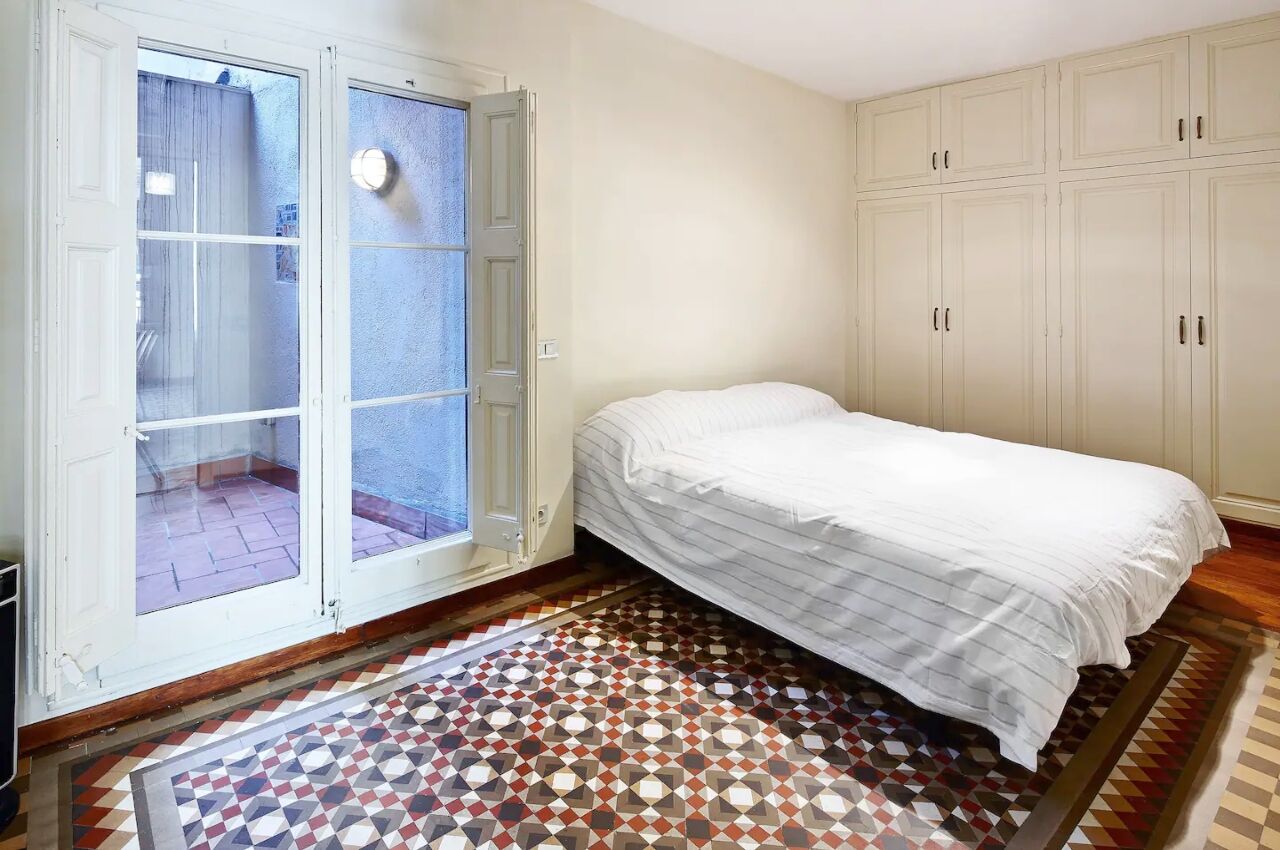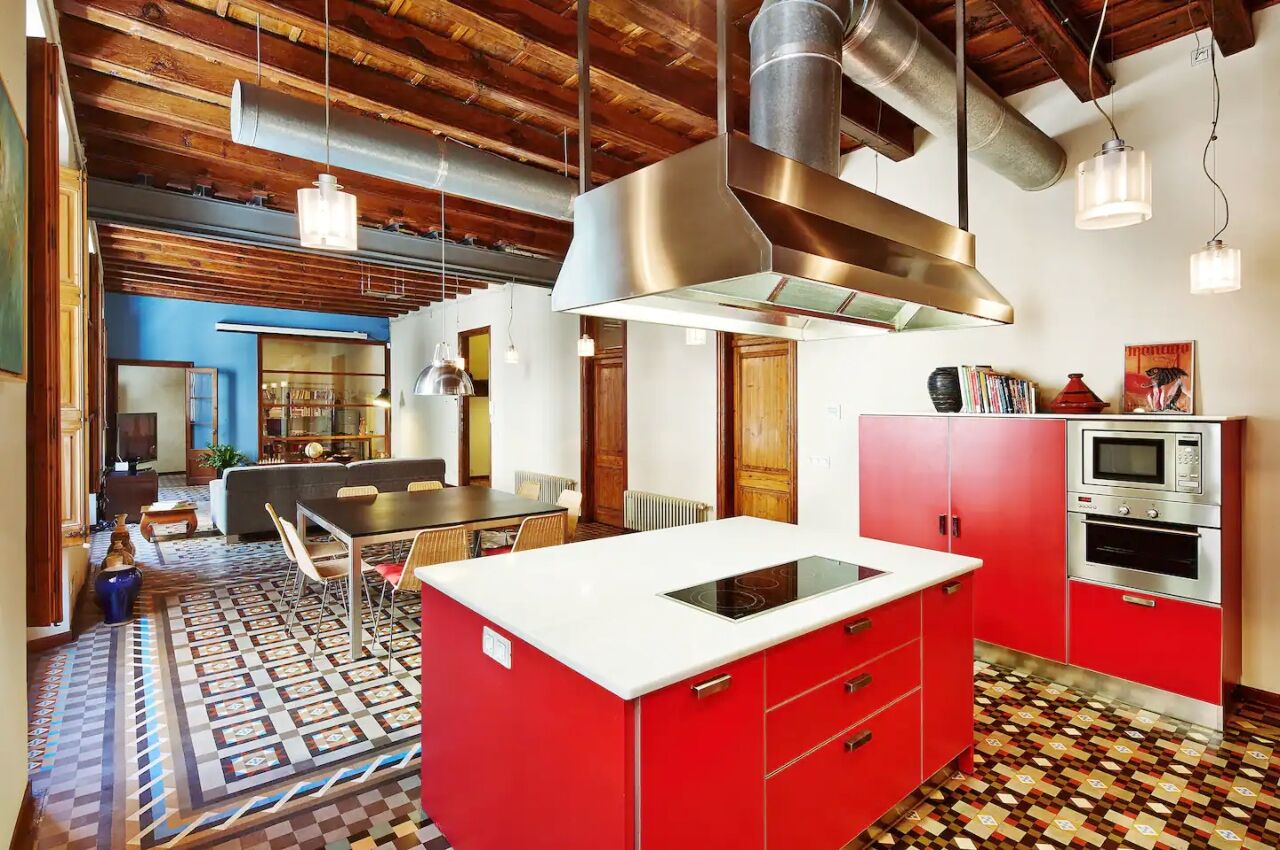 One thing that is as true in Barcelona as elsewhere in Europe is the value of the efficient use of space. This flat is uniquely designed to optimize what is already a spacious unit. Here, in a wood-paneled apartment in the center of Ciutat Vella and greater Old Barcelona, you're a moment's walk from Palau de la Música Catalana, Plaça de Catalunya, and the cathedral, as well as all of the vibrant social settings that surround them. Of course, take advantage of the luxurious living space, as well.
Five guests, two bedrooms
Price: $151 per night
Duplex Airbnb in Barcelona's Gothic Quarter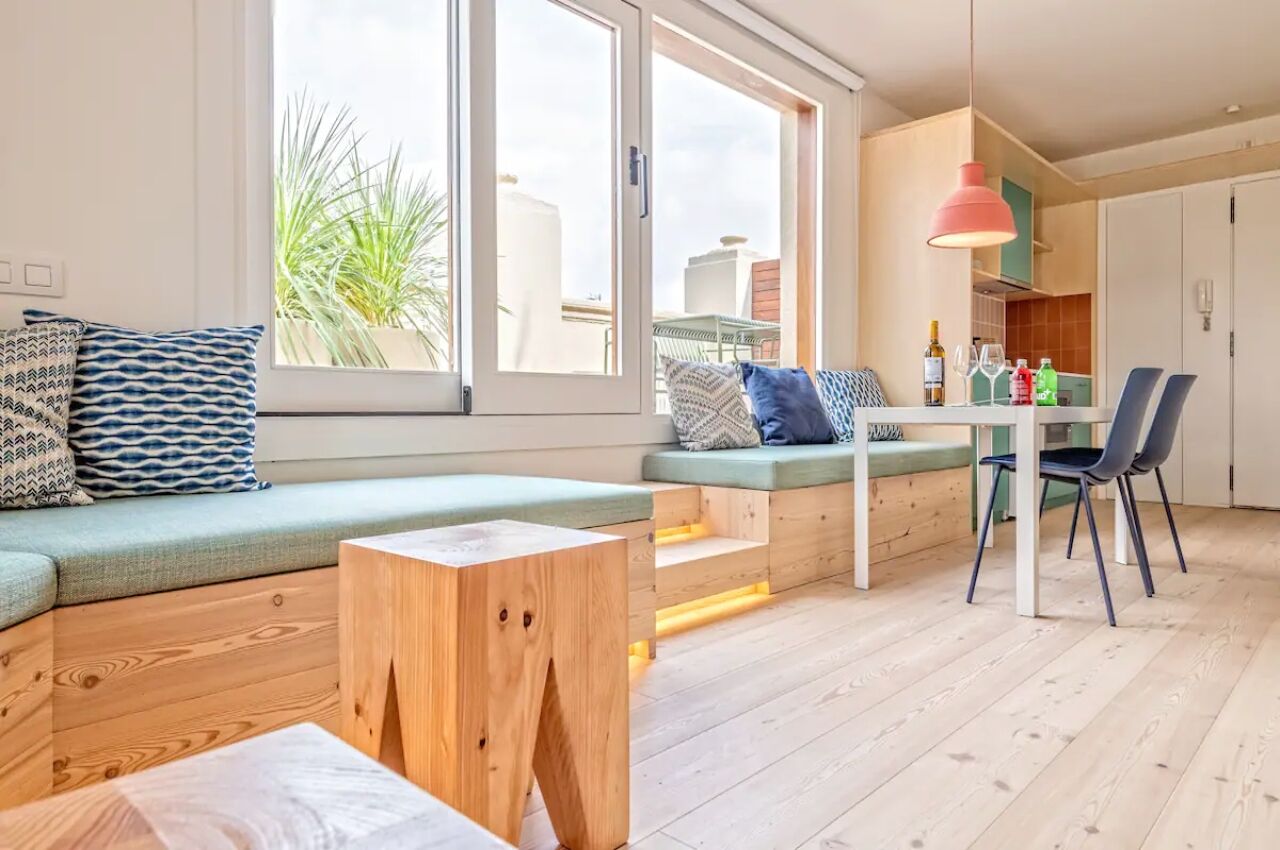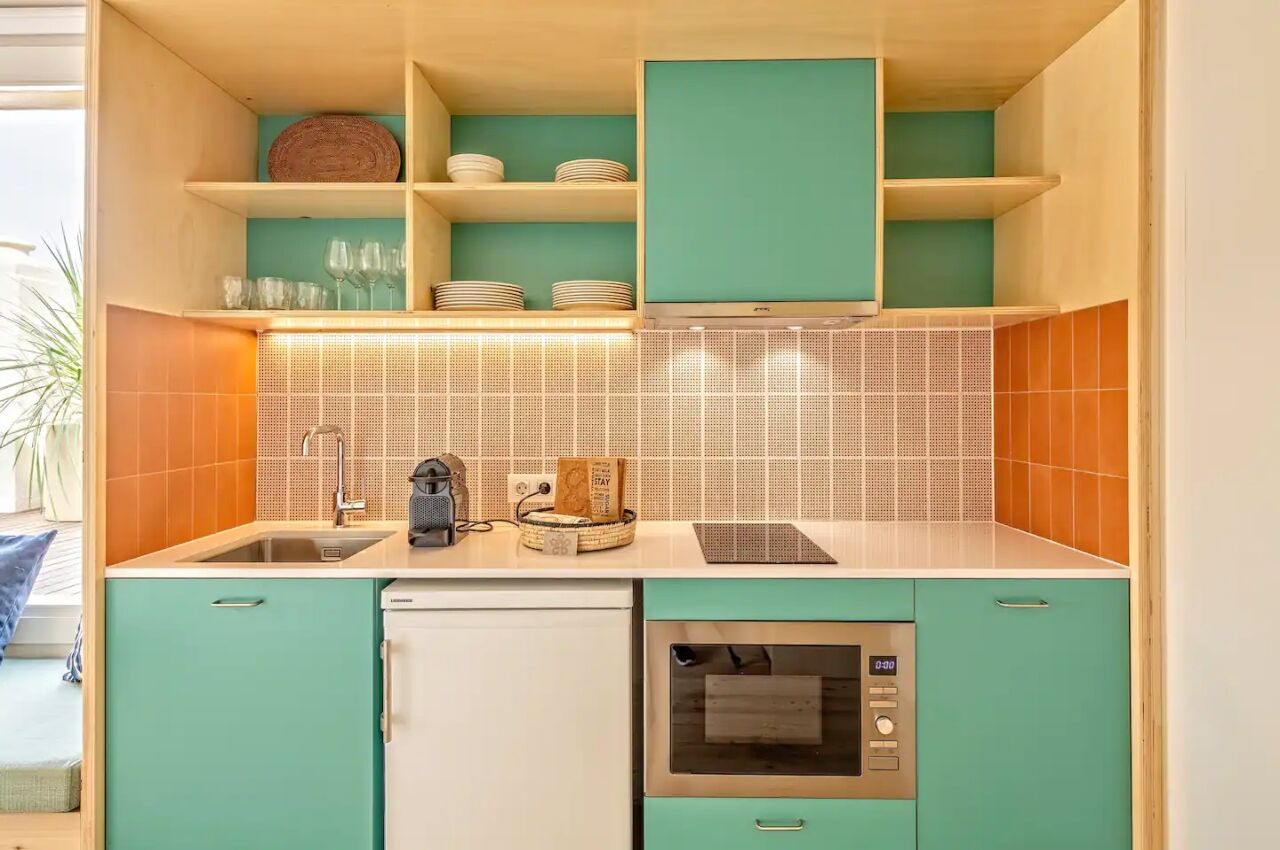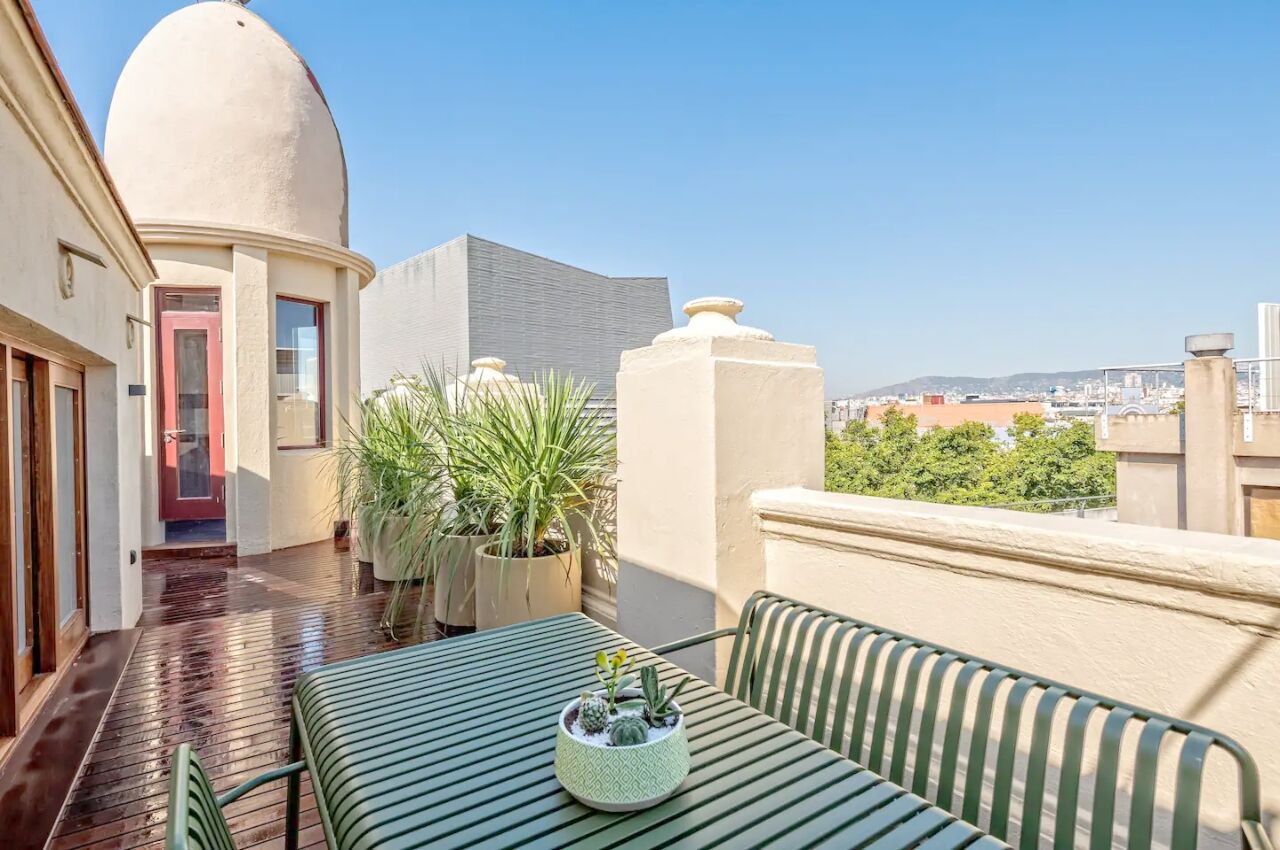 Barcelona's best balcony is yours in this upscale penthouse in the Gothic Quarter. You'll look out over the city in style, with the Music Center and El Luceo down below. Walk everywhere in the city center, with some of Barcelona's best chefs cooking paella and patatas bravas just up the street, and should you elect to participate in the late-late-late-night partying Barcelona is known for, you'll arrive home to a bright and welcoming spot without having to worry about traversing across the city.
Four guests, two bedrooms
Price: $298 per night
Luxury apartment in Paseo de Gracia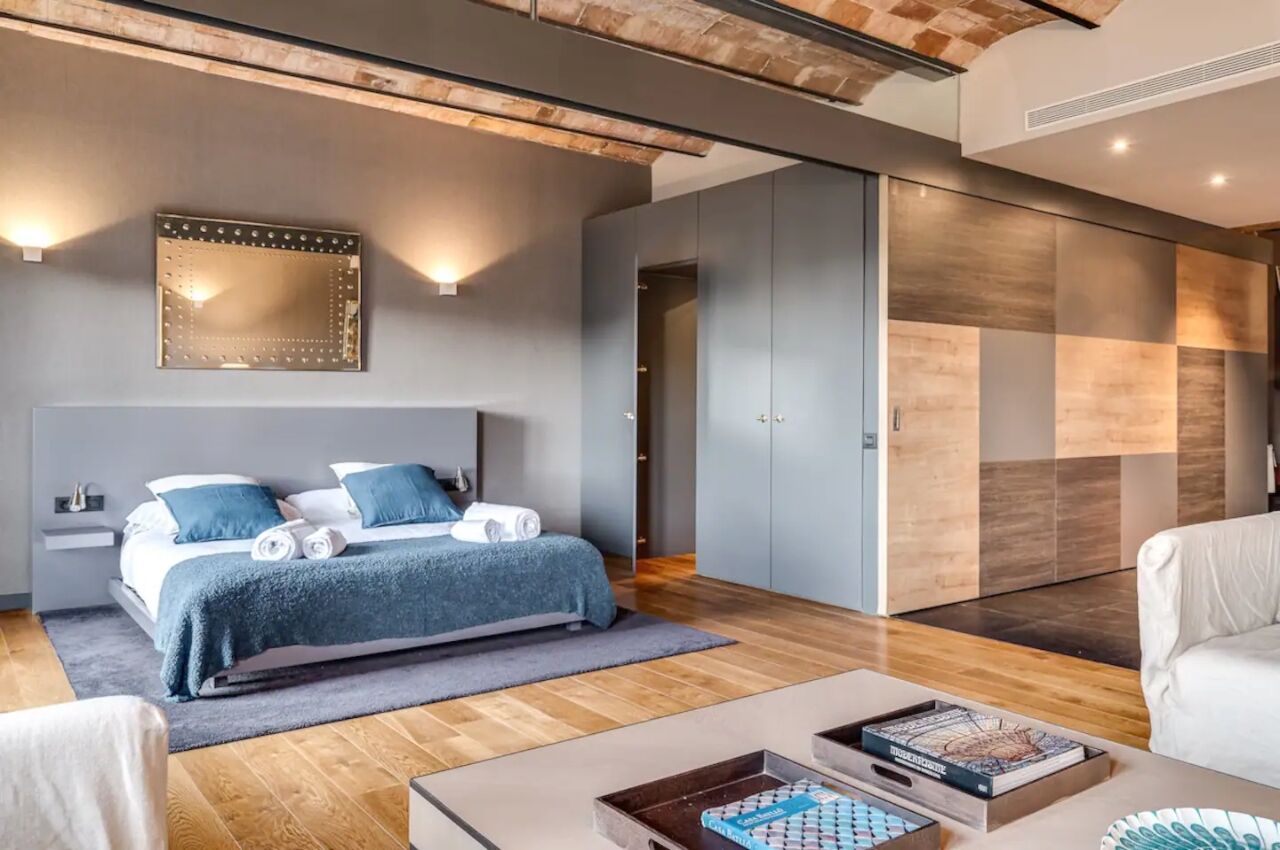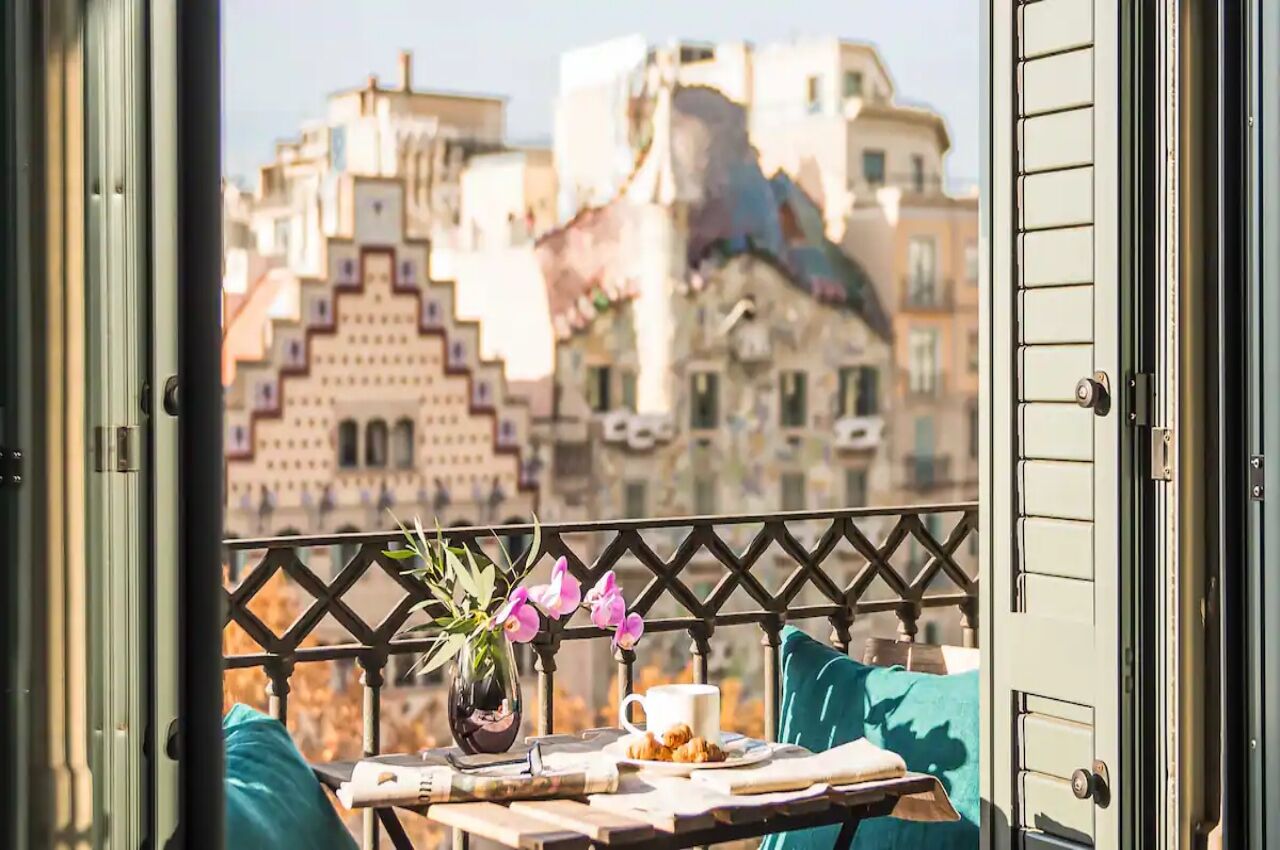 Gaudi's famous work, Casa Batllo, is literally right out the window of this apartment, one of the nicest penthouses in the city and certainly a treat considering it's right near Paseo de Gracia. It's known as the Godo Luxury apartment, and you'll see why immediately upon entering — five bedrooms, five baths, two living rooms, and a spacious kitchen, just above the city's beating heart and of course, there's the unbeatable view of Casa Batllo, it's impossible not to be wowed by this flat. With room for 10 guests, a group can go in together to cover the cost.
Ten guests, five bedrooms
Price: $546 per night
Bright apartment with stunning views of the water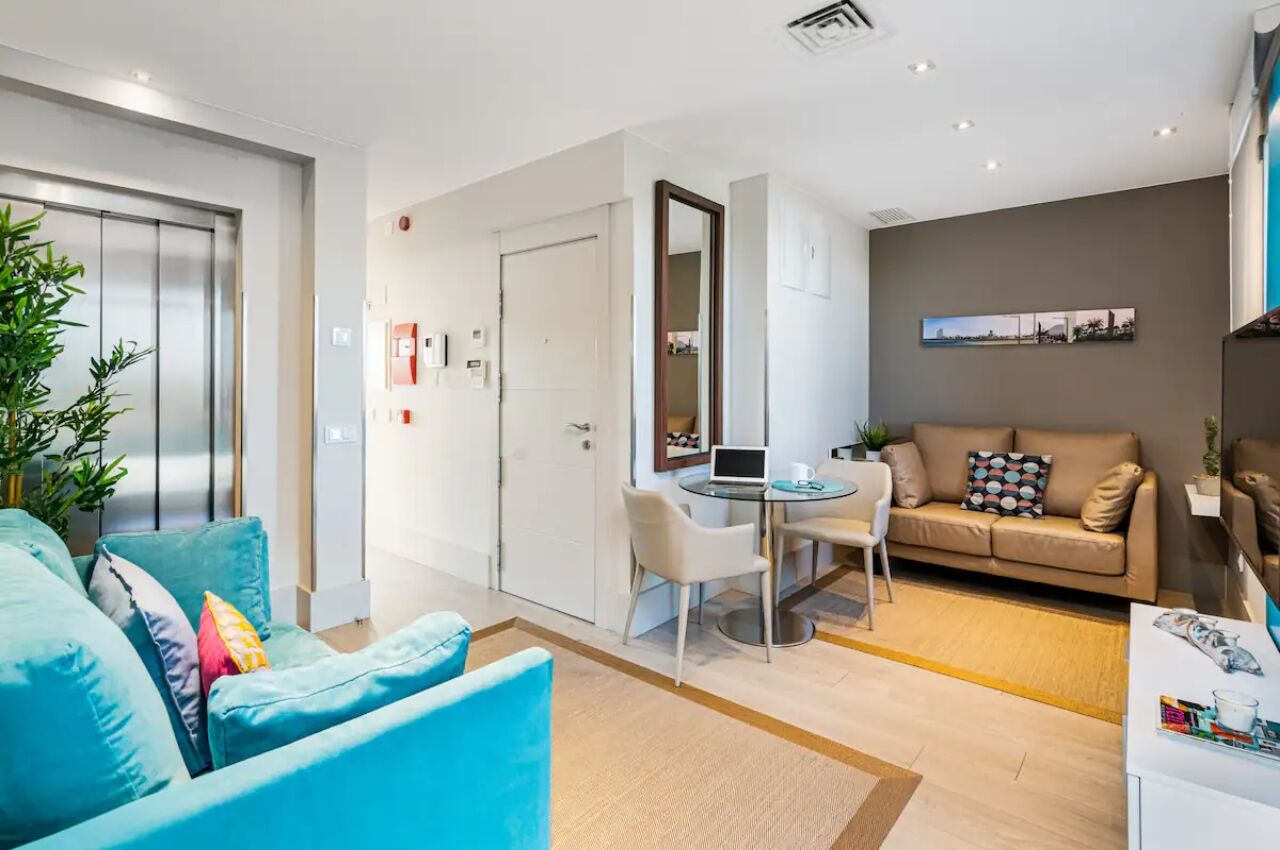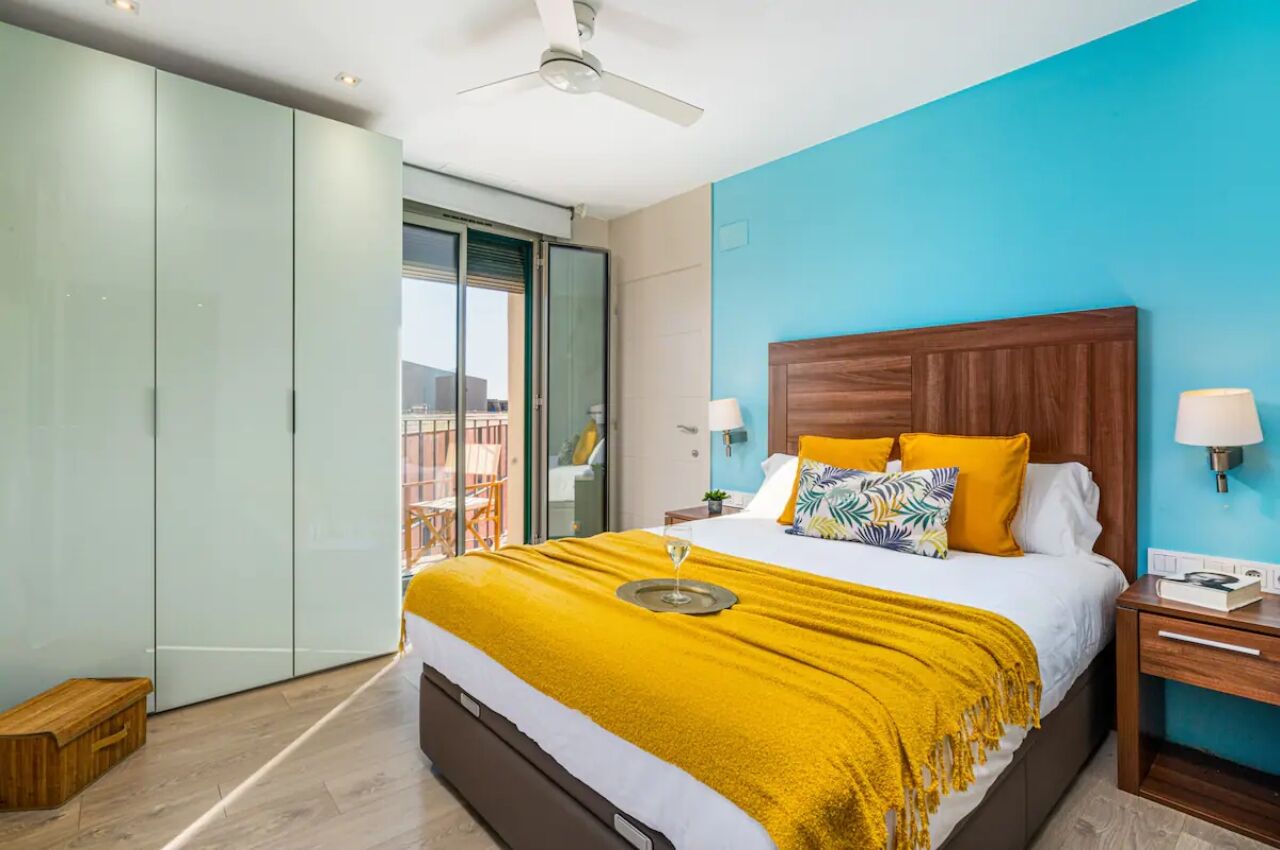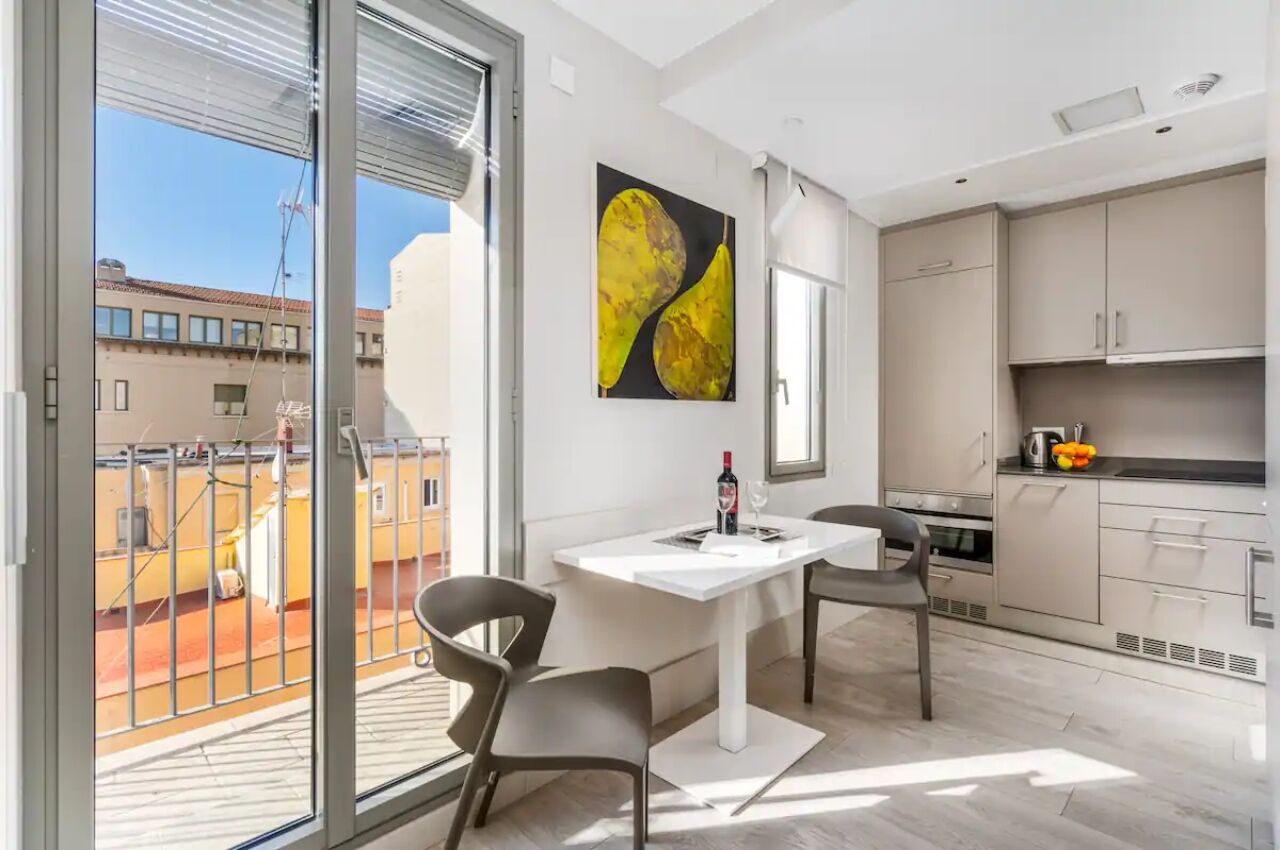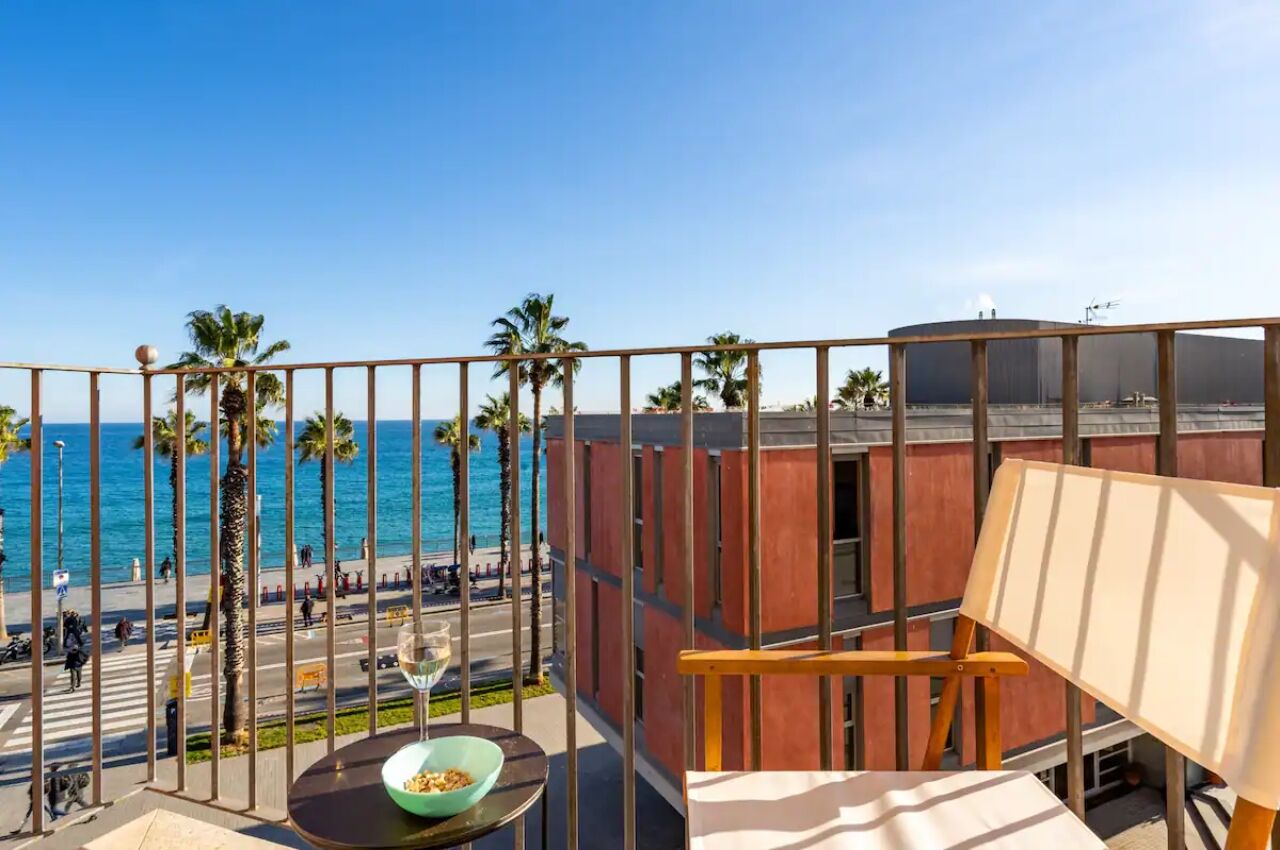 Wake up to the beautiful sounds of the water and the stunning sea view at this bright apartment in Barcelona. This bright apartment is located in a historic building only 50 meters from the beach. This stylish, newly refurbished apartment features natural lighting, a fully equipped kitchen, and a spacious living room with a balcony that offers gorgeous views of the Mediterranean. The city center is only a ten-minute walk and when you visit the beach, enjoy the seaside district of La Barceloneta.
Four guests, two bedrooms
Price: $373 per night
Stylish apartment in the Ciutat Vella district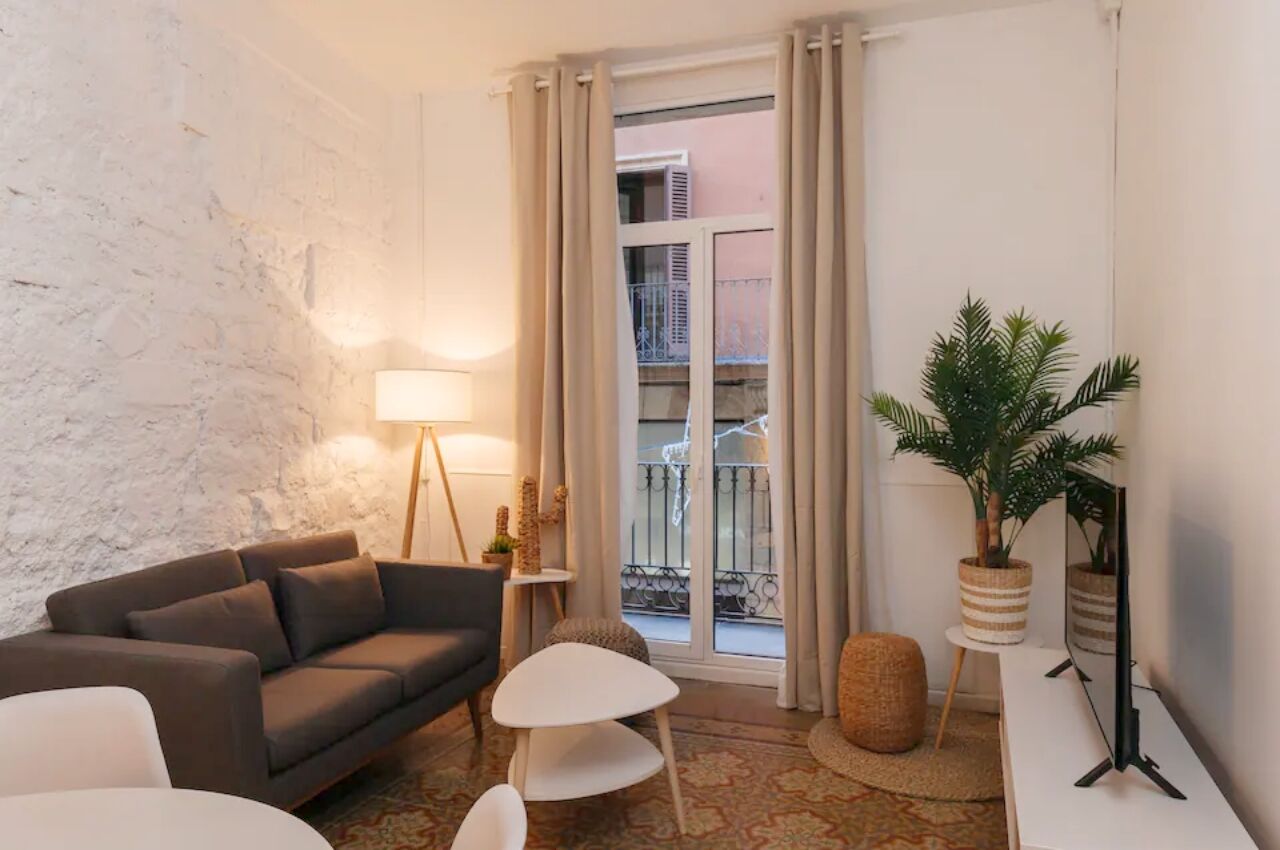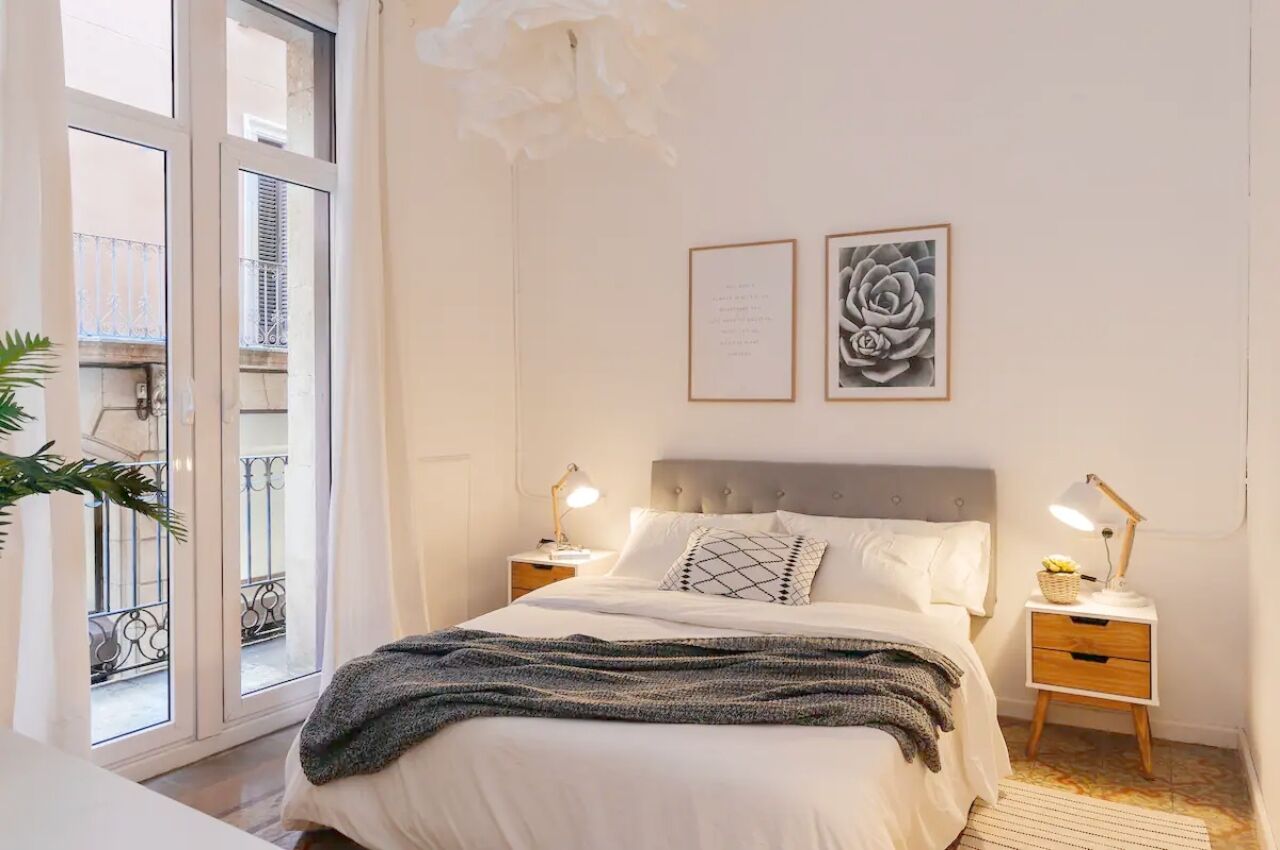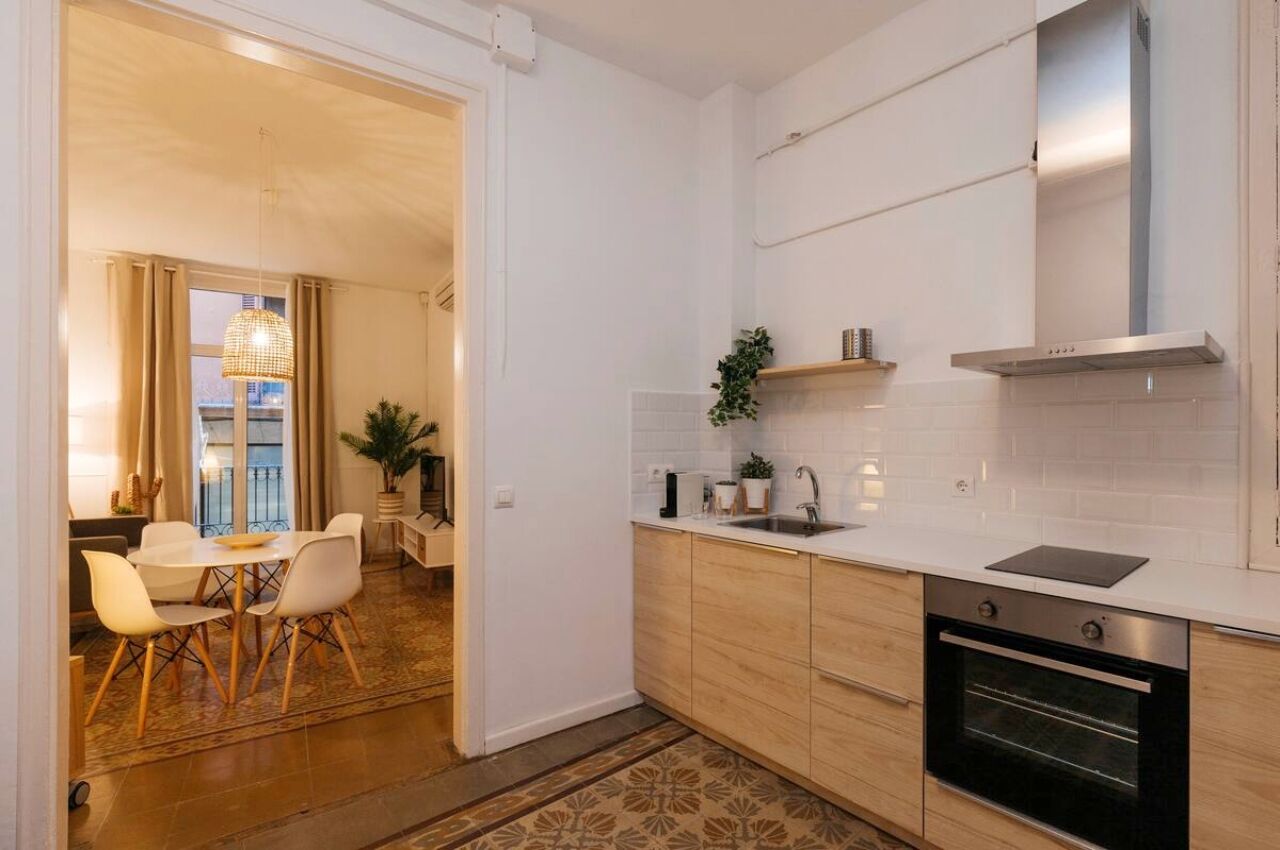 Stay at this modern-styled apartment for your next extended stay in Barcelona. This Airbnb Barcelona apartment is in the Ciutat Vella District in the center of Barcelona. The apartment features a cozy living area with a balcony, a full kitchen, and a spacious bedroom with a double bed. The apartment is close to many main attractions, such as the Cathedral and La Casa Batlló, and is near the Gothic area.
Two guests, one bedroom
Price: $43 per night
Cute apartment with a private terrace and sea views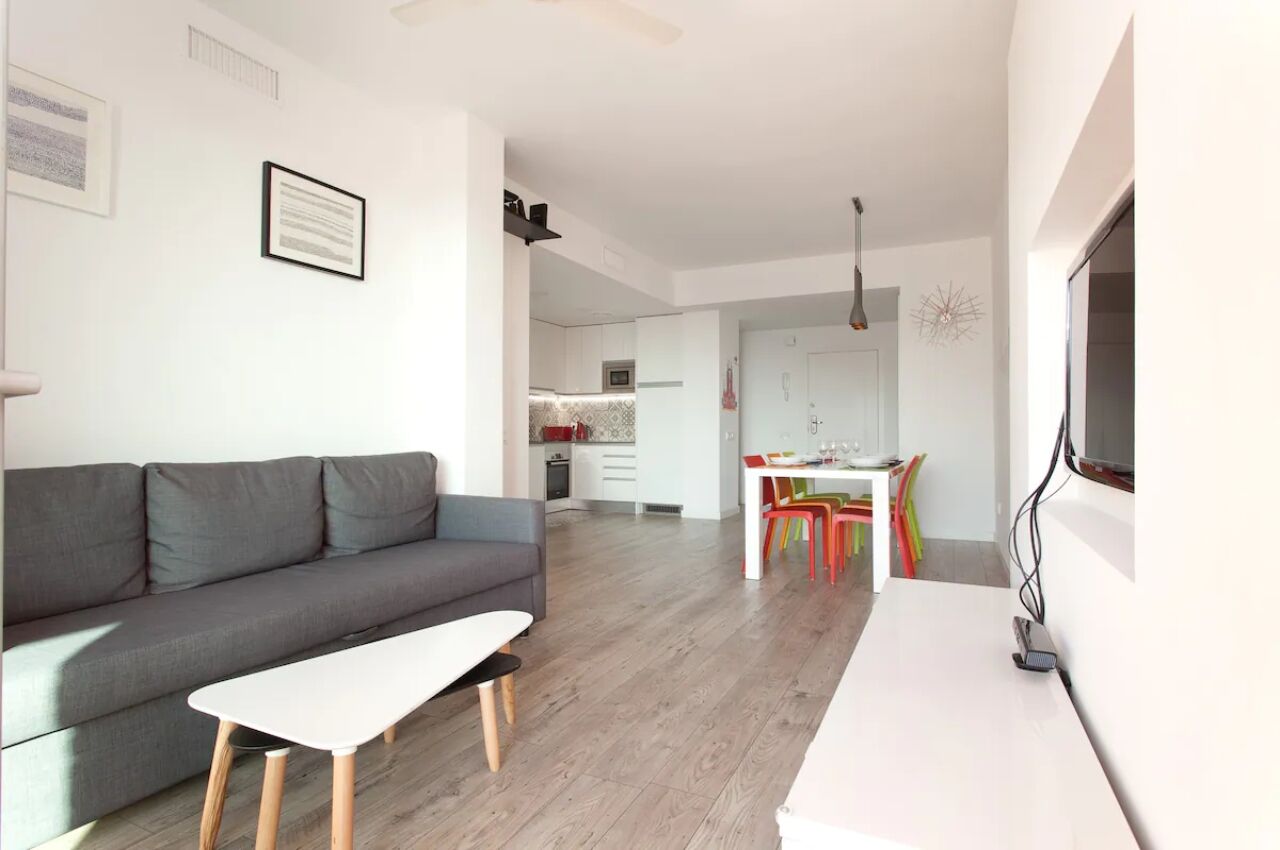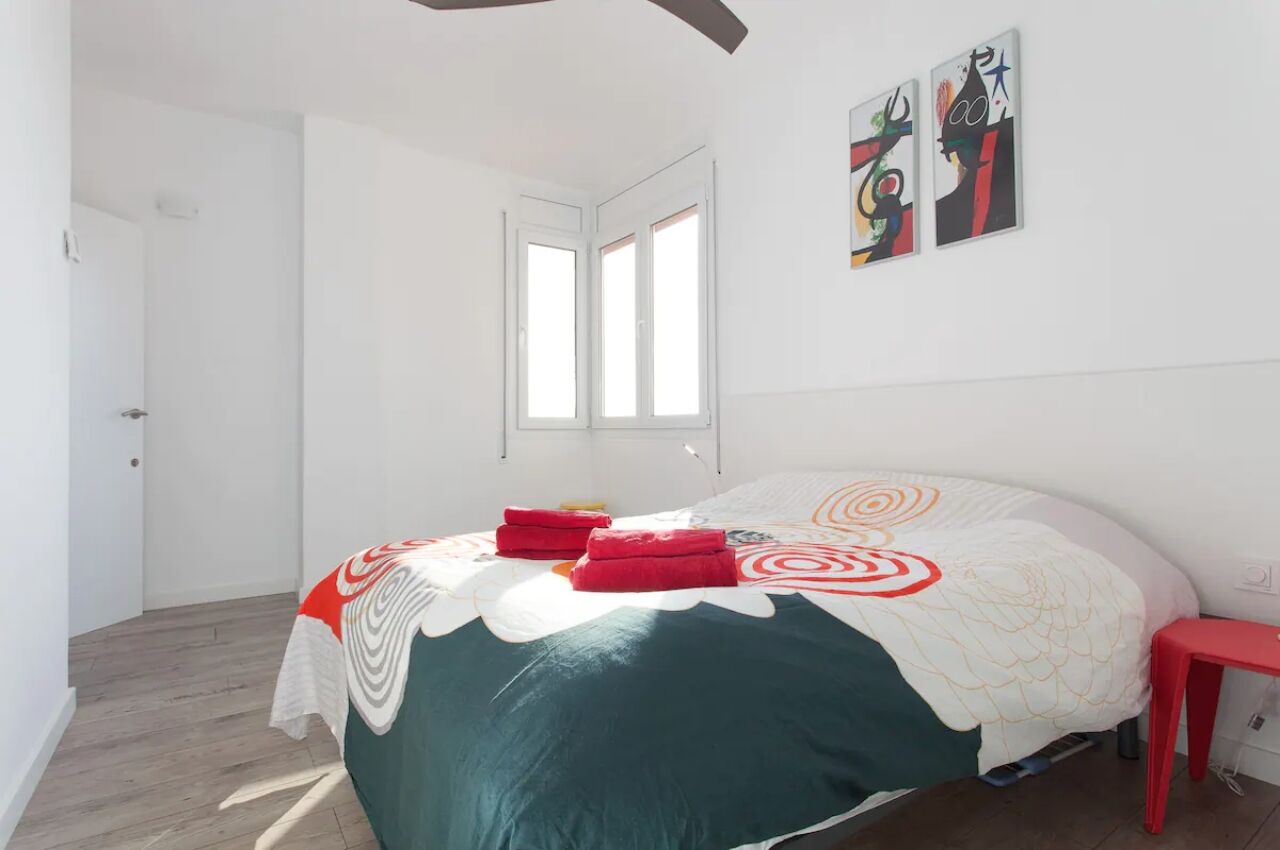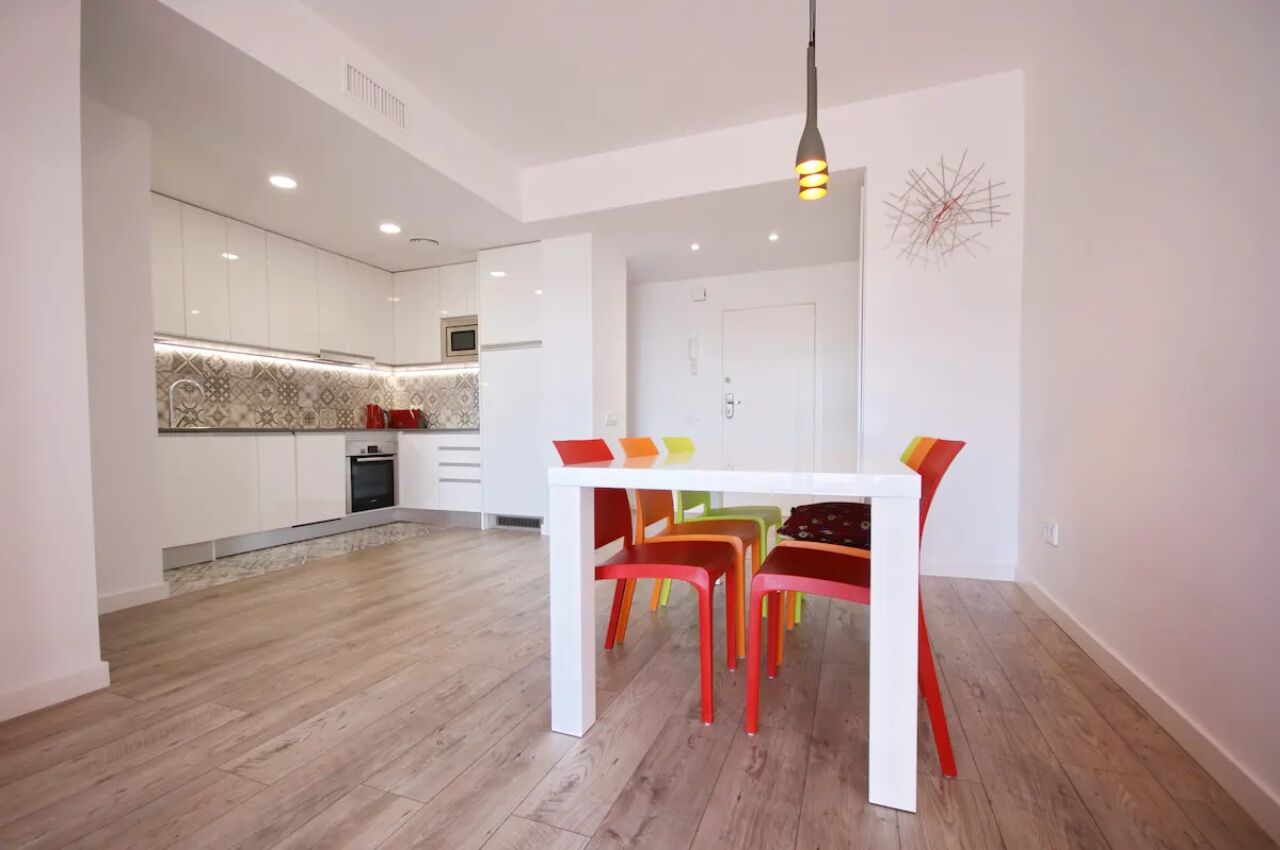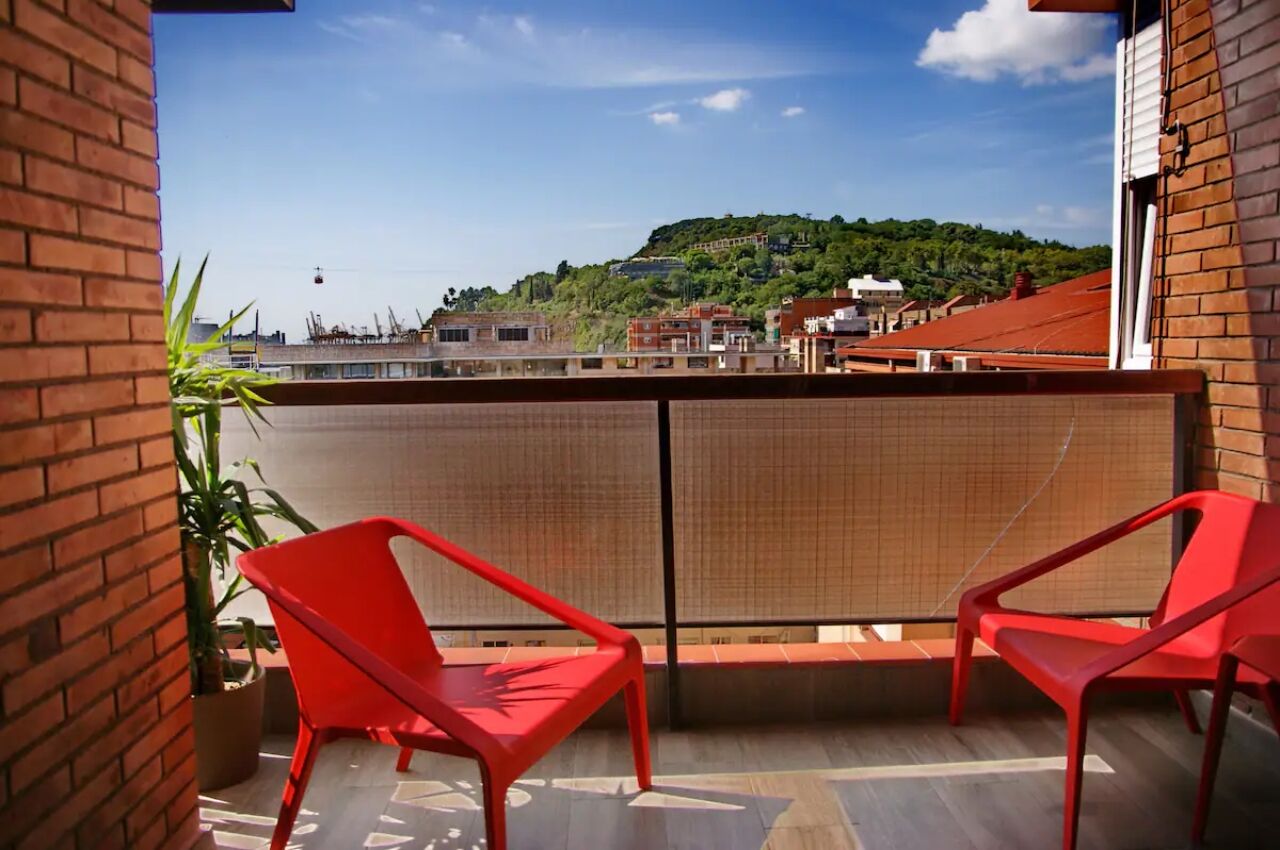 This colorful apartment is in the district of Poble Sec. The apartment has three bedrooms, two full bathrooms, and a private terrace with sea, harbor, and park views. This spacious apartment is only 300 meters from the infamous Las Ramblas.
Seven guests, three bedrooms
Price: $265 per night
Modern apartment with fantastic views of the Sagrada Familia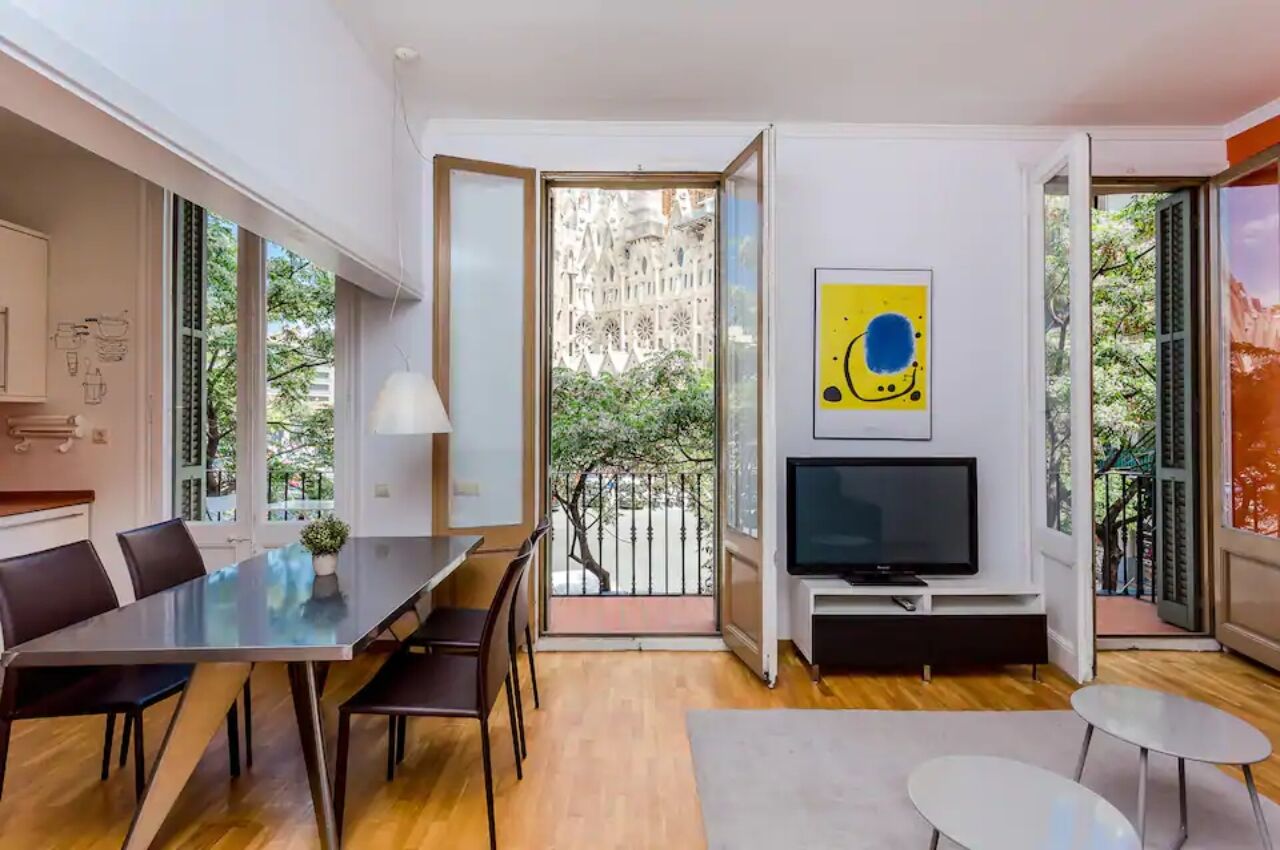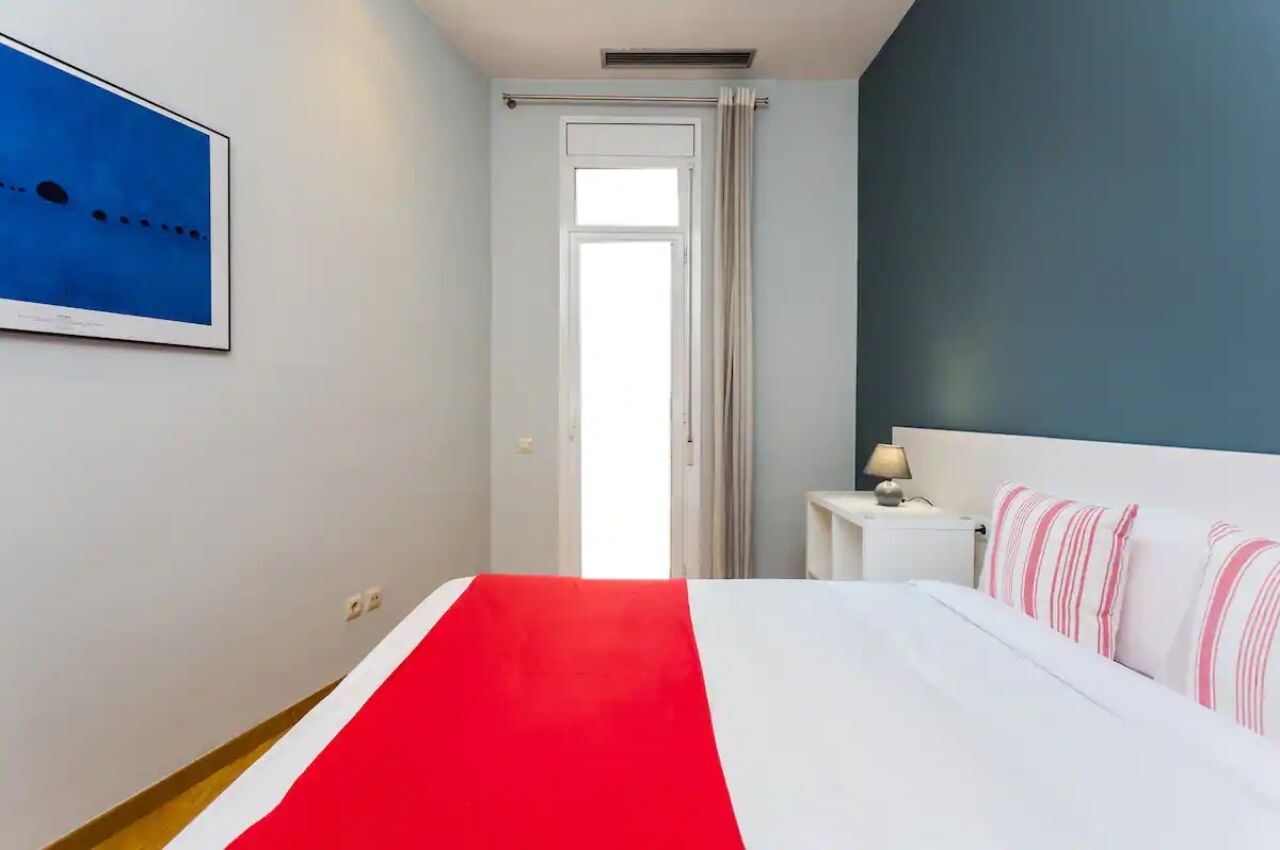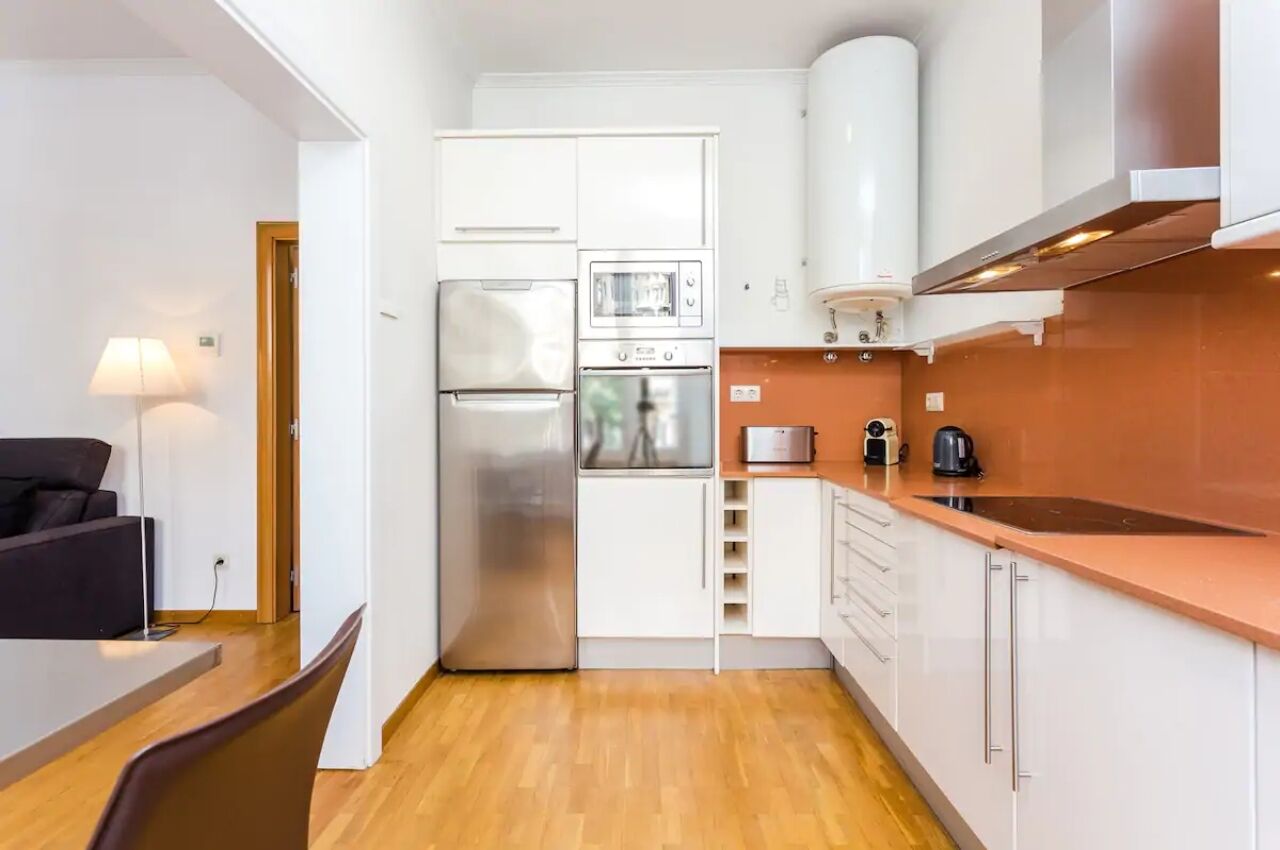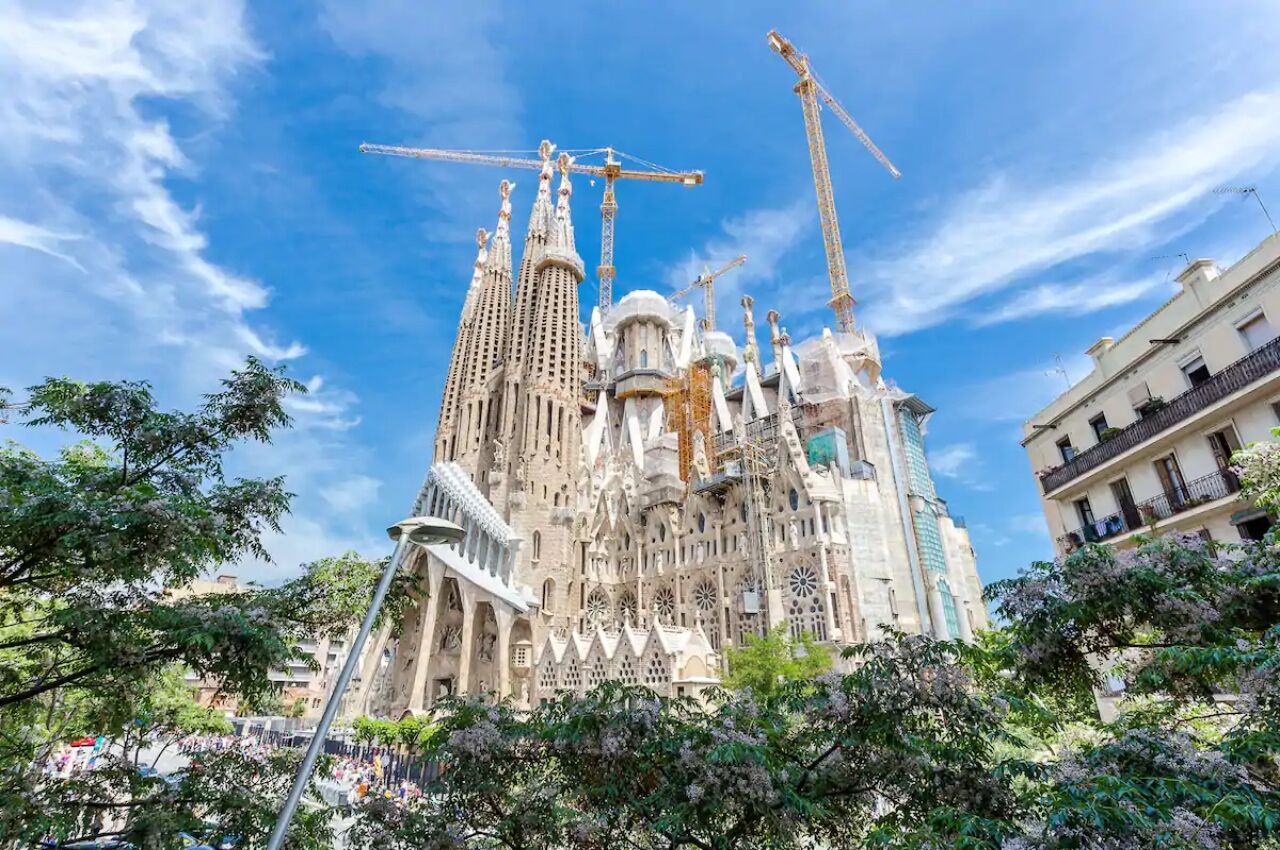 Get up close and personal with the Sagrada Familia by staying at this apartment. This pleasant Airbnb Barcelona apartment features a spacious living room that leads to a balcony with views of the Sagrada Familia. This apartment is located in Eixample in the center of Barcelona, and the apartment is a short walk from many attractions.
Four guests, one bedroom
Price: $175 per night
Abstract-themed apartment near the Barcelona Airport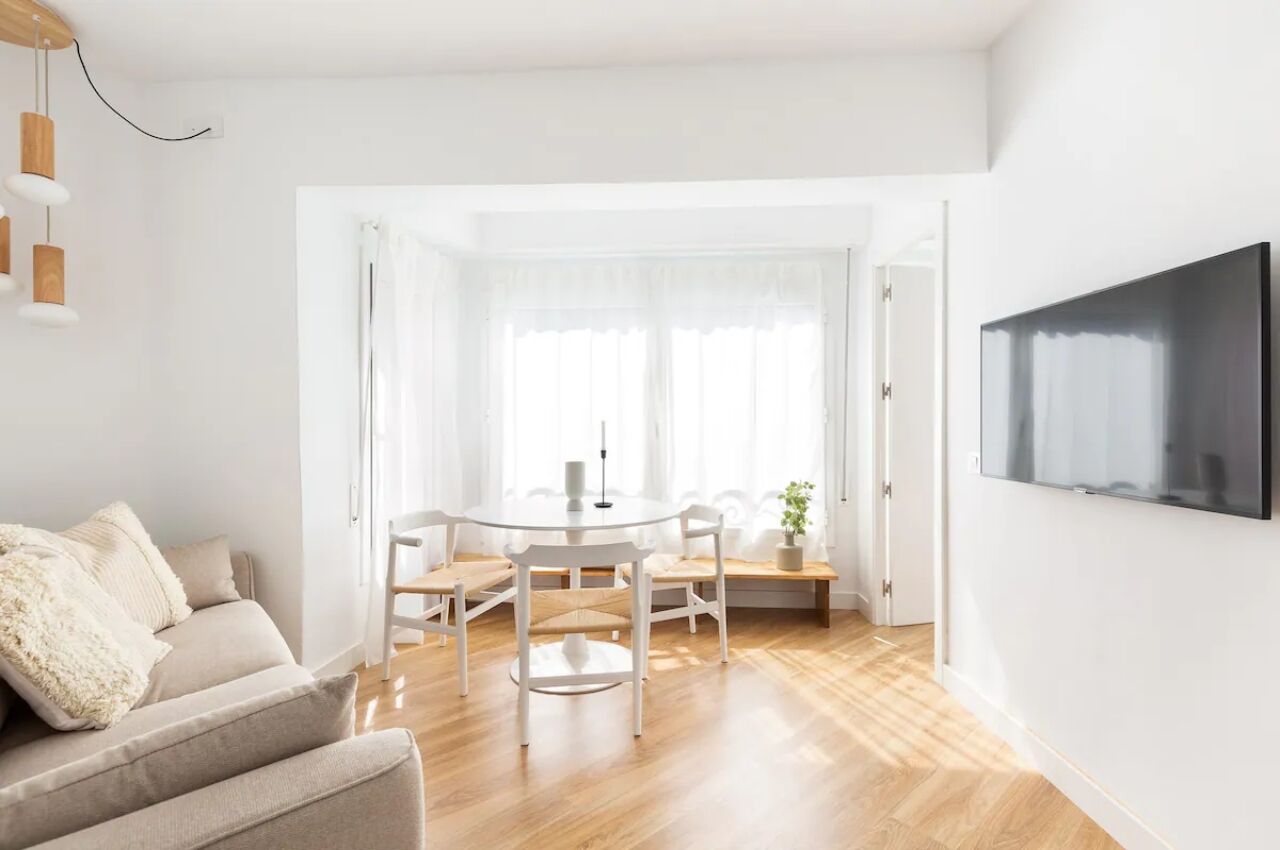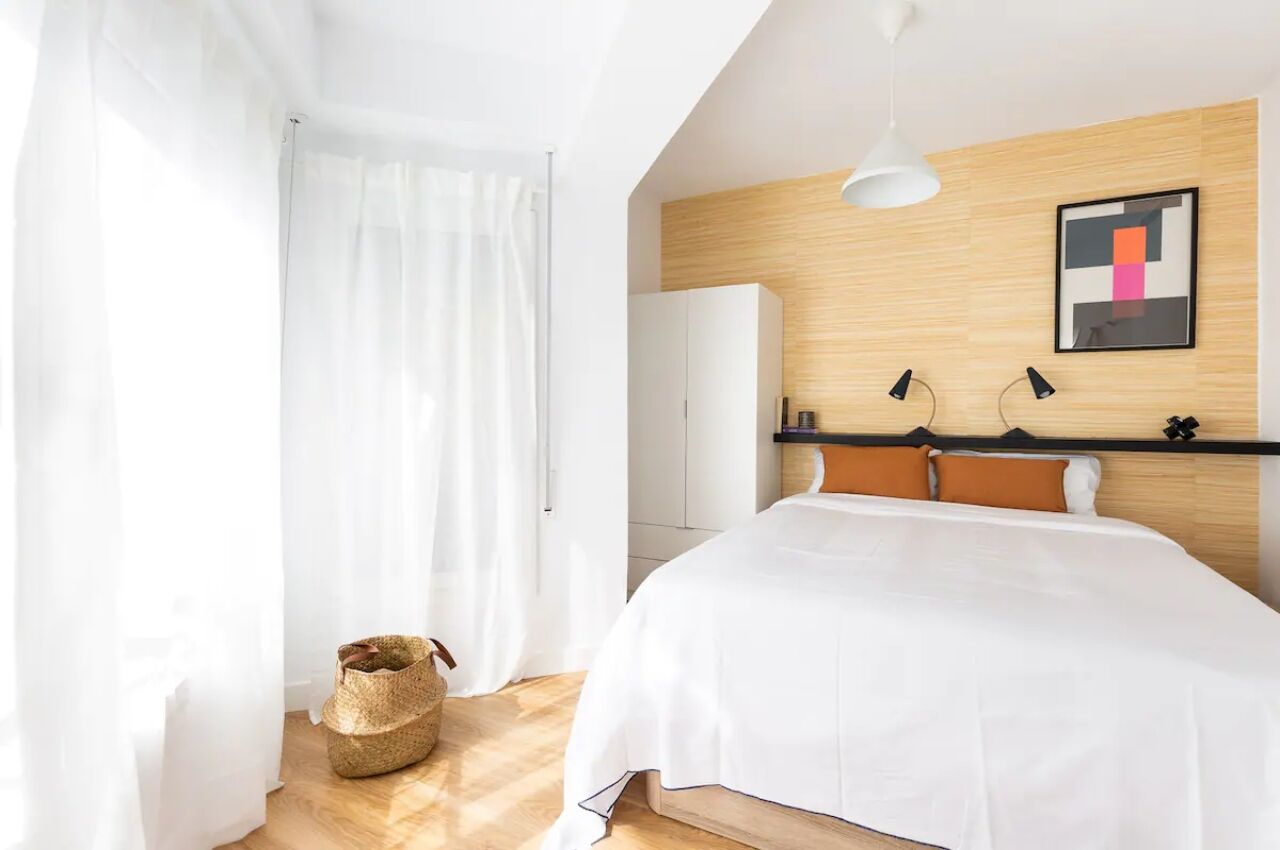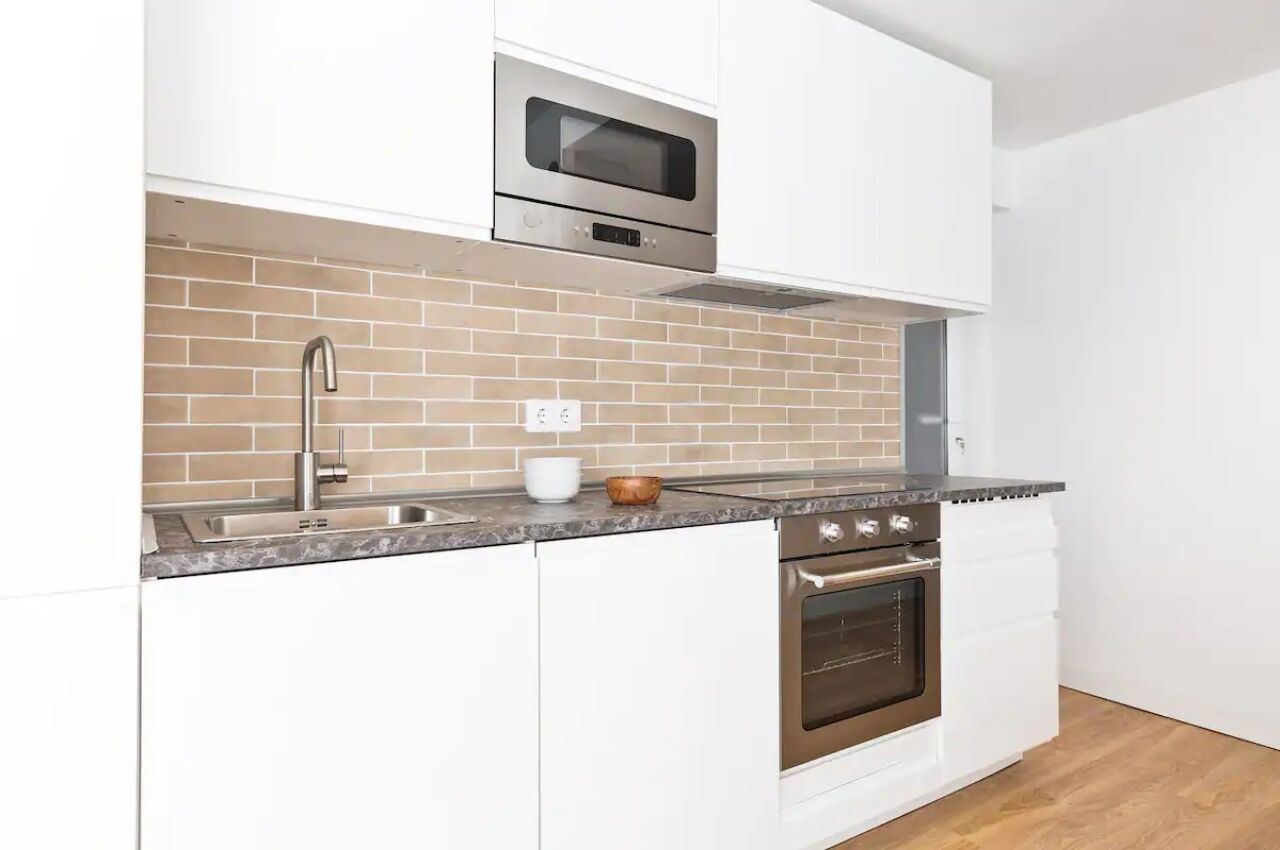 Welcome to this bright and warm accent color-themed apartment Airbnb near the Barcelona airport. This apartment features refreshingly styled furnishings. It has a fully equipped kitchen and spacious living room, and the apartment is in a perfect location. The apartment is a five-minute walk to the metro station, where you can take a line directly to the airport.
Five guests, three bedrooms
Price: $82 per night
What did you think of this story?