Sleep Right Outside Arches National Park at These Desert-Themed Airbnbs
Arches National Park is a must-see for outdoor adventurers. Located in the heart of Utah's desert, this park offers an unforgettable experience of spectacular geological wonders like the famous Delicate Arch and Landscape Arch. From hiking trails to bike paths and winding roads, the park has something for everyone – even those who prefer to take it easy can enjoy stunning sunsets over its unique formations! Whether you're here to marvel at nature's beautiful rock formations, come explore its pictographs and petroglyphs dating back to its ancient native inhabitants, or go on thrilling 4×4 off-roading rides around the region, the park has endless sights to discover. These Airbnbs near Arches National Park and the rest of Moab offer convenience and a memorable stay.
Traveling to Utah? Check out

Matador's

Utah lodging guides:
We hope you love the Airbnbs near Arches National Park we recommend! Just so you know, Matador may collect a small commission from the links on this page if you decide to book a stay. Listed prices are accurate as of the time of publication.
Top Airbnbs near Arches National Park
Luxurious tent with deck and all amenities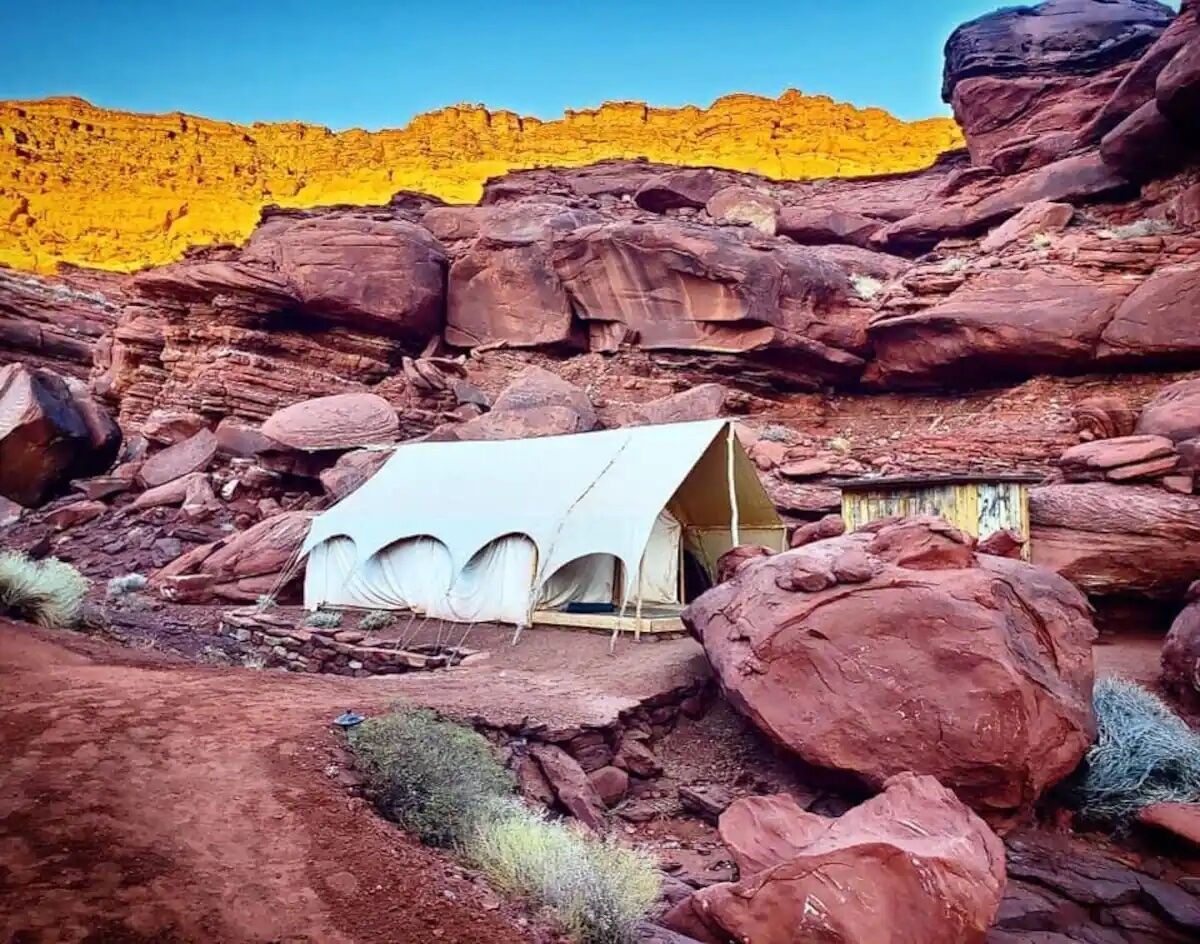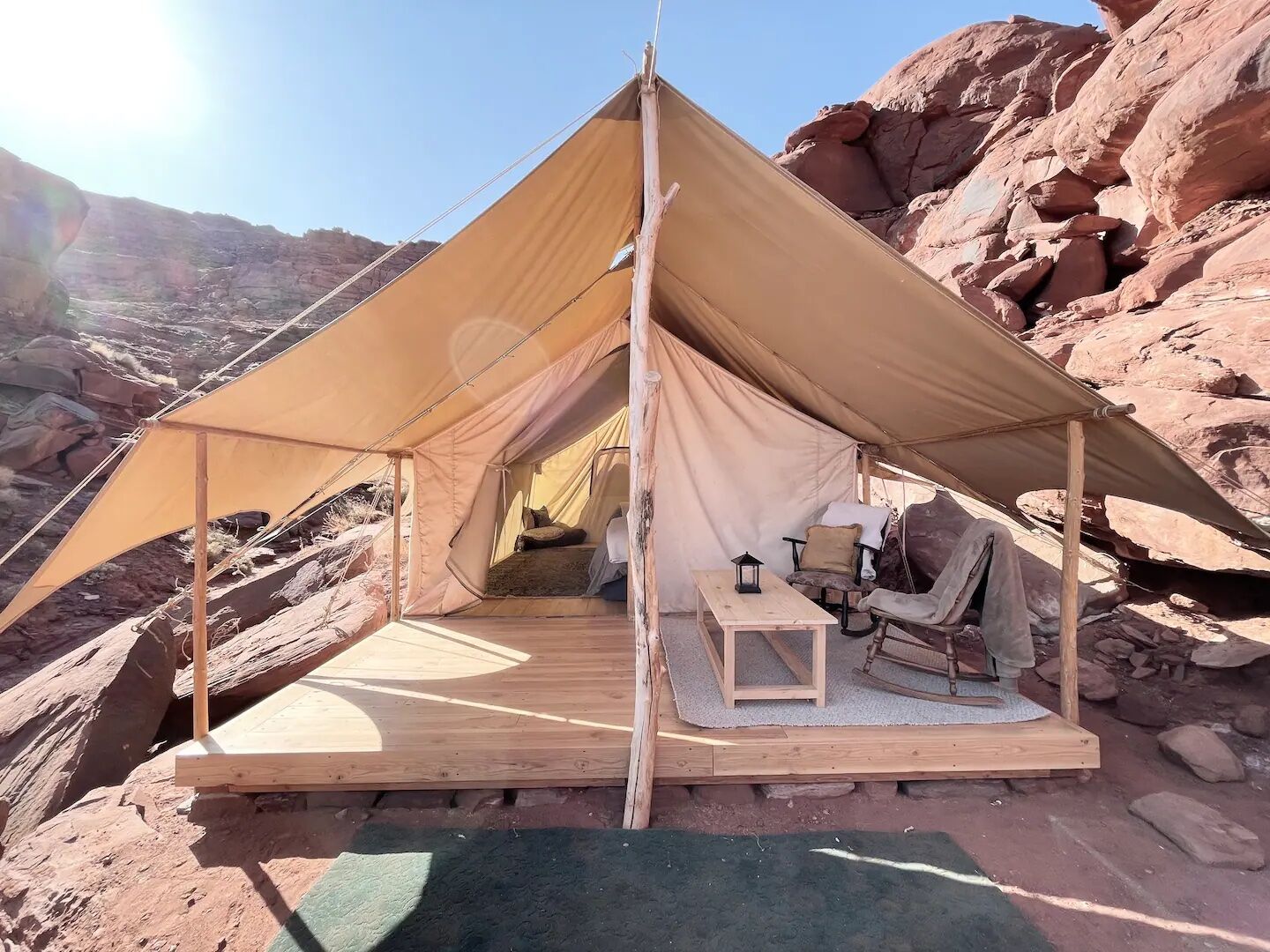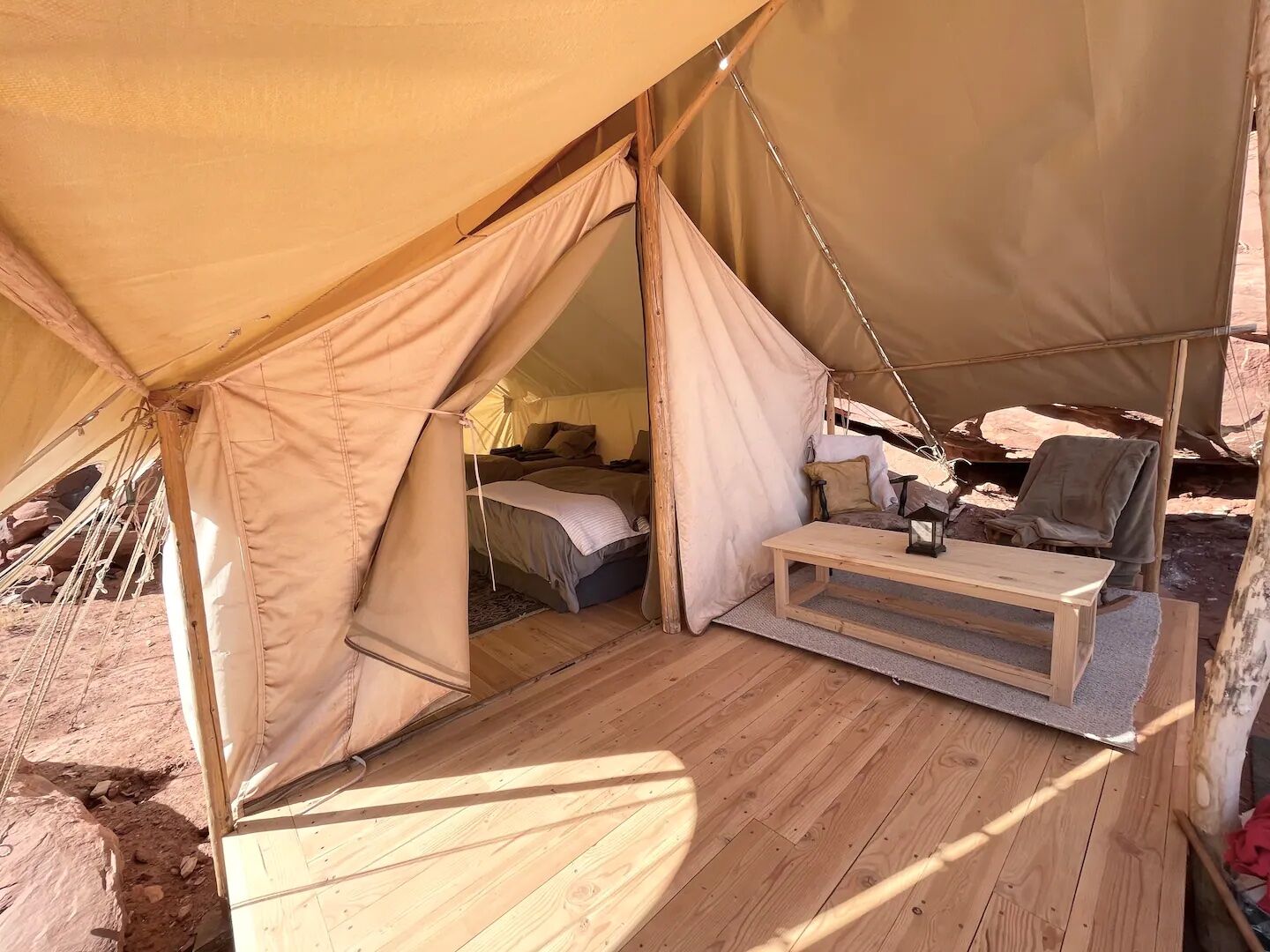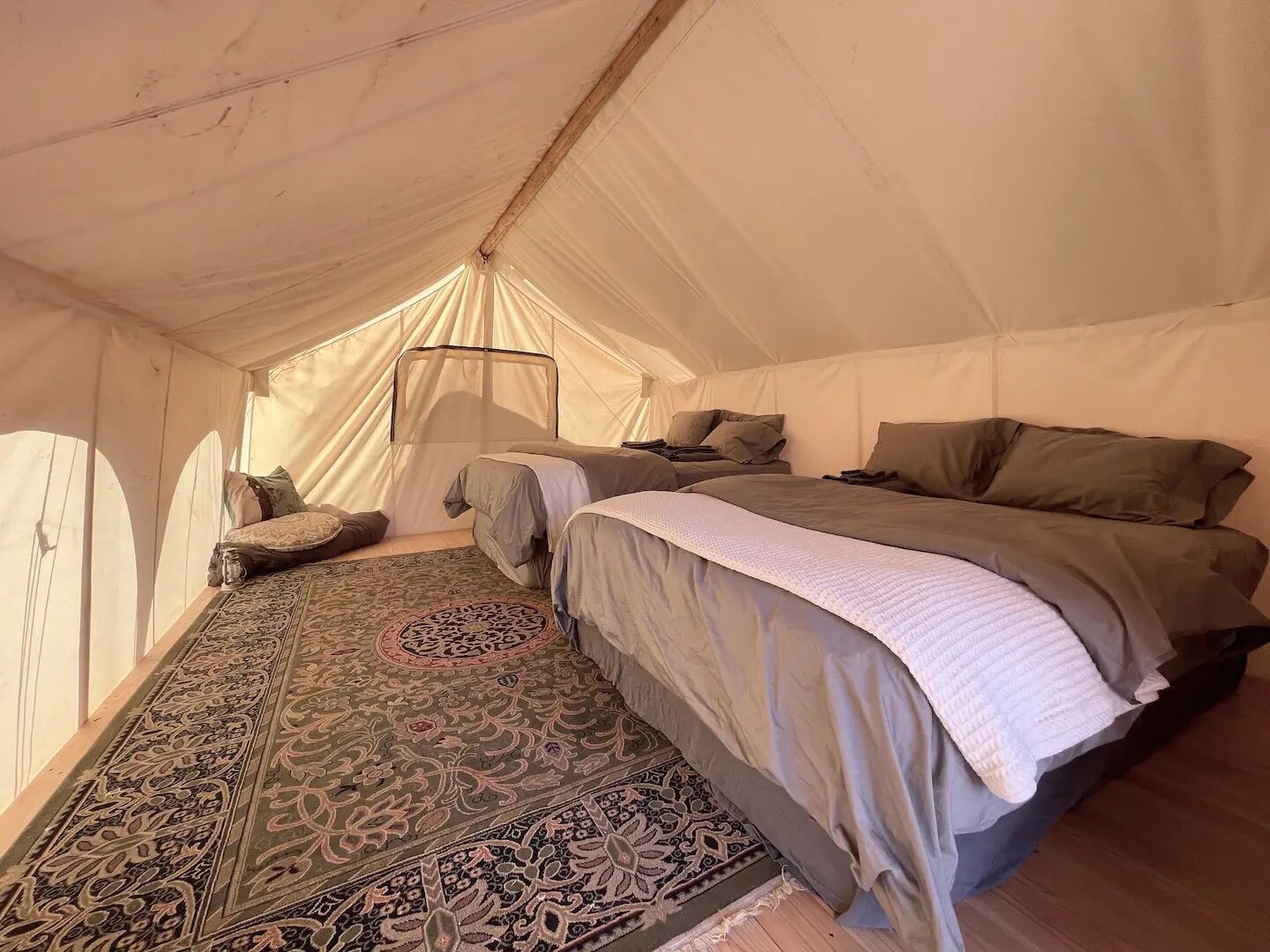 See more photos
Enjoy a one-of-a-kind escape in the beautiful Moab region, nestled in the rugged and untouched beauty of nature.
This glamping experience
allows visitors to immerse themselves in 80 acres of private and secluded land. Luxury tents are furnished with hotel-quality beds and linens, plus each tent offers a private bathroom nearby built into the red rock landscape with a hot shower, sink and flush toilet for complete comfort without sacrificing the wild side. This unique accommodation includes an open-air enclosed bathroom with a flush toilet, sink, and hot shower just steps away from the porch – an intimate connection to nature that combines rustic charm with top-notch amenities.
Four guests, one bedroom
Price: $222 per night
Luxury spa unit near Arches National Park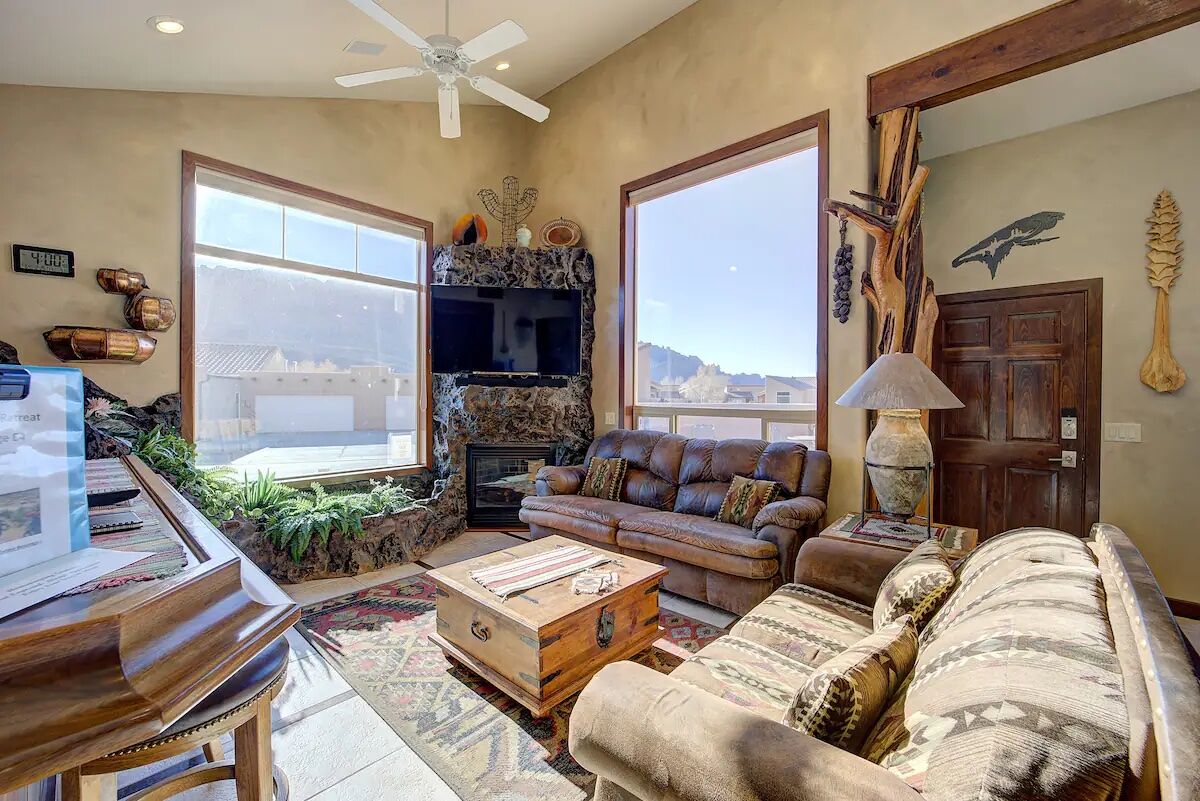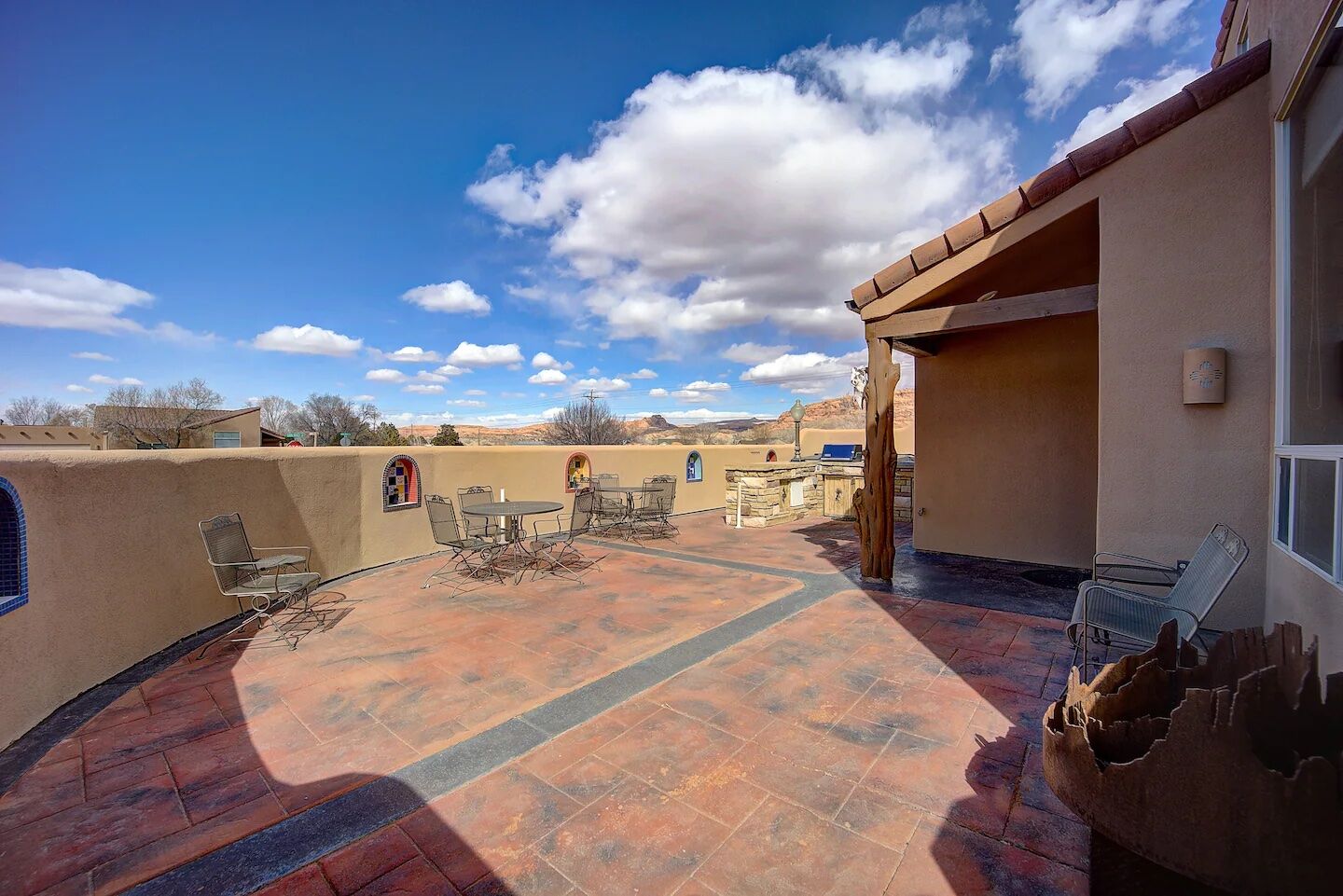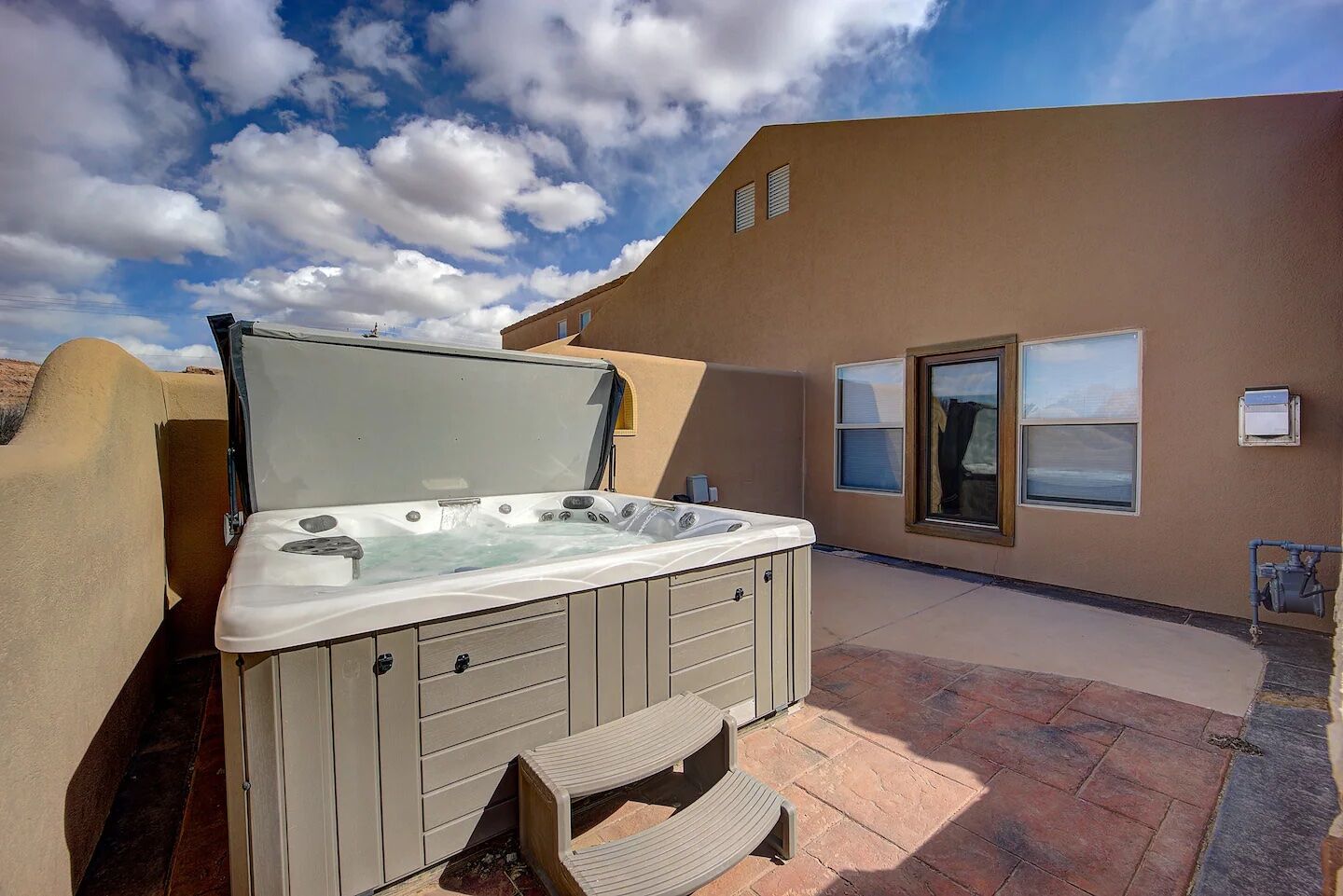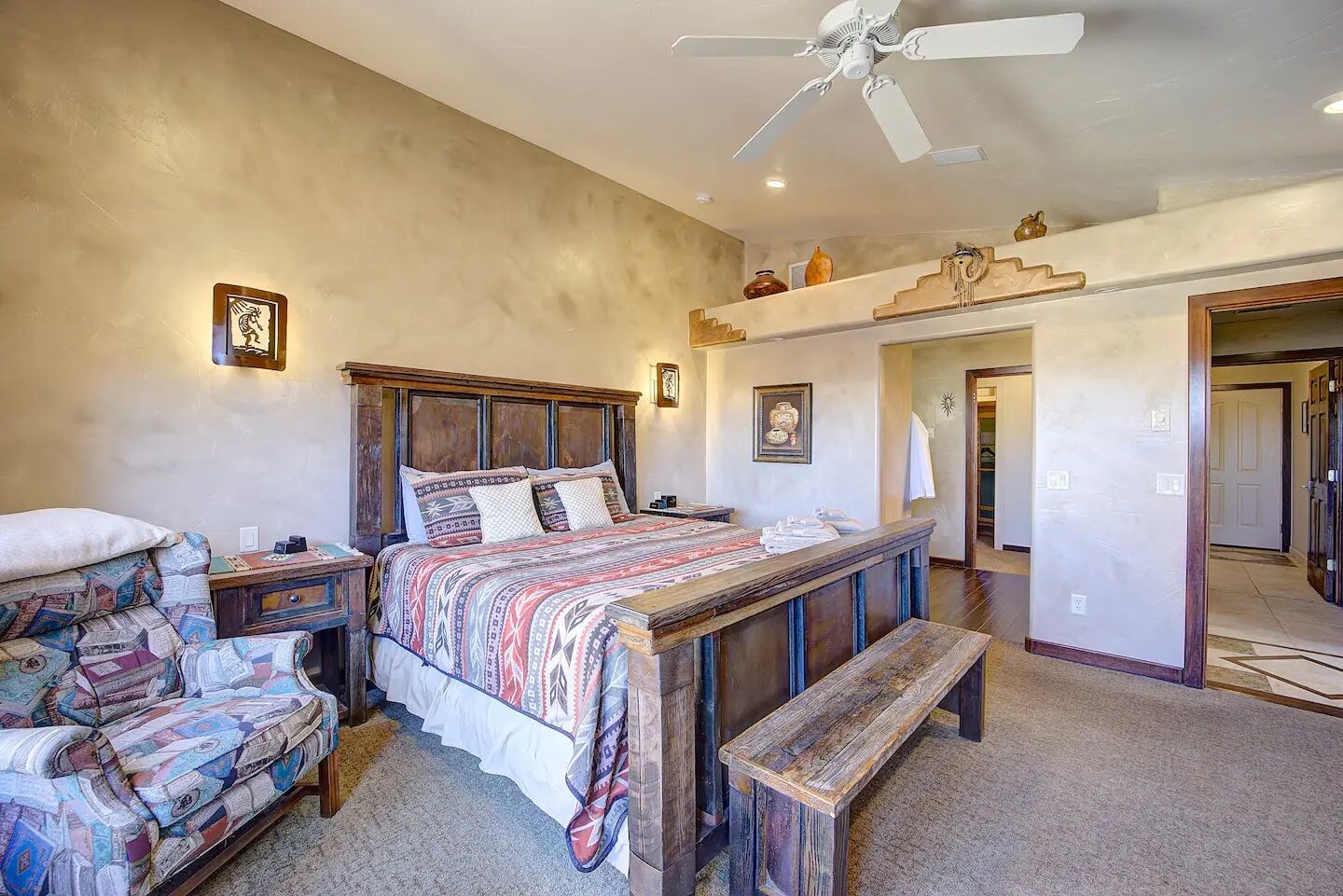 See more photos
Enjoy great views and a one-of-a-kind southwest luxurious experience at
this beautiful home
! Complete with a large outdoor private courtyard, 7-8 person hot tub, and plenty of amenities like a fully stocked kitchen, linens, washer/dryer, double garage, jetted tub, sauna, steam shower, 3 gas fireplaces and an outdoor grill. Inside you'll find original art and high-end furnishings including 55″ smart TVs in each bedroom and 60″ TV in the living room. Plus there's central air/heat and free WiFi. Enjoy nearby activities including golfing, cycling, and more — or relax by the communal pool.
Eight guests, two bedrooms
Price: $250 per night
Contemporary large-family home with slickrock views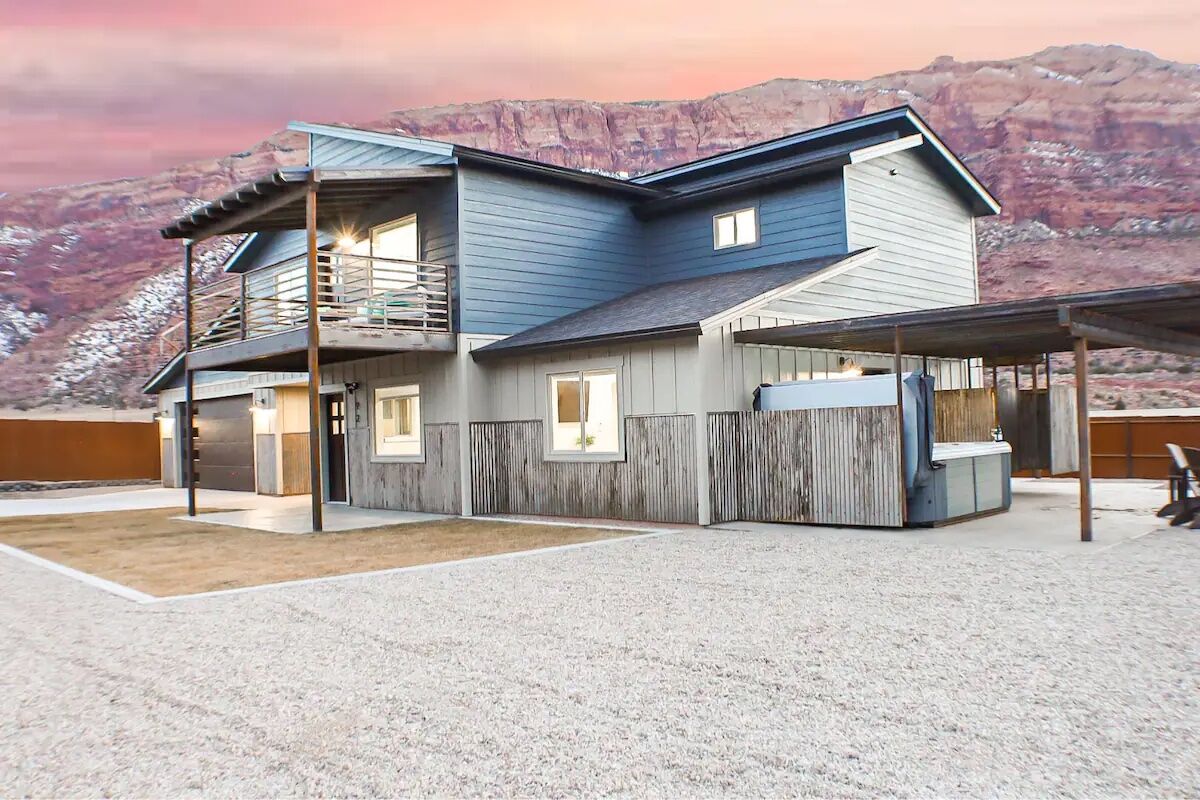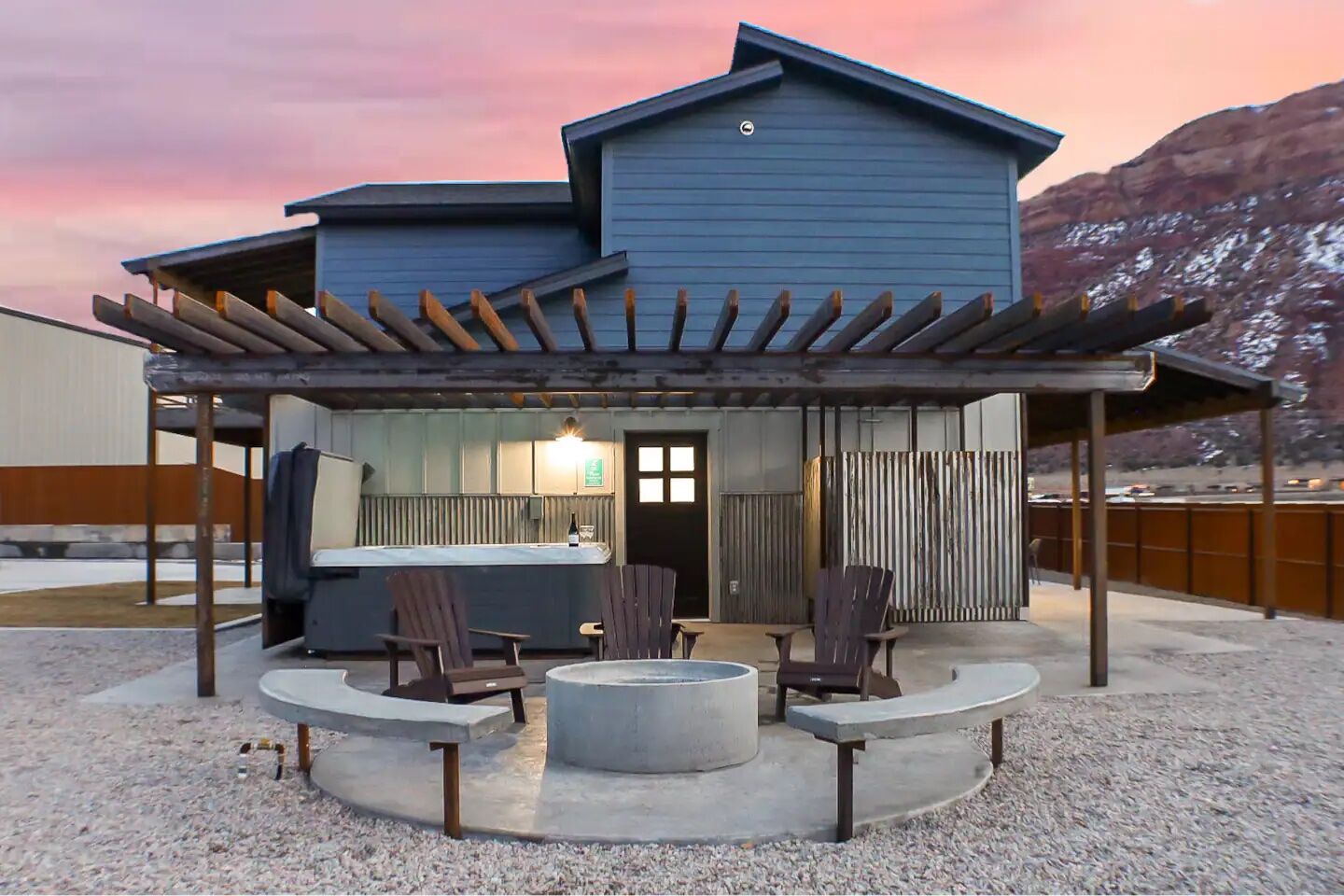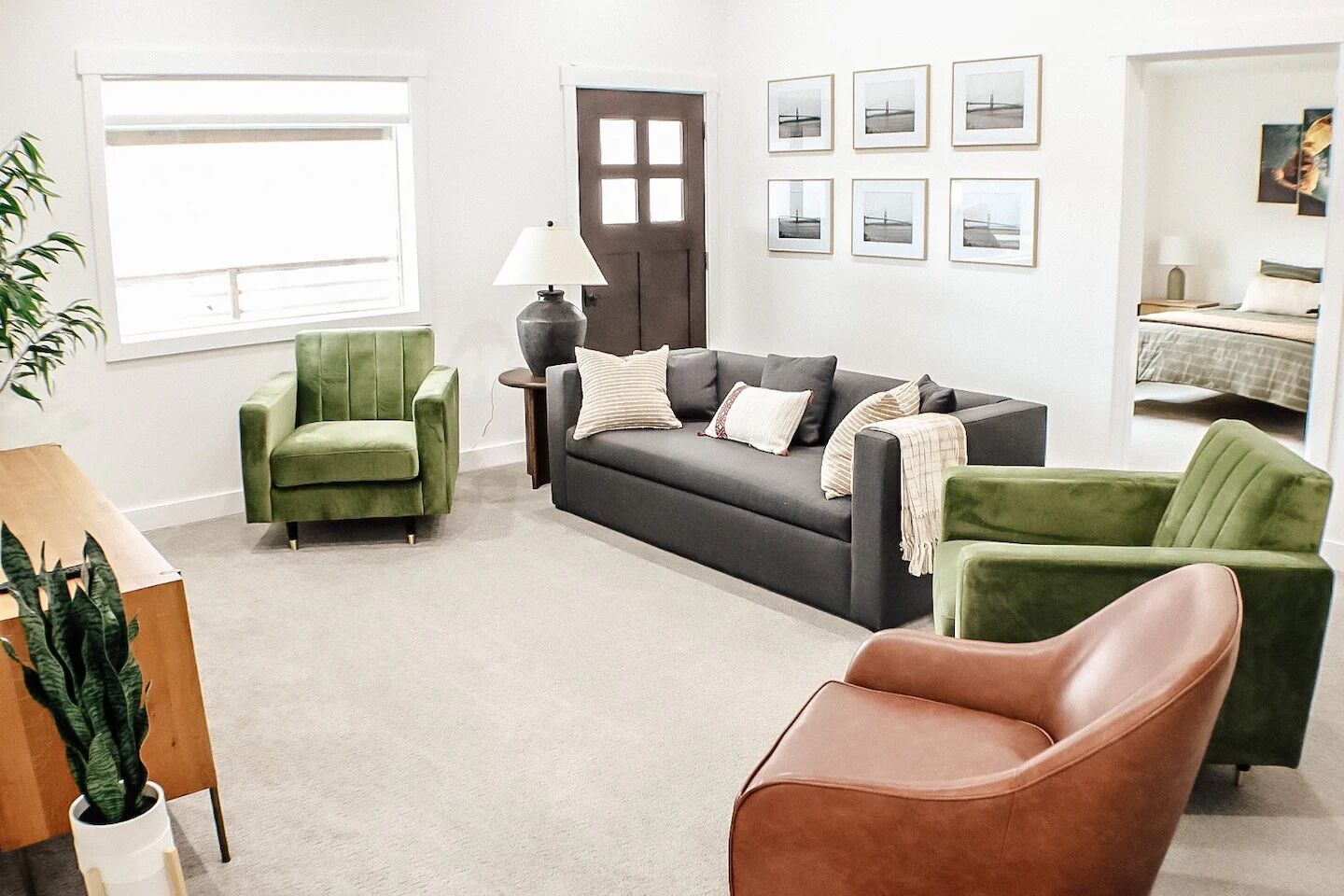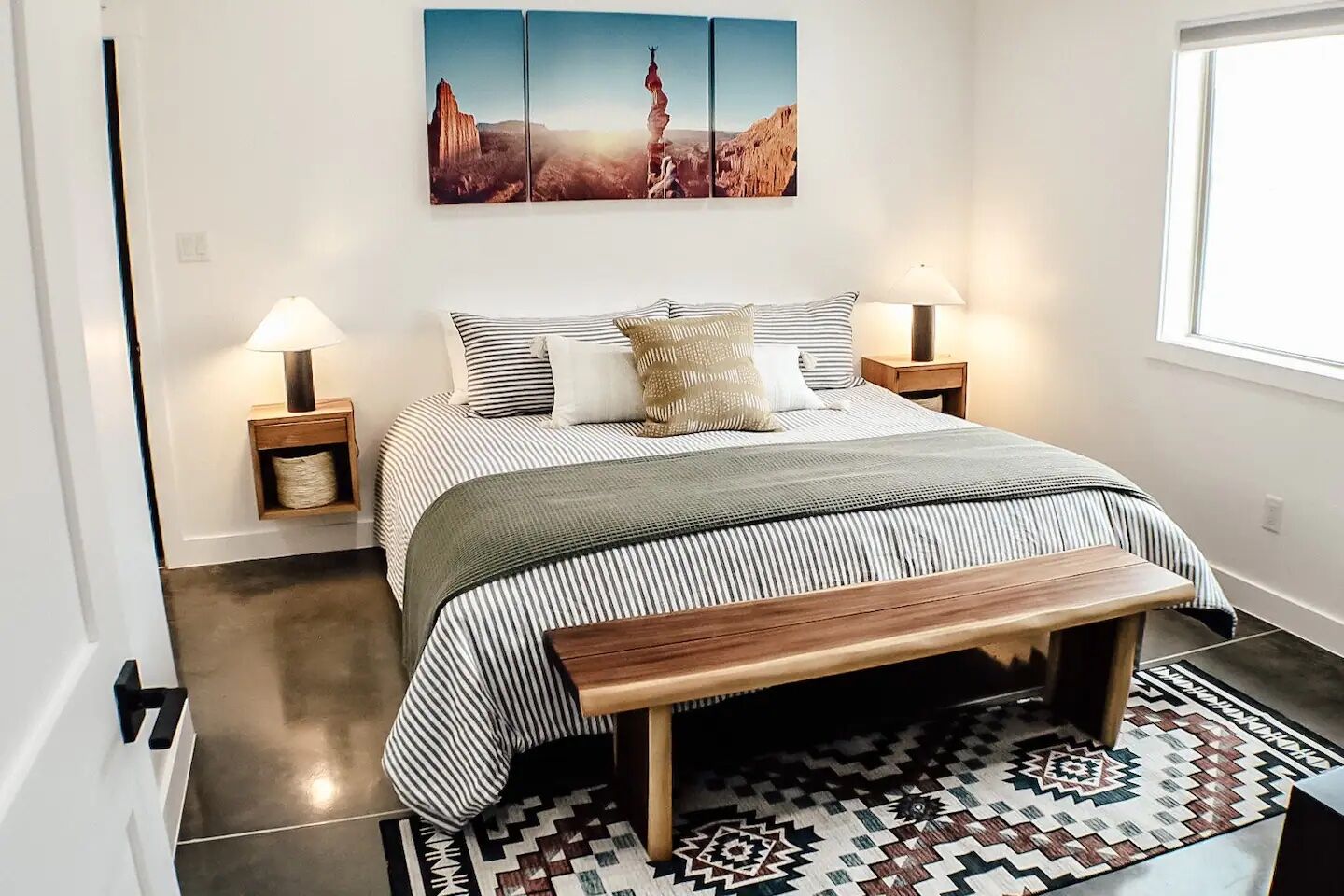 See more photos
This
new custom-built home
provides fun for the whole family! With a private lot off the main road, 4 bedrooms, and 3.5 bathrooms, you'll have plenty of room inside and out to spread out or gather together in a variety of interior and exterior spaces. The home has a hot tub, and a fire pit, and backs up to some of the region's most beautiful slickrock mountains – so if you're a hiker or mountain biker, this spot is prime.
Ten guests, four bedrooms
Price: $483 per night
Large-group modern home with outdoor equipment included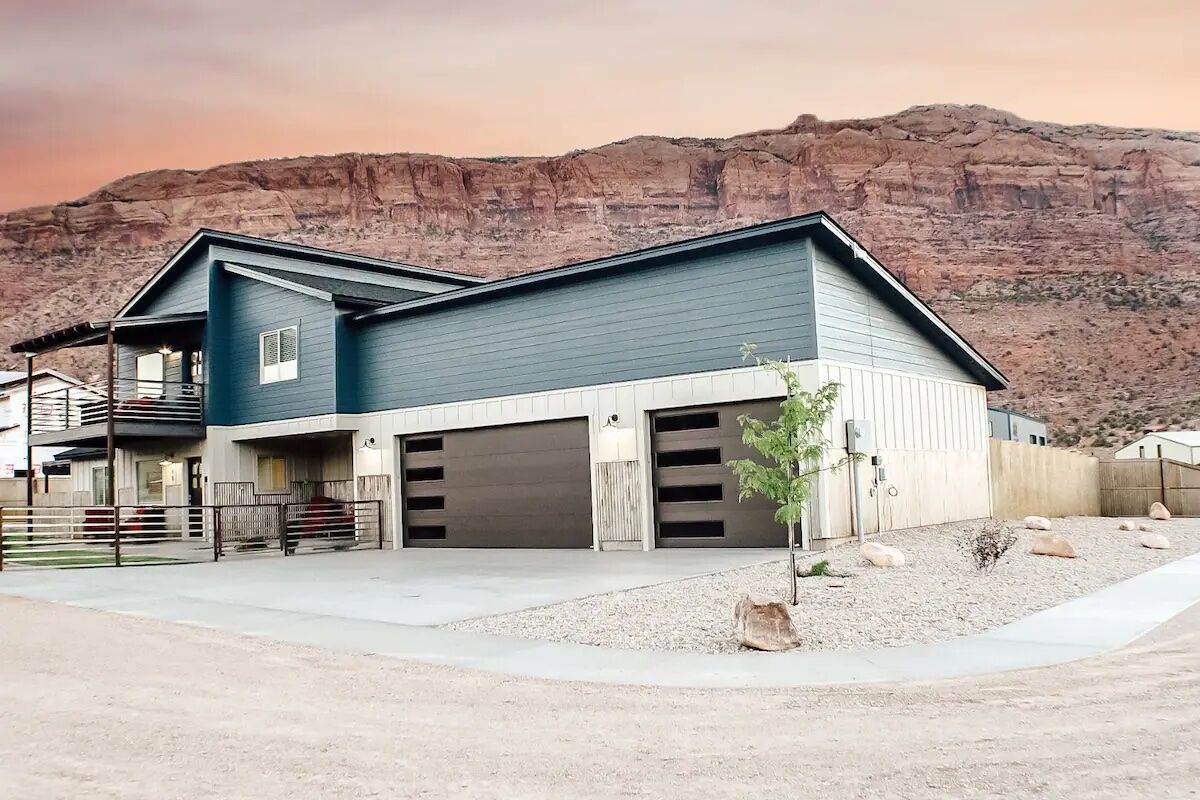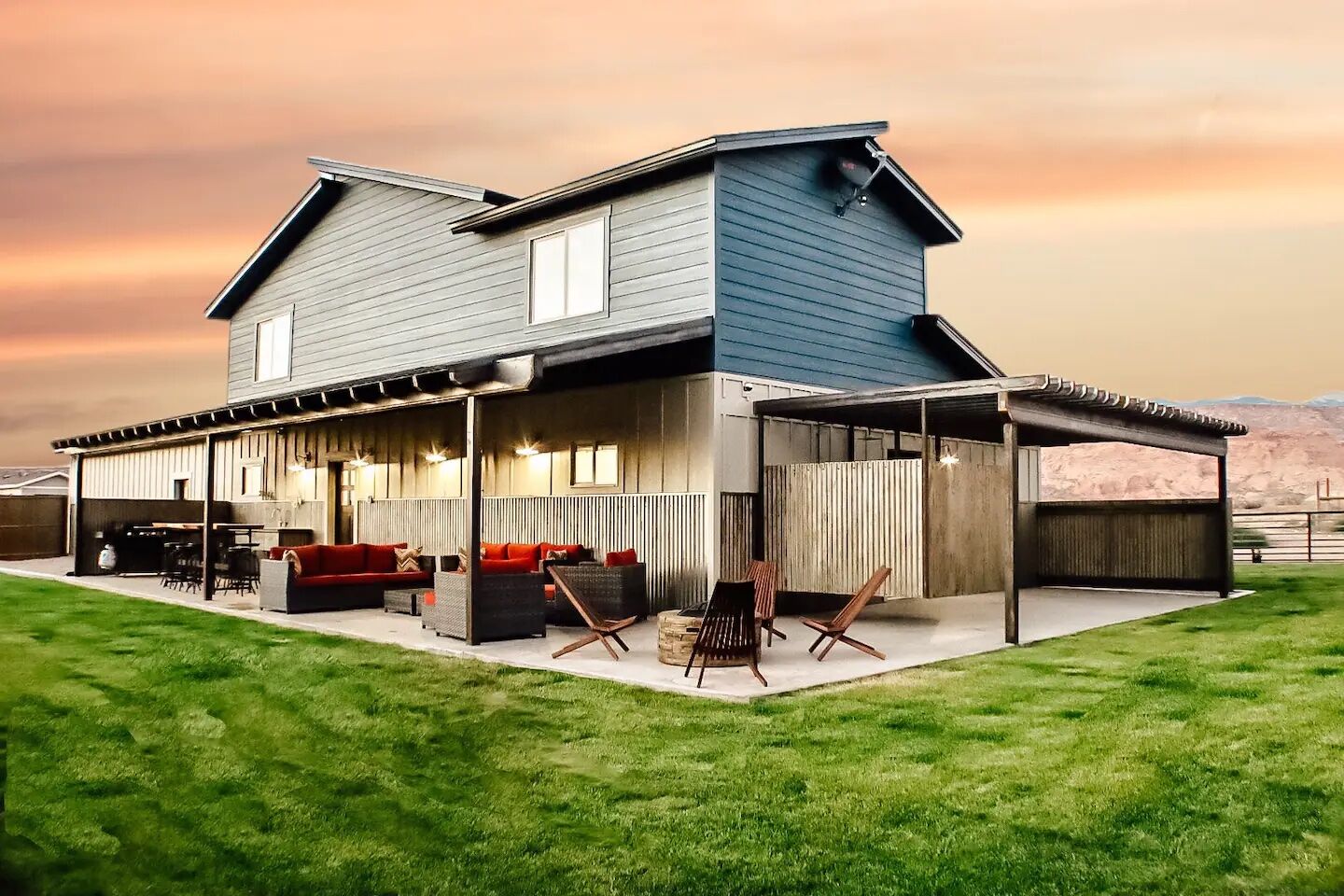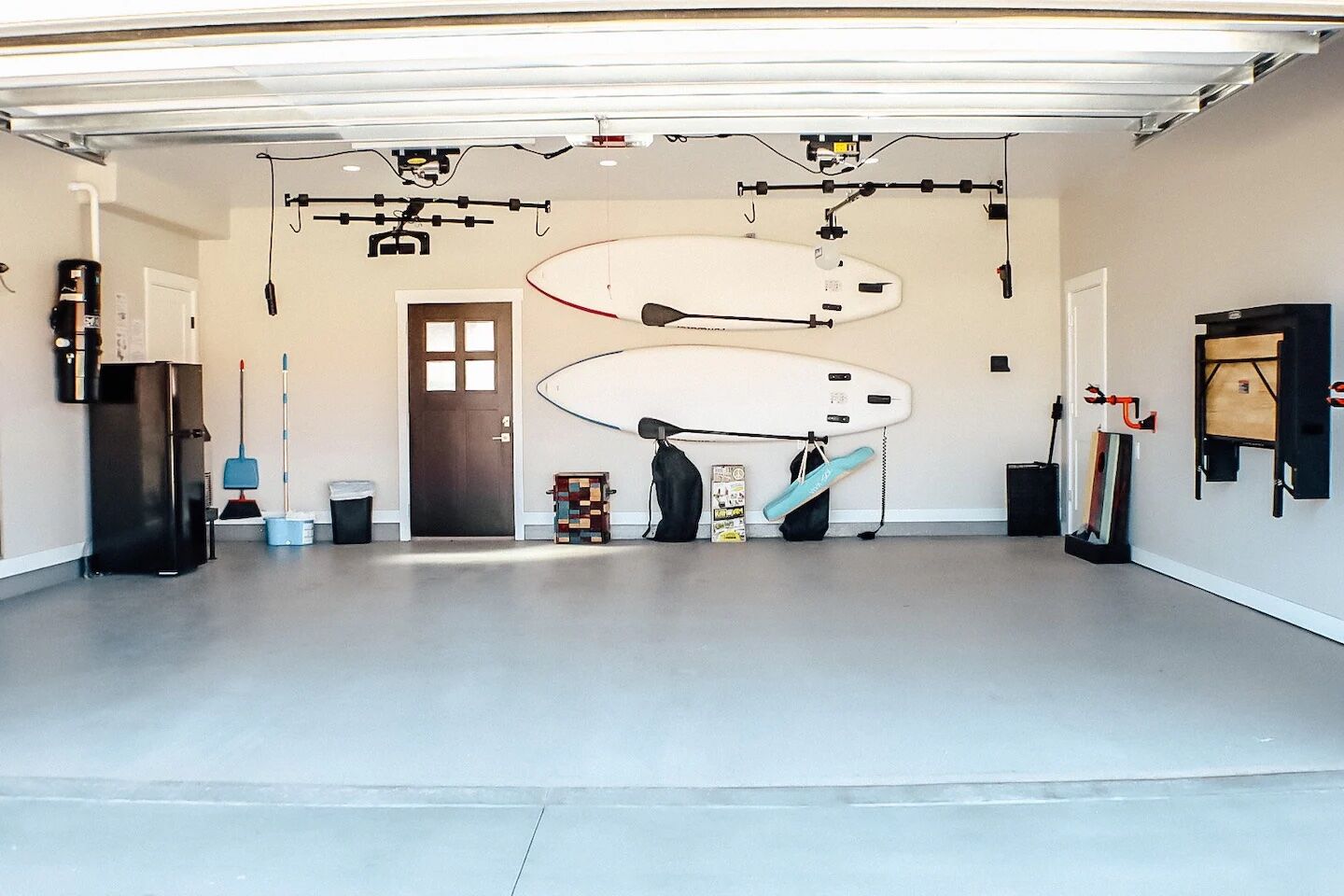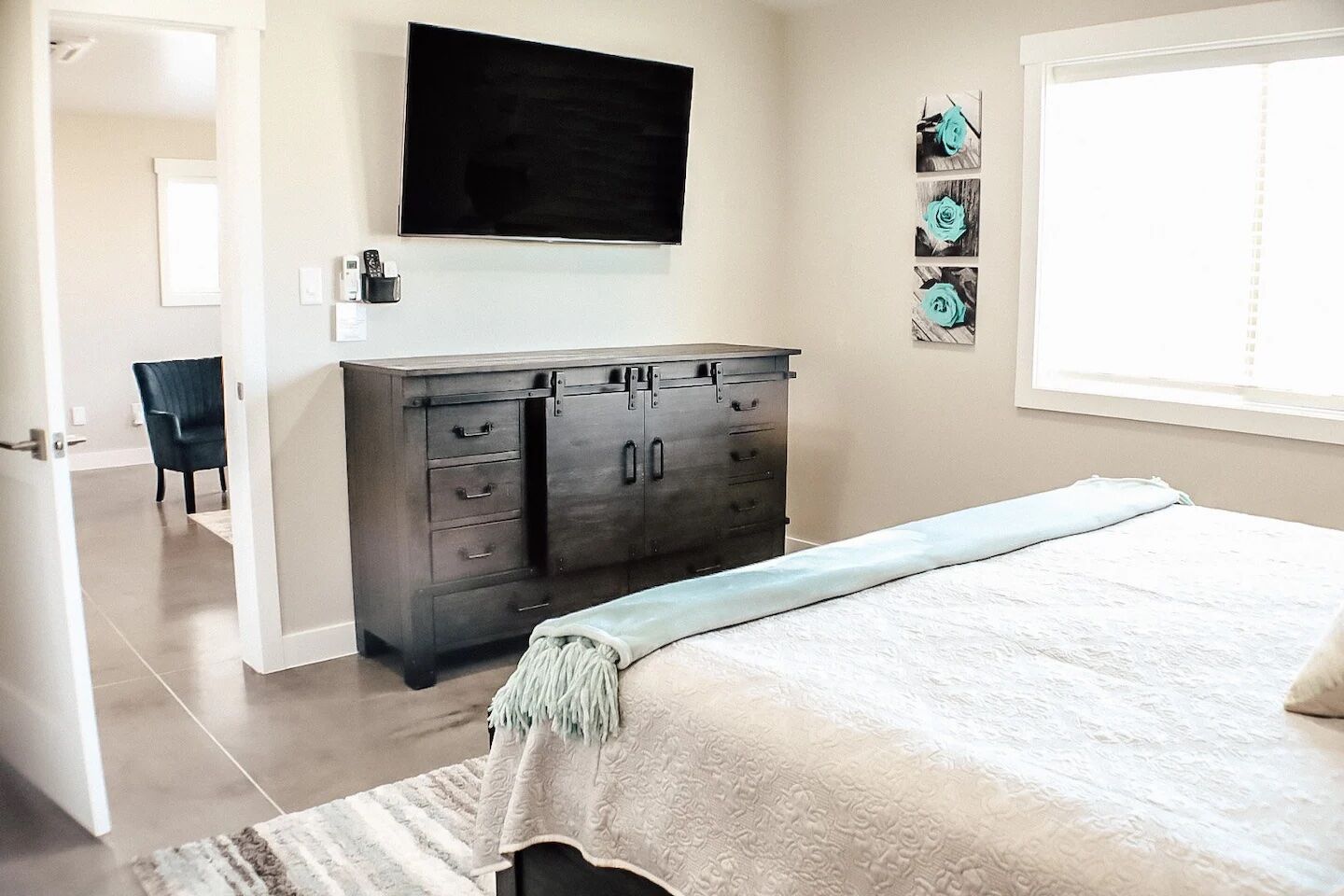 See more photos
This
new custom home
is the perfect place for families and friends to spread out and enjoy a peaceful getaway. With 3 bedrooms, 2.5 bathrooms, a main level living room as well as an upper level family/entertainment room, every guest can find their own space. The exterior offers plenty of entertainment options – whether relaxing on one of the three covered patios or hot tubbing under the stars, you'll find something special here. There's also a firepit, outdoor shower, four-burner Blackstone grill with seating for eight and lots of yard games for all ages. Your crew will love the easy access to off-road trails and hiking areas nearby with breathtaking views of La Sal Mountains and Moab Canyon Rim.
Added amenities include two power Jeep hoists, eight Jeep door hangers, two bike workstations plus a bike rack with a capacity for 12 bikes, and paddle boards. Inside there is a custom-crafted kitchen with a butler's pantry and coffee bar and laundry room available to guests while they relax in comfort on electric adjustable mattresses in front of 55″ TVs throughout the house.
Ten guests, three bedrooms
Price: $379 per night
Desert retreat townhouse with epic views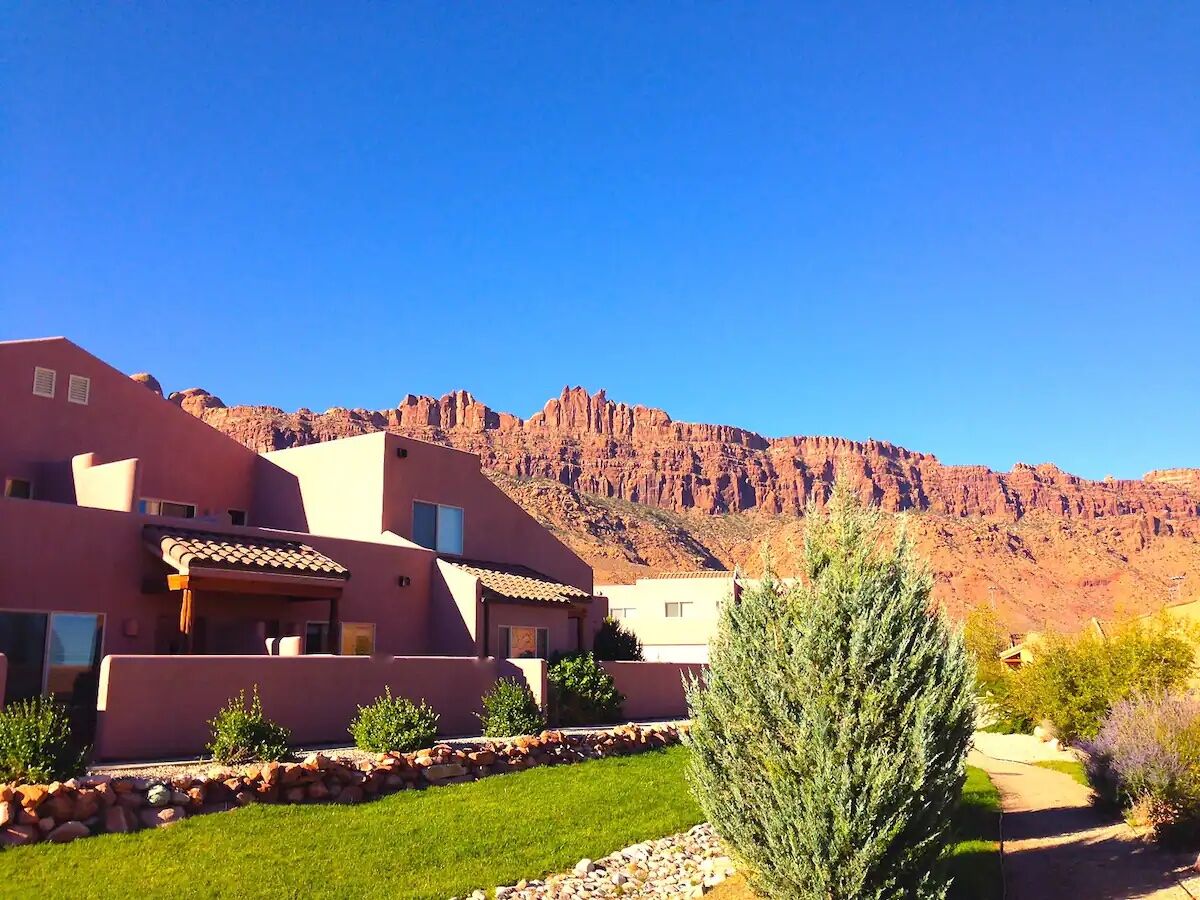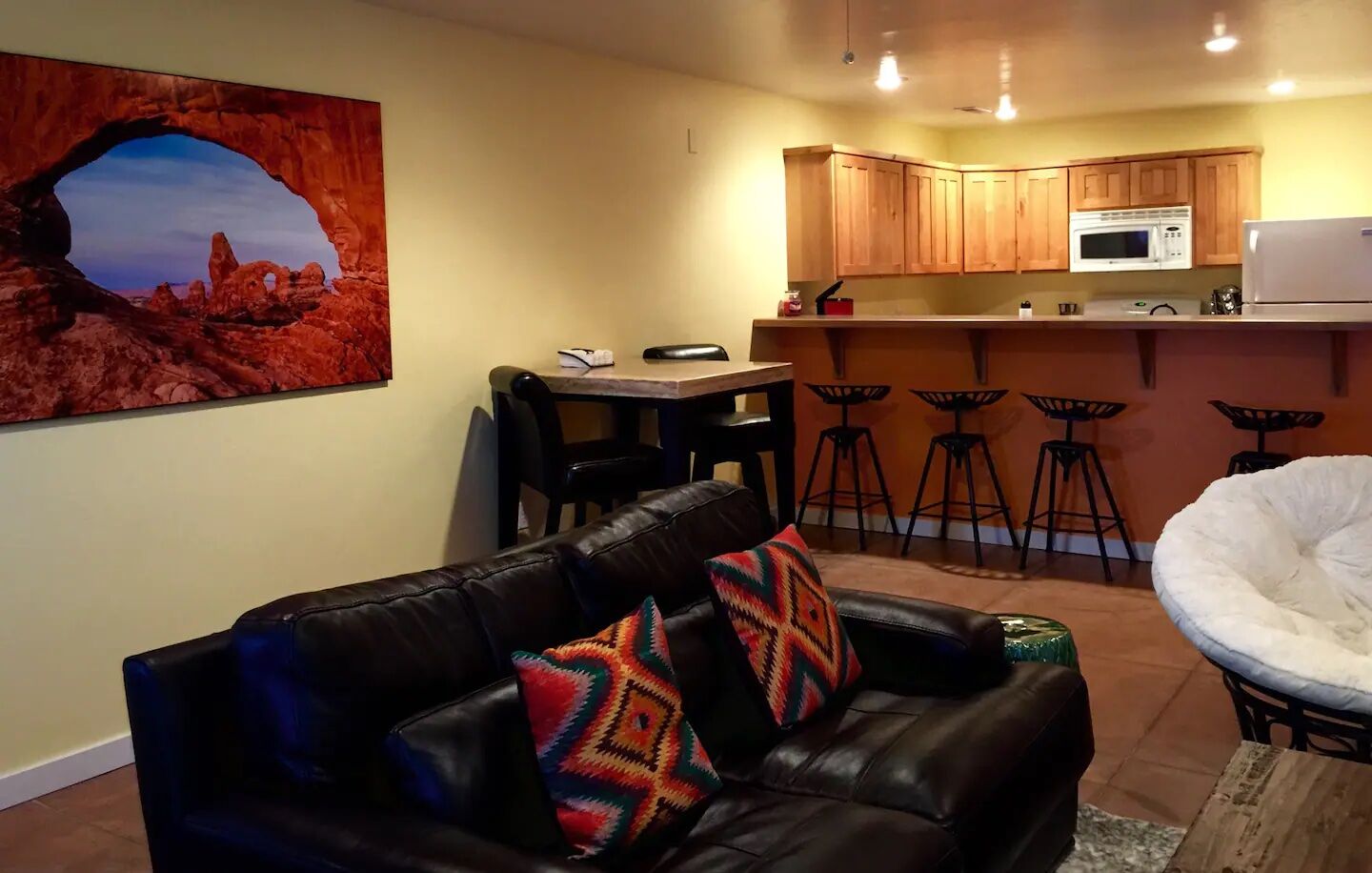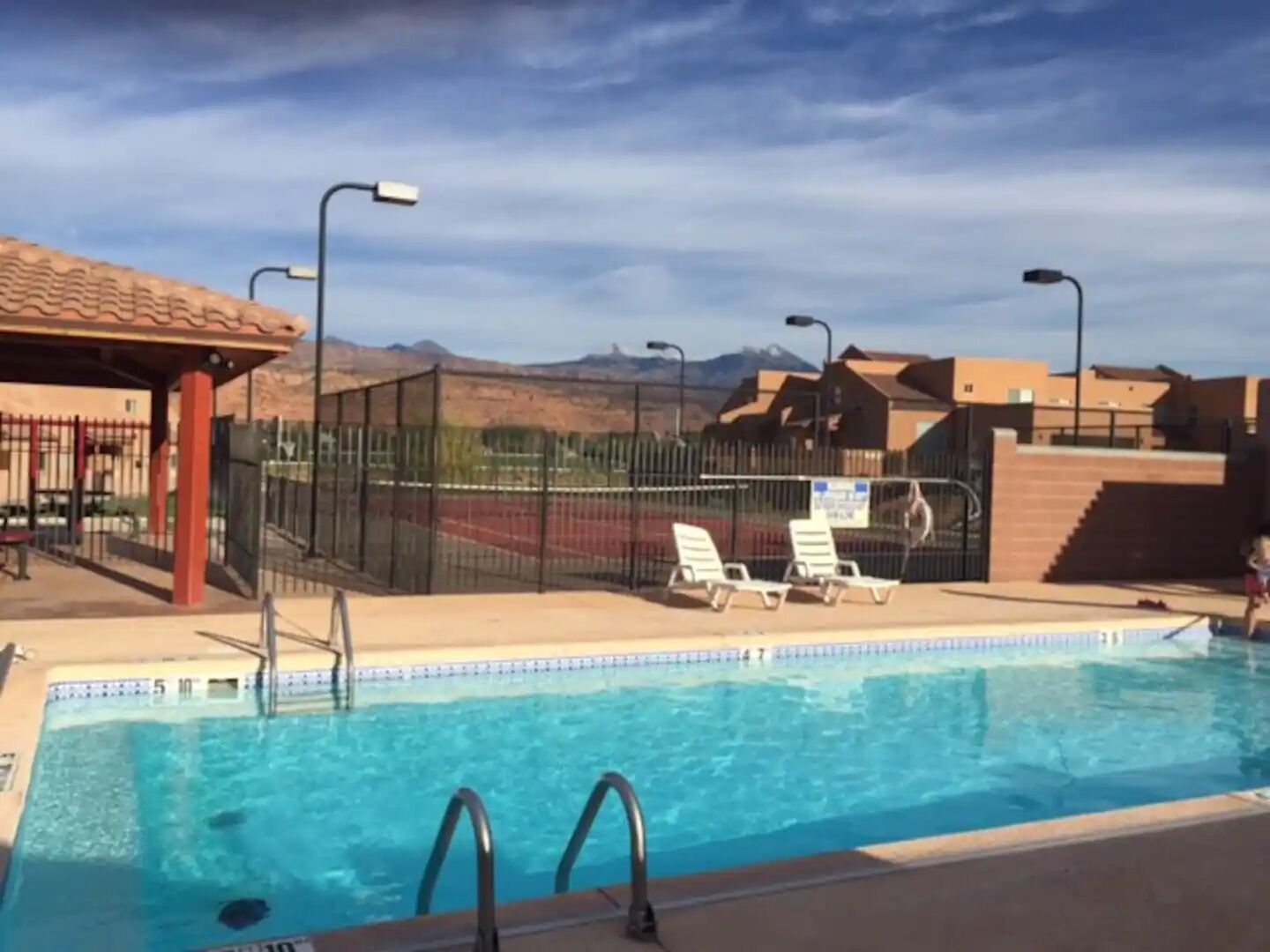 See more photos
A
perfect home base
for adventurous souls, this townhouse is just minutes away from the excitement of downtown Moab. Enjoy the comfort and convenience of a modern home after a day spent exploring the area. Relax with a beverage or two in hand on the private master patio while taking in views of the stars above. This private end unit also comes with off-street entry and garage plus private trailer parking for your toys. Now there's more time to create those unforgettable moments.
Six guests, three bedrooms
Price: $175 per night
Riverside hut for the ultimate nature experience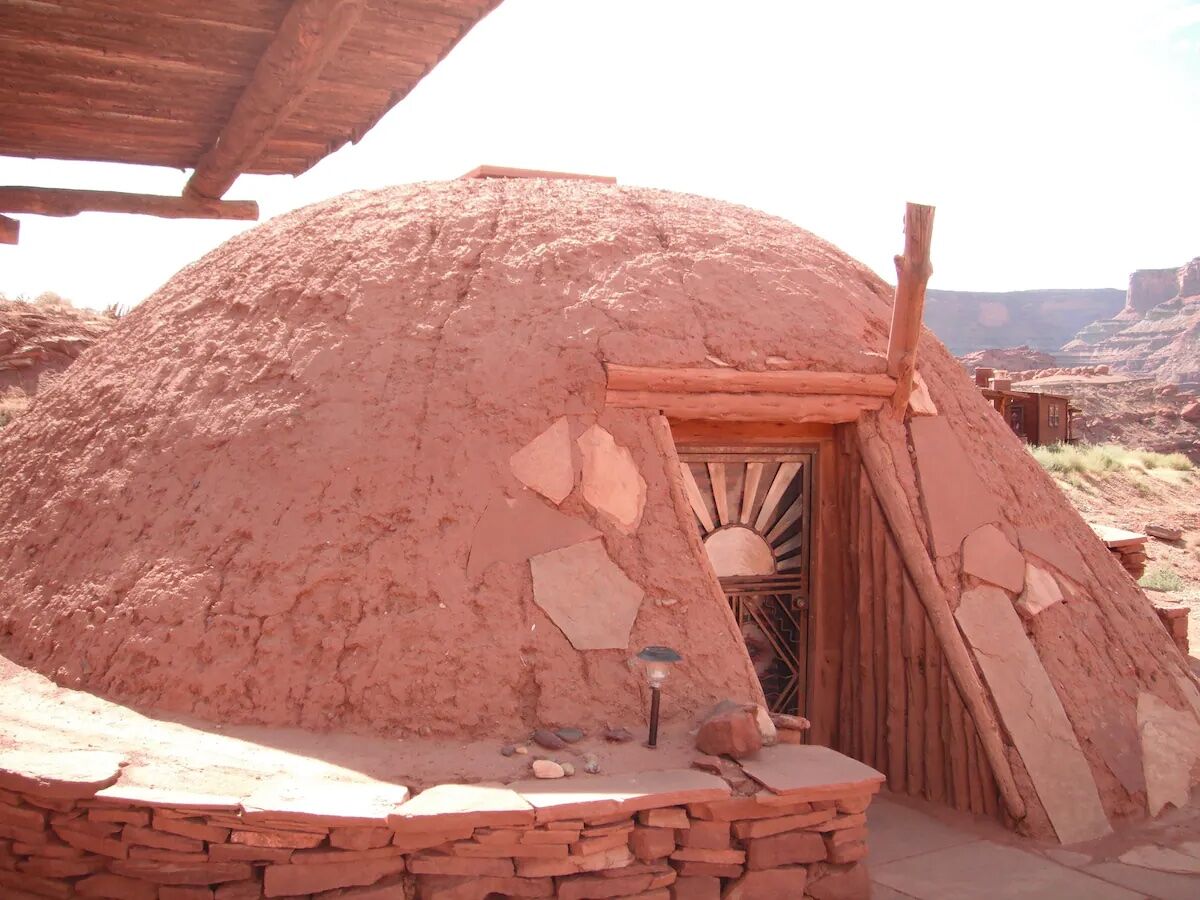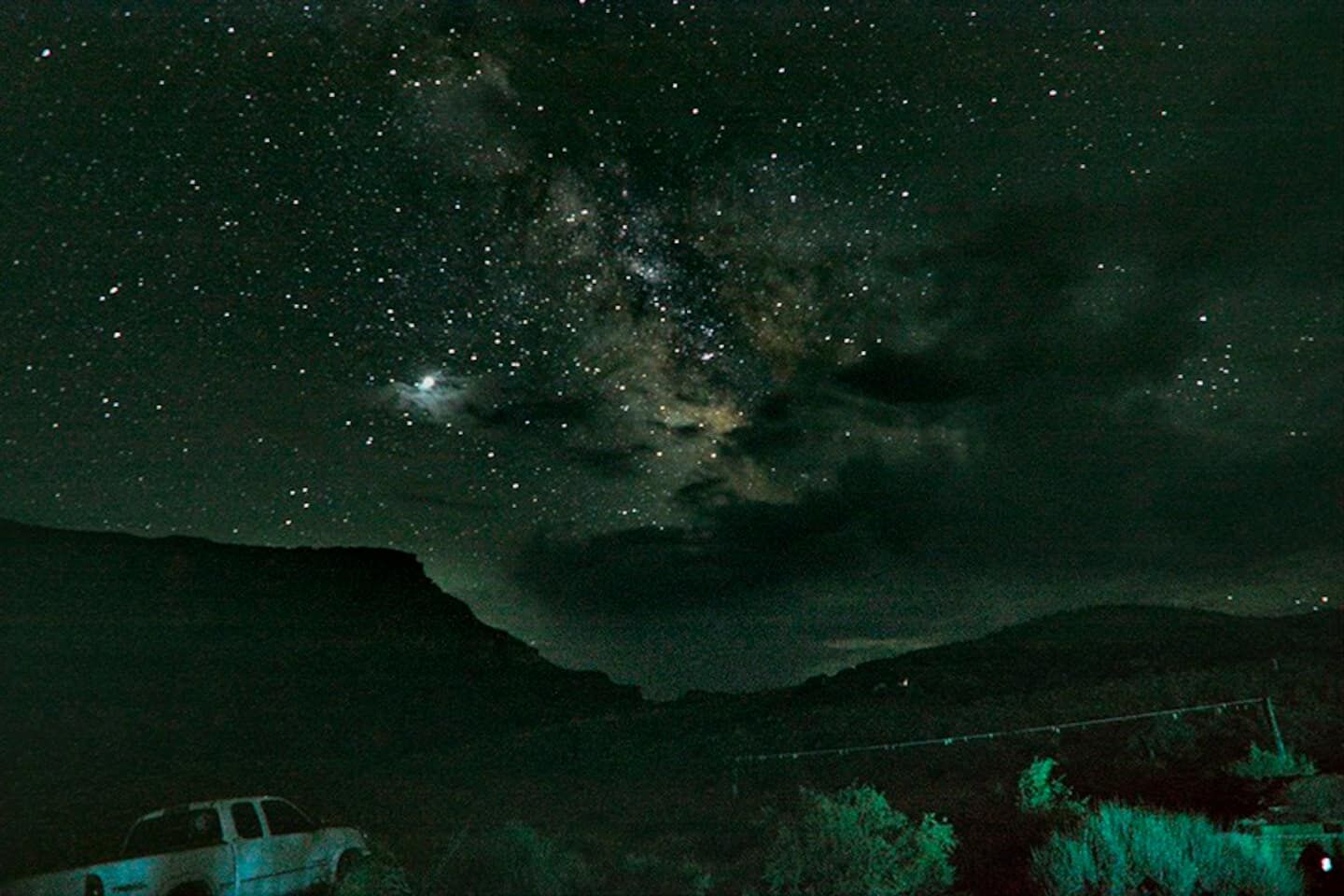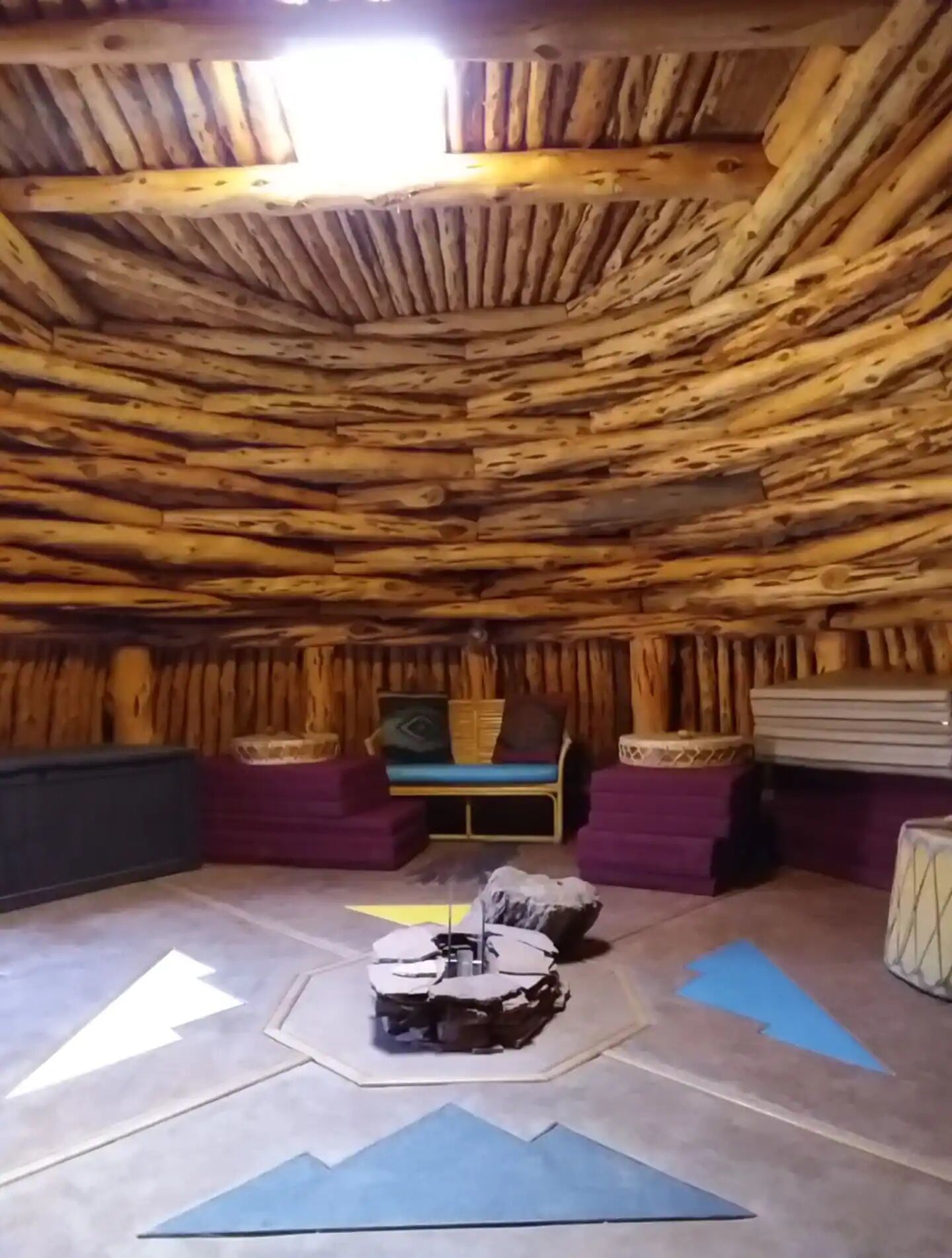 See more photos
This hut
is right along the Colorado River and includes five futons for crashing out on. It's a unique experience that provides easy access to hiking and biking, along with other outdoor activities, with a laid-back place to crash and chill that is unlike anywhere else you've ever stayed. If planning an Arches National Park day for an outdoorsy group, this is the spot.
Five guests, one bedroom
Price: $135 per night
Pet-friendly Airbnb near Arches National Park and golf course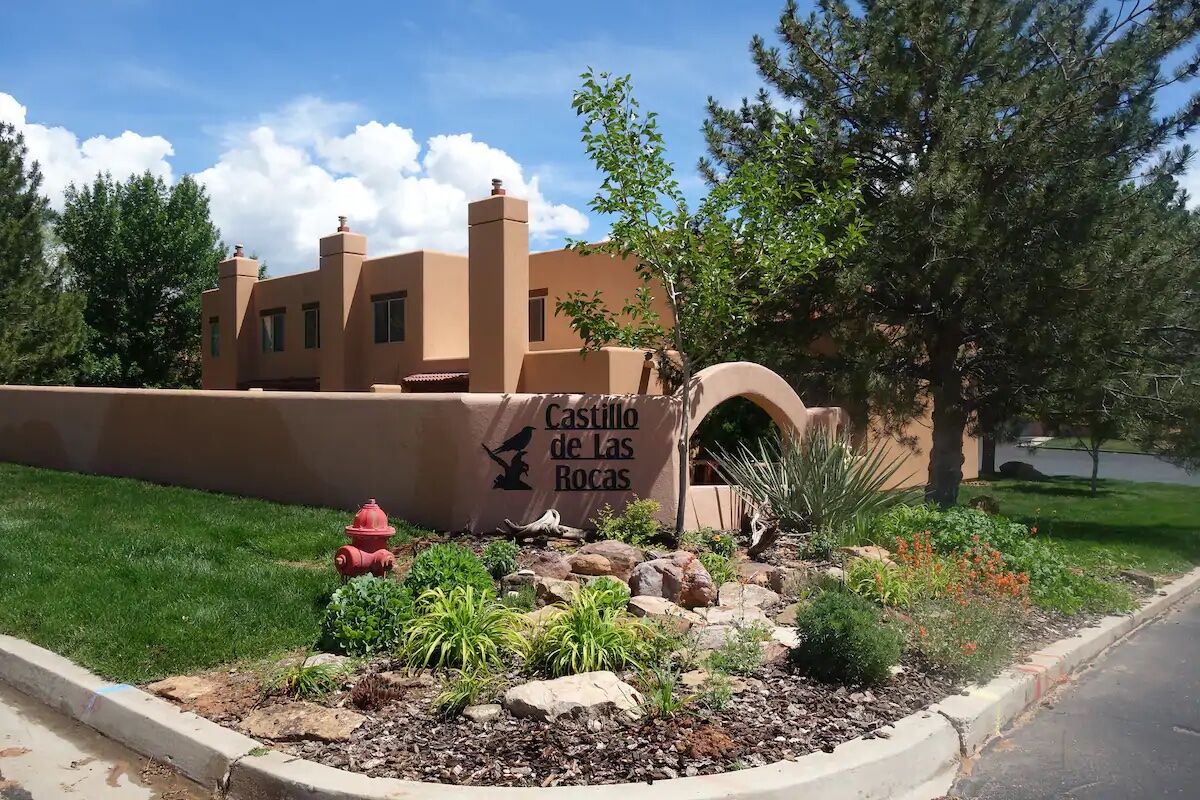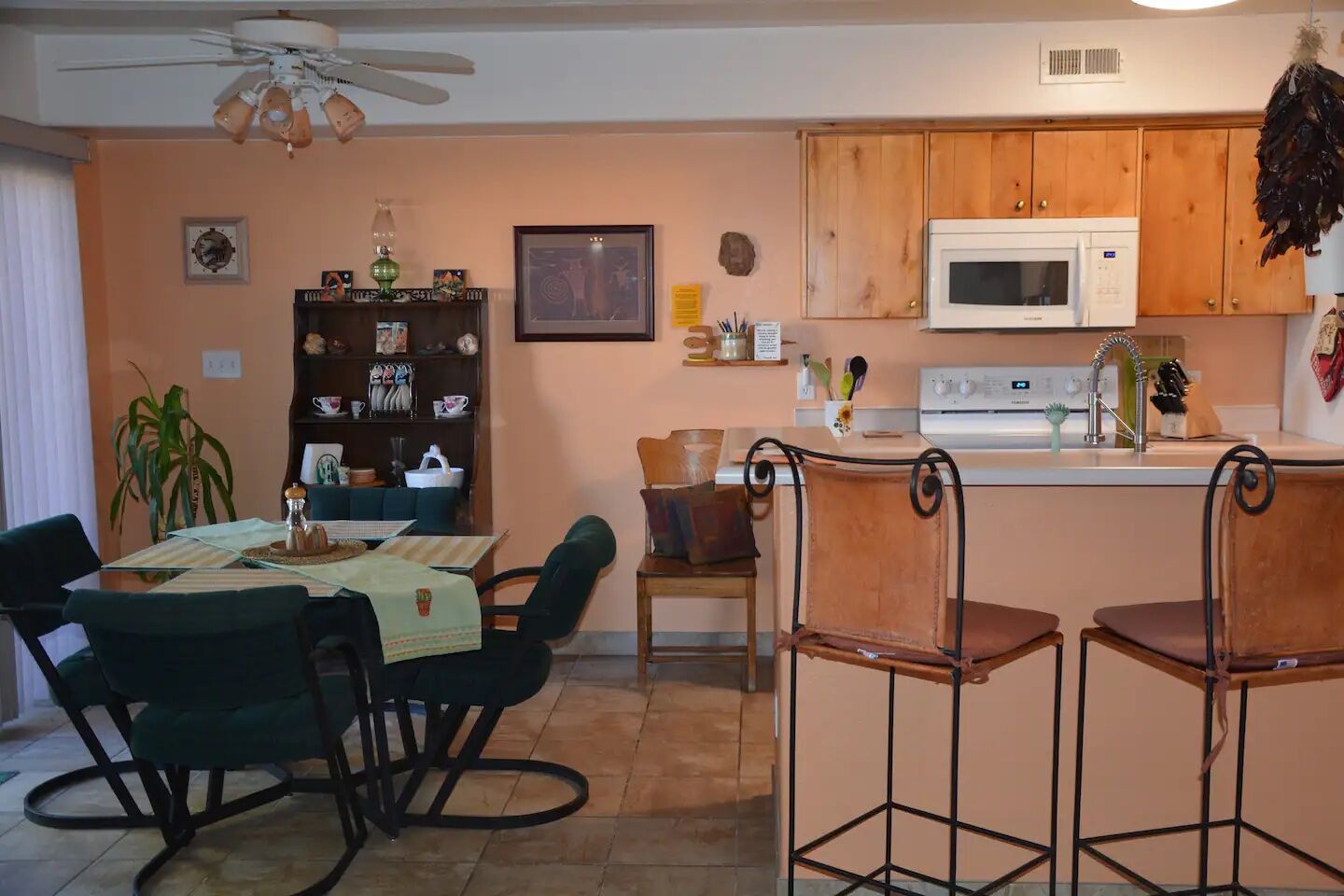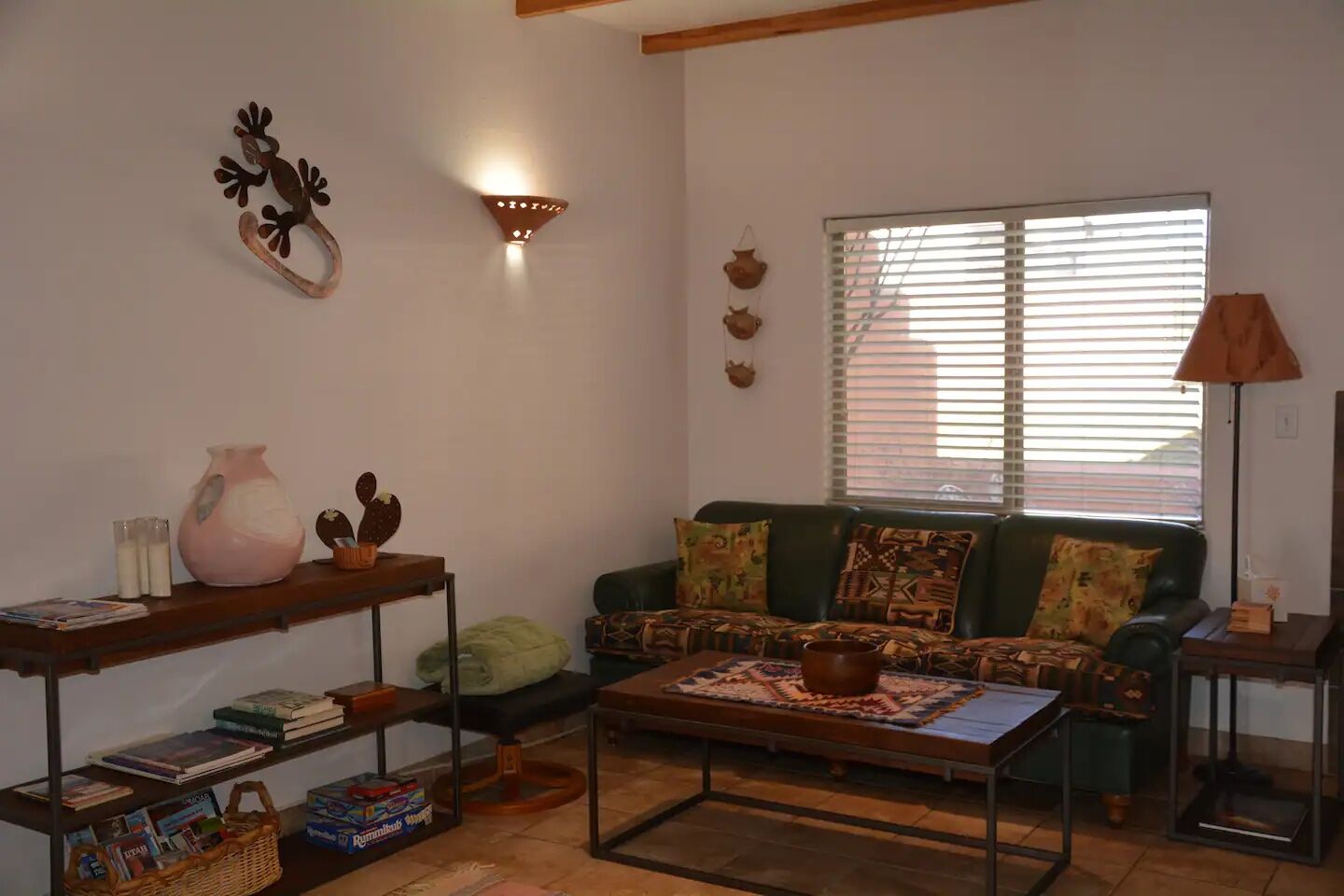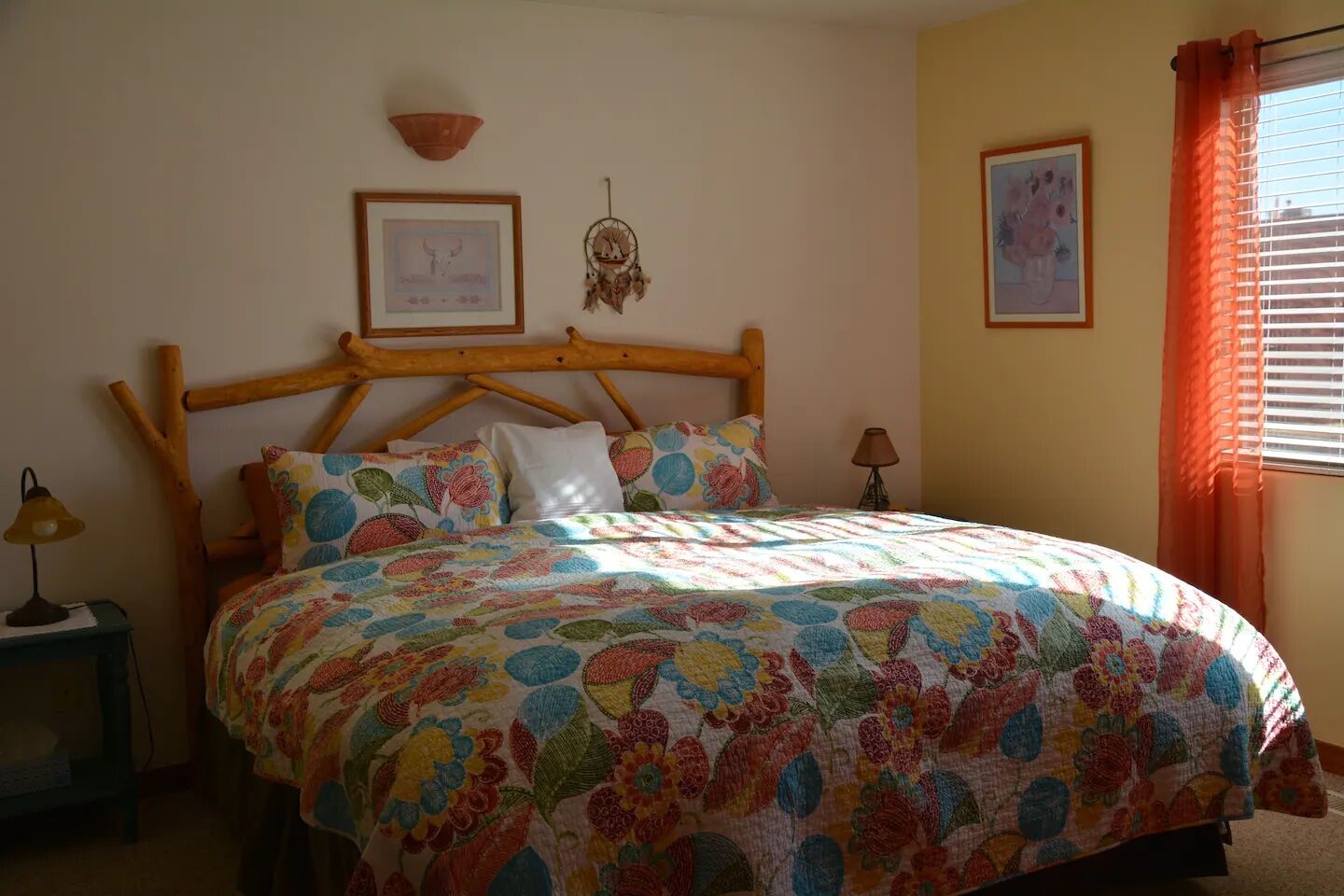 See more photos
Experience the beauty of Arches National Park with a stay at
this property
, just 10 minutes away from Moab's shopping and restaurants and nestled against breathtaking slickrock. The home features two bedrooms, two bathrooms, and a washer/dryer for your comfort. On the main level, there is a living room, fully stocked kitchen, dining area, and bathroom with shower. Upstairs you'll find two bedrooms – one with a king-size Sterns and Foster mattress and one with a queen-size memory foam mattress – and a full bathroom. There's also a loft boasting games, books, and toys for little visitors plus an additional futon or rollaway bed that can accommodate one more guest. Bedding and towels are provided. Outside you'll find a patio featuring a grill as well as access to the shared pool, which never gets too busy thanks to the small complex size.
Six guests, three bedrooms
Price: $230 per night
Large Airbnb with two pools, hot tub, trailer parking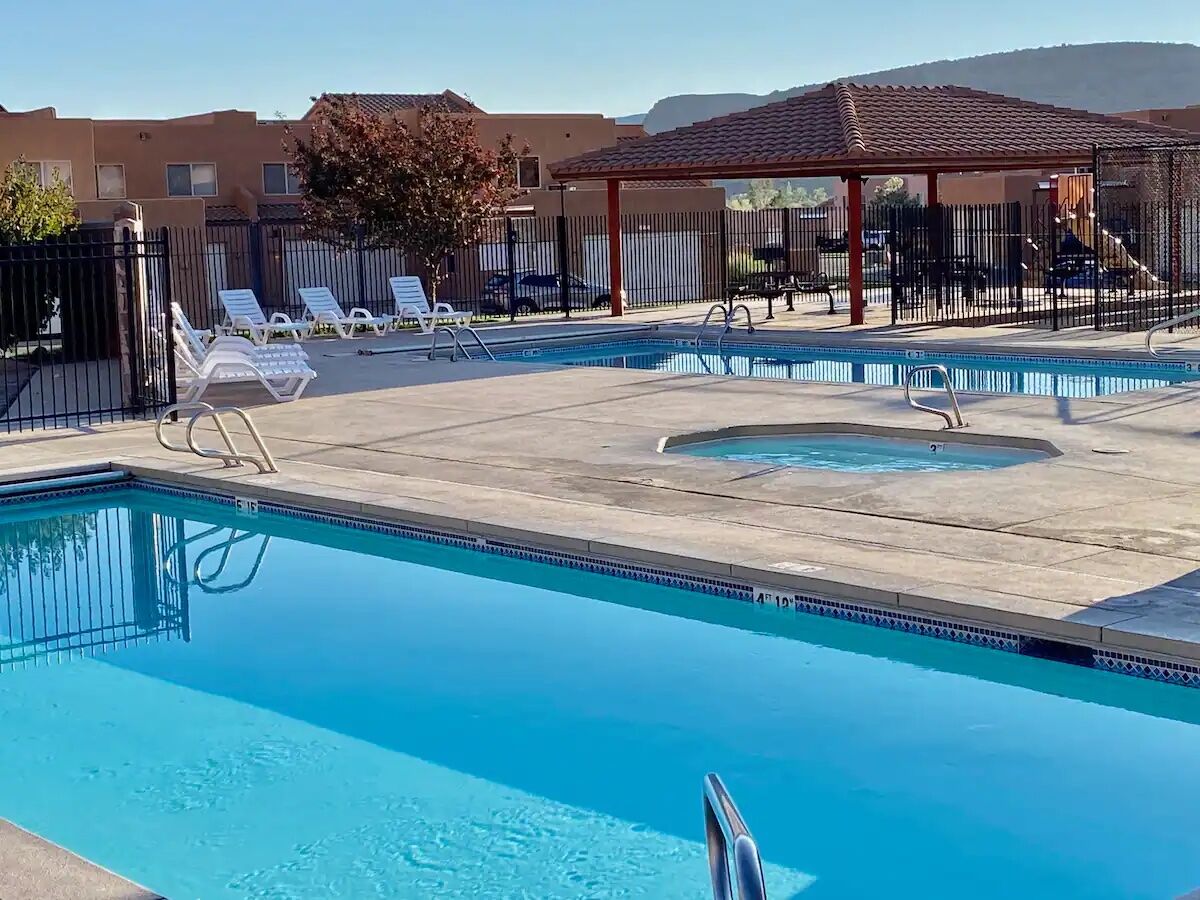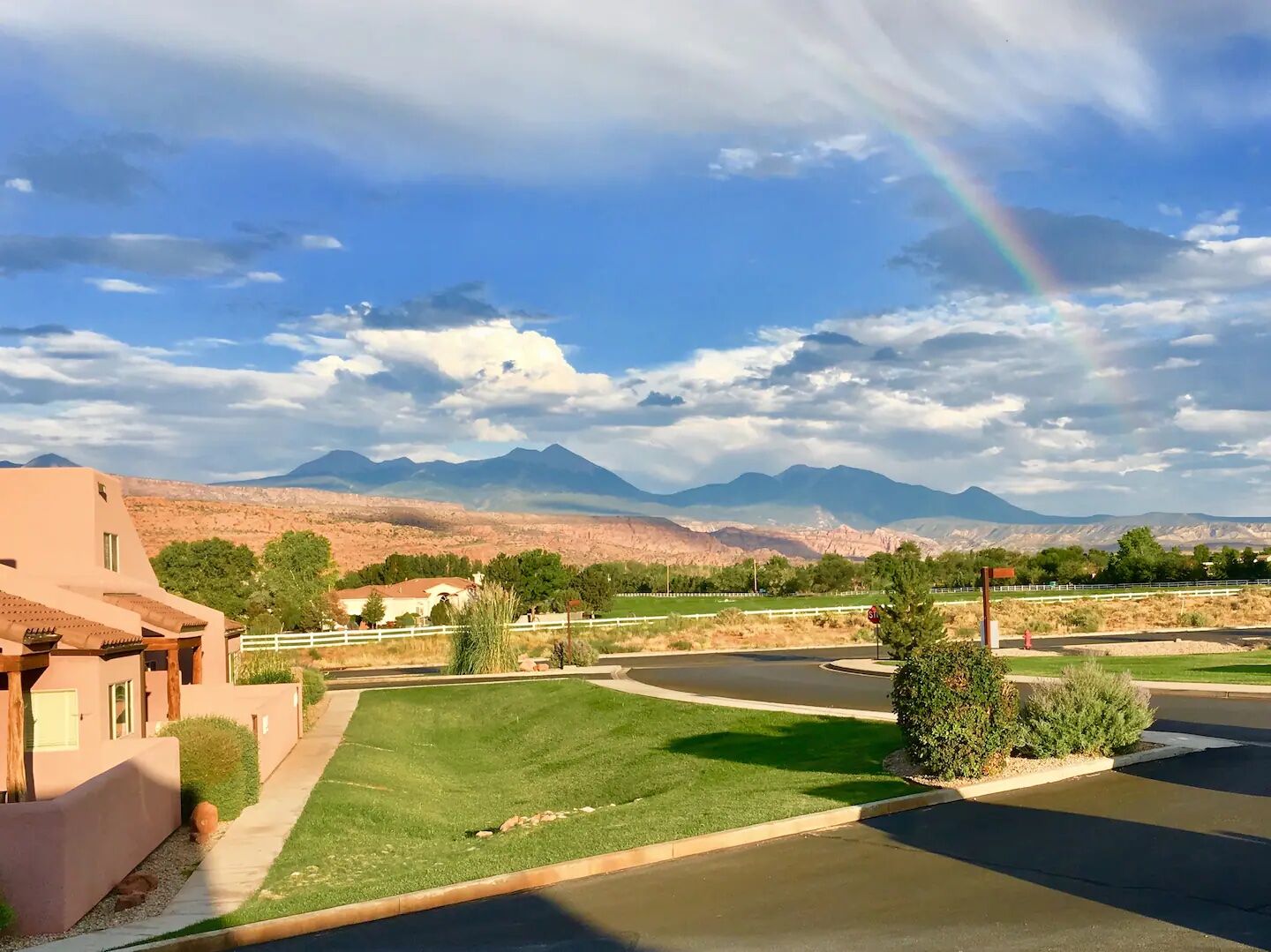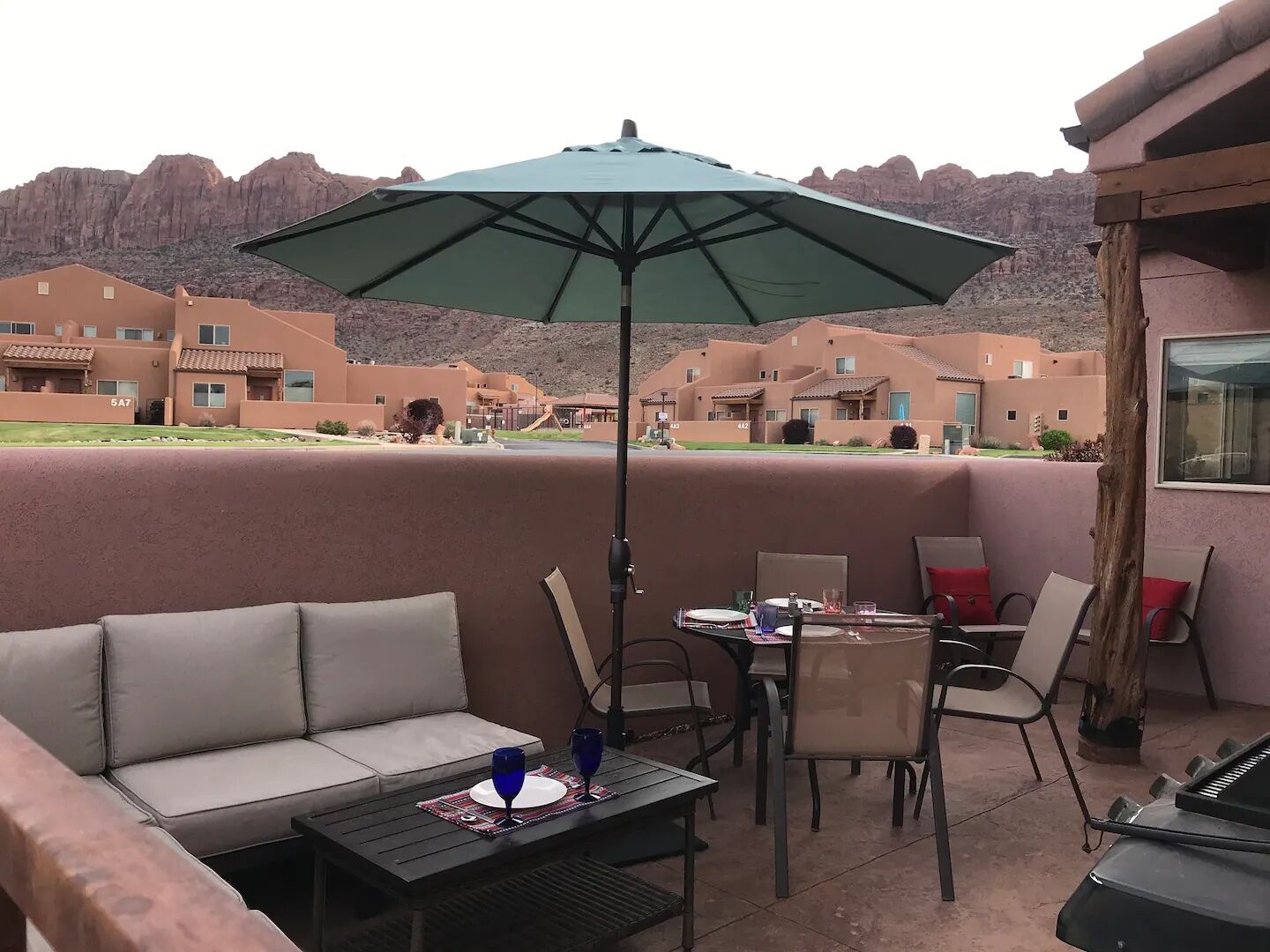 See more photos
If you're traveling with a trailer and are looking for a place to post up for a few days at an Airbnb near Arches National Park,
this is the spot
– it's got amenities for kids and families, most notably the pool and hot tub, plus a comfortable interior with room to spread out and relax. There's also a fireplace and great views of the surrounding red rock desert mountains.
Ten guests, two bedrooms
Price: $276 per night
Pet-friendly Airbnb near Arches National Park at Rim Village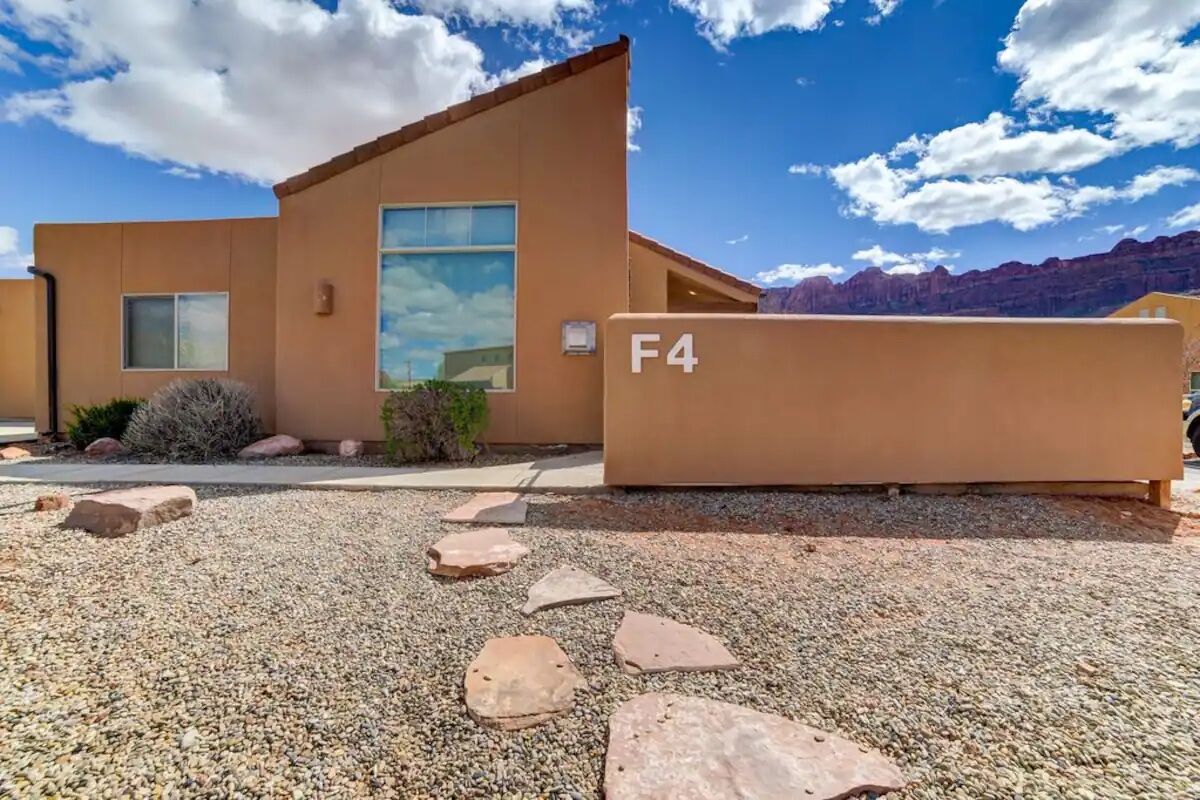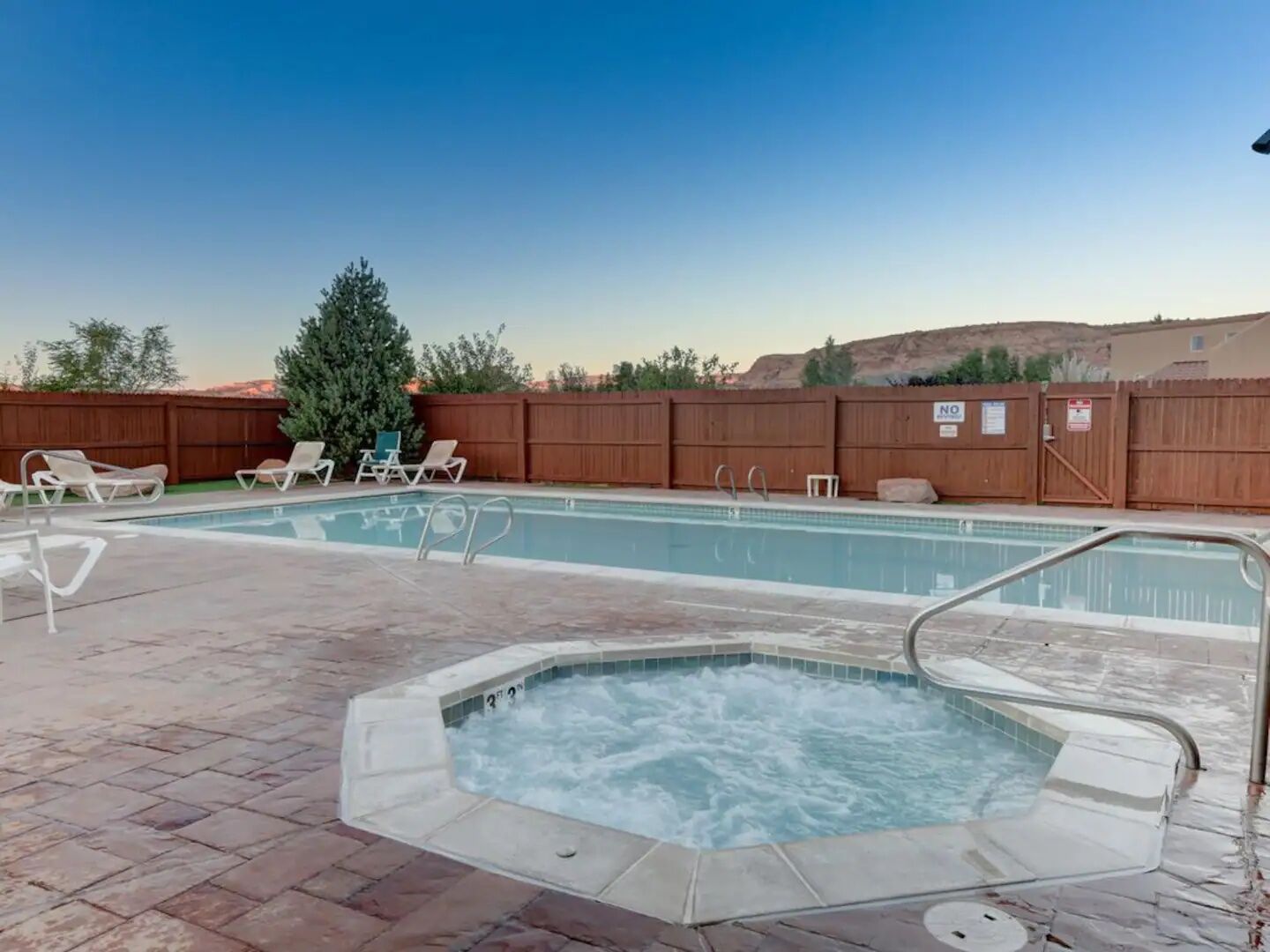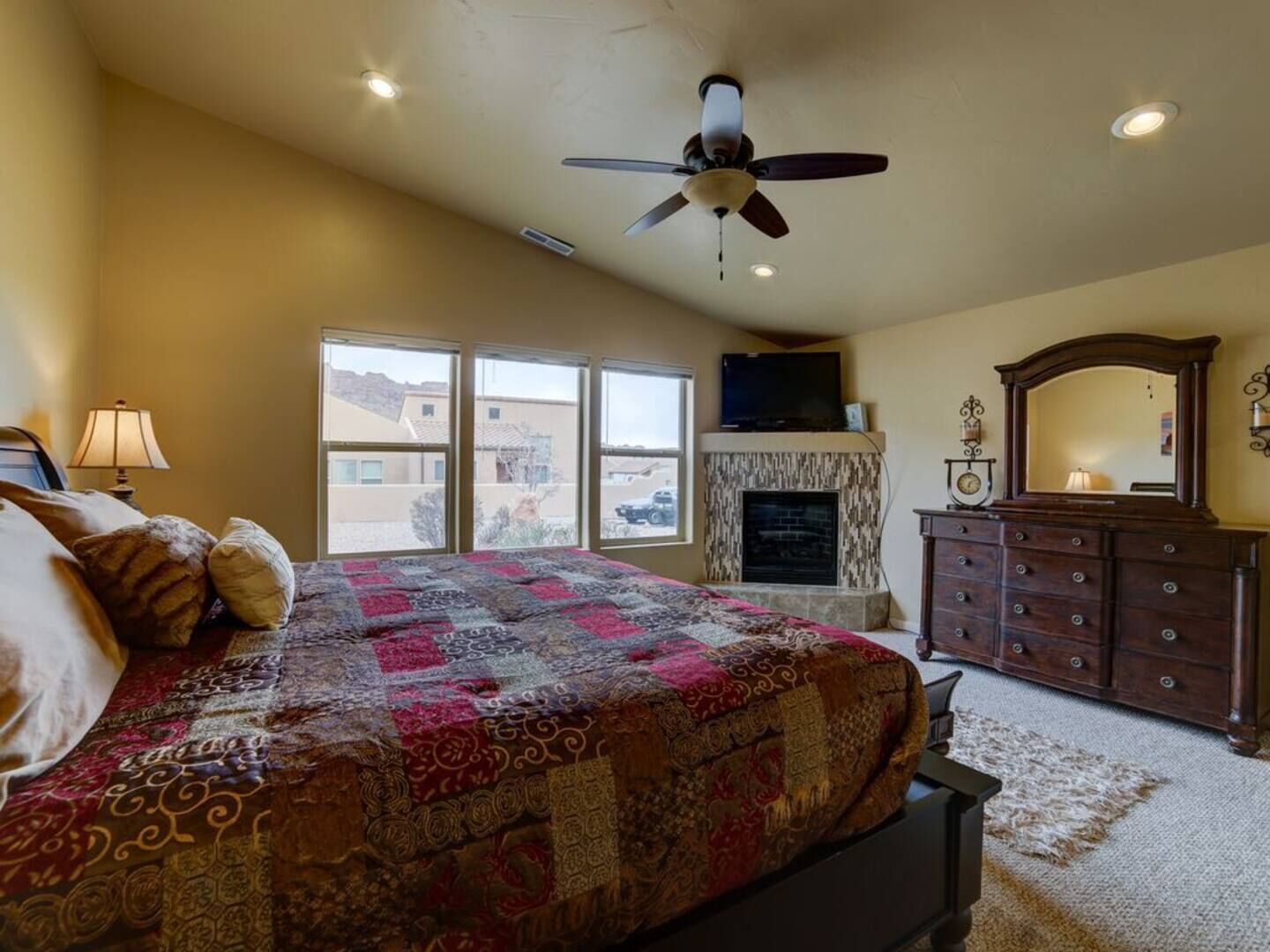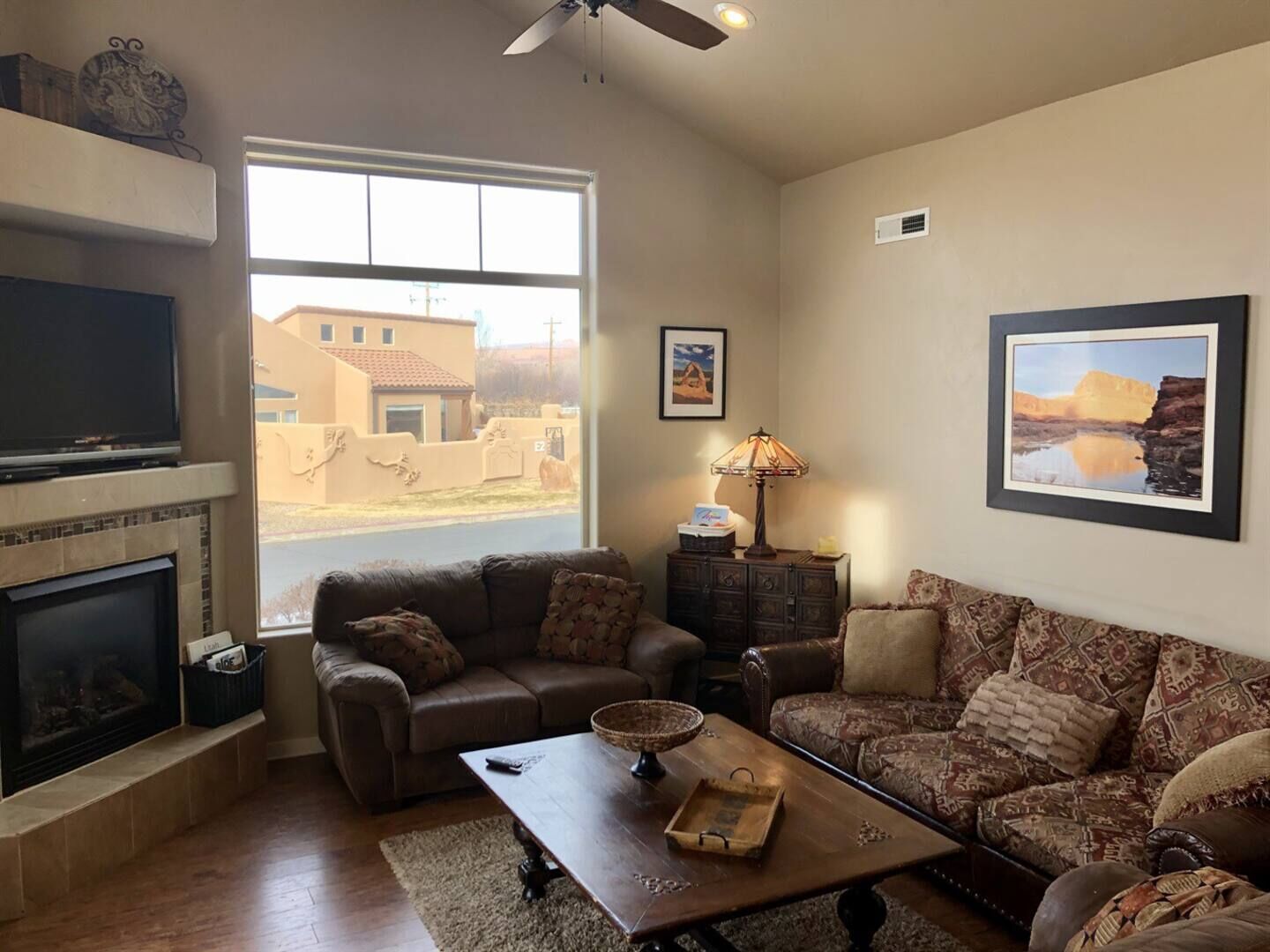 See more photos
Enjoy desert living without compromising on modern comfort at
Rim Village
, just five miles south of downtown Moab. These private adobe townhomes come with beautifully landscaped grounds, stunning views of the Moab Rim, and a walkable streetscape. Community amenities include a heated pool (April thru October) and a hot tub (year-round). Every guest can rest in comfort with a master bedroom featuring a king bed, a second bedroom with another king bed, a third bedroom with two twin beds, and two roll-away beds for extra guests. Feel free to bring your furry friends as well.
Eight guests, three bedrooms
Price: $338 per night
'License to Chill' desert-style townhouse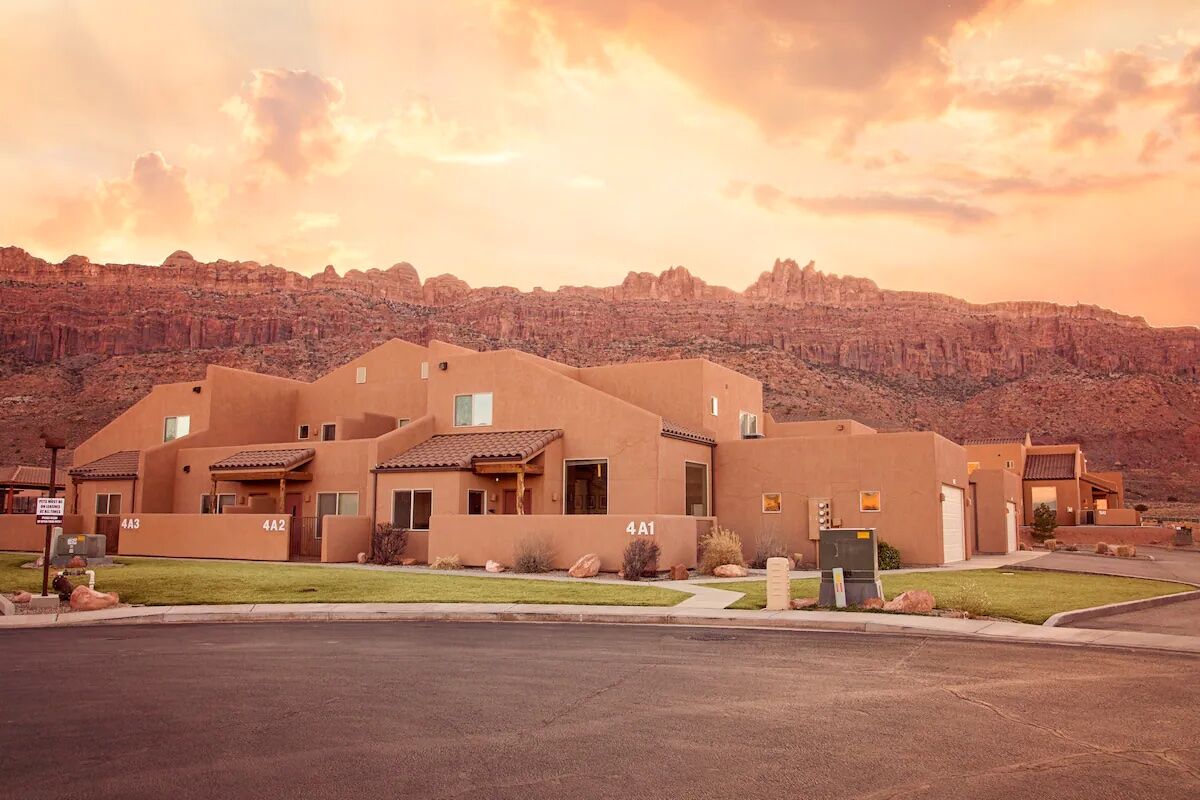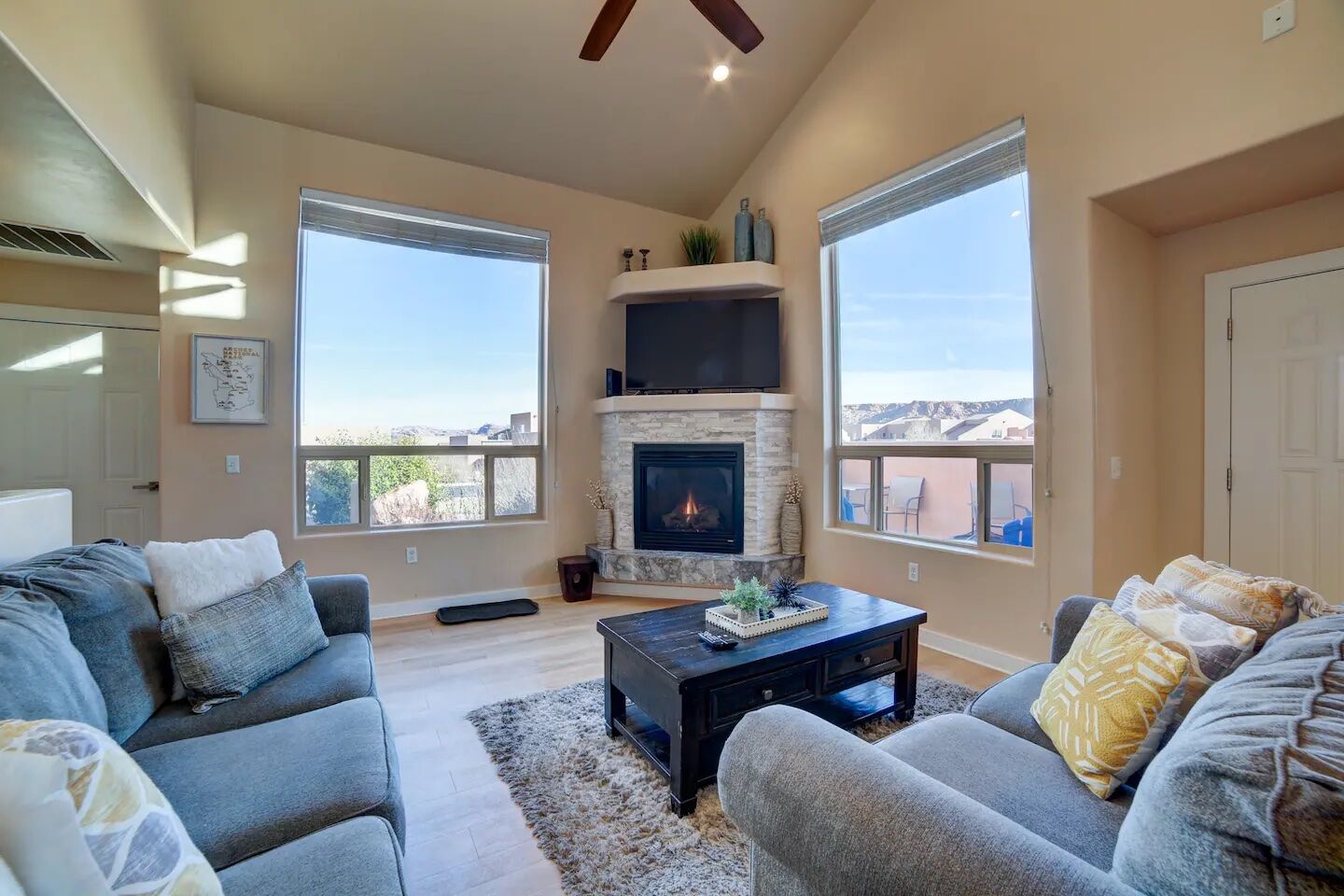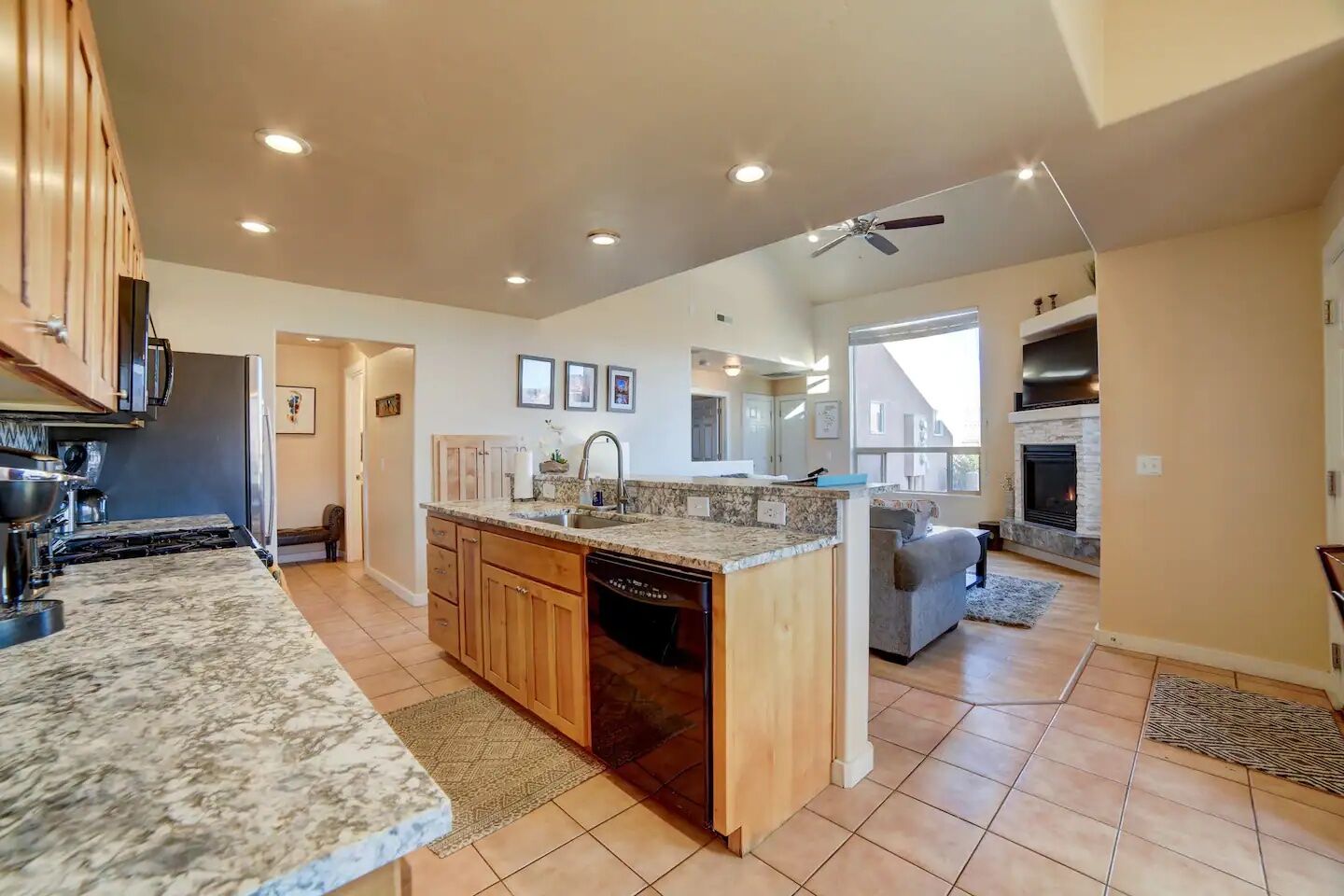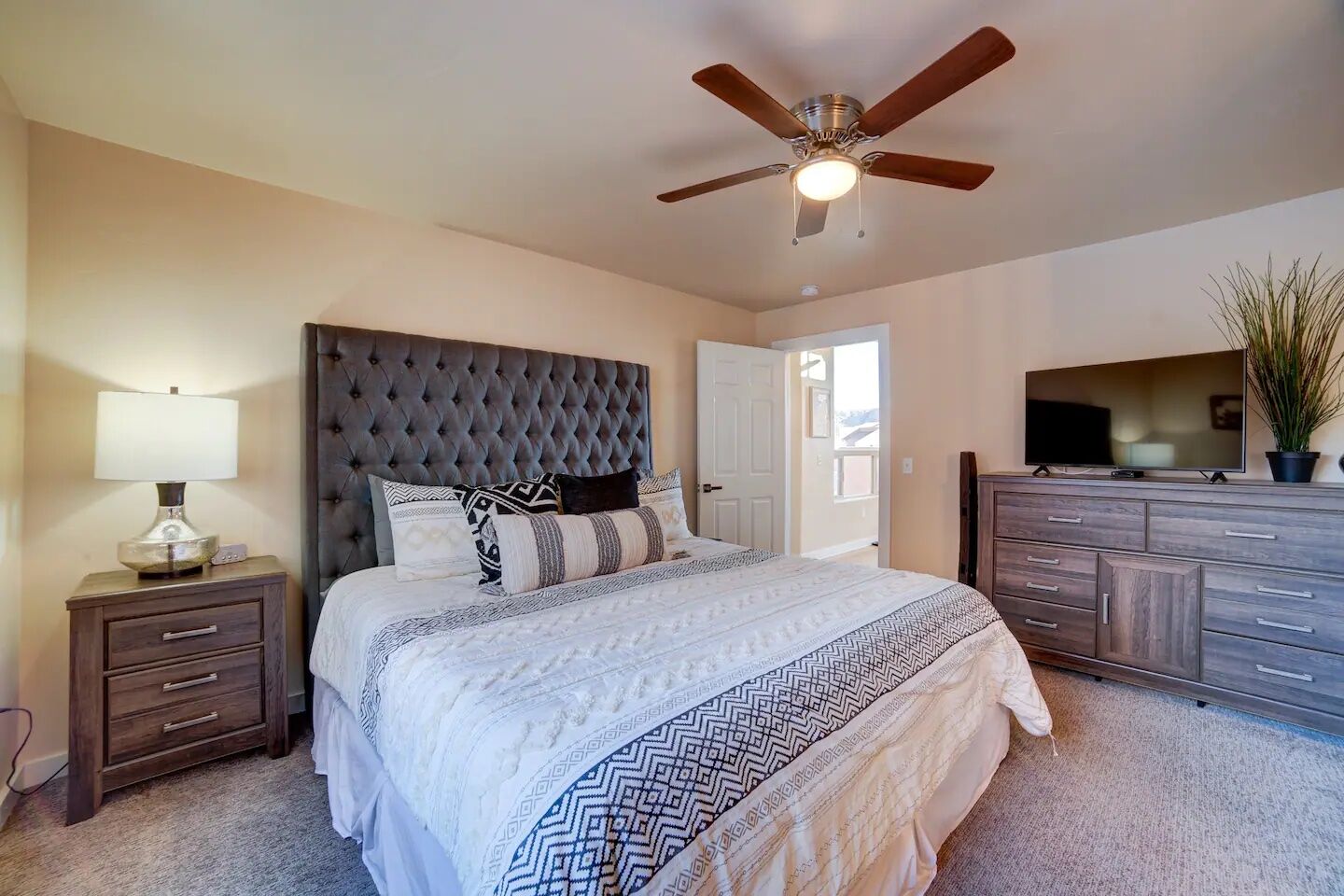 See more photos
Spend your Moab getaway in this newly updated, nicely furnished, and
tastefully decorated end unit
with a main floor master bedroom. Comfortably sleeping eight guests with stunning views of the nearby La Sal Mountains, enjoy the spacious 1,600 sq. ft. corner unit on a cul-de-sac in Rim Village Vistas and relax on the patio with a firepit and BBQ after a fun-filled day in Arches National Park. The home boasts many amenities including a Pac-Man Arcade game, a gas stove for cooking, two car garage, vaulted ceilings in the living room, a cozy fireplace, a loft, and much more. Two doors away are the shared pool, hot tub, playground, and tennis & basketball court. You'll be conveniently located within five miles of town and close to Arches & Canyonlands National Parks plus there's unlimited parking space for trucks, trailers, and tow rigs just outside the cul-de-sac.
Eight guests, four bedrooms
Price: $242 per night
Where is Arches National Park?
Arches National Park is located in southeastern Utah, just north of Moab. The park spans more than 76,000 acres and features stunning rock formations, including over 2,000 natural stone arches. With miles of hiking trails and easy access to campsites, Arches is a great place for visitors to explore the unique desert landscape.
How far is Arches National Park from Moab?
Arches National Park is located about 5 miles away from Moab, making it a great place to visit for a day trip. The park is easily accessible by car and the drive from Moab is quite scenic, with views of the beautiful La Sal mountains along the way. The drive takes only 15-20 minutes from downtown Moab.
Are dogs allowed in Arches National Park?
Dogs are allowed into Arches National Park, however they are not permitted on hiking trails. Additionally, they must be kept leased at all times. For most purposes, it will be much easier to not bring your dog into the park, if possible, because you will be very limited in what you can do and it is often too hot to leave the dog in the car.
What did you think of this story?