Airbnb Launched a Tiny Homes Category, and We're Already Planning Trips Around These 11
Gone are the days of ginormous villas and grandiose hotel suites. Tiny houses have taken the vacation market by storm and Airbnb's latest search function makes finding your dream tiny house a doddle. Whether you're looking for a dash of luxury or want to get so far off the grid that your cell won't connect, our guide to the coolest Airbnb tiny homes has you covered.
We hope you love the tiny house Airbnbs we recommend! Just so you know, Matador may collect a small commission from the links on this page if you decide to book a stay. Listed prices are accurate as of the time of publication.
Flamingo Tiny Home – Matlacha, Florida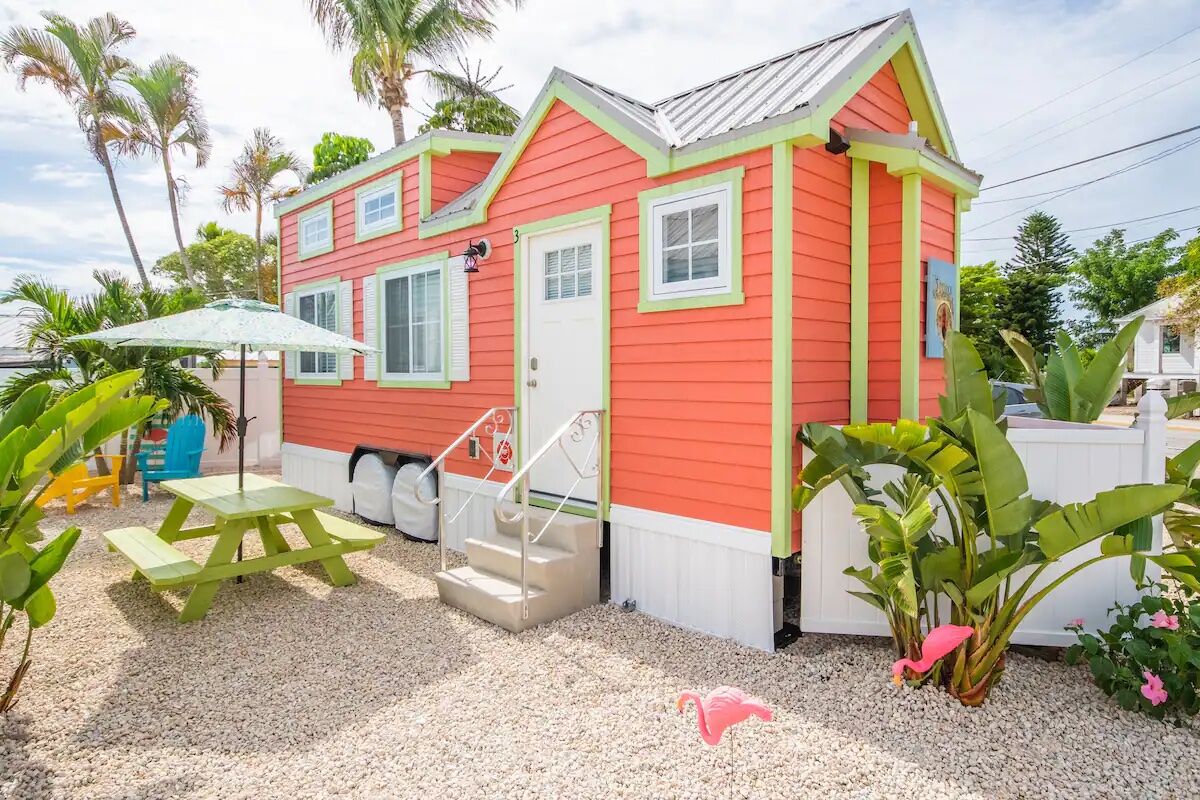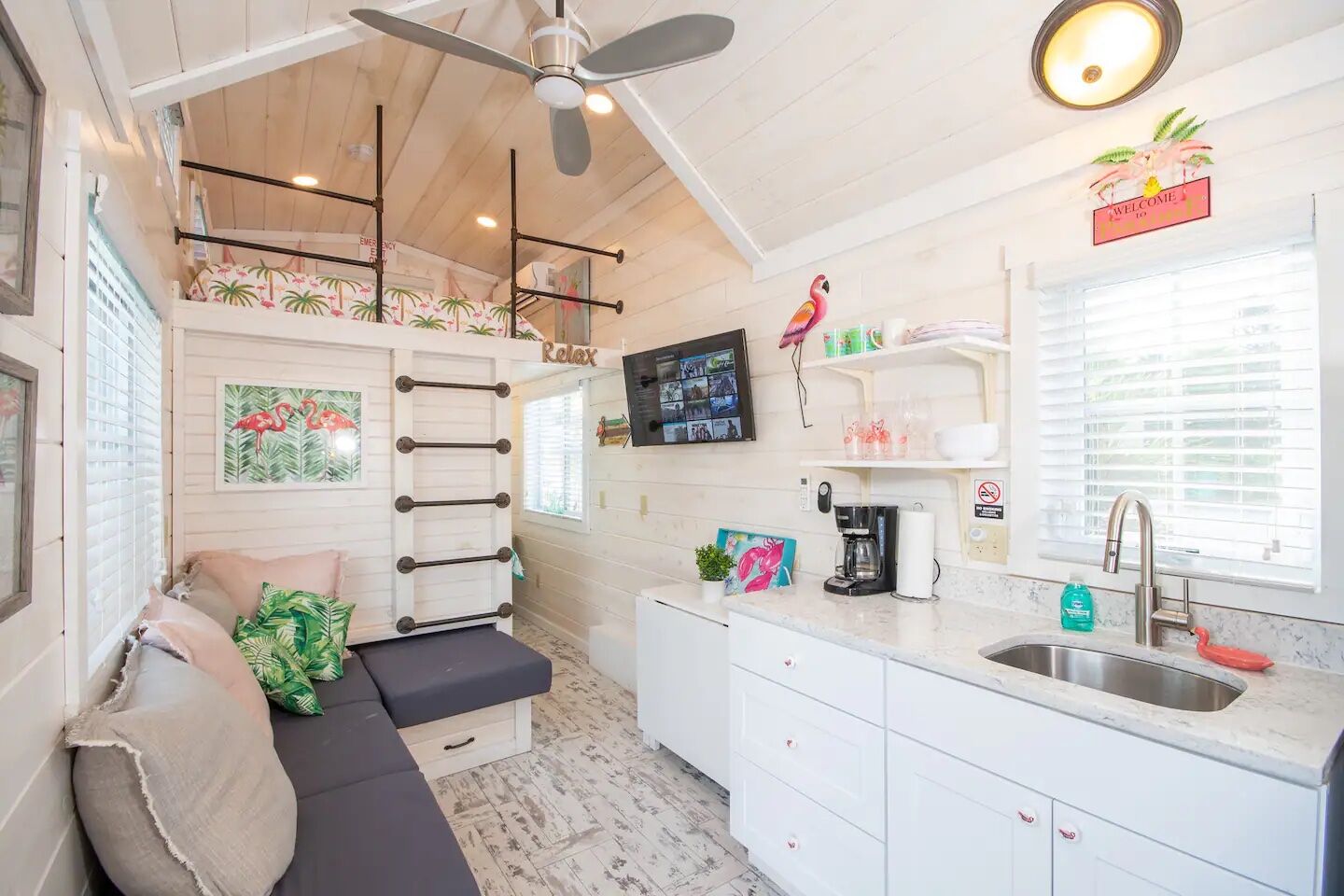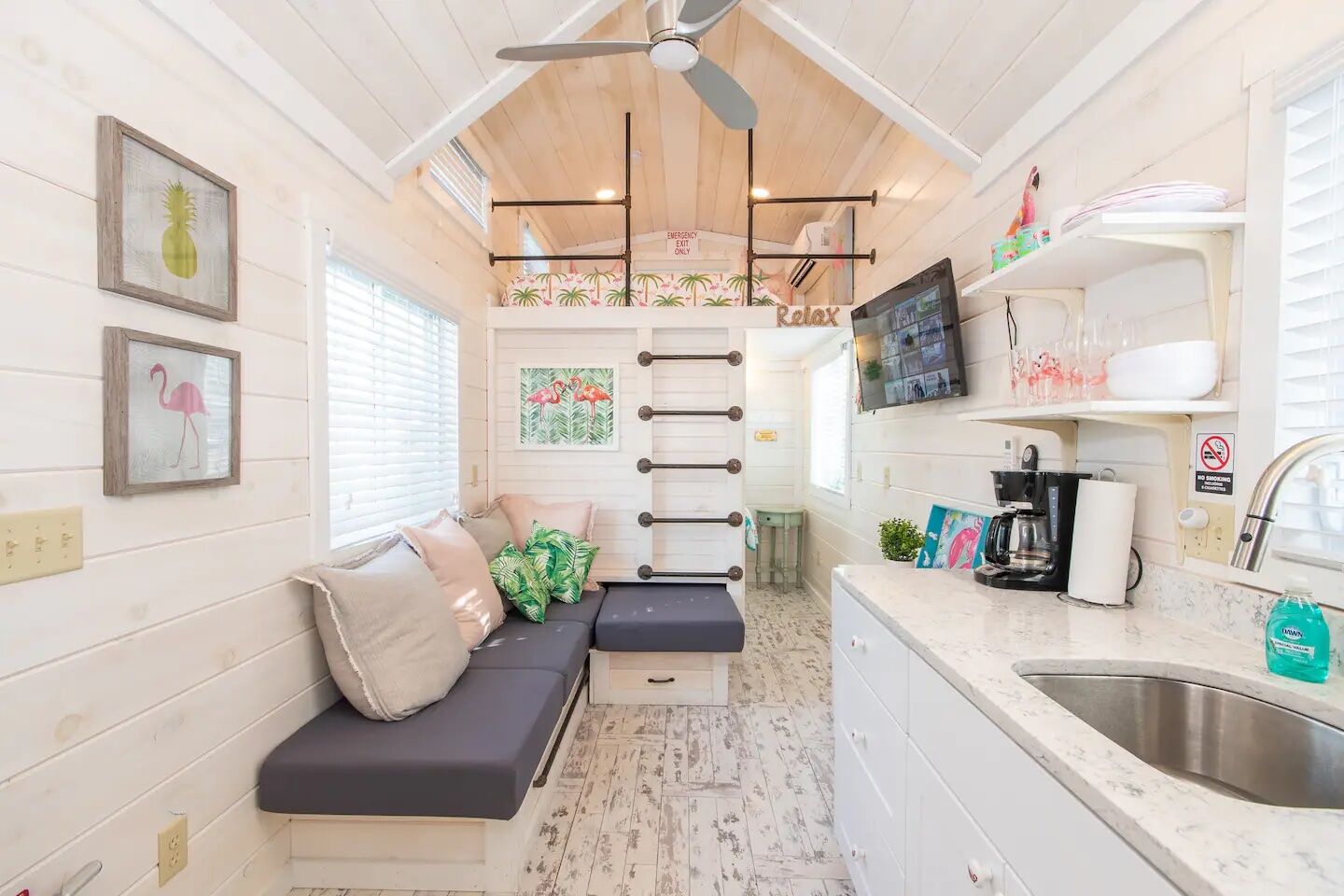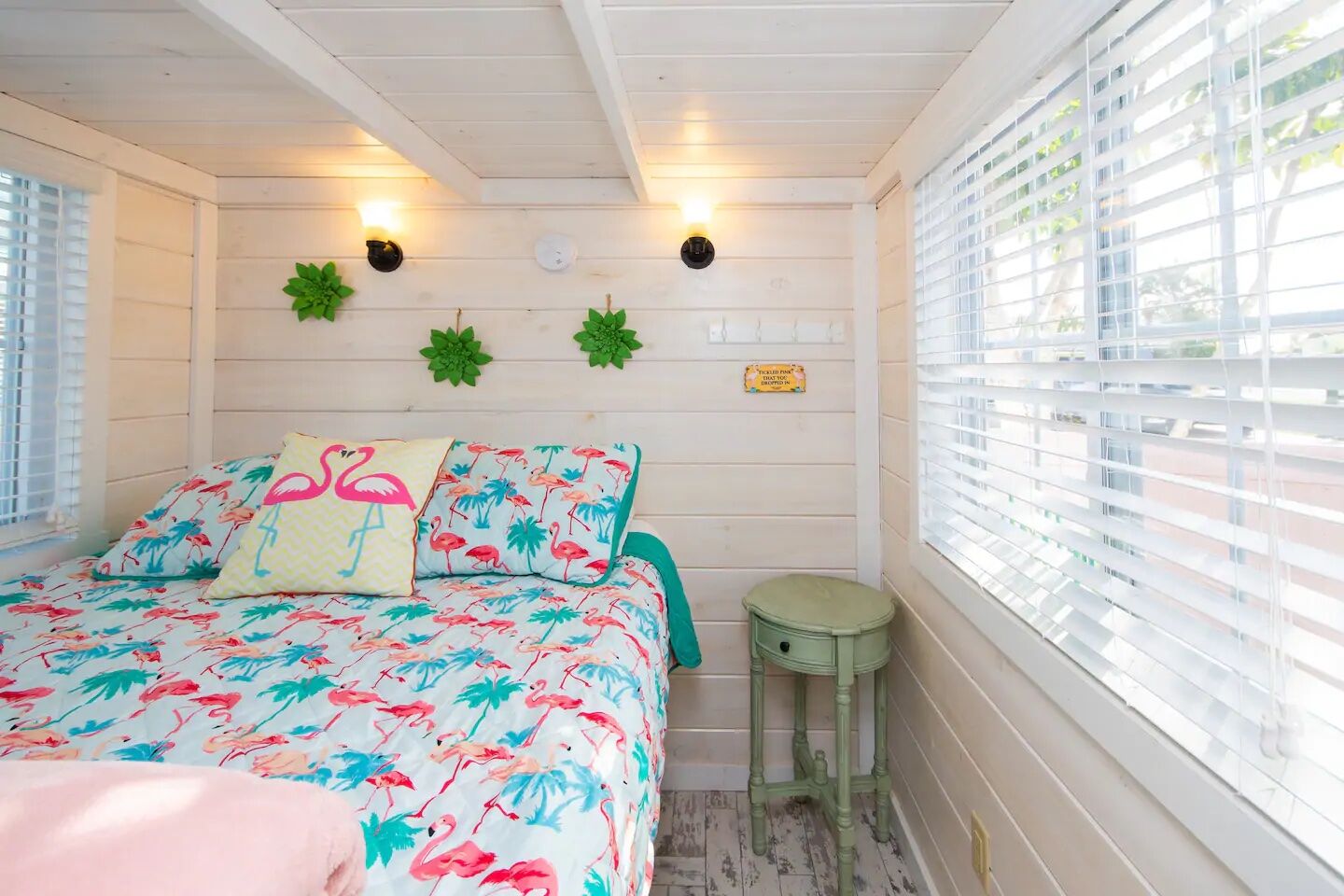 Pack your teeny tiny sunglasses, this magenta-hued tiny house is a blinder. The Flamingo Tiny Home lives up to its name with a generous lashing of bird-themed bedding, crockery, and decor. Downstairs comprises the living space, bathroom, and kitchenette while the bedroom occupies the mezzanine level. Matlacha, an old Floridian fishing village, has emerged as an epicenter for arts and creativity with an abundance of mangroves and galleries to explore during your stay.
Five guests, one bedroom
Price: $230 per night
Off-the-grid A-frame cabin at the Hohnstead – Bonner, Montana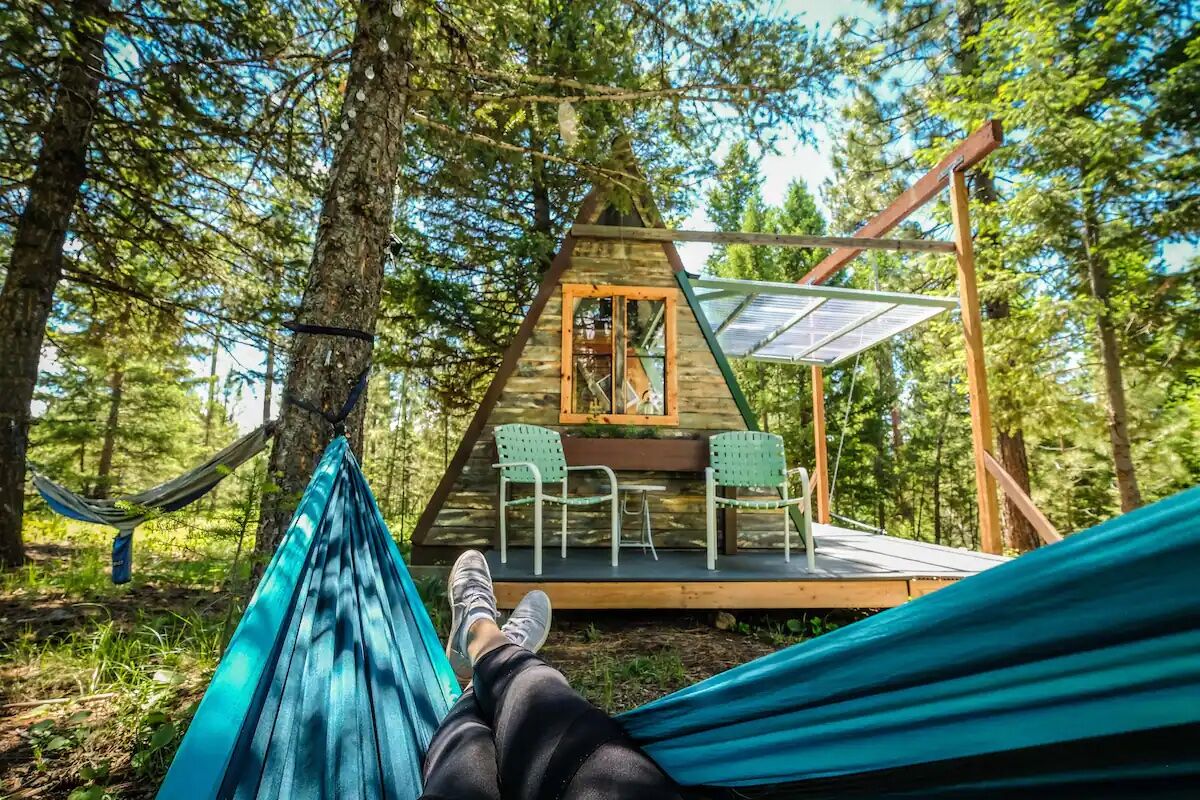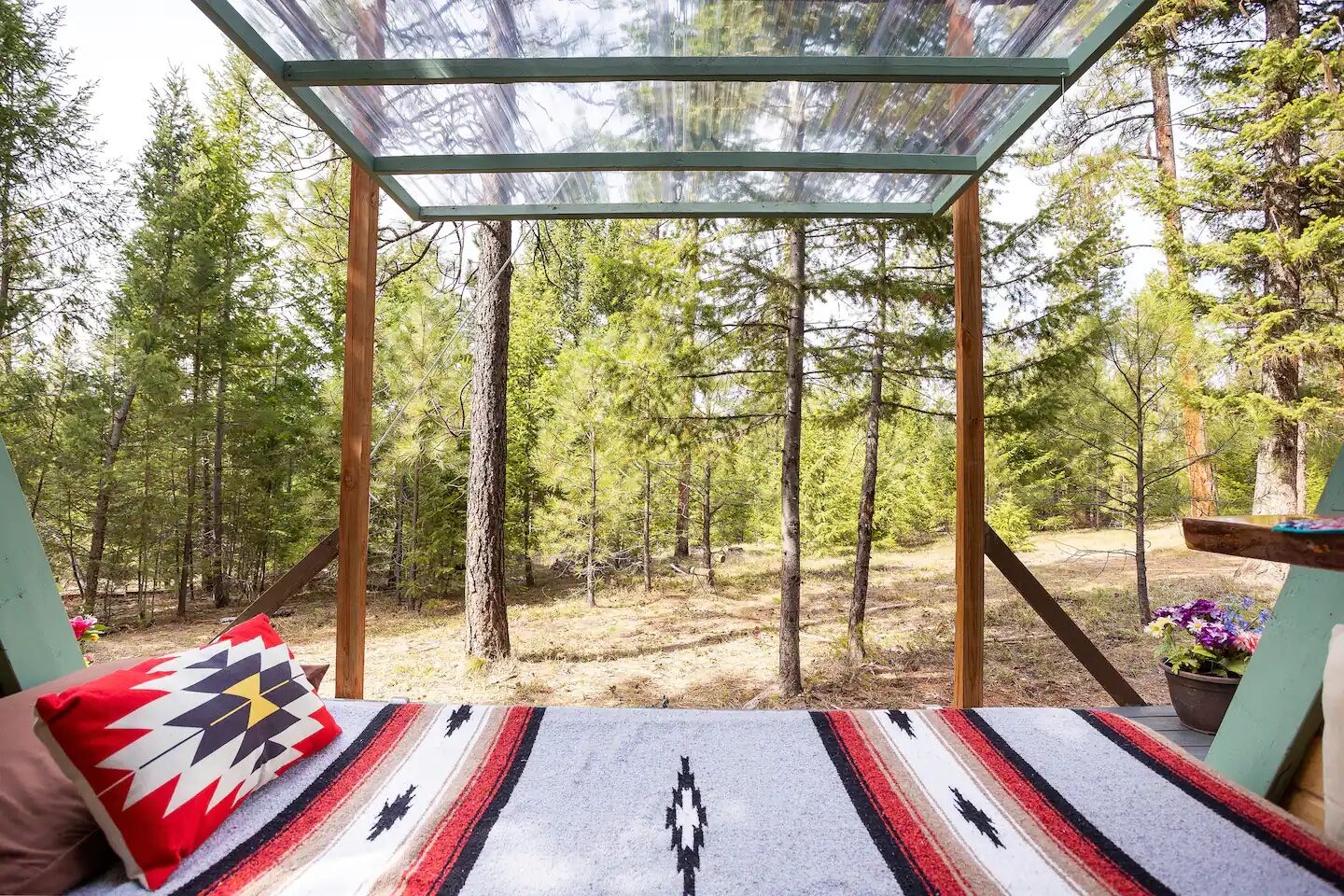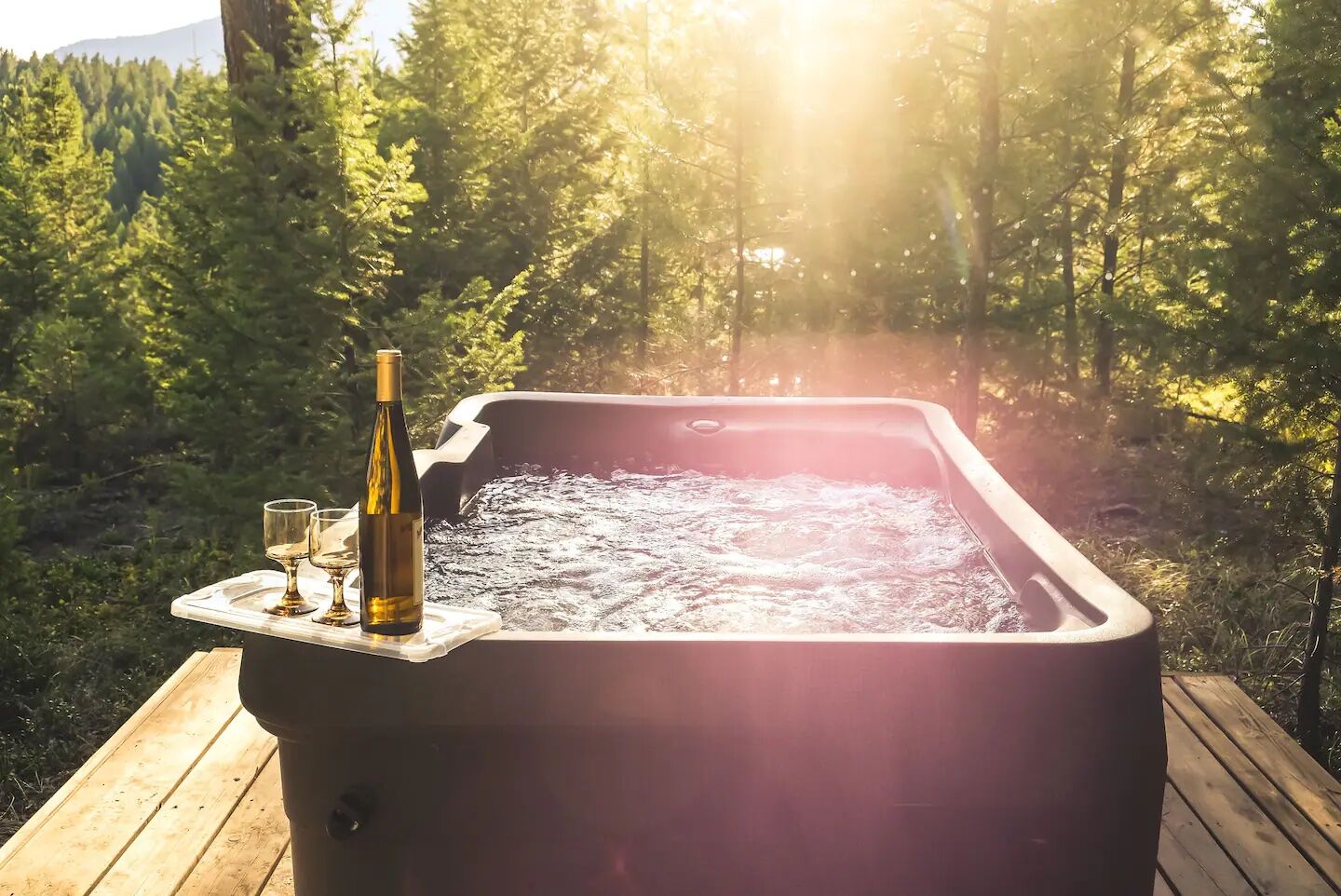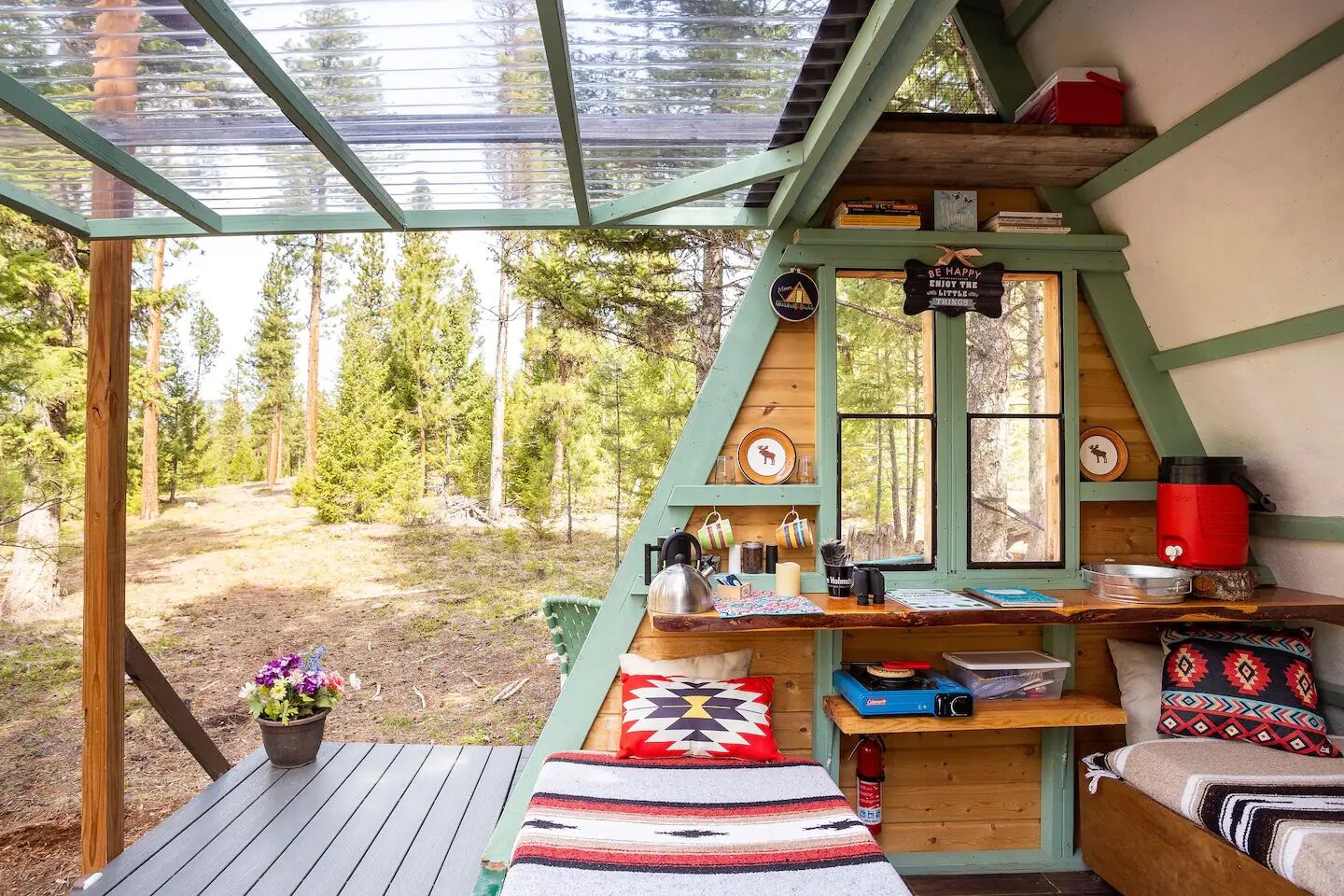 Switch off your cell phone and retreat into nature at this tiny home A-frame cabin Airbnb in Bonner, Montana. The space comprises two single beds, basic kitchenware, and an outdoor shower and hammock. A communal hot tub, kitchen, and additional bathrooms are a short stroll through the woodland. Dogs are welcome to join you and participate in the scavenger hunt on the premises.
Two guests, one bedroom
Price: $175 per night
Glass Gem in Hudson Valley with pool, sauna, and hot tub – Tivoli, New York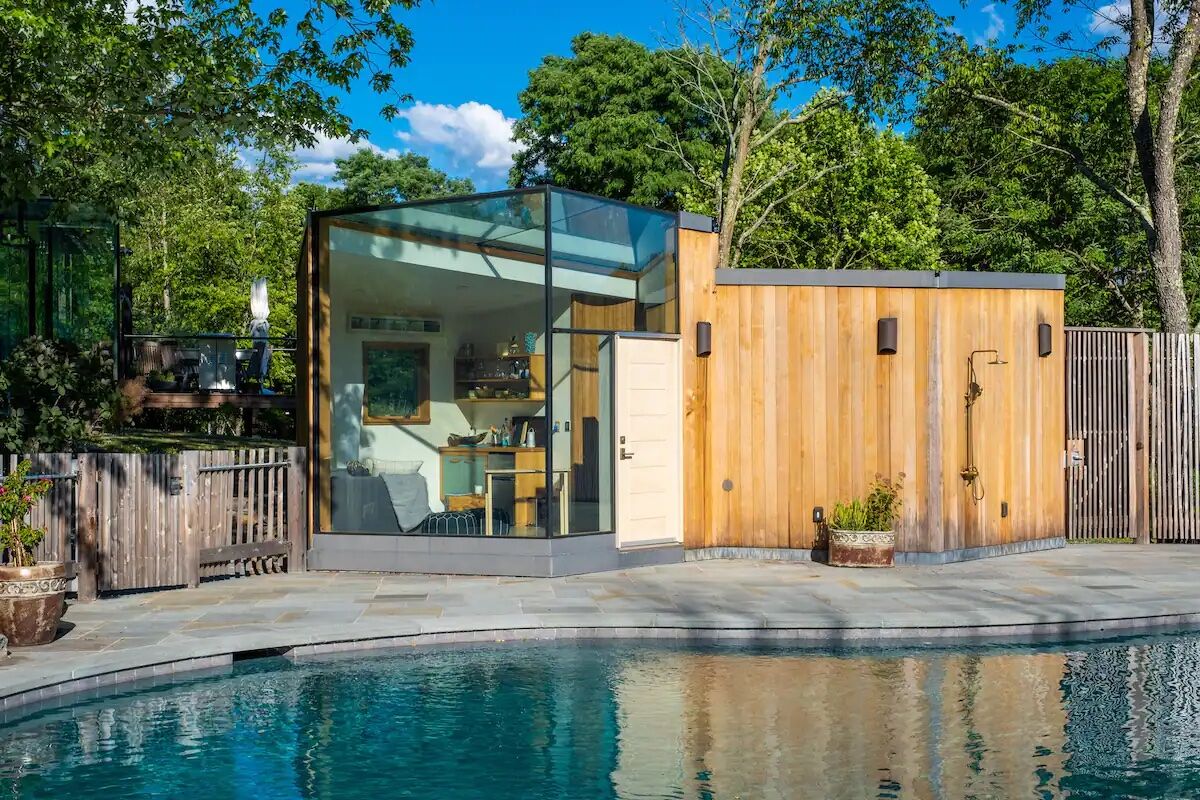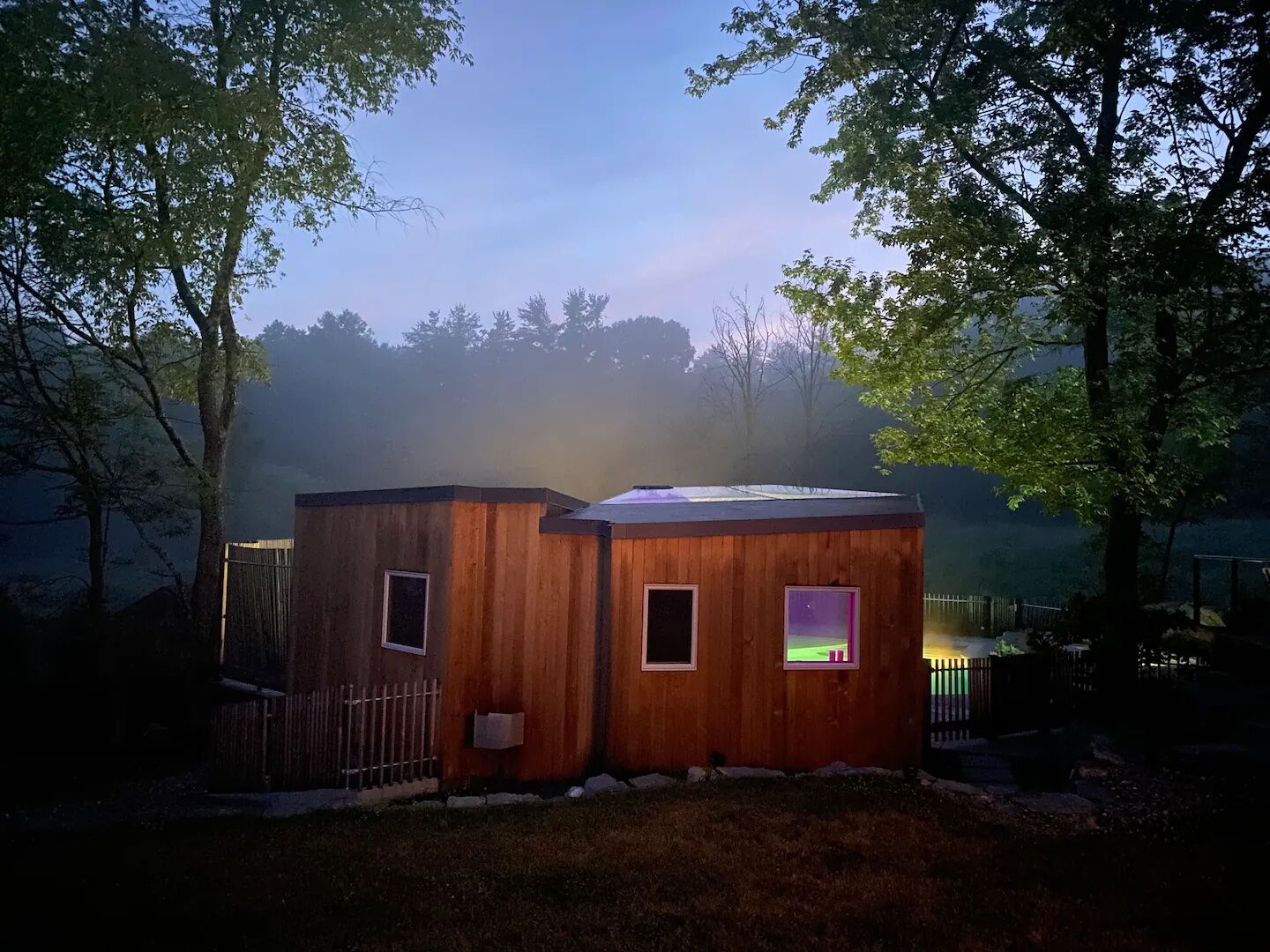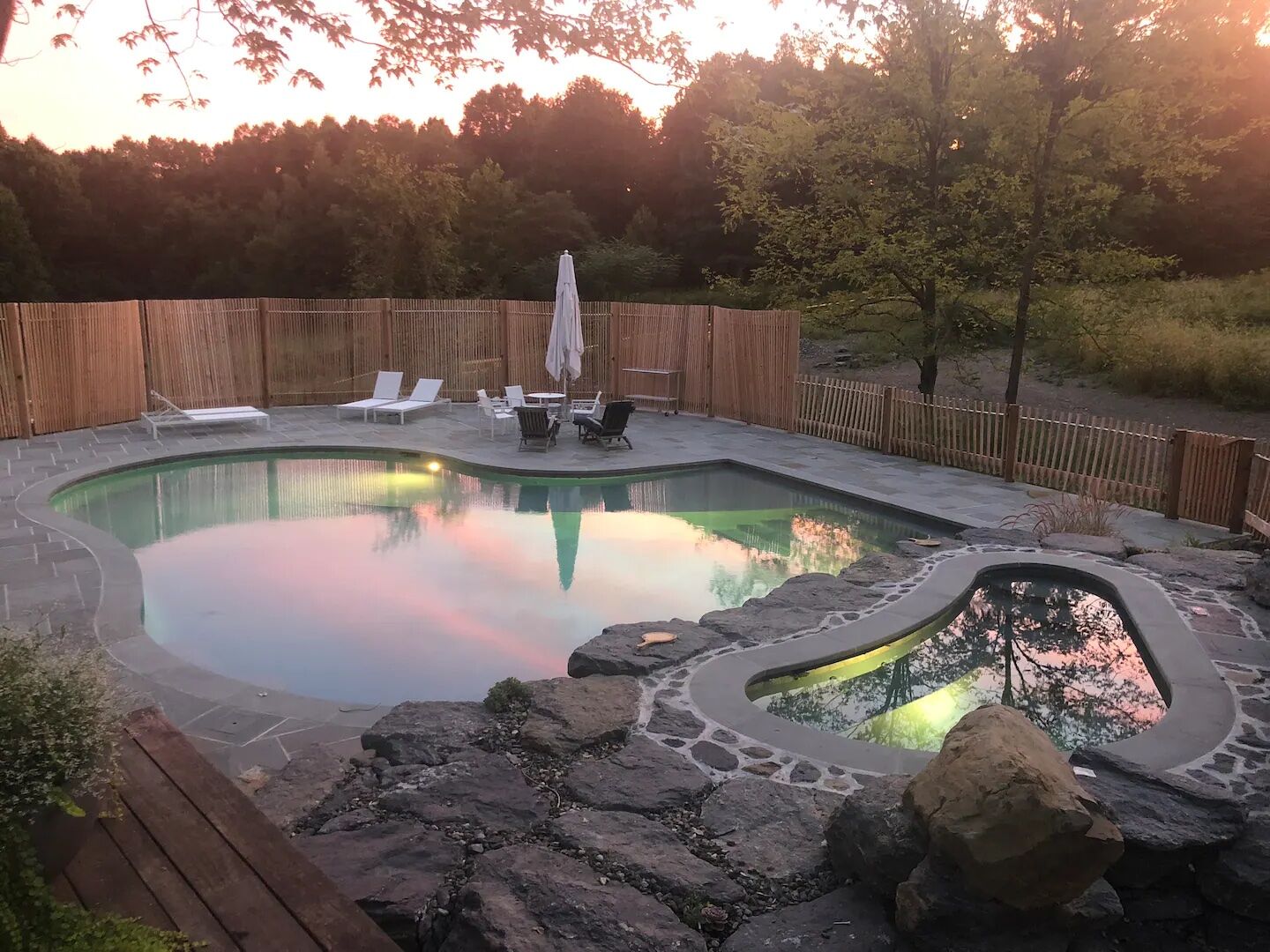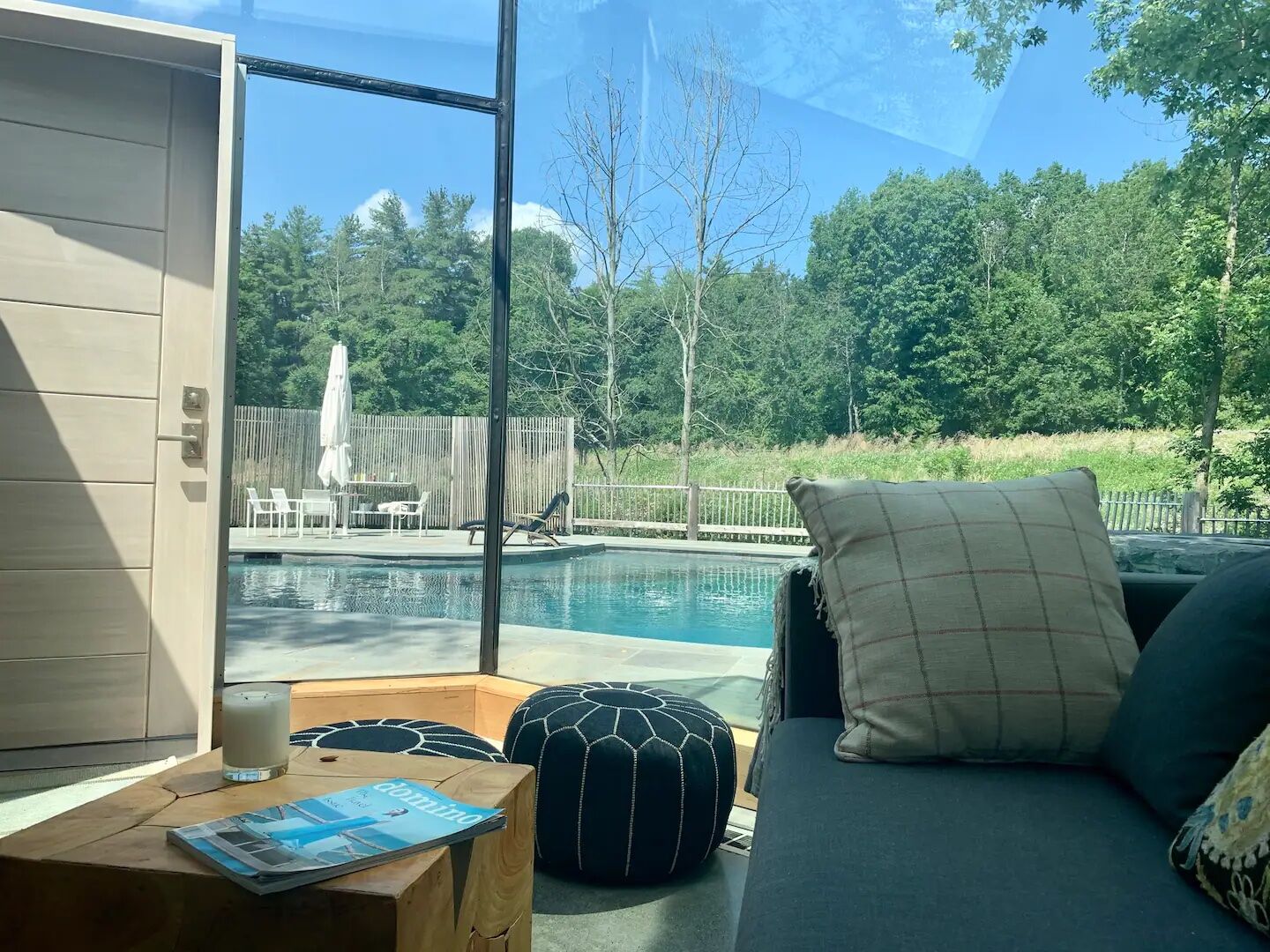 Escape to Upstate New York and spend a night or two at this luxurious tiny house with a private pool, sauna, and hot tub. This cutting-edge home features unique architectural elements including a prismatic wall and a glass ceiling. The main living space rolls into the cooking area and the bed is a pull-out couch. Outside, the backyard is fully fenced for maximum privacy and pets are welcome with open arms – the hosts have even been known to provide a dog bed.
Two guests, one bedroom
Price: $360 per night
Matador's

guides to

the best of Airbnb Categories:
Cozy and charming cottage – Biscayne Park, Florida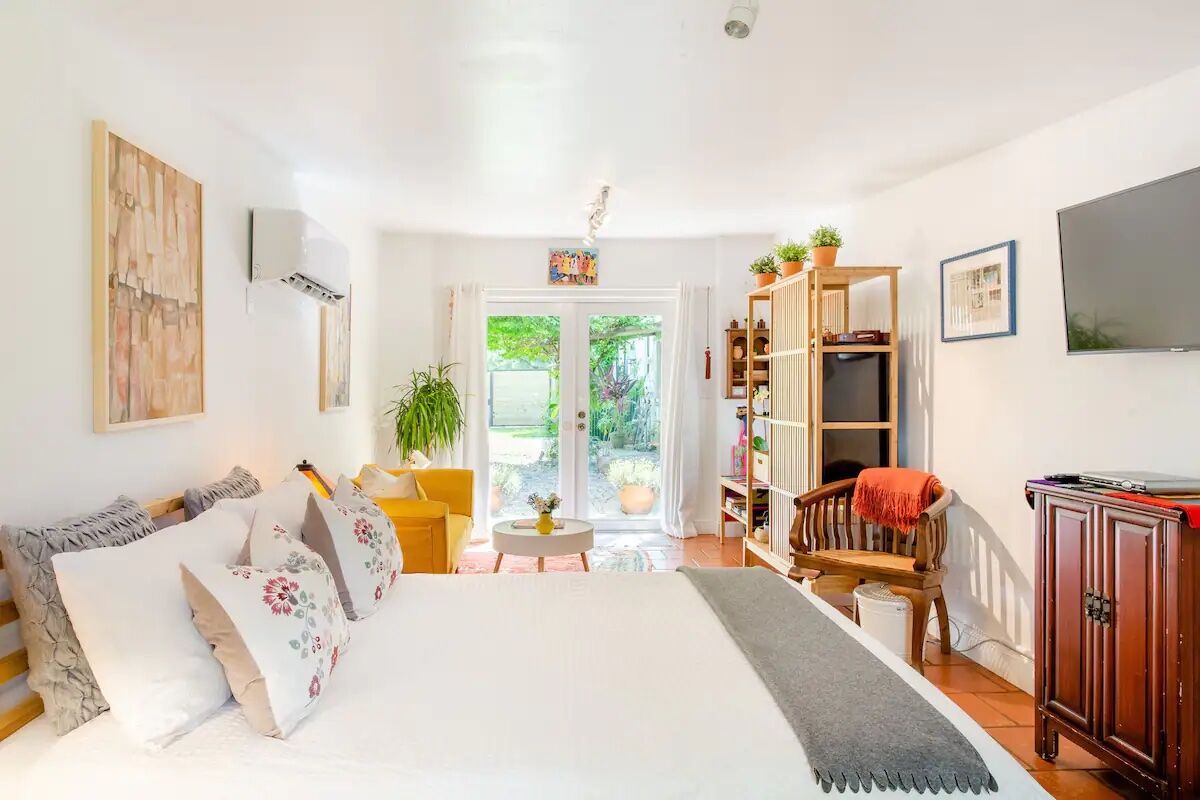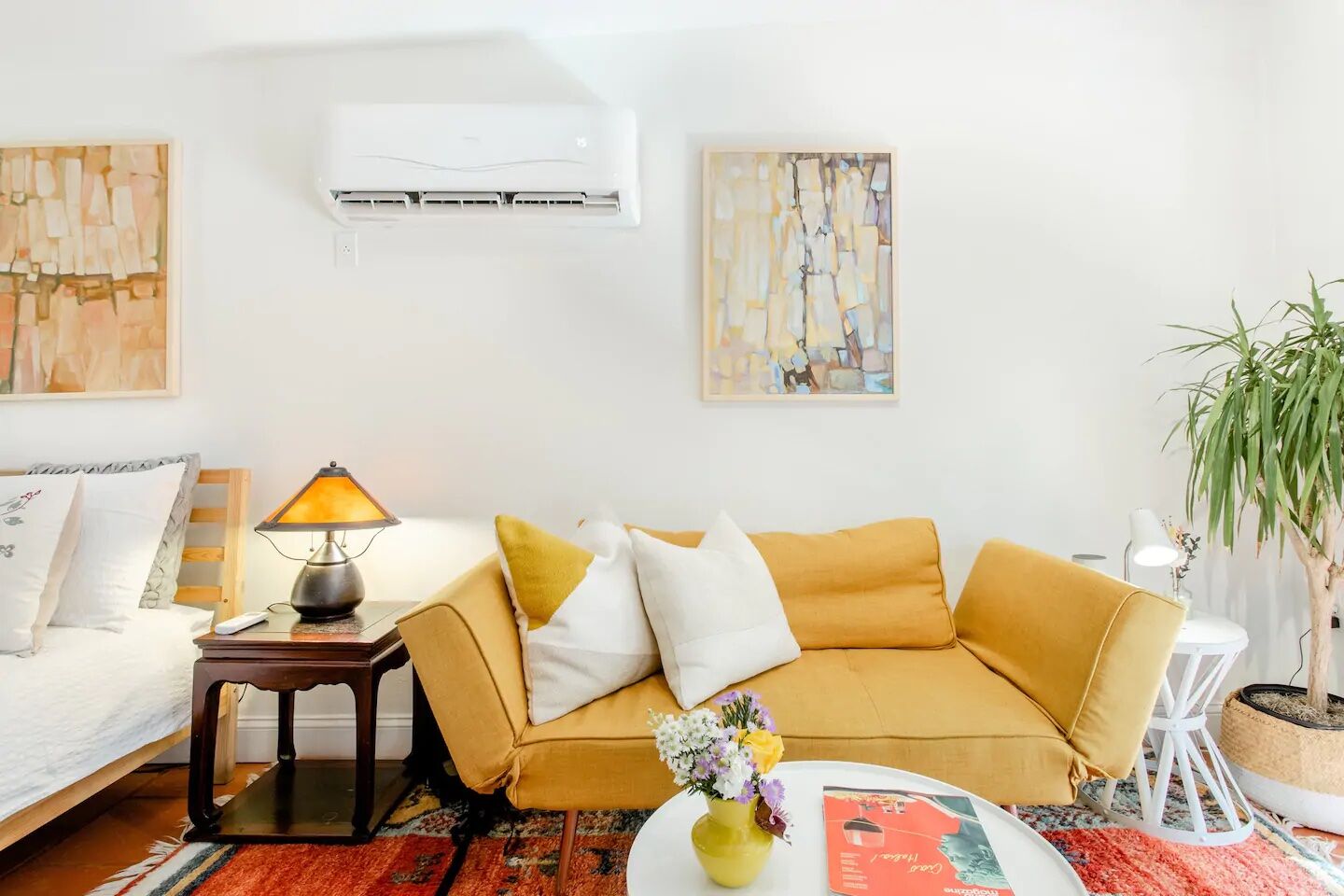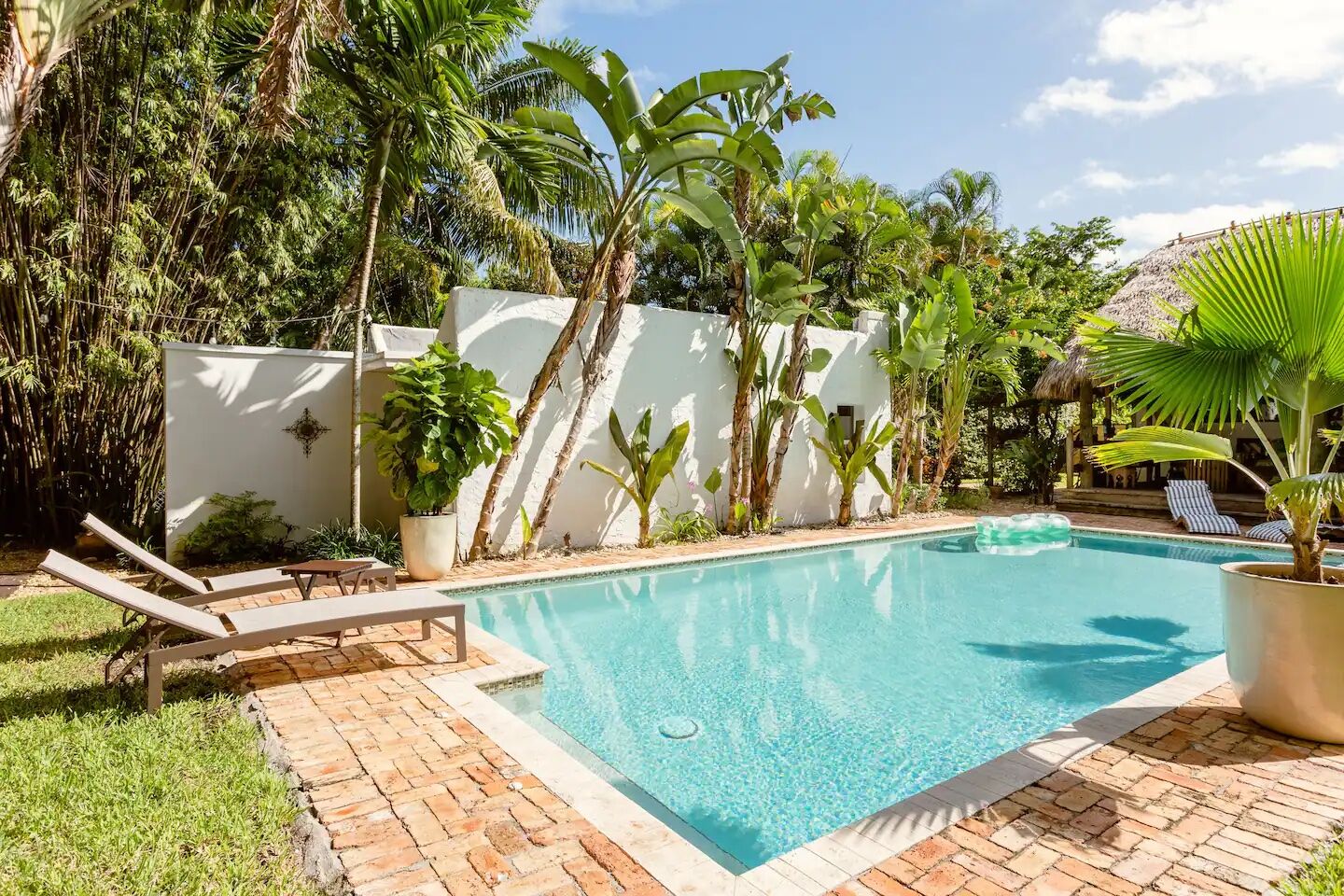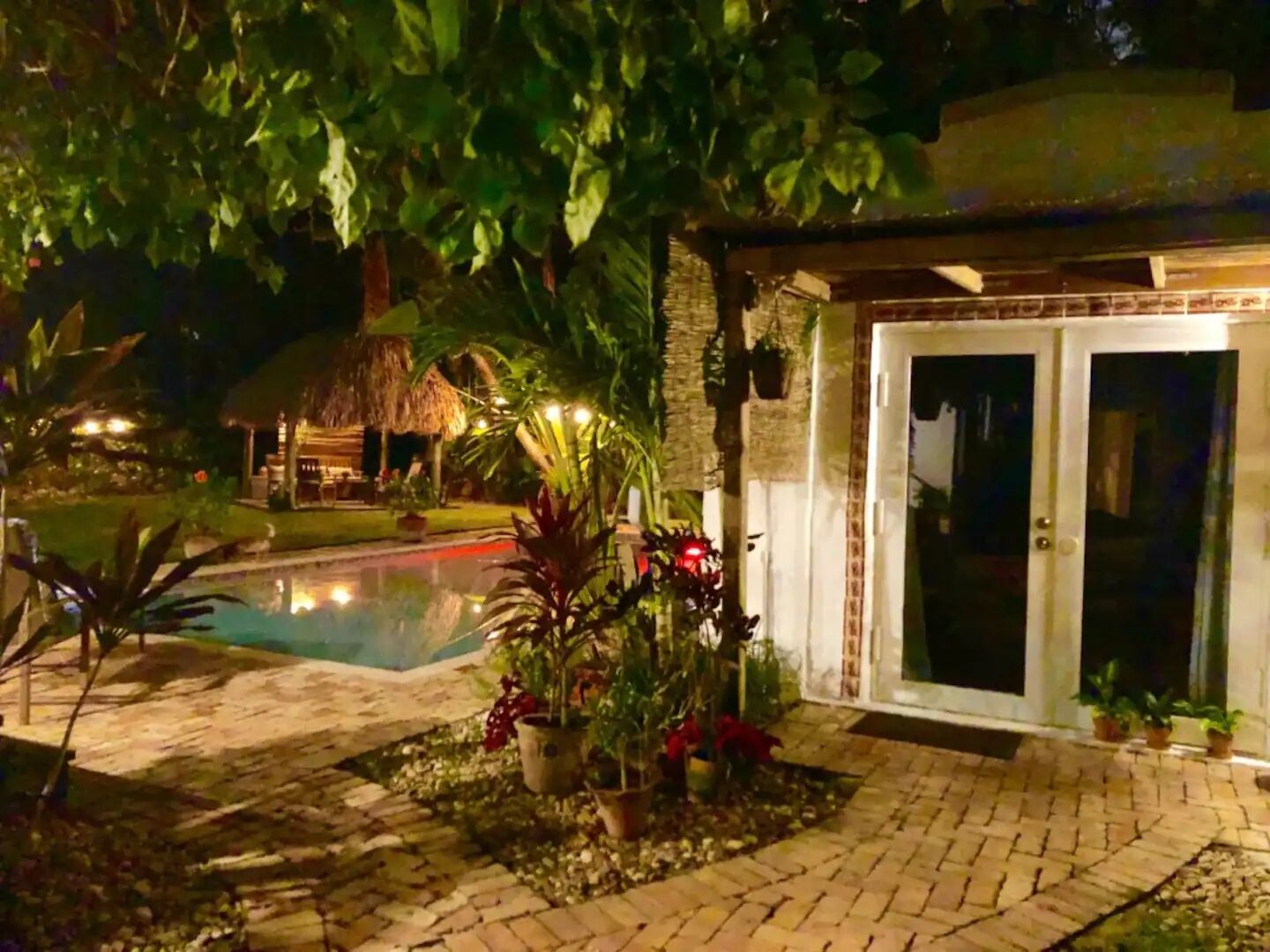 This tiny house doubles up with a tiny pool to present the ultimate tiny retreat. The studio rental covers one floor and has basic kitchenware and a full bathroom. Although the pool is shared with the homeowners, they do give priority to Airbnb guests and will respect your privacy when they hear splashes. You're also welcome to whip up your own cocktails in the tiki hut and borrow the provided bicycles and beach gear.
Two guests, one bedroom
Price: $120 per night
Adventure Treehouse – Mountain View, Hawaii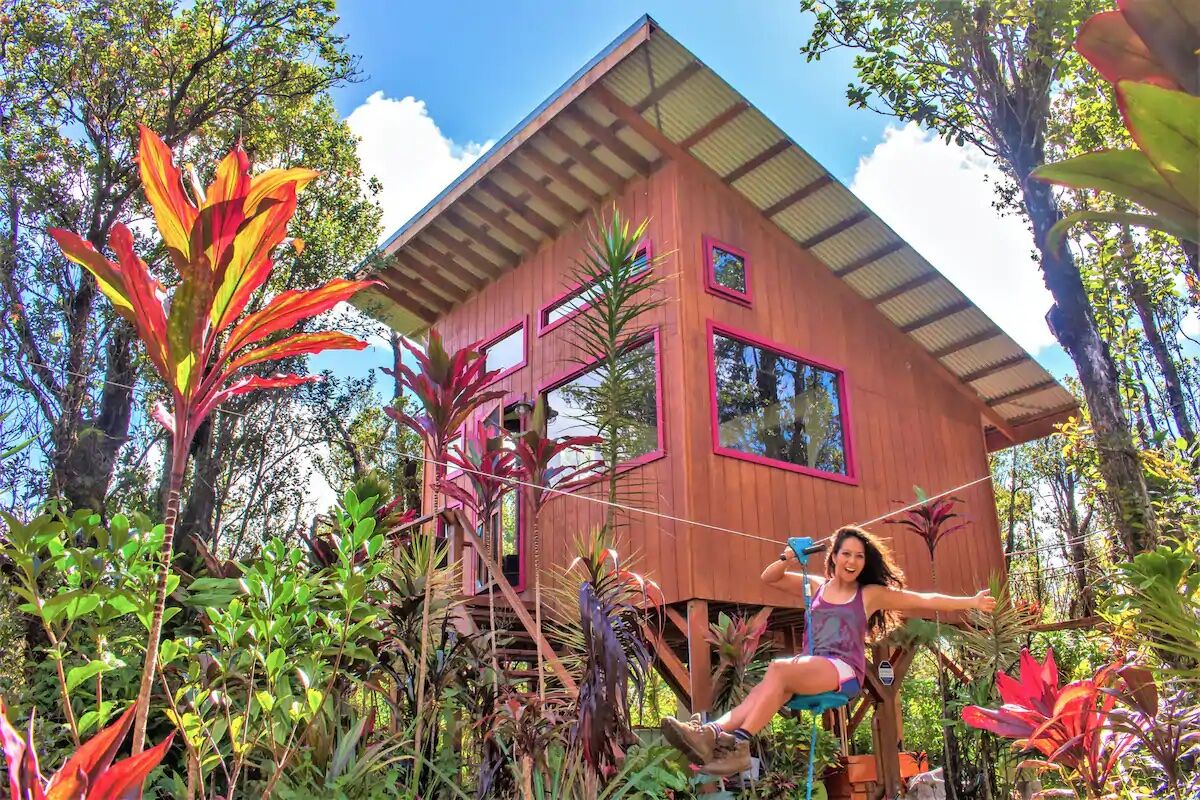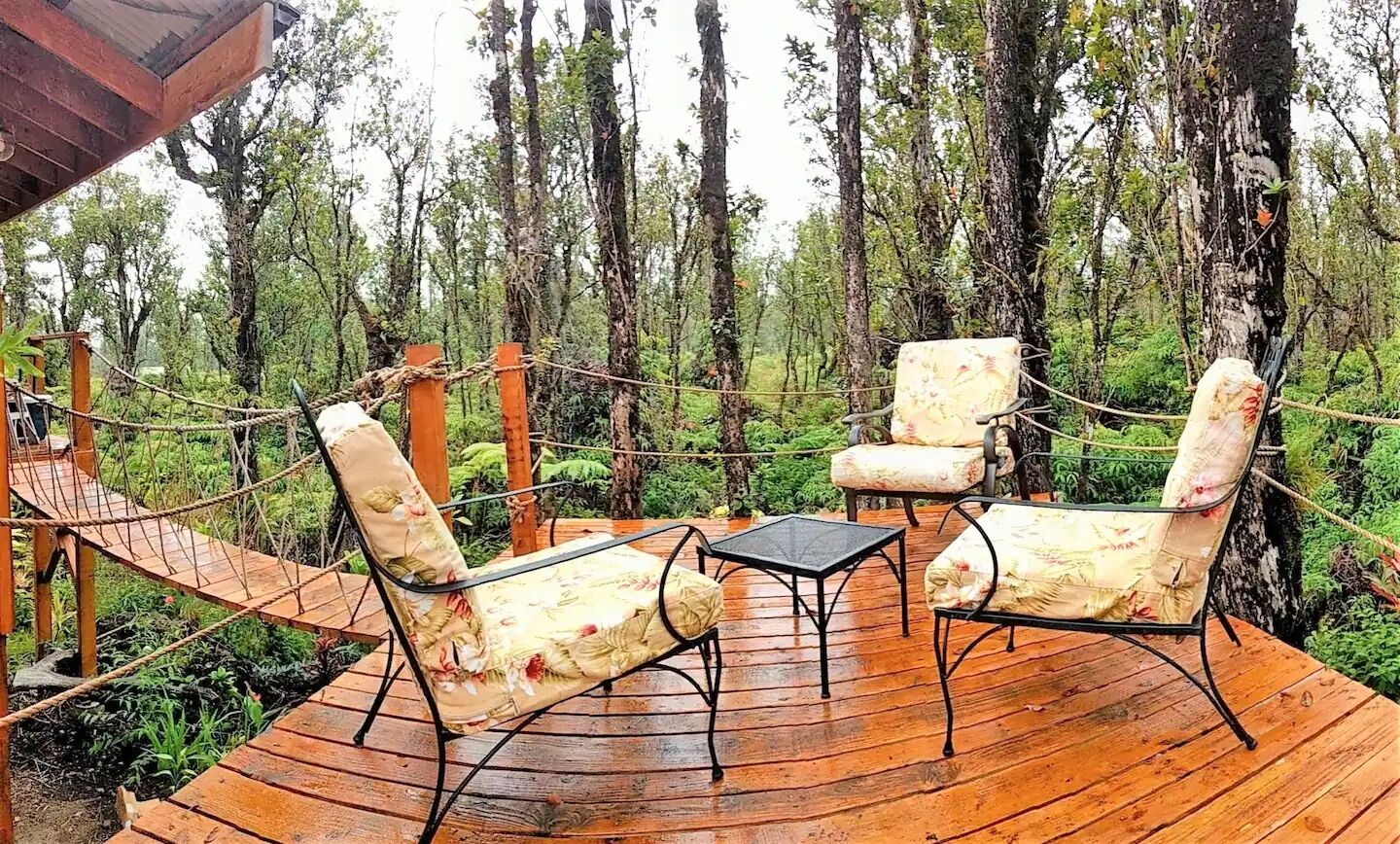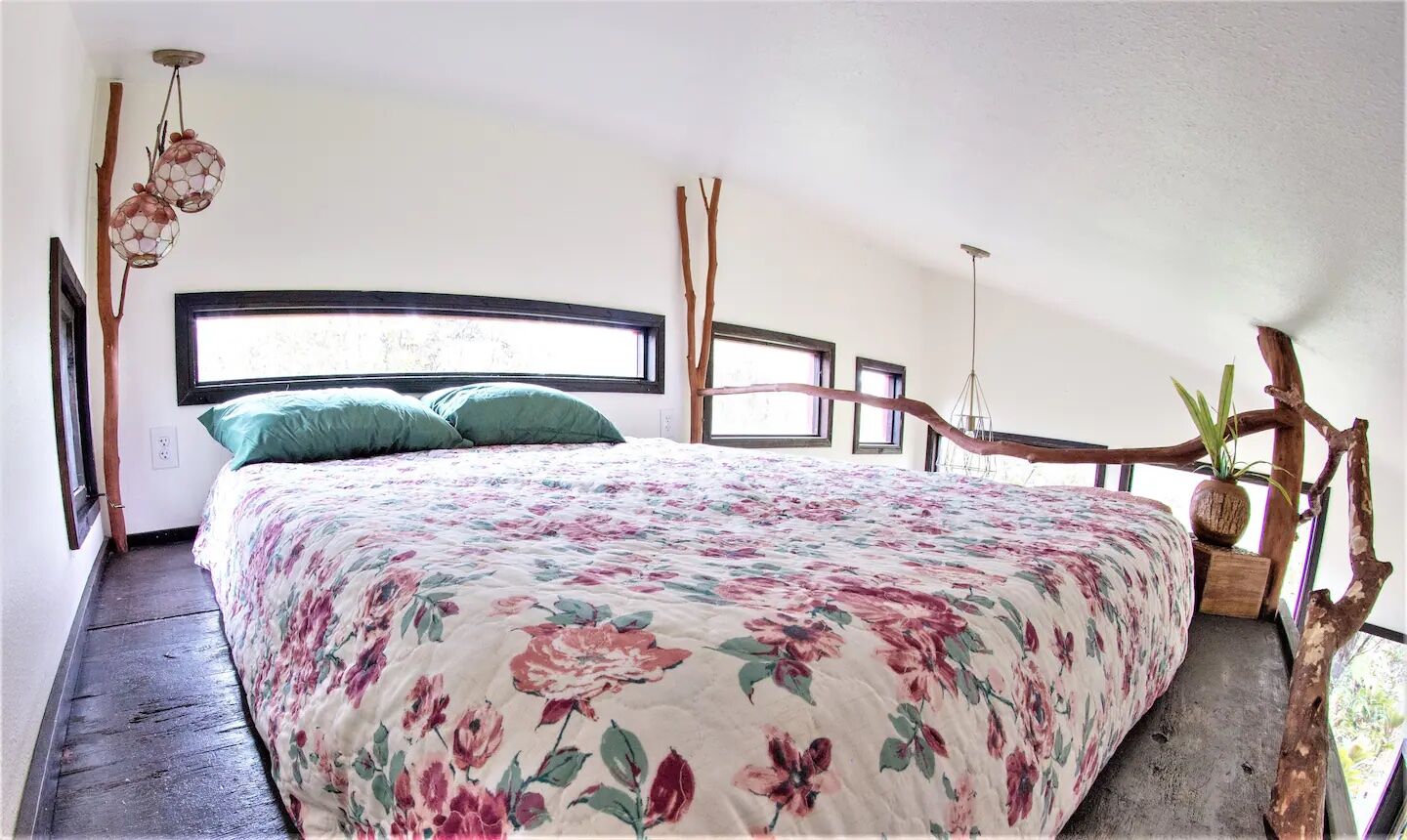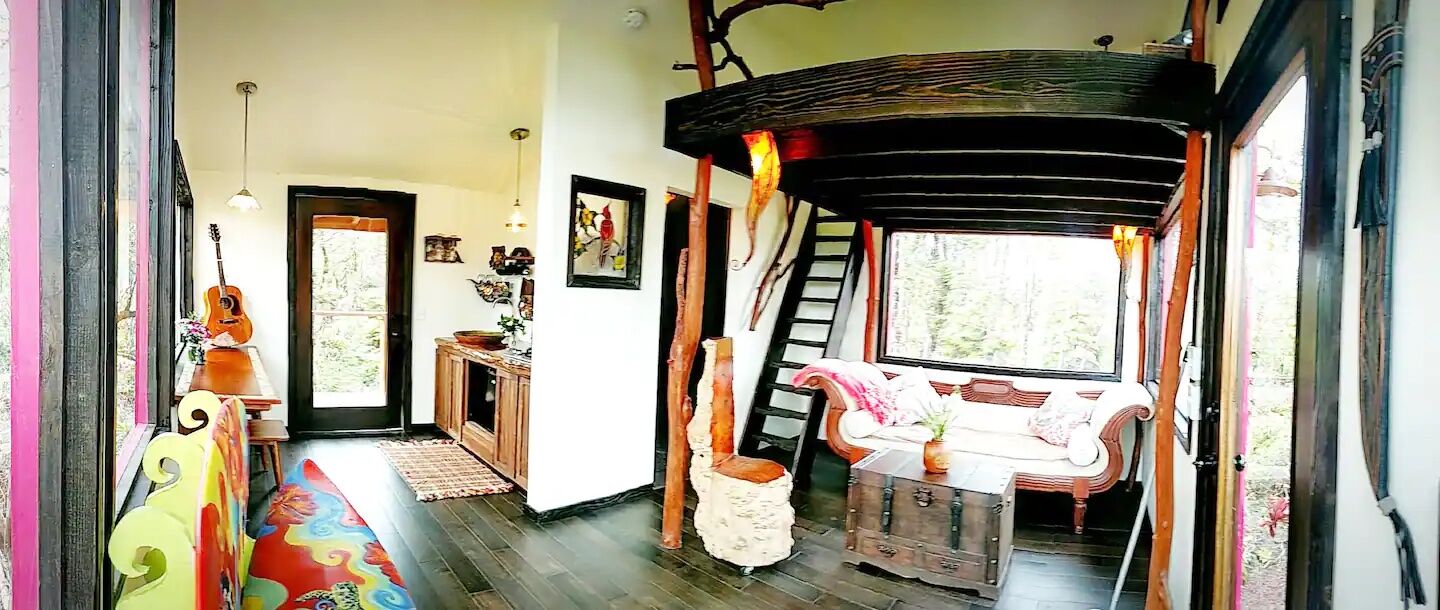 Custom-built by a local artist, this teensy tropical treehouse Airbnb in Hawaii is inextricably connected with nature. Vast windows enable the rays to flood the space which is elevated and accessible via a wooden staircase. The bedroom is located in the loft while the sofa bed in the lounge provides additional sleeping space. A lava-themed bathroom is a kooky touch but it's the zipline that hogs the limelight at the appropriately-named Adventure Treehouse.
Four guests, two bedrooms
Price: $430 per night
Among The Stars – tiny home with views, hot tub, and fire pit – Oakhurst, California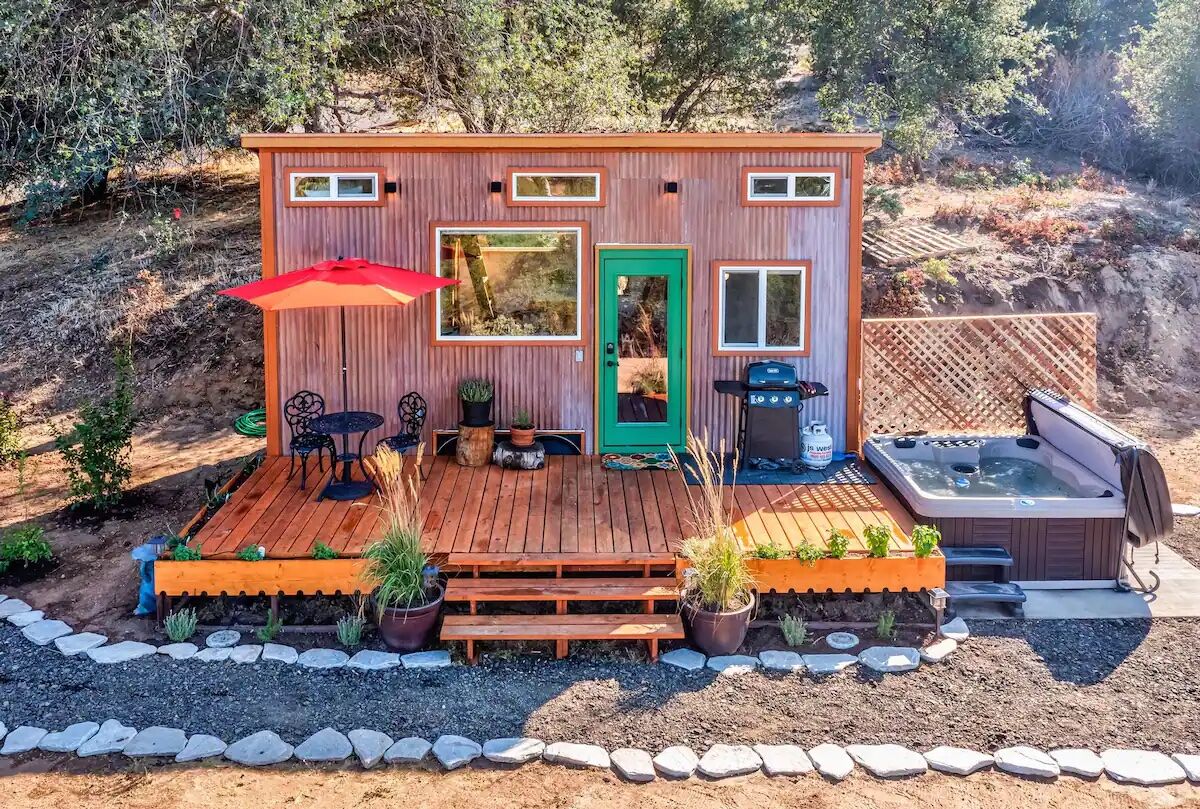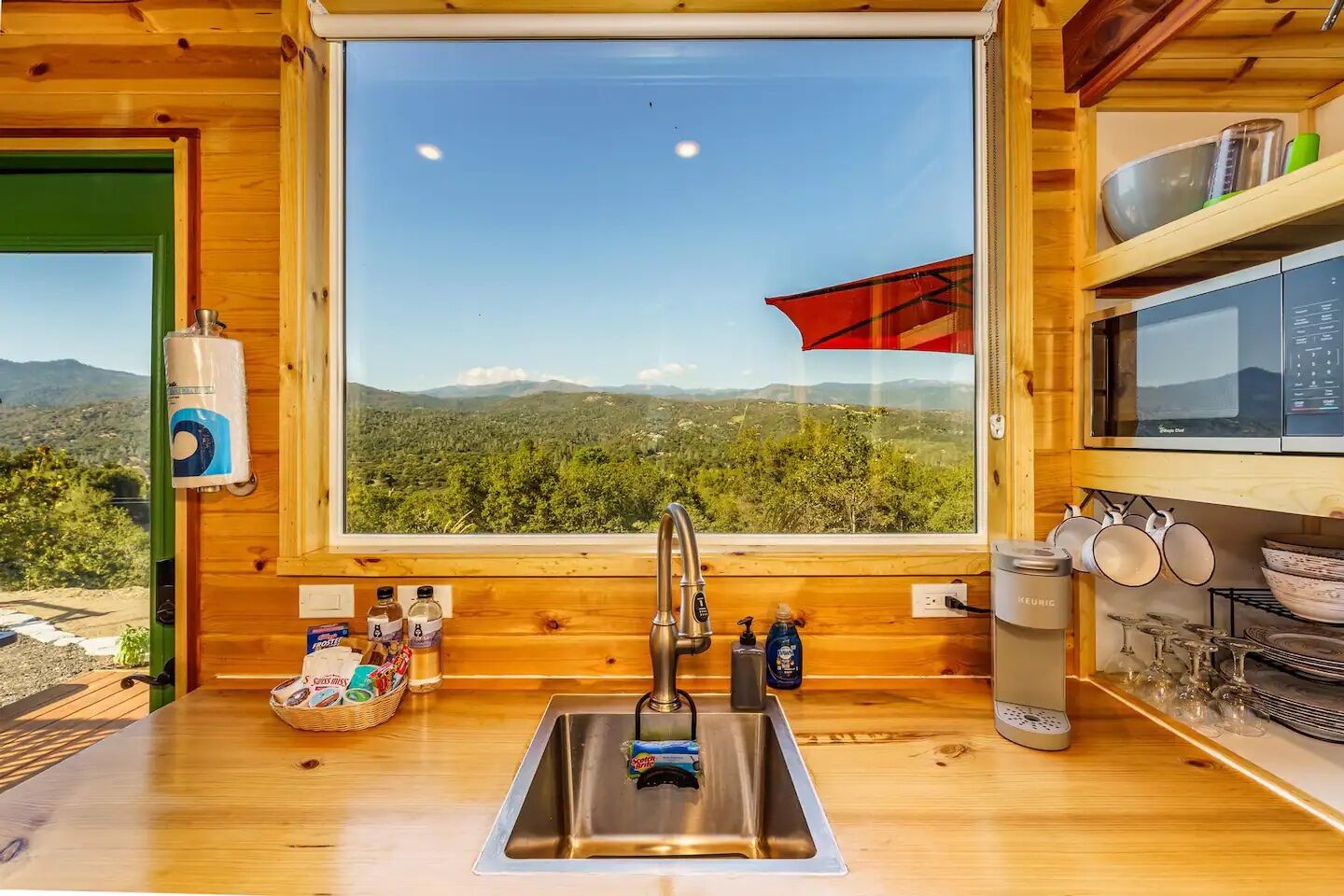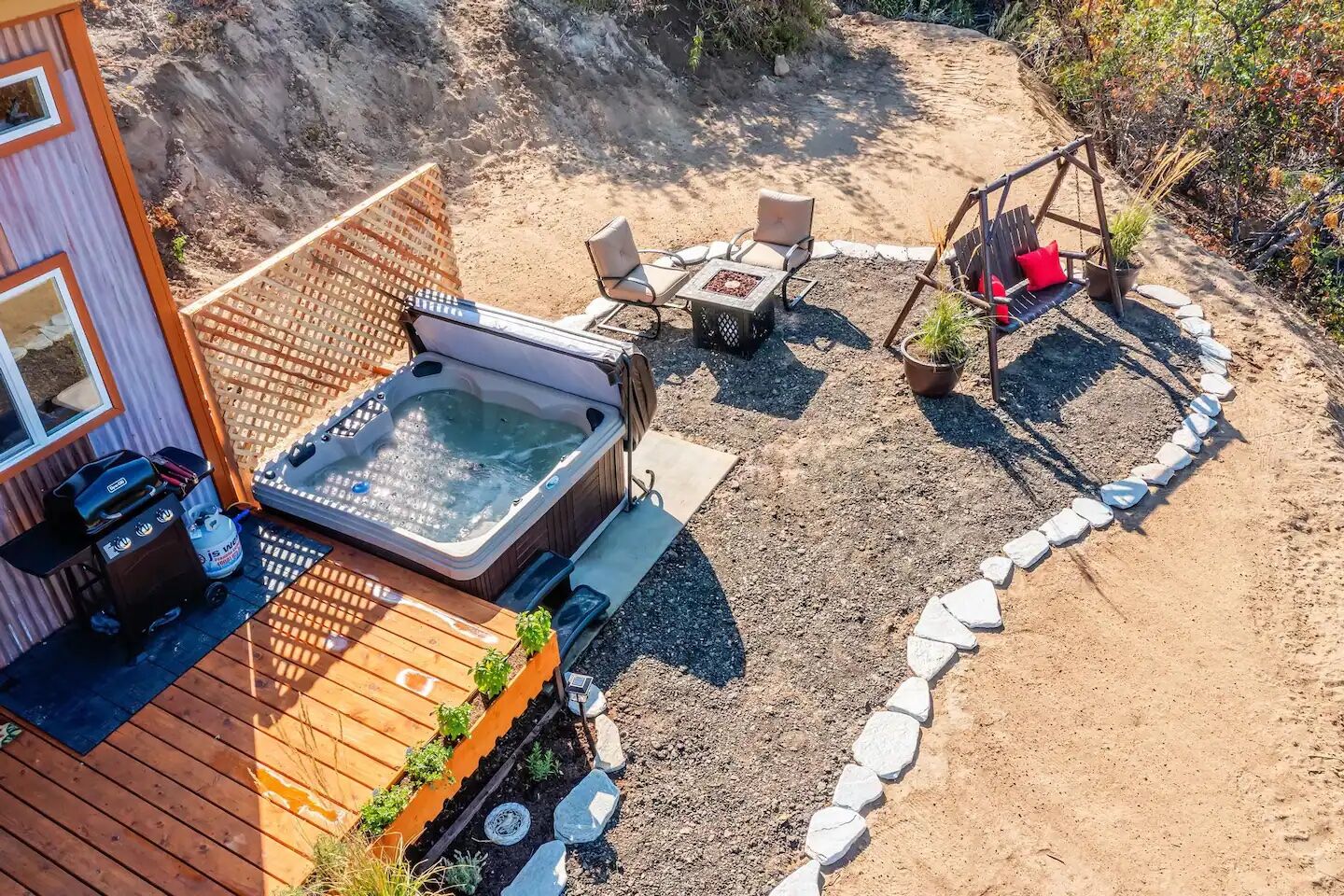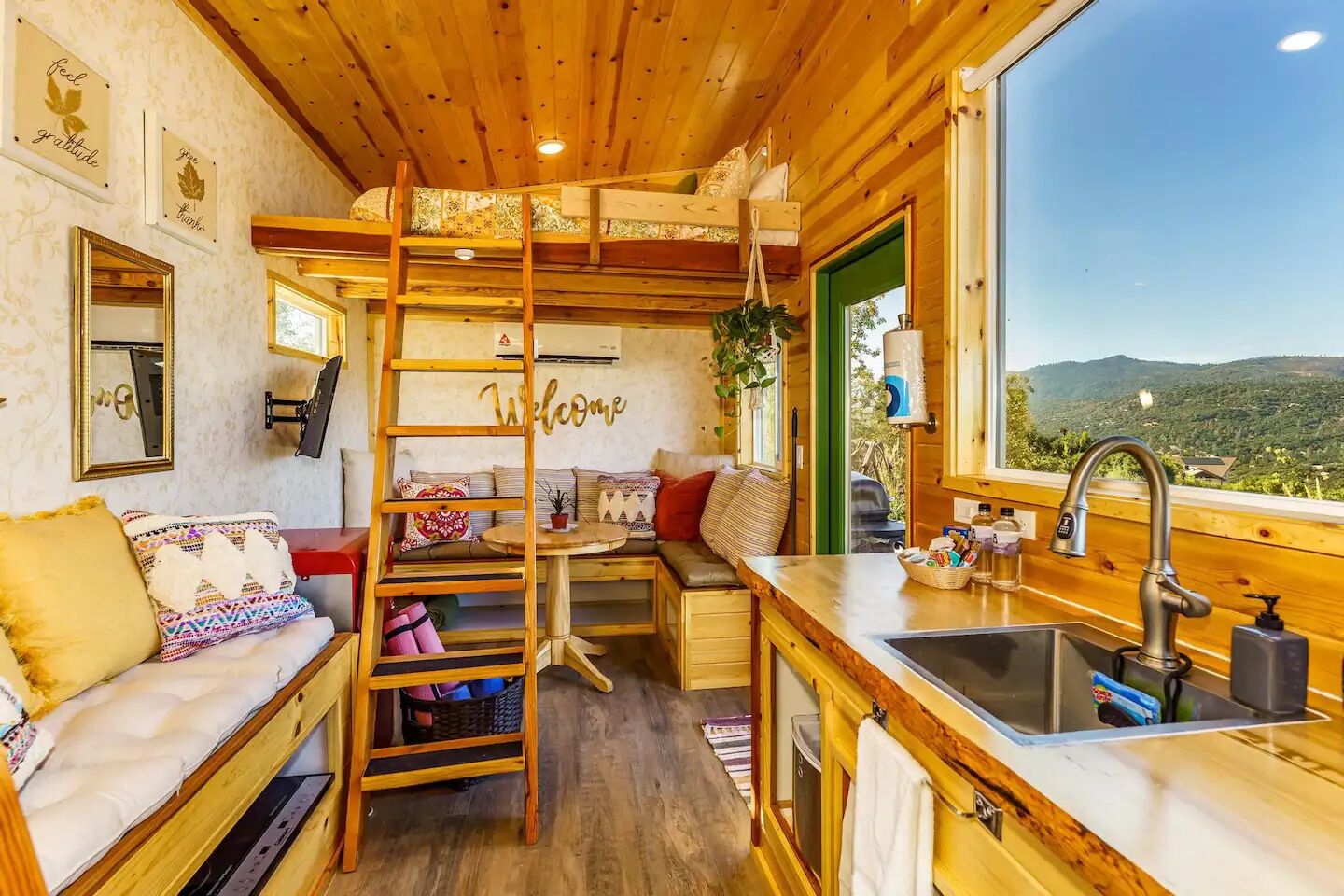 Base yourself at this Oakhurst, California, tiny house for your Yosemite adventures! The home grants ​​180-degree panoramic views of the High Sierras that you can enjoy from the private hot tub and swing seat. Accessible via a ladder, the main bed is on the mezzanine level while a single bed on the ground level can accommodate a third guest or child. Once the sun sets, take a seat by the fire pit and tilt your head – you'll not struggle to see how the rental earned its name.
Three guests, one bedroom
Price: $240 per night
Peacock Tiny House near Las Vegas – Sandy Valley, Nevada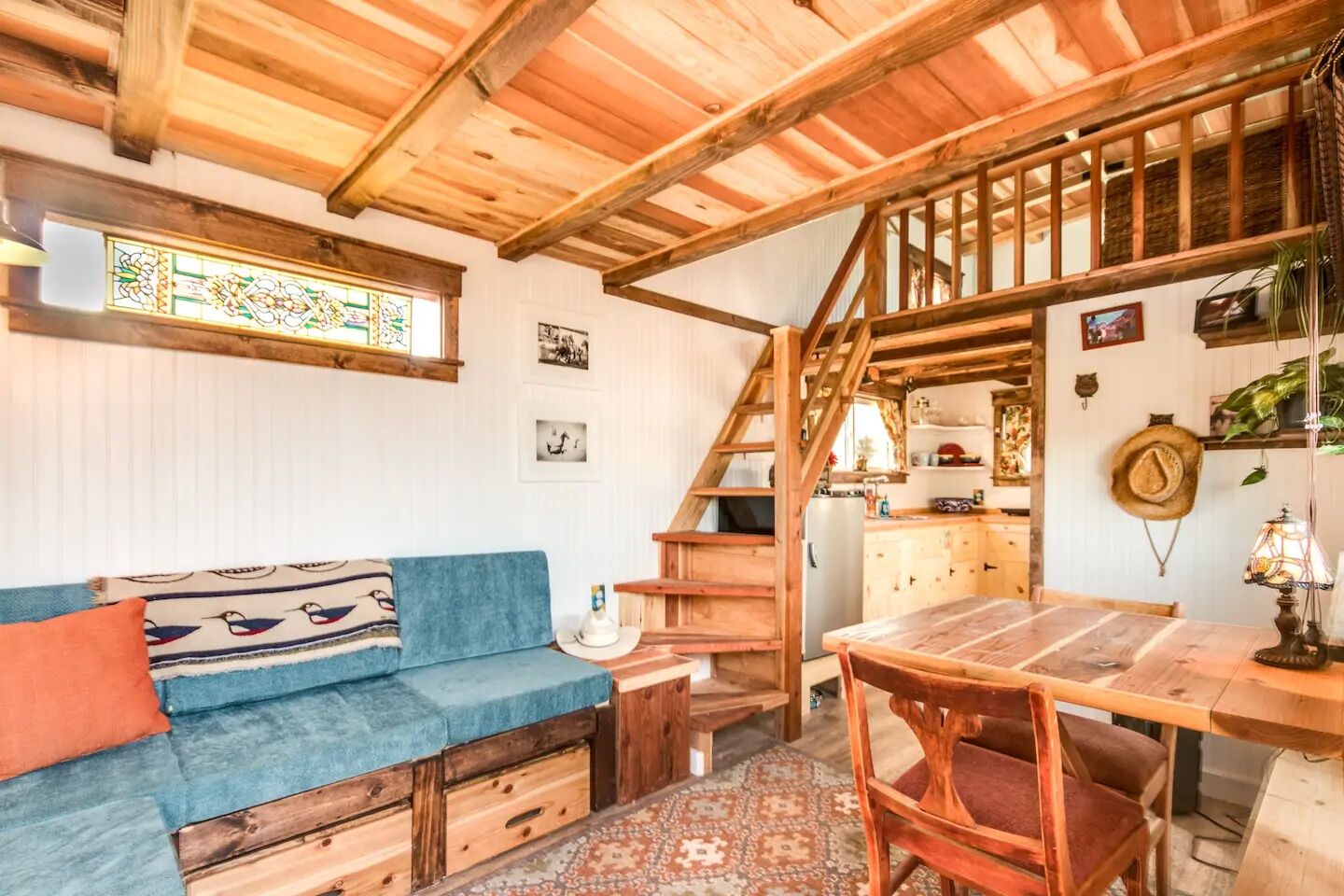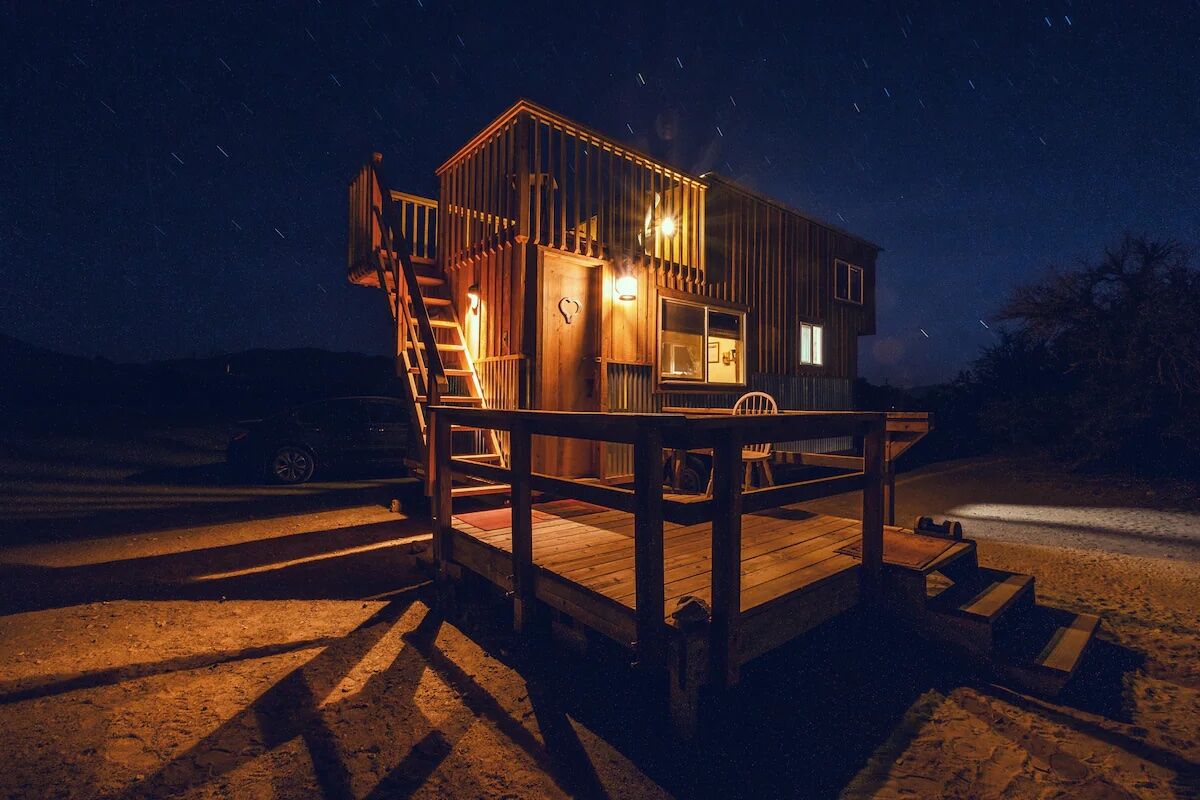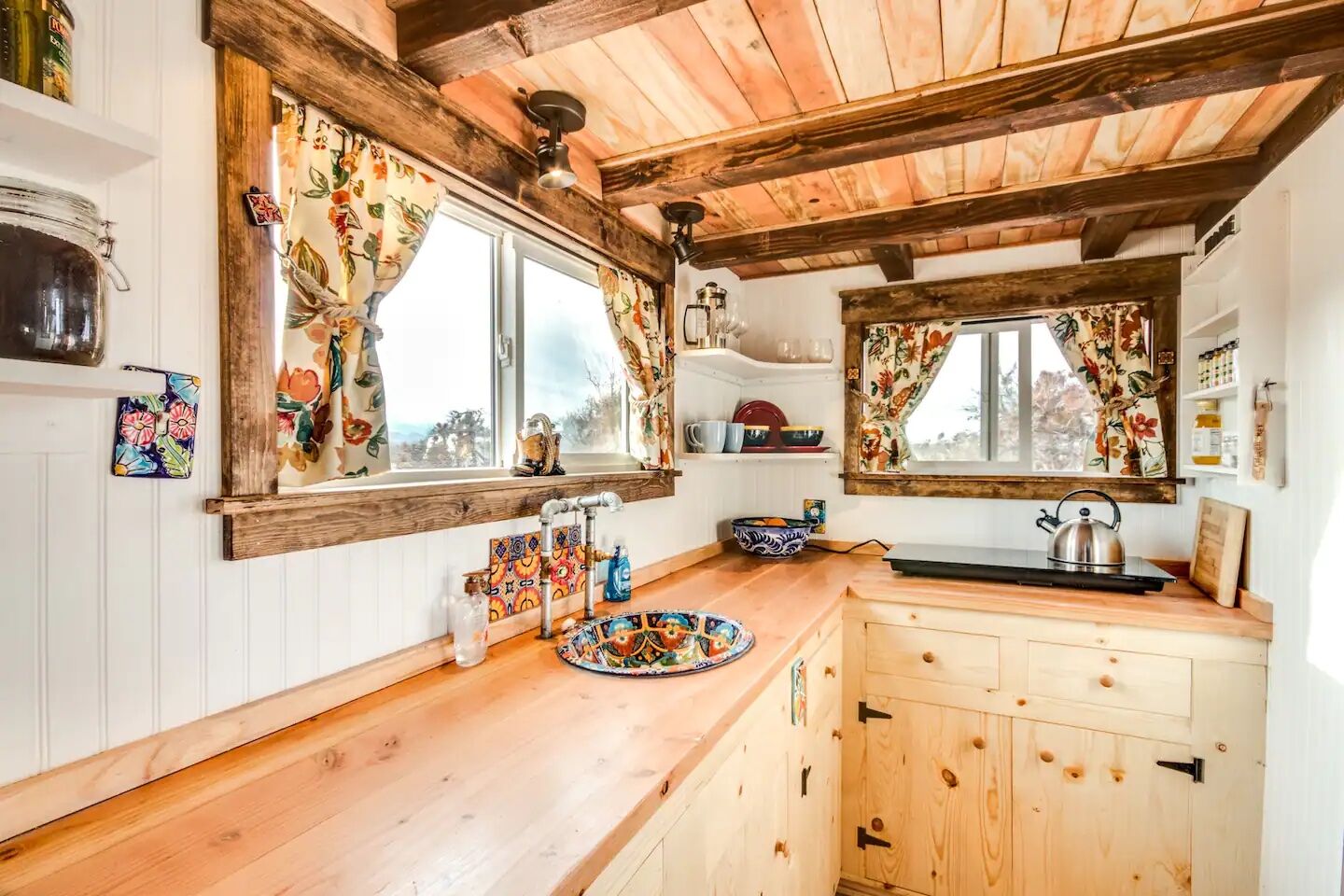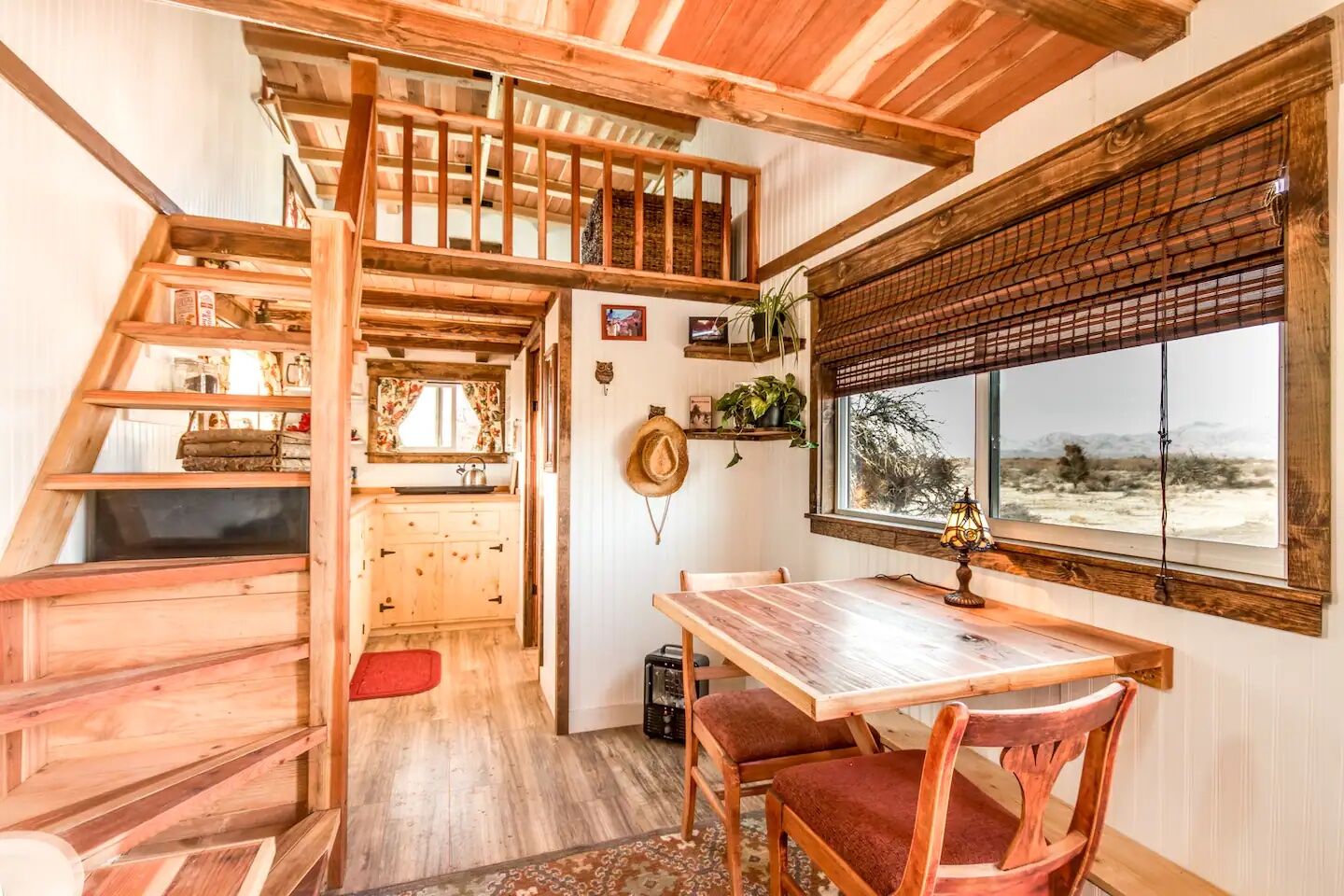 Lap up the tranquility of the Mojave Desert at this tiny house on a Nevada ranch. Part trailer, part cabin, the Peacock Tiny House features a mezzanine bedroom and a beautiful roof terrace for romantic nights under the stars. The self-contained rental has a bathroom and a simple kitchen. There's no better place to switch off and dive into your reading list or bond with your SO. Horseback riding tours and lessons are available – just ask the host.
Three guests, one bedroom
Price: $125 per night
Little River tiny house with rooftop deck – Maryville, Tennessee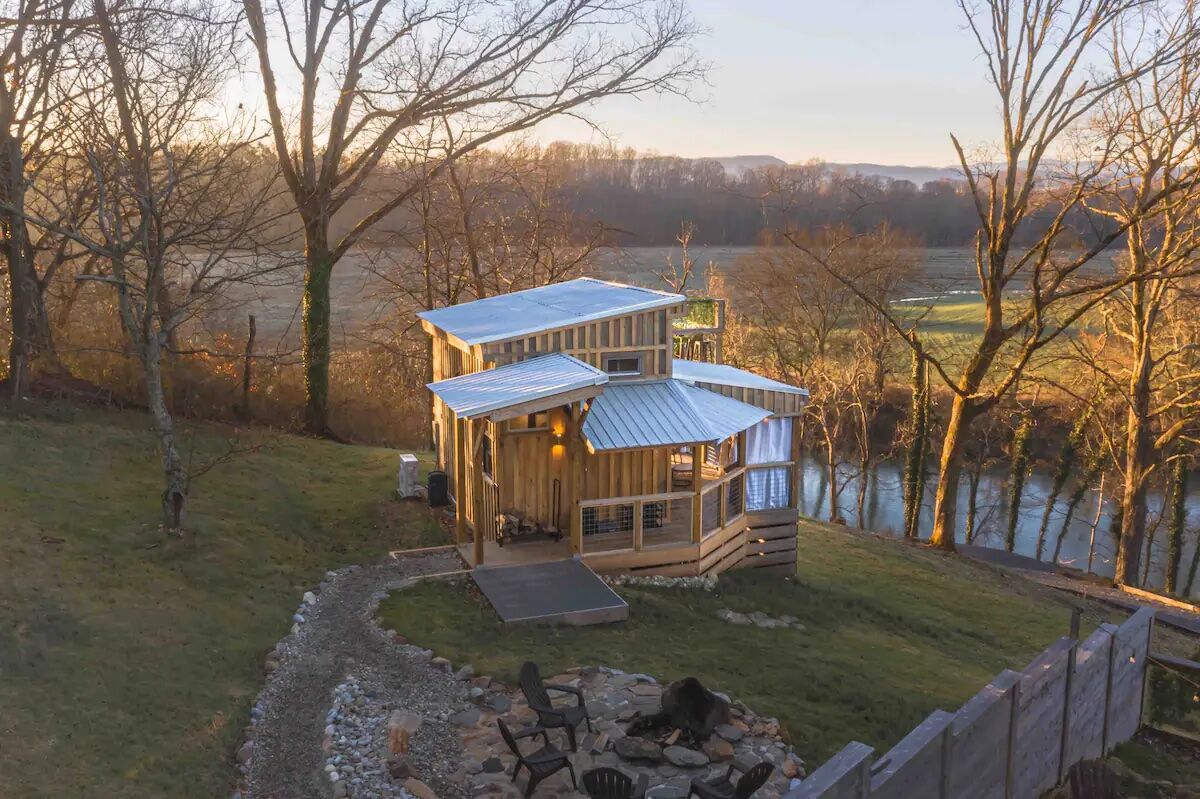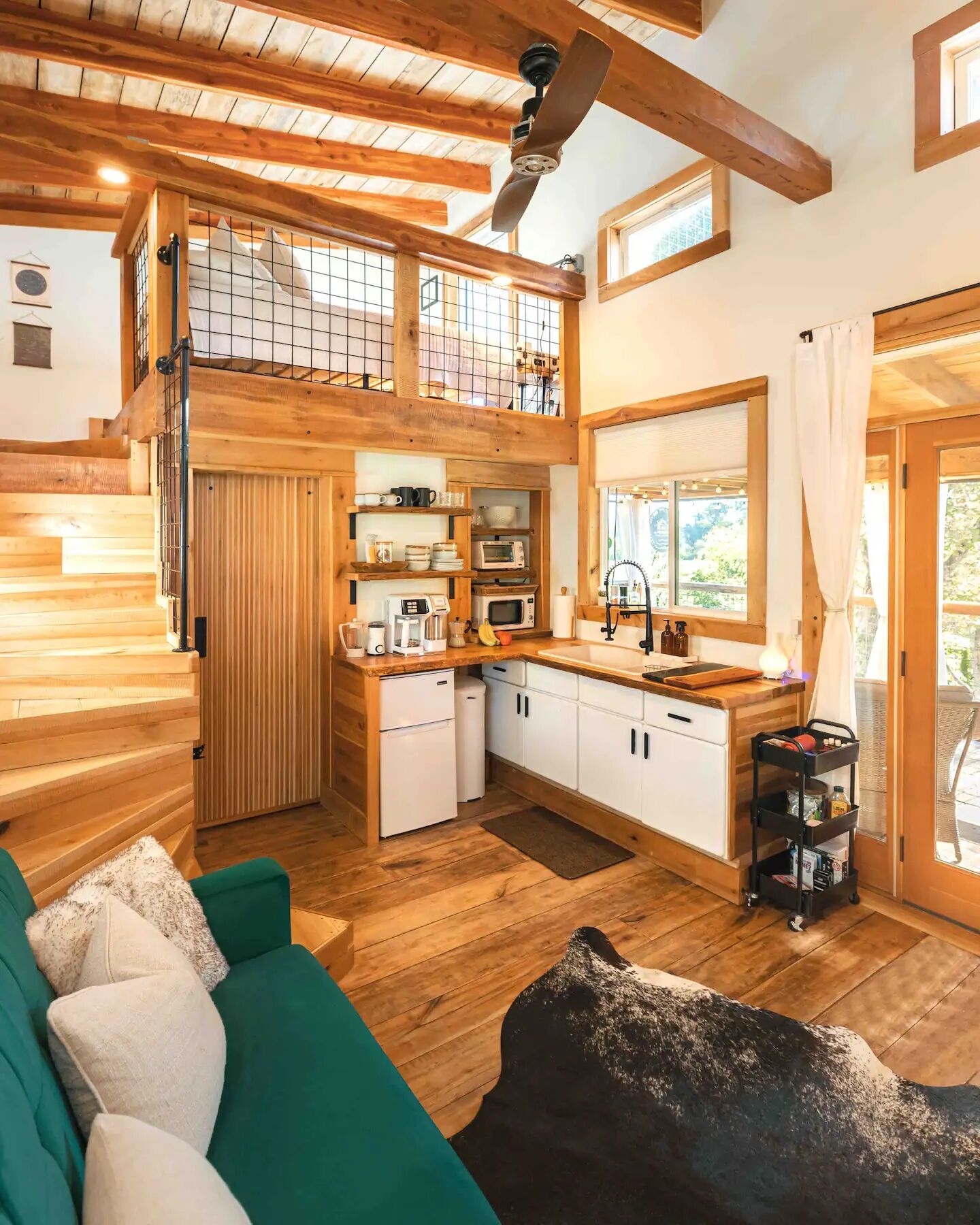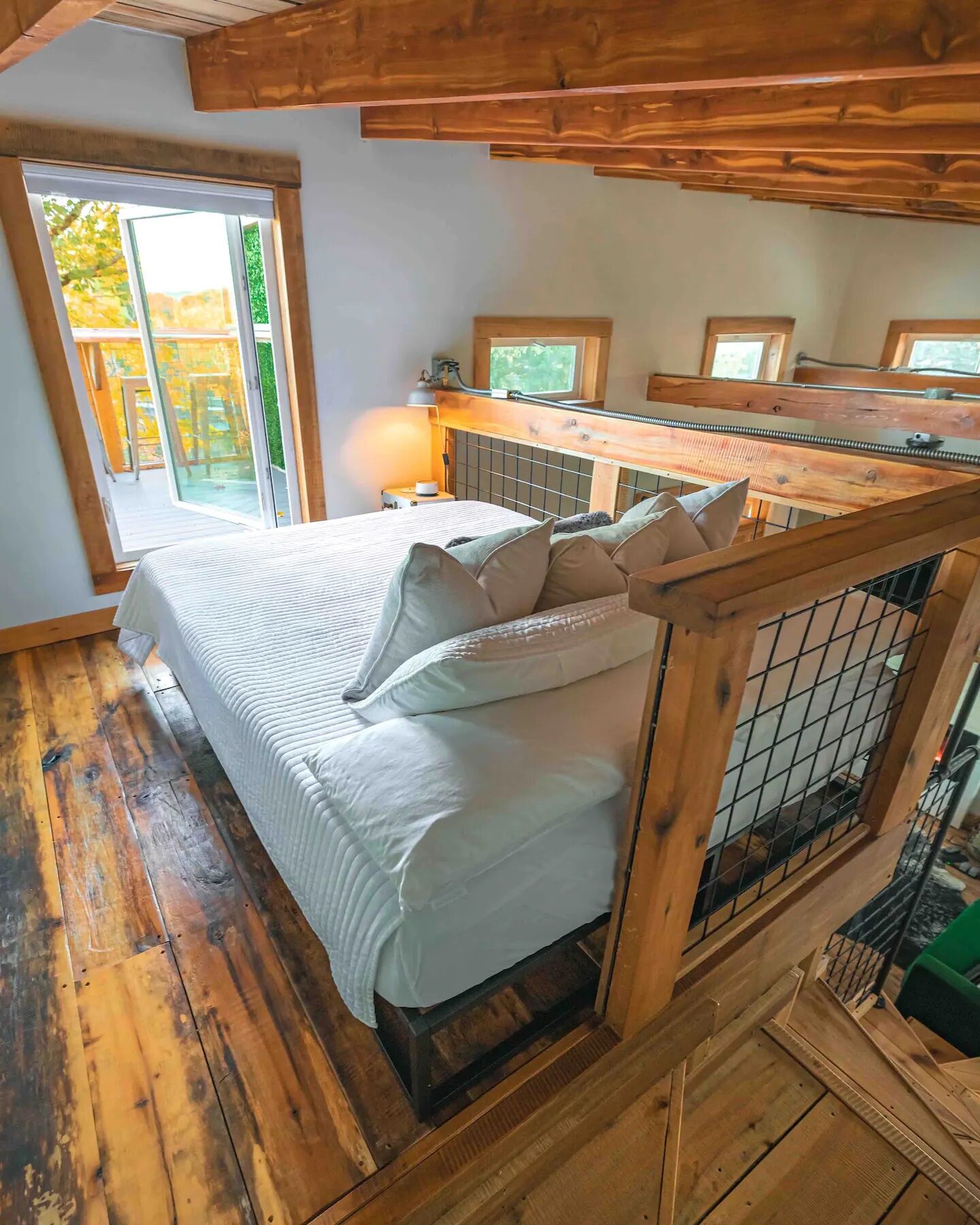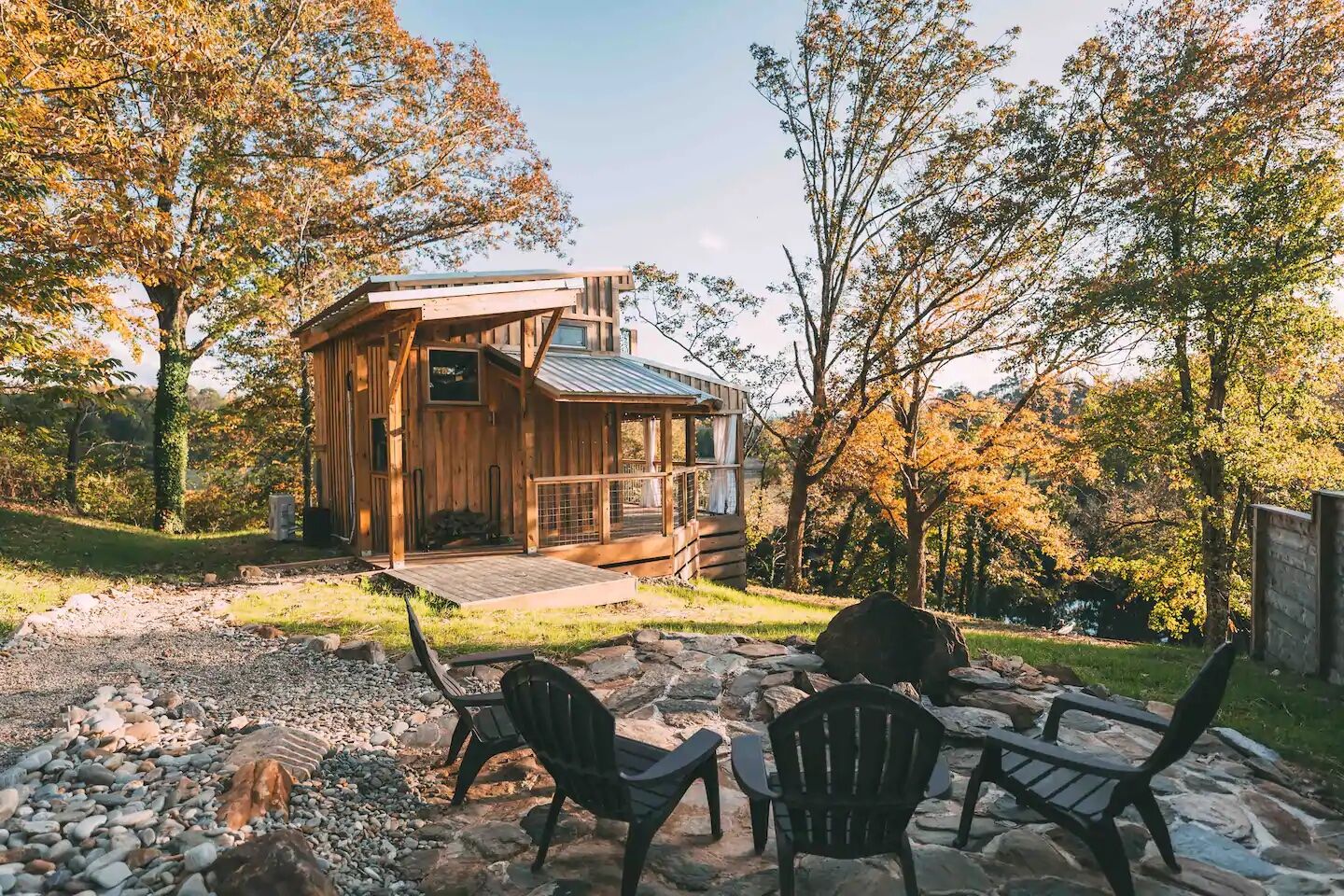 Crafted with love, this custom tiny house is a duplex design with a bedroom in the loft that leads onto a roof terrace. This deck sweeps over the surrounding forestry and river and is a prime spot for a sundowner or stargazing session. A practical kitchen comes with the essentials and there's a fire pit in the backyard in case you'd rather live off s'mores.
Four guests, one bedroom
Price: $255 per night
Sunrise/sunset tiny house – Hyde Park, Vermont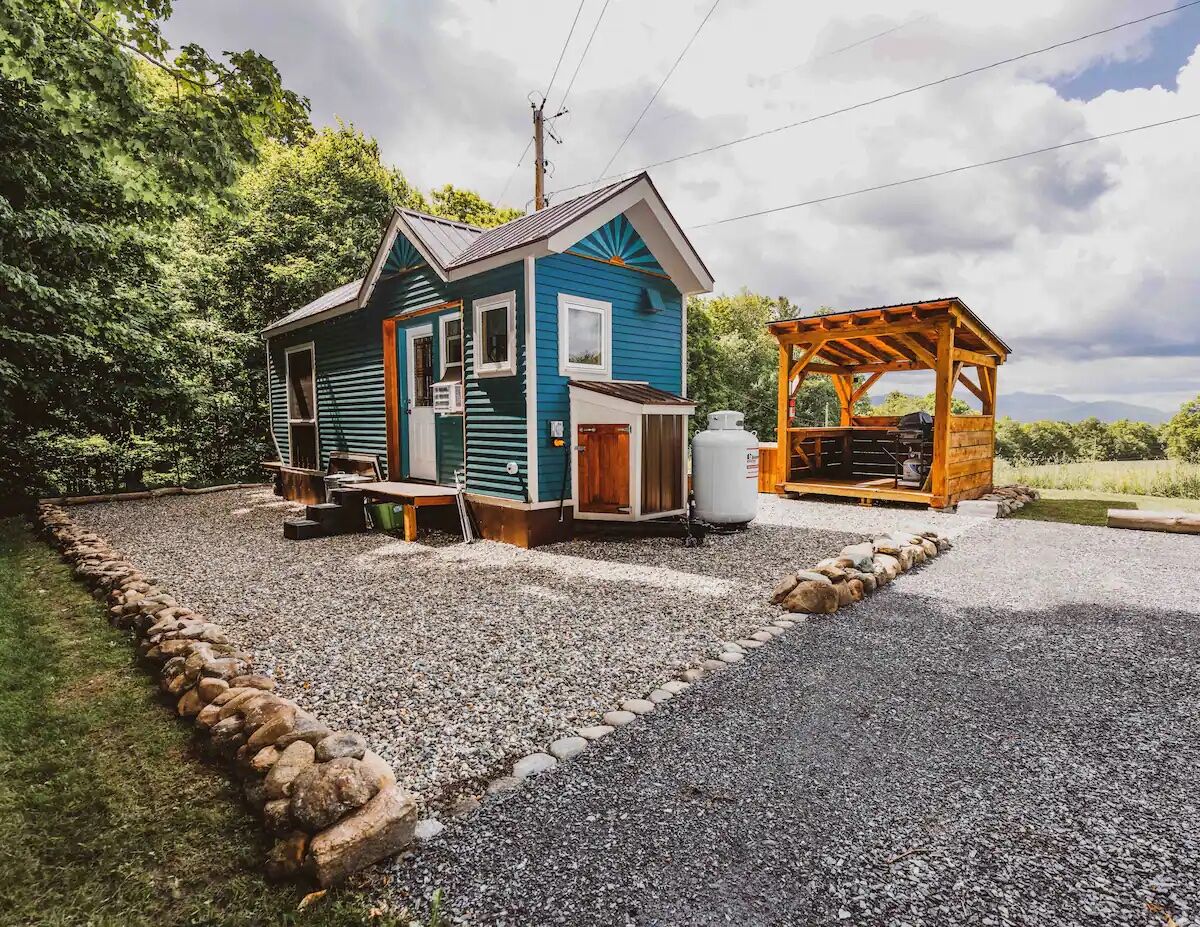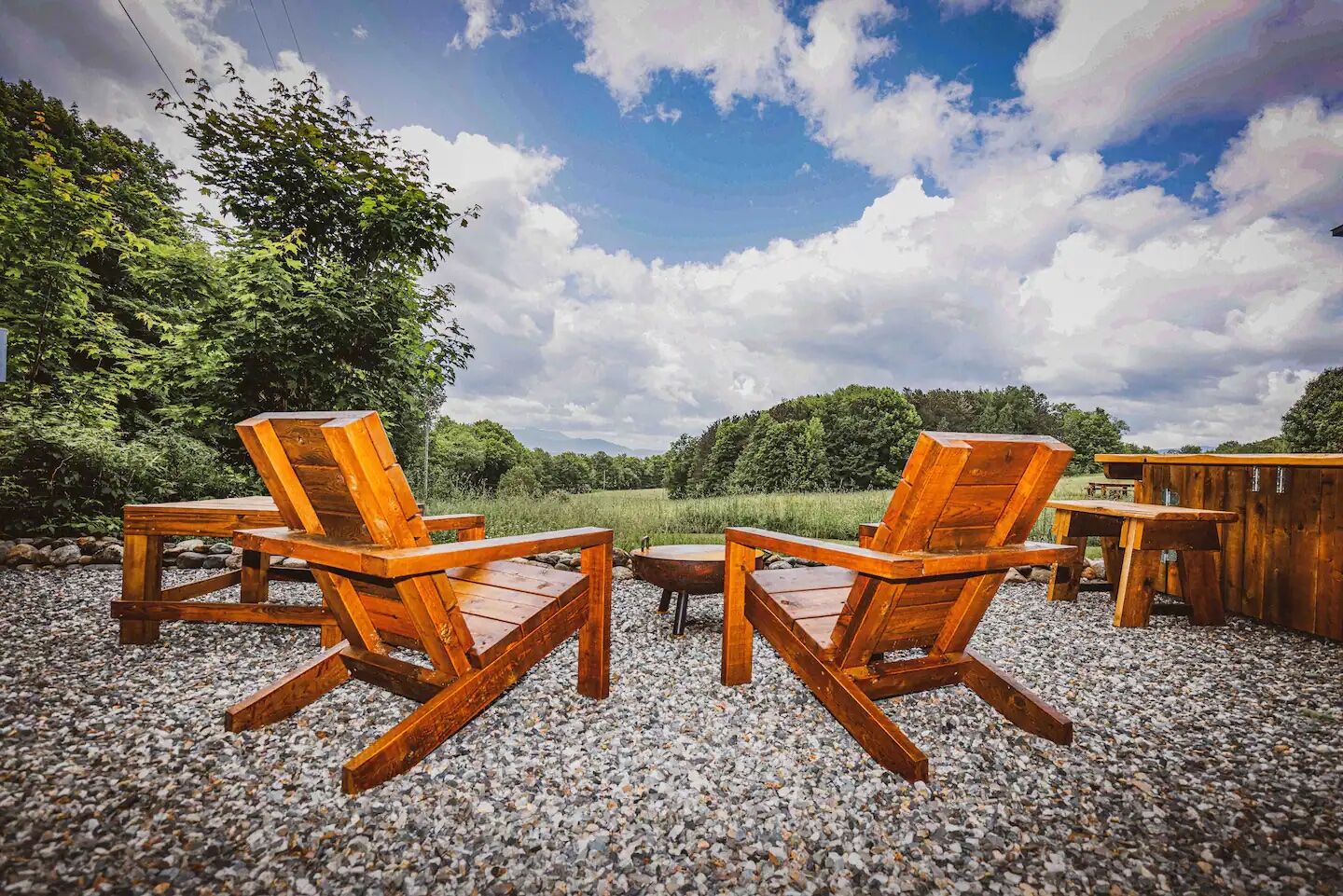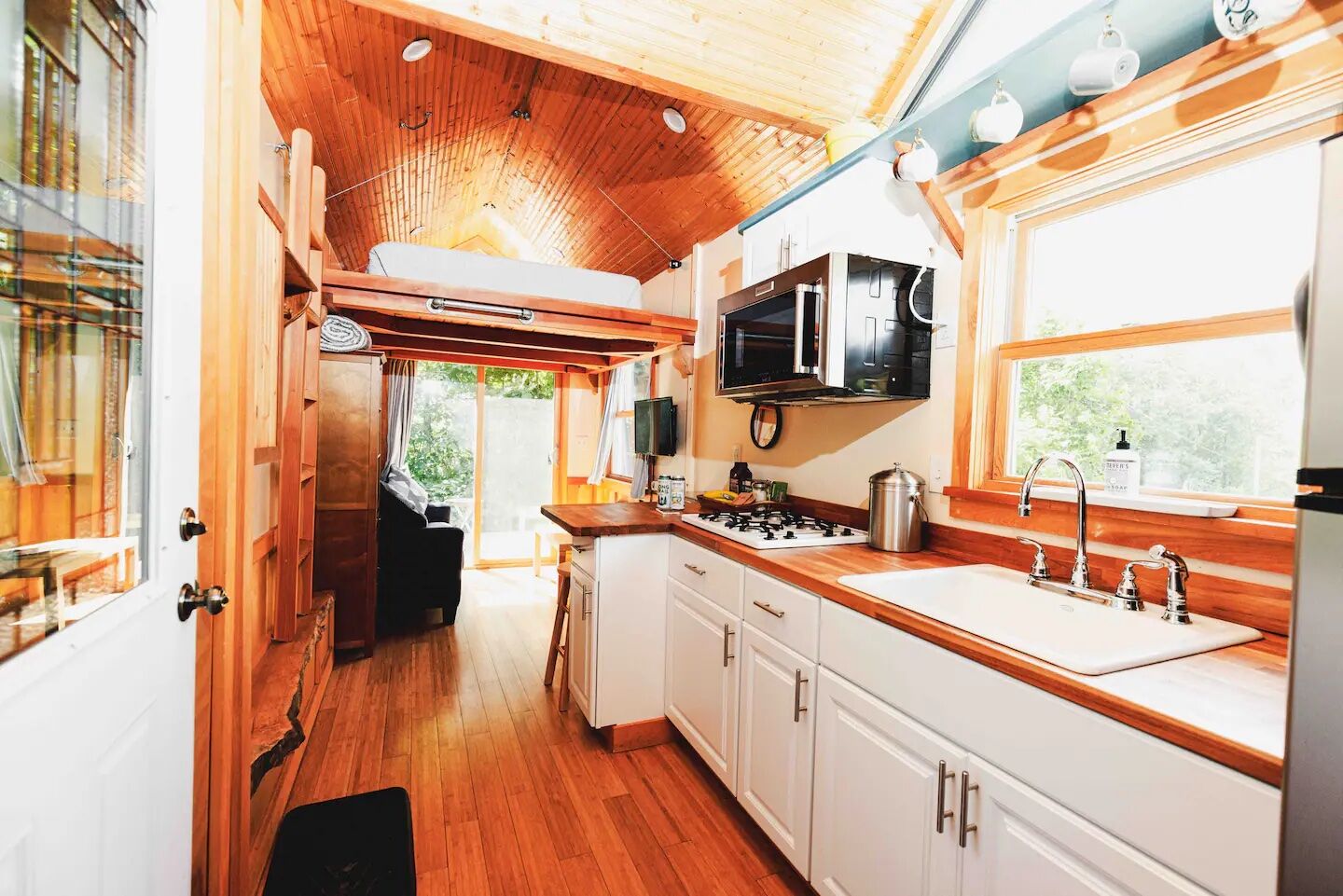 This tiny house on wheels is set on a hillside overlooking rolling farmland and views of the Green River Reservoir State Park. An isolated setting among nature allows the freedom of being off-grid yet the interiors of the home are as modern as you could wish for. The sustainably-minded pad has a fully-equipped kitchen, a bathroom with a composting toilet, and a bedroom in the loft. A snug seating area receives bountiful light through slider doors that lead to the patio and outdoor cooking shelter with a grill.
Two guests, one bedroom
Price: $150 per night
Fairview Takes Your Breath Away! Romantic Getaway – Amherst, Virginia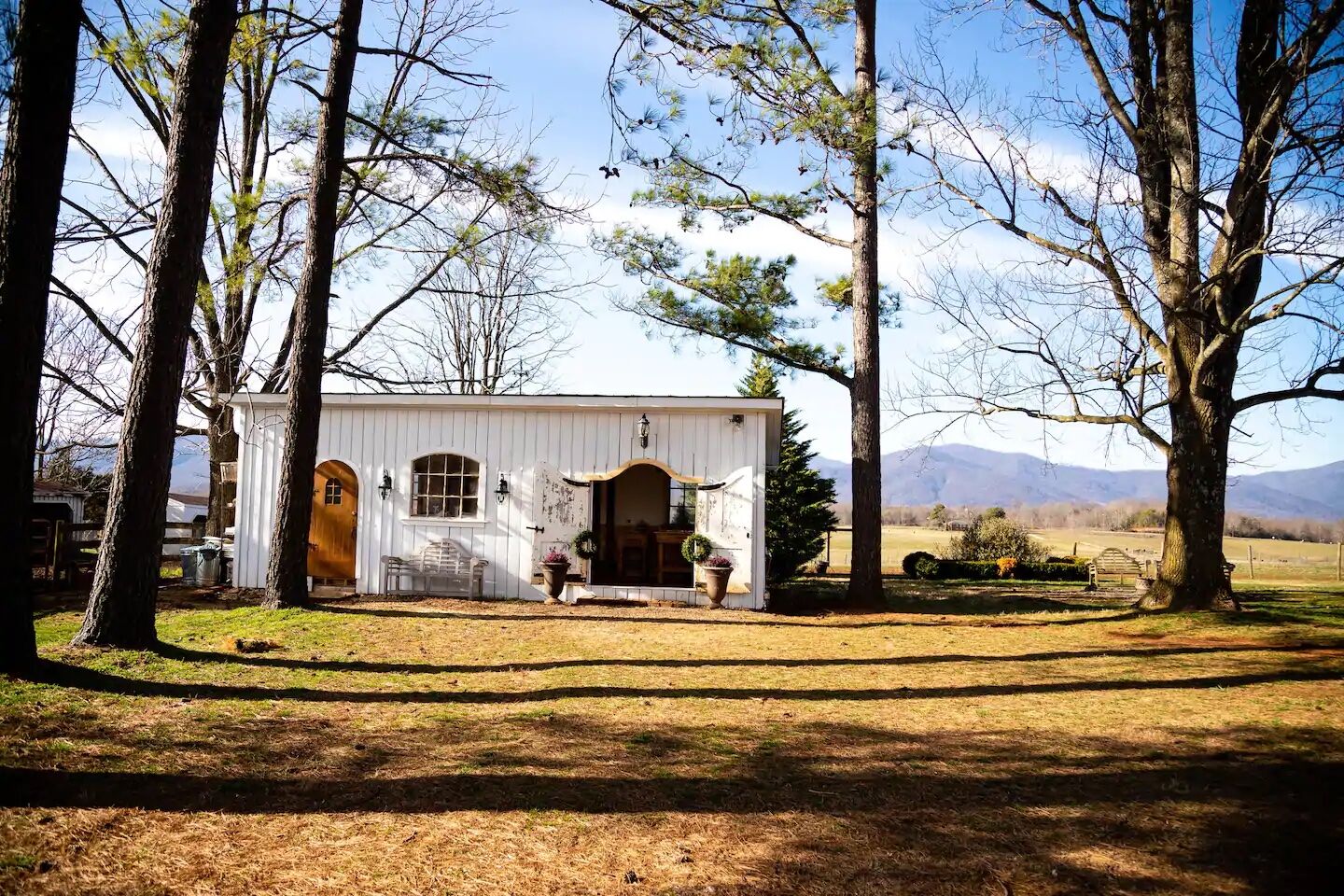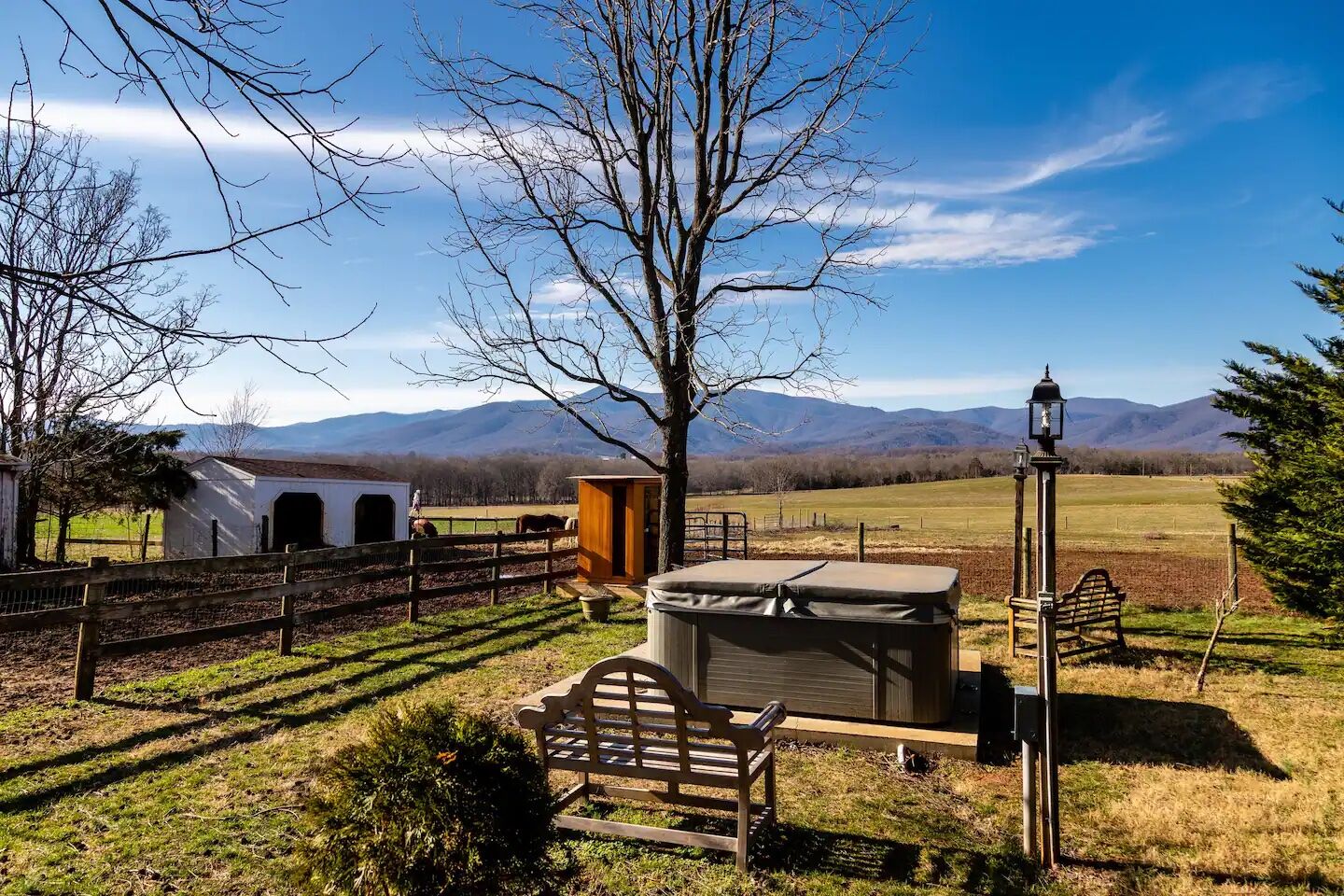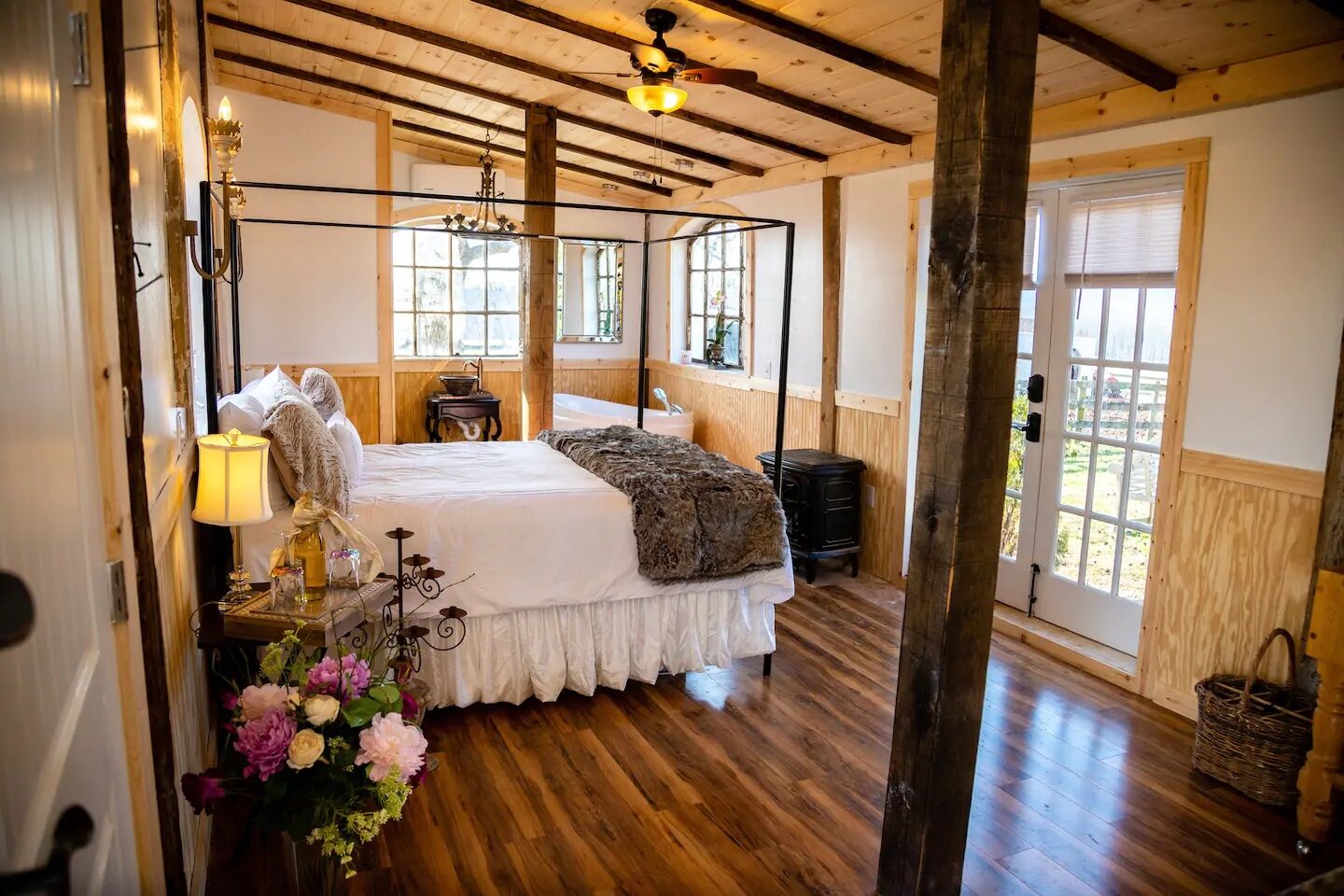 This elegant tiny house in Amherst, Virginia, is lavishly appointed with stained glass windows, ornate chandeliers, and period touches. The living space features a free-standing bathtub that overlooks the rural scenery. The "Garden House" is set upon a working farm estate where rescue ponies and peacocks roam. An al fresco hot tub overlooks the mountains and is shared with other guests on the grounds as per a schedule.
Two guests, one bedroom
Price: $150 per night
The Glass Deck House (South Peak View) – Salida, Colorado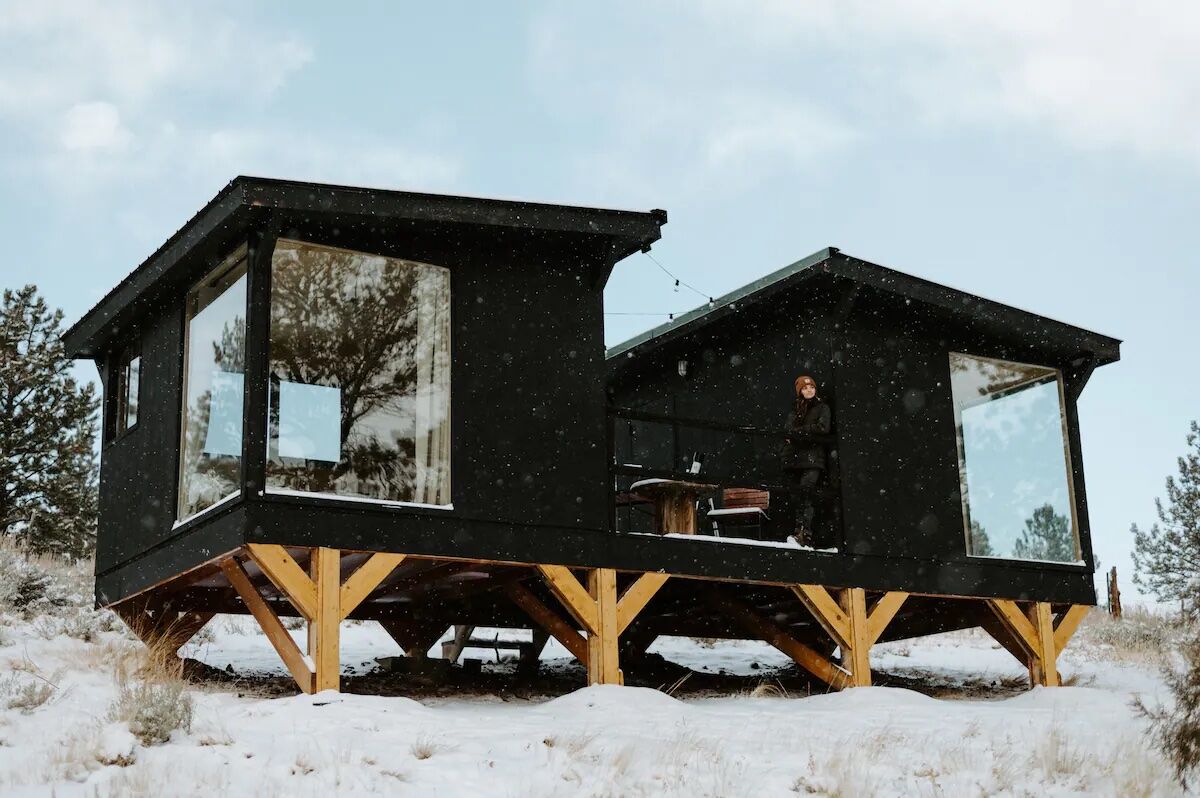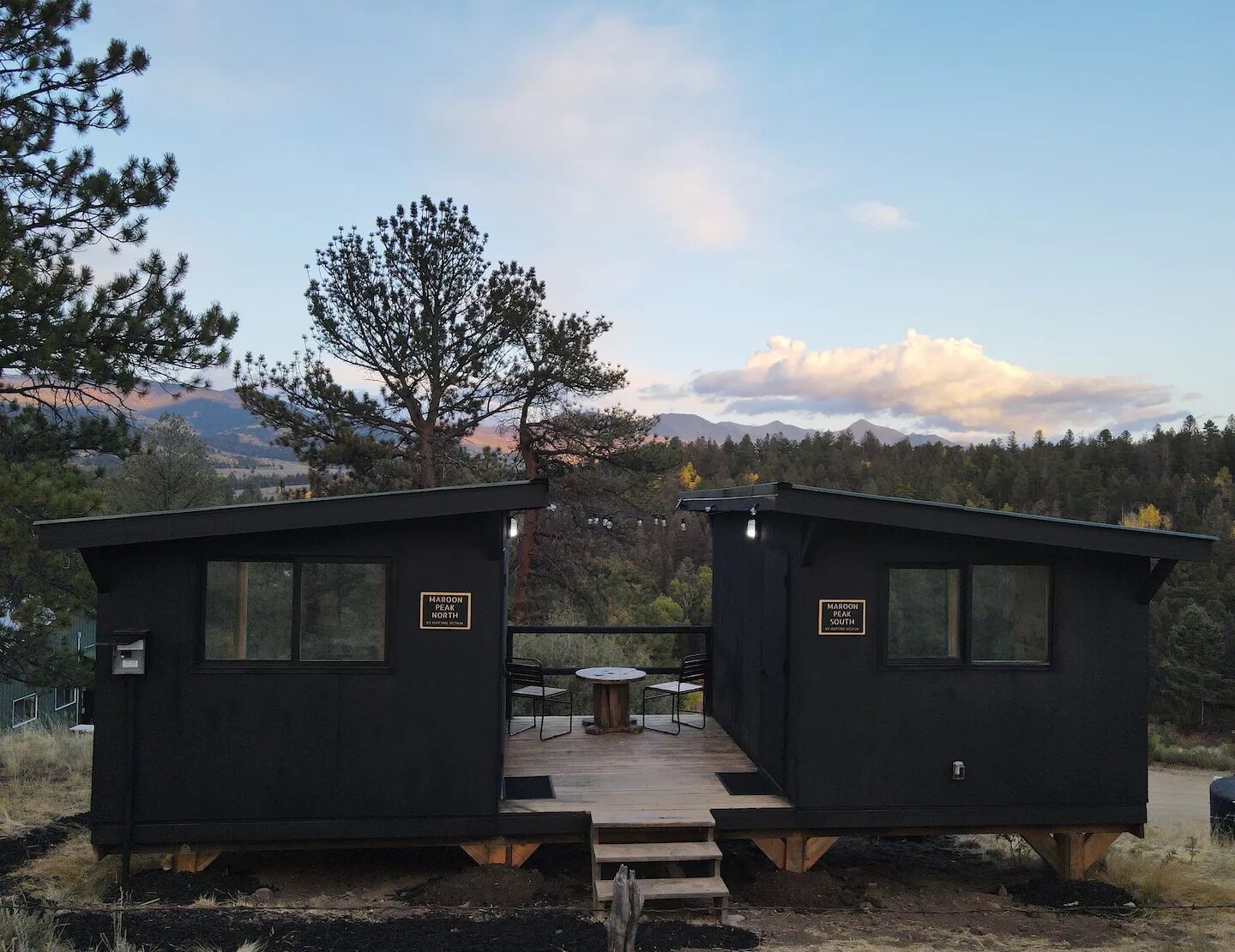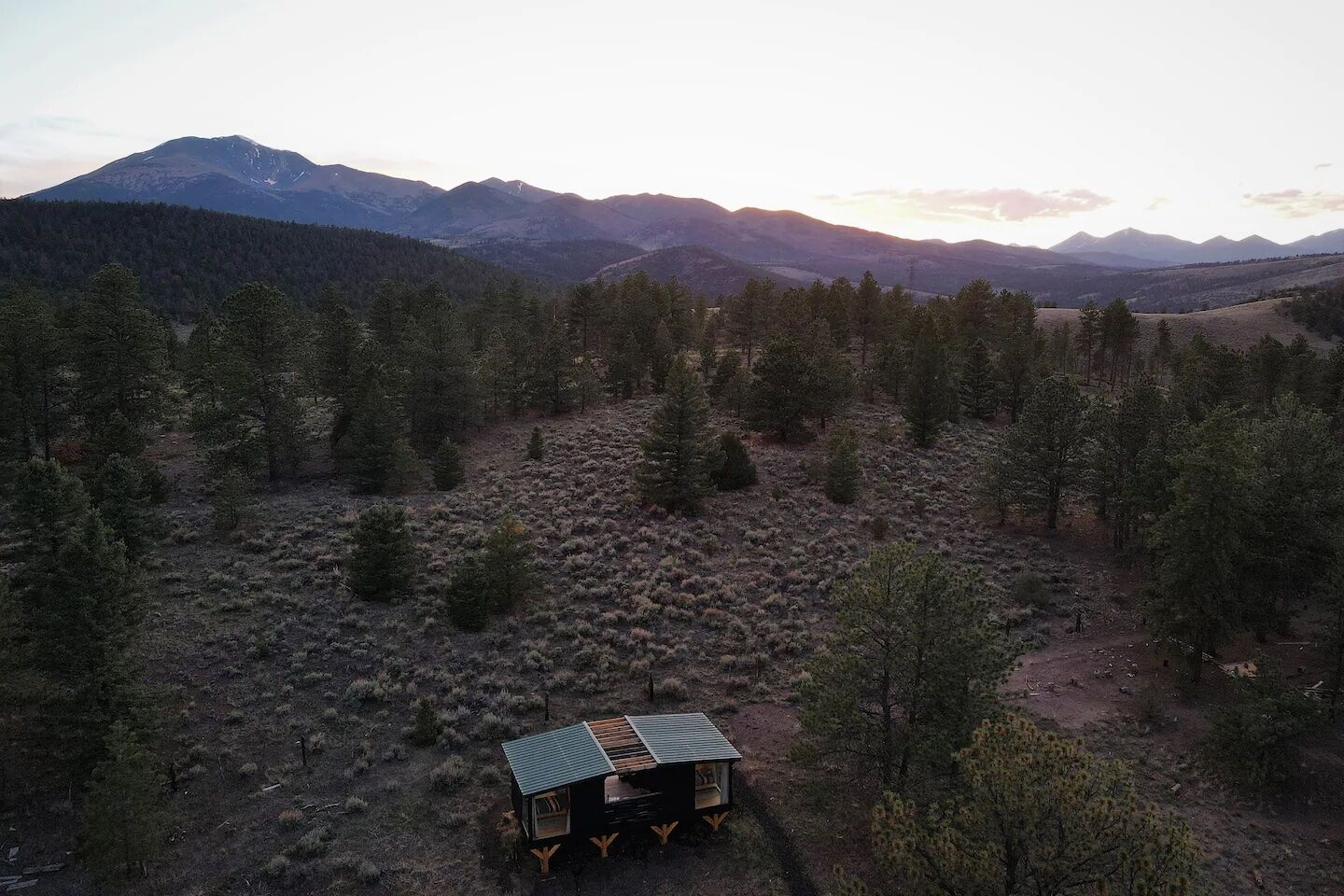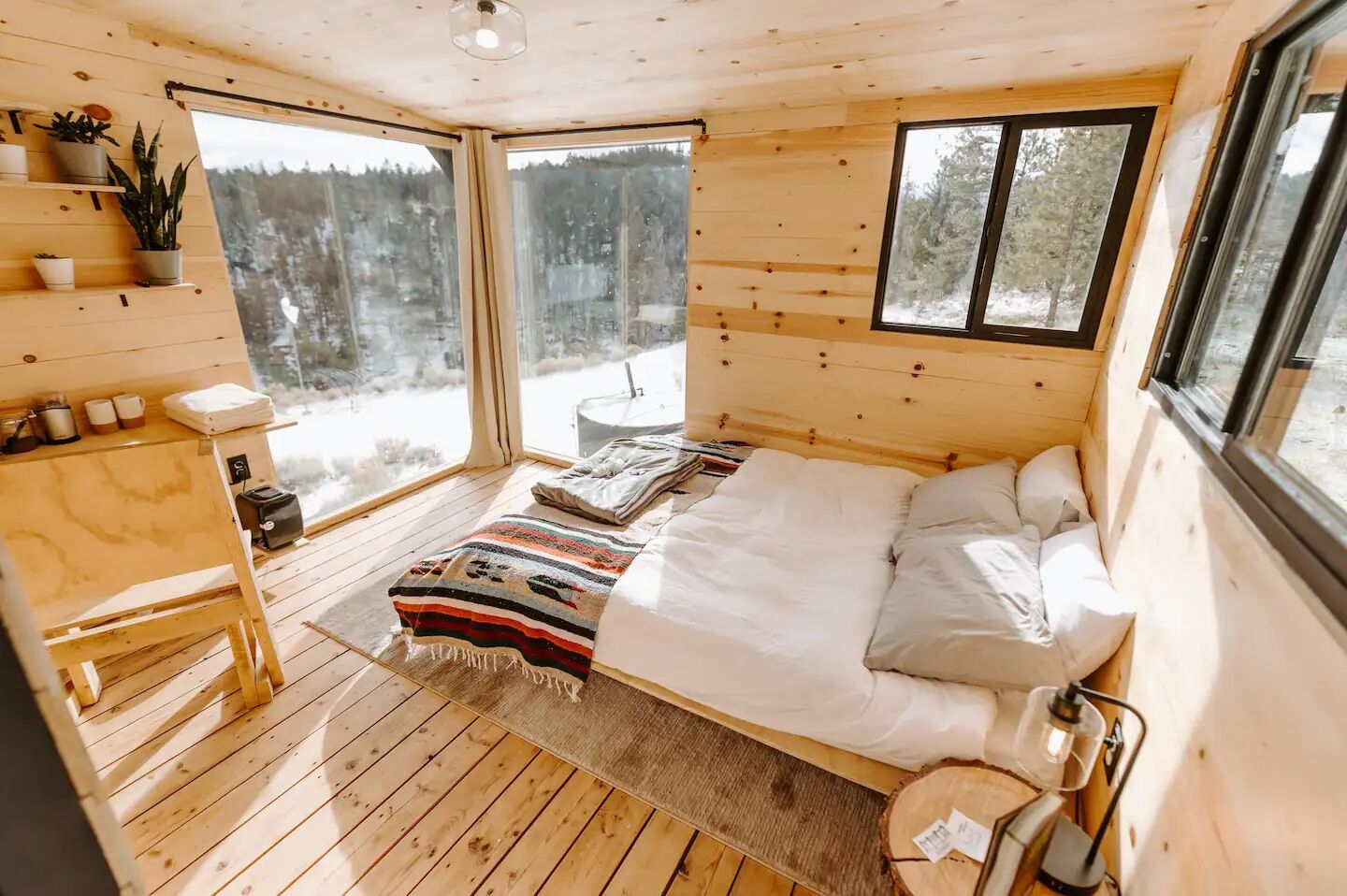 Surrender your spirit to the elements at this knockout tiny house right on the edge of the Rocky Mountains, Colorado. Window walls open out to reveal views of aspen, pine, and spruce trees and there's a writing desk in case inspiration seizes you. Dogs are welcome at this pet-friendly tiny house. A shared bathhouse is a short stroll from the cabin where you can freshen up after a day exploring the private hiking trails. The cabin shares a balcony with the North Peak View twin house. Those traveling in a group can rent out both units.
Two guests, one bedroom
Price: $265 per night
What did you think of this story?