These 11 Scenic Byways Are Some of the Most Beautiful Road Trips You Can Take in the US
In "This Land is Your Land," Woody Guthrie sang the words, "As I went walking that ribbon of highway / I saw above me that endless skyway." If Guthrie was singing about some of the most beautiful ribbons of highway in the United States, there's a good chance he was talking about one of the country's scenic byways.
Cutting through prairies, grasslands, mountains, forests, and deserts, many of our scenic byways are not only modes of transport, but destinations in themselves. While highways are wide traffic-filled roads connecting major cities, byways tend to be narrower, secondary roads in more rural areas. The National Scenic Byways Program began in 1991 to promote roads of special aesthetic or cultural significance in one of six topics: archaeological, cultural, natural, historic, recreational, or scenic. Those that meet two or more criteria are designated "All-American Roads."
2021 was the first year since 2009 that new routes have been added to the list of National Scenic Byways — for a total of 34 byways and 15 All-American Roads across 28 states — making now the best time to go out and explore them. And best of all, they can be done in a day or a long weekend depending on how many stops you want to take.
These are the byways to keep in mind for your next road trip.
1. Florida Keys Scenic Highway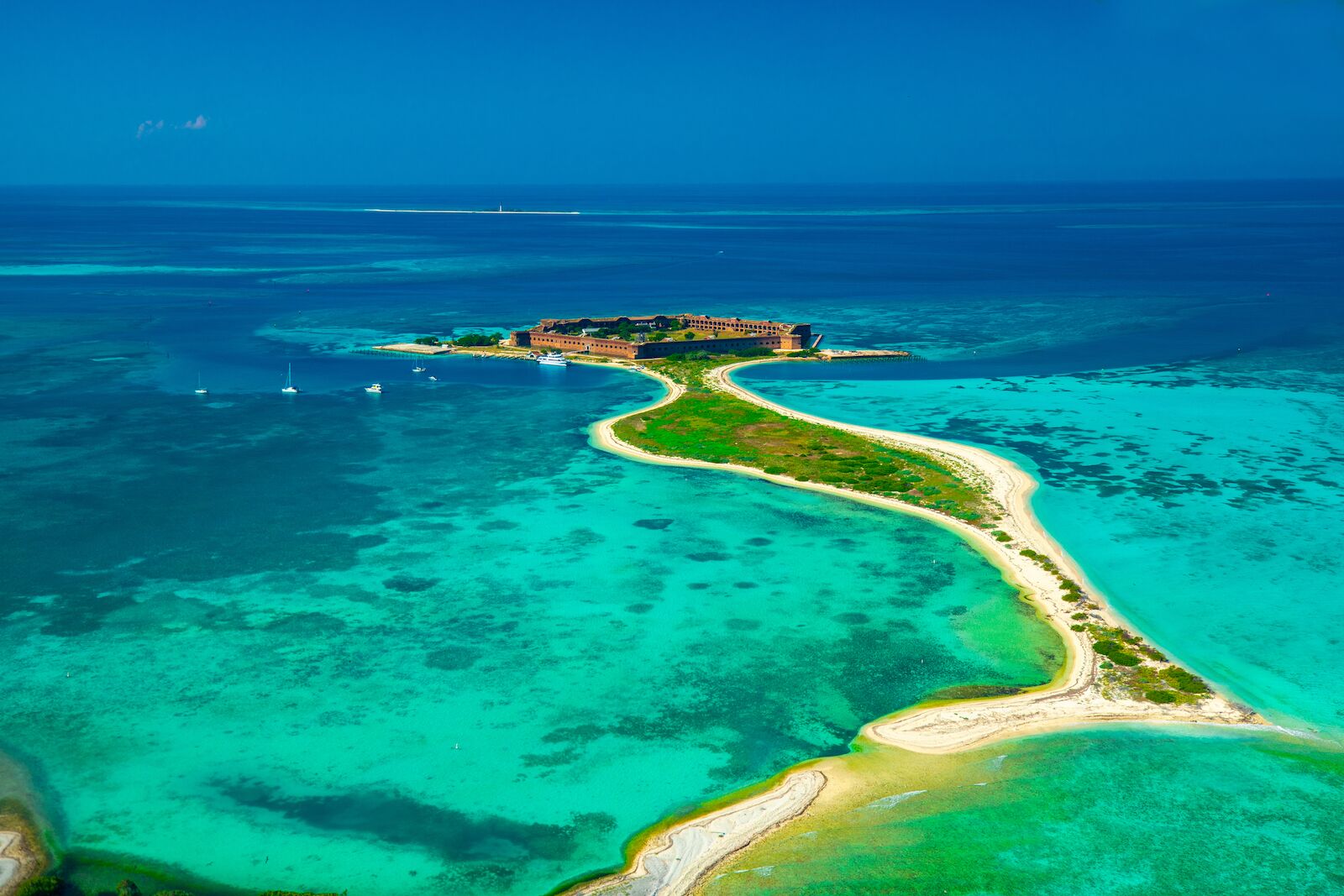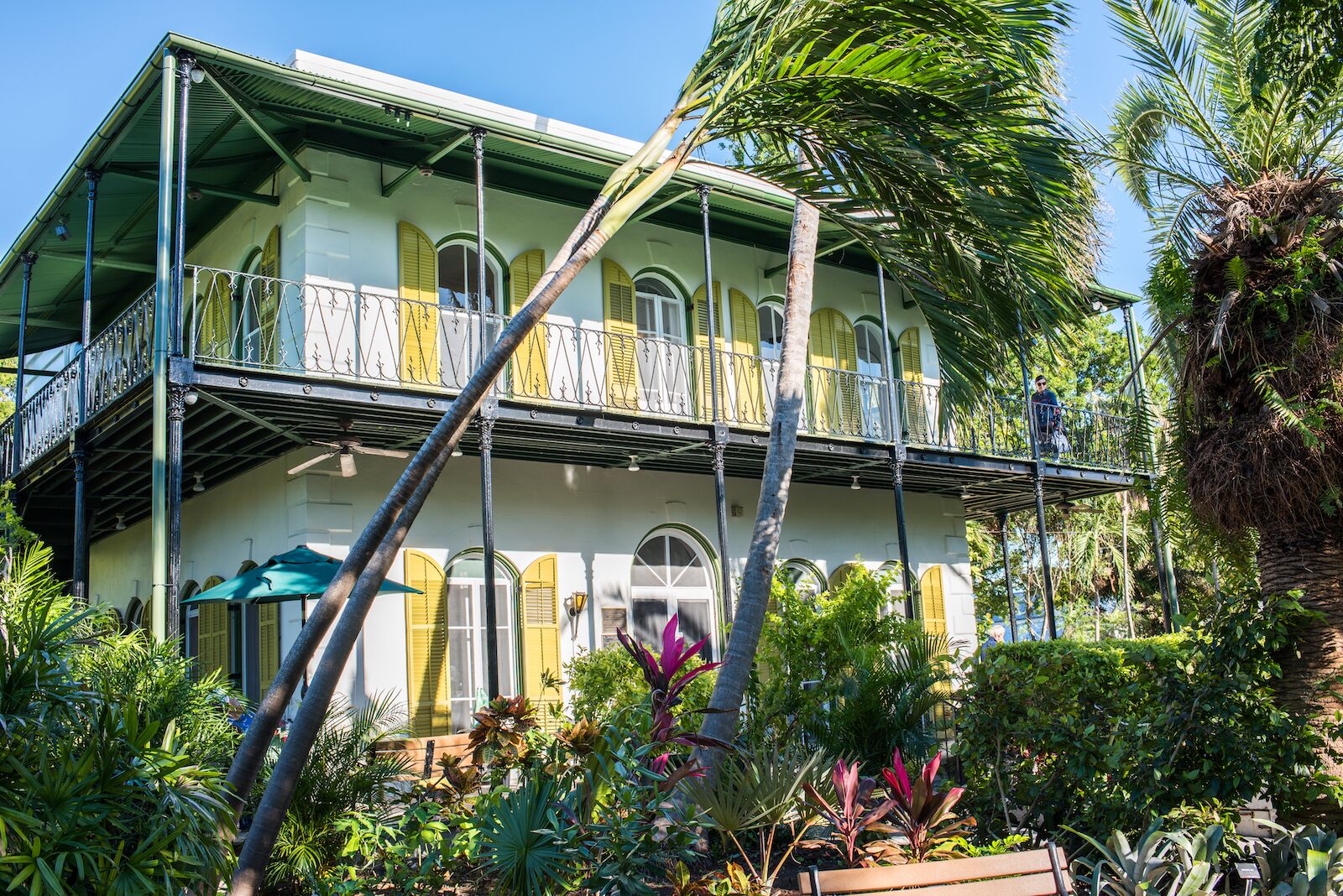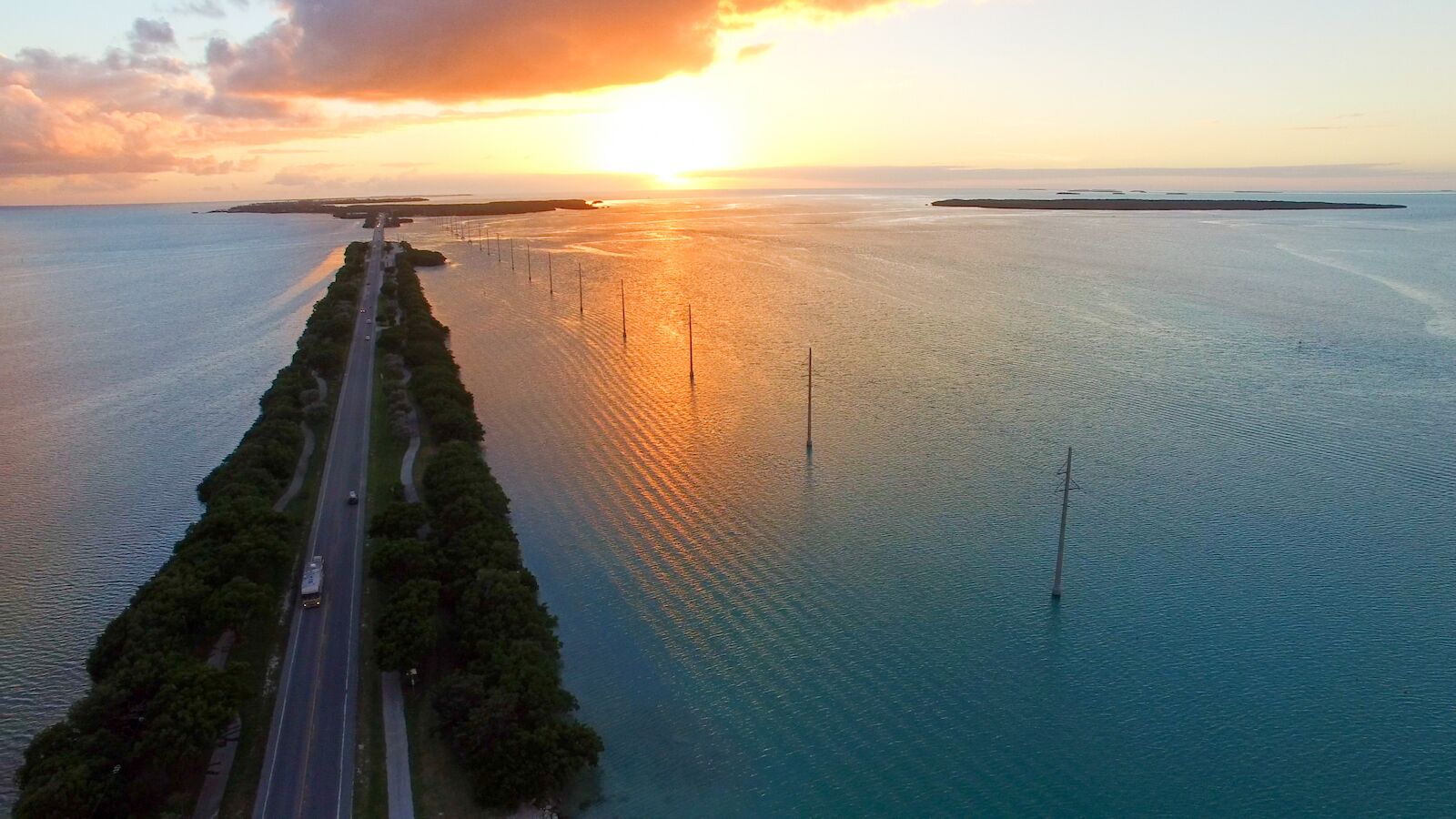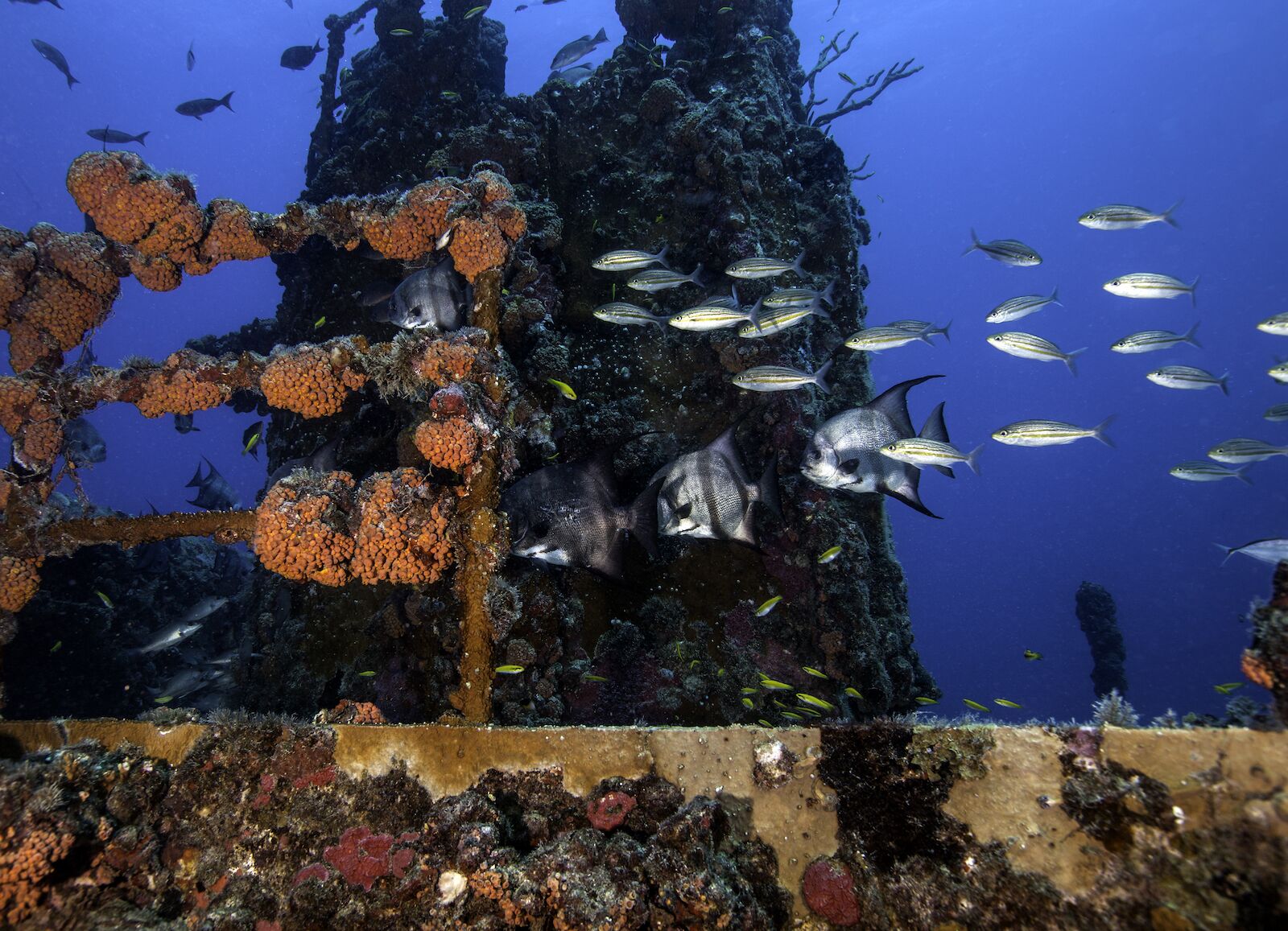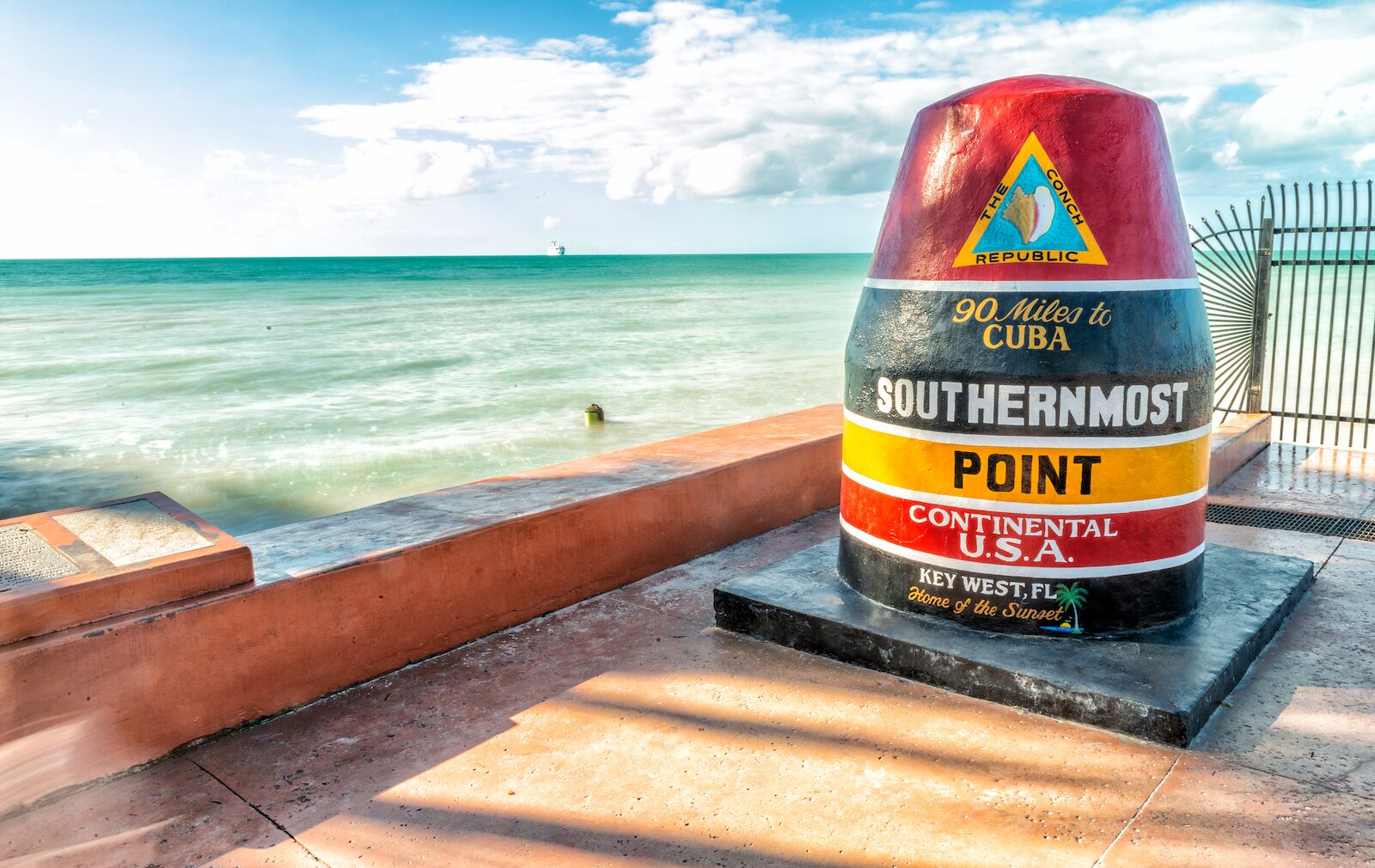 Best time of year to go: Summer
Notable stops:
John Pennekamp Coral Reef State Park, Key Largo
Anne's Beach, Islamorada
Seven Mile Bridge
Bahia Honda State Park, Big Pine Key
Mallory Square, Key West
Ernest Heminway Home and Museum, Key West
Southernmost Point Buoy, Key West
Dry Tortugas National Park
Covering 110 miles of US Route 1 — which runs all the way down the East Coast from the Canadian border to the tip of Florida — this route connects some of the most coveted real estate in the Sunshine State. It stretches from Key Largo, the northernmost of the Florida Keys, to Key West, the southernmost point in the continental US. In between, drivers cross a network of bridges that cut between the Atlantic Ocean and the Gulf of Mexico to island hop across one of the most breathtaking archipelagos in North America.
Beaches, reefs, and the parks that protect them — including John Pennekamp Coral Reef State Park and Bahia Honda State Park — are a big part of what brings travelers to this part of the country. But the Keys have plenty of cultural heritage too, with influences ranging from Cuban to Bahamian and historic sites like Fort Taylor, a 54-acre national historic landmark housing the world's largest collection of Civil War weaponry and equipment. In the 1930s, author Ernest Hemingway bought a house across from the Key West Lighthouse, both of which are easily accessible from this scenic highway and Florida's only All-American Road.
2. Red Rock Scenic Byway in Arizona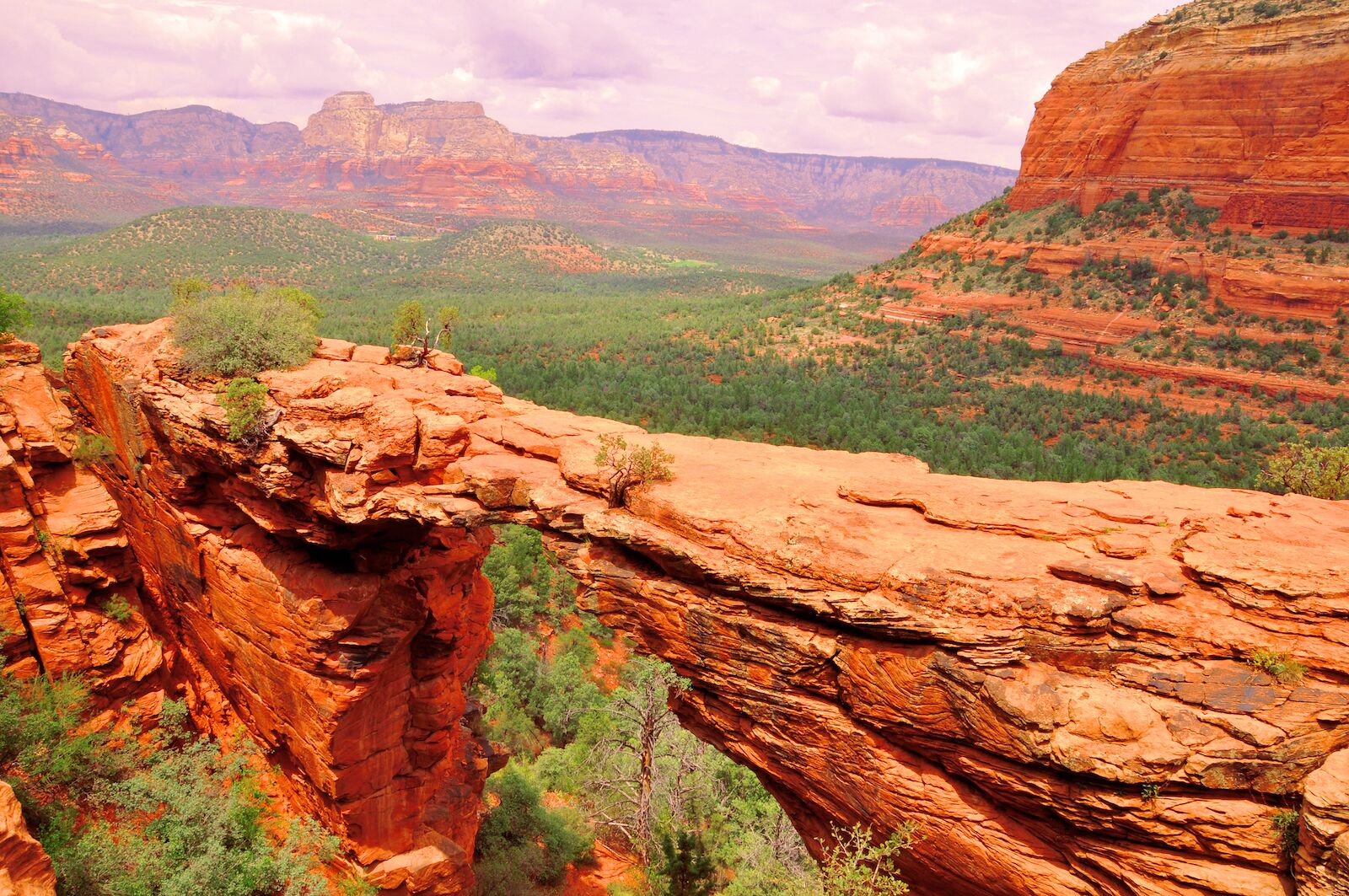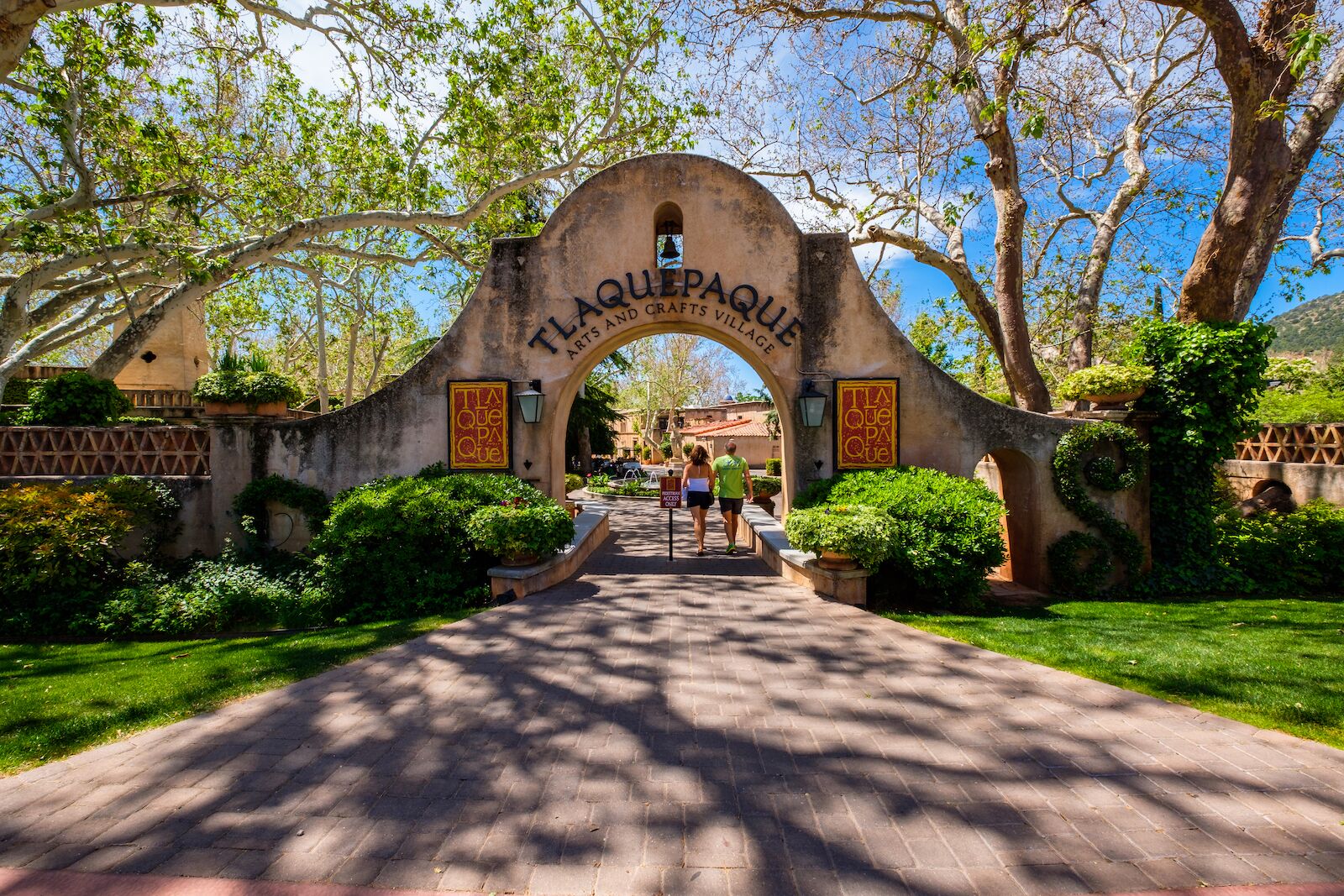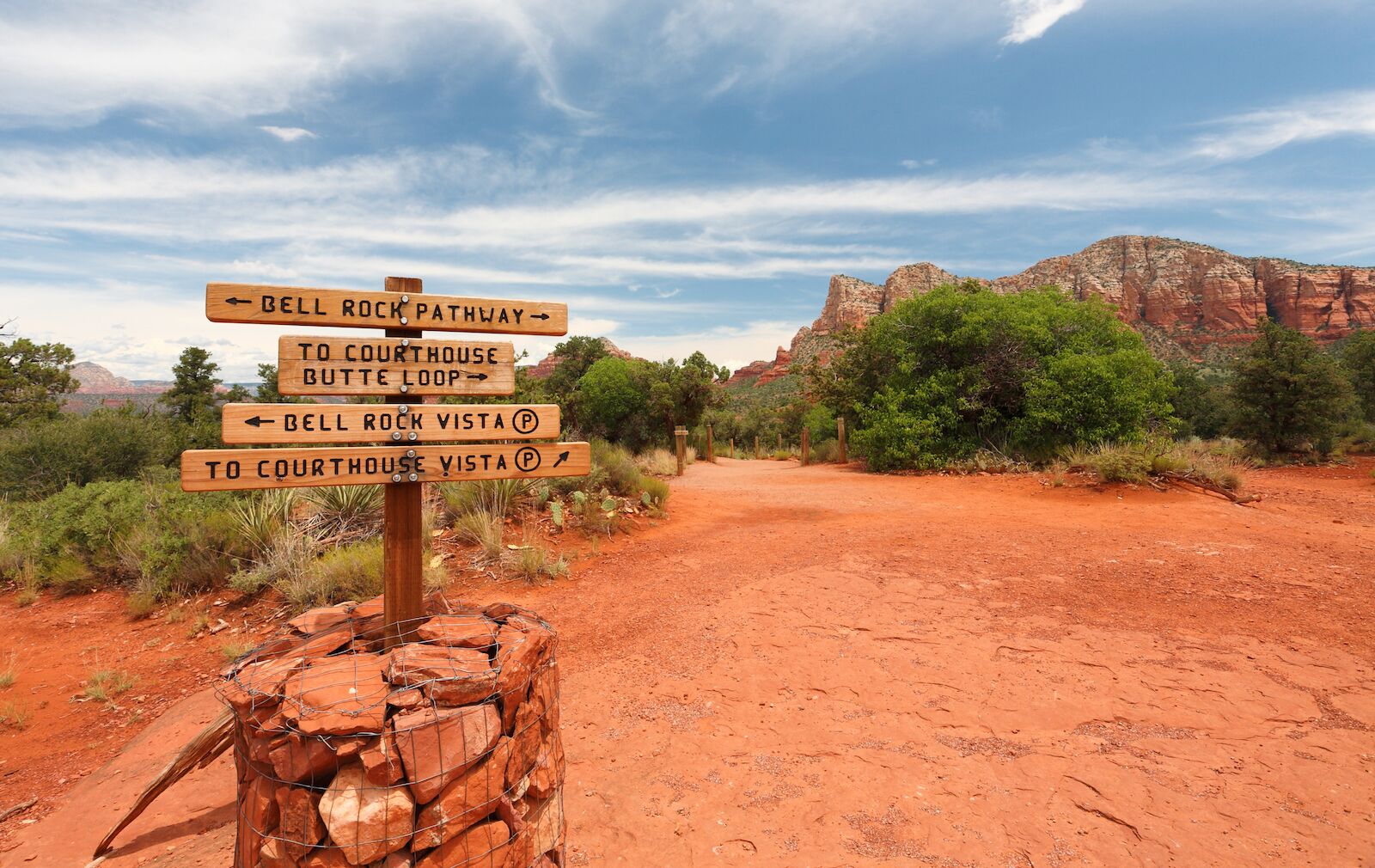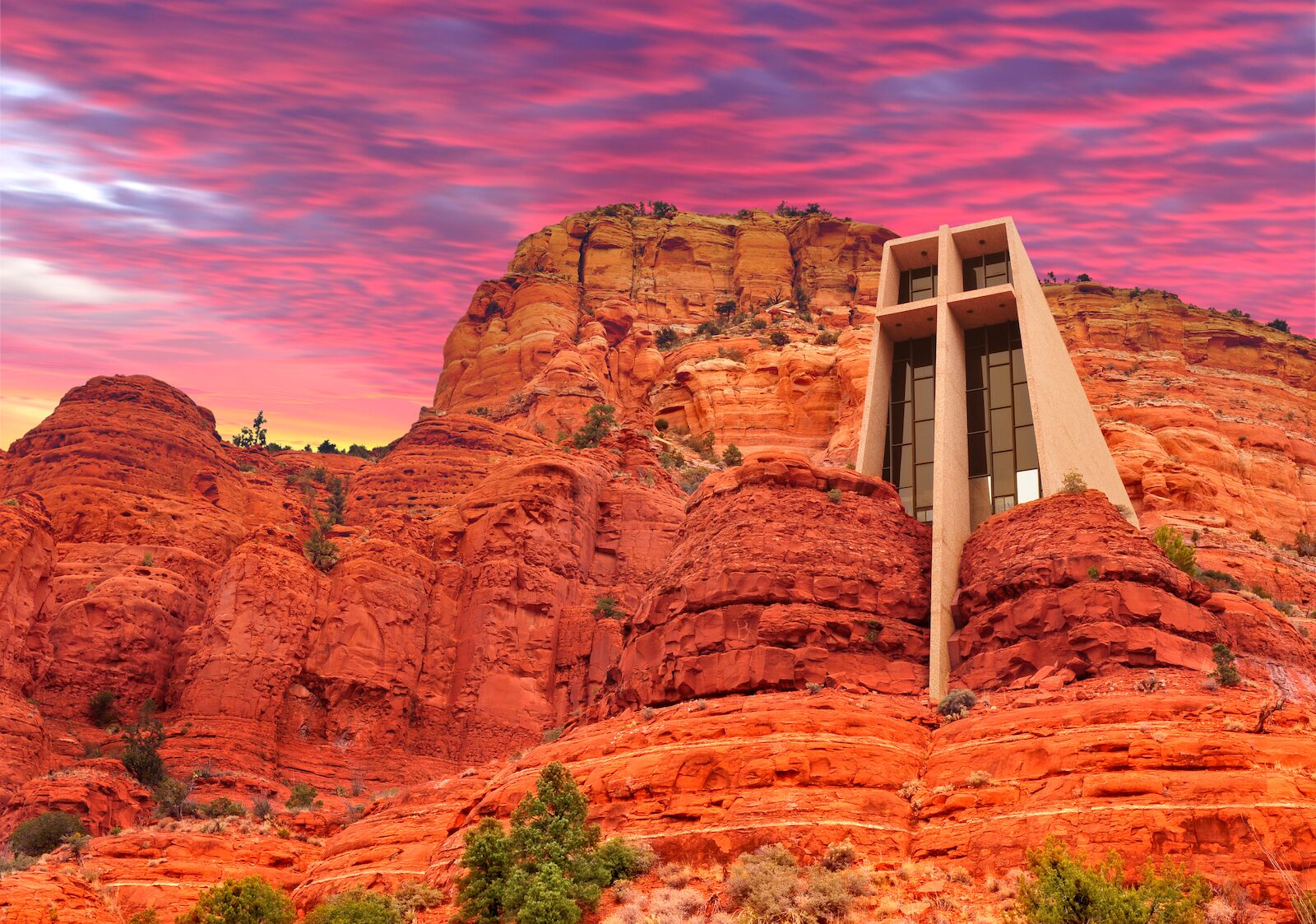 Best time of year to go: Fall
Notable stops:
Tlaquepaque Arts & Shopping Village
Airport Mesa
Chapel of the Holy Cross
Cathedral Rock
Bell Rock
Devil's Bridge Trail
Red Rock State Park
Oak Creek Canyon
Central Arizona is the heartland of Red Rock Country, hence the name of this scenic byway that runs from artsy, spiritual Sedona through the hills of Coconino National Forest to a small community called the Village at Oak Creek. Spanning just 7.5 miles, the drive only takes about 30 minutes without stops, but the hiking here is too good to pass up.
Be sure to stop by the Red Rock Ranger District Visitor Center to map out all the best trails, especially the ones that take you up close and personal to world-famous sandstone formations like Chapel of the Holy Cross and Cathedral Rock. And if you really want to stretch out your visit, take your time soaking in Sedona's spas, art galleries, gourmet restaurants, boutiques, and golf courses before or after exploring the many wonders of the Red Rock Scenic Byway.
3. Outer Banks Scenic Byway in North Carolina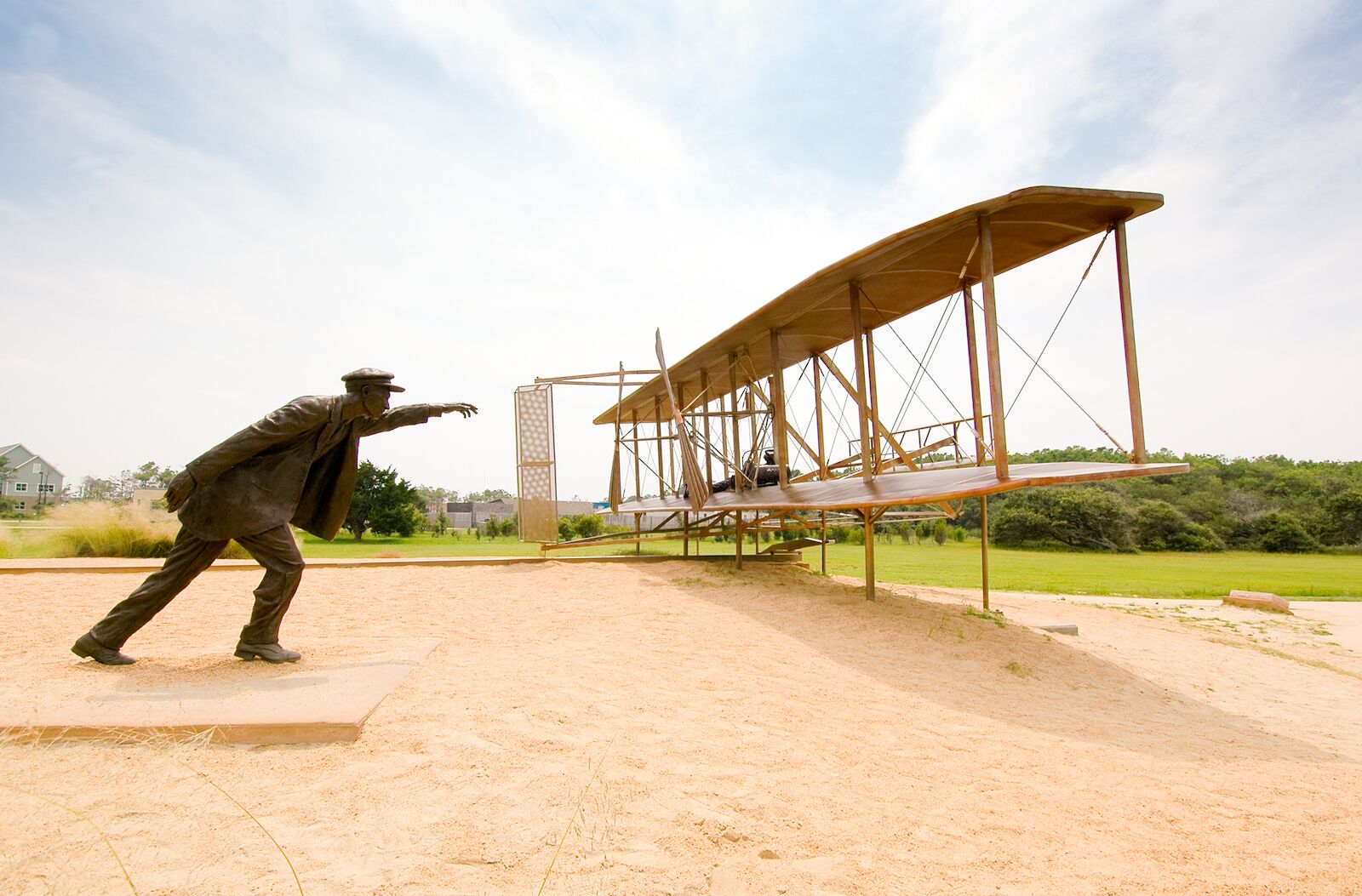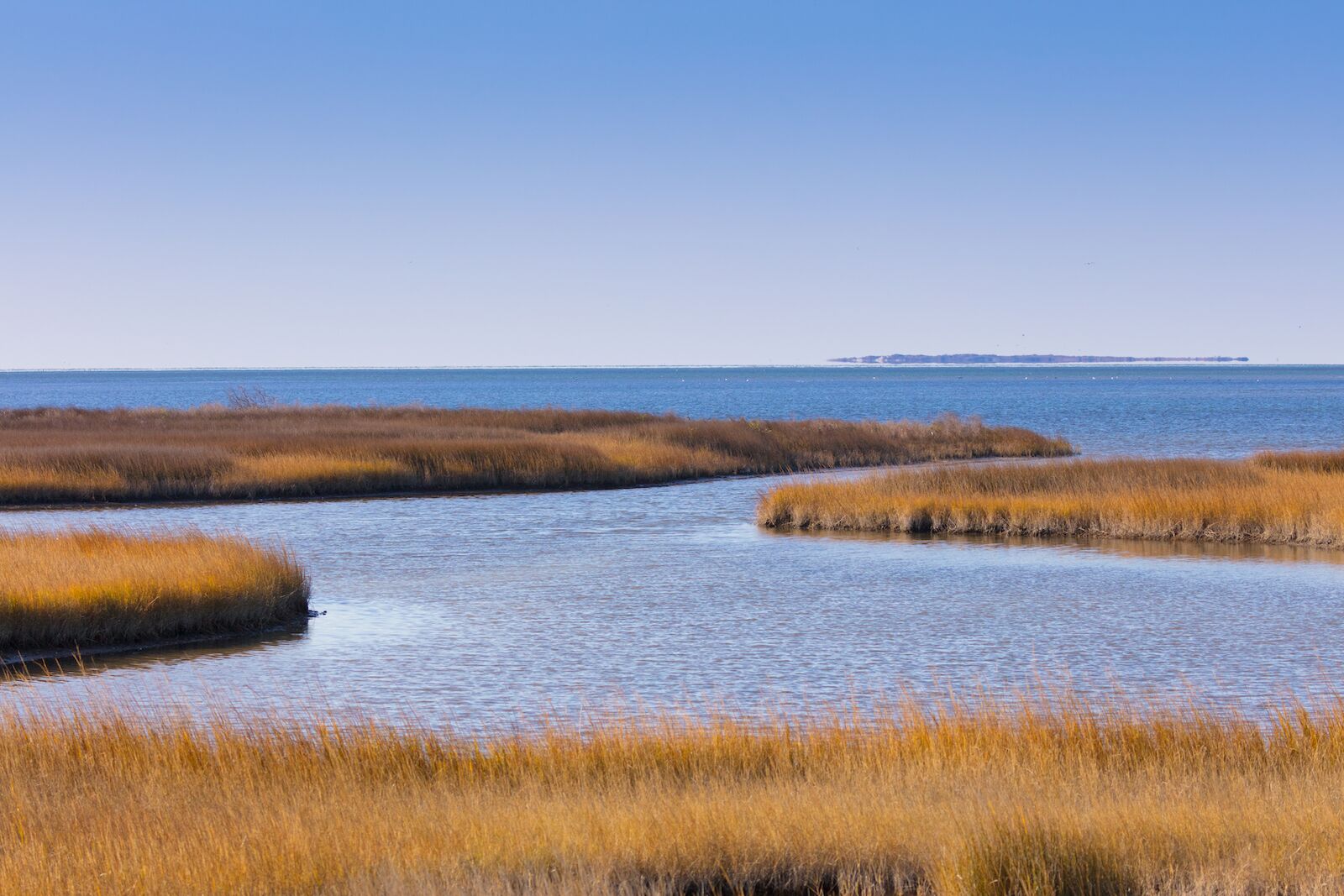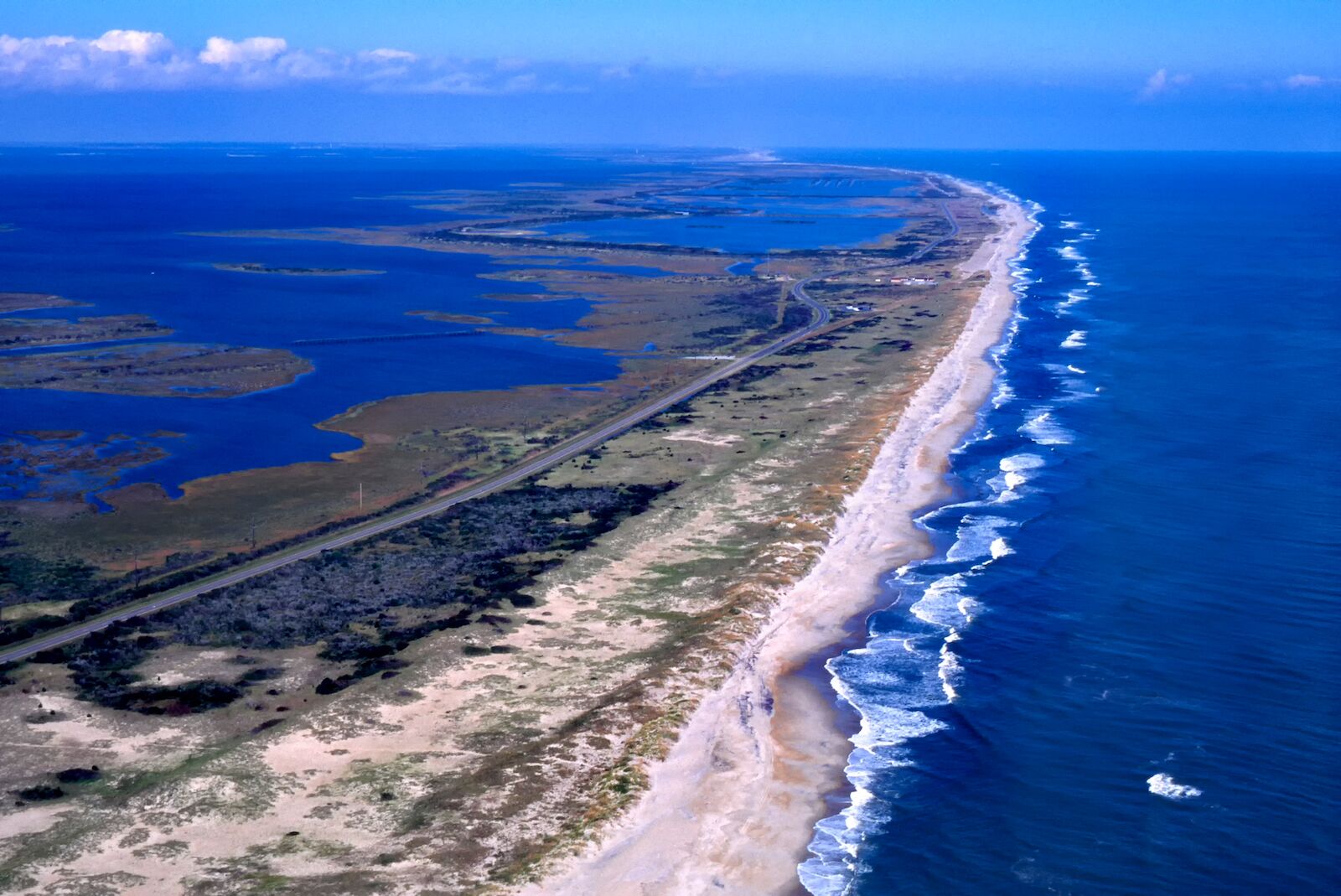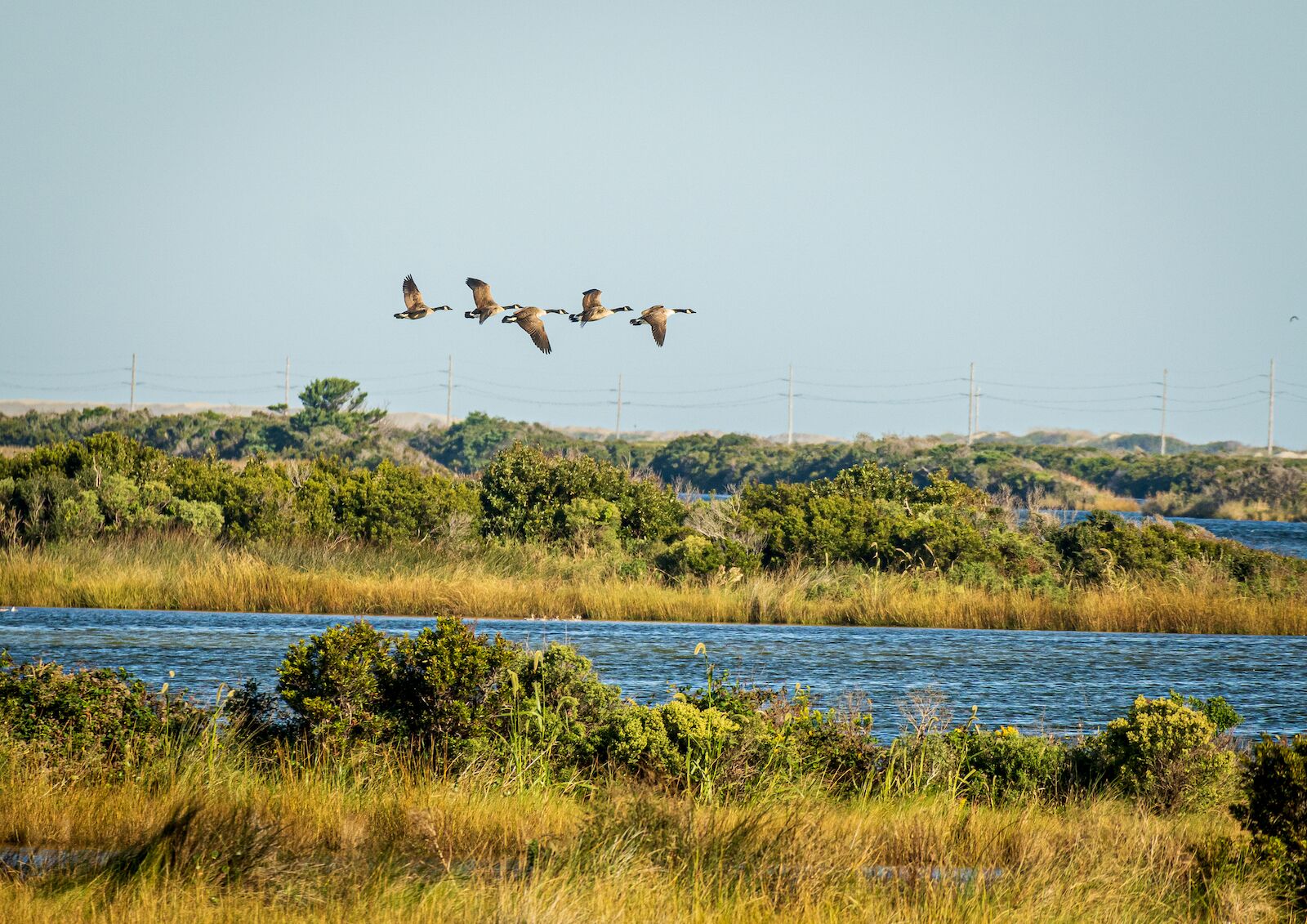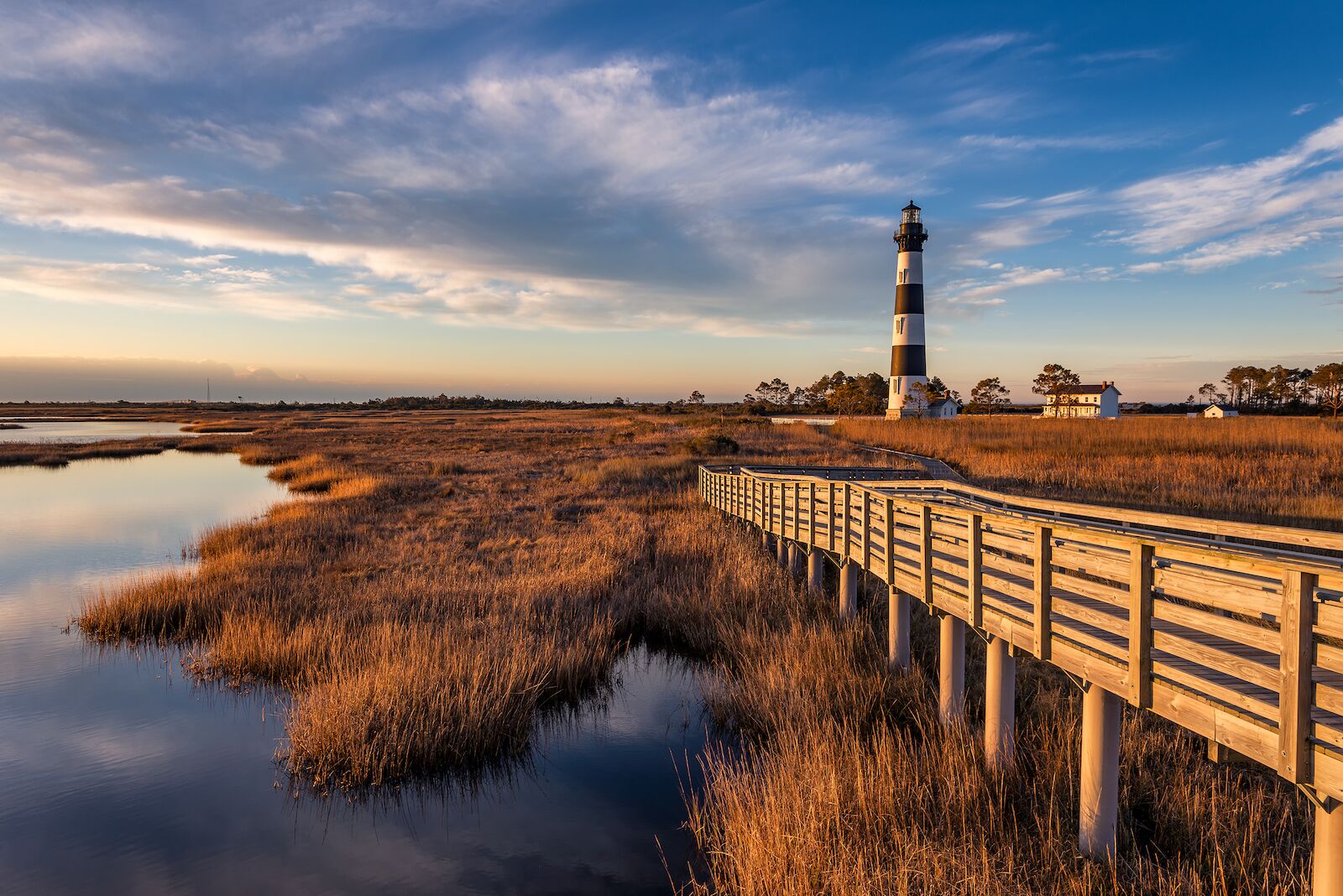 Best time of year to go: Spring
Notable stops:
Cape Hatteras National Seashore
Cape Hatteras Lighthouse
Bodie Island Lighthouse
Fort Raleigh National Historic Site
Pea Island National Wildlife Refuge
Avon Fishing Pier
Graveyard of the Atlantic Museum
Wright Brothers National Memorial
North Carolina's Outer Banks is a chain of barrier islands that separates a trio of geographical sounds — Pamlico, Albemarle, and Currituck — from the Atlantic Ocean. Home to some of the first European settlements in the Americas, and a number of Indigenous populations before that, the region is steeped in history: the infamous Roanoke Colony mysteriously disappeared from Roanoke Island in 1587, Ocracoke Island was the final home of the pirate Blackbeard who died in 1718, and the Wright Brothers had their first controlled flight at Kill Devil Hills in 1903.
The 138-mile Outer Banks Scenic Byway connects the islands starting in Dare County. The total drive time is about five and a half hours, complete with two ferry rides totaling roughly three and a half hours. (The first ferry from Hatteras to Ocracoke Island is free, while the second from Ocracoke to Cedar Island costs $15 per car.) Listen for the Ocracoke Brogue as you explore the region's towns, beaches, lighthouses, and shipwrecks — the local dialect is vaguely reminiscent of 17th-century English.
4. San Juan Skyway Scenic Byway in Colorado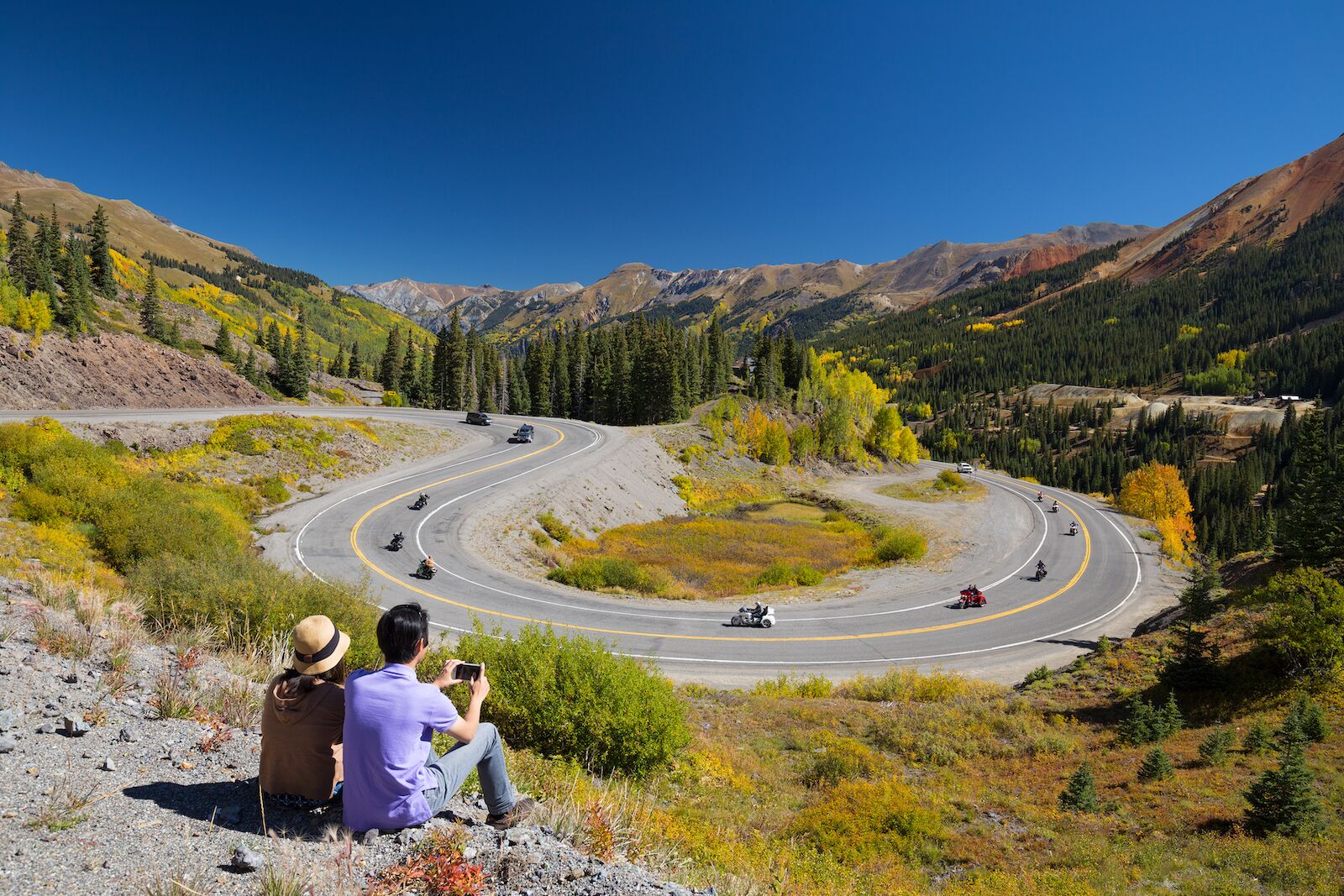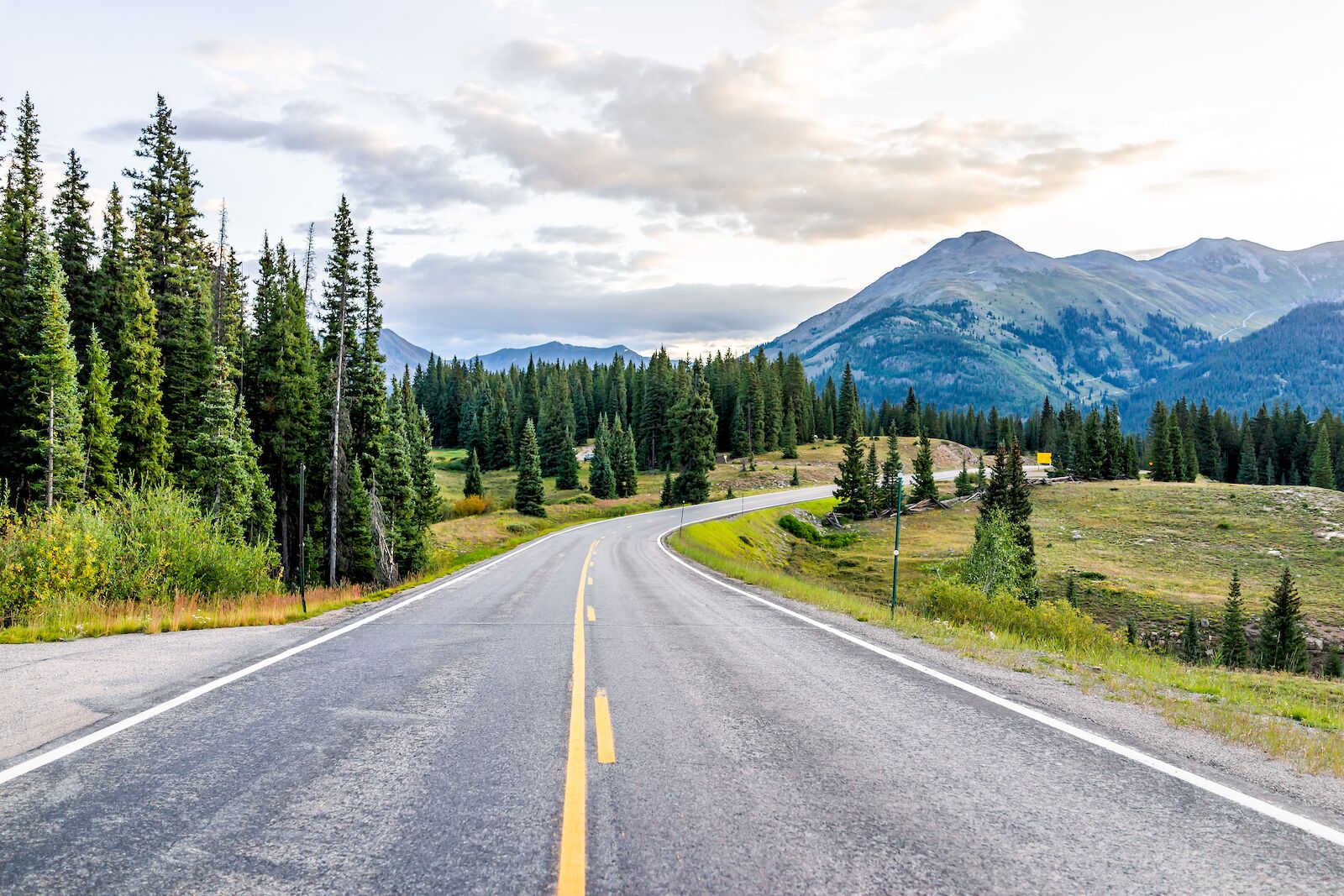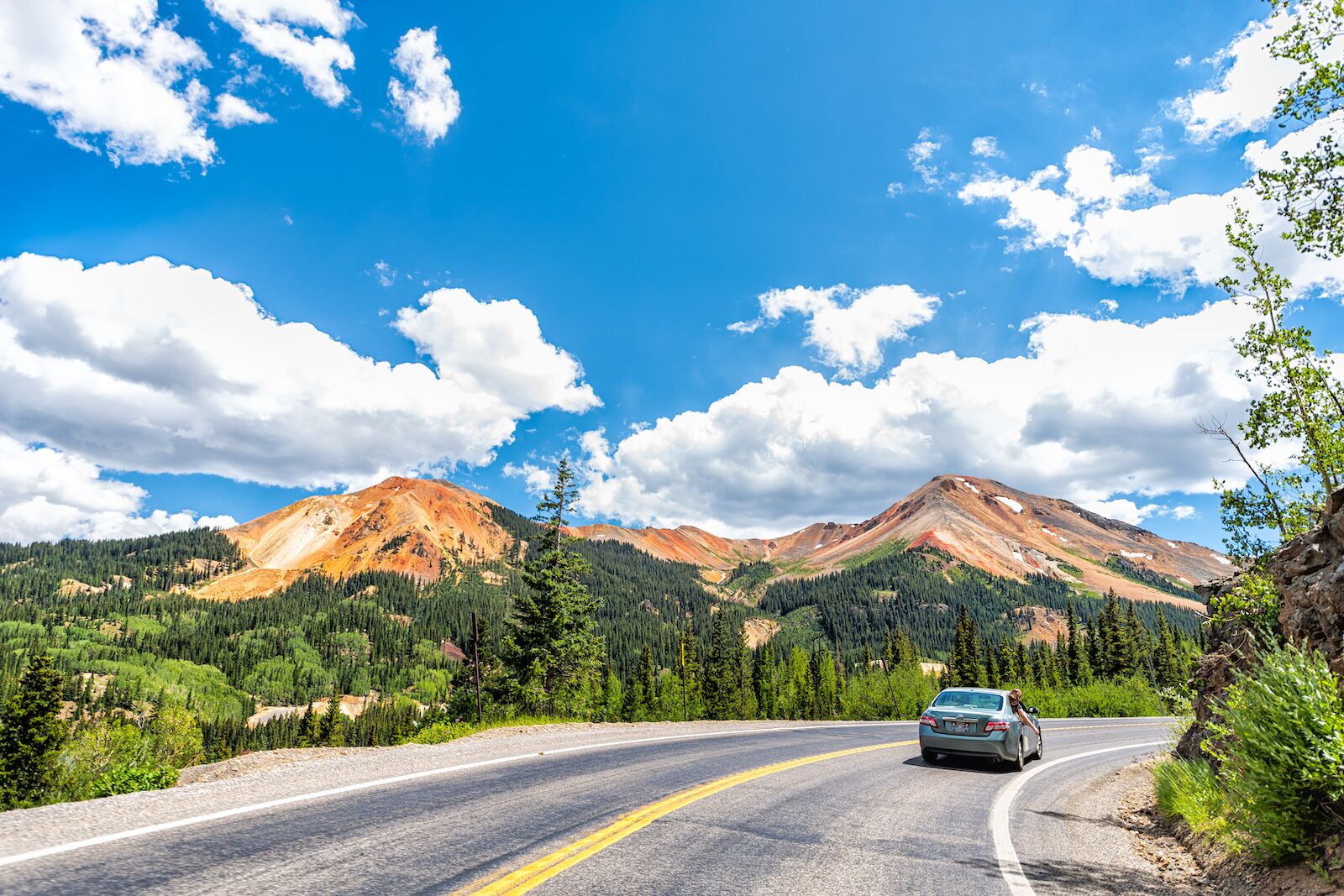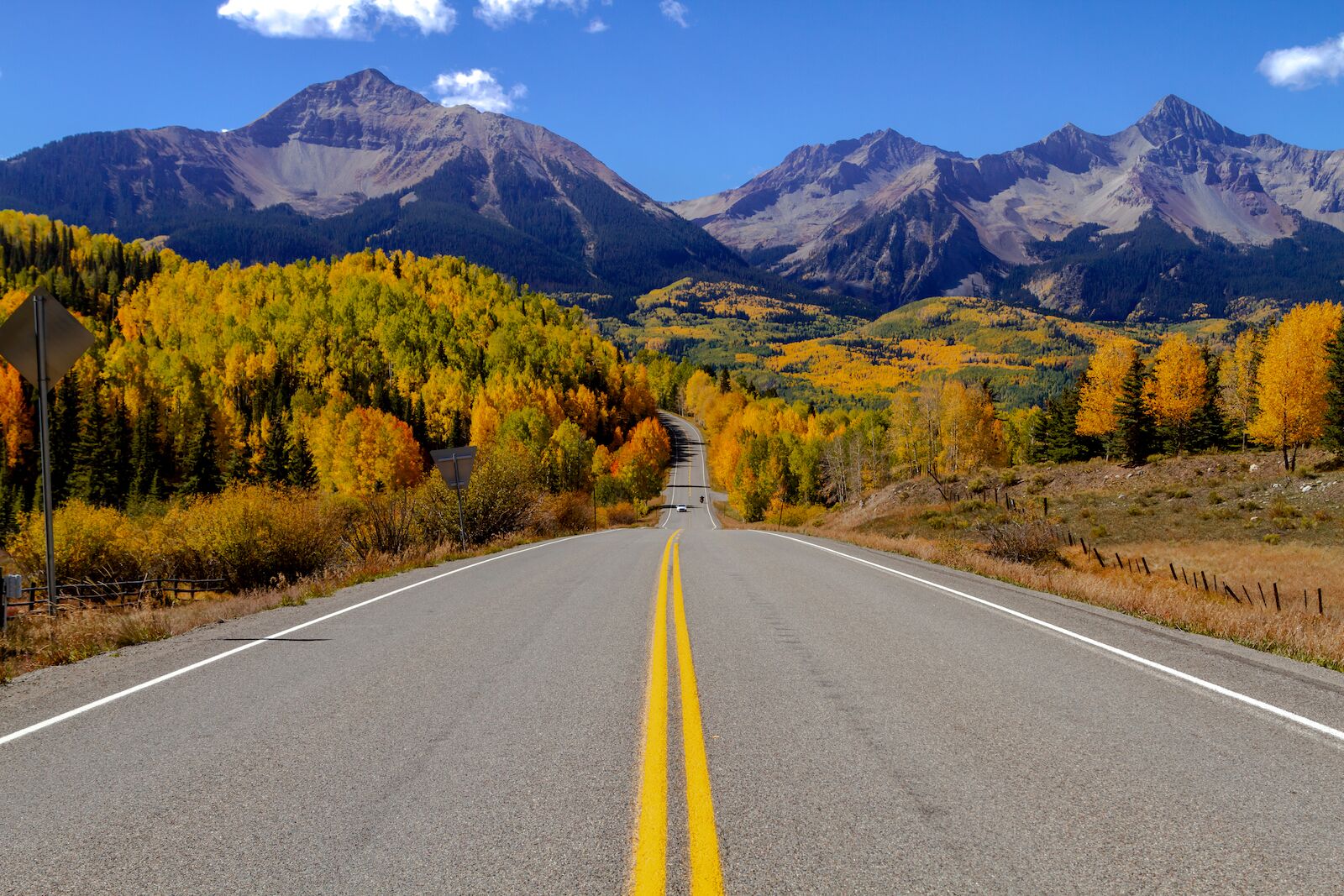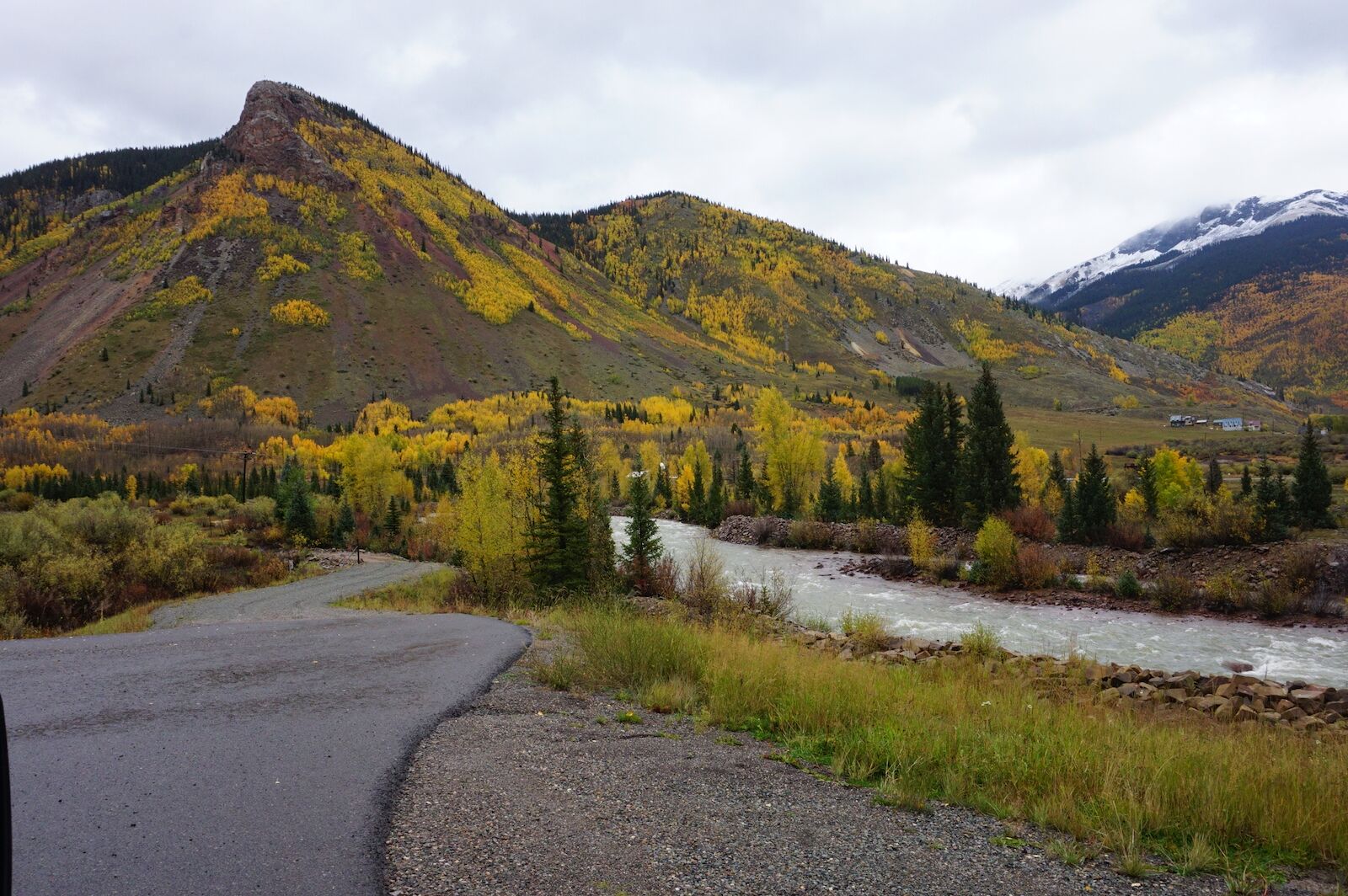 Best time of year to go: Fall
Notable stops:
Durango and Silverton Narrow Gauge Railroad
Old Hundred Gold Mine
Historic Strater Hotel
Uncompahgre Gorge
Mesa Verde National Park
Chimney Rock national Monument
Mount Sneffels
Bridal Veil Falls
Driving the San Juan Skyway Scenic Byway gets you a front-row seat to 236 miles of Rocky Mountains. The byway loops through several historic towns in southwestern Colorado that got their start as mining hubs, including Telluride, Durango, and Silverton. Surrounding these towns are the incomparable San Juan and Uncompahgre National Forests — there's a reason the stretch of byway connecting Ouray to Silverton is called the Million Dollar Highway.
It's hard to say when the best time to drive the byway is. Spring ushers in lemon-yellow wildflowers, while fall is awash in golden foliage. Thankfully, the area's natural, archaeological, and cultural sites are explorable year-round, from Telluride's waterfalls to the ancient cliff dwellings of nearby Mesa Verde National Park to the Durango and Silverton Narrow Gauge Railroad.
5. Badlands Scenic Byway in South Dakota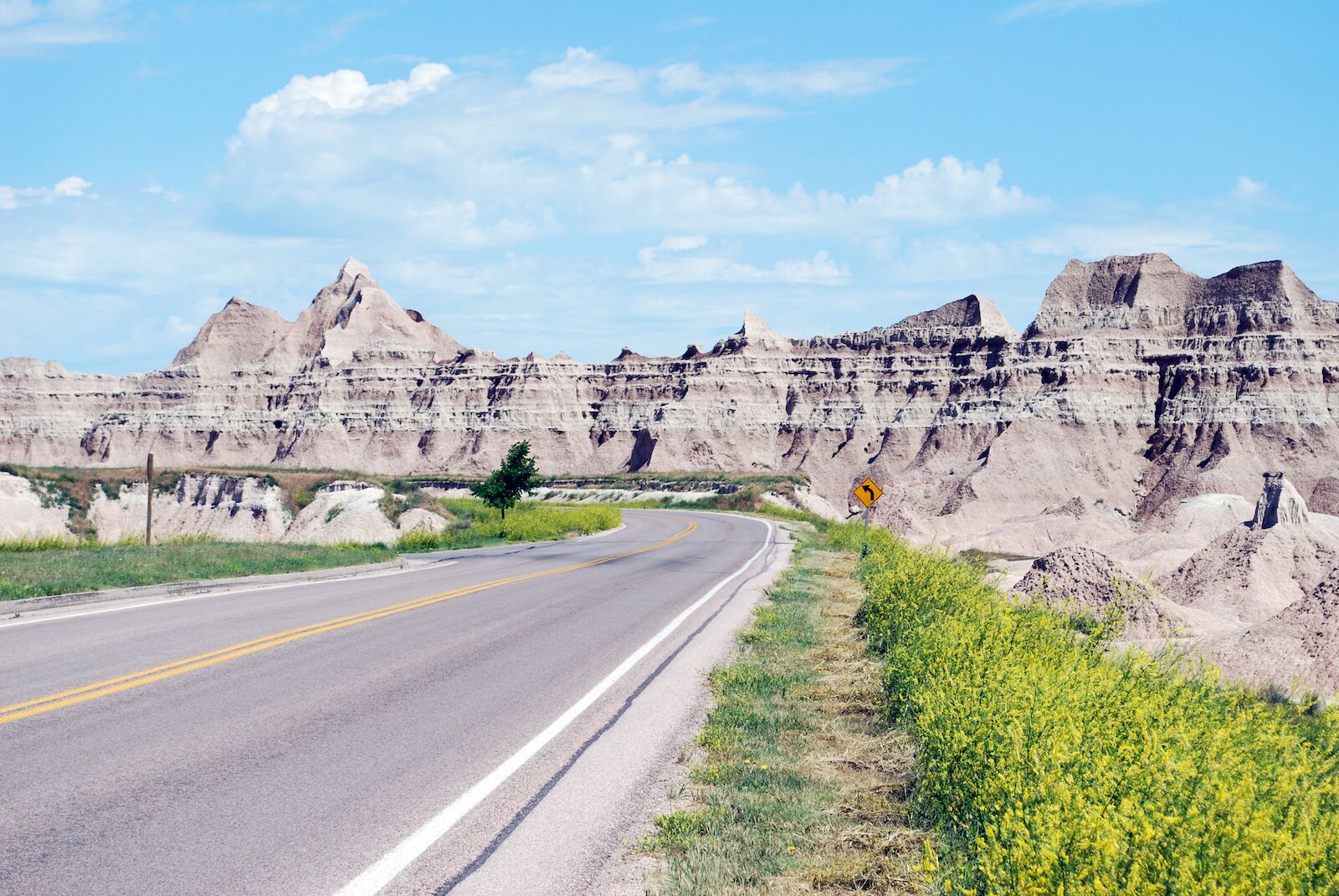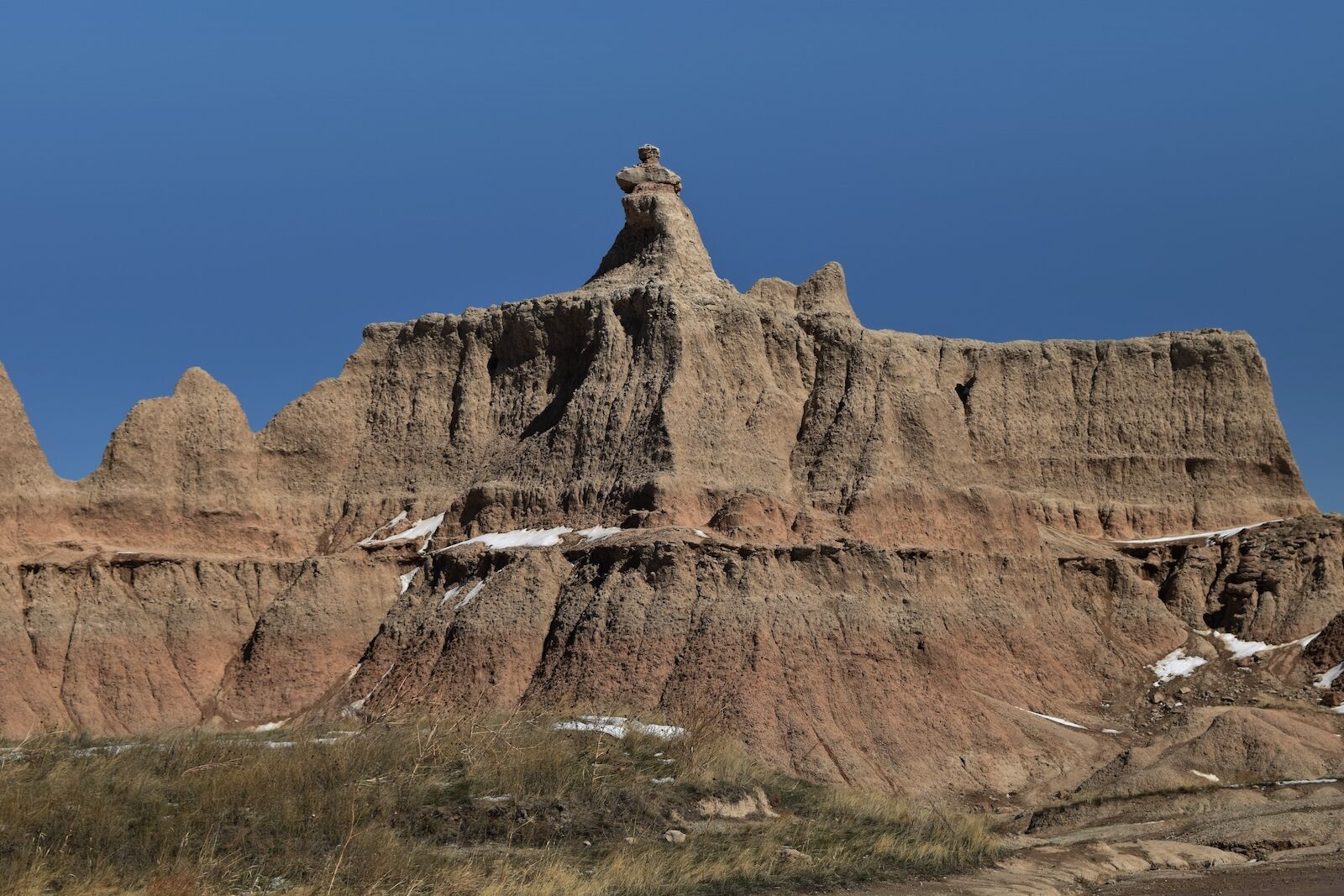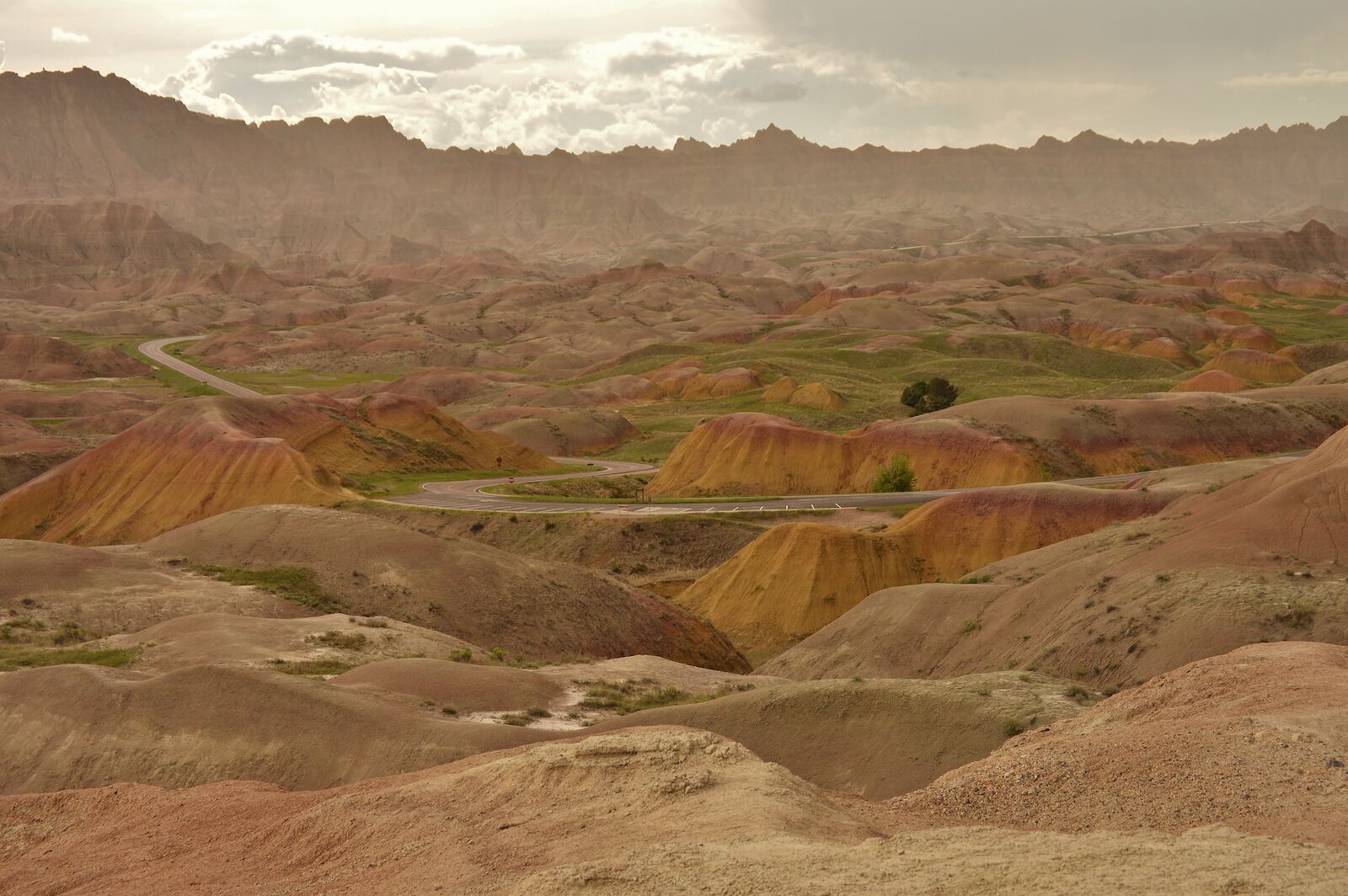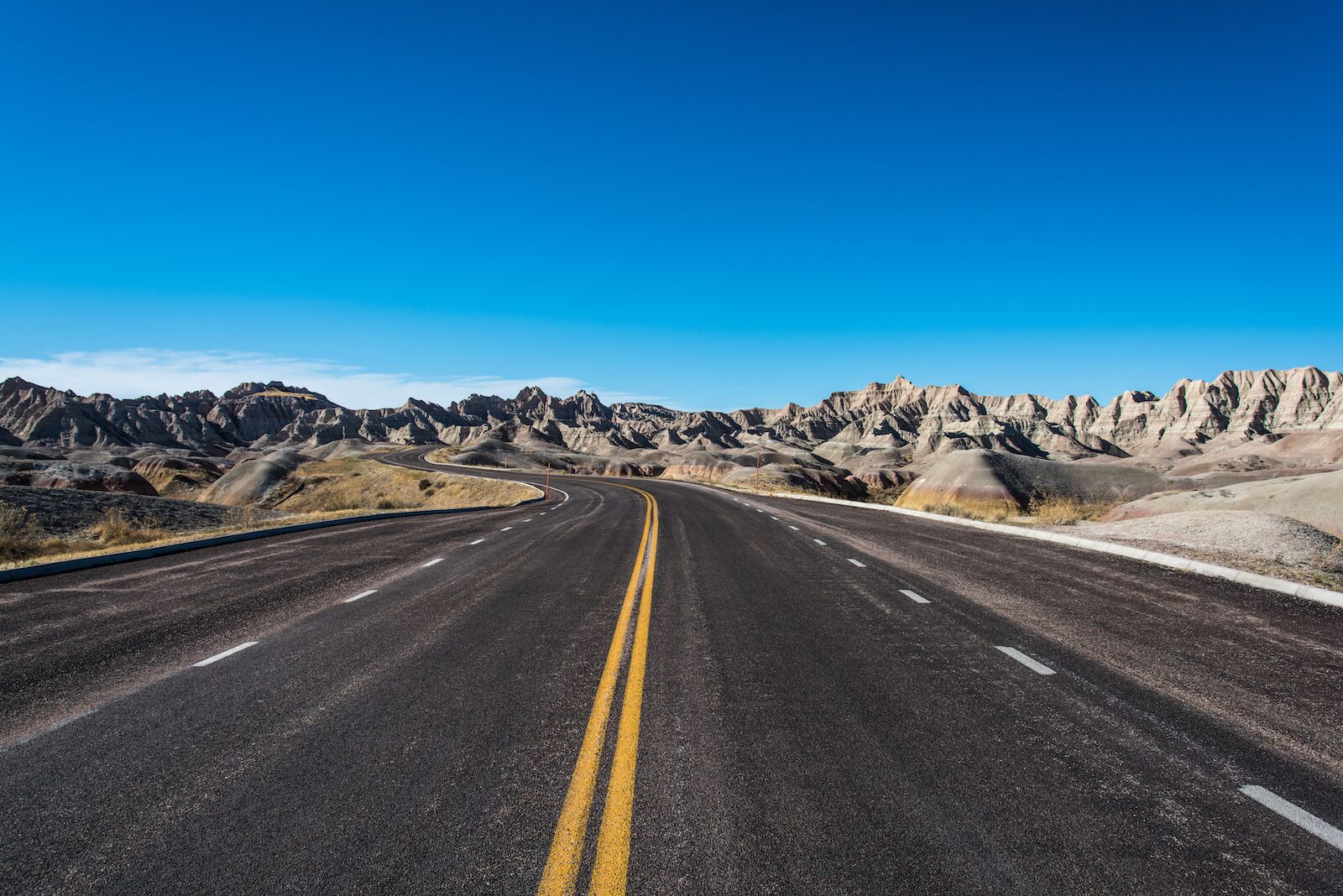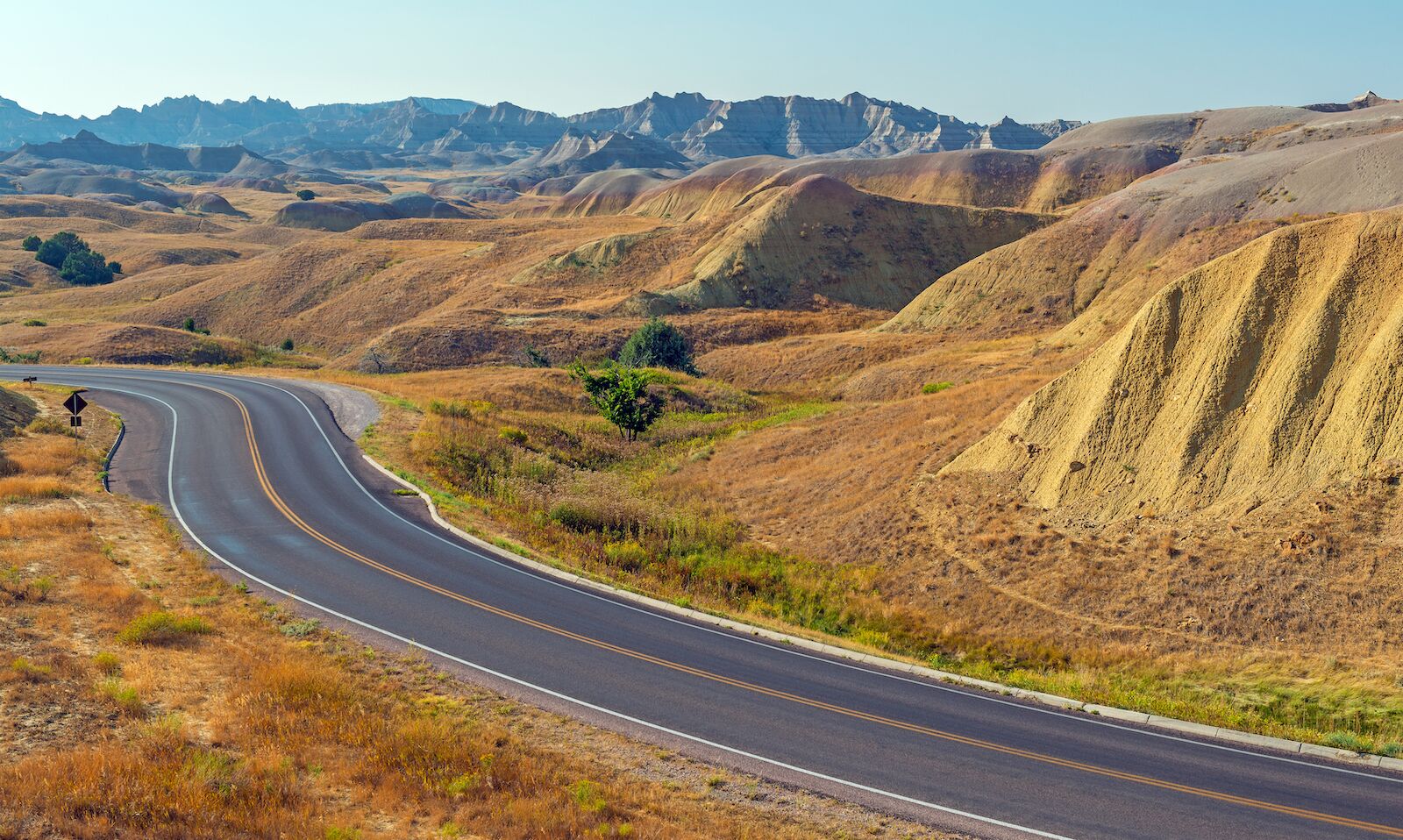 Best time of year to go: Summer
Notable stops:
Notch Trailhead
Big Badlands Overlook
Saddle Pass Trailhead
Fossil Exhibit Trailhead
Panorama Point
Sage Creek Rim Road
Burns Basin Overlook
Yellow Mounds Overlook
Pinnacle Overlook
Rugged, ancient, and expansive, South Dakota's badlands are a world unto themselves. Geologic wonders like buttes and spires rise overhead while the fossils of extinct species are buried deep beneath the grasslands. The Badlands Scenic Byway loops through Badlands National Park to showcase the best of the region, from wildlife like prairie dogs and buffalo to numerous hiking trails and 16 official scenic overlooks.
The byway itself is a relatively unremarkable two-lane road that stretches just 39 miles of South Dakota Highway 240. Though the drive technically only takes about an hour to complete, plan to dedicate several hours to the excursion. The photo opportunities alone can keep you busy for an entire day. We recommend starting your visit from the Badlands Northeast Entrance near Cactus Flat, as opposed to the Pinnacle Entrance near Wall, so you can map out an itinerary at the Ben Reifel Visitor Center before heading out.
6. Rangeley Lakes National Scenic Byway in Maine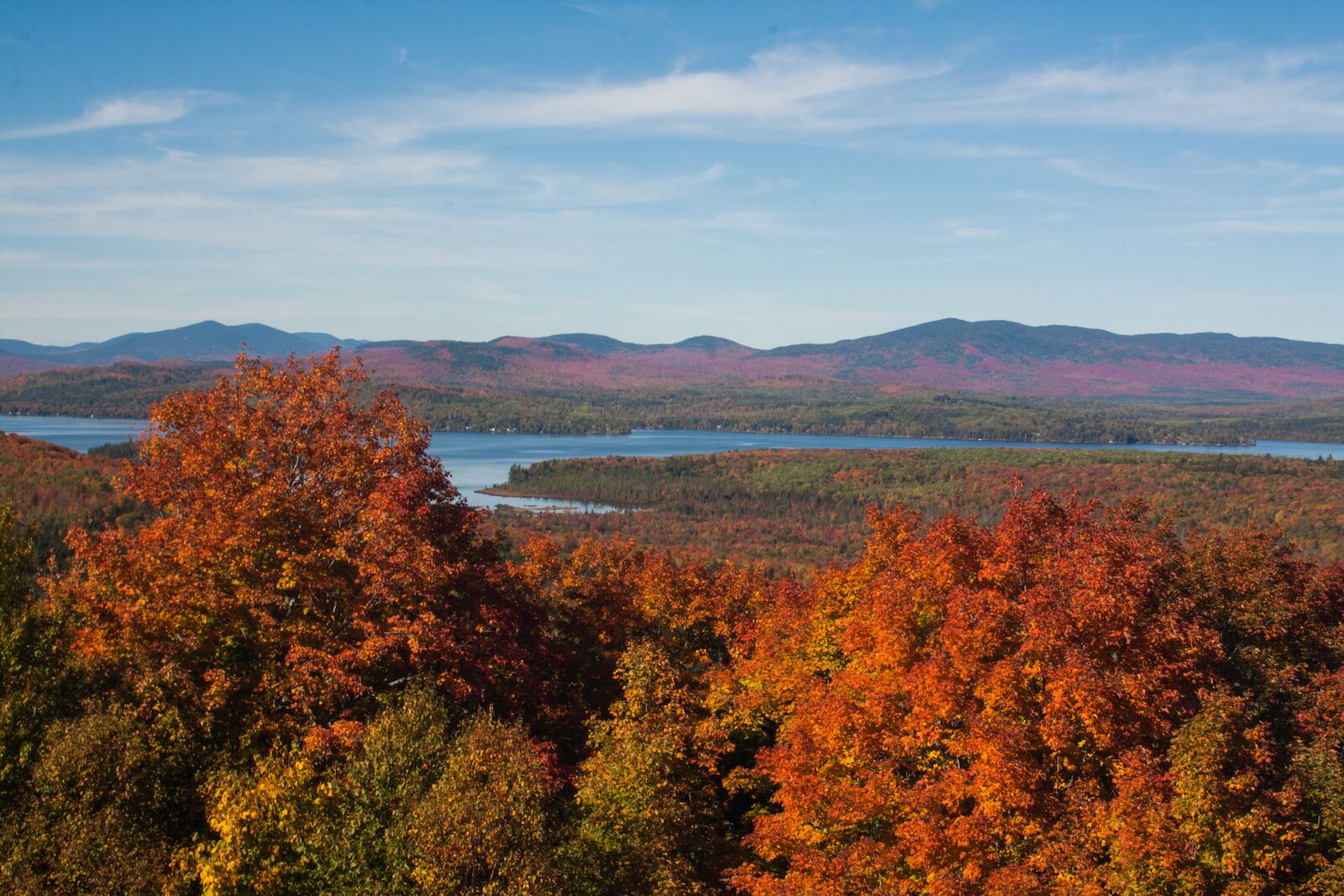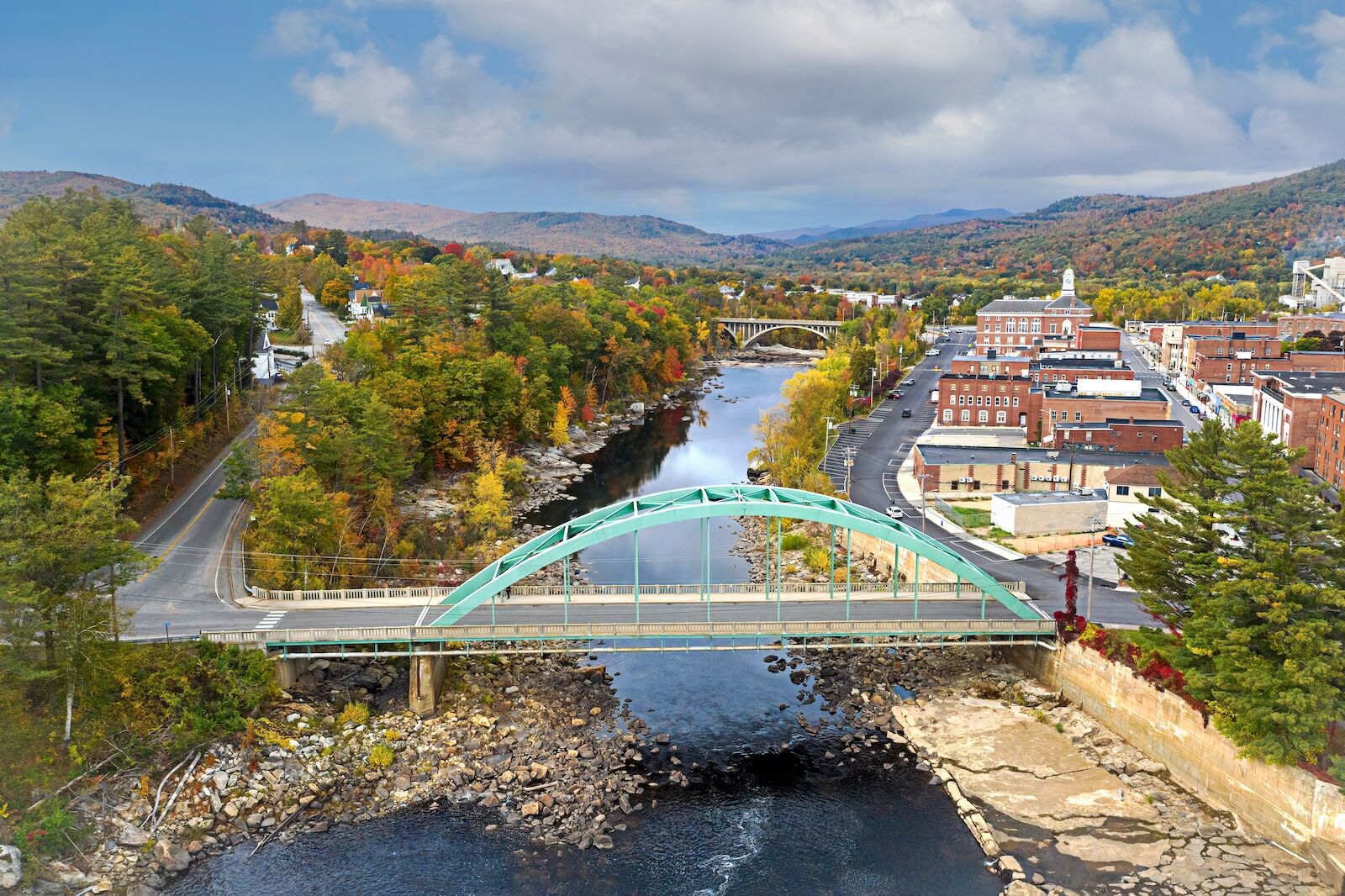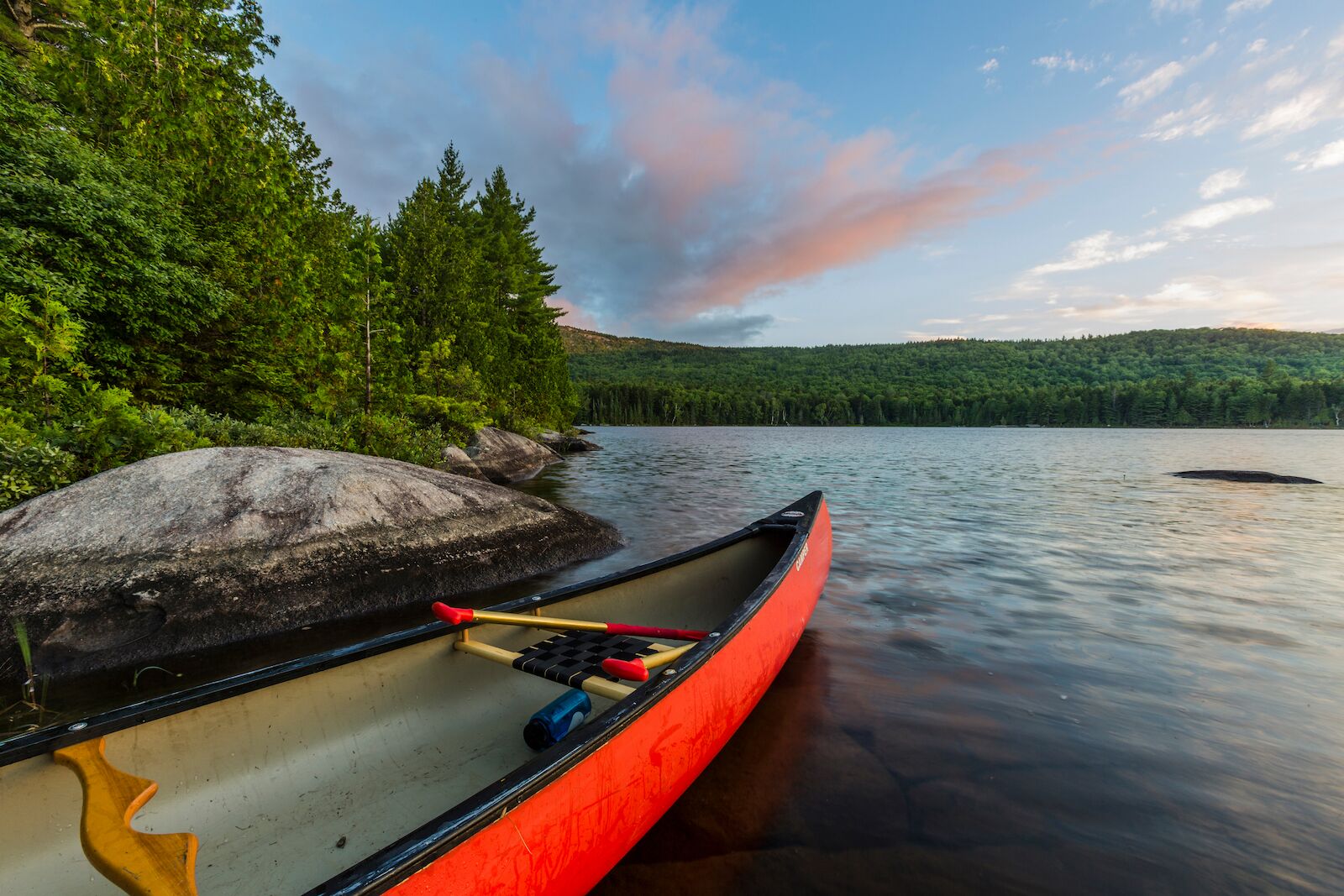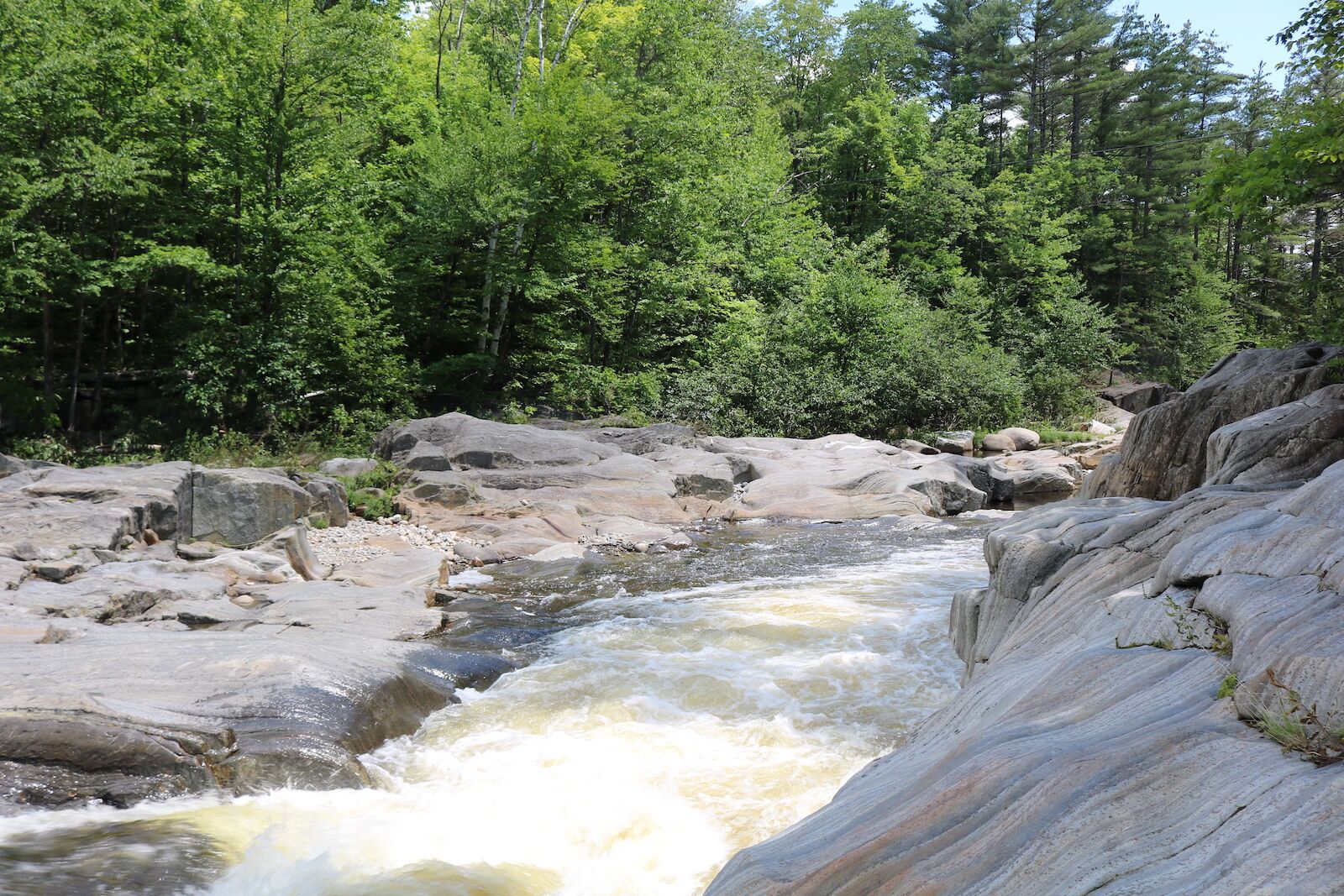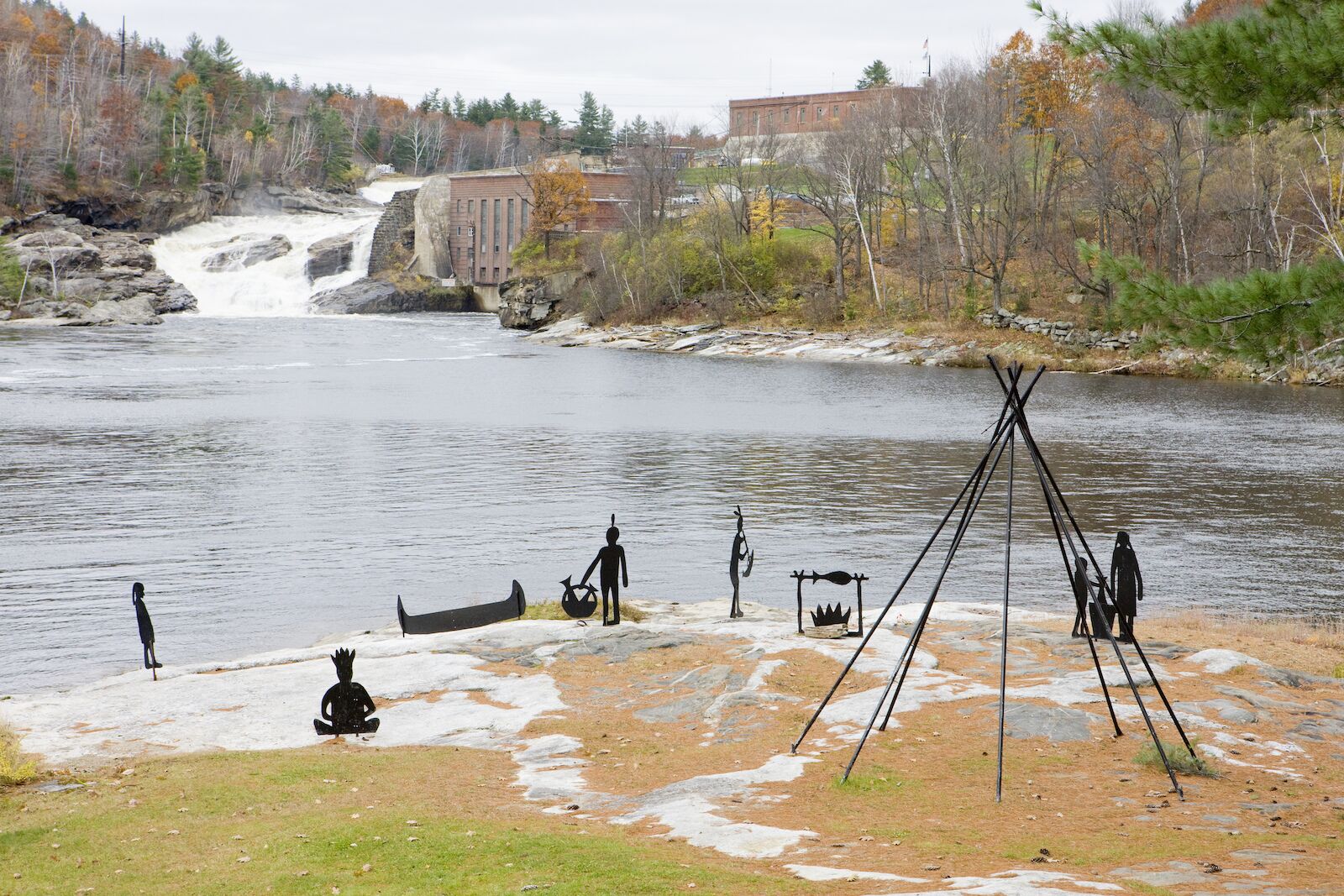 Best time of year to go: Fall
Notable stops:
Rumford Falls
Rangeley Lakes State Park
Height of the Land
Bald Mountain
Coos Canyon
Rangeley Outdoor Sporting Heritage Museum
Small Falls Rest Area
Ever want to experience the Appalachian Trail without the grueling hike? Rangeley Lakes National Scenic Byway passes right through the trail's Maine leg on State Routes 17, 16, and 4. The byway's namesake water bodies are obvious highlights of the drive, particularly if you like to fish, but it's the Height of the Land rest stop that offers the best vantage point. There, you can survey everything that makes this part of the state so pristine: lakes, islands, waterfalls, gorges, peaks, forests, campgrounds, and swimming holes, to name a few.
When you're not knee deep in nature, stop by the charming towns of Rumford or Rangely for Victorian architecture, hearty meals, and museum visits. In between, swing by the Swift River to try your hand at gold panning. Better yet, visit in early October to participate in Rangeley Oktoberfest, a four-day festival with activities for both the drinkers and drivers in the group.
7. Scenic Byway 12 in Utah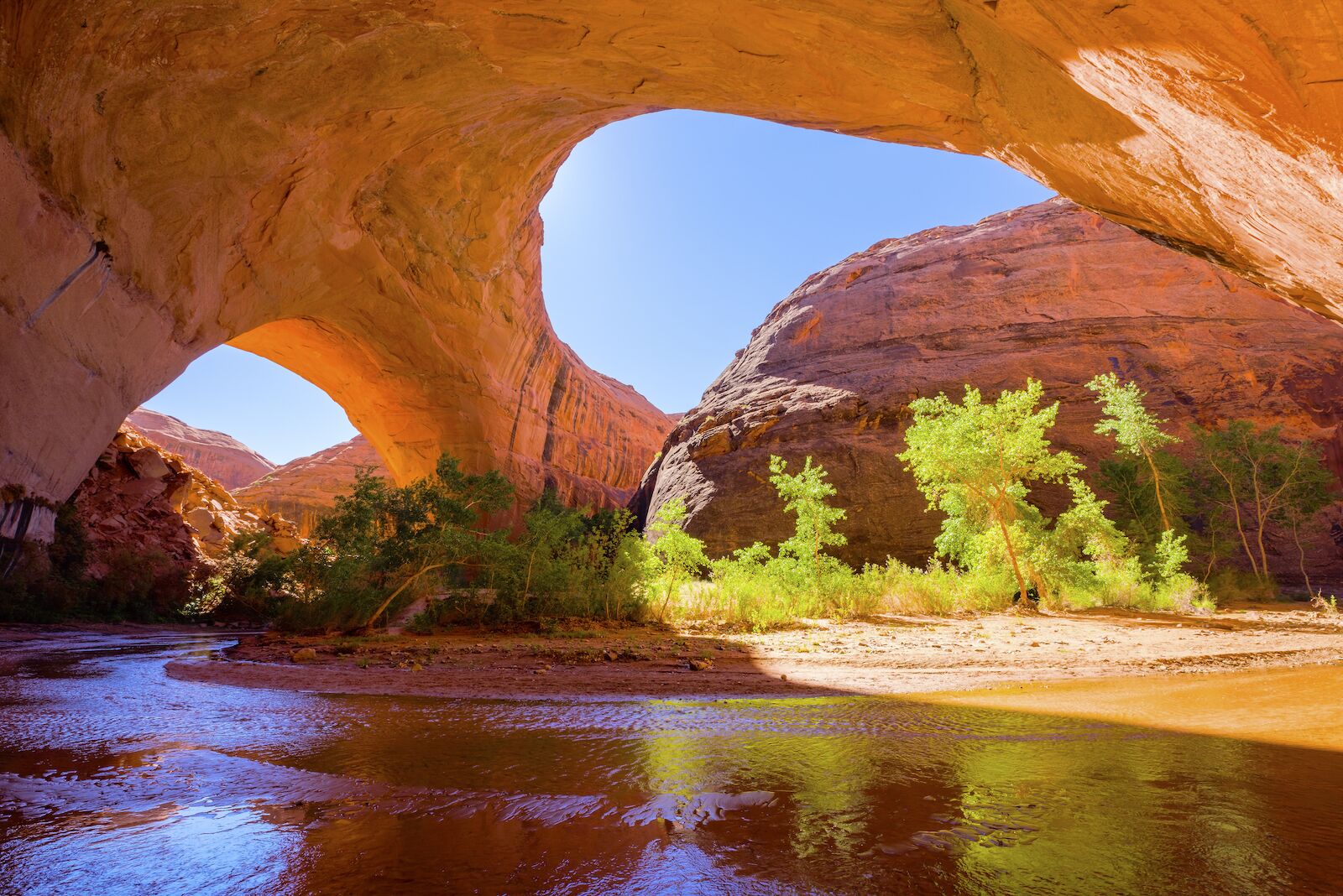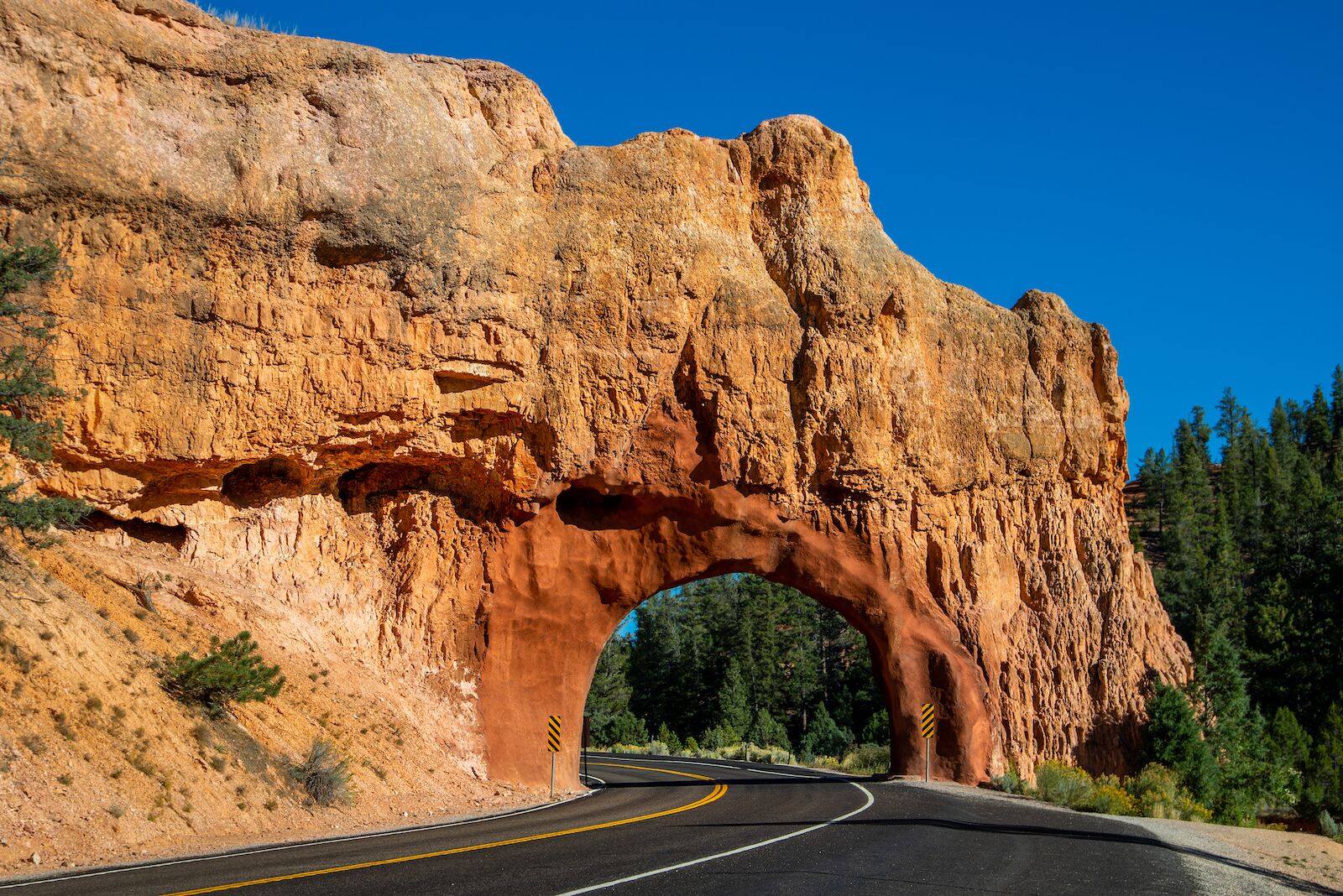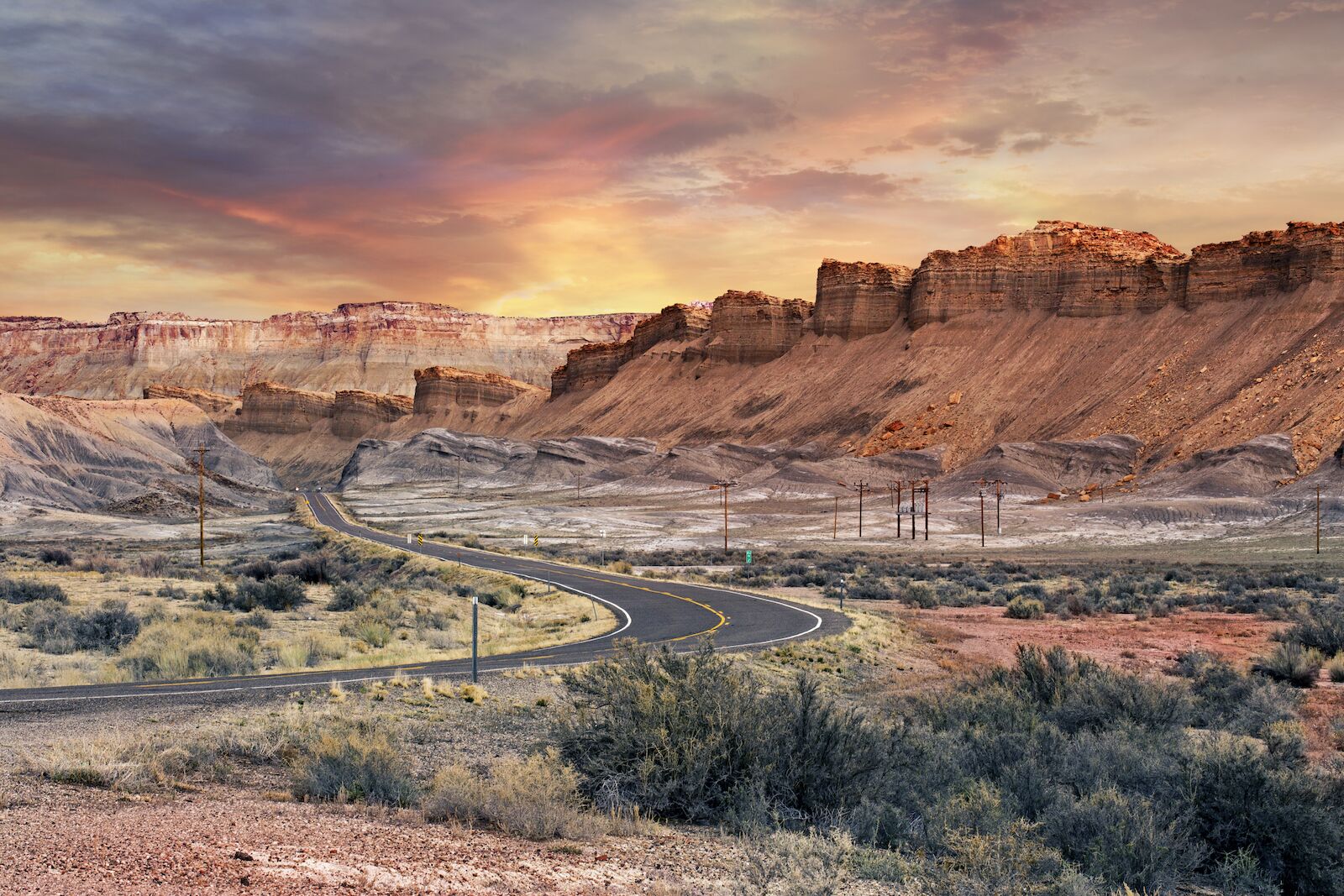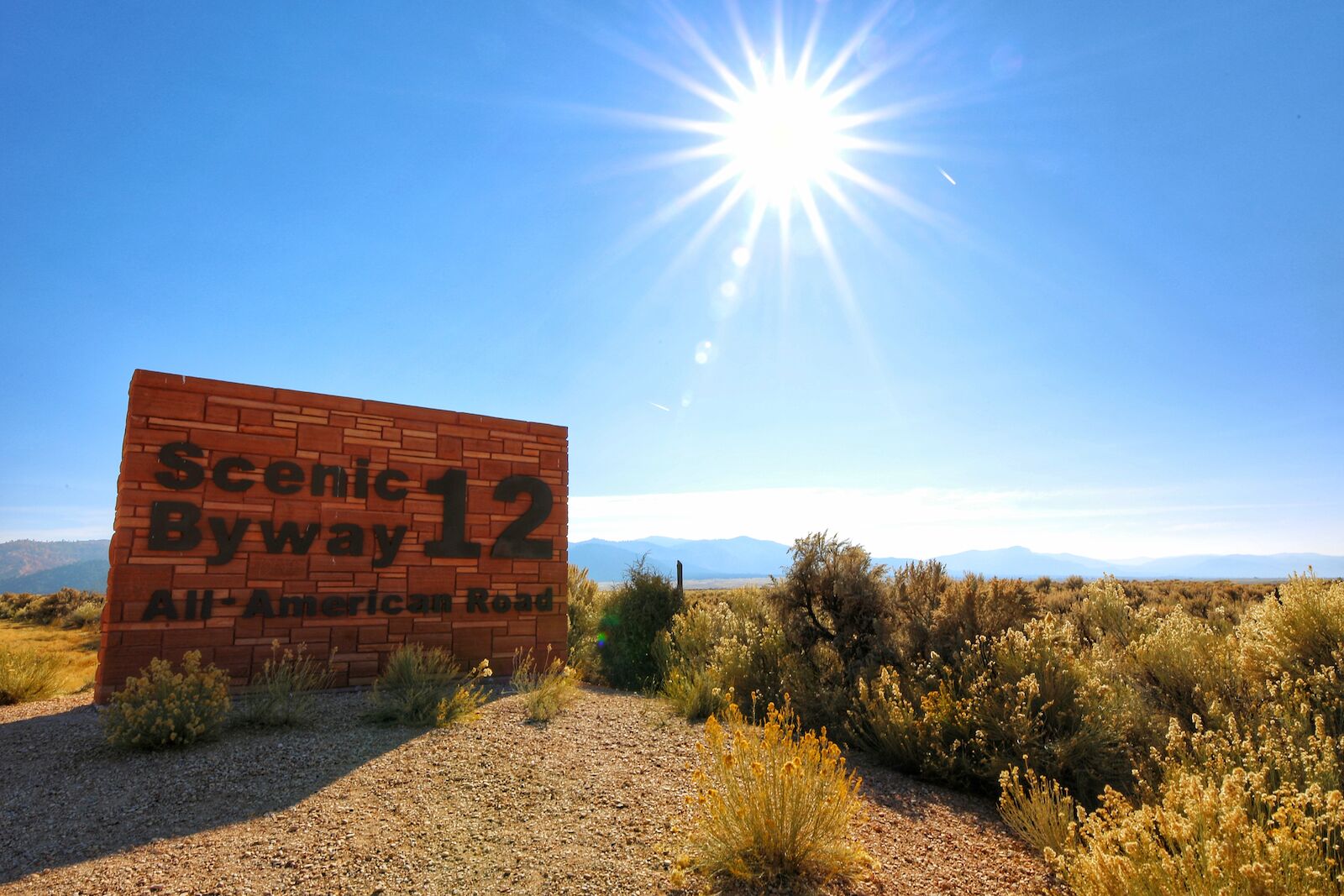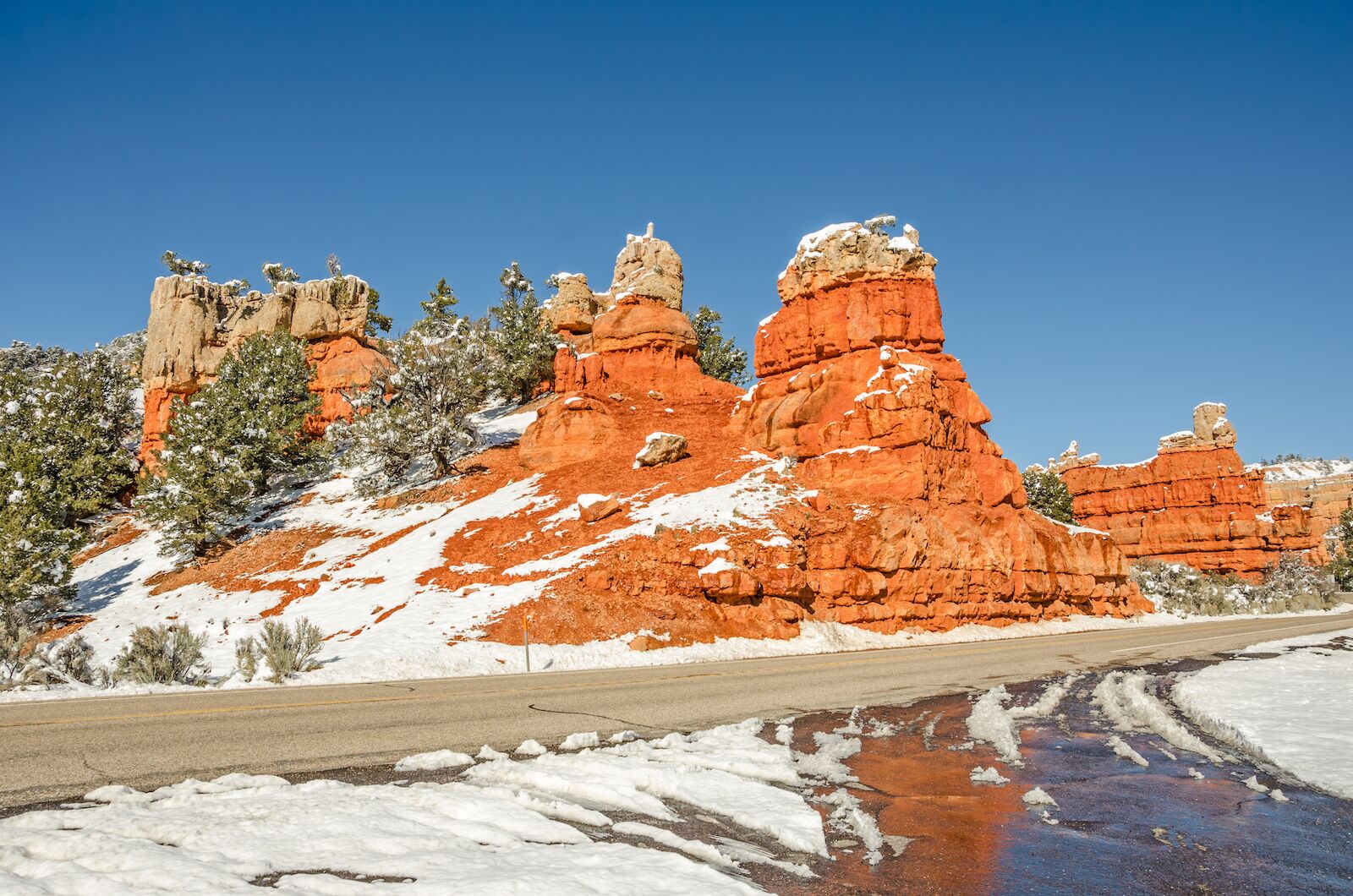 Best time of year to go: Spring
Notable stops:
Grand Staircase-Escalante National Monument
Dixie National Forest
Cottonwood Canyon
Hole-in-the-Rock, Burr Trail
Capitol Reef National Park
Hell's Backbone
Red Canyon
Bryce Canyon
Anasazi State Park Museum
Stretching 122 miles from Panguitch to Torrey, Utah, Scenic Byway 12 connects US 89 with SR 24. It cuts right through the Dixie National Forest, offering views of the Henry Mountains, Grand Staircase-Escalante, and Capitol Reef National Park from the road's 9,000-foot viewpoint. Scenic Byway 12 is also an All-American Road, a special designation meaning it has unique features you won't find anywhere else in the country.
While the full drive takes just three hours, you could easily spend multiple days exploring the surrounding state and national parks, including Kodachrome Basin state park and Bryce Canyon national park. The road connects Bryce Canyon and Capitol Reef national parks, passing through two red arches in Red Canyon, the surreal sandstone "stairs" of the Grand Staircase-Escalante National Monument, and the meadows of Boulder Mountain.
8. Enchanted Circle Scenic Byway in New Mexico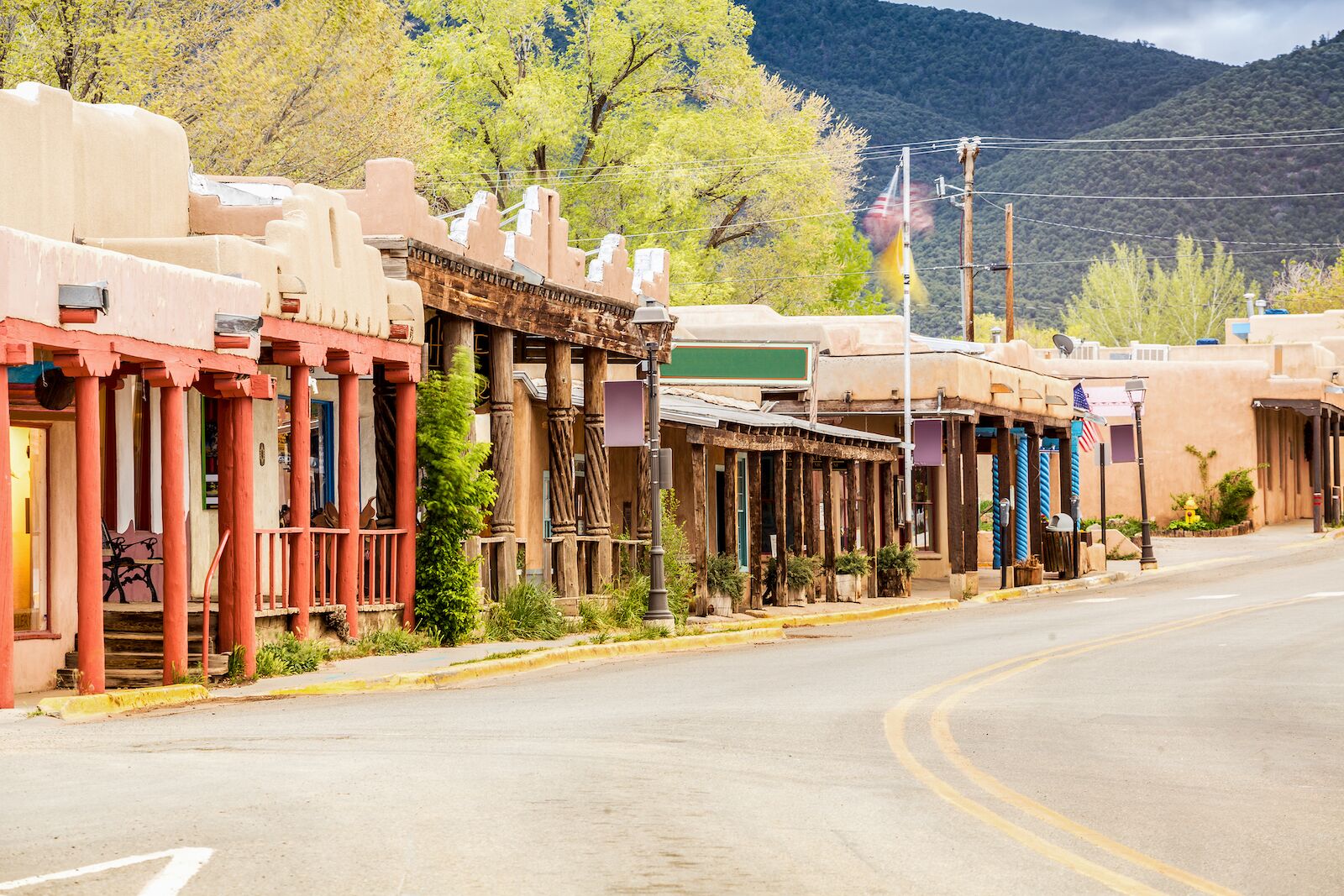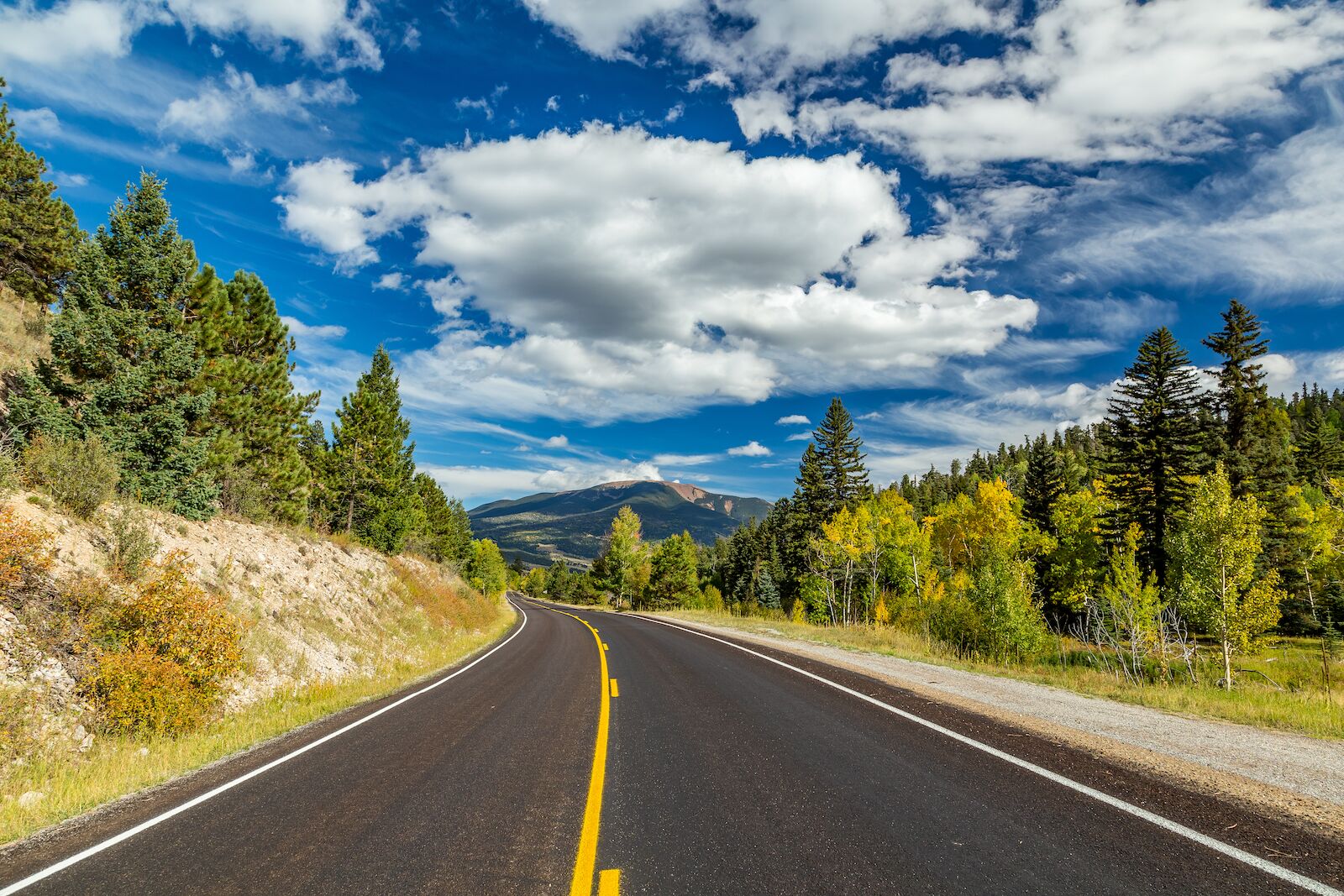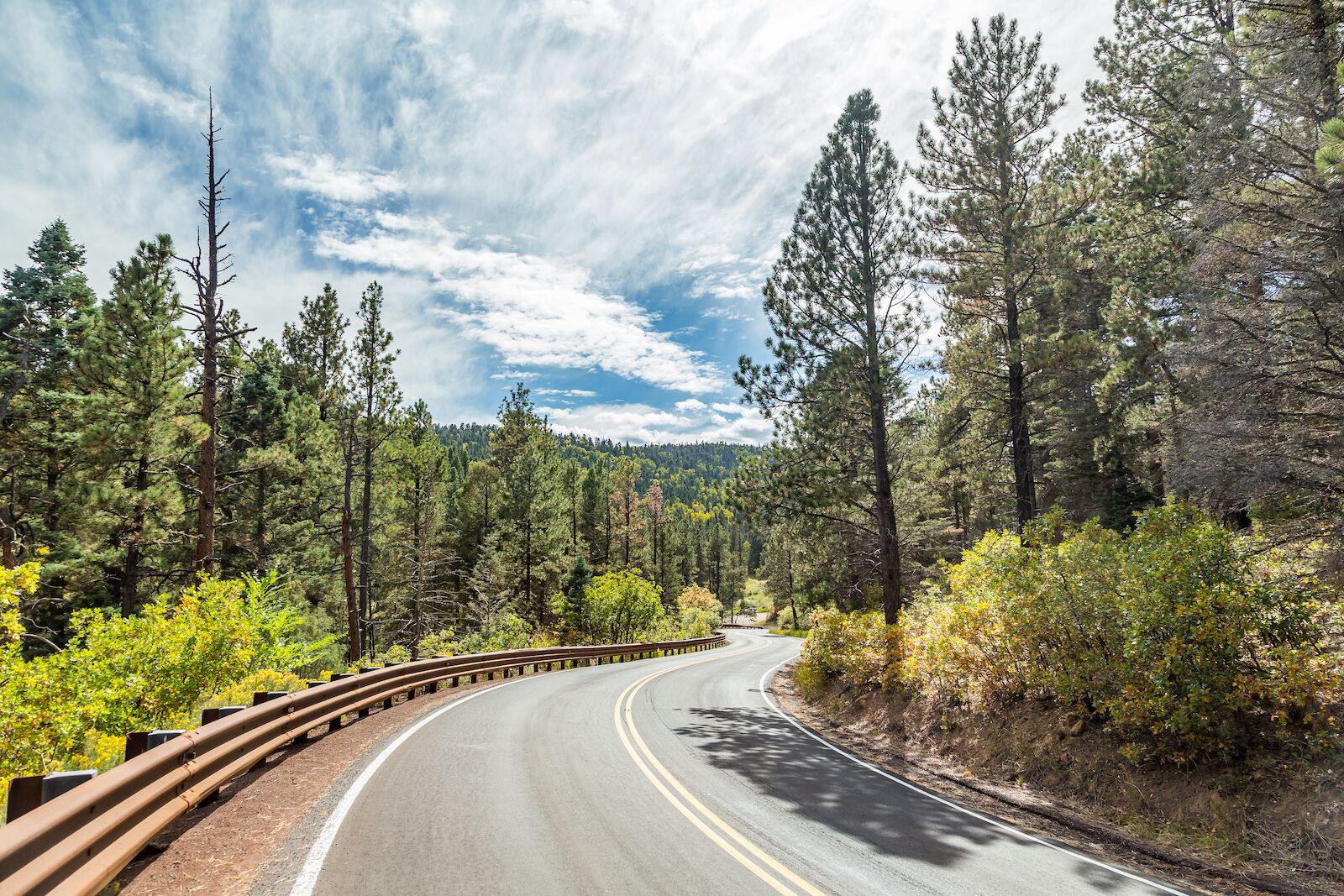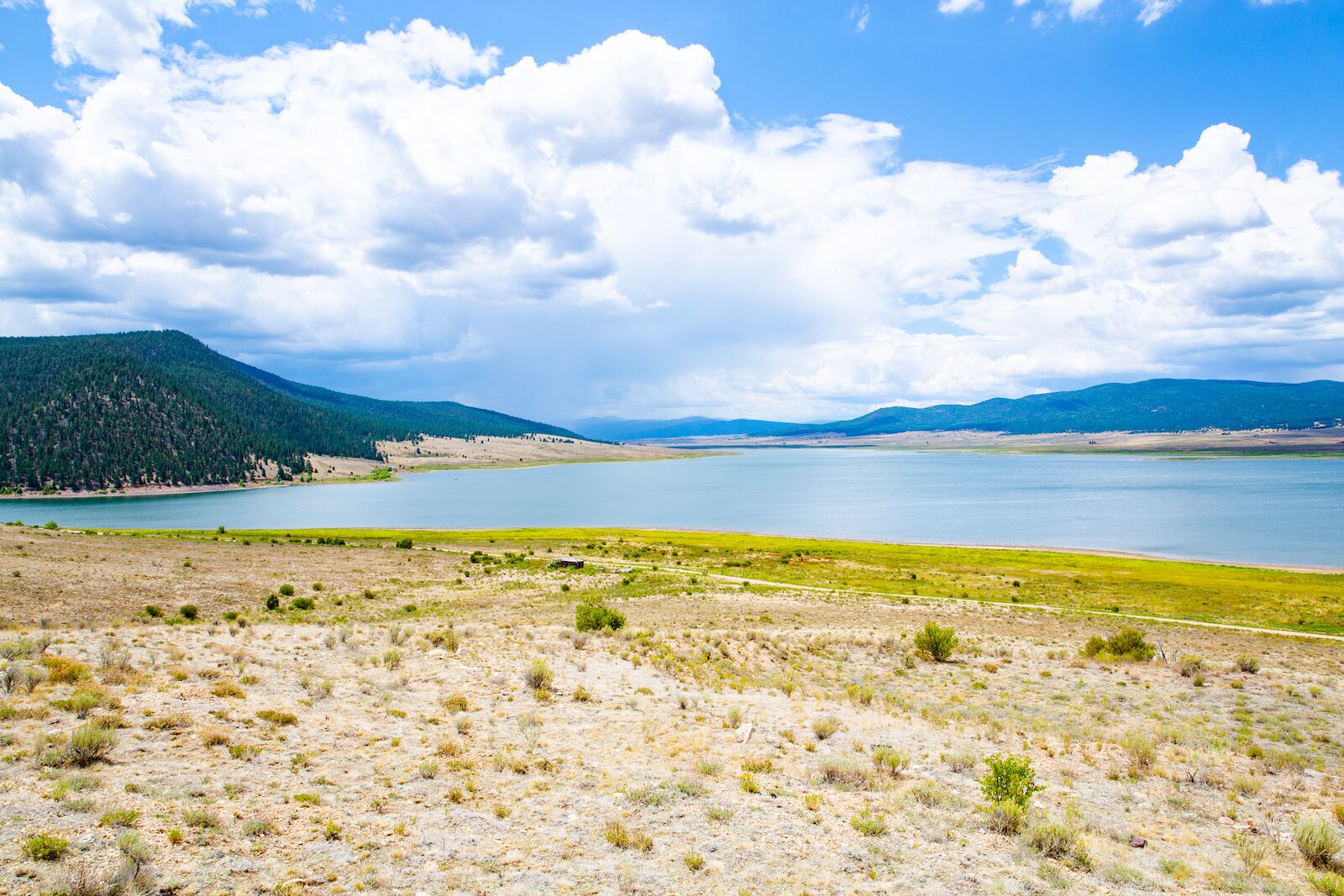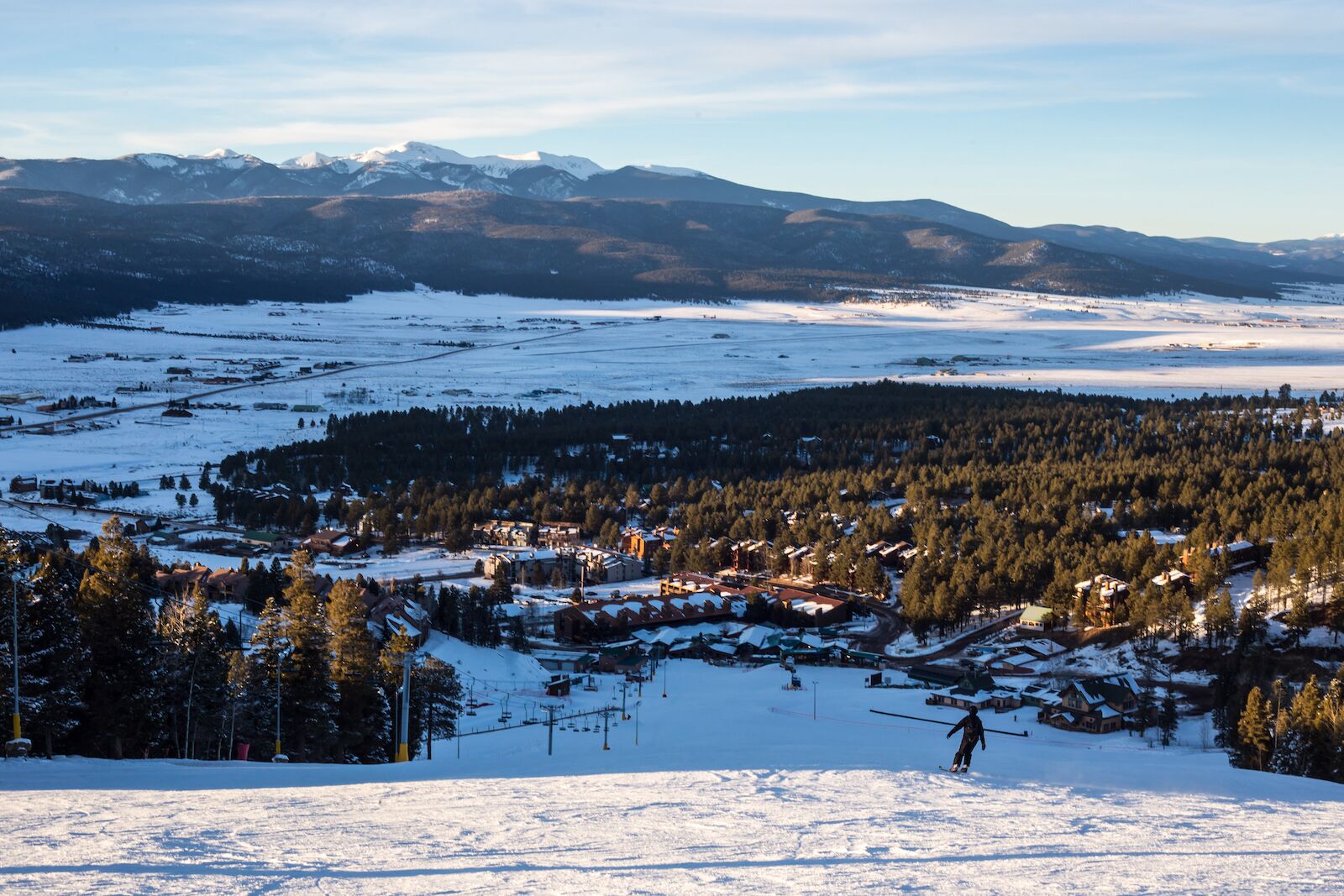 Best time of year to go: Fall
Notable stops:
Wheeler Peak
D.H. Lawrence Memorial
Vietnam Veterans Memorial State Park
Artesanos de Questa
Red River
Eagle Nest Lake
Elizabethtown
Angel Fire ski and shopping resort
The Enchanted Circle Scenic Byway is a circular route that starts in Taos on NM 522, the home of the first Vietnam War memorial in the US. It runs through the hiking and camping areas of Cabresto Lake, Mallette Canyon, and Midnight Meadows, the old mining town of Red River – now known for its beautiful alpine scenery – then into Bobcat Pass and into the Moreno Valley, before finishing back in Taos.
The byway encircles Wheeler Peak, the highest mountain in New Mexico at 13,100 feet, and home to some of the oldest rocks in the southwest, dating back two billion years. One of the road's most unique aspects are the many artist galleries and studios along the Taos Canyon stretch, as the area is home to a community of artists. Painting, pottery, bronze casting, and woodworking studios are open to the public, and you can watch the artists themselves at work.
9. North Shore Scenic Drive in Minnesota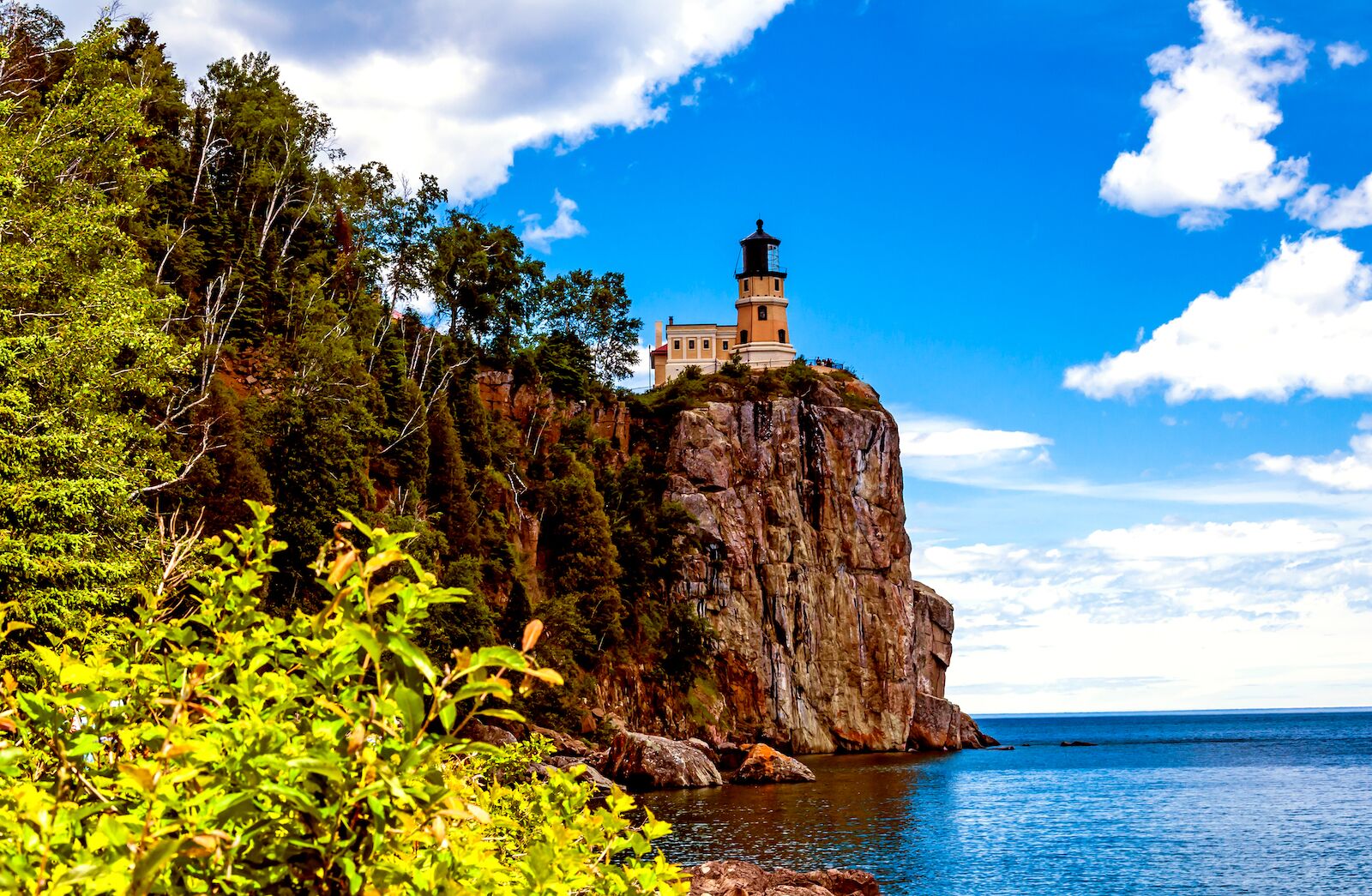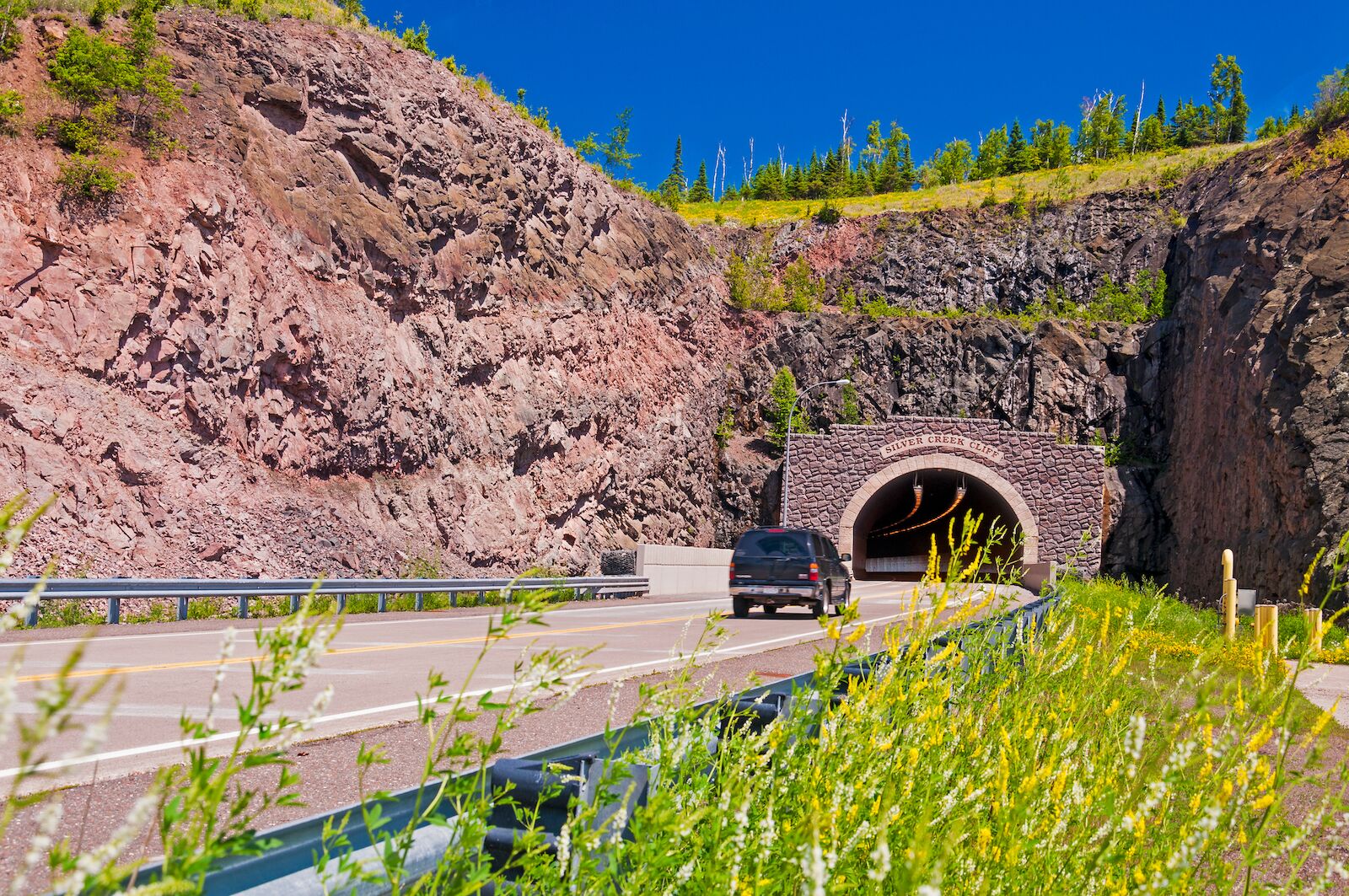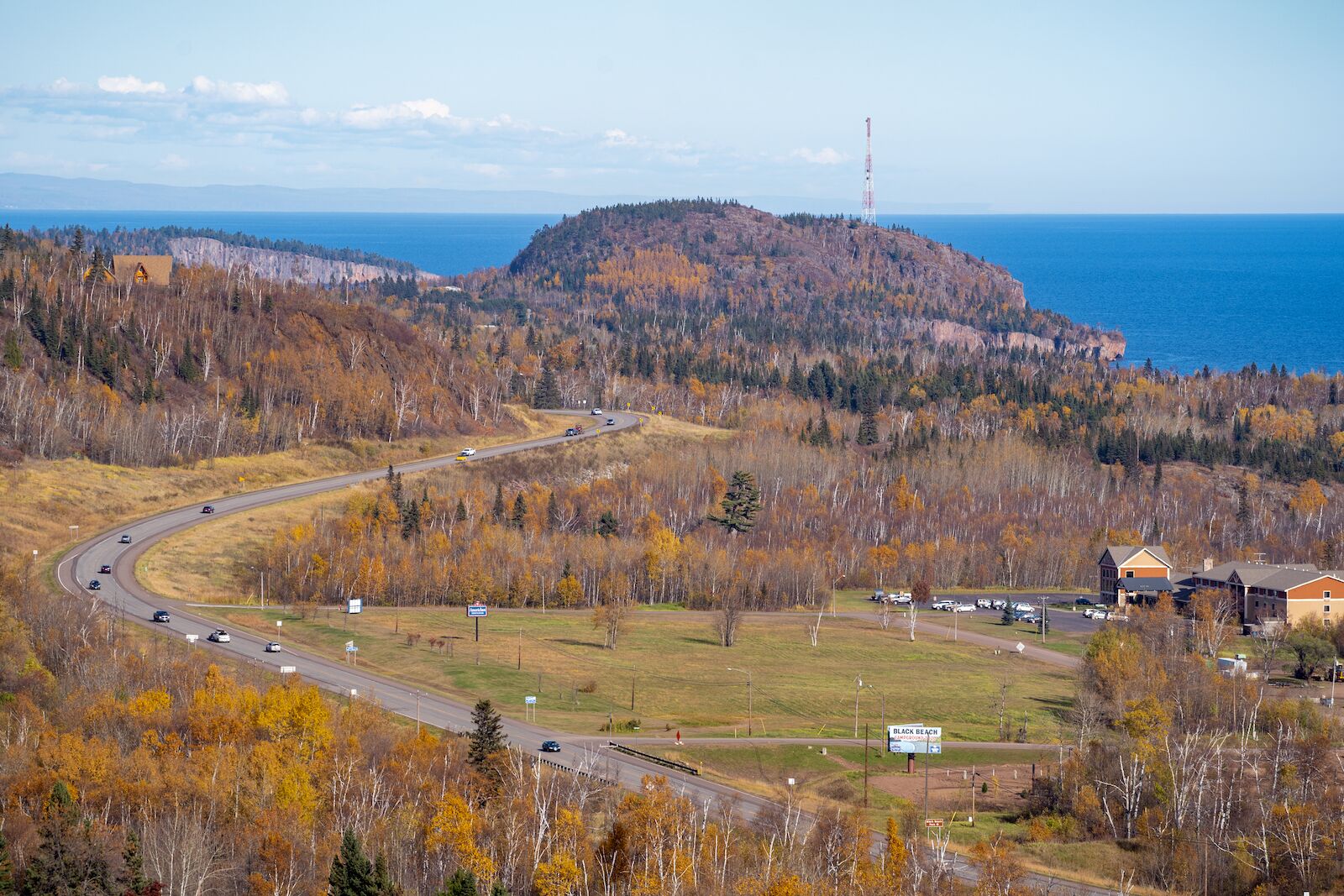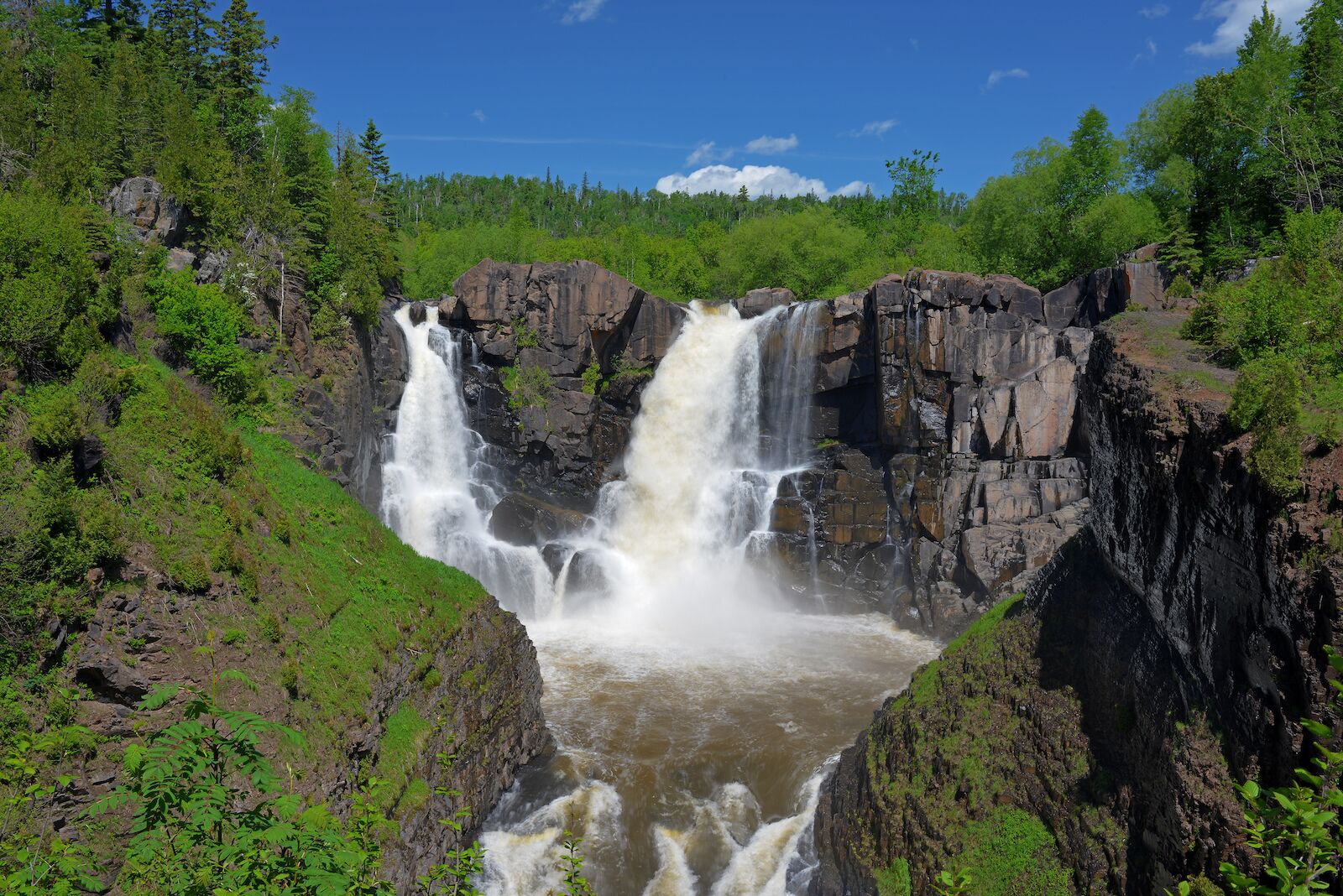 Best time of year to go: Summer
Notable stops:
Great Lakes Aquarium, Duluth
Grand Portage State Park
Tettegouche State Park
Grand Marais
Split Rock Lighthouse
Skirting the north shore of Lake Superior, the North Shore Scenic Drive is a designated All-American Road as well as a Scenic Byway. It passes through a variety of small shoreline towns filled with boutique shops, art galleries, and local seafood restaurants, as well as eight state parks. Spanning 154 miles from Duluth to Two Harbors, the byway is defined by views of the lake, waterfalls, cliffs, forested hills, and wilderness streams.
Make sure to check out the Split Rock Lighthouse, dating back to 1910, the Grand Portage National Monument fur-trading post, and the picturesque harbor town of Grand Marais. If you're looking to get out of your car and explore, Lutsen has a mountain biking park, and the Superior Hiking Trail offers 310-miles of hiking trails over the rocky ridges of Lake Superior.
10. Selma to Montgomery March Byway in Alabama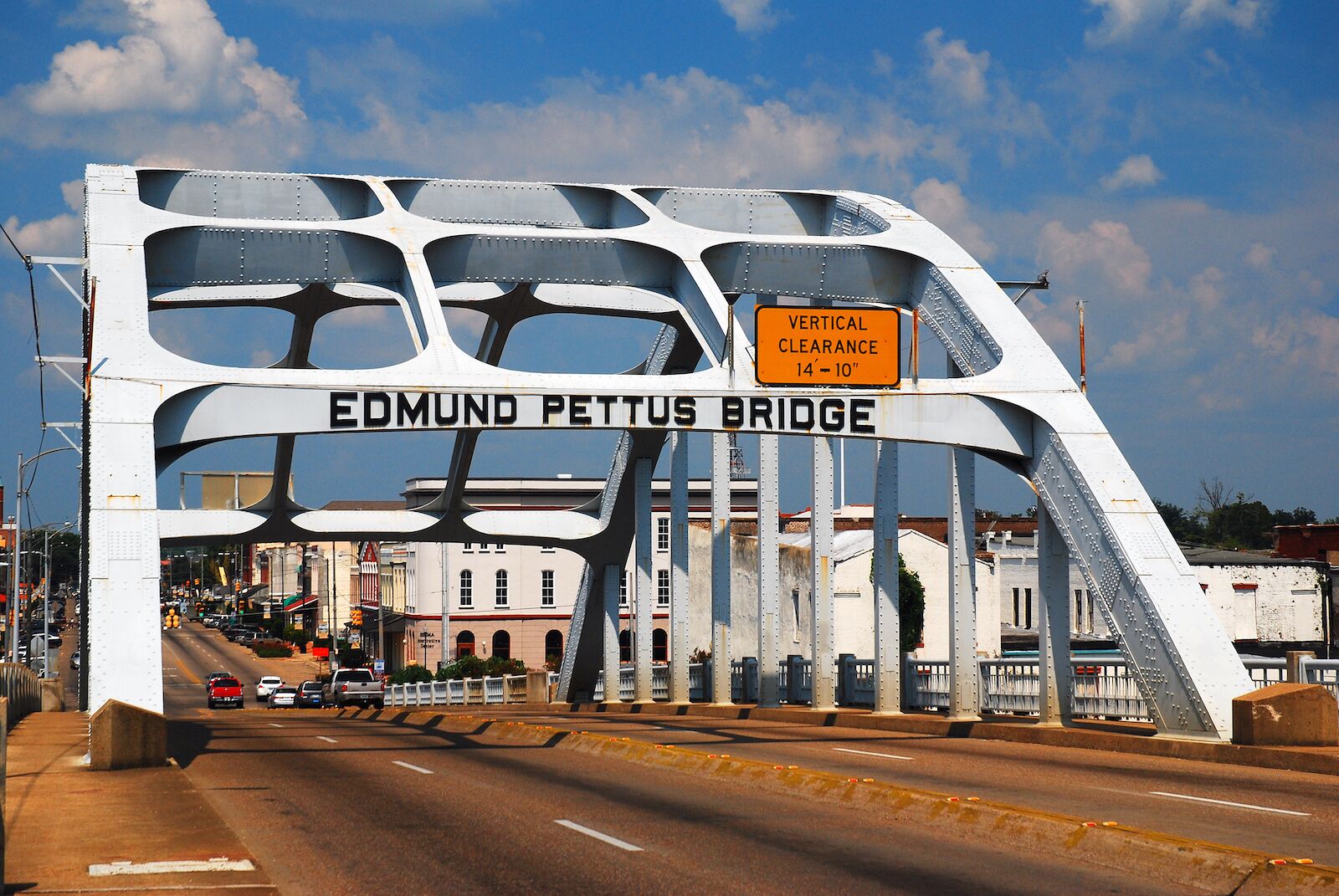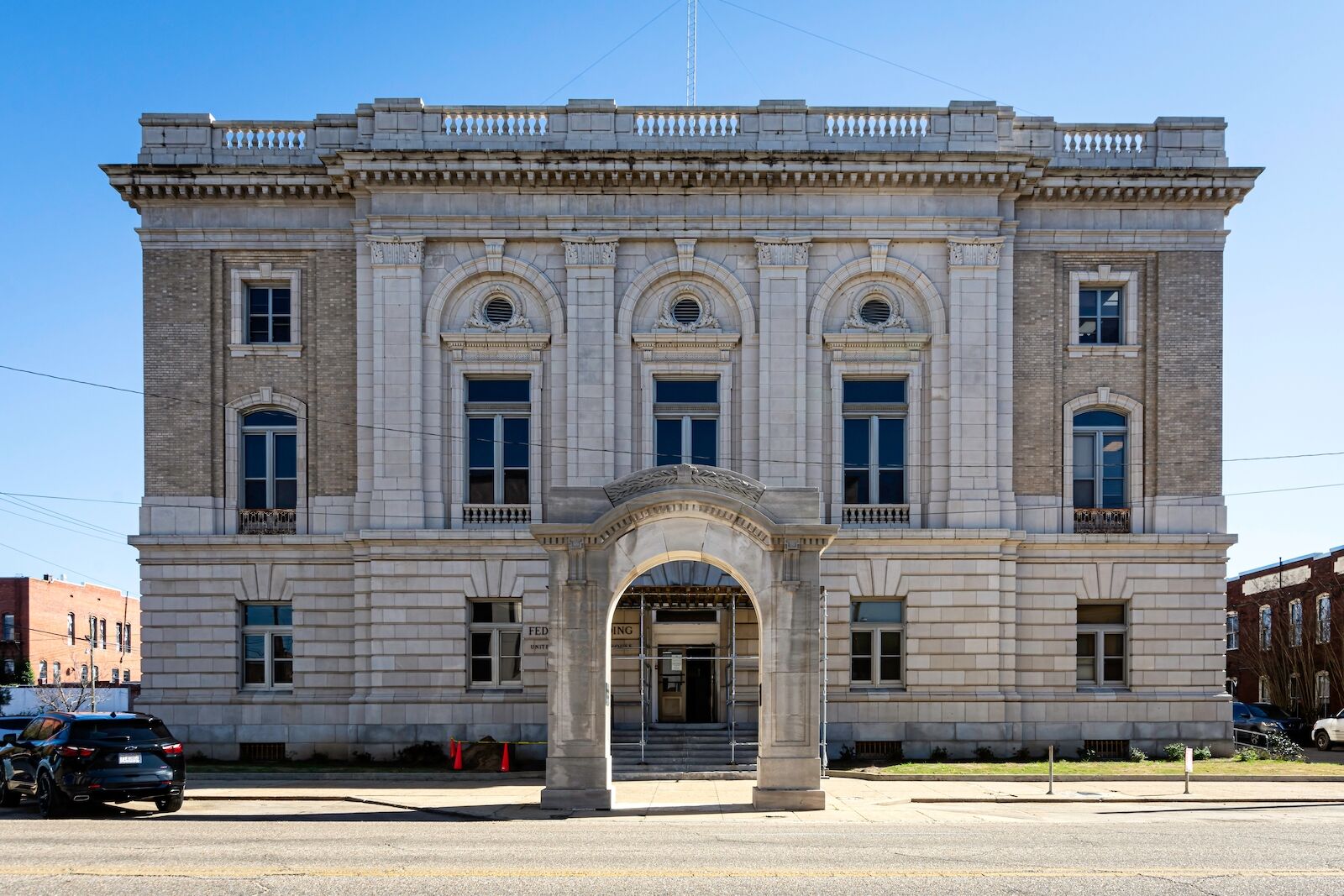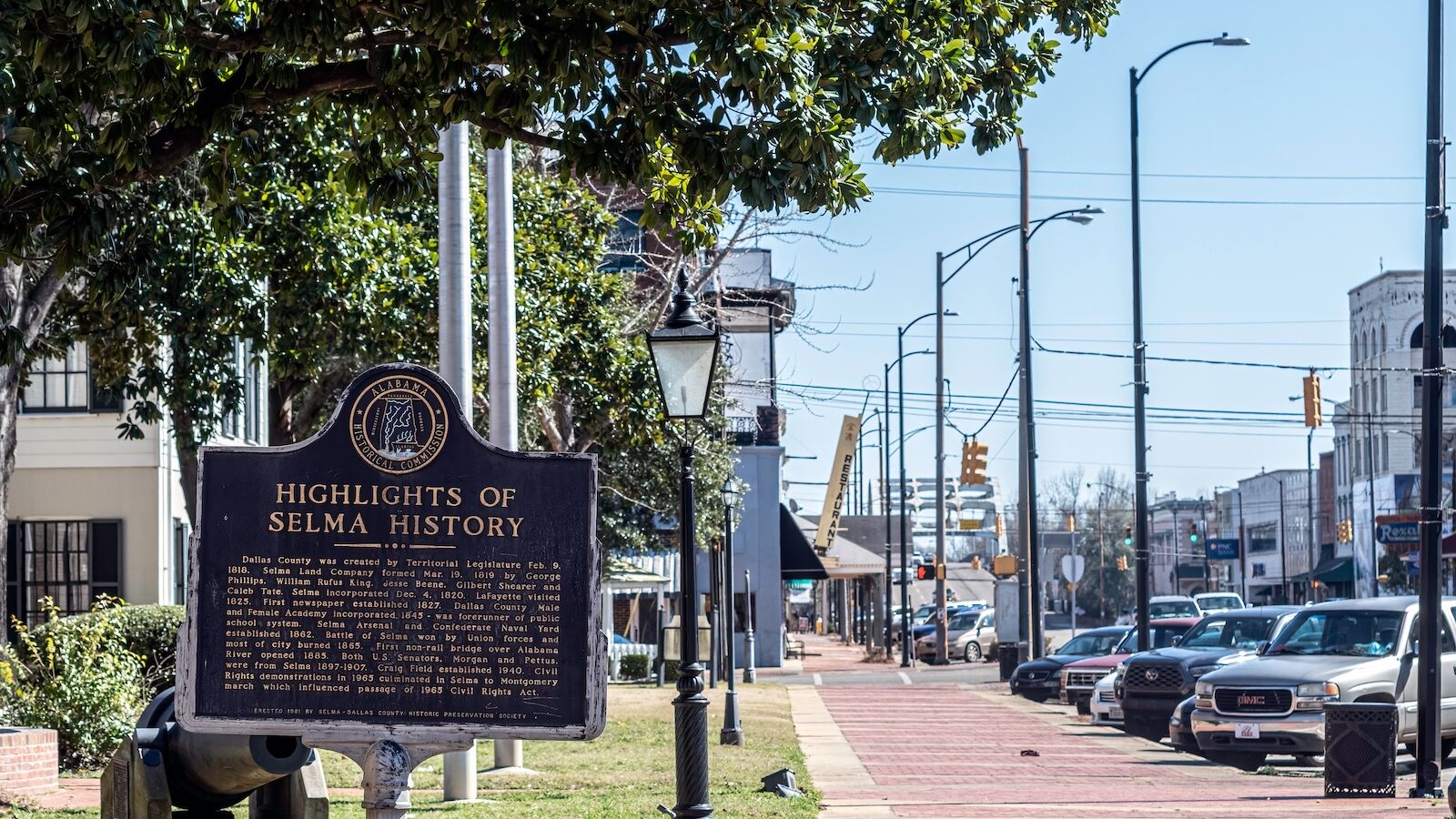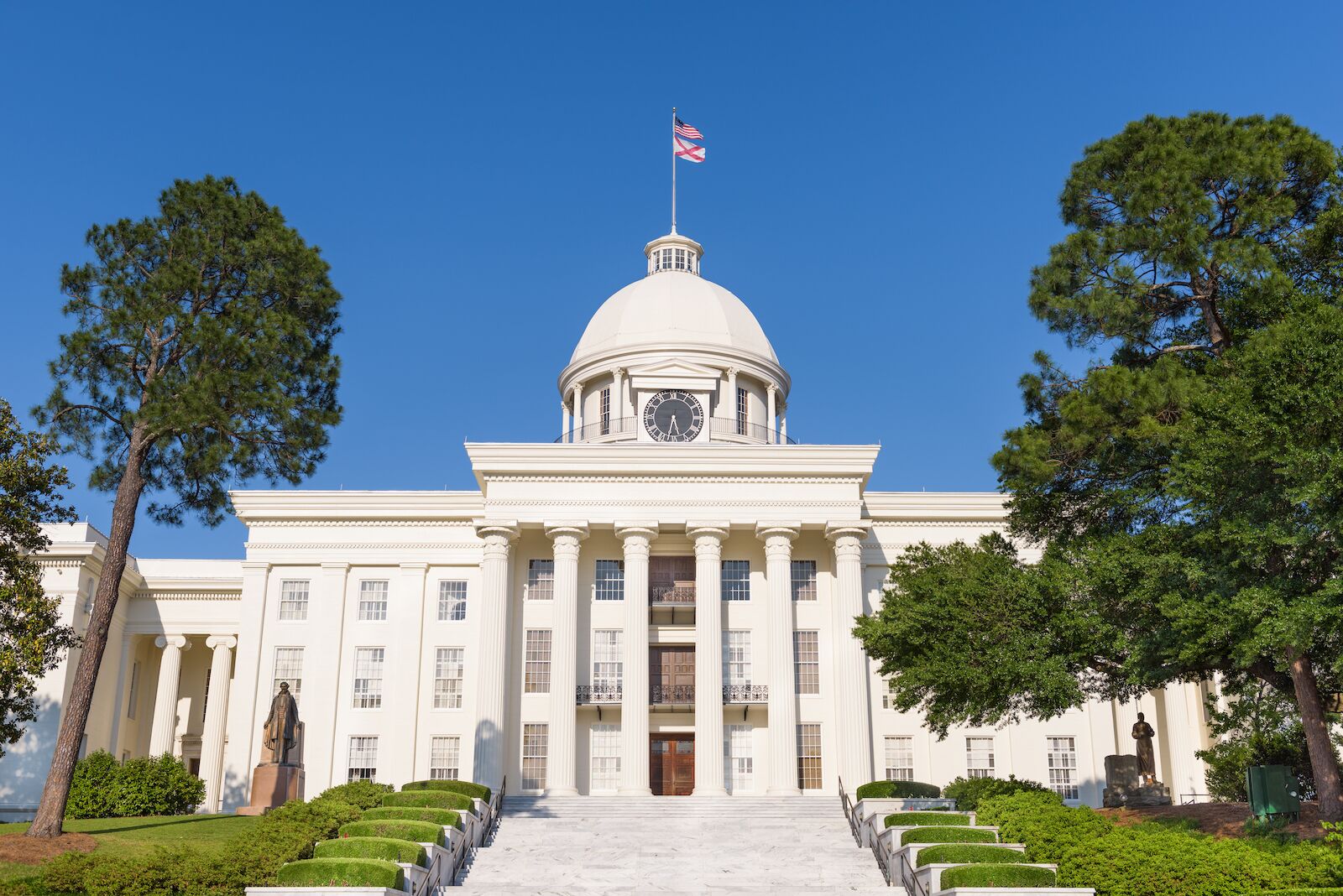 Best time of year to go: Spring
Notable stops:
Edmund Pettus Bridge
National Voting Rights Museum and Institute
Alabama State Capitol
Dallas County Courthouse
Cecil B. Jackson Public Safety Building
First Baptist Church, Selma
This 54-mile byway marks one of the most significant routes in the history of the US Civil Rights movement, stretching from Selma to Montgomery. The first march in Selma began on March 7, 1965, to protest laws designed to keep Black people from voting, but was violently halted by police officers at the Edmund Pettus Bridge. Martin Luther King Jr. later led a group of protestors 54 miles, from the bridge in Selma to Montgomery. The march laid the groundwork for the passage of equal voting rights legislation.
Along the byway, you can visit the First Baptist Church and Brown Chapel – which served as gathering places for the Civil Rights movement effort – as well as the jail where Civil Rights activists were often imprisoned. Then there's the Edmund Pettus Bridge and the steps of the Montgomery capitol building, where King spoke to a crowd of nearly 30,000.
11. Flint Hills National Scenic Byway in Kansas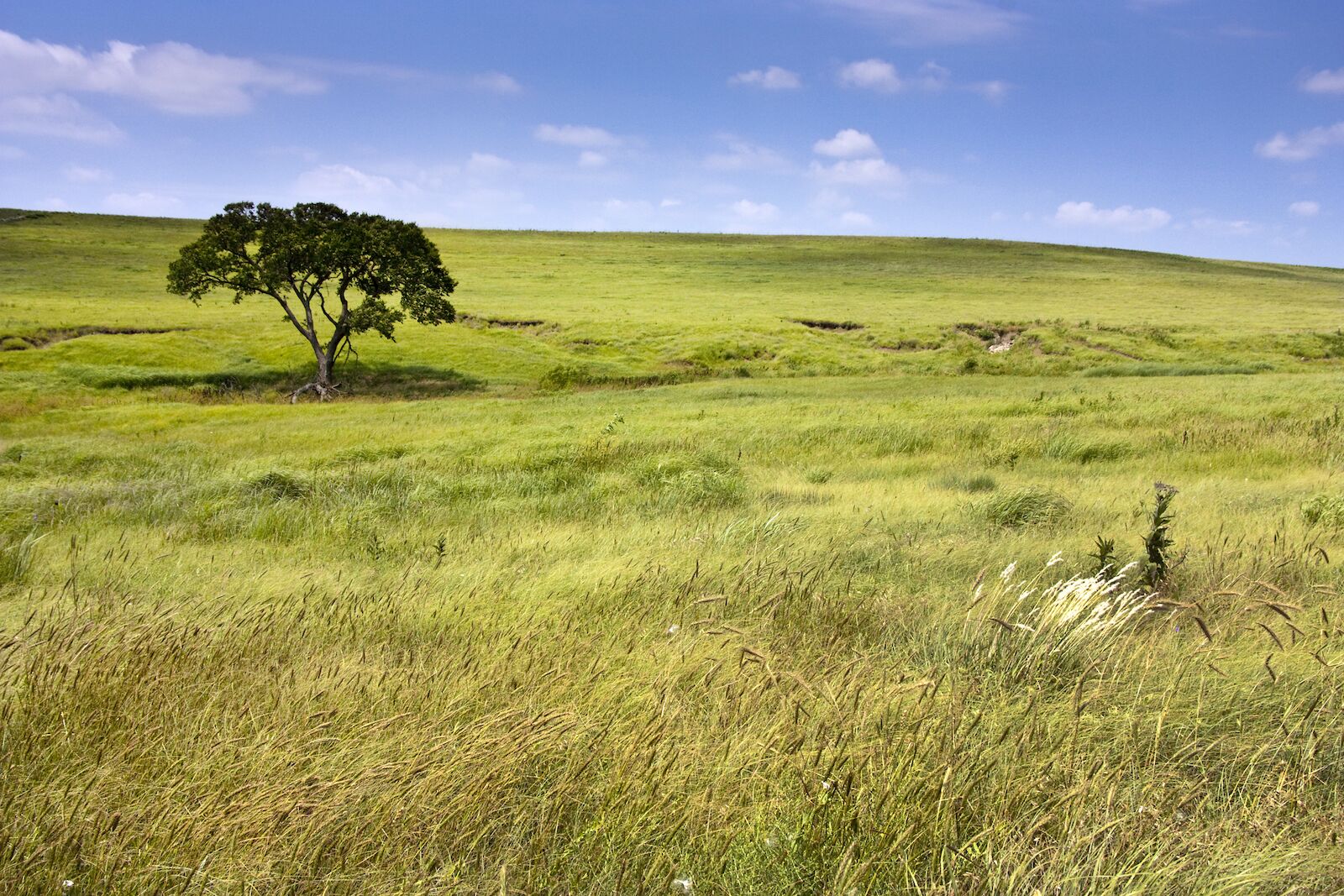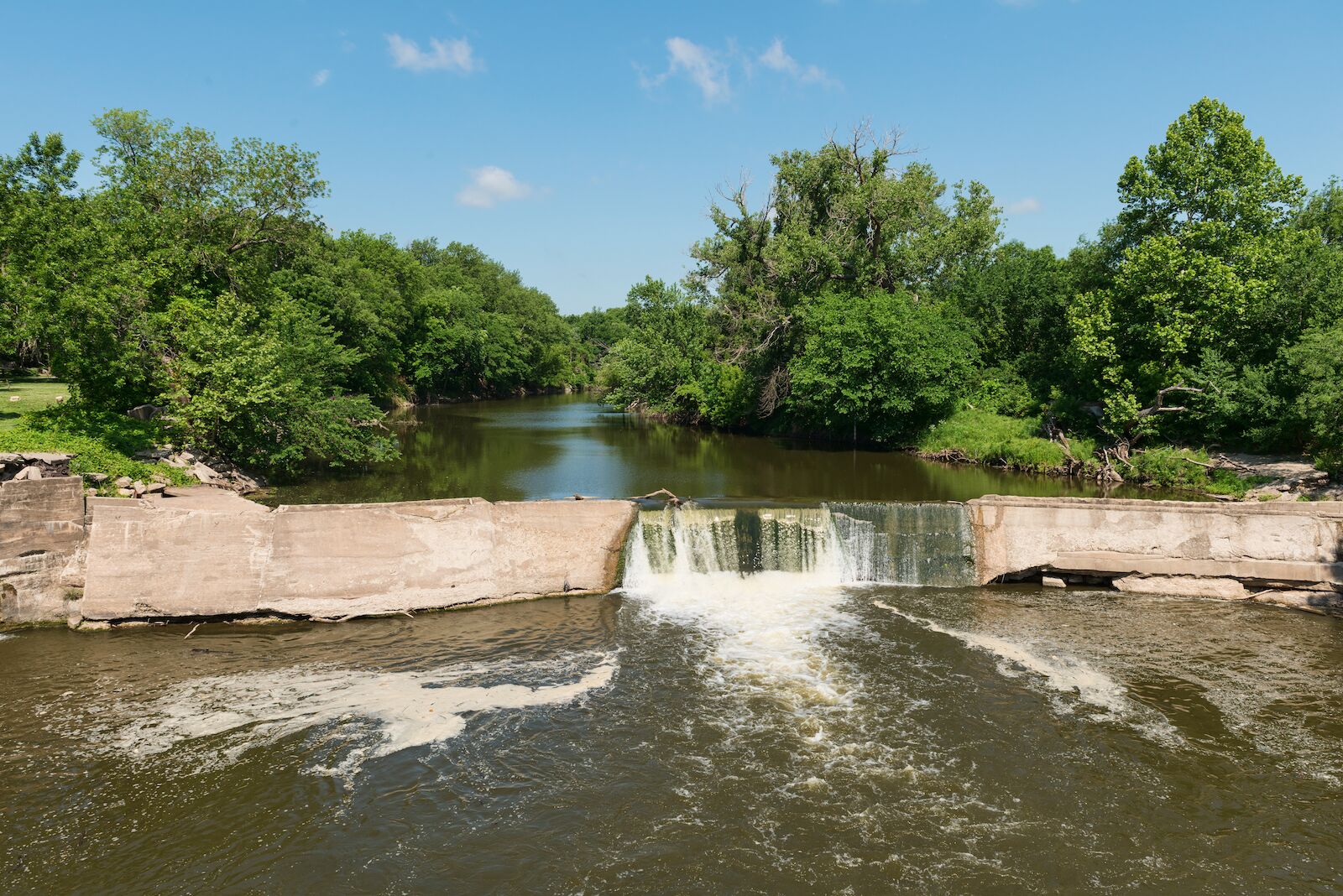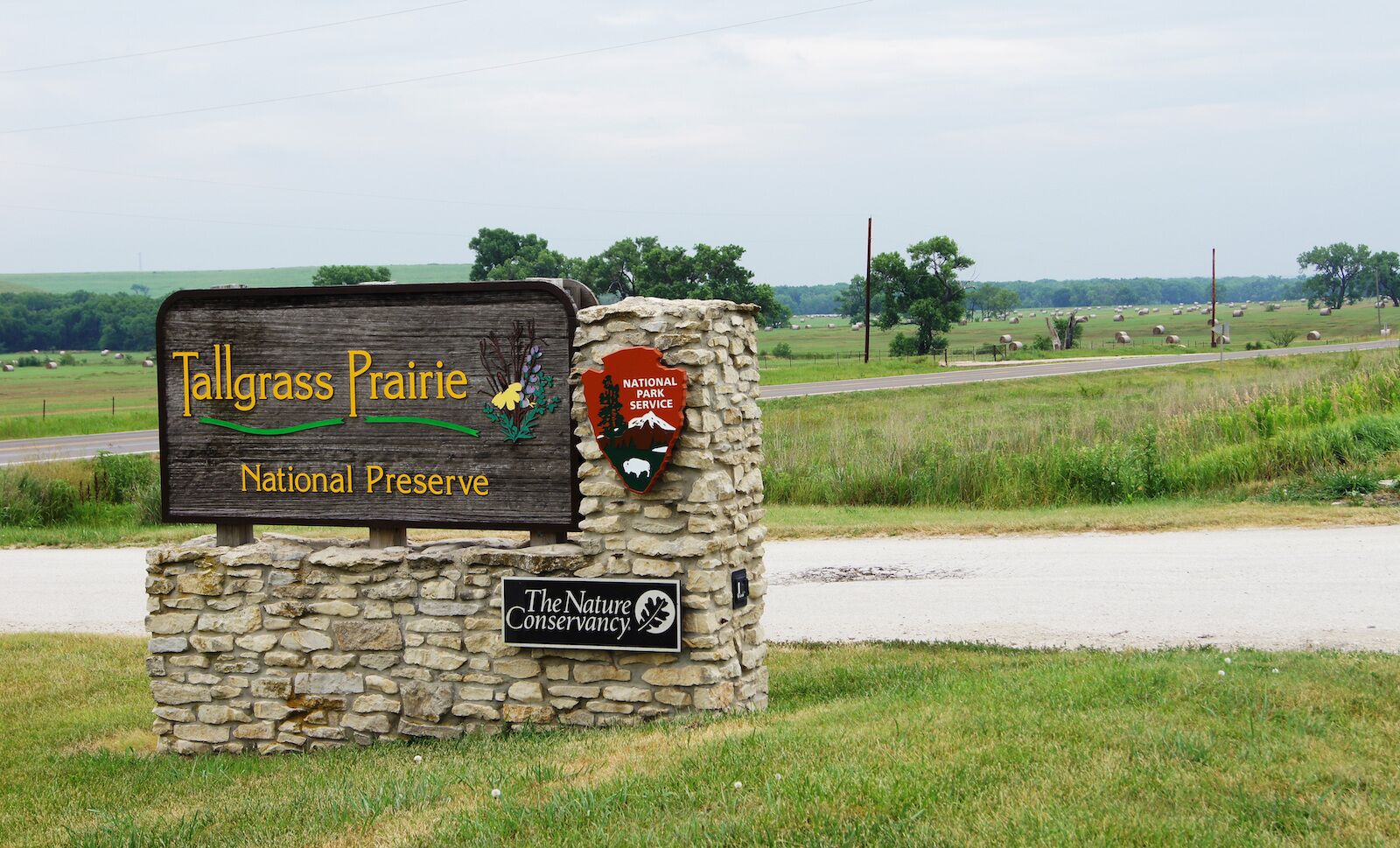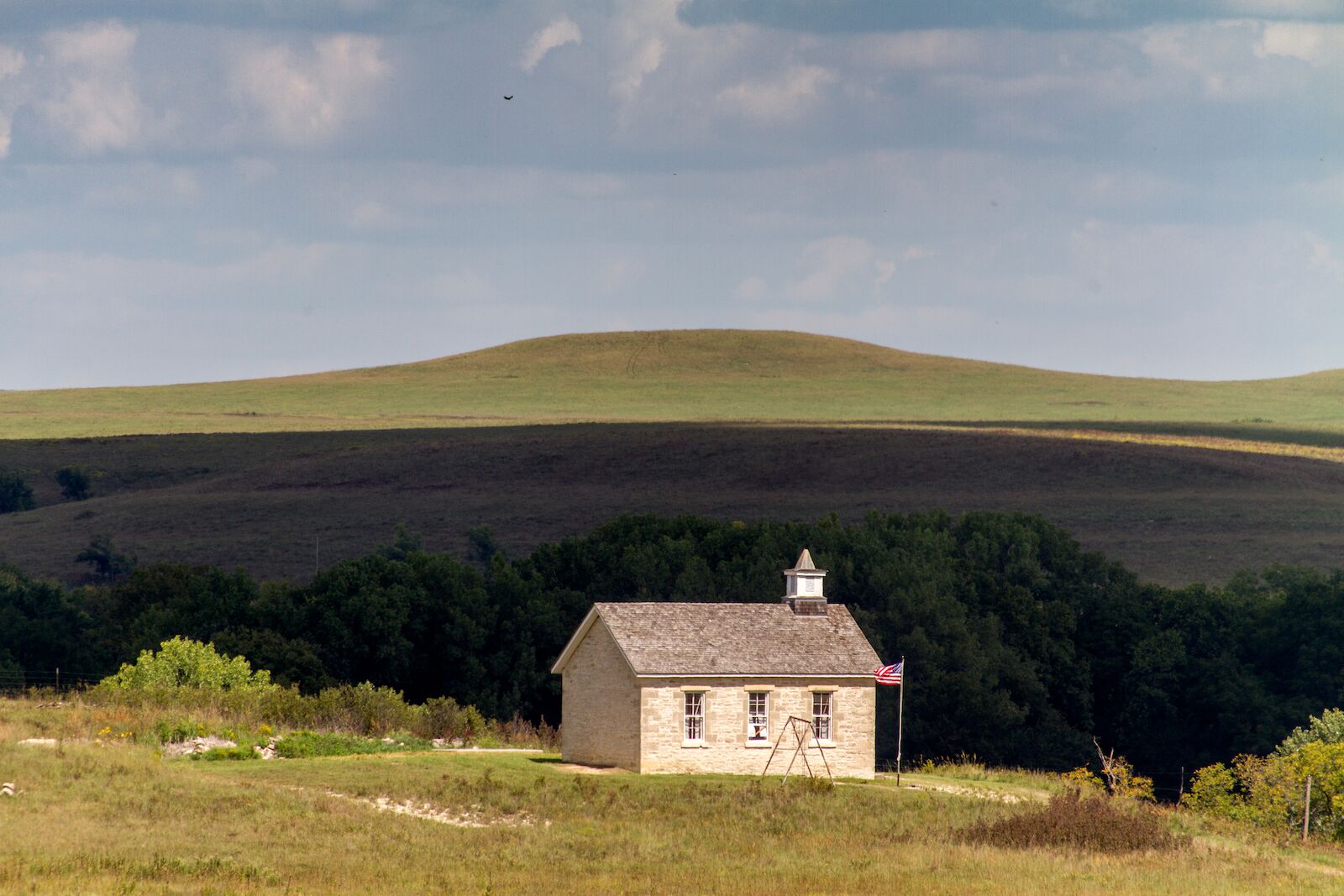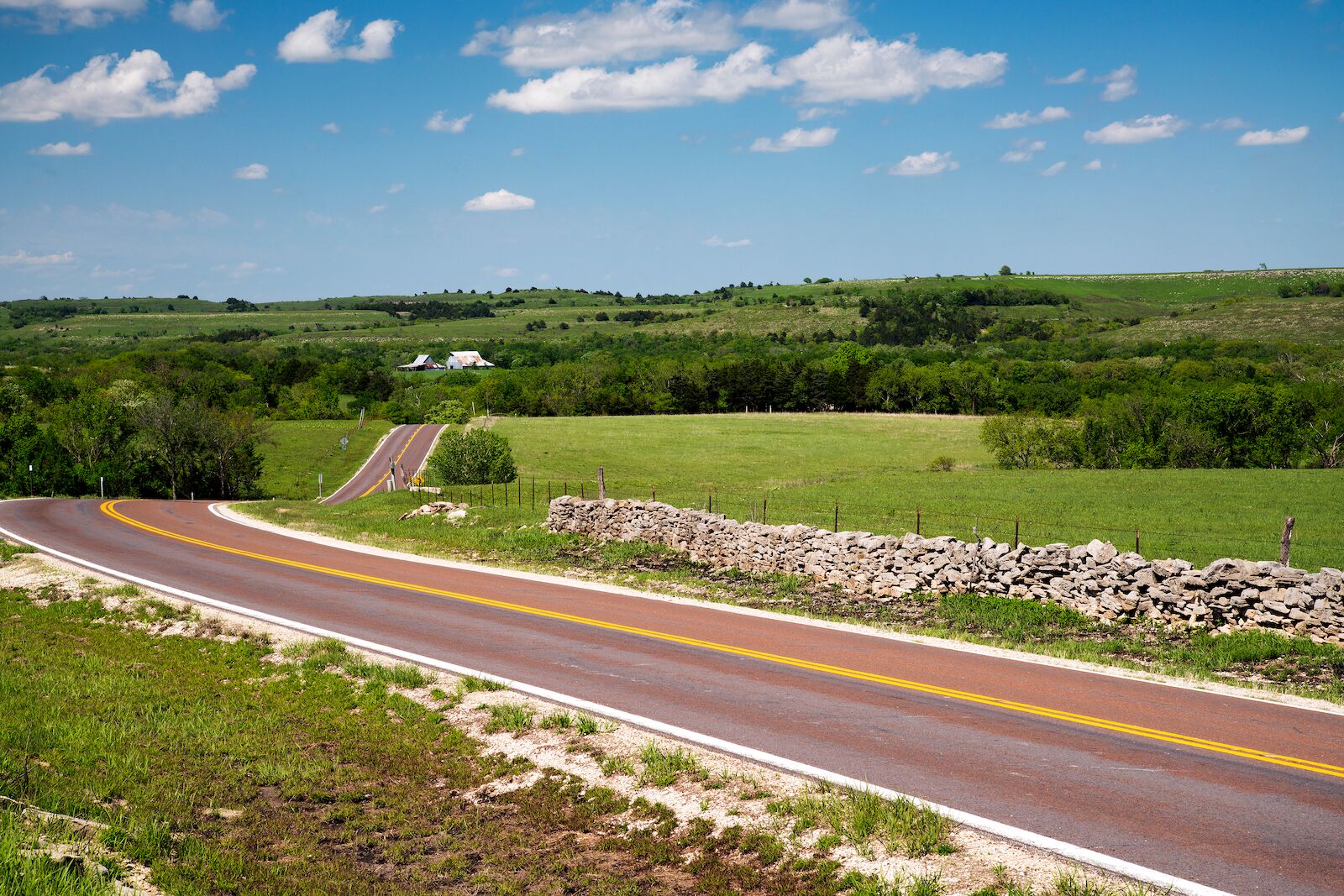 Best time of year to go: Summer
Notable stops:
Kaw Mission State Historic Site and Museum
Santa Fe Trail
Old Cowboy Jail
Post Office Oak and Museum
Tallgrass Prairie National Preserve
Cottonwood Falls
Roniger Native American Museum
From Council Grove to Cassoday in east central Kansas, the Flint Hills National Scenic Byway is defined by panoramic views of the tallgrass prairie. It's surrounded by historic sites like Kaw Mission State Historic Site and Museum, the Santa Fe Trail, Old Cowboy Jail, and the Post Office Oak and Museum. The byway also passes through natural beauties like the Tallgrass Prairie National Preserve and Cottonwood Falls.
The byway passes through one of the last remaining tallgrass prairies in the country, with much of the untouched land here looking exactly as it did centuries ago, when it belonged to the Osage and Kaw tribes. Today, you can immerse yourself in Native American history at Kaw National Heritage Park and the Roniger Native American Museum. Many towns along the route, especially Cassoday, are known for antique and artisan craft shops.
What did you think of this story?