The 10 Best State Parks in Texas
In Texas, as they say, everything is bigger — and that's especially true when it comes to the 89 state parks in the Lone Star State. Each one offers different experiences and opportunities, but we've whittled it down to the top 10.
Whether you're looking to camp under the stars, hike along meandering rivers, fish for largemouth bass, explore cavernous underground areas, do some sand surfing, or just relax in the shade, these parks have something for everyone. So pack your bags, grab your Texas State Parks Pass (which handles any entrance fees for a year), and get ready for some fun.
Palo Duro Canyon State Park
Palo Duro Canyon State Park is one of the crown jewels of Texas state parks. Situated in the Texas Panhandle, you'll find stunning views, miles of hiking trails, and plenty of opportunities for picnicking, stargazing, and wildlife watching.
The highlight of the park is its dramatic canyon landscape, which was carved over millions of years by the Prairie Dog Town Fork of the Red River.
The park is home to over 60 miles of ravine and features a variety of landscapes, from towering 800-foot red cliffs to fields of wildflowers. Whether you're looking for a place to relax and breathe in nature, or an adventure-filled day full of Instagram-worthy moments, Palo Duro Canyon State Park should top your list.
What to do at Palo Duro Canyon State Park
There are plenty of activities to keep visitors busy, including hiking along miles of trails, camping, or biking down exhilarating dirt paths. If you're pressed for time or simply don't want to leave your vehicle, you can experience the park with a scenic drive that takes you to the floor of the canyon.
Ride houses along the canyon walls: You can also saddle up Texas-style with a one-hour horse ride from the Old West Stables that will take you along the canyon walls to some of the famous sites such as Sad Monkey Mesa, the Catarina Caves, and more. You might even get lucky enough to spot a few of the canyon's natural residents, like wild turkeys, roadrunners, or coyotes.
Texas Outdoor Musical: No visit to Palo Duro Canyon State Park would be complete without experiencing the Texas Outdoor Musical in the amphitheater at the park. This family-friendly program showcases the spirit, defeats, and triumphs of early settlers in the Texas Panhandle and is a crowd-pleaser. Get there early and enjoy a Texas-sized barbecue dinner that'll make you want to write home to your momma and thank her for being born.
Palo Duro Canyon State Park fees and amenities
Day passes for people 13 and older are $8, while children 12 and younger are free.
Campsite fees range from $12 per day for tent-only, hike-in sites, and $26 per day for campsites with electricity and water hook-ups. There are a limited number of certified ADA-accessible campsites as well.
The Palo Duro Canyon State Park has several modern lodging options, as well as a new addition to the park: glamping.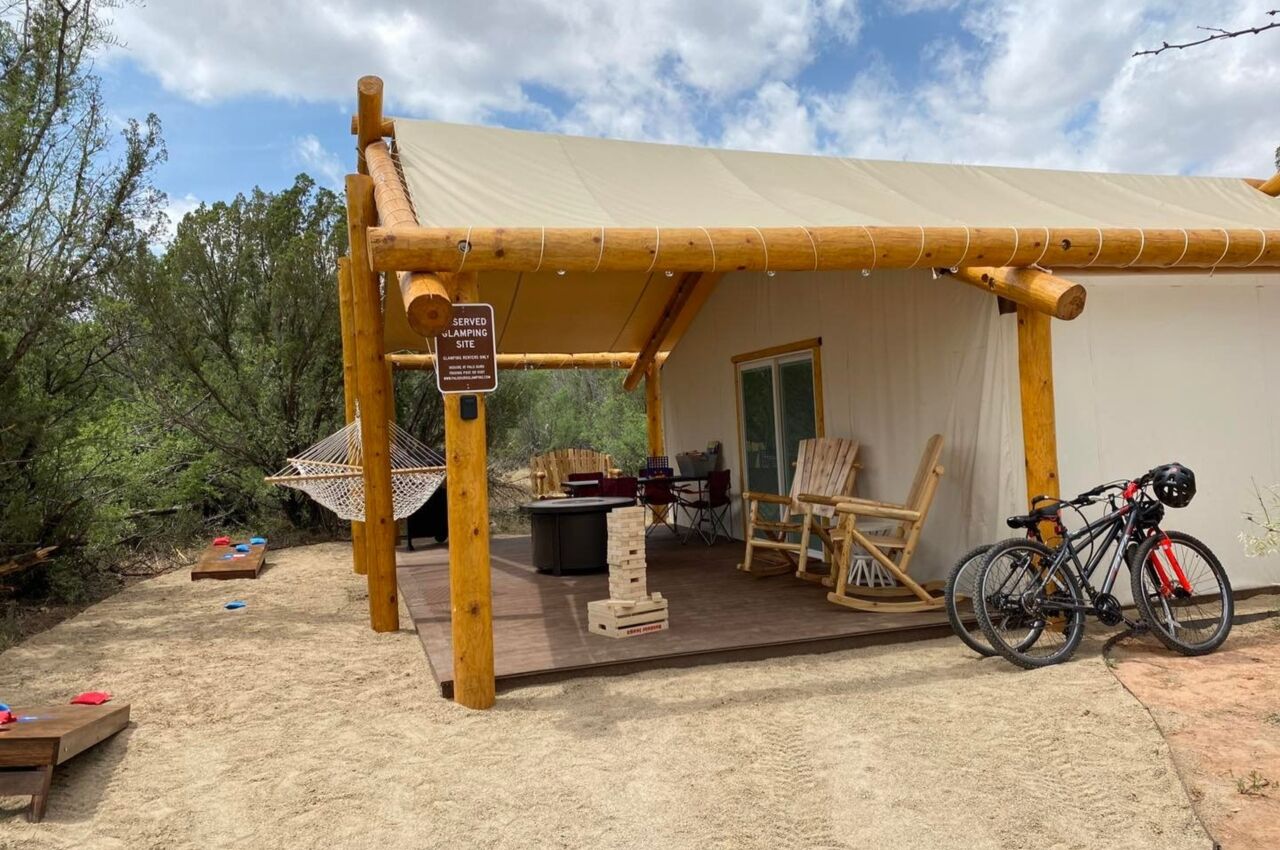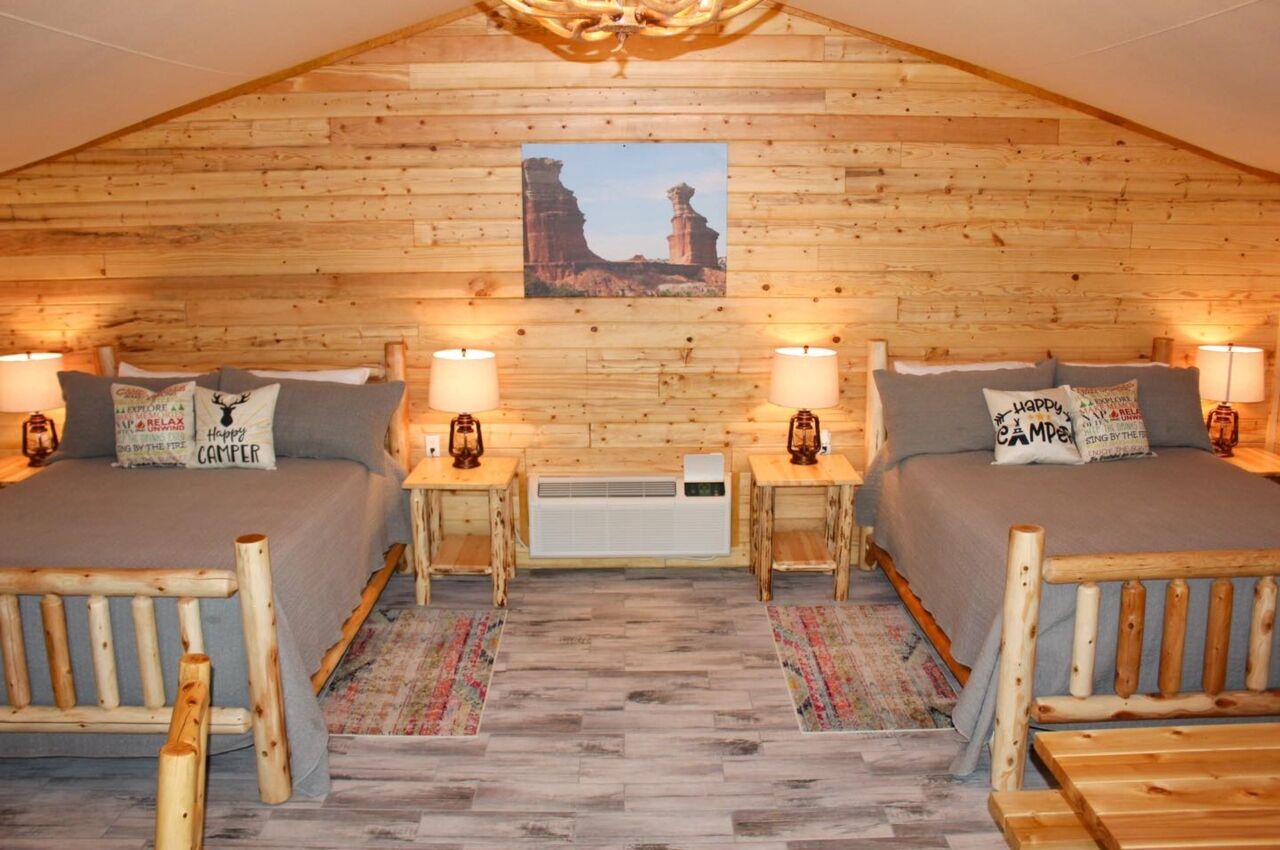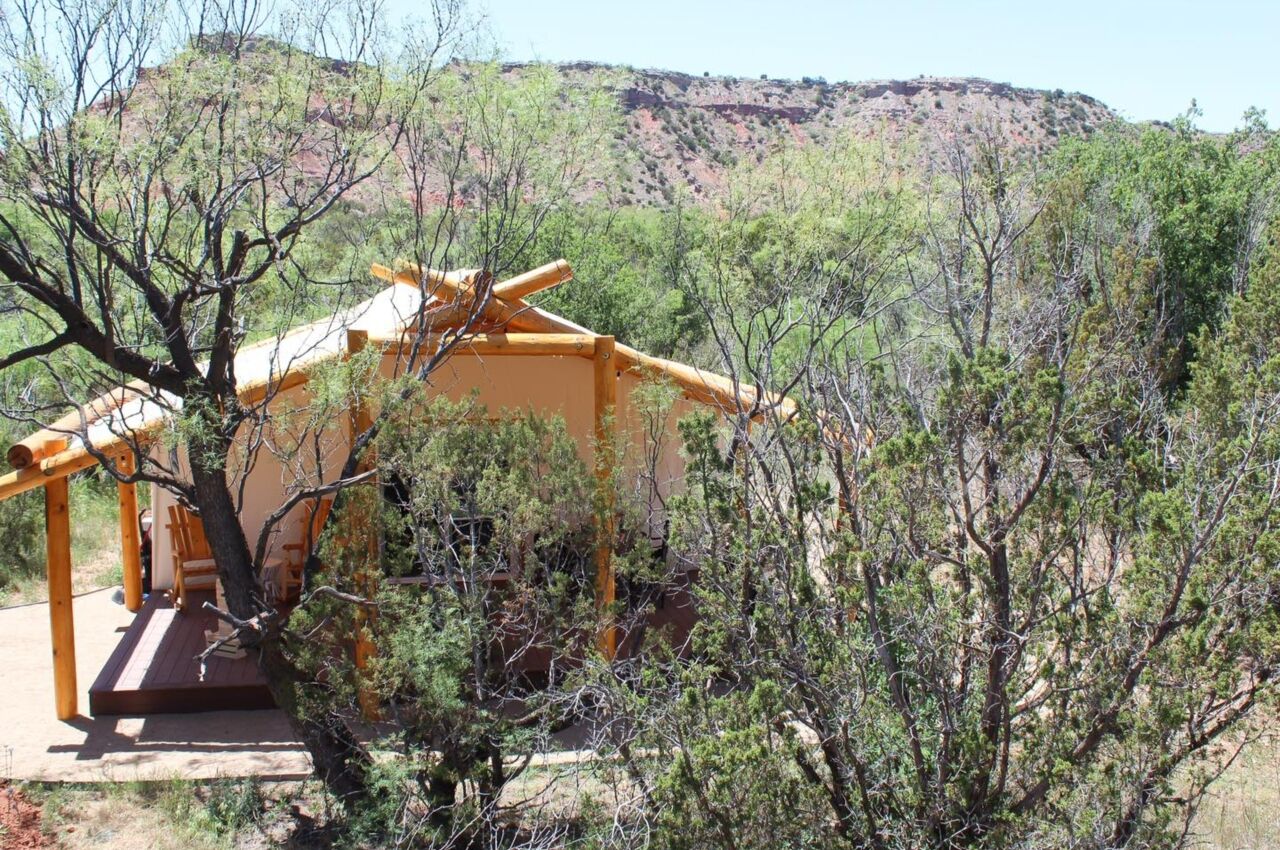 Glamping at Palo Duro Canyon State Park is an easy way to see nature without losing modern comforts. Early Texas settlers would have traded in their raccoon-skin hats for a working air-conditioner in a heartbeat if they knew that one day it would be an option when sleeping outdoors.
Reservations for day use and camping are strongly recommended as this popular state park can fill up quickly during peak seasons.
Where: 11450 State Hwy Park Rd 5, Canyon, TX 79015
Colorado Bend State Park
Situated on the edge of the Texas Hill Country two hours northwest of Austin, Colorado Bend State Park offers stunning scenery, an abundance of wildlife, and plenty of opportunities for outdoor recreation. For travelers who love to hike, bike, or fish, Colorado Bend State Park is paradise. And with its diverse array of plant and animal life spread out over 5,000 acres, the park is also a great place for wildlife enthusiasts.
What to do at Colorado Bend State Park
Hiking and biking: Colorado Bend State Park is home to 35 miles of hiking and mountain biking trails, so even during busy weekends, you won't feel cramped in the outdoors.
The Spicewood Springs trail is where you'll criss-cross the creek while walking along pools of water and waterfalls fed by Spicewood Springs. Feel free to cool off in the swimming holes, just know that there are no lifeguards on duty.
The most popular trail without a doubt is Gorman Falls, a three-mile round trip hike that showcases a beautiful 65-foot waterfall. You'll want to wear sturdy hiking shoes for the journey as you'll be climbing rocky terrain.
Water activities: Six miles of the Colorado River cut through Colorado Bend State Park so you'll have your fill of fishing, swimming, or kayaking on the most beautiful Texas days.
Explore caves: The park has guided cave tours with experienced guides who can navigate your group over, under, and through small spaces that open into large, underground chambers. Prepare to get dirty. Cave experiences are available by guided tour only.
Colorado Bend State Park fees and amenities
The daily entrance fee for people 13 and older is $5, while children 12 and under are free. Walk-in primitive campsites are available for an additional $10 per day while drive-up spaces for RVs (up to 30 feet) can be found for $15 per day. Note that the park doesn't have RV hook-ups nor does it have sewage disposal facilities.
If you don't have a kayak, you can rent single or double kayaks per hour through the park or private companies such as Vanishing Texas River Cruises.
Colorado Bend State Park is extremely popular year-round so you'll want to check campsite availability and make reservations online so you're not left out in the cold.
Where: 2236 Park Hill Dr, Bend, TX 76824
Mustang Island State Park
Travelers looking for a little surf and sand will feel right at home at the state park by the sea, Mustang Island State Park. Named for the droves of wild horses that used to inhabit the island (though the story of how they got there is lost to time), the park covers just under 4,000 acres of state protected land and includes five miles of beach. Visitors can enjoy activities on the beach as well as, fishing, hiking, and camping. The park also features a variety of wildlife, including dolphins, turtles, and seabirds. Mustang Island State Park is a great place to enjoy the natural beauty of Texas and the Gulf of Mexico while being just minutes from Corpus Christi.
What to do at Mustang Island State Park
Wildlife spotting: Hiking and biking trails offer a supreme chance for bird watching for some of the nearly 400 species in the area that call Mustang Island State Park home throughout the year.
If you're looking to get active, the Mustang Island Paddling Trail consists of the North Trail, the Shamrock Loop Trail, and the Ashum Trail which, separately and collectively, guide adventures through over 20 miles of some of the best fishing and bird watching spots along the entire coastal region of Texas. Each trail offers something unique, including different sights and shoreline activities.
Beach activities: The beaches at Mustang Island State Park offer a chance to swim, fish, build a giant sand castle, or wax up your board and surf the waves. You can even enjoy a nice, slow drive along the beach as most of the area is accessible by vehicle except for the southern and northern tips of the state park.
Mustang Island State Park fees and amenities
The fee for park entry is $5 per day for adults while children 12 and under are free. Drive-up primitive campsites are an additional $10 per night (first-come, first-served) while campsites with electricity and water hook-ups are $20 per night (reservations for these are strongly encouraged).
Near the campsites are restrooms and showers, a pet-friendly park, picnic areas, and free beach wheelchair rentals. There's also a small park store offering goods and services.
Where: 9394 Highway 361, Corpus Christi, TX 78418
Ray Roberts Lake State Park
Just an hour north of the heart of Dallas, Ray Roberts Lake State Park is where you can spend a day or an entire weekend communing with nature. The state park consists of nine units in total, with three offering recreation and overnight facilities: the Johnson Branch, the Isle du Bois, and the Greenbelt Corridor. The other six are satellite units of varying acreage, but all are equipped with boat ramps.
What to do at Ray Roberts Lake State Park
Rent a boat: One of the best ways to see the lake and surrounding park areas is by boat. Renting a boat allows you to find your quiet place on the water for fishing, swimming, or taking in a dazzling Texas sunset.
Horseback riding, watersports, and hiking: The Greenbelt Corridor can be found on the south side of the dam at the lake. It is home to 20 miles of multi-use trails where you can surround yourself with nature either from the ground or on the back of an equestrian friend. The trails in the Greenbelt Corridor follow the Elm Fork of the Trinity River down to Lake Lewisville.
Camping, horseback riding, fishing, swimming, and hiking areas can be found in droves in the Isle du Bois and the Johnson units. The main difference between the two is their locations. The Isle du Bois unit is on the south side of the lake, meaning nearer to the Dallas — Fort Worth metroplex. The closer location brings more convenience as far as location is concerned, and more crowds because of the proximity.
The Johnson Unit is on the north side of the lake, which takes longer to get to from Dallas, so it doesn't tend to be as crowded but it's still just as nice. Here you'll want to break out the wakeboards, skis, and tubes for all-day fun.
Boating and fishing: The 29,000-acre lake offers plenty of boat ramps for those looking to spend the day on the water. Whether you want to fish from a boat or the pier, the park also has plenty of fish cleaning stations at public disposal.
If you need boating supplies or repairs then you might consider the Lake Ray Roberts Marina, which also features private restrooms, private showers, as well as pontoon boat and kayak rentals.
Ray Roberts Lake State Park fees and amenities
Daily fees are $7 for adults and children under 12 are free.
If the company you keep prefers not to sleep under the stars the area features modern lodging options such as the Lone Star Lodge and Marina. The Lone Star Lodge also houses horse stalls and the only marina on the east side of the lake.
Where: 100 P W 4137, Pilot Point, TX 76258 (Isle du Bois Unit)
Pedernales Falls State Park
Just west of Austin, the Pedernales River washes over huge limestone slabs where local rain determines whether the crowds of visitors to this popular Texas destination see a raging torrent of water or a glassy, serene stream.
Locals descend on Pedernales Falls State Park for a day of swimming, hiking, outdoor adventures, or simply to relax under the umbrella of its towering trees. No matter where you're visiting from or whether you're looking for a challenging hike or a peaceful place to relax, Pedernales Falls State Park is sure to please.
What to do at Pedernales Falls State Park
Soak in nature: Camp, hike, and mountain bike in the beautiful outdoors. Picnic on a riverbank or under an old tree with friends while watching out for wildlife at the bird blind or butterfly garden. Hit the Twin Falls Nature Trail for spectacular views at the top of the falls, or for a more challenging walk or bike ride take a run at Wolf Mountain Trail to cool down at Arrowhead Pool. Advanced riders will want to head straight for Juniper Ridge Trail, where the 10-mile single-track trail will guarantee thrills and technical obstacles.
Horseback riding is also permitted for experienced riders over 10 miles of rugged trails. Your horse friends should have shoes and you must present a current Coggins test at the main park office.
Swim or other water sports: If you're looking for aquatic adventures, try your hand at fishing, tubing, wading around in the pools of water, or swimming. A quick warning about swimming at Pedernales Falls State Park: the hike to the swimming area is about a fourth of a mile up steep rock stairs that have no handrail. Wear sturdy and slip-resistant shoes. No swimming or wading is allowed in the Pedernales Falls area.
Pedernales Falls State Park fees and amenities
Adults fees are $6 per day, while children 12 years old and younger are free. Hike-in primitive campsites are an additional $10 per night while campsites with electricity are $20 per night.
Pedernales Falls State Park is extremely popular and reservations are highly recommended so you're not left on the outside looking in on those hot summer days.
Where: 2585 Park Rd 6026, Johnson City, TX 78636
Longhorn Cavern State Park
Longhorn Cavern State Park sits an hour and a half northwest of Austin and is a short distance away from another state park favorite, Inks Lake State Park. While it offers beautiful hiking trails, picnic areas, and plenty of local history to chew on, the main attraction lies beneath the surface: an extensive cave system that can be enjoyed by the whole family.
What to do at Longhorn Cavern State Park
Explore the cave: The most popular activities are the guided tours that lead you underground. The cavern walking tour is one of the better options available and can be booked up to 30 days in advance. The demand for the tour makes online reservations a smart move so you get the date and time that your group desires for better planning out the rest of your trip.
A more adventurous option is the Wild Cave Tour which will require a bit more physical exertion as you climb, slide, and wiggle through an undeveloped part of the cave system. You're guaranteed to get dirty and maybe a little wet. You're also going to have an incredibly fun time doing it.
When you're finished with the caves, enjoy miles of hiking trails and beautiful picnic areas where you can grab a bite to eat and talk about the adventures you just had beneath the surface. You can also go gemstone and fossil mining, where you can sluice for artifacts while sifting through sand and debris.
Longhorn Cavern State Park fees and amenities
There is no charge for entrance into the Longhorn Cavern State Park above-ground areas, hiking trails, historic buildings, or picnic areas.
Guided cave tours are free for children under three, $16.95 for ages 4 through 11, and $20.95 for adults. Wild cave tours are $99.95 per person.
Where: 6211 Park Road 4 S, Burnet, TX 78611
Inks Lake State Park
Nine miles west of Burnet lies Inks Lake State Park, a popular local destination for people who are looking for a little relief from those sizzling summer days. Guests are treated to gorgeous 1,200 acres of Hill Country scenery which is highlighted by Inks Lake. The lake was created in the 1930s by the completion of two dams, Buchanan Dam to the north and Inks Dam to the south, to help control the flooding of the Colorado River.
What to do at Inks Lake State Park
Cool off in the water: People from all over the state flock to Inks Lake State Park to cool off during peak summer months. Swimming, fishing, scuba diving, tubing, and paddling keep travelers happy while offering a complete day, or long weekend, of adventures. Paddle boats, canoes, kayaks, and safety equipment are available for rent at the park store.
The Devil's Waterhole may sound ominous, but it's a popular swimming and play spot along the lake. Your group will want to be careful as you walk on the rocky shores and among the prickly pear cactus, but the memories made splashing around in the lake waters will last a lifetime.
Inks Lake State Park has a boat ramp and two fishing piers where angulars can try their luck at catching sunfish, catfish, and several different species of bass.
Hiking: The park also features miles of nature trails where hikers and backpackers will climb pink granite hills where they are rewarded with mesmerizing Hill Country landscapes.
Inks Lake State Park fees and amenities
Adult entry fees are $7 per day while children 12 and under can visit for free.
Hike-in primitive campsites are $11 per night, while spots with water spigots can be found for $16 nightly (RVs under 26 feet allowed). Tent-only campsites with electricity will cost $21 per evening while RV spots with electricity can be reserved for $23 per night. All sites have wheelchair-accessible lots available. Cabins (two of which are ADA-accessible) with modern amenities such as air conditioning, ceiling fans, and outdoor grills are available for rent for $55 per night.
Inks Lake State Park also features two fishing piers that are both wheelchair accessible for all-day family fun. Fishing equipment can be borrowed and returned at the park store, and fish cleaning stations are available for public use.
Where: 3630 Park Rd 4 W, Burnet, TX 78611
Monahans Sandhills State Park
Monahans Sandhills State Park offers visitors a truly special experience. Instead of camping and playing among the trees and beaches as you can at other state parks, here you're invited to romp and sport (and even surf) in an ocean of sand.
What to do at Monahans Sandhills State Park
Sand surfing: Try renting a sand disk and surfing down the dunes. Bring plenty of water (it is a desert after all) and wax up your disk to glide and roll along the soft dunes at sunset with the entire family for hours of fun.
Hiking and horseback riding: There are no marked trails within the park, so you can explore on foot or horseback any way you like. An 800-acre equestrian area is available if you choose to bring your large four-legged friends with you.
Monahans Sandhills State Park fees and amenities
People 13 or older are required to pay $4 per day for entry, while children 12 years of age or younger are free.
More 20 campsites with electricity and water hookups are available throughout the year for $15 per night. Here, you'll have access to picnic tables, a grill, and a fire ring. Restrooms and showers are near to the campsites as well. Campsites with potable water for those traveling with horses are $15 per night (plus an additional $2 per horse). Here you'll have a designated parking area, but no tents are allowed. Be advised there are no pens in the area, so be prepared to bring along your panels or solar fencing.
Where: Exit 86, 2500 I-20, Monahans, TX 79756
Franklin Mountains State Park
Out in the west Texas town of El Paso, you'll fall in love with the high-desert mountains of Franklin Mountains State Park. It's the westernmost point of Texas, where hundreds of miles of trails are waiting for you to challenge yourself to put the phone down and get back to nature.
Here, you'll find spectacular sunrises and sunsets, demanding rock climbing exploits, and 27,000 acres of land ready to be explored.
What to do at Franklin Mountains State Park
Explore the trails: At Franklin Mountains State Park you'll have your fill of over 100 miles of trails which you can delve into either by foot or on your mountain bike. Trails like the El Paso Tin Mines Trail offer an easy way to experience the park that the whole family can enjoy together. A more advanced option, such as the Aztec Cave Trail, offers benches along the way to sit and enjoy the scenic overlooks. Most of the trails within the park are kid and dog friendly, but be sure to check the local maps just to be sure before setting out.
Rock climbing: Rock climbing in McKelligon Canyon or at Sneed's Cory is for those visitors looking to inject a little adrenaline into their state park experience. Bring your equipment though, because the local park store doesn't carry any rentals.
Birding: More than 100 species of birds visit or live in the mountains, including golden eagles and Ash-throated flycatchers.
Franklin Mountains State Park Fees and Amenities
Daily entrance fees are $5 per adult while children 12 years old or younger are free to enter.
There are also 14 tent campsites as well as five RV sites, but you'll want to plan ahead as none of the sites offer electricity or water.
Where: Tom Mays Park Access Rd, El Paso, TX 79930
Huntsville State Park
Settled in the East Texas Pineywoods a short drive north of Houston, Huntsville State Park has 2,000 acres of pristine land shaded by tall pine trees where visitors are invited to fish, hike, camp, picnic, swim, or paddle out on the water.
Its proximity to Houston makes it a popular destination for those looking for a little outdoor relief, so you'll want to make reservations to secure your day passes or camping area.
What to do at Huntsville State Park
Fishing and boating: Out on the 210 acres of water from Lake Raven, anglers will be fishing for a variety of perch, catfish, and bass either from the fishing piers or from your boat.
Designated swim areas are open from 10:00AM to 8:00 PM and kayaks can be rented near the Raven Lodge (which is also a popular wedding event location).
Hiking: Huntsville State Park has over 20 miles of hiking trails ready to be explored including the popular Chinquapin Loop Trail and Prairie Branch Loop. Also, close by is a trailhead for the 129-mile-long Lone Star Trail that cuts through private and public lands and roads.
Golf: A central location means other options near and outside the park are available such as the nearby Shawshank Disc Golf Course.
Huntsville State Park fees and amenities
Daily entry fees are $7 for adults while children 12 and under are free.
Campsites with water are $15 per evening, while campsites with water and electricity are $20 nightly. There are wheelchair-accessible sites available upon request. Full hookup sites designed for RVs and motorhomes are $25 plus the daily entry fees.
Several screened shelters are open to rent for $30 nightly and have water and electricity available.
Two cabins with air conditioning are available for those in your group who don't want to fully immerse themselves in nature. The cabins don't have bathrooms, though, so be prepared for the "I don't poop in the woods" stare. These will cost you $60 every night plus a $50 refundable deposit.
Each camp area and shelter must be rented for both Friday and Saturday evenings. The park campsites have restrooms and showers nearby with hot water.
Where: 565 Park Road 40 West, Huntsville, TX 77340
What did you think of this story?