6 Small, Lakeside Towns Within Easy Driving Distance From Chicago
Lake Michigan is truly a 'great' lake, the fifth largest in the world, with a surface area of over 22,000 square miles and some 1,640 miles of shoreline. Chicago is the biggest city on the lake, but if you're looking to escape the city for a long weekend of fun and relaxation, there are so many charming small towns along the banks.
The Great Lakes Circle Tour is a driveable 900-mile loop, and while you take on the almost 15-hour drive, a better plan is to break it into separate trips. Heading north from Chicago, towards Milwaukee, it takes about 3.5 hours to reach the tip top of the Door County peninsula. Alternatively, opt to drive through Indiana, towards Michigan. It only takes about 45 minutes to reach the Indiana shoreline, where the Indiana Dunes, a stunning brand-new national park, offers a glimpse into the unique regional ecosystem.
Lakeside towns offer patio dining with prime views, one-of-a-kind shops, and outdoor adventures, including sailing, stand-up paddleboarding, swimming, or soaking up the sunshine.
Here are six small towns on Lake Michigan worthy of a road trip from Chicago.
We hope you love the spaces and stays we recommend! Just so you know, Matador may collect a small commission from the links on this page if you decide to book a stay.
Porter, Indiana and Indiana Dunes National Park
Re-designated as the nation's 61st national park in 2019, Indiana Dunes National Park is on a 15-mile stretch along the southern shore of Lake Michigan. It's the closest US national park to the city of Chicago. With its over 15,000 acres of sandy dunes, oak savannas, swamps, bogs, marshes, prairies, rivers, and forests, the park offers unforgettable outdoor adventures.
The hiking trails and beaches are the main reasons to visit. Popular trails include the Great Marsh Trail and Three Dune Challenge, a 1.5-mile epic climb up the three tallest sand dunes. If you're not up for hiking, bring your swimsuit, pack a picnic, and while away a sunny afternoon on the park's eight pristine, white-sand beaches.
Where to eat and drink in Porter
Celebrate a day outdoors with beer paired with award-winning ribs at Wagner's, where nine taps flow with beers unique to northwest Indiana. Tacos and margaritas are the pairing du jour at Leroy's Hot Stuff — another local favorite. The Village Tavern, located on Lincoln Street in historic downtown Porter, is also popular and hosts live bands weekly.
Where to stay in Porter
The best way to experience the natural beauty of the Indiana Dunes is to pitch a tent dune-side and spend the night under the stars at the Dunewood Campground. Another option is the Pool Barn, an Airbnb guest house steps away from the dunes, with big-value extras including a swimming pool, hot tub, air hockey, billiards, ping-pong, darts, and foosball.
New Buffalo, Michigan
Just 90 minutes from Chicago, on Michigan's southwest coast in Harbour County, New Buffalo is beloved for its expansive beaches and relaxed lifestyle. It's also home to plenty of fruit farms, and the region's cherries, blueberries, strawberries, and peaches find their way into cakes and pies at restaurants and bakeries around town.
Where to eat and drink in New Buffalo
When you aren't relaxing on Harbor County's white sand beaches, set off on a gentle, scenic cruise with Harbor County Adventures, pick blueberries or indulge in a slice of blueberry pie at Stateline Blueberries, or sample local brews on tap at a brewery housed in an old church at Beer Church Brewing.
When hungry, families flock to casual eatery Redamak's, a New Buffalo institution for over 47 years, for their mouthwatering burgers and milkshakes. Another popular spot is The Stray Dog Bar and Grill which serves salads, sandwiches, and margaritas, plus sweeping views of the harbor from their rooftop dining area.
Where to stay in New Buffalo
Harbour County has several lodging options, from rustic cabins to boutique hotels. The Neighborhood Hotel Grand Beach offers fourteen large, stylish suites, including two cottage homes plus three fire pits, a pool, and The Living Room — a common indoor space stocked with games and a communal bar. Guests can also pre-order freshly baked pies, wine, beer, bloody mary and mimosa kits from Froelich's, a beloved local bakery, to be in their suite upon arrival. If you are traveling with a group, this elegant lakeside rental between Lake Michigan and the Galien River Nature Preserve sleeps 12 and is a superb option if you have kids who like the outdoors.
Saugatuck, Michigan
Located 141 miles from Chicago, Saugatuck, Michigan, is an artsy lakeside town thanks to the presence of the Art Institute of Chicago's Oxbow School of Art. Artists have long been drawn to the area for its natural beauty. The Saugatuck Center for the Arts regularly features exhibits by local and international artists, and every summer, the Saugatuck Douglas Art Club hosts two juried outdoor art fairs — the Waterfront Invitational Fine Art Fair and the Village Square Arts and Crafts Fair.
Stroll Saugatuck's many art galleries, bike the Blue Star Trail — a 20-mile long, paved trail that runs along the Blue Star Highway — or rent a kayak and paddle the Kalamazoo River. Check out the thriving art scene or pitch your umbrella on the town's award-winning beaches bordered by grassy dunes.
Where to eat and drink in Saugatuck
For breakfast sip mimosas and dig into sweet and savory breakfast dishes at GROW Café + Bistro, the go-to brunch spot in Saugatuck. Or fuel up with high-quality coffee brewed from beans roasted in-house and enjoy freshly baked goods, including cookies, croissants, cakes, and muffins at Uncommon Coffee Roasters. In the evening enjoy southern–style dishes and boozy cocktails at The Southerner, a casual, lakeside eatery.
Where to stay in Saugatuck
The Hotel Saugatauk's deluxe rooms with fireplaces and whirlpool tubs make for a romantic lakeside retreat. Or rent an Airbnb cabin where a hot tub will warm your soul on cooler Michigan nights. Another option is this cozy bungalow, which is an easy 1.5 mile bike ride to Oval Beach.
Port Washington, Wisconsin
Although it's located just 27 miles north of Milwaukee, Port Washington is a peaceful harbor town with a shoreline centered by an Art Deco lighthouse.
This is one of the best places in the state to catch Wisconsin king salmon and to truly experience this port town, you'll want to test your fishing skills on a salmon fishing charter with C & D Charters. When you're not fishing, tour the lakefront from the comfort of a Segway, hike one of the last stretches of undeveloped bluff land along the Lake Michigan shoreline, or catch some rays as you sip a wide selection of local brews on tap from Schooner Pub's deck overlooking the marina.
Where to eat and drink in Port Washington
For lunch head to Yummy Bones where Pitmaster Robert Meredith brings his southern Mississippi roots to the table. If you are looking for entertainment, the Singing Salmon Saloon features comfort cuisine paired with live music. And for drinks, settle in at the old-timey wooden bar of the Schooner Pub and you'll feel as if you've stepped back in time to early 20th century Wisconsin.
Where to stay in Port Washington
In downtown Port Washington, next to the Port Washington Marina, The Harborview offers elegant rooms with lake views. Or check out the Helena House is a renovated 1913 Bungalow with a handicap accessible shower, a fully furnished kitchen and a front porch overlooking the lake.
Sturgeon Bay, Wisconsin
Located 230 miles from Chicago, Sturgeon Bay is a fisherman's paradise and a ship-building hub with a rich maritime history. We love it for its historic, lakeside downtown, home to pubs alive with live music, cozy coffee shops, and an adorable independent bookstore, Novel Bay Books. The town is an excellent base for exploring the beautiful Door County Peninsula, and home to some of the best bass fishing in the world.
Set off on a chartered fishing excursion to see if you can score a catch of the day. If you need to stretch your legs, climb one of Door County's many lighthouses or embrace nature and hike a segment of the Ice Age Trail.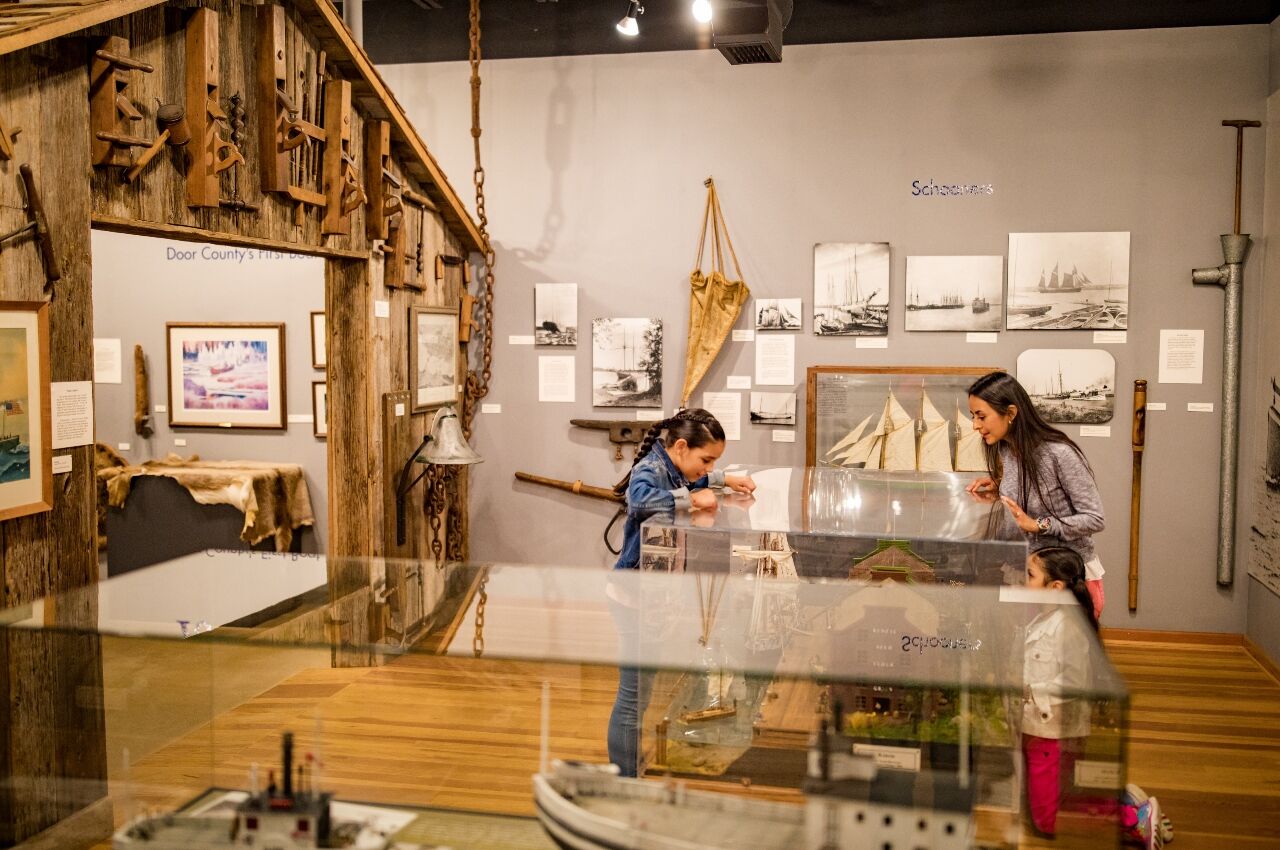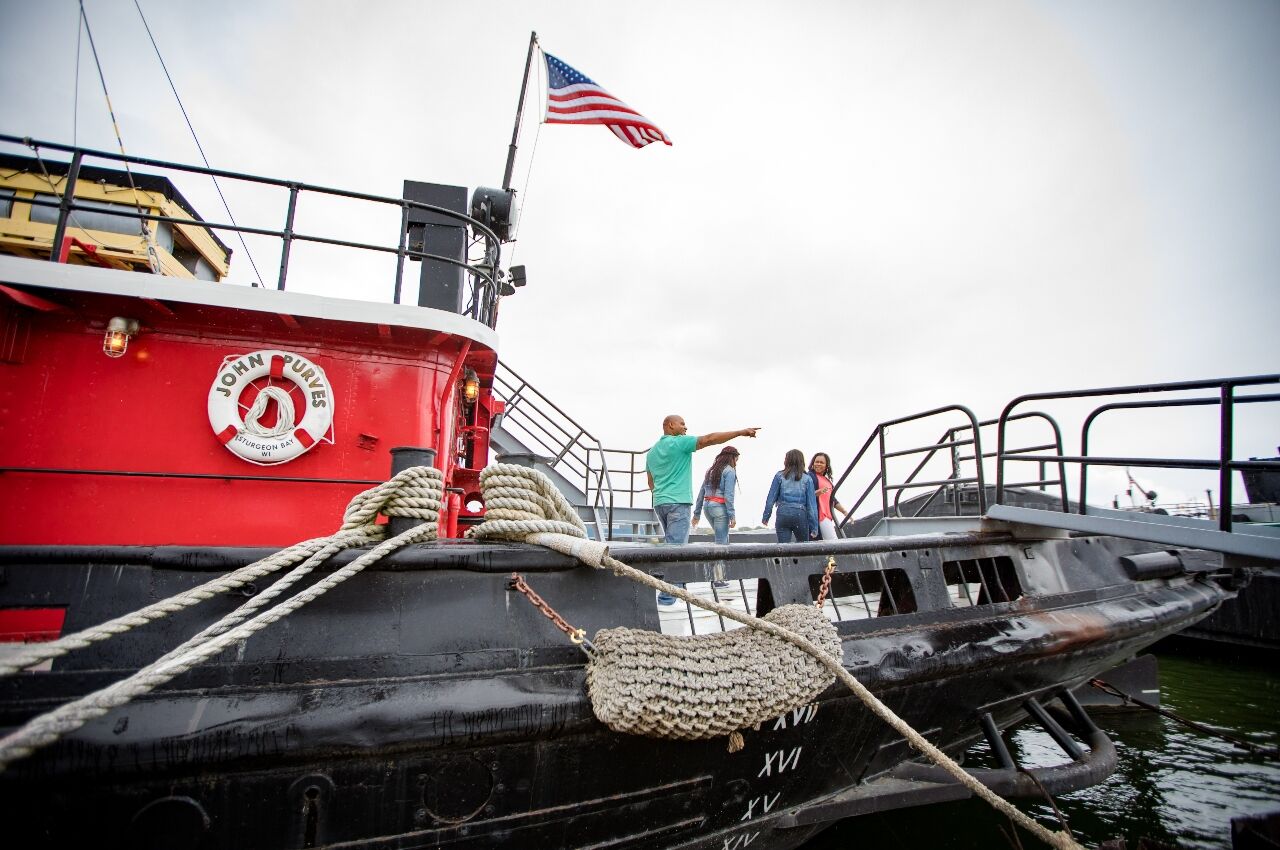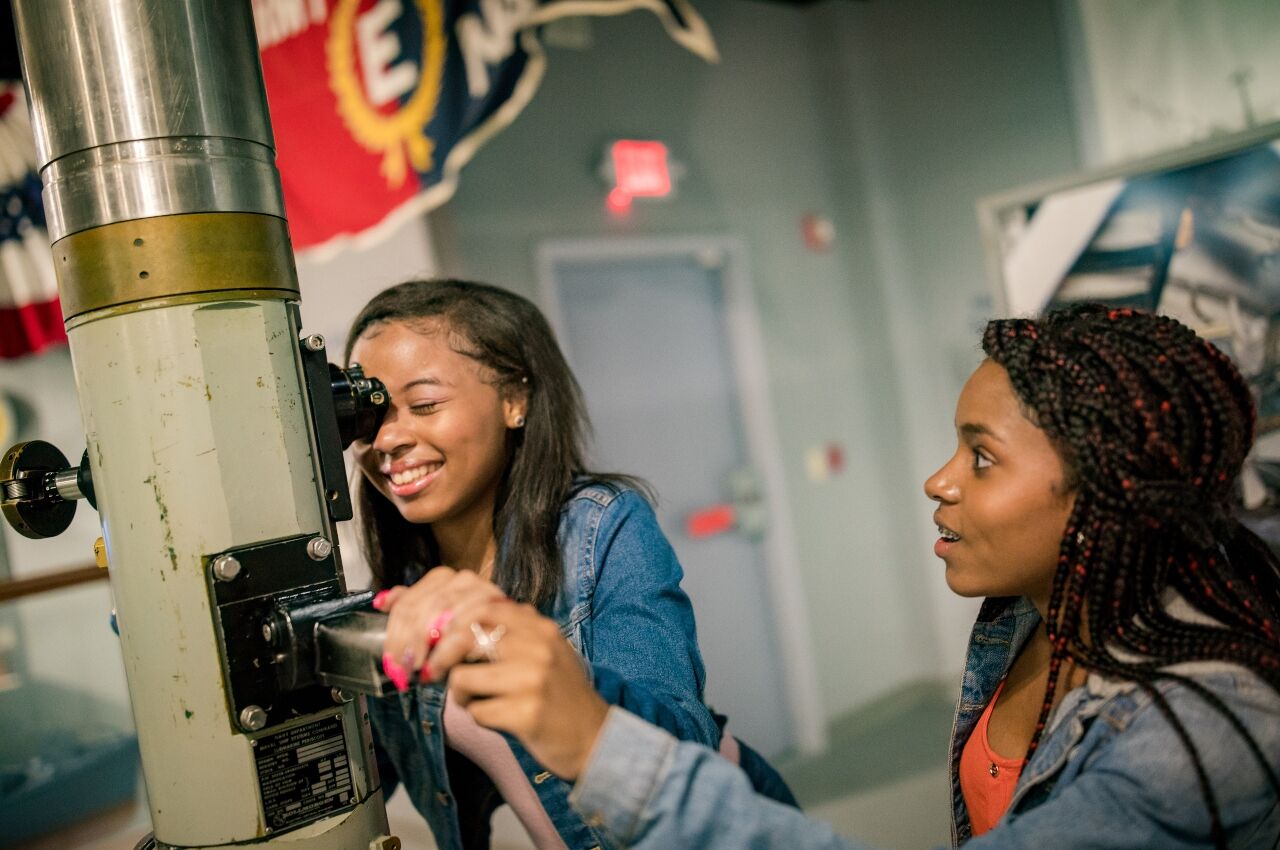 We also recommend stepping back in history at the Door County Maritime Museum which features interactive exhibits and offers tours.
Where to eat and drink in Sturgeon Bay
Don't forget to stock up on award-winning cherry cheddar at Renards Cheese, then enjoy soups and sandwiches starring locally sourced ingredients and artisan cheeses at the extensive cheese shop's in-house cafe, Melt Bistro. If you'd rather eat from your rental, take home an Italian-American-style family meal, including entrees, a quart of soup and a loaf of freshly baked bread from Scaturo's Baking Co & Cafe.
Where to stay in Sturgeon Bay
Sturgeon Bay is home to many historic inns, such as the turn-of-the-century White Lace Inn and the antique-filled Chanticleer Guest House. If with a family, Airbnb Sawyer Harbor Retreat can accommodate a big group comfortably and comes with a private dock for launching kayaks or canoes.
Fish Creek, Wisconsin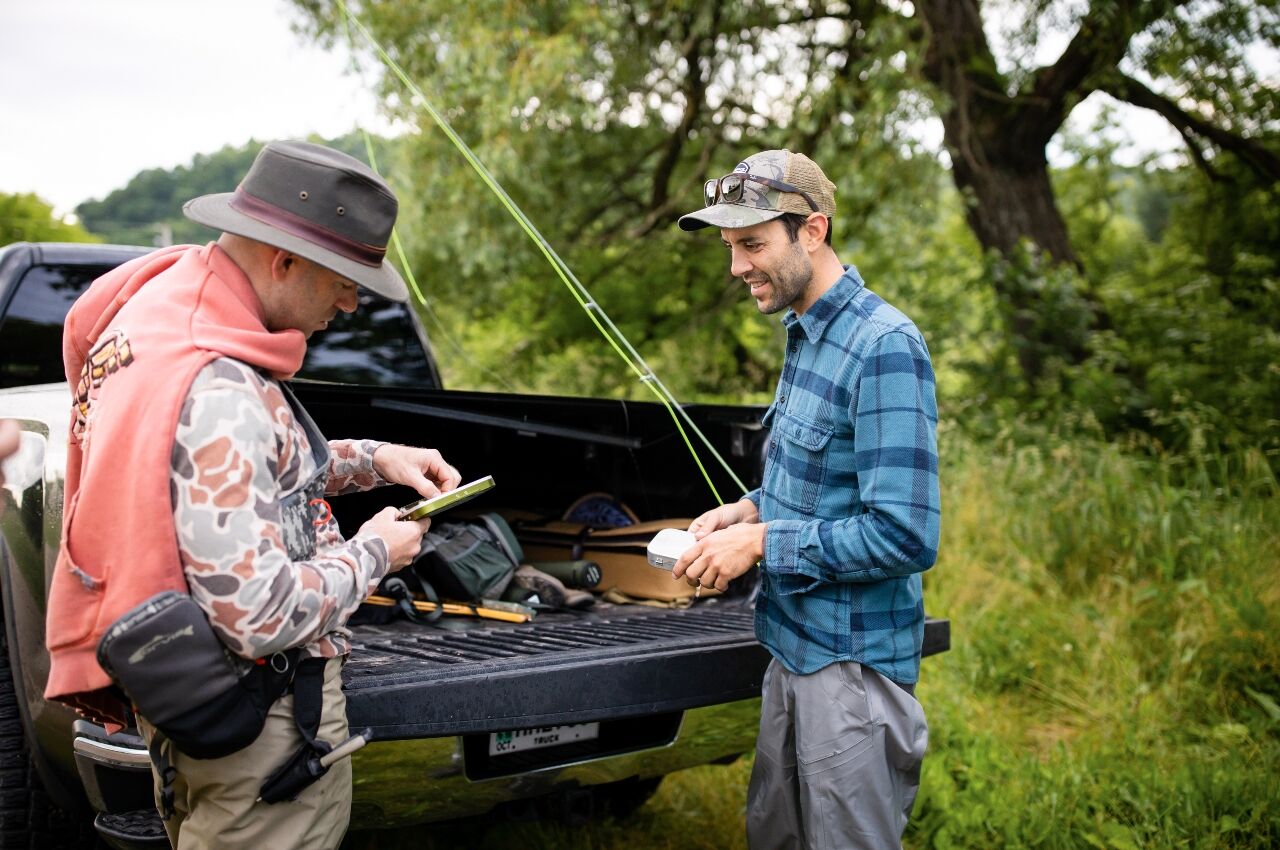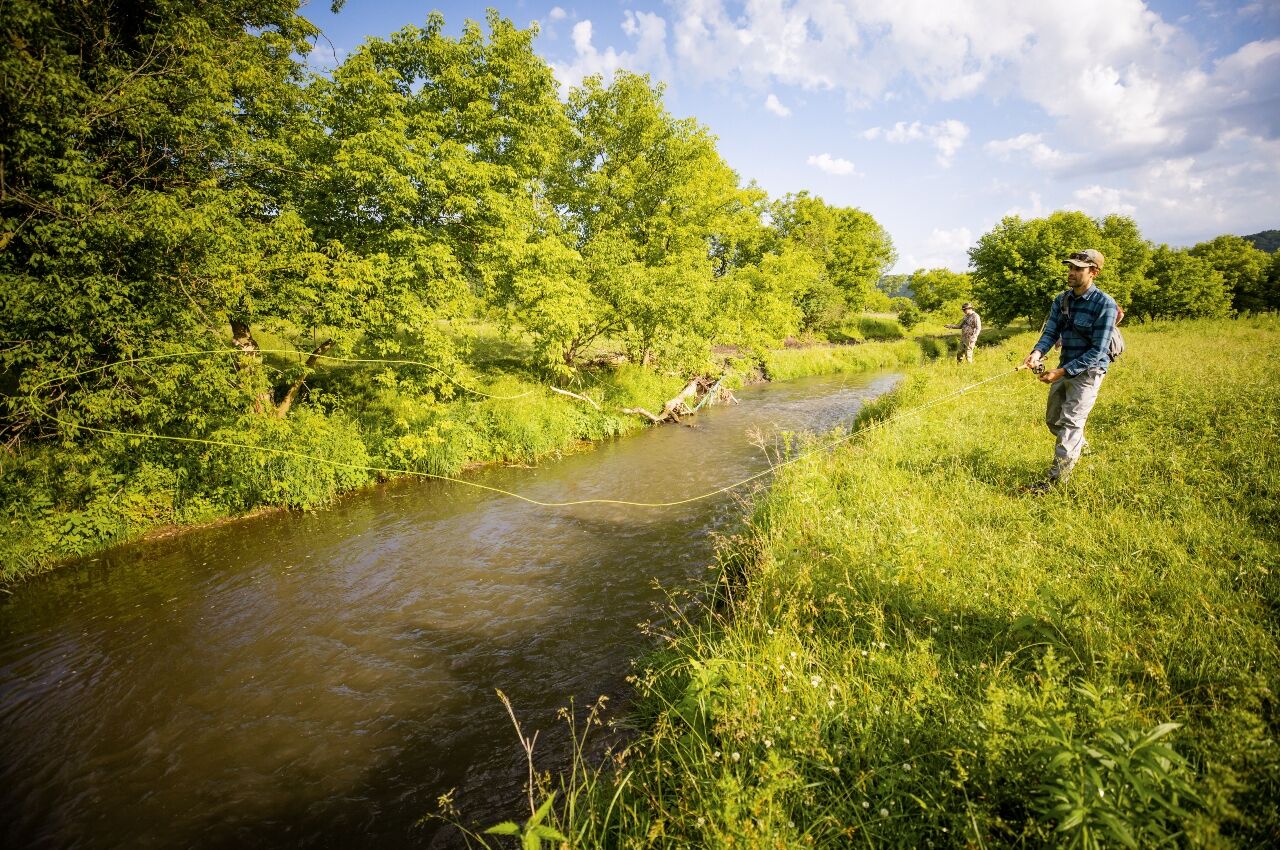 Located along Green Bay, about 25 miles north of Sturgeon Bay, Fish Creek was known as Ma-go-she-kah-ning, or "trout fishing" by the native Menominee and Ojibwa. In the mid-1850s, the area was settled by loggers and fishermen, and several traditions linger from this storied maritime past, including the traditional fish boil.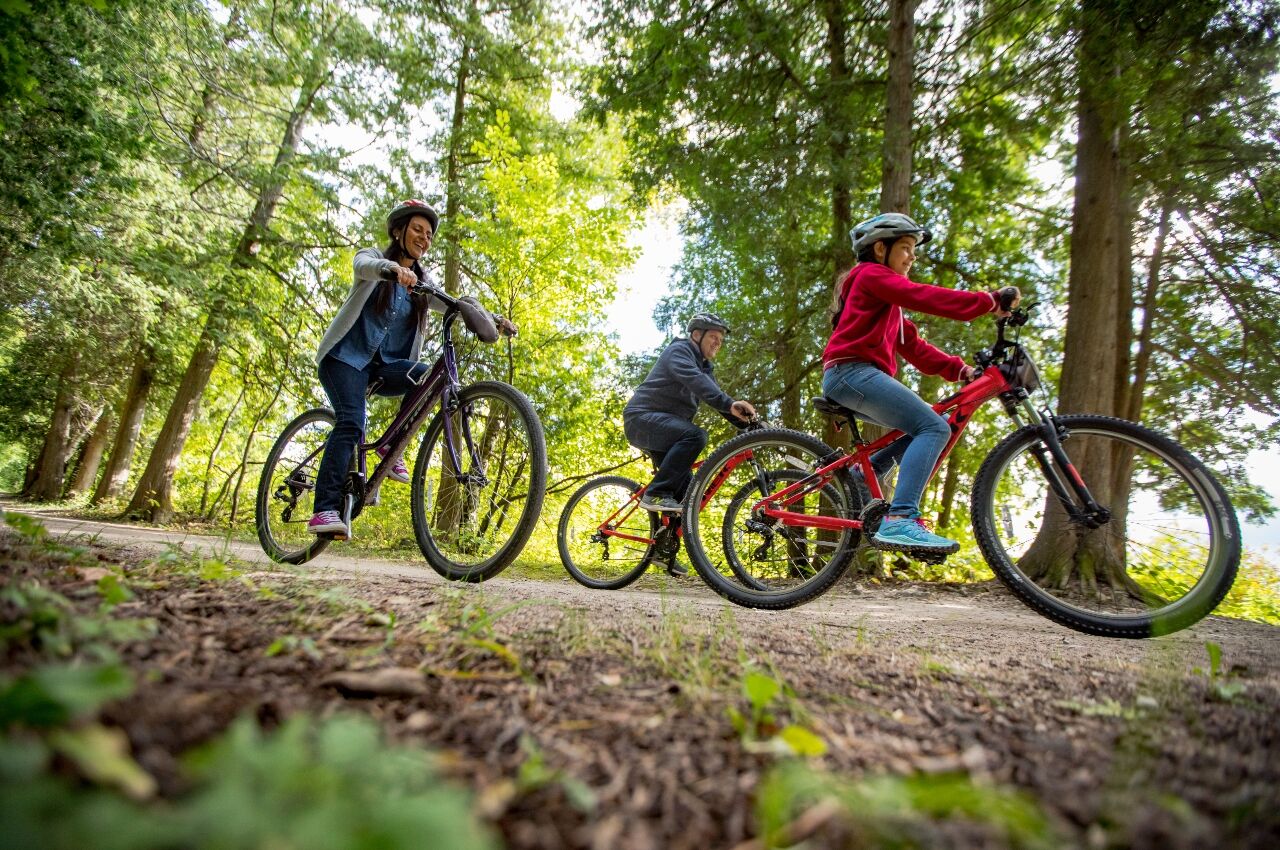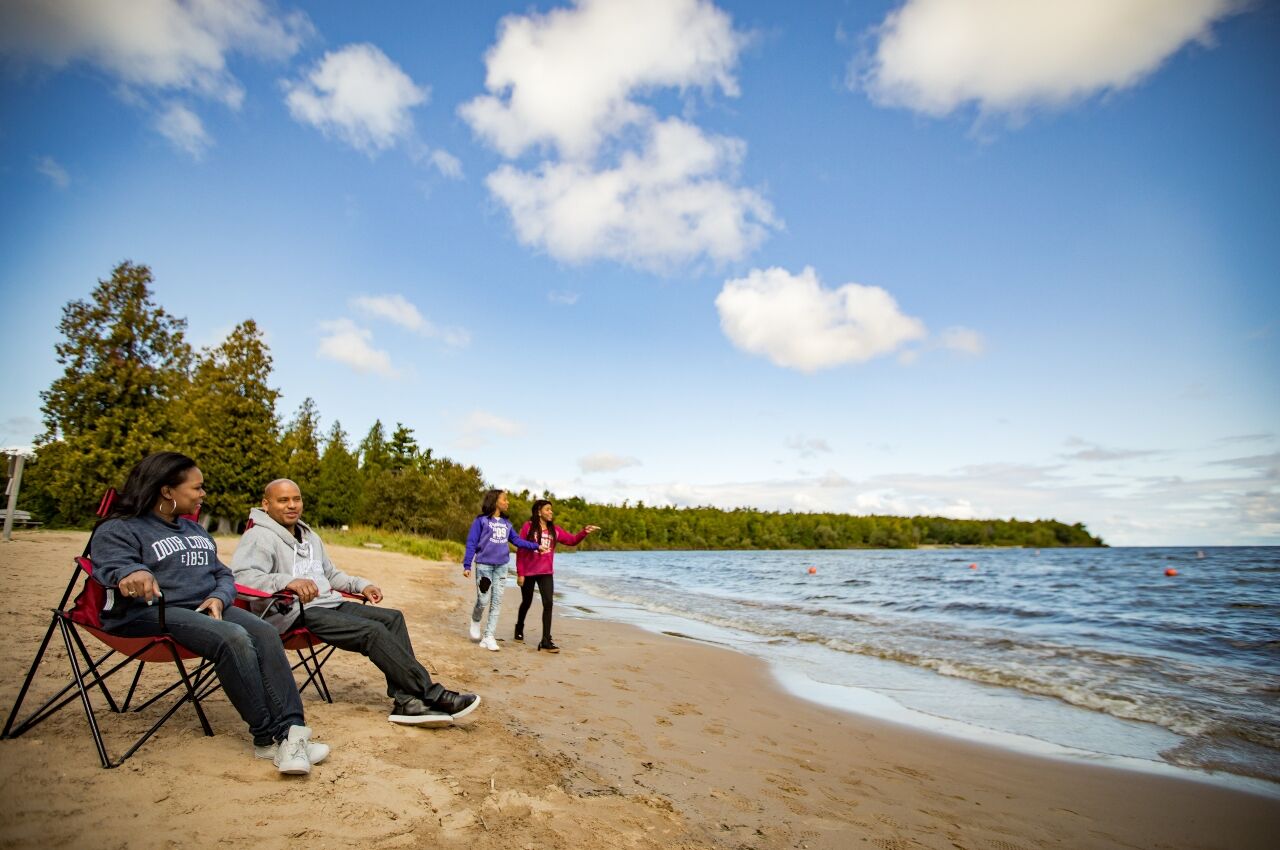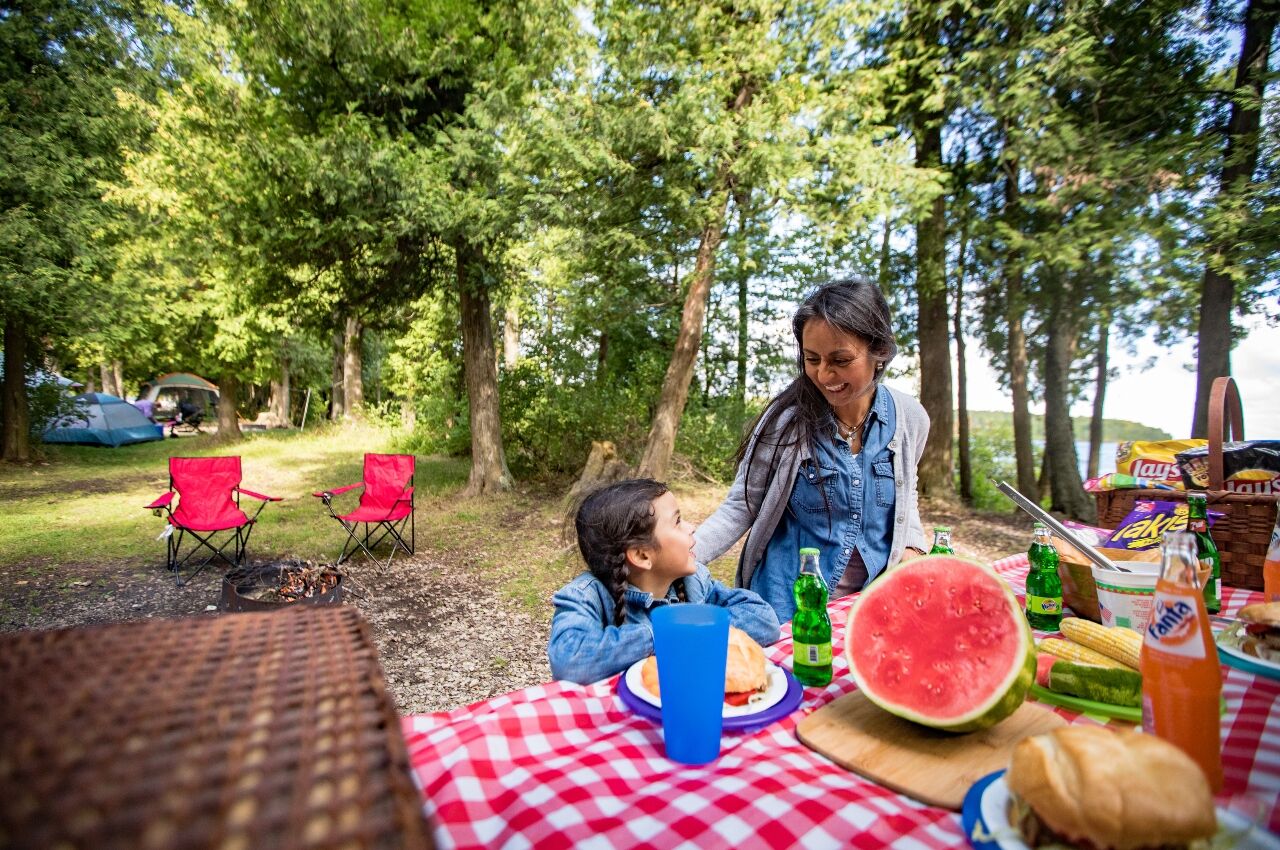 Peninsula State Park, the third largest park in Wisconsin, is Fish Creek's 3,776-acres nature preserve, best known for its rocky bluffs overlooking Lake Michigan. Hike, bike or stroll the park's many scenic trails, or climb the 60-foot-tall Eagle Tower, Wisconsin's first accessible observation tower. If arts and culture are your jam, catch a show presented by the Peninsula Players, the oldest resident summer theater in the US.
Where to stay in Fish Creek
Located a few steps from the lake, the White Gull Inn was established in 1896 and features rooms, suites and cottages filled with original antiques and turn-of-the-century flair. Julie's Park Cafe and Motel is situated within walking distance from downtown Fish Creek's boutiques and restaurants and is beloved by locals for its hearty brunch. If you'd prefer an Airbnb, this stone cottage is immersed in nature, with a fire pit made for marshmallow roasting.
Where to eat and drink in Fish Creek
In addition to offering lodging, the White Gull Inn hosts a classic Door County fish boil most evenings. Skaliwags, located in downtown Fish Creek, serves upscale cuisine with a southern twist and Alexander's makes the best traditional old-fashioneds in town.
What did you think of this story?