The Most Durable Jacket for Outdoor Adventure Is on the Market Right Now
To say I'm an outdoor enthusiast is an understatement. As an outdoor writer and photographer, I'm in dirt-caked hiking boots more often than not. I've gone weeks without seeing my bed thanks to trips around the world. I lived in a 60-square-foot van for two years, traveling from Canada to Mexico and around the US west. It's safe to say that space for gear is endlessly tight. The real challenge about constantly being on the road is having reliable, tried and true gear you know you can trust when the weather or an adventure calls – you don't have a lot of room, so you need to be picky. That's why I fell in love with my Stretchdown Light Pullover from Mountain Hardwear the moment I slipped this stylish and durable down puffy over my head.
From climbing and camping to hitting the town, the Stretchdown Light Pullover is a perfect lightweight puffy for every adventure. And right now, it's on sale for 50 percent off ($119.83) during the REI Labor Day Sale. Both women's and men's options are available.
We hope you love the Mountain Hardwear Stretchdown Light Pullover! Just so you know, Matador may collect a small commission from the links on this page. Listed prices are accurate as of the time of publication.
Buy Now – Women's
Buy Now – Men's
Mountain Hardwear Stretchdown Light Pullover: The Stretch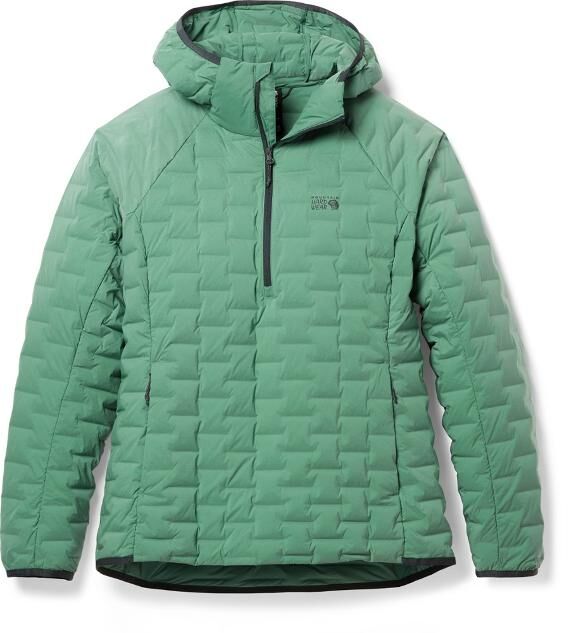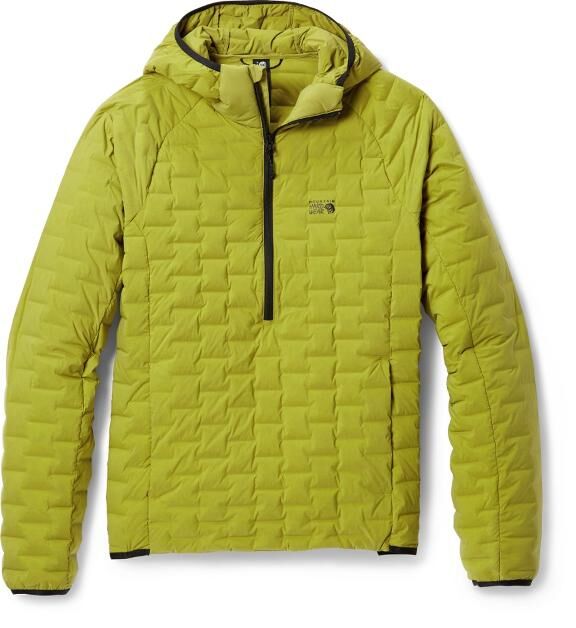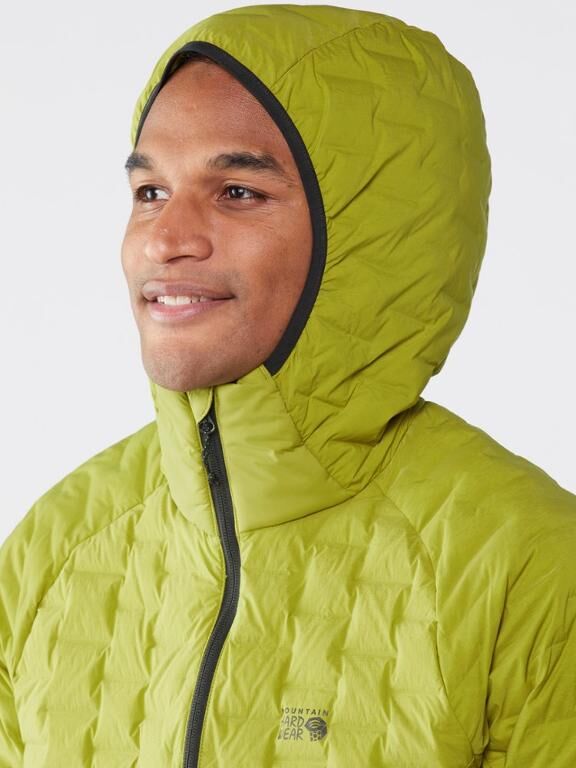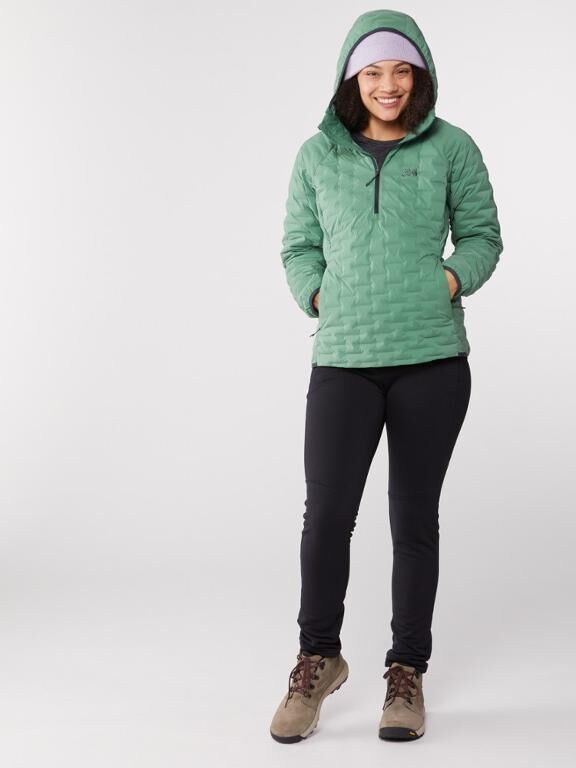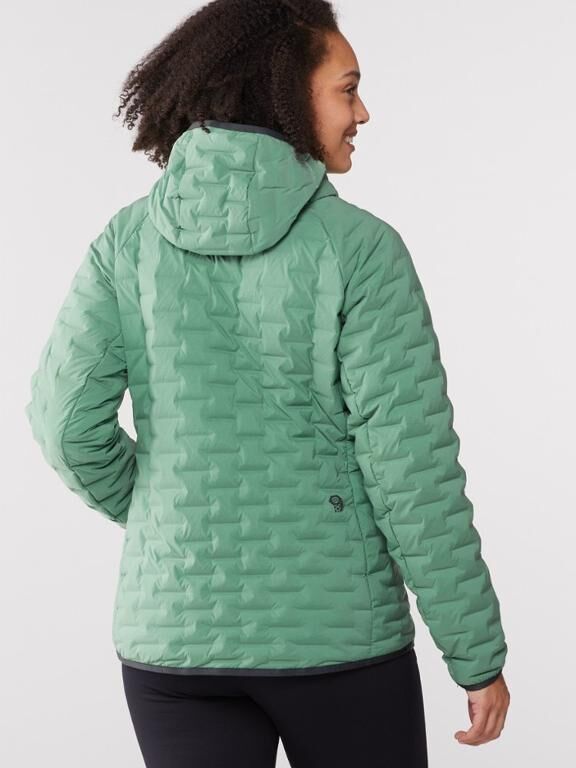 I used to be a die-hard pullover fan. When I was introduced to adventures where helmets were a must, I found the freedom of the full-zip. Now, even while donning a helmet, the Stretchdown Light has made me fall in love with pullovers all over again.
Stretch is the first word in this pullover's name for a reason. Consisting of 86 percent nylon and 14 percent elastane, the Stretchdown doesn't function or feel like a classic puffy – it lets you move freely while ensuring the putting-on and taking-off process is just as fluid as a full-zip. The Stretchdown doesn't ride up when moving and grooving, something I often struggle with when it comes to puffy jackets. The stretch moves with me, and sometimes I even forget I'm wearing it.
This fabric isn't just stretchy, it's also incredibly durable. The Stretchlight is wind resistant meaning being tough is in its DNA. This pullover holds up well to meet-and-greets with rock faces and gear-packed trucks alike–mine is still hole-free, a rare occurrence in my puffy world.
The Down used in the Mountain Hardwear Stretchdown Light Pullover
When exploring in chilly temps is on your itinerary, you want to ensure that you're using gear that will perform— your safety and comfort are at stake after all.
The second word in the Stretchdown Light Pullover— down. The Stretchdown is crafted with RDS-certified goose down. RDS is the Responsible Down Standard, which verifies strict animal welfare standards were met during production. 700-fill means that this jacket is extremely warm while remaining lightweight— the perfect combination when it comes to down jackets (if you ask me). The Stretchdown's high-quality, lightweight, and compressible down is one of the many reasons this is my go-to puffy when adventuring.
The Light
Weight isn't always an issue, but when you're thinking about comfort and a heavy pack, it makes its way onto your radar (age might also be a factor, but hey, it's just a number right?).
The third word is light, and the Stretchdown Light does not disappoint. Packable so you can bring it anywhere and slim enough to fit under a harness or shell, I love the versatility the Stretchdown provides while still keeping me warm (thanks, 700 fill!). The lack of bulk makes it easy to forget you're wearing the Stretchdown whether you're camping in the woods or headed to the grocery store.
Additional Features of the Mountain Hardwear Stretchdown Light Pullover
Have I mentioned how stretchy the Stretchdown is? Yes? Well, that is far from the only feature I love about this cozy pullover.
The more pockets the merrier, and the Stretchdown has two exterior zip front pockets that are ideal for days in the mountains—losing keys is a thing of the past. It's also making waves on the pocket frontier: something a little extra I love is the huge interior kangaroo (non-zip) pocket—it's perfect for keeping climbing shoes warm on fall days when it's your turn to belay.
As mentioned in the title, the Stretchdown Light Pullover is, in fact, a pullover. The half-zip pullover design opens lower than most others I've tried, allowing for more ventilation and a less cumbersome removal when wearing a helmet.
Any Downsides?
It's safe to say I love the Stretchdown. The only downside I've noticed is that it lacks cinch cords. The hood fits perfectly for me, but I know folks who love to cinch hoods so tight you can barely see their noses. Similarly, though the hem is run with elastic, it doesn't have a cinch cord for those looking to adjust.
What did you think of this story?