There Are About 5,000 Women's Trail Shoes Available. But These Are the Only 6 You Need.
Whether you call them trail runners, hiking shoes, hikers, trail shoes, or some combination of the four, the fact remains that a pair of lightweight trail shoes are one of the most useful and versatile pieces of footwear you can have in your closet. They're light enough for travel, durable enough for hikes, and lightweight enough for running. And spring is the best time to buy a new pair of women's trail shoes, since it's when brands introduce their newest styles. That gives you a month or two to break 'em in before setting out on your longer backpacking trips, and may mean you can find last year's models on sale.
While all types of hiking footwear have their place — hiking boots are ideal for trips where you're carrying a heavy pack and trail sandals can be useful for quick hikes with stream crossings — a comfortable, lightweight pair of women's trail shoes can serve as your go-to shoe for outdoor adventuring.
I'm a huge fan of hiking. I wrote a 300-page trail guide to hiking around Lake Tahoe, and try to hike at least once a week (when the trails aren't covered in snow). I usually do several backpacking trips each summer, too. I've hiked in knee-deep mud and gale-force snow in Patagonia, through the desert in Joshua Tree National Park, and through dumping rain and near-100-percent humidity in Costa Rica and French Polynesia. I've tested, loved, hated, and ruined dozens of pairs of women's trail shoes, so it's fair to say I've done my due diligence when it comes to the recommendations below.
What makes something a trail shoe?
There's no official criteria a product has to meet to be considered a trail shoe or trail runner, but probably the most important criterion is whether the shoe has an outsole (a bottom) made for handling off-road conditions. The outsole needs to be grippier than a road shoe to minimize slipping on steep ascents, wet rocks, or loose pebbles and other unstable surfaces. It also needs to be durable, since off-road surfaces are abrasive and can wear down softer materials made for tracks and gyms.
Other good features to look for include whether the shoe is waterproof (which you may or may not need, depending on your average trail conditions) and how secure your foot is in the shoe. Even though it may feel flexible, a good women's trail shoe should hold your foot securely inside the shoe to help prevent ankle twists that can come with landing on uneven surfaces (like rocky trails). Some shoes accomplish this through the shape of the footbed, while others rely on lacing and tightening systems to secure your fit.
Other features you're likely to find in trail runners include toe caps (to avoid stubbed toes) and mesh segments, which can be great for moisture control and breathability.
Are they for running or hiking?
Both, mostly. A shoe specifically made for trail running may have a bit more support/padding and a slightly more curved shape to reduce foot fatigue. But women's trail runners and women's trail hikers are so similar that it's really more a matter of personal preference than suitability for hiking versus running. Most runners do a mix of both, anyway.
What's the difference between a hiking shoe and a trail shoe?
That depends who you ask, as most people use the terms interchangeably. Most brands will say that their trail shoes are a bit lighter and more versatile than their hiking shoes, which often resemble a hiking boot minus the ankle cuff. Hiking shoes may also be a bit stiffer than trail shoes.
We hope you love the women's hiking shoes we recommend below! Just so you know, Matador may collect a small commission from the links on this page if you decide to buy anything. Listed prices are accurate as of the time of publication.
The 6 best women's trail shoes you can buy right now
Saucony Peregrine 12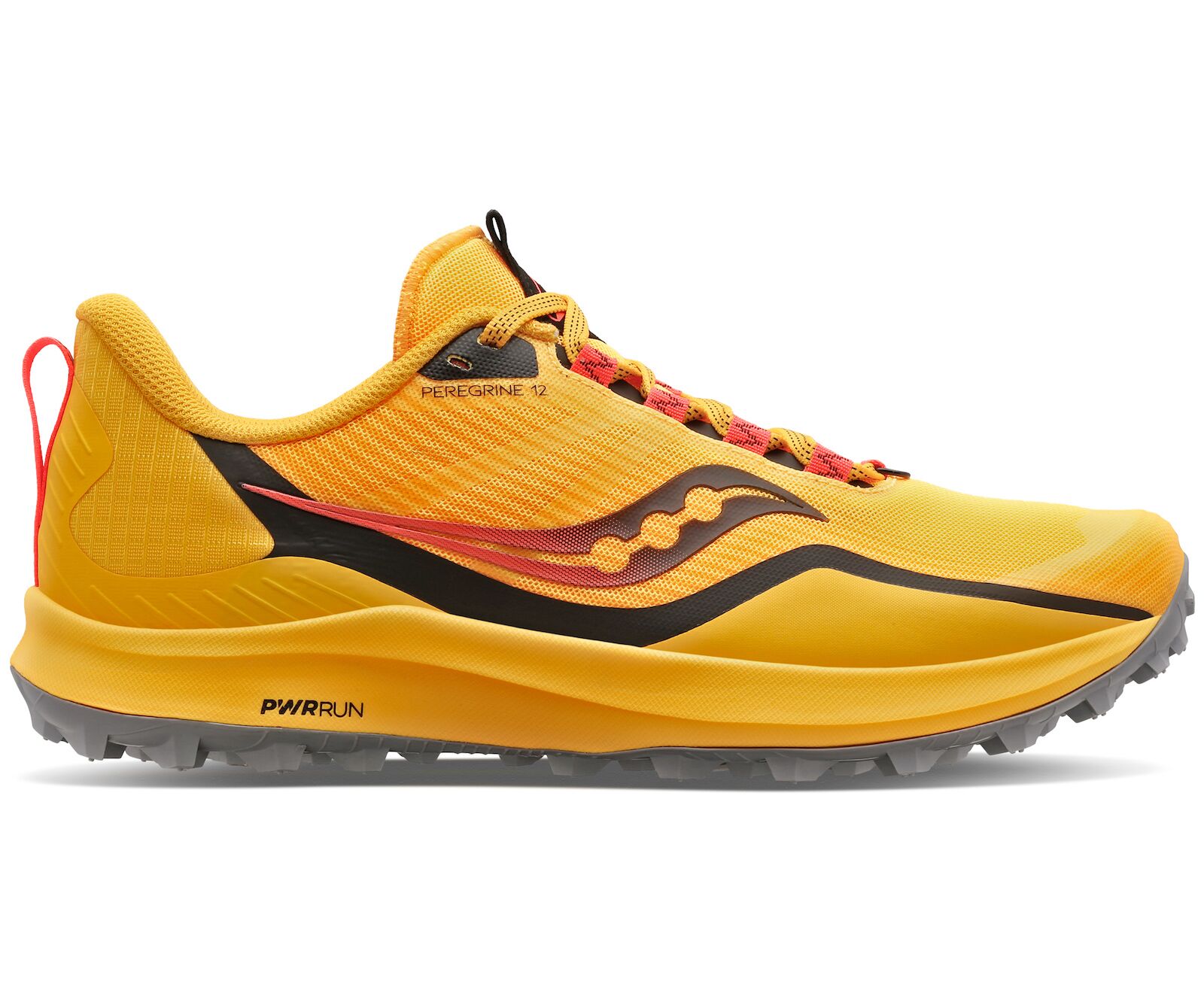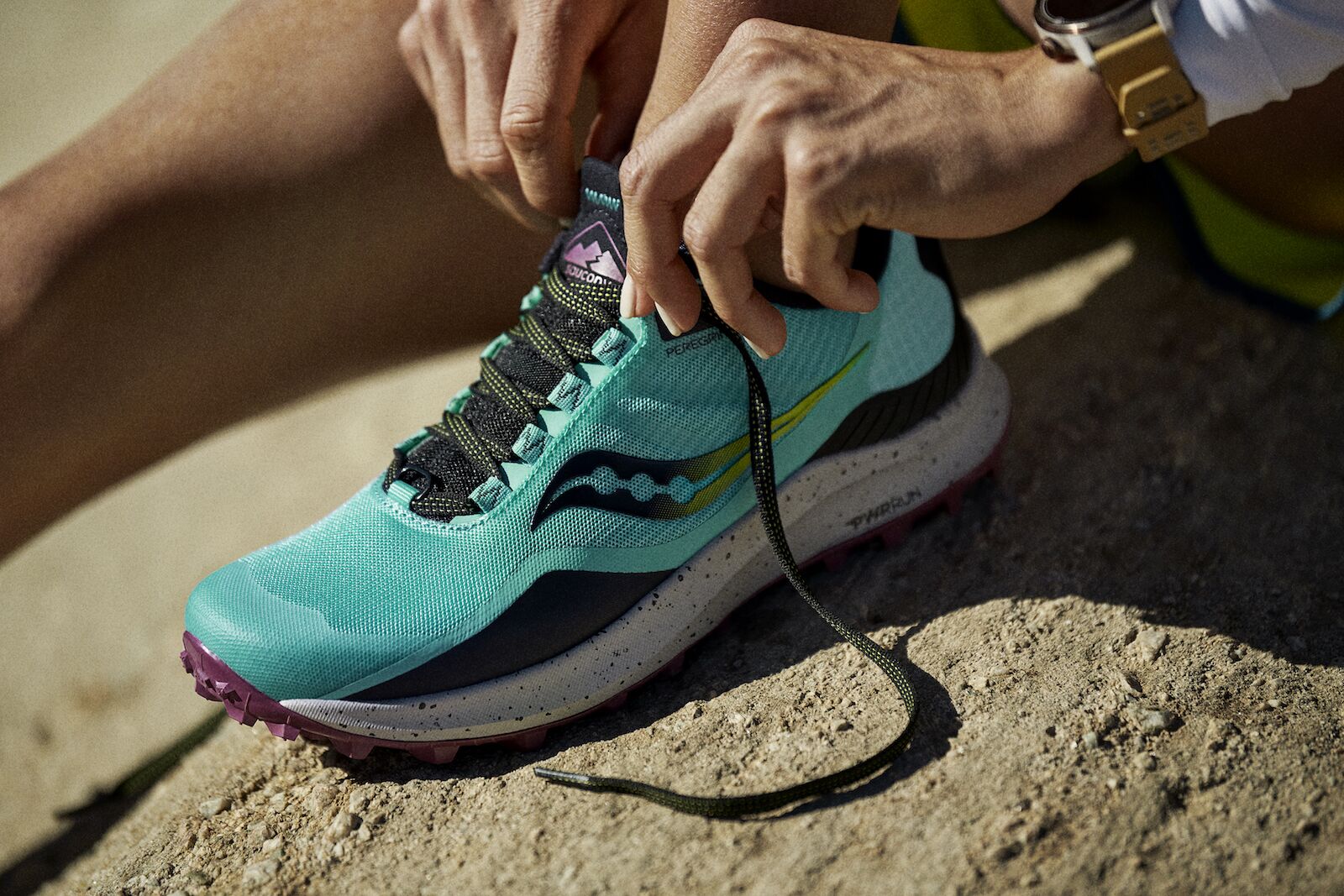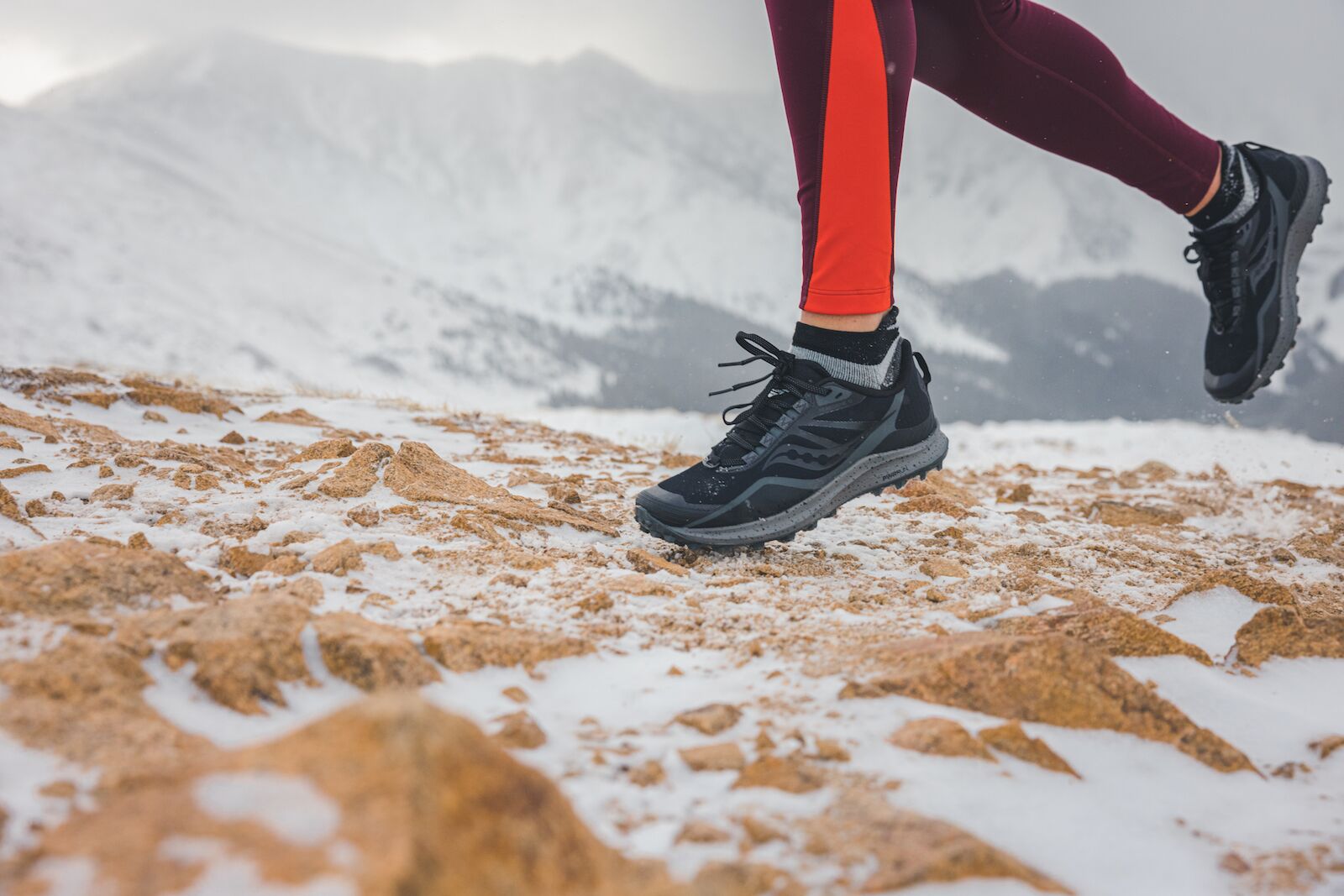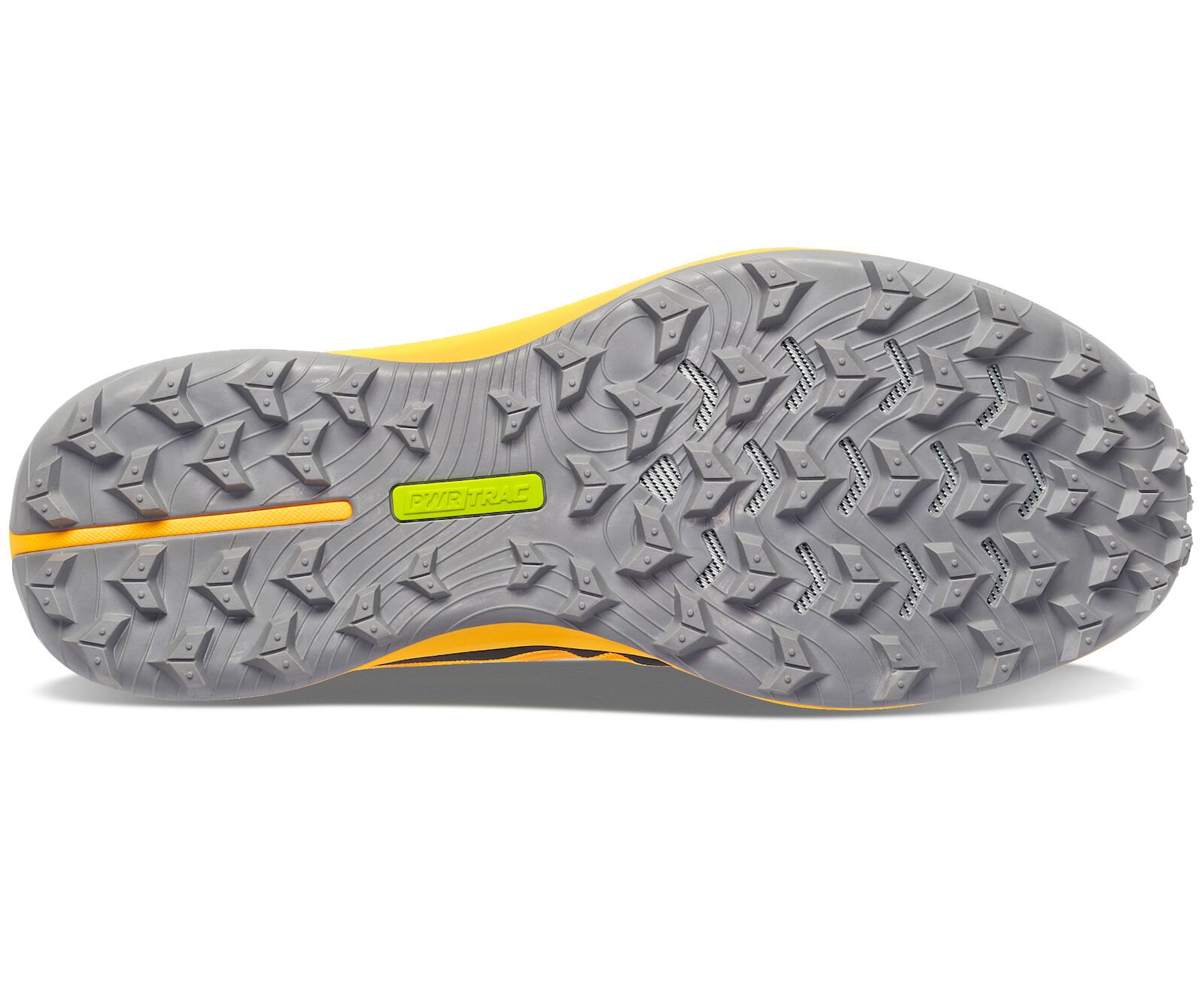 The Saucony Peregrine 12 just came out in early 2022, but the former version — the Peregrine 11 — is highly rated among buyers no matter what website you're looking on. The 12 is 1.5 ounces lighter than the 11, which may not sound like much, but when you're dealing with shoes this lightweight, it really does help fight foot fatigue. It's designed for running (it's named after the fastest bird on the planet, after all) but works well for minimalist hiking or jogging, too. Saucony also designed it with recycled materials, which we always like to support.
But where this shoe really shines is its support and cushioning. It uses what the brand calls "PWRRUN" — a cushy foam that somehow manages to be durable enough to last for several seasons but is still squishy and responsive enough to provide just a touch of springiness with each step. I'm not a runner, due to an ongoing back problem but mostly a general dislike of the sport, but every once in a while, it is fun to move a little faster on a sweet stretch of trail through the woods. I can report that these shoes felt less jarring on my back and seemed to grip well on the landings, despite the fact that I'm sure my running form and landings leave much room for improvement. I also like that they're only around $130 (or under $100 if you opt for the Peregrine 11), which is a reasonable price in a market where prices seem to jump every year. Oh, and it comes in a wide version, too.
Sizing: Women's size 5 – 12, half and whole sizes
Guarantee: Flexible; contact them if there's a manufacturing defect and they'll try to make it right
Price: $130
Altra Lone Peak 6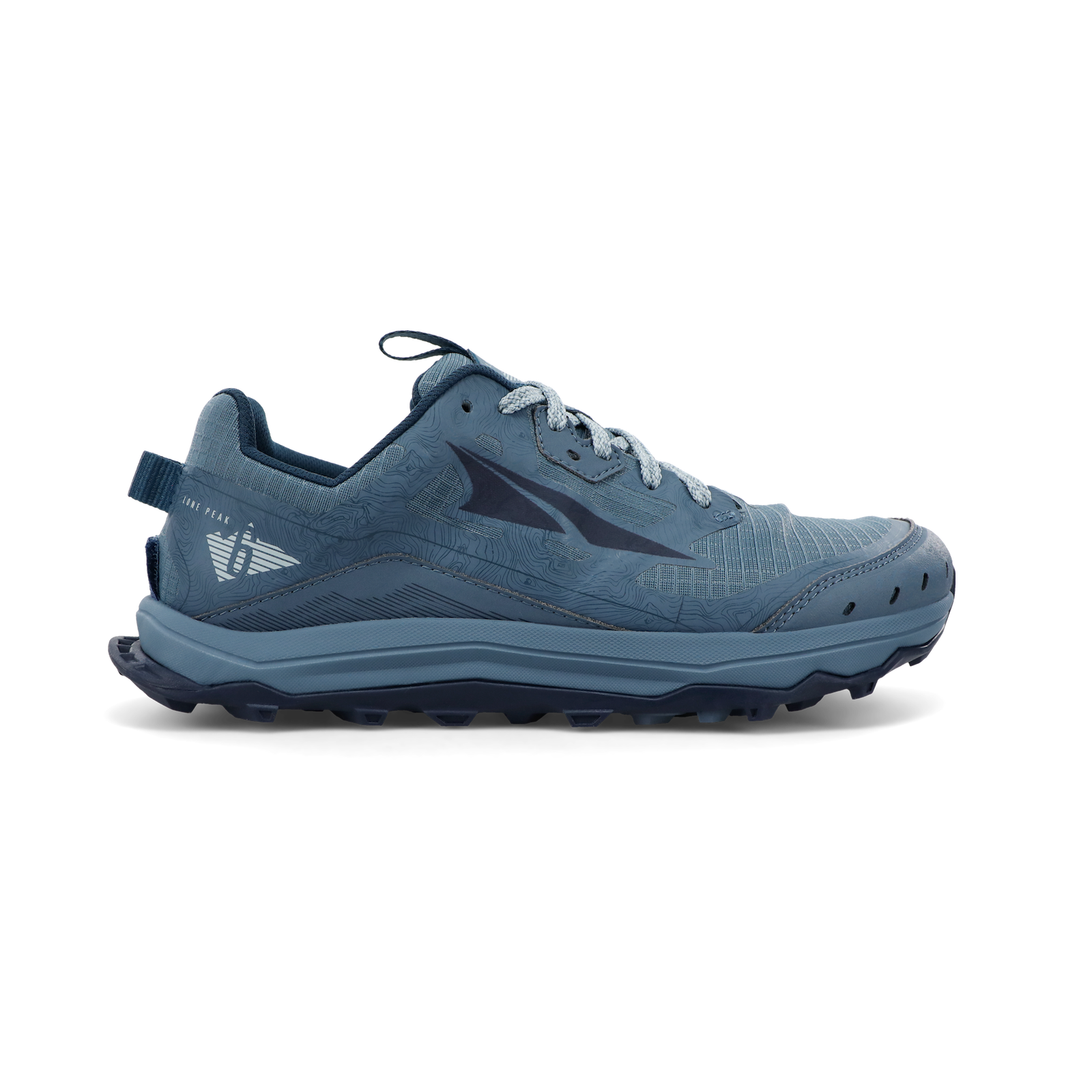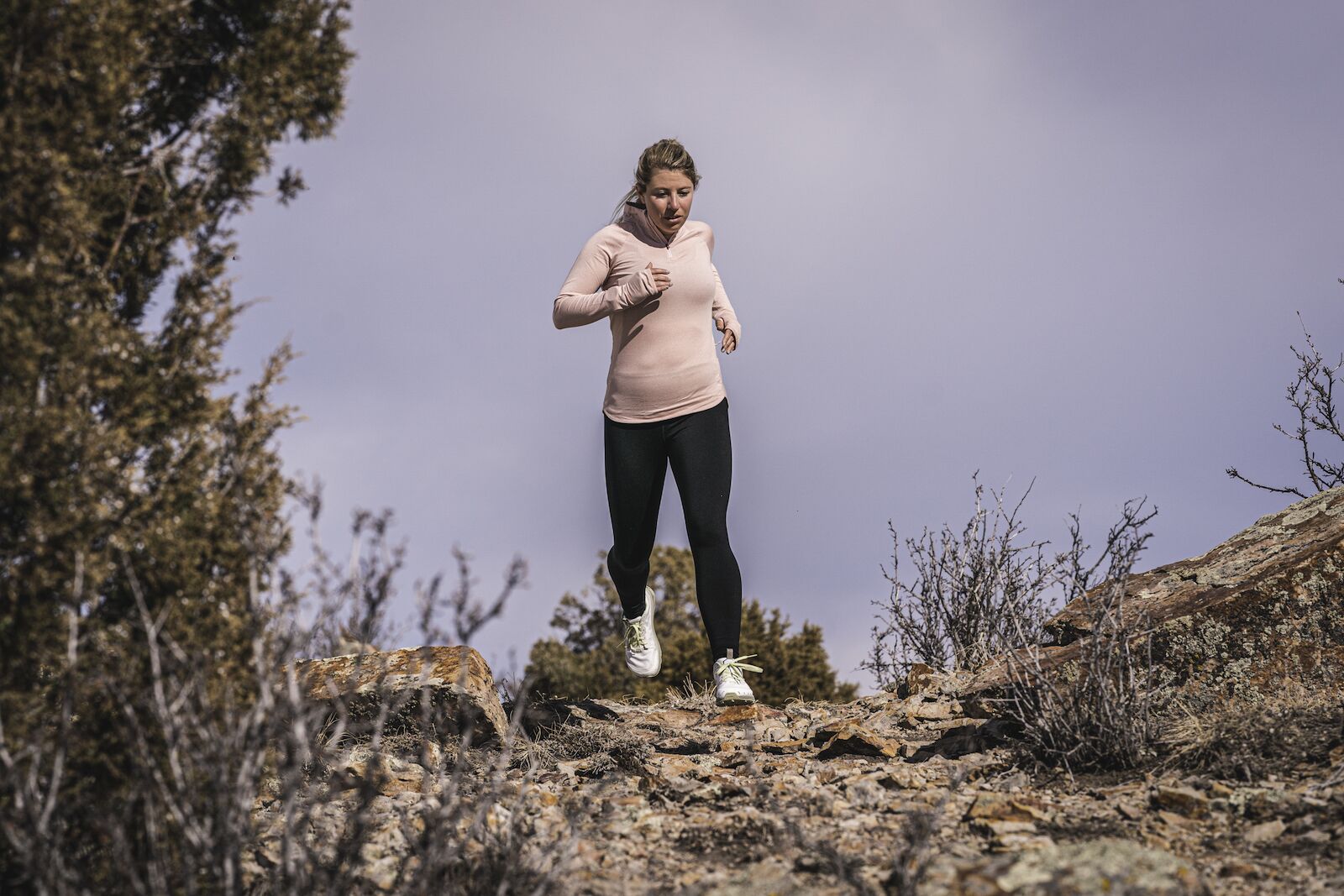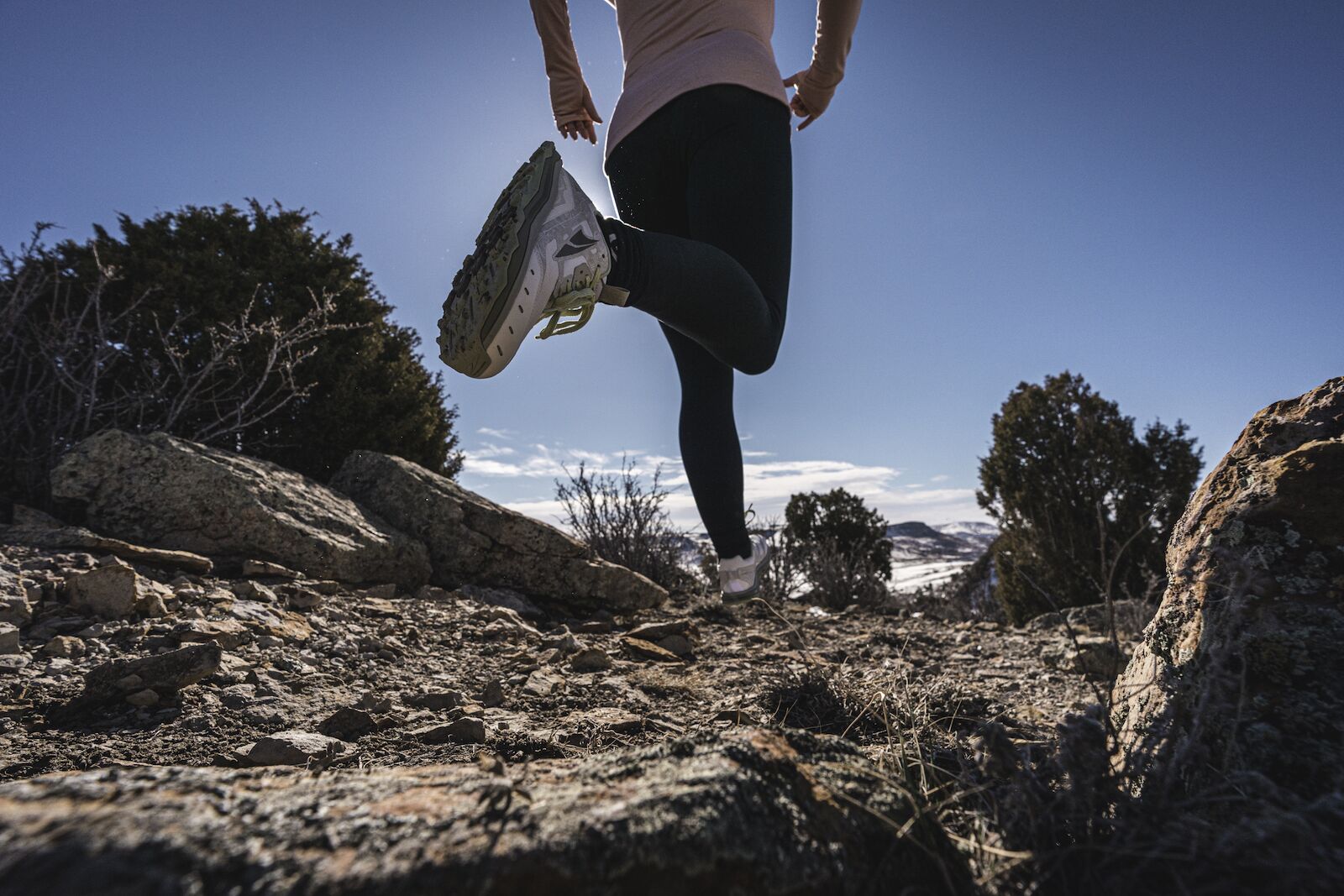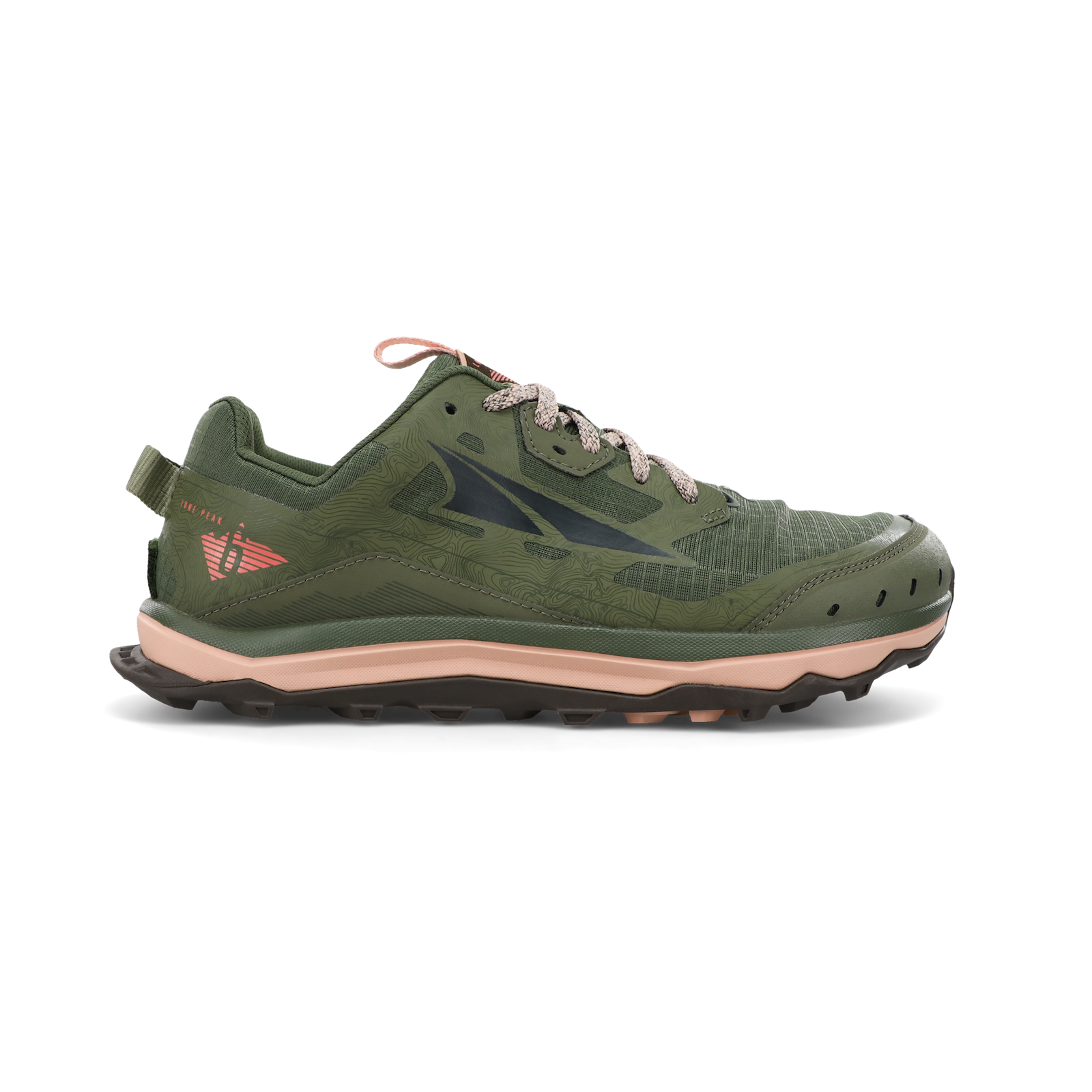 As a brand, Altra's backstory is fascinating. The two founders worked in a running store and felt like the super padded, super curved running shoes on the market weren't well-suited to their running style. So they partnered with a nearby cobbler and began chopping the bottoms off shoes from well-known brands to create a flatter, more natural shape. Eventually, word got out, and hundreds of other runners started to hire them to do the same to their shoes. After a few years, they created "Altra," a brand that started with running but now makes various types of athletic shoes.
I've worn a few Altra shoes, and across the board, they're comfortable out of the box. But the Lone Peak 6 seems ideal for hiking as the wide toe box gives your toes plenty of space to expand, so you can forget about blisters or red spots, even if you're carrying a heavier pack. Both the mens and women's version have this wider toe box, but the women's versions are more specific to a woman's foot shape, with a slightly more narrowed heel. In women's versions, the metatarsal pads (which protect small foot bones) are in a better position for the average woman's foot, too. But the wide toe box isn't just for people with wide feet — your toes naturally spread with impact, so more space is helpful for running and hiking even for narrow feet.
Runners may especially like that the Lone Peak 6 has an extra optional eyelet on the lacing system. Lace through it when you're running and skip it when you're hiking, or use it all the time if you have an especially narrow foot. If you don't care about that extra lacing option and don't need the newest version, you can probably find a good deal on the older Lone Peak 5. By the way, the mesh on the toe box isn't waterproof, but it does dry really quickly. I wore them on a soggy, muddy hike, and the top of the shoe was dry by the time I got home about 30 minutes later.
Sizing: Women's size 5 – 12, half and whole sizes
Guarantee: 500-mile guarantee against defects
Price: $140
Forsake Thatcher Low WP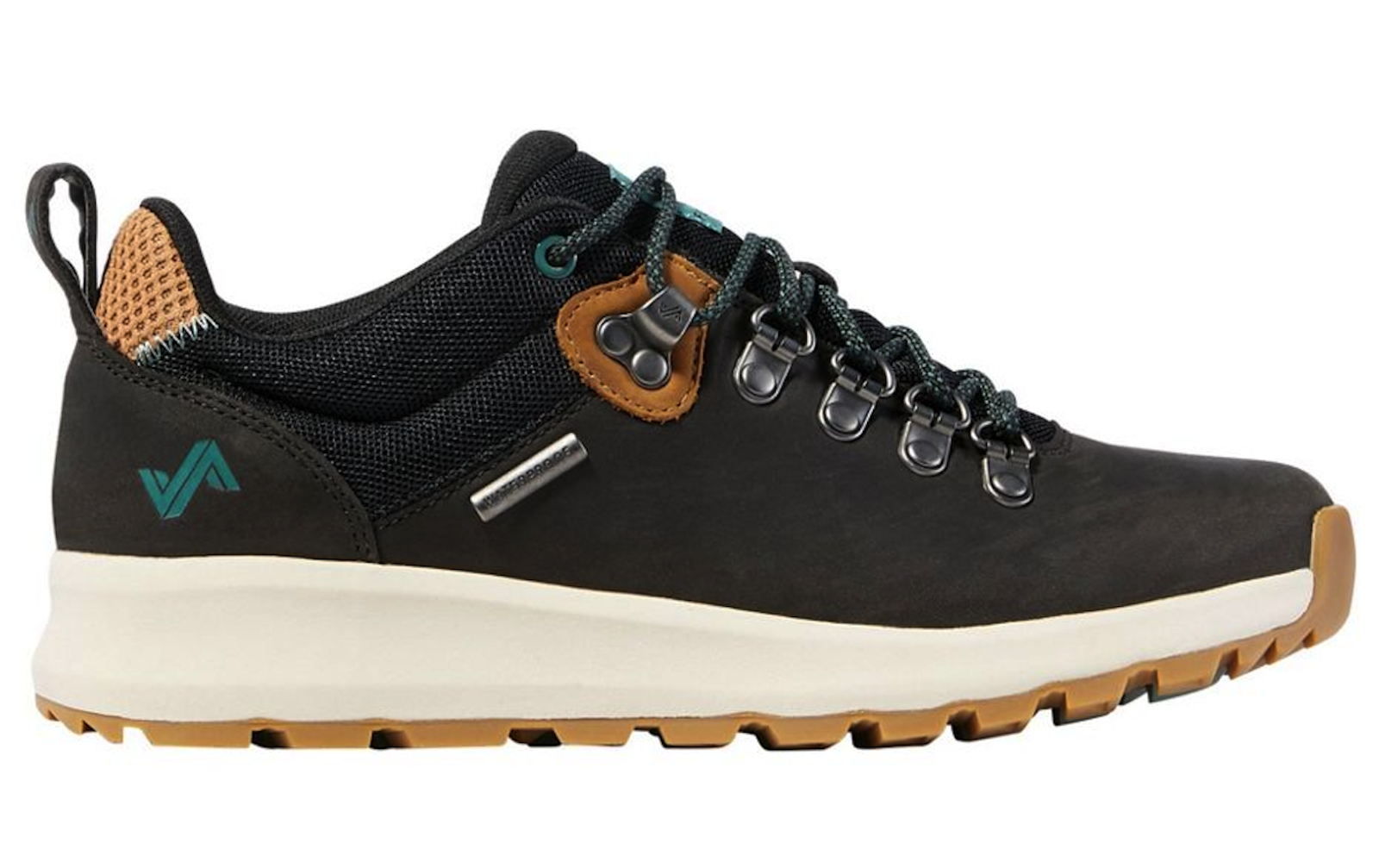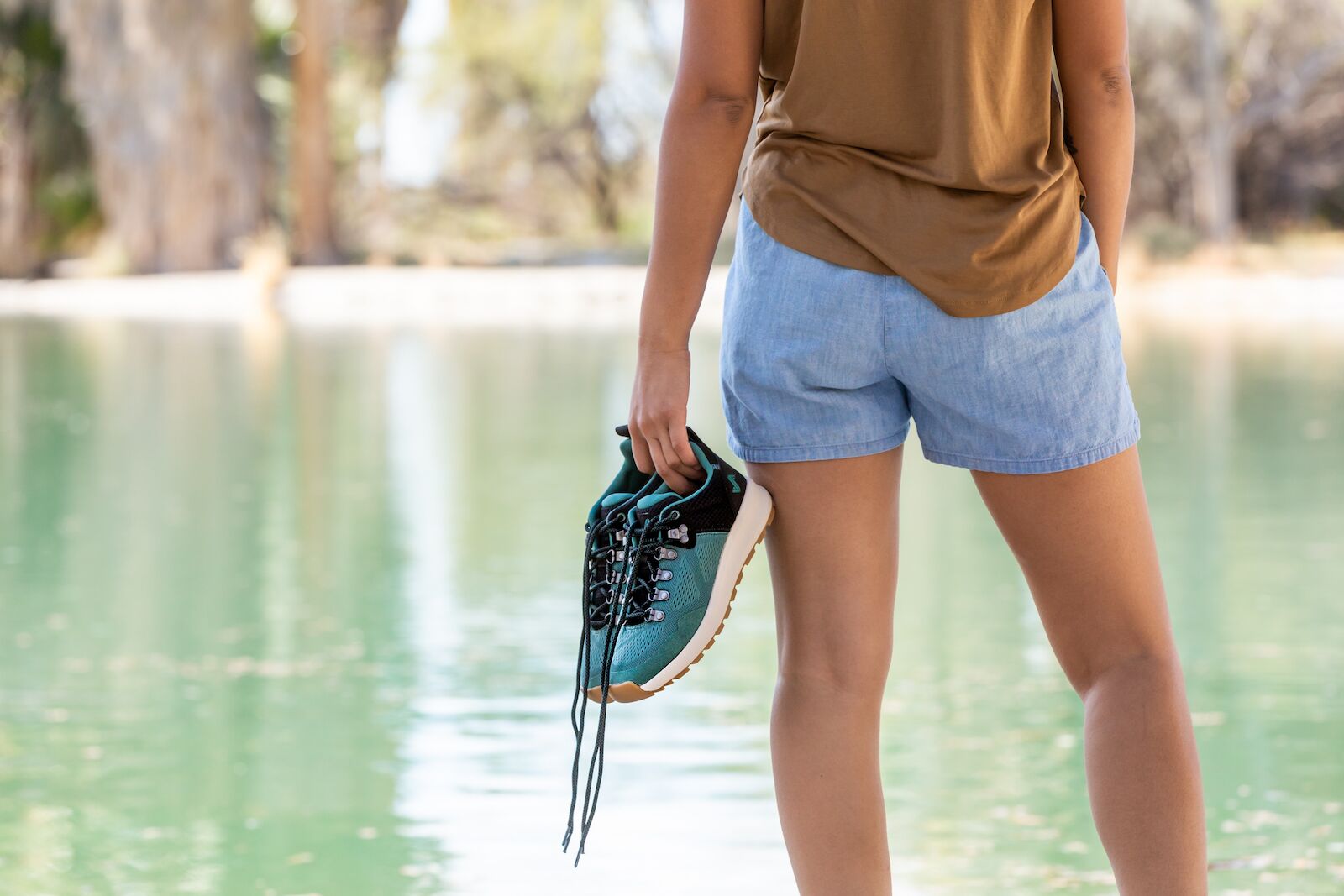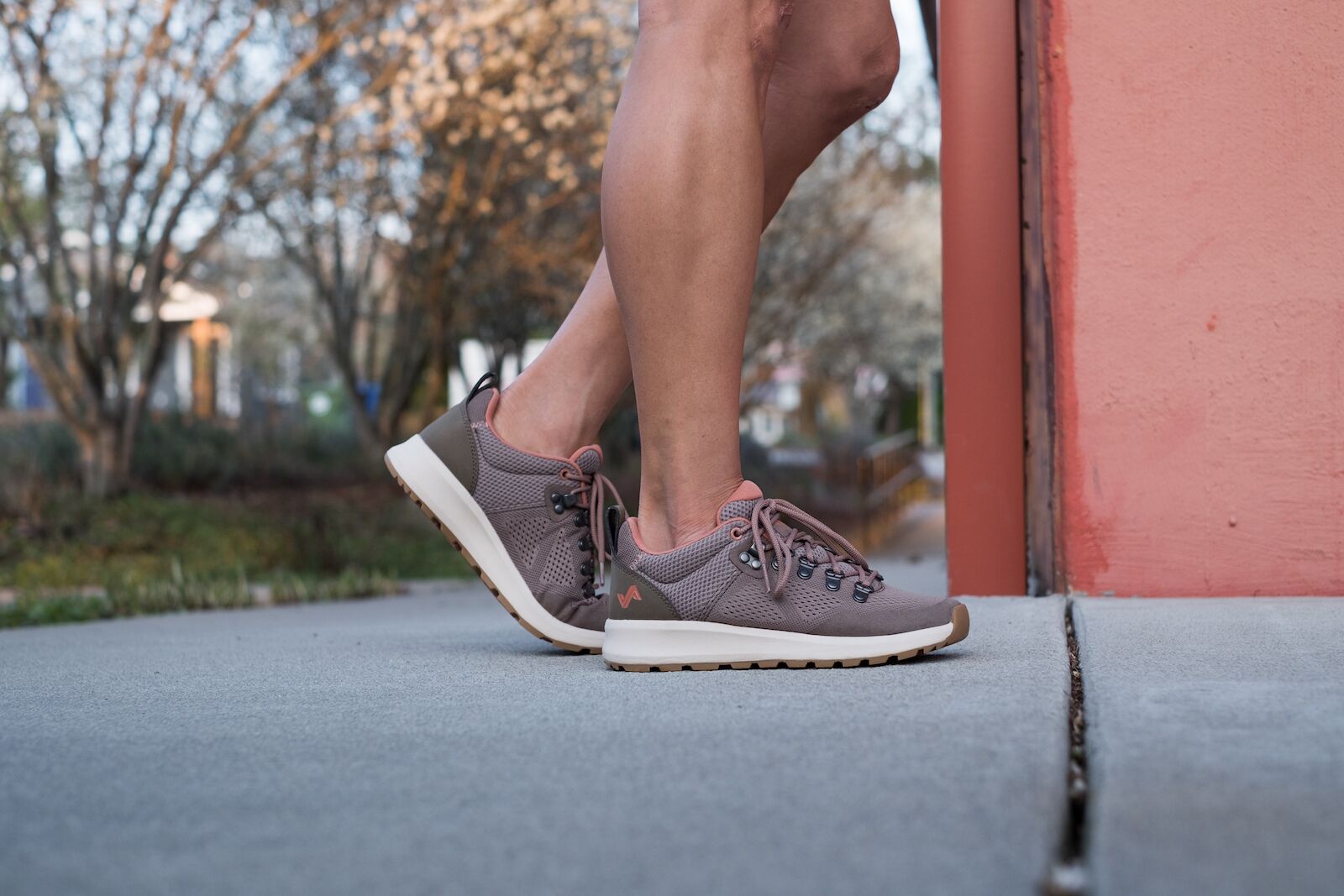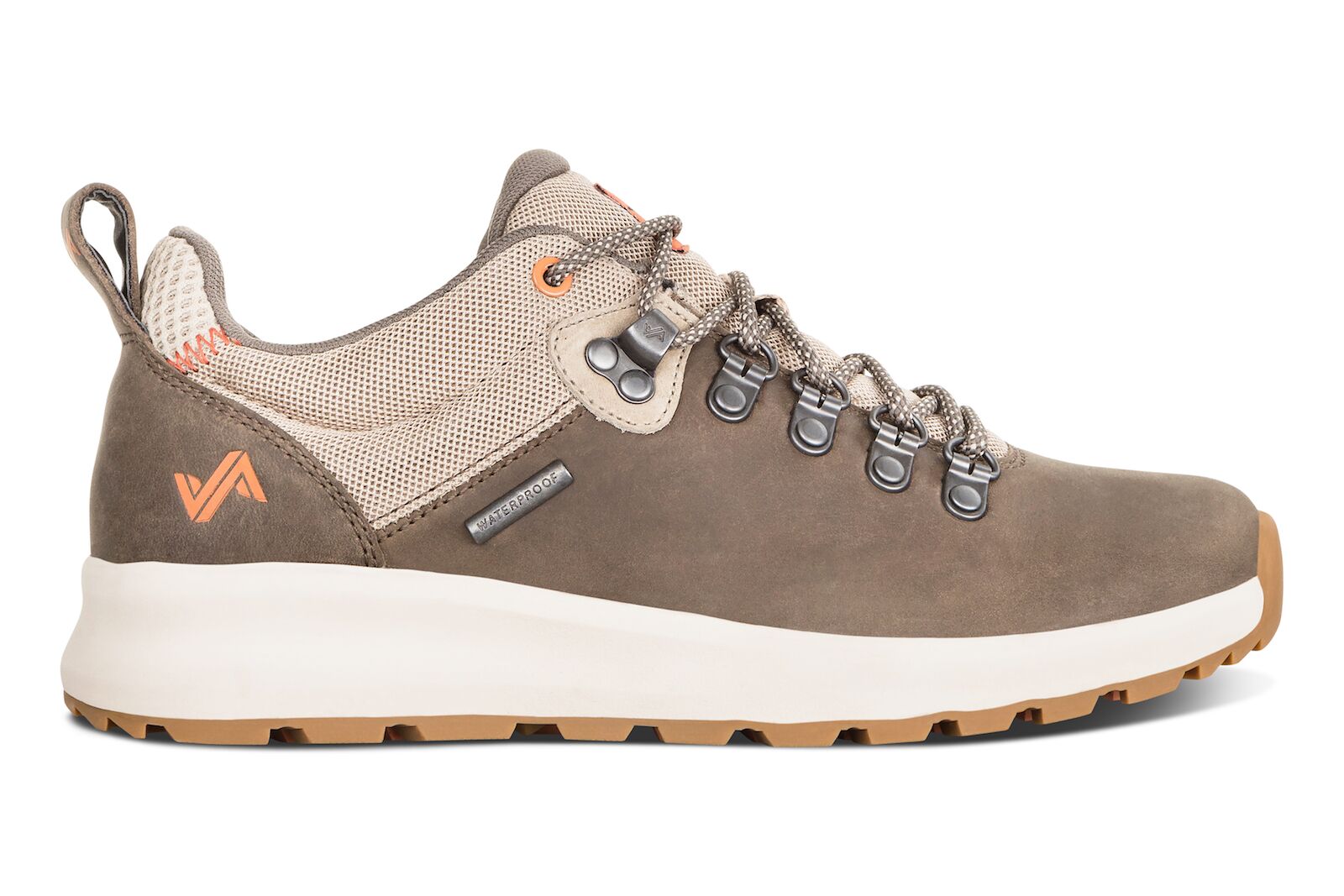 At first glance, the Thatcher Low WP from somewhat indie brand Forsake doesn't look like a trail shoe — it looks like a stylish urban sneaker you may wear to a picnic. But don't let the non-trail, non-traditional look fool you. It's a capable, comfortable, and — if this matters to you — a totally vegan shoe. Though it's not the lightest on this list, it does an excellent job of keeping your feet cool with various mesh materials, and the outsole is super-grippy without being so big and bulky that it looks out of place on sidewalks.
While these aren't the go-to shoe I'd recommend for serious trail hikers and runners, they are what I recommend to people who like to hike while traveling. They're plenty supportive and comfortable enough for a full day hike, but since they don't have an overly sporty look, you can wear them while dining, traveling, or sightseeing. If you're a carry-on-only traveler, the Thatcher Low is an unbeatable choice that will allow you to have just one pair of shoes in your bag no matter what you do while on vacation. They also come in a taller boot version. It's better suited to distance hiking but, of course, not as well-suited to trail running.
By the way: the Thatcher Low WP is often sold out online, especially in certain colors. I'd recommend buying it if you see the color you like and just doing a return if the fit isn't ideal. If you wait too long, it'll probably be sold out again.
Sizing: Women's size 6-11, including half sizes
Guarantee: One year
Price: $120
Astral TR1 Loop W's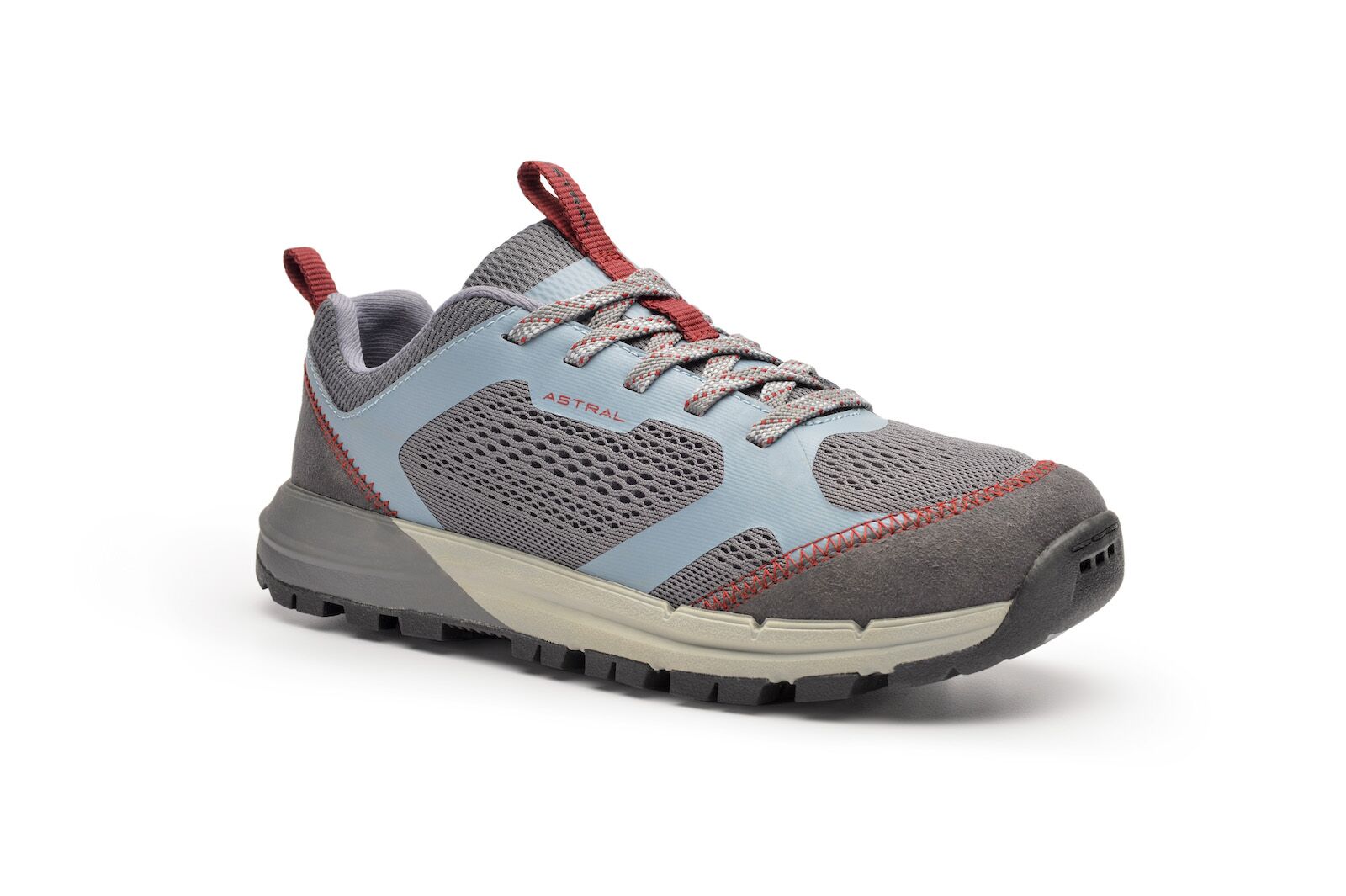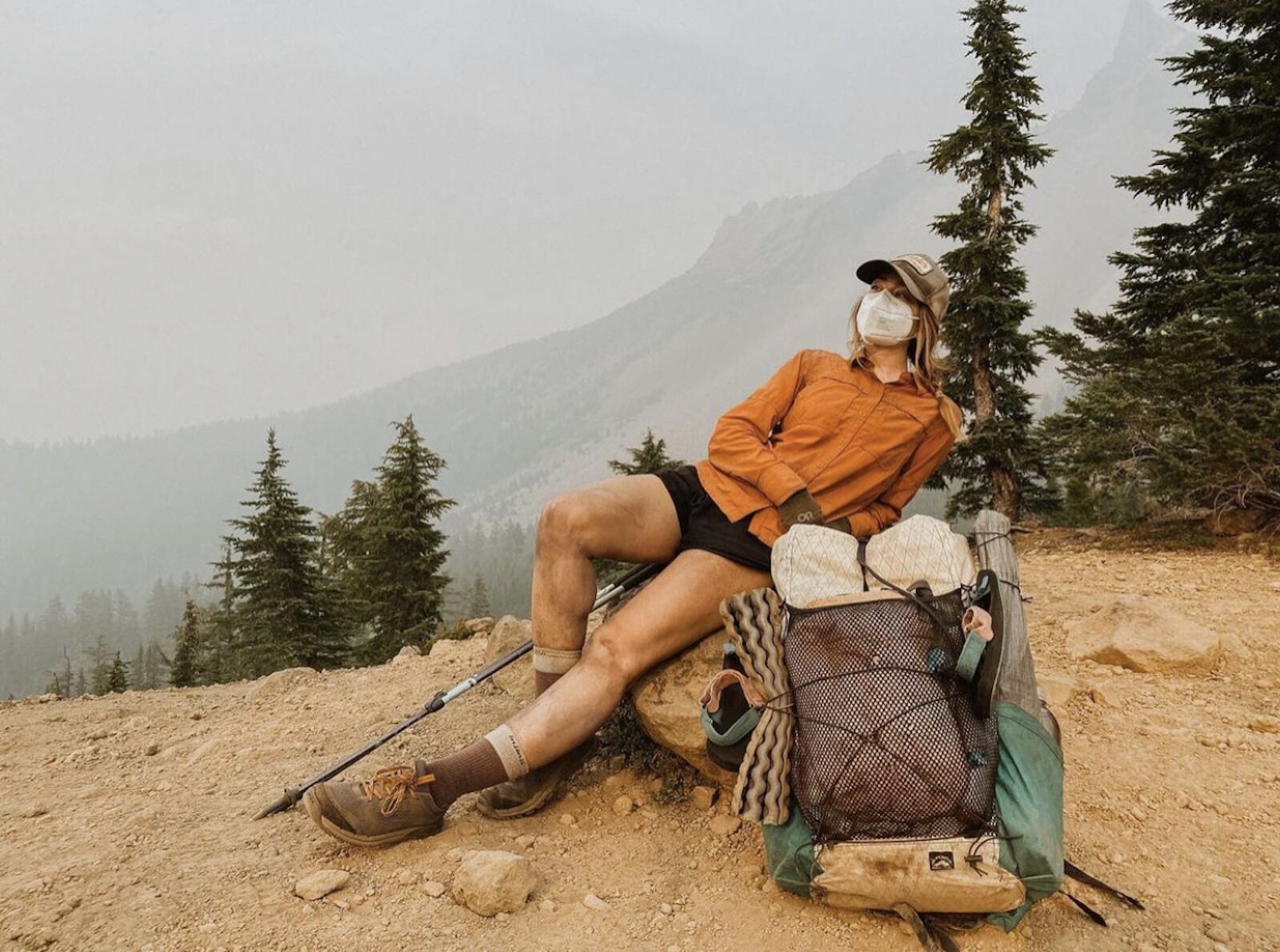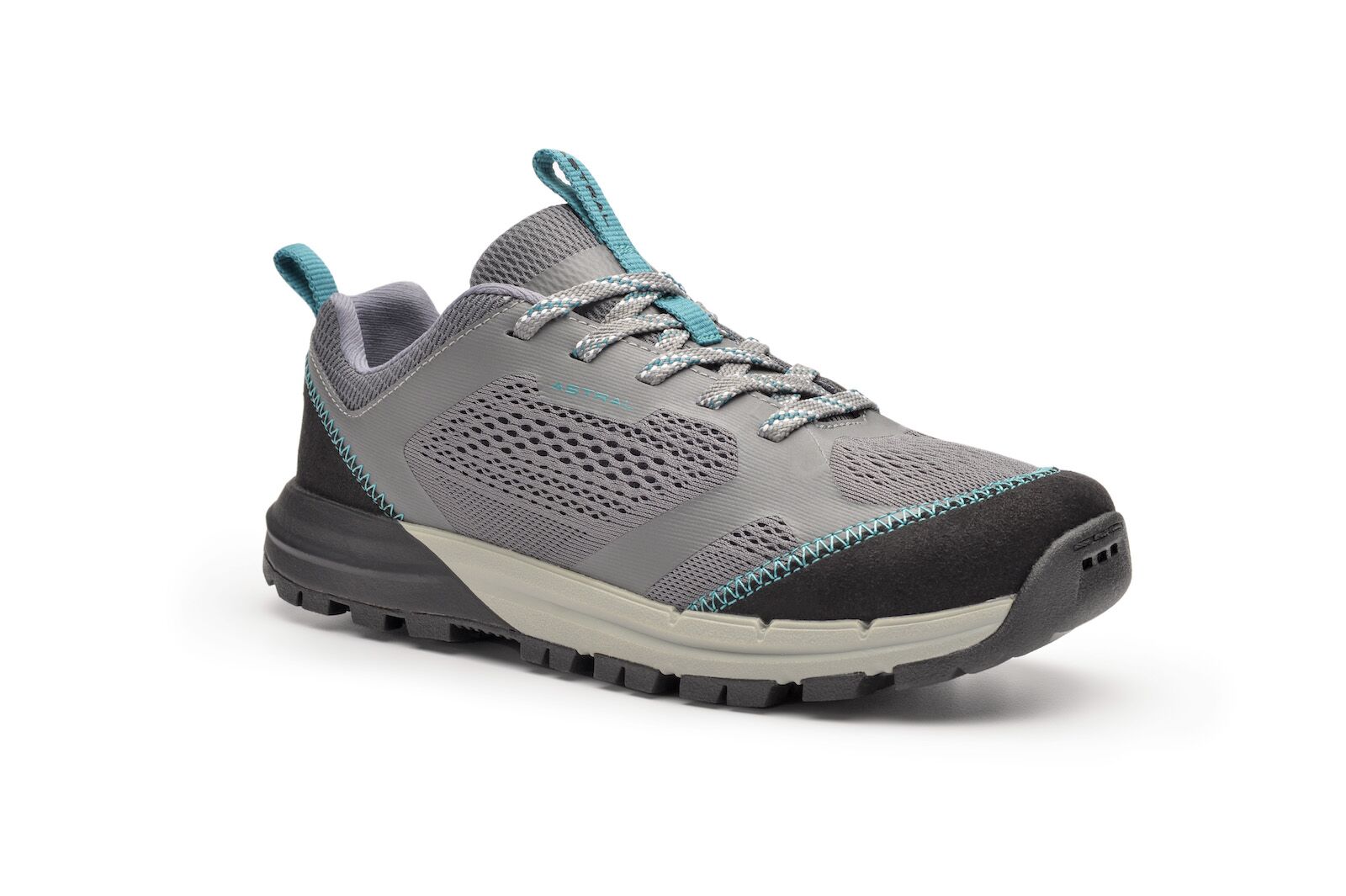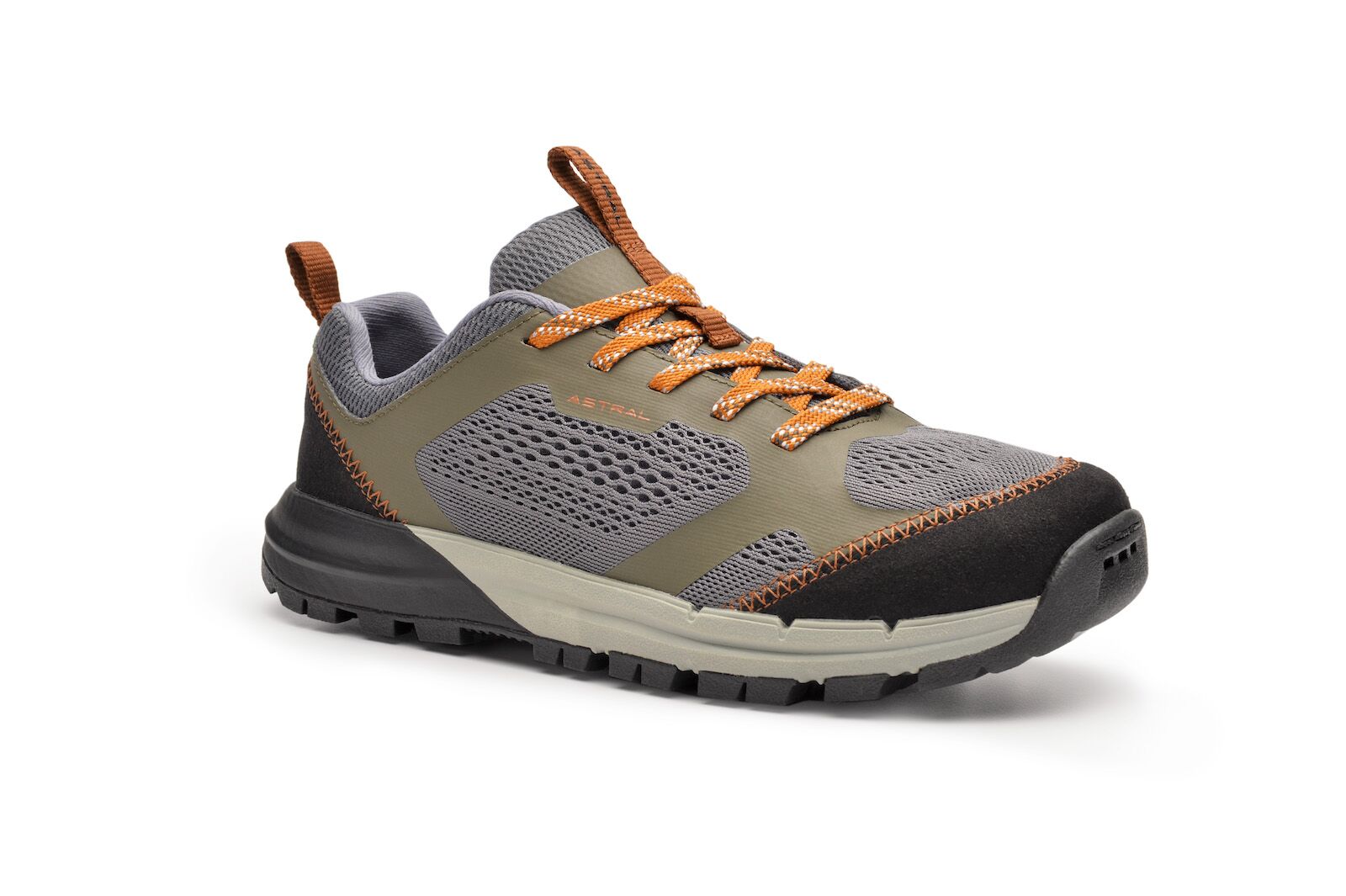 If you need a quick-drying, ultralight trail shoe, the Astral TR1 Loop is your best option. And I don't mean that in an "it's a good trail shoe" kind of way. I mean it is literally the best option. Early Astral shoes were designed specifically for rafters and wet hiking. They're insanely light, dry out like it's their job, and have a superior outsole grippy enough for athletes carrying heavy rafts and kayaks to confidently move across steep, slippery rocks. Unless you're going to hike in sandals (which I actually do recommend, but that's another story), the Astral is going to be your best bet for trails with stream crossings. And since each shoe weighs only 9.5 ounces, it's not going to weigh down your foot even when it is wet (though mesh side panels ensure water can't get trapped inside).
Of the women's trail shoes on this list, the TR1 probably has the least padding, especially around the ankle cuff and side of the foot. I find them exceedingly comfortable regardless, and thick socks can add padding if you're the type of person who likes a thick, squishy shoe. I've done a few backpacking trips in them, but if you have any type of foot problems, they may not be the best go-to for long, difficult hikes. But they're versatile — I've used mine for road biking on hot days when I don't want my feet to get too sweaty, as well as for river floating days when my inner-tube could get flipped in small rapids. I'm also rather obsessed with the grippy outsole. Astral describes it as "sticky" and that's an accurate word. Short of putting sticky fly traps on the bottom of your shoes, you're not going to get a better grip in wet conditions.
Sizing: Women's size 6-11, including half sizes
Guarantee: Warranty against defects for the "reasonable lifespan of the product"
Price: $125
5. Salomon Ultra Glide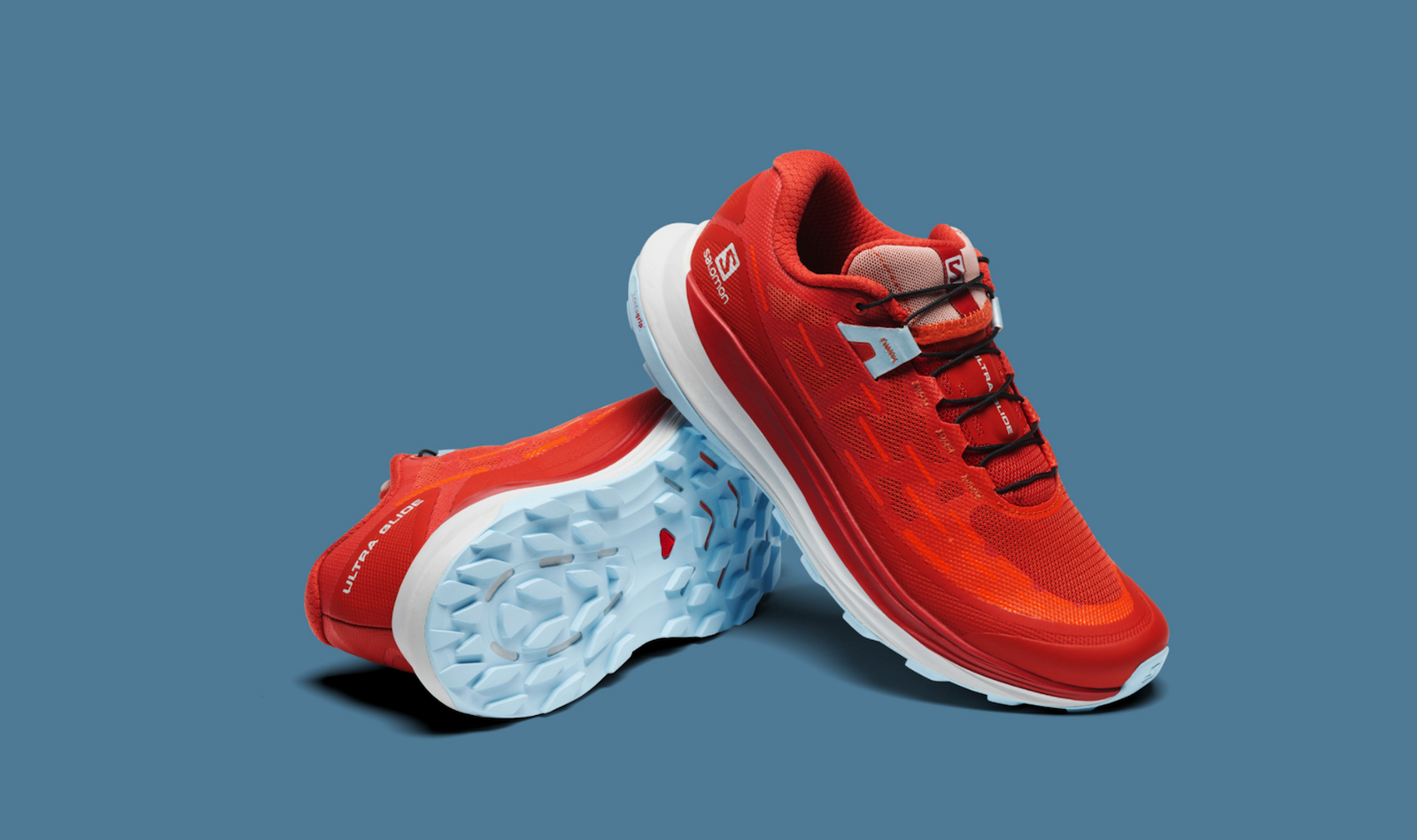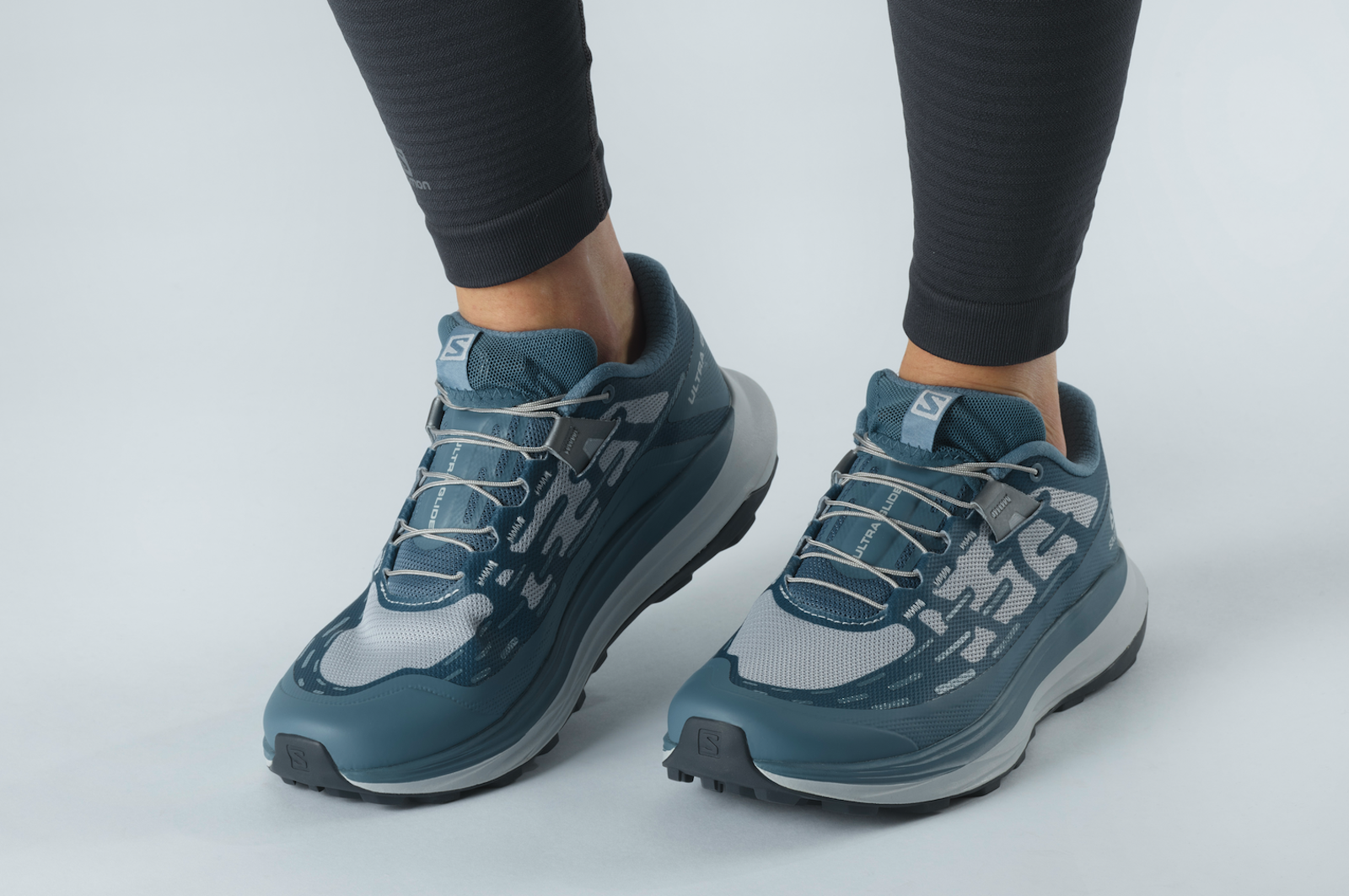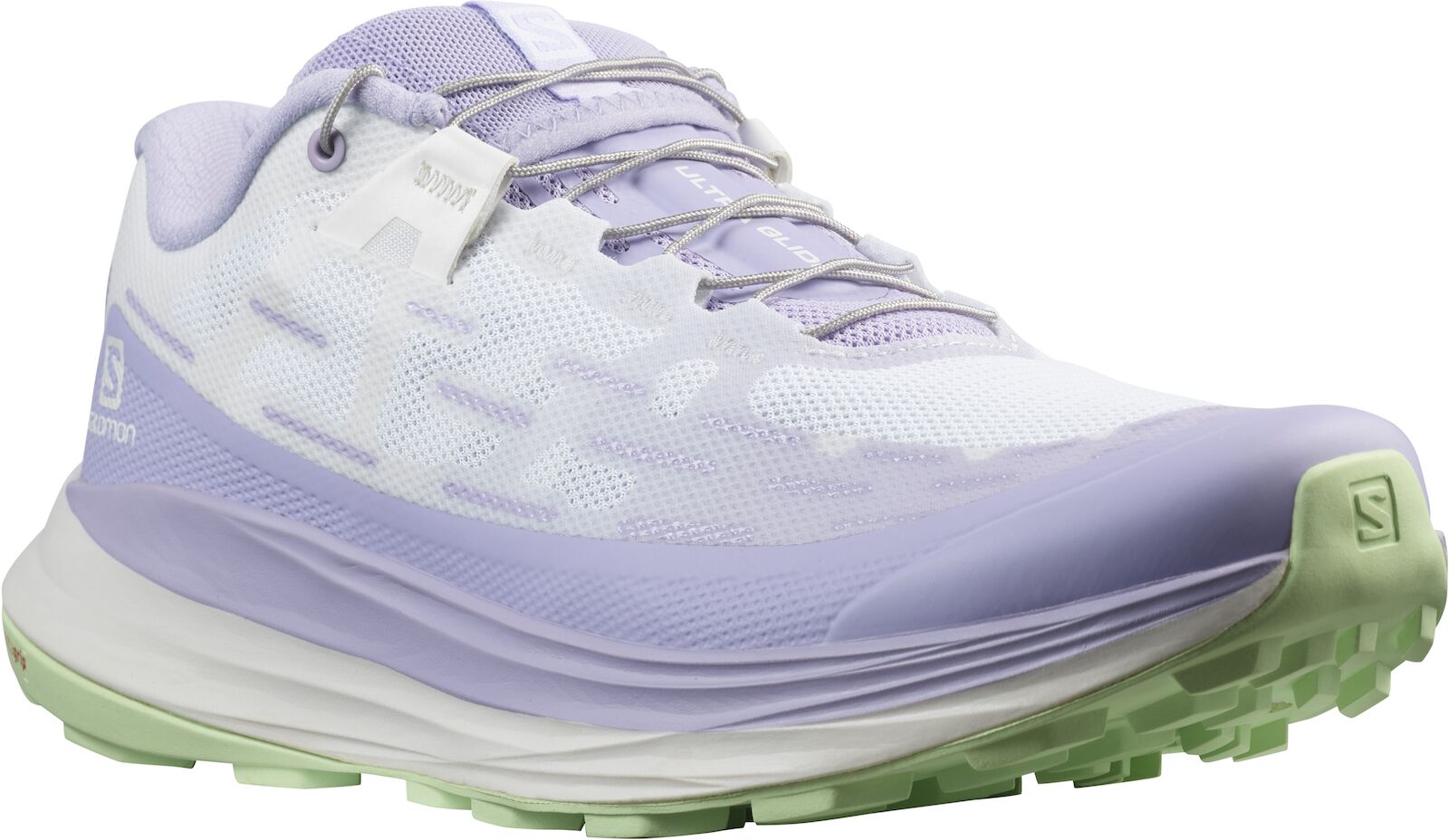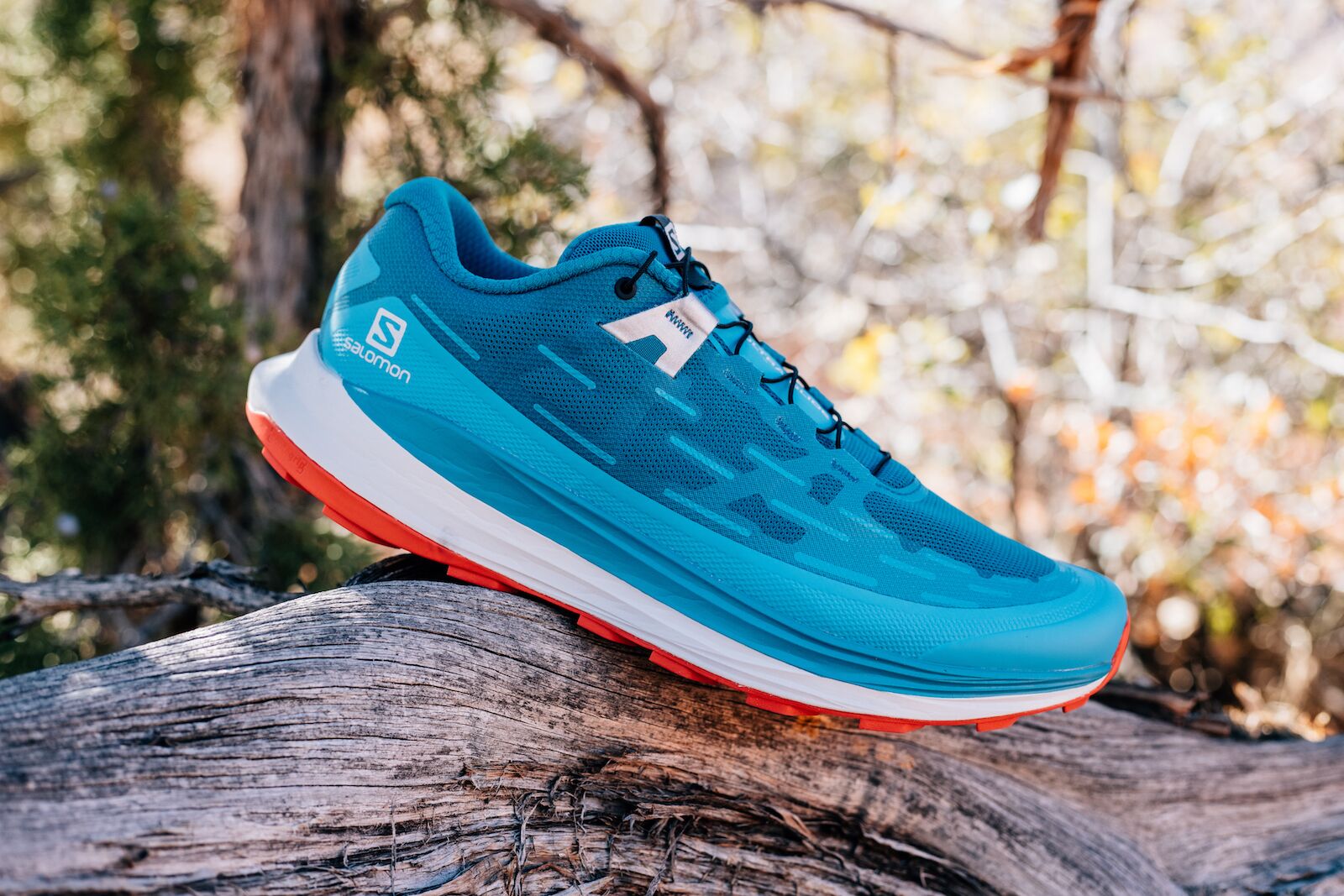 The Salomon Ultra Glide was one of the first high-end trail shoes I tested recently and it remains one of my favorites. If you look at the profile, you'll see it has a rockered shape rather than a flat bottom, which mirrors how your foot moves while running and helps you roll off the ground with each step for a little extra boost. They're lightweight and have a fairly standard fit, but thanks to the brand's Quicklace system (something I've enjoyed for years in their hiking shoes), it's easy to get a snug fit with even support across the entire top of your foot. They have a lot of cushioning and spring, especially in the heel — so much so, in fact, that you can feel the extra bit of spring even if you're hiking rather than running. I also really appreciate the variety of fun colors, including orange, purple, and a mint green, though they come in more subtle colors like dark blue. In my experience, Salomon shoes last a long time. I hike probably at least 100 miles a year, some years much more, and my last two pairs lasted a good three or four years each.
Sizing: Women's size 5-11, including half sizes
Guarantee: Two year warranty against manufacturing defects
Price: $140
6. Vasque Satoru Trail LT Hiker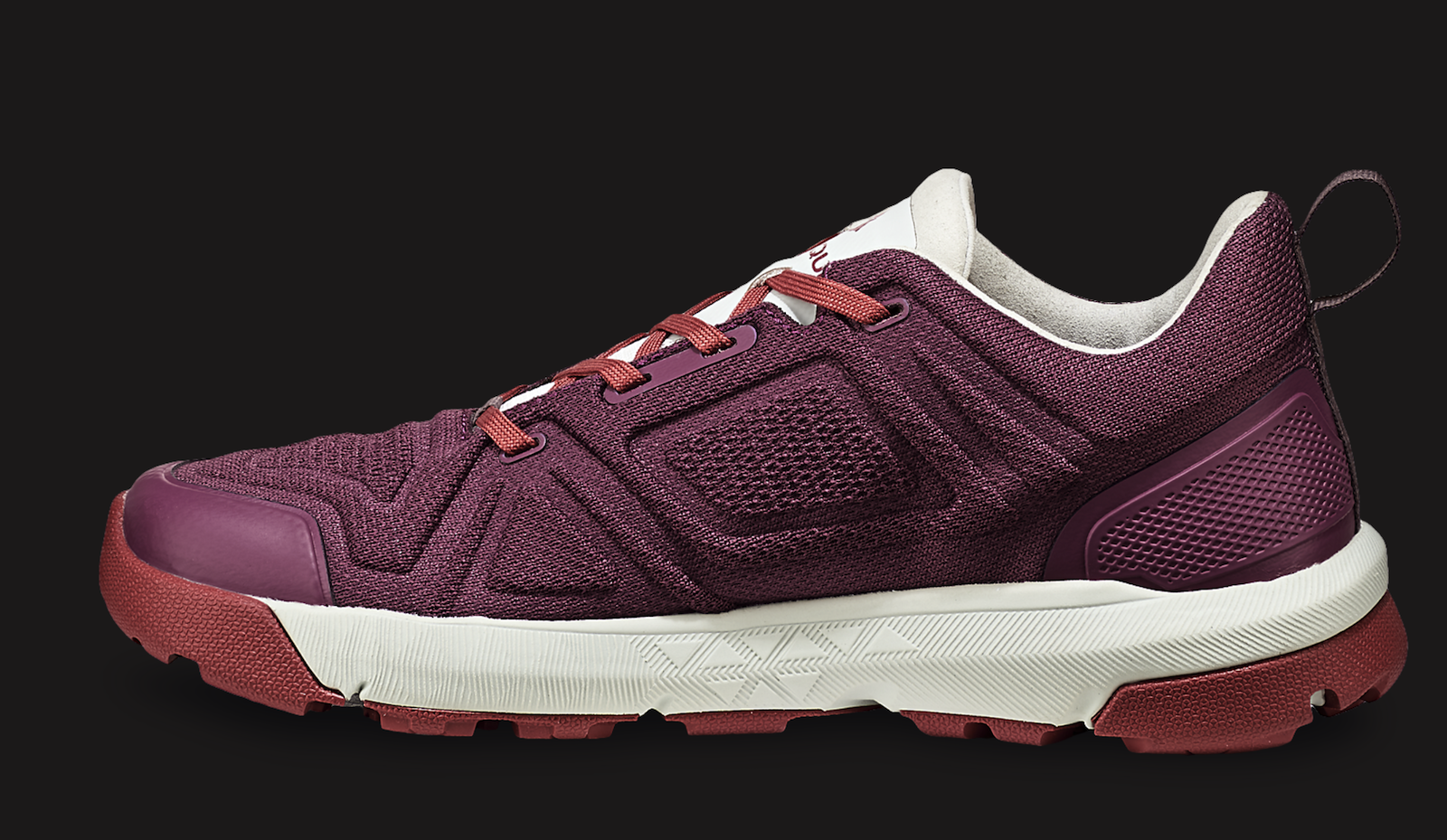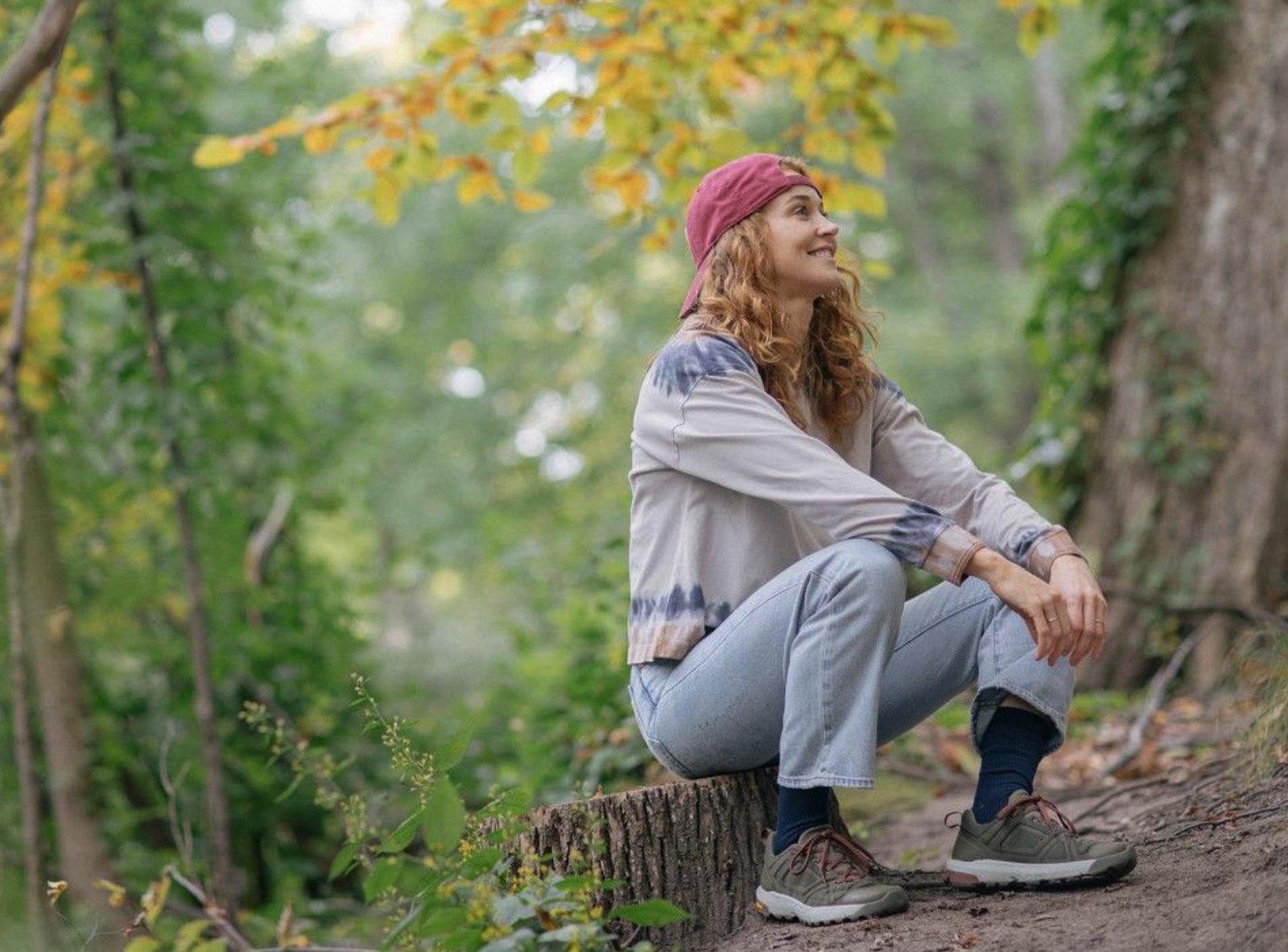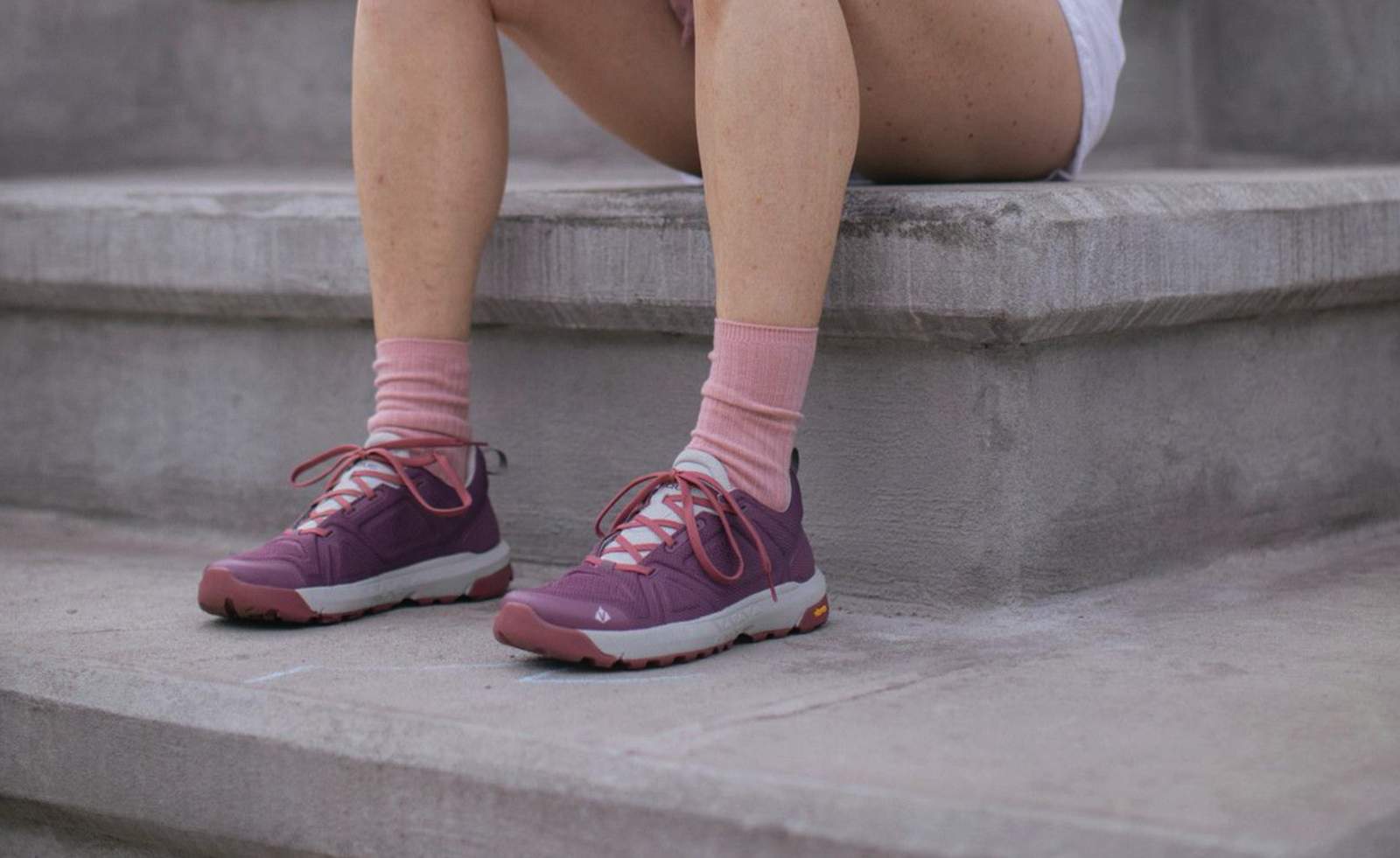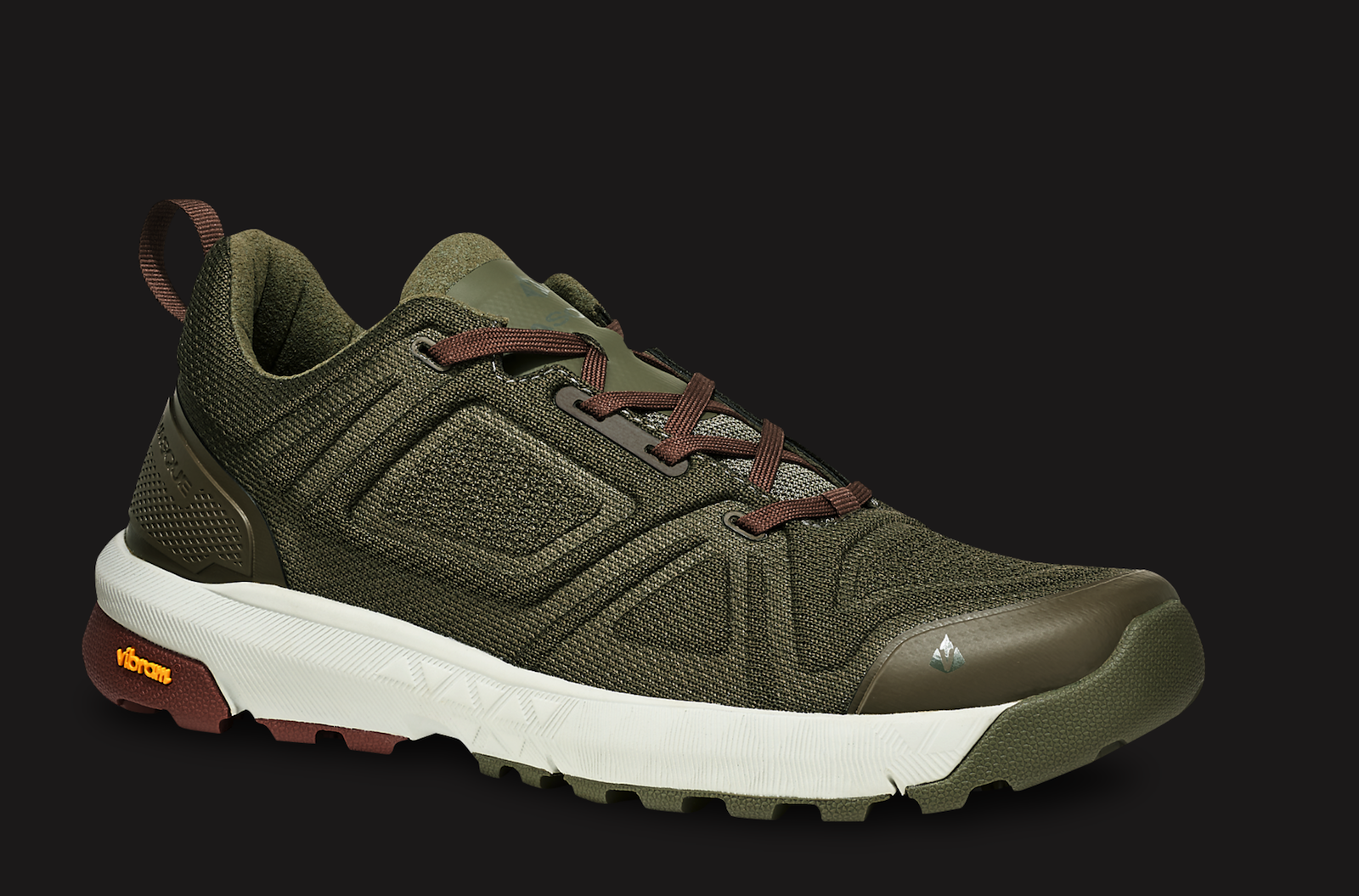 My final pick goes to the Vasque Satoru Trail LT Low Hiker. It's certainly more hiking-focused than running-focused, so I recommend it for hikers who like to do the occasional trail run, rather than runners who only occasionally hike. That said, because it's quite lightweight and has a lot of rebound (bounce, more or less) from the footbed, it does provide enough support and cushioning for runners. I also like it for the aesthetics. Pair it with jeans and a sweater and you have a great everyday shoe for wearing around town, especially if you opt for the olive color. It's a versatile shoe that doesn't seem to sacrifice much — and that goes for the Vibram outsole grip, which manages to keep you steady on the tiniest rock surfaces.
Every single shoe on this list I've found to be comfortable right out of the box — in fact, my first hike in all of these shoes was a minimum of six miles — but some users have reported that the Satoru takes a day or two to break in. That's to be expected for a stiffer, slightly more hiking-focused shoe, so don't let that deter you if everything else sounds great. Just don't make your first hike with them Half Dome, and you should be okay.
Sizing: Women's size 6-11, including half sizes
Guarantee: One year warranty against manufacturing defects
Price: $150
Women's trail shoe accessories
Women's trail shoes should be comfortable since you're going to be wearing them for hours at a time. In fact, one of the reasons I chose the shoes above is because I find them all comfortable out of the box. But that completely depends on your foot shape, and a little stiffness is to be expected when you first wear them.
But if the discomfort continues, some easy fixes may be a different sock (I like Smartwool's Performance Hike Light), IceBreaker's Lifestyle Light Crew Sock, and Darn Tough's Treeline Ankle Micro Crew socks) or inserting a footbed. I like the Women's Trailblazer Insole from Superfeet. It's specifically made for hiking and provides extra cushion for your heel in a way that also stops your toes from mashing against the front of your shoe on the downhill. And sizing is pretty easy since you can trim them yourself with a pair of scissors at home.
What did you think of this story?