18 Airbnbs in London's Trendiest Neighborhoods
There's a lot to love about London — one of the world's most beloved concrete jungles: easy access to international cuisines, a thriving arts culture, and many historical landmarks. Start a trip in Central London with shopping on Oxford Street and pub hopping in Soho. From there, head in any direction to explore because the best things about London live outside of zone one. In North London, spend the day in Camden chowing down on dishes from around the world and walking along the Regent's Canal. Or head to Brixton in South London for live music at Electric Brixton or drinks at Lost In Brixton — a hidden rooftop paradise. A visit to East London without going to Shoreditch might be a sin. Grab drinks at BoxPark Shoreditch and shop with local vendors at Spitalfields Market. With so much to do you need a safe and comfortable place to stay and that's where an Airbnb London rental steps in.
Whether you're planning a weekend getaway during a Eurotrip or you're looking to explore London longer term, here are 18 great Airbnb London rentals to make your stay incredible.
We hope you love the Airbnb London rentals we recommend! Just so you know, Matador may collect a small commission from the links on this page if you decide to book a stay. Listed prices are accurate as of the time of publication.
---
---
The best Airbnbs in North London
Home to buzzing areas like Camden, where bars and food are abundant, and St. John's Wood, where days are spent along the canal, there's a lot of experience to have in North London. Don't miss grabbing a bite at the outdoor Camden Market or pulling up a seat at the luxurious Ivy Cafe. Just a hop away from Islington is Kentish Town o2, where live music is always happening.
1. Camden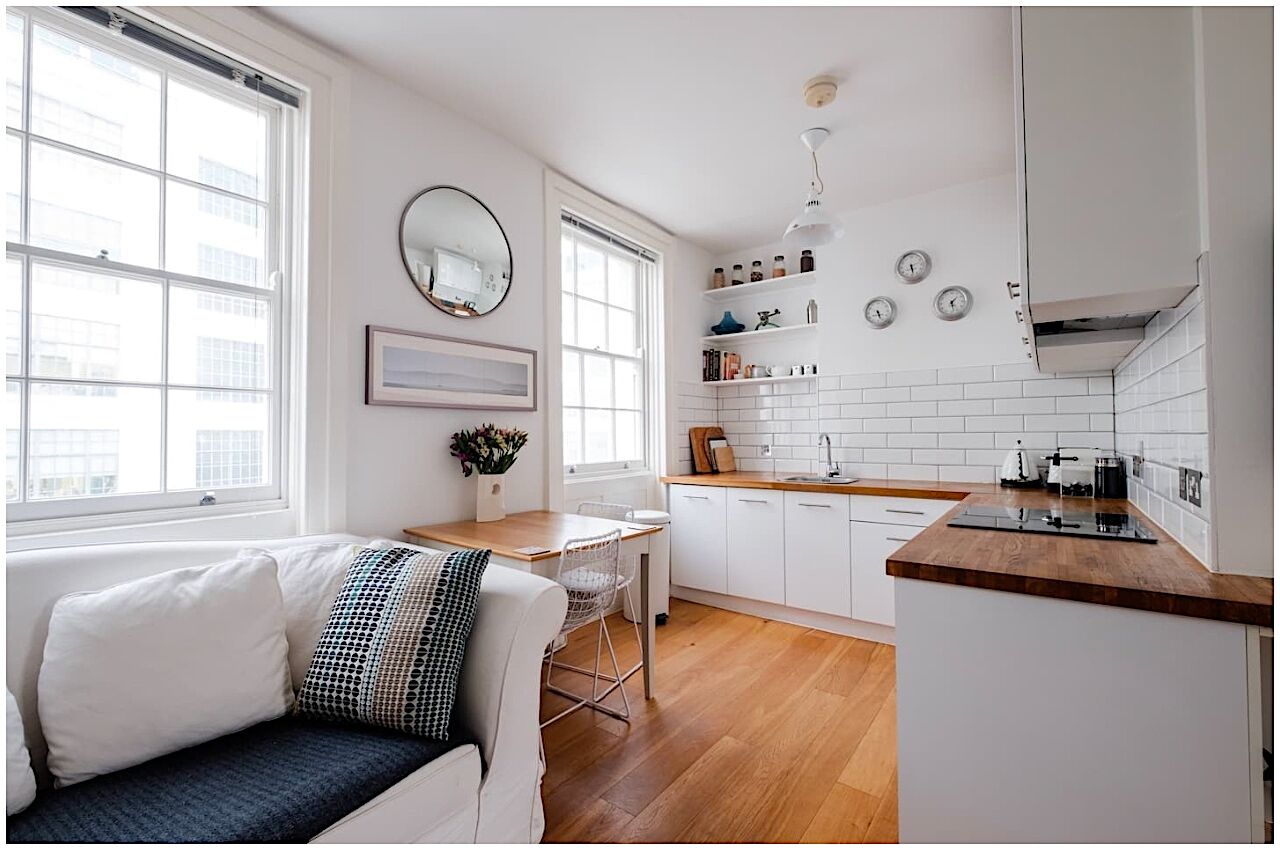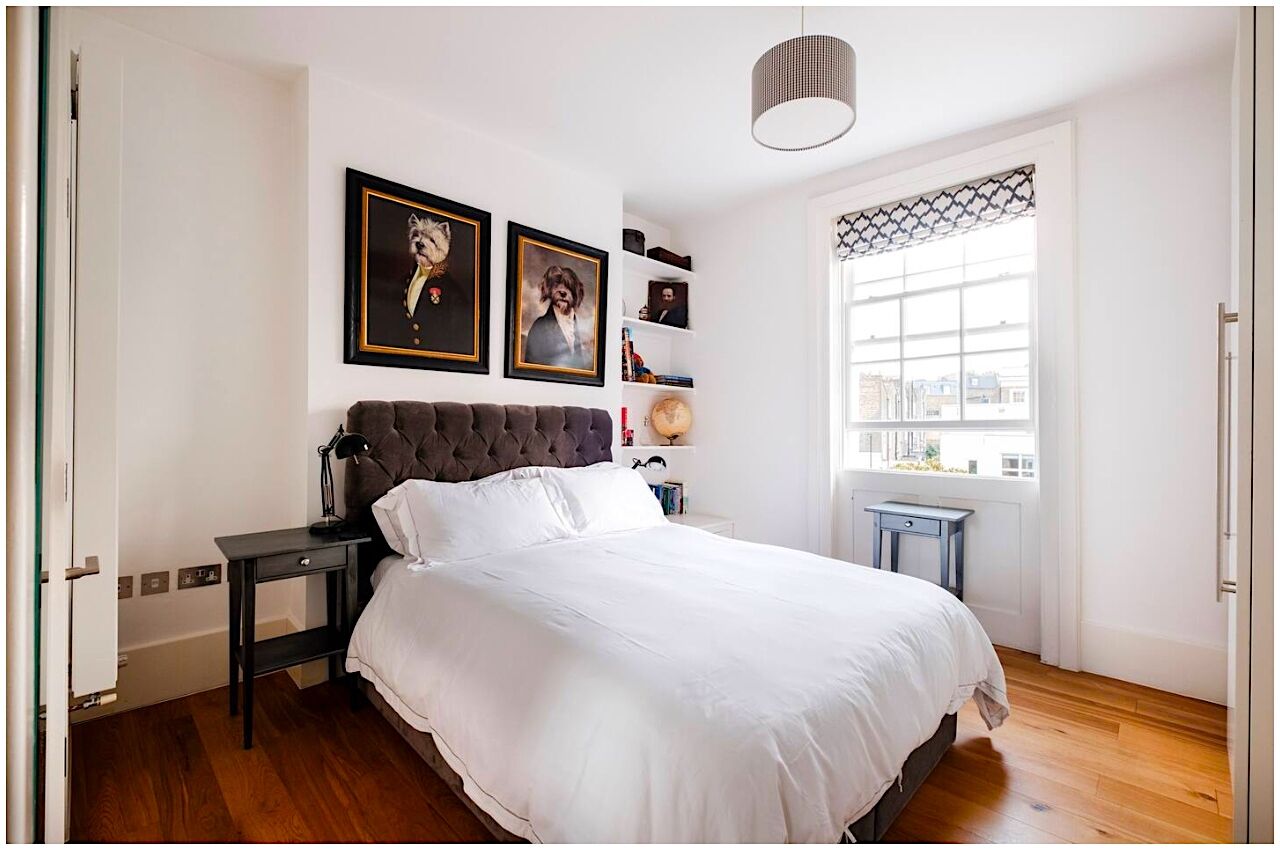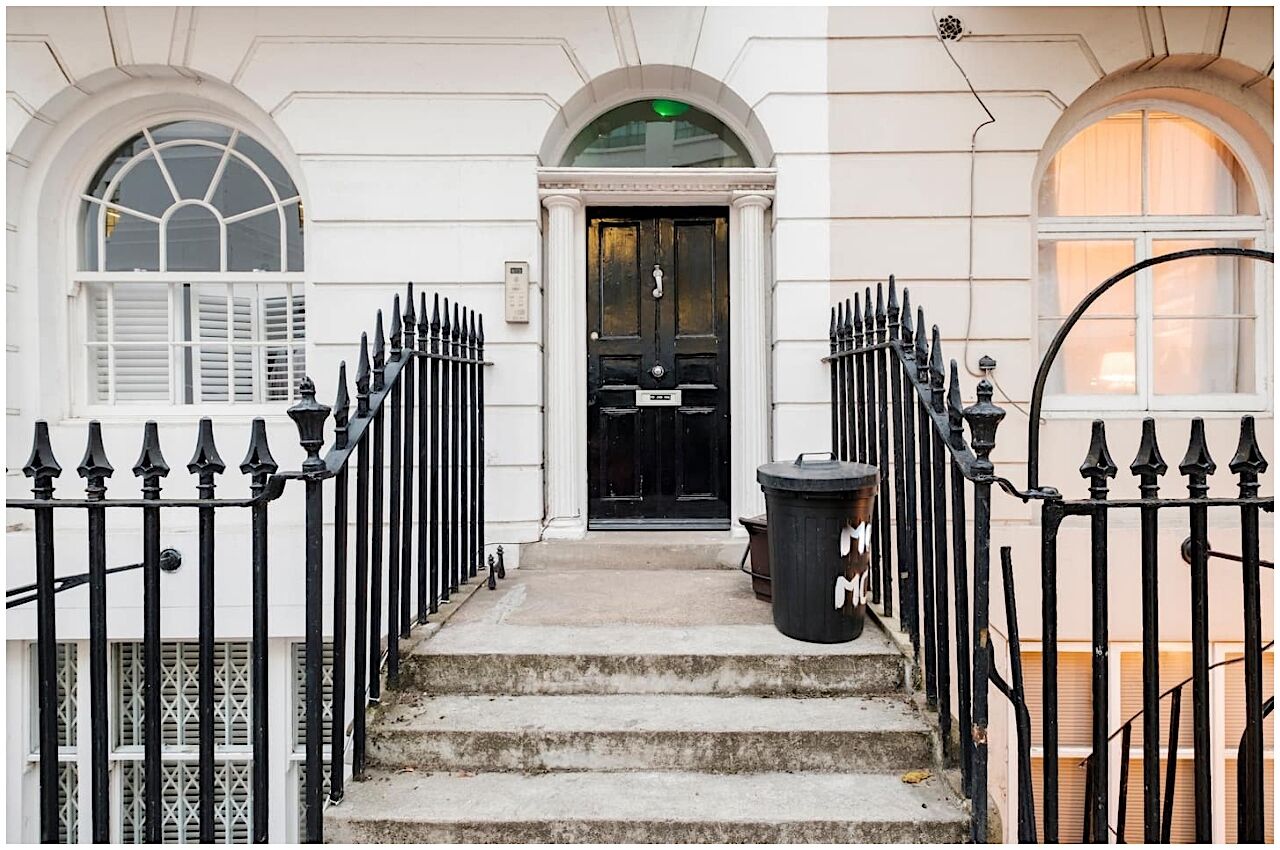 Piers' stylish place in Camden is tucked away on quiet Regency Street. You'll get to sleep and sip tea in peace here without being too far away from the buzz of Camden. The entire space is well-lit, giving it a bright, airy feel alongside the soft wooden details. After a long day of shopping along the high street, cozy up on the all-white couch in the open living space and sleep easily on the plush mattress in the ensuite bedroom. When you decide to leave the plushness of this place, the underground station is just five minutes away and steps from Camden Market, shops, and restaurants.
Two guests, one bedroom
$170 per night
2. Islington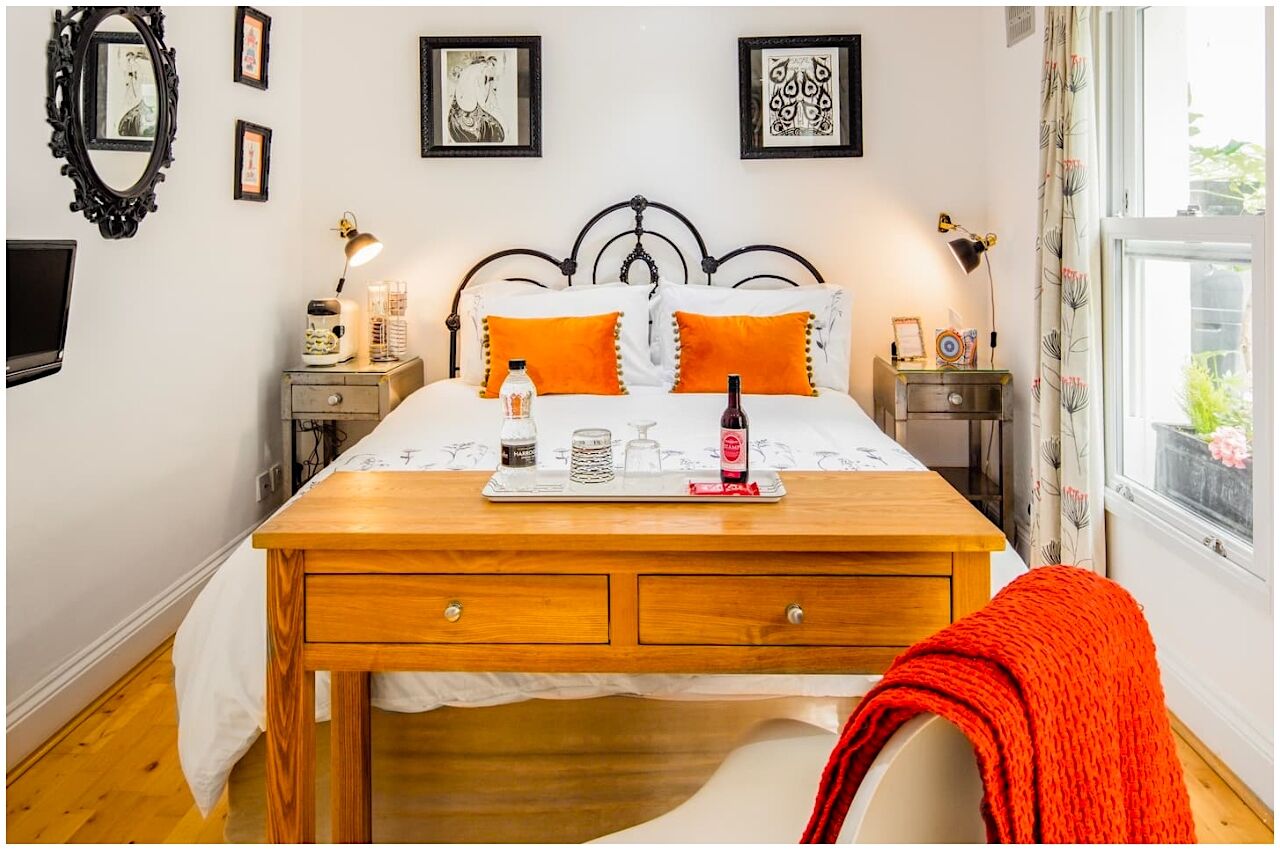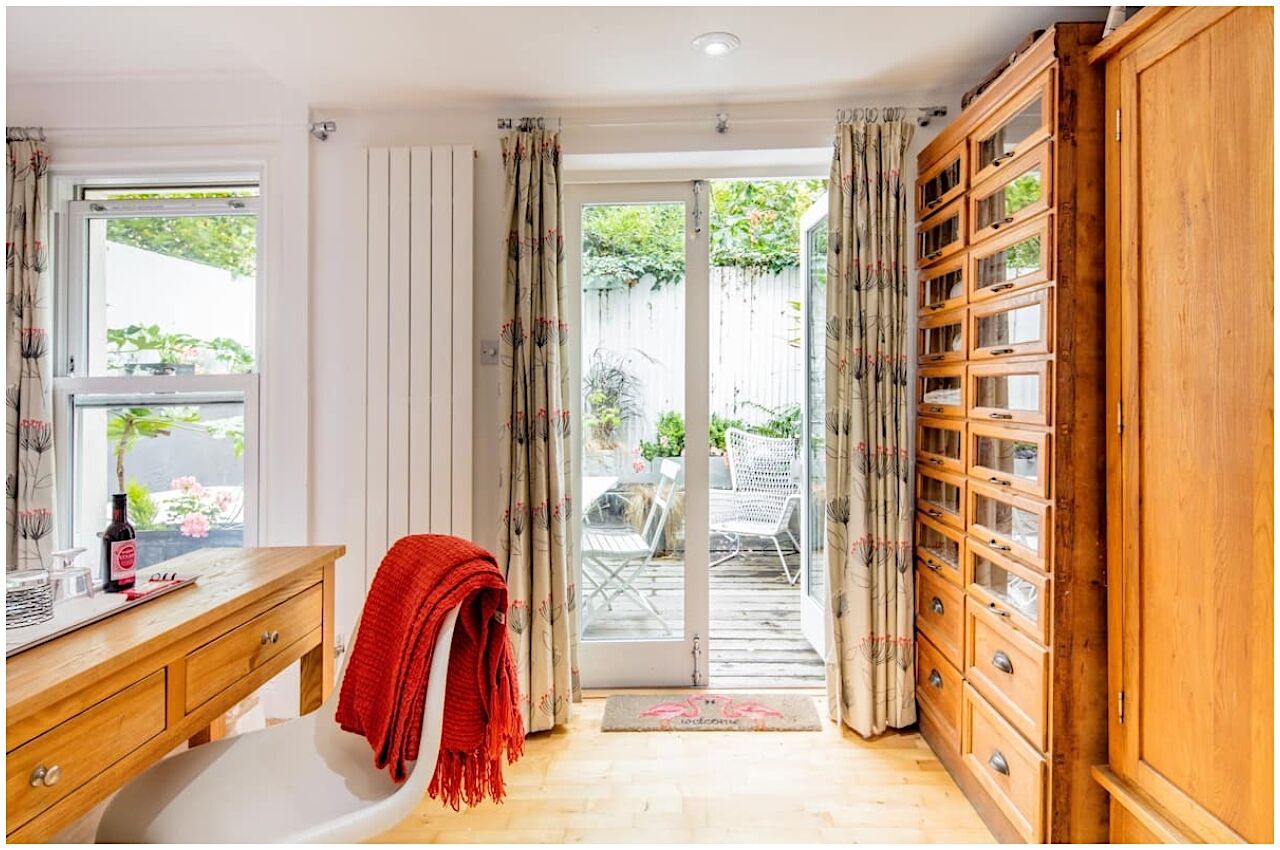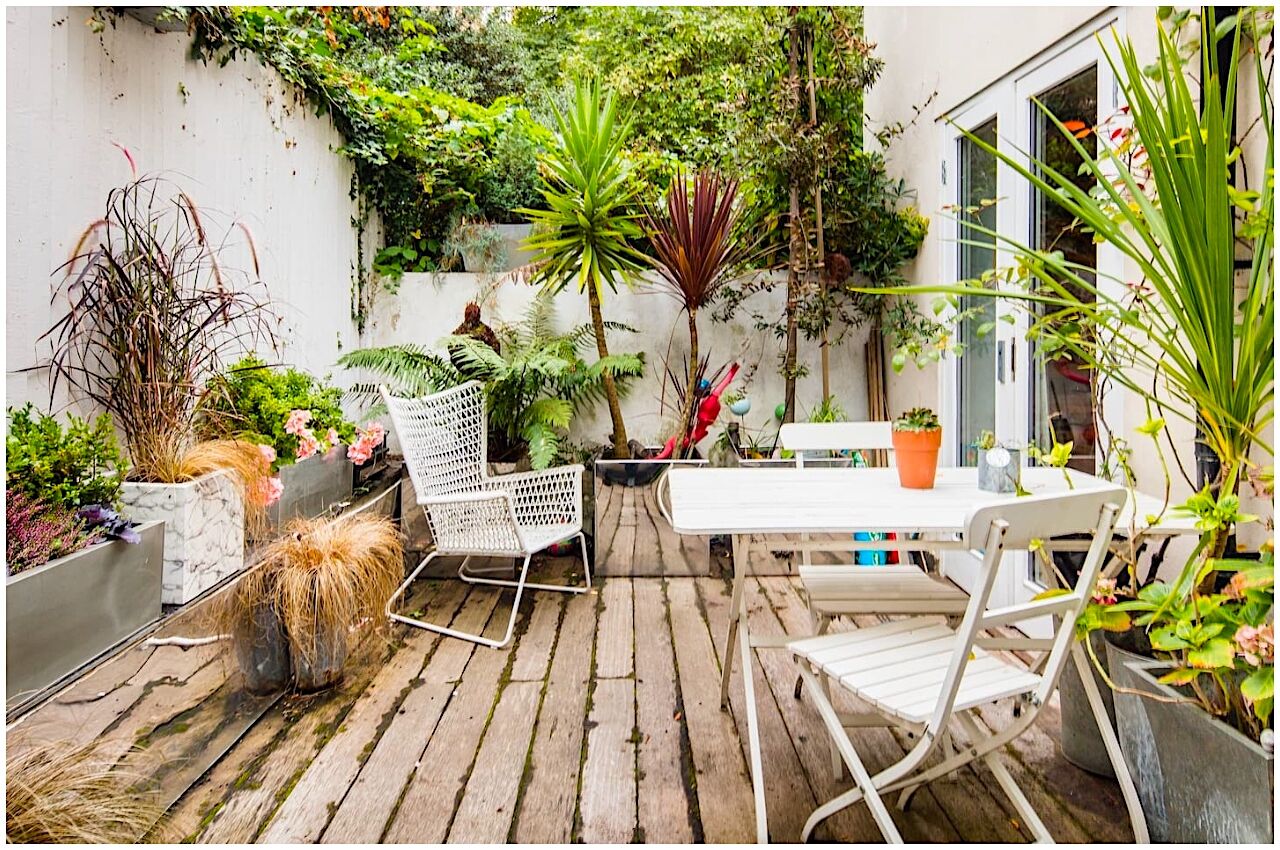 This tree-lined oasis is perfect for solo travelers exploring London. The ensuite bedroom is comfy with a king bed and private terrace ideal for morning espresso sips. Micci's place brings a beach house feel to London with vibrant orange linens, wood accents, and near floor-to-ceiling windows. Islington's Upper Street is just outside the door where you'll find plenty of coffee shops, bars, and restaurants to try some of London's best bites — like the Mediterranean dishes at Fig & Olive. Plus, your London home is just a few train stops away from neighborhoods like Dalston and Shoreditch.
One guest, one bedroom
$87 per night
3. St. John's Wood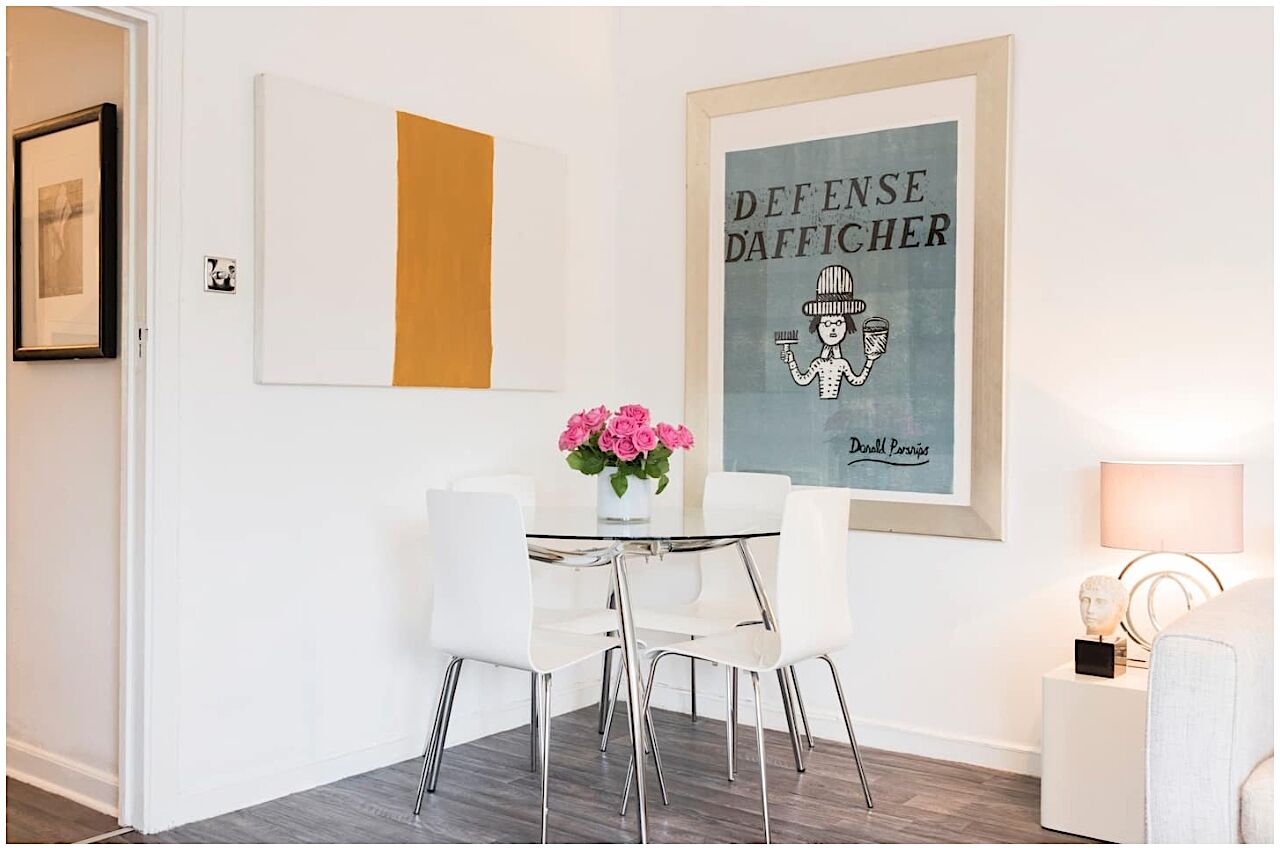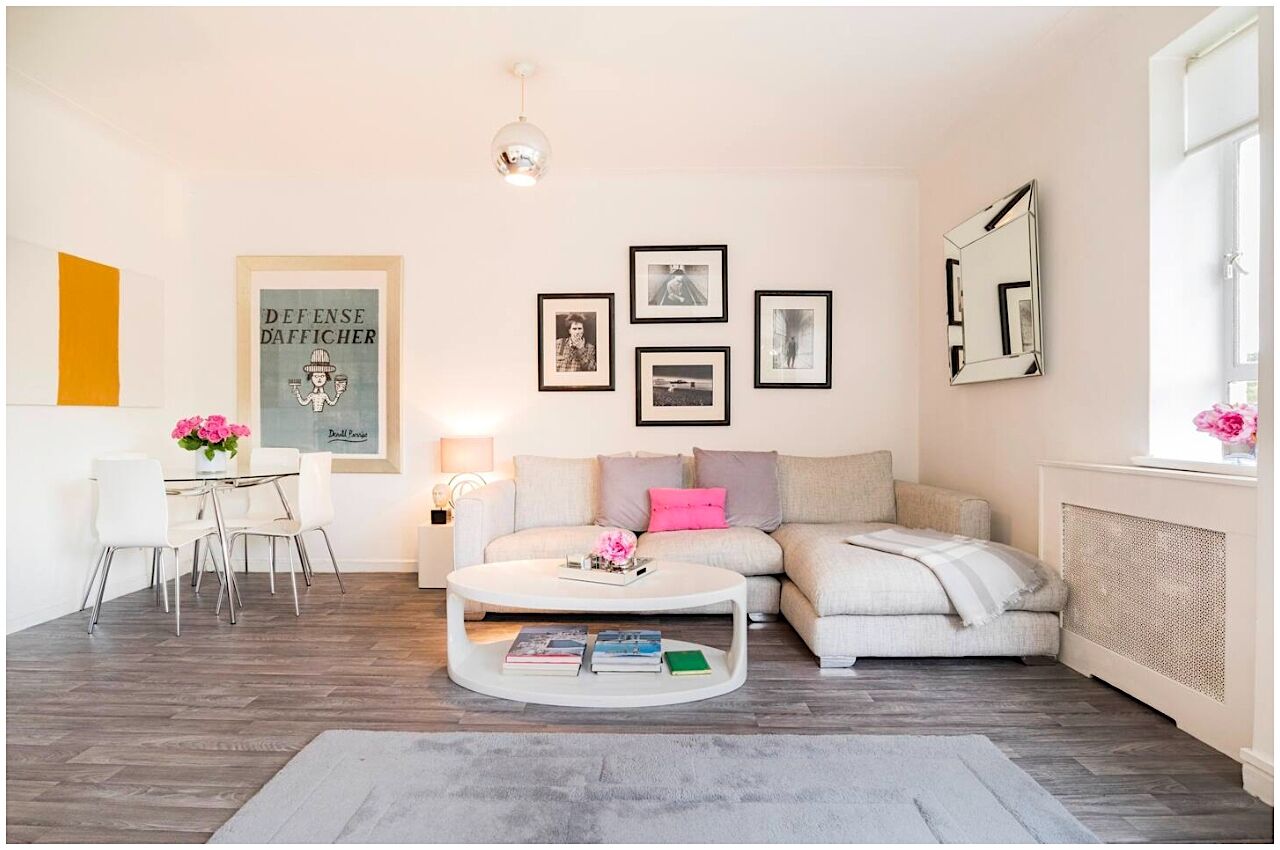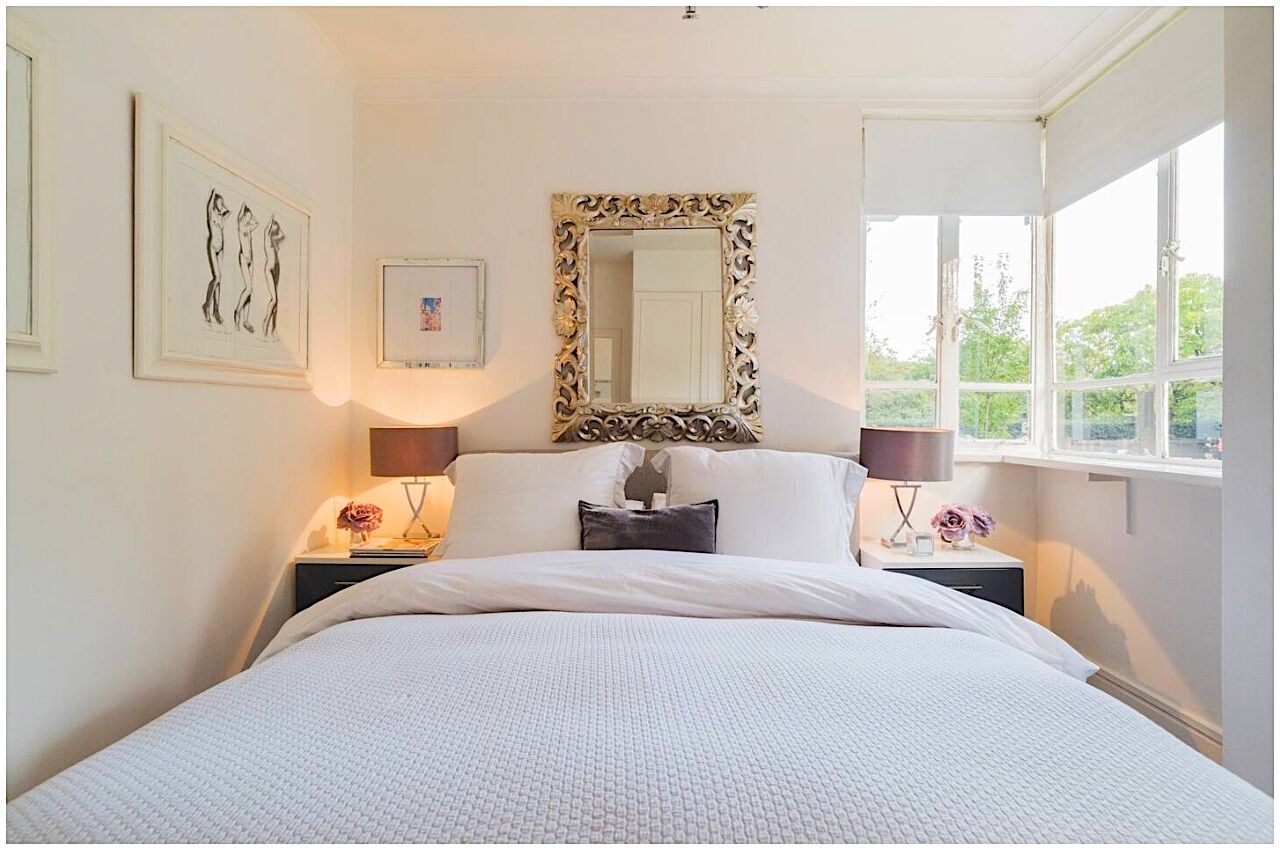 Cozy up at this calm parkside oasis in St. John's Wood. Start your days with a cup of tea in hand and take in the beauty of Regent's Park from the living room bay windows. Here nights end on the private terrace — sunsets sold separately. The decor here is modern, chic, and easy to love. It's easy to never want to leave, from the breezy white linens to the plush chaise couch.
But when you do decide to step outside these doors, the beauty of St. John's Wood awaits. This sleepy North London neighborhood is perfect for hanging by the canal or pulling up a seat in the area's many luxurious pubs like The Ivy Café.
Two guests, one bedroom
$331 per night
4. Primrose Hill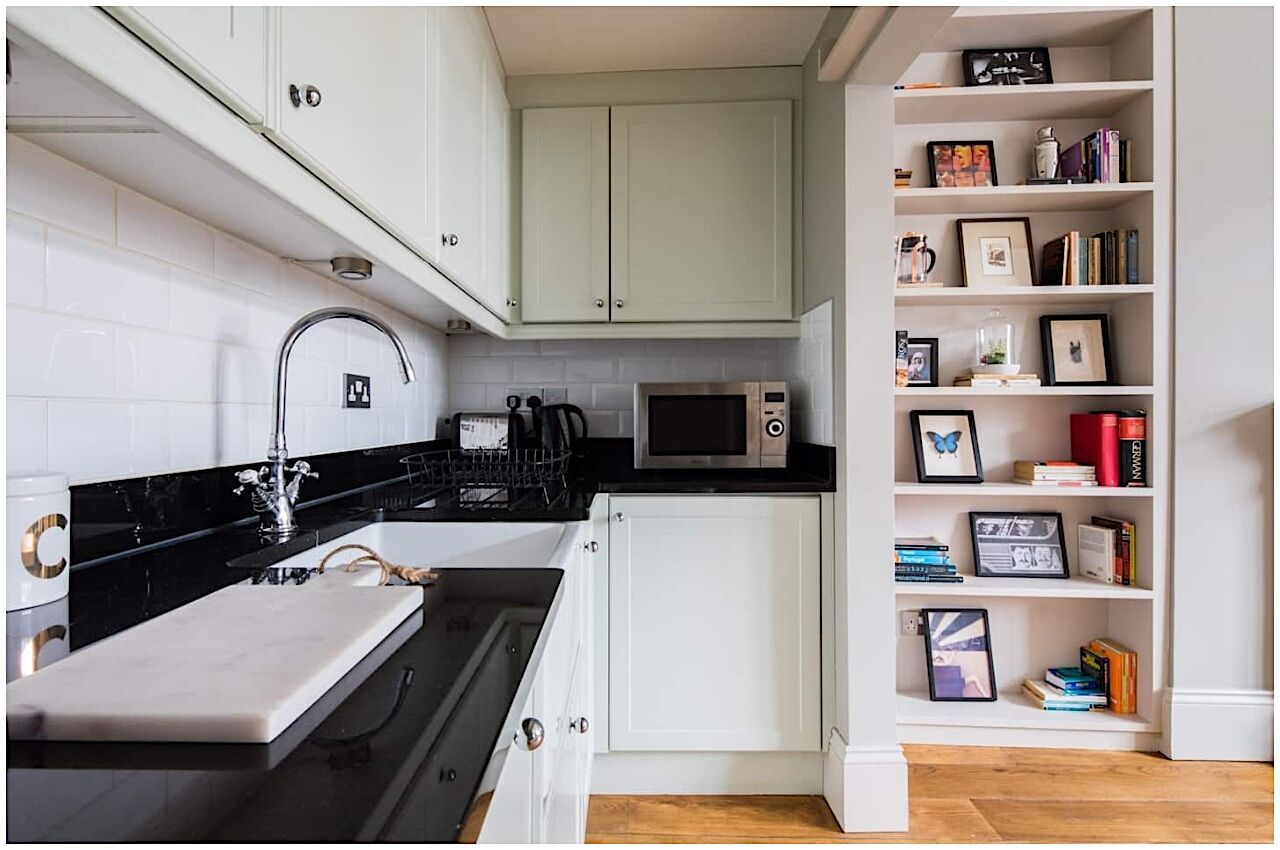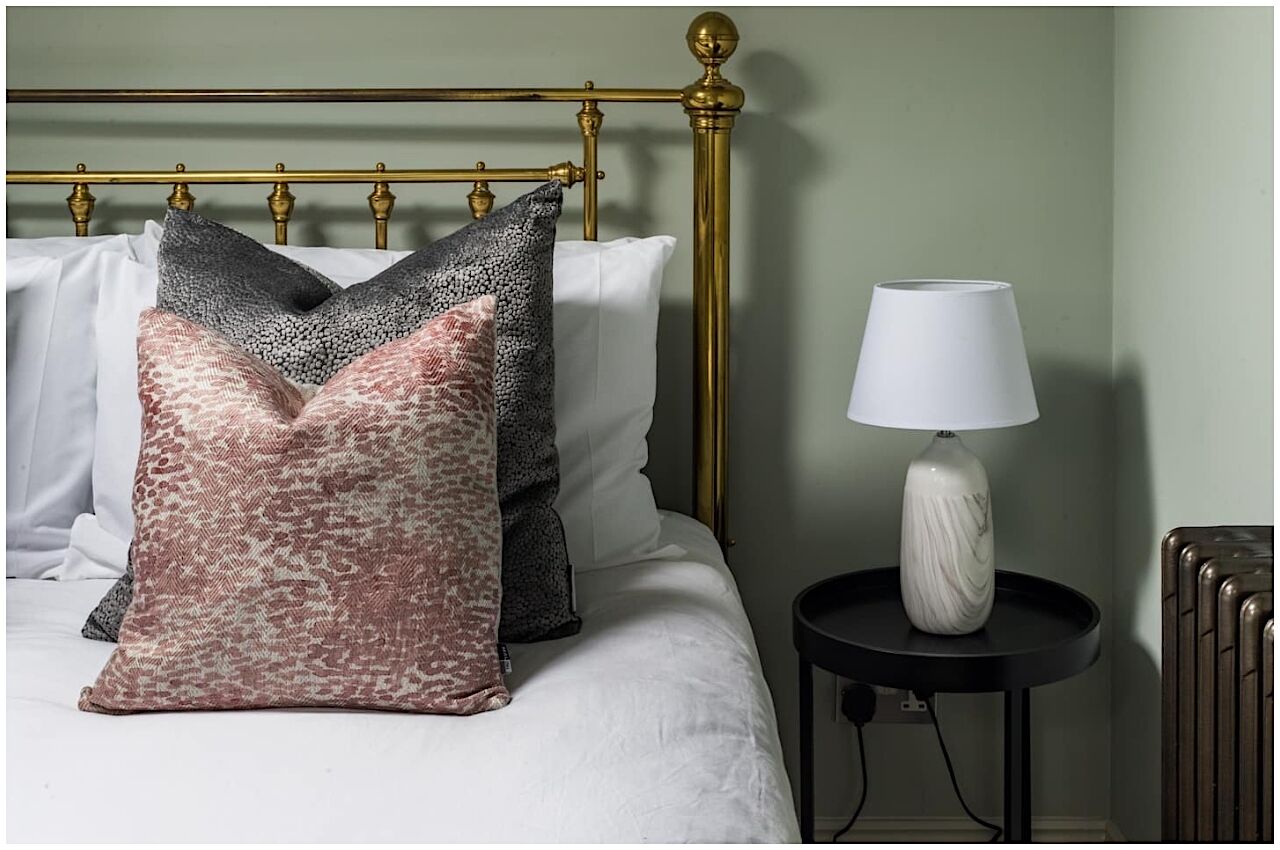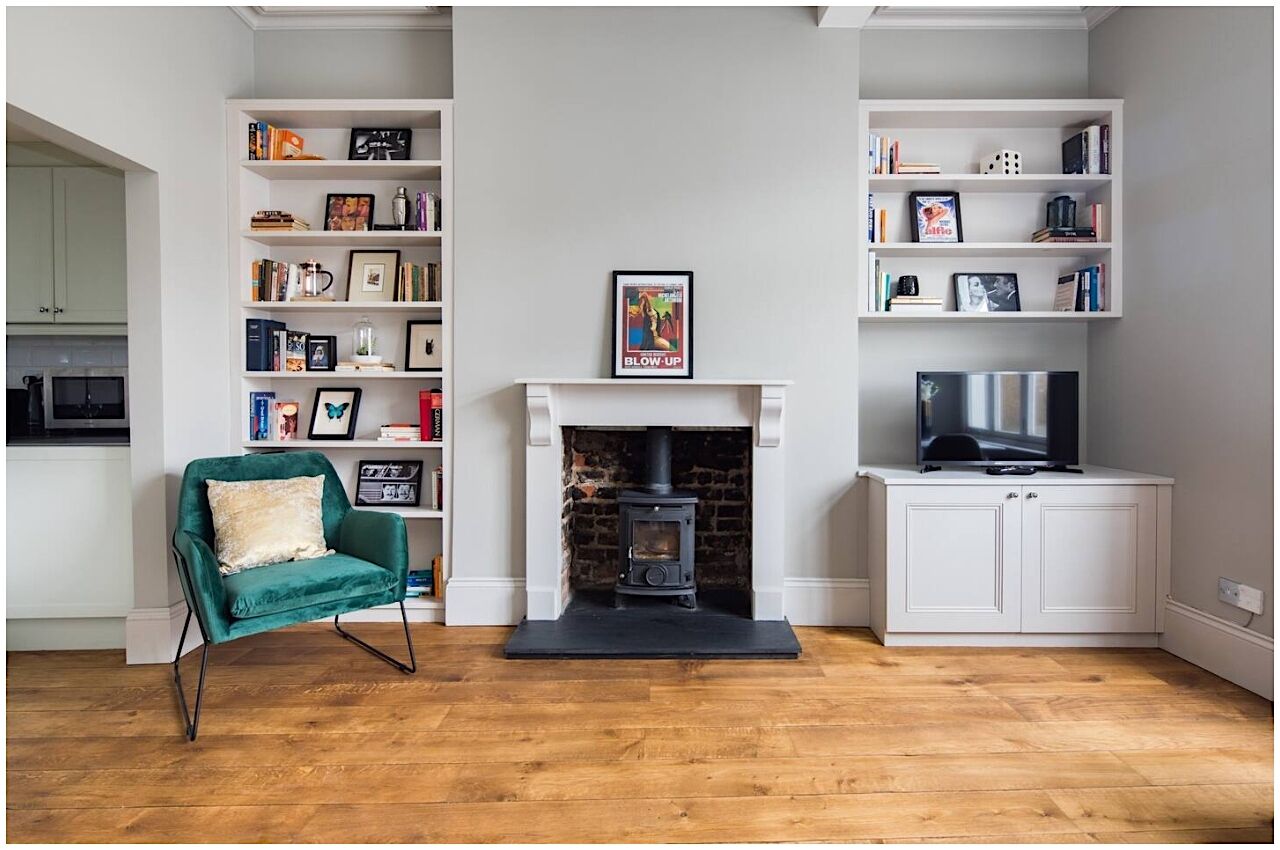 Feel at home right away in this warm Primrose Hill apartment. Kelly's place is just a stone's throw away from London's famous hilltop viewpoint. Sunrise or Sunset? It doesn't matter; you'll get beautiful panoramic views of the city no matter the time of day. This place is big enough for an intimate group of four with two bedrooms (with skylights) and one shared bathroom. The decor here is minimal, chic, and easy to love. After days strolling along the canal and browsing the many neighborhood shops, retreat to the living room where a fireplace and a cozy loveseat await you.
Four guests, two bedrooms
$422 per night
South London
South London is home to some of the city's best food and unique shops with an authentic community feel. Brixton and Peckham are full of life, and Caribbean culture is abundant. Meanwhile, Greenwich has classic London instructions like the Royal Observatory.
5. Brixton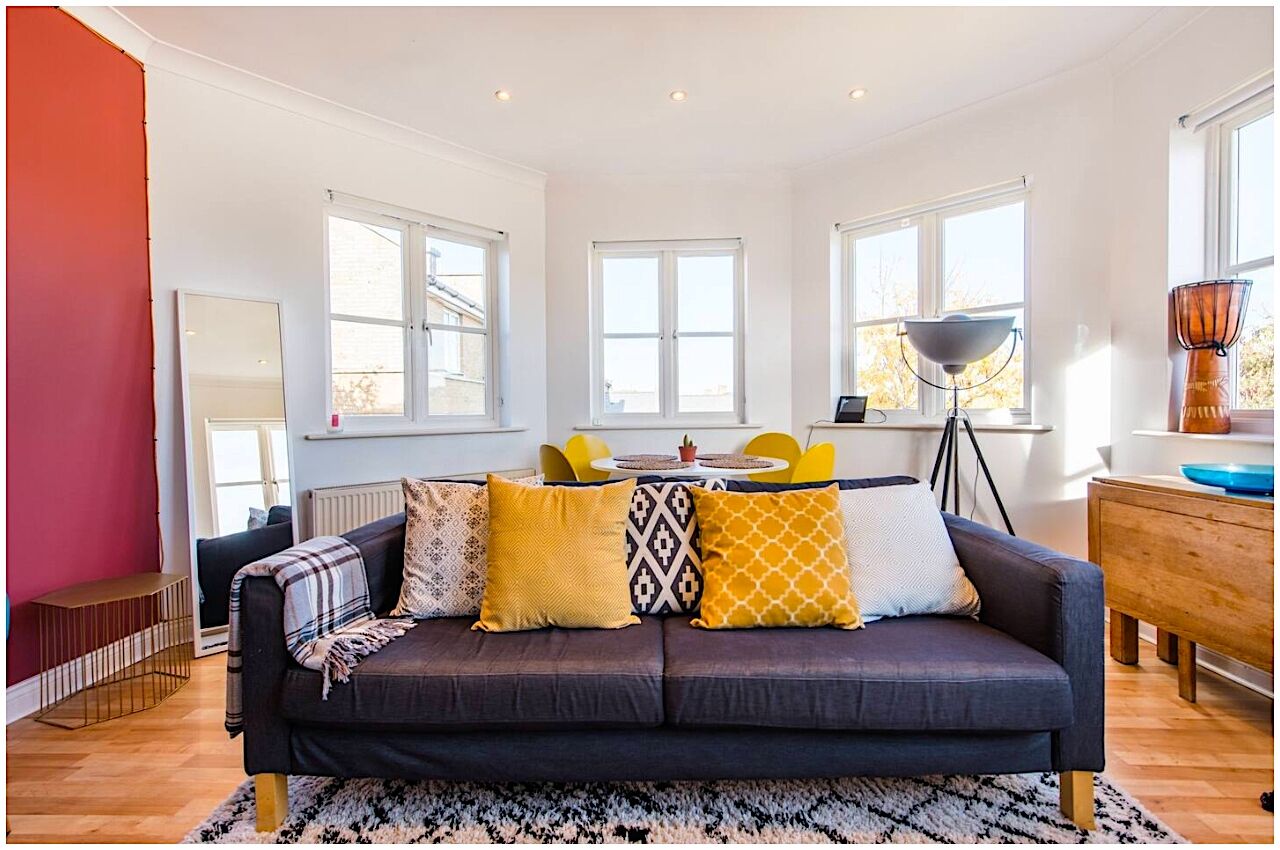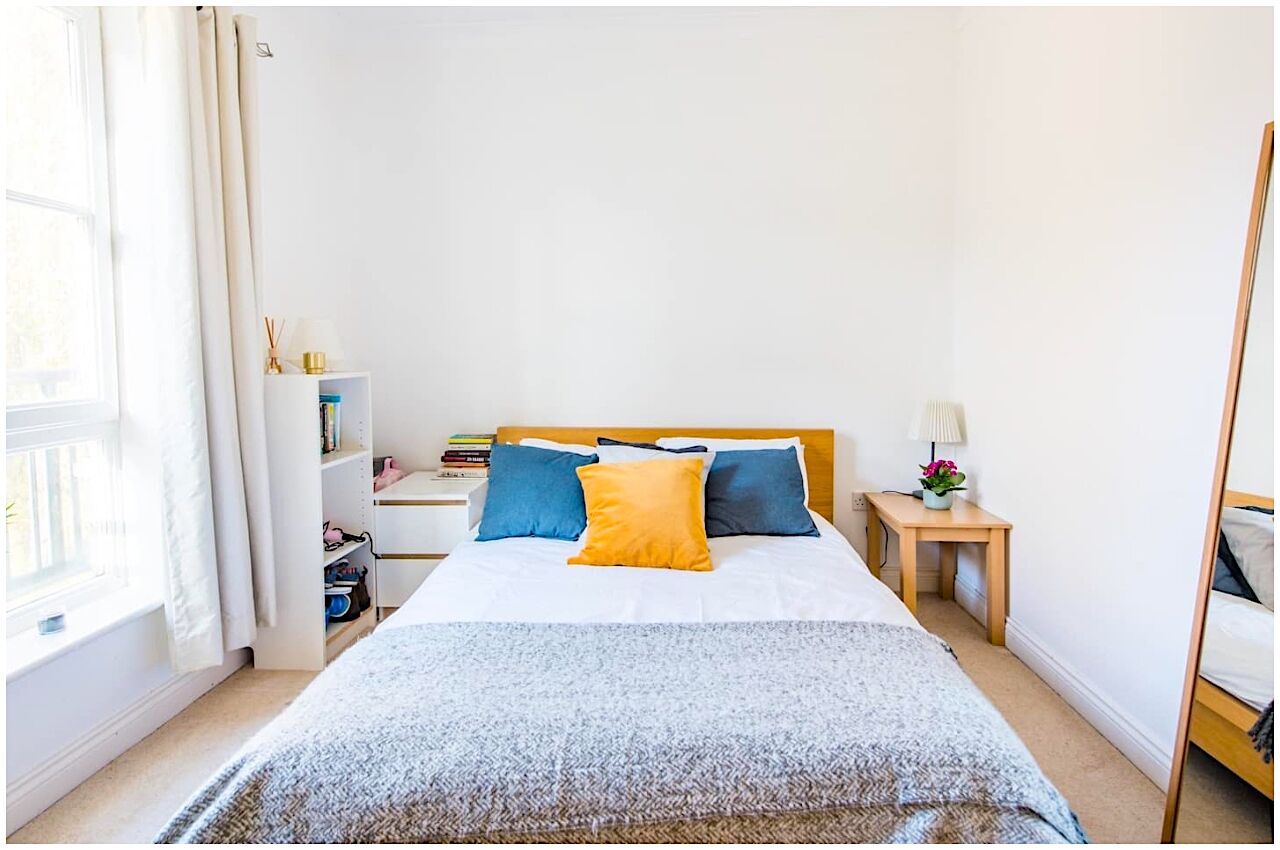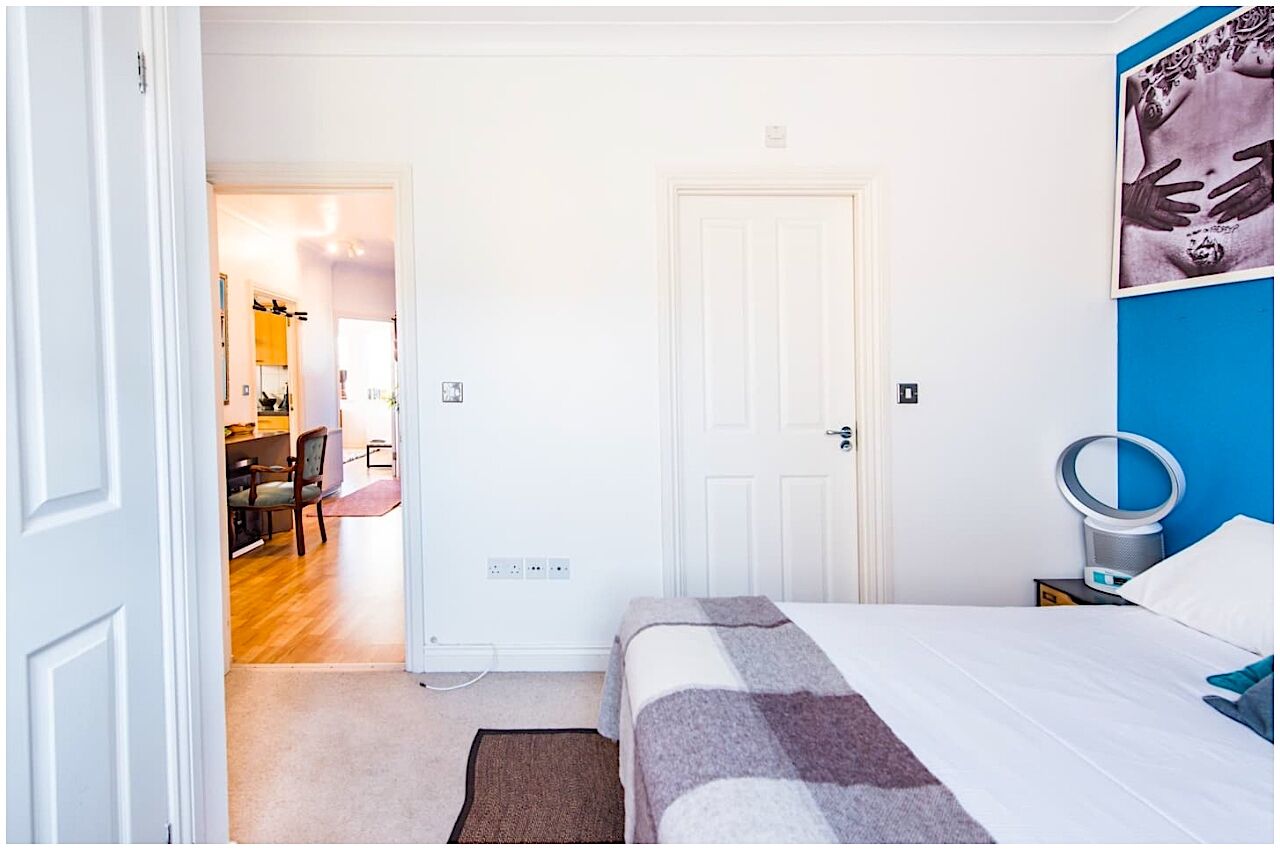 Brixton is full of life, and so is this colorful, bright blue-doored apartment in the heart of town. The main living space features large bay windows of maximum natural light and a red accent wall with a painting of former Londoner Jimi Hendrix. There's also a dining area with a view, perfect for meals for four people made in the full kitchen. The bedrooms are homey and functional with more natural light, bookshelves, floor-length mirrors.
Outside your door, stroll down Electric Avenue to check out the open-air food market, local shops, and Brixton Village–a street market with food and clothes vendors. Don't leave Brixton Village without heading upstairs to Lost In Brixton, a hidden paradise of a cocktail bar with Latin American-inspired sips.
Four guests, two bedrooms
$246 per night
6. Peckham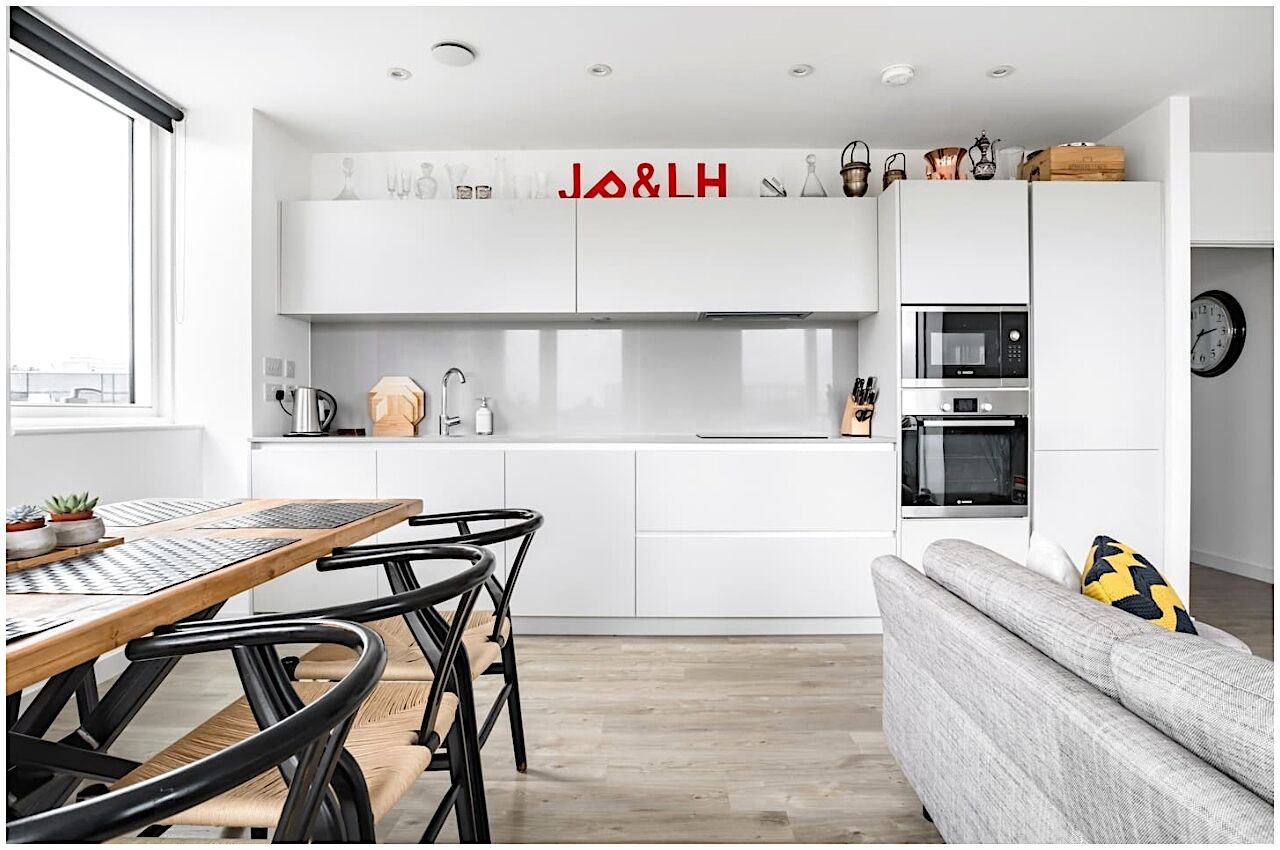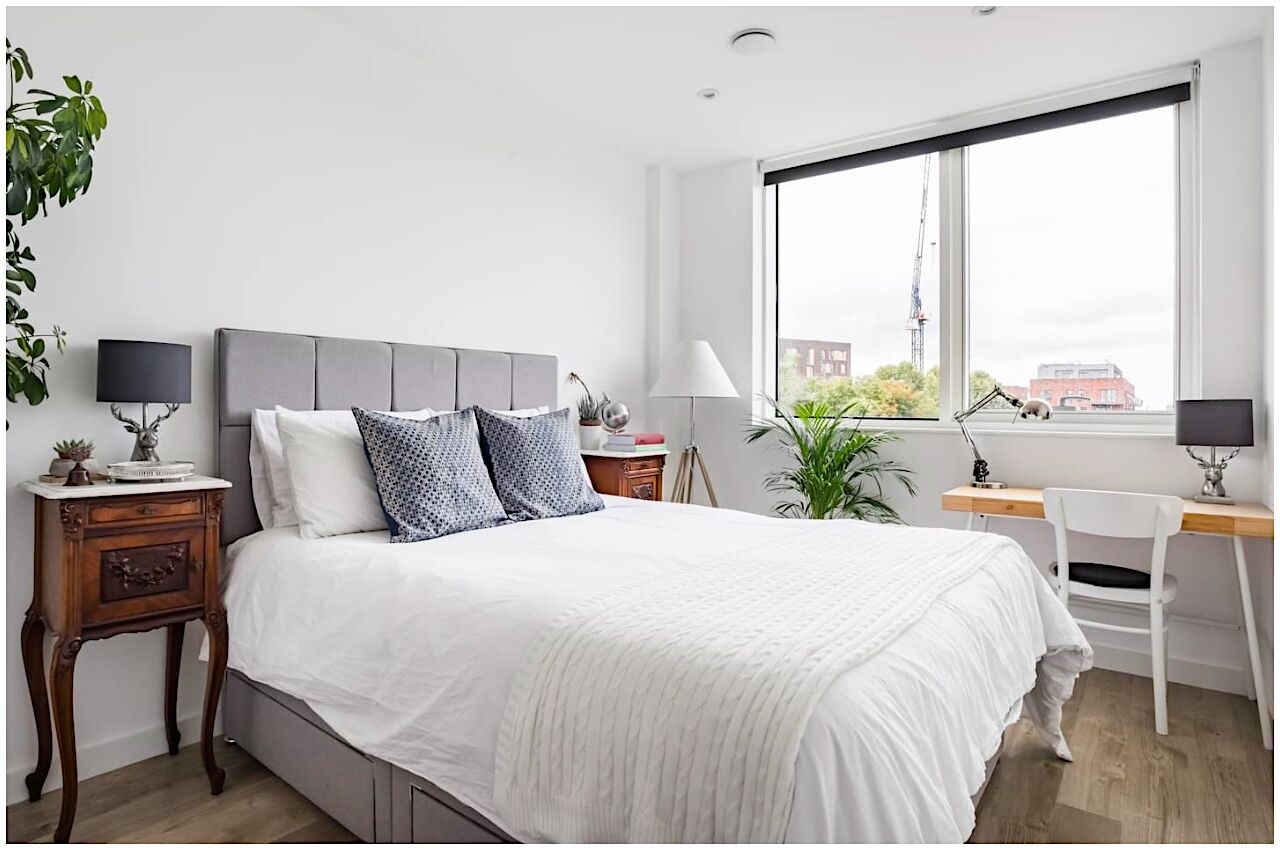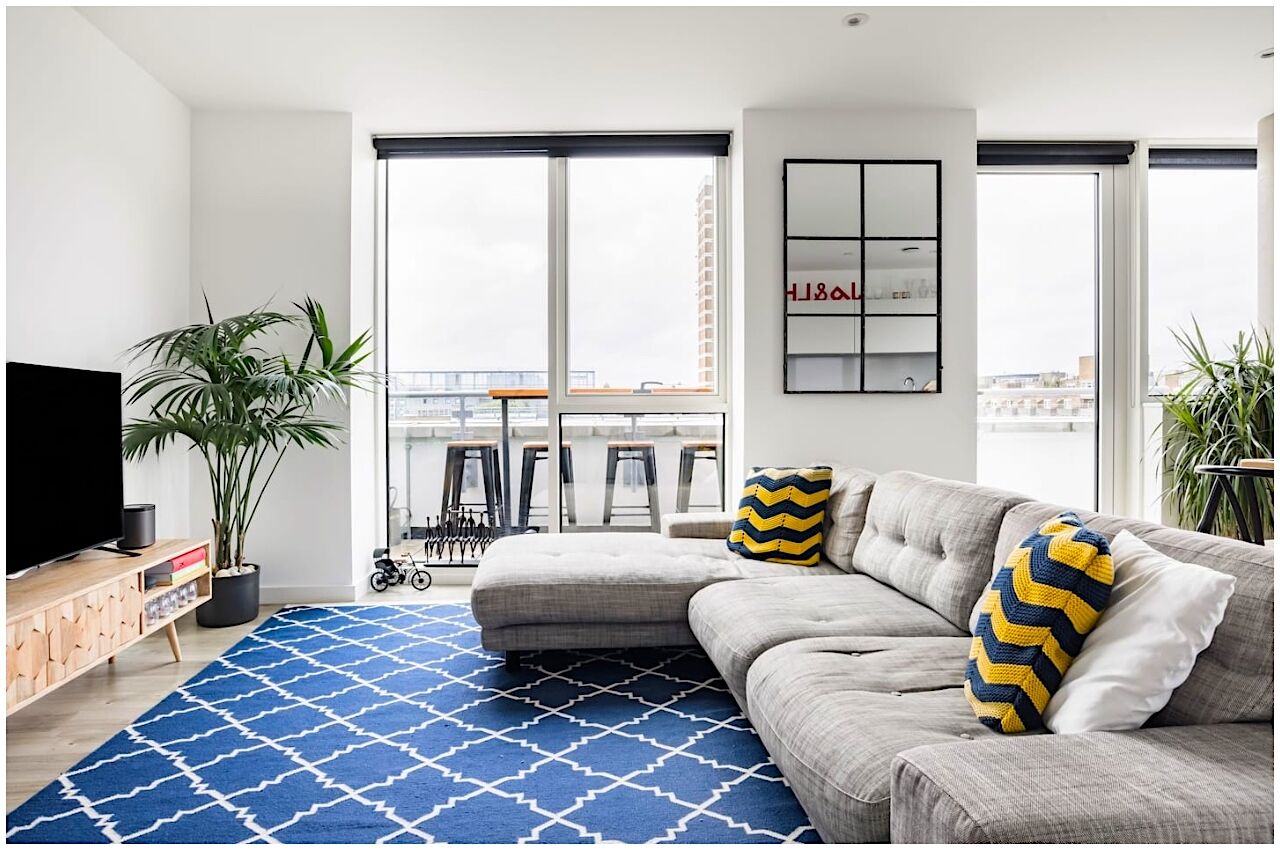 Stay in this Peckham penthouse if you're looking for stylish, luxury in South London. The space invites you in with its white and minimal gray decor, lots of greenery, and abstract wall art. The dining area is chic and comfortable with a wooden table and bench, and the bathroom feels luxurious and spa-like with white tiled walls and bamboo decor. One of the best parts of Leroy's place is the small outdoor patio with more greenery and views overlooking Peckham.
Four guests, two bedrooms
$132 per night
7. Greenwich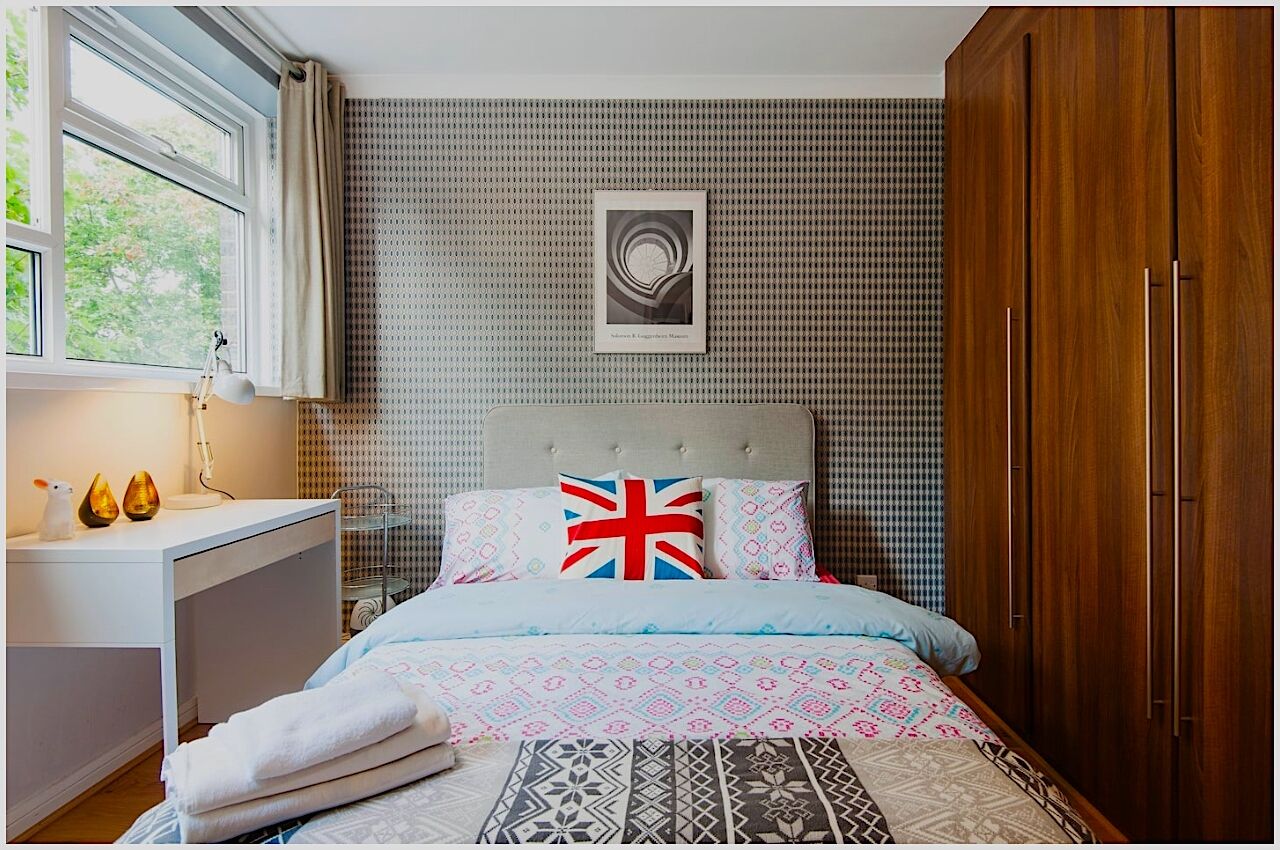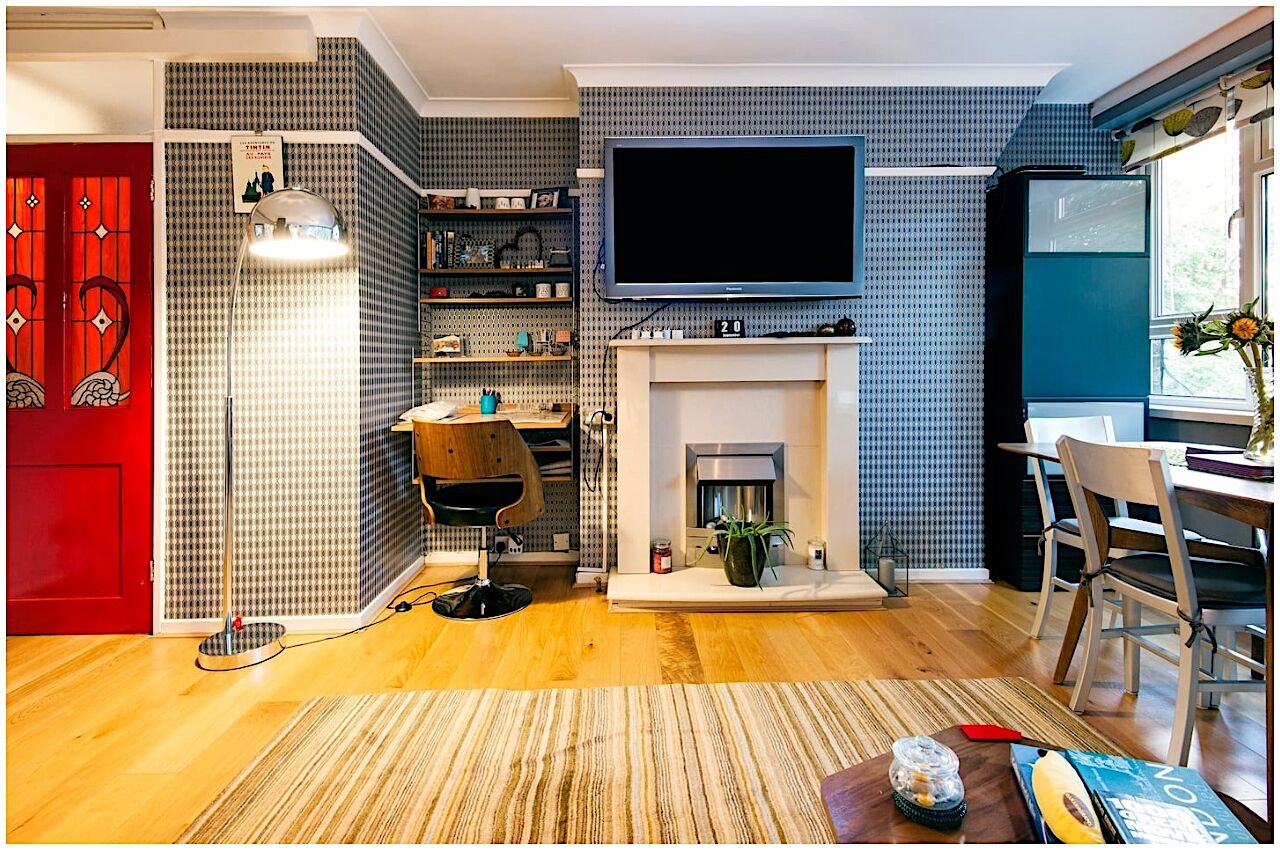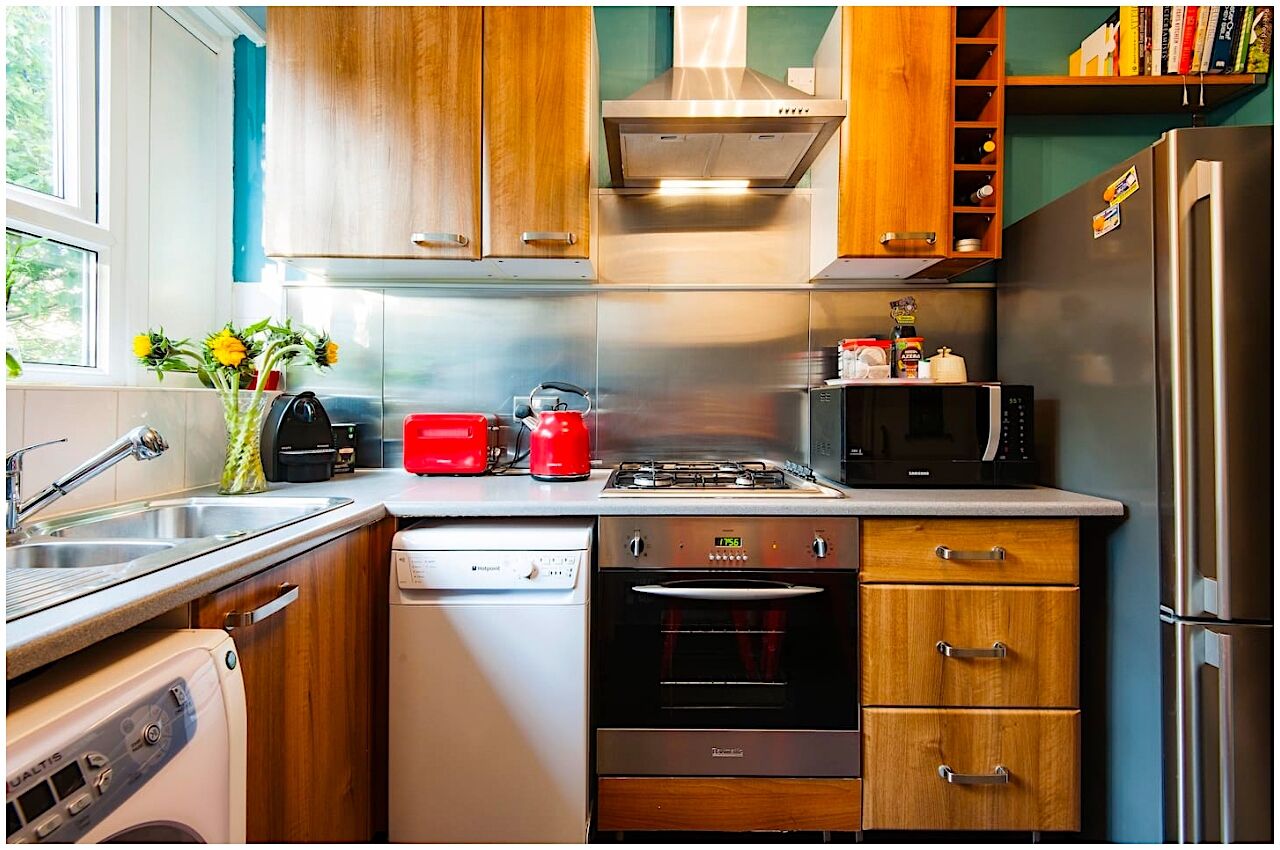 Travel back in time with this 1950s retro apartment in the heart of Greenwich. Funky decor, white and black tiled walls, and many wood finishes make this stylish place feel like home right away. The living room is bold and comfortable with a sectional couch and red leather chaise and functional with a dedicated workspace. Davey's place has two large double-bed bedrooms that are simple and have a bit of London-inspired decor. Here you'll be just a short walk away from Greenwich Market–perfect for eating, antique shopping, and people watching–and the famous Greenwich Observatory.
Four guests, two bedrooms
$198 per night
8. Clapham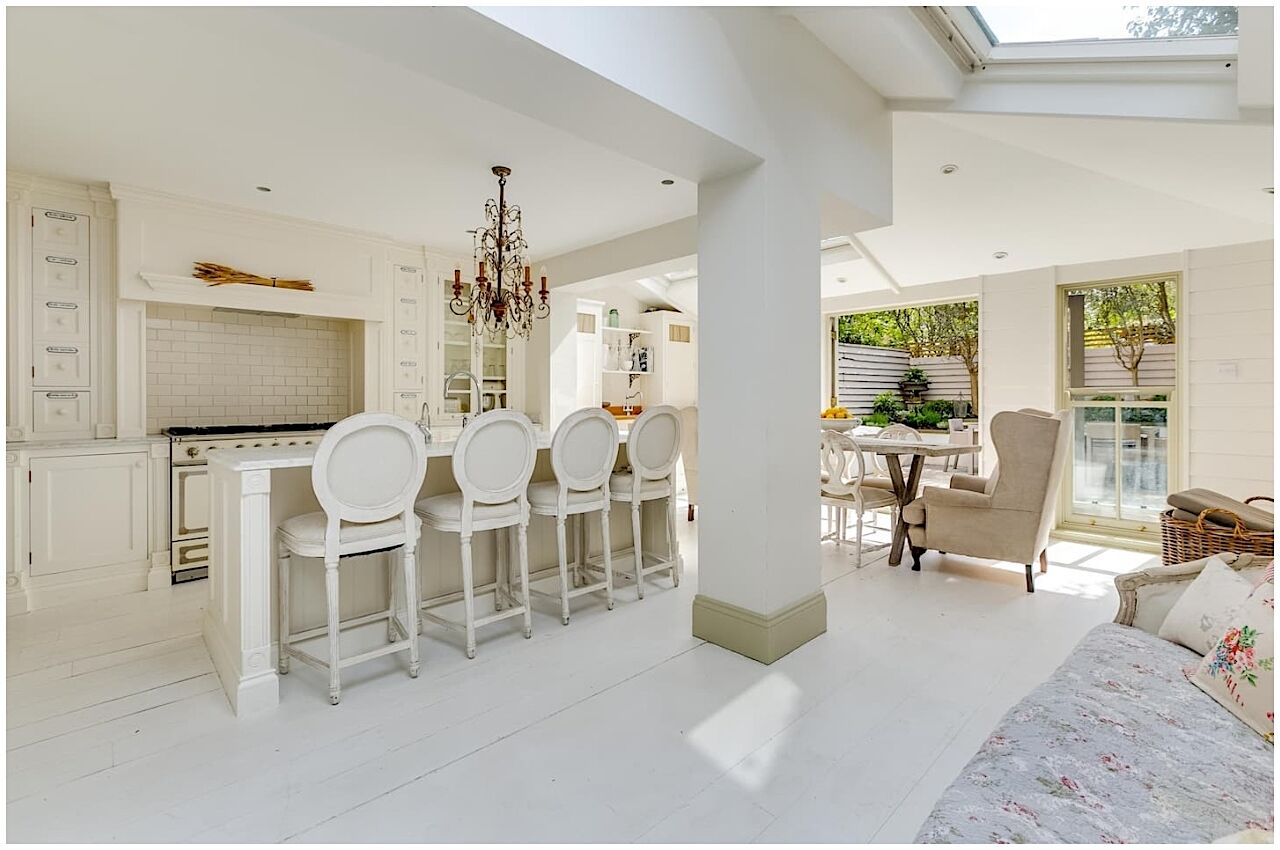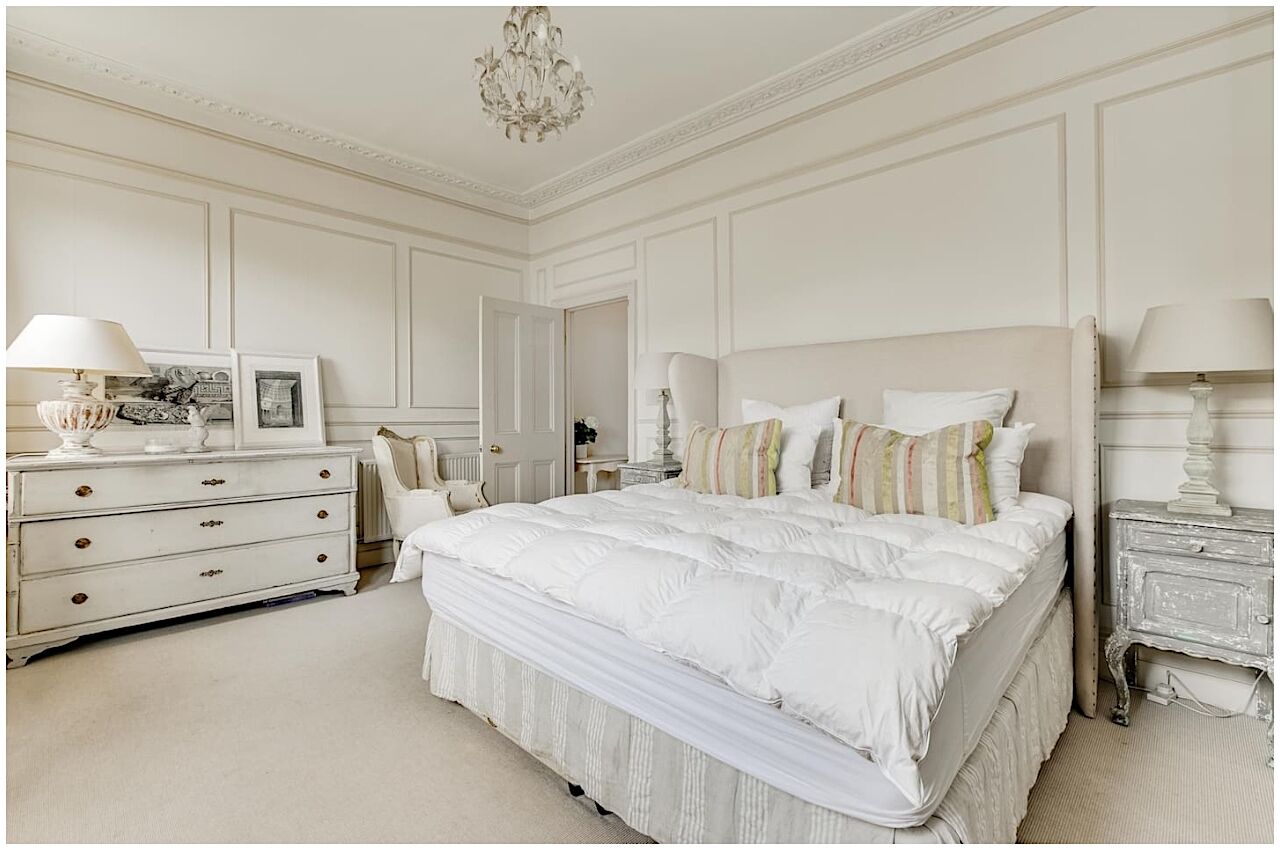 This English-countryside-inspired place is the perfect Airbnb in London's Clapham neighborhood. The decor, a blend of whites, creams, and off-whites, feels elegant and polished and the bedrooms feature draping floor-length curtains, fireplace mantles, and plush headboards. One of the five bedrooms is ensuite with a white clawfoot tub sat perfectly beneath a skylight window for an extra royal touch. After a long day of exploring London, prepare a meal in the large open-air kitchen and then retreat to the outdoor patio area for comfy garden dining.
Nine guests, five bedrooms
$931 per night
The best Airbnbs in West London
No trip to London is complete without visiting these beloved West London neighborhoods. They are worth exploring, from antique shopping at Portobello Road Market in Notting Hill to polished cafes in Chelsea. And South Kensington has some of the best shopping in town.
9. Notting Hill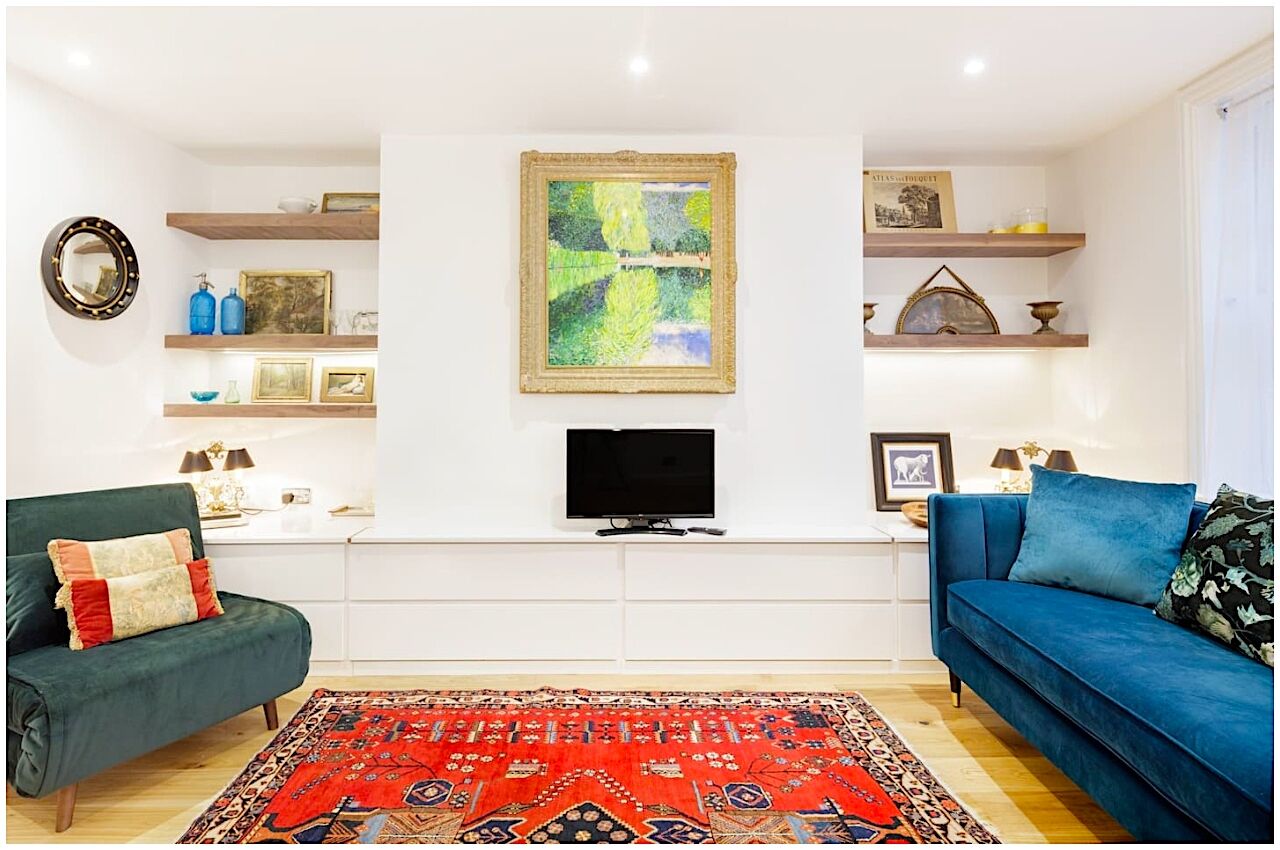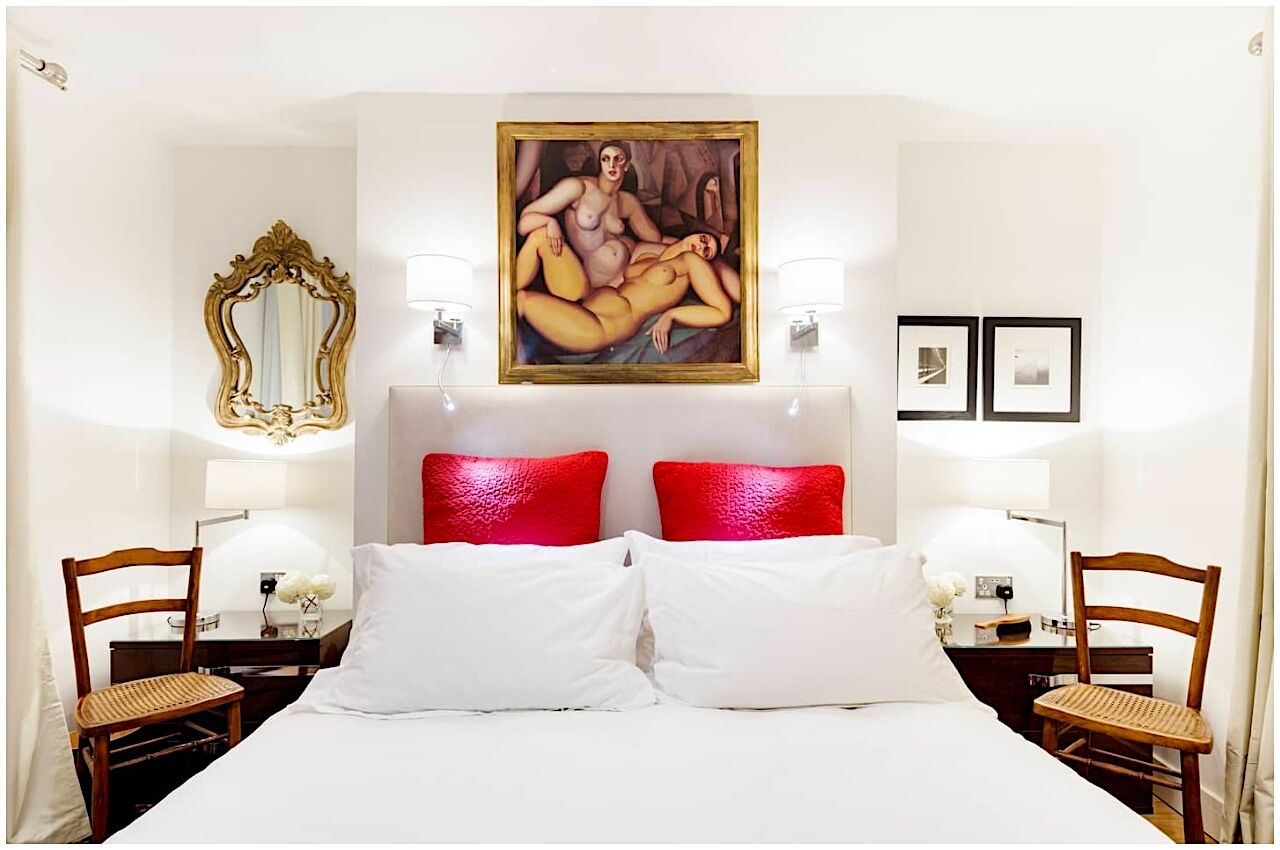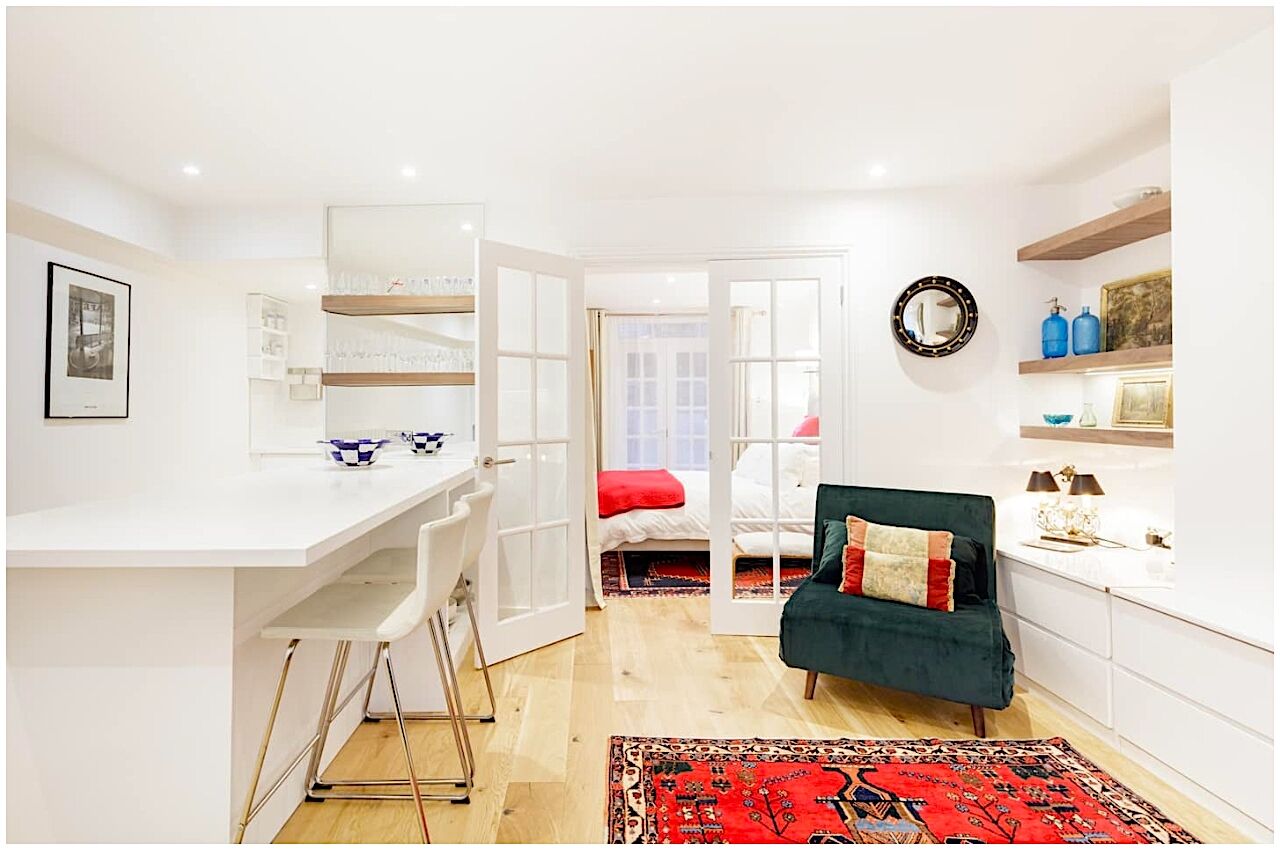 Step into the opulent luxury of Mel's place in Notting Hill. The West London neighborhood is loved for its ritzy flair, and this apartment emulates the same spirit; in this cozy hideaway, the beauty is in the details. From the gold vintage mirror to classic nude art on the walls, this place feels fitting for a stay in Notting Hill. Not just pretty, the space is functional too, with a detected workspace, floating wood kitchen shelves, and french doors for a bit of privacy between the living area and bedroom.
There's much to explore outside this apartment. The neighboring streets are lined with cafes, restaurants, and plenty of green spaces. On Saturdays, you'll be just a stroll away from the famous Portobello Road Market, where antique shopping and eating local bits are a must.
Three guests, one bedroom
$181 per night
10. South Kensington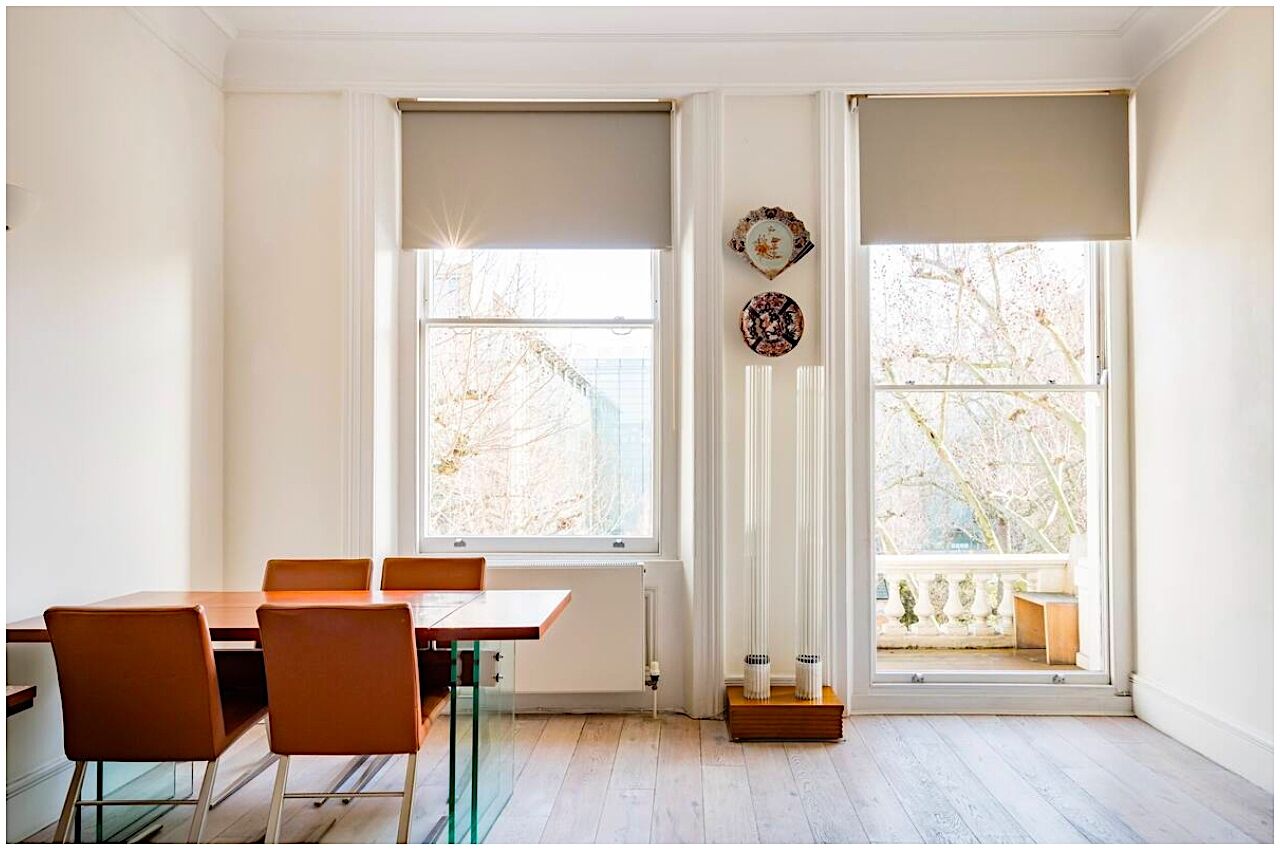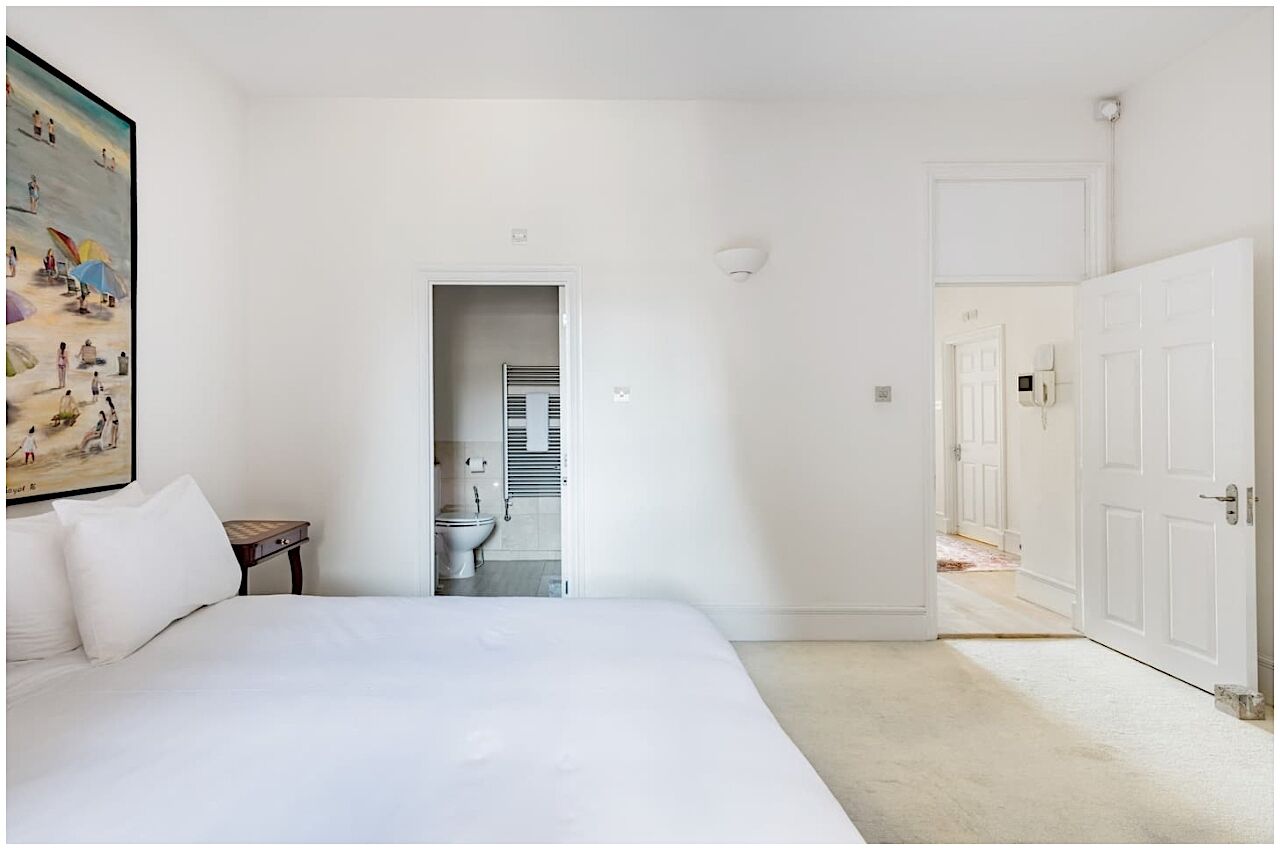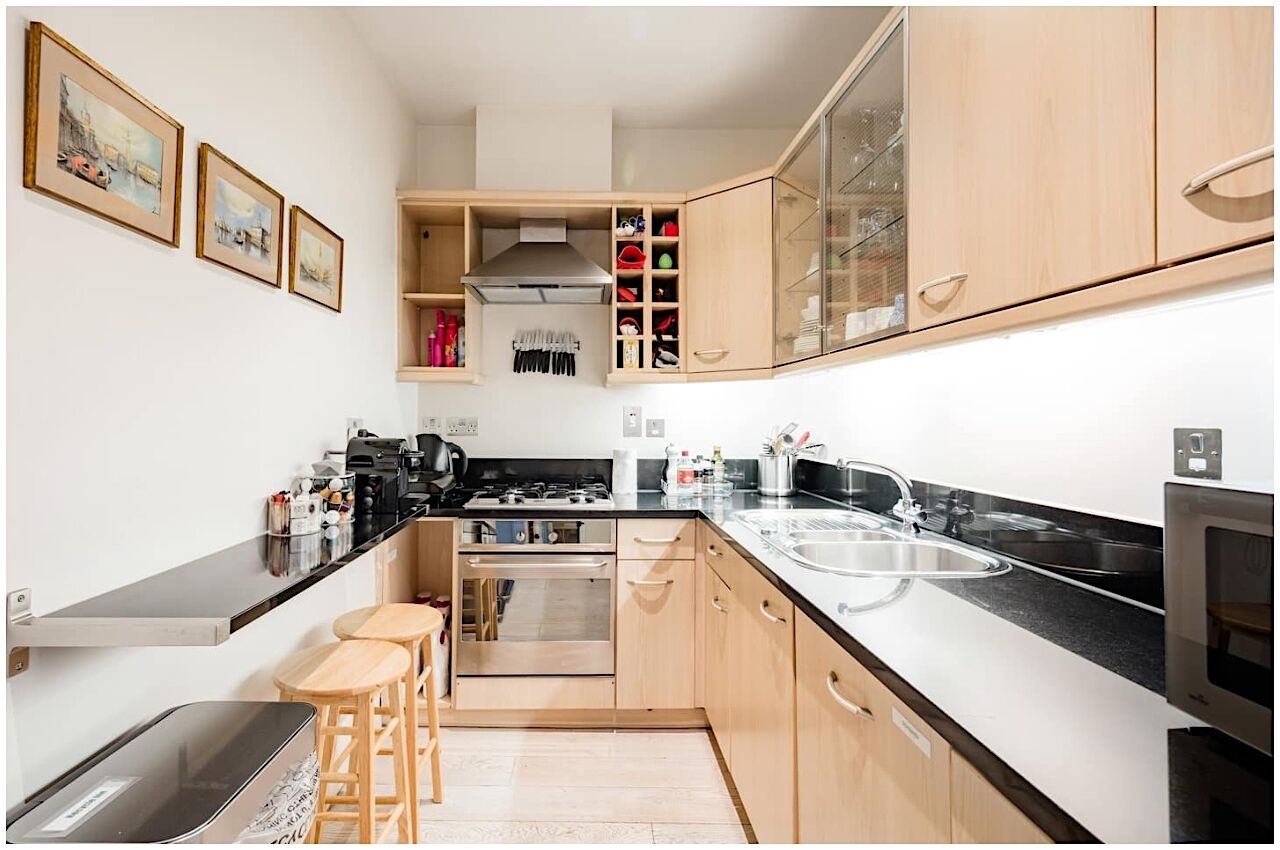 This bright Edwardian townhouse is tucked away on a quiet street in the heart of South Kensington. Mo's place is warm and eclectic, with a cozy living room featuring light wood floors, high ceilings and tall windows, and a framed stamped collection. After exploring London, the dining area features a long wood oak-like table perfect for homemade dinners for four. Nothing seems out of place here while still feeling cosmopolitan and down to earth.
Bedroom one is ensuite and features high ceilings and a king-sized floor mattress. Bedroom two has two single beds perfect for those wanting their own sleep space. And there's a small balcony here, great for having a cup of tea in the mornings. The apartment is steps away from the Natural History Museum and the Victoria and Albert Museum–well-loved London institutions.
Five guests, two bedrooms
$579 per night
11. Chelsea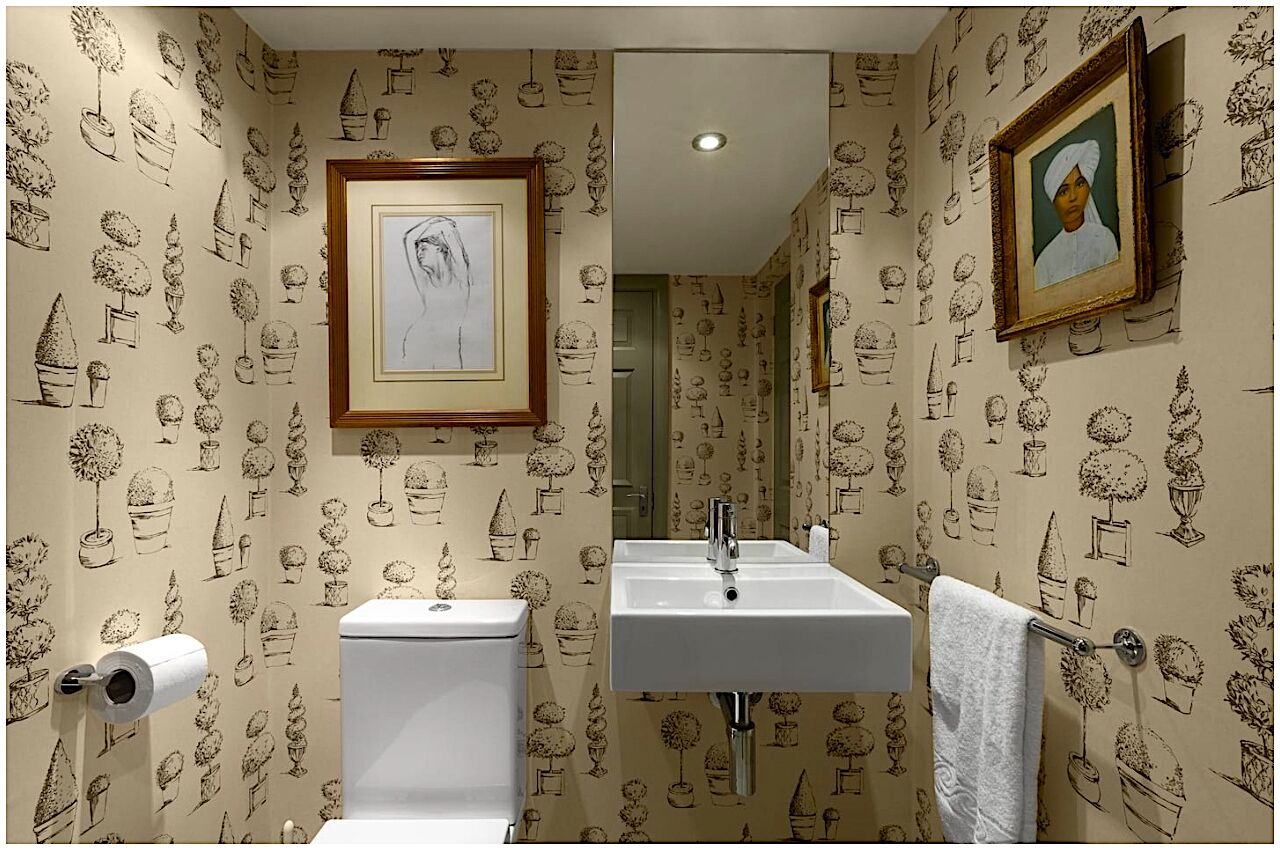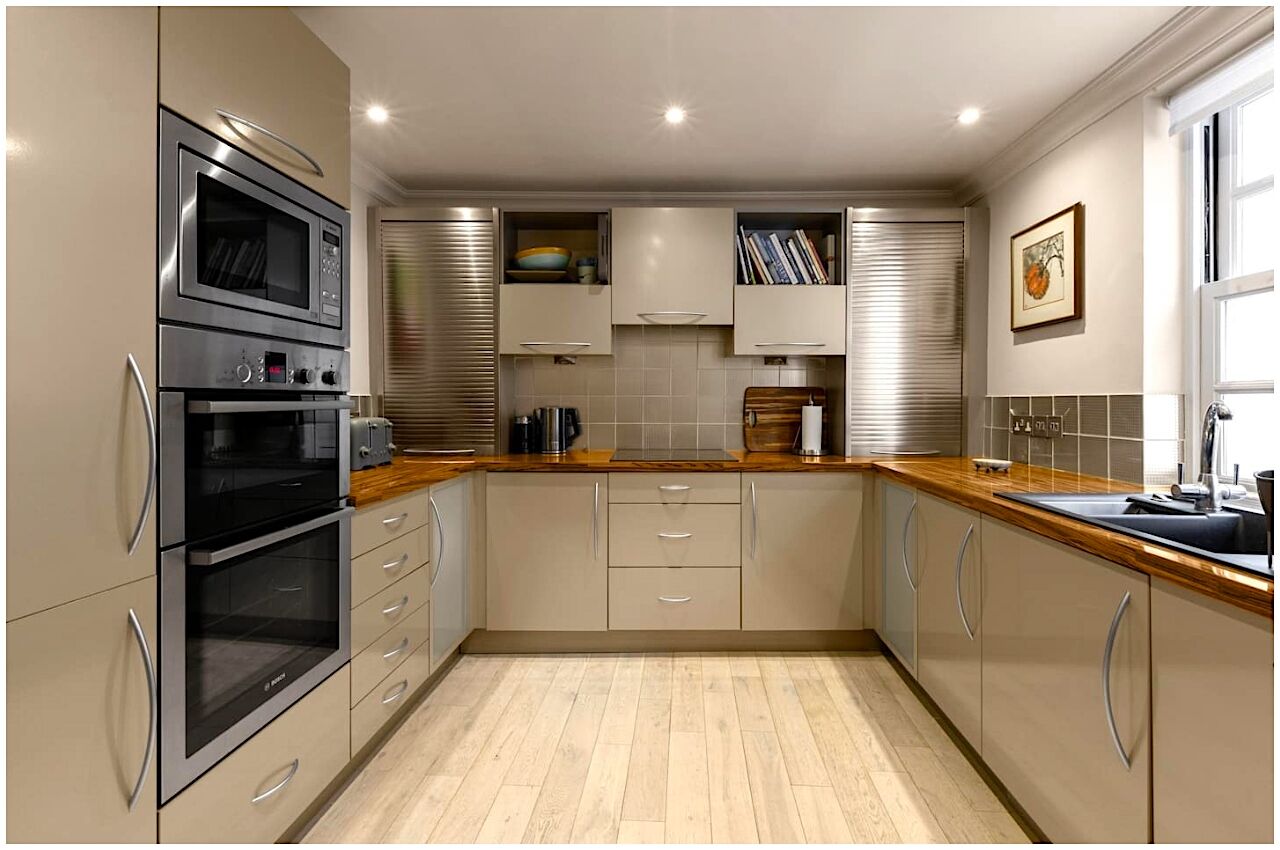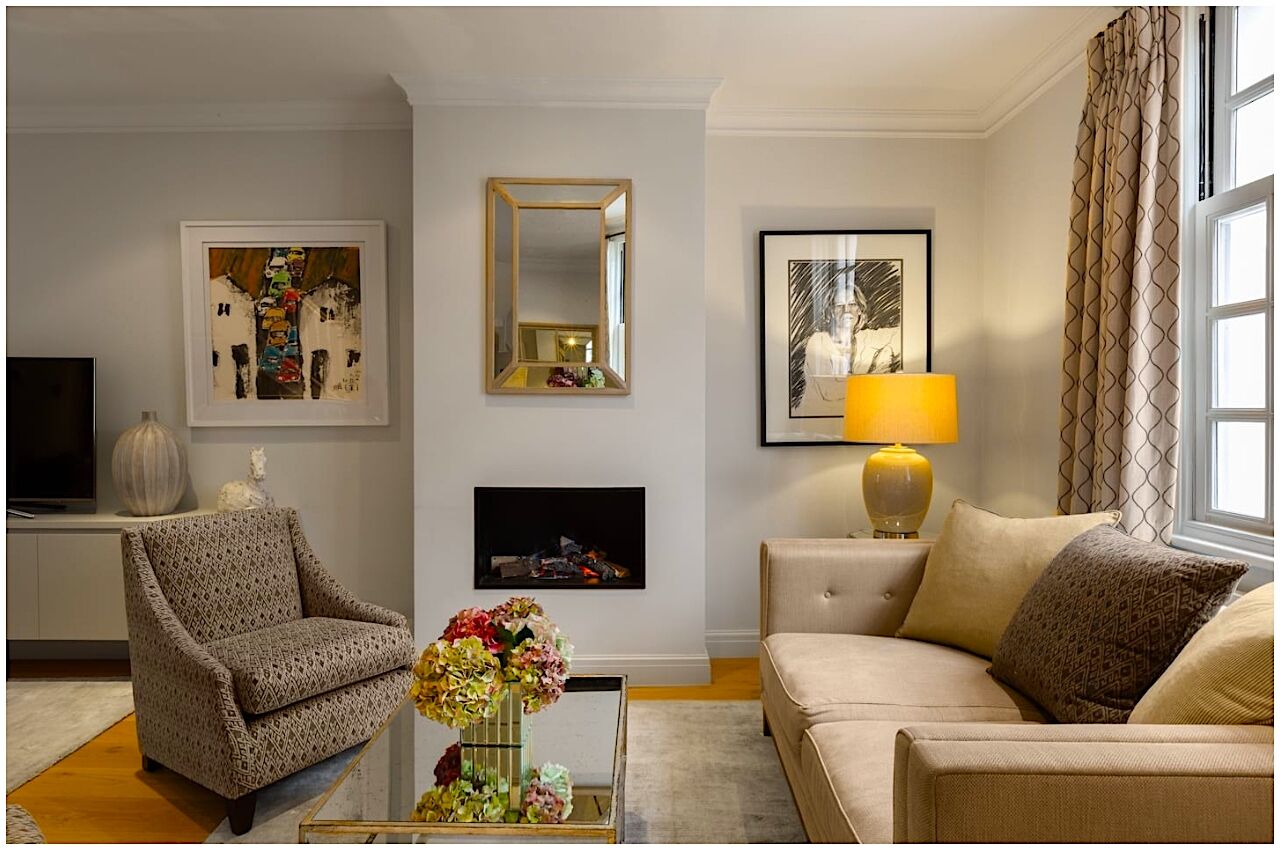 This pastel brick townhouse sits on a beautiful row of color in downtown Chelsea near Sloane Square. Perfect for medium groups looking for a luxurious and comfortable stay in the big smoke. The decor is well designed with soft hues, fine art, a glass mirror wall, and homey details like the living room's electric fireplace. The elegance continues into the bedroom and bathrooms, especially. There's a clawfoot tub, rainfall showerheads, and vessel sinks.
Beyond the beauty of this space, the apartment is well connected to some of Chelsea's best hotspots. On the week, head to Chelsea Farmers Market and brunch at Bluebird.
Seven guests, two bedrooms
$2,554 per night
The best Airbnbs in East London
The cooler cousin of the city, East London, has an effortless cool that can be felt with one step in Dalston, Shoreditch, Hackey, or Bethnal Green. They're all full of bars and local restaurants. It's also the perfect place for popping into local art exhibitions or hanging out at breweries like London Fields Brewery.
12. Dalston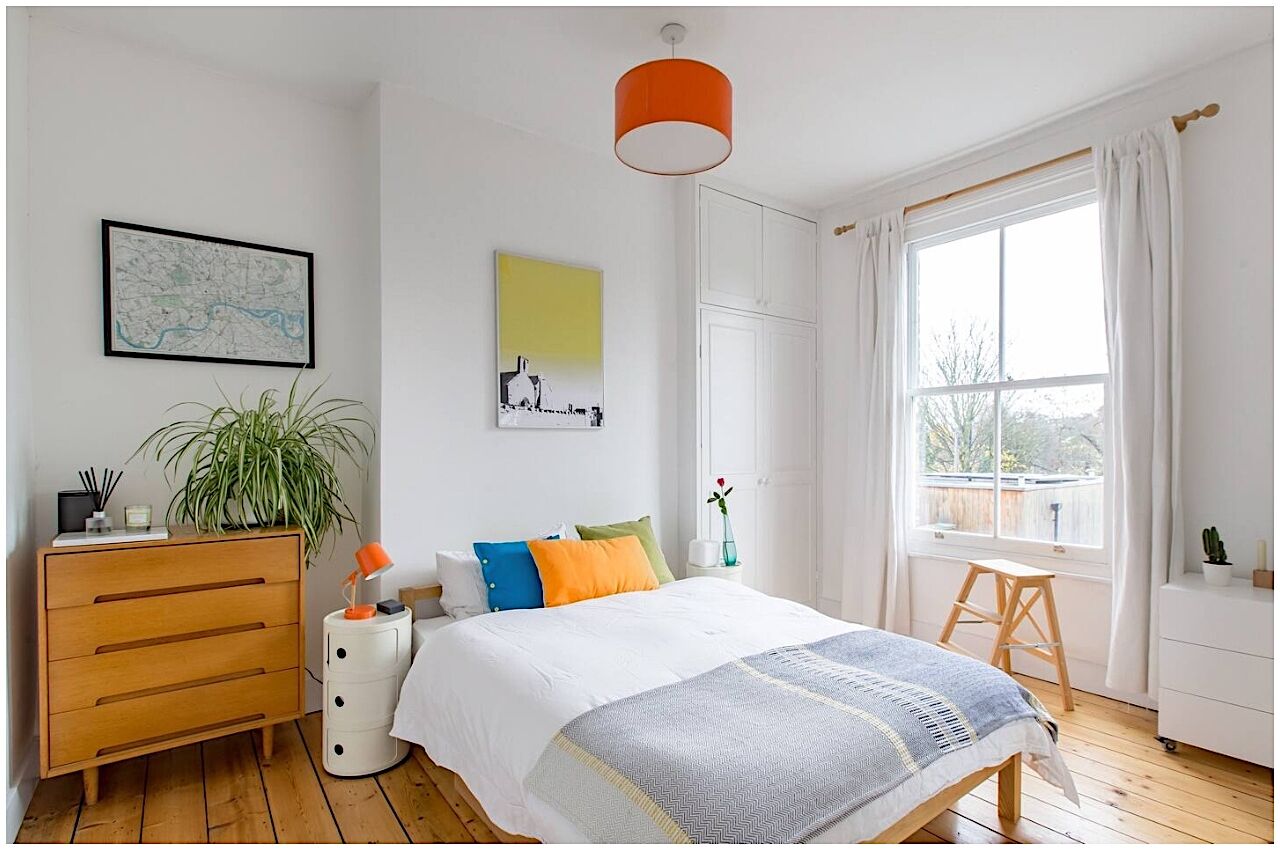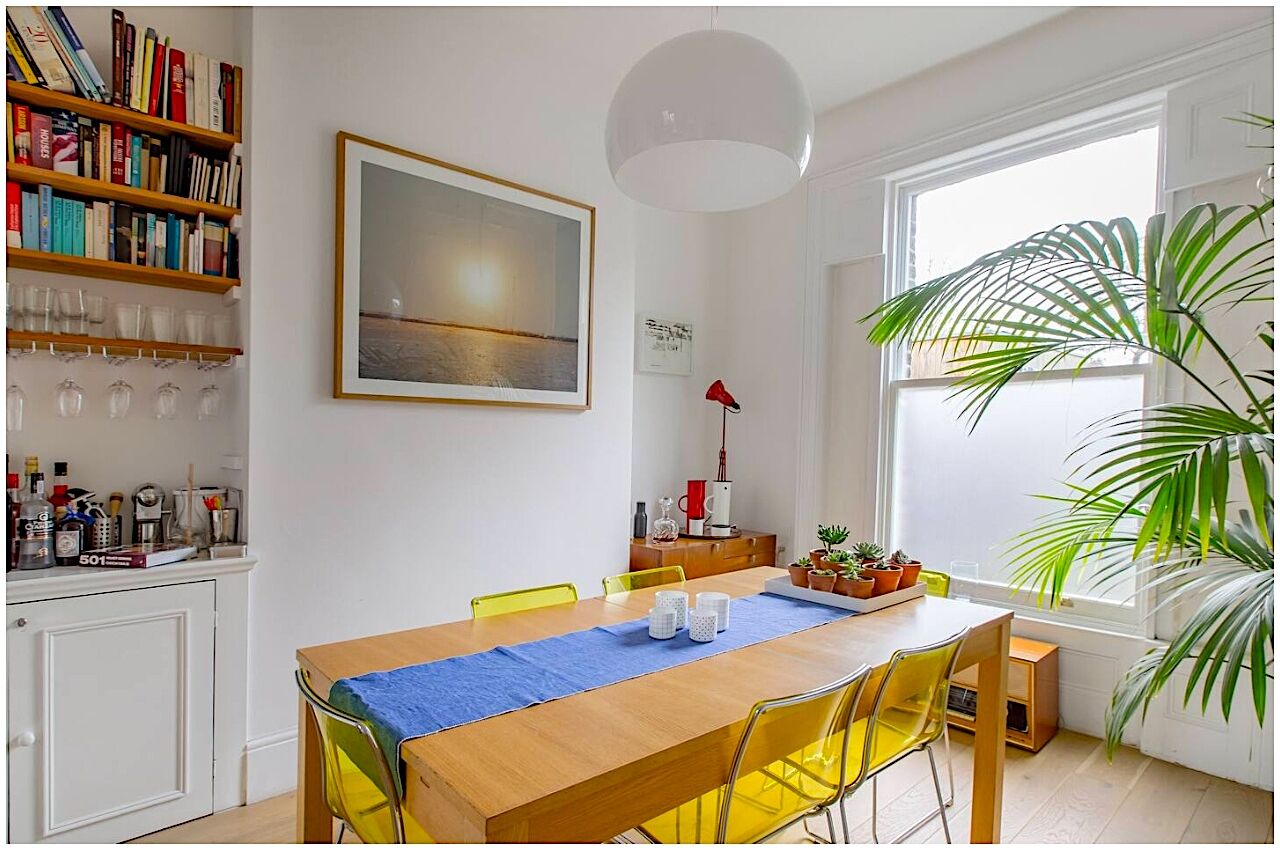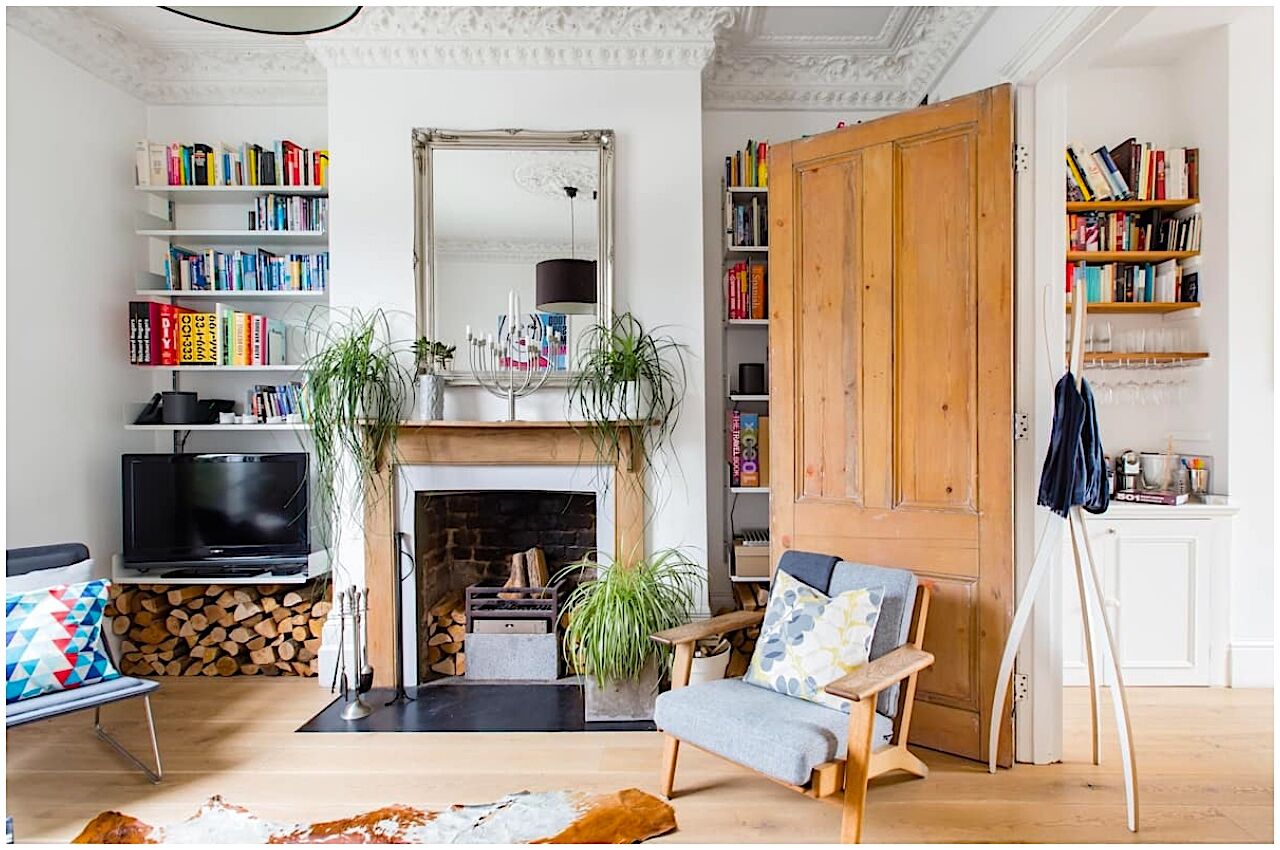 Located in one of East London's coolest neighborhoods, this bright garden home in Dalston is one of the best Airbnb London rentals. The apartment is mid-century modern meets planetarium. The hues are rich, warm, and inviting–an oasis of calm your host, Dewi, explains. From the wood fireplace to original detailed ceilings, this place is a must-stay in Dalston. Natural light pours into every room, and bright yellow, orange, and chartreuse accents in the bedroom, kitchen, and bathroom are sure to catch your eye. Perfect for a small couple of friends or couples, end your nights in the back garden with some local takeaway and drinks.
When you're ready to explore, check out these Dalston highlights: watch a film at Rio Cinema, chill with freshly made pizza at Dalston Curve Garden, and dance to 80's pop at Ridley Road Market Bar.
Four guests, two bedrooms
$266 per night
13. Shoreditch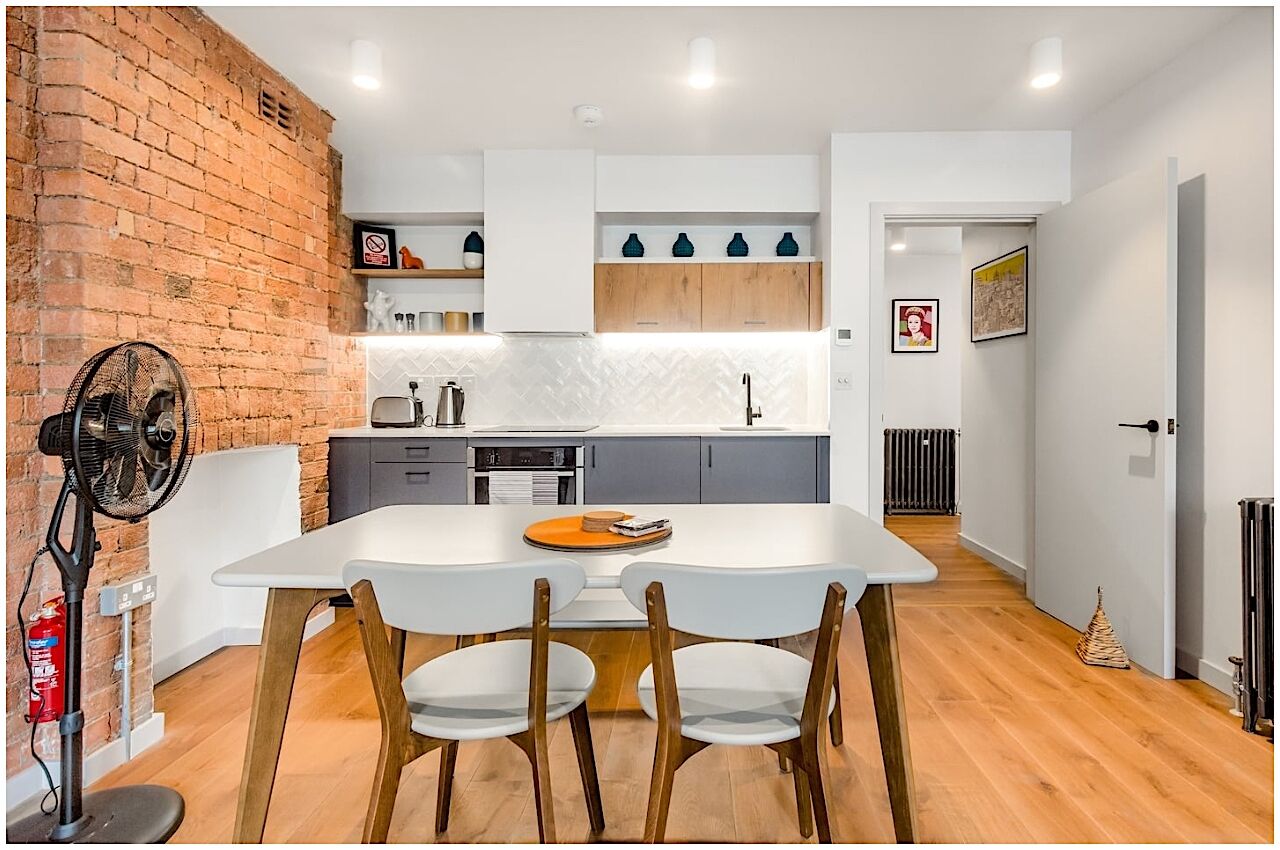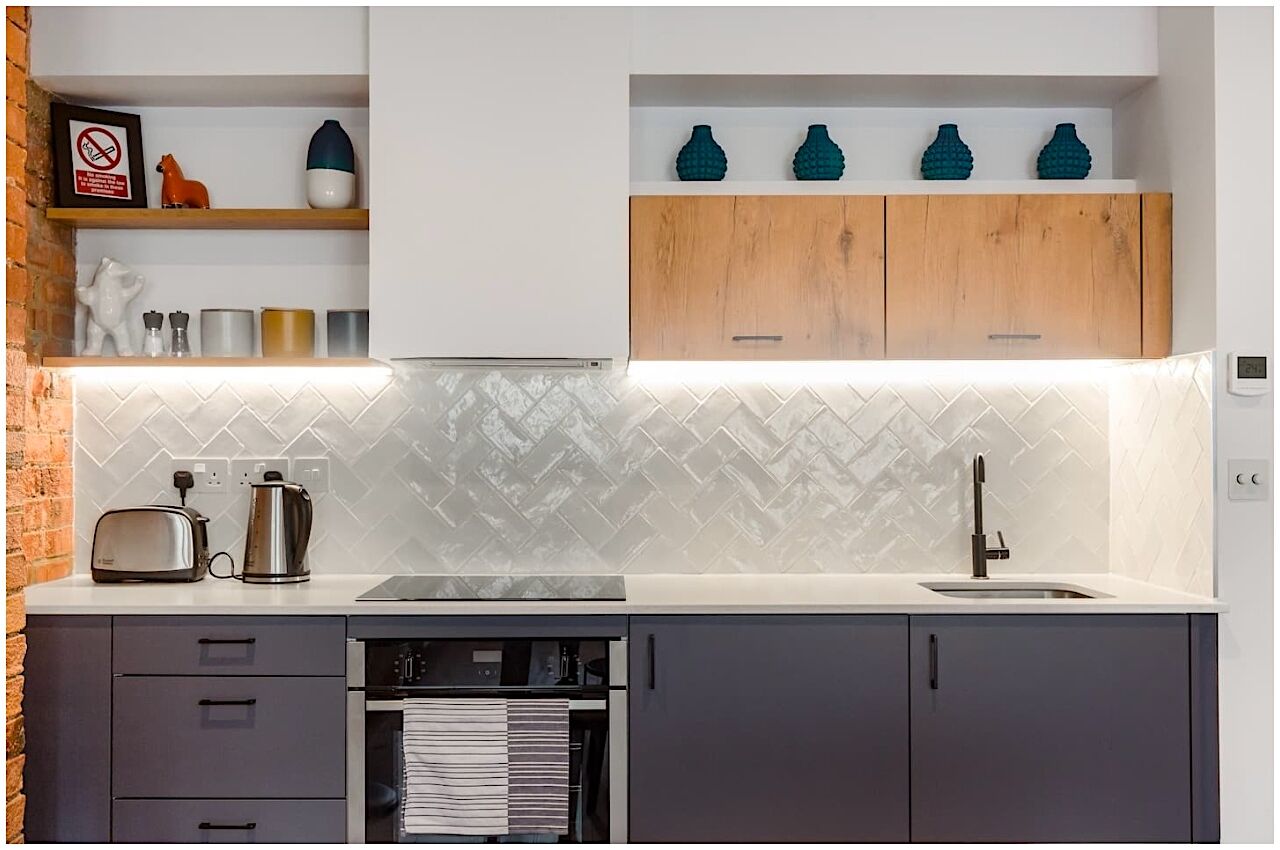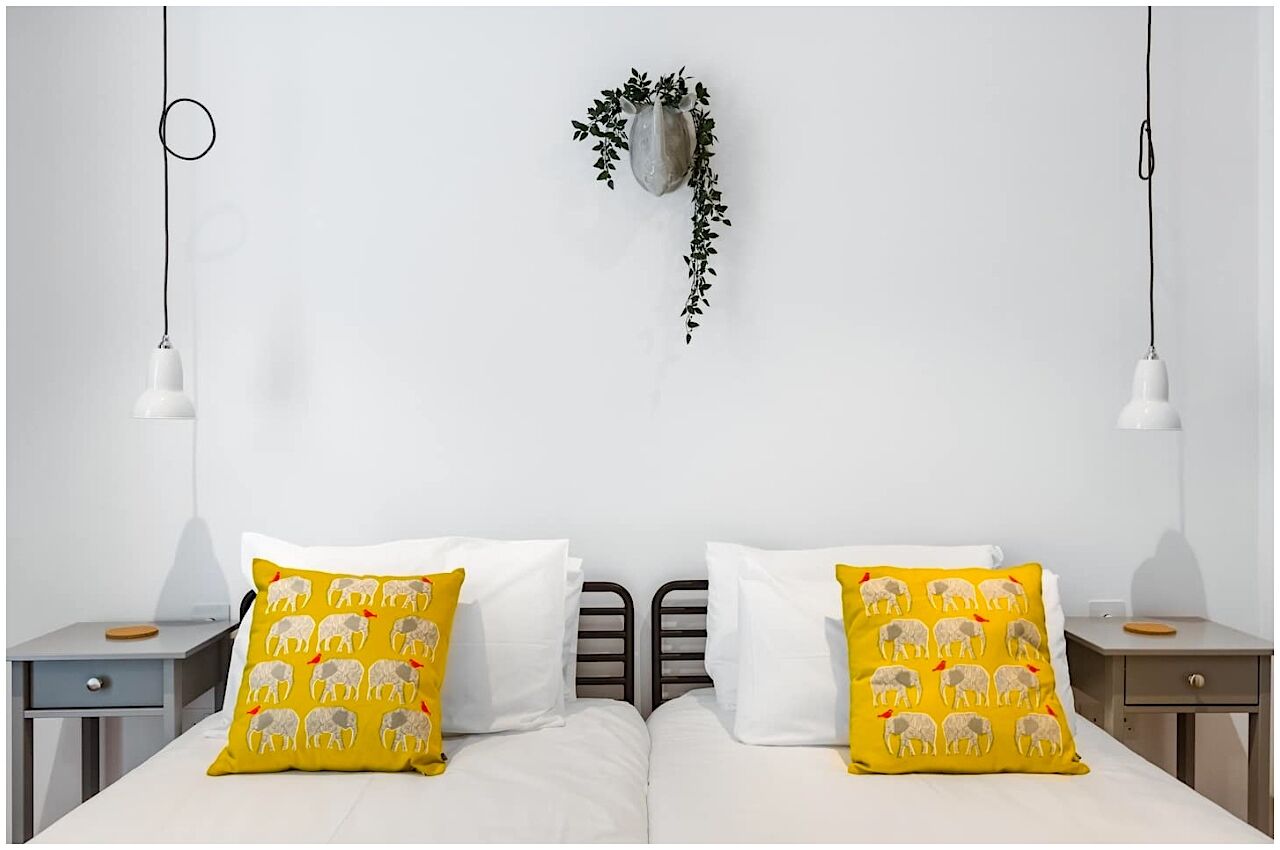 Sleep in a converted warehouse loft in London's beloved Shoreditch neighborhood. Despite the building's historical past, the interior decor gives it a modern, contemporary feel. The space has warm timber flooring and features the original exposed brick walls. The bedrooms are decorated with white linens, wooden headboards, and wall plants. The bathroom offers a boutique hotel feel with black matte hardware and marble-tiled walls, and an intimate outdoor patio sits between the living area and bedrooms.
And because Branca's place is centrally located, you'll be a stone's throw away from all the best bars, restaurants, and rooftops along Shoreditch High Street and the Spitalfields area.
Four guests, two bedrooms
$334 per night
14. Hackney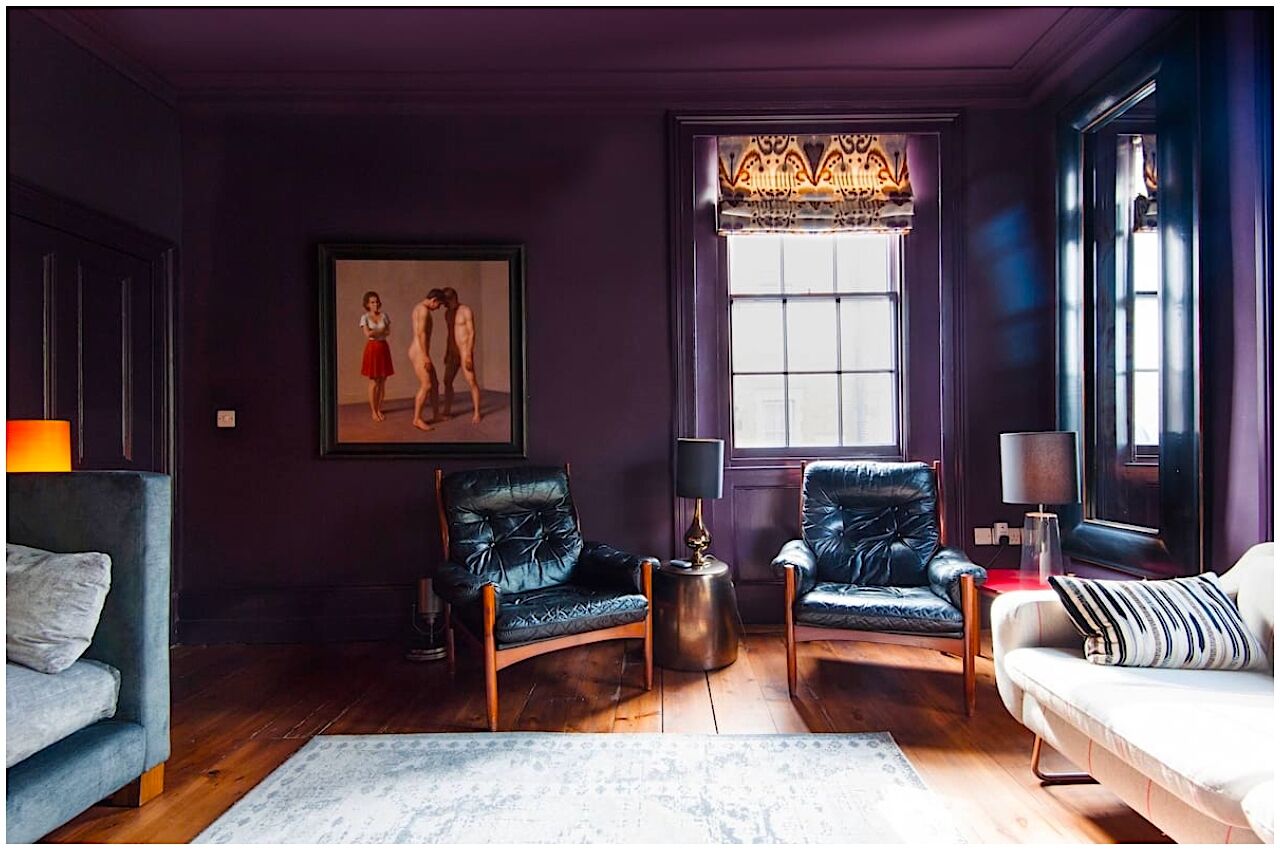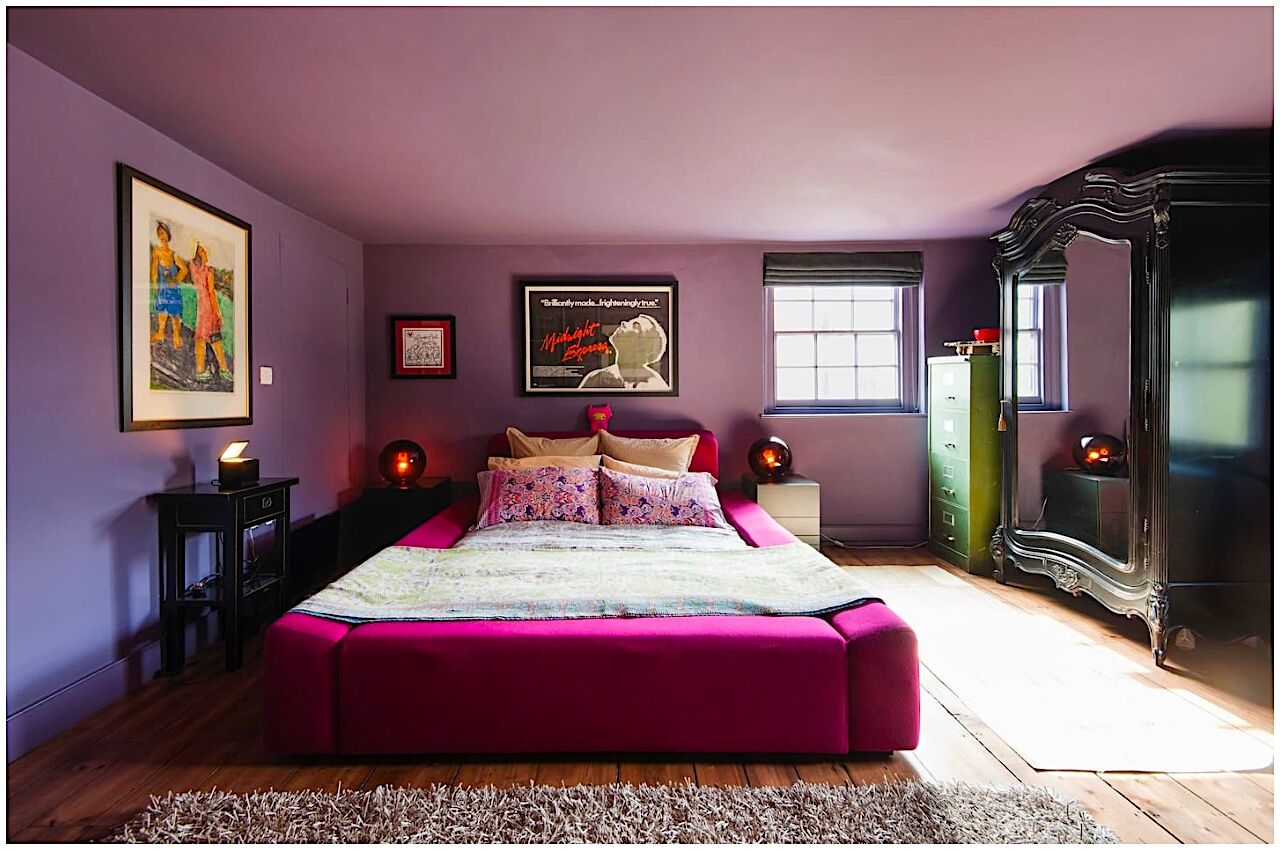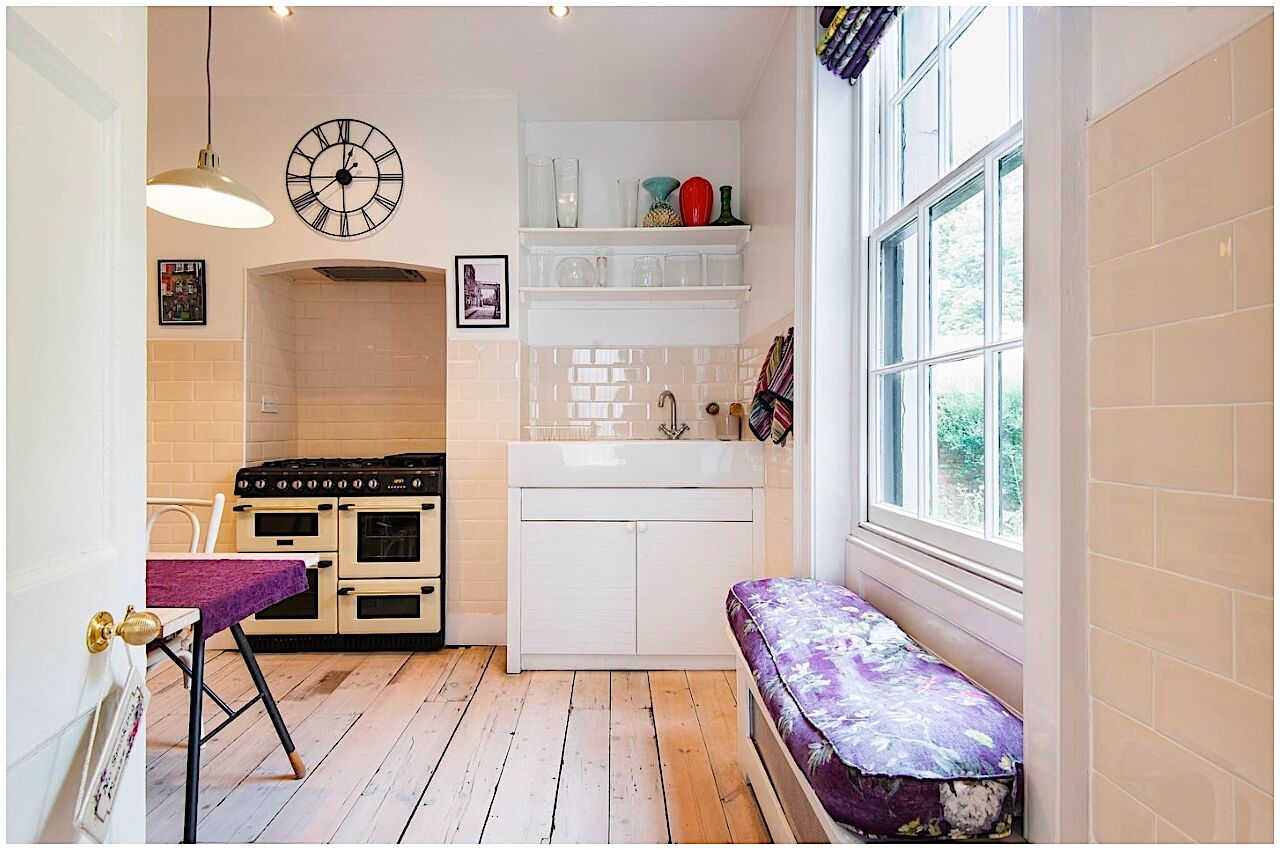 Step foot into this stunning Georgian home and be transported back in time. This home is one of the best Airbnbs in London and features classic English architecture, vintage decor, and bold abstract artwork. At the entrance, a dramatic spiral staircase greets you and opens up into the living room space, which features dark accent walls, a fireplace, and green velvet chairs. Expect bold pink and green decor with soft details like a vintage glass curved bookcase in the bedrooms. Of course, the English-style bathroom features a gorgeous white and silver clawfoot tub and plenty of natural light.
Outside your doors is the vibrant neighborhood of Hackney. Here you'll find breweries, endless bars, and cafes. St. James Park, a beautiful, sprawling green space, is just a few minutes away.
Four guests, two bedrooms
$253 per night
15. Bethnal Green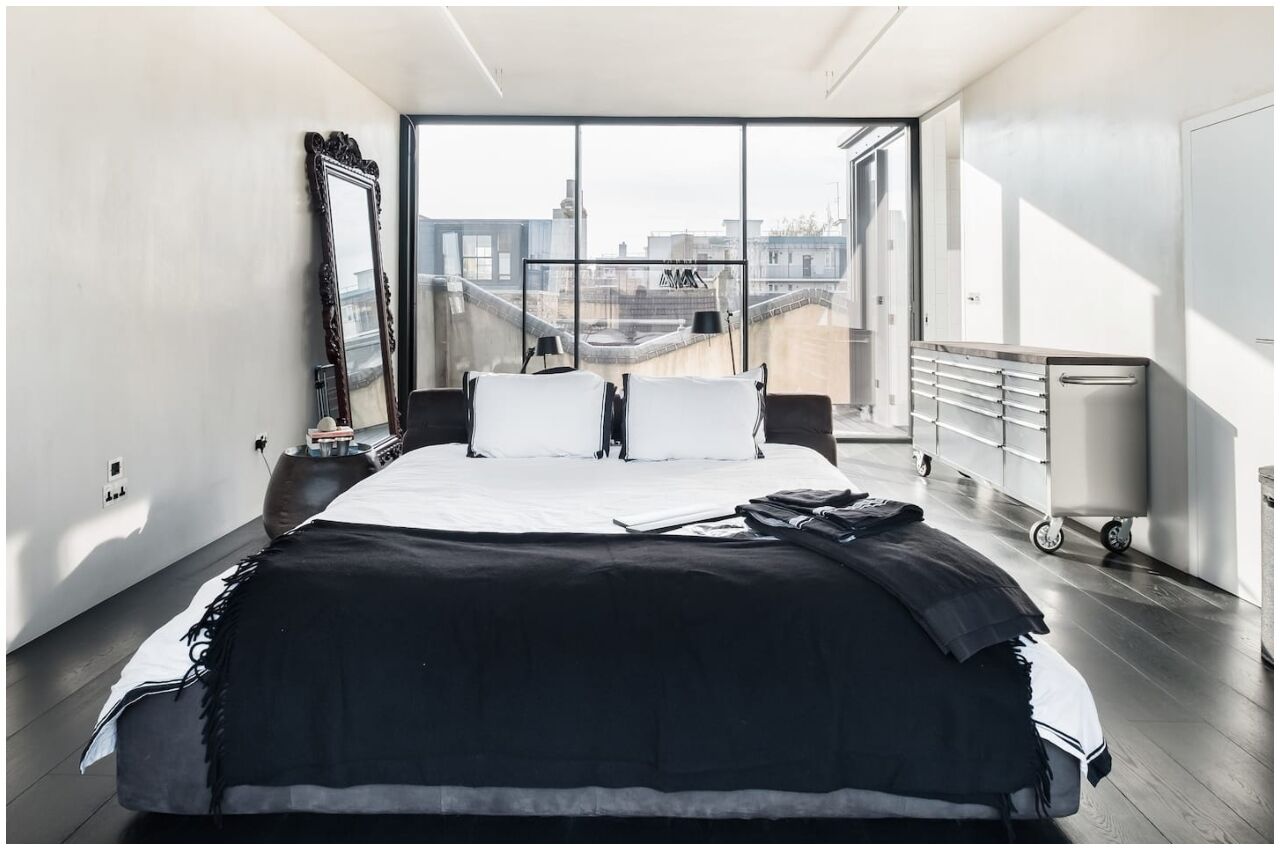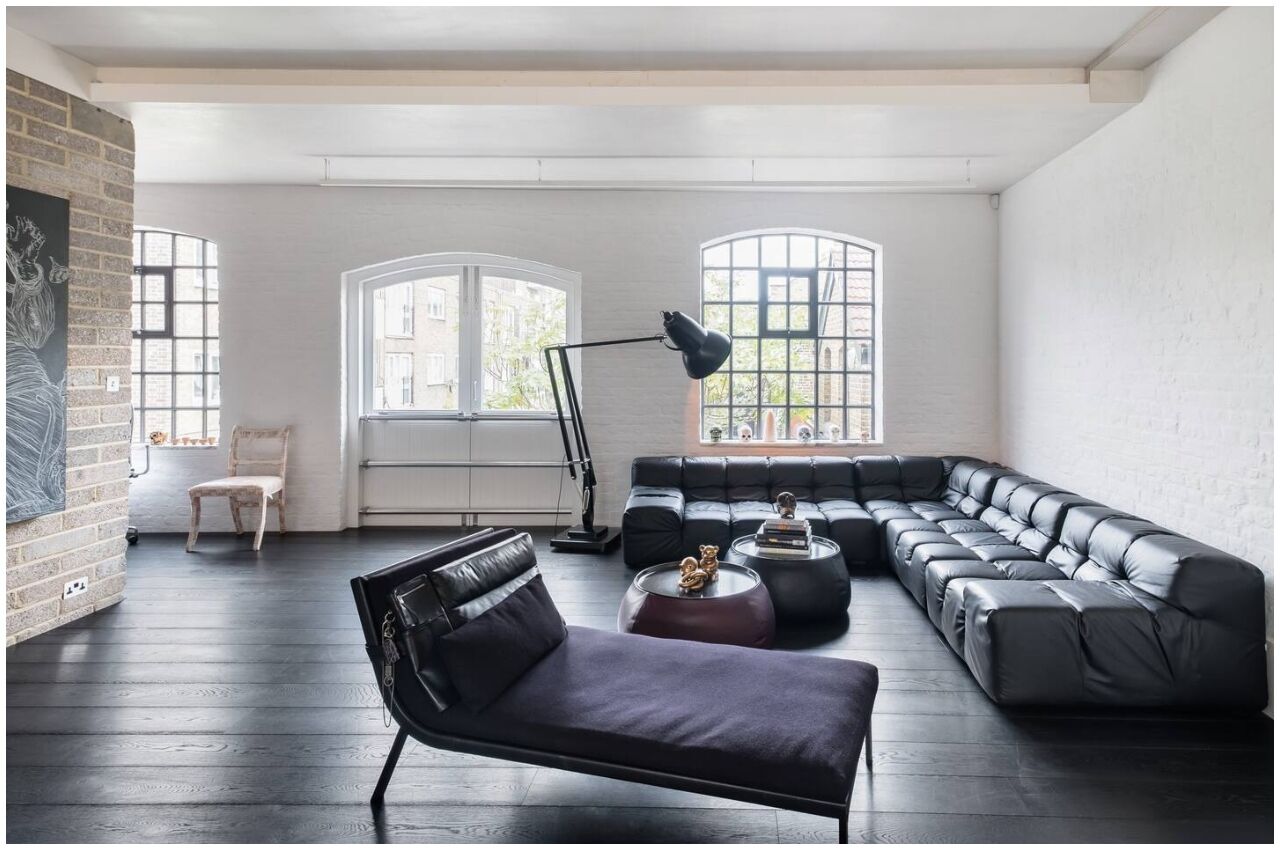 Tucked behind the quiet cobbled mews in Bethnal Green, this Airbnb London rental is a place of monochrome dreams. This place has the ultimate modern feel, from the black quilted corner sofa to the white brick walls. Contemporary art hangs on the walls, and a matte black bookcase hugs the corner. This warehouse-style Airbnb is open, airy, and minimalistic. Perfect for a solo traveler or a pair, the bedroom features a king-size bed facing floor-to-ceiling windows. And the bathroom is luxurious with a white clawfoot tub and silver hardware finishes. On Sunday morning, stroll over to Victoria Park for banana nut pancakes at Pavillon Cafe.
Two guests, one bedroom
$467 per night
The best Airbnbs in Central London
Central London is home to some of the city's top attractions and the best shopping, like on the iconic Oxford Street. A stay in Victoria, Mayfair, or Soho, means you'll be close to famous museums and age-old pubs.
16. Victoria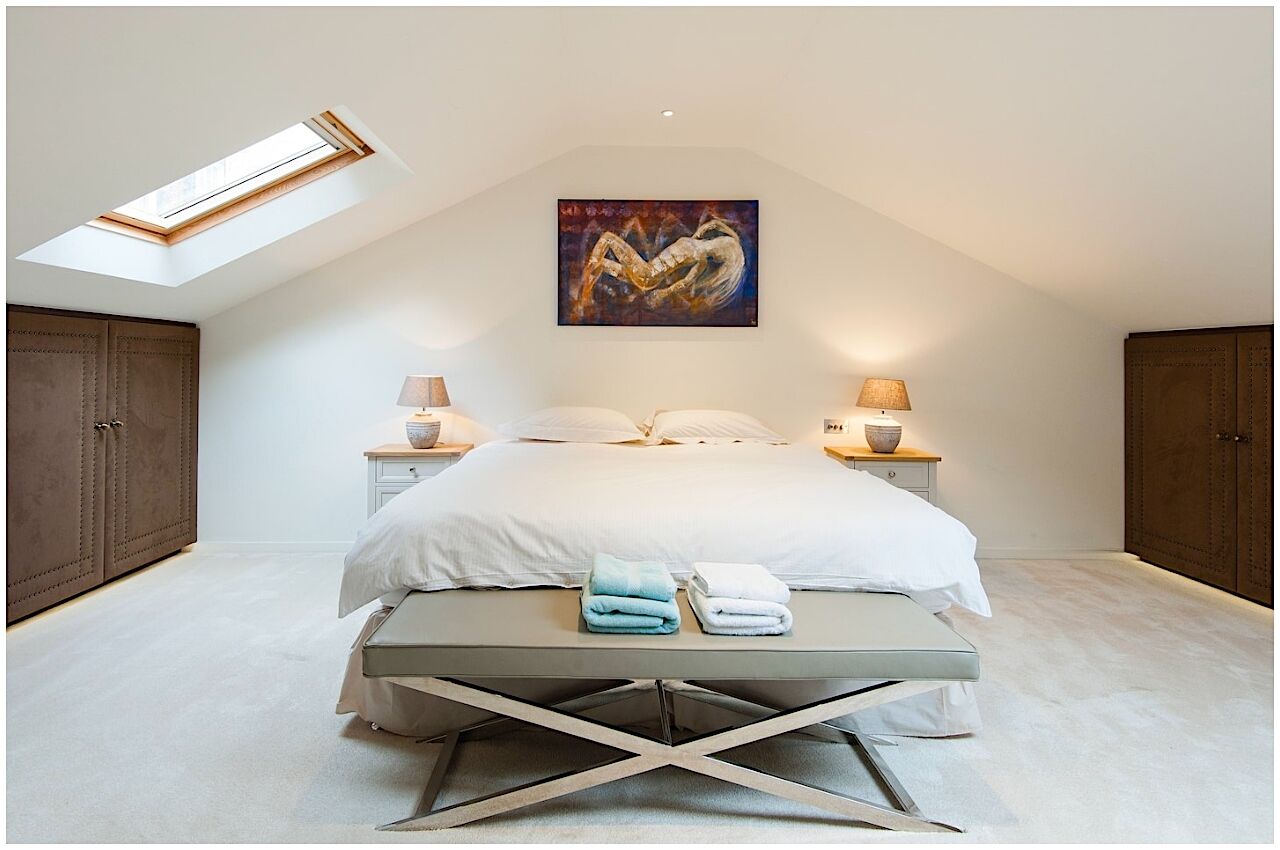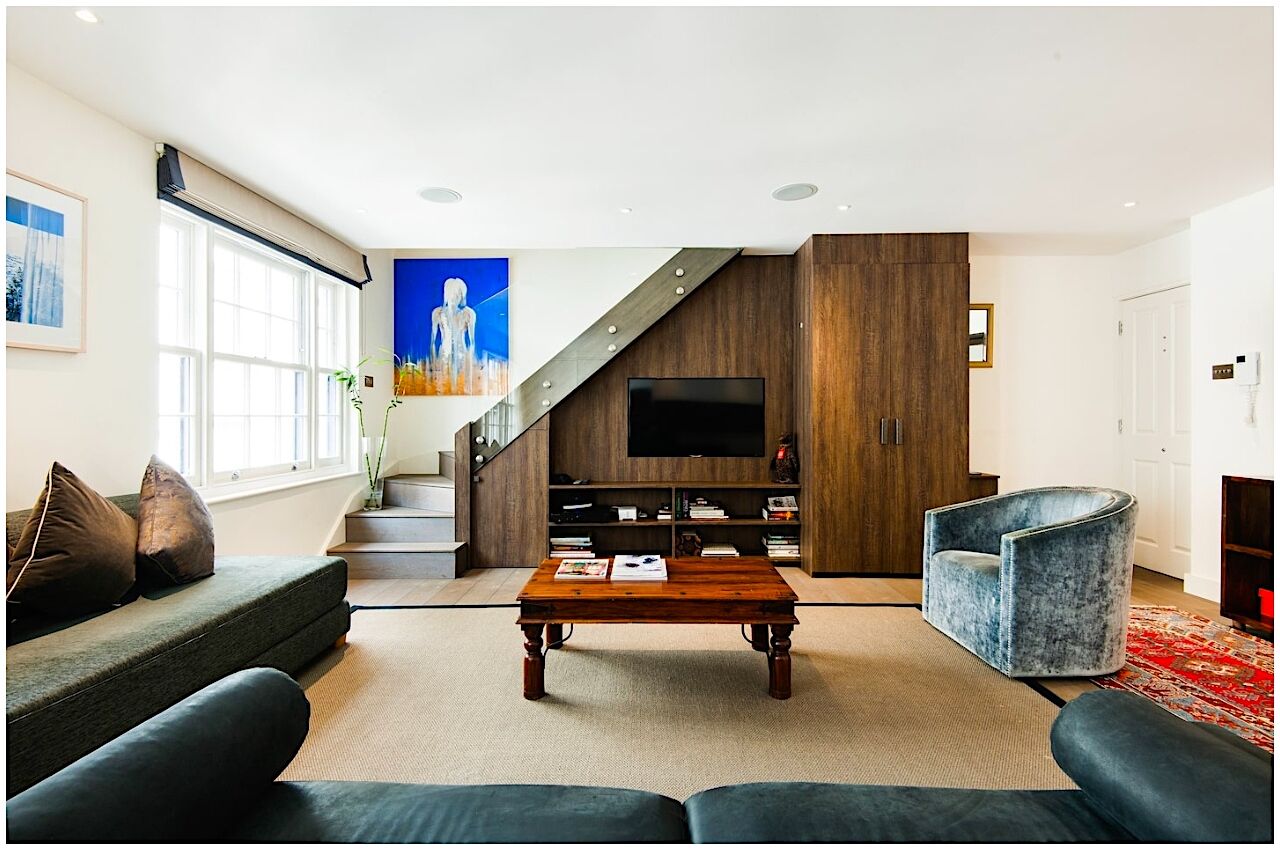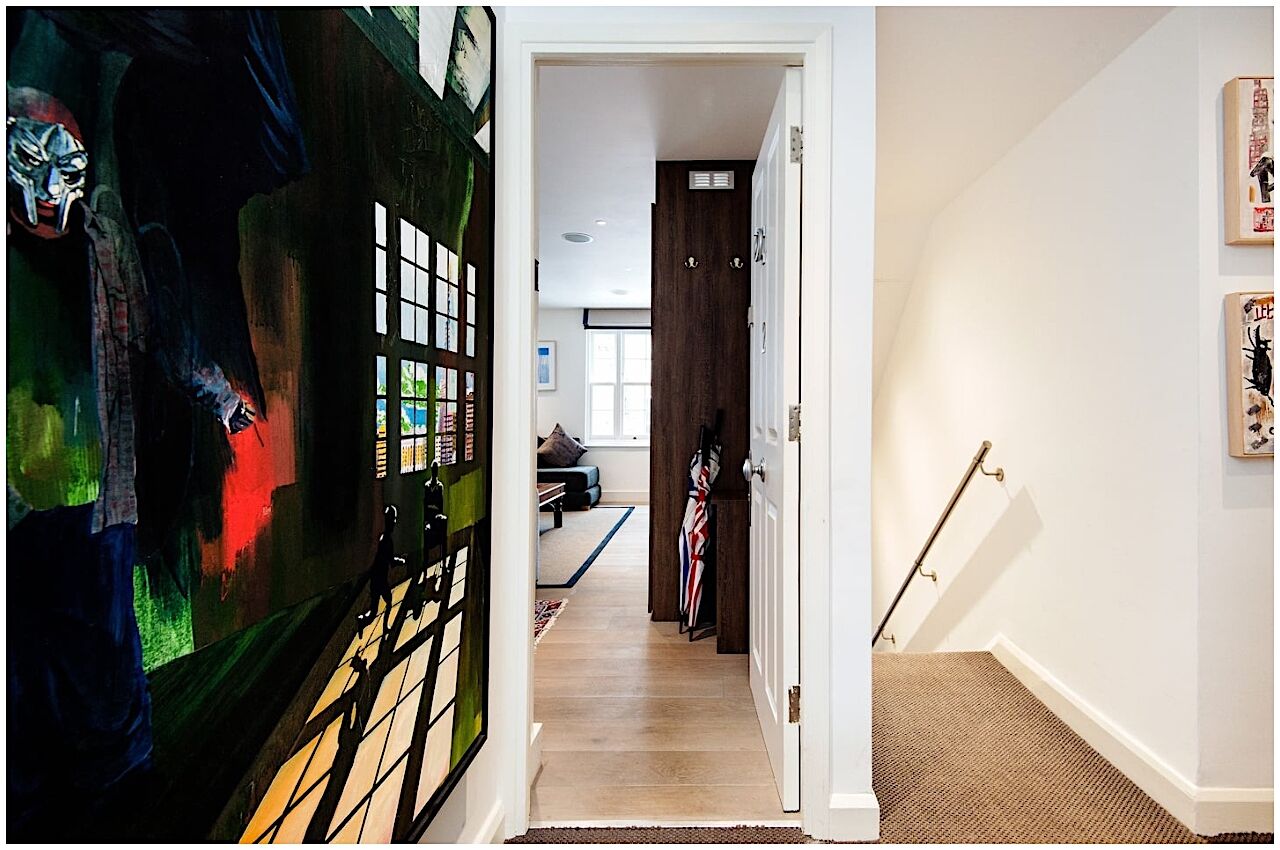 Tucked away in a private mews near Victoria, this is an excellent place for a small group of friends to stay. The decor is calm and well thought out, with luxe velvet chairs and a sofa. The living space is open and perfect for gathering for drinks after a meal in the dining nook. Thanks to the classic London skylights featured here, the two ensuite bedrooms are cozy and well-lit. Its location is perfect for exploring central London neighborhoods like Knightsbridge, Sloane Square, and Victoria.
Four guests, two bedrooms
$337 per night
17. Mayfair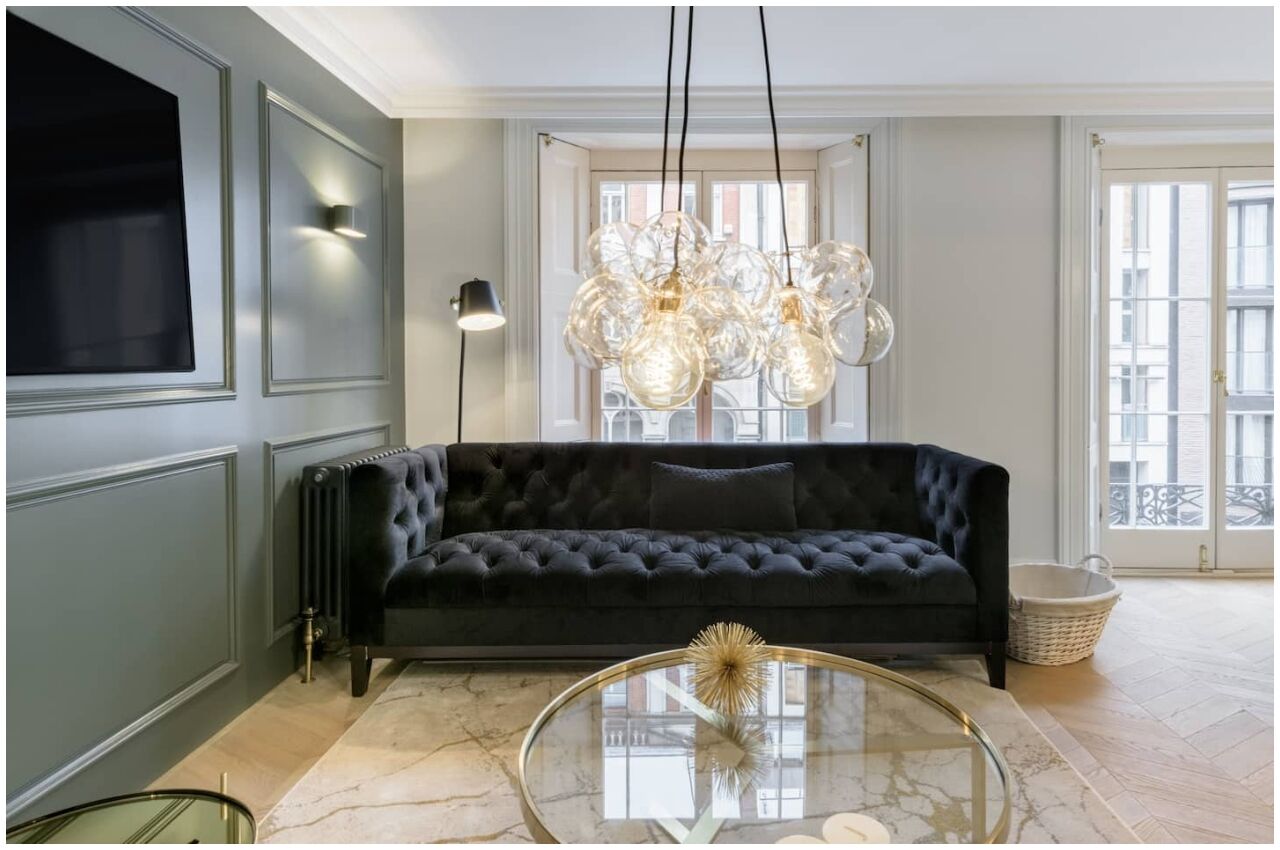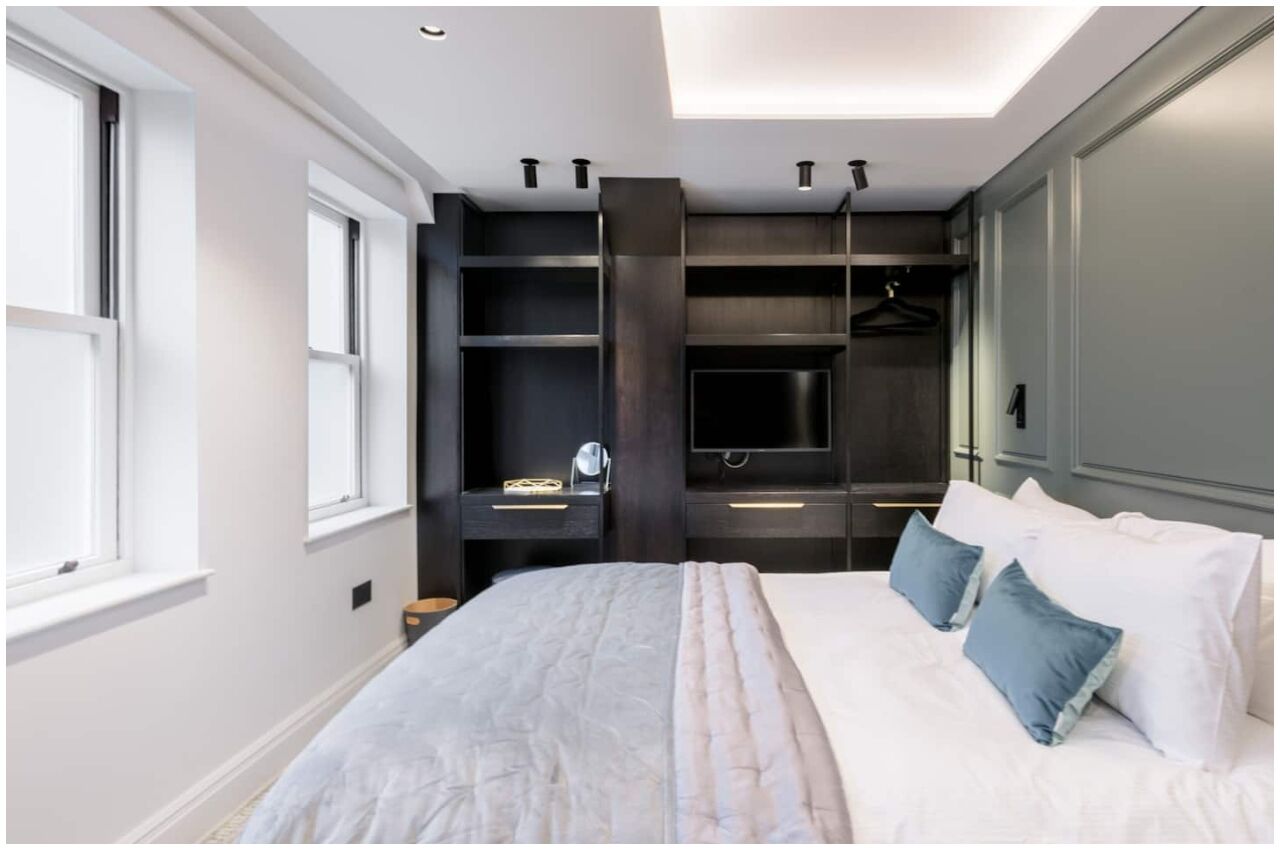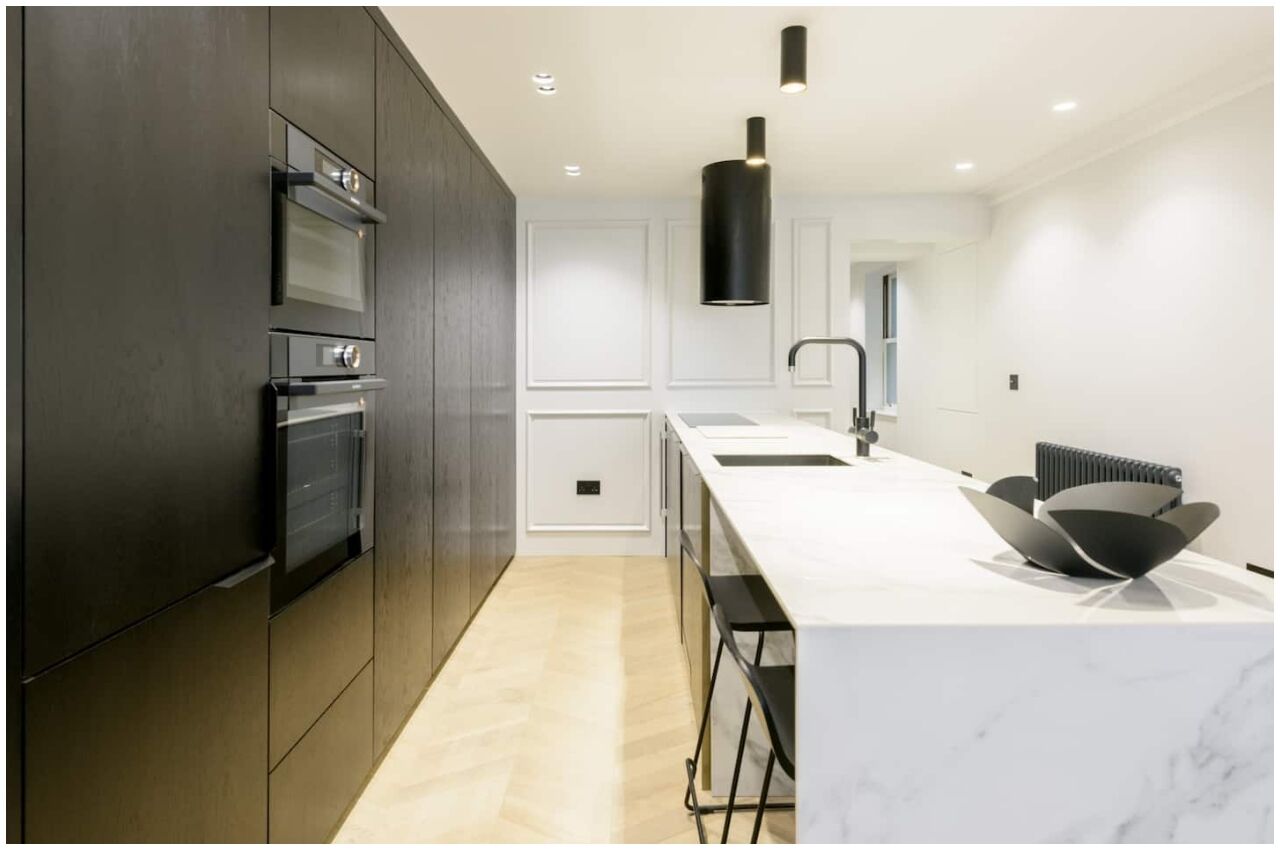 Minimalism reigns supreme at this elegant Airbnb in London's Mayfair neighborhood. Luxury is everywhere, from velvet gray and gold armchairs to rich marble details. The muted hues in the apartment are understated in the best way so that the architecture and design can shine. There are Juliet balconies and gold-trimmed bedroom cabinets. There are marble walls, gold accents, and a standing glass rainfall shower in the bathroom. Jade's centrally-located place has easy access to shopping around Mayfair and on the famous Oxford street.
Four guests, two bedrooms
$874 per night
18. Soho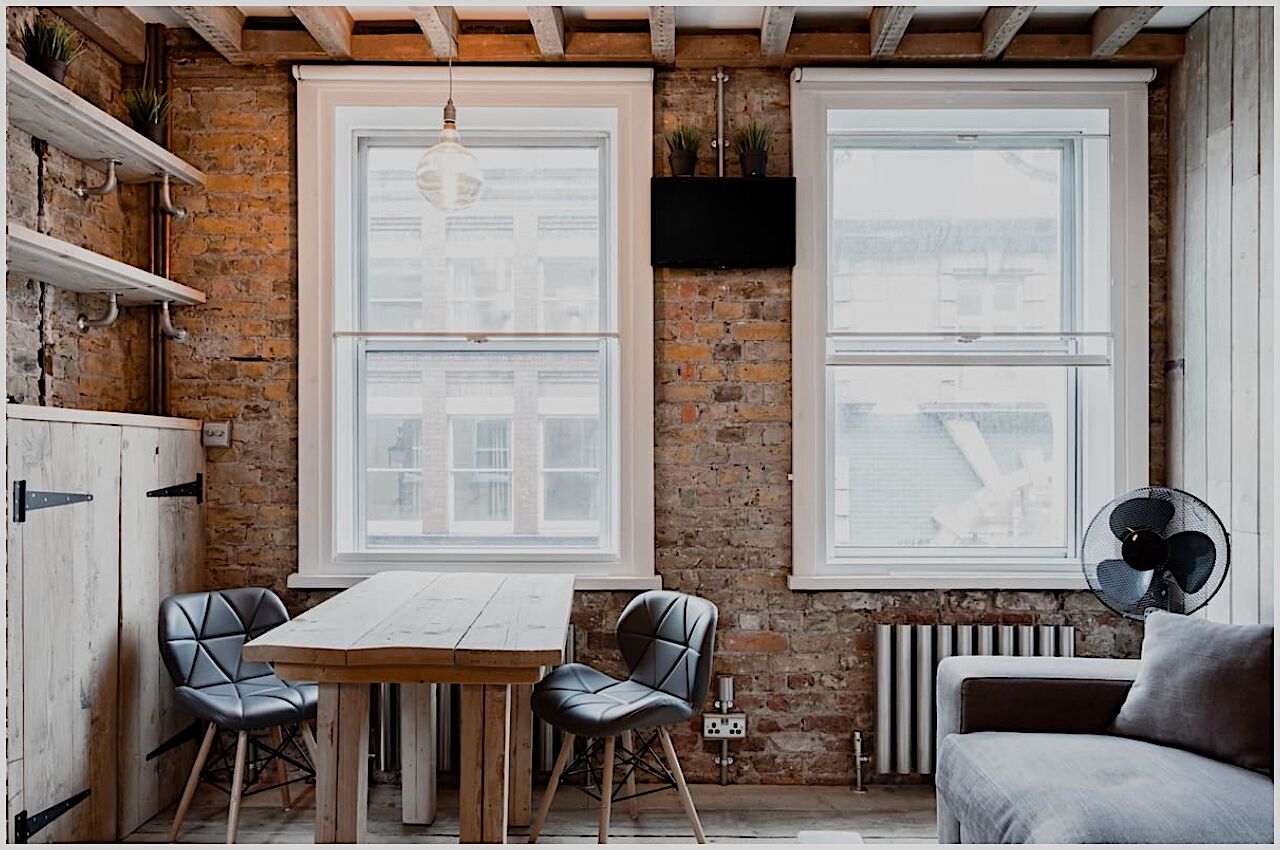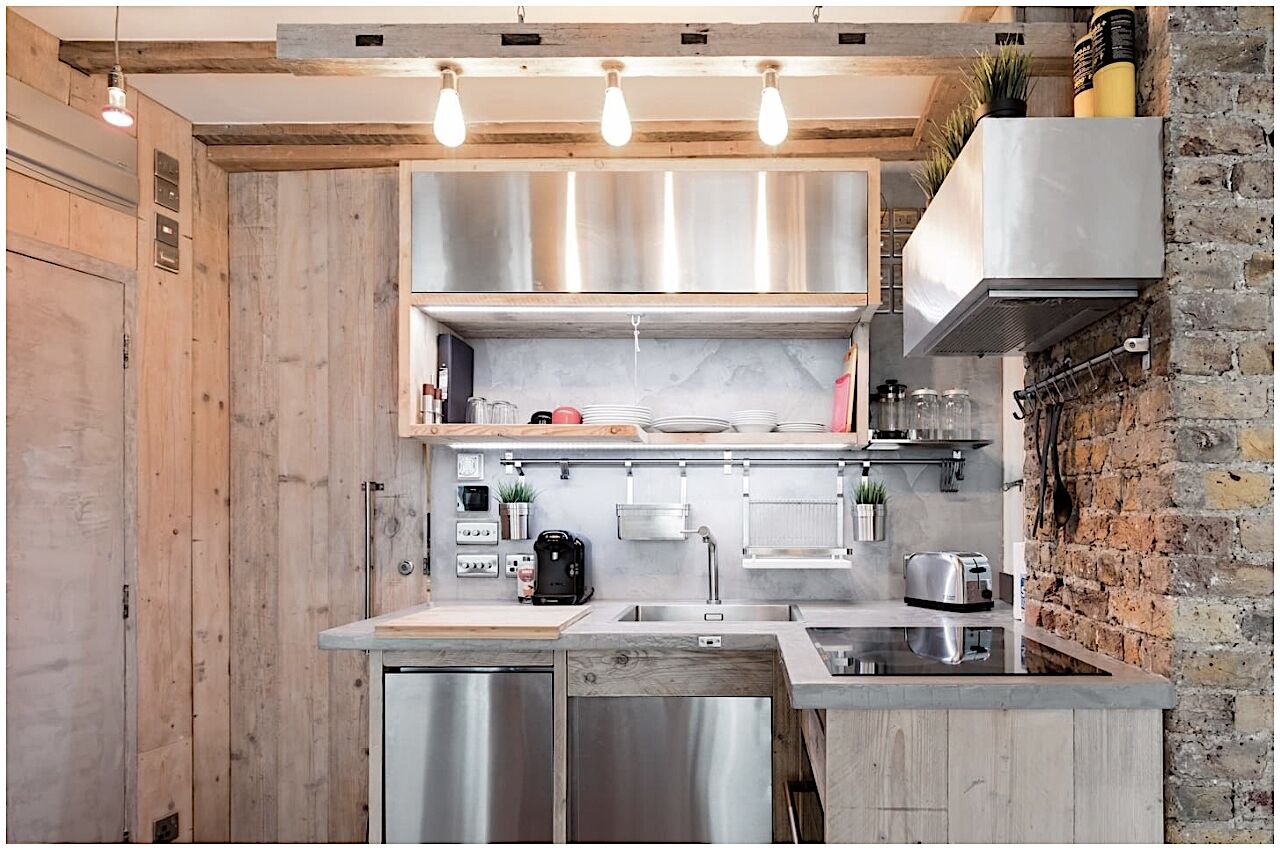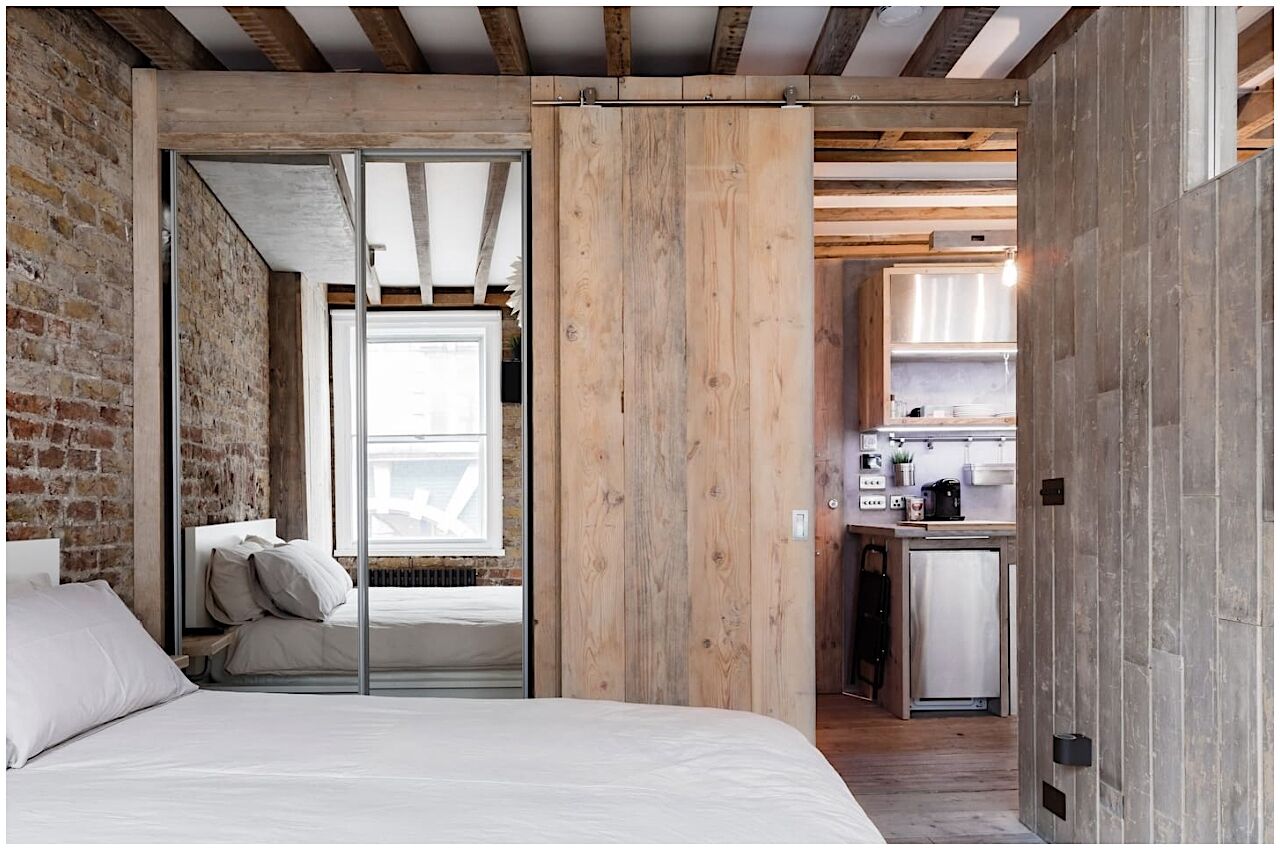 In the heart of Soho stands this unique wood and brick suite. Eric's apartment has a vintage flair with exposed brick walls, unpolished hardwood floors, and furnishings. There are hints of modernity with the minimalistic kitchen and grey plush couch. This place has understated details but remains luxurious with elements like utility-style kitchen storage and sliding barn doors on the bedroom. Perfect for a couple traveling to London, this Airbnb features a king-sized bed with a TV and a beautiful walk-in shower.
Two guests, one bedroom
$200 per night
What did you think of this story?