Experience the Best of Louisville From These Charming Airbnb Rentals
Louisville, Kentucky, is a great place to visit for its impressive range of activities and vibrant culture. The city provides something for everyone: explore the historic sites, take in a show at the renowned theaters, or sample some of the finest cuisine. With endless shops, bars and restaurants around Bardstown Road, you can easily while away an afternoon discovering what this vibrant city has to offer. And if you're feeling active, Louisville is home to several parks and trails such as Cherokee Park and Waterfront Park – perfect for walking and cycling. These Airbnbs near downtown Louisville and around the city put you close to all the action.
Traveling in the South? Check out Matador's accommodations guides:
We hope you love the Airbnb Louisville vacation rentals we recommend! Just so you know, Matador may collect a small commission from the links on this page if you decide to book a stay. Listed prices are accurate as of the time of publication.
Downtown Louisville Airbnbs
Restored 175-year-old church that sleeps six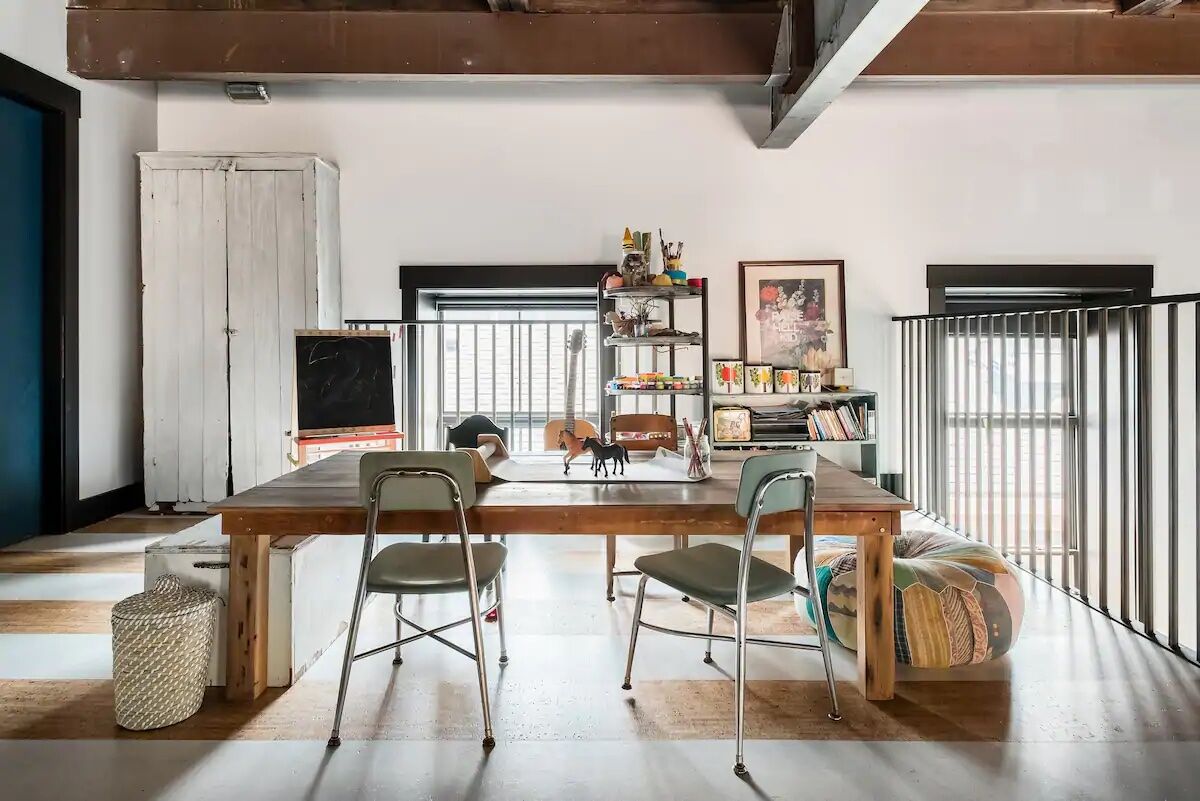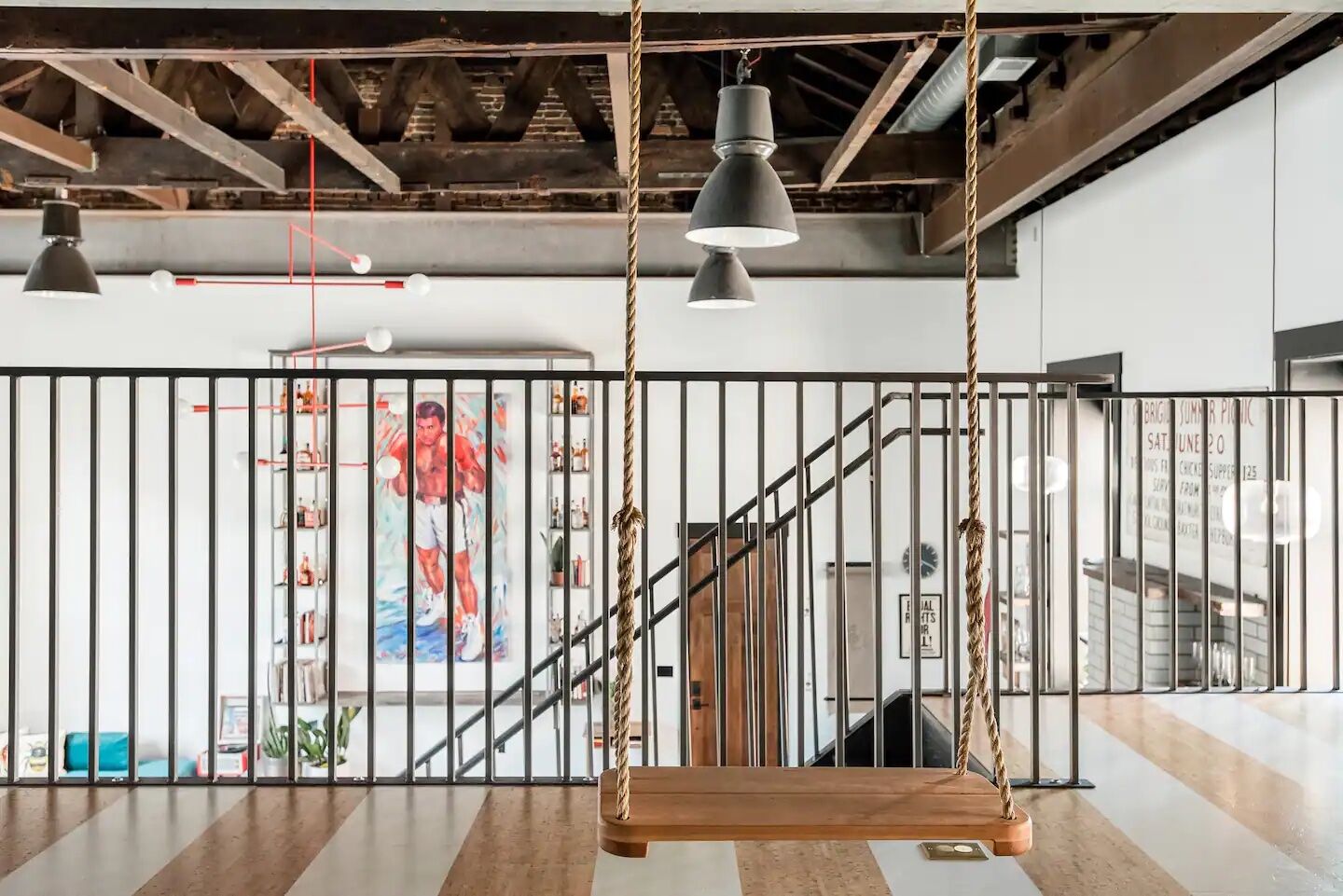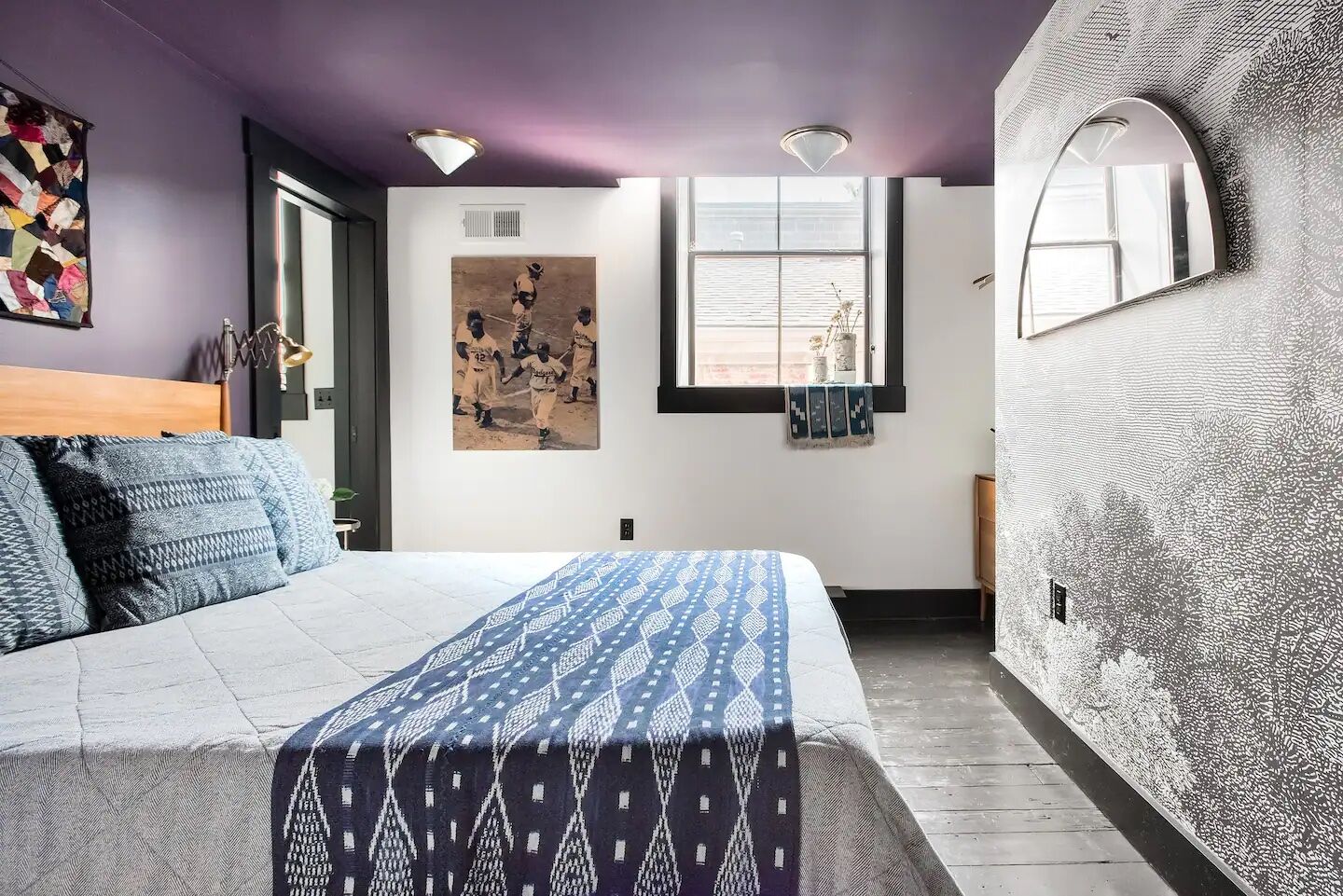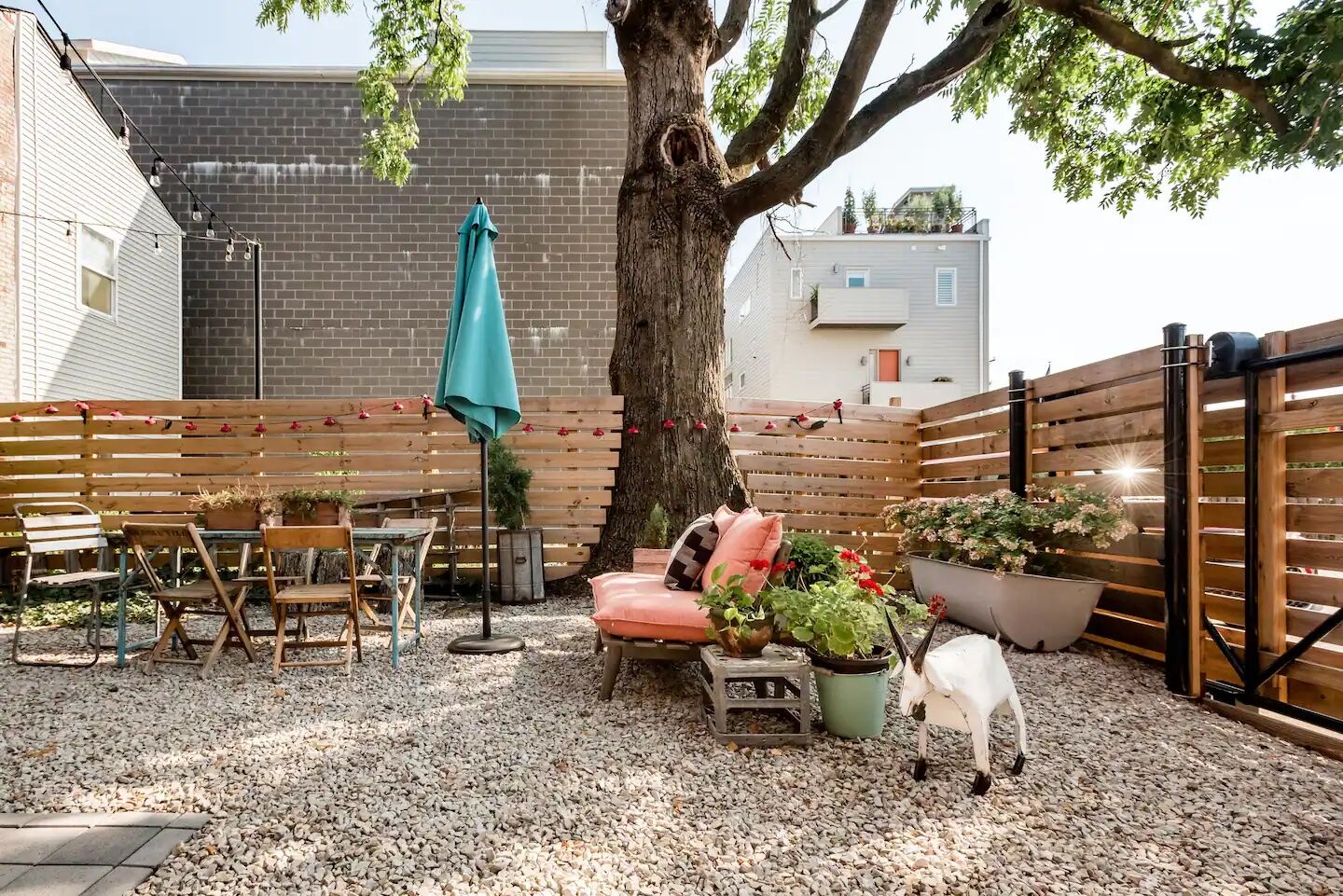 See more photos
Experience historic Louisville architecture and artifacts at The Holy Goat Guest House!
This charming 175-year-old building
was recently renovated, providing four private suites full of inspired design touches that will make you feel right at home. A stay at The Holy Goat puts you just a short distance away from many of NuLu's most popular spots such as Nouvelle, Garage Bar, Galaxie, Feast, Royal's, and NuLu Marketplace. You'll also be close to Rabbit Hole and Angel's Envy Bourbon Distilleries or crafter beer at Goodwood or West6 Breweries. Don't forget to try the smoked bourbon pecan ice cream from Louisville Cream or do some shopping at Revelry. Whatever you decide to do, you're within easy reach of Slugger Field and downtown Louisville.
Six guests, three bedrooms
Price: $329 per night
The Rickhouse – perfect Louisville Airbnb for bourbon lovers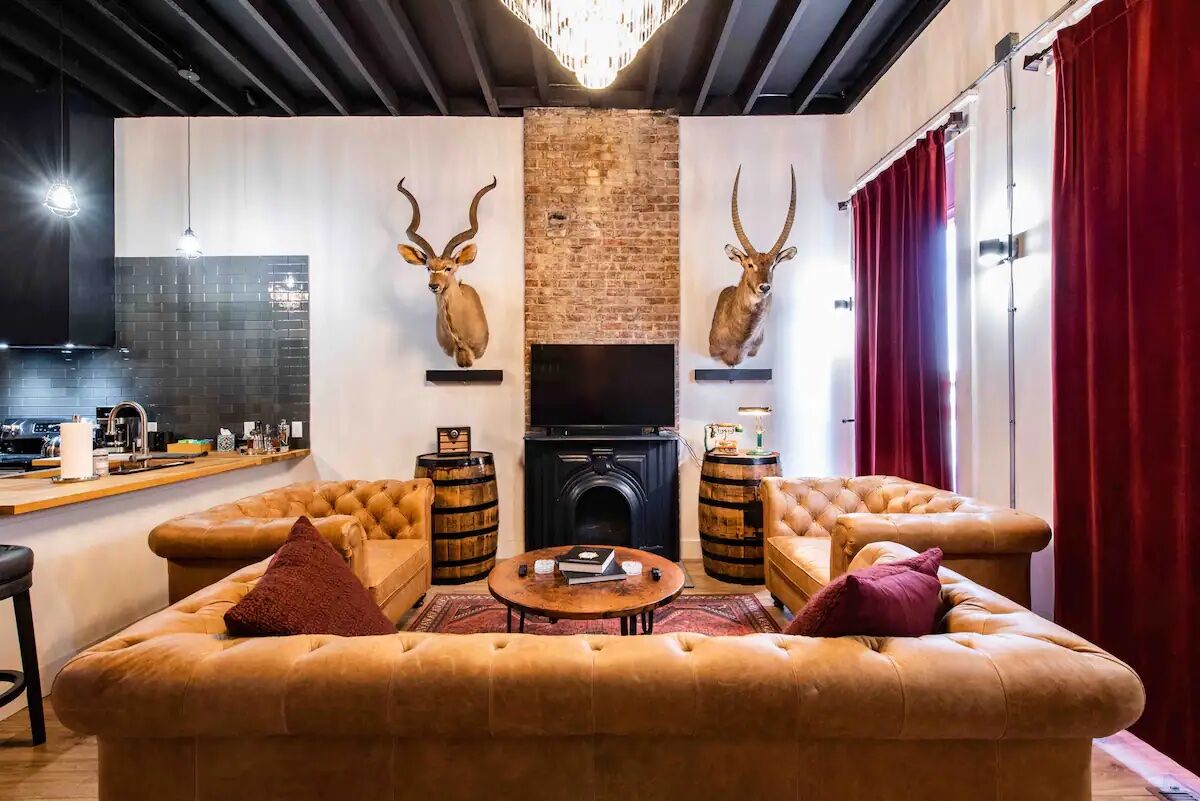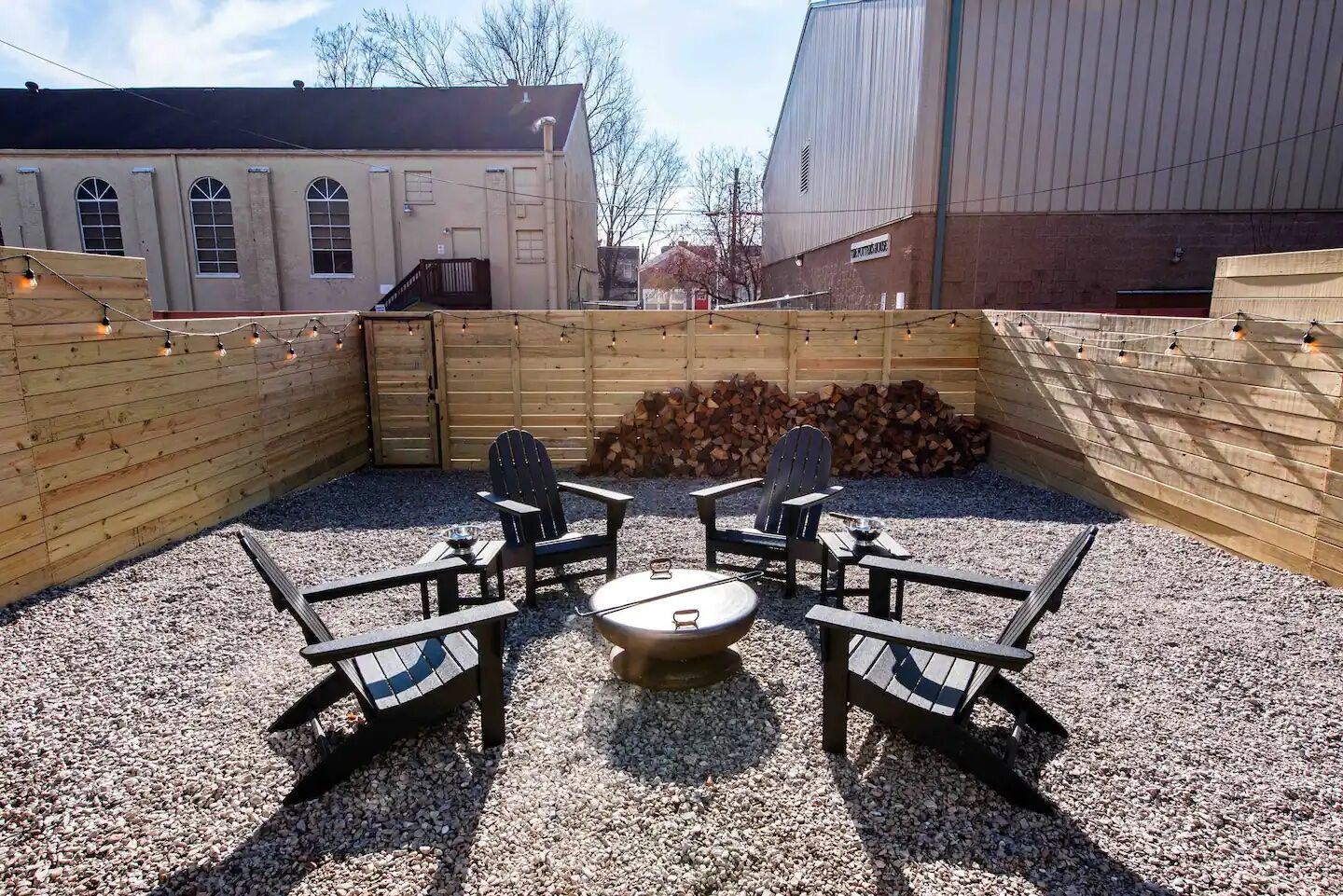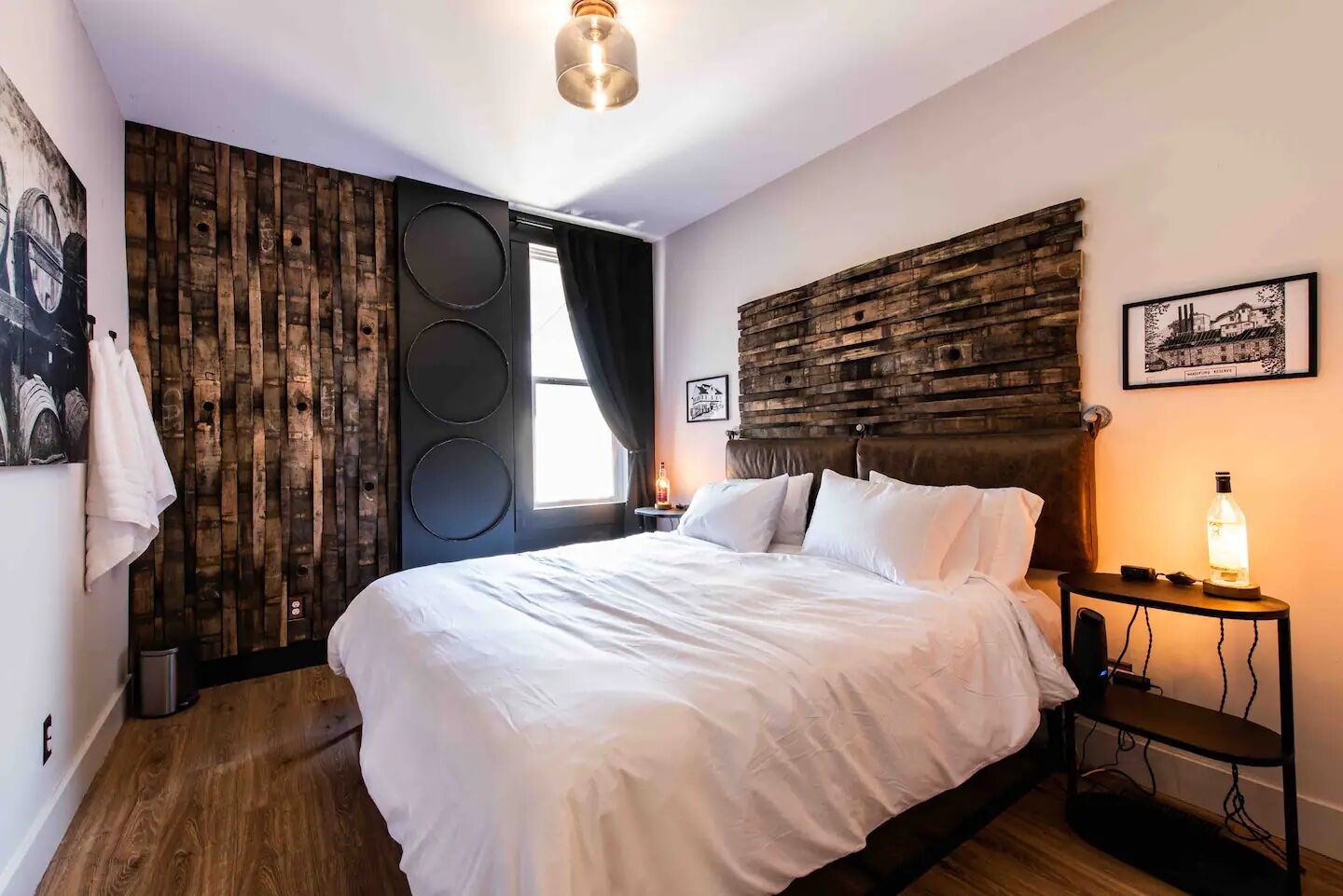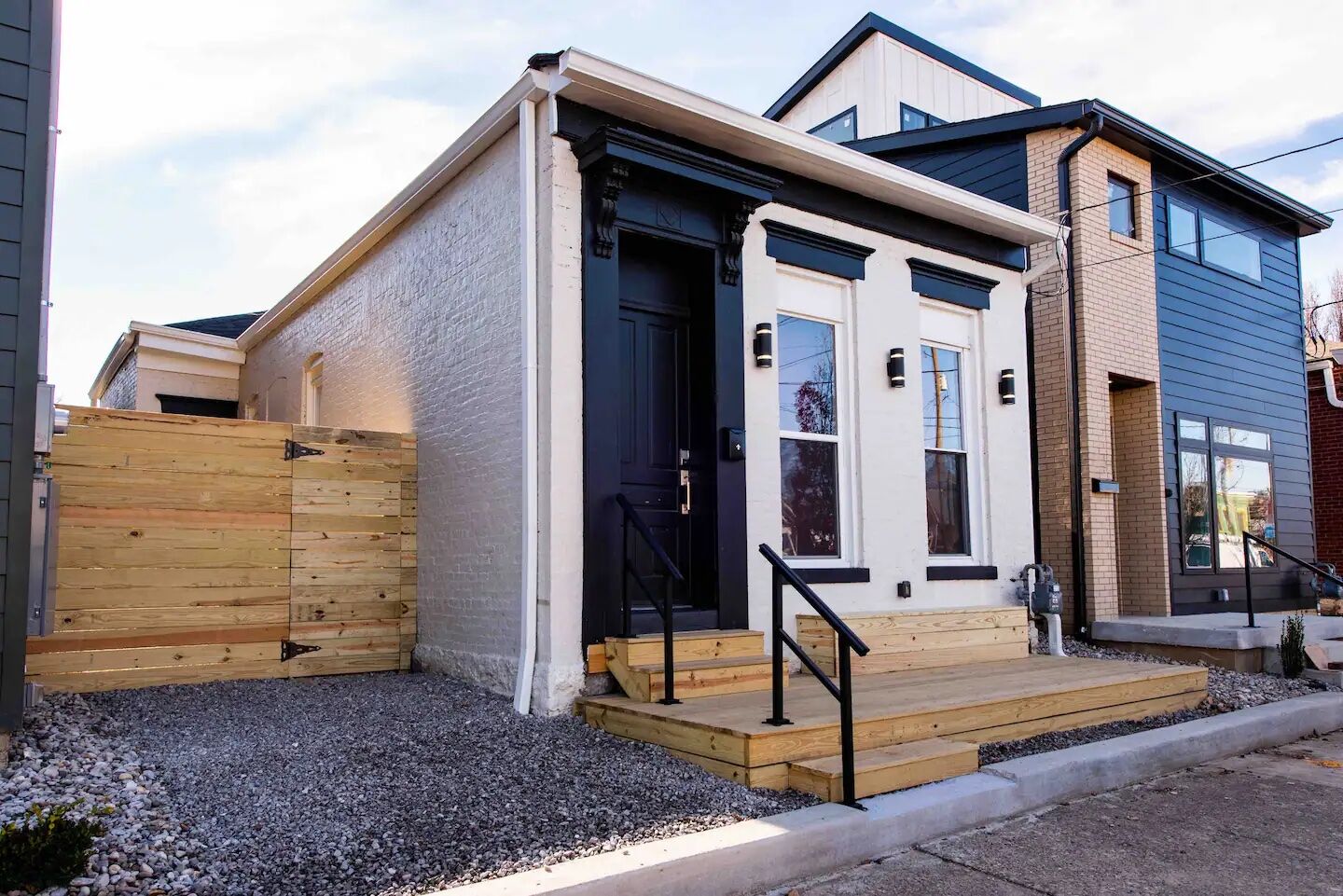 See more photos
Indulge in the world of distilled spirits with a stay at Rickhouse.
This structure
was crafted to store and age fine spirits, with all the necessary things you need to craft the perfect cocktail. It features chesterfield leather seating, a comprehensive collection of cocktail glasses, a regulated 4-tier humidor, and bespoke art pieces. The Bourbon Bedroom is complete with custom-built bourbon barrel walls from some of Kentucky's best distilleries, and the Sotol Bedroom includes special walls made by Desert Door and others by way of local distilleries. And when you're done exploring inside, refresh yourself with nature as there is also a fully fenced backyard equipped with a patio, grill, and fire pit. There's also a charcoal grill.
Four guests, two bedrooms
Price: $501 per night
River's Edge oasis near downtown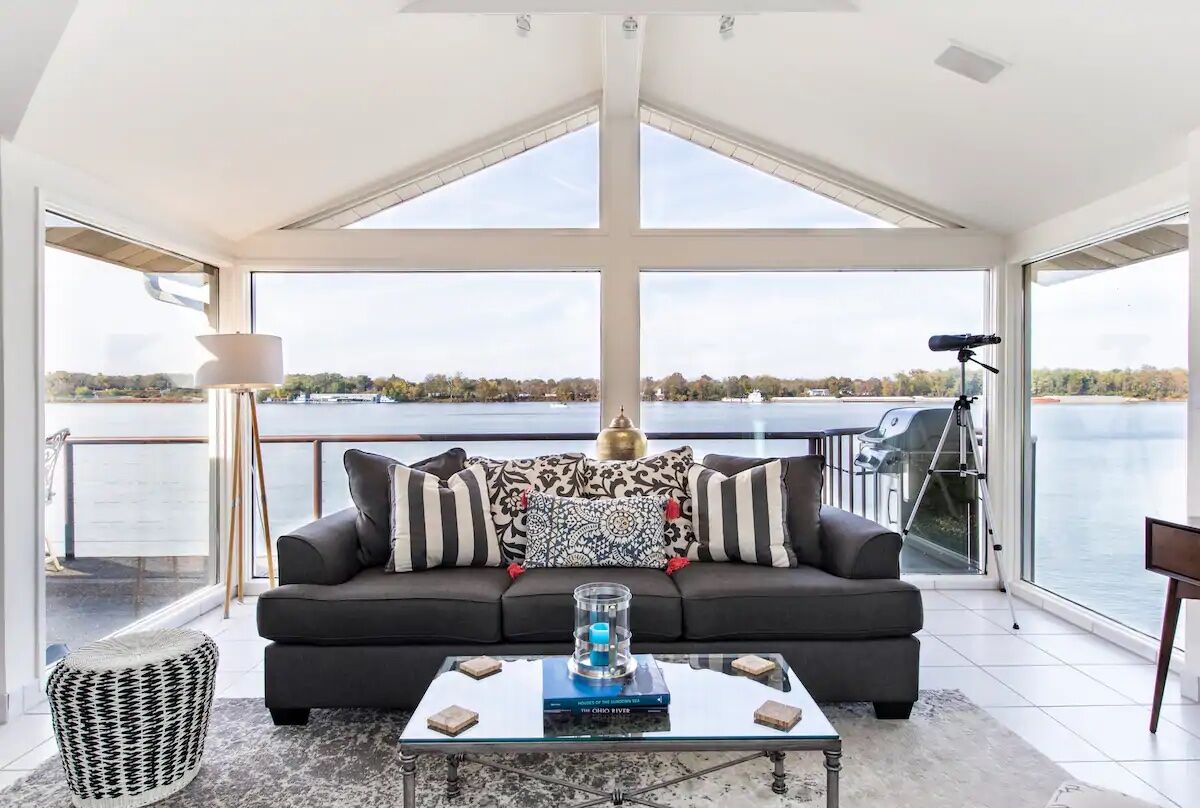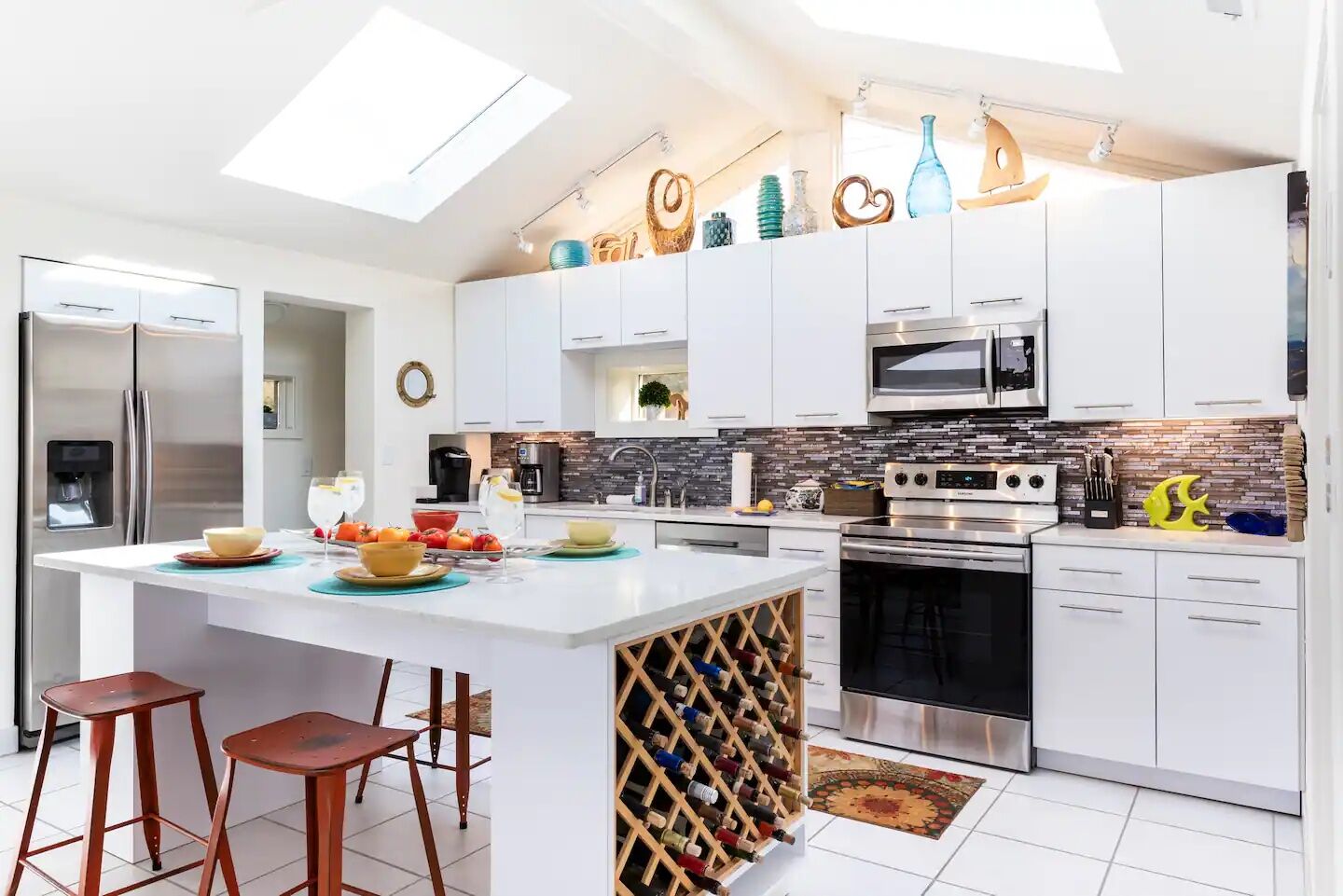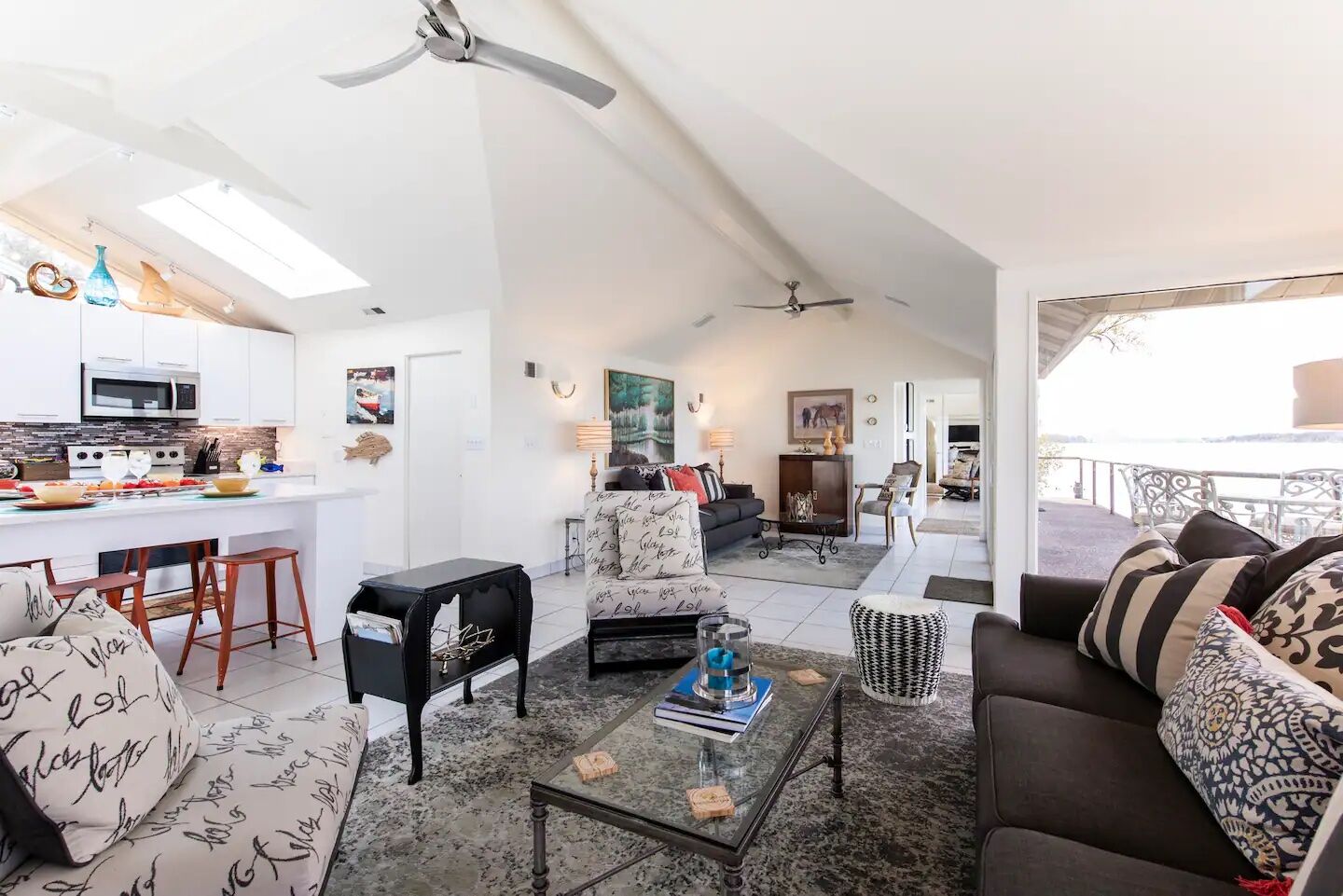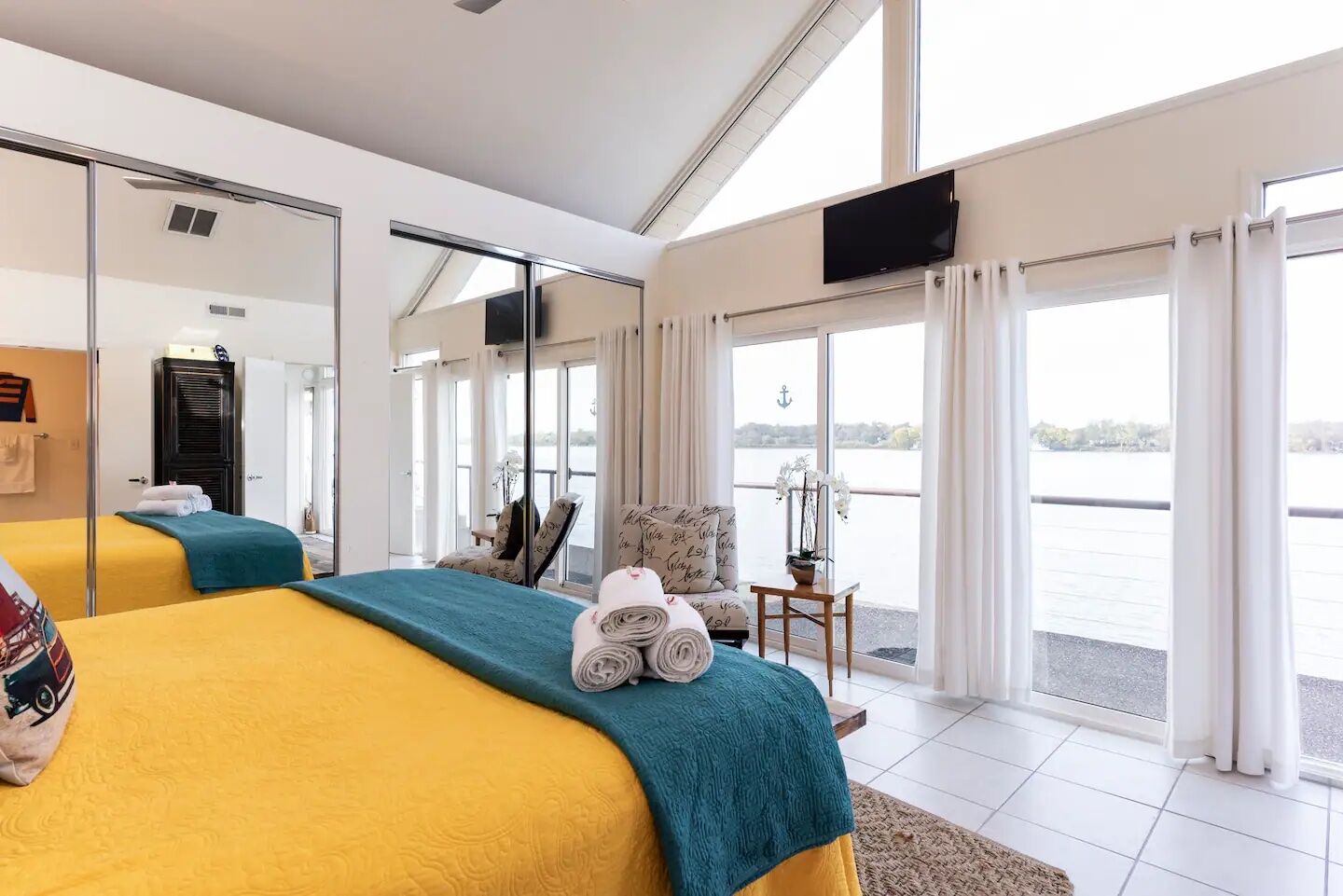 See more photos
Escape to paradise at River's Edge!
This amazing home
offers you the chance to relax and unwind in Louisville – also known as River City. Whether it's for a romantic getaway, a post-work retreat, or a great spot for friends to gather, this unique and designer-decorated property has all the amenities you need. Plus, you're just eight minutes away from downtown Louisville – giving you the perfect combination of relaxation and city life.
Six guests, one bedroom
Price: $266 per night
Louisville Airbnbs with a hot tub
Butchertown's historic scantyboathouse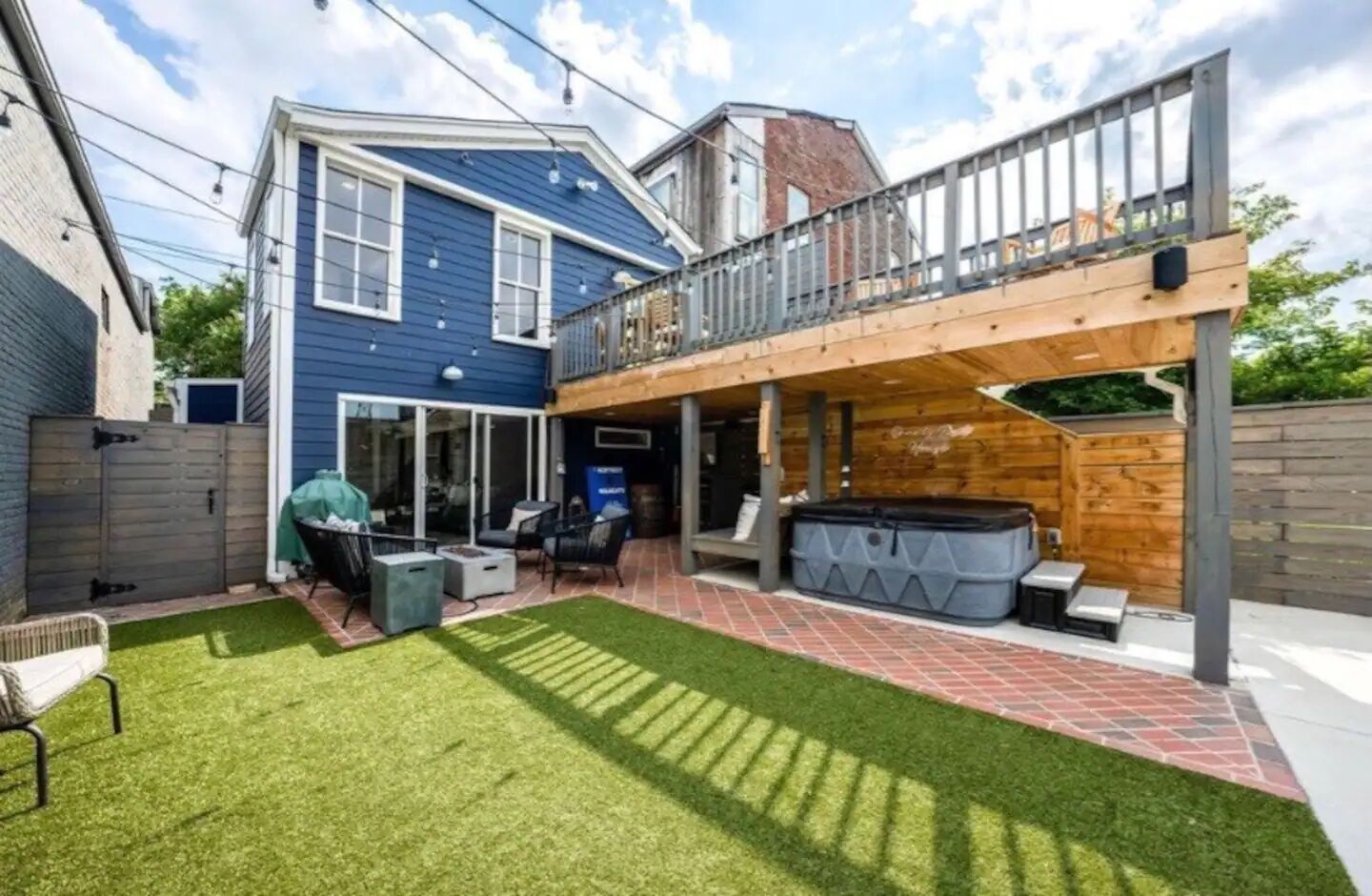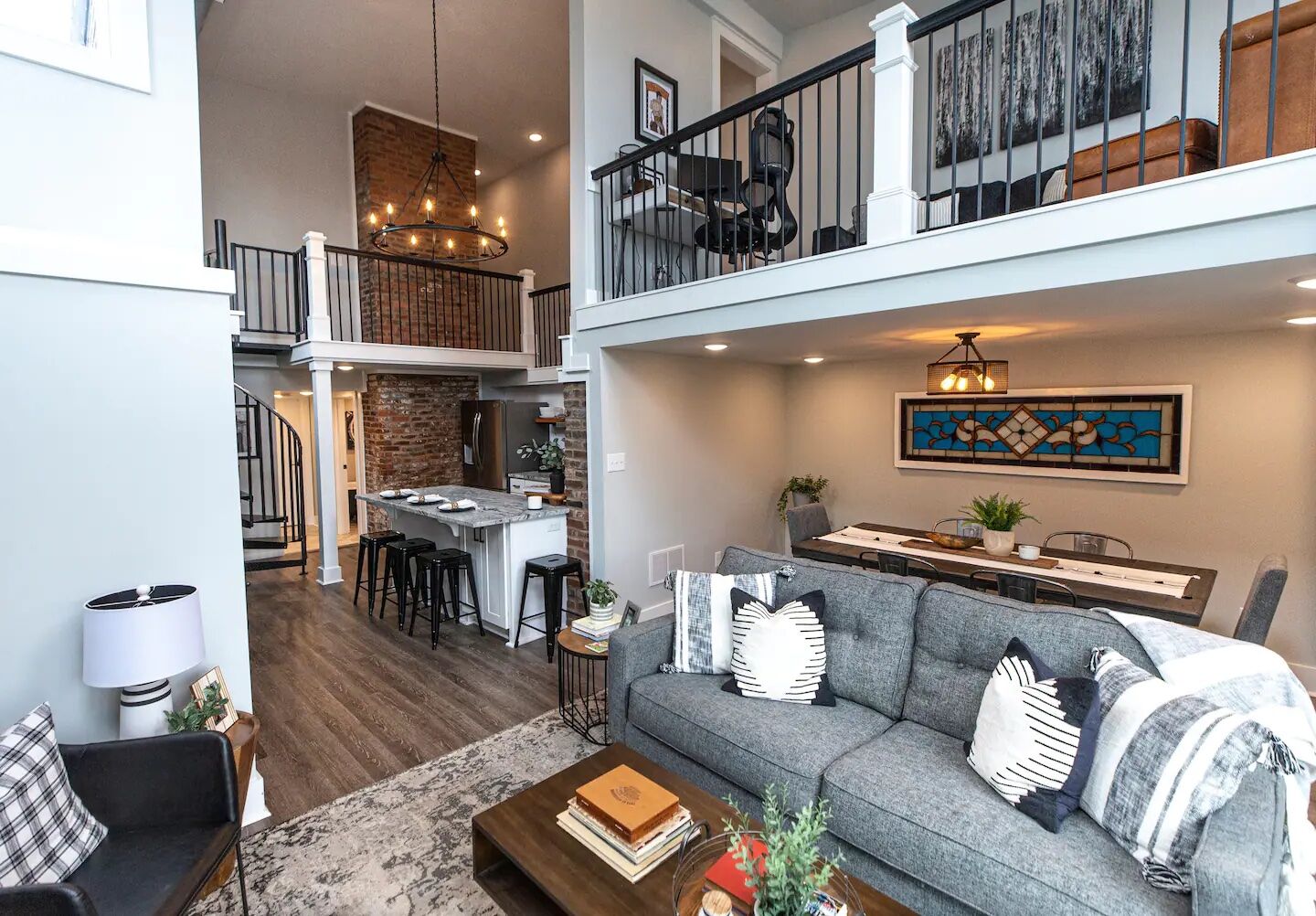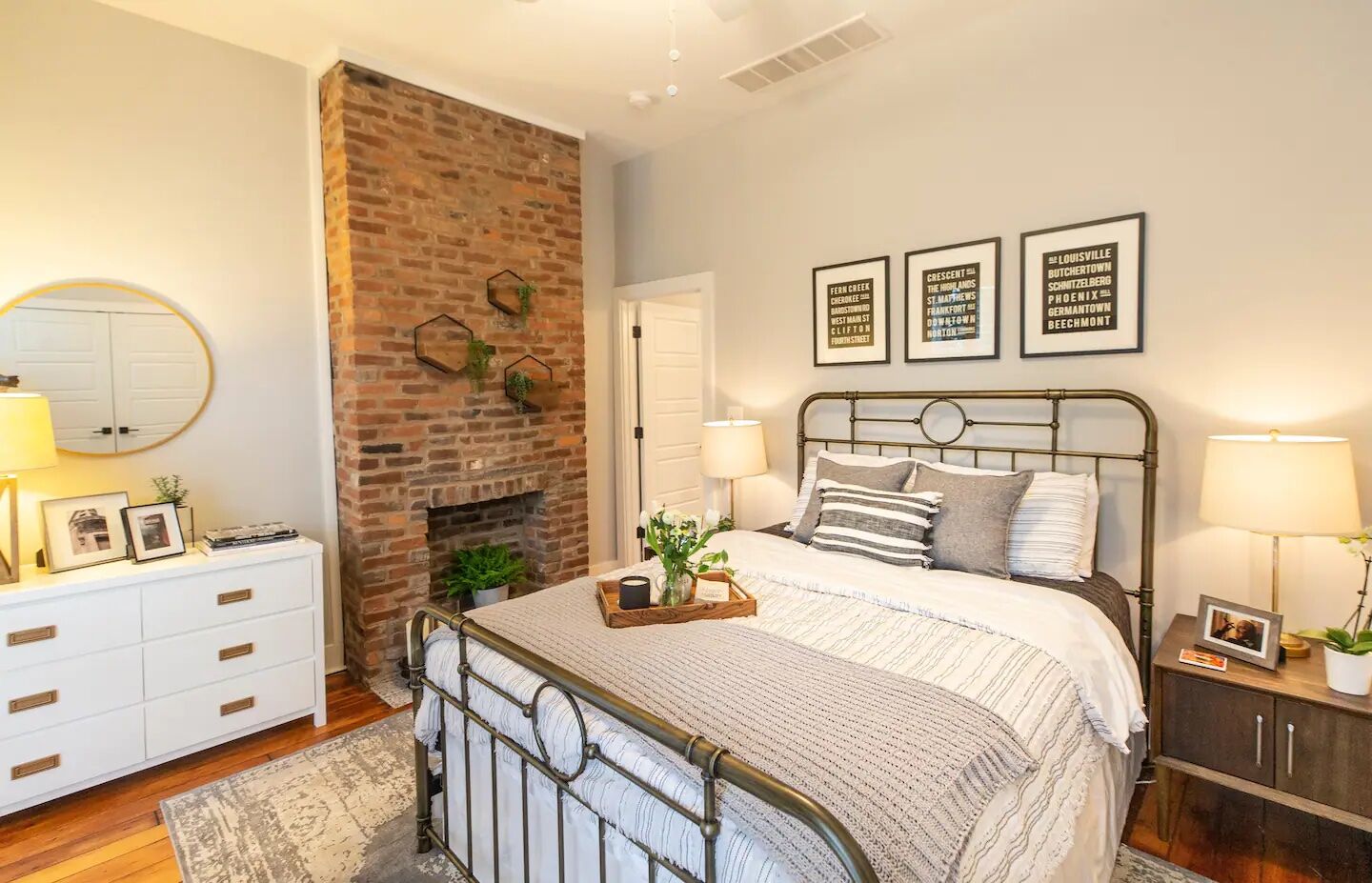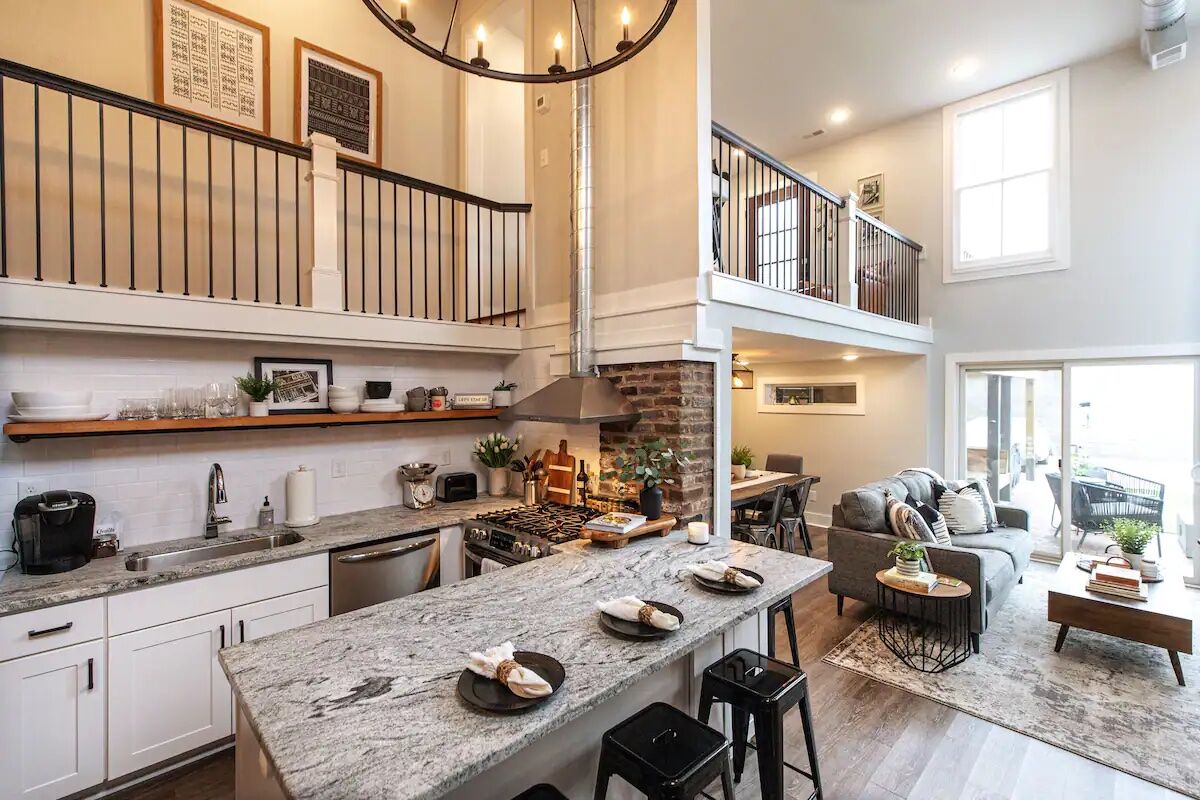 See more photos
Experience the best of entertainment at
the Shantyboathouse
! Fitted with a chef's kitchen and TVs in each room, it's got all you need for a great time. You can also take advantage of its patio equipped with a bar, TV, surround sound, and Big Green Egg – perfect for those juicy burgers and steaks. Plus, the upper deck provides an amazing nighttime view of the pedestrian bridge, while the backyard offers corn hole and a hot tub to relax after a long day at the track. Experience world-class hospitality when you stay at The Shantyboathouse, with the bonus of knowing you're staying in Louisville's Home of the Week from March 2021.
Six guests, two bedrooms
Price: $417 per night
Highlands Getaway Airbnb with a hot tub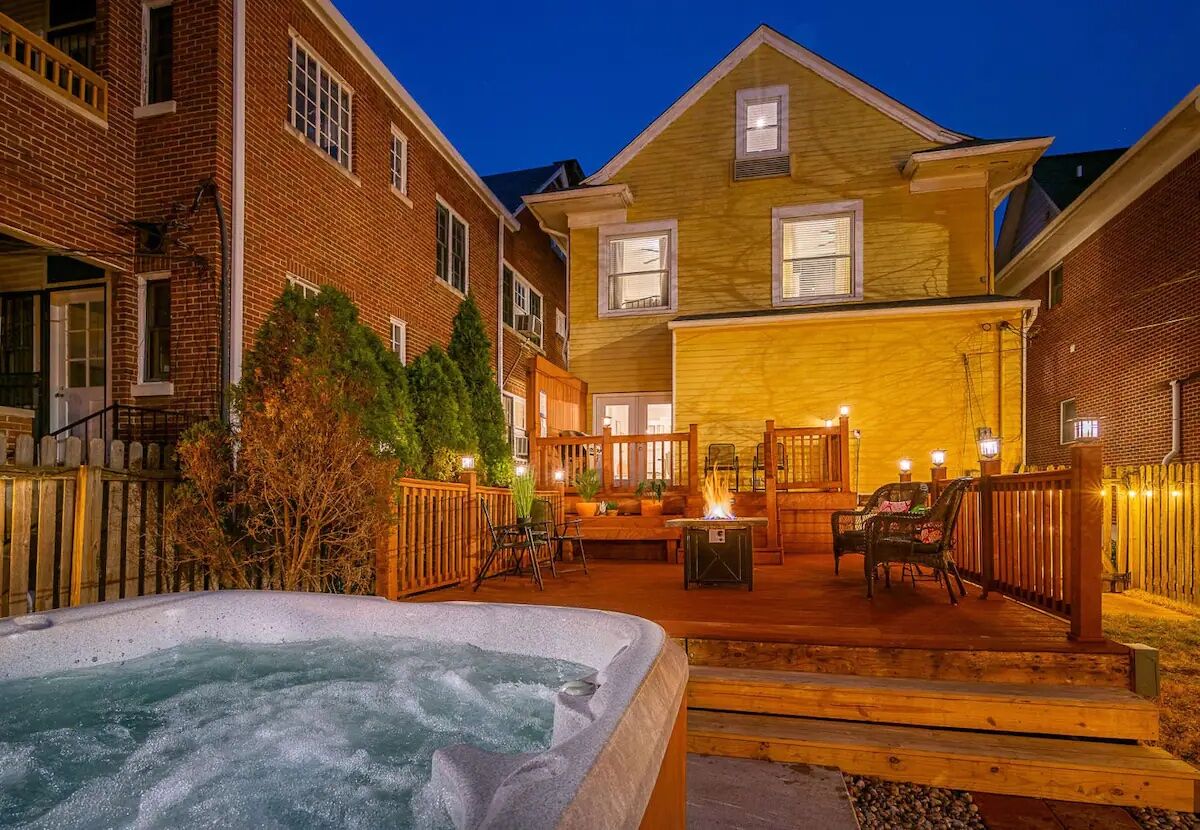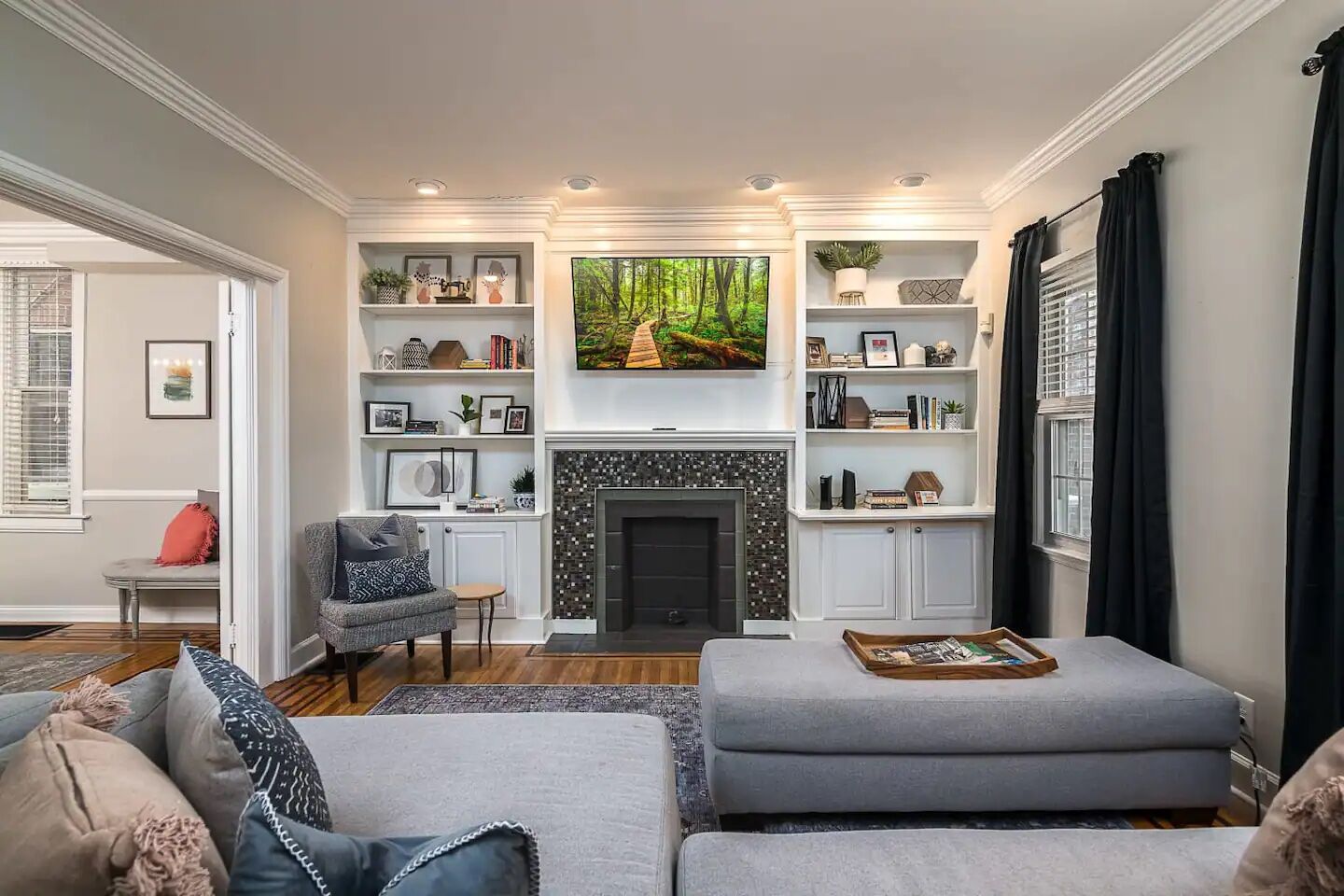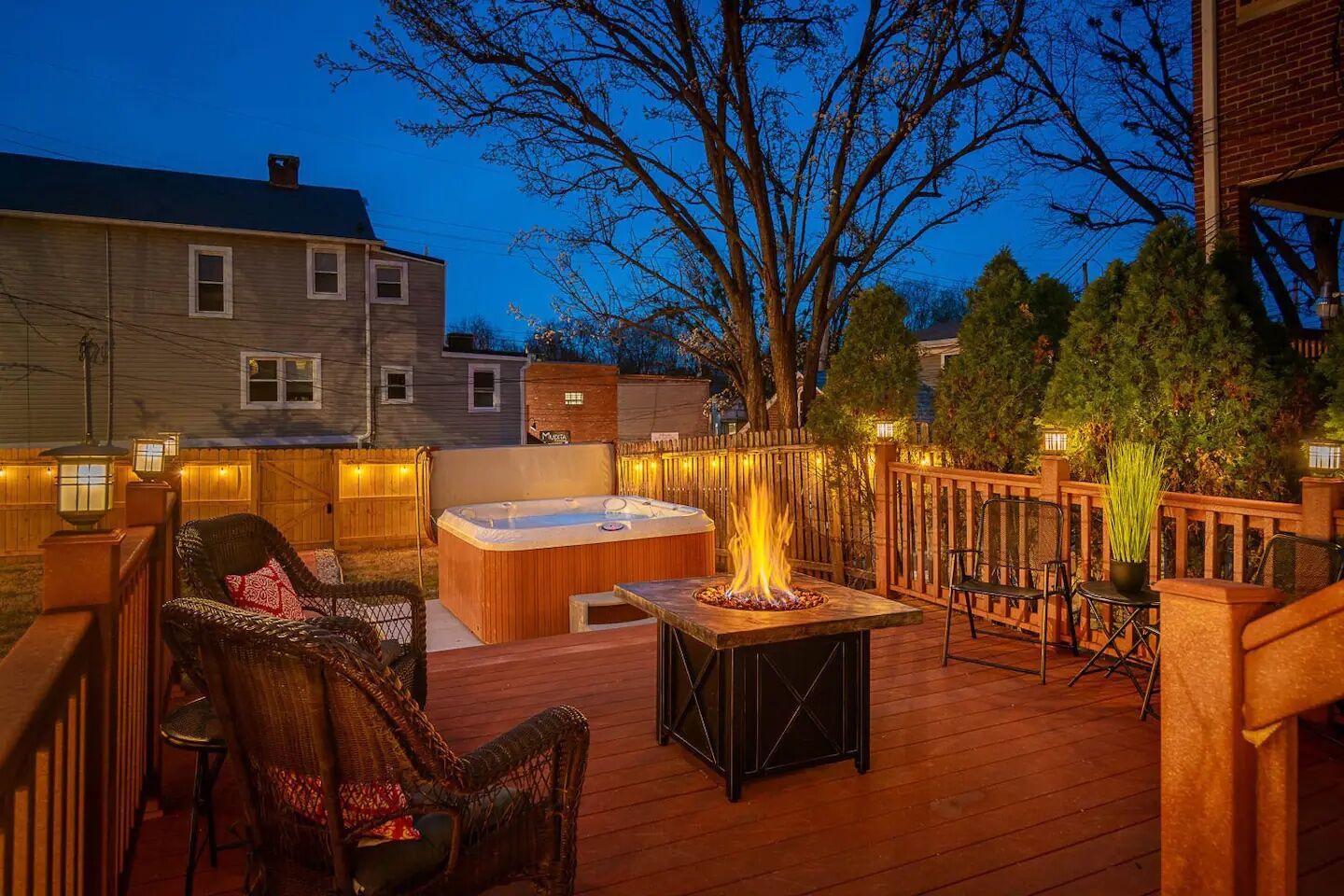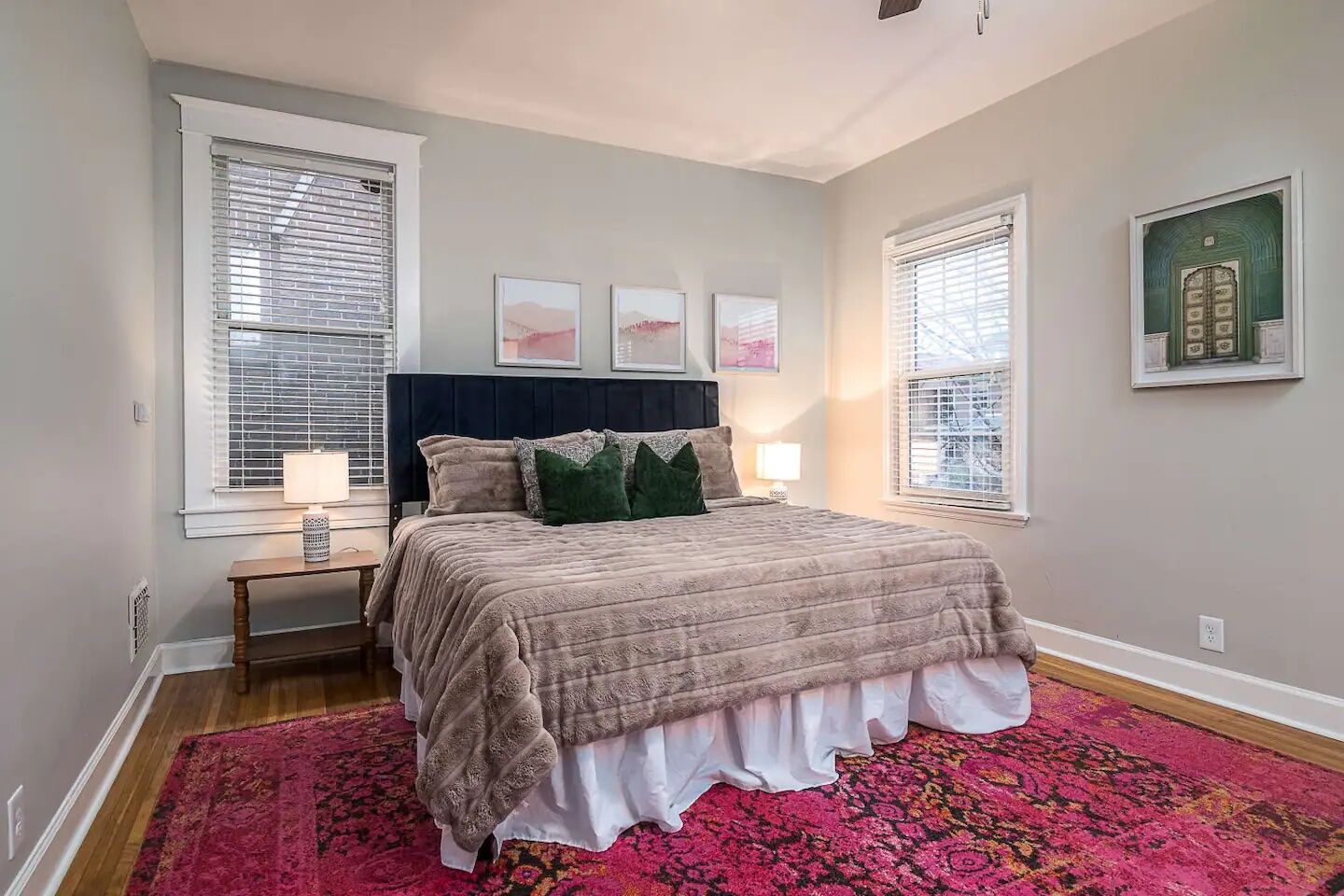 See more photos
Enjoy the best of Louisville with this
historic yet modern gem.
Get out on your bourbon tours during the day and come back to create memories – gather around the fire pit, soak in the hot tub, and cook up some food on the grill. And best of all – you're just steps away from outstanding entertainment, bars, dives, and incredible food. This vacation home is exceptionally located just one house off Bardstown rd in the Highlands neighborhood – offering you a perfect combination of culture, relaxation, and urban life.
Ten guests, five bedrooms
Price: $291 per night
Riverside palace with sauna, theater, hot tub, and games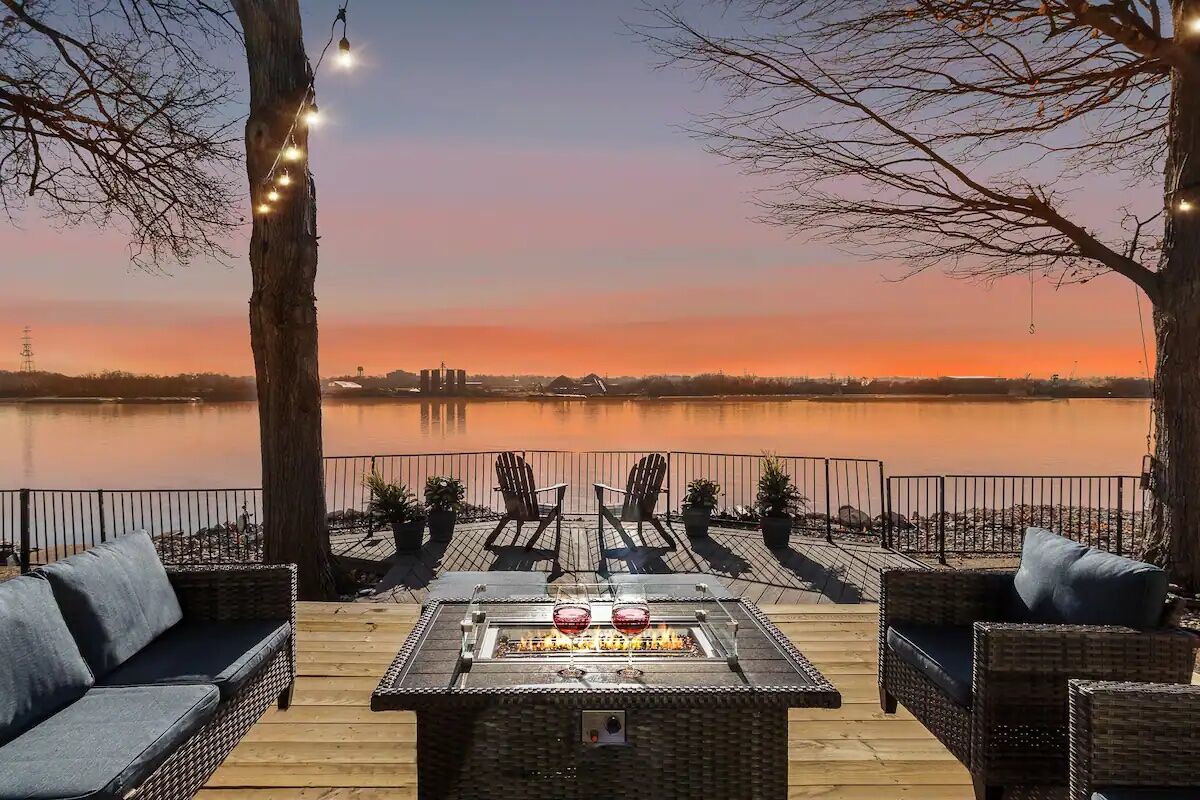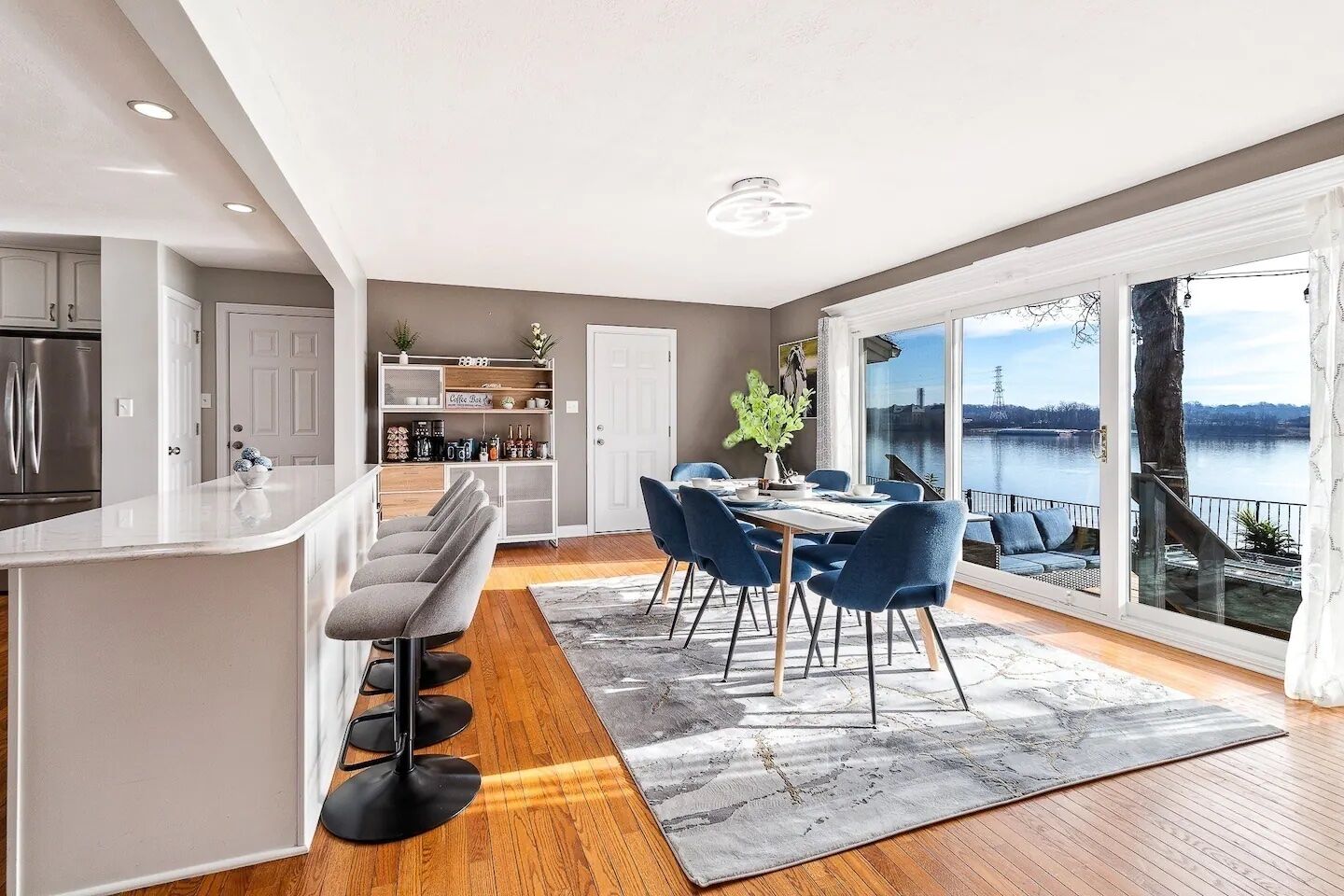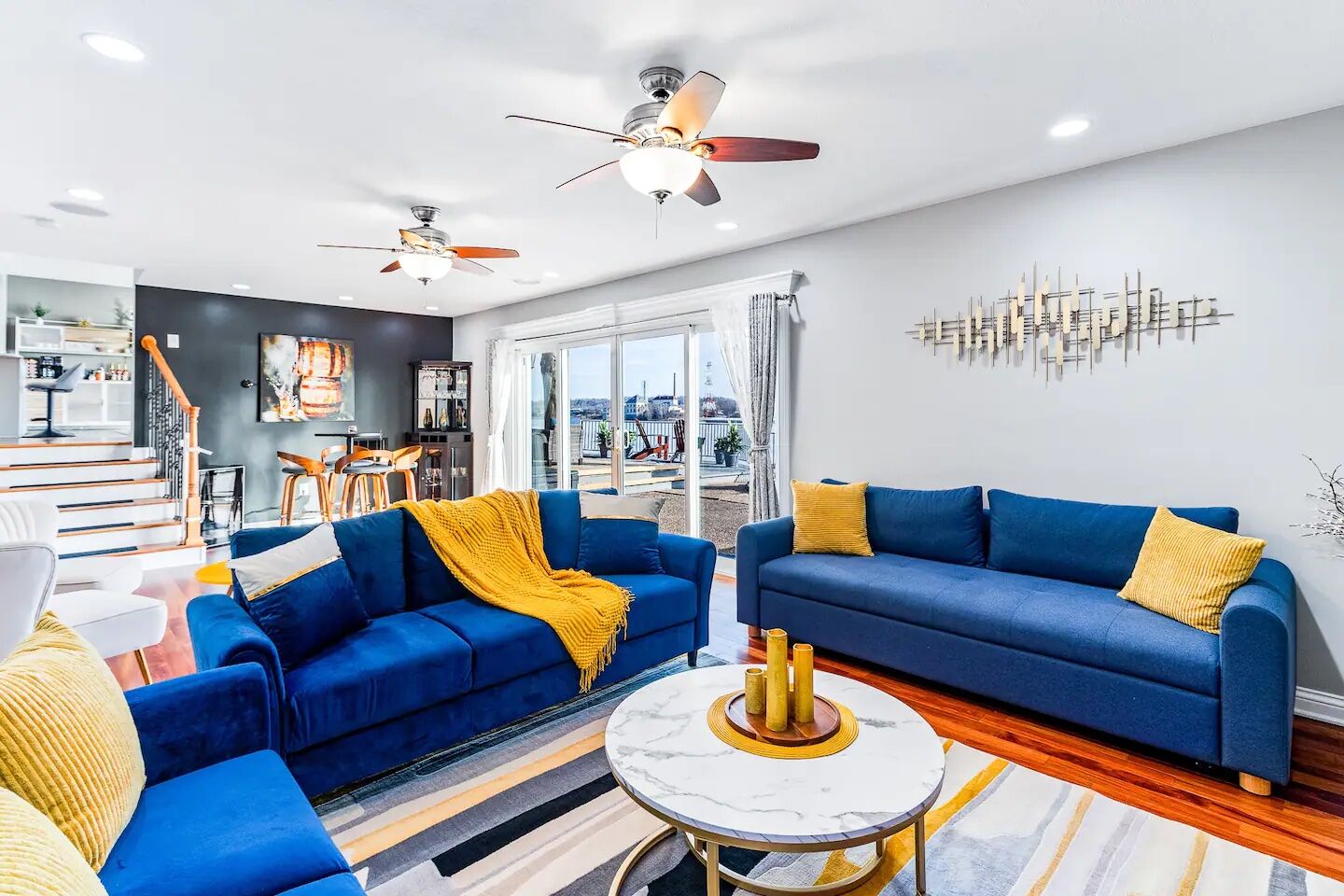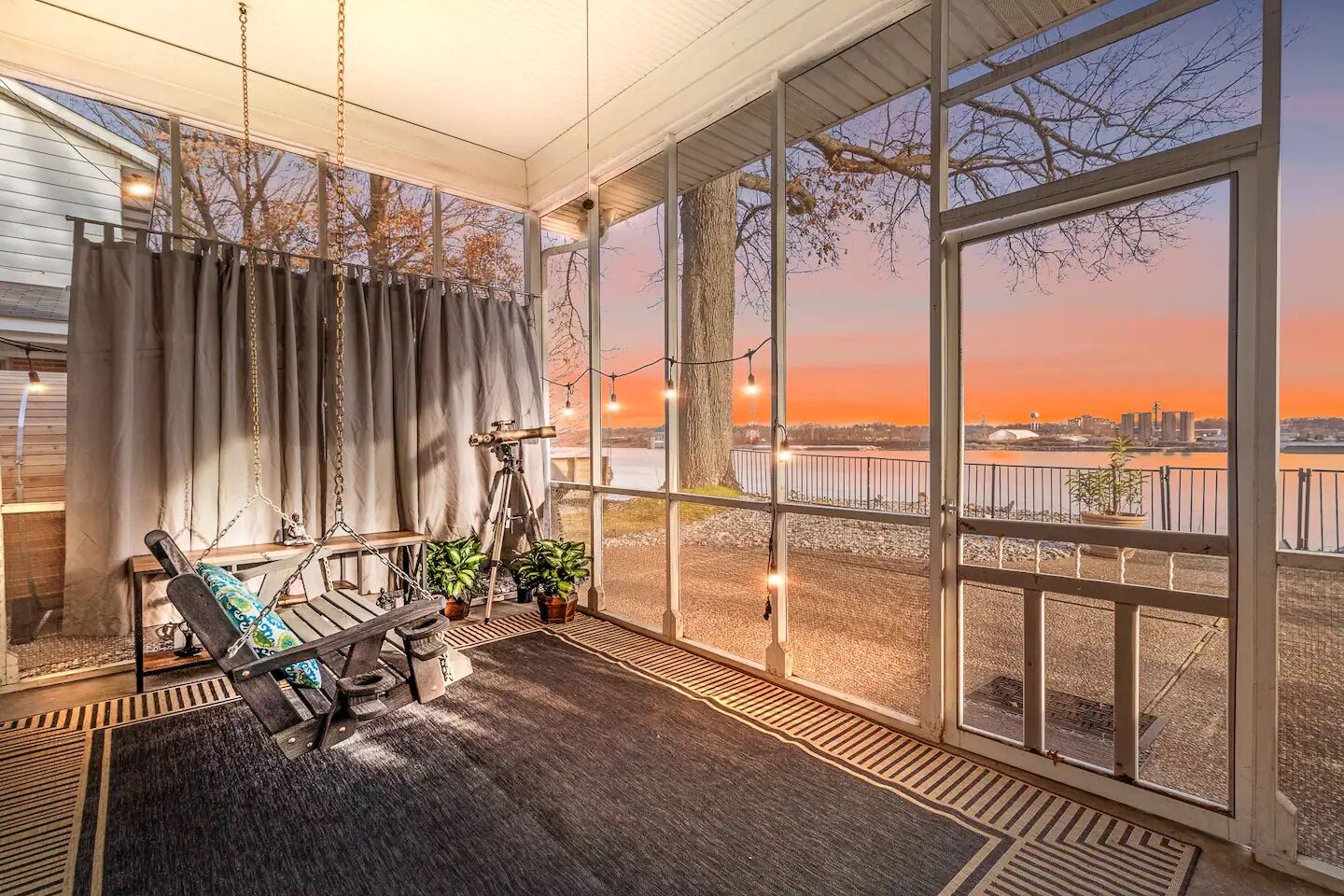 See more photos
Embrace the unique eclectic multi-gen style of this
top-notch property
and all its amenities; there's something here for everyone in your crew. From the sauna, hot tub and fire pit, to the zen den and incredible water views, you're sure to fall in love. With a prime location close to attractions, restaurants, shopping, and major freeways of Louisville, Jeffersonville, New Albany, and Clarksville – plus three King bedrooms, one Queen bedroom with a trundle bed and pull-out sofa spread across three levels (sleeps 12). There are three full bathrooms. This is an unforgettable space that needs to be experienced to be believed. You'll also enjoy a riverfront view with a massive game room and bar, high-end coffee bar, living room with a second bar & lounge area, fireplace & BBQ. Plus a fully equipped kitchen including Instapot Duo w/ air fryer, griddle, toaster, and more.
Twelve guests, four bedrooms
Price: $553 per night
Historic Airbnbs in Louisville's coolest neighborhoods
Luxe Highlands Airbnb with fire pit and yard games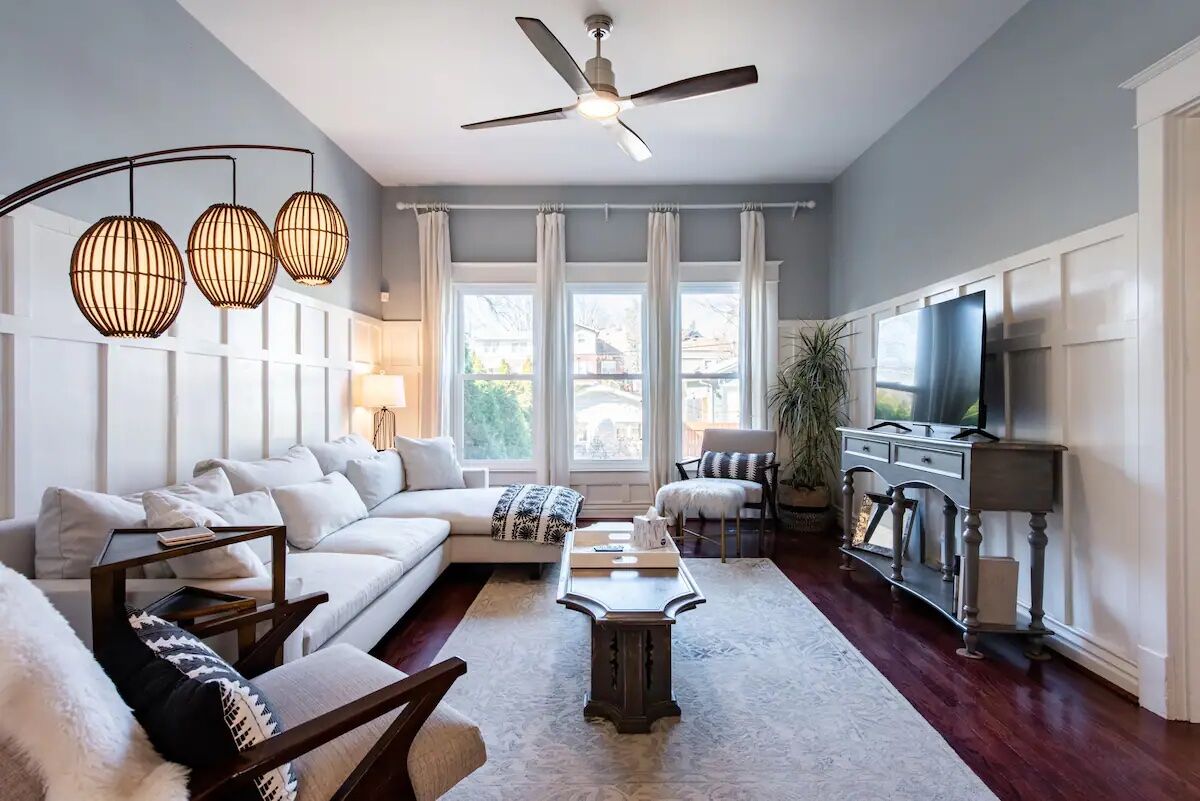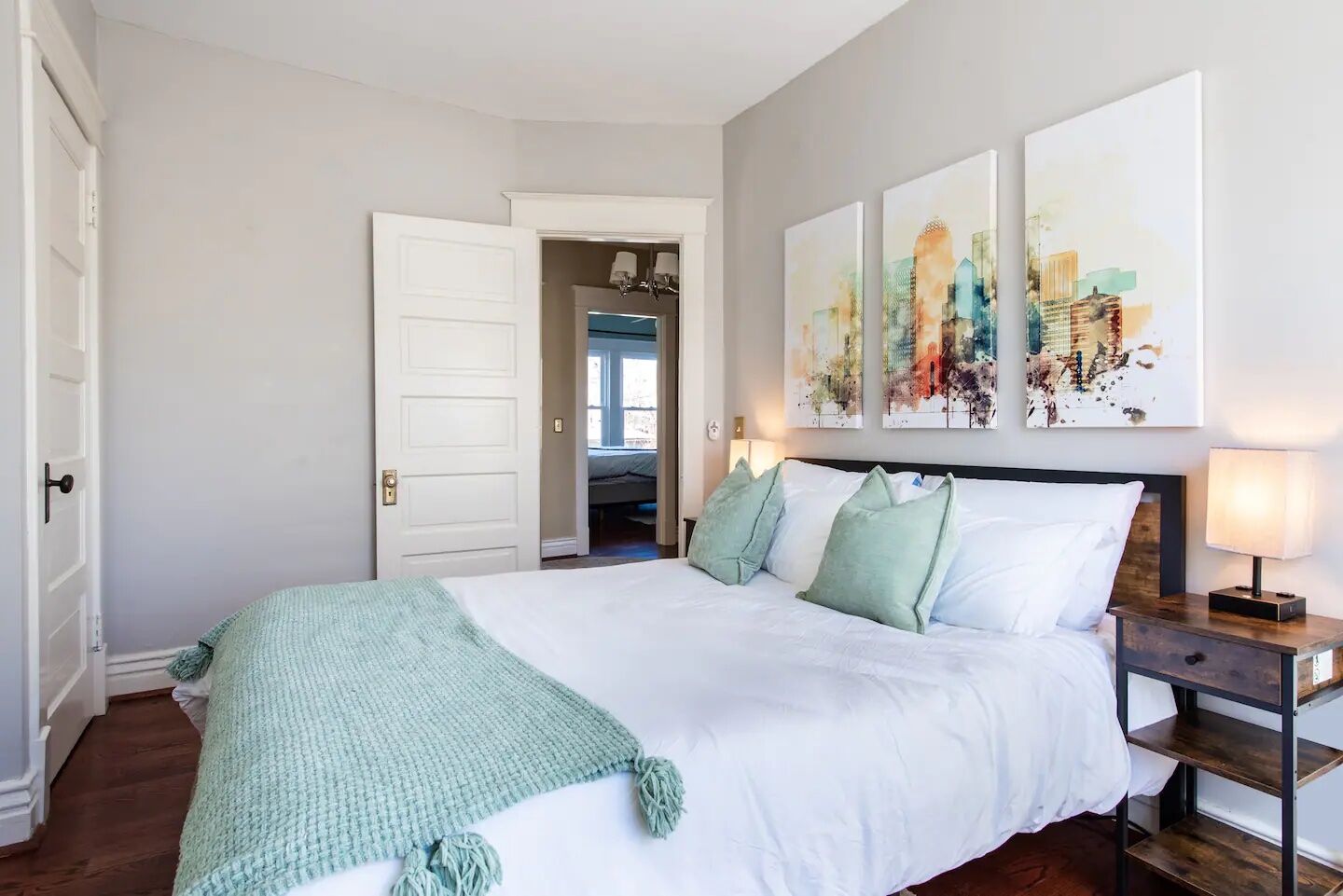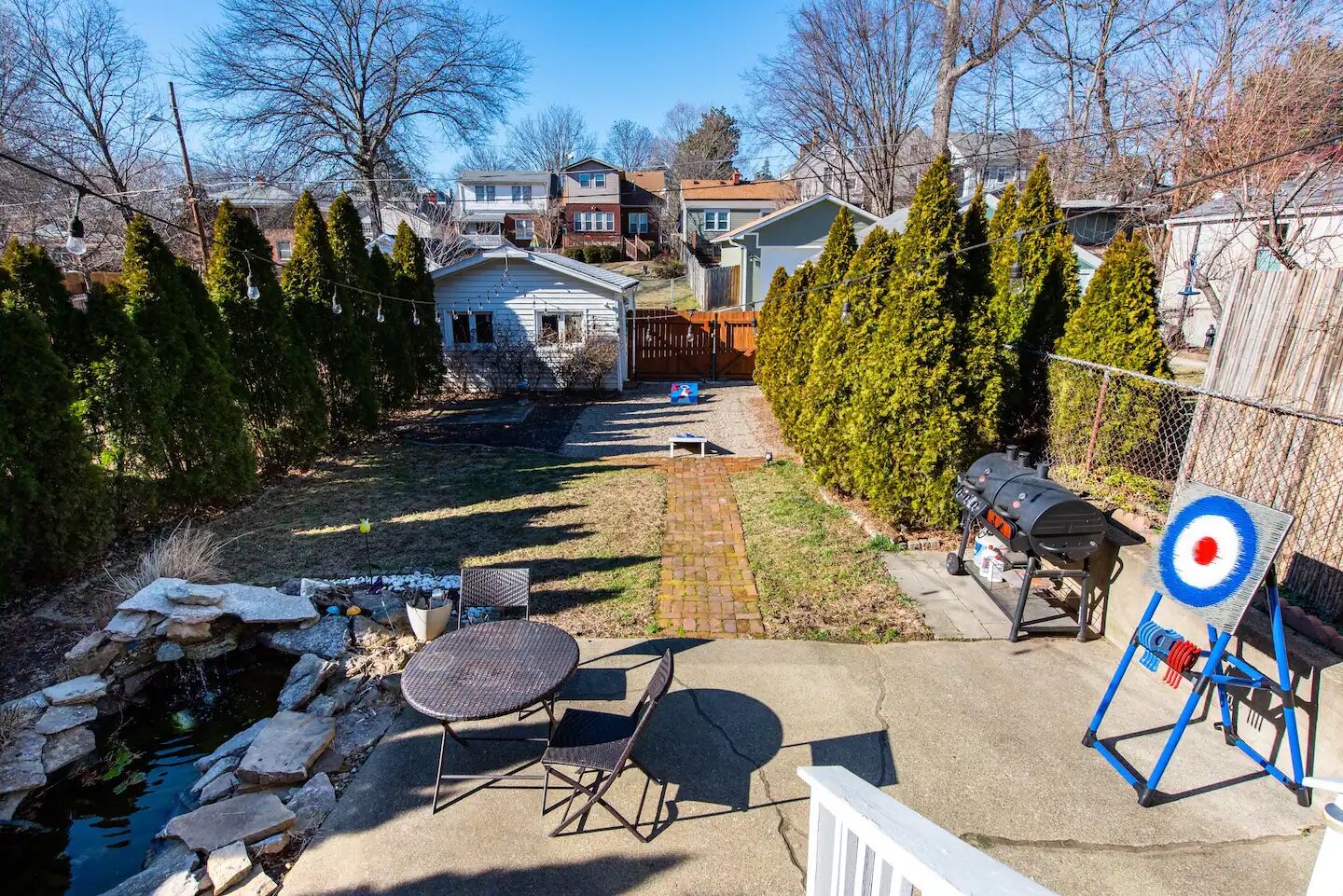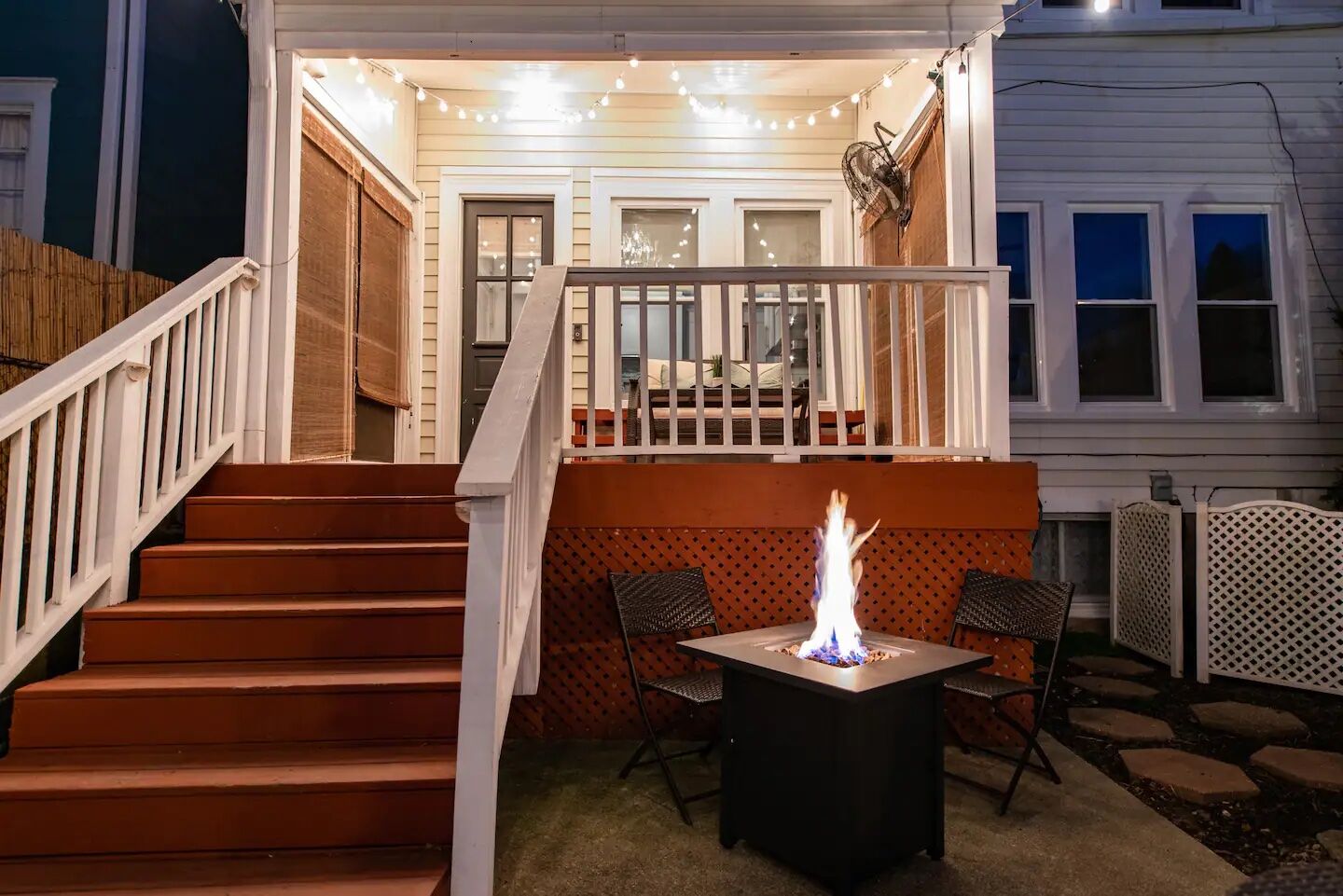 See more photos
Comfort and convenience are the names of the game at
this beautiful four-bedroom house
in Louisville's charming Highlands neighborhood. Enjoy a relaxing stay with plenty of room to roam – 1,800 sqft of tranquil space just waiting for you to explore! This is the ideal home base for adventurous families, friends, and travelers looking for a serene retreat to make their own. With so much to see and do in Louisville, you'll never be at a loss for great activities.
Ten guests, four bedrooms
Price: $291 per night
Upscale penthouse Airbnb with rooftop patio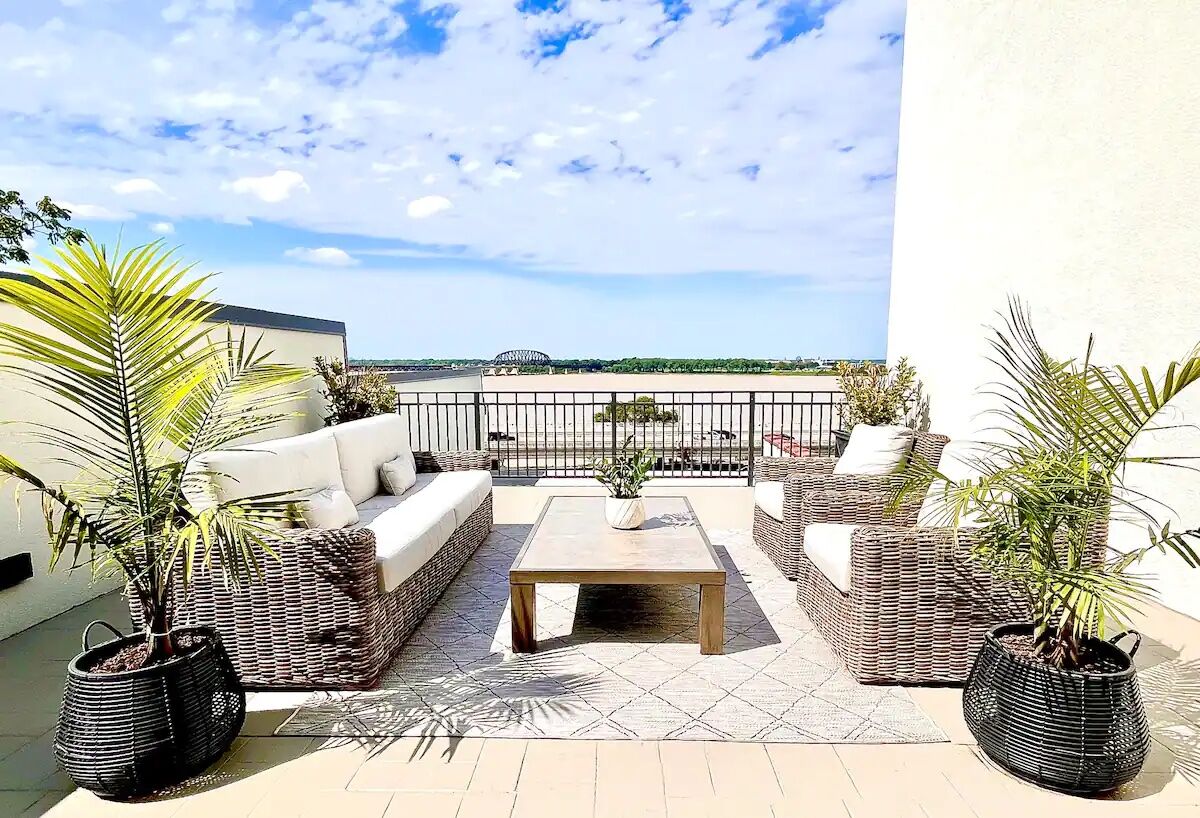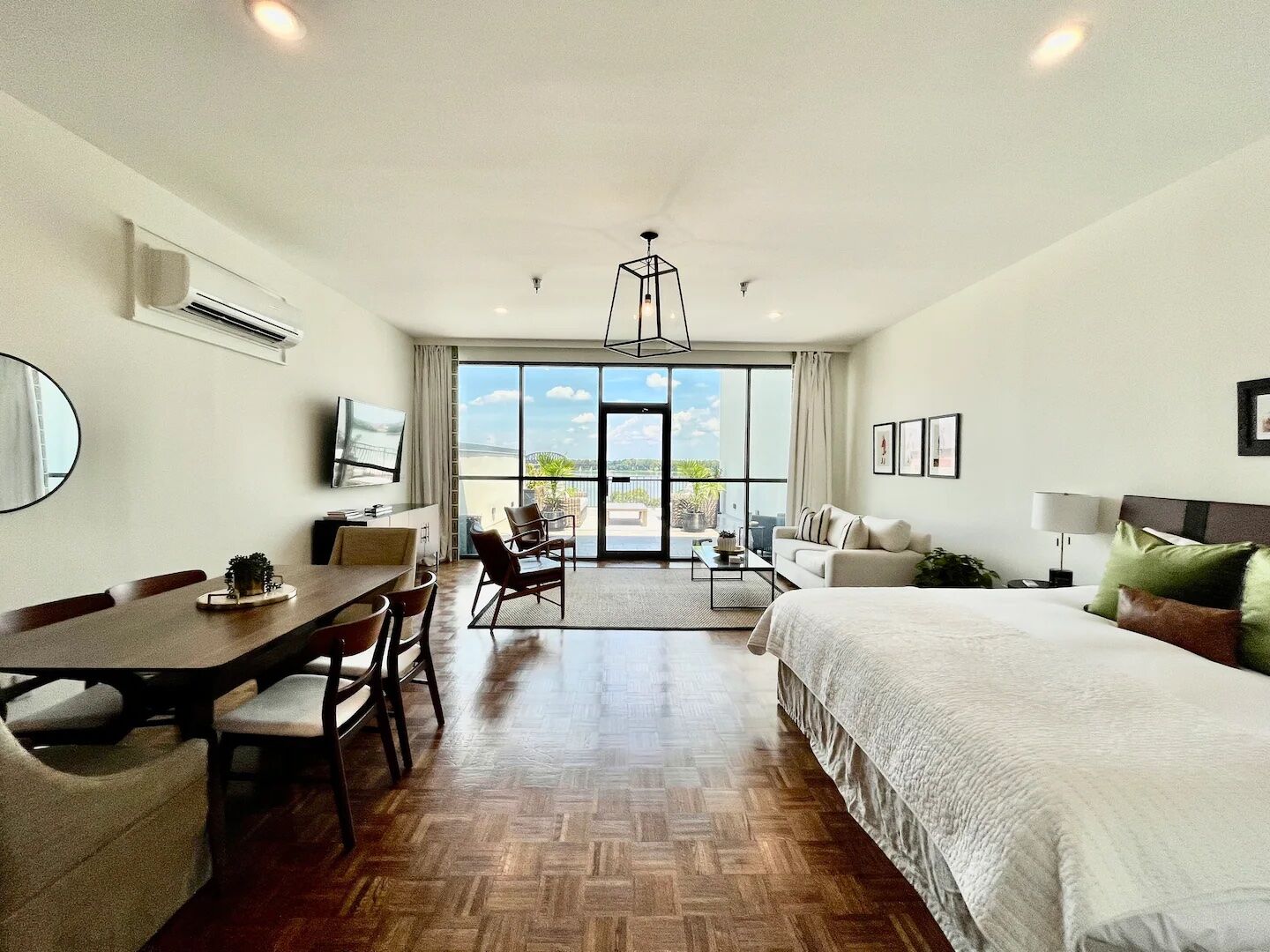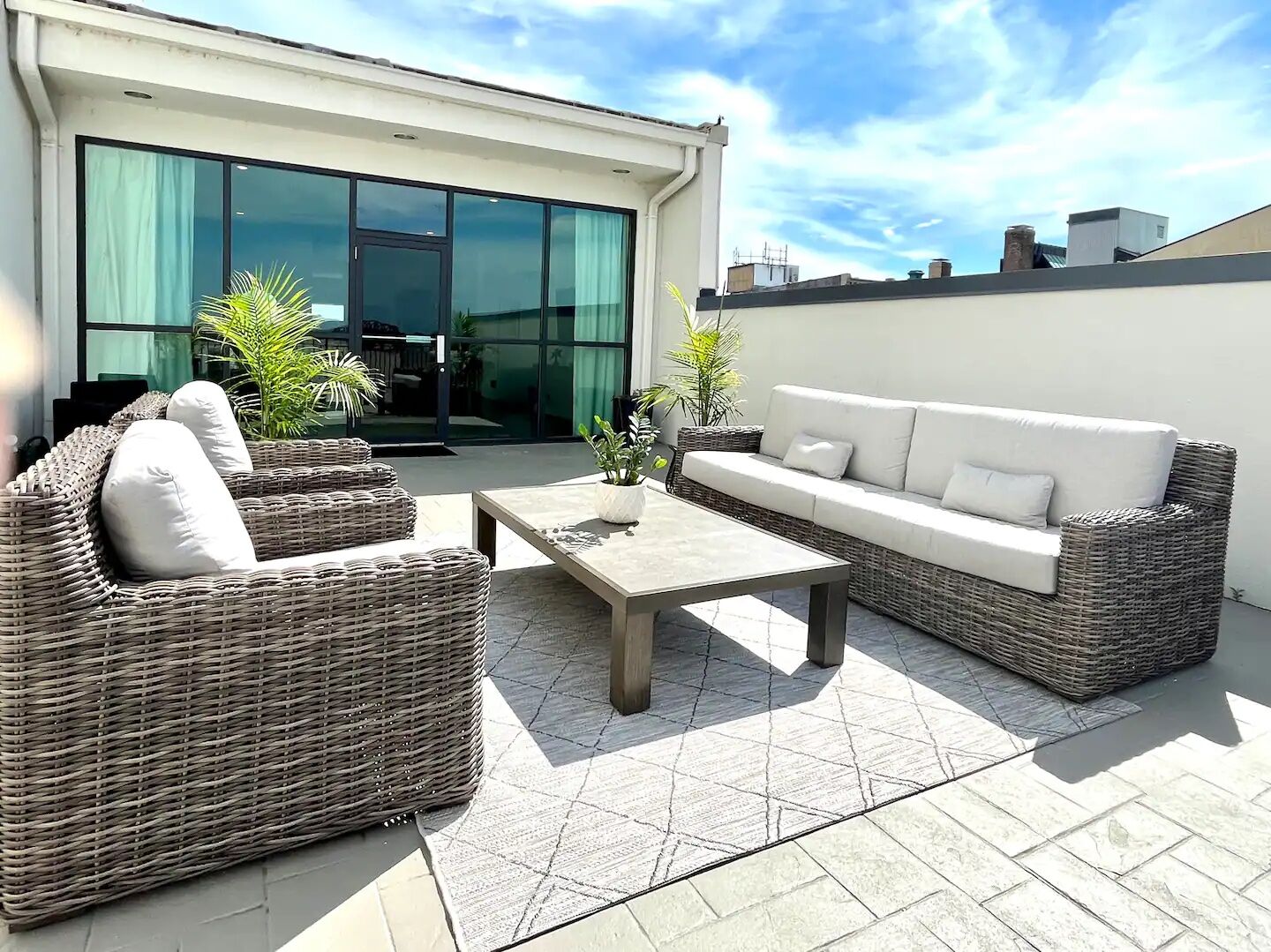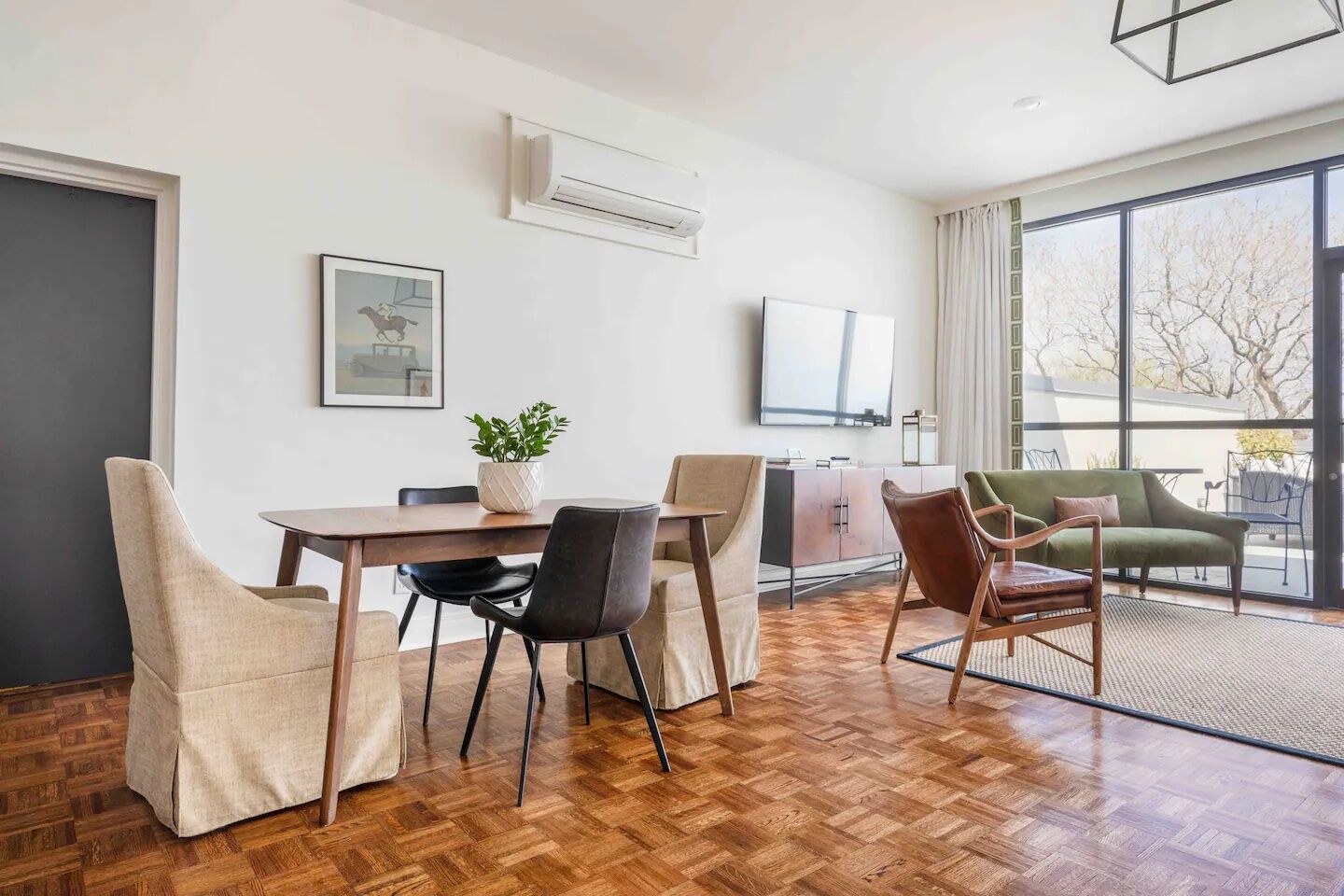 See more photos
Unwind and enjoy sweeping river views from the rooftop patio of
this private 5th-floor penthouse apartment
. This intentionally designed and decorated space has all the features you need for a perfect stay – an upscale full kitchen, open concept living and dining area, cozy King bed, full sleeper sofa, large plush bathroom, and even laundry in the suite. Whether visiting for business or pleasure, this spacious urban suite is conveniently located on The Bourbon Trail and within walking distance to Louisville's best attractions.
Four guests, one bedroom
Price: $217 per night
Modern home close to everything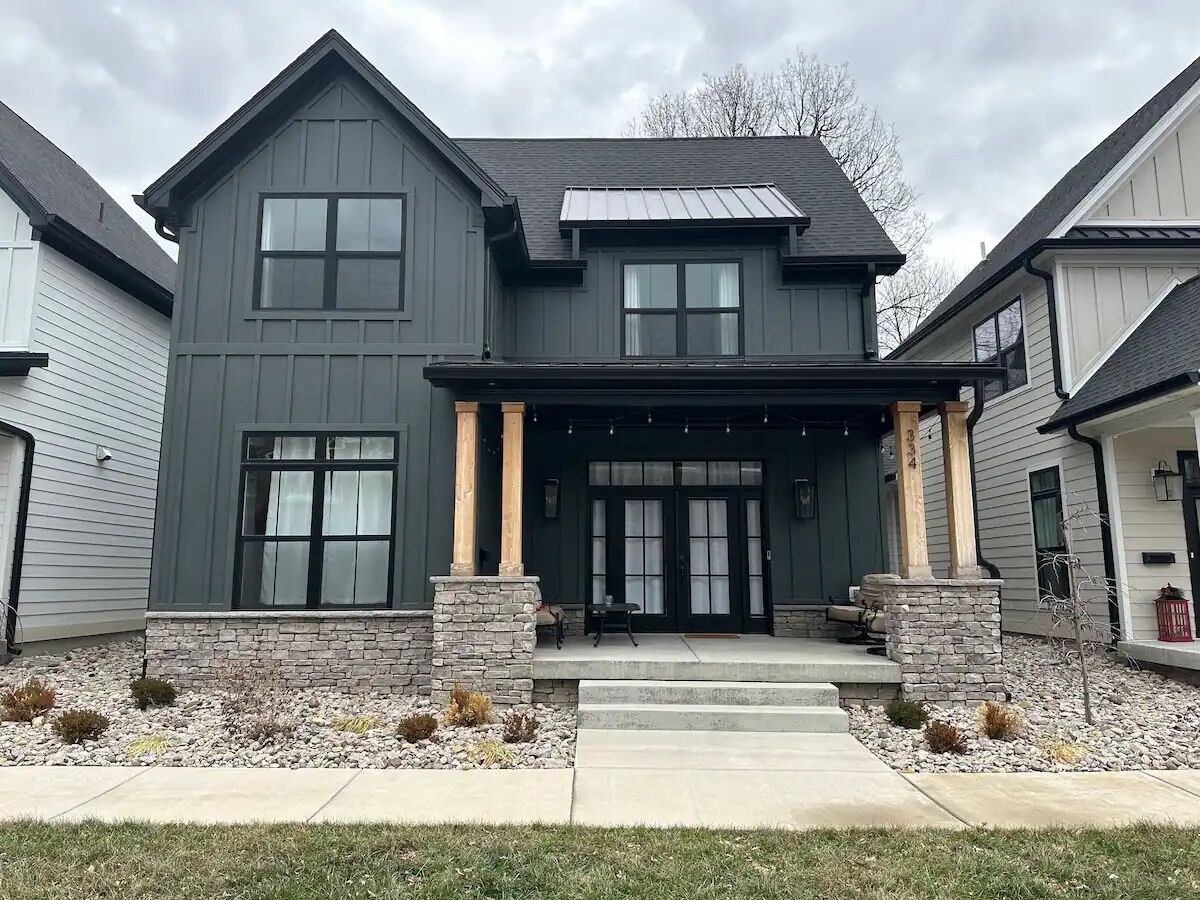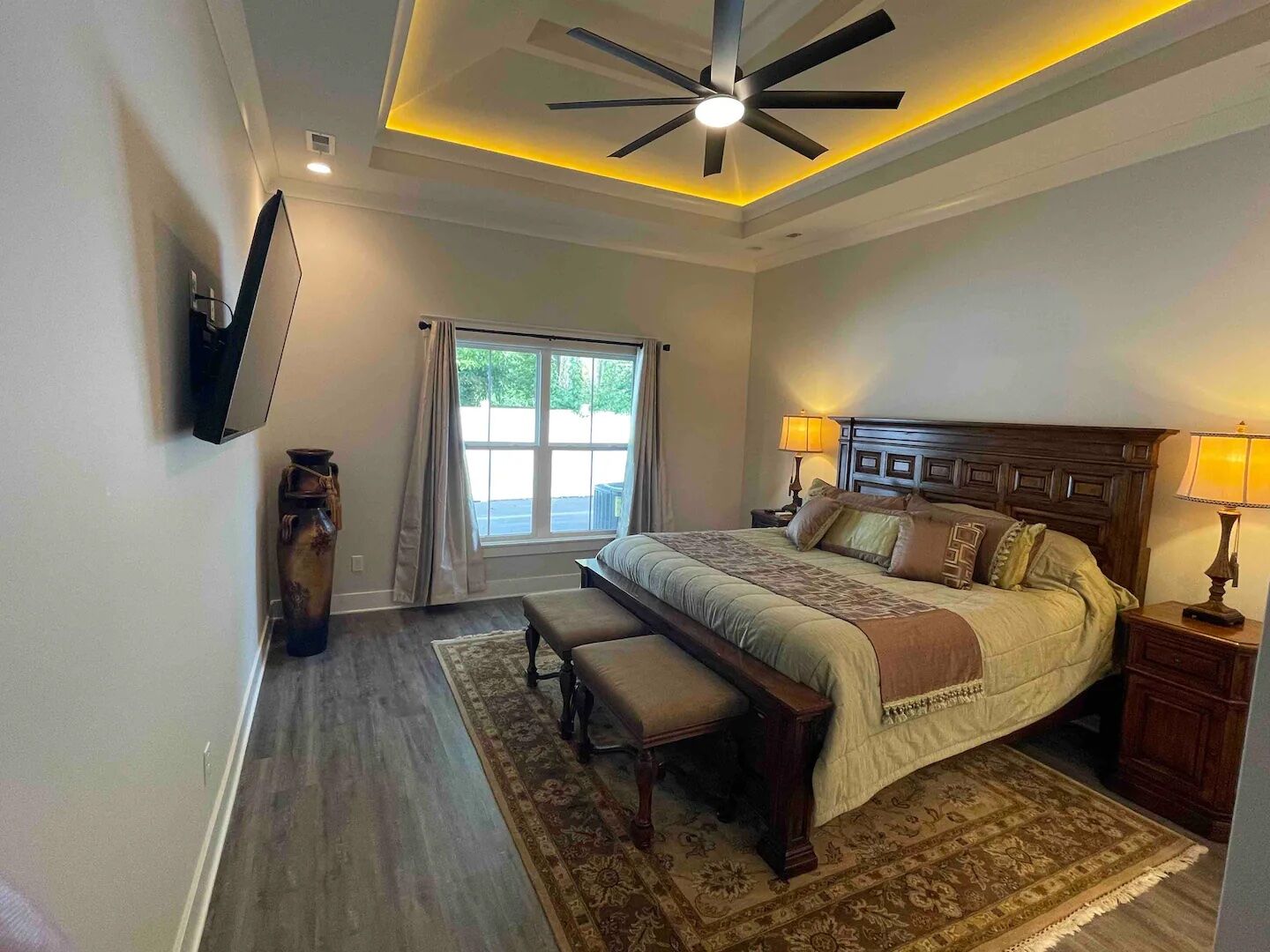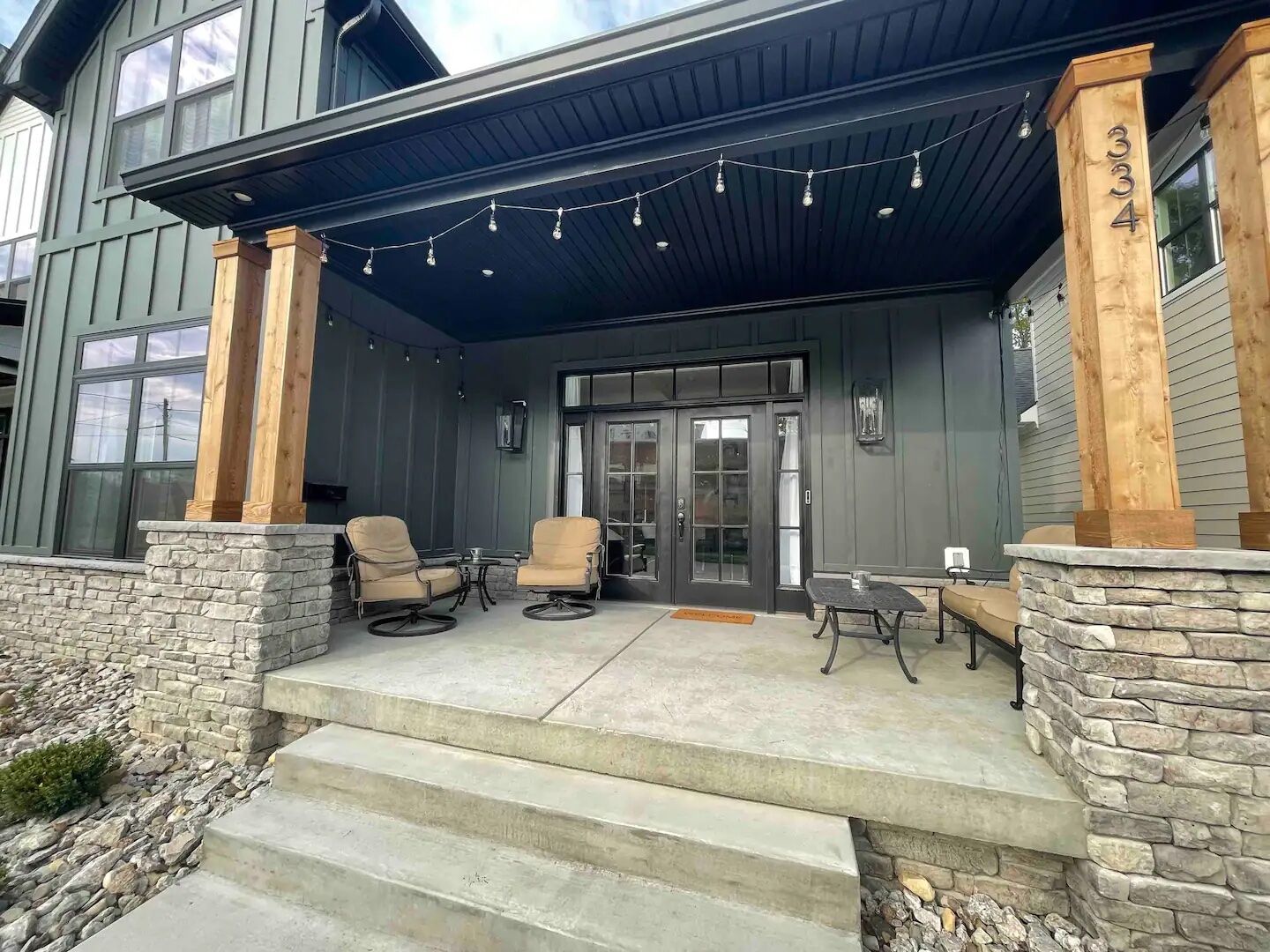 See more photos
Enjoy a stylish and modern experience in this
brand-new home
. Each bedroom is thoughtfully designed with its own bathroom, while every space is maximized for your comfort. Just blocks away from some of the best bars, restaurants and entertainment hubs in the city, you'll be able to explore Louisville easily with nearby scooters or take a peaceful morning walk along the riverfront or across the walking bridge. Our Derby City Escape has it all! During your stay, take advantage of our business-speed internet for any work-from-home activities and a fully stocked Keurig in the kitchen – we have plenty of towels, linens, and other items at your disposal.
Seven guests, three bedrooms
Price: $337 per night
Bourbon Suites Airbnb in central Louisville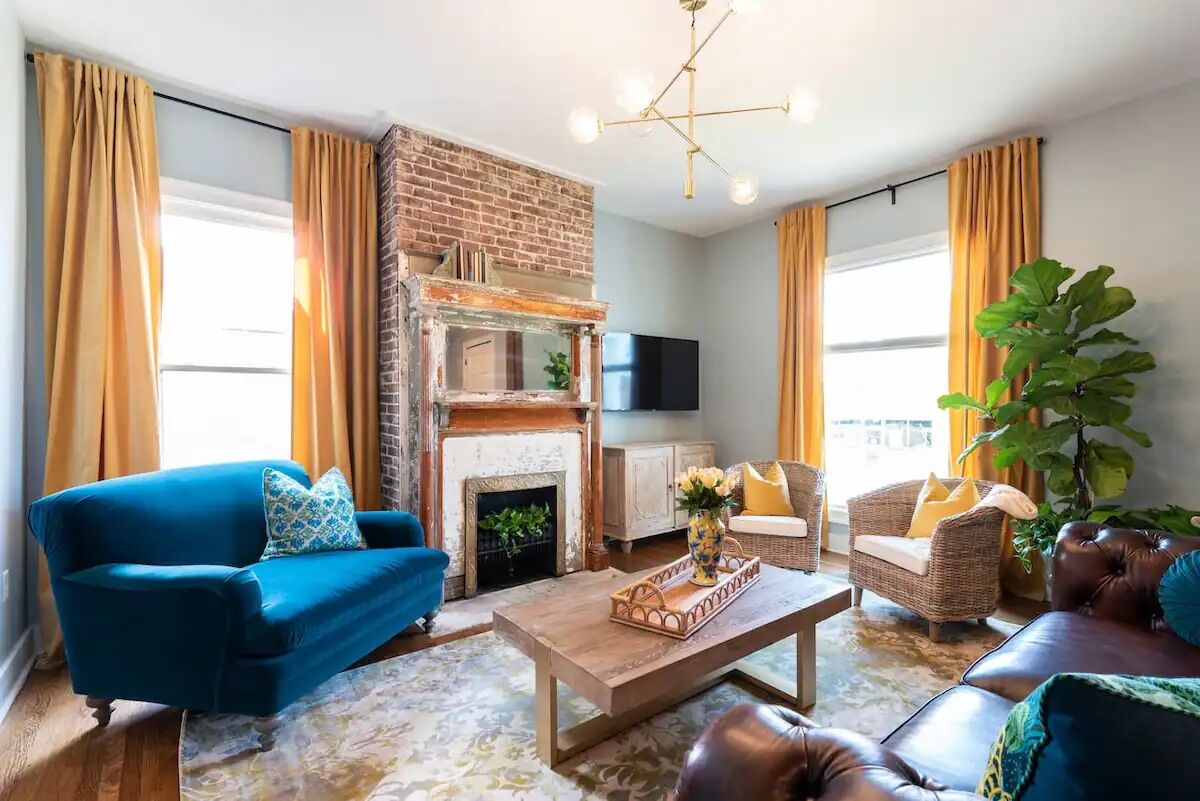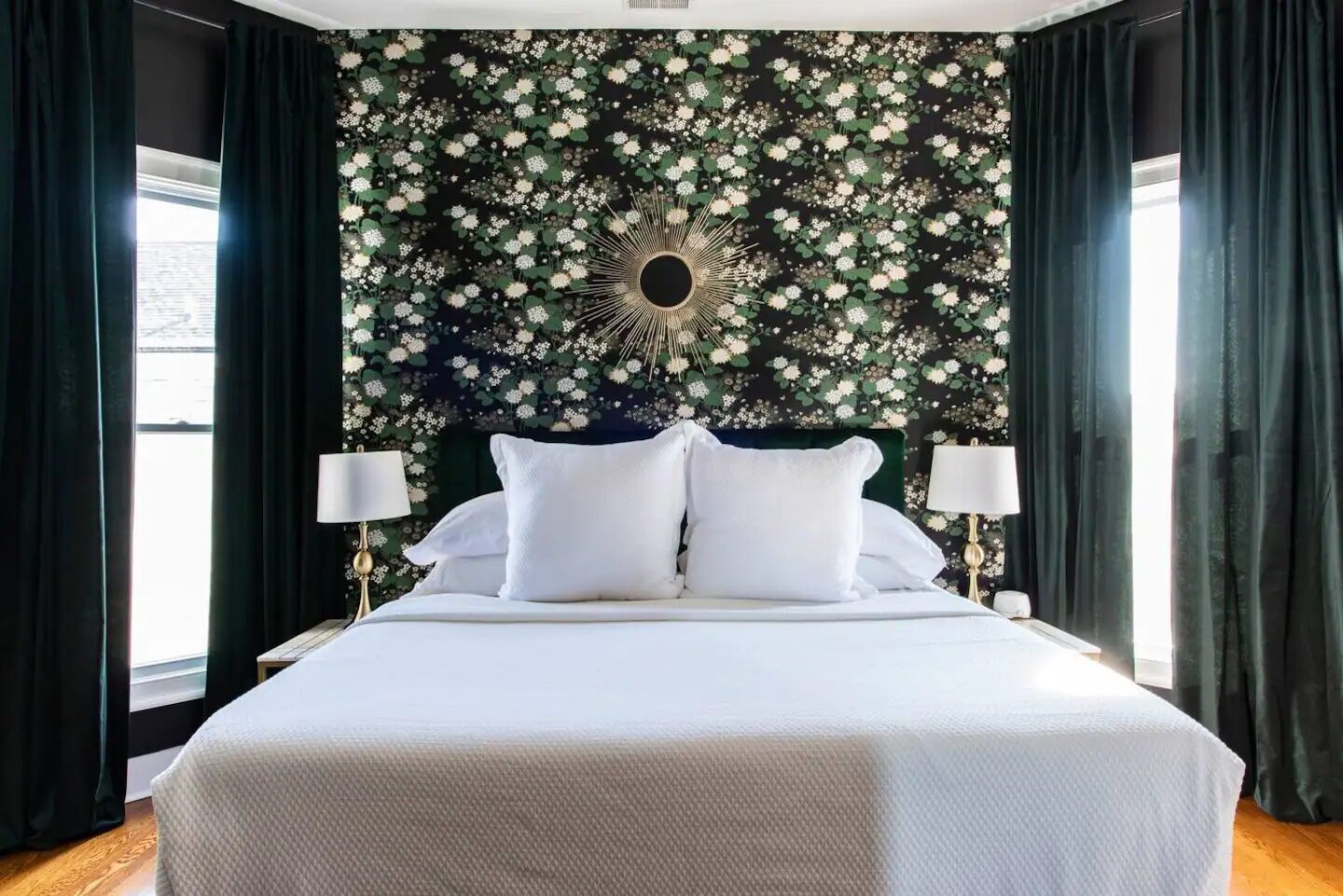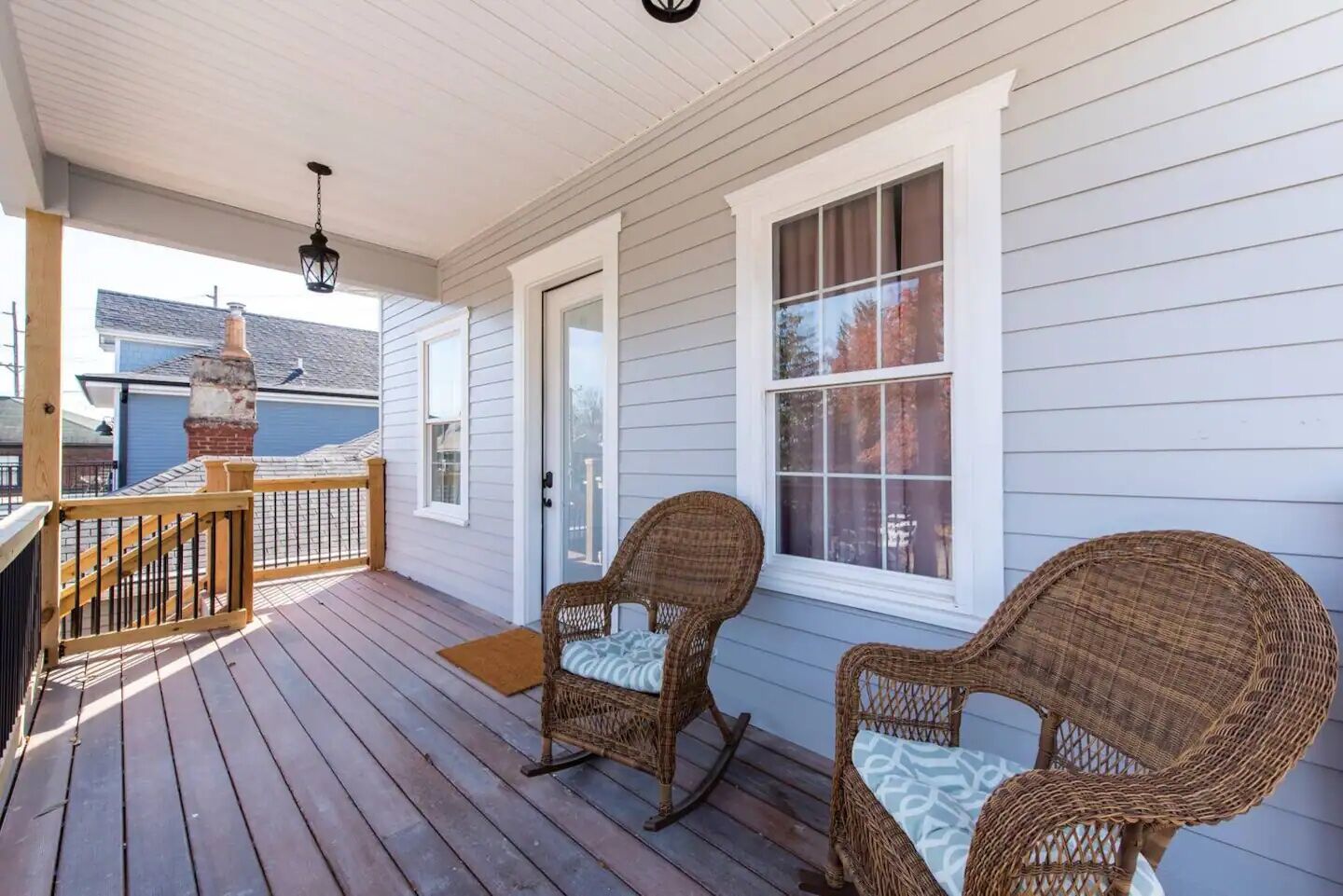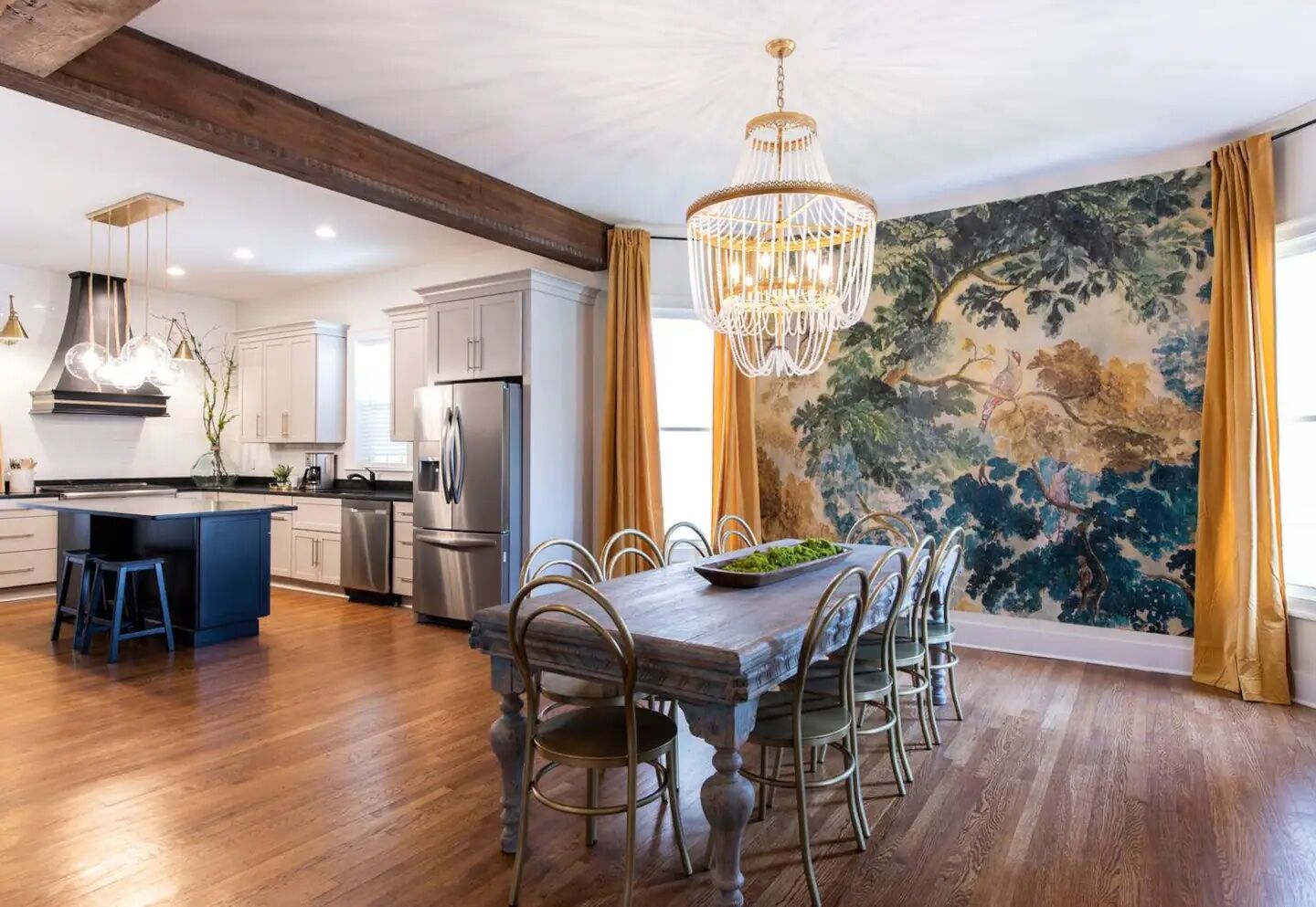 See more photos
Located in the desirable restaurant row
of Bardstown Rd., you'll never be far from your favorite dining spots, eclectic shops, and bars. From the moment you enter this gorgeous home, it's obvious that every part was designed with both comfort and convenience in mind. With four ensuite bedrooms and two large living rooms, you have plenty of space to relax. This house is the perfect place for a tranquil getaway – its clean, stylish decor and spacious rooms will make for a comfortable stay. You can also enjoy a gourmet kitchen and dining area that seats 10-12 people, plus four ensuite bathrooms with added luxury throughout.
Ten guests, four bedrooms
Price: $449 per night
Airbnb on Louisville restaurant row with hot tub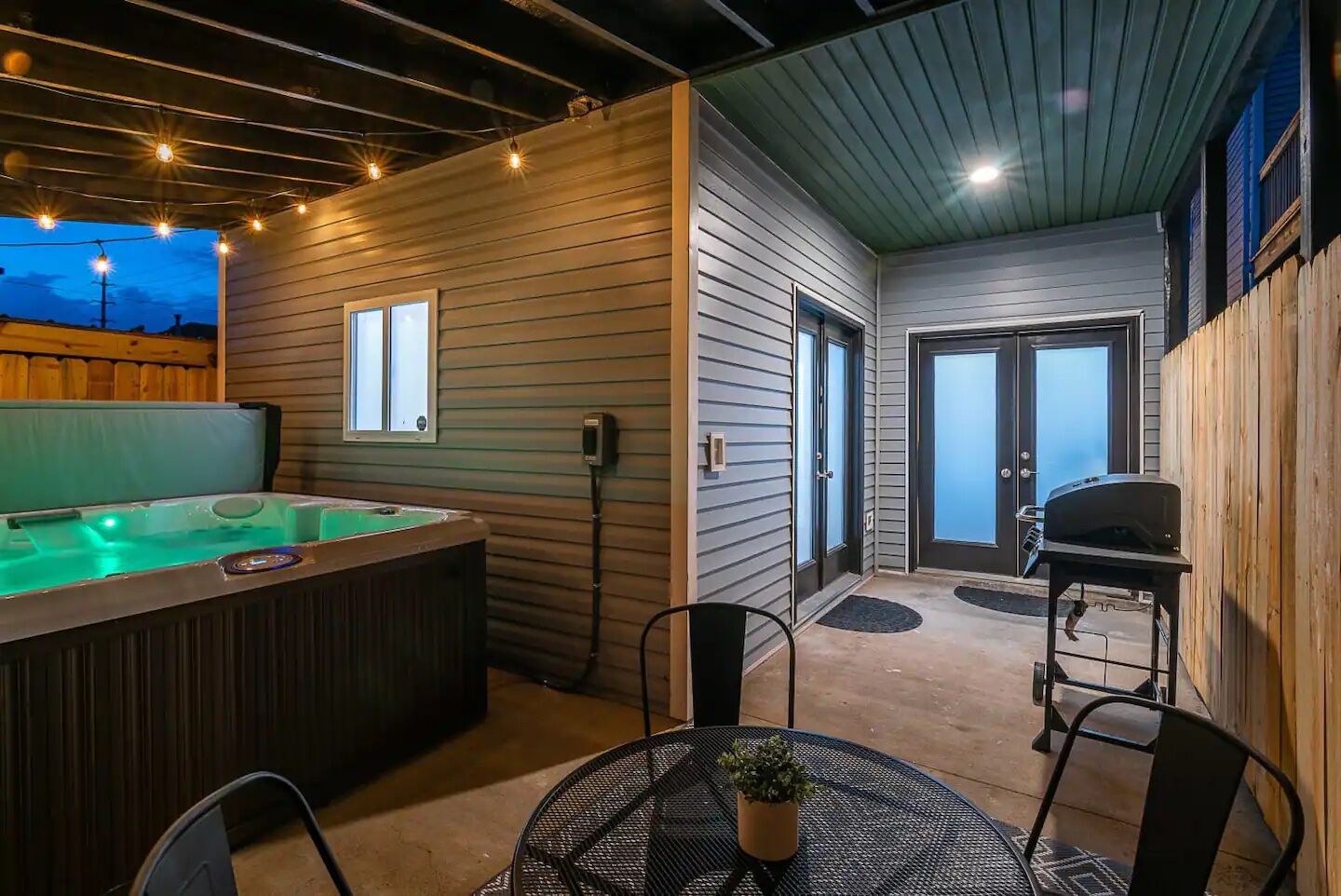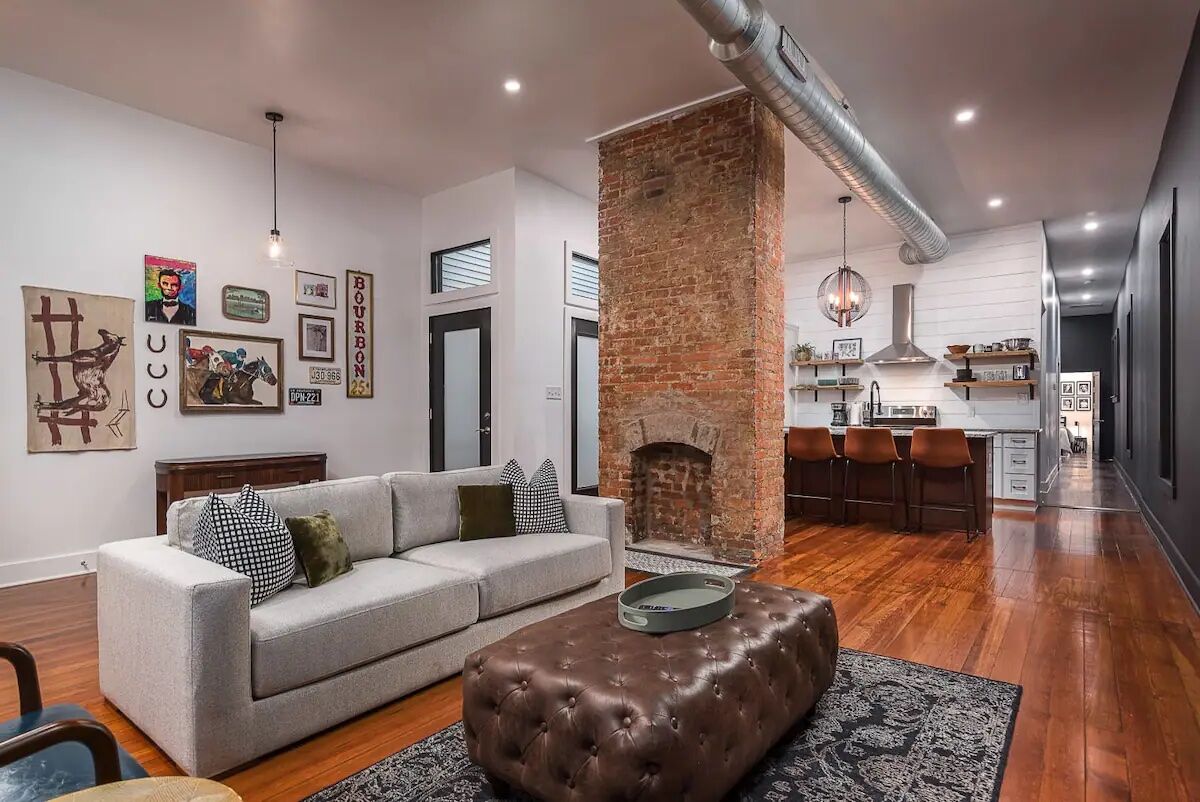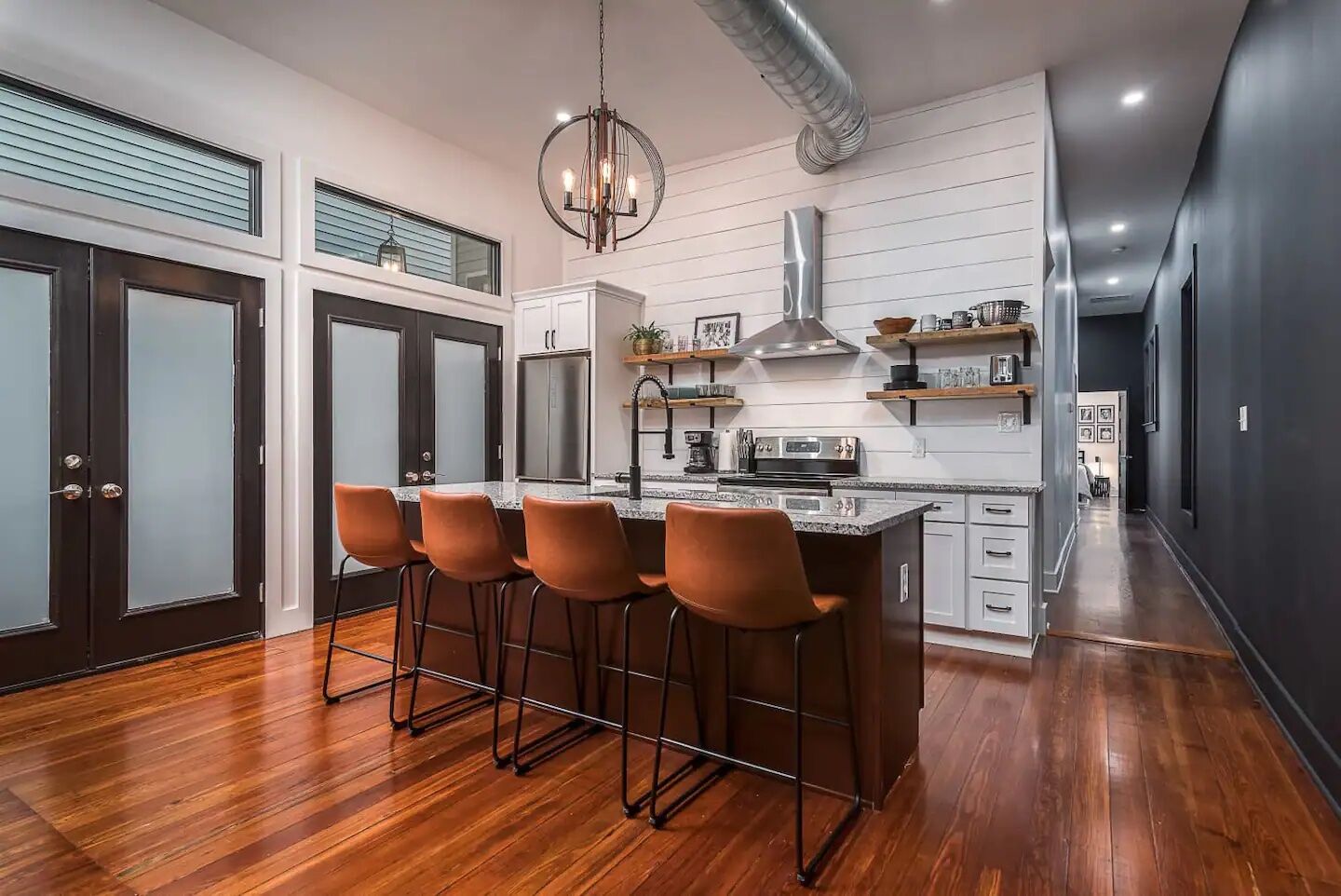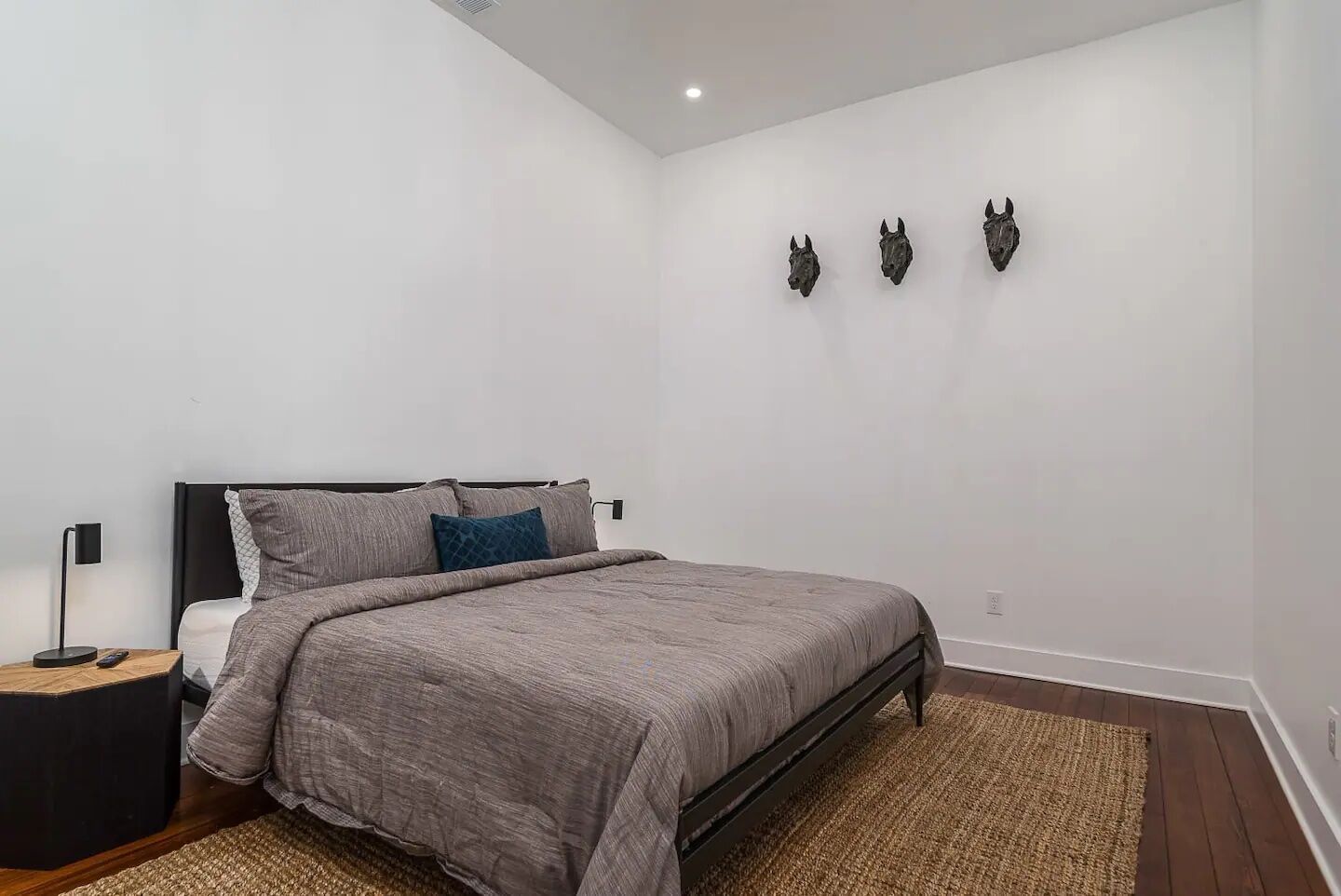 See more photos
This
brand-new property
has been carefully renovated from the ground up so you can enjoy a hassle-free trip to Louisville. With walkable access to restaurants and shopping, plus easy transport downtown, you'll be able to explore Bourbon City with ease. The house itself has three king bedrooms and two full bathrooms, as well as a hot tub in the fully enclosed backyard patio. You can also cook on the propane grill or just appreciate time together in this historic Crescent Hill neighborhood. Every item is new, so you can have total confidence that your stay will be enjoyable.
Six guests, three bedrooms
Price: $219 per night
What did you think of this story?