7 Gorgeous Airbnbs in the Smoky Mountains for a Cozy Getaway
If you're lucky enough to be one of those people who can work remotely or if you have some vacation days to use up this spring, there's no better time to leave your cramped apartment and the city behind to get away from it all in the wild of the Great Smoky Mountains. Airbnb has dozens of listings for charming cabins near Great Smoky Mountains National Park in North Carolina and Tennessee, but we've selected the crème de la crème for you to have the cozy winter escape you deserve.
We hope you love the Great Smoky Mountains cabins we recommend! Just so you know, Matador may collect a small commission from the links on this page if you decide to book a stay. Listed prices are accurate as of the time of publication.
1. Secluded cabin with sunset views in Sevierville, Tennessee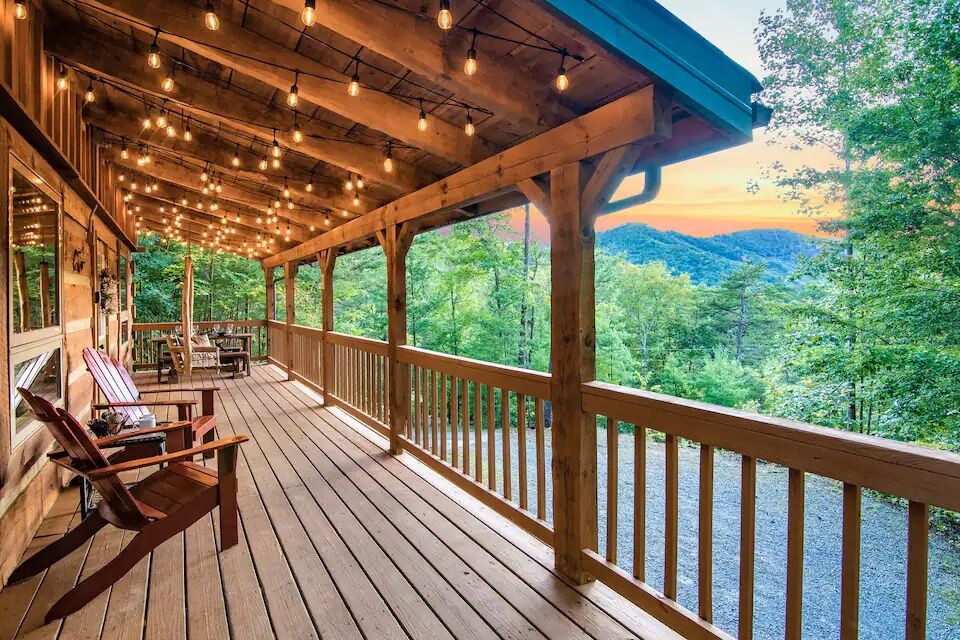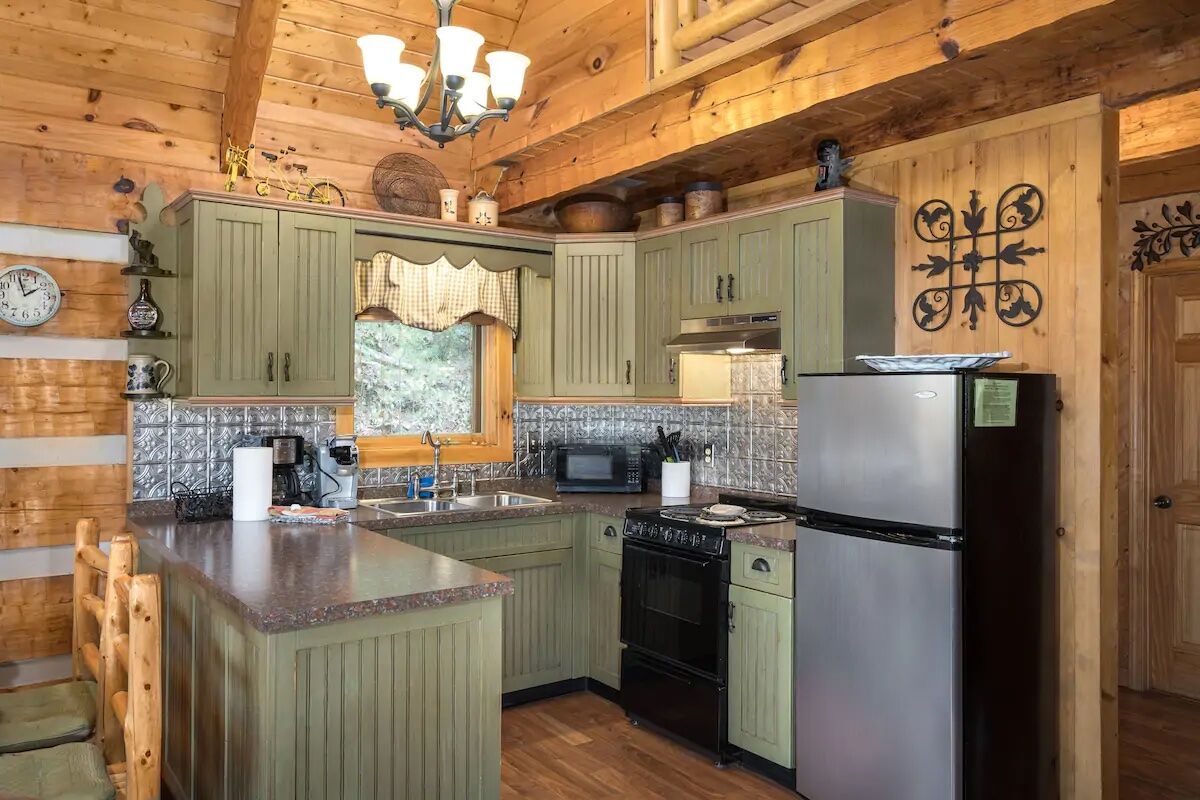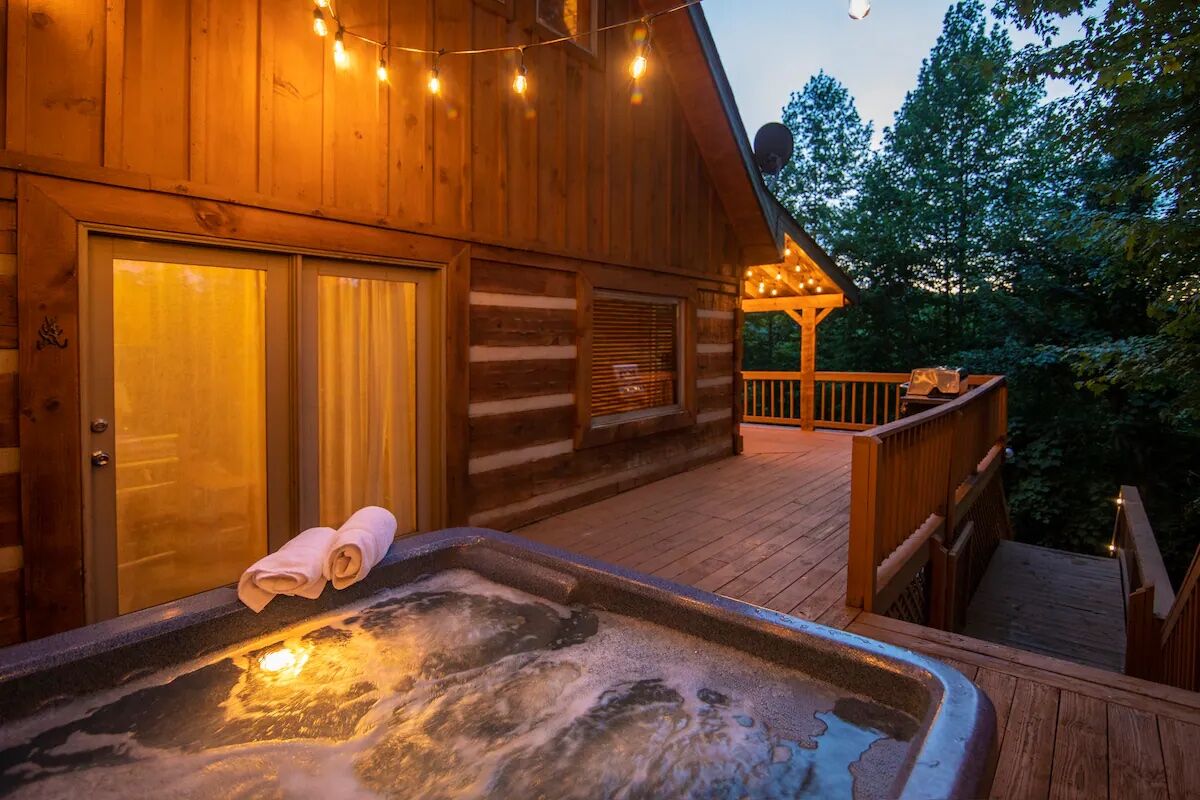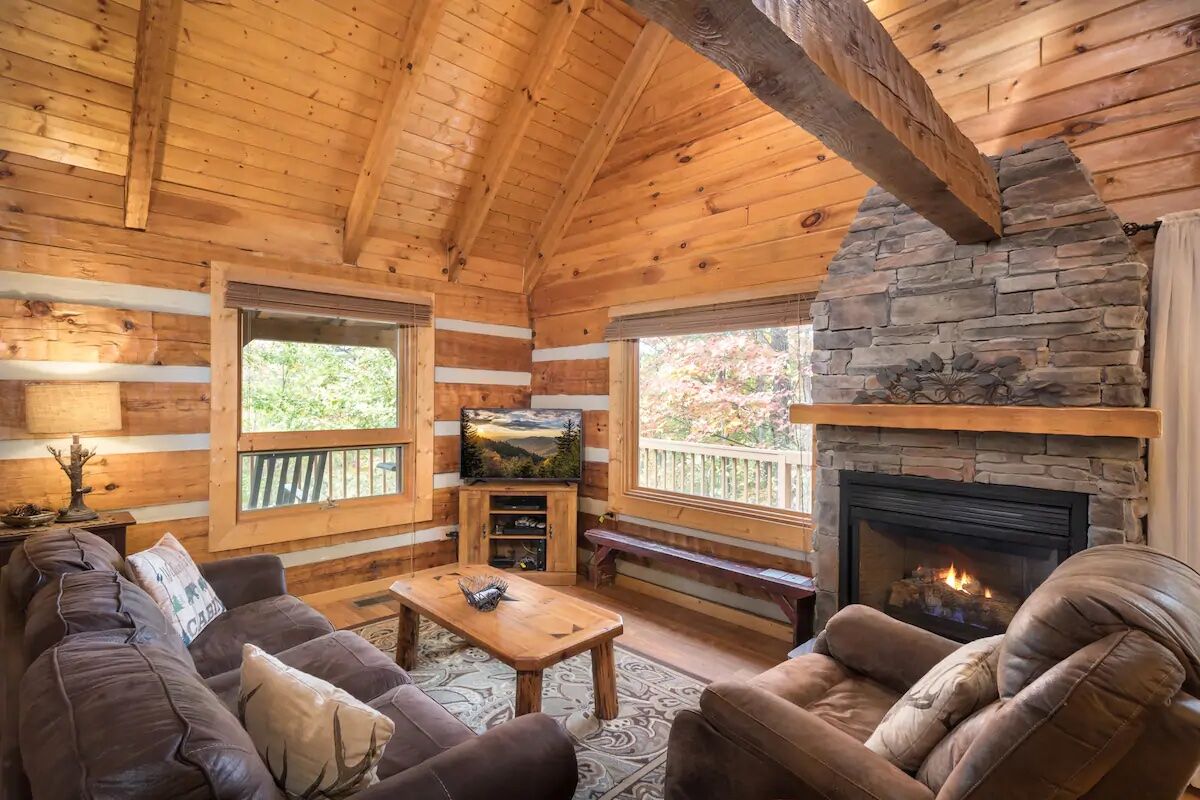 This Smoky Mountains Airbnb has everything you need to enjoy a relaxing stay: privacy, a fireplace, a front porch with exceptional views of the mountains and sunset, and an outdoor hot tub surrounded by romantic lights. There's even a porch swing where you can sip your morning coffee or your digestif while keeping your eyes peeled for a sighting of local wildlife, including bears.
The cabin can accommodate six guests, so it's just as practical for a couple wanting a quiet vacation as it is for a small family. Guests have easy access to the gated community's pool (seasonal), tennis and basketball courts, playground, and frisbee golf area for when they want to step out of this haven of tranquility. While this cabin in the woods is secluded, it's only an eight-minute drive to Pigeon Forge, a 15-minute drive to Gatlinburg, and a 12-minute drive to Great Smoky Mountains National Park.
Six guests, two bedrooms
Price: $252 per night
2. Rustic cabin only minutes from the Blue Ridge Parkway, Pigeon Forge, Tennessee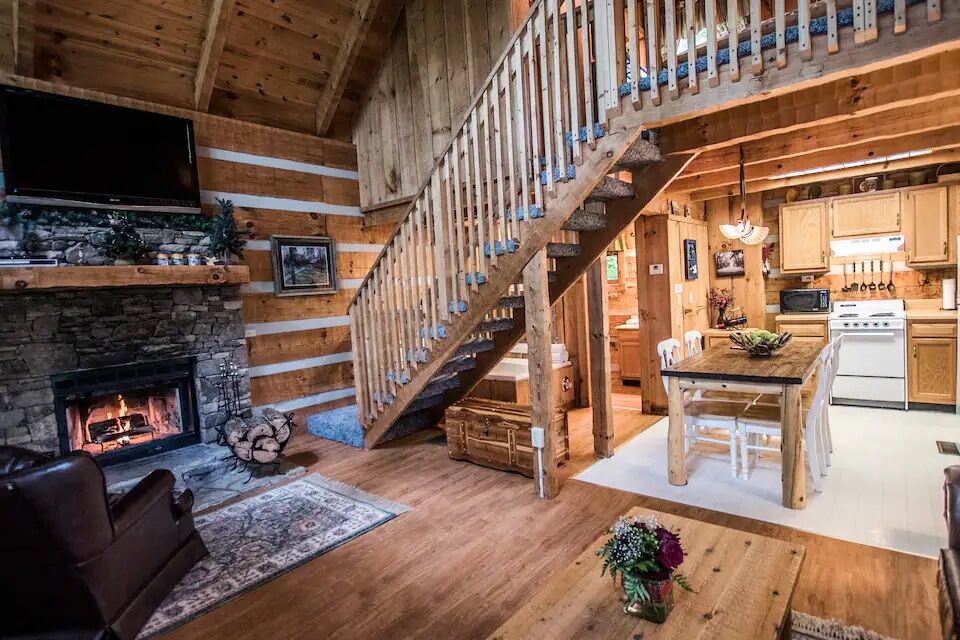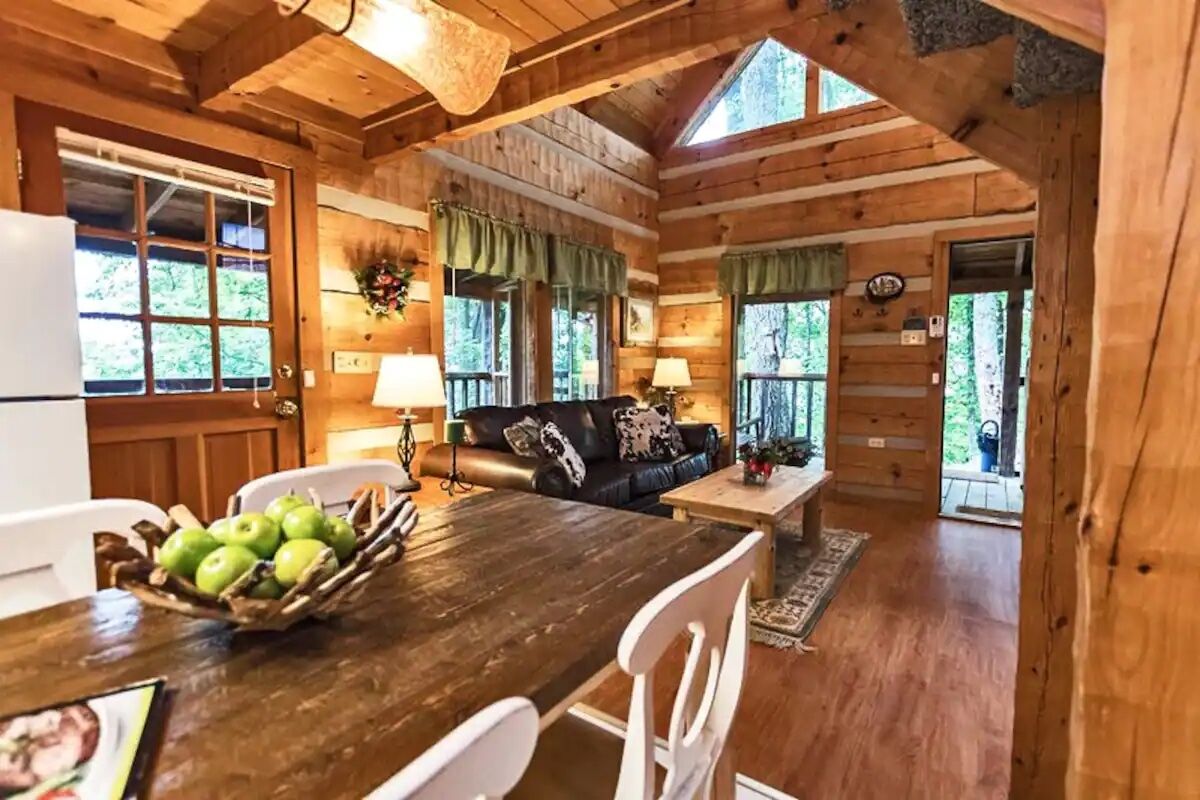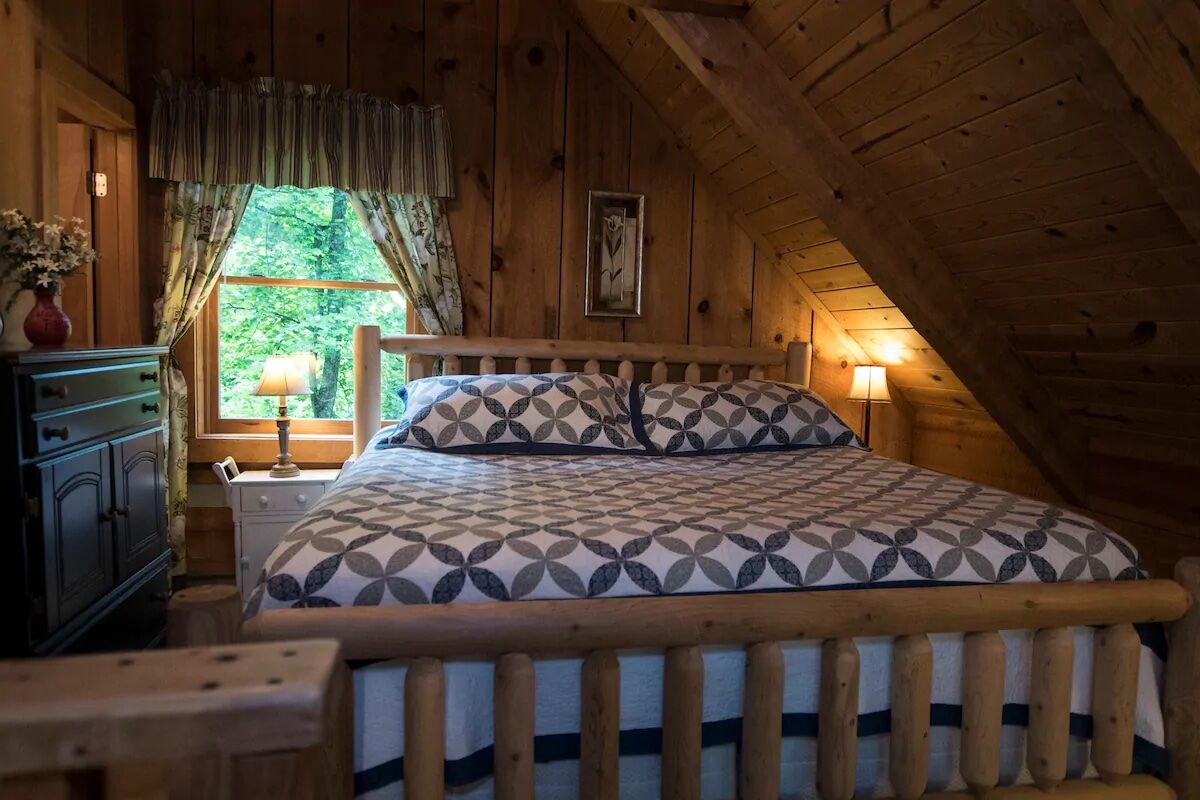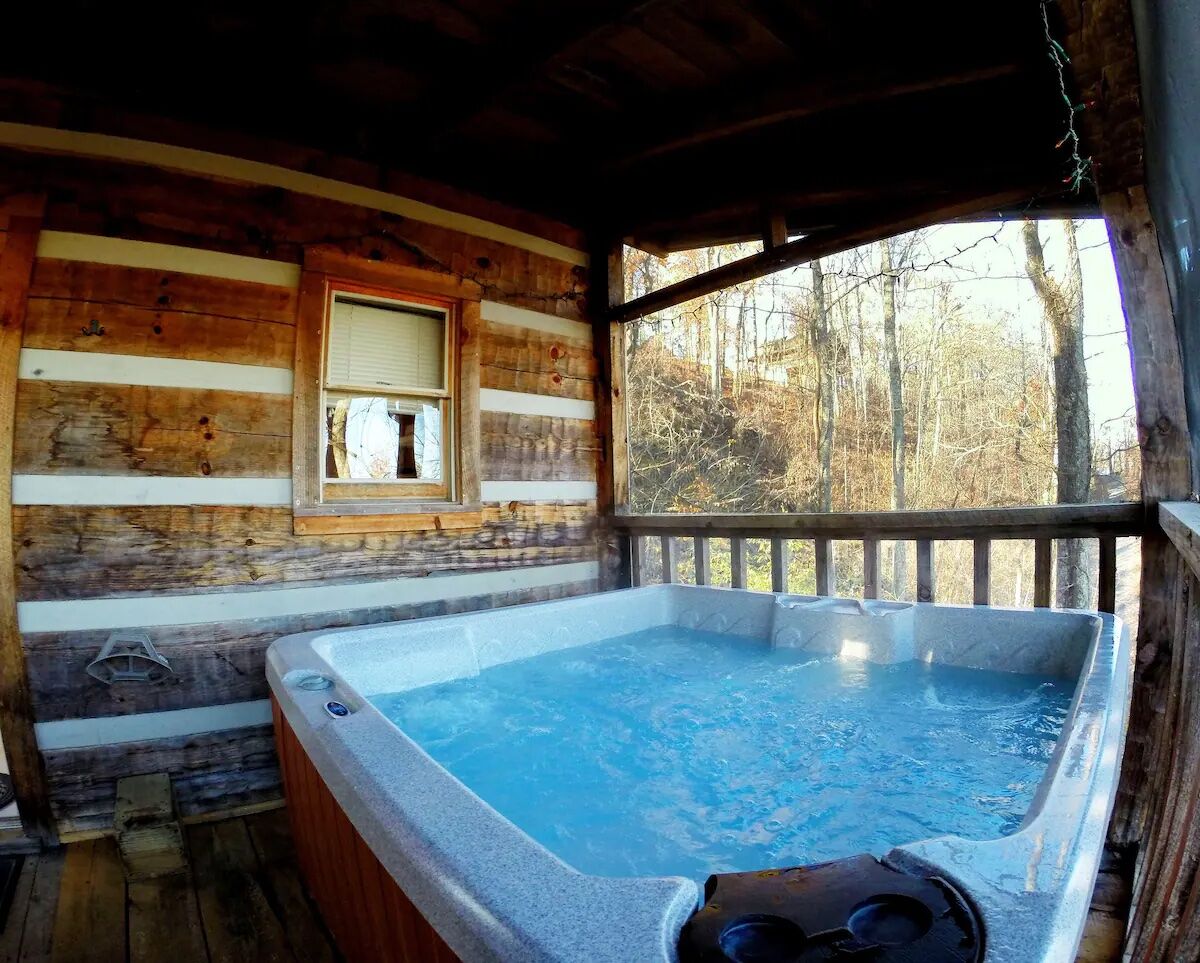 This cabin is hidden away in the woods off the scenic Blue Ridge Parkway, so guests have all the privacy and silence they can wish for. To make the most of your stay, sit on the porch swing or one of the rocking chairs and enjoy the rustling of the leaves and the chattering of the wood's wildlife. Alternatively, you can lounge in the indoor jacuzzi tub while taking in the views from the large windows that surround it.
Inside, the snug and simple wooden decor will help you kick back and relax when you're not visiting the nearby attractions. Smoky Mountains cabins are typically pretty remote, but this one is only 1.5 miles to the Main Parkway, five miles to Dollywood, 11 miles to Gatlinburg, and 12 miles to the Great Smoky Mountain National Park.
Two guests, one bedroom
Price: $219 per night
3. Red Bear Cabin in Bryson City, North Carolina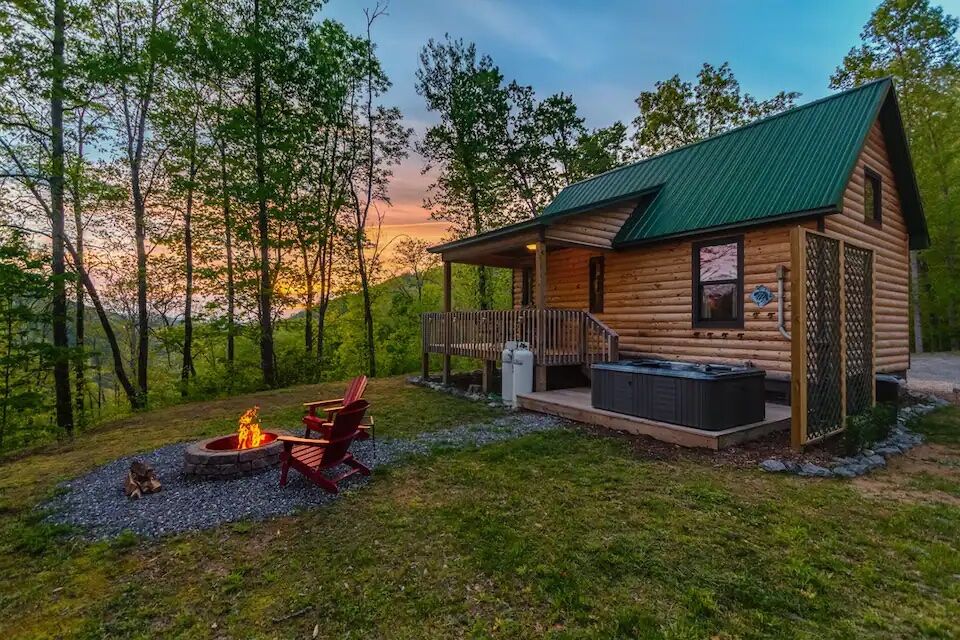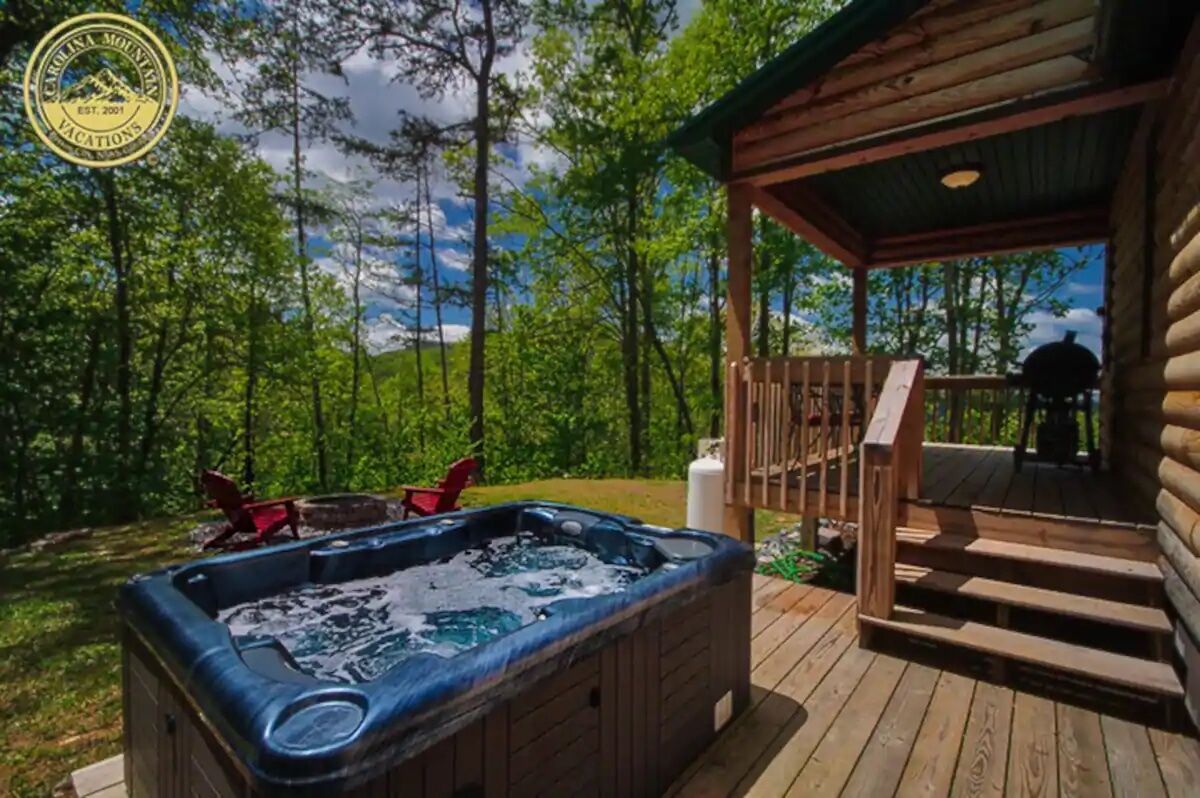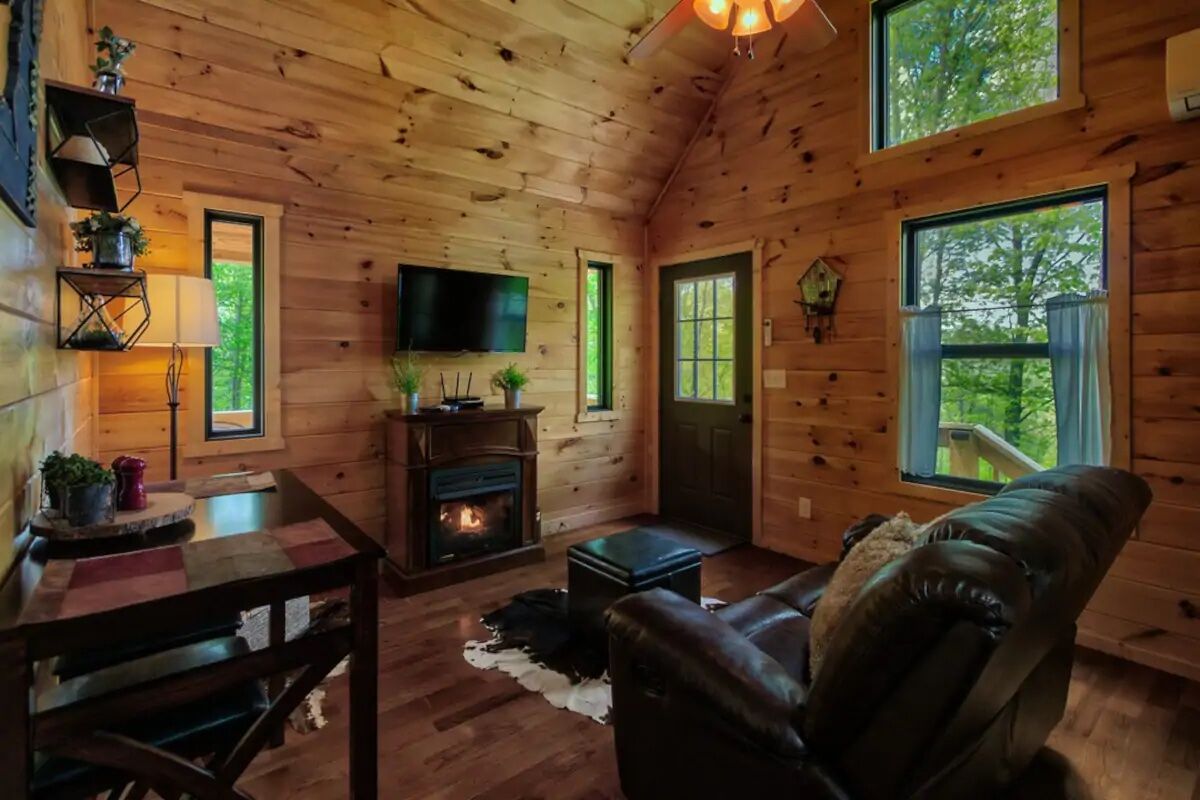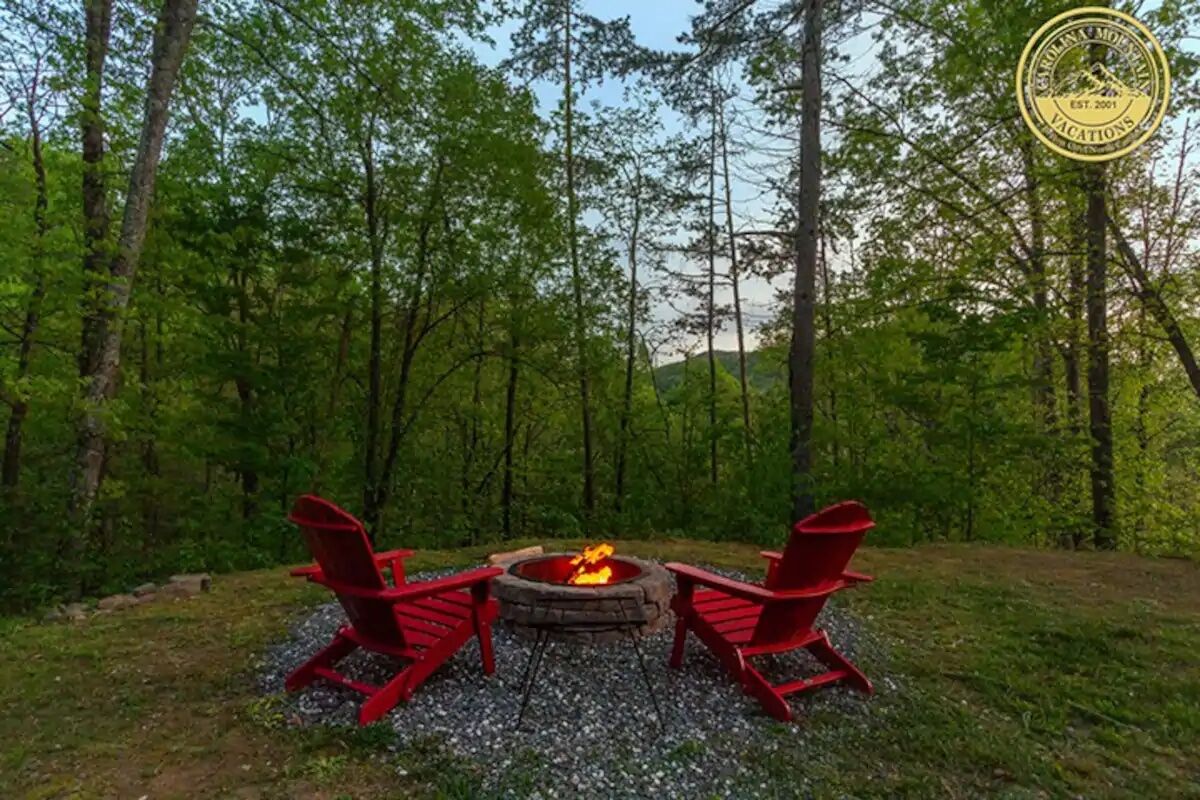 The Red Bear Cabin in Bryson City may only be fit for two guests with its one bedroom and one bathroom, but what it lacks in space, it makes up for in comfort and views. Ideal for honeymooners in search of privacy, the cabin has an outdoor hot tub fit for a warm soak under the stars, as well as a covered porch with a swing from where you can admire the vast mountainous landscape.
Inside, the gas fireplace and loft bedroom make things very cozy. There are hiking trails nearby and the cabin is only minutes from the Great Smoky Mountains National Park and 15 minutes from Bryson City.
Two guests, one bedroom
Price: $169 per night
4. Creekside cabin in Cosby, Tennessee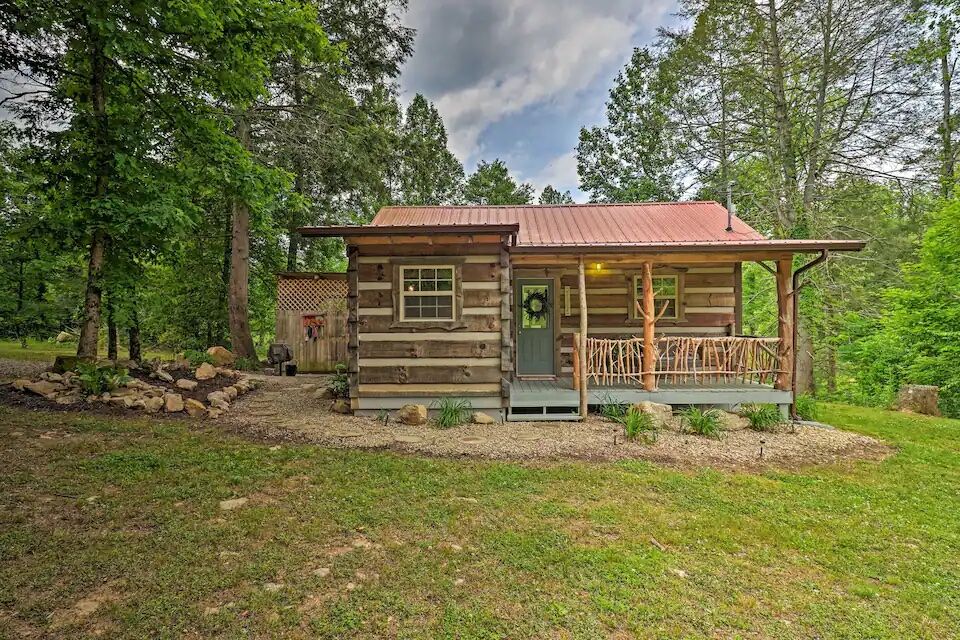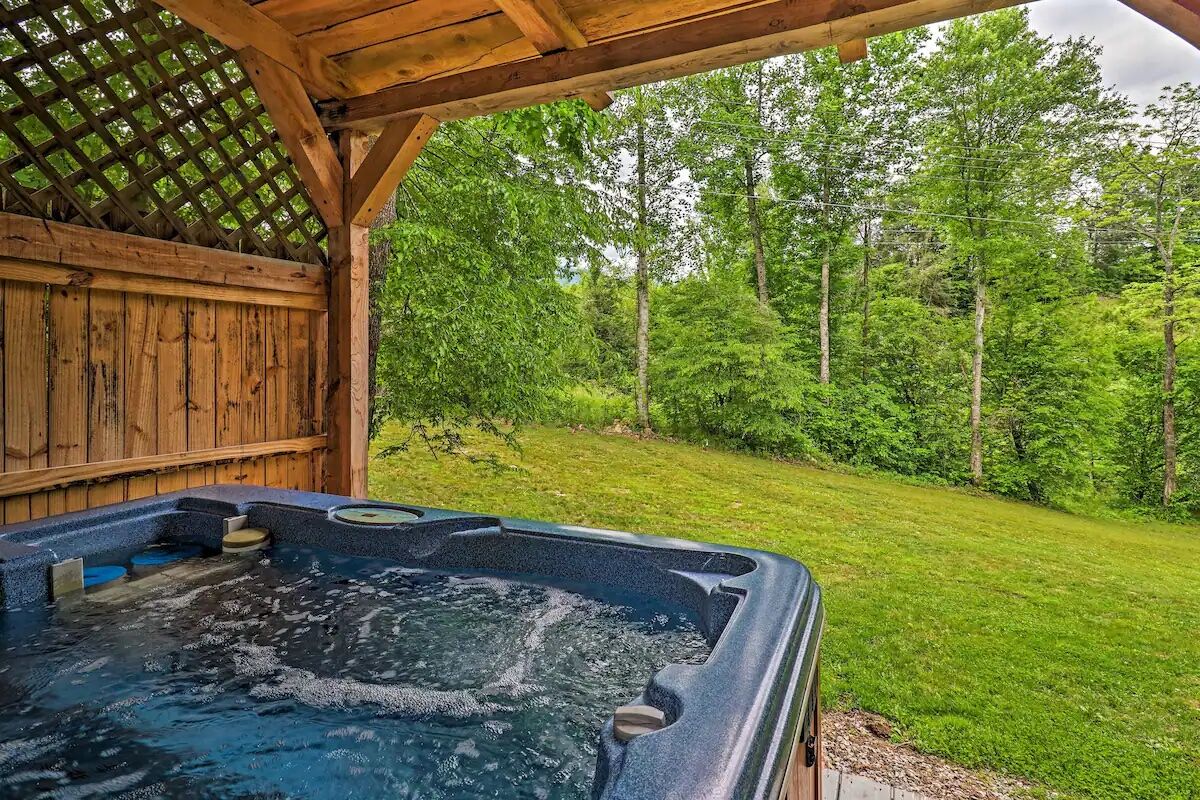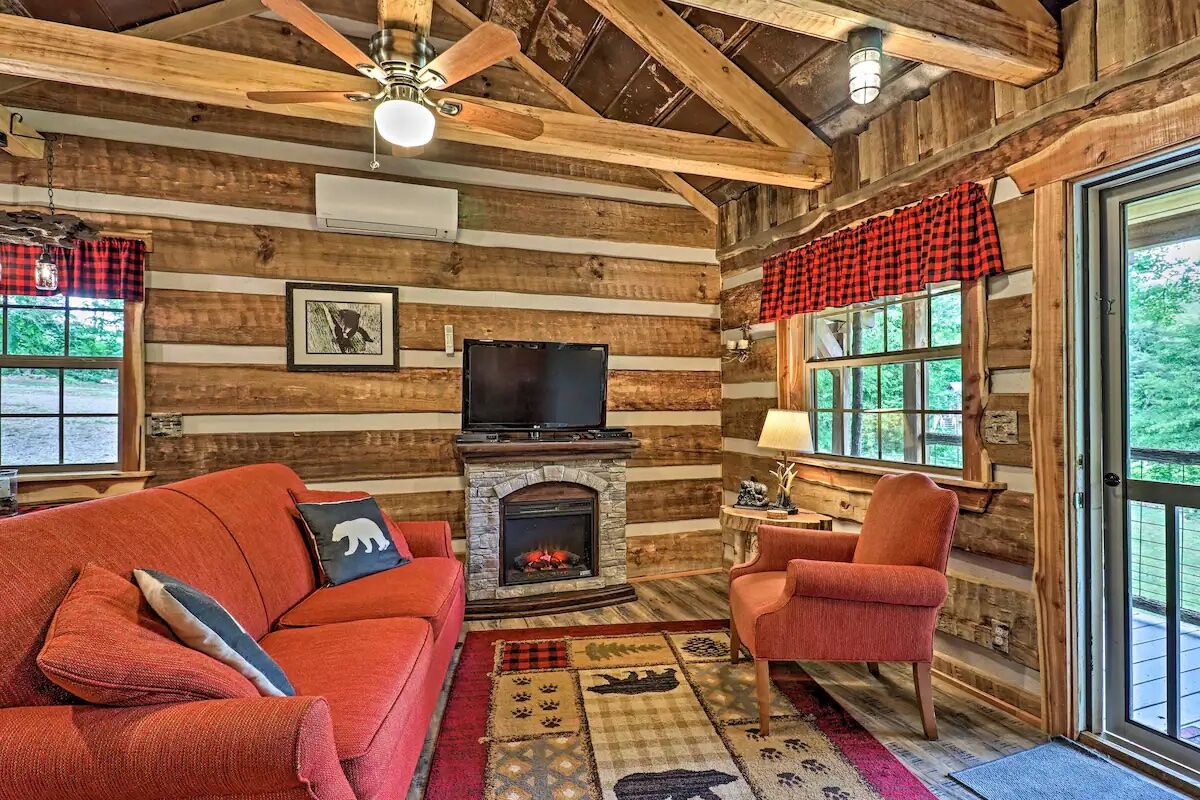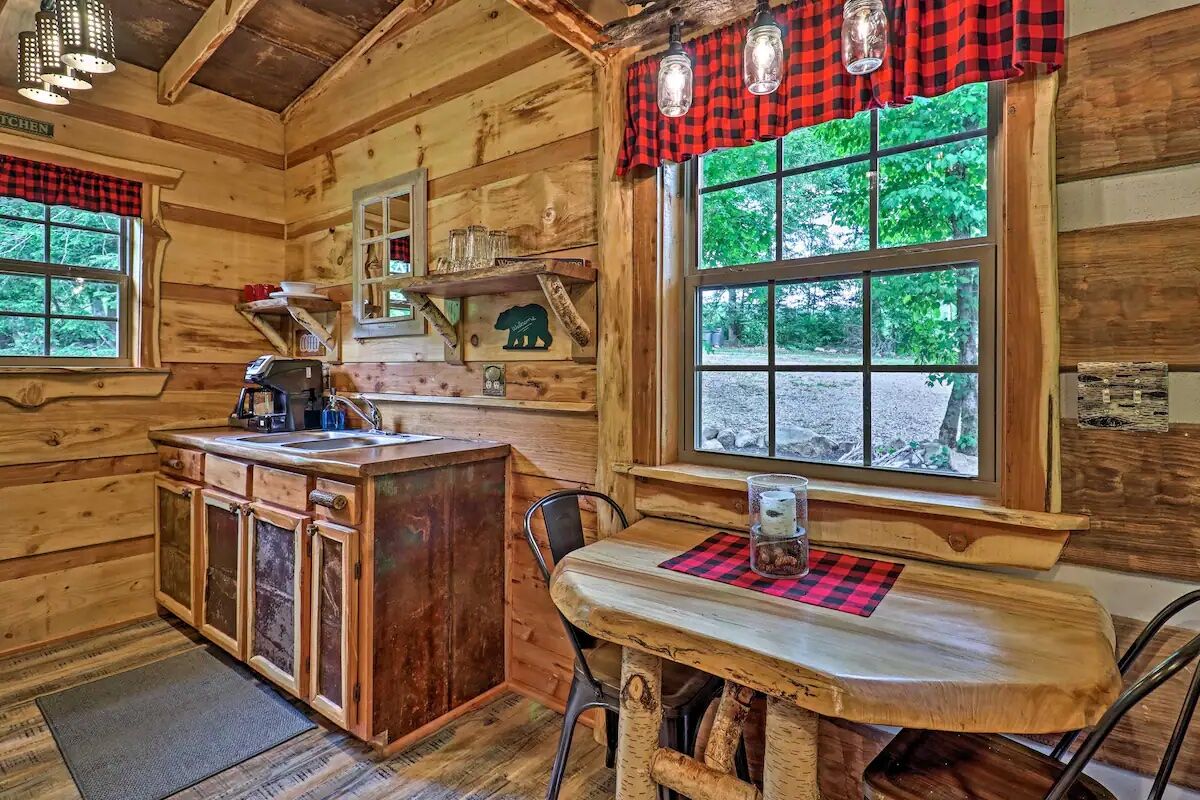 This one-bedroom cabin in Cosby, TN, at the base of the Smoky Mountains, is as cute from the outside as it is from the inside. With custom woodwork throughout (most of which made from salvaged materials), from the interior barn doors to the beds and kitchen table, this cabin has a rustic feel but is filled with modern and stylish amenities. Hosts know how to transport guests to the mountains with country-feel soft furnishings, featuring plaid and bear prints — even the shower curtain looks like birch bark for a complete look.
The covered back deck has an outdoor hot tub with views on Caney Creek for a private spa session in nature. If you're discreet enough, you might even be treated to the sight of a deer or bear strolling nearby. The cabin is located 30-40-minutes from Gatlinburg and Pigeon Forge.
Two guests, one bedroom
Price: $99 per night
5. Modern Three Oaks Retreat cabin in Gatlinburg, Tennesse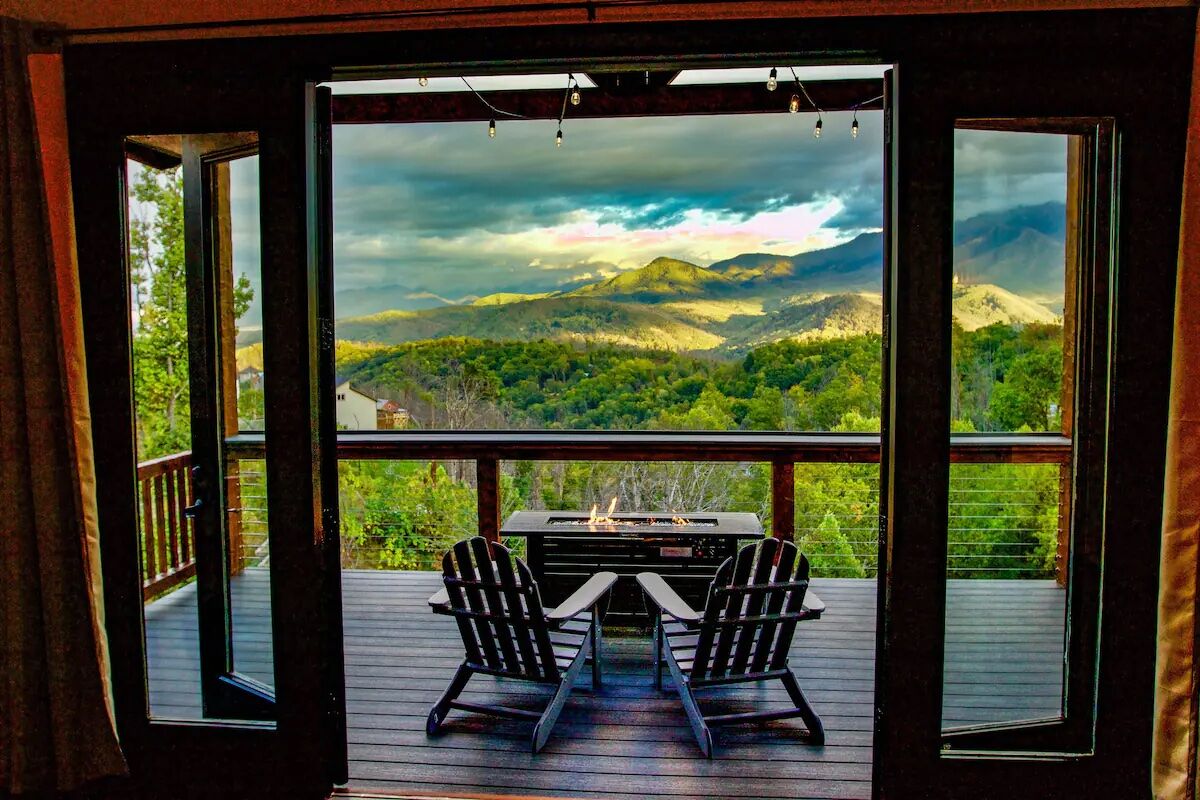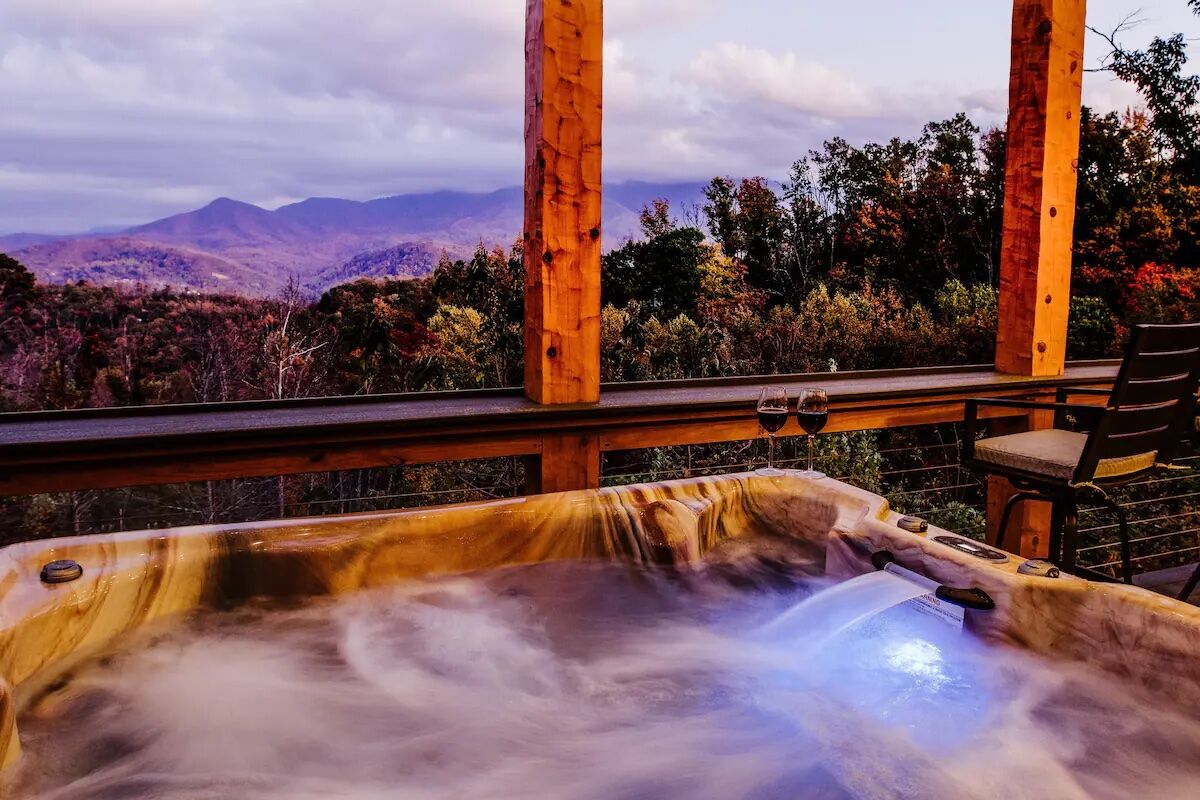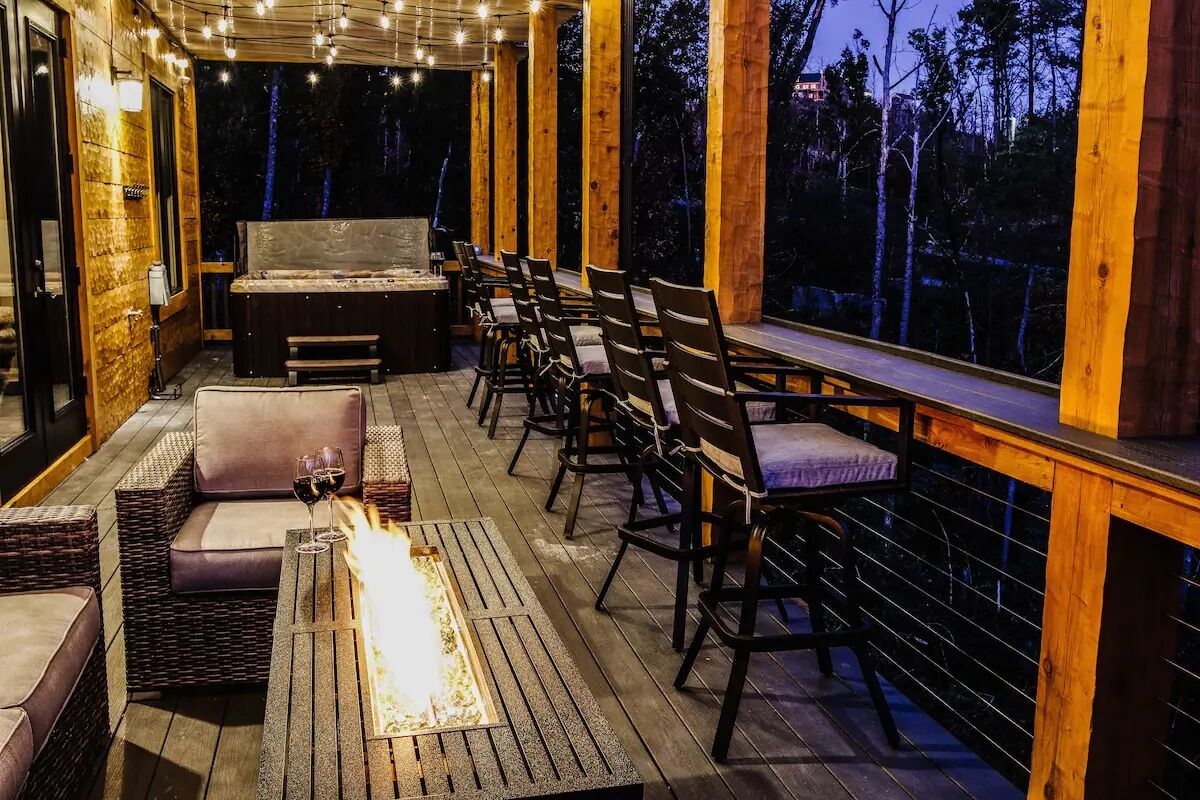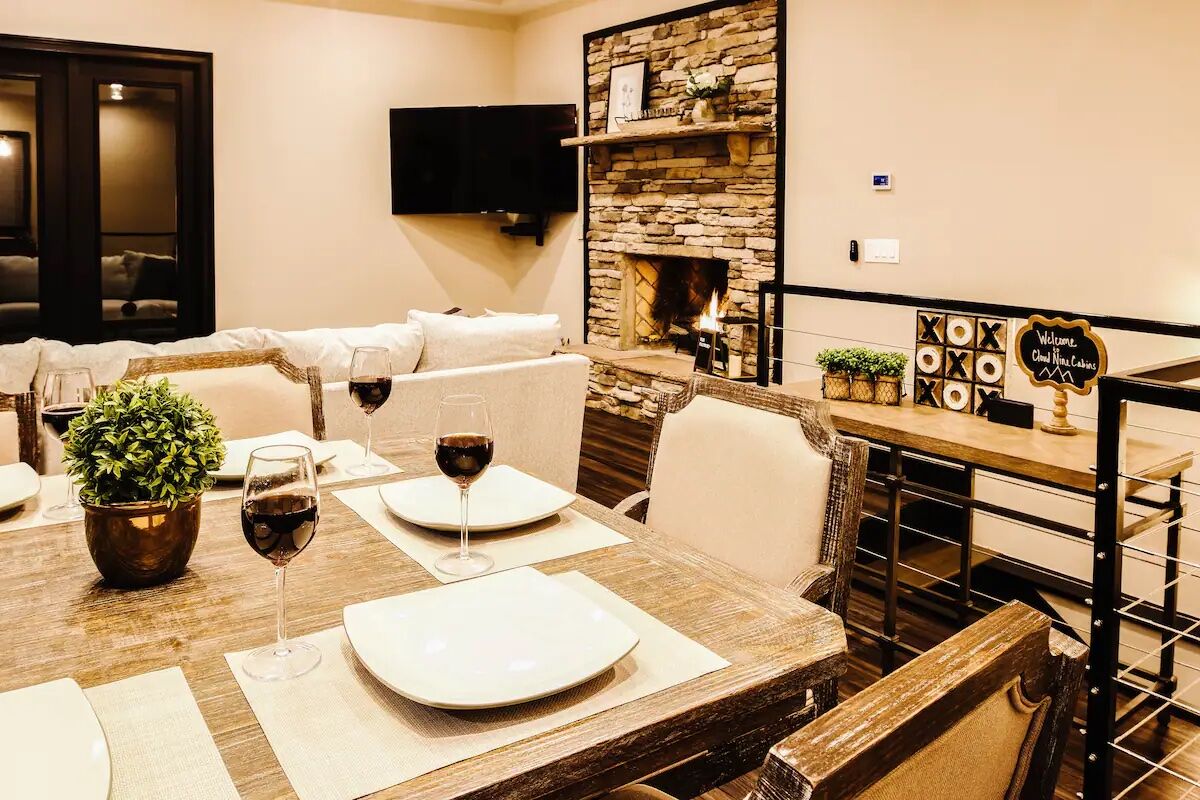 The Three Oaks Retreat is a modern and luxurious cabin that can accommodate up to six guests. Because it was completed in January 2020, everything in the cabin is brand new and spotless, but that does not take away from its charm. With wood throughout, from floor to ceiling, the mountain vibe won't pass you by. The tall ceilings and the mezzanine provide the spacious living space needed for large families or groups.
Its views are impeccable — the place is basically a mansion on the mountain, and one of the nicest vacation rentals in Gatlinburg (check out Matador's guide to Gatlinburb Airbnbs).
Six guests, three bedrooms
Price: $565 per night
6. Creekside, multi-deck cabin in Sevierville, TN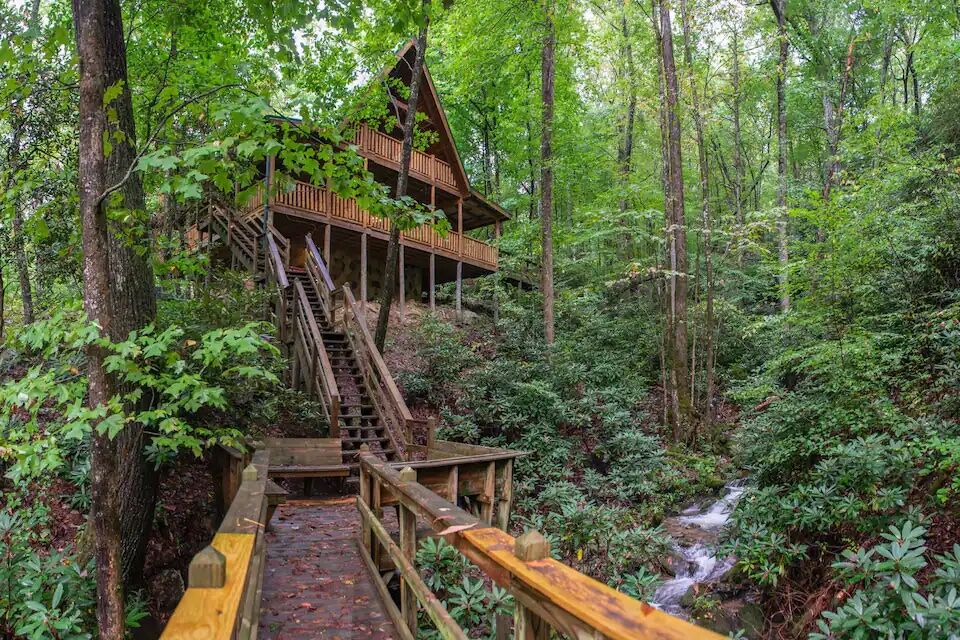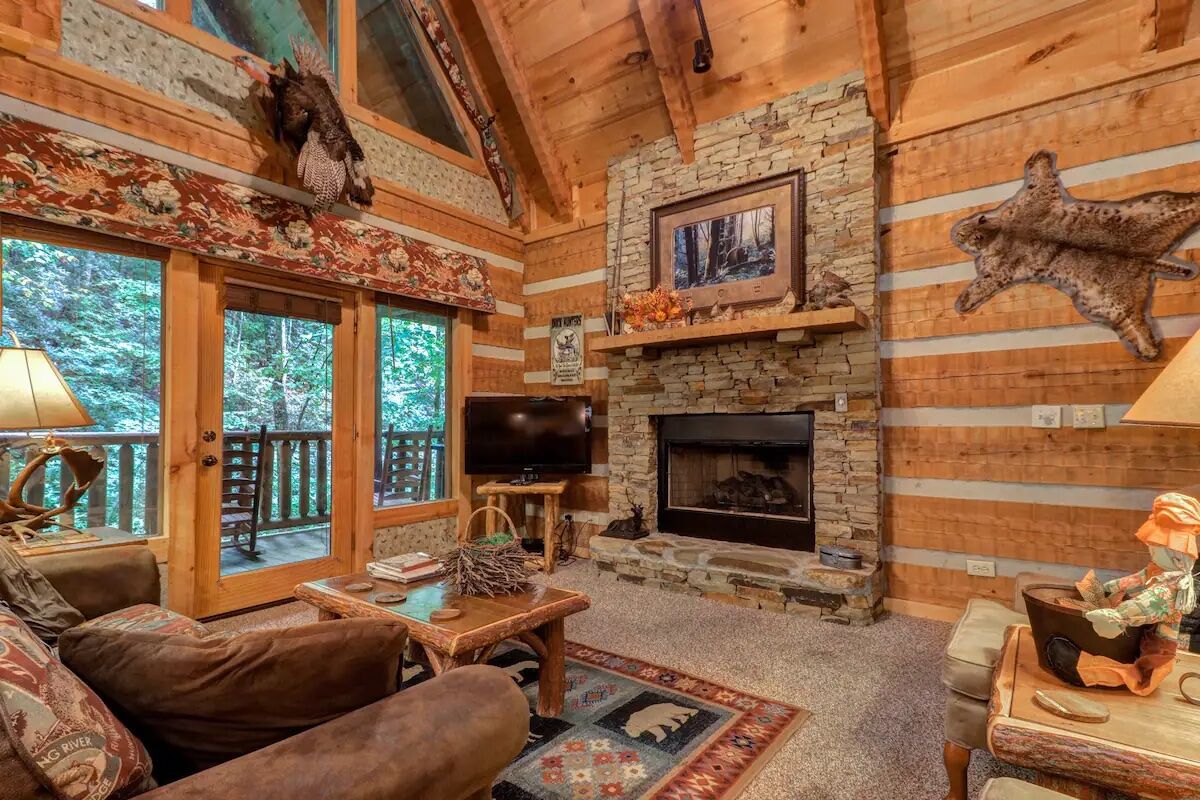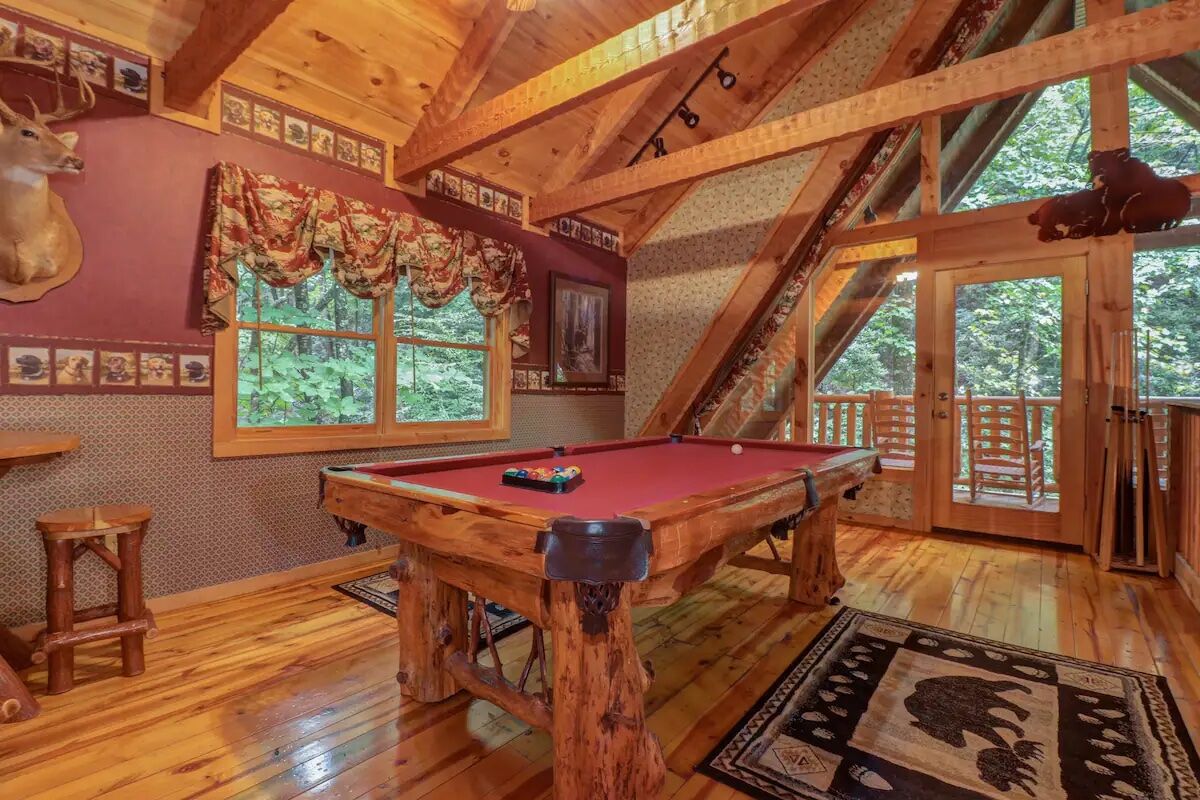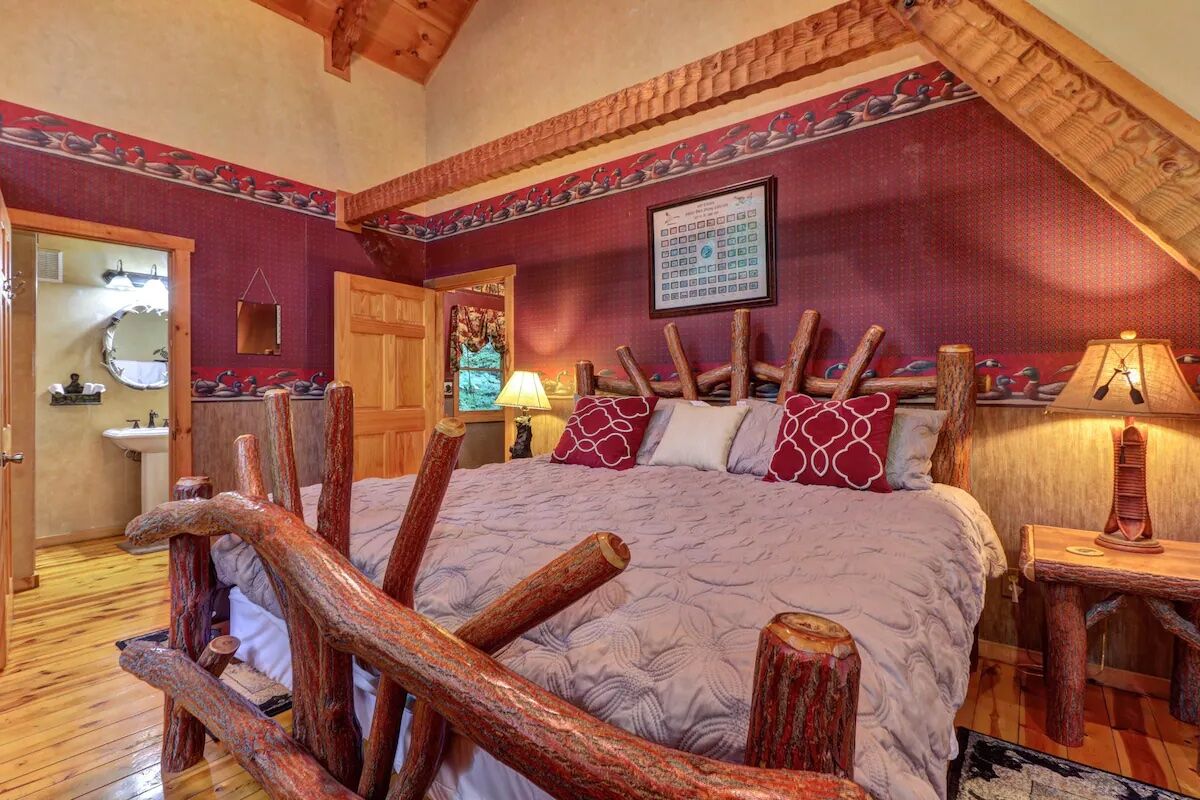 Secluded in the woods, this cabin is the perfect spot for indoor-outdoor living. The several decks offer tranquil views of the forest and the creek below for guests to enjoy breakfast, coffee breaks, aperitifs, supper, and more to the sound of birds. The covered hot tub by the stair is a great way to feel as one with nature while staying warm and comfortable, while the walkway and bridge make a lovely morning stroll.
Inside, the decor is rustic, and the layout is family-gathering friendly with a large dining table, a spacious kitchen, a pool table, and a good-size sunroom. Of all Smoky Mountains cabins, this one makes you feel the most like you're in the wild west (albeit infused with modern luxury.)
Six guests, two bedrooms
Price: $282 per night
7. Secluded cabin with 650 feet of covered deck in Bryson City, North Carolina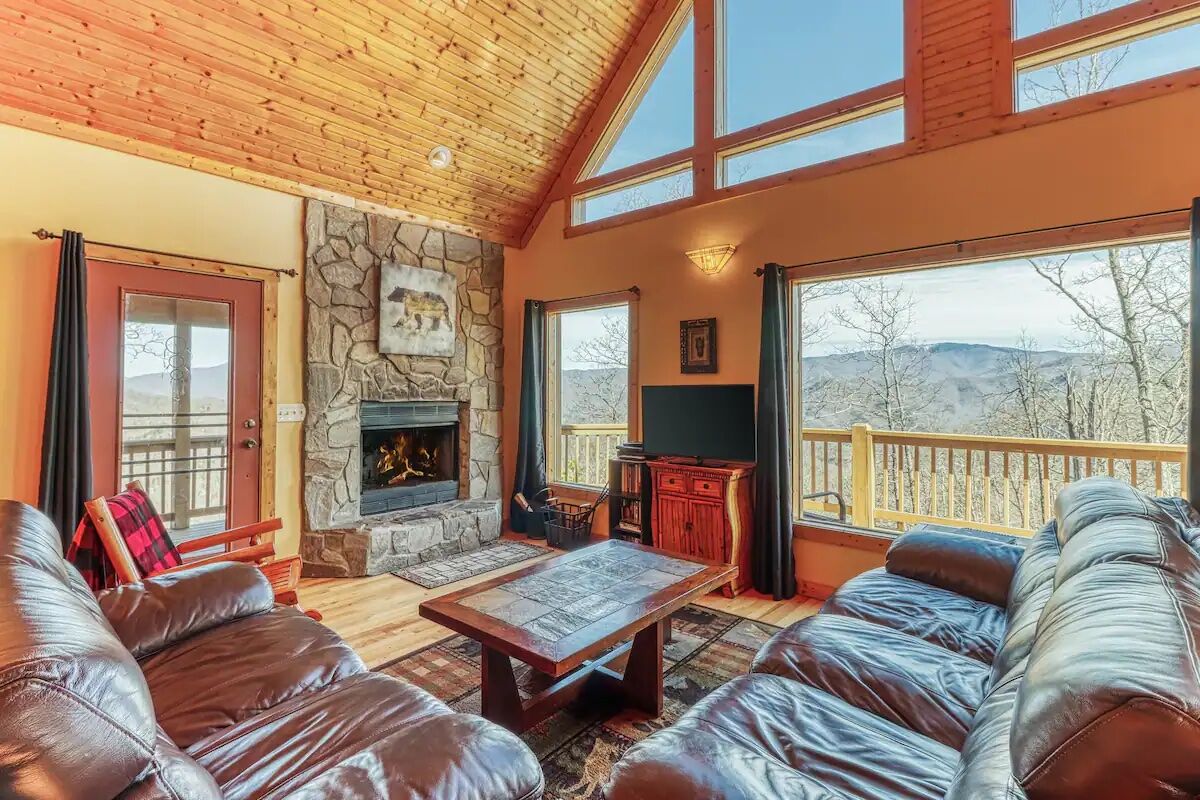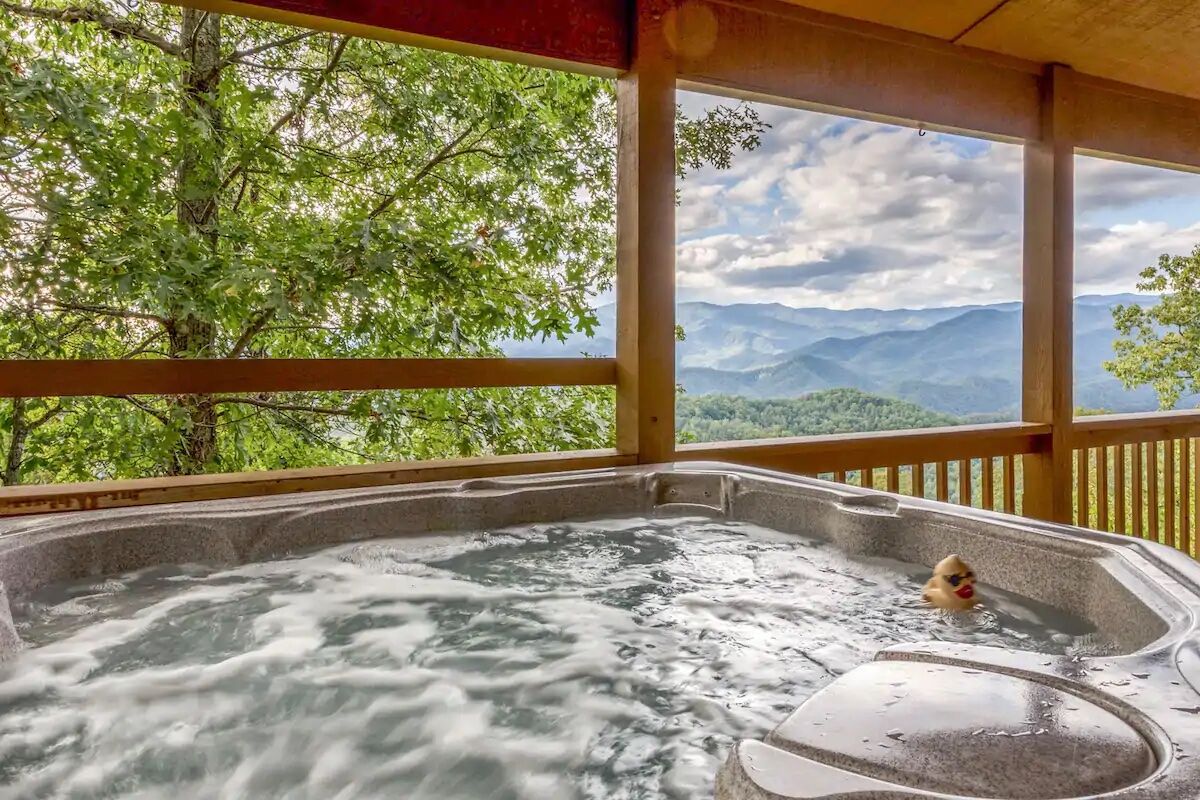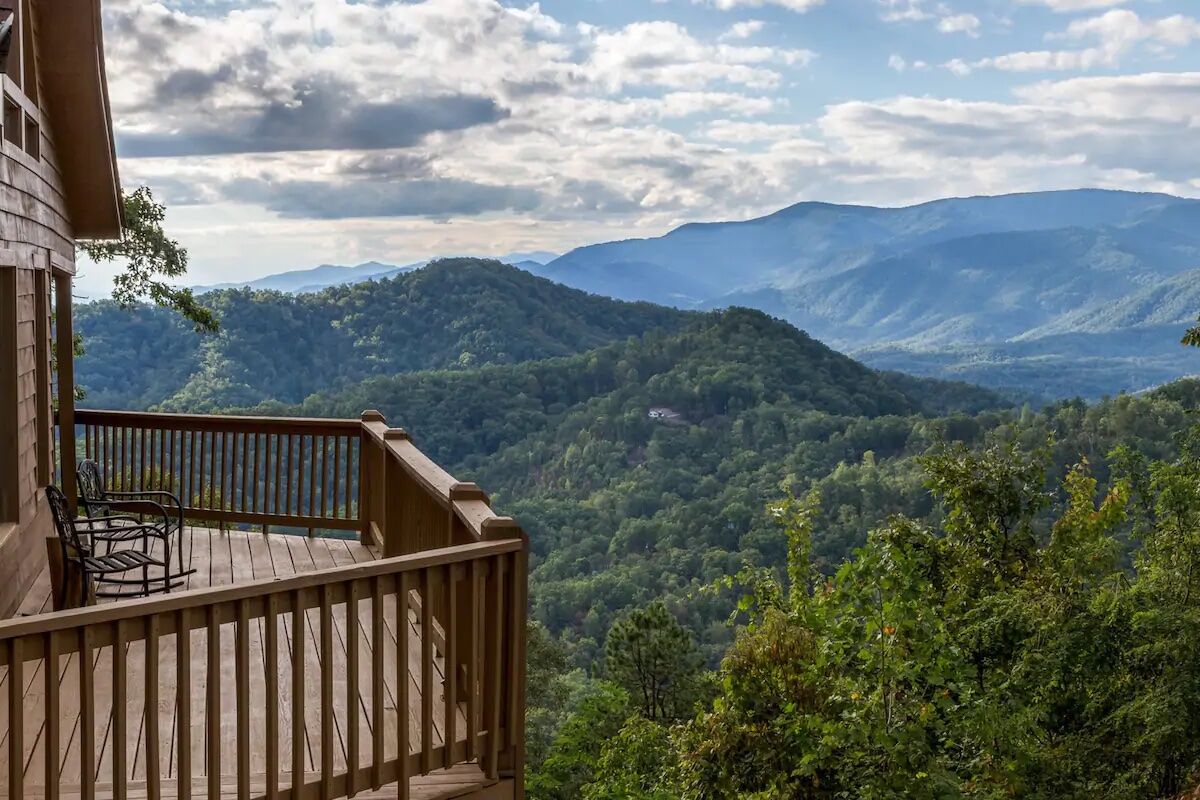 Those who want to vacation in the Great Smoky Mountains do it to spend time in nature and enjoy the beauty of the mountains. With this cabin nicknamed "Heaven on Earth" located on five acres of remote land and featuring 650 square feet of deck, you'll do just that. The panoramic views from the house are breathtaking and you won't hear a peep from other human beings as the cabin is surrounded by mountains only.
To spend even more time outside, there's an outdoor fire pit and a hot tub on the deck. If you'd rather stay inside, the woodstove will keep you warm. This unique cabin can accommodate six guests.
A version of this article was previously published on December 4, 2020, and was updated on April 11, 2022, with more information.
What did you think of this story?