The Top Airbnbs in Mérida, Mexico, To Experience the Best of the City
Mérida is often overlooked in favor of its seaside neighbors, Cancún, Tulum, and Playa del Carmen. But as the capital of the Mexican state of Yucatán, this historic city deserves more than a fleeting pitstop on your itinerary. Besides the churches, plazas, and Mayan ruins, Mérida has seen a recent renaissance in its property scene. Avant-garde designs fuse with traditional architecture to provide an unparalleled spread of accommodation. Cast an eye over our pick of the most beautiful Airbnb Mérida, Mexico, vacation rentals.
We hope you love the Airbnb Mérida, Mexico, vacation rentals. we recommend! Just so you know, Matador may collect a small commission from the links on this page if you decide to book a stay. Listed prices are accurate as of the time of publication.
Most unique Airbnbs in Mérida, Mexico
A unique experience in Mérida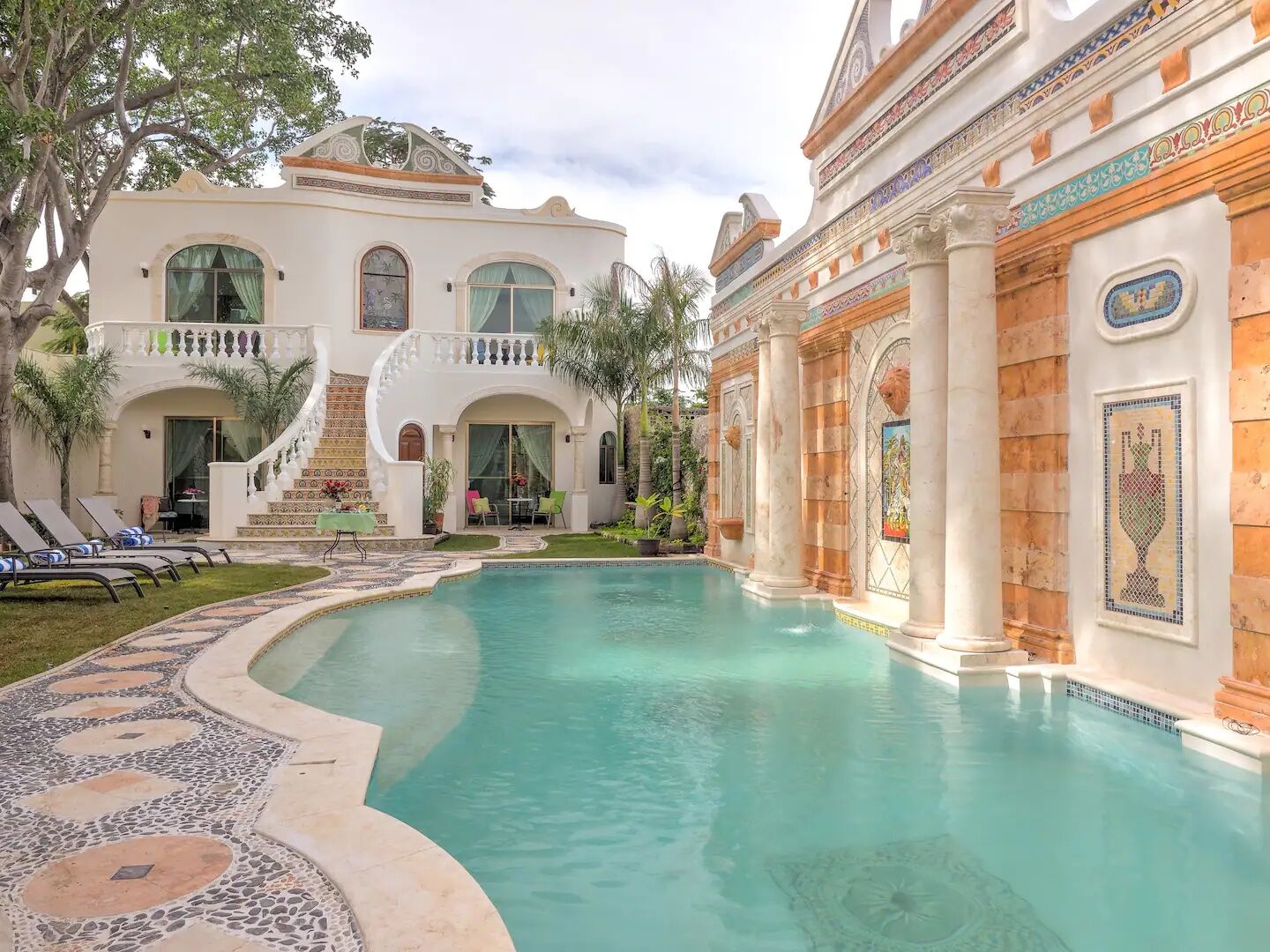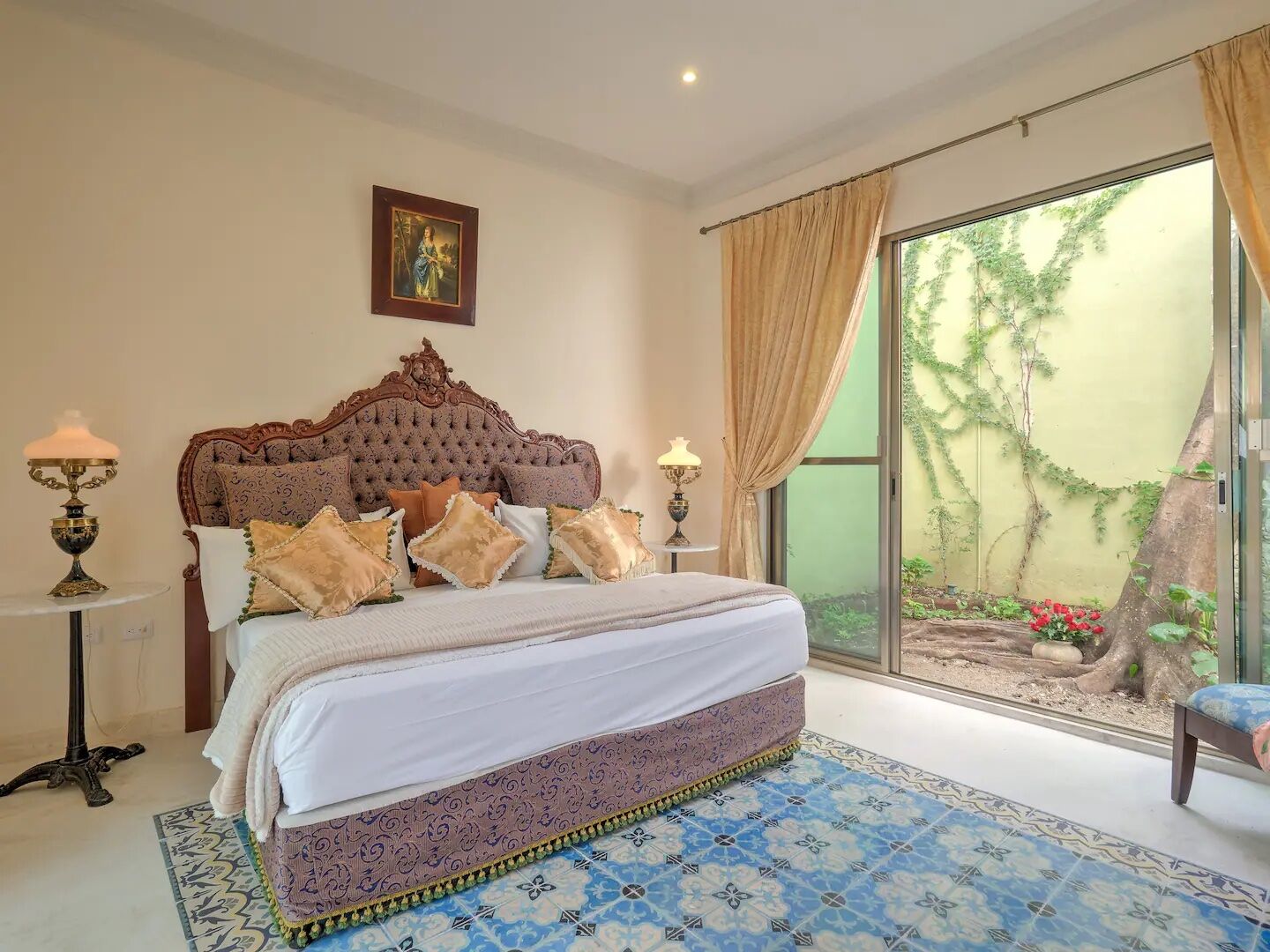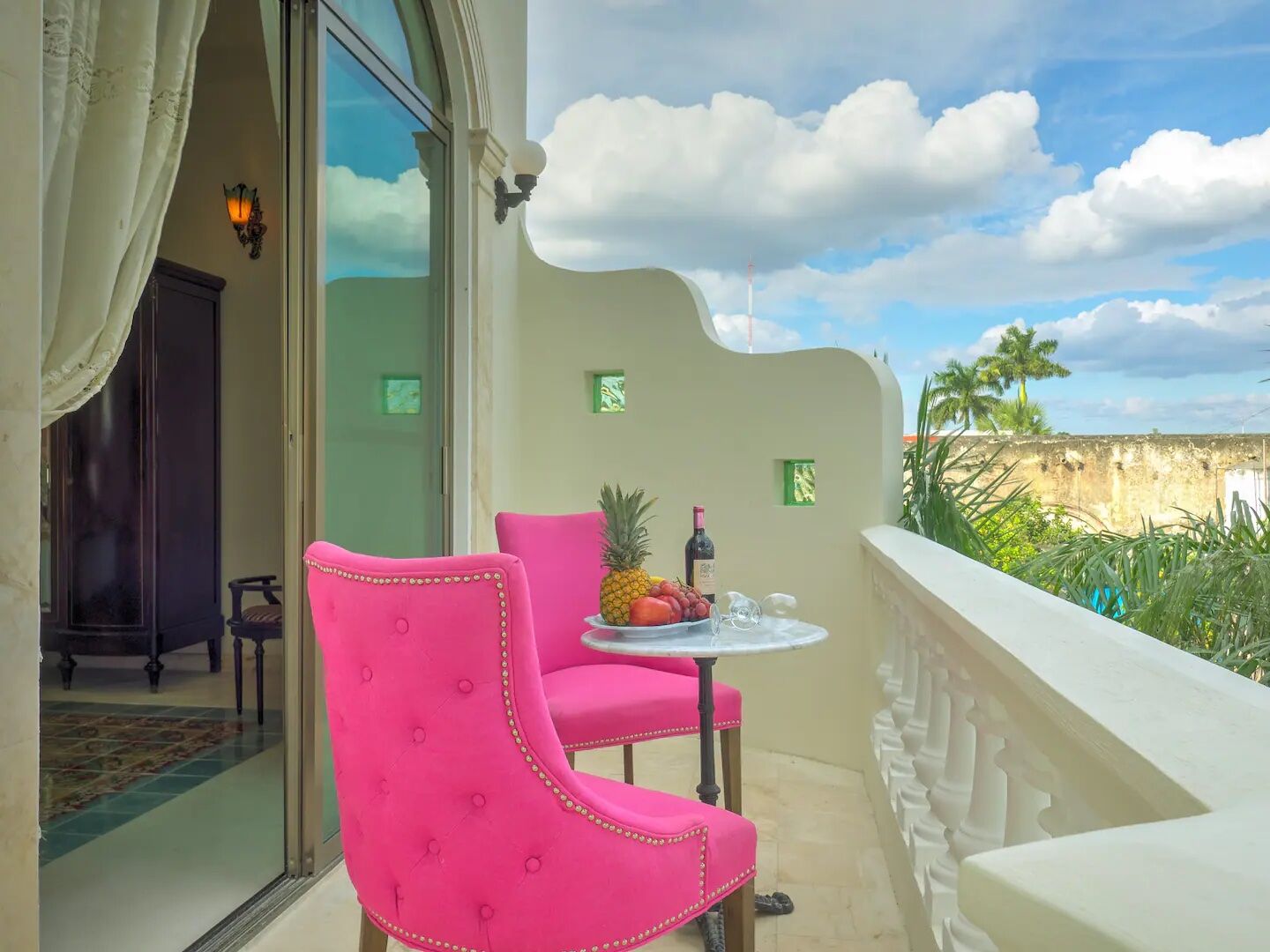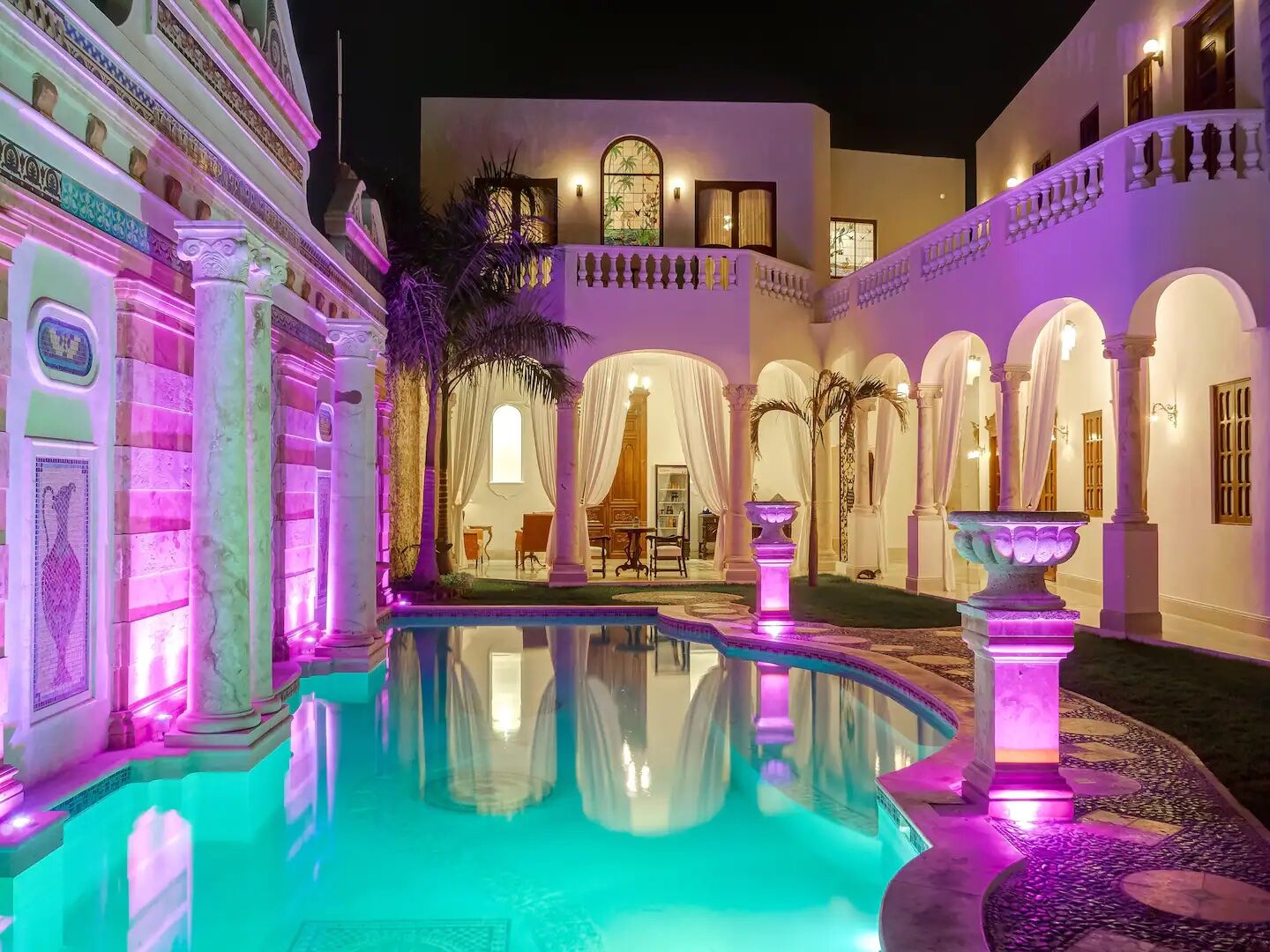 Is it a house or is it a palace? This lavish vacation rental features two swimming pools in a peaceful garden with immaculate landscaping and architecture. Suites are decorated with antique furniture, tilework, and marble tubs. Centrally located in Santa Ana, the main attractions of Mexico and in walking distance while the host is poised to arrange chefs, at-home massages, and tours.
Sixteen guests, eleven bedrooms
Price: $1,860 per night
Casa Escalera al Cielo – Luxury in Historic Centro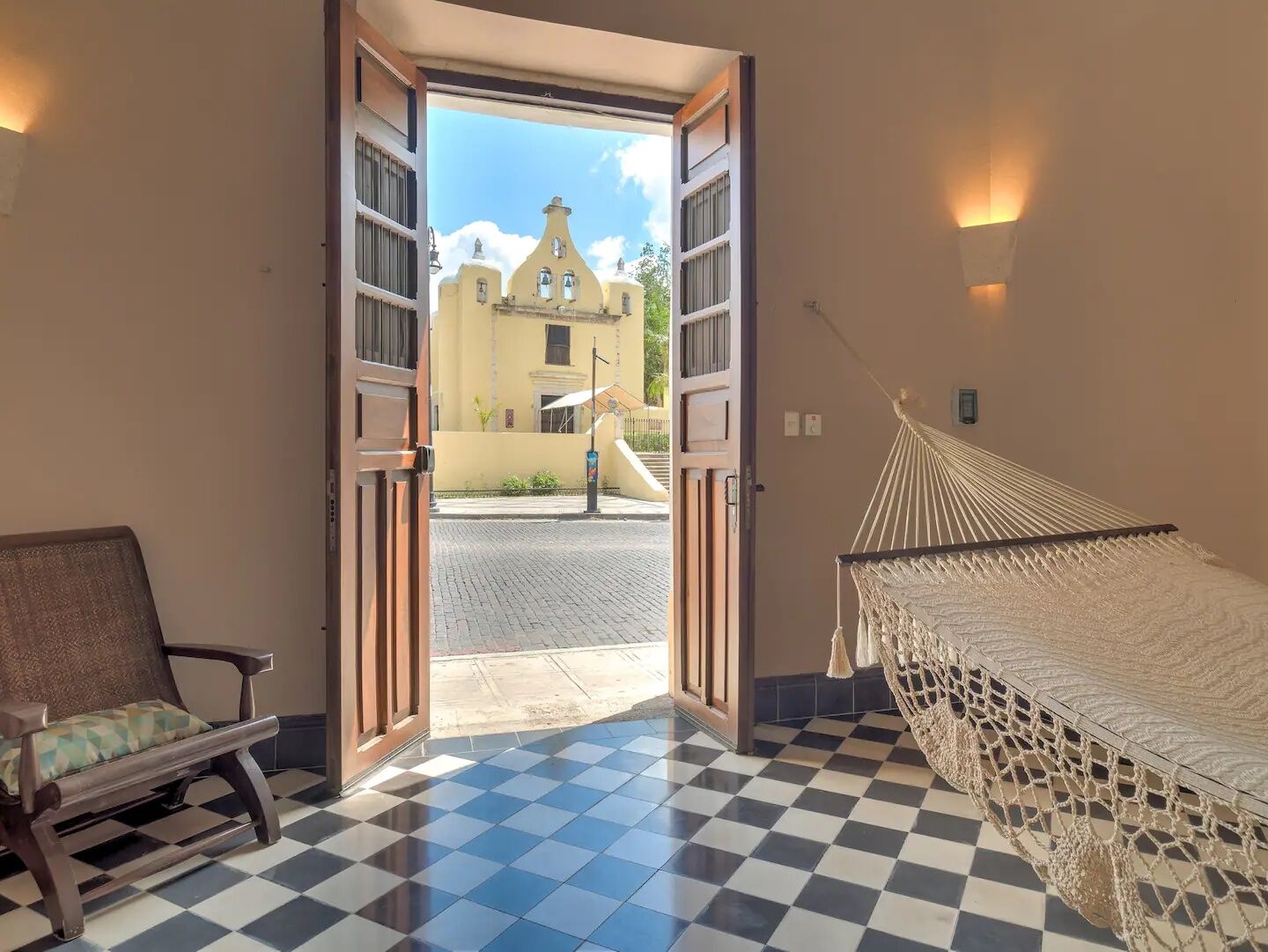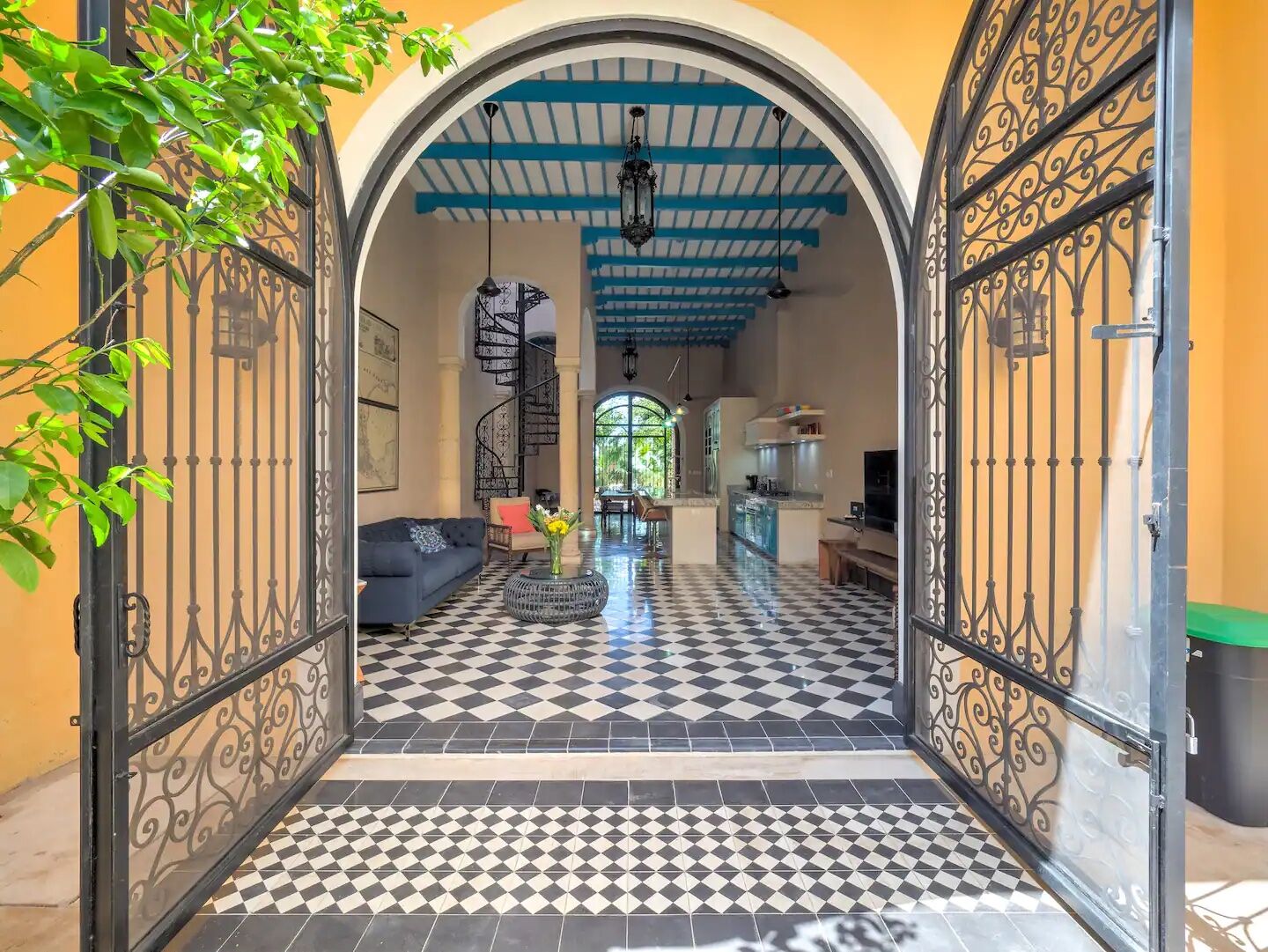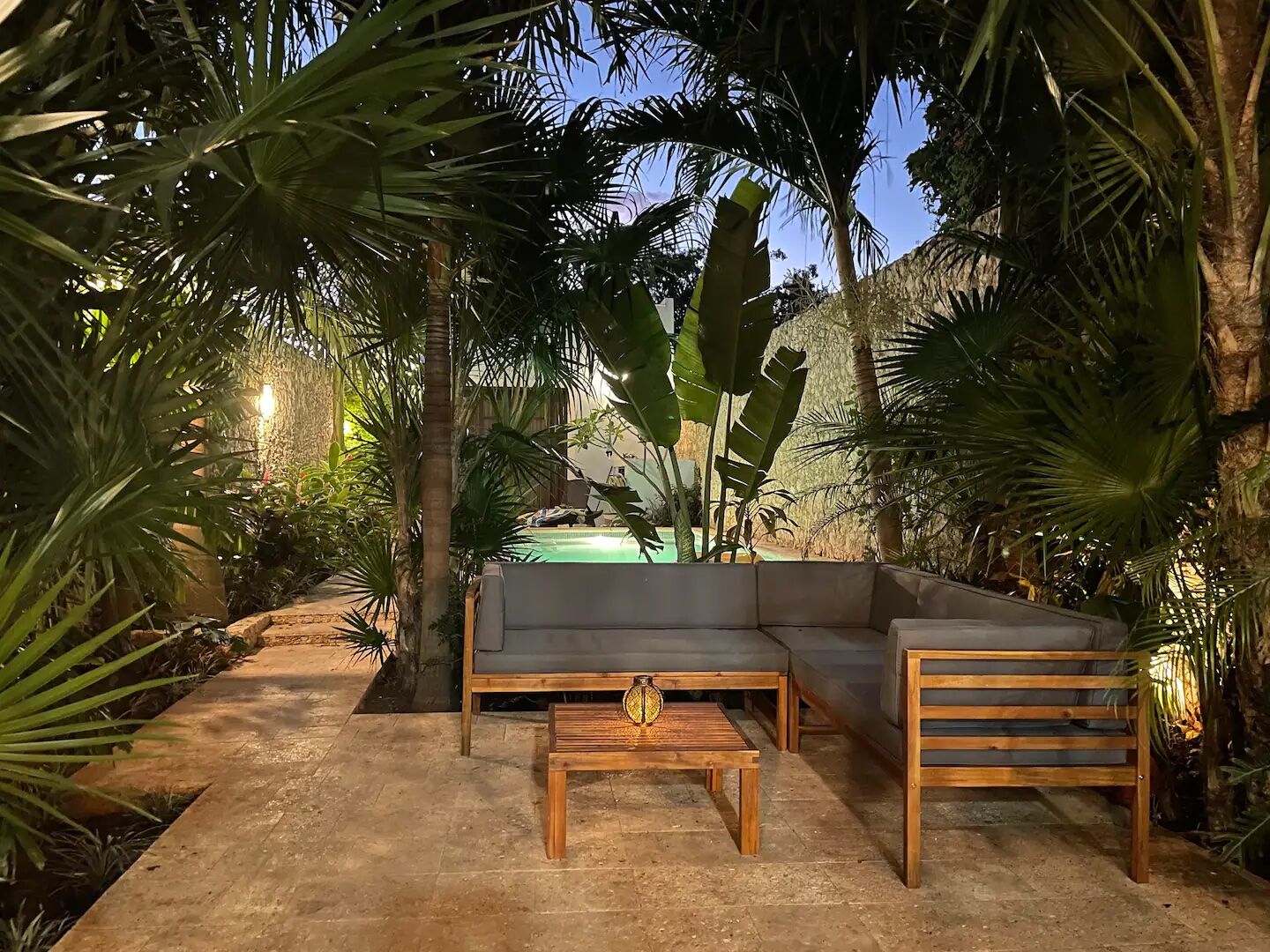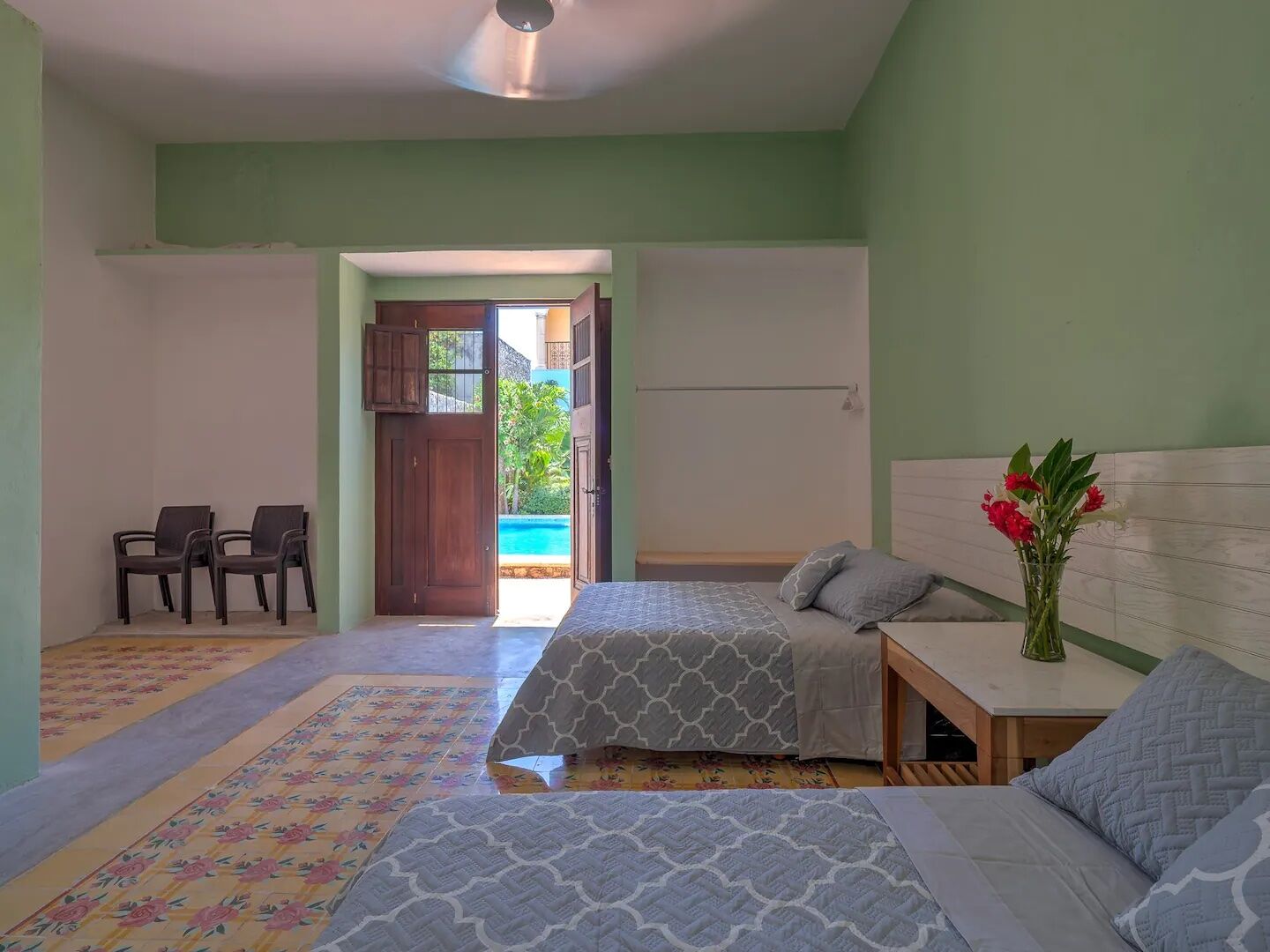 Those with keen eyes might recognize the facade of this vacation rental from movies. Now, this Mérida Airbnb with a chef's kitchen is available to travelers to soak up the A-list experience. Black and white tiles blanket the entire property while an ornate iron staircase connects the two floors. The pool remains fully private and there's no better place to sip a margarita than the newly added roof terrace.
Six guests, two bedrooms
Price: $110 per night
Airbnbs in Mérida, Mexico, with a pool
Casa Tres Dragones – Architectural Digest featured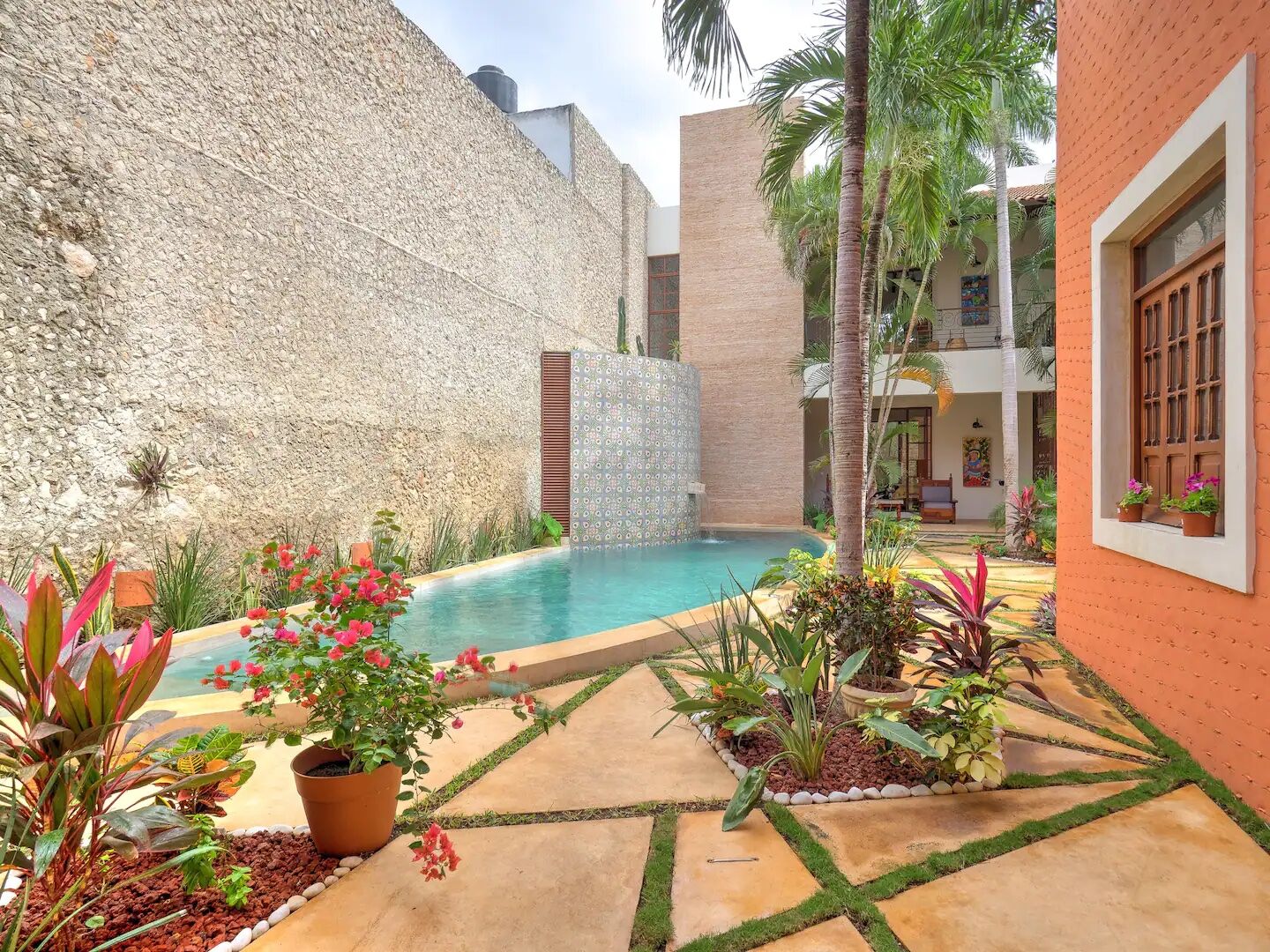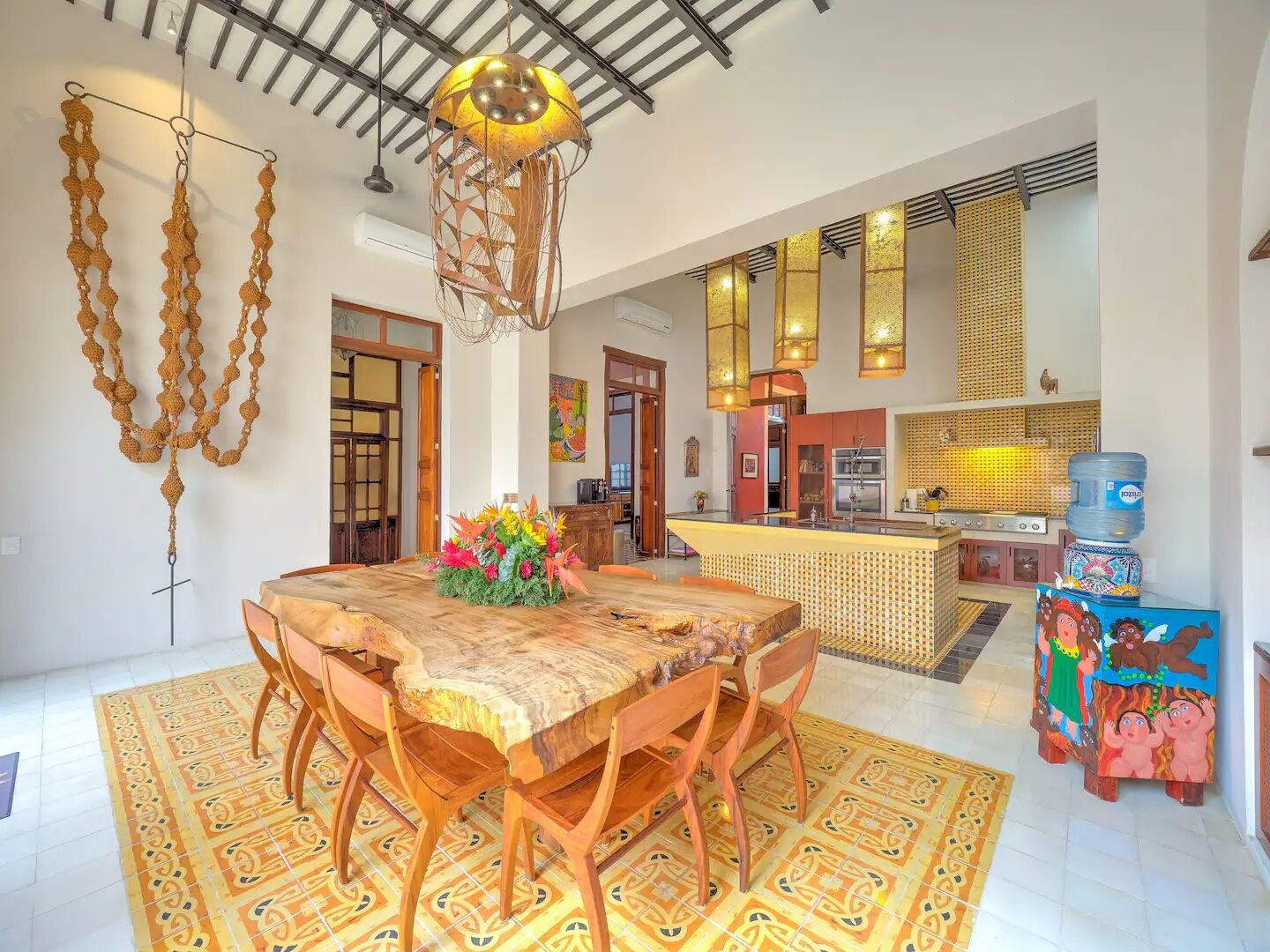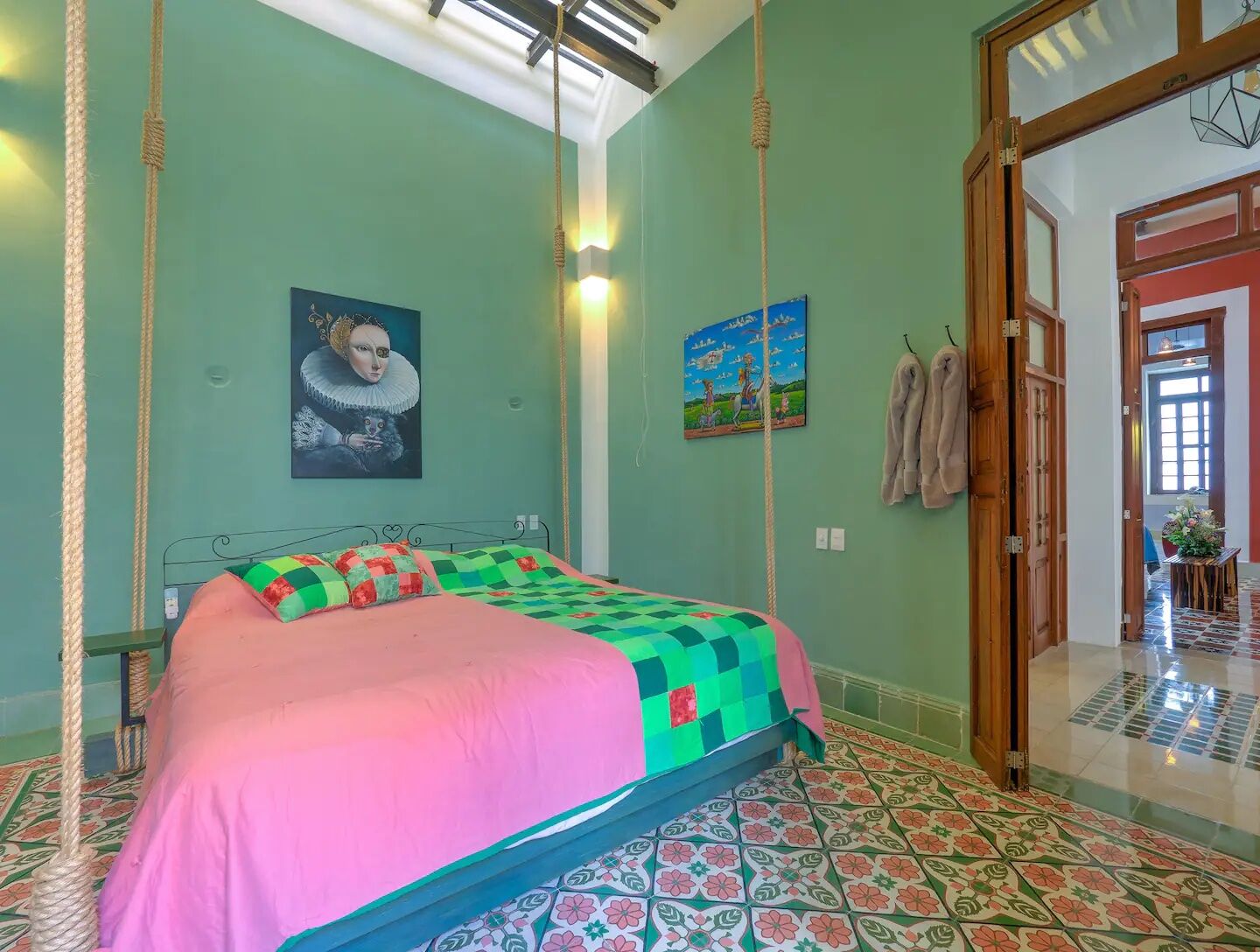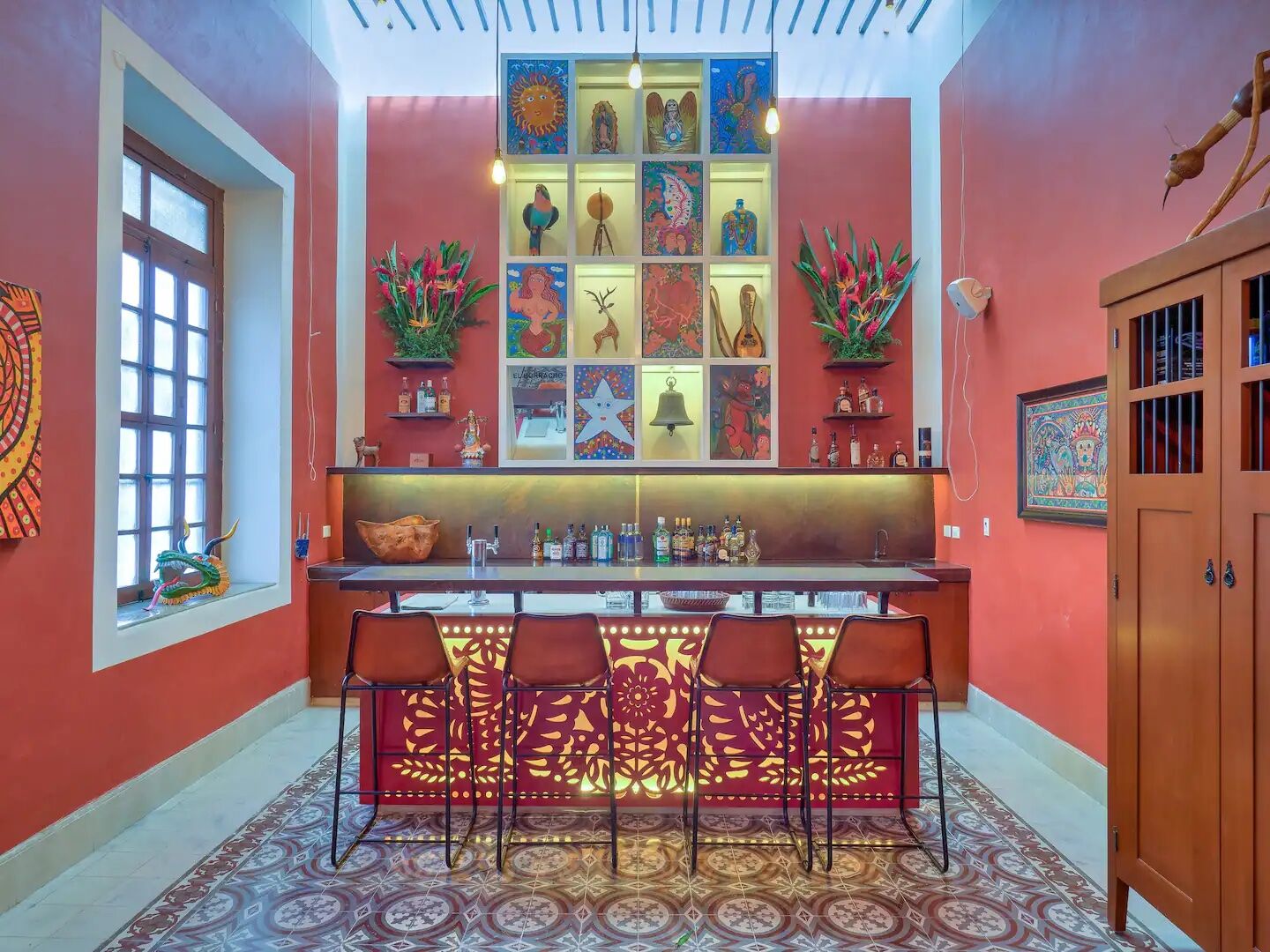 This unique Airbnb in Mérida, Yucatán, caught the eye of the media with its energetic color palette and head-turning ornamentation. The gourmet kitchen merges with a tequila bar and movie theater. Much of the furniture, including the bespoke "hanging" beds, was custom-made. In addition to the pool in the backyard, you'll find a plunge pool in the gym.
Twelve guests, five bedrooms
Price: $540 per night
Brand new house Casa Santian Old City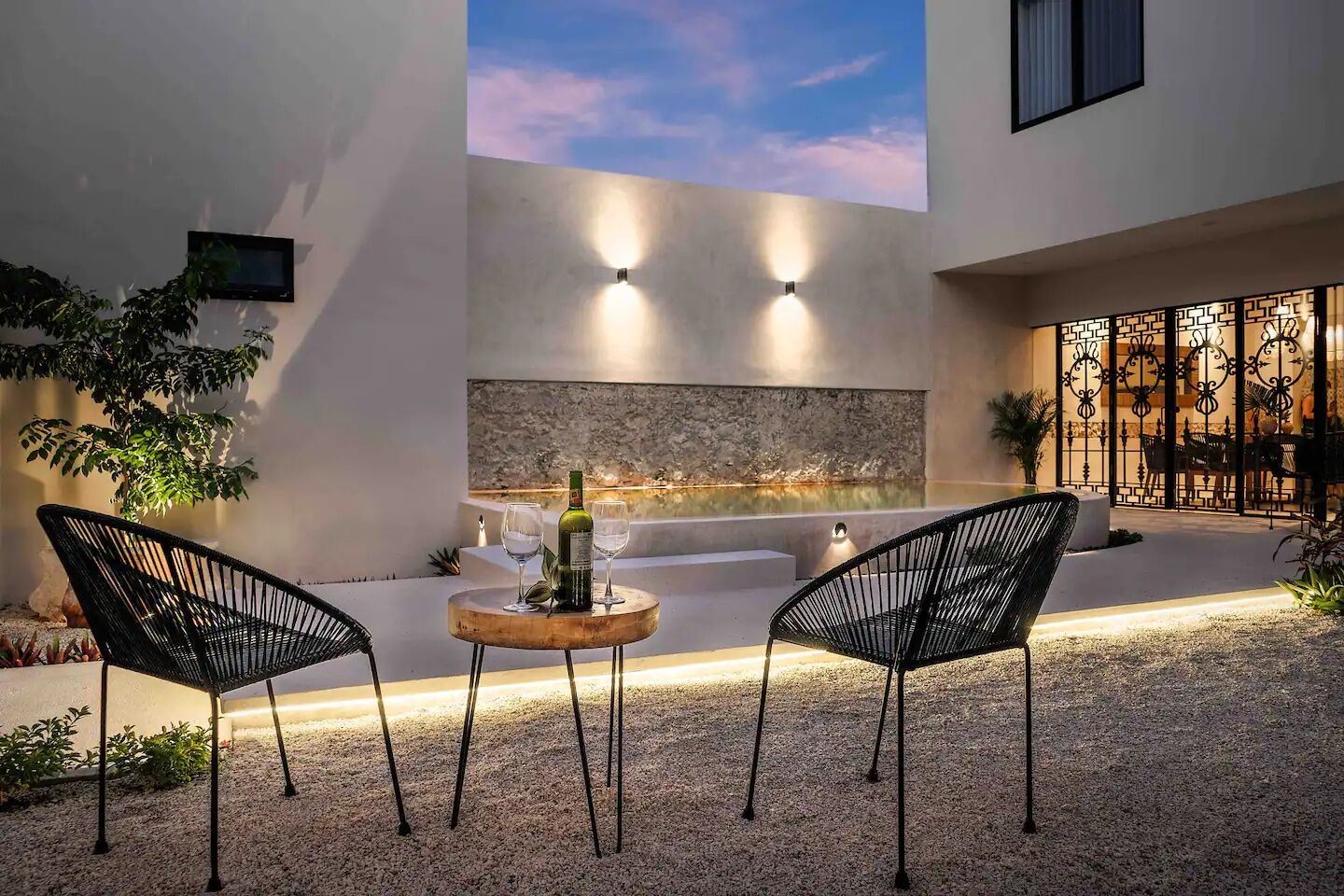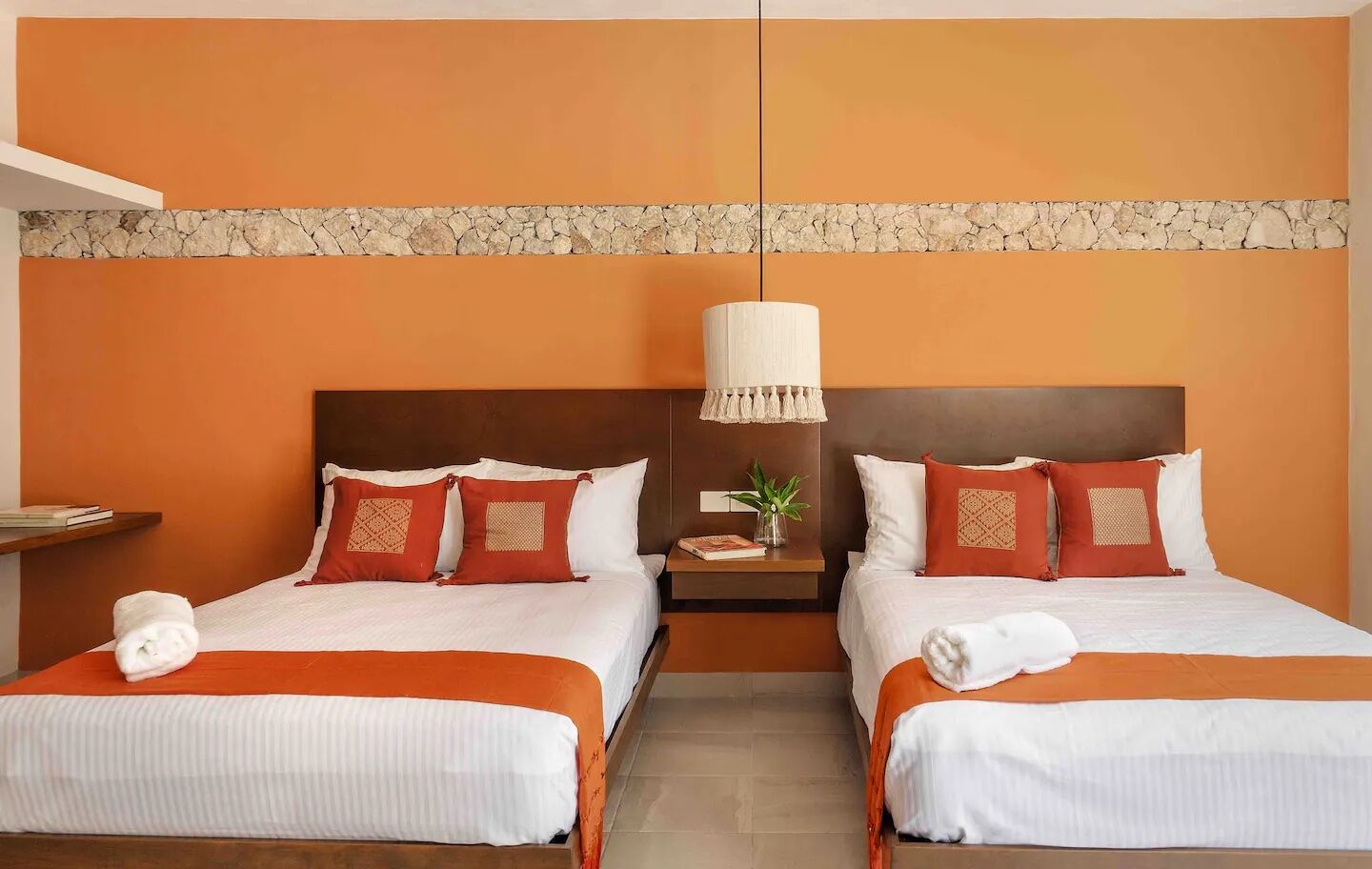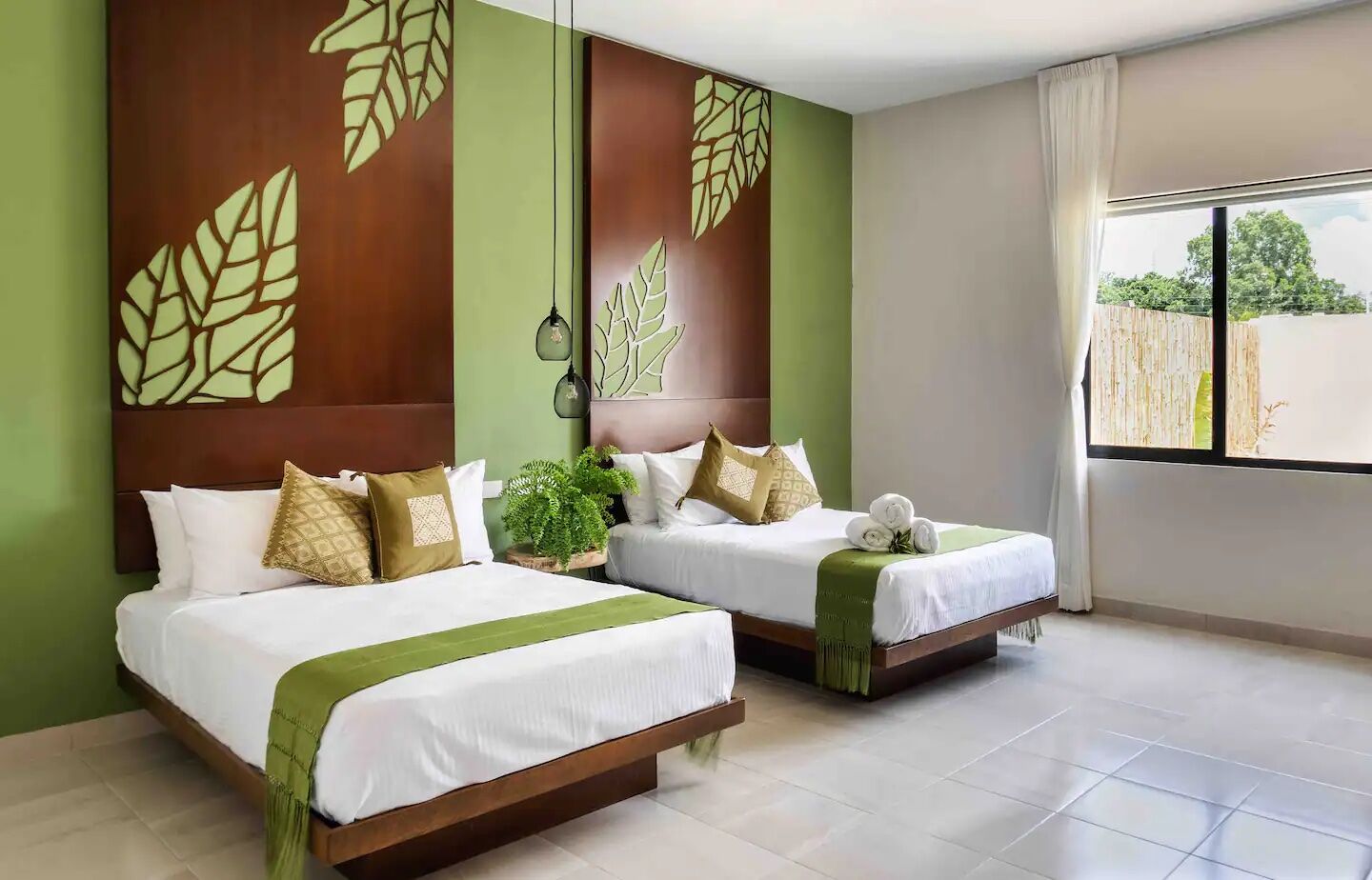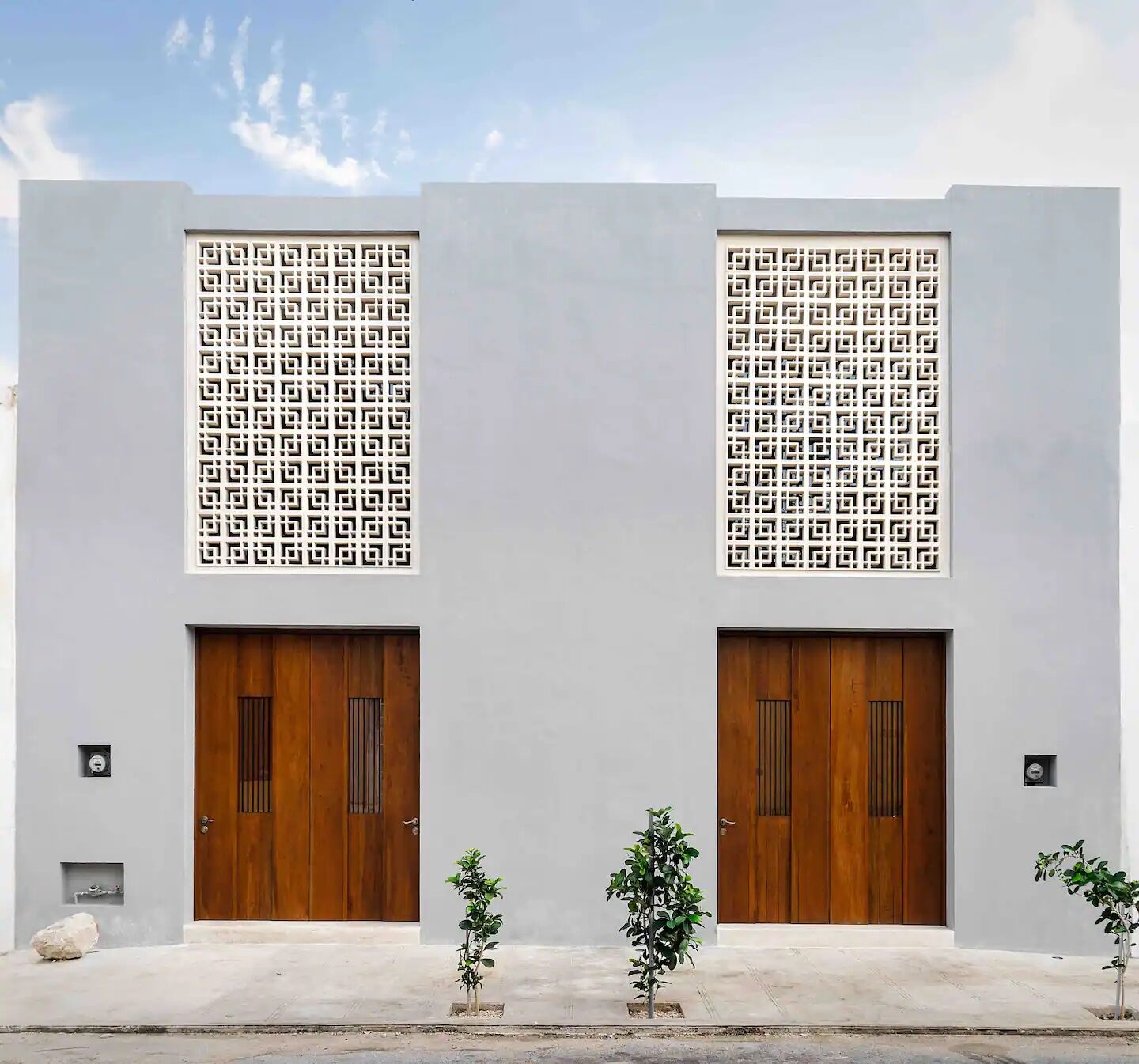 This stylish casa is tastefully presented with inspiration taken from the local craft scene and the vegetation of the Yucatán. Each of the eight bedrooms at this Airbnb Mérida, Mexico, with private pool follows its own color theme and has its own bathroom. The outdoor pool is perfect for washing off a day exploring the sights and the host can hook you up with a chef to enhance the luxury.
Sixteen guests, eight bedrooms
Price: $600 per night
Taking a trip to Mexico? Check out

Matador

's Mexico accommodations guides:
Casa Kan – Downtown gem for design-minded travelers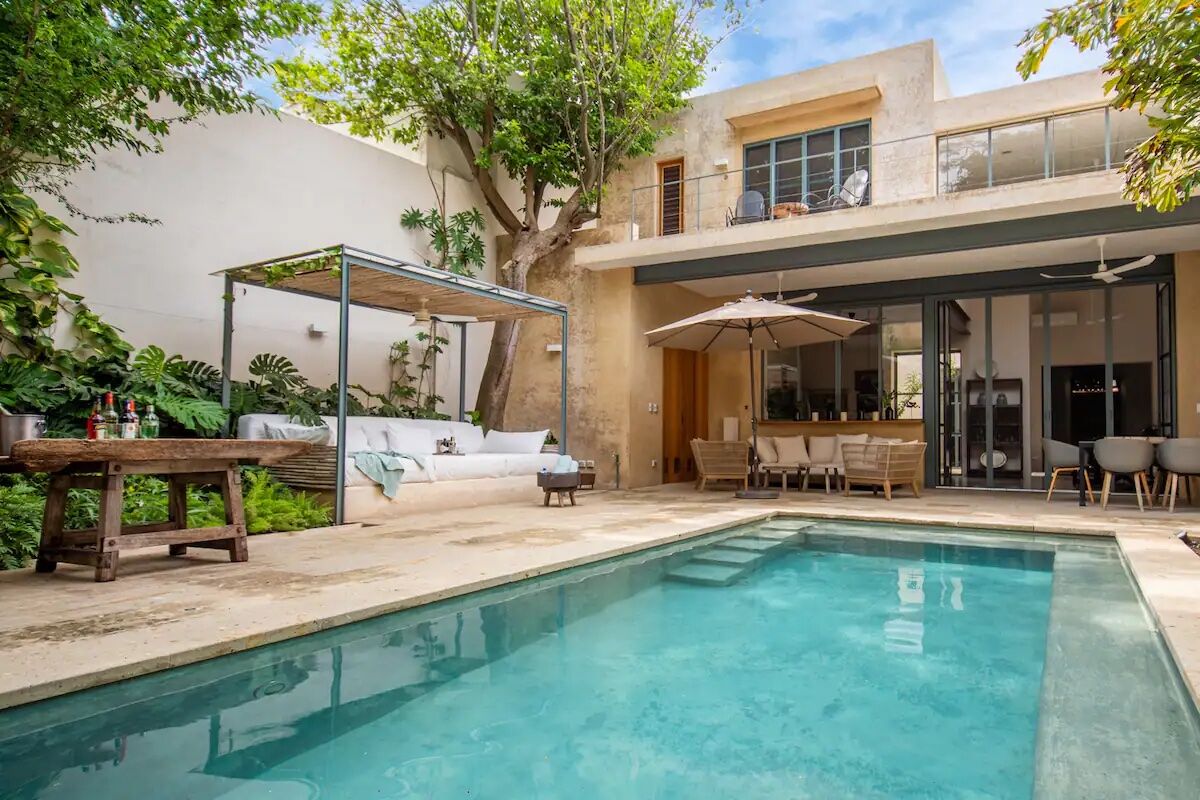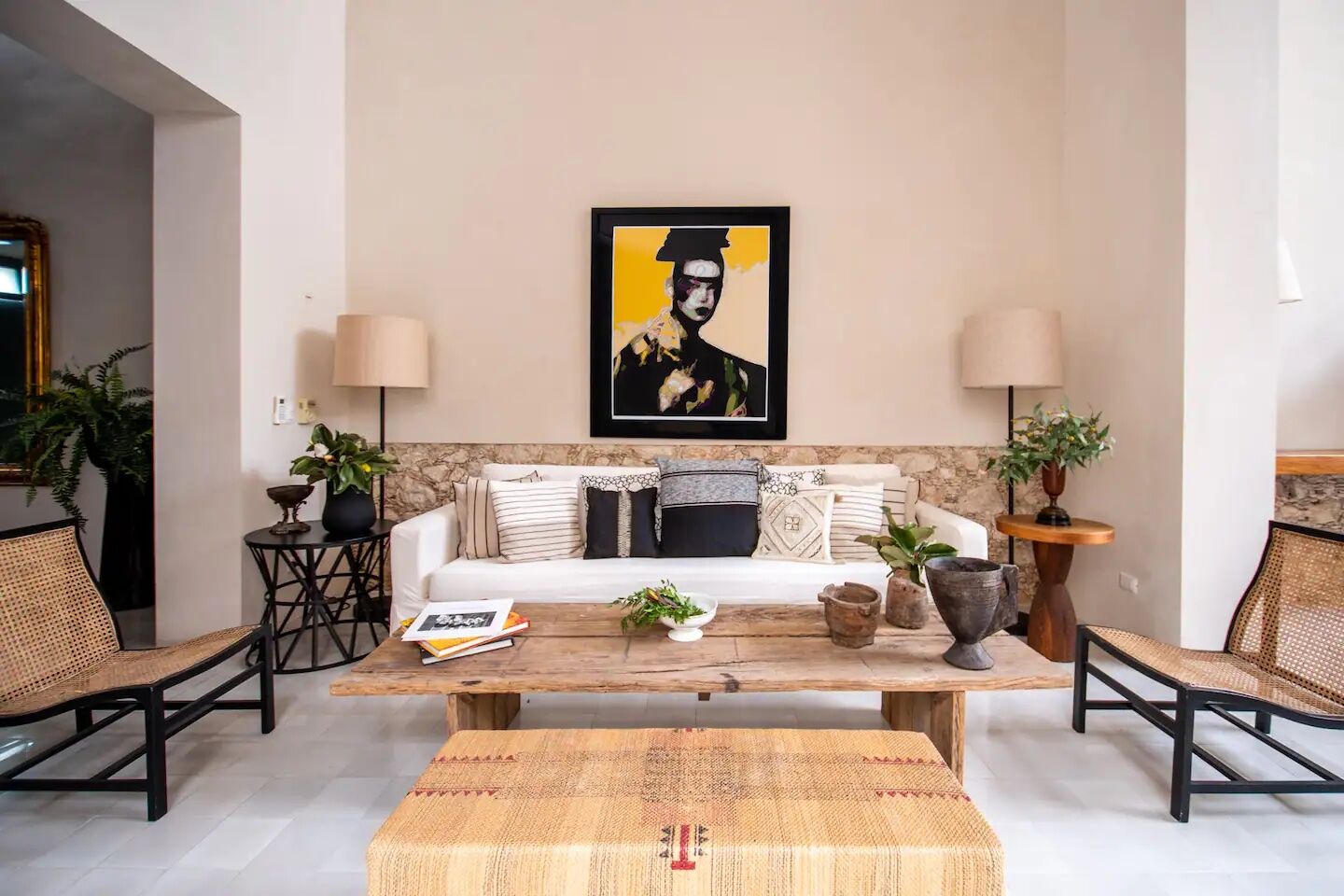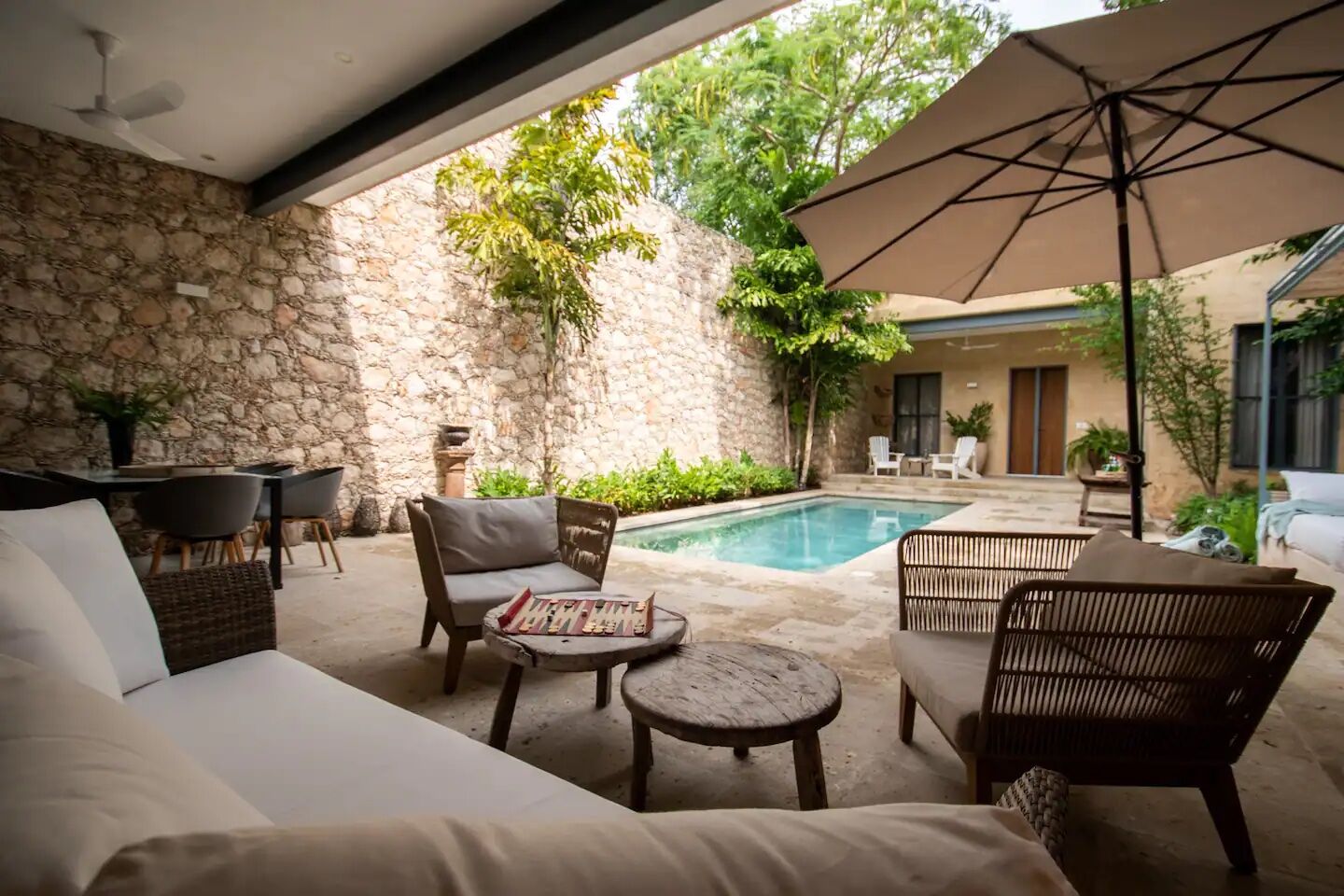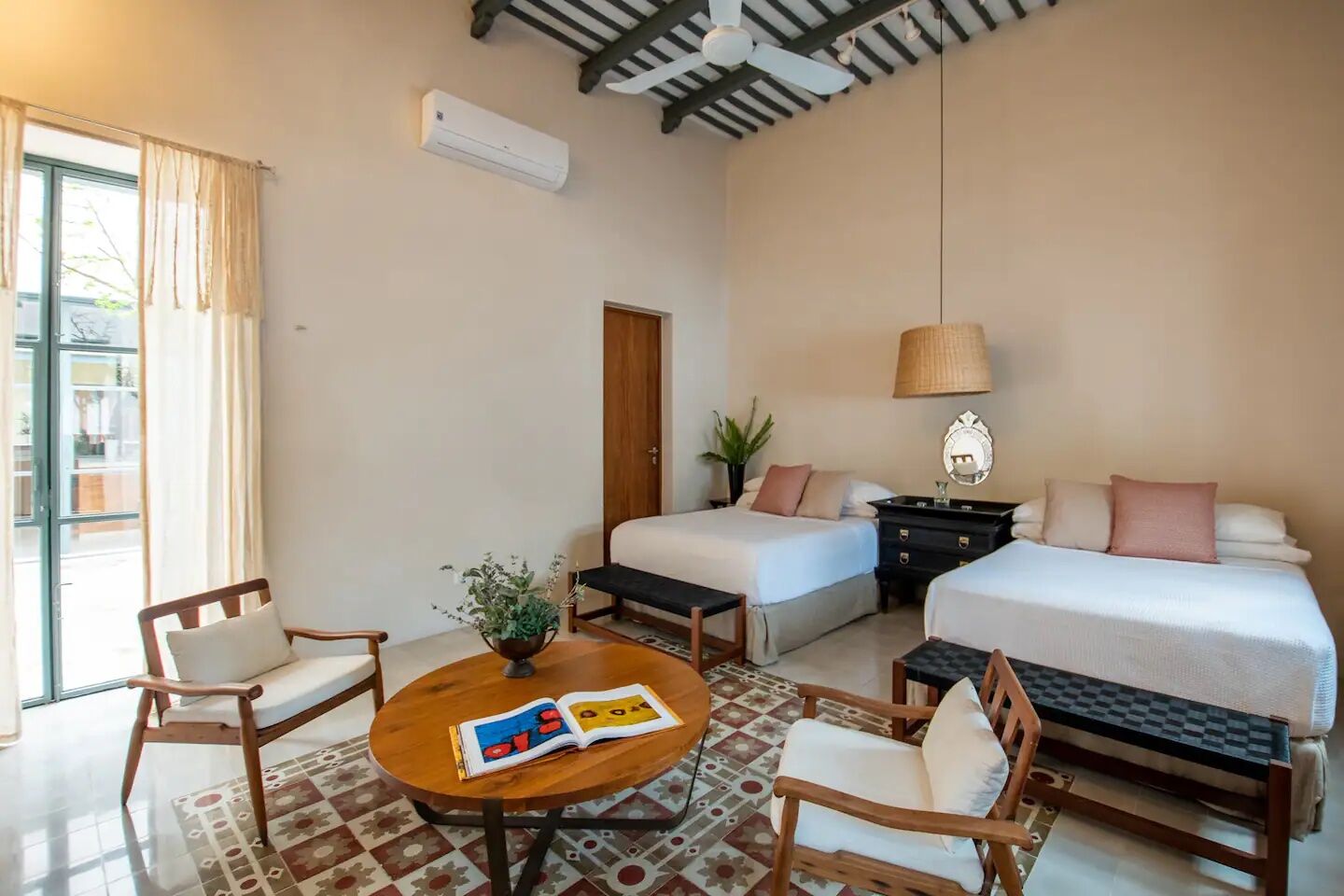 Steps from Paseo Montejo and the city's star attractions, this downtown Airbnb in Mérida, Mexico, is designed for families or a couple of couples. All three bedrooms have en suite bathrooms and enjoy immediate access to the courtyard where the pool and cabana await. Cook like a chef in the state-of-the-art kitchen – or, don't. Hire a professional and be amazed by Yucatán cuisine.
Six guests, three bedrooms
Price: $375 per night
Luxurious hacienda in Yucatán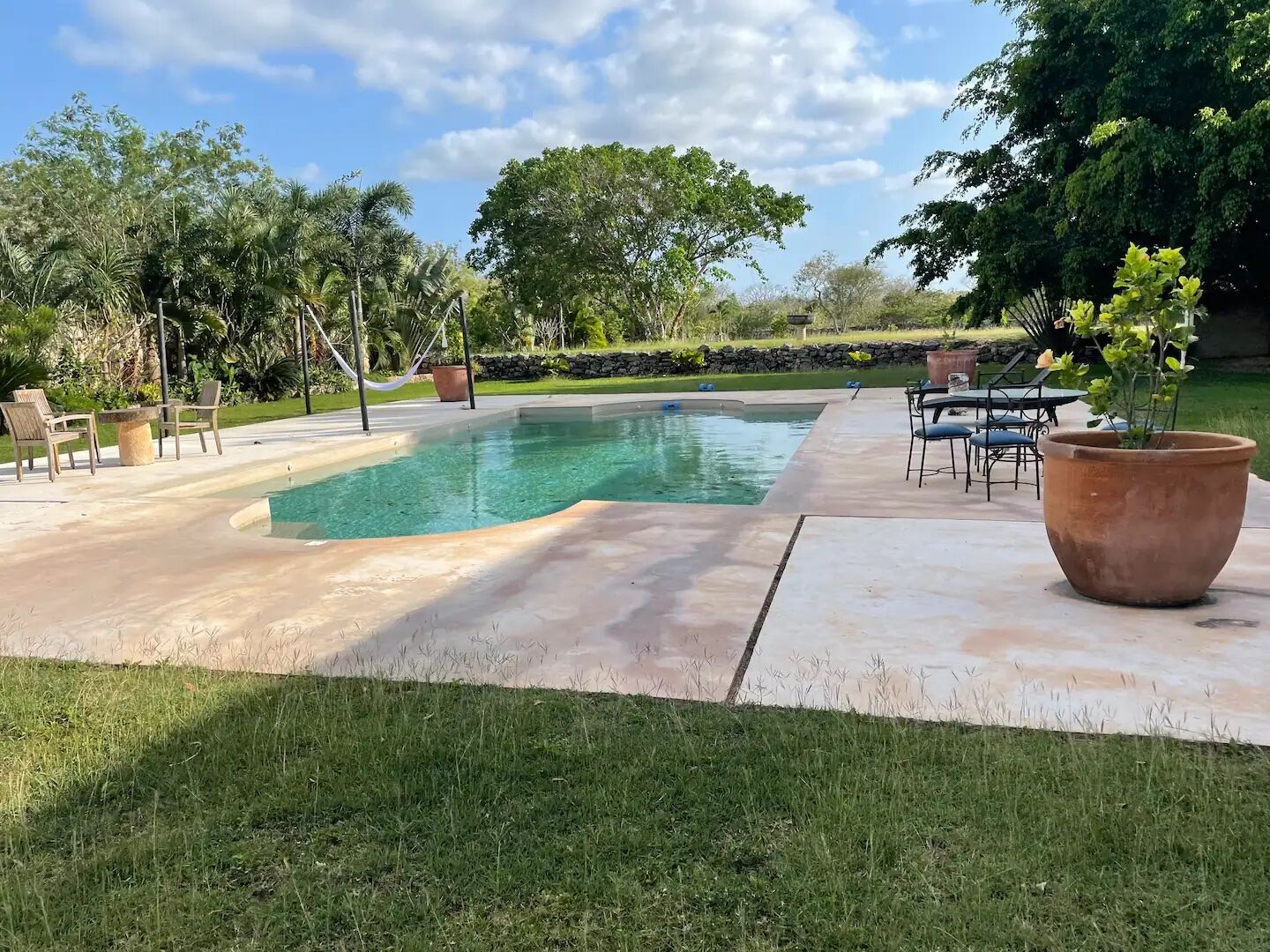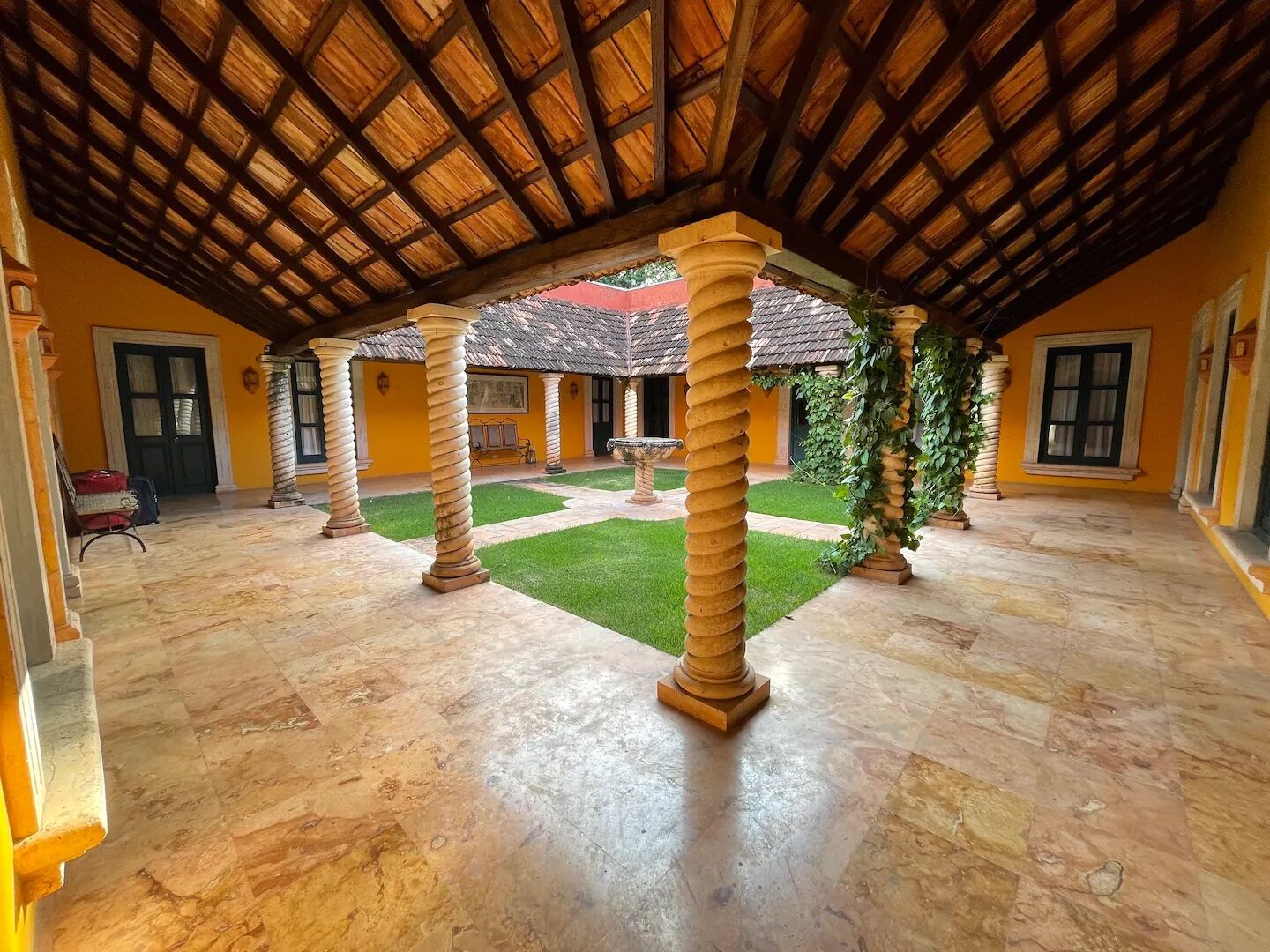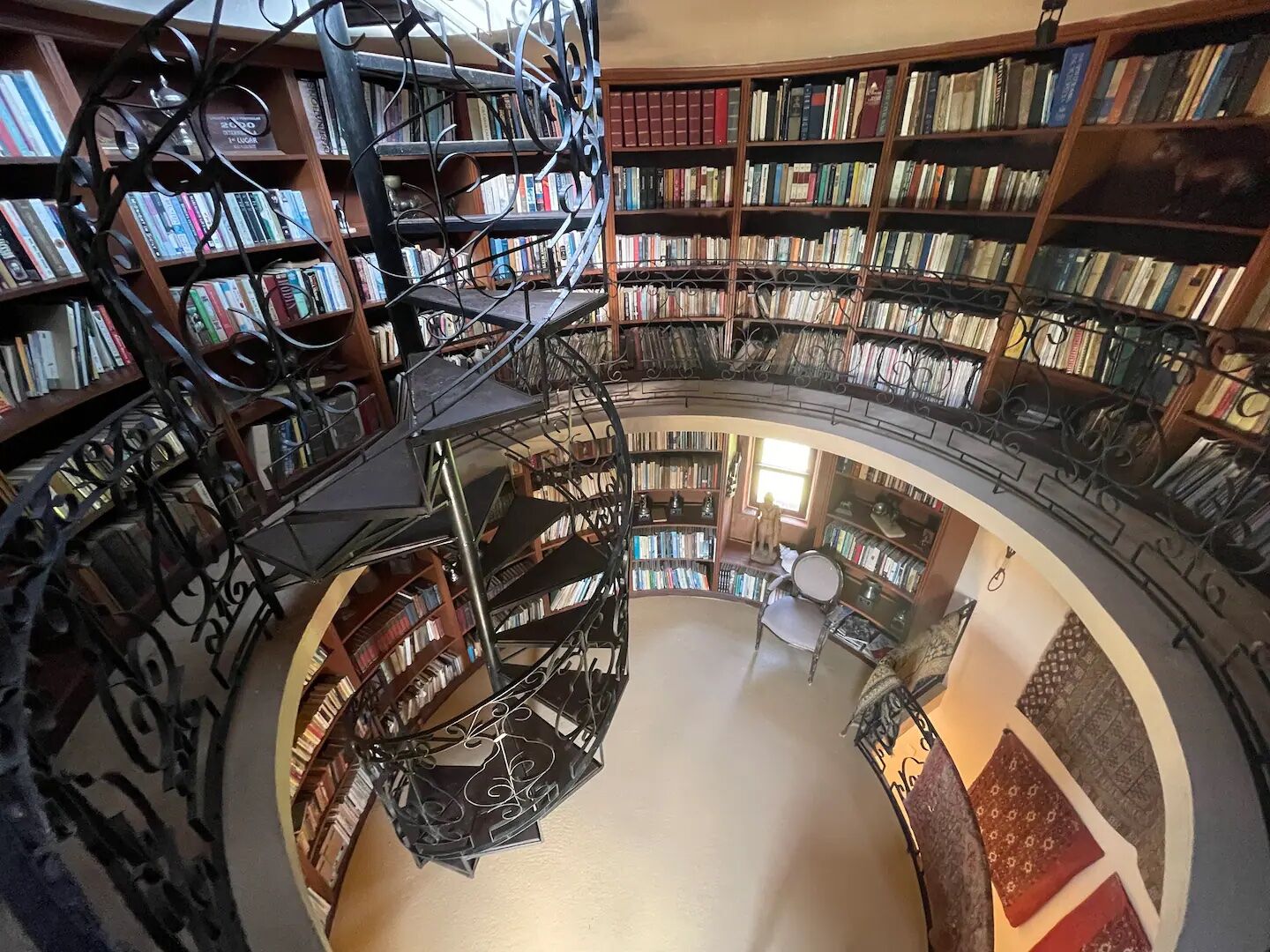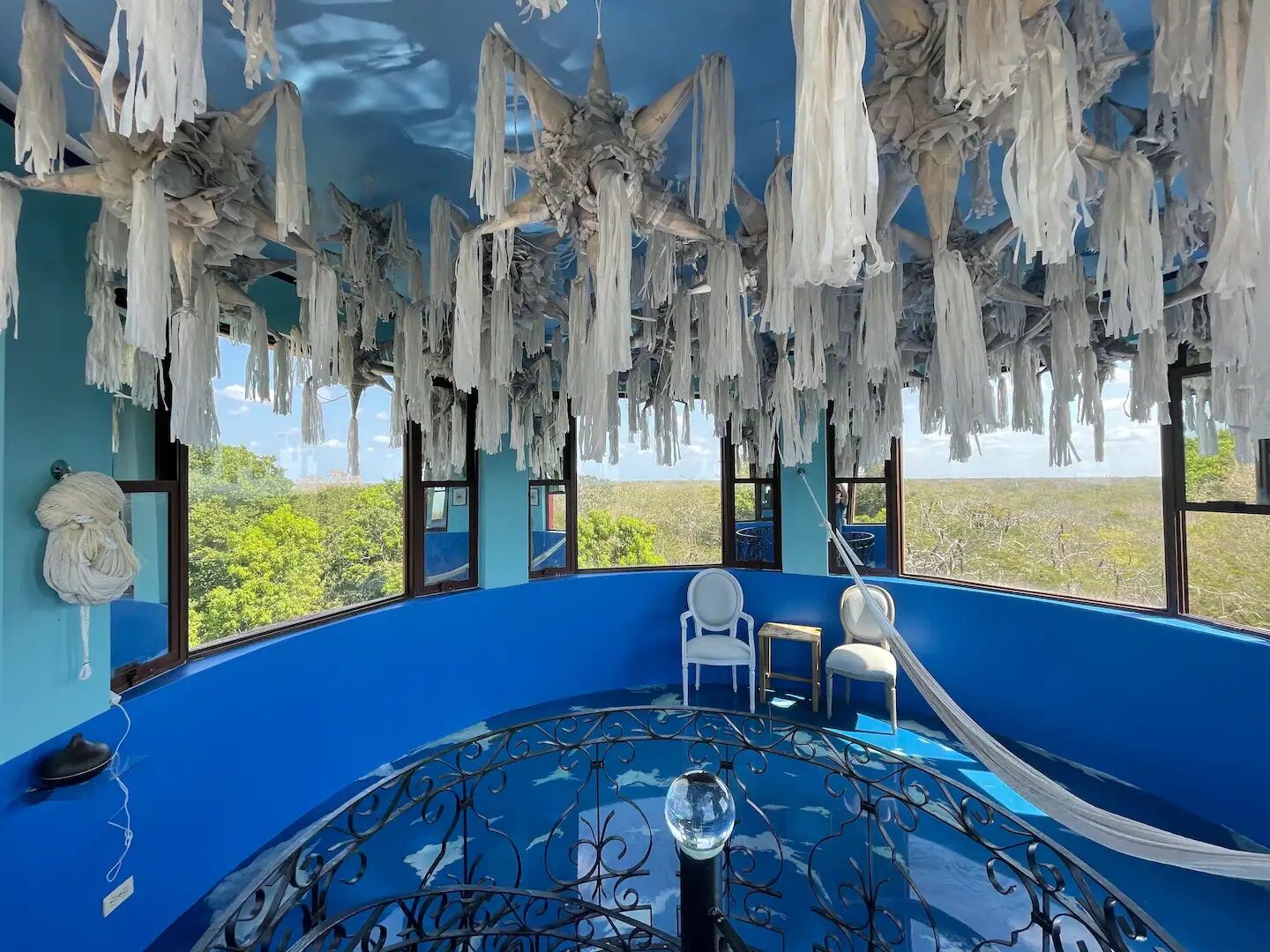 This deluxe Airbnb in Mérida, Mexico, comes with a chef and maid service. The grounds consist of a gigantic lawn, a children's playground, a swimming pool, and a private cenote. Curated for bibliophiles, the tower has been converted into a library complete with a reading and birdwatching den. Situated a 20-minute drive out of town, the hacienda enjoys a peaceful setting and is a popular wedding venue.
Fourteen guests, five bedrooms
Price: $5,000 per night
Pet-friendly Airbnbs in Mérida, Mexico
Casa Dzul arquitectura vanguardista en Mérida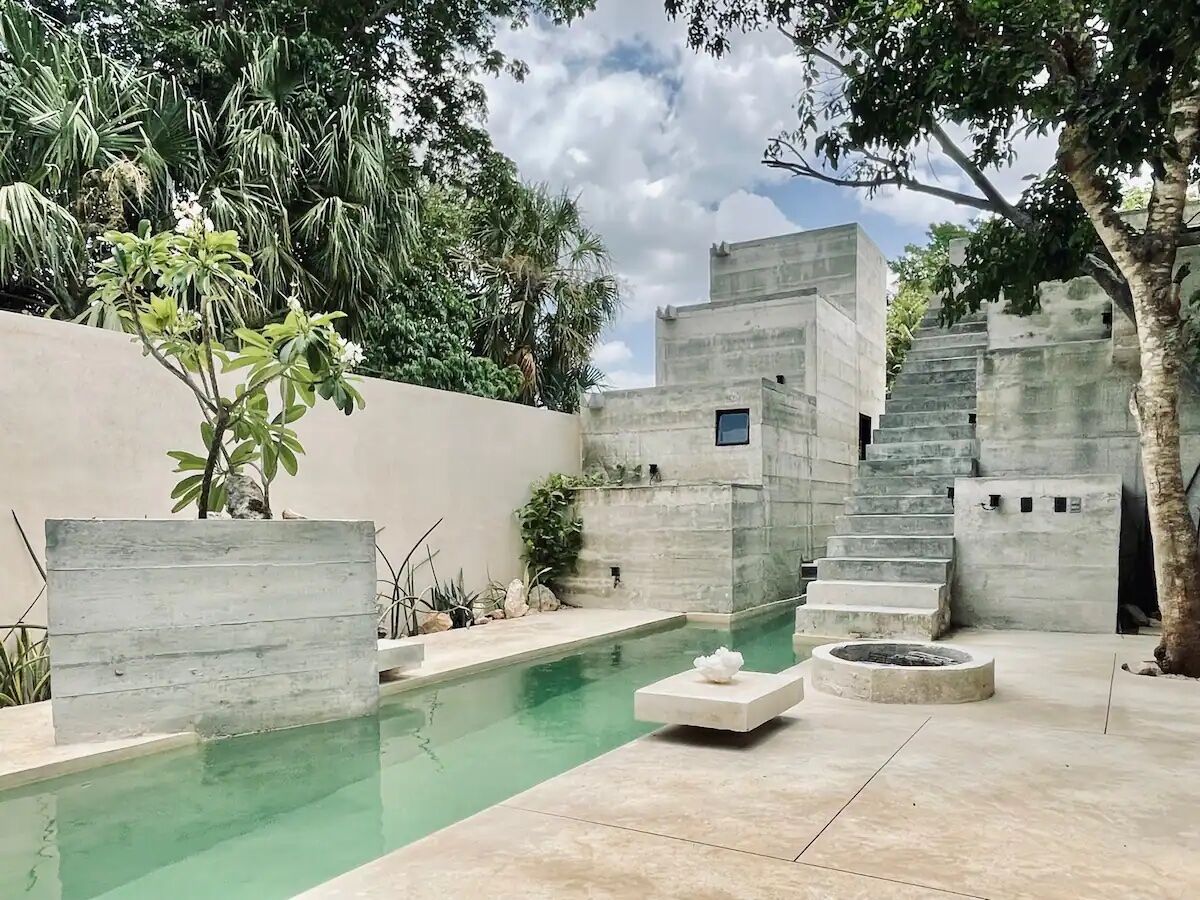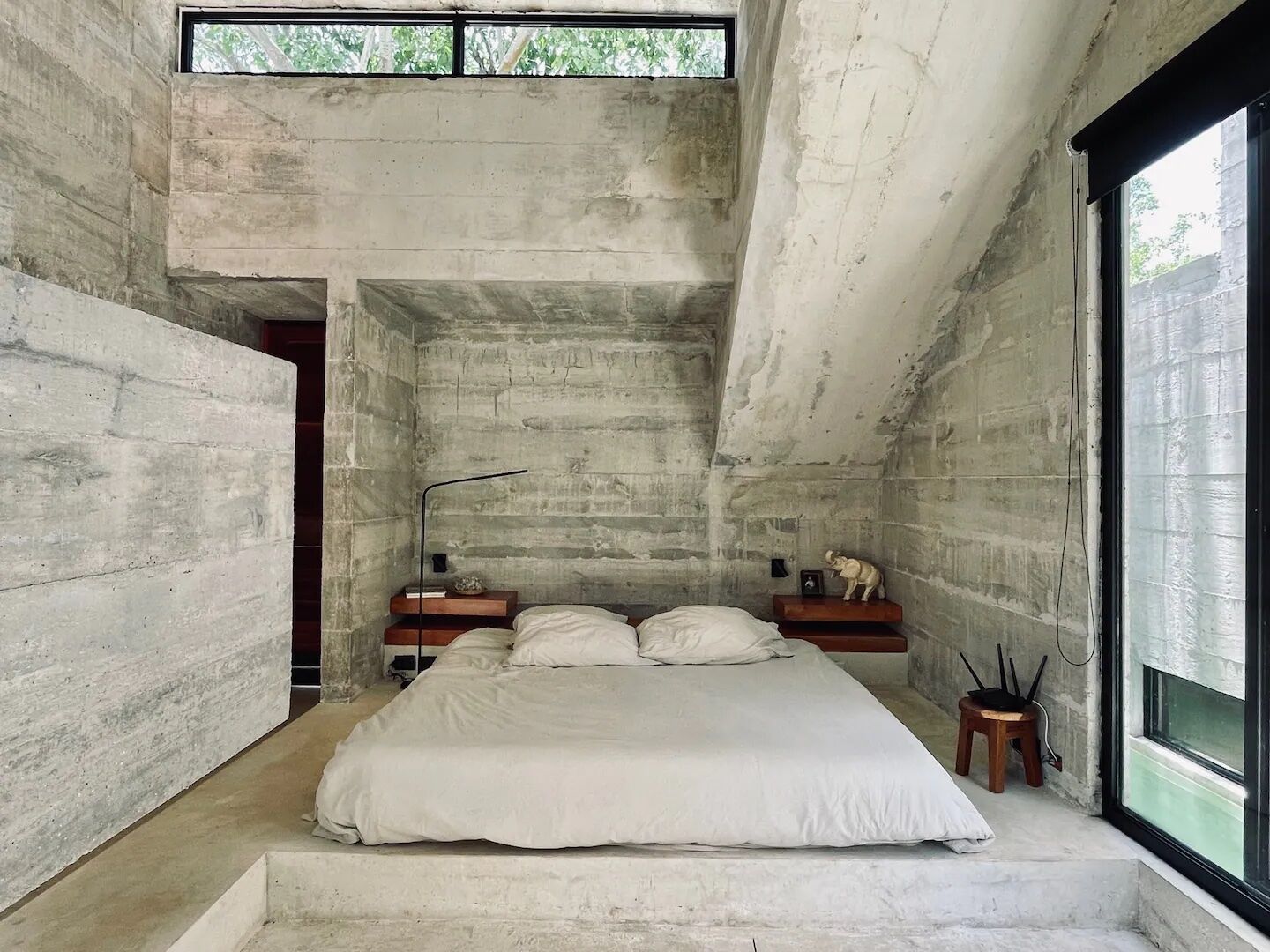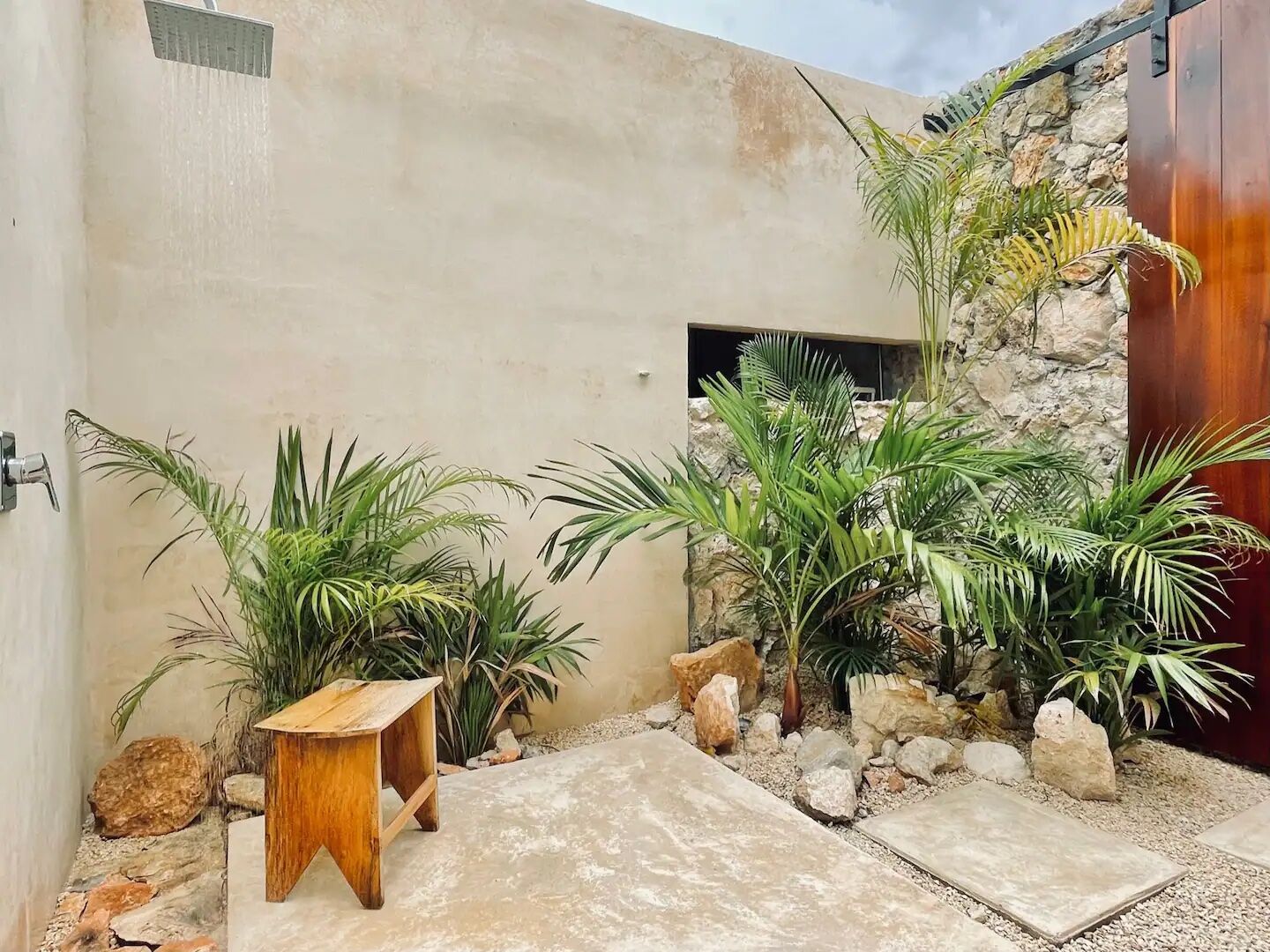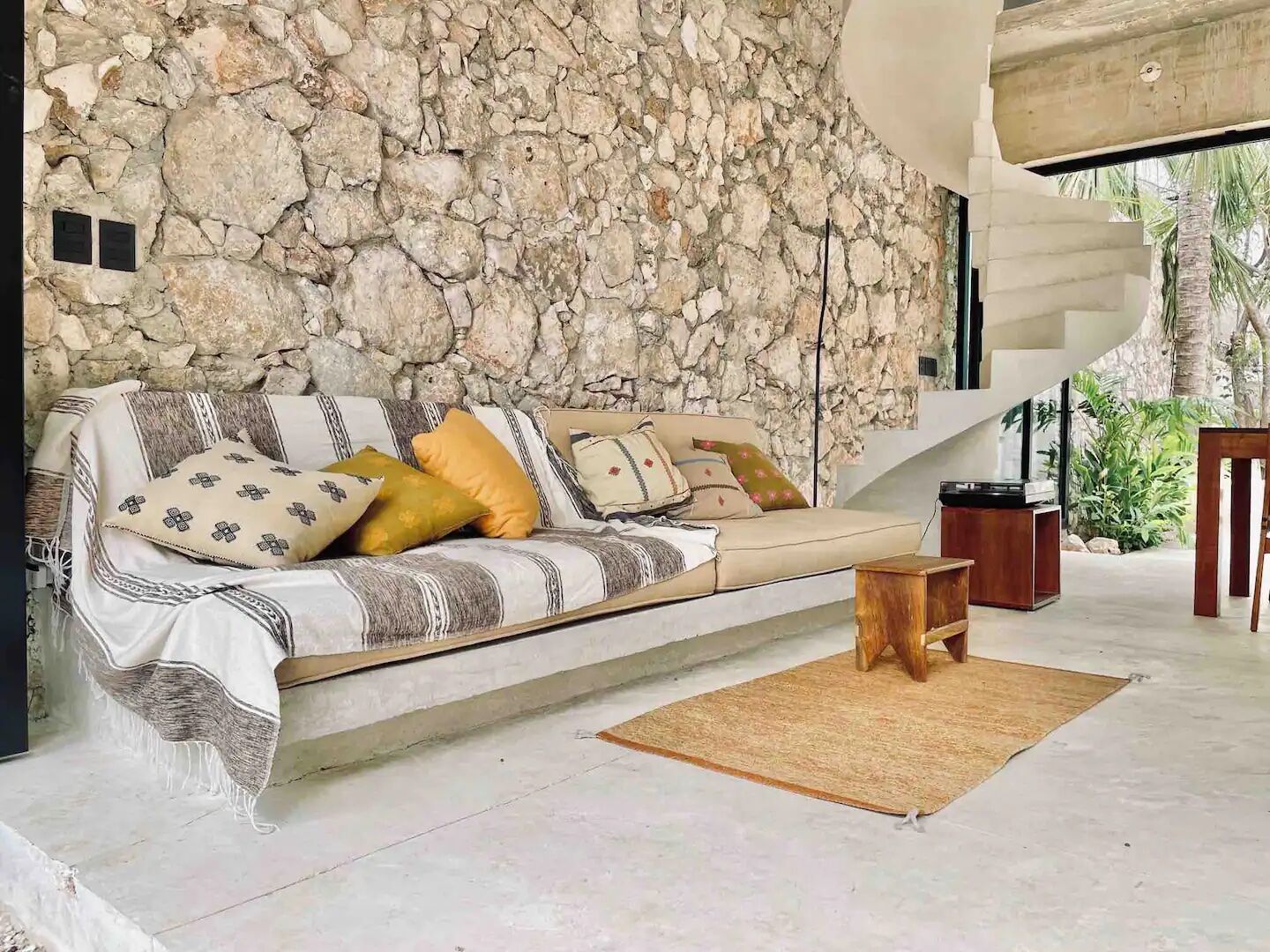 This unique Airbnb in Mérida, Mexico, with a hot tub combines Mayan architecture with contemporary styling. Luxurious touches include the outdoor rain shower and the tub that overlooks the pool. High ceilings, minimalist design, and a roof carved to resemble a cenote add to the sense of space. Pets are welcome at this photogenic escape moments away from Centro.
Four guests, two bedrooms
Price: $230 per night
House of Flowers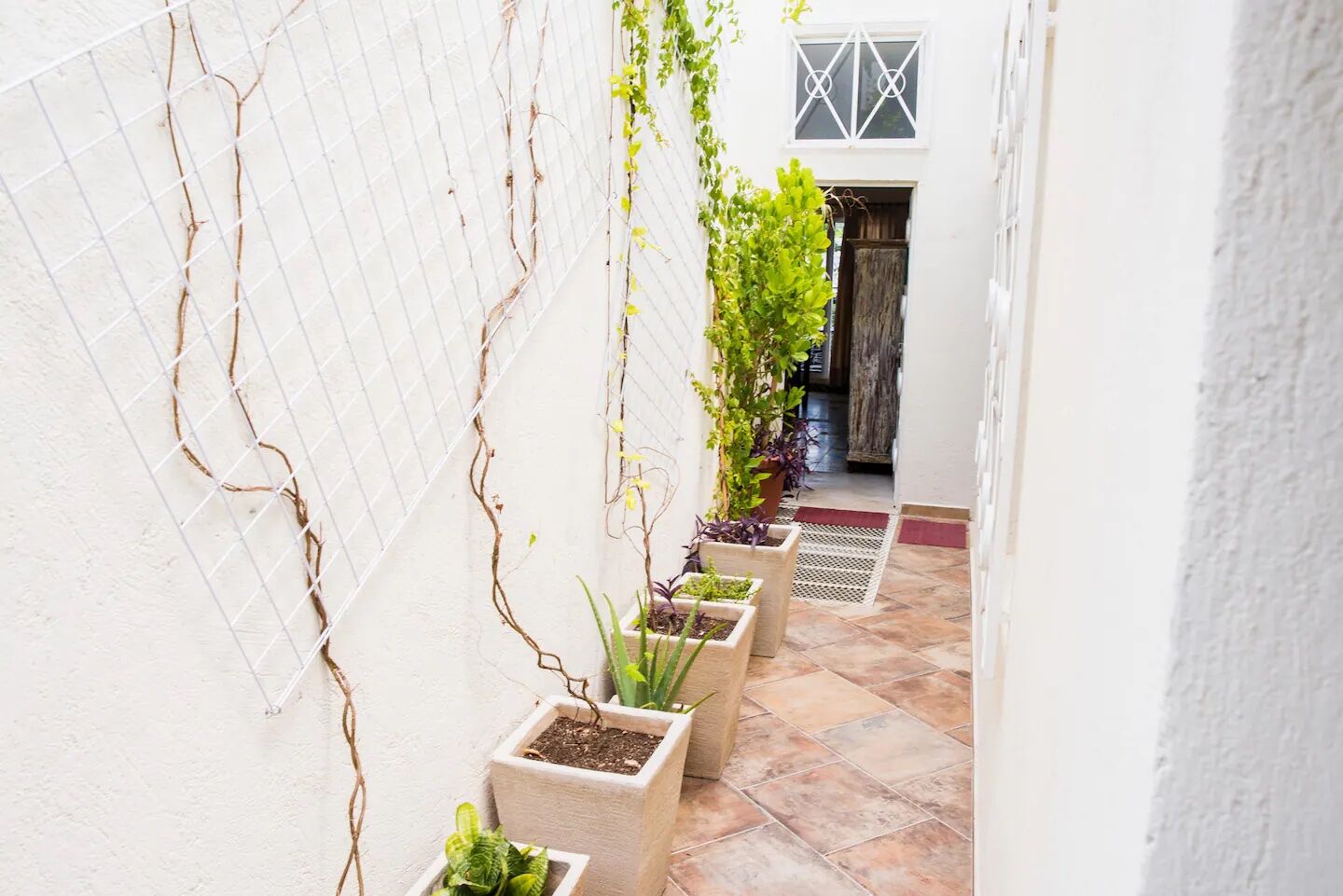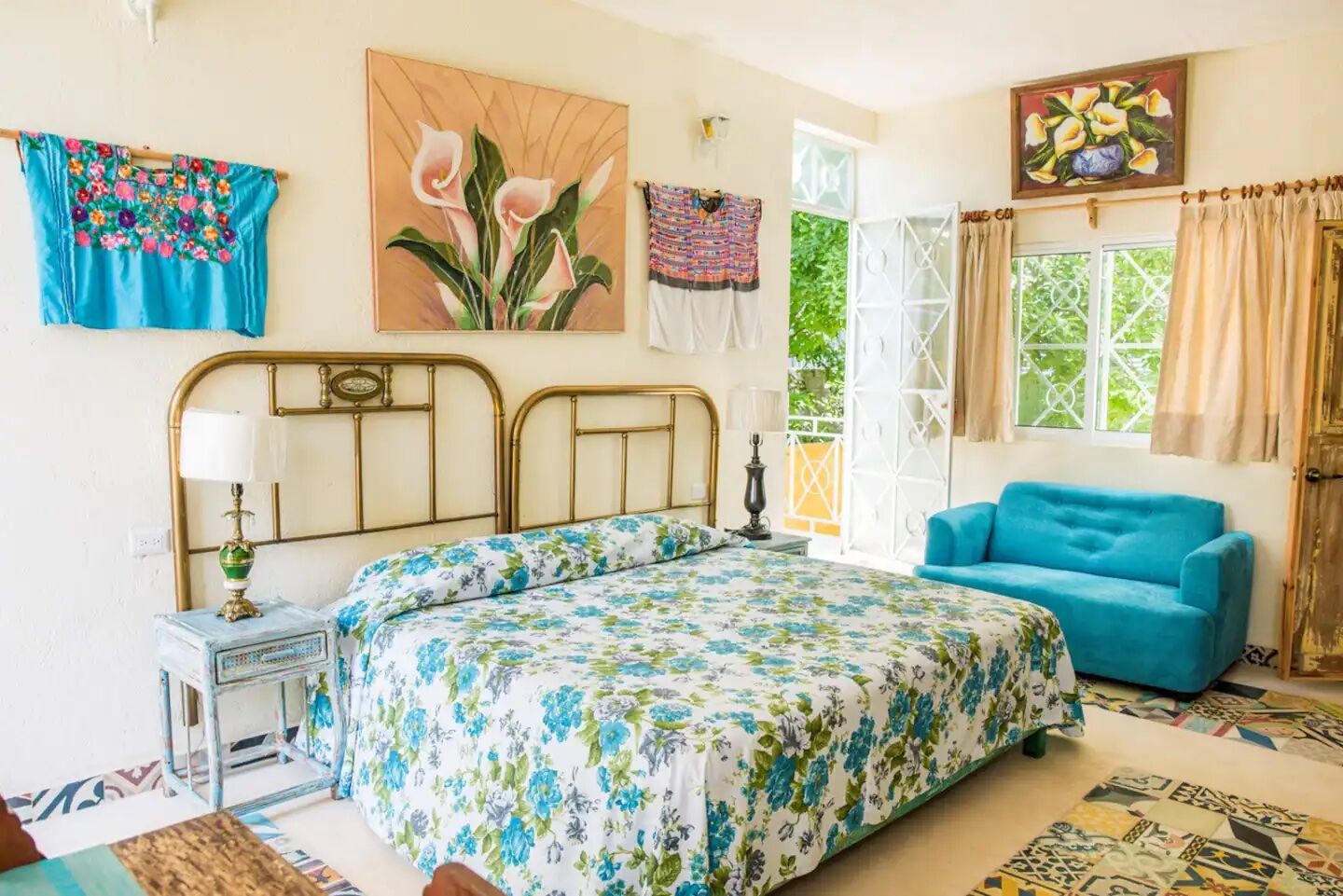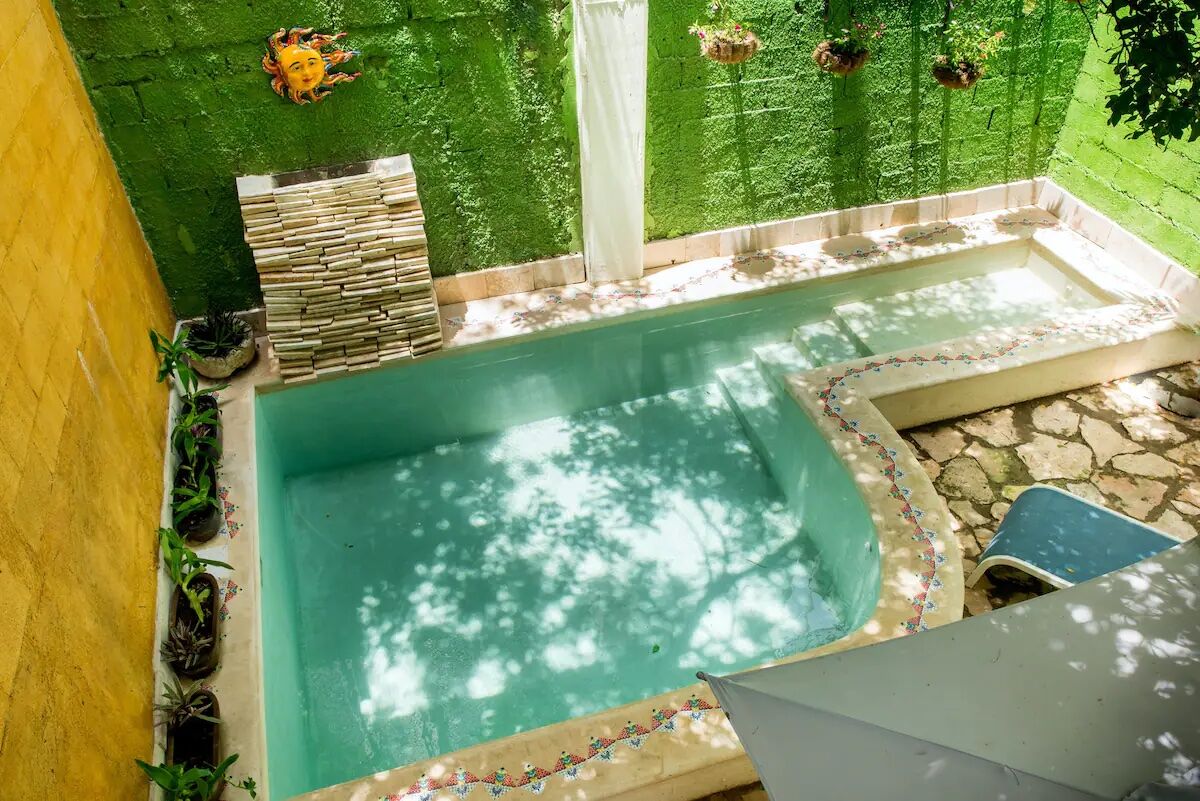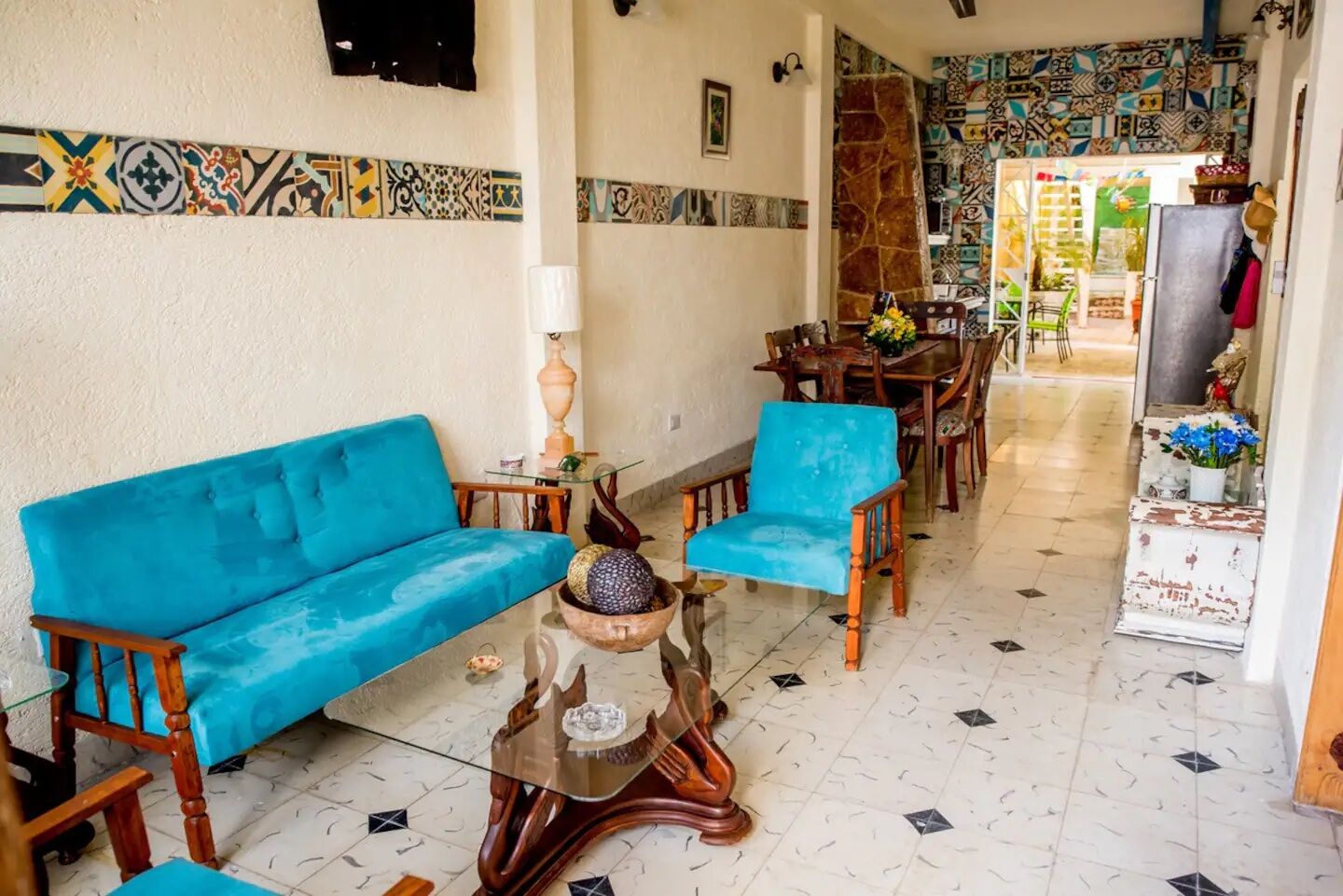 This house sets out to prove that you can never have enough tiles. Floors, walls, the pool area, and the kitchen are meticulously appointed with tiling that evokes the spirit of Latin America. The decor of the seven bedrooms is inspired by flowers that inspired such artists as Diego Rivera, Andy Warhol, and Gustav Klimt. While it's possible to rent the entire property, you also have the option to book a single unit and share the pool and kitchen with other guests.
Fourteen guests, seven bedrooms
Price: $320 per night
Colonial house – piscina privada – four bedrooms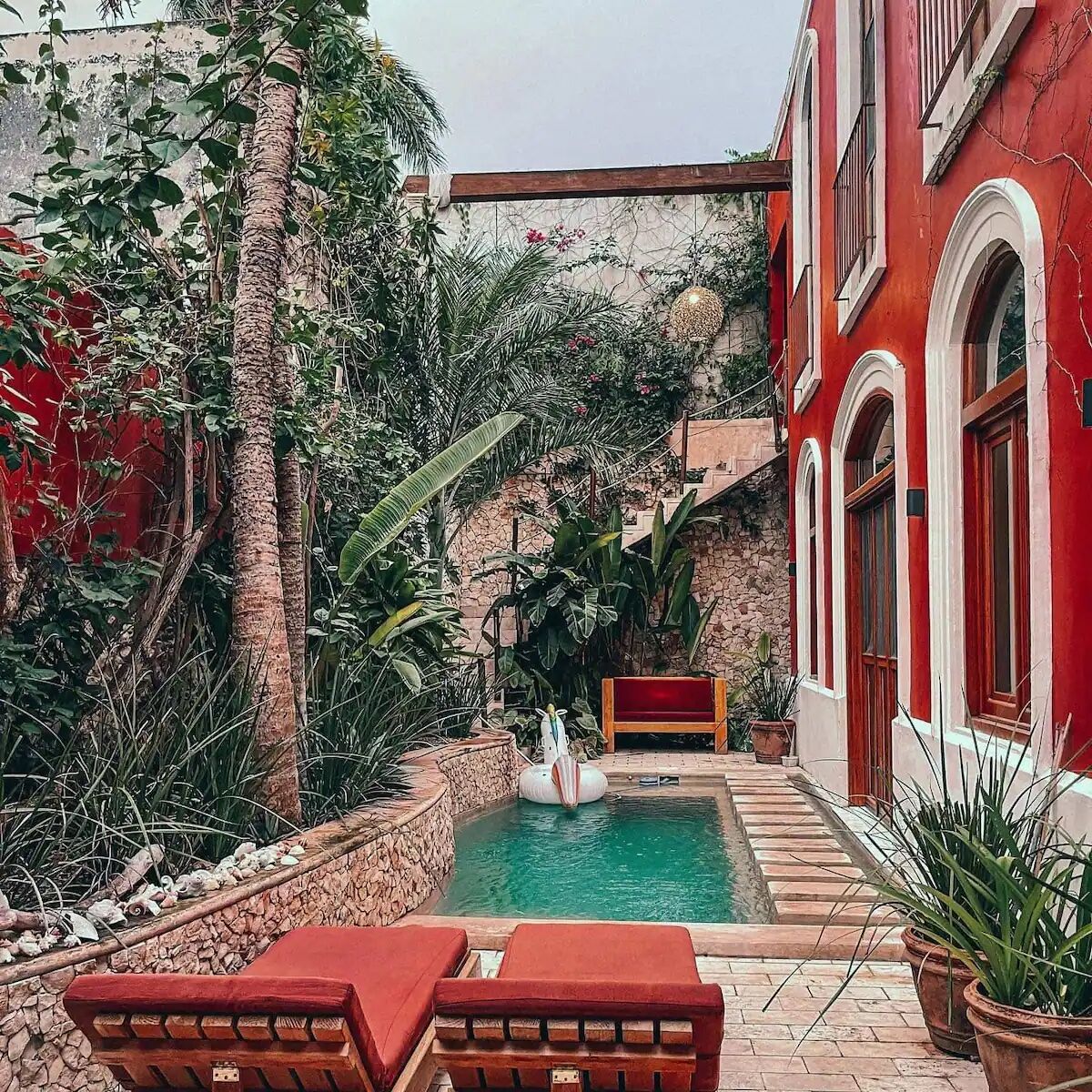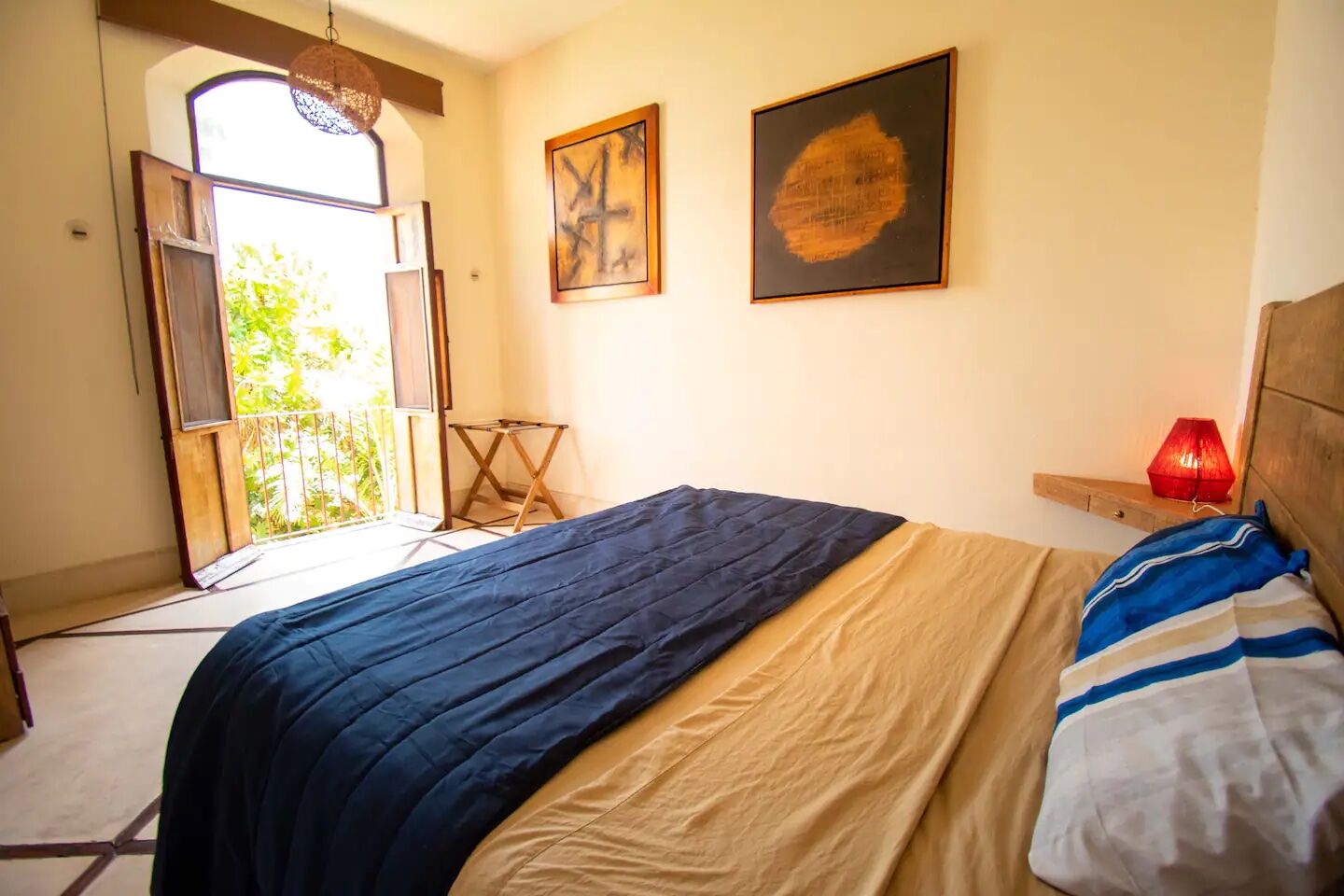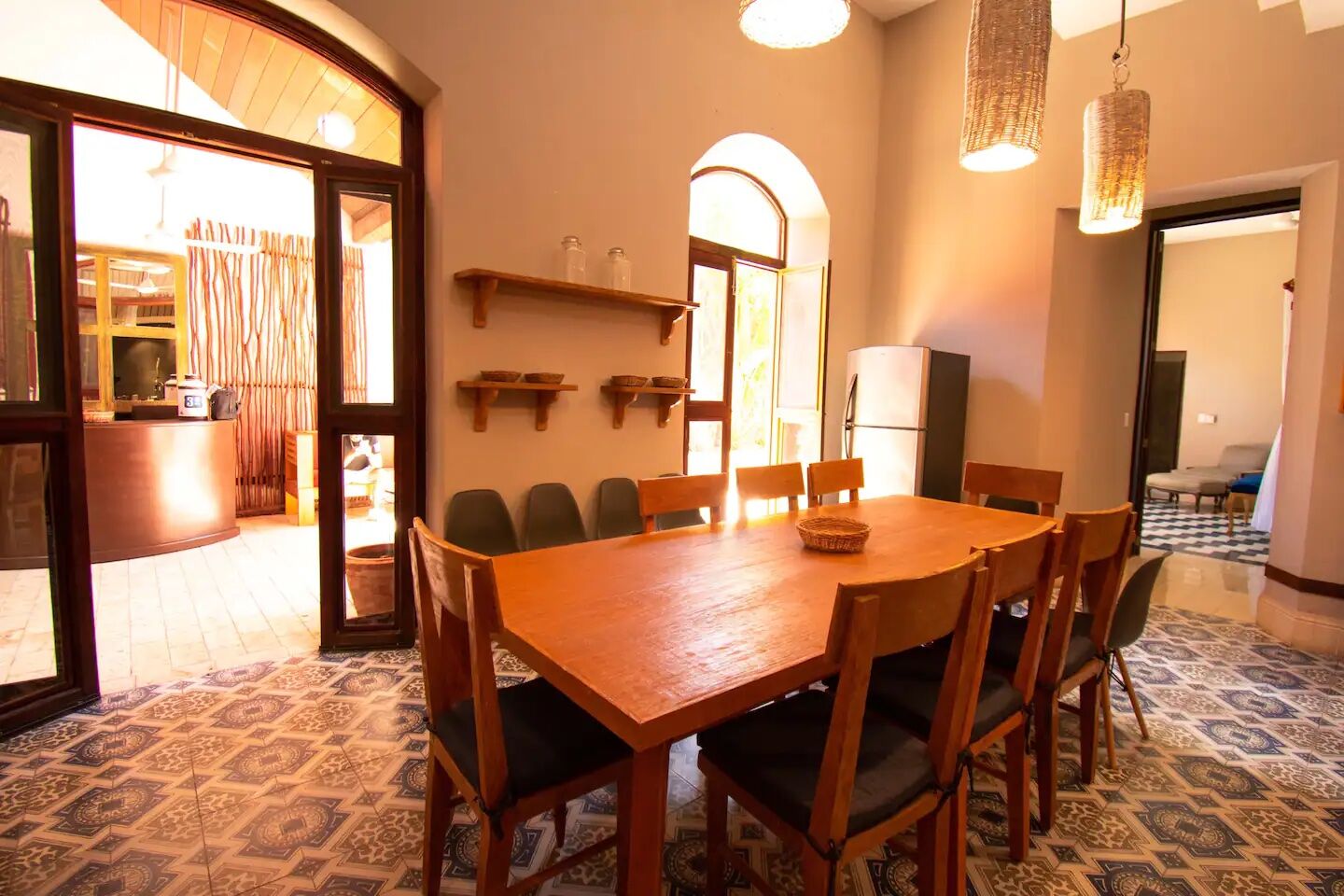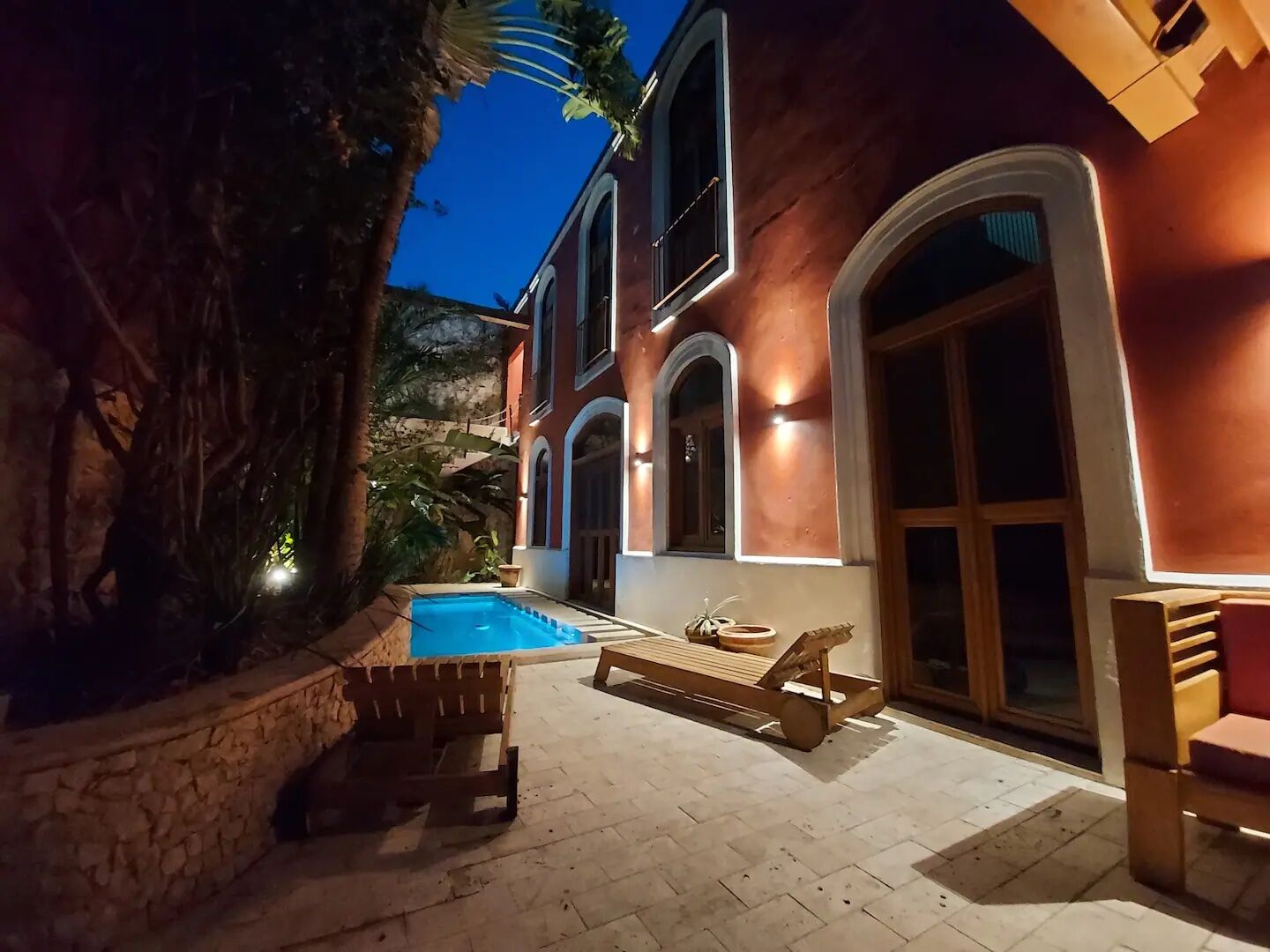 This pet-friendly Airbnb Mérida, Mexico, is perfect for families seeking home comforts and space. There's a fully equipped kitchen with ample dining space and a cozy lounge for evening games or movies. The pool is surrounded by lush foliage and offers complete privacy. Shops, restaurants, and bars are minutes away meaning that you can get around easily on foot.
Thirteen guests, four bedrooms
Price: $275 per night
Airbnbs in Mérida, Mexico, for long stays and remote workers
Casa Dos Ceibas – upgraded Wi-Fi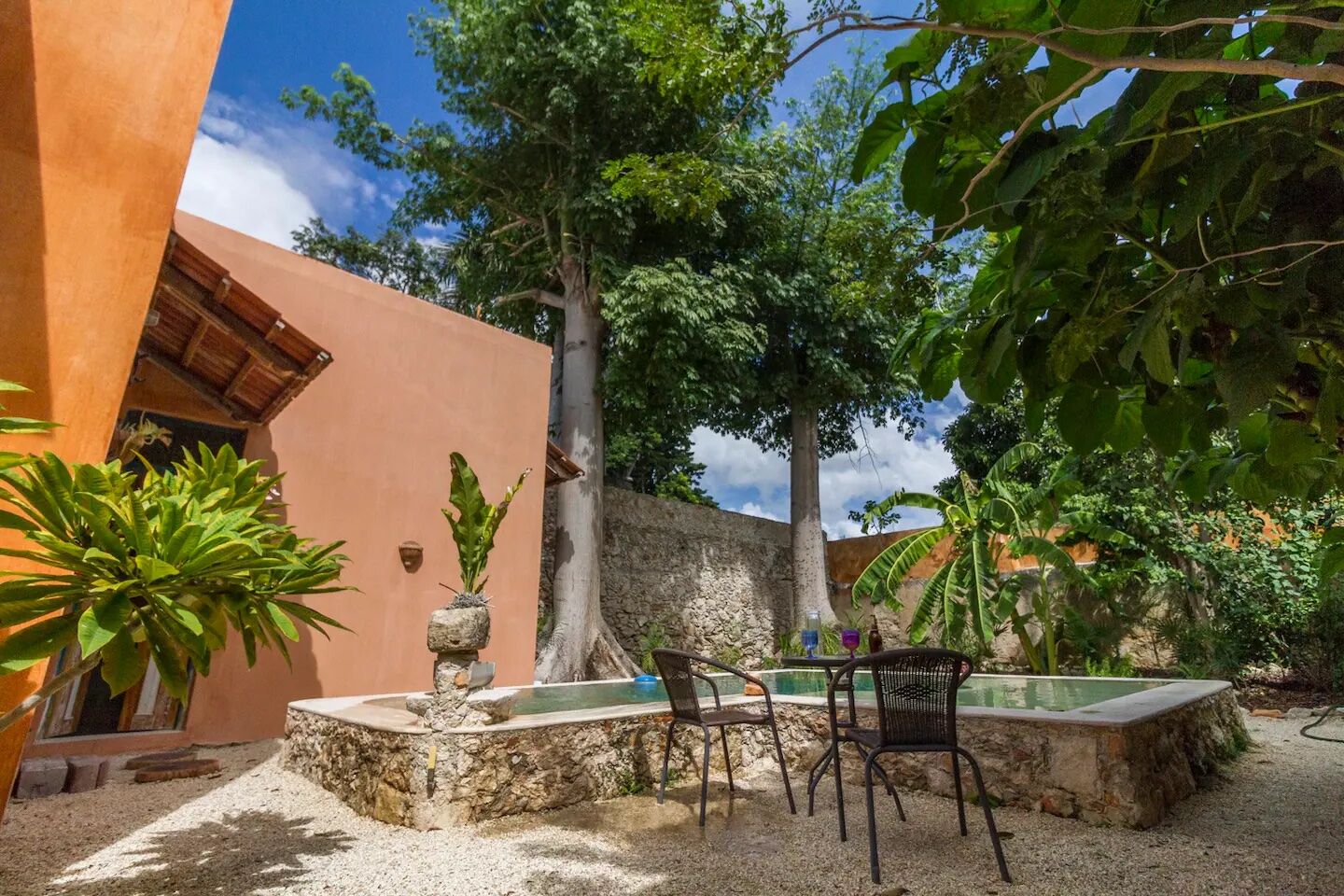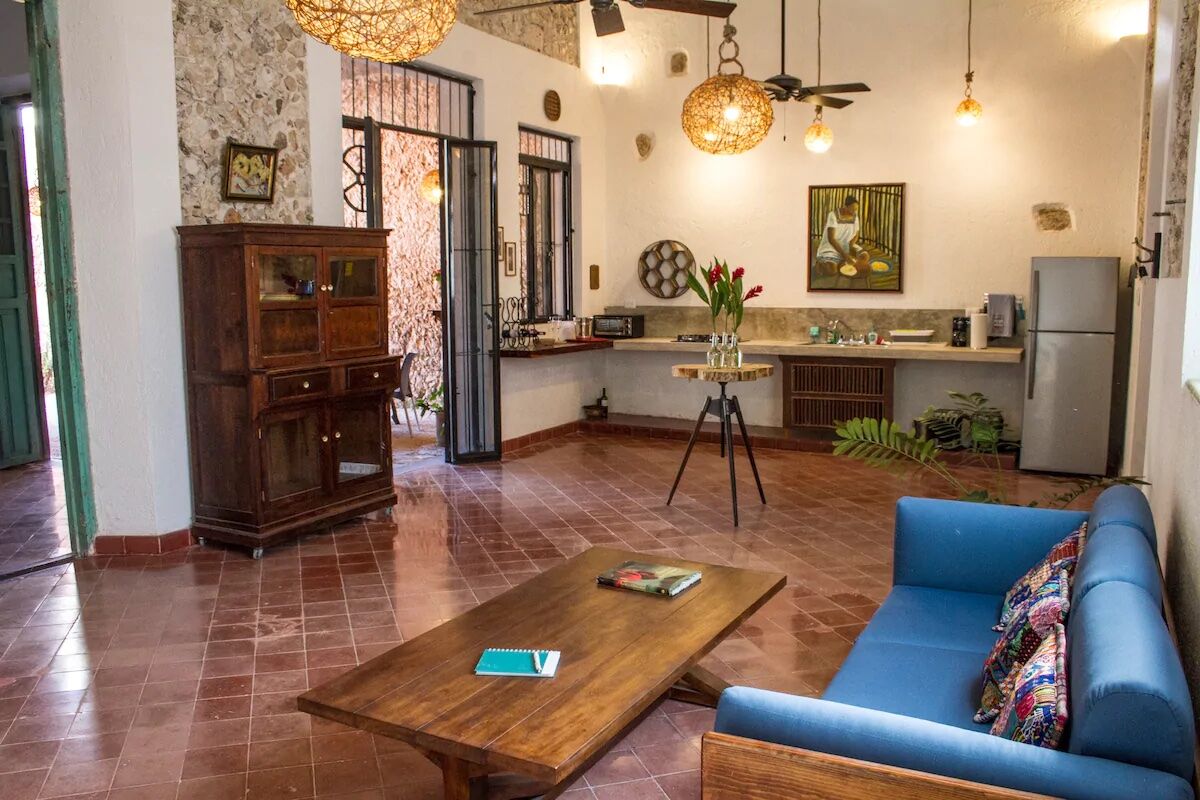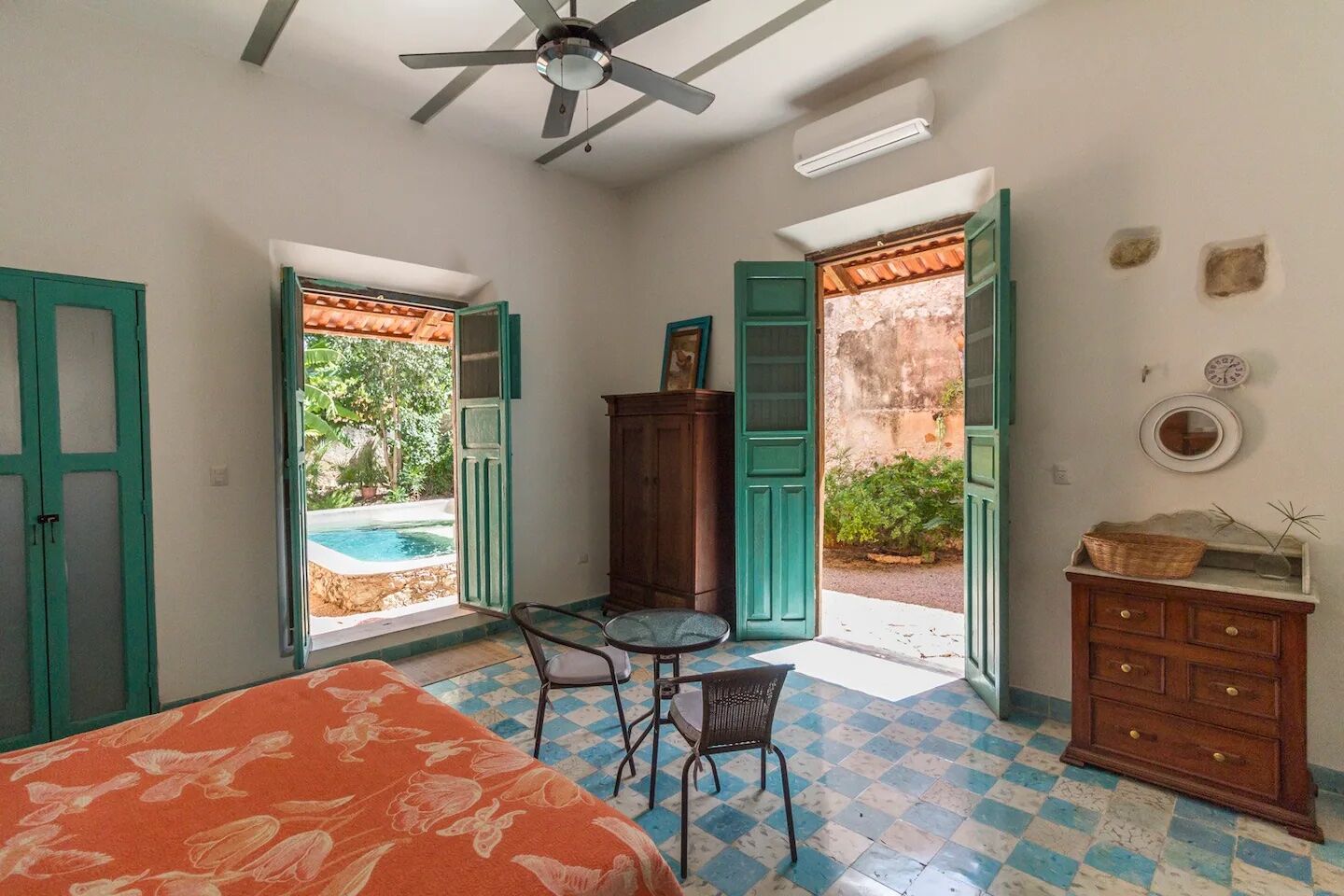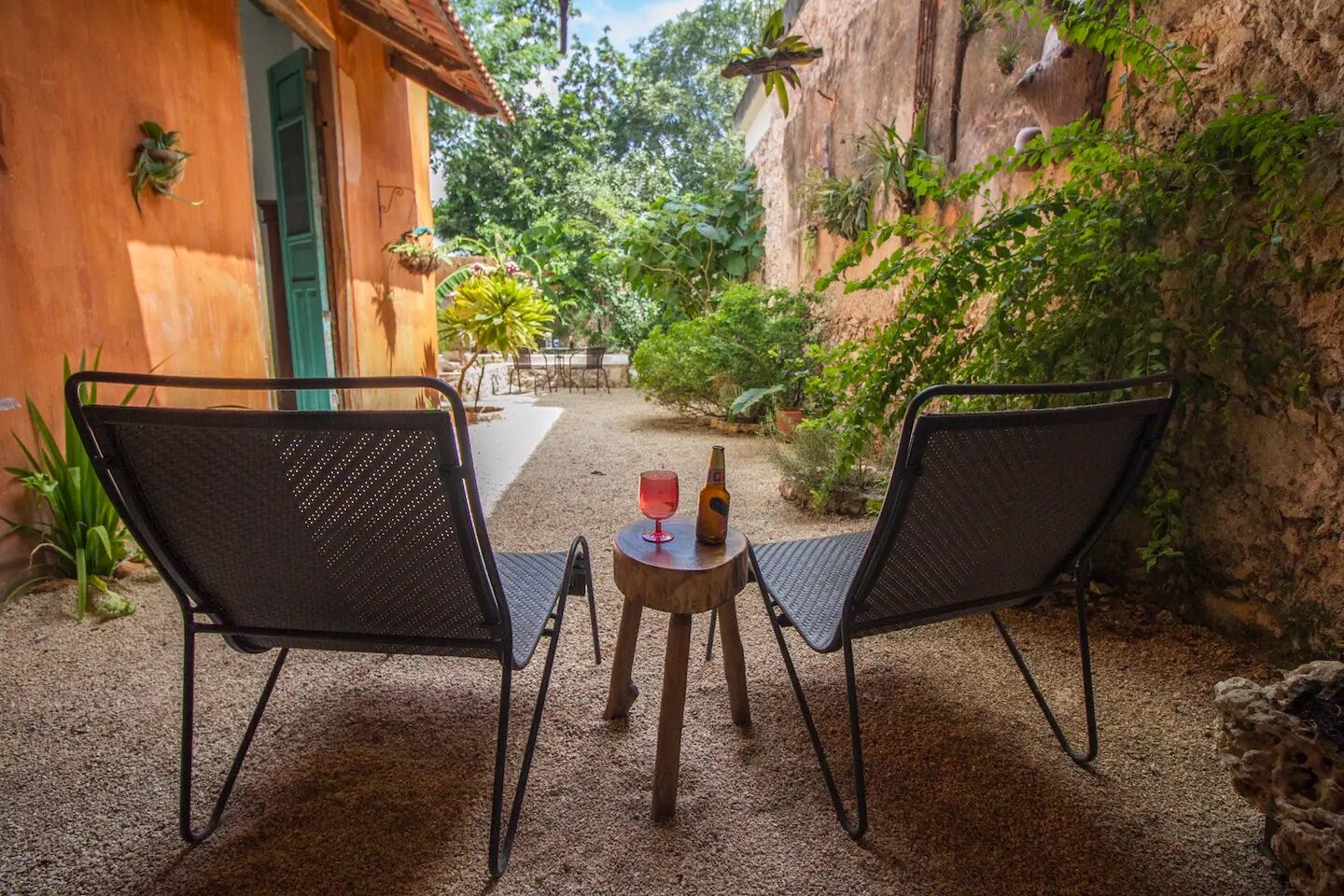 Kooky, bright, and homely – this Mérida, Mexico, Airbnb with a private pool is ideal for couples, solo travelers, or remote workers looking to linger in town. The casita opens to a sunkissed courtyard and pool with soothing water features. Inside, you can sway in the hammock or crack on with work at the desk using the superfast Wi-Fi.
Two guests, one bedroom
Price: $105 per night
Maison Azul – Historic Garden Paradise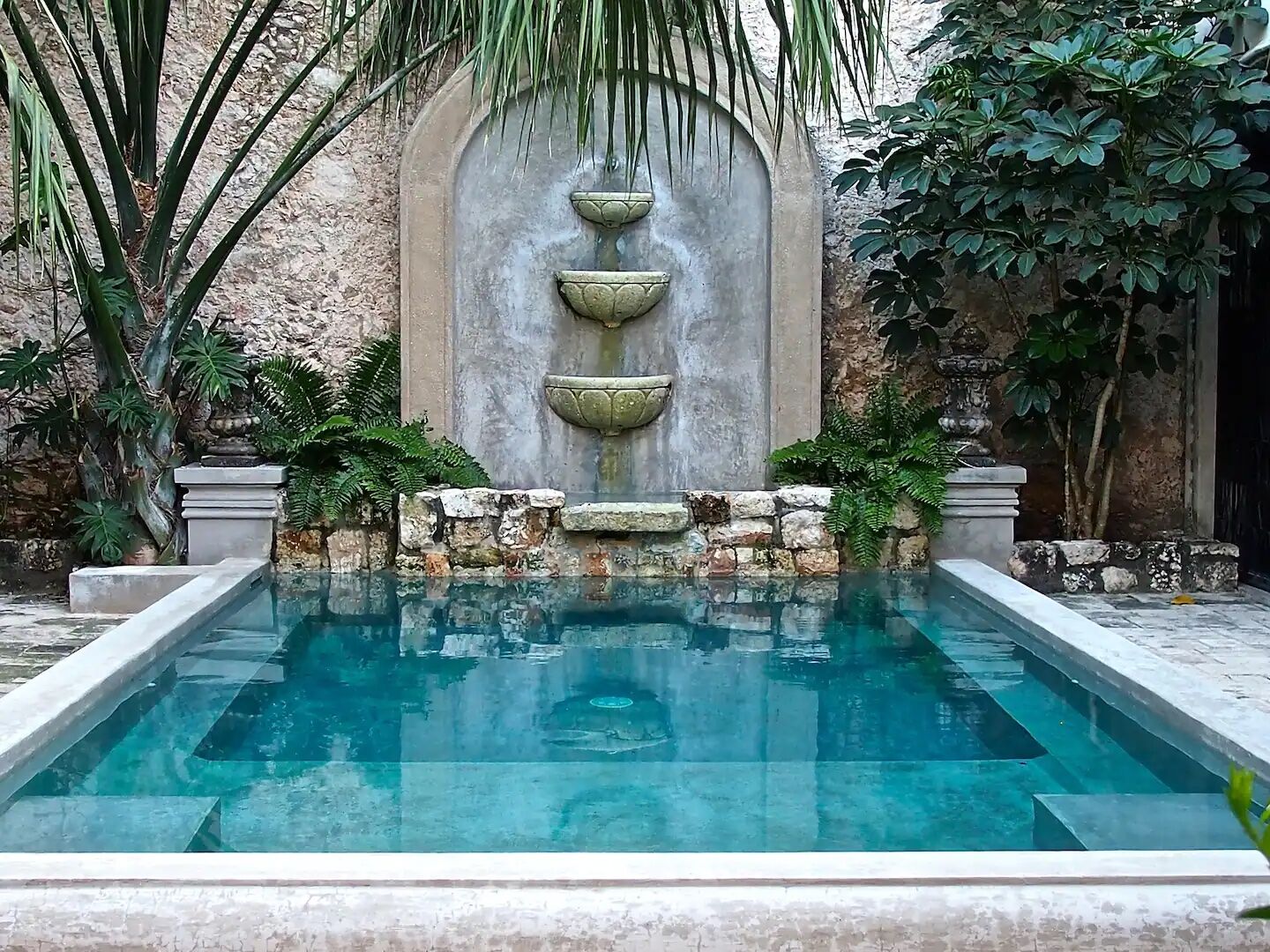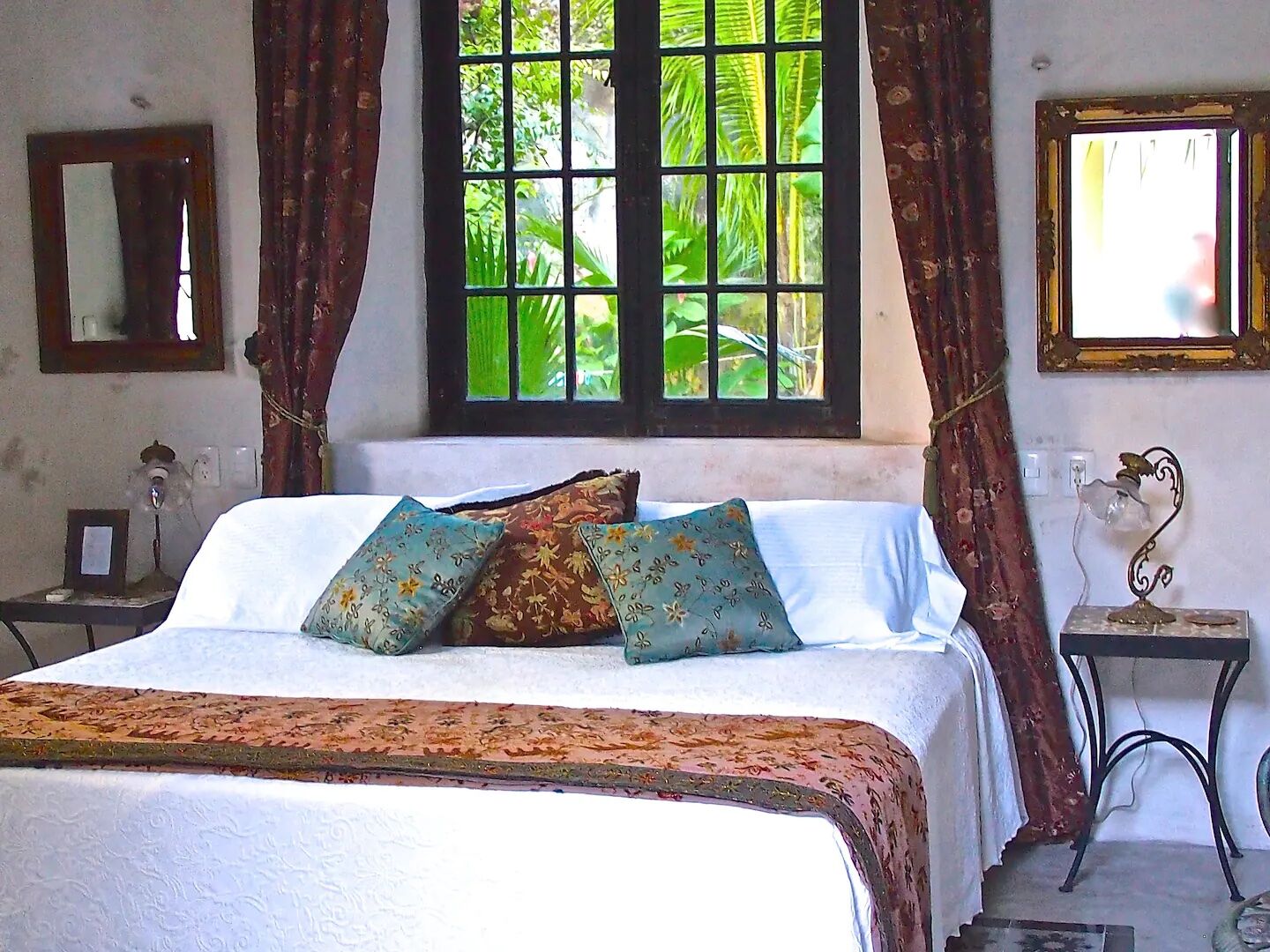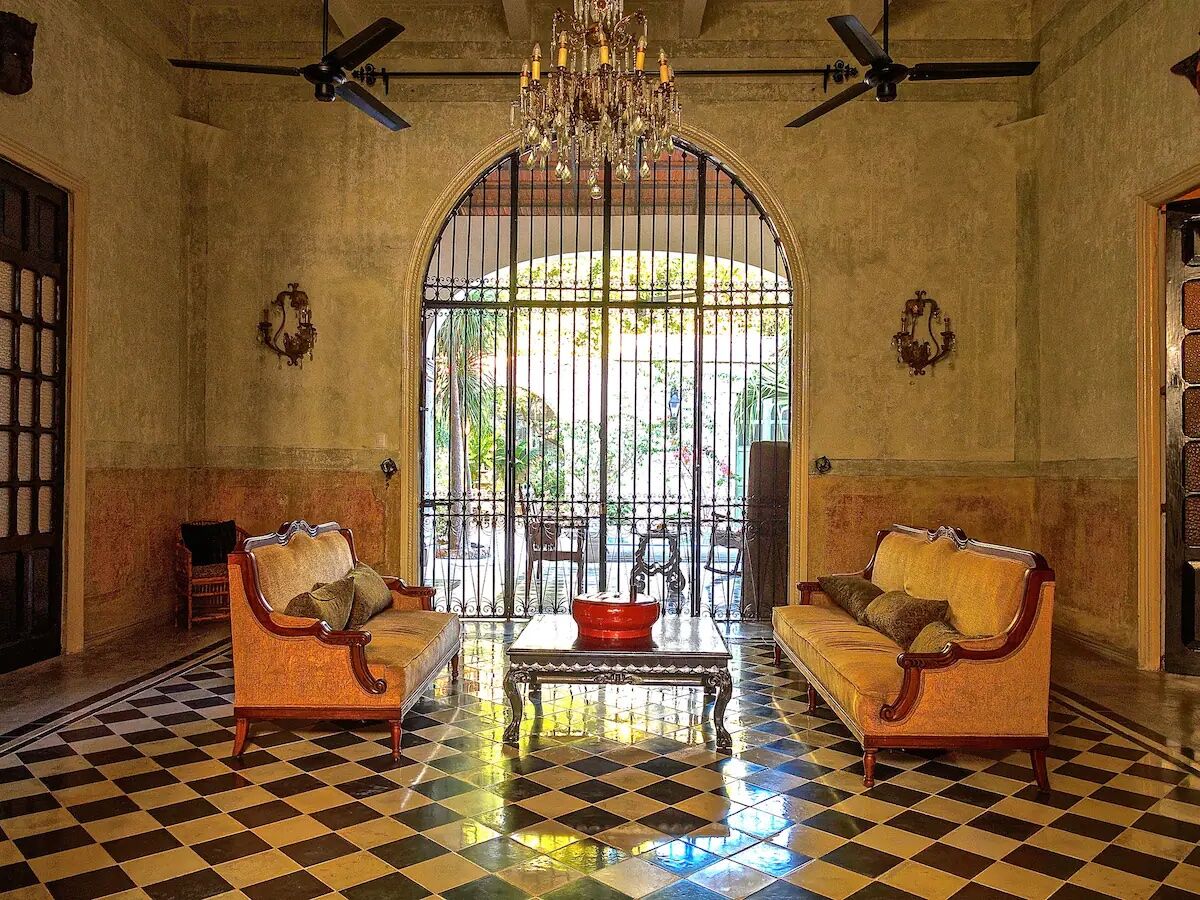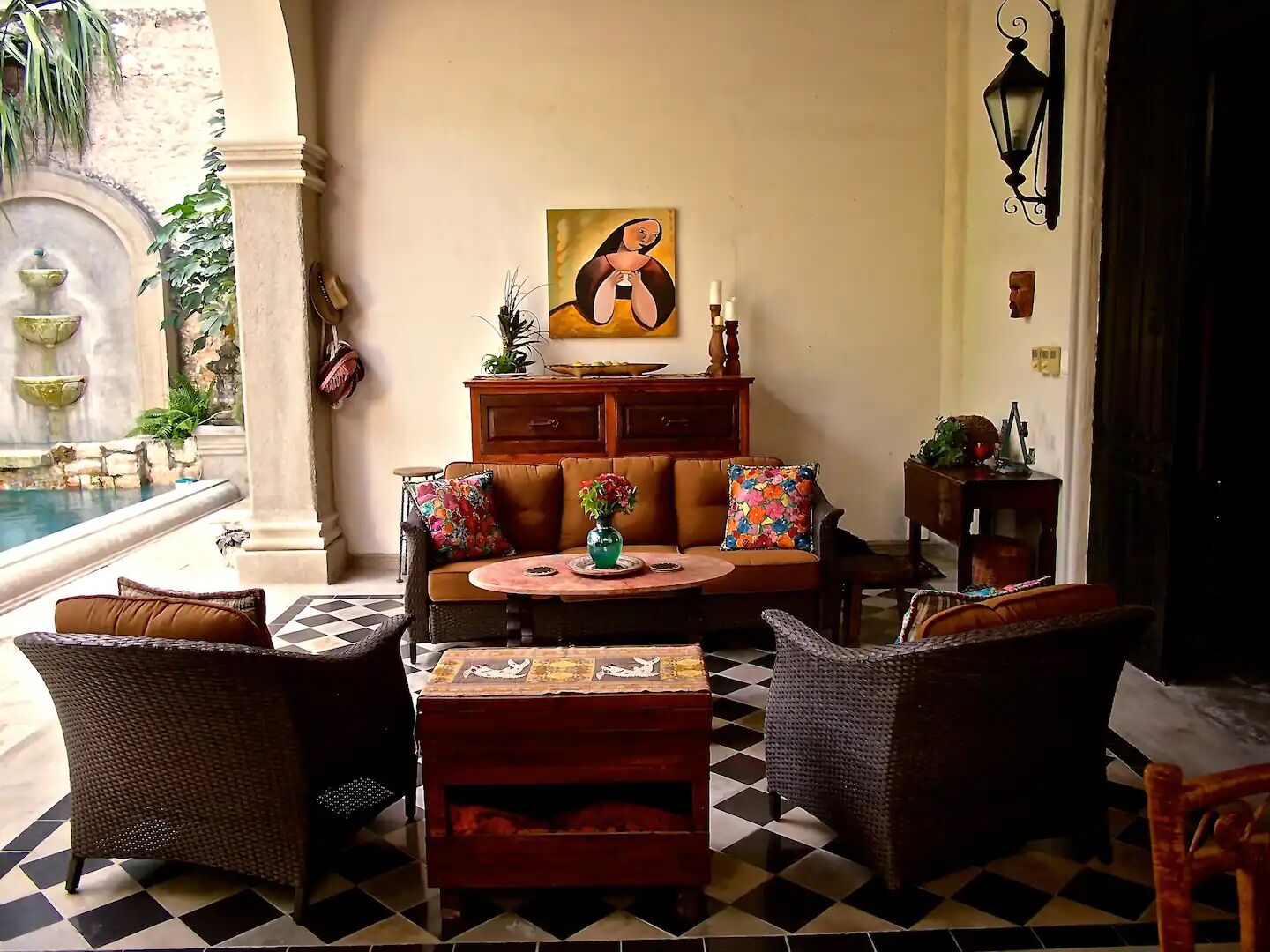 Wrapped around a Venetian-style pool, this 100-year-old home overflows with charm and personality through vintage furnishings. There is a spa room on the premises where you can rejuvenate with an at-home massage. The host provides breakfast staples that you can prep and eat at the poolside under the shade of the tropical trees and plants. Stay alert for Merlin – the garden's resident owl.
Eight guests, four bedrooms
Price: $375 per night
What did you think of this story?