10 Cheap Hotels in Orlando, FL for a Budget Family Vacation
Family vacations to Orlando, Florida can easily get expensive. Between passes to Universal Studios and Disney World, meals every night and snacks and treats at the parks themselves – not to mention souvenirs, especially if you're there with young kids – all adds up. It's no surprise that there are plenty of families who come to Orlando on a budget, and one great place to save some cash is on your hotel. If you're going to be spending most of your time at Disney parks anyway, you might not need a fancy room to stay in. Think of it as a safe, clean place to sleep and nothing else. There are cheap hotels in Orlando that accommodate people who would rather spend their money on treating themselves and their families a fun vacation in other ways. And besides, almost all of these cheap hotels in Orlando have a shared pool, for those days when you just need a break from the parks.
Of course, there are Disney World Airbnbs, and Airbnbs near Universal Studios, but there's no need to shell out the extra money to stay nearby – especially if you have access to a car. These cheap hotels in Orlando are actually nearby most of the parks, anyway. So next time you're looking to book a trip to Orlando – whether it's for business or fun – make sure you check out these cheap hotels in Orlando.
We hope you love the spaces and stays we recommend! Just so you know, Matador may collect a small commission from the links on this page if you decide to book a stay. Listed prices are accurate as of the time of publication.
Days Inn Downtown Orlando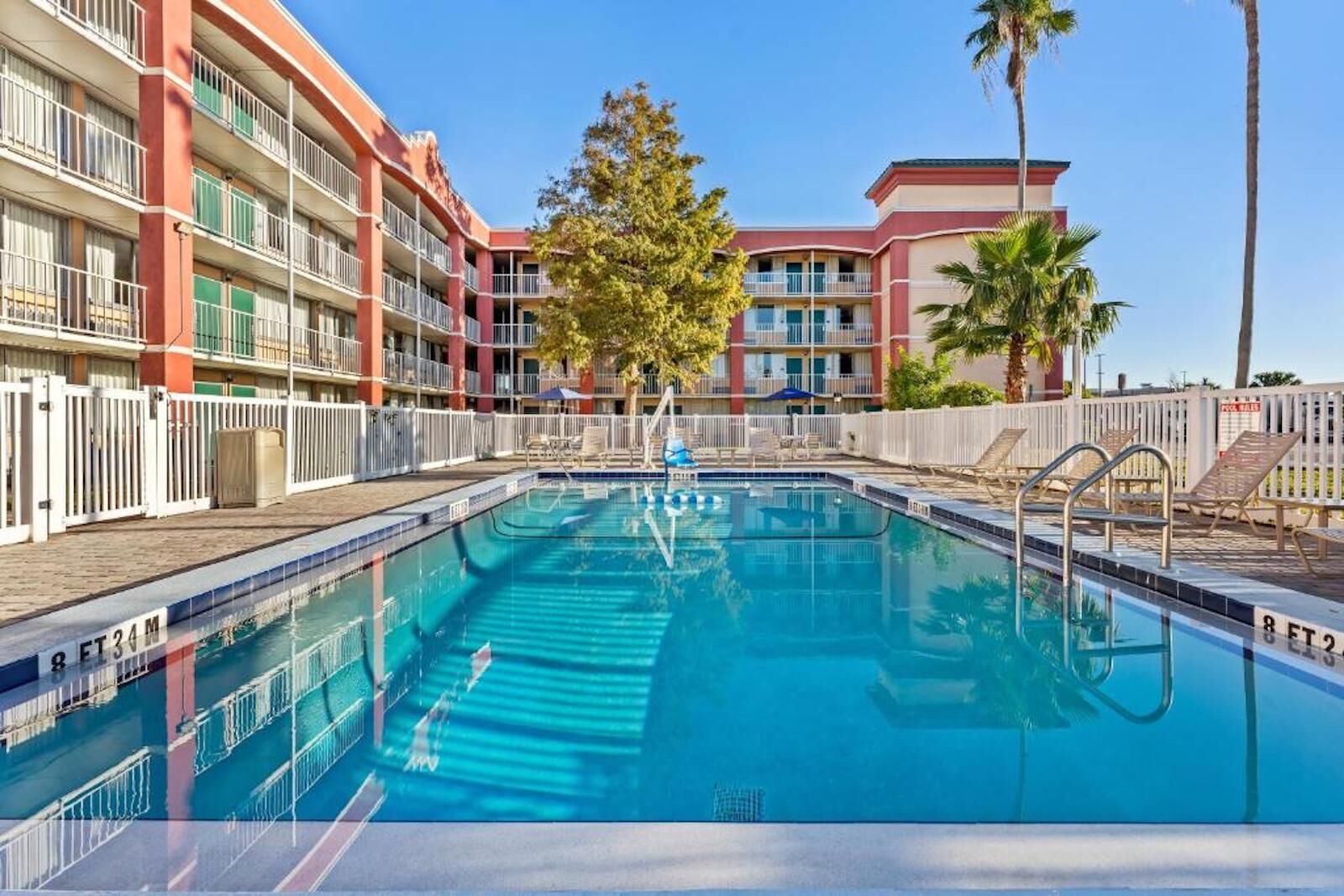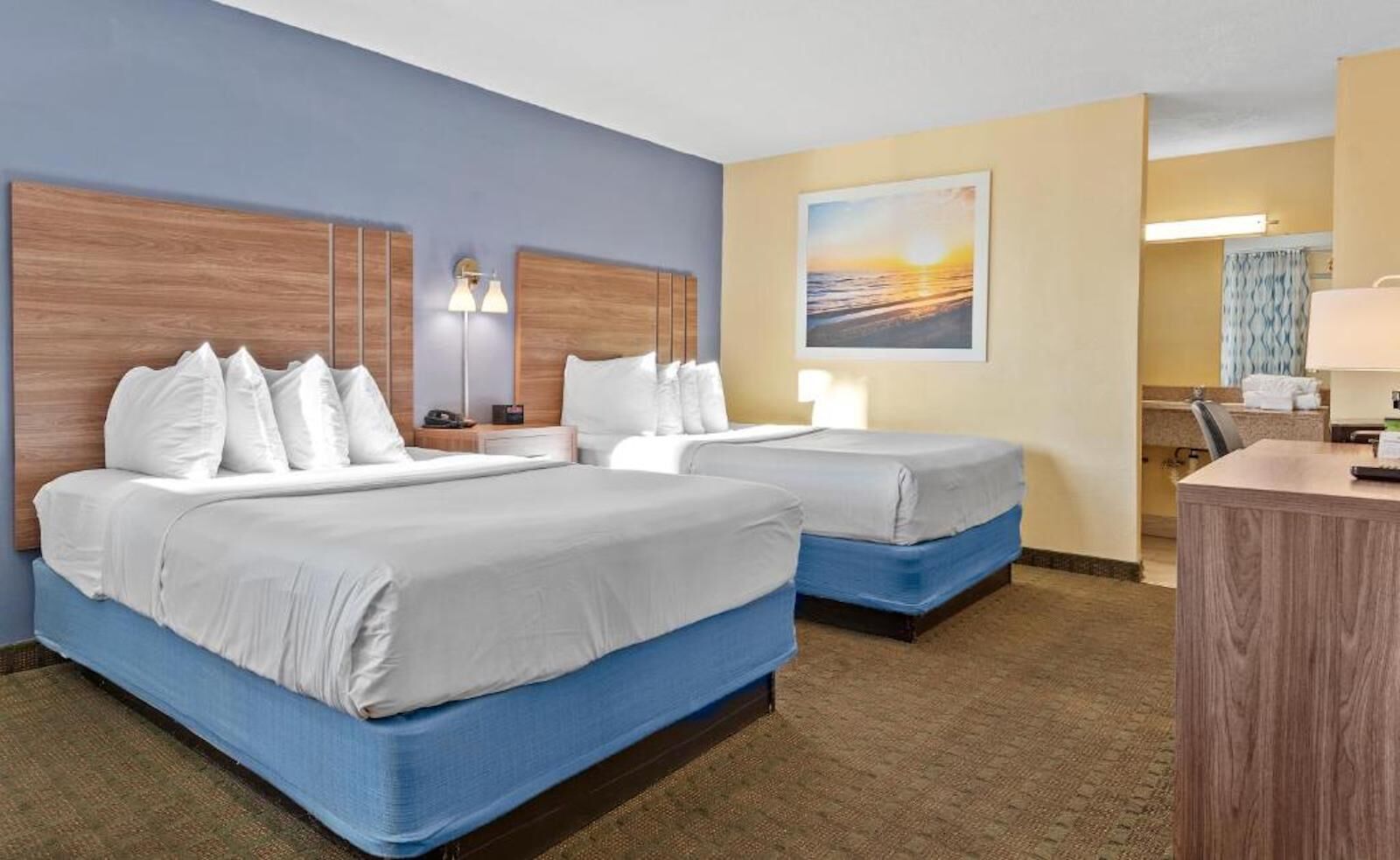 See more photos
Just a six minute drive from Universal Orlando Resort, this hotel features a large outdoor pool. The comfortable, carpeted rooms come equipped with a coffee machine and a private bathroom with a hair dryer. Make sure you rent a car because Disney World is a 15 minute drive from the hotel.
Price: From $193 per night
Book Now
Garnet Inn & Suites, Orlando
See more photos
Families will love the huge outdoor pool and umbrellas on the pool deck on this hotel. Air conditioned rooms are equipped with a writing desk and toiletries in the bathroom. Some rooms also come with a terrace and view of the pool. On the property, guests will find a shared lounge and fitness center. Before heading out for the day, before sure to enjoy the complimentary continental breakfast. Seaworld is a little more than five miles away.
Price: From $180 per night
Book Now
Floridian Express International Drive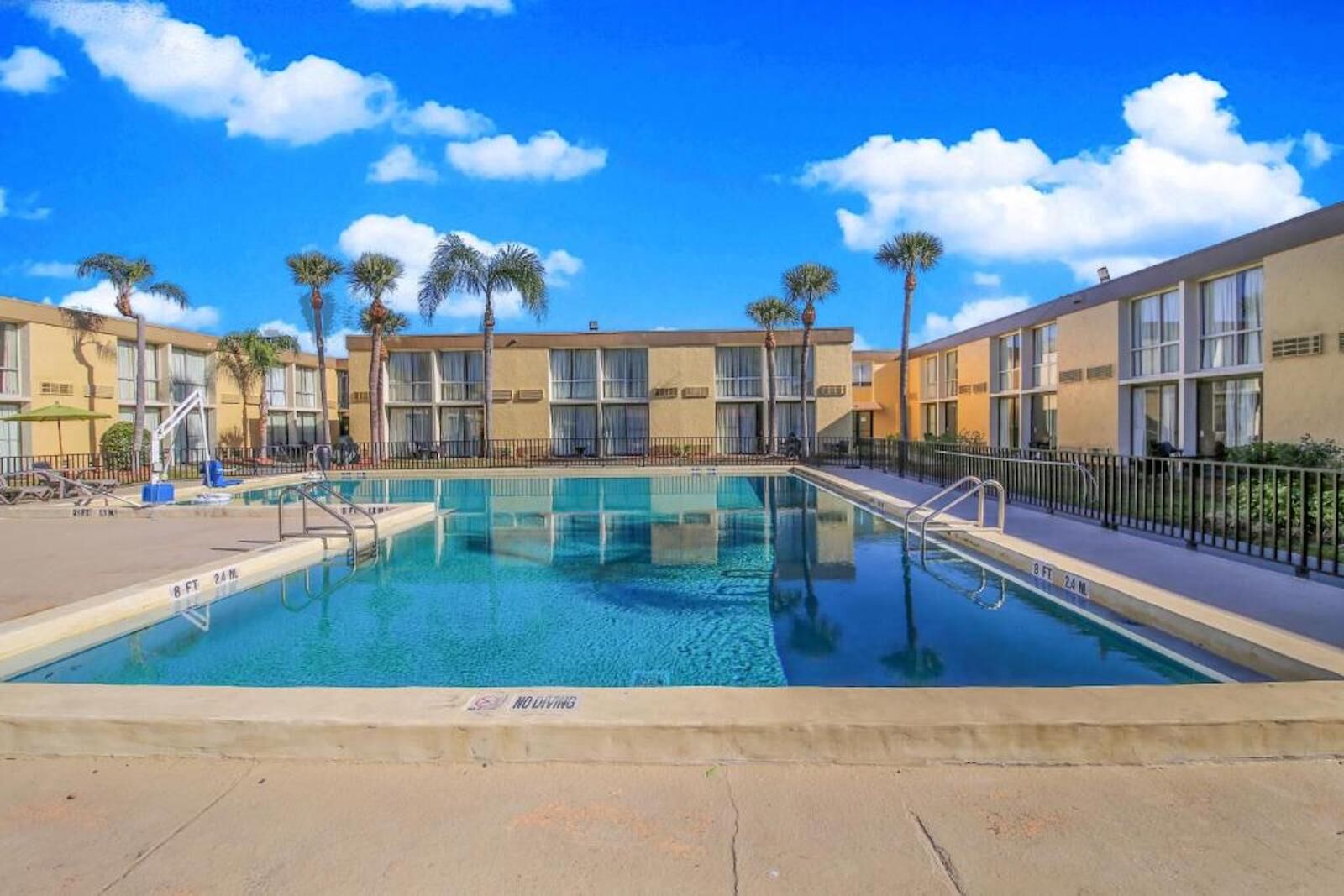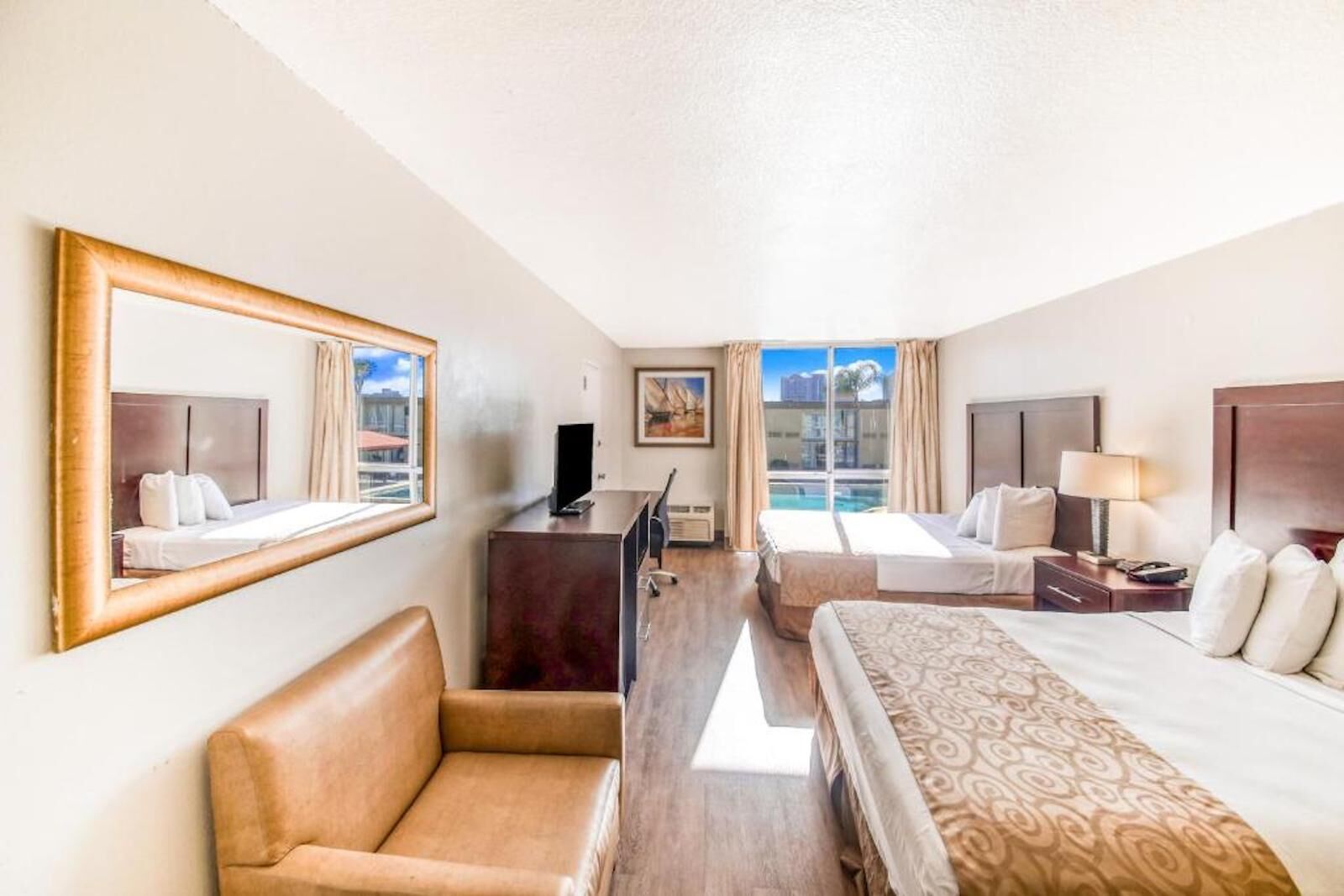 See more photos
Within just a few miles of the Orlando Premium Outlets and the Hard Rock Cafe, this International Drive hotel is also a short trolley ride from Universal Studios. There's a concierge in the hotel that helps guests plan activities and buy tickets to parks and other attractions. Rooms have televisions and clean bedding.
Price: From $180 per night
Book Now
Monumental Movieland Hotel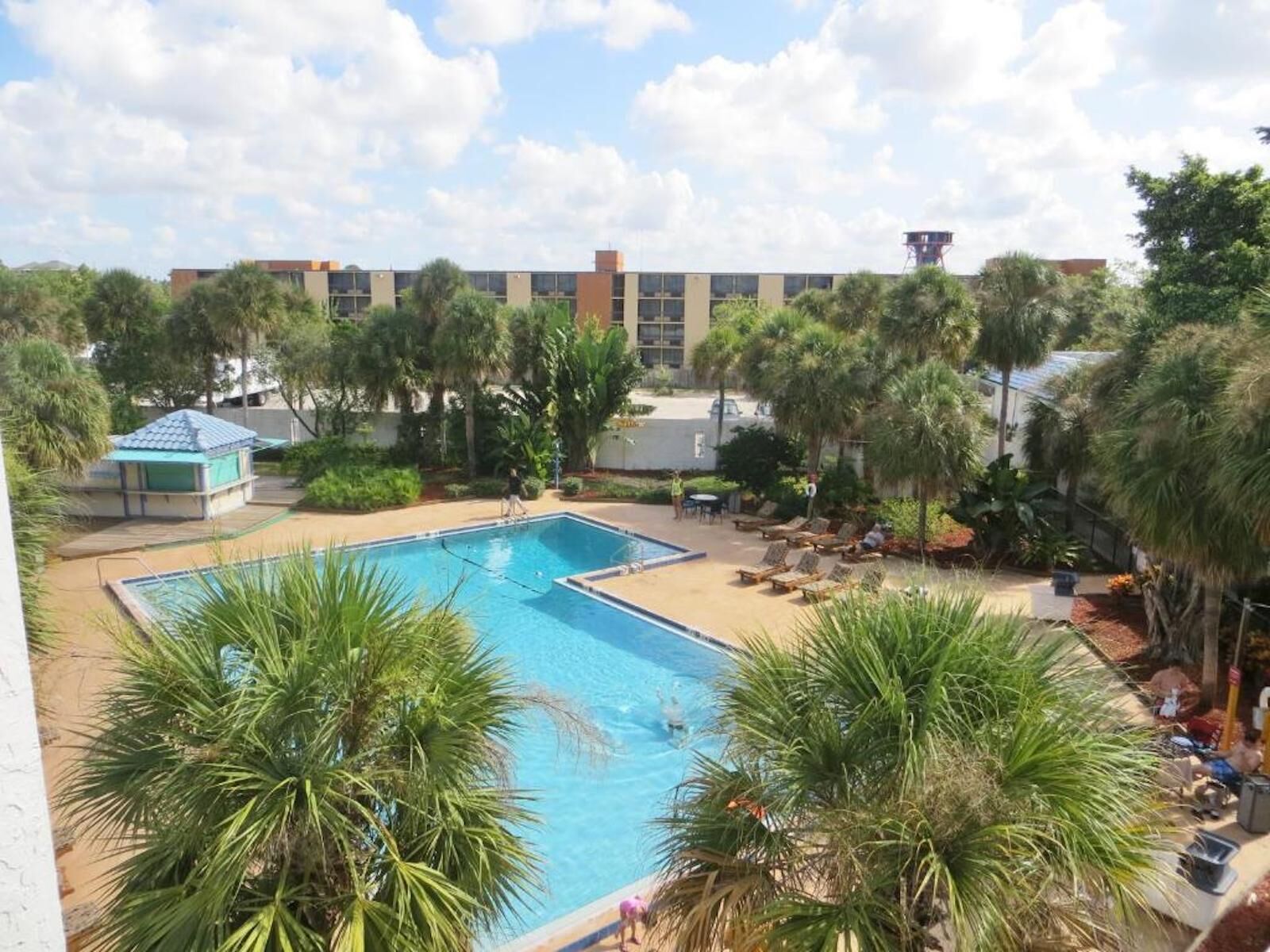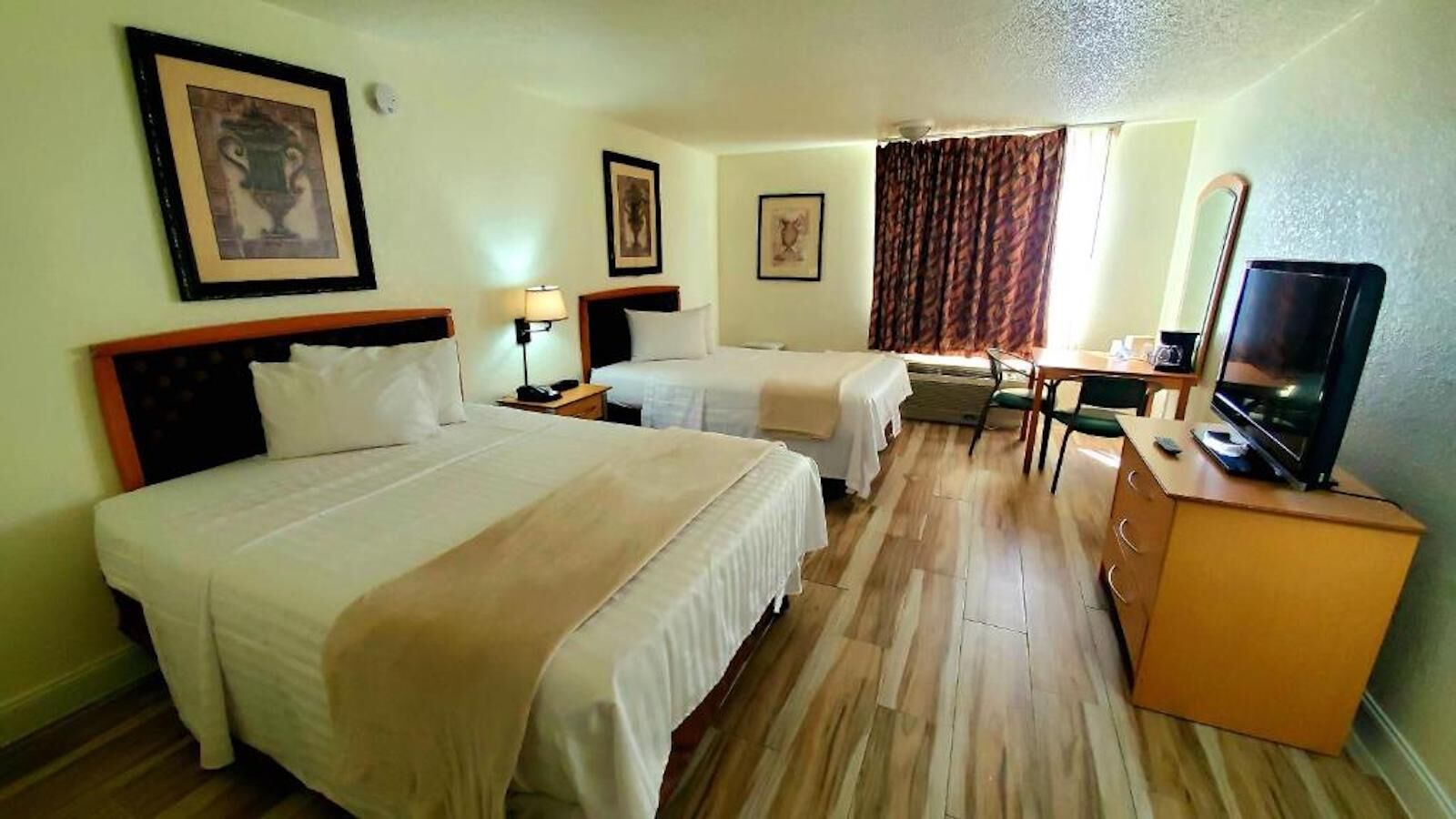 See more photos
This International Drive hotel is only a little more than 2 miles from Universal Studios, and a trolley that will take you there stops right outside the hotel. The rooms are simple, but include private bathrooms and televisions. There's also an arcade and a heated pool on the property.
Price: From $178 per night
Book Now
HomeTowne Studios by Red Roof Orlando South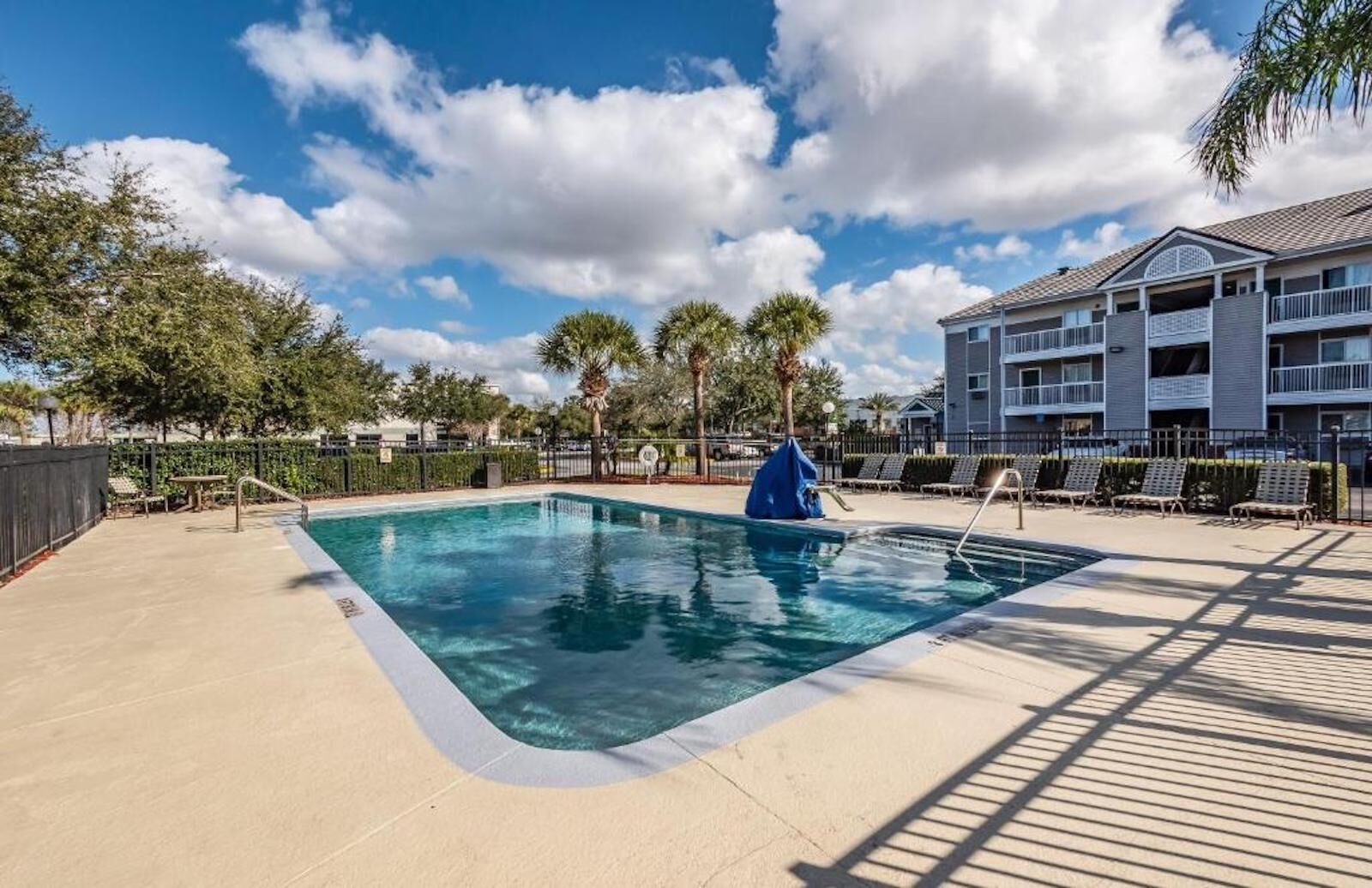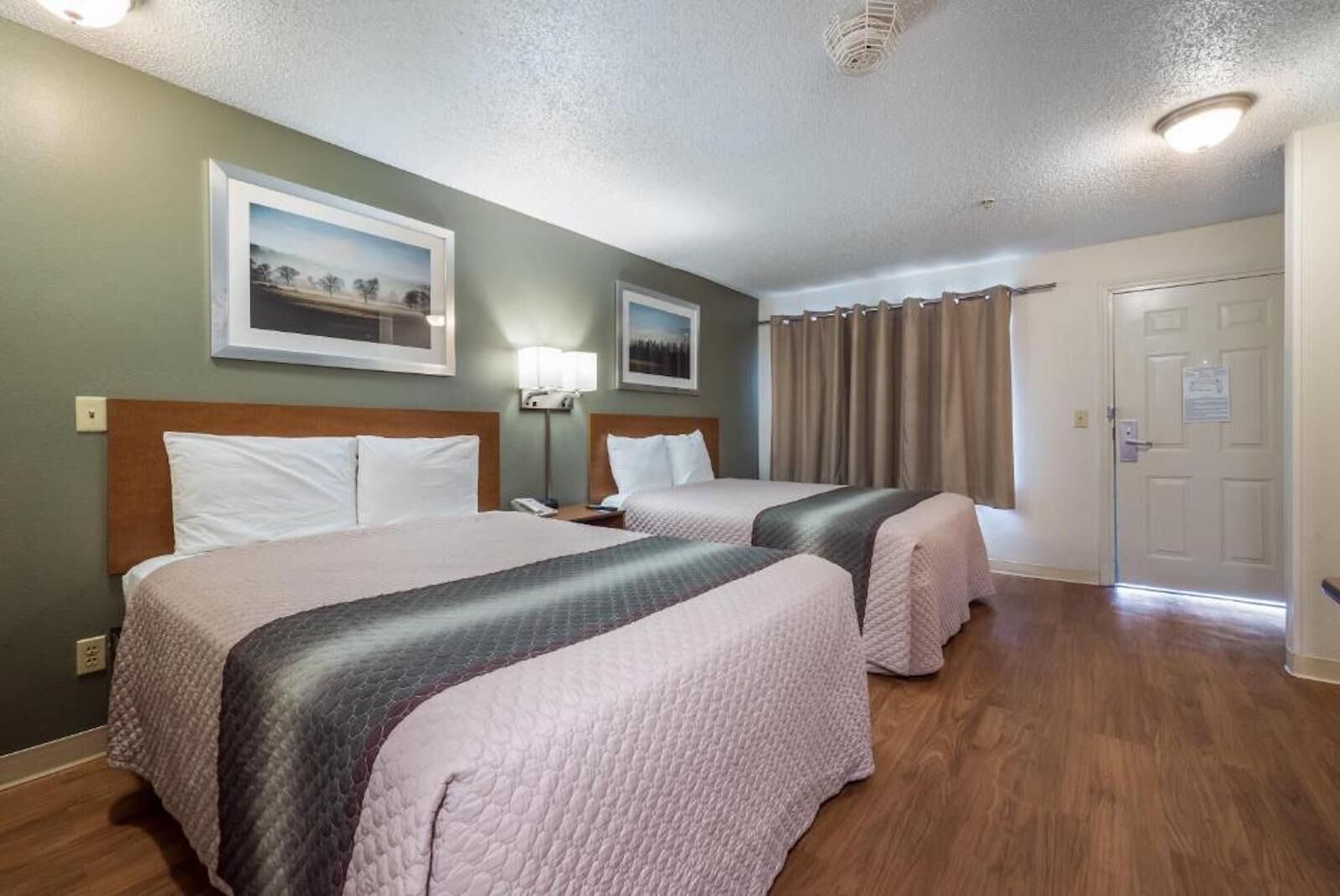 See more photos
Located five miles from SeaWorld, this hotel features rooms with full kitchens. There is a full size refrigerator (which might appeal to people who like to grocery shop and cook their own meals while on vacation) and cable television. There's also on site laundry facilities and an outdoor pool. This hotel is recommended not just for family vacations but for those traveling to Orlando for an extended business trip.
Price: From $176 per night
Book Now
Knights Inn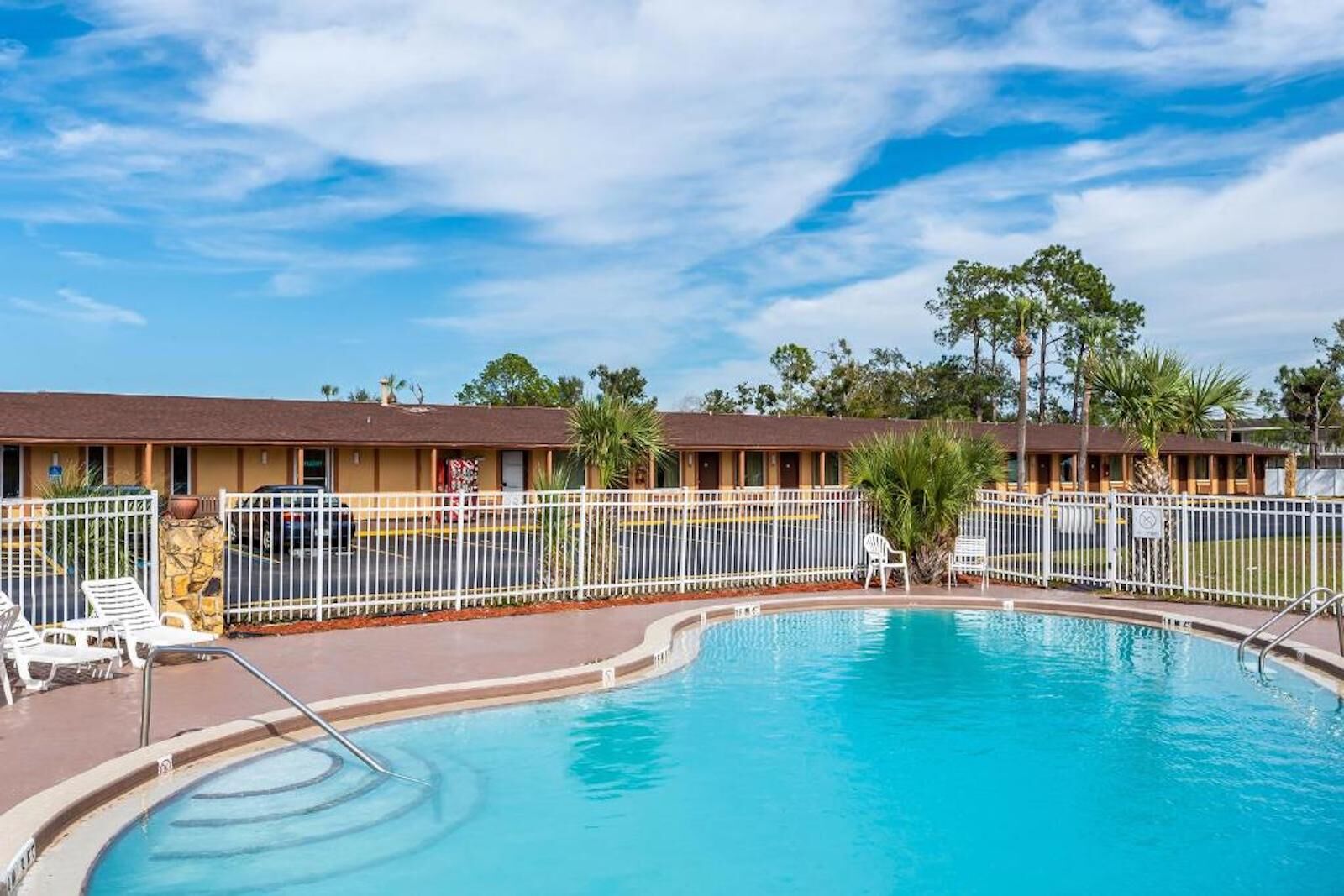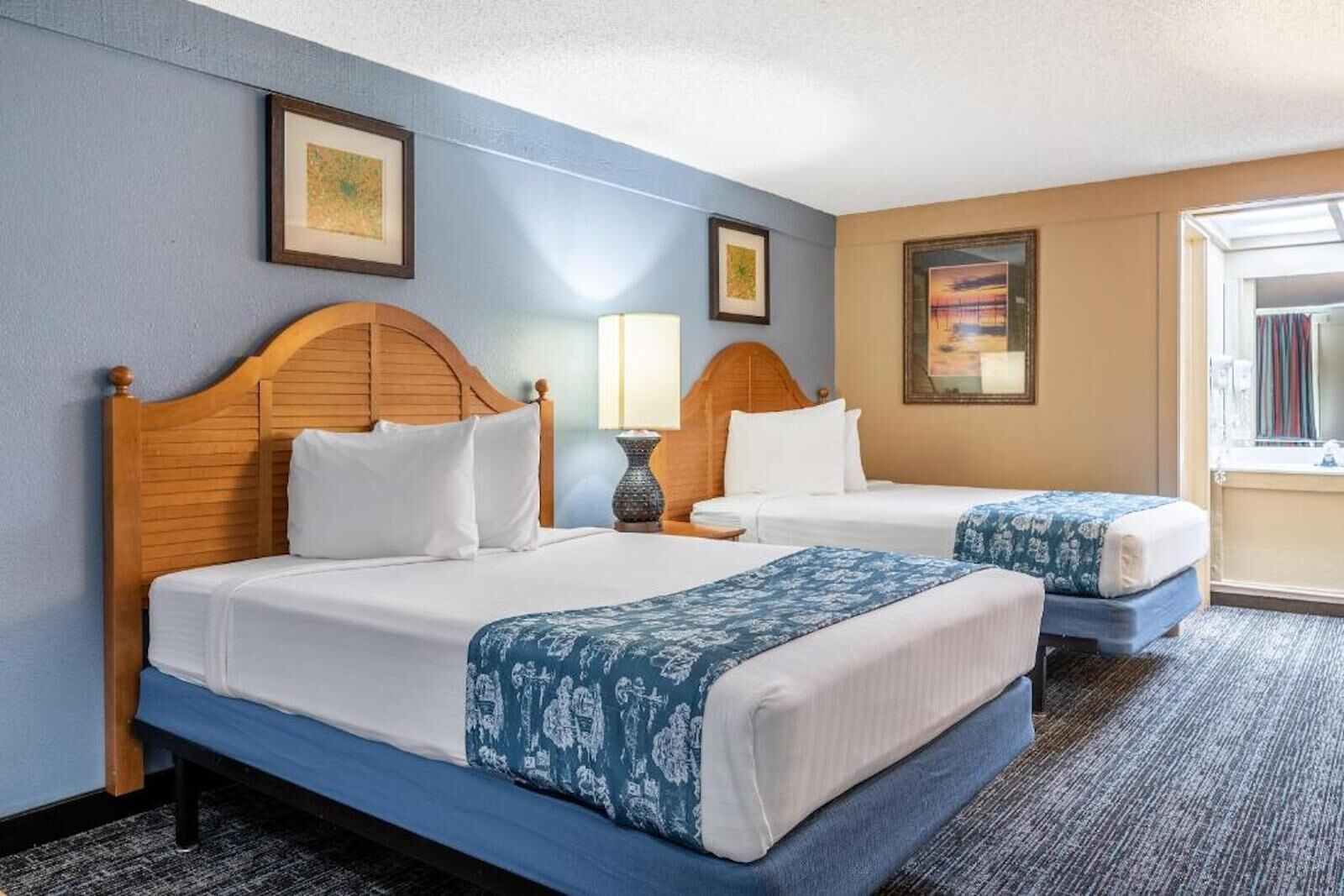 See more photos
Near both Disney's Animal Kingdom and Orange County Convention Centre, this unfussy hotel offers laundry services on site, as well as refrigerators and microwaves in the rooms. The ground level rooms are neat, clean, and get lots of natural light. Another family friendly aspect of the hotel is the outdoor heated pool.
Price: From $170 per night
Book Now
Opal Hotel and Suites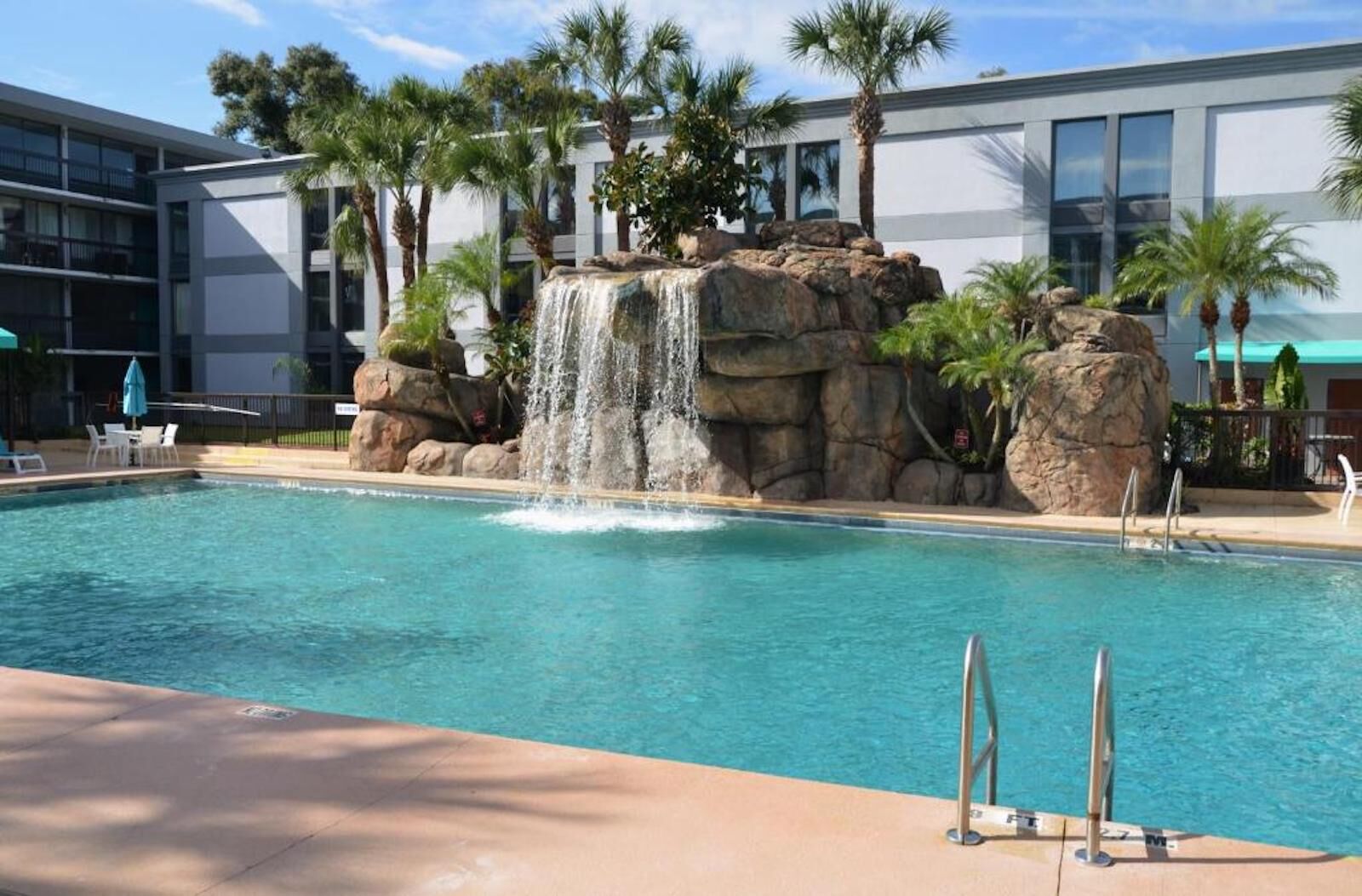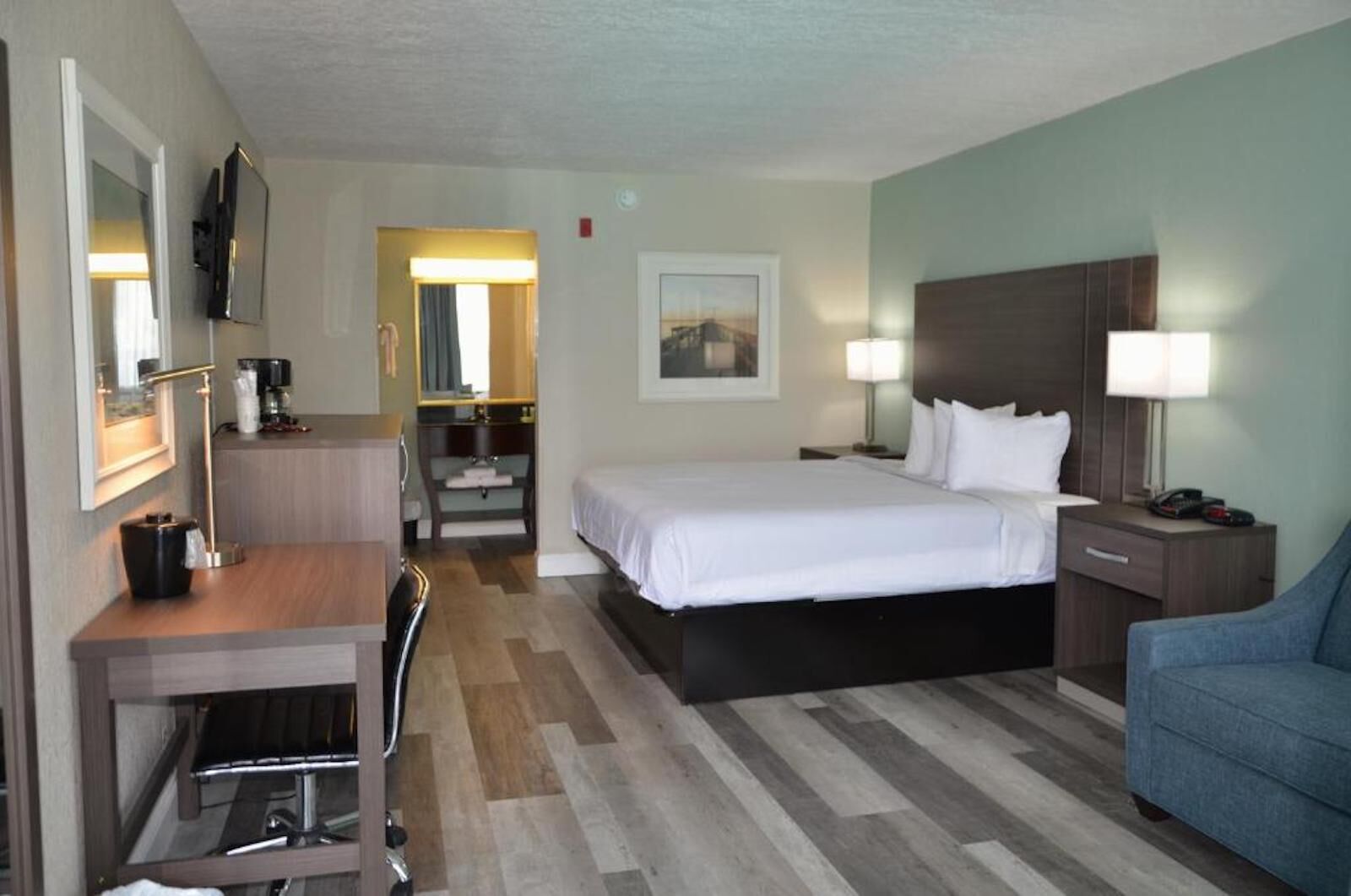 See more photos
Guests at this hotel can take a plunge in the picturesque pool, which features a waterfall. There's also a fitness center on site. The tidy rooms feature private bathrooms, a large dresser, a television mounted to the wall, and a writing desk. This hotel is a great option if you have or rented a car, because its just a short 20 minute drive from downtown Orlando.
Price: From $164 per night
Book Now
Altamonte Springs Hotel and Suites
See more photos
This simple hotel features an outdoor pool. Some rooms come equipped with large dressers, a refrigerator and a microwave, as well as a terrace overlooking the pool area. It's a no frills hotel that doesn't offer many amenities but is a good option if you're on a tight budget.
Price: From $150 per night
Book Now
Bposhtels Orlando Florida Mall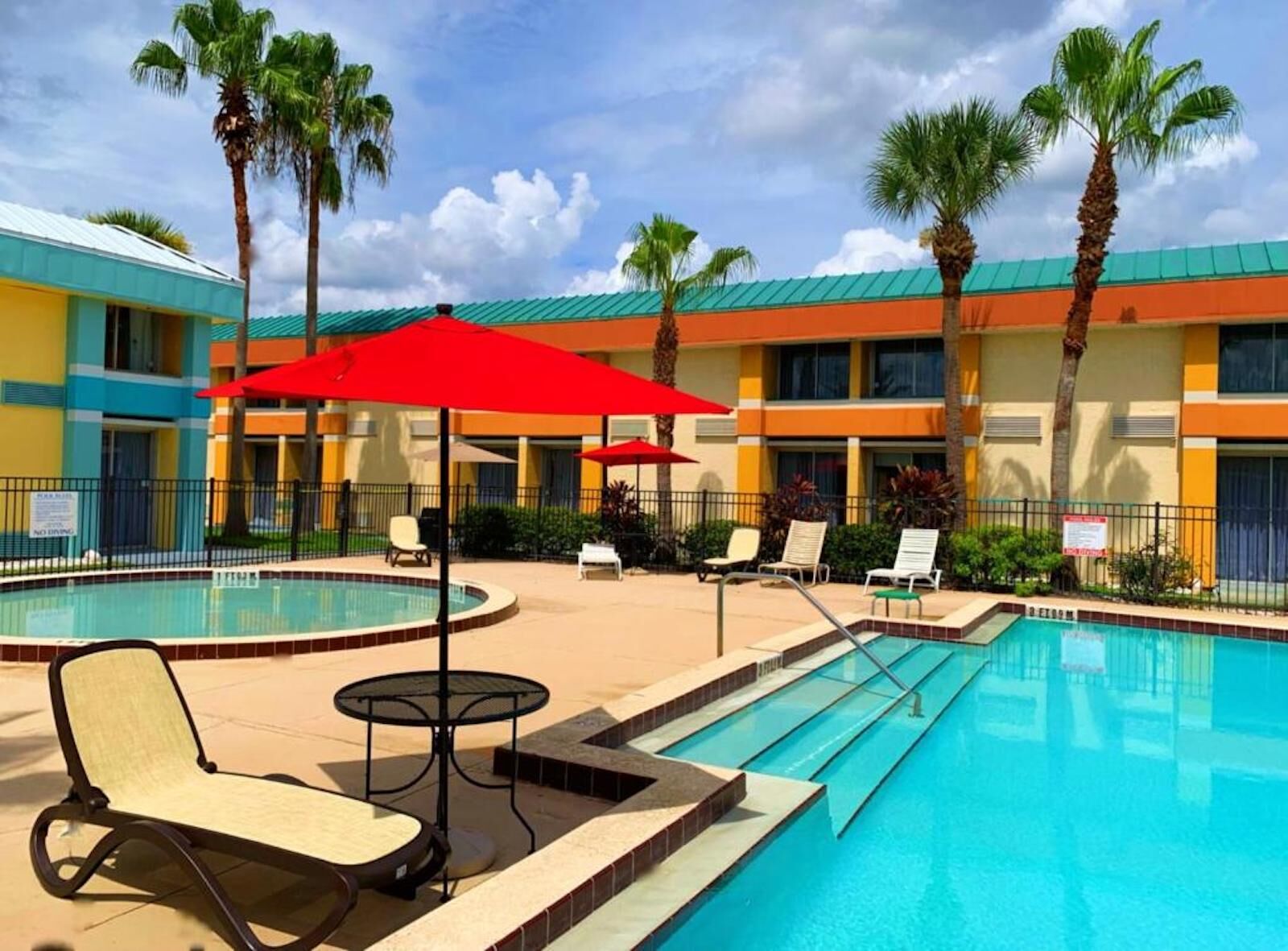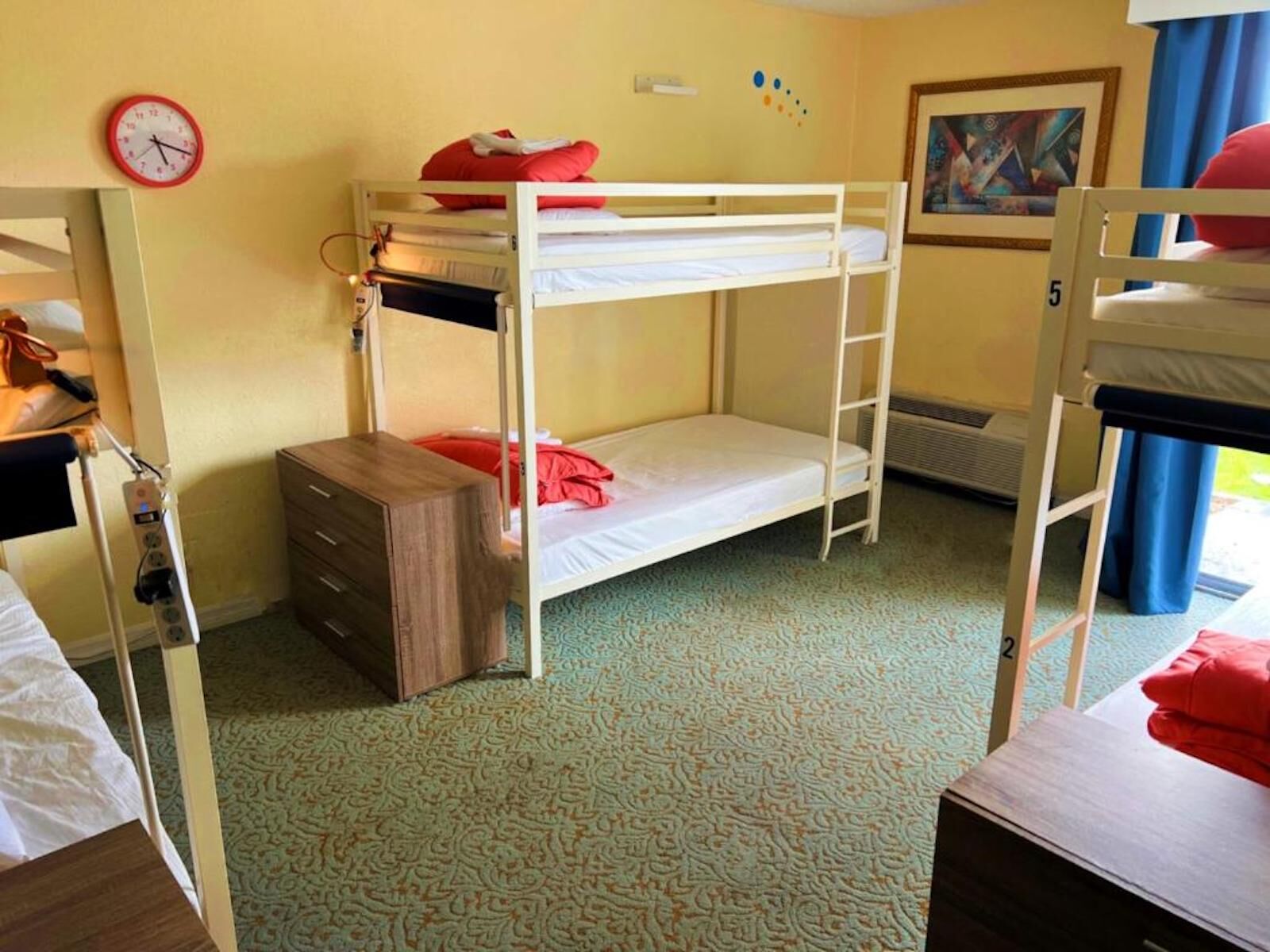 See more photos
This straightforward hostel which features bunk beds in the shared rooms is the perfect option for people traveling alone – especially young people who are looking to save cash and perhaps even make new friends along the way. However, there are also private rooms available, which feature a private bathroom and coffee machine. There's an outdoor pool and hot tub on the property, continental breakfast served in the morning, and Gatorland and the Orlando International Airport are both five miles away.
Price: From $92 per night
Book Now
Hotel Elite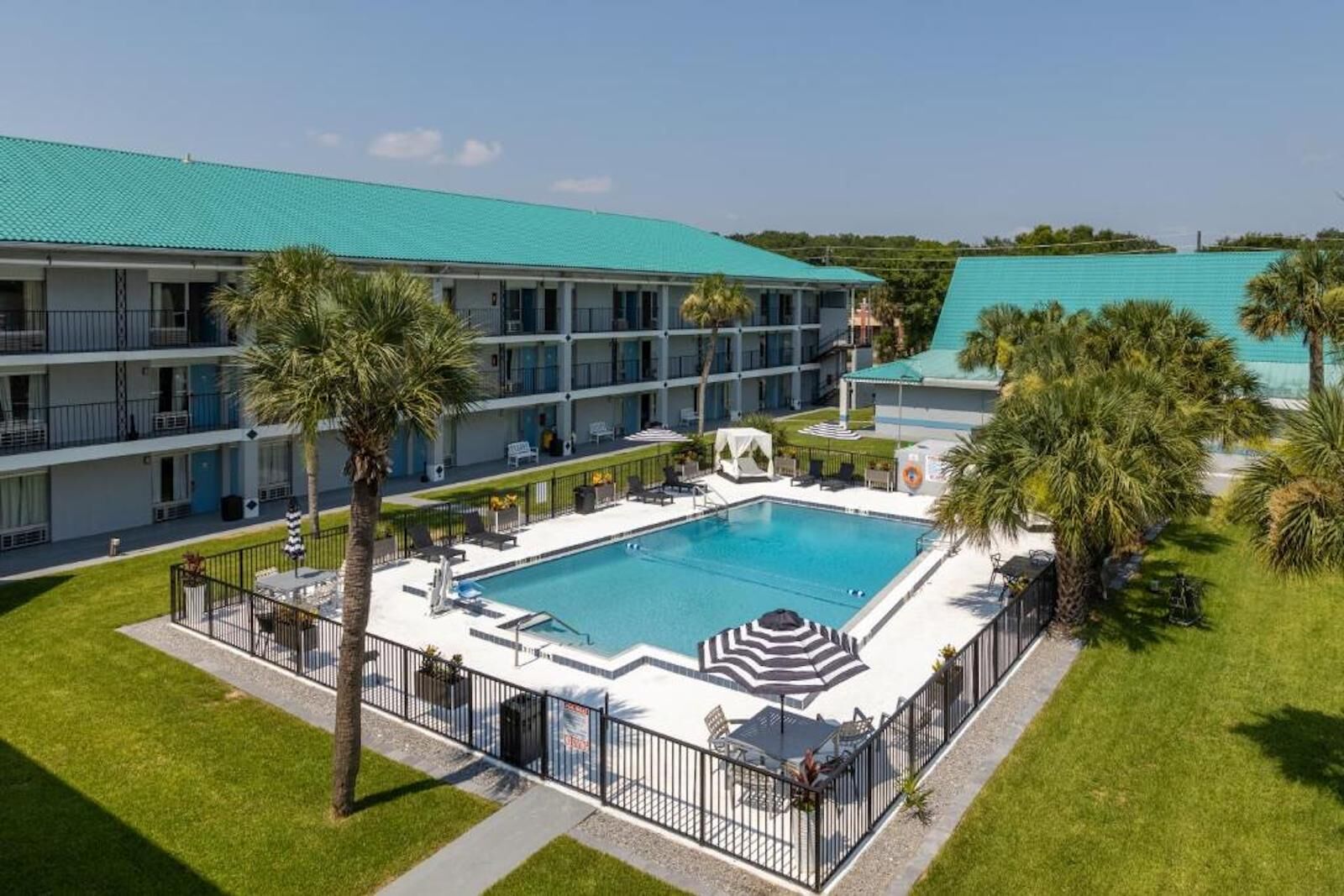 See more photos
Featuring a large outdoor pool and fitness center, this hotel is near the Amway Center and Camping World Stadium. Rooms come with a dresser, refrigerator, and a television. There is also a shared lounge area with a complimentary coffee machine.
Price: From $79 per night
Book Now
Maingate Lakeside Resort
See more photos
Located just two miles from Disney Word, this hotel offers shuttle services to the park. There are three outdoor pools and a mini golf course on the property for lots of family-friendly fun. Some rooms come outfitted with large writing desks and couches. Black Lake, where swimming and boating are permitted, is nearby the hotel.
Price: From $58 per night
Book Now
How much does it cost to stay at a Disney hotel in Florida?
It can cost anywhere from $200 to $600 per night to stay at a Disney hotel in Florida. Disney World does offer value resorts, where rates start around $220 per night. The Disney Deluxe resorts, like the Polynesian Village Resort and the Wilderness Lodge Resort are priced between $400 and $800 per night – which can really add up if you're staying in Florida for an extended period. If you're looking for an even more luxurious stay, Disney World also offers villa resorts, which go up to as much as $2000 per night.
How much does it cost to stay at a Universal Orlando hotel?
It can cost as little as $84 per night to stay at a Universal Orlando value hotel, and these hotels can even offer shuttles to the park and early admission passes. Premier Universal Studios hotels are closer to $300 per night, however there are options that fall between the cheapest and most expensive hotels. For instance, there are two Universal Studios prime value hotels that start at around $144 per night.
What did you think of this story?