This Cruise Is the Most Deluxe Way To Travel the Mediterranean
The few times I traveled to the Mediterranean, I went full-on thrifty. I flew low-cost airlines or drove, booked cheap family-run hostels, and took dodgy-looking ferries to save my hard-earned bucks. That was not a bad way to travel. I visited Nice's markets, pretended to be rich in Monaco, and sunbathed in Corfu — all without spending much. But after sailing the Mediterranean with Oceania Cruises, I don't think it'll be easy to go back and travel on a shoestring. One gets used to luxury pretty fast.
This past fall, I spent 12 days sailing from Greece to Türkiye, Italy, France, and Spain on Oceania's Nautica. And let me tell you: being a passenger on this small, deluxe cruise is one of the most opulent ways to see the Mediterranean.
Oceania caters to a specific clientele: mostly wealthy couples with no children in tow. Unlike companies like Holland America, Royal Caribbean, or MSC, Oceania operates only small or mid-sized ships where the focus is comfort, luxury, and personalized experience. While large ships tend to offer more amenities, Oceania's philosophy is that with fewer passengers, the crew is able to provide a more curated and pampered experience. On Nautica, there are no gigantic pools, roller coasters, or huge movie theater, but is an impressive spa, an espresso bar, and an elegant and well-furnished library. You get the picture.
Oceania's fleet consists of only seven ships, all of which have a small passenger capacity:
Nautica: capacity of 656 passengers
Insignia: capacity of 656 passengers
Marina: capacity of 1,238 passengers
Regatta: capacity of 656 passengers
Riviera: capacity of 1,238 passengers
Sirena: capacity of 648 passengers
Vista (debuting in 2023): capacity of 1,200 passengers
The rooms on Oceania Cruises
Nautica, refurbished in 2022, holds 656 passengers over 11 decks (only eight of which are accessible to passengers). It's an intimate space, but large enough to not feel cramped by the other travelers on board. Most of the decks are dedicated to passenger rooms, ranging from 160-square-foot Inside Staterooms (the cheapest) to 1,000-square-foot Owner's Suites (the most expensive).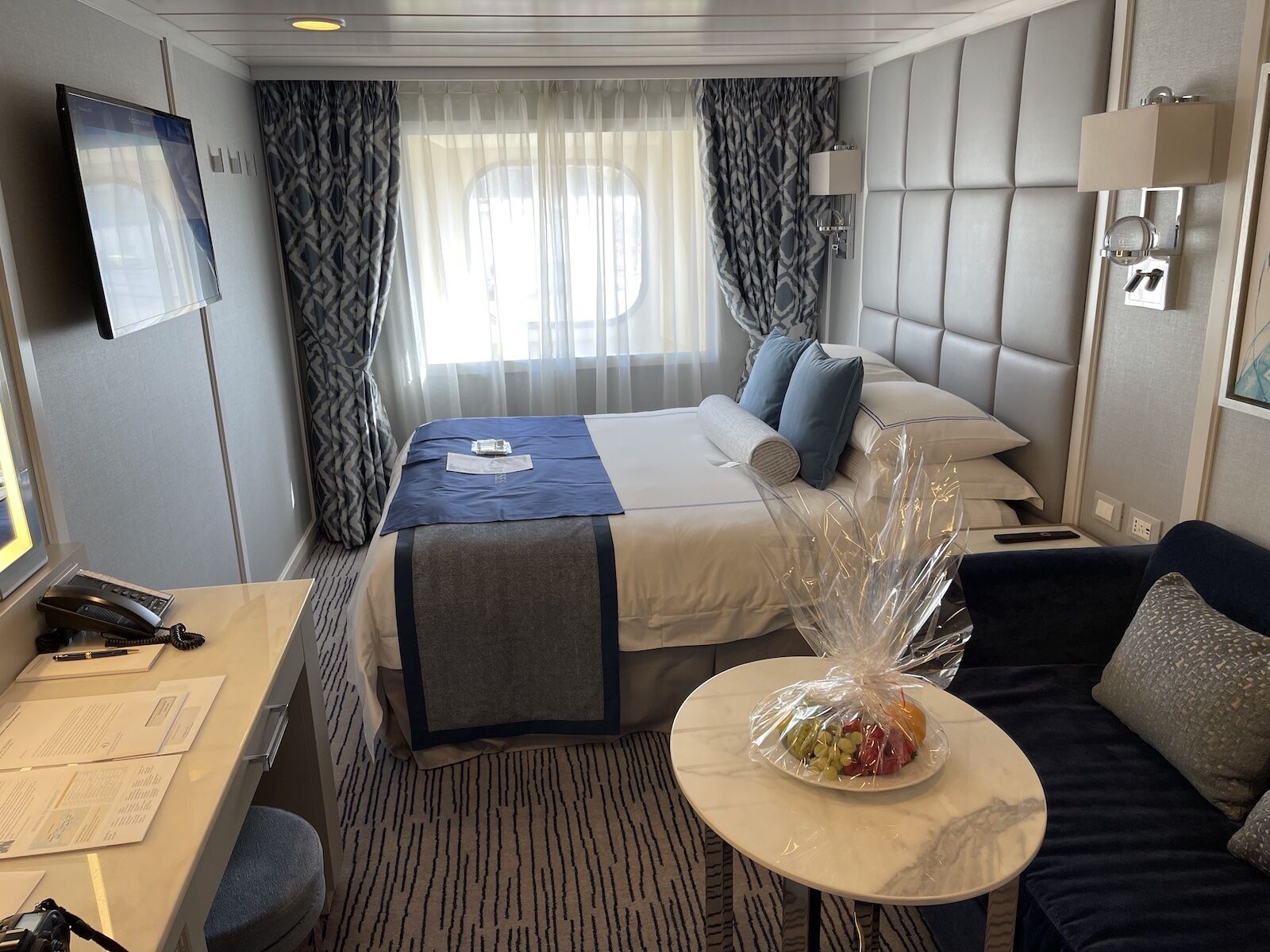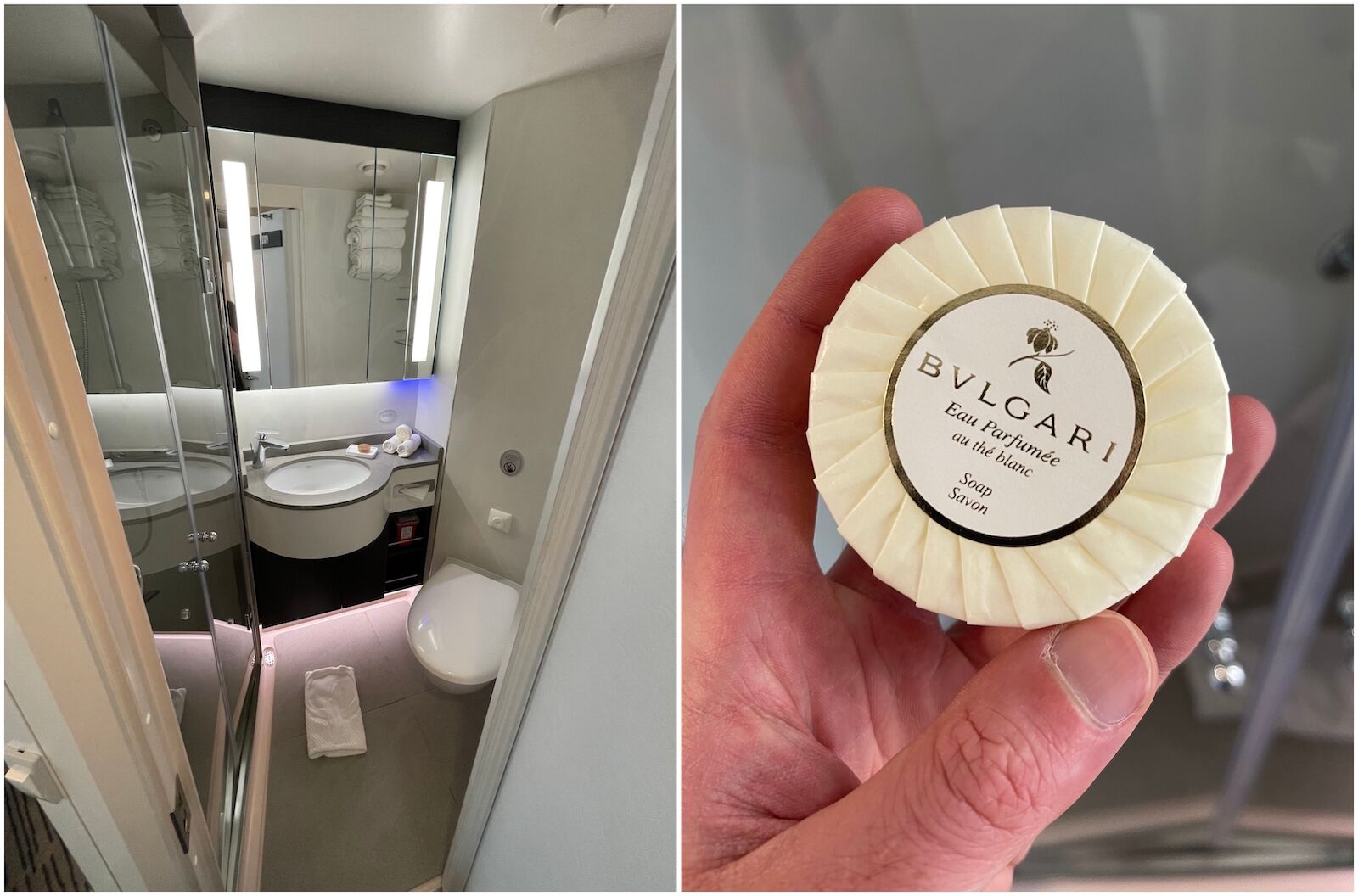 My partner and I stayed in a Deluxe Ocean View stateroom (165 square feet) for the duration of the trip, which was very comfortable and plenty big for the two of us. There was a good-size square window that did not open, and a queen-size bed, desk, stool, sofa, coffee table, TV, large closet, refrigerator stocked with soft drinks, and a (and very tight) bathroom. The bathroom is fitted with Bulgari amenities, which are replenished as needed during the twice daily cleaning service.
Our Deluxe Ocean View stateroom was located on deck four, across from the ship's medical center and just above the gangway on deck three. It's not the most ideal spot if you want to sleep in or are very private — setting up the gangway is a loud process that starts early most mornings, and people come in and out of the medical center regularly. Make sure you choose your stateroom wisely by looking closely at the deck plan before booking.
Note that if you're not claustrophobic and need to keep an eye on budget, Inside Staterooms are perfectly acceptable. They're not much smaller than other staterooms but are cheaper. Also remember that you won't spend that much time in your room – you'll be out and about enjoying the cities where the ship stops, the shore excursions, and the great amenities onboard.
The bars and restaurants on Nautica cover all bases
Oceania likes to say it has the "finest food at sea," and while I haven't tried every cruise line out there and can't vouch for this claim, meal times were certainly something my partner and I looked forward to. One thing I can say with certainty is that Oceania tries to cater to everyone with plenty of delicious and varied vegetarian and vegan options, making it easy for people with different dietary preferences to enjoy a meal together. Room service is complimentary and available 24 hours a day on all Oceania cruise ships, but if you'd rather eat outside of your room, there's no shortage of bars and restaurants on Oceania's Nautica.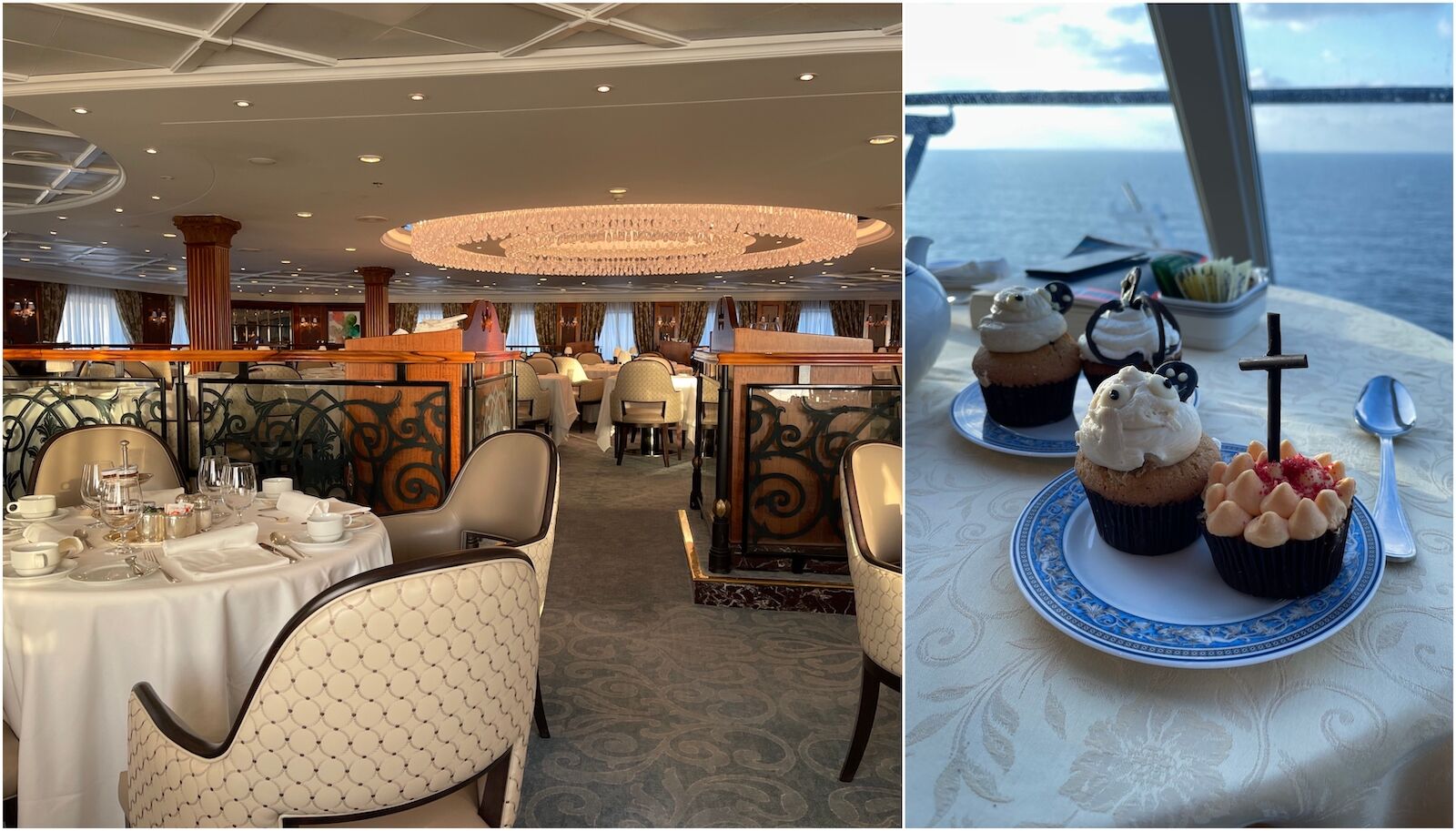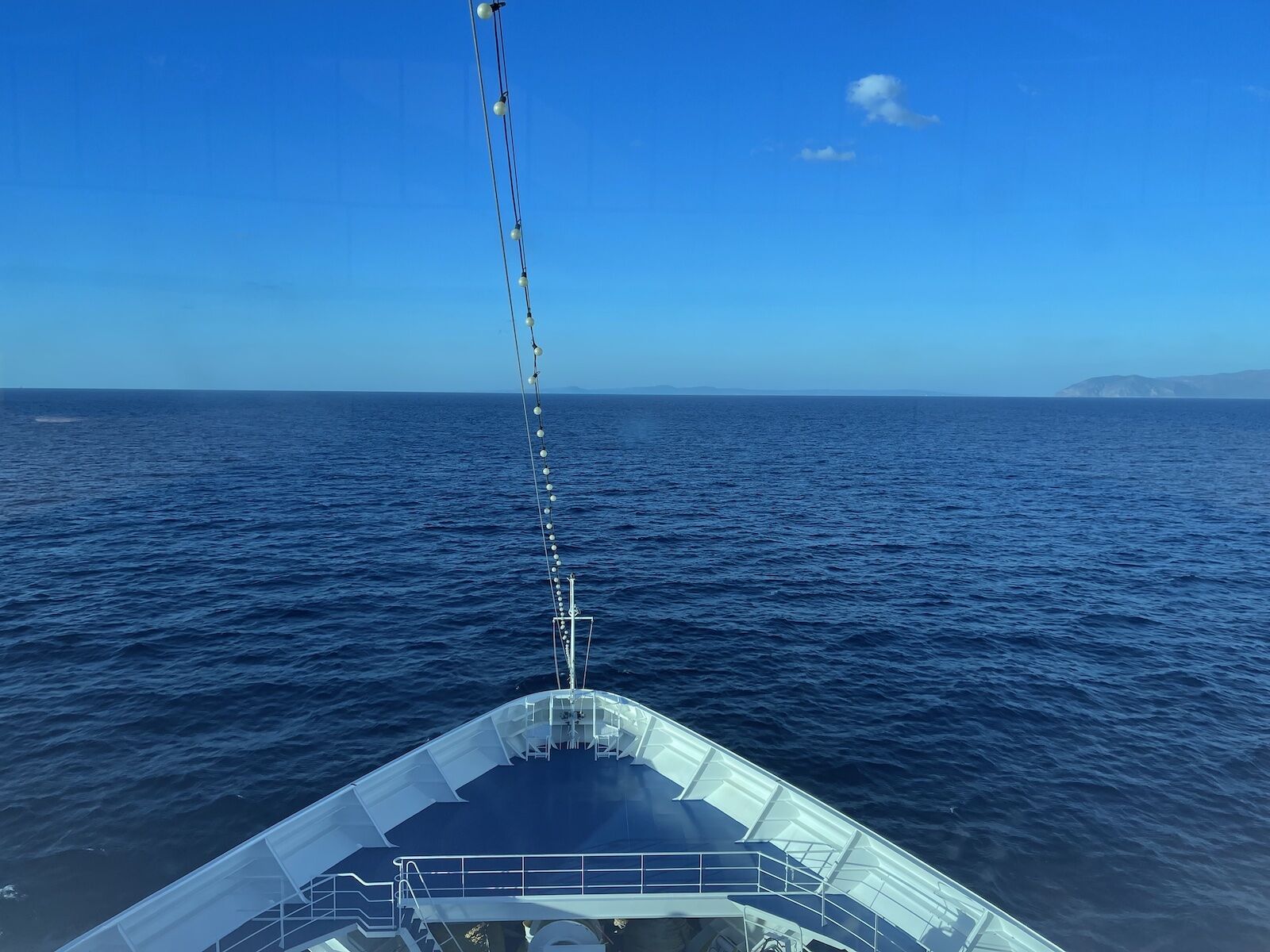 There are four bars on Nautica to suit every passenger's taste throughout the day:
The Waves Bar: Located by the pool and hot tubs on deck nine, the Waves Bar serves cocktails, mocktails, beer, and soft drinks to enjoy on one of the many towel-draped lounge chairs. You can go up to the bar to order or crew members will get you your drinks so you don't interrupt your sunbathing session.
Martini's: As the name suggests, this bar serves variations on the famous cocktail favored by 007. Located on deck five, the same as the Grand Dining Room, it's the perfect spot for pre-dinner drinks.
Horizons: Located on deck 10, Horizons is a large space at the very bow of the ship. It has comfortable seats and huge windows for passengers to watch the scenery go by with a drink in hand. There is a self-serve tea and coffee corner if you prefer a hot beverage. Horizons is where afternoon tea takes place every afternoon.
Barista's: Located on deck five by the entrance to the Great Dining Room, Barista is a specialty coffee bar with your usual cappuccinos, lattes, etc. You can choose to spike your caffeinated beverage with a long list of spirits and liqueurs like Sambuca, Baileys, or Grand Marnier. The huge golden espresso machine is a sight to see, and the complimentary sweet treats are the perfect accompaniment to the drinks served. This is a personal favorite for a post-lunch coffee or an afternoon pick-me-up.

There are five restaurants on Nautica, ranging from fancy to casual:

The Grand Dining Room: Located on deck five, the Grand Dining Room is a ritzy affair with food served on Versace plates. For dinner, guests are required to wear elegant casual resort attire (no sneakers, no shorts, etc., but no need to bring a ball gown or a tux with you). The ambience is relaxed but the staff is very attentive, and remembers your name, how you like your food, what wine you prefer, etc. The Grand Dining Room is also open for breakfast and lunch and the dress code is much more casual at those times.
Polo Grill: Located on deck 10, Polo Grill is a fancy steakhouse with white tablecloths and big, comfortable leather chairs. The dress code is the same as the one in the Grand Dining Room. Polo Grill is a specialty restaurant so reservations are required. Polo Grill is only open for dinner. Vegetarian and vegan options are extremely limited or non-existent.
Toscana: Another specialty restaurant, Toscana focuses on sumptuous Italian cuisine. The staff offers a large selection of olive oils and balsamic vinegars at the start of your meal so you can dip the lovely Italian breads you've been served while waiting for your starter. The dress code is the same as the one in the Grand Dining Room. Like for the Polo Grill, it's only open for dinner and you need to book your table in advance. Toscana has some vegetarian options, but no vegan options.
The Terrace Café: The Terrace Café on deck nine is technically a buffet-style restaurant, but don't let the idea of a buffet put you off — the food, service, and location is amazing. My partner and I preferred the Terrace Café to the Grand Dining Room for its casual vibe (no dress code) and for its great outdoor patio at the stern of the ship. You can sit in the sun for breakfast, lunch, and dinner and enjoy the amazing weather and scenery of the Mediterranean, or stay inside if that's what you prefer. The food on offer is varied and incredibly tasty (the breakfast pastries were as good as the ones you'd find in a French bakery), and the buffet style allows you to try a little of everything. While it's a buffet, the crew is around to refresh your drinks and take away your plate.
The Waves Grill: Located right by the pool on deck nine, the Waves Grill is an outdoor, casual restaurant that's ideal if you want to chill outside in between soaking sessions in one of the hot tubs or the pool. The food is simple with burgers, hot dogs, smoothies, milkshakes, and the like on offer. Like at the Terrace Café, the crew at the Waves Grill will get you drinks and take care of whatever you need.

The amenities on Nautica: quality over quantity

While the ship is small, it's fitted with high-end amenities that are as good or better than what you'd find on much larger cruise ships.

By far, the greatest spot on Nautica is the outdoor pool on deck nine. It's not huge, but it is a big enough size to swim a little. It's filled with salt water and is deep enough for adults to enjoy (no kiddy pool here, it's all about the grown-ups having a good time). The pool and the super-comfy double lounge chairs set around it are the two most perfect places to hang out during a day at sea on the Mediterranean or after a day of visiting on land. Even in November, the sun was strong and I spent hours sunbathing with a book and a mocktail in between dips. Two hot tubs that each fit about four people are near the pool. I used the hot tubs at night when most other passengers were getting ready for dinner or having a tipple at Martini's — the place was mine alone every single time.

The pool, the hot tubs, and the lounge chairs are all immaculate at all times and towels are refreshed constantly thanks to the amazing crew.

The Aquamar Spa, also on deck nine, is the next best thing to the pool. The facility is spacious, very clean, and inspires relaxation. There are two steam rooms (one for men and one for women) and a large outdoor hot tub at the bow of the ship — a soak with a view if there ever was one. The spa offers a variety of traditional treatments, among which I opted for the pedicure. The staff is lovely, knowledgeable, and ever so attentive.

Nautica's library is certainly one of the best I've seen at sea. Unlike on other cruise ships, it's clear that Nautica's library was not an afterthought, but is as much a priority as the spa or the pool area. Not only are the beautiful shelves very well stocked with a few thousand books of every genre — including new releases and dozens of travel guides that match the ship's destinations — but the space itself is incredibly well thought out. It's meant to resemble an elegant library in a stately home, and it does the job extremely well with a painted ceiling, thick rugs, big comfy sofas and leather chairs with foot stools, window seats, a fireplace, and knick-knacks that make the space feel lived in.

For something a little different, head up to deck 11 and partake in a game of putt-putt golf, cornhole, or shuffleboard. It's a great way to meet some fellow cruisers and pass the time when at sea. With a few cocktails in you, a game of cornhole takes on a brand new dimension.

Oceania's shore excursions can be as upscale or simple as you'd like them

Oceania makes sure that your time on land is just as wonderful as your time at sea. The choice of shore excursions is vast with options that cover every interest and price point, including incredibly extravagant outings that cost as much as a small car.

During our 12-day trip, we made nine stops: Levos, Greece; Istanbul, Türkiye (for two days); Izmir, Türkiye; Messina, Naples, Rome, and Genoa, Italy; Monaco; Marseille, France; and Barcelona. Being much too ambitious, my partner and I booked an excursion for eight of the nine stops, an idea which quickly revealed itself to be a mistake. You're on vacation and supposed to relax, therefore you should not book yourself solid every time you have a couple of hours to spare. Remember to give yourself some time to do your own thing at your own pace. That may mean going for a quick stroll around Izmir or staying on the ship to lounge by the pool while everyone else is traipsing around Marseille.

After testing out various forms of shore excursions with Oceania, I would highly recommend long guided visits. Both our eight-hour guided visit of "The Best of Istanbul" and six-hour guided tour of "Ephesus & Terrace House" were the best guided visits we ever had thanks to incredibly knowledgeable, flexible, and experienced guides. Granted they are pricey, but if you can afford one excursion, make it one that's with a local expert. (Except the seven-hour guided Mt. Etna 4X4 Expedition, which is very much not worth your money.)

Oceania, in collaboration with local tour bus companies, offers Hop On Hop Off bus tours, but the price is a little high for what's offered. Instead, hop in the shuttle bus that will take you from the ship to the city center and purchase your own Hop On Hop Off bus ticket for a fraction of the price. You'll be in the same Hop On Hop Off bus as your fellow cruisers, but you'll have saved over $100. Almost every stop on shore has a shuttle bus (or a tender) for people to get into town and visit independently — just make sure you're back on time for the last ride to the ship and you'll be fine.

The Destination Service Team on board will help you fix any issues you may have with your shore excursions, including last-minute bookings, cancellations, complaints, etc., and they are kind, patient, and incredibly efficient. When our stop in Florence, Italy, got replaced by a stop in Genoa because of bad weather, everyone's Florence excursions got canceled less than 24 hours before we were due there. But you'd never have thought anything had happened. The staff in charge got right on it and offered a list of excursions in Genoa, and in a matter of hours we were booked on something just as lovely as what we had initially planned.
What did you think of this story?