11 Gorgeous Florida Keys Airbnbs To Catch the 'keys Disease'
Fishing, snorkeling, and diving dominate the Florida Keys lifestyle. This chain of tropical islands stretches down across the Gulf of Mexico and provides pristine conditions for watersports. Out of the water, you can wind down at oceanview restaurants or with family feasts around the barbecue. Our pick of unique Airbnb Florida Keys will give you nothing but good times.
We hope you love the Airbnb Florida Keys rentals we recommend! Just so you know, Matador may collect a small commission from the links on this page if you decide to book a stay. Listed prices are accurate as of the time of publication.
Florida Keys Airbnbs — Marathon
Beachfront villa with pool and dock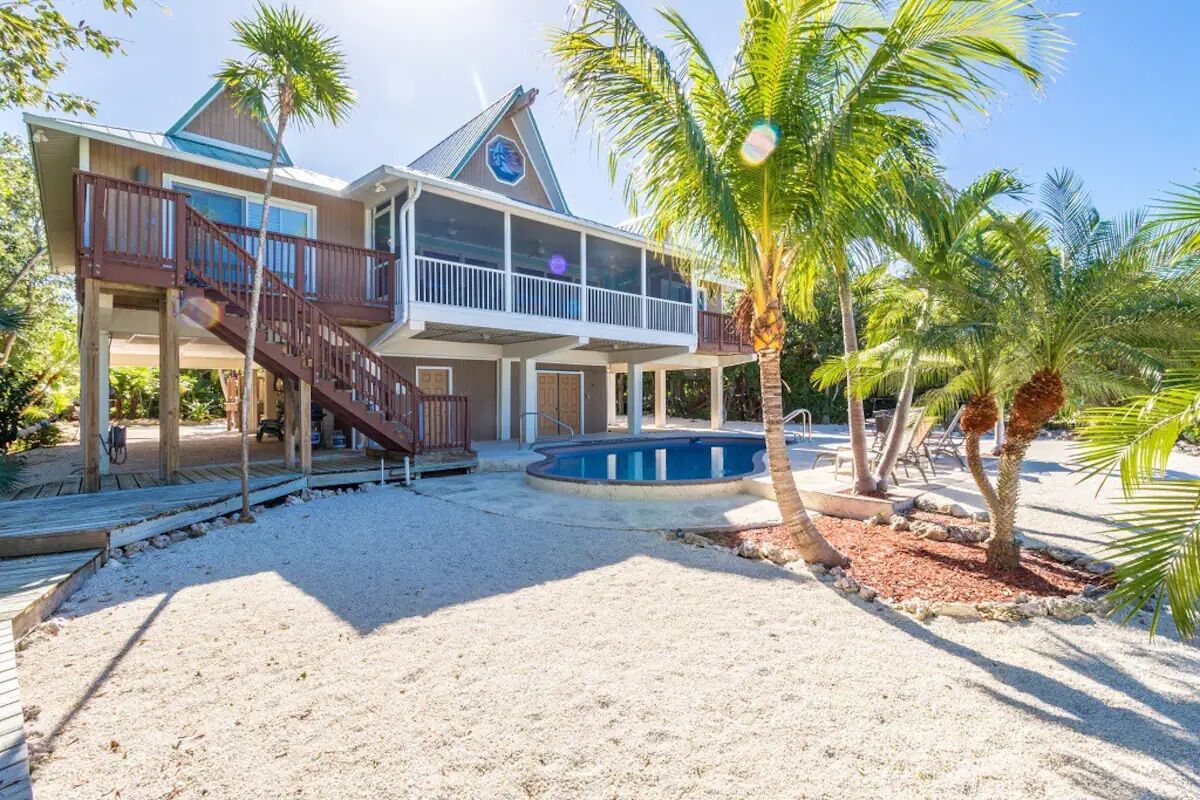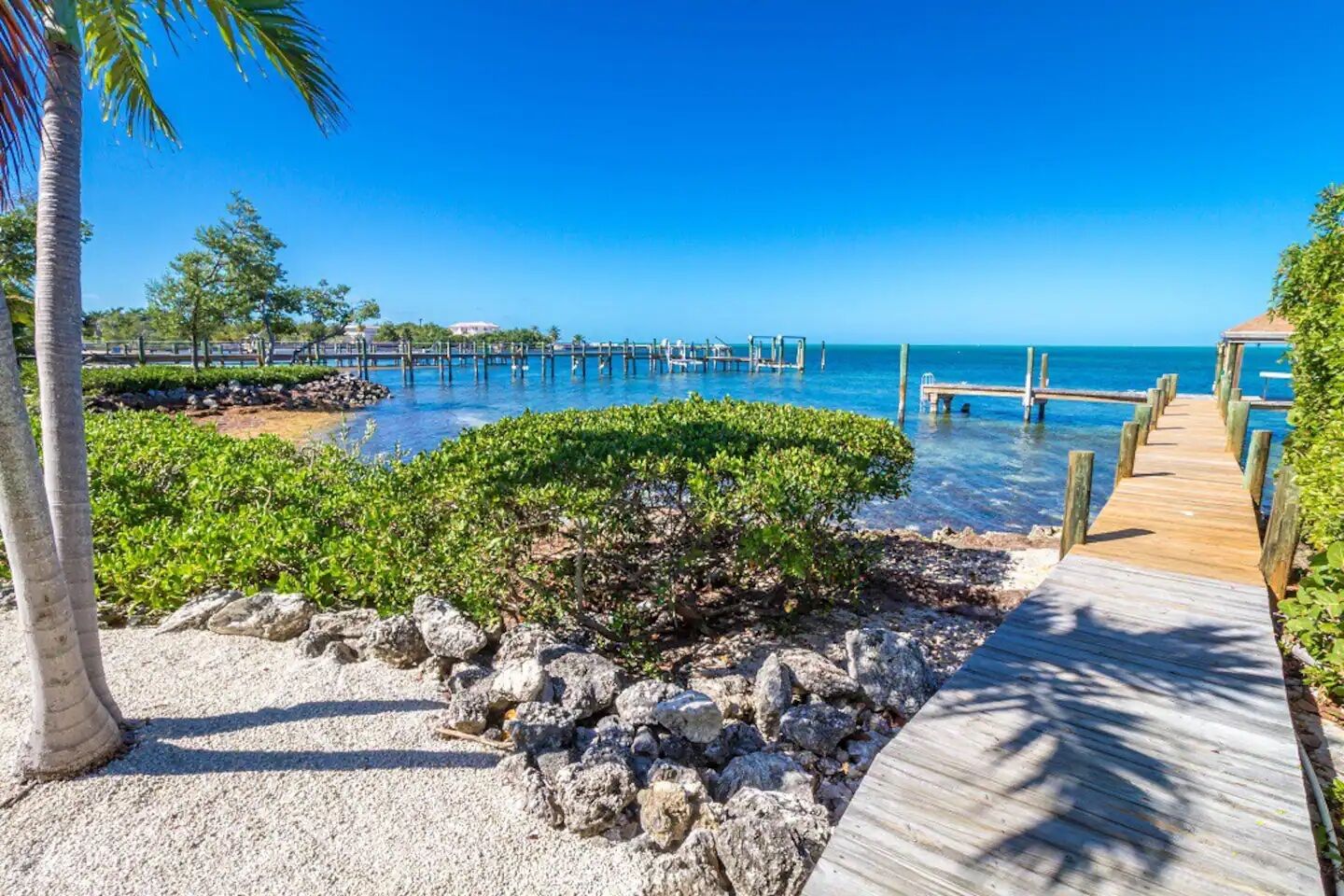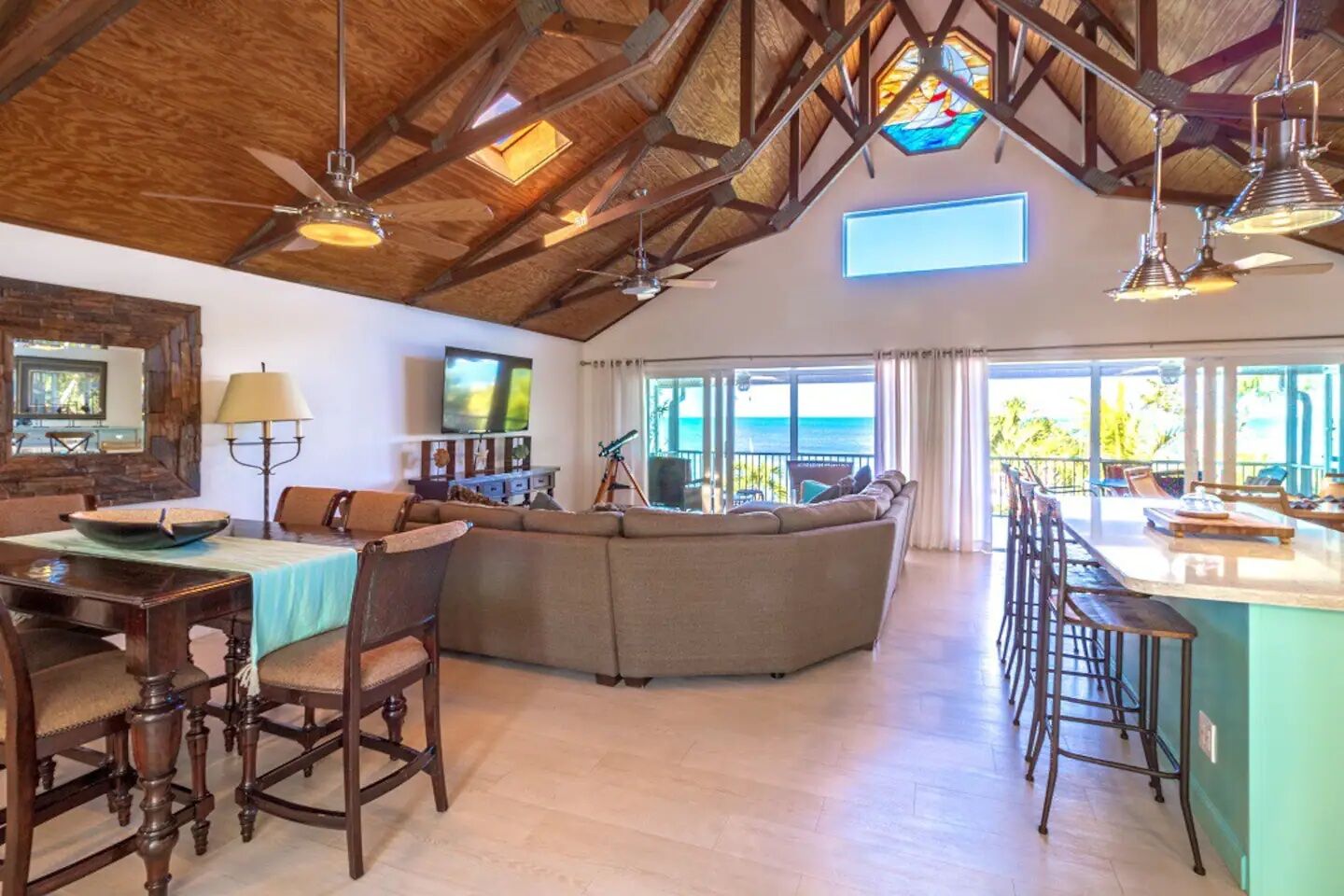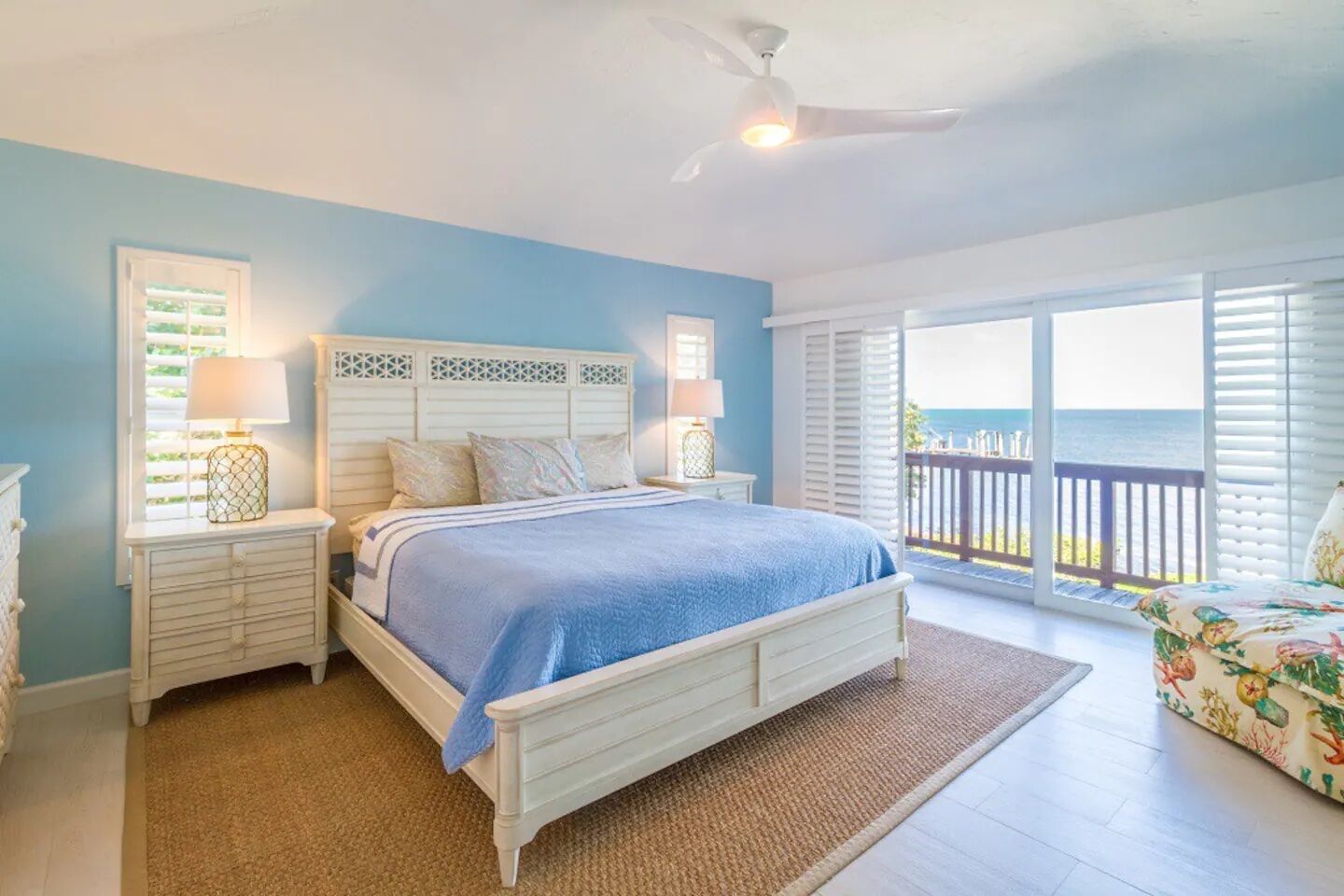 Constructed in a Polynesian style, this four-bedroom family home grants immediate access to the warm water of the Gulf of Mexico. The villa is fitted with a full kitchen, spacious bedrooms, a luxury bathtub, and a telescope. Sitting pretty within landscaped grounds with a private pool, basketball hoop, and private dock, this Marathon vacation home is a sanctuary.
Eight guests, four bedrooms
Price: $980 per night
Waterfront luxury oasis with private pool, beach & dock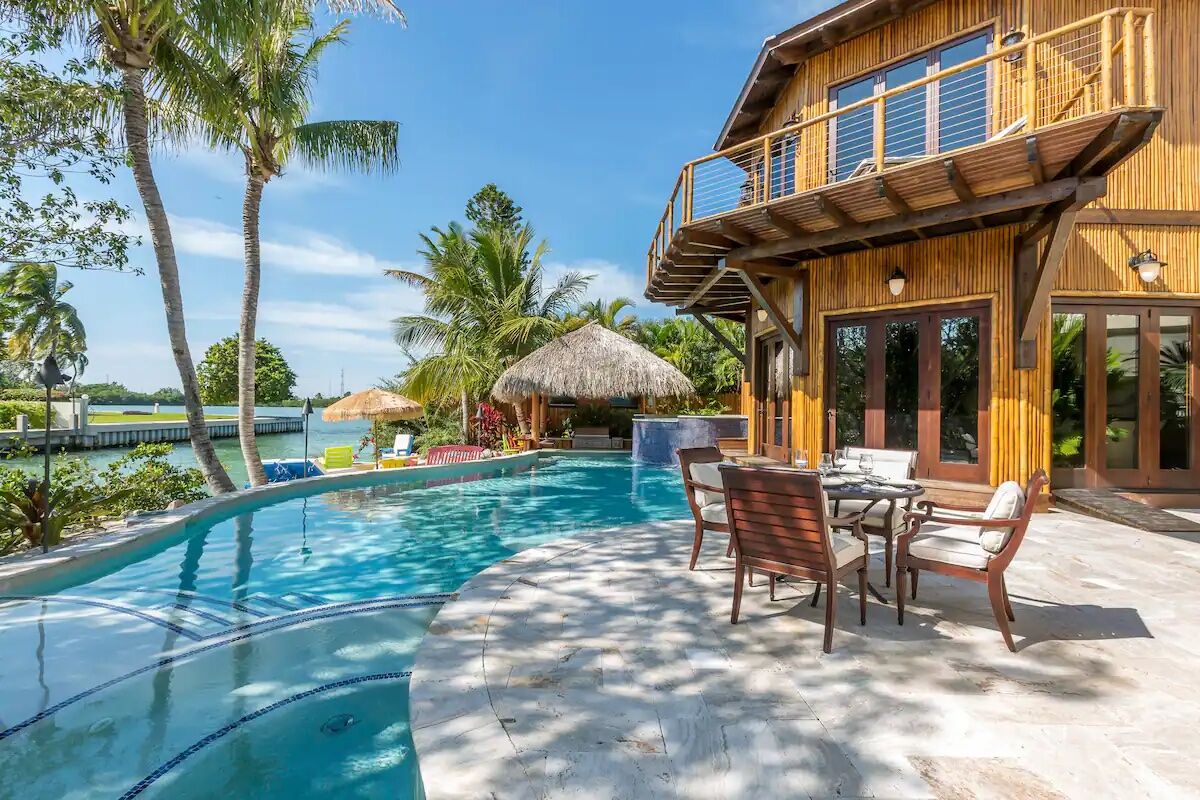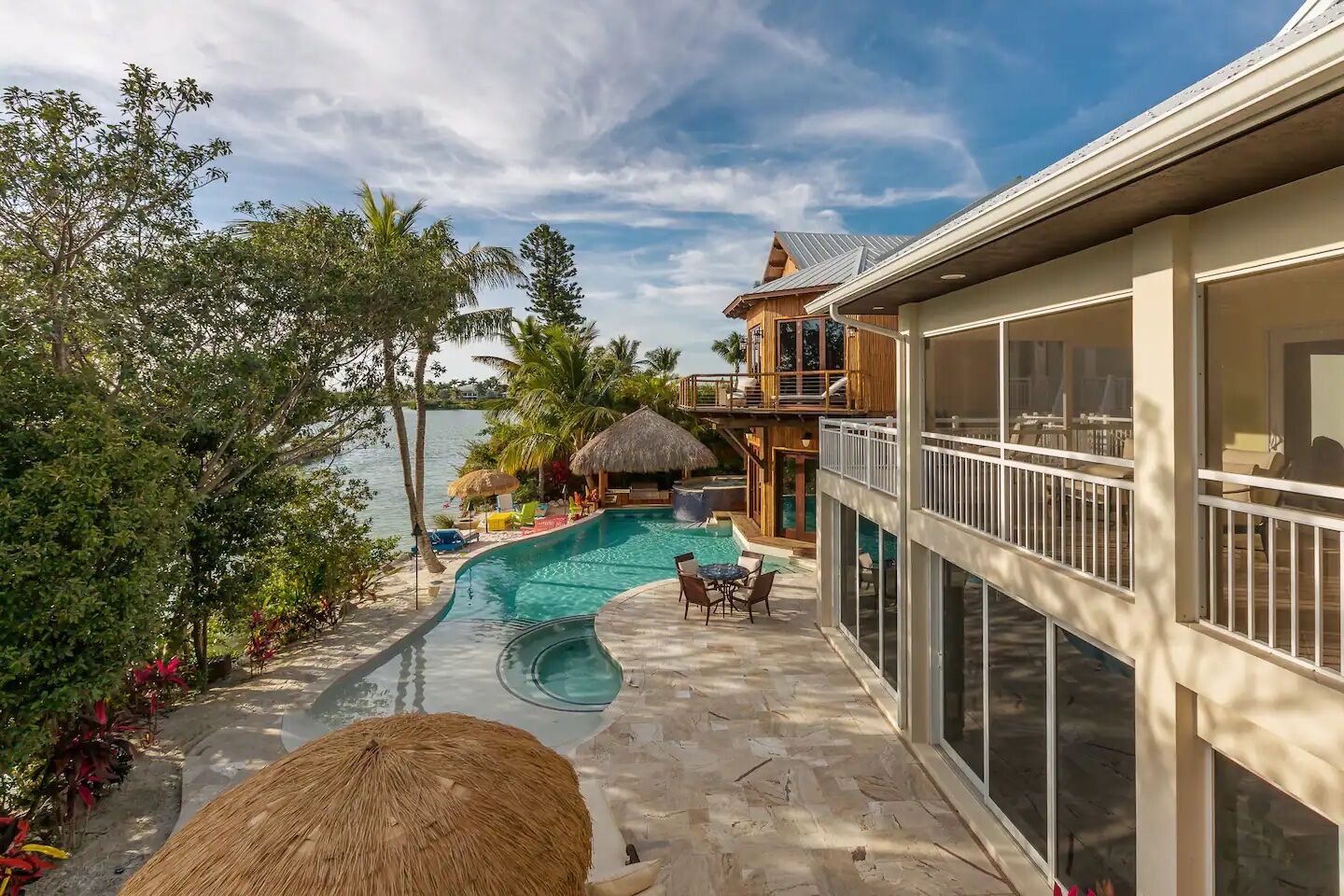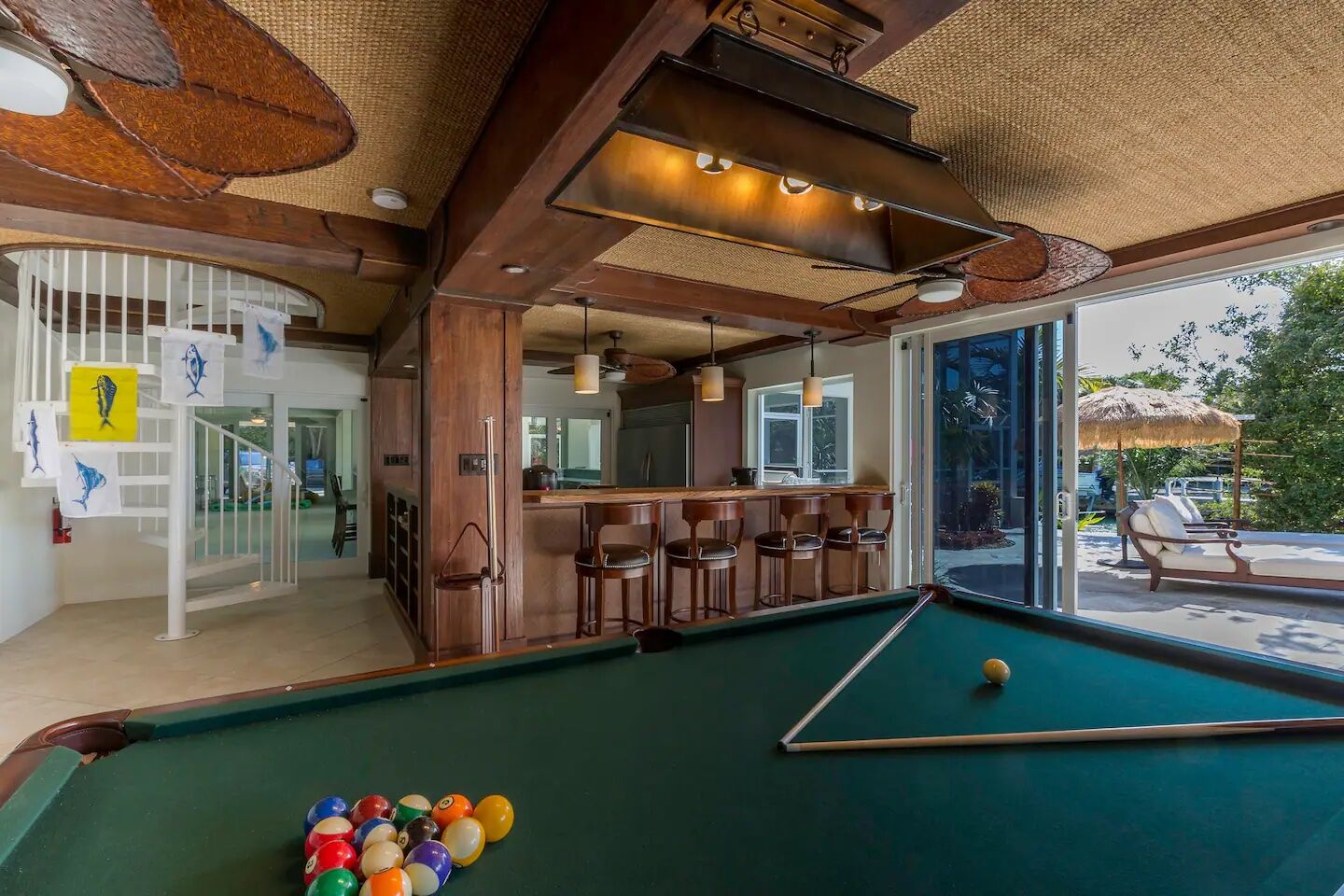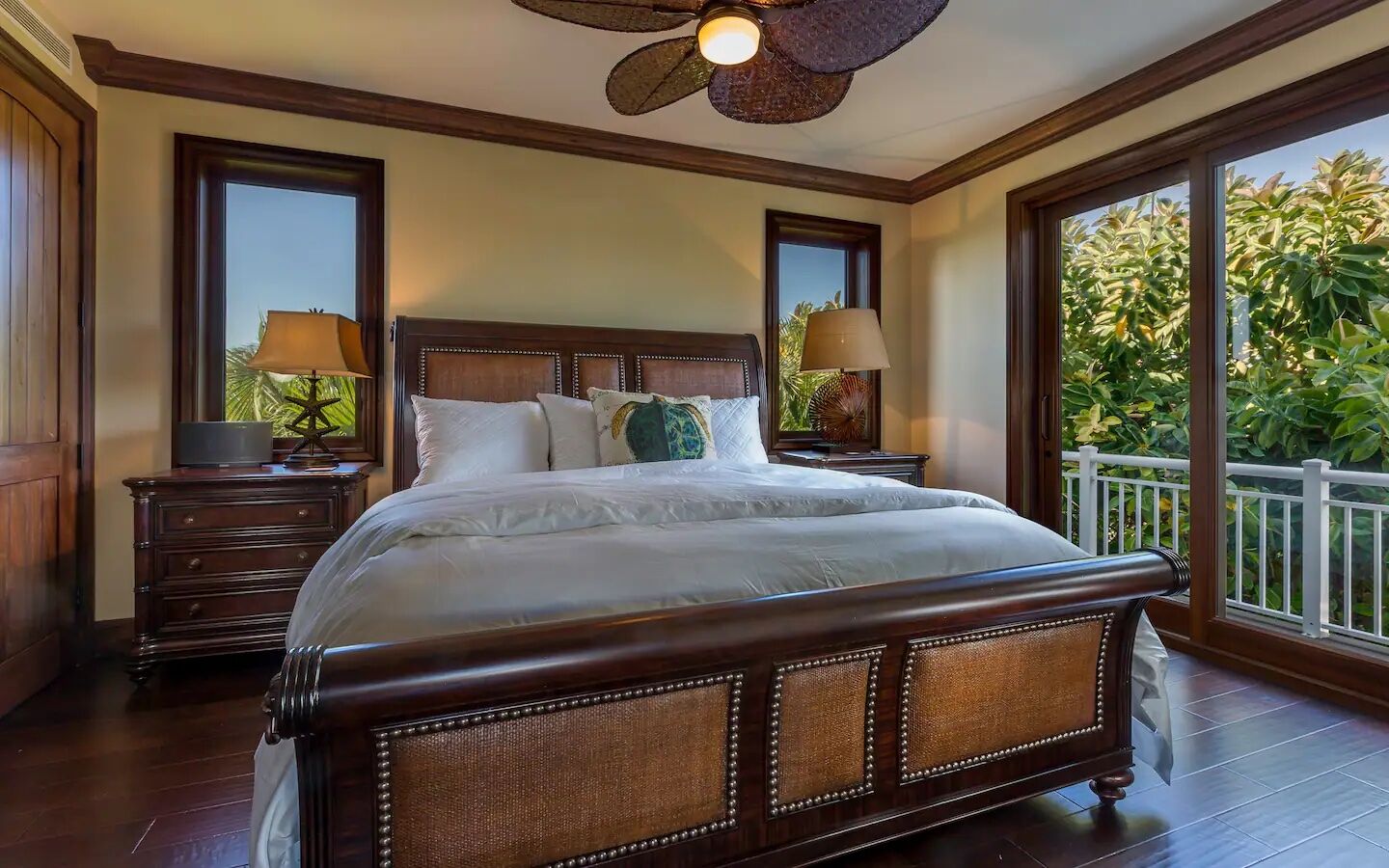 We've found the ultimate luxury Airbnb in the Florida Keys! This Marathon vacation rental comprises two separate houses that share two swimming pools, a hot tub, and a Tiki hut. Located on a serene canal, there's even a private beach when you fancy a snorkeling session – not forgetting your private dockage. The hosts will kindly stock the fridge with food and drink for the first day of the trip.
Sixteen guests, seven bedrooms
Price: $3,150 per night
Anglers Terrace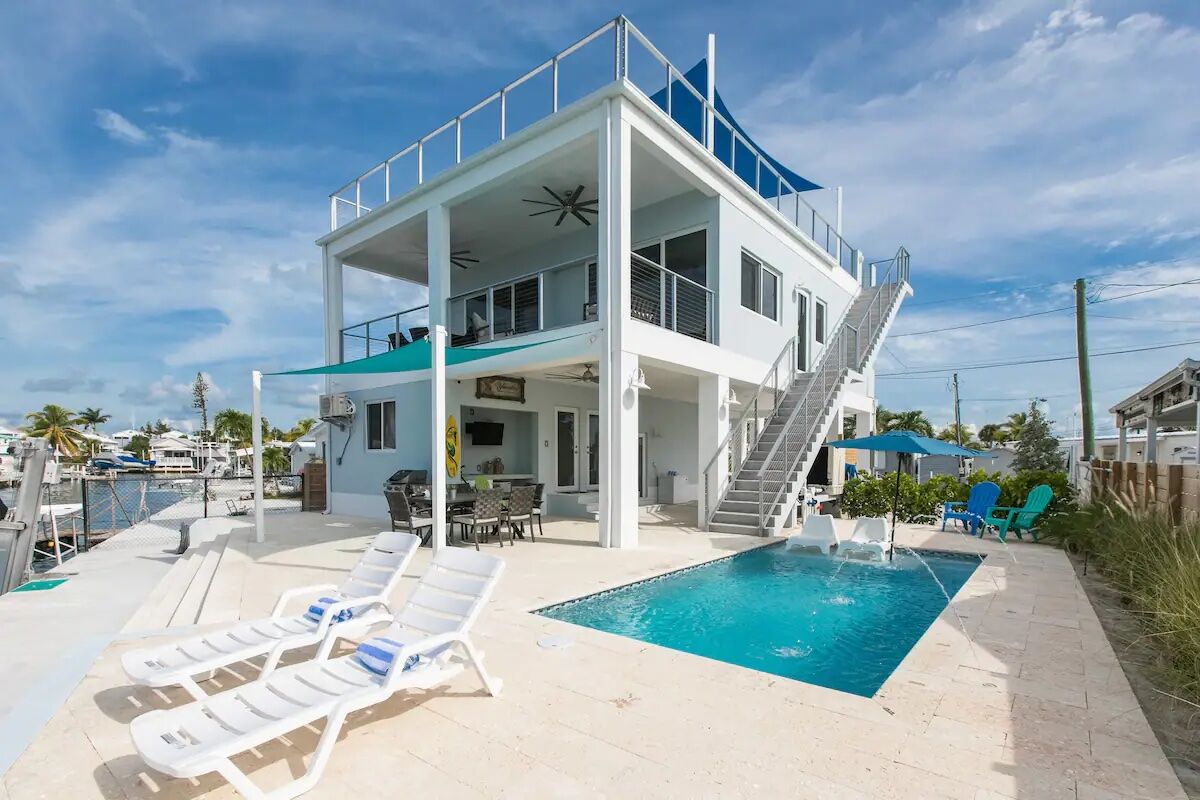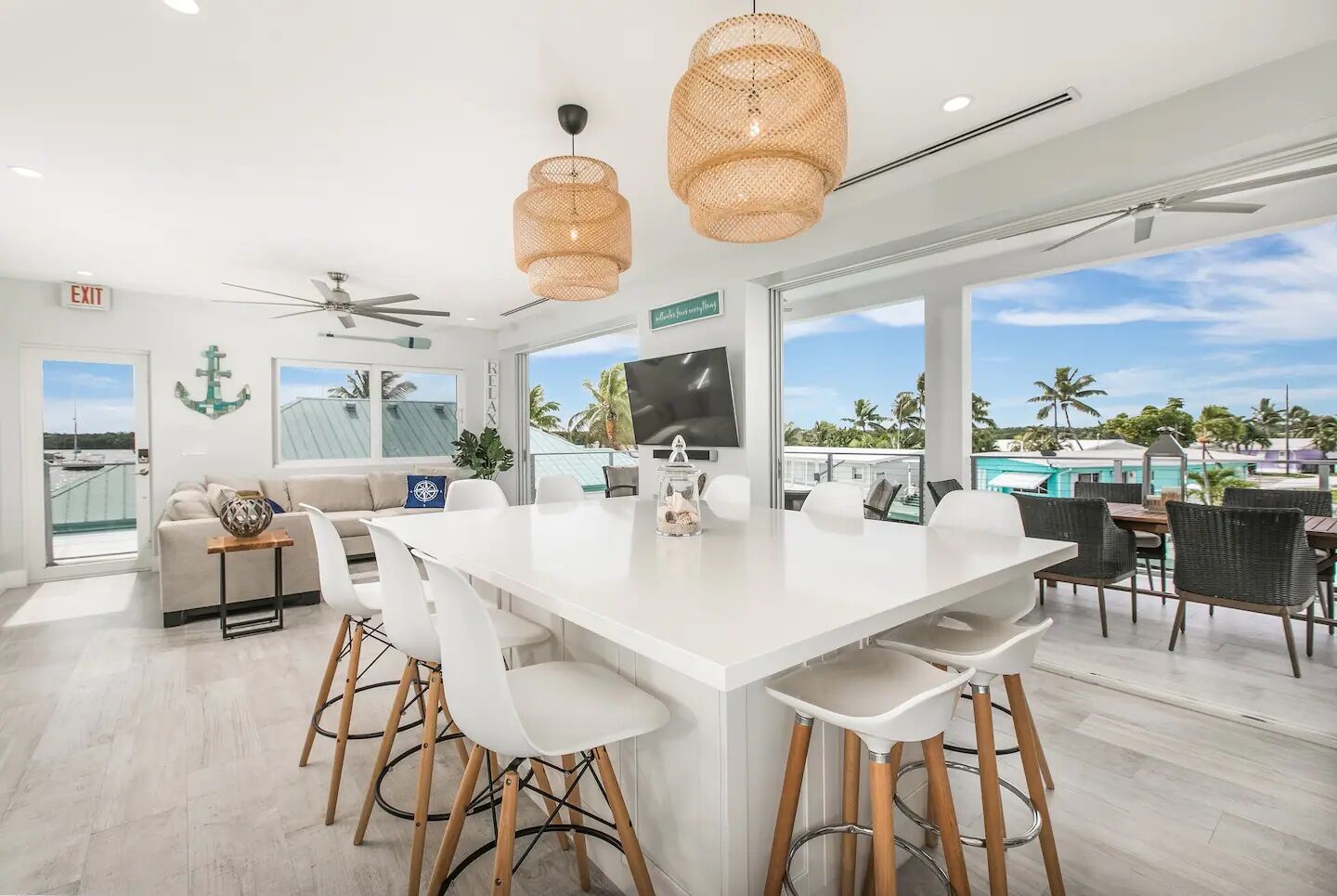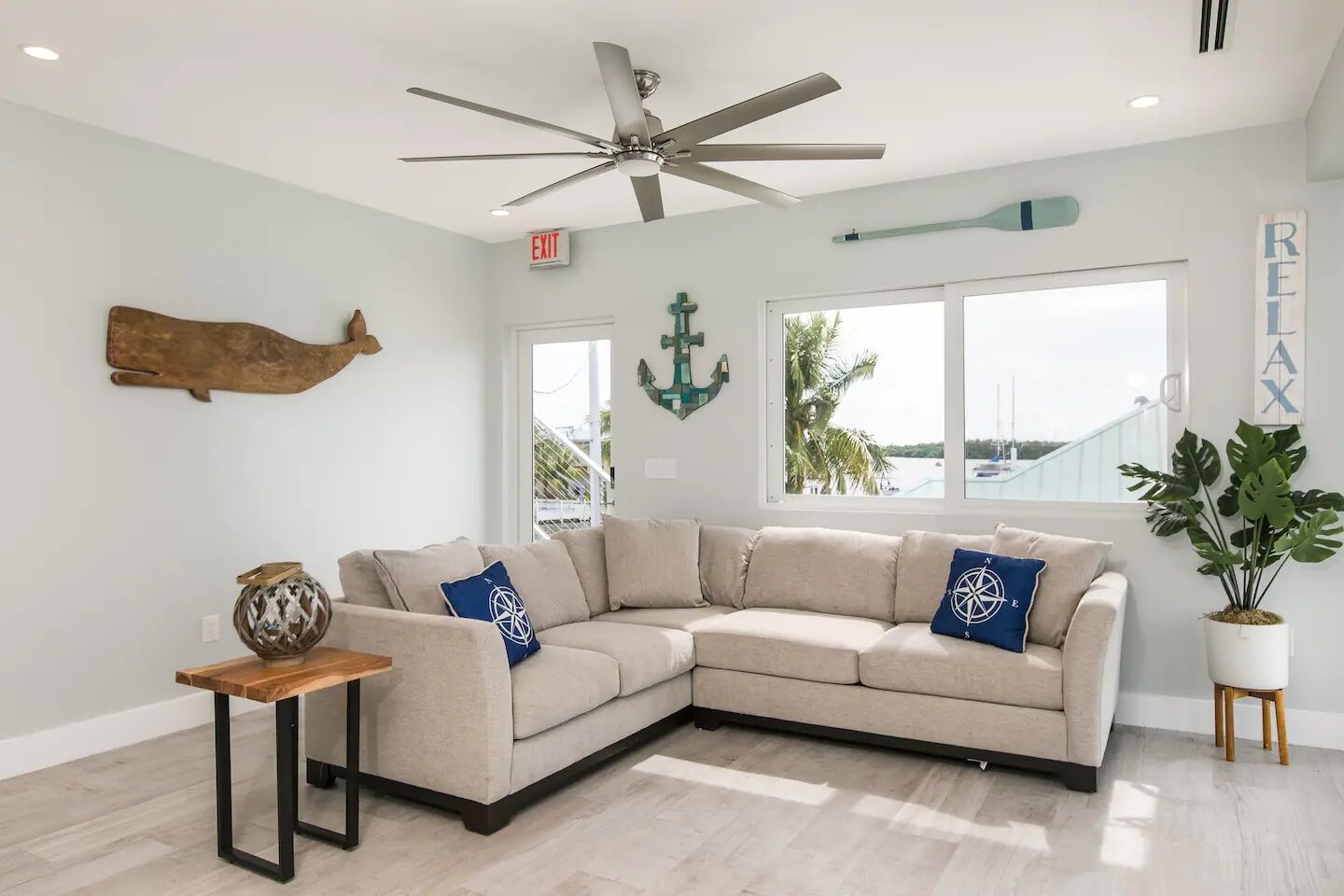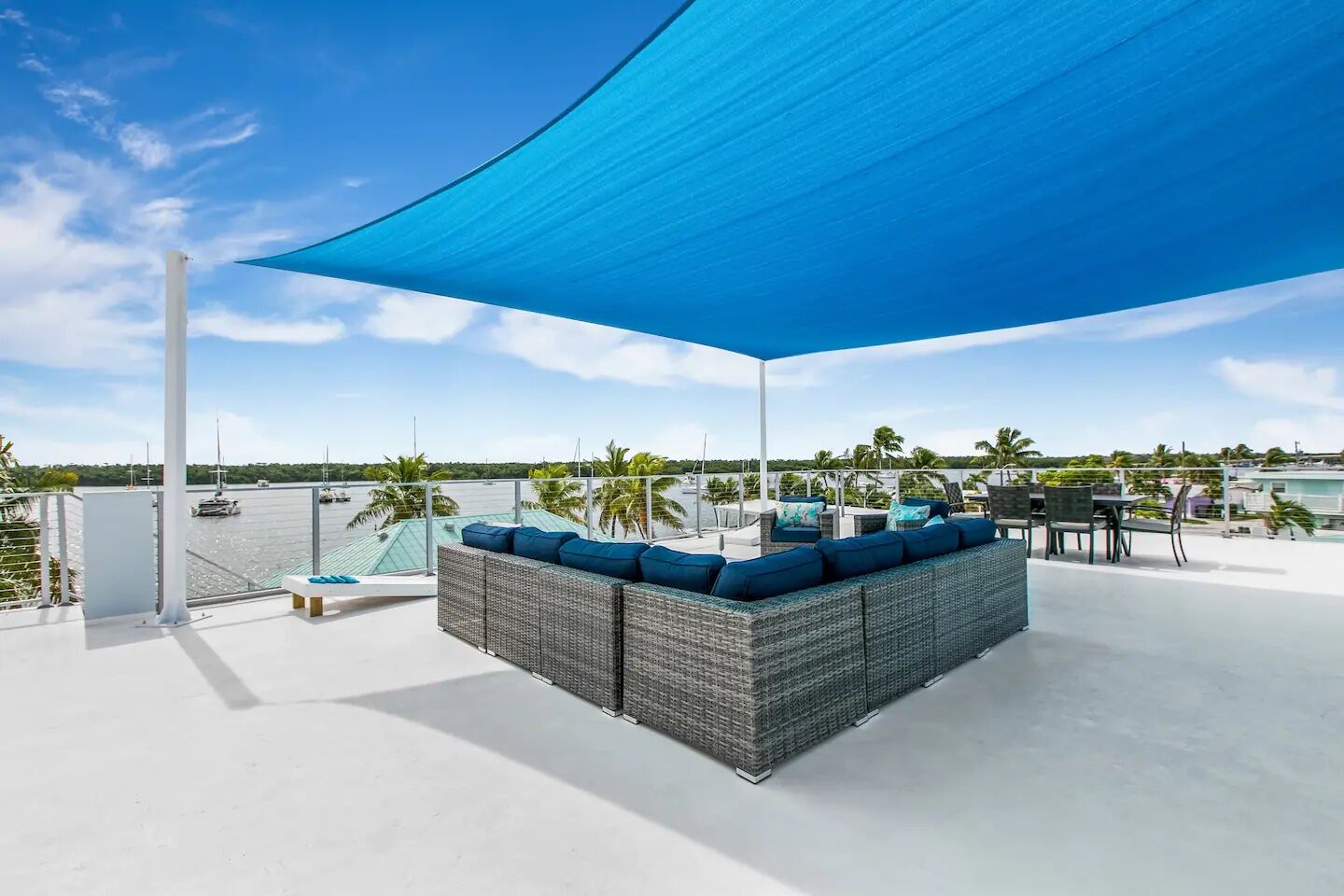 This stylish contemporary home at Marathon's Boot Key Harbor comes with a pool, outdoor showers, patio deck, and rooftop terrace for maximum sunshine access. The grill is integrated with a bar where you can blend a pitcher of margaritas with a view. There's a dock for you to bring your boat and you can fish directly from the pier. Coastal-chic living spaces and guest rooms ensure a zenful stay.
Ten guests, four bedrooms
Price: $700 per night
Traveling to Florida? Check out Matador's Florida accommodations guides:
"Serenity" vacation rental with pool, tiki hut, and dockage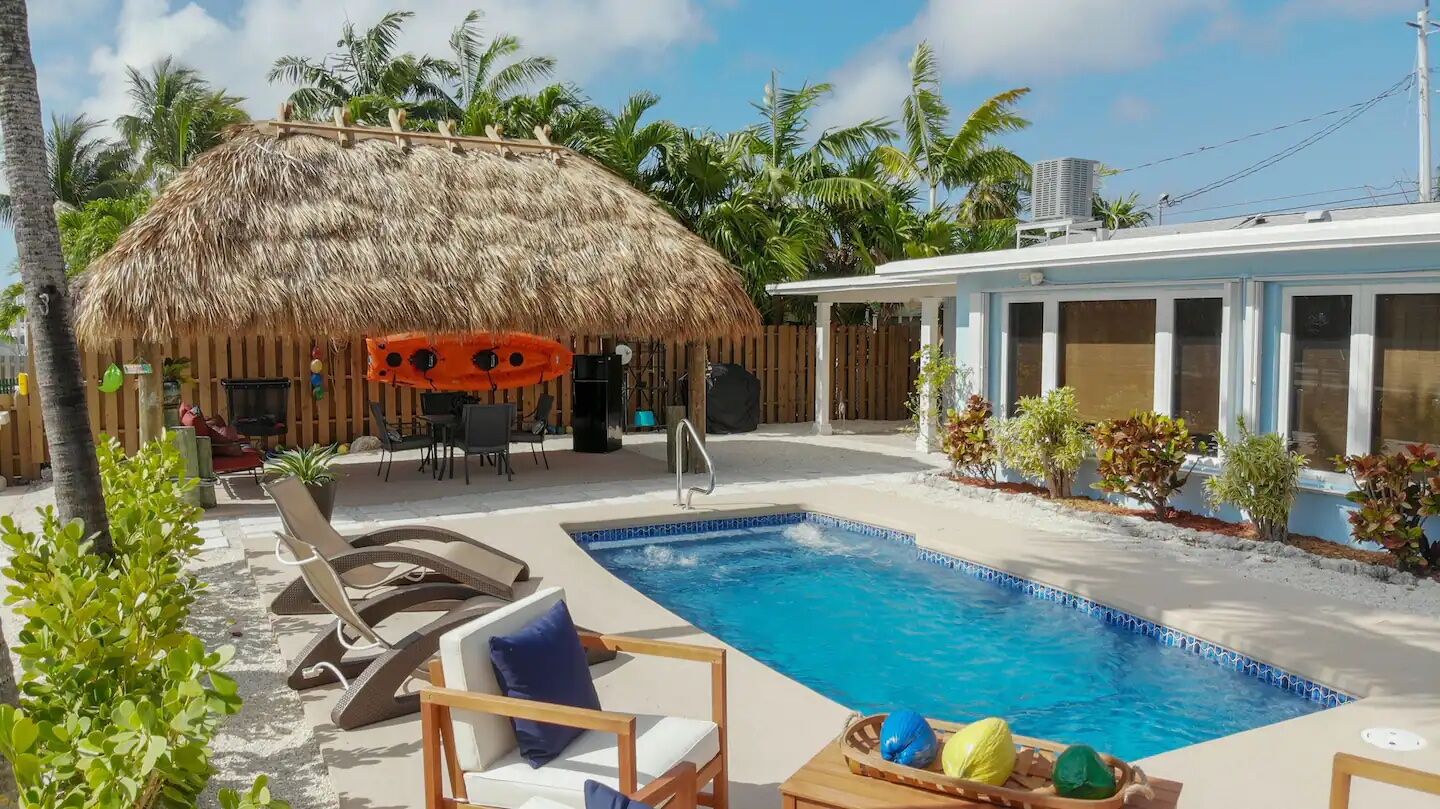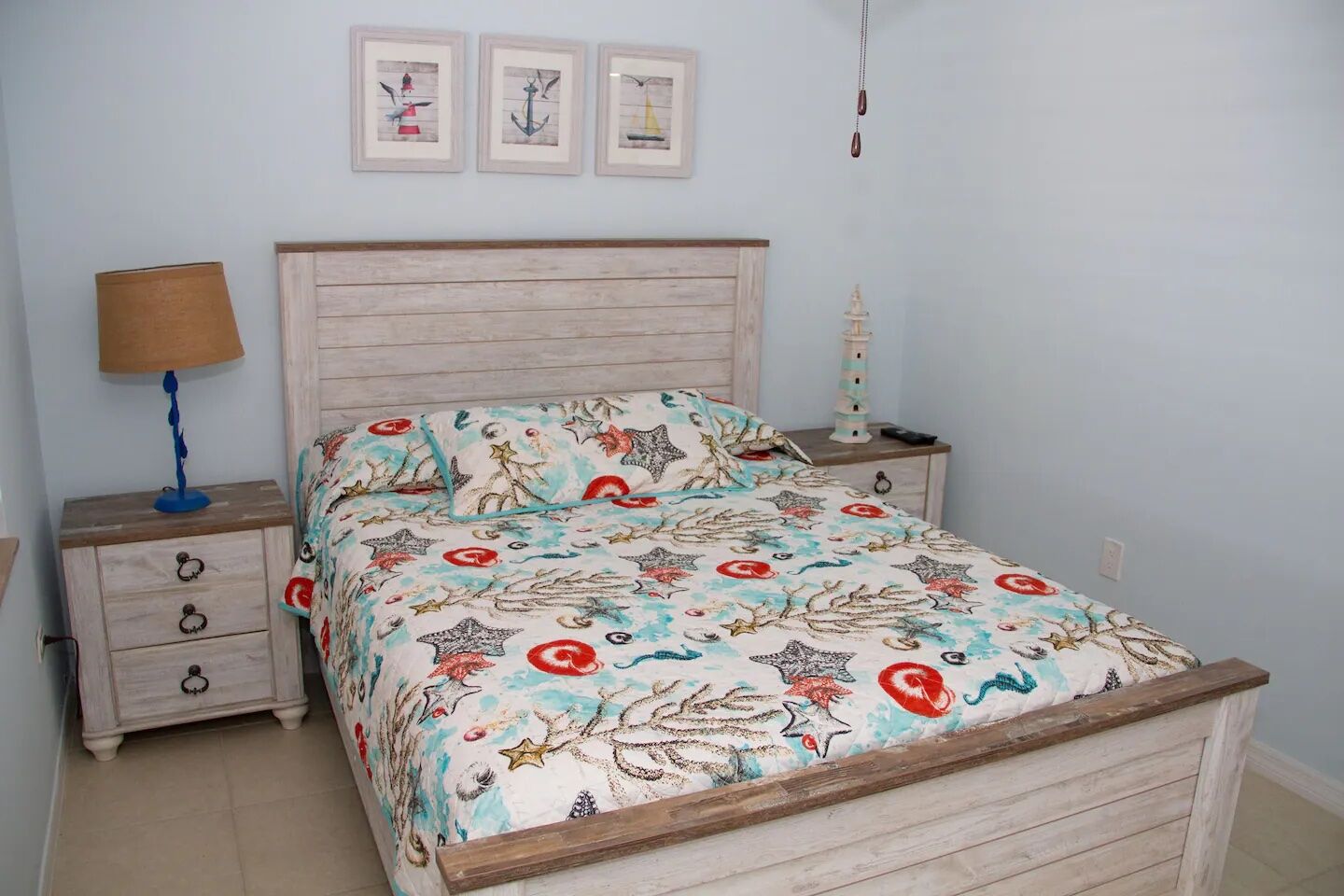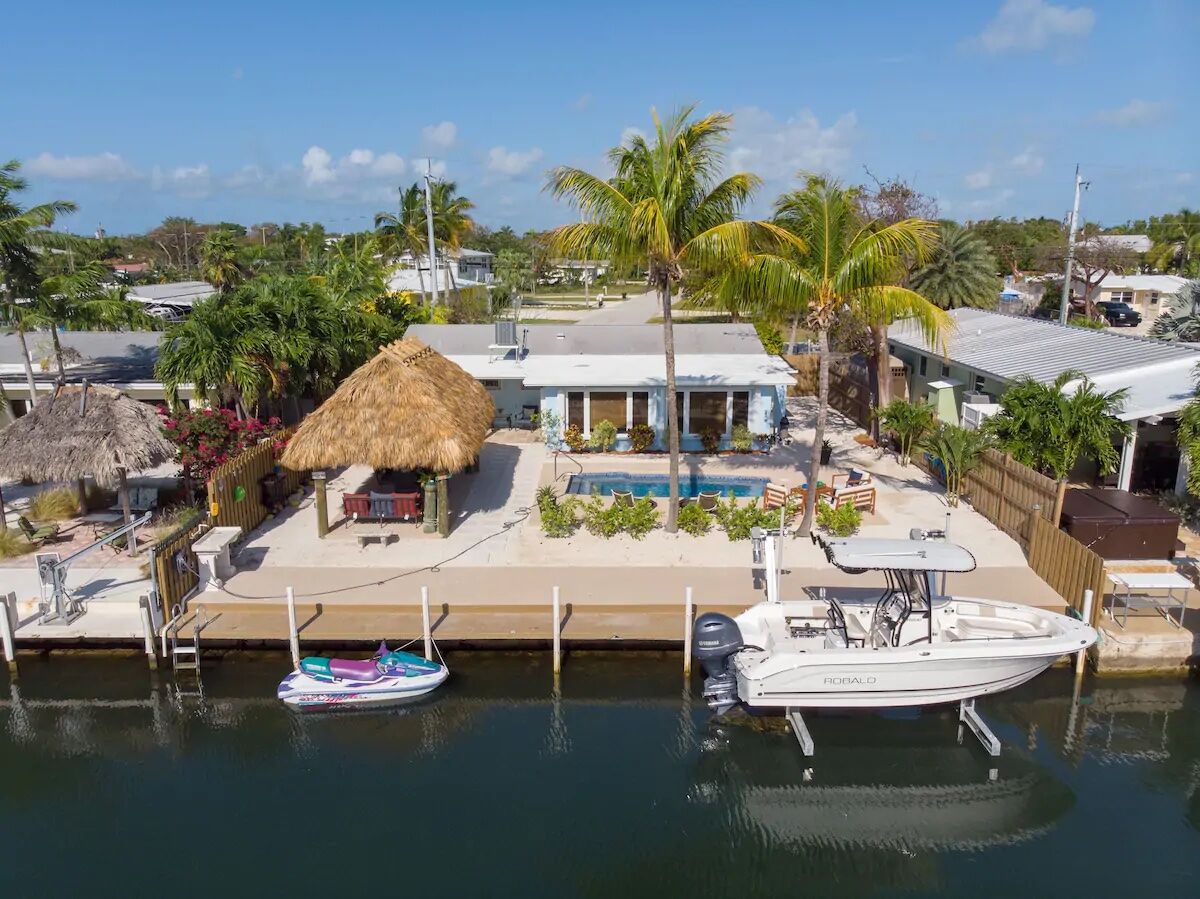 Sited within the peaceful Dolphin Drive community this tropical-themed Marathon bungalow has its own jetted pool plus a tiki hut. Your rental includes two kayaks, two bikes, and 30 feet of dockage. Dogs are welcome at this pet-friendly Airbnb in the Florida Keys. Interiors are colorful and comfy although you should expect to spend most of your stay basking outdoors under the Floridian sun.
Six guests, two bedrooms
Price: $350 per night
Waterfront home with pool and hot tub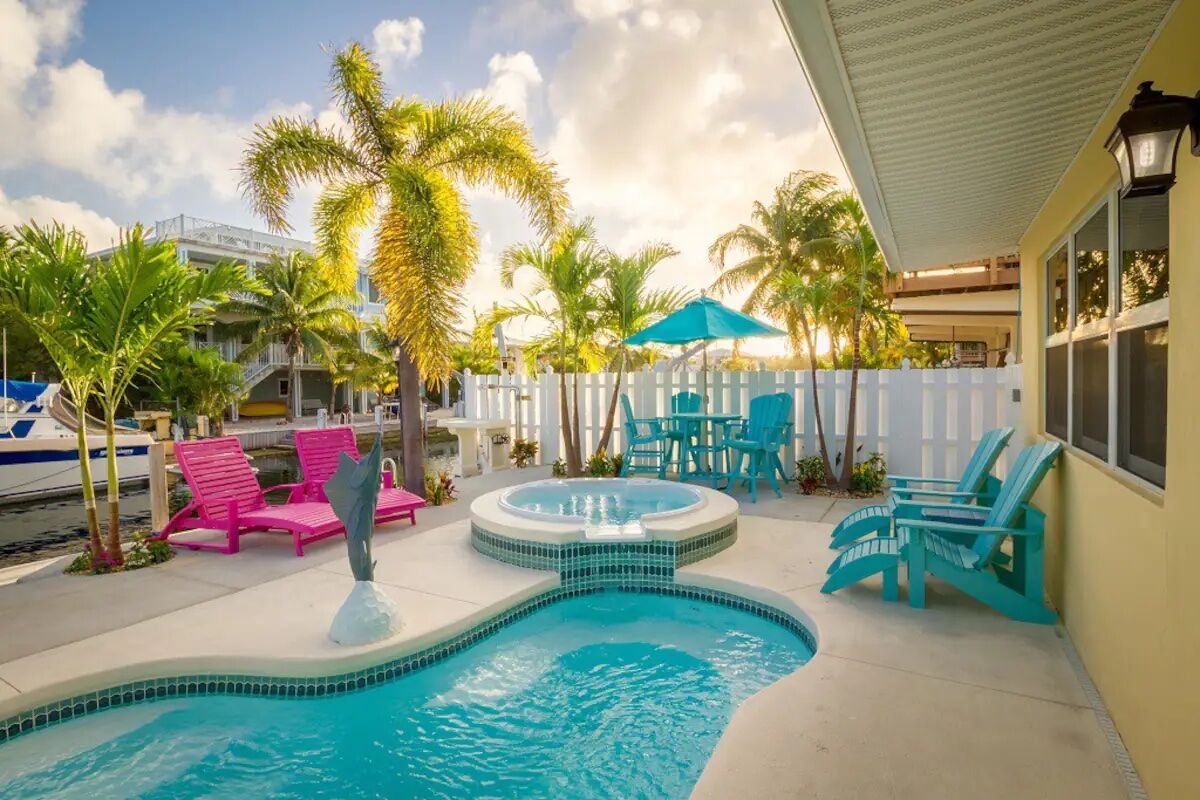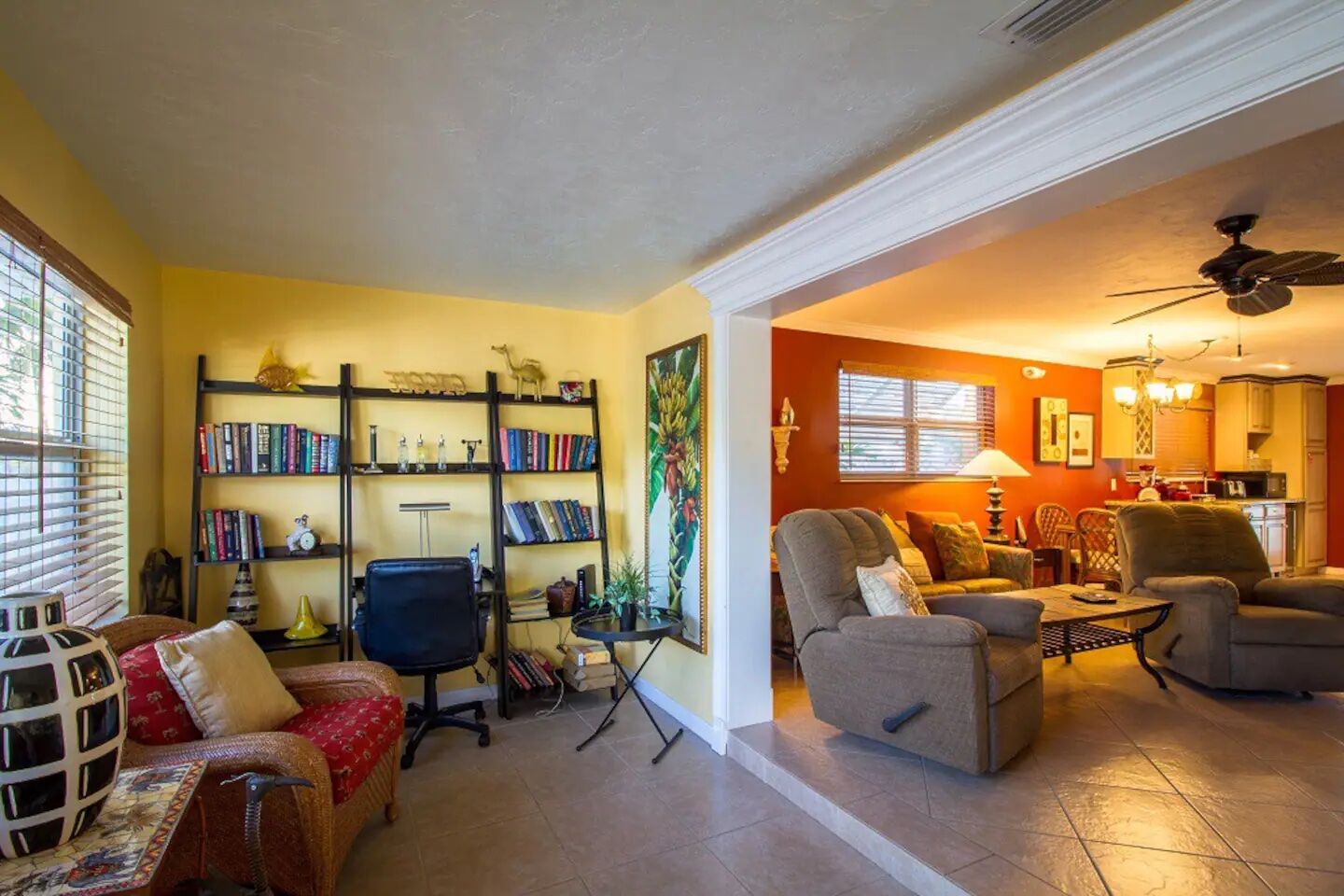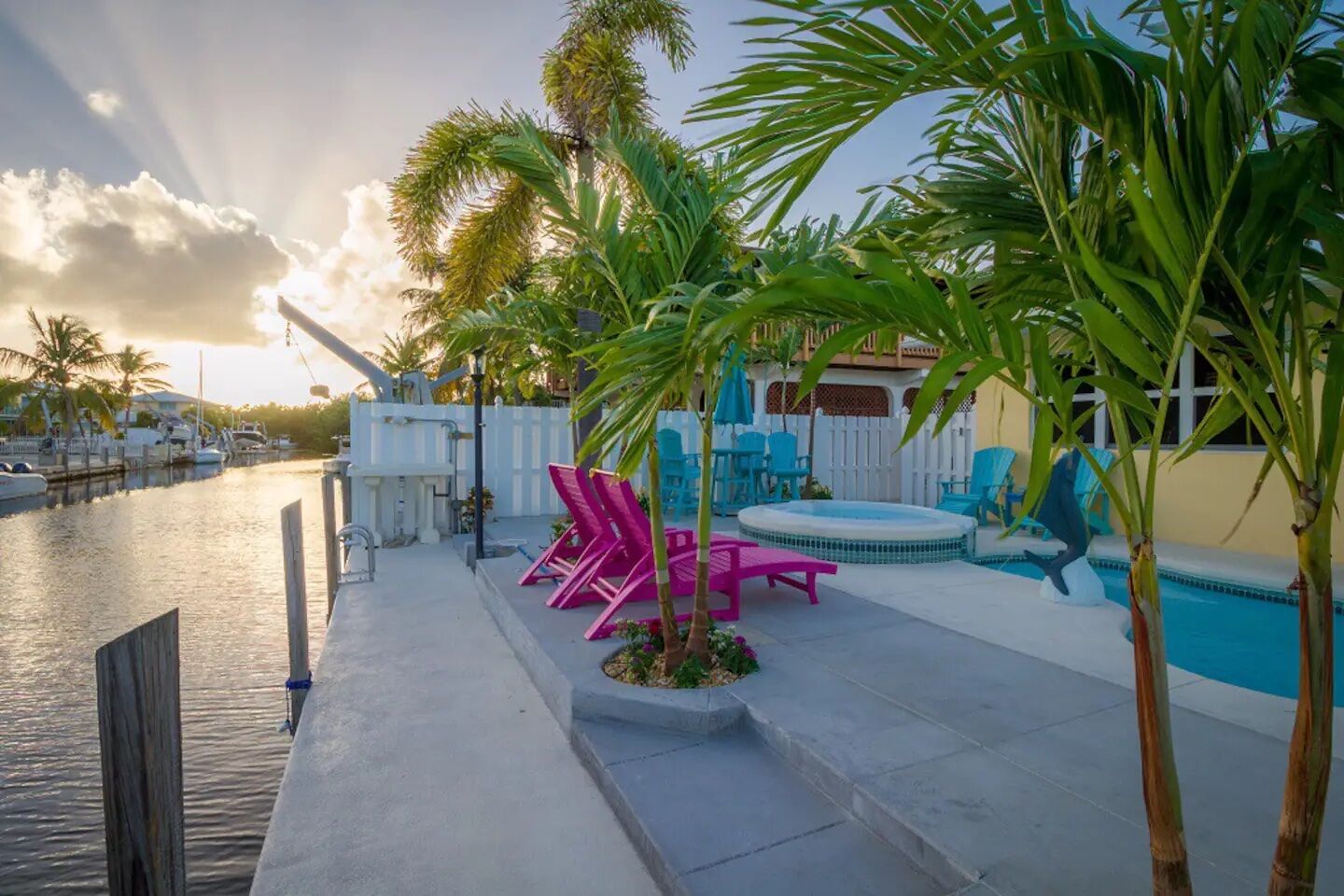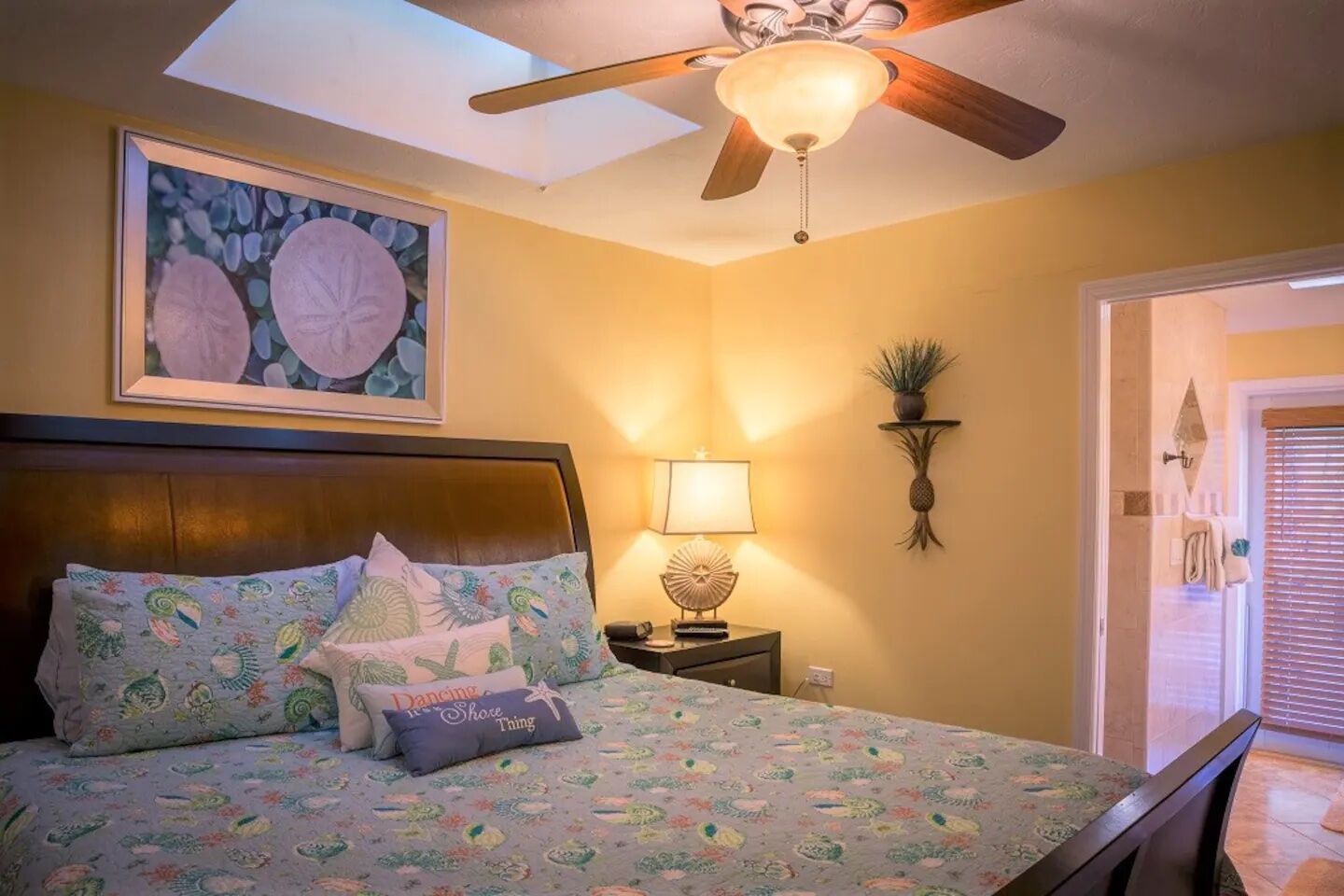 Handy for the airport, this cute yellow bungalow offers direct water access. The Gulfside property's backyard is fitted with a pool, a hot tub, and a 35-foot dock. Besides the two en suite guest suites, you've got a plush lounge with a separate "den" for indoor downtime. Keep your eyes peeled for the manatees that dwell in the canal.
Six guests, two bedrooms
Price: $260 per night
Unique Houseboat Airbnb Florida Keys rentals
56-foot catamaran with paddle boards and crew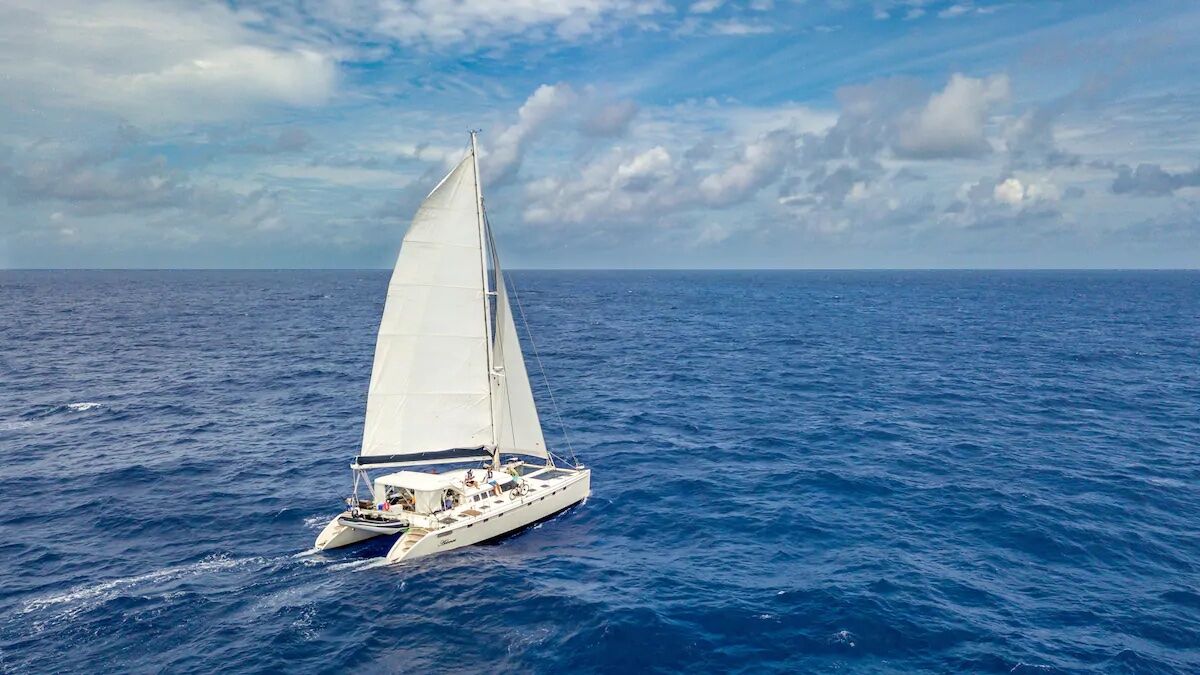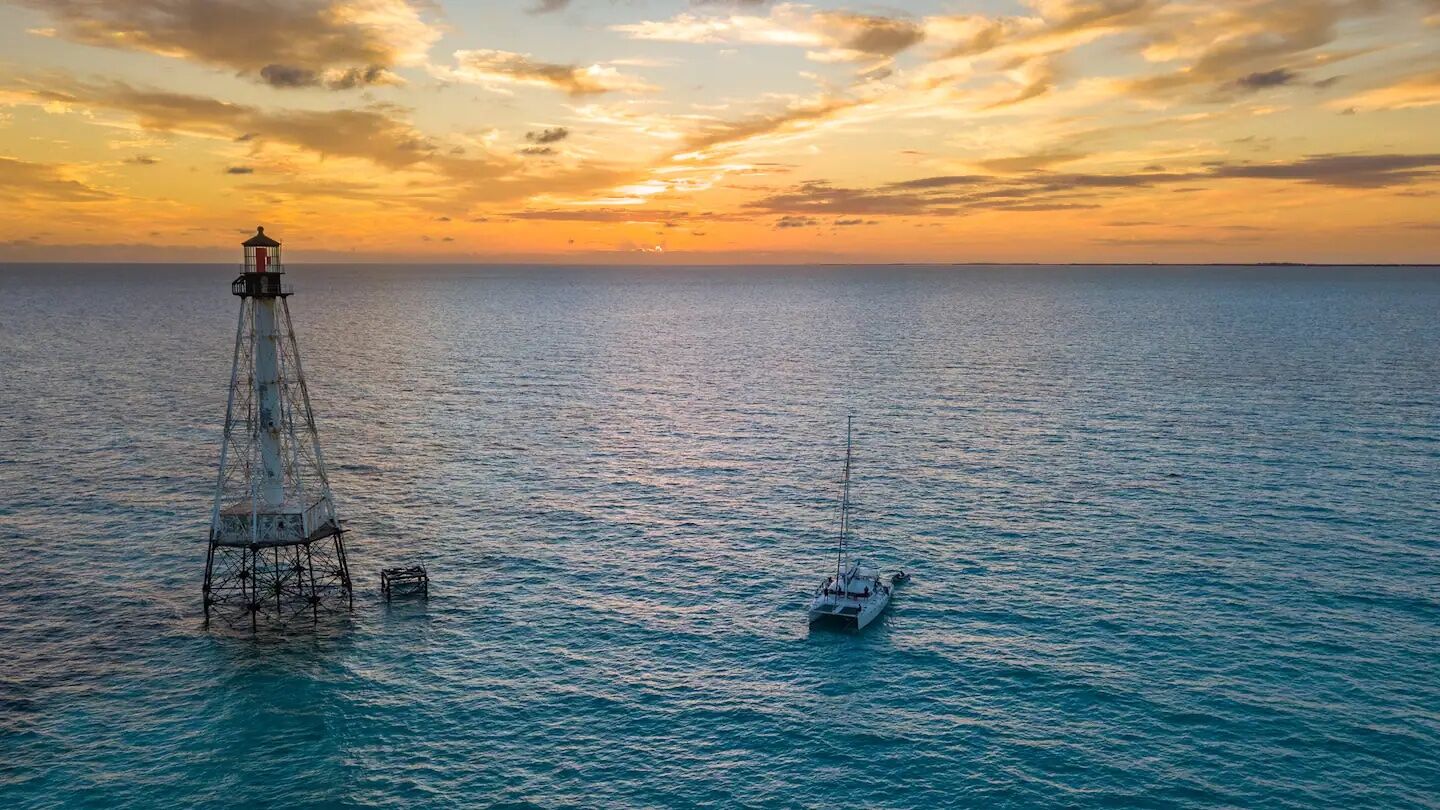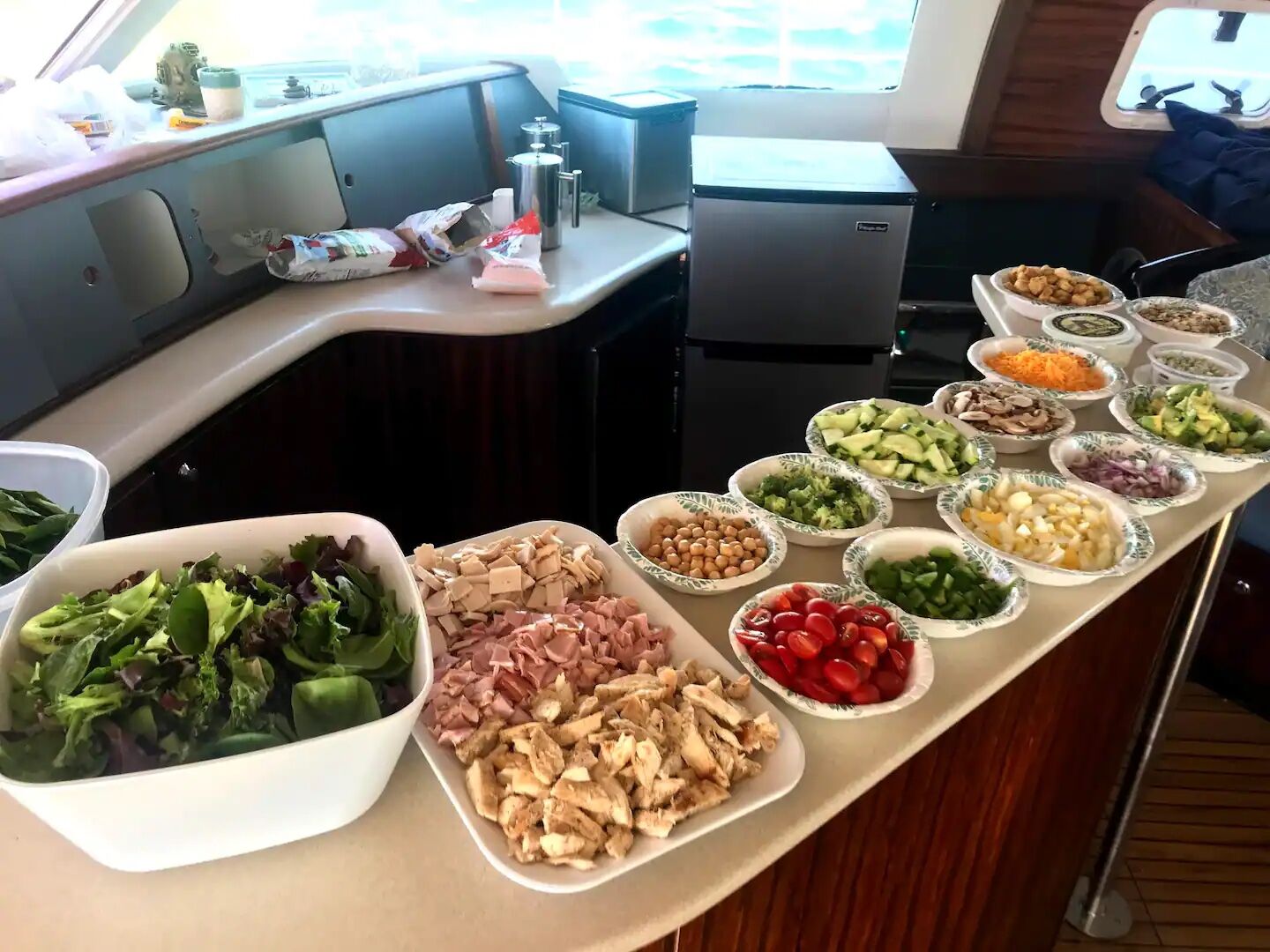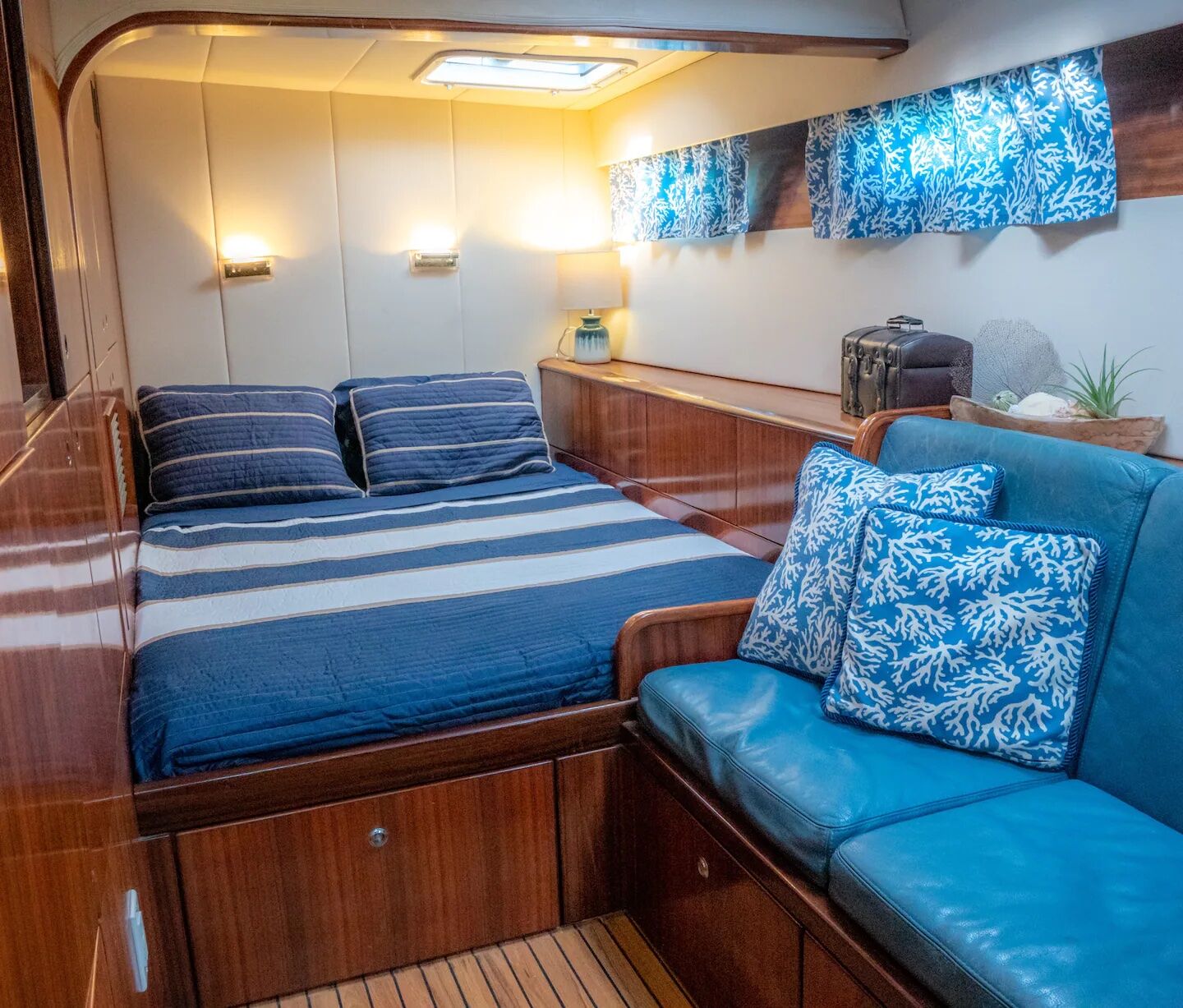 Sail away with Captain Josh on this luxury catamaran Florida Keys Airbnb. Three self-contained cabins provide comfy lodgings for couples, families, and groups. With the exception of alcohol, the hire fee is fully-inclusive of fuel, groceries, and recreation supplies including fishing gear and snorkels. Chat with First Mate Jami about the menu and she'll tailor-make all meals to suit your tastes. And the itinerary? It's over to you.
Six guests, three bedrooms
Price: $2,000 per night
Captain's Quarters – Aqua Lodge houseboat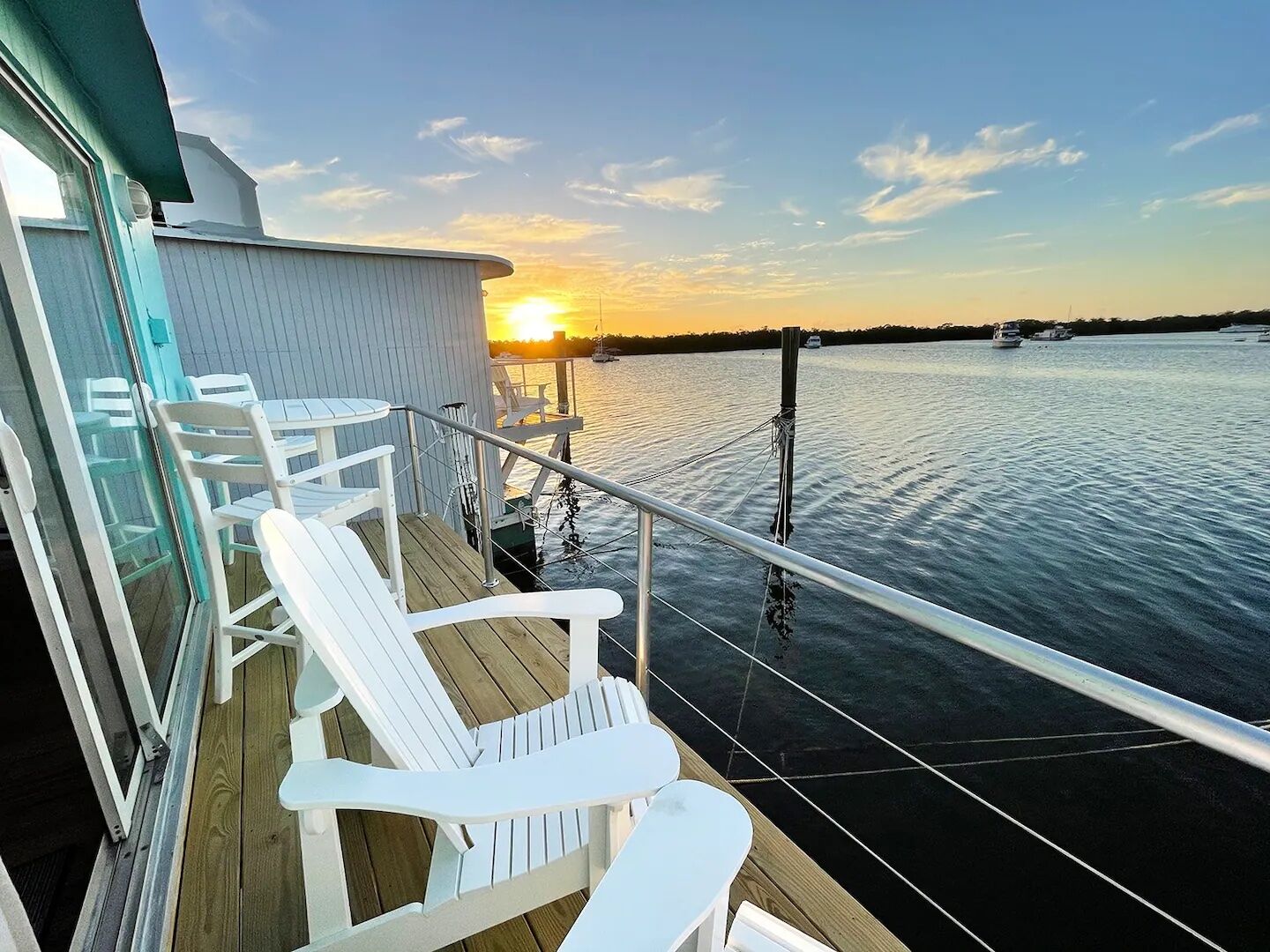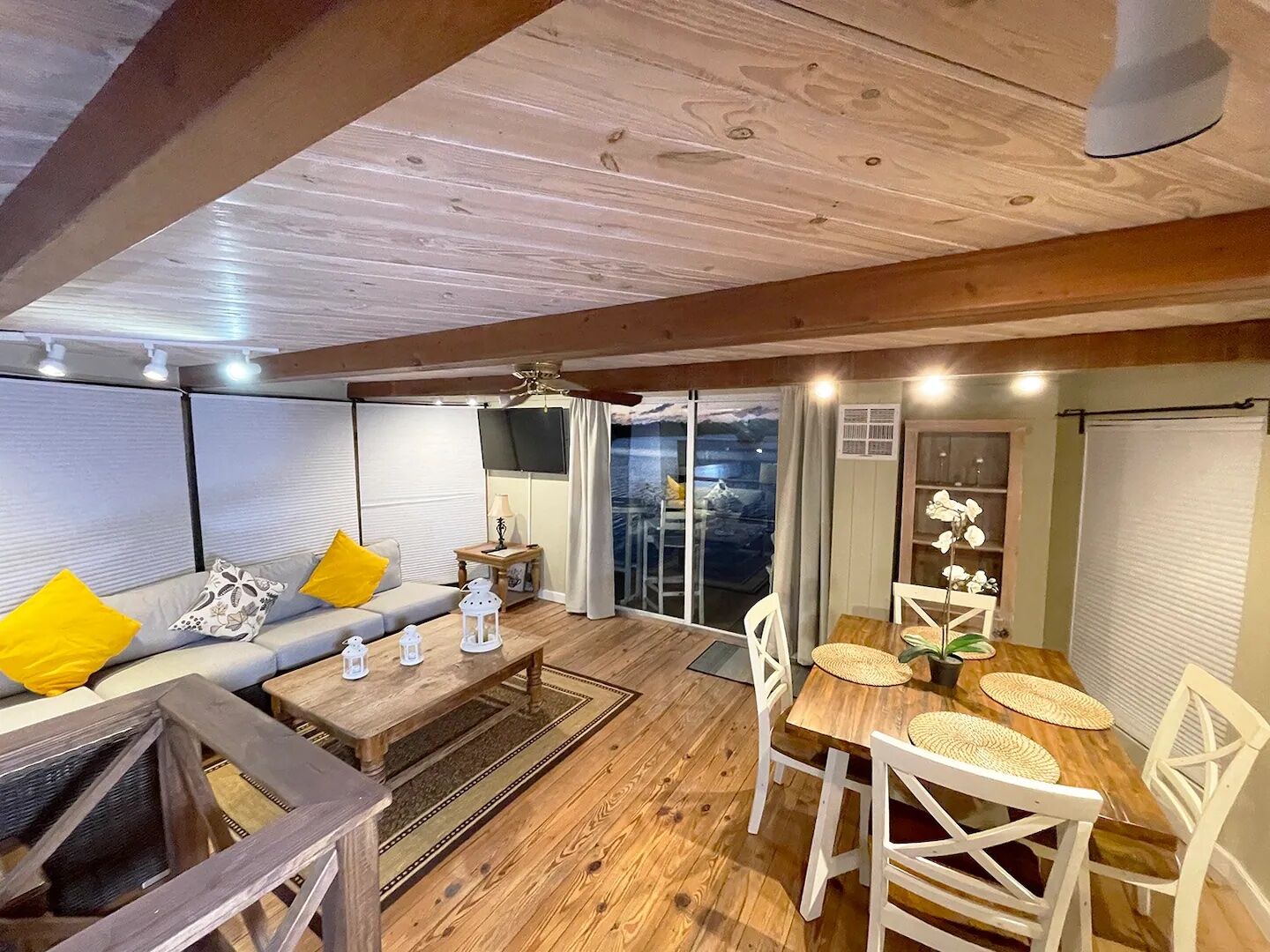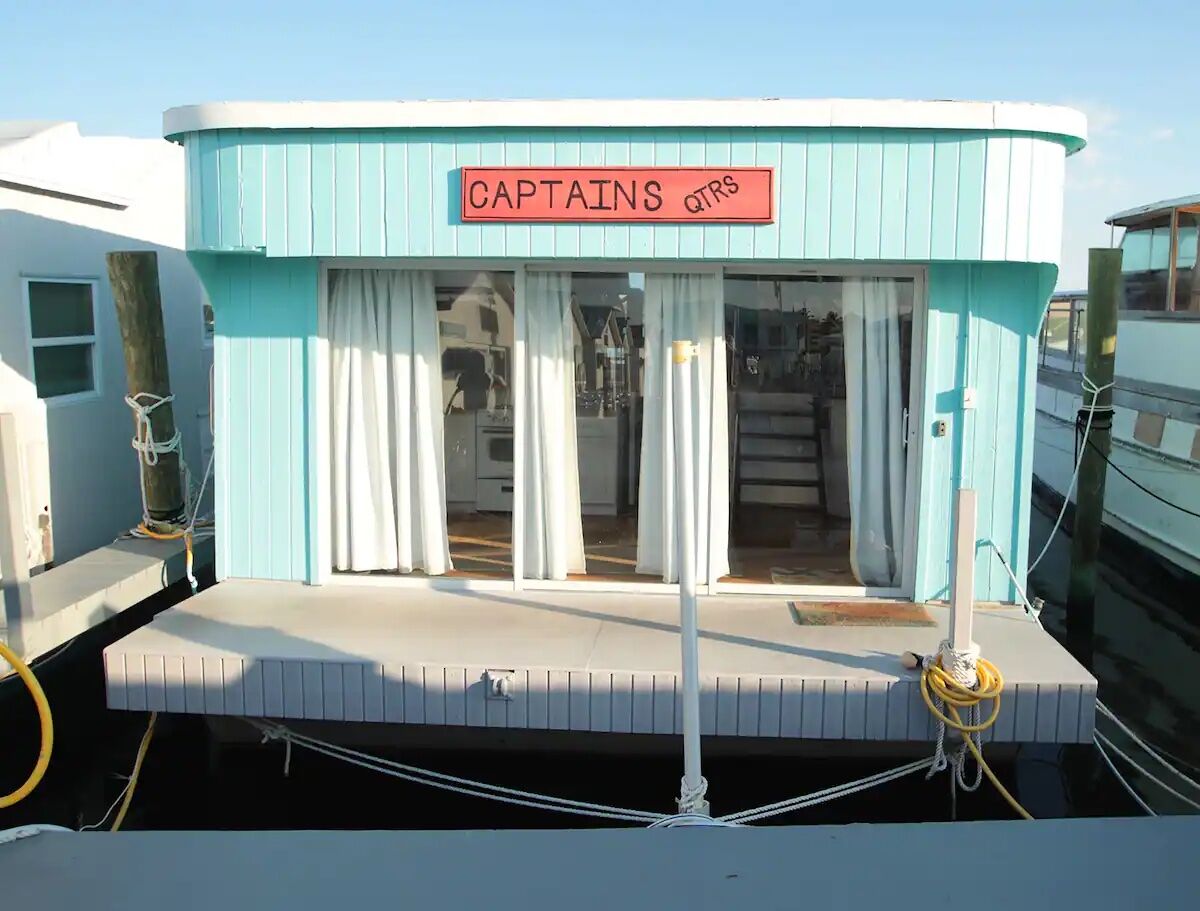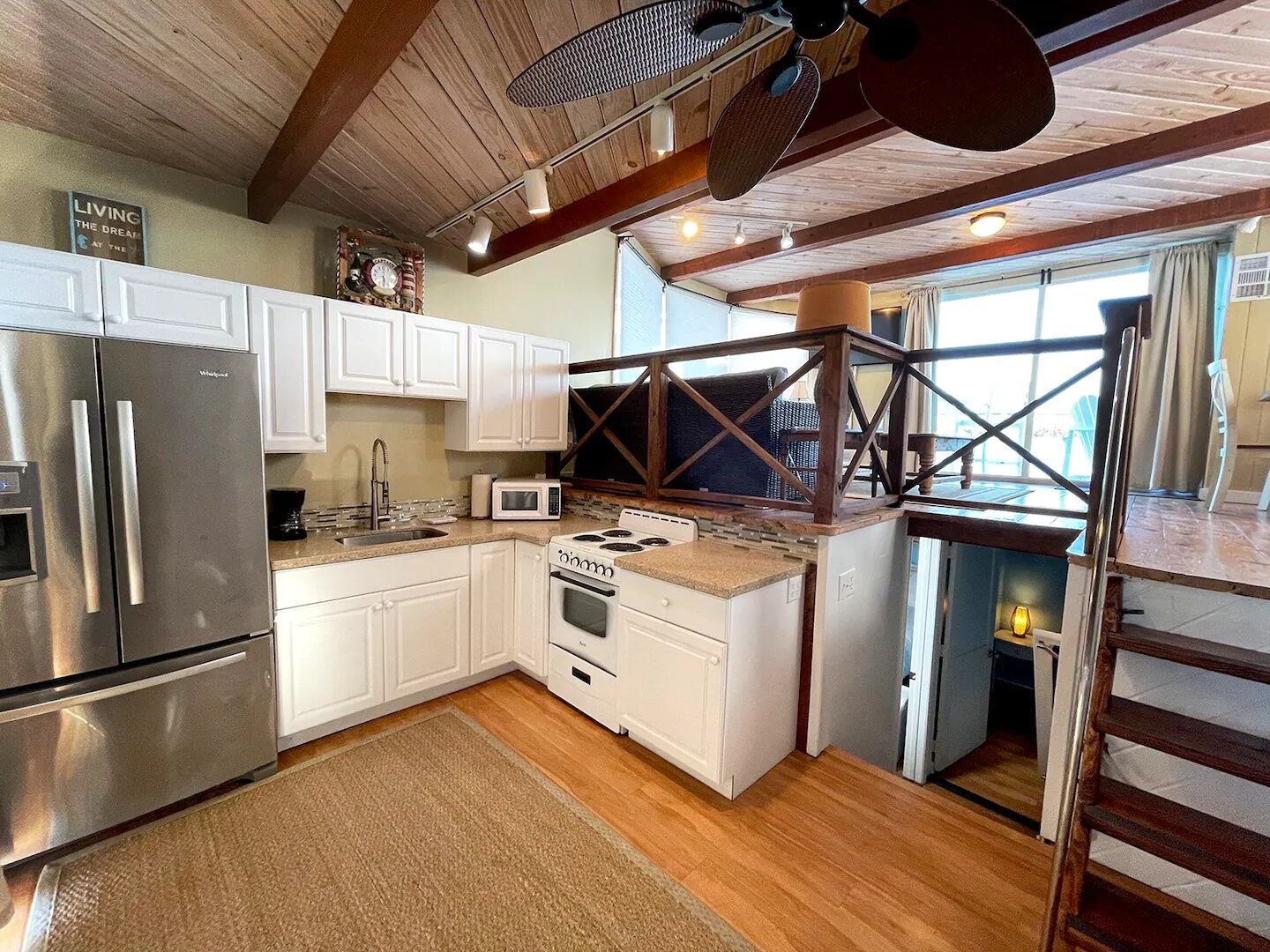 When the views look like this, there's no need to hit the high seas. This Florida Keys Airbnb houseboat is spread over an open-plan lounge and kitchen with a separate bedroom. The living space benefits from French sliding doors that reveal your private balcony and front-row seats at sunset. Dogs are welcome for a modest surcharge. The boat is docked partway between Key Largo and Islamorada – head this way for more Airbnb Key Largo picks.
Four guests, one bedroom
Price: $400 per night
Best Florida Keys Airbnbs — Sugarloaf Key
Pan de Azucar Beach House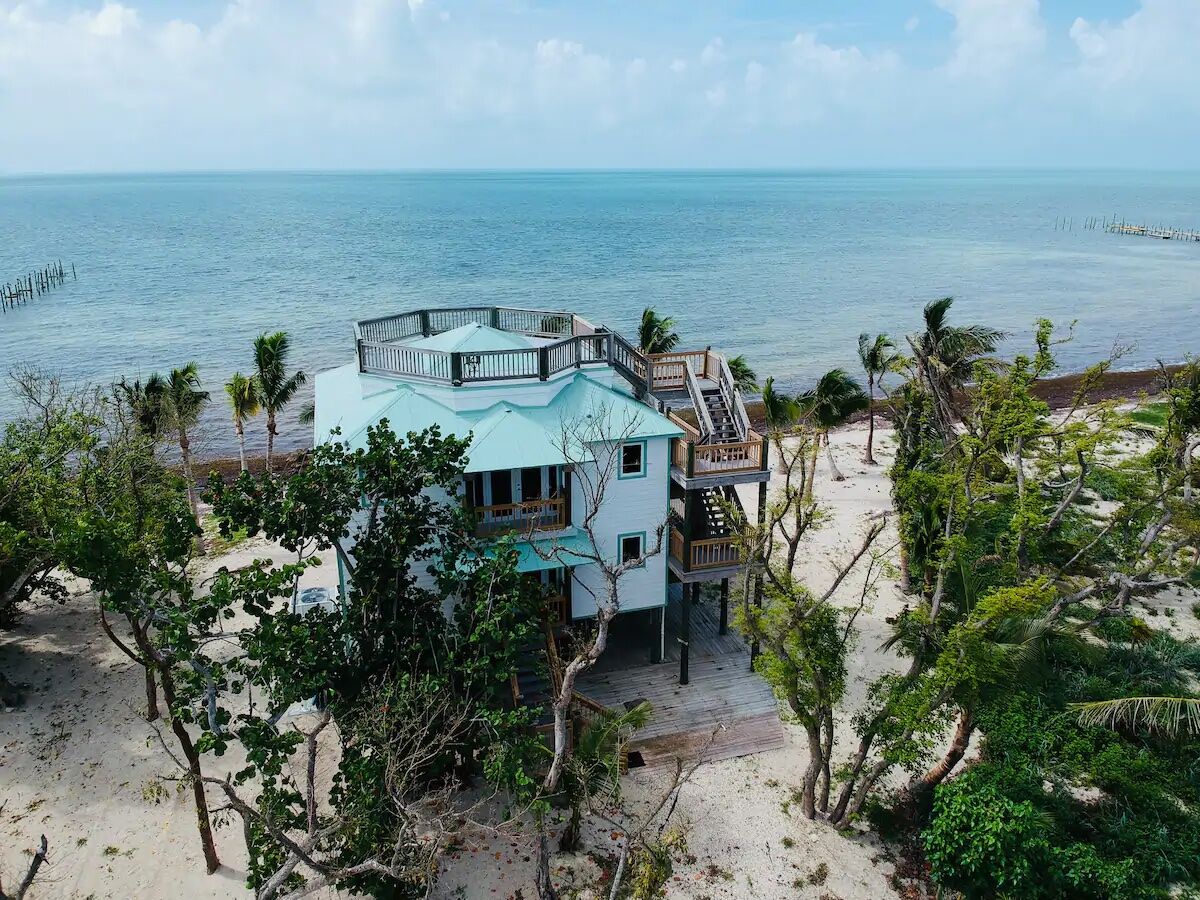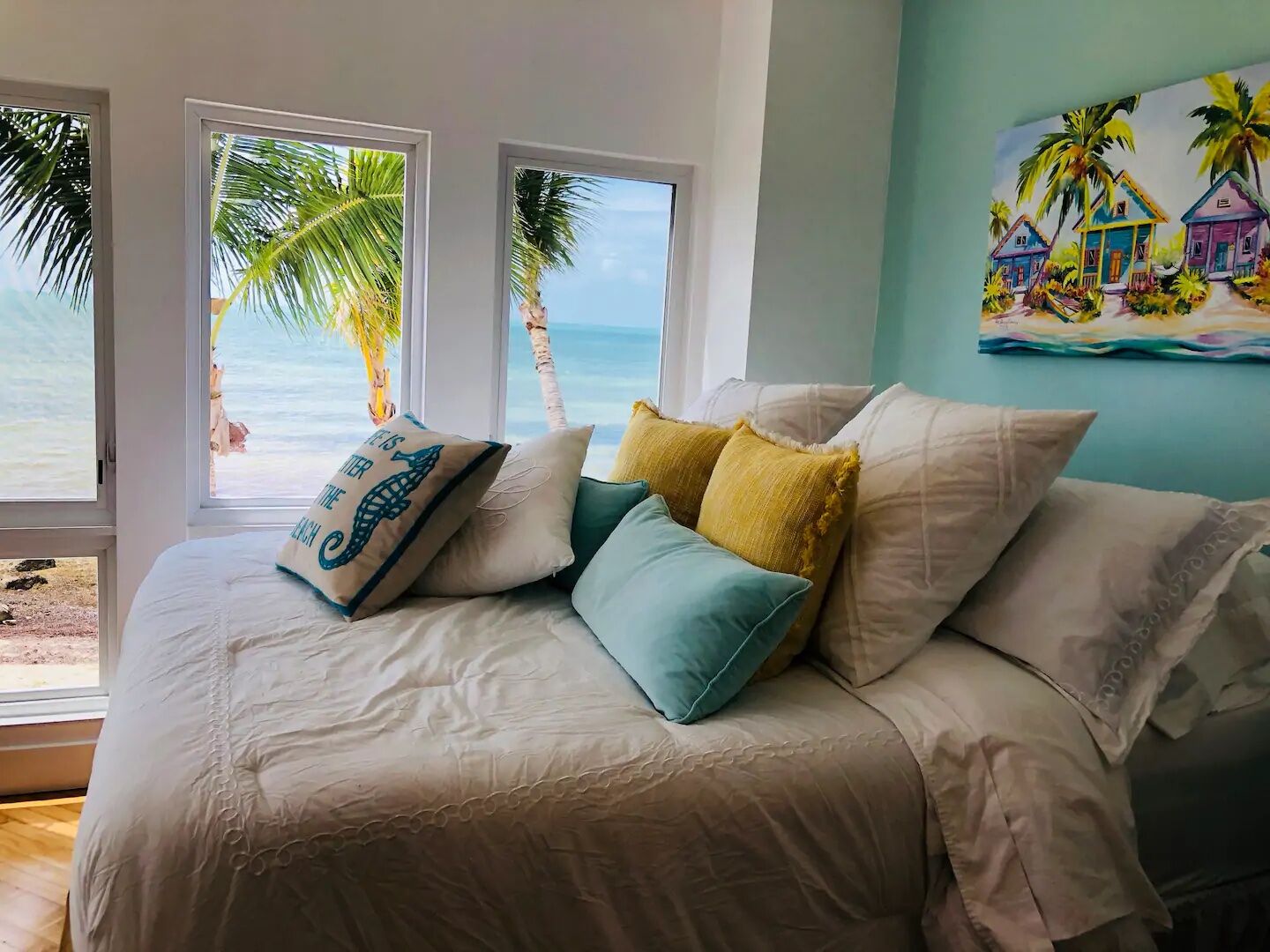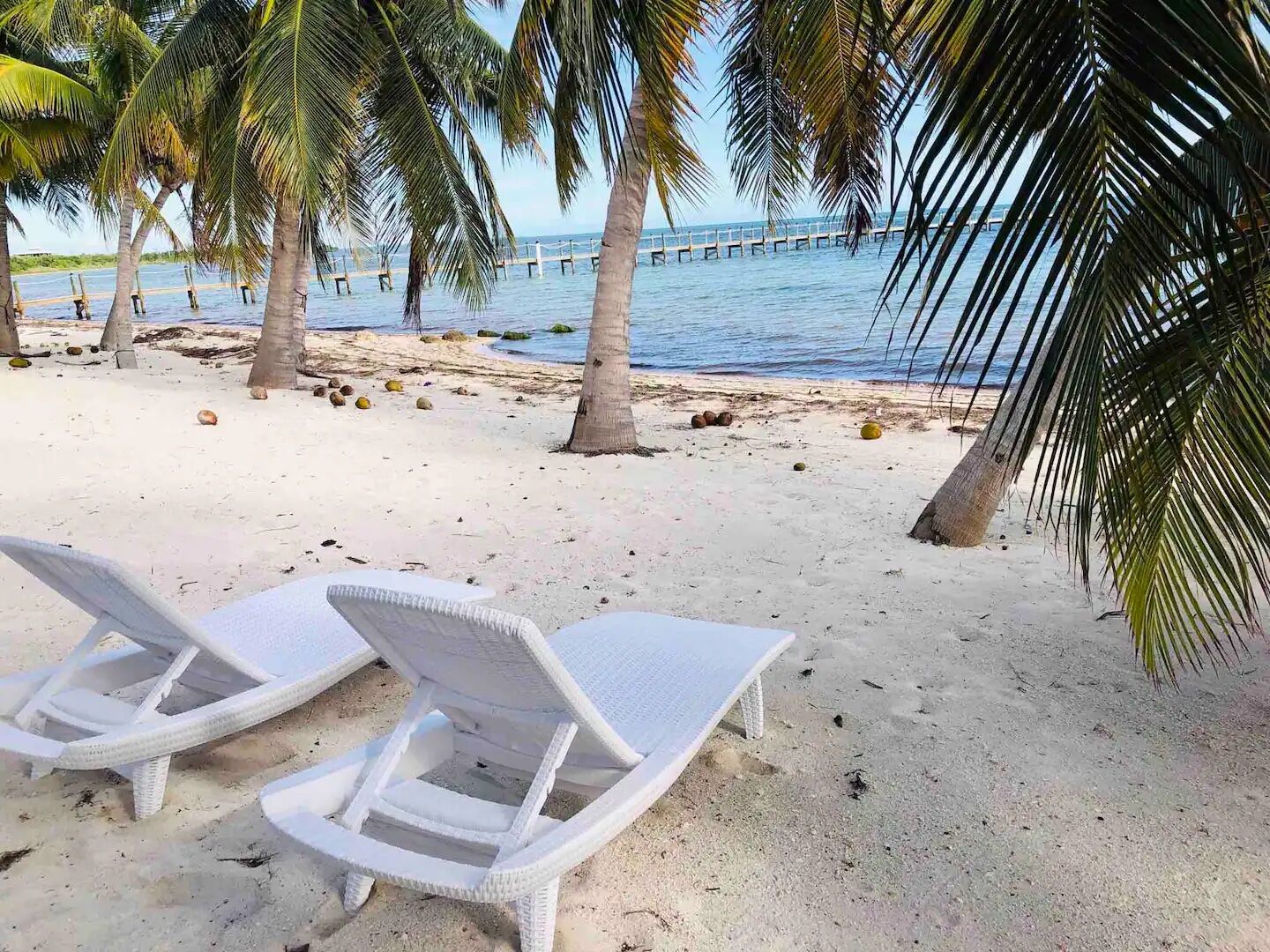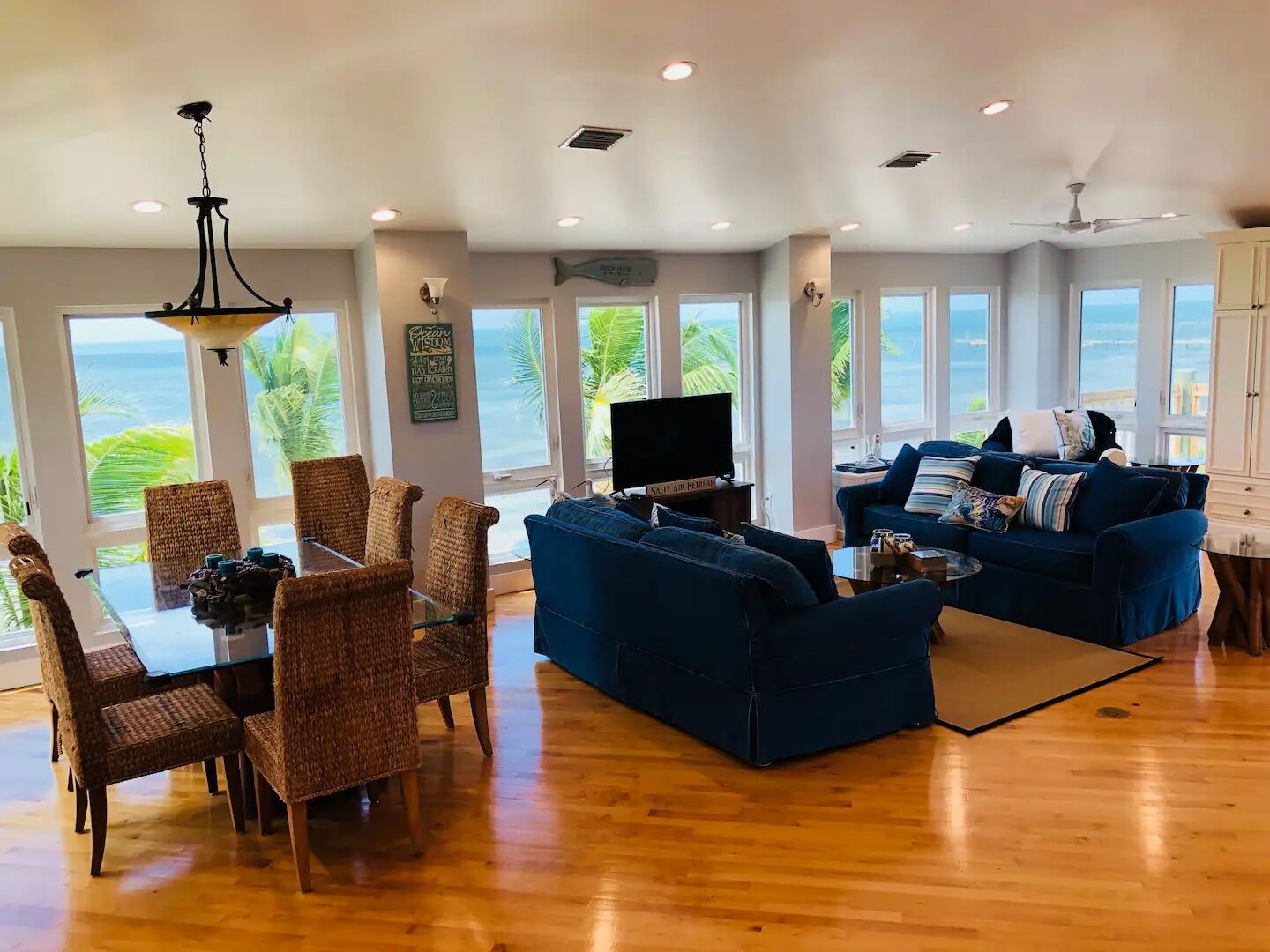 This one-of-a-kind beach house is set upon a secluded sandy beach that might convince you that you've rented a private island. Conditions are perfect for swimming, snorkeling, kayaking, and paddle boarding; rest assured, the host provides all the necessary gear. Soak up views from the balconies or hammock and feel free to use the Tiki bar and pool at the sister property. Sugarloaf Key is only 30 minutes away from Duval Street: check out our selection of Key West Airbnbs if you want to stay in the center of the action.
Eight guests, two bedrooms
Price: $1,200 per night
Top Airbnb Florida Keys — Cudjoe Key
Oceania – waterfront cottage retreat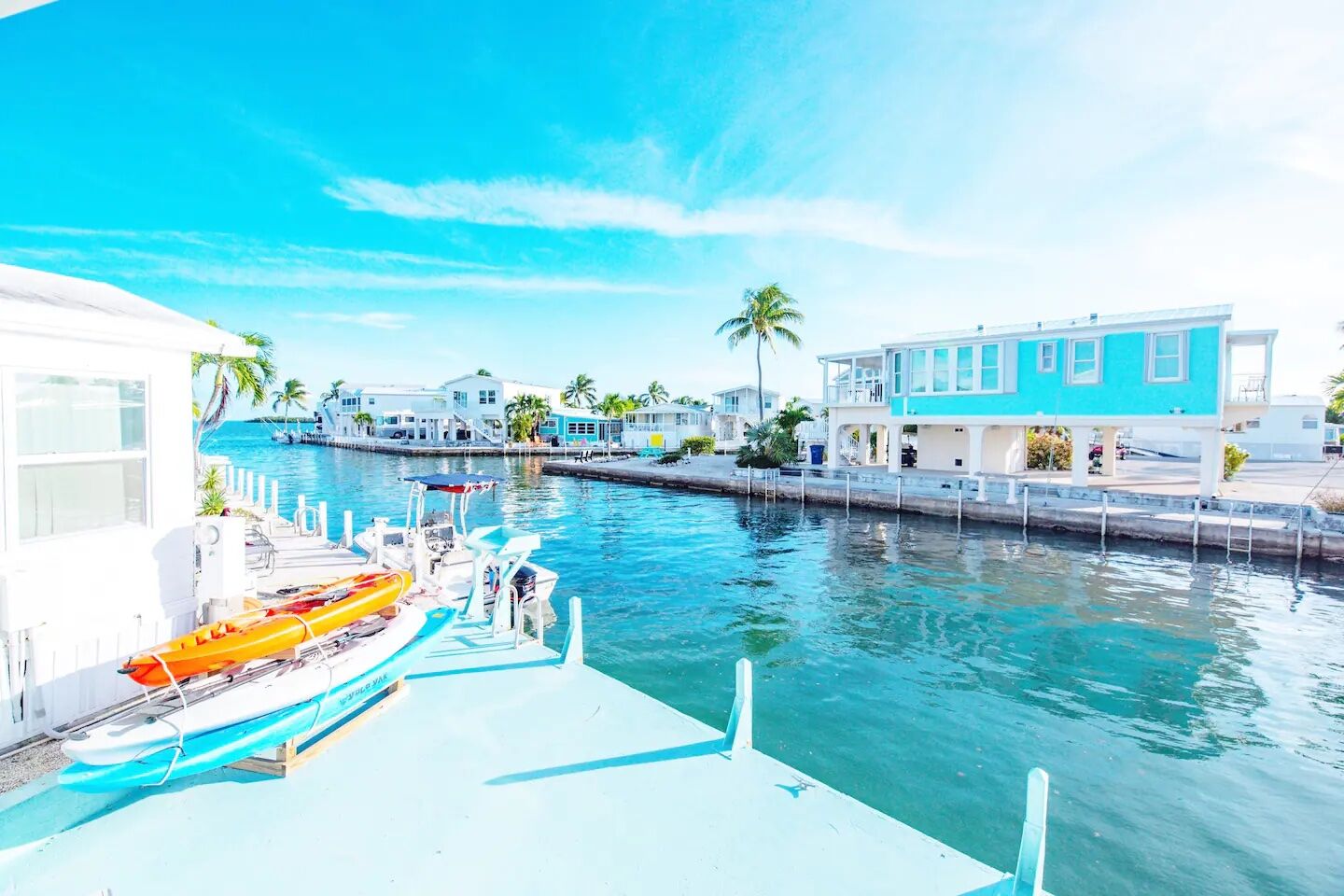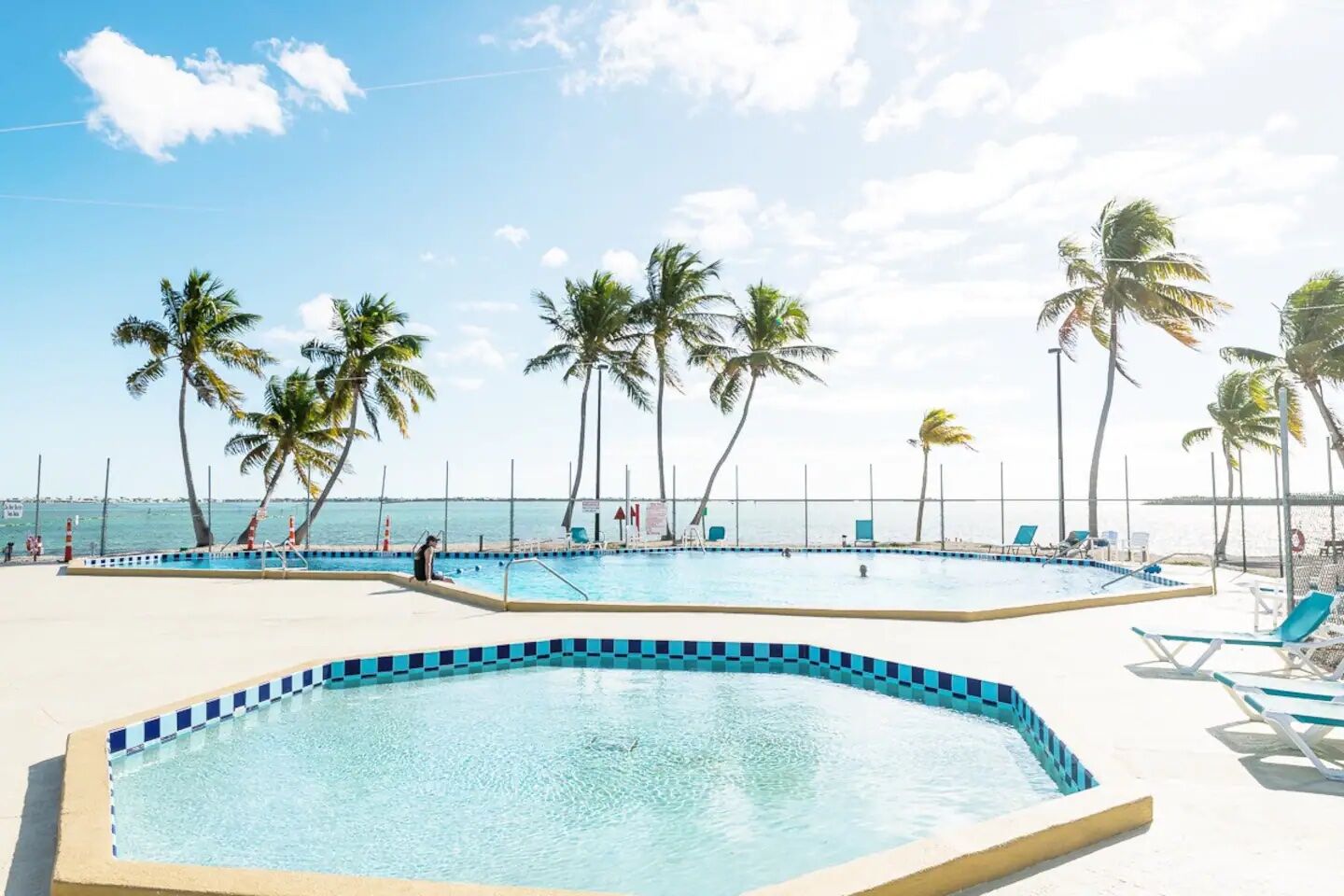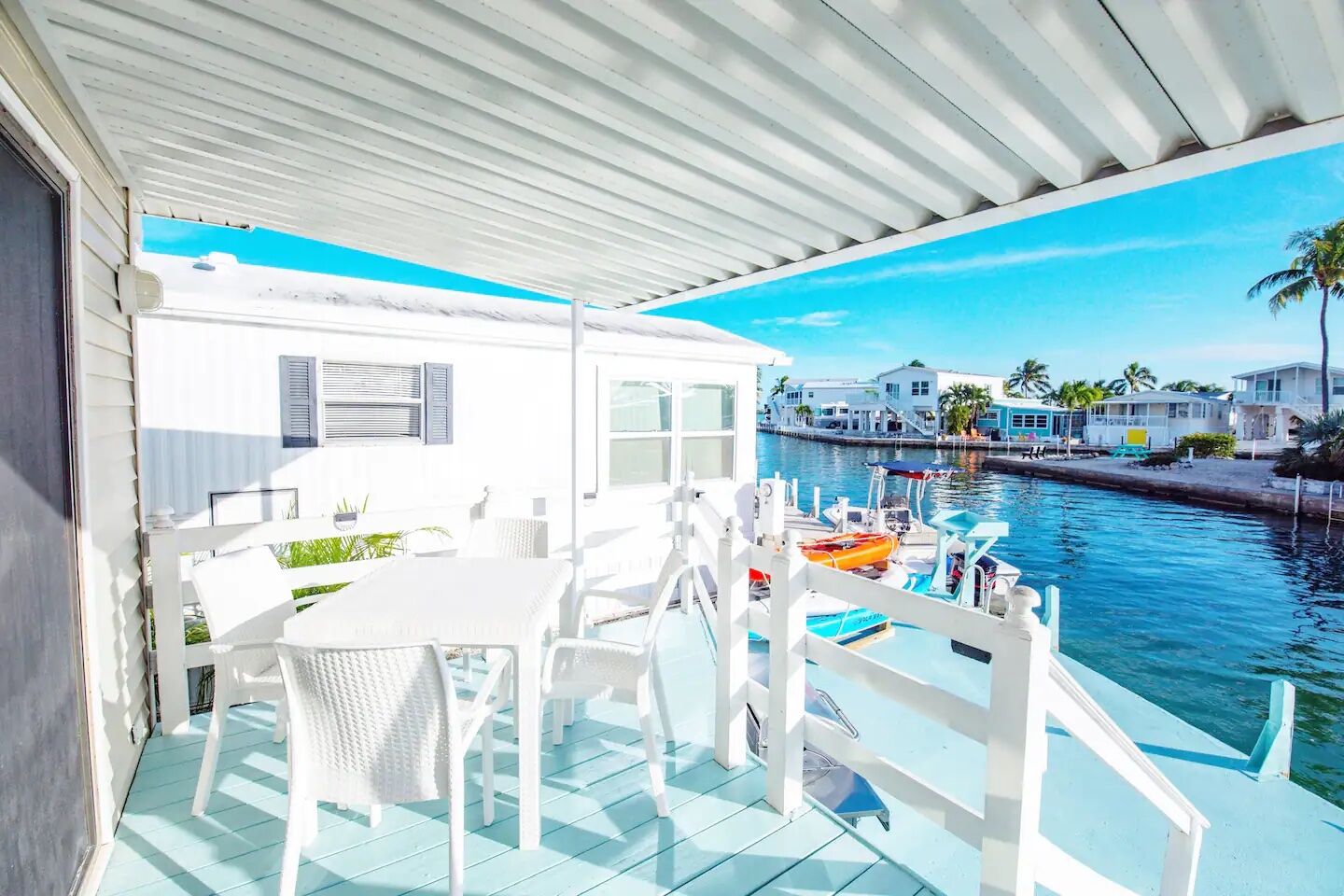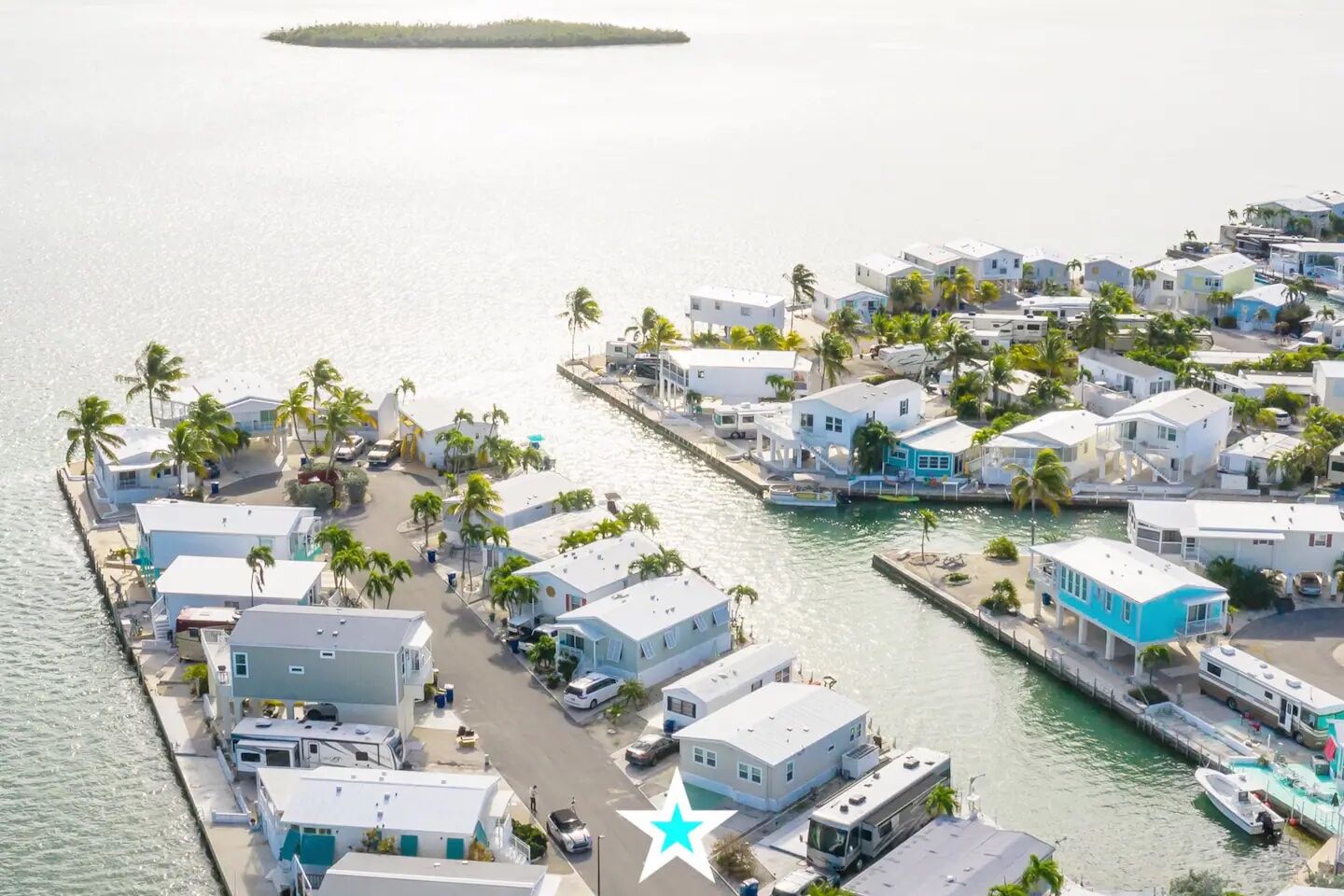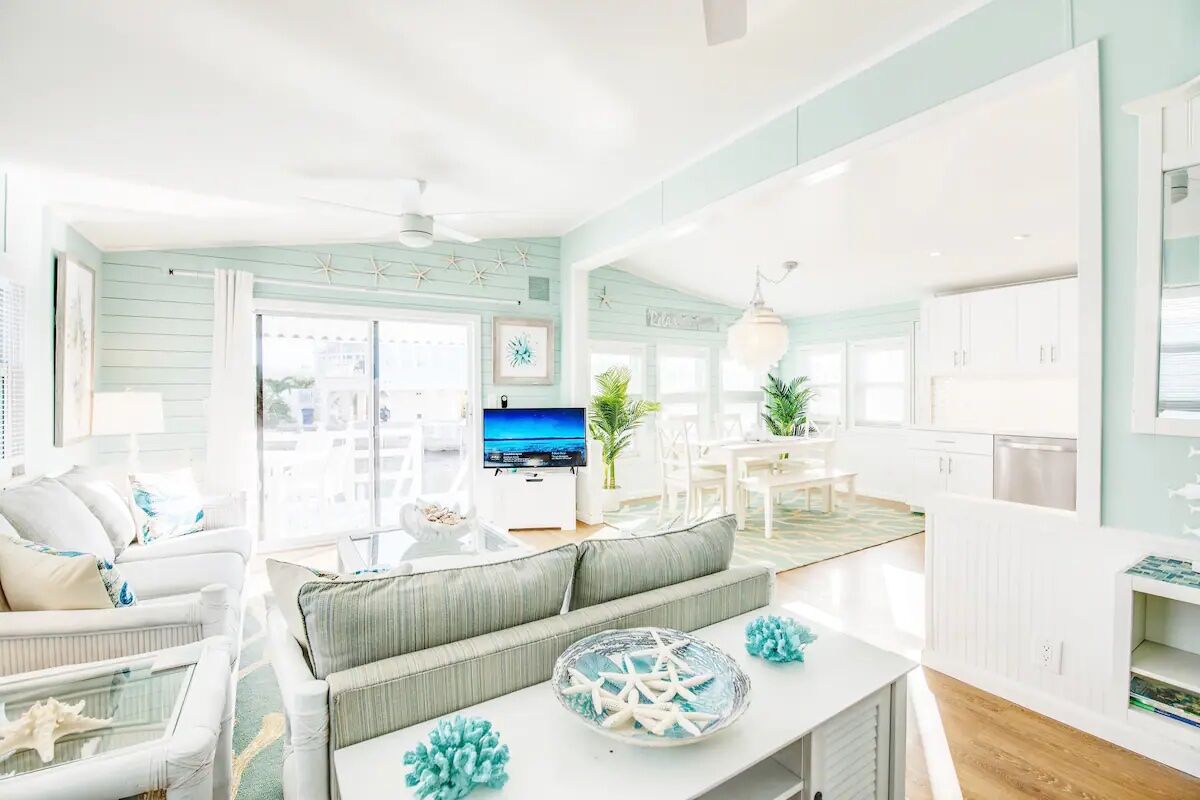 Located at Cudjoe Key's Venture Out Residential Condominium Community, this nautical-themed cottage is right on the water. You'll have complimentary use of the property's kayaks and bikes plus access to use at leisure. Shared amenities within the complex include swimming pools, a hot tub, and sports grounds. Interiors are tastefully fashioned on the underwater world and the host leaves no stone unturned.
Six guests, two bedrooms
Price: $760 per night
Top Airbnb Florida Keys — Duck Key
Sanctuary Villa on Duck Key with dock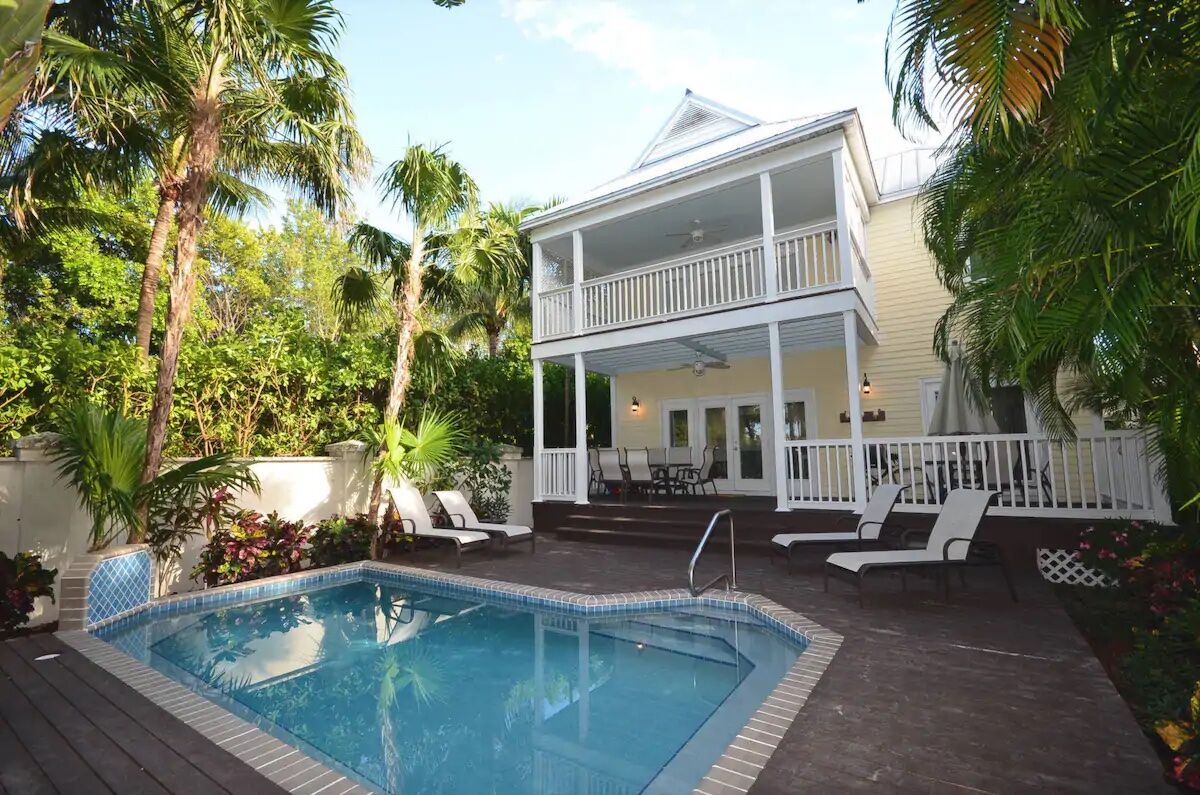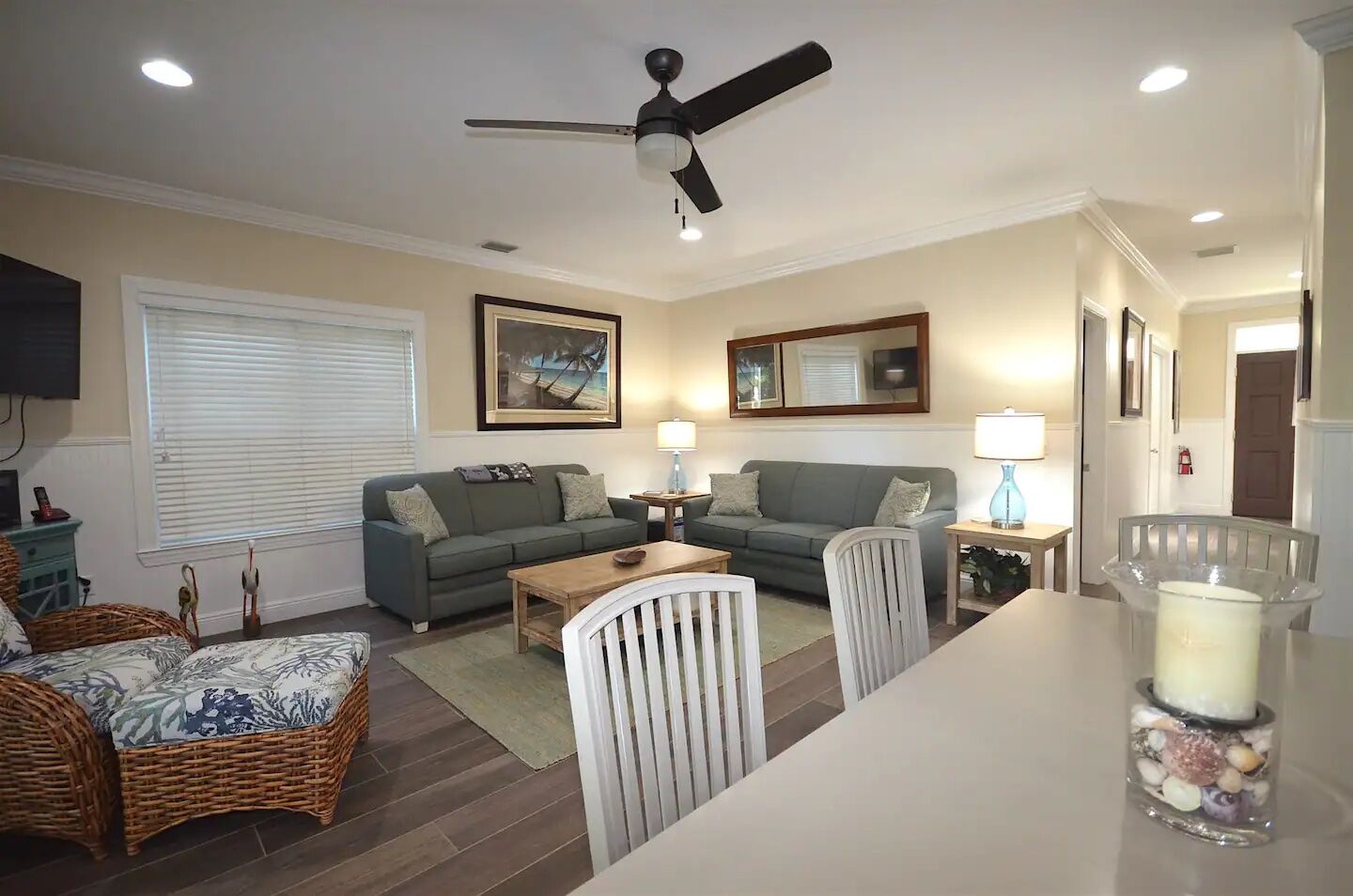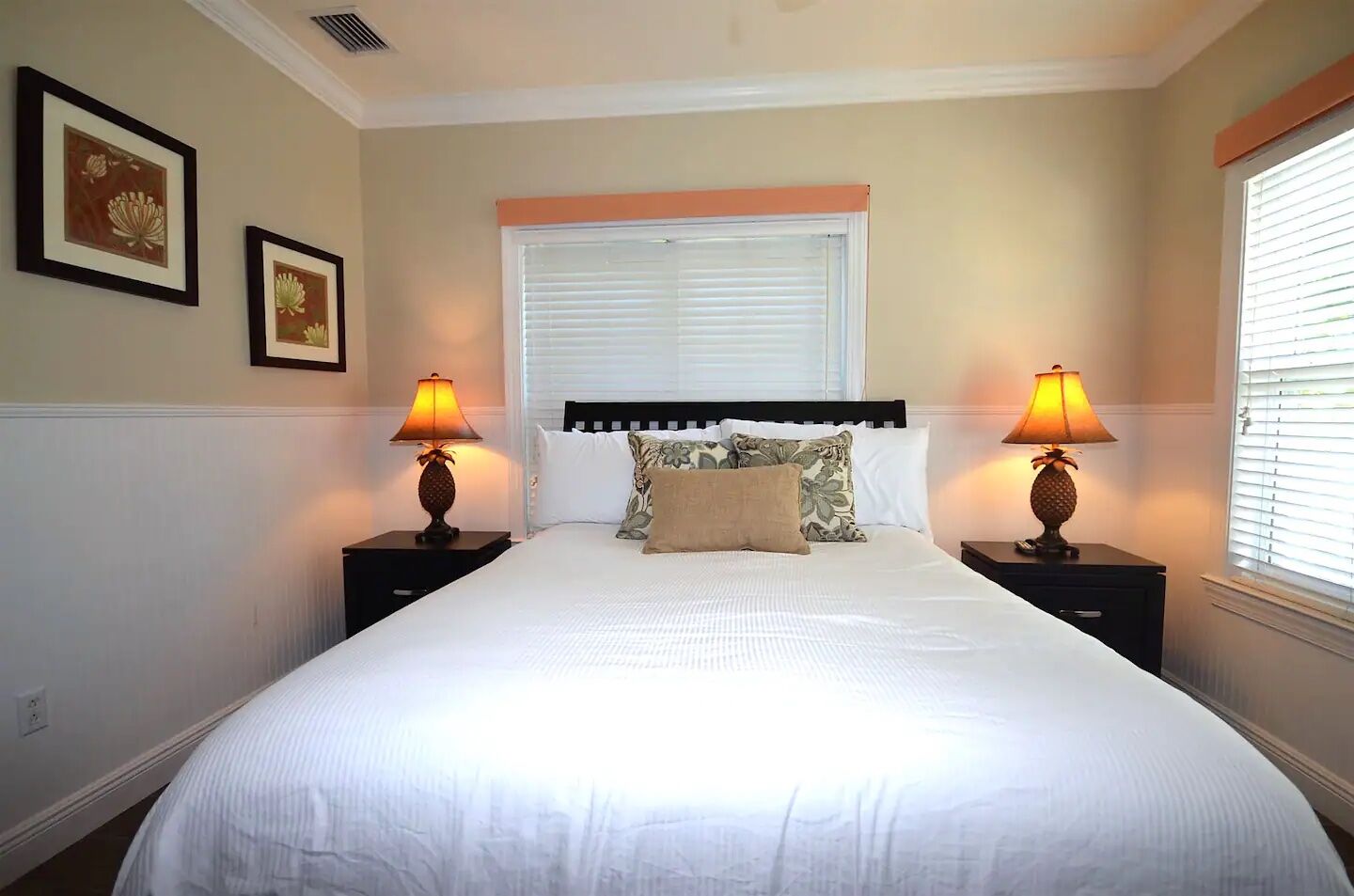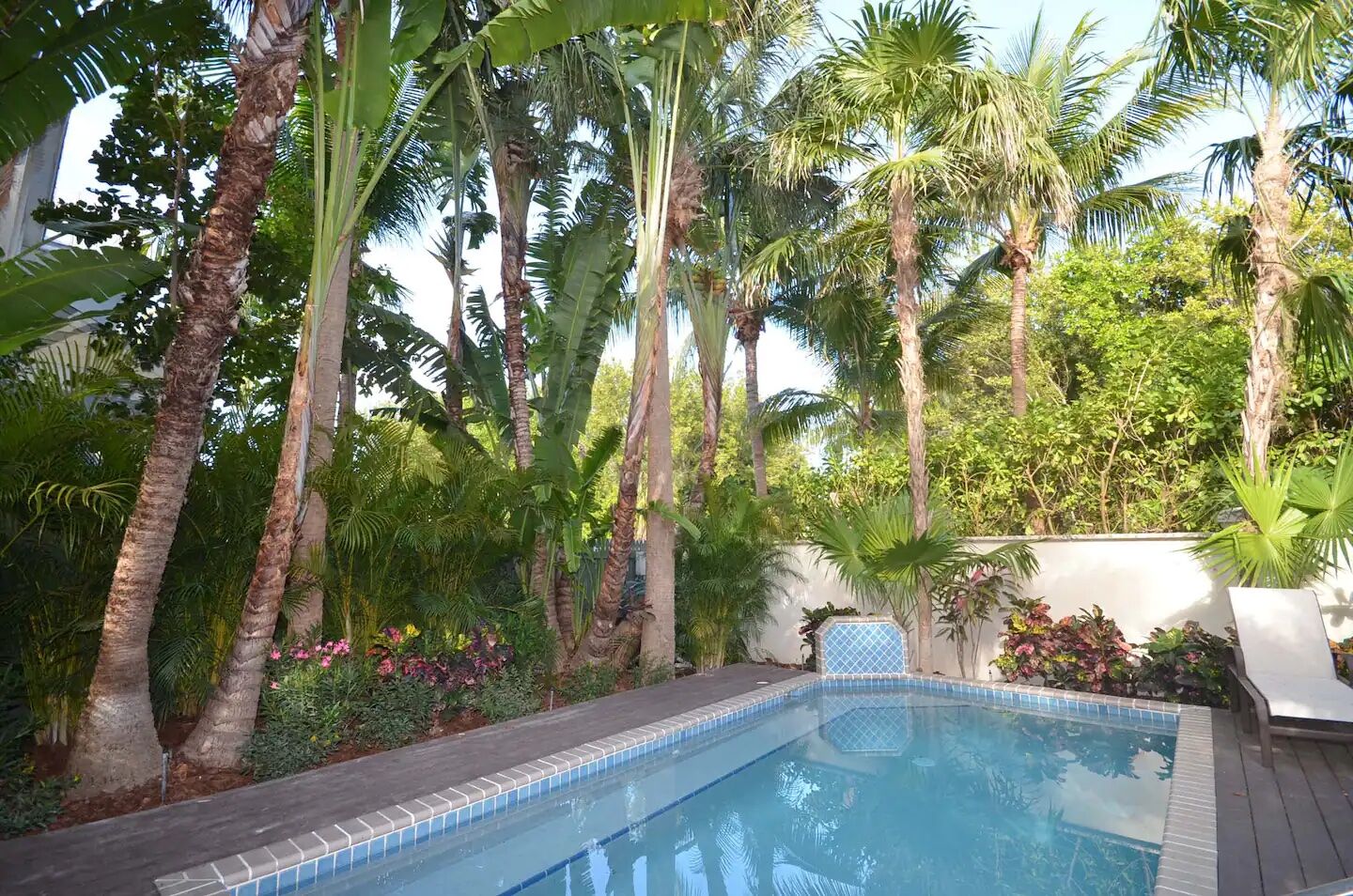 Choose this Duck Key Airbnb if you want a chilled base in a community setting for your vacation. Whip up gourmet feats in the chef-quality kitchen or on the grill and dine on the porch with a view of the pool and the soundtrack of birdsong. Rental includes access to a private 35-foot dockage. With a fully fenced-in backyard and a pool framed by palm trees, Sanctuary Villa is the perfect family vacation letting.
Ten guests, four bedrooms
Price: $700 per night
Most luxurious Airbnb Florida Keys — Islamorada
Oceanfront Oasis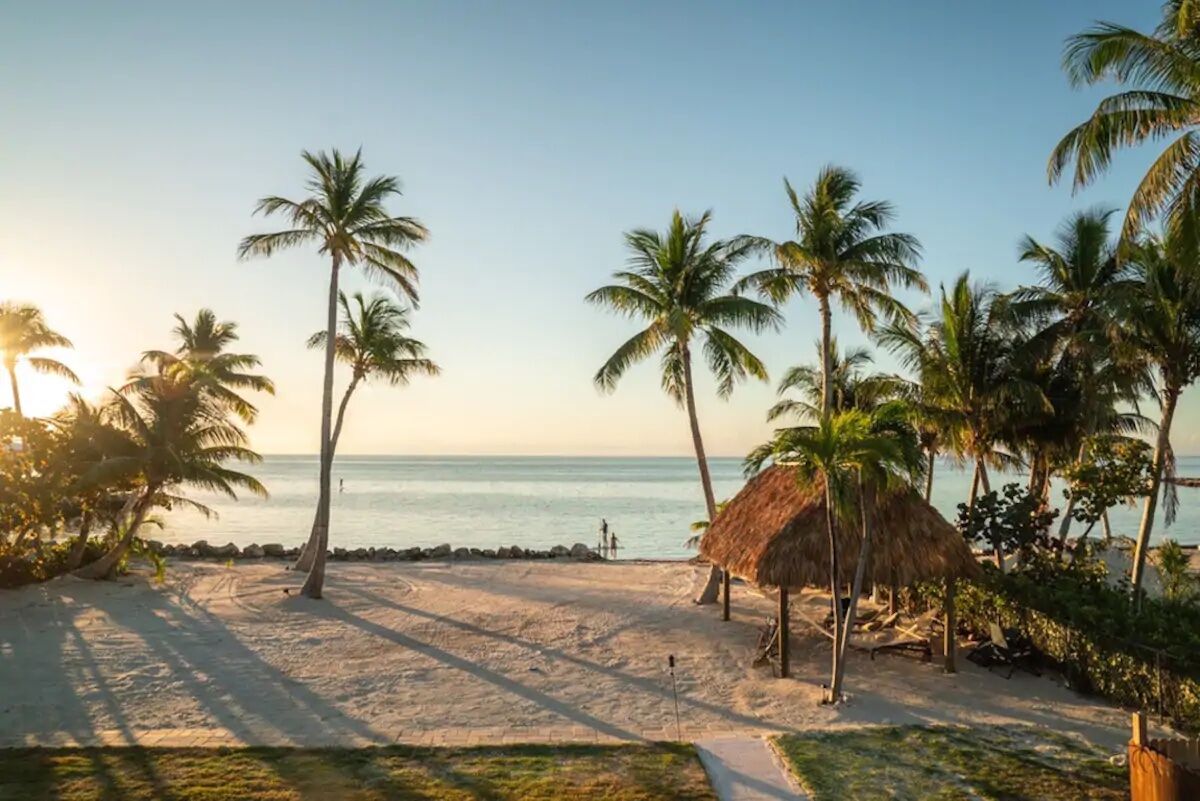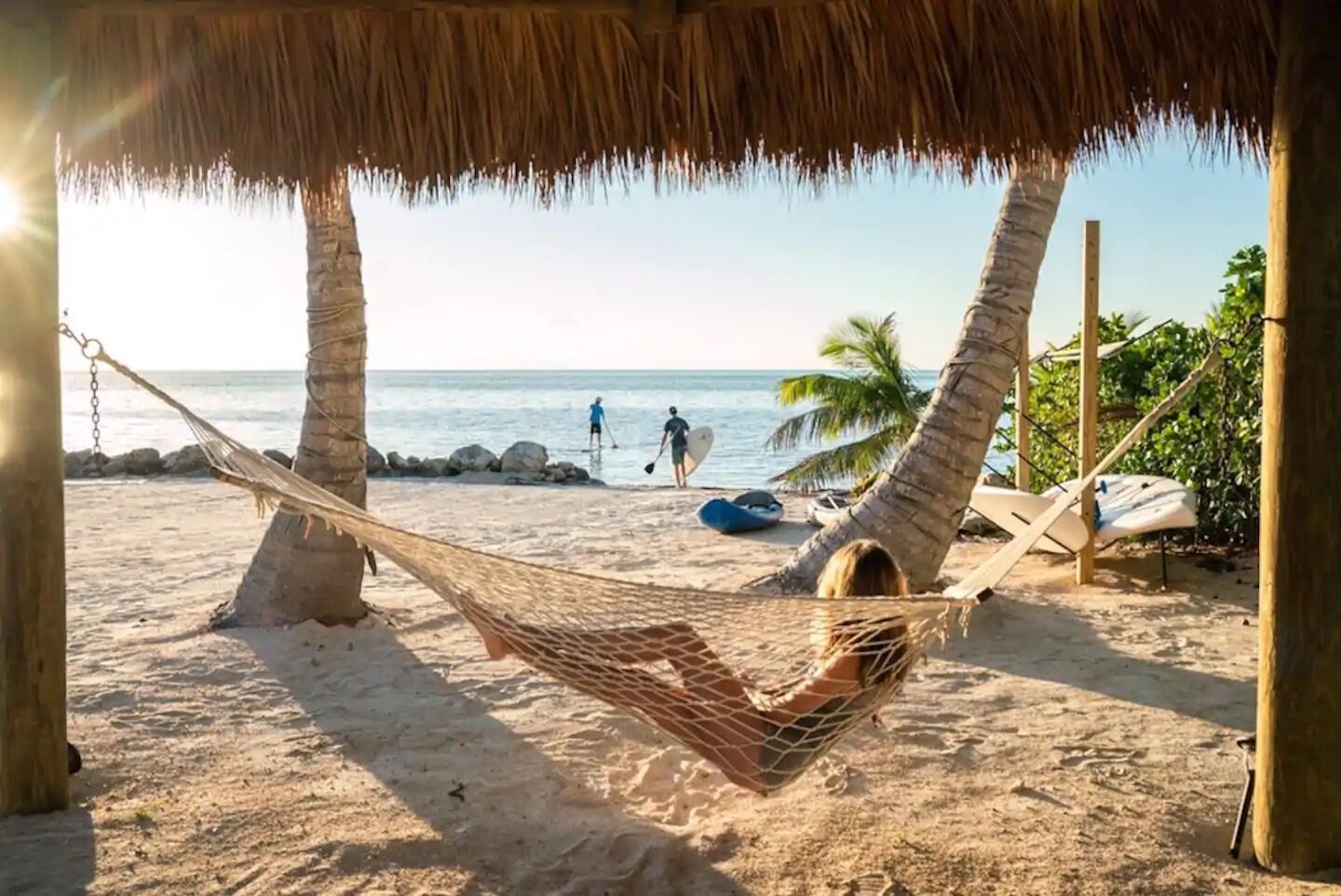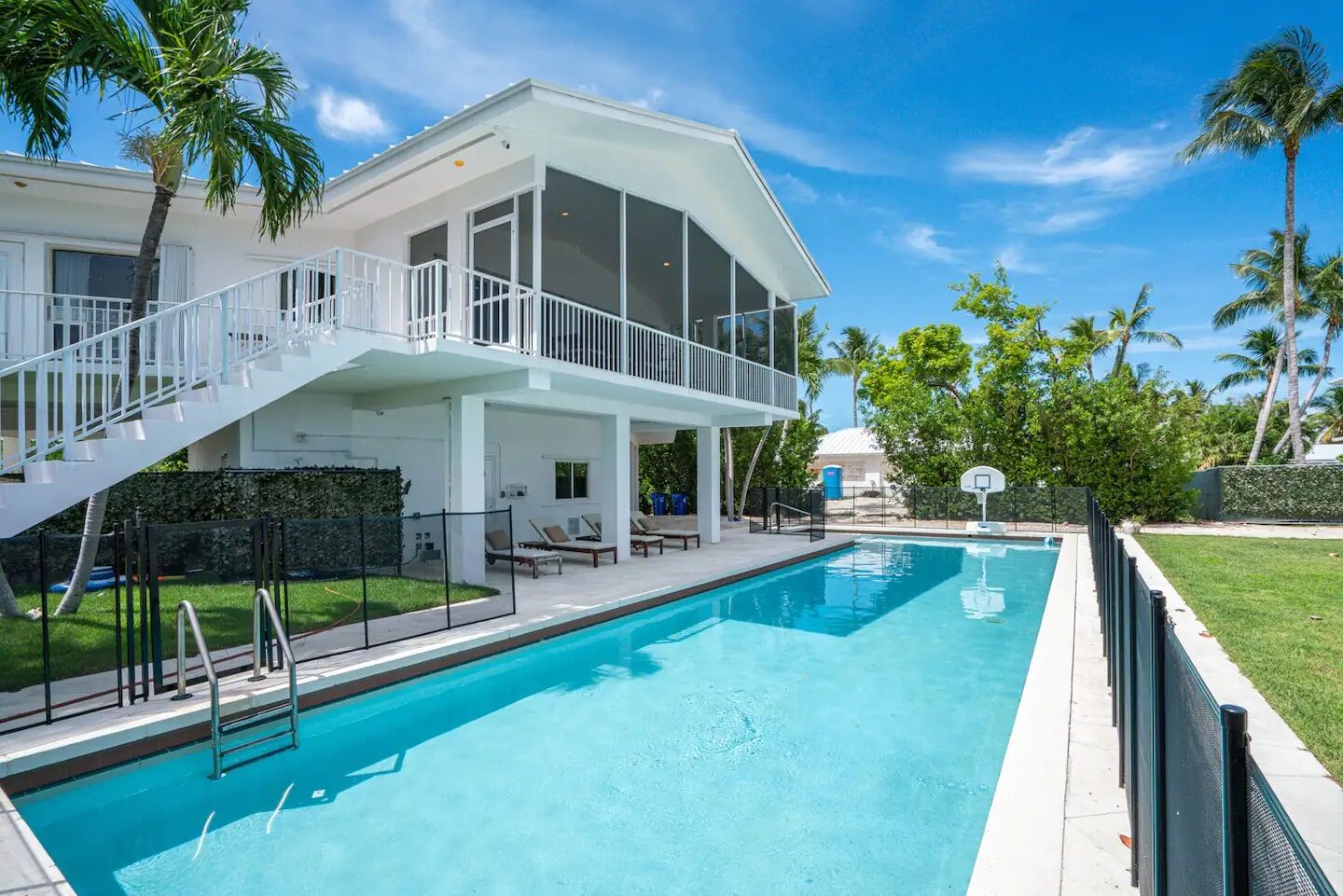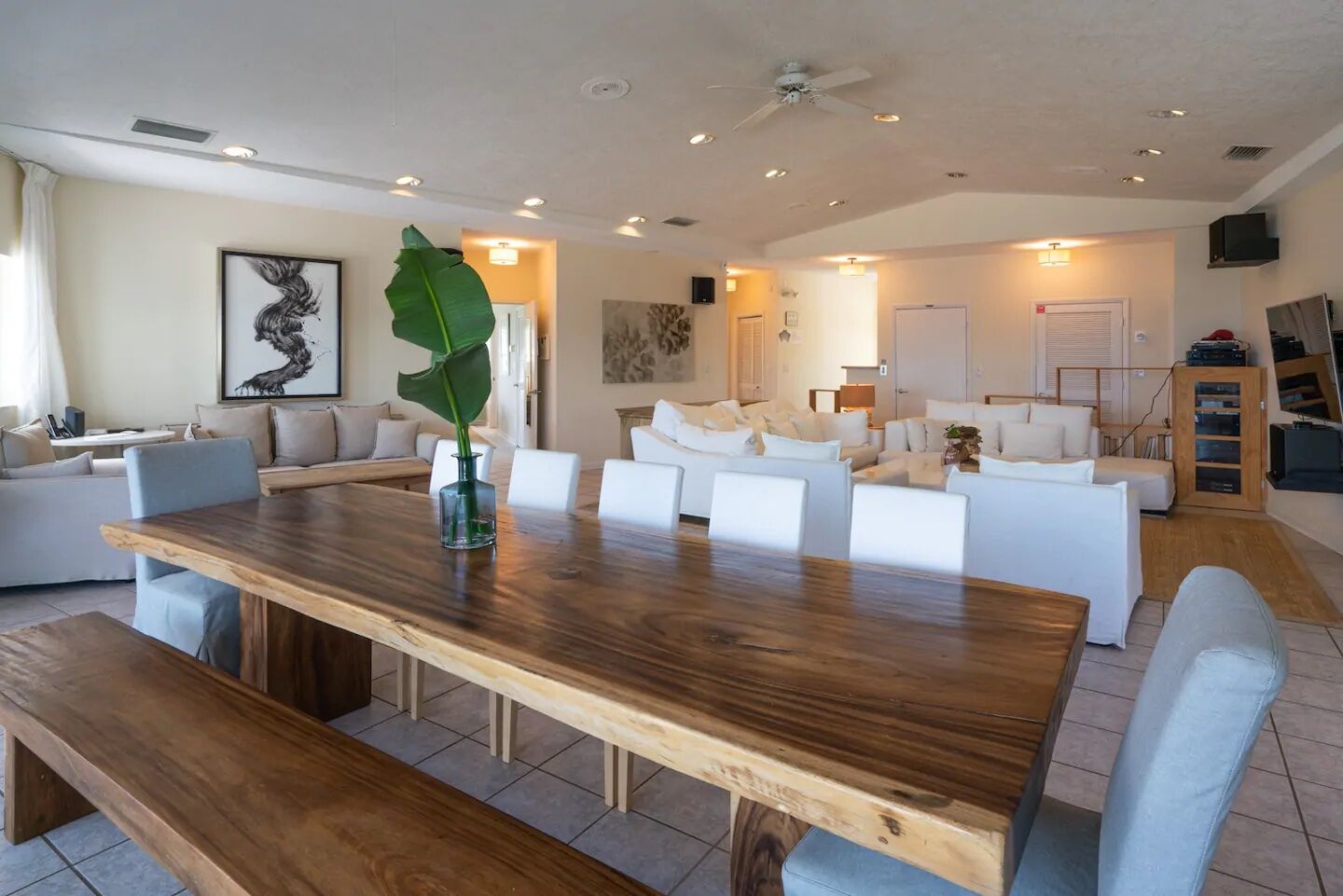 This custom-built home is situated on a private beach that overlooks the Atlantic Ocean. If that's not enough, the backyard comes with a lap pool. Hammocks, a fire pit, and a Tiki hut on the sand add to the ambience. Bicycles, kayaks, paddleboards, and tents are included in the rental. Interiors are elegantly appointed with quality upholstery and furnishings. You'll need to commit to a minimum of seven days but in reality, you'll probably never want to leave.
Twelve guests, five bedrooms
Price: $4,150 per night
What did you think of this story?