20 Airbnbs in and Around Fredericksburg To Experience the Best of Texas Hill Country
Fredericksburg, Texas, gives you the best of Hill Country's wineries, boutiques, and outdoor pursuits. Opt to stay downtown among the German heritage buildings and restaurants or whisk yourself away to a remote ranch or cabin. Unique Fredericksburg vacation homes include farm stays, treehouses, and more. We've rounded up the best Airbnb Fredericksburg TX rentals to save you the hassle.
We hope you love the Airbnb Fredericksburg stays we recommend! Just so you know, Matador may collect a small commission from the links on this page if you decide to book a stay. Listed prices are accurate as of the time of publication.
Unique Airbnb Fredericksburg Treehouses and Cabins
Modern A-frame cabin in nature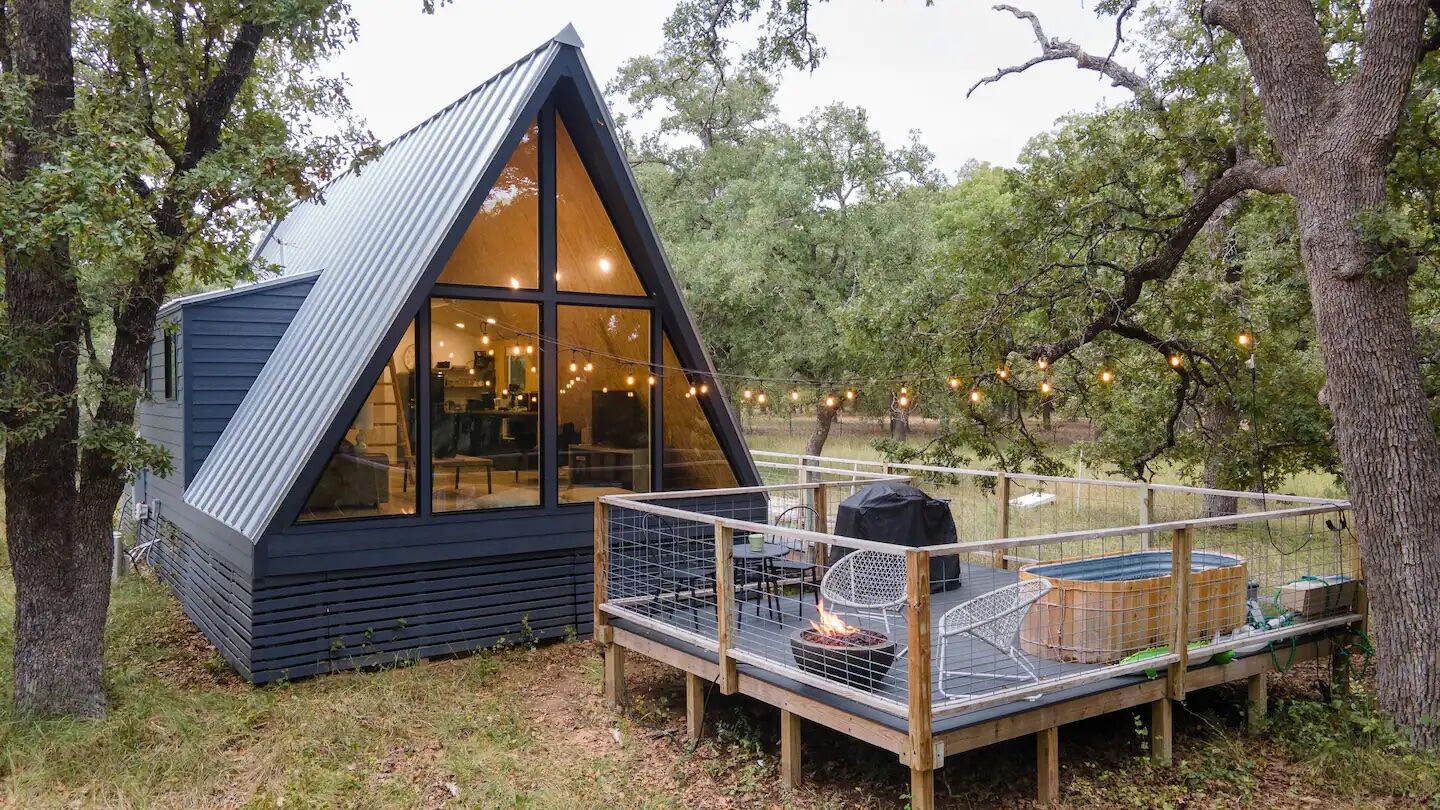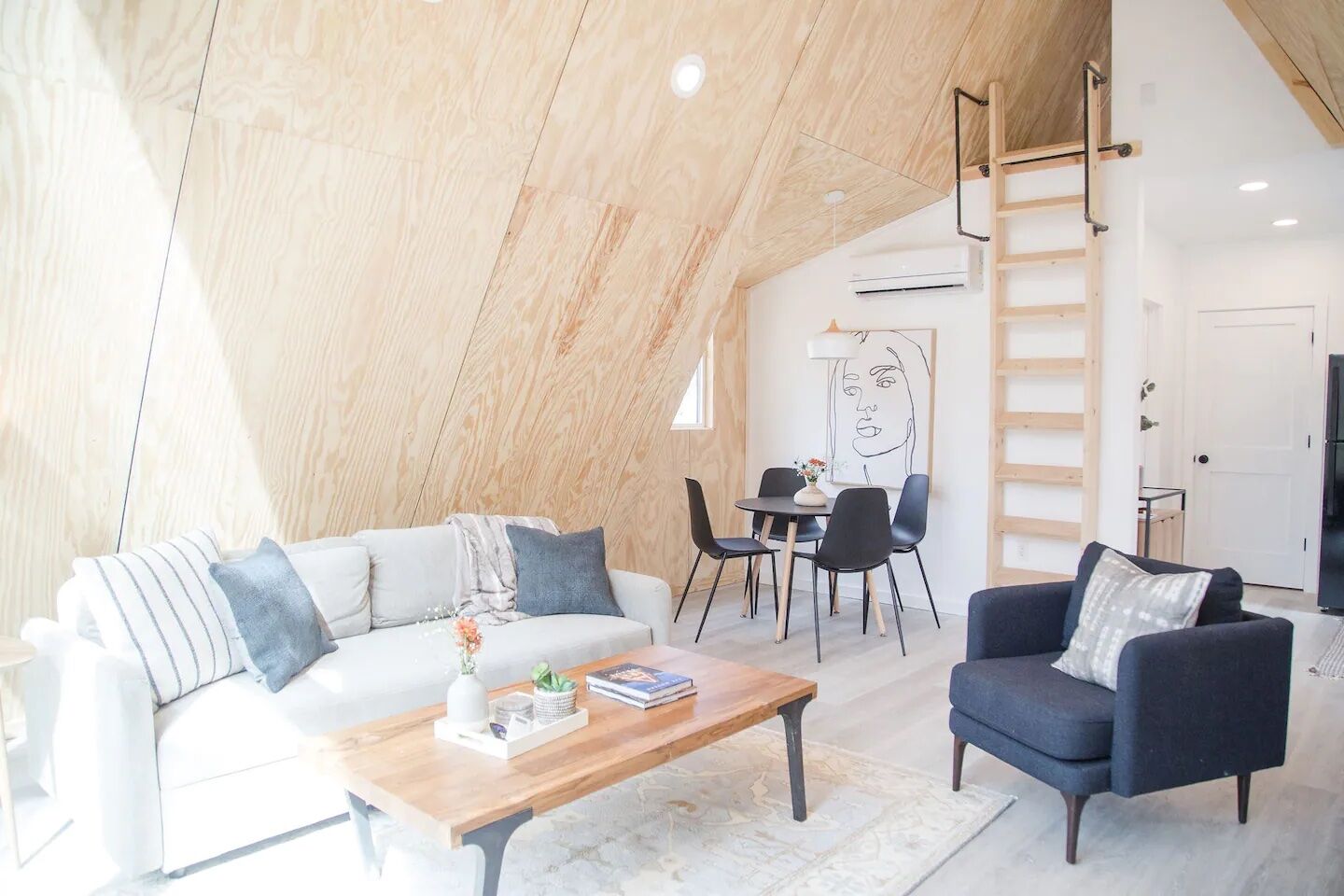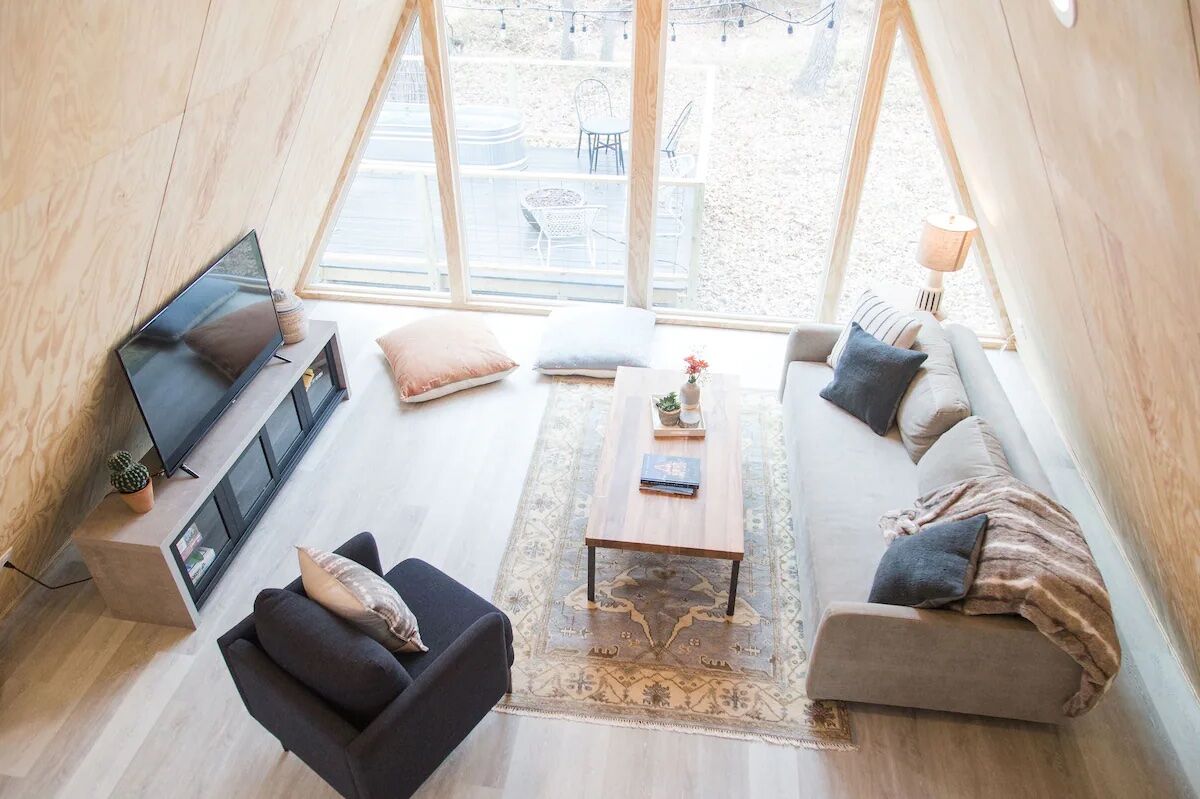 A convenient 10-minute drive from the attractions and amenities of Main Street, this swanky chalet makes it easy to strike a balance between exploring and getting your share of downtime. The cabin consists of two bedrooms, a bathroom, a well-stocked kitchen, and a lounge with views. Connect with nature from the heated stock tank pool and spend long nights under the stars with s'mores around the fire.
Five guests, two bedrooms
Price: $375 per night
Live oak treehouse at HoneyTree Farm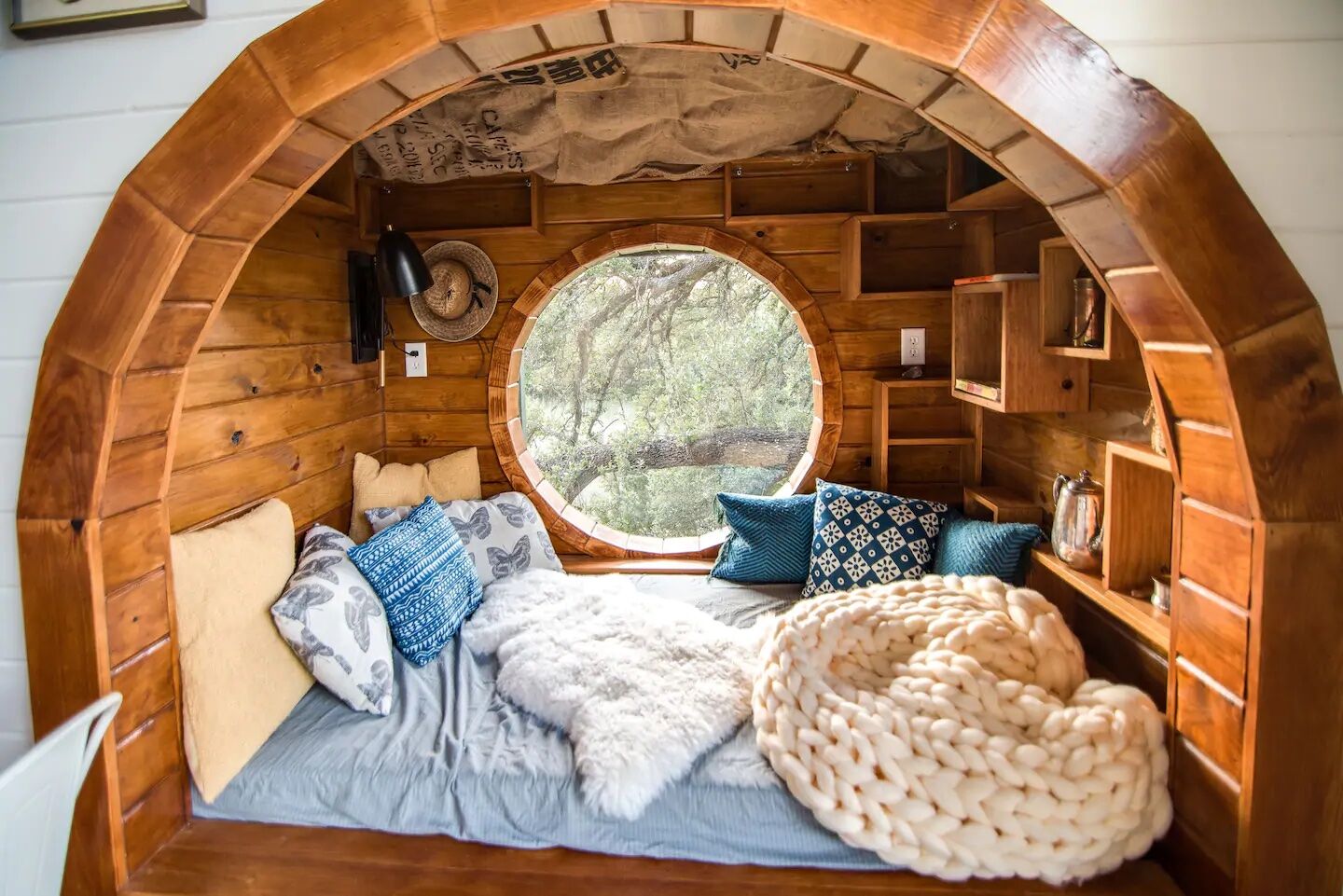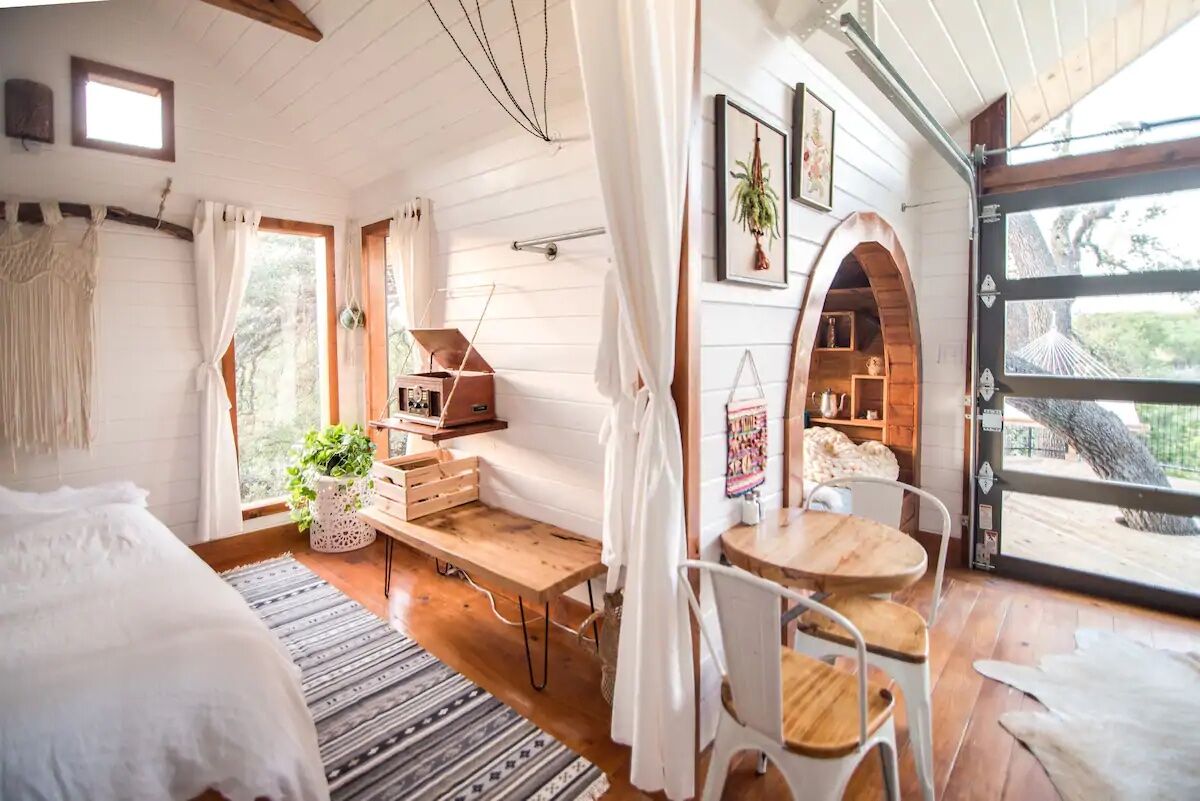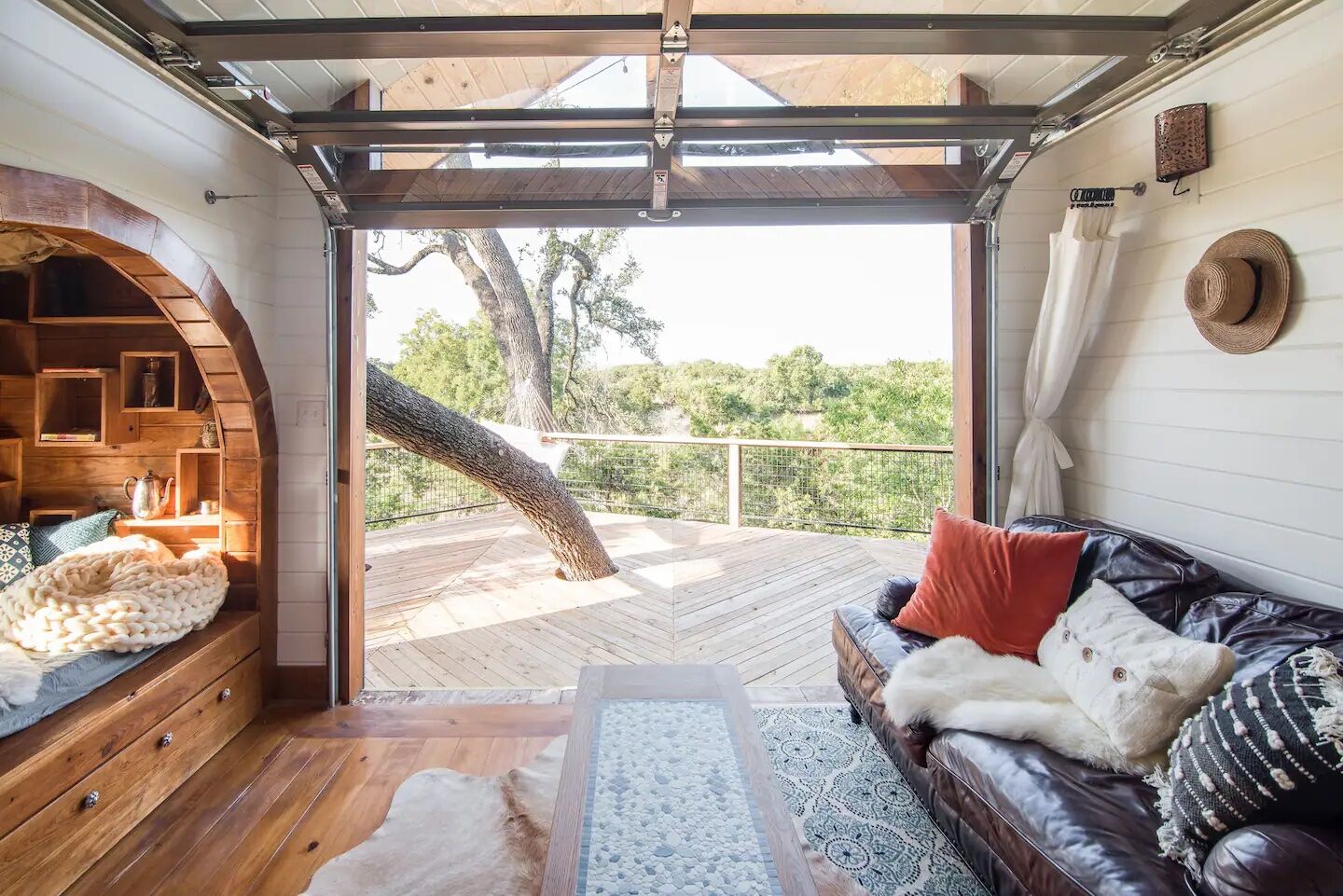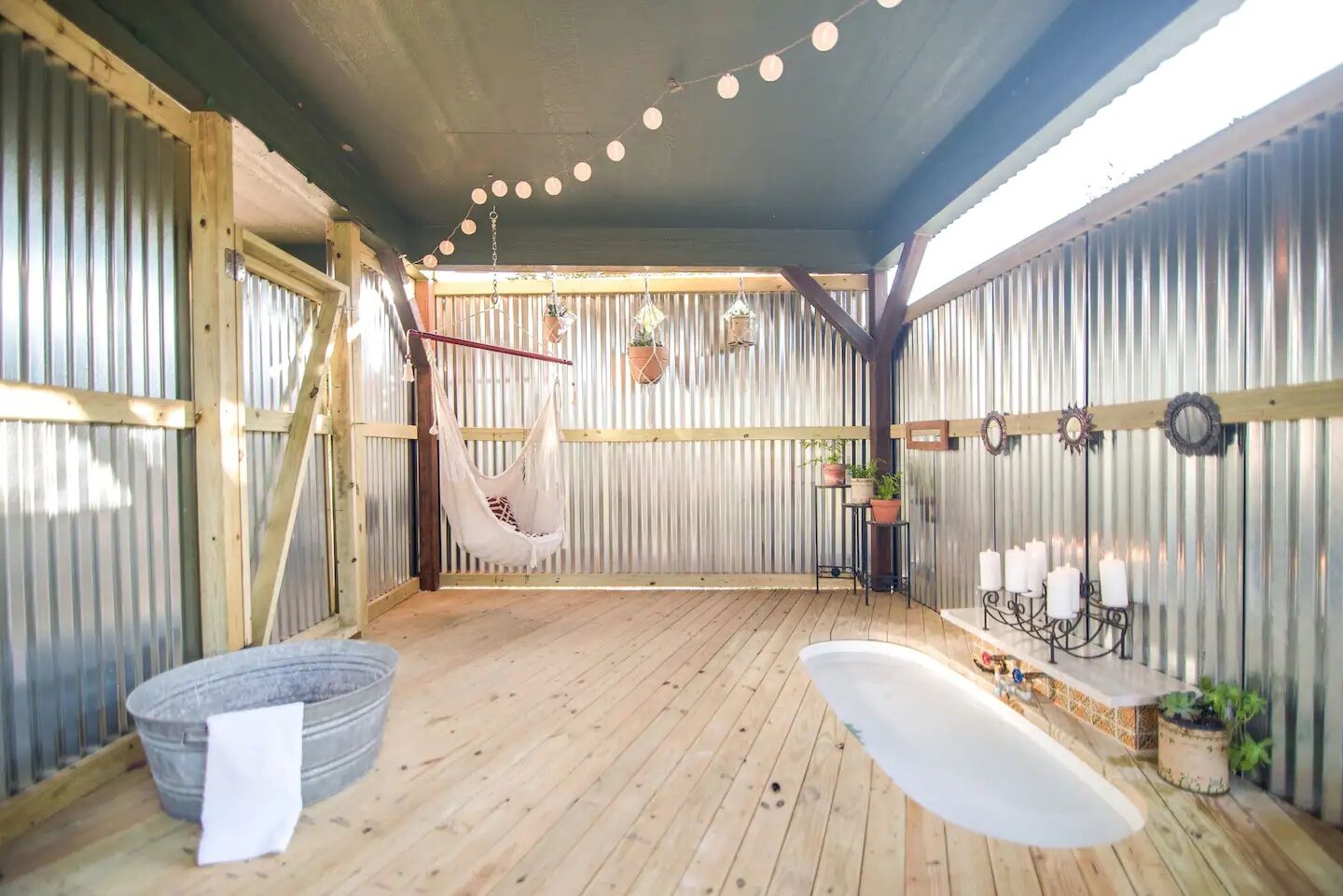 This unique Airbnb Fredericksburg TX treehouse is a dream come true for couples. Whimsically decorated with delicate fabrics and kitsch details such as a vinyl turntable with a Bluetooth speaker, the rental marries convenience with romance. The upper deck is fitted with a hammock while the outdoor hot tub overlooks the surrounding nature from a different perspective. Remember to pack a book and a deck of cards to enjoy from the book nook.
Two guests, one bedroom
Price: $495 per night
Ashlee's Farmhaus with hot tub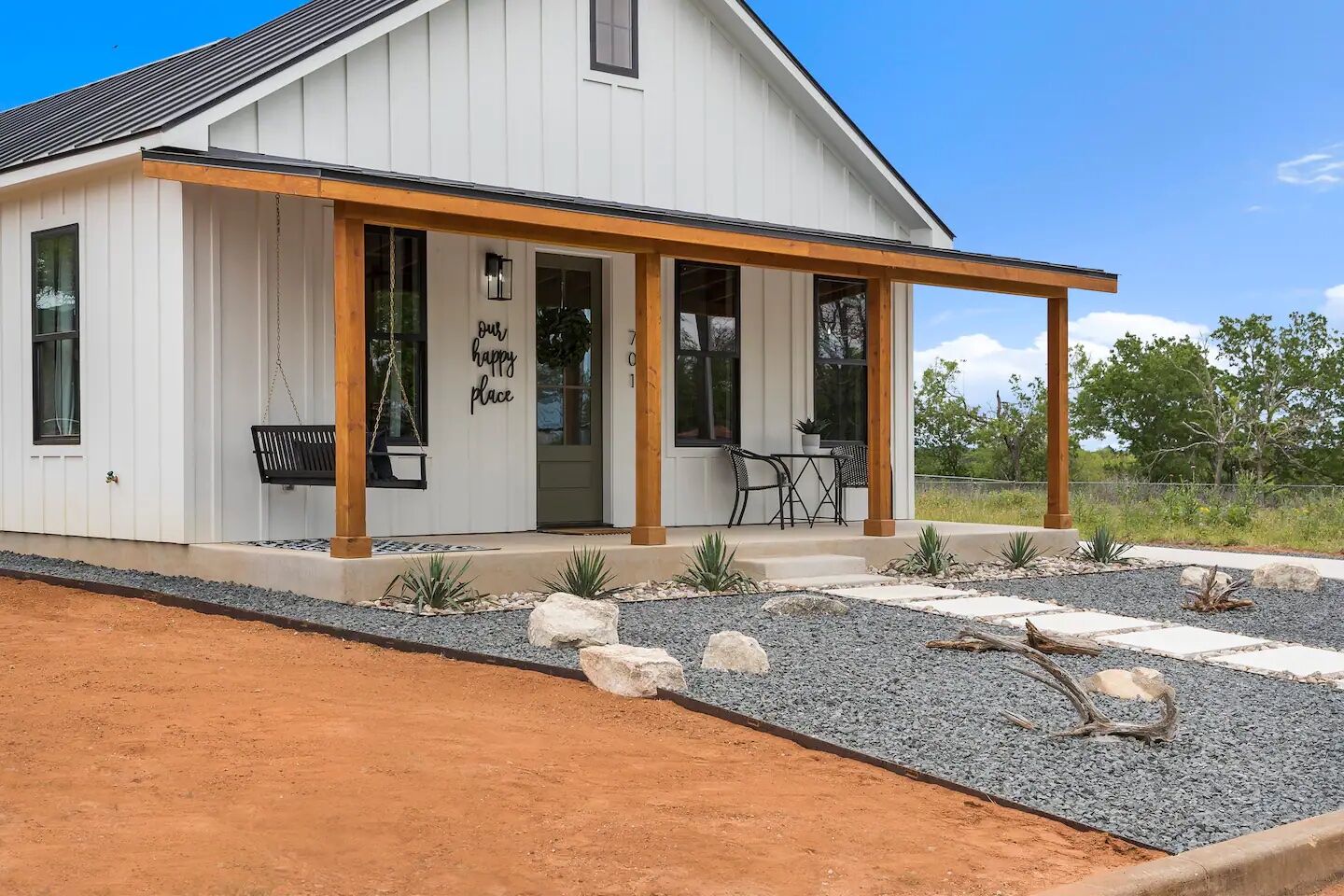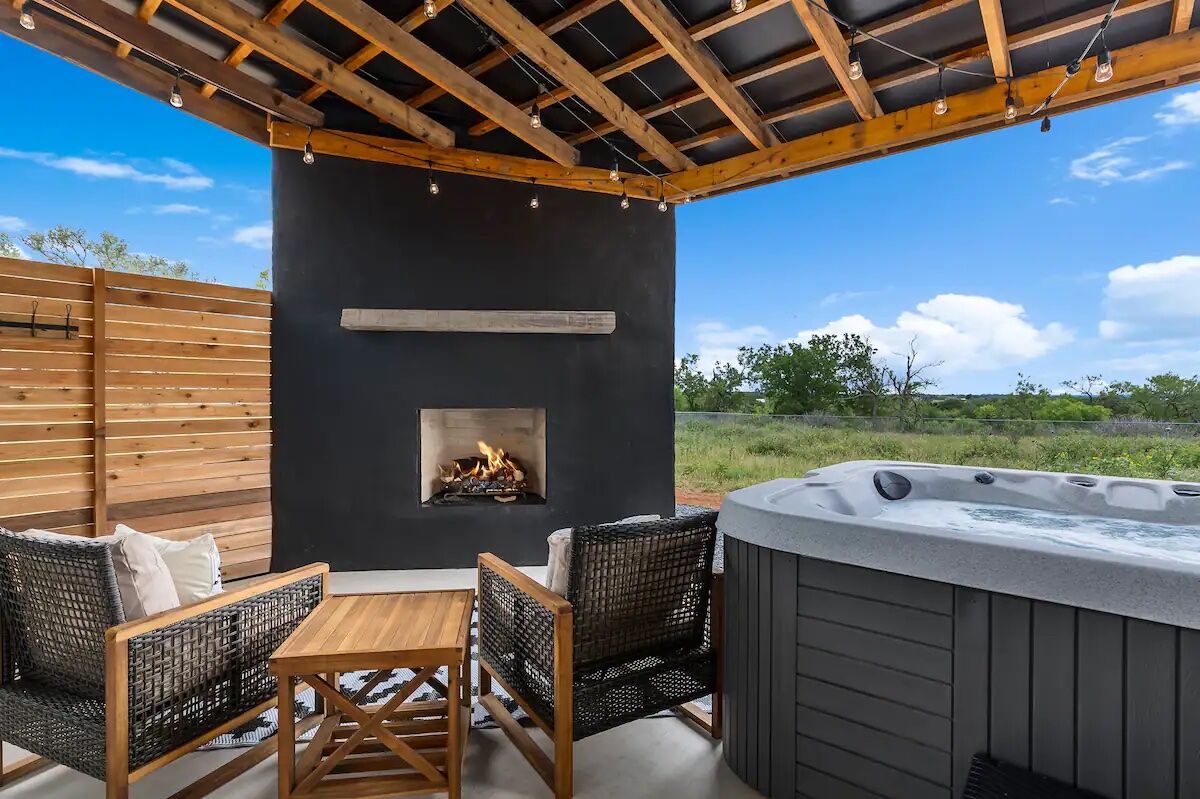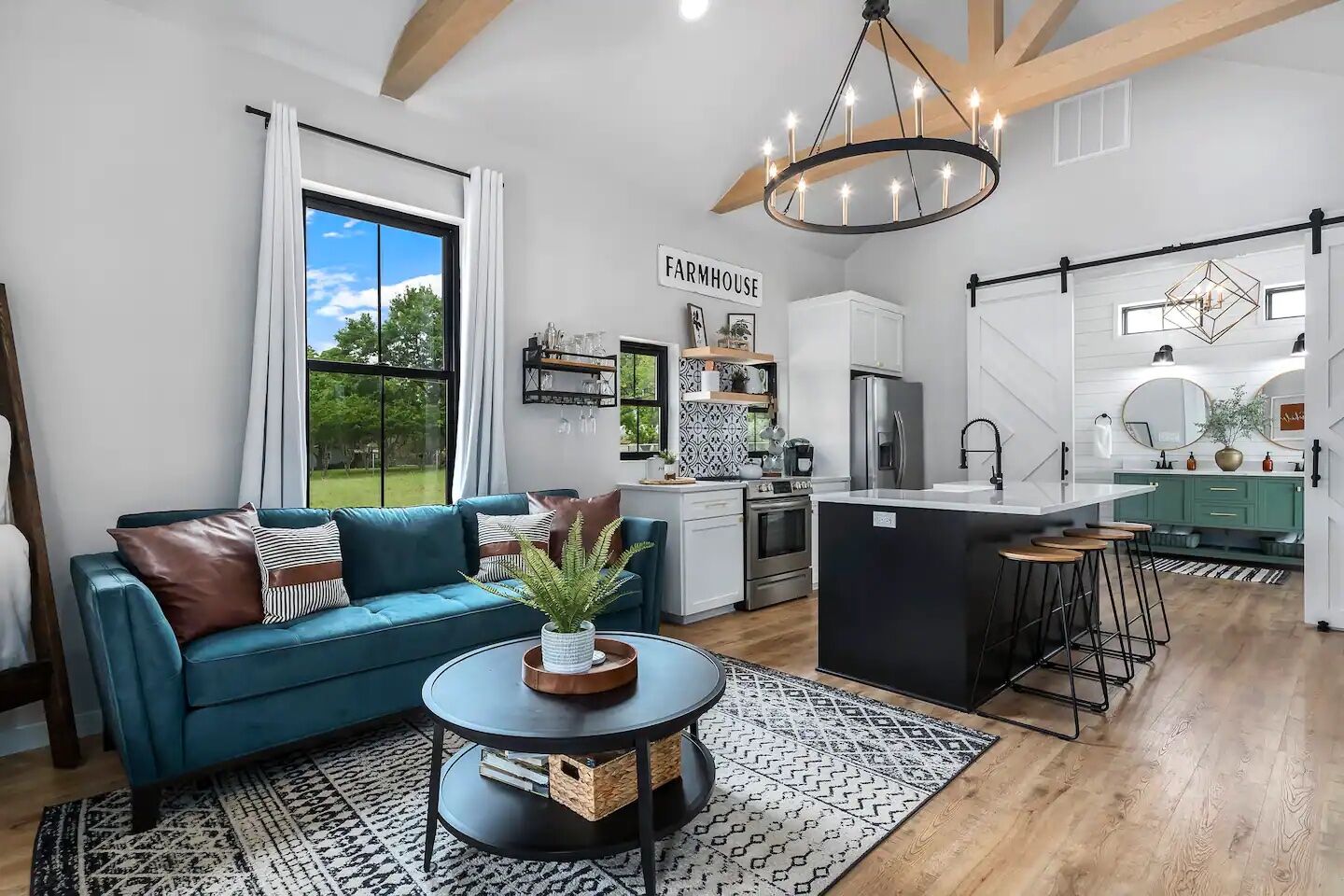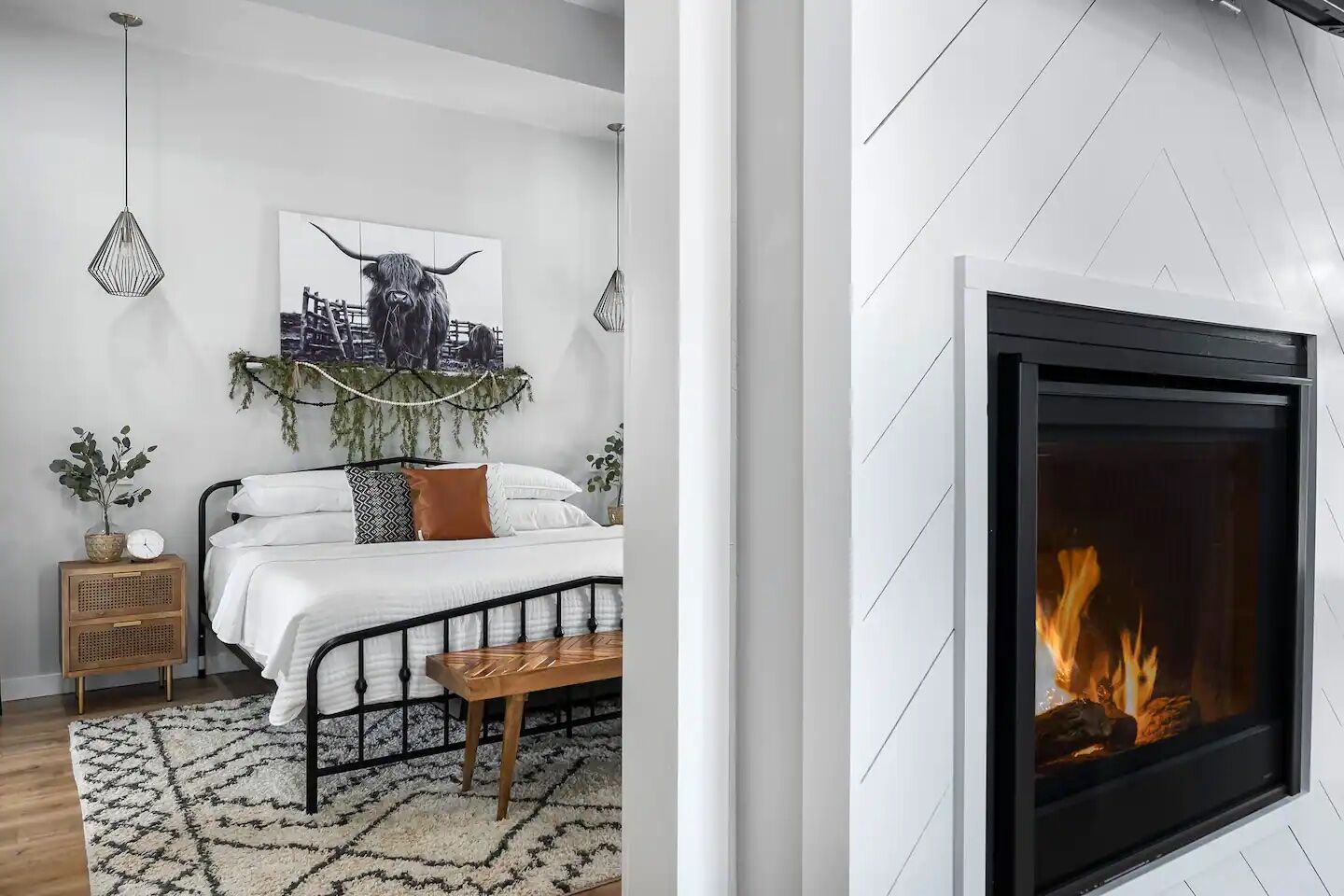 This peaceful Airbnb Fredericksburg cottage is centrally located yet offers the solitude of a remote getaway. The farmhouse has been beautifully converted to resemble a boutique hotel with chic contemporary fixtures and thoughtful touches including fireplaces. A private patio is fitted with an outdoor TV, fire, and hot tub that offer an eyeful of the fields. This one is a haven for honeymooners and special anniversaries.
Two guests, one bedroom
Price: $455 per night
Traveling to Texas? Check out

Matador's

Texas accommodations guides:
Enchanted tree house with cedar tub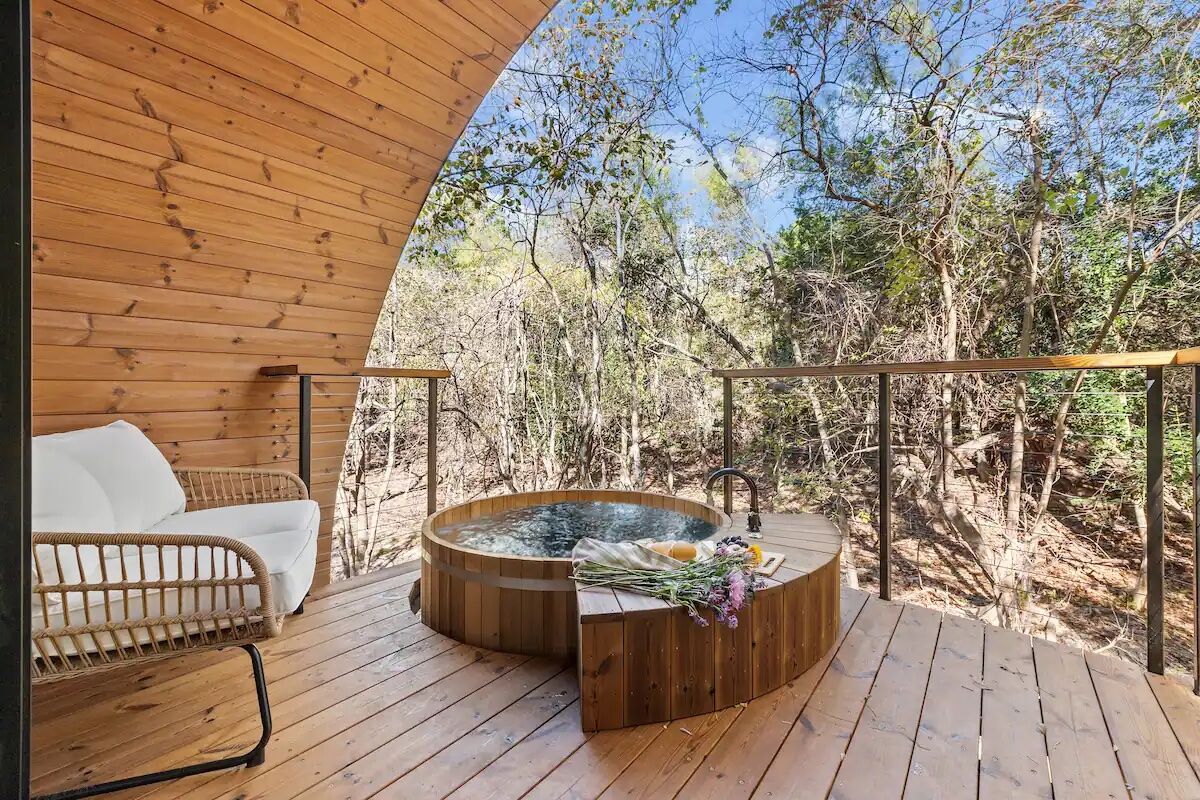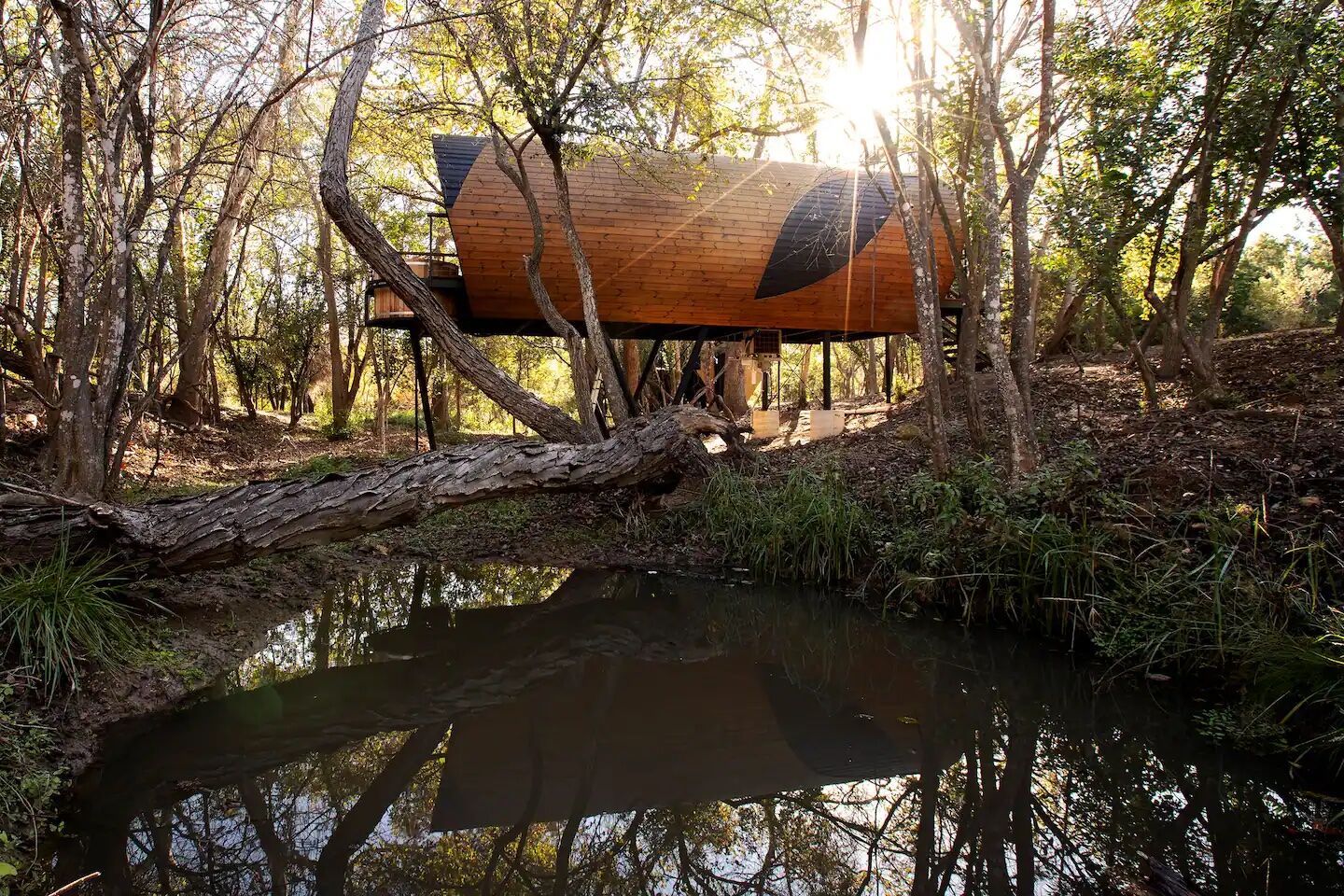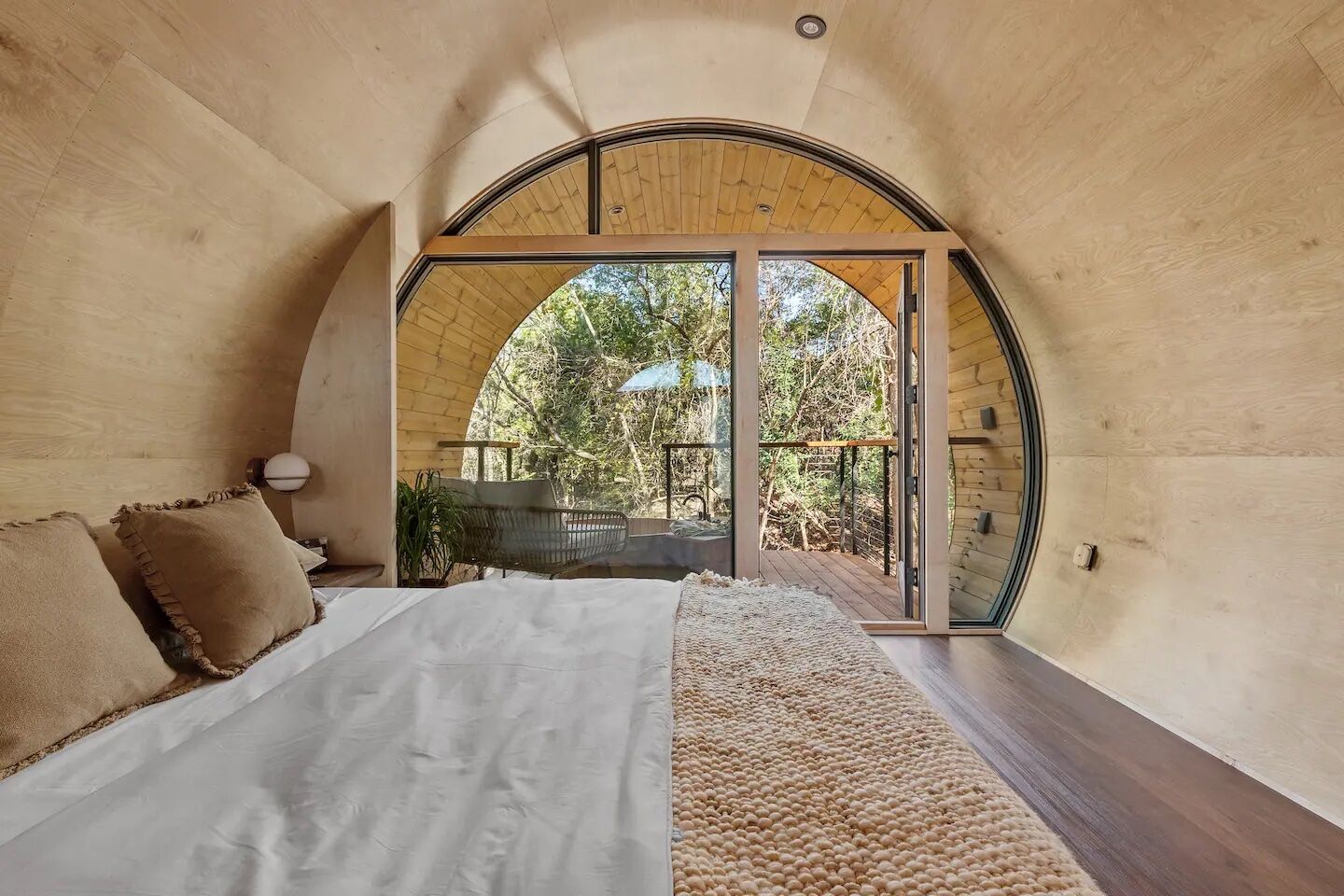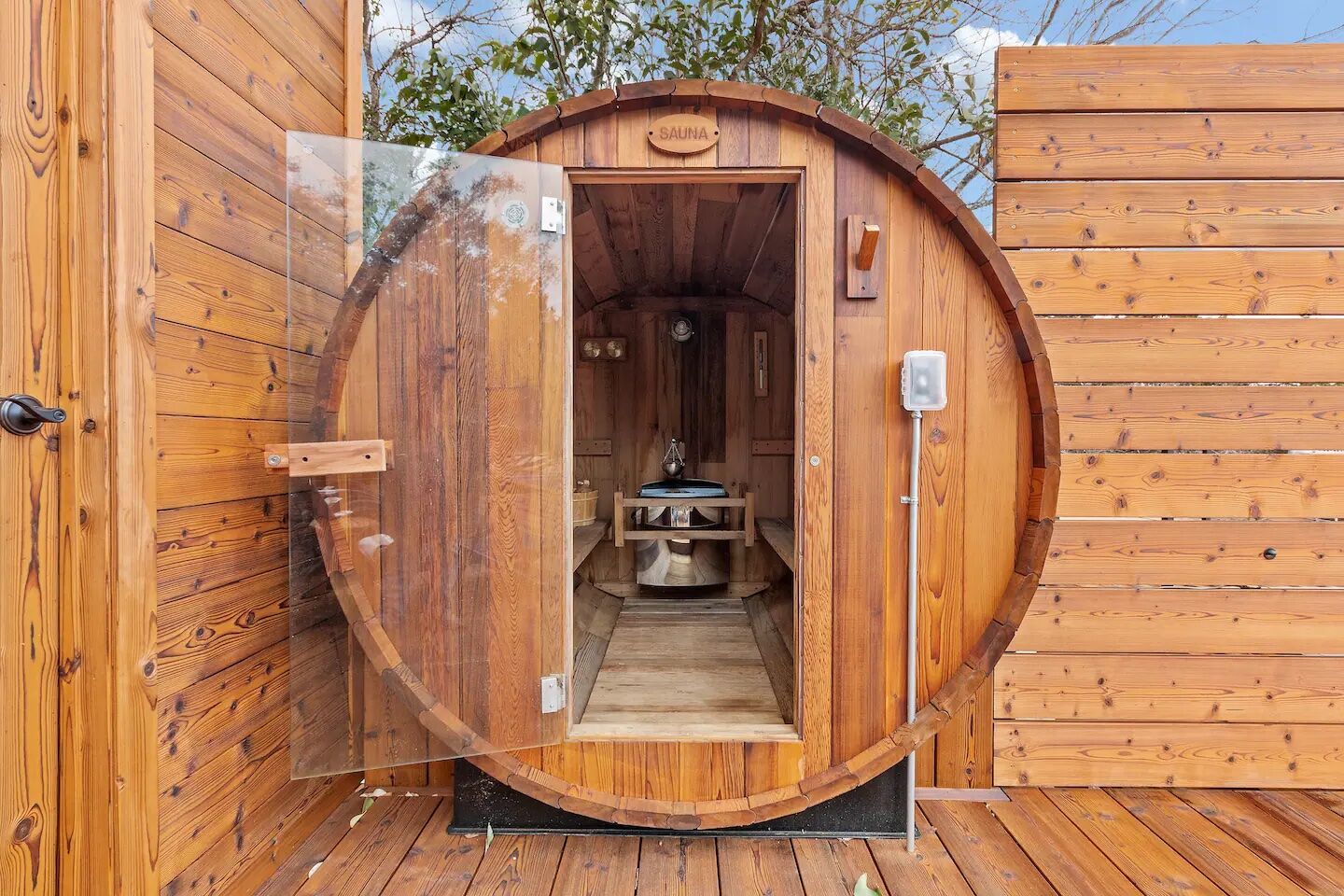 Nestled among the oak trees a short drive from Main Street, this Fredericksburg Airbnb treehouse is one of eight bespoke rental plots in a sublime patch of forest. This treehouse consists of a double bed, a bathroom, and a kitchenette. The space includes a private deck with a cedar soaking tub that peers over the woodlands. Communal amenities include swings, an outdoor heated pool, a sauna, and a fire pit.
Two guests, one bedroom
Price: $760 per night
A-Frame in nature minutes from downtown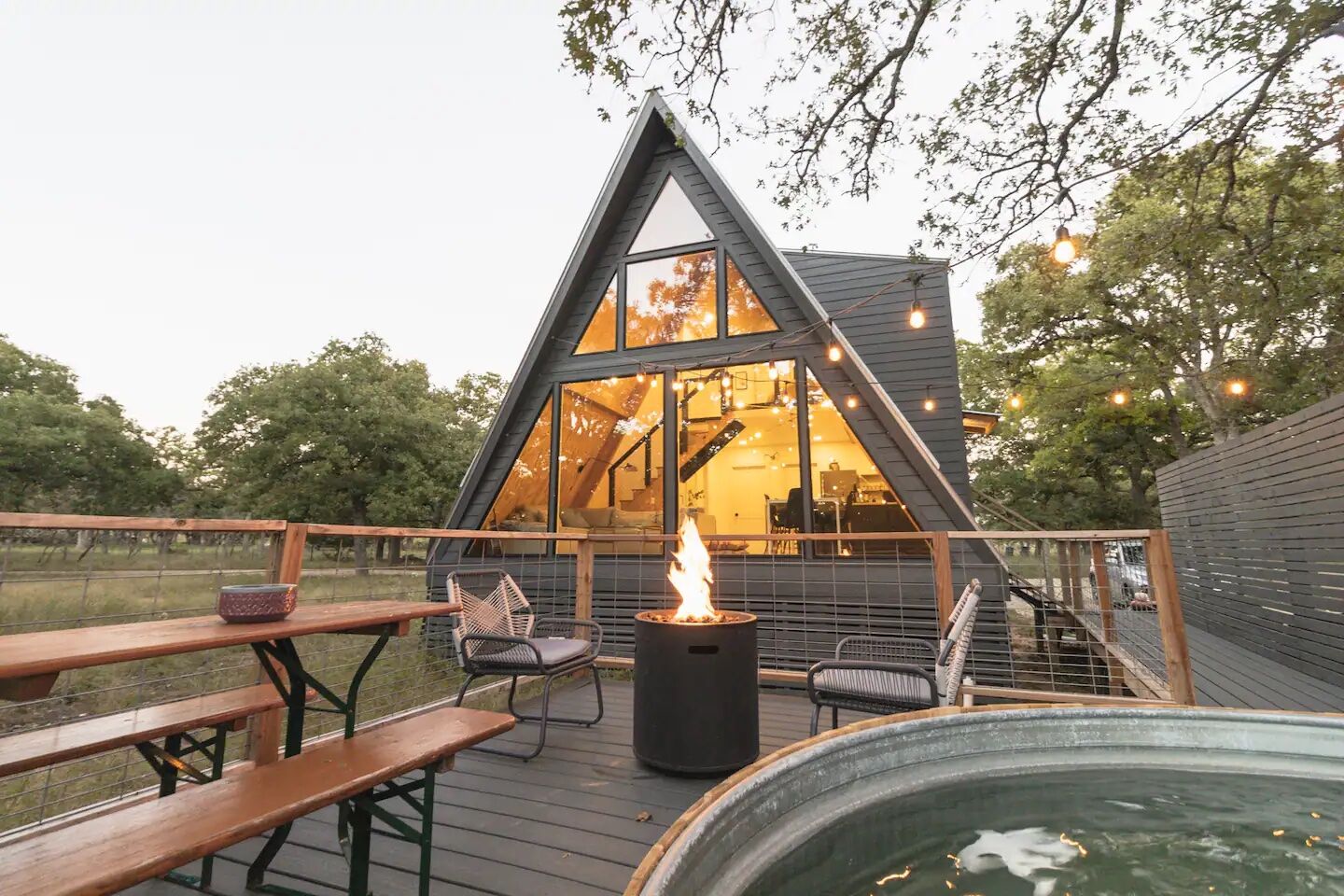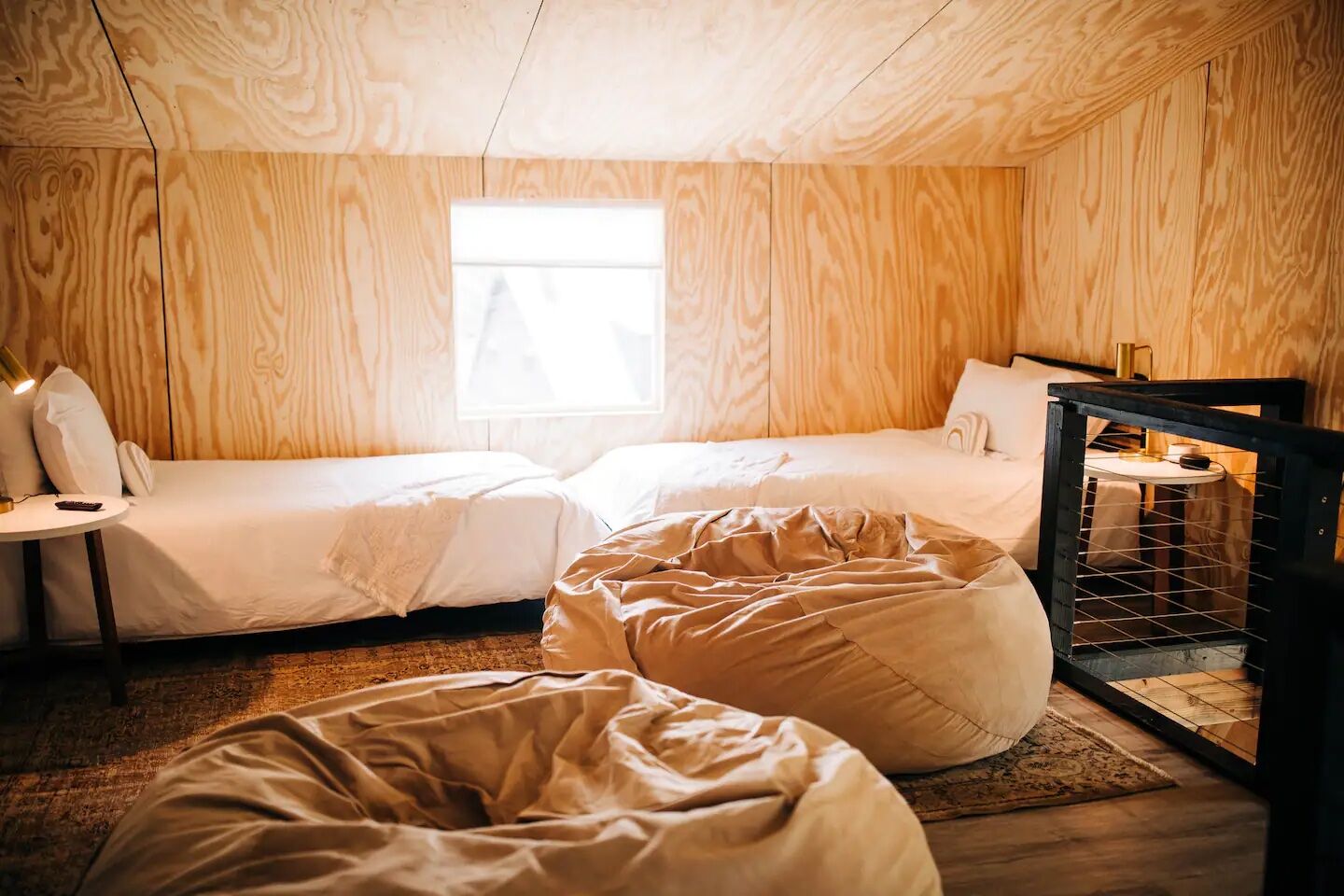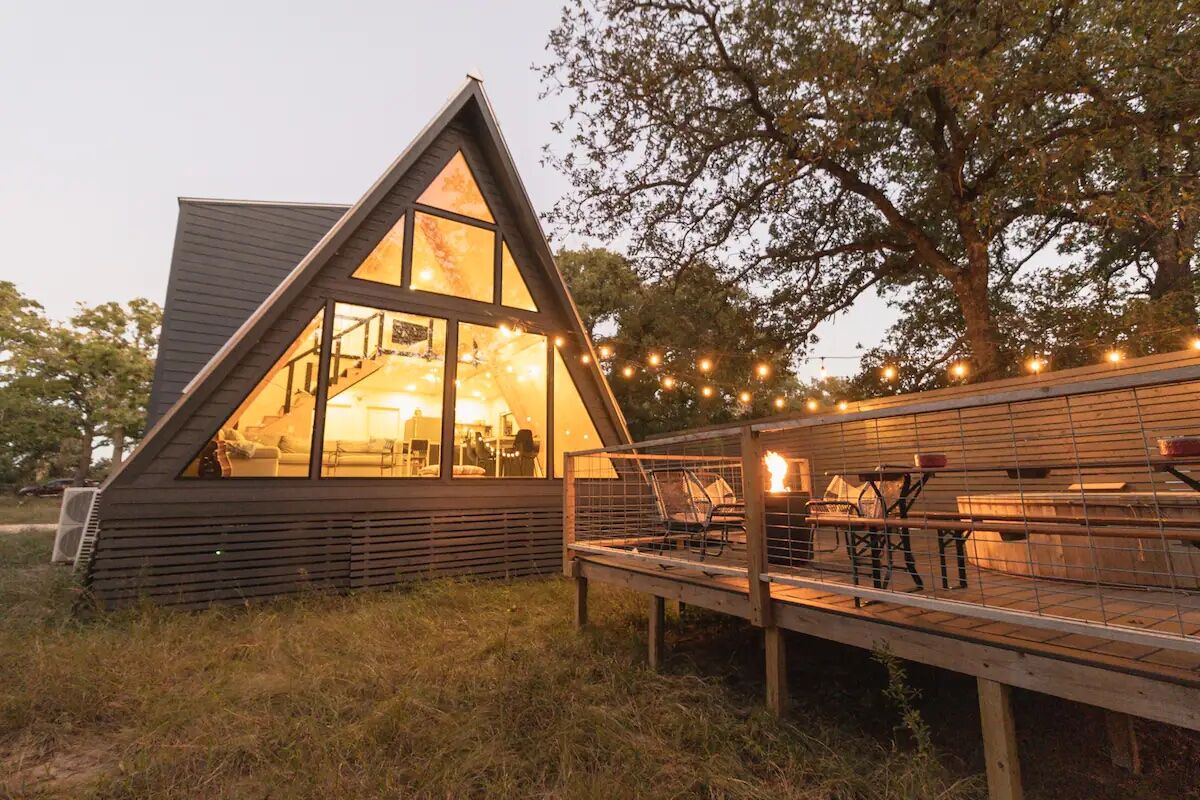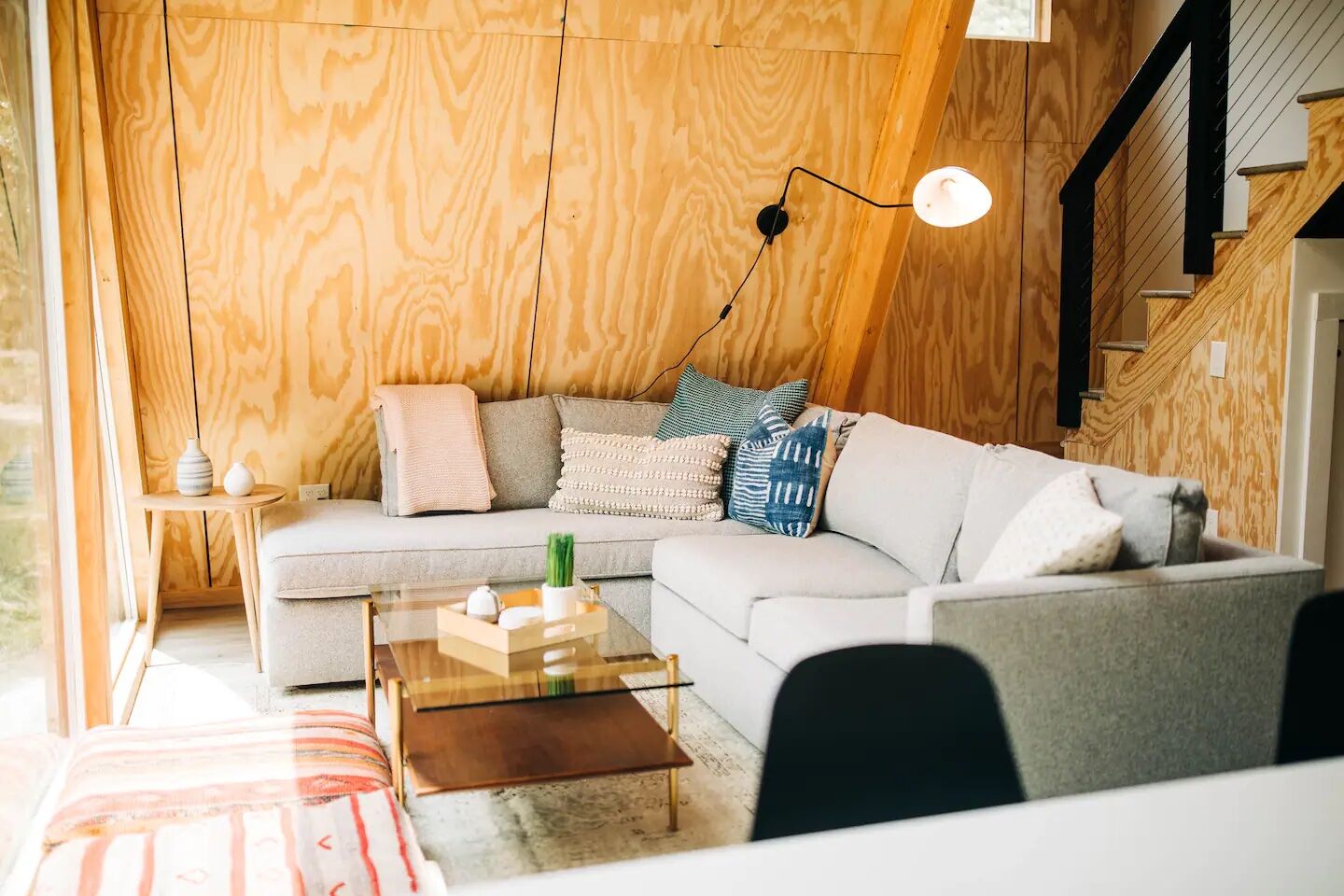 Sited a 10-minute drive from Main Street, this brand new A-frame chalet is perfect for groups seeking an all-round experience of downtown, hiking, and wineries. This family-friendly Airbnb Fredericksburg vacation home comprises two double bedrooms and two twins as well as a full kitchen and bathroom. Besides the private spa tub on the deck, you'll appreciate access to the shared sauna.
Nine guests, four bedrooms
Price: $475 per night
The Rockwood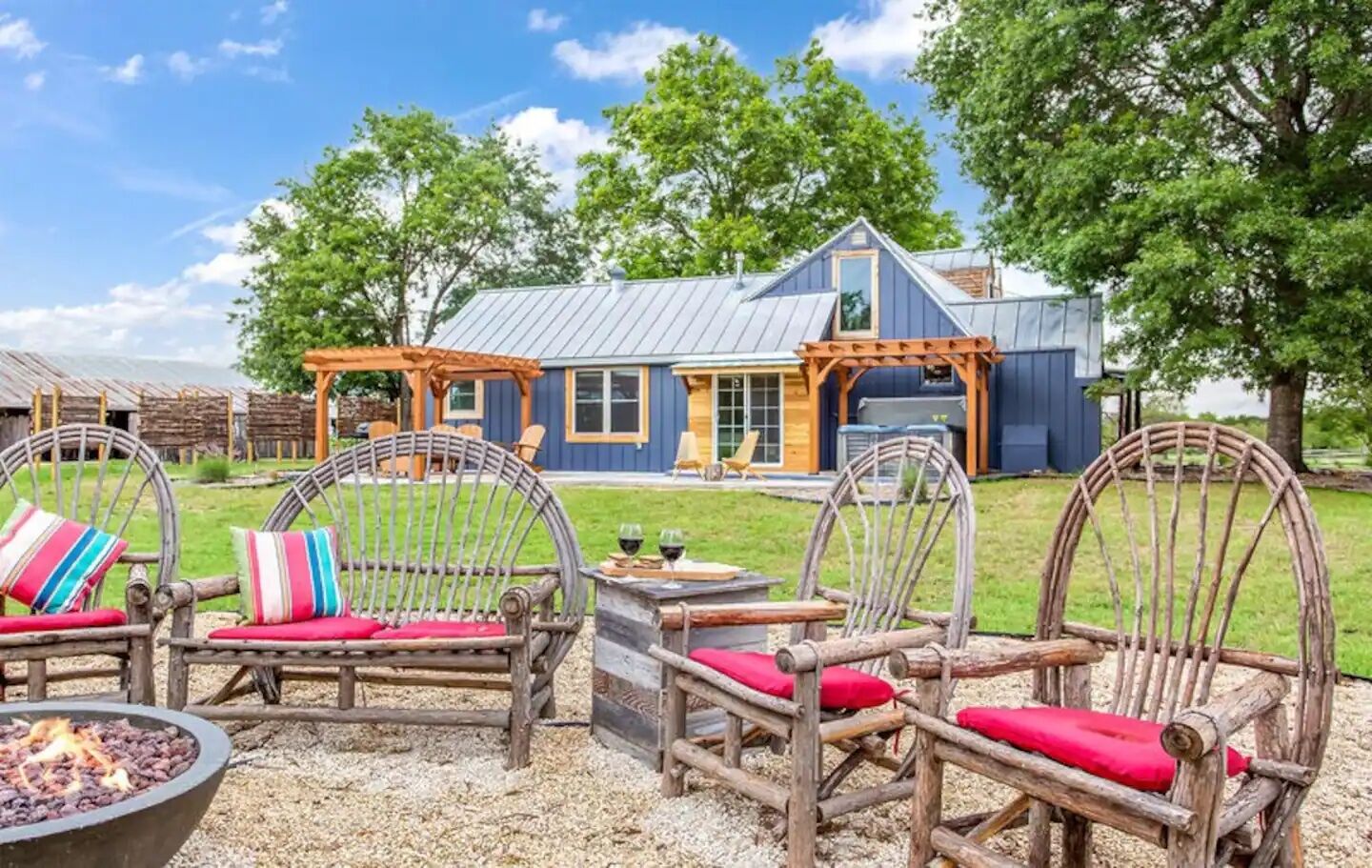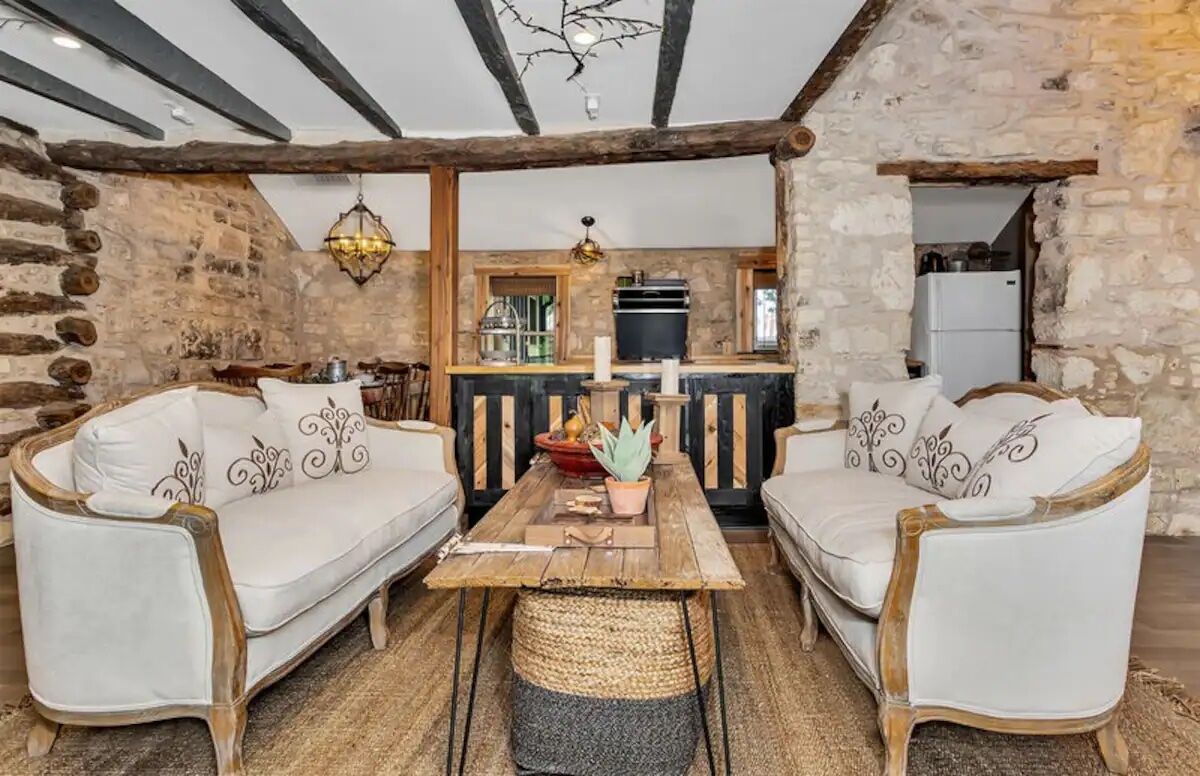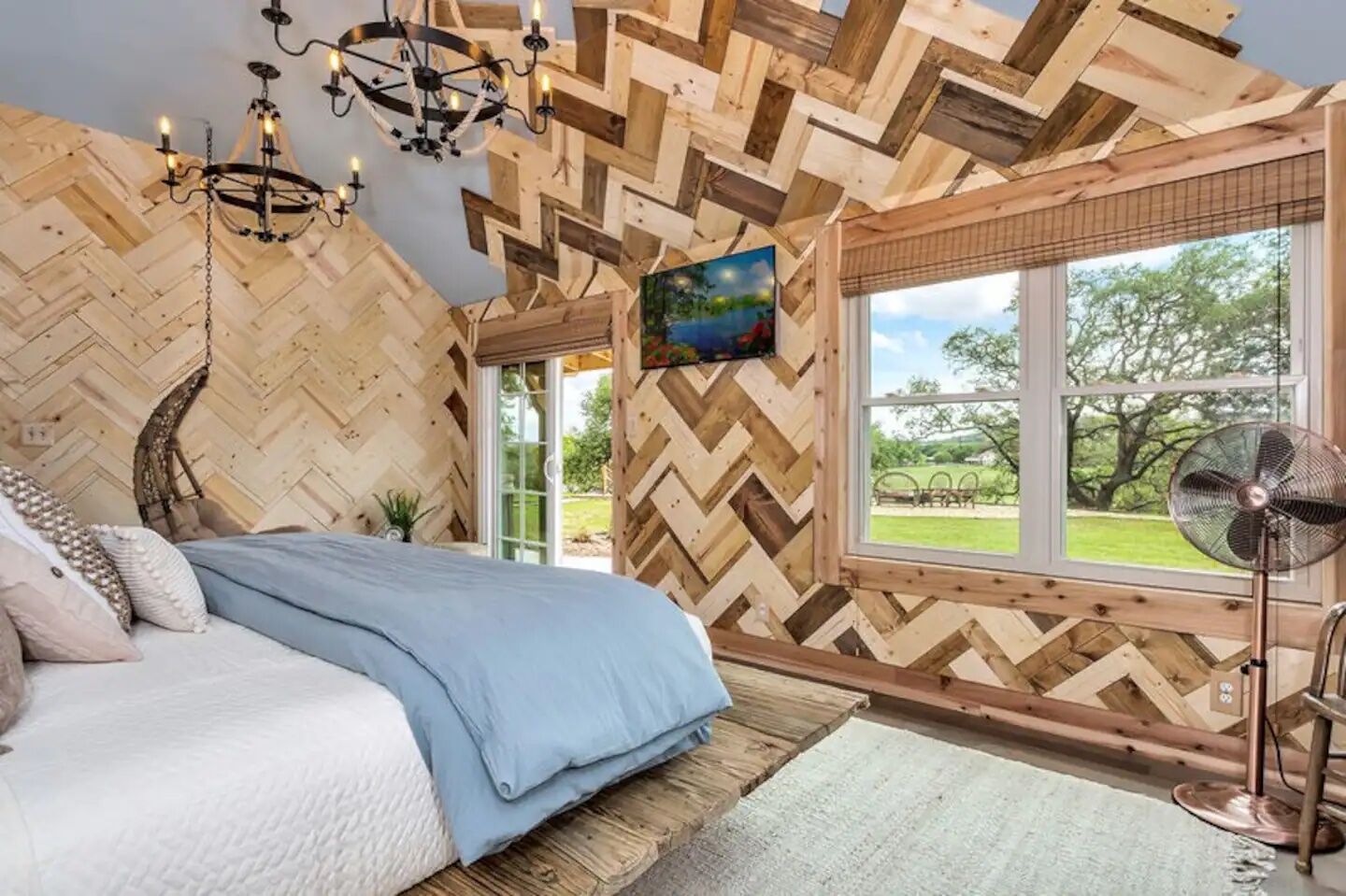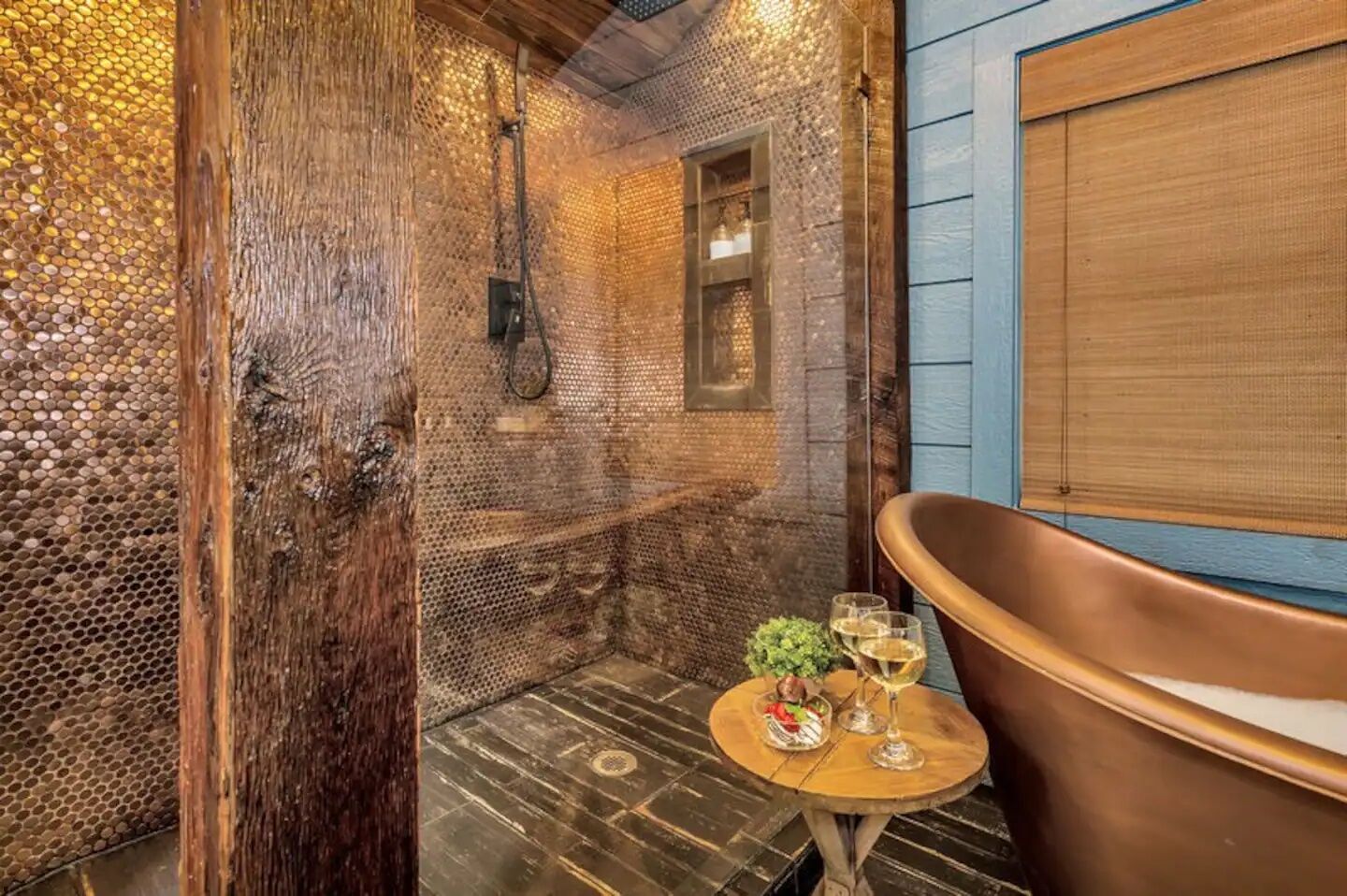 Situated on the bank of Barons Creek, this restored 1895 German rock and log homestead offers outstanding views from the dock. Swimming isn't permitted but the life-size Connect 4, shuffleboard, arcade zone, and other games more than make up for that. Interiors are cozily appointed with an old-fashioned freestanding bathtub for that much-needed R&R. Bursting with personality, this fun Fredericksburg Airbnb suits sociable – and playful – groups and families.
Six guests, two bedrooms
Price: $280 per night
Airbnb Fredericksburg rentals with a pool
Amazing ranch with pool/spa, game barn, and cabins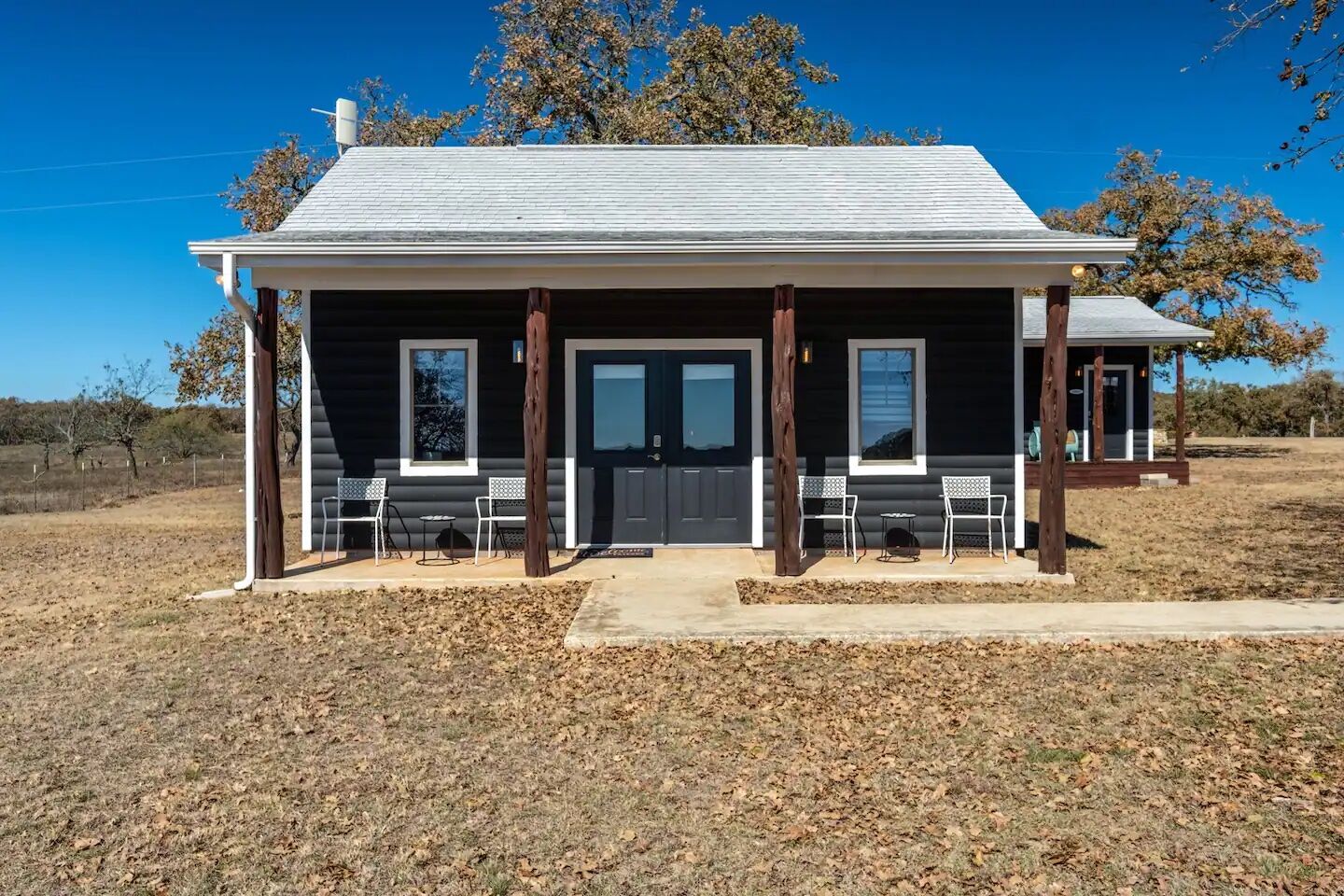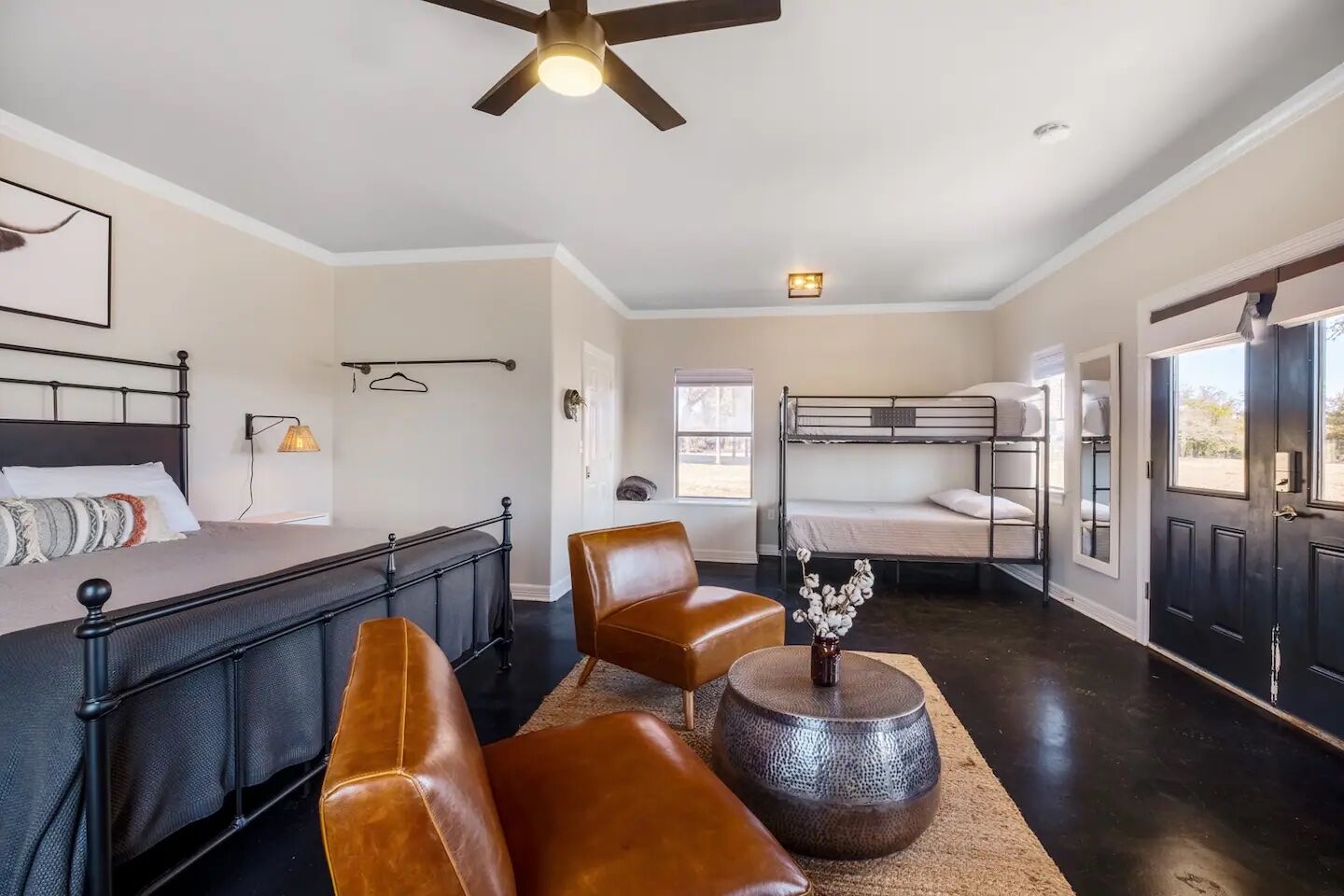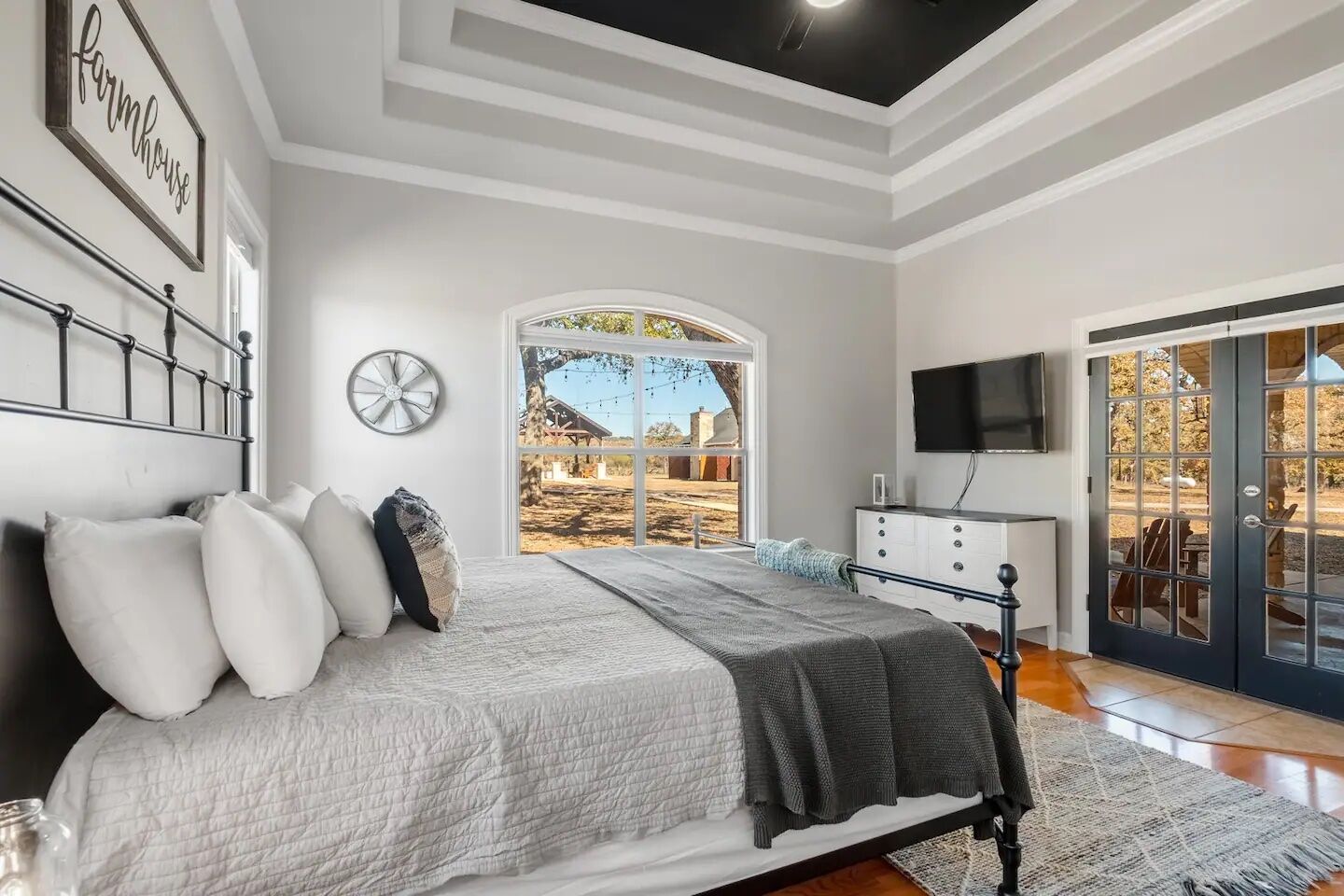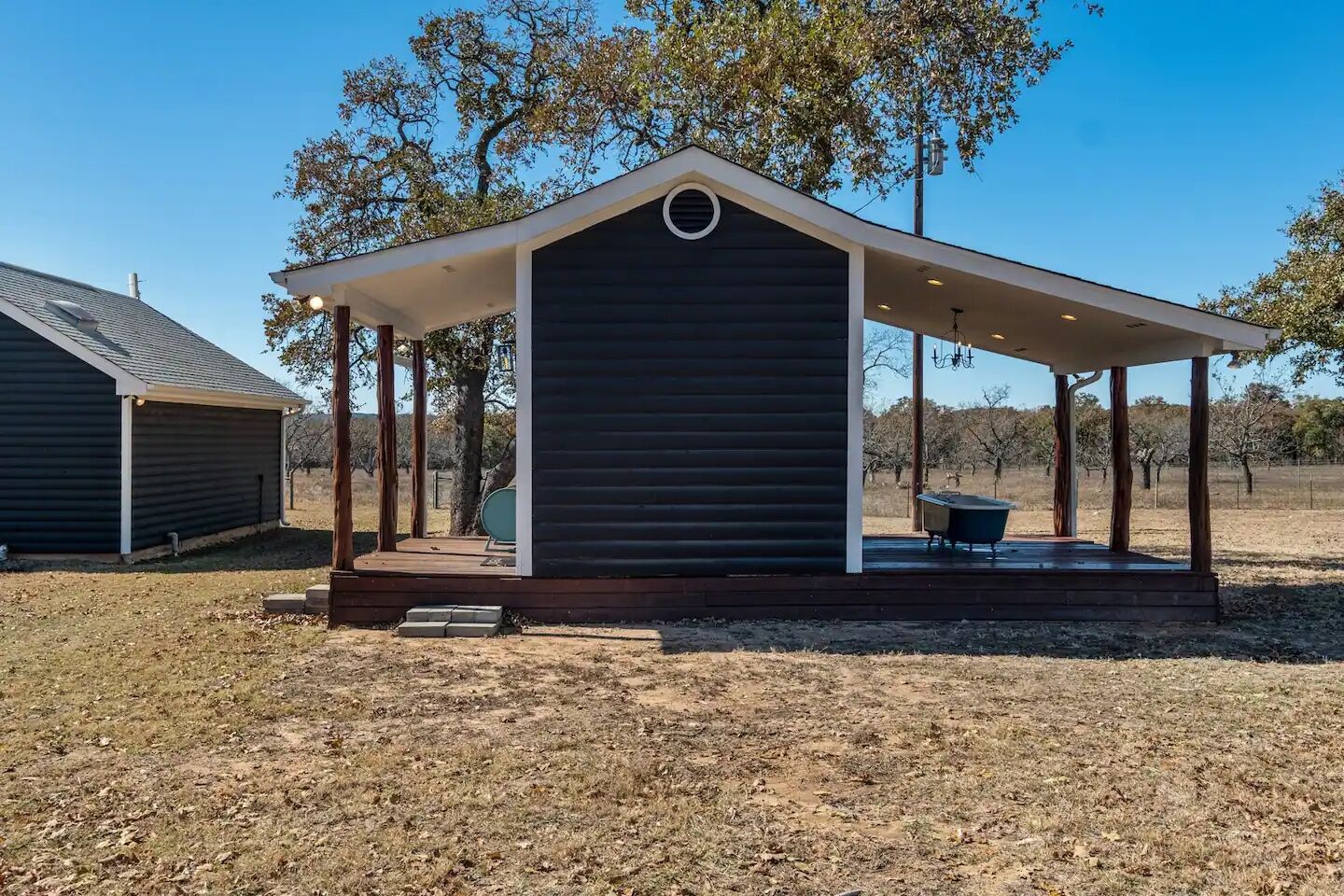 The Ginger Ranch is set upon 65 acres a mere 10-minute drive from downtown Fredericksburg and consists of a farmhouse plus five individual cabins. The main house contains a full kitchen and lounge. Those sleeping in the cabins will share an external bathhouse that comes with an al fresco vintage tub. Amenities include a private swimming pool, hot tub, games barn, playground, and fire pit. This one-of-a-kind ranch Airbnb Fredericksburg is available for weddings.
Sixteen guests, seven bedrooms
Price: $1,395 per night
22-acre ranch with heated pool/spa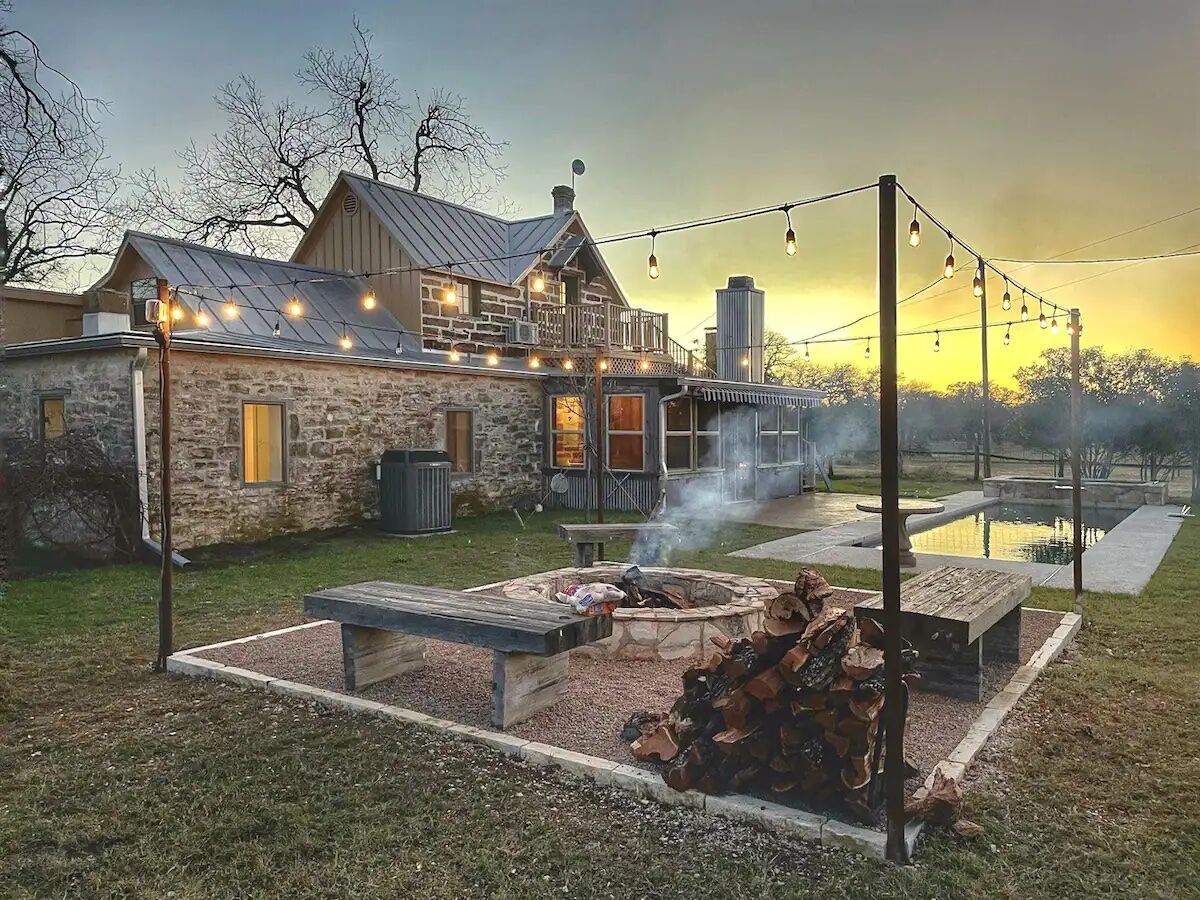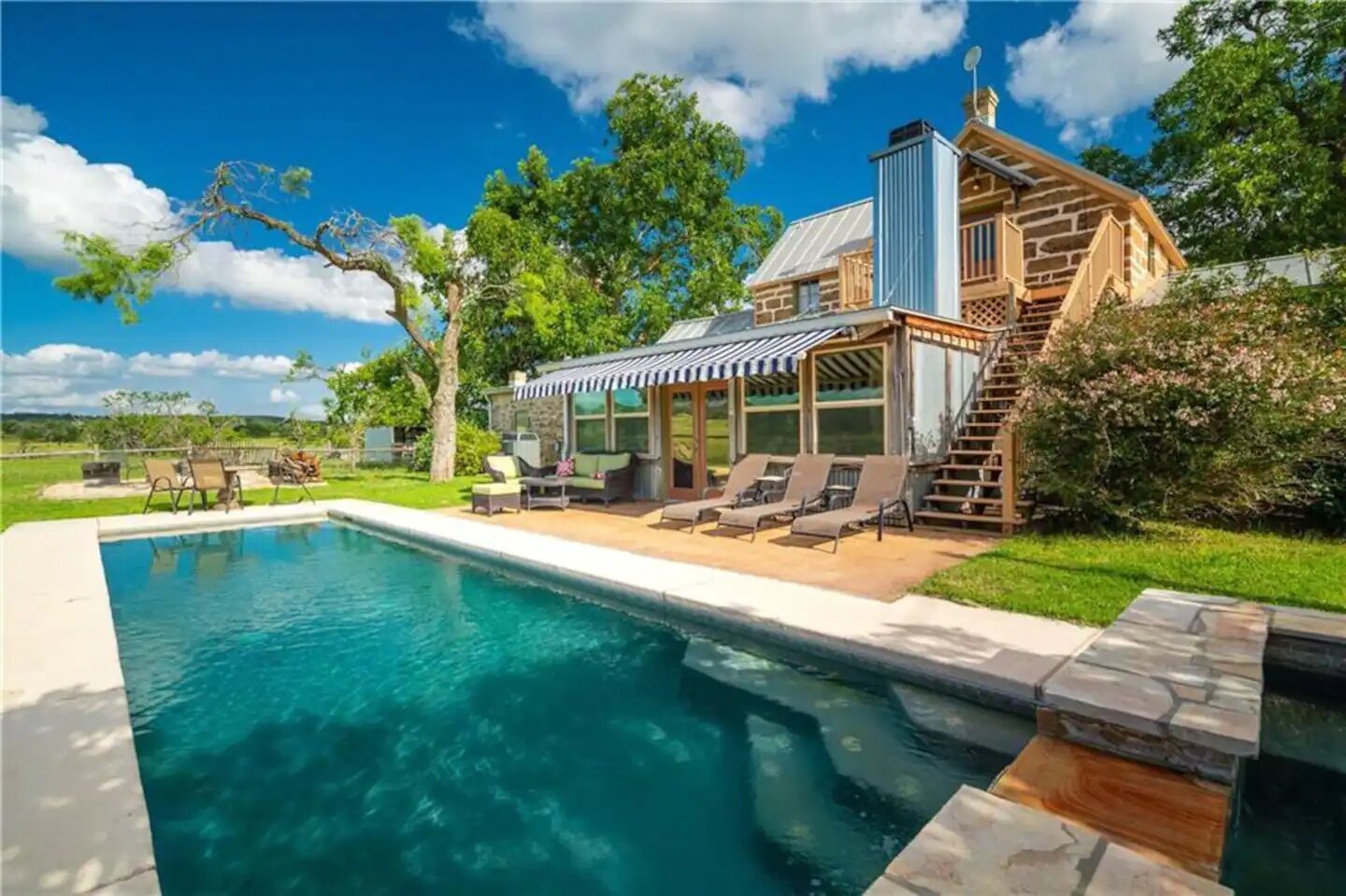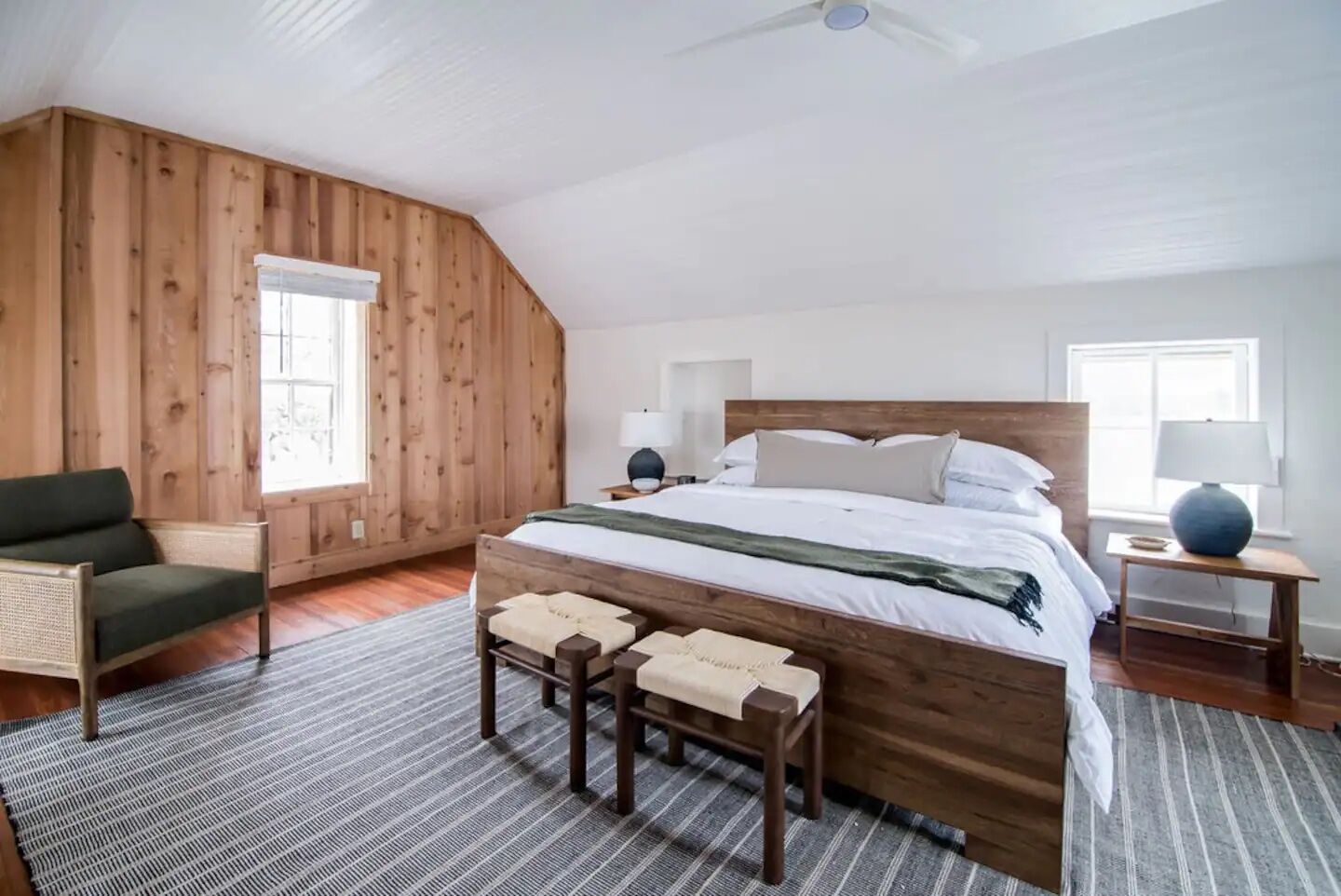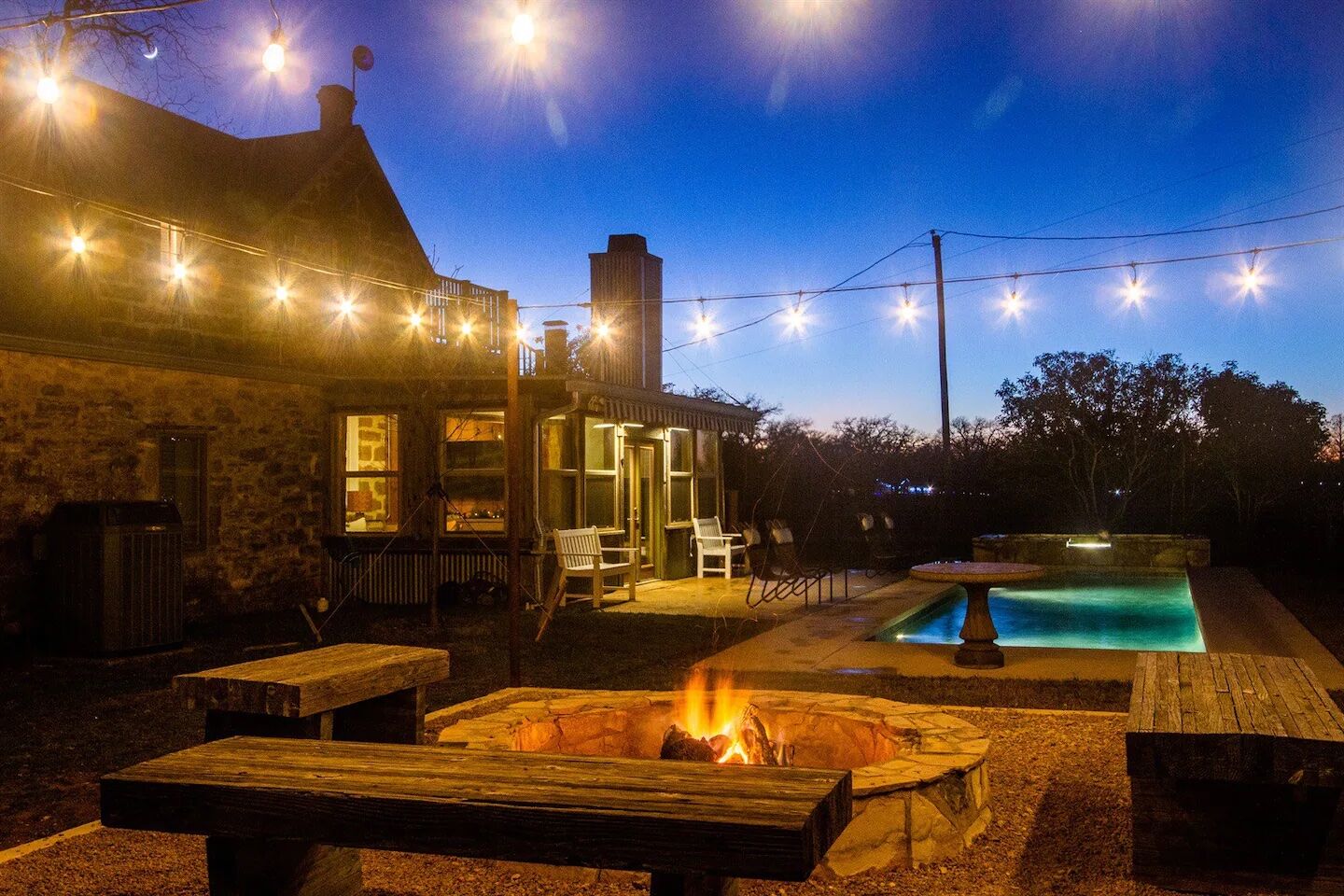 Luxury meets history at this 1848 ranch, reimagined for the modern traveler with state-of-the-art appliances and fixtures. The backyard features a swimming pool (heated on demand), hot tub, and fire pit. Views stretch for miles over the farm fields and you can expect to spot local livestock roaming around your plot as you soak up the environment. Situated a 10-minute drive from downtown Fredericksburg.
Fifteen guests, five bedrooms
Price: $1,405 per night
Rosewood Haus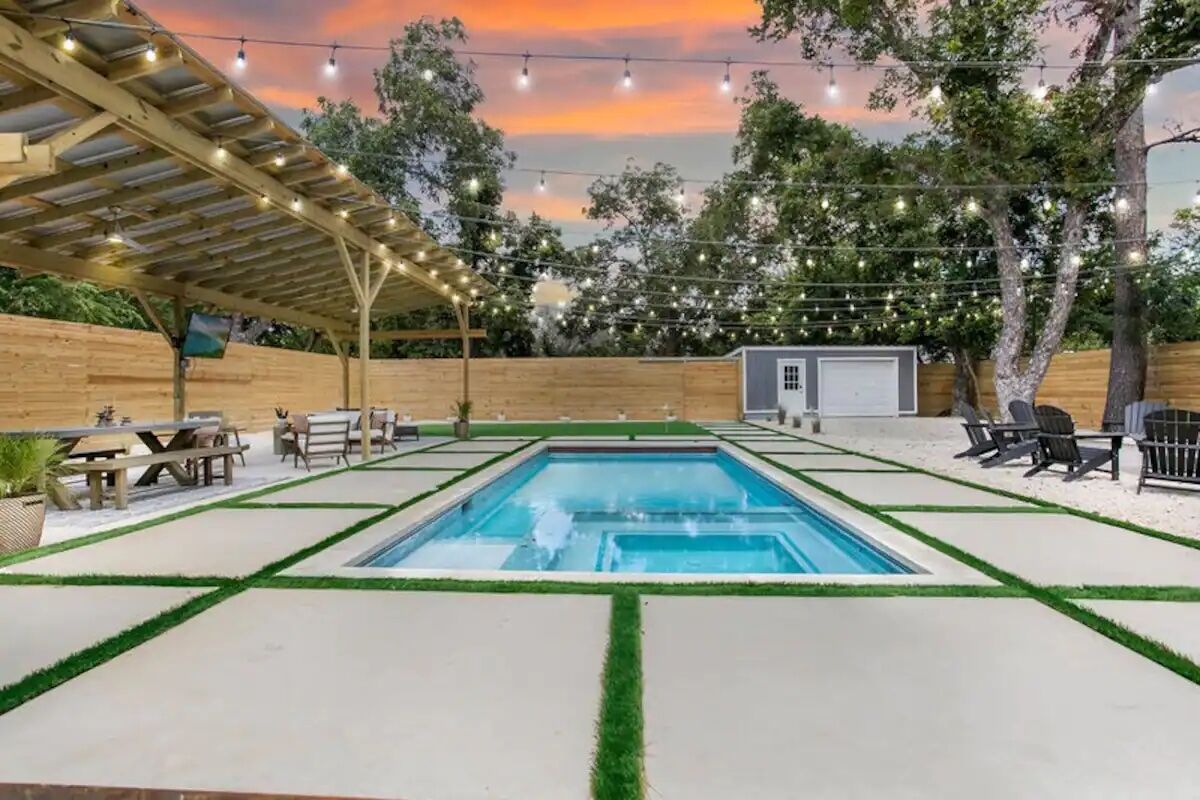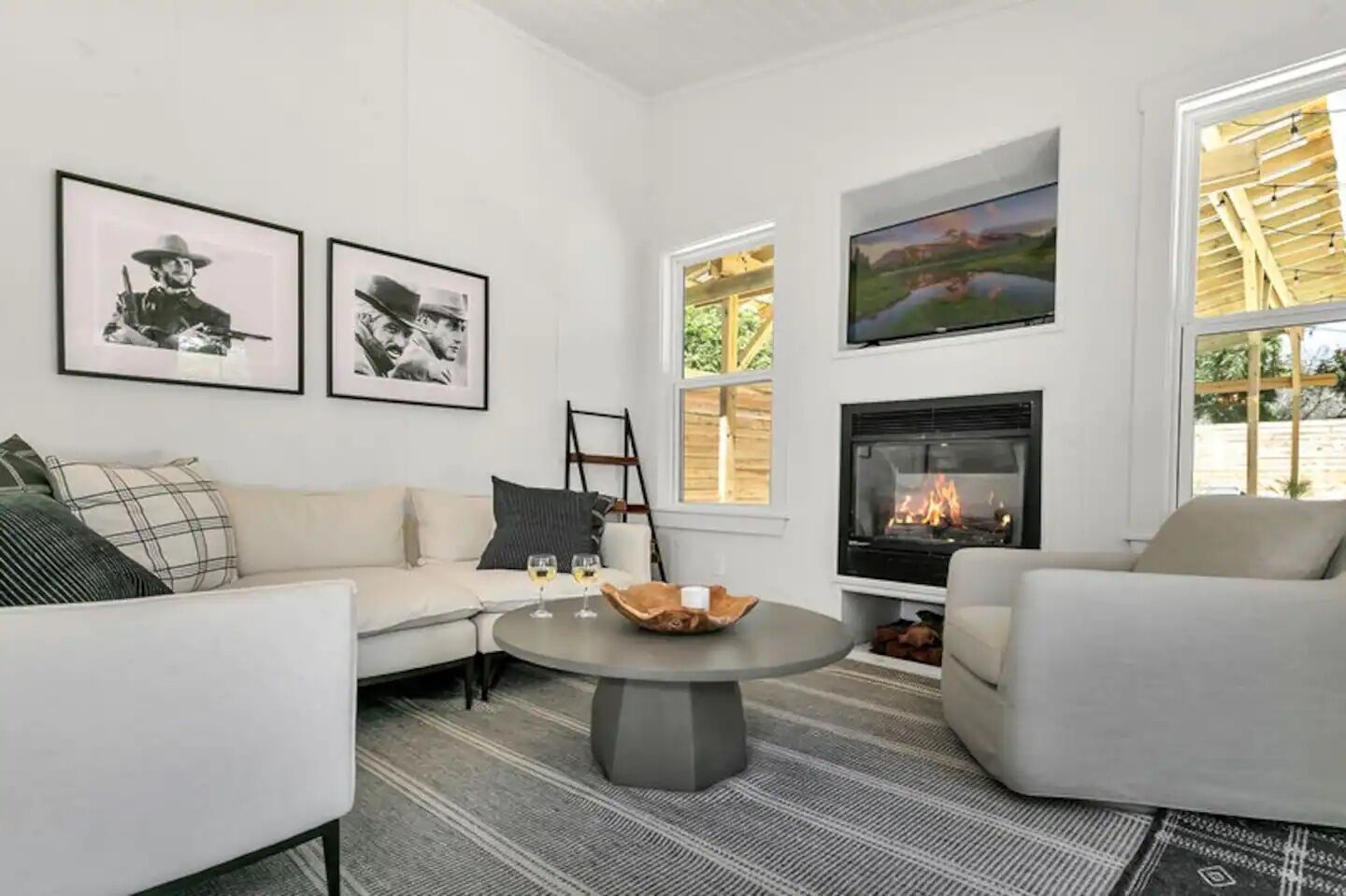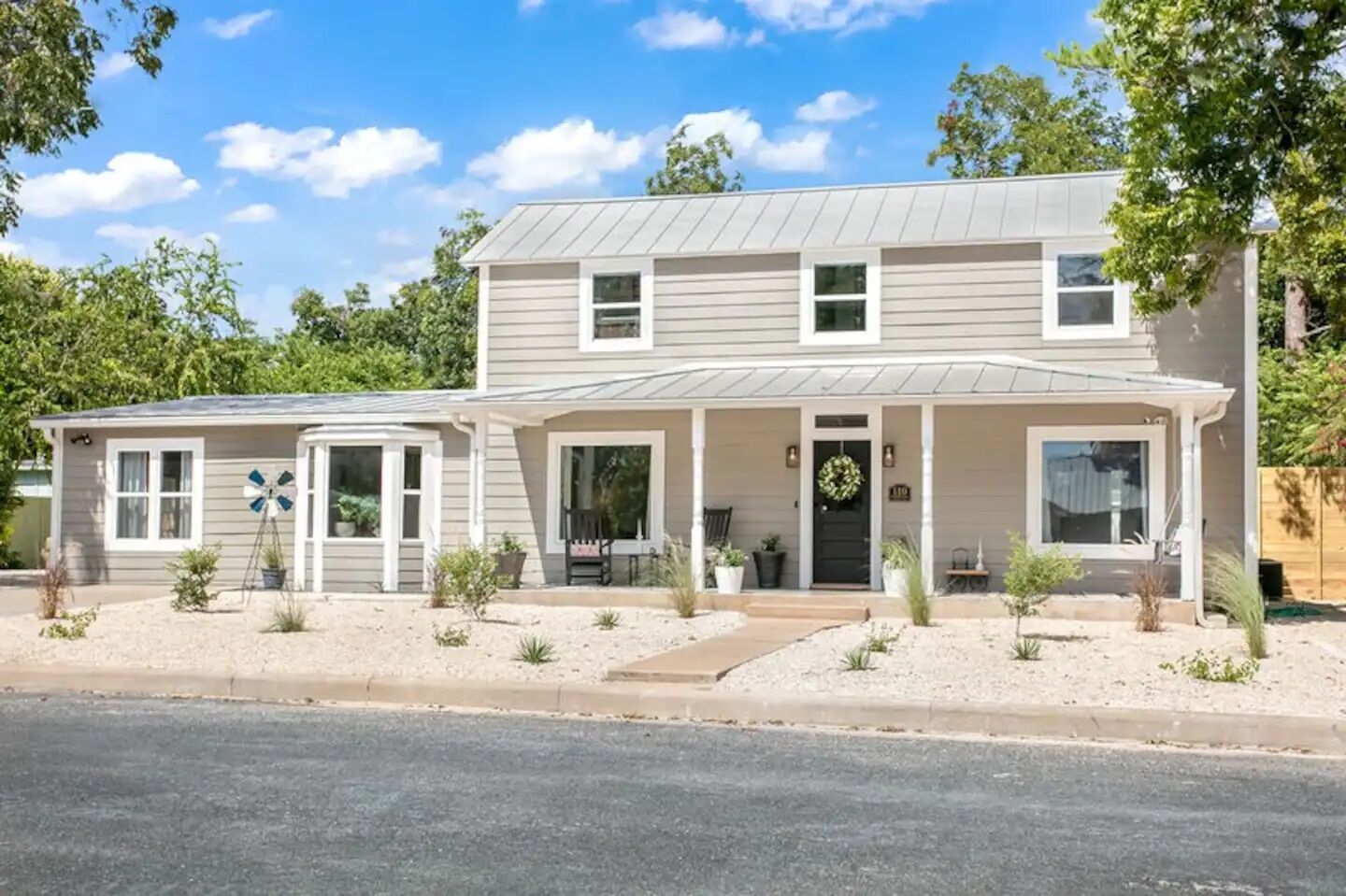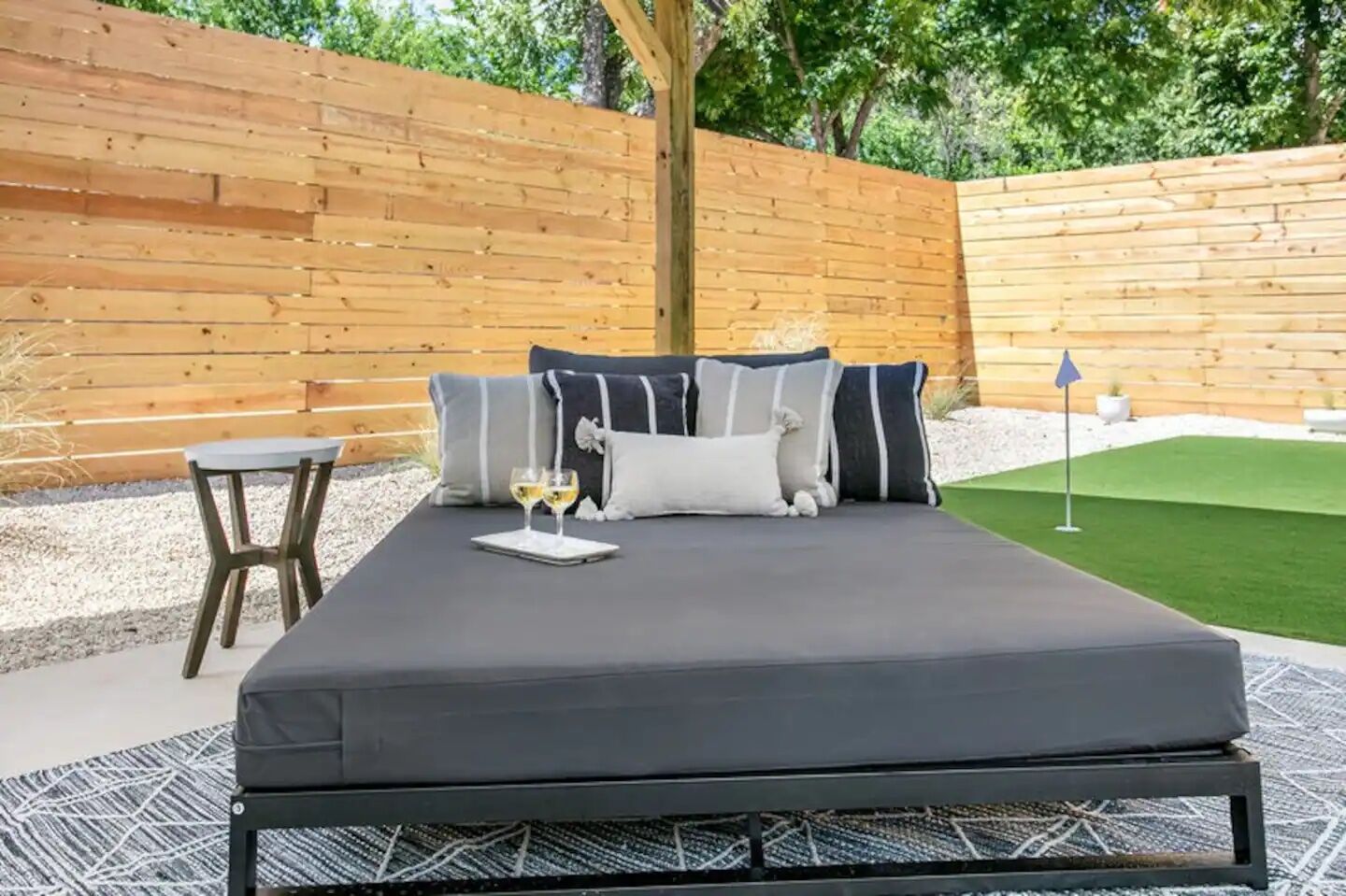 This luxurious downtown Fredericksburg TX Airbnb with a pool benefits from an expansive sun terrace and a covered dining zone. A mini golf course provides endless entertainment and the chance to sharpen your swing. Interiors are neatly stylized with quality linens and attractive pieces of art. With heaps of space inside and out, this is a top choice for families and groups alike.
Ten guests, four bedrooms
Price: $820 per night
Fritzie at Town Creek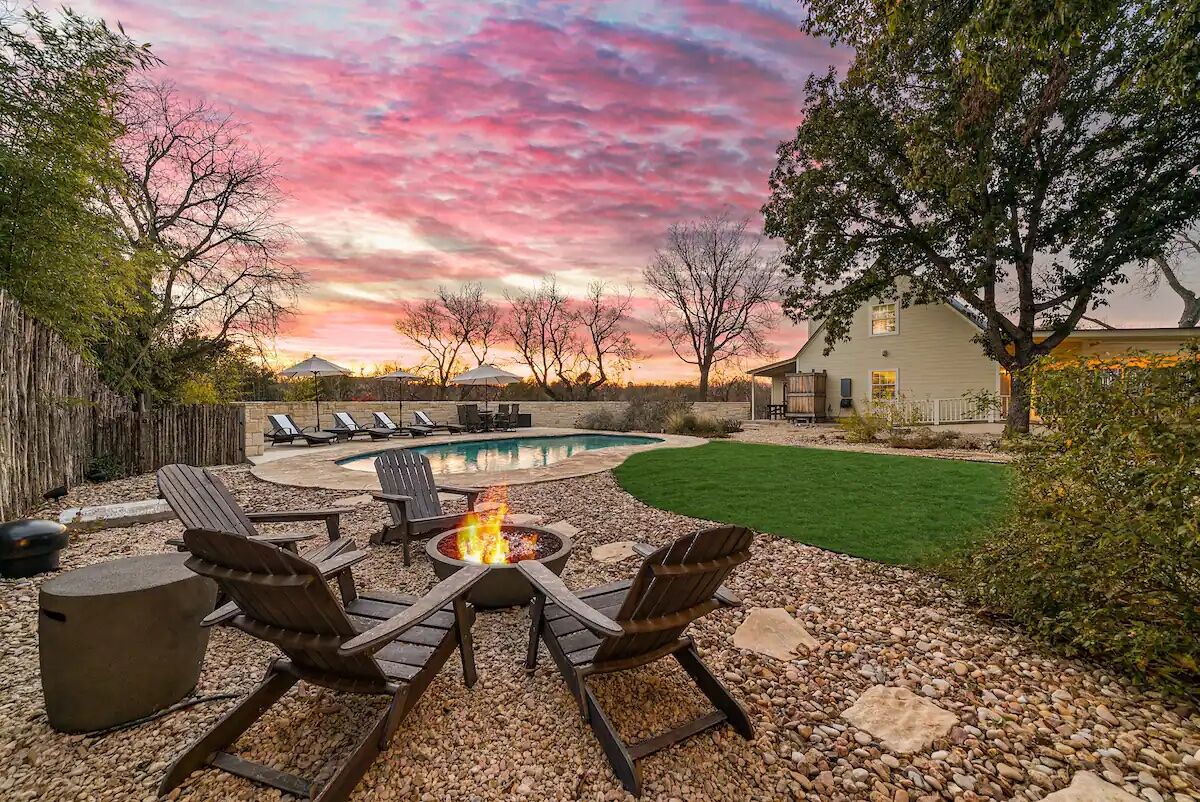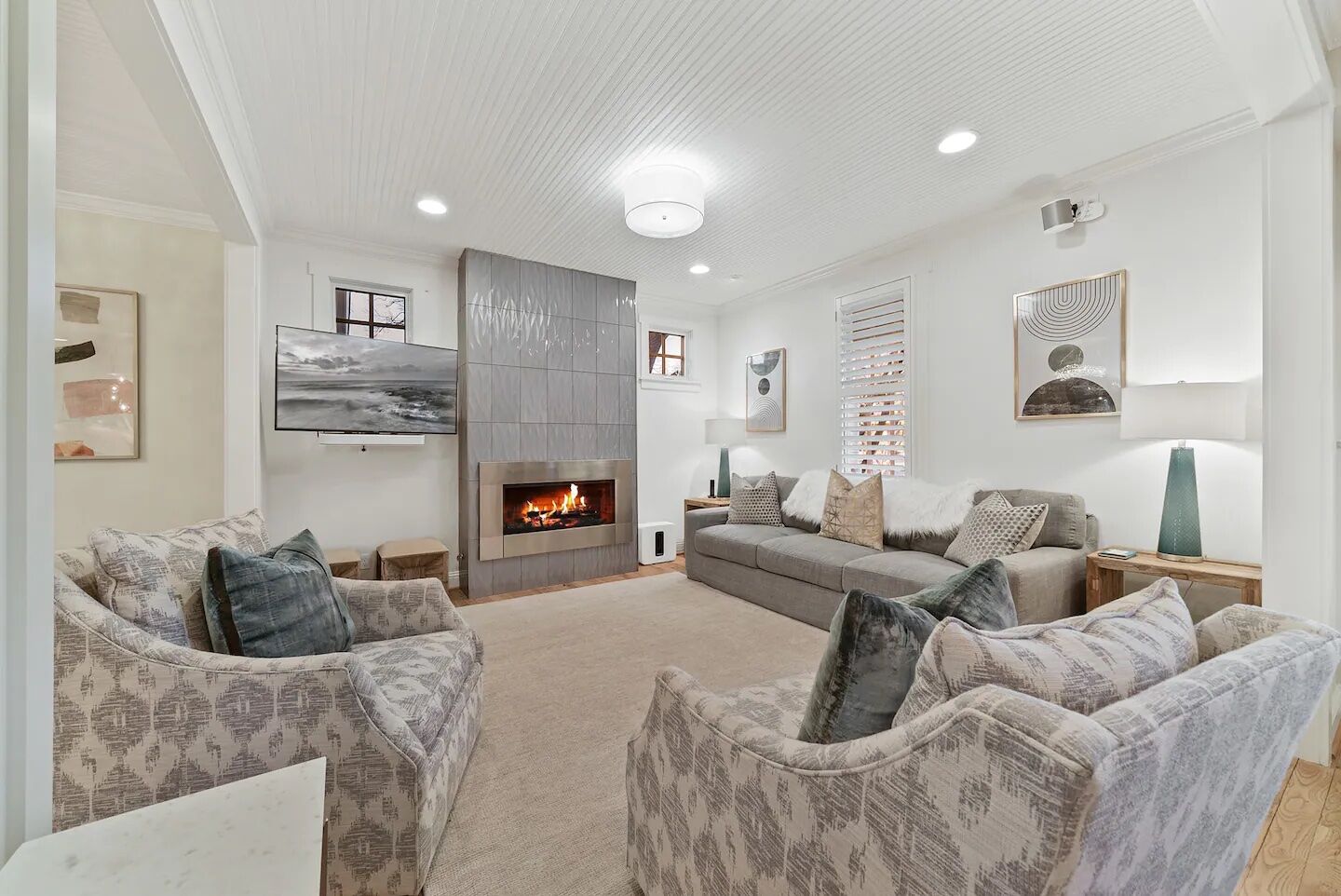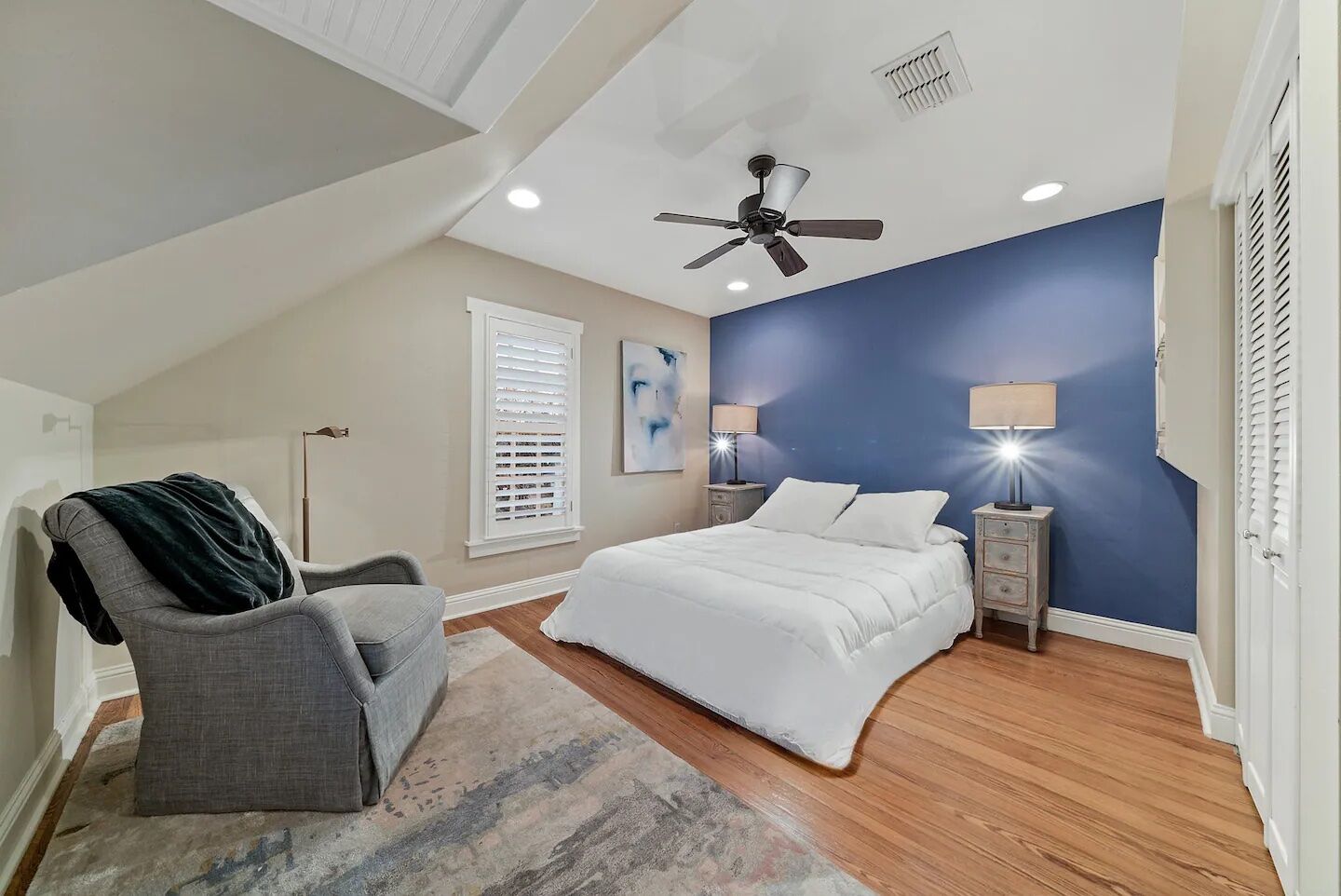 Slap bang in the heart of downtown, this Fredericksburg Airbnb near Main Street will suit those hungry to explore the local restaurants and sights. Originally a 19th-century German stone home, the property has undergone major expansion and modernization to transform it into a deluxe vacation rental. A fenced backyard comes with a pool, fire pit, and covered dining area.
Fourteen guests, six bedrooms
Price: $780 per night
Haus In Schwarz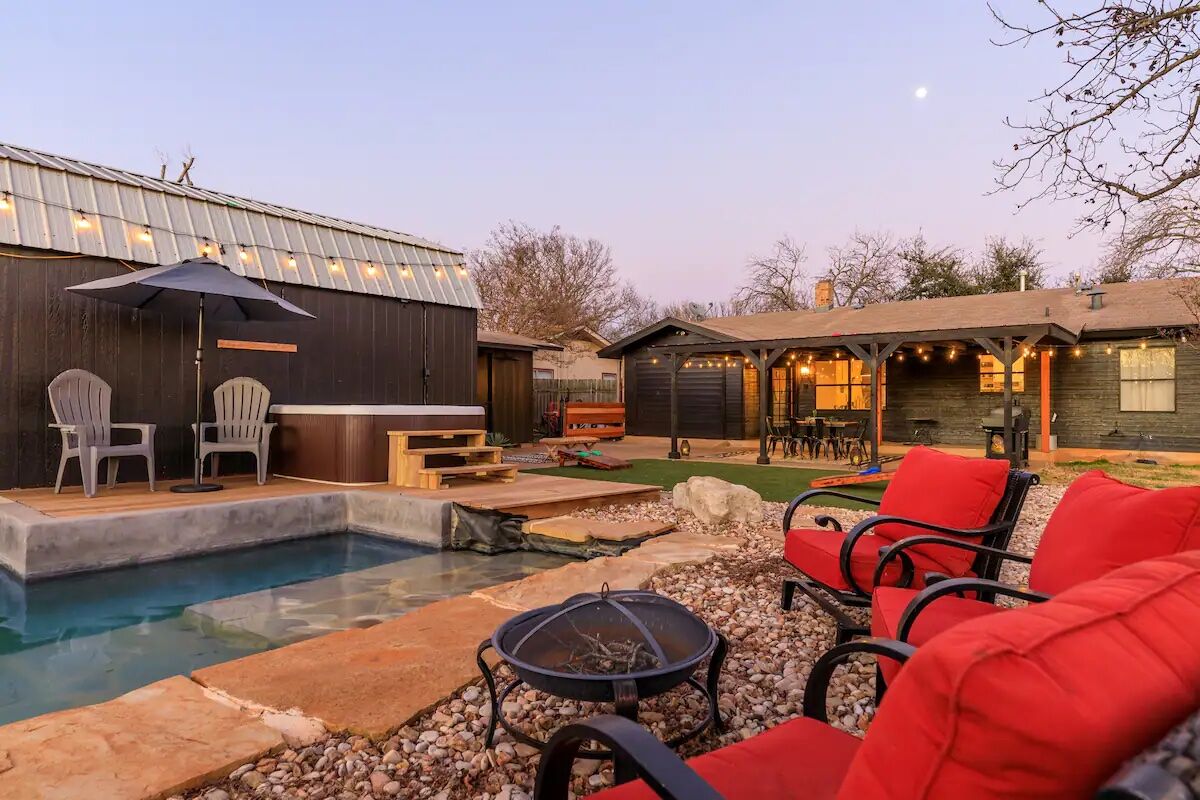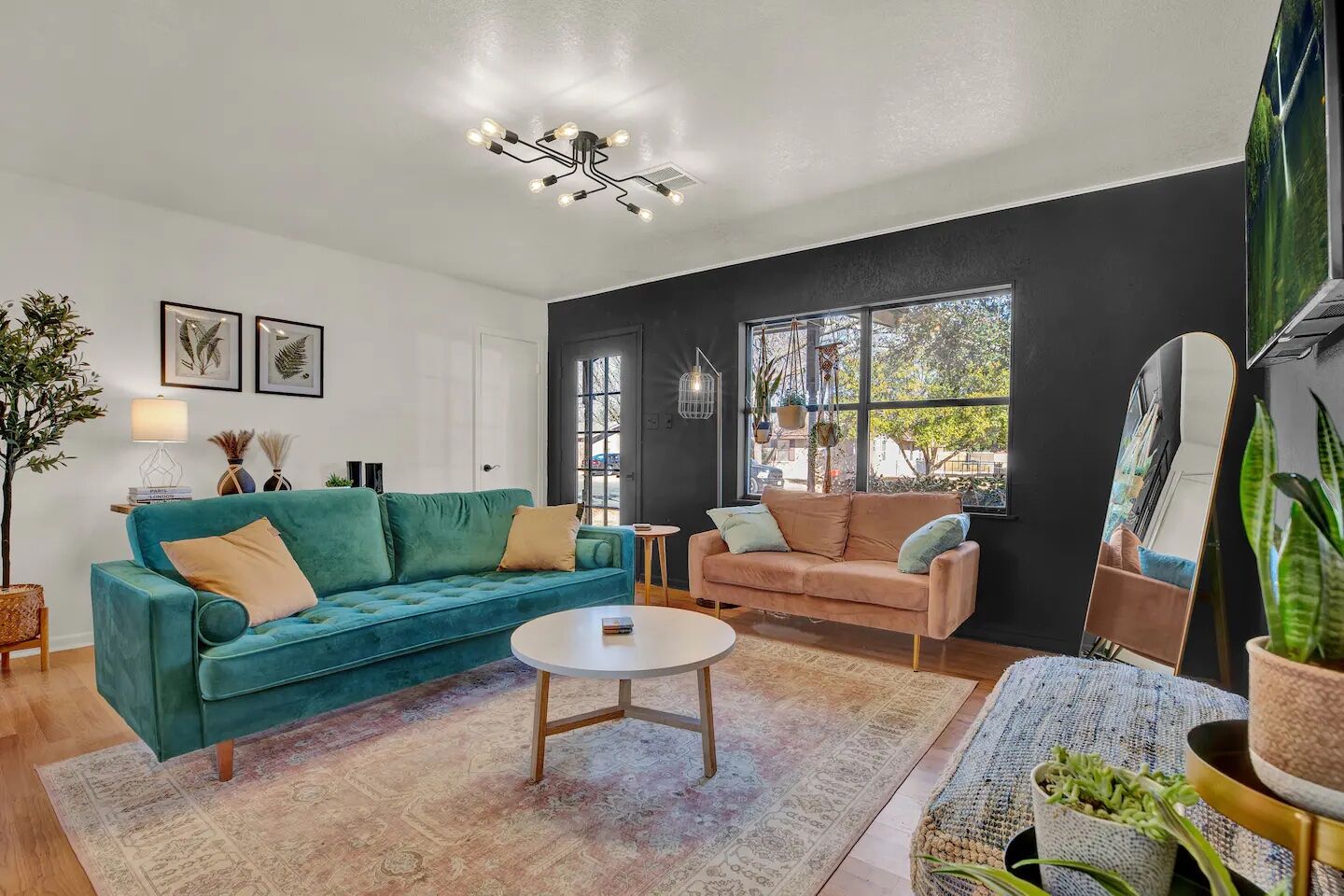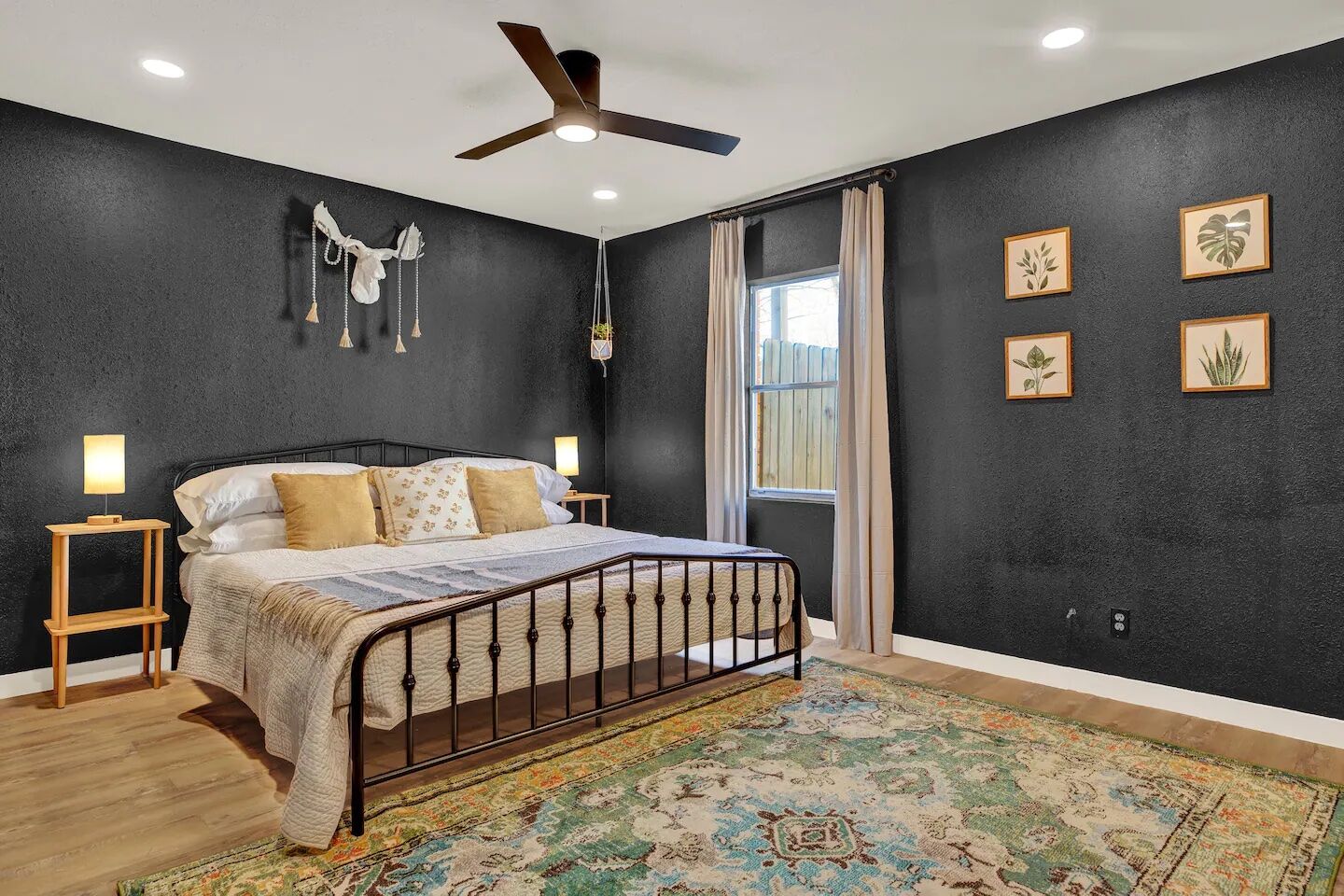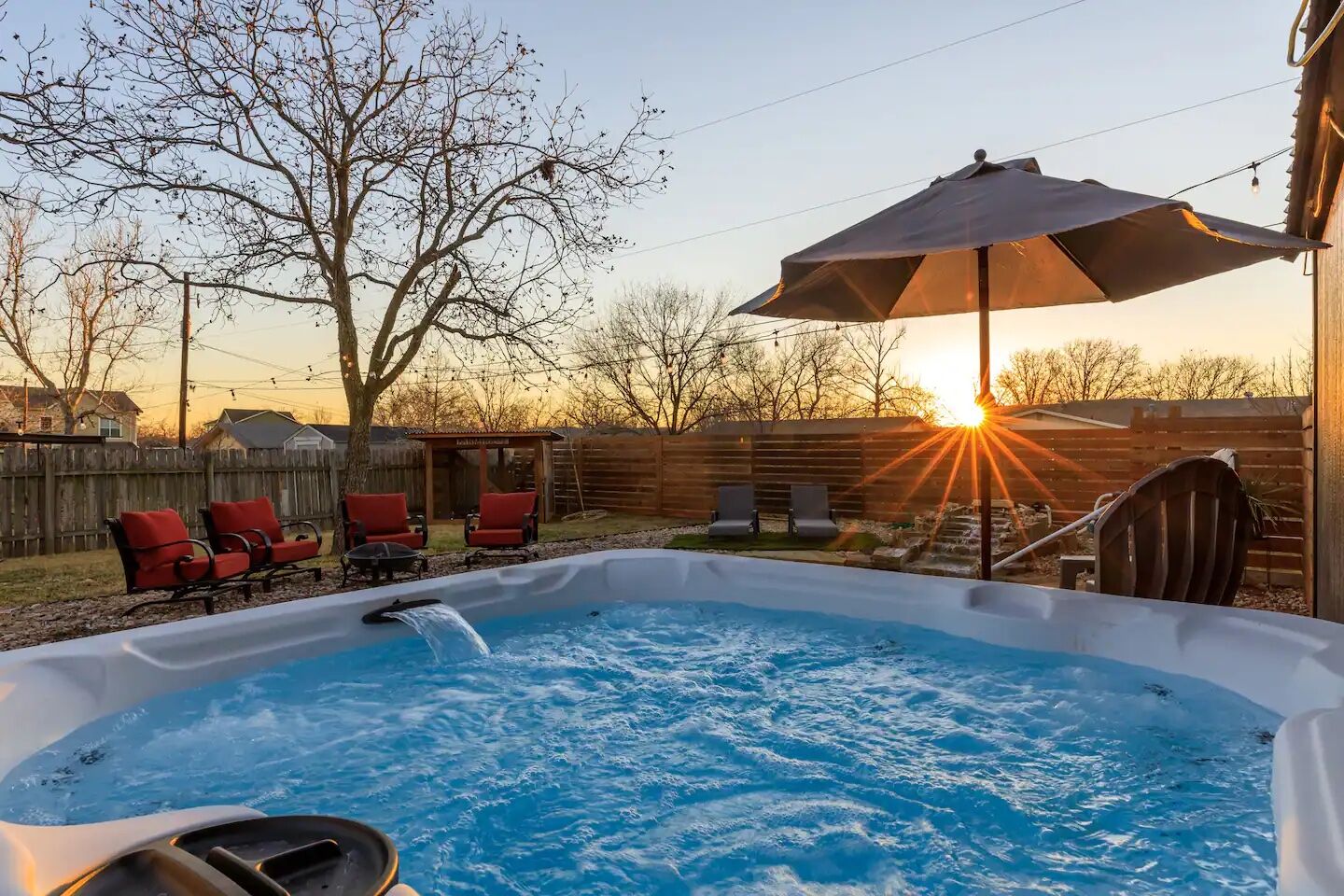 This bohemian-themed spacious Fredericksburg Airbnb family vacation home is handy for downtown as well as the regional wineries. The ​​open concept property revolves around a back patio complete with a pool, hot tub, and cornhole boards. An elegant kitchen is a joy to prepare meals in that can be enjoyed from the external dining area. Bedroom suites follow a monochrome style with fetching paintwork and oversized showers in the attached bathrooms. Help yourselves to fresh eggs from the coop.
Twelve guests, four bedrooms
Price: $460 per night
Remote Texas Hill Country cabins
Romantic Log Cabin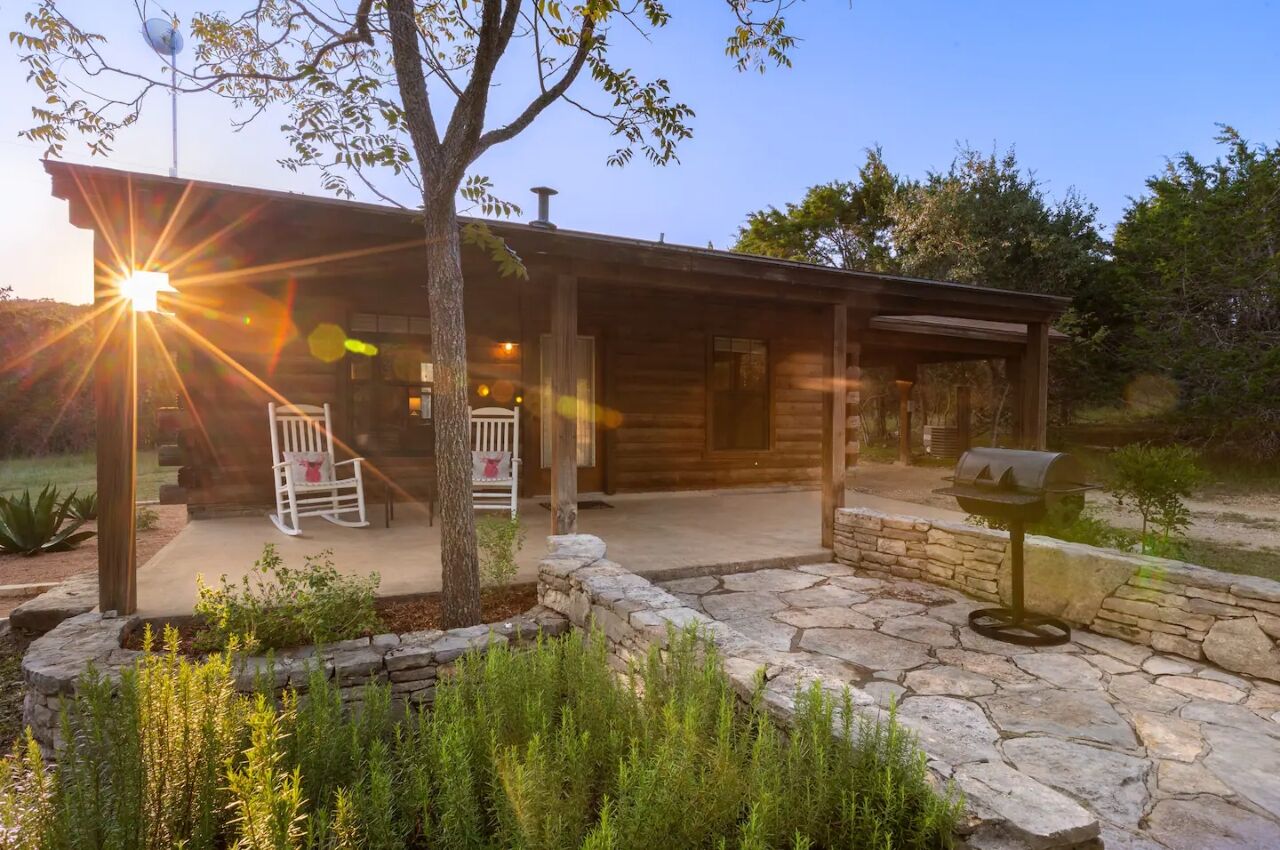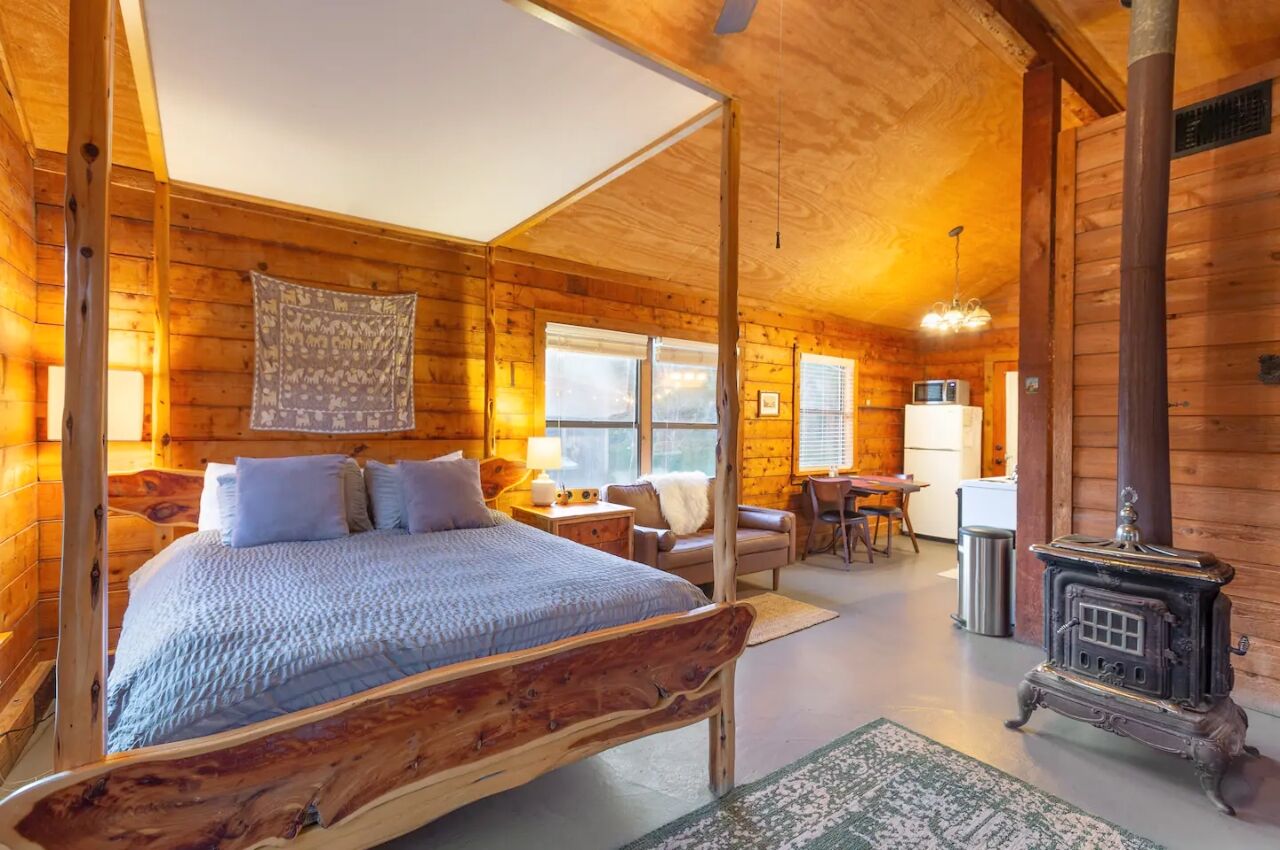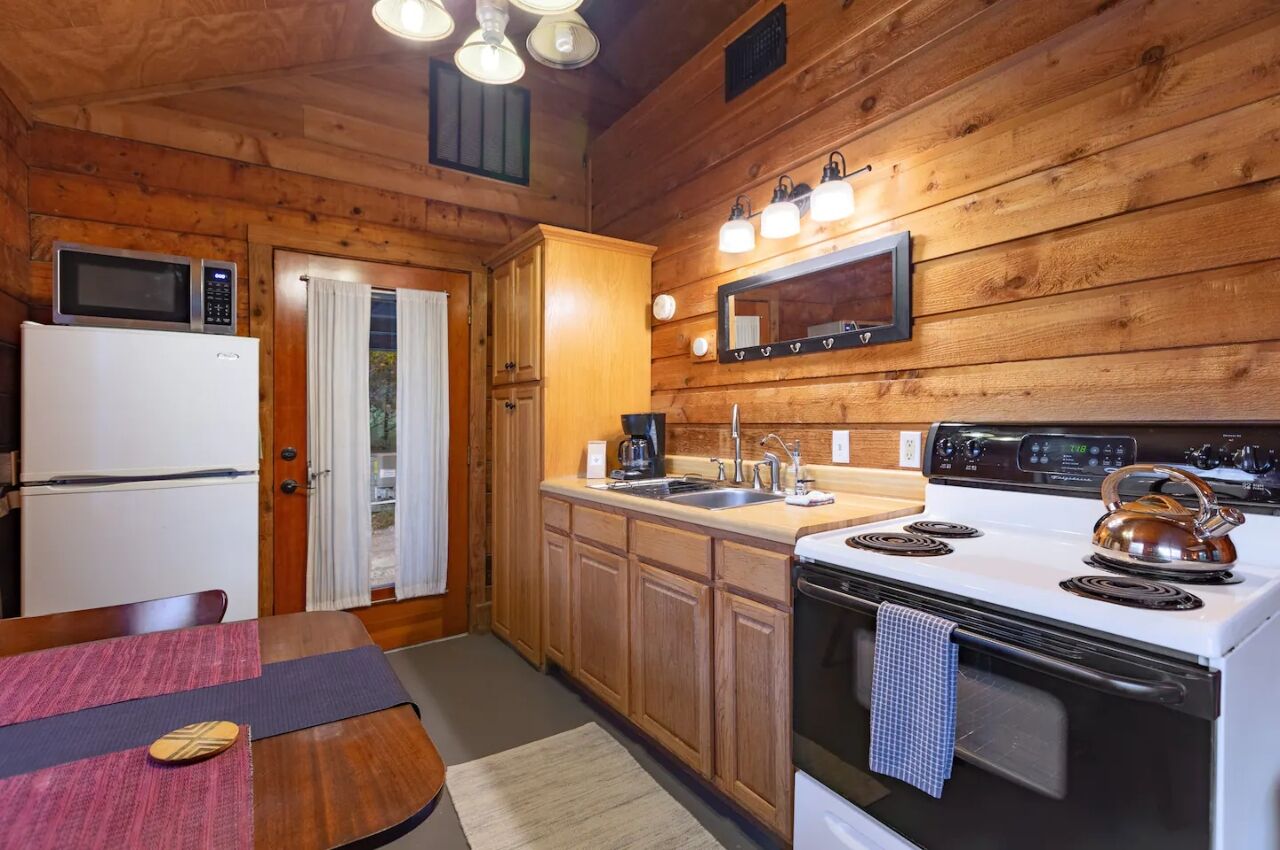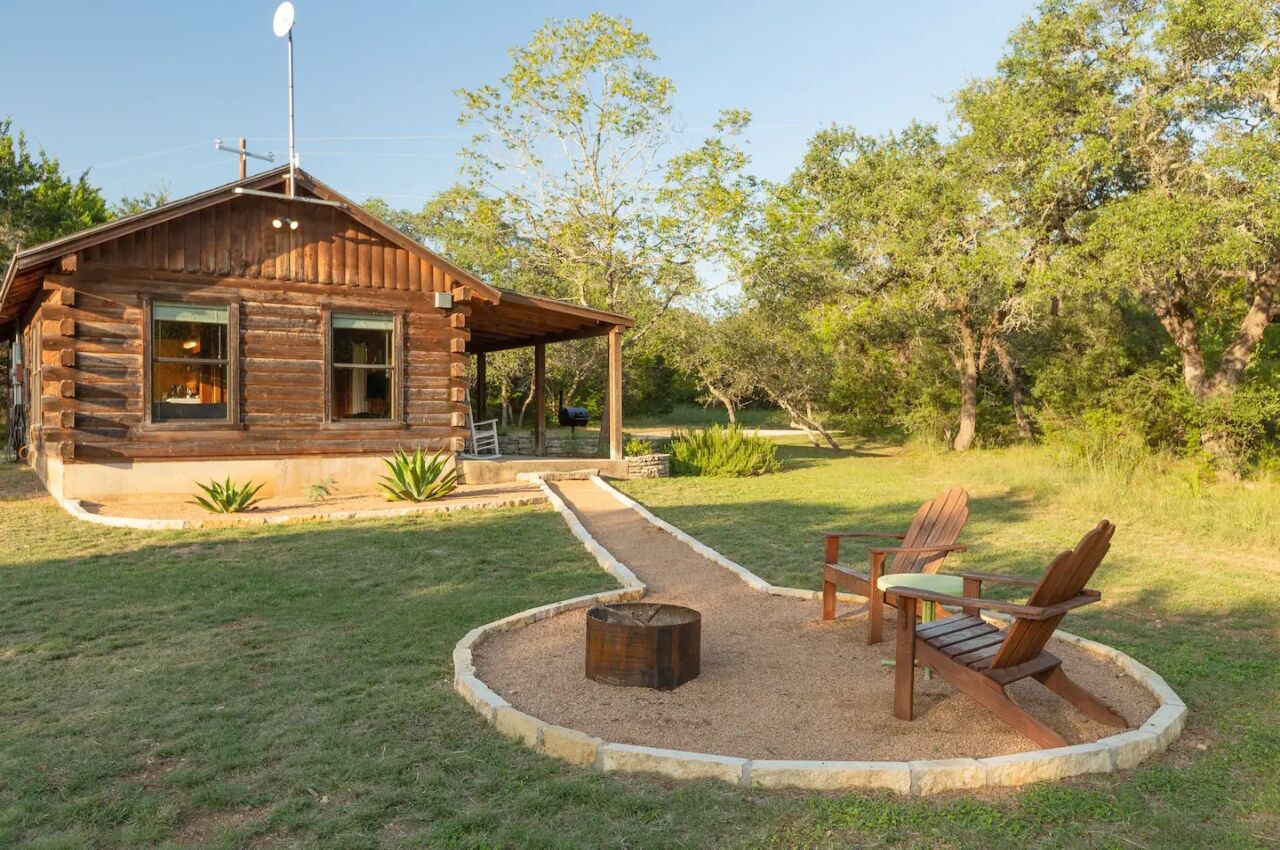 Check out this beautiful cabin with ten acres and gorgeous views of the surrounding hillsides. This cabin is n excellent getaway from the busy city scene where you can walk along the creek and watch deers pass by, relax by the fire pit, take a dive in the hot tub, explore the treehouse, and get lost in the stars.
Two guests, one bedroom
Price: $155 per night
Unique off-grid cabin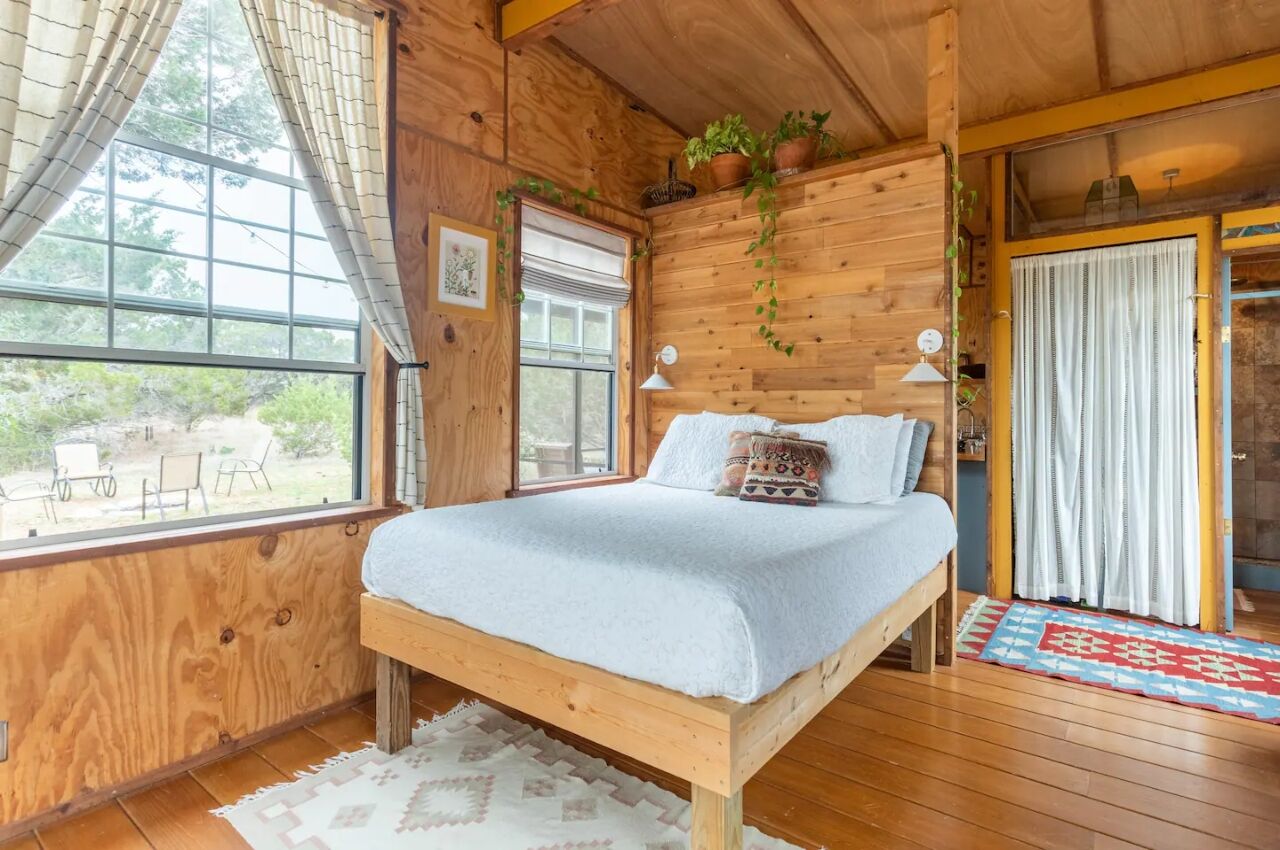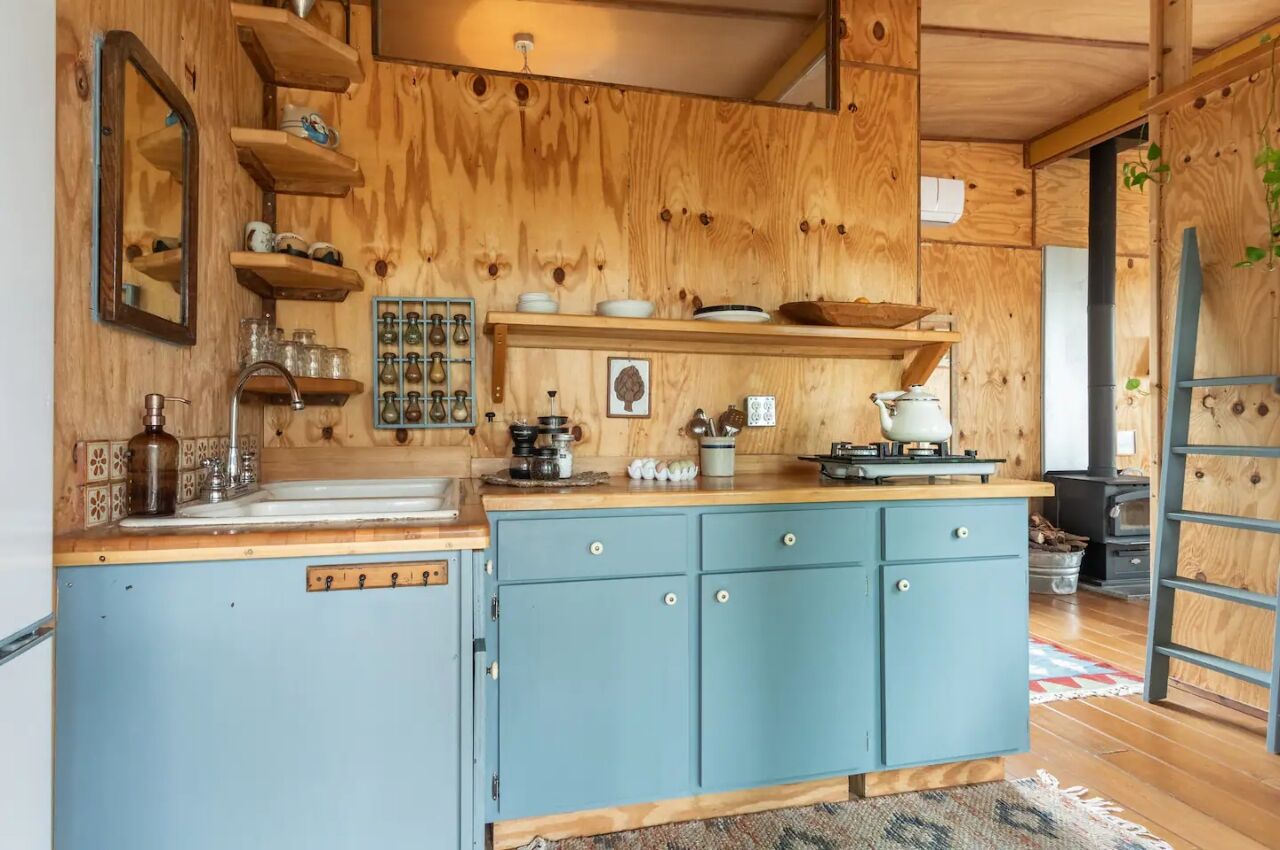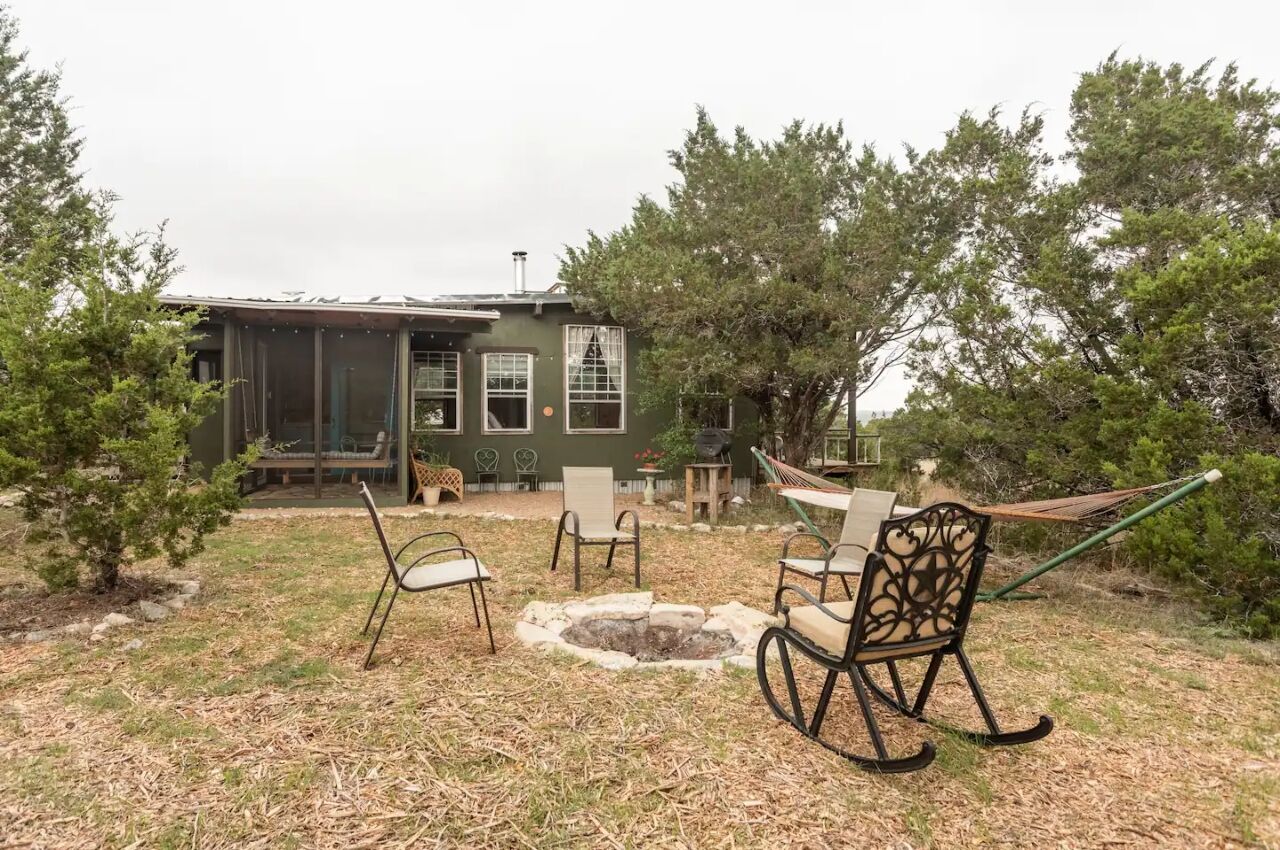 Indulge yourself in quiet at this off-grid cabin. All furnishings are antique, second-hand, or vintage, a nod both to the host's sustainable ethos as well as to the charm of Texas Hill Country. The kitchen is fully functional, and the bathroom uses filtered rain water and a composting toilet. Sitting on 37 acres of beauty, immerse yourself in this gorgeous Texas Hill Country cabin.
Four guests, one bedroom
Price: $130 per night
Cypress Creek Retreat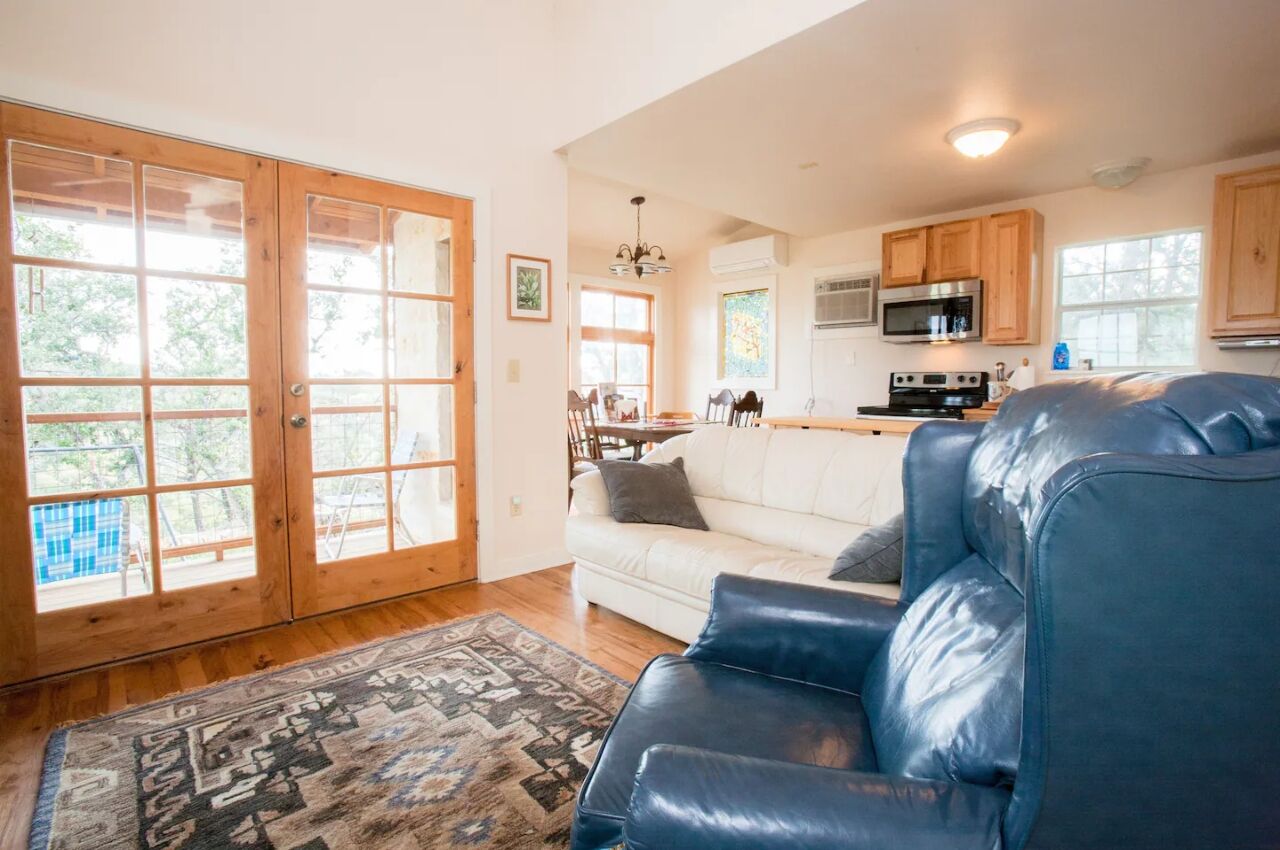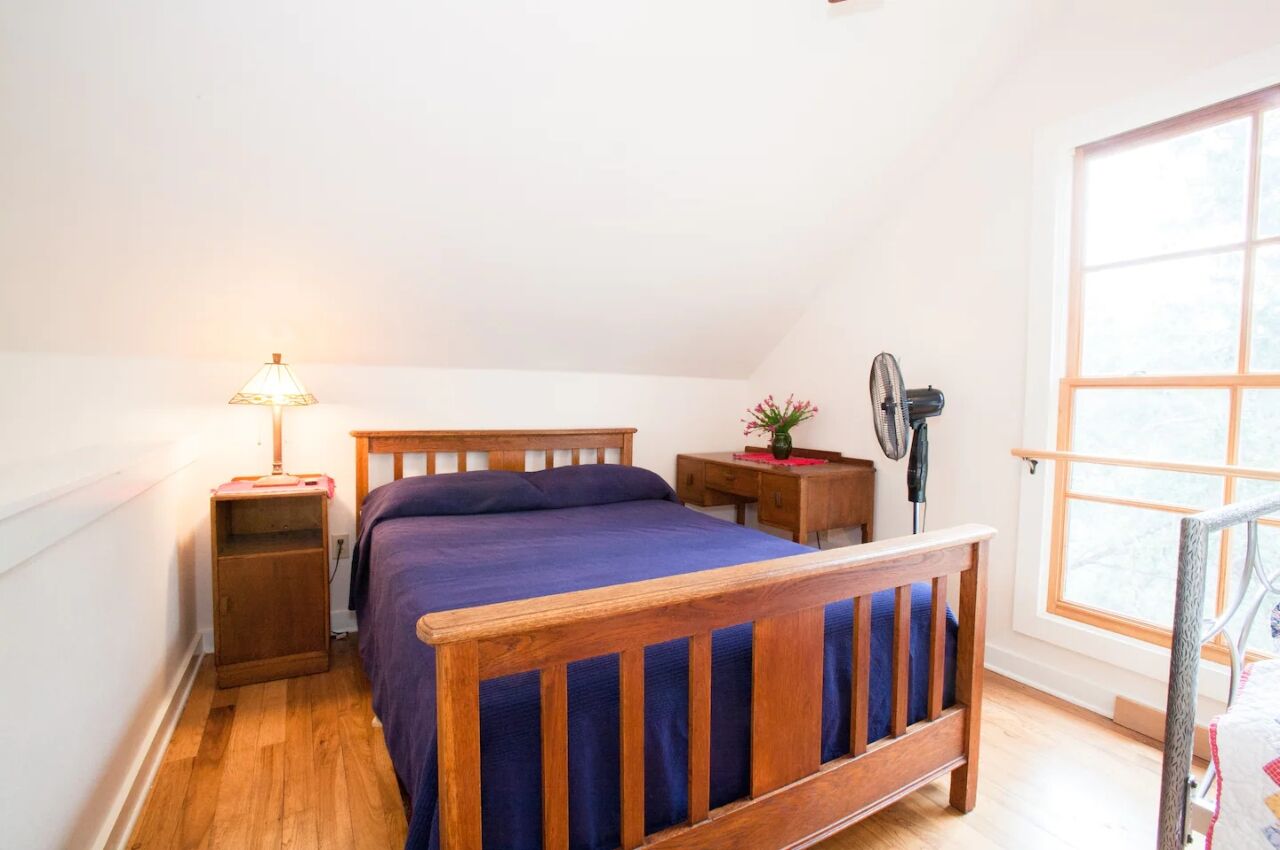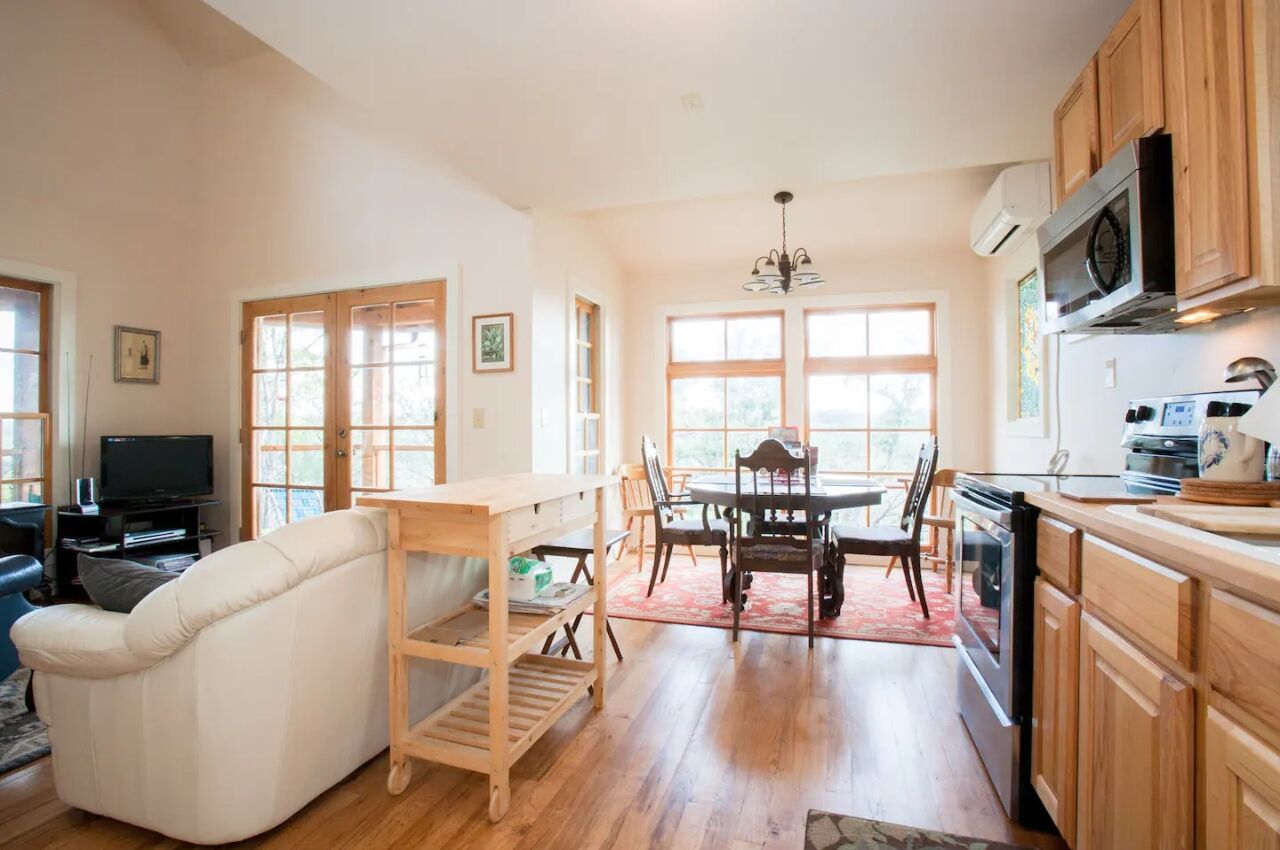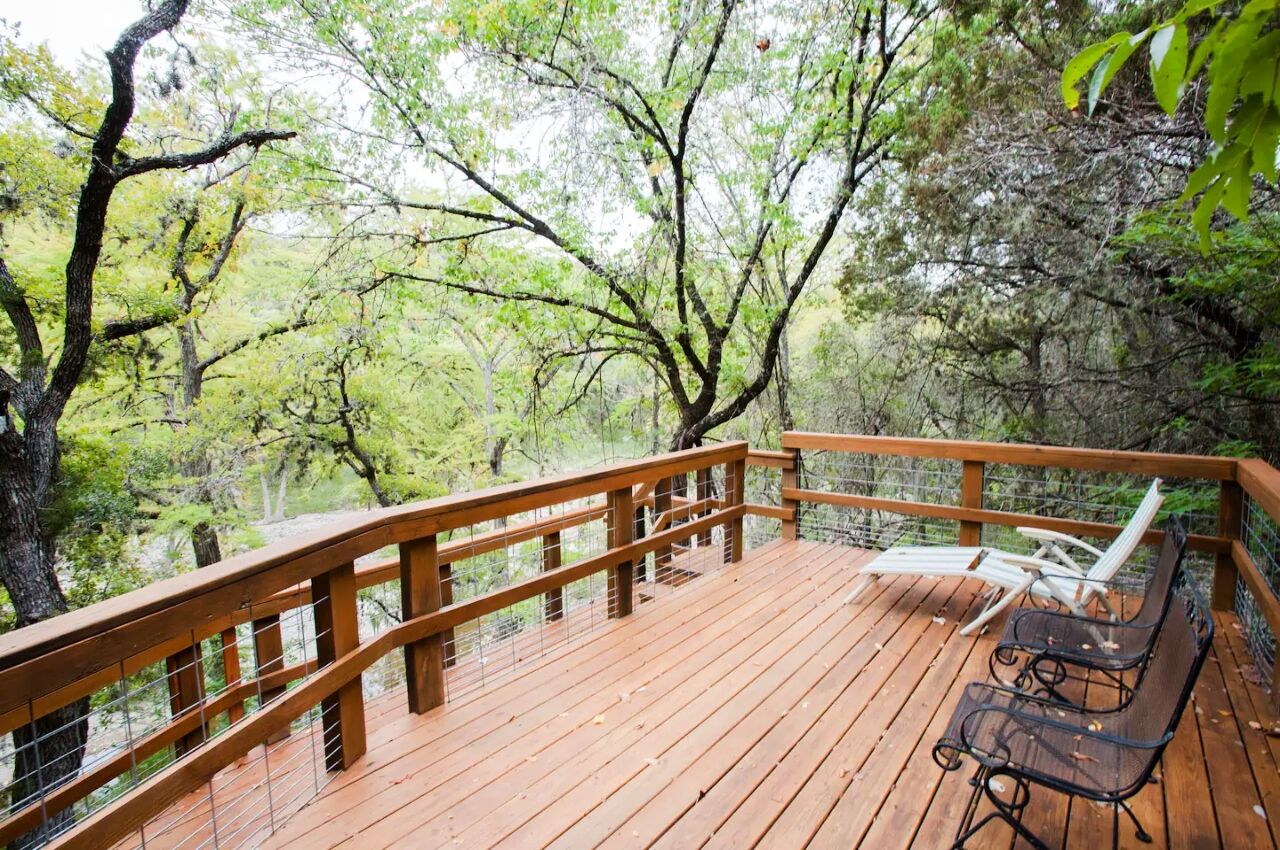 This peaceful cabin is just what you need for a quiet getaway away. Take in the scenery by relaxing on the porch and balcony or snuggling up in the cozy living room or bedrooms. This home provides the convenience of being tucked away but is not a far drive to wineries, Cypress Creek, Bee Cave, West Cave Preserve, and more.
Five guests, two bedrooms
Price: $145 per night
Pet-friendly Texas Hill Country Airbnbs
Eco-friendly glamping hideaway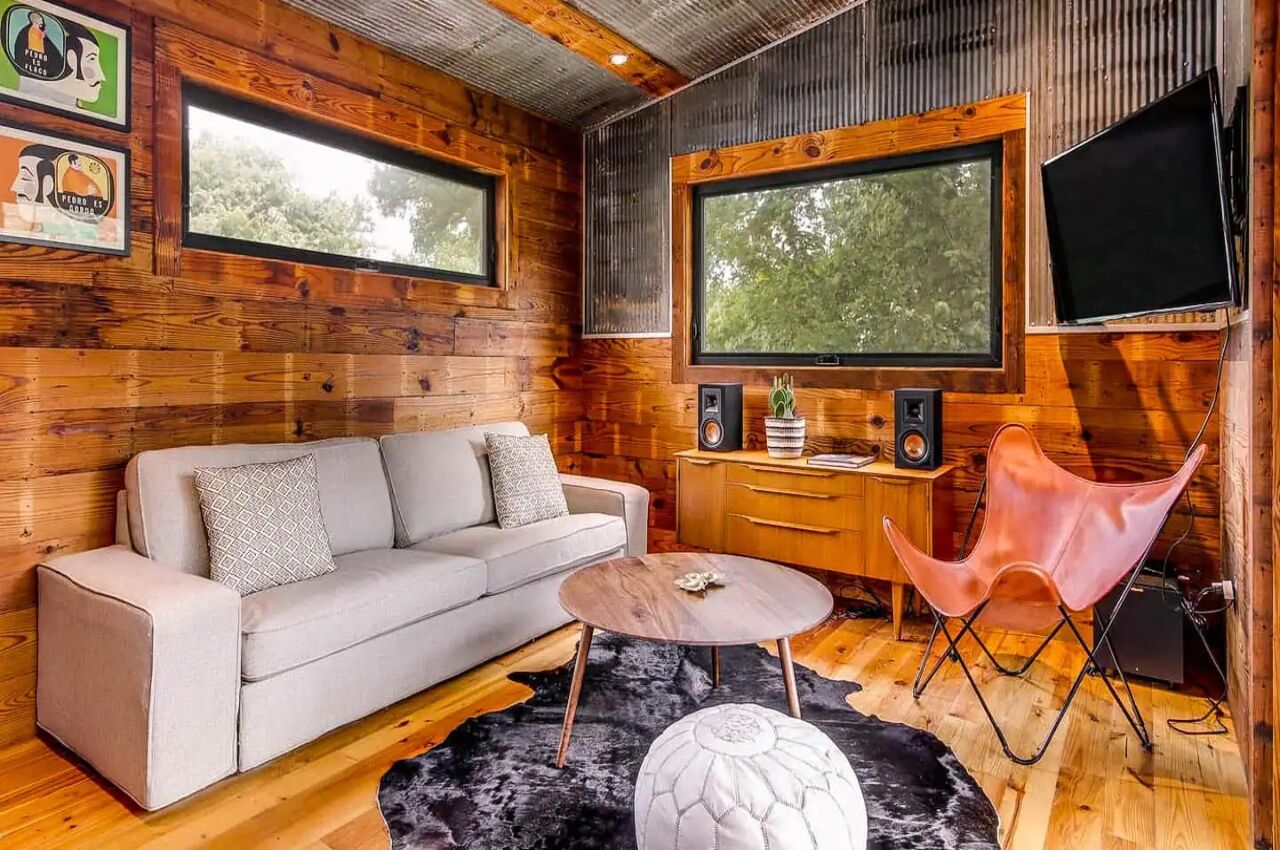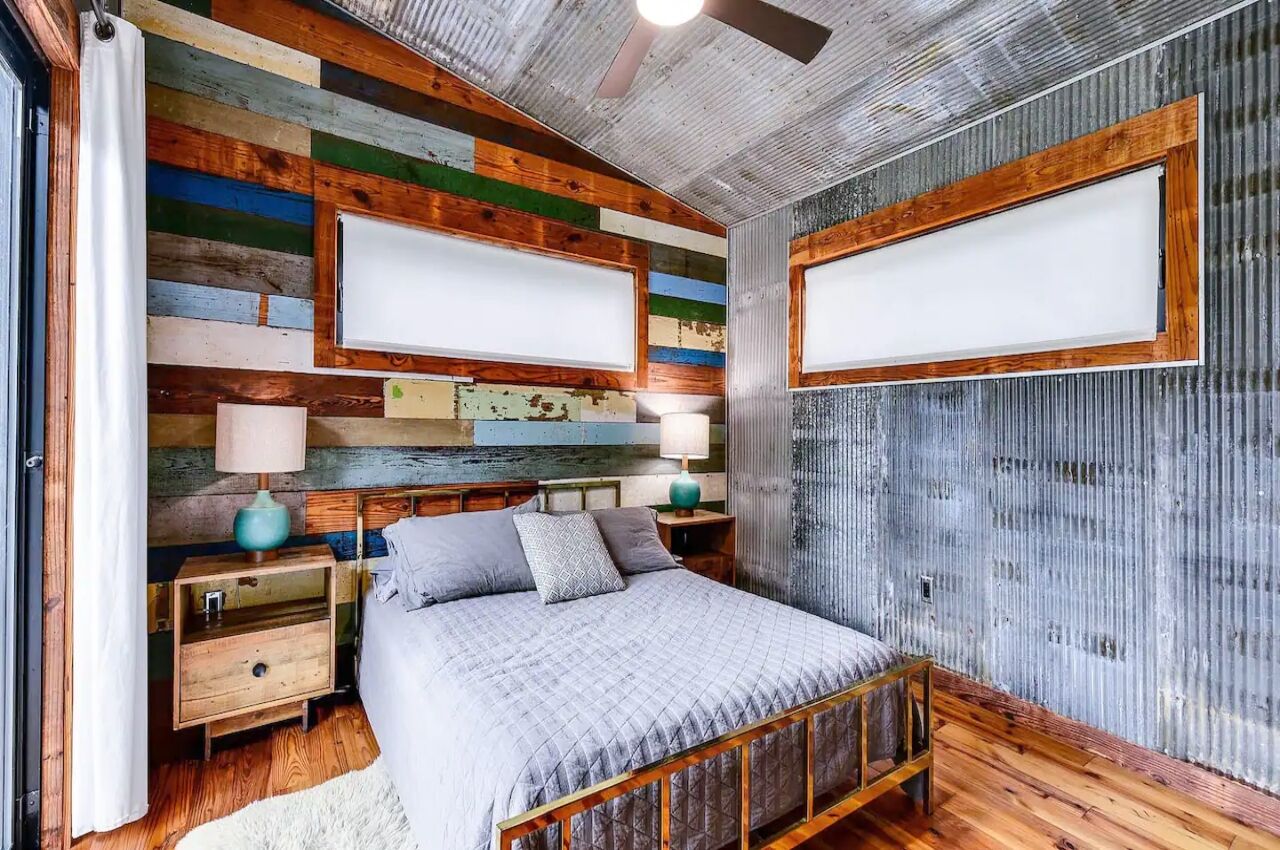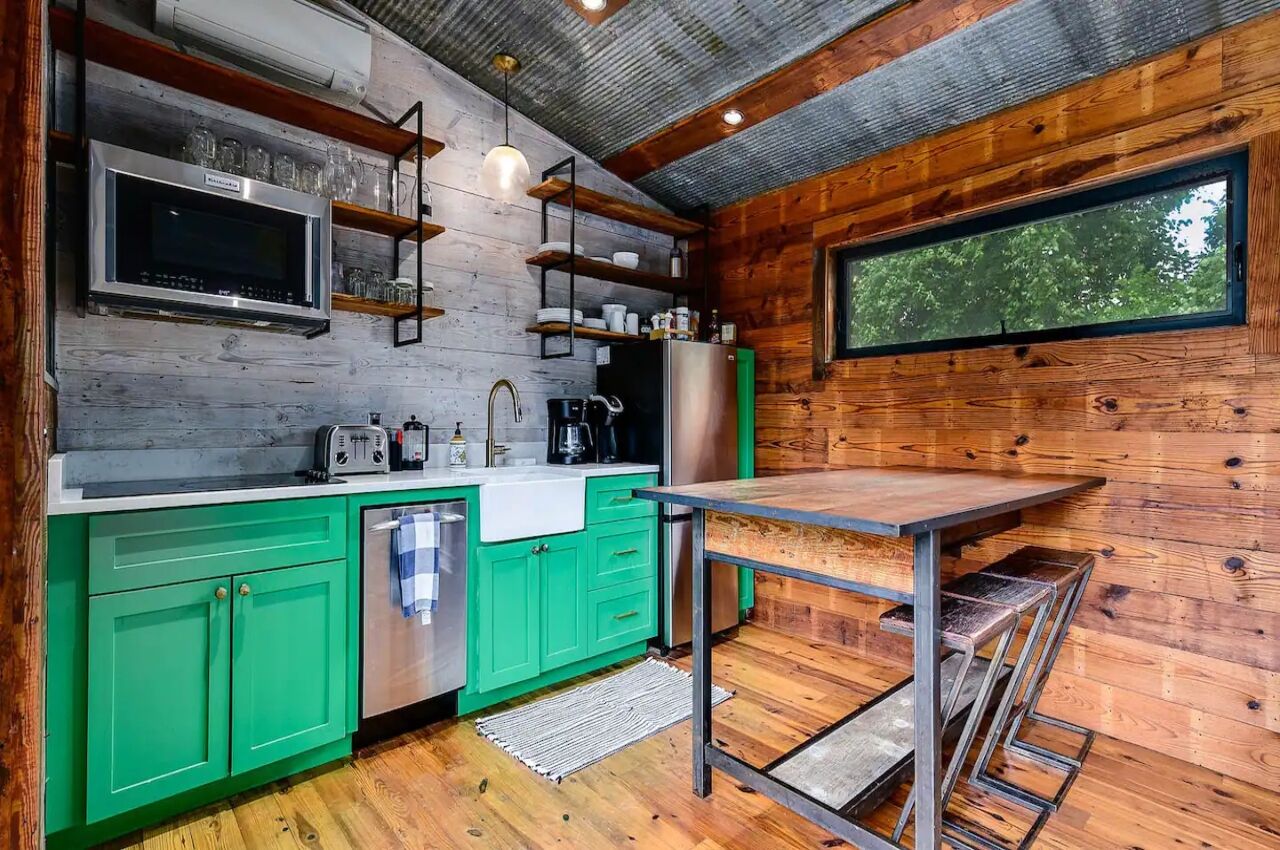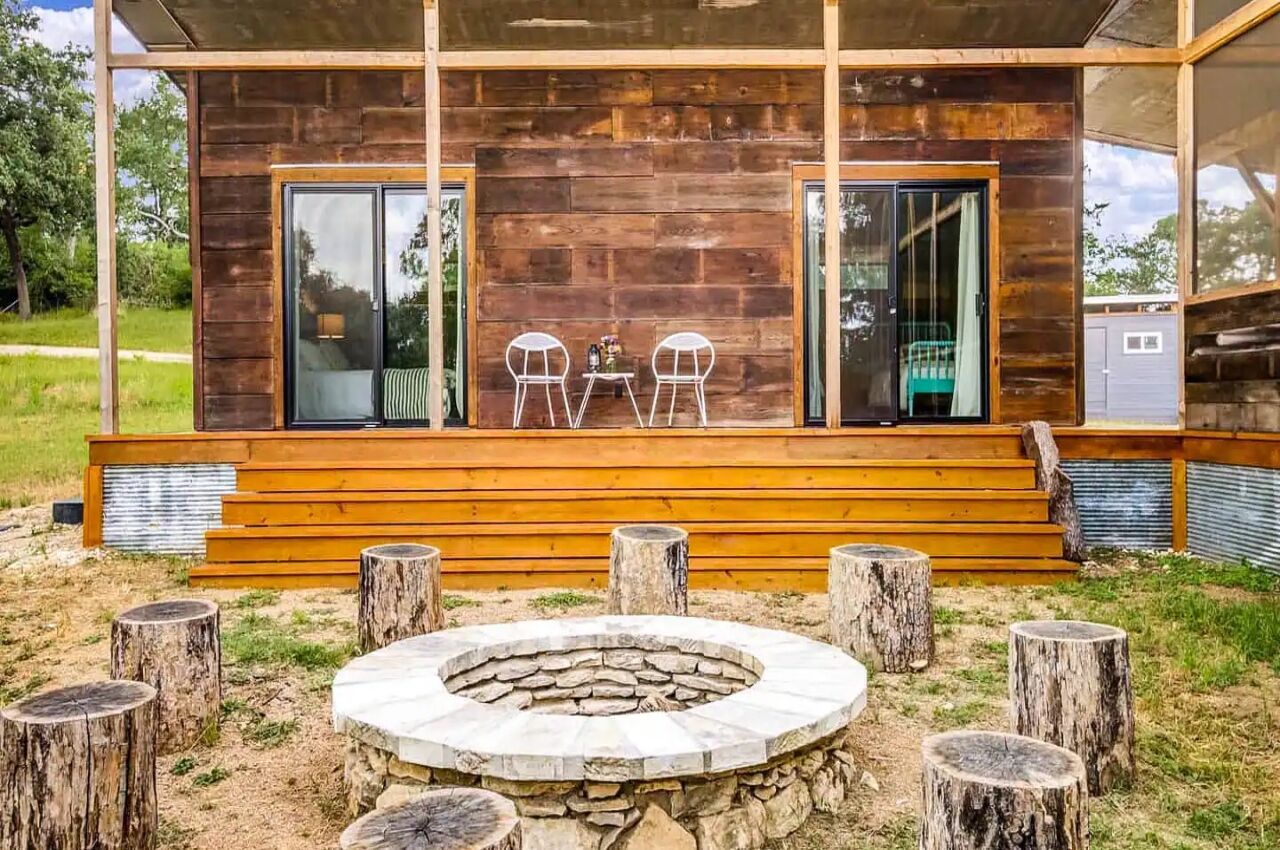 This unique glamping tiny home is just the spot for you and your four-legged friends. This home is pet friendly, and it's located just 24 miles from Downtown Austin. Situated on 24 acres of beauty, you'll enjoy modern amenities like a spacious and open living whole, a fully equipped kitchen, and comfortable bedrooms.
Six guests, two bedrooms
Price: $136 per night
Little Chapel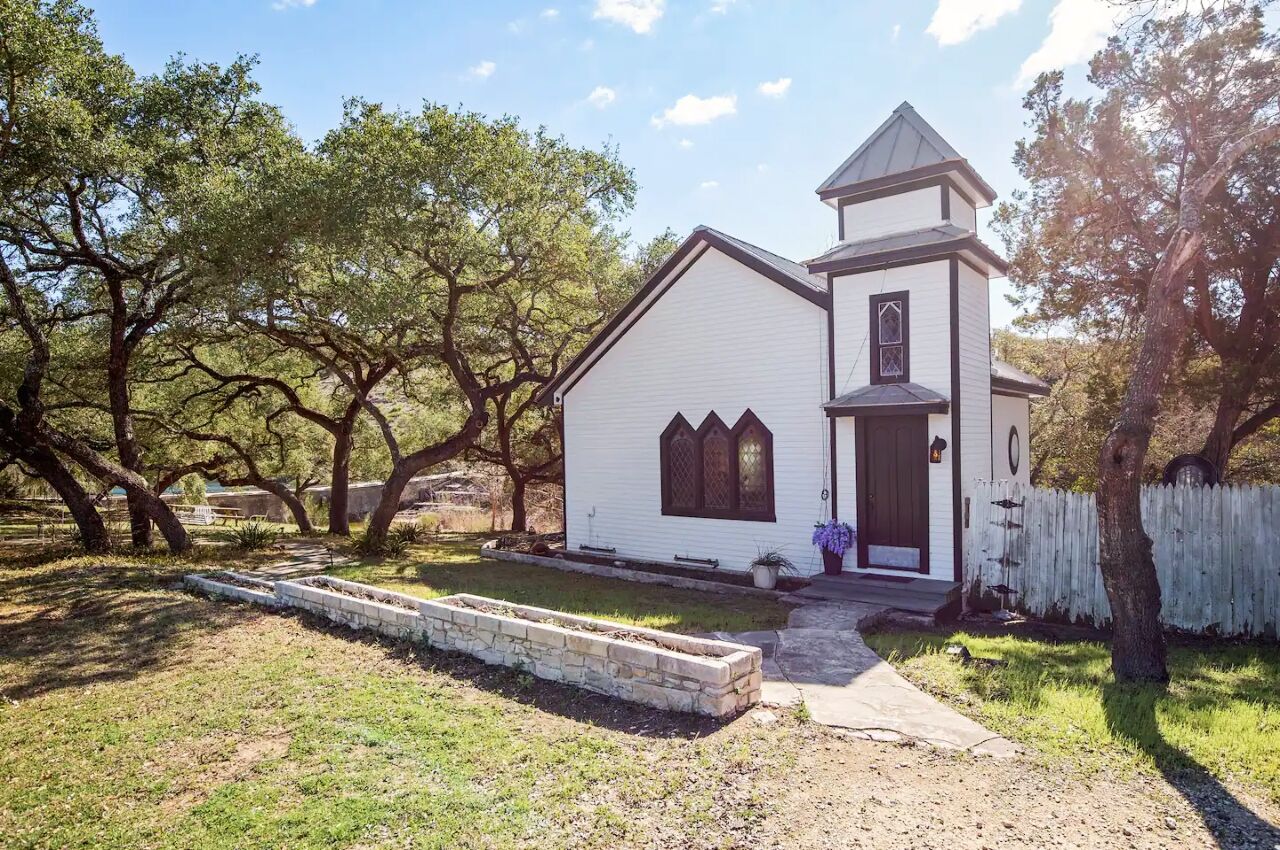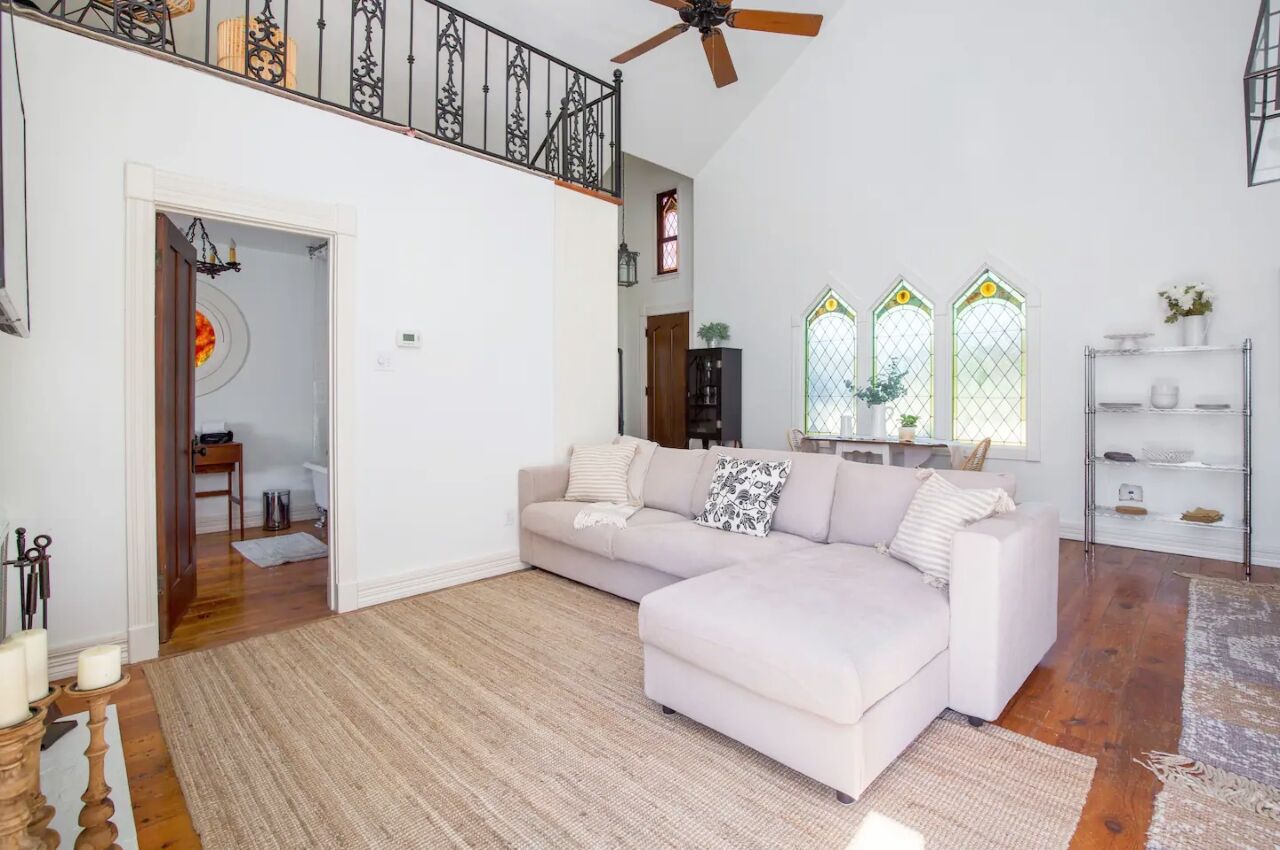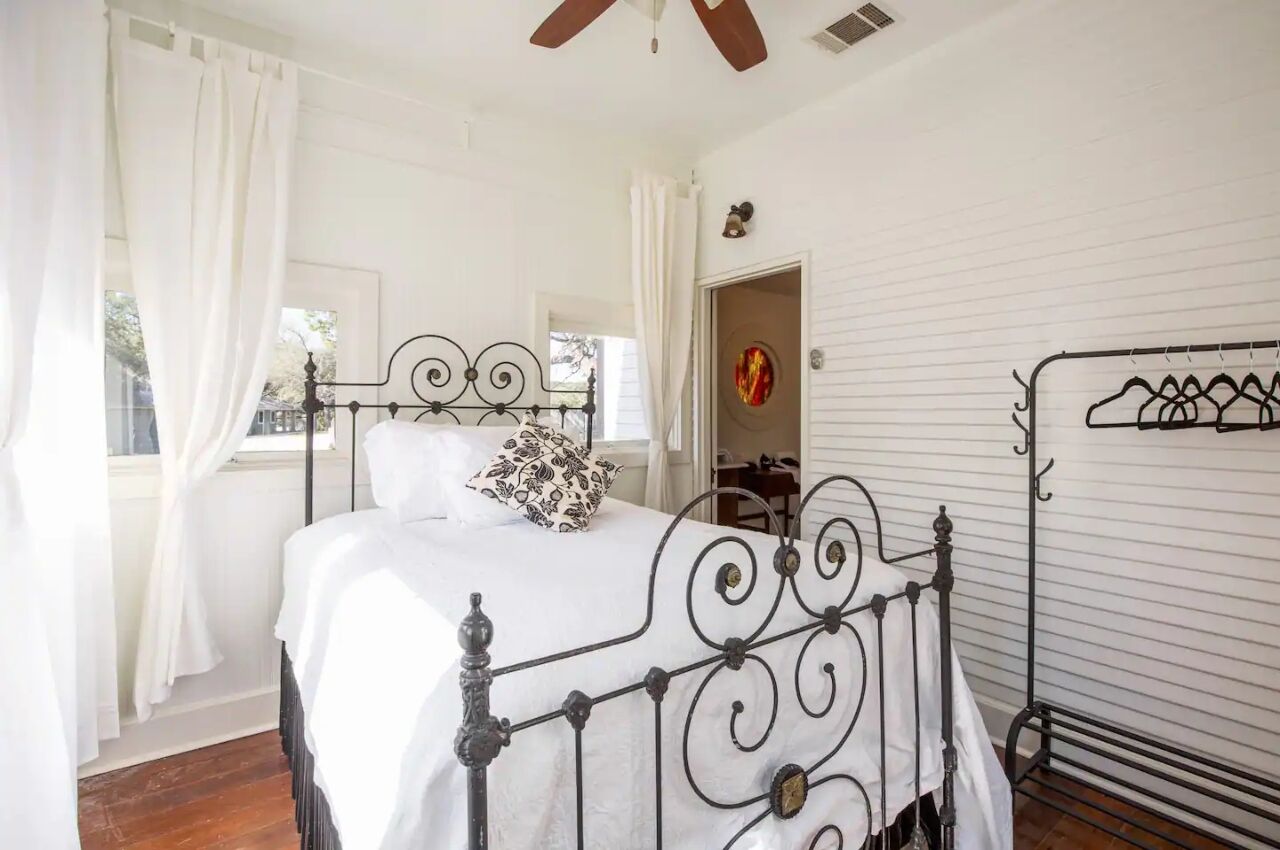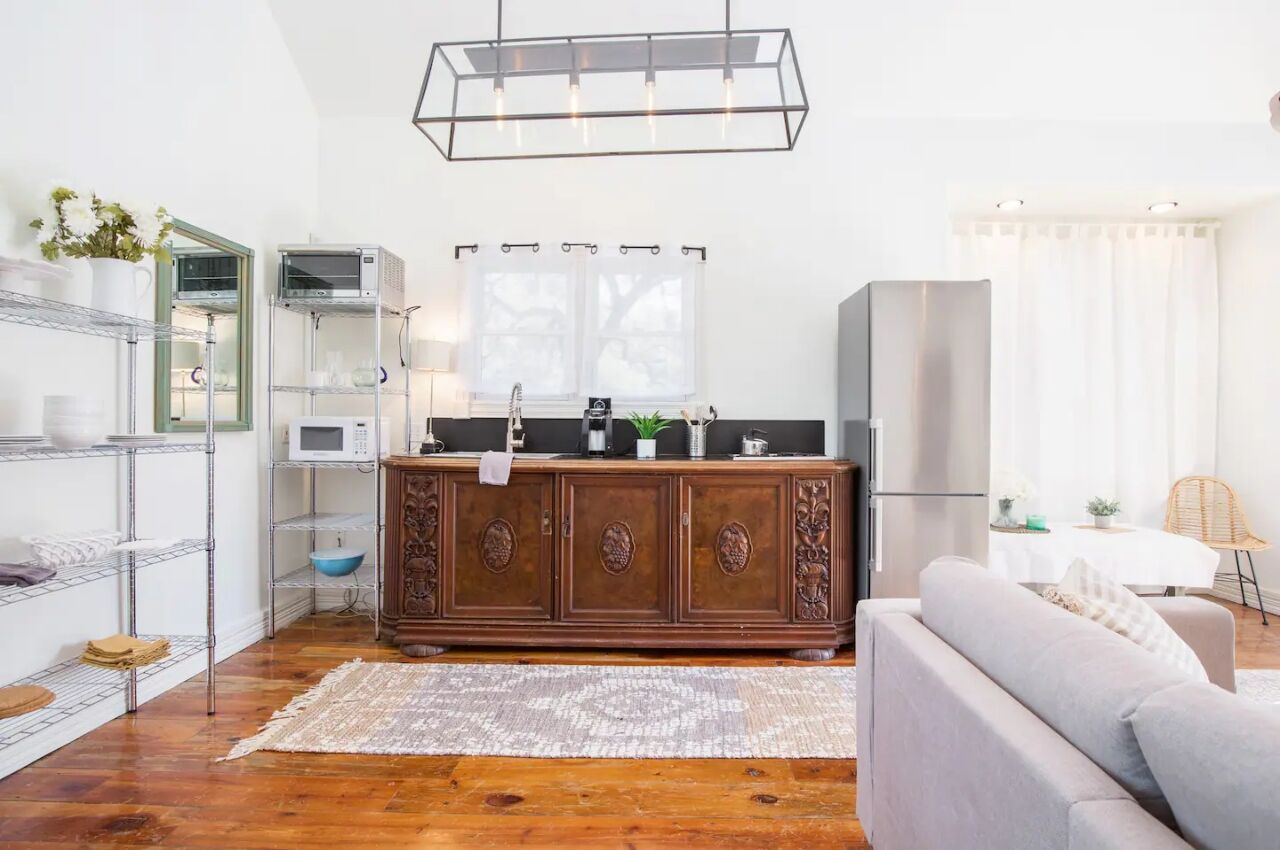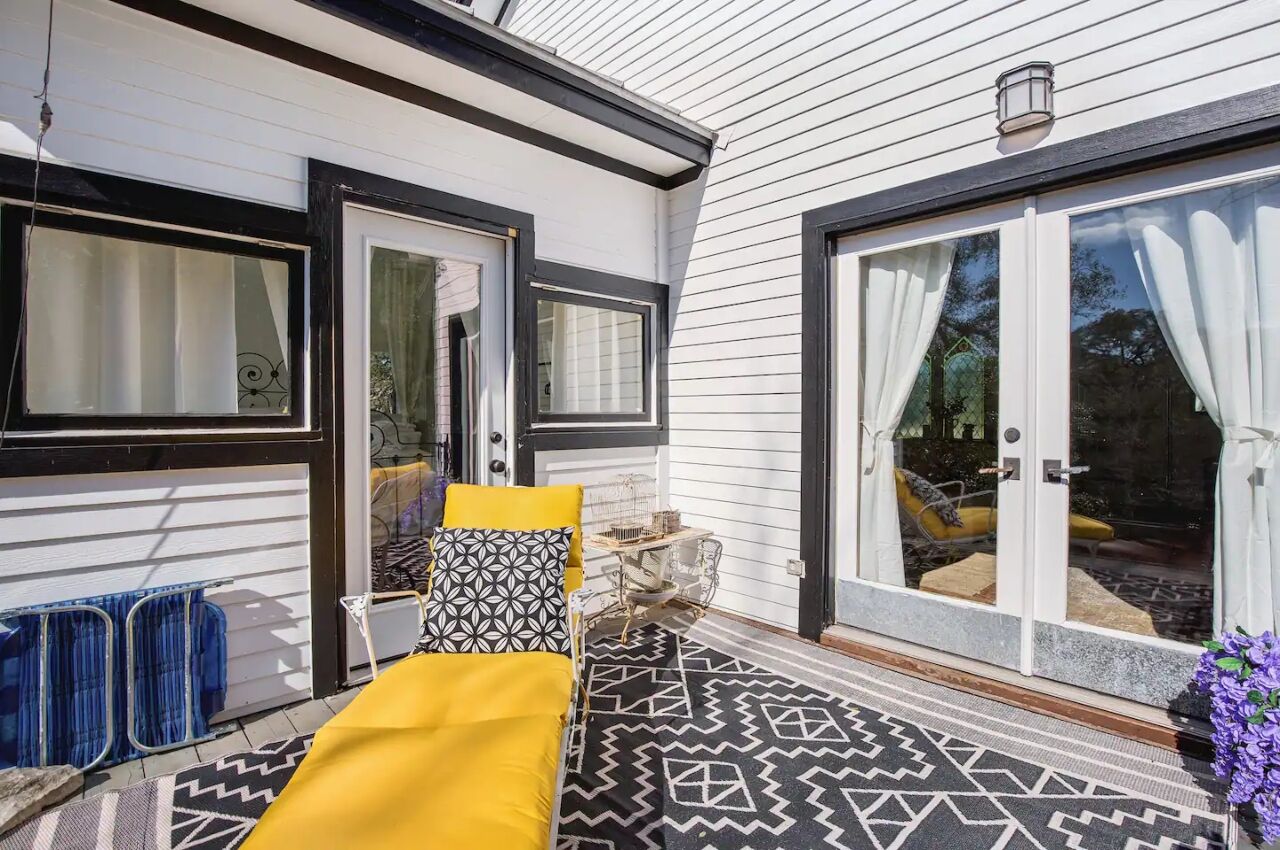 Experience a truly unique stay at this Texas Hill Country Chapel. The little chapel sits above Lone Man Creek and provides all the necessary relaxation and amenities, with the quirkiness of being a formerly functioning church. The chapel has high ceilings, and each room is furnished with antiques and modern furniture, an open kitchen, and a living room area, and you can enjoy the outside air on the furnished deck.
Six guests, two bedrooms
Price: $225 per night
Tiny home with stunning views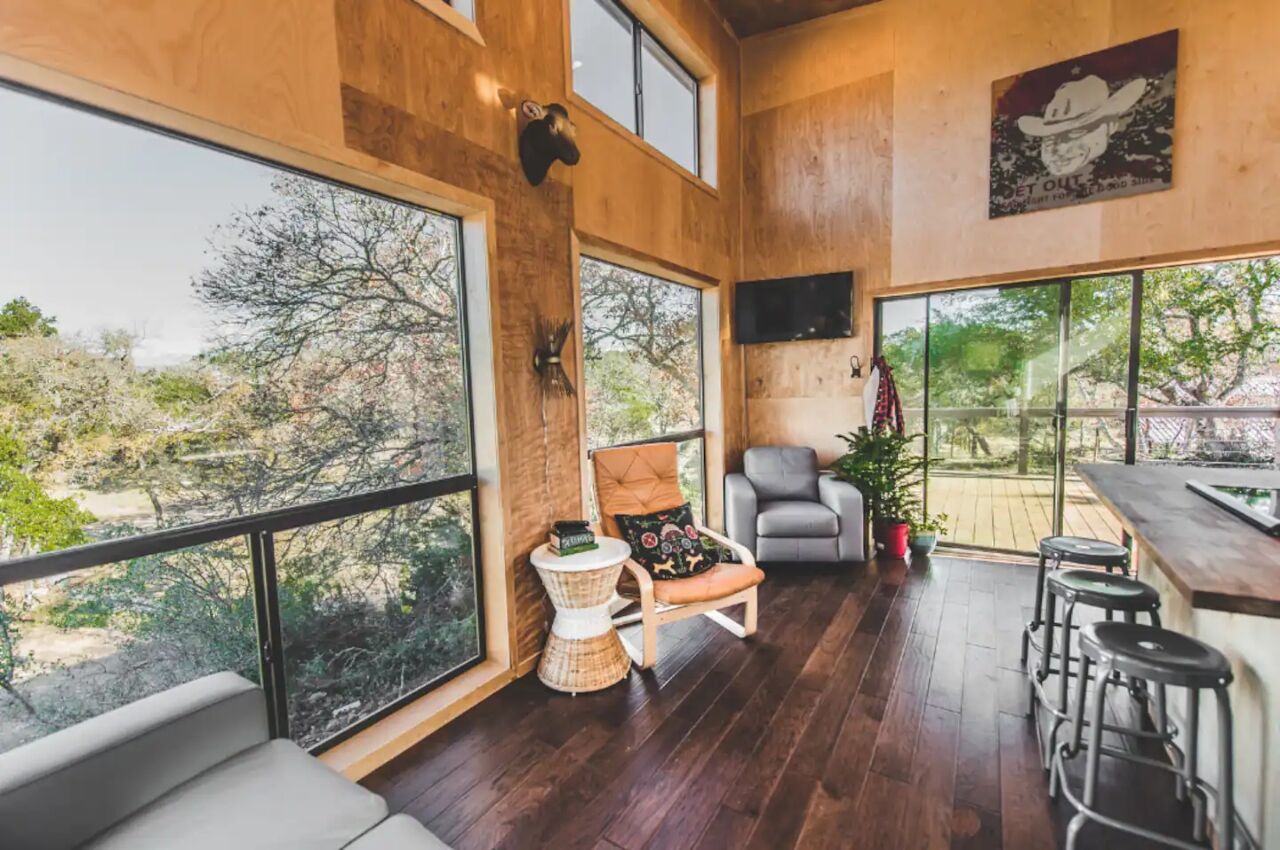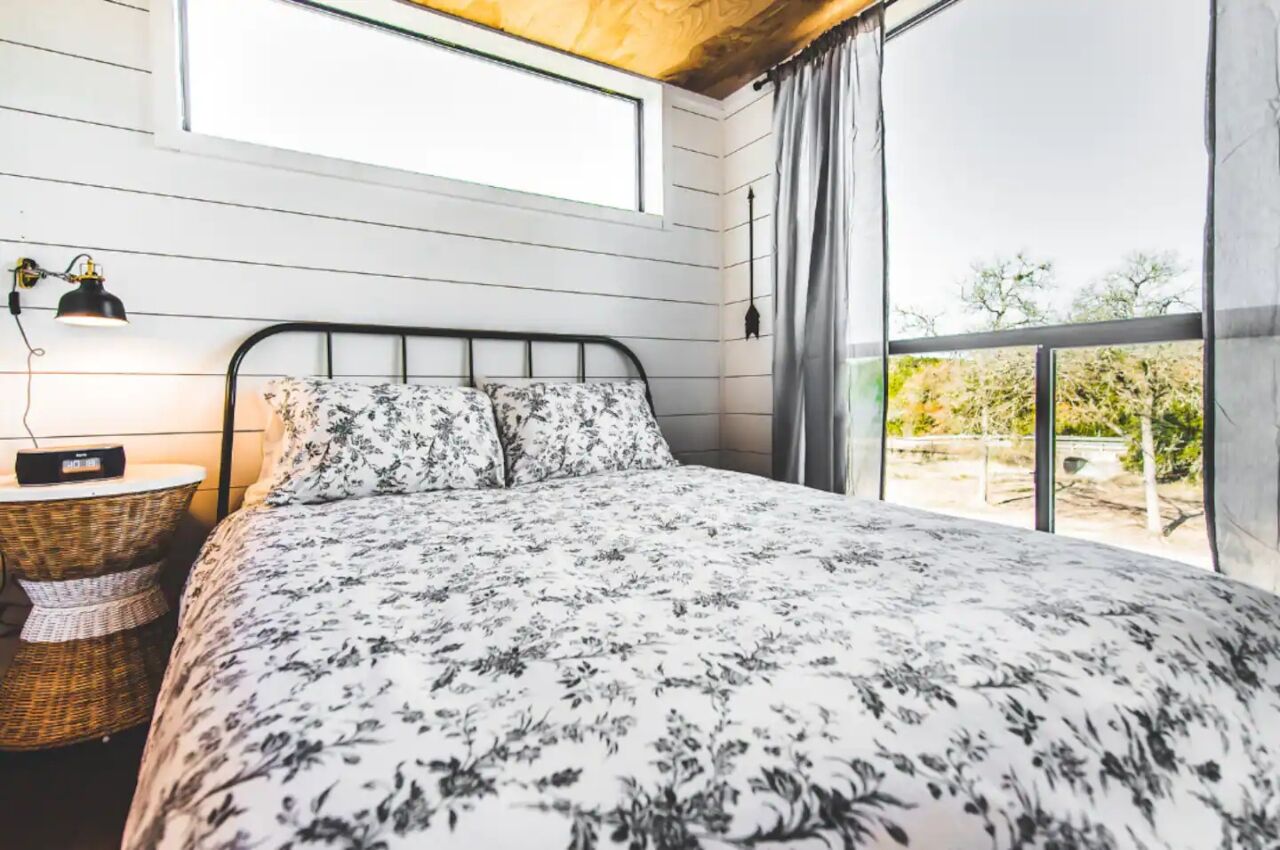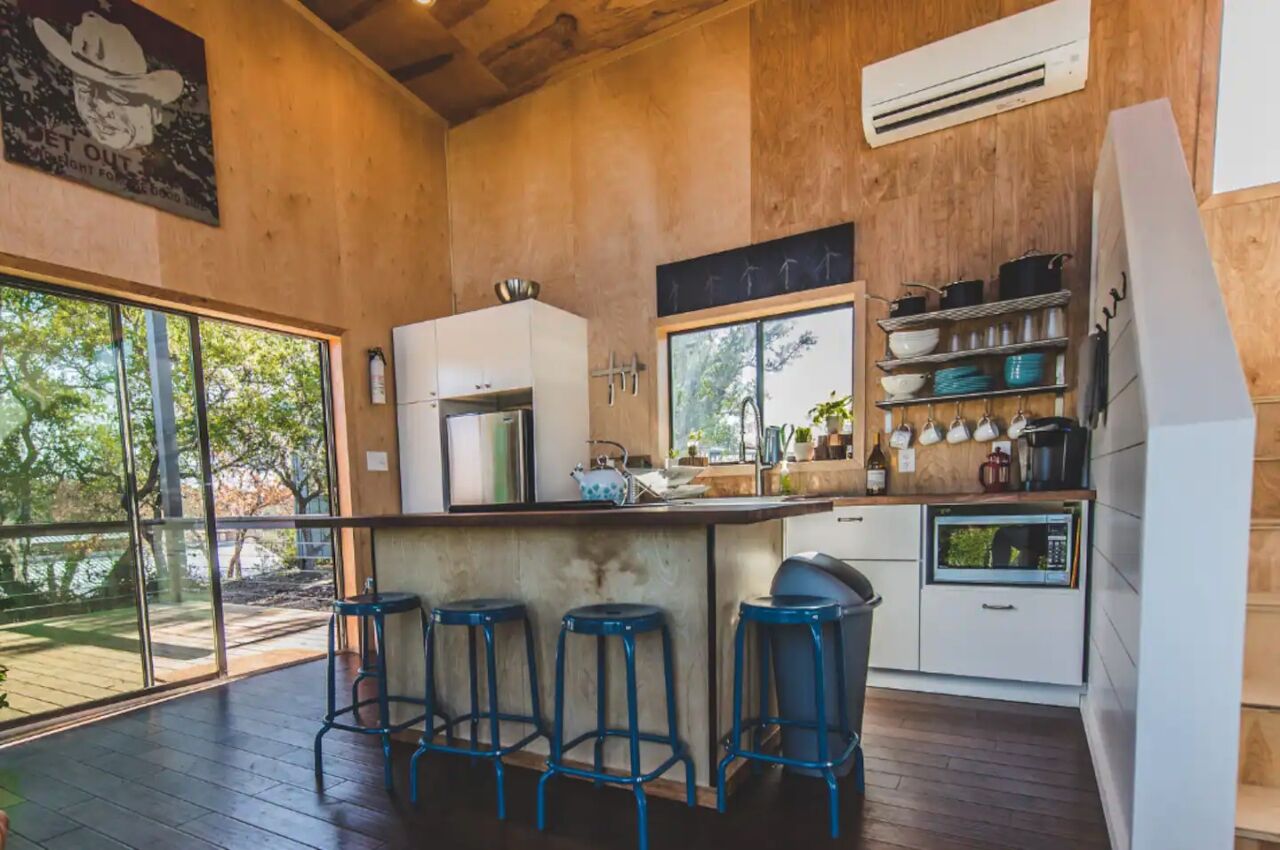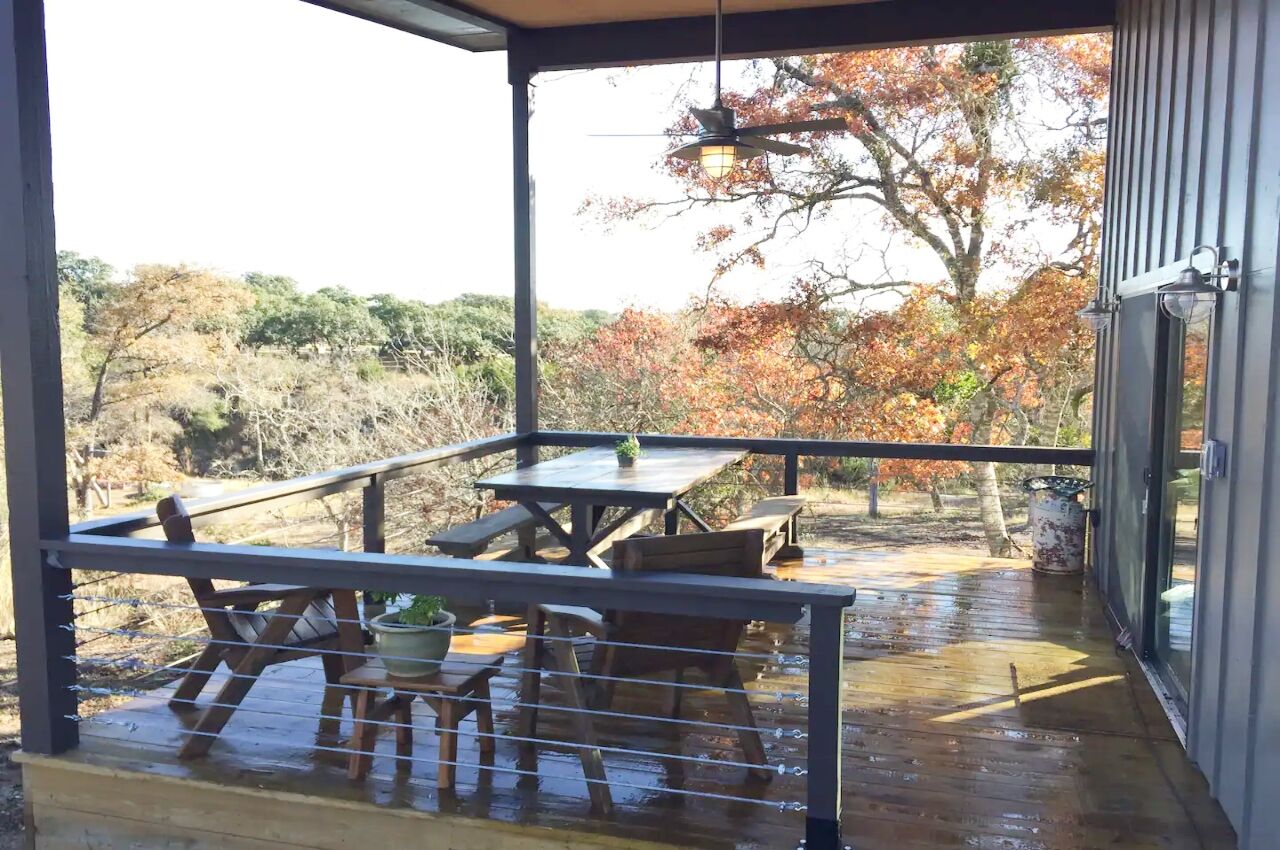 Here is a spacious tiny home perfect for a unique Texas Hill Country experience. The house sits on a hill at Wandern' Star farms, looking out towards the beautiful landscape. This tiny home consists of large windows bringing in natural lighting, a fully equipped kitchen, a bedroom and loft area, and a porch to sit out and relax on.
Four guests, two bedrooms
Price: $148 per night
Texas Hill Country Airbnbs with a pool
The Stardust home near downtown Kerrville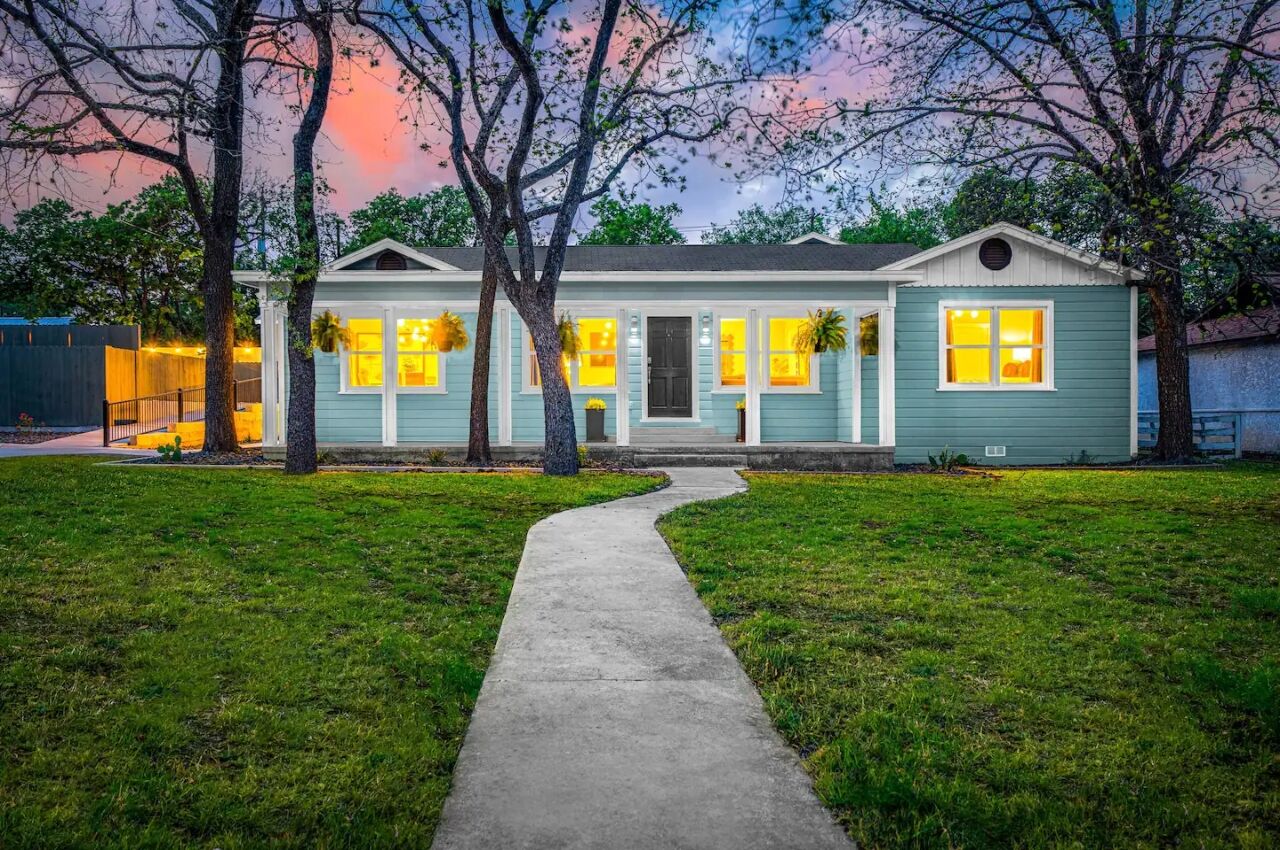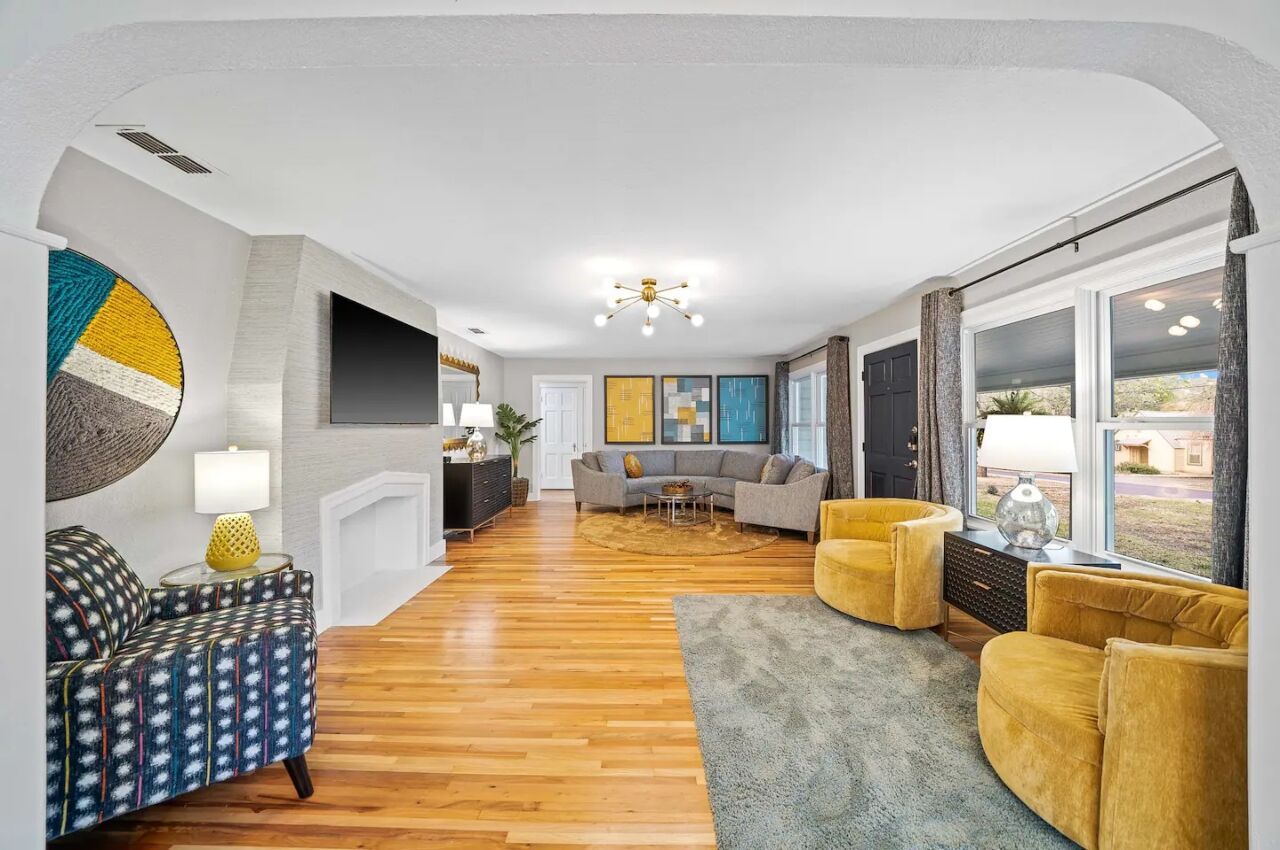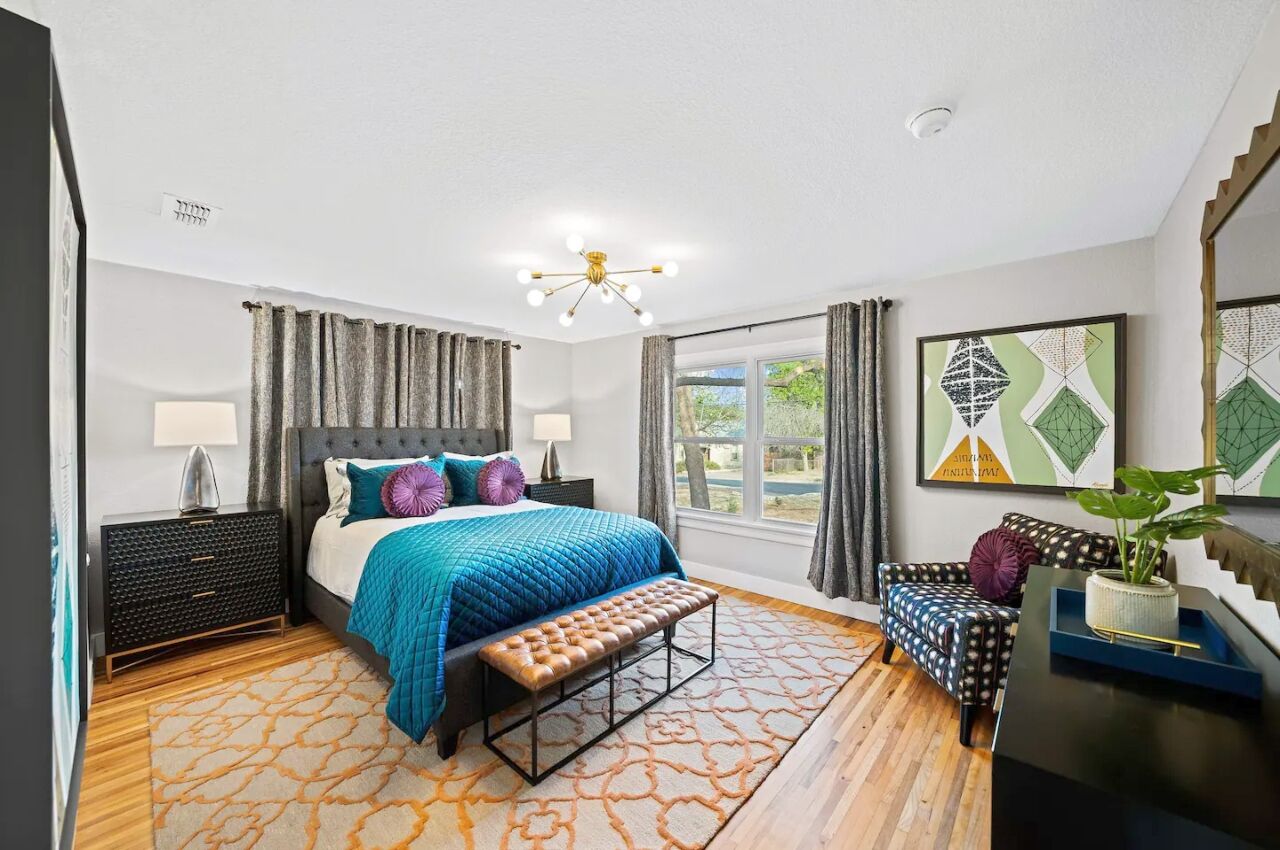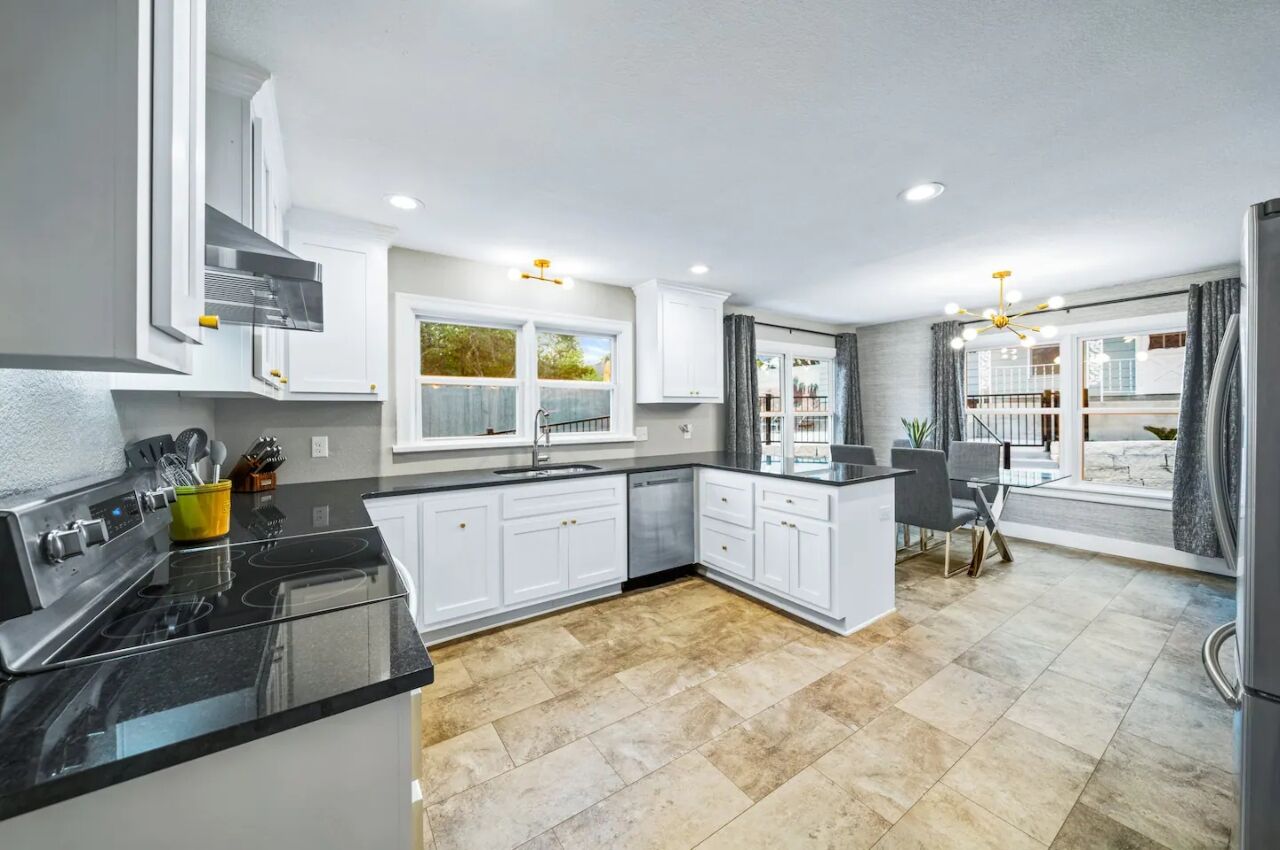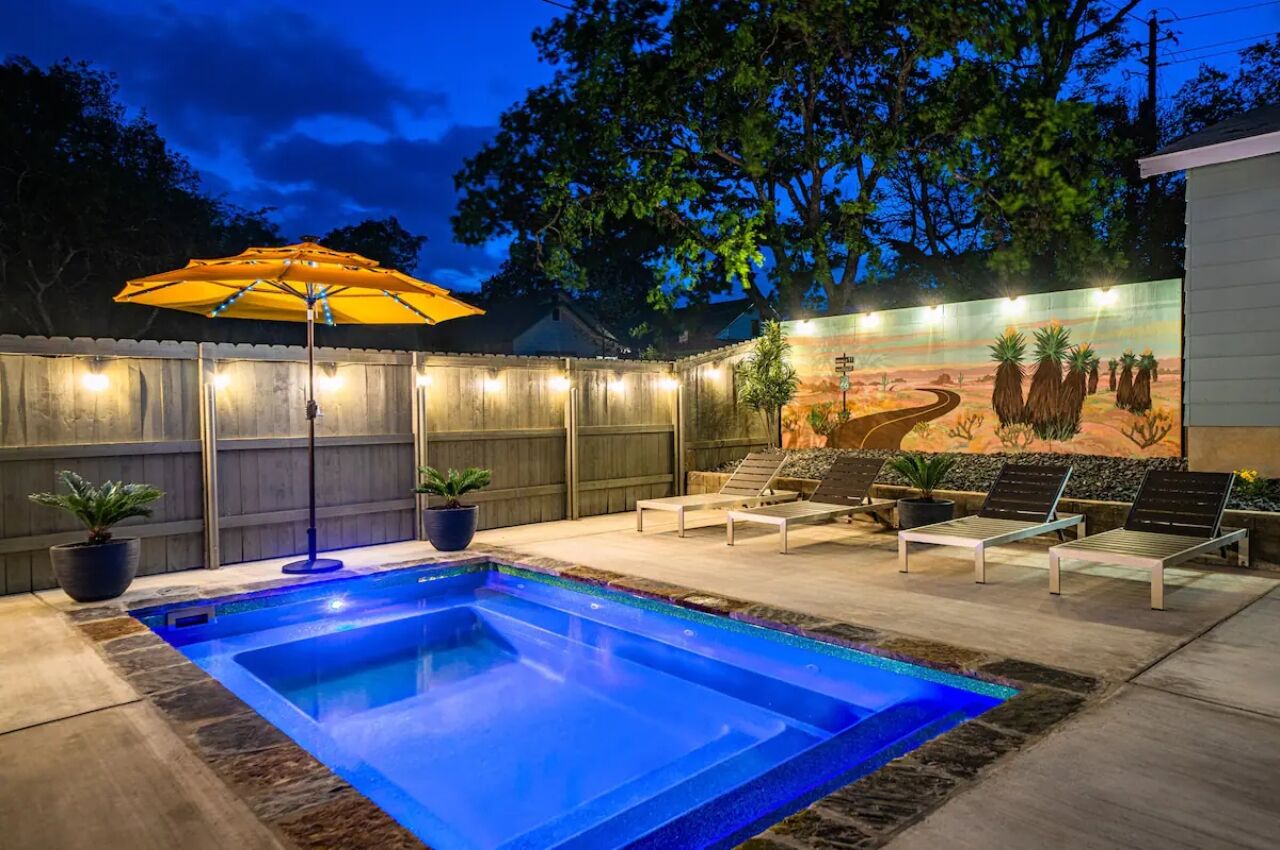 Welcome to the home where mid-century meets modern desert resort. This spacious, cozy home features a spacious floor plan with lounging, dining, and entertaining areas. Enjoy the outside private oasis with a cocktail pool, spa, dining area, seating, and lava rock pit. It's a good spot from which to adventure outside as downtown Fredericksburg and the famous Wine Rd 290 are 20 minutes away.
Fourteen guests, four bedrooms
Price: $887 per night
Farmhouse getaway near Burning Creek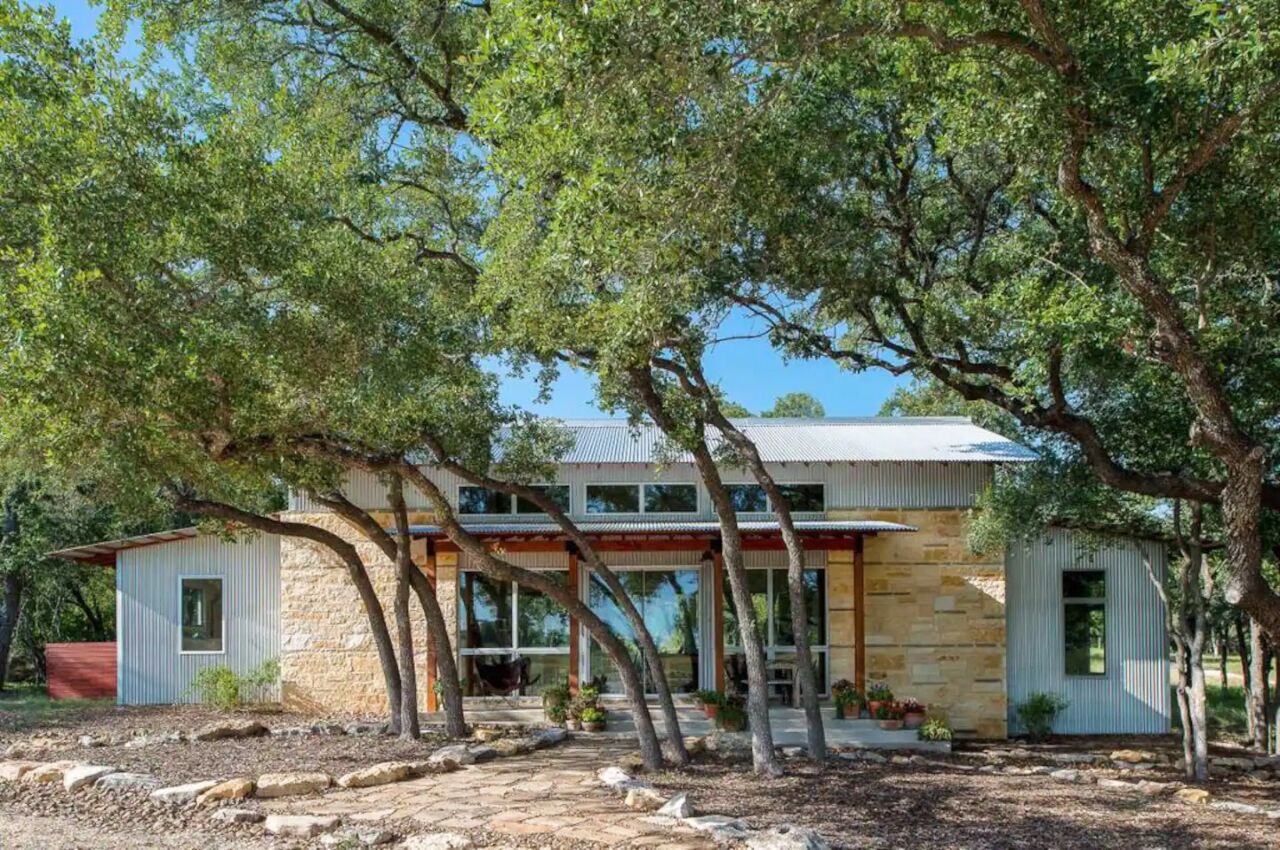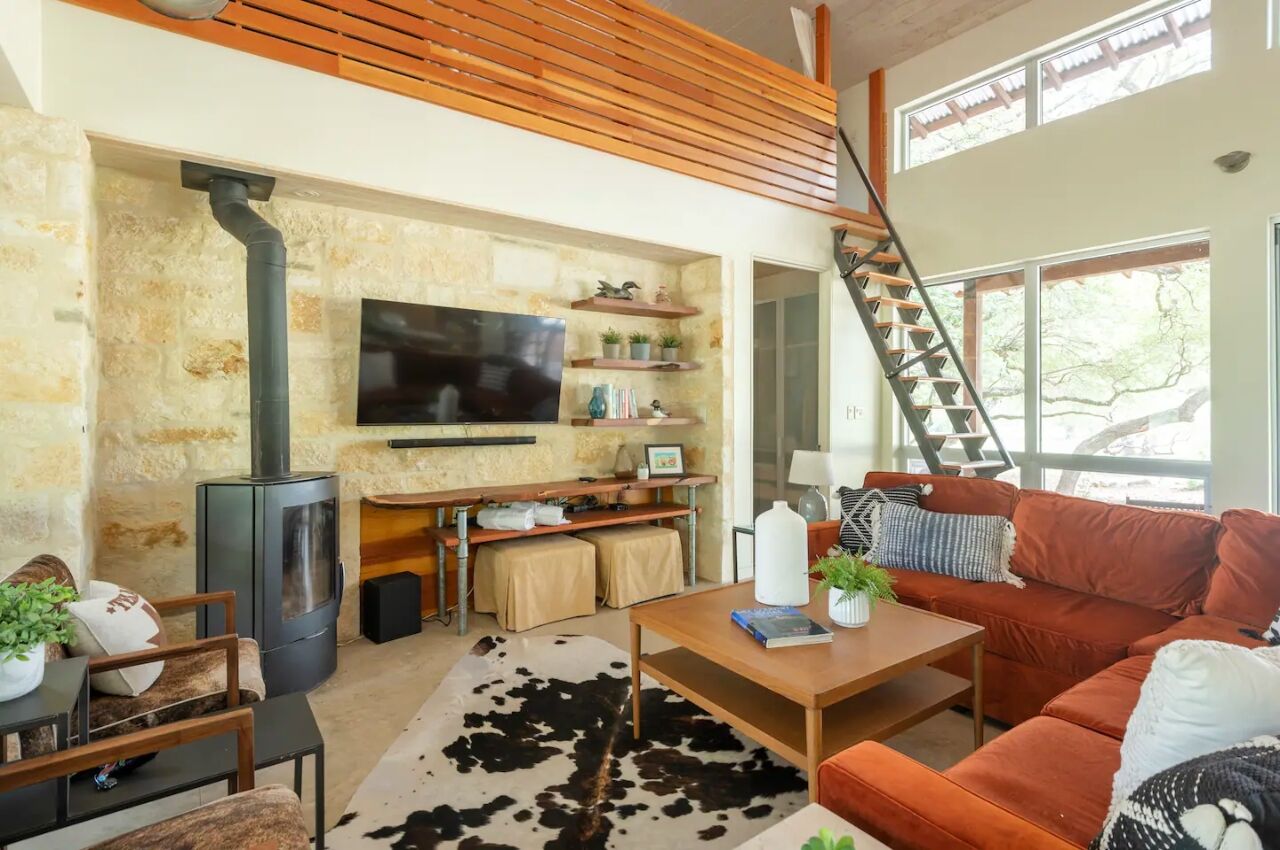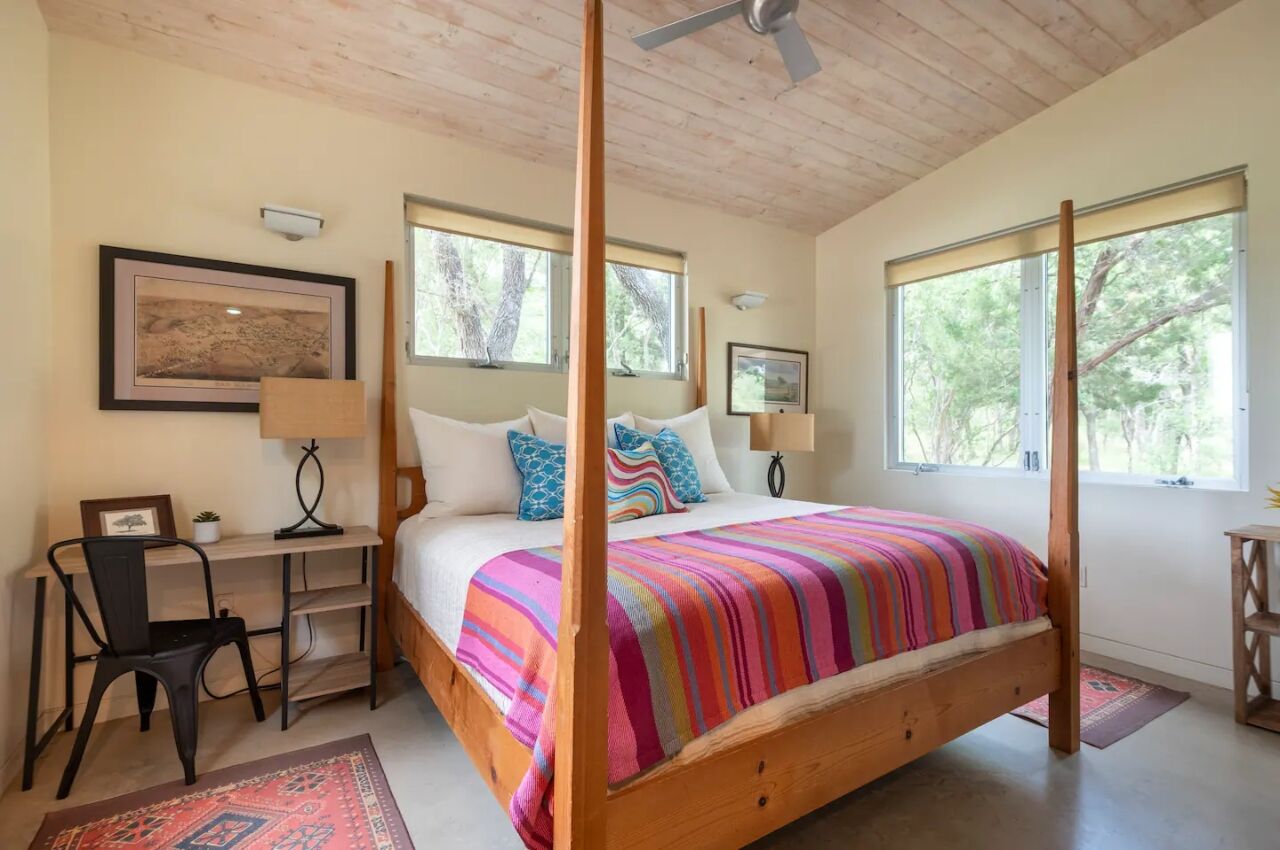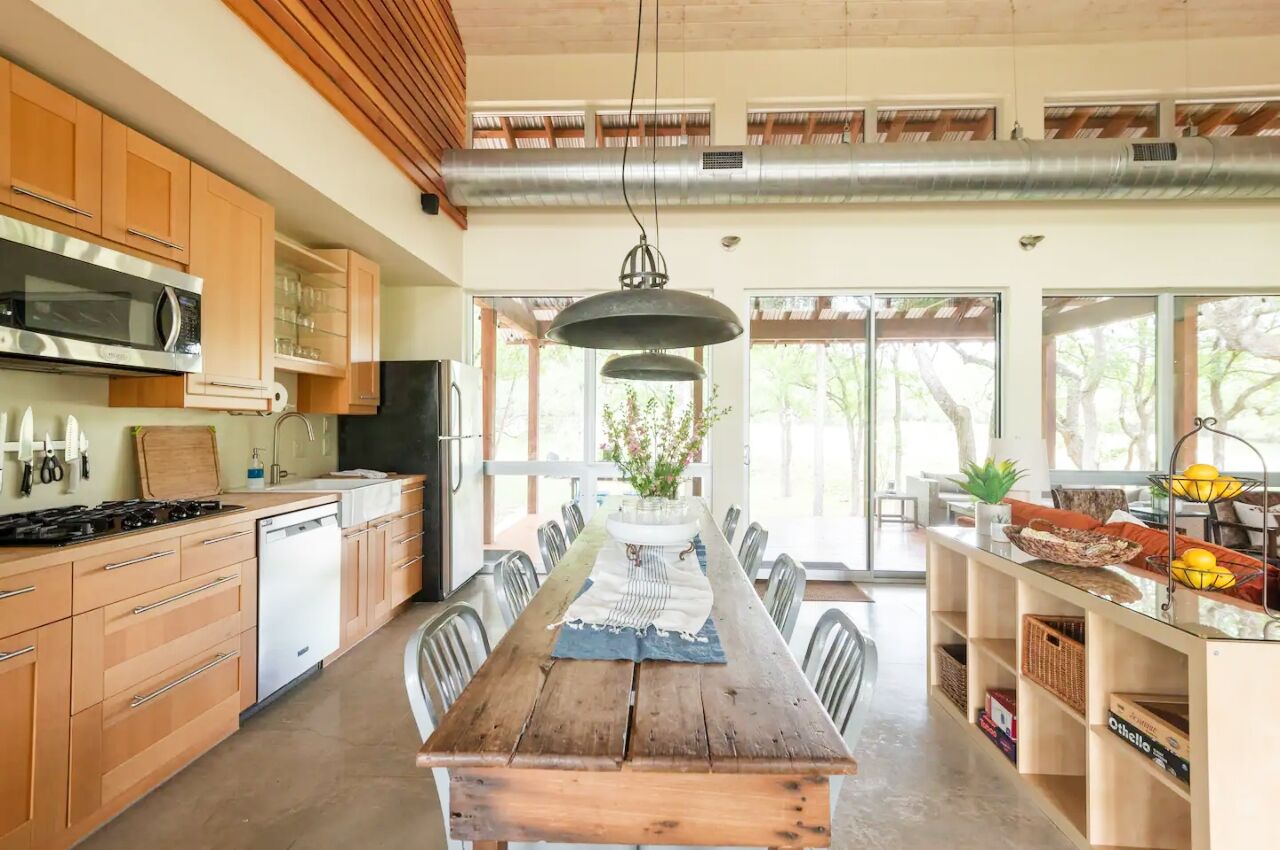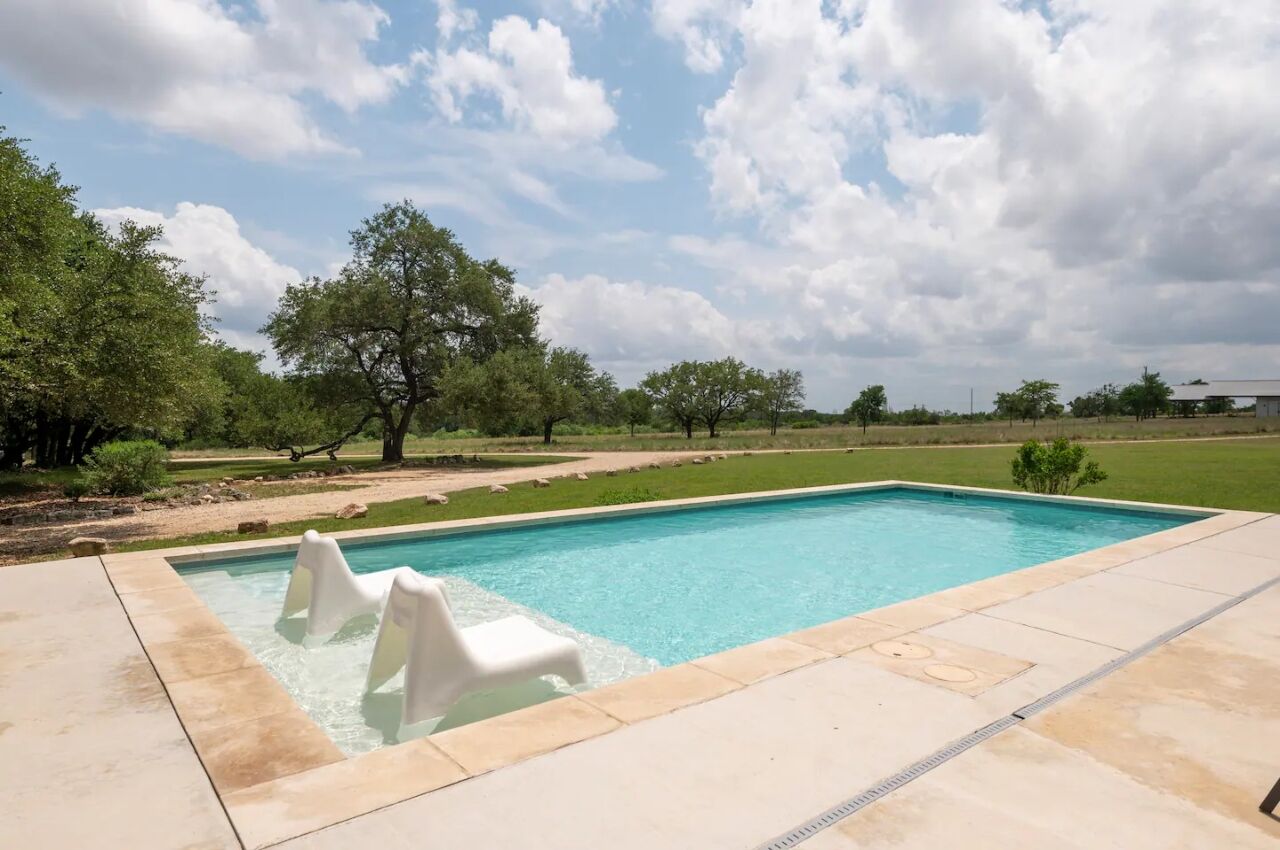 Gather your family or friends and take a vacation to this Hill Country cabin on 14 acres. This cabin has everything you need to enjoy your getaway. It has an open floor plan with a living room and kitchen all tied together by a Danish wood-burning stove. Check out the outside area with a private pool, hot tub, and a deck overlooking the hill country landscape. Hang out on the back porch area, warm up by the fire pit, have a glass of wine, and look up at the stars.
Ten guests, four bedrooms
Price: $575 per night
Contemporary luxury retreat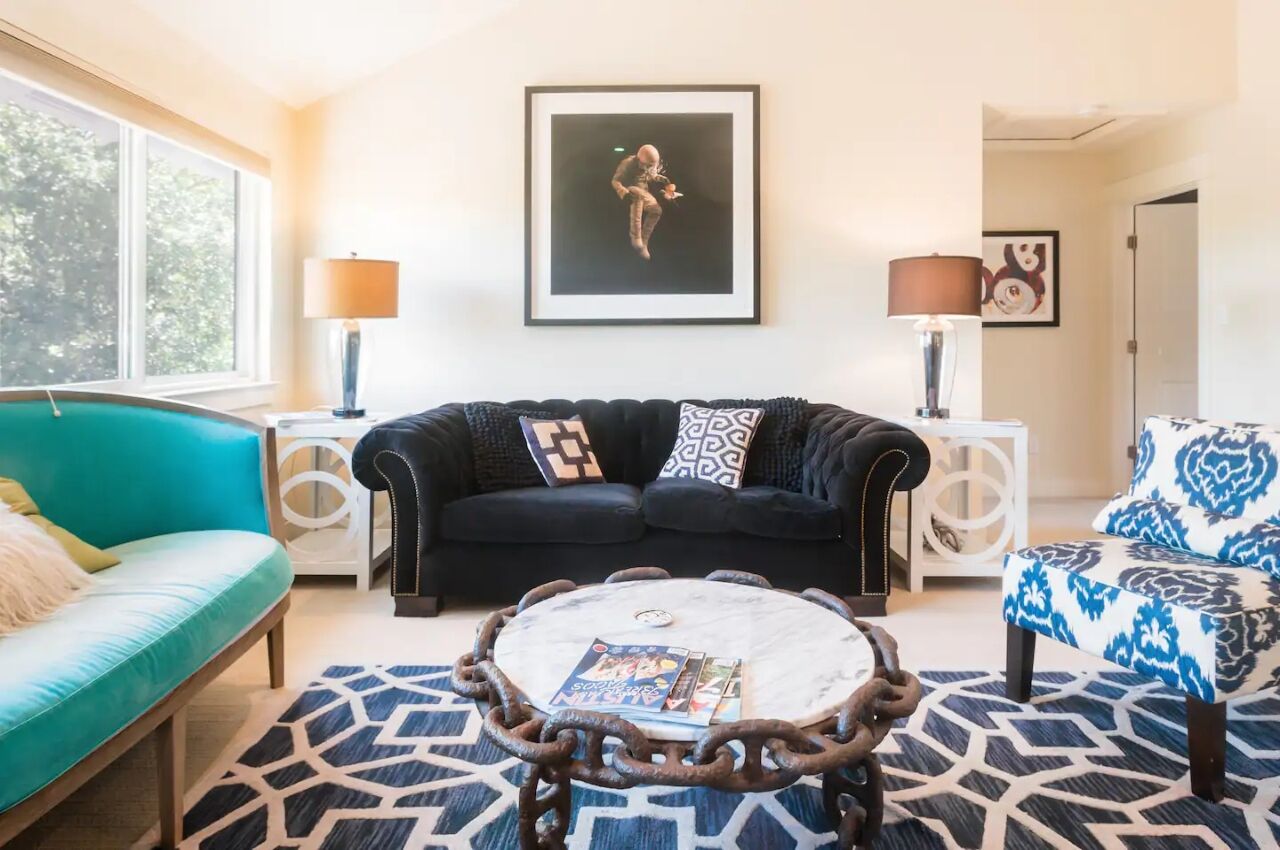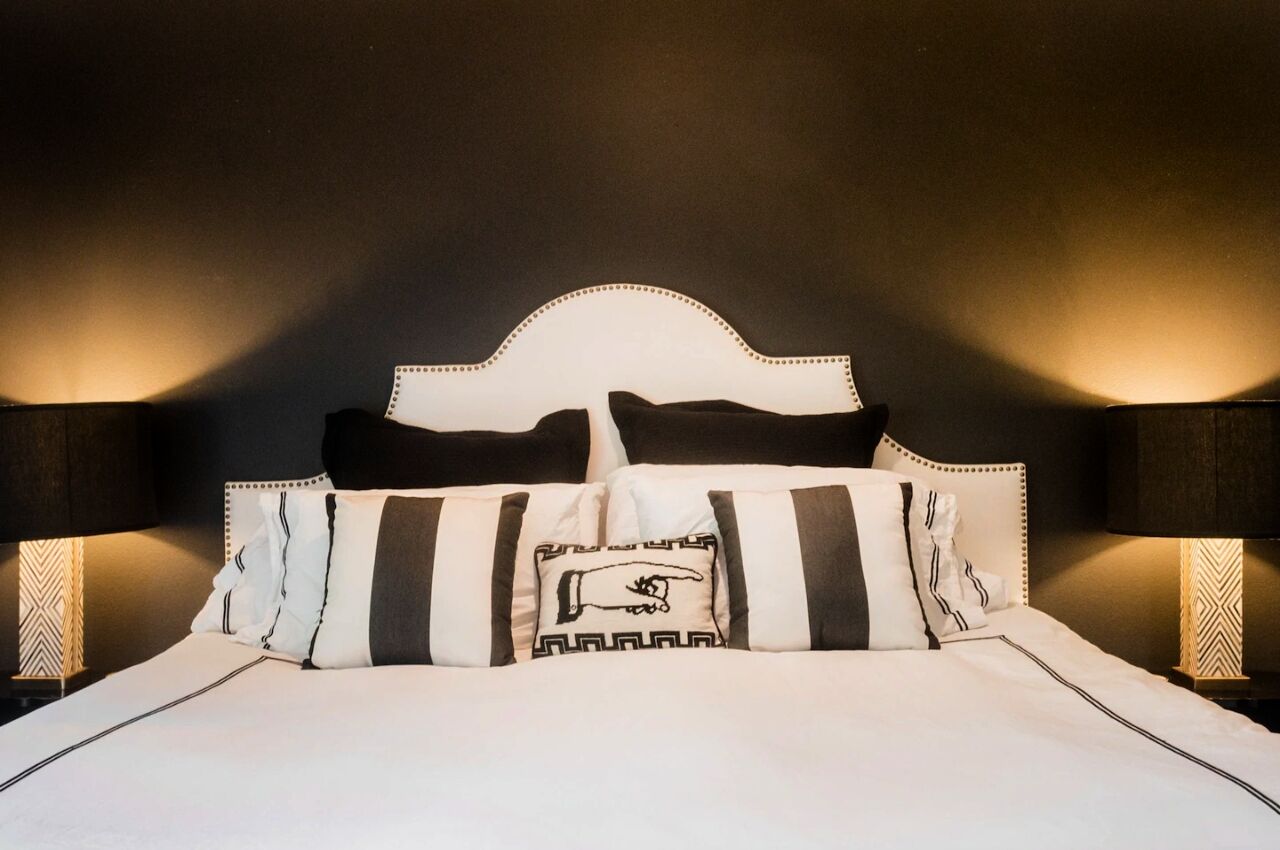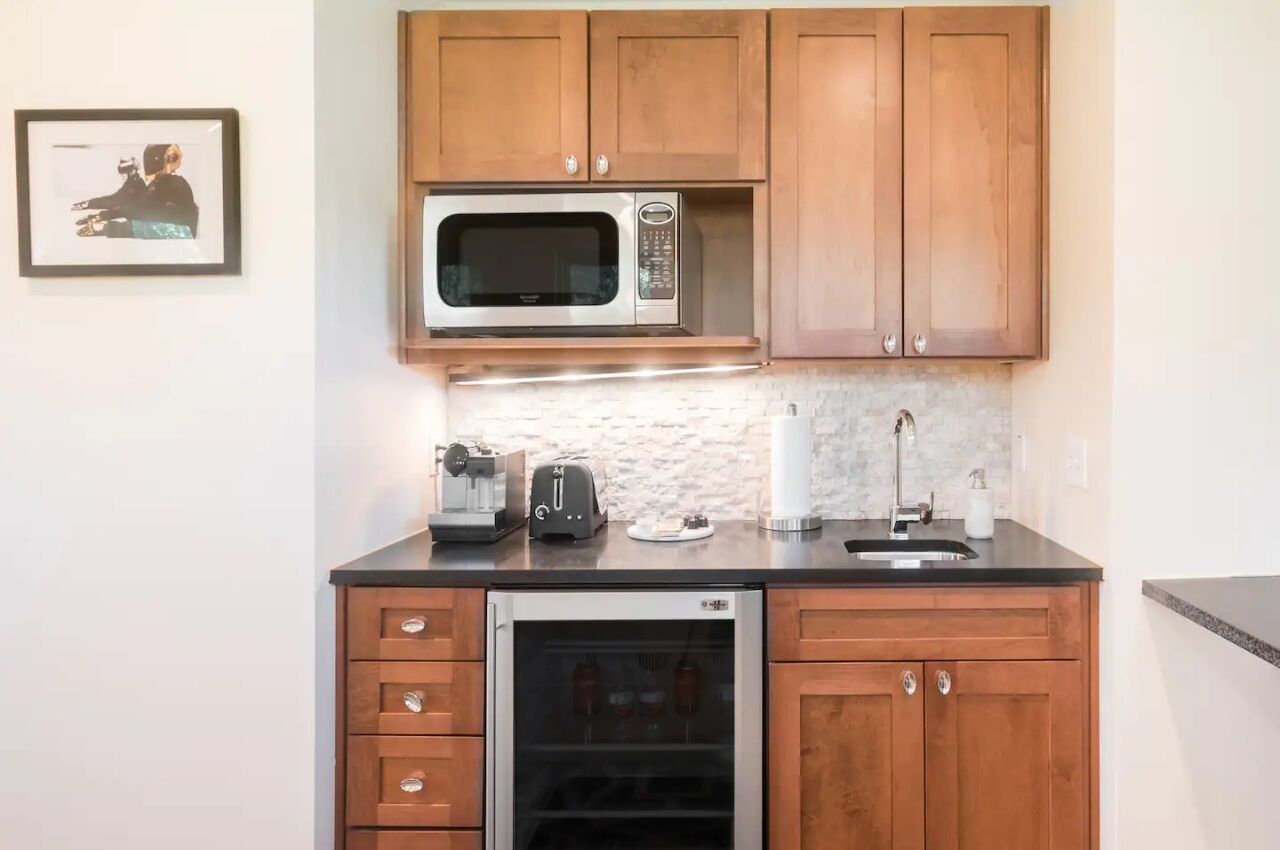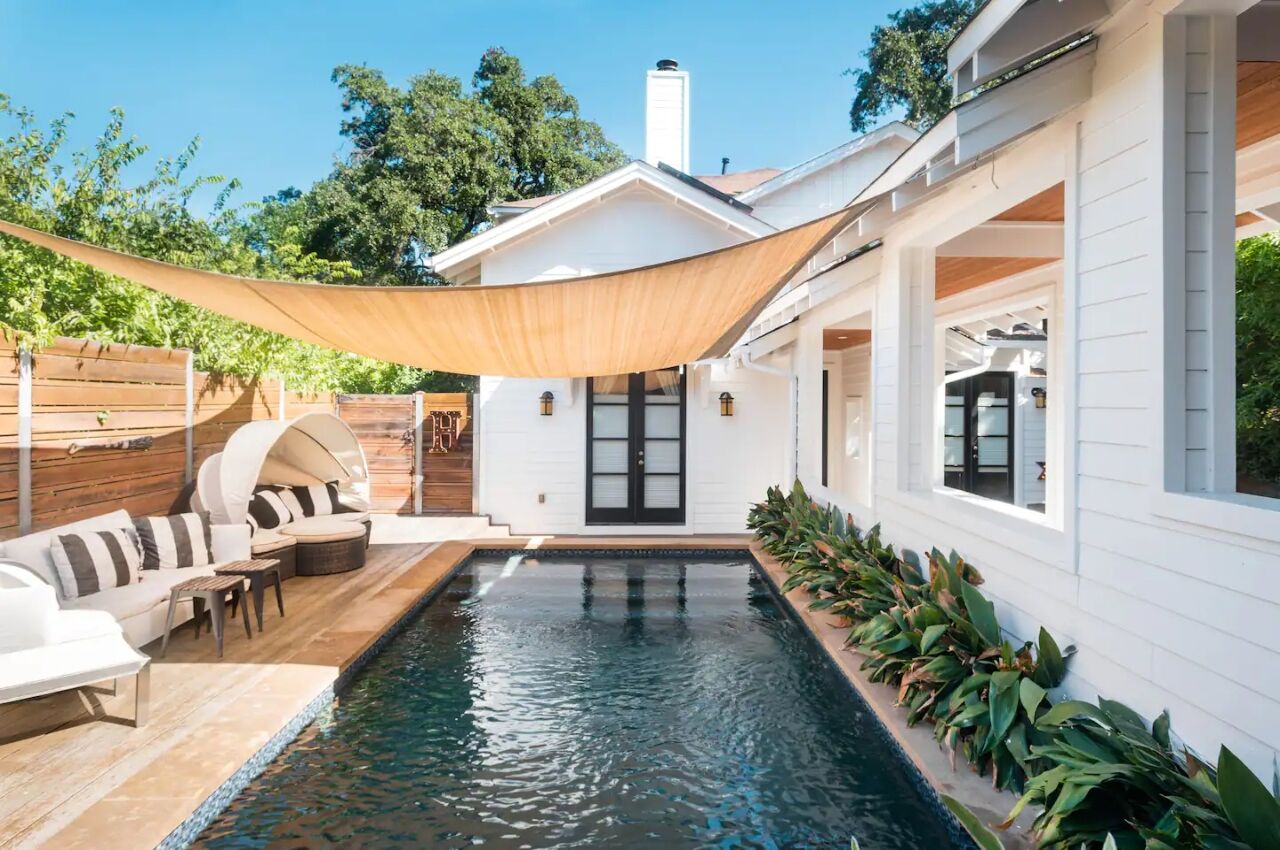 Looking for the ideal solo or couples retreat? This is the perfect contemporary getaway. This modern contemporary-style home features a plush day bed that you can relax on, a simple kitchenette, a comfortable bedroom, and a shared outdoor pool space.
Two guests, one bedroom
Price: $274 per night
What did you think of this story?