The Best Airbnbs in Austin for a Bachelorette Getaway
If that genuine Southern hospitality, a world-famous music scene, and outstanding nightlife and restaurants are what you seek for your bachelorette, you know where to go: Austin. Austin is peppered with luxurious homes that are perfect for your special occasion. Choose from sprawling estates, charming bungalows, or one-of-a-kind properties with all the amenities you need. From Downtown Austin to South Austin and beyond, there's something for everyone in the bachelorette group — even a Karen.
You don't have to spend a fortune to find an Airbnb in Austin for a bachelorette weekend either. There are plenty of affordable options that still provide all the features you expect from a high-end property. Enjoy private pools, hot tubs, outdoor patios, and fire pits — all without breaking the bank. Here are the best options that are close to Austin's finest bars, parks, Tex-Mex, and live music venues.
Taking a trip to Texas? Check out Matador's guides to the best places to stay across the Lone Star State:
We hope you love the Austin airbnbs for a bachelorette we recommend. Just so you know, Matador may collect a small commission from the links on this page if you decide to book a stay. Listed prices are accurate as of the time of publication.
Bright and airy eastside house with outdoor dining area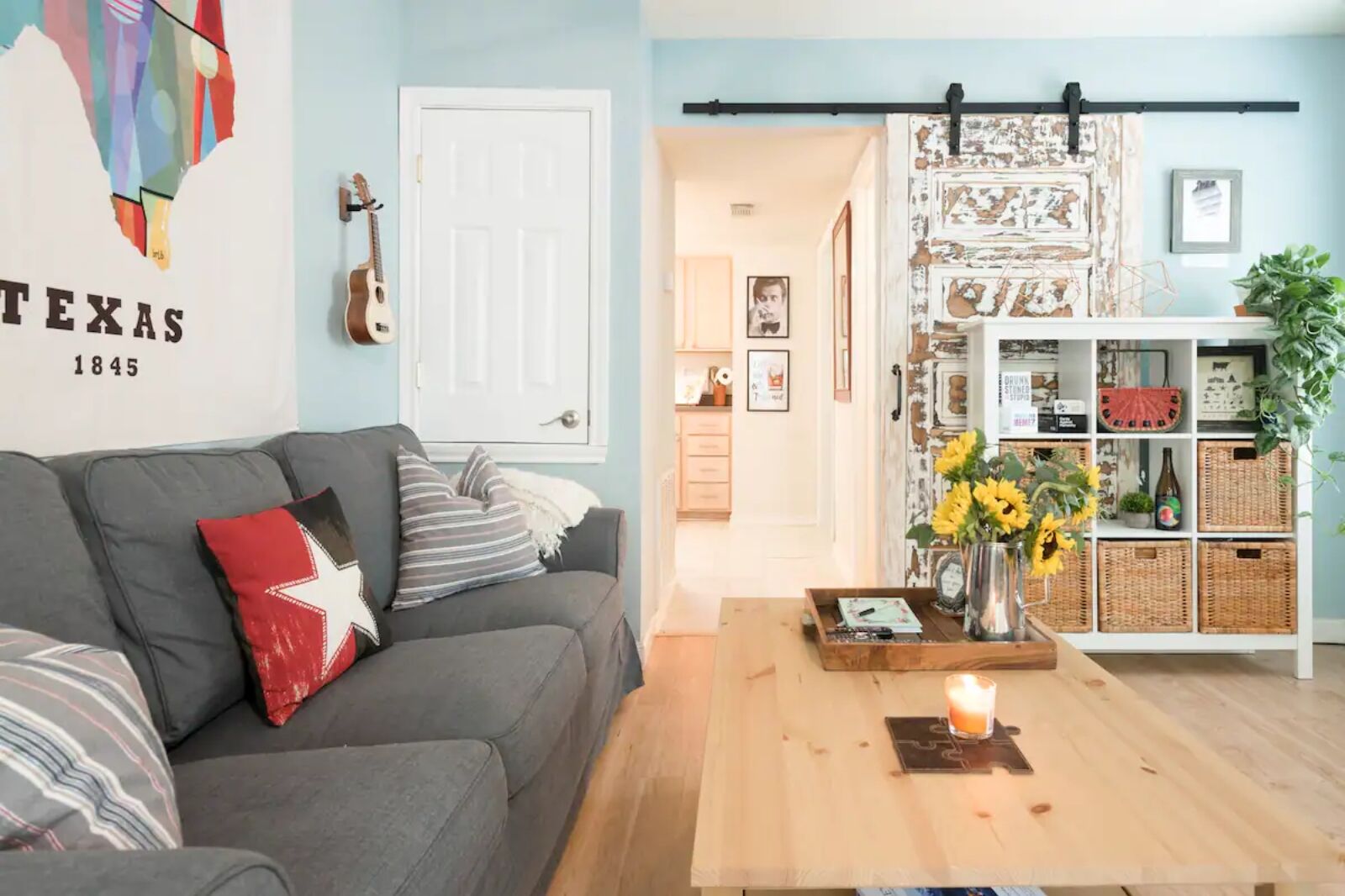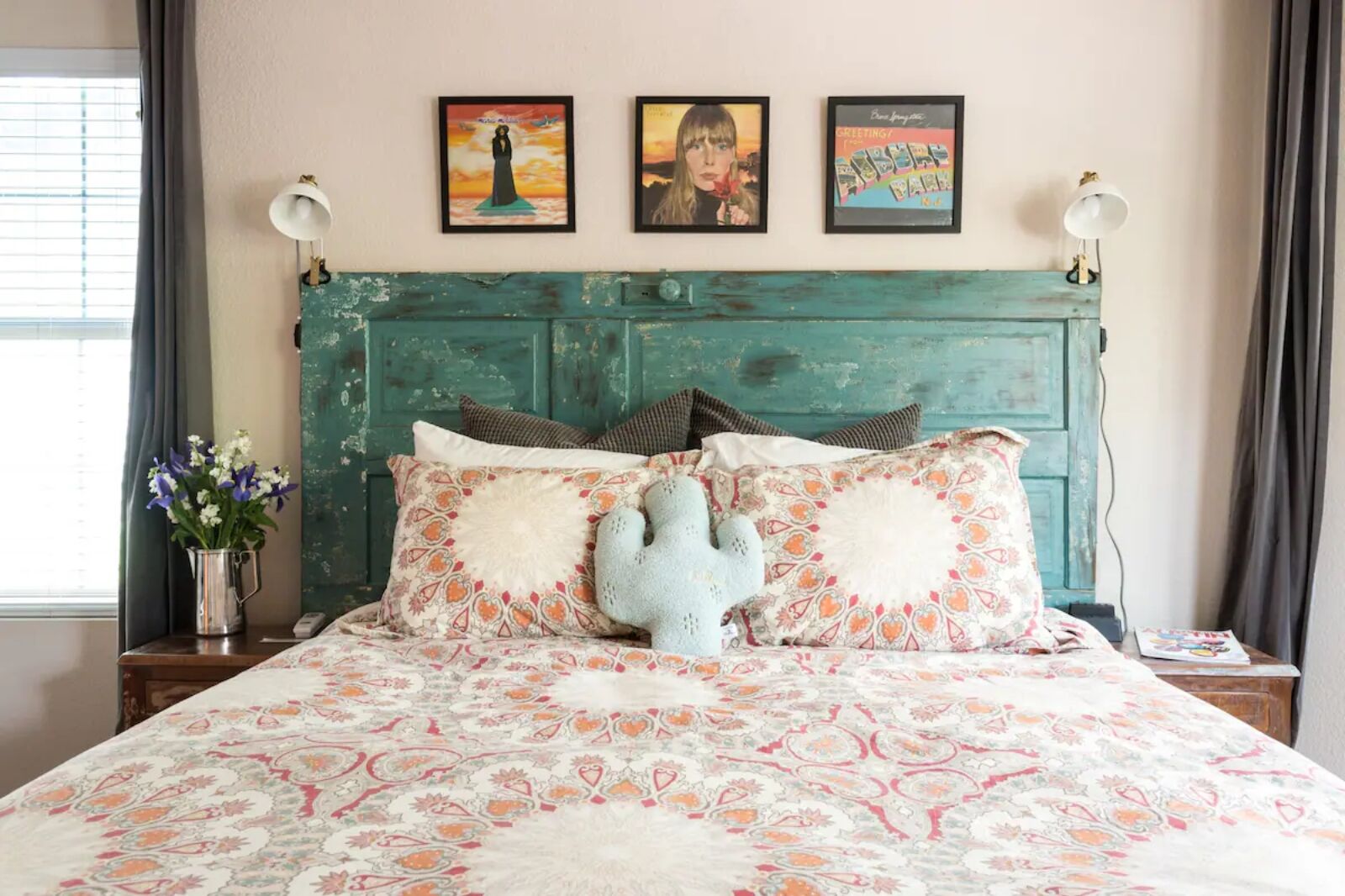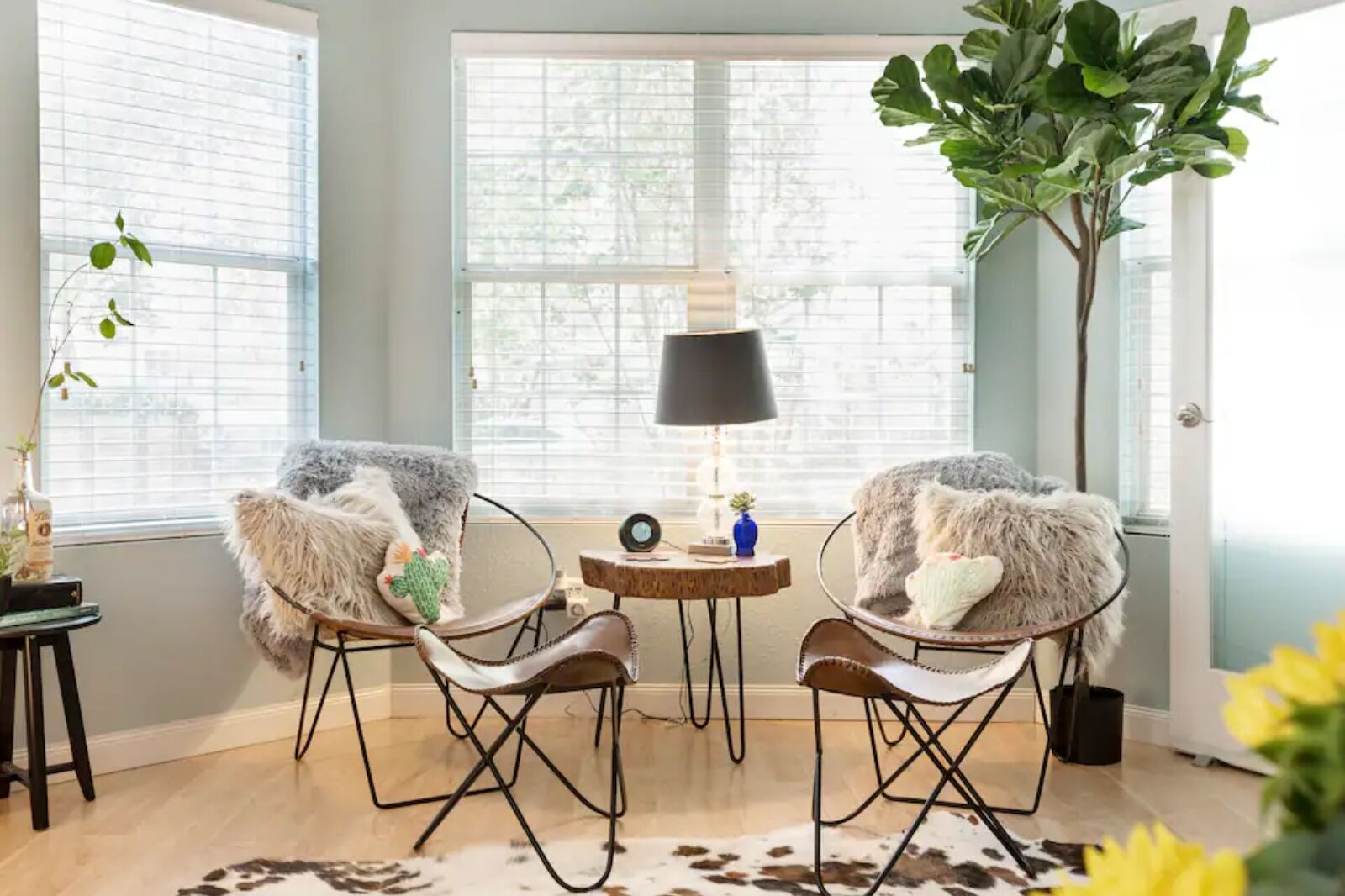 This bohemian retreat is located in East Austin a few blocks away from Lady Bird Lake. Being close to the water is ideal for brides-to-be who enjoy the outdoors. You can book a boat tour along the lakeside, rent kayaks or paddle boards, or just lounge on the bank in the sunshine with cocktails. Although it's close to the green space and is situated on a quiet street, this Airbnb has an incredibly central location with accessibility to downtown Austin, Rainey Street, and other popular Austin nightlife spots.
With three bedrooms and two bathrooms, the Airbnbs can easily accommodate a group of six. The interior décor is both modern and fun with neat design details and a colorful blend of high-end textiles. The charming decked area frames the front and back of the property with a large furnished outdoor dining space to the rear.
Eight guests, three bedrooms
$888 per night
Sprawling four-bedroom house near Zilker Park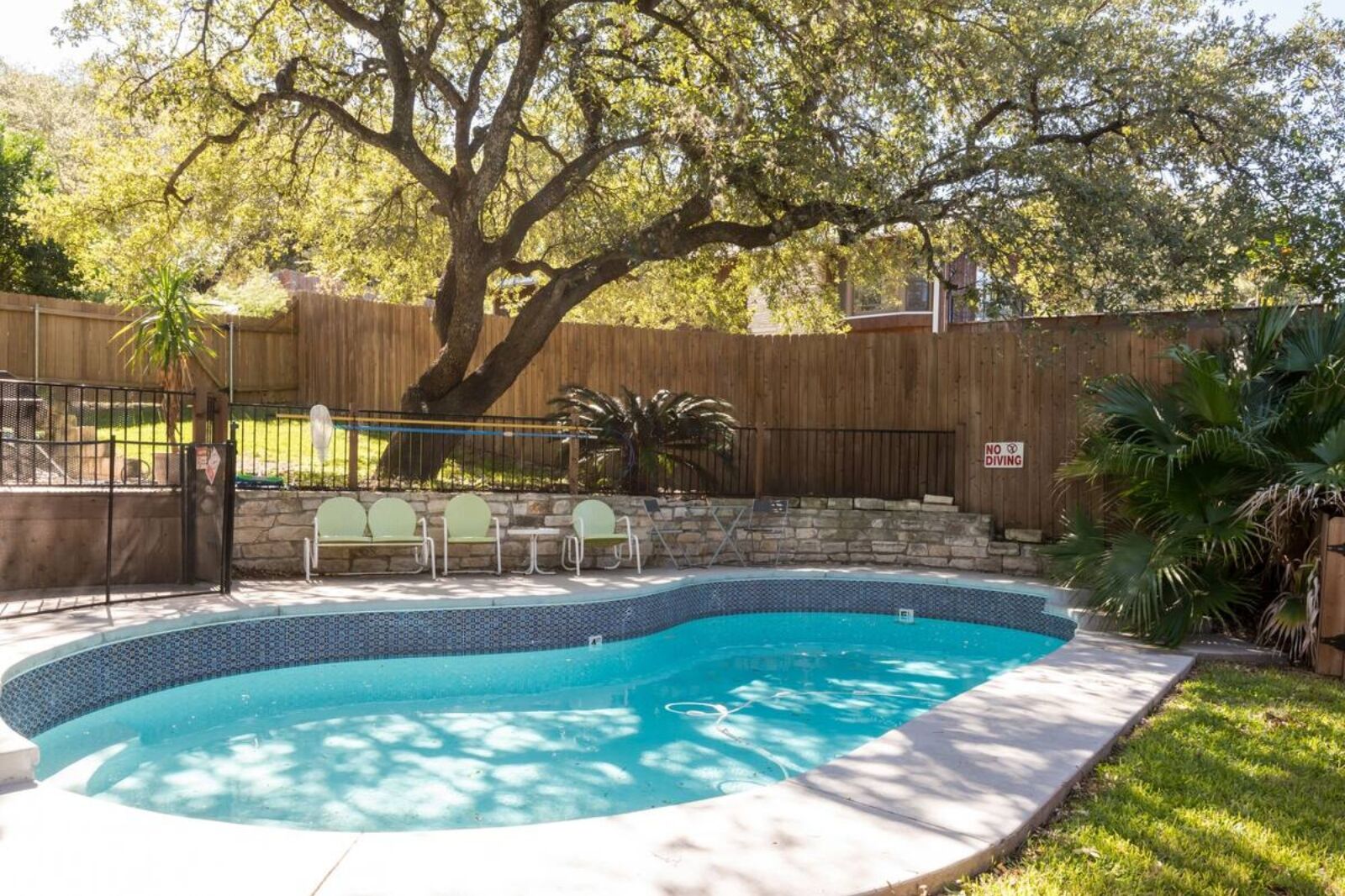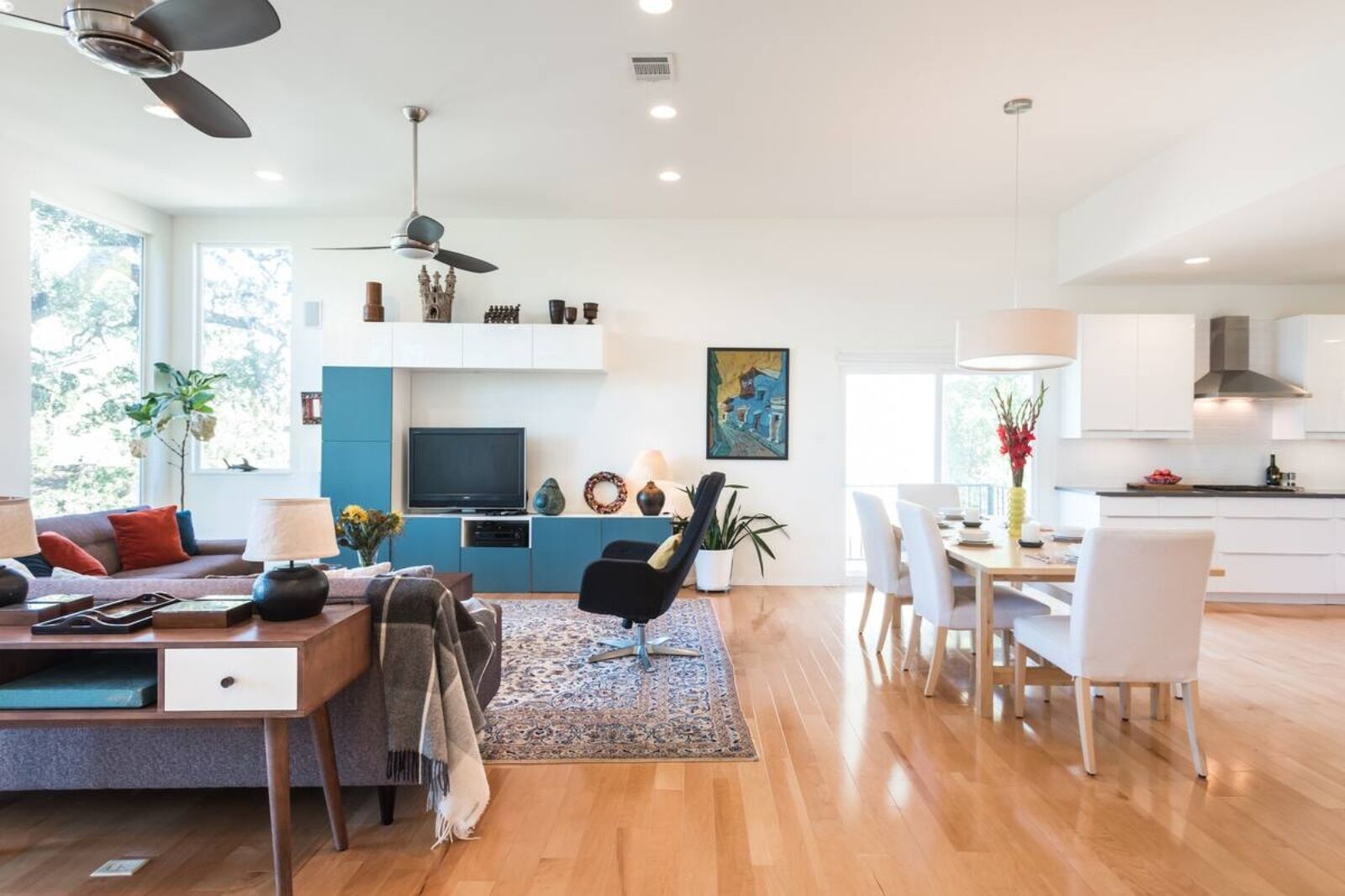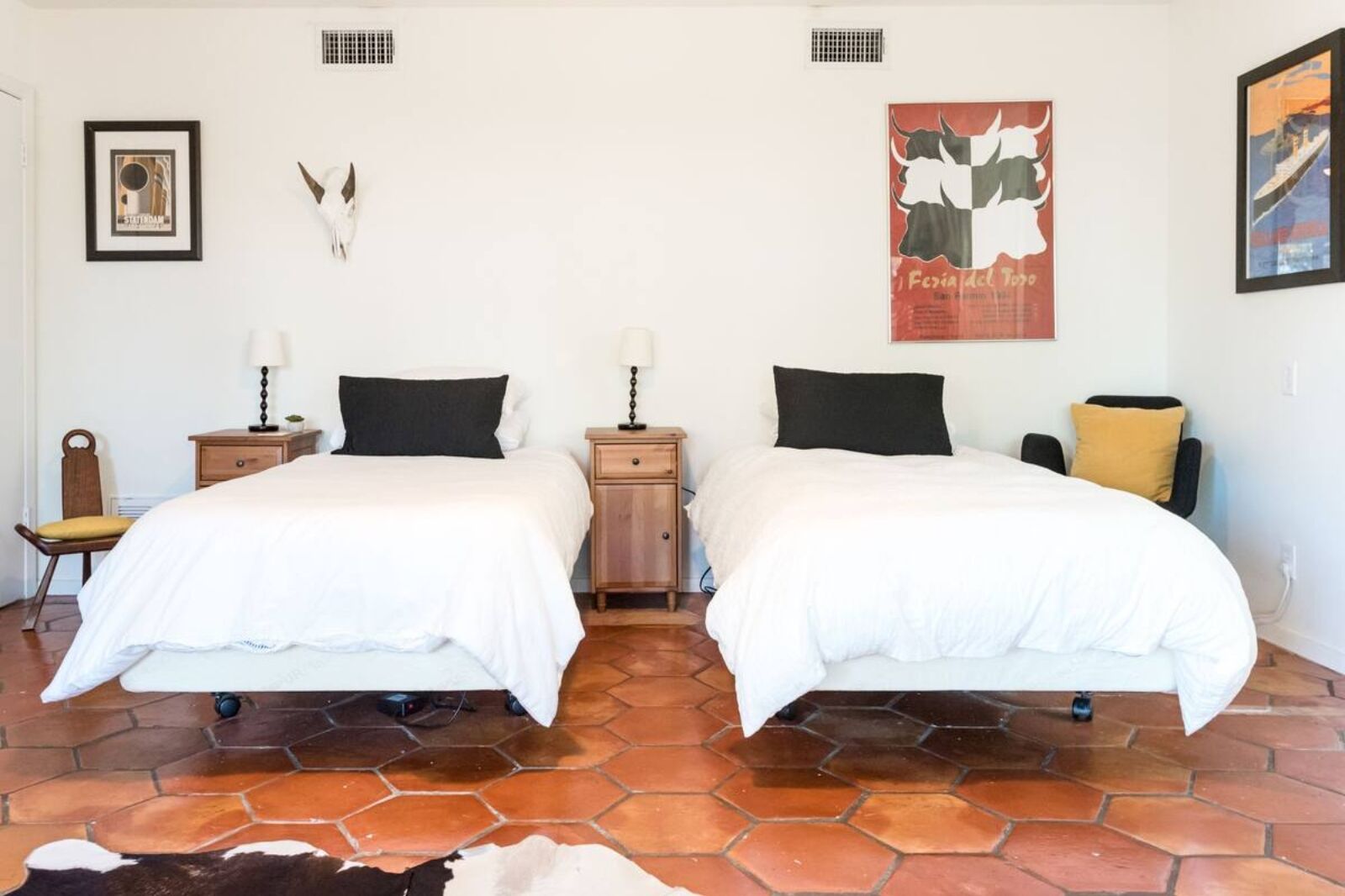 Situated next to Zilker Park and two miles from Downtown, this four-bedroom Airbnb Plus has huge windows leading out to timber-clad balconies. Zilker Park is ideal for daytime sporting activities like disc golf and volleyball or you can take a dip at Barton Springs pool.
It's three full bathrooms are a serious selling point, as is the pinball machine — for the competitive person in the group and backyard swimming pool. The yard is fenced off for your privacy and is perfect for an afternoon barbeque before heading out on town.
Eight guests, four bedrooms
$651 per night
Central Austin retreat with a leafy patio with grill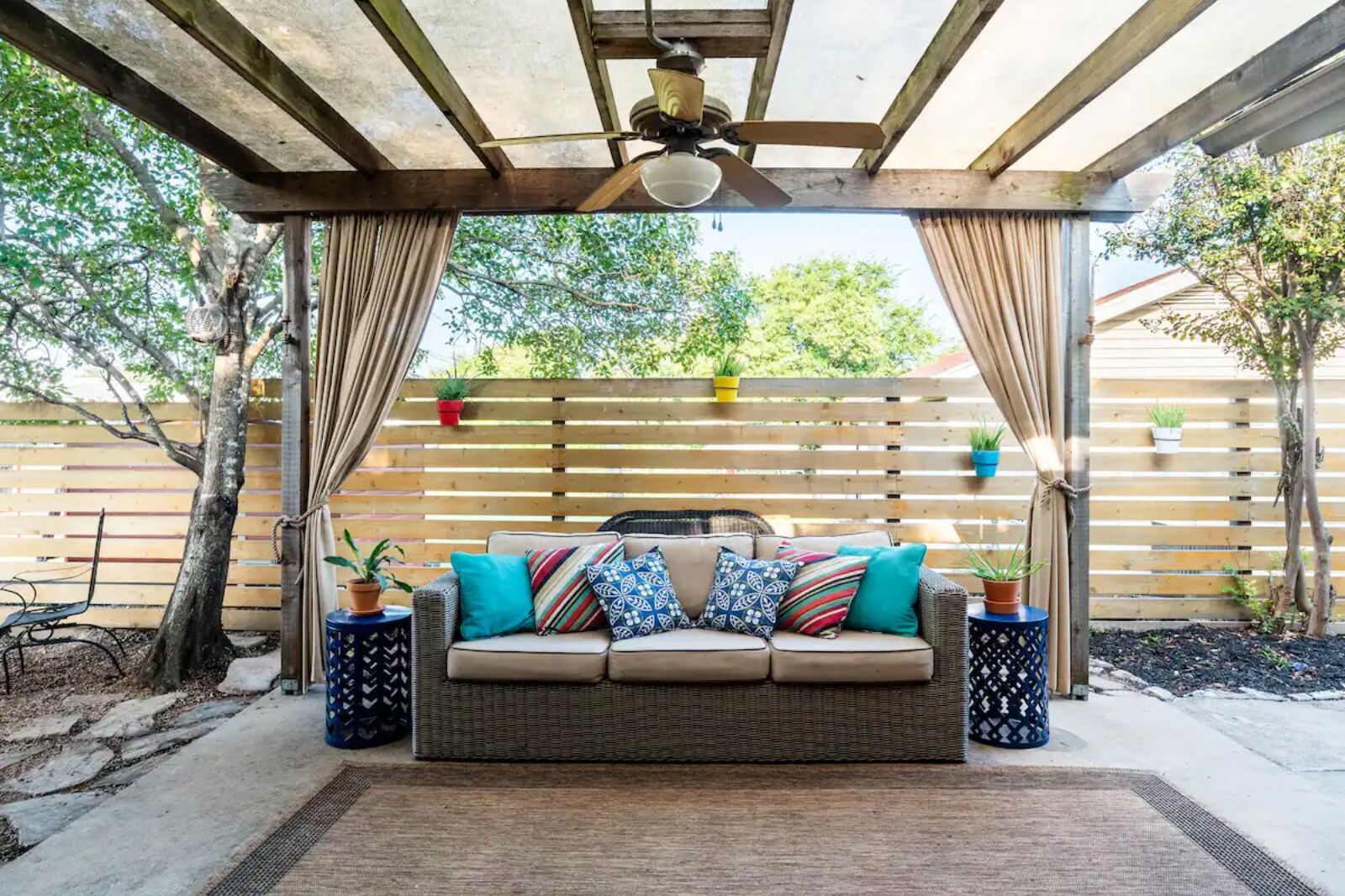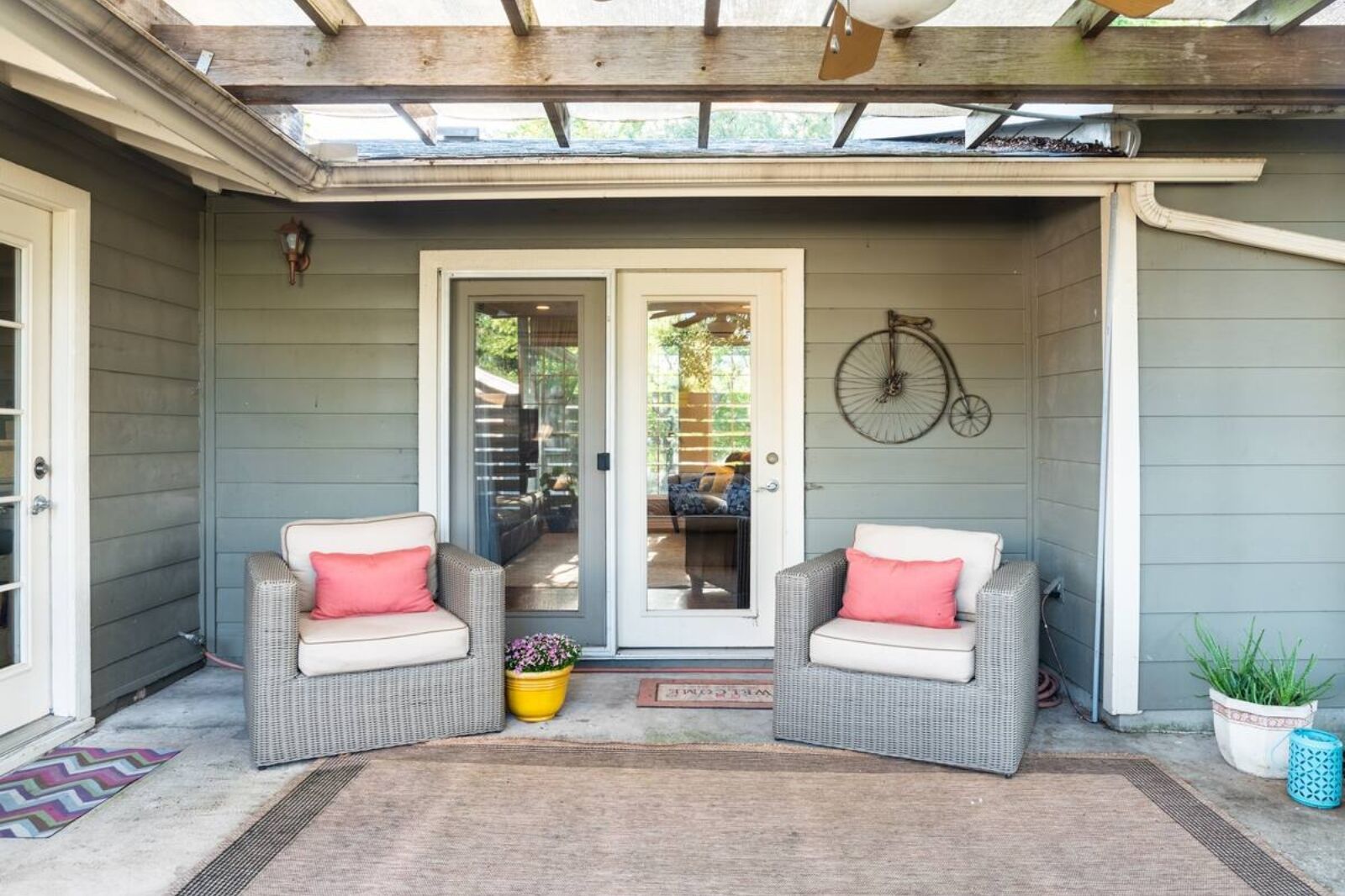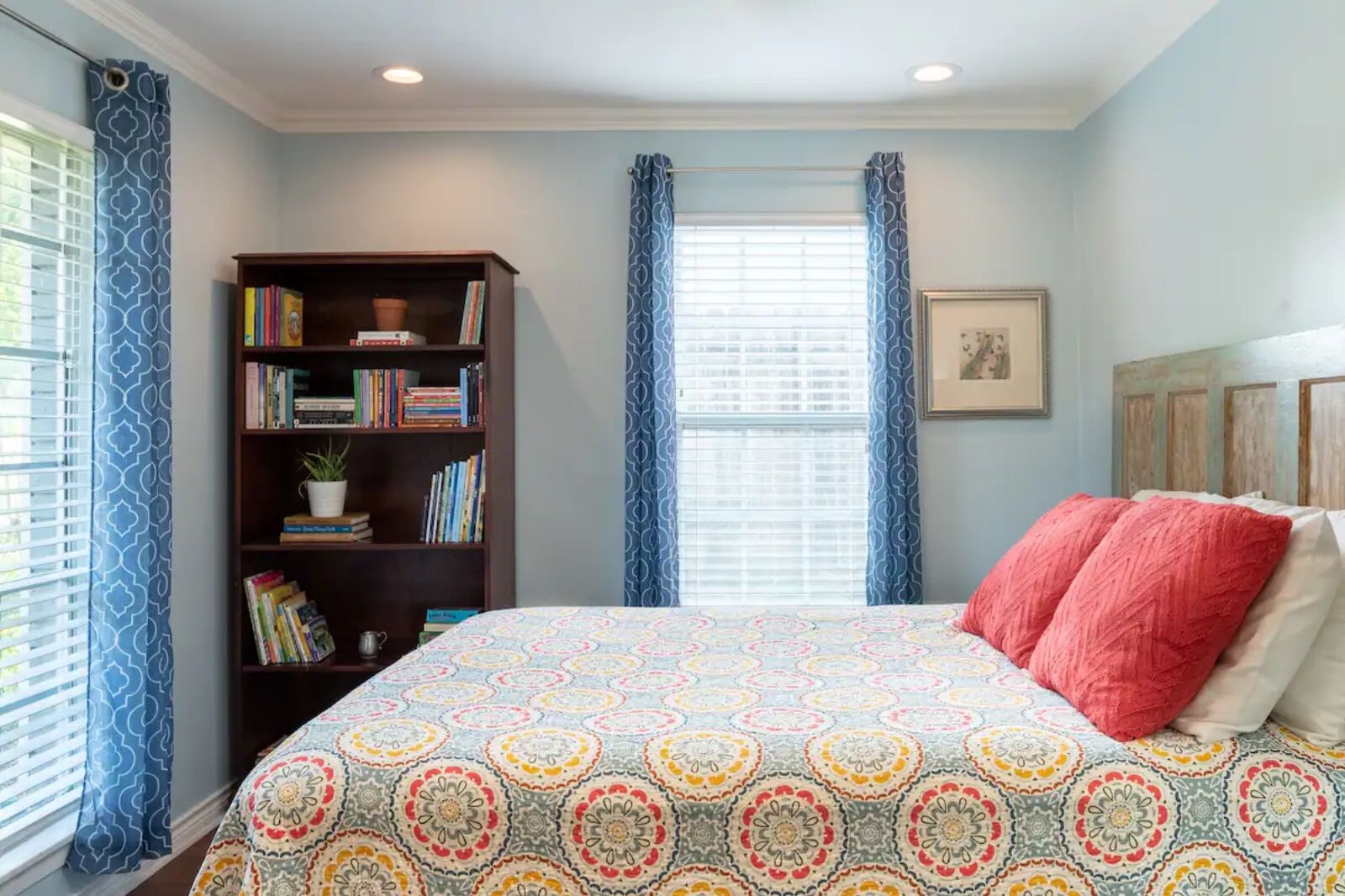 This whopping mid-century home sleeps 10 guests and although there will be some bedroom sharing, the leafy patio area offers enough space for all to feel comfortable and utterly relaxed. The outdoor space is ideal for enjoying a sundowner or two and has grilling facilities.
It's smack bang in Huntland Heights, Central Austin, and is a short walk from the Metro Rail which links with the center of downtown. If driving, there is private parking available for five cars and the street is quiet and safe. There are four bedrooms listed and a further sleeping spot on a queen sleeper sofa in the den, ideal for those to RSVP last minute.
10 guests, four bedrooms
$468 per night
East Downtown house with large heated pool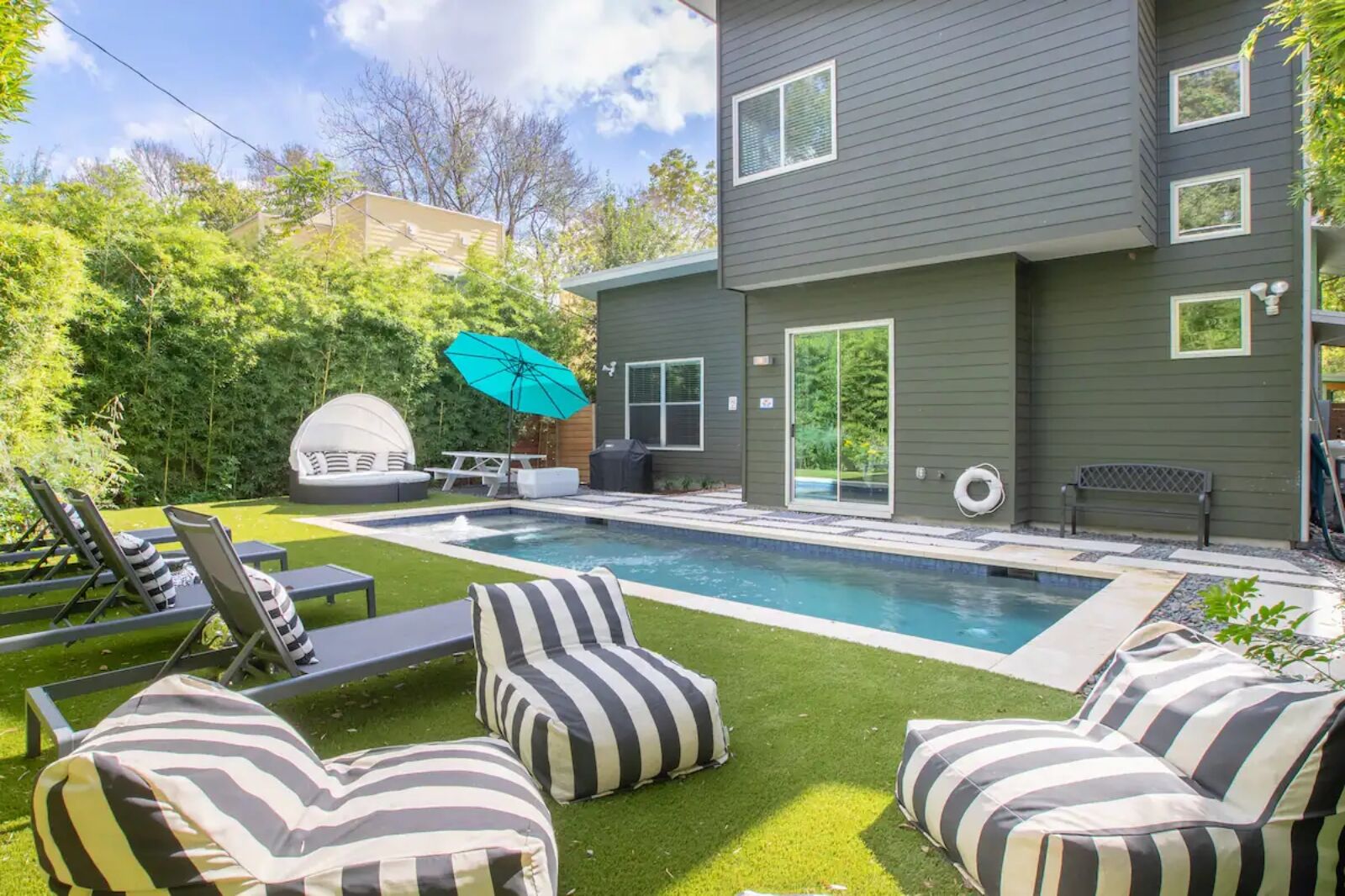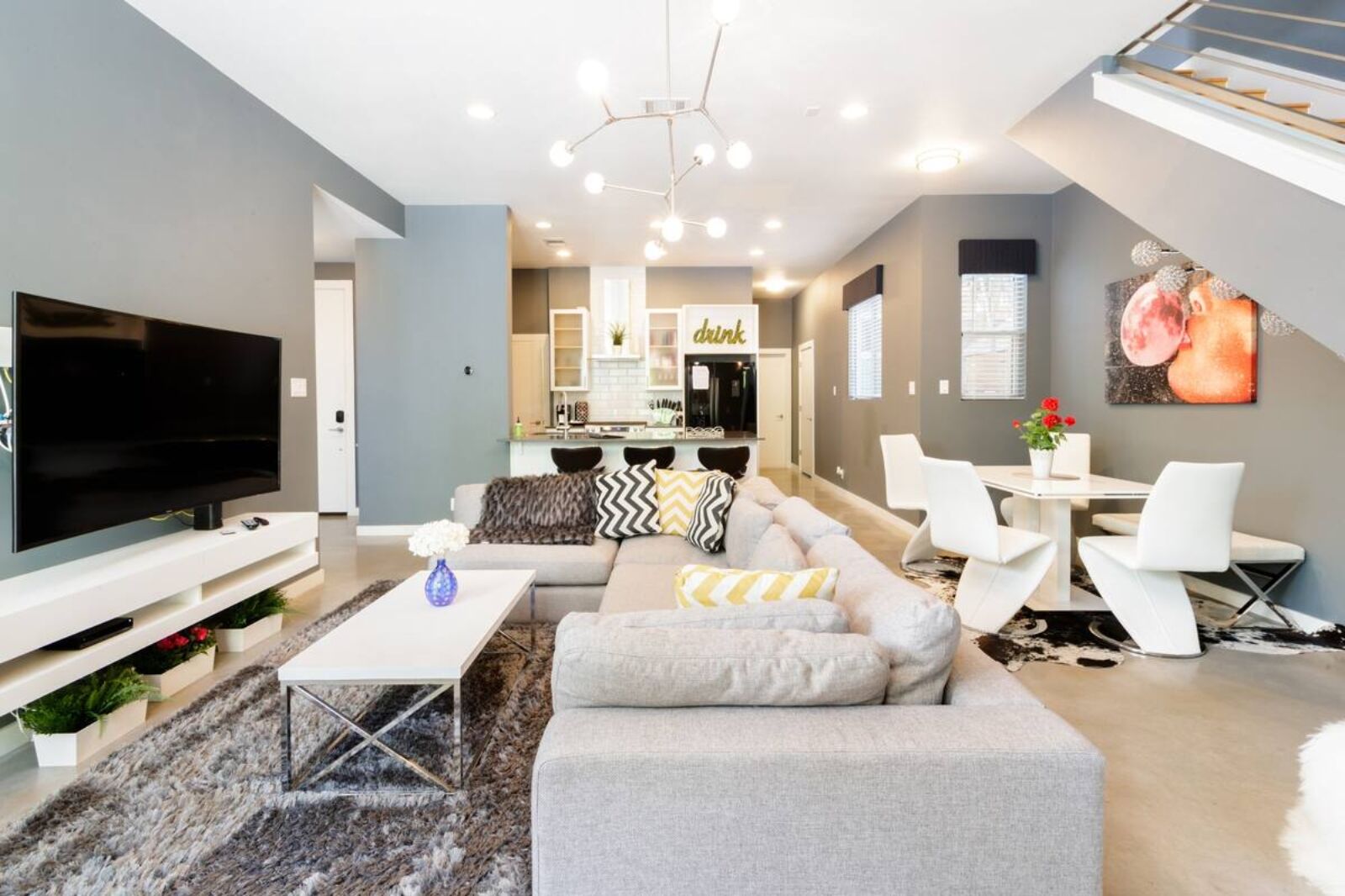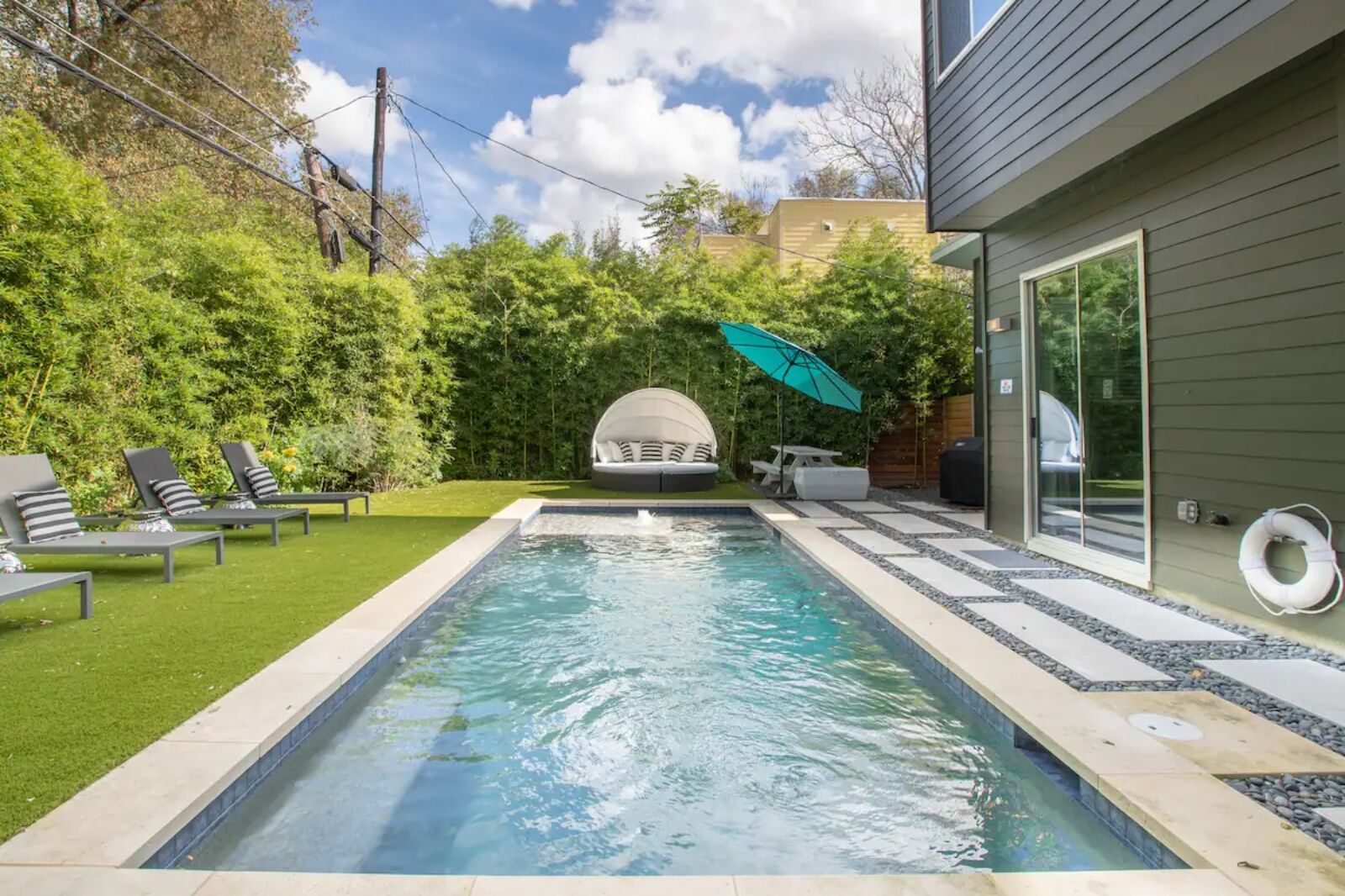 So let's address the elephant in the room. 15 guests in three bedrooms? You'd need to have a very tight crew for your bachelorette for this Airbnb but bunk beds save the day. And there's something nostalgic about sleeping in a bunk bed with a bunch of your gal pals.
The summer camp vibes don't finish there, outdoor adventures at Lady Bird Lake are minutes away and a bamboo-lined backyard with a heated private pool with multi-color LED lighting promises hours of entertainment and is a perfect spot for an afternoon Aperol Spritz.
15 guests, three bedrooms
$436 per night
Three-story East Austin home packed with color and art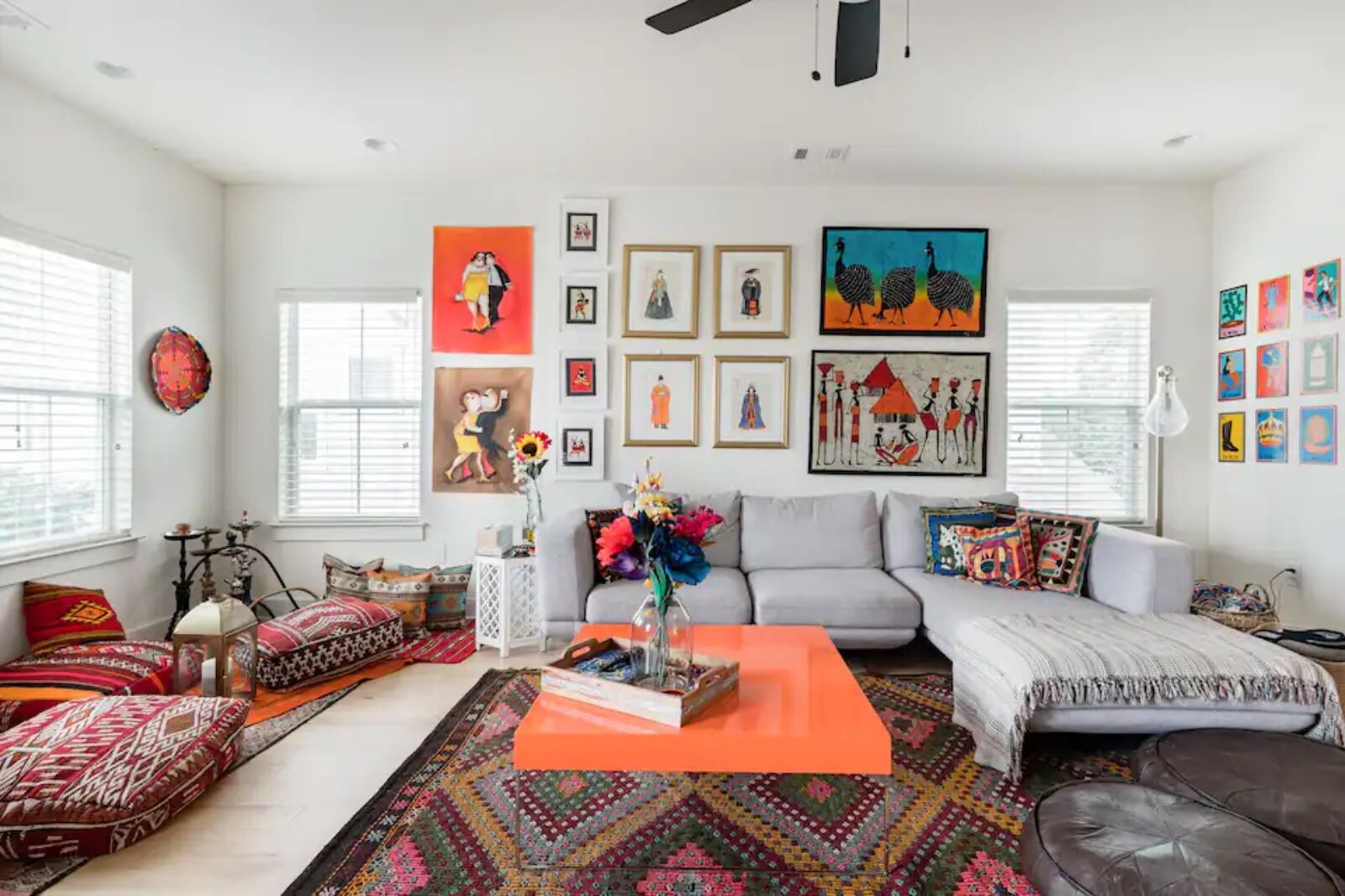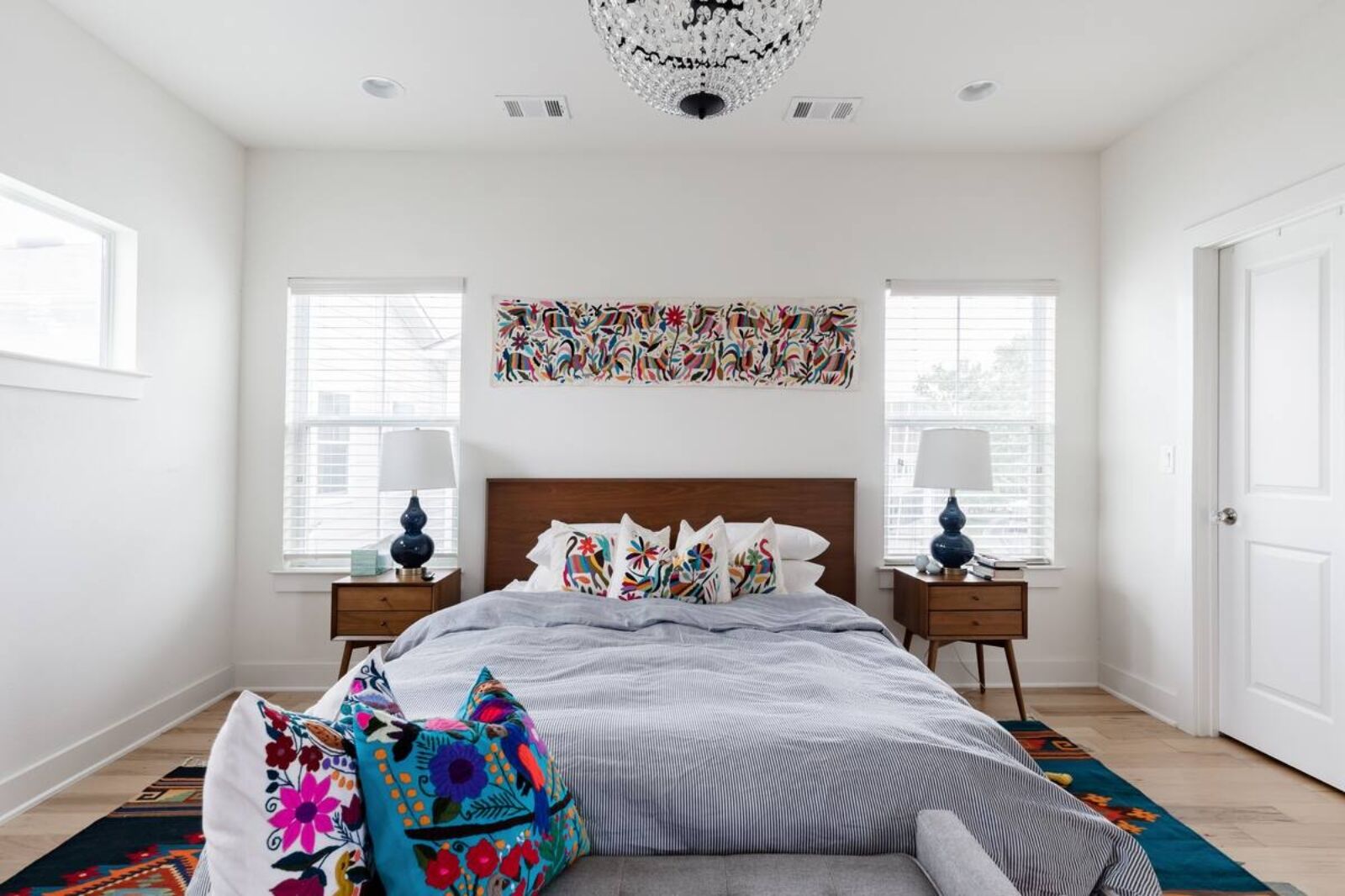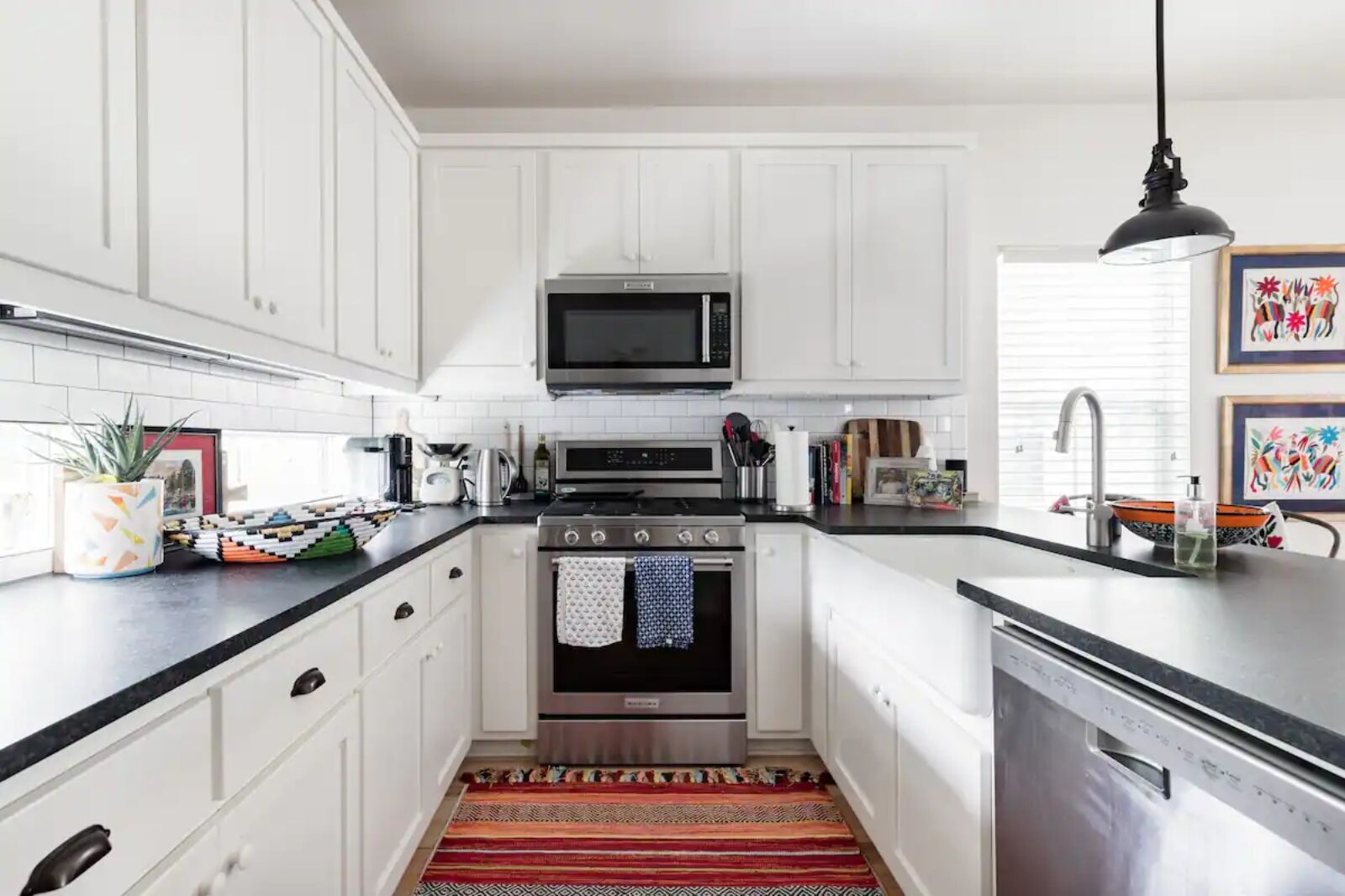 This three-floor condo's open-concept layout is ideal for a bachelorette allowing for lots of space and places to have some quiet time — if needed. Unique features are peppered throughout the property; rich Moroccan floor cushions, a chalkboard wall in the downstairs bathroom, and a graffiti wall commissioned by a local Austin artist makes this an ideal Airbnb for brides-to-be who have an eye for design.
And the fun continues, the backyard has a hammock for naps, and an outdoor bar with ample seating. Located in East Austin, the house is within walking distance from Town Lake and the nightlife and bars on trendy Rainey Street. If you need more space, it's worth reaching out to the owner as they rent out another equally special property next door.
Eight guests, three bedrooms
$325 per night
East Downtown bungalow with stunning gourmet kitchen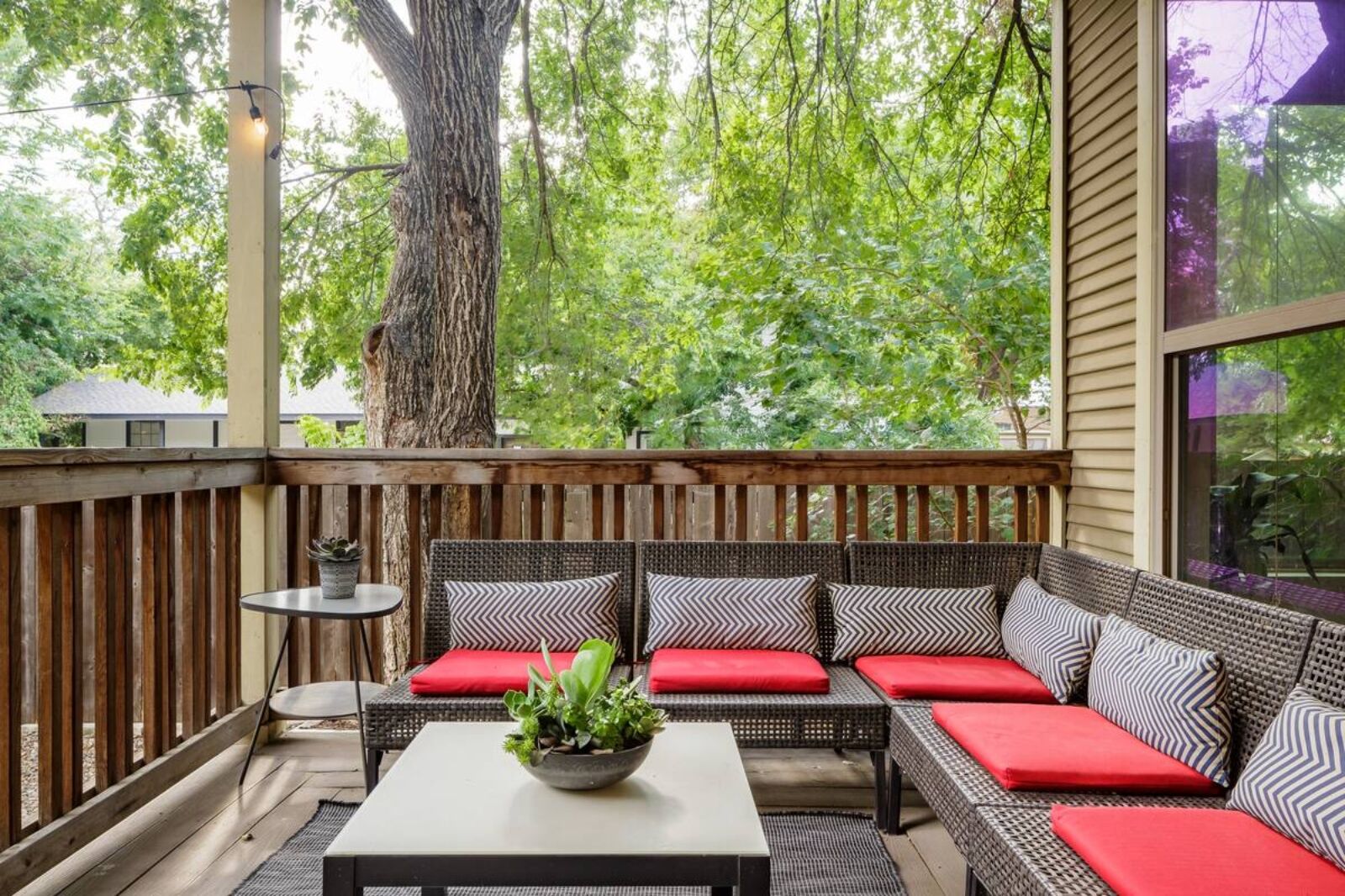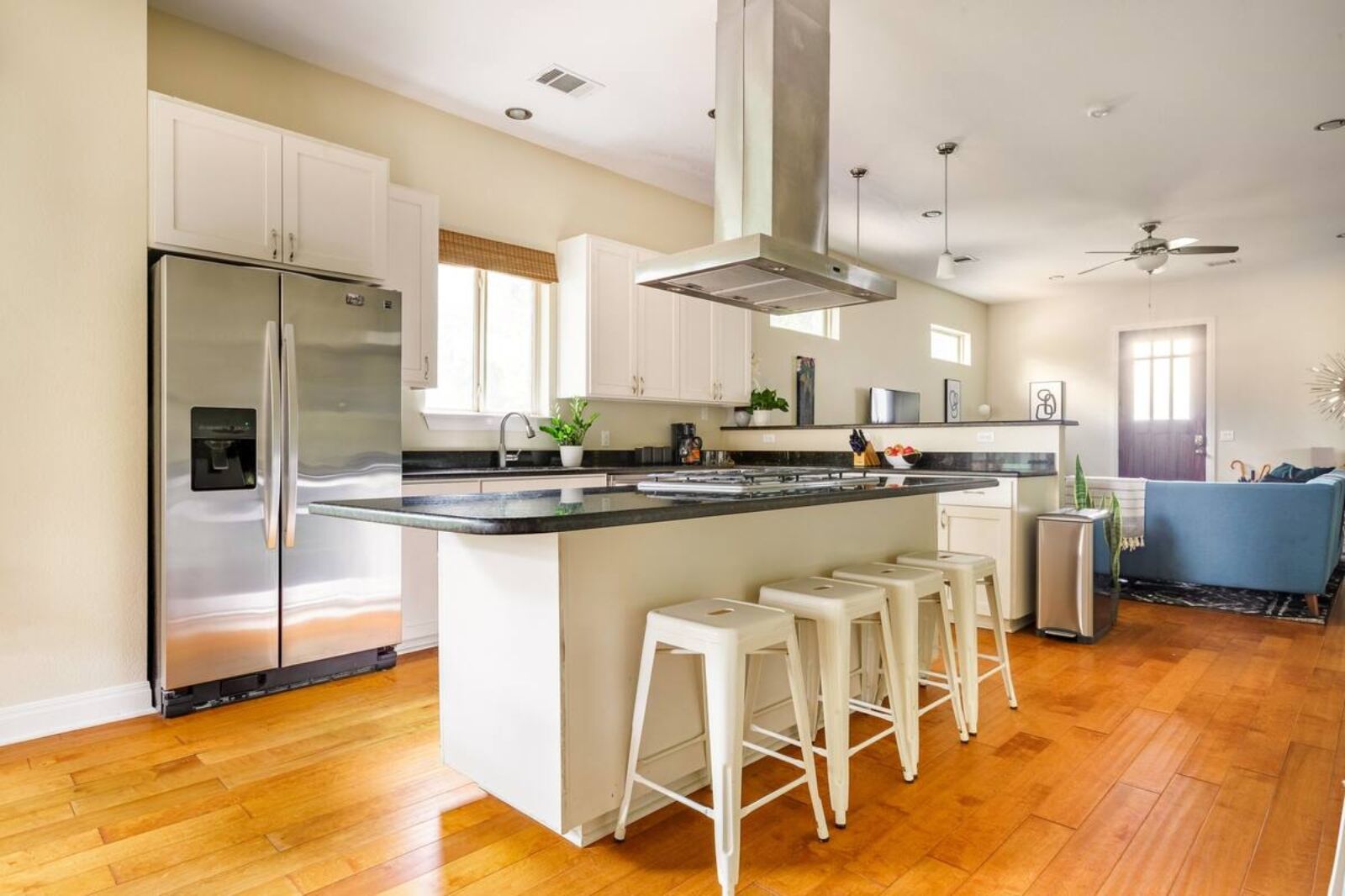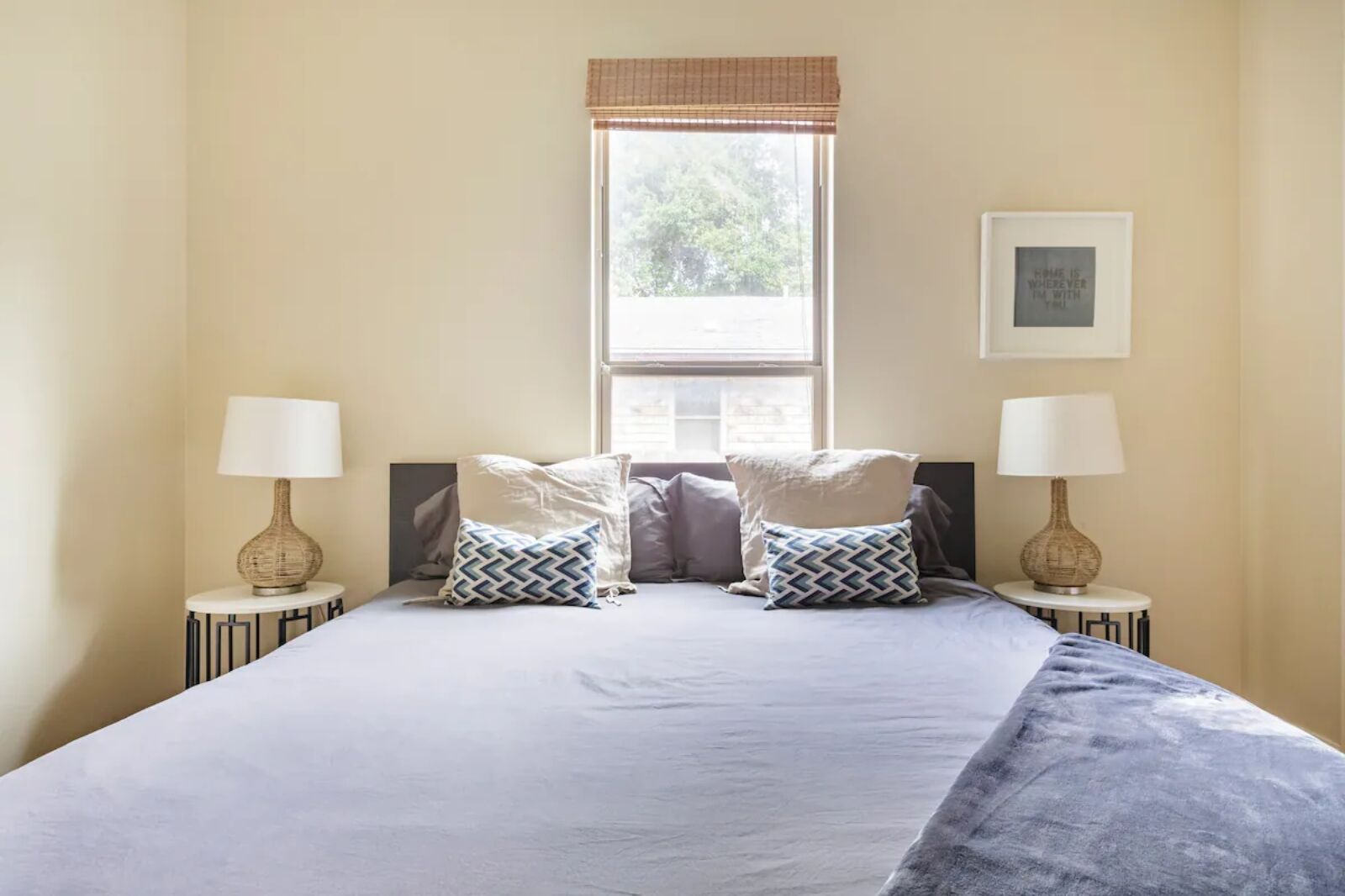 An open-concept floor plan makes this bungalow another super option for a group. The gourmet kitchen steals the show with its centered kitchen island with bar stools, high-end stainless appliances, and ample space for more than one cook and a team of sous chefs.
Each bedroom has a king-sized bed, which means sharing with a friend, but there is ample room and down comforters, plush bath robes, large closets, and floor-length mirrors, add a nice touch. And for the bride-to-be, the master suite has a huge walk-in closet, an en-suite bathroom with luxury hotel standard towels and toiletries, and a double vanity. The house is within walking distance of a bus stop with a direct route downtown, but of course, ride-sharing in Austin is easy to use, quick, and affordable.
Seven guests, three bedrooms
$300 per night
Three-bedroom house with rooftop patio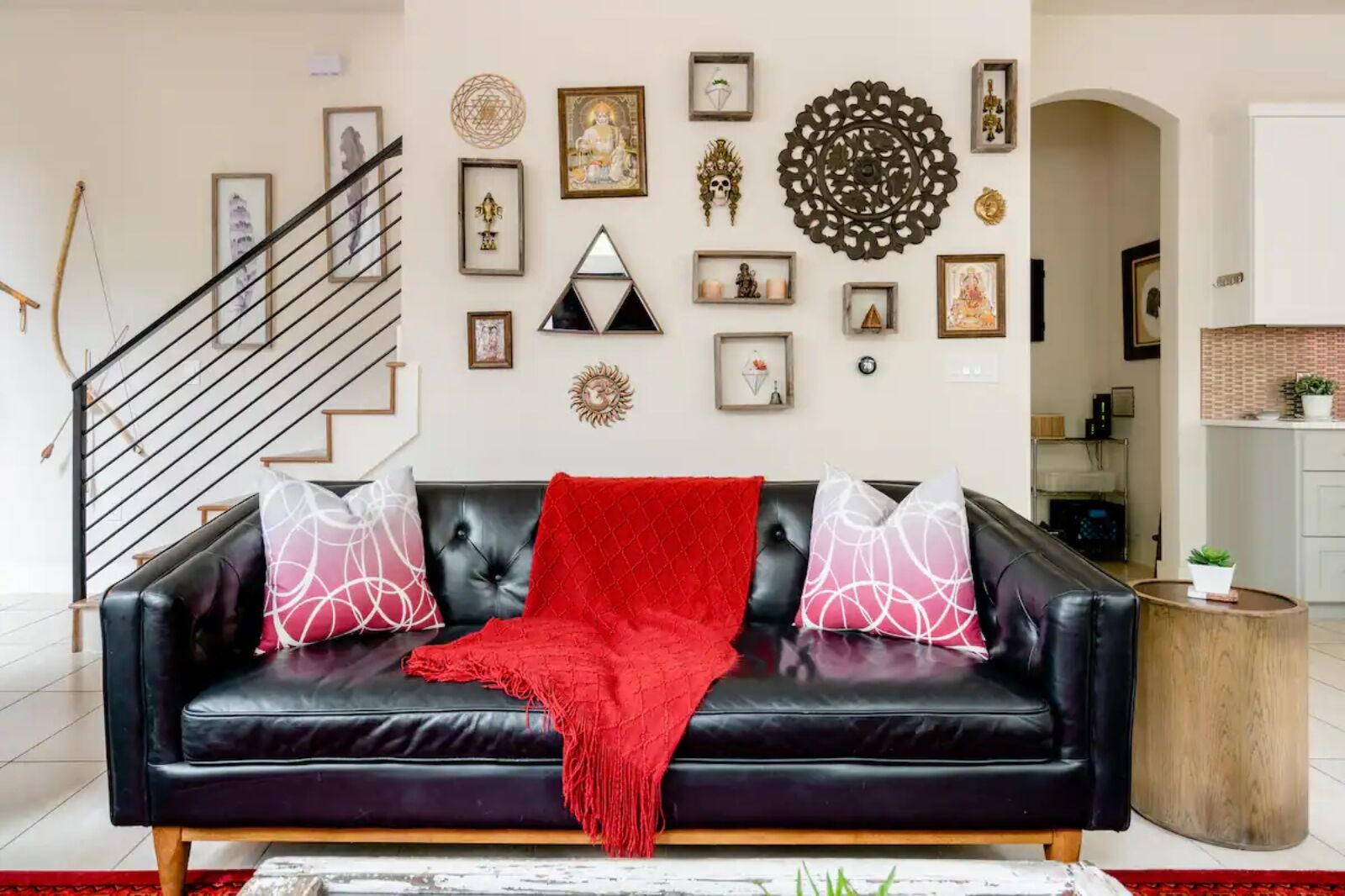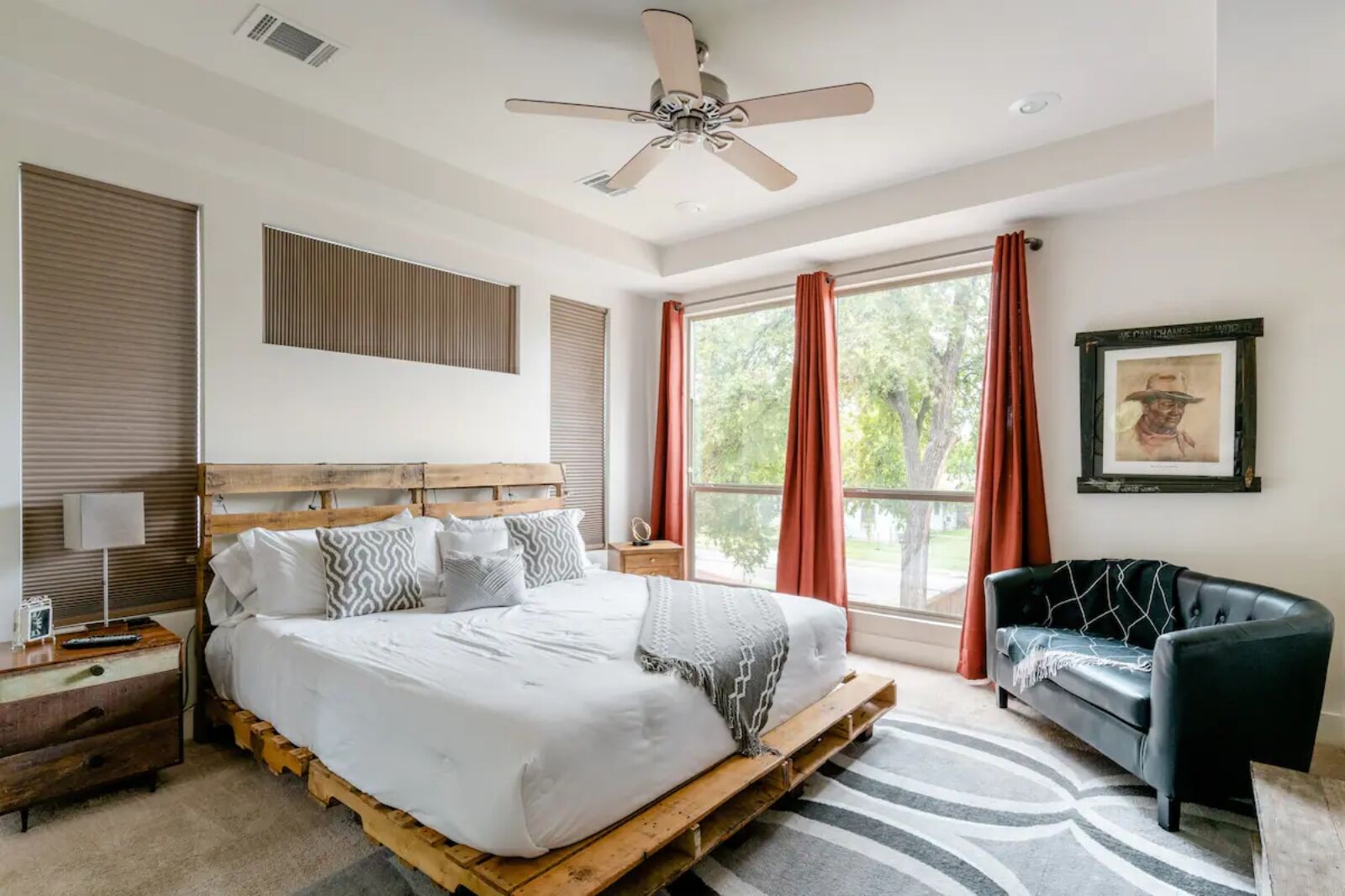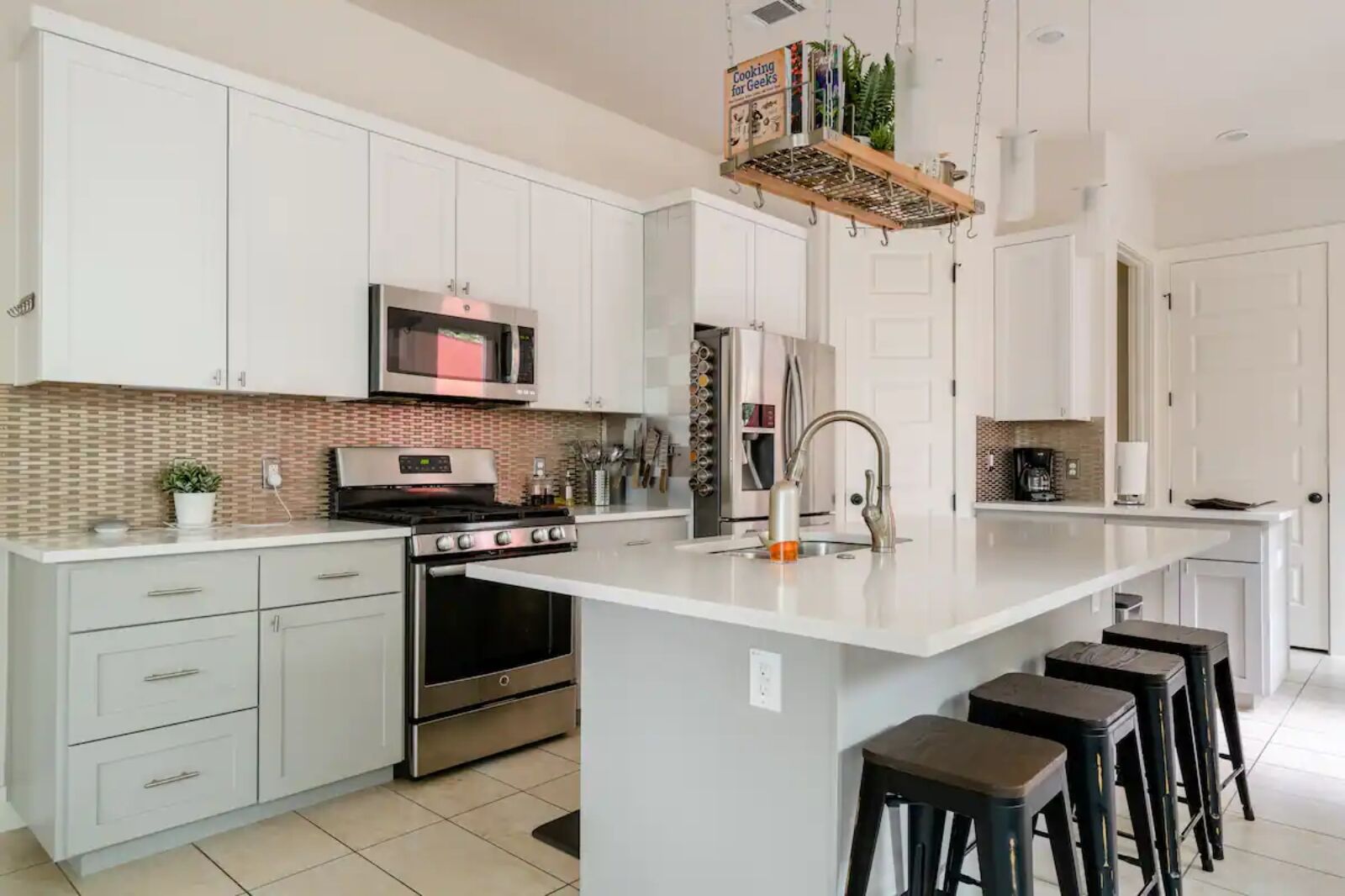 This three-bedroom house is located in East Austin and is within walking distance of many live music venues. But if you have a maestro in the group, there is a piano in the living room for use. The house is expansive, with soaring ceilings, a huge ten-person dining table, and a shared rooftop patio.
For a comfortable stay, the bedrooms sleep five, with four sharing, but regardless of the sprawling layout, this Airbnb would be best for a small crew of three or four. There's even a kitted-out gym in the garage, but let's be honest, you'll be hard-pushed to put down your glass in the rooftop sunshine.
Eight guests, three bedrooms
$176 per night
Lady Bird House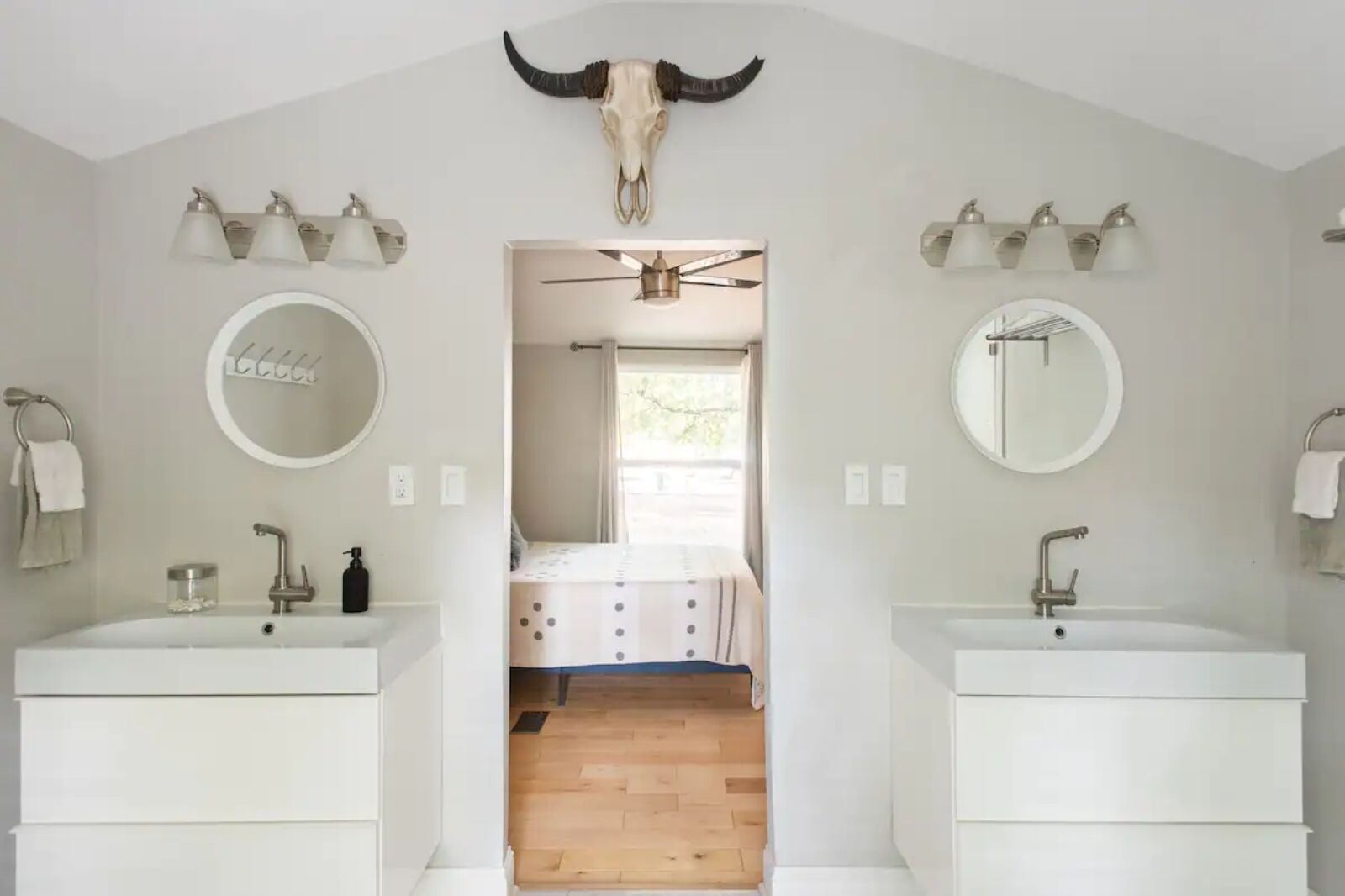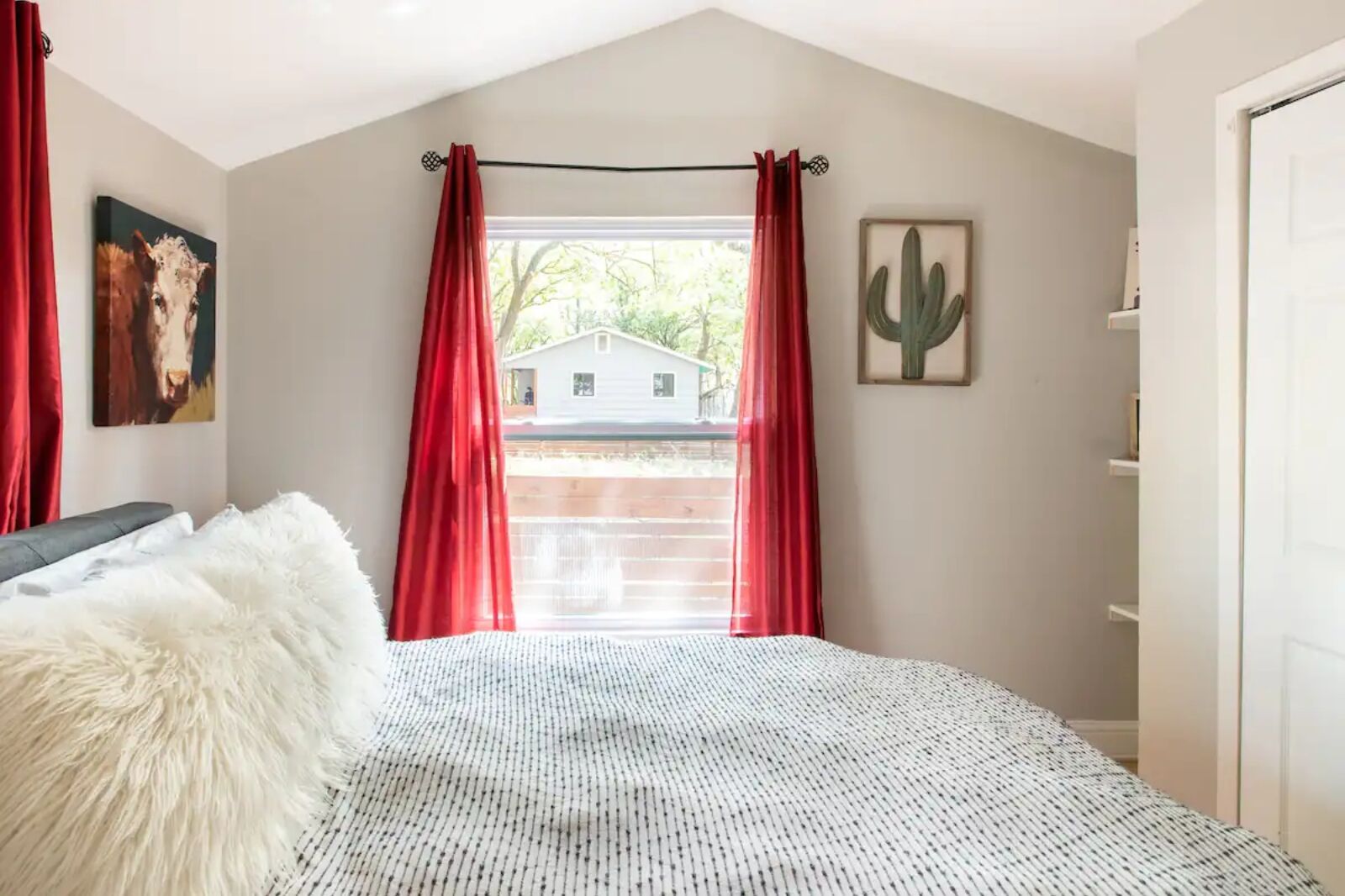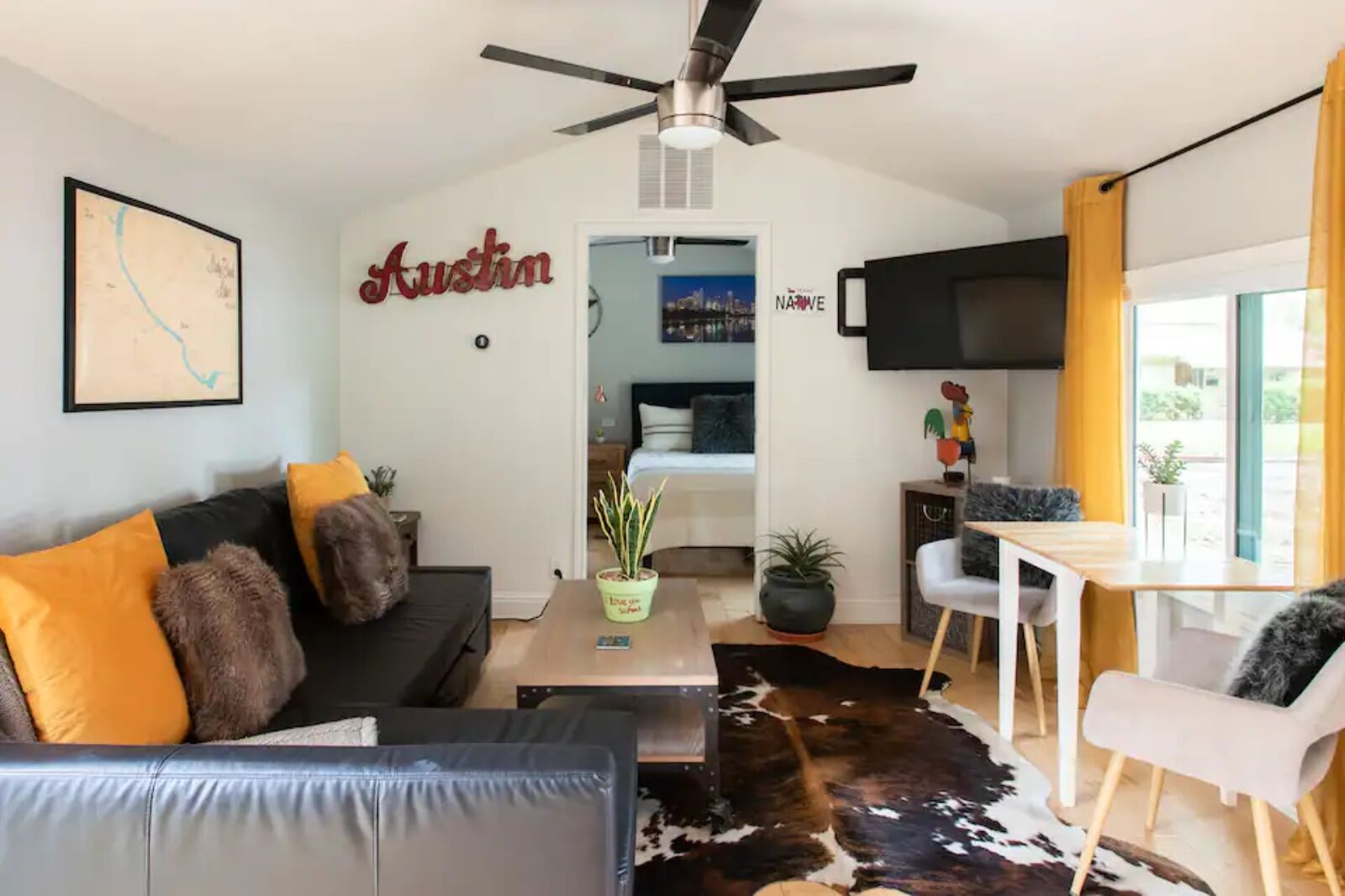 Hold up. This three-bedroom house has everything you need, it's absolutely charming, and it averages out at $172 per night. The price does not reflect the standard of this Airbnb. This is a seriously good deal. There's a fire pit in the private yard and lone star décor sets the scene for an authentic Austin bachelorette.
The rental is a bit on the small side, especially in the communal areas such as the kitchen and living room, so it's suited for those who intend spending a lot of time exploring the city and eating out. It's also walkable to a lot of bars and restaurants on Rainey Street and Lady Bird Lake — hence the name.
Seven guests, three bedrooms
$172 per night
What area in Austin is best for bachelorette?
Austin offers a variety of activities and attractions to make your bachelorette party one to remember. From bar hopping on Rainey Street to taking a brunch tour with Twisted Texas Food Tour, there's something for everyone in your crew. You can also explore Congress Avenue and Lady Bird Lake, or take part in some outdoor activities like paddle-boarding or floating down the river. For those looking for a more relaxed evening, you can check out some of Austin's best restaurants like Barley Swine or La Barbecue.
When is the best time to visit Austin for a bachelorette party?
If you're looking for the perfect time to visit Austin for a bachelorette party, spring is recommended. It is the ideal season for exploring the city before the weather gets too hot.
How much does an Austin bachelorette party typically cost?
The average cost of a bachelorette party weekend in Austin is around $500 per person. This includes costs for activities, food, drinks, and accommodation. There are, of course, many ways to keep costs down while still having a great time. Plan activities that are free and opt for an Airbnb rental where you can prepare some meals together as a group and enjoy pre-drinks at home.
What did you think of this story?