The Finest Hotels in Downtown Las Vegas for Every Type of Traveler
Downtown is an excellent area for staying during a visit to Sin City. It offers a variety of entertainment and gaming options, as well as some of the best hotels in Vegas. From the iconic Fremont Street Experience — a pedestrian mall covered by a colorful LED canopy — to top restaurants, boutique shops, and entertainment venues, this part of town is an ideal spot for visitors looking for an action-packed getaway. And the hotel options are just as diverse as a night out in a Las Vegas speakeasy. Regardless of what you're looking for, a budget-friendly getaway, luxury spa weekend, or a five-star with a casino, there's an option for everyone. Here are the best Downtown Las Vegas hotels.
Taking a trip to Las Vegas? Check out

Matador's

Las Vegas accommodations guides:
We hope you love the Downtown Las Vegas hotels we recommend. Just so you know, Matador may collect a small commission from the links on this page if you decide to book a stay.
---
---
Best Downtown Las Vegas hotels
Downtown Grand Hotel & Casino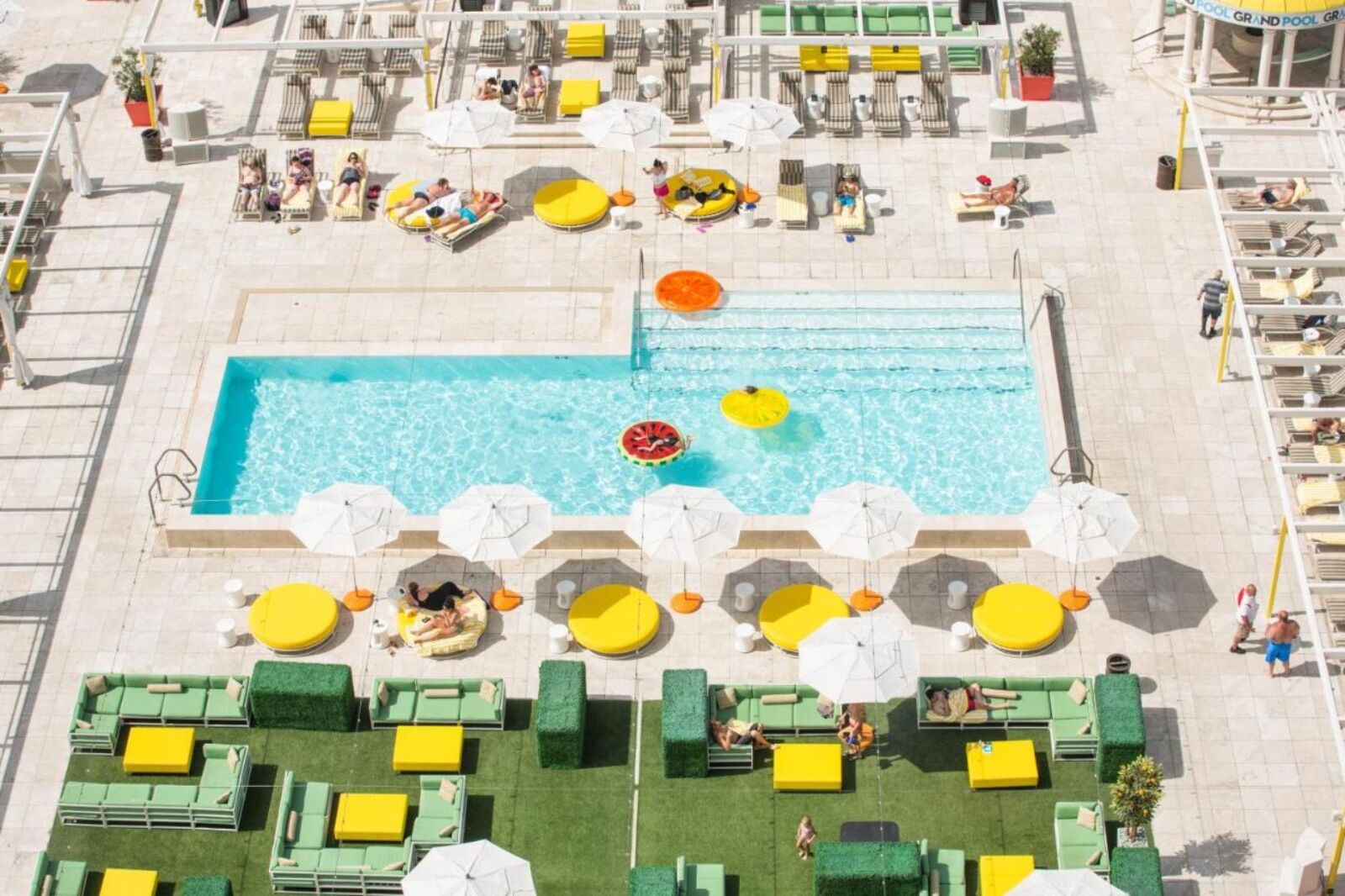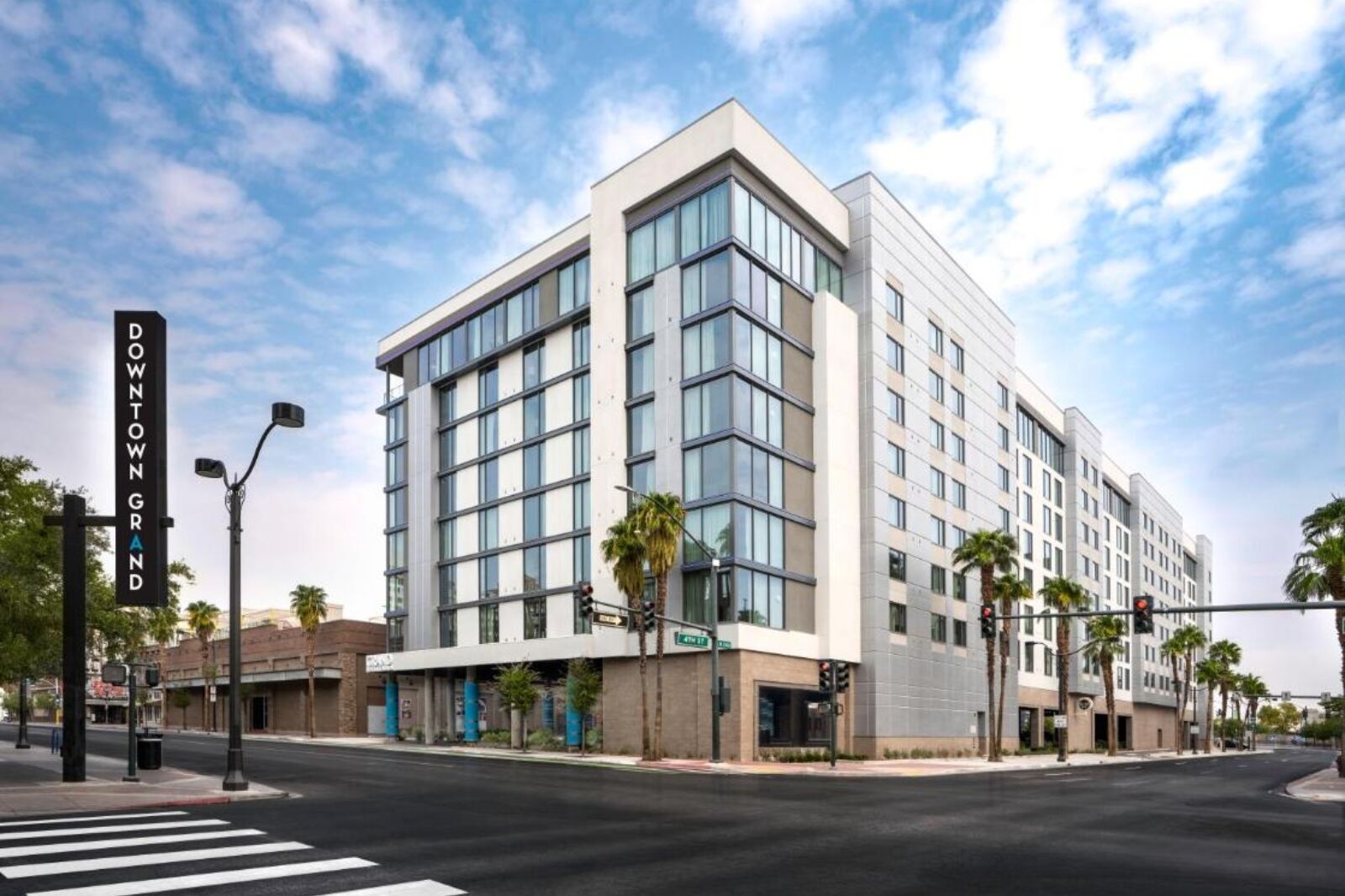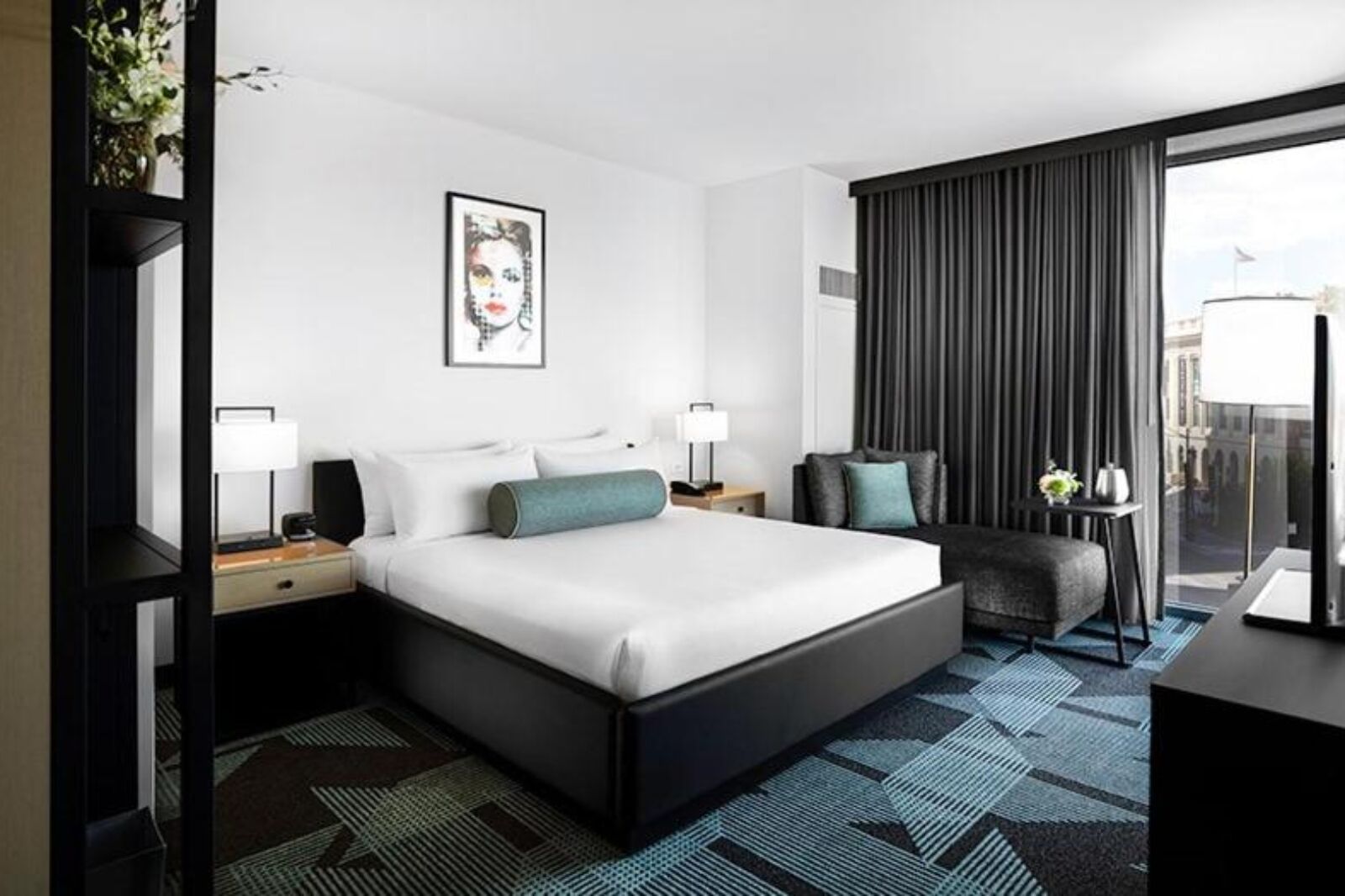 See more photos
Downtown Grand is the perfect place to stay for those looking for an authentic Las Vegas experience. With its close proximity to the city's commercial center and entertainment district, guests can easily access all that Downtown has to offer.
The Citrus Grand Pool Deck, the largest pool deck in all of Downtown Las Vegas, is stunning with colorful parasols, lounge chairs, and a garden area. The hotel offers room packages such as the "Stay & Play" which includes extras such as free gaming credits. There are also multiple onsite dining options including the Triple George Grill, a classic steak house offering perfectly dry-aged steak and seafood dishes.
Cost per night: $240
Downtown Grand Hotel & Casino: 206 North 3rd Street , Las Vegas, NV 89101
Plaza Hotel & Casino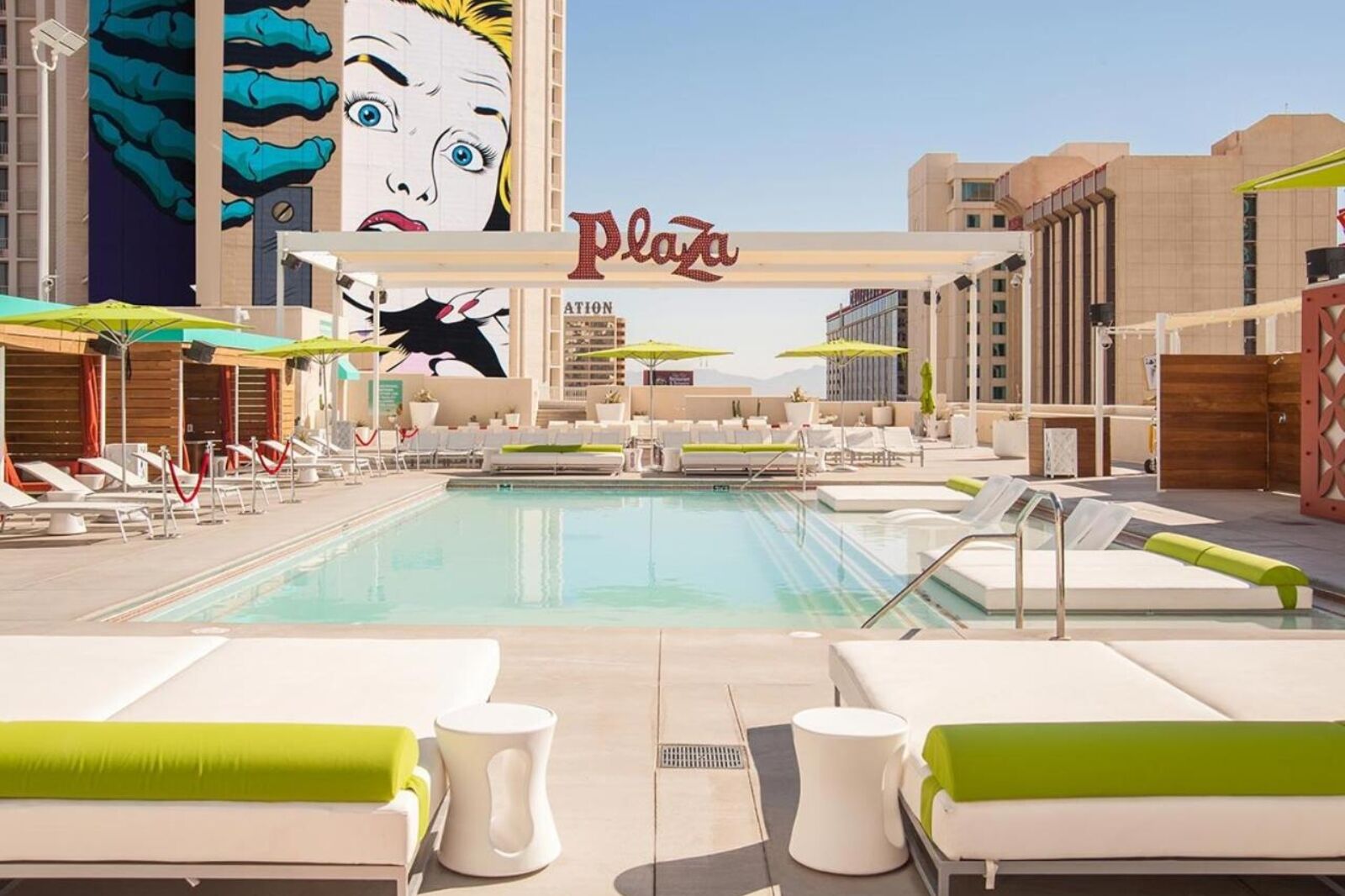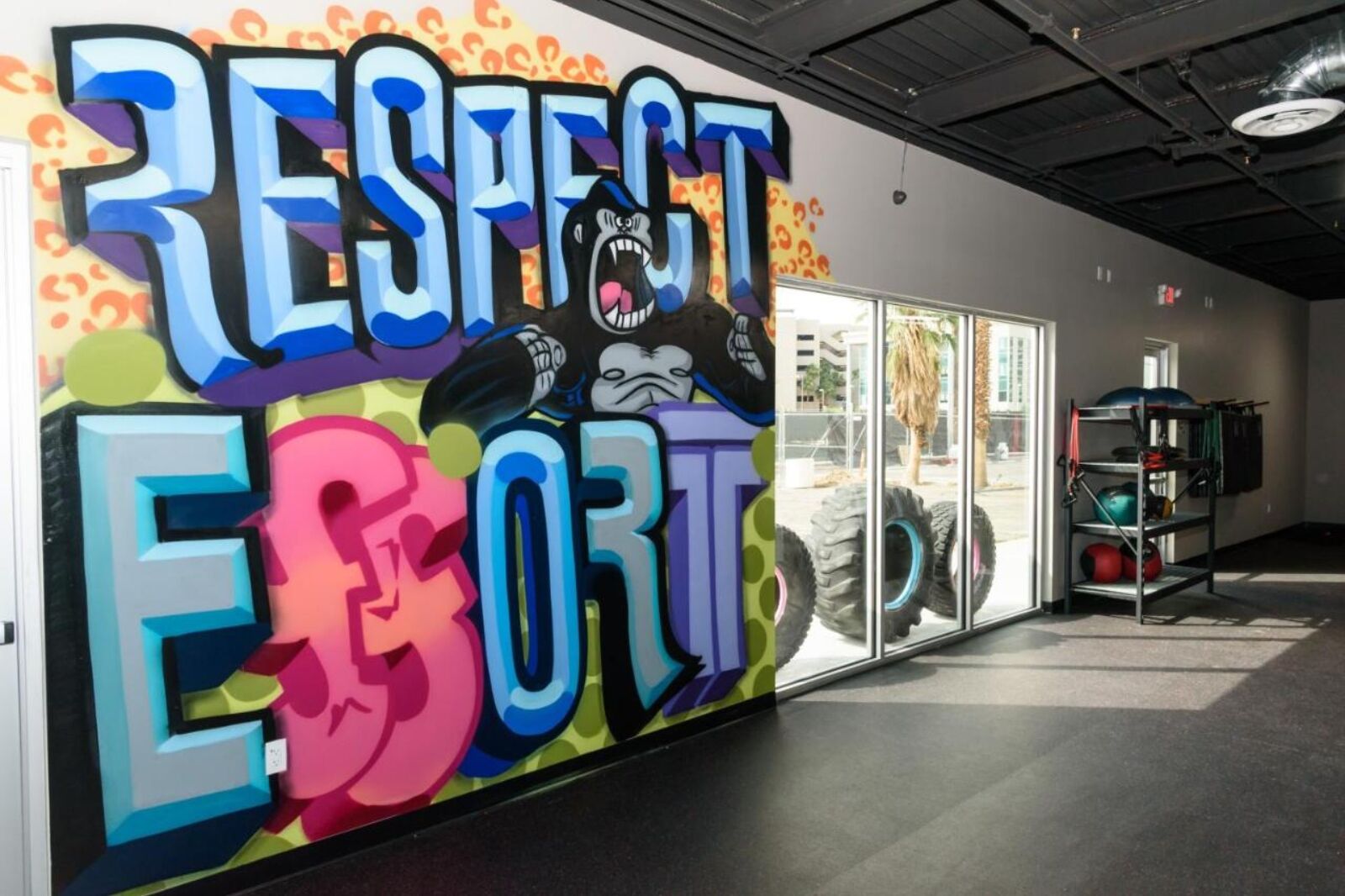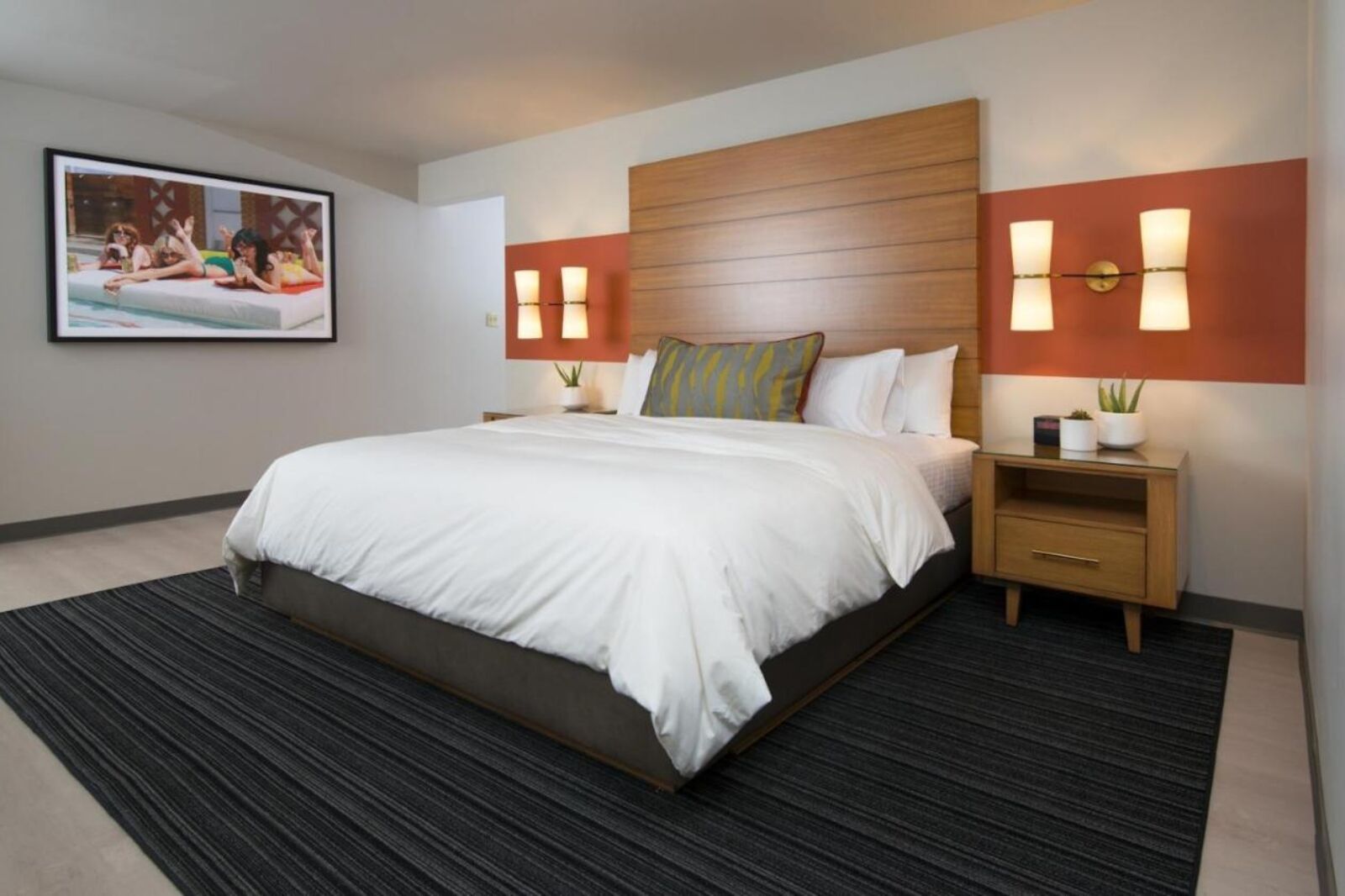 See more photos
Plaza Hotel is conveniently situated at the beginning of the Fremont Street Experience and just a few blocks away from the Strip. The hotel is hard to miss with its iconic dome that lights up the night sky.
You can enjoy a variety of room types, from affordable standard guest rooms to luxurious suites. The upgraded Deluxe Suites offer additional amenities like separate living and dining areas, wet bars, Egyptian cotton linens, and views of downtown Las Vegas. Although there's a lot to explore nearby, the hotel will keep you busy with a large casino, slots and table games, a race and sportsbook, a bingo hall, a keno lounge, and an outdoor pool.
Cost per night: $196
Plaza Hotel & Casino: 1 Main Street , Las Vegas, NV 89101
Downtown boutique hotel Las Vegas
Downtowner Boutique Hotel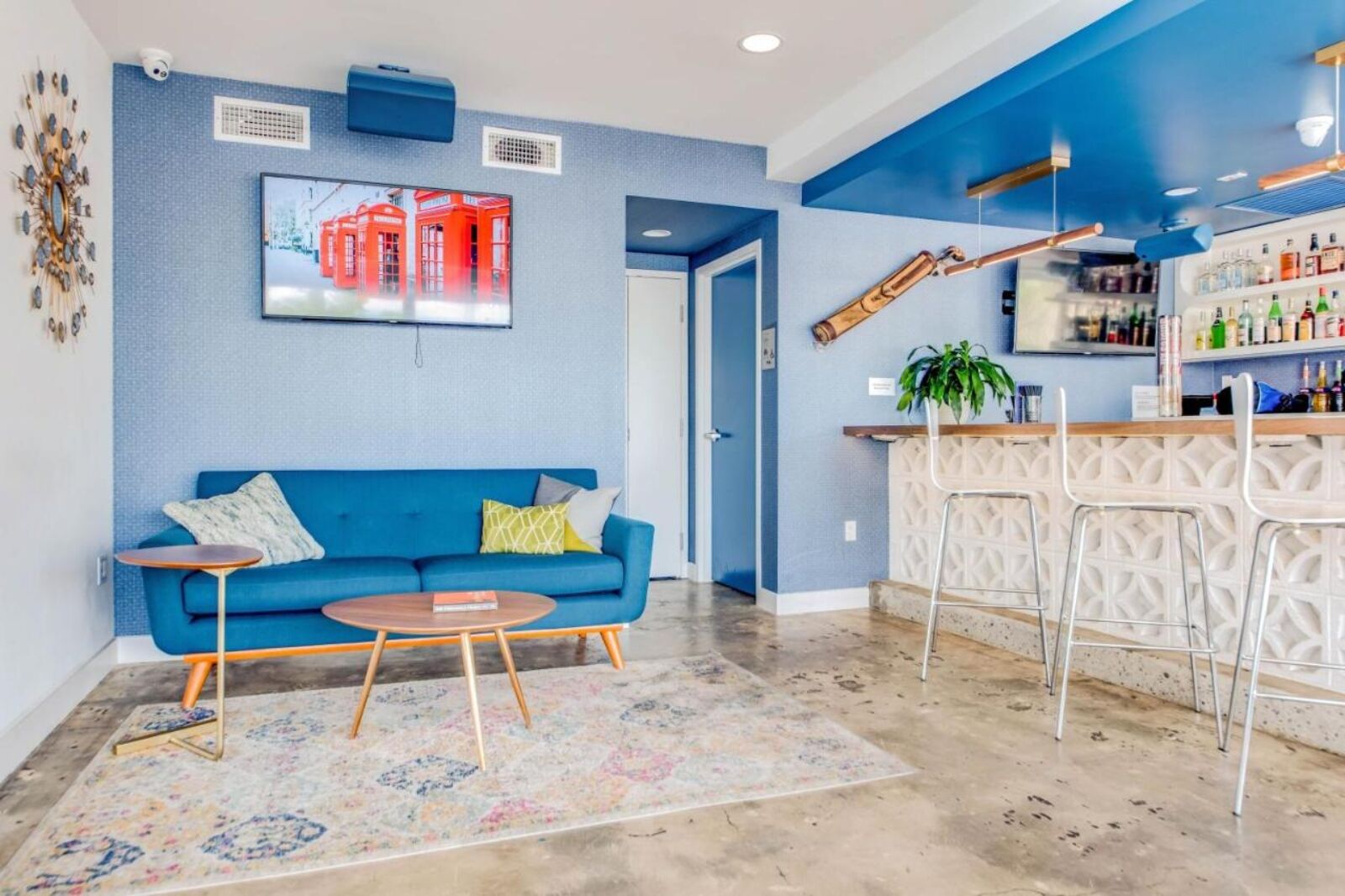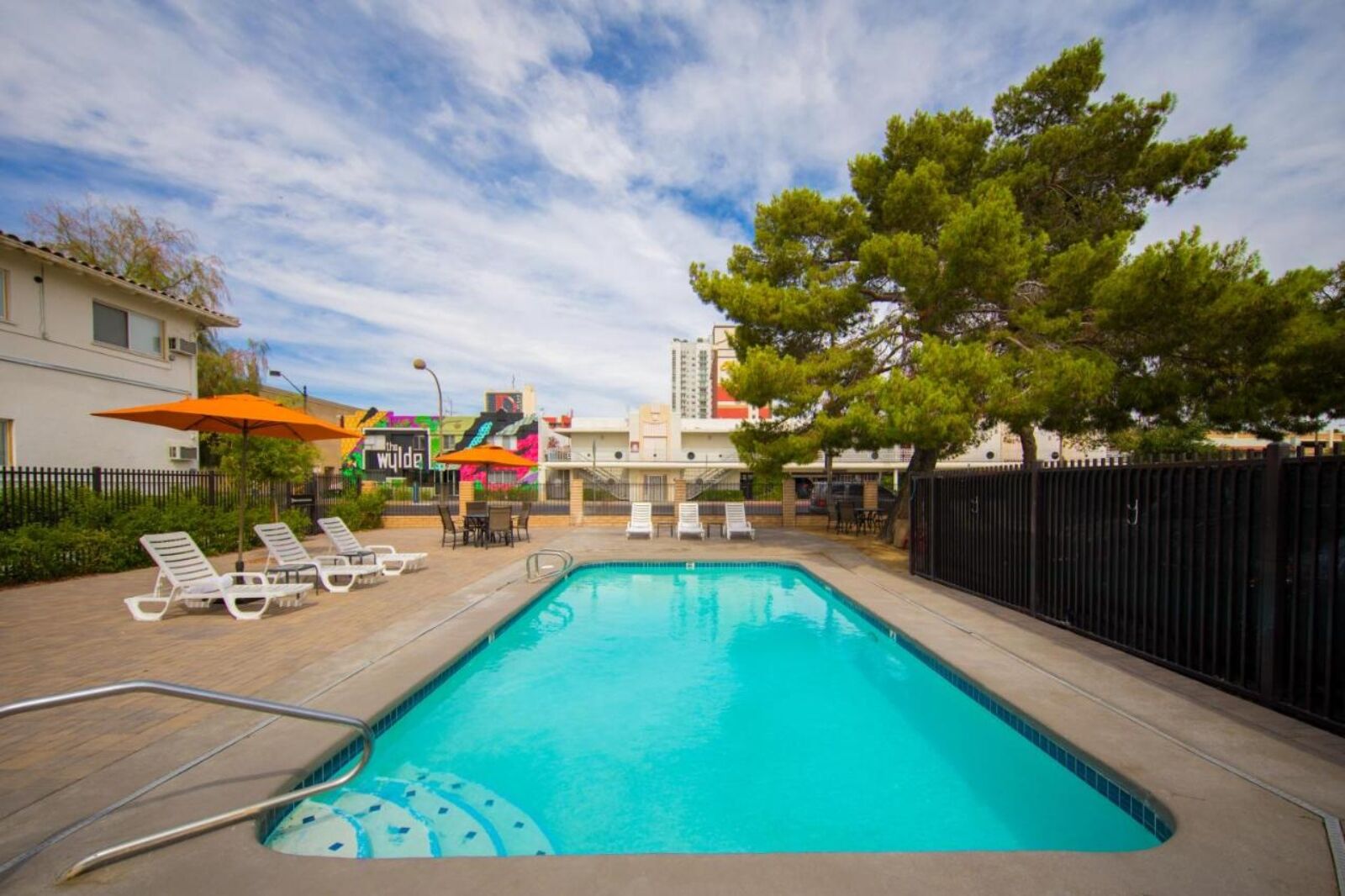 See more photos
Downtowner has recently been remodeled with a mid-century modern motel style and is situated close to many popular restaurants, casinos, and nightlife spots. Guests can choose from standard rooms, suites, or, for those who need more space and a kitchen, there are apartments. This is not only an affordable option but it's got a lot more character than the large Downtown hotels.
Cost per night: $70
Downtowner Boutique Hotel: 129 North 8th Street, Las Vegas, NV 89101
Cheap hotels Downtown Las Vegas
El Cortez Hotel & Casino
See more photos
Conveniently situated within the Fremont East Entertainment District, making it easy to access all of the city's attractions, El Cortez Hotel & Casino has historic charm and budget-friendly rates. All rooms are clean and comfortable and come with all the amenities you'd expect from a hotel of this standard. If you are traveling with a group and want to upgrade look at the Tower Premium rooms. They have two queen-sized beds and views of either the north or south side of Las Vegas. Note you have to be over the age of 21 to stay at this hotel.
Cost per night: $60
El Cortez Hotel & Casino: 600 East Fremont, Las Vegas, NV 89101
The D Las Vegas
See more photos
The hotel and casino offer two floors of gaming, a top-rate steakhouse, amazing hot dogs, and a great lineup of entertainment. The D is sprawling, with 629 rooms and suites, which means not only will you get a decent rate — even last minute — but you can choose from a selection of sized accommodations with varying amenities. There's nothing particularly special about the decor, it's somewhat dated with the hotel's iconic red color pallet dominating the space, but they are comfortable and some have views over Downtown.
Cost per night: $58
The D Las Vegas: 301 East Fremont Street, Las Vegas, NV 89101
Hotels near Downtown Las Vegas
Four Seasons Hotel Las Vegas
See more photos
The Four Seasons is only a few miles away from Downtown Las Vegas and the airport. It occupies one of the best locations in the city and has some of the largest suites and outstanding service and amenities. It's often rated as the best all-rounder hotel. Yes, it comes with a hefty price tag, but you get your money's worth.
Each room offers mountain and city views, as well as five-star amenities, and marble bathrooms with huge soaking tubs. Guests can also enjoy access to the 24-hour fitness center, pool deck with private cabanas, and one of the best spas in the city offering signature treatments.
Cost per night: $648
Four Seasons Hotel Las Vegas: 3960 Las Vegas Boulevard, Las Vegas Strip, Las Vegas, NV 89119
Waldorf Astoria Las Vegas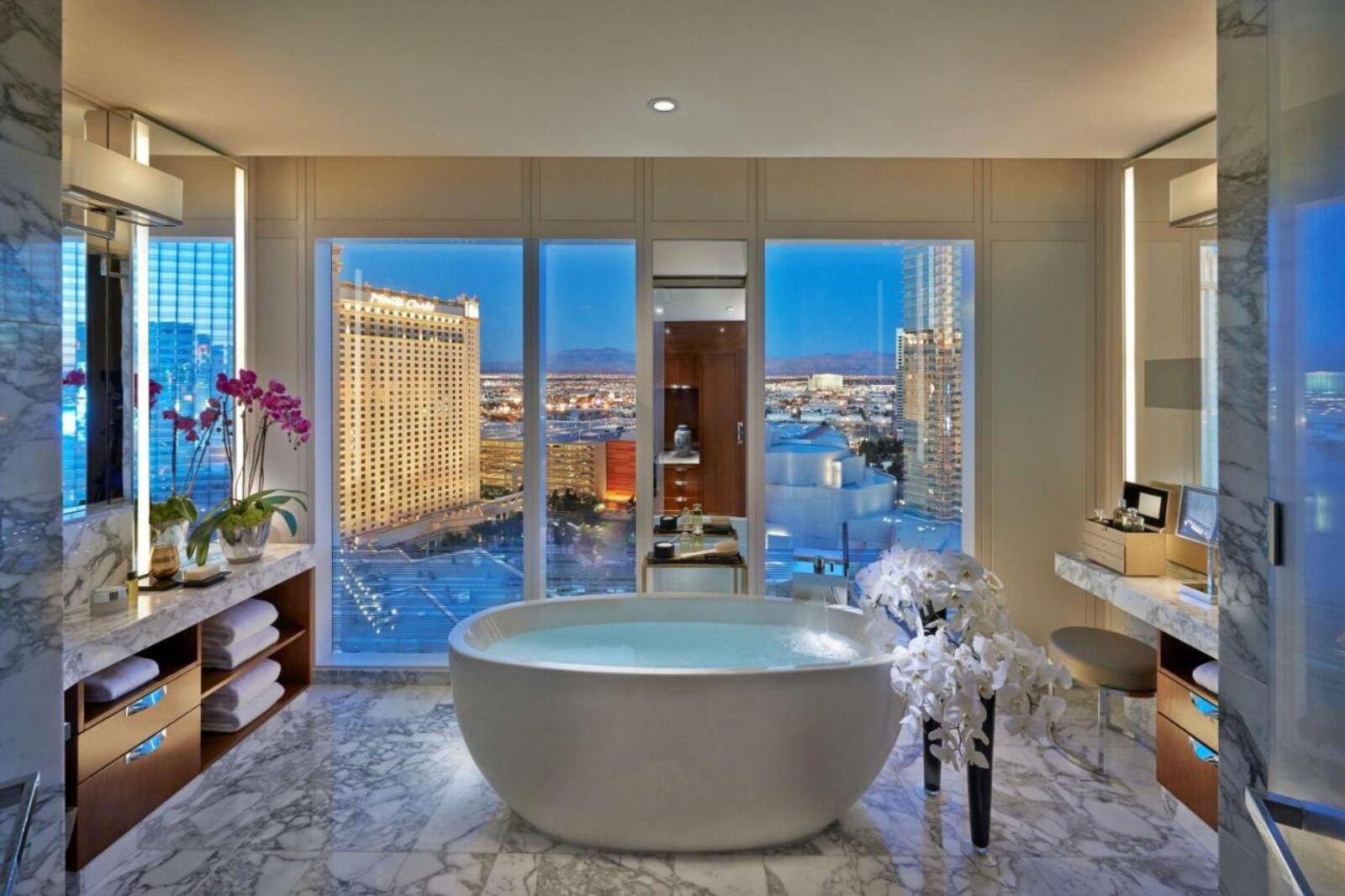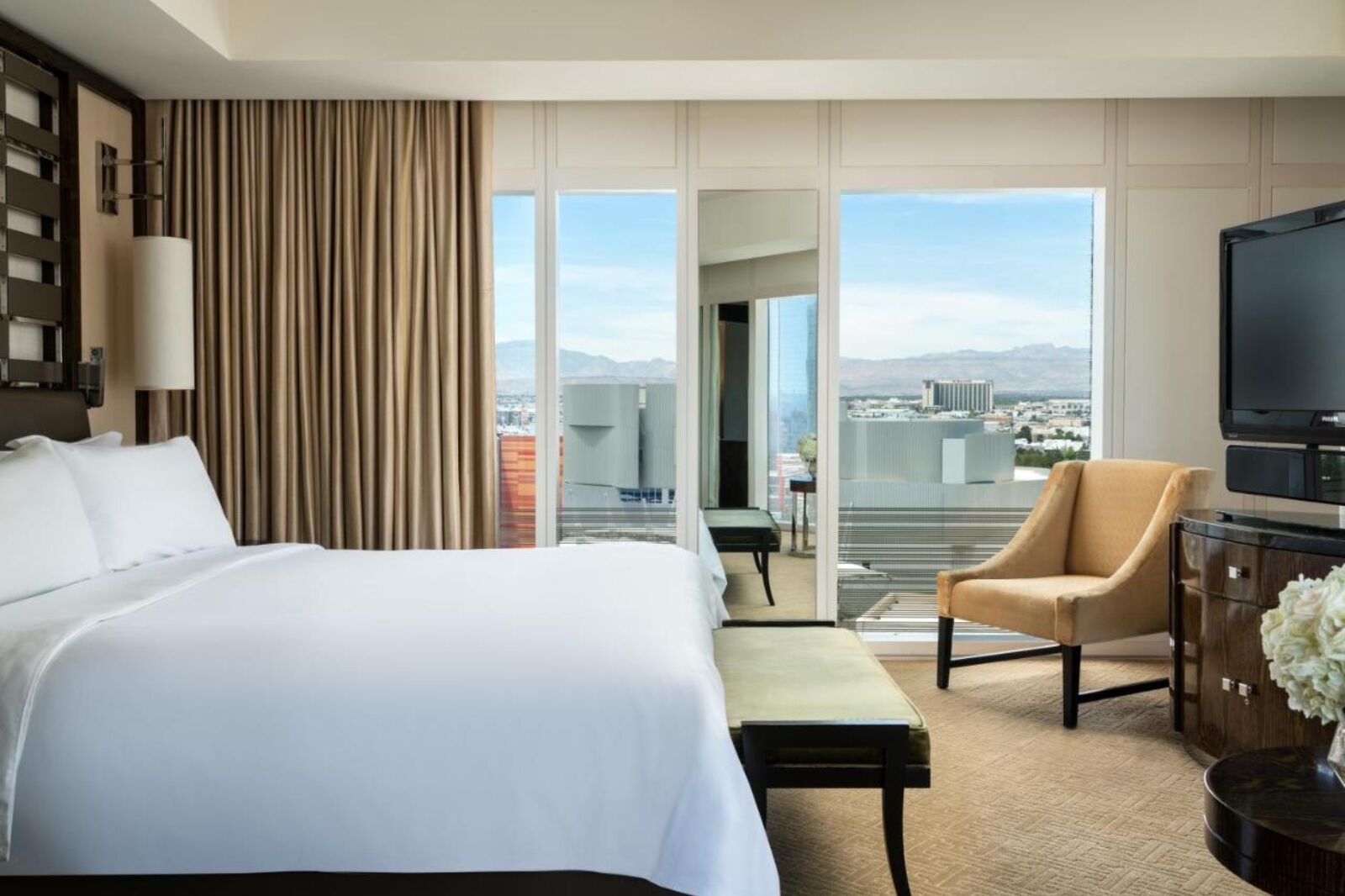 See more photos
The Waldorf Astoria is not messing around either. The five-star is just a 10-minute walk from the MGM Grand Garden Arena and minutes away from Downtown. The 47-story luxury hotel was formerly known as the Mandarin Oriental but was rebranded in 2019 to become the first Waldorf Astoria property in Nevada.
The hotel is famed for its extensive two-floor spa with five-star treatments, a modern gym with a yoga room, and breathtaking views. Offering a tranquil atmosphere away from the lights of Downtown, the Waldorf has a variety of suites that come with separate living areas, dining tables, and private balconies.
Cost per night: $437
Waldorf Astoria Las Vegas: 3752 Las Vegas Boulevard South, Las Vegas Strip, Las Vegas, NV 89158
Where is Downtown Las Vegas in relation to the Strip?
It is located just north of the Strip. It is a relatively short journey, depending on traffic and where you start. It typically takes around 10 minutes by car or taxi, or you can take the bus or walk. The Deuce bus runs 24/7 and has several stops along the Strip, making it an easy way to get between the two.
Is it worth staying on Fremont Street?
Yes if you're looking for an authentic Vegas experience. Located in the heart of Downtown, Fremont Street is home to some of the city's most famous hotels, casinos, and entertainment venues.
Which is better: Fremont Street or the Strip?
The debate of whether Fremont Street or the Strip is better is a tough one. On the one hand, the Strip offers larger and more modern casinos with plenty of entertainment options. On the other hand, Fremont Street has been around since 1905 and has a certain charm to it that can't be found elsewhere. Fremont Street also offers cheaper drinks and gambling options. It's also much more walkable than the Strip, making it easier to explore all of its attractions.
What did you think of this story?