The 8 Best Hotels in Edinburgh Close To the Must-See Sights
Edinburgh is home to some of the best hotels in Scotland. It's also one of the few capital cities in Europe where you can walk between neighborhoods. That means, regardless of where you choose to stay, you will be in a central location. However, the Edinburgh hotels selected here have prime real estate. Ranging from iconic five-star institutions to new apartment hotels, all are within strolling distance from the city's major attractions, shops, restaurants, and historic landmarks.
For luxury accommodation, The Balmoral hotel offers five-star service and stunning views of Edinburgh Castle. If you're looking for something more budget-friendly, Eden Locke has a range of apartments that are perfect for both business travelers and families. Alternatively, Apex City of Edinburgh Hotel provides modern and comfortable rooms in an unbeatable location close to Edinburgh Castle and Princes Street Gardens.
So lace up your boots and get ready to explore the beautiful, historic, Scottish capital city from the comfort of one of these special hotels
We hope you love the Edinburgh hotels we recommend! Just so you know, Matador may collect a small commission from the links on this page if you decide to book a stay.
The Balmoral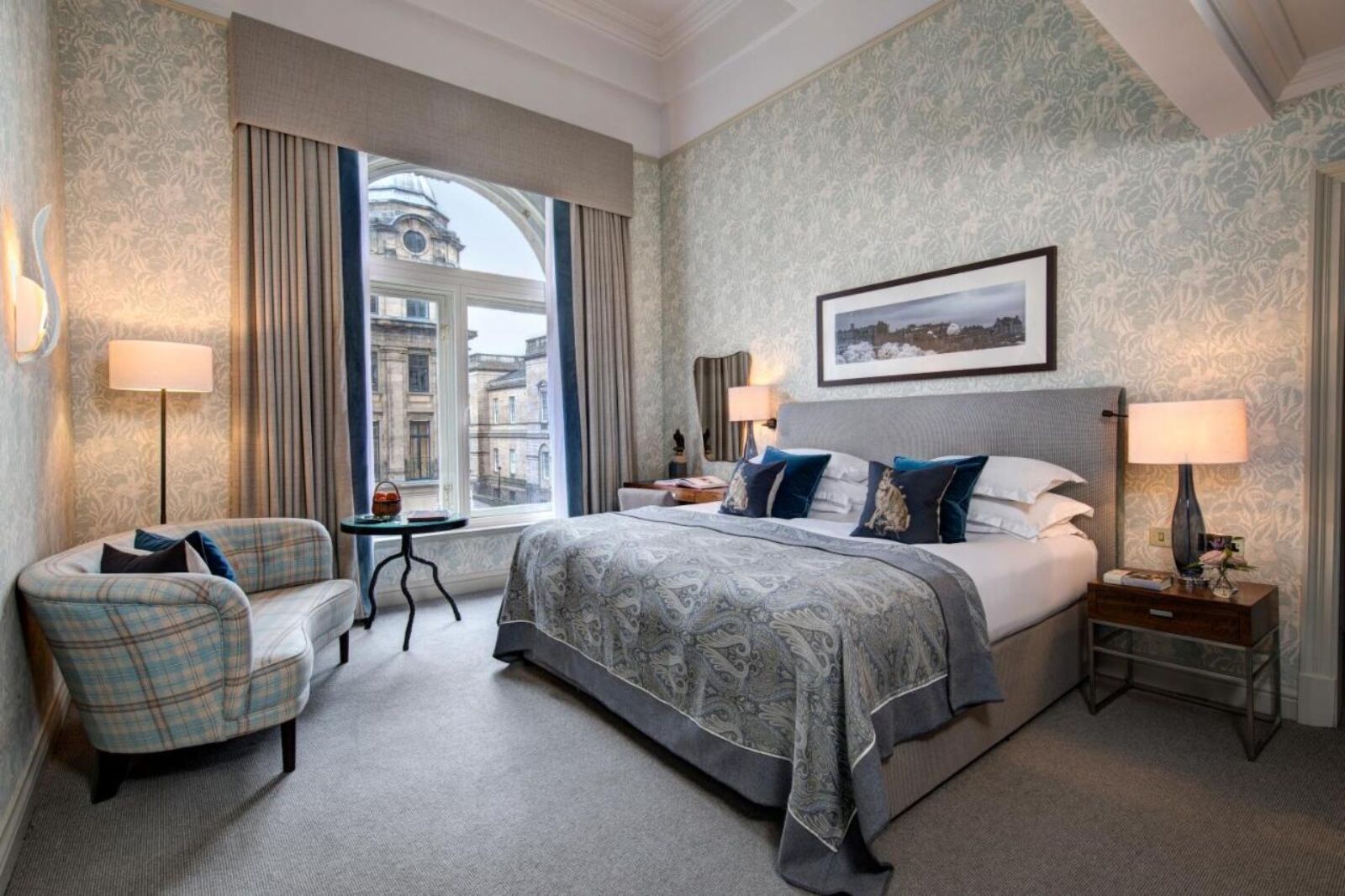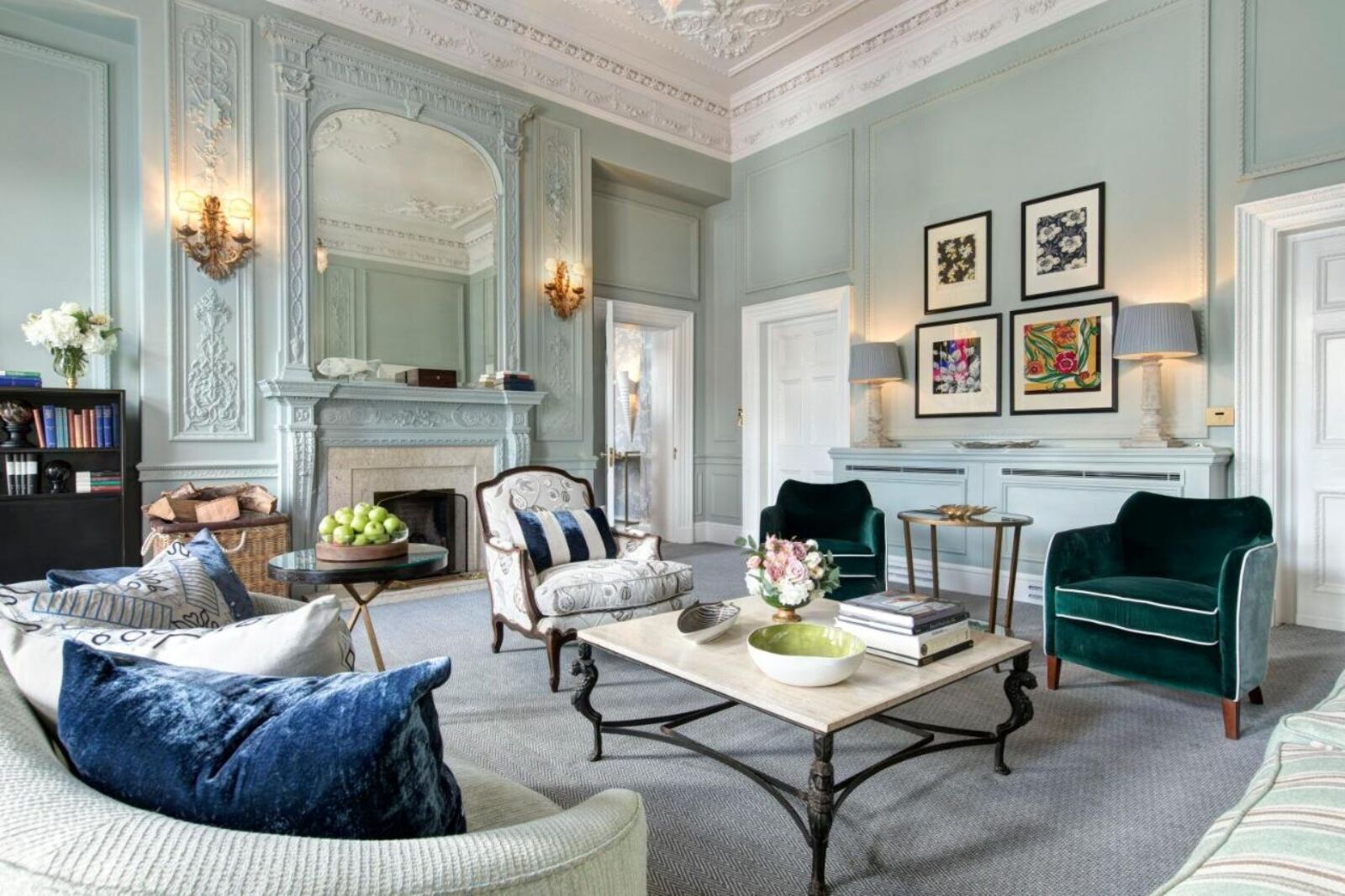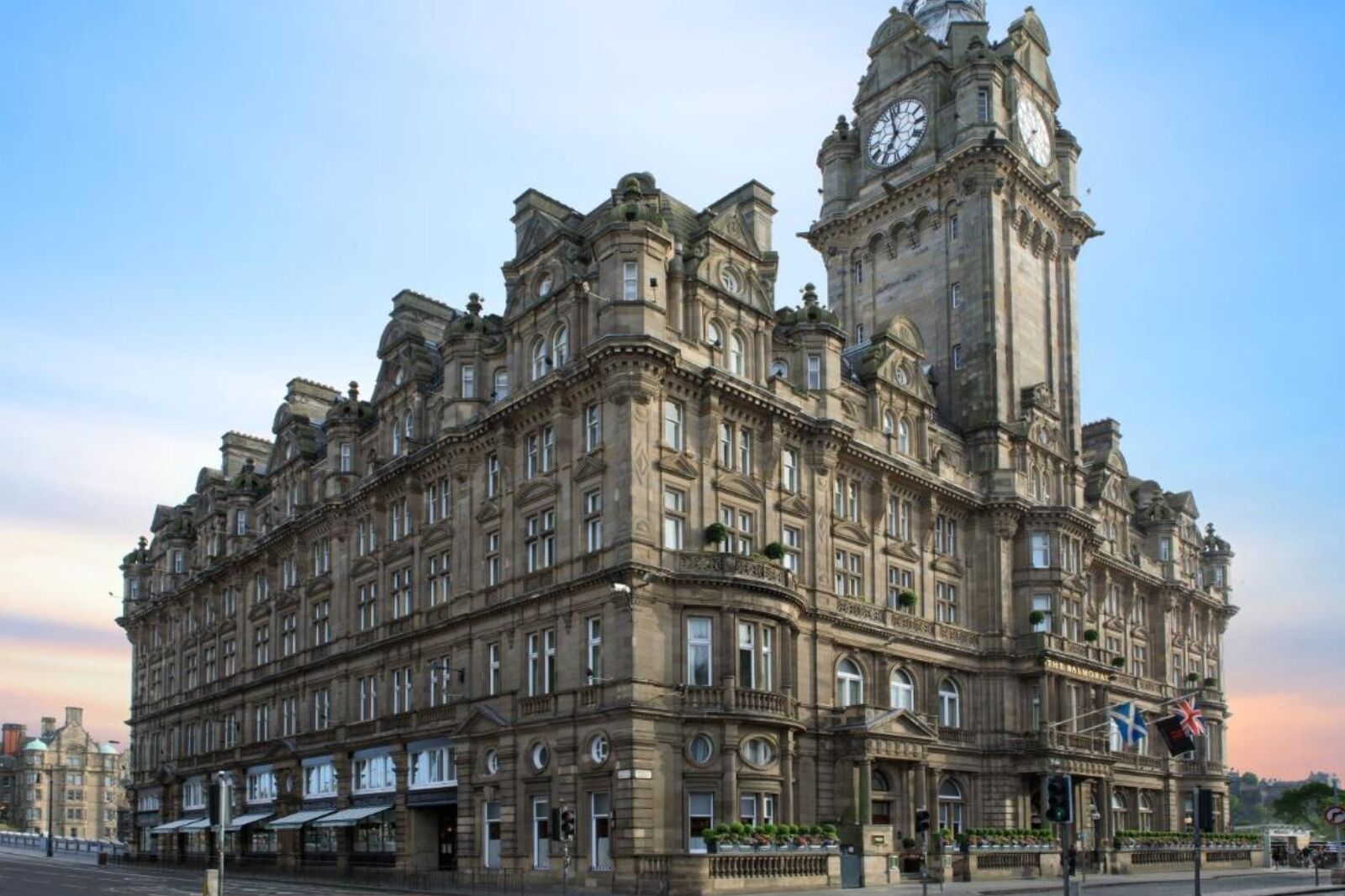 The Balmoral hotel has been an institution since it opened in 1902. The luxury five-star accommodation is in the city center and features the iconic clock tower, an impressive grand façade, and high ceilings, with lavishly designed rooms and suites.
The Balmoral is probably the most famous hotel in the city and is renowned for its hospitality. A favorite of A-listers such as Elizabeth Taylor and Paul McCartney, the 168 rooms and 20 suites blend contemporary Scottish with Italian flair. Many of the rooms have views of the towering Edinburgh Castle and the Old Town.
The centrally located hotel is also popular with locals for afternoon tea at the Palm Court, dinner at Michelin-starred Number One, cocktails at Bar Prince, and a dram at the world-class whisky bar at SCOTCH.
Key aminities
24-hour room service and concierge services.
Luxurious spa with steam rooms, swimming pool, and saunas.
Fitness center featuring cardio equipment and free weights.
Fine-dining restaurants serving the best local and international cuisine.
Complimentary WiFi.
In-room mini bars stocked with snacks, drinks, and alcoholic beverages.
Cocktail bar with city views.
Where: 1 Princes St, Edinburgh EH2 2EQ
Apex City of Edinburgh Hotel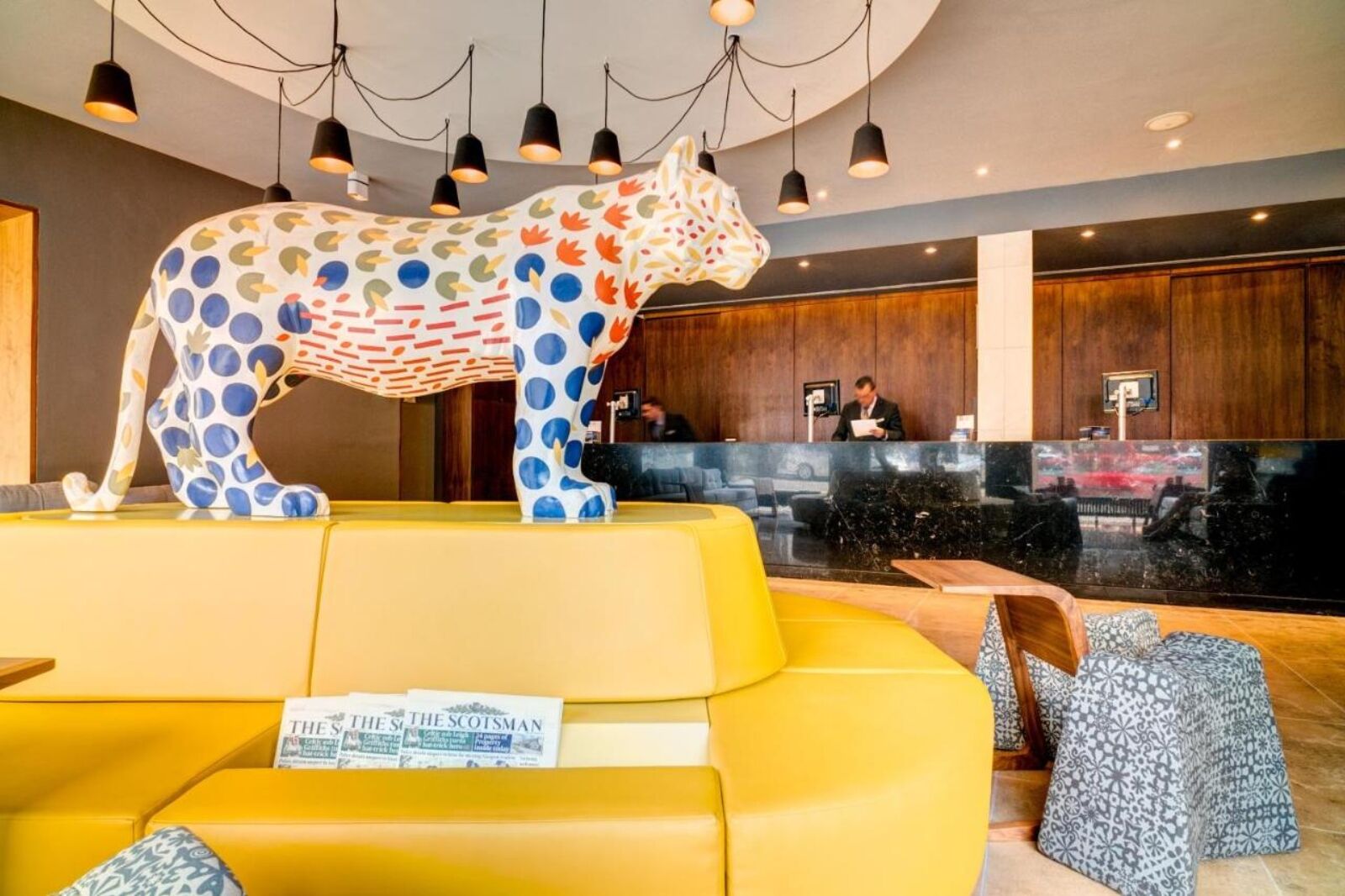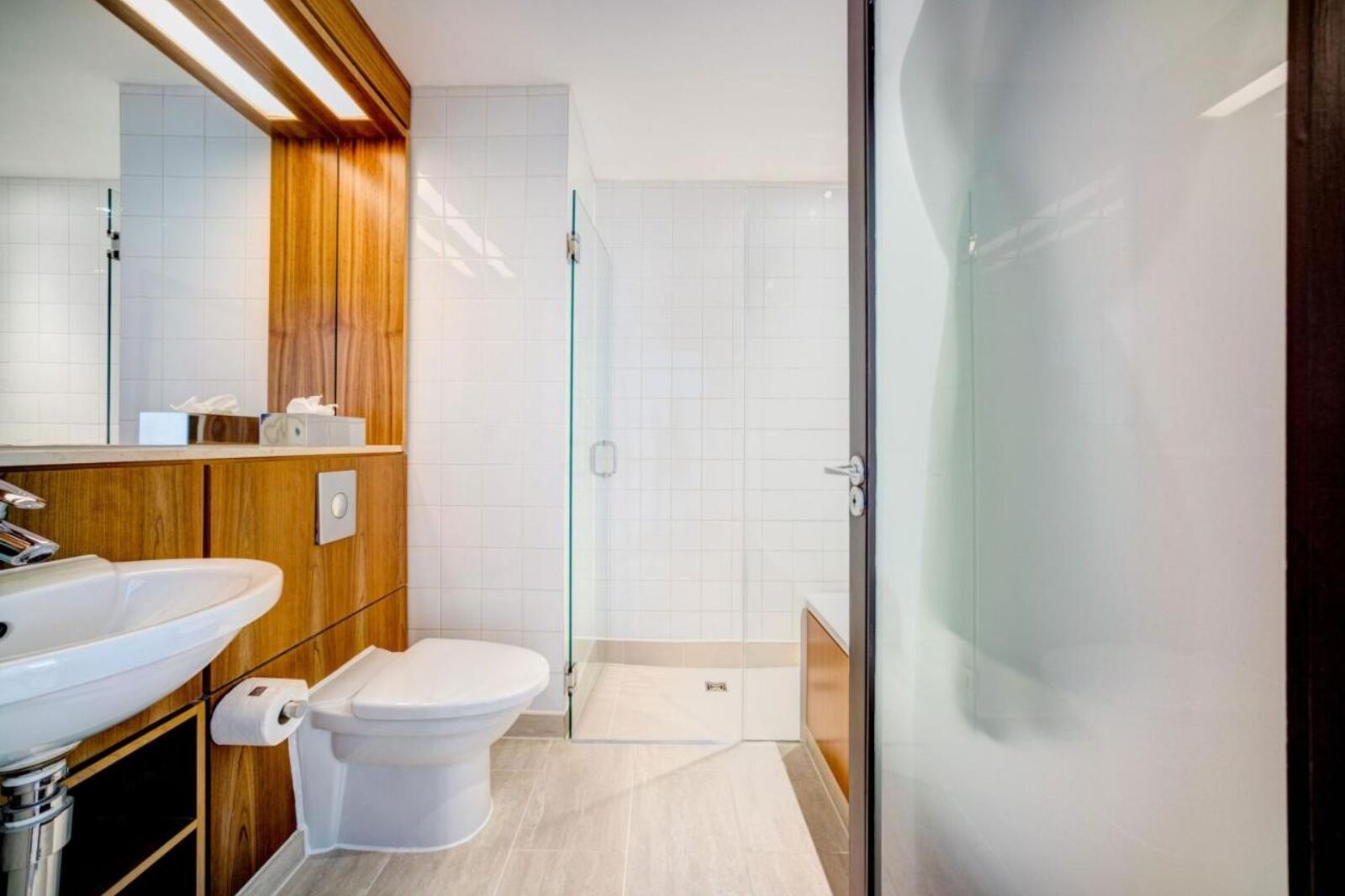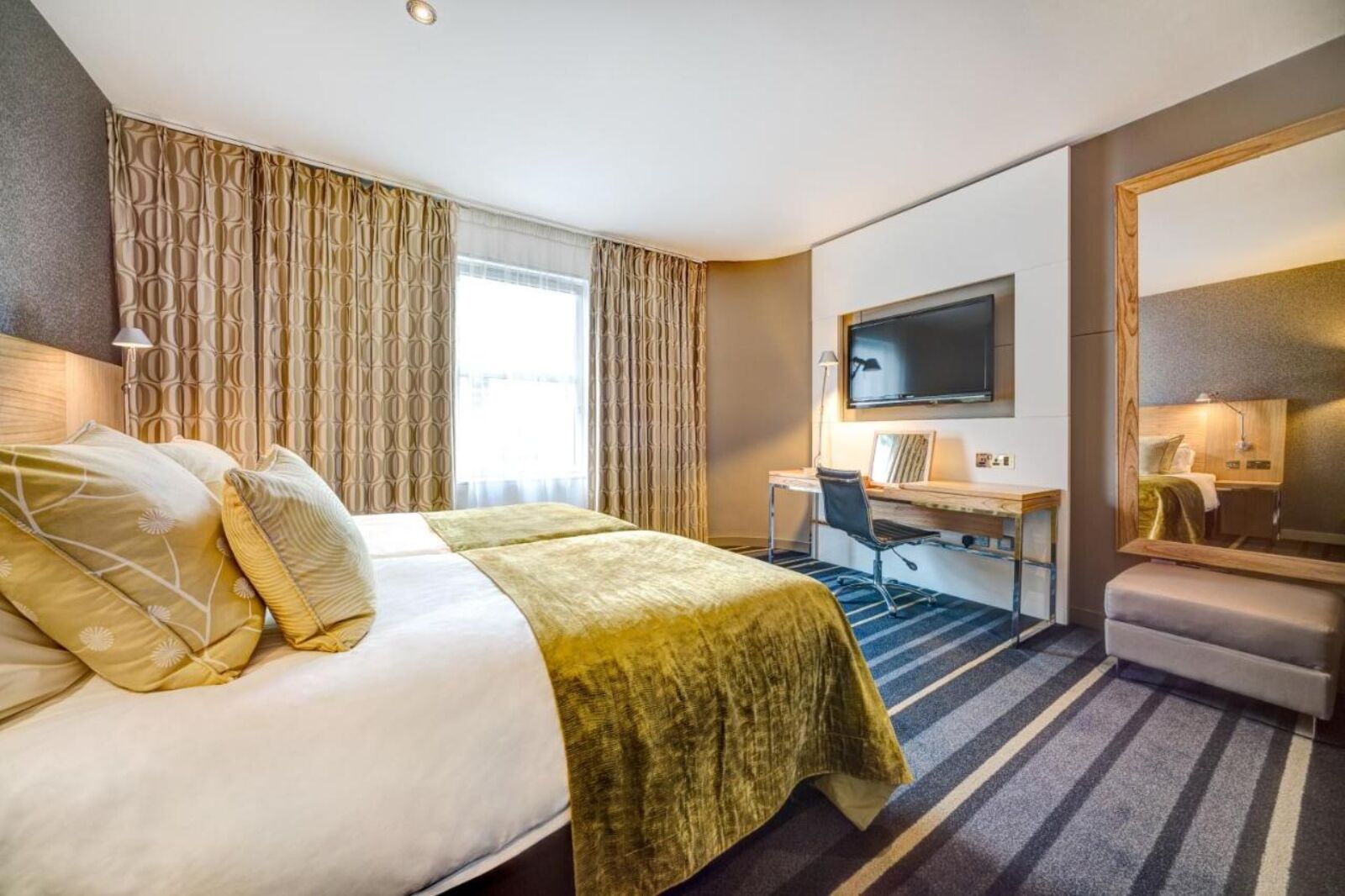 The Apex City of Edinburgh Hotel is another accommodation well-known for being reliable and centrally located. It was established in 2004 and quickly became known for its unbeatable service, exceptional facilities, and state-of-the-art amenities.
The hotel is conveniently in the heart of the city, minutes from The Royal Mile and within walking distance of shops and restaurants on Lothian Road. There are a variety of transport options within easy reach, including regular bus and tram services, as well as Waverley Train Station. For those traveling by car, there is secure parking available onsite.
The boutique bedrooms and spacious suites are dressed in rich textiles and have modern touches such as dedicated workstations and flat-screen TVs. Breakfast, lunch, and dinner can be enjoyed at the hotel's stylish restaurant Agua, which is also popular with Edinburgh locals.
Key aminities
24-hour room service
Complimentary WiFi.
Onsite restaurant and bar.
Luxurious spa and fitness center.
State-of-the art business facilities.
Where: 61 Grassmarket, Edinburgh EH1 2HJ
Radisson Collection Hotel, Royal Mile Edinburgh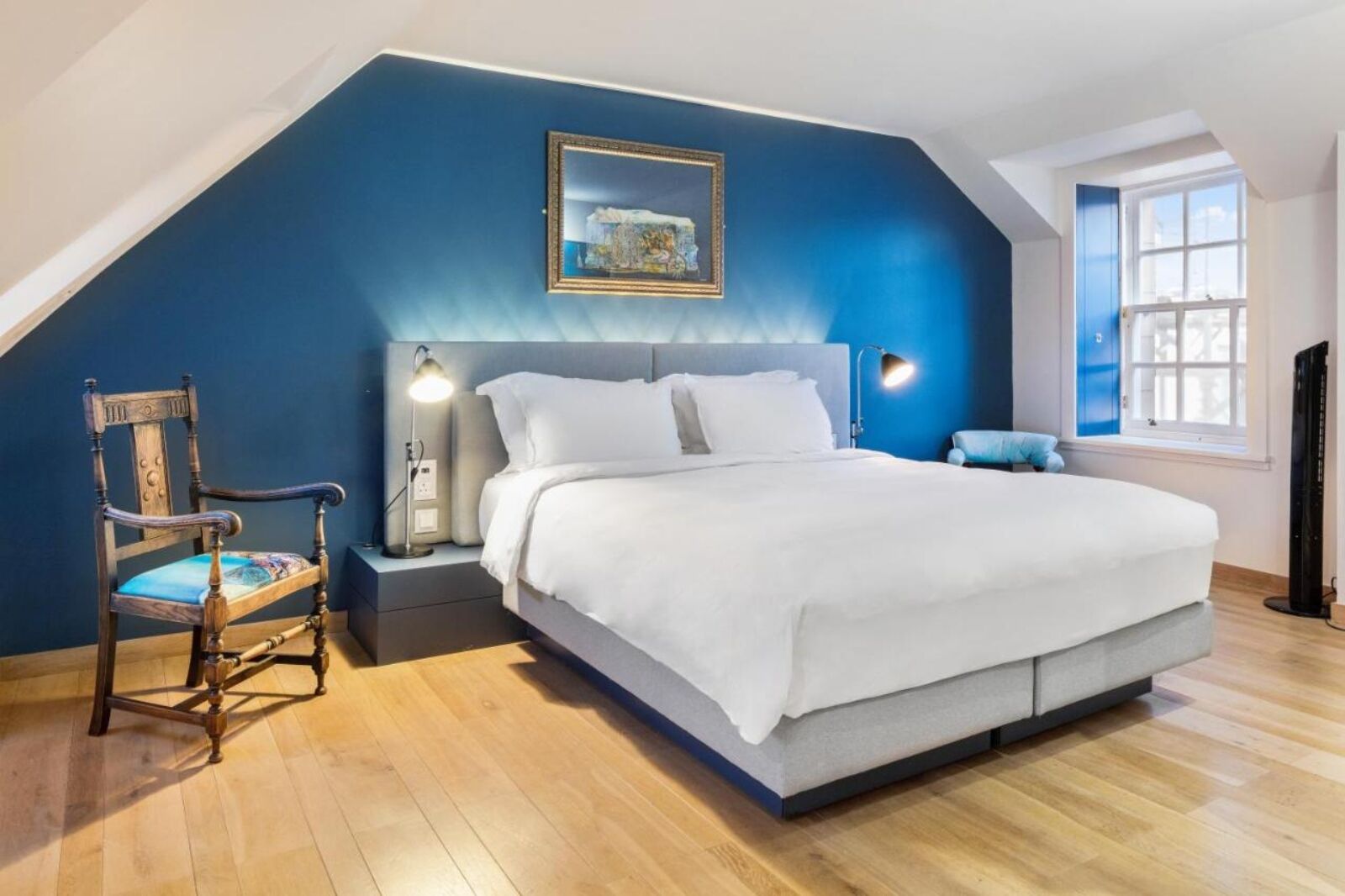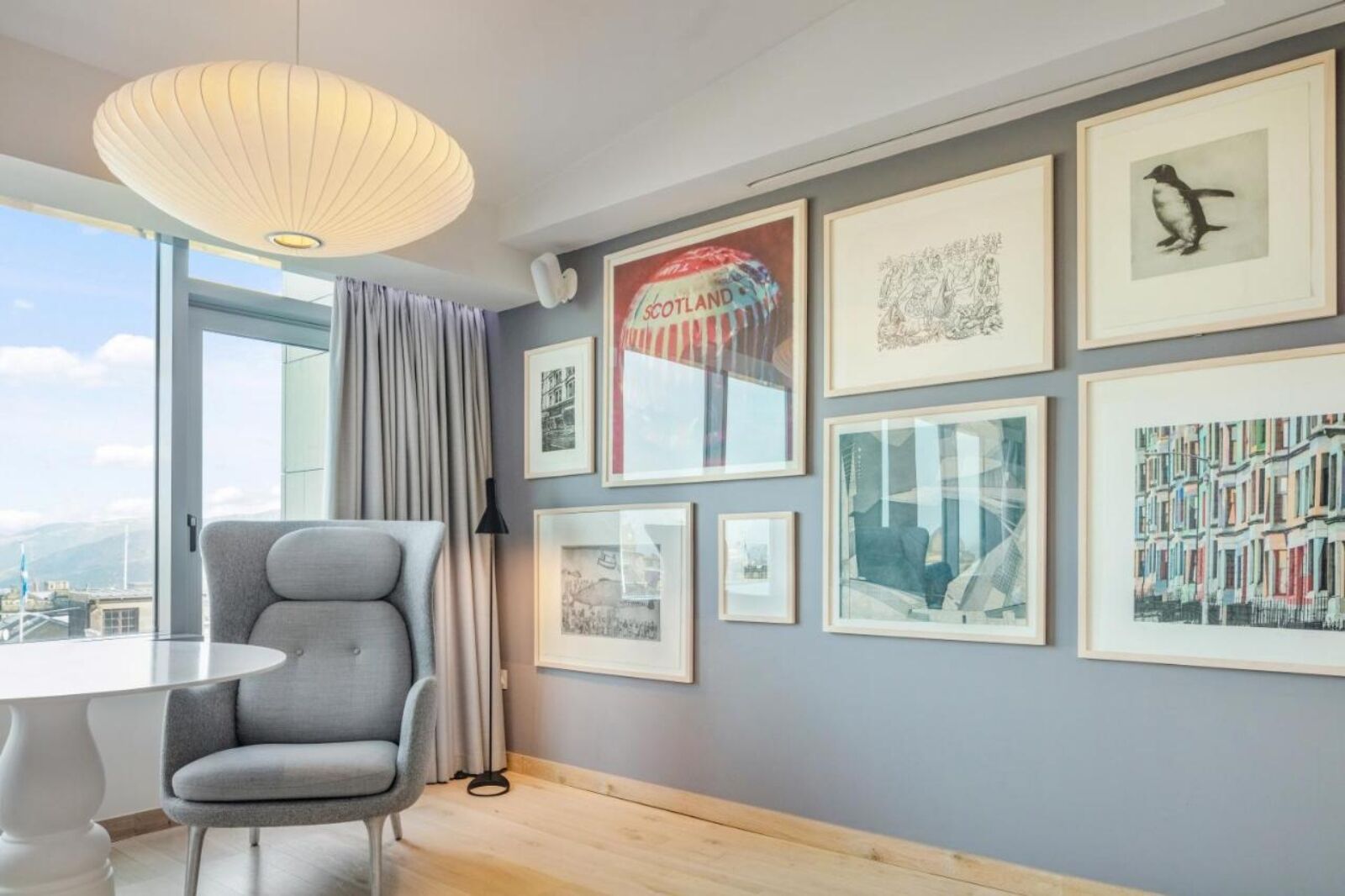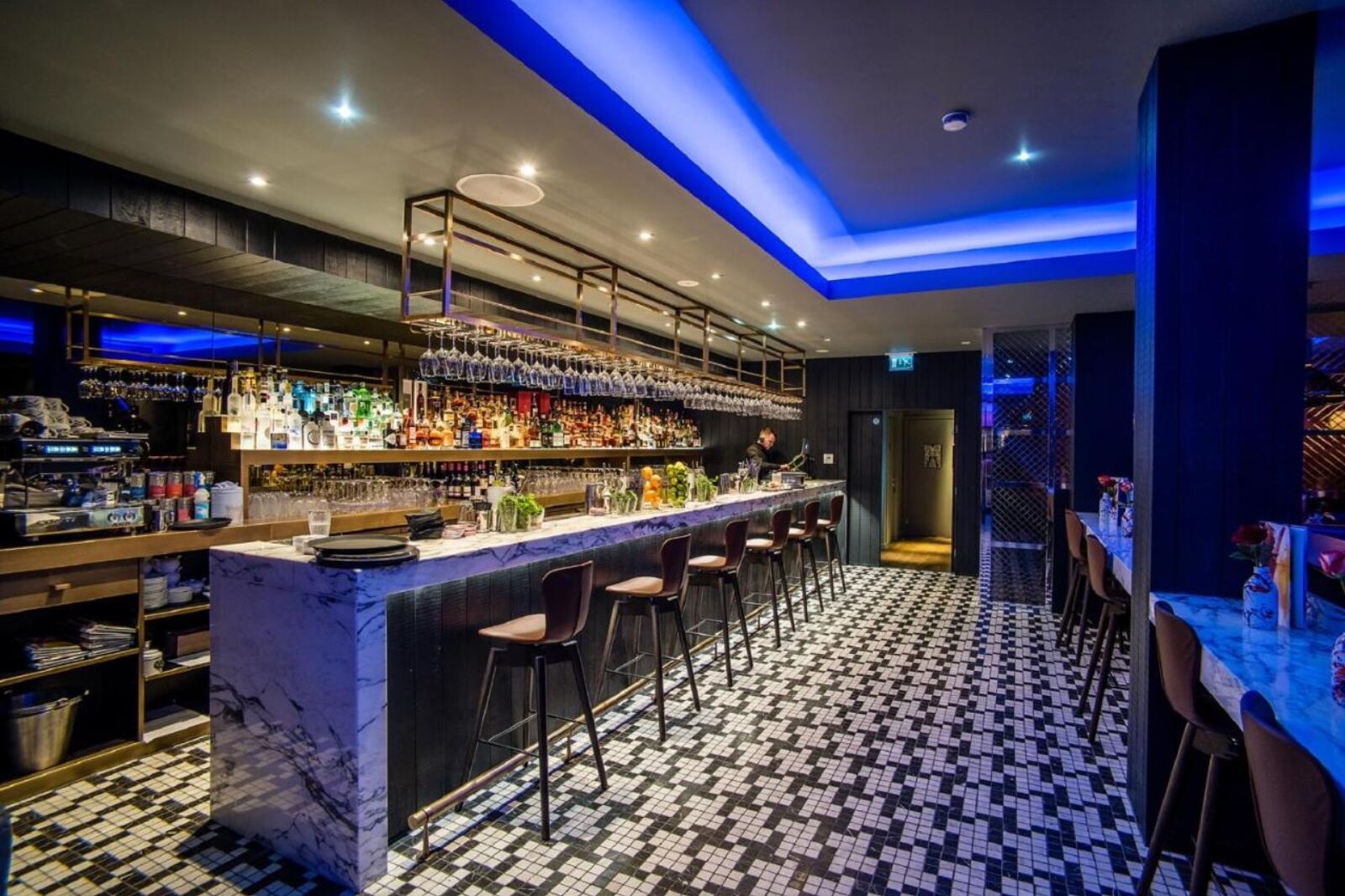 The Radisson Collection Hotel, Royal Mile Edinburgh overlooks the iconic Royal Mile. It's just a short walk from attractions such as Edinburgh Castle and Holyrood Park, and it's within easy reach of local restaurants, shops, bars, and galleries. Everything you will want to see and do in Edinburgh is close to hand, and it's five minutes from Waverly Train Station and airport links.
The hotel's design is contemporary Scotland and although its size — there are 136 rooms — it has an intimate feel. You'll be welcomed at reception with a gin and tonic (or non-alcoholic beverage) and staff will be close by throughout your stay. In fact, the hotel lacks any real signage, attentive staff lead the way. Although the amenities are not as extensive as other hotels mentioned, guests can use the nearby Radisson Blu hotel which has a pool and a wider range of treatments at the spa.
Key aminities
Complimentary WiFi.
24-hour fitness center.
Onsite bar and restaurant serving up delicious cuisine.
Business center with modern meeting spaces and equipment.
Concierge service offering assistance with local attractions and activities.
Allergy-friendly rooms available upon request.
Where: 1 George IV Bridge, Edinburgh EH1 1AD
Wilde Aparthotels by Staycity Edinburgh Grassmarket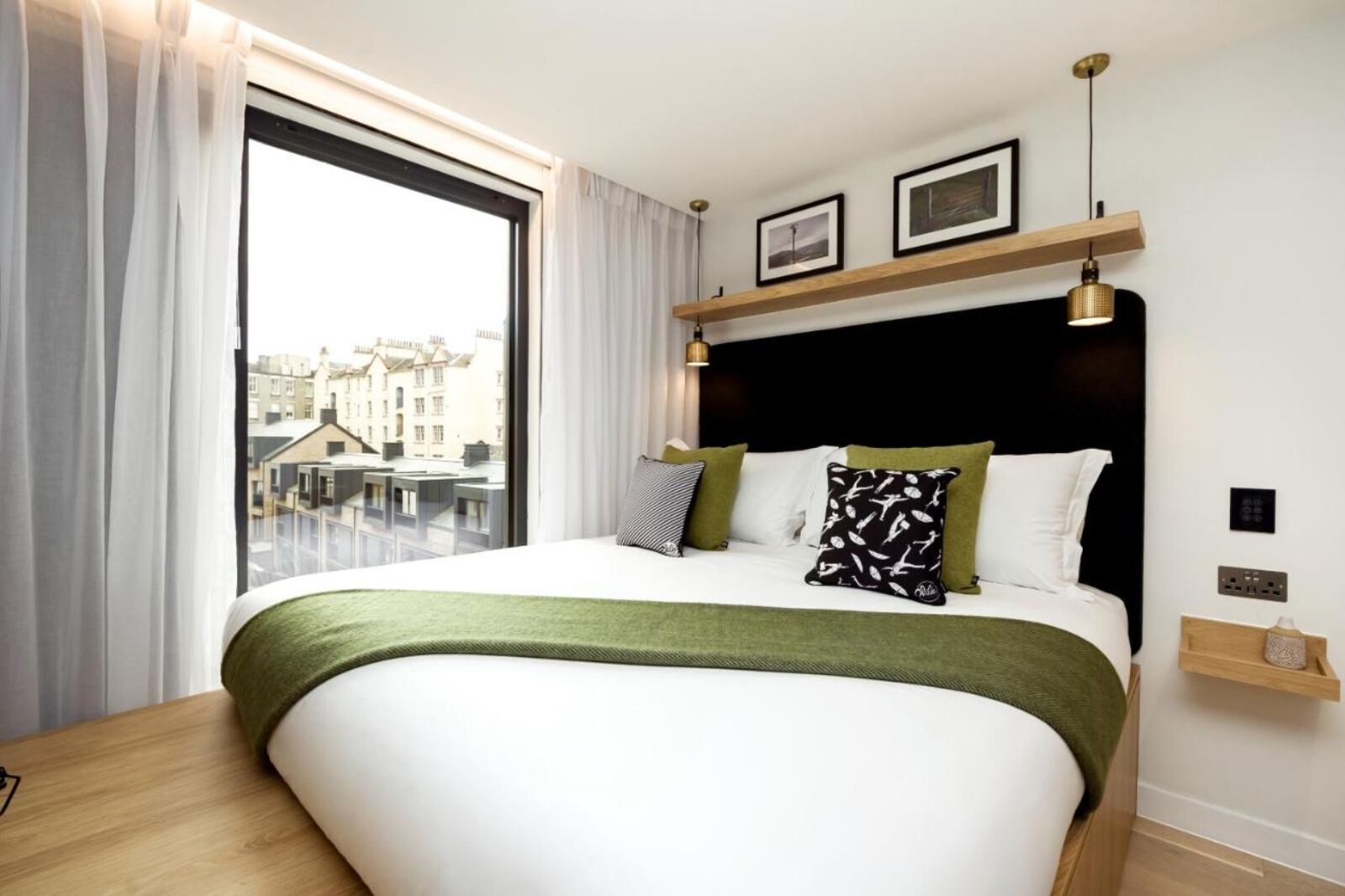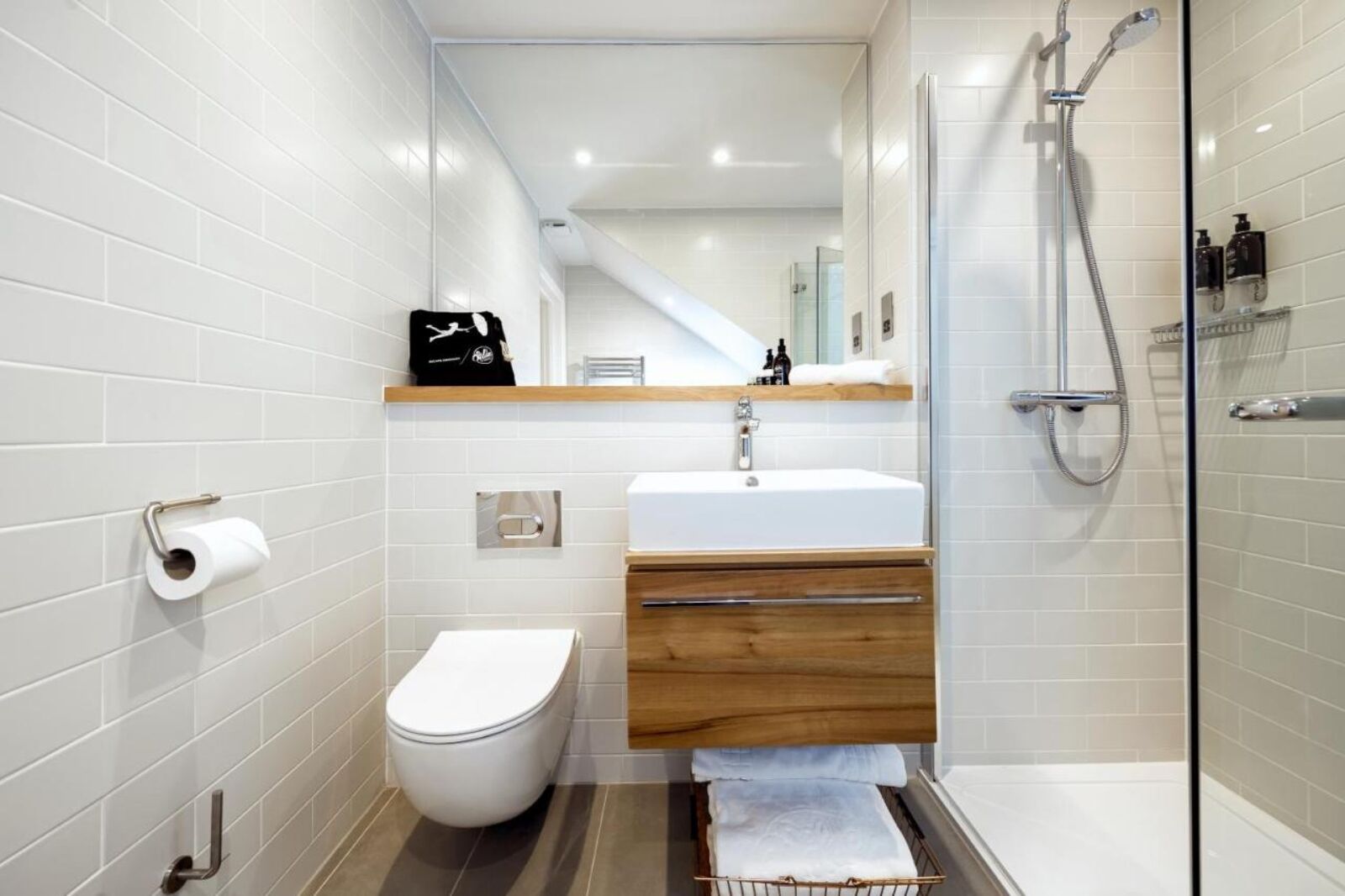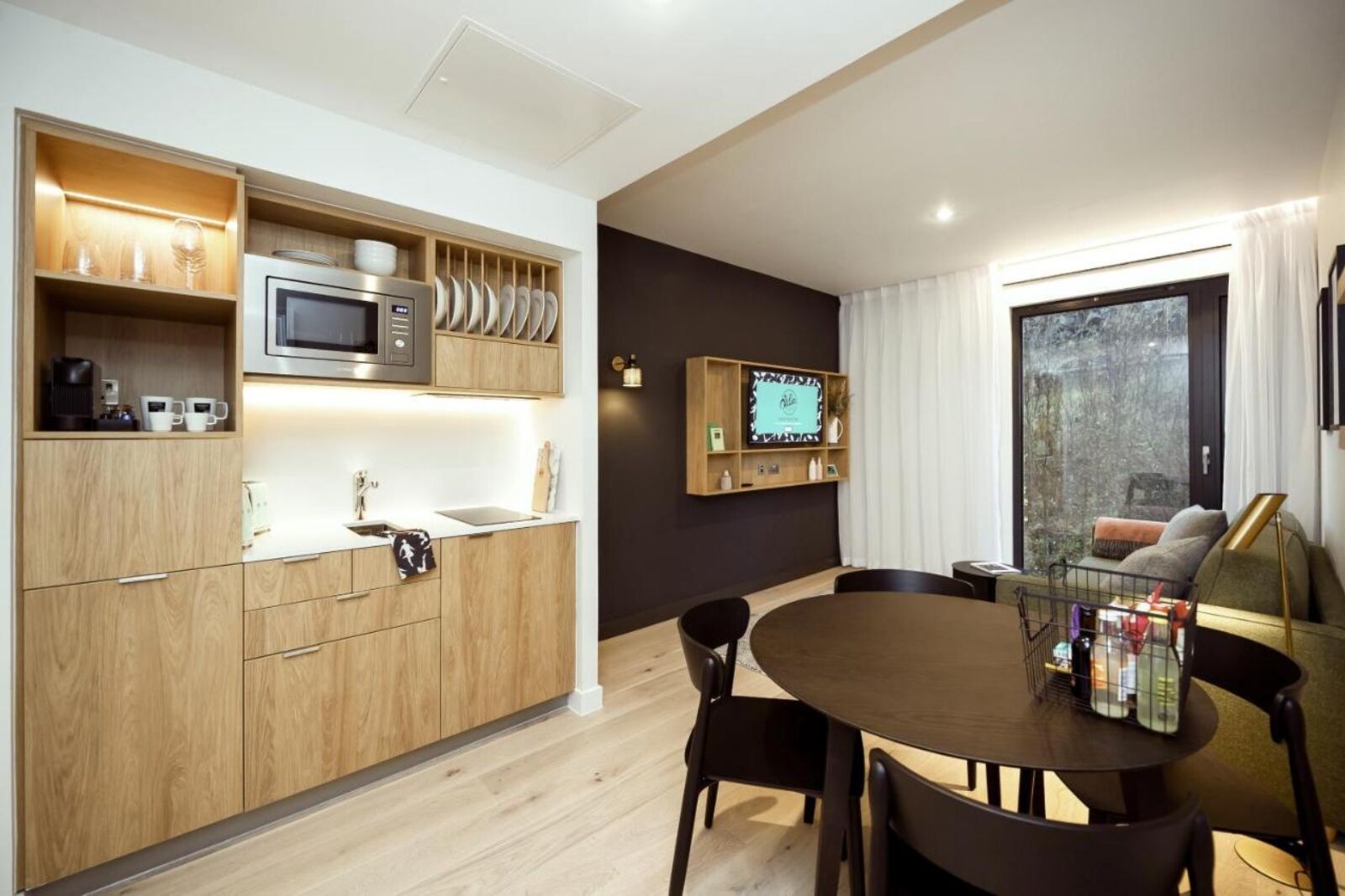 Wilde Aparthotels by Staycity Edinburgh Grassmarket is a modern, stylish hotel situated in the Grassmarket. The hotel features well-appointed serviced apartments that have fully equipped kitchenettes, complimentary WiFi, and onsite car parking.
The apartments are ideal for those who are staying in the city for more than a night or two and would like to have a small kitchenette to enjoy breakfast or lunch. Pretty much all the accommodations are standardized, so you know what you are getting. Technologically modern touches make for an easy stay as do the complimentary fresh milk, Nespresso pods, Brew tea bags, and handmade sweets.
Key aminities
Complimentary WiFi.
Fully equipped kitchenettes.
24-hour reception desk.
Onsite car parking.
Free breakfast every morning.
Laundry and dry cleaning services.
Where: 26 King's Stables Rd, Edinburgh EH1 2JY
Market Street hotel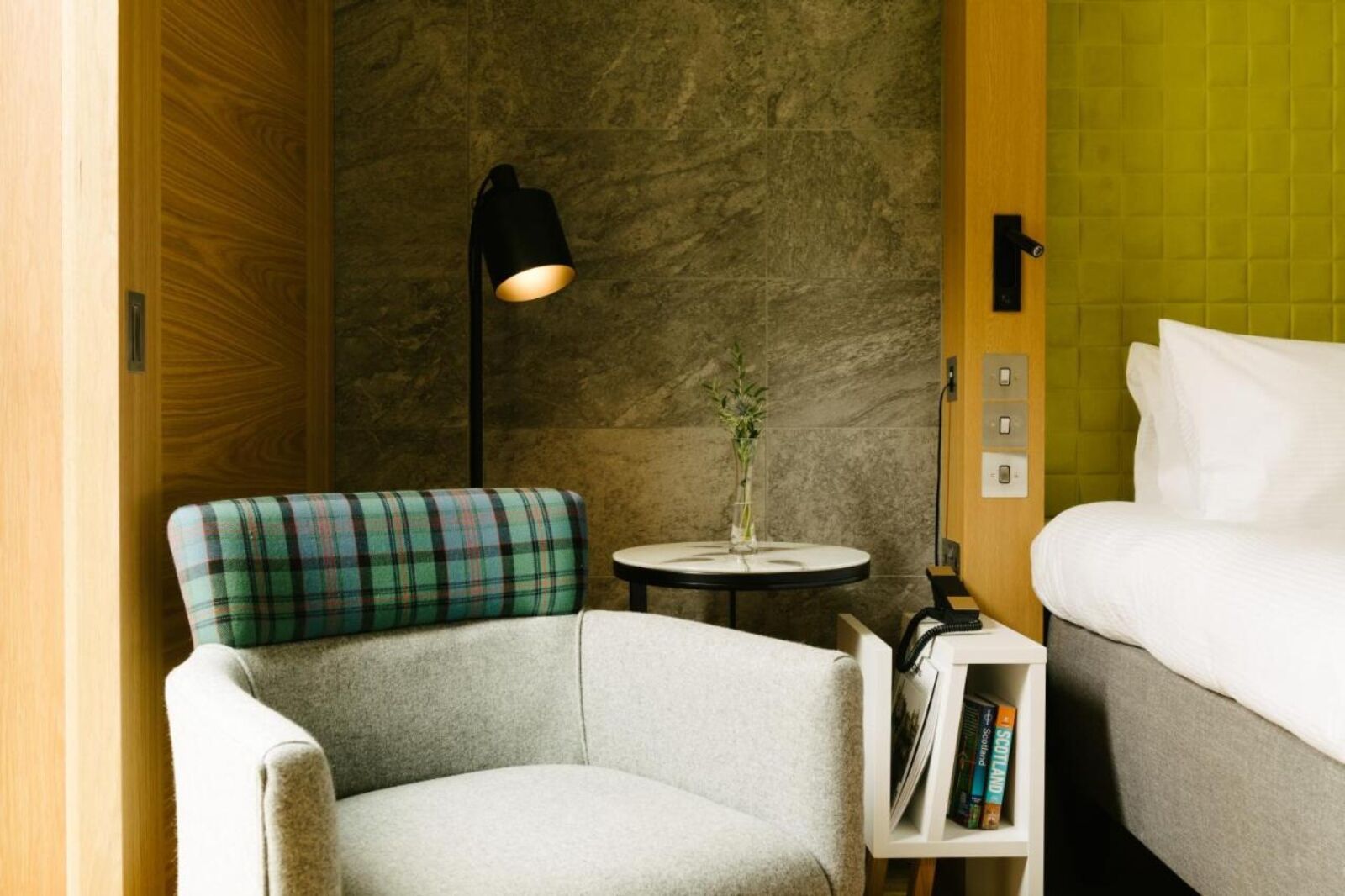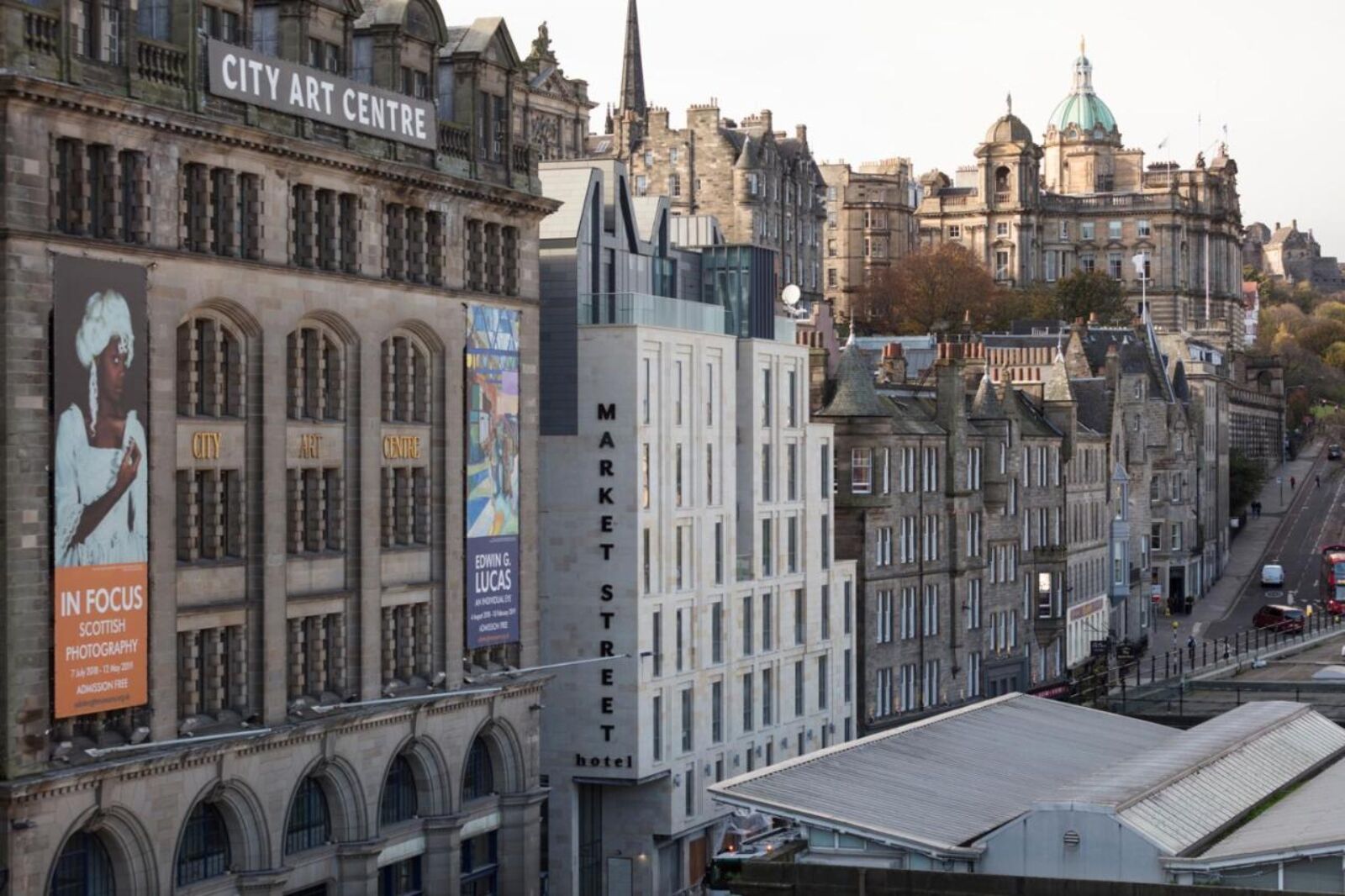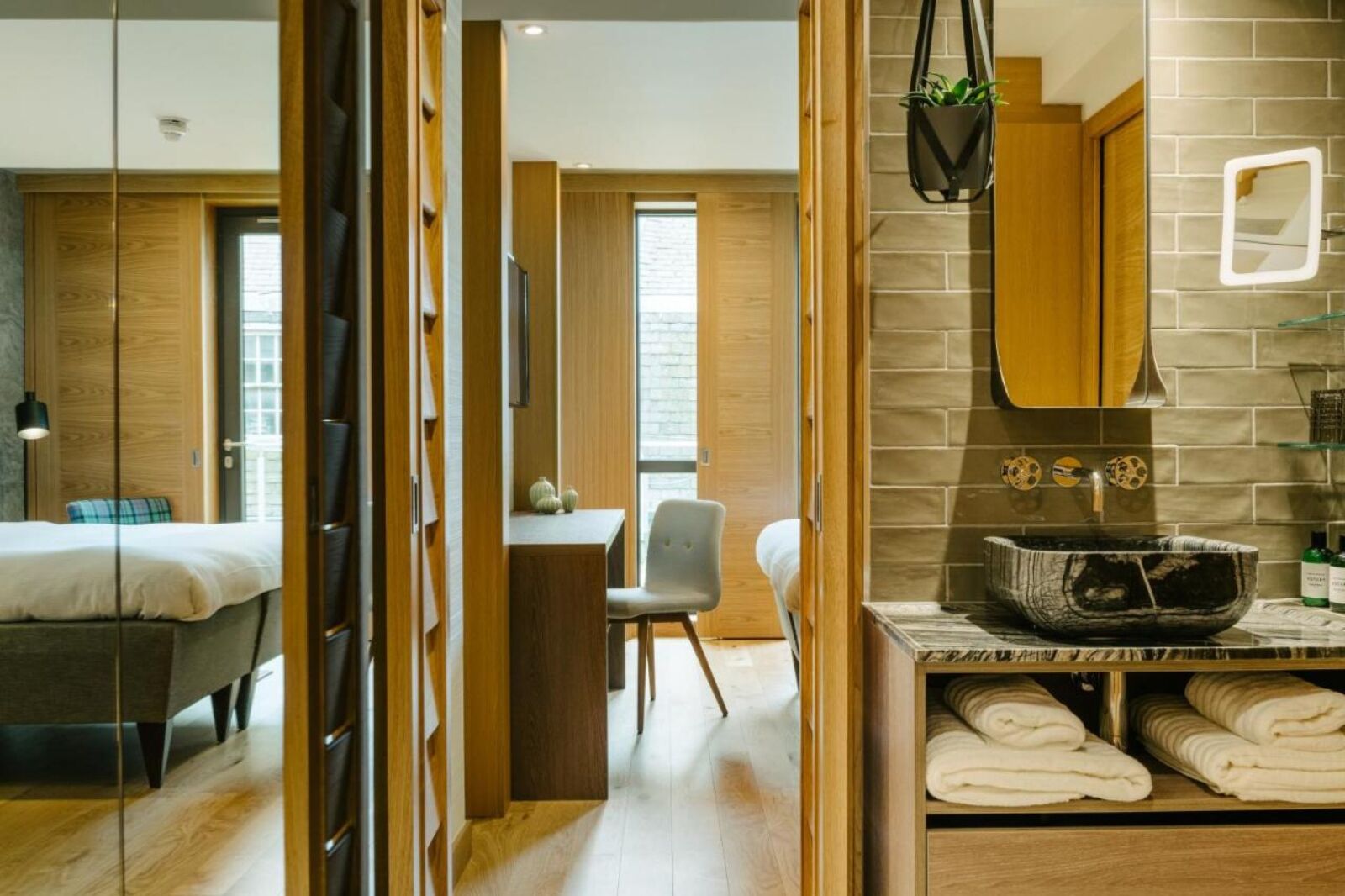 This is one of the sexiest hotels in Edinburgh. Market Street hotel sits across the street from Waverly Station. This is not your standard cookie-cutter city hotel. Its sleek design is also environmentally sustainable with reusable glass and white pine Saint Luc furniture.
The hotel revolves around its Champagne lounge, Nor'Loft. Glass is utilized here too, offering guests outstanding views over the city. The menu lists over 20 glasses of Champagne and the small plates such as smoked salmon tartare with oyster emulsion are generous. A delicious breakfast can be enjoyed at Nor'Loft or in your room.
Key aminities
Complimentary WiFi.
24-hour reception desk.
Onsite car parking.
Laundry and dry cleaning services.
Smart widescreen TVs with streaming capabilities.
Room service.
Where: 6 Market St, Edinburgh EH1 1DE
Cheval The Edinburgh Grand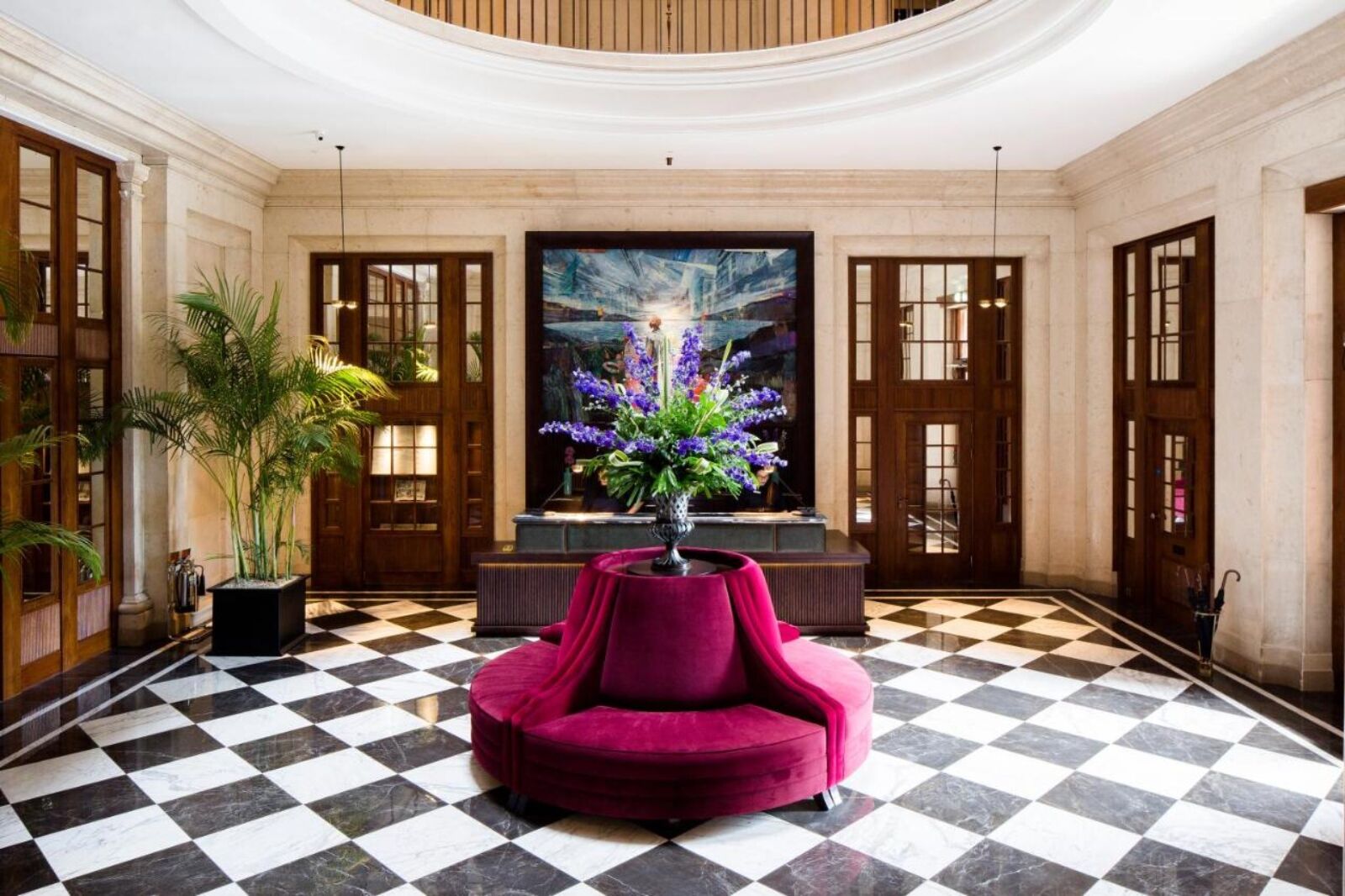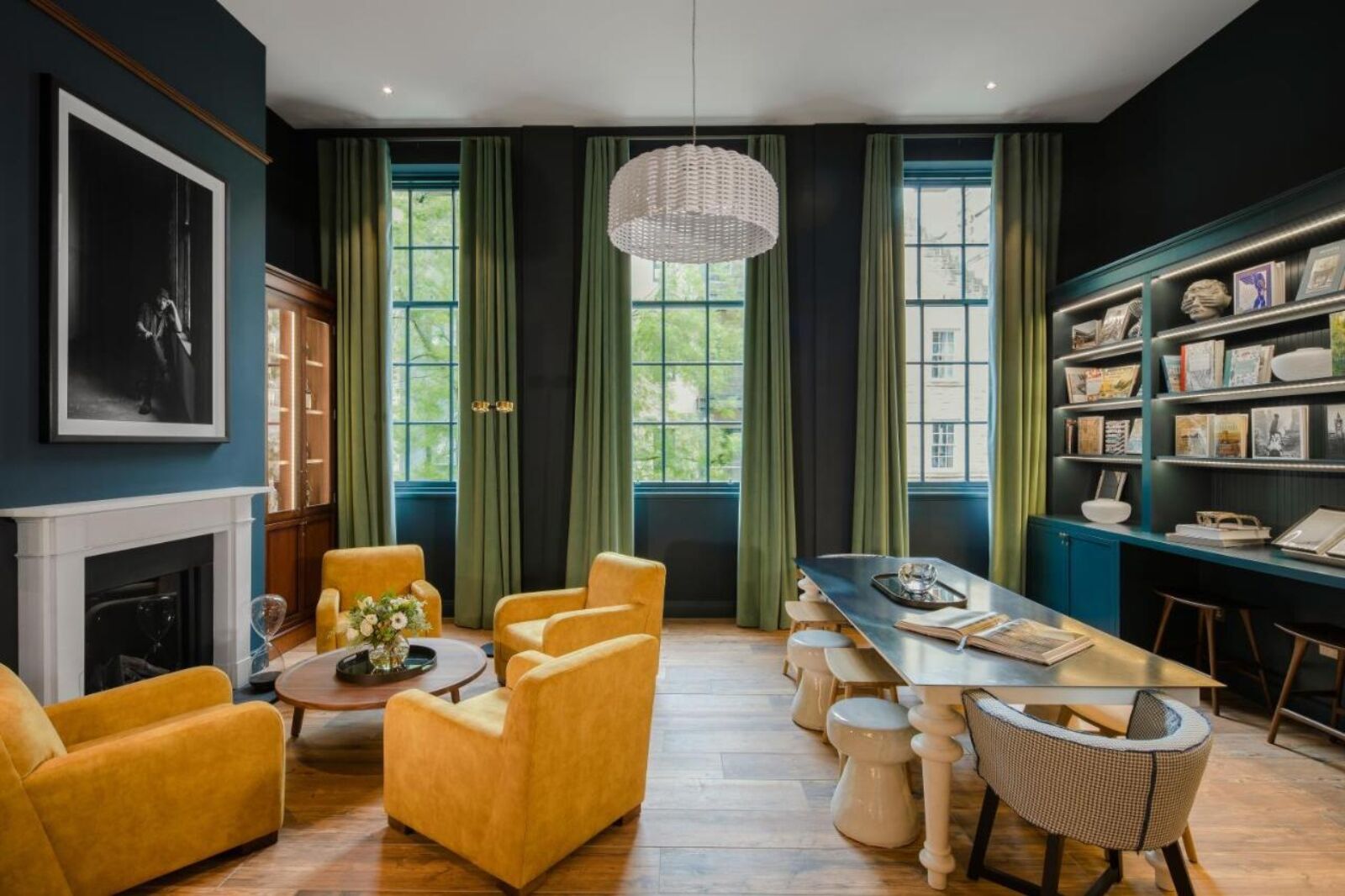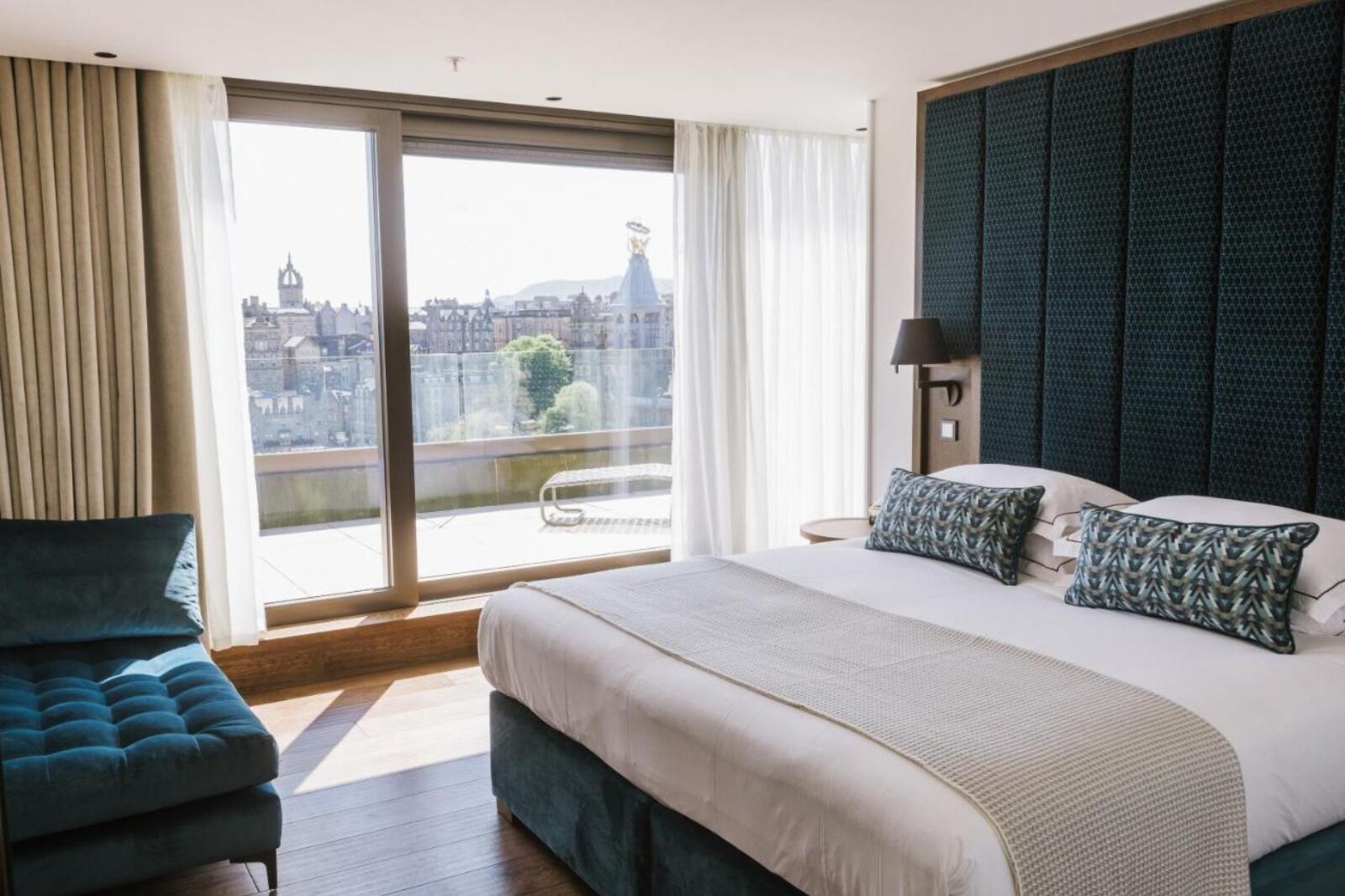 Cheval The Edinburgh Grand opened in 2016 and has a collection of prestigious serviced apartments. Located on St Andrew's Square, minutes from the main shopping areas of Princes Street, George Street, and designer boutiques on Multrees Walk, the property is about as central as you could get.
There are 50 studios and apartments that are beautifully furnished, with art déco-inspired artwork and furnishings and innovative technology. The historic building was originally the Royal Bank of Scotland headquarters and although it has undergone a substantial renovation, guests will note period features in the bedrooms and living areas. Each apartment also comes with a handy fully fitted kitchen including a dishwasher, so you can live like a local in luxury.
Key aminities
Complimentary WiFi.
Well-equipped kitchenettes and dining areas.
24-hour access to the gym.
Private car parking facilities.
Daily housekeeping service.
Laundry and dry cleaning services.
Smart widescreen TVs with streaming capabilities.
Room service with an extensive menu.
Where: 42 St Andrew Square, Edinburgh EH2 2AD
Eden Locke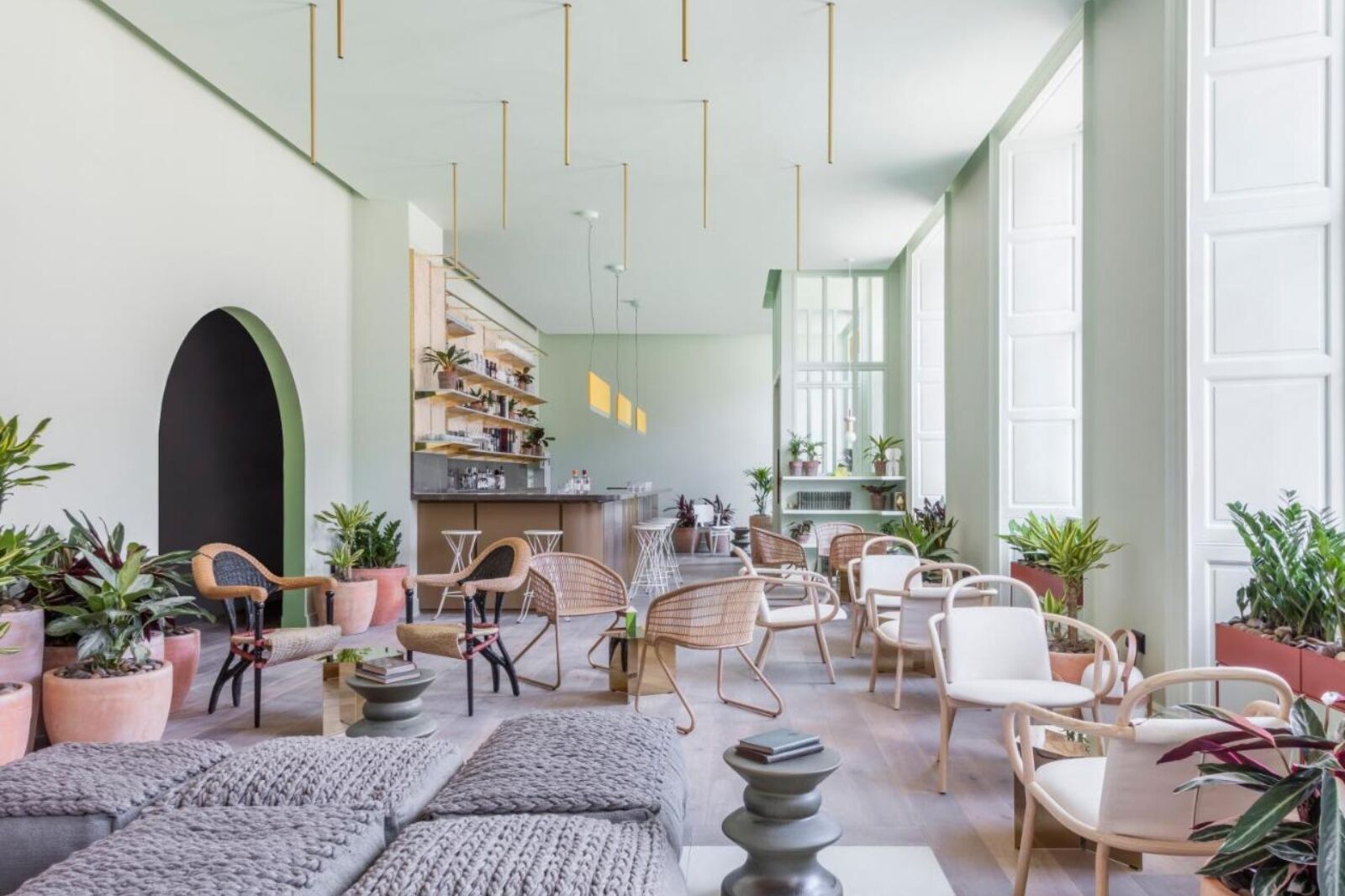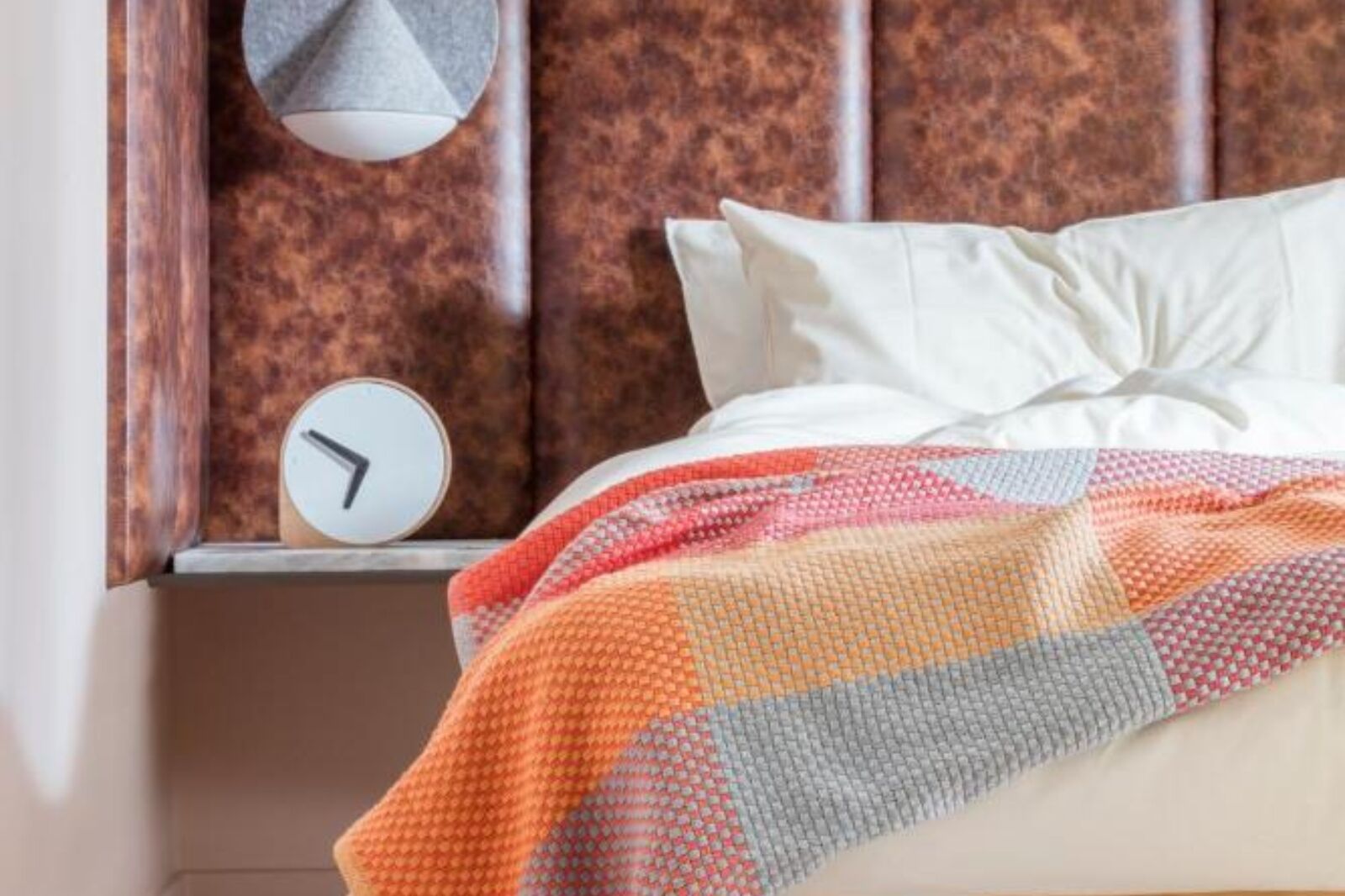 Conveniently located on George Street, Eden Locke is another hotel with luxurious and modern serviced apartments. The fun and design-savvy suites have quickly made this newcomer one of the most popular places to stay in Edinburgh.
There are 72 studio apartments that have understated quirky touches. Every feature is of the highest quality. From door handles, bathroom toiletries, to chic Scottish textiles, details elevate this budget hotel, making it worthy of consideration against the more expensive hotels mentioned above. We recommend opting for a front mezzanine room featuring huge Georgian windows, as the apartments at the back are a little dark.
Key aminities
Complimentary WiFi.
Fully equipped kitchens.
Daily housekeeping services.
Laundry and dry cleaning services.
Smart widescreen TVs with streaming capabilities.
On-site coffee house and cafe.
Where: 127 George St, Edinburgh EH2 4JN
The Scotsman Hotel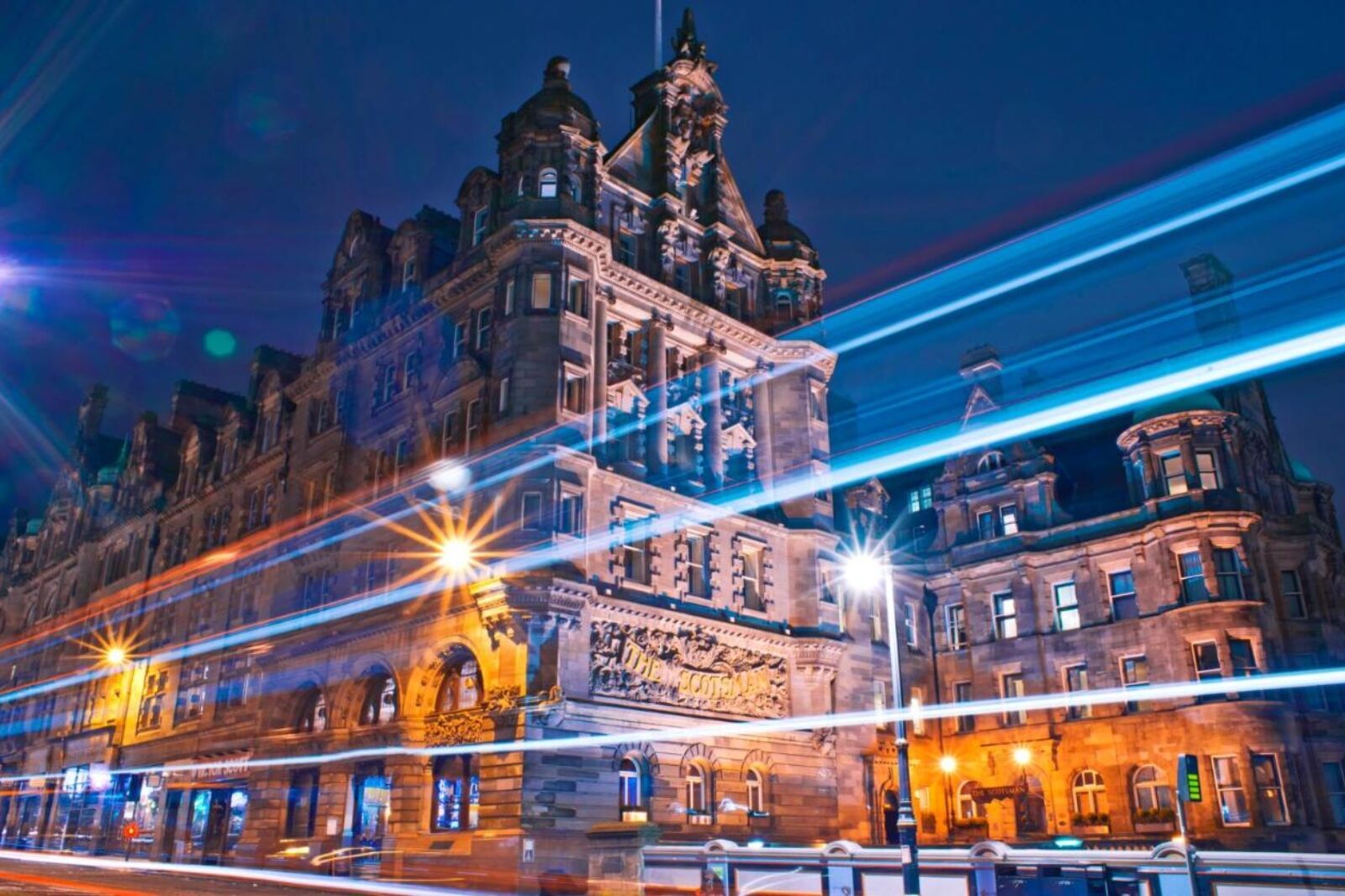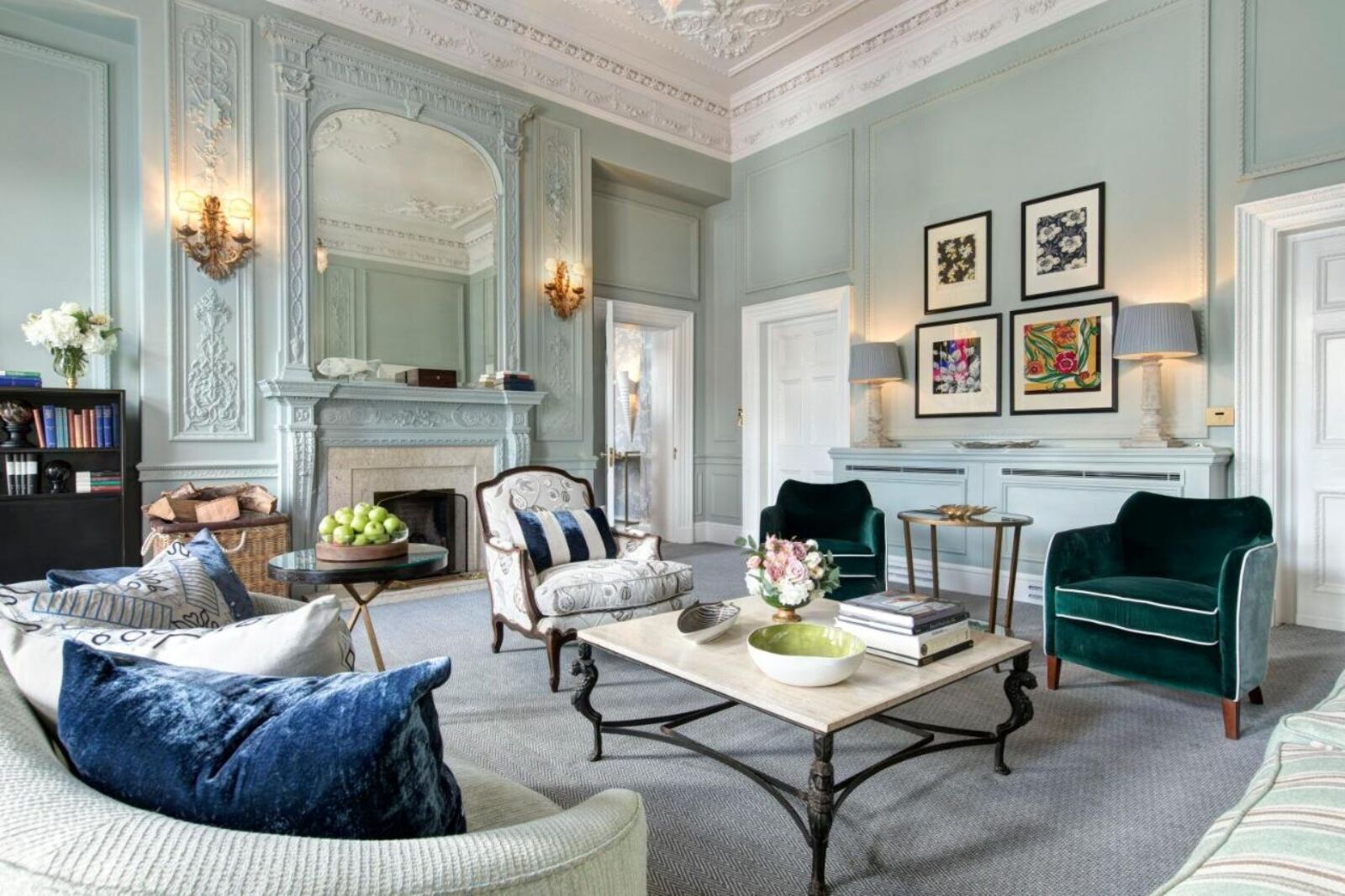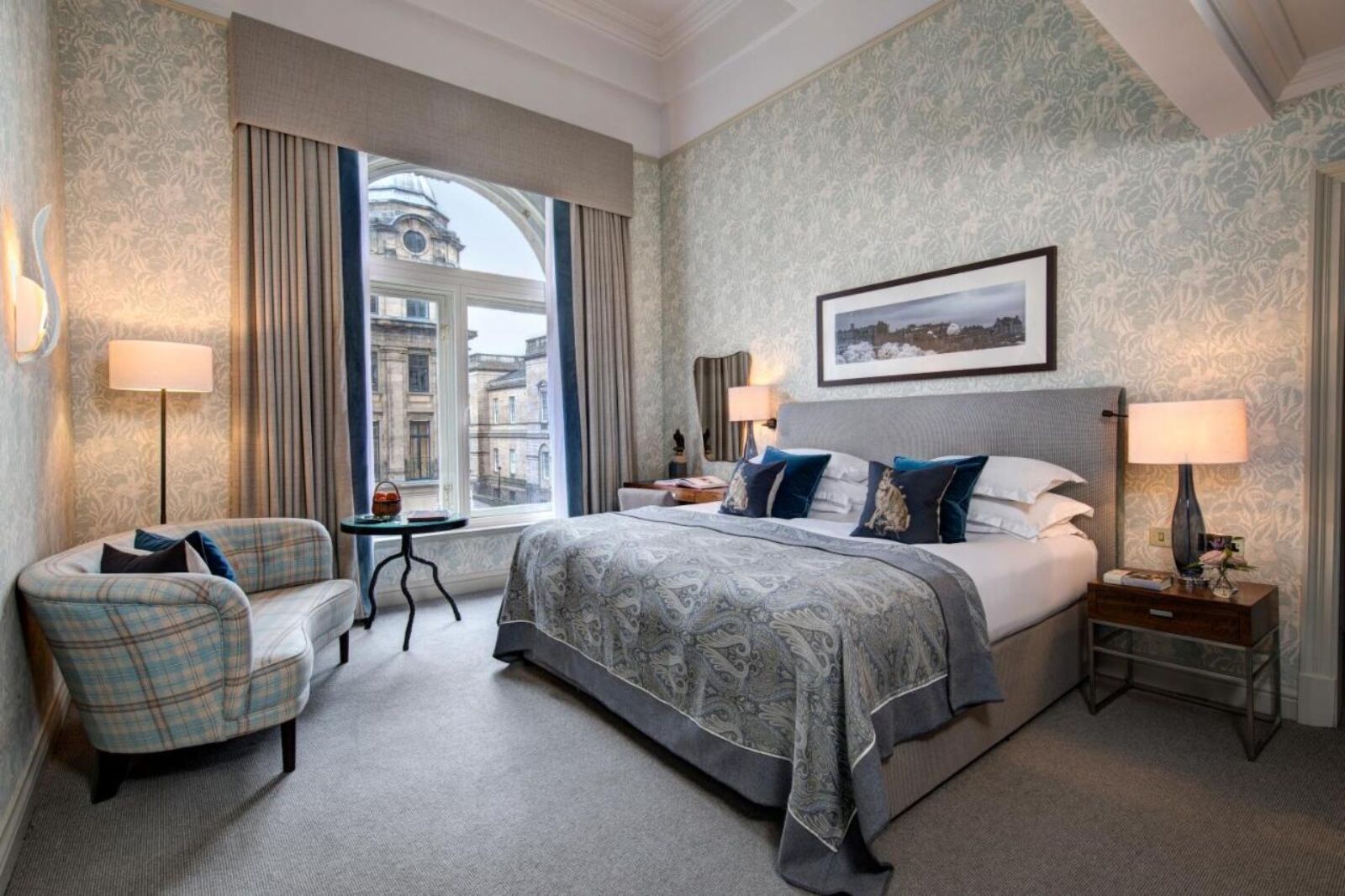 Along with the Balmoral Hotel, The Scotsman Hotel is another beloved local landmark. Originally built as The Scotsman newspaper offices in 1905, the grand building has been carefully restored into nine floors of rooms and suites with commanding views over the city.
Located at the top end of North Bridge, The Scotsman occupies the prime real estate spot in Edinburgh. Literally steps from Waverley Train Station and airport shuttles, the hotel is probably the most well-appointed accommodation in terms of transport links. Edinburgh Castle, the National Galleries, museums, and shopping streets are also minutes away.
The labyrinths of newspaper offices are now understated, luxurious rooms — some of which have views over Carlton Hill and Edinburgh Castle. If you prefer life at the top, the Penthouse Suite has a stunning spiral staircase, a private terrace with outstanding views, and a sauna.
Key aminities
Complimentary WiFi.
Valet parking service.
24-hour room service.
Newspapers available every morning.
Pet-friendly accommodations.
Fitness center and spa.
Bar and lounge area.
Where: 20 North Bridge, Edinburgh EH1 1TR
What did you think of this story?