A Full Guide To the Free 4th Grade National Park Pass Program
Attention all parents of children in the fourth grade: The United States National Park Service offers a free national parks pass to all fourth-grade students.
The Every Kid Outdoors pass, often referred to as the "4th grade national park pass," provides free access to hundreds of sites managed by the National Park Service. That includes all 63 national parks and another 361 additional sites, like national seashores and national forests. The program started as a collaboration between several federal agencies, including the National Park Service, the US Bureau of Land Management, and the US Fish and Wildlife Service. The goal of the fourth grade national park pass is for students to experience the country's rich natural resources, eventually mobilizing them to become stewards of the outdoors and public lands as they grow into adults.
The program explains that it's specifically for fourth graders because kids nine to 11 are "likely to connect to nature and our history" and are "beginning to learn about the world around them. According to the Every Kid Outdoors 2022 annual report, 73 percent of participants indicated they would never have visited a park without free access. To date, more than 185,000 students and families have participated in the program, exposing kids to natural wonders they may otherwise not have had the opportunity to explore. If your family currently has a fourth grader – or will soon – here's everything to know about the pass program, plus advice on the best parks to visit as a family.
---
---
How to get the 4th grade national park pass
Any fourth grade student can easily get a pass through the Every Kid Outdoors website. After a few clicks on the home page, students just need to enter their zip codes and they'll be taken to a page with a pass they can print out. Parents should read the rules on the website, which include details on when the pass is valid, how to use it, and who it covers.
The pass admits the passholder, all children up to 16 years old, and up to three adults. It doesn't cover other fees such as parking, campground reservations, and paid tours. If you lose the pass, simply reprint it from the website. The passes run from August to August, so apply for it the August before your child enters fourth grade.
Other national park pass options
Don't have a fourth grader? There are still a number of other national park entry options that may apply to you.
A one-year America the Beautiful Park Pass is $80 and admits pass owners and up to three adults in the same vehicle. Children under age 16 are free. Passes are mailed, so take delivery time into account when ordering.
Non-pass holders can visit on free entrance days, including Martin Luther King Jr. Day, Veteran's Day, and the first day of National Park Week. There are also several free entry days throughout the year at all national park sites.
Current military personnel can get a free military pass by showing identification if they're in the Army, Navy, Air Force, Marines, Coast Guard, Space Force, Reserves, or in the National Guard at a federal recreation site.
Some parks have free admission year-round, including including North Cascades in Washington, Kenai Fjords and Kobuk Valley in Alaska, Hot Springs in Arkansas, Congaree in South Carolina, and California's Redwood and Channel Islands national parks.
Travel with grandparents? Have them pick up an America the Beautiful senior pass for a reasonable $20 a year or $80 for a lifetime pass
How to make the most of the fourth grade national park pass
Since your child is most likely going to school Monday through Friday, you may be struggling with when and how to use a park pass if you don't live near a national park. Fortunately, the park includes access to more than 400 sites when all is accounted for, so there's a good chance there's at least one near your home. Check the NPS map to find areas near your home for weekend trips.
If you're able to plan a weekend national park trip, here are a few helpful tips for visiting parks with children.
Plan weekend getaways: If there are any national parks within driving distance, plan to visit as many as possible during a weekend. Just seeing the highlights of a park while driving through or doing a short one-mile hike may be enough for kids (or adults) who haven't spent much time outside.
Consider less popular parks: The most popular national parks are awe-inspiring, but can also be crowded and travel through them can be slow when there's lots of traffic. But less frequently visited national parks have a lot to offer: they tend to be faster to see, and with fewer people, you get a better chance to experience the vastness of their open spaces. The quiet, solitude, and sweeping views can be a welcome and exciting contrast for kids living in cities and suburban areas.
Arrive early: Check opening times for parks. Some are open 24 hours a day, and some have specific hours. There will likely be less traffic on park roads in the early morning, making it faster to drive through (and increasing your chances of spotting wildlife, usually). Some, are even better in the early morning, like Rocky Mountain National Park.
Get a map at the ranger station: You'll show your pass at the park's ranger station or entrance. When you do, ask for a park map. They'll help your child get a lay of the land, have useful information about the park, and make a nice keepsake to help your fourth grader remember the parks they visit.
Stop at the visitor center: Don't skip visitors centers. They usually have exhibits on the park's history, natural features, and flora and fauna, plus restrooms and sometimes a gift shop. Visitor centers have set hours, so you may want to plan your visit accordingly and check online to see if there are any special presentations that day to include in your itinerary.
Become a Junior Ranger: Most parks have a Junior Ranger program, and participating kids can complete a series of park-related activities. When they finish, they'll get an official Junior Ranger patch and Junior Ranger certificate. Free activity books are also available to download on the National Park Service website. There's also a Junior Ranger passport program, which is an interactive book with educational information and activities plus a spot to collect a passport stamp from each park. (There's an adult version, too).
How to plan a family national park trip
Most of the national parks in the US are in the American West, and they're well-worth the travel time if you don't live near one. If you can plan a spring break or summer vacation trip, you can hit several by making a national park focused cross-country roadtrip or flying into one of the following airports:
One way to maximize your travel time is to book multi-city flights, flying into one city and out of another. Just be aware that car rental companies may charge an extra fee for returning cars at a different location (though it's usually fairly minimal).
Plan on spending at least one full day in each park, and don't forget to budget time spent driving between parks into your schedule. Plan your arrival times accordingly: if it takes six hours to drive to the next park, will you want to arrive late at night or in the morning? Often, staying near a park the night before to arrive first thing in the morning before the crowds is the best option.
Suggested road trip: The Grand Canyon and Arizona

The star of Grand Canyon National Park is its immense, eponymous canyon created by the Colorado River. It's 6,000 feet deep and 277 miles long. The views are breathtaking, but it gets crowded, so use the shuttle system as a convenient way to explore the park without worrying about parking. The North Rim is less crowded, but is only open from May 15 to October 15.
Many hikes in the Grand Canyon are steep and long, so select carefully, especially on hot days. On the South Rim, kid-friendly hikes include the Rim Trail – a paved and mostly flat 13-mile trail (you don't need to hike the entire distance, of course). For a shorter option, start at the South Rim Visitor Center and make your way to a few lookout points, such as Mather Point or the Yavapai Museum of Geology, which has a scale model of the canyon and glass observation windows.
On the North Rim, the Bright Angel Trail offers multiple stopping points along the way, creating the opportunities for hikes ranging between .36 and 12 miles. The full trail leads to the Colorado River, but families can turn around at one of the destinations along the way. Good options include the "2nd Tunnel" (1.5 miles round-trip) or the "1.5 Mile Rest House" (three miles round-trip). Roosevelt Point, Cliff Springs, Cape Royal, and Bridle Trail are also good, short, round-trip hikes on the North Rim.
Stay in the park at the South Rim Lodging, North Rim Lodging, South Rim Campgrounds, or North Rim Campgrounds. Check for open dates as some are not available year-round, and most require advanced booking. If you'd prefer a hotel or Airbnb, you'll find family-friendly options in Tusayan, Valle, and Flagstaff. Kids may enjoy glamping at Clear Sky Resorts or Backland, or taking the vintage Grand Canyon Railroad into the park (complete with visits from cowboys, naturally).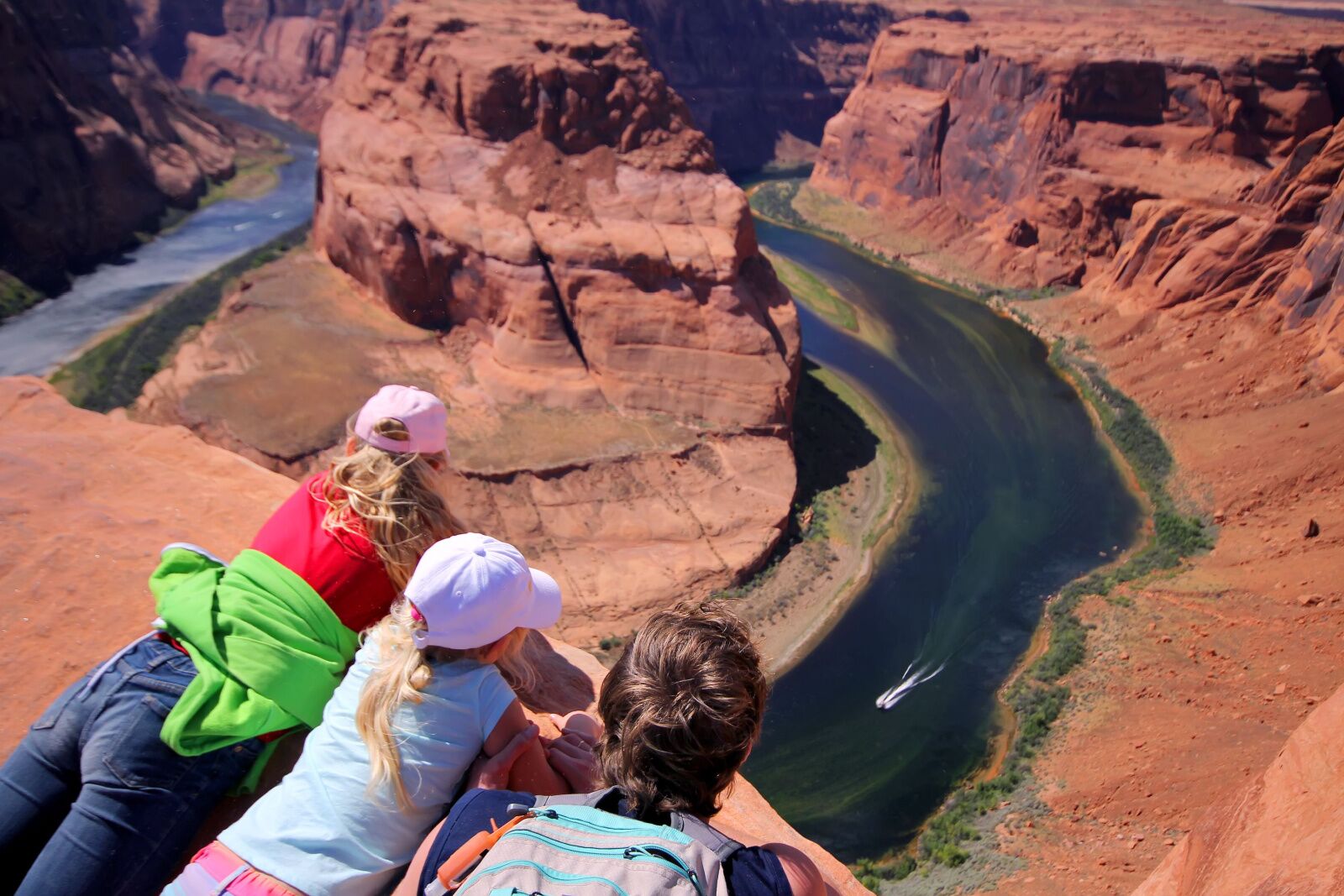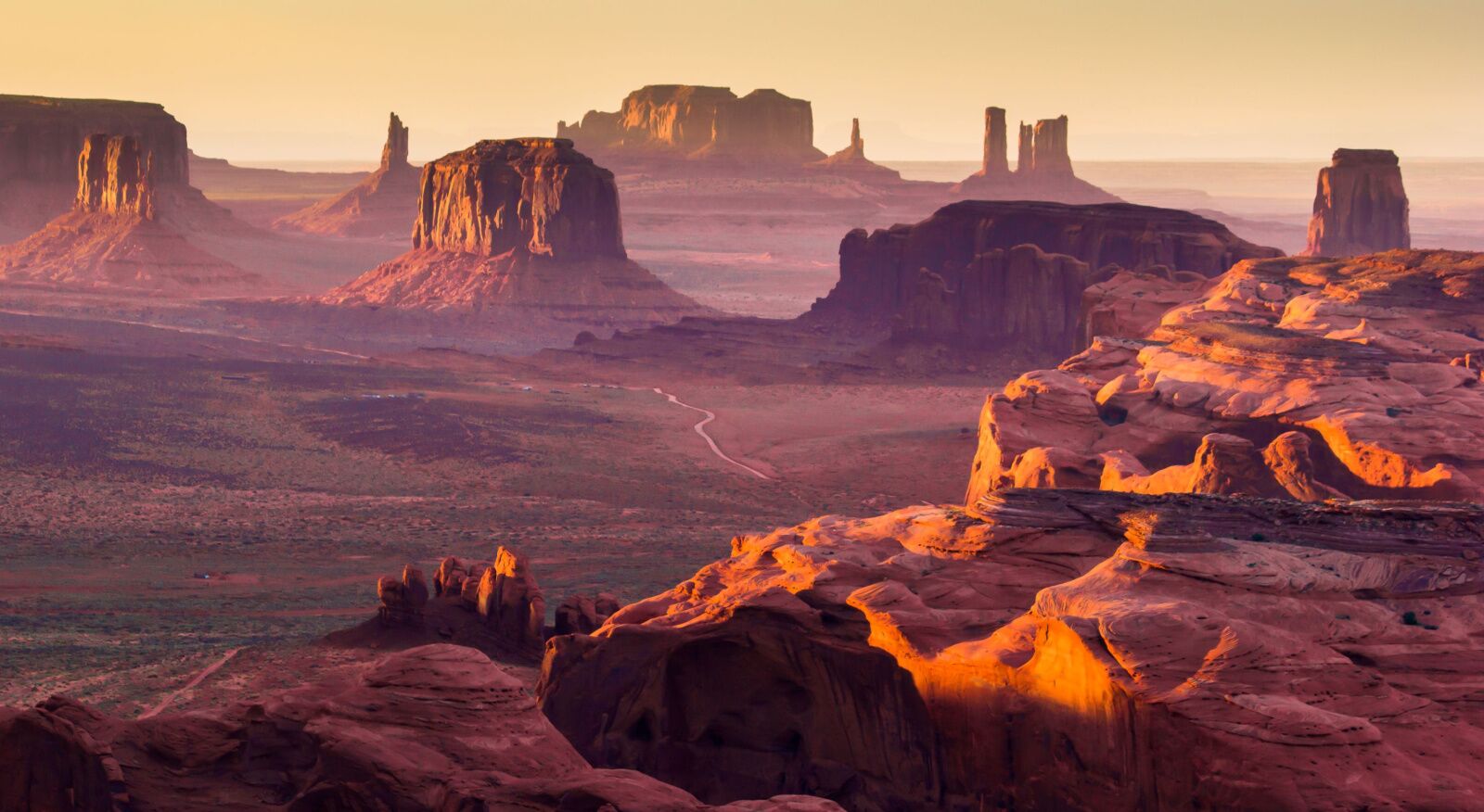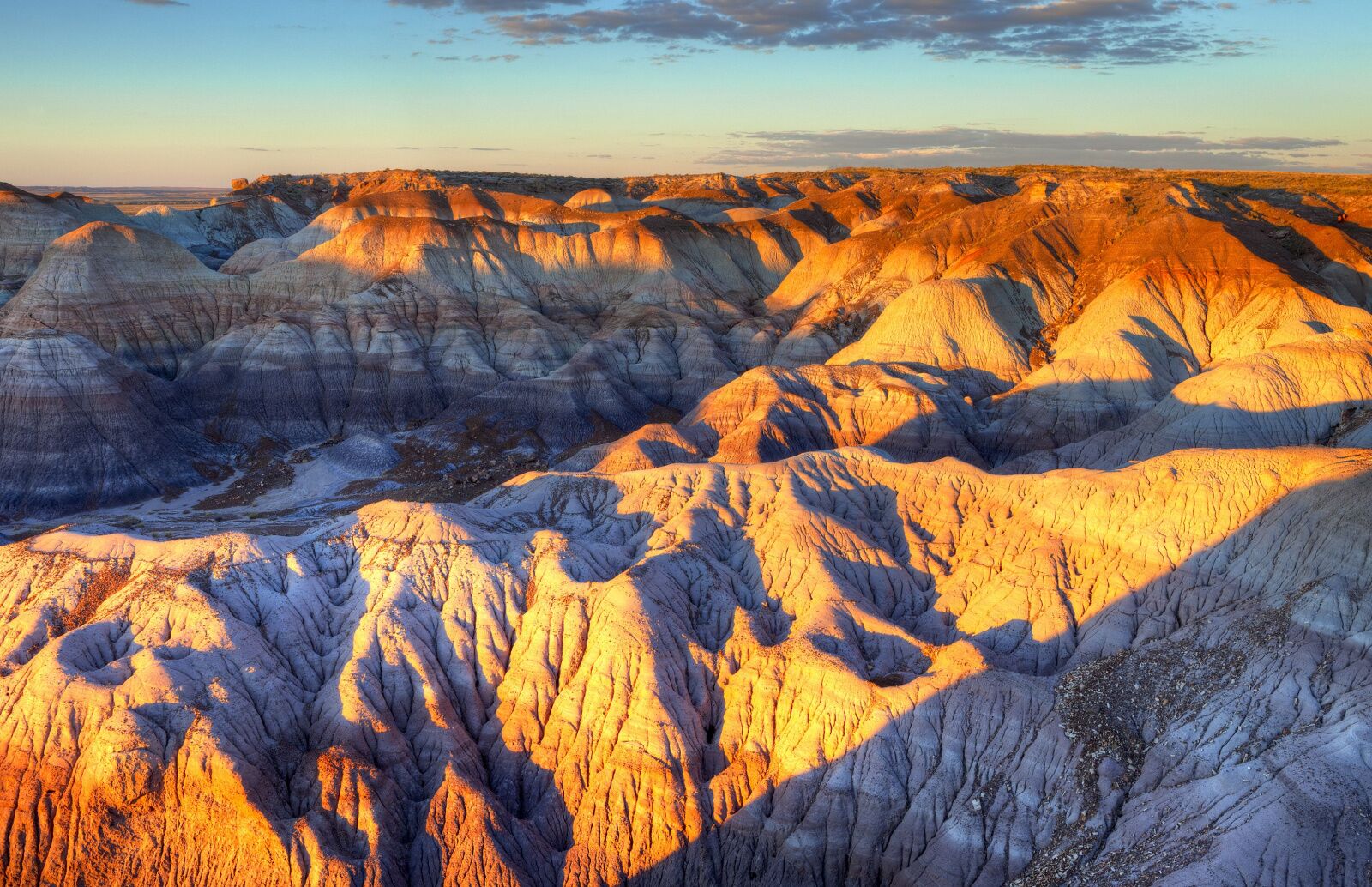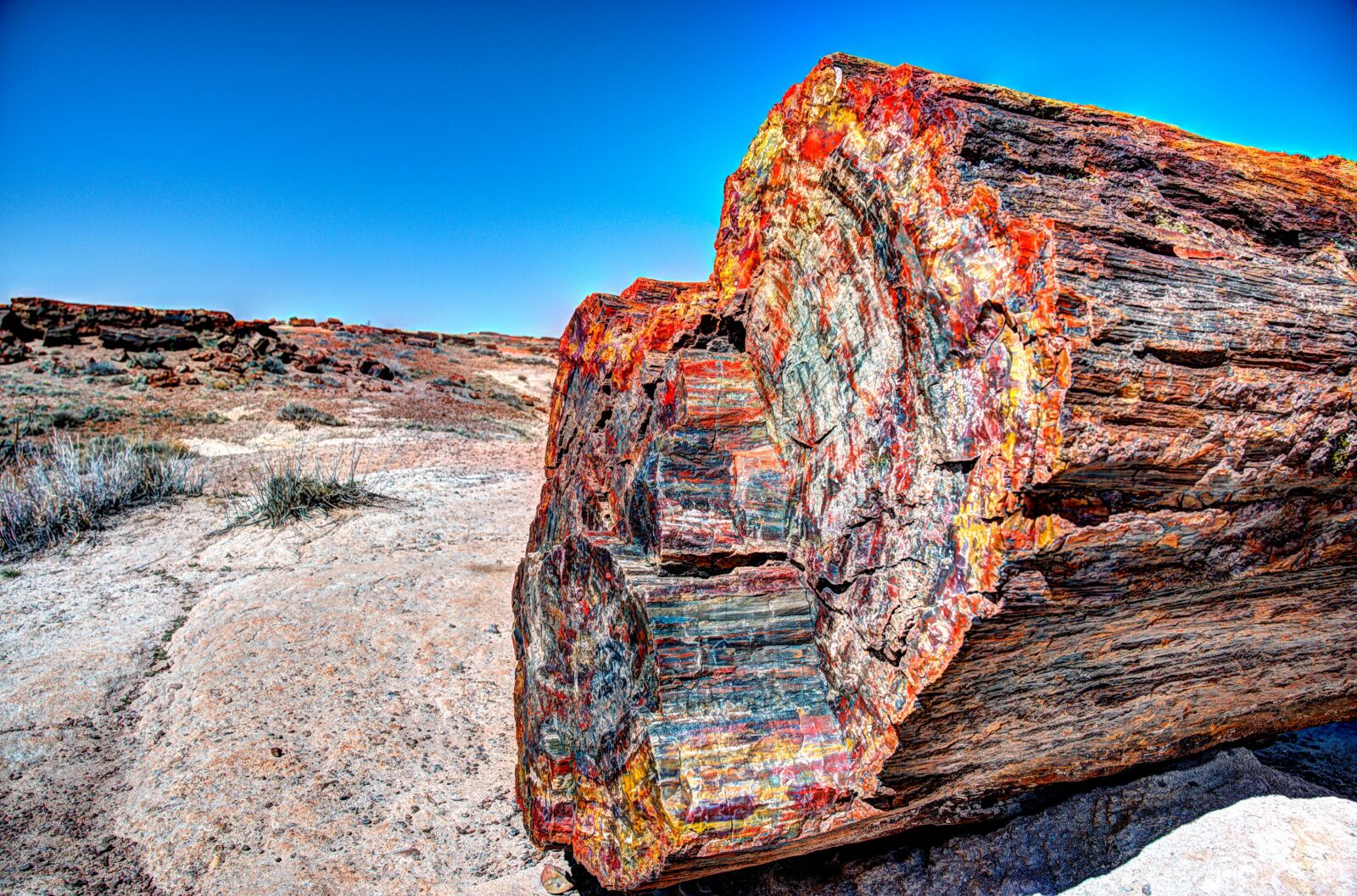 From The Grand Canyon, you can drive south for about three hours to one of the world's largest collections of petrified woods inside Petrified Forest National Park. If you're coming from the Grand Canyon, you'll want to drive through the Painted Desert, which connects the two. Named for the rainbow of colors in the exposed sedimentary layers, the arid land of flat-topped mesas and buttes is a landscape found in few other places in the world. Several short hikes through the petrified wood collections make the park child friendly.
You could also drive north from the Grand Canyon and hit Vermillion Cliffs National Monument and Monument Valley, both also managed by the park service. The latter has a 17-mile driving loop that passes rock pinnacles and colorful rock layers. From the Grand Canyon, you can also reach Grand Staircase-Escalante National Monument in 90 minutes or Zion National Park in under two hours.
Suggested road trip: Utah's Mighty Five Parks

The "Mighty Five" is Utah's name for the five beautiful national parks within its state borders: Zion, Bryce Canyon, Canyonlands, Arches, and Capitol Reef. To visit all five, consider flying into Colorado's Grand Junction Airport and visiting them in order of Arches to Canyonlands to Capitol Reef to Bryce Canyon to Zion, then fly home from Las Vegas or St. George, Utah.
In Arches National Park, more than 2,000 natural stone arches give the park its name, and kids can climb on many of them. Short, kid-friendly hikes include Balanced Rock, Sand Dune Arch, and Skyline Arch, each less than half a mile round trip. Double Arch is a .6-mile hike to the tallest arch in the park (112 feet). More adventurous families can try canyoneering and climbing, but only with permits in specified areas.
Canyonlands National Park is only about 30 minutes from Arches. The park's desert landscape has numerous canyons, mesas, buttes, spires, and arches created by the Colorado River. It's the largest of the Utah parks at 337,598 acres and is divided into four districts; Island in the Sky and Needles are closest to Moab and Arches. If you're using the fourth grade national park pass, be sure to check out the park's kid-friendly (and free) stargazing and geology events.
Kid-friendly hikes include the Mesa Arch Trail (.6 miles), the Grand View Point Trail (2.1 miles), and Upheaval Dome (.6 miles, but steep), leading to a large crater. But likely the best is the Slick Rock trail (a 2.4-mile loop), which has large rock piles kids can climb on and several impressive viewpoints overlooking the massive park.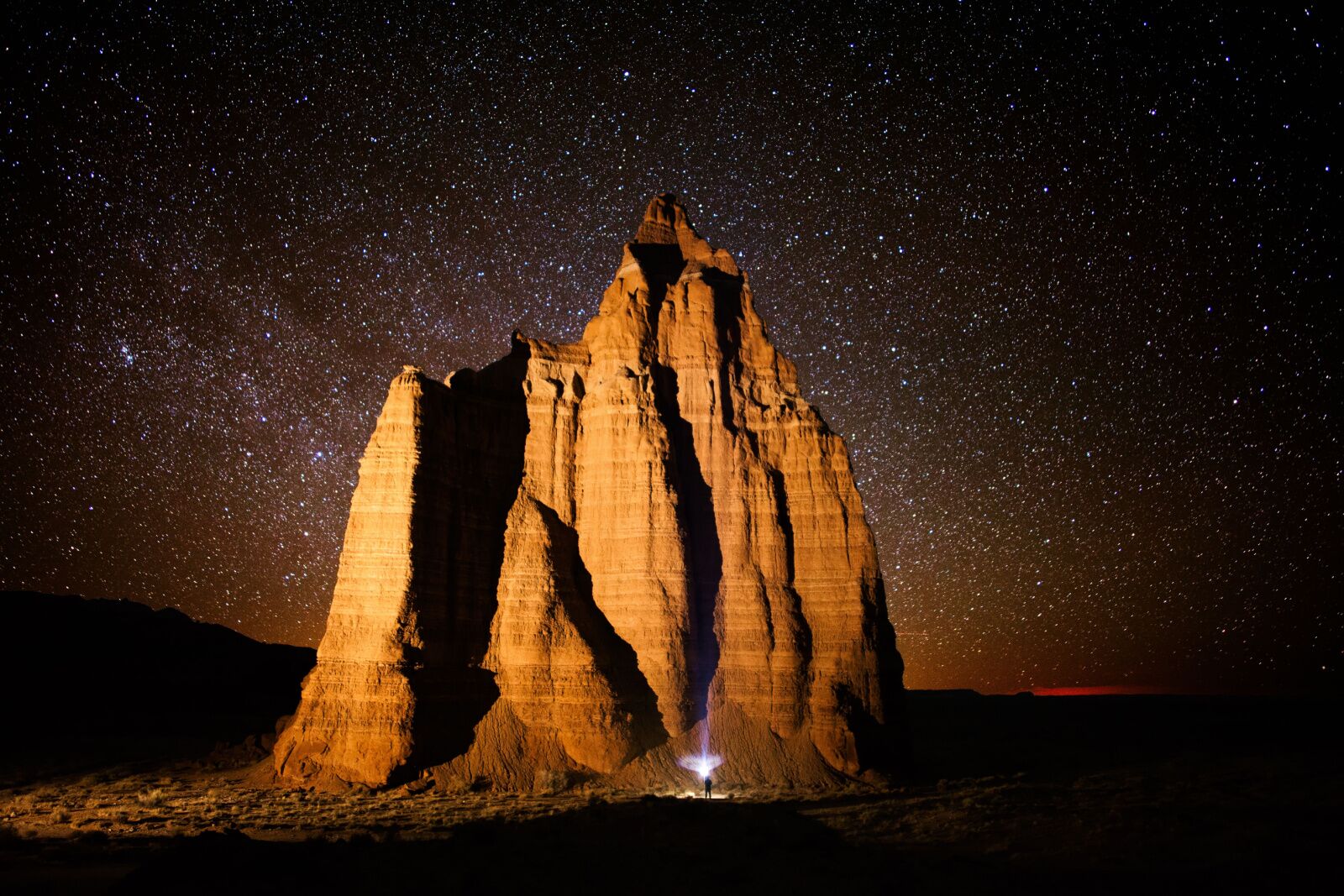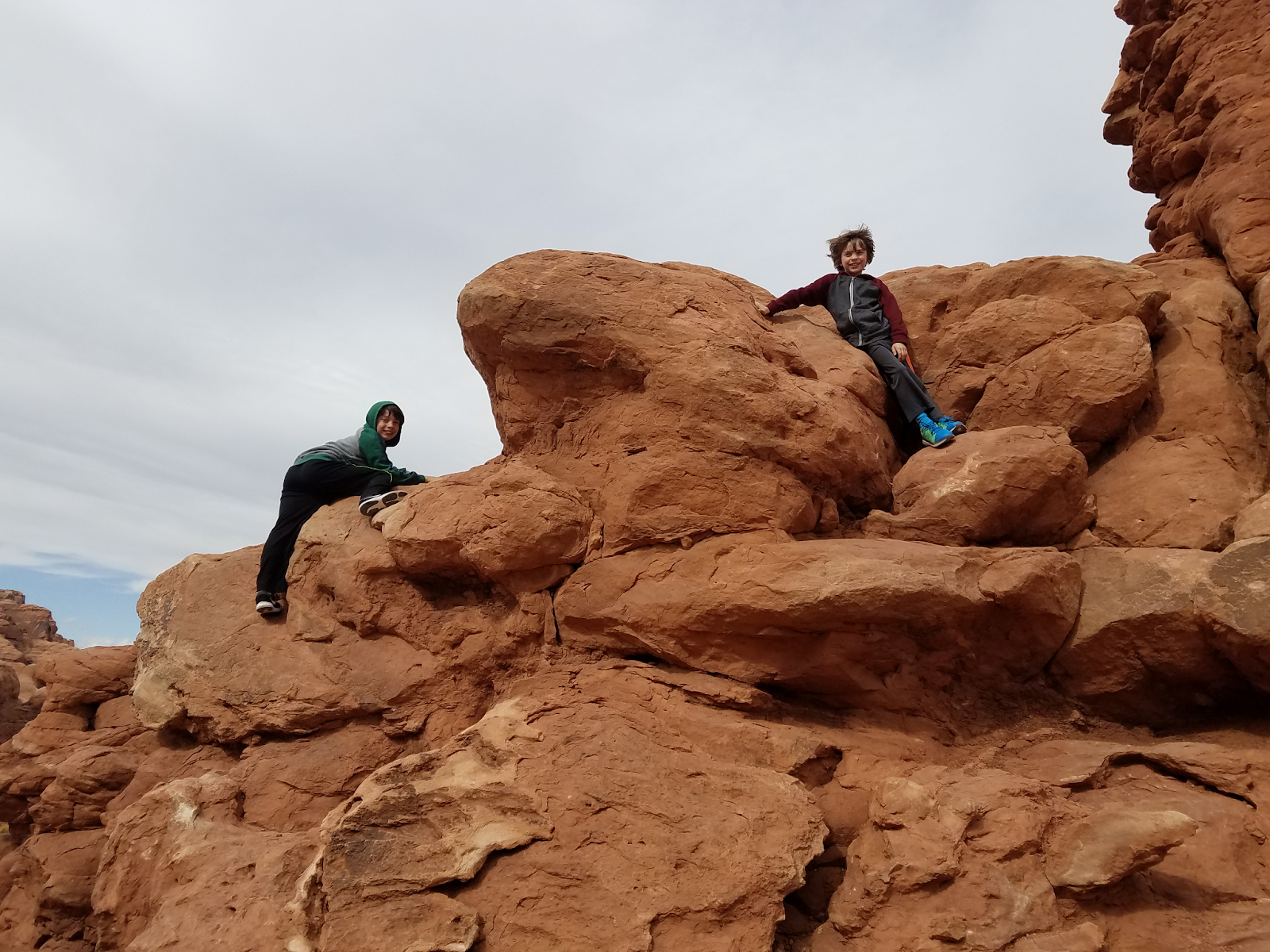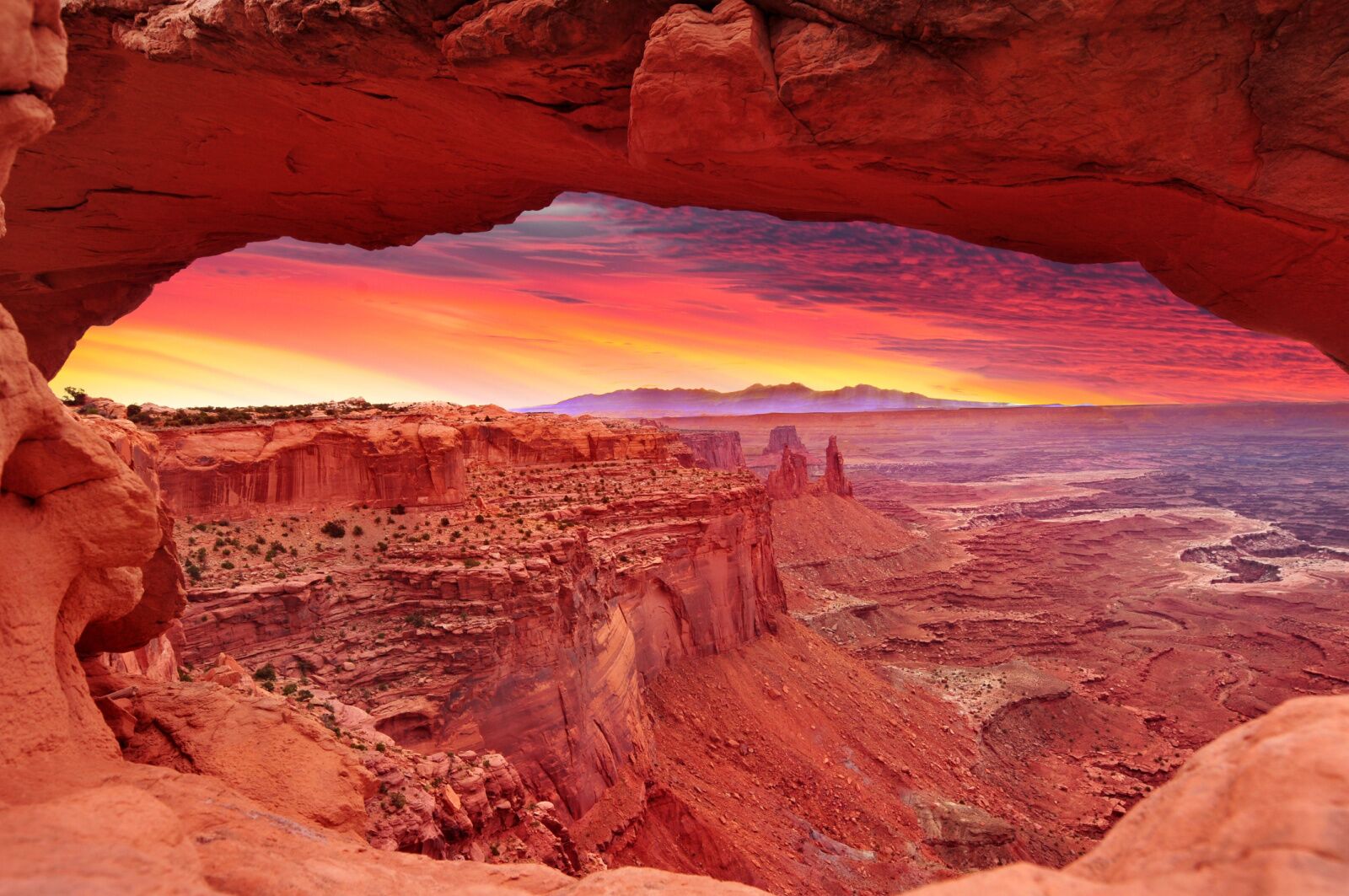 There are plenty of places to camp in Arches, Canyonlands, or nearby Moab Rim Campark, and nearby Zion resorts like Under Canvas and the bungalows and townhouses at Moab Spring Ranch.
In Capitol Reef, it's easy to drive through most of the park since Route 24 cuts through the middle of it. That makes it an easy visit on the way from Arches or Canyonlands to Bryce or Zion, or vice versa. It's a large park with few visitors, allowing travelers to experience the vast open space. Easy-to-moderate hikes include the Hickman Bridge Trail leading to a 133-foot-tall natural bridge, and the Cassidy Arch Trail with great views (at 3.1 miles long). Stop by the Gifford Homestead for pie and bring a packed lunch, as there are no restaurants in the park.
Bryce Canyon's defining features are its hoodoos (tall rock spires created by erosion). The park's Bryce Amphitheater has the largest collection of hoodoos in the world. Park rangers refer to the experience of visitors seeing the hoodoos for the first time as the "Bryce Moment." Grab a map when you enter the park and choose just about any viewpoint; they're all absolutely beautiful and even non-outdoorsy kids will be in awe.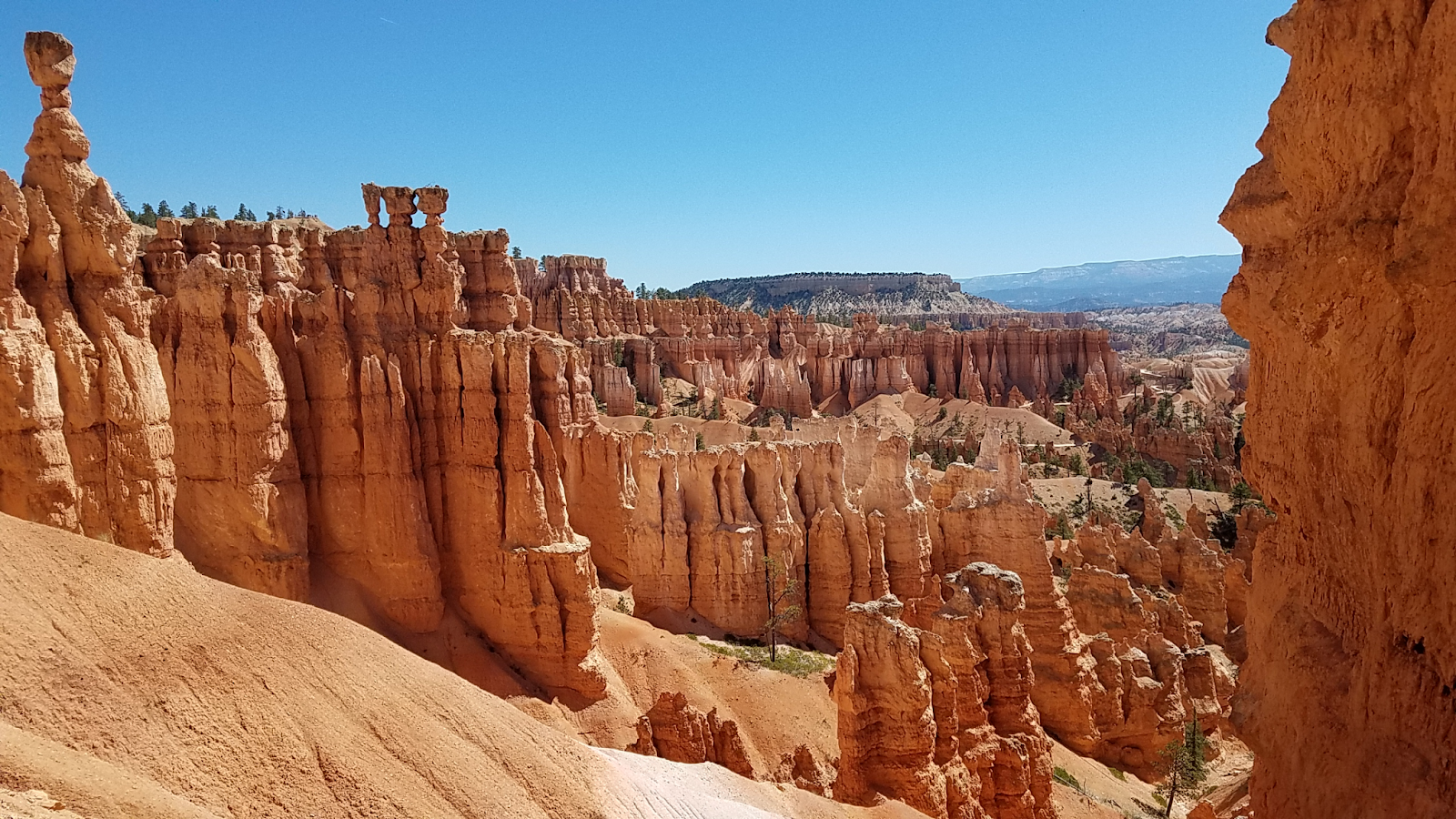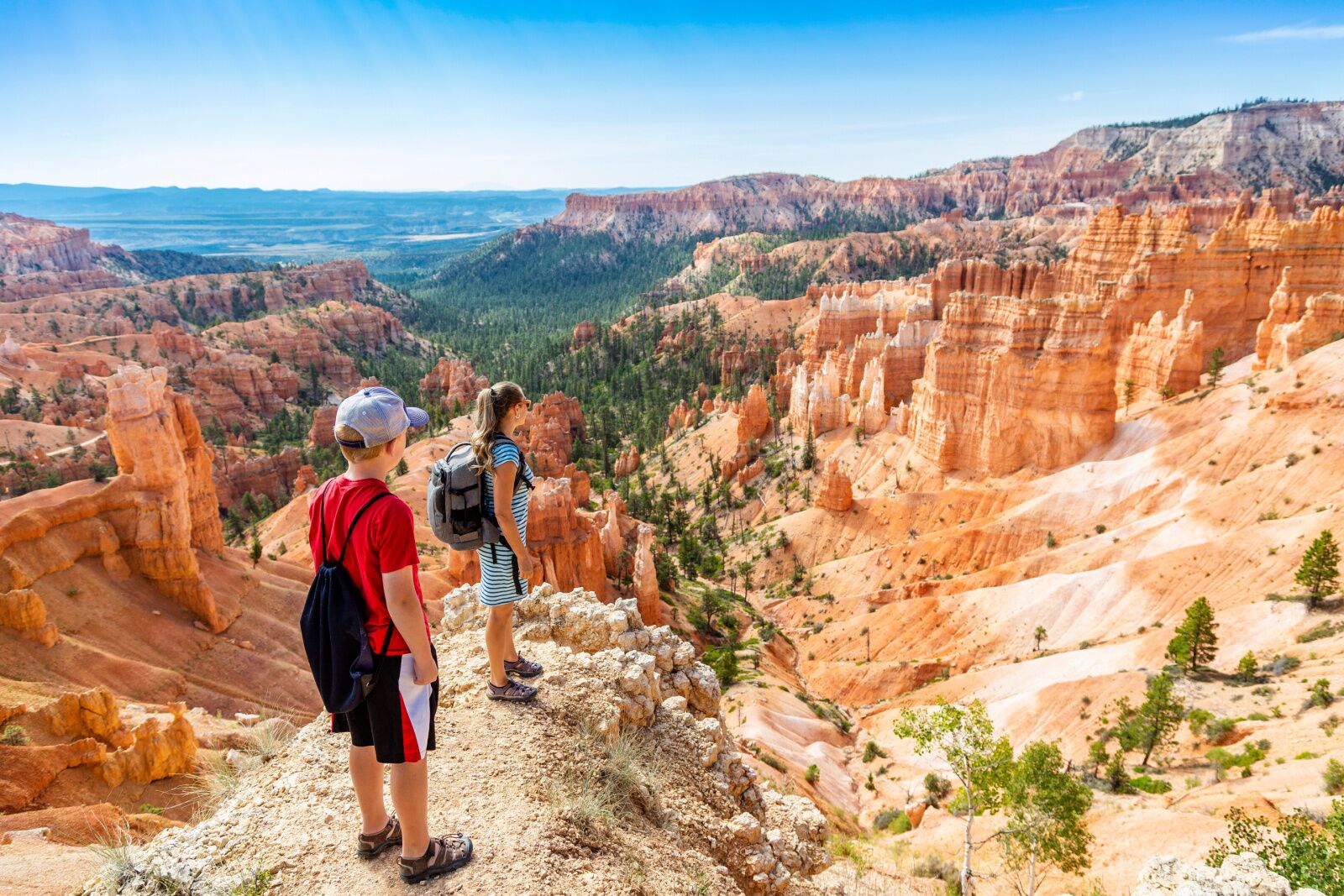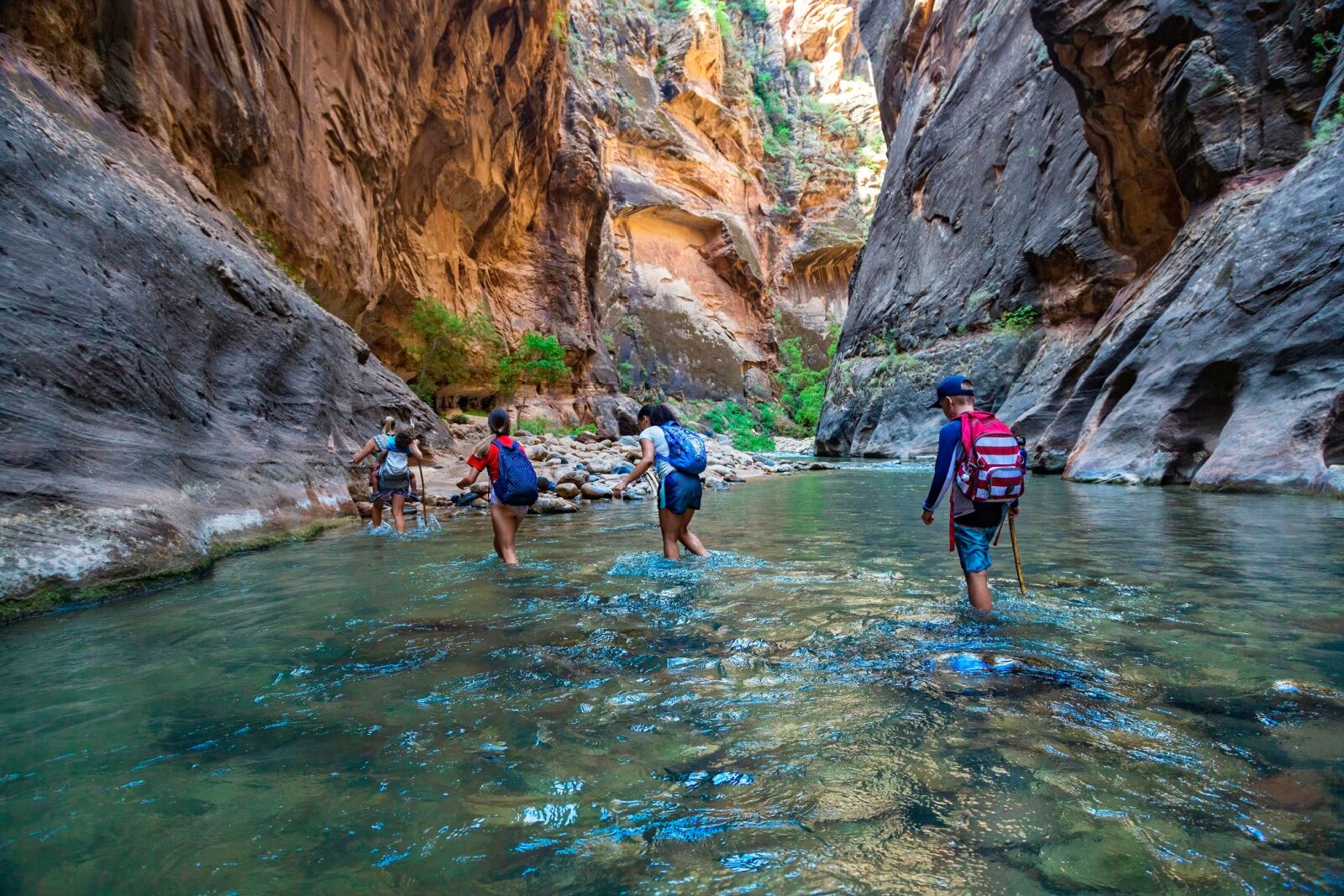 Bryce Canyon's Southern Scenic Drive through the park takes at least two hours, depending on how often you stop. Family-friendly trails include Sunrise to Sunset, Bristlecone Loop, and Mossy Cave — hiking into the canyon is well worth the effort. Food options in the park include the Lodge Canyon Restaurant and Valhalla Pizzeria (reopening in 2023).
Your last stop should be Zion, Utah's first national park and the most visited (though there are plenty of less crowded Zion hiking trails). The Virgin River runs through the park, carving out massive sandstone canyons with cliffs up to 2,000 feet high. Visitors can see waterfalls, a wide variety of wildlife and plants, towering rock formations, and the fourth-largest freestanding arch in the world.
 

Traveling to Utah's national parks? Check out

Matador's

regional accommodations guides:
No matter where you choose to go, getting a fourth grade national park pass for your child creates an opportunity to plan the trip (or trips) of a lifetime to majestic and awe-inspiring places, likely with kids who are still excited to travel with their parents and excited by the chance to become junior rangers. Whether you visit one trip or several, your kids will walk away with memories of a lifetime and, if all goes well, a greater appreciation for the outdoors and America's natural beauty.
What did you think of this story?