The Most Luxurious Hotels on the Coastline of Goa, India
Goa is a state located in India, fondly referred to as the "Pearl of the Orient". Goa's history is as diverse and colorful as its landscape. The state was a Portuguese colony between 1510 to 1961. The occupation has left an indelible mark on Goan culture and architecture in the form of stunning Christian churches and lavish houses. Many of these have been transformed into beautiful Goa hotels offering a unique glimpse into the past of this multicultural state. The coast is also home to some of India's most revered Hindu temples and cultural festivals. People also folk here to relax on the beautiful golden beaches with stunning views of the Arabian Sea.
The south is an ideal destination for travelers looking to experience a more tranquil vacation in India. Many of the coastal towns (made famous in the 60s and 70s in the days of the "hippie trail") are backpacker havens with budget beach hostels, lively party scenes, and cheap barbeque and thali joints. But for those who are looking for mid-level and luxury stays, Goa has a wide range of luxury hotels, resorts, and homestays that offer five-star service and amenities. It is the level of service that sets accommodation in India apart from the rest of the world. Here we have selected some of the best Goa hotels that offer the very best hospitality in India.
When to visit Goa
Goa has a tropical climate with three main seasons. From October to February, the temperatures drop and bring cool weather for sightseeing and outdoor activities. March to May is Goa's summer season, bringing higher temperatures and humidity ideal for enjoying beaches. June to September is the rainy season in this region which can also bring some welcomed respite from the heat.
We hope you love the Goa hotels we recommend. Just so you know, Matador may collect a small commission from the links on this page if you decide to book a stay.
Hyatt Centric Candolim Goa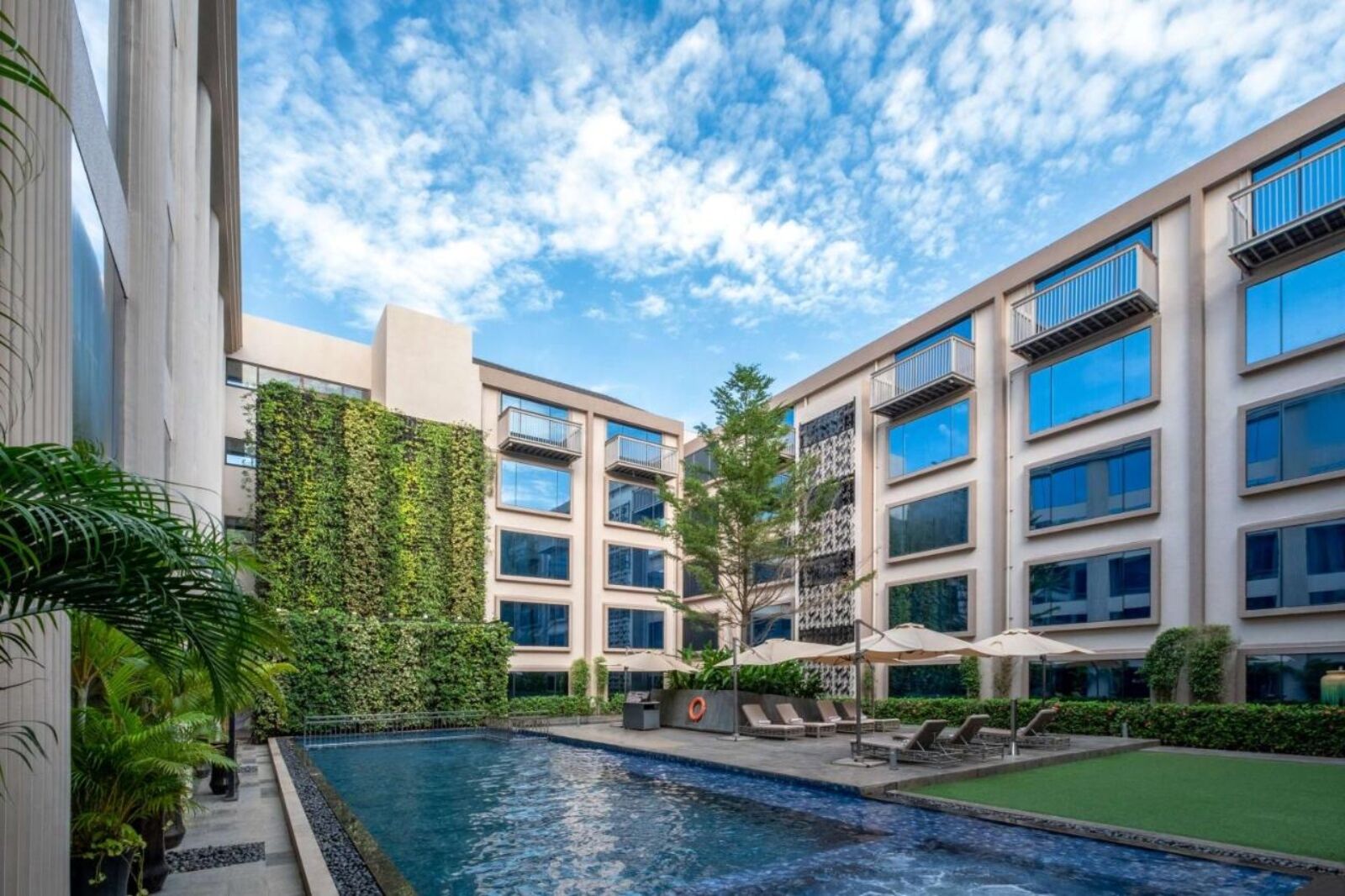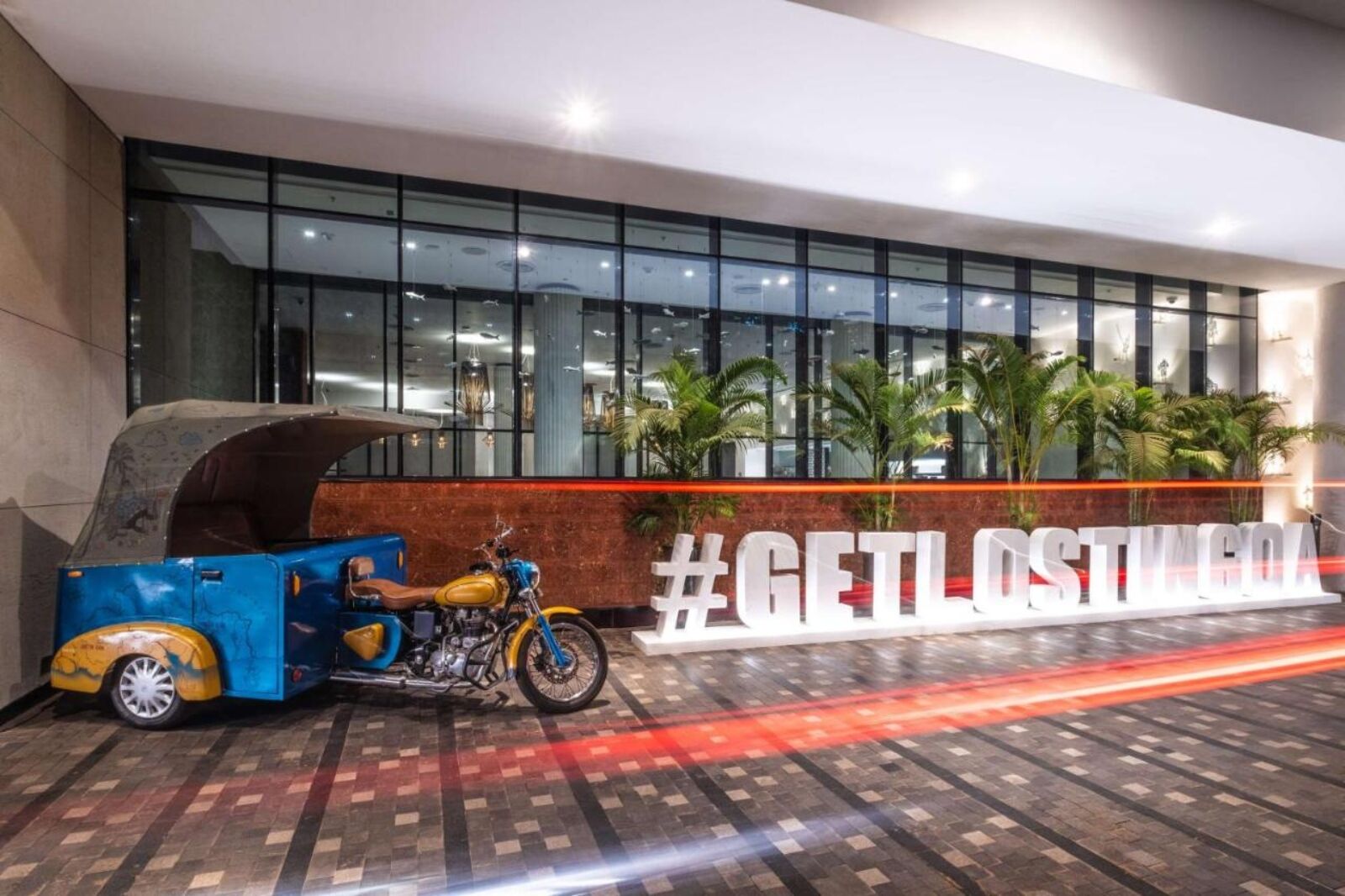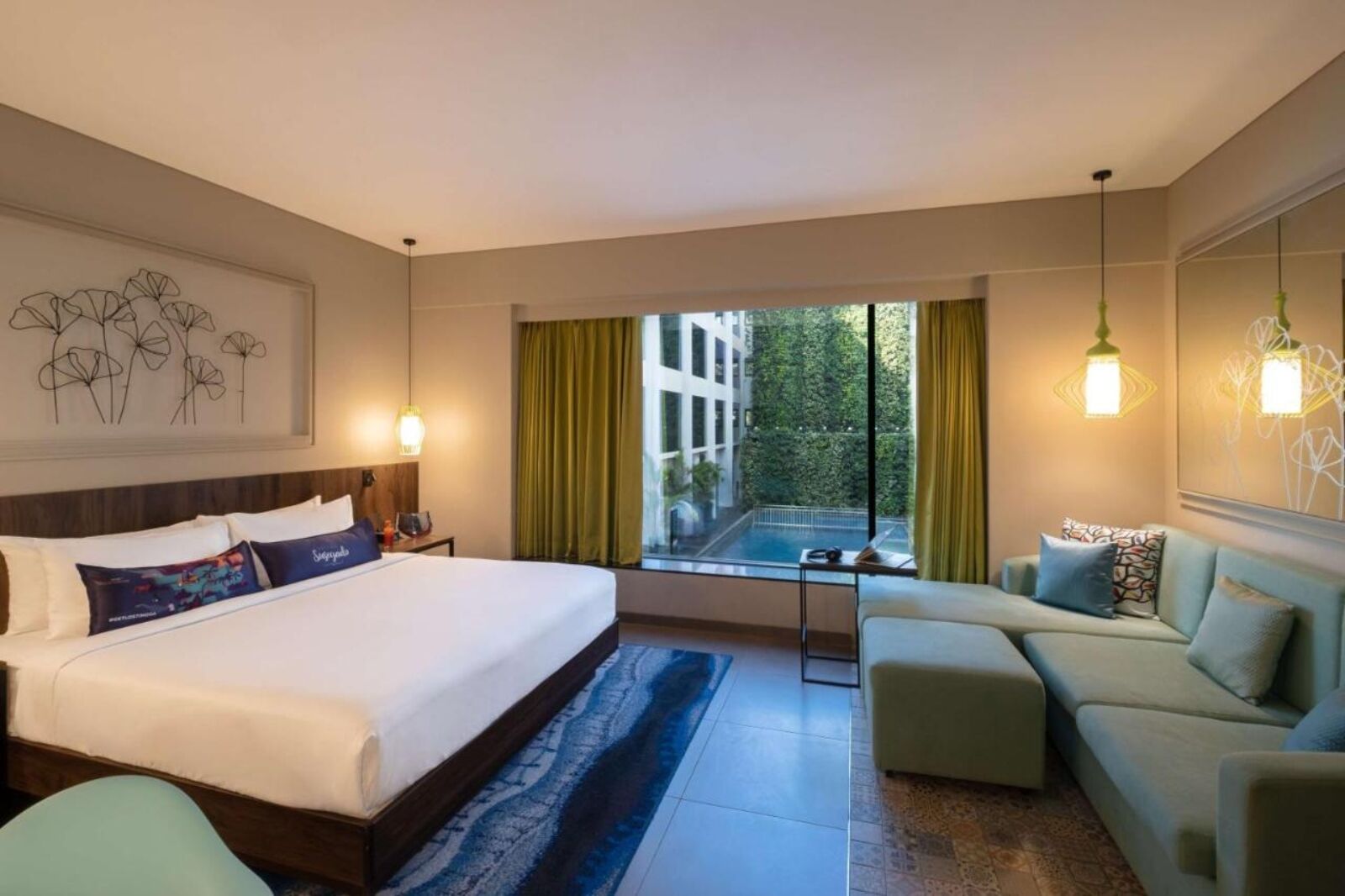 A stay at the Hyatt Centric Candolim Goa is ideal for those looking for a comfortable luxury hotel in the heart of the tourist belt of North Goa. Candolim is a popular and upmarket village 22 miles north of Dabolim International Airport. The hamlet is packed with some of the state's best shops, restaurants and bars, and nightclubs.
An ideal option for those with families, the Hyatt is what you might expect from the chain. It's modern, somewhat urban, and has everything you'd need for a fun beach vacation — including an energetic kids' club.
Rooms at Hyatt Centric Candolim Goa
Space is utilized in the rooms with muted tones of white, greys, and yellows. Mirroring the external chic lines of the hotels the decor is minimal, elegant, and very contemporary. Size and views are defined by price range but each room has luxurious amenities. Expect to find a plush double bed, cozy couch, dedicated study space, a widescreen TV, minibar, a safe, kettle, and snacks.
Amenities at Hyatt Centric Candolim Goa
Complimentary high-speed WiFi.
Pool.
Fitness center.
Onsite restaurant and bar.
Room service.
Kids' club.
Laundry.
Parking.
Where: Anna Waddo, Main Candolim Rd, 403515 Candolim
The St Regis Goa Resort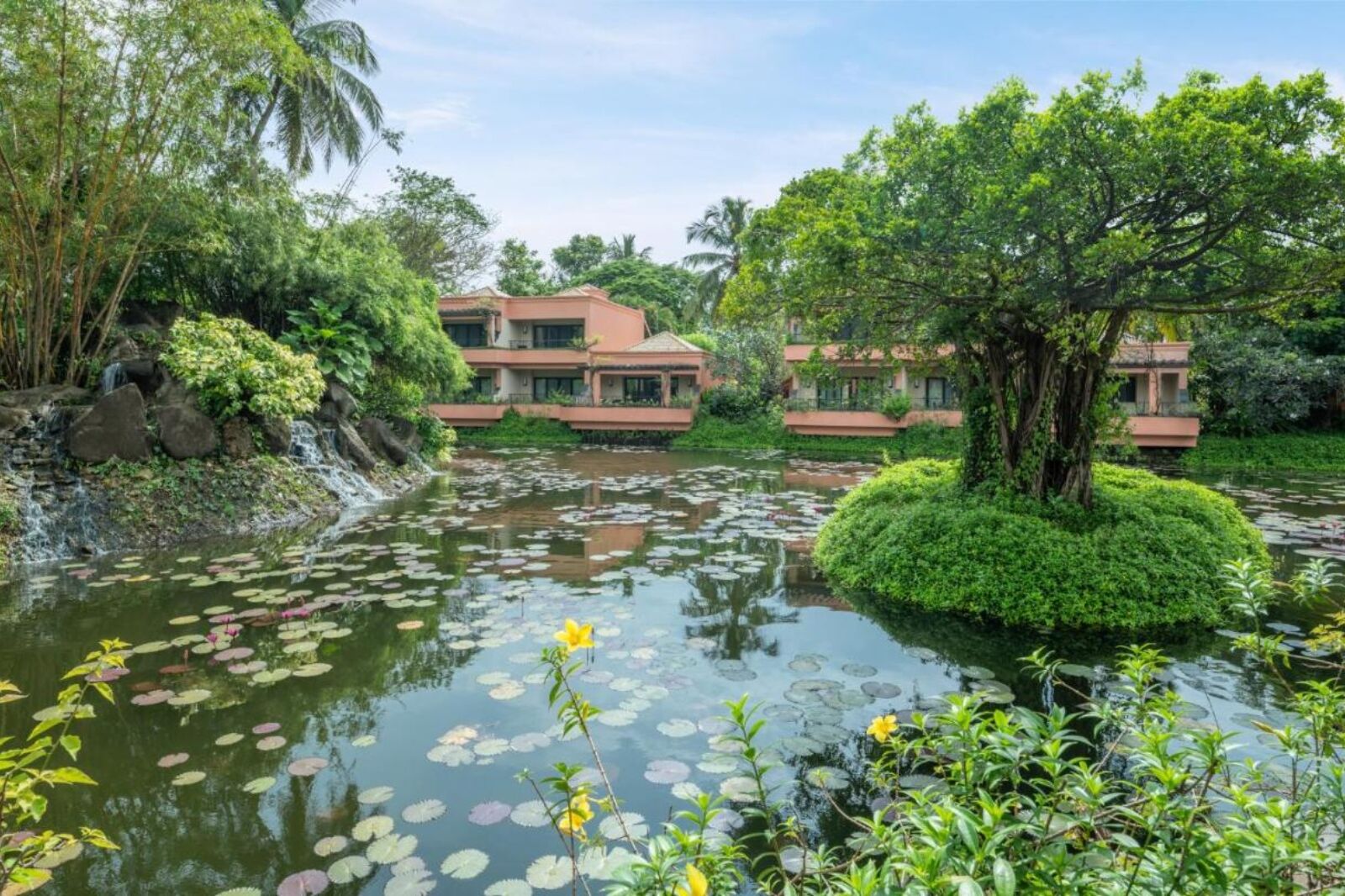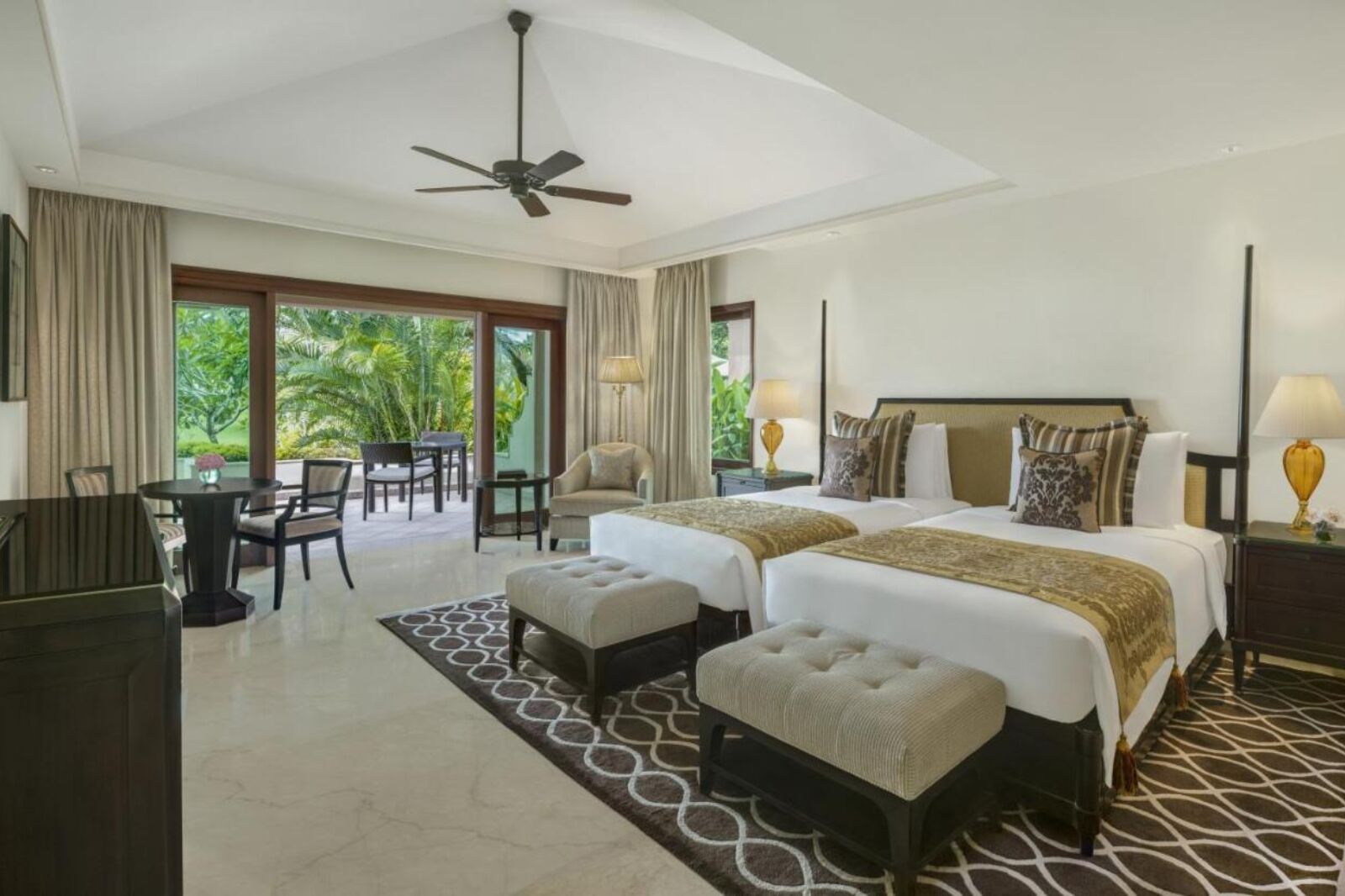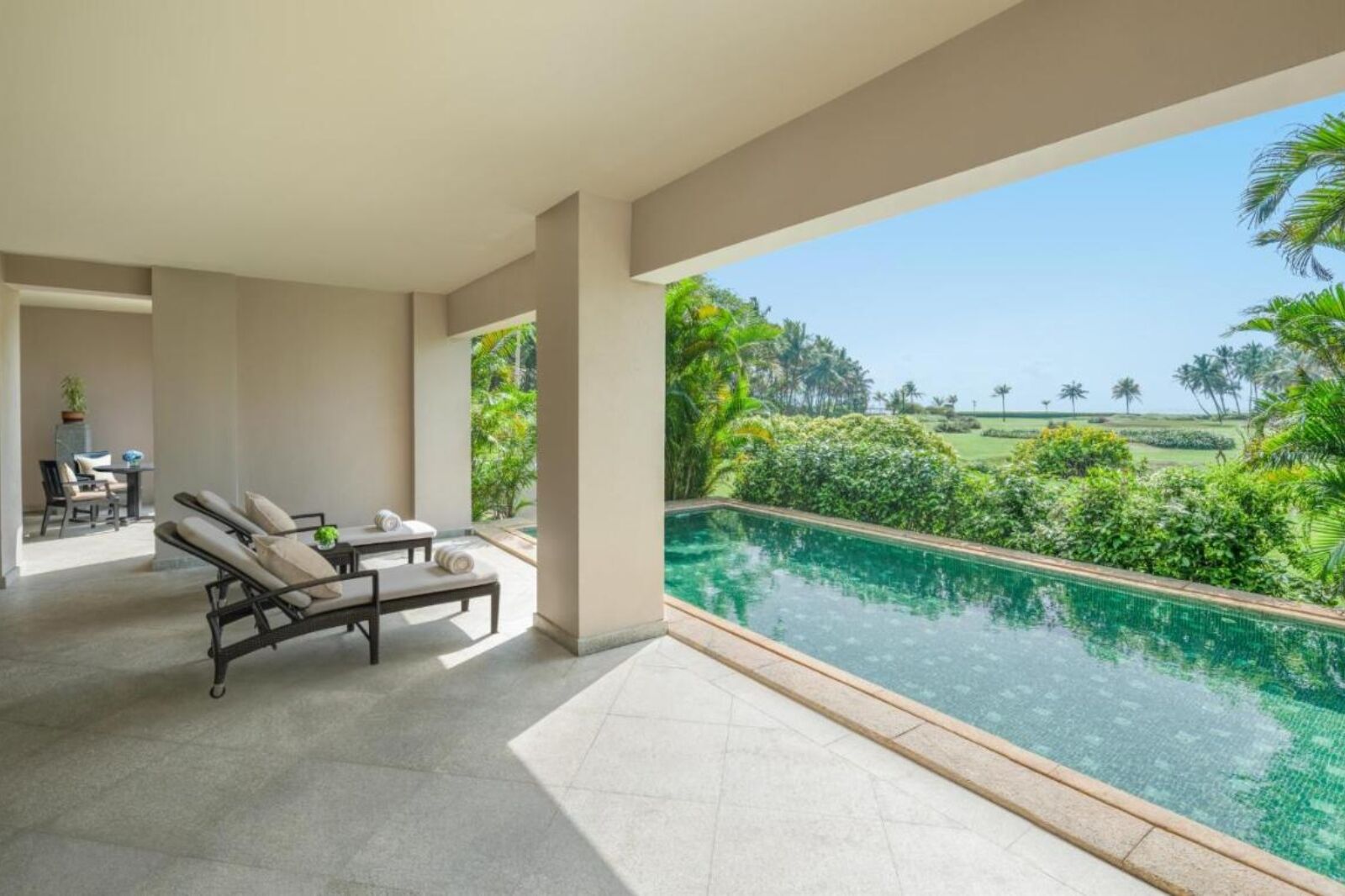 The St Regis Goa Resort takes luxury and seclusion to a whole new level. A dreamy combination of colonial architecture, Hindu temples, lush greenery, and calming water features create an enchanting atmosphere. Steps away from the beach with the River Sal winding through acres of tropical gardens this is the ideal location for those looking for a peaceful retreat. There are four exquisite restaurants on-site offering everything from poolside buffets to beach barbeques, a spa offering Ayurvedic and holistic therapies, and a 12-hole golf course overlooking the Arabian sea.
Rooms at The St Regis Goa Resort
The St. Regis Goa Resort has a range of luxurious accommodations. The Lagoon Superior offers an all-suite setting with a separate living, dining, and bedroom area as well as a private infinity pool and direct access to the sea. The Conservatory Premier is perfect for those looking for a romantic getaway with unending views of the beach and Arabian Sea. And finally, the Manor Suite offers the most exclusive with two-story living spaces, a private garden terrace, and outdoor dining areas.
Amenities at The St Regis Goa Resort
Complimentary high-speed WiFi.
Pool.
Fitness center.
Golf course.
Spa and sauna.
Onsite restaurants and bars.
Room service.
Kids' club.
Laundry.
Parking.
Where:Mobor, 403731 Cavelossim
Le Meridien Goa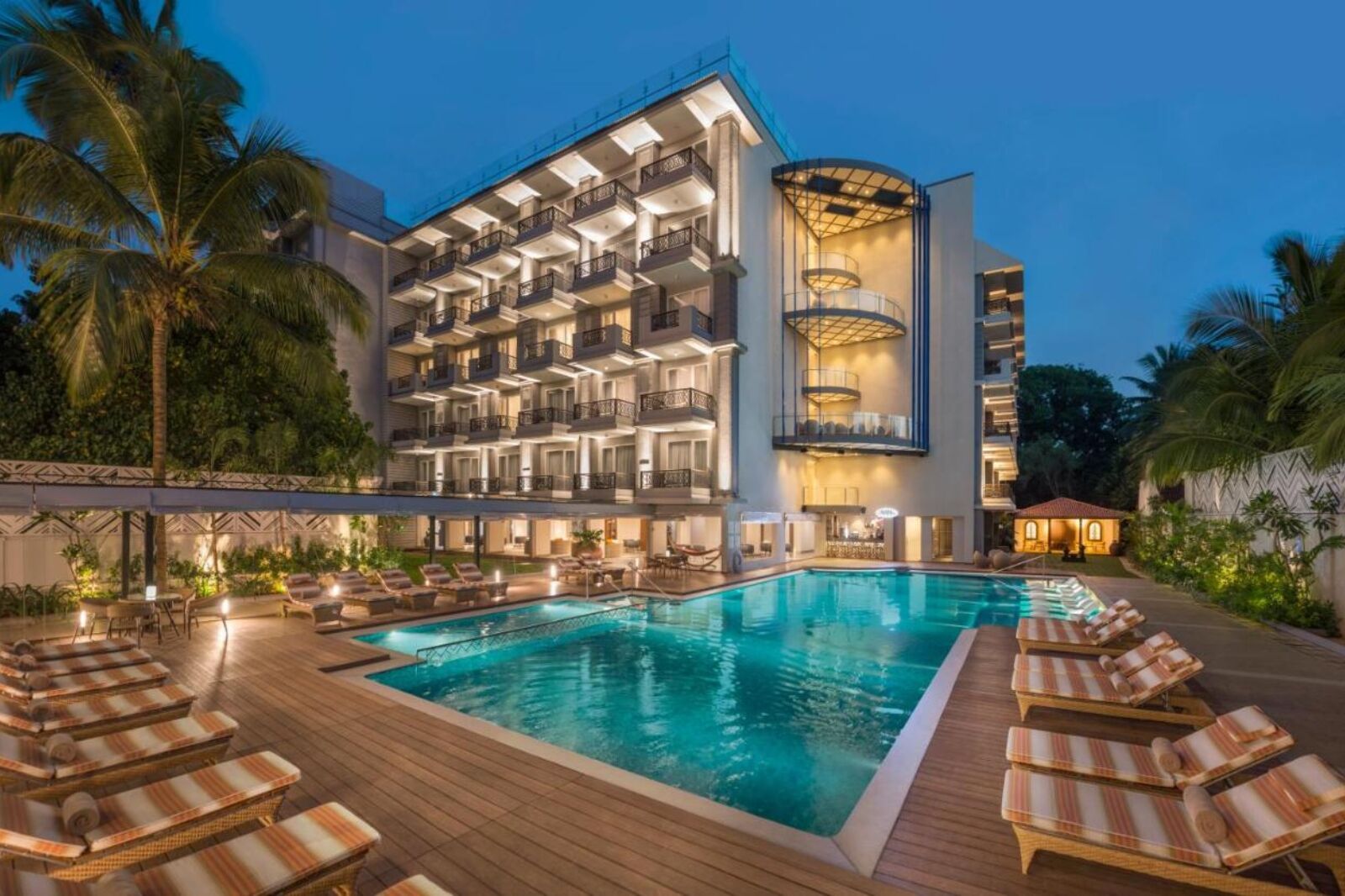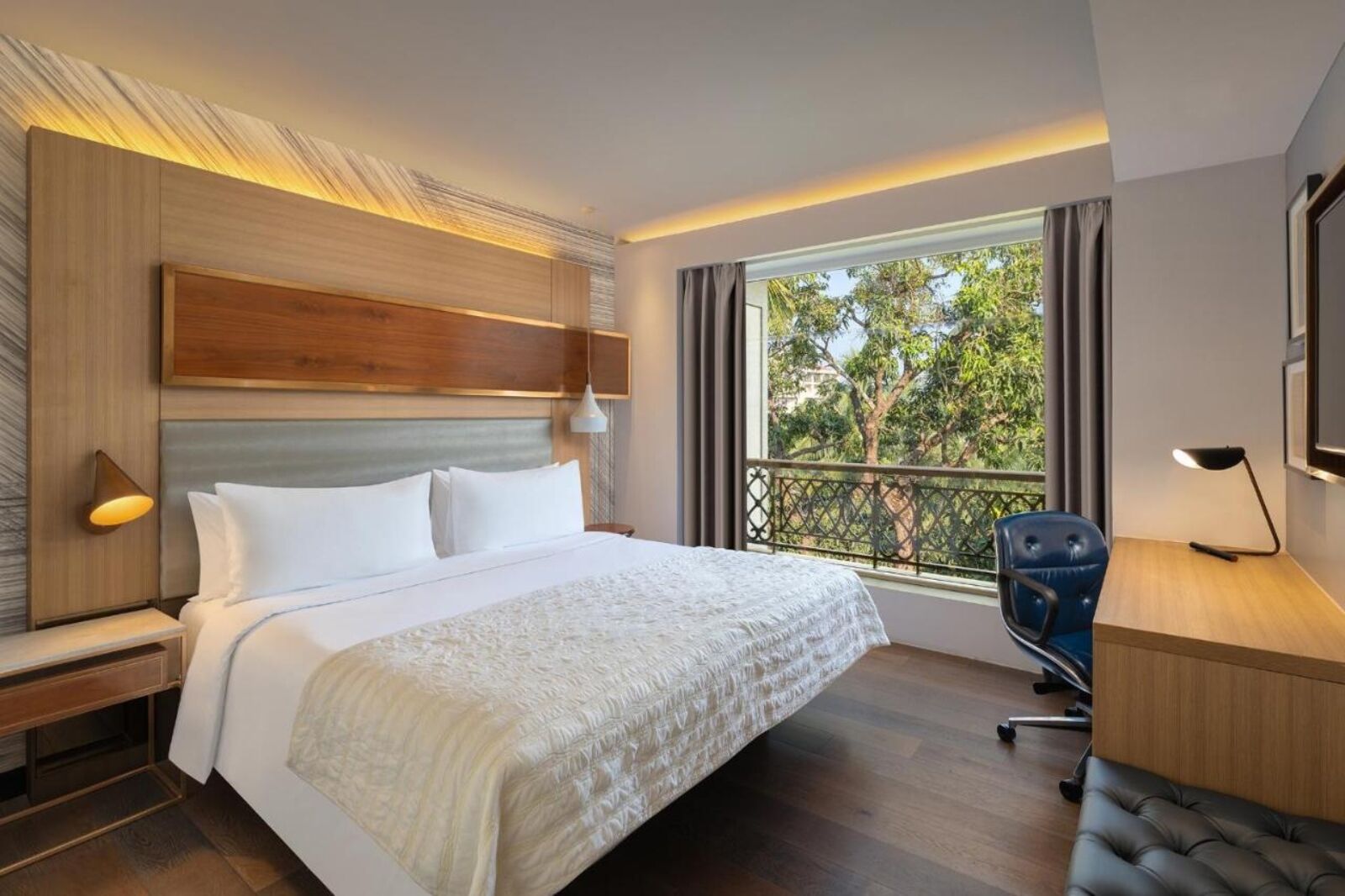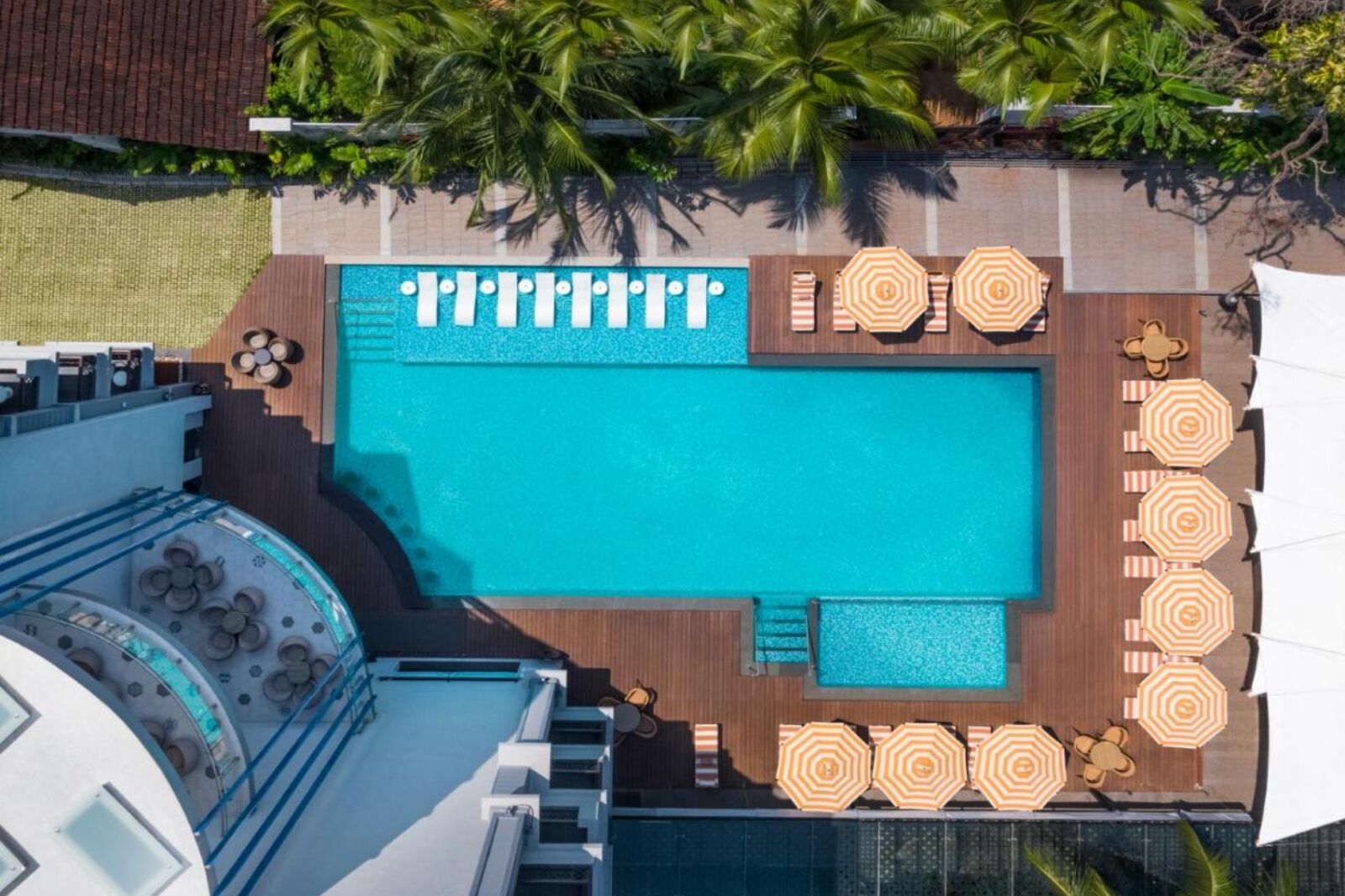 Le Meridien Goa, Calangute is located in North Goa along the famous Baga Beach. Surrounded by lush greenery and overlooking views of the Arabian Sea, this luxury resort offers a serene escape from the busy tourist area. With activities ranging from locally-inspired spa treatments to sunset cruises, Le Meridien Goa is the perfect romantic destination for couples.
Rooms at Le Meridien Goa
Le Meridien Goa offers a variety of luxurious lodging options. Guests can choose from Classic Rooms, Deluxe Rooms, and Suites. The Family Studio is perfect for those traveling in groups and features two bedrooms, a kitchenette, a dining area, and widescreen TV. The Premier Suites, with private balconies and stunning views of the beach and Arabian Sea, are a preferred choice for couples.
Amenities at Le Meridien Goa
Complimentary high-speed WiFi.
Pool.
Fitness center.
Onsite restaurants and bars.
Room service.
Kids' club.
Laundry.
Parking.
Where: Aguada Siolim Road, 403516 Calangute
Anahata Retreat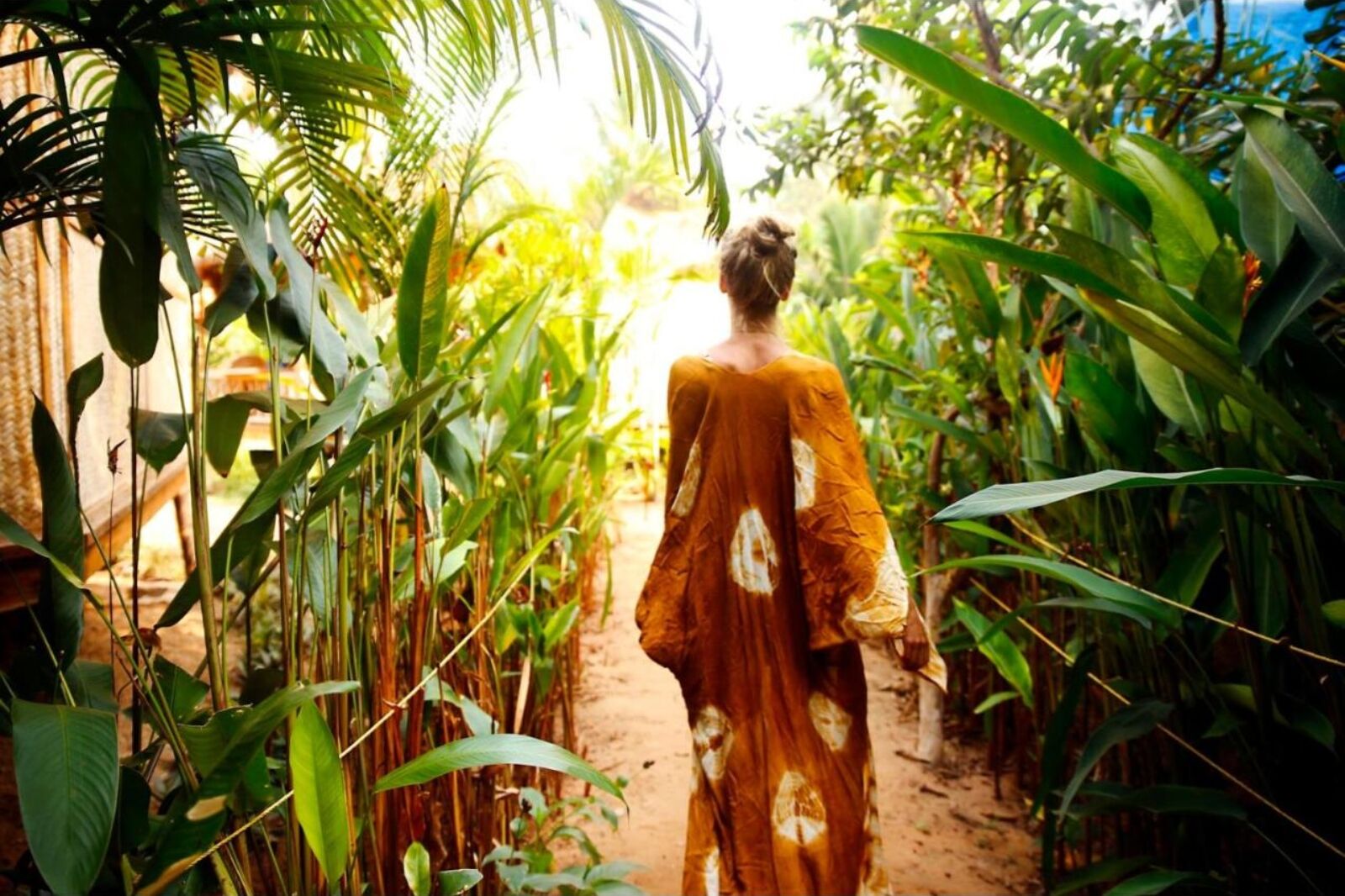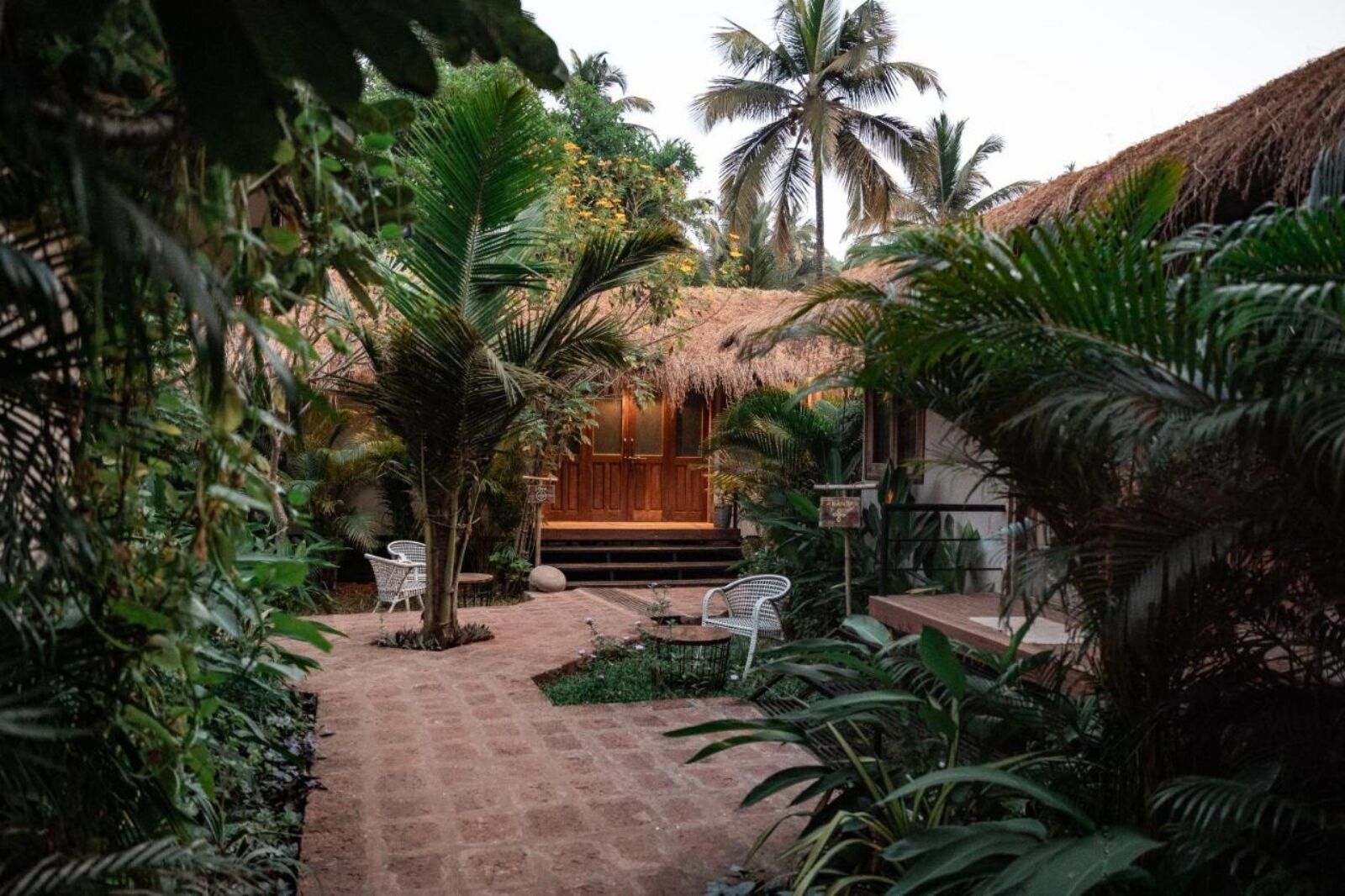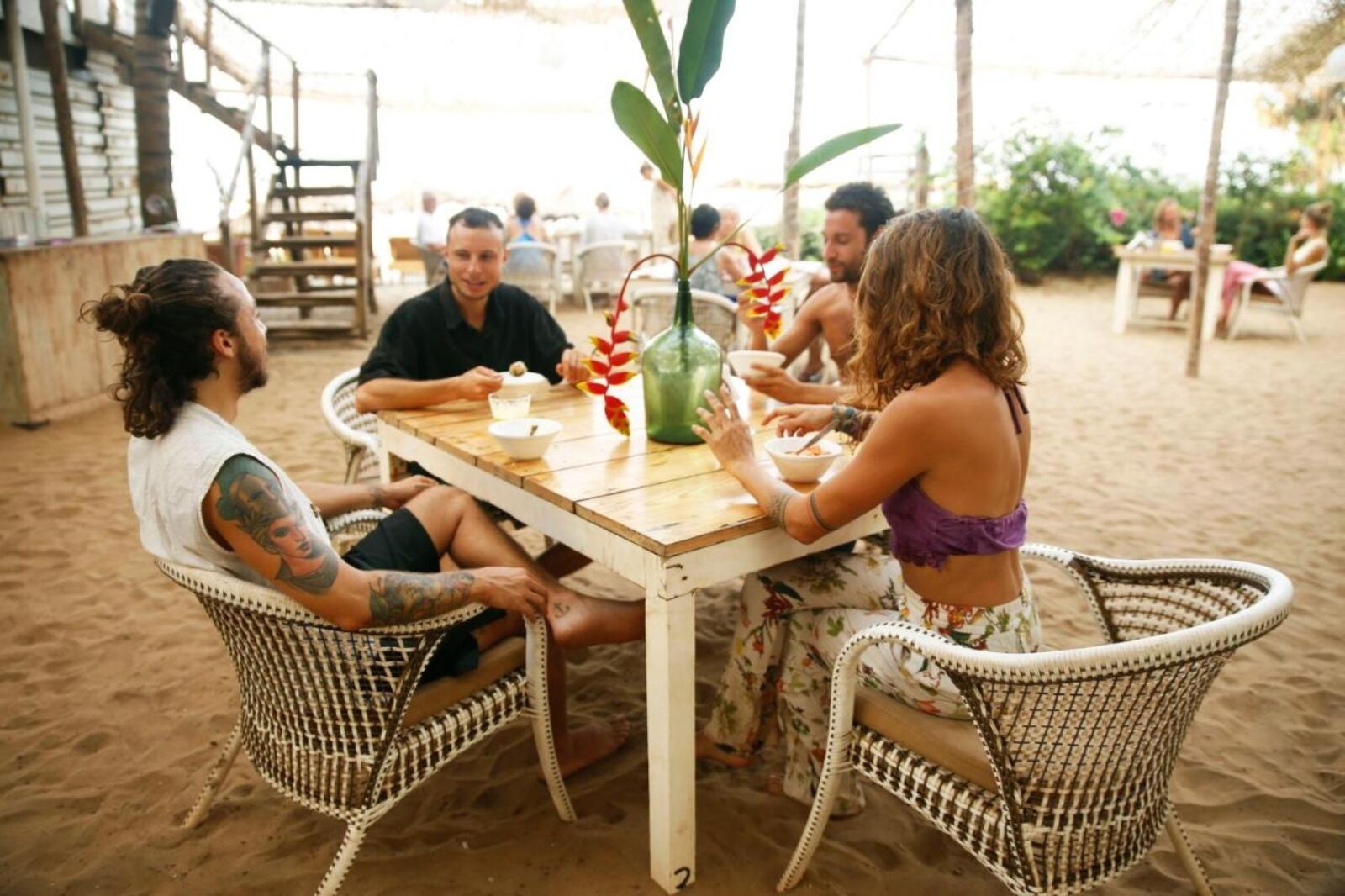 The beachfront resort of Anahata Retreat was founded in 2023 and has since become a popular destination for travelers looking for a luxurious stay with a somewhat "castaway" ambiance. The boutique resort offers yoga classes, spa services, an eatery, and a bar, and is famed for its outstanding hospitality. Anahata Retreat is situated on a quiet and secluded part of Ashvem beach, nestled amidst coconut palm trees and lush plantations.
Rooms at Anahata Retreat
It is recommended to book a cottage at Anahata Retreat, rather than a suite. There is a range of cottages to choose from. From the Sea View Cottage, which overlooks the ocean and is perfect for a romantic getaway, to the Garden Suite, which is surrounded by lush greenery and offers a peaceful atmosphere, there's something for couples and families alike. The Beach Front Cottage provides direct access to the beach and is ideal for those looking to soak up some sun. For couples seeking more privacy, the Private Garden Beach Cottage has its own secluded garden and terrace area.
Amenities at Anahata Retreat
Complimentary high-speed WiFi.
Spa.
Onsite restaurant.
Room service.
Laundry.
Where: House No.367, Next to Ajoba Temple, Ashvem Beach, 403527 Mandrem
W Goa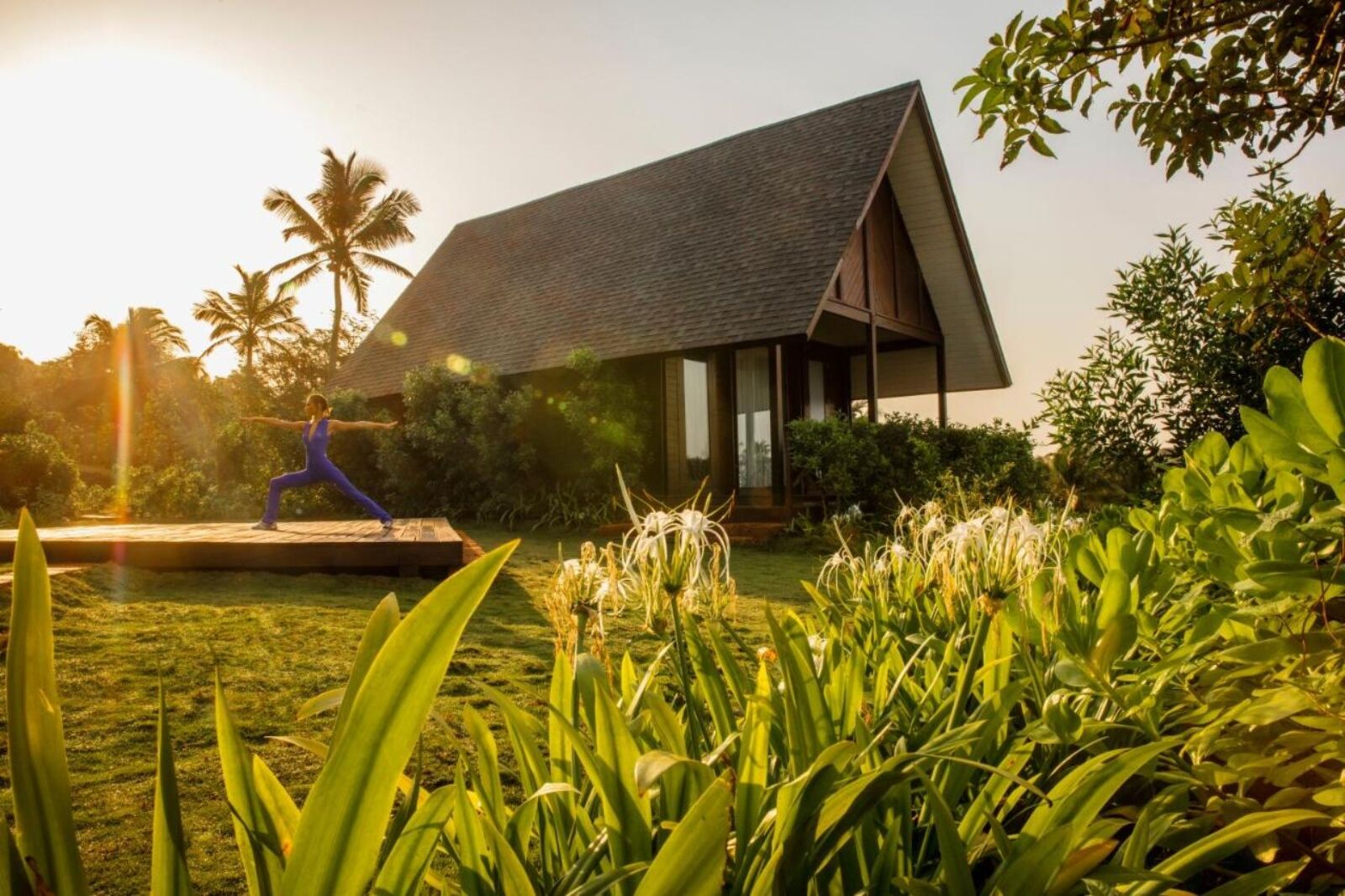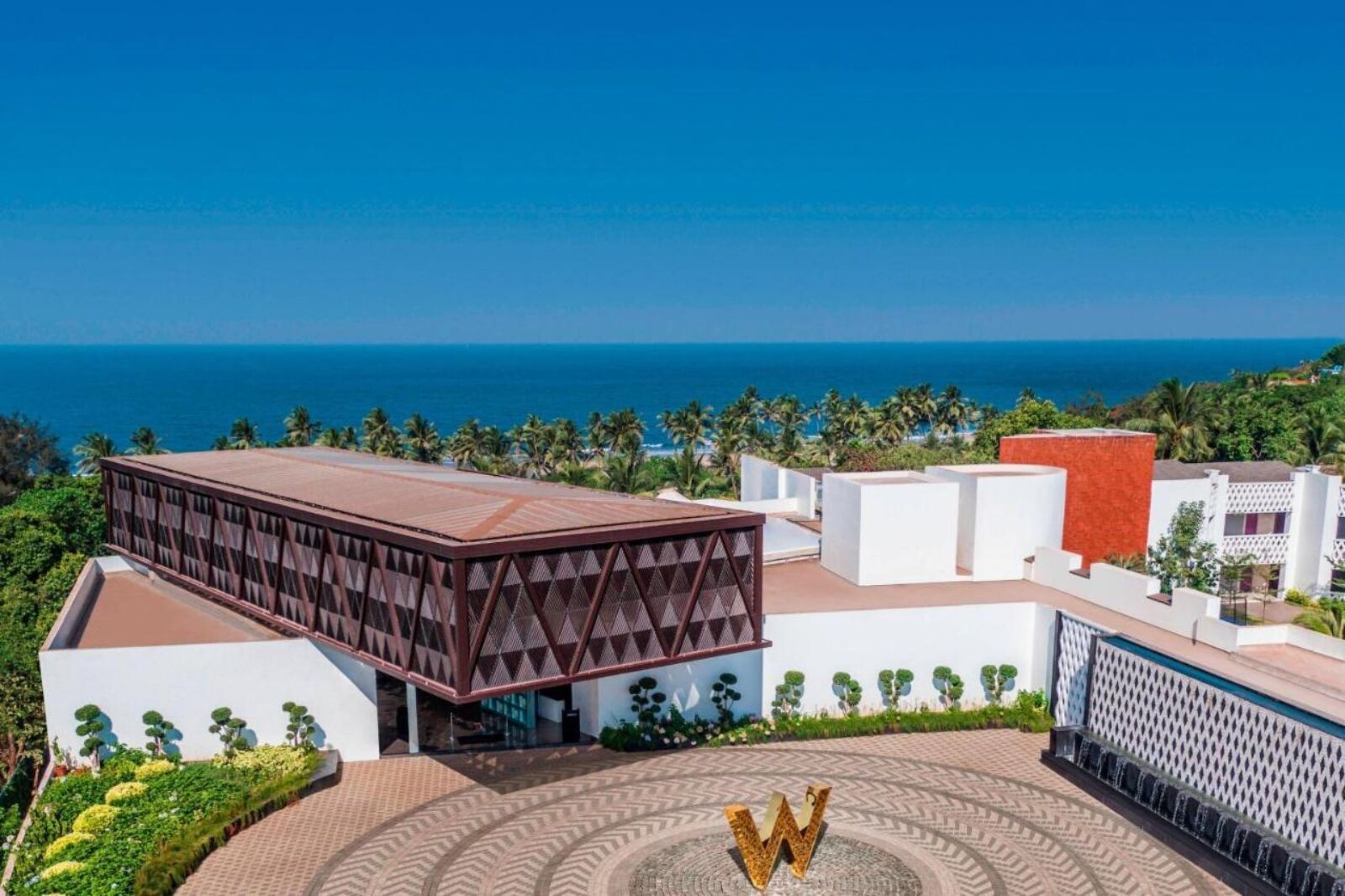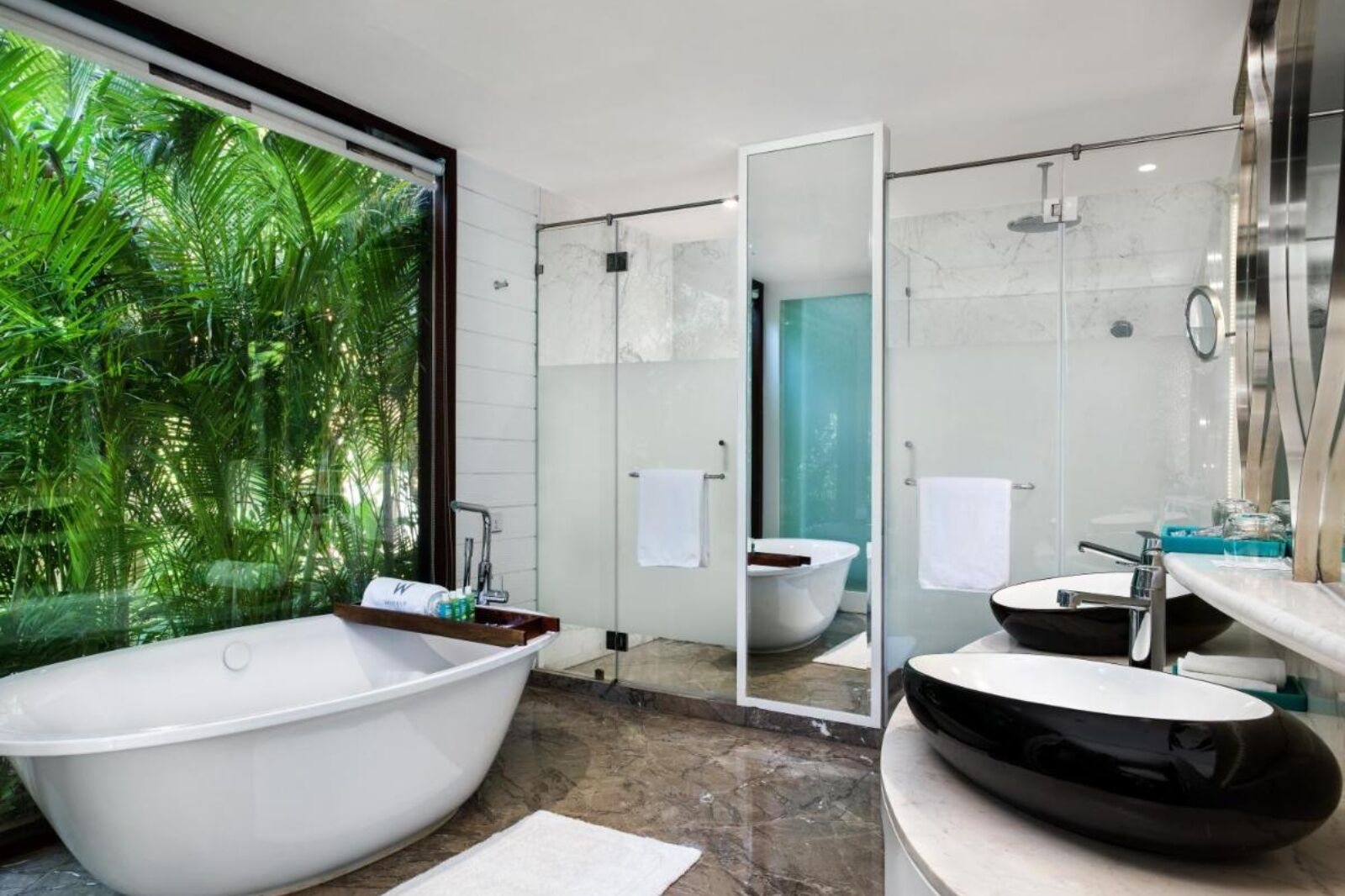 W Goa is situated near Chapora Fort Market and is close to Vagator Beach as well as many restaurants and bars. W Goa offers everything you'd expect from the brand. This is India's first W hotel and brings chic island vibes to northern Goa. 160 vivaciously designed private seaside accommodations ranging from villas, chalets, and suites are modern and sprawling. Guests can also enjoy the outdoor swimming pool or grab a drink at the poolside bar. The resort also features a spa center and sauna, 24-hour concierge service, and kids club activities. Nearby you can stroll to attractions such as Anjuna Beach, Chapora Fort, Panchayat Ground, and Sensistan.
Rooms at W Goa
The decor at W Goa is truly remarkable. Designed by Kuala Lumpur's Design Wilkes and Singapore-based architecture firm Eco-ID, the resort features lush gardens, luxurious villas, and a stunning beachfront setting. The interiors are designed to draw attention to the natural beauty of the surroundings, with vibrant colors and textures that reflect the bohemian spirit of Goa.
Villas: These luxurious villas feature private plunge pools and sitting-out balconies overlooking the Arabian Sea.
Chalets: These waterfront villas come with complete kitchenettes, large windows, and entertaining areas.
Rooms: Choose between Deluxe King or Twin rooms with floor-to-ceiling windows and rain showers.
Suites: Enjoy a super luxurious stay on two levels that have an upper terrace living space and plush furniture.
Amenities at W Goa
Complimentary high-speed WiFi.
Pool.
Fitness center.
Tennis courts.
Spa and sauna.
Onsite restaurants and bars.
Room service.
Kids' club.
Laundry.
Parking.
Where:Vagator Beach, Bardez, 403507 Vagator
The Postcard Velha, Goa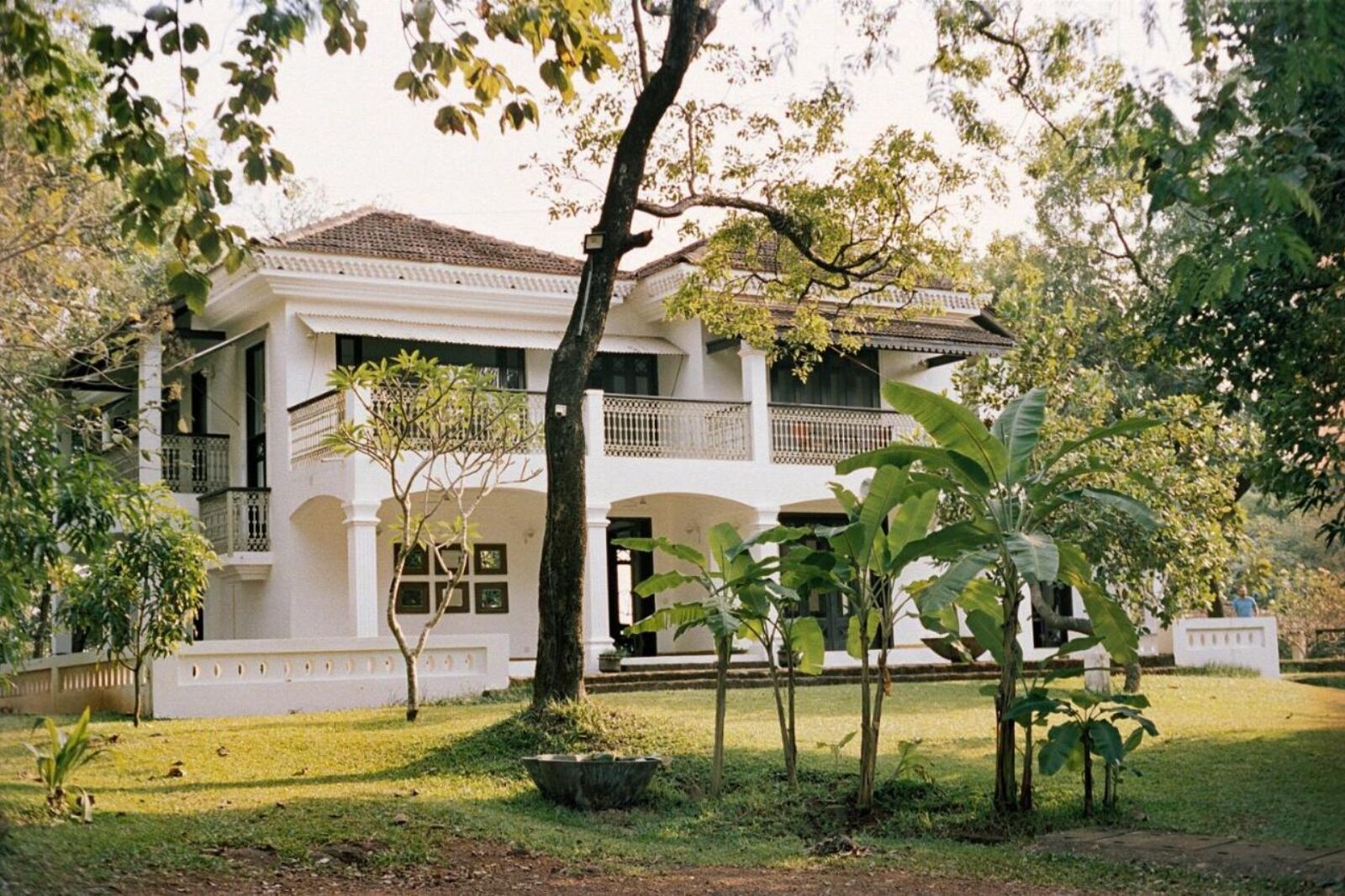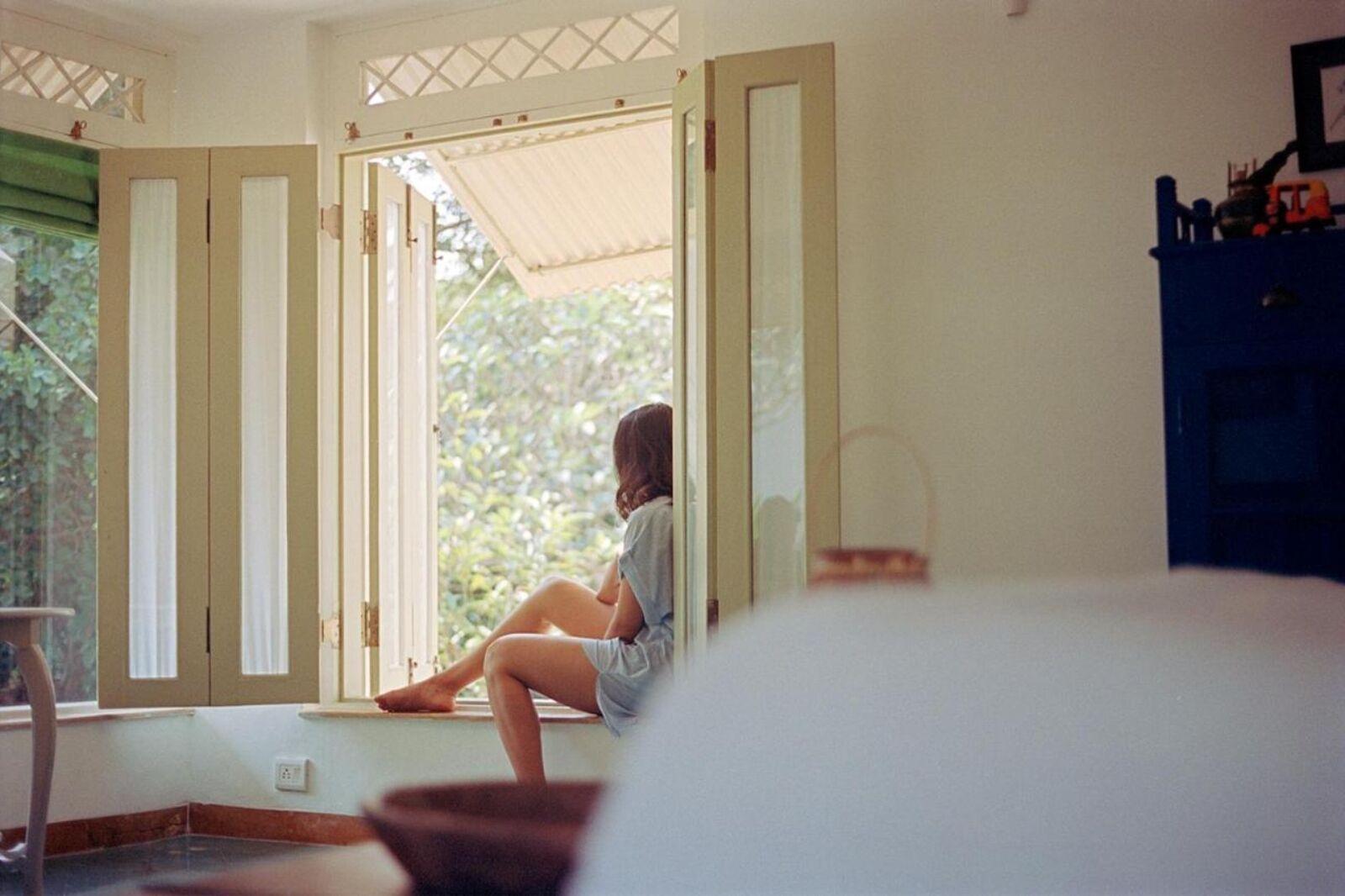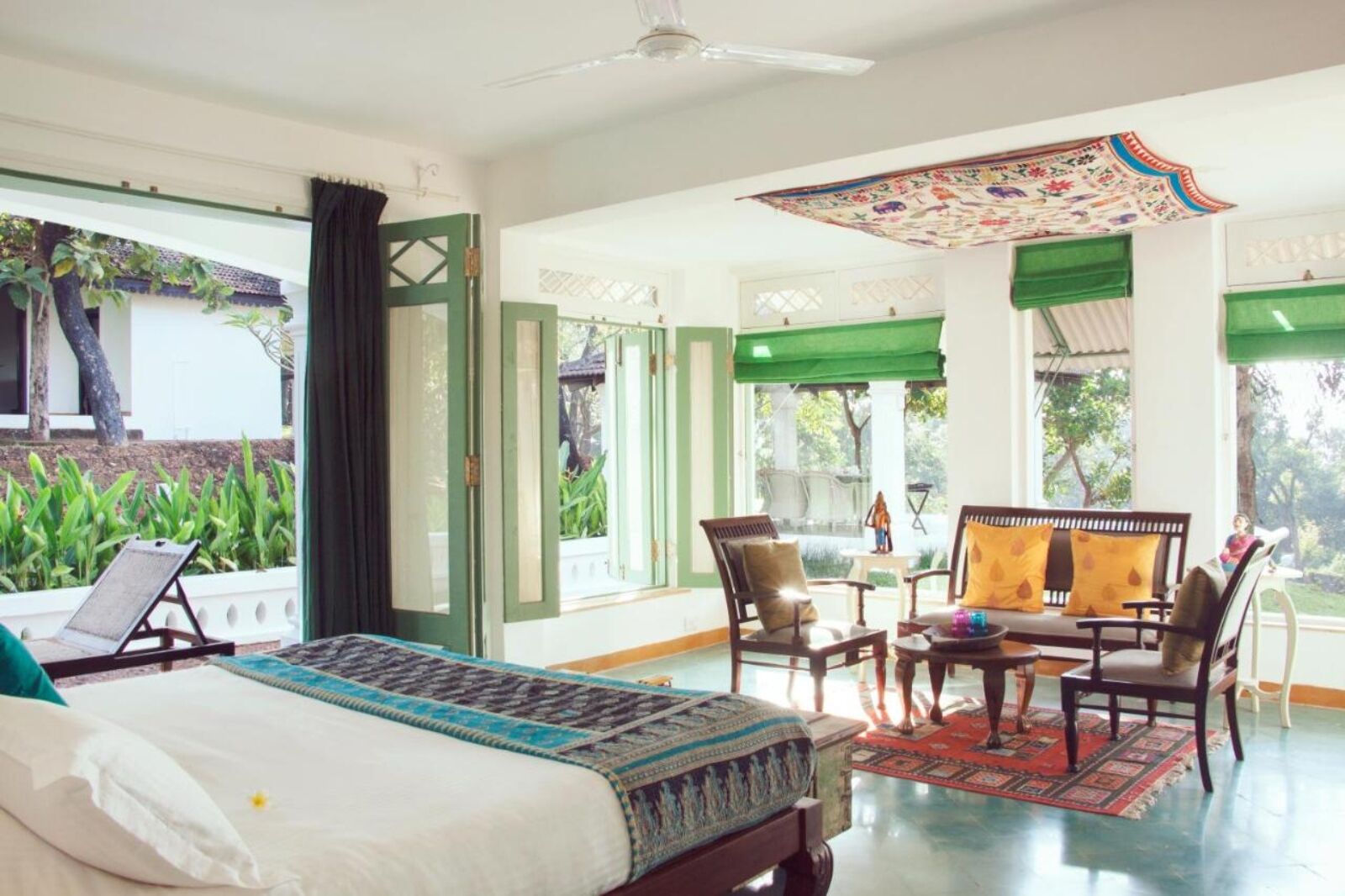 The Postcard Velha is a secluded resort tucked away atop the hillock of Nossa Senhora de Monte in Old Goa, India. Old Goa was once the Portuguese capital and is now a World Heritage Site. The Postcard Velha was built in 2010 and has since become an award-winning wellness retreat focused on holistic healing and providing a secluded sojourn for its guests. The resort also offers an impeccable assortment of cuisines prepared by its team of in-house chefs for weddings or other special events.
Rooms at The Postcard Velha, Goa
The resort has six rooms, each with its own unique style. The warm earthy tones and eclectic furnishings blend in perfectly with the lush foliage surrounding the property. Brightly colored cushions, regional decor pieces, wooden furniture, and vibrant wall accents bring life to each room. Guests can enjoy breathtaking views of the coconut plantations that surround the property, as well as explore nearby attractions such as Viceroy's Arch and Se Cathedral.
Amenities at W Goa
Complimentary high-speed WiFi.
Pool.
Fitness center.
Spa and sauna.
Onsite restaurants and bars.
Room service.
Laundry.
Parking.
Where: D-69/4/5 After Gandhi Circle, Before Church of Our Lady of Mount, Ella, Velha Goa
What did you think of this story?