This Was the First Hotel in Aruba, and It's Still One of the Caribbean's Best
In the mid-20th century, Aruba was a mostly ignored deserted island. Compared to its lush and volcanic Caribbean neighbors like Cuba or the Bahamas, Aruba's landscape of cactus-filled rock swept bare by hot trade winds didn't seem as much like a vacation paradise as it did a place to send misbehaving sailors.
But in the 1950s, the Dutch Caribbean island realized it had a few natural advantages the more famous, foliage-covered islands did not: because it sits outside the hurricane belt and gets almost no rain, Aruba can offer tropical vacations with near-guaranteed sunshine.
That potential drew famed architect Morris Lapidus, who also designed Miami's historic Fontainebleau Hotel, to Aruba, where he designed its first resort: the Aruba Caribbean Hotel. The first Aruba hotel opened in 1959 and almost instantly transformed the island into a top vacation destination.
Dozens of other resorts have popped up in the decades since, but the Aruba Caribbean Hotel, now called the Hilton Aruba Caribbean Resort and Casino, still stands as the island's original tourism icon. Staying at the Aruba hotel is like taking a trip back to a beachside paradise, showcasing why people still flock to this island more than 60 years later.
Here's why you may want to stay at the island's first hotel, where the Aruba of yesteryear perfectly blends with modern luxury.
Everything you need is within walking distance
The Hilton Aruba Caribbean Resort and Casino is on Aruba's Palm Beach, one of the most popular (and beautiful) beaches in the Caribbean. Though it's now lined with hotels and mega-resorts, the soft, white sand and turquoise water are still as idyllic and clean as they were in the 1950s. And because there's a strip of beach bars and exciting restaurants just behind the hotel, you can explore the island's food and nightlife without renting a car.
The ambiance at this Aruba hotel begins before you even check-in, as the big, breezy lobby is filled with tropical plants whose leaves sway in the warm tropical winds. Photos of actor Jack Benny and his windblown hair, Jackie O. by the pool, and vintage cars parked in front of the hotel's 1960 facade fill the lobby, ensuring guests are immediately aware of the hotel's lasting legacy before they've gotten their room keys.
Traveling through the lobby, guests will immediately arrive at the Mira Solo Bar. While it's technically a lobby bar, it's a notch above most, with nightly guitar or steel drum music and balmy sunset happy hours.
Views of tropical gardens and aquamarine water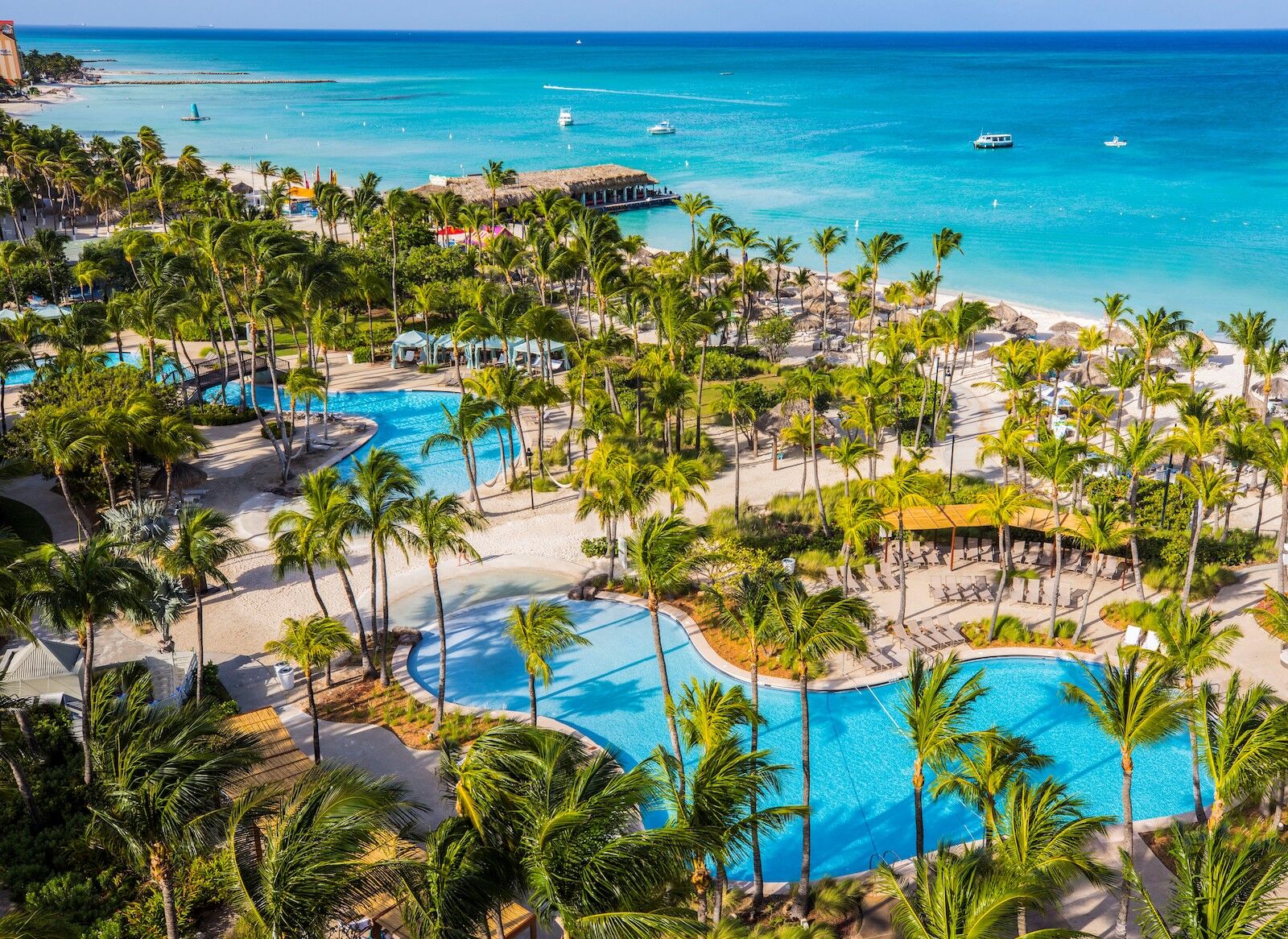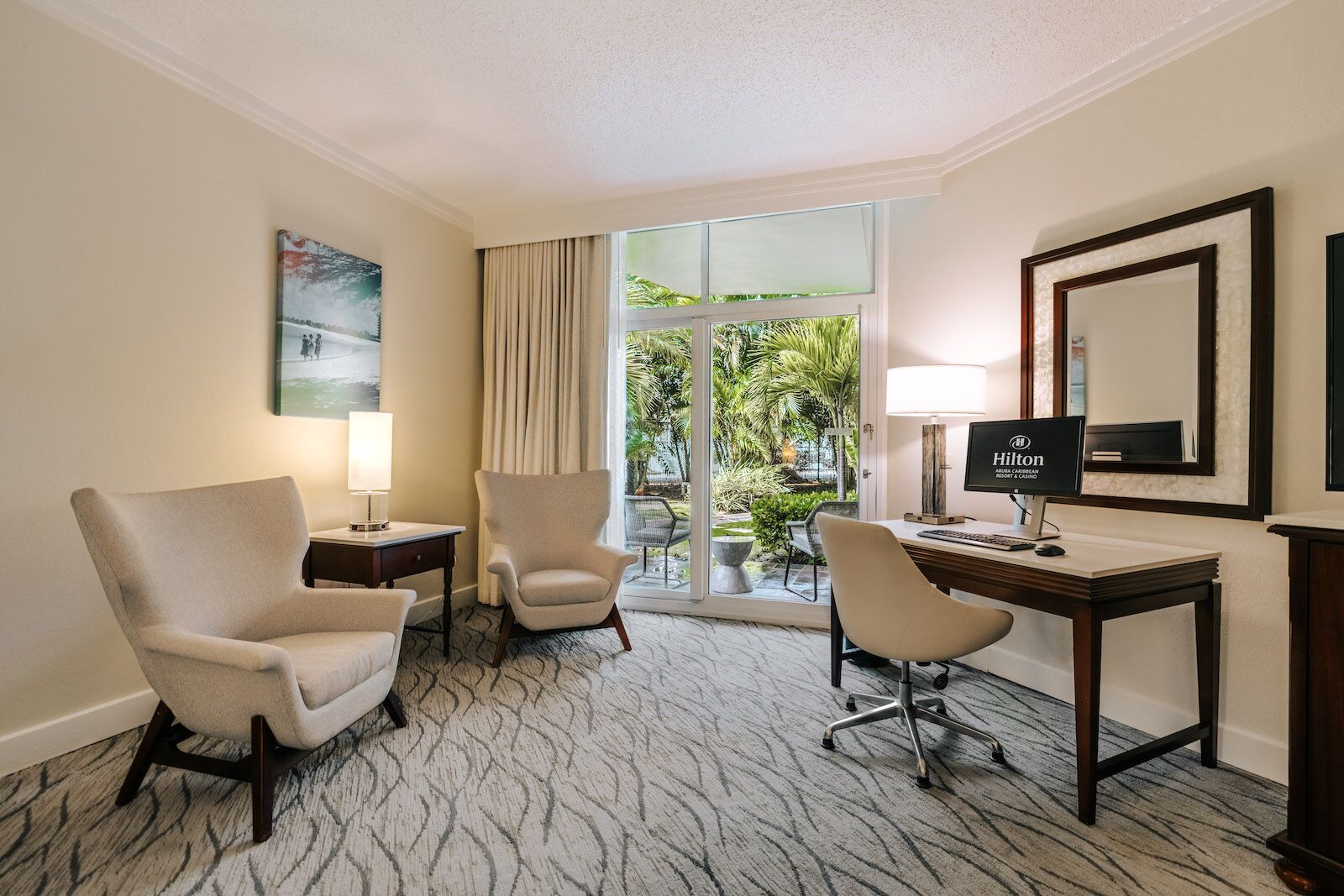 The hotel's footprint stretches across 15 acres, so the place never feels crowded even when its 357 rooms are filled. You might even find yourself remarking, "seems a little slow this week," while you're posted up under a palapa with nobody else around – but that focus on personal space sets it apart from other Aruba hotels.
The rooms are split across three towers named after the islands of the Leeward Antilles: Aruba, Bonaire, and Curaçao. Aruba is the original tower and boasts the largest rooms, measuring nearly 500 square feet each. The decor leans heavily on dark woods and light walls, with driftwood lamps and ocean views. It's a unique, mid-century-meets-coastal aesthetic that harkens back to the tropical vacation dreams of the 1950s and '60s.
The other two towers keep a similar design motif, though the rooms are a bit smaller and lack the entryways of Aruba's rooms. Many look out onto the resort's tropical gardens rather than the ocean. As they come in at a lower price point, Bonaire and Curaçao rooms may be a better move for visitors planning on spending most of their time outdoors.
Parrots on your shoulder and palapas on the beach
Steps from the beach live the Hilton Aruba Caribbean Resort and Casino's resident parrots, who spend their days squawking at guests and posing for pictures. A board near their habitat tells you when the staff "bird whisperer" is available, whose job it is to teach guests how to safely hold and handle the birds while taking photos. If nothing else, it's a fun photo op, but it's also a chance to learn more about the protection and life cycle of macaws, cockatoos, and other tropical birds than you expected to learn on vacation.
 

View this post on Instagram

 
The birds are just a short walk from the Miramar Lawn, where cashew and mango trees cast shade over lawn games like oversized Connect Four and Jenga, and nearby couches offer places to relax if the competition gets too heated. Though the hotel did away with its kids club after COVID, it frequently hosts family- and kid-friendly activities in the space, the details of which are posted next to the parrots' schedule.
The beach is what has kept the hotel going for seven decades
The main attraction, of course, is the beach, a stretch of fine white powder with the glimmering Caribbean beyond. The Hilton's slice is dotted with rentable palapas; guests can lounge in the shade and order food and cocktails from their phones. So if you want a piña colada or an order of wings, just make a few taps on your phone and 10 minutes later, your items are arriving at your palapa (and automatically charged to your room).
You'll want to choose your palapa carefully, though. On the beach, you'll see signs warning of strong winds, and they're not just there for decoration. While you won't exactly be sunbathing in whipping winds, you may be fighting to turn the pages in your book if you read outside on windy days.
…but you can always skip the beach
The Hilton also offers two pools – passive and active. As the name might imply, the passive pool is a shallow lagoon surrounded by chaise lounges. Children are technically allowed, but you're unlikely to see many as there's not much to do at this pool other than sunbathing.
The active pool is just that, with a volleyball net, occasional water aerobics, and other in-pool activities. It's not exactly akin to a Vegas pool party rager, but offers a little more action than the passive pool. This is where you'll find the resort's reservable pool-apas – similar to the palapas on the beach but, well, by the pool.
Just behind the pool is a sprawling waterfall lined with avocado trees, adding a touch of relaxing white noise to the otherwise lively poolside experience.
A beach hotel with actually impressive dining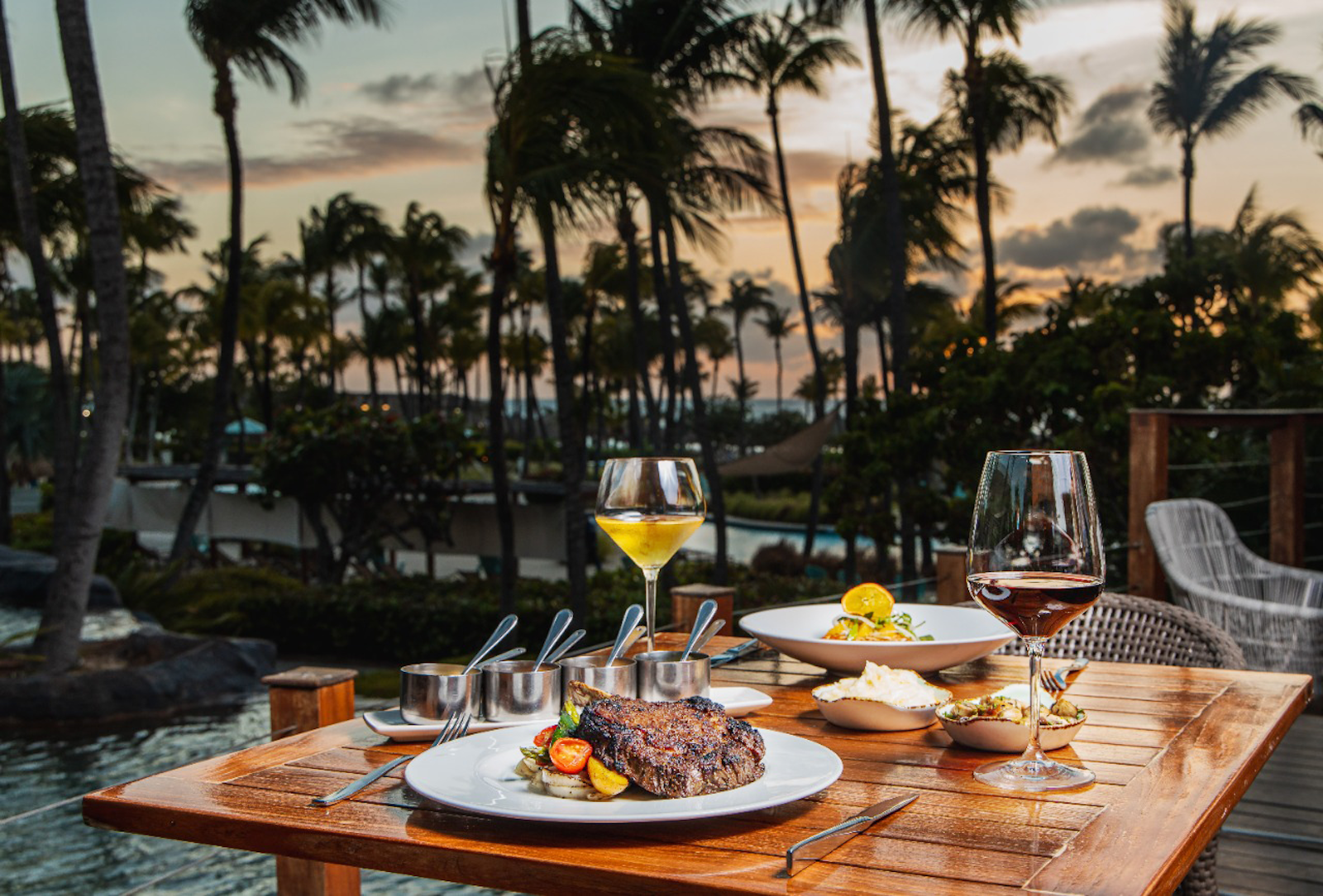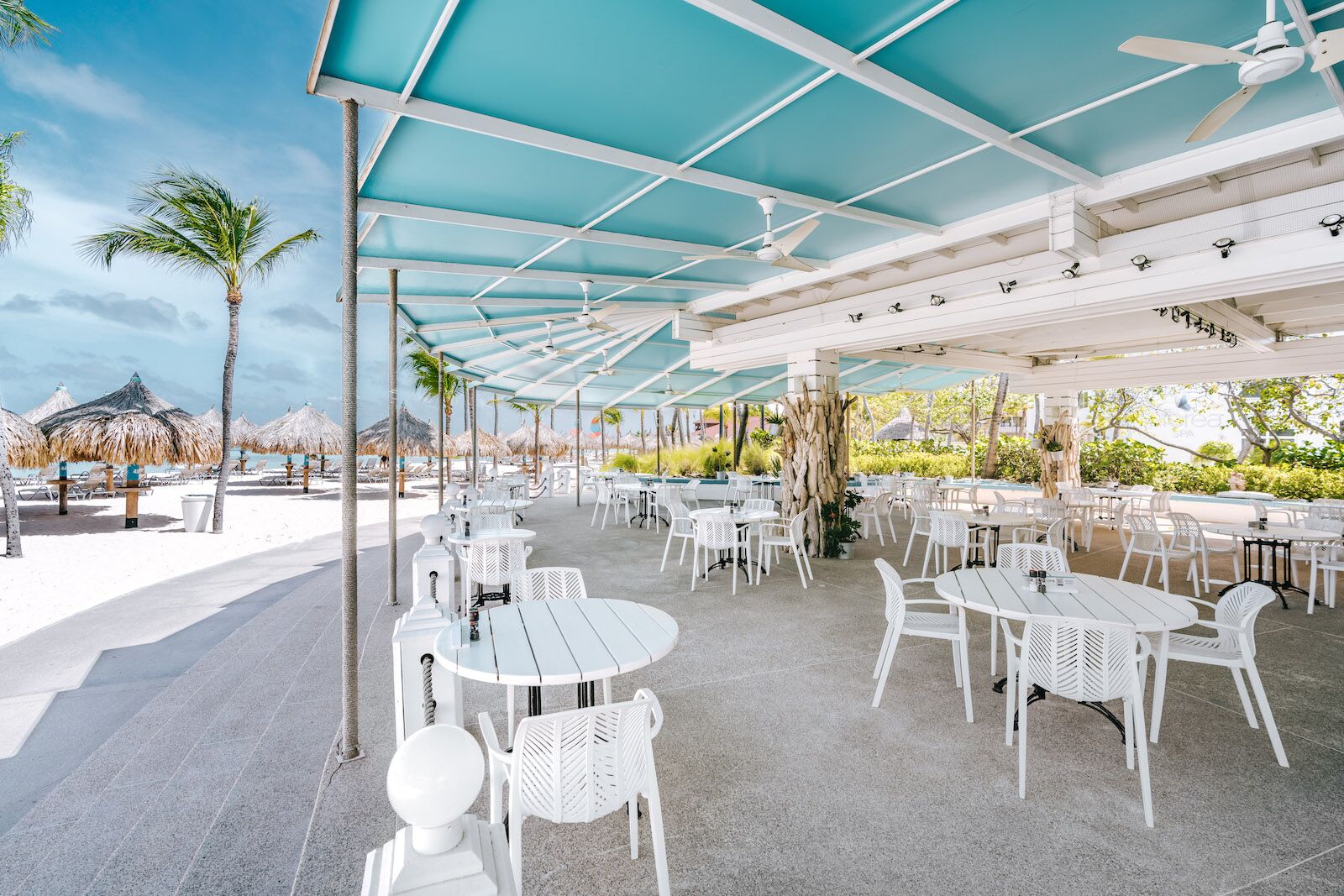 While you'd be remiss to leave Aruba without exploring the restaurants of the Palm Beach strip, you won't have to leave the resort to find some solid nosh. The standout is Sunset Grille, an old-school steakhouse serving top-notch chops either in spacious booths or outside overlooking the ocean. And, in something you'd not expect in most Aruba hotels, the prices are slightly less than you'd find in a comparable steakhouse in major US cities. And while the wine list isn't spectacular (it's Aruba, after all), it does the job for vacation.
Breakfast is served at Laguna Restaurant, where an endless buffet of pastries, meats, and fresh fruits awaits. Tables are beside the resort's tranquil lagoon, where ibis and roseate spoonbills often join guests for breakfast.
Lunch and afternoon cocktails are best enjoyed at Gilligan's, the patio restaurant by the water. It offers the standard burgers and fish sandwiches one expects at such restaurants, although the burrata salad is a surprising gourmet addition that pairs perfectly with an Aruba-brewed Chill beer.
 

View this post on Instagram

 
If you're looking for an Aruba hotel for an anniversary or to ratchet up the romance, you may be intrigued by the special sunset dining experience on the sand. Couples dine on Palm Beach, where private servers bring four courses and pour from reserved bottles of wine. Diners pre-select their courses, so the entire experience is seamless. And aside from some kindergarten-like heckling from over-served tourists strolling the beach, it's a perfectly romantic experience (for $220 per person.)
One thing to note on dining at the resort: Hilton includes a service charge on all its checks but adds a "tip" line as well. The service charges are pooled and split between the staff, so while you're welcome to tip more, understand that anything left on that line is an addition to the already-included gratuities.
On- and off-site activities are easy to make happen
 

View this post on Instagram

 
The gym has to be one of the most most scenic perhaps of anywhere in the Caribbean, as lines of treadmills, ellipticals, and exercise bikes look onto the ocean. The gym is also the only place on the resort where you'll ever feel crowded, though, and it can be a bit tricky to snag cardio equipment without a wait in the early morning or evening.
Of course, you're in paradise, so there are plenty of places to be active outdoors. The resort is on Aruba's beachside running path, a 3.5-mile route along the shore. If the treadmills are full, it's an excellent place for an al fresco run. You'll sweat a little more, but at least the views will change.
The gym shares a building with the hotel's spa, a calming space where many treatments use Aruba's most famous export: Aloe. While the beachside massage cabana sounds lovely, be warned: the lapping waves are indeed calming, until a family from Wisconsin with two small children sets up in the lounge chairs 15 feet away from your supposed peaceful space. Then, well, it's like getting a massage at your local public beach. Opt for a treatment room.
 

View this post on Instagram

 
Of course, this is Aruba, and you'll want to spend time away from the resort to visit places like the collapsed land bridge and the seaside desert of Arikok National Park. Fortunately, the concierge desk in the lobby can set you up with whatever you want to see or do. And that includes scuba diving. As hurricanes rarely hit the island, the reefs are mostly spared from heavy swells and waves, leaving them healthy and intact. That gives Aruba some of the Caribbean's best diving and, fortunately, the concierge can also set up dives for everyone from expert divers to first timers.
Hilton Aruba Caribbean Resort and Casino is still one of the island's best
While you'll want to see the island, staying at the resort is never a bad move. It still retains the full-service, gorgeous-as-can-be island resort that first drew visitors to Aruba, and there's enough to keep you entertained and relaxed without having to stray far. Just like it has been for the last seven decades, the Hilton Aruba still beckons US travelers with the promise of experiencing the laid-back island how it should be. And even if that sounds a bit cheesy, after a few days under a beachside palapa, you'll find it hard to feel any other way.
What did you think of this story?