7 Luxury Hotels in Jaipur With the Finest Hospitality in Rajasthan
Jaipur is the capital of India's Rajasthan state. The city forms a key point on the Golden Triangle, the tourist circuit that connects New Delhi, Agra, and Rajasthan. Known as the Pink City, its historic core is filled with dusty pink buildings. This vibrant color has become synonymous with Jaipur and it's part of what makes it such an attractive destination in India. It is the first planned city in the country and its UNESCO World Heritage streets are less chaotic than those of New Delhi and Mumbai, making it an ideal destination for first-time visitors.
Jaipur's hospitality scene is another reason to make a stop here while exploring the country. A cornerstone of culture in India, the bar for service is set ridiculously high. Hotel chains are increasing their presence in the city, but don't overlook individually owned boutique properties. Regardless of your budget and needs, here's the top selection of hotels in Jaipur.
When to visit Jaipur
The best time to visit Jaipur is from October to March when the weather is cool and pleasant. During this period, temperatures typically range from 46°F to 95°F, making it ideal for sightseeing and outdoor activities. The winter months (November — February) is peak tourist season so it's important to plan ahead if you want to get the best deals on flights and hotels in Jaipur.
If you're looking for a more budget-friendly option, April through September offers lower prices but higher temperatures that can make sightseeing uncomfortable. It's also important to note that during the monsoon season (July — September), some areas of Rajasthan may be closed due to flooding or landslides.
We hope you love the hotels in Jaipur we recommend. Just so you know, Matador may collect a small commission from the links on this page if you decide to book a stay.
The Oberoi Rajvilas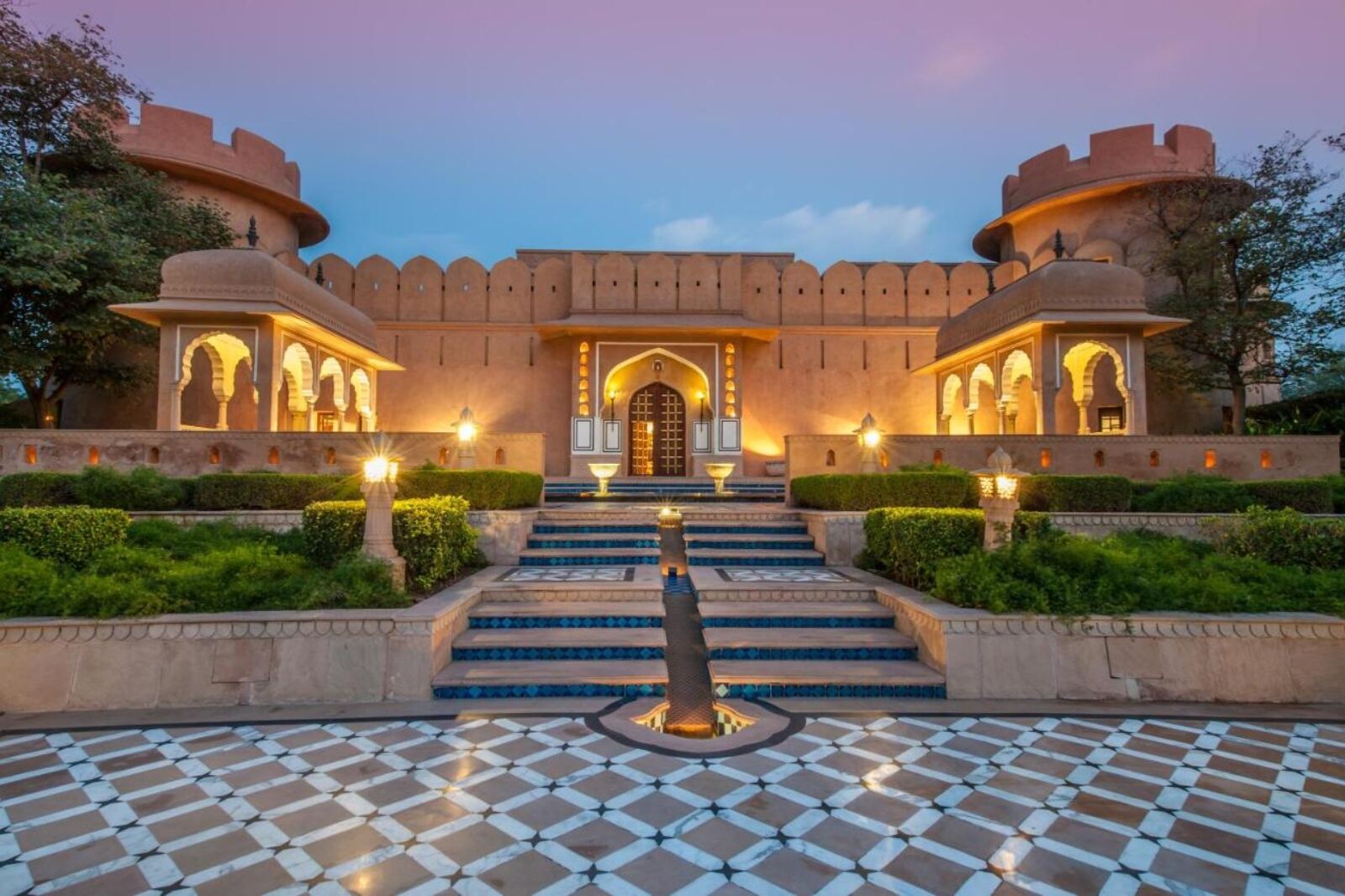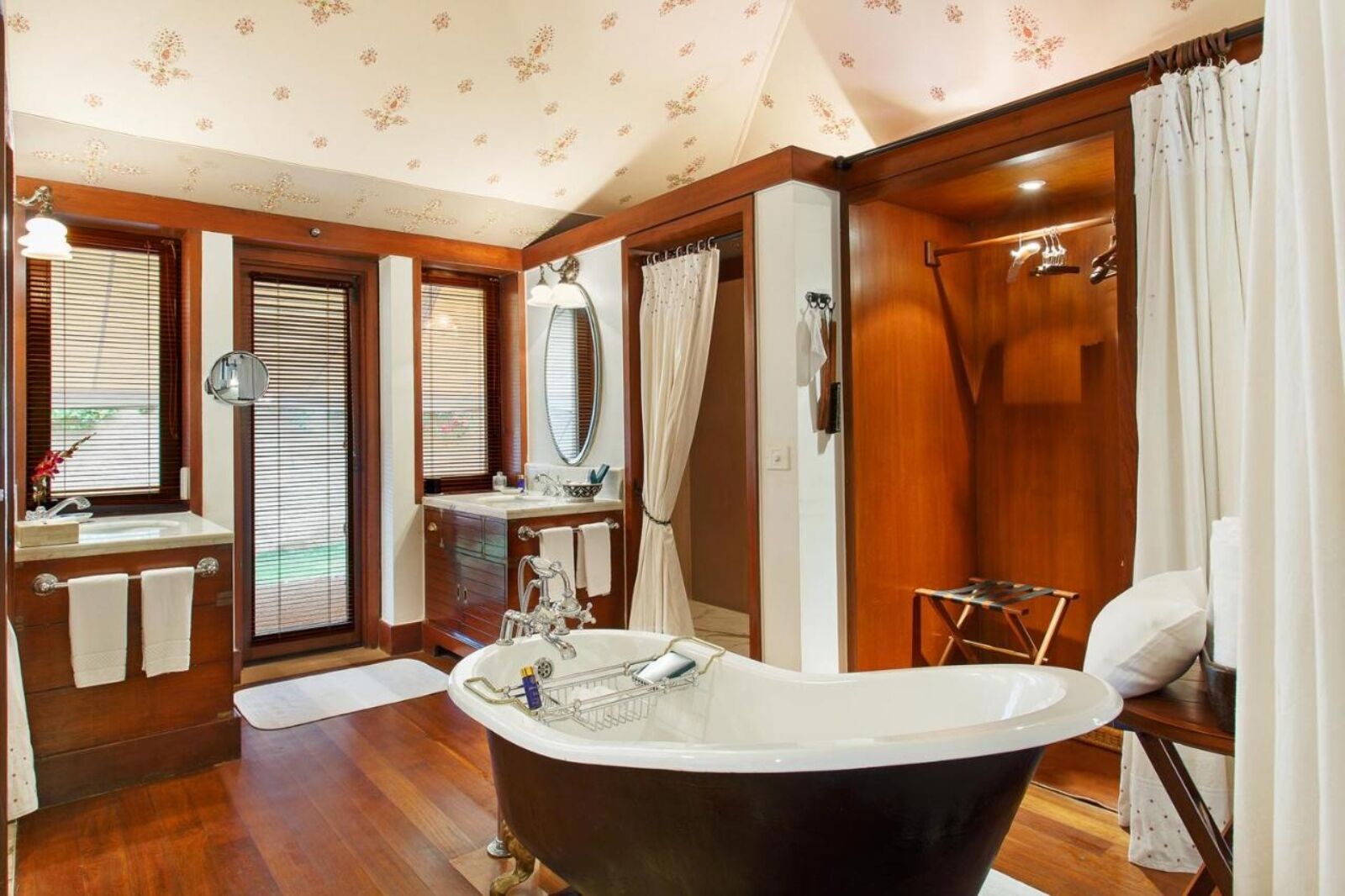 See more photos
The Oberoi Rajvilas is spread over 32 acres of beautifully landscaped gardens. With stunning red-brick architecture reminiscent of a sprawling Rajasthani desert fort, the five-star is an over-the-top traditional hotel famed for its level of service.
It's located just outside of the city, making it a superb base for those wanting somewhere peaceful to rest before exploring Rajasthan. The courtyards are adorned with fountains and floral trellises, creating a tranquil atmosphere, and the spacious stylish tented rooms are charming. It's also close to Sisodia Rani palace and garden which was built in 1779. An exquisite blend of Indian and Mughal architecture, the palace and grounds offer breathtaking views of the countryside and respite from the clatter of the city.
Price per night: $712
The Oberoi Rajvilas: Goner Road, 302031 Jaipur
Book Now
Sawai Man Mahal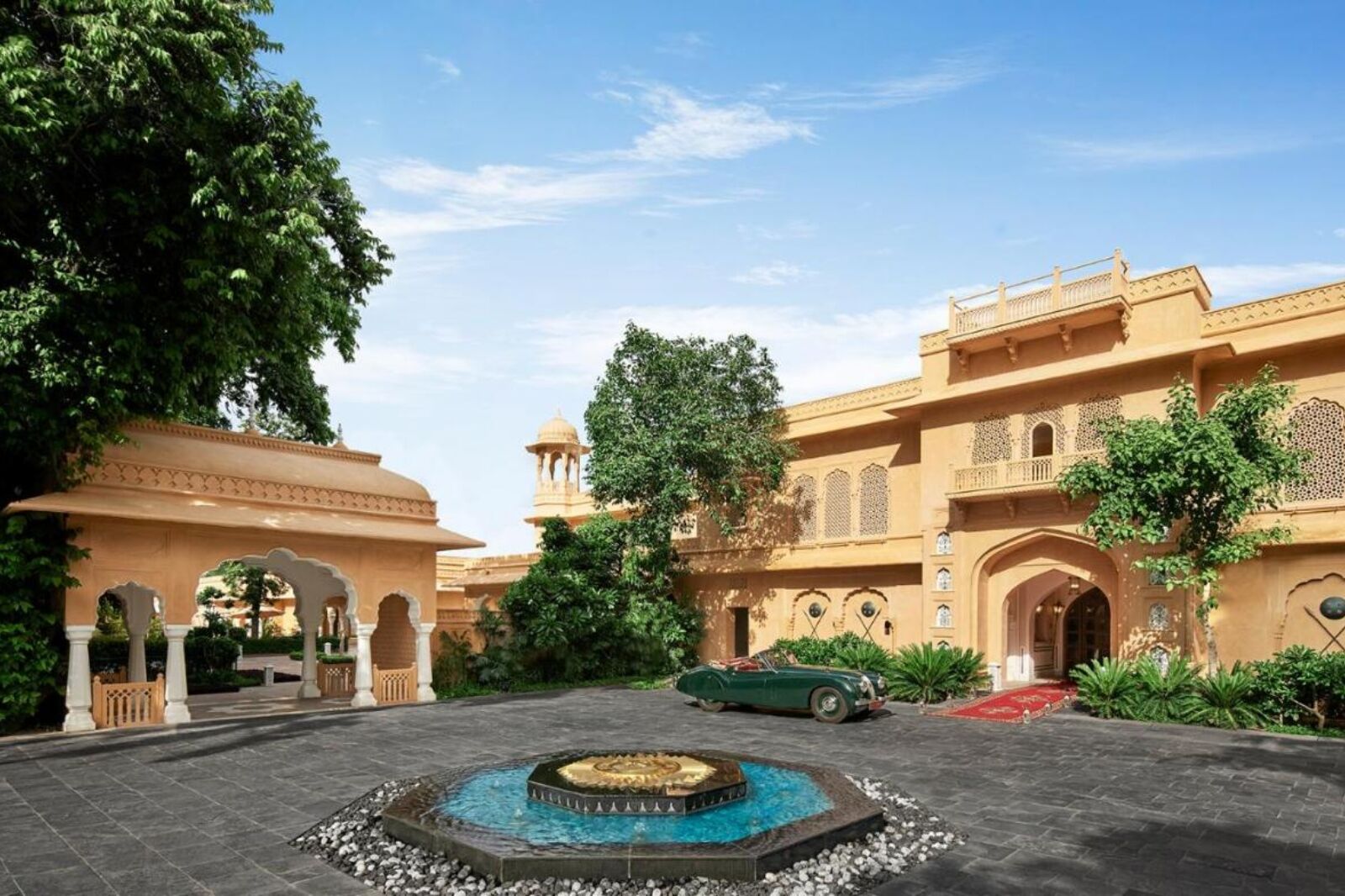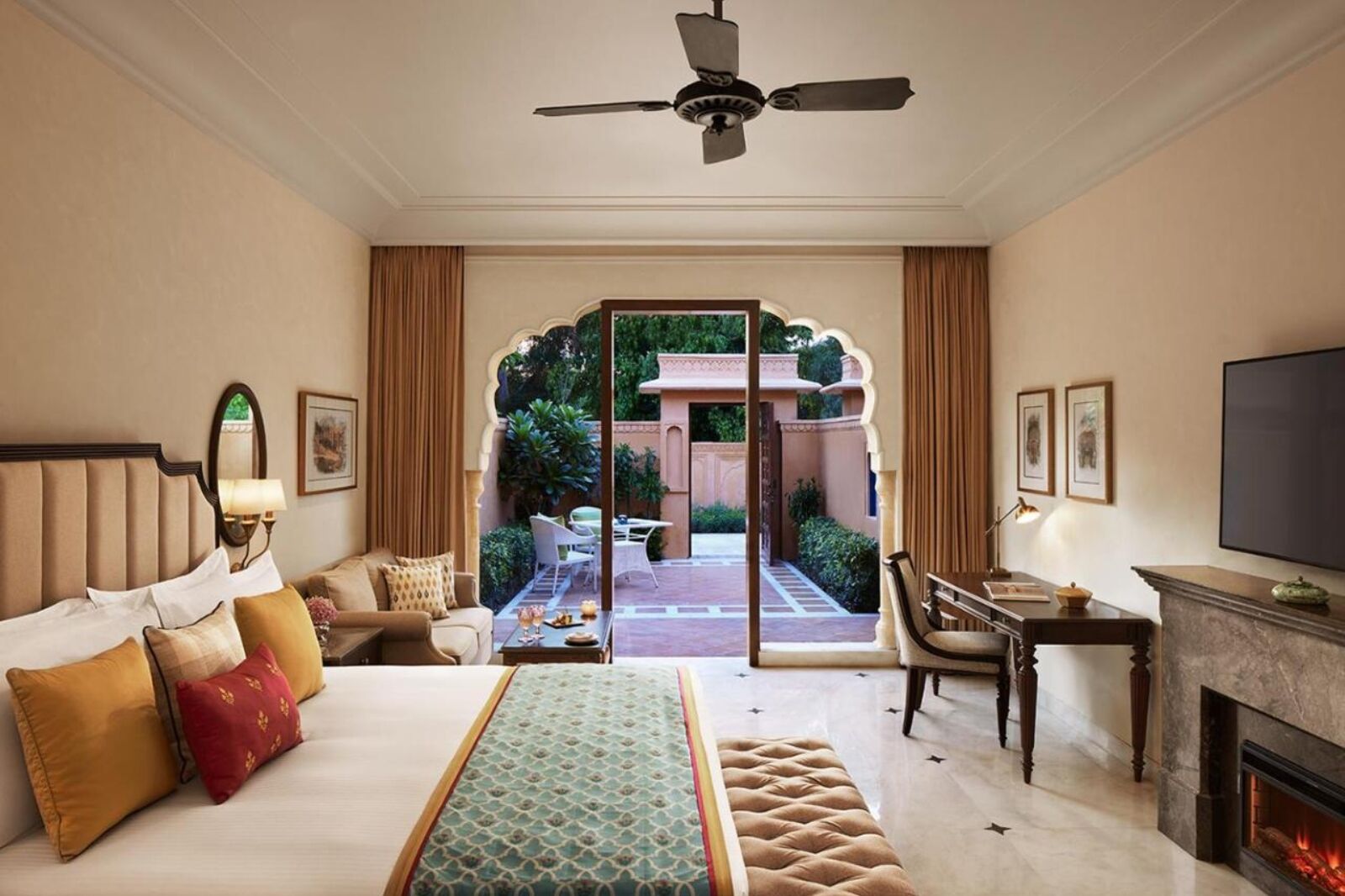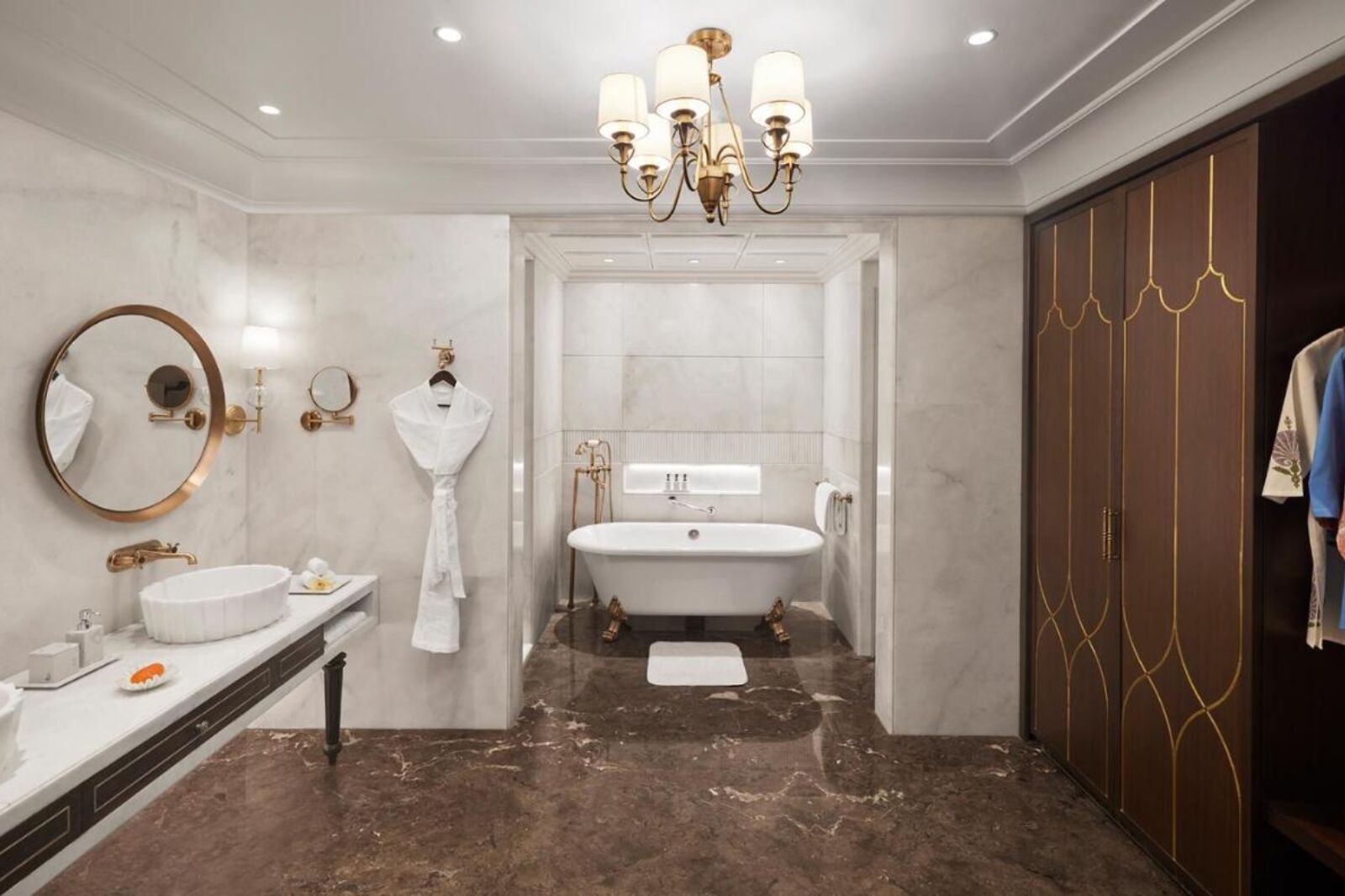 See more photos
A restored palace, Sawai Man Mahal was built in the late 18th century and has carefully retained its grandeur.
The hotel offers 51 spacious rooms, each with its own private courtyard filled with greenery. The façade of the palace pays tribute to Amber Fort and also features the original magnificent gilded entrance of the royal home. The library-themed cocktail lounge has a huge collection of books dating back over 200 years and a superb selection of whiskey. There's also an outdoor pool, a kitted-out fitness center, and a spa offering traditional Ayurveda treatments.
Price per night: $420
Sawai Man Mahal: Sawai Man Mahal, Bhawani Singh Road, Jaipur
Book Now
Devi Ratn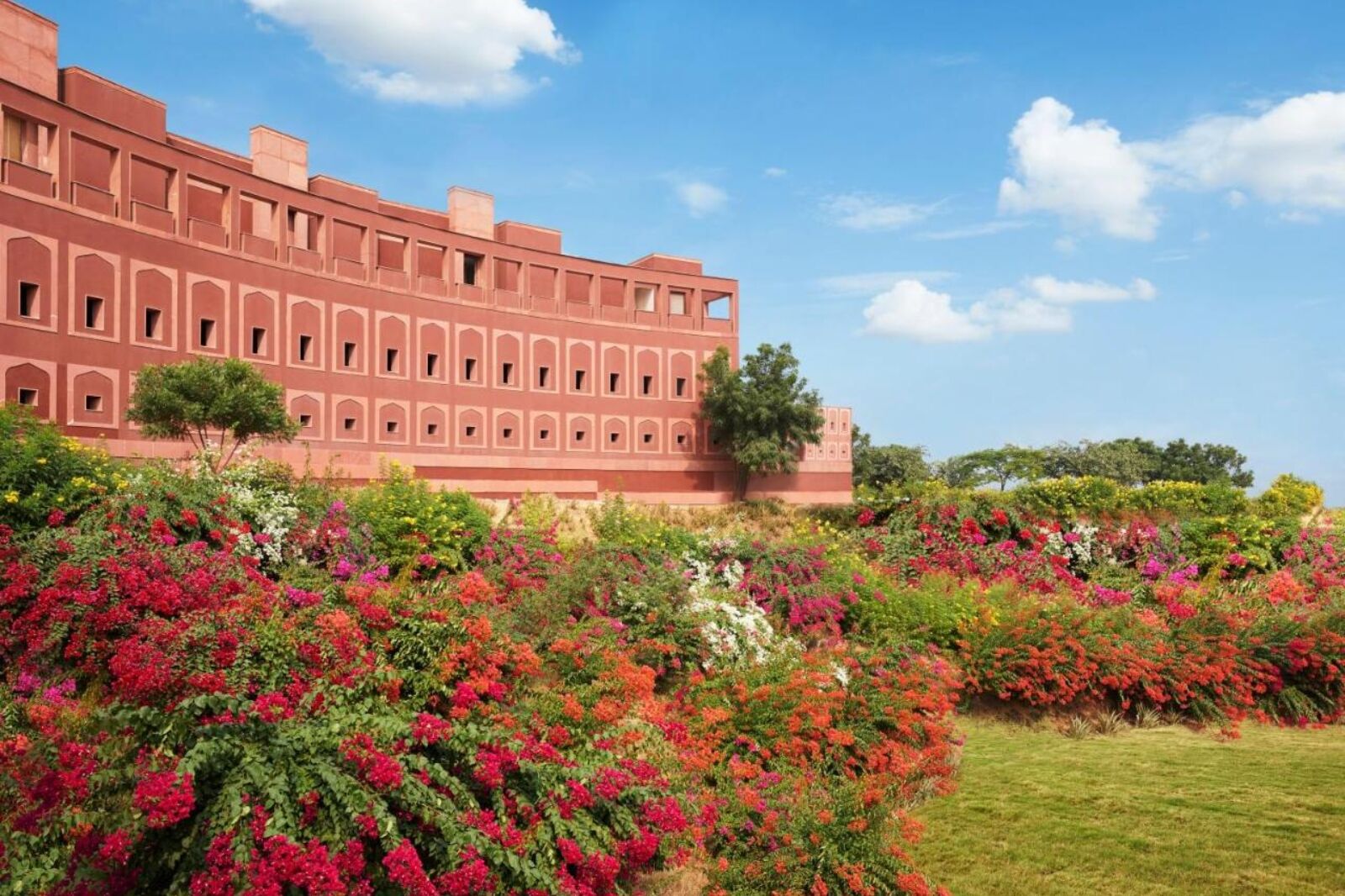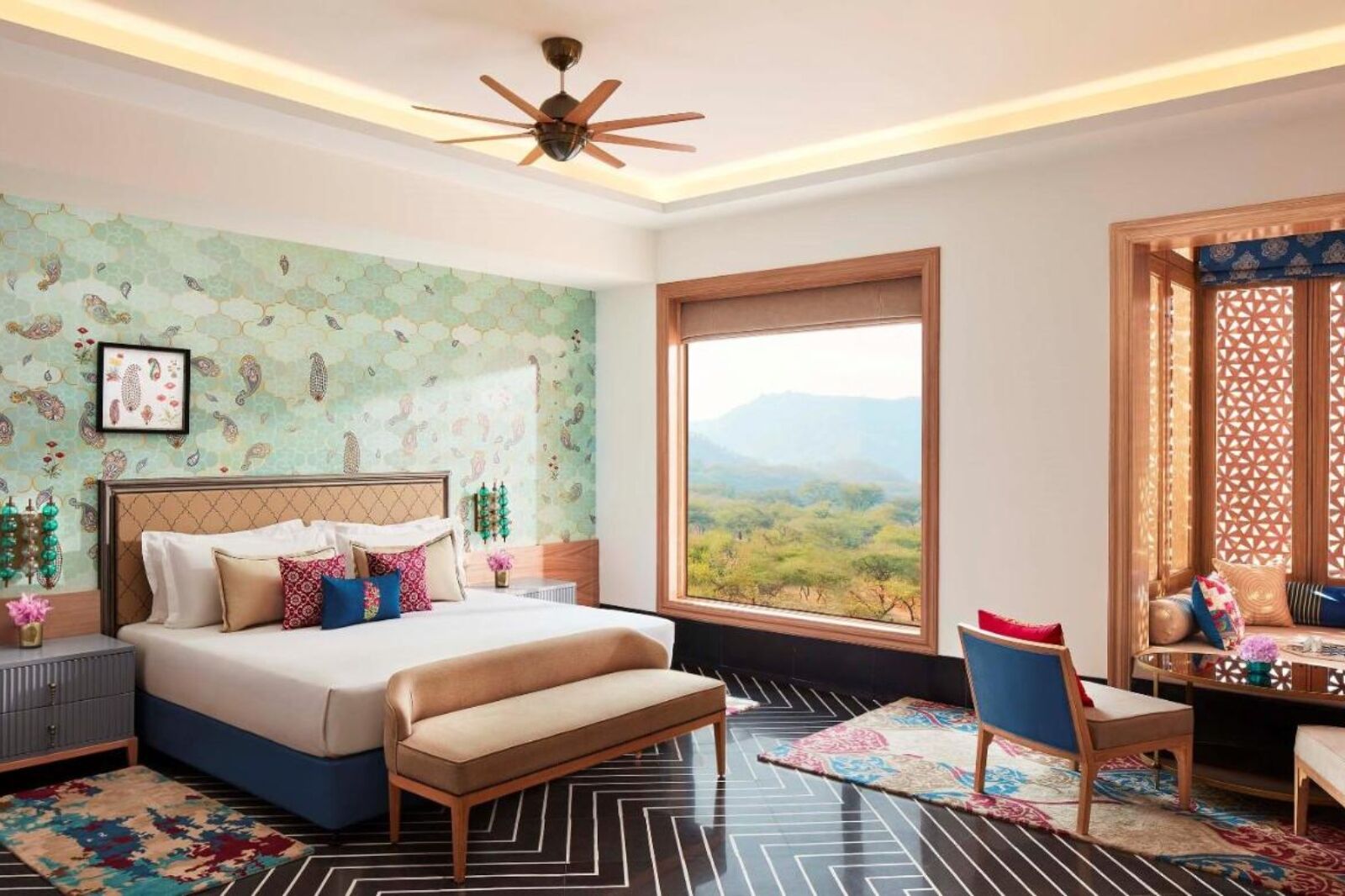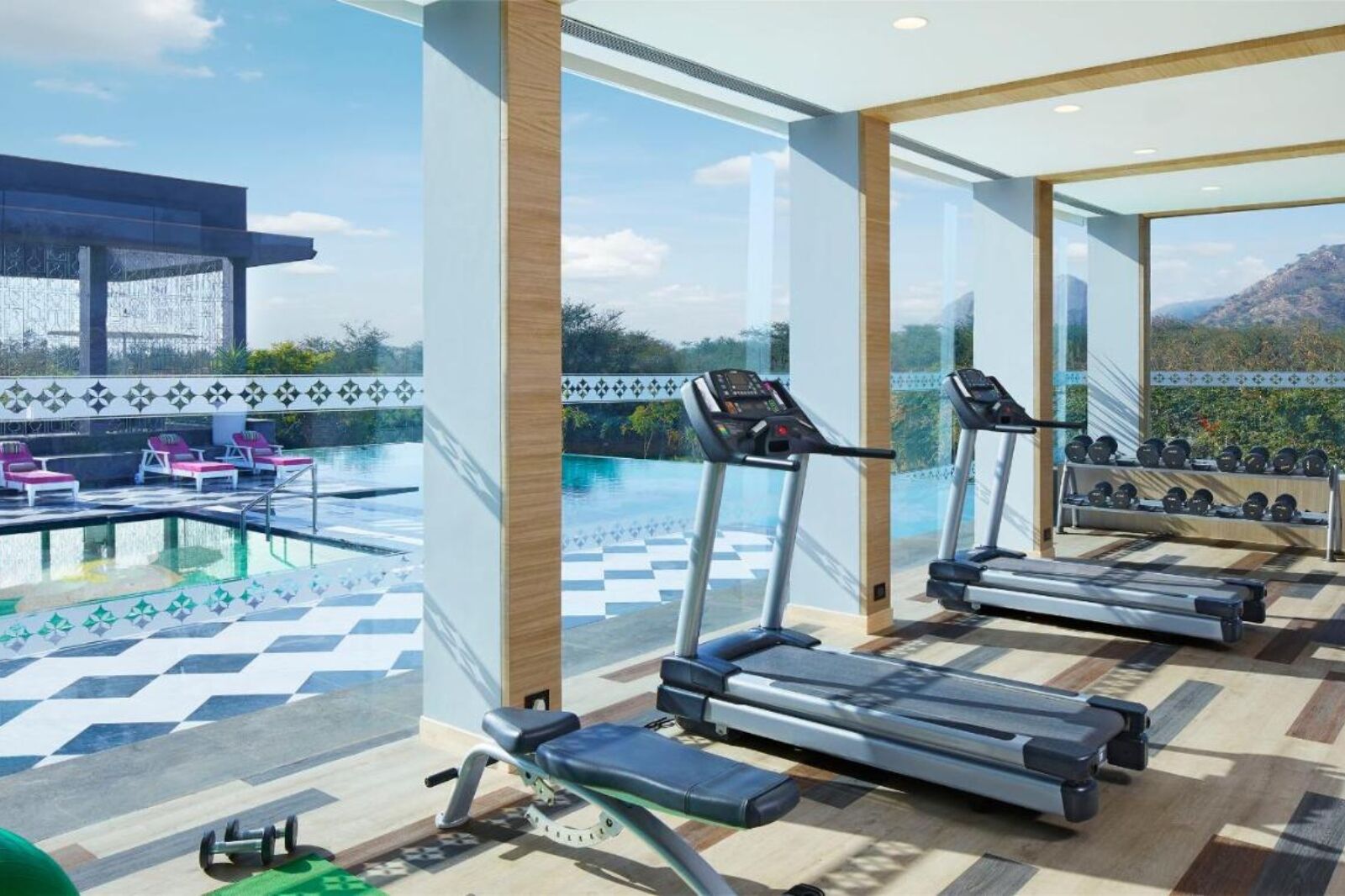 See more photos
Located on the outskirts, Devi Ratn is a luxurious hotel that offers guests an escape from the clangor of the city. Just a half-hour drive away from Jaipur, this hotel is surrounded by the towering Aravalli mountains and landscaped lawns, providing guests with a picturesque and peaceful location. That said there's a lot to do nearby the hotel. The hills and valleys offer hiking opportunities in the colder months and you can take a jeep safari through the desert to spot wildlife such as panthers, deer, and local birdlife.
After a day of exploring, you can return to the haven of Devi Ratn. Its spacious rooms and suites have outstanding views, air-conditing, chic day beds, and a detailed driven, and colorful interior design.
Price per night: $170
Devi Ratn: Ballupura Farms, Village Jamdoli, Agra Road, 302031 Jaipur
Book Now
Royal Heritage Haveli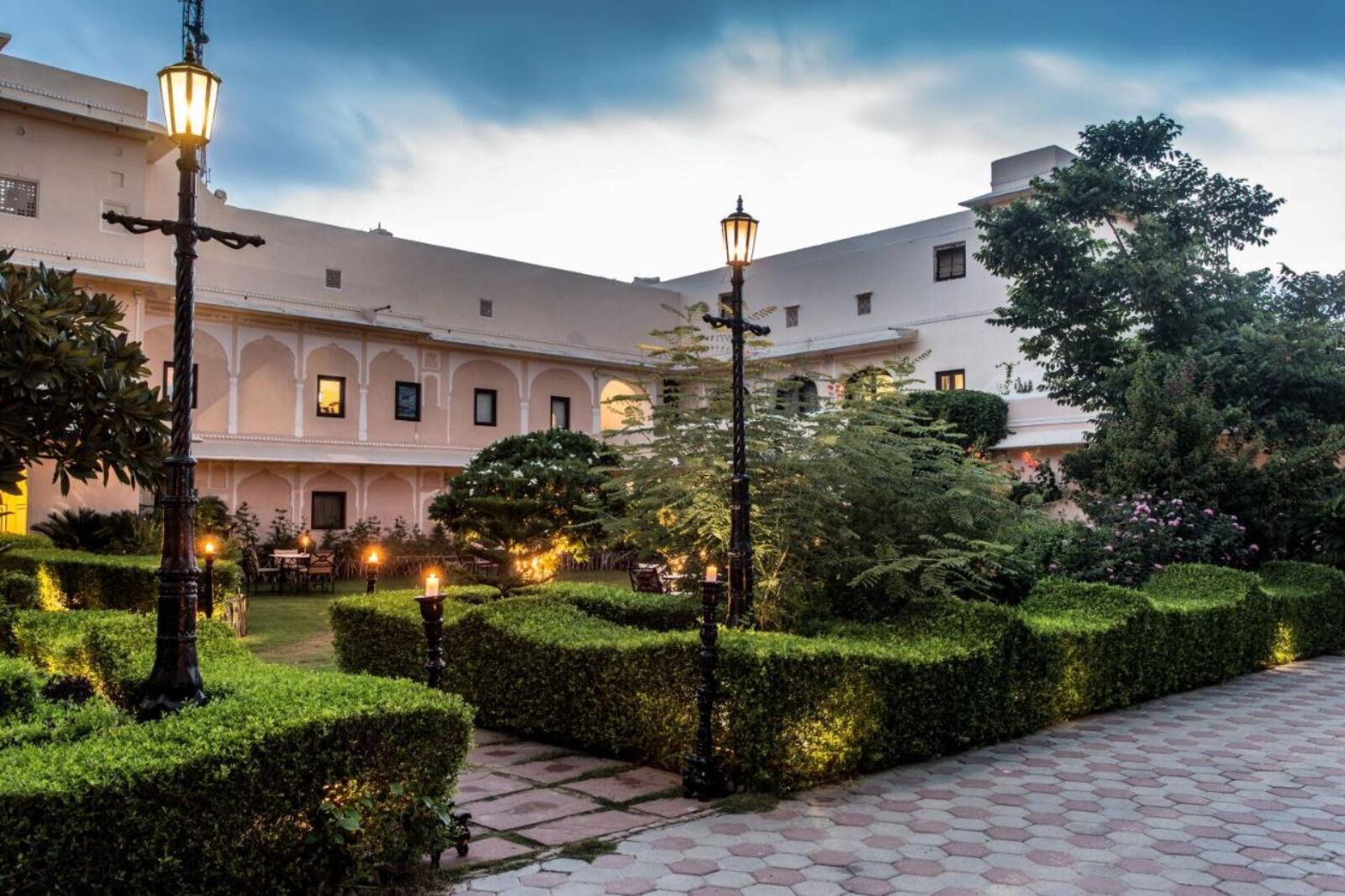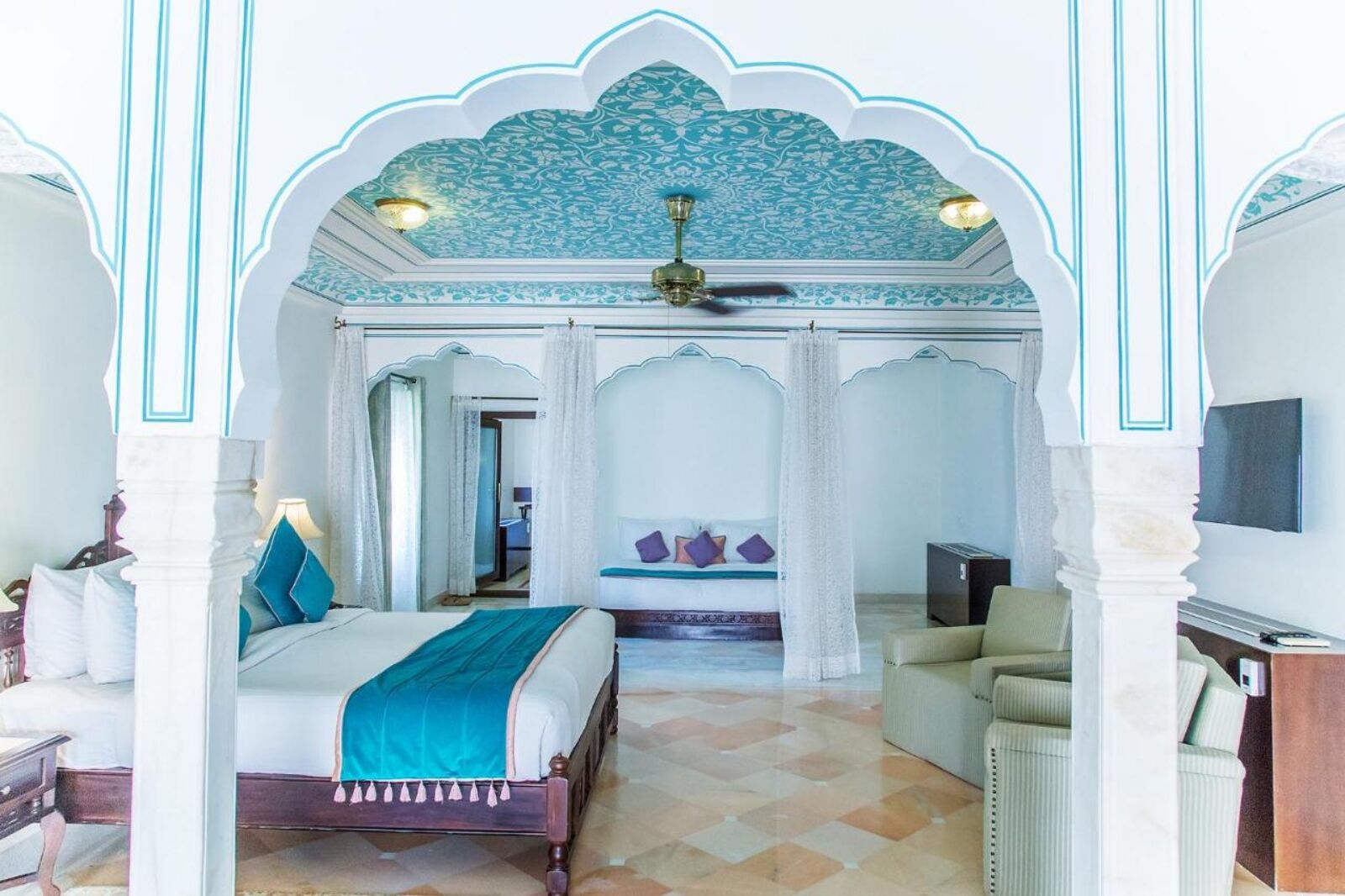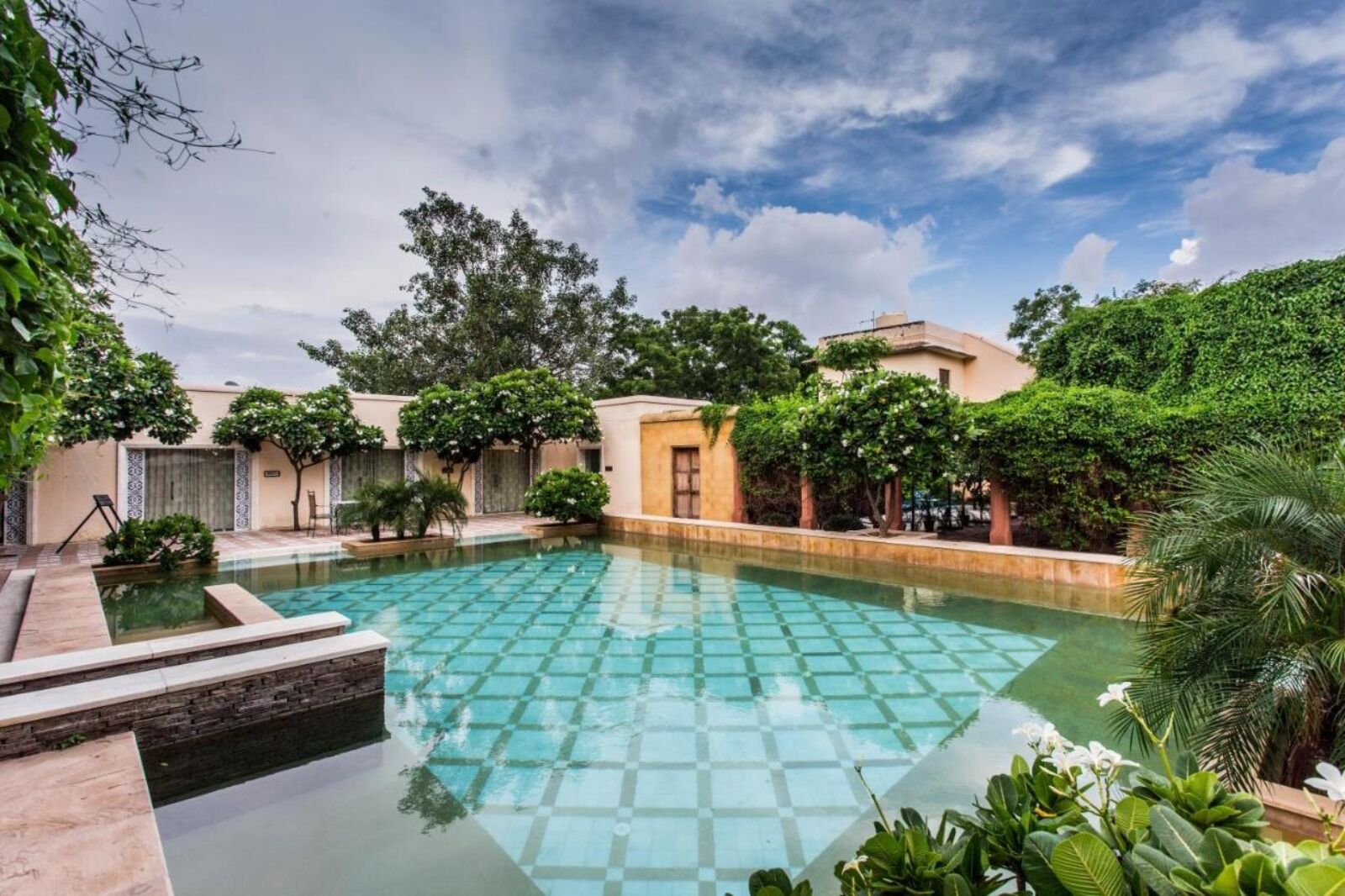 See more photos
Experience the grandeur of a bygone era at Royal Heritage Haveli, a stunning 18th-century Rajasthani hunting lodge that has been converted into an elegant boutique hotel in Jaipur. The family-run hotel offers a warm and welcoming atmosphere, perfect for those looking for a comfortable stop on the Golden Triangle.
Guests can take a stroll through the sprawling lawns and enjoy a game of croquet or relax with a cocktail from the stylish bar. The hotel's spa is sensational — one of the best in the state — and the on-site garden fills the kitchens with home-grown vegetables which are served on the candle-lit outdoor terrace in the evenings. Accommodations are impressive too. The heritage suites are impressively decorated in Indo-Mughal style with bright frescoes, sweeping archways, and intricate tiles.
Price per night: $160
Royal Heritage Haveli: Ballupura Farms, Village Jamdoli, Agra Road, 302031 Jaipur
Book Now
Trident Jaipur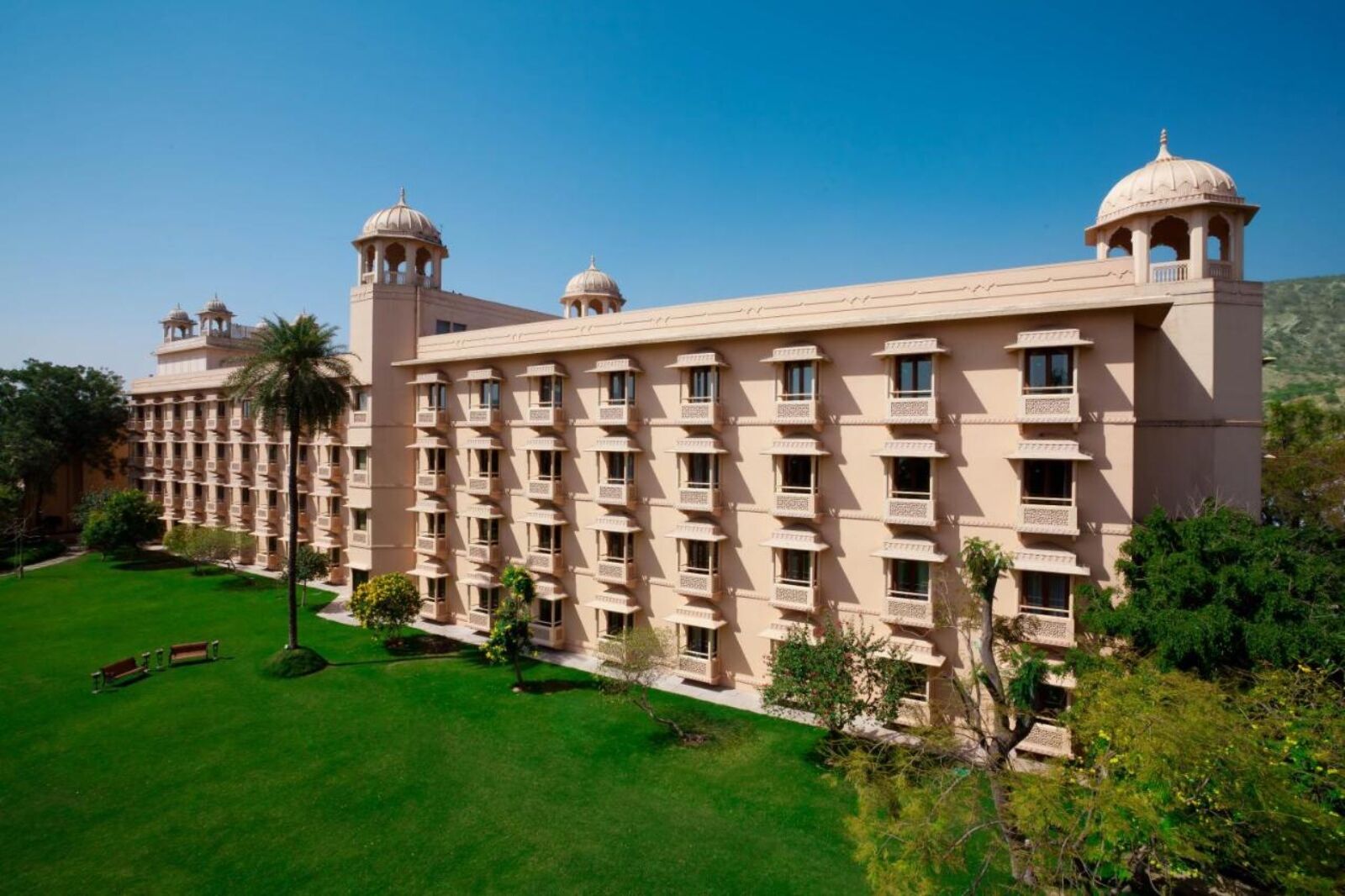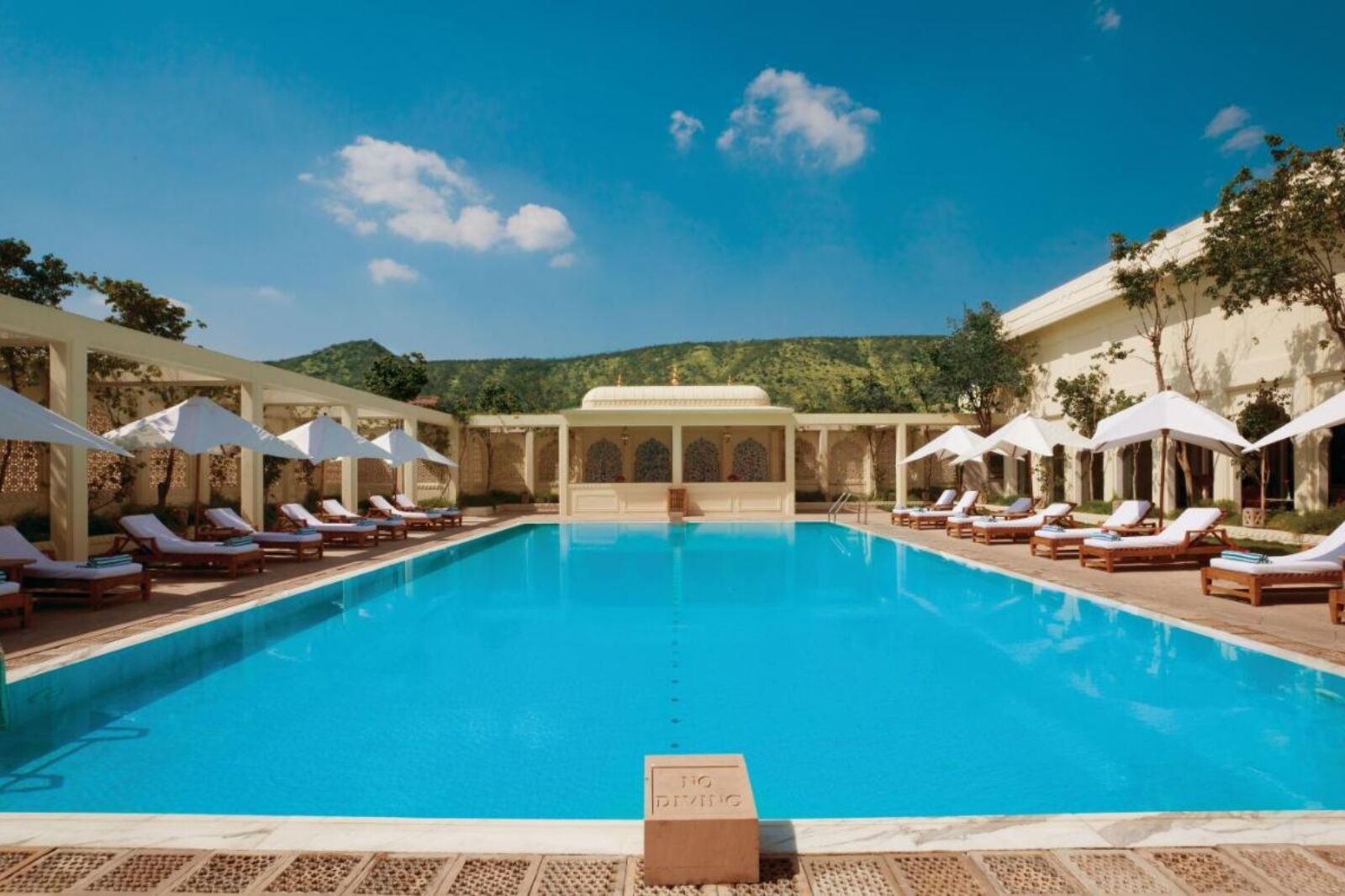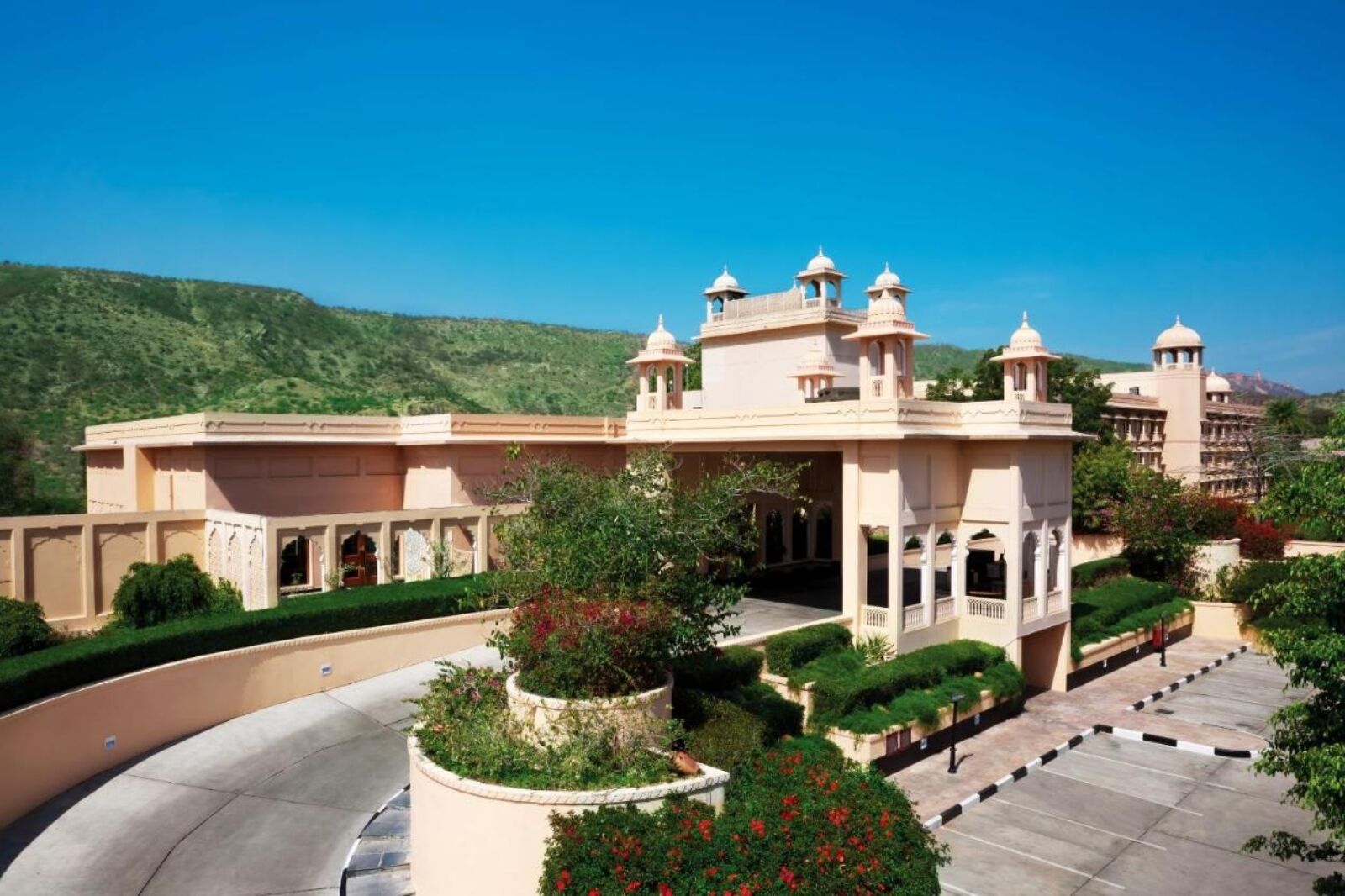 Trident Jaipur is a luxurious five-star hotel located on Amer Fort Road, Jaipur. It offers stunning views of the famous artificial Mansagar Lake and the palace of Jal Mahal, which can be admired from the hotel's terrace or the poolside bar. Jal Mahal was built in 1799 by Maharaja Sawai Pratap Singh (the ruler of Jaipur from 1778 to 1803) and is an iconic landmark on the Golden Triangle. There's a collection of excellent restaurants near the waterside including one of the city's oldest establishments, Laxmi Restaurant.
Trident Jaipur is a great option for people who are passing through Jaipur for a couple of days as it is close to the airport and main train station. The hotel features 132 deluxe rooms and suites, wellness facilities, and outstanding restaurants serving a wide range of local delicacies, and pan-Indian and international cuisines.
Price per night: $121
Trident Jaipur: Amber Fort Road, Opposite Jal Mahal, 302002 Jaipur
Book Now
Hilton Jaipur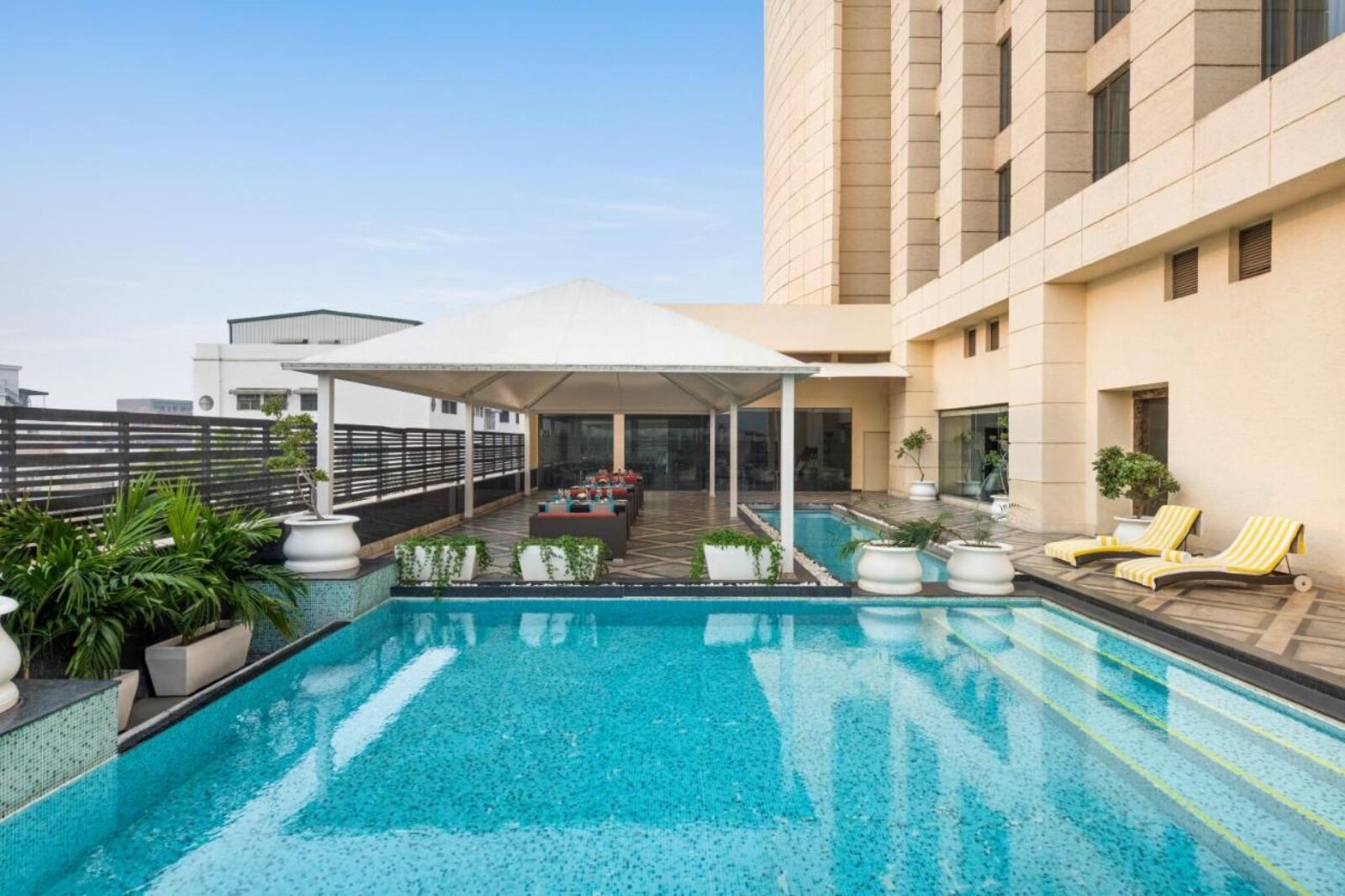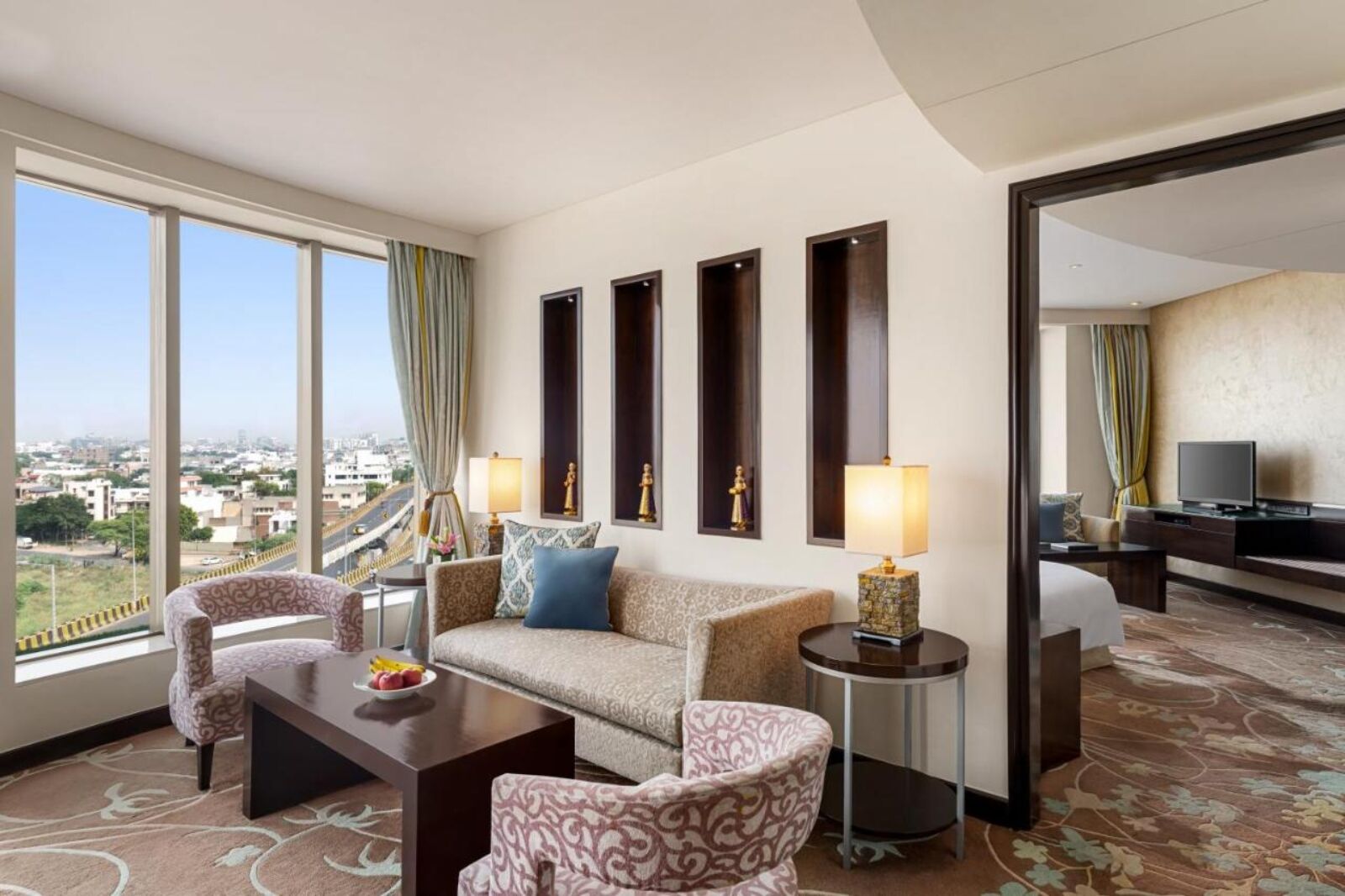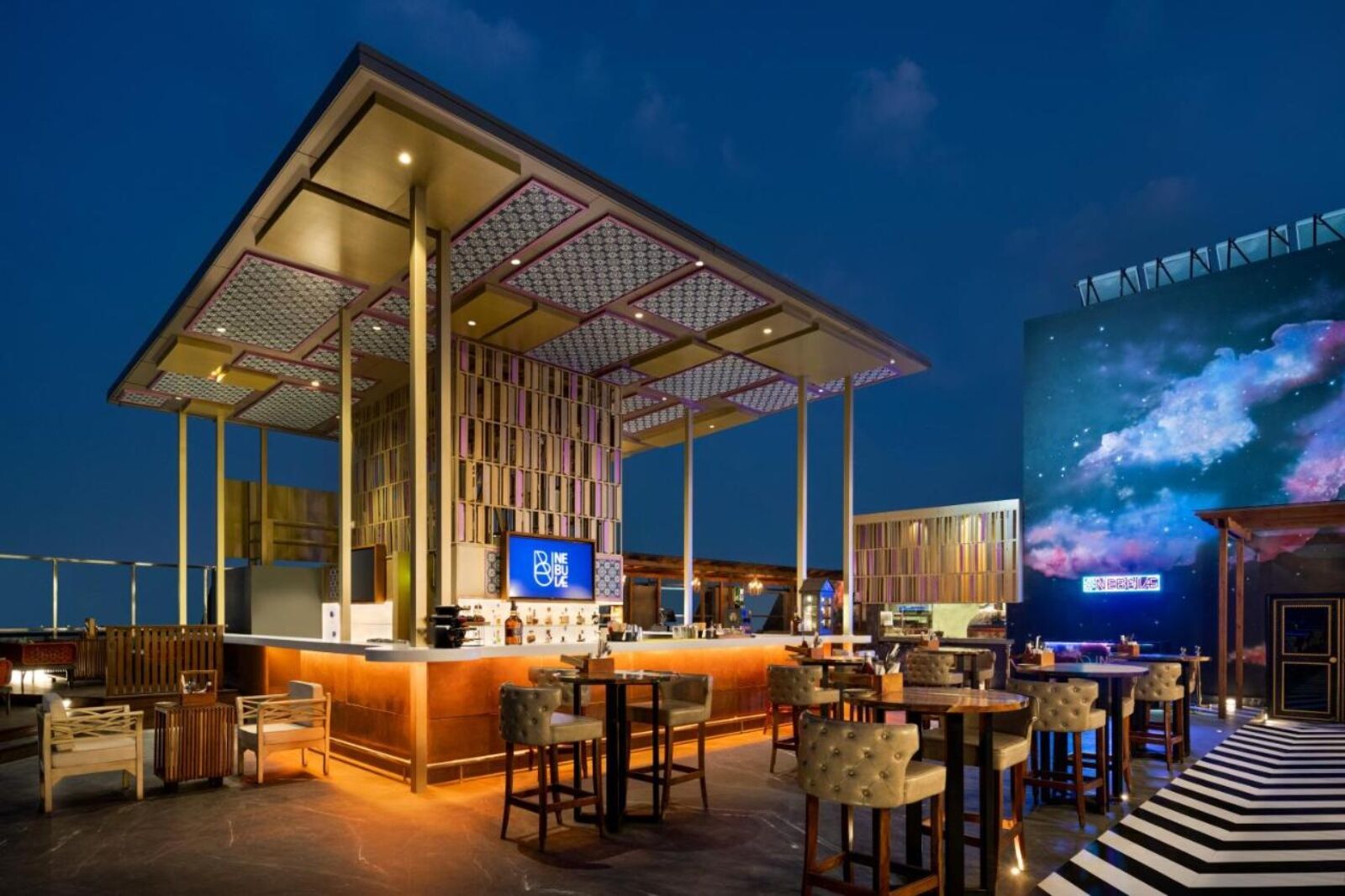 Hilton is always a safe bet and the Jaipur city center hotel is a comfortable, modern option for those looking for something reliable. It is conveniently situated in the Bais Godam area and is close to the Central Business District.
The hotel offers 179 rooms and suites with modern amenities, as well as a rooftop pool on a terrace, spa services, and two restaurants. To make things even easier the Hilton provides a transfer service and is just a few miles from the Jaipur railway station and ten minutes from Jaipur International Airport.
Price per night: $115
Hilton Jaipur: Plot No. 42, Geejgarh House, Hawa Sadak, 302006 Jaipur
Book Now
Jaipur Marriott Hotel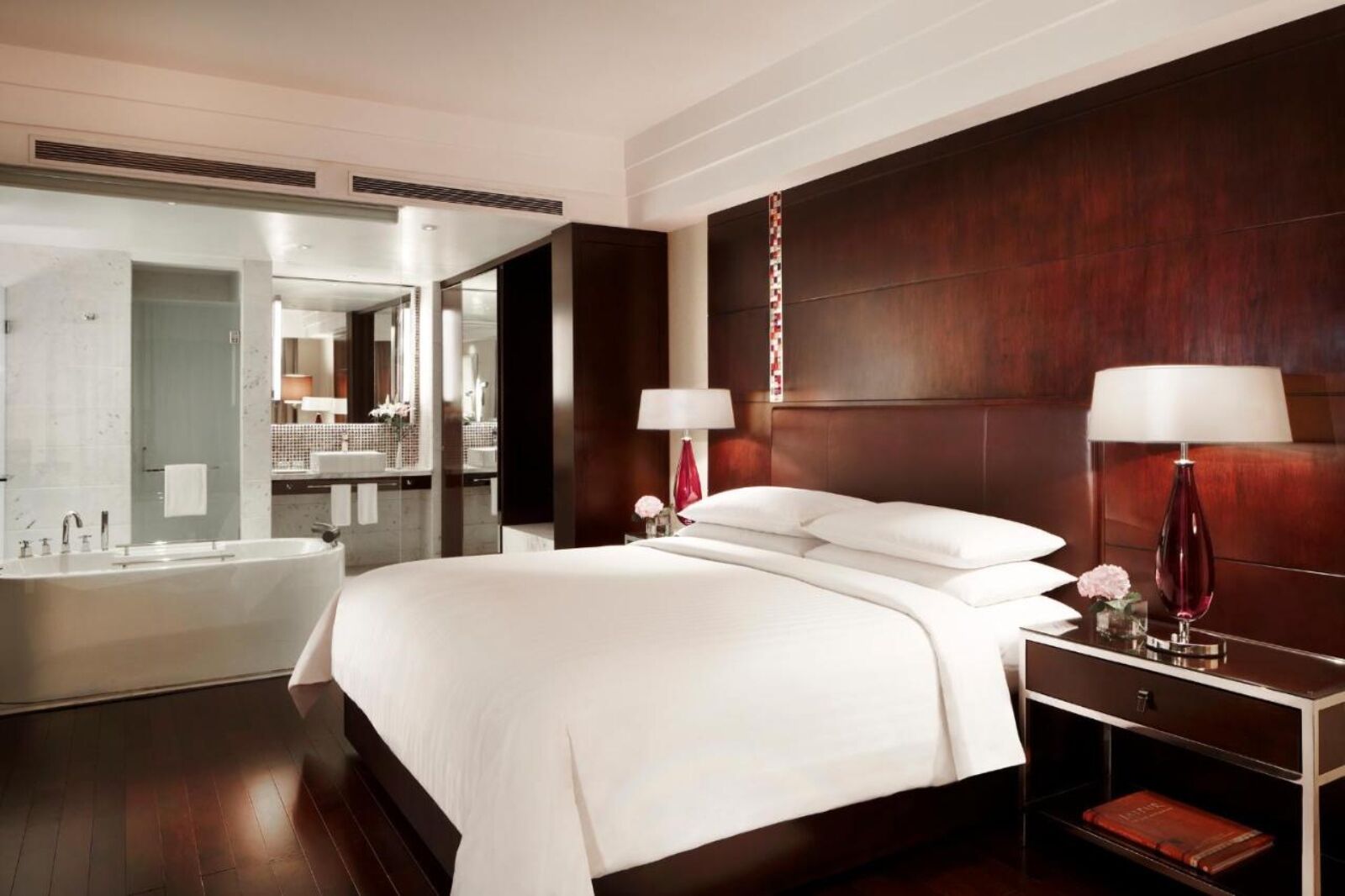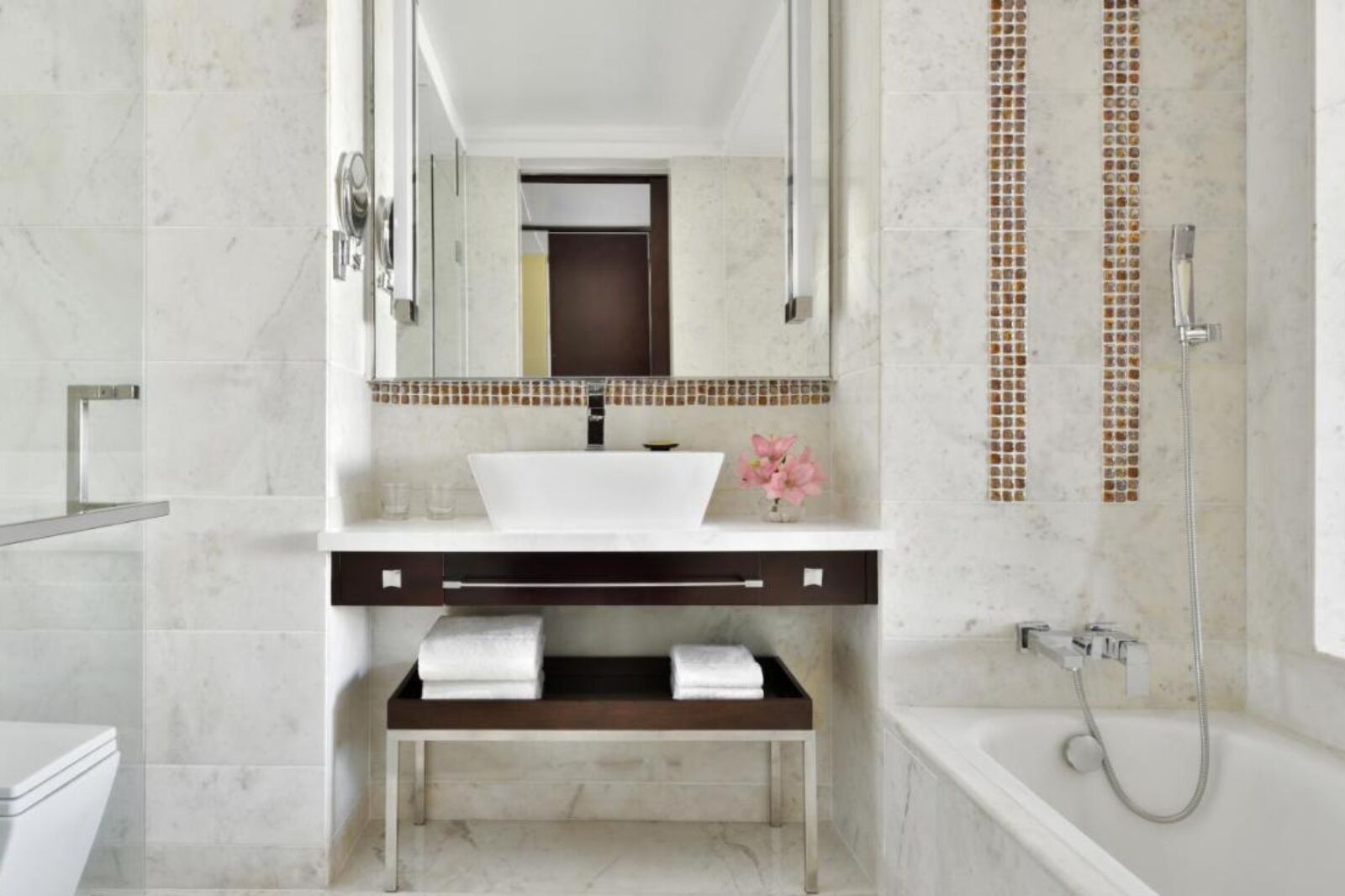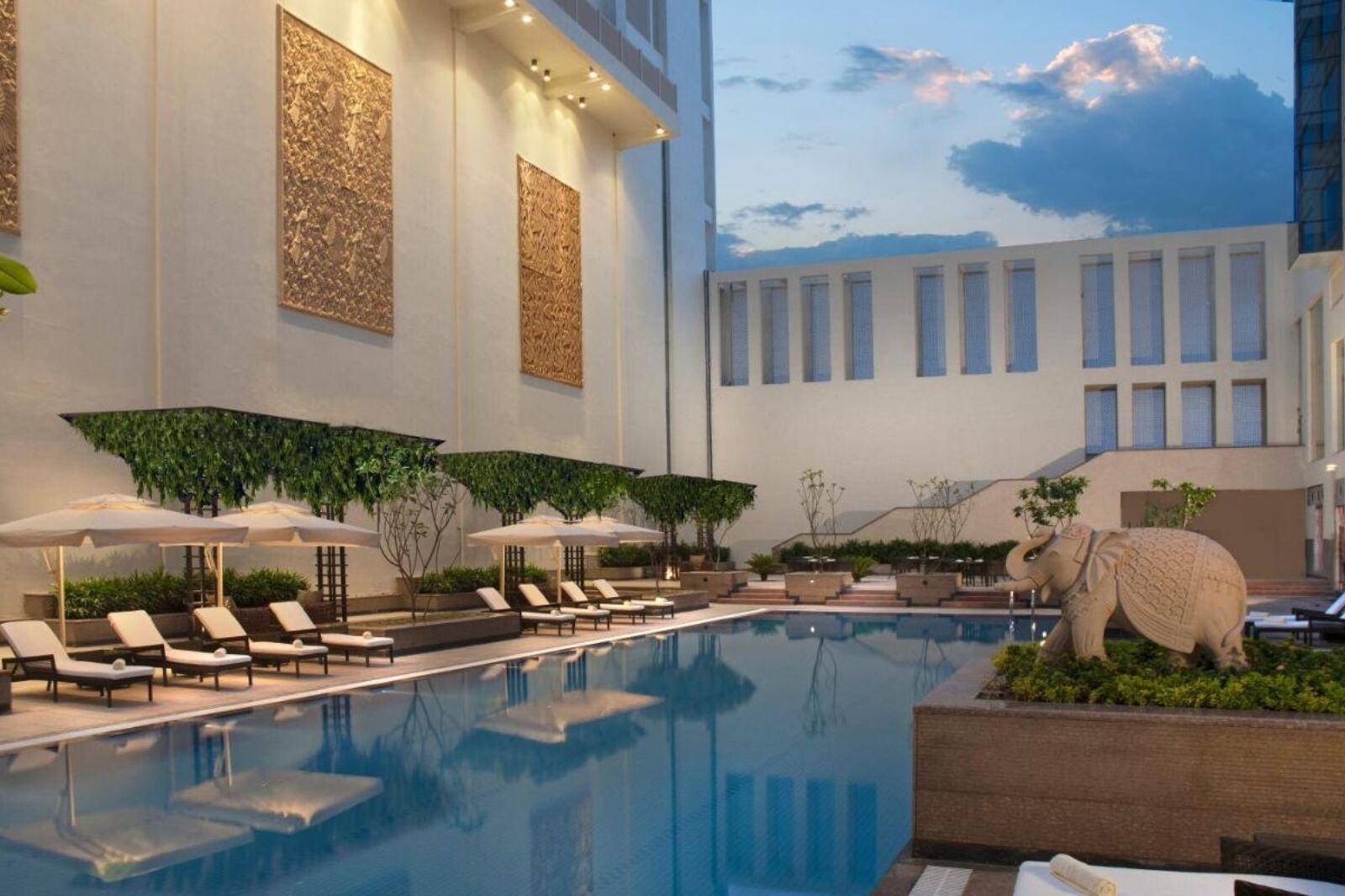 With stylish rooms, award-winning dining, and an on-site spa, Jaipur Marriott Hotel is another budget-friendly option from a trusted hospitality brand.
The five-star is located in the commercial area of Ashram Marg which is a short 10-minute transfer from the airport. All accommodations feature the modern standard amenities you'd expect from a Marriott — widescreen TVs, stocked mini-bars, and air conditioning. Those who upgrade to a suite have more luxurious features such as separate living rooms, bedroom areas, access to the Executive Lounge, and balconies or terraces overlooking the city.
Price per night: $109
Jaipur Marriott Hotel: Near Jawahar Circle, Ashram Marg,, 302015 Jaipur
Book Now
What to do in Jaipur
Jaipur is full of incredible attractions and activities that will make your trip unforgettable, here are some of the top things to do.
Marvel at the sunset from Jal Mahal — This beautiful palace is situated in the middle of Man Sagar Lake and offers stunning views of the sunset.
Visit the City Palace — This grand palace complex was built by Maharaja Sawai Jai Singh II and is one of the most popular tourist attractions in Jaipur.
Explore ancient forts — Jaigarh Fort and Nahargarh Fort are two impressive fortresses that offer a glimpse into Rajasthan's history.
Take a tour of Amber Fort — The is located on a hilltop overlooking Maota Lake and is one of Jaipur's most iconic landmarks.
Shop at famous bazaars — Jaipur has some great markets where you can find everything from traditional handicrafts to modern clothes and accessories.
Experience Rajasthani cuisine — From street food to fine dining, there are plenty of delicious options when it comes to trying out local delicacies in Jaipur.
Capture the view from Hawa Mahal — The Palace of Wind offers breathtaking views over the city, so make sure you take some time to admire it from up high.
Explore Anokhi Museum of Handblock Printing — This museum showcases traditional Indian block printing techniques as well as modern interpretations of this art form, making it a must-see for any art lover visiting Jaipur.
Take a stroll around Sarvato Bhadra Courtyard Gate — This gate is part of City Palace complex and offers visitors a chance to experience traditional Rajput architecture up close.
What did you think of this story?