The Most Iconic Hotels in London in Walking Distance To Major Attractions
London is one of the most famous capitals in the world, and it's no surprise that it is home to some of the best hotels. It's comprised of 32 boroughs that are spread over the City of London and the Greater London area. Each neighborhood differs from the next in terms of culture, style, and amenities, so much so that many think of London as a country rather than a city. And that is mirrored in its sheer enormity. It's unlikely that one vacation would allow ample time to see everything — and nor do you need to. Begin by considering the key things you'd like to see, do, (and eat), then narrow down a base area. To help you out, here are some of the best hotels in London to choose from. We've selected trusted businesses that are close to major attractions, offer a very high standard of service, and have all the amenities you need for a relaxing stay in the historic city.
Taking a trip to London? Check out

Matador's

London accommodations guides:
When to visit London
London is a destination for all seasons. Even the fickle British weather can't dampen its charm. If you are looking for decent hotel rates and short queues at destinations, avoid peak summer, all UK school holidays, and major calendar events.
We hope you love the hotels in London we recommend. Just so you know, Matador may collect a small commission from the links on this page if you decide to book a stay.
The Goring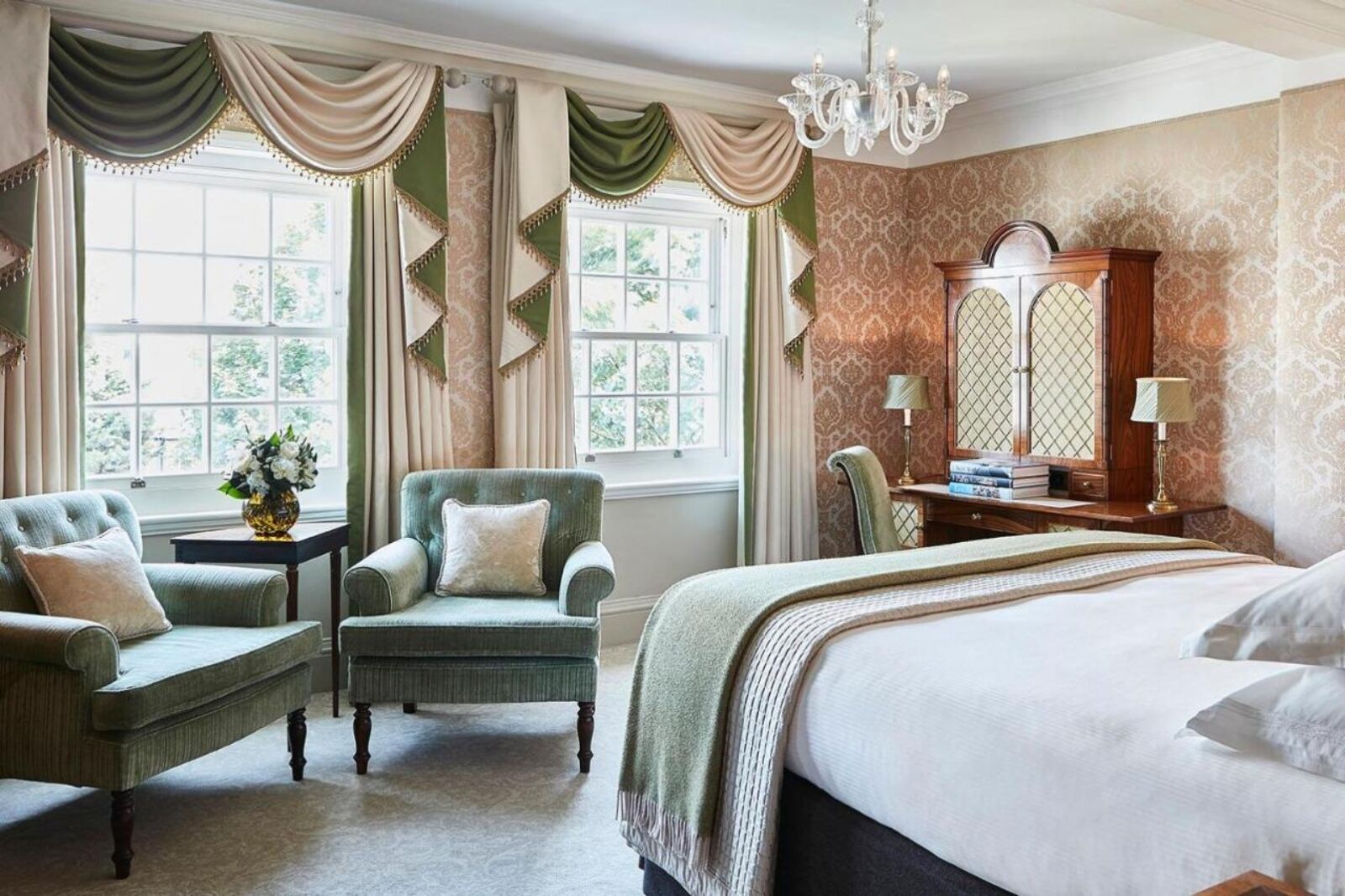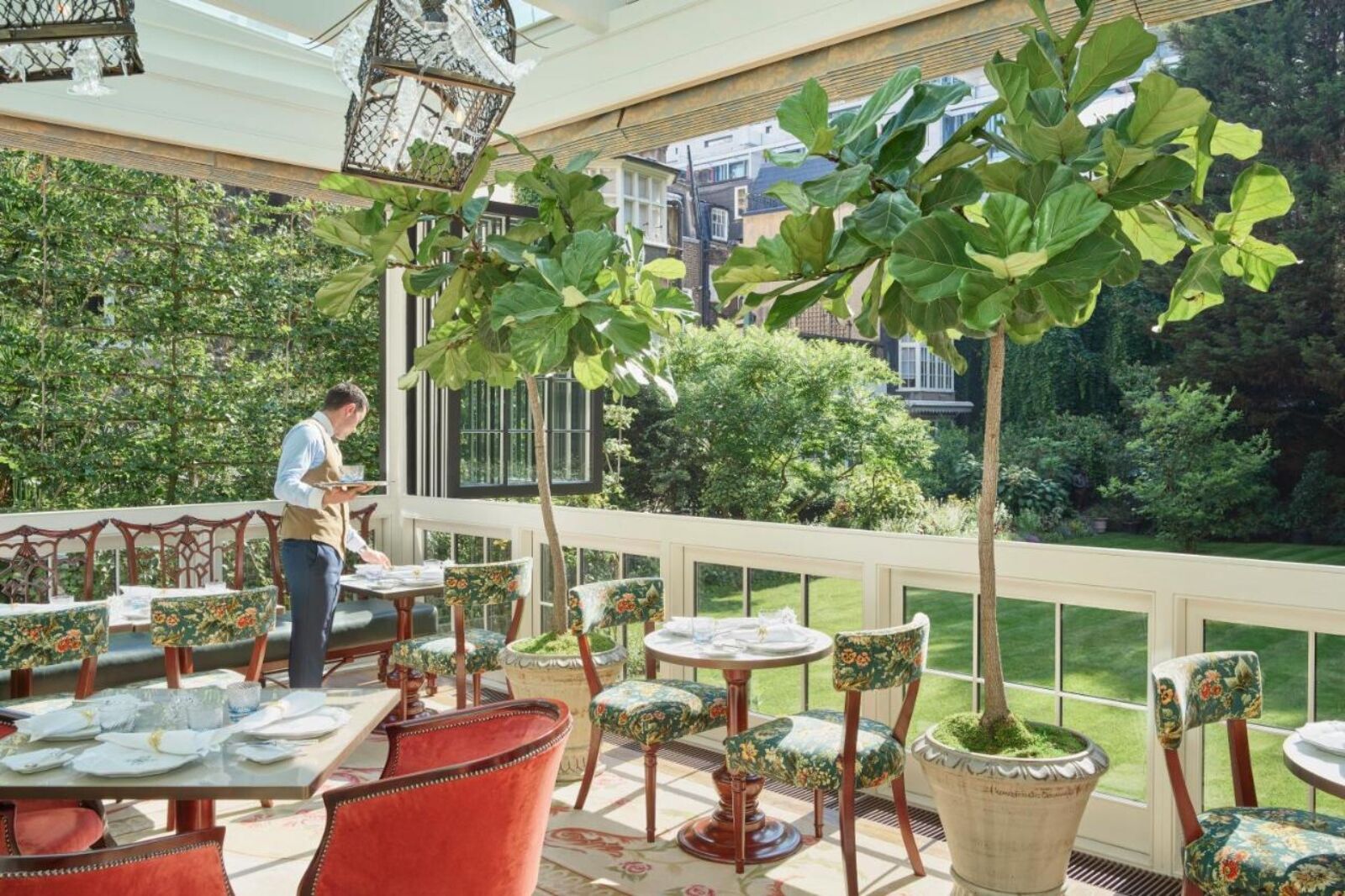 The Goring hotel is a London institution. The five-star hotel is located in the upmarket district of Belgravia. London's top attractions, such as Buckingham Palace and the Houses of Parliament, are all within a few miles from the hotel as are local boutiques and galleries of Sloane Street and Hyde Park. It is known for its impeccable service, luxurious accommodations, and fine-dining restaurant — The Dining Room. The establishment holds one Michelin Star and offers guests an award-winning afternoon tea experience. But what sets it apart from other hotels in London is its staff who go above and beyond to make sure guests enjoy their stay.
Rooms at The Goring
The 69 rooms are quintessential London: crisp white sheets, modern art on the walls, and opulent bathrooms with heated floors and rainforest showers. Every bedroom is individually designed and radiates refined elegance with its fine furnishings. For those looking for something extra special, The Goring has some of the finest luxury suites in London.
Amenities at The Goring
Complimentary high-speed WiFi.
Onsite restaurant.
Room service.
Parking.
Laundry.
Where: 15 Beeston Place, Westminster Borough, London, SW1W 0JW
Sheraton Grand London Park Lane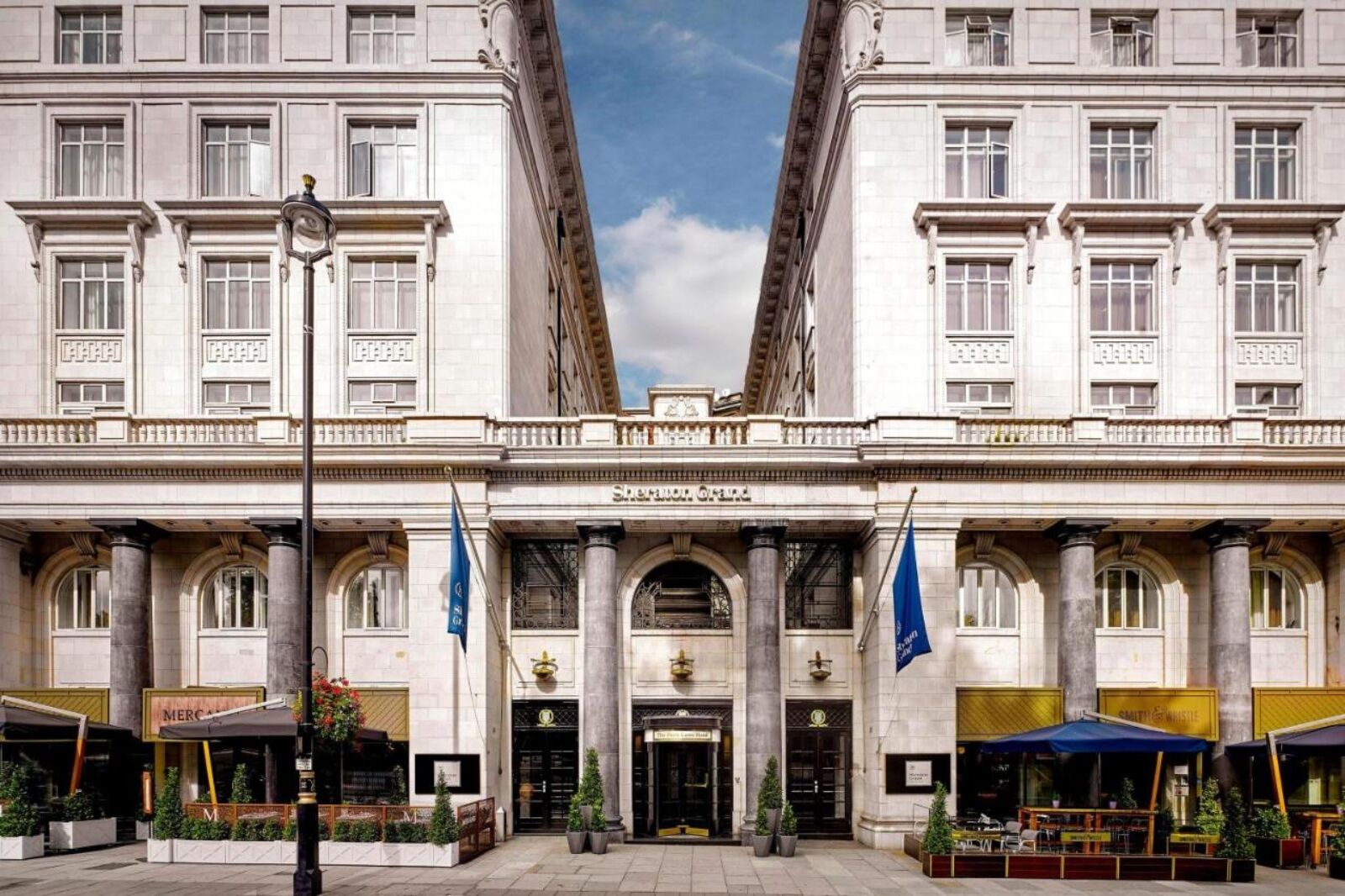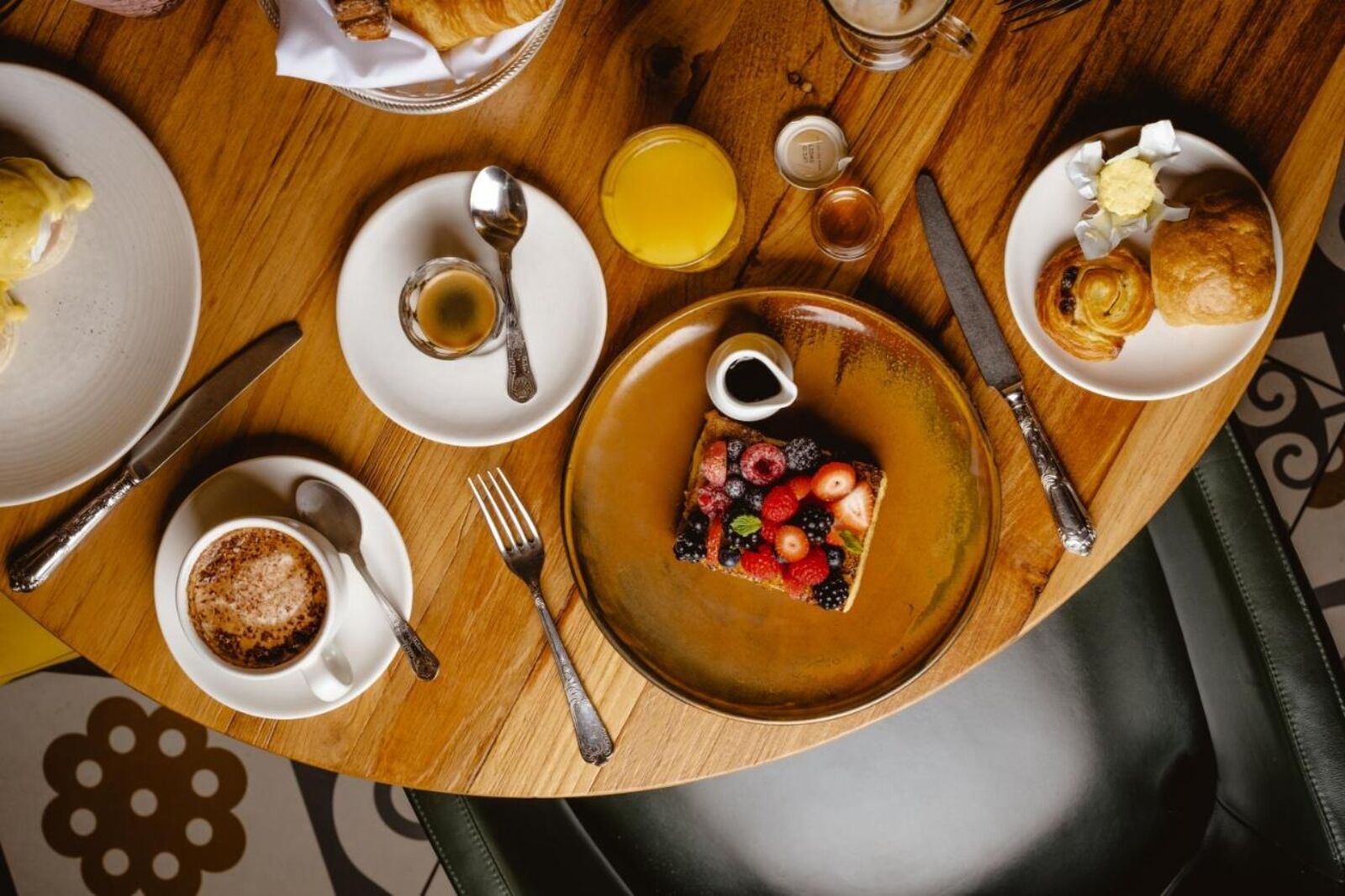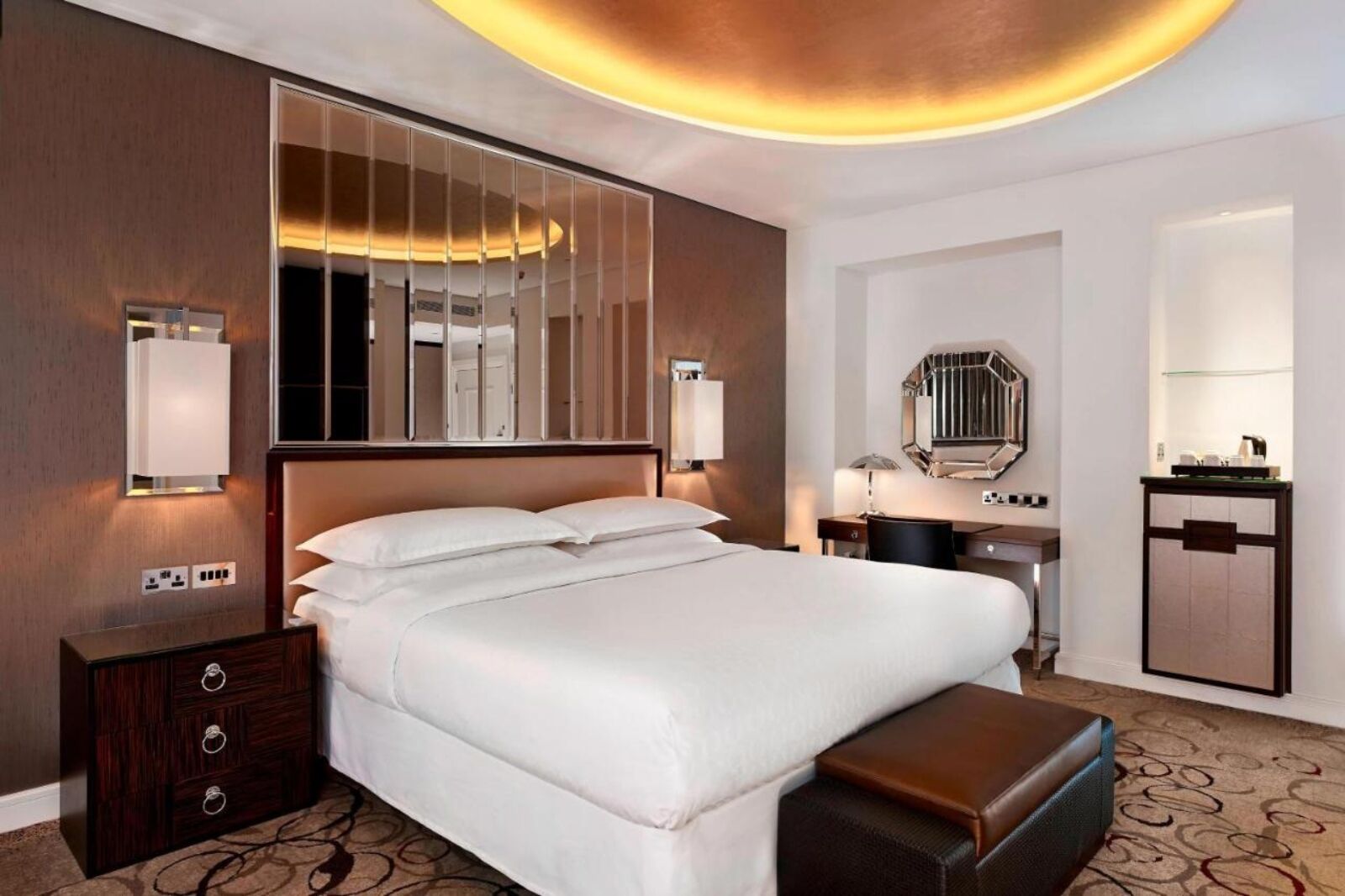 Walk in the footsteps of Queen Elizabeth II during a stay at The Sheraton Grand London Park Lane. The five-star has been welcoming distinguished guests since 1928. The building has gone through numerous restoration projects but the grand entrance, ballroom, and opulent rooms feature original exquisite details. Don't be fooled by its respect for the past, the hotel has two award-winning restaurants and a modern fitness center. The Sheraton Grand London Park Lane is also conveniently located just a short walk from Marble Arch Tube Station, shopping on Bond Street, art galleries on Cork Street and plenty of other attractions in the West End.
Rooms at the Sheraton Grand London Park Lane
The Sheraton Grand London Park Lane offers a variety of luxurious rooms and suites, including:
Superior Rooms are spacious and bright, featuring a King size bed.
Club Rooms offer upgraded amenities and exclusive access to the Club Lounge.
Art Deco Suites are stylishly designed with marble bathrooms, lounge areas, and kitchenettes.
Grand Park View Suites provide stunning views of Hyde Park and Knightsbridge from the bedrooms or living rooms.
Art Deco Family Suites have two bedrooms, two bathrooms, a separate sitting area, two 32" HDTVs and two telephones.
Deluxe Rooms feature stunning views over Mayfair and upgraded amenities for a comfortable stay.
Amenities at the Sheraton Grand London Park Lane
Complimentary high-speed WiFi.
Onsite restaurant and bar.
Fitness center.
Laundry.
Where: Piccadilly, Westminster Borough, London, W1J 7BX
Ham Yard Hotel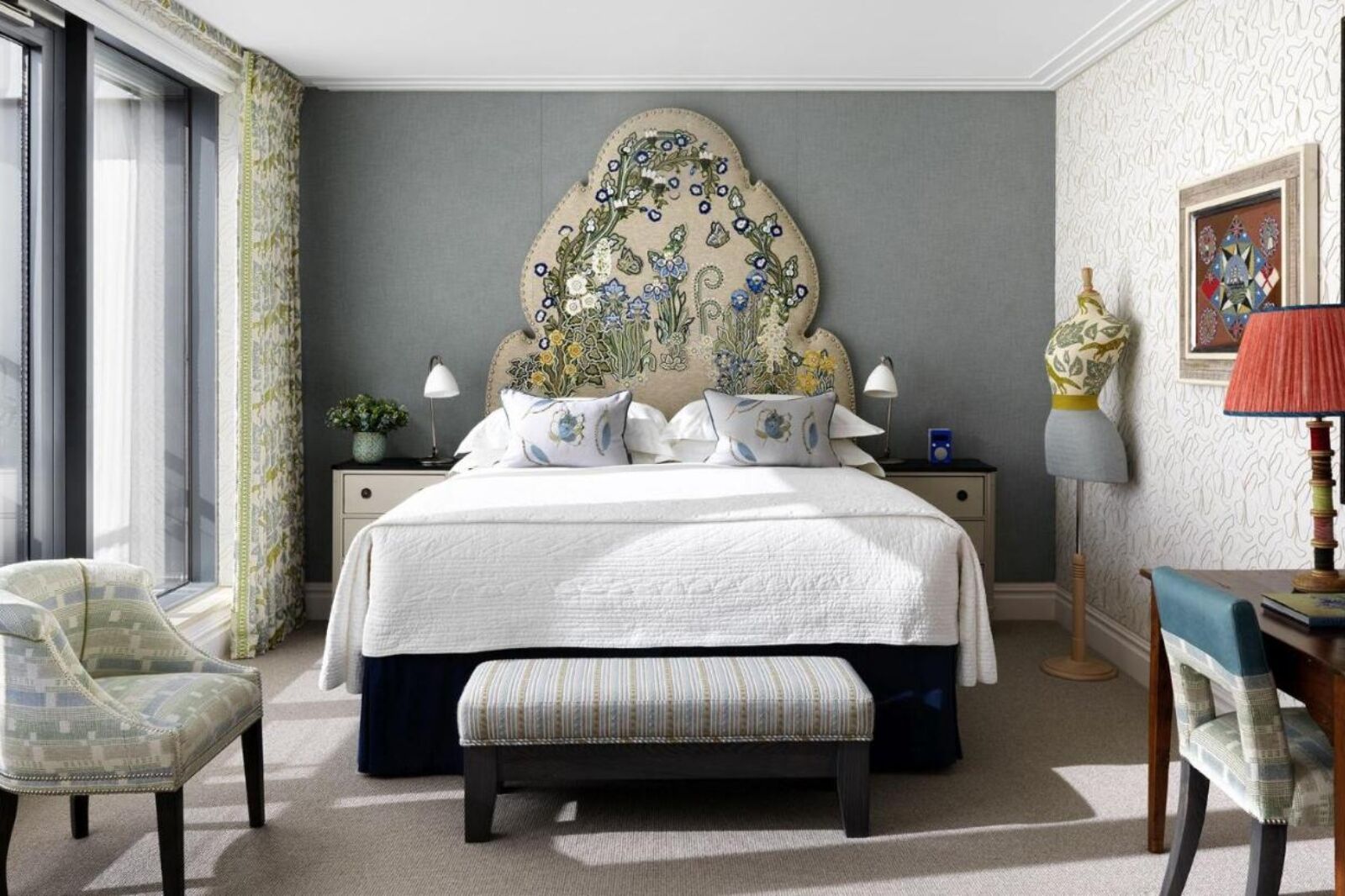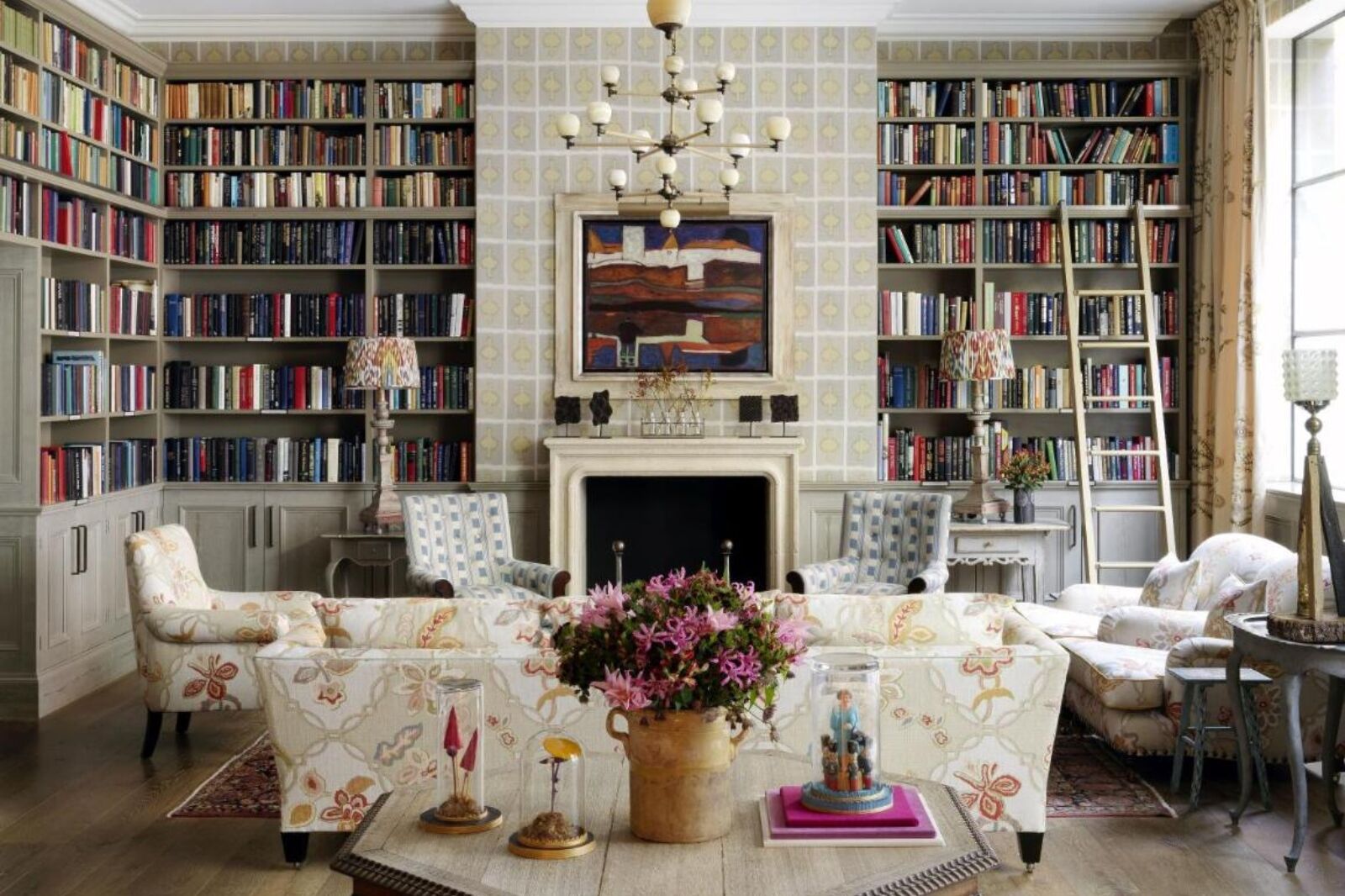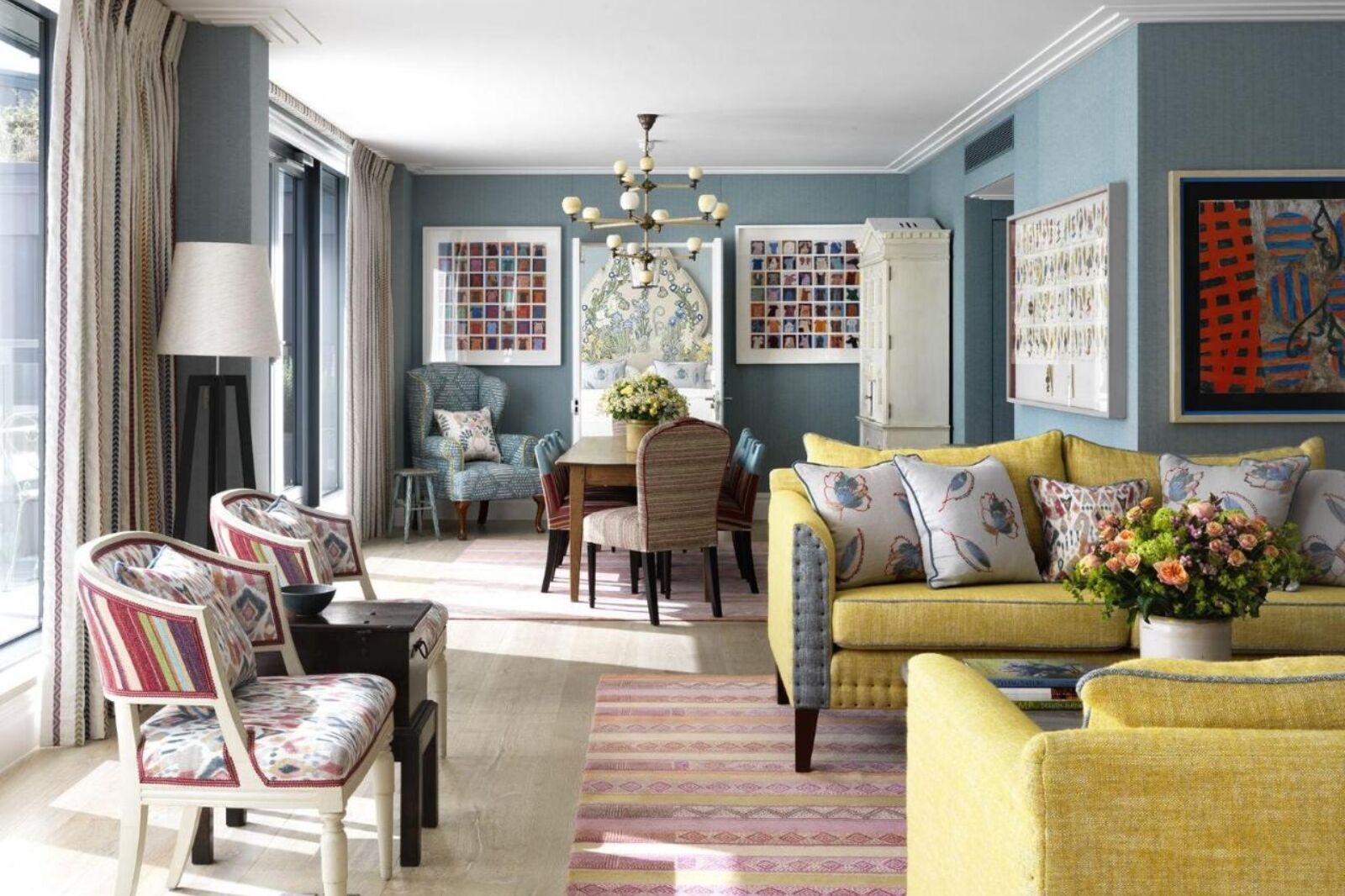 In a courtyard between Soho and Mayfair, Ham Yard Hotel is an artsy boutique hotel with a chic bar and restaurant, an original 1950s bowling alley, spa, cinema, and a tree-filled kitchen garden. Located right in the heart of Soho, the hotel is a step away from a myriad of theatres, shops, bars, restaurants, and galleries. Ham Yard has a trendy, upmarket vibe, and is popular with solo travelers.
Rooms at Ham Yard Hotel
There's a huge range of rooms to choose from at Ham Yard. The 91 rooms and suites are all individually decorated and if you are traveling with a group or family you can opt for a spacious apartment. Warehouse-style windows are floor-to-ceiling offering views over Smith's Court and the quieter street Soho streets and luxurious bathrooms are kitted out with marble and heavy oak furnishings.
Amenities at Ham Yard Hotel
Complimentary high-speed WiFi.
Onsite restaurant and bar.
Fitness center.
Spa and steam room.
Room service.
Laundry.
Where: One Ham Yard, Westminster Borough, London, W1D 7DT
Montcalm East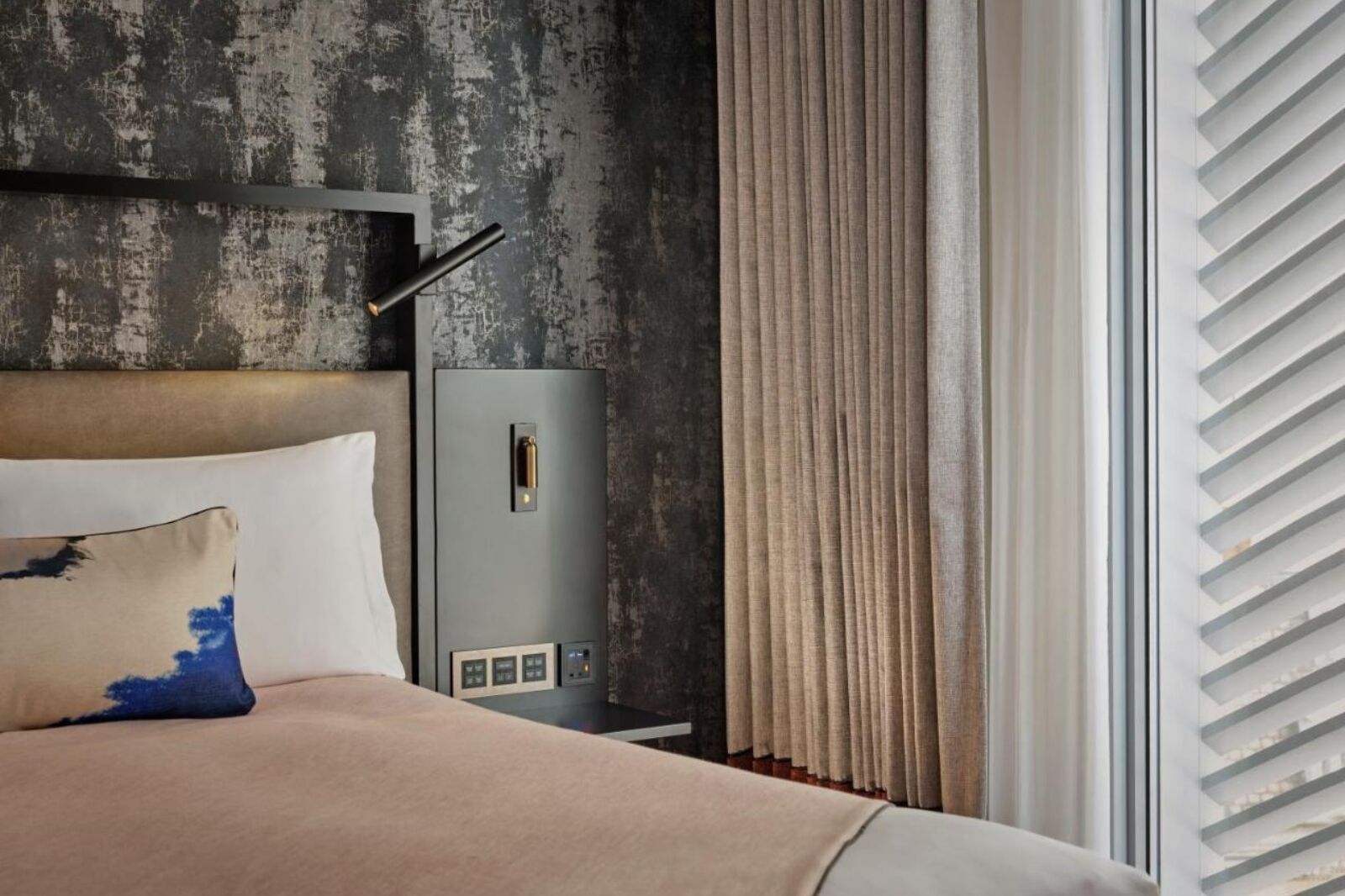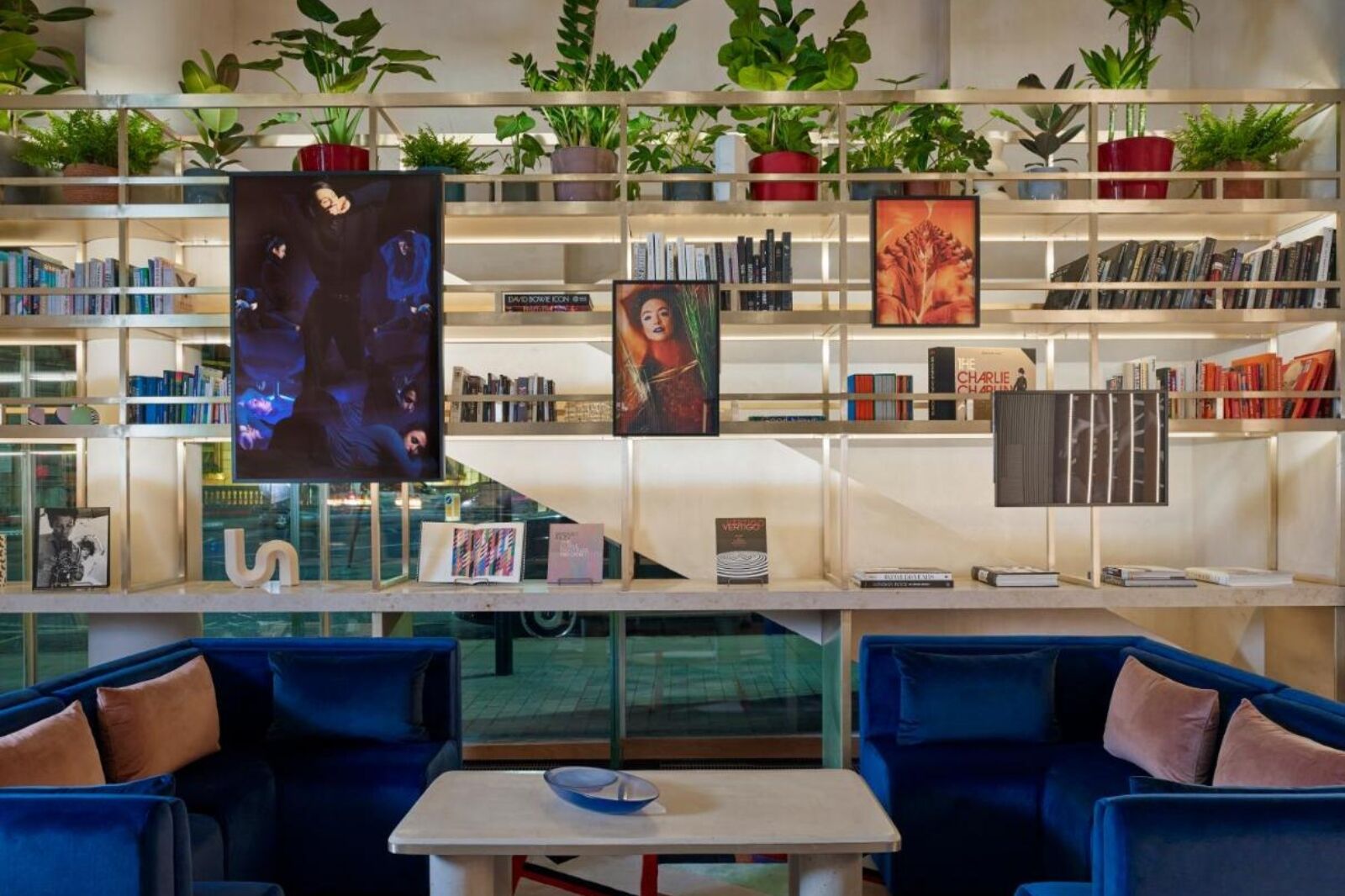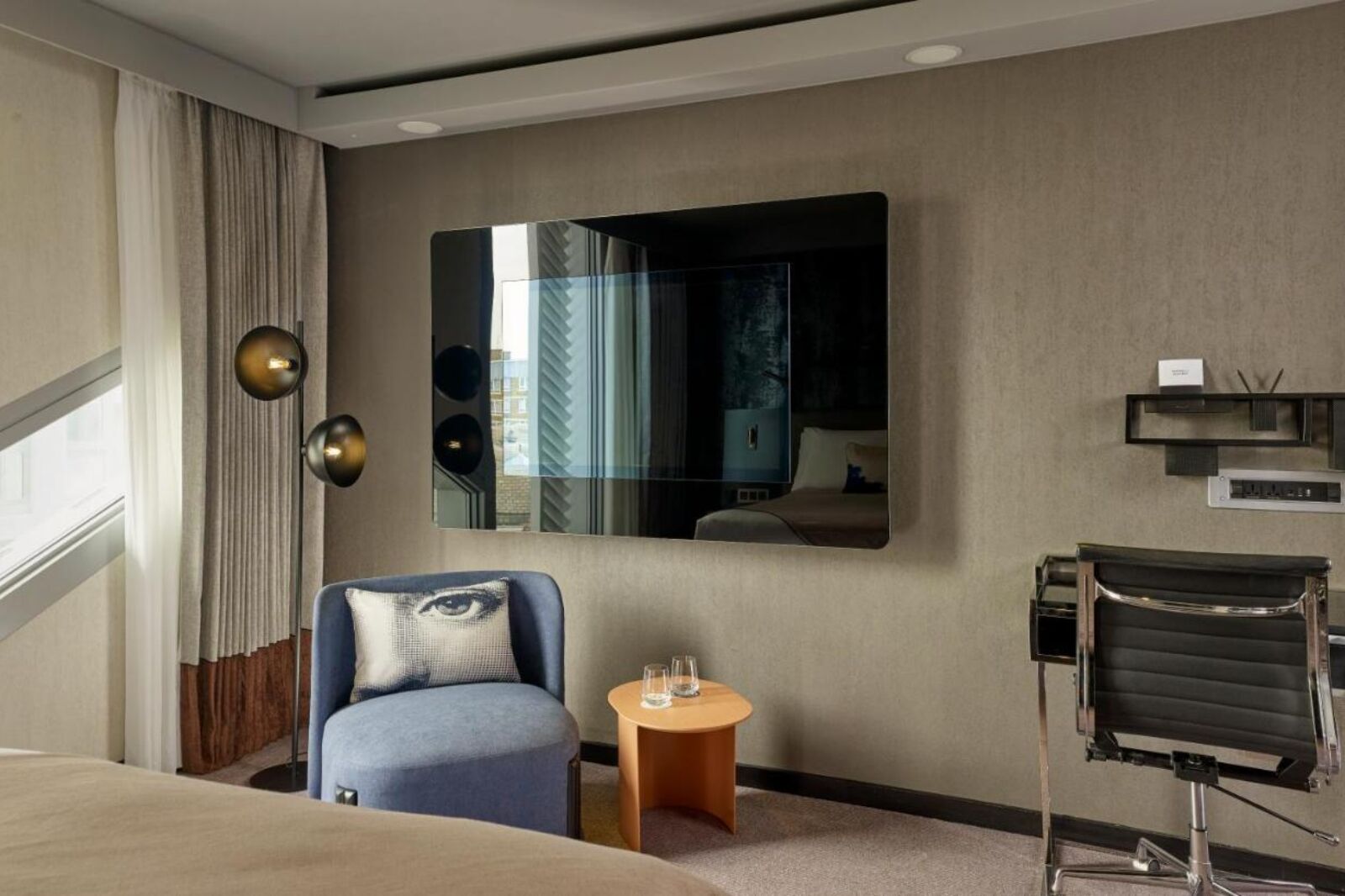 Montcalm East occupies the prime real estate between Shoreditch and the City. Part hotel, part East London creative hub, Montcalm is not your standard London accommodation. Its innovatively designed diamond-shaped building looms out over City Road paying tribute to Op Art icon, Bridget Riley. Modern artwork is dotted all over the hotel and photography exhibitions rotate throughout the year. It's a popular hotel with young professionals or those on a getaway looking for something in East London with a creative edge.
Rooms at Montcalm East
The Montcalm East offers a variety of rooms and suites. From the Sky High Double Guest Room with its skyline view to the spacious Junior King Sky High Suite, each suite is as dramatic as the glistening glass exterior of the hotel. The diamond-shaped diagonal windows flood the rooms with natural light and some of the suites have upgraded amenities such as private balconies and separate living areas.
Amenities at Montcalm East
Complimentary high-speed WiFi.
Onsite restaurant and bar.
Pool.
Fitness center.
Spa and steam room.
Room service.
Laundry.
Where: 151-157 City Road, Shoreditch, Hackney, London, EC1V 1JH
Bingham Riverhouse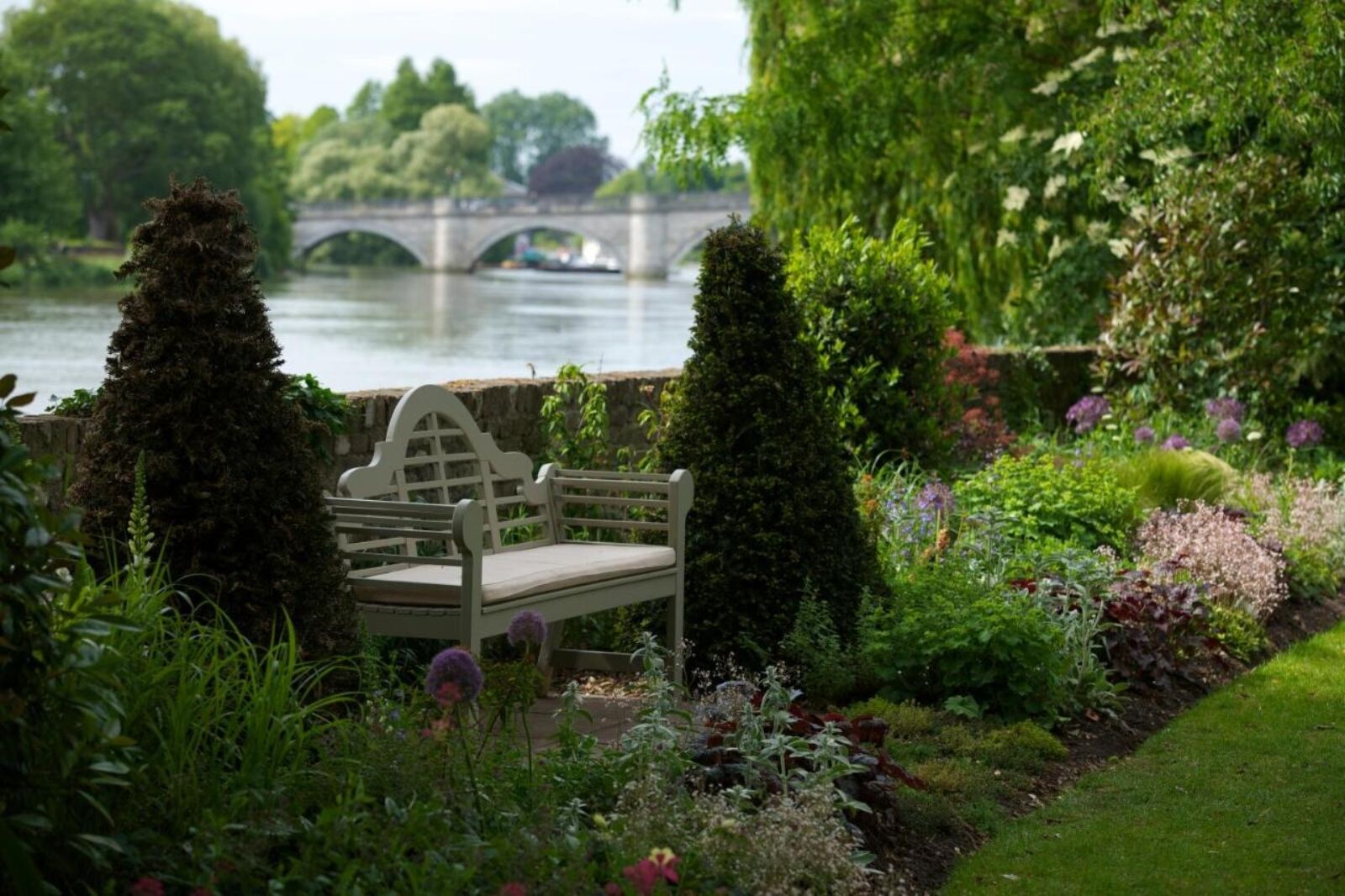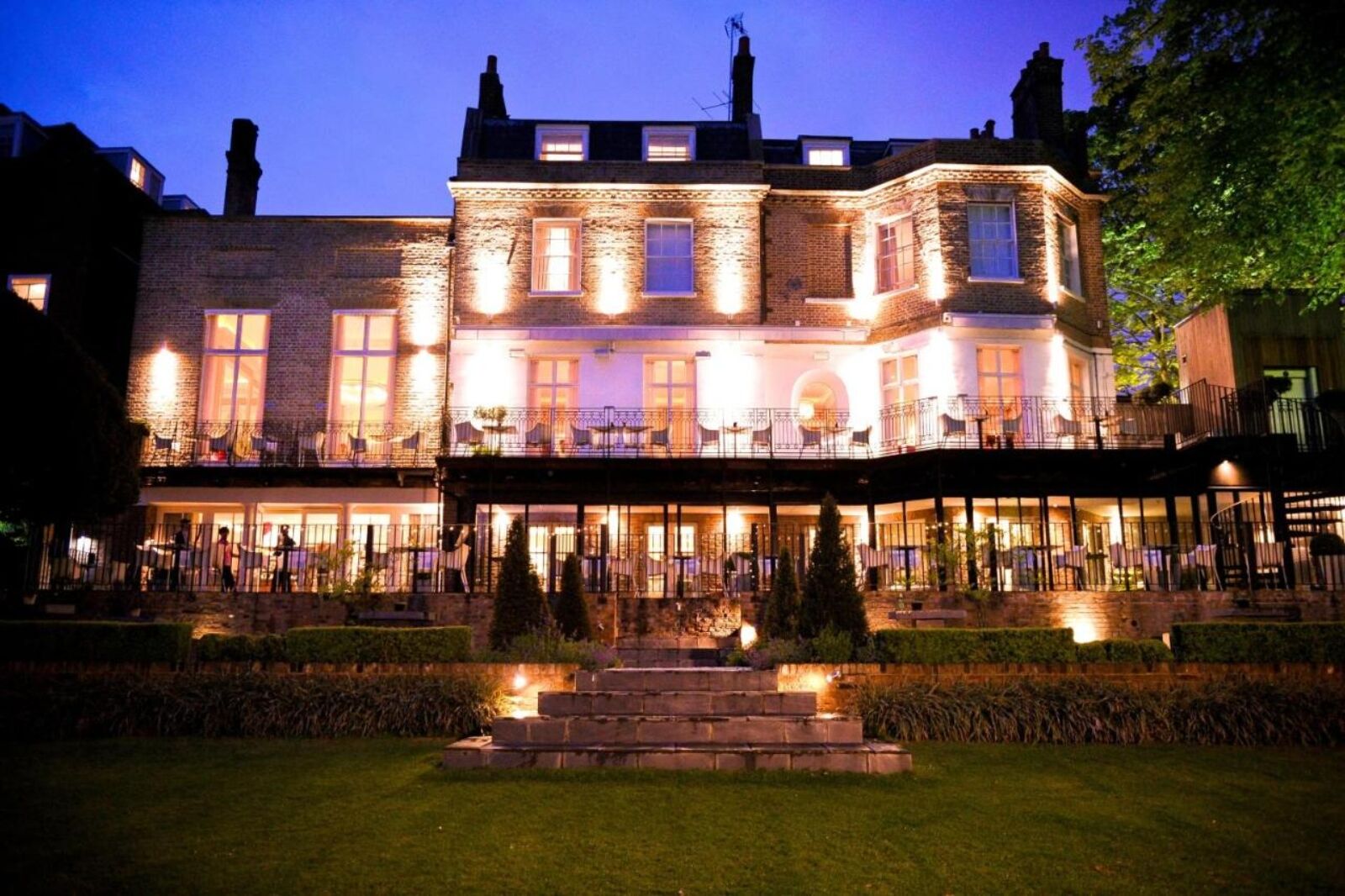 Bingham Riverhouse is a luxury hotel, restaurant, and events venue located in Richmond, London. With stunning views of the Thames, it's the perfect place to stay for a weekend getaway or special occasion. The hotel is conveniently located just a 15-minute walk from Richmond Tube Station and 25 minutes from Kew Gardens. Guests can enjoy luxurious rooms with some overlooking the river, as well as fine dining options and spaces for hosting private functions. With its classic English views and retro-chic look, Bingham Riverhouse feels like a country retreat rather than a city boutique hotel.
Rooms at Bingham Riverhouse
The views make this hotel. Guests can enjoy watching boats meander down the river and soak in the beauty of Richmond Park from the comfort of bed. With modern decor and luxurious furnishings, each room offers a unique perspective from which to take in the stunning surroundings. The River Room such as Baudelaire has one of the nicest views but all have the bonus of original fireplaces and balconies.
Amenities at Bingham Riverhouse
Complimentary high-speed WiFi.
Onsite restaurant and bar.
Room service.
Laundry.
Parking.
Where: 61-63 Petersham Road, Richmond Town, Richmond upon Thames, TW10 6UT
Shoreditch House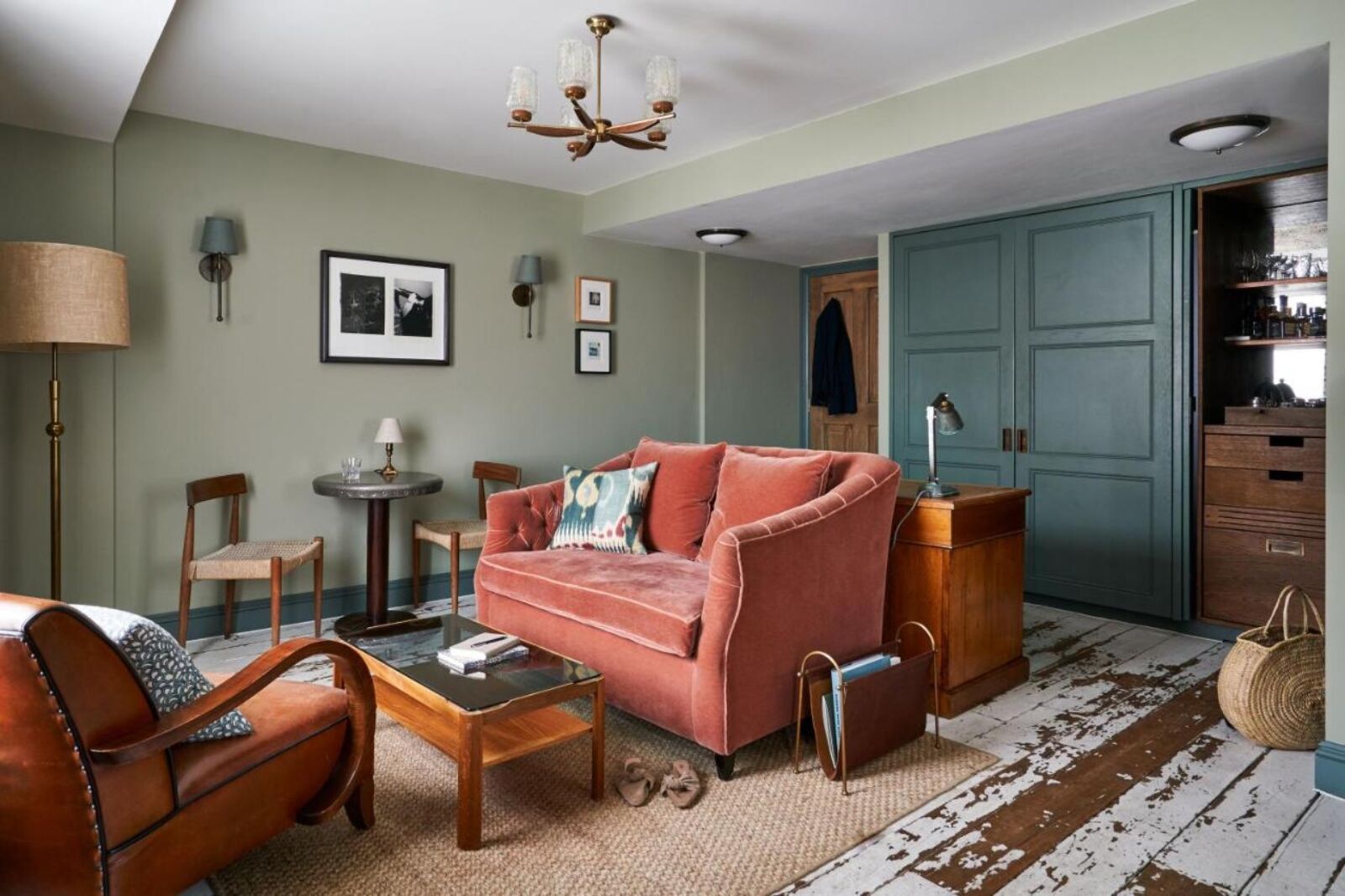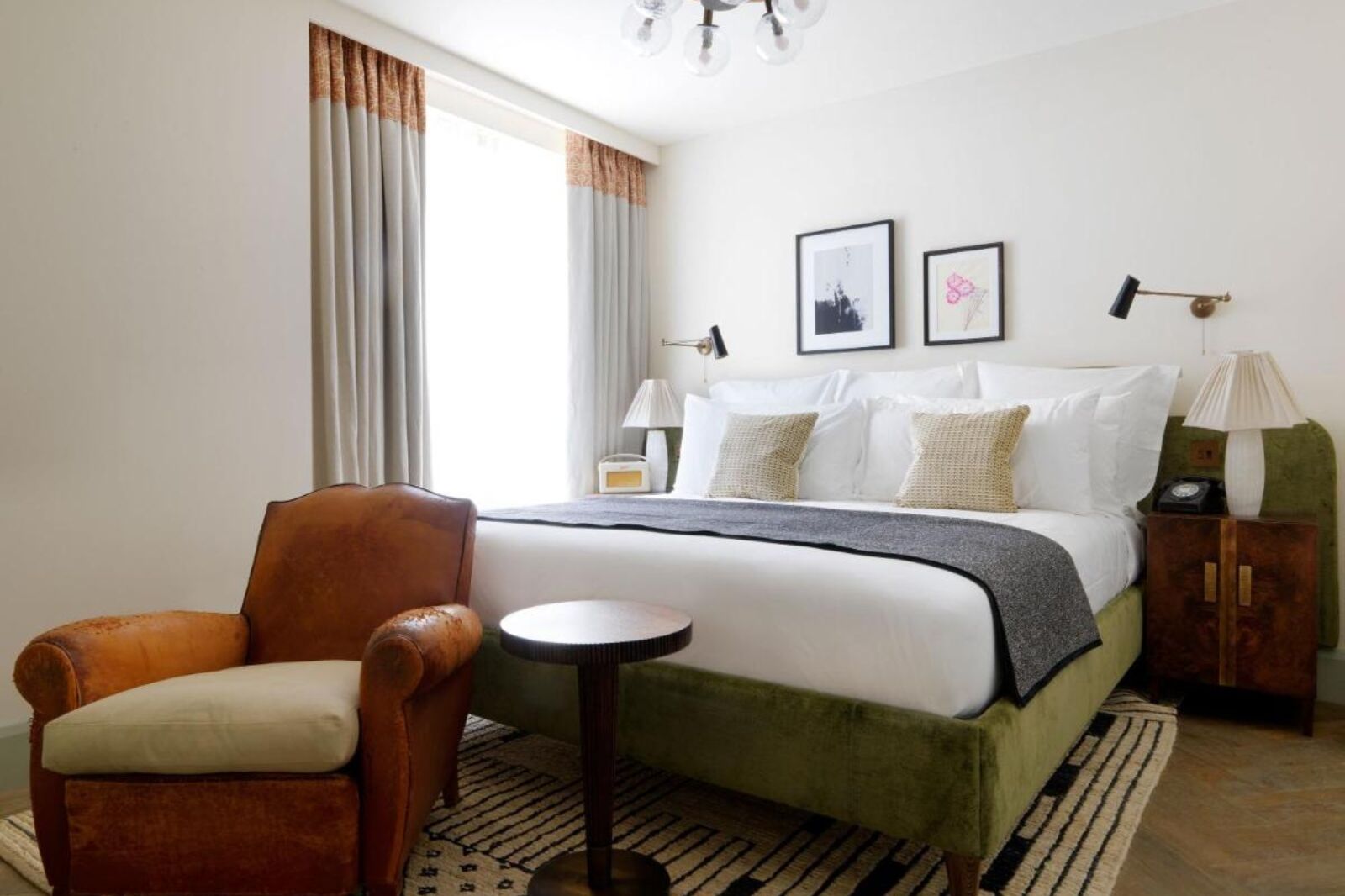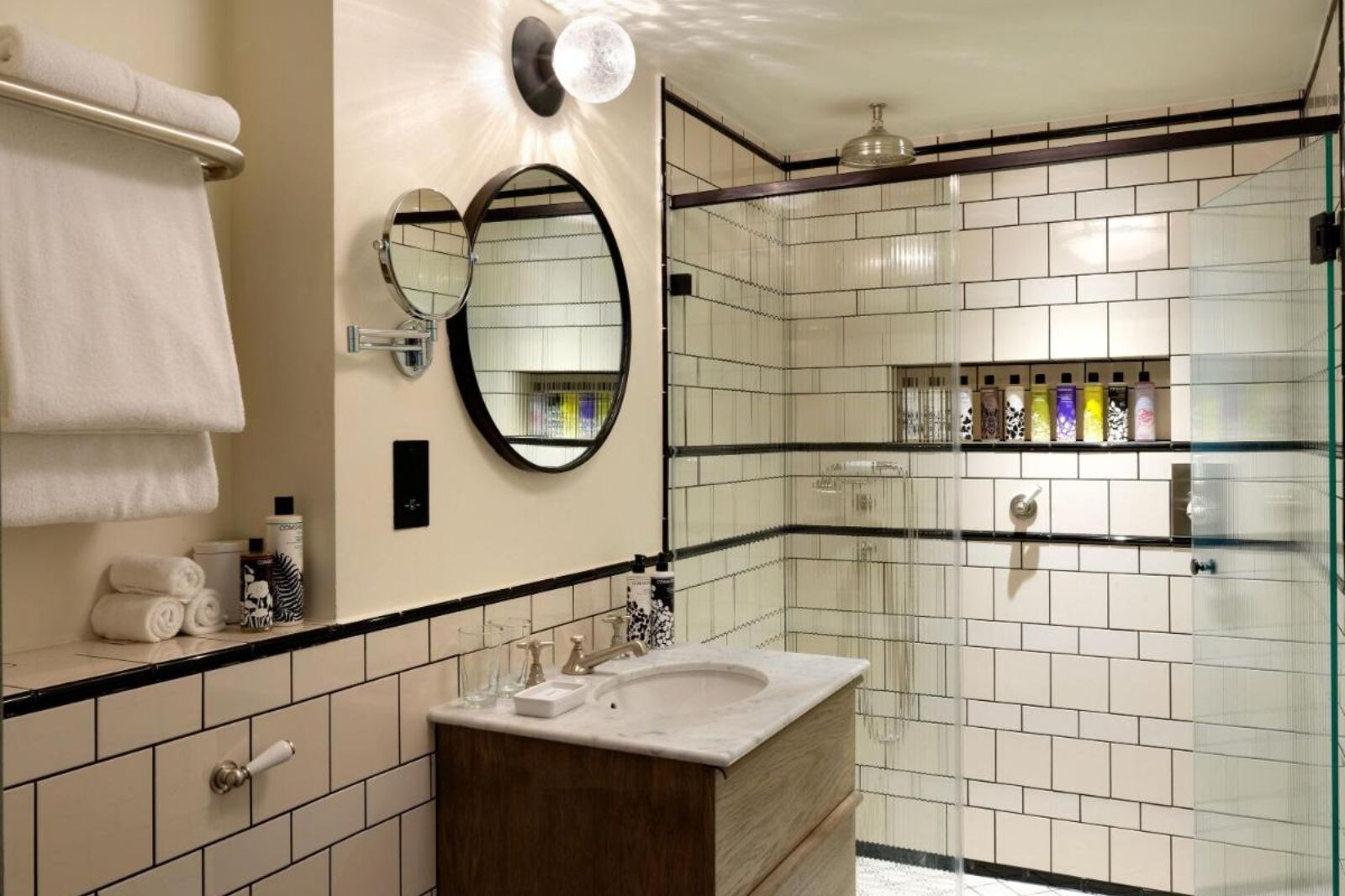 Shoreditch House is a private members' club and hotel located in East London. It is set in a converted warehouse and has a stylish rooftop pool and suites. The building has been designed to capture the character of the area, with Chesterfield-style sofas and booths creating a cozy but chic ambiance. With views across the city, Shoreditch House is popular with locals as a place to while away warm afternoons with a few cocktails on the roof. Booking at Shoreditch House comes with an all-access pass to the members' club, where you can take a dip in the pool, play some ping pong in the games room or read in the library.
Rooms at Shoreditch House
Shoreditch House in London offers 26 bedrooms, perfect for an overnight stay. The rooms come in three sizes — Tiny, Small, and Small+ — but clever storage and plenty of light mean that even the smallest room doesn't feel cramped. Each room is equipped with amenities such as a coffeemaker, telephone and refrigerator.
Amenities at Shoreditch House
Complimentary high-speed WiFi.
Onsite restaurant and bar.
Pool.
Fitness Center.
Spa and steam room.
Room service.
Laundry.
Where: 25 Whitby Street Shoreditch, Tower Hamlets, London, E1 6JU,
The Laslett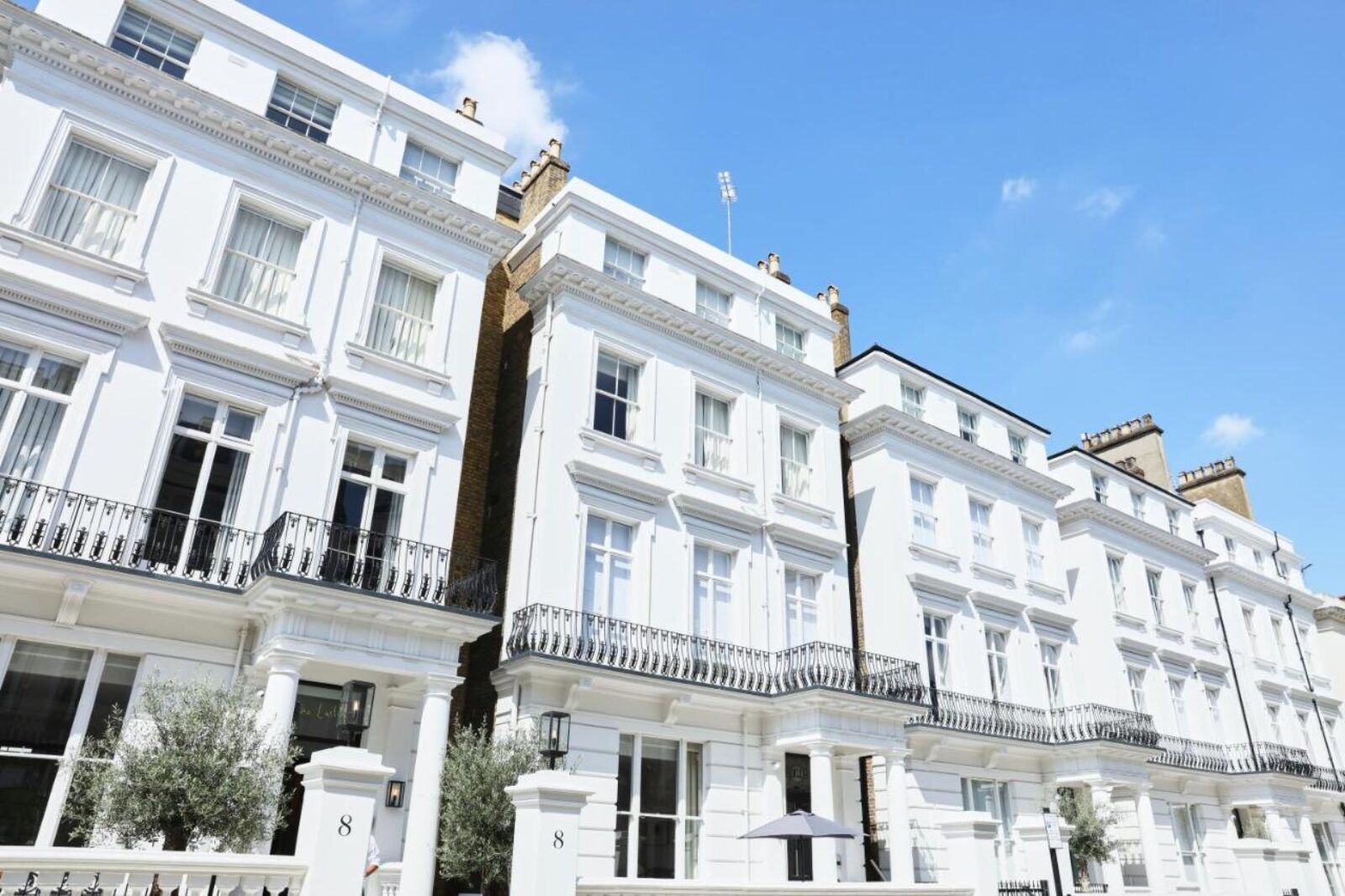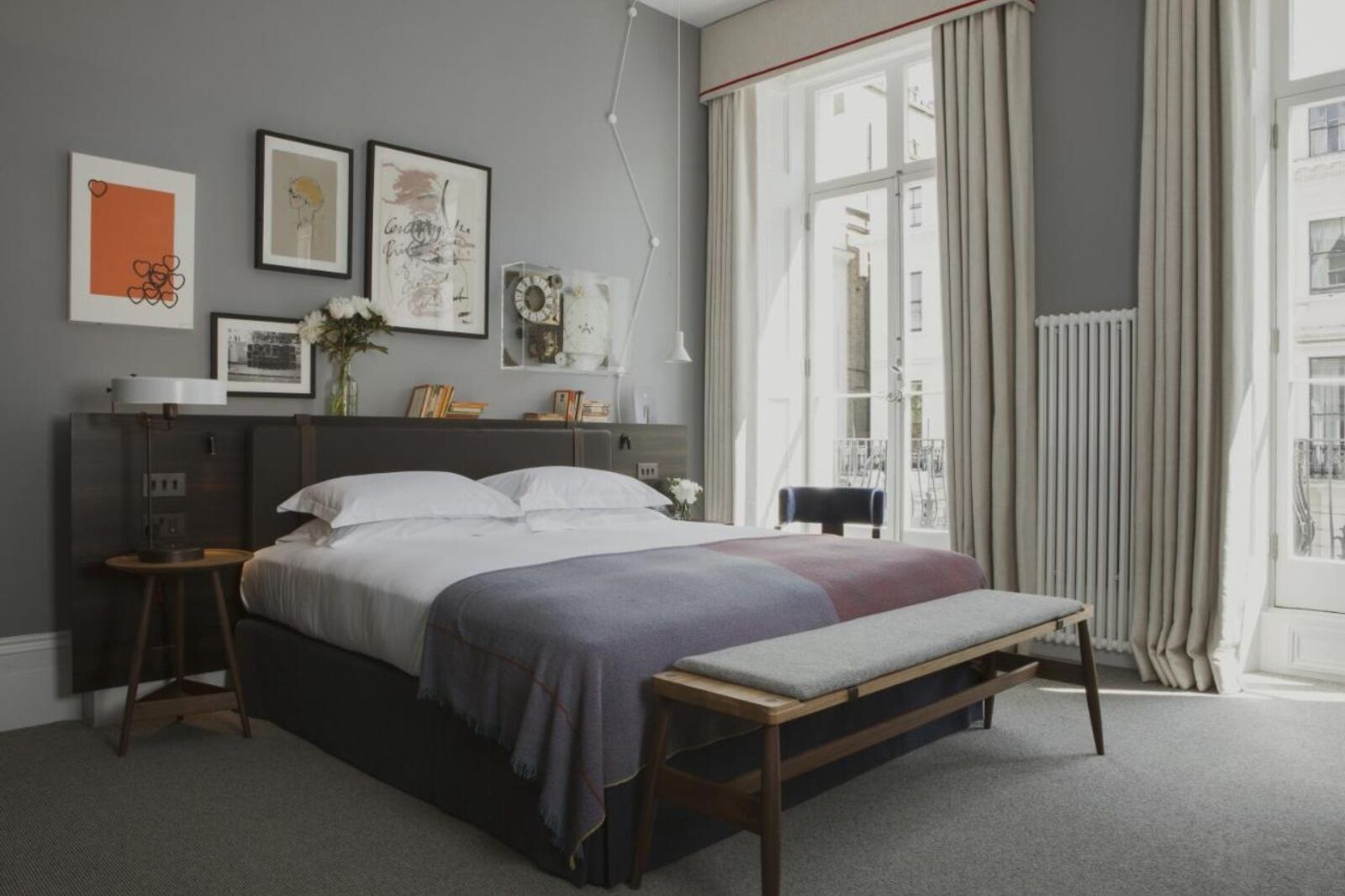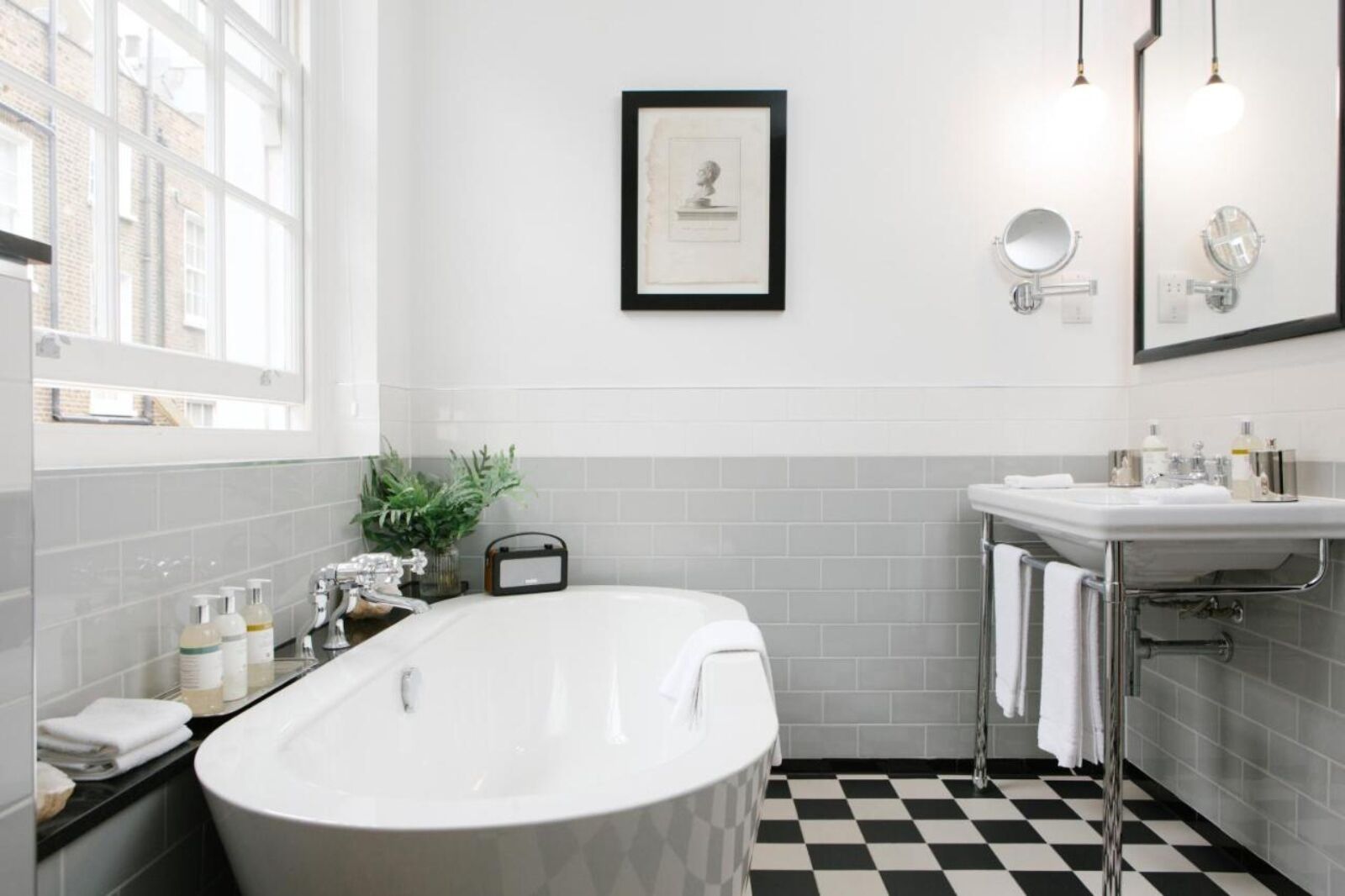 The Laslett Hotel London is located in Notting Hill, a vibrant and diverse neighborhood in the west of London. The hotel is spread across five Grade II listed Victorian townhouses, just a short walk from Notting Hill Gate Underground Station. Its namesake, Rhaune Laslett, was the founder of the famous Notting Hill Carnival, making it an ideal destination for those looking to explore the city's culture and history.
There's plenty to explore nearby too. Within walking distance, The Portobello Road Market is a great place to shop for vintage clothing and antiques, while Kensington Gardens offers beautiful gardens and outdoor activities like boating and bird-watching. For those looking for more of an art experience, the Victoria & Albert Museum is just a few steps away, or you can visit the popular Science Museum. For a night out, Westbourne Grove and Notting Hill are home to some of the best restaurants and bars in the city.
Rooms at The Laslett
The Laslett Hotel London offers 51 guest rooms and suites. Each of the rooms and suites has been carefully designed to provide a luxurious stay, with restrained white-and-grey color schemes and modern amenities. All rooms and suites feature king-size beds, air conditioning, WiFi, flat-screen TVs, and complimentary toiletries. You can also enjoy a mini bar with snacks, 24-hour room service, daily newspaper delivery, and laundry service. For special occasions, the hotel can help you arrange an intimate dinner in one of their private dining areas or provide luxury chauffeur pick-up services.
Amenities at The Laslett
Complimentary high-speed WiFi.
Onsite restaurant and bar.
Room service.
Laundry.
Where: 8 Pembridge Garden, Kensington and Chelsea, London, W2 4DU
Top things to do in London
London is a vibrant city with plenty of attractions to explore. Whether you're looking for art and culture, nature and parks, or entertainment, there are plenty of things to do in London. Here are some of the best:
Visit Westminster Abbey — Westminster Abbey is one of the most iconic landmarks in London and a must-see for any visitor. The Gothic architecture and rich history make it an unforgettable experience.
Take a tour of the Tower of London — The Tower of London has been around since 1066 and is one of the oldest structures in the city. It's home to many royal artifacts and priceless treasures, making it a great place to explore British history.
Enjoy the view from the London Eye — The London Eye offers breathtaking views over the city from its over 400-foot-high Ferris wheel. It's one of London's most popular attractions and a great way to get your bearings in this sprawling metropolis.
Explore Kew Gardens — Kew Gardens is one of the world's largest botanical gardens. It's home to thousands of species of plants and trees, as well as beautiful glasshouses and sculptures that make it an ideal spot for nature lovers.
Shop at Camden Market — Camden Market is one of London's most popular markets, offering everything from vintage clothing to handmade crafts and street food stalls. It's also home to some great live music venues and bars, making it a super place to spend a summer afternoon.
What did you think of this story?