Jacksonville Opened Its Beaches This Weekend, and It May Be a Look at America's New Normal
If anyone was going to take the national shaming stick for opening up too early, it might as well be Florida.
We're used to being the United States' poster child of stupid, the big, dangling punchline at the end of the country everyone uses to make their states feel smarter. It's okay. We're used to it. Bad judgment is as much a part of our identities as suntans.
So when Jacksonville announced it was opening its beaches at 5:00 PM Friday, the world was just waiting for us to Florida it up.
#FloridaMorons began trending on Twitter. The US' new legion of amateur epidemiologists predicted we'd be the forefront of the second wave. It was like we'd already ruined this grand experiment before it had even started.
That's why it came as no surprise to me when the headlines and videos Saturday morning made it look like Spring Break had started back up again in Jacksonville. Camera angles made the sands of Duval County look like a pre-COVID New York City.
Few of those people bothered staying through the weekend.
I arrived in Jacksonville on Saturday, a day after that prison break first evening. The beaches were full of people, yes, but they kept their distance from those outside their immediate circle. They weren't setting up tents and throwing twilight beach raves. With a few exceptions, everyone was following the rules, using the beach for exercise and recreation and not as a place to party.
Collectively, it seemed Jacksonville understood that if they were going to be the models for other cities to be let back outside, they better do it right. And while the beach had a lot more people on it than usual, spring break it most certainly was not.
In case anyone was confused, signs throughout Jacksonville's beaches reminded people to keep six feet of distance. They also reminded everyone of the new rules for beachgoing: No coolers, no blankets, no sunbathing. The beach was open for recreation only, so you had to be doing something — walking your dog, taking a stroll, swimming, surfing, fishing for mahi.
In front of a beachfront condo building, a couple was playing bocce ball with their pet husky.
"Everyone has been really respectful and following the rules," said Nina Rothstein, a PhD student from Philadelphia who's been staying in her parents' condo overlooking the beach for three weeks. "The beach community isn't as touristy here, so people have been rule-following, not pushing the limits."
Rothstein has an autoimmune condition and came down to Florida three weeks ago as sitting inside her apartment in densely packed Philadelphia was not her idea of health. She says she's had no issues since coming to Florida.
"It's important not to induce claustrophobia," said her partner and fellow PhD student Jan Thomas, as he tossed a bocce ball towards the ocean. "It felt nice to finally see people walking around. It's less apocalyptic."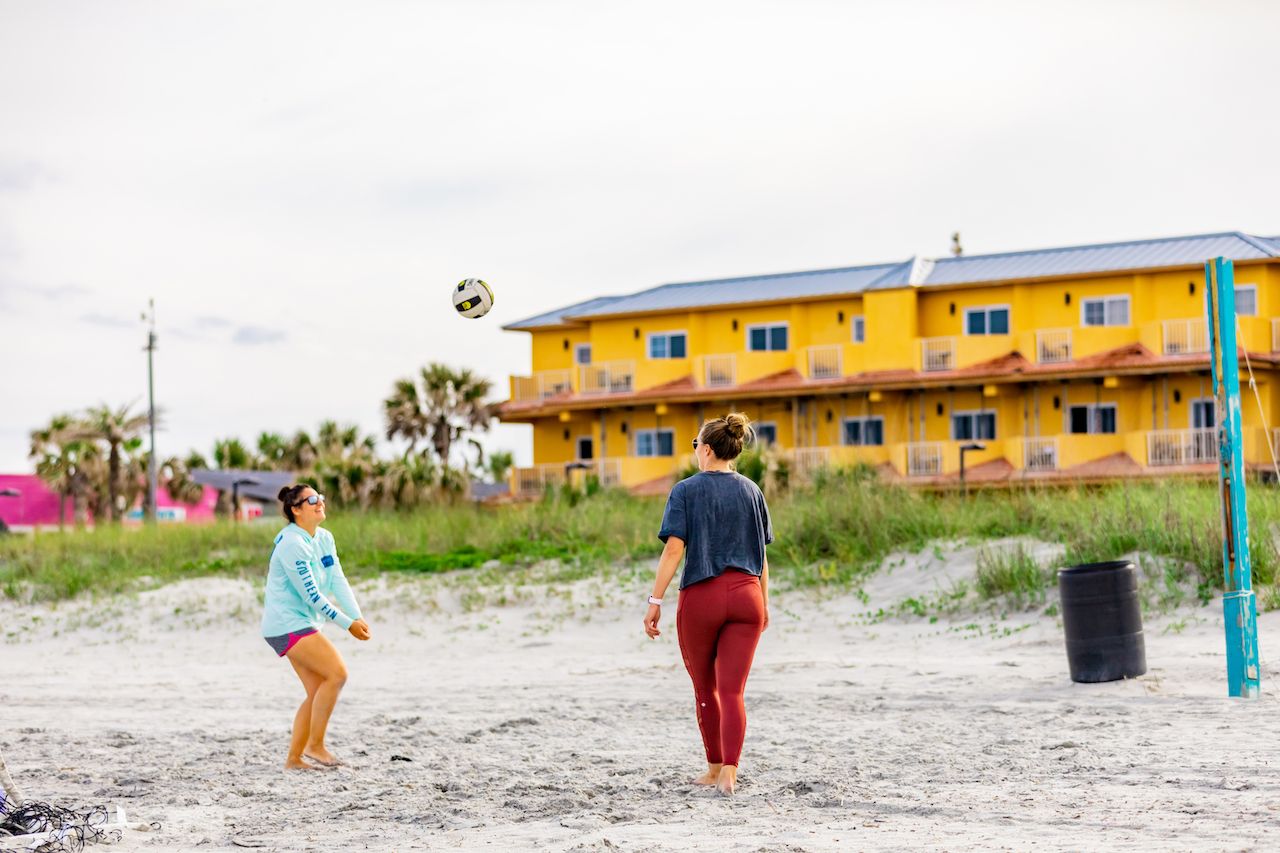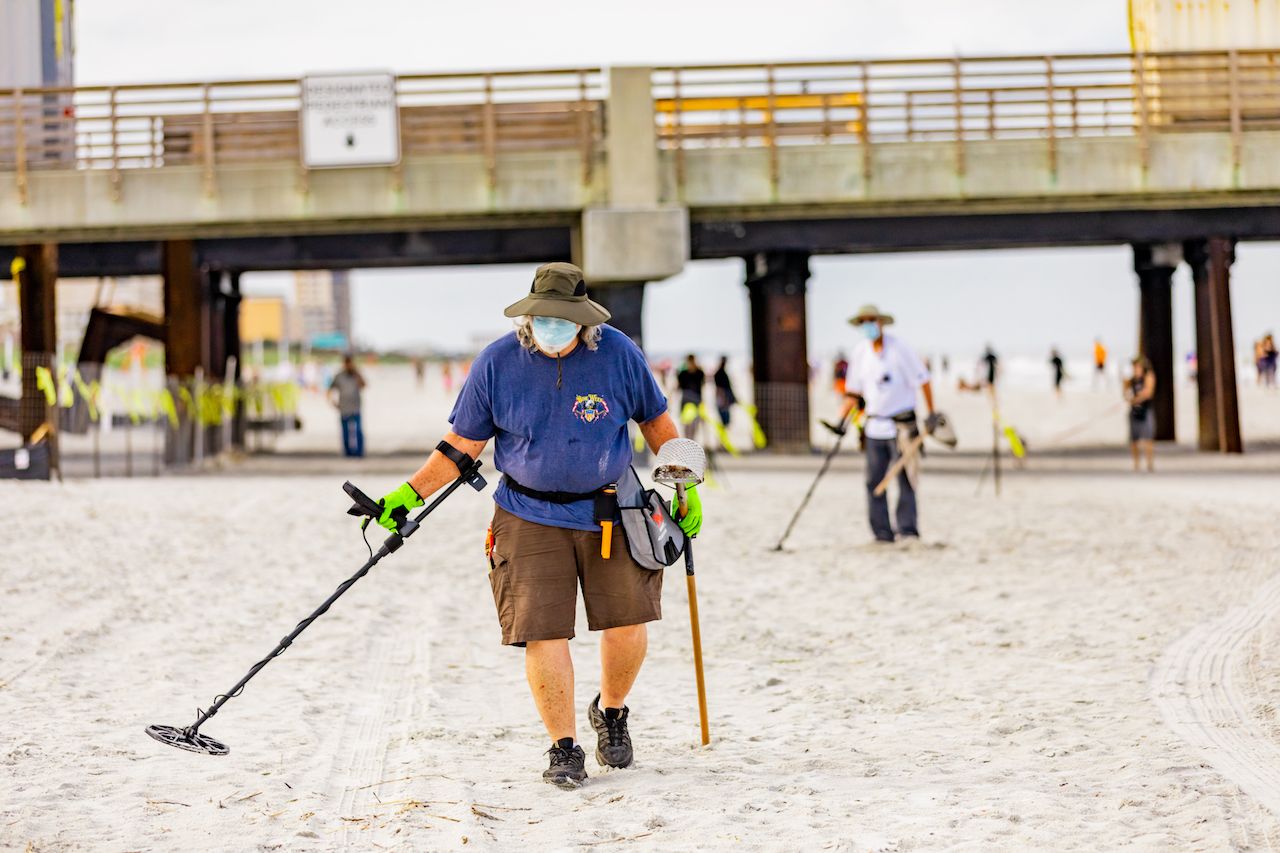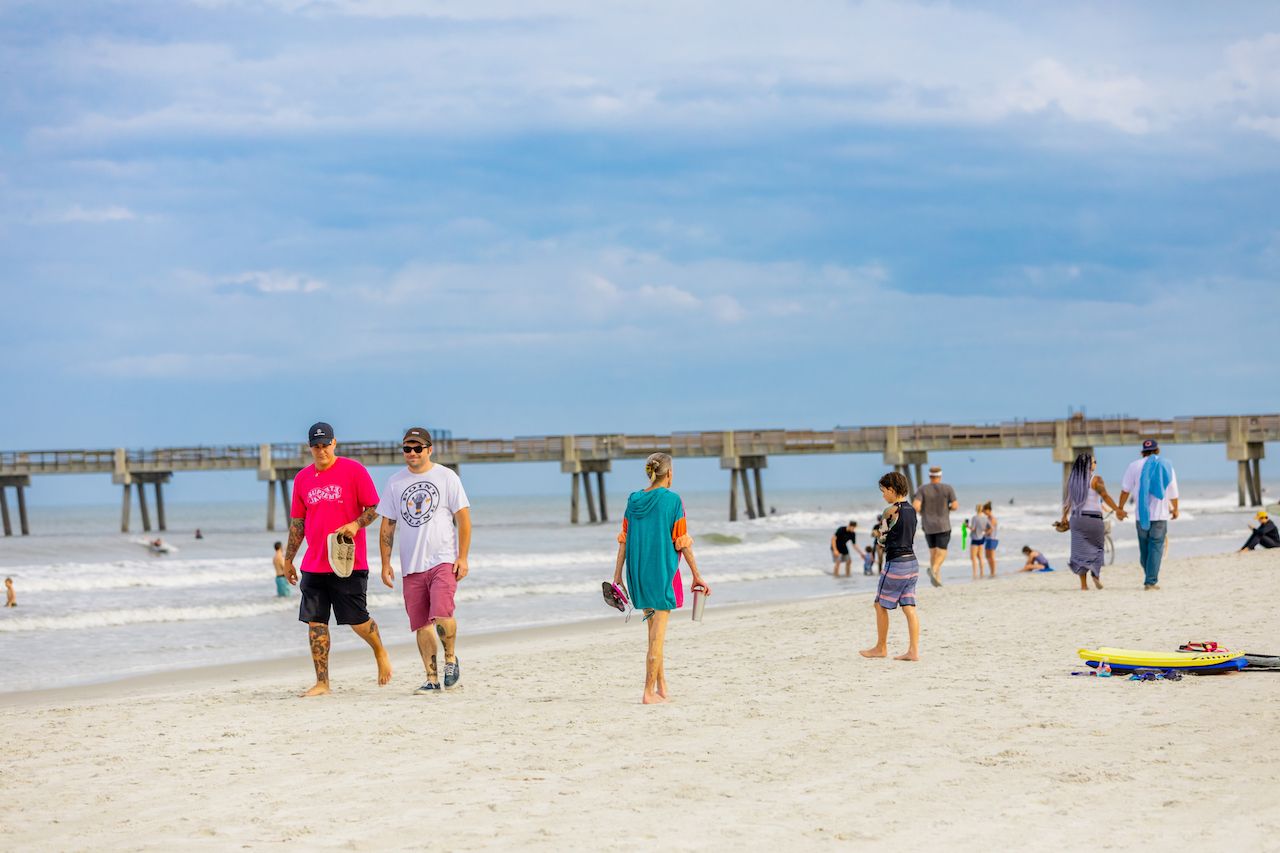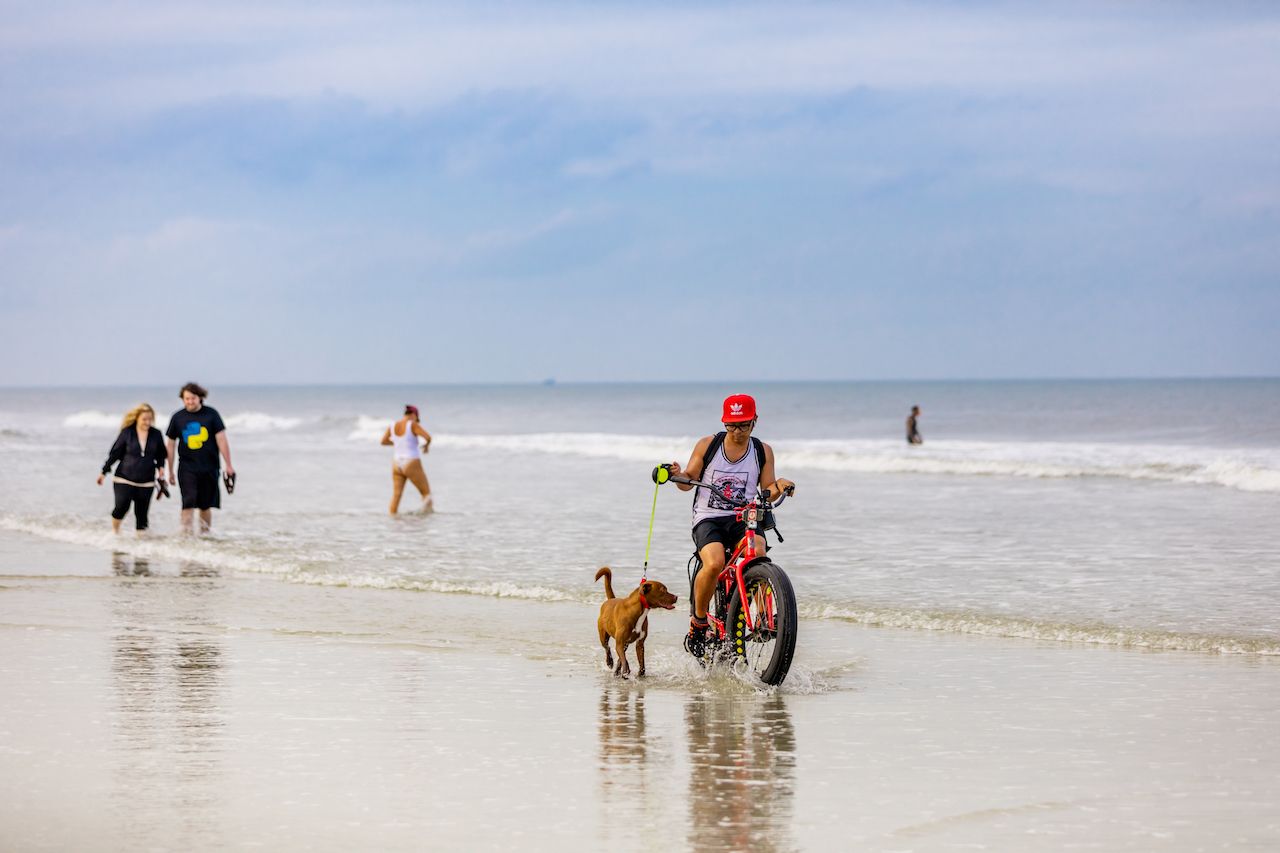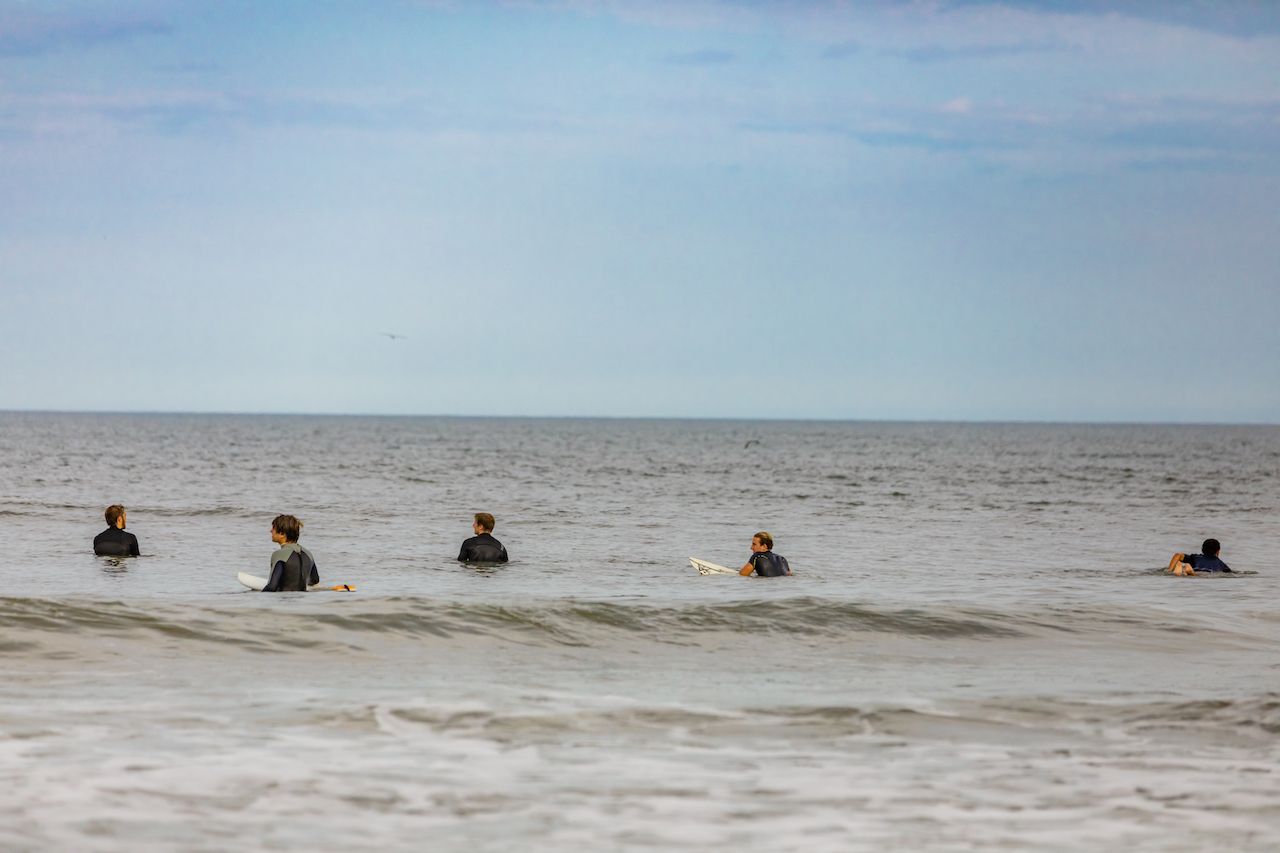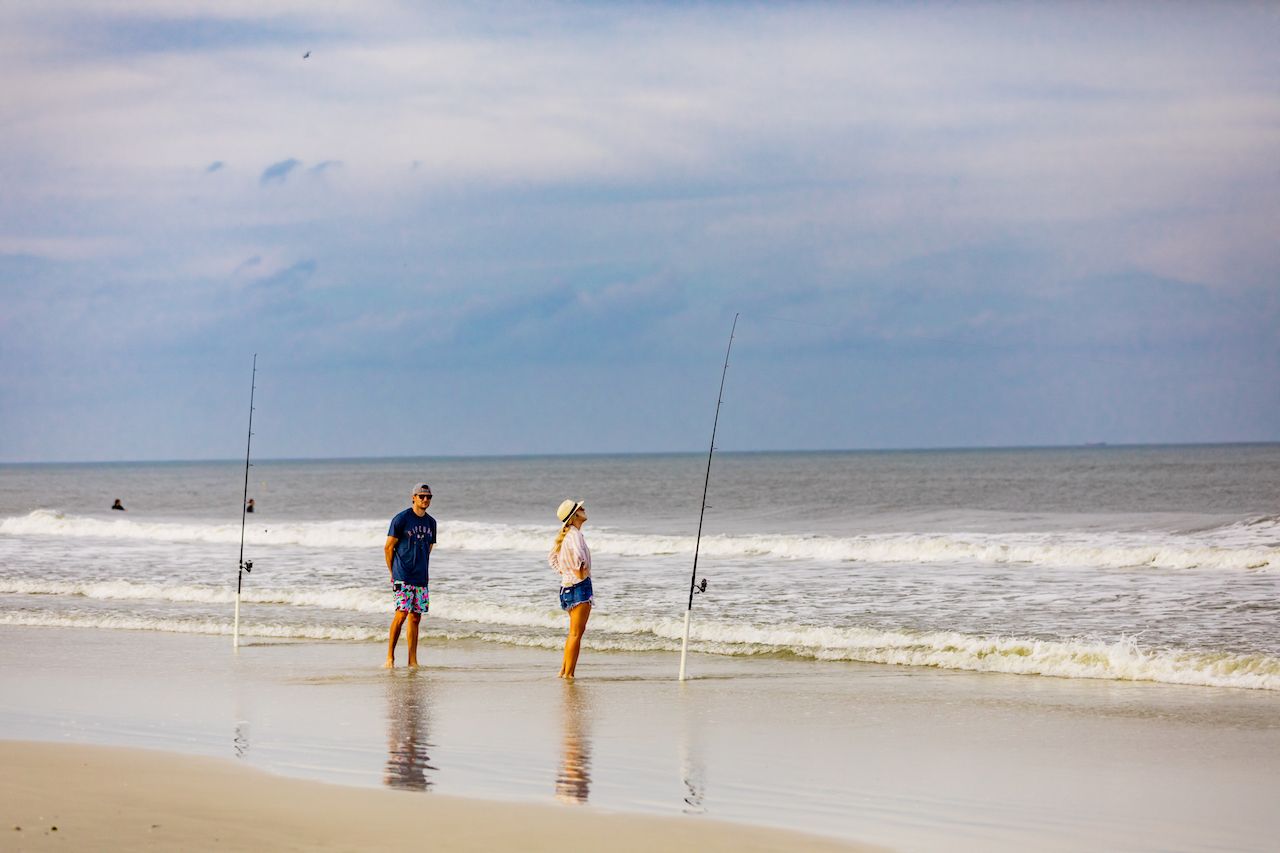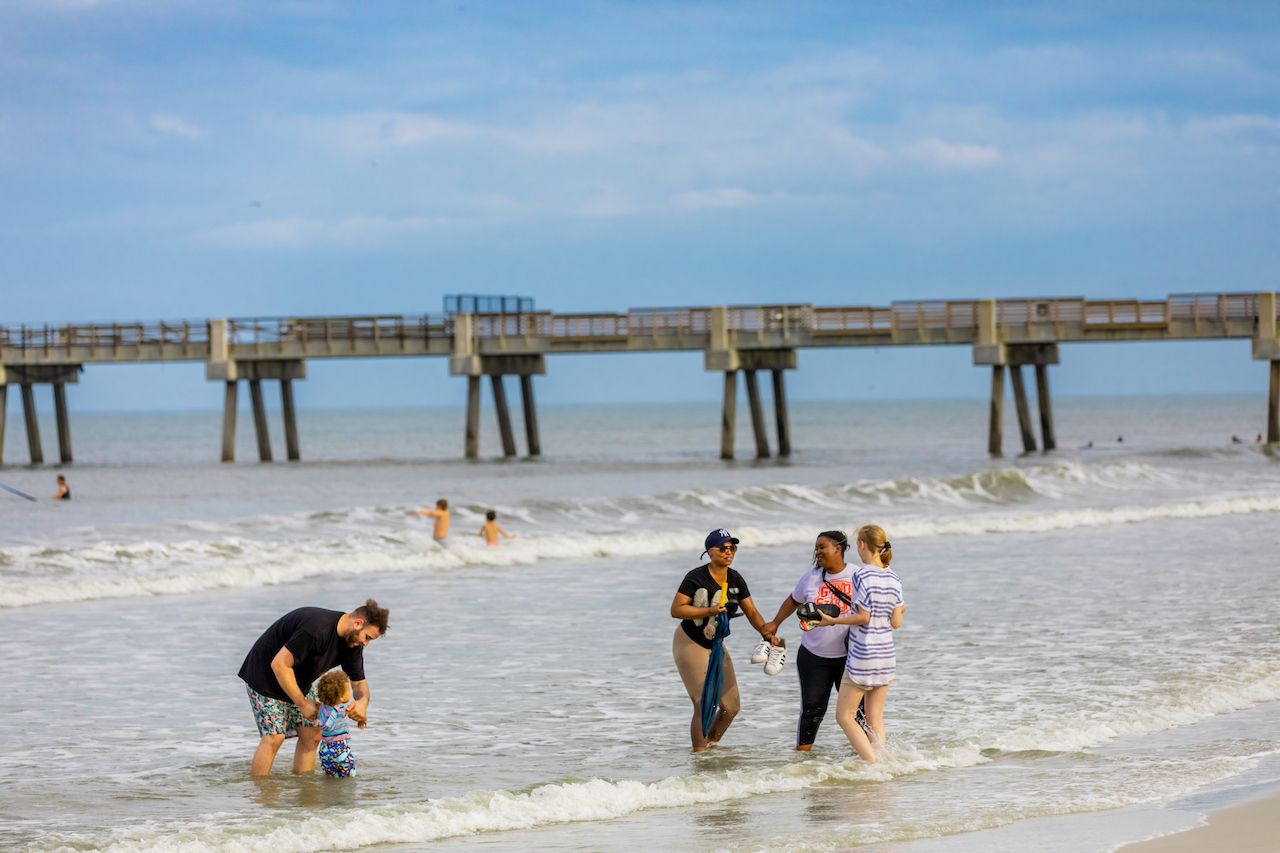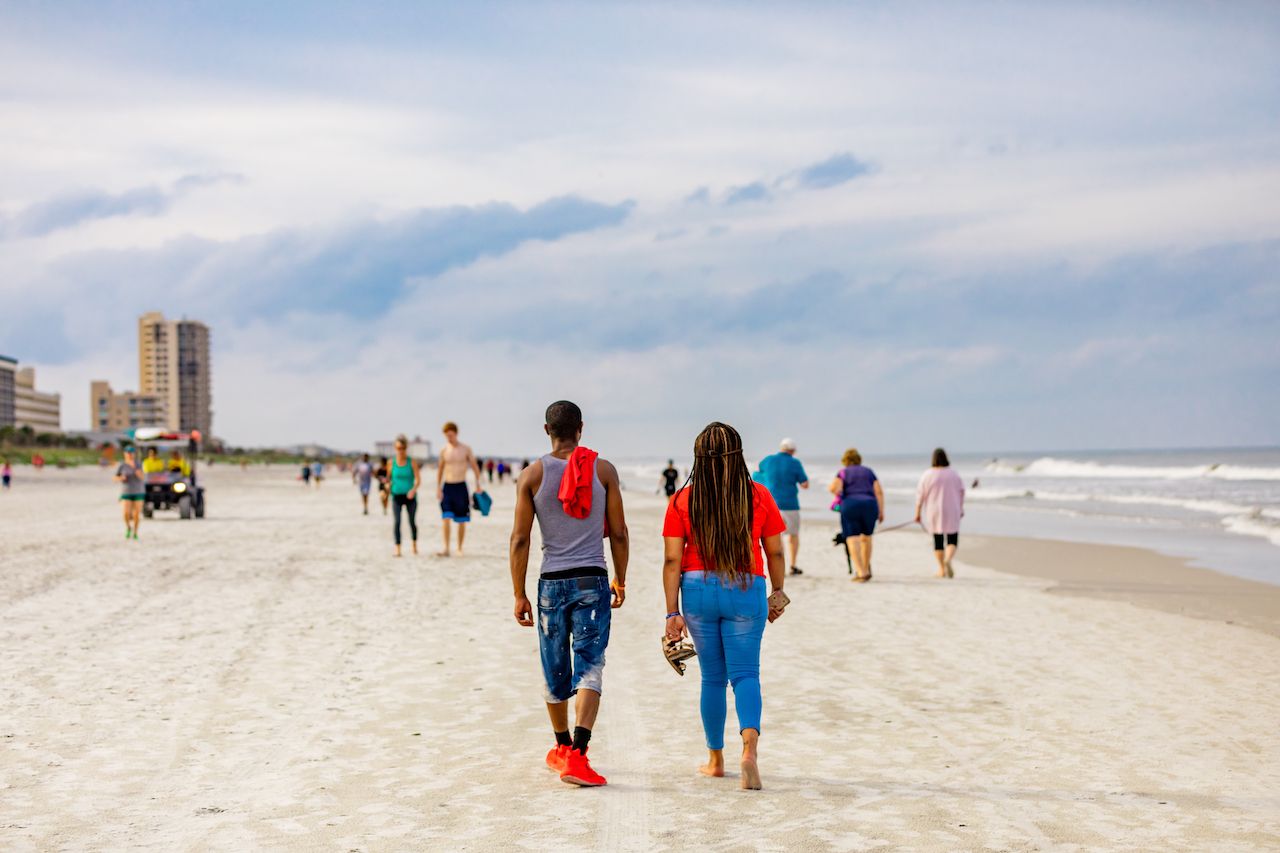 That aspect of positive mental health and wellbeing is one I hadn't heard mentioned much among the masses criticizing Florida. But even on a slightly overcast afternoon, simply having a beach to go to brought a wave of sunshine over what's been a pretty gloomy spring.
"After being on the front lines all week, it's nice to get out," said Jermey Thomas, a hospital worker from Lake City, Florida, as the smoke from his Black & Mild wafted in the ocean breeze. "We just gotta get out to a normal life."
Thomas echoed what many here felt: That while it might be viewed as risky, getting people outside, exercising, and enjoying ocean air was crucial to mental health too.
But not everyone in Duval was sold on opening up early.
"I love the beach as much as anyone," said a young man who seemed a little uncomfortable with his three friends standing within inches of him. "But, ya know, I don't wanna die. I think they should've stayed closed. What's the difference if we wait a few weeks? That's not gonna save the economy."
"I don't know," a young lady in a pink bikini standing next to him disagreed, as she took a sip from a large Styrofoam cup. "In Duval we've got, what, a million people? And only have like 750 cases?"
Next to her another man in a Go Noles! shirt put his arms around them to take a group picture. While most people in Jacksonville were following the rules, there are always exceptions.
Jax Beach shows it will be a slow return to the old days.
In the ocean surfers, who've understood the importance of keeping appropriate distances since they picked up a surfboard, spun and twirled and shredded waves like they were visiting a long-lost friend. Couples walked together. Parents yelled at their kids not to get out too far. Everyone was smiling. Finally, it felt like the beach, but somehow, it wasn't the beach.
The beaches were only open from 6:00 to 11:00 AM and 5:00 to 8:00 PM. Police patrolled the sand the entire time, ensuring nobody was breaking the rules. They were polite, and sometimes funny, yelling over the speaker, "The closer we get, the worse it is for you." But you still felt watched. It was a little like Jacksonville had been let out for recess: Go outside and play, but don't have too much fun.
This felt true throughout the entire city, where you didn't have to wear a mask and the beach was open but bars and restaurants still were not.
My post-beach beer at Hoptinger came with a lid and a straw. My dinner at Orsay came plated in Styrofoam containers and had to survive the 30-minute drive back to my hotel.
"I miss plating things," Chef Jonathan Insetta told me as he handed me my to-go bags. The food was still delicious, but I wasn't able to replicate the presentation on Hampton Inn breakfast plates.
Jacksonville felt more normal than most of the world does right now, but it still wasn't a complete return to "the great before." But through all the talk and pontificating about what everything will look like once we're out from under the blanket of COVID-19, Jacksonville may at least give us our first real glimpse of what the new normal might be.
We won't be able to have Sunday Funday at the beach, or cram ourselves into restaurants and bars. But if we can — I can't believe I'm saying this — follow (most of) Florida's lead and act responsibly, we can get back to doing some of the things we enjoy, and maybe get people back to work in the process. And though it may make people feel good to call us all #FloridaMorons, they'll soon learn a day at the beach, with responsible social distancing, feels a lot better.
What did you think of this story?