Check Into Relaxation at These Boutique Puerto Vallarta Airbnbs
Adventure pursuits, watersports, nightlife, and – of course – tacos aplenty make Puerto Vallarta one of Mexico's top vacation spots. This laid-back resort in Jalisco state is known for its high safety rating and LGBTQ-friendly ethos. Here are the top-rated (and genuinely unforgettable) Puerto Vallarta Airbnb rentals for families, couples, and groups.
We hope you love the Puerto Vallarta Airbnb stays we recommend! Just so you know, Matador may collect a small commission from the links on this page if you decide to book a stay. Listed prices are accurate as of the time of publication.
Puerto Vallarta vacation rentals with chef service
The Green House – super private villa in marina for groups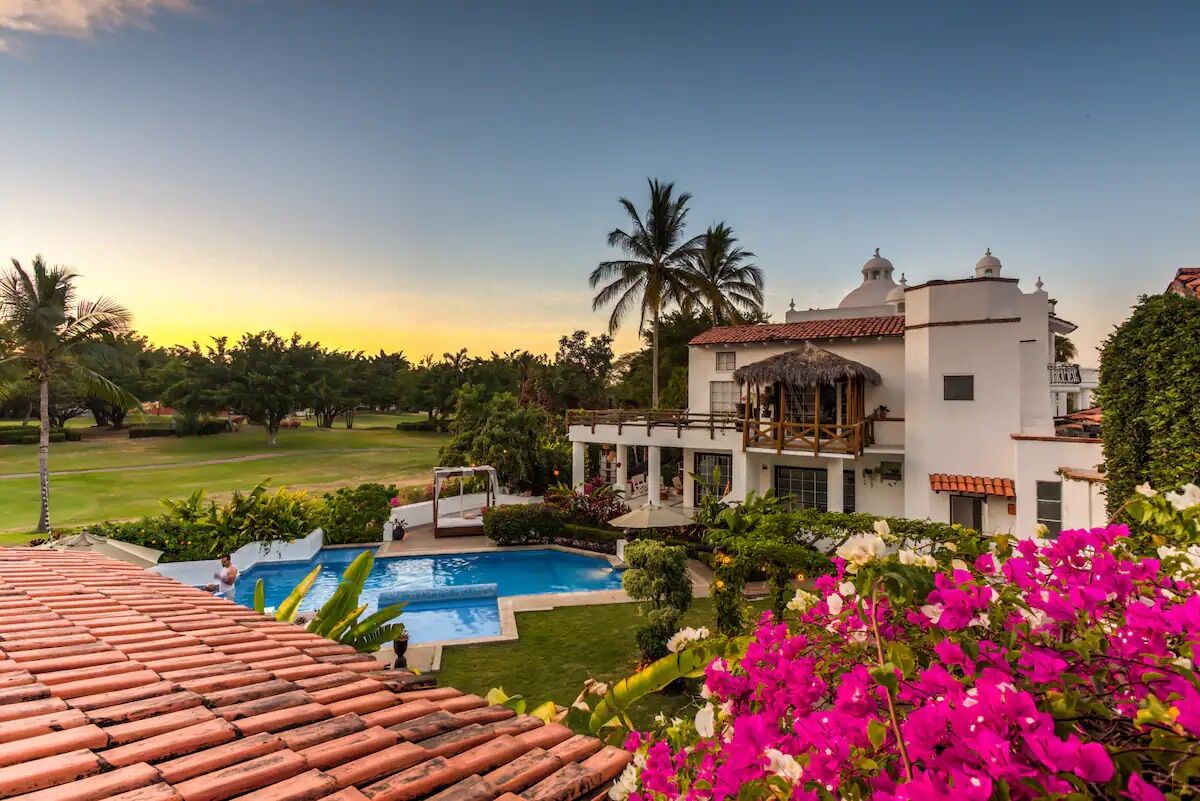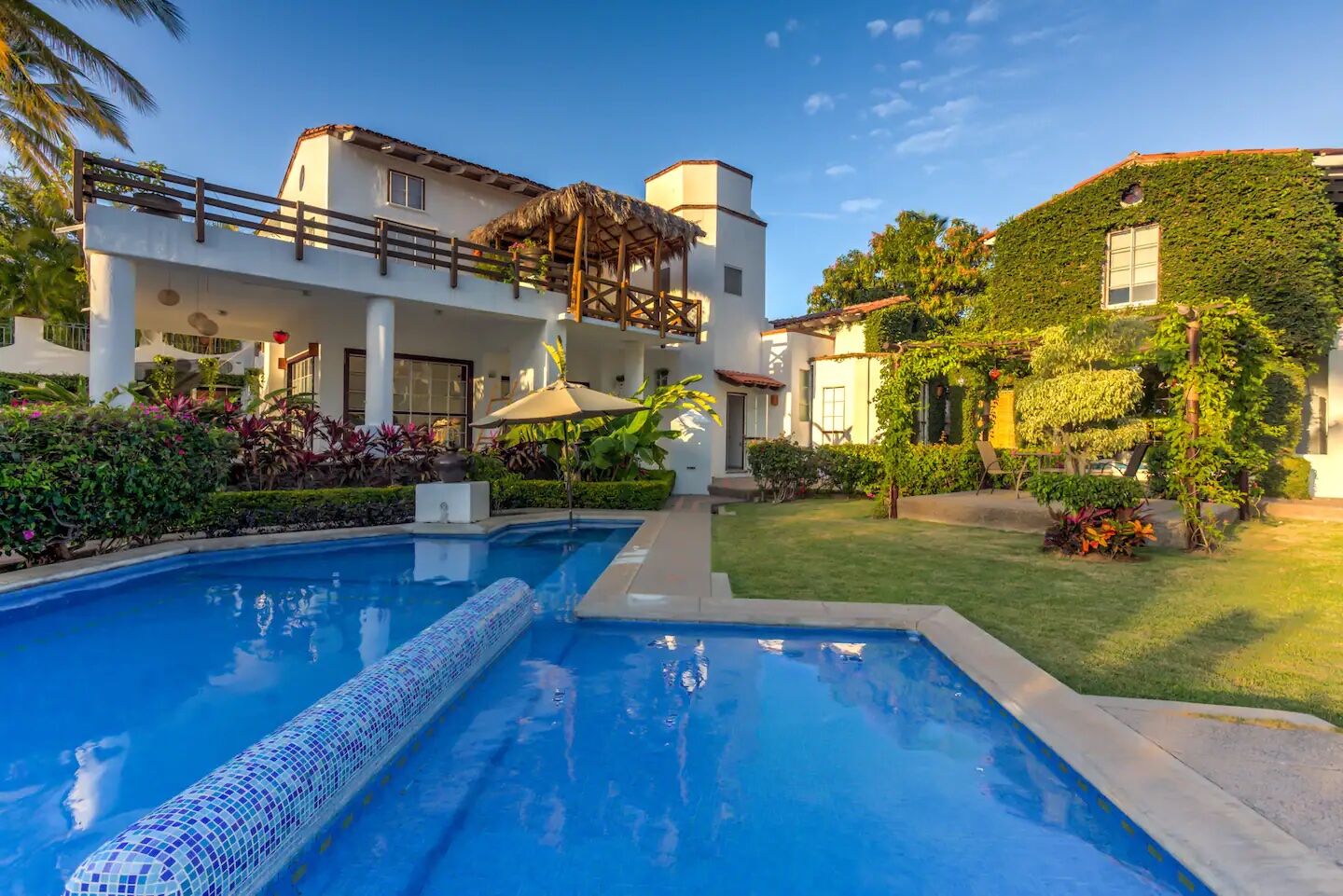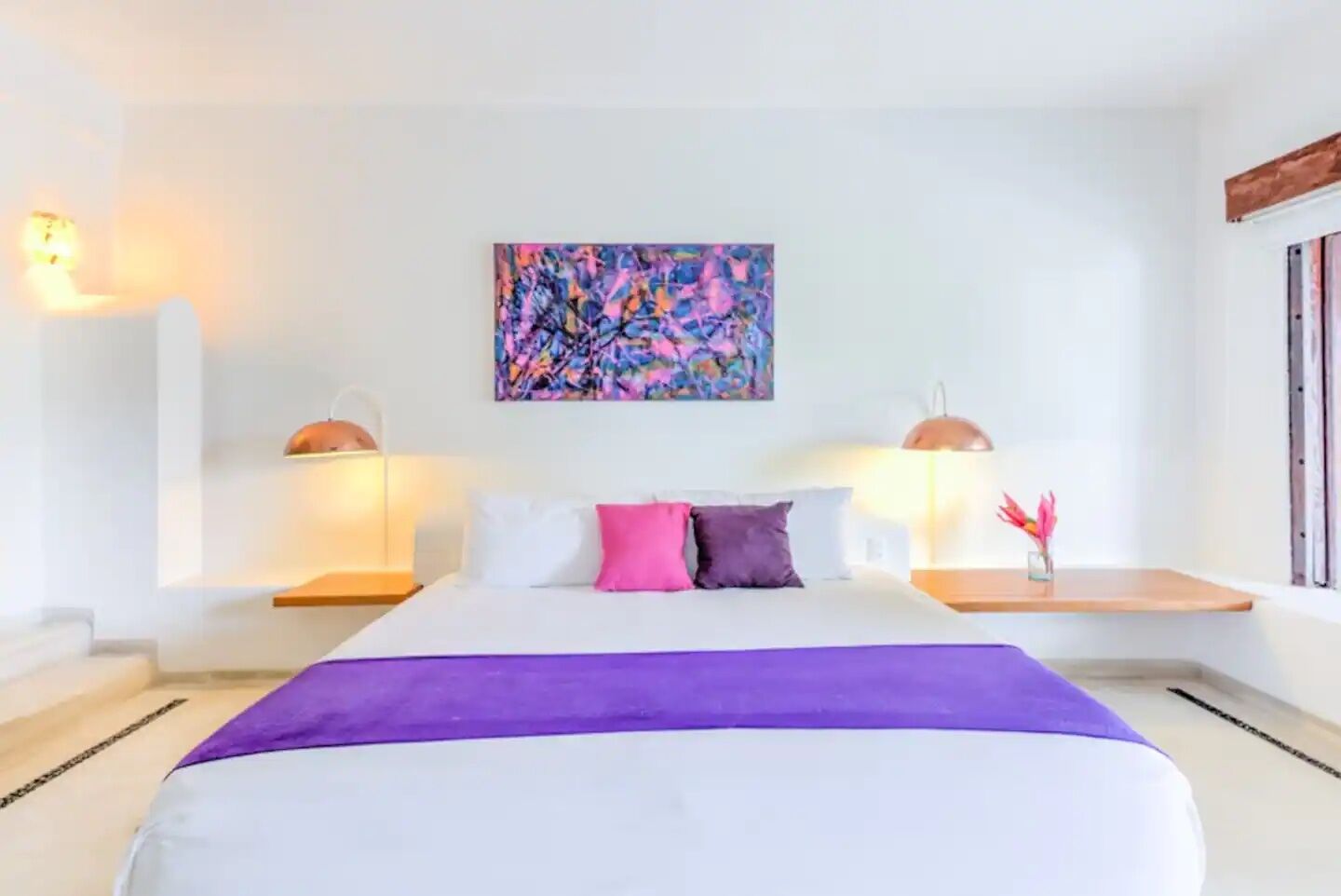 You'll soon figure out what earned this Airbnb near the Puerto Vallarta Marina its name. The Green House villa and garden complex is abundant with lush plants, flowers, and palm trees that are best enjoyed from the large open-air swimming pool. Take your pick from yoga classes in the garden, stargazing on the rooftop terrace, and late-night cocktail parties in the pergola. No need to make a dinner reservation in town; your home chef is only a phone call away.
Sixteen guests, eight bedrooms
Price: $1,240 per night
Casa Luna Azul – Luxury downtown villa with ocean views and private pool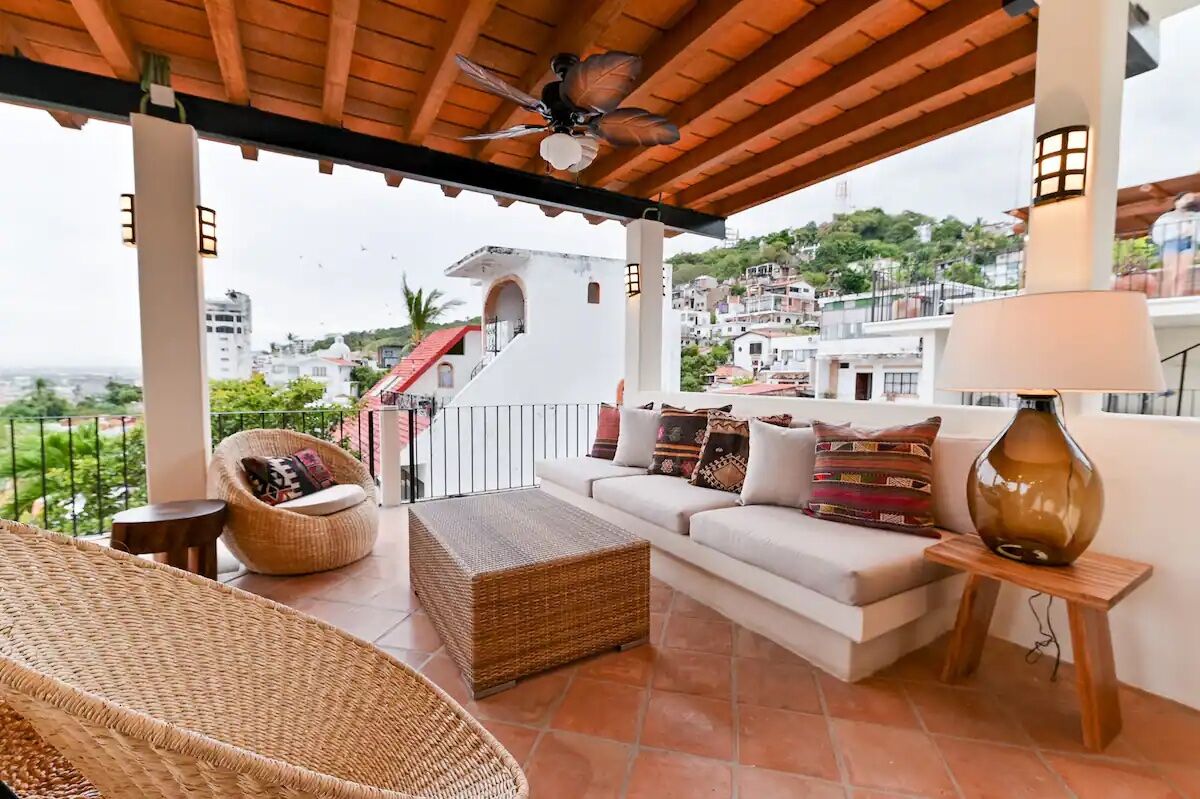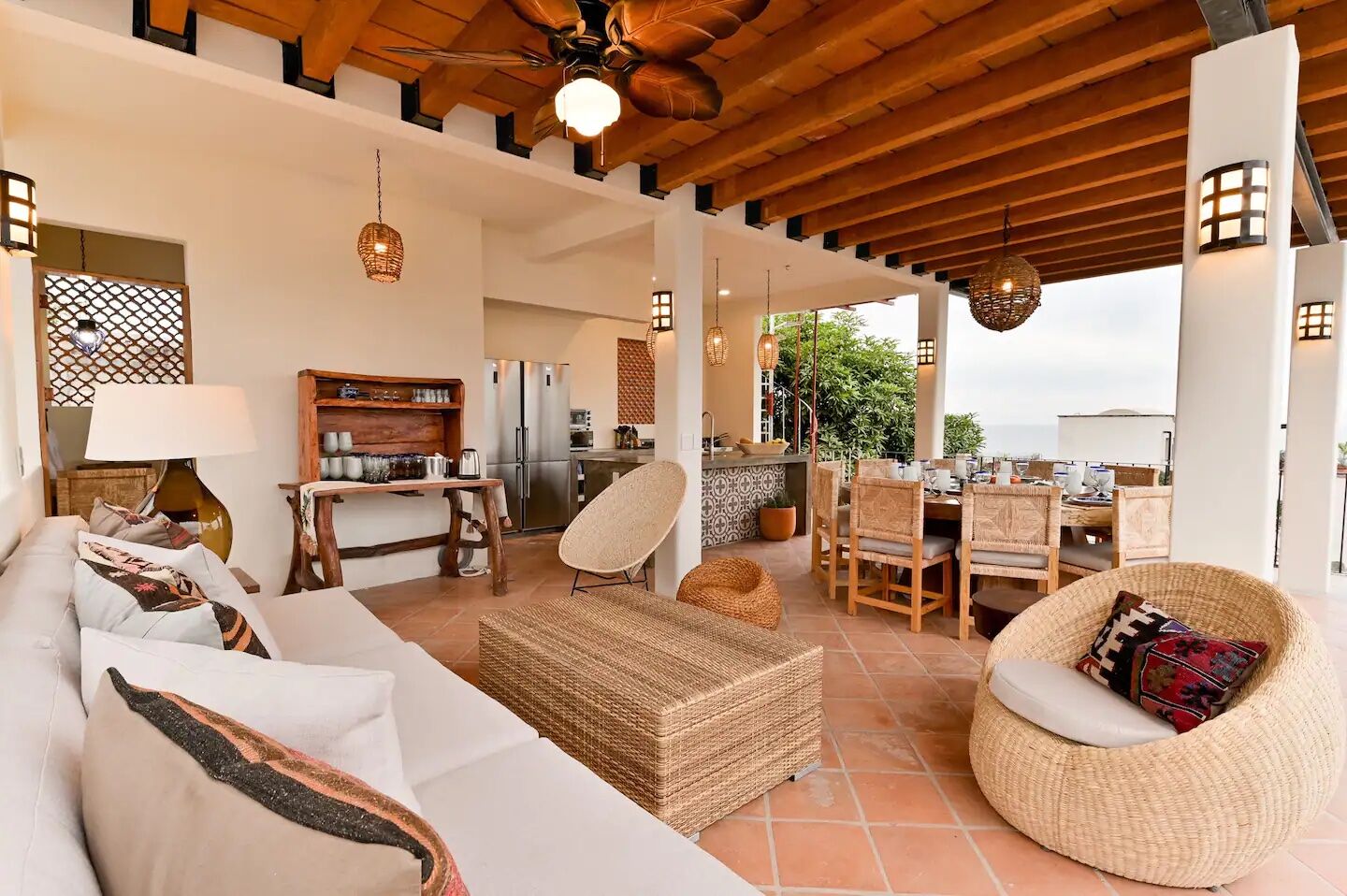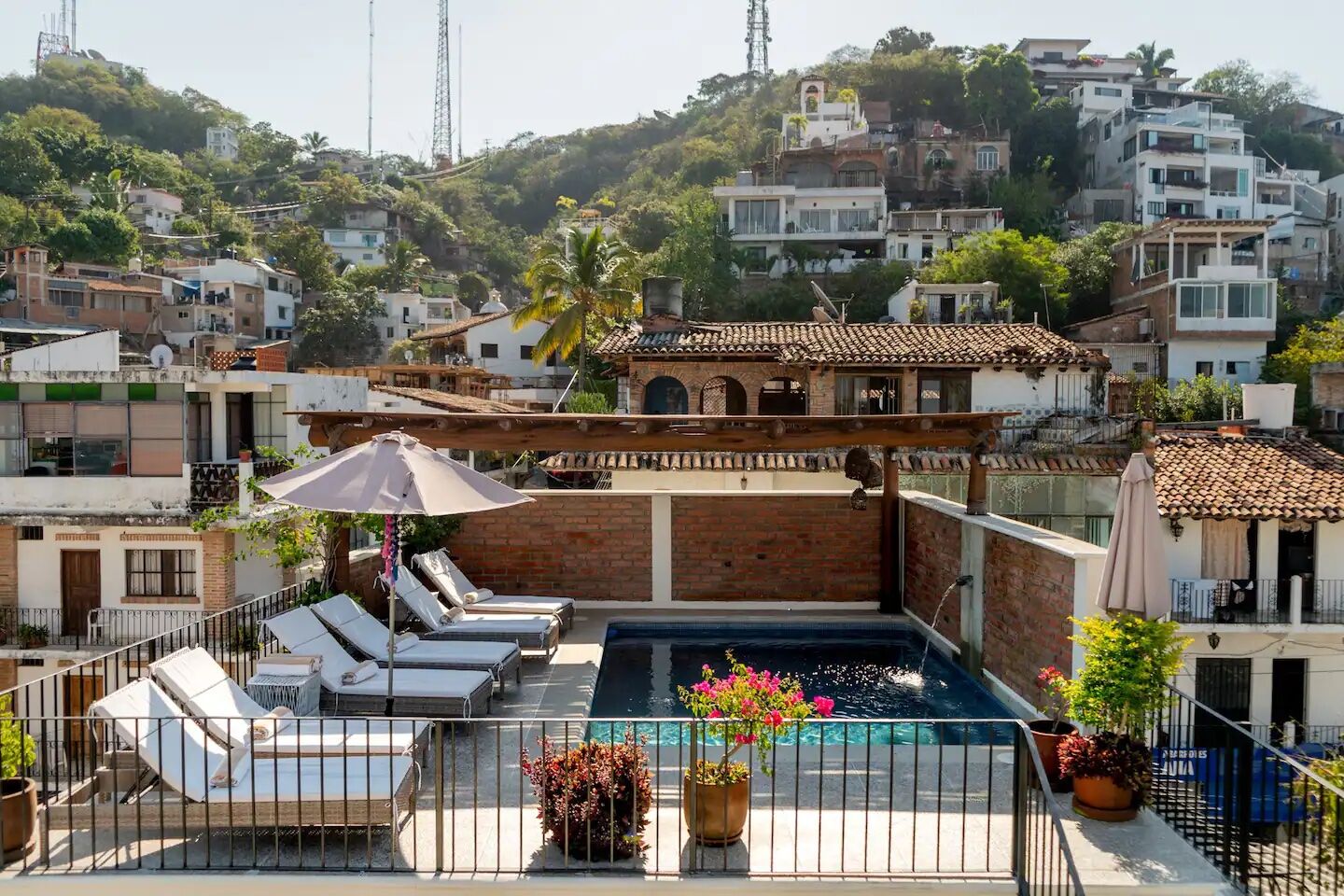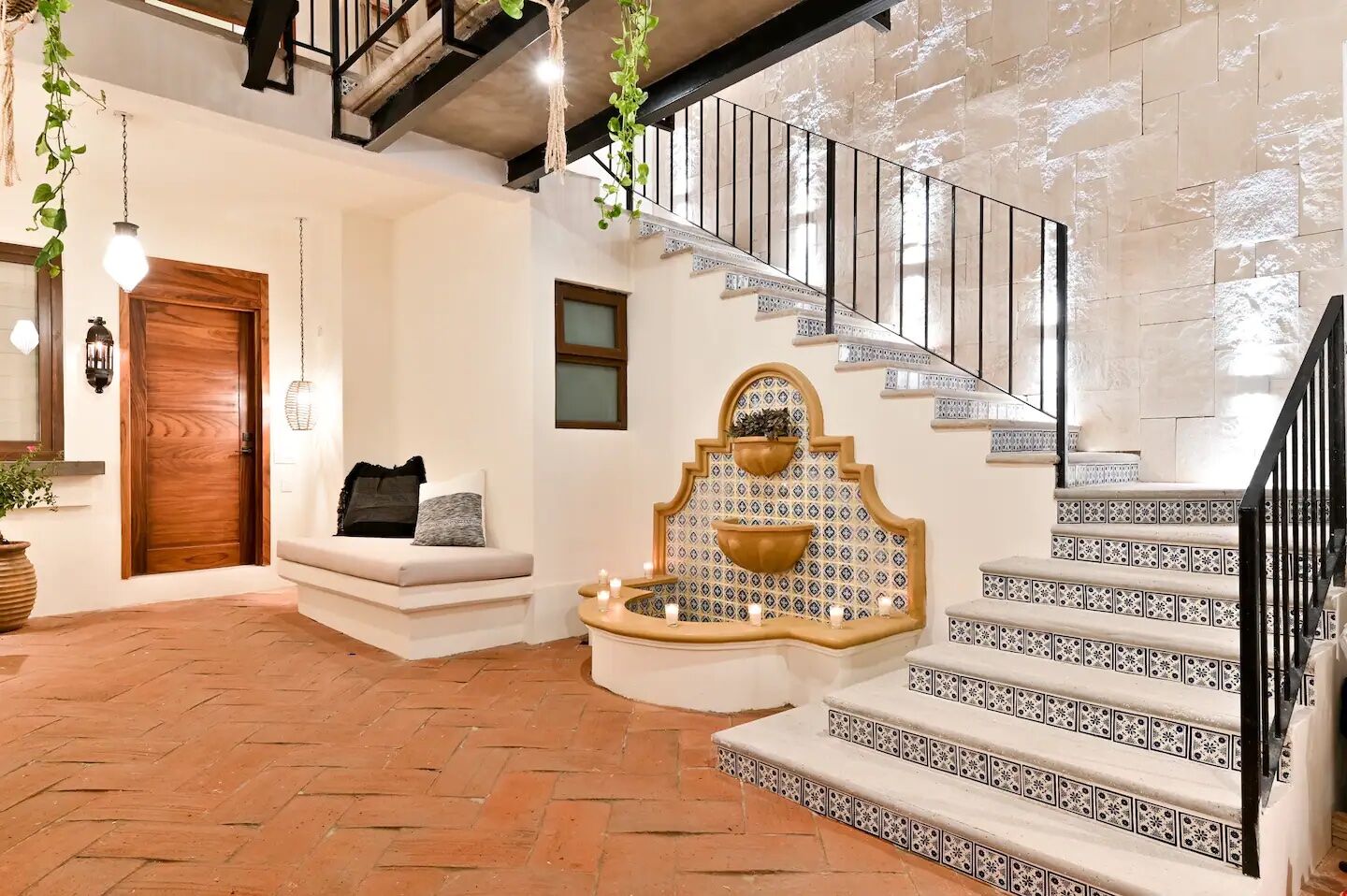 Casa Luna Azul consists of a three-bedroom villa with a one-bedroom apartment. Each room is affixed to an en-suite while beds are fitted with cushy memory foam mattresses for peaceful nights (or afternoon naps). Feast on views of the Banderas Bay and old town from the private rooftop pool – a chilled margarita in your hand. Breakfast prepared by professional chefs is included in the base rate at this beautiful Puerto Vallarta Airbnb for foodies.
Twelve guests, four bedrooms
Price: $780 per night
Book here
Charming Mexican elegance at Casa Por Fin Vallarta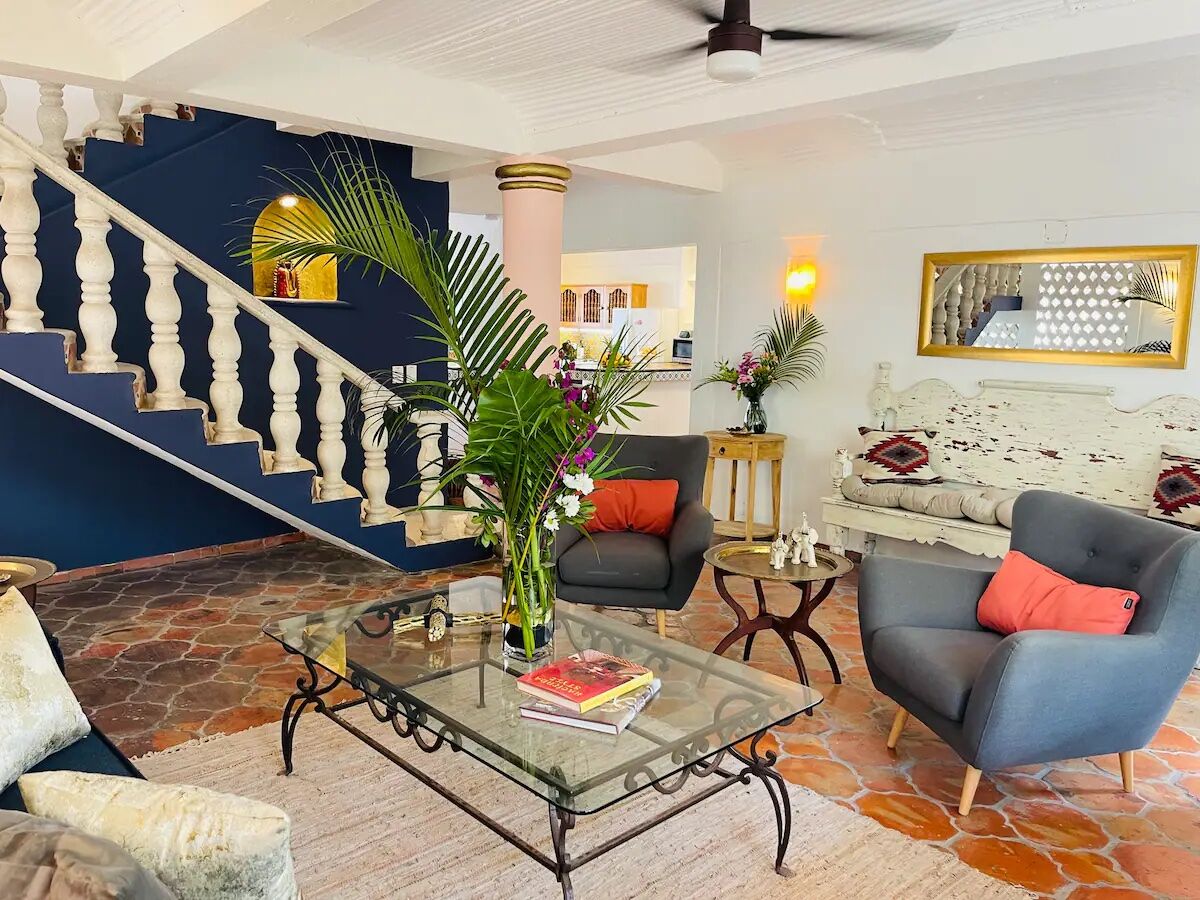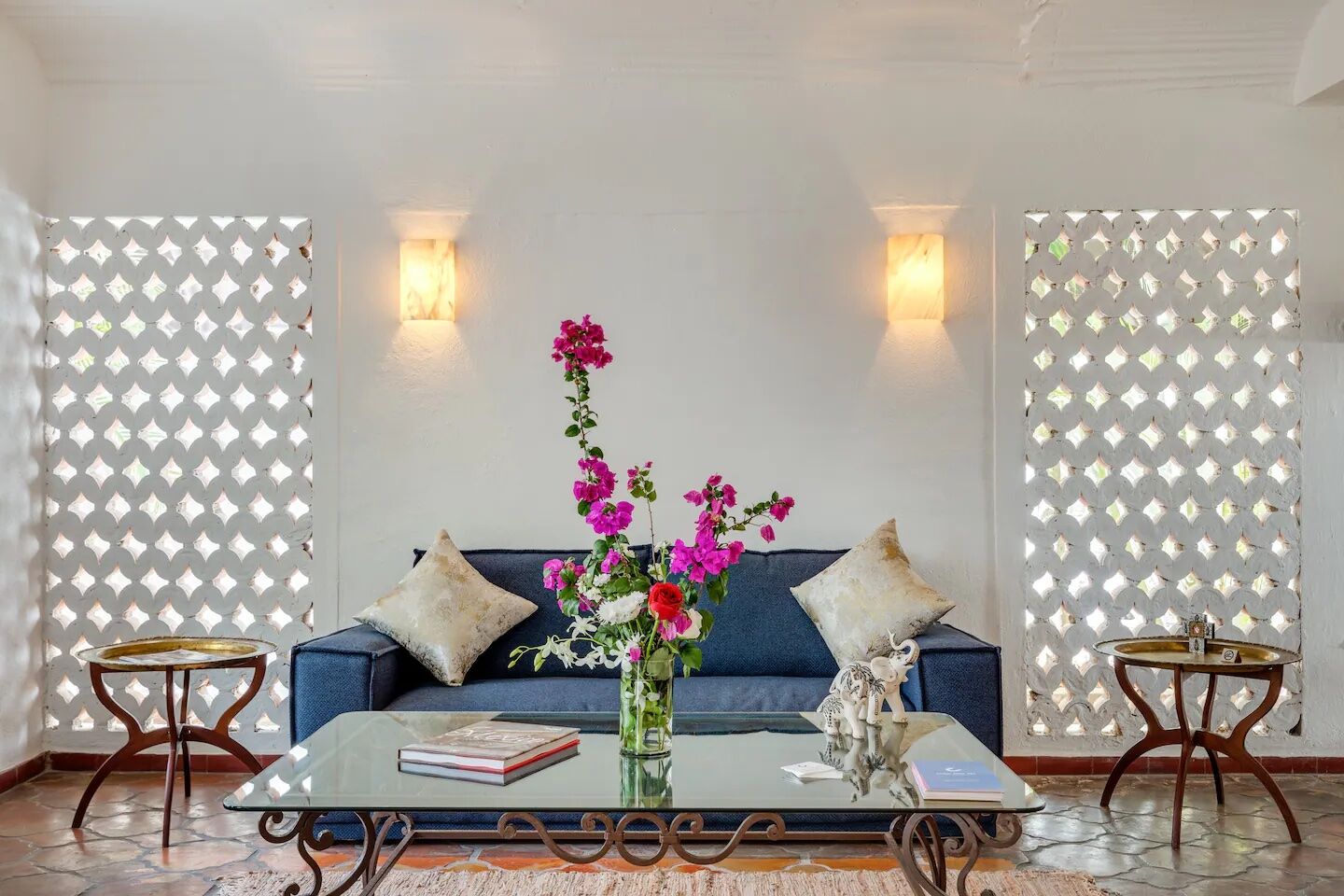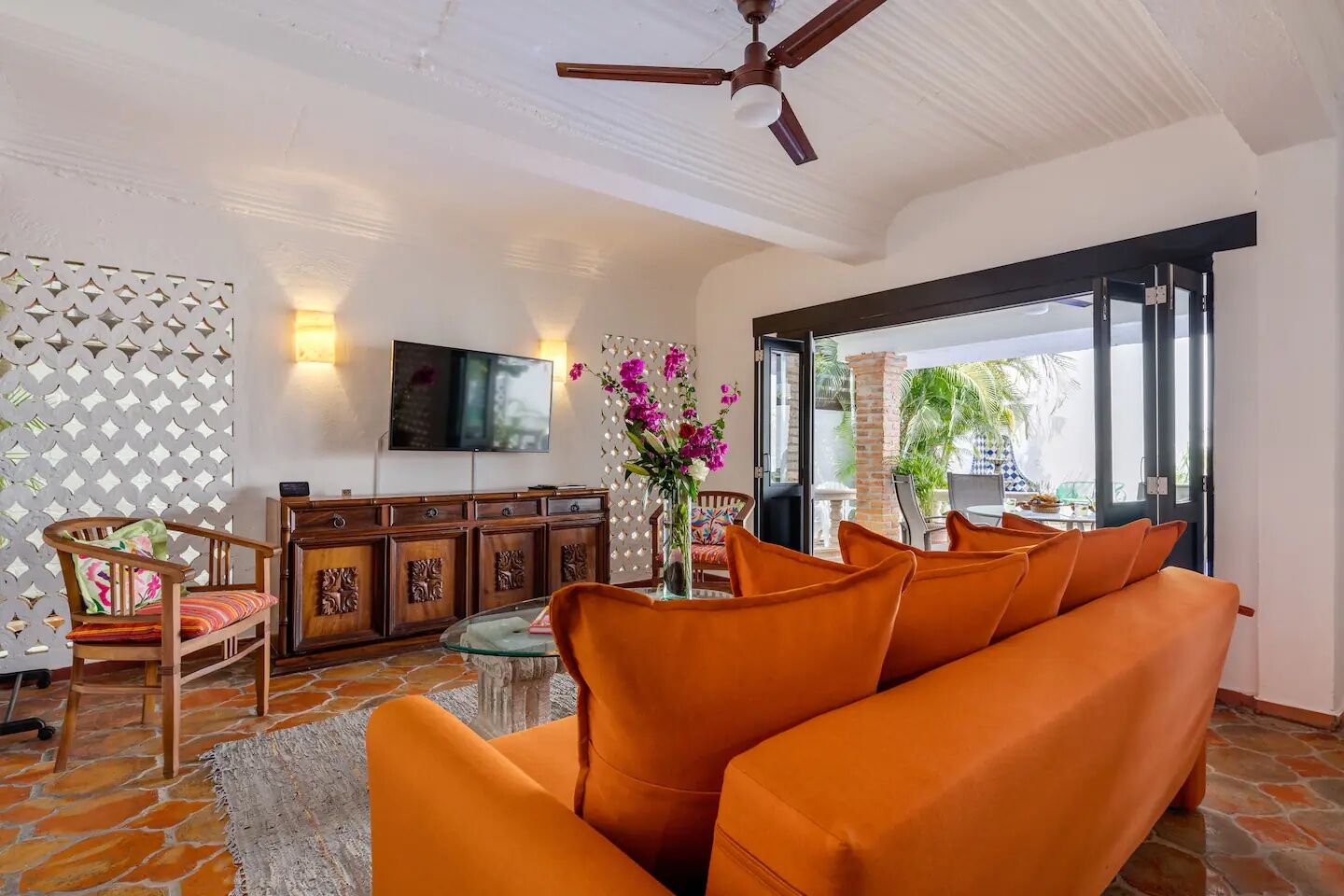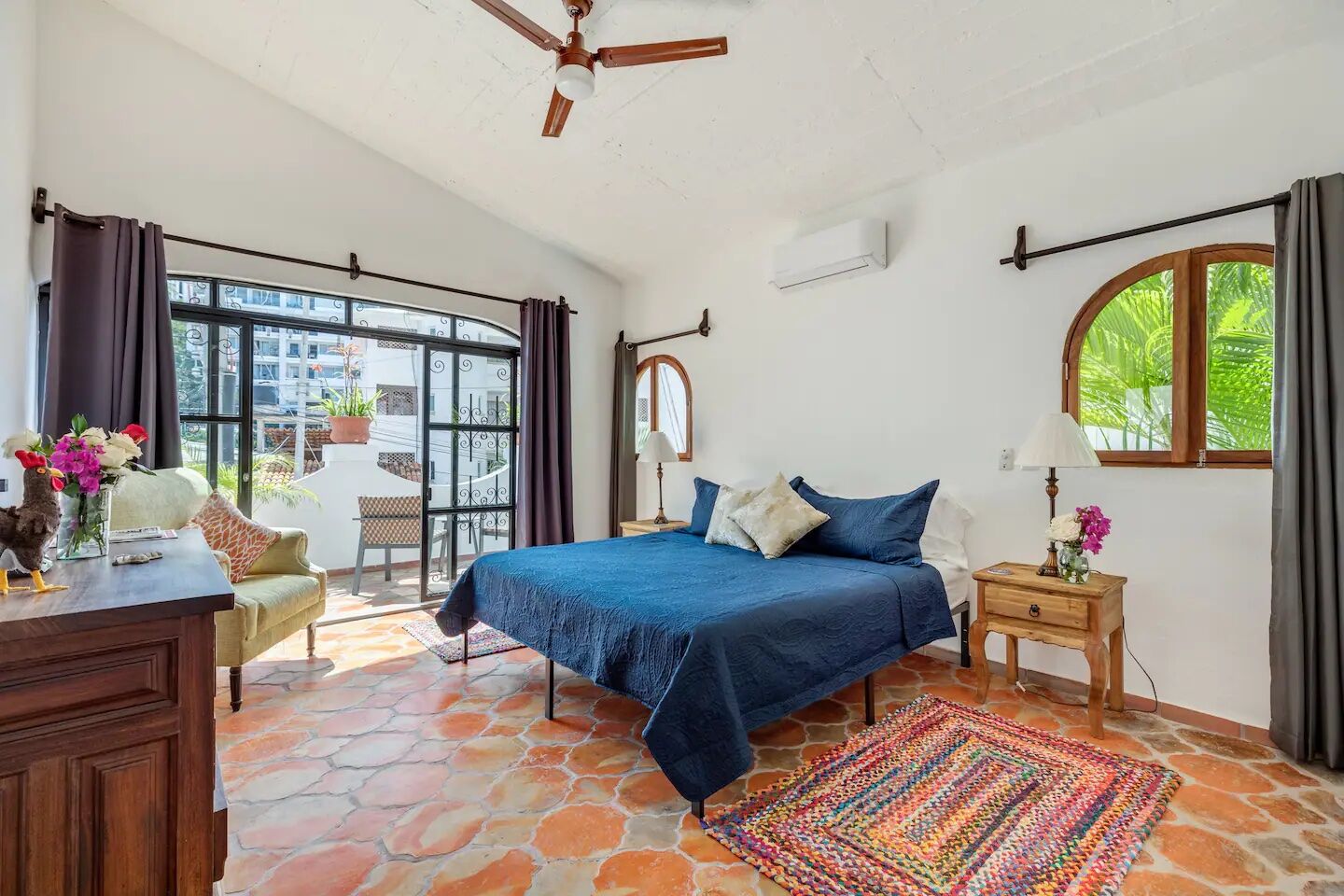 Casa Por Fin – "Home At Last" – recreates an authentic 1960's Mexican residence in the Romantic Zone. Distinctive ceramic tiles, woven textures, and rustic furnishings harmonize the space with a homely vibe. When you're not poring over the details, jump in the outdoor pool for laps under the PV sunshine. The garden features ample space for sunbathing as well as a protected dining area where you can gorge on guac and tacos. Breakfast is included in the rental fee with the option to add additional meals at a reasonable rate.
Eight guests, three bedrooms
Price: $440 per night
Luxury Villa Goretti with private pool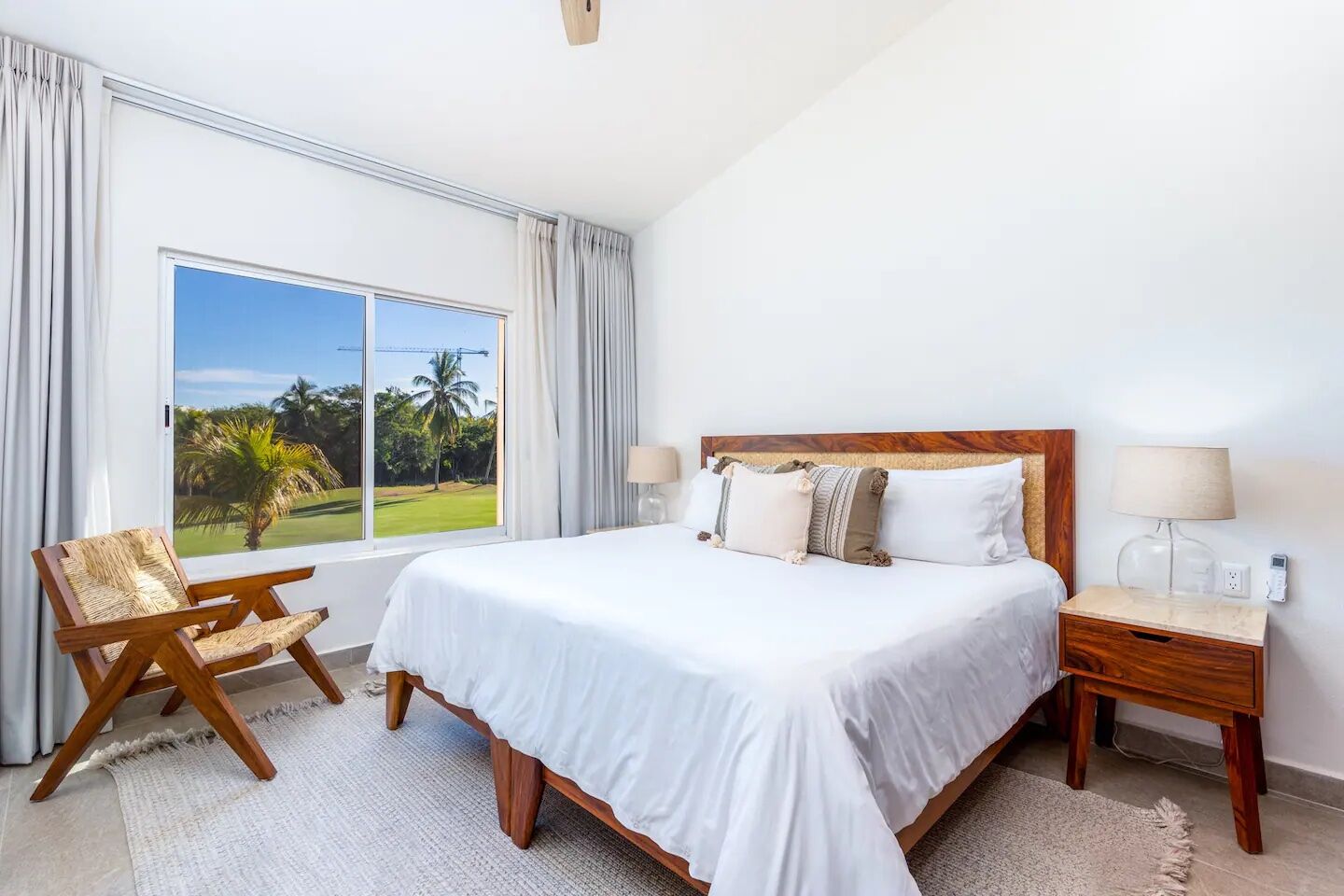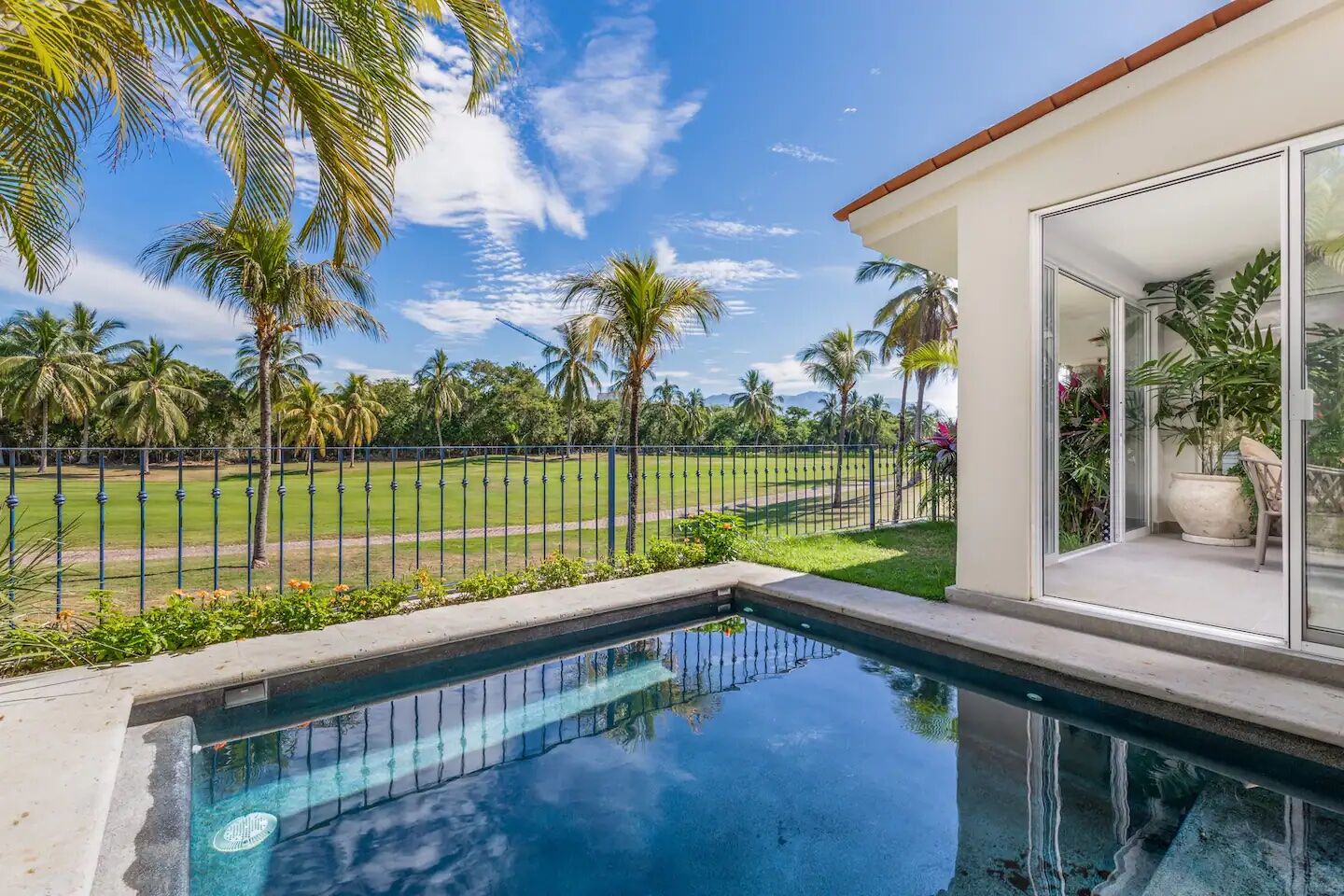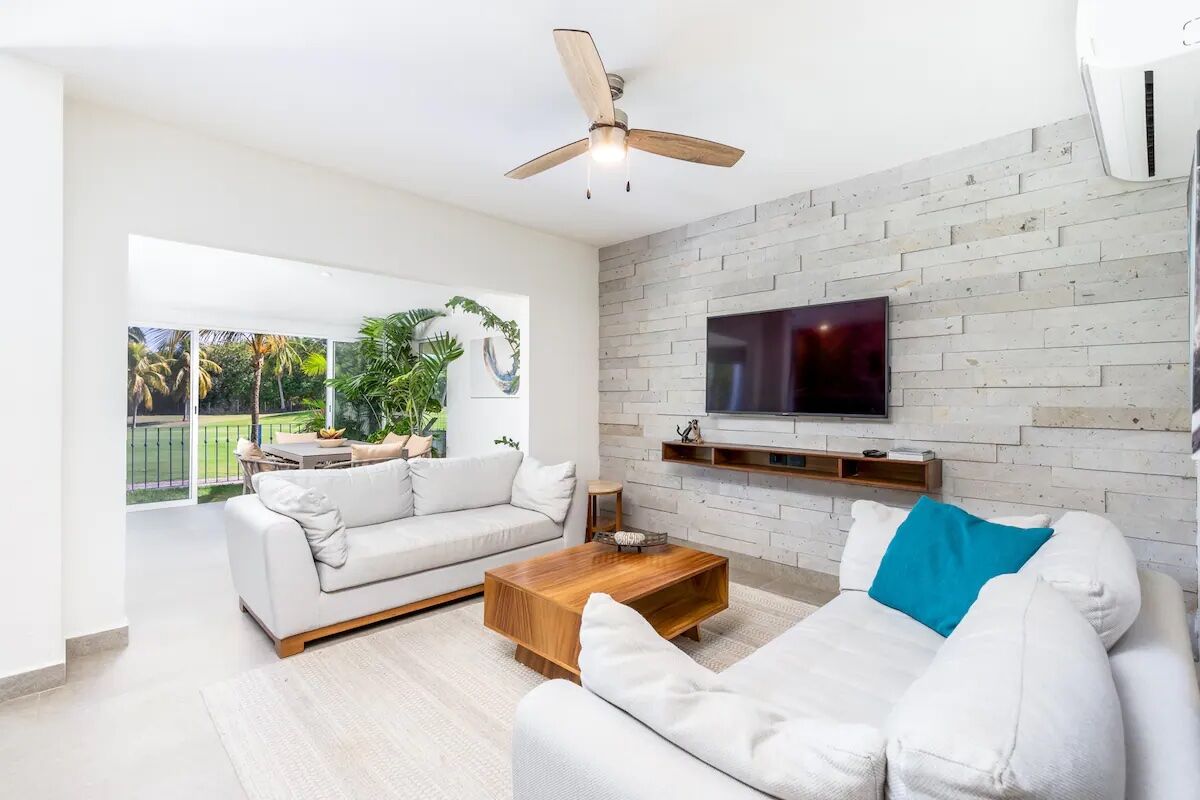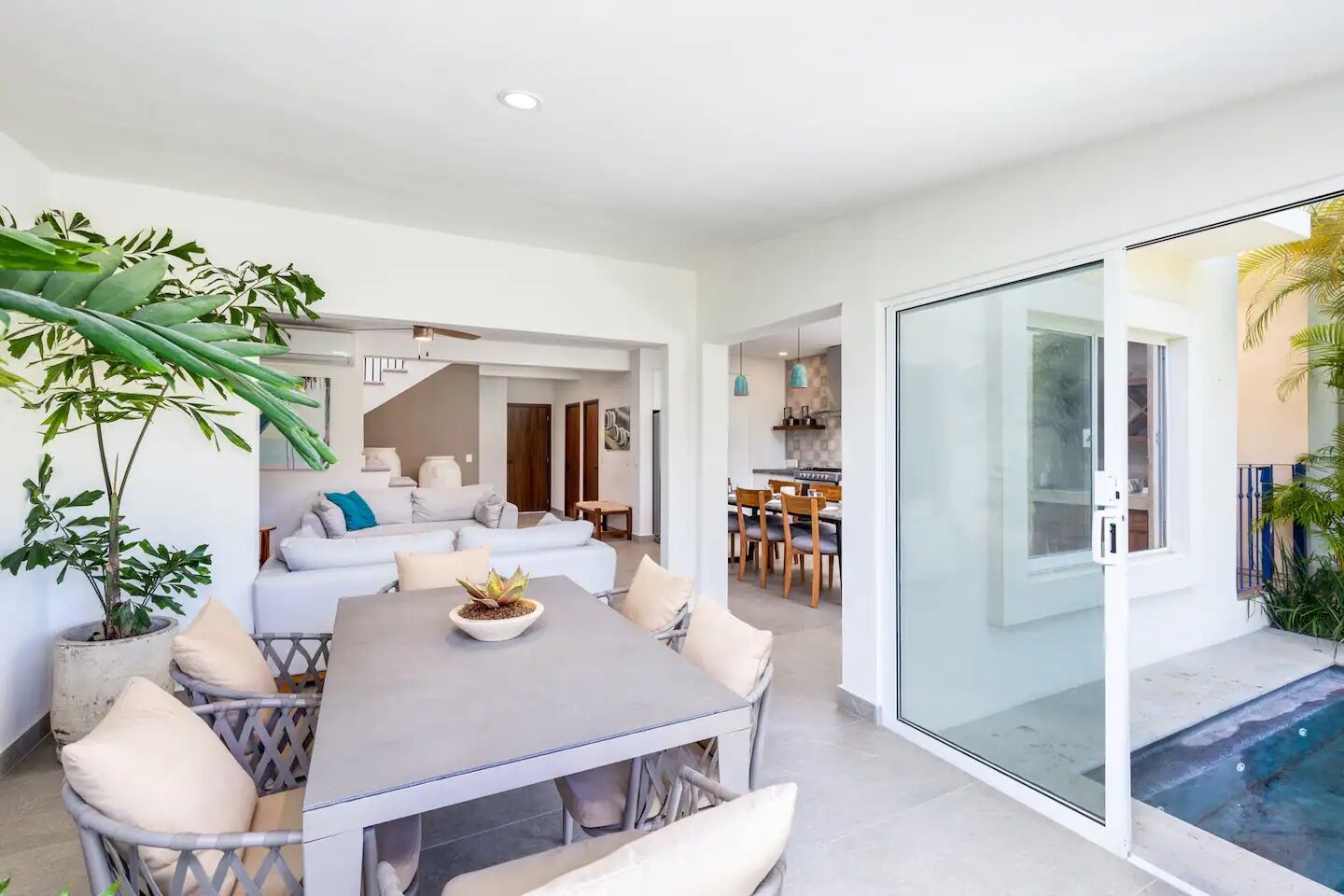 This swanky family-friendly Airbnb at the Puerto Vallarta Marina overlooks the golf club and provides tranquility a stone's throw from central PV. The vacation home is neatly appointed with superior quality fixtures and furnishings while the outdoor plunge pool is exactly what you need after a day of exploring the Old Town. Staying at Villa Goretti grants access to a communal pool shared with other residents of the Villas del Country gated community.
Seven guests, four bedrooms
Price: $500 per night
Taking a trip to Mexico? Check out Matador's Mexico accommodation guides:
Best Puerto Vallarta Airbnbs for Honeymooners
Casa Montaña – elegant small villa with private pool and ocean views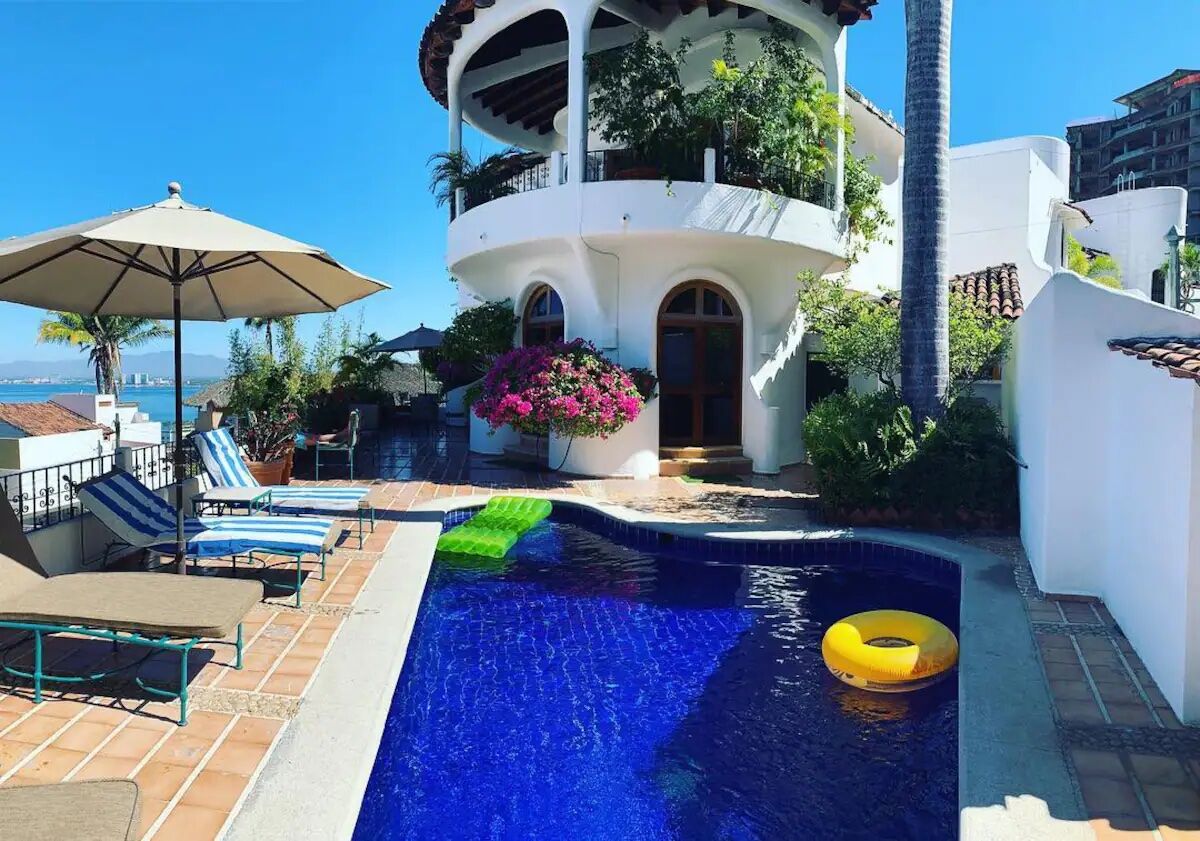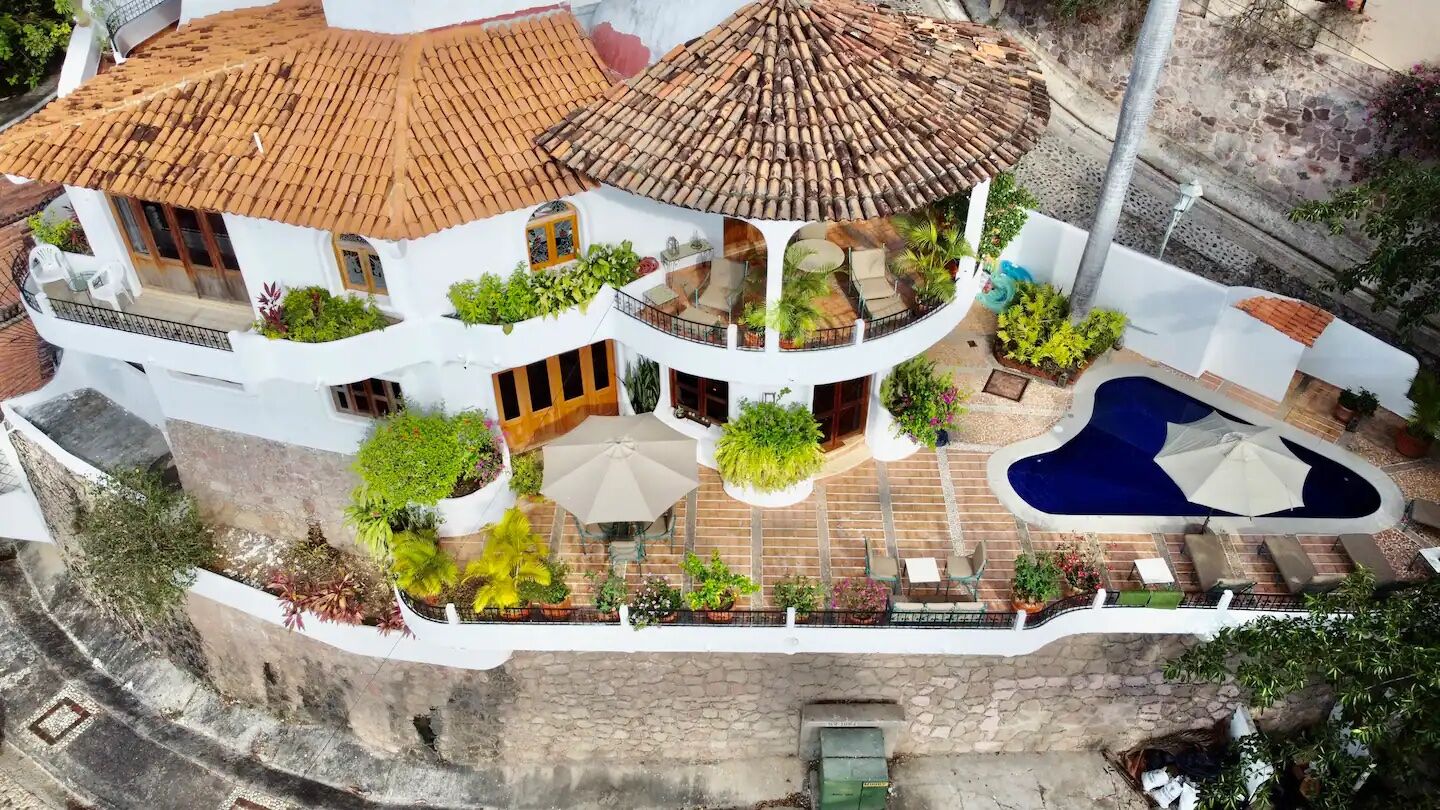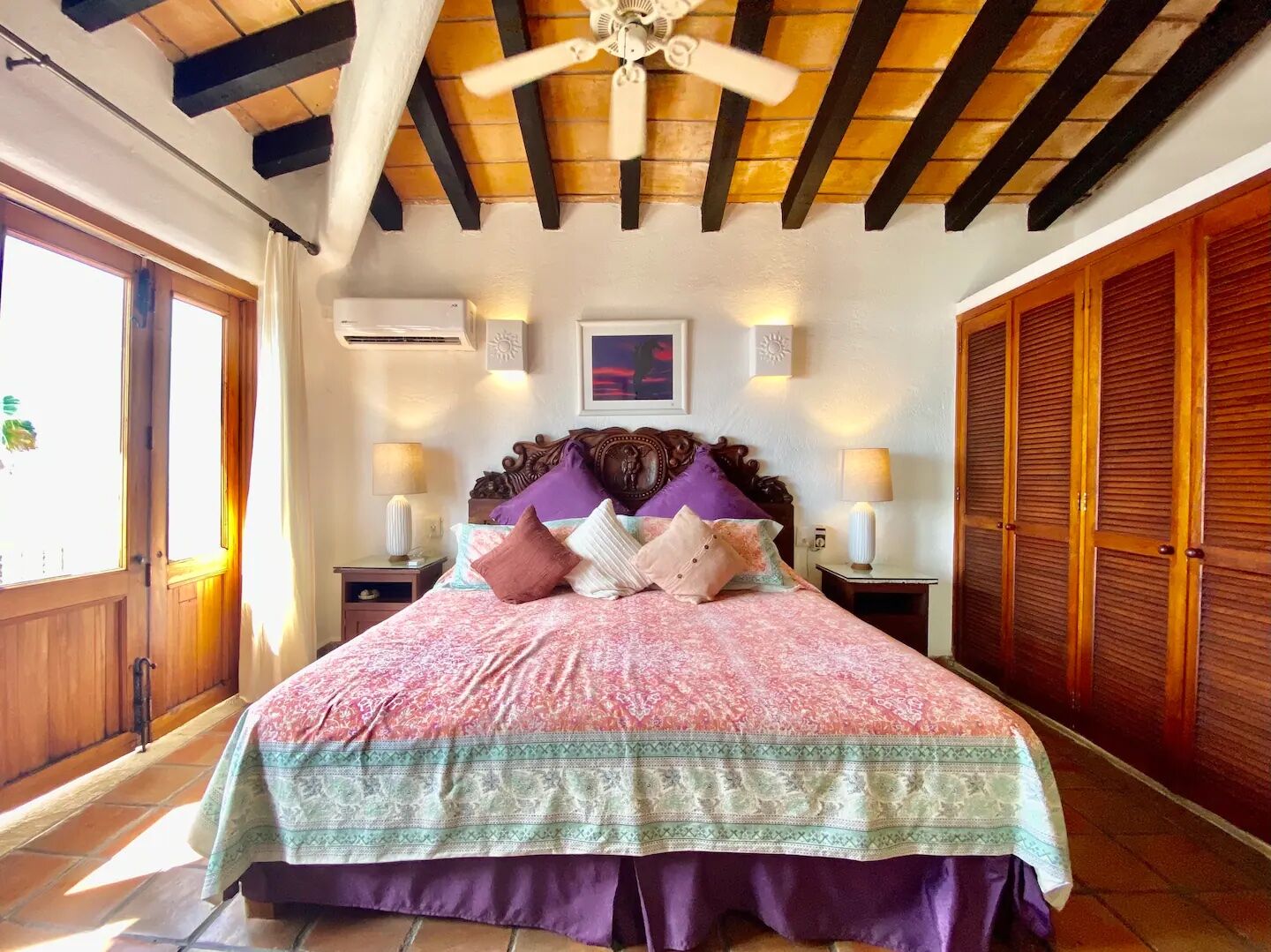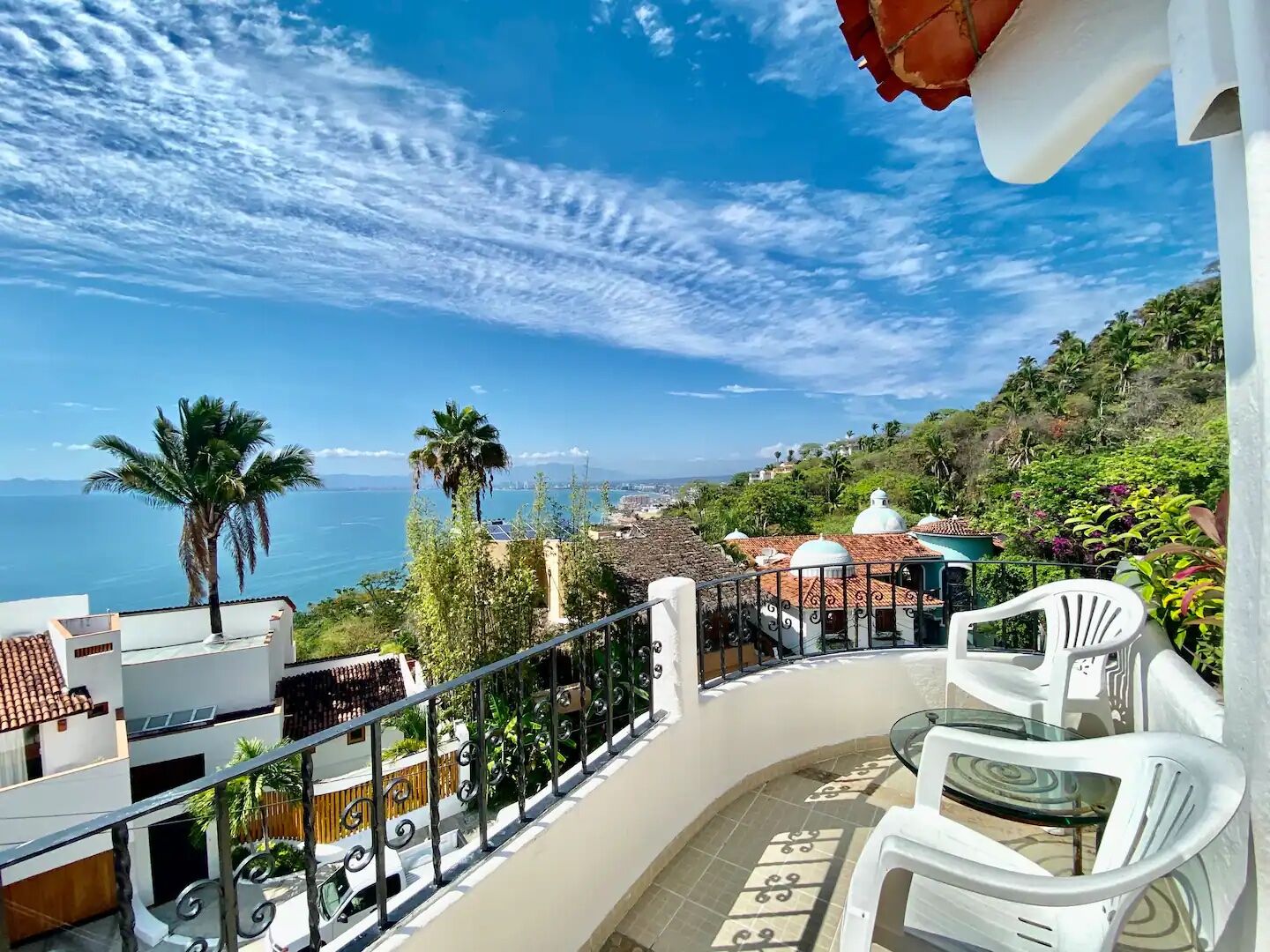 Casa Montaña is constructed following a traditional Mexican style. The villa sits atop a hill that overlooks the ocean and is five minutes from Concha Chinas Beach. The private pool is surrounded by tropical flora and foliage while both en-suite bedrooms have the benefit of a private balcony. Breakfast is included and you have the option to hire the same chef to whip up additional meals. With two double bedrooms, this beachside Puerto Vallarta bed and breakfast villa is suitable for small groups of friends or for a couple seeking a romantic hideaway.
Four guests, two bedrooms
Price: $370 per night
Luxury condo with private Jacuzzi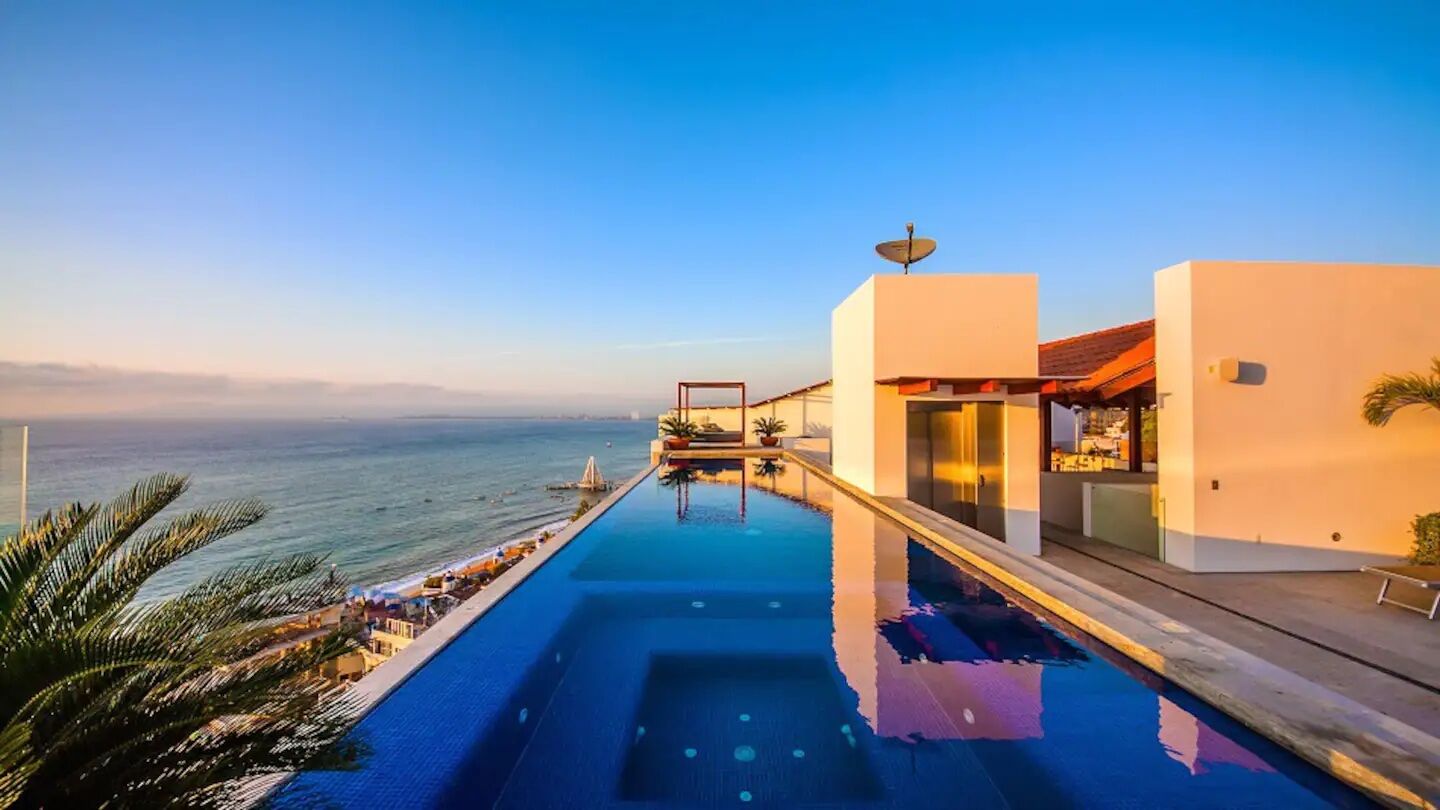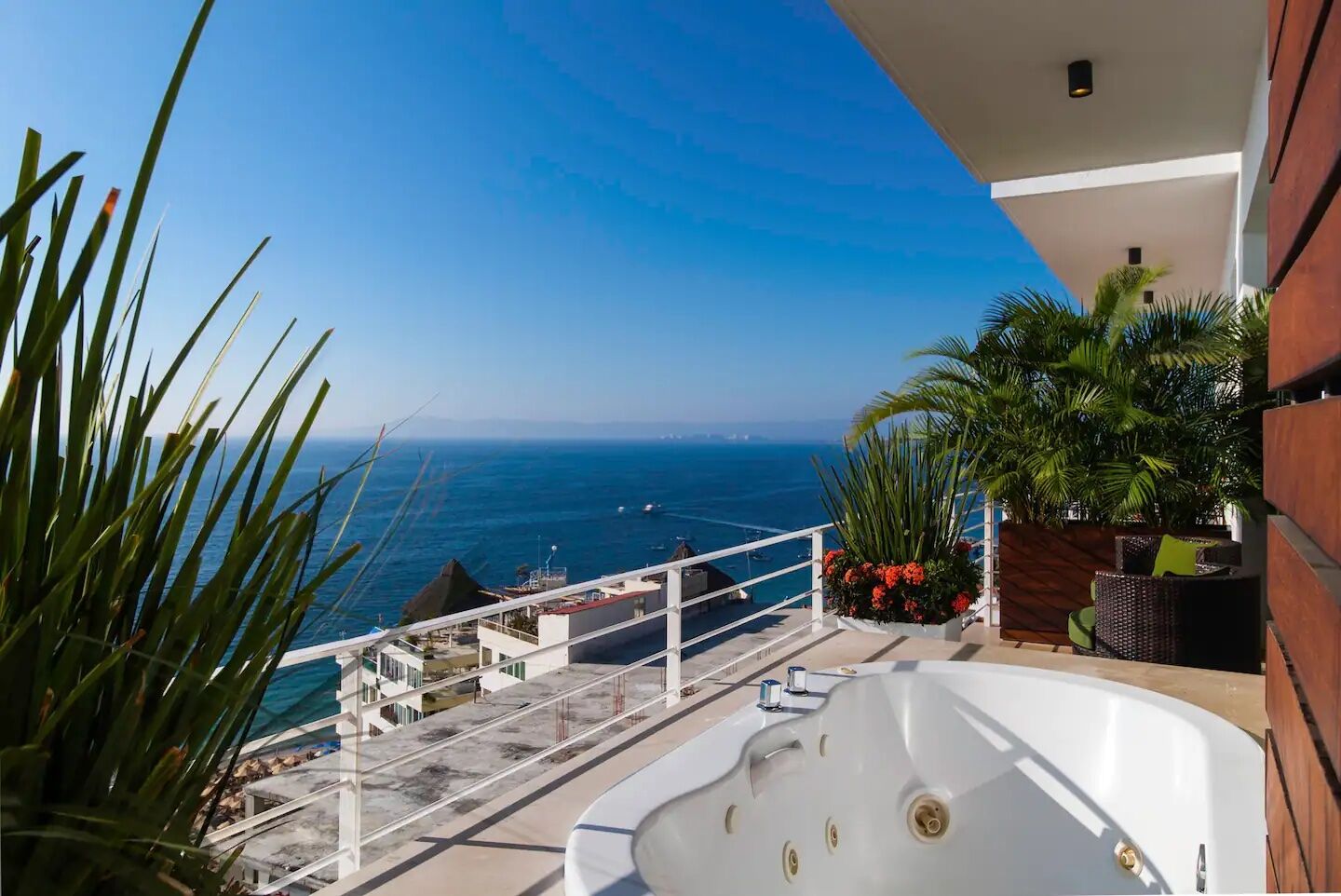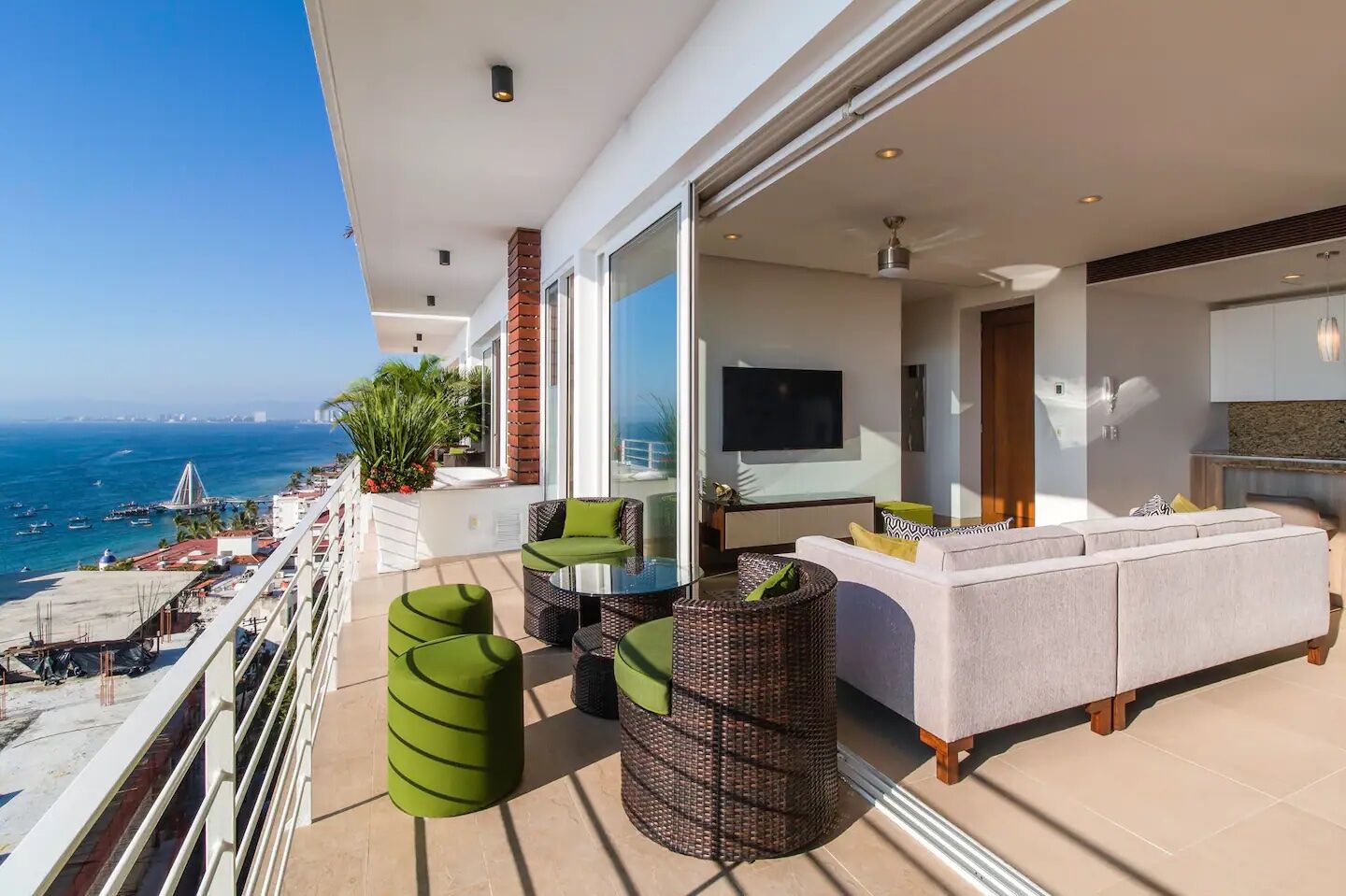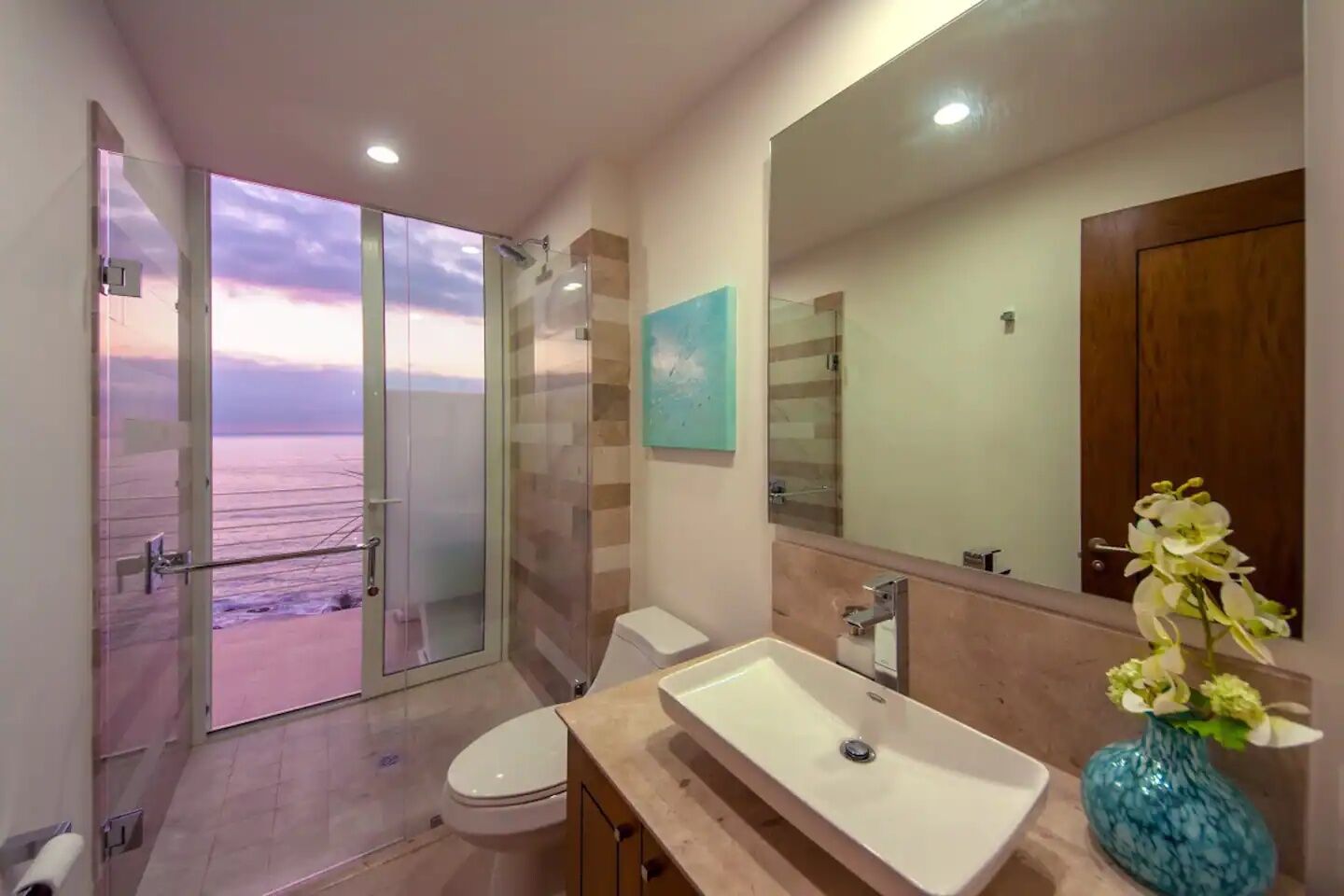 This luxury Airbnb Puerto Vallarta's Romantic Zone (Old Town) provides ocean views from every room – even the bathroom! Your spacious balcony is fitted with a private hot tub where you can wind down with a bottle of bubbles at sunset. As a guest of this boutique residential block, you'll have access to the rooftop infinity pool and shared barbecue facilities.
Three guests, one bedroom
Price: $285 per night
Best all-inclusive Puerto Vallarta bed and breakfast
Villa Mis Rocas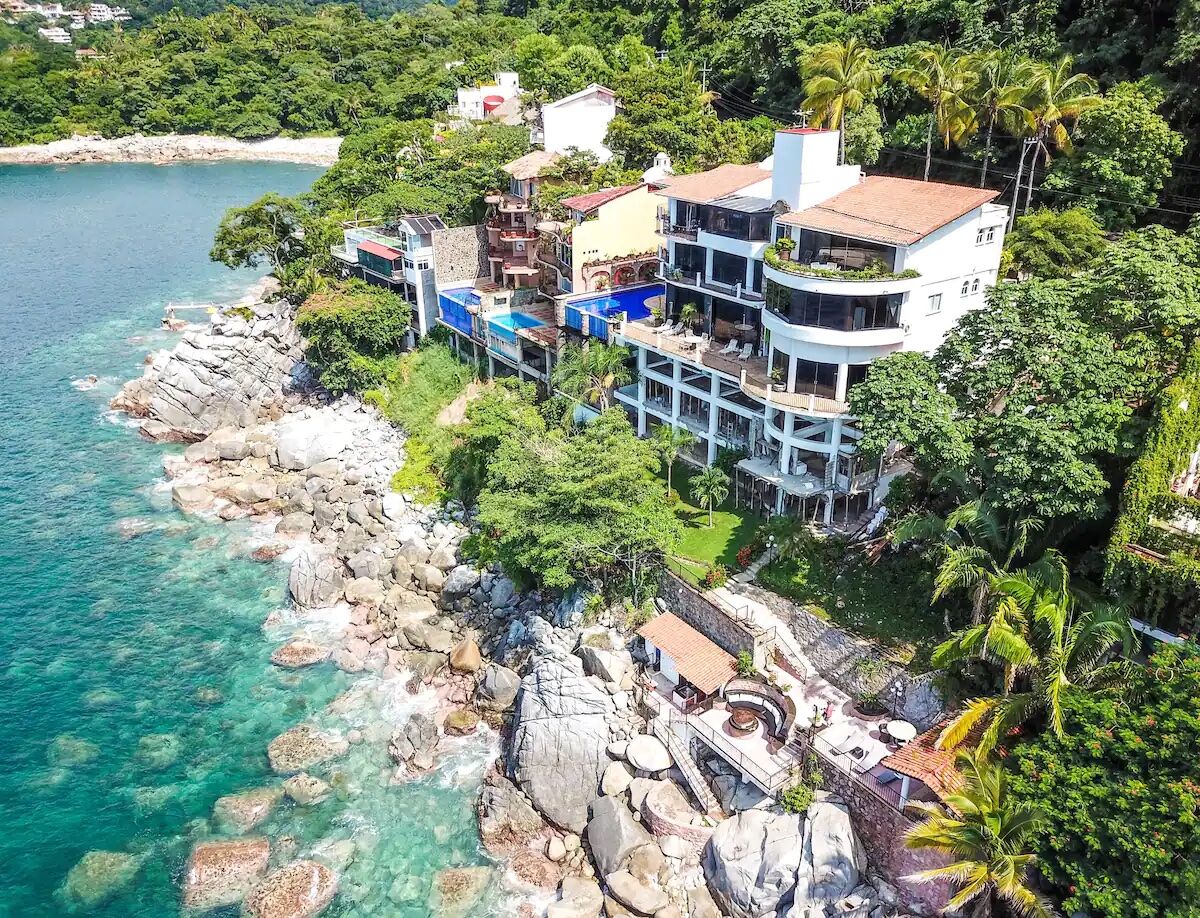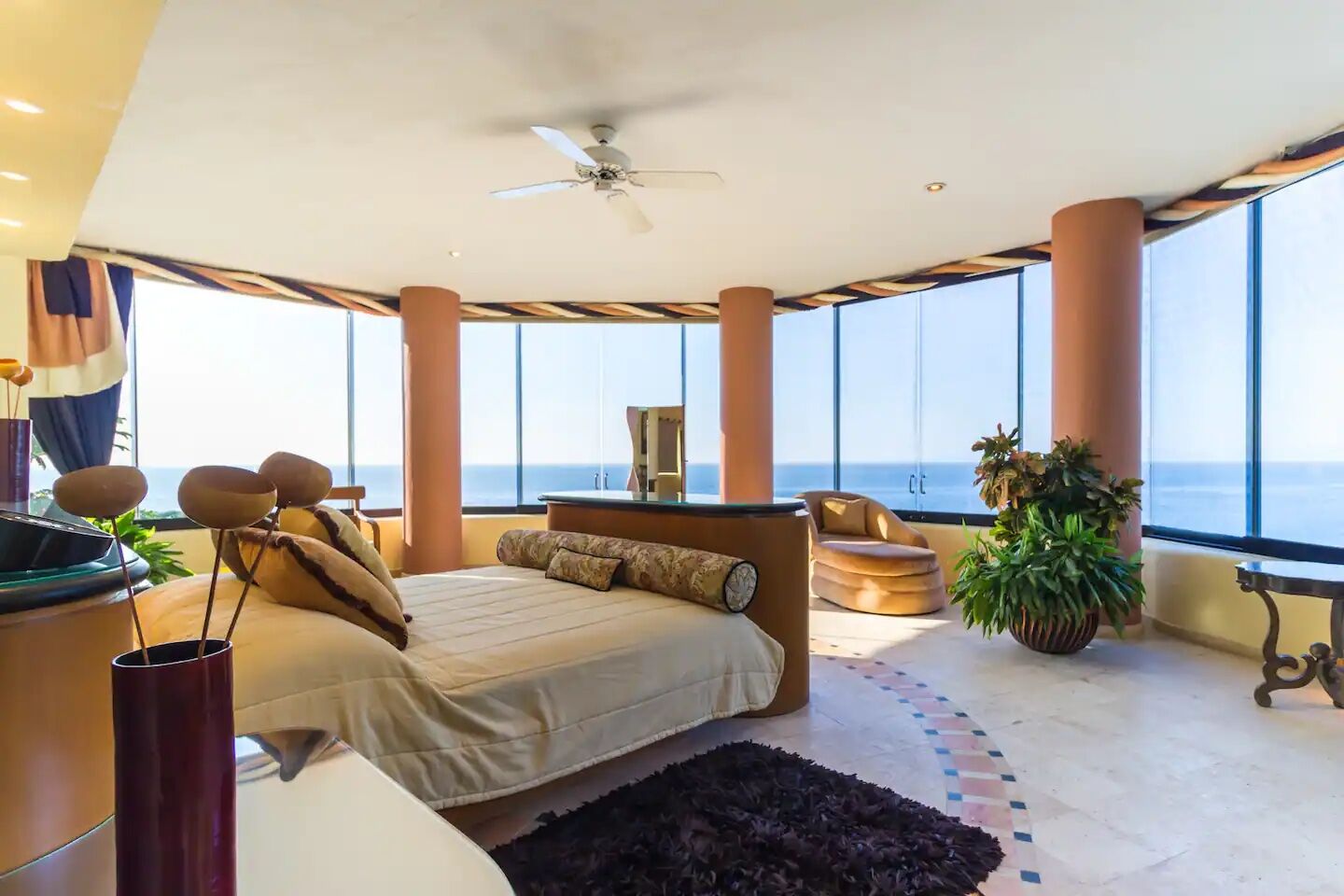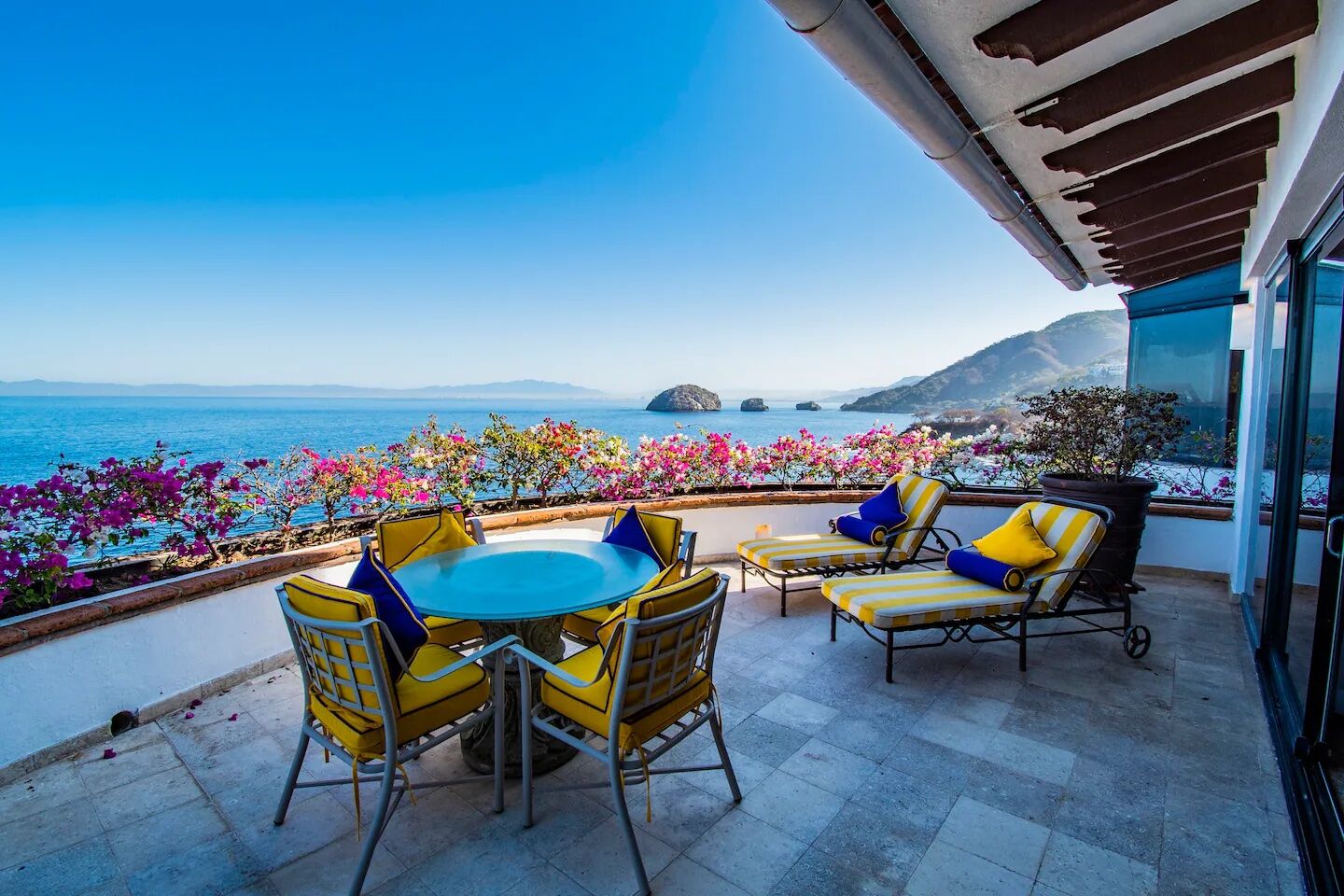 You've hit the jackpot with this oceanfront paradise that overlooks the Los Arcos Marine Sanctuary. The home features an infinity pool, hot tub, full gym, and direct access to the beach. Gigantic rooms and living spaces populate this supersized PV vacation home. Your booking includes airport transfers, water taxis, massages for up to four guests, complimentary meals prepared by a pro chef, and even the cost of the food. Had one too many tequilas? The elevator will get you safely up the stairs to your room.
Sixteen guests, nine bedrooms
Price: $2,500 per night</em.
Coolest Puerto Vallarta Airbnbs
Casa Cuatro Abrazo – beachfront Romantic Zone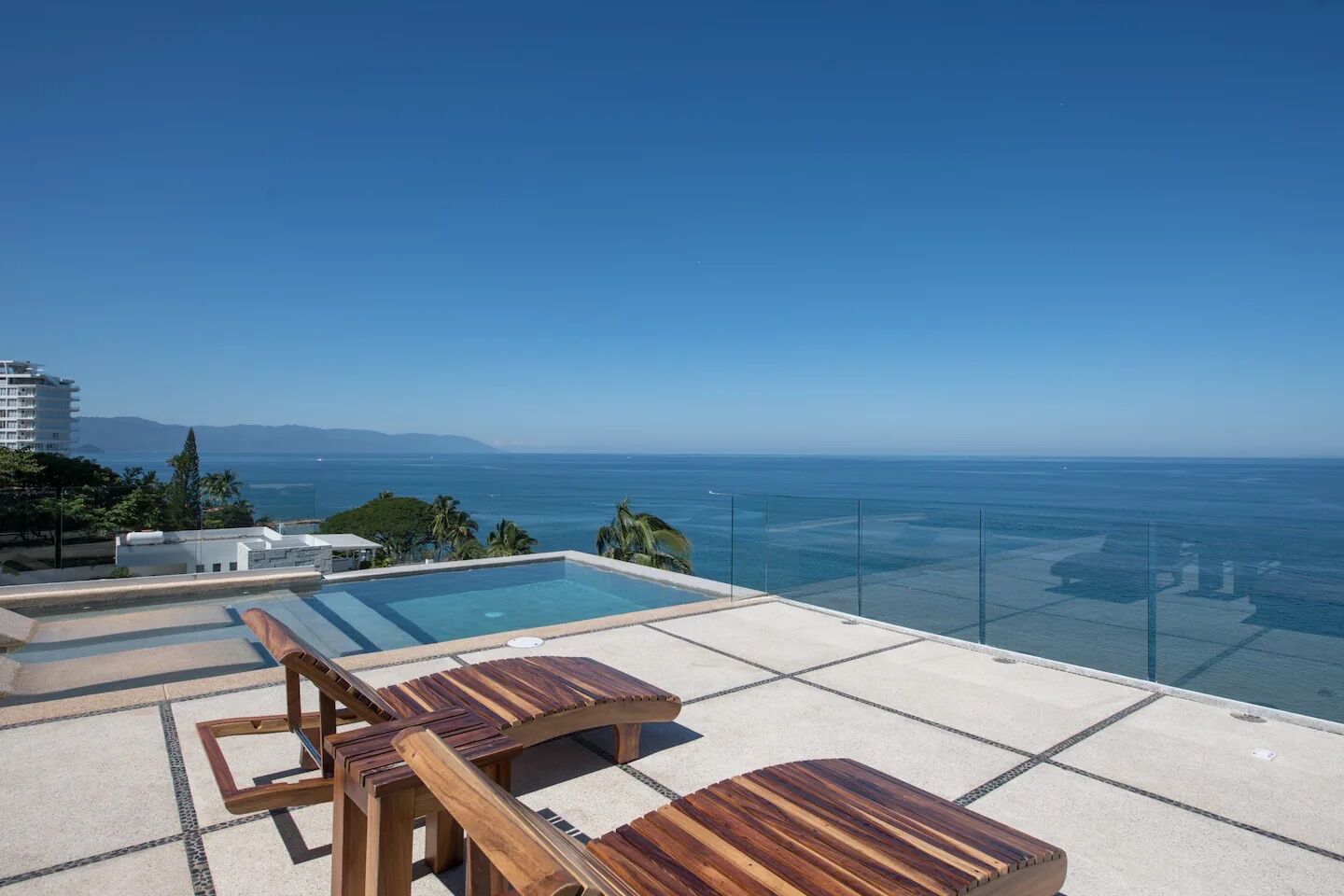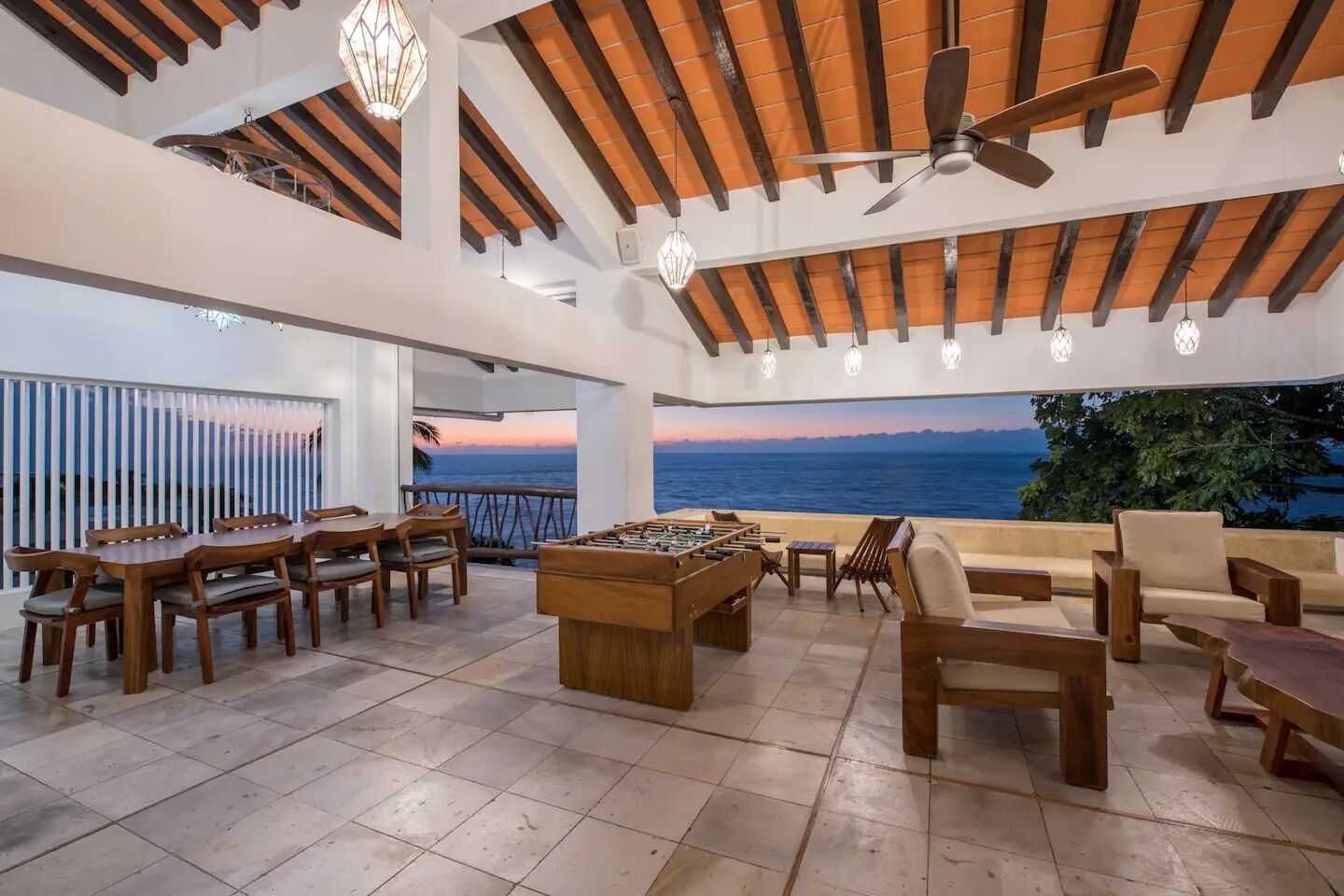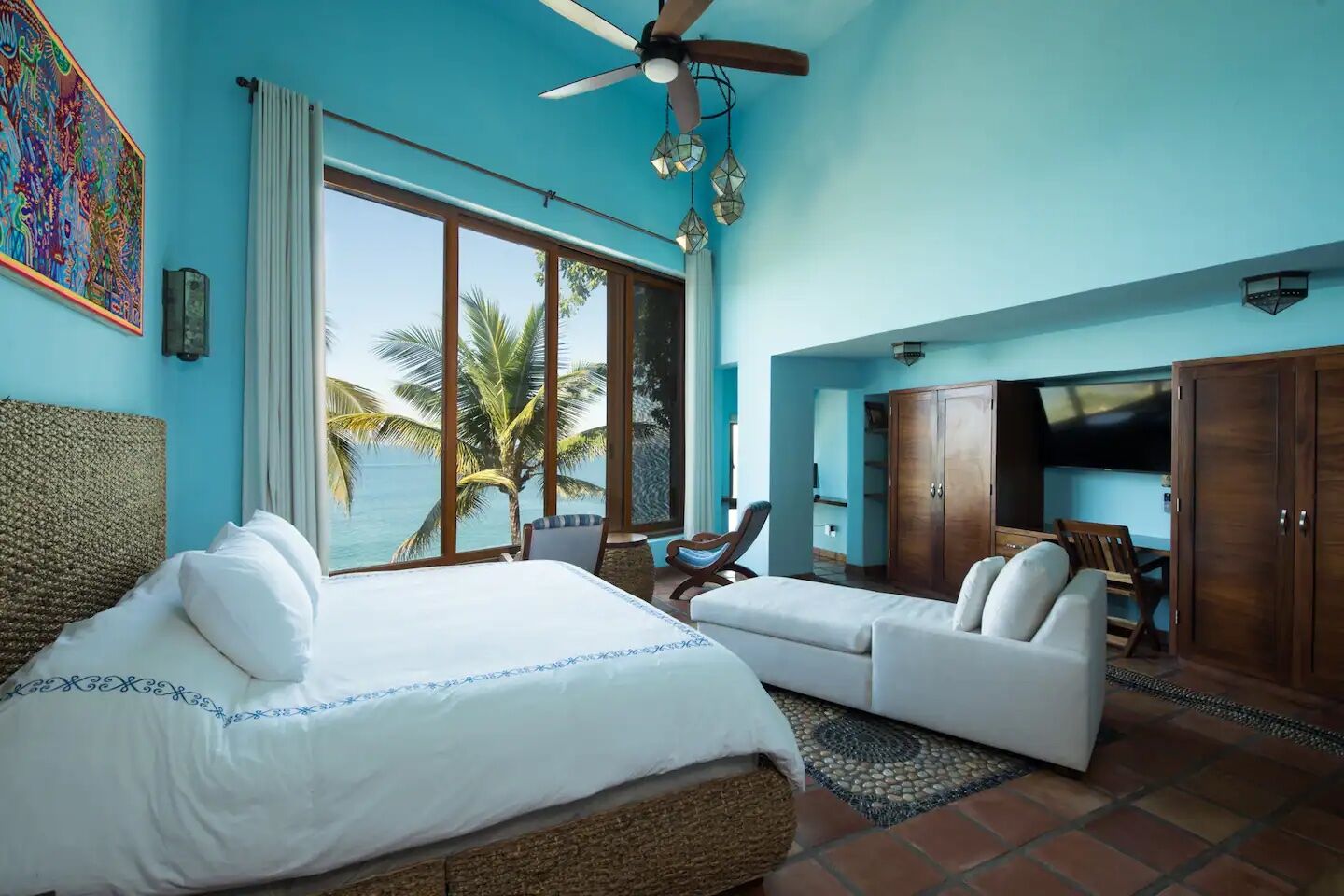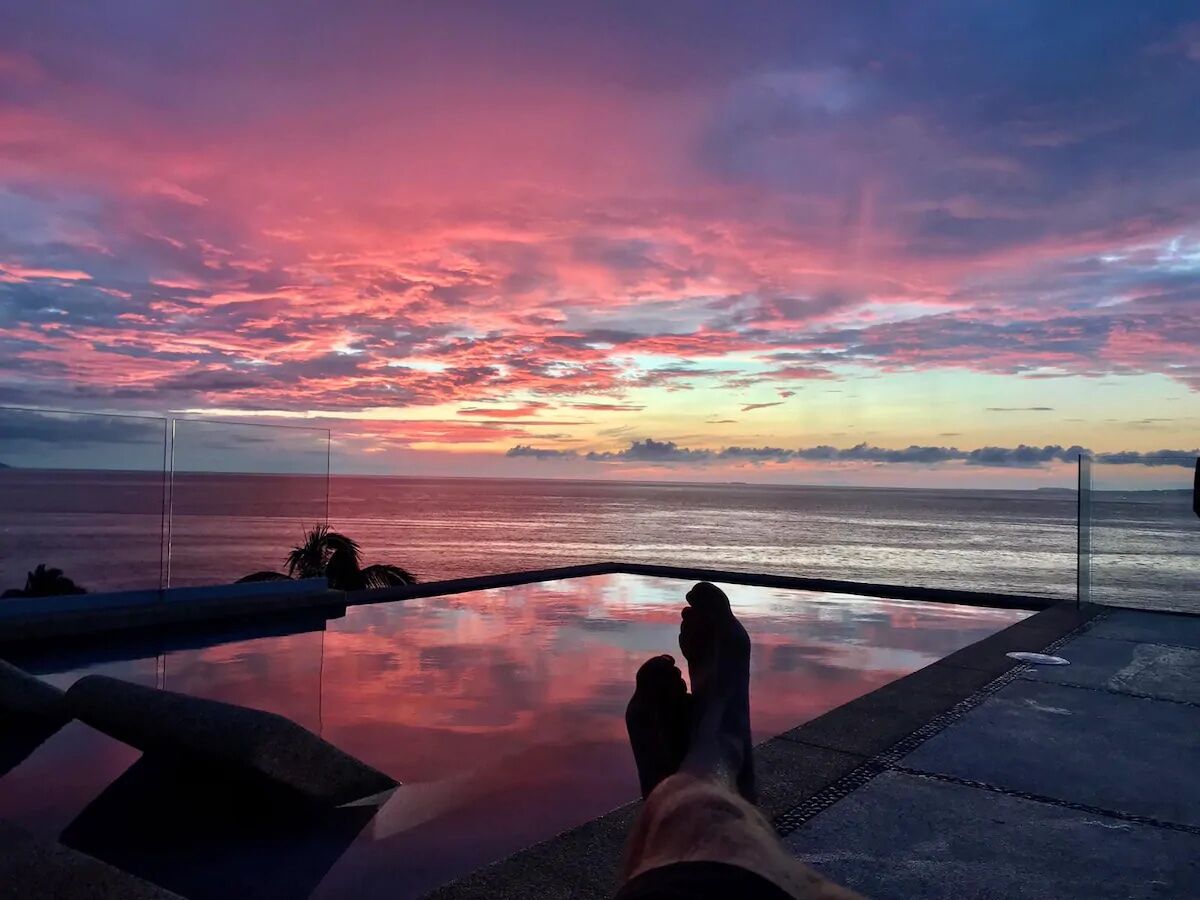 After front row seats for those legendary PV sunsets? This fashionable Puerto Vallarta beachfront Airbnb comes with its own roof deck and infinity pool for VIP access to golden hour. The lower living room opens out onto a second pool with sea views. Constructed in 2020, the villa benefits from state-of-the-art contemporary styling that remains faithful to Mexican elements. There are multiple desks in case you're planning a workation and a foosball table for rallying some light competition.
Ten guests, five bedrooms
Price: $1,400 per night
Dream House by Sergio Bustamante Puerto Vallarta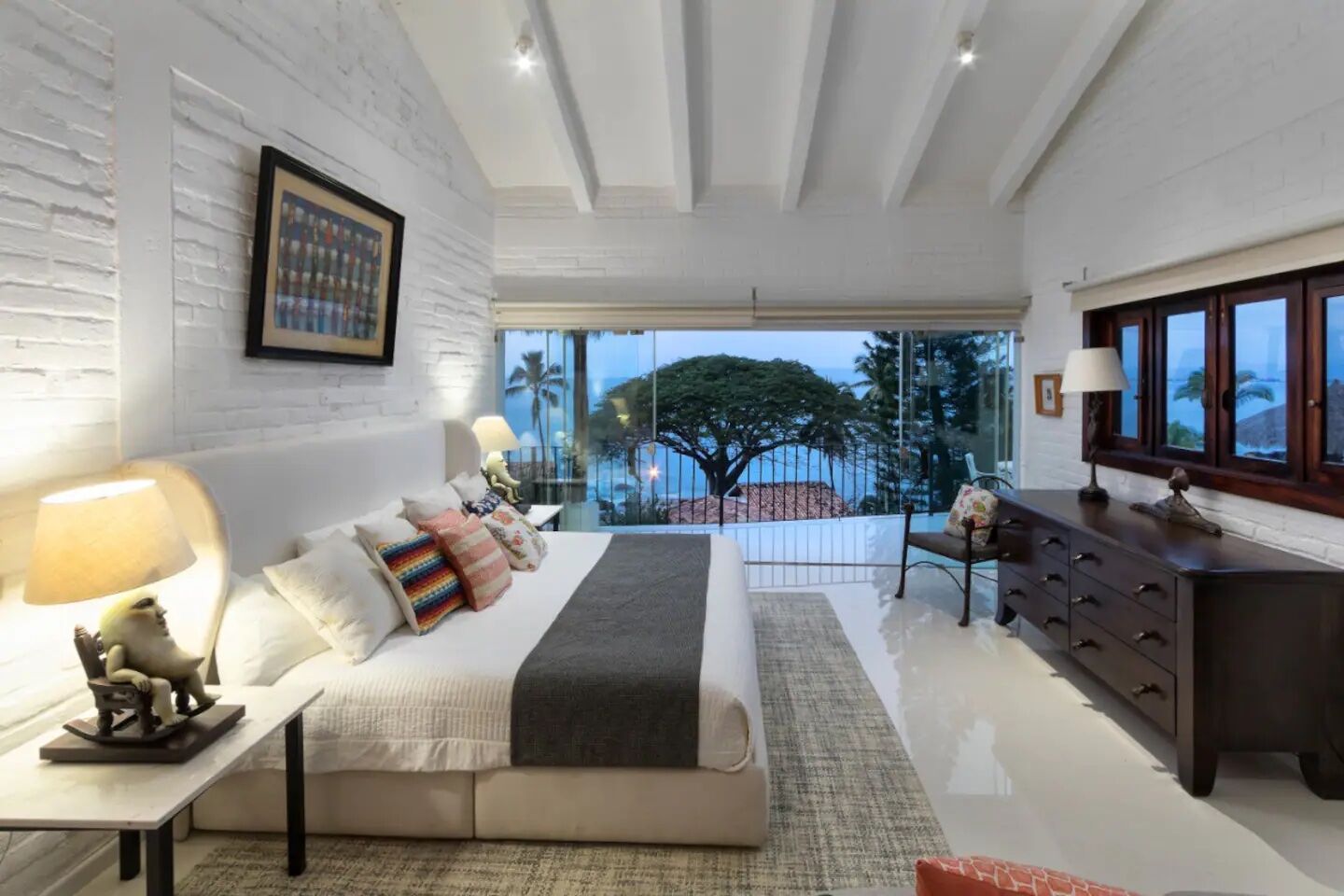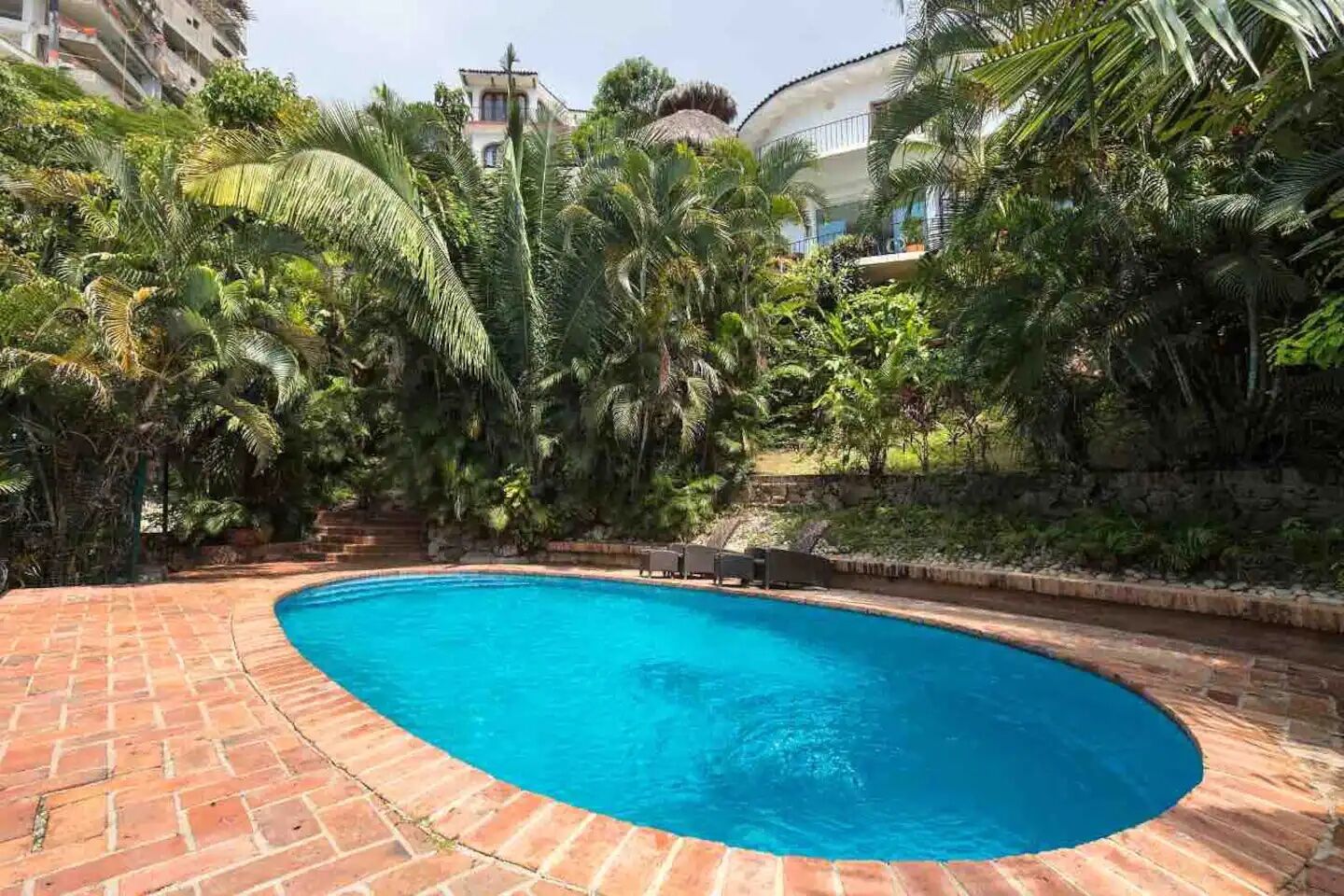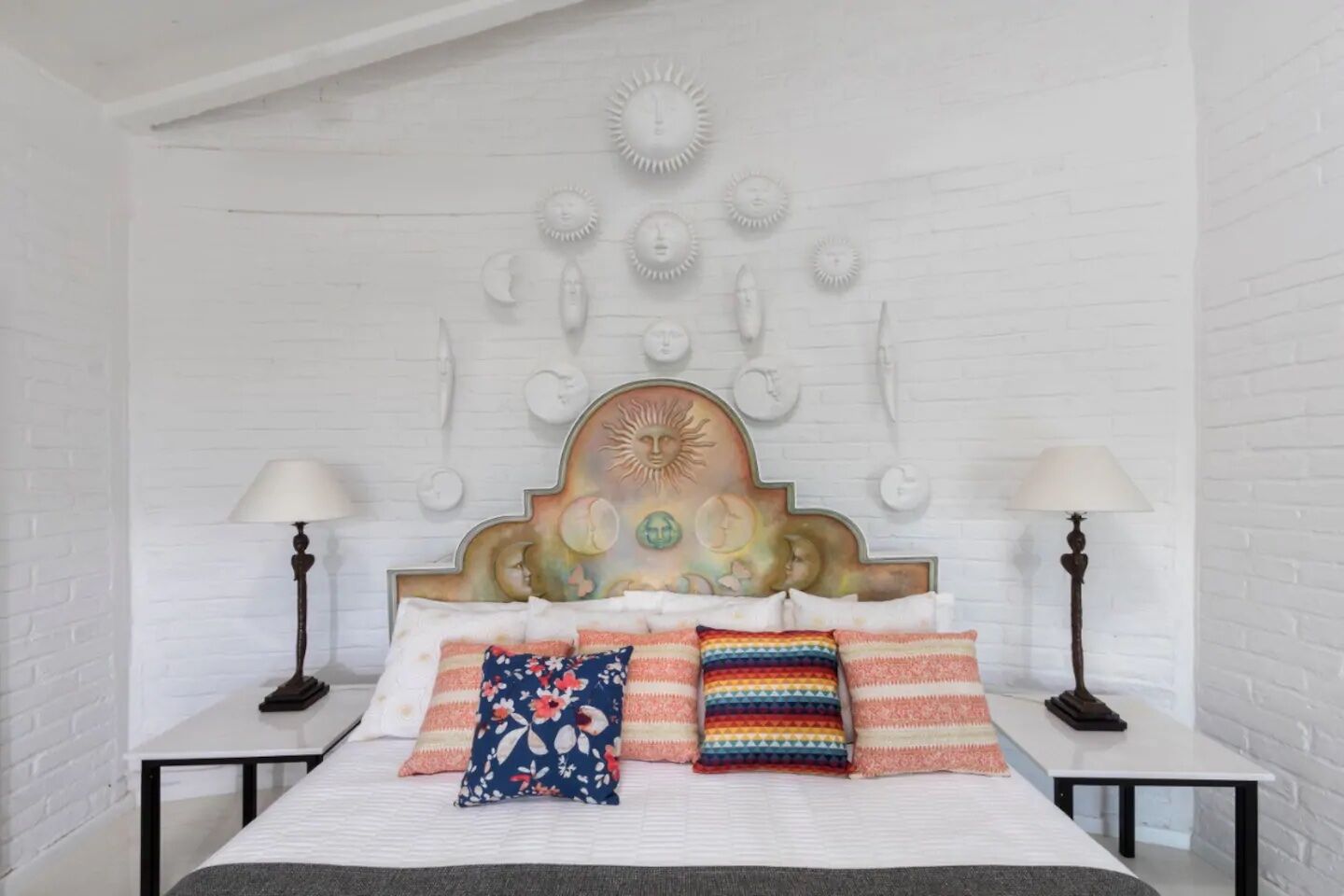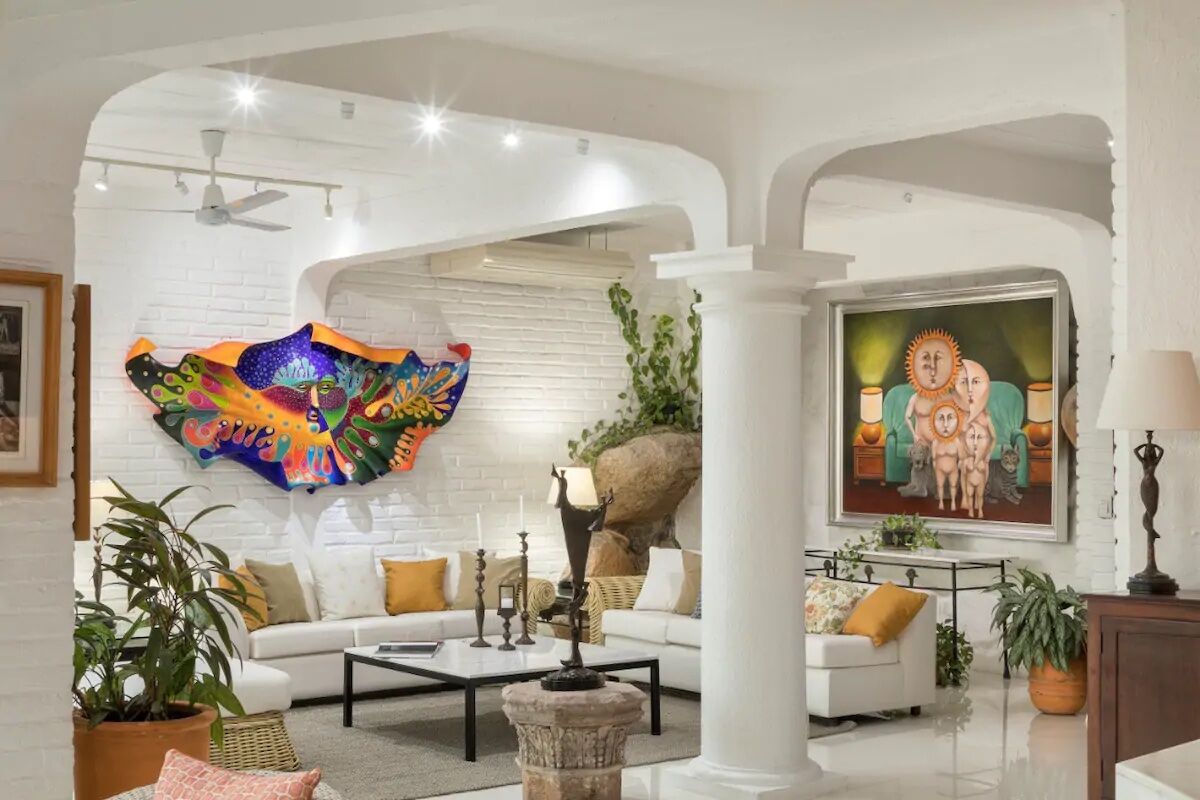 Let your mind be blown by the residence of the acclaimed Mexican artist and sculptor, Sergio Bustamante. Part home, part museum, this Puerto Vallarta Airbnb is adorned with Bustamante's artworks. The private swimming pool is buried among tropical greenery while strategic balconies and immense windows make it impossible to avoid getting an eyeful of the ocean. Follow the private footpath down from the backyard and you'll be at Conchas Chinas Beach before you know it.
Eight guests, three bedrooms
Price: $840 per night
Casa LaMont – family villa with pool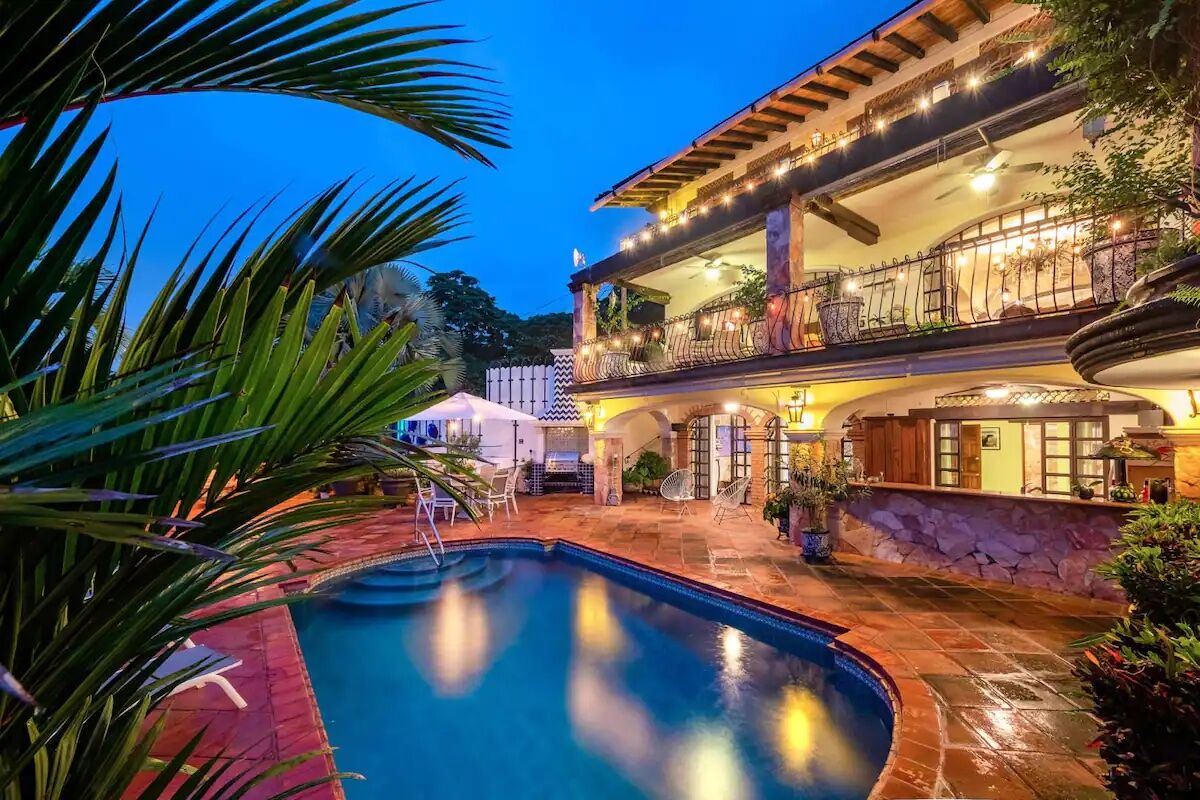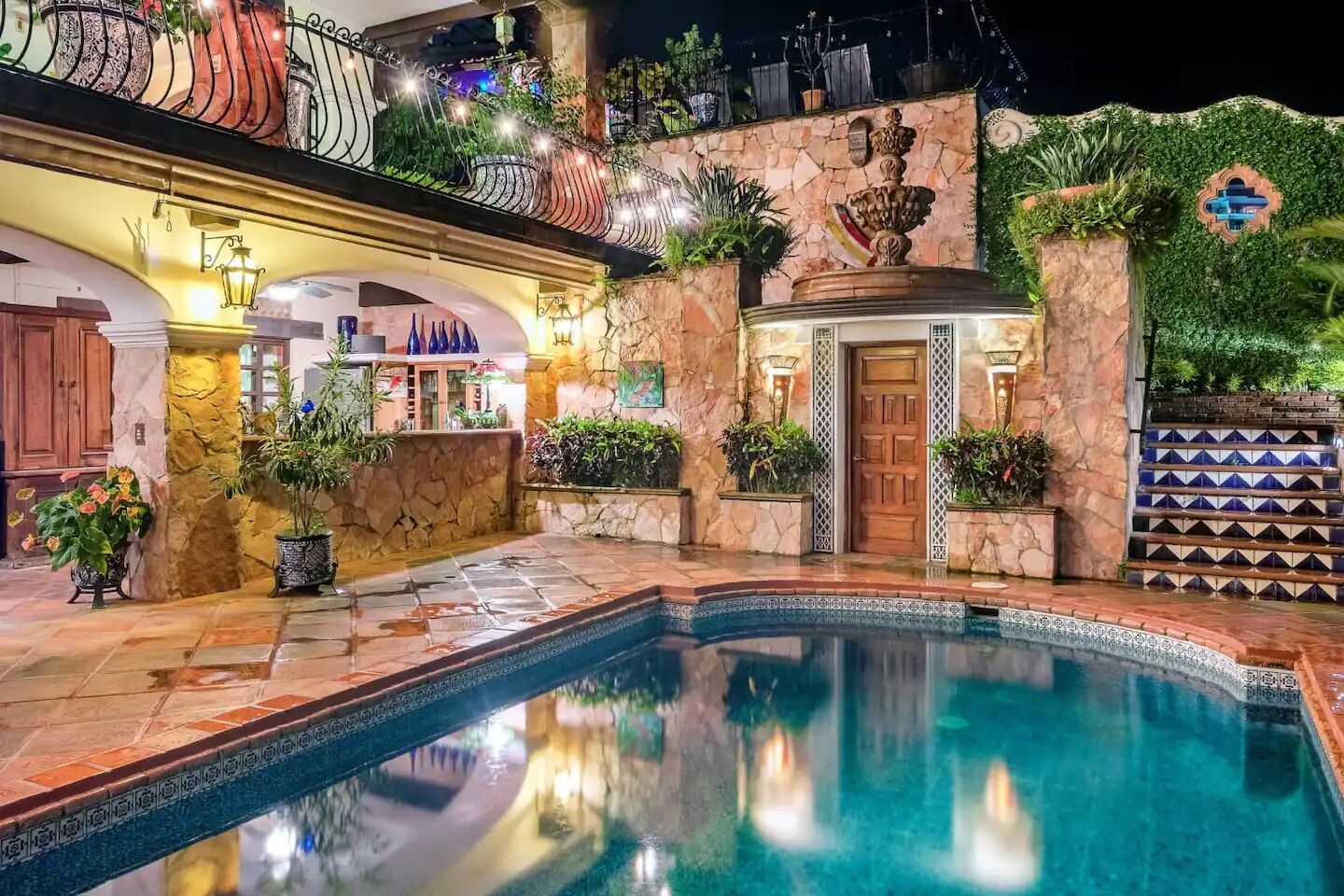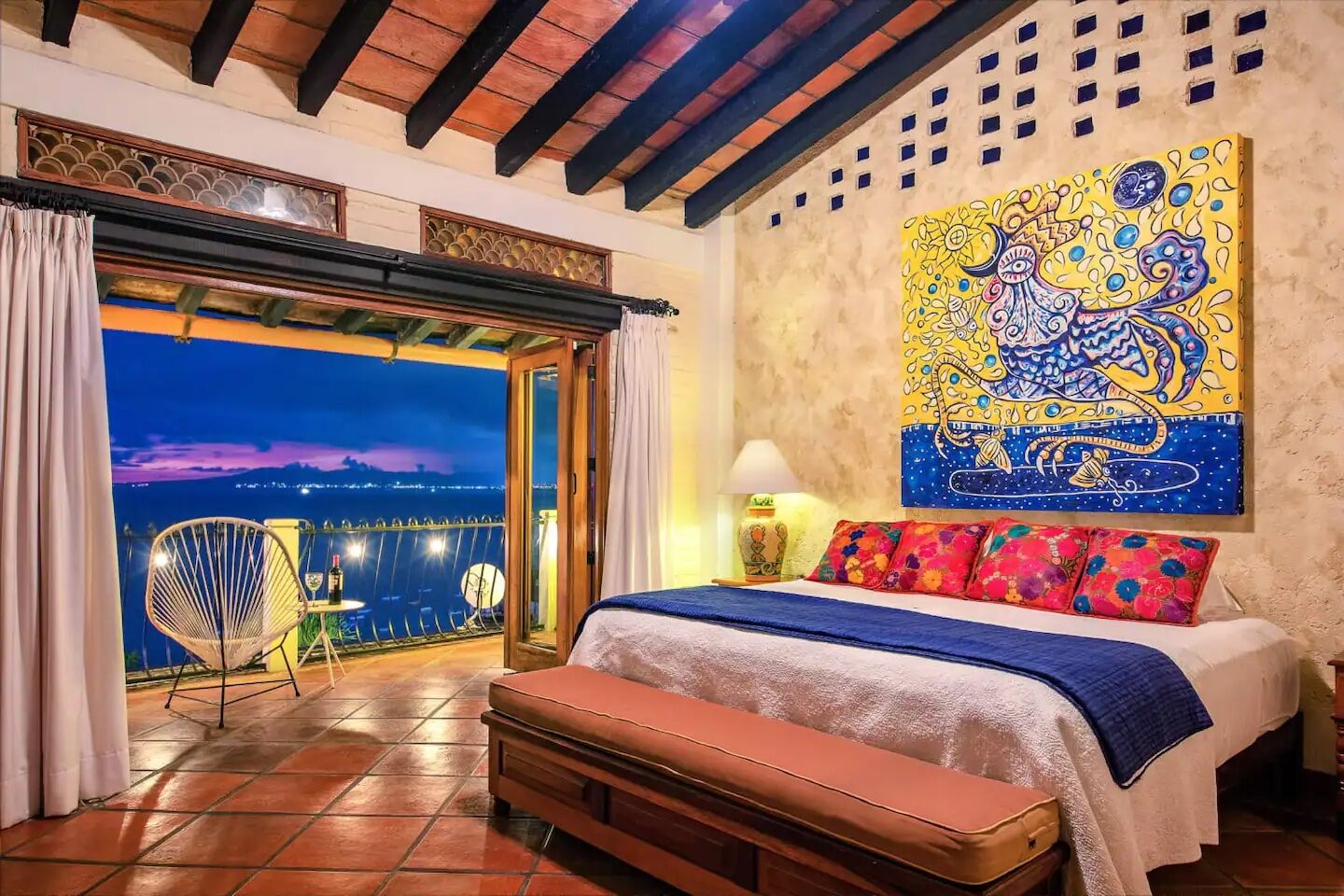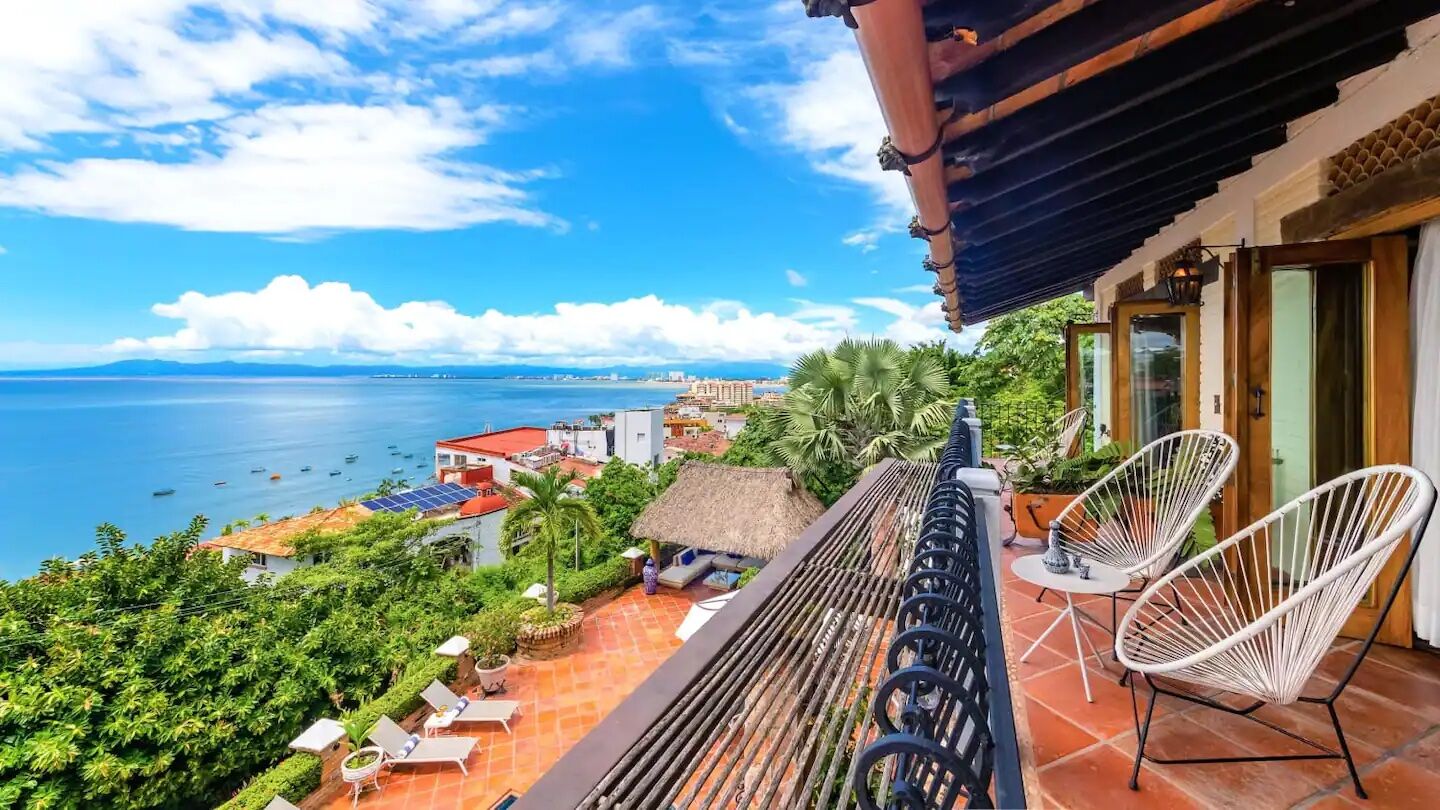 This three-story Airbnb in the Puerto Vallarta Romantic Zone bursts with color courtesy of stained glass windows, intricate tiling, and lashings of soft furnishings. Oceanview bedrooms and palatial en-suites mean there's no excuse not to indulge in siestas and pampering sessions. The backyard consists of a private pool and palapa den where you can listen to the sound of the water fountain, birdsong, and the ocean.
Eight guests, four bedrooms
Price: $550 per night
Casa Mateo – walking distance to Malecon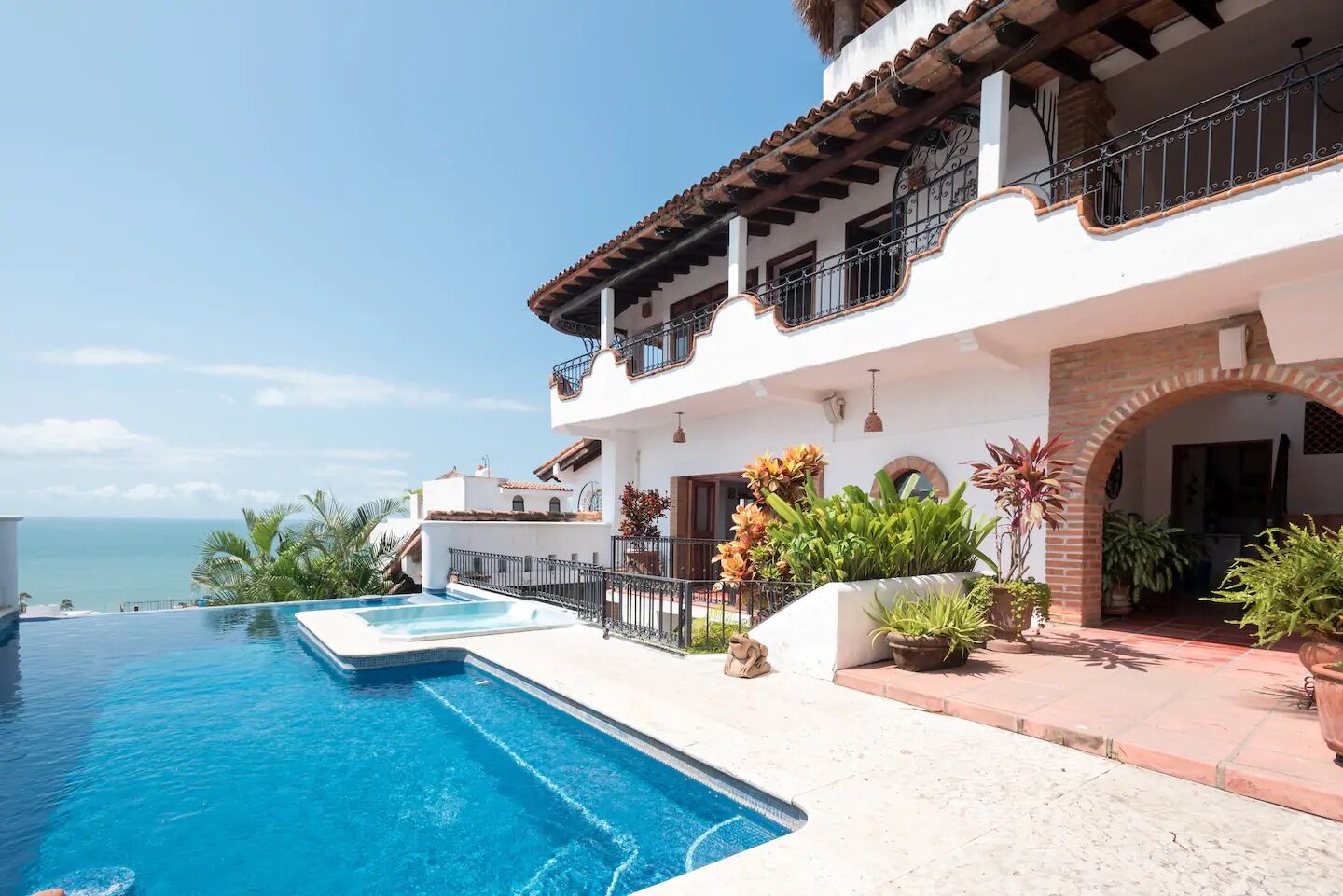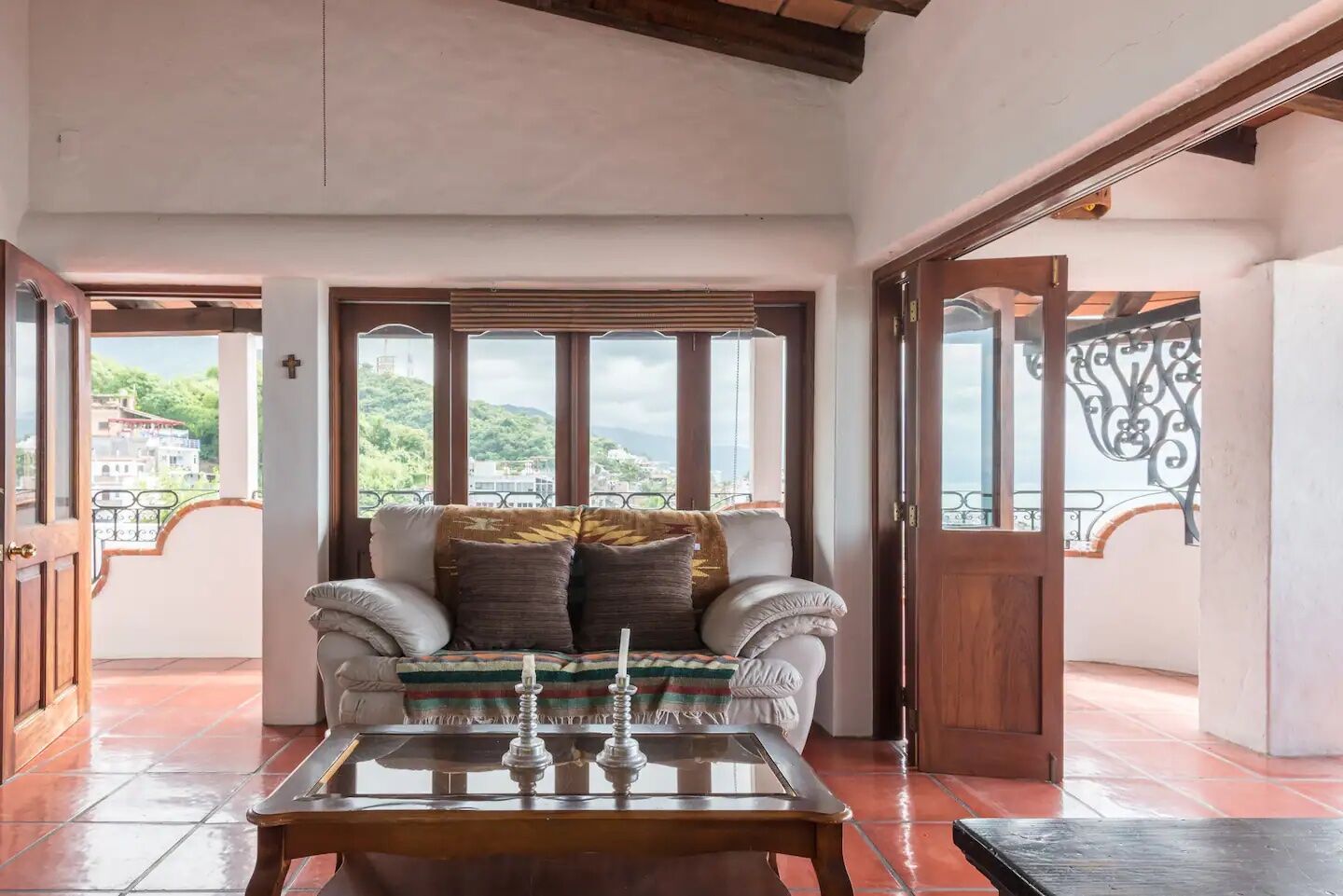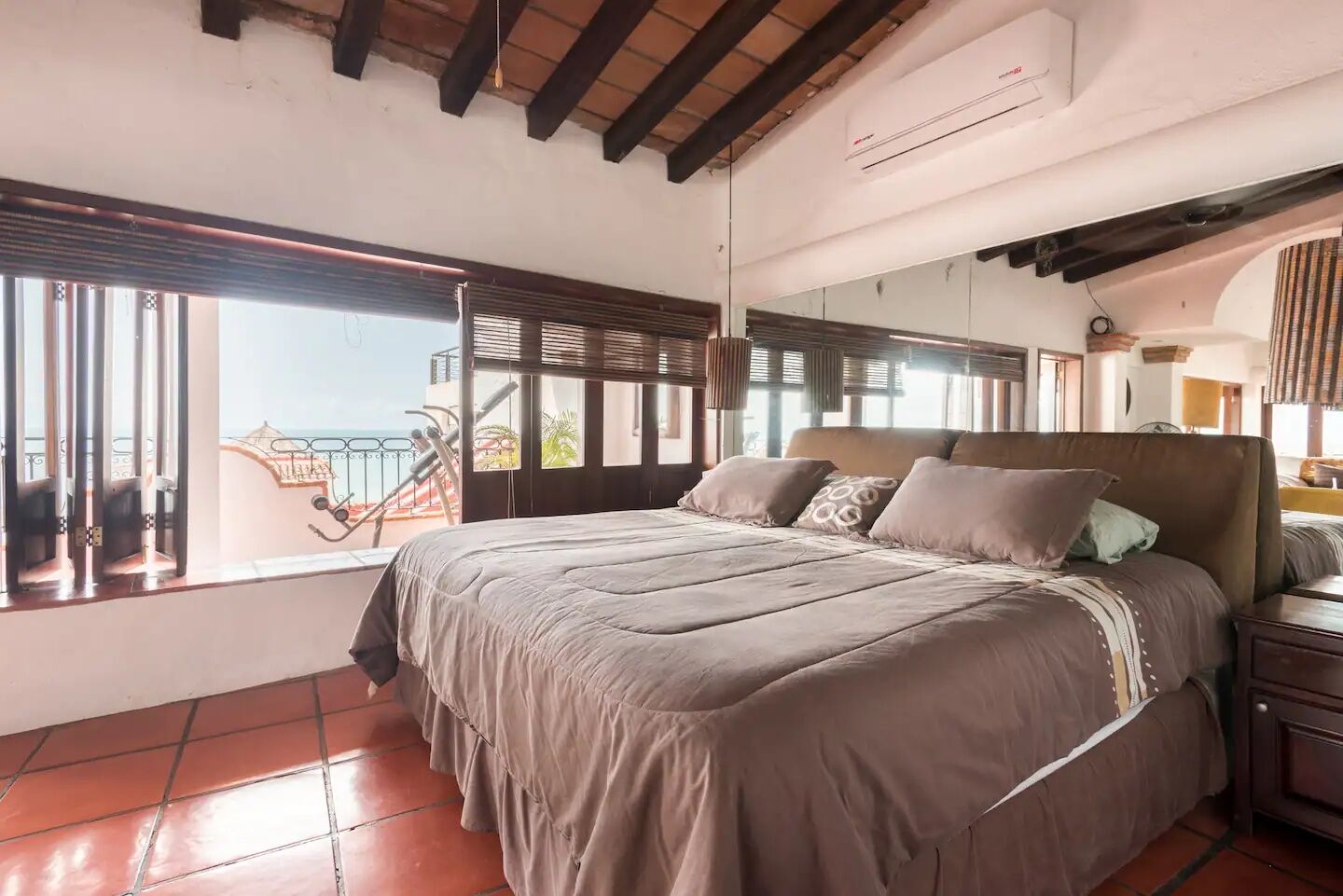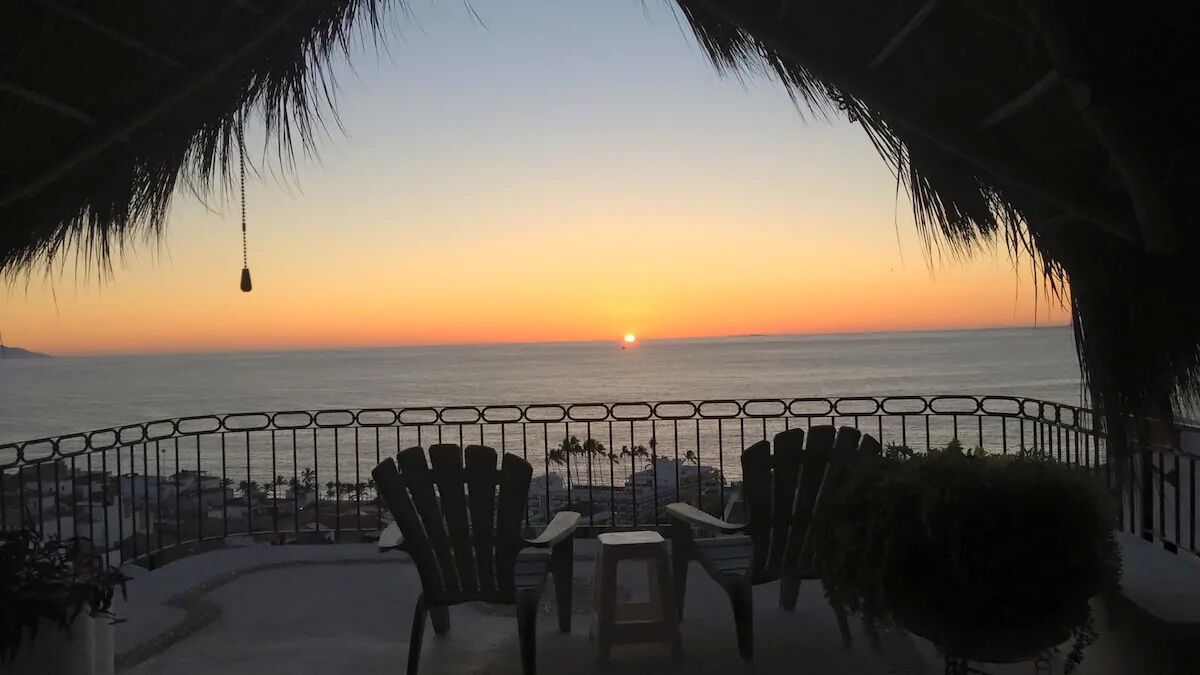 Centrally located in Colonia 5 de Diciembre, this knockout Airbnb on the Puerto Vallarta beachfront lets you ogle the Banderas Bay to your heart's content. Multiple balconies, terraces, and an open-air lounge with your own bar invite the tropical sun and ocean breeze to swish throughout the house. An infinity pool is attached to a hot tub while Camarones Beach is within walking distance.
Six guests, three bedrooms
Price: $300 per night
Book here
What did you think of this story?