The Best Airbnbs in the Scottish Isles for Whiskey Enthusiasts
Scotland's western islands beckon intrepid explorers with a penchant for wilderness and a nose for whiskey. Known for its peaty blends, the Isle of Islay is the beating heart of the Scottish whiskey scene although distilleries on neighboring islands wrestle for their share of attention. Here's our pick of remote cabins, boutique Islay cottages, and unique Airbnbs in the Scottish Isles for whiskey enthusiasts.
Matador's

guides to

the best of Airbnb Categories:
We hope you love the Scottish Isles cottage rentals we recommend! Just so you know, Matador may collect a small commission from the links on this page if you decide to book a stay. Listed prices are accurate as of the time of publication.
---
---
Best Airbnbs on Islay
The Old Byre Islay cottage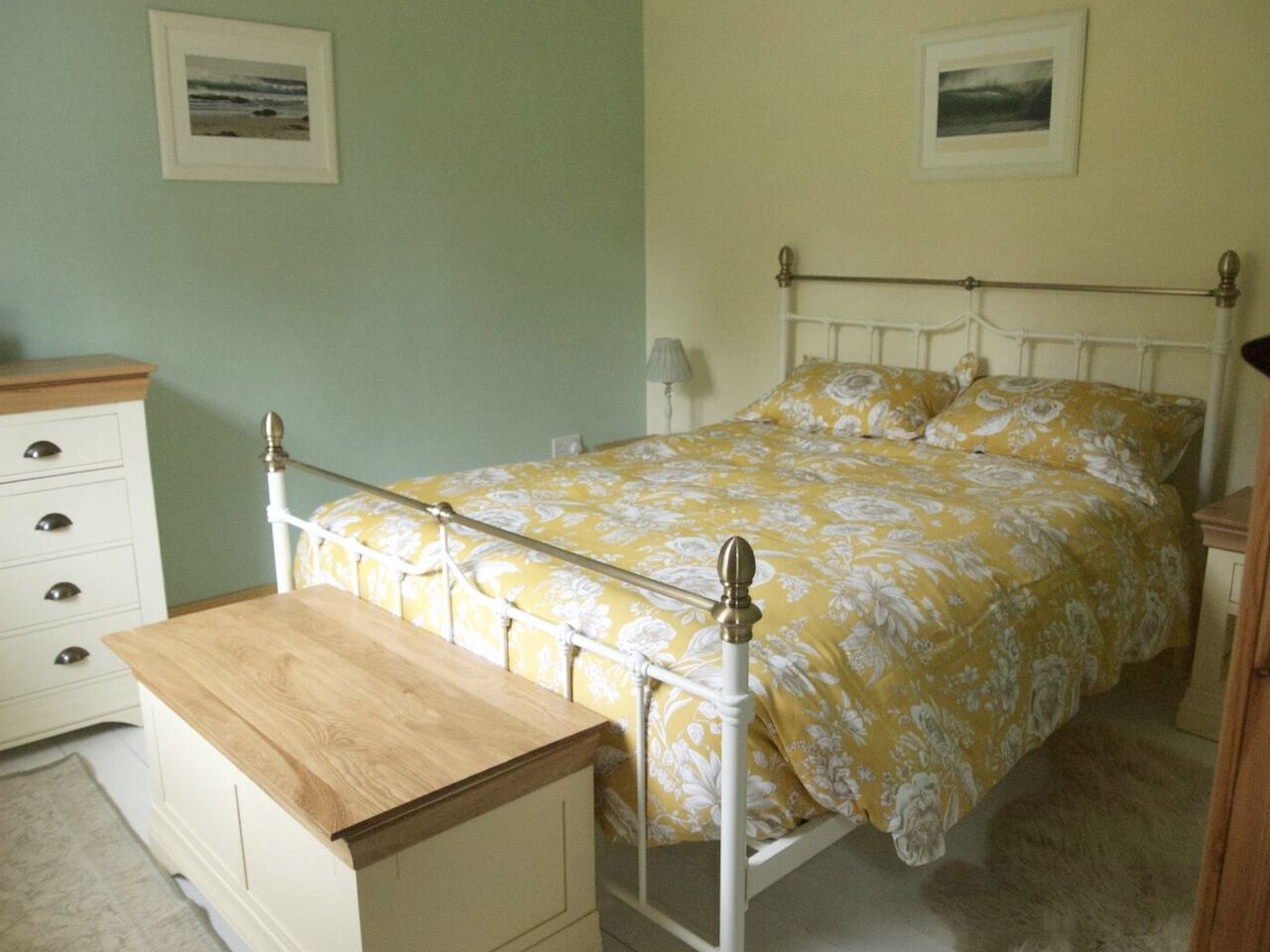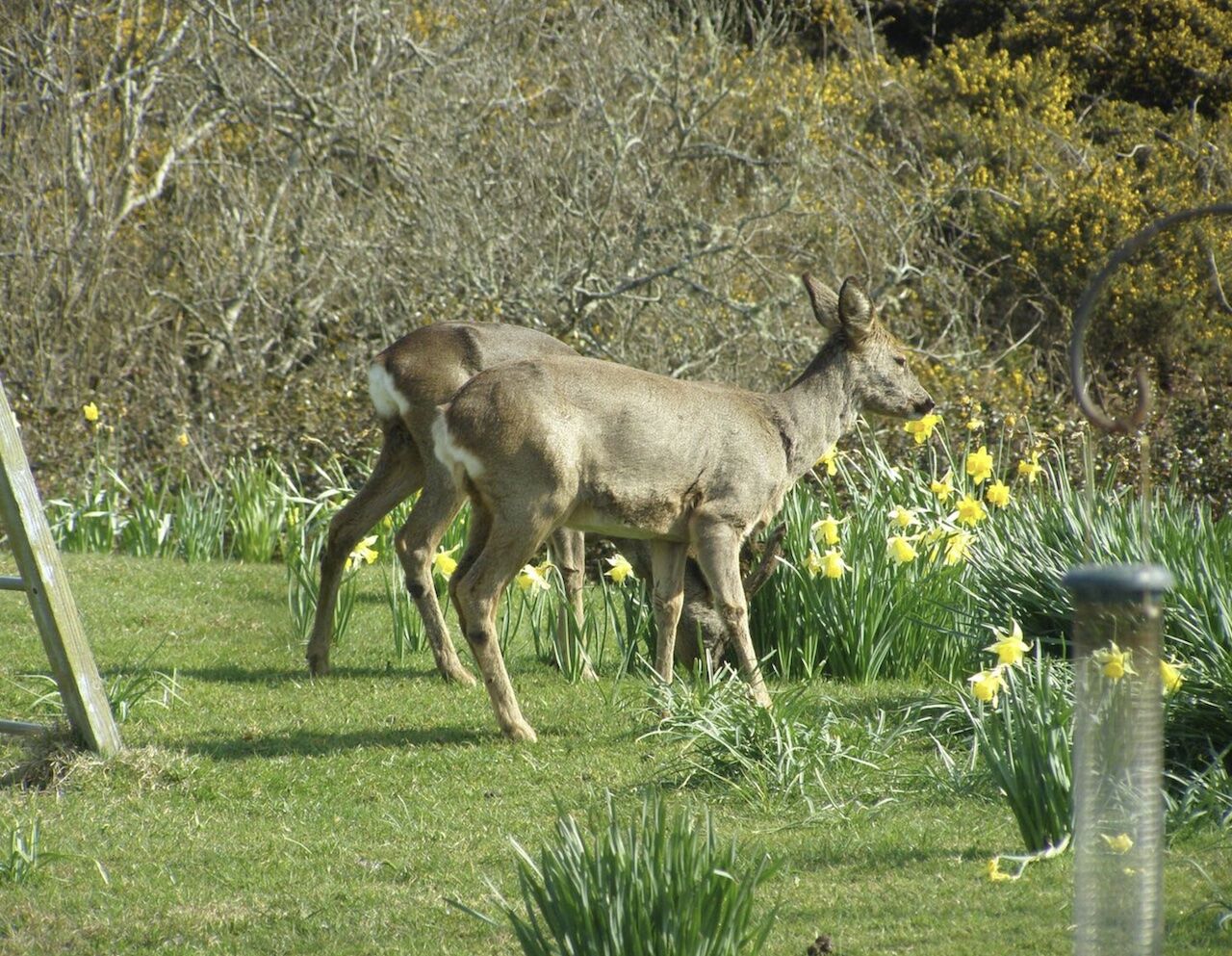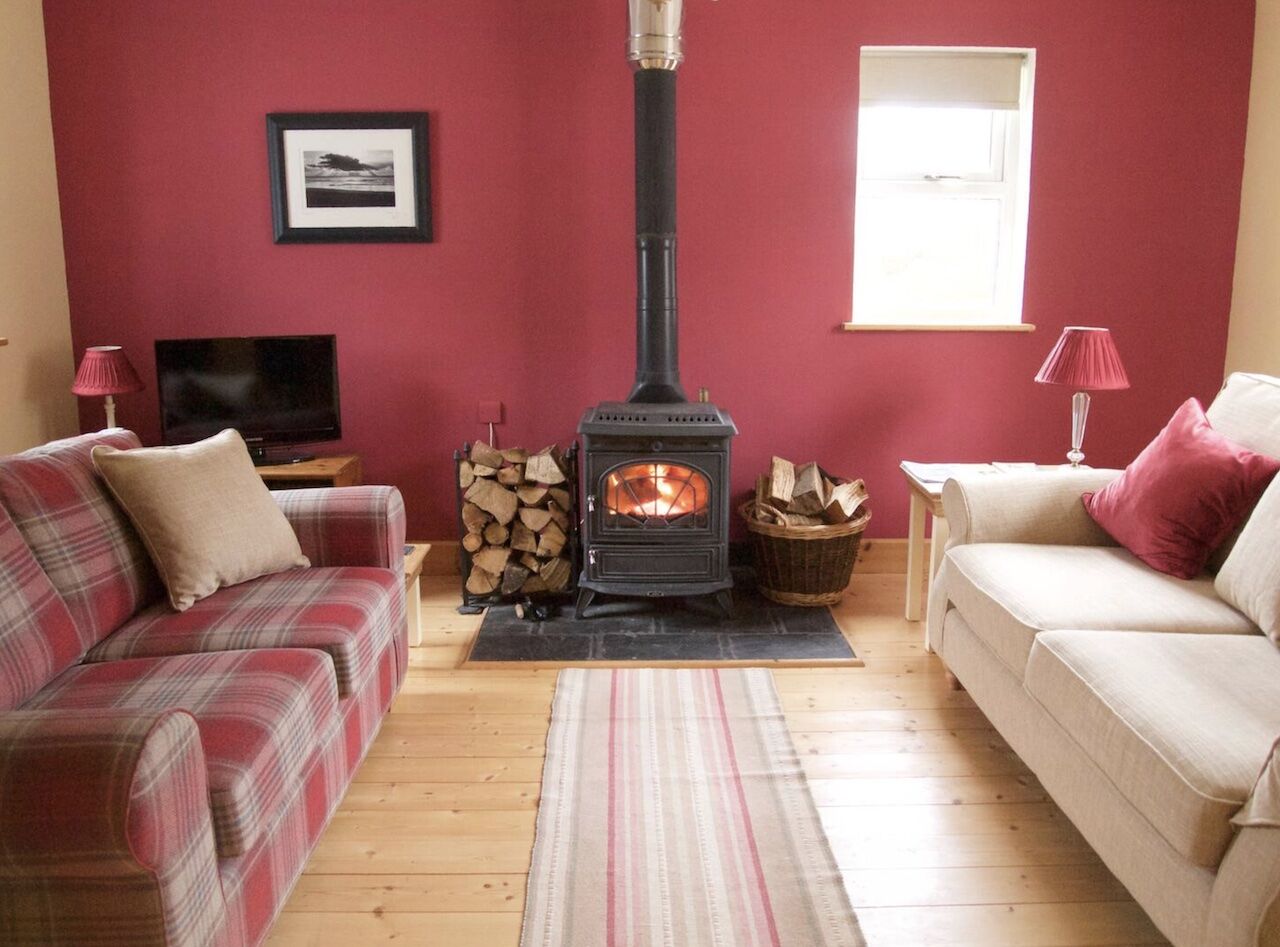 Straight out of a fairytale, this whitewashed home is representative of Islay cottages set within a private garden where you can welcome the summer rays and watch the free-roaming hens, guinea fowl, and peacocks. When rain strikes, the property's vast collection of board games and books will keep you entertained. Special touches at your self-contained holiday home include a blazing log-burner, a countryside-chic kitchen, and a roll-top bath. Situated 4 miles outside of Port Charlotte, you have three distilleries on your doorstep.
Two guests, one bedroom
Price: $130 per night
Seaside cottage with wonderful views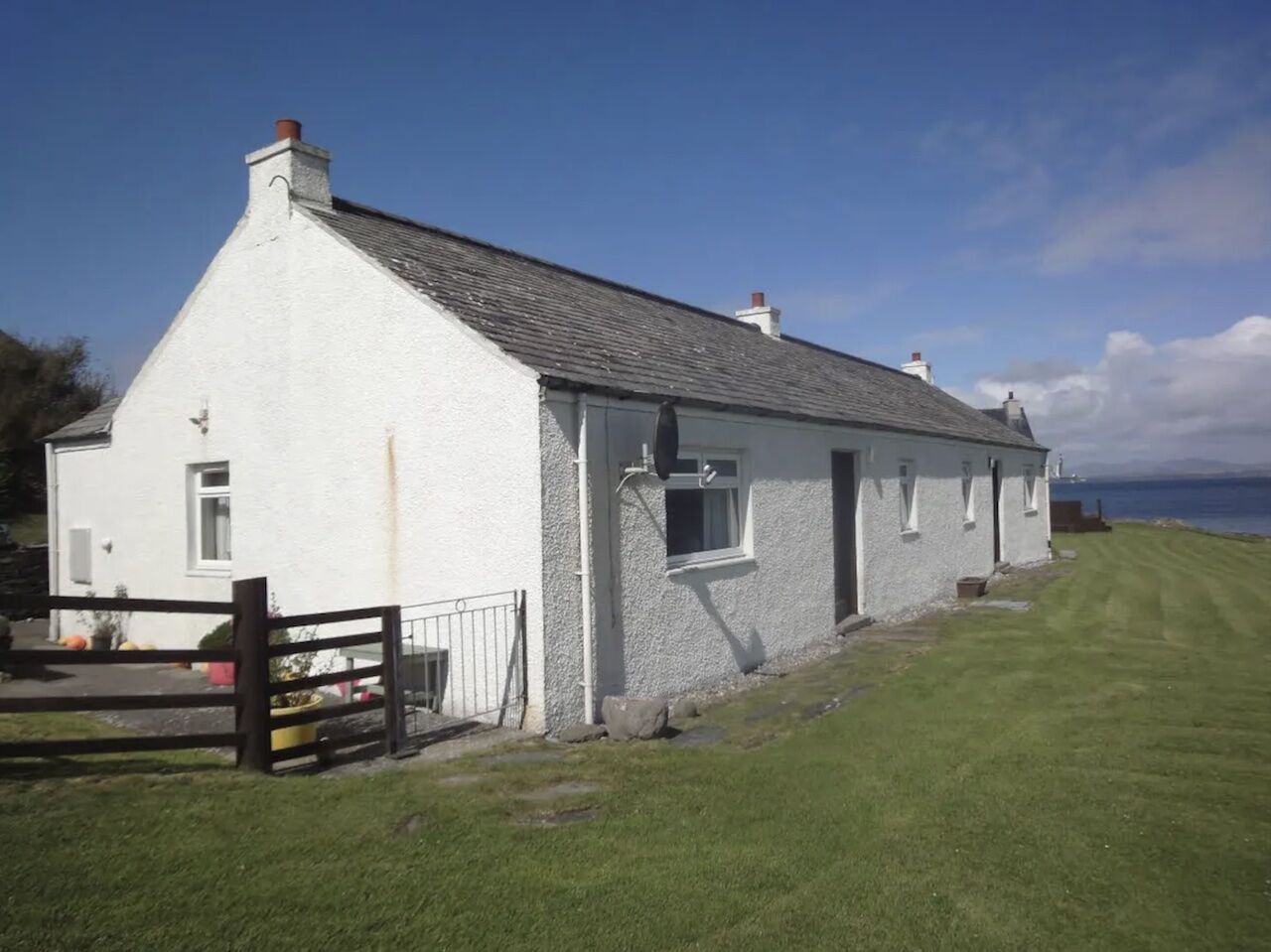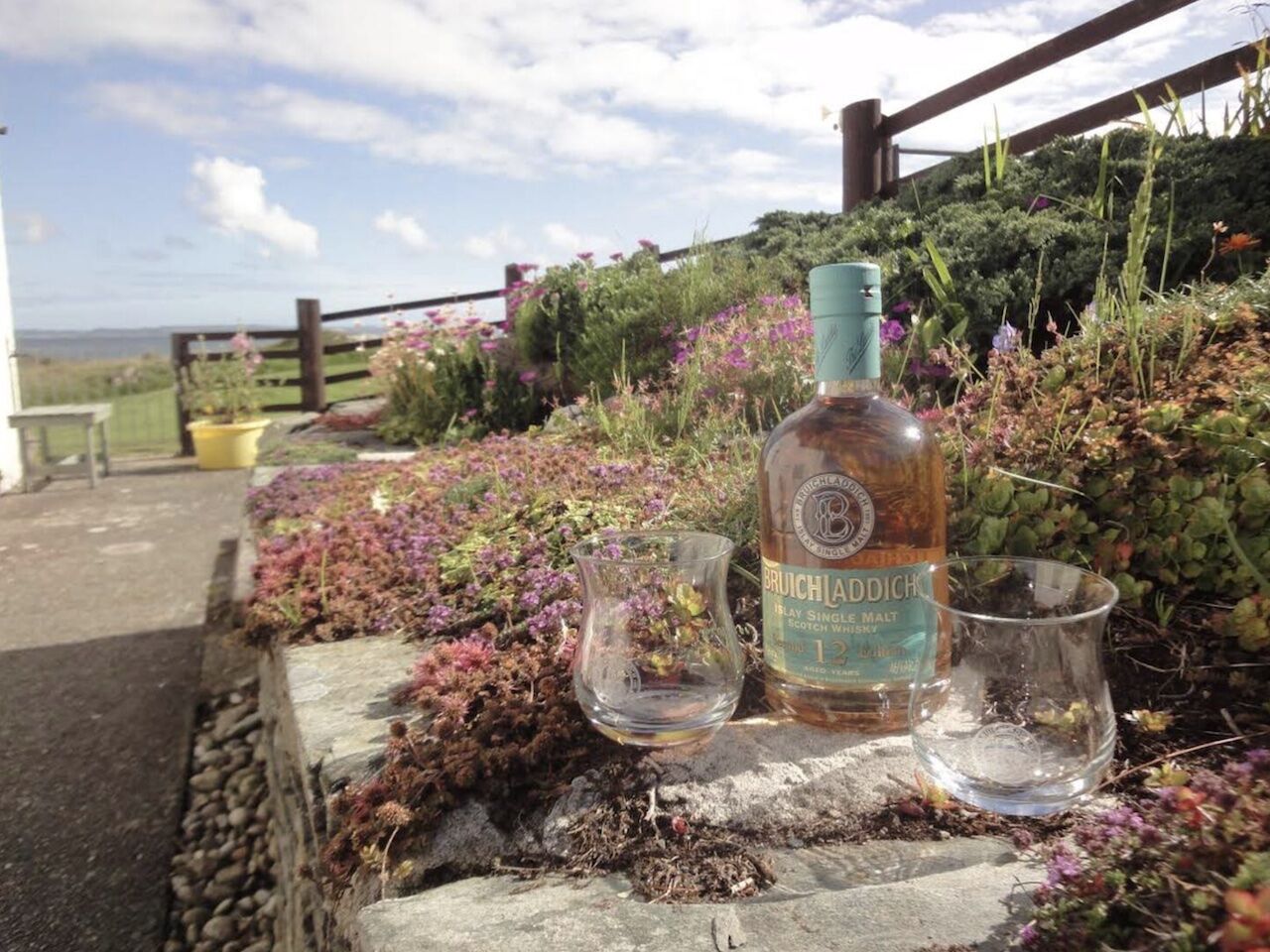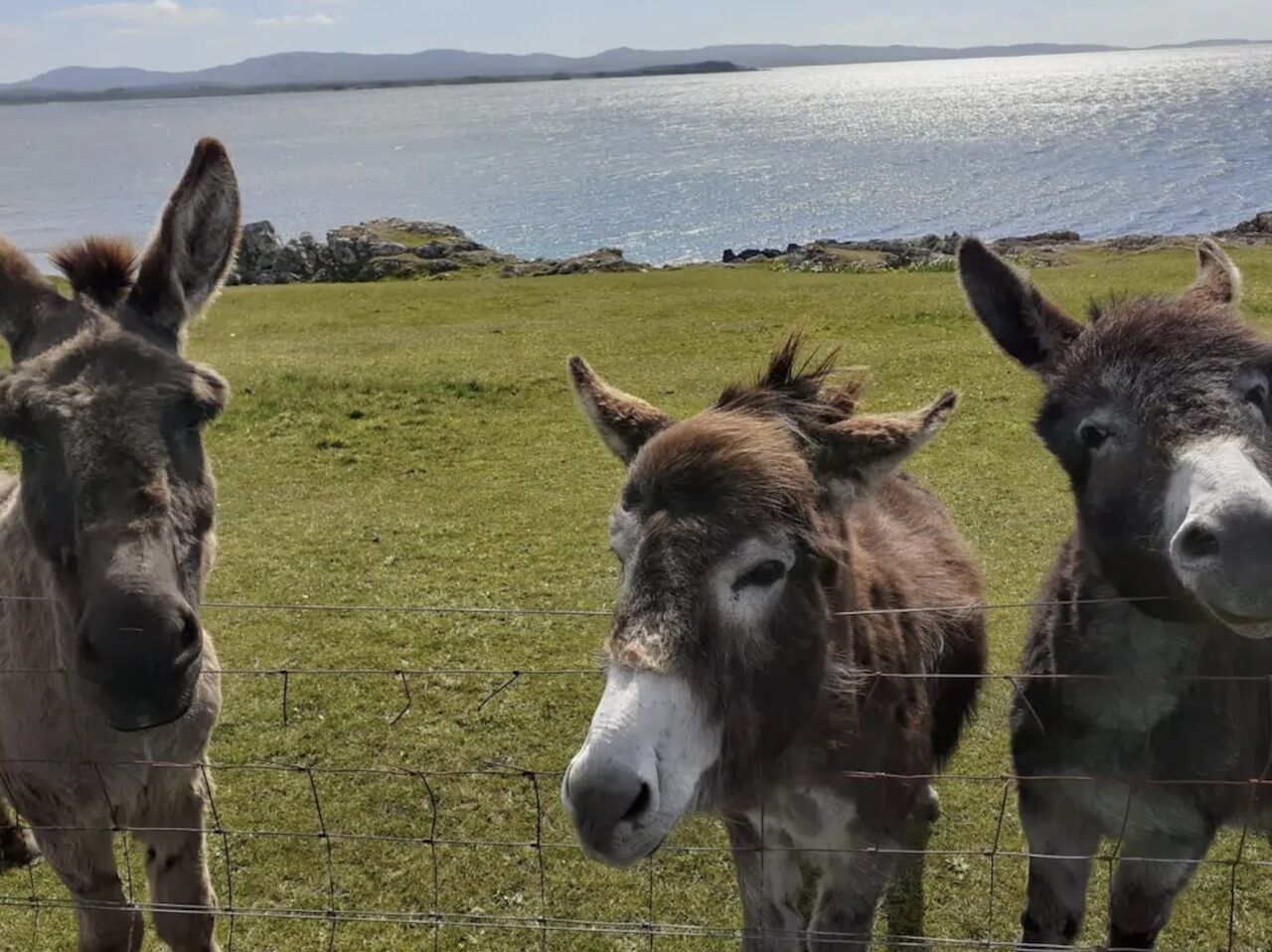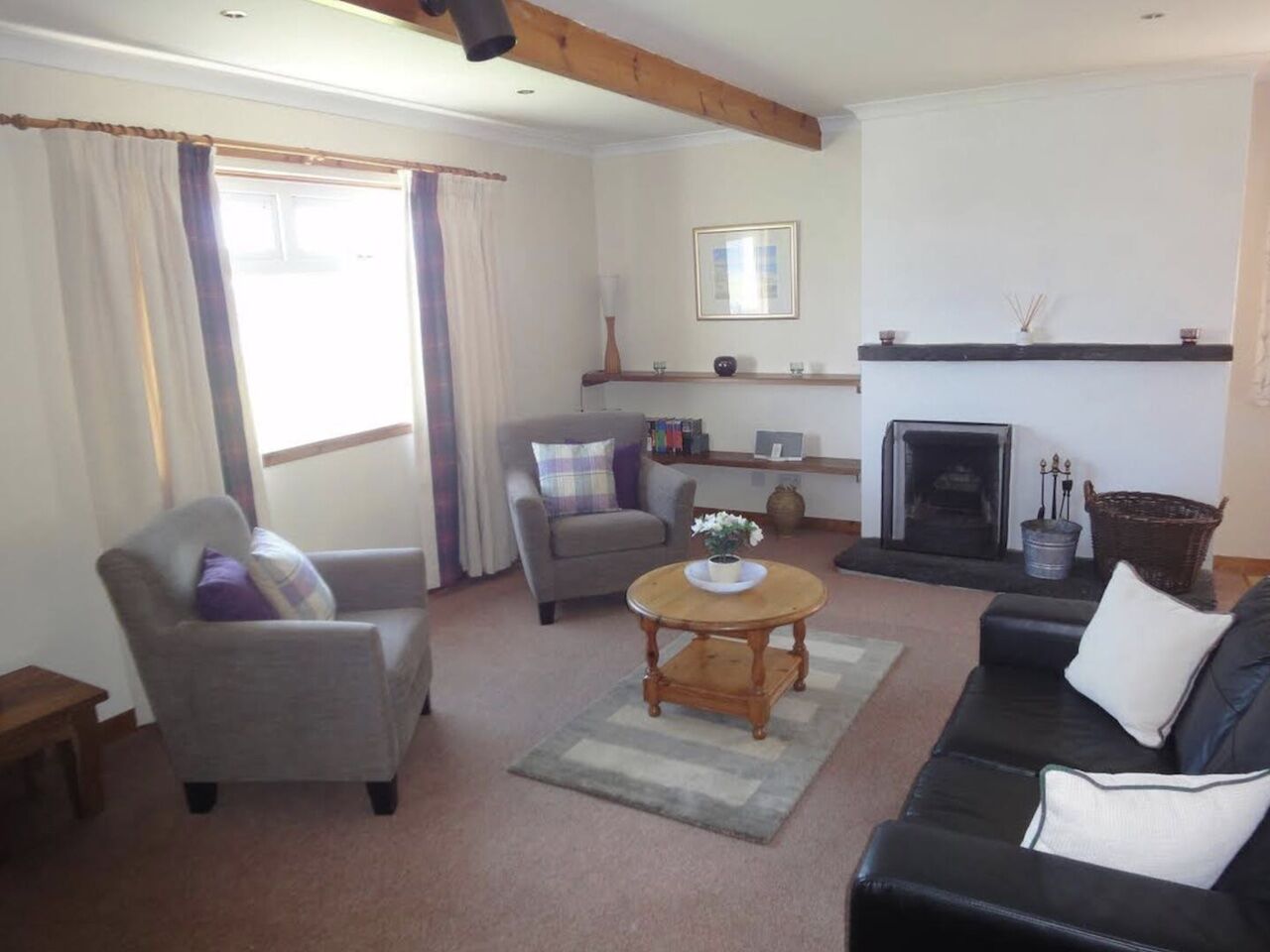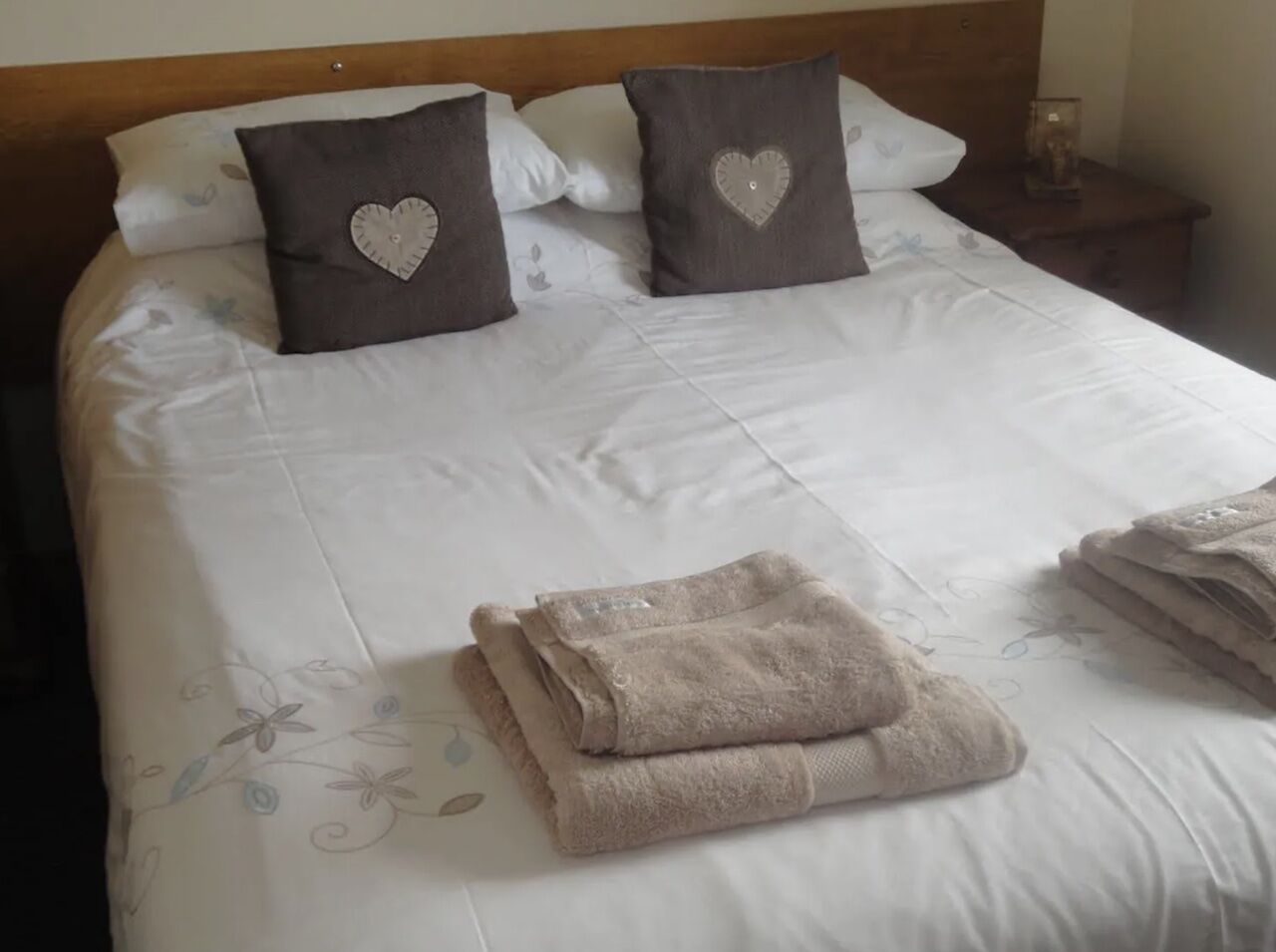 Maroon yourself in this postcard-pretty cottage near the heritage village of Port Charlotte with views of the rippling sea. The front lawn stretches down to the newly installed lighthouse path which guides you to the lovely beaches and coves of Loch Indaal. Although fabulous for walking, the route is even better explored with the help of a rental bicycle. Bruichladdich – known for its citrusy single malts and dry gins – is your nearest distillery. Grab a bottle to savor among the blooms in the private garden or in front of the open fireplace. With a double and a twin room, this humble cottage is a solid choice for outdoorsy families.
Four guests, two bedrooms
Price: $130 per night
Luxury holiday home at Loch Gruinart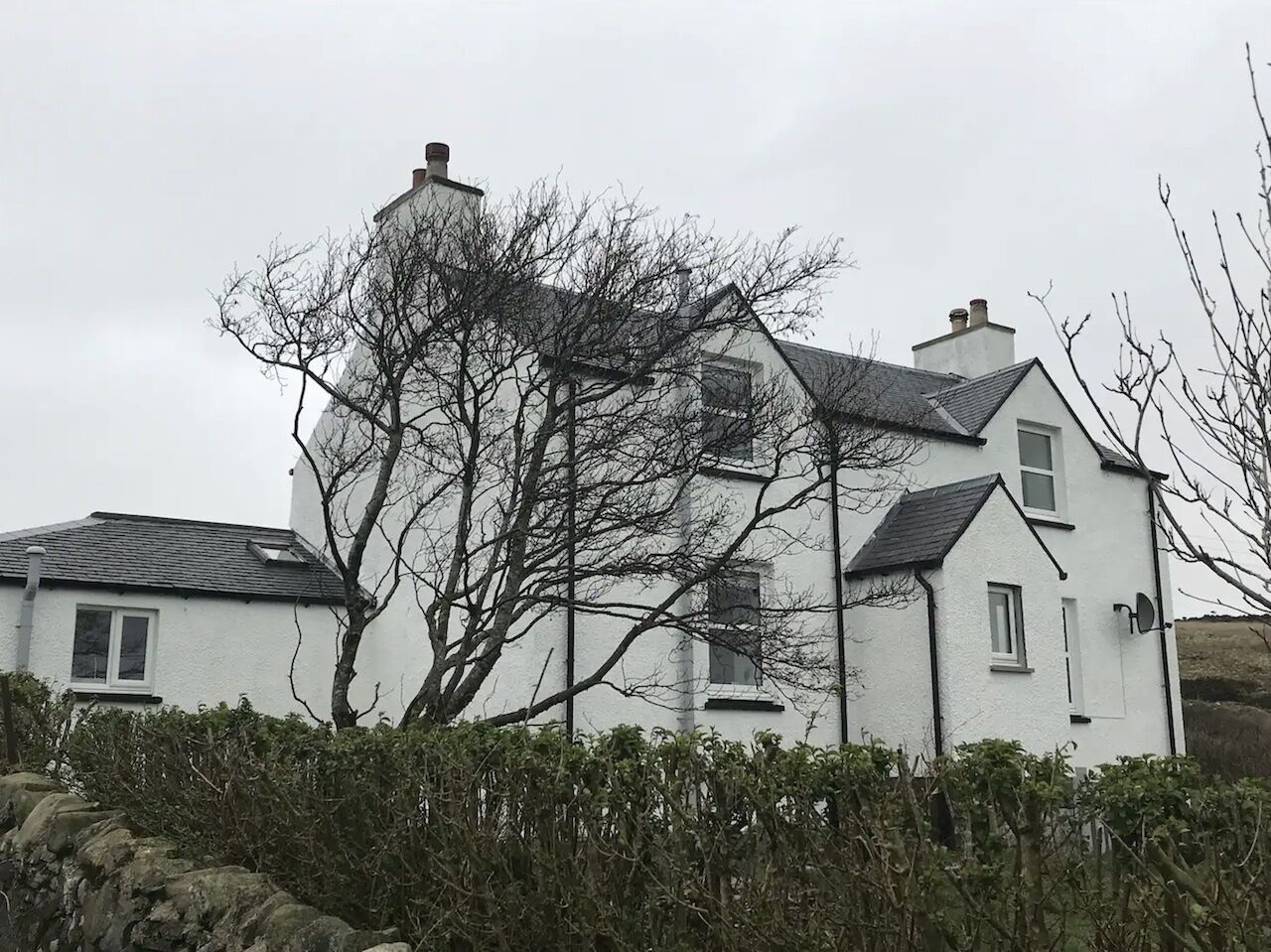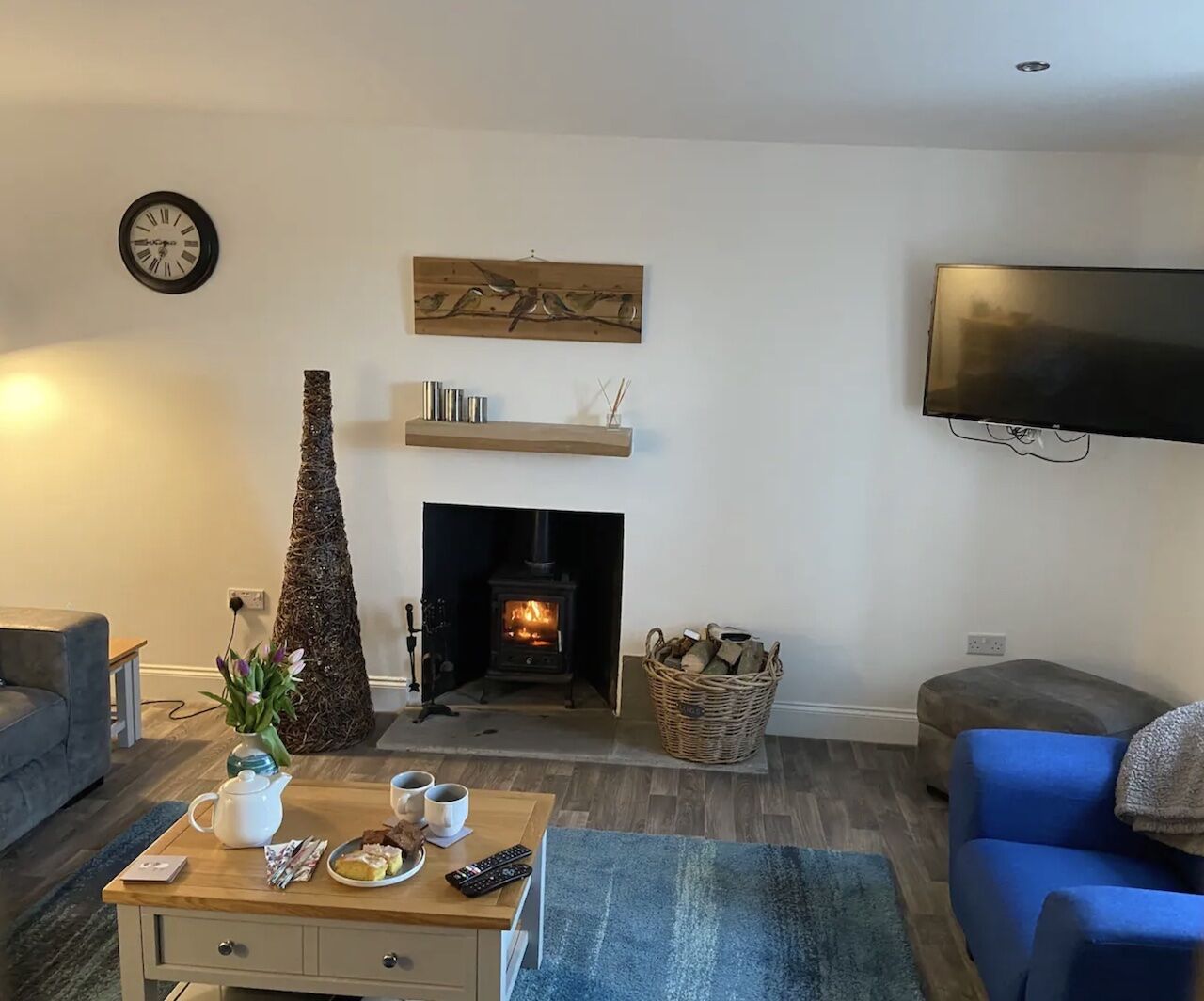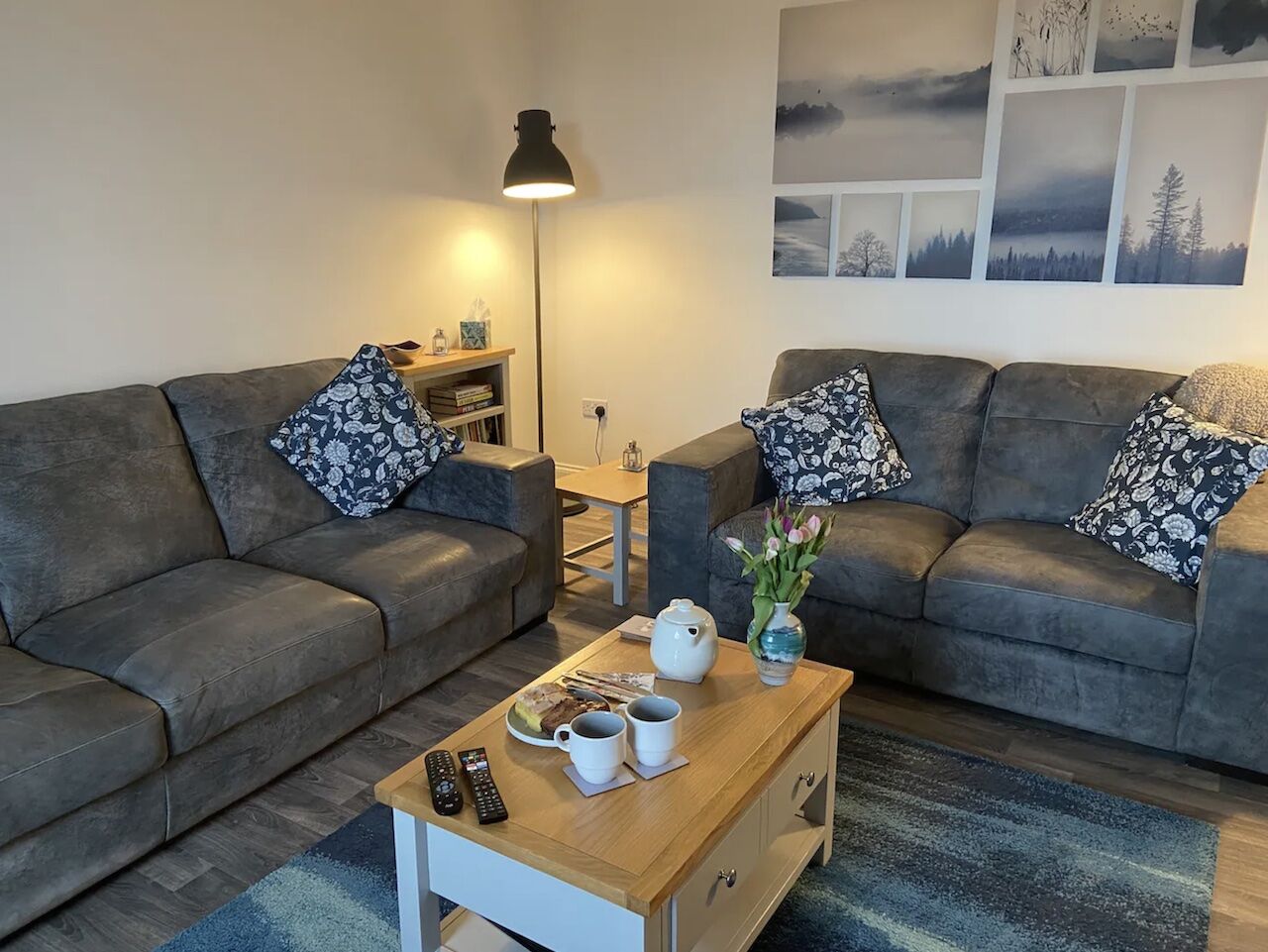 Situated in the RSPB reserve at Loch Gruinart in northern Islay, the only souls you'll see during your stay at this luxury vacation rental have feathers and wings. The expansive home features a games room with table football and table tennis as well as an artist's studio to stir up your creative juices. A state-of-the-art kitchen equipped with an electric Aga awaits traveling chefs eager to experiment with whiskey-based stews. Take a soak in the free-standing bathtub or indulge in a leisurely sauna session to keep the frostbite away.
Twelve guests, five bedrooms
Price: $280 per night
Best Airbnbs on Harris
Aird Villa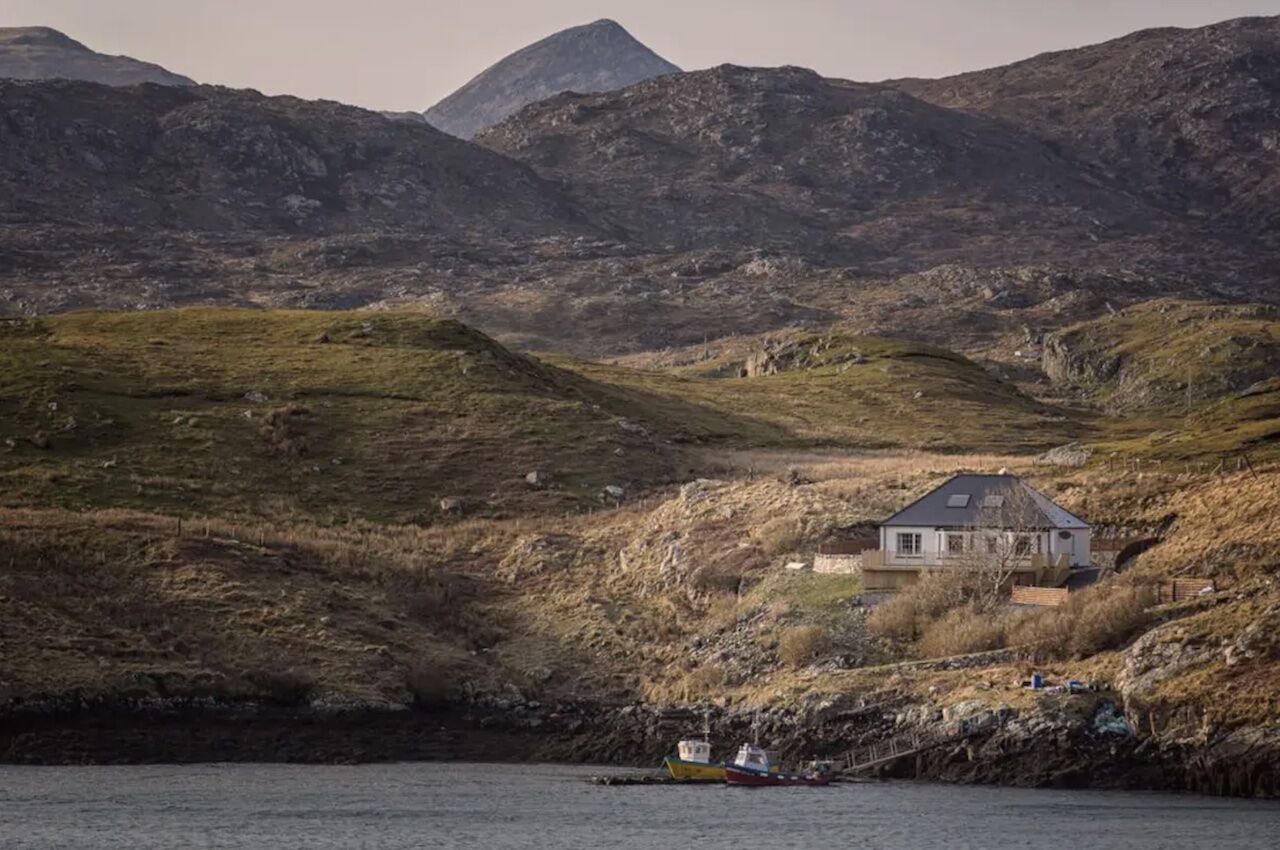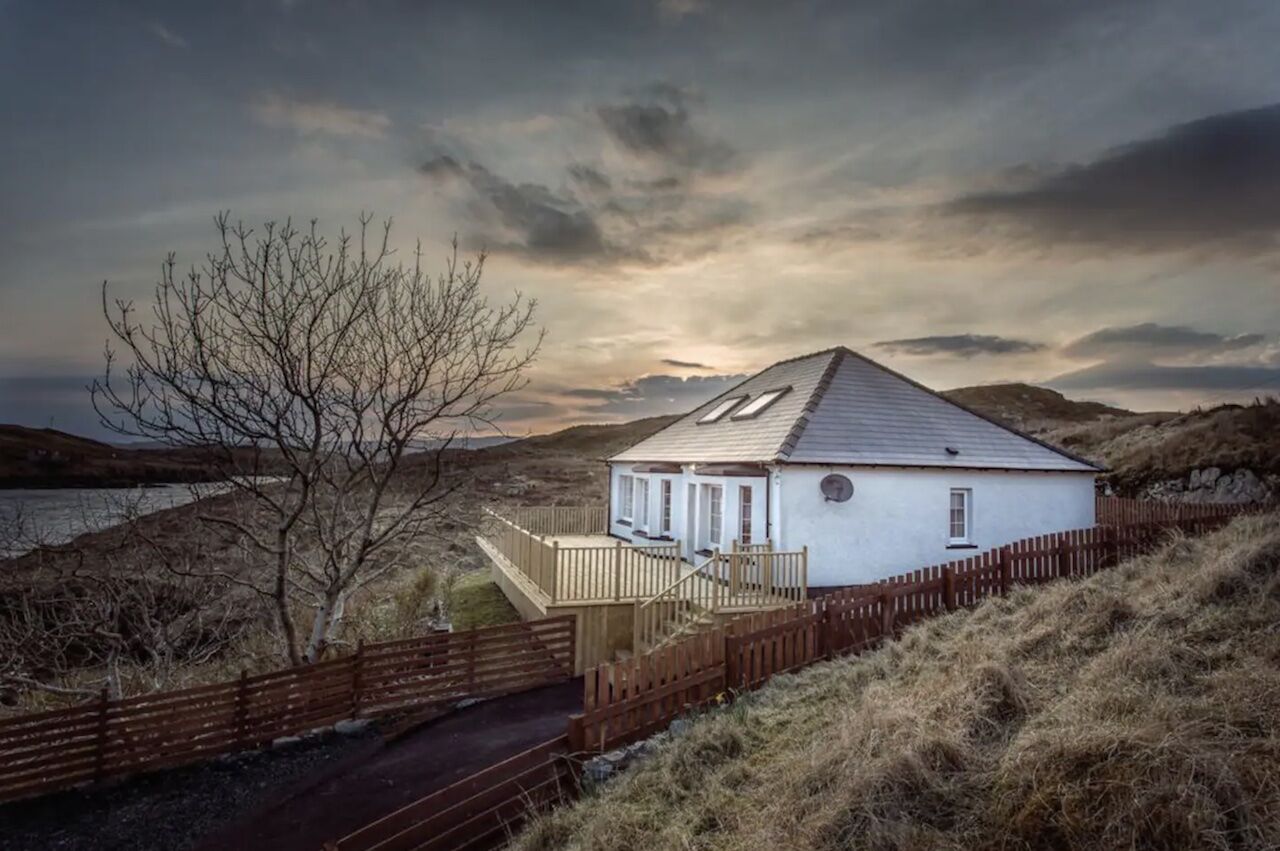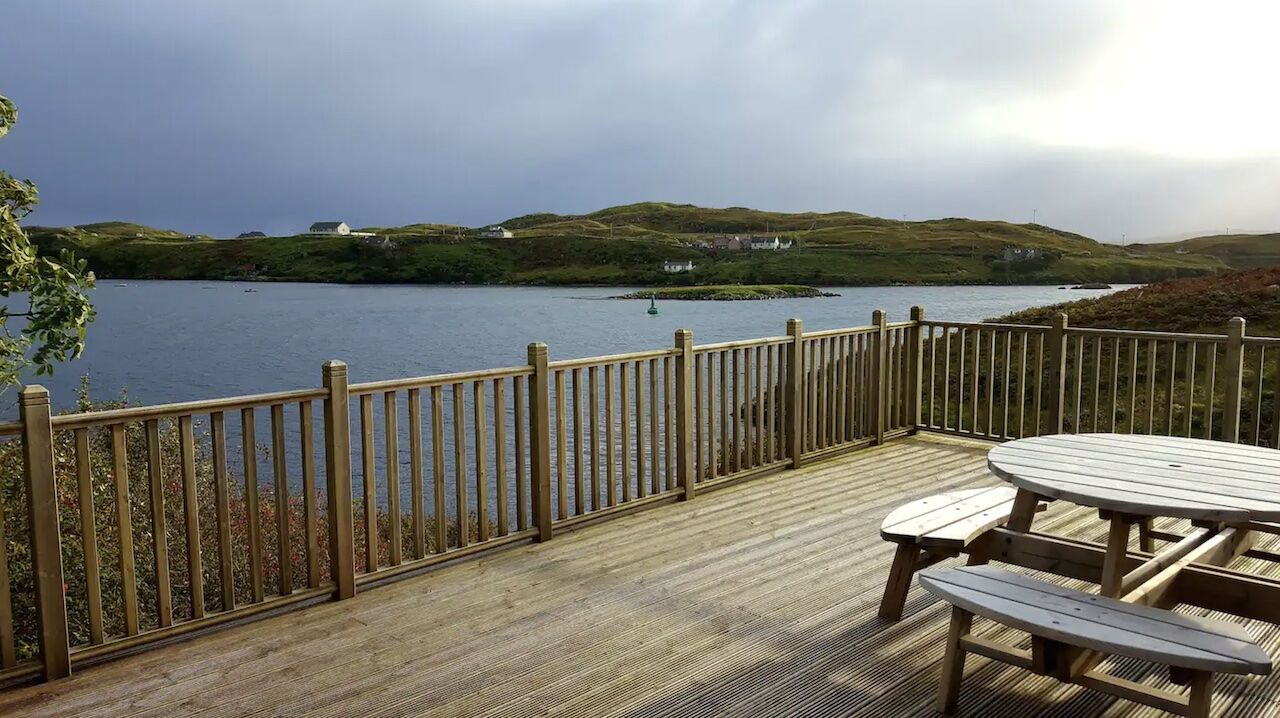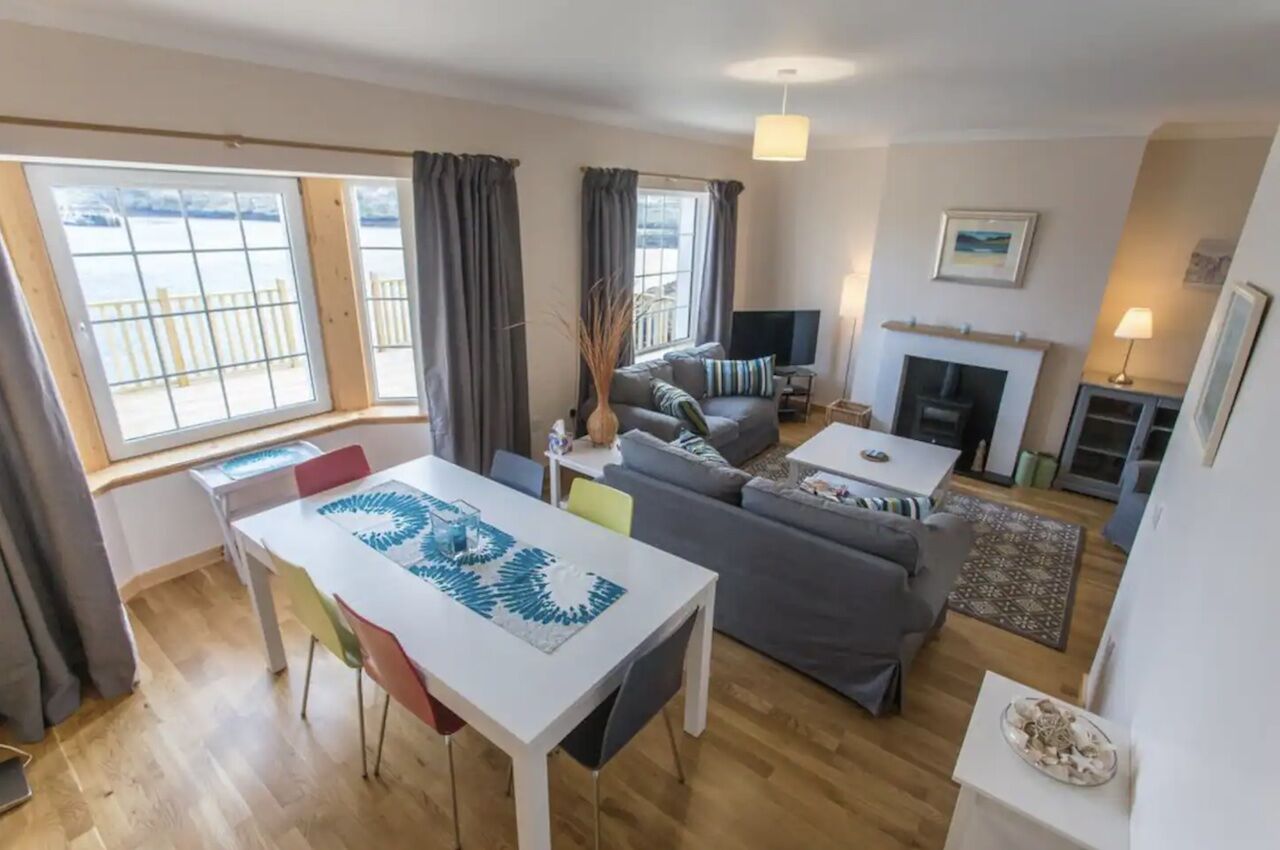 The two-bedroom Aird Villa occupies a prime seaside setting on the Isle of Scalpay off the magnificently rugged Harris. This far-flung island fuses together all the draws of the Outer Hebrides: whiskey, wilderness, and wildlife watching. Make yourself at home on the ample terrace as fishing boats bob in the harbor beneath you. The interiors are bright and roomy with large windows to capitalize on the scenery. Each bedroom has a private bathroom which makes the villa a top choice for a small group or a pair of couples.
Four guests, two bedrooms
Price: $210 per night
Best Airbnbs on Arran
Eastkirk Arran castle rental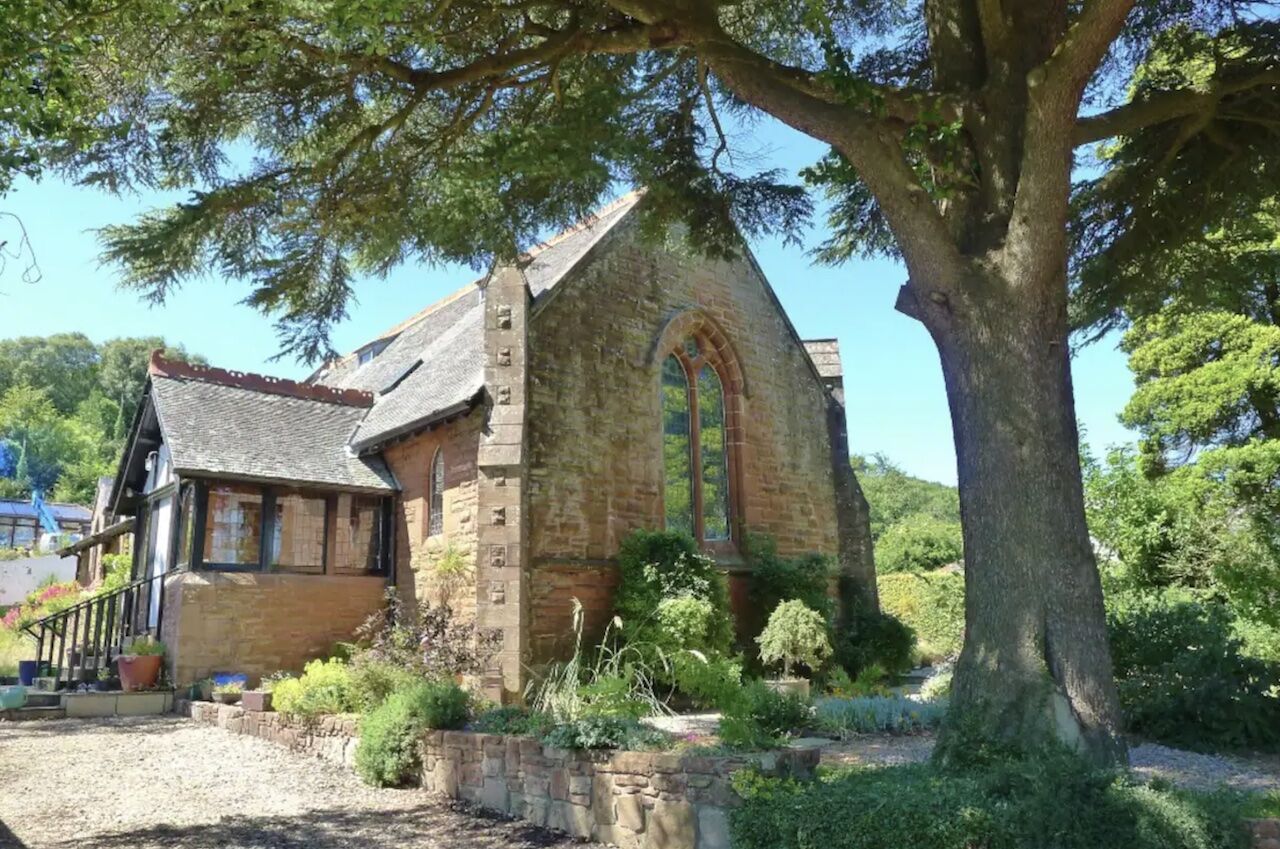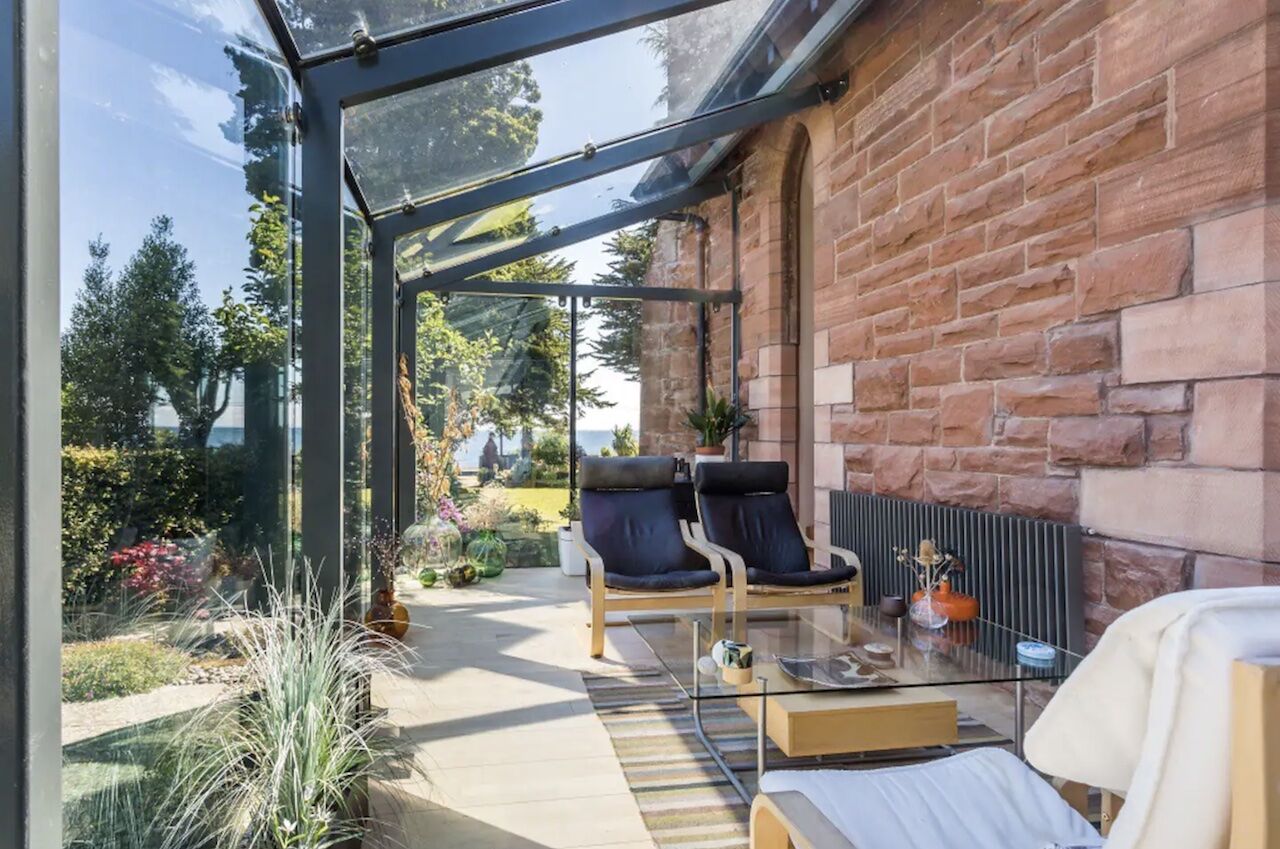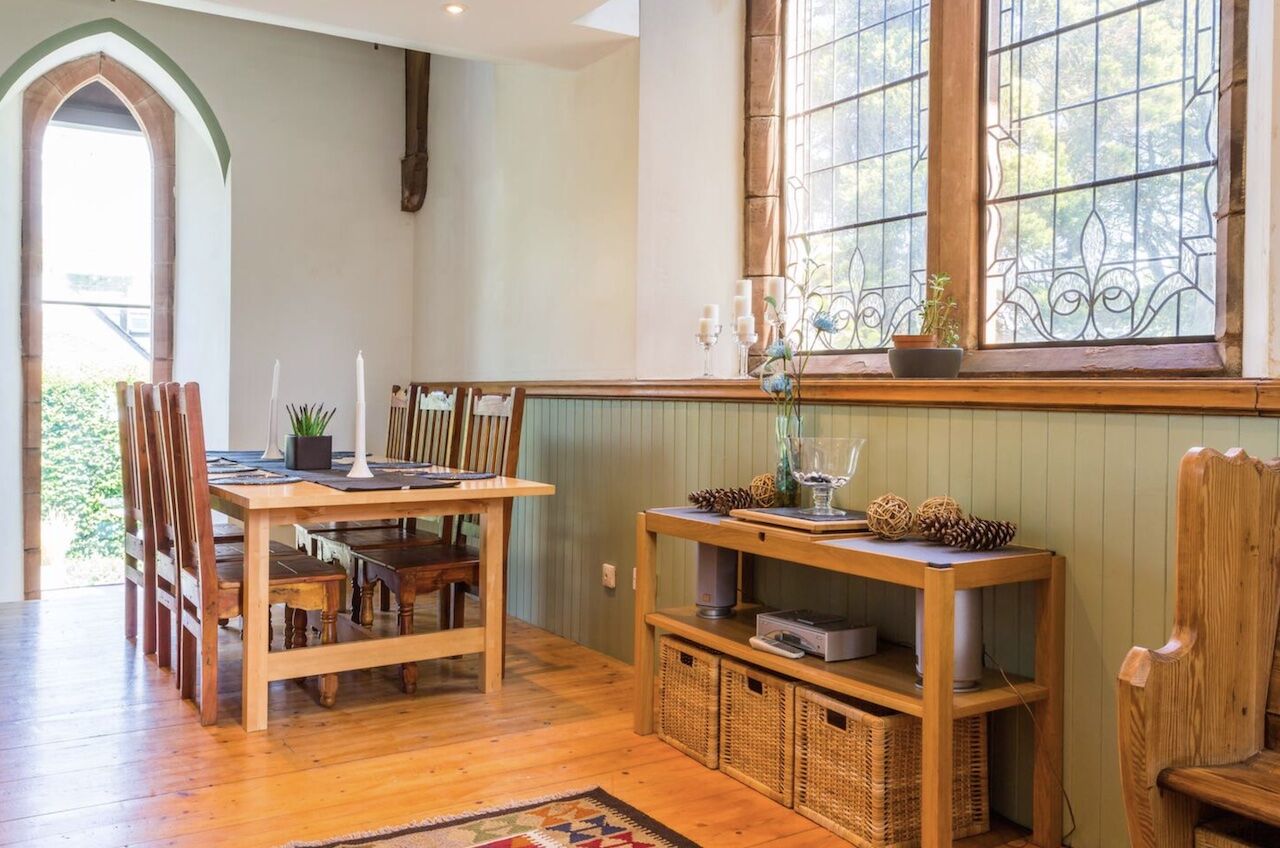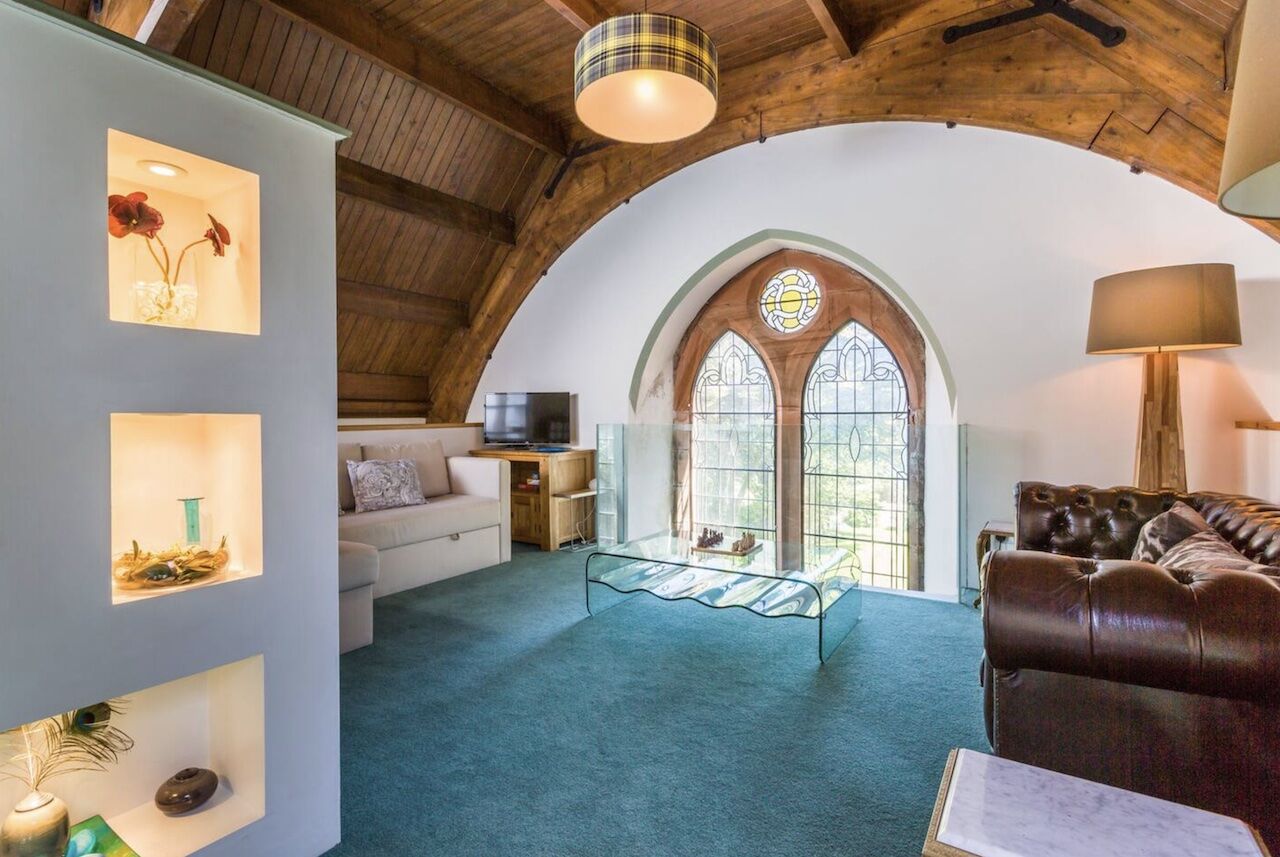 Touted as "Scotland in miniature" Arran is an amalgamation of Scotland's best bits. Suitable for a couple or a pair of couples, this unconventional holiday home is a renovated Scottish Free Church. While remaining faithful to the original architecture, the space has been innovatively remodeled to feel like a modern-day home away from home. Besides the arched windows, stained glass, and even a church pew, the house features a "floating" mezzanine and plush contemporary furnishings. Subject to the weather, you can bask in the spacious garden or hole up in the conservatory with a tumbler of single malt from the nearby Lochranza Distillery.
Four guests, two bedrooms
Price: $140 per night
Silverbank Arran cottage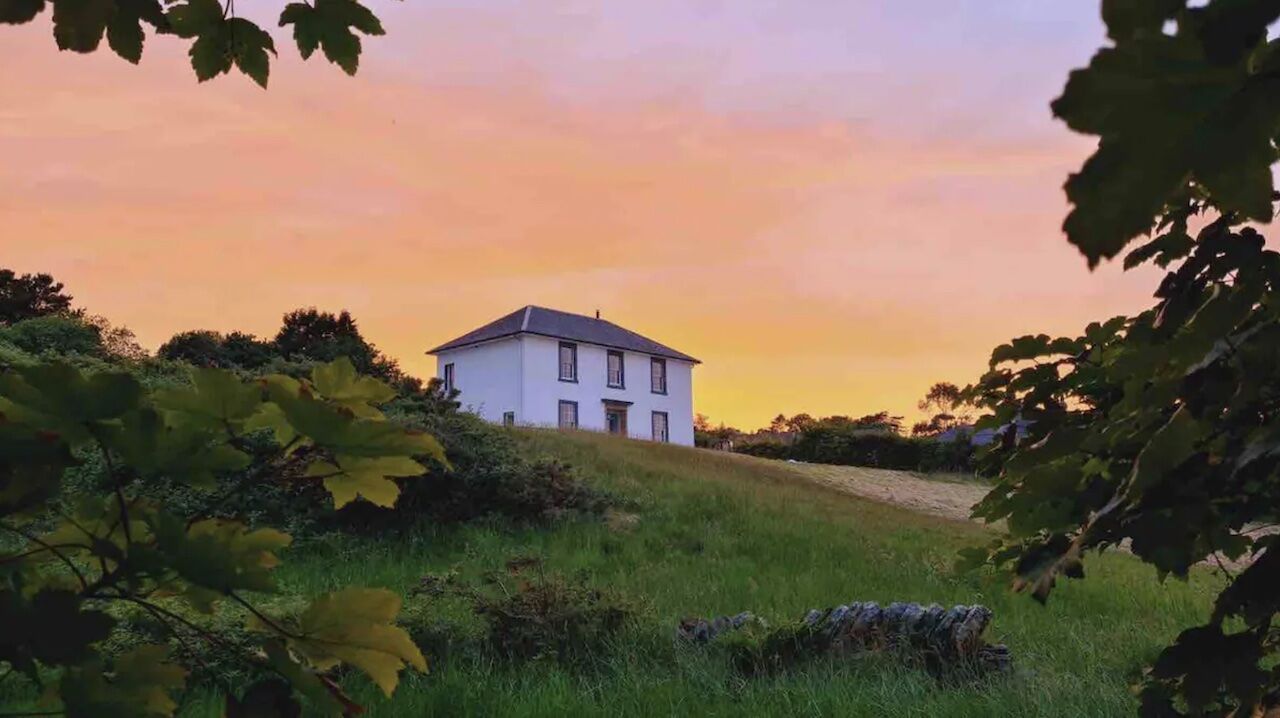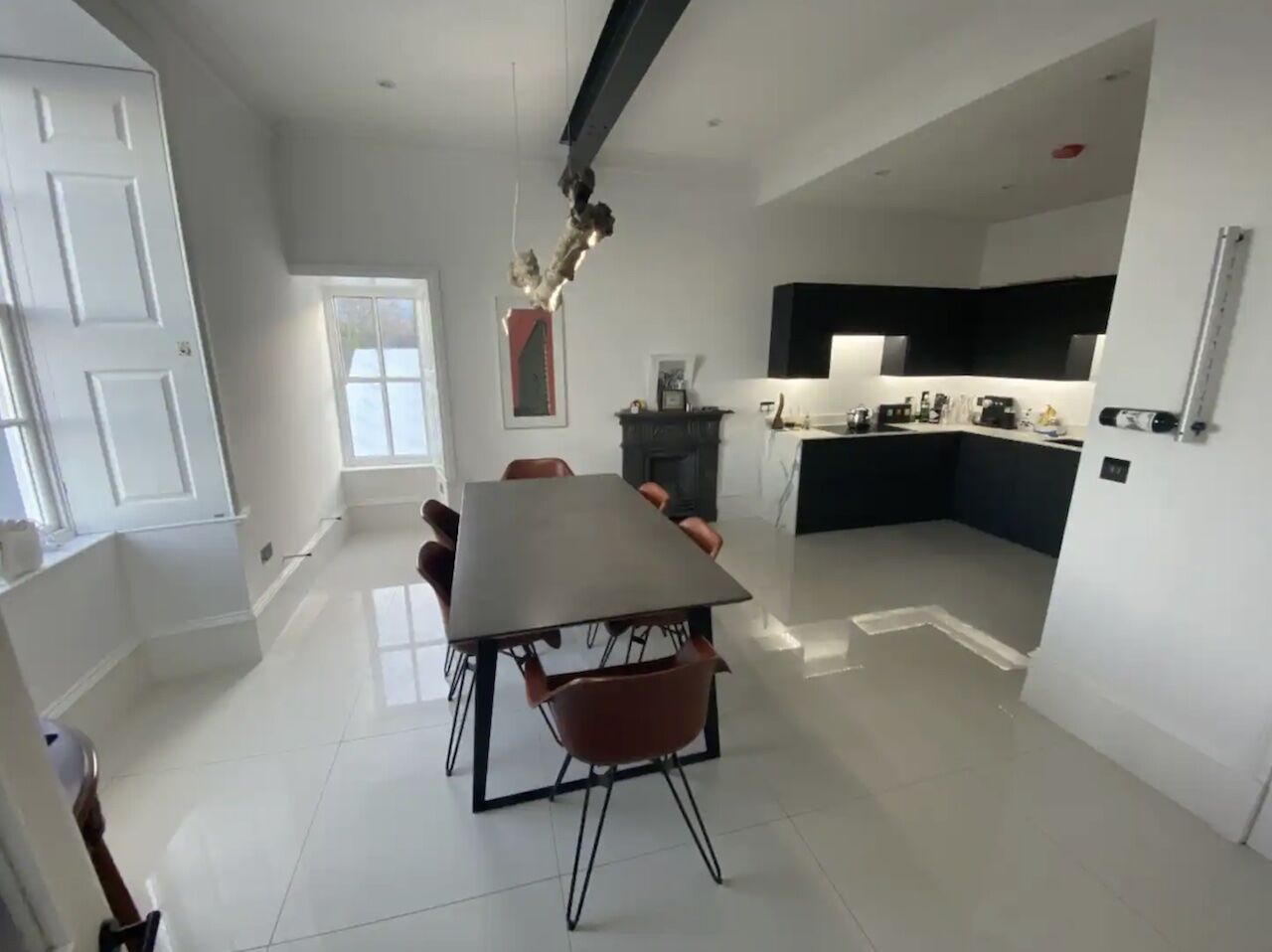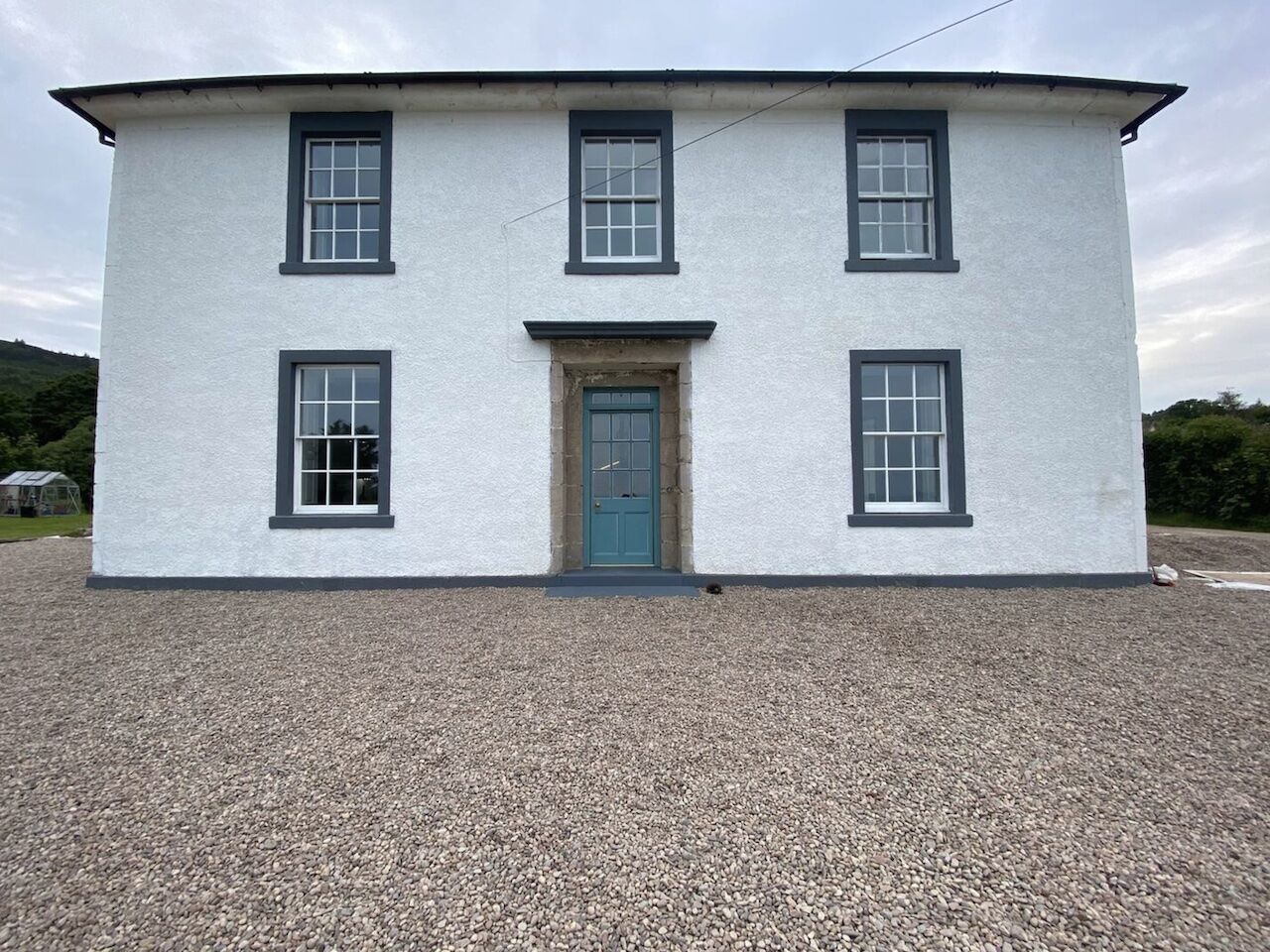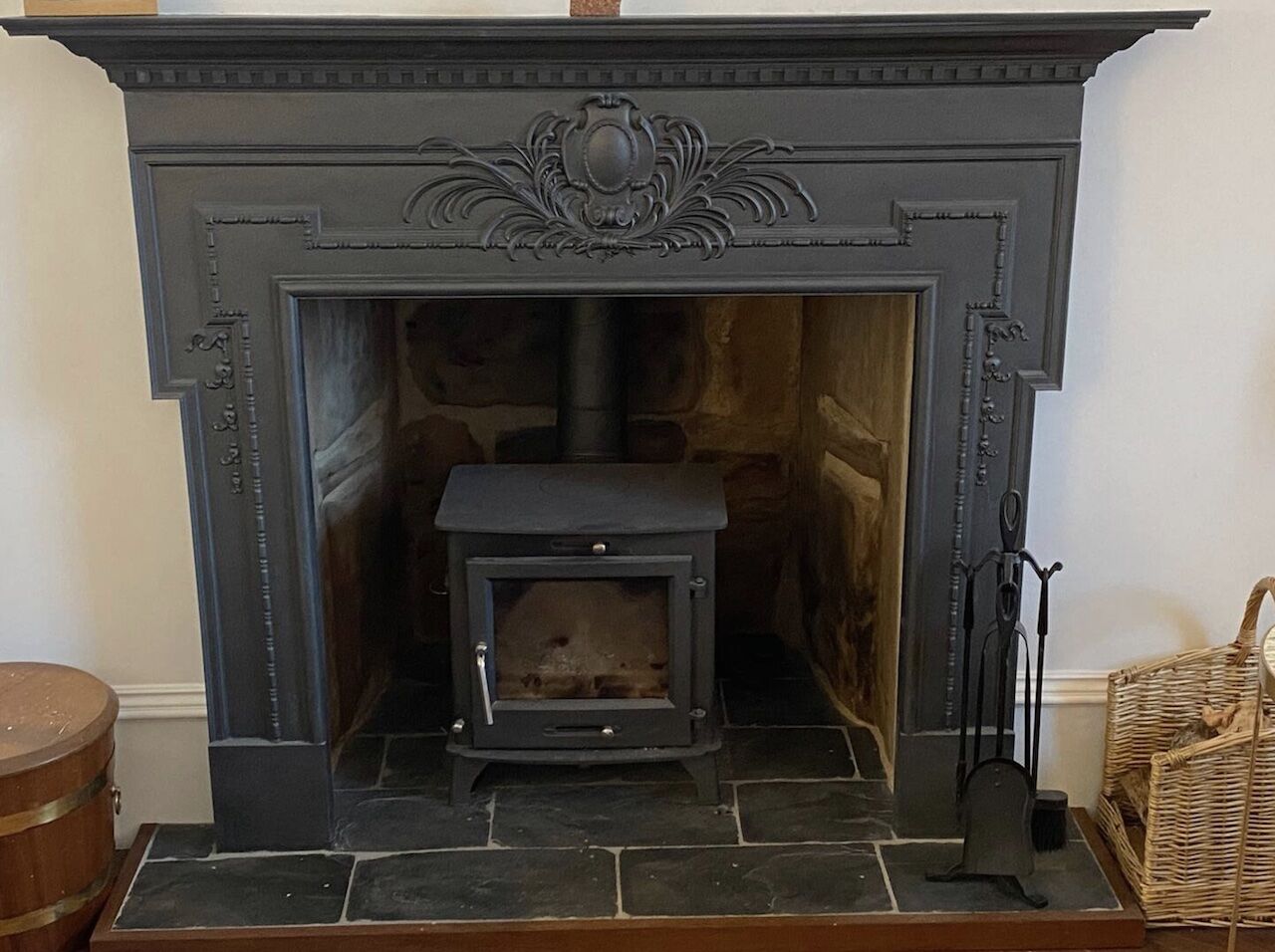 Built by Captain Patterson in 1770, this stately pad is one of the oldest buildings on the island. Hefty renovations have brought the interiors up to scratch while maintaining a nod towards the heritage of the building. Three en-suite bedrooms grant killer views from bay windows while original fireplaces have been updated with neat wood burners. A generous lawn unravels from the estate and provides uninterrupted views of the ocean. And best of all: this top-tier mansion in Whiting Bay is pet-friendly.
Eight guests, three bedrooms
Price: $530 per night
Slainte Mhath cottage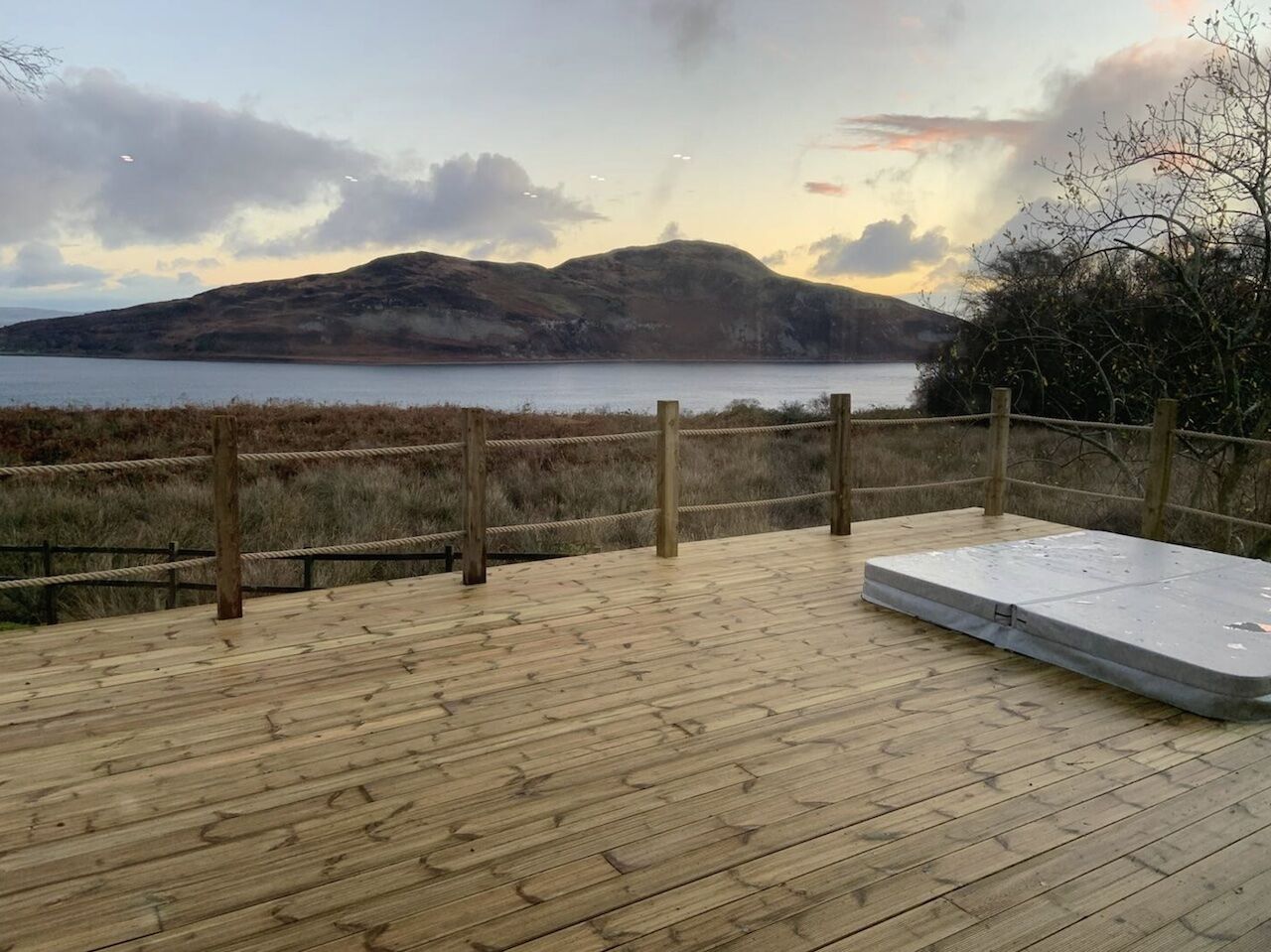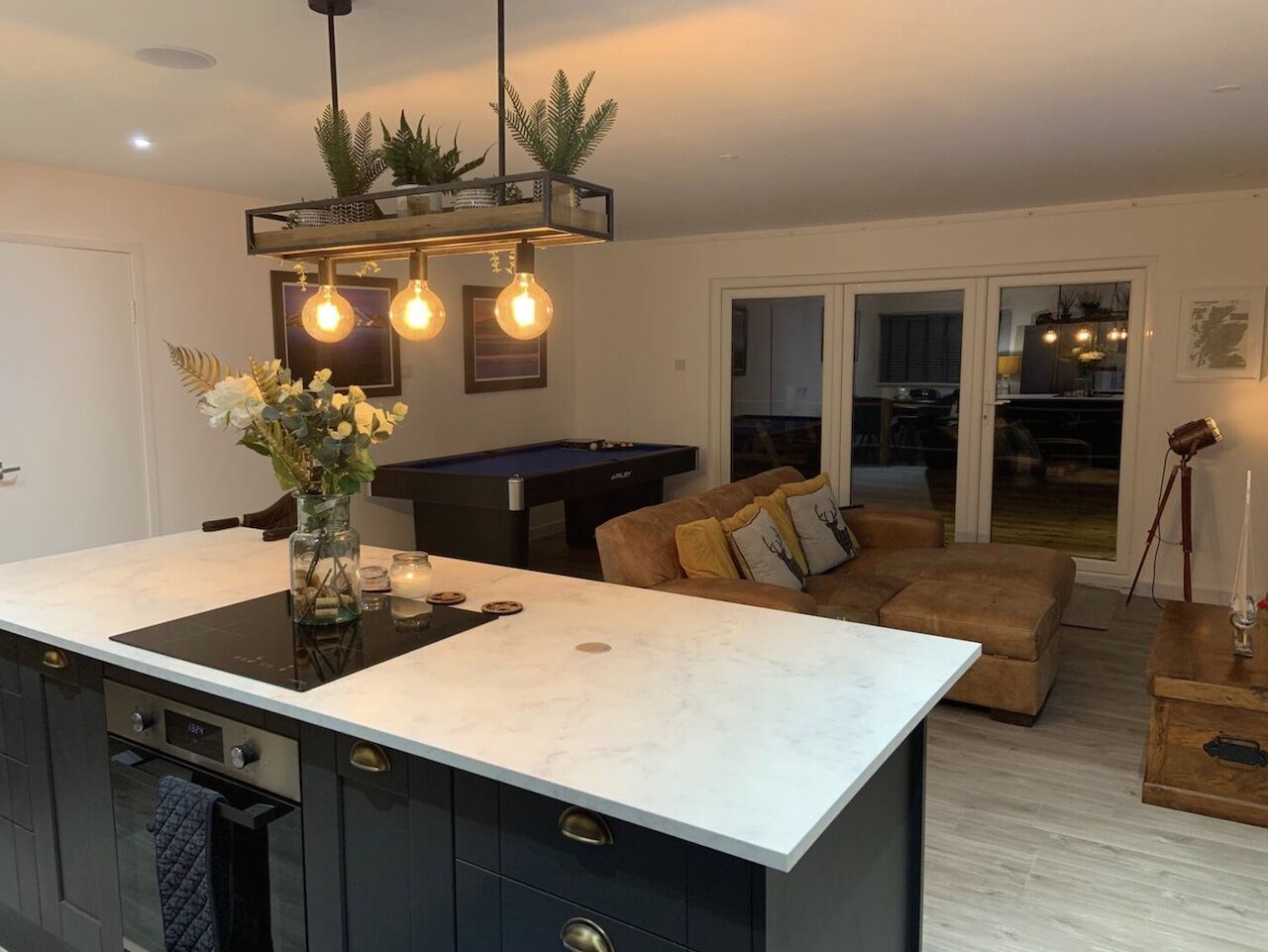 To good health! That's the ethos behind "Slainte Mhath" – a typical Scottish toast and this premier vacation rental in southwest Arran. The secluded bungalow overlooks Holy Isle and is a short drive from Lamlash where you can hop aboard a boat and explore the island. Enthusiastically decorated with locally produced arts and crafts, the home comes with a pool table as well as a deluxe hot tub on the deck. Equipped with three bedrooms and settees-a-plenty, you can't find a better base for a group or family trip to Arran.
Eight guests, four bedrooms
Price: $265 per night
Best Airbnbs on Orkney
Secluded cottage by the sea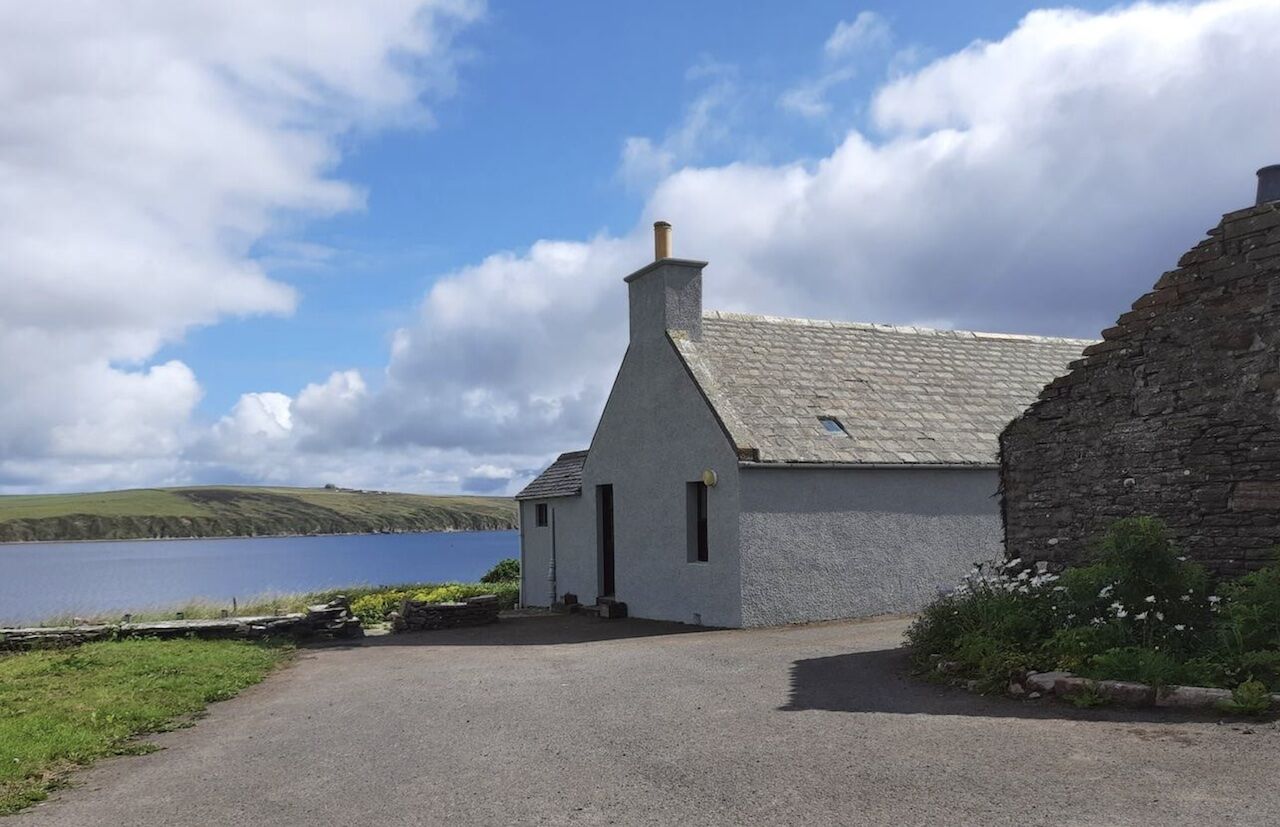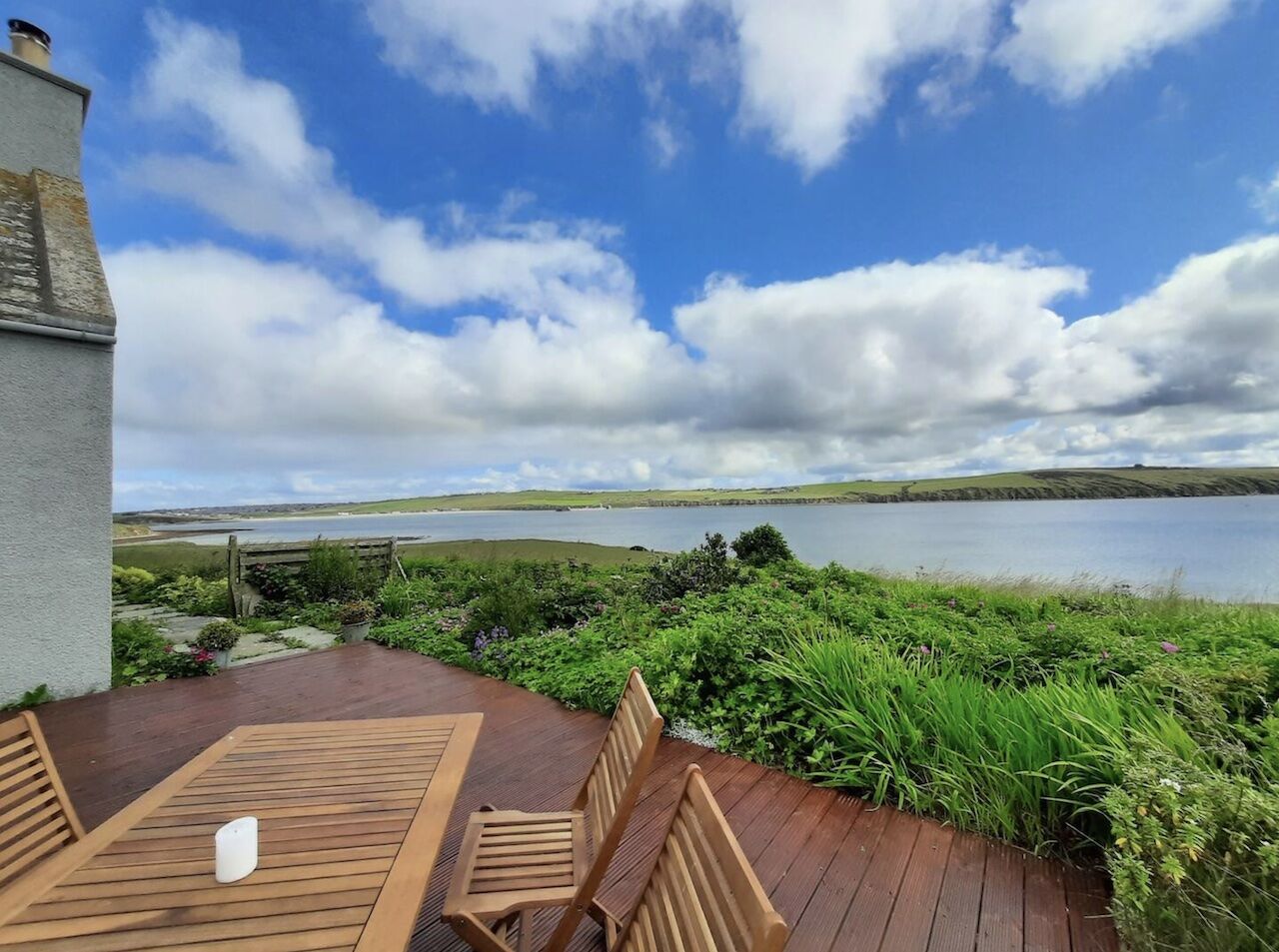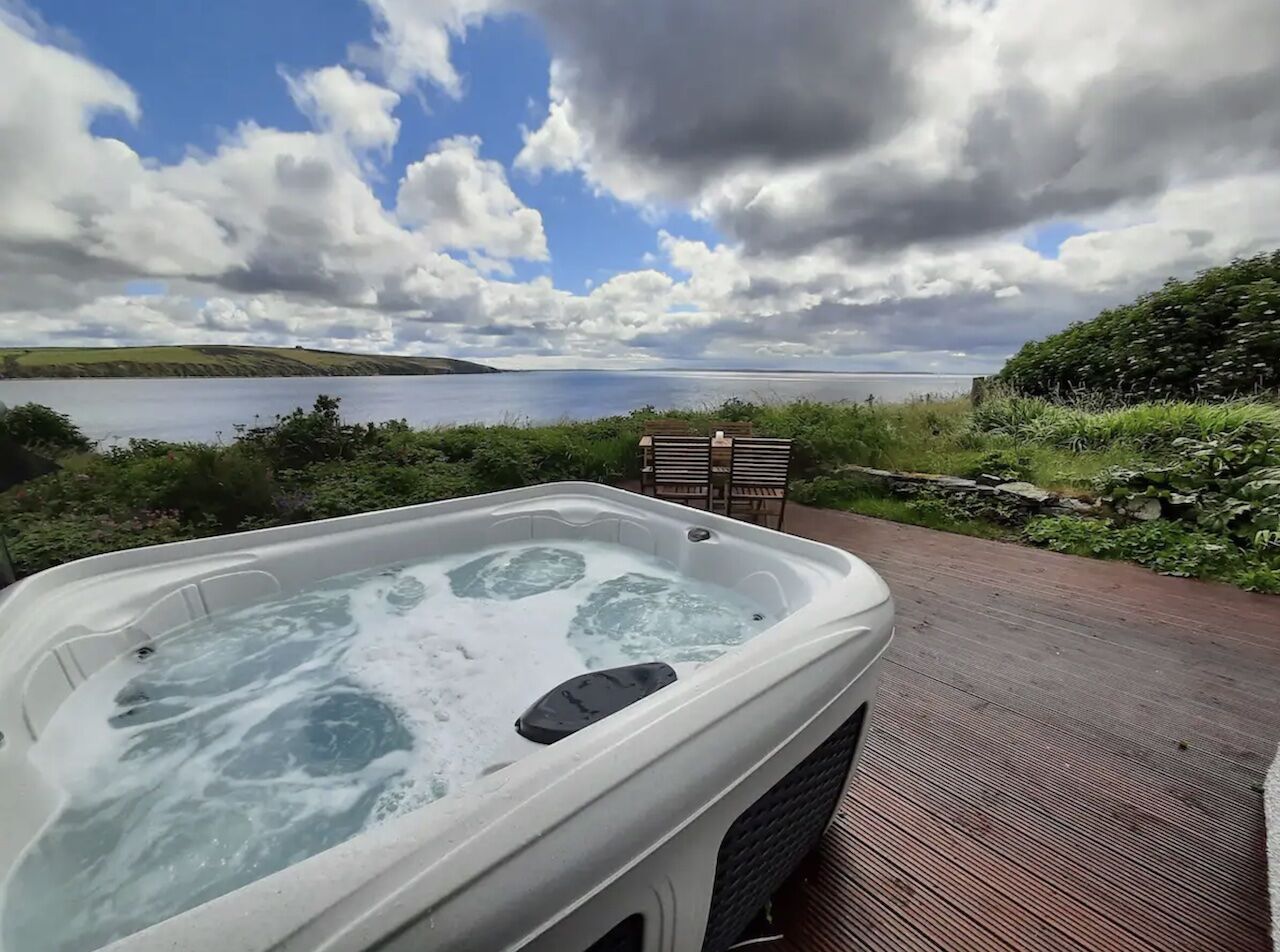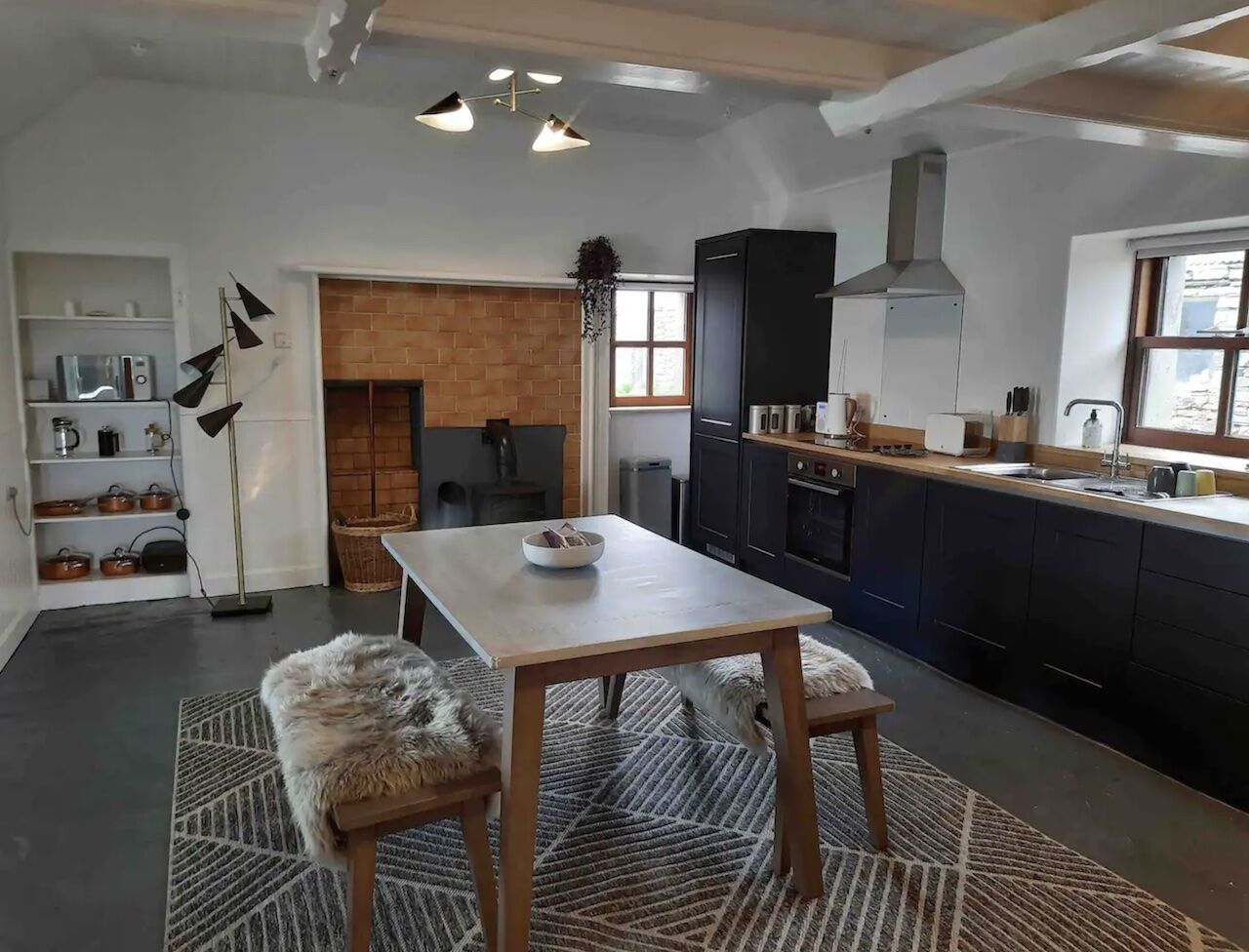 Carefully renovated for modern tastes, this superb two-bedroom cottage in the Orkney archipelago retains its 19th-century charms. Fashionable interiors are flooded with natural light and endless ocean vistas. Hop out onto the deck to find the star attraction – a private wood-fired hot tub. Keep walking and you'll have direct access to paddle boarding, wind surfing, and kayaking. Although it feels pleasantly off-grid, you're a short drive from Scapa and Kirkwall where you'll find whiskey distilleries aplenty.
Four guests, two bedrooms
Price: $260 per night
Best Airbnbs on Isle of Skye
Eagle's Rest cottage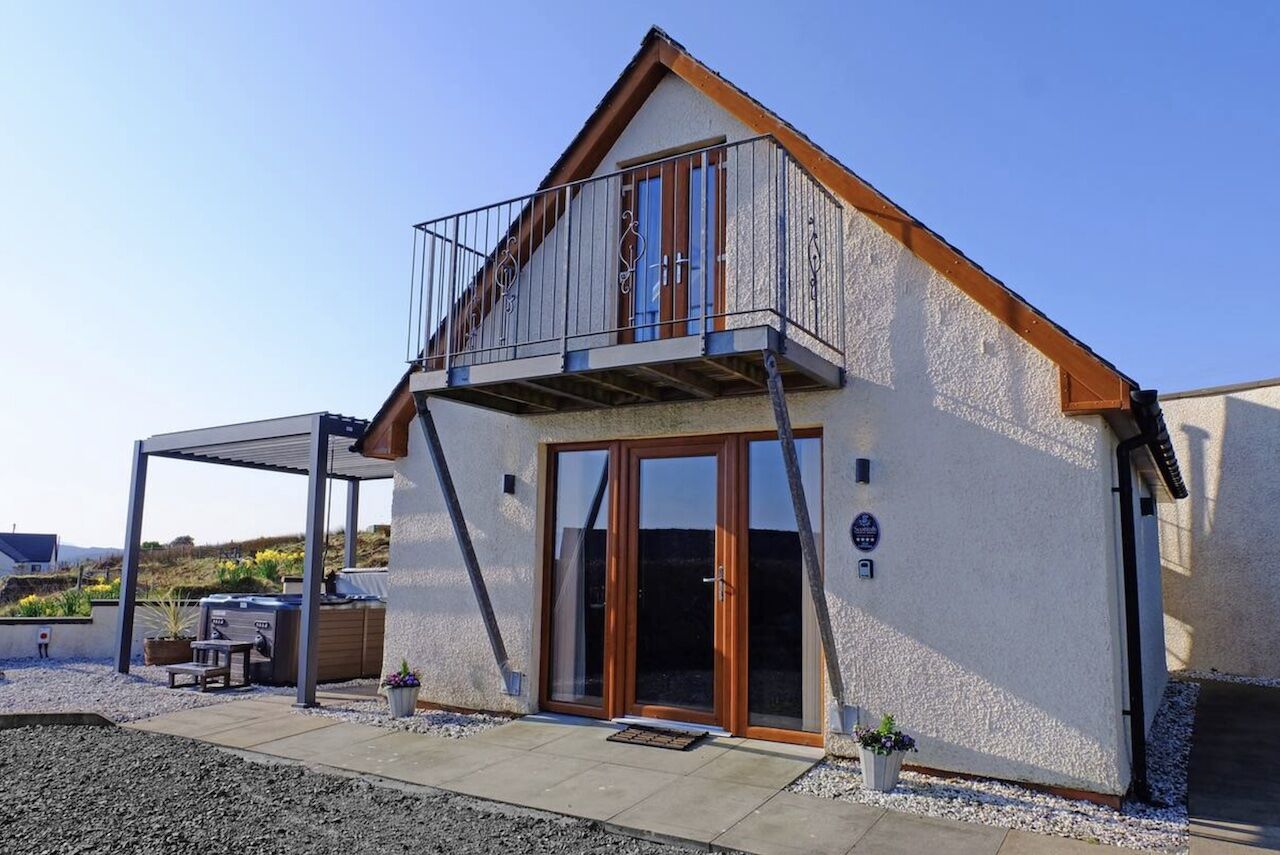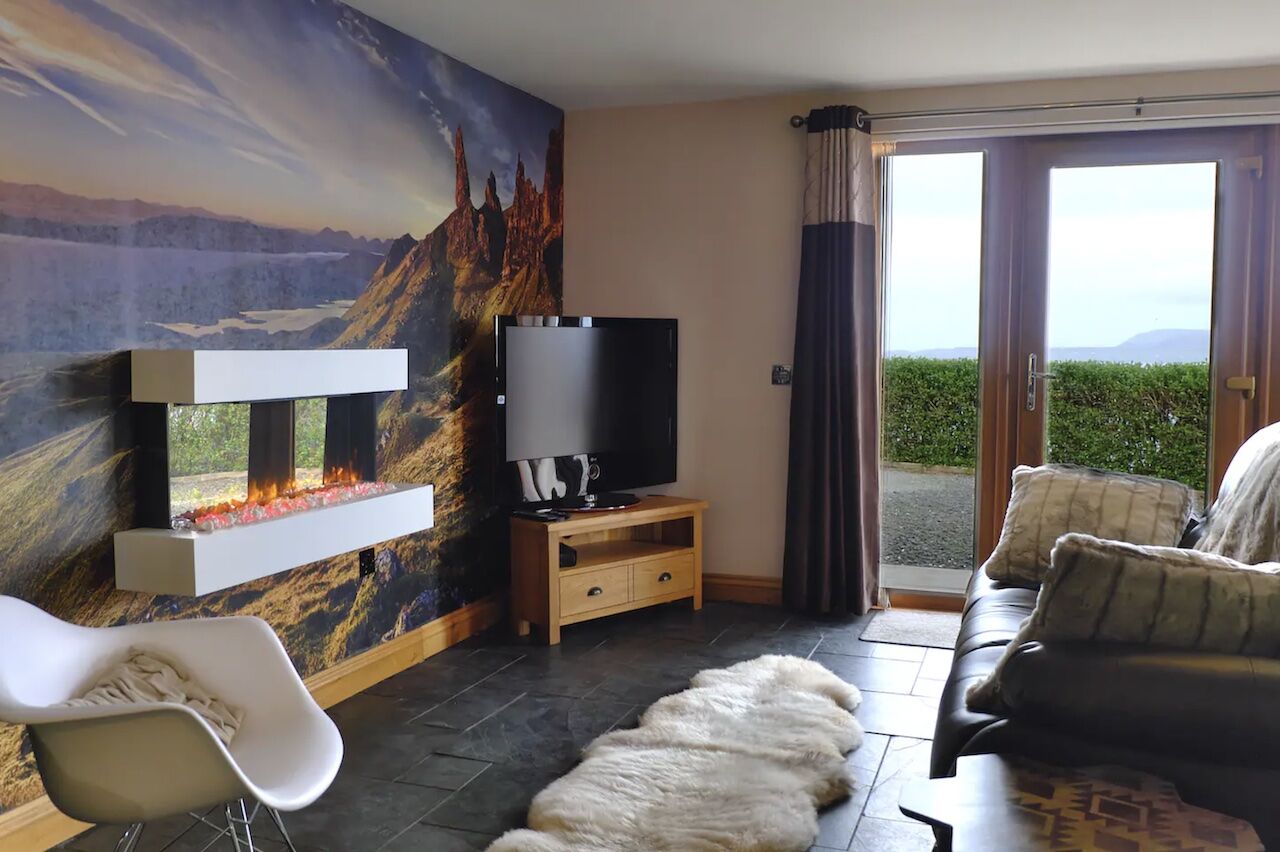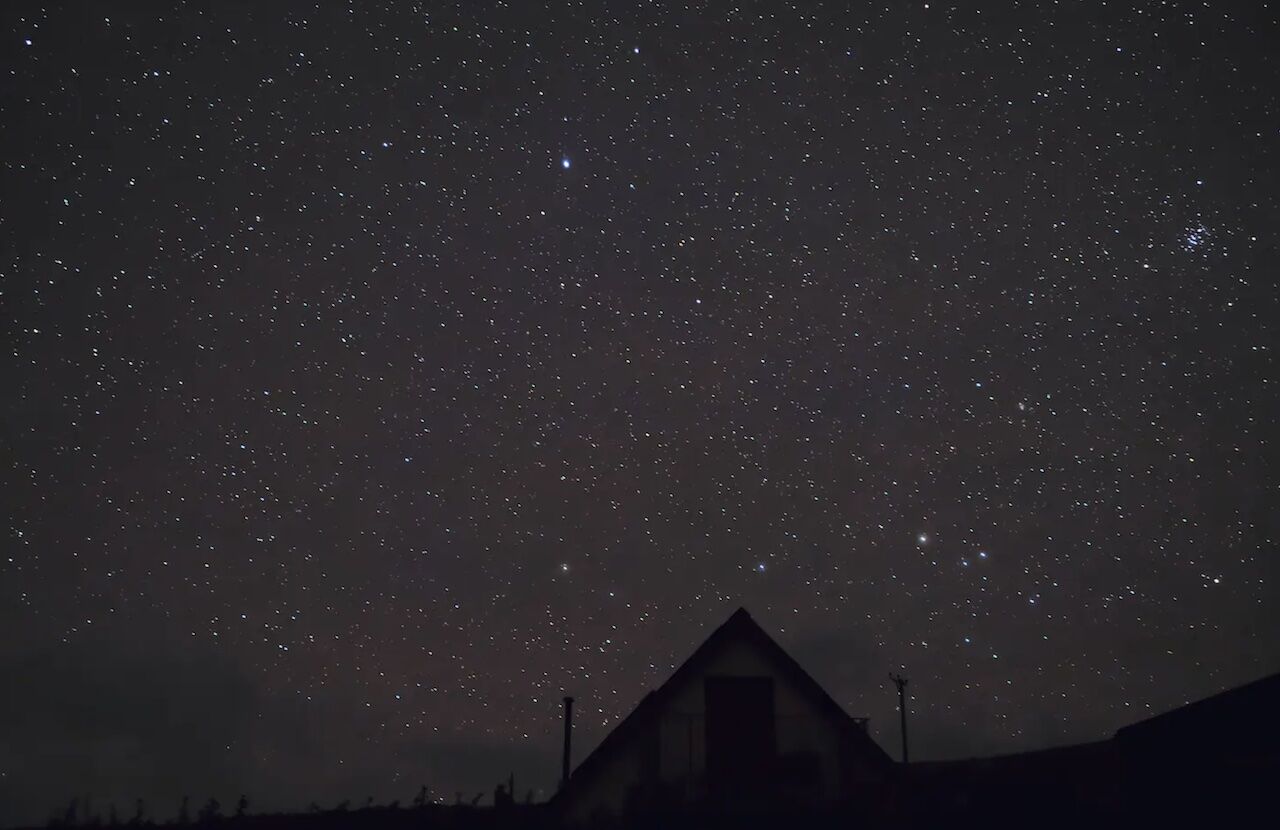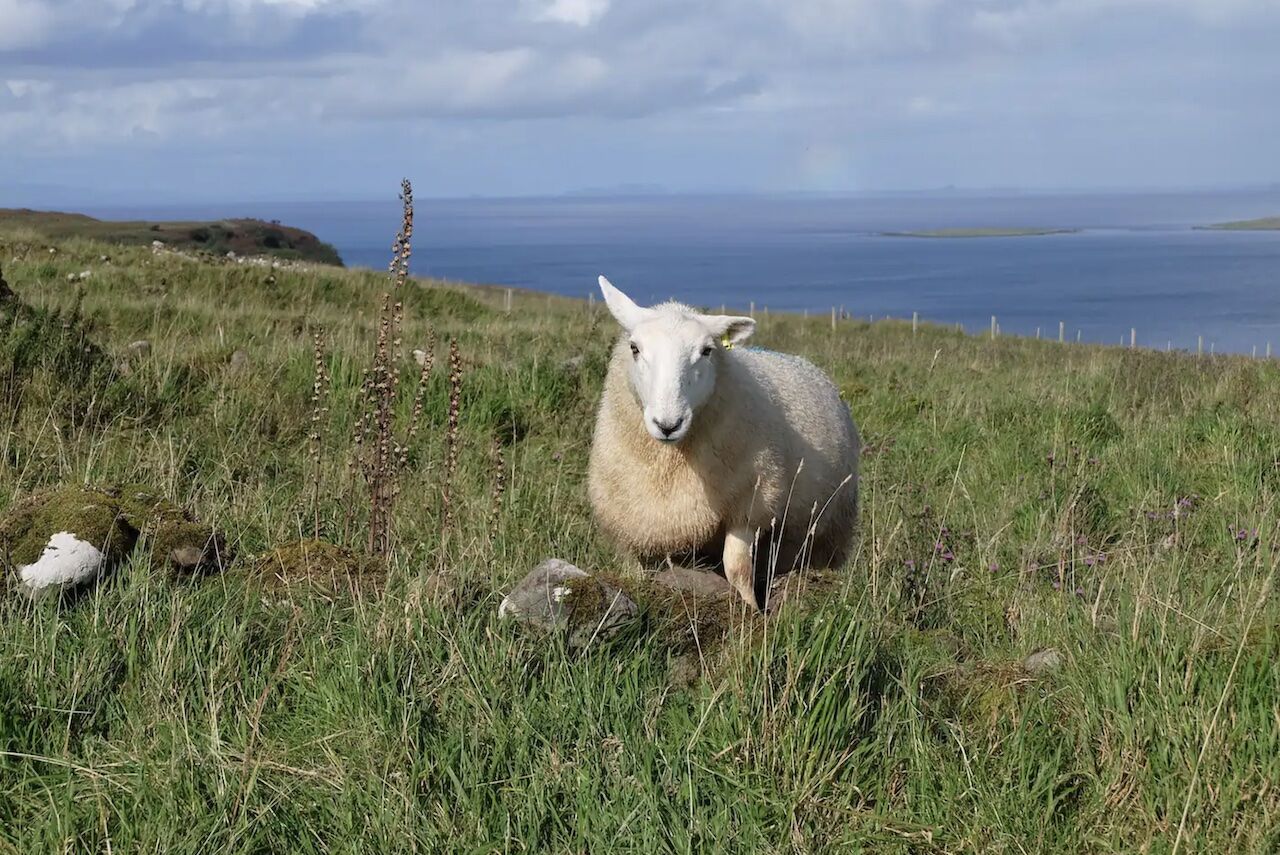 Basking on the outlying Waternish peninsula with panoramic views across Loch Snizort and the Ascrib islands, Eagle's Rest is a dreamy hideaway for couples. This cottage near Hallin features an open-plan kitchen, diner, and lounge. The bedroom comes with a balcony and cleverly positioned skylight above the bed where you can make the most of the setting in an official Dark Sky Reserve. Cross your fingers and you might catch a glimpse of the Aurora Borealis during the winter months while sipping your glass of Talisker.
Two guests, one bedroom
Price: $205 per night
Luxury cottage with sauna, hot tub, and sea views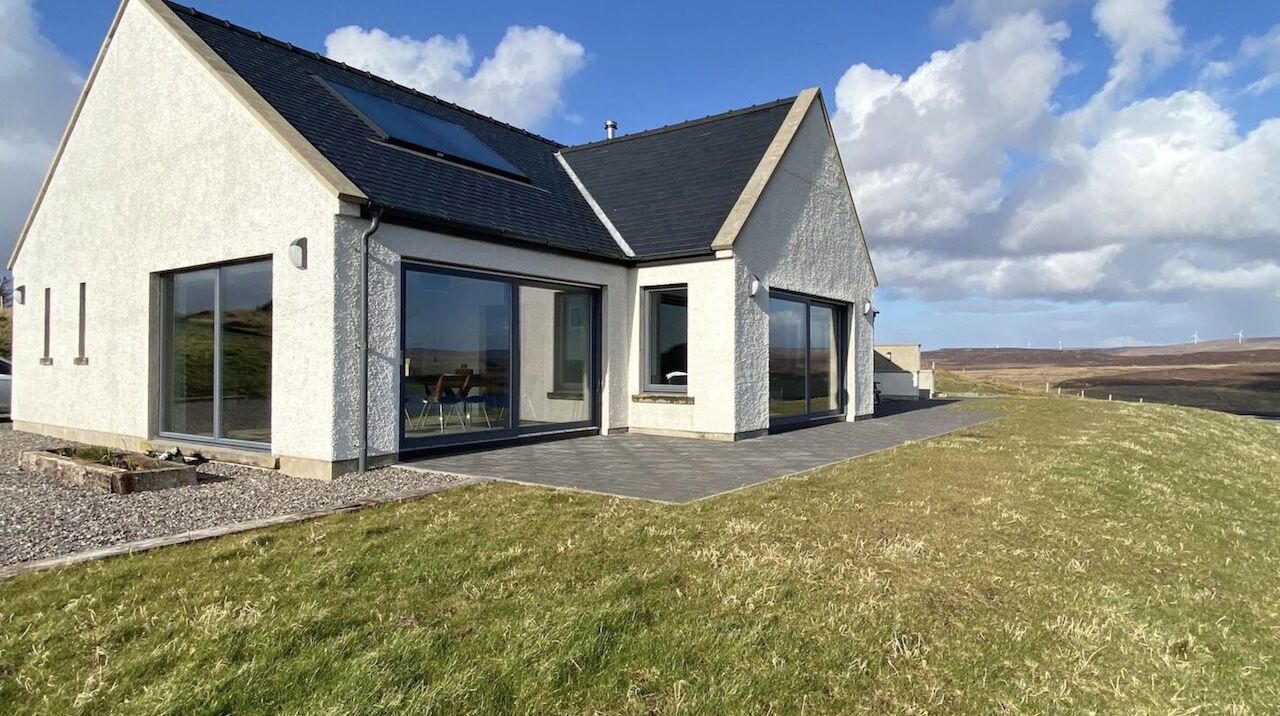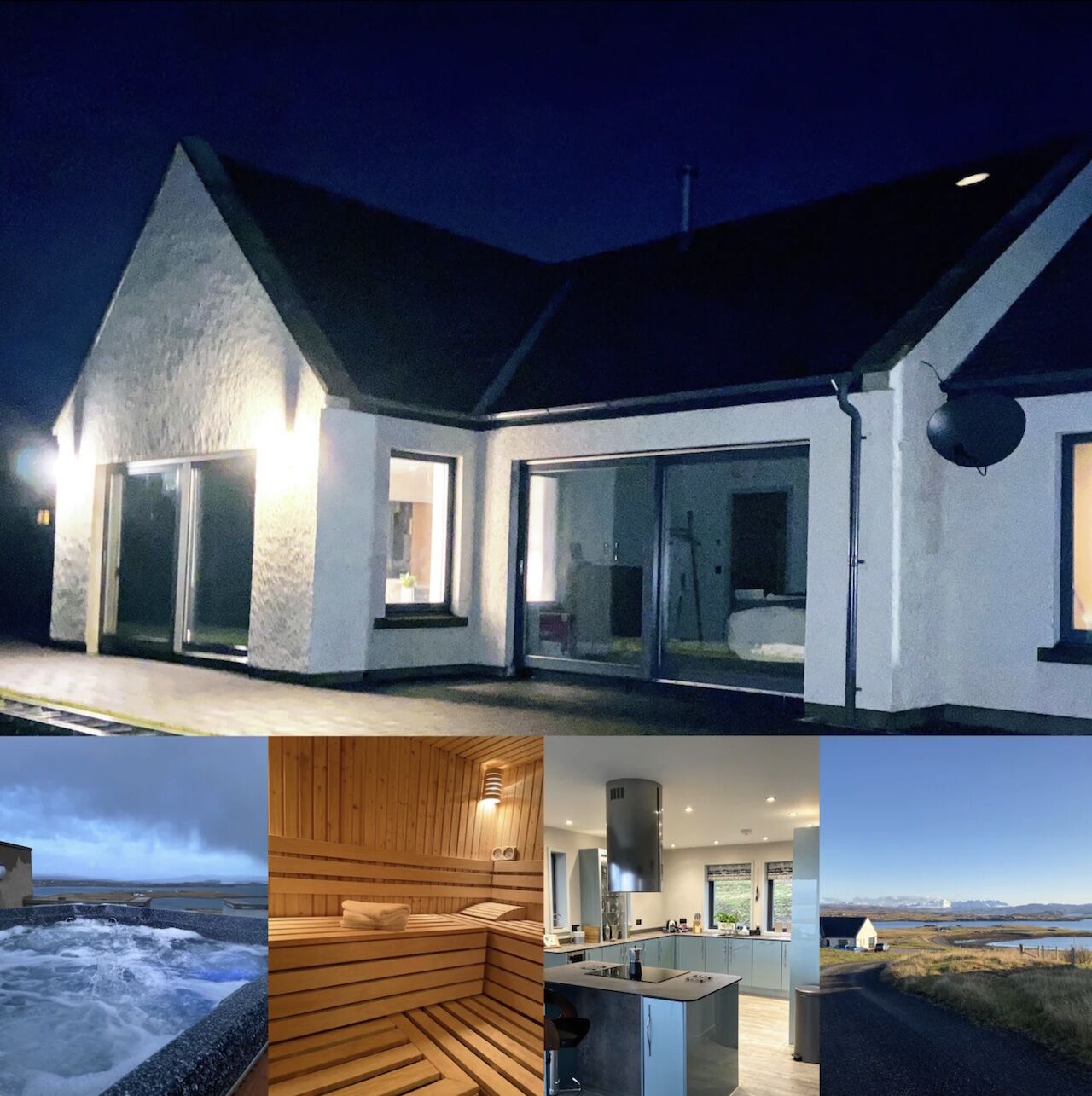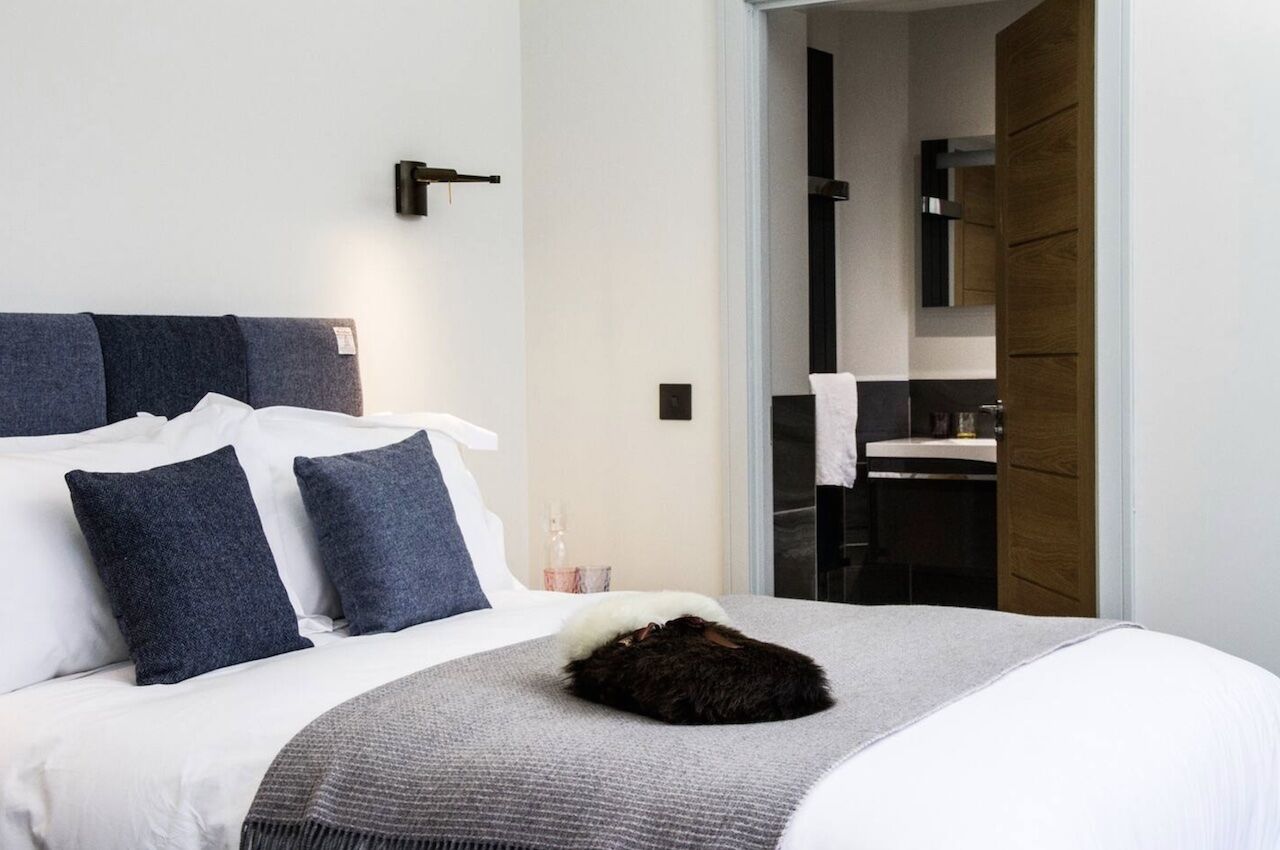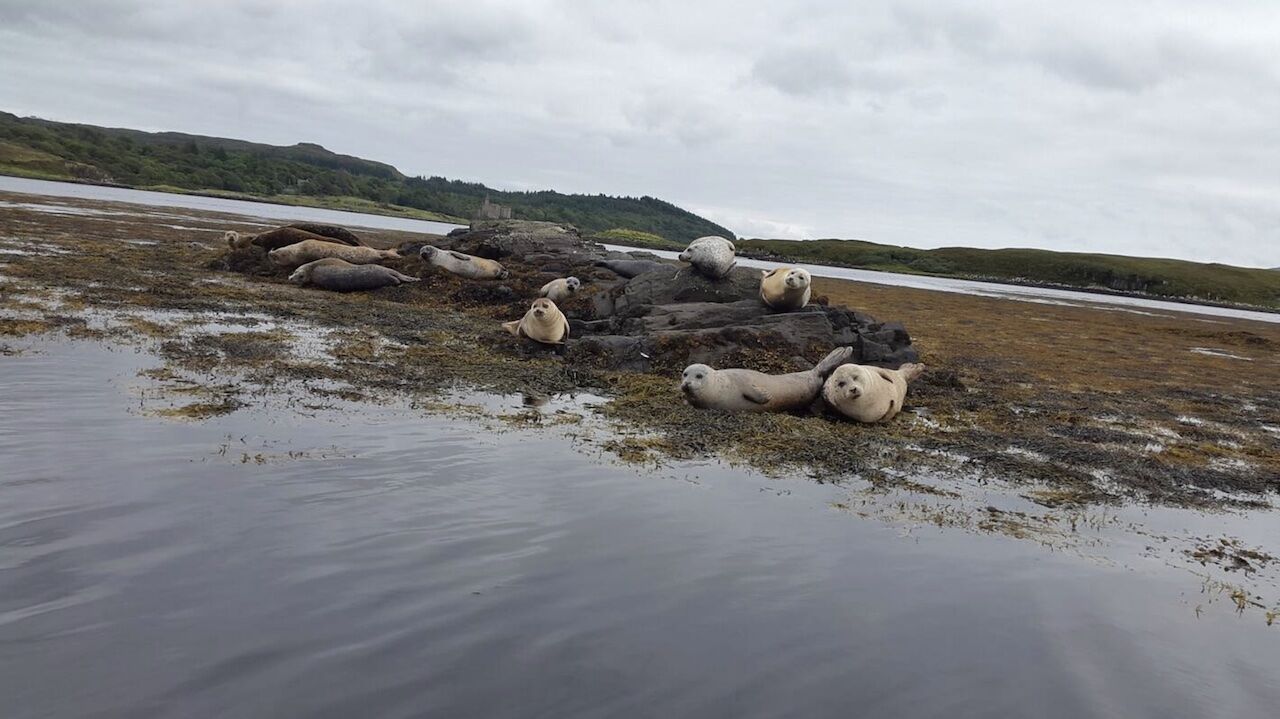 Suitable for small groups or honeymooners, this stylish property with spa amenities is akin to booking a wellness escape. Minimalist interiors are curated with bespoke Harris Tweed soft furnishings and neutral hues to lull you into tranquility. Bose smart speakers in the swanky kitchen and lounge when you fancy a change from the sound of the waves outside. The highlights of this luxury cottage in northwest Skye are the Swedish sauna and external hot tub where you can relax and revitalize beneath the stars. There are far worse places to recover from a long night of whiskey tasting.
Four guests, two bedrooms
Price: $460 per night
Milovaig House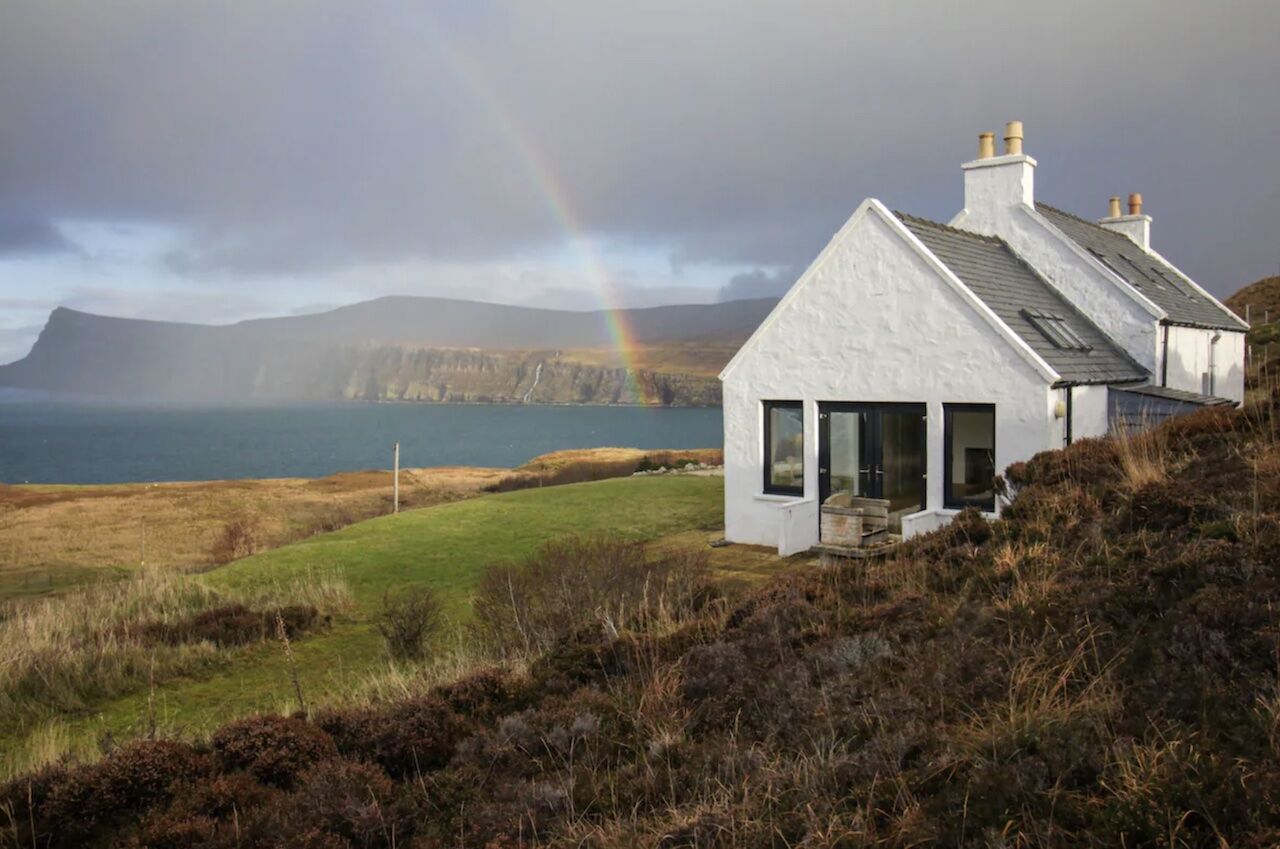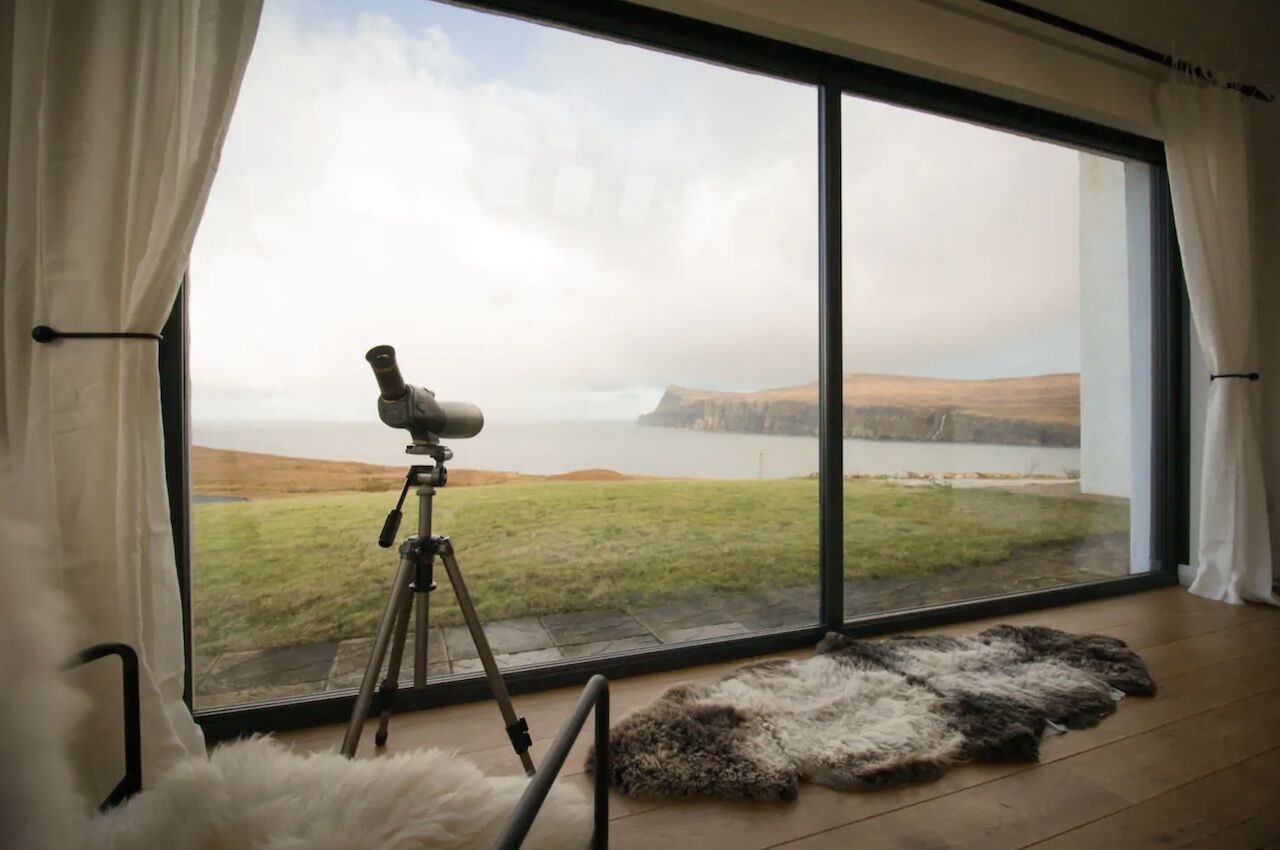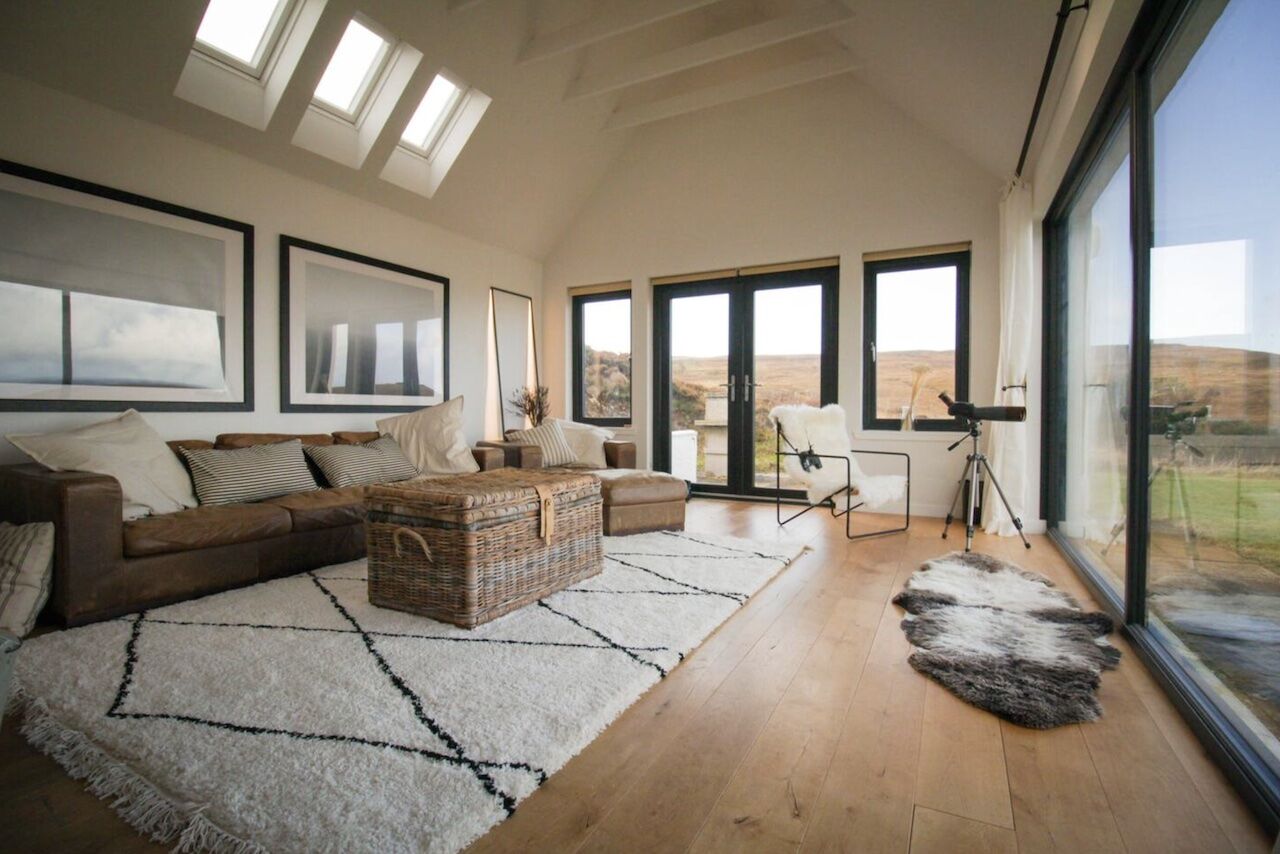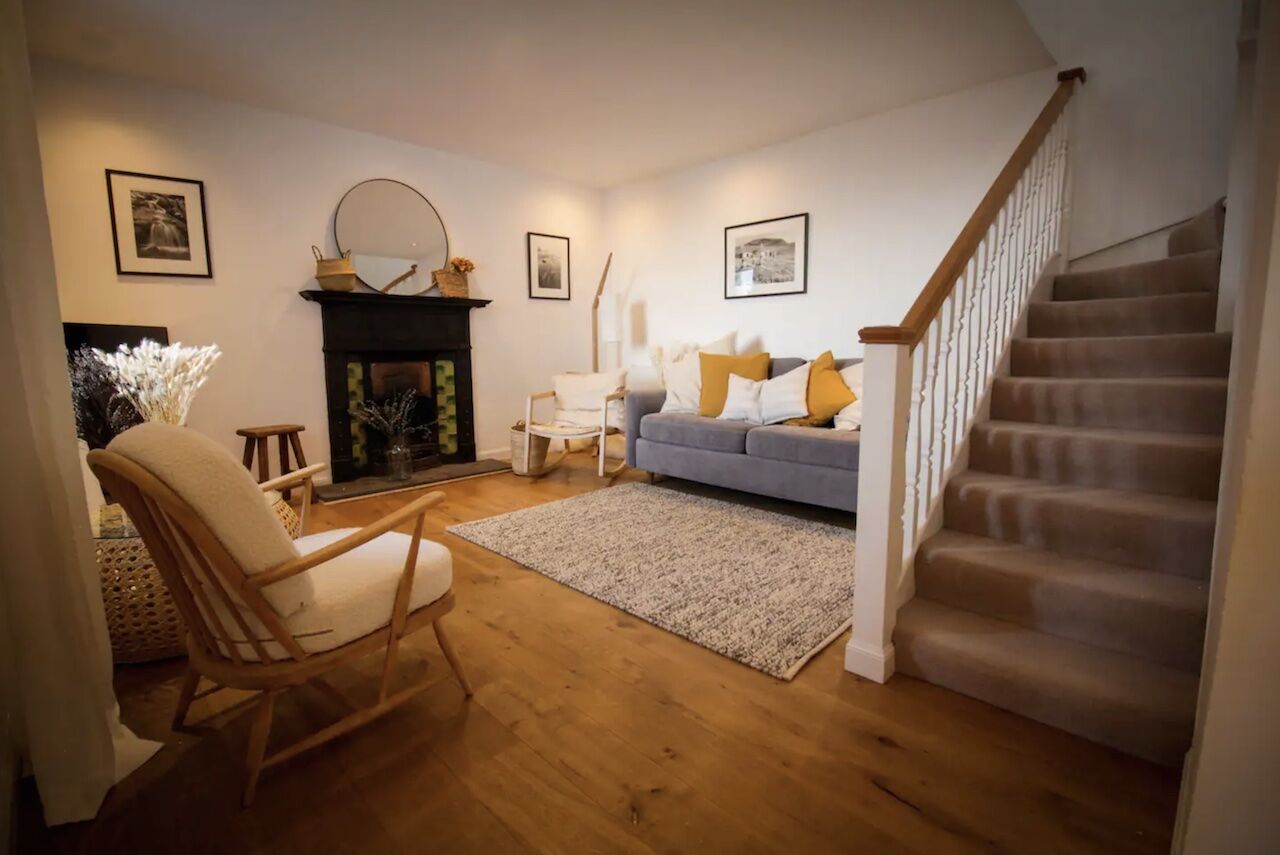 This recently renovated 19th-century Nordic-style house sits on a bluff overlooking the coast near Glendale. An expansive sunroom is heated with a log burner to keep you toasty while the telescope is on hand for an evening of stargazing. Lap up the views from the external Swedish log-fired hot tub and keep your eyes peeled for the resident dolphin pod. This faraway haven is the answer for families and groups seeking a restful retreat in the pristine Scottish landscape.
Five guests, two bedrooms
Price: $400 per night
The Old Mission Church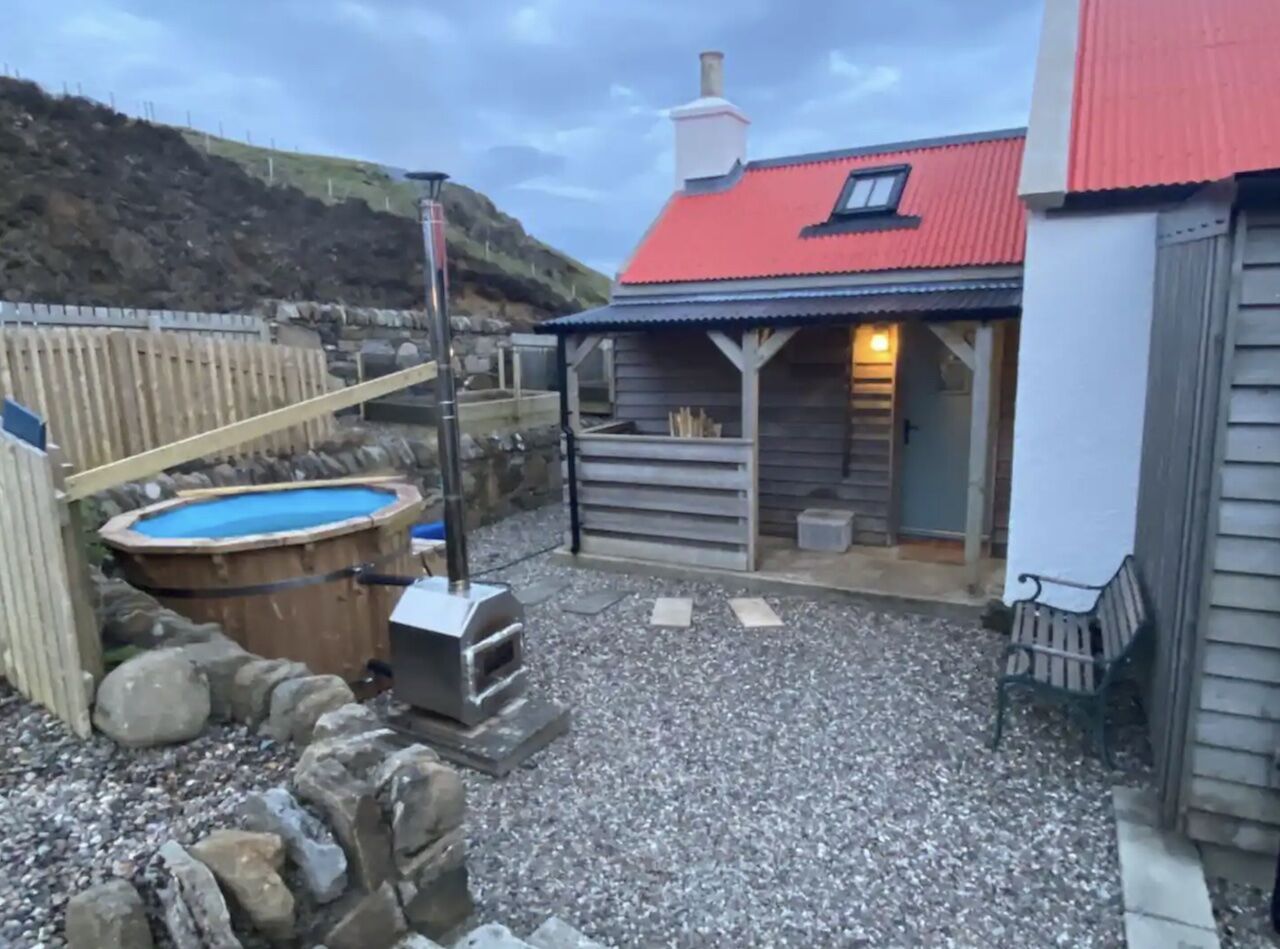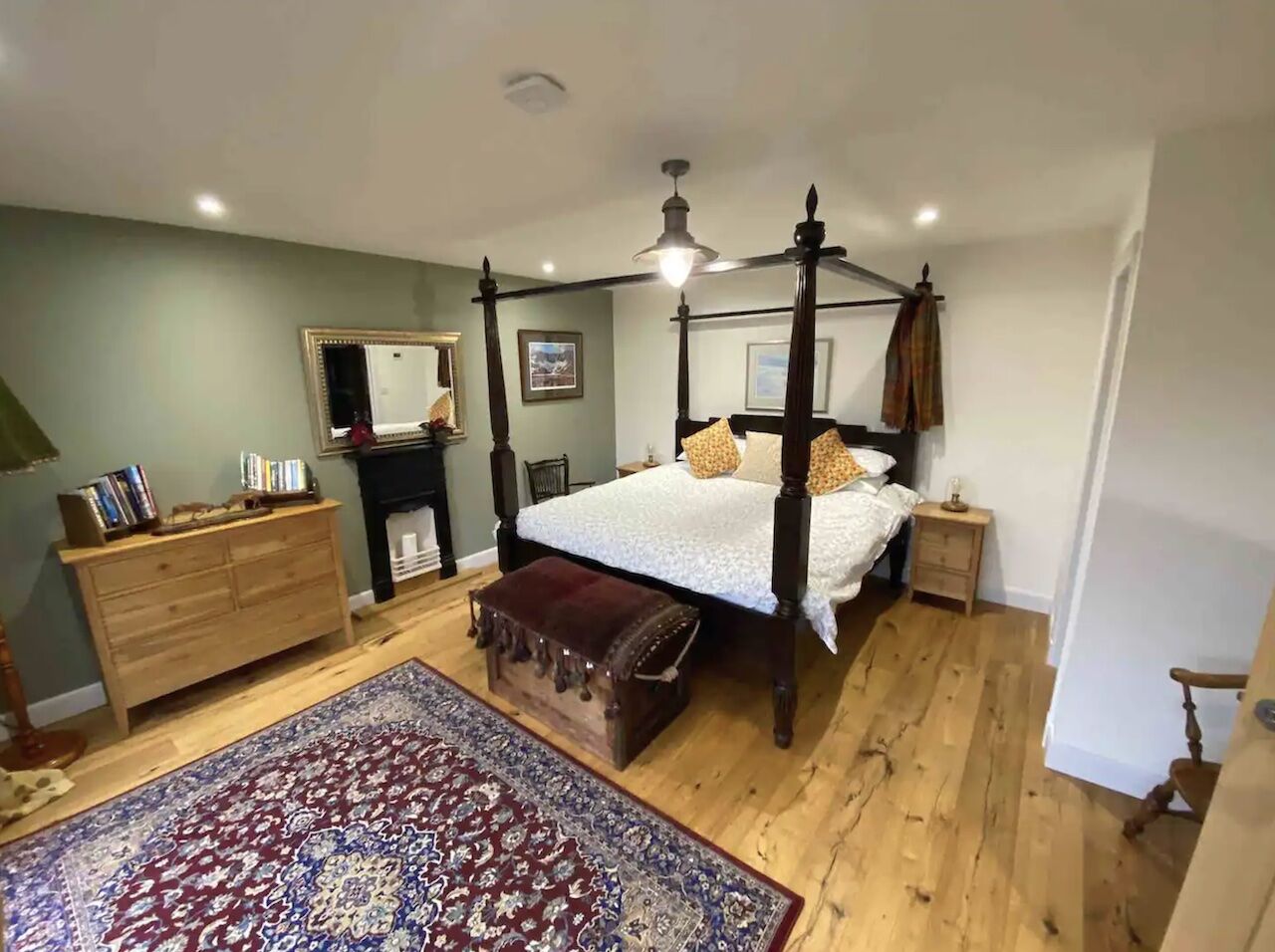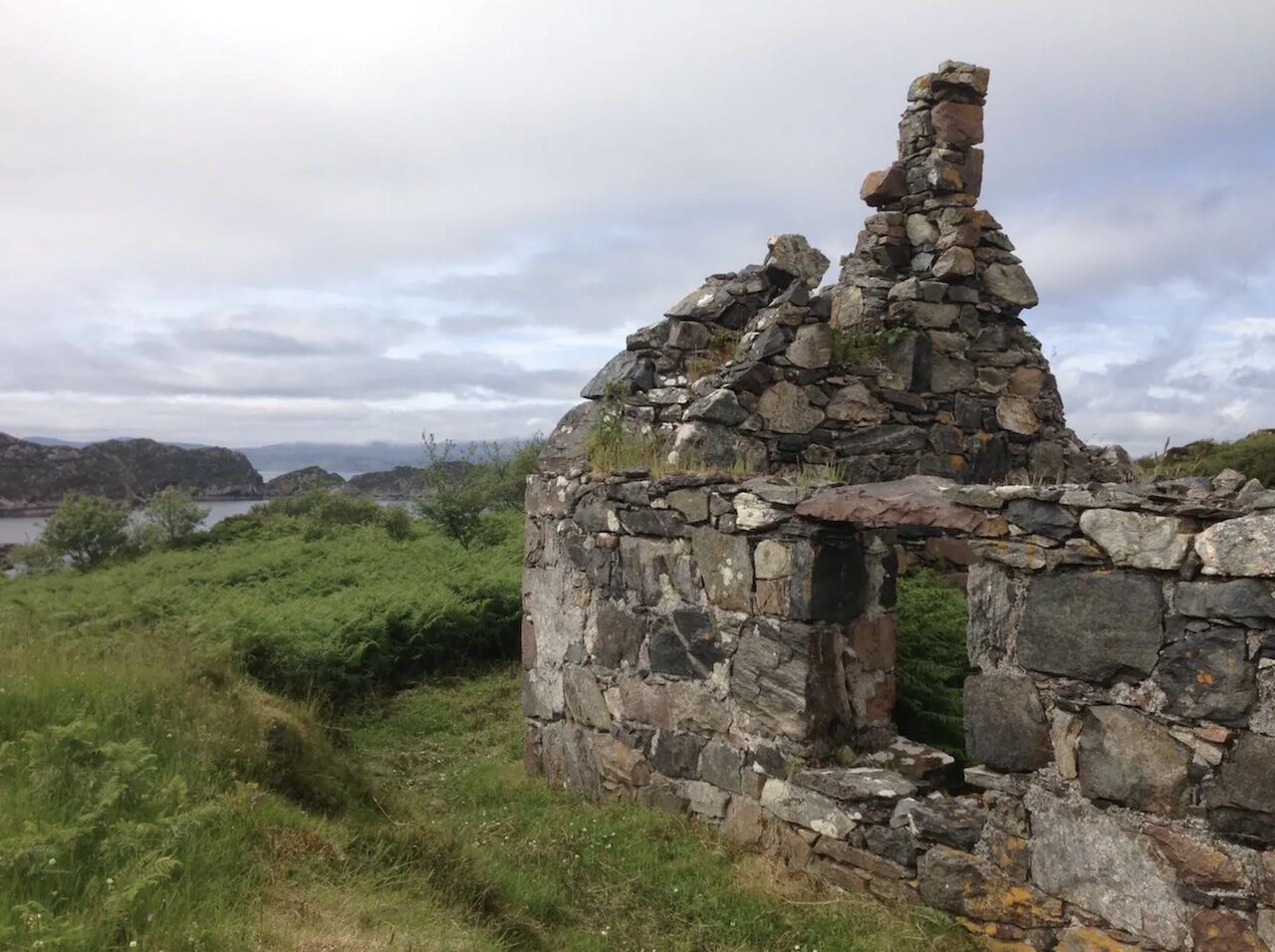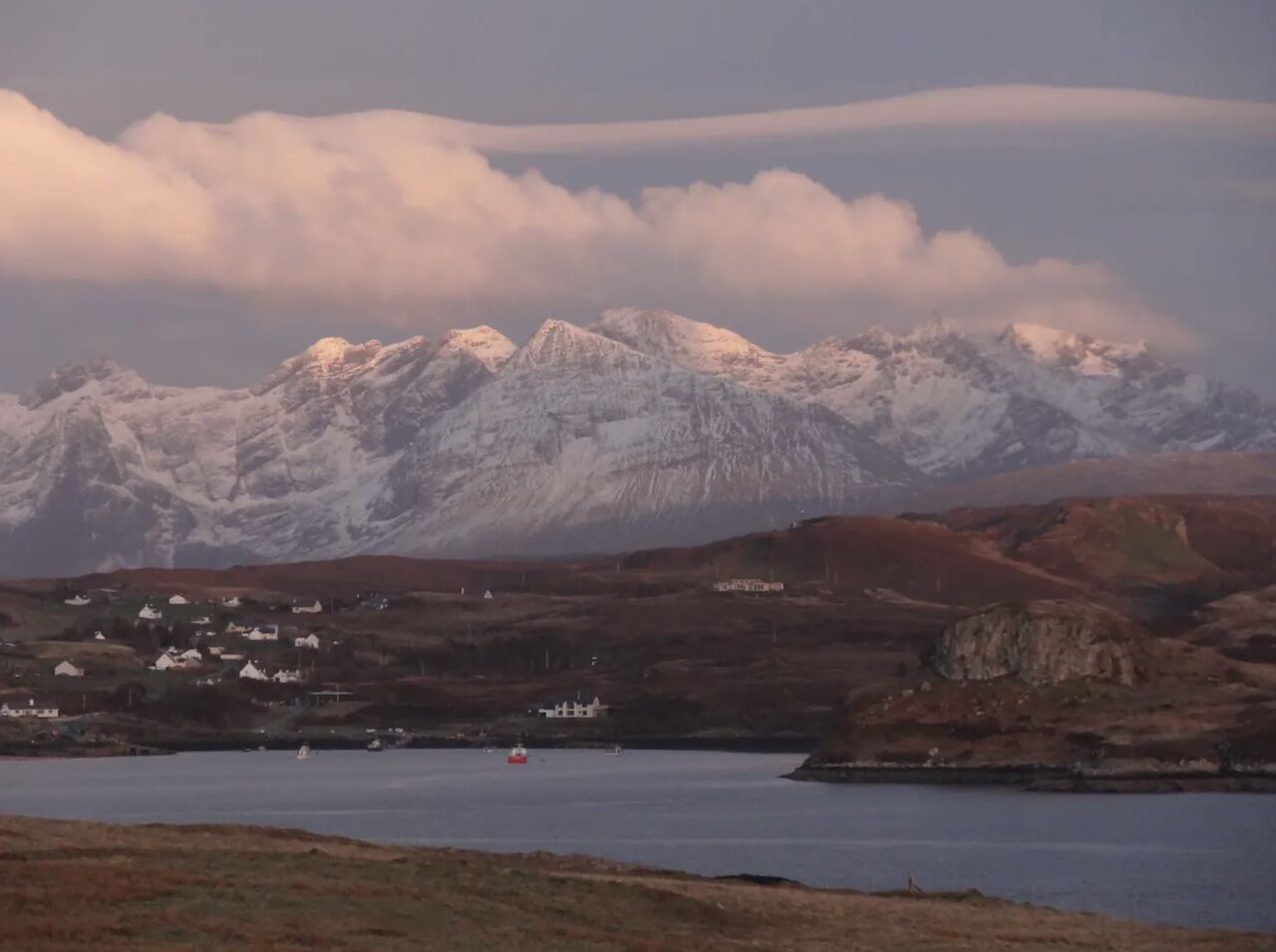 This secluded cottage comprises a generous kitchen and lounge area with a snuggly nook for film nights – or cycling your way through the extensive CD collection. Besides one double and one twin room, there is a sofa bed on the mezzanine. Spend days exploring the local hiking trails and waterfalls then slip – whiskey in hand – to the wood-fired hot tub for a spot of stargazing. The host offers attractive long-stay discounts that might inspire you to catch yourself away to the Scottish Isles for good.
Six guests, two bedrooms
Price: $400 per night
More like this
What did you think of this story?