The Most Jaw-Dropping Luxury Hotels in Sicily
The island of Sicily sits at the crossroads of the Mediterranean, off the southern coast of Italy. It has been a hub of trade since ancient times when the Greeks first arrived on its shores and throughout its history, the island has been influenced by many different cultures, all of which have left their mark. From the lively capital of Palermo to the hilltop city of Taormina and Trapani in the west, Sicily's topography is also diverse. Stunning cliff-edged beaches hug the coast while wild mountainous vineyards, volcanic soil, and traditional farming practices make it one of the best places for wine and food culture in Italy. The hospitality industry at large here sets the bar incredibly high. It wouldn't be a stretch to state that Sicily hotels are some of the most stunning in the Mediterranean.
Some have a focus on wellness, with a flurry of world-class spas using local ingredients and practices peppered across the Island. And of course, food also takes center stage, making many these hotels favorites with native Sicilians who travel to experience hotel restaurants. But what the hotels here have in common are two things. First, they are jaw-droppingly beautiful. And second, the level of service is impeccable. Sicily is a very special island, so make sure to book somewhere equally as extraordinary during your stay.
Taking a European trip? Check out Matador's accommodation guides to the best places to stay:
When to visit Sicily
The best time to visit Sicily is from May to June or September to October. These late spring and early fall months offer hospitable temperatures in the 70s, fewer crowds, and plenty of festivals. November through April are also good times to visit as the temperatures remain relatively mild. However, if you're looking for guaranteed warmer weather and more beach-going opportunities, then July and August are ideal months for your trip.
We hope you love the Sicily hotels we recommend. Just so you know, Matador may collect a small commission from the links on this page if you decide to book a stay.
Grand Hotel Timeo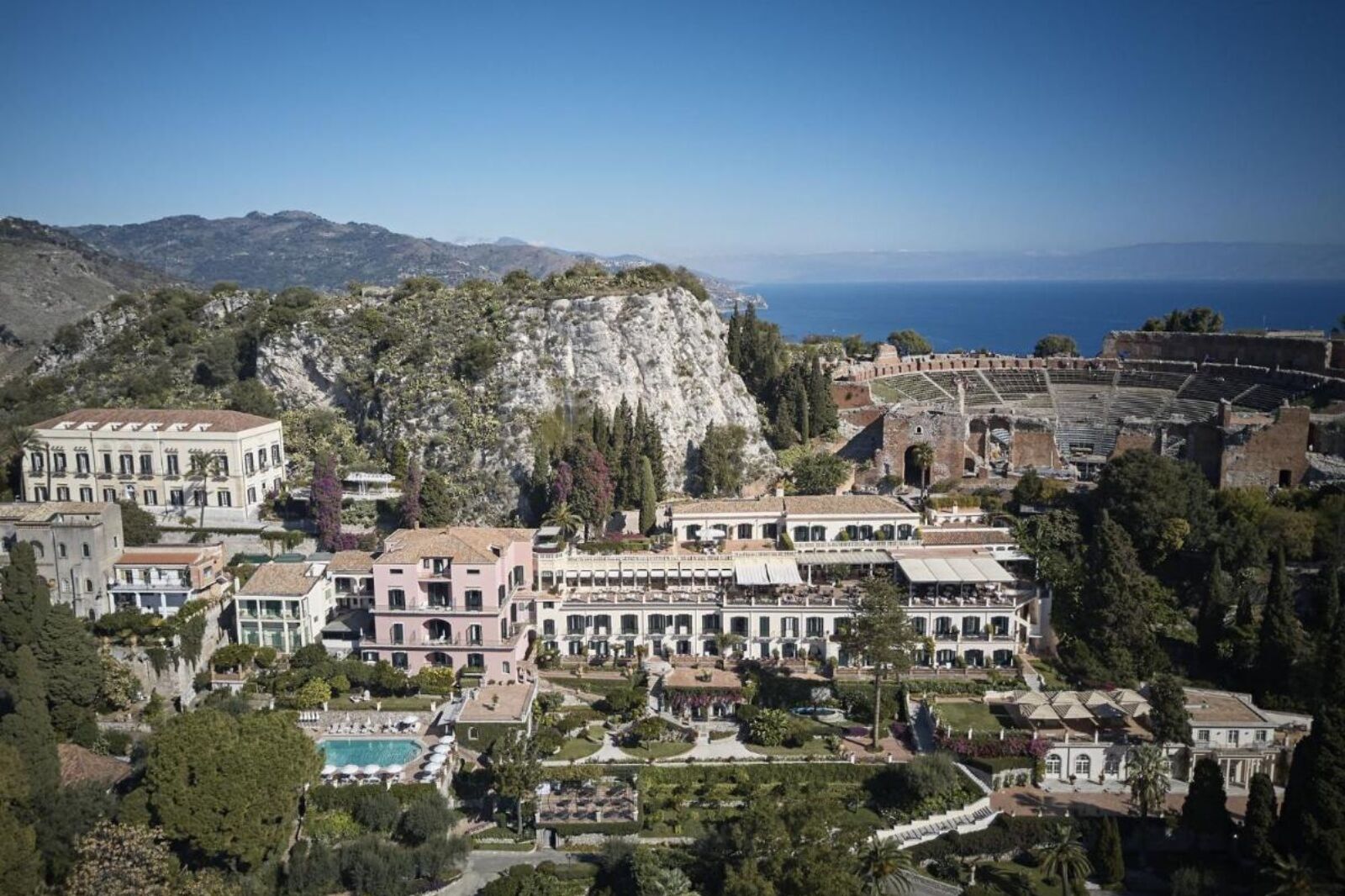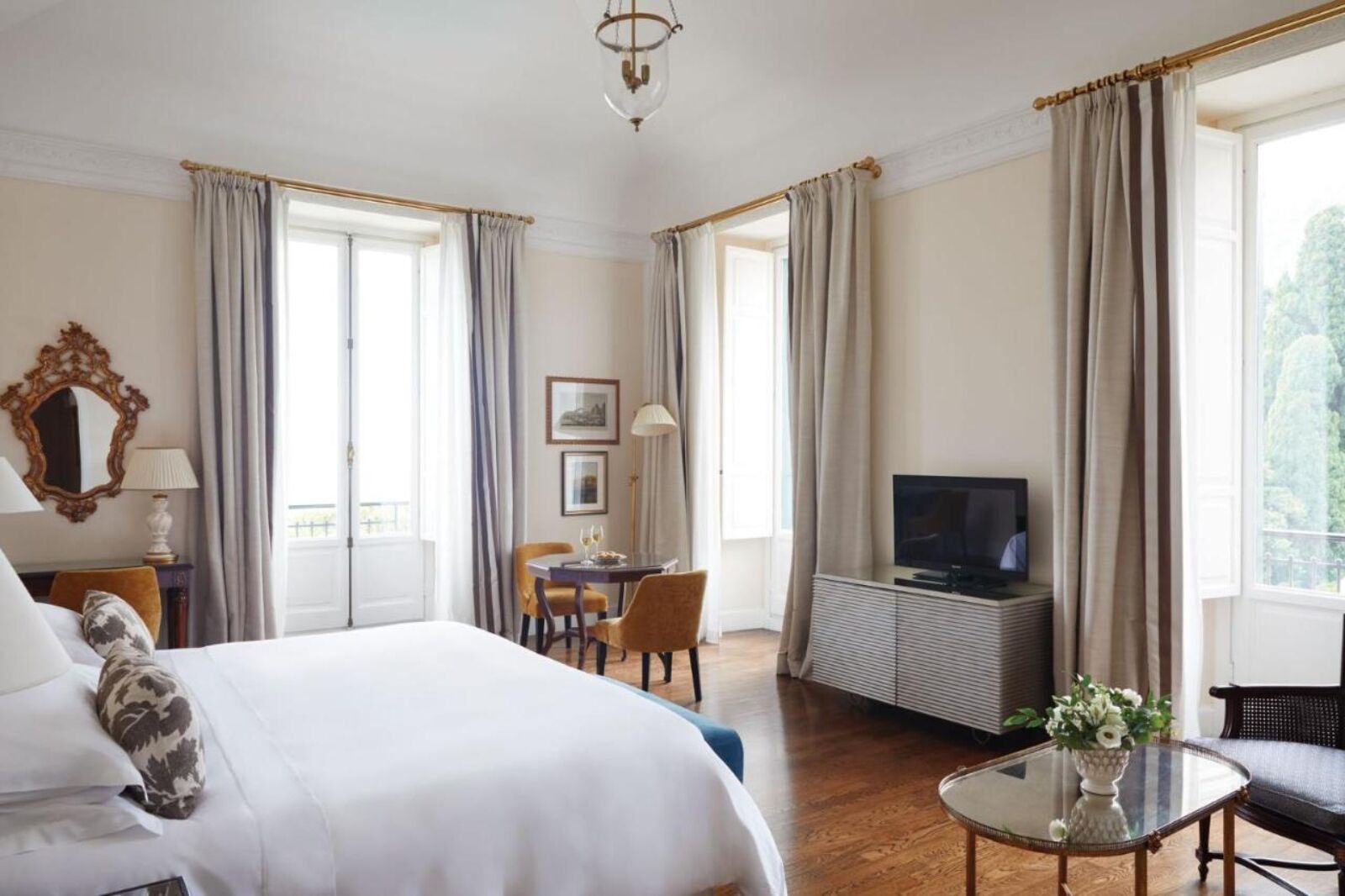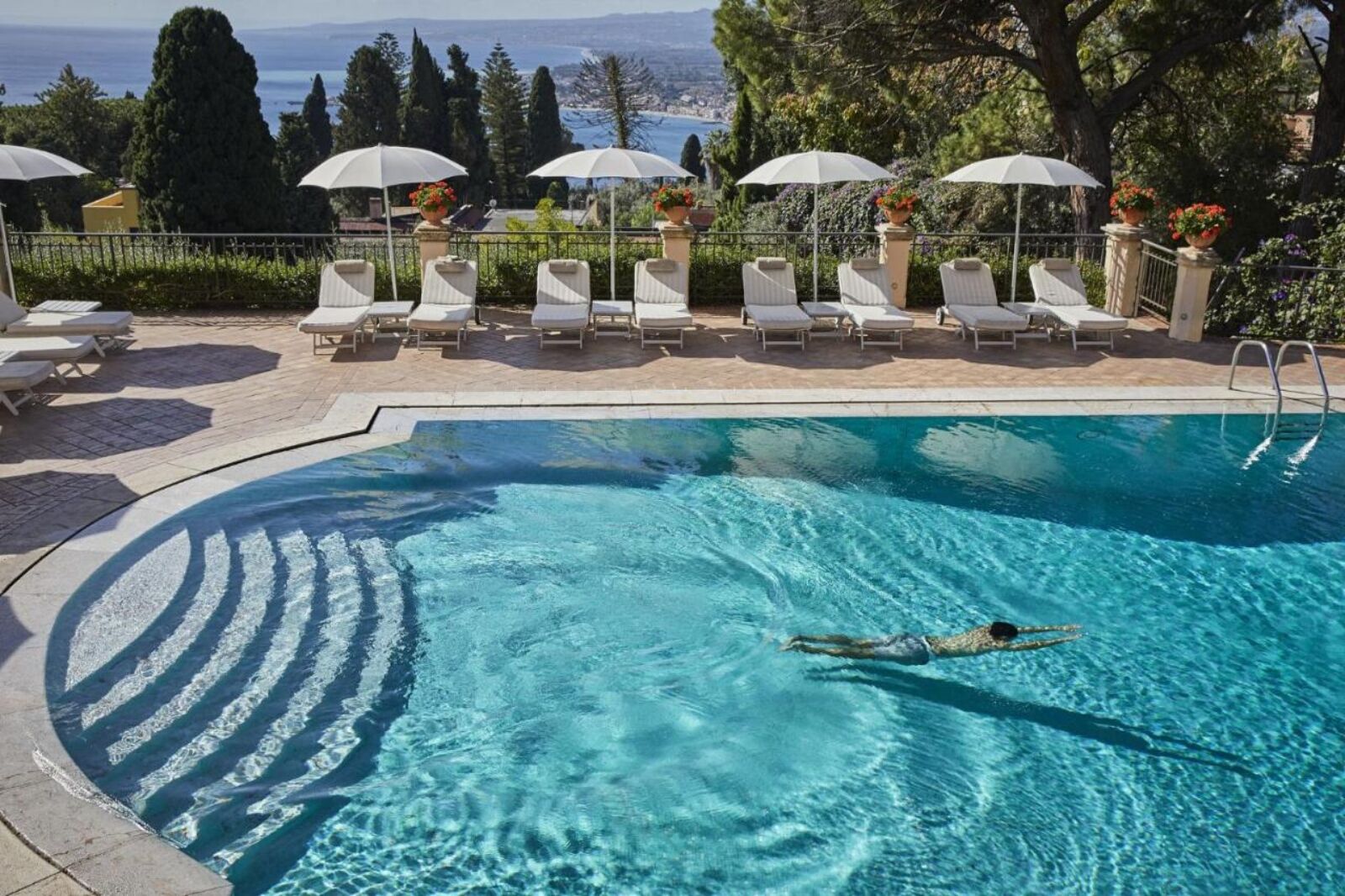 See more photos
Grand Hotel Timeo is a historic landmark hotel in the heart of Taormina. With six acres of manicured gardens and stunning panoramic views of Mount Etna and the Sicilian Coast, it's no wonder this is one of the best Sicily hotels.
The beautiful town of Taormina is perched atop a rocky bluff high above the sea and down its winding cobbled streets you'll find some of the best restaurants in Sicily. If coming in by trail, Taormina-Giardini Naxos Train Station is 3.1 miles away or if you've hired a car, Catania Airport is around 40 miles away and Palermo–Boccadifalco Airport is 170 miles. The hotel can also manage transfers for you if you would prefer.
The hotel offers guests luxurious accommodations with classic décor and polished parquet floors. Each room features a luxurious bed adorned with embroidered sheets, marble bathrooms appointed with robes and Acqua di Parma toiletries, as well as enviable views of rolling hills, local vineyards and farms, and, of course, Mount Etna. Top that off with a panoramic pool, wellness spa, and Michelin-star dining and the cost to stay here is justified.
Price per night: $1,100
Grand Hotel Timeo: Teatro Greco 59, 98039 Taormina
Book Now
Il San Corrado di Noto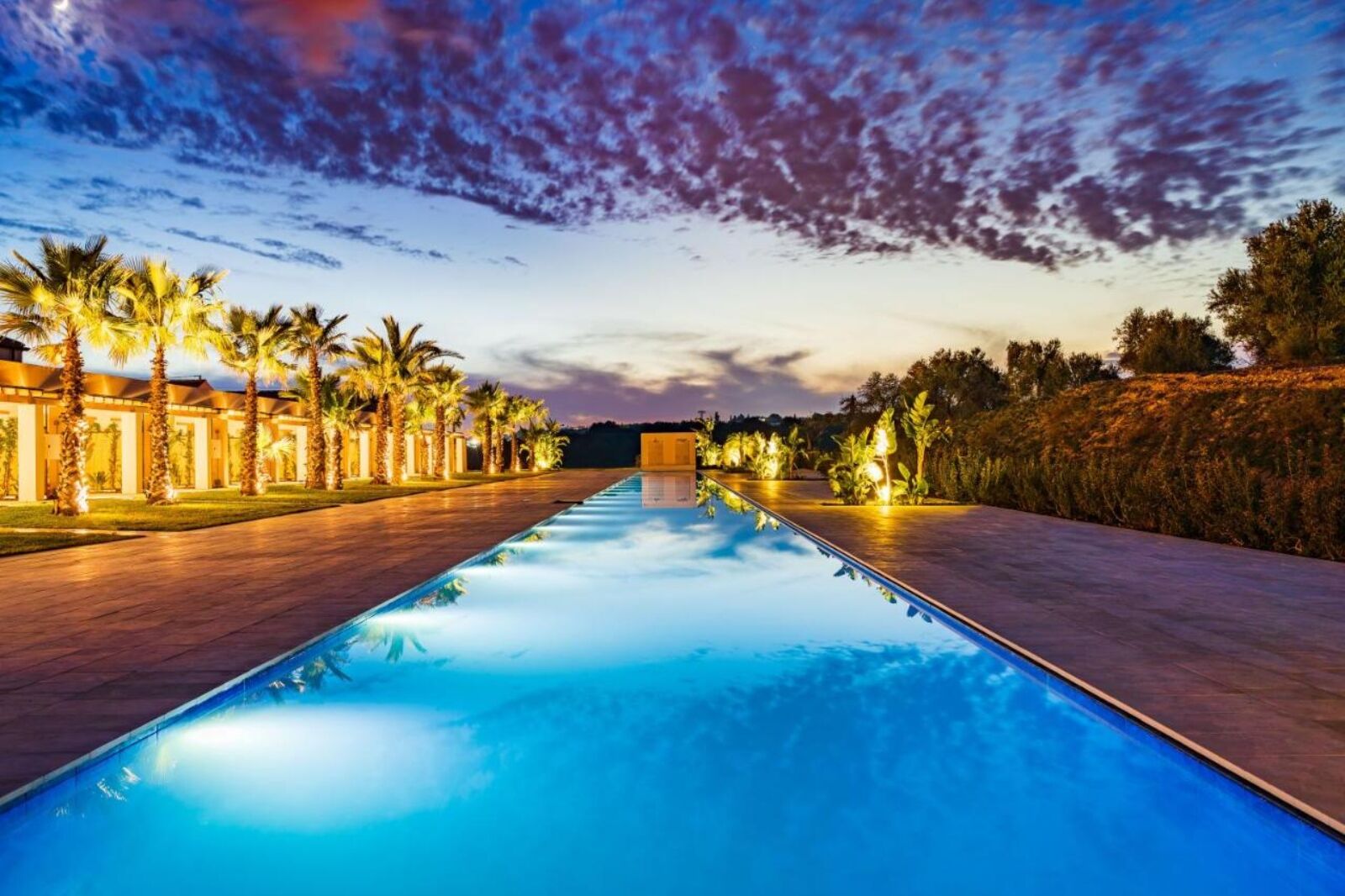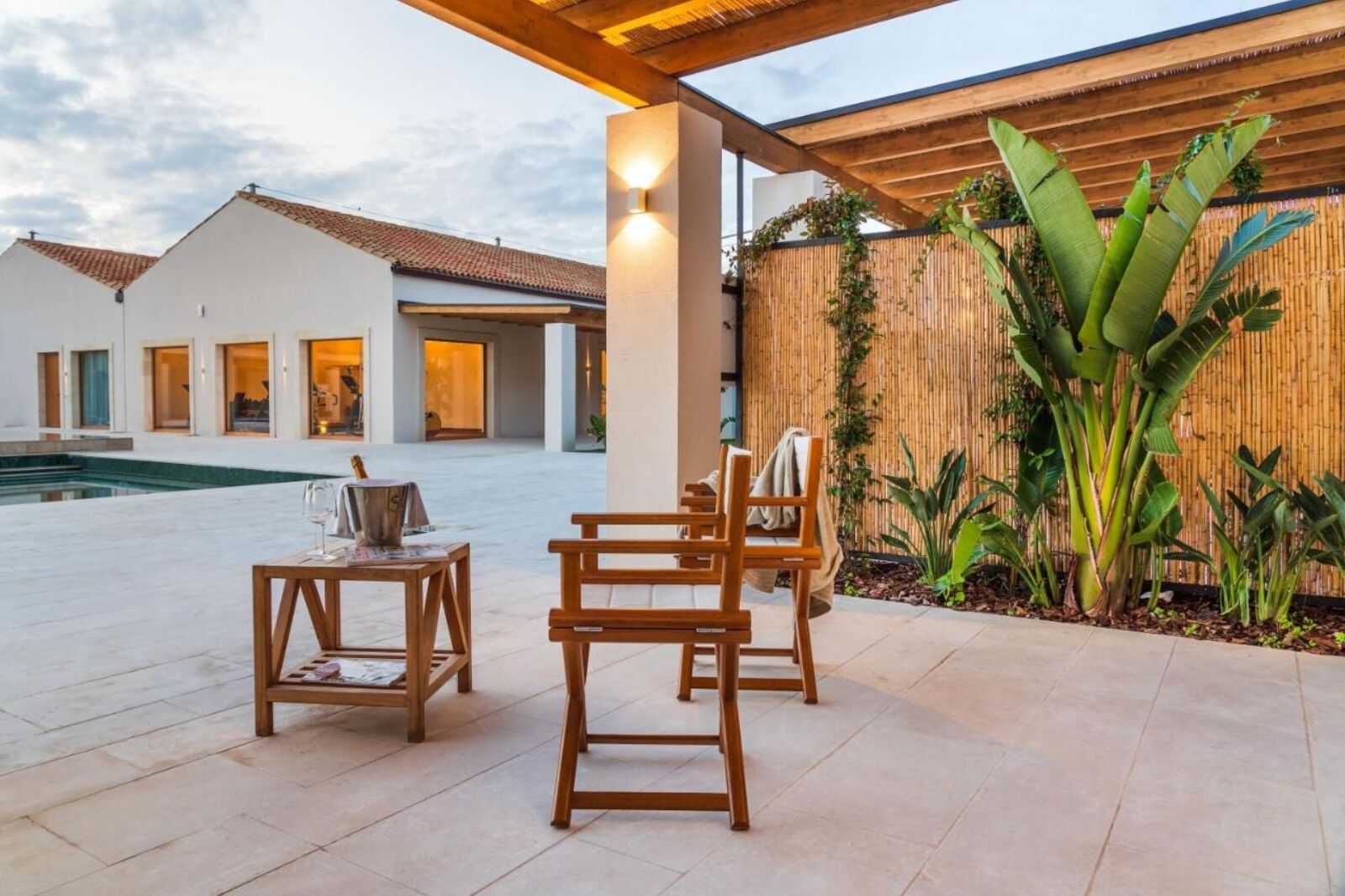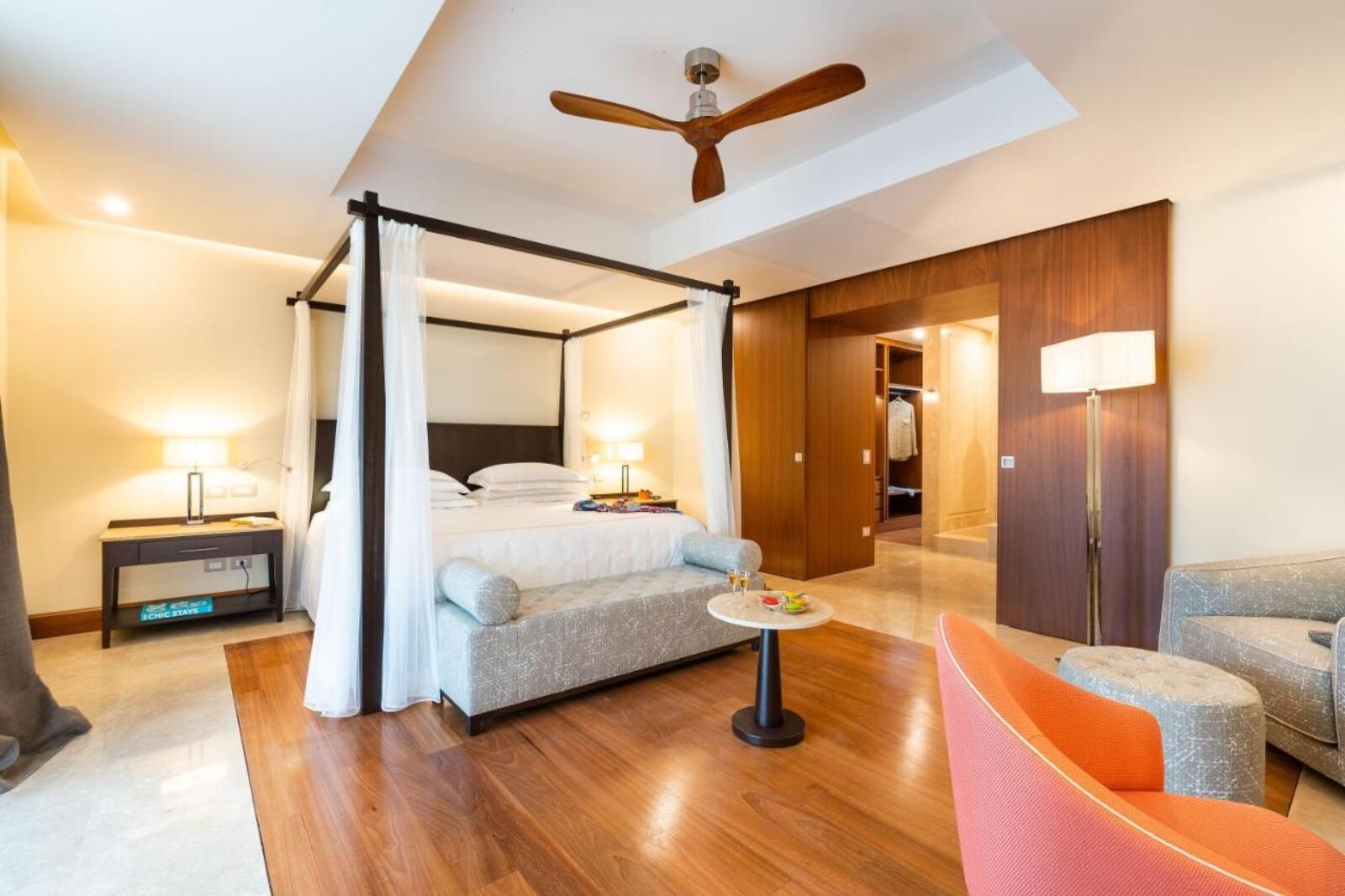 See more photos
Il Corrado di Noto is a luxury resort located in the southeastern part of the island in the Val di Noto region. There are eight main towns in the area that are designated UNESCO World Heritage Sites due to their unique architecture and artistry. Surrounded by lush greenery and panoramic sunset views, the hotel is close to the Cattedrale di Noto and other local attractions making it an ideal base from which to explore Val di Noto.
The on-site Italian cuisine fine-dining restaurant, Principe di Belludia, features garden views and al fresco dining and you can treat yourself to aromatherapy, and body treatments using local ingredients at the Sodashi Spa. The resort offers plenty of other amenities such as a seasonal outdoor pool with sun loungers and pool umbrellas, parking, free bikes, an outdoor tennis court, and an electric car charging station. The rooms have a beautiful private garden area amid the olive groves and light-filled courtyards.
Price per night: $780
Il San Corrado di Noto: Contrada Belludia SS 115, 96017 Noto
Book Now
Dimora Delle Balze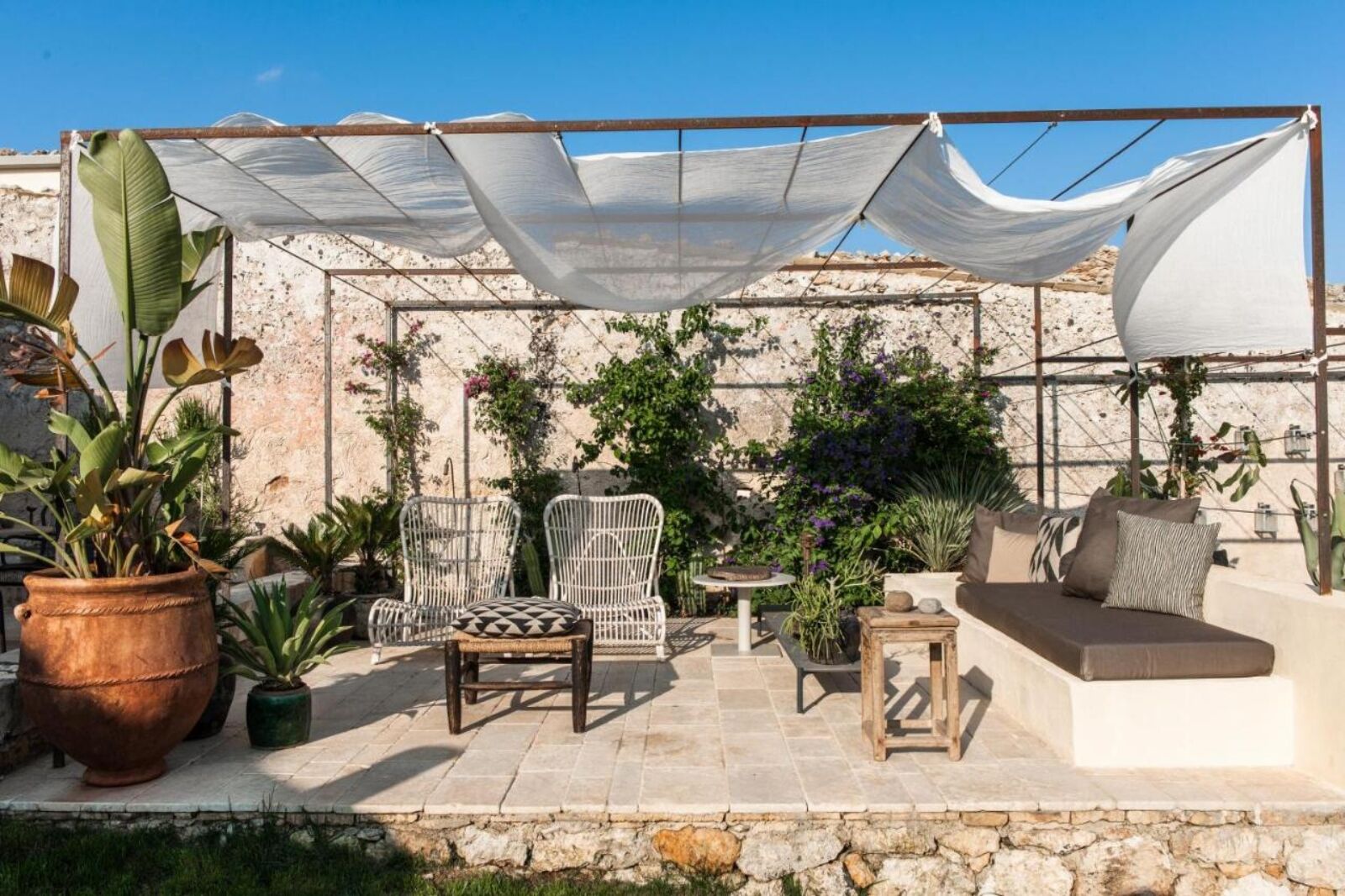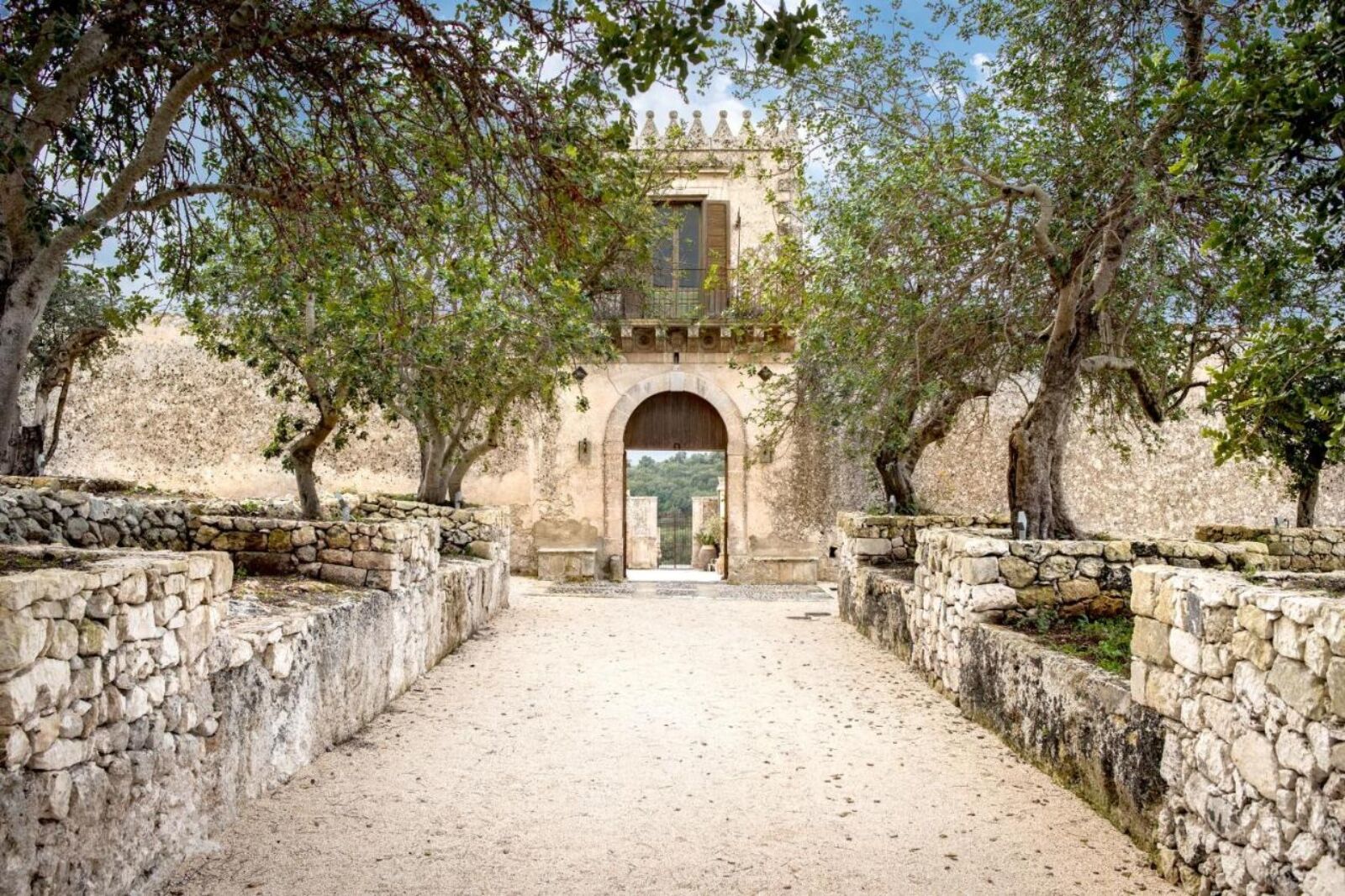 See more photos
Dimora delle Balze is a 19th-century masseria (farmhouse) located in the countryside also in Val di Noto. The bucolic retreat offers luxurious accommodations and excellent facilities, with stylishly designed interiors.
Fragrant orchards and cactus gardens surround the renovated elegant manor house, its outbuildings, and its courtyard. Its interior features lofty vaulted ceilings, floors in pale honey-colored local stone, and brick archways that create a cool atmosphere on hot summer days. The design of the estate is a mix of old and new, with Italian artwork and vintage furniture. Set between the original manor house, the gate tower, and the former farm cottages, each of the accommodations have been inspired by Sicilian writers, artists, literature, and films.
Price per night: $643
Dimora Delle Balze: ss287 al km 6.3, 96017 Noto
Book Now
Monaci delle Terre Nere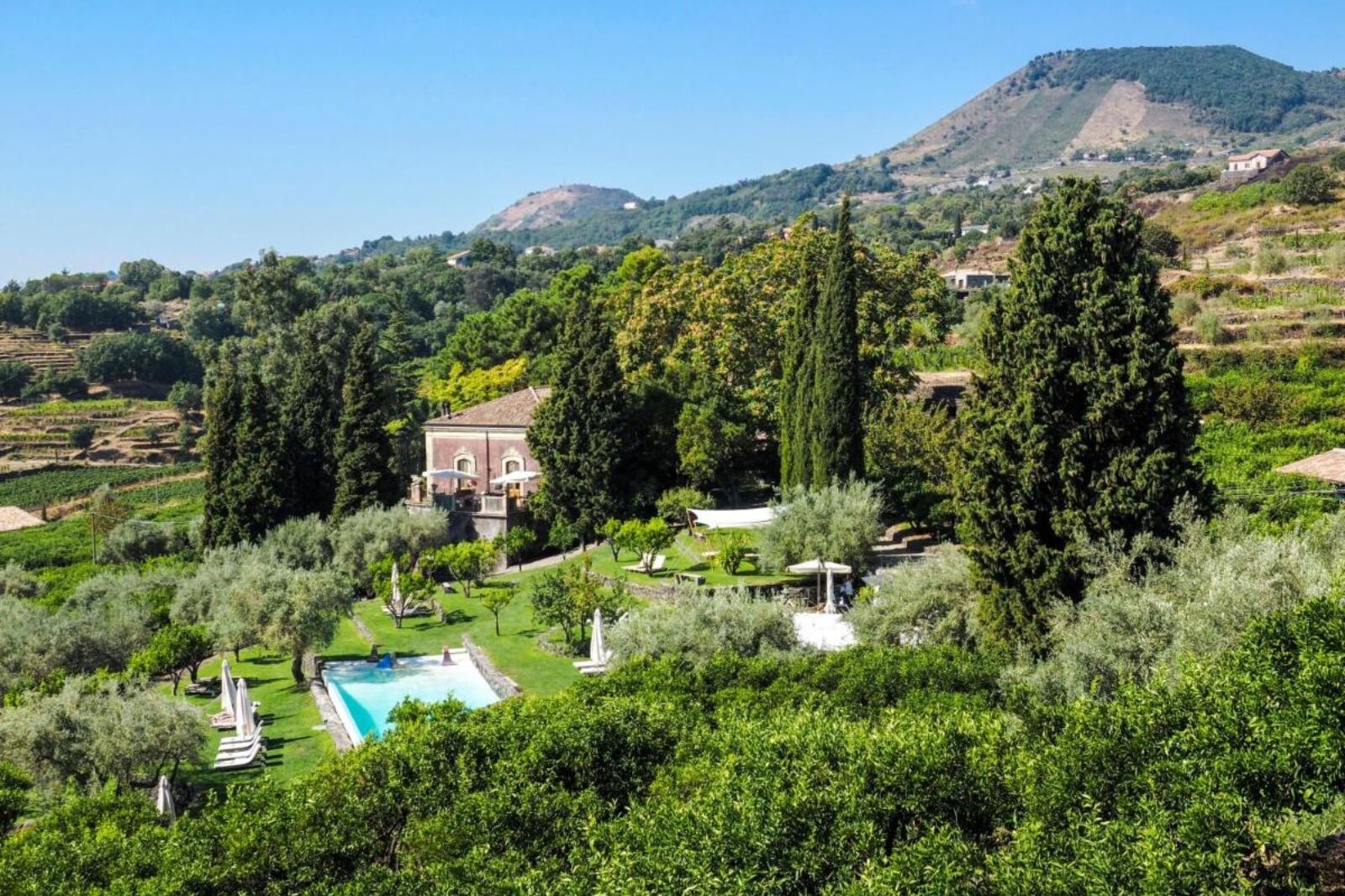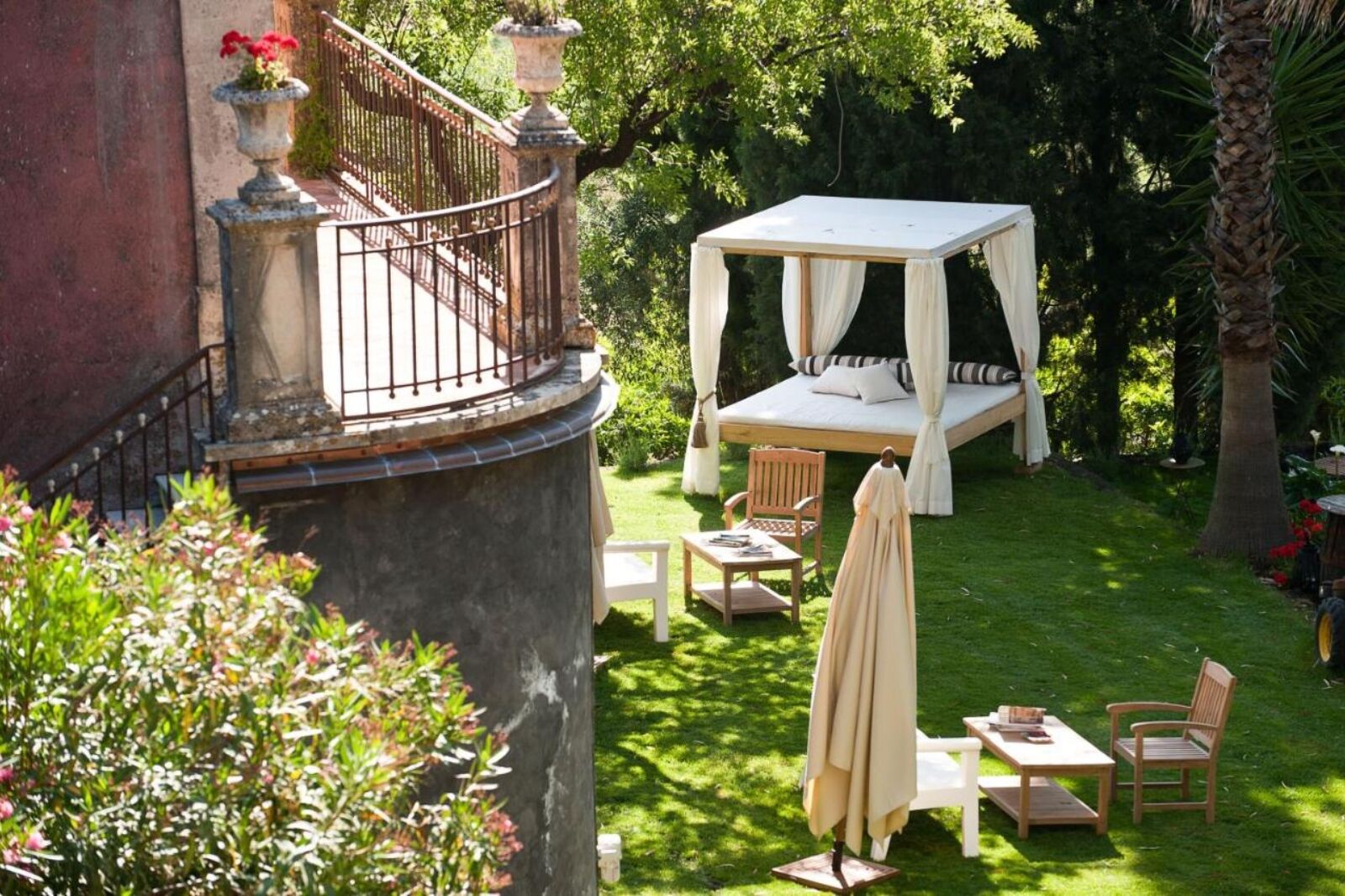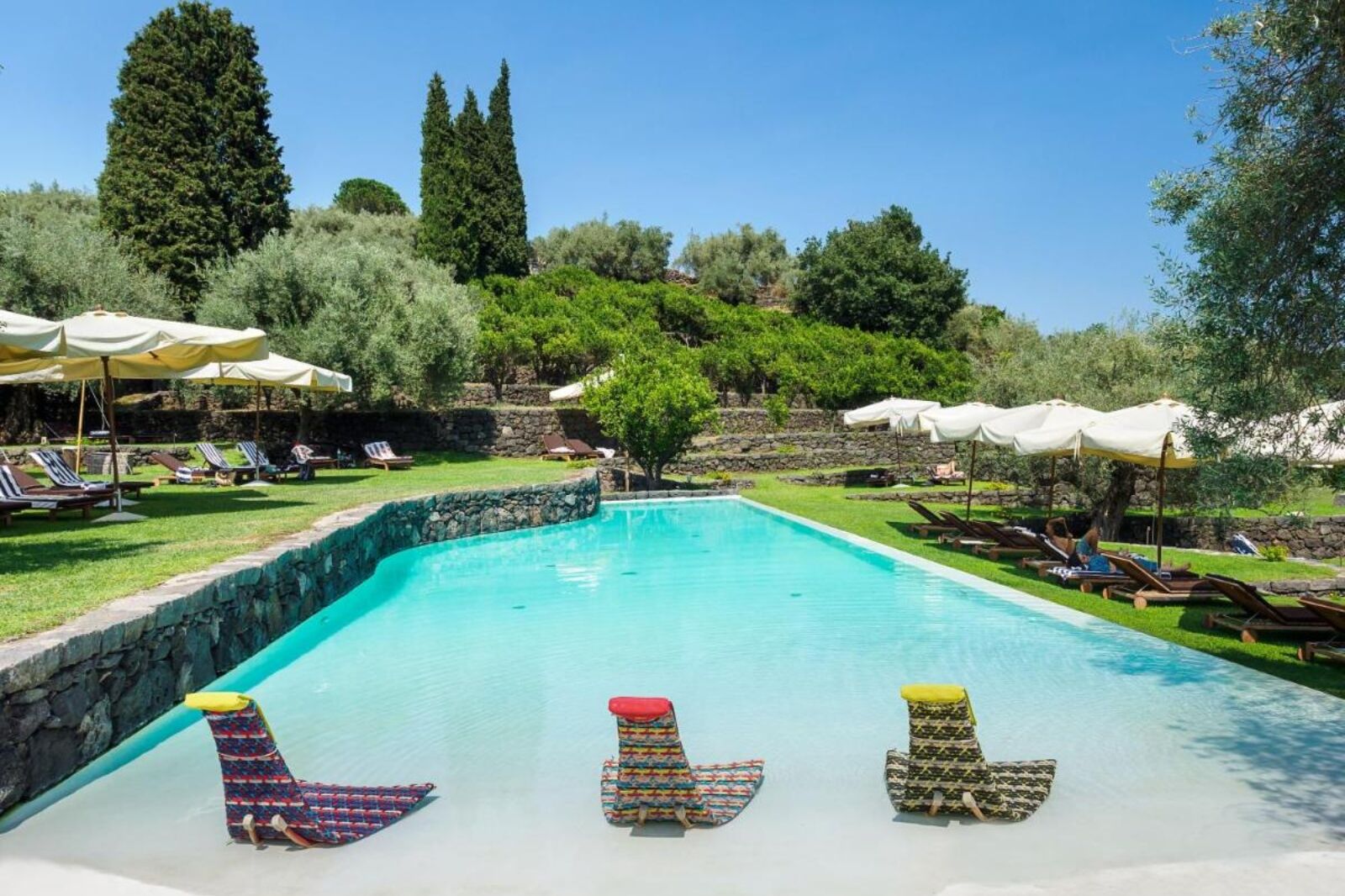 See more photos
At Monaci delle Terre Nere, you can experience the best of Sicily's natural beauty. Nestled at the foot of Mount Etna, this 19th-century villa is surrounded by 62 acres of lush countryside. From vineyards to orchards and a natural amphitheater, this is one of the most exquisite settings on the island.
The hotel offers a range of accommodations from airy villas to converted farm buildings and lava-walled hideaways. Guests can take advantage of the open-air bar and golf cart rides around the property. With local owners Guido and Federica, a sommelier, and friendly staff, Monaci delle Terre Nere promises an unforgettable stay in the Sicilian countryside.
Price per night: $634
Monaci delle Terre Nere: Via Pietralunga / Via Monaci , 95019 Zafferana Etnea
Book Now
Rocco Forte Villa Igiea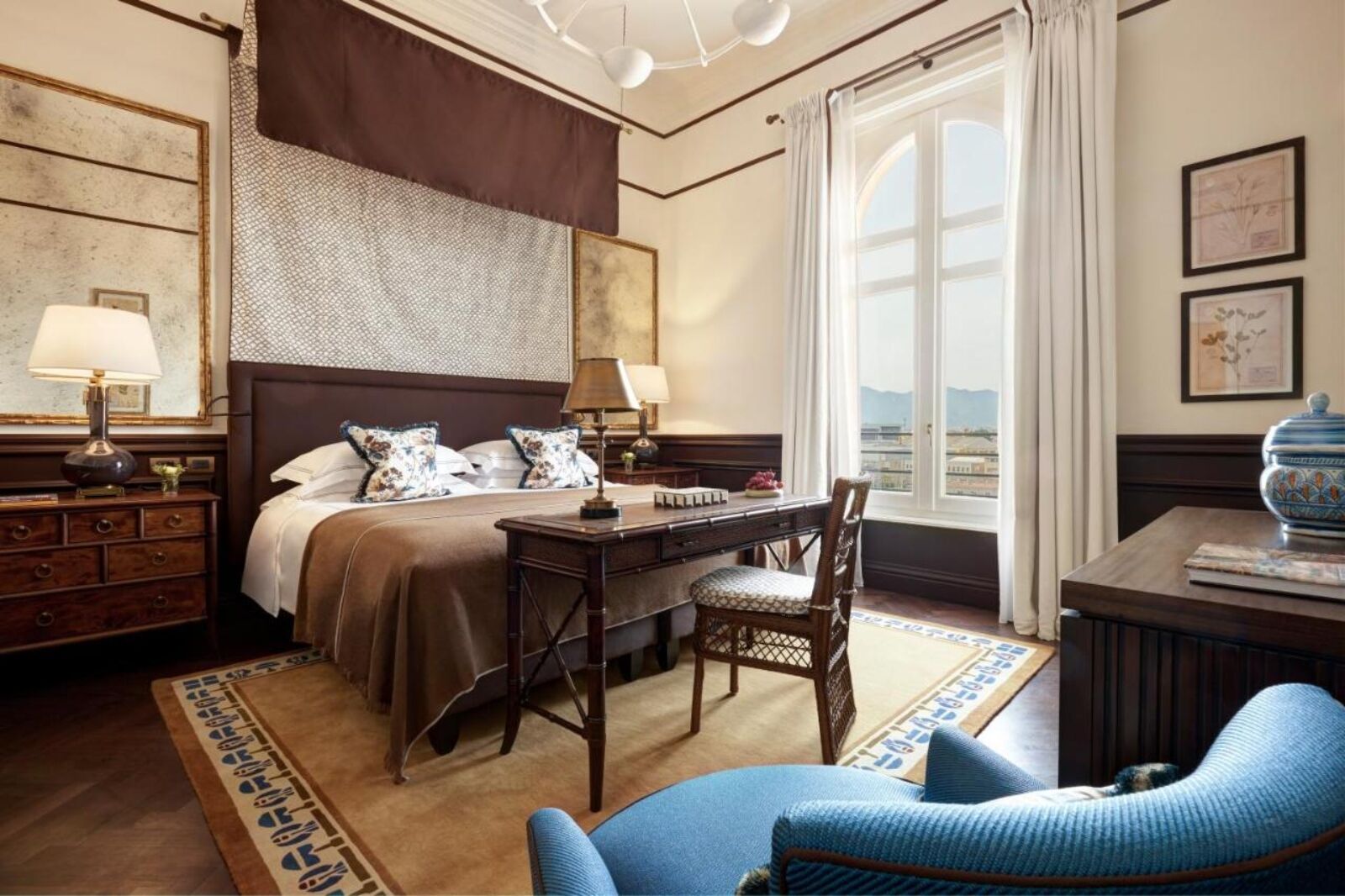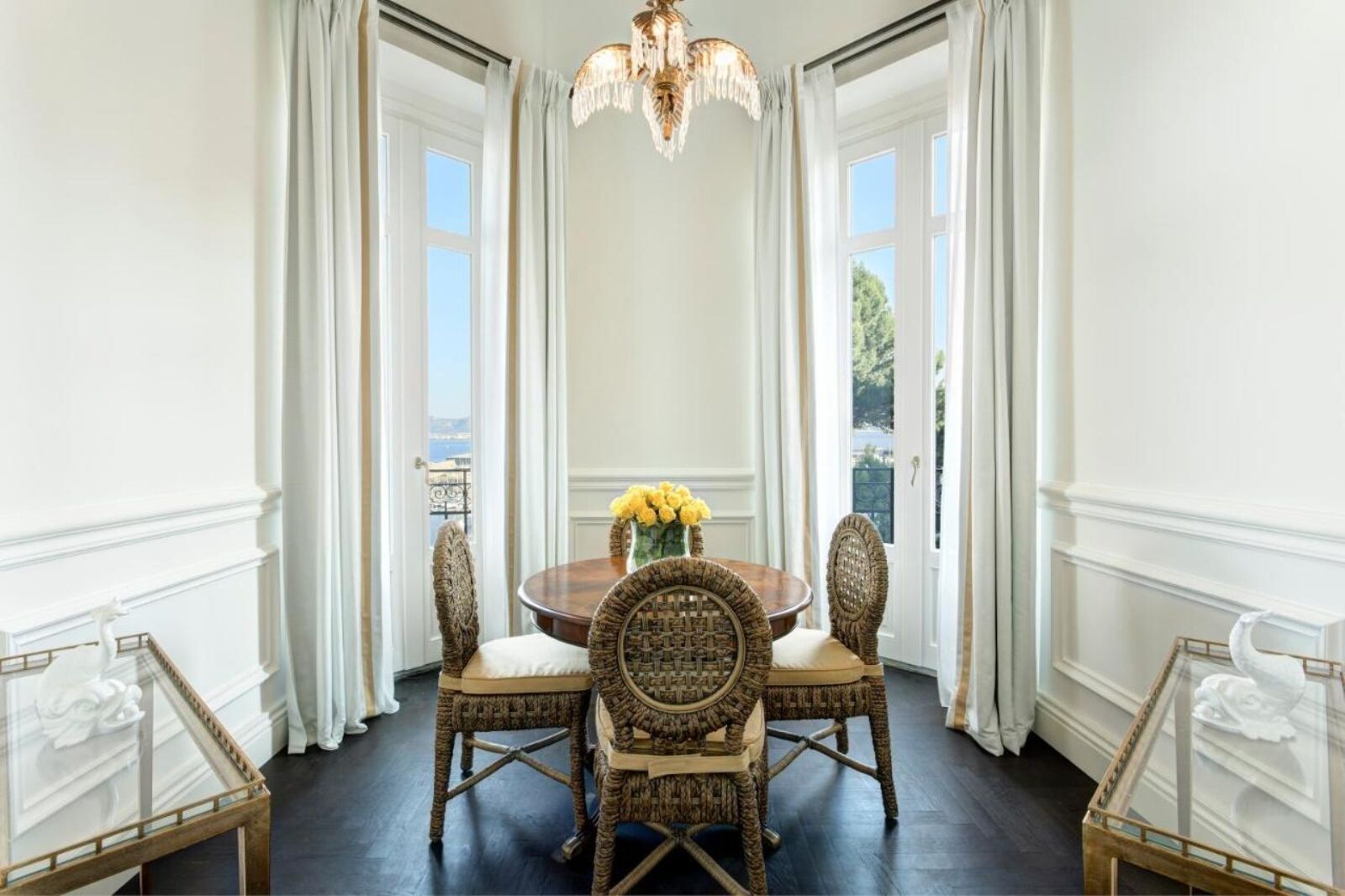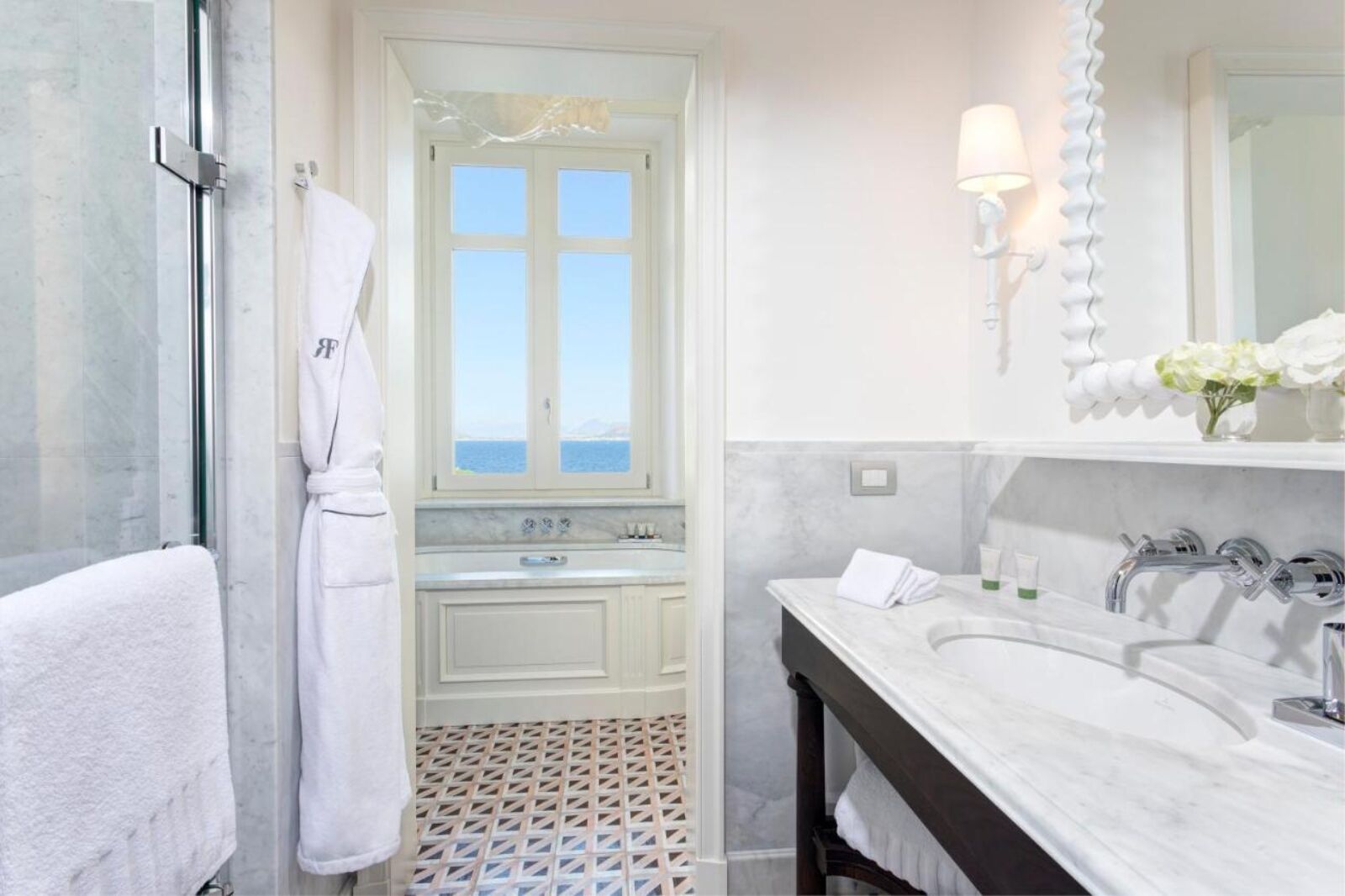 See more photos
Villa Igiea is a five-star hotel located in a 19th-century Palazzo in Palermo. It offers panoramic views across the Bay of Palermo and is just under three miles from the busy city center. Surrounded by gardens of orange and olive trees, Villa Igiea is also a short transfer from the opulent opera house, Teatro Massimo, and the historic architecture in Gothic Palazzo Abatellis.
The hotel features 100 luxurious rooms and suites, an on-site restaurant and terrace bar, an outdoor pool, a tennis court, a fitness center, and an outstanding spa. Deluxe Sea View rooms have a sumptuous super-king-sized bed and a comfortable seating area with smart TV and minibar. The en-suite marble bathroom includes luxurious Irene Forte Skincare toiletries and complimentary Rocco Forte Hotels bathrobes and slippers.
Price per night: $597
Rocco Forte Villa Igiea: Salita Belmonte 43, 90142 Palermo
Book Now
ADLER Spa Resort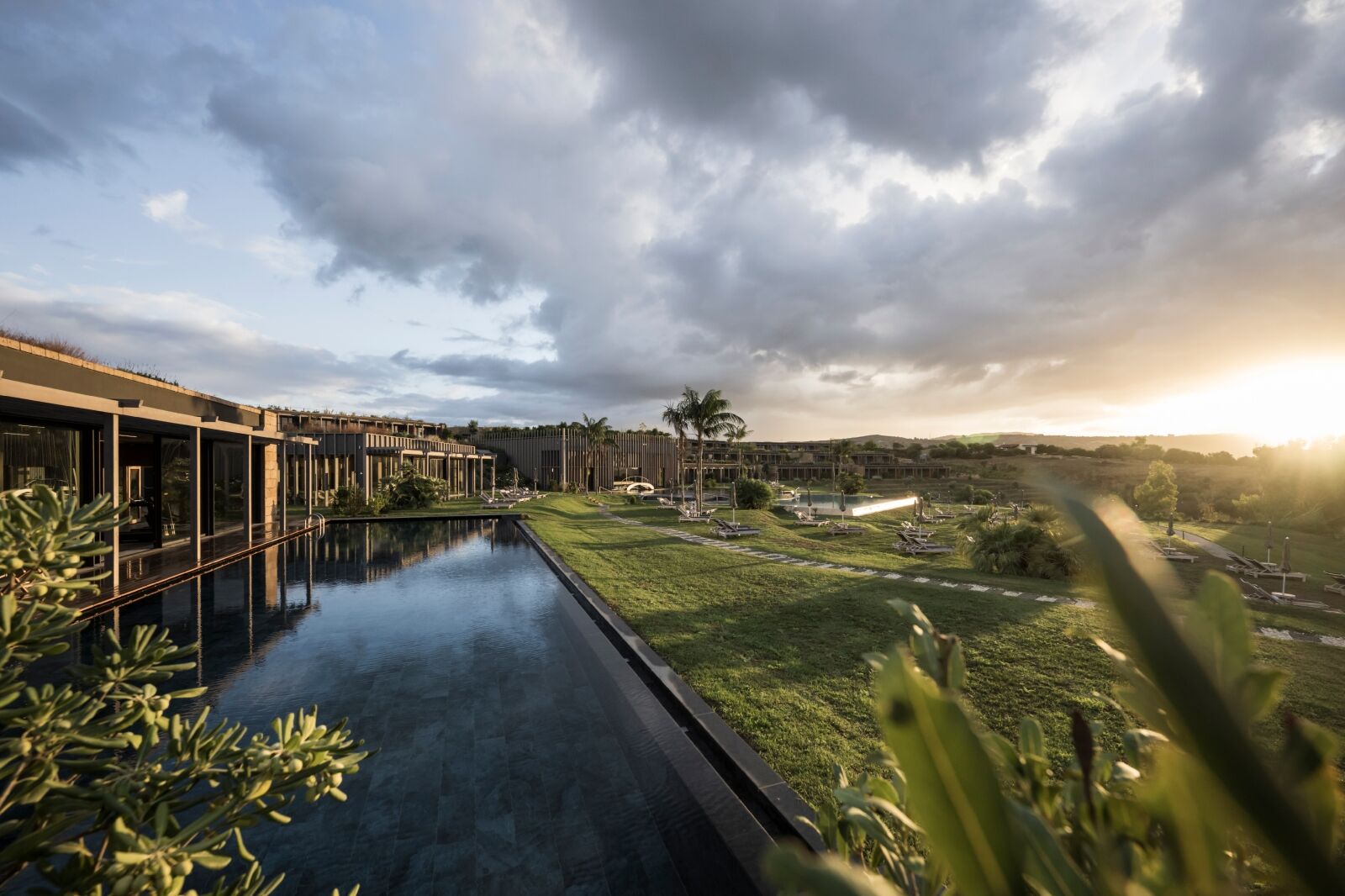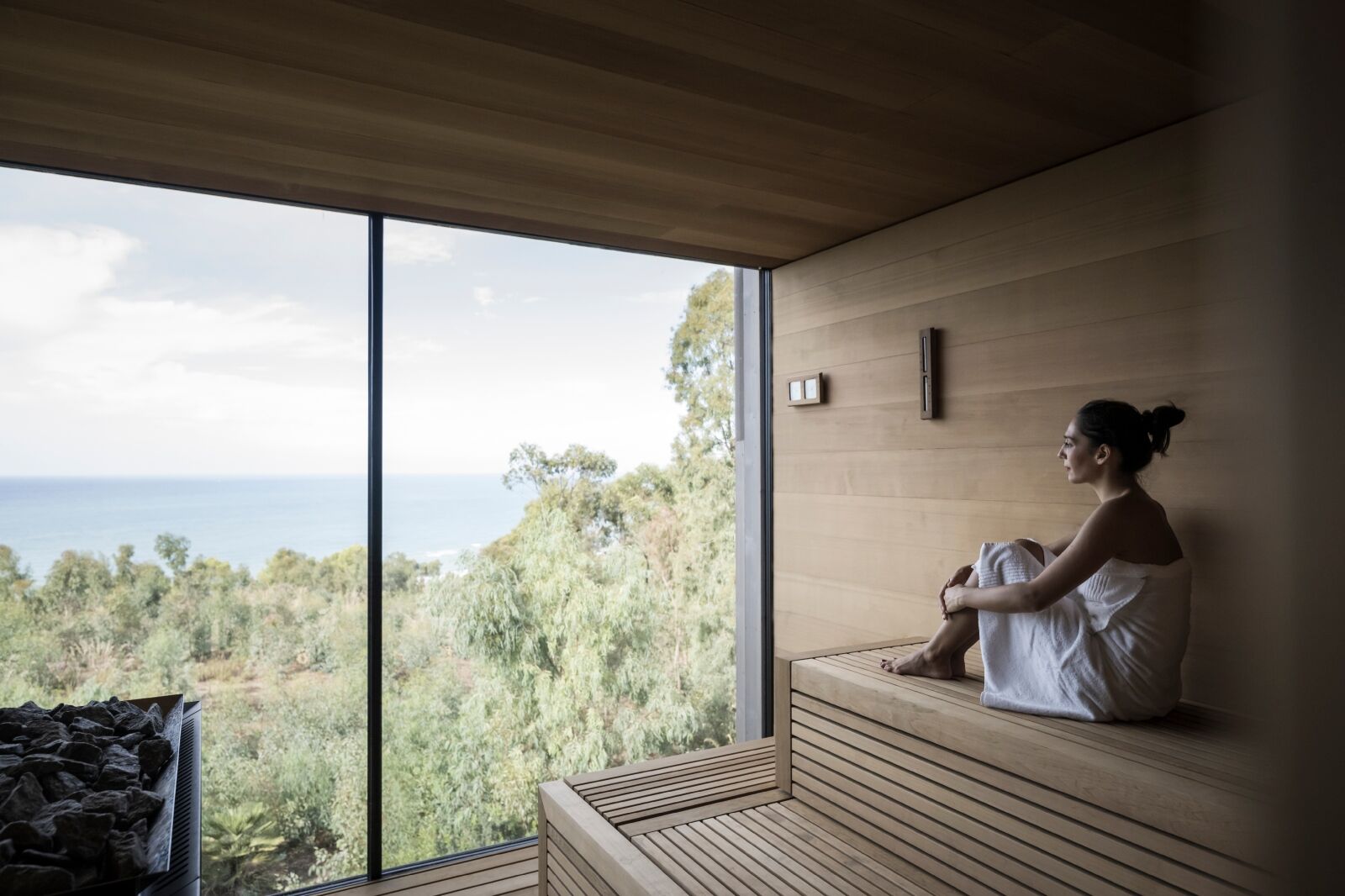 See more photos
ADLER Spa Resort is less than a quarter-mile from a private beach and sits atop grounds peppered with wildflowers overlooking the Mediterranean Sea and one of Italy's most precious nature reserves — Torre Salina. The nature theme flows throughout the entire property, creating an instant sense of calm. Add on the ADLER group's dedication to providing guests with five-star spa treatments, wellness facilities, and outstanding cuisine, and it's impossible to leave not feeling rejuvenated.
The subterranean spa complex of 13 treatment rooms is built into the cliffside and all have sweeping views of the coastline. The journey down the wooden stairs is an experience in itself as guests are welcomed by the scent of pine, citrus, and lavender, paired with calming music, and soothing, natural decor.
Price per night: $373
ADLER Spa Resort: snc Contrada Salsa, 92010 Siculiana
Book Now
Zash Country Boutique hotel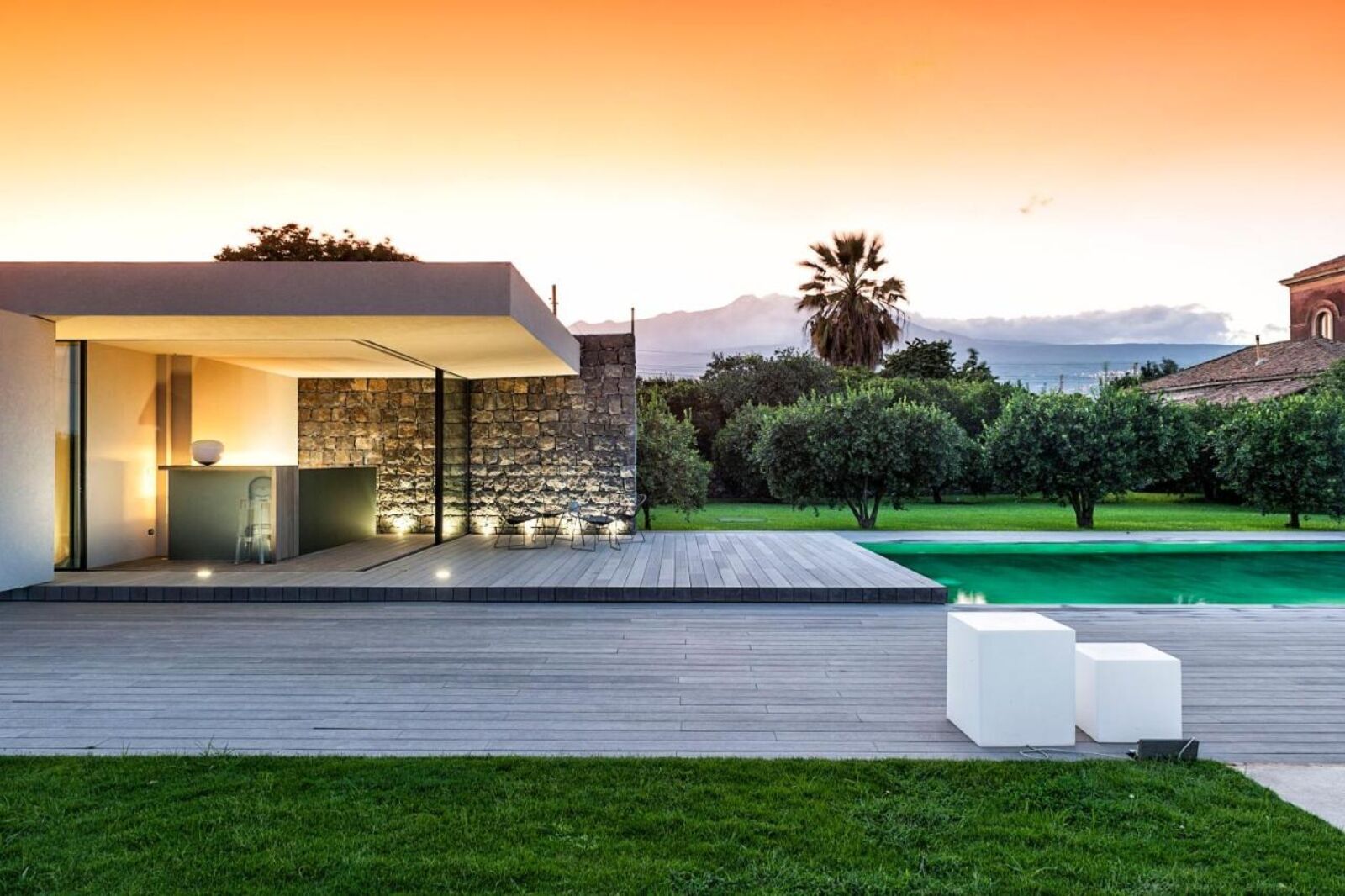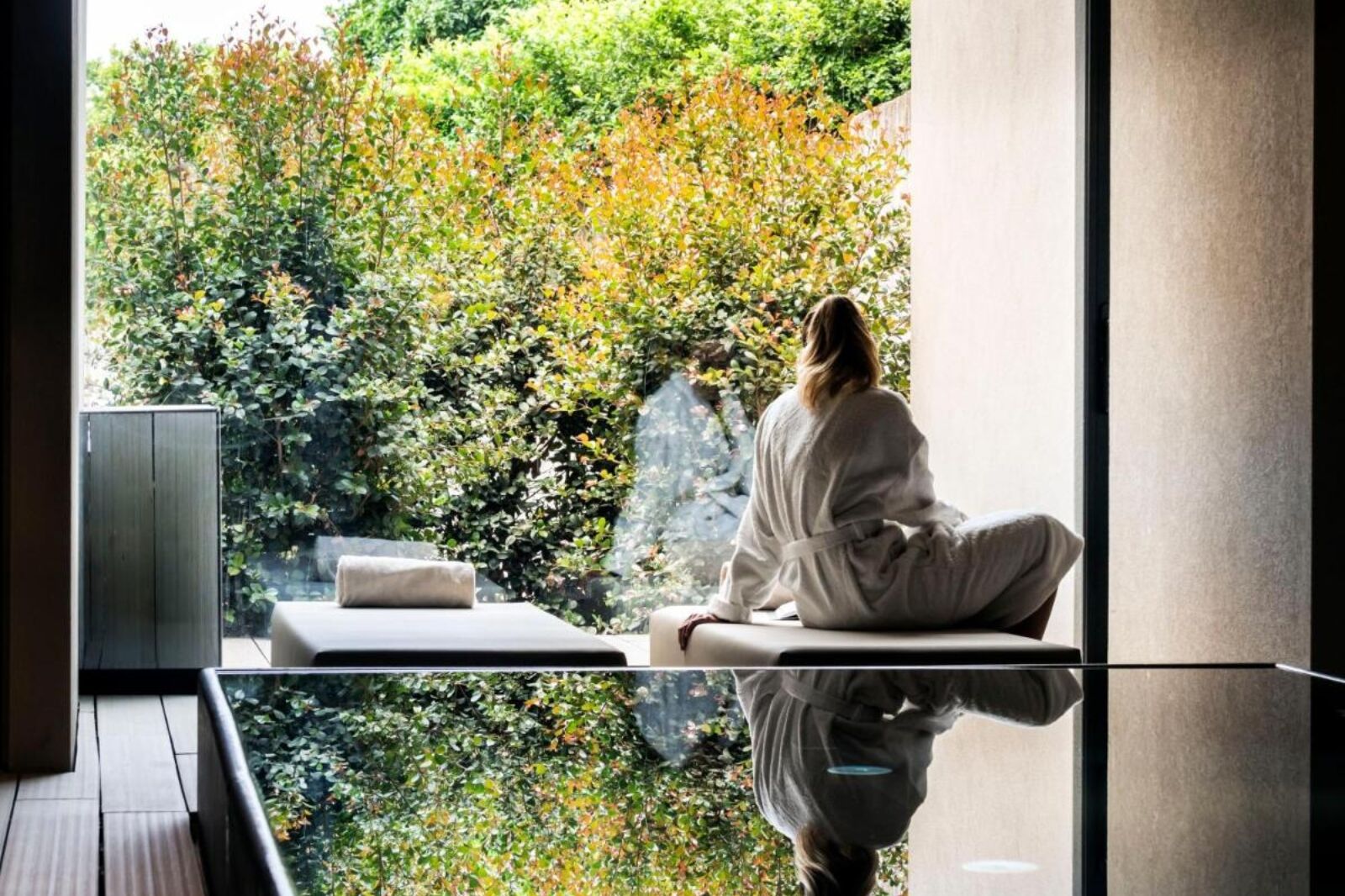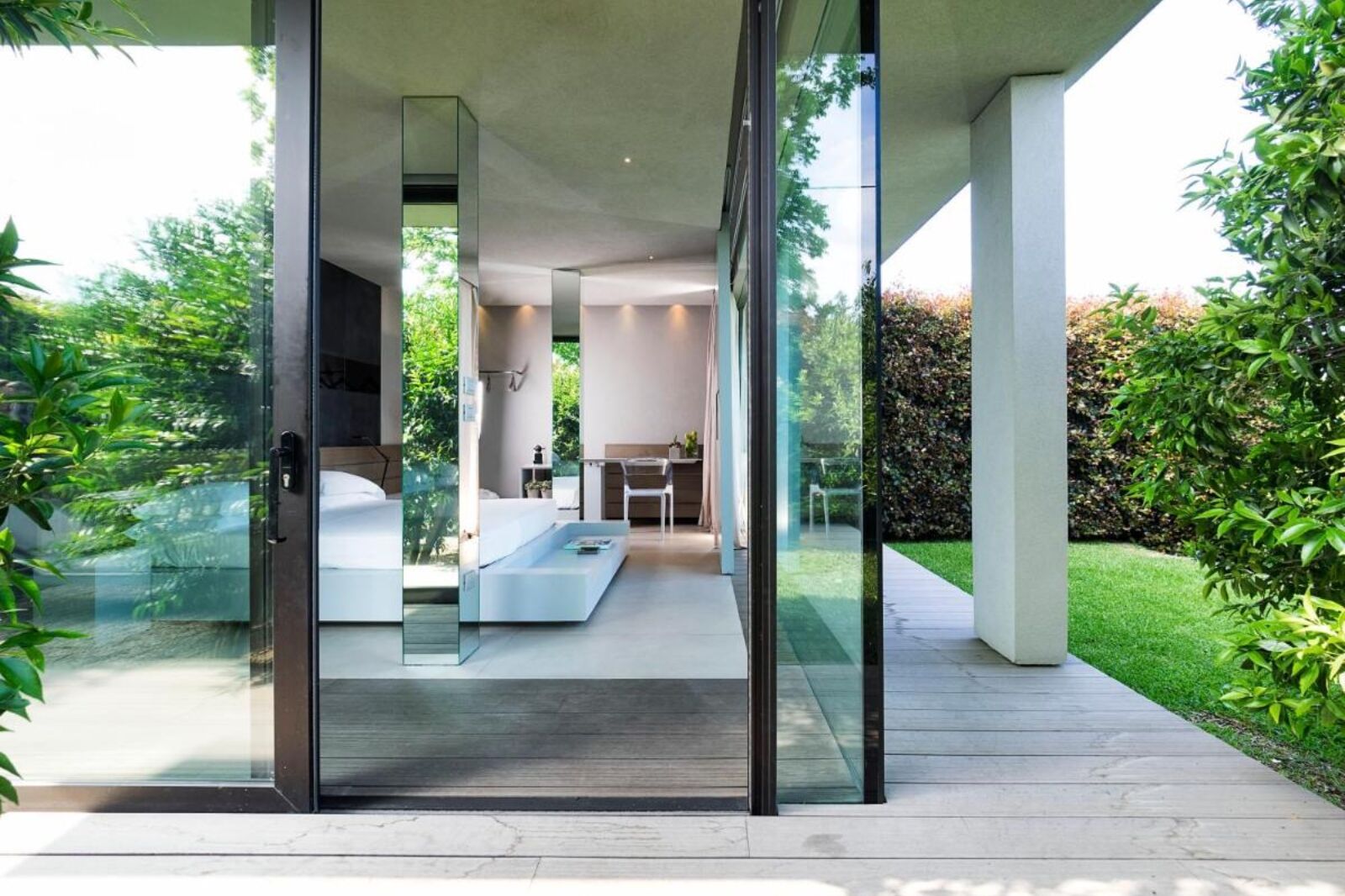 See more photos
Zash Country Boutique Hotel is located in eastern Sicily, among citrus groves and offering stunning views of Mount Etna and the Ionian Sea. The hotel is conveniently situated between the cities of Catania and Taormina, making it an ideal destination for travelers looking to explore the region.
The hotel itself is a former winery, providing guests with a unique experience that blends old-world charm with modern amenities such as its helipad to Michelin star restaurant. The main villa offers old-school romance with enormous all-white suites that feature stunning views of the ocean through traditional arched windows. It's worth enquiring in advance about booking a room with a view of Mount Etna which is worth the ask and the extra cost.
Price per night: $263
Zash Country Boutique hotel: Via Strada Provinciale Sp2 N 60, 95018 Giarre
Book Now
What to do on a trip to Sicily
The Cathedral of Monreale — Located near Palermo, this cathedral is one of the most impressive religious sites in Italy and features breathtaking mosaics and architecture.
The Valley of Temples in Agrigento — This archaeological site is home to some of the best-preserved Greek temples in the world, making it a must-see for any history buff.
Church Mosaics in Palermo: Palermo's churches are filled with stunning mosaics and artwork that will take your breath away.
Eastern Temples at Selinunte — This archaeological site features some of the oldest Greek temples in Sicily and offers visitors a glimpse into the past.
Isola Bella — This small island off the coast of Taormina is home to a stunning beach and crystal-clear waters perfect for swimming or snorkeling.
Massimo Opera House (Teatro Massimo) — Located in Palermo, this opera house is one of the largest theaters in Europe and hosts performances year-round.
Palermo Cathedral (Cattedrale di Palermo) — This beautiful cathedral is one of the most important religious sites in Sicily and features stunning architecture and artwork from around the world.
Mount Etna — Europe's tallest active volcano, Mount Etna offers visitors spectacular views from its summit as well as opportunities to explore its lava fields and craters up close.
Ancient Theatre of Taormina — This ancient theatre dates back to the 3rd century BC and still hosts performances today, making it an unforgettable experience for any theater lover.
Doric Temple of Segesta — Located near Trapani, this temple was built by Greeks during their rule over Sicily and remains one of the best preserved ancient monuments on the island today.
Ortigia — This small island off Syracuse is home to some amazing historical sites such as an old fortress, churches, temples, and more. It's also known for its delicious seafood restaurants.
What did you think of this story?