This Magnificent Airbnb Mansion in Bali Is More Affordable Than You Think
In Bali, the town of Ubud is known as the island's cultural center, and the word I'd use to describe it is mystical. Here you'll find the iconic views of terraced rice paddies in shades of green almost too vivid to believe. Rivers stream through Ubud on their way to the sea, flowing through ancient temples and over sacred falls. 
Tourists and locals alike come to Ubud for its promise of healing. Beyond your typical health food cafes or yoga studios, this town offers classes on breathwork, chakra alignment, sound healing, ecstatic dance, and more. When all else fails, simply letting the sounds of the surrounding jungle calm your senses feels restorative. It's the perfect place to hide away with a few friends…or as many as 16 if you book the eight-bedroom, seven-bathroom Ubud Airbnb.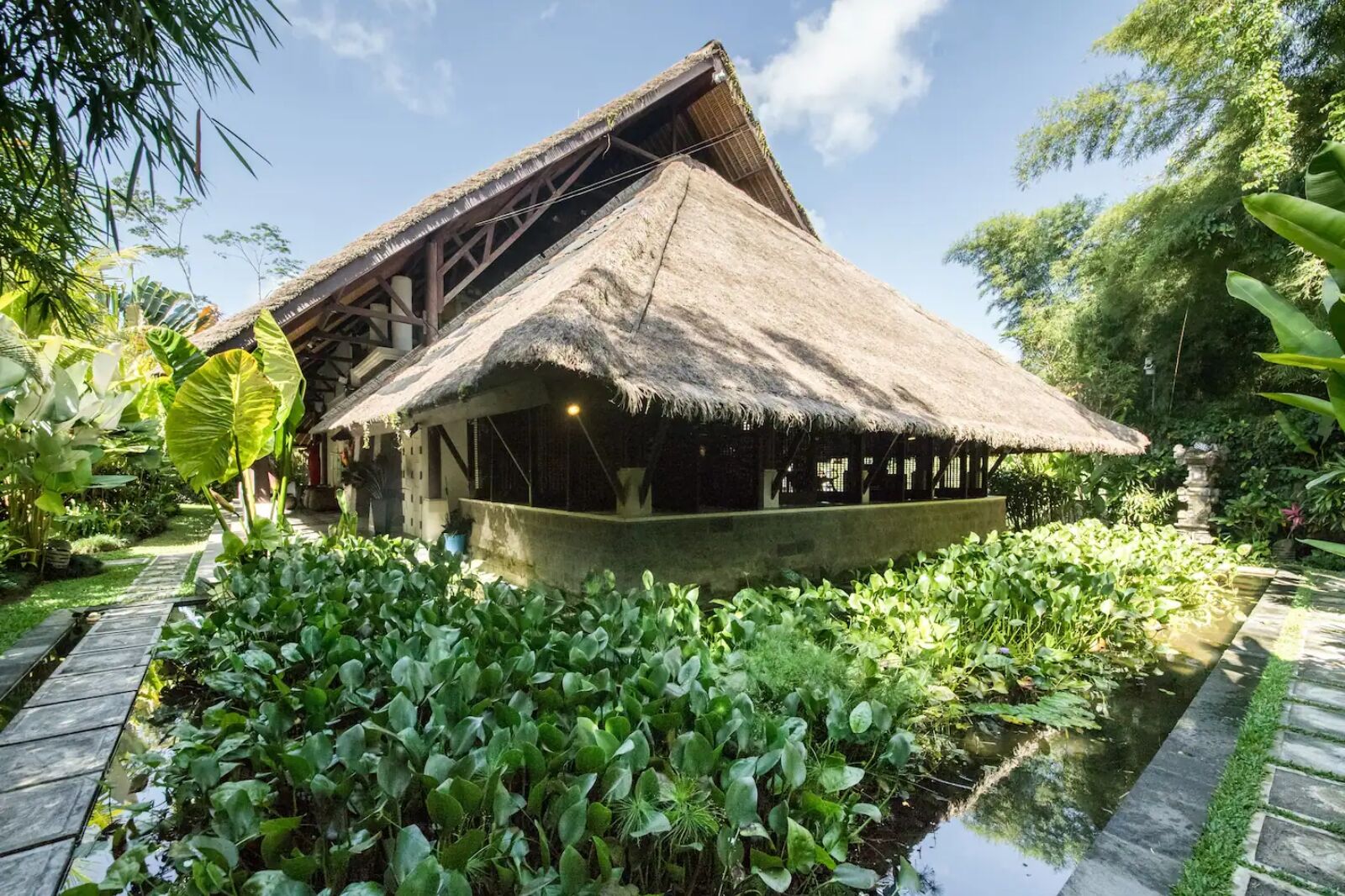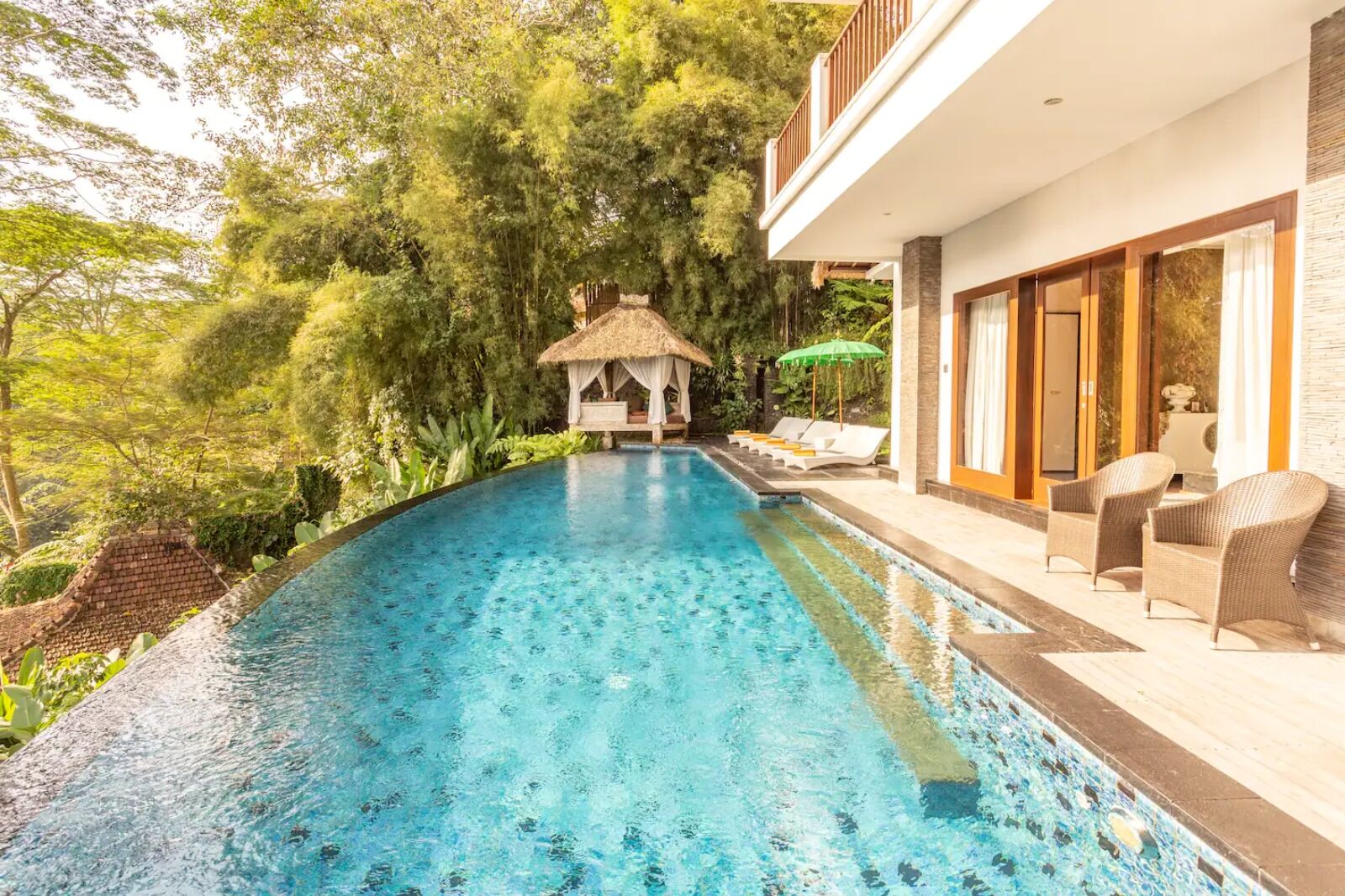 We hope you love the Airbnb in Ubud we recommend. Just so you know, Matador may collect a small commission from the links on this page if you decide to book a stay.
I was lucky enough to snag this luxurious, open-air villa — complete with two pools and a formal dining room — for a weekend getaway with friends to celebrate my partner and I's anniversary. It was a truly unforgettable weekend. 
@bonnie.lucille I recently wrote about my experience spoiling a group of close friends with an epic weekend getaway to the beautiful and serene Manipura Estate Villa in the jungled hills of Ubud, Bali. Read all about it and see more of the villa on @Matador Network ♬ original sound – Bonnie Travels
Upon arrival, Manipura's congenial house manager, Putu, greeted me and each of our guests with a refreshing watermelon smoothie and adorned us with leis made of real Balinese flowers. Putu looked after us all weekend — coordinating meals with the in-house chef, arranging massages for all of our guests, even organizing a cooking class during which we all learned to prepare traditional Balinese dishes like fish steamed in banana leaf and sweet kue putu for dessert.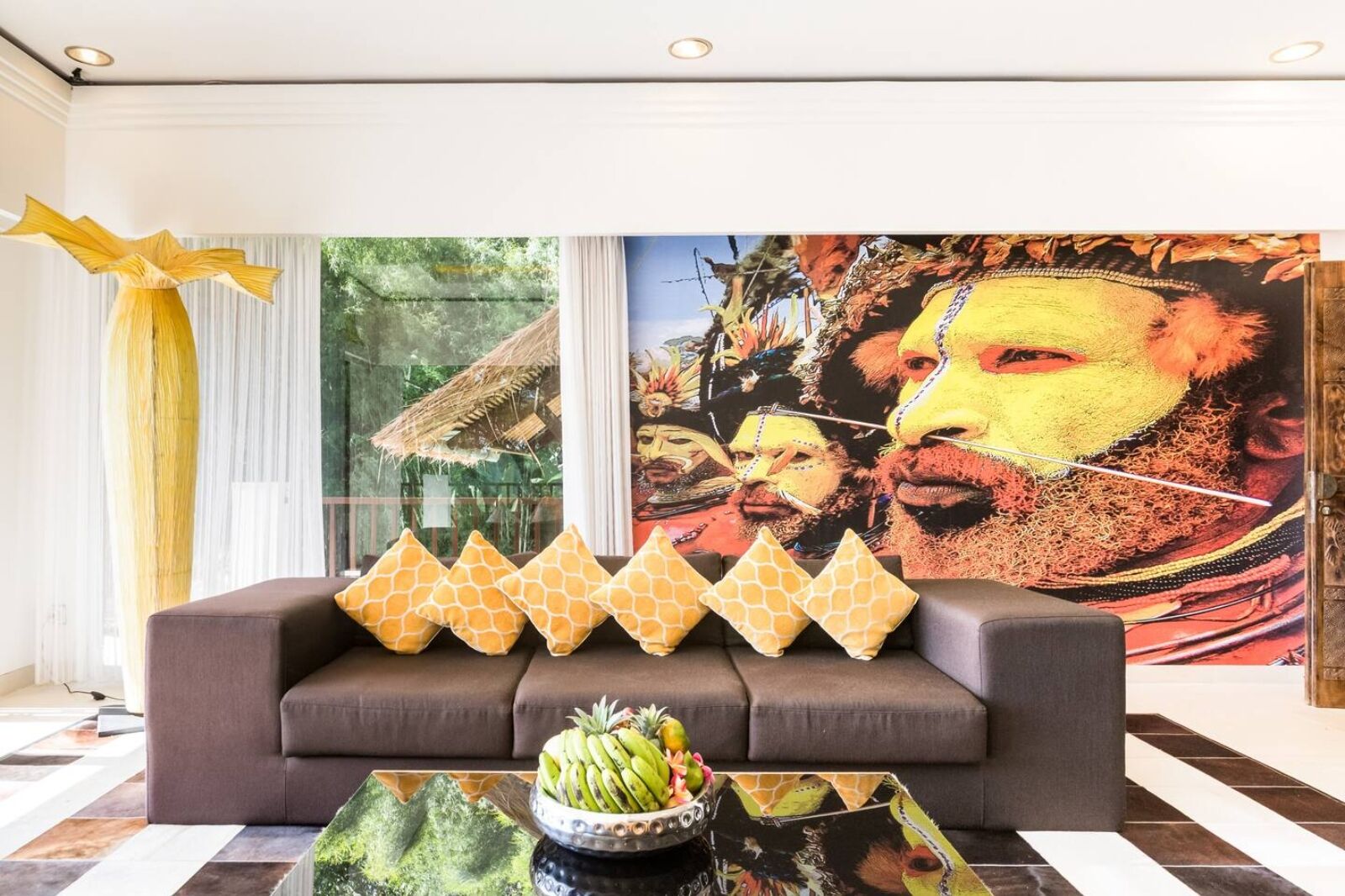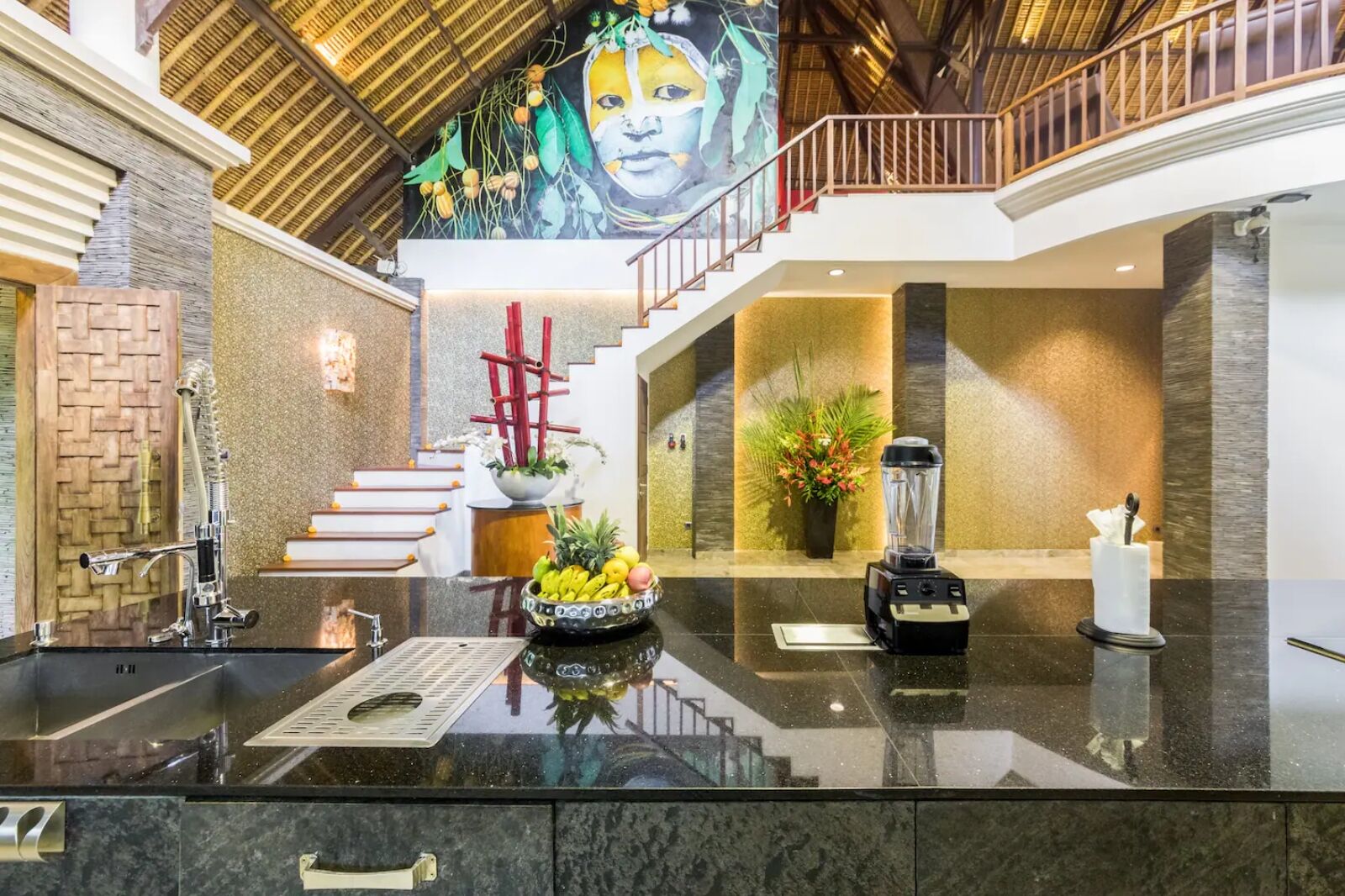 The villa was full of unique but tastefully selected design details. A vibrant mural in the kitchen and several artworks throughout the property depict scenes of Indonesian culture. We enjoyed meals in the contemporary dining room where a colorful, glass-blown chandelier hung from its dramatically high ceiling over a custom slab dining table. A similar chandelier hung from the upstairs terrace, complemented by a (faux) zebra-skin rug and sculptural silver chaise.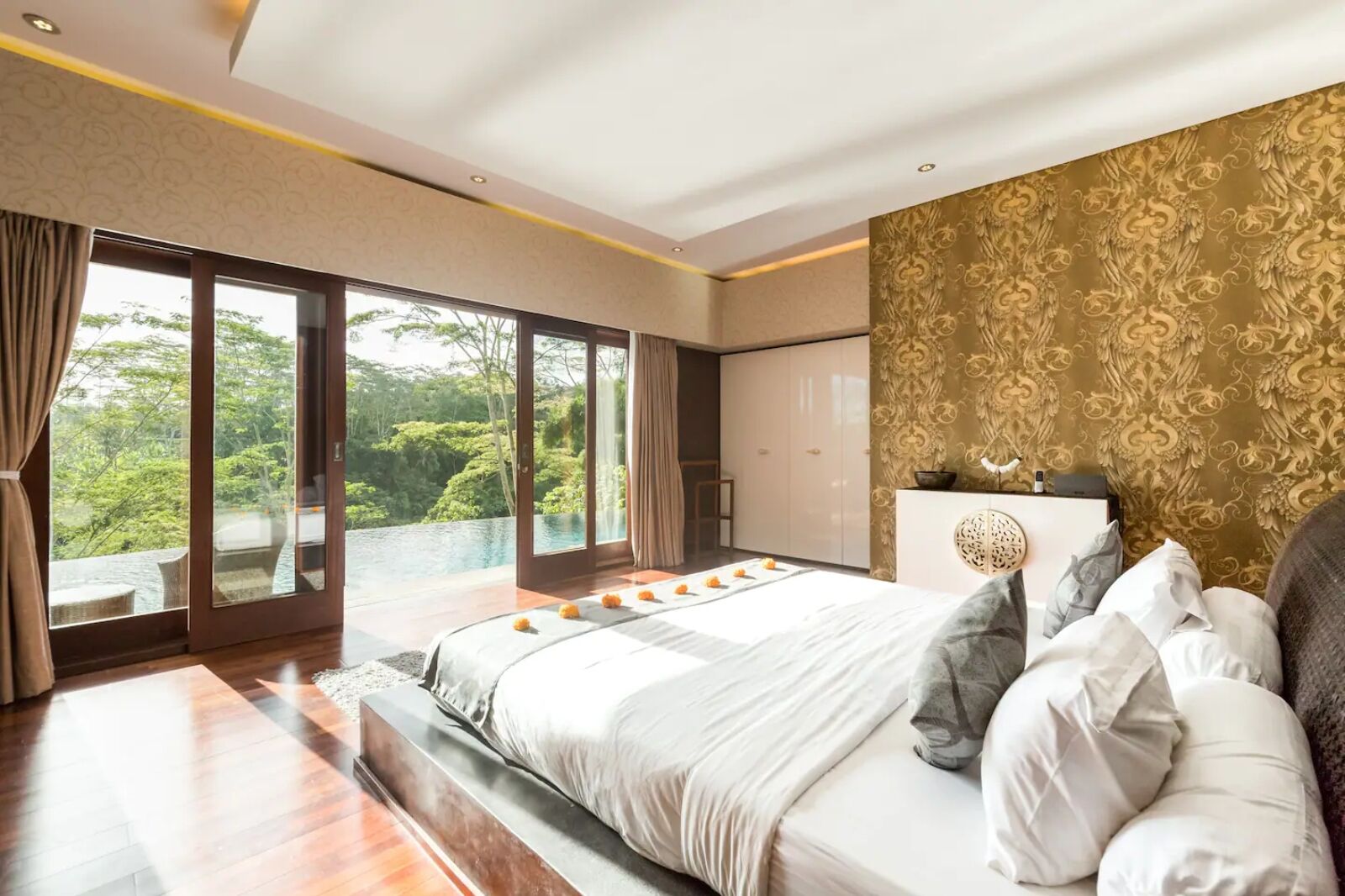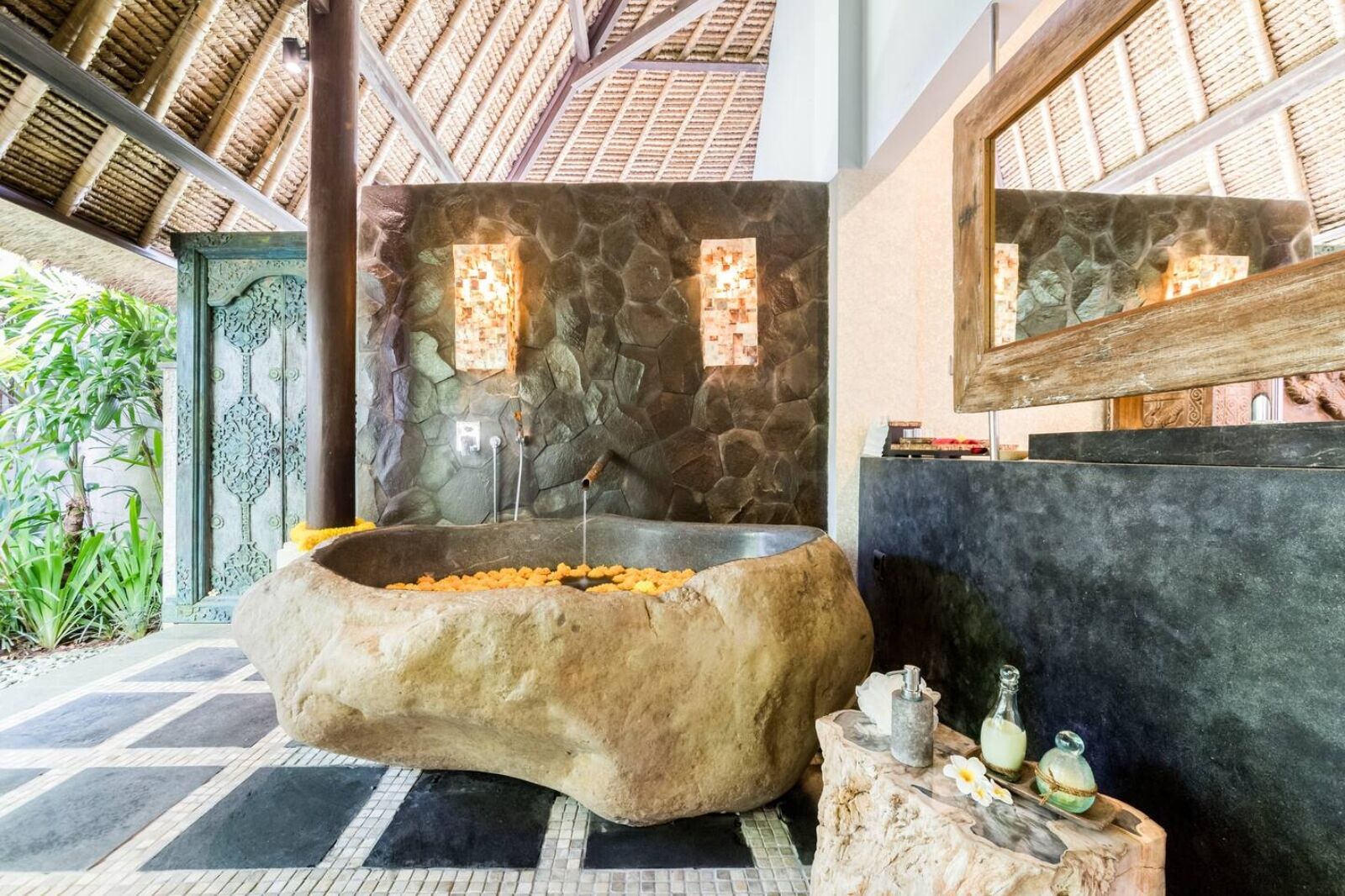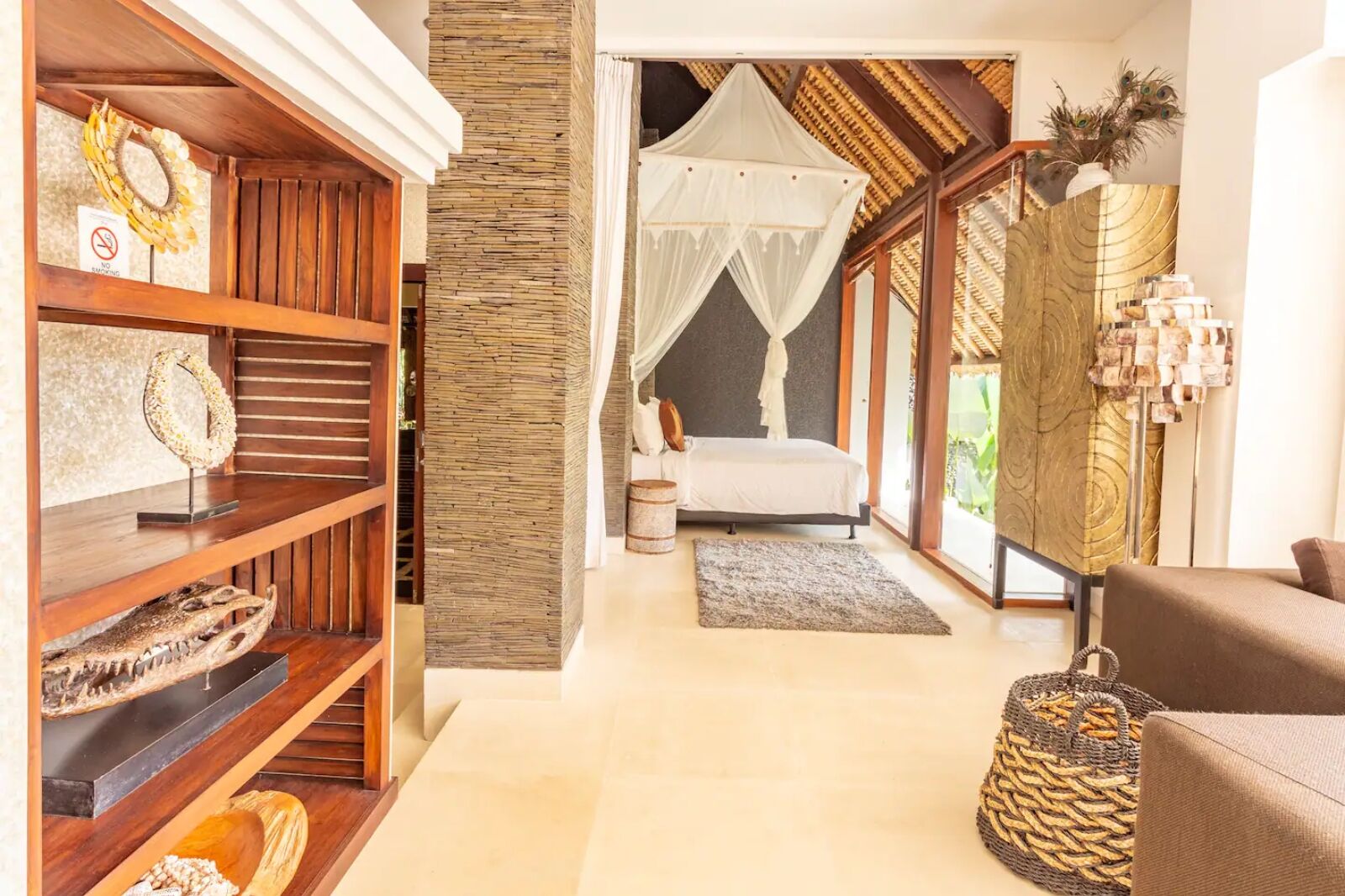 Each guest room comes with its own bathroom, so everyone can enjoy their privacy. The master suite, while extravagantly spacious, is the only room with two queen beds and thus better for families than, say, two couples. If the group is feeling extra cozy, another wall can open to include a third-bedroom suite, located just off the front of the villa. 
Manipura is within easy driving distance of Ubud's city center, so we spent the first evening going into town for a uniquely Ubudian experience at the appropriately mystical Merlin's Magic restaurant and speakeasy. The rest of the weekend was spent, let's say, recovering at the villa. When we weren't partaking in meals and massages, we whiled away the day lounging poolside and enjoying delicious seclusion amidst the treetops. We drank cocktails, played card games, and caught up with each other. A few guests even opted for a leisurely bath. 
According to Putu, it was a decidedly more muted group than his previous guests, a group of elderly ladies from Texas who called themselves "Adventure Grandmas" and spent their days hiking around Ubud — even river rafting.
I live for opportunities to spoil my friends, and while there are plenty of lovely villas around Bali to do so, the Manipura Estate Villa offered an otherwise hard-to-come-by combination of equitable rooms, unique design, warm hospitality, and ample in-house experiences. It is truly in a class all its own. 
What did you think of this story?