The Ultimate LGBTQ Guide To Miami
Glass skyscrapers rise from electric blue waters, neon-pink lights illuminate Art Deco masterpieces, and the parties only end once the South Florida sun rises over the Atlantic shoreline's soft bed of white sand. This is Miami — a multicultural melting pot with a long history as a gaycation destination. Aside from must-see spots like glitzy-gay South Beach and artsy-fartsy Wynwood, Miami throws a gajillion LGBTQ+ events throughout the year where crowds flock to gay Miami.
---
---
A brief history of LGBTQ+ scene in Miami
The fight for LGBTQ+ equality in Miami has often mirrored the wild waves of hurricane season.
Queer communities in the 1950s and 1960s found solace at bars and on beaches, but were subject to frequent police raids and arrests. Five years after the city's first LGBTQ+ Pride-related activities in 1972, local anti-gay activist Anita Bryant's national "Save Our Children" campaign smeared homosexuals as a danger to children. She swayed public opinion to vote against LGBTQ+ anti-discrimination laws. In 1980, The Mariel boatlift brought thousands of LGBTQ+ Cubans seeking asylum to the shores of Miami. Sadly, the coming AIDS epidemic would decimate their numbers along with the rest of Miami's gay community.
In the late 1990s, things began looking up. Miami banned discrimination based on sexual identity in 1998. Gender identity discrimination finally followed in 2014. The city's first sanctioned Pride parade happened in 2009. In 2015, Miami-Dade County became the first place in Florida to issue a same-sex marriage license.
The city's most exciting queer history predates all these landmark moments by decades. It took place in 1937 at La Paloma, a nightclub in what is now Miami-Dade County. La Paloma, known for female impersonators, lude comedy acts, and striptease performances was one of the earliest LGBTQ+ outposts in South Florida. It was also a vulnerable target for anti-gay extremists. On November 15, nearly 200 members of the KKK stormed the bar in white hoods. Despite subsequent threats and police raids, La Paloma reopened with a new skit with performers in white robes openly mocking the terrorist organization. This act of resistance is a shining example of Miami's queer community. When faced with adversity, LGBTQ+ Miamians always know how to bounce back and keep the party going.
The best gay bars in Miami by neighborhood
South Beach
In the 1980s and 1990s, the queer community colonized the area between 10th and 15th Street from Ocean Drive to Washington Avenue. Although many LGBTQ+ clubs have shuttered in recent years, South Beach is still the place to stay and play if you're looking for a gay old time.
It's also quintessential Miami. With expansive beaches, iconic Art Deco architecture, and clubs that blare music all night long, it's no wonder South Beach is often the first and only stop for tourists who come to town.
Palace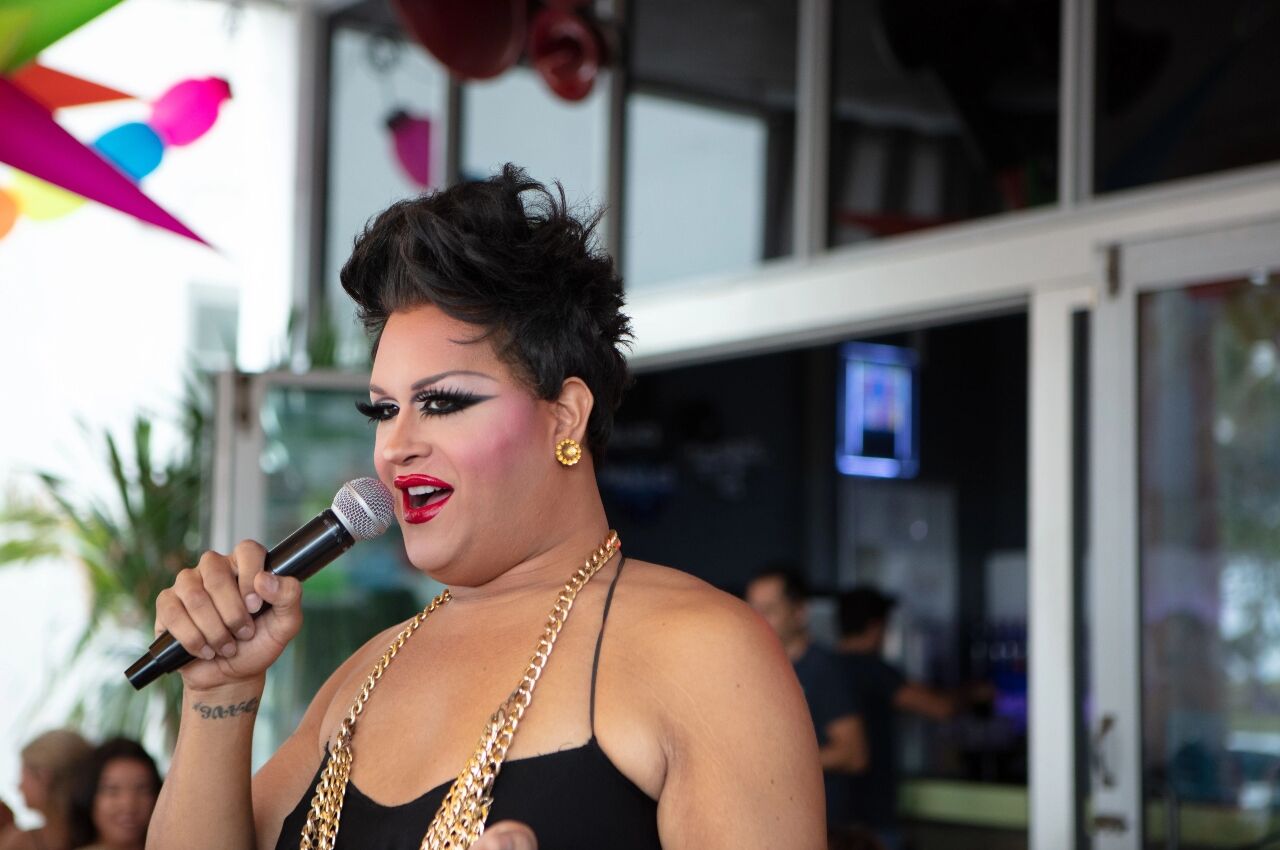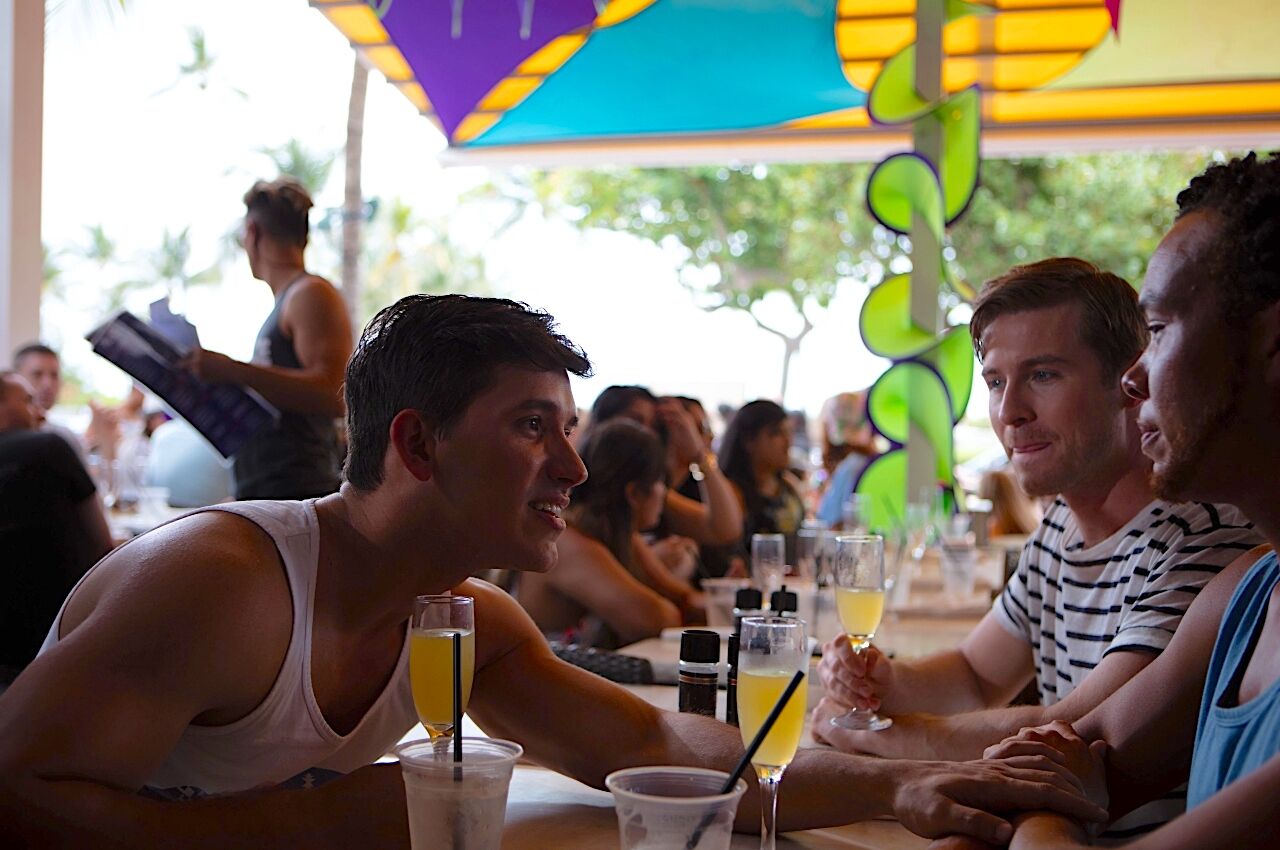 All hail the royal queens of Ocean Drive. Palace is best known for its Friday — Sunday drag brunch, where you can drink your body weight in mimosas while watching drag performers do death drops from table tops for only $50. If brunch is too ambitious after your all-night shenanigans, don't worry — you can catch a Palace queen lip-syncing for her life every night of the week. Palace is conveniently near Miami's 12th Street Gay Beach, a brilliant spot to soak up some midday booze before basking in the sun.
Address: 1052 Ocean Drive
Hotel Gaythering
The Hotel Gaythering is the Swiss Army Knife of gay establishments — it does everything you want it to and then some. The boutique hotel caters to a variety of guests and their needs. It's a hotel, men's sauna, and laid-back bar that hosts a series of themed nights (Wednesday's trivia night actually makes trivia fun). It is even home to Art Gaysel — a show featuring over 30 queer artists during Miami's annual Art Basel. It's also an easy 20-minute walk from the majority of LGBTQ+ nightlife between Ocean Drive and Washington Avenue.
Address: 1409 Lincoln Road
CLUB BOi
CLUB BOi is a South Beach dance club that attracts a mostly Black and Latinx crowd. The music tends toward hip-hop, reggae, and Latin, which can be a welcome respite from the pop and house music you'll hear blaring at most other South Beach bars.
Address: 3632 NW 25th Avenue
Wynwood
Wynwood is Miami's capital of cool: Colorful murals cover streets lined with contemporary art galleries, boutique shops, trendy restaurants, and some of the city's slickest bars. Although the outcropping of LGBTQ+-specific nightlife here is limited, this walkable neighborhood is part of the Millennial ideology where all are welcome and included.
Gramps
This Wynwood watering hole is hipster-bait for people of all persuasions, but Thursday night's Double Stubble, a dance party and drag show, is as queer as they come. Even if you don't make it to this popular LGBTQ+-flavored event, it's worth checking out Gramps for the reasonably priced food and drink menu. The performance space hosts everything from stand-up comics to drag queen bingo throughout the week. Check the website for an up-to-date show schedule.
Address: 176 NW 24th Street
Twist
With two levels, three dance floors, sevens bars, and zero cover, Twist is the Atlantis Cruise of gay clubs — once you hop on board, you never have to leave. It also holds the distinction of being Miami's oldest queer club — undoubtedly a success because the club packs a little something for everyone. While the scene here doesn't heat up until 1:00 AM, you can always find buff go-go boys working up a steam in the Gaiety bar out back.
Address: 1057 Washington Ave, Miami Beach
Wood Tavern
Located across from Wynwood Walls, Miami's premier street art gallery, this indoor-outdoor bar attracts an artsy and eclectic crowd. Funky murals cover almost every inch of wall space in Wood Tavern, including pieces by graffiti gurus like Os Gemeos, Alexis Diaz, and How & Nosm. While it's not explicitly LGBTQ+-oriented, you're bound to bump into a bunch of queer kids shaking their tail feathers underneath the night sky on the massive outdoor dance floor.
Address: 2531 NW 2nd Avenue
Coconut Grove and Little Haiti
Although South Beach is by far the biggest gayborhood in South Florida, if you're hanging out in Coconut Grove, check out Azucar Nightclub and Club Aqua — the city's only remaining gay bathhouse. Head north to Little Haiti for Jamboree Lounge, a gay neighborhood dive bar that serves wine and beer.
Wilton Manors and Fort Lauderdale
It's impossible to talk about Miami's LGBTQ+ scene without mentioning that two of America's most beloved queer destinations are less than an hour's drive away.
Wilton Manors, a 10-minute trip from downtown Fort Lauderdale, is the epicenter of this queer community. You can choose from a healthy helping of bars along Wilton Drive (The Manor and Hunter's both draw big weekend crowds), queer-owned restaurants (head to Rosie's for burgers or lesbian-owned Le Patio for French cuisine), and even gay coffee shops (check out Java Boys or Stork's). Wilton Manors is also home to the Stonewall National Museum and Archives.
Fort Lauderdale famously caters to a more mature LGBTQ+ community, and Sebastian Street Beach is the unofficial gay hang where these older bronzed beauties like to sunbathe.
Gay beaches in Miami
12th Street Beach
If your dream is to drown in a sea of teeny speedos, the gay beach at 12th Street is your fantasy come true. To get there, cross the street from the Palace and walk past the bike path that snakes through Lummus Park. You'll know you've arrived once you spot the rainbow flags; you'll know where to set up your beach towel once you spot the most appealing banana hammocks on display.
Address: 12th Street and Ocean Drive
Haulover Naturist Beach
No shirt? No shoes? No problem. Nearly a third of Haulover Park Beach's 1.5-mile expanse of creamy white-sand is devoted to naturists, making it the largest sanctioned nude beach in the United States. It's egalitarian sunbathing at its best — both beach bums and business folk strip down to their birthday suits to soak up the Miami sun like lazy lizards. Don't be surprised to see people of all ages, shapes, sizes, and sexes. Do remember to be respectful — while there's a gay section, this isn't a place for hanky panky.
Address: 10800 Collins Avenue
LGBTQ+ events and festivals in Miami
Wigwood
Get out your lace fronts, ladies. Wigwood has been celebrating the gender-bending beauty of wigs and those who love to wear them in a weekend-long extravaganza since 2017. The festival, created by local drag celeb Queef Latina, hosts multiple parties throughout the city featuring queer artists, musicians, and some of the most boundary-breaking drag performers in America. Dress to impress.
When: February
Sizzle
Since its inception in 2002, Sizzle has been serving up Black boy joy to thousands from around the country who gather every Memorial Day Weekend in a celebration of life and liberty. There are pool parties during the day, raves that last late into the night, and at least one takeover of the naturist section at Haulover Beach. Check out the Sizzle Miami website to purchase event packages.
When: May
Gay8 Festival ("Gay Ocho")
With over 60,000 attendees, Little Havana's Gay8 Festival is the largest annual Hispanic LGBTQ+ event in the nation. Calle Ocho, Miami's Southwest 8th Street, shuts down for the festivities to showcase the neighborhood's unique blend of music, food, and art. Expect everything from wild dance parties in the street, free queer film screenings, and live music.
When: February
Aqua Girl
Every autumn, Miami Beach hosts the largest gay women's charity event in the country, Aqua Girl. Unlike the boy-centric bashes that take place throughout the year, this female-focused fête caters primarily to lesbian, bi, trans, and nonbinary individuals. As the title suggests, Aqua Girl is all about getting wet. Saturday's pool party is the main event, though there's a large helping of parties where you can cut a rug throughout the week. A portion of Aqua Girl's proceeds goes to The Aqua Foundation for Women, a local LGBTQ+-focused nonprofit.
When: October
Winter Party
What began as a one-night-only beach party in the winter of 1994 is now a six-day music and dance festival attended by nearly 10,000 people from around the world. Miami Beach hosts over 20 events where you can dance until you drop all week long. A portion of the proceeds goes to the National LGBTQ+ task force, helping to support 80 nonprofit organizations in South Florida.
When: March
Miami Beach Pride
Miami Beach Pride festivities begin the first week of April, starting in recent years with a memorial honoring the victims of Orlando's Pulse nightclub massacre. During the event, entitled Pride Lights the Night, buildings throughout Miami-Dade County decorate with rainbow-colored lights in a sign of solidarity. Along with the many parties, drag competitions, and community mixers that take place during the week, be sure to check out the weekend-long Pride Festival in Lummus Park. With two stages featuring dozens of live performances, 125 vendor booths, and a bunch of family-friendly activities, this raucous daytime shindig is the weekend's most popular. The celebrations culminate in Sunday's Pride Parade along Ocean Drive. Expect dozens of spectacular floats, participants dressed in an array of fantastical costumes, and onlookers dancing down the sidewalks on their way to the beach.
When: April
Where to stay in Miami
We hope you love the spaces and stays we recommend! Just so you know, Matador may collect a small commission from the links on this page if you decide to book a stay.
The Standard
The Standard is an idyllic place to detox from Miami's manic party scene. The sleek, spacious rooms come equipped with private terraces and vintage soaking tubs. There's also a full-service spa where you can relax in a Finnish sauna or Roman waterfall hot tub. When you're ready to retox, the Lido Bar is a chill spot to grab a cocktail and play some ping pong; the Lazy Sunday Barbecue party at the outdoor infinity pool is a popular event open to the public. While this isn't technically an LGBTQ+ hotel, its proximity to South Beach makes it close enough to join the fun and far enough away to escape it.
Address: 40 Island Avenue
Hotel Gaythering
South Beach's exclusively gay hotel is so queer-tastic it had to be listed here twice. The 1958 MiMo-style property has versatile room packages to fit all kinds of budgets. For size queens, try the swanky studios and comfy kings. For those looking to save, the no-frills private units with shared bathrooms are some of the most affordable accommodations in town. As noted before, Hotel Gaythering offers all the amenities you need and attracts all the things you want while on vacation.
Address: 1409 Lincoln Road
The Villa Casa Casuarina (formerly the Versace Mansion)
It may seem creepy to walk over the threshold where Gianni Versace was shot to get to your room, but let's be real — this storied beachfront palace, originally built in 1930 by rich-kid architect Alden Freeman, is fancy AF. If you've seen The Assassination of Gianni Versace, you know what I'm talking about.
Every room in this villa is dripping with baroque-style opulence. The soaring prices (over $700 a night) might make you think Ricky Martin will be waiting for you in a tight tennis uniform when you arrive. If you're looking to be more a voyeur than an overnight guest, book a dinner reservation at the on-site Italian Mediterranean restaurant, Gianni's.
Address: 1116 Ocean Drive
AxelBeach Miami
This "hetero-friendly" Art Deco hotel is the second gay lodging option in South Beach and is just a few blocks from Miami's 12th Street beach. Axel Hotels is a trusted queer chain popular in cities such as Barcelona, Ibiza, and Berlin.
Address: 1500 Collins Avenue
If you'd prefer to rent a house or apartment, check out Matador's comprehensive article on the best Airbnbs in Miami for list of trusted rentals.
Check out Matador's LGBTQ+ travel guides to North America
What did you think of this story?