The 10 Best LGBTQ-Friendly Small Towns in the US
Across the United States, there are small towns that you might at first think have no hope for a thriving LGBTQ+ scene. But you'd be remiss to overlook the opportunity to explore small town America where you can find vibrant queer communities that offer safe spaces rivaling those in large gay-friendly cities such as New York, San Franciso, and Chicago.
Luckily there are many charming vacation spots where you can escape the noise of the city and still walk down the street holding hands with your partner without worry. The places mentioned here range from top-tier queer destinations that pride themselves on an excellent range of LGBTQ-specific events to small towns that are showing their true colors as up-coming havens for LGBTQ+ travelers. These are the 10 best gay-friendly towns in America.
We hope you love the spaces and stays we recommend! Just so you know, Matador may collect a small commission from the links on this page if you decide to book a stay.
1. Provincetown, Massachusetts
It's quaint, like Leave it to Beaver on vacation but edgier, because Theodore's daddy is probably twirling in leather at the Boatslip Resort's 5:00 PM Tea Dance, and here, "beaver" carries a much different meaning. This is Provincetown — the US's gay summer capital on the tip of Cape Cod.
Protected on the Cape's bayside by miles of bikeable dunes and scrubby forests, Provincetown (or P-town, as it's commonly known) has long been a safe harbor for queer US travelers seeking refuge. Less than 3,000 people call P-town their year-round home, but in summer, the population can swell to over 60,000.
What to do in Provincetown
The town's walkable main drag, Commercial Street, is chockablock with art galleries, clothing stores, restaurants, and live performance venues. Herring Cove Beach is the most popular outdoor hang, with a lesbian section about a quarter-mile south of the main entrance and the gay section another quarter-mile down from there. The town hosts several themed weeks throughout the summer, including July 4th, Carnival, Girl Splash, and Bear Week. Be sure to check the dates of each week, as the type of people you'll encounter around town will vary drastically.
How to get to Provincetown
You can take the Bay State Cruise Company ferry from Boston (1.5 hours), arrive via bus, or rent a car and drive along the Cape's scenic thoroughfare.
Where to stay in Provincetown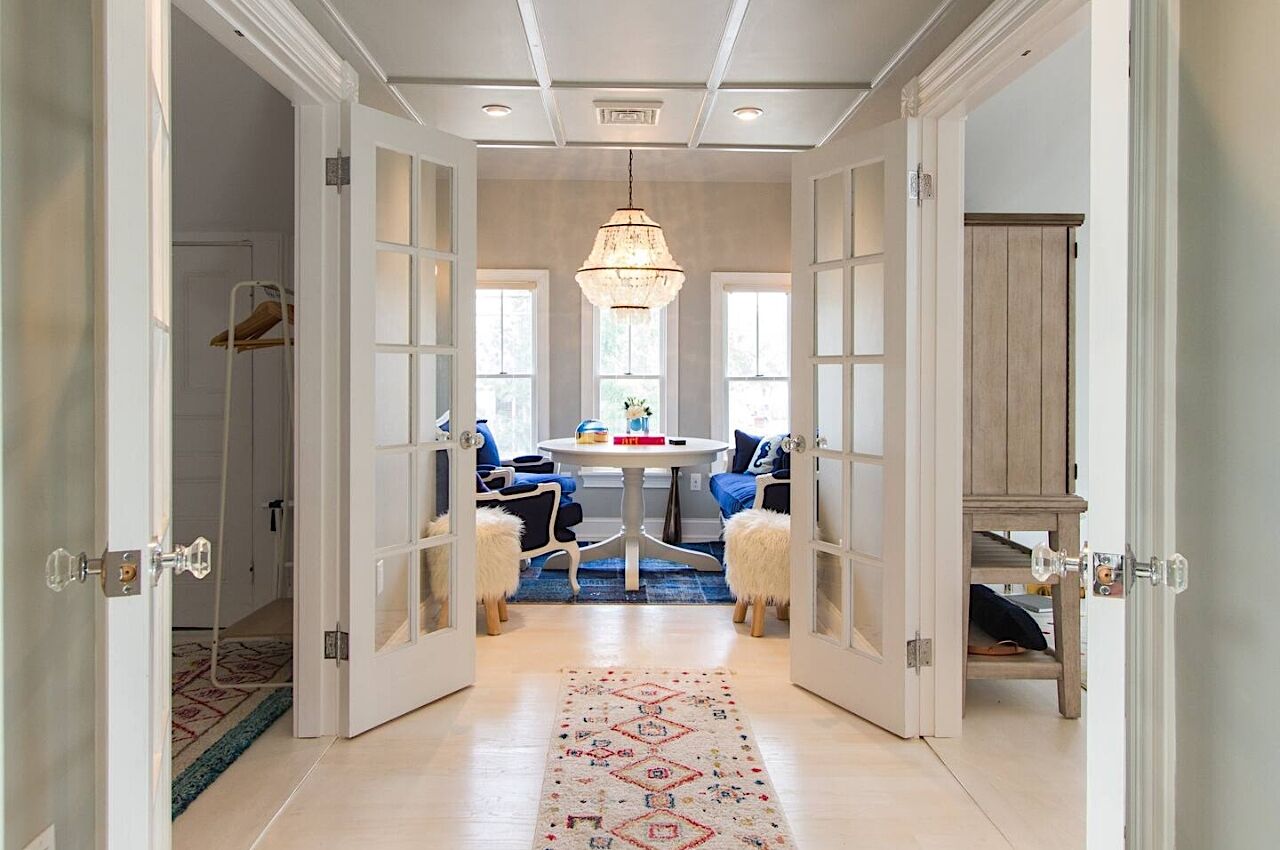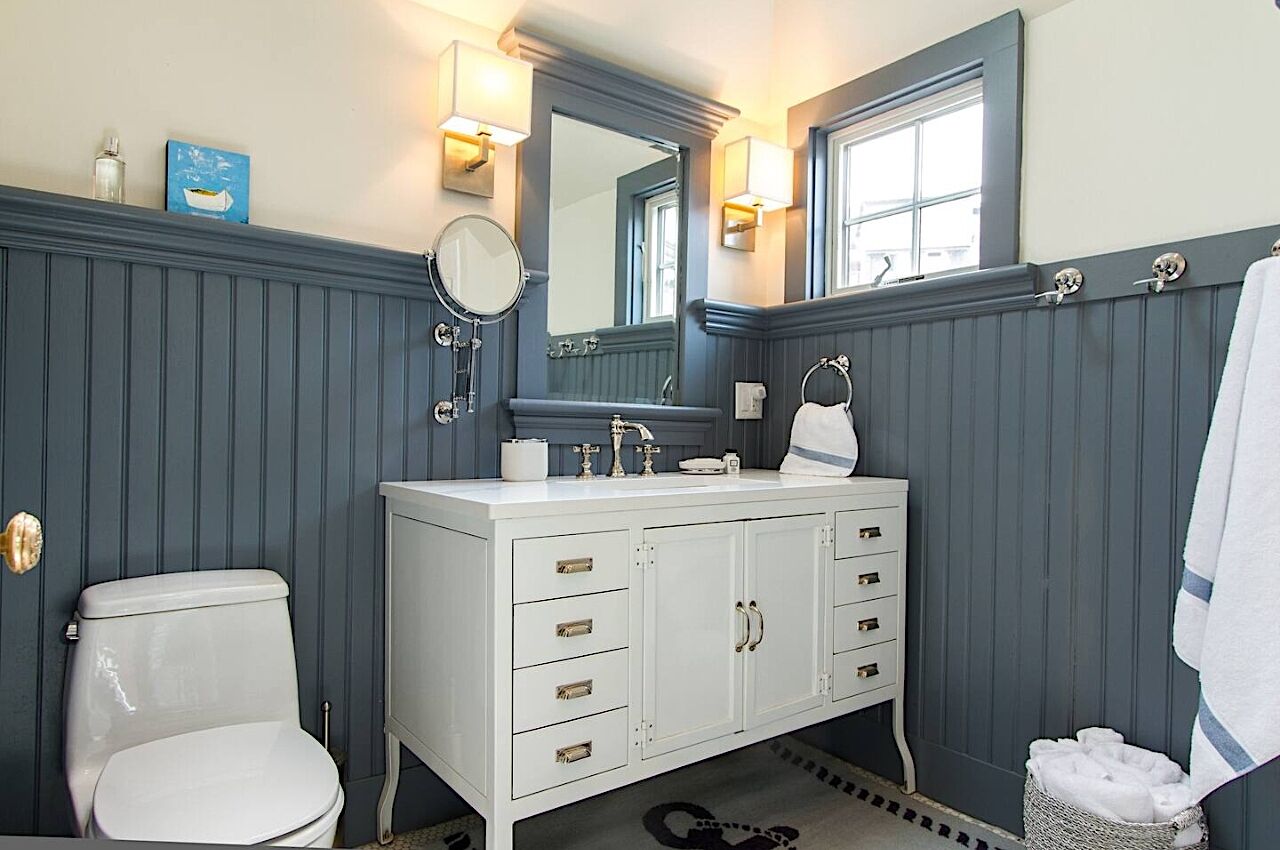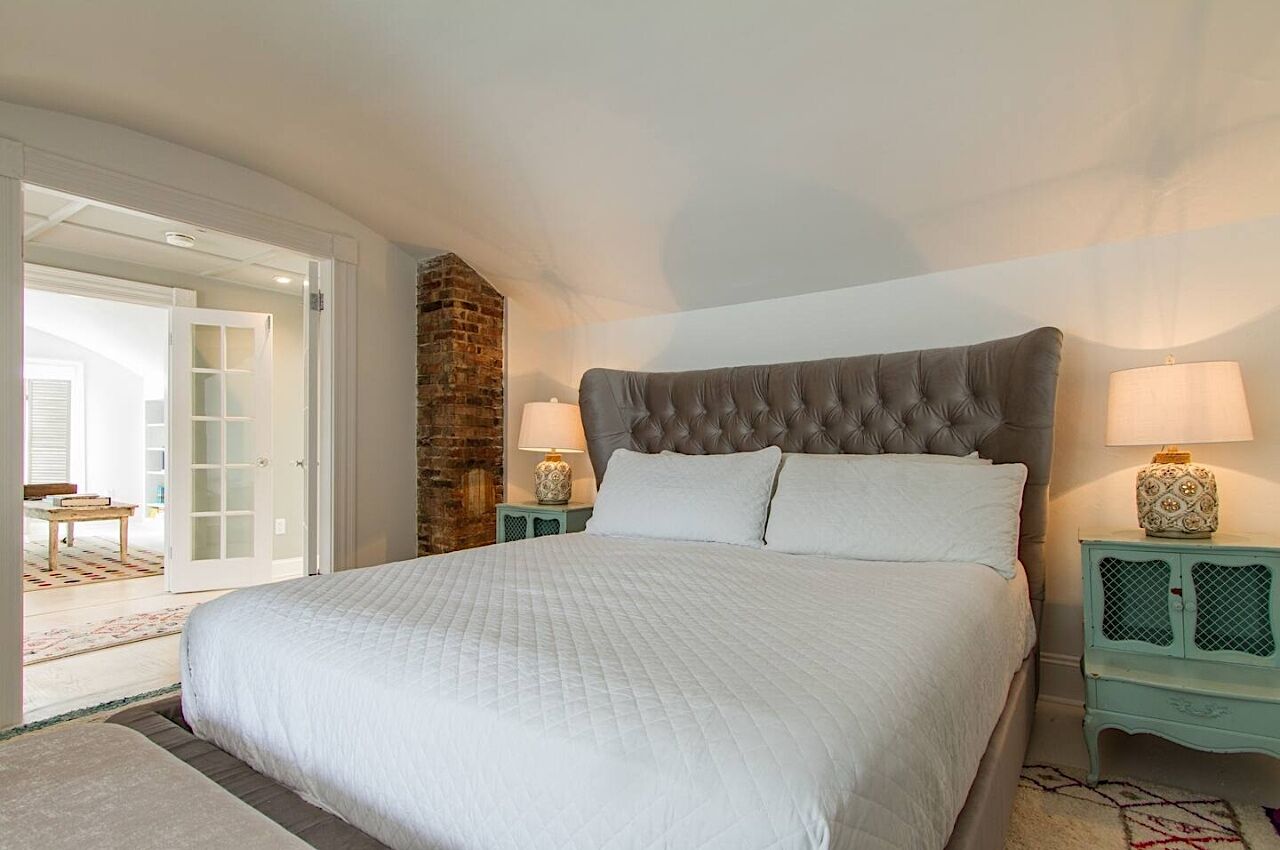 This calming apartment sleeps two and is located a few steps away from the beach. It's beautifully designed and has every amenity you could wish for from a professional Airbnb.
Another great rental option in Provincetown is this charming one-bed townhouse. It is also very well appointed, located in the heart of town, it's minutes walk away from coffee shops and boutiques.
2. Fire Island, New York
Fire Island's meandering sand dunes, maritime forests, and modernist homes are at the mercy of the mighty Atlantic. It's a strange place for a safe haven, but that's what makes this exposed sandbar so enticing. It's seemingly impossible, and yet, here is a community built on the backs of gay and lesbian crusaders since the 1940s that's been able to weather any storm.
What to do on Fire Island
Cherry Grove and The Pines make up the island's two LGBTQ+ enclaves. The Pines caters to a rowdier, mostly male crowd. The majority of the midday and late-night revelry happens in the Pavilion, located next to the ferry dock. Cherry Grove is the more lesbian-centric and artsy of the two communities. You can travel between The Pines and Cherry Grove by walking through the infamous wooded Meat Rack or by water taxi, as there are no cars on this part of the island. Regardless of where you stay, you can party hard until sunrise, keep it mellow on miles of sandy beach, or find a favorable balance between the two.
Food on the island is pricey, and you shouldn't be surprised to see people lugging their own food-filled coolers on the ferry. Popular events that happen in summer include the drag-queen-led Invasion of the Pines on July 4th, the circuit queen-filled Pines Party, and the theater-queen beloved Fire Island Dance Festival that benefits Broadway Cares and Equity Fights AIDS. The island is mostly desolate during winter, with a tiny year-round population of just over 290.
How to get to Fire Island
To get here, take the Long Island Railroad from Penn Station to Sayville. Hop in a taxi at Sayville and head to the Sayville Ferry Service terminal. From there, the ferry will take you to The Pines. You can also drive and park at the ferry.
Where to stay in Fire Island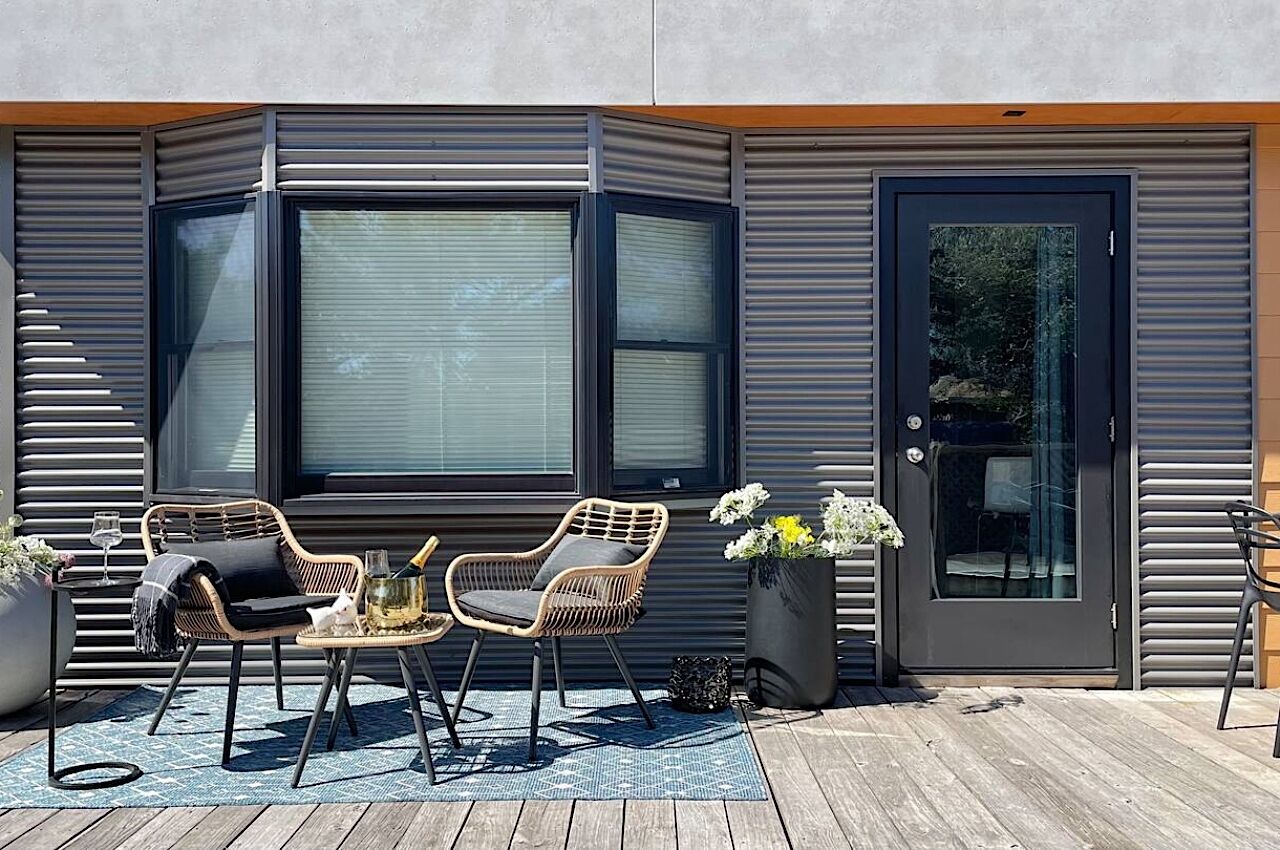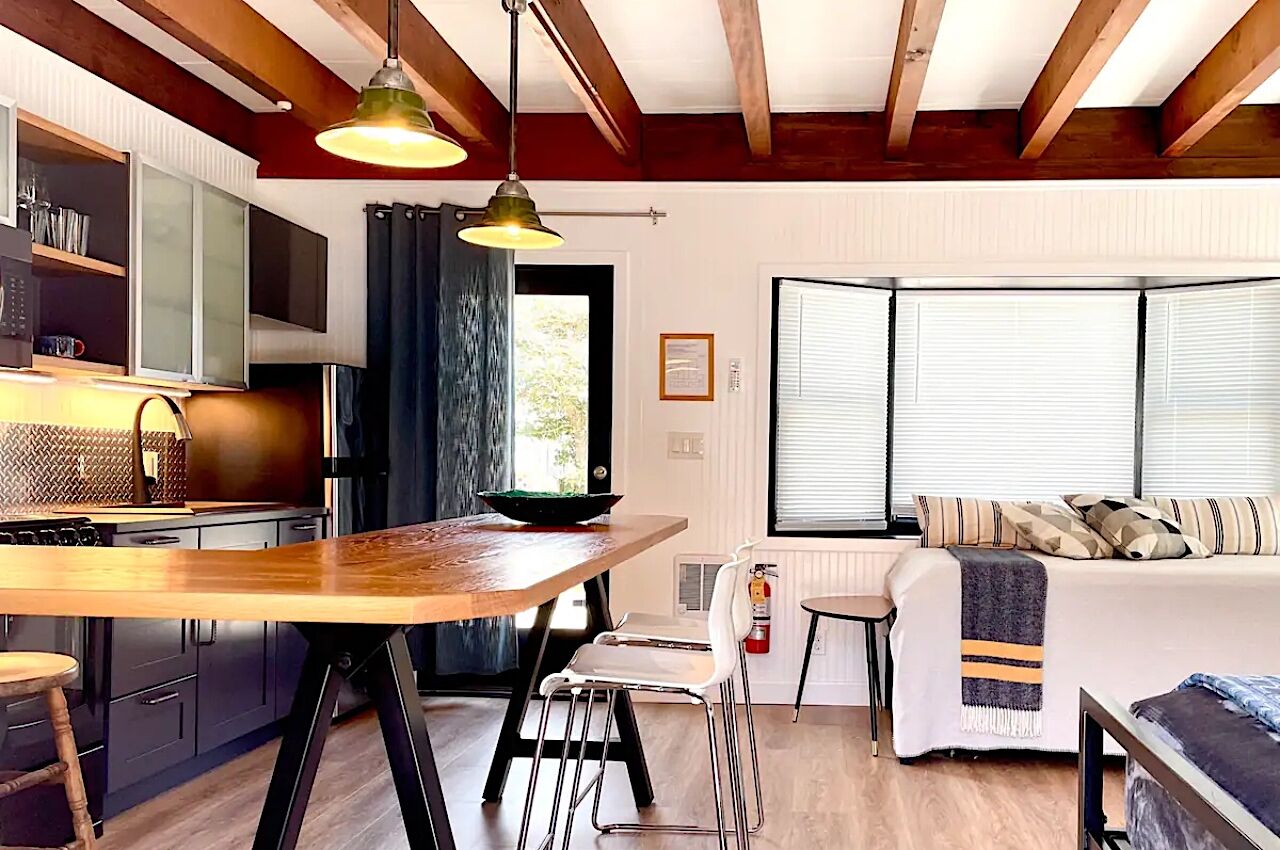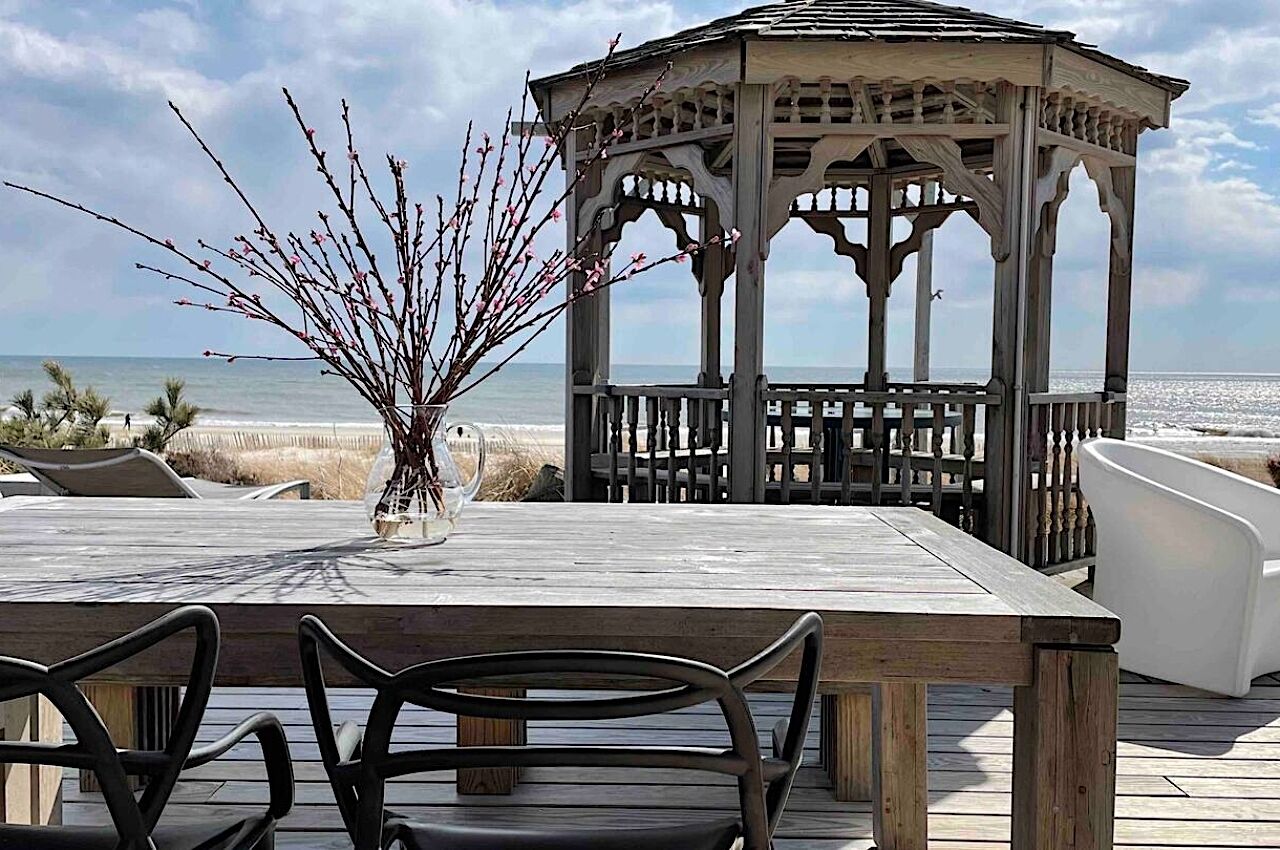 Located in Cherry Grove, this Airbnb studio sleeps up to four and has been recently renovated. It's a great space for couples due to the outdoor area, where folx can spread out and grill on the patio.
We love this beautifully put-together and chill surf shack located on one of the best beaches on Fire Island. It's a perfect rental if you have a group, as it sleeps six. And if you are feeling active you can use the house's surfboards and bikes.
3. Ogunquit, Maine
Ogunquit was a quiet fishing village until around a hundred years ago when it was colonized by artists drawn to the sweeping white-sand shores, gentle waters, and idyllic rocky coves. Though it may only occupy four-square miles of Maine's rugged coastline, Ogunquit has an abundance of locally owned restaurants, gift shops, inns, and a thriving arts community.
What to do in Ogunquit
The most notable institutions in town are the Ogunquit Museum of American Art, which pays homage to contemporary artists from the United States, and the Ogunquit Playhouse, ostensibly one of the greatest surviving summer stock theaters in the US. The theater, listed on the National Register of Historic Places, produces plays and musicals between May and October featuring Broadway-caliber performances from New York's finest stage actors. For those looking to imbibe, Front Porch is the go-to piano bar. MaineStreet is the spot to catch drag shows and dance music.
How to get to Ogunquit
A 90-minute drive north of Boston and less than an hour from Portland, this beach town escape is an easy one to get to. It's also significantly cheaper than its southern sister on the sea, Provincetown, and can be an excellent alternative for LGBTQ+ folks looking for an affordable summer weekend on New England's breezy shoreline.
Where to stay in Ogunquit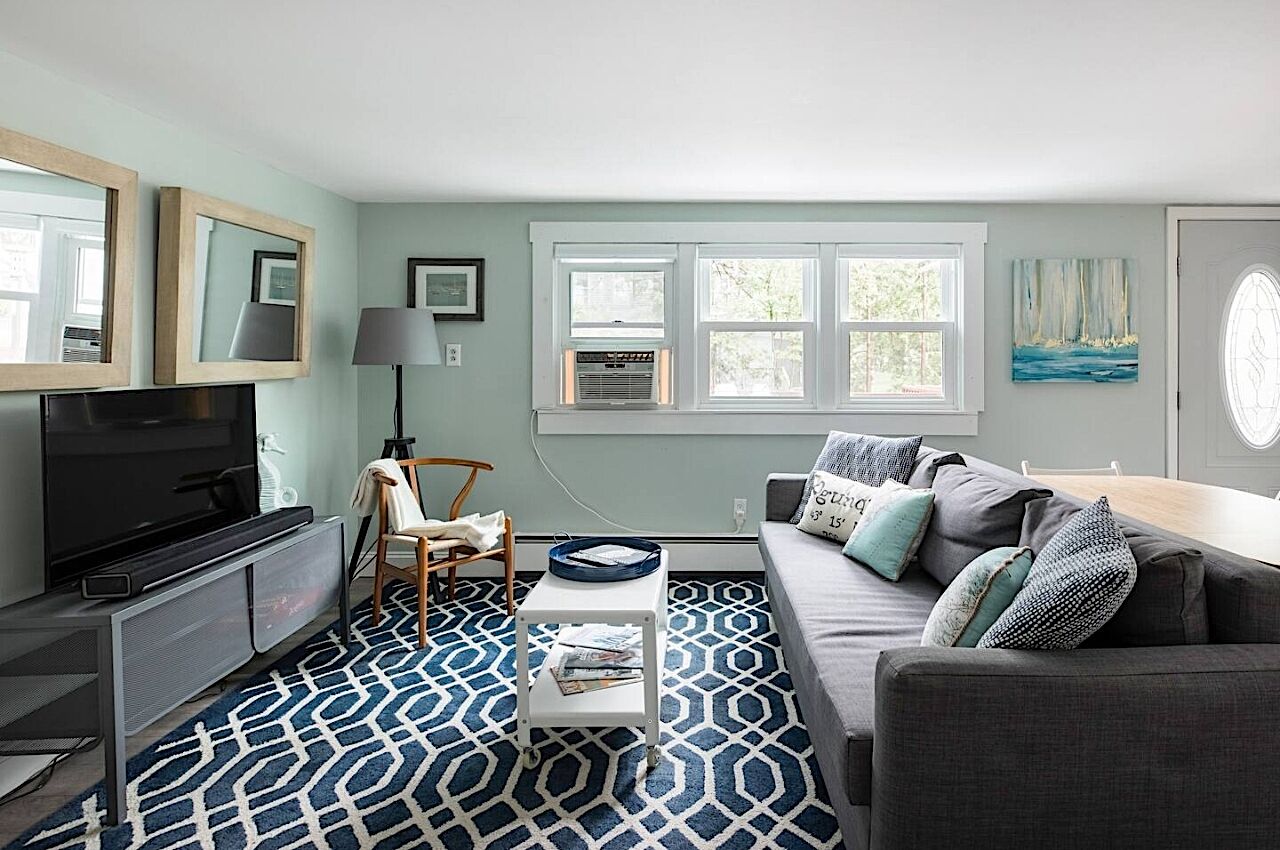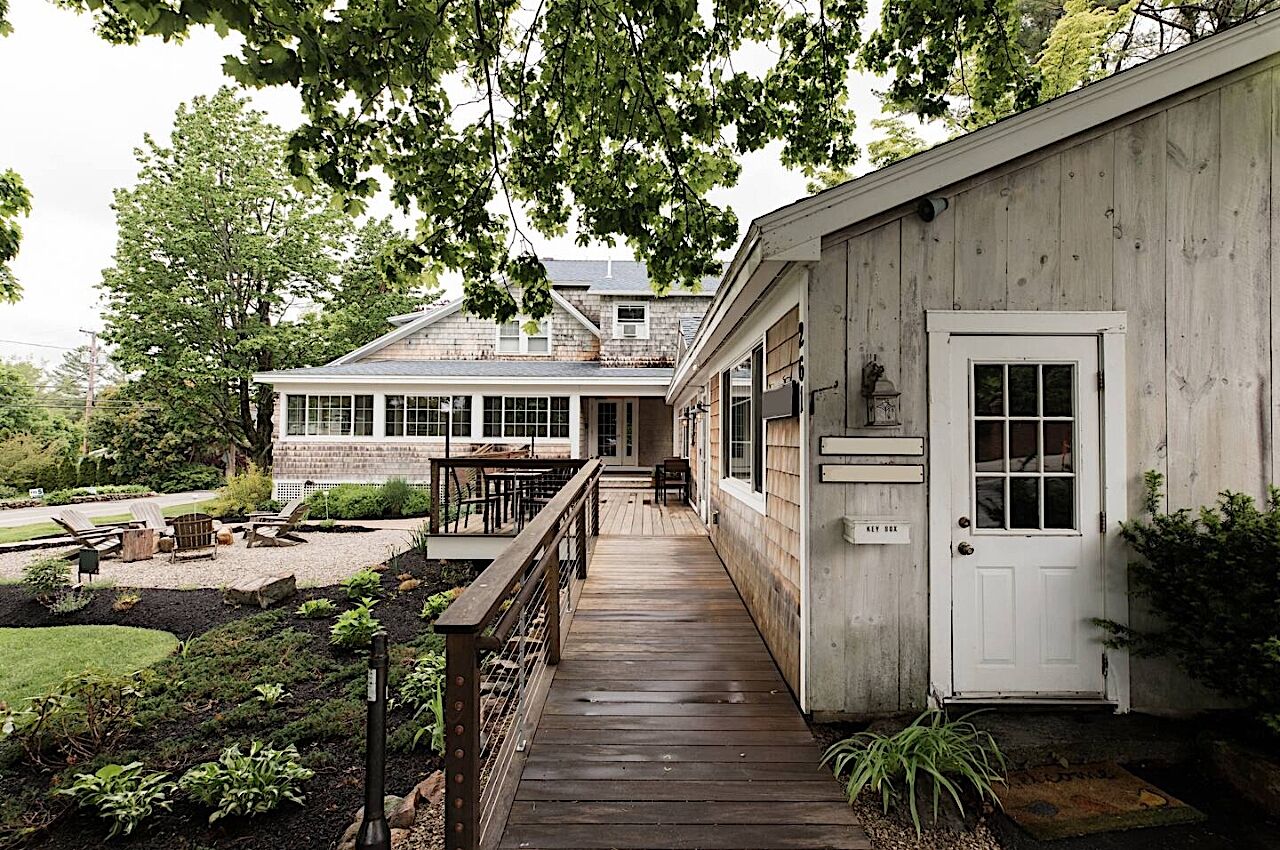 In Ogunquit, we've selected Airbnb Plus rentals. The first has three bedrooms and features iconic Maine design aesthetics and a private deck.
The second house is located in Kennebunk and Kennebunkport. The house has numerous features ideal for a group booking including an outdoor firepit, large lounge area and kitchen.
4. New Hope, Pennsylvania
Tucked along the West Bank of the Delaware River, this 1.4-square-mile town became a popular city reprieve for some of the most established composers and playwrights of the 1930s, '40s, and '50s, including Oscar Hammerstein and Moss Hart.
The Bucks County Playhouse, started in 1939, was once famous as a pre-Broadway tryout for new shows and premiered prolific works like Neil Simon's Barefoot in the Park. By the 1950s, the lesbian and gay community caught on, and New Hope's rolling hills and nearby farmlands became a queer urbanite escape. The Playhouse re-established itself as one of the country's preeminent regional theaters in 2012, and as a result, the entire town has found itself back in the LGBTQ+ travel cannon as a worthy weekend visit.
What to do in New Hope
The area has a long history as a hideout for more than queer folk in search of escape. It's where George Washington camped the night before crossing the Delaware River and where Aaron Burr found a week-long refuge after killing Alexander Hamilton.
A natural halfway point between Philadelphia and New York City, the town was integral to transportation in the 18th and 19th centuries, and vestiges of the town's historical past can be seen in the architectural styling of sturdy brick homes lining Ferry and Main Streets. The most famous of these is Parry Mansion, built circa 1784, which offers tours from May to September.
The town's annual Pride festival is set in the Delaware River Valley and is worth planning a trip around in mid-May.
How to get to New Hope
New Hope is only an hour's drive north of Philadelphia and 90 minutes from New York City. If you're traveling from Philly, it's also possible to ride the SEPTA Regional Train to nearby Doylestown and take a 20-minute taxi ride the remaining 11 miles.
Where to stay in New Hope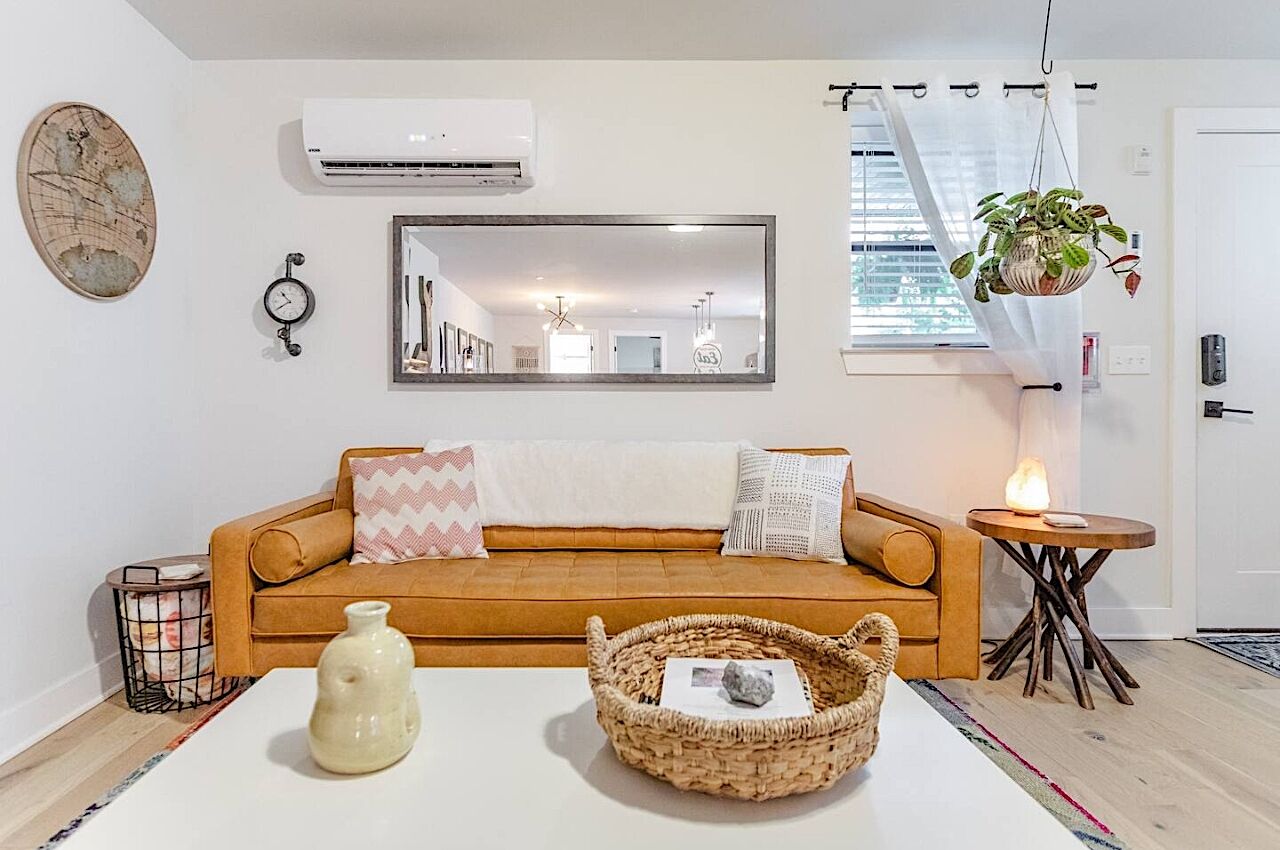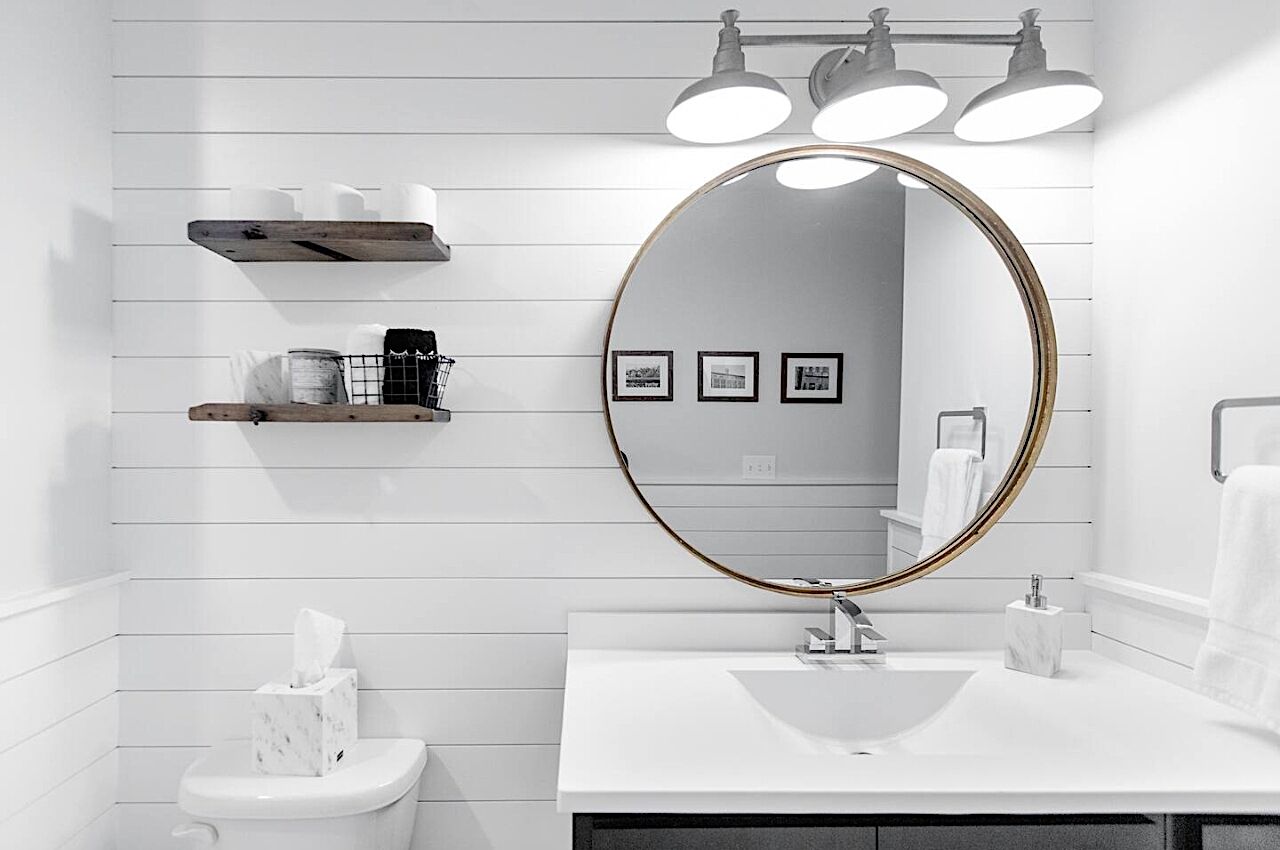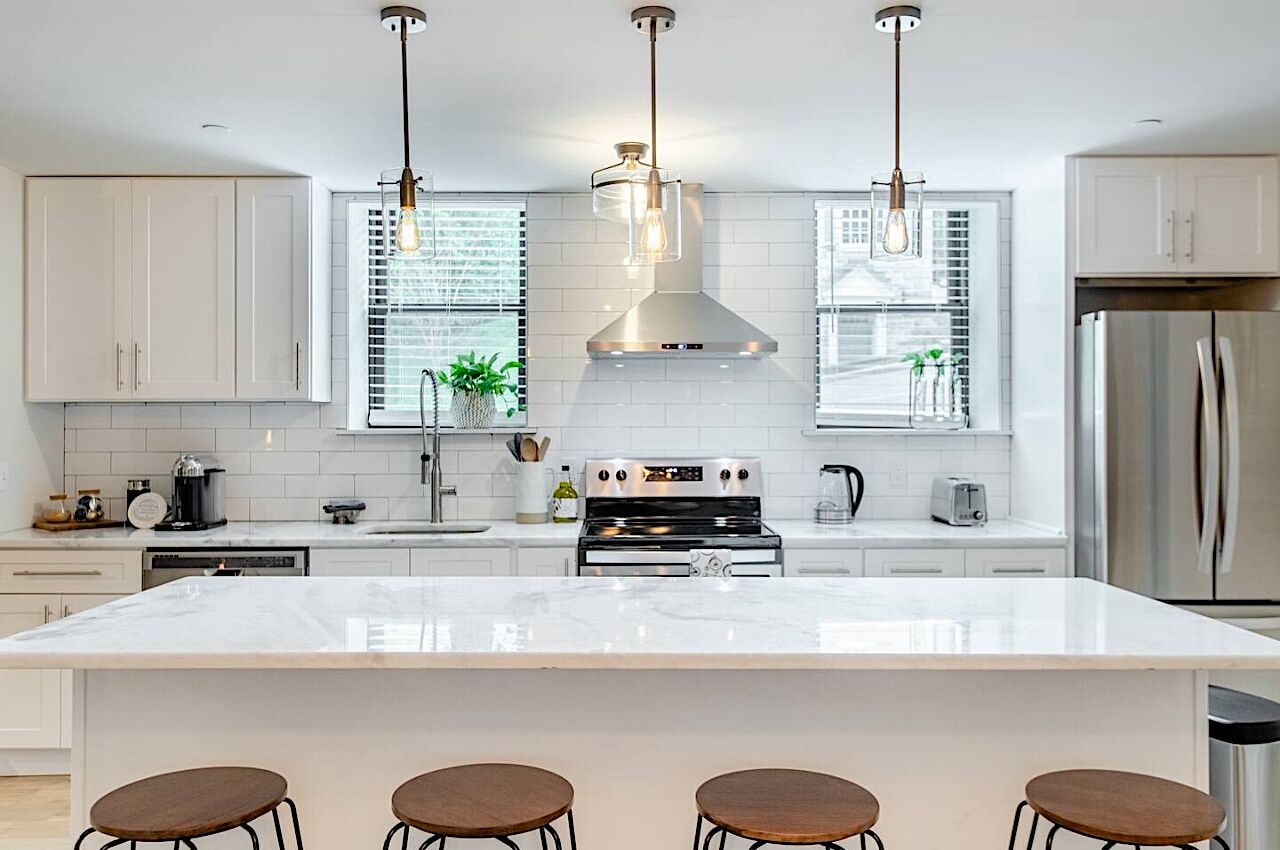 This trendy apartment is located in downtown Easton. It's spacious, moderns and it's unbeatable location puts you close to great restaurants, bars and shops.
We also love this stylish and immaculately decorated one-bedroom apartment. The brown house has everything you could desire for a comfortable stay including a memory foam mattress, smart TVs and a fully equipt kitchen.
5. Asbury Park, New Jersey
Asbury Park wasn't the Jersey Shore's most inviting piece of real estate in the early 2000s, but in 2002, a group of gay men who were revitalizing the town's iconic Victorian properties started throwing the Sandblast Party — a small beachfront shindig encouraging their city friends to come and enjoy the Jersey sun. Today, the Sandblast Party is a three-day extravaganza that welcomes around 5,000 LGBTQ+ fun-seekers every July.
What to do in Asbury Park
Even though the population is just under 16,000, the beachfront boardwalk and locally owned stores make this quirky 1.6-square-mile summer retreat feel quaint. You can spend a weekend shopping for clothes, art, and antiques along Cookman Street, checking out city-sanctioned murals and carnival-style food options near Ocean Avenue or catching rays on the beach (the gay section is near the 5th Avenue entrance). The town also hosts Jersey's annual Pride festival, which takes place in early June.
How to get to Asbury Park
Asbury Park makes a sensible day trip for folks traveling from New York. You can take the New Jersey Transit line to Long Branch, make one transfer, and continue to the desired destination. Driving from Philadelphia or New York is equally accessible.
Where to stay in Asbury Park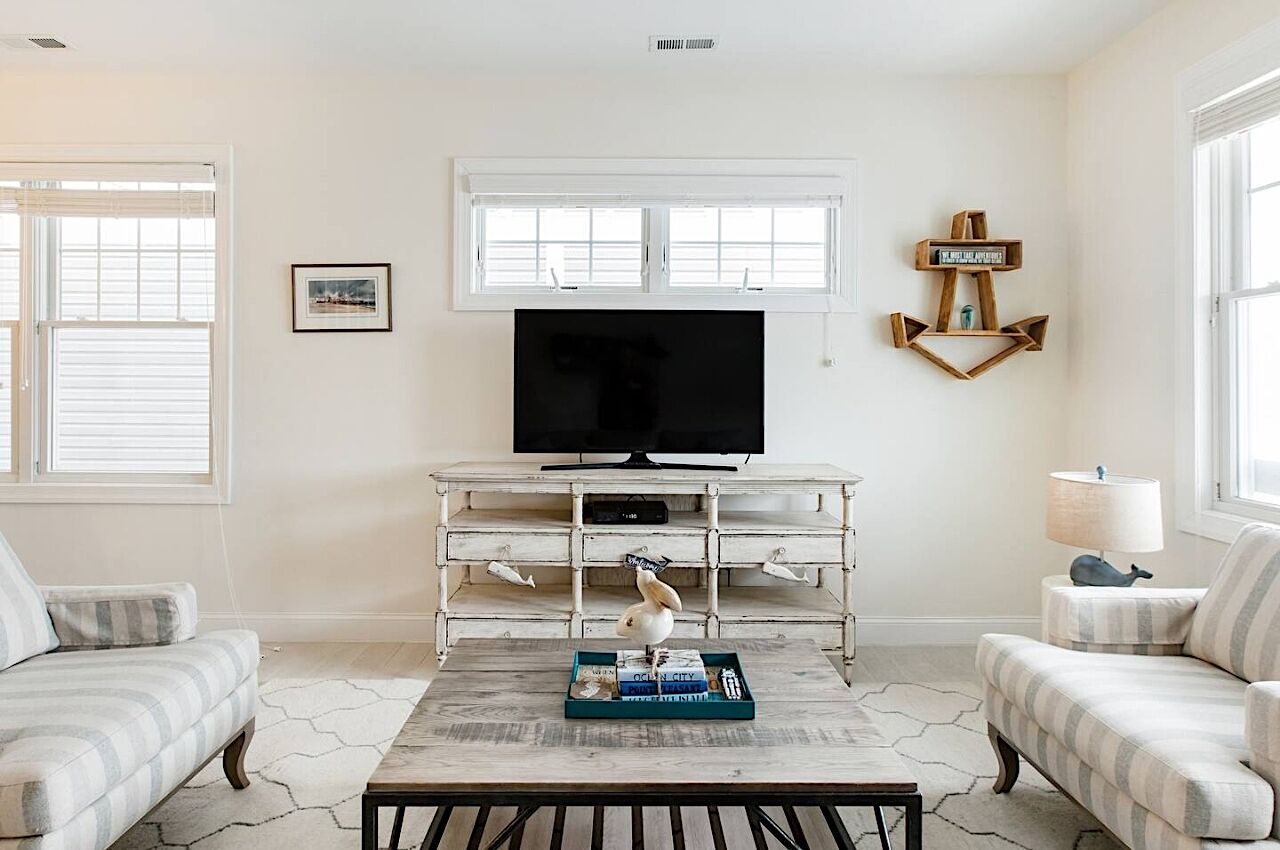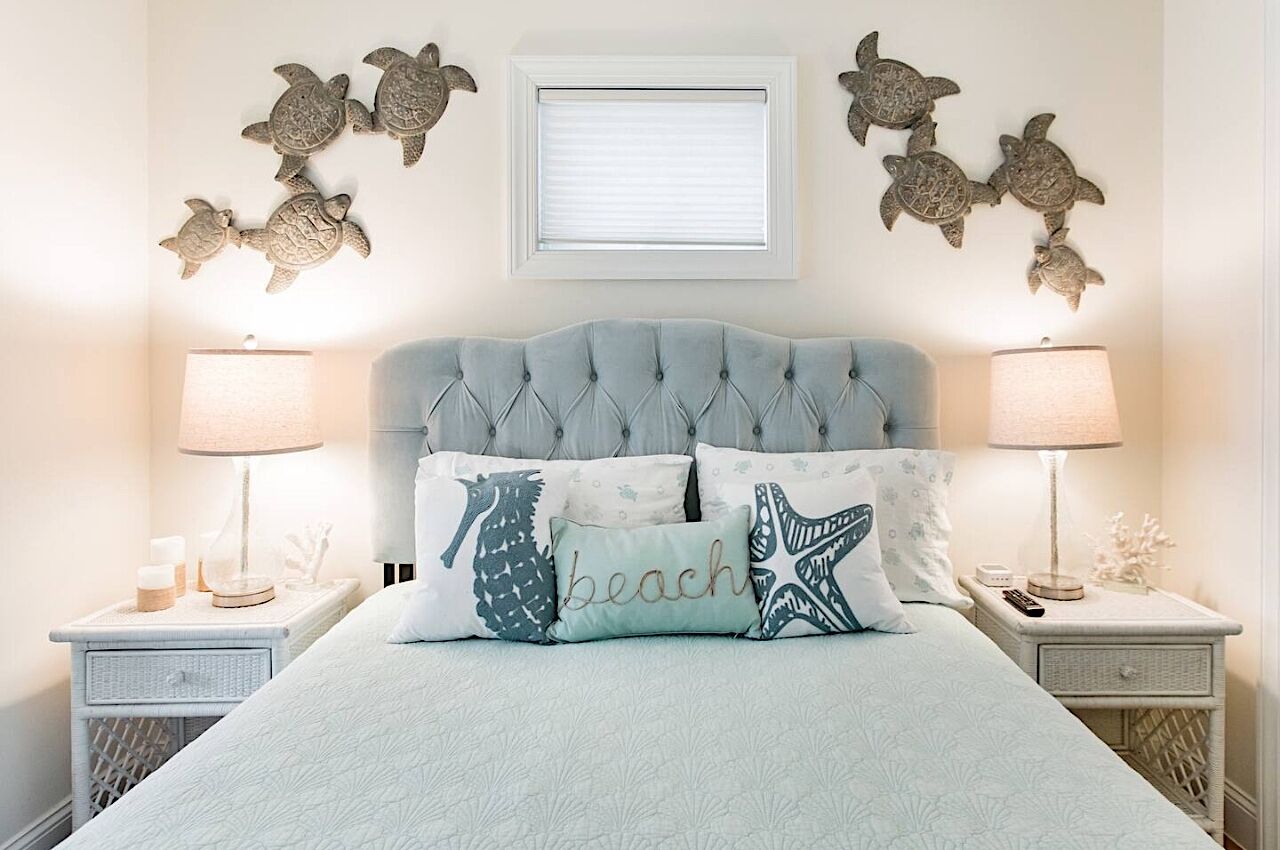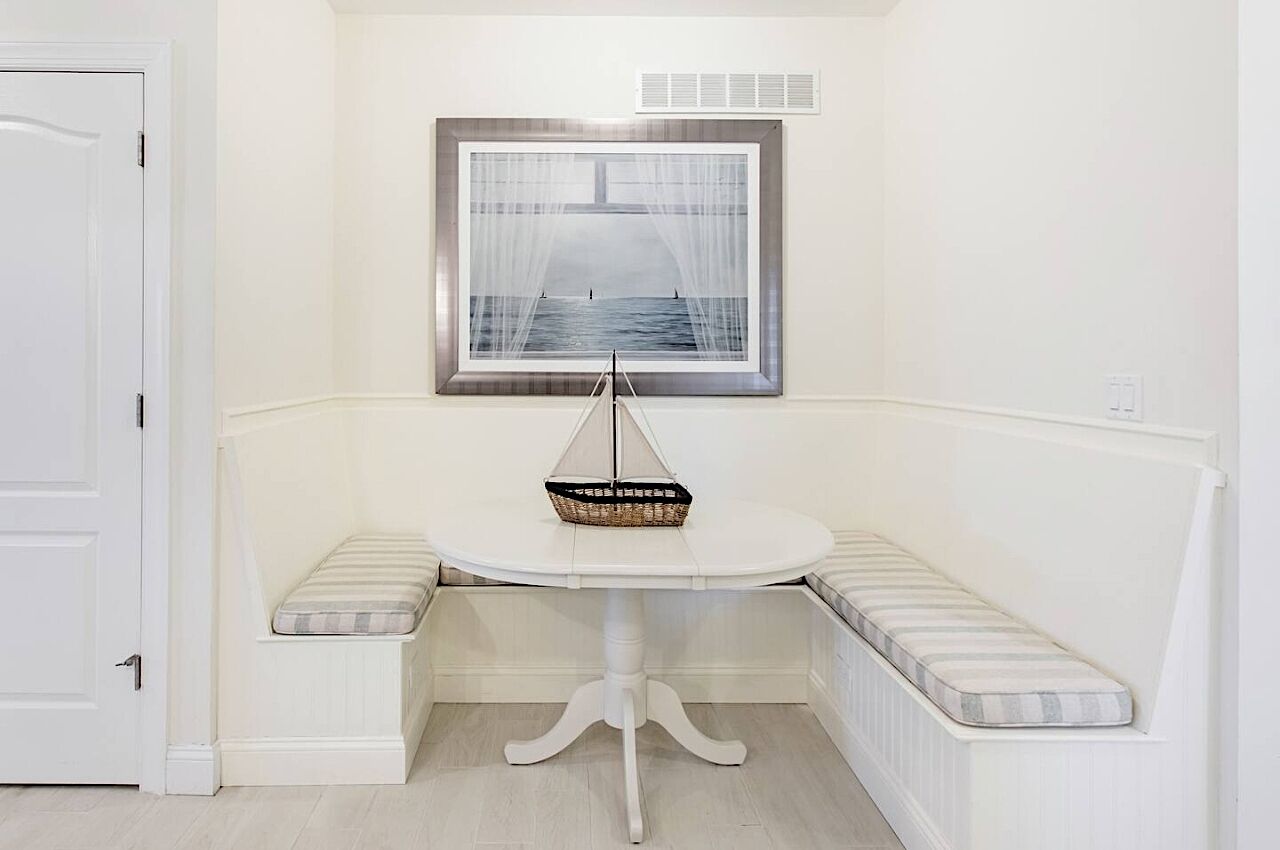 This chic beach house has a stunning roof terrace where you can enjoy sunrise and sunset in privacy. It's also a great option if you have a large group as it sleeps eight.
This one-bedroom house is perfectly situated three blocks from Ocean Avenue and The Stony Pony. The house has a lovely front porch, which is a great spot for a morning coffee before strolling to the beach.
The Empress Hotel is also a great option. The gay-friendly accommodation is within a stone's throw of the beach and next door to the gay nightclub, Paradise.
6. Rehoboth Beach, Delaware
Approximately 120 miles east of Washington DC, this community is commonly referred to as the Nation's Summer Capital because of its proximity to Pennsylvania Avenue, but it's equally well known as the Mid-Atlantic's queer summer haven. In summer months it attracts quite a crowd — the town's year-round population is only 1,500 but grows to nearly 25,000 between Memorial and Labor Day.
What to do in Rehoboth Beach
Rehoboth Beach has been a refuge for gay folks since legends like Tallulah Bankhead visited in the 1940s, but it really blossomed after the formation of CAMP — (Creating A More Positive) Rehoboth — in 1991. This LGBTQ+ community center helped foster the opening of new gay-owned and operated businesses around the town's scenic boardwalk. Rehoboth prides itself on being a destination for both straight and LGBTQ+ vacationers, but Baltimore Avenue, from Beach to Second Street, is where rainbows reign supreme. Still, the best place to hang is on the Atlantic-facing shoreline near Poodle Beach (for men) and North Shore Beach (for women). The boardwalk, renowned for its retro-kitsch beach shops, is also worth a visit.
How to get to Rehoboth Beach
Rehoboth is best accessed by car. It's a nearly three-hour drive from Washington DC and two-and-a-half hours from Philadelphia.
Where to stay in Rehoboth
Guesthouses, B&Bs, and vacation rentals are the best way to get the most out of your stay in this coastal Delaware town.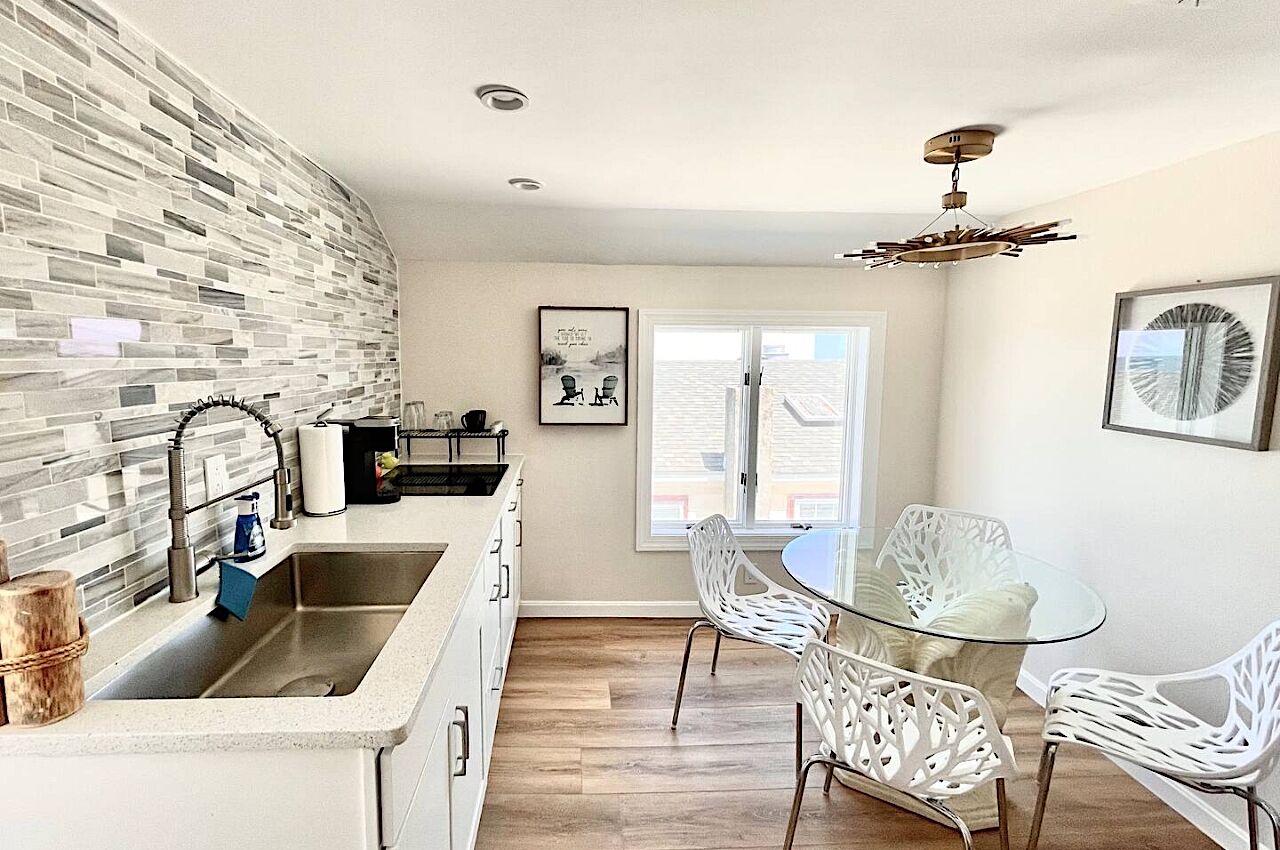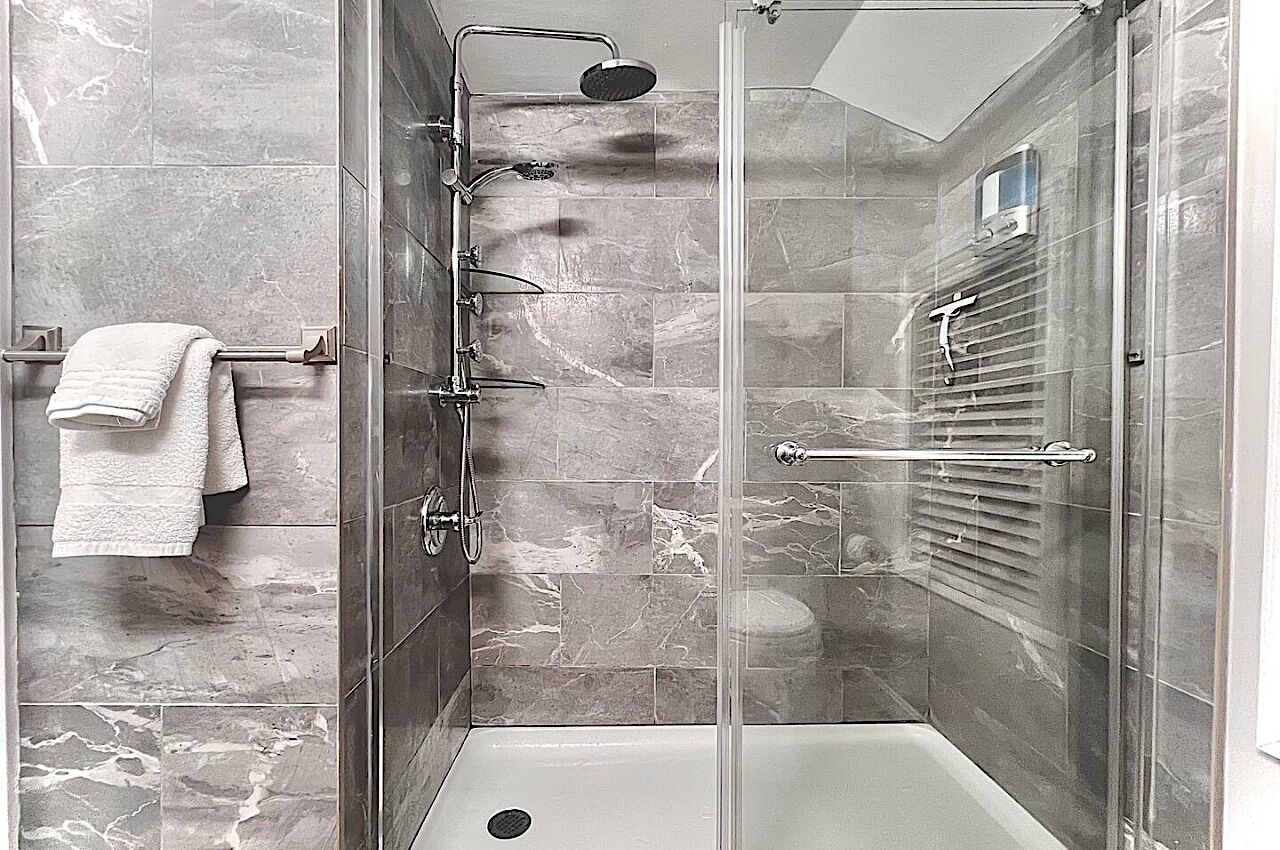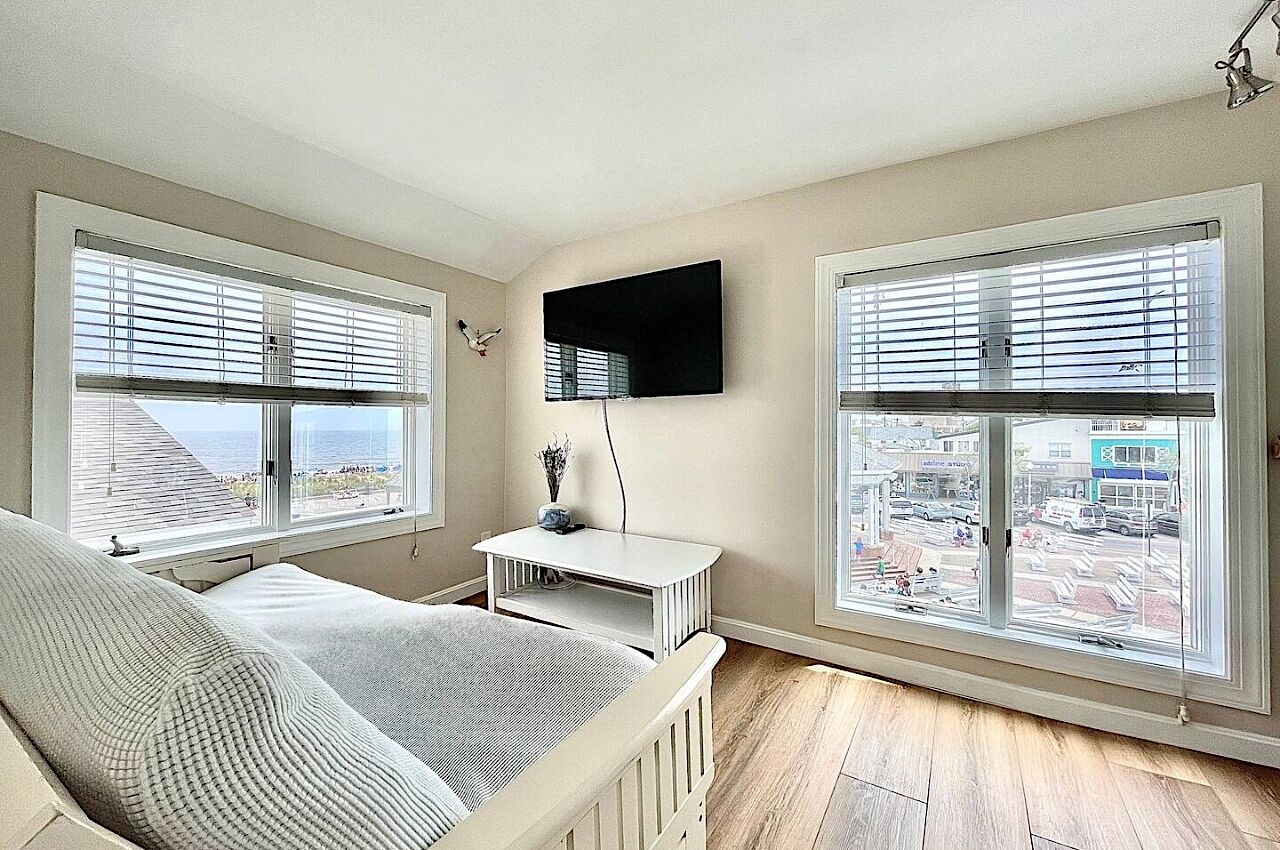 This modern, clean two-bedroom apartment has ocean views and is newly renovated on a third floor of a quiet condo. It's located on Rehoboth Avenue, the main drag, and if you are in need of more space the renters note that they have other apartments available too.
7. Eureka Springs, Arkansas
Don't let the 66-foot statue of Jesus chillin' atop the rolling green mountains of Eureka Springs fool you. This surprising blue bubble in the heart of a red state is still queerer than Christmas.
The statue, remnants of a now-defunct theatrical venue that performed The Great Passion Play beginning in the 1960s, certainly has a beautiful view, though. Eureka Springs lies within the Ozark mountains, and the Victorian homes that line its steep-staired streets share Jesus's fantastic overlook of mountain peaks covered in pine, oak, hickory, and maple trees.
What to do in Eureka Springs
The town is popular with urbanites from Dallas to Kansas City who fill up downtown's cozy B&Bs and historic hotels for Diversity Weekend. This tri-annual celebration takes place the first weekend of April, August, and November and features drag shows, dancing, and family-friendly entertainment.
For those seeking a true Ozarkian escape, you can kayak the Buffalo River, spend a day swimming in Beaver Lake or choose between day hikes to cascades and spring-fed watering holes (Lost Valley Trail and Hemmed-in Hollow Trail are favorites).
How to get to Eureka Springs
Eureka Springs is a six-hour drive from Texas, five hours from Memphis, and a three-and-a-half-hour straight shot from Kansas City, MO. No matter where you come from, your drive will be topsy-turvy once you hit the Ozark Mountains. As the local Gay Business Guild likes to say, "Not even our streets are straight!"
Where to stay in Eureka Springs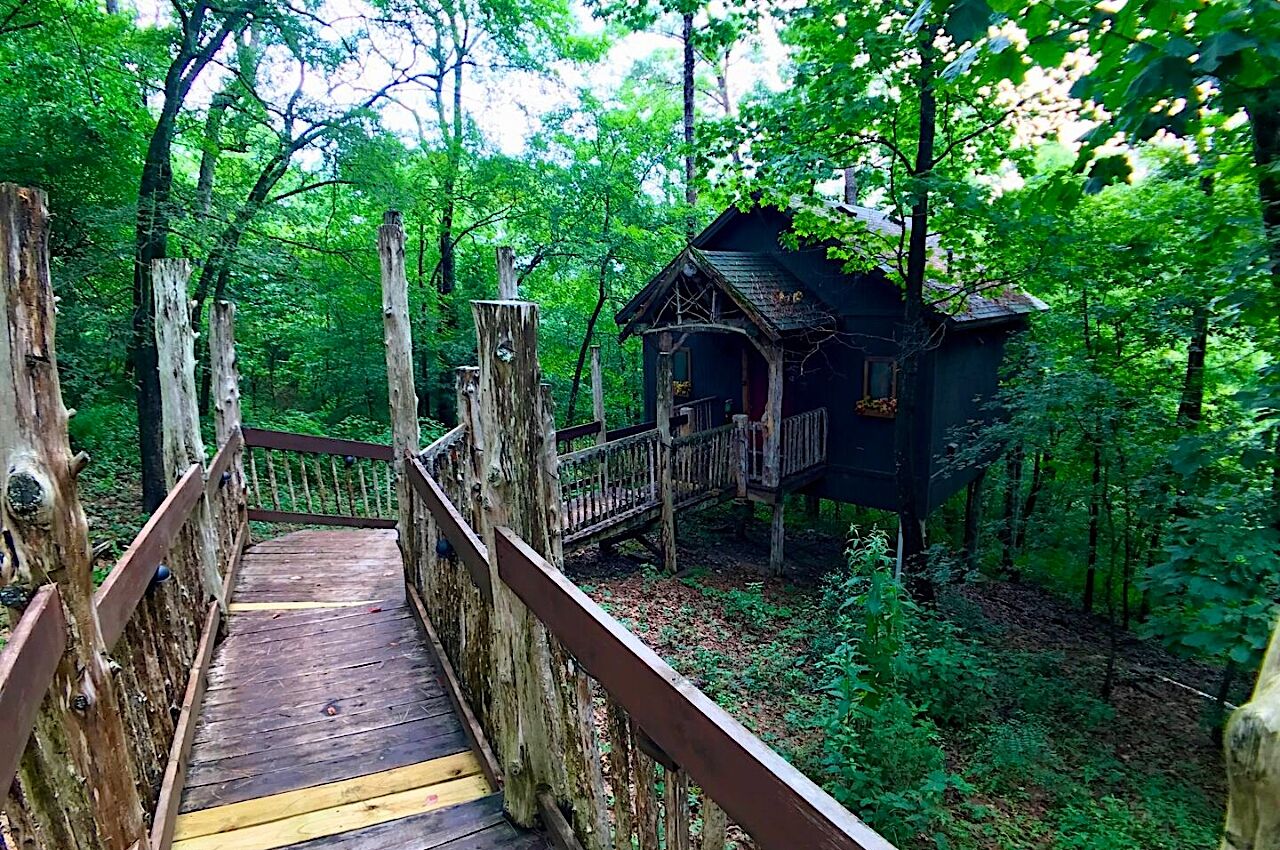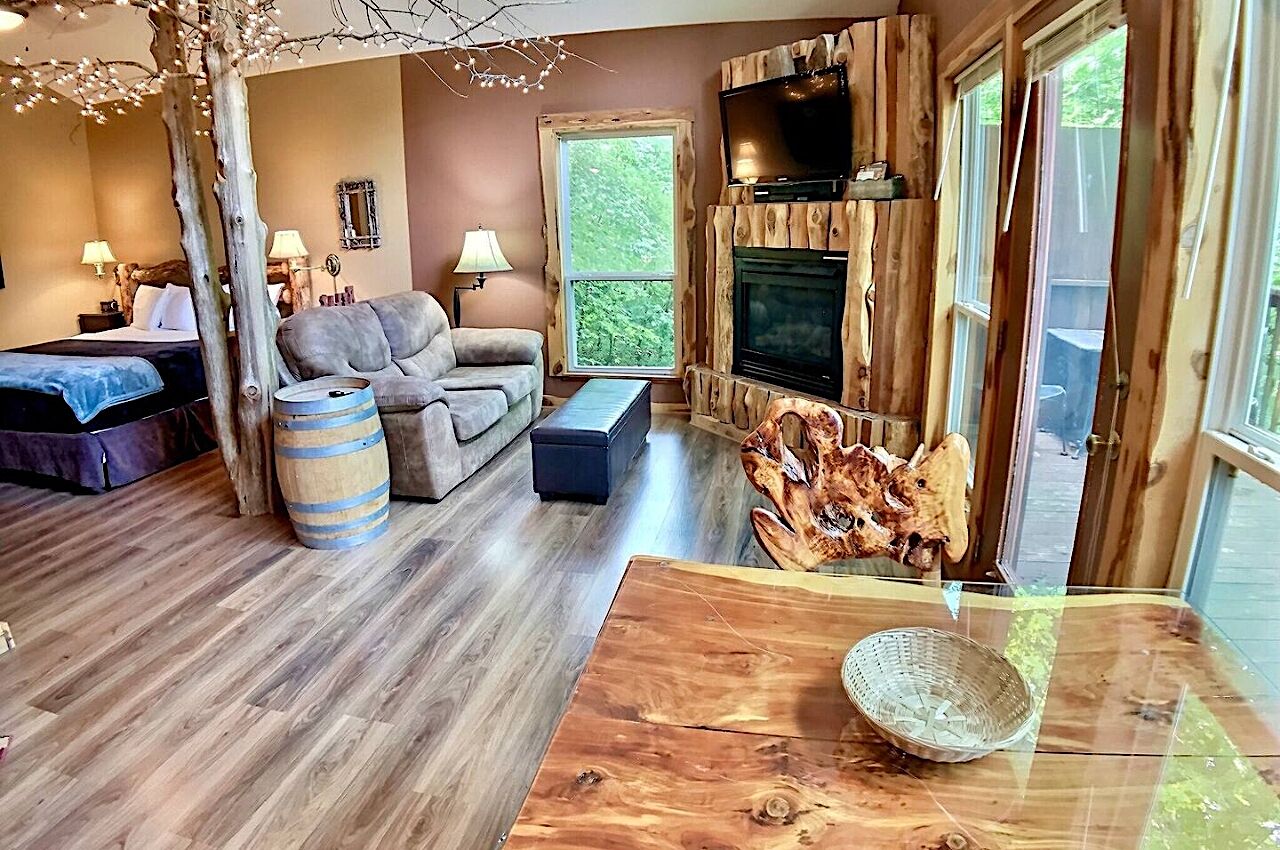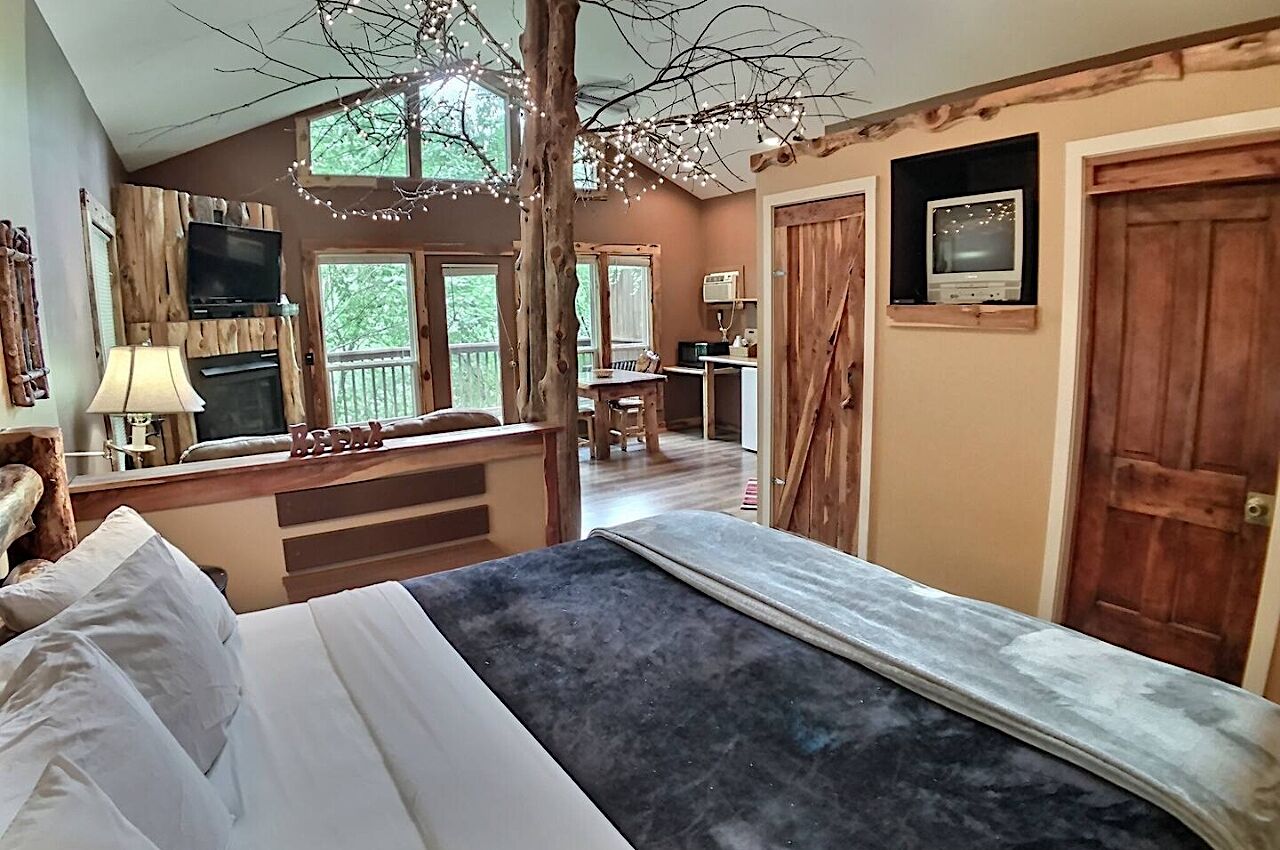 If you are looking for something a little more unusual, this Ozark Mountain treehouse ticks all the boxes. The cute rental sleeps two and promises to make a trip to remember.
Or this studio cabin is also a great quirky option. The timber-clad cabin features an outdoor hot tub and is located minutes away from some of the best hiking and biking routes in the region.
8. Saugatuck and Douglas, Michigan
In 1910, the Art Institute of Chicago began a summer artists' residency in Saugatuck called Ox-Bow. The program attracted creatives from the big city to the white-sand dunes and pine tree forests of Lake Michigan, and the gay community was soon to follow. Ox-Bow is still in operation today, but the queer population is now what makes this freshwater Elysium come alive from May to September. It's no wonder Saugatuck and the neighboring town of Douglas are collectively known as the "Provincetown of the Midwest."
What to do in Saugatuck and Douglas
The arts continue to play a pivotal role in the area's allure. Galleries line both Water and Butler Streets in Saugatuck's tiny downtown, Mason Street Warehouse produces musicals featuring talent from both New York and Chicago, and the quirky boutiques owned by LGBTQ+ locals provide shoppers with one-of-a-kind, artsy-fartsy fare.
It's the great outdoors, however, that make Saugatuck shine. Oval Beach, an oft-lauded sandy expanse between Lake Michigan and the Kalamazoo River, looks out onto fresh cobalt waters. Gays and lesbians tend to congregate around the northern section of the beach, though you're welcome to layout wherever you like; most people in Saugatuck are part of the family you choose.
The Dunes, the area's go-to gay resort throws a plethora of pool parties in summer. A cheaper but no less lovely time to visit is autumn. You can rent a boat or choose from several hikes to view the arboreal art show along Lake Michigan's eastern coast.
How to get to Saugatuck and Douglas
Saugatuck is a two-and-a-half-hour drive from Chicago and nearly three hours from Detroit.
Where to stay in Saugatuck and Douglas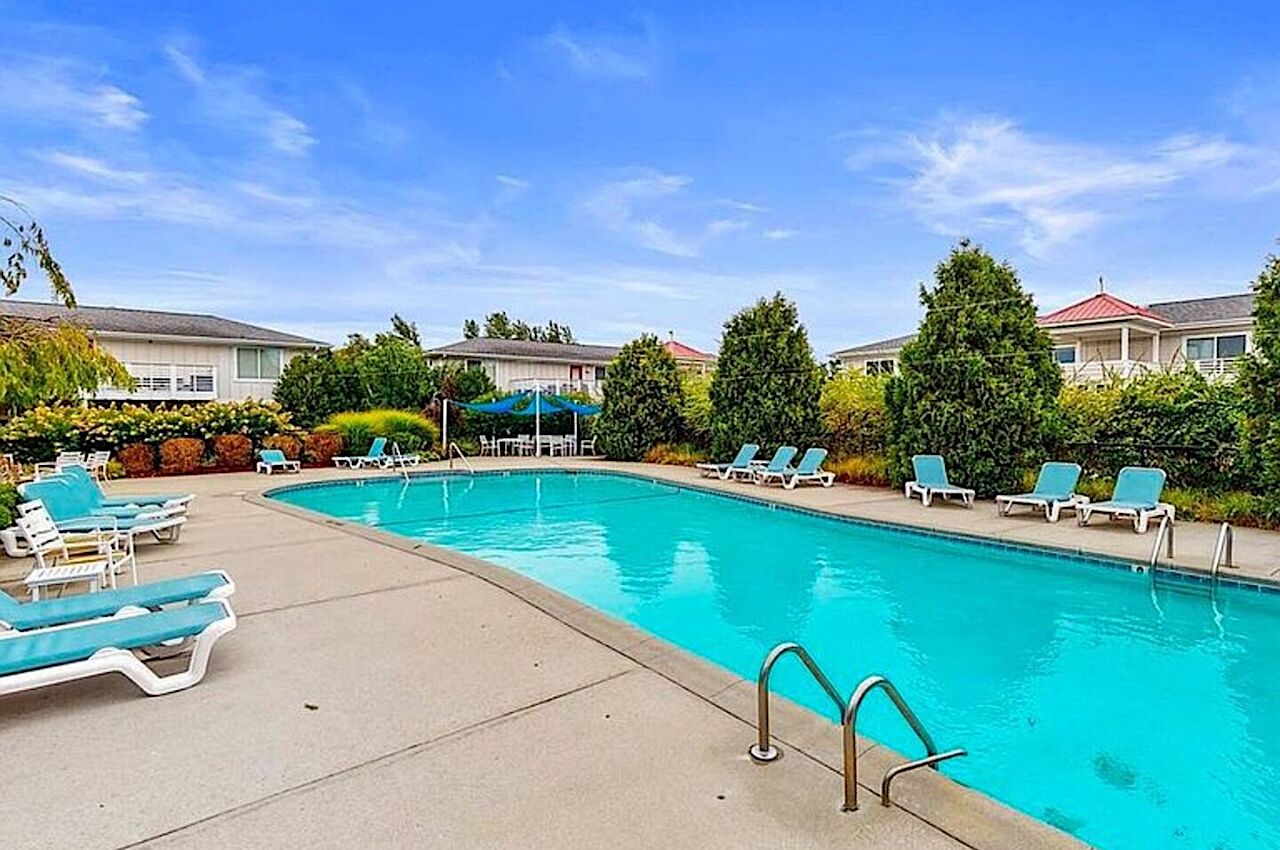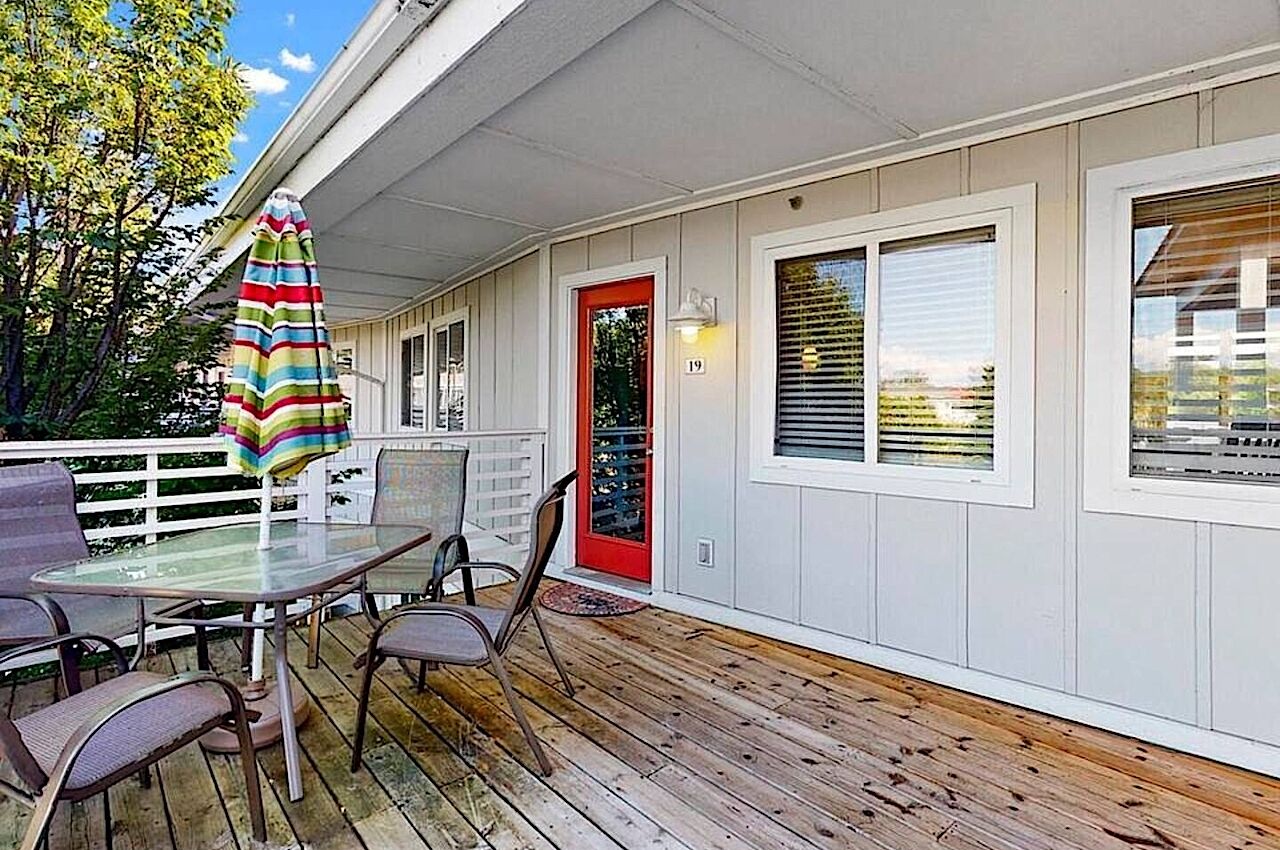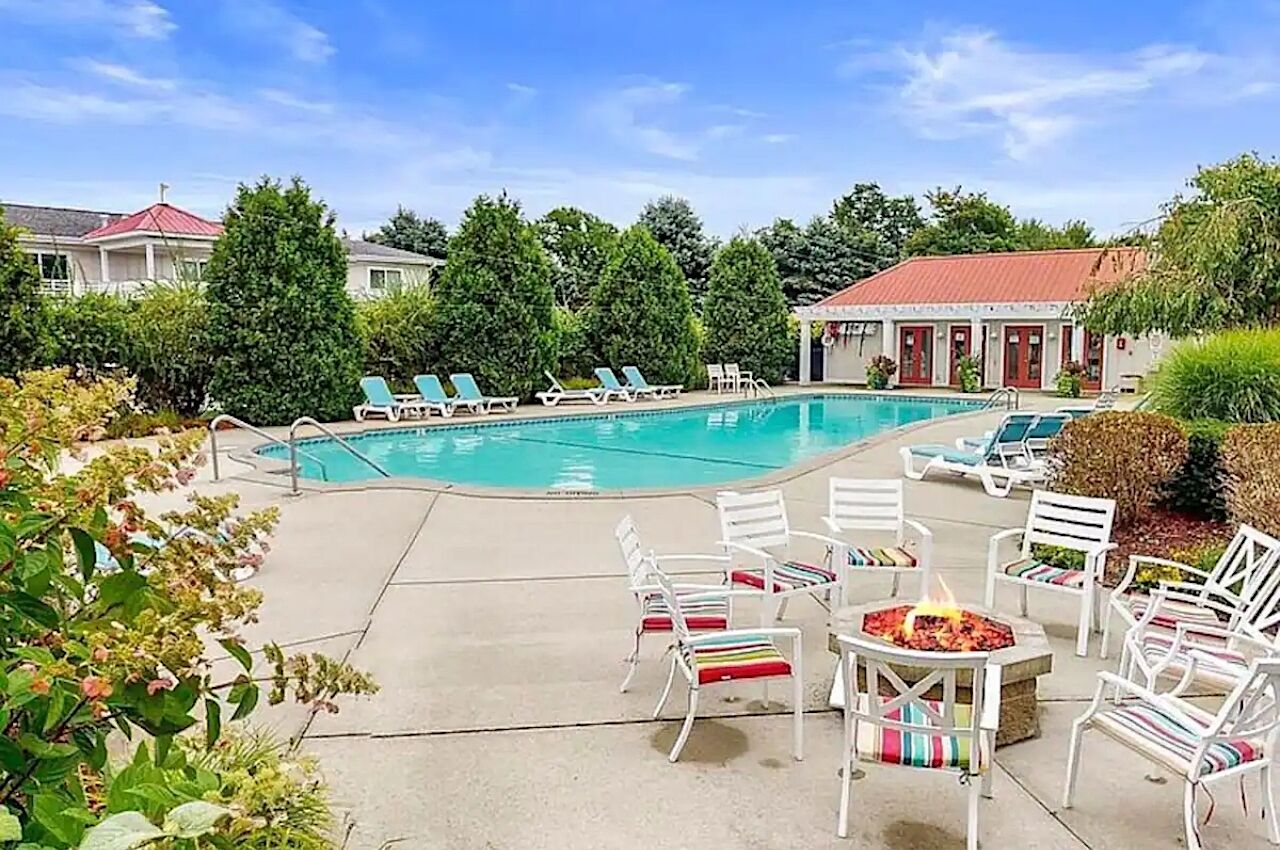 You can't bypass this colorful one-bedroom condo located close to all local activities, Douglas and Oval Beaches and less than a mile from Lake Michigan. The shared heated pool is open from May to September and the condominium is within a safe vacation complex.
9. Moab, Utah
Canyons of rusted red rock rise from the Colorado River as it cuts through Utah's eastern boundary near Moab. This geologically dramatic area, home to both Arches and Canyonlands National Parks, has long been lauded as a prime destination for outdoor enthusiasts looking to hike, bike, kayak, and climb. It only recently became a notable vacation spot for the queer community.
What to do in Moab
Conservative Utah hasn't always had the best track record when it comes to diversity, but when Moab began hosting an annual Pride parade in 2011, it garnered national recognition for its efforts at promoting equality in small-town America. Gay Adventure Week, a Moab-based organization that leads guided excursions through the nearby parks, has also helped bring the area into the gay travel zeitgeist.
You shouldn't expect much in terms of nightlife when visiting Moab — people visit the remote town to get off both the grid and Grindr. The sandstone arches, roaring river, and trails winding around the area's sedimentary monuments are ideal for visiting with a lover or group of friends.
How to get to Moab
Moab is a three-and-a-half-hour drive from Salt Lake City (another surprising must-visit urban area for LGBTQ+ folks) and five-and-a-half hours from Denver.
Where to stay in Moab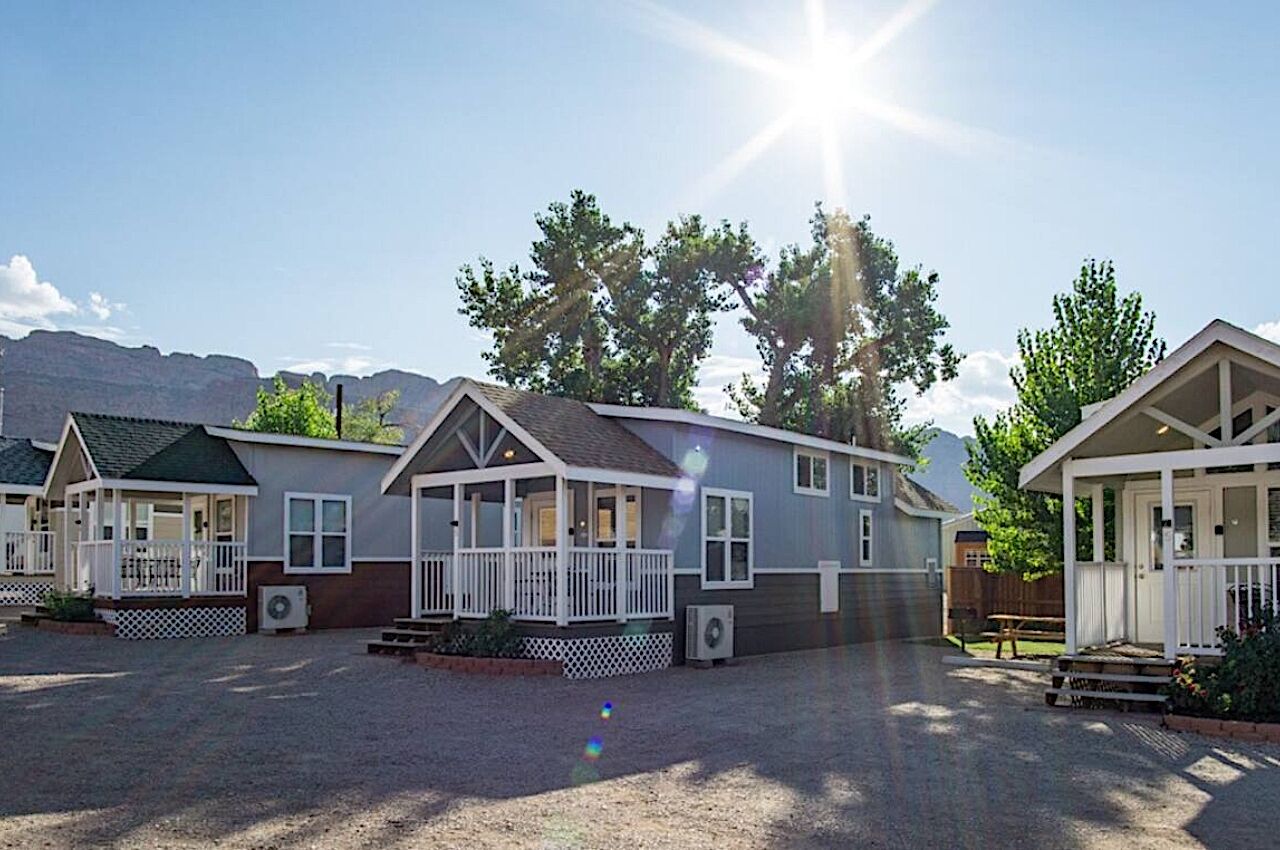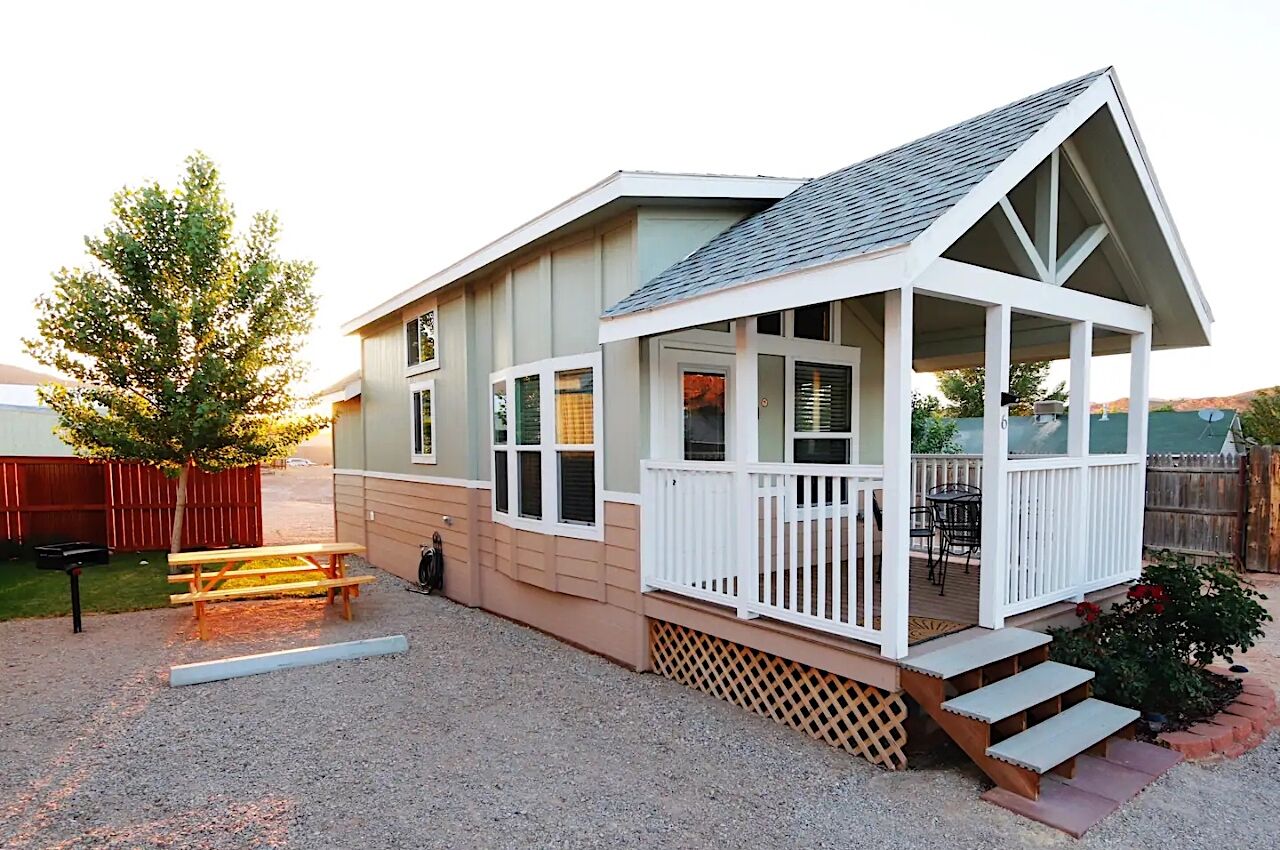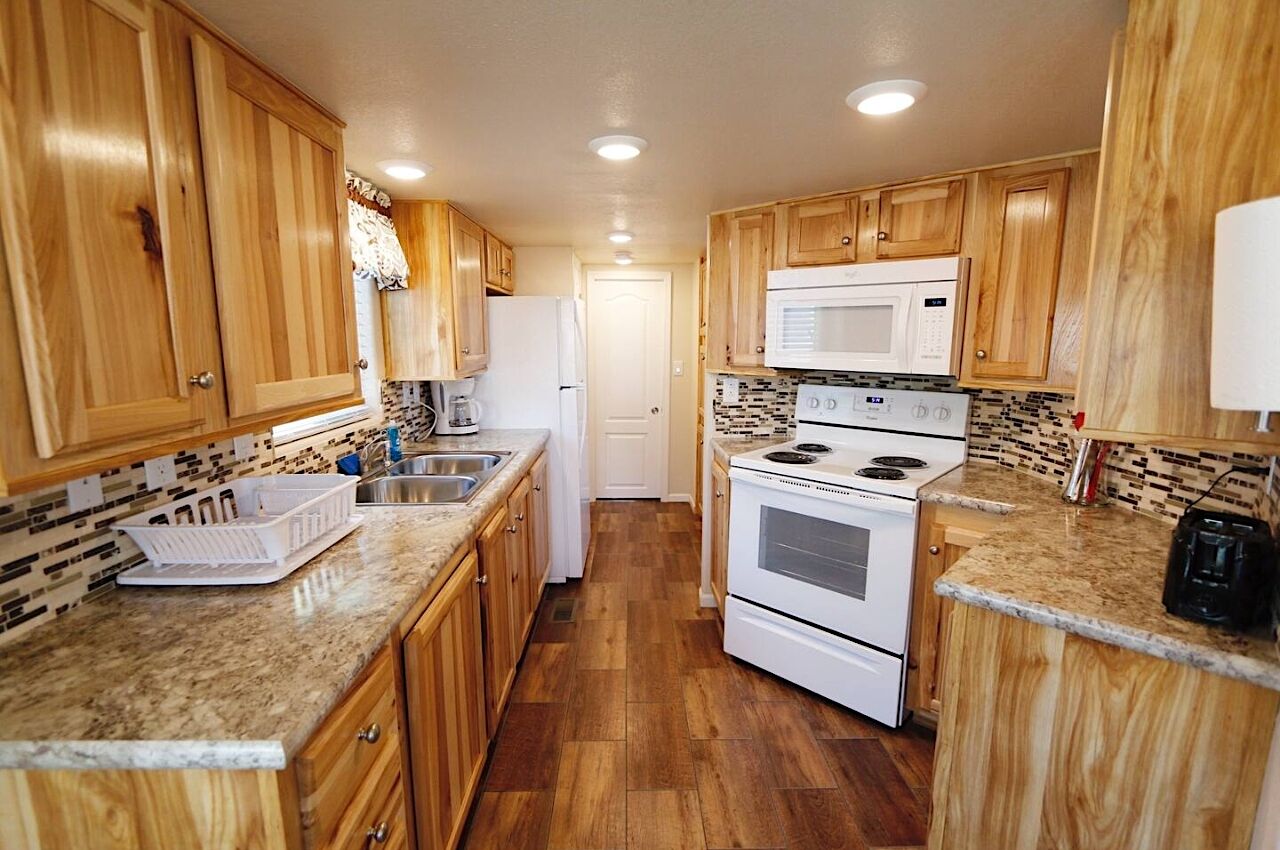 This little cottage is energy efficient and comfortably sleeps four guests. It has everything you need, from a very stocked kitchen, bathroom essentials and a plethora of information on local desert activities.
10. Guerneville, California
Guerneville, an uber-queer hamlet in Sonoma County's Russian River Valley, has been an LGBTQ+ destination for over 40 years. The area was a popular weekend getaway for straight San Franciscans from the late 19th to the mid-20th century but fell out of favor in the 1960s after extensive flooding. In the '70s, gay folks from the Bay Area began to clean up the town, and several prominent queer-owned resorts popped up by the end of the decade. Today, the area is favored by a diverse mix of off-beat hippies, adventurous foodies, and artsy urbanites.
What to do in Guerneville
Popular times to visit are Lazy Bear Weekend in early August, Women's Weekend in mid-September, and a Gay Wine Weekend earlier in the summer season. Guerneville's Pride festival takes place every June. Gay weekends aside, visiting Sonoma County's local vineyards makes for a worthy trip, as does hiking, canoeing, and swimming around Guerneville's redwood forests. The Highlands Resort, a "straight-friendly" LGBTQ+ lodge close to the center of town, is a popular place to hang out (be sure to visit the clothing-optional pool), and the Rainbow Cattle Company, a gay bar, has been a favorite watering hole since 1979.
How to get to Guerneville
The Russian River Valley is a 90-minute drive from San Francisco through the Bay Area's rolling mountains and coastal woodlands and a seven-hour drive from Los Angeles.
Where to stay in Guerneville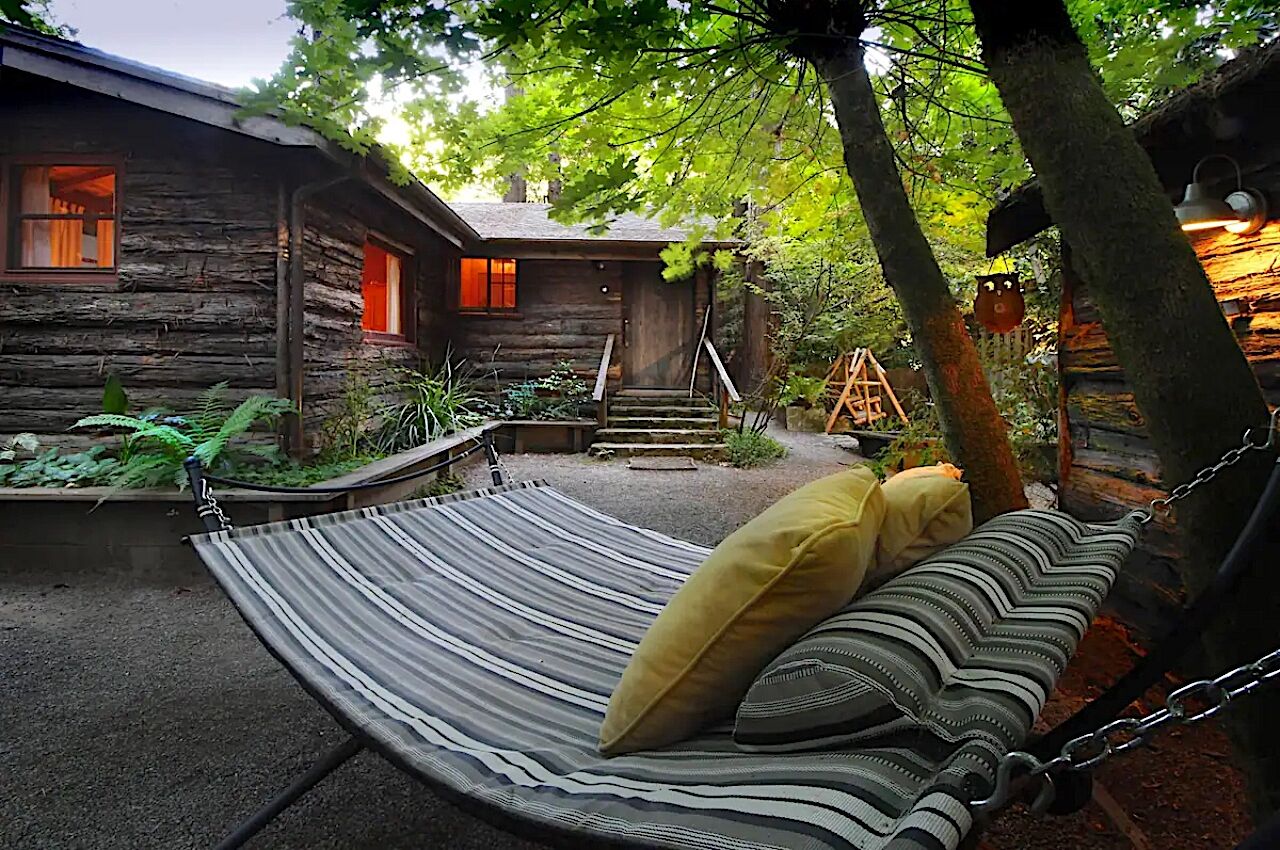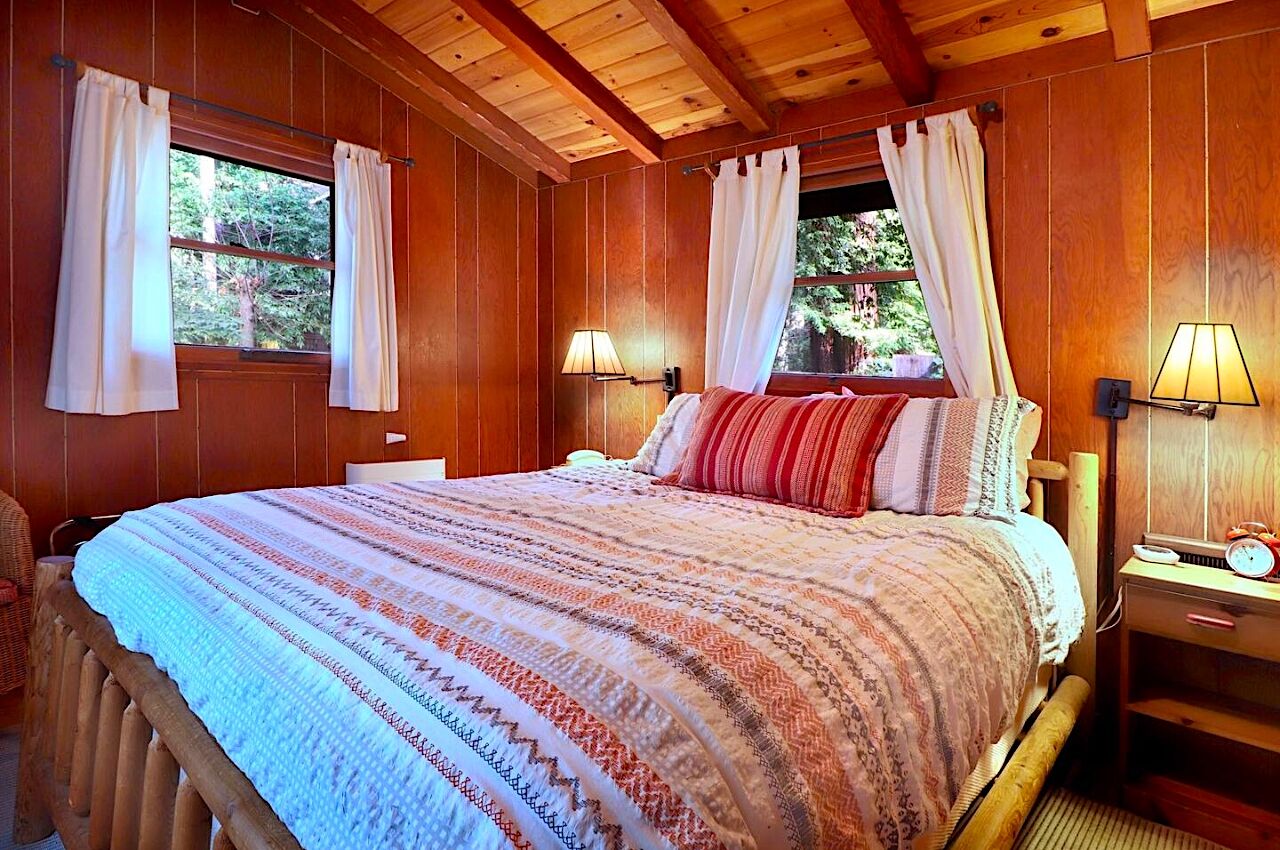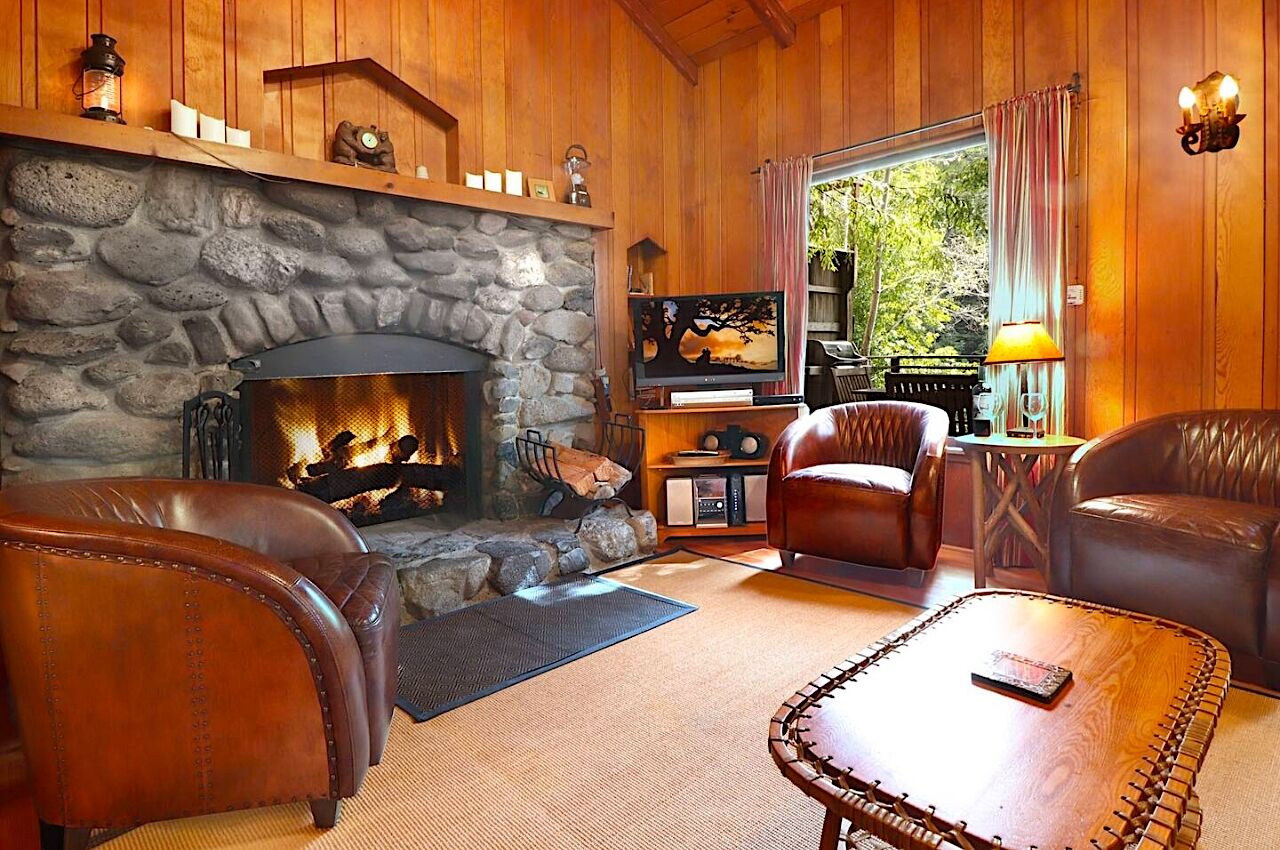 This sweet little Russian River cottage has a hot tub, river views and a stunning deck area — a perfect spot to kick back and relax.
Another one-bedroom option with stunning views over distant redwoods and the Armstrong Valley, is this large studio. The property also has a stone patio with gas fire pit and there's easy access to Armstrong Woods State Reserve and downtown Guerneville.
What did you think of this story?