7 Stunning Airbnbs Within Walking Distance To Cocoa Beach, Florida
Located on Florida's east coast, Cocoa Beach offers stunning white sand beaches, crystal clear water, and a huge range of recreational activities. In fact, its world-class surfing, paddleboarding, and fishing draw in visitors from all over the world.
The Cocoa Beach town also has plenty to offer as well with boutique shops and seafood restaurants as well as larger retailers at The Cocoa Beach Pier. During the day visitors can explore nearby attractions such as Kennedy Space Center or Ron Jon Surf Shop and when the sun goes down, Cocoa Beach's vibrant nightlife explodes with live music and beach bars.
It's also an excellent spot for wildlife viewing. From dolphins to manatees, there's plenty of wildlife to observe from the shore or on one of the many boat tours available in the area. And for those looking for more outdoor activities like hiking, kayaking, and bird watching, state parks such as Canaveral National Seashore and Merritt Island National Wildlife Refuge are close by.
With so much to do, opting for an Airbnb Cocoa Beach vacation rental is a great idea. Not only can you snag a beachfront property, but having a solid base with all the comforts of home, means you can fully relax and enjoy your time exploring the region — or simply sit by the pool with a cold beer. Here's some of the best Airbnb options in Cocoa Beach that give you proximity to the coast.
What is the best time of year to go to Cocoa Beach?
The best time to visit Cocoa Beach is between late November and early May, excluding spring break. During this time of year, temperatures are mild and the weather is pleasant. In January, the winter months bring cooler temperatures but still provide plenty of sunshine. From April to September, it's considered peak season for tourism due to warm temperatures and plenty of daylight hours.
Traveling to Florida? Check out Matador's Florida accommodations guides:
We hope you love the Airbnb Cocoa Beach vacation rentals we recommend! Just so you know, Matador may collect a small commission from the links on this page if you decide to book a stay. Listed prices are accurate as of the time of publication.
Huge waterfront resort on the Banana River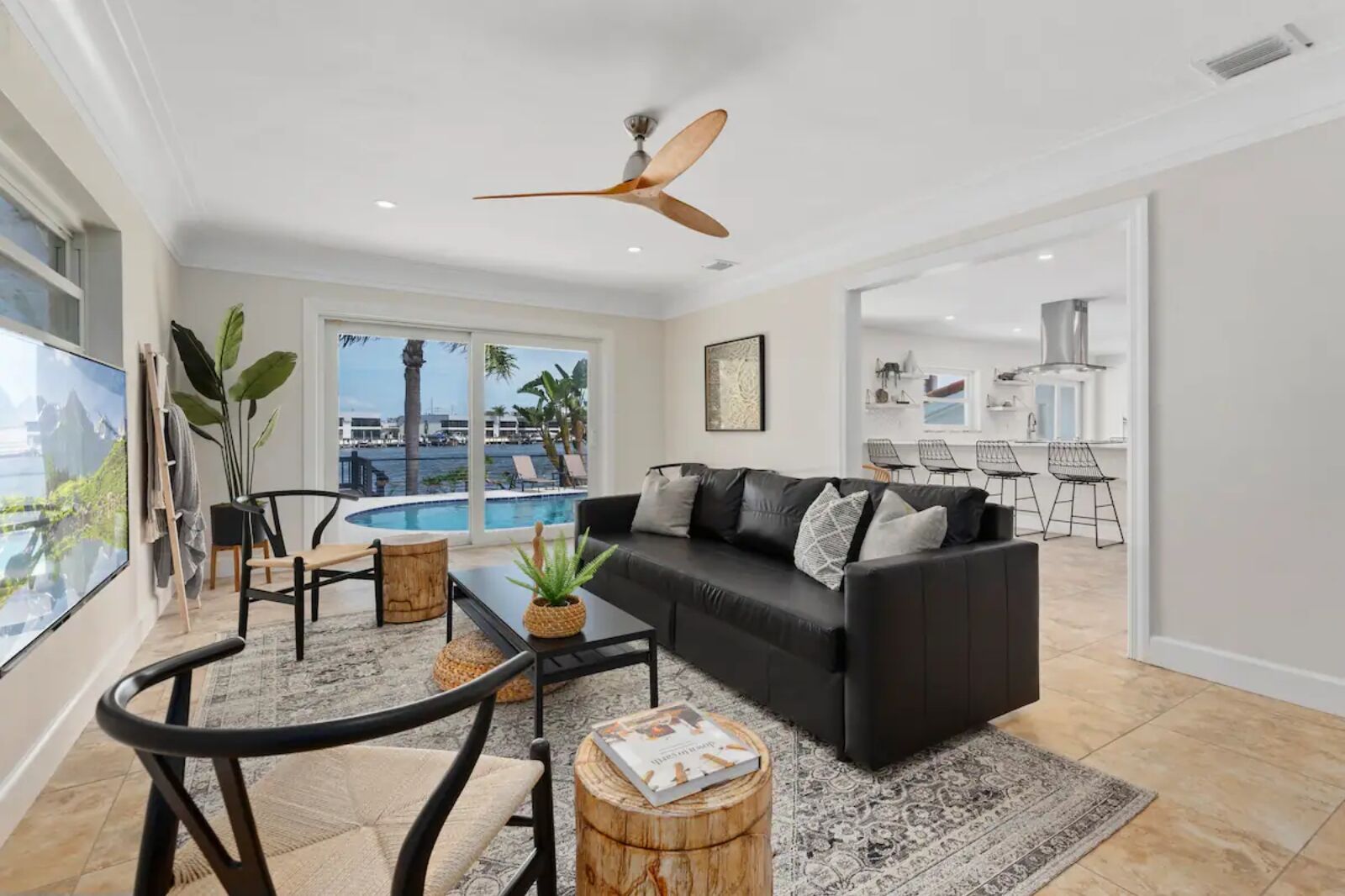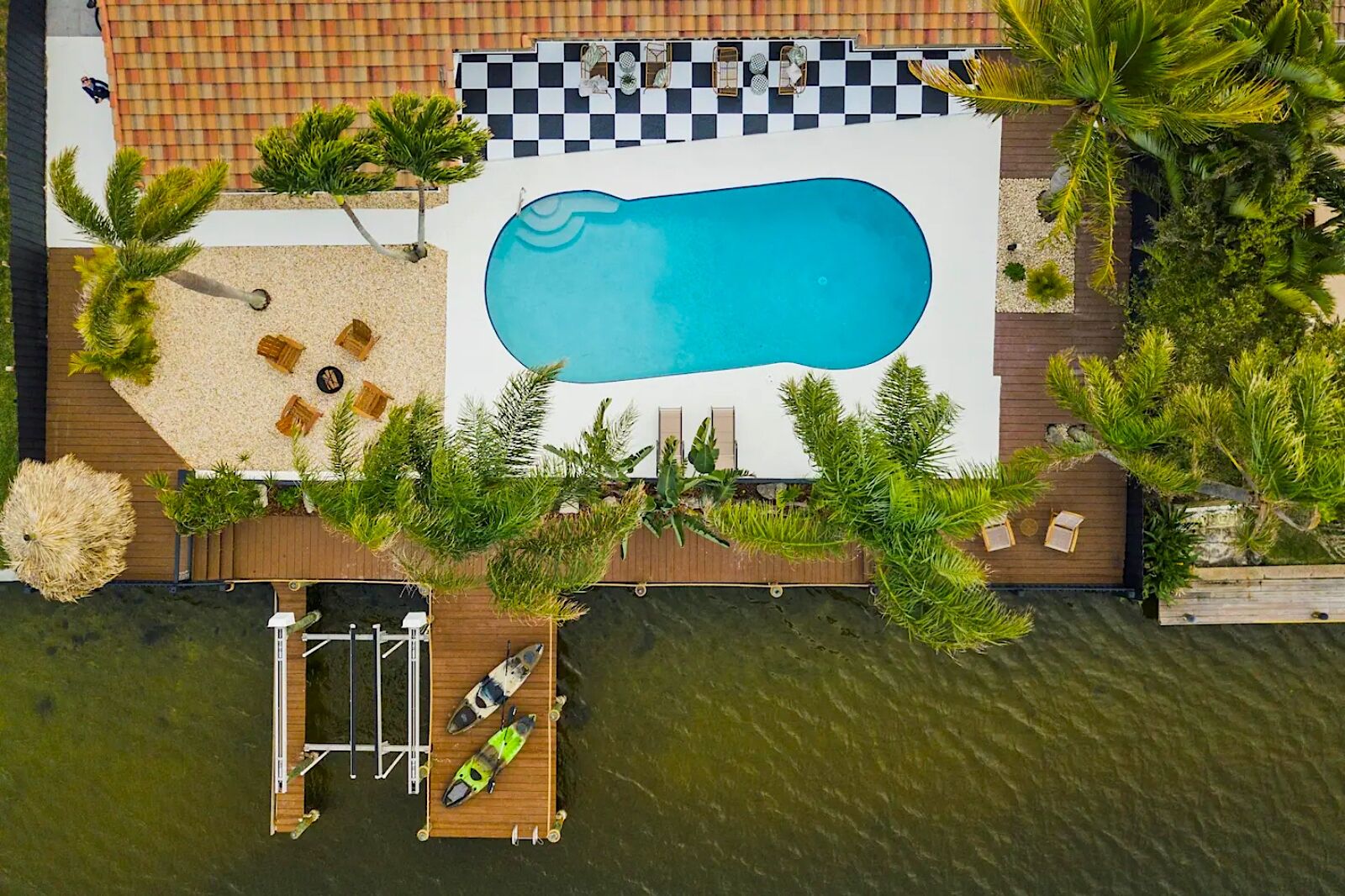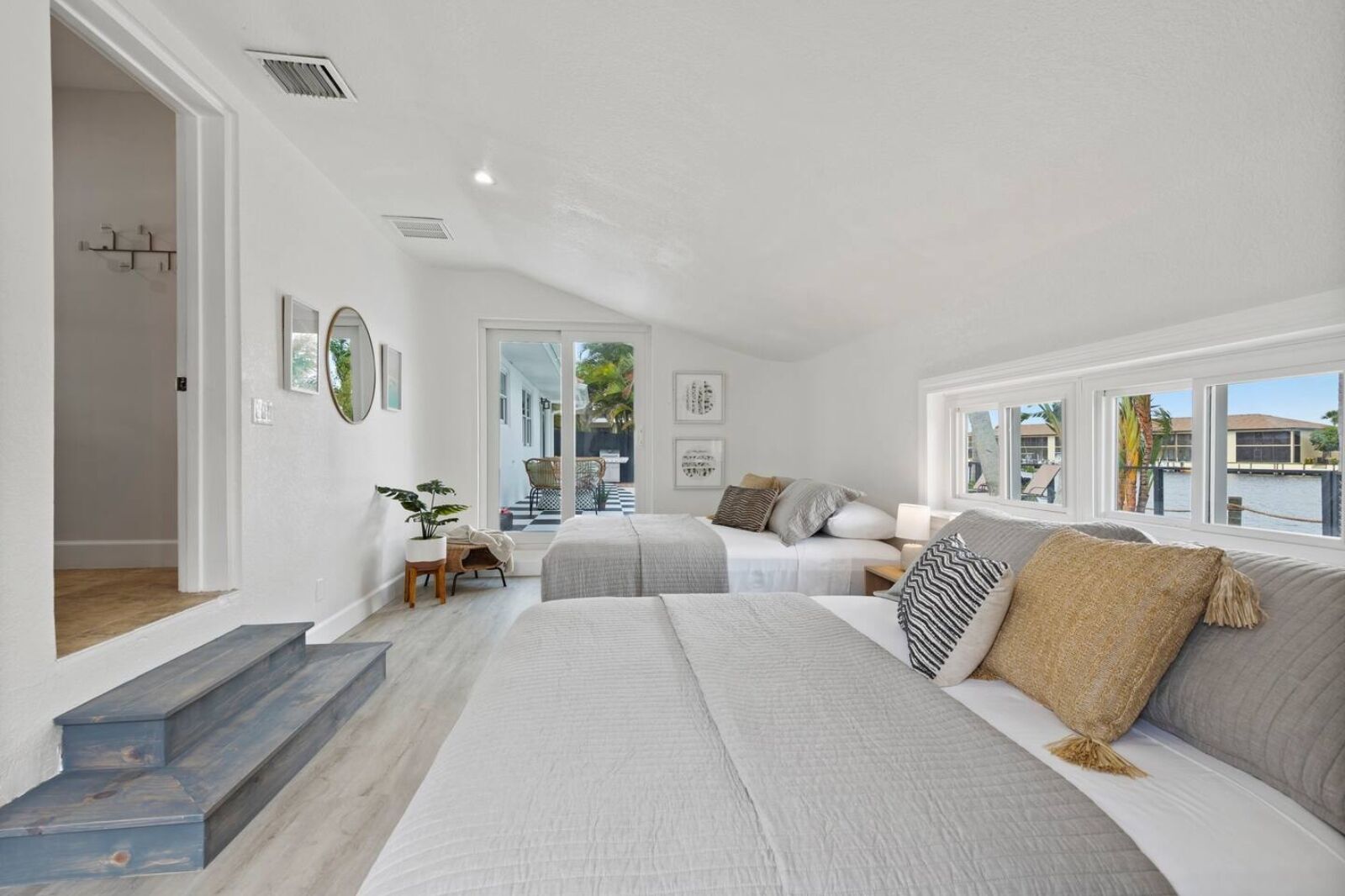 See more photos
This luxurious waterfront resort sits on the Banana River, a 31-mile-long lagoon that lies between Cape Canaveral and Merritt Island in Brevard County, Florida. The river is part of the Indian River Lagoon system and is home to a variety of wildlife including dolphins, manatees, and many local species of fish. The Airbnb has kayaks that guests are free to use to explore the water system.
The rental is sprawling with added outdoor extras such as a fire pit, grill, spacious pool and hot tub, corn hole, beach cruiser bikes, and pool toys. The fun doesn't end there, for the competitive people in the group there's an air-conditioned game room with a professional pool table. The decor is modern, clean, and light, with tropical plants adding an accent of greenery throughout the 2,200 square feet of living space for up to eight guests.
Eight guests, four bedrooms
Price: $495 per night
Book Now
Relaxing island retreat with a putting green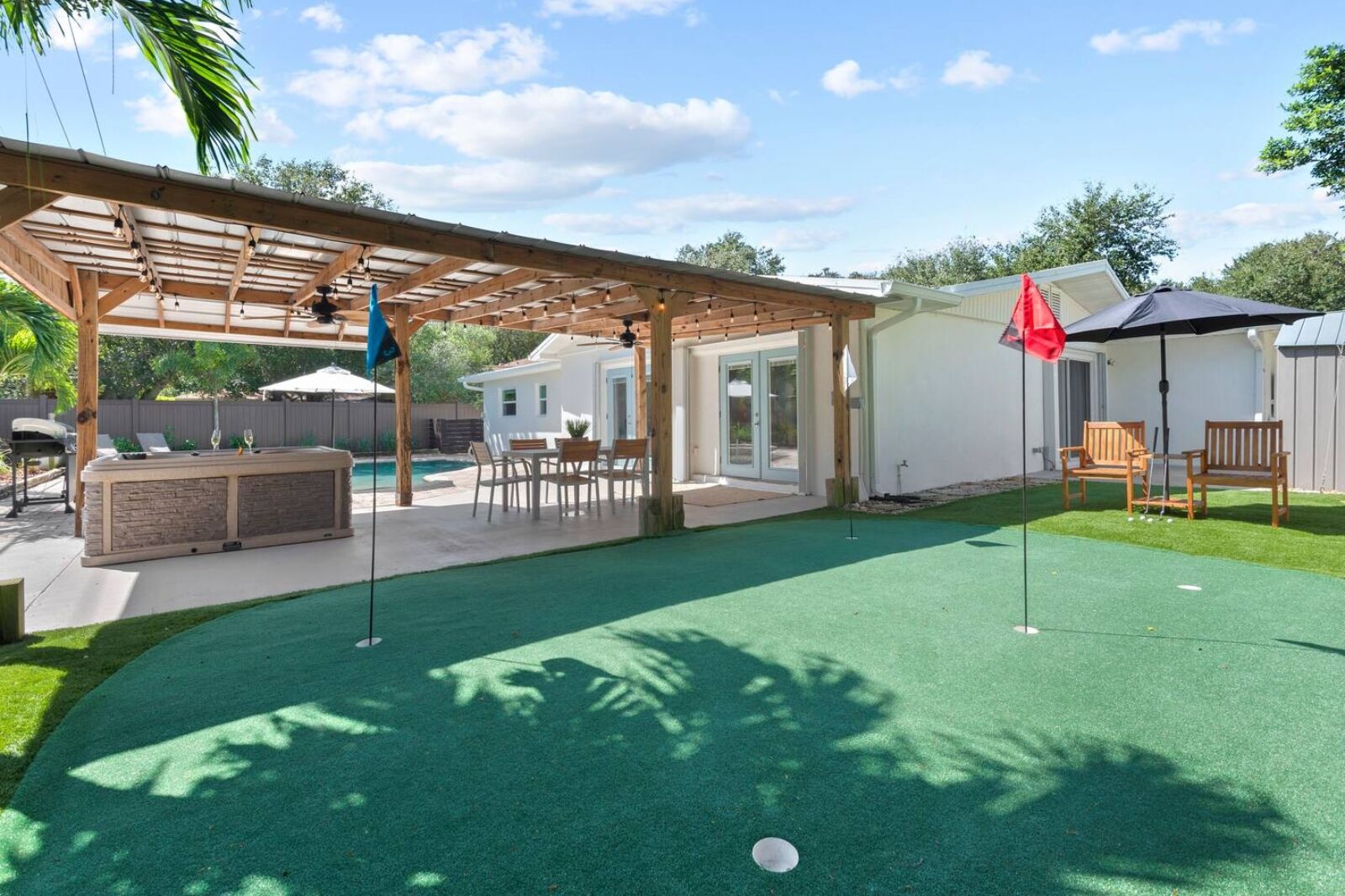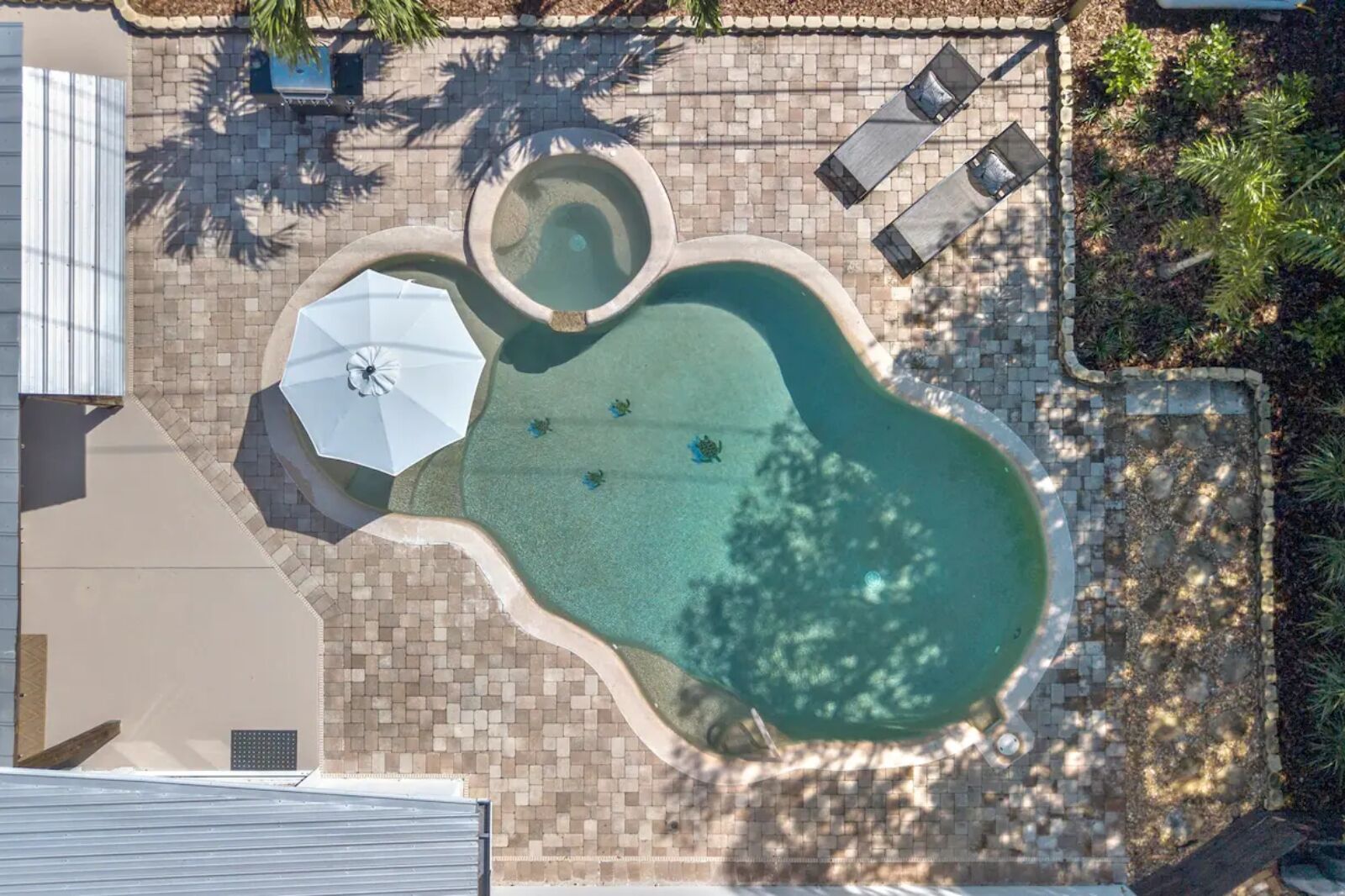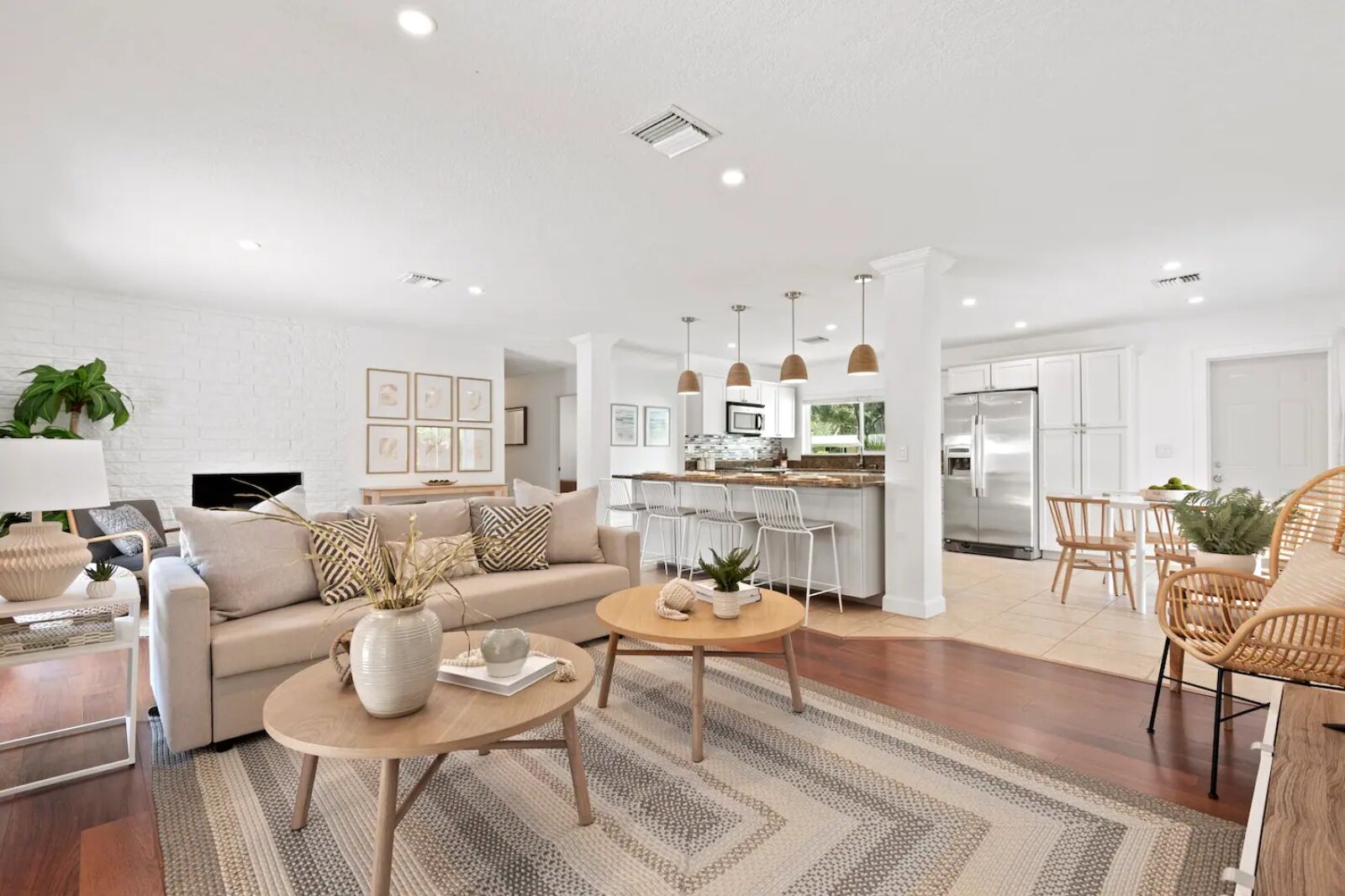 See more photos
This three-bedroom retreat is the perfect venue for an easy breezy coastal vacation with amenities to keep everyone in the group entertained — including a backyard putting green. The rental is within walking distance of Downtown Cocoa Beach, the famous local restaurants, ice cream shops, Lori Wilson Park, and the beach. There's also direct access to a nature trail and gazebo for bird watching.
The impressive property has a beautiful heated saltwater pool and a hot tub under the poolside pergola. Ideal for families or groups there are two generous bedrooms with a king-sized bed, one with a double, and a comfortable pull-out sofa in the living area.
Eight guests, three bedrooms
Price: $495 per night
Book Now
Pool house in Downtown Cocoa Beach
See more photos
This three-bedroom updated house is within walking distance of the beach, the best restaurants, bars, and attractions Cocoa Beach has to offer.
The backyard has a large outdoor pool with a colorful entertaining space including a covered pergola, fire pit, hammock and swing, and a grill. Guests can use beach cruiser bikes to explore the town and there's a truckload of beach and pool toys to play with. Past visitors rave about the family-friendly nature of this Airbnb with its well-organized layout and range of extra amenities.
Eight guests, three bedrooms
Price: $390 per night
Book Now
Four-bedroom house with heated outdoor pool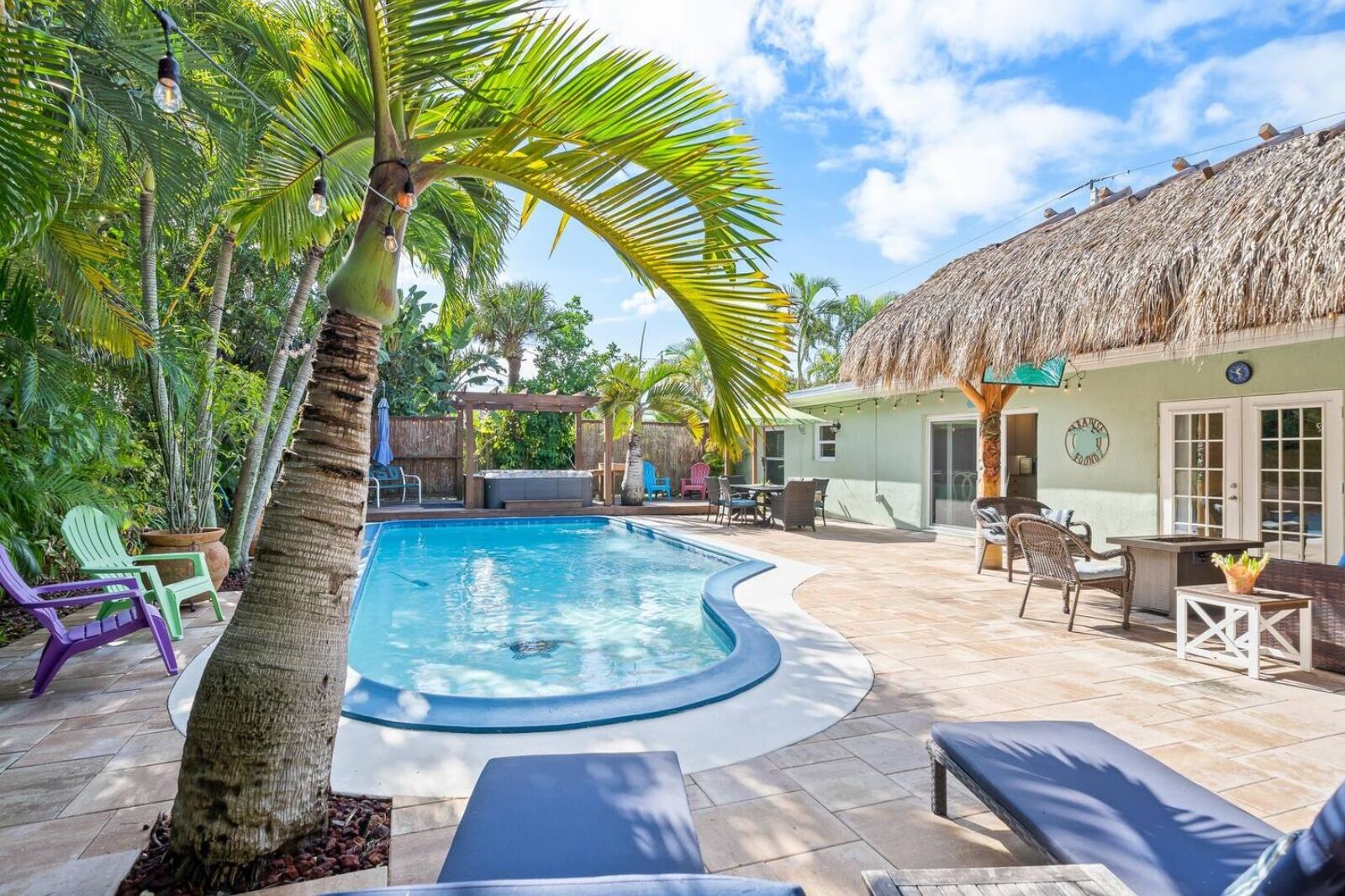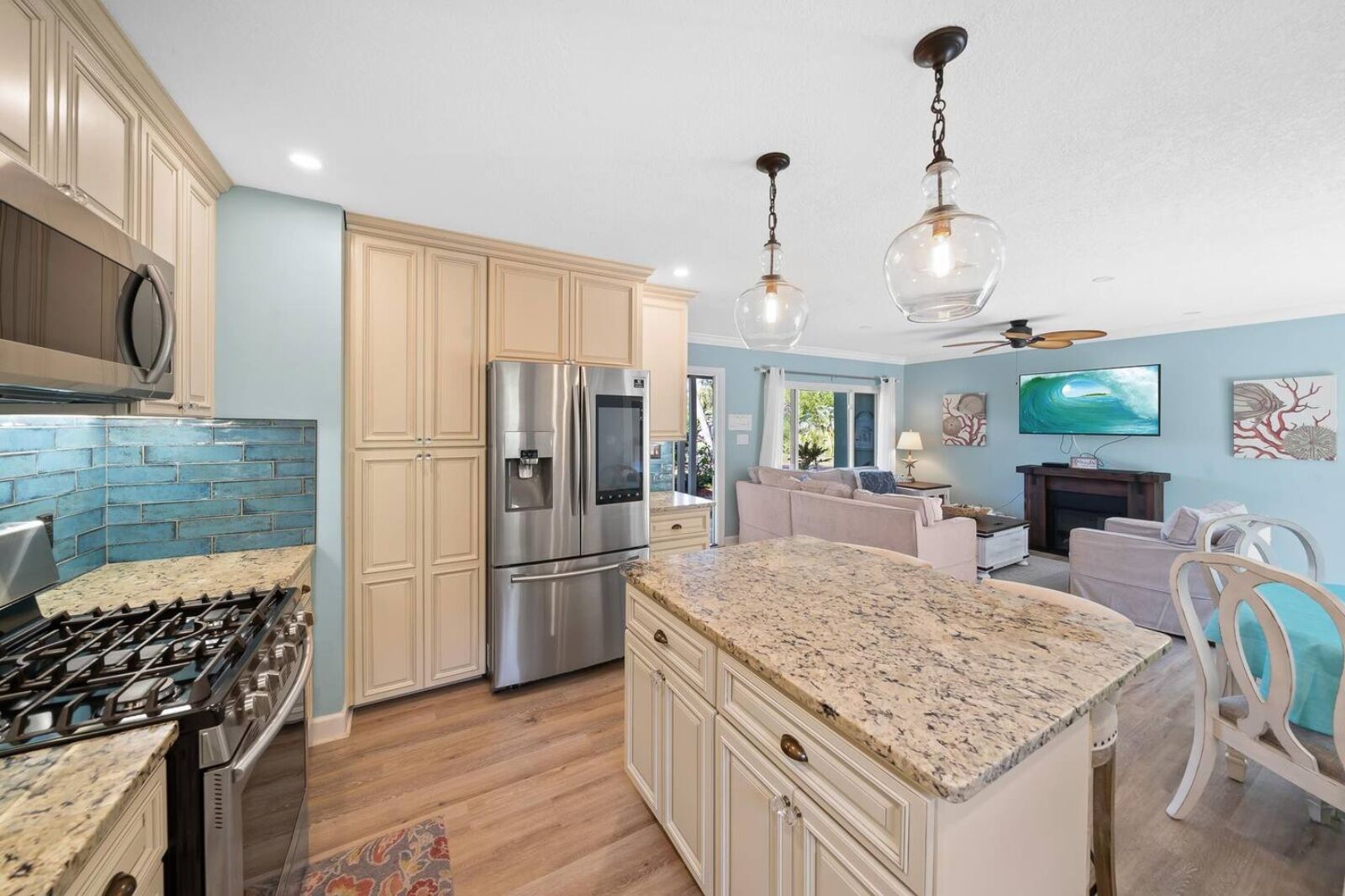 See more photos
This Airbnb occupies prime downtown real estate between Cocoa Beach and Banana River.
The outdoor space feels like your own private resort with a huge heated pool, a tiki hut with a large screen TV and comfortable sofas, and a private jacuzzi tub. The interior is just as impressive. It's modern, with chic turquoise tiles and marble top counters in the open-planned kitchen, beach-themed artwork in the living area, and airy bedrooms — some of which lead on out to the patio through French doors.
Eight guests, four bedrooms
Price: $403 per night
Book Now
Beautiful two-bedroom historic cottage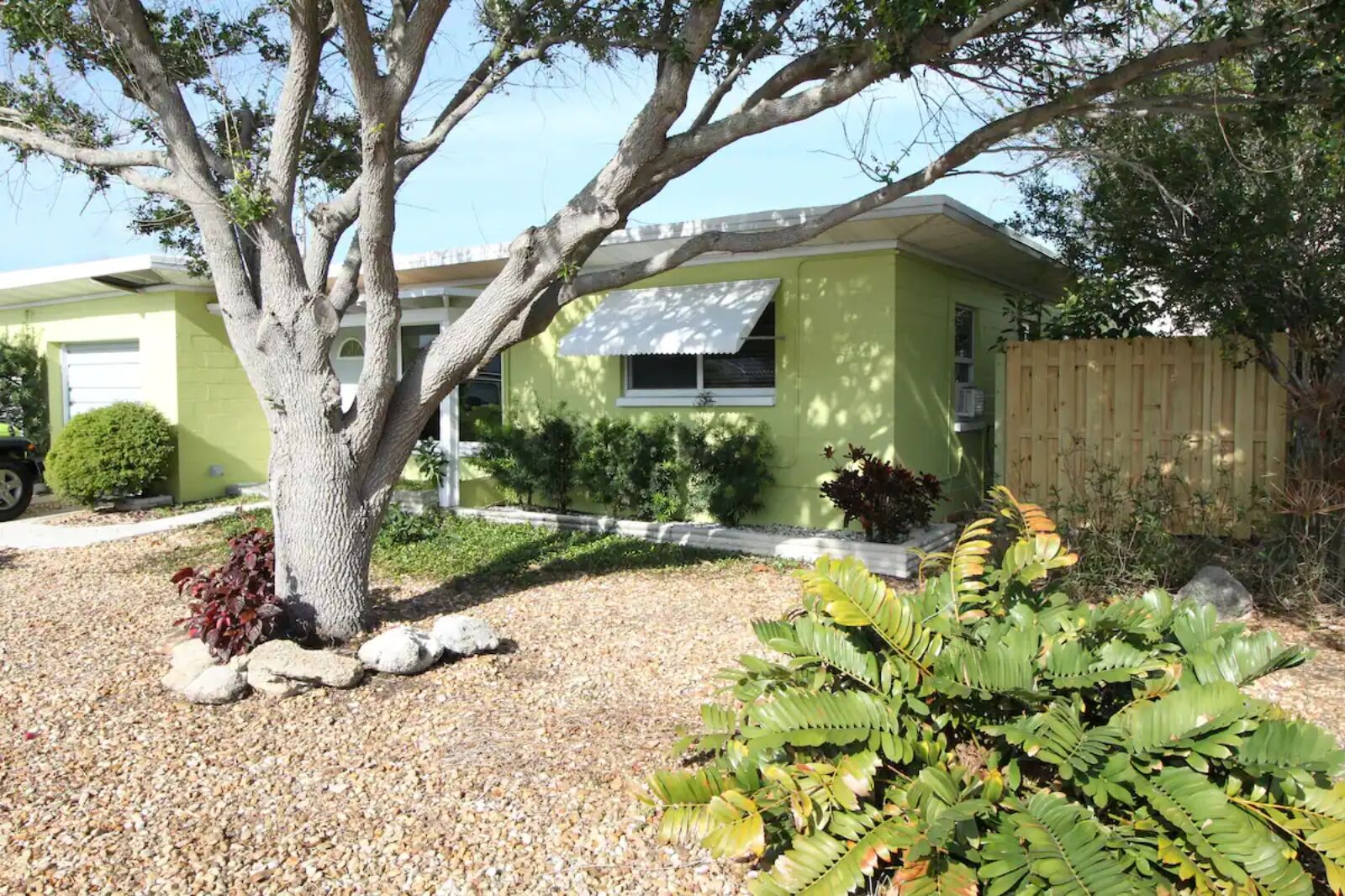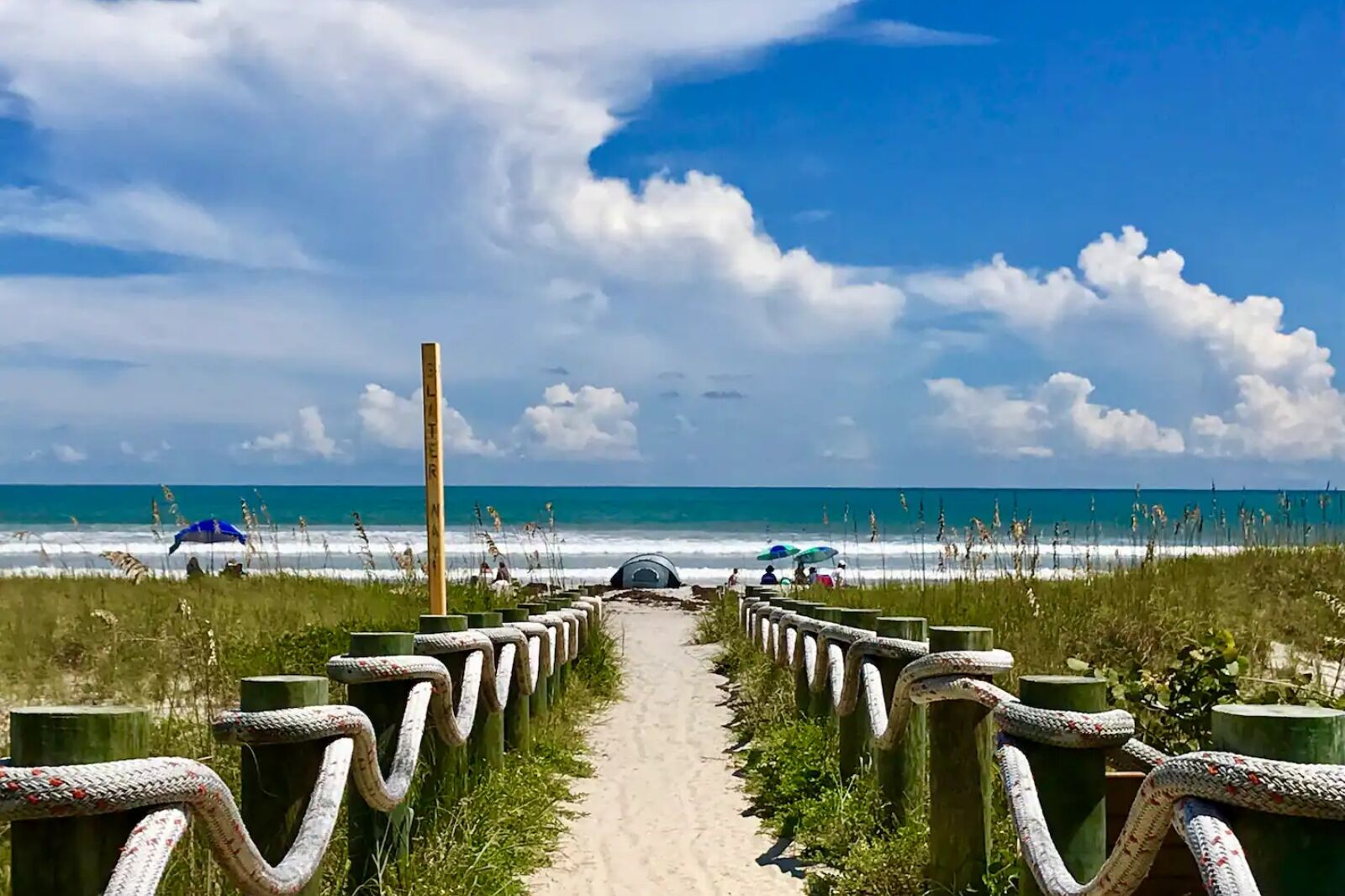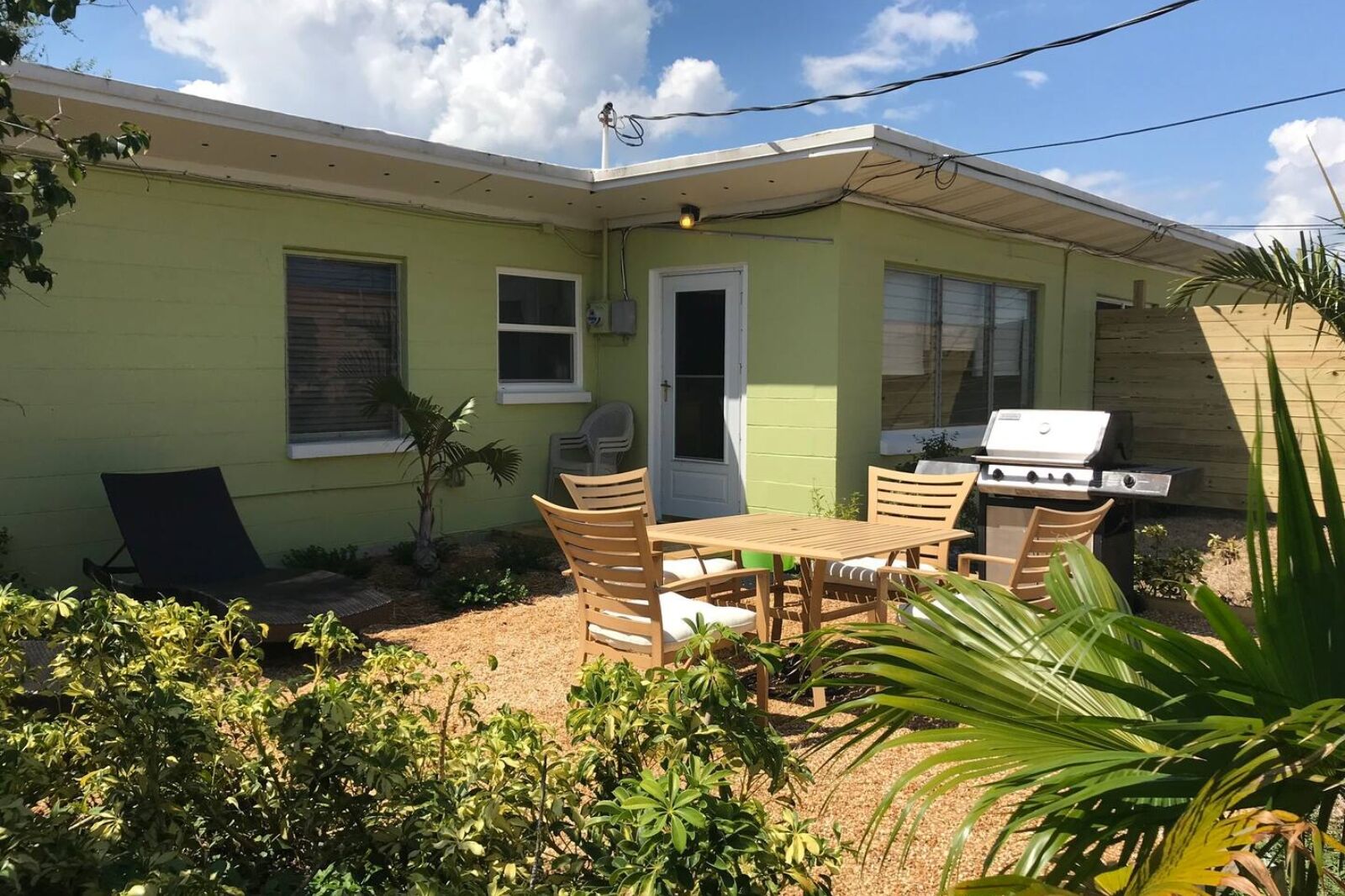 See more photos
This charming cottage is a budget-friendly option for a small group. The recently renovated home is one block from the beach in the residential historic area of Cottage Row. Beach access is walkable but the rental also has a parking space in front of the garage and there's lots of free on-street parking close by if you're driving.
Inside the cottage, there are all the comforts you need with a kitchen equipped with stainless appliances, pots and pans, dishes, and all utensils for a home-cooked meal.
Four guests, two bedrooms
Price: $171 per night
Book Now
Beautiful beach condo with ocean view
See more photos
You really can't beat this condo's location. With spectacular views of Cocoa Beach the Airbnb is steps from the sand. Beach access is over the front lawn and down a small wooden boardwalk and if you are traveling with kids in toe, you can keep an eye on their walk to the ocean from the Airbnb's balcony.
Inside the interior is homely, with a somewhat dated but comfortable decor. The master bedroom leads out onto the condo's balcony through lockable sliding doors and the second bedroom (with one double and one twin bed) has a large window allowing light to pour in. This rental is a very good option for a group who want an ocean view but also need to keep costs low.
Five guests, two bedrooms
Price: $128 per night
Book Now
Private beach bungalow
See more photos
With three bedrooms and two bathrooms, this house is within walking distance of a busy shopping area of Cocoa Beach. It's close enough to the action but is on a quiet street. Perfect for those who like to be within walking distance of the beach's bars and nightlife options but prefer a more tranquil living space for their vacation.
And there's no need to over-pack. The rental comes with everything you need for a day by the sea including beach chairs, an umbrella, beach bikes, and boogie boards. The one-floor house has lanais on both the front and back of the house and the yard is fenced off for your privacy.
Six guests, three bedrooms
Price: $169 per night
Book Now
Is Cocoa Beach a party beach?
Cocoa Beach, Florida is a great place to party. Located on the Space Coast of Florida, Cocoa Beach offers plenty of nightlife options and beach parties. From the World-Famous Westgate Cocoa Beach Pier to Megakit at Coconuts on the Beach, there are plenty of places to get down in Cocoa Beach.
For those looking for a more laid-back experience, Downtown Cocoa Beach hosts Friday Fest every week with live music and entertainment. The Minutemen Causeway is also home to several beach bars and restaurants that offer a great atmosphere for an evening out.
If you're looking for something more adventurous, you can even try zip-lining over the beaches here or head to Coco Bongo for an unforgettable beach party.
Can you swim in Cocoa Beach Florida?
Yes, you can swim in Cocoa Beach. With six miles of ocean beaches and many parks with access to the ocean, there are plenty of places to take a dip. The Cocoa Beach Aquatic Center offers a 50-meter pool that is heated in the winter and cooled in the summer, as well as a splash park and jumbo water slide. Visitors can also enjoy fishing, swimming, surfing, sunbathing, and ocean views at the Cocoa Beach Pier which has lifeguards on duty year-round.
What did you think of this story?