10 Essential Amsterdam Restaurants Everyone Should Visit at Least Once
The Netherlands are known for all sorts of delicious snack foods – from crispy dutch pancakes filled with fruit, to raw herrings, stroopwafels, thick cut fries, and kibbeling – battered and fried fish served with a garlicky dipping sauce. With such an impressive culinary pedigree, visitors to Amsterdam might want to know if the city's restaurants hold up just as well as the many street food options. Luckily, Amsterdam restaurants have plenty to offer the hungry tourist.
From budget friendly options to global cuisines, Amsterdam restaurants offer budget friendly options, intimate settings, and upscale tasting menus and wine pairings. Expect to be surprised by the bold and playful flavors of the up and coming culinary city. Remember to check out Foodhallen Amsterdam (one of the most mulit-cultural, diverse, and interesting food halls in the world). But if it is a restaurant you are looking for, here's where to book a table on your next trip.
VanOost Restaurant
Sample the eight course tasting menu at this restaurant located in the Pillows Maurits at the Park hotel. Wild duck, king crab, and pigeon are all on the menu. The elegant dining room features high ceilings and floor to ceiling windows which offer diners views of the city's greenery.
VanOost Restaurant: Mauritskade 61, 1092 AD Amsterdam, Netherlands
Price: $$$
Restaurant ZaZa's
This intimate restaurant with just 12 seats specializes in shrimp, rib eye steaks, and scallops. The wood paneled dining room might have a formal look but the restaurant's atmosphere is relaxed. In fact, the restaurant claims its theme is "Absolutely Fabulous," and is all about having fun with friends.
Restaurant Zaza's: Daniël Stalpertstraat 103, 1072 XD Amsterdam, Netherlands
Price: $$
Restaurant Adam
There are three options for dinner at this restaurant: a four, five, or six course tasting menu – and guests have the option of adding on a cheese board. The Michelin Guide calls the restaurant's flavors bold; ingredients like yellow beets and chicken liver stand out. However, the menu is seasonal and ingredients change frequently.
Restaurant Adam: Overtoom 515a, 1054 LH Amsterdam, Netherlands
Price: $$$$
Senses Restaurant
Located in the Amsterdam City Center, Senses Restaurant considers its culinary creations art just as much as food. Using lots of color, flowers, and herbs each plate is a visual feast. There are three, four, and five course tasting menu options, which fuse both Asian and European flavors.
Senses Restaurant: Vijzelstraat 45, 1017 HE Amsterdam, Netherlands
Price: $$$
Spectrum
This restaurant inside the Waldorf Astoria hotel has two Michelin stars, and the guide says that the food looks just as beautiful as it tastes. Using Dutch produce, the chefs craft dishes with stand out ingredients like duck tongue and blue lobster. The decadent tne course tasting menu is exemplary fine dining in Amsterdam.
Spectrum: Herengracht 542, 556, 1017 CG Amsterdam, Netherlands
Price: $$$$
Bhatti Pasal
This small, unassuming eatery tucked into a side street in Amsterdam is routinely named one of the best restaurants in the city. One of the restaurant's specialties are momos – a steamed dumpling that is native to Tibet and Nepal. Crowds form outside the door, but there are no reservations and a small number of tables so be prepared to wait.
Bhatti Pasal: Voetboogstraat 23, 1012 XK Amsterdam, Netherlands
Price: $
Ciel Bleu
Located on the third floor of the Hotel Okura in Amsterdam, one of the stand out features of this restaurant are the stunning city views. Awarded two Michelin stars for its excellence, only the highest level ingredients are used: There are two different caviar options, and bluefin tuna, lobster, and wagyu all make appearances on the menu. One interesting aspect of the dining experience here is that each dish is served with an untouched herb which will feature prominently in the following dish.
Ciel Bleu: Ferdinand Bolstraat 333, 1072 LH Amsterdam, Netherlands
Price: $$$$
Choux
With a focus on seafood and vegetables paired with natural wines, Choux offers a five course tasting menu. Although Choux favors the complex and beautiful plating techniques fine dining restaurants are known for, the dining room is relaxed and informal. At the moment this one of the trendiest restaurants in Amsterdam – the place to see people and be seen.
Choux: De Ruijterkade 128, 1011 AC Amsterdam, Netherlands
Price: $$$
Restaurant Bougainville
Located inside Hotel TwentySeven, what makes this restaurant stand out are its views of Dam Square. One of the restaurant's stand out experiences is the The Bougainville Breakfast Experience, which involves a decadent array of sweet and savory breakfast dishes served at the restaurant. The restaurant has also been awarded one Michelin star for its romantic setting, and its cuisine which combines French and Asian influences.
Restaurant Bougainville: Dam 27, Amsterdam, 1012 JS, Netherlands
Price: $$$$
Gartine
This cozy cafe for breakfast and tea features a quaint ivy covered facade. Quiche, croissants, eggs, and lots of pastry options make this spot a solid option for a relaxed meal earlier in the day. Most people recommend making reservations, as the restaurant is tiny and the tables fill up quickly.
Gartine: Taksteeg 7, 1012 PB Amsterdam, Netherlands
Price: $$
Where to stay in Amsterdam
Amsterdam is one of the most romantic, charming cities in Europe. With its iconic canals running through the city and antique architecture, the city offers so much to do and look at. Amsterdam Airbnbs are scattered around some of the city's coolest neighborhoods, offering slyish accommodations that will make visitors feel right at home. Here's where to book your next stay.
We hope you love the spaces and stays we recommend! Just so you know, Matador may collect a small commission from the links on this page if you decide to book a stay. Listed prices are accurate as of the time of publication.
2 bedroom cottage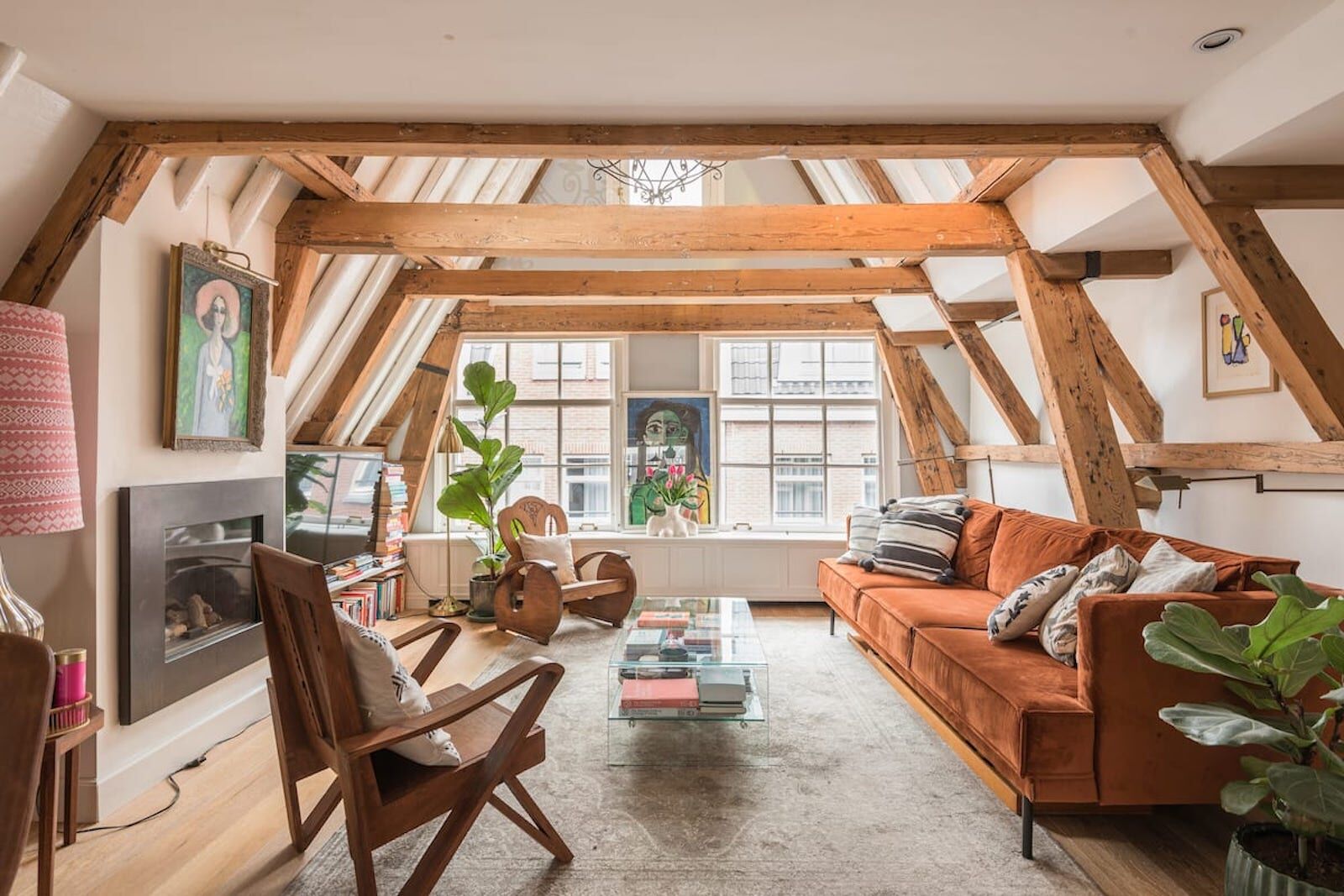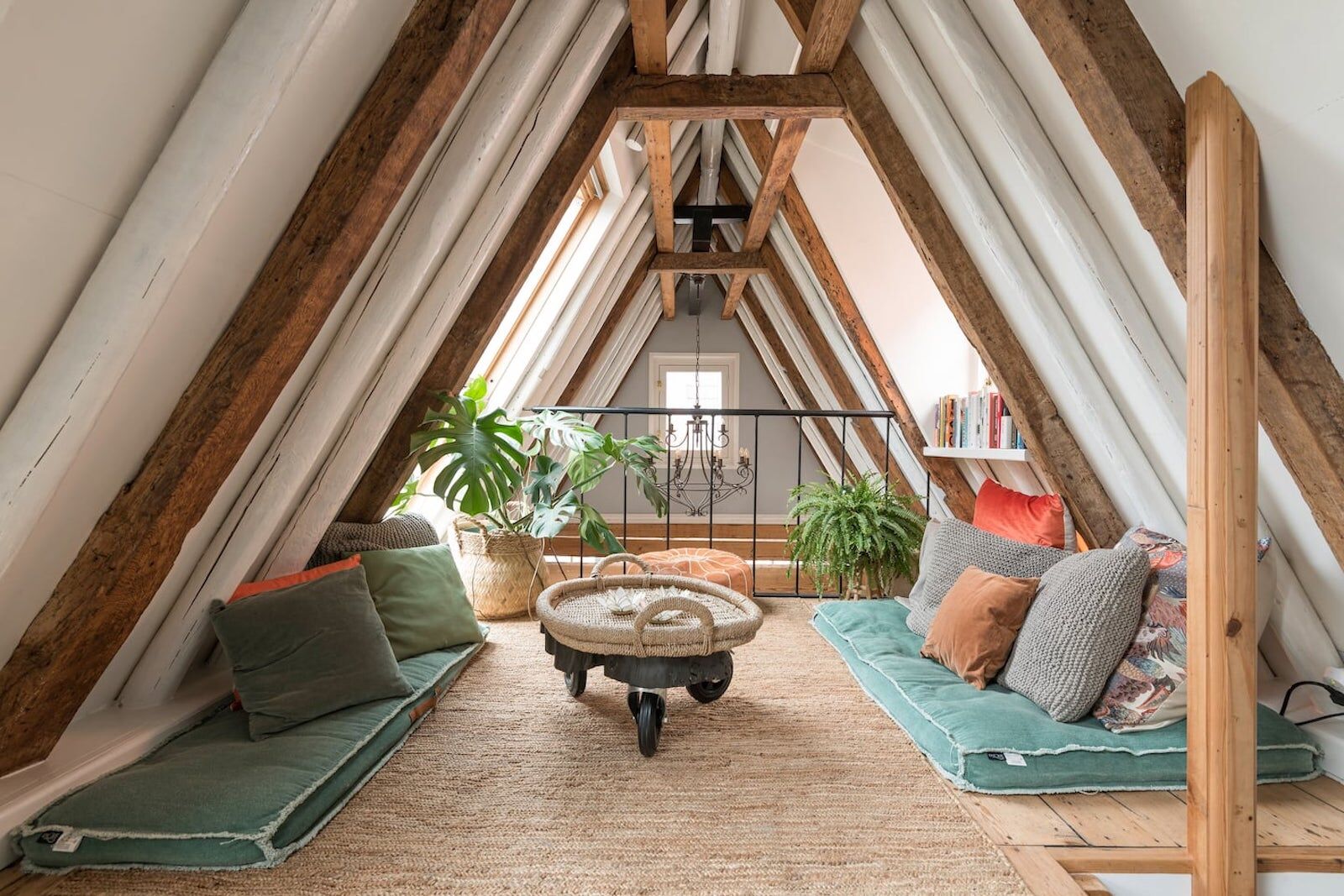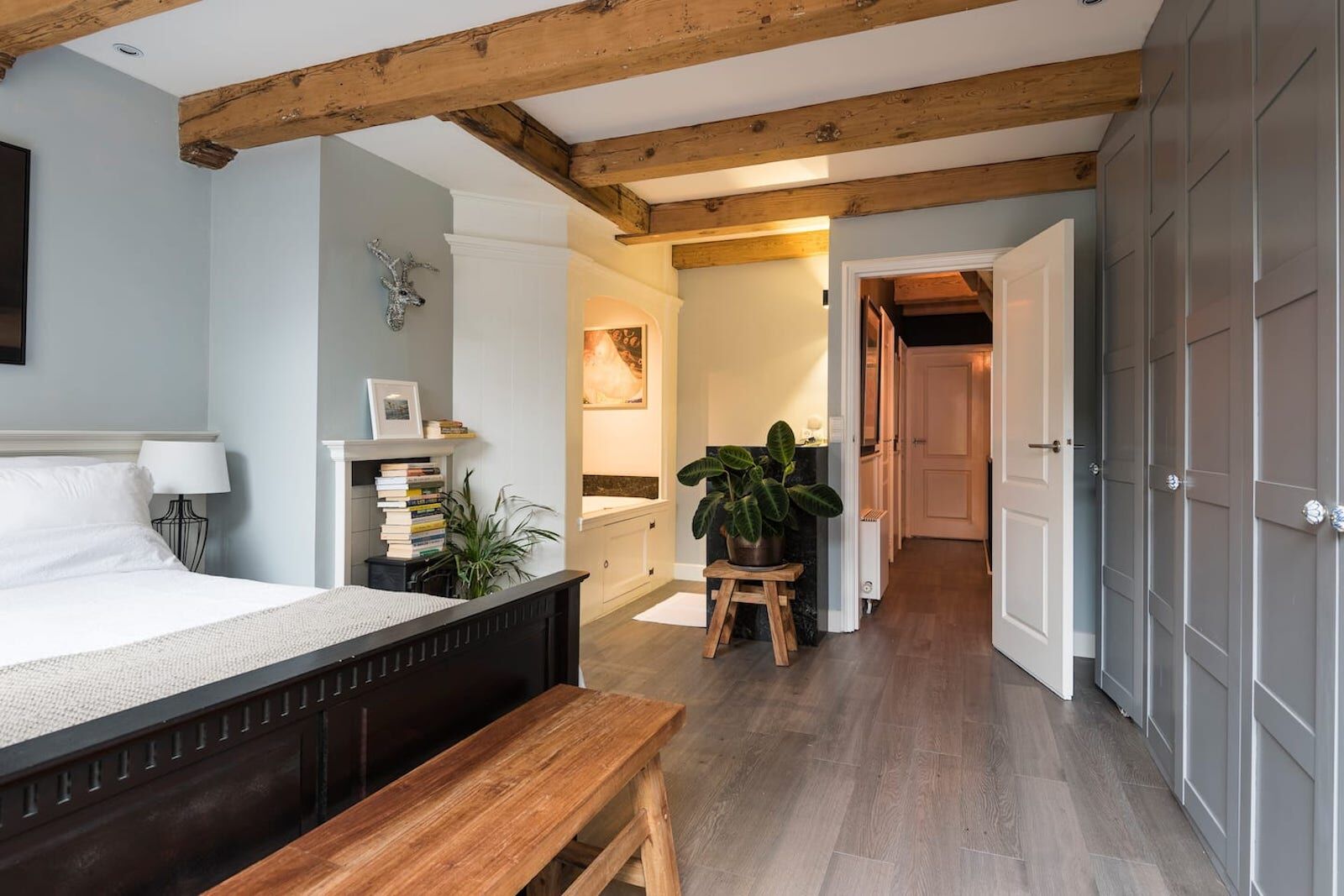 See more photos
This cozy cottage features low ceilings and wooden rafters. It's tastefully decorated with art and comfortable couches, and features a modern kitchen. The huge windows let in natural light and offer city views, and yet it has the homey feel of a home in the country. The loft space and rooftop patio add to the emphasis on comfort and secluded relaxation even though its just a short walk from Central Station and Dam Square.
Book Now
Luxury houseboat
See more photos
Located in the historic Jordaan neighborhood, this houseboat has three bedrooms and a deck with a dining room table and unobstructed views of the canals. Huge windows fill the space with natural light. The full kitchen and spacious dining can accommodate a large family. Amsterdam Historic Museum and Anne Frank House are all within walking distance.
Book Now
5 bedroom townhouse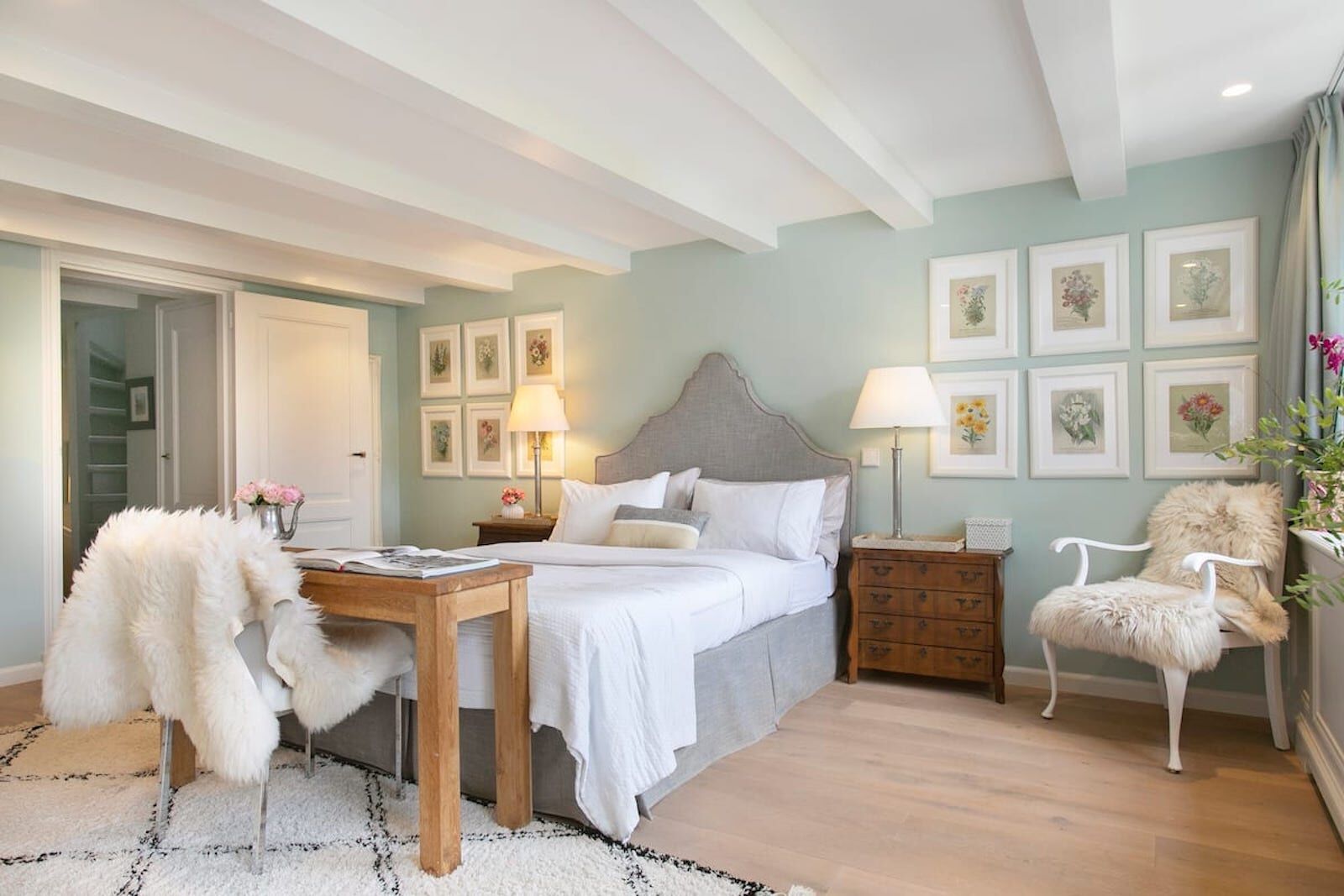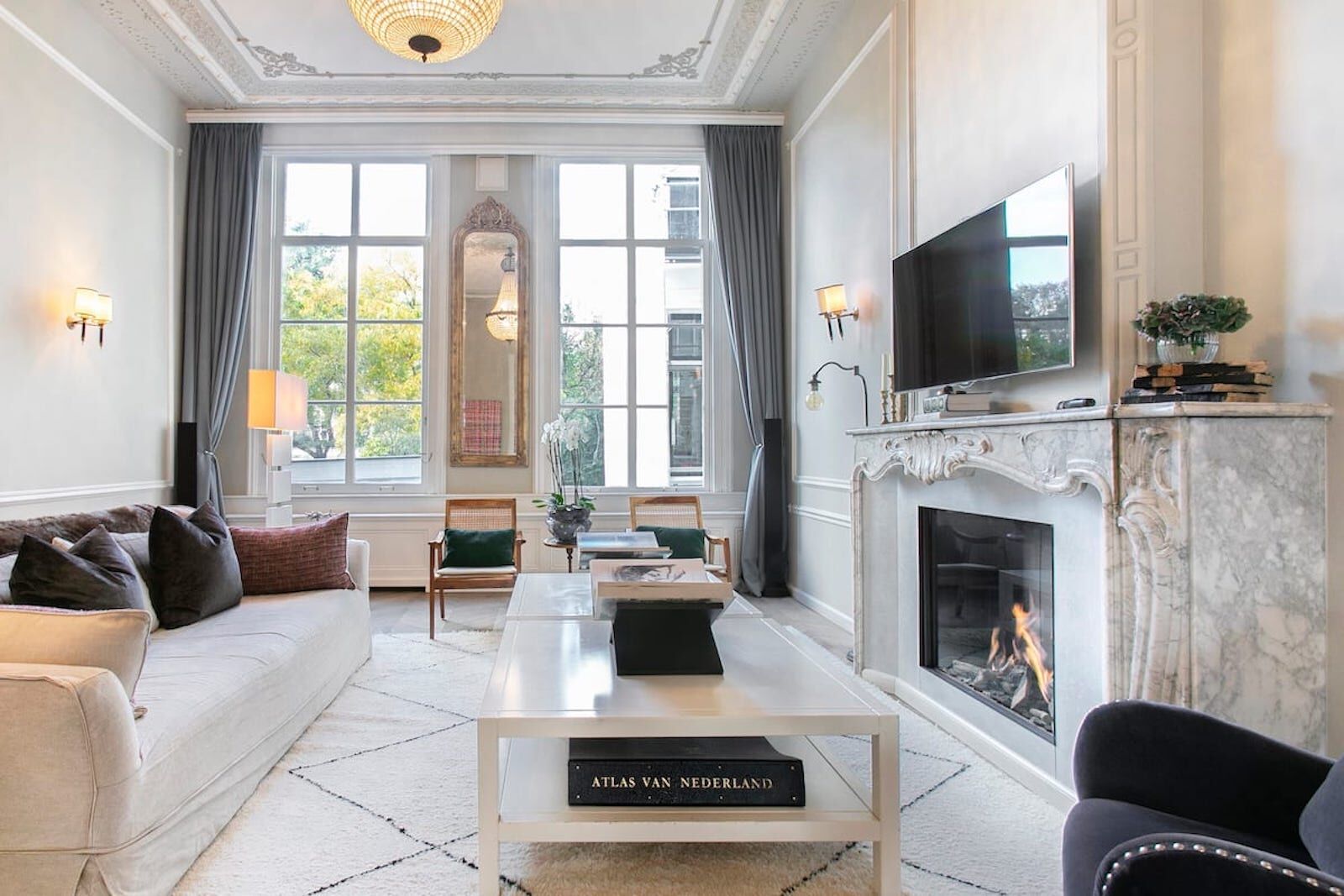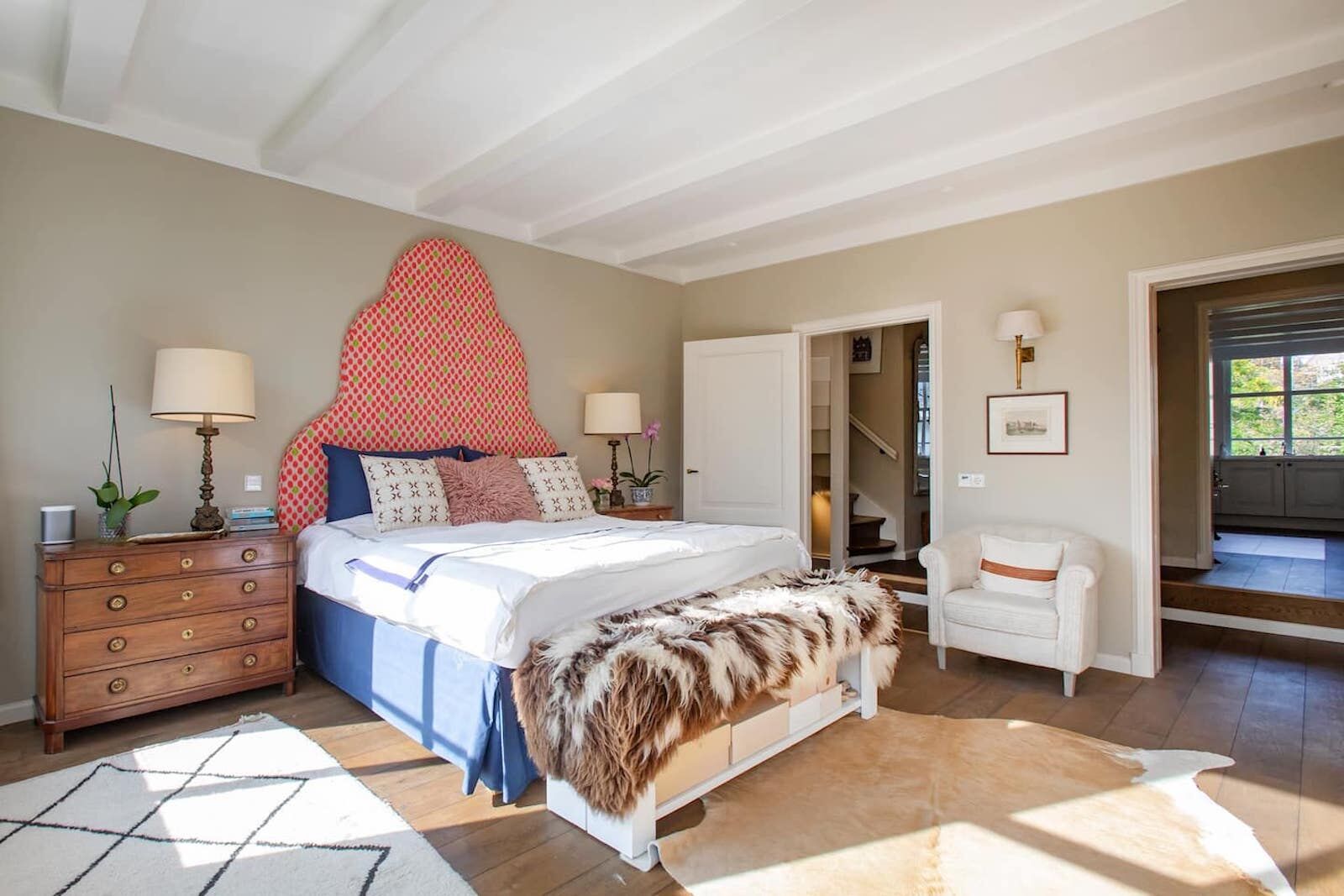 See more photos
This large townhouse with five bedrooms is perfect for large groups. Overlooking the Keizer canal, the home retains many of its historic features while offering modern amenities. Guests can enjoy a fireplace, antique furniture, soaking tub, and a dedicated bar. Exploring the city is a must, but if you stay here you might not want to leave home.
Book Now
What did you think of this story?