The Most Luxurious Amsterdam Hotels Close To All Major Must-See Sights
Amsterdam is an iconic capital with a vibrant culture and rich history, where artistry from the renowned Dutch Golden Age meets a diverse blend of modern architecture. Europe's most significant preserved medieval core comprises of a network of canals with stone bridges connecting charming streets peppered with brightly-colored bicycles and tulip stands.
Amsterdam is one of the most popular cities in Europe with an estimated 21.7 million people visiting each year. Many make a point to visit during some of the world-famous festivals and events throughout the year. The most popular being; Holland Festival, Uitmarkt, Grachten Festival, Amsterdam Dance Event, PRIDE, and the Amsterdam Light Festival. Amsterdam is also home to renowned museums, including the Rijksmuseum and Van Gogh Museum. And of course, there is the acclaimed nightlife. From hip canal-side open-air bars and relaxed coffee shops to late-night clubs with packed event schedules there's something for everyone. It's also very LGBTQ+-friendly and considered one of the safest and most fun gay destinations.
Due to this, visiting Amsterdam can be a busy affair, with tourists often outnumbering hotel rooms during peak times. To avoid having to stay at your second (or third) choice, book far in advance. Here are some of the best Amsterdam hotels renowned for their level of service, design, and decor, world-class amenities, and prime location, close to many of the must-see sights in the city.
Taking a European trip? Check out Matador's accommodation guides to the best places to stay:
When to visit Amsterdam
If you're looking to explore Amsterdam, the best time to visit is between April and May or September and November. This is right before or directly after the summertime high tourist season, so you can expect decent weather and fewer crowds.
The spring tulip season (mid-March) is also a popular time to visit, but it's important to note that this is a busy season in Amsterdam. You'll likely find higher prices and more people in the city during this time. November to February is the best time for budget travelers, as prices tend to be lower during this period. June to August also offers great weather and festivals, but be prepared for higher prices and bigger crowds.
We hope you love the Amsterdam hotels we recommend. Just so you know, Matador may collect a small commission from the links on this page if you decide to book a stay.
Breitner House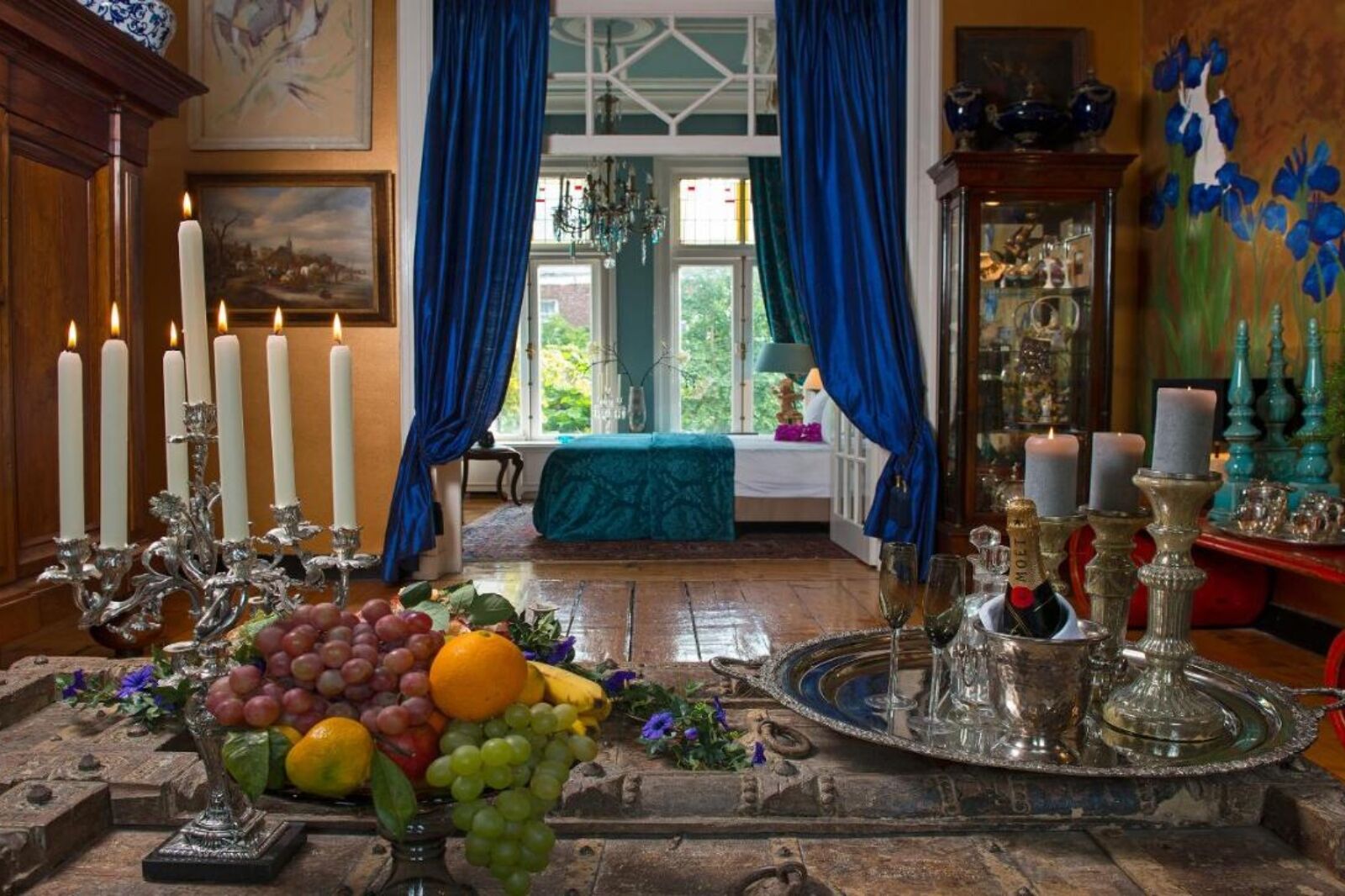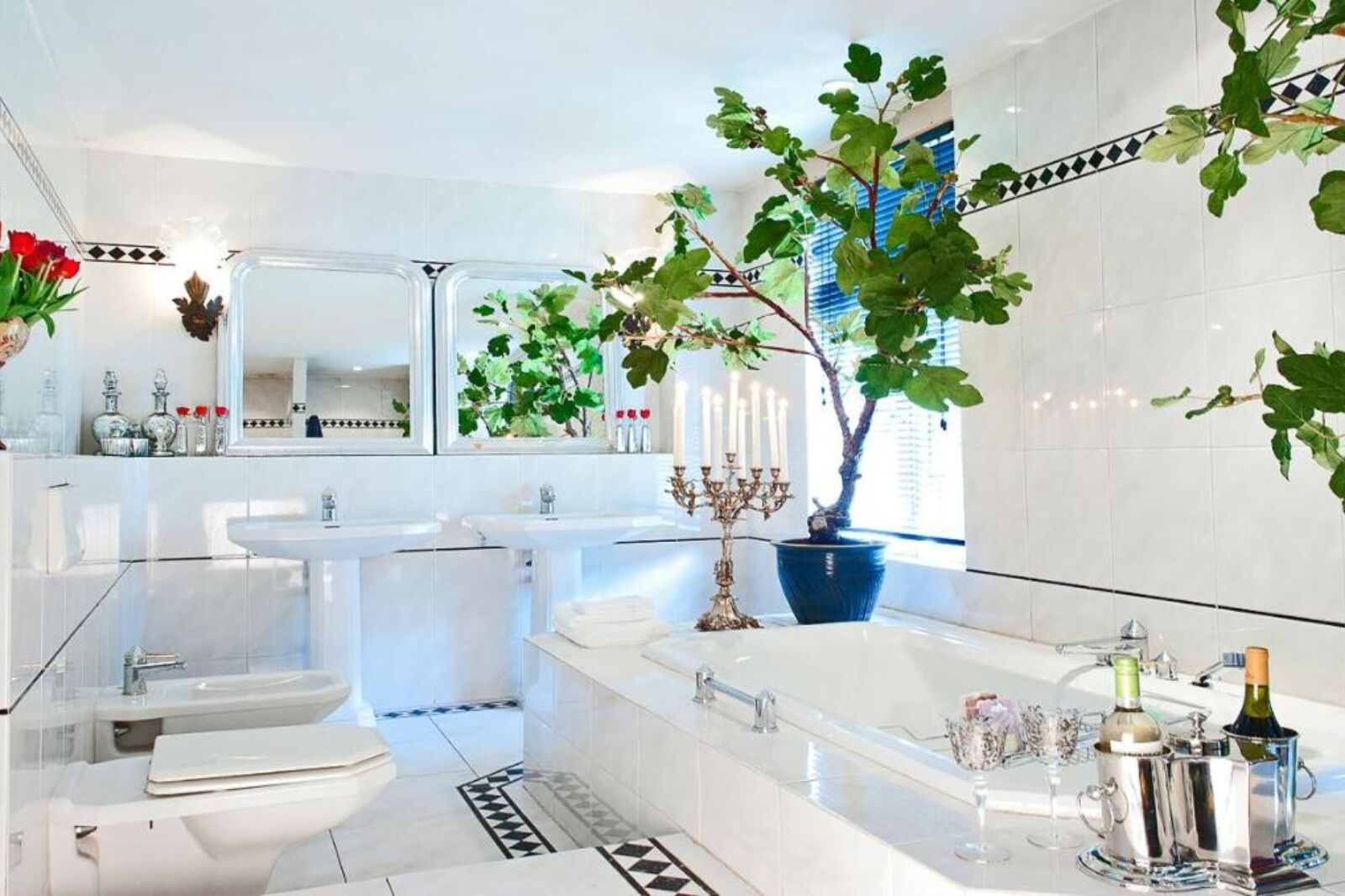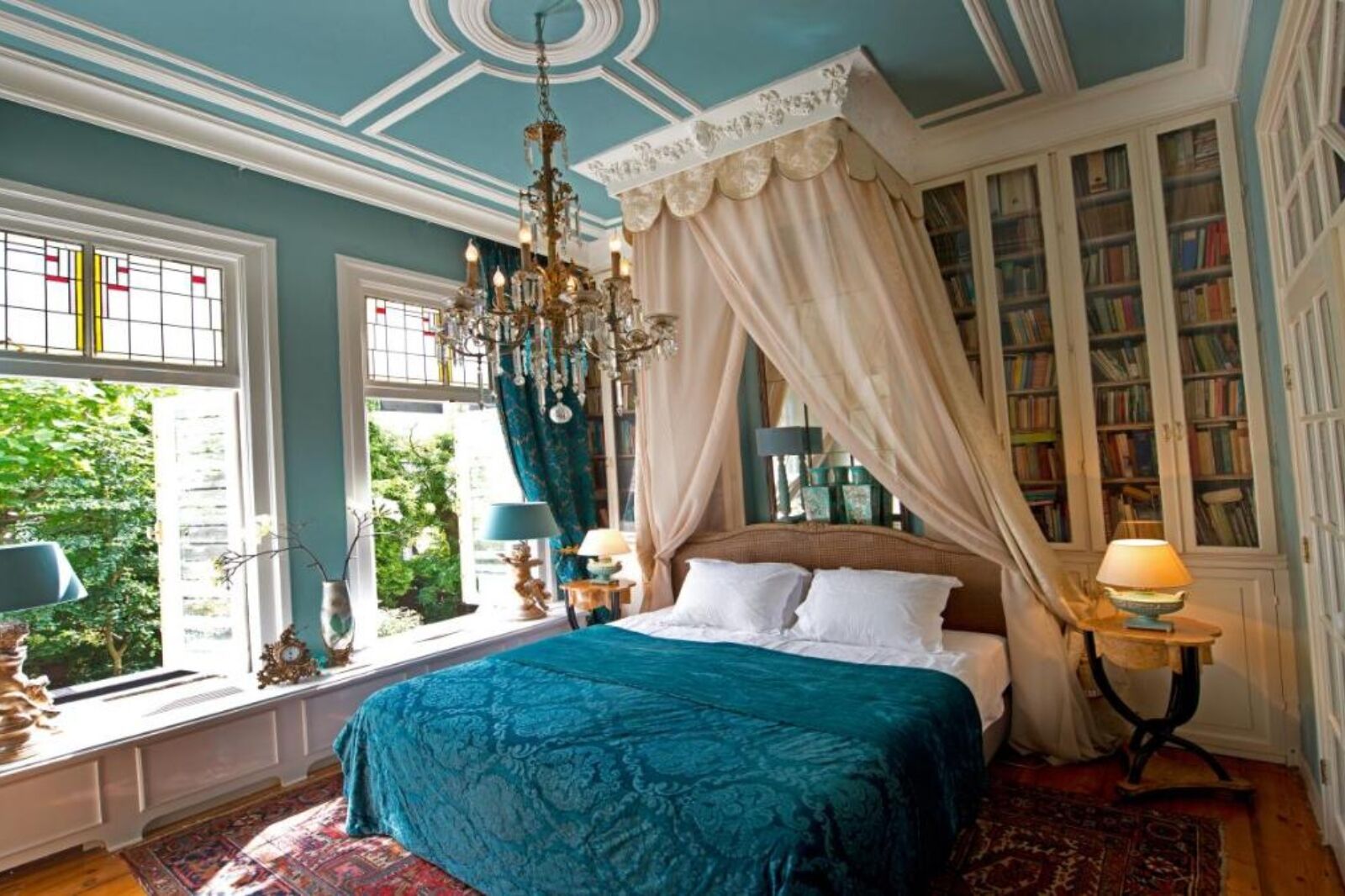 See more photos
One of the great things about Amsterdam is its transport system. Regardless of where to choose to stay, you can quickly and easily get around the city. Breitner House is located in Amsterdam East, a little out of the center, but that should not deter you. The canal belt is a quick 15-minute journey on the tram which you can hop on right outside the front door of the hotel.
Breitner House was once home to a renowned 19th-century Dutch artist. The interior resembles a period movie set. Antique furniture, rich authentic textiles, and fine art can be found throughout with original ceilings and chandeliers adding to the opulent ambiance.
The Breitner House's two suites offer a luxurious and comfortable and more space than most other hotels in the city (outside of expensive presidential suites). They are beautifully decorated with local antiques, silk, velour, and brocade fabrics, and original artworks from the former owner, George Breitner.
Cost per night: $747
Breitner House: Oosterpark 87-88, Oost, 1092 AW Amsterdam
Book Now
Pulitzer Amsterdam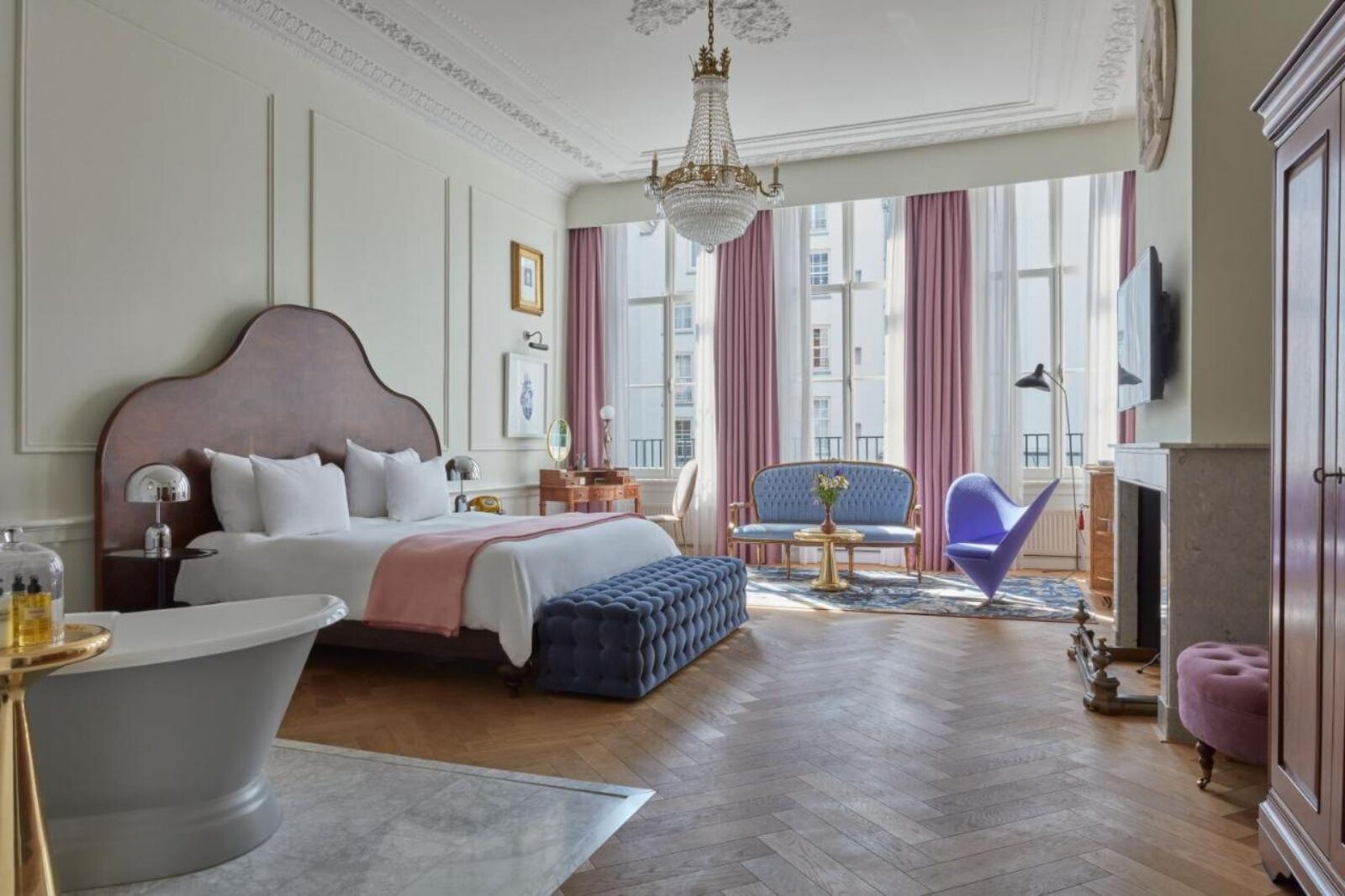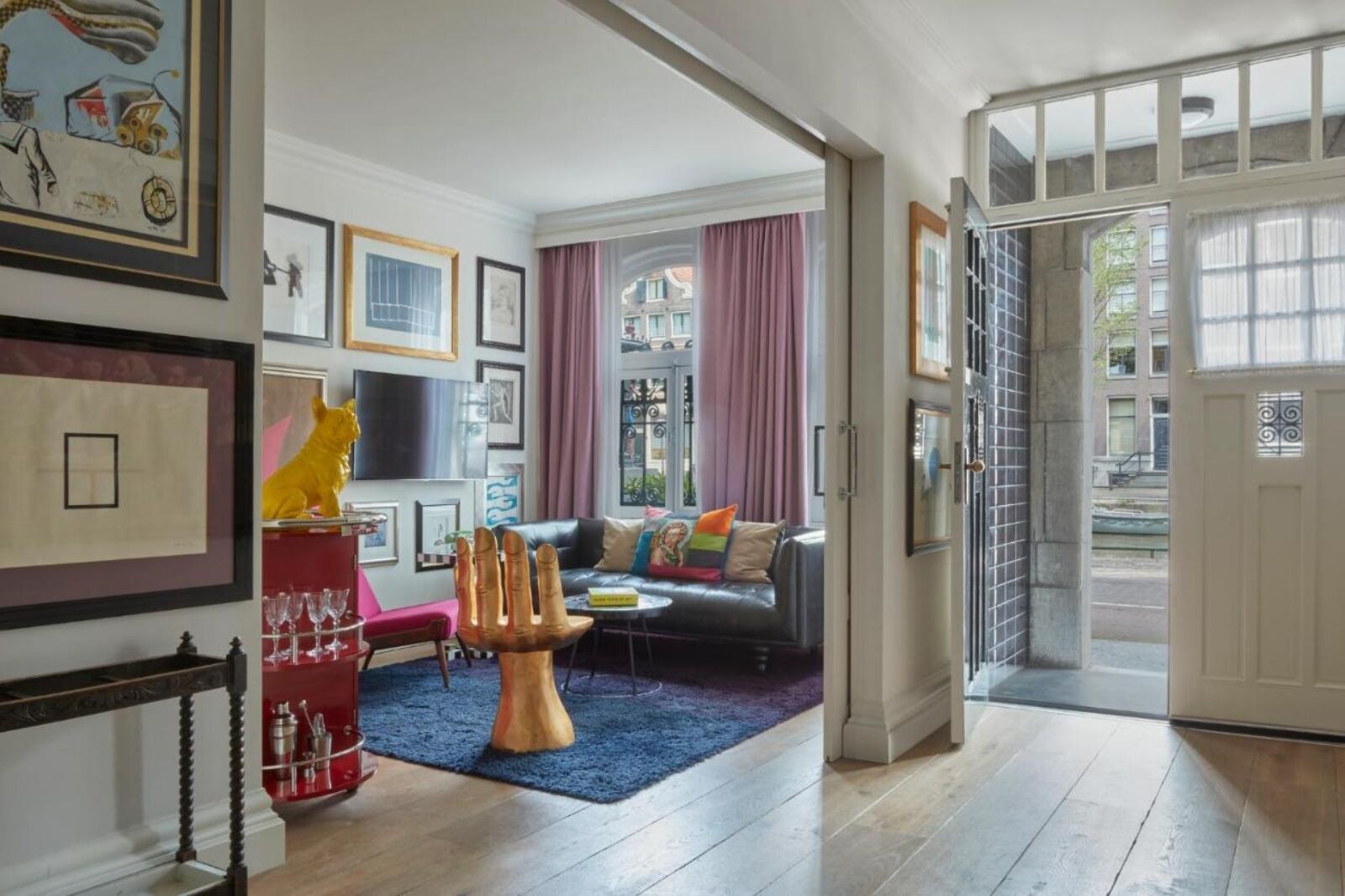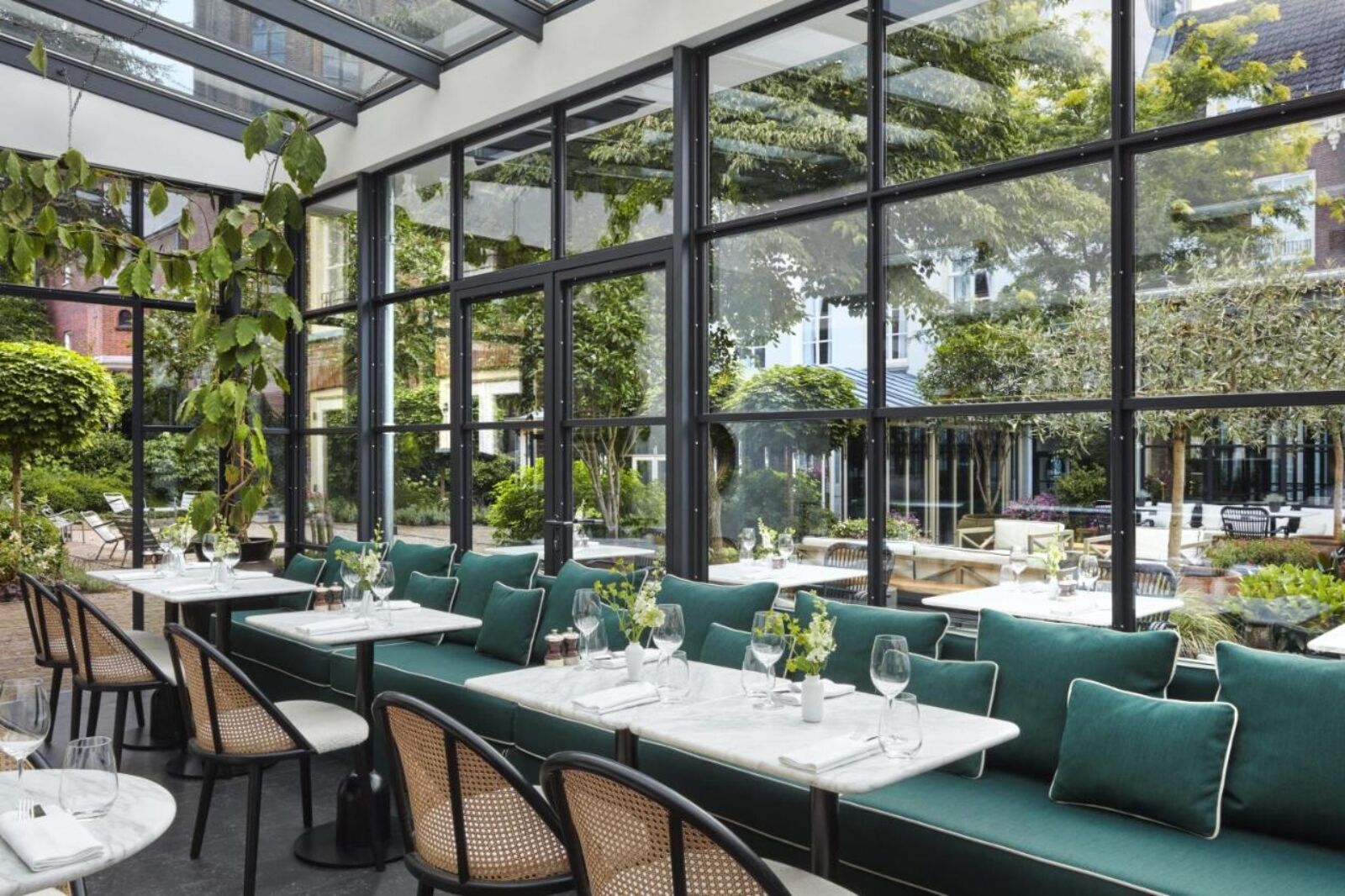 See more photos
Pulitzer Amsterdam runs through 25 quirky canal houses between two major canals. The hotel is situated on Prinsengracht 323, just a 10-minute walk from Anne Frank House and Dam Square. It offers guests a blend of traditional Dutch craftsmanship and modern design, with 225 individually designed rooms, many of which overlook the waterway. Connected by a warren of passages and stairways, the hotel is fresh, contemporary, and very quirky.
The rooms combine the understated elegance of a historic canal house with modern amenities and design. The color scheme is stunning. Muted pastels and gold are accented with touches of lime, yellow and purple. Guests can choose from a variety of room types, including classic accommodations with canal views, family rooms, or something a little cozier, ideal for solo travelers.
Cost per night: $620
Pulitzer Amsterdam: Prinsengracht 323, Amsterdam City Centre, 1016 GZ Amsterdam
Book Now
Hotel Estheréa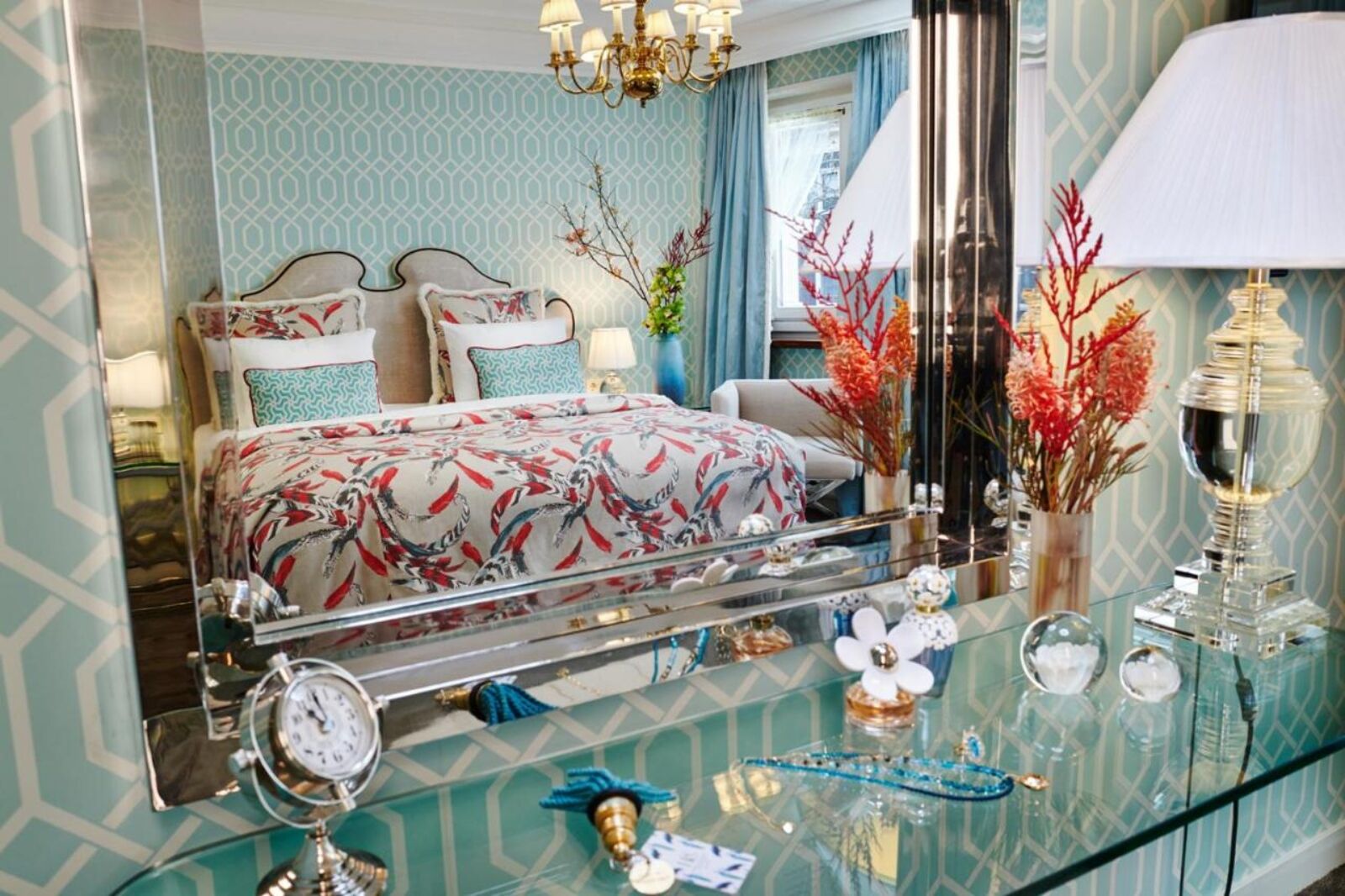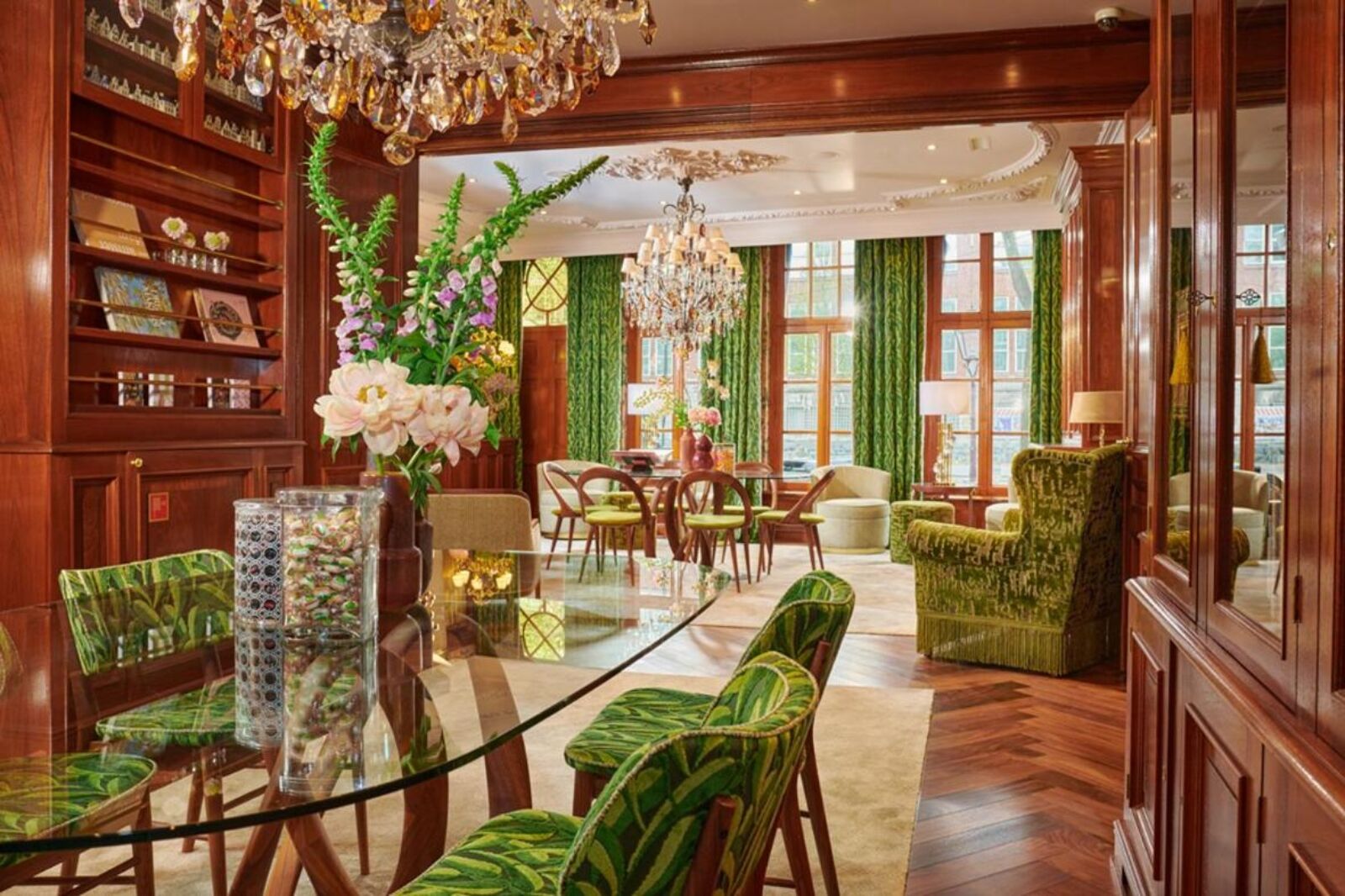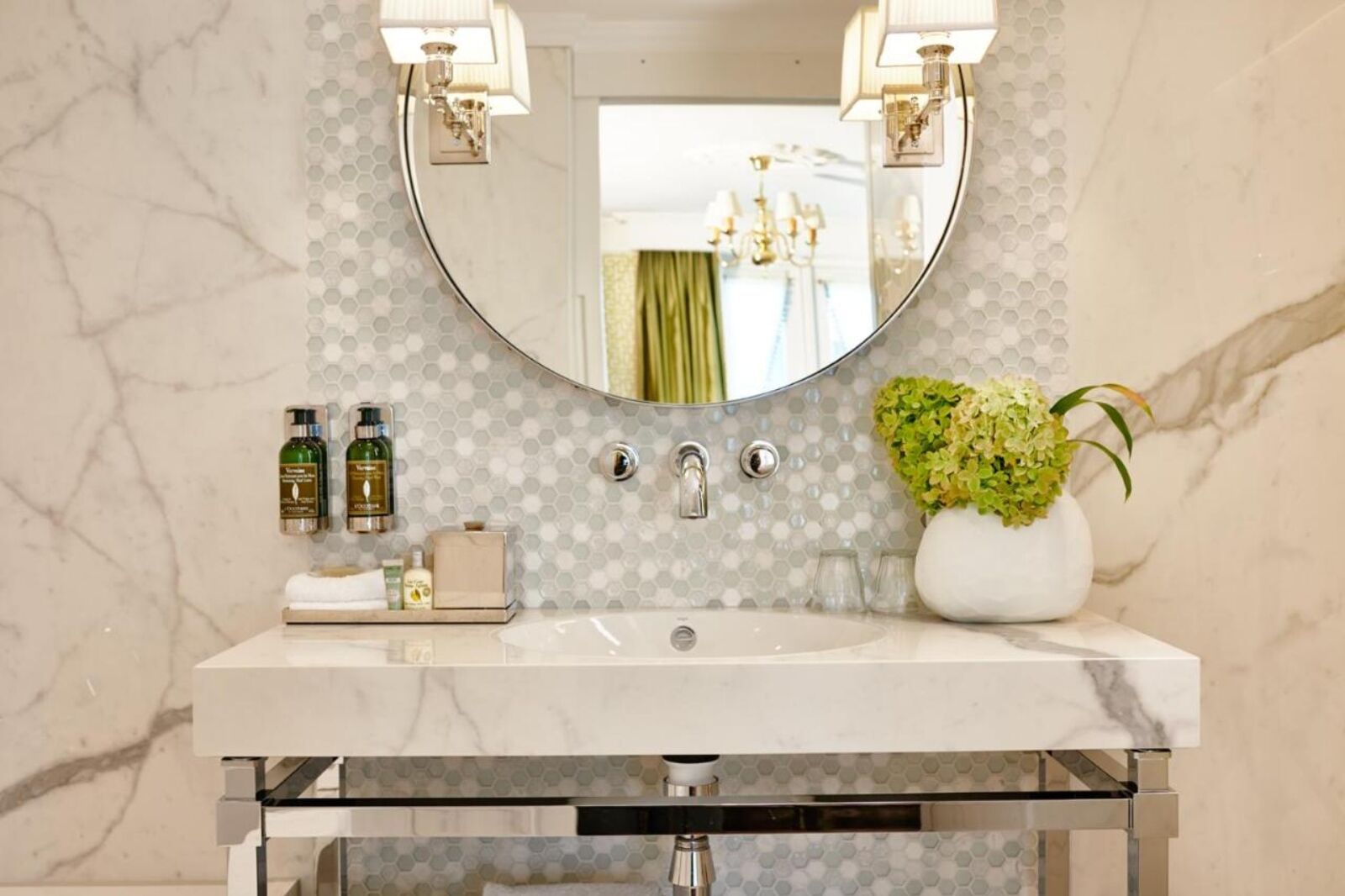 See more photos
Hotel Estheréa is one of the most centrally location option. Sitting on the Singel canal it's a 10-minute walk from Dam Square and Anne Frank House. It's also close to popular attractions such as Rembrandtplein, Hortus Botanicus and Nieuwmarkt Square.
The hotel itself offers 91 luxuriously furnished rooms and two colorful suites, each with unique details that have been carefully considered. The decor at Hotel Estheréa is both zany and plush, creating a warm and welcoming ambiance throughout the entire building. From the lobby to the guest rooms, you'll find vibrant colors, bold wallpaper, piles of cushions, and eclectic furnishings that will make you feel like you've stepped onto a movie set. The walls are adorned with artwork from local artists, while the furniture is made from high-quality materials such as wood, leather, and velvet.
Cost per night: $620
Hotel Estheréa: Singel 303 — 309, Amsterdam City Centre, 1012 WJ Amsterdam
Book Now
Hotel The Craftsmen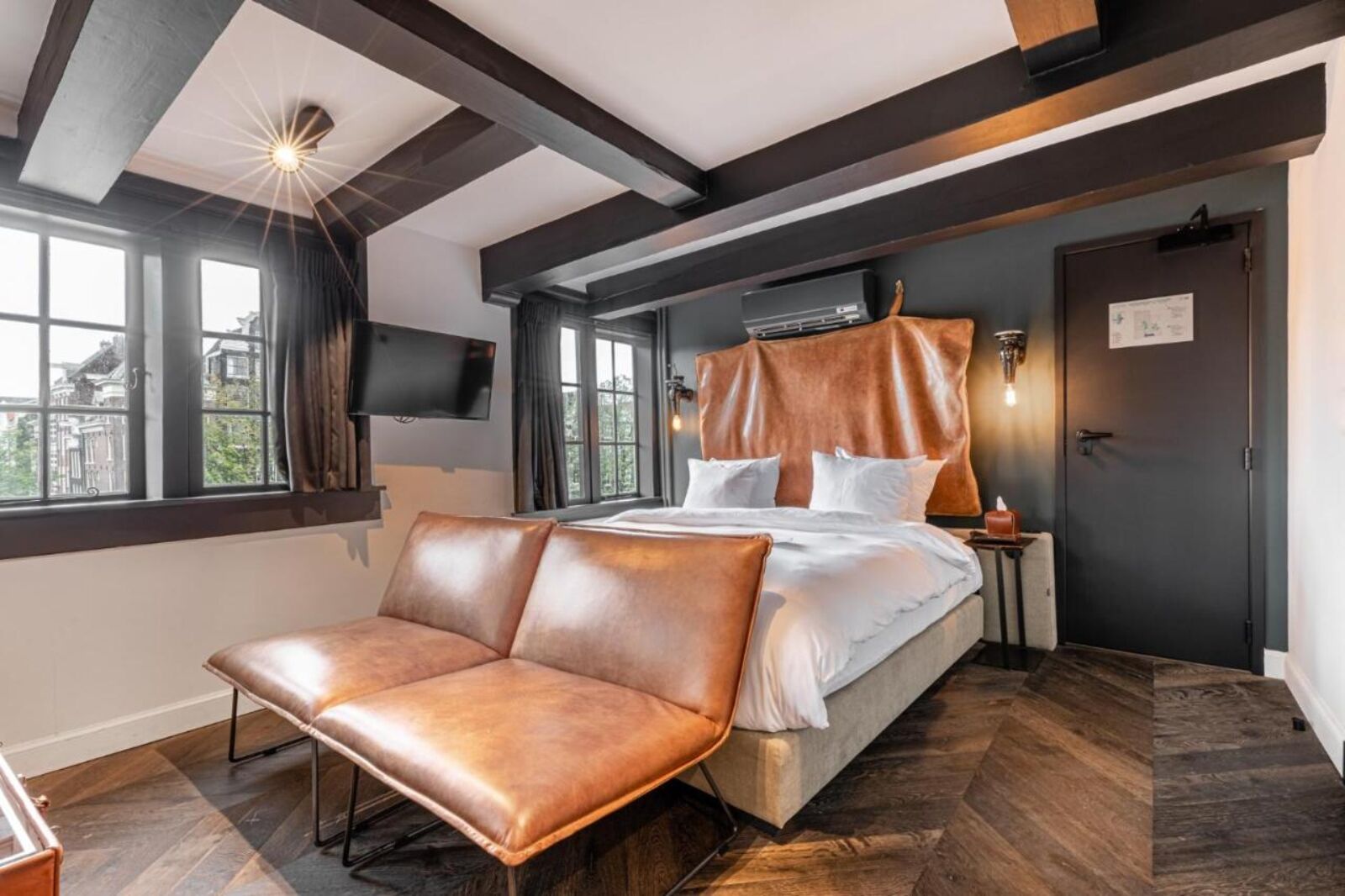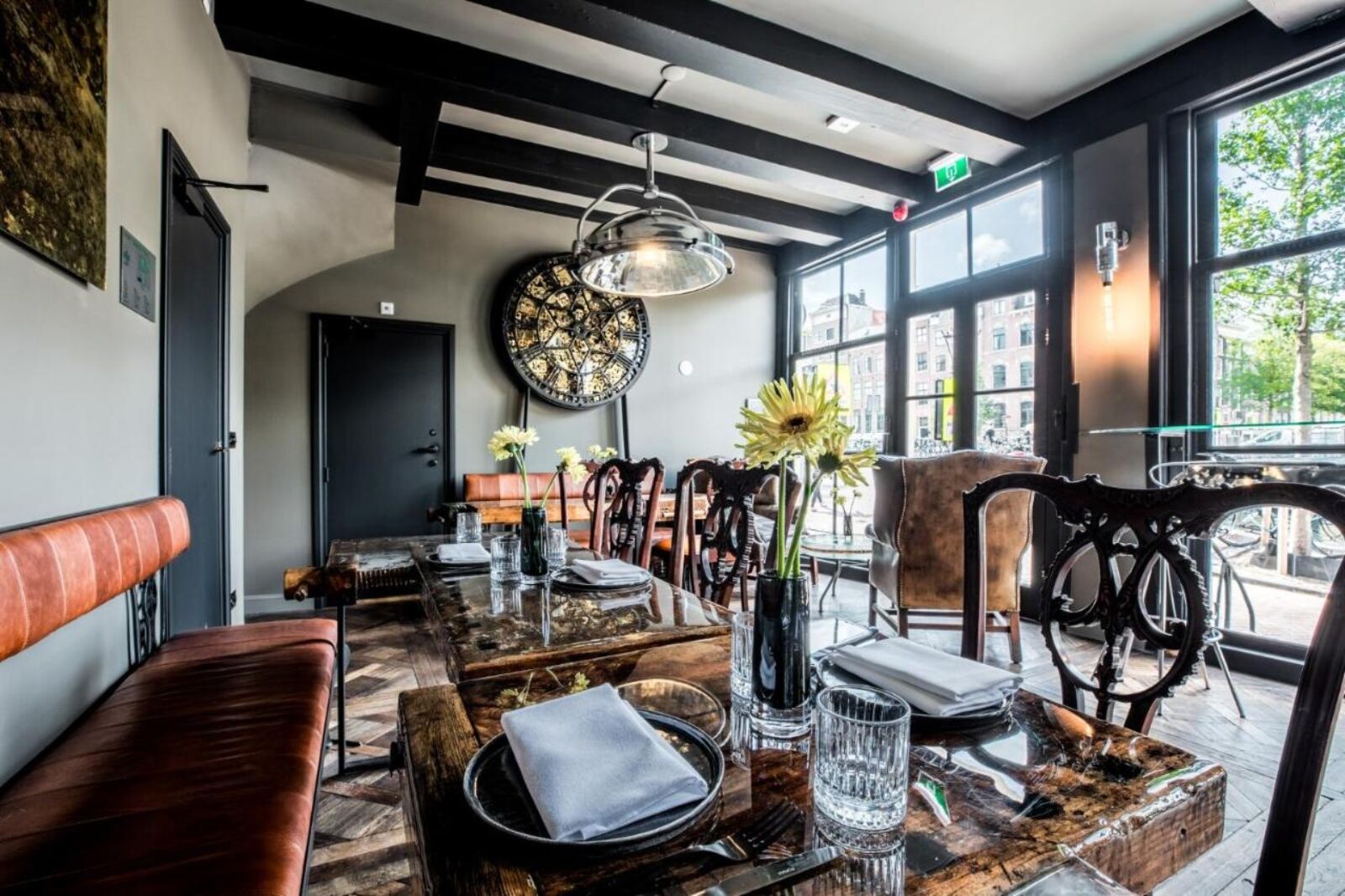 See more photos
Located at the more tranquil end of one of Amsterdam's main canals, Hotel The Craftsmen offers stunning views of the city and is conveniently close to most attractions. Its prime canal-side location is a huge selling point but the boutique hotel is also steeped in history with its 17th-century building. It's a small hotel with a family-run ambiance and past guests rave about the level of hospitality as well as the imaginative decor. Original features of the old building such as exposed beams, wooden stairways, and grand fireplaces have been retained and blend seamlessly with the modern touches you'd expect at the highly-rated capital city hotel.
It offers 14 individually designed rooms, each named after a different trade. Every room offers stunning views of Amsterdam's canals and design elements like wooden furniture, exposed brick walls, and beautiful period pieces are a nice reminder of the history of the property. Many have a soaking tub in the room itself with a separate bathroom with a rain shower and luxurious toiletries.
Cost per night: $390
Hotel The Craftsmen: 83 Singel, Amsterdam City Centre, 1012 VE Amsterdam
Book Now
Hotel Okura Amsterdam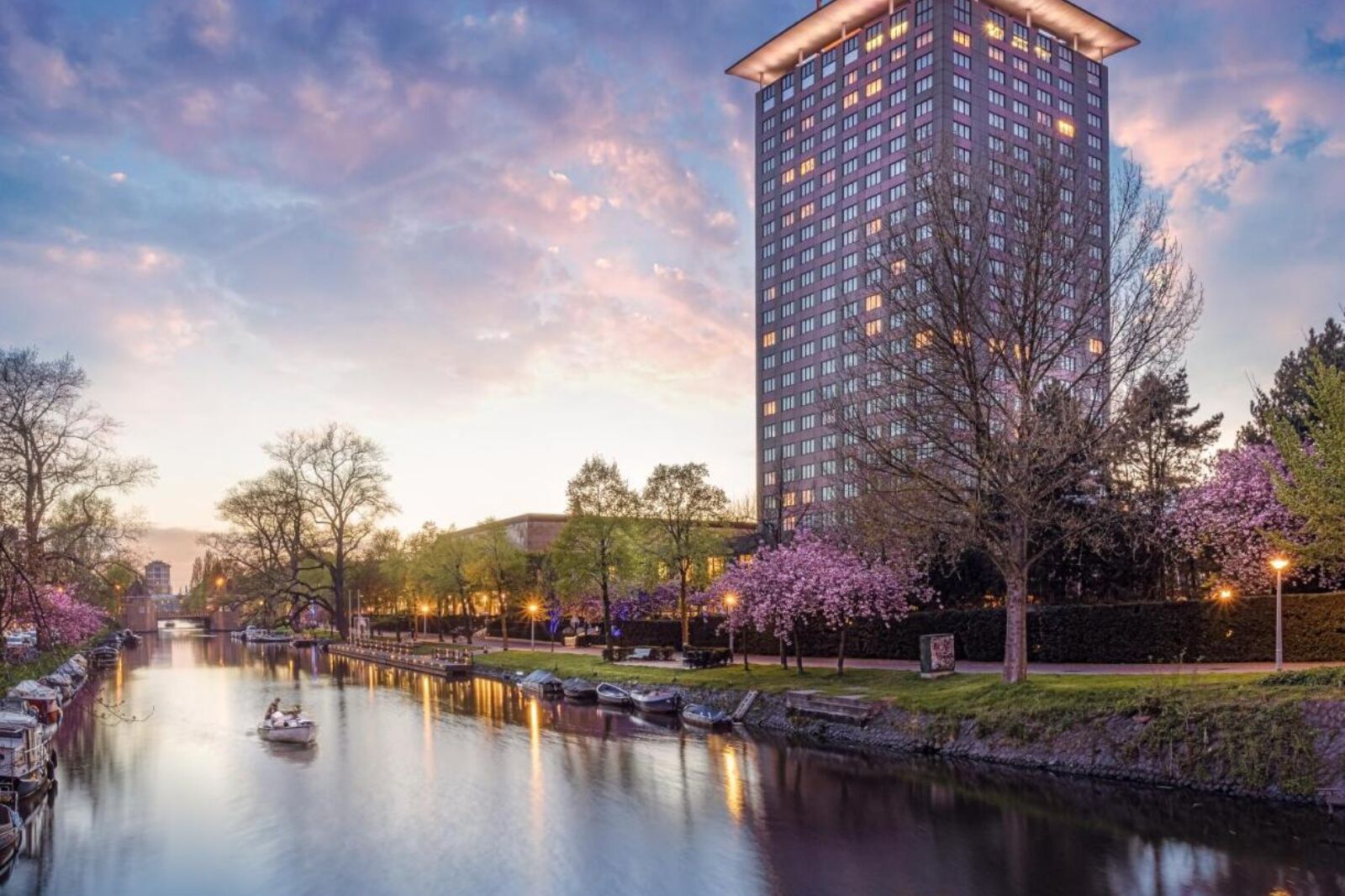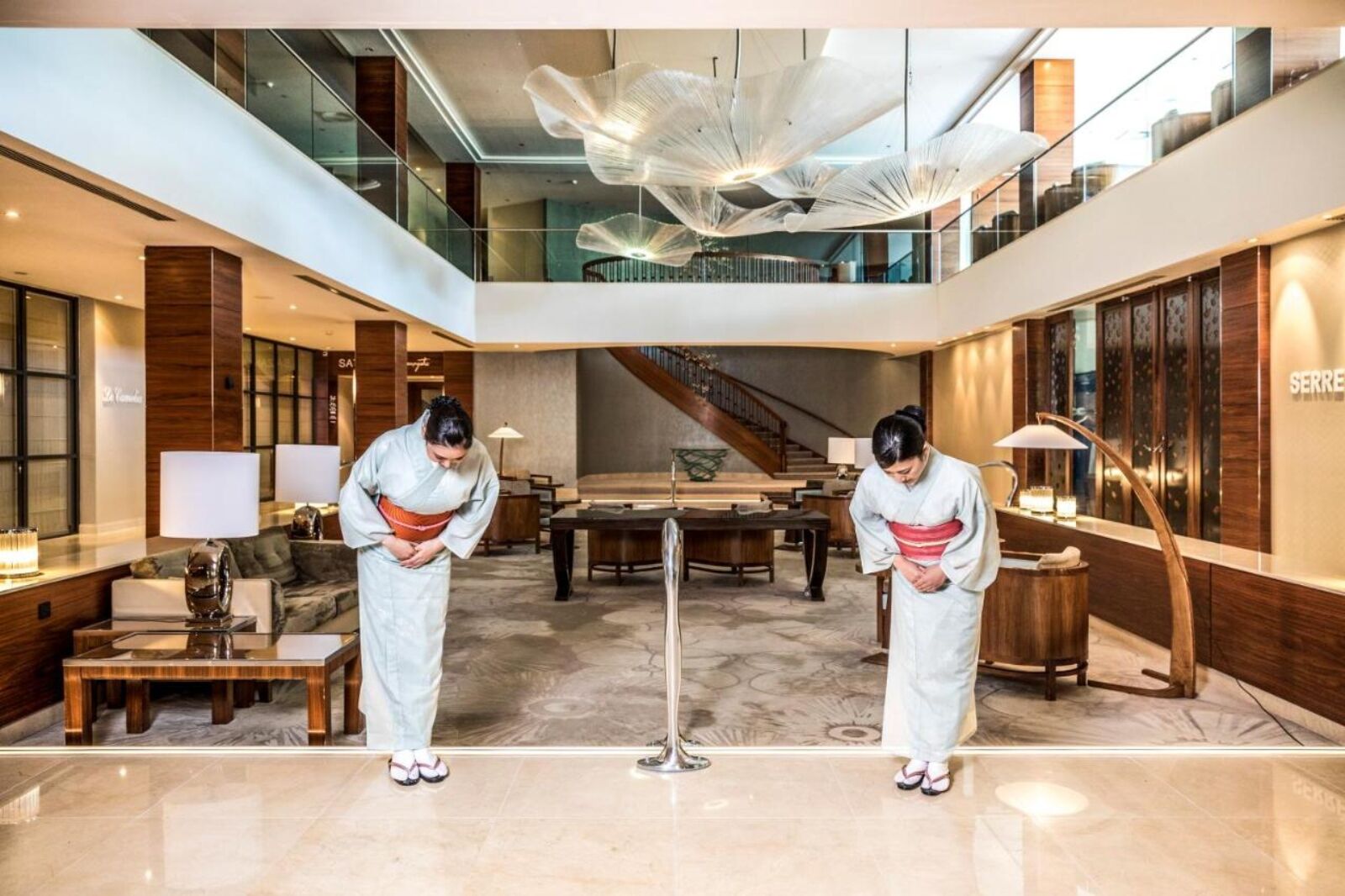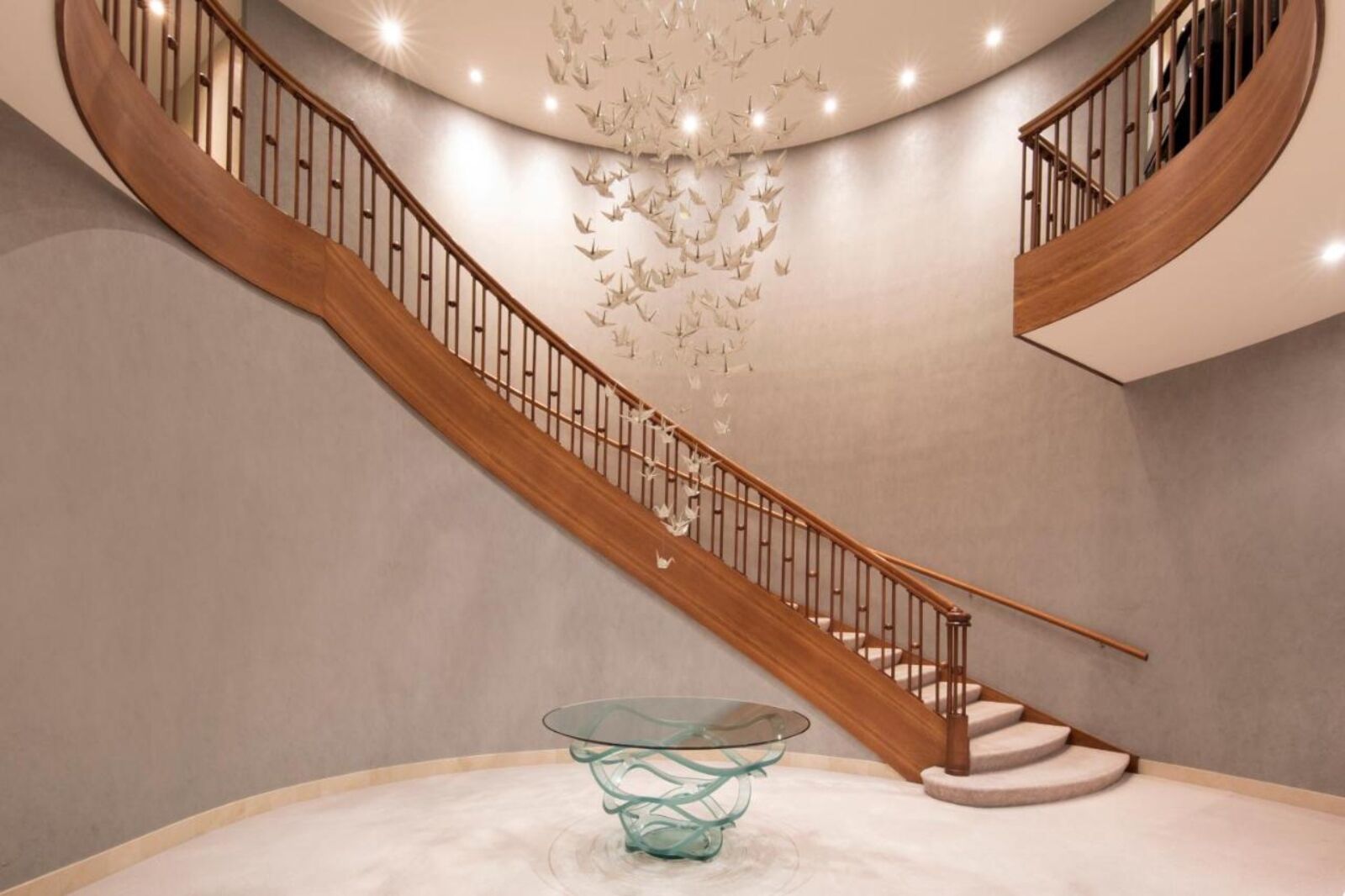 See more photos
Hotel Okura Amsterdam is a luxurious five-star hotel located in the trendy district of De Pijp. De Pijp is an up-and-coming cosmopolitan neighborhood located in the south of Amsterdam. It's a cultural melting pot with a mix of cuisines, cool cafés, and elegant boutiques. The hotel is also conveniently located just 15 minutes away from Schiphol International Airport and there's a roundtrip airport shuttle service. Rooted in the art of Japanese service, Omotenashi, and with Japanese design throughout the large hotel looms over the city with 23 stories housing four restaurants, a spa, and the largest hotel swimming pool in town.
There is a lot going on at the hotel, but a zen-like calm can be found throughout. The rooms come in two categories; Superior and Executive. Each room features floor-to-ceiling windows that provide breathtaking views of the city skyline (the higher the room, the better the view). The Executive rooms are designed to provide guests with an even more luxurious experience. They feature separate living areas and bedrooms, as well as access to the Executive Lounge on the 22nd floor where you can enjoy complimentary breakfast, snacks, and drinks throughout the day.
Cost per night: $360
Hotel Okura Amsterdam: Ferdinand Bolstraat 333, Oud Zuid, 1072 LH Amsterdam
Book Now
Hotel Jakarta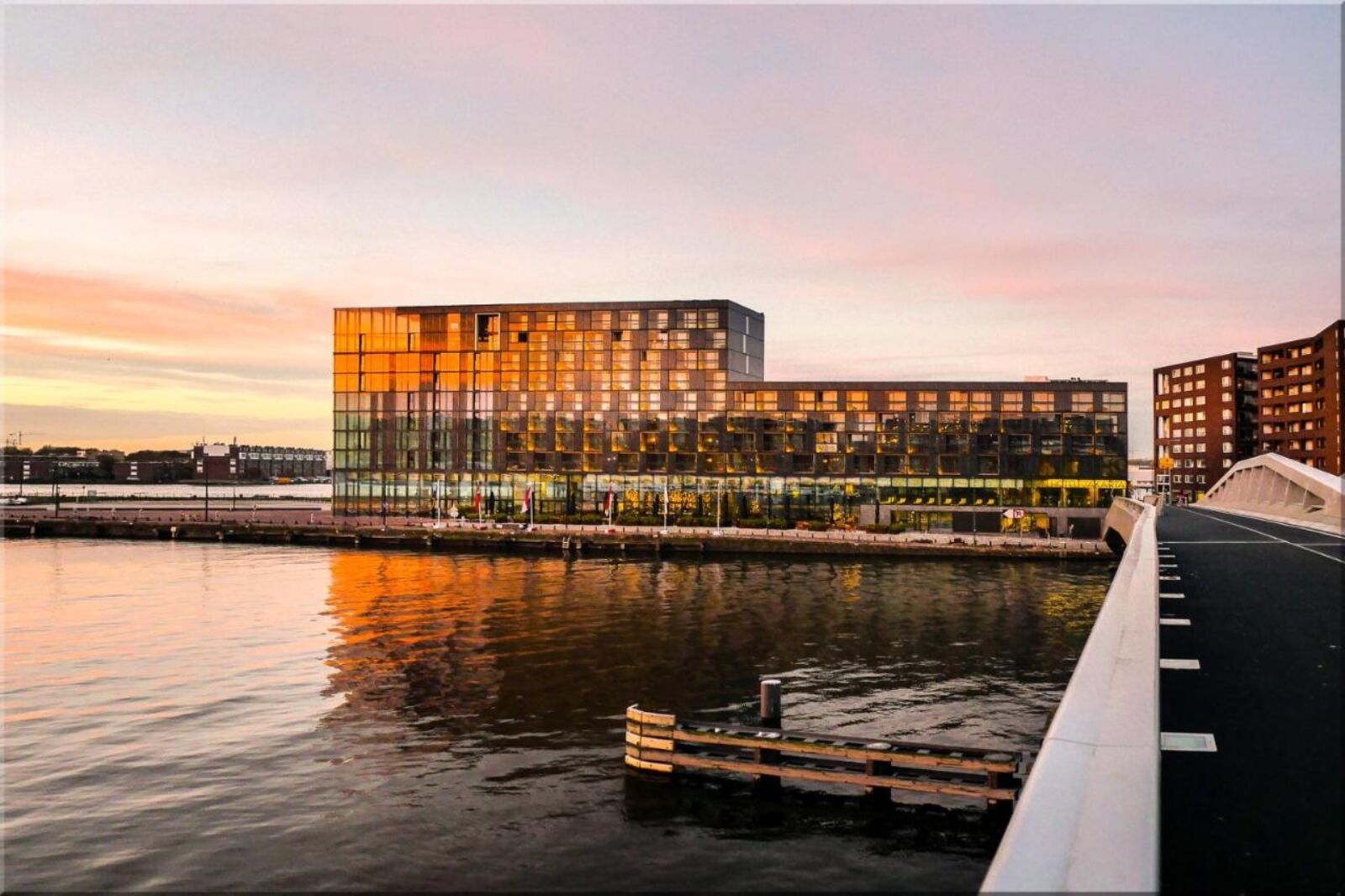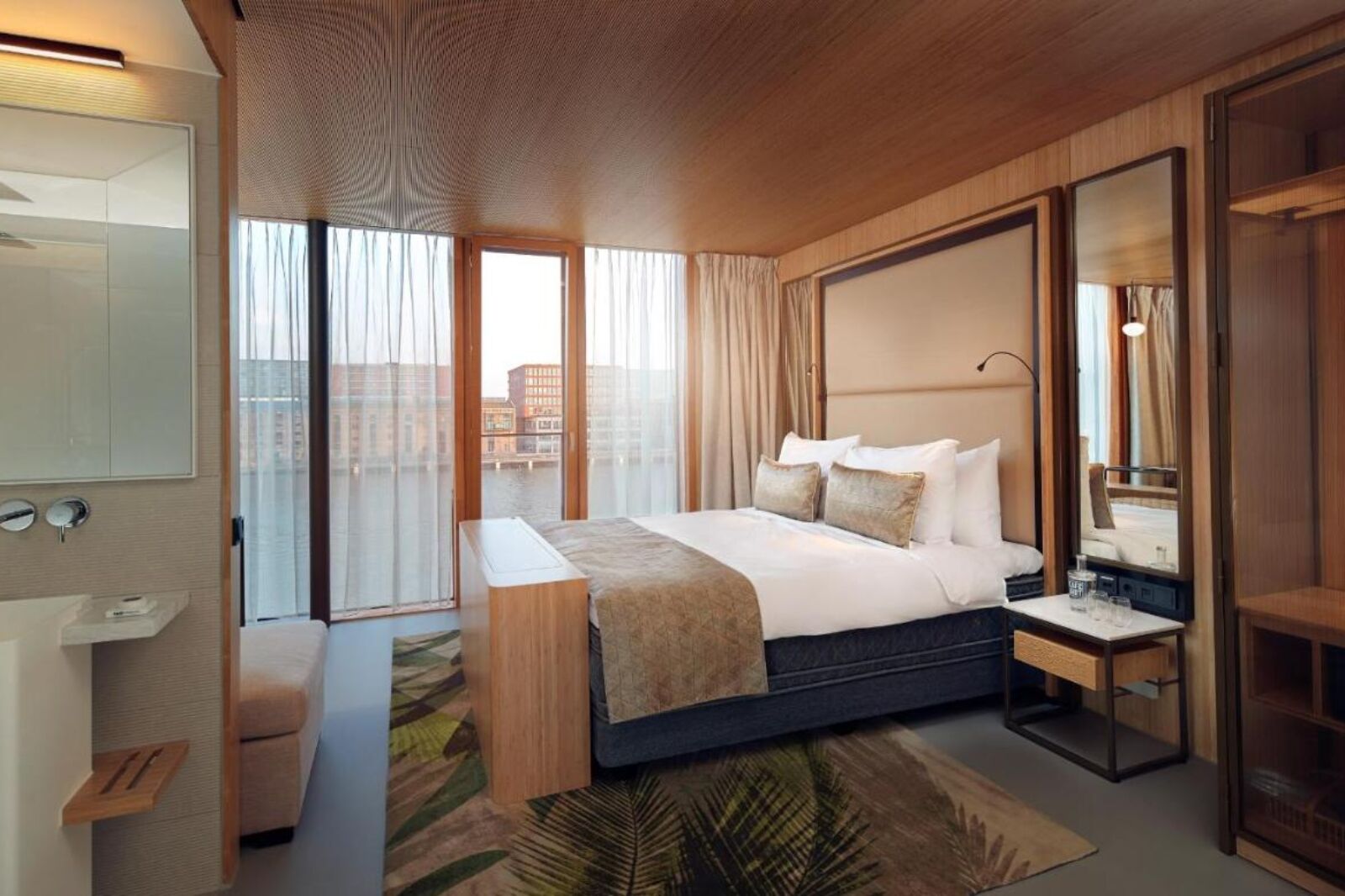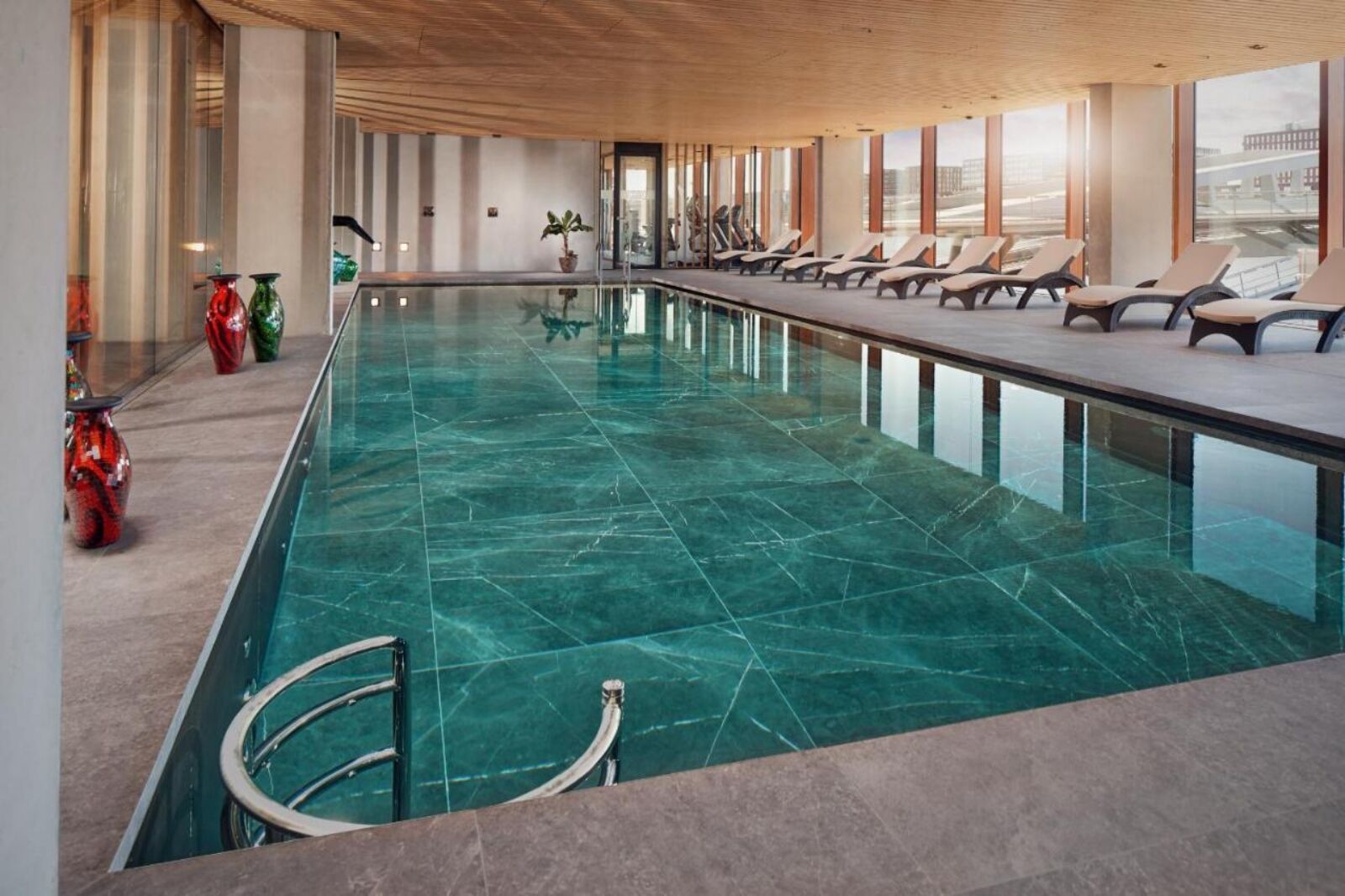 See more photos
Hotel Jakarta has stunning views of the River IJ and Amsterdam North. The hotel is located on the tip of a man-made island in Amsterdam's former Eastern Docklands and is tucked away from the hustle and bustle of the city, making it a more quiet and peaceful place to stay. It is also conveniently situated just two stops (a four-minute ride) from Centraal Station by tram and most of the city's sights can be reached on bicycle.
The exterior of the hotel is a sleek steel-and-glass wedge and inside guests are treated to a five-story-high atrium housing an indoor garden. The futuristic building is iconic as are the hotel's eco-credentials. The rooms are spacious for Amsterdam's standards with floor-to-ceiling windows and many with balconies overlooking the water. The bathrooms are also very impressive — the open-planning layout is modern but it can be sectioned off with a sliding door with is adorned with Indonesian wood carvings.
Cost per night: $270
Hotel Jakarta: Javakade 766, Zeeburg, 1019 SH Amsterdam
Book Now
Zoku Amsterdam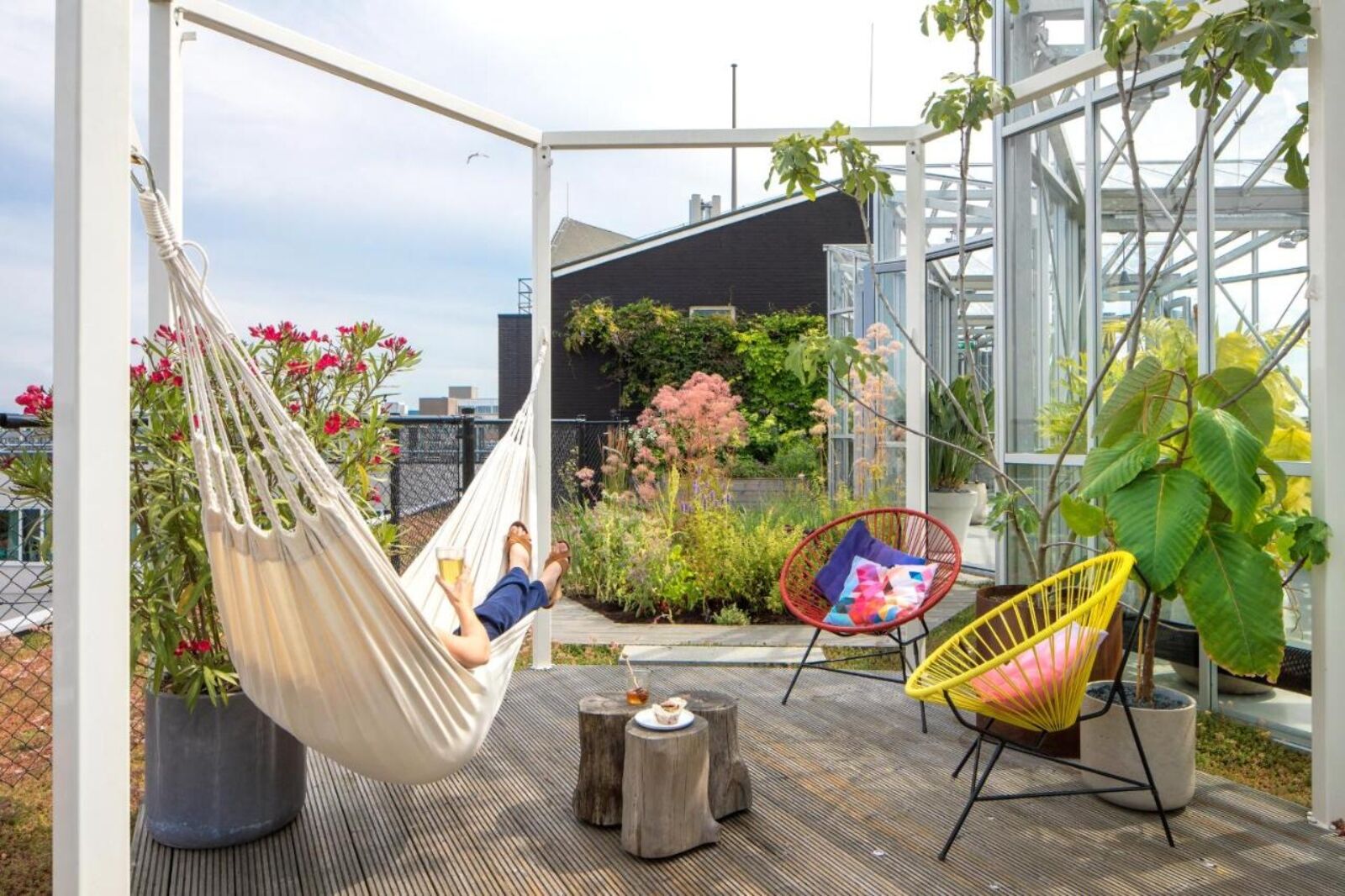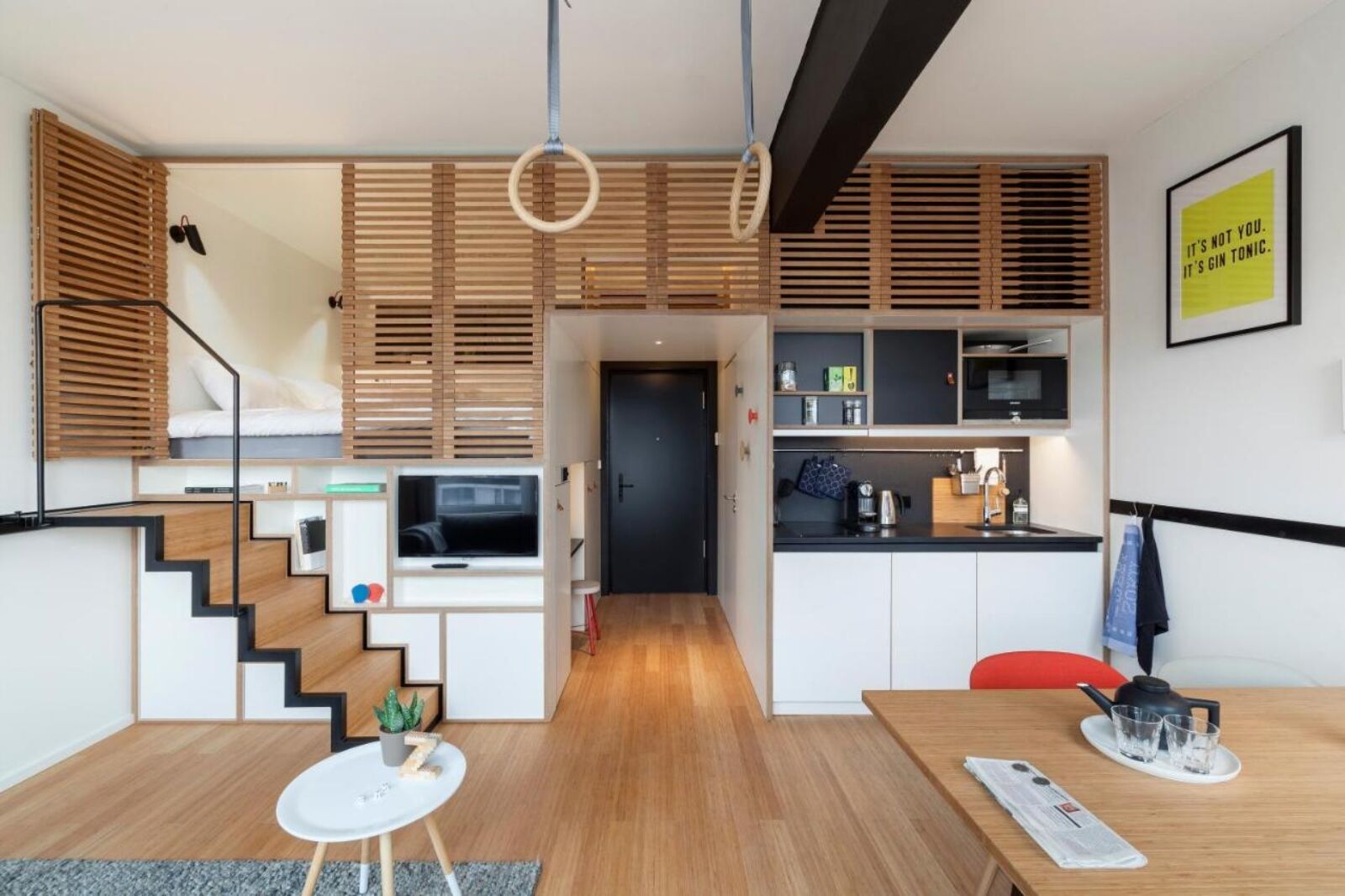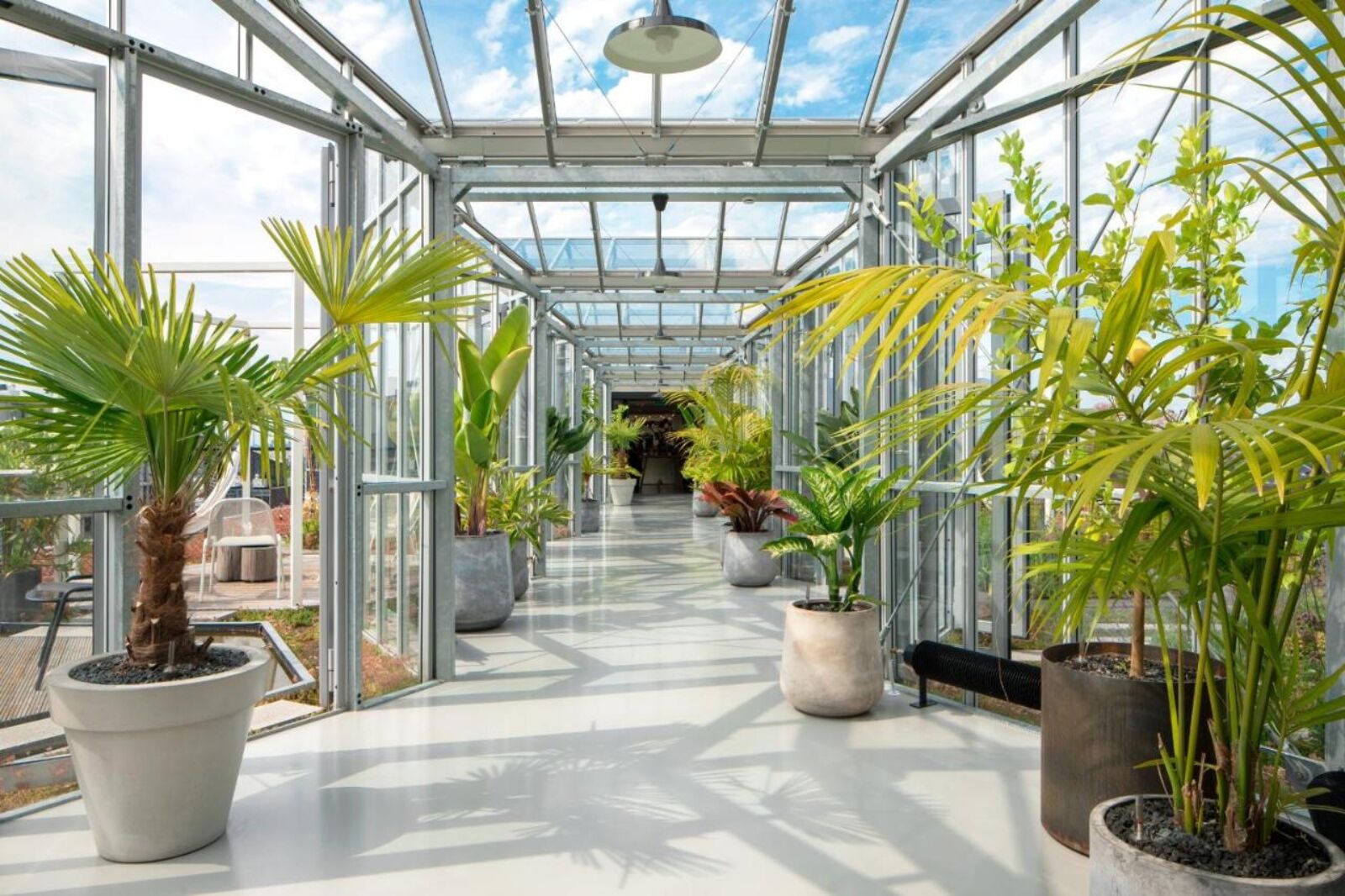 See more photos
Zoku's loft apartments are ideal for those on a extended stay, global nomads, or travelers who like to have access to a kitchen while on vacation. The hotel is set in a modern building and offers easy access to many of Amsterdam's attractions, including Magere Brug and Hortus Botanicus. Guests can enjoy the rooftop terrace with views of the city skyline and hammocks, as well as a restaurant, bar, coworking, and meeting spaces.
Zoku is designed to be both comfortable and stylish. There are over 100 private apartment-style rooms that contain a lofted bed, living room, fully kitted out kitchen, bathroom, and large four-person table. There's also a pantry on each floor with extra kitchen equipment and a laundrette in the basement.
Cost per night: $240
Zoku Amsterdam: Weesperstraat 105, Amsterdam City Centre, 1018 VN Amsterdam
Book Now
Activities to do close to these Amsterdam hotels
Go for a boat tour on the canals to get an up close look at the city's iconic architecture.
Explore the many art galleries and museums that Amsterdam has to offer such as the Rijksmuseum and the Van Gogh Museum.
Take a stroll through one of Amsterdam's many parks and gardens. Vondelpark is one of the most popular spots in town, but there are plenty of other green spaces where you can relax and take in some fresh air.
Spend an afternoon shopping in one of Amsterdam's markets or boutiques.
Enjoy some of Amsterdam's best restaurants and outstanding bars and clubs.
What did you think of this story?