The 8 Best Amsterdam Airbnbs For Bachelor Parties
Planning an overseas bachelor party to Amsterdam and looking for the best apartment rentals? Whether you prefer sophisticated style or extra amenities like outdoor terraces, there are plenty of luxurious apartments that are perfect for your crew. It's almost like the city was tailor-made for bachelor parties.
Amsterdam is home to some of Europe's best nightclubs and music venues, numerous beer-tasting tours, and a wide range of cultural experiences such as visiting the Rijksmuseum or exploring the city's many canals. Many of these Amsterdam bachelor party Airbnbs are in the center of the city, but there are also a couple on the outskirts. Thanks to the city's excellent transport system your group might find staying in a more country-style cottage or house by the water outside the main tourist areas a more relaxed and cheaper option. That said, here's a great range of large group-sized rentals with added extras like in-house bars, roof terraces, and canal views, ideal for a bachelor party getaway.
When to visit Amsterdam
The best time to visit Amsterdam is between April and May or September and November — right before or directly after the summertime high tourist season. Summer is a popular time to visit, but the warm weather and long days bring huge crowds. For a more relaxed getaway and lower rates, consider visiting during shoulder seasons such as April and May or September to November.
Taking a European trip? Check out Matador's accommodation guides to the best places to stay:
We hope you love the Amsterdam Airbnbs for a bachelor party we recommend! Just so you know, Matador may collect a small commission from the links on this page if you decide to book a stay. Listed prices are accurate as of the time of publication.
Five-bedroom townhouse in the heart of the city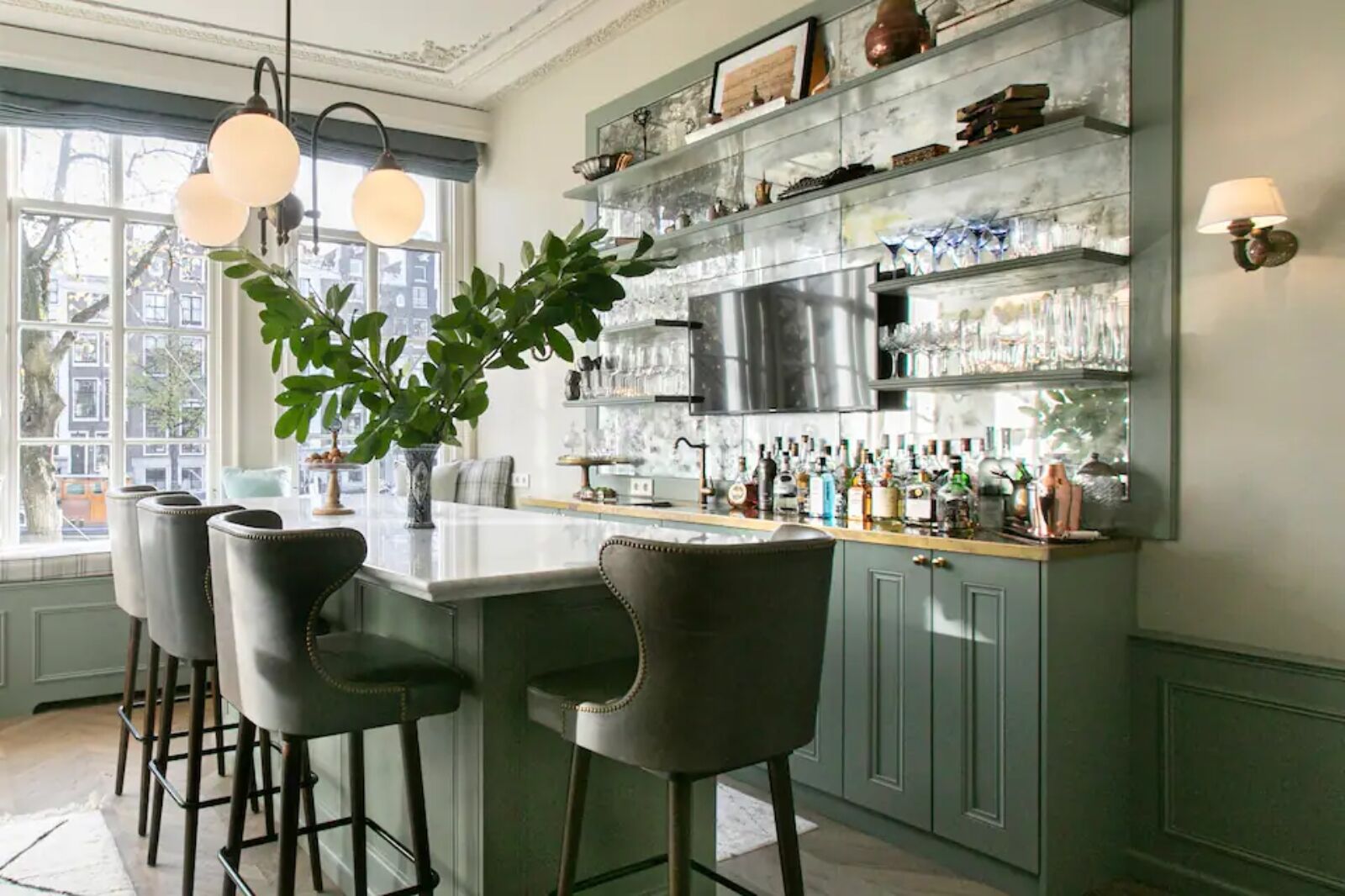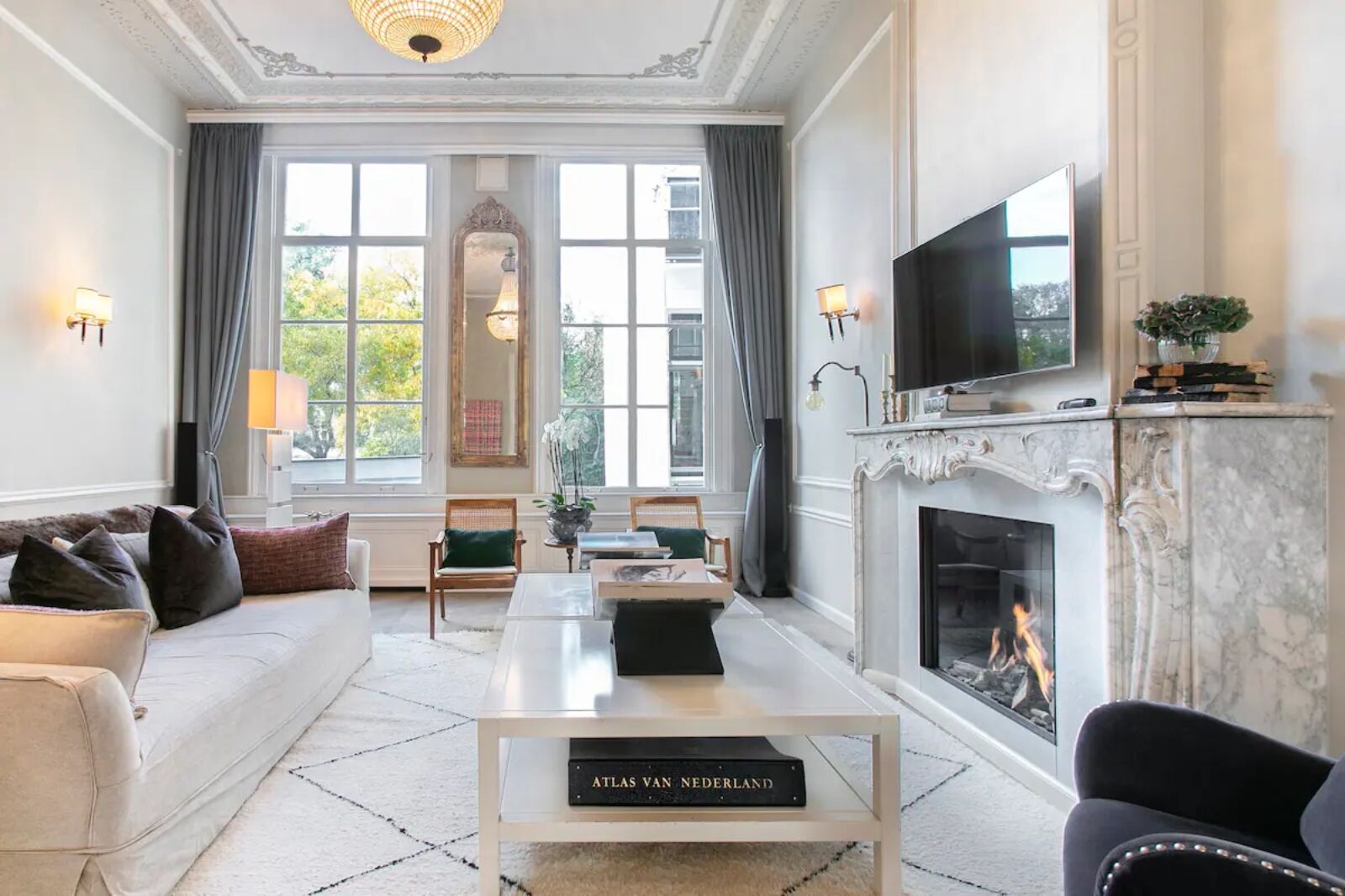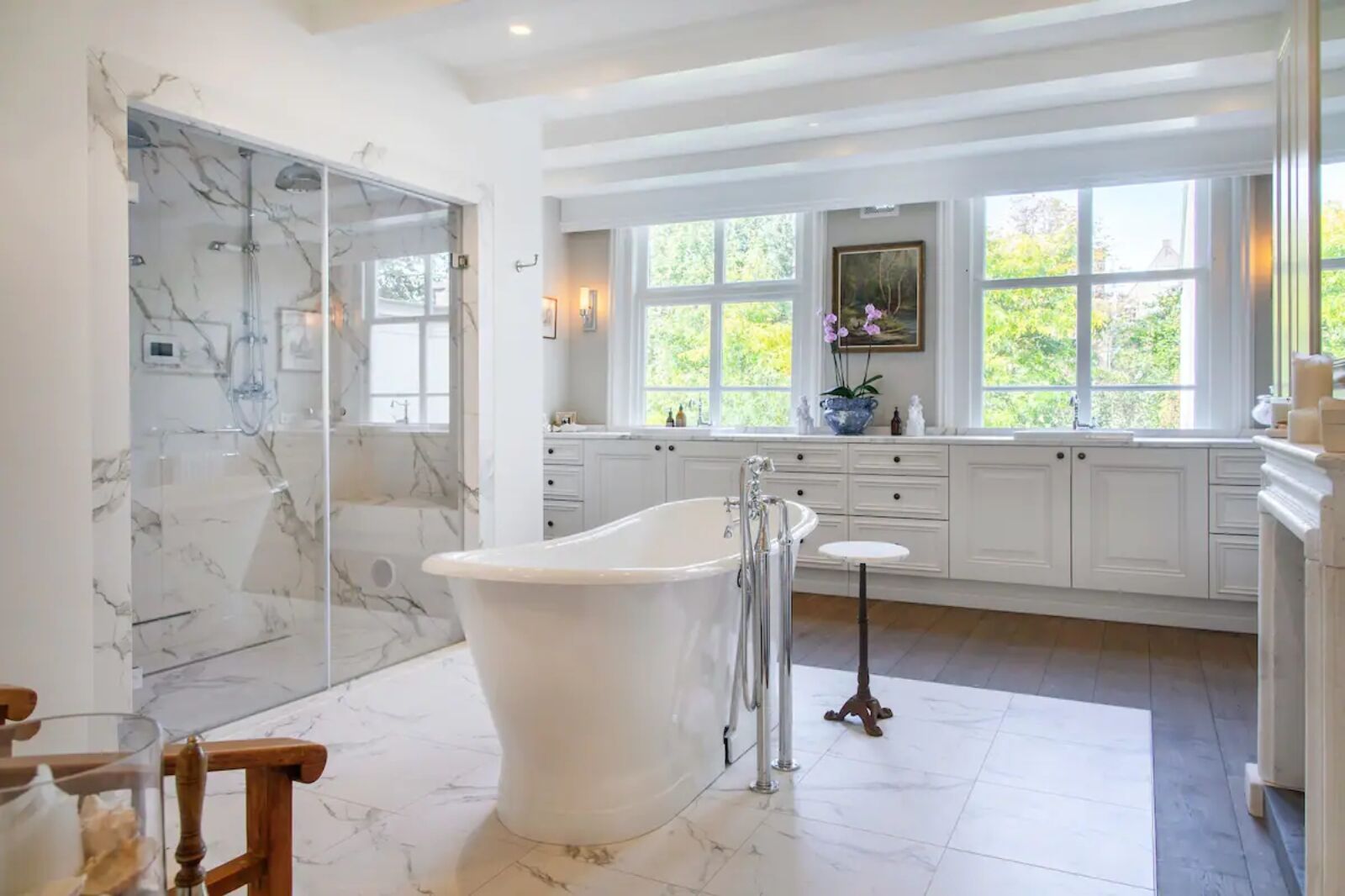 Let's start with the heavyweight. If you want to blow out, this five-bed, five-bathroom luxury townhouse sprawls over multiple floors and has superb views over the Keizer canal. Built in 1696, the house has been renovated with respect to its original features. The result is a perfect blend of modern and historical.
Additions such as the stunning custom-made in-house bar, modern art collection, and extensive library make this a grown-up party house. Past guests rave about the central location, stylish decor, views, and natural light that streams throughout this extravagant house.
Six guests, five bedrooms
$2,136 per night
Grand four-bedroom townhouse with a roof terrace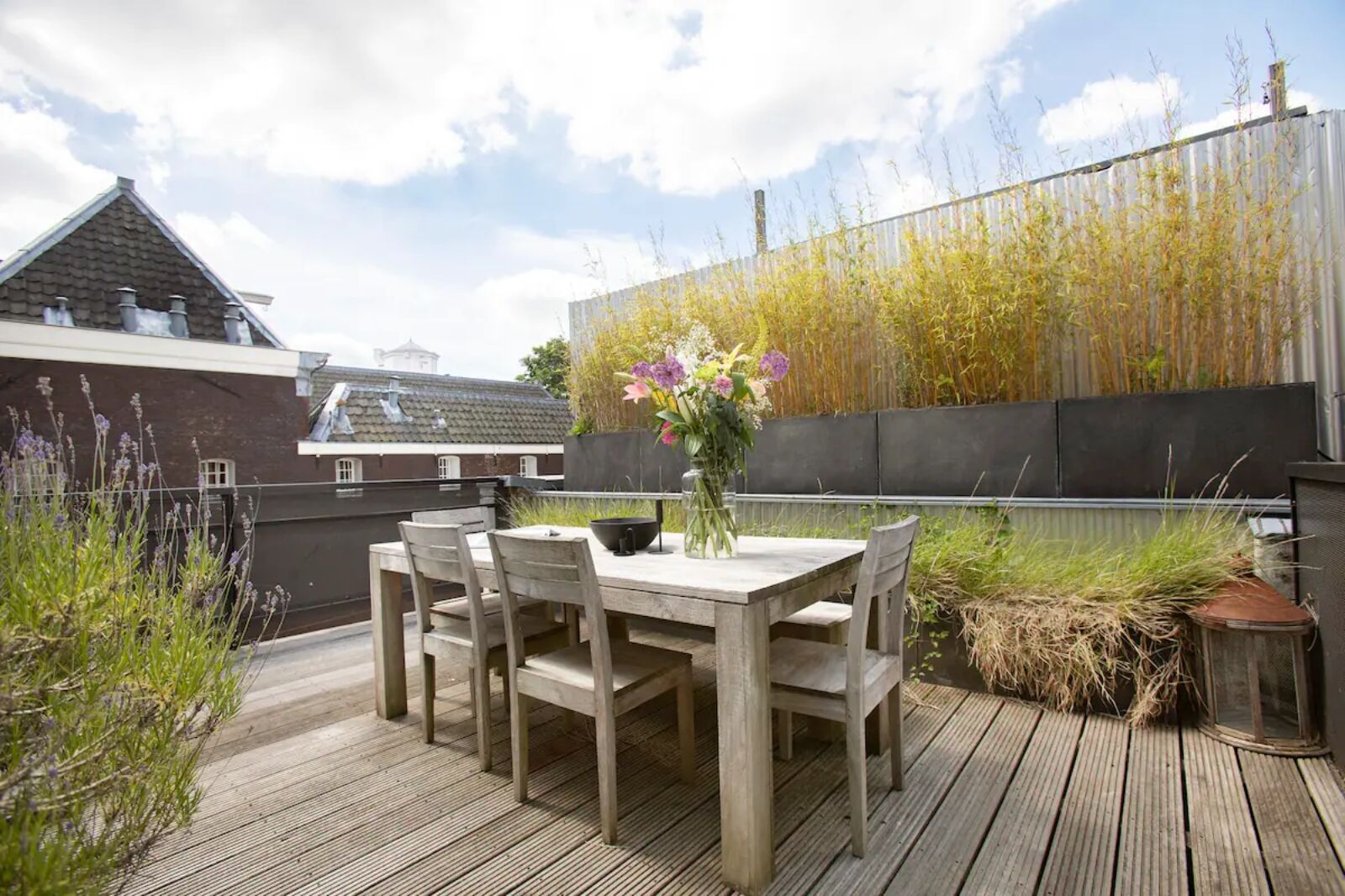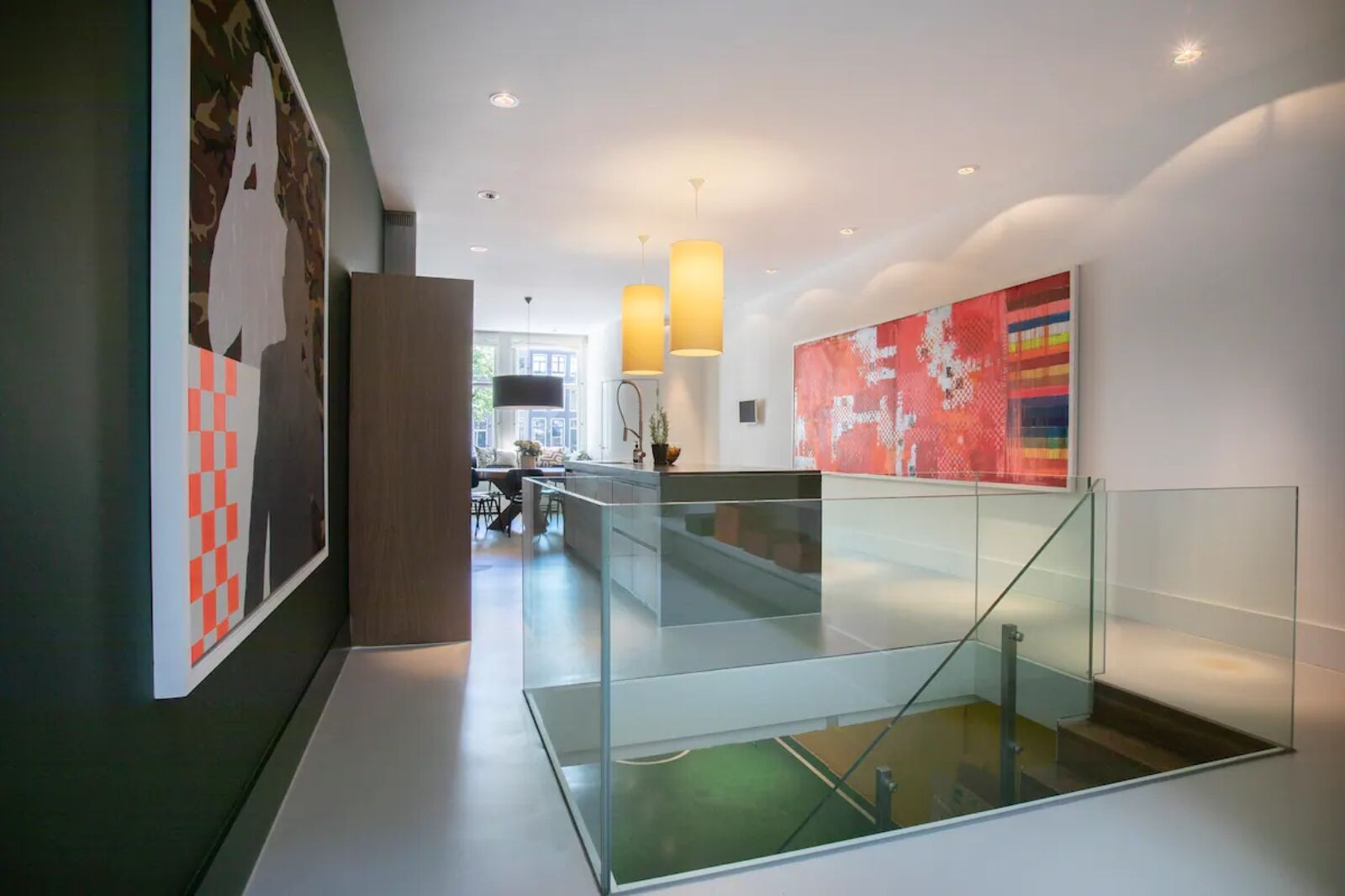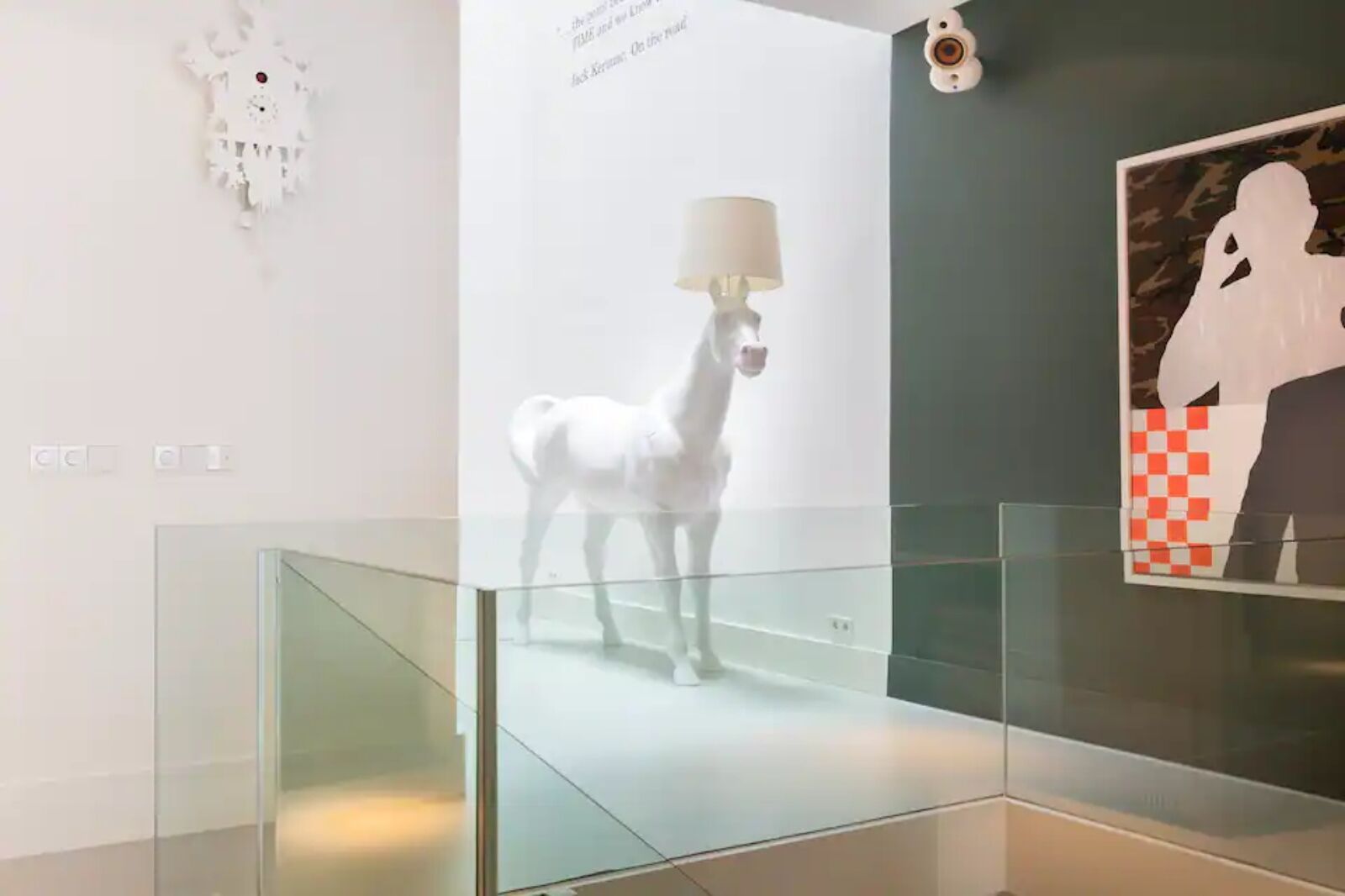 Getting outdoor space with a house in any city center can be tricky. This epic four-bed townhouse has an equally impressive roof terrace with outdoor seating. The five-story 17th-century canal house is situated in the historic center of the city, in the famous "nine streets" district. It's within walking distance of many of the best bars, restaurants, and fashionable shopping areas of the city. The area is very popular, especially on weekends when the streets come to life with a buzz of energy all day long.
The listing is for four guests only, but the bedrooms are enormous. This cap could be due to the huge amount of stylish and expensive furniture and art which is found in each room, but it's worth enquiring about bringing a larger group. Even if you have to pay a little extra, this Airbnb Plus is a baller option for a bachelor party to remember.
Four guests, four bedrooms
$1,655 per night
Beautiful recently renovated three-bedroom apartment in de Pijp
This recently renovated three-bed sleeps five and is located in de Pijp. De Pijp is located just south of the city center and is known for its bustling markets, such as the Albert Cuypmarkt, well-maintained parks like Sarphatipark, vintage clothing stores, and trendy eateries.
There are two king-sized bedrooms and one single but its main selling point is the roof terrace. It's worth noting that this is not a party house. So no raucous shenanigans or loud rounds of beer pong, but it's so central that all your energy can be expended at the city's wealth of nearby bars and nightclubs.
Five guests, three bedrooms
$801 per night
Luxurious three-bedroom loft
The luxurious loft is located on The Singel canal in the old city center. The Singel canal is one of the most iconic canals in Amsterdam. It's a lovely place to explore by boat which you can rent, or on two wheels on a push bike. There are also numerous restaurants and bars located nearby where you can enjoy some delicious Dutch cuisine and drinks while taking in the views of this historic waterway.
The rental has been renovated to a very high standard in 2022. Marble finishings, original beam high ceilings, a high-quality open-plan kitchen, and a view out to a charming courtyard are only a handful of attractive features of this Airbnb. For the groom-to-be, the luxurious master bedroom is huge and has a spa-like en-suite bathroom.
Four guests, three bedrooms
$768 per night
Stunning penthouse with rooftop terrace
Again this penthouse's main feature is its rooftop terrace which has a large dining table and loungers. Located in de Pijp the Airbnb is a short stroll from Rijksmuseum, Van Gogh Museum, RAI, and last but no means least, the Heineken Brewery. The outdoor space, from the master bedroom balcony and the aforementioned rooftop is where the penthouse truly shines. Offering 360 degrees views over the city and the Rijksmuseum, the 60m2 terrace is fitting for evening sundowners while enjoying a panoramic view over the city and the famous Dutch skies of Rembrandt.
Four guests, three bedrooms
$534 per night
Luxury apartment with park views in East Amsterdam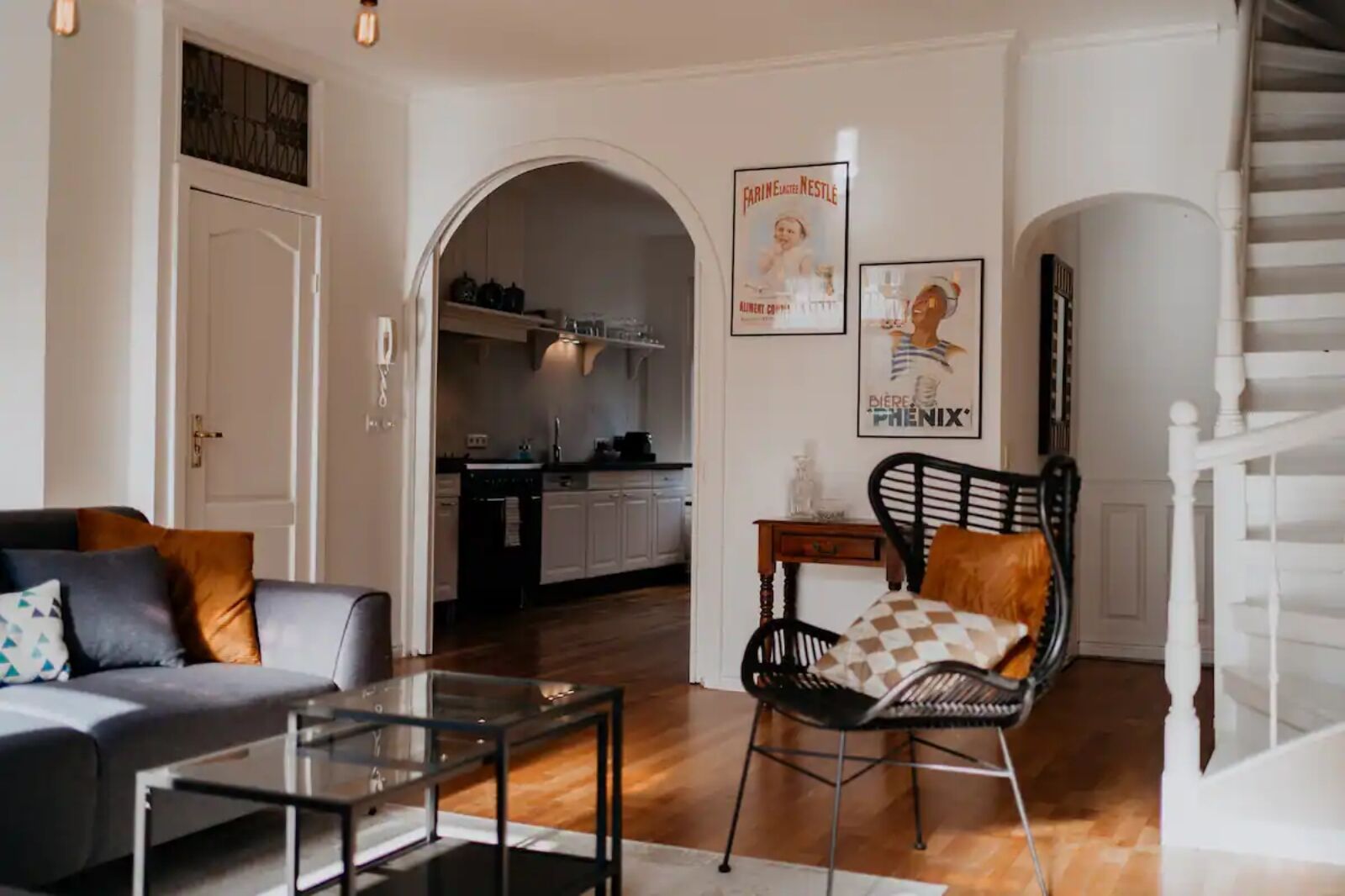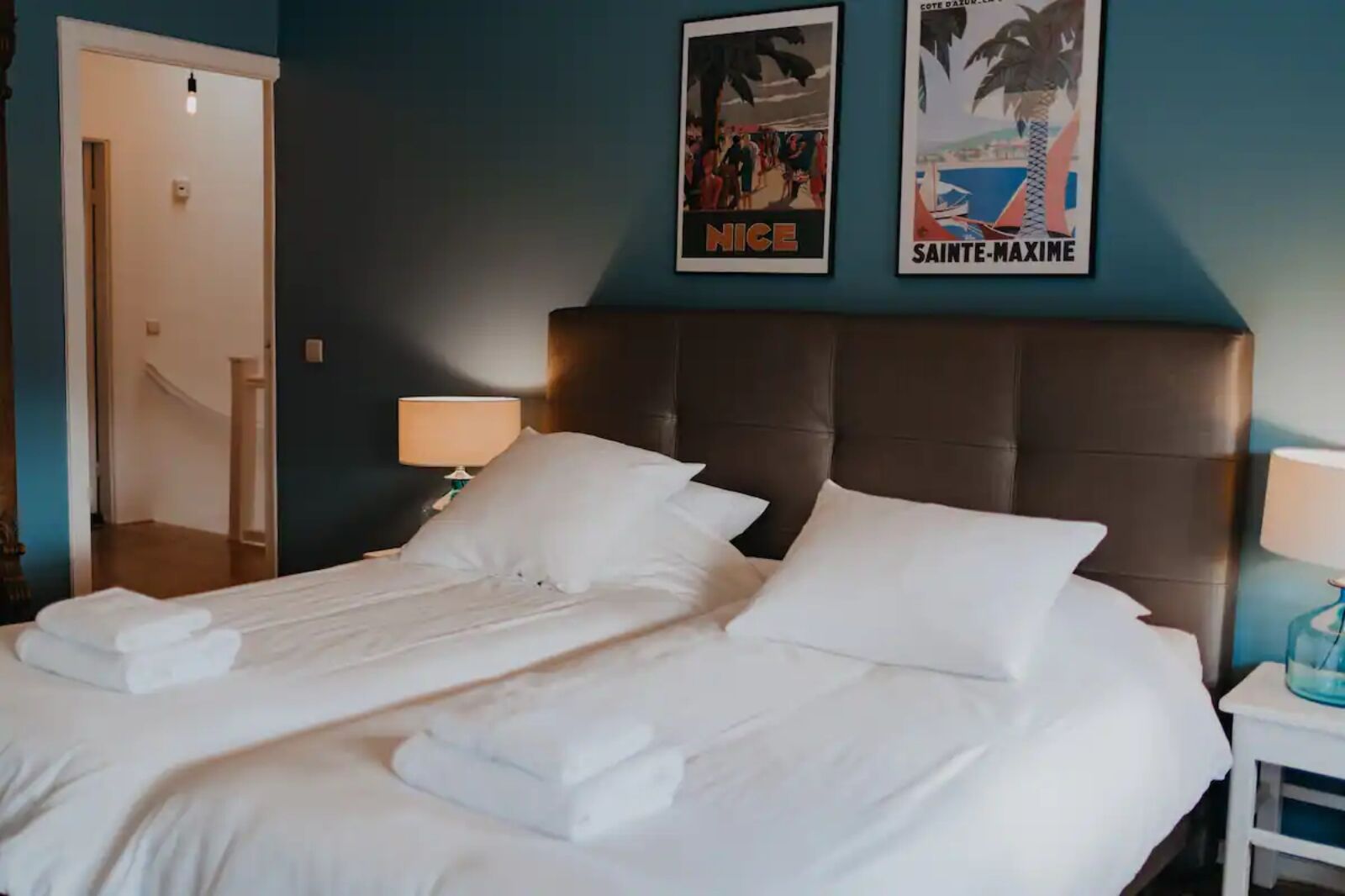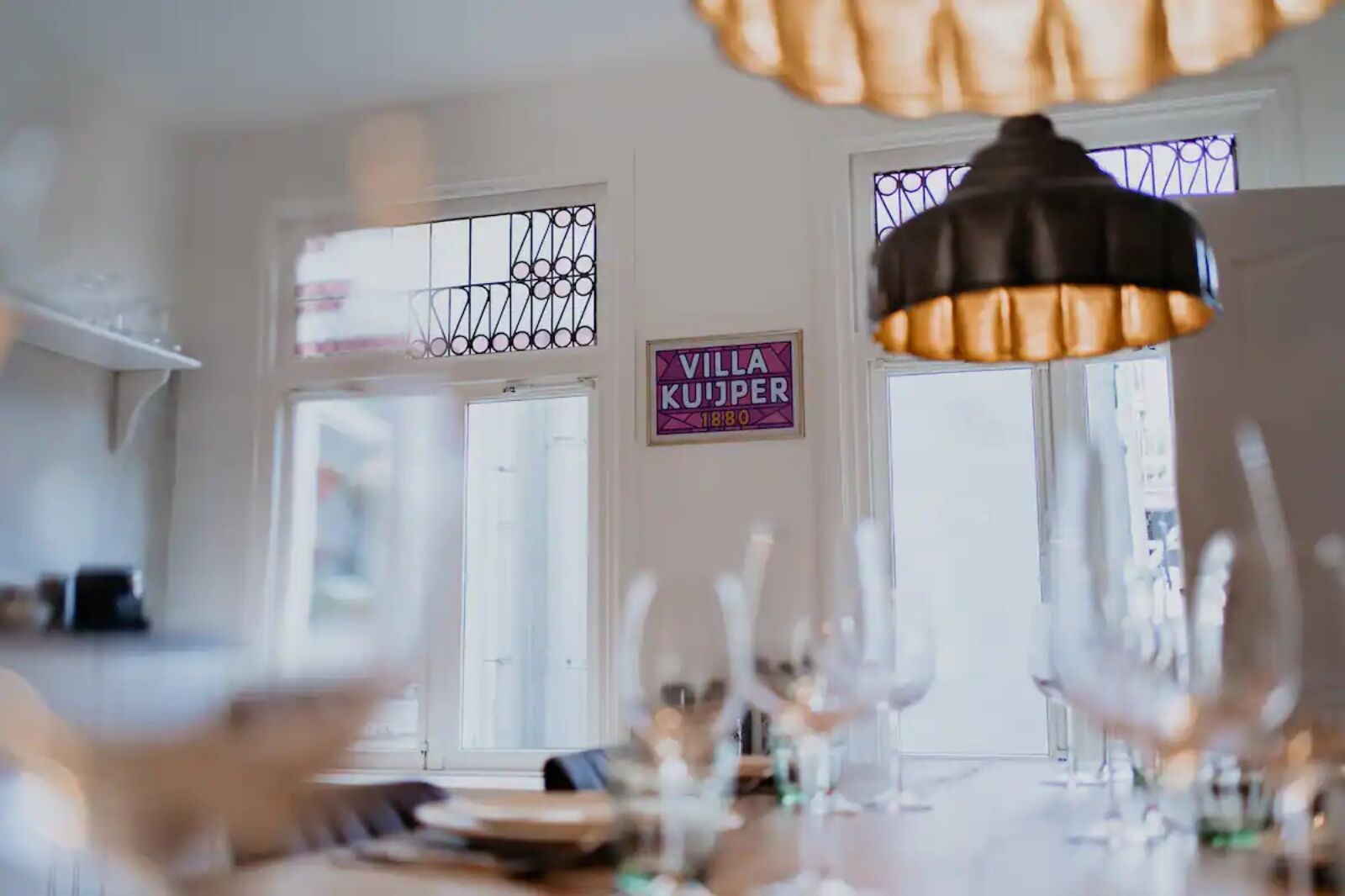 This spacious apartment makes the cut because it has three bedrooms, one with a double bed and two others with two single beds. It's one of the best Airbnbs for a crew who need their own sleeping space — a relatively unique find in Amsterdam. Situated in a characteristic old Amsterdam neighborhood overlooking the Oosterpark it's a short connection away from the city center and offers a more residential feel than other more central Airbnbs.
For those who don't enjoy cooking, Café Kuijper, a trendy eatery, is literally downstairs. Another perk is the discounts that come with booking this apartment. The owners have secured concessions at many restaurants and bars in the neighborhood making this rental a super option for those looking to keep finances under control for their bachelor party getaway.
Six guests, three bedrooms
$498 per night
Pretty cottage in Halfweg
As promised, here's a rental that is absolutely stunning but located outside the city. Ideal for those who like a slower-paced bachelor party, enjoy cooking with their crew and appreciate the outdoors, the thatched cottage is located in the small village of Halfweg. You really get the best of both worlds with this Airbnb with Amsterdam being a 10-minute train journey away.
Outside there's a spacious garage and other available parking. The garden is charming and there's an enclosed sitting area with comfortable chairs. The interior does not disappoint either. It's warm and stylish with a large living room with an open fire and all three bedrooms have plush king-sized beds.
Six guests, three bedrooms
$398 per night
Waterfront three-bed cabin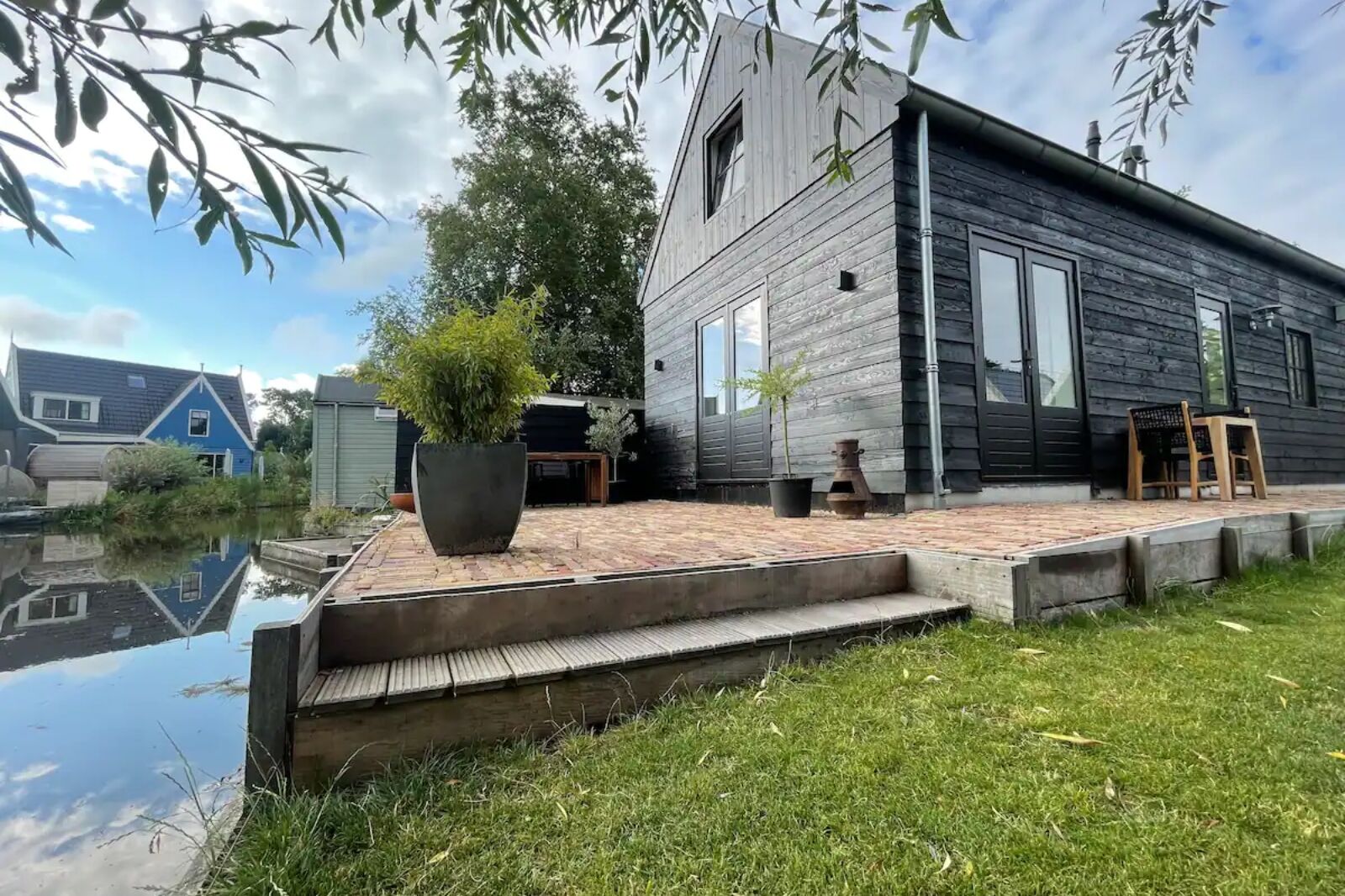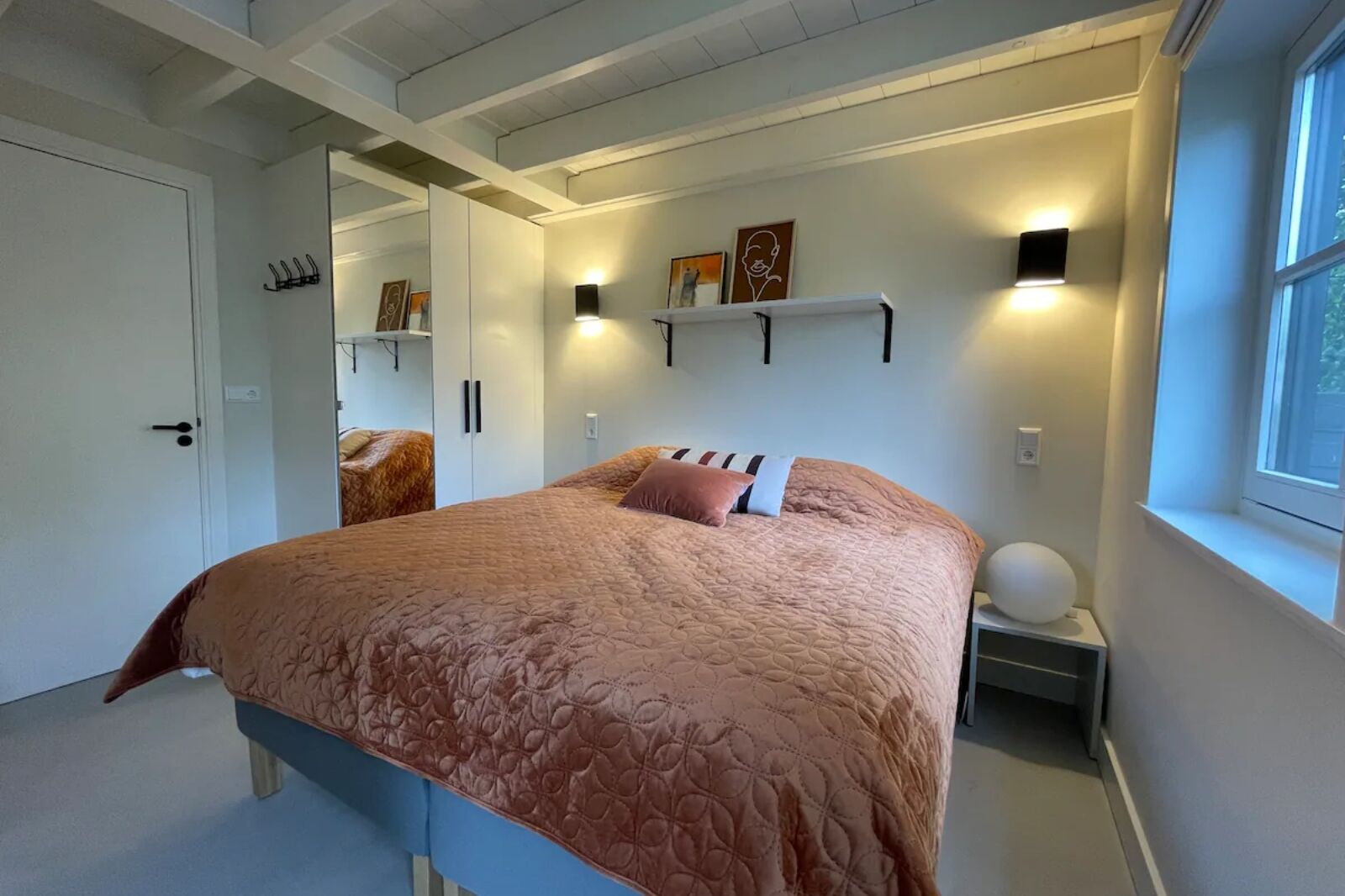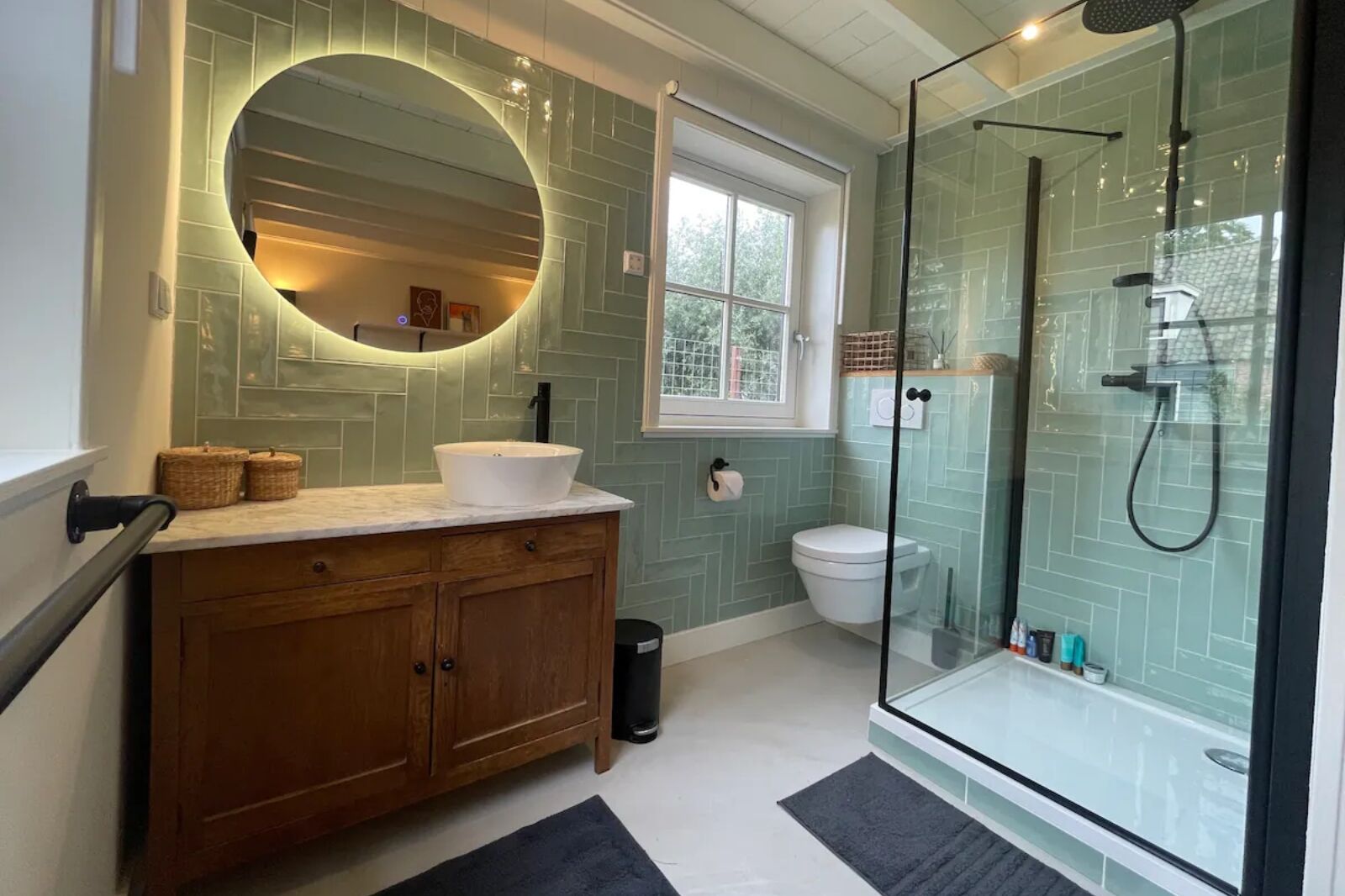 Located close to Broek in Waterland, a charming village popular for a day trip from Amsterdam, this waterfront three-bed cabin is called "Black Barn" and comfortably sleeps six. Another great option for groups who are content having access to Amsterdam but prefer a more rural setting, the cabin has all mod-cons and is fully kitted out for those who enjoy being in the kitchen.
Broek in Waterland is peaceful, but there are plenty of activities to do such as taking a boat ride through the canals and there are lots of nearby shops and restaurants. The city is just over 15 minutes away, so nipping in for a day of sightseeing or some drinks is a breeze.
Six guests, three bedrooms
$196 per night
Is Amsterdam good for a bachelor party?
Yes, Amsterdam is an excellent destination for a bachelor party. There are plenty of activities to choose from, such as taking a canal cruise, visiting the coffee shops, touring the Heineken Experience, doing a private booze cruise, participating in an escape room or go-karting activity, and enjoying a bachelor party dinner at Palladium.
What did you think of this story?