Taste the Best of Tbilisi at This Cooking Class in Georgia
After two years of stuffing myself with khachapuri, khinkali, and other Georgian delicacies, a parting gift to myself was a Georgian cooking class in Tbilisi. Georgian restaurants aren't common outside of the Caucasus region. If, like me, you want to turn a weekly khinkali binge into a lifelong habit, you'll need to learn how to make them for yourself.
We hope you love this Georgian cooking class! Just so you know, Matador may collect a small commission from the links on this page if you decide to book a stay. Listed prices are accurate as of the time of publication.
Airbnb's Khinkali and Khachapuri Experience provides step-by-step instructions on how to prepare these two dishes that form the backbone of Georgian gastronomy.
The masterclass took place in a wine bar down a quiet street off Shota Rusteveli, Tbilisi's main artery. Upon arrival at DecanTer, we were ushered to a table laid out with chunks of Georgian cheeses and bowls of Georgian salad – plump tomatoes and chunks of crisp cucumber tossed with fresh herbs – and urged to tour the wine shop.
Georgia is basically one giant vineyard. Every single region produces its own wine – usually by following an 8,000-year-old practice of burying grape pulp underground in large clay vessels called qvevri. Over the following months, the juice naturally ferments and turns into wine.
This tiny country crafts hundreds of variants of red, white, sparkling, and "amber" wines. Georgian families produce their own blends; it's rare to check into a guest house and not receive a plastic bottle of homebrew. Georgia must be the only country where immigration officers hand out bottles of saperavi while stamping passports.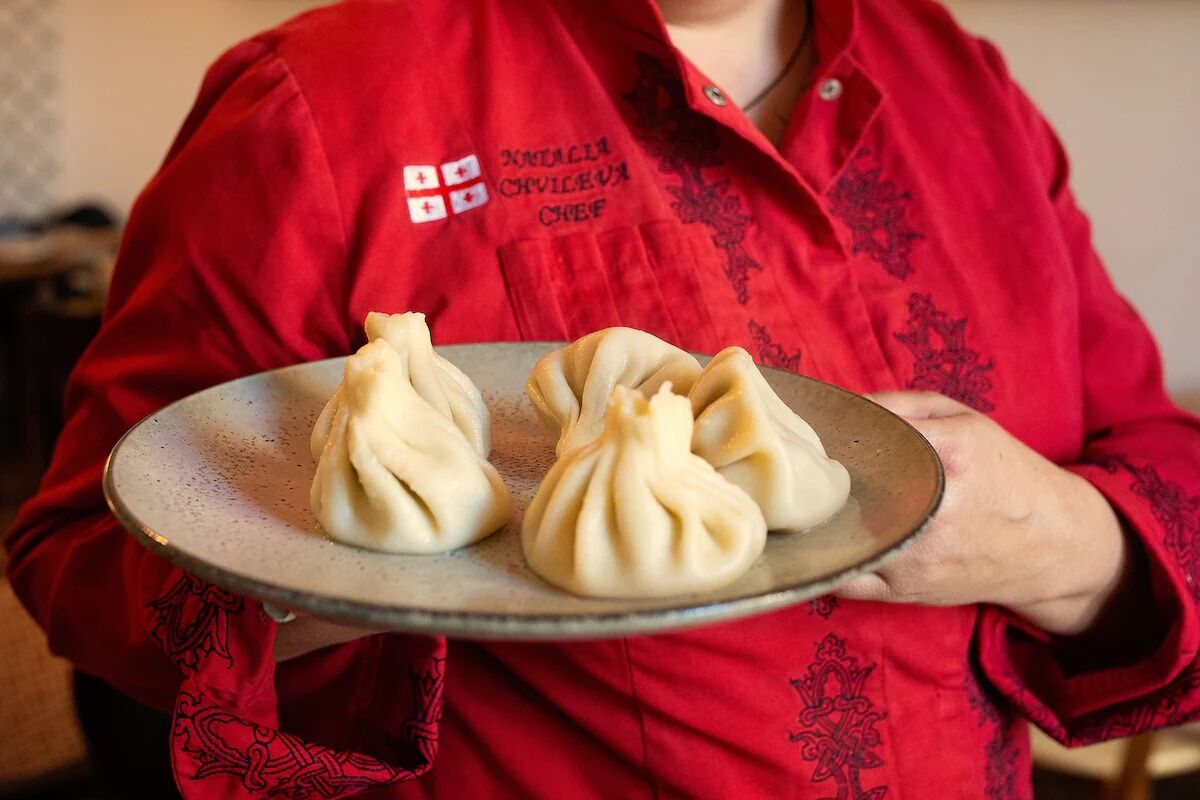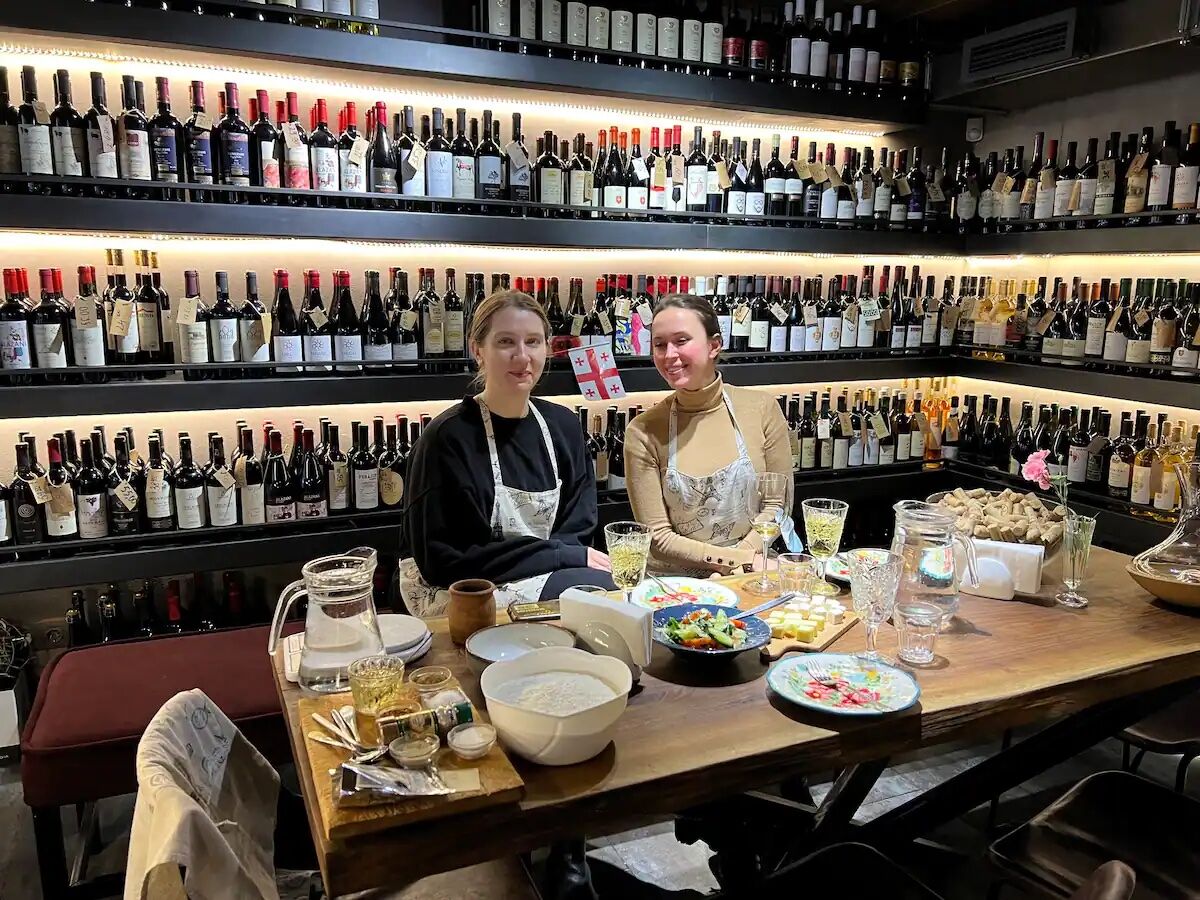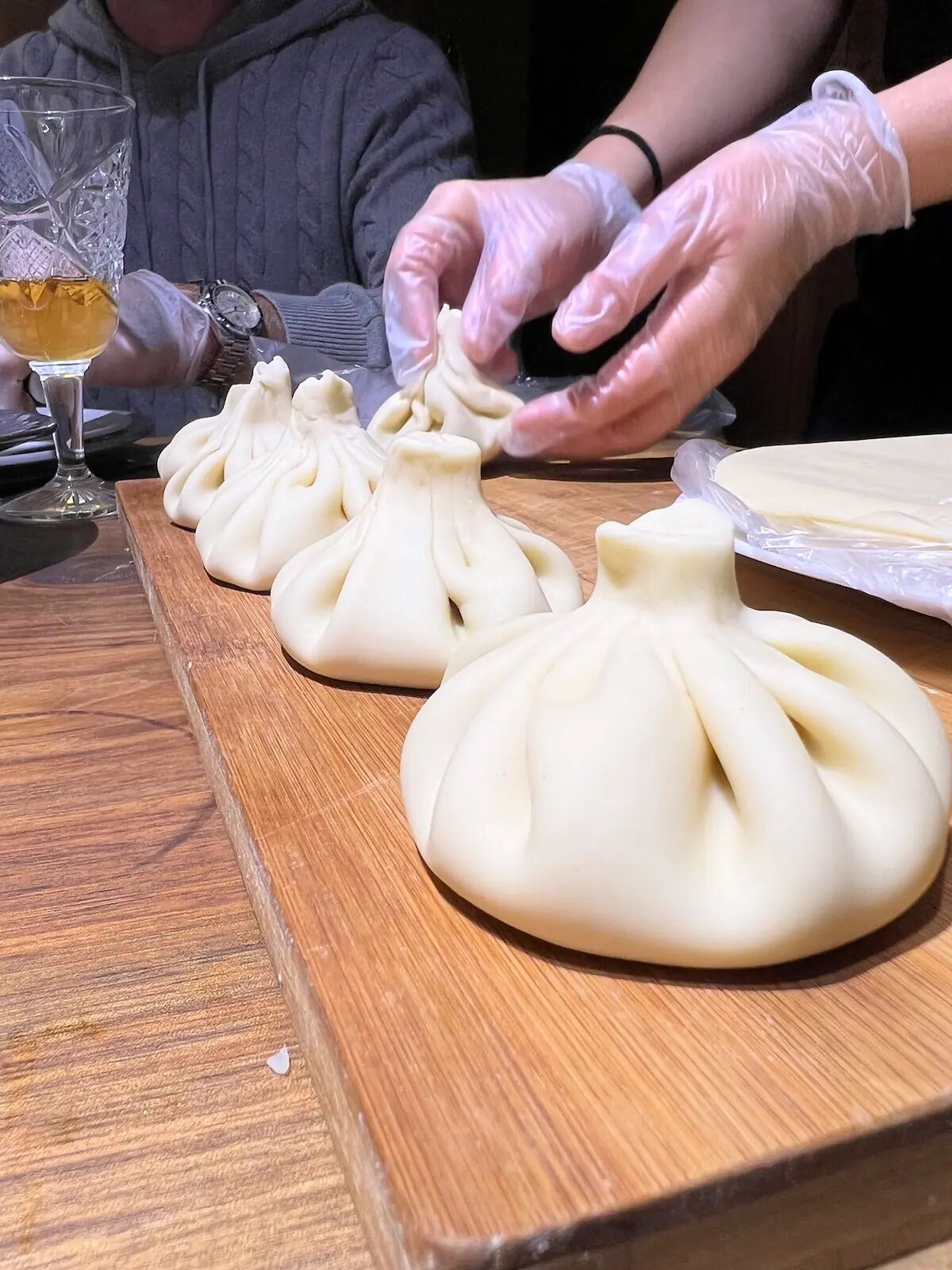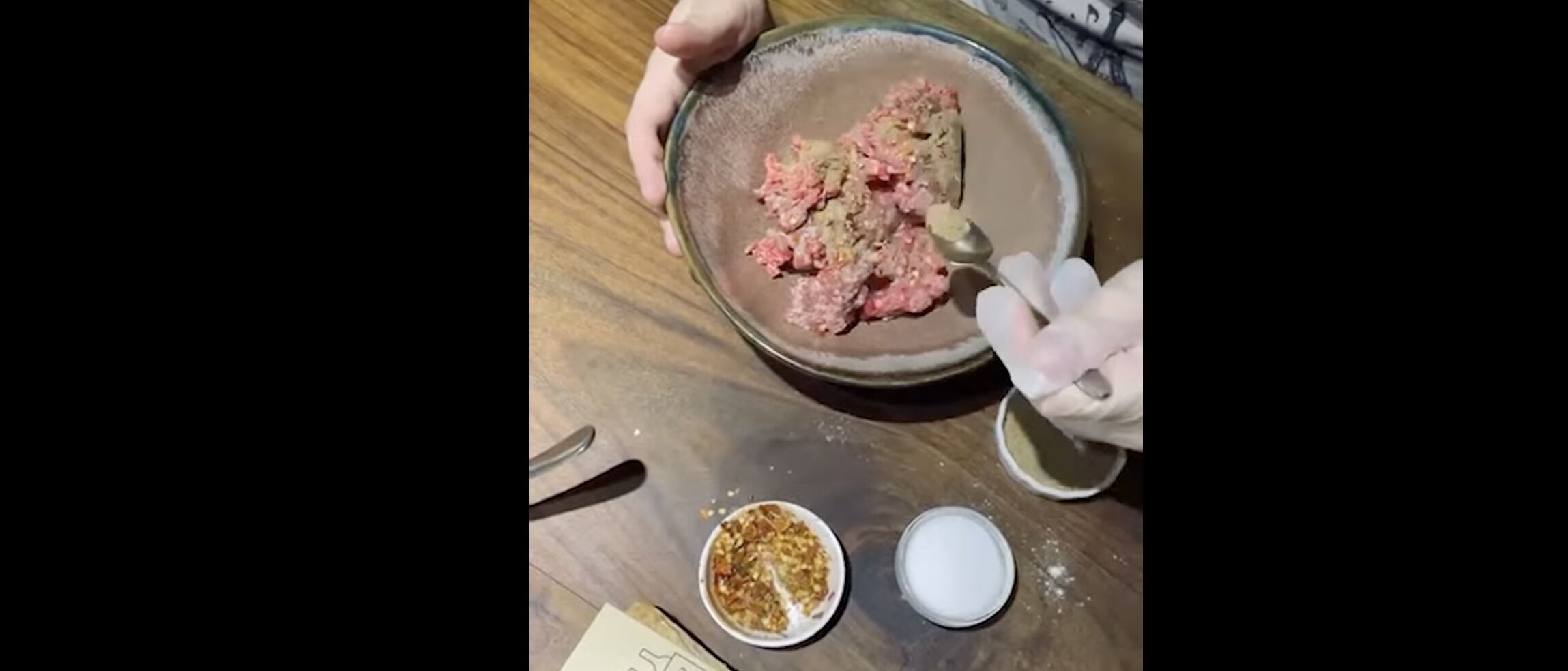 Step One: Khachapuri
We were a cozy group of five; myself, my boyfriend, a pair of Russian women, and an American. Our host, Aijamal, was an Uzbekistan expat who entertained us with her insight on Georgia as we prepped the khachapuri.
Khachapuri means cheese (khacho) with bread (puri) and there are around 50 varieties to sample while in Georgia. Adjaruli khachapuri is the most famous. This boat-shaped feast is smothered with cheese and butter before being topped with a raw egg.
We were to prepare an Imeruli (Imeretian) khachapuri. Hailing from Western Georgia, this resembles a pizza and uses local cheese from the Imereti region, a salty variety that resembles goat's cheese. Imeruli khachapuri is a staple of the innumerable bakeries found every hundred yards or so in Georgia.
Assembling the khachapuri dough from scratch proved straightforward and Aijamal assured us that all the ingredients can be sourced anywhere in the world. Ricotta and mozzarella can substitute the Georgian cheese.
Step Two: Khinkali
Khinkali are soup dumplings consisting of dough stuffed with meat (beef, lamb, or pork), cheese, or mushrooms that are boiled in salted water. The ingredients are held in the dumpling sack by the act of twisting a thick clod of dough to form a handle. The trick to eating them is to grab this knob of dough, puncture the dumpling with your teeth, then slurp the liquid and contents. Never eat khinkali with cutlery; mess is mandatory.
Aijamal explained that the etiquette is to leave the khinkali knobs on your plate. A custom I only learned six months into my khinkali adventures – to the horror of a Georgian friend who was aghast that I'd polished off several pounds worth of uncooked dough on a weekly basis.
As khinkali dough demands several hours of prep, we used a pre-prepared batch and dove straight into mixing a pot of minced beef with herbs, chili, onion, spices, and a lot of water. The water is essential for the soupy finish.
It's worth buying a bag of caraway powder before leaving Georgia. This spice is what gives khinkali its tang. Aijamal warned us it's near impossible to find it outside Asia and the Middle East, although cumin can be used as a surrogate.
Aijamal demonstrated how to "pleat" the dough and then scoop in a dollop of filling with a couple of extra spoons of liquid for that juicy finish. This part proved challenging for us novices with less nimble hands, especially now that we were into our second glasses of saperavi.
Speculating which of the blobby dumplings we were each responsible for wrapped up the class in good spirits. A couple of shoddier-made sacks had burst while on the boil. One or two were sealed yet appeared to contain no meat and caused us to scratch our heads. Nonetheless, we left feeling full and content with our first attempts at Georgian cooking.
Anyone with an interest in scrumptious food and hearing more about Georgian culture and history will appreciate a cooking experience in Tbilisi. The masterclass is affordable and the hosts are fluent in multiple languages – Aijamal shifted between Georgian, English, and Russian.
The masterclass took around two hours in its entirety. Afterward, you'll receive a copy of the recipe and instructions to prepare what you made in the Georgian cooking class over email, so you can recreate it at home. Which will come in handy considering the limited options for finding Georgian food beyond the Caucasus.
What did you think of this story?