The Finest Hotels in Lisbon Within Walking Distance To All Major Attractions
From its stunning architecture to its delicious food, award-winning wine, and energetic culture, Lisbon is one of the coolest cities in Europe. Sitting on seven hills overlooking the Rio Tejo river, the capital has been a major port city since ancient times. Today, a getaway here is the perfect way to explore everything that is great about Portuguese art and culture, cuisine, and low-key nightlife. And no matter your budget or taste, Lisbon hotels are some of the best in the country.
If you're seeking five-star luxury, check out the Ritz Lisbon Hotel. Located right in Lisbon's historic center, this iconic establishment offers opulent decor, stunning rooms and suites, and stunning views of the city below. For something more laidback but still luxe, The Lumiares Hotel is a great choice. The range is extensive, from family-run inns, charming Airbnbs to opulent accommodations, there's a lot to choose from. These Lisbon hotels have been selected for their renowned service, trusted reviews, value for money, and five-star amenities.
Traveling to Portugal? Check out Matador's Portugal accommodations guides:
When is the best time to visit Lisbon?
The best time to visit Lisbon is during the shoulder seasons of either March to May or September to October. During these months, the weather is still warm and pleasant with occasional rainfall, hotel rates are cheaper and there are fewer tourists than in the peak season. This makes it a great time for exploring the city on foot and taking advantage of all that Lisbon has to offer.

We hope you love the Lisbon hotels we recommend. Just so you know, Matador may collect a small commission from the links on this page if you decide to book a stay.
Four Seasons Hotel Ritz Lisbon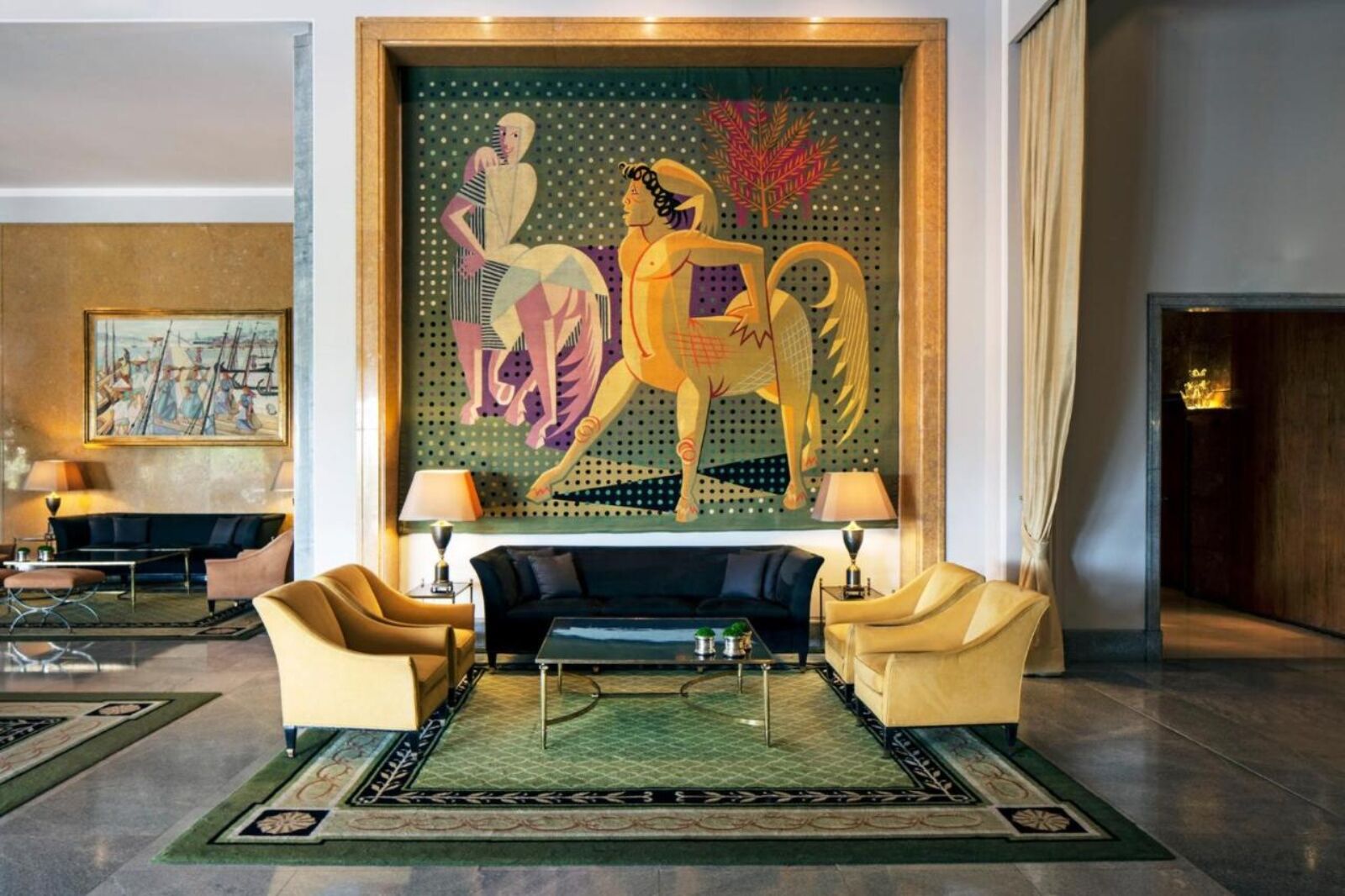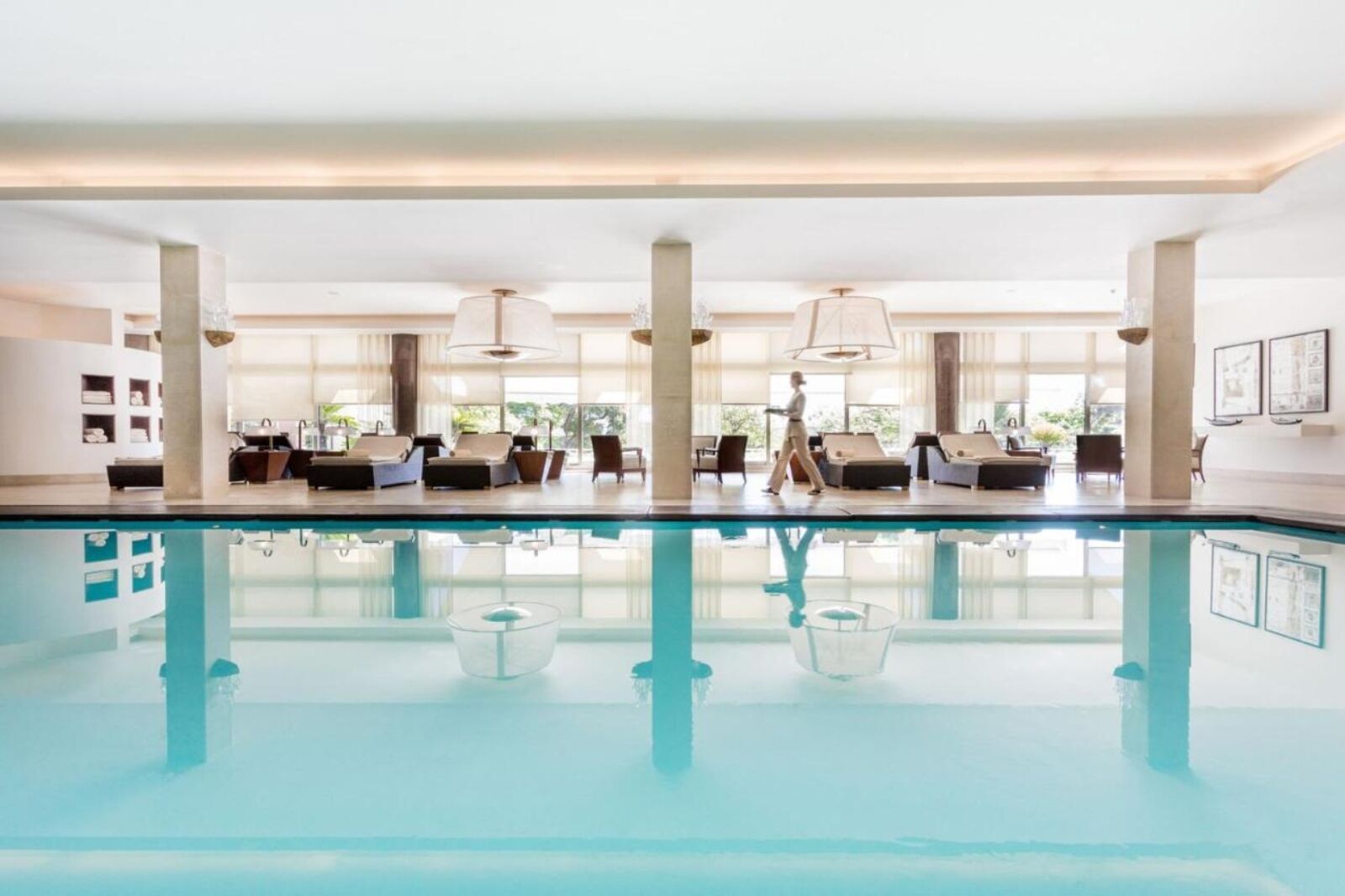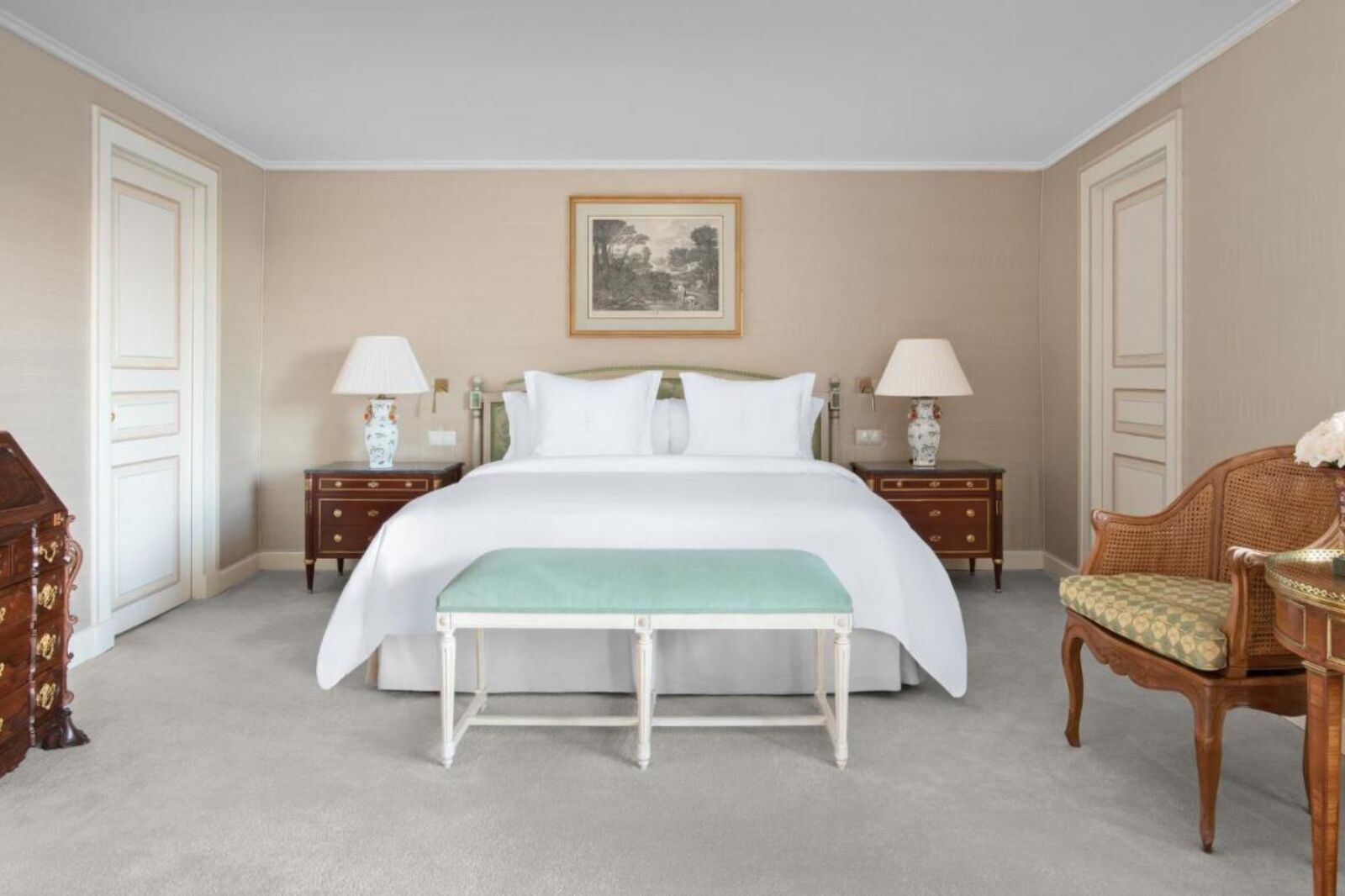 See more photos
The Four Seasons Hotel Ritz Lisbon is conveniently located near the main Avenida de Liberdade, providing easy access to the city and its many attractions.
Guests can enjoy stunning views of Eduardo VII Park, the hotel's gardens, and the Jacaranda-lined street from the 244 rooms and 38 luxury suites. The recently renovated rooms by Portuguese designers Oitoemponto incorporate the hotel's heritage into their designs, with carpets featuring waves inspired by the tapestry from the impressive Portuguese art collection that hangs at the bar.
The amenities do not disappoint either. The spa is hands down the best in the city and the fitness facilities, which include a 400-meter running track, and a heated outside swimming pool with underwater music are outstanding.
Price per night: $910
Four Seasons Hotel Ritz Lisbon: Rua Rodrigo da Fonseca, 88, Avenidas Novas, 1900-123 Lisbon
Book Now
The Lumiares Hotel & Spa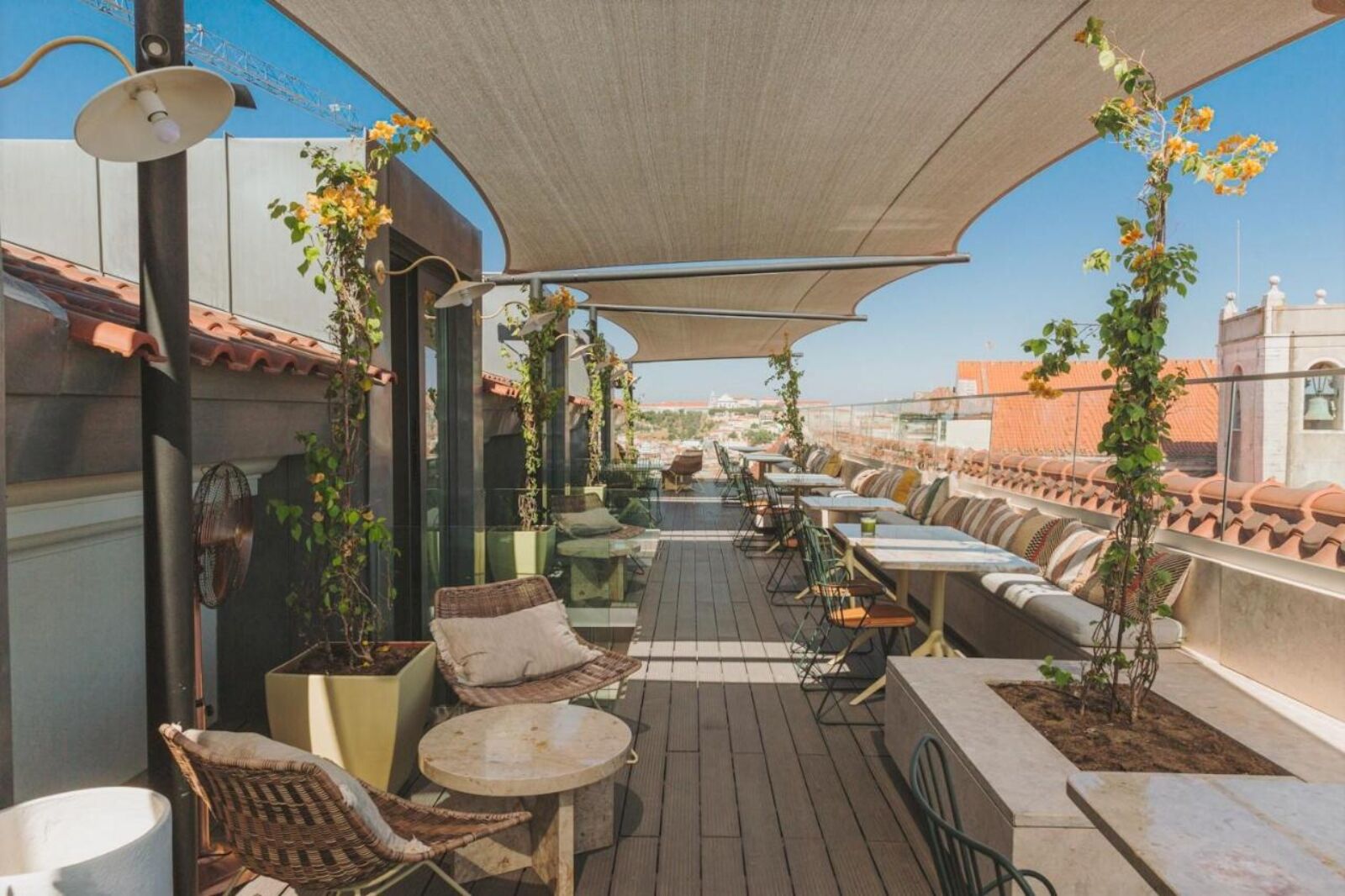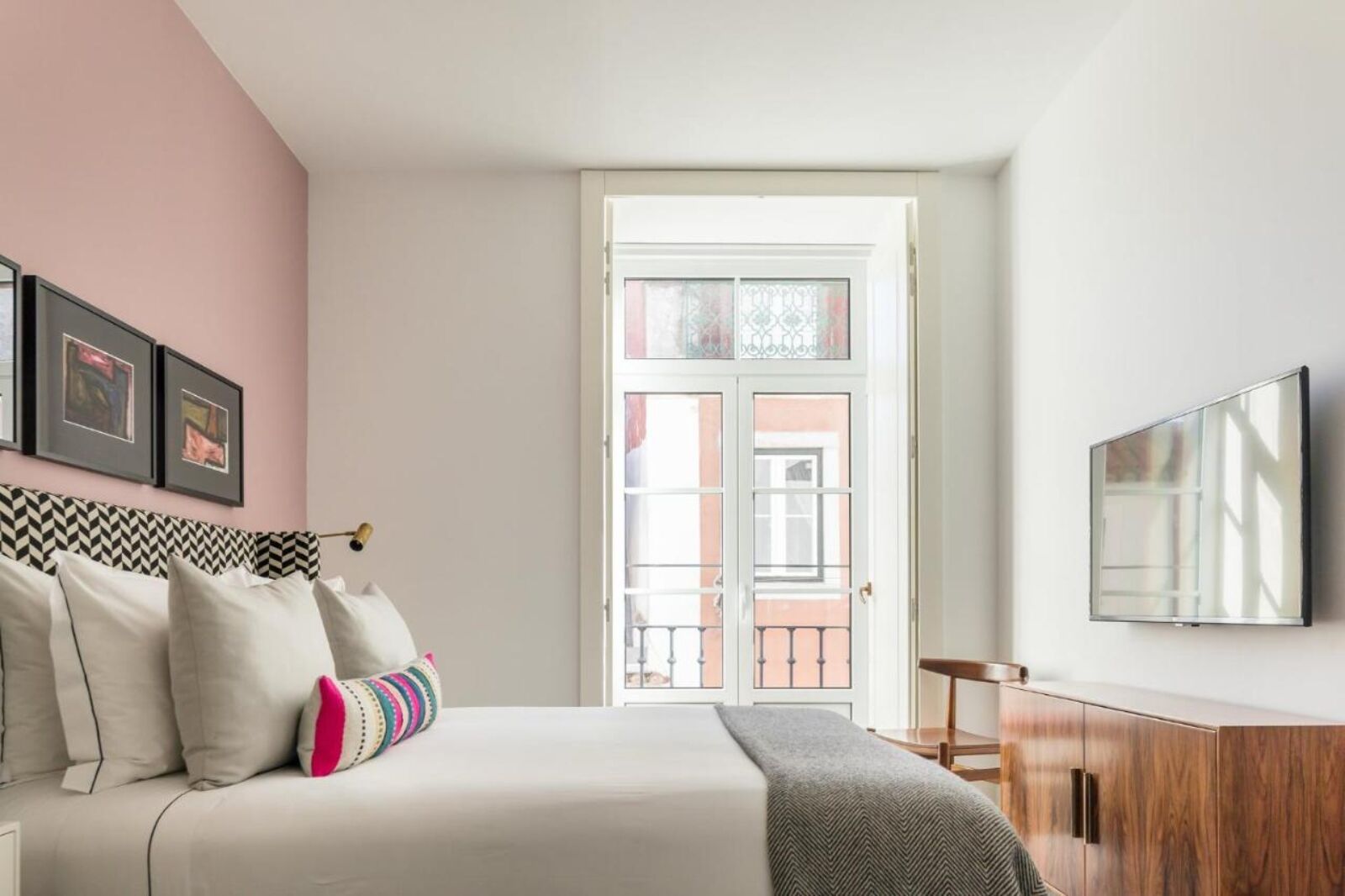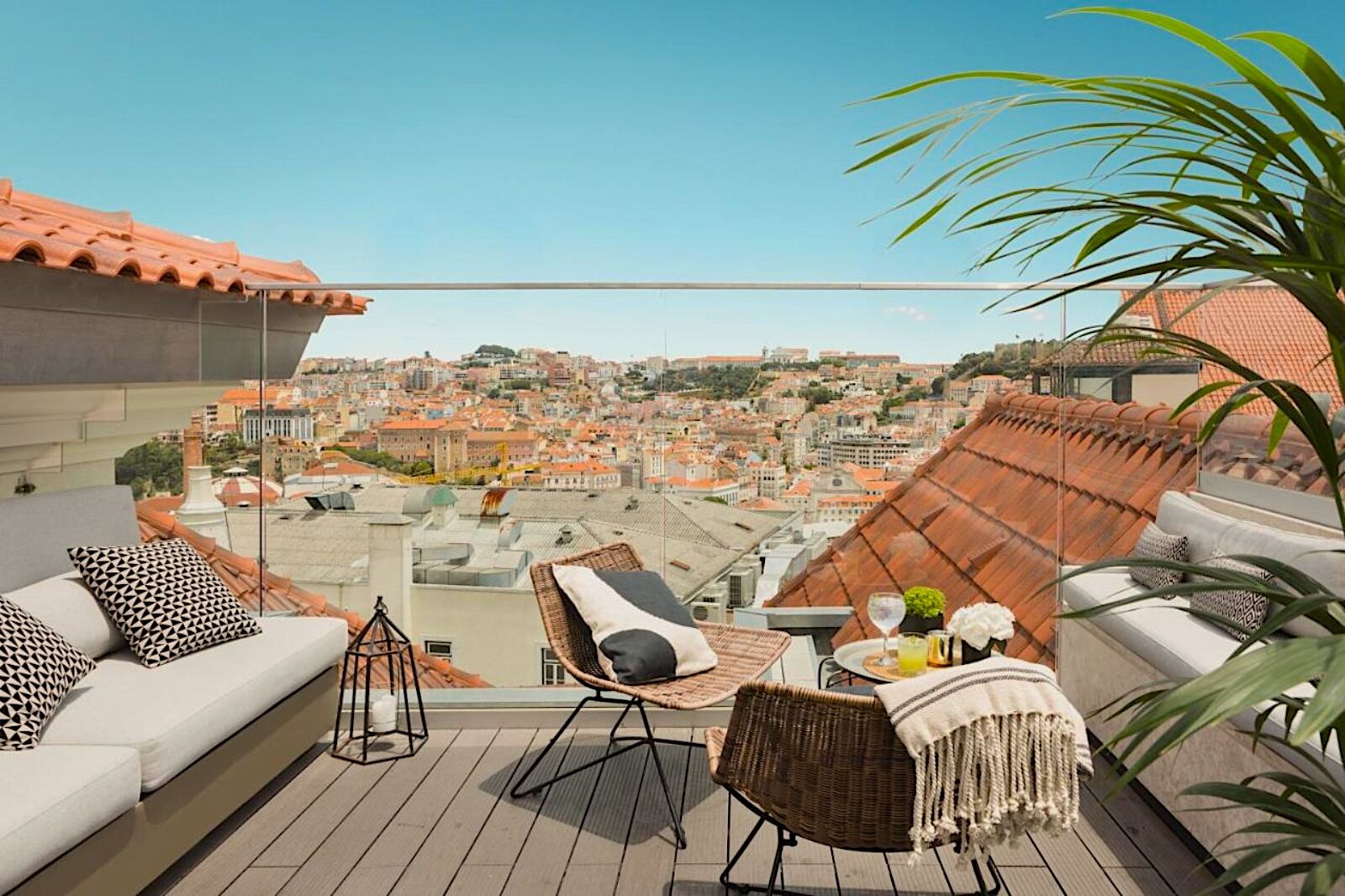 See more photos
The Lumiares is a five-star boutique hotel and spa located in the fashionable Bairro Alto area of Lisbon. The 18th-century palace has been renovated to provide spacious apartments, penthouses, an elegant spa, and a rooftop restaurant and bar with stunning views of the city's red-roofed skyline. With its all-day menu of locally sourced, seasonal food — with a focus on fresh authentic ingredients — guests can enjoy a delicious local cuisine while taking in the beauty of Lisbon.
Lumiares offers 47 apartments that vary in size, with the largest three penthouses featuring private terraces with views of the city. All rooms come with French windows and white wooden shutters, as well as smart black-and-white headboards and tapestry bed cushions made by artisan weavers in the Alentejo region. The bathrooms are equipped with Claus Porto soaps and feature black-and-white geometric tiling. The sitting rooms have rugs custom-made for the hotel by Ferreira de Sá, while kitchenettes come with high-end appliances and porcelain, plus complimentary white wine and water on arrival.
Price per night: $460
The Lumiares Hotel & Spa: 142 Rua do Diario de Noticias, Misericordia, 1200-043 Lisbon
Book Now
Corpo Santo Lisbon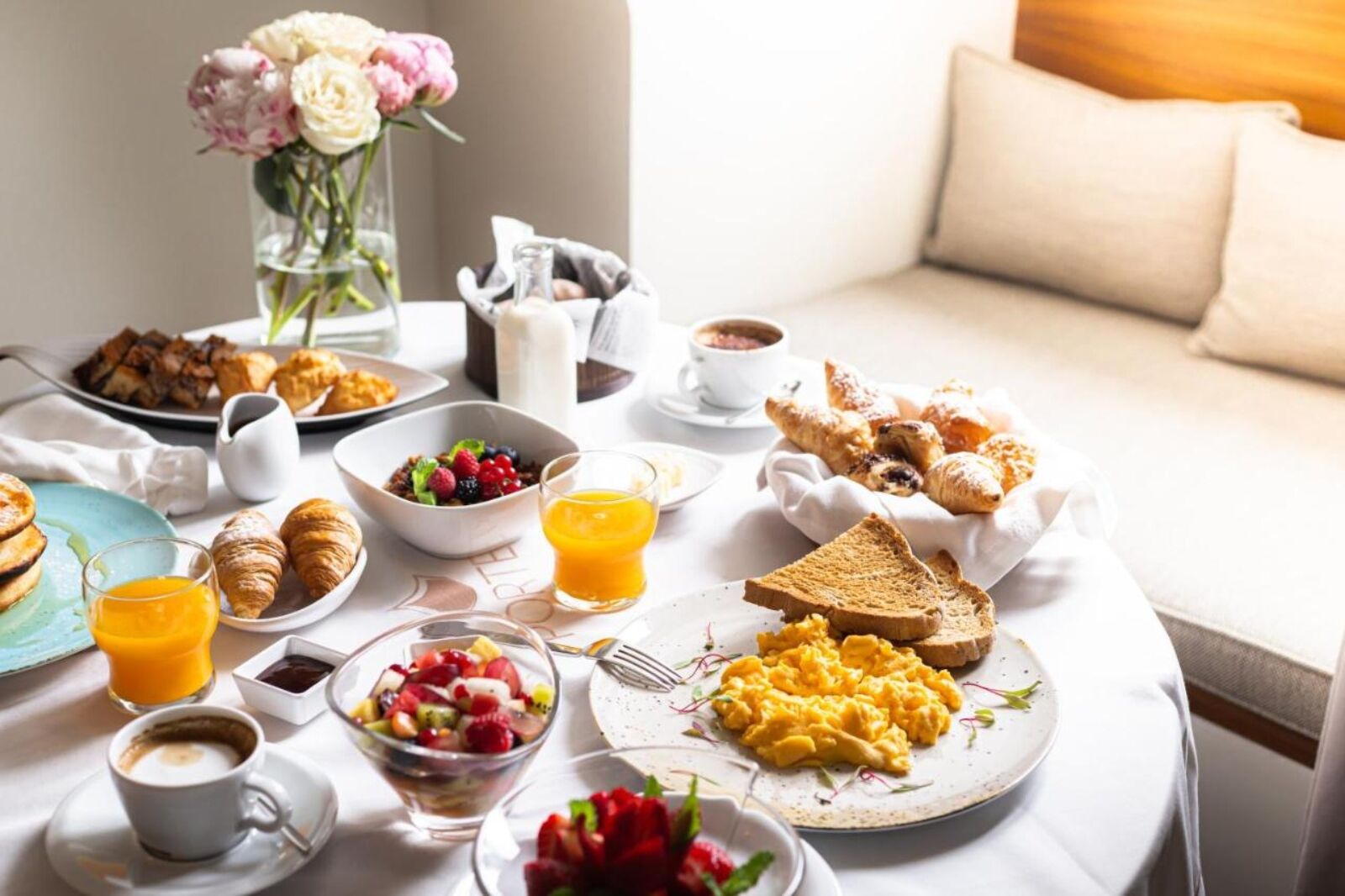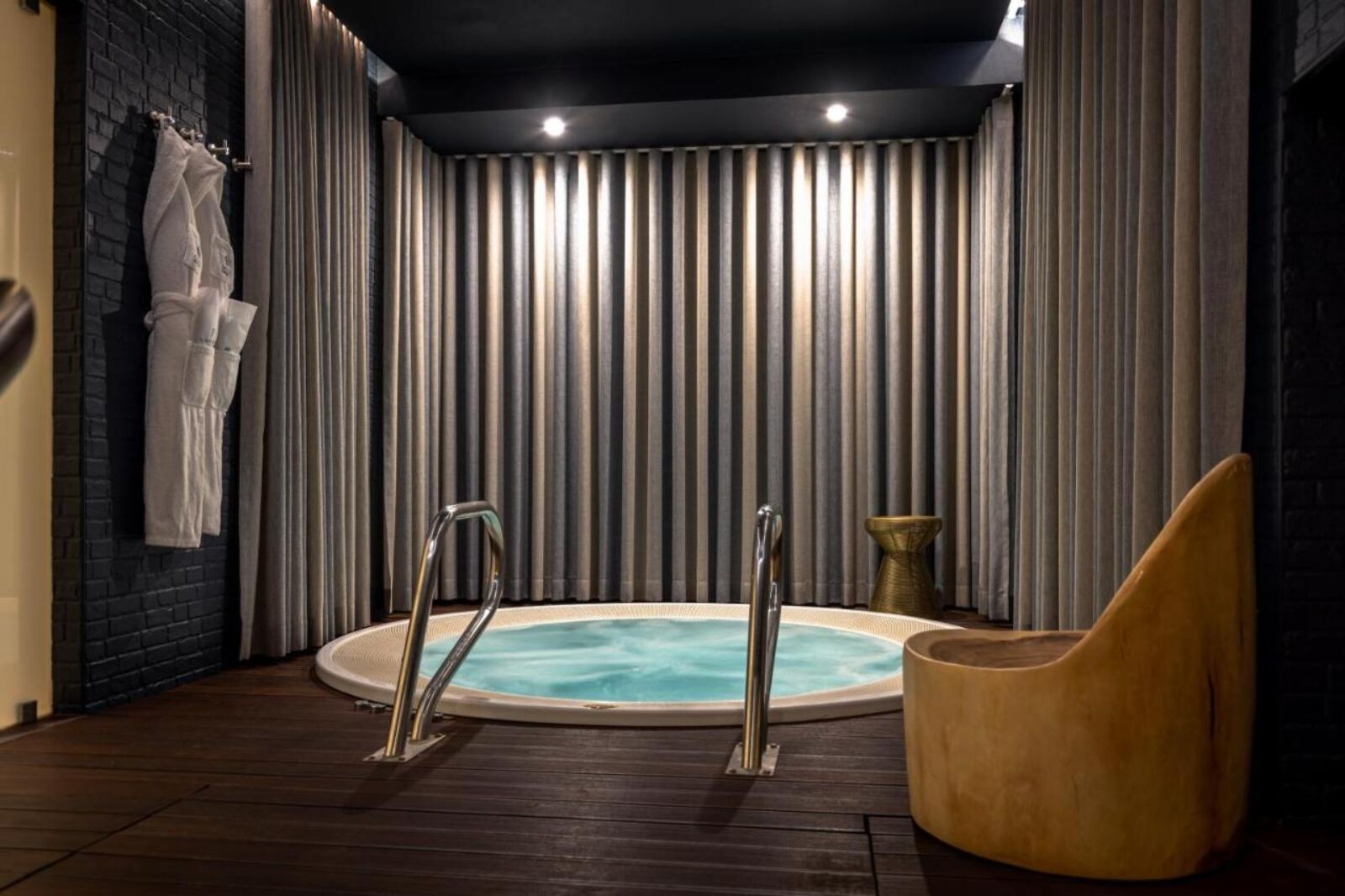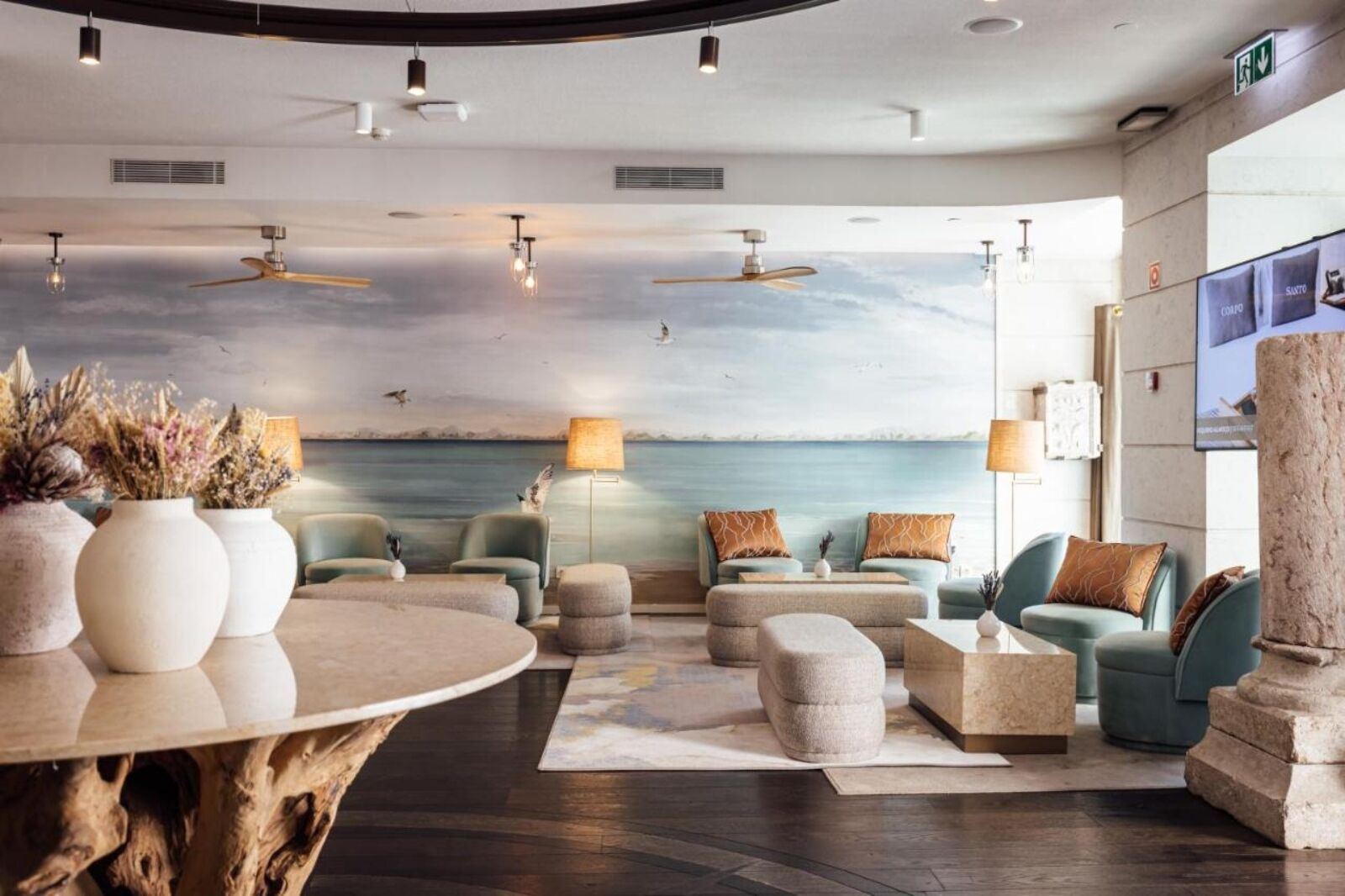 See more photos
The Corpo Santo is a five-star in the historic district of Cais do Sodré. Since its opening four years ago, it has become renowned for providing an exceptional guest experience.
Its soundproof windows provide a peaceful atmosphere in the midst of the city's hustle and bustle, while its minimalist design pays homage to its historical roots. Every room is tastefully decorated with Portuguese details and have a complimentary minibar, Nespresso coffee machine, and a flat-screen TV. The bathrooms are large and feature a neat chromotherapy system that mixes color therapy and music.
Price per night: $420
Corpo Santo Lisbon: Largo do Corpo Santo, no 25, 1200-129 Lisboa, Misericordia, 1200-129 Lisbon
Book Now
Valverde Hotel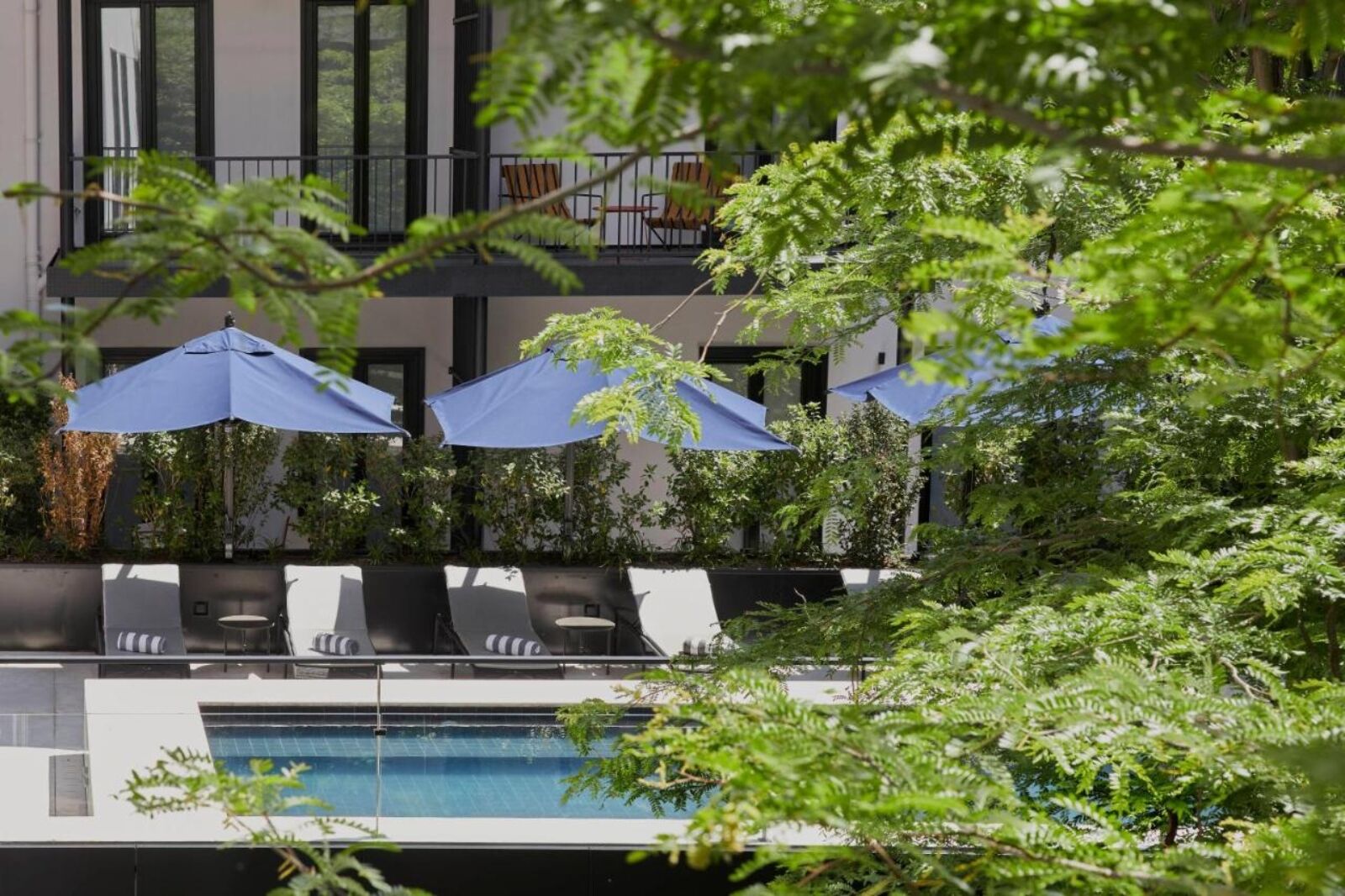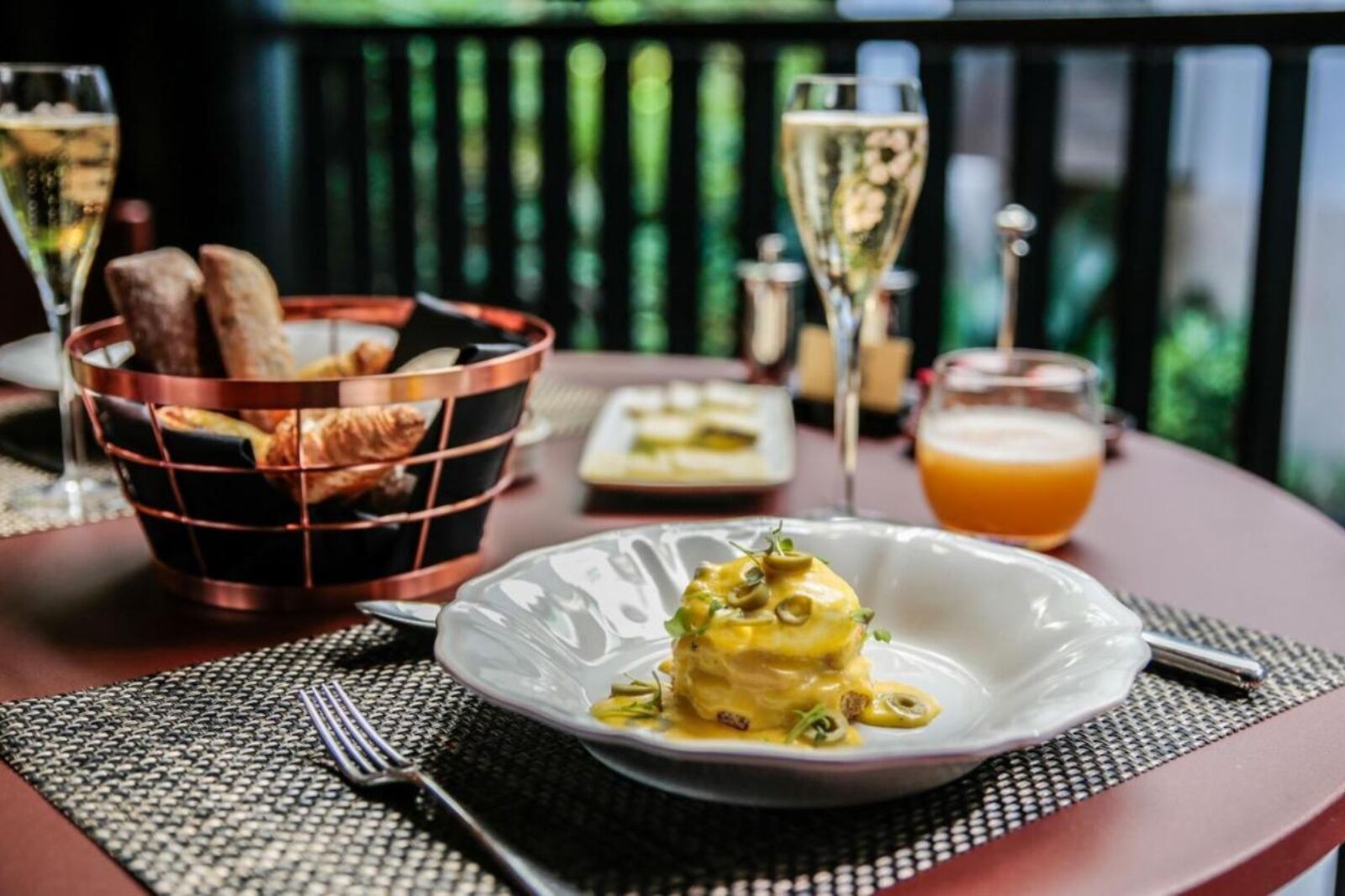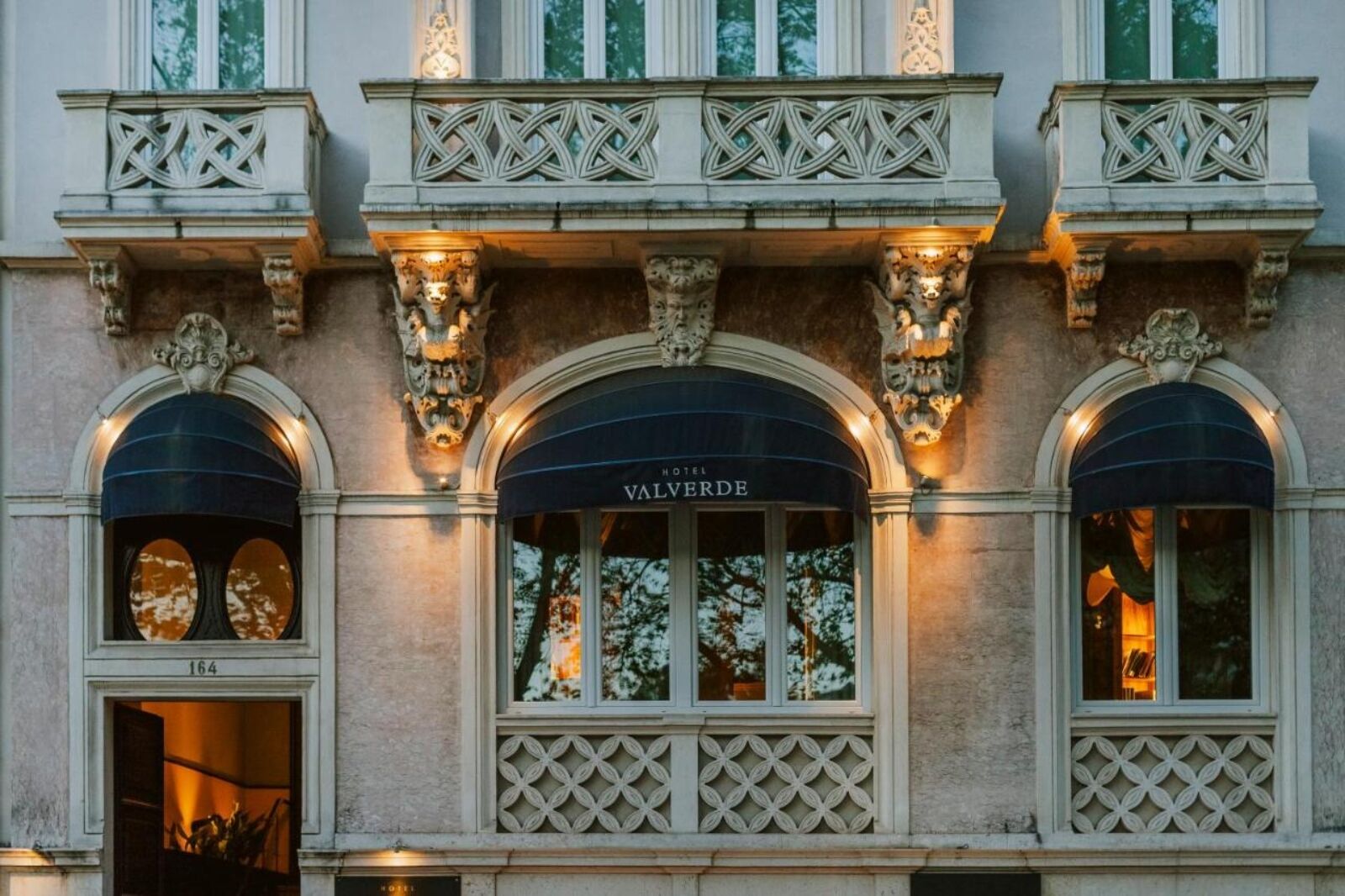 See more photos
Valverde Hotel is a boutique hotel located on Lisbon's grandest boulevard, the elegant Avenida da Liberdade. It features 48 rooms and suites with stunning views of the city's characteristic red roofs. The interiors boast a beautiful 19th-century façade and are decorated with exquisite art, porcelain, fabrics, and marble from around Portugal. With only a six or seven-minute taxi ride to the airport, and close proximity to the main train stations, Hotel Valverde offers an ideal location for travelers looking to explore the city.
The two top suites are the largest, while all the other rooms have a cozy feel with sloping ceilings, warm colors, and fabrics often piped with brocade. The bathrooms are spacious and chic, featuring cast iron stand-alone tubs and rain showers. Bedrooms in the new extension are large with views of the swimming pool and courtyard. They feature wooden parquet floors, bespoke furniture and many also come with private balconies.
Price per night: $357
Valverde Hotel: Avenida da Liberdade 164, Santo Antonio, 1250-146 Lisbon
Book Now
Altis Avenida Hotel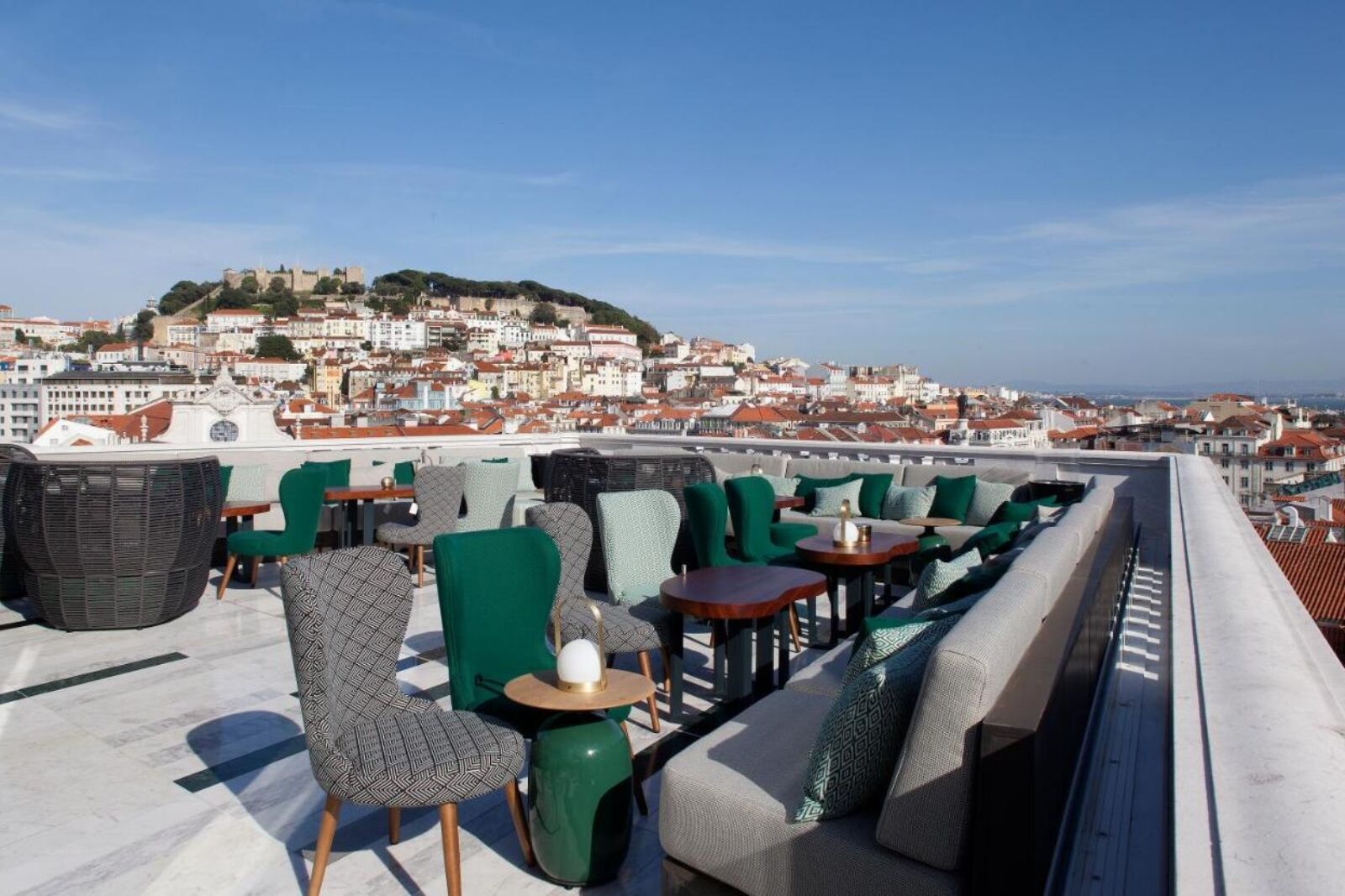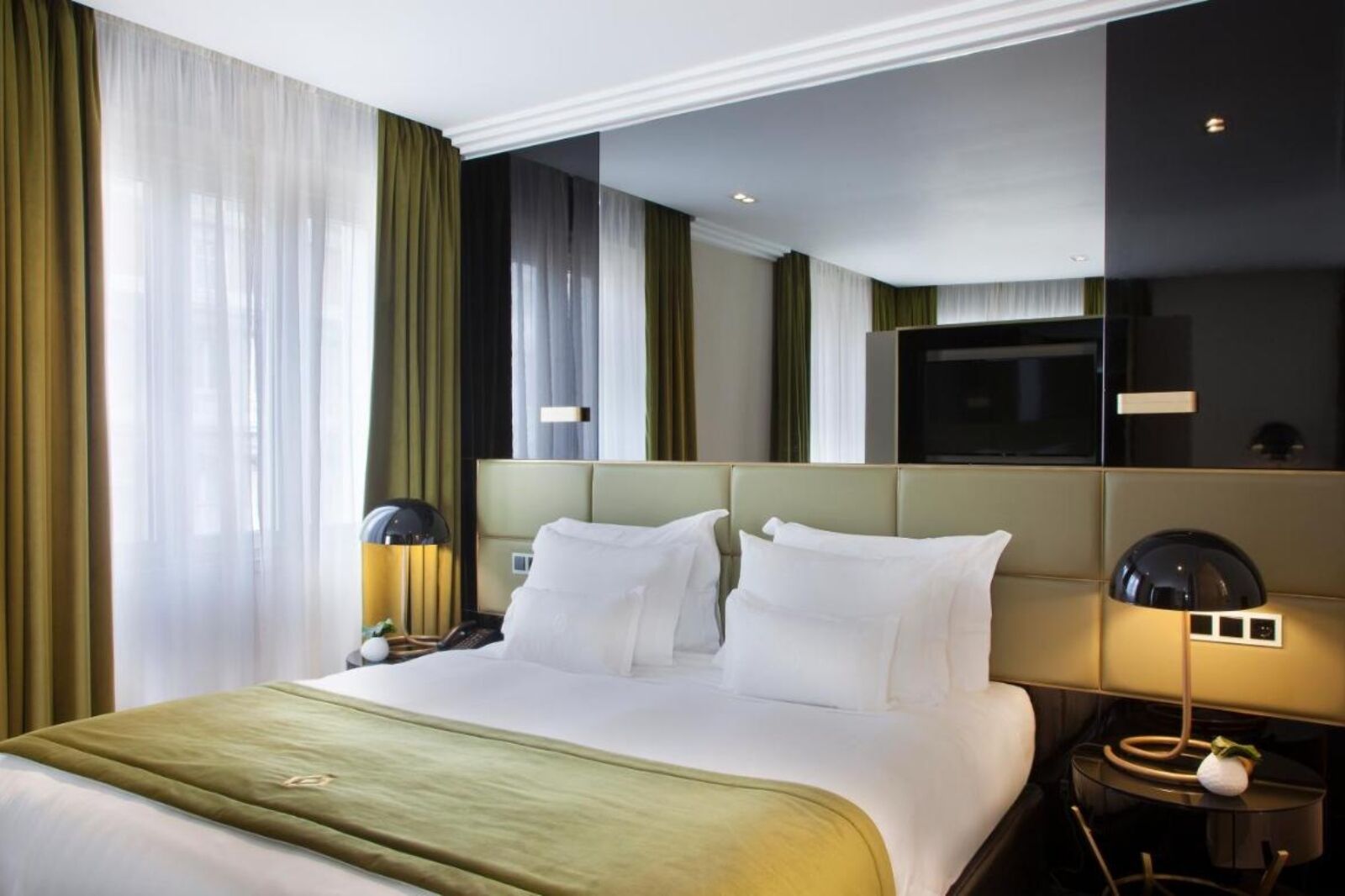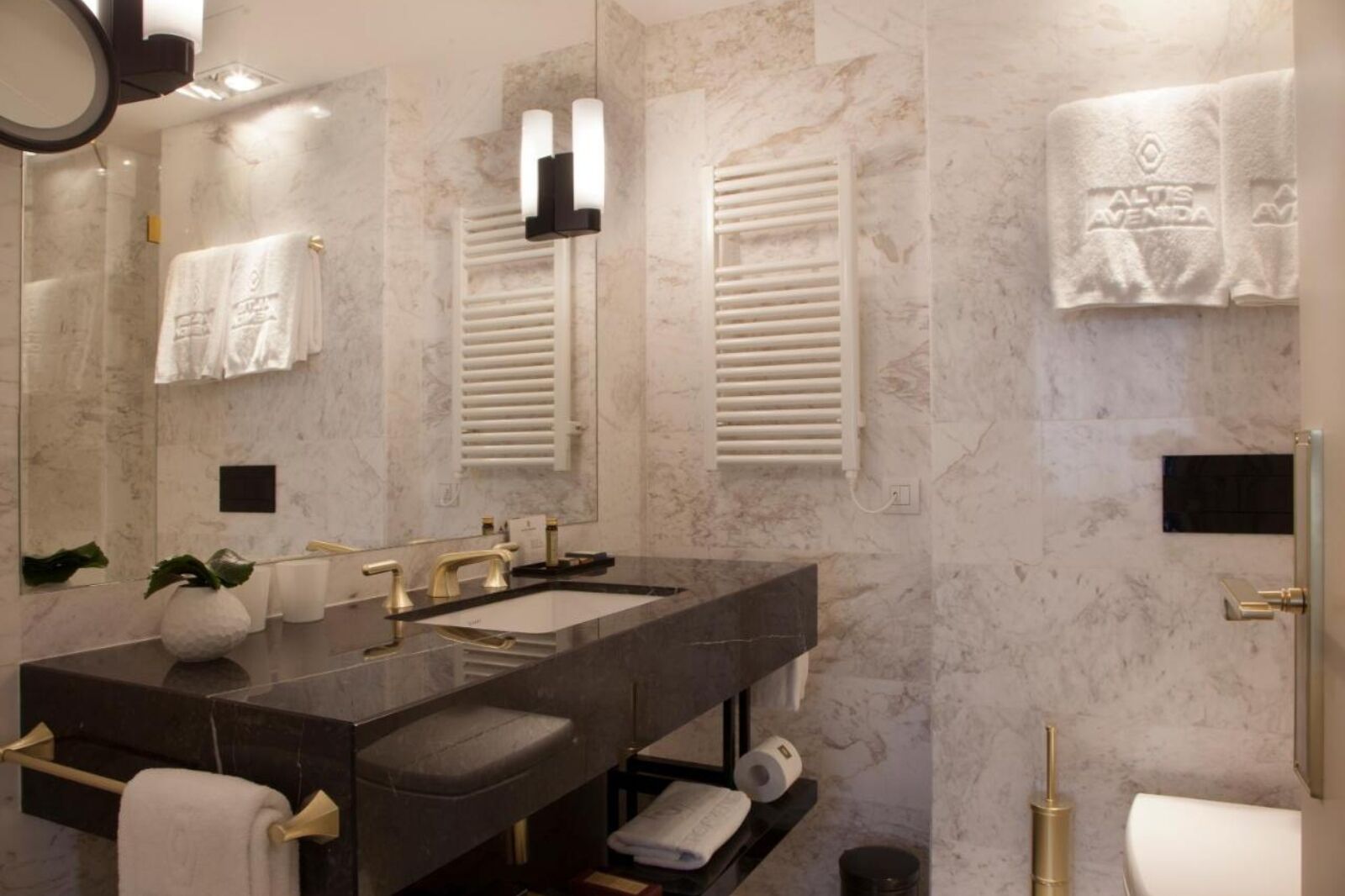 See more photos
The Altis Avenida Hotel is a luxurious boutique hotel situated on Praça dos Restauradores. It has an extraordinary location with one side facing the Avenida da Liberdade and the other side facing the neo-Manueline Rossio station. Built during Lisbon's 1940s heyday, it was converted into a hotel in 2011 and now offers 118 elegantly designed rooms and a rooftop restaurant.
The rooms come with over-the-top glossy black-and-gold wardrobes, desks, and soft leather headboards, while the deluxe rooms have balconies with impressive views of the city and castle. Each accommodation options come with Nespresso machines and marble bathrooms with Damana amenities. Egyptian cotton bedding provides a soft and comfortable night's sleep, while light fittings and stools are trimmed with gold for a touch of Art Deco style. The on-site restaurant spills onto the rooftop and offers a variety of breakfast options, including regional hams and cheeses, and pastries.
Price per night: $350
Altis Avenida Hotel: Rua 1º De Dezembro, 120, Santa Maria Maior, 1200-360 Lisbon, Portugal
Book Now
Martinhal Lisbon Chiado Family Suites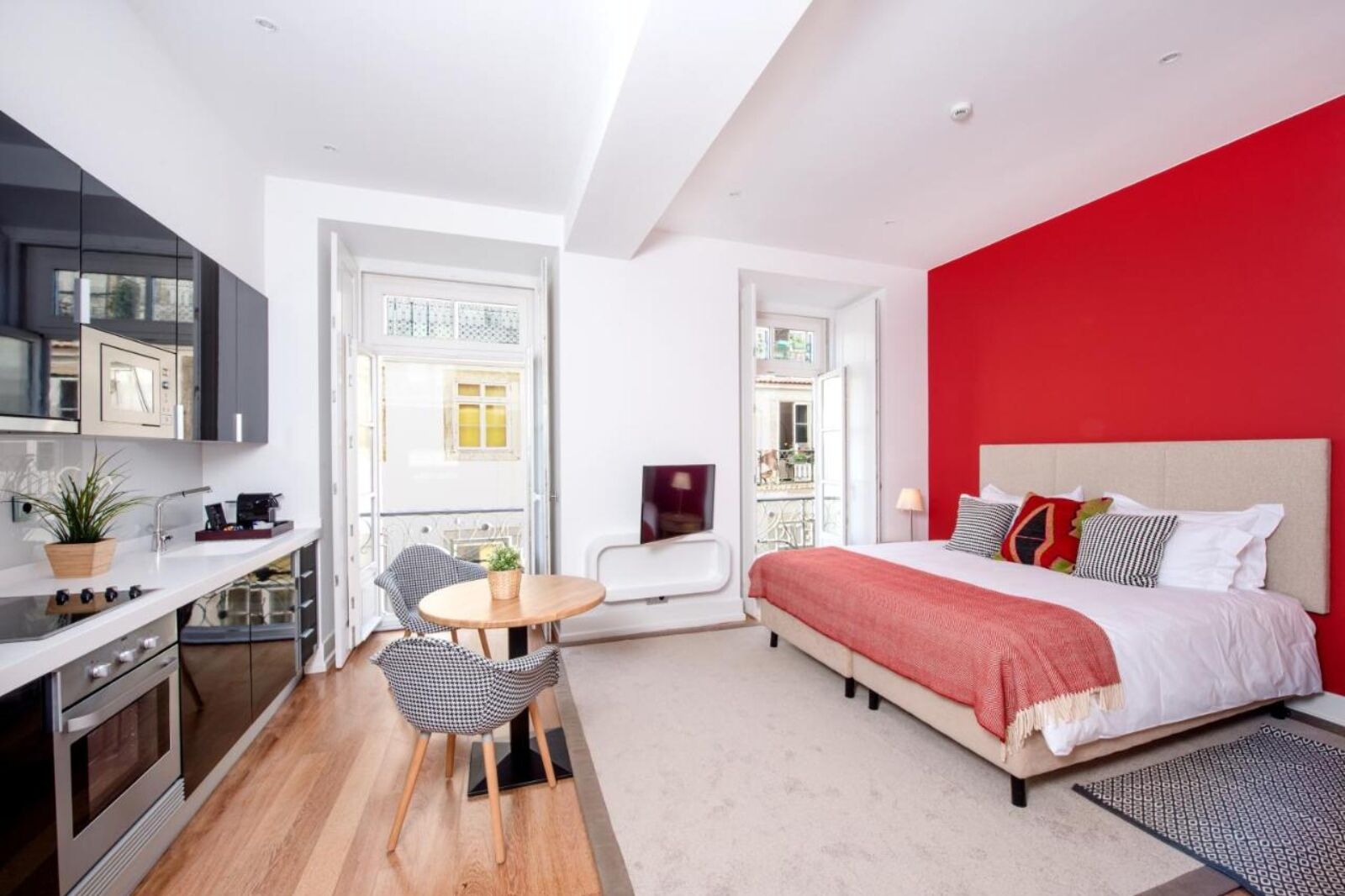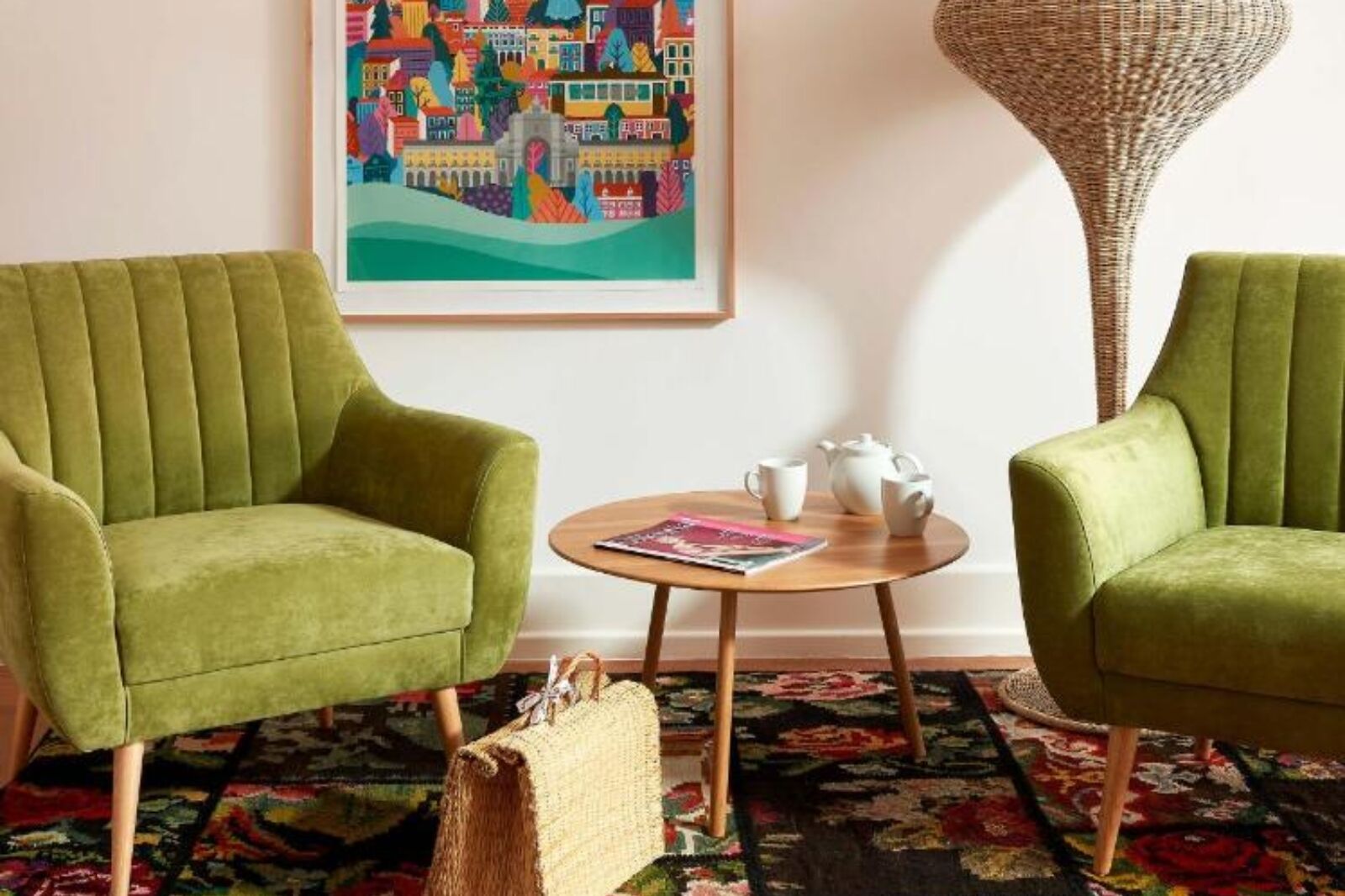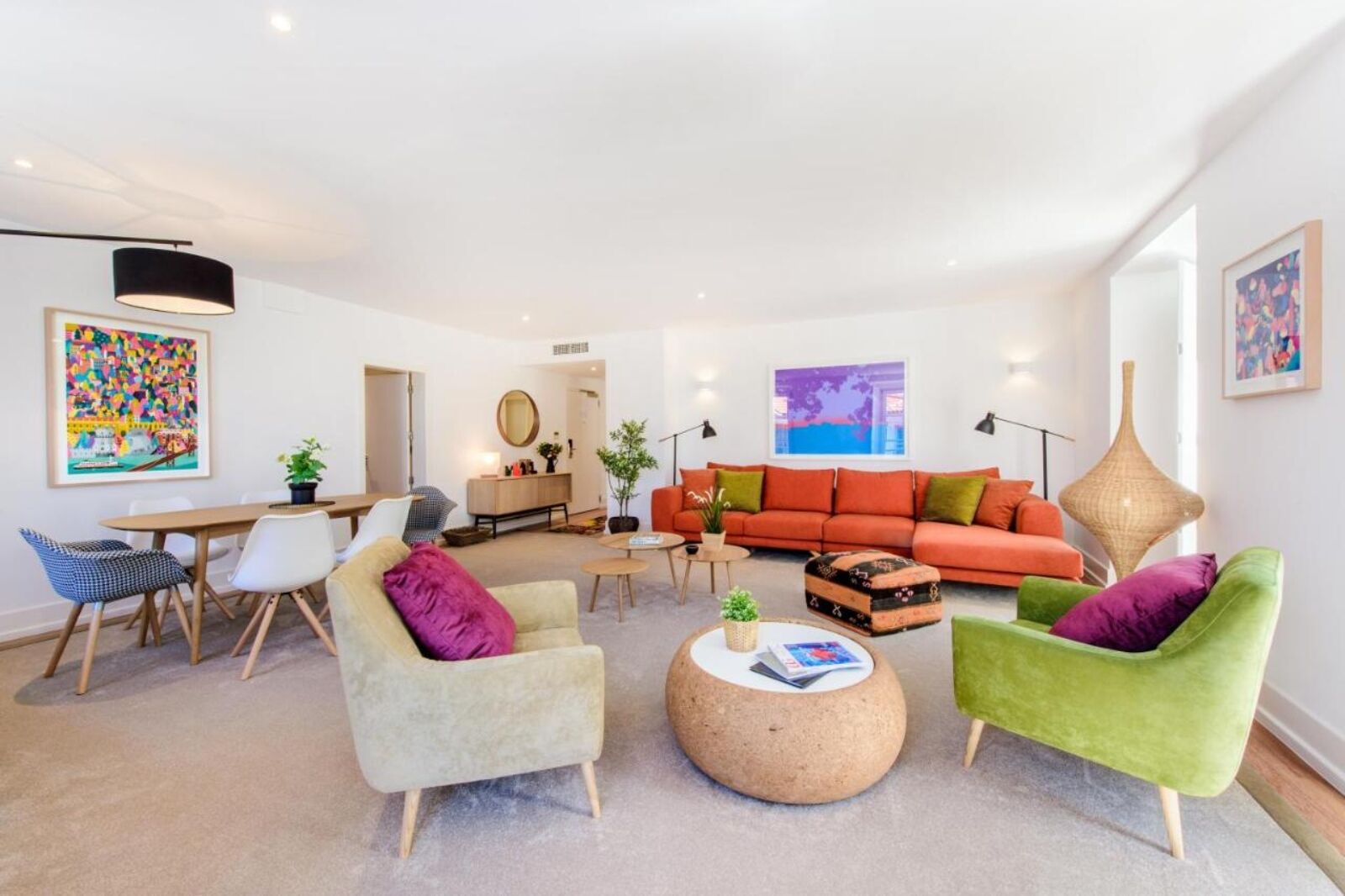 See more photos
Located in a 19th-century townhouse, these 37 stylishly designed suites are perfect for self-catering with small children. All suites come fully equipped with modern amenities and features, making them an ideal choice for families looking for a luxurious stay in the city. With Martinhal's bespoke services, guests can enjoy a five-star experience without having to leave the comfort of their own suite.
The on-site Kids Club is second to none. It's open from 9:00 AM — 6.30 PM and is free of charge. And in the evening, there is a PJ Club for kids aged three to nine, leaving adults to have a little alone time in the city.
Price per night: $340
Martinhal Lisbon Chiado Family Suites: Rua das Flores 44 Chiado/Baixa, Misericordia, 1200-195 Lisbon
Book Now
Bairro Alto Hotel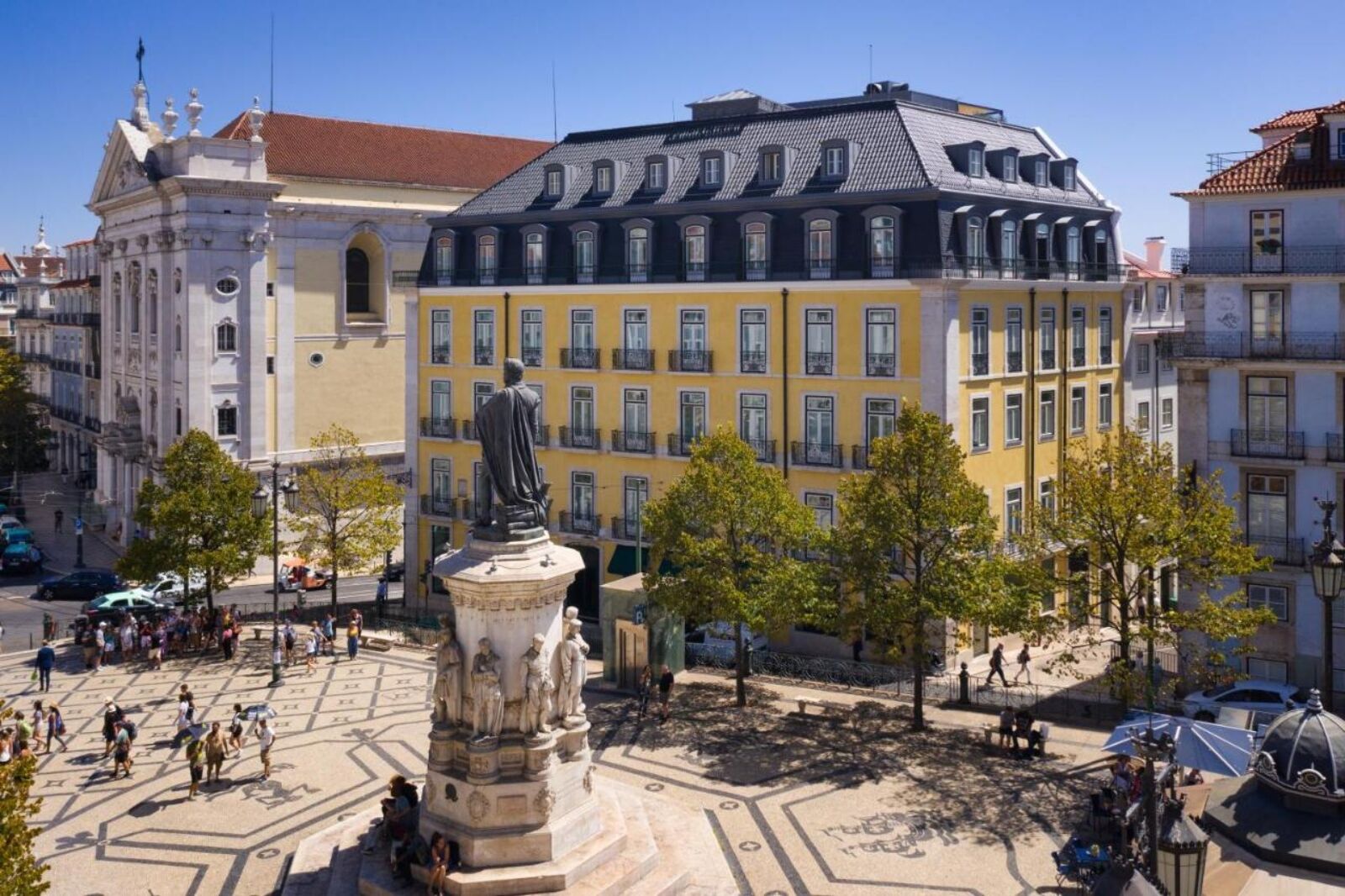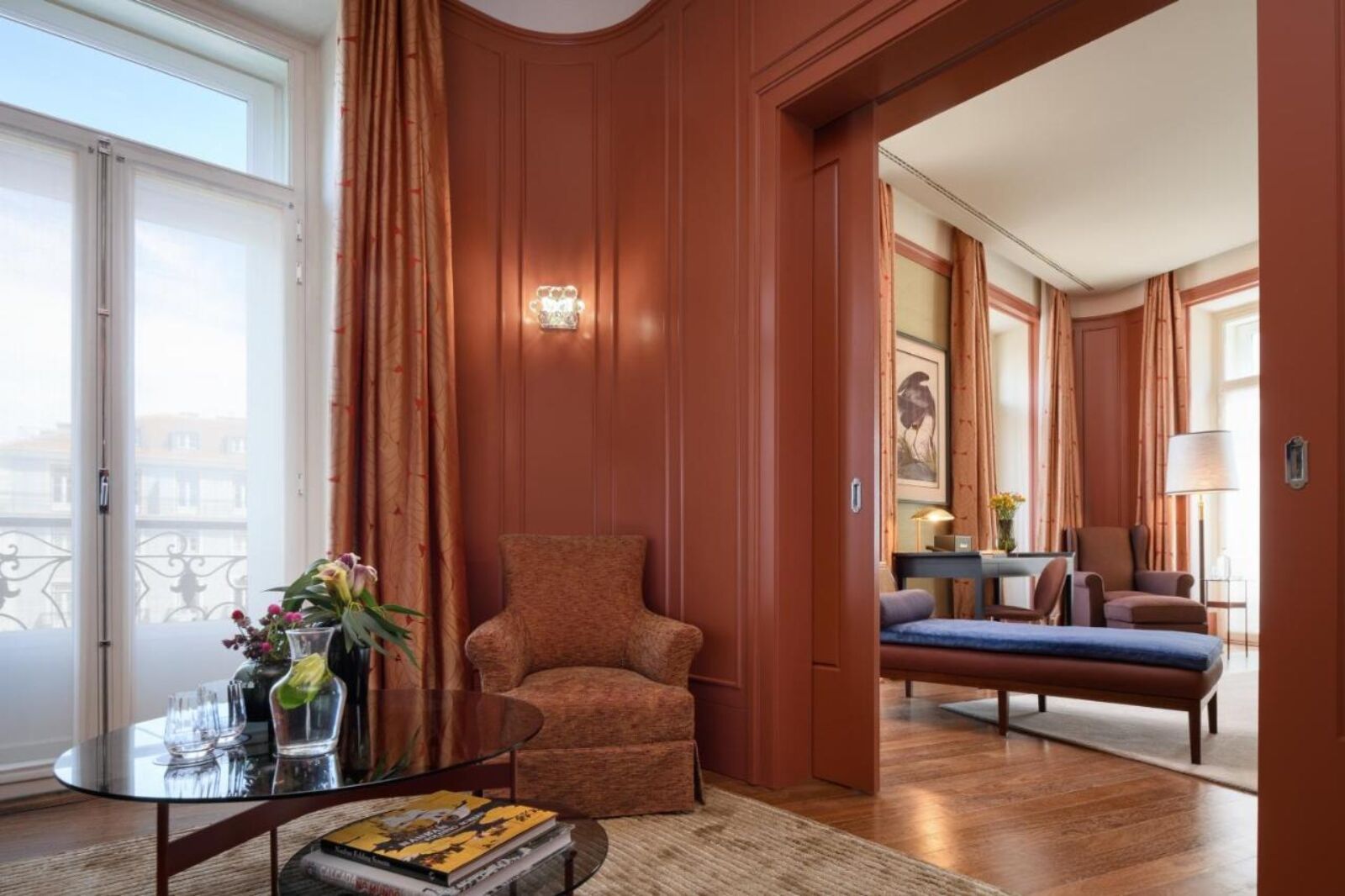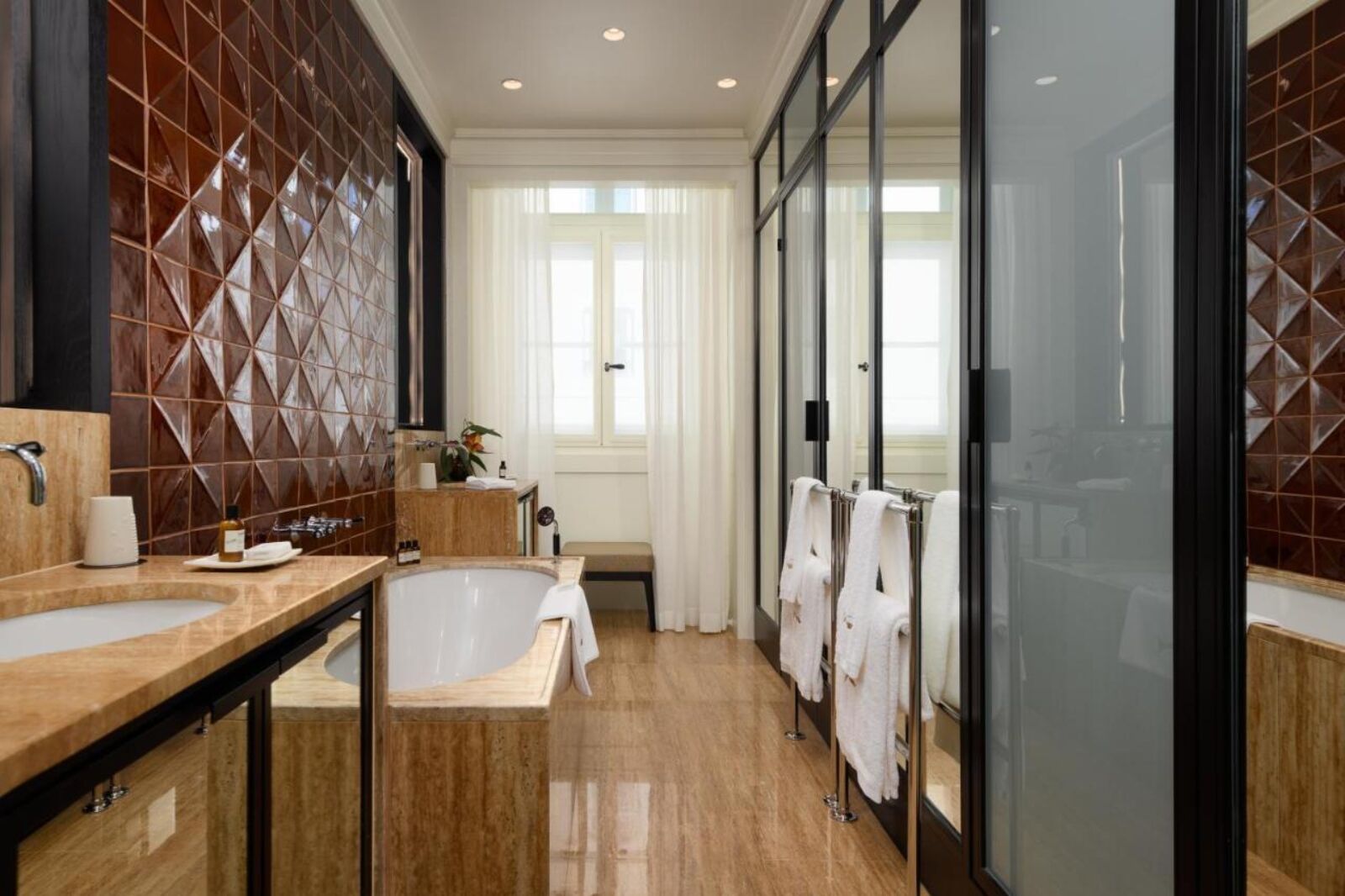 See more photos
Bairro Alto sits on one of the city's most charming squares, Praça de Camões. The five-star is known for its traditional charm and bohemian atmosphere and has recently undergone an expansion courtesy of architect Eduardo Souto de Moura.
The existing rooms have kept their quietly charming feel, with hand-painted birds on the walls, while the newer rooms and suites are bolder in color. The bathrooms have red, black, and white tiles, a huge shower, and amenities from Le Labo.
Price per night: $281
Bairro Alto Hotel: Praça Luis De Camões 2, Misericordia, 1200-243 Lisbon
Book Now
What to do in Lisbon
There are so many things to do in Lisbon that it can be hard to narrow down your choices, but here are some of the best things to do during your getaway.
Wonder at the Torre de Belém — This iconic 16th-century tower is one of Lisbon's most recognizable landmarks and offers spectacular views of the city.
Ride Tram 28 — Take a ride on this historic tram and explore some of Lisbon's most charming neighborhoods.
Get lost in the Alfama District — Wander through this picturesque district and enjoy its cobblestone streets, colorful buildings, and quaint cafes.
Make a trip to Sintra — This stunning town is just outside of Lisbon and is home to some incredible palaces and gardens that you won't want to miss out on.
Explore historic sites and architectural buildings — From castles to churches, there are plenty of historic sites and architectural buildings worth visiting in Lisbon.
Check out Time Out Market Lisboa — This food market is full of delicious local dishes that you won't want to miss out on.
Visit the Museum of Art, Architecture, and Technology (MAAT) — Admire some incredible works of art at this modern museum located along the Tagus Riverfront in the Belém district.
Walk the walls at São Jorge Castle (St George's Castle) — Enjoy breathtaking views from atop one of Lisbon's oldest fortresses.
Check out Museu Nacional do Azulejo — See some beautiful tilework from all over Portugal at this museum dedicated to azulejo tiles.
What did you think of this story?