8 Can't-Miss Museums in San Diego, From Quirky To Historical
From old-world Spanish missions to modern art galleries and a variety of science, natural history, and interactive museums, San Diego is home to countless inspiring attractions. And while it's tempting to spend all your time exploring the city' outdoor attractions like parks, hiking trails, and beaches, its indoor attractions are worthy of a large chunk of your vacation time, too.
Museums in San Diego range from the large and historical to the small and quirky. The best time to visit them is usually in May and June, when the weather is known for being a bit overcast and rainy. (In fact, San Diegans refer to these months as "May Grey" and "June Gloom.") Of course, it's still San Diego, which means you don't have to worry about too many days of poor weather in a row. But even if it's sunny, you won't regret spending an afternoon inside at one of these impressive museums in San Diego.
---
The best museums in San Diego
Many of San Diego's museums are in Balboa Park, a large cultural hub and sprawling park that's arguably the city's top attraction. That's where you'll find the San Diego Museum of Art, the Museum of Us, the photography museum, and the Natural History Museum, as well as the San Diego Zoo. The park also features several gardens, playgrounds, and performance venues, plus multiple gardens, a tea house, restaurants, an artisan market, and much more. The other museums are spread throughout the city, with the exception of the Museum of Contemporary Art San Diego, just to the north in nearby La Jolla.
The San Diego Museum of Art
The San Diego Museum of Art is one of the oldest and most respected art museums in the city. It features a collection of over 6,000 works of art from around the world, including European, American, and Latin American art. It opened in 1926 and displays art from more than 7,000 years of human existence. In addition to the massive indoor space, it's also home to an outdoor sculpture gallery: the May S. Marcy Sculpture Court and Garden. And as you'd expect from a museum this large, there's a gift shop and multiple places to grab a bite to eat.
The museum's collection spans from ancient to contemporary art, with a focus on the art of the Americas. Visitors can explore the galleries, take tours, and attend lectures, workshops, and events. The museum also hosts concerts throughout the year as well as cocktail evenings and gallery openings. It's in Balboa Park, but you'll want to allow the greater part of a day to see everything rather than fitting into a single day in the park — this is one of the largest museums in San Diego, after all.
Address:1450 El Prado (Balboa Park)
Hours of operation: Hours: Tuesday – Sunday: 10 AM – 5 PM. Closed Mondays.
Cost: Age 17 and under are free, students are $8, military personnel are $10, seniors are $15, adults are $20
The Museum of Photographic Arts (MOPA)
The MOPA is dedicated to the art and science of photography. The museum's mission is to inspire and educate the public through the collection and preservation of art, and the permanent collection includes more than 15,000 photographs. That includes work by both established and emerging photographers, covering a wide range of photographic styles and techniques.
The museum's exhibits cover a wide range of photographic subjects and eras, from traditional black and white prints to contemporary digital images. Special exhibits focus on both single photographers and group shows exploring specific themes, techniques, or movements in photography. MOPA also offers a variety of programs and events throughout the year, including lectures, workshops, and tours, some of which go behind the scenes of the museum and the photo development process. It's one of the best museums in San Diego for budding content creators and formally educated artists alike.
Address: 1649 El Prado (Balboa Park)
Hours of operation: Tuesday – Sunday, 10 AM – 5 PM. Closed Monday.
Cost: Free, but donations encouraged
The Museum of Contemporary Art San Diego
The Museum of Contemporary Art San Diego (MCASD) is dedicated to contemporary art from around the world, with a focus on works from California and Mexico. The museum's collection includes painting, sculpture, photography, video, and works on paper. The museum regularly hosts temporary exhibitions and events that engage visitors with the art and artists on display.
There are two sections of the MCASD: the downtown annex (which is temporarily closed) but has modern art and performance in a historic building, and original building in La Jolla. You'll know you've arrived at the La Jolla location when you see the massive installation of boats hanging outside the main entrance. While the focus of all exhibits is on modern art, media range from textile arts to sculpture to photography to mixed media that serves as a social commentary. Visiting the museum is a nice addition to a morning or afternoon spent at the beach.
Address: 700 Prospect St. (La Jolla)
Hours of operation: Thursday – Sunday, 10 AM- 4 PM. Closed Tuesday and Wednesday
Cost: Under 17 are free, adults are $25, students and seniors are $15.
The Museum of Us
Formerly called the "Museum of Man," the Museum of Us explores the history of human cultures and societies, with exhibits on ancient civilizations, anthropology, and archaeology. The museum's exhibits cover a wide range of topics and time periods, from ancient cultures to contemporary societies. The museum's exhibits include artifacts, artwork, and interactive displays that highlight different aspects of human history and culture.
Exhibits cover everyone from the Egyptians (with sarcophagi, hieroglyphs, and mummies) to "The First Californians," exploring the history and culture of the Indigenous people of California, including the Kumeyaay, Tongva and Luiseño people.
This is one of the best museums in San Diego for groups where everyone has different interests as it's big, fascinating, and certainly not your standard anthropology museum.
Address: 1350 El Prado (Balboa Park)
Hours of operation: Wednesday – Sunday, 10 AM- 5 PM. Closed Monday and Tuesday.
Cost: Free for 3 and under, $16.95 for seniors and students, $19.95 for adults
The Fleet Science Center
The Fleet Science Center is also in Balboa Park and focuses on interactive exhibits that explore science and technology. The Center's mission is to inspire lifelong learning through fun and engaging experiences that connect science to everyday life. It's a great place for visitors of all ages to explore, discover, and have fun with science. It's kid-friendly, but not just for kids.
Exhibits cover topics ranging from physics and engineering to biology and astronomy. Past exhibits include "Tinkering Studio," where visitors could explore engineering and design through hands-on activities, and the "World of Genetics" exhibit, teaching the basics of genetics through interactive activities.
The Fleet Science Center also has a number of other features, including an IMAX theater, a planetarium, and a store with quite interesting gifts and science-themed activities for kids or your nerdy adult friends. It's also one of the best museums in San Diego for specialty programs, classes, and workshops tailored to different ages and interests, from science camps for kids to adult workshops on technology and engineering.
Address: 1875 El Prado (Balboa Park)
Hours of operation: Daily, 10 AM – 5 PM
Cost: Museum + dome theater movie: $19.95 for kids 12 and under, $22.95 for seniors, $24.95 for adults. Dome theater only: $19.95, all ages
The USS Midway Museum
The USS Midway Museum is unique among museums in San Diego in that it's on an aircraft carrier: the USS Midway. Visitors can walk through interactive experiences about life on a ship and displays on history and military technology. Visitors can explore the ship's sleeping quarters, engine rooms, and flight deck, or ride in flight simulators and learn about the USS Midway and its service to the United States.
The USS Midway was one of the longest-serving aircraft carrier of the 20th century, serving from 1945 to 1992. It's one of the most popular museums in San Diego, so buy your tickets in advance online (unless you're active military, in which case you can just walk in). The cost includes a free audio tour, but make sure you have a phone with earbuds or headphones so you can follow along with it.
Address: 910 N. Harbor Dr.
Hours of operation: 10 AM – 5 PM daily (last admission at 4 PM)
Cost: Children 5 and under plus active military are free, youth and veterans are $21, and adults are $31
The Balboa Park Natural History Museum
The Balboa Park Natural History Museum, also known as the San Diego Natural History Museum, is one of the largest museums in San Diego and a cornerstone of famous Balboa Park. The museum has a vast collection of specimens and artifacts related to the natural world, including fossils, minerals, insects, and plants, with a focus on the natural history of San Diego.
Exhibits cover everything from geology and paleontology to botany and zoology (and yes, that includes a dinosaur exhibit). "Fossil Mysteries," explores the history of life on Earth through fossils and interactive displays, and an exhibit called "Baja California" explores the unique flora and fauna around San Diego. And don't miss the cool, always-changing exhibit where the museum displays some of the more peculiar oddities they've collected over the years.
The museum also features a planetarium and an IMAX theater that shows films on natural history and environmental topics. Better still, both are included in the cost of admission.
Address: 1788 El Prado (Balboa Park)
Hours of operation: Thursday – Tuesday, 10 AM – 5 PM. Closed Wednesday.
Rate: Youth are $12, seniors and students are $18, adults are $22.
The Whaley House Museum
For something a bit more offbeat (and macabre), check out the The Whaley House Museum. It's a historic home in Old Town San Diego in the historical park. It's considered one of the most haunted places in America and is recognized as a California Historical Landmark and a National Historic Landmark. The house was built in 1857 by Thomas Whaley, a prominent businessman and politician in early San Diego. It's built in a Greek Revival style and is one of the oldest brick structures in Southern California.
However, what it's famous for is serving as the Whaley Family's home for many years, seeing many generations of family come and go. Not only was the home built on the site of the execution of a notorious 1800's-era thief, but many Whaley Family members died in the home or causes both explainable, and not. In the last few decades, before it became a museum, it served as a courthouse, a theater, and a store — and through those years, employees constantly reported mysterious happenings that seem beyond natural explanation.
Today, it's one of the most unique museums in San Diego and visitors can take guided tours of the house and learn about the history of the Whaley family and the old town. The tours are self-guided or led by guides (many of whom have had spooky experiences) who share stories and legends about the house and its ghosts.
Address: 2476 San Diego Ave.
Hours of operation: Monday – Sunday, 10 AM – 4 PM.
Cost: Tickets start at $13.30 for adults and $9.50 for kids aged 4-12.
Where to stay in San Diego
It's pretty easy to get around San Diego, though it's still a city, so expect traffic if you try to drive during rush hour. Since many of the museums in San Diego above are near Balboa Park, you may wan to stay in that part of town, instead of being in a more coastal neighborhood like Point Loma. If you do want to stay in a more residential area, consider booking one of these chic Airbnbs in San Diego, rather than a hotel.
We hope you love the spaces and stays we recommend! Just so you know, Matador may collect a small commission from the links on this page if you decide to book a stay. Listed prices are accurate as of the time of publication.
The Cosmopolitan Hotel: next to the Whaley House
 

View this post on Instagram

 
Take a trip back in time with a stay at the Cosmopolitan Hotel, established in 1869. Offering Victorian-style furnishing in the historic building, it's in the same park (the Old Town San Diego Historic Park) as the Whaley House and also near other attractions like Sea World. There's an on-site restaurant plus plenty of other restaurants and bars and the Old Town Market. Rooms start around $140 a night.
InterContinental San Diego: walk to the Midway Museum
 

View this profile on Instagram

 

The InterContinental San Diego isn't the most unique hotel style-wise, but it's modern, high-end, and less than a 10-minute walk from the USS Midway Museum and the rest of the downtown San Diego tourist area. It also has great views of the water and is home to Vistal, a highly regarded restaurant with an eclectic mix of seafood, Mexican, and South Pacific flavors.
Anywhere near the airport: for easy access to the USS Midway and Balboa Park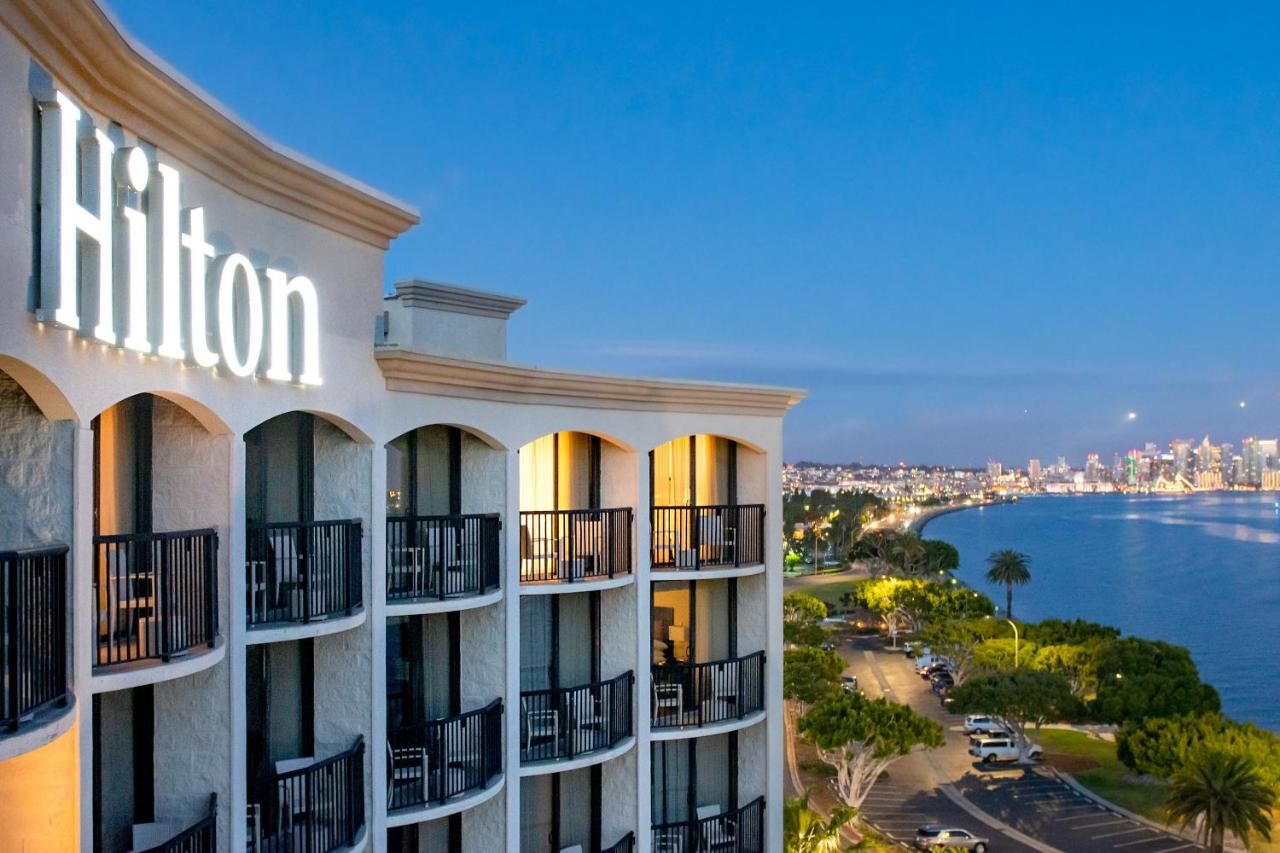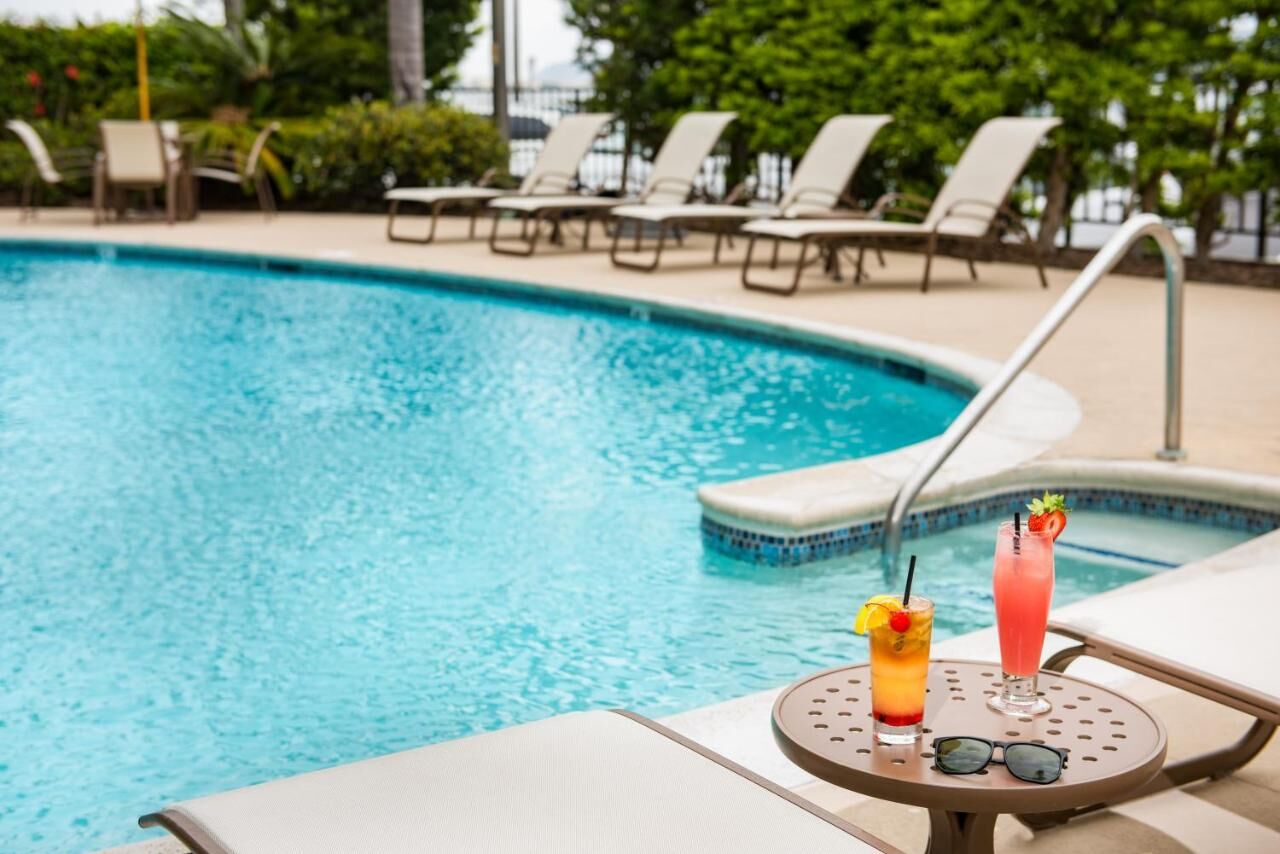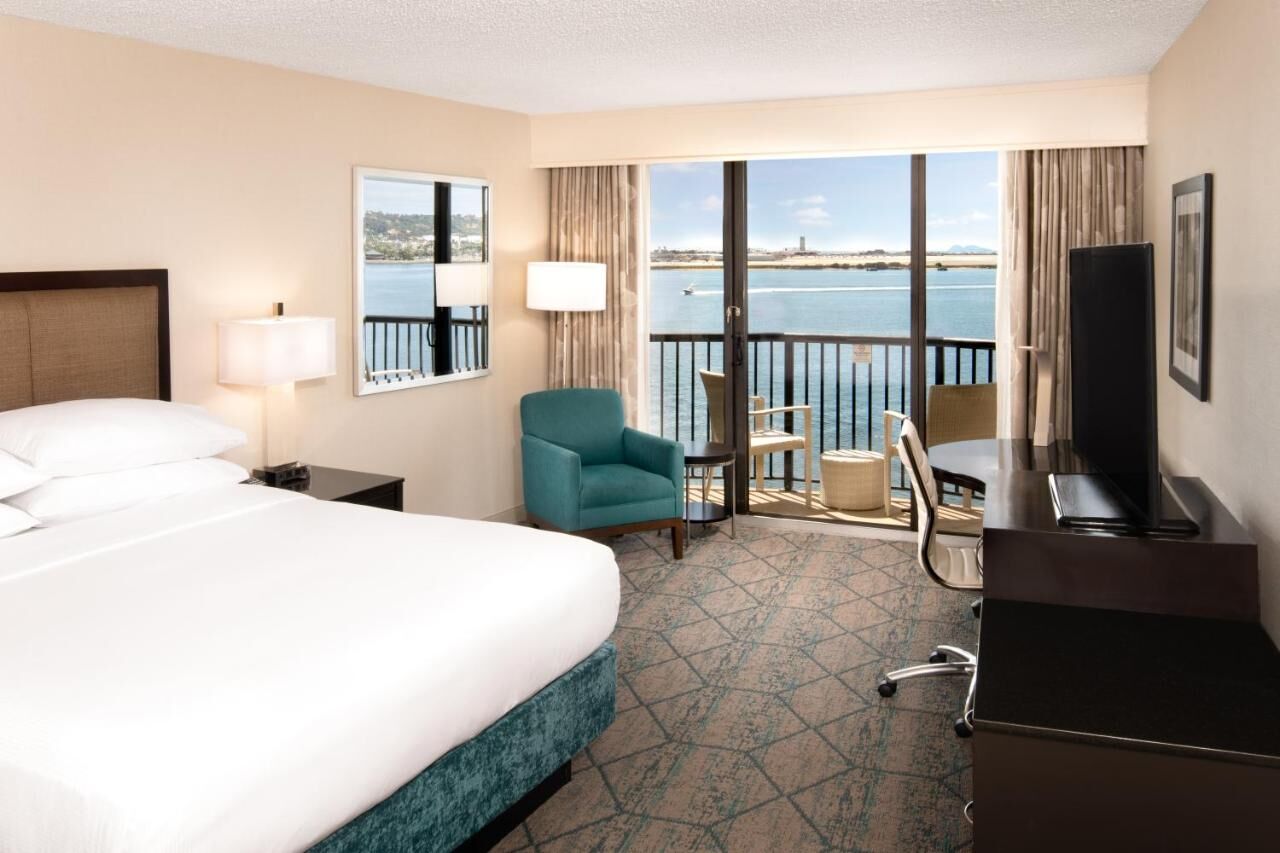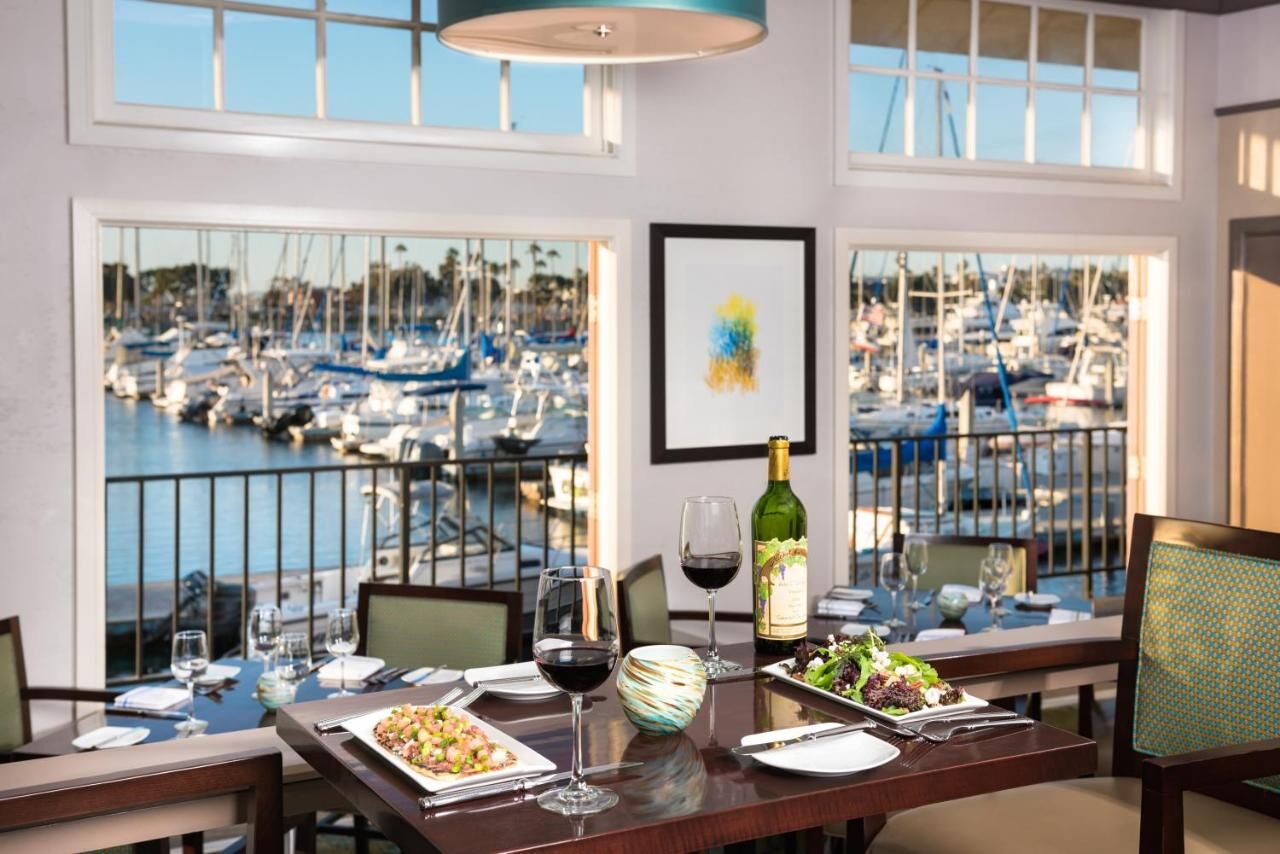 Most airports in US cities are actually quite a bit outside the city, but not so in San Diego. The San Diego airport is in the middle of the city and very close to the USS Midway Museum (2.9 miles away) and Balboa Park (3 miles away). Fortunately, this is also the downtown part of San Diego, so there are plenty of options for hotels plus nearby restaurants and bars. Matador complied a great list of the best San Diego airport hotels, some of which start below $100 a night.
What did you think of this story?