Go To Alaska's Stillpoint Lodge for Wilderness Adventure and Cliffside Luxury
Stillpoint Lodge is the perfect place to escape for a romantic couple's trip to gorgeous coastal Alaska. This secluded lodge is in Halibut Cove outside Homer, Alaska — so it's rather obvious that it's surrounded by some of the most beautiful landscapes in America.
Whether you're looking for a romantic getaway or an adventure-filled Alaska honeymoon, Stillpoint Lodge may fit the bill. It's built around unwinding, finding peace in nature, and spending time outdoors. With its private beach, hiking trails, and wildlife-viewing opportunities — not to mention the fact that all meals and many of the bucket-list activities are included in the price — Stillpoint Lodge may be the luxurious trip for two you've been looking for. So if you're searching for a truly unique, outdoorsy, and romantic destination with top-notch service (and scenery), read on.
Here's what to know before you book.
Where is Stillpoint Lodge?
Stillpoint Lodge is on a coastal stretch of land near Halibut Cove, a brightly-color Alaskan fishing village known for being home to the country's only floating post office. It's about a 30-minute boat ride from the Homer Spit, which is included for all guests. However, if you'd rather take a seaplane flight or helicopter sightseeing tour to reach the lodge, Stillpoint can also help you arrange that. It'd be an impressive way to kick off a trip to Alaska as the crossing is through beautiful Kachemak Bay, surrounded by mountains on two sides and open sea on the other.
Homer and the Homer Spit are roughly a five-hour drive or one-hour flight from Anchorage. The artistic town of Homer is worth an extra day or two on either end of an Alaskan honeymoon or couple's trip, especially if you love the scenery and nearby recreation but can't afford a full week at Stillpoint.
What is Stillpoint Lodge?
Stillpoint Lodge is more than just a place to stay. It's more of a full travel experience, as one rate includes everything you could want for a romantic Alaska getaway: a private ocean-view cabin with a deck, all your meals (complete with wine-pairing dinners), always-available activities like hiking and kayaking, and bucket-list experiences like flights to remote parks to watch grizzly bears, hikes to an alpine lake where you'll kayak next to a glacier, or wildlife-watching safaris.
Stillpoint Lodge is one of the best wilderness lodges for a romantic Alaska vacation if you want a shared adventure experience rather than just a hotel. It's on the southernmost point of the Kenai Peninsula, backing to Kachemak Bay State Park (only reachable by boat).
What activities are included?
Stillpoint Lodge is a choose-your-own-adventure type of place, but some packages are available to help make planning a little easier.
The number of nights you book determines what "a la carte" activities are included with the fee. A three-night stay comes with one all-day activity, and a four-night stay includes one all-day activity plus your choice of bear viewing or saltwater fishing. The activities increase from there, and if you spring for a six-night stay at Stillpoint Lodge, you'll get an activity every day (including bear viewing or saltwater fishing). Of course, you can always add additional activities if you want to book a shorter stay.
Options for activities range from a seaplane (or helicopter) flight to view coastal brown bears in a national park to all-day fishing packages to guided hikes to glacier lakes or along miles-long ridgelines in nearby Kachemak Bay State Park.
All other activities, like tidepooling, hiking near the lodge, paddleboarding, kayaking, and otter and seabird viewing, among others, are included as well. The cove around the lodge generally has very calm water, making kayaking possible even when there are whitecaps on larger Kachemak Bay.
Stillpoint Lodge amenities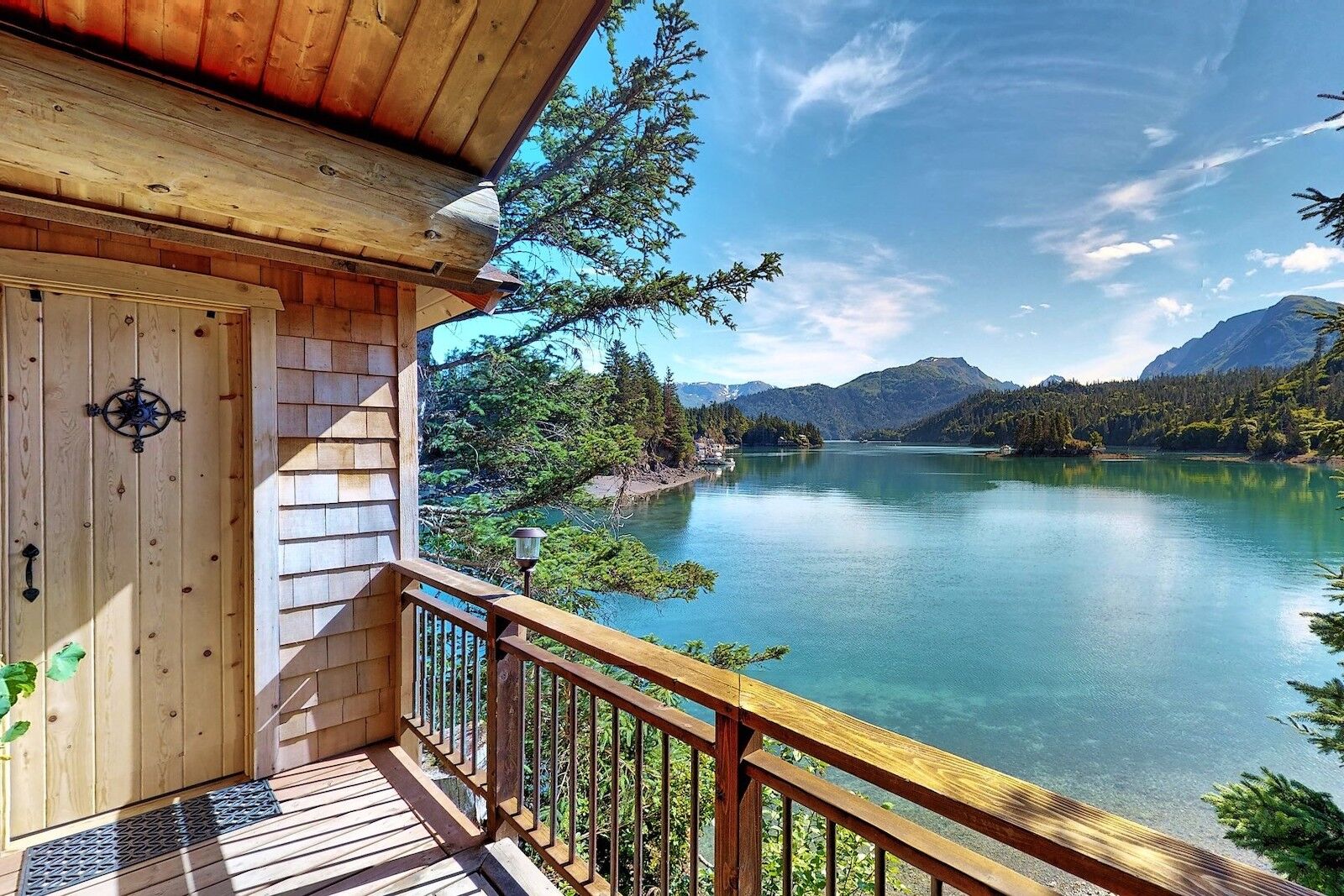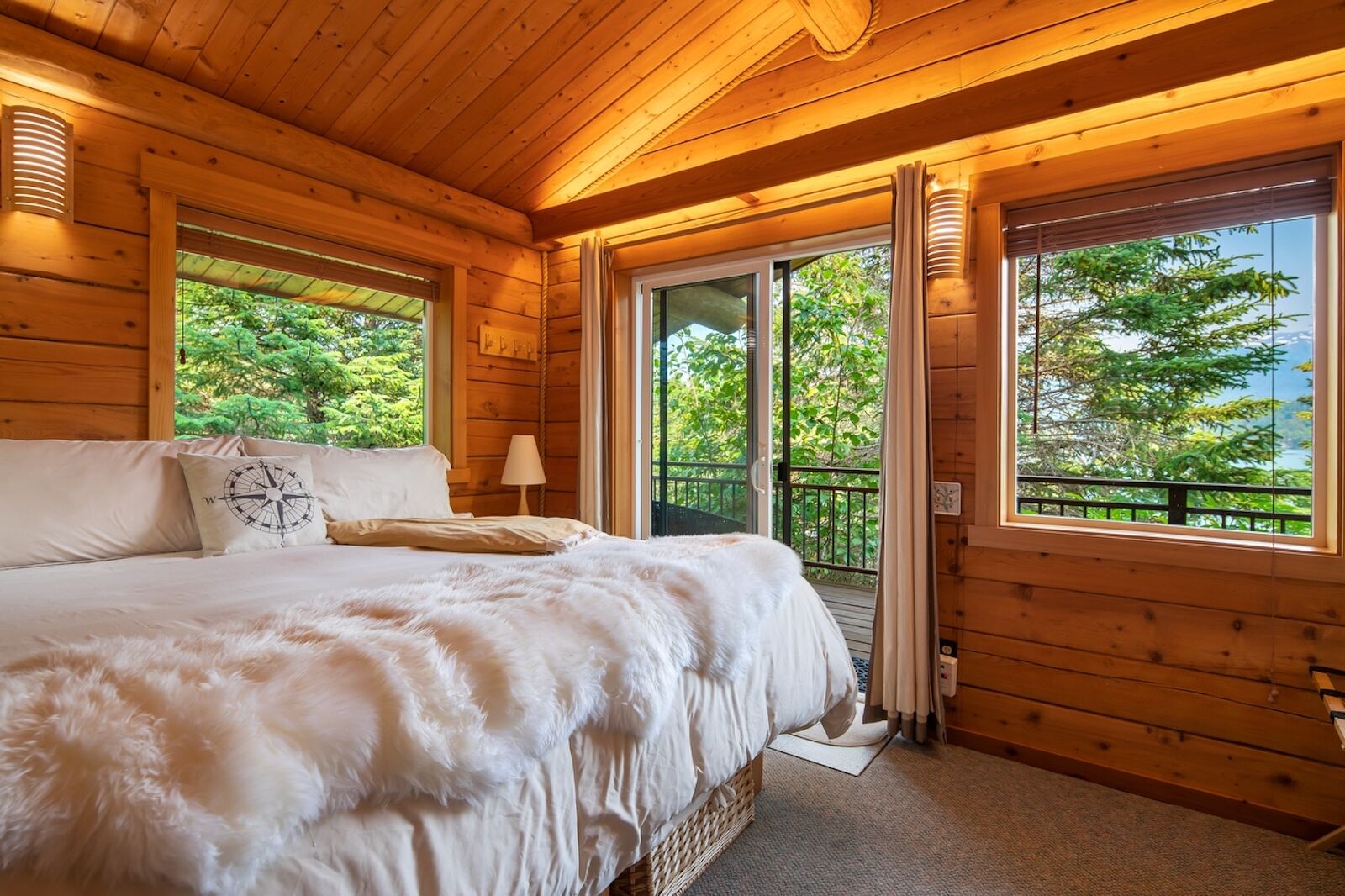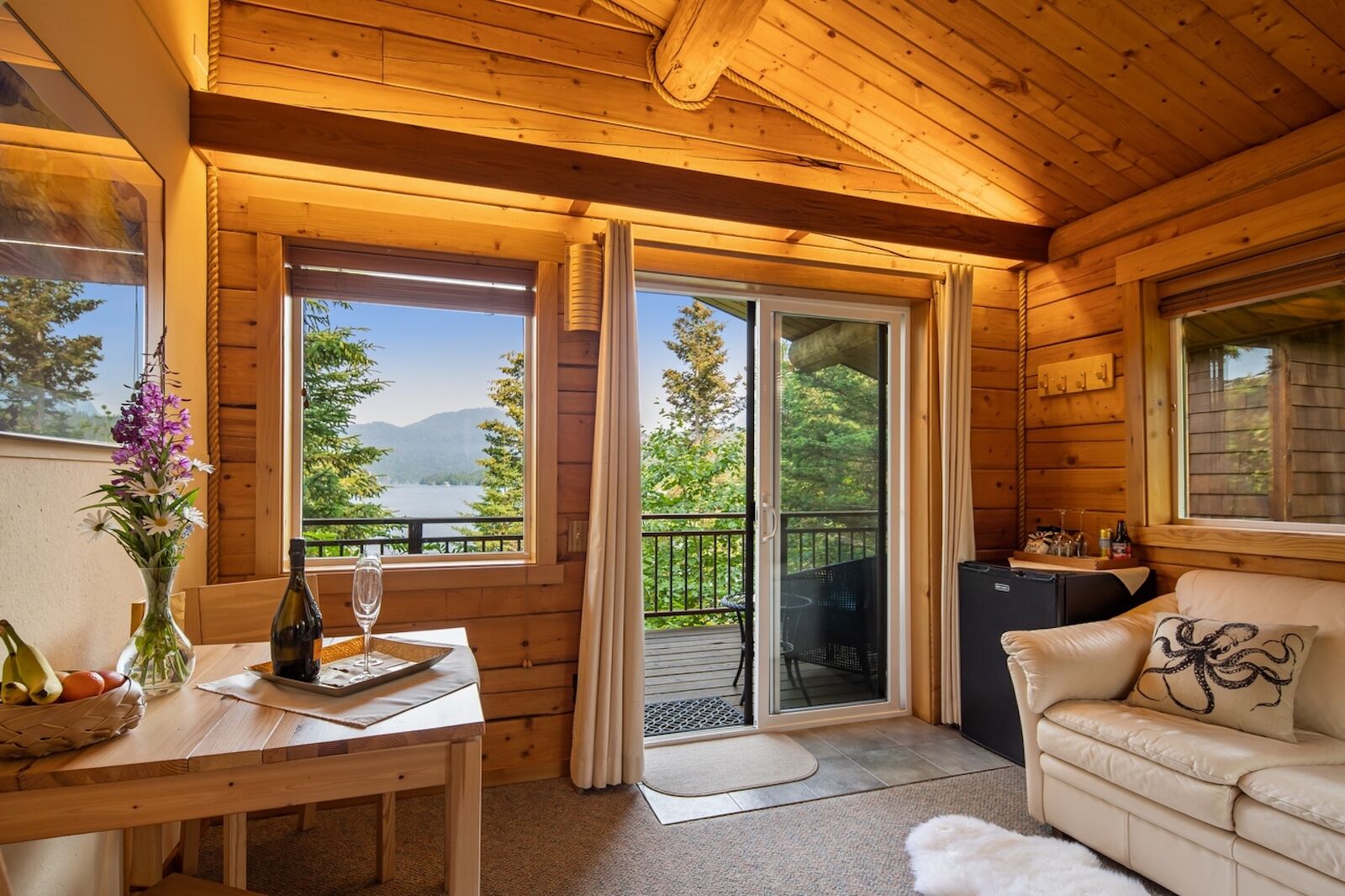 Even adventurous couples need a little downtown on their Alaska getaway, but fortunately, that's what Stillpoint was designed for. Each room is a private, freestanding log cabin with large decks facing the water, designed in the style of an old-timey mining cabin (if old-timey miners had the world's most luxurious bedding, of course). While there are no TVs or phones in the rooms, there are plenty of other amenities to keep you entertained.
Visitors can take a dip in the hot tub, hike in the stunning scenery, ask for on-demand tours of the impressive on-site organic garden, or request a one-on-one cooking or mixology class. The lodge has a full closet of items to borrow for outdoor adventures, like backpacks, rain boots, rain jackets, mosquito nets, and anything else you may not feel like lugging up with you to Alaska.
Inside, common spaces include a large dining lodge with outdoor areas, plus a cozy upstairs social room with board games, a small bar, and a large fireplace with chairs for swapping stories. Stillpoint Lodge also has an on-site masseuse and fitness expert, so you can add anything from massages to yoga to fitness-focused hikes to your itinerary.
Of course, if you'd prefer not to be overly social on your Alaska getaway, you can borrow a few books from the packed library to take back to your room (along with a glass of wine, naturally) and spend the evening relaxing together on your porch looking out onto Halibut Cove.
Wildlife viewing at Stillpoint Lodge
One of the best things about Stillpoint Lodge is its access to nature, including wildlife. It's nearly impossible to journey to Stillpoint without seeing sea otters in the water, and the lodge is just a quick boat ride from the Gull Island seabird sanctuary. Guests can reach Kachemak Bay State Park in less than five minutes, where the coastal coves are usually teeming with seals, otters, and sea lions. And in the summer, it's possible to see orca and minke whales, as well as the occasional humpback migrating through the cold water.
But if Alaska is known for any animal, it's probably brown bears, and the lodge's brown-bear-viewing tours are likely the most popular activity. Helicopter bear-viewing tours go to Chinitna Bay in the early season or Lake Clark and Katmai national parks later in the summer. If you opt for a floatplane tour, you'll be able to travel further to locations like Hallo Bay, Moraine River, and Funnel Creek. Those three locations are a bit further from where most tourists go and, owing to the fact that you may walk up to five miles to reach the bears, it's quite possible that you may be the only visitors out there.
Is Stillpoint Lodge worth the splurge?
If you're planning an Alaskan honeymoon or bucket-list trip and want it to be a special, once-in-a-lifetime occasion, Stillpoint is an ideal match. It's also an excellent fit for multi-generational travel, especially if you have generous family members picking up the bill. You can check current package and individual stay pricing at this link, though the pricing changes seasonally (and the lodge is only open from late spring to early fall).
There's no denying that Stillpoint Lodge is expensive. However, that's the nature of running such a remote, seasonal lodge, according to Beka Thoning, Stillpoint's Sales and Marketing Manager. "Although we're only open during the summer, the lodge has constant maintenance operations year-round to keep it ready for the season in a challenging marine environment."
And as with much of Alaska, there are no roads to the lodge, which can make running a business challenging. "Living and running a business in such breathtaking scenery, across the bay from literally the end of the road in Alaska, comes at a steep cost as everything must be transported by boat or small aircraft," adds Thoning.
Importantly, Stillpoint Lodge's high cost is also partially due to its commitment to hiring the best staff. The lodge pays all its staff a competitive living wage, allowing them to ensure all their guides, bartenders, and everyone else helping guests is knowledgeable and happy to share their love of Alaska with guests.
Though the lodge is luxurious, it's not overly formal, and there's an outdoor bonfire most evenings after dinner. It's a place for staff and guests to informally socialize and swap stories, and while an after-dinner espresso martini by the campfire is always an option, so are icy cold cans of local Alaskan beer. And since the sun doesn't set until nearly midnight in the summer, you'll have plenty of time for a few games of cornhole or a late-night ax-throwing session.
If you're looking for an intimate and romantic getaway, Stillpoint Lodge in Alaska is a great option. The lodge offers plenty of activities to keep you busy, along with stunning views of the Alaska landscape. With all that it has to offer, it's no wonder it fills up months in advance – so if you're planning your Alaska honeymoon, don't wait until your wedding is just weeks away.
What did you think of this story?