The Best Airbnbs in Downtown Toronto, From the Harbourfront To the CN Tower
As with most major cities, it takes time to get to know the true character of Toronto. Most visitors cluster downtown, exploring the neighborhoods there — and there's plenty to see. Many are doing this through the experience of a home-away-from-home environment via Airbnb Toronto. Here's a quick guide to the best Airbnb Toronto downtown listings for every type of traveler.
Matador's

guides to

the best of Airbnb Categories:
We hope you love the Toronto Airbnb stays we recommend! Just so you know, Matador may collect a small commission from the links on this page if you decide to book a stay. Listed prices are accurate as of the time of publication.
Best Airbnbs in Downtown Toronto
Arts-centric house in Entertainment District, downtown Toronto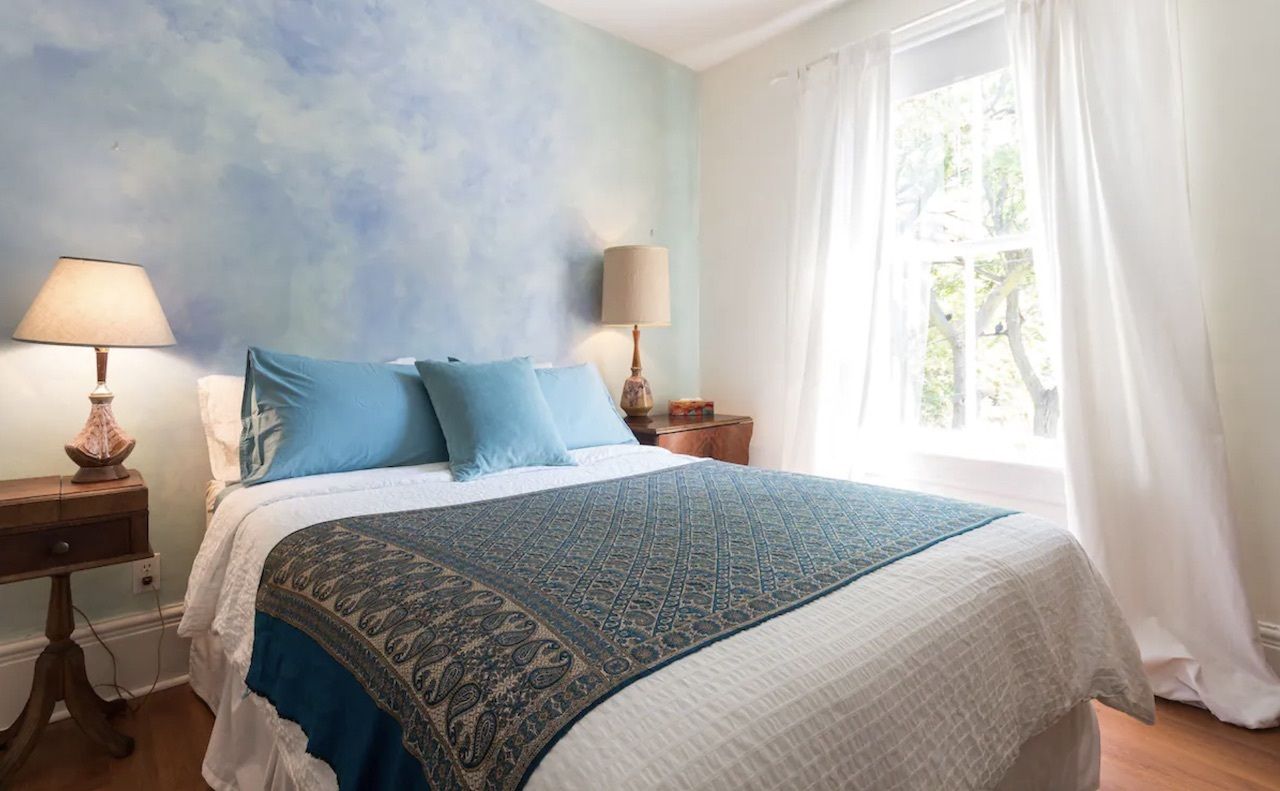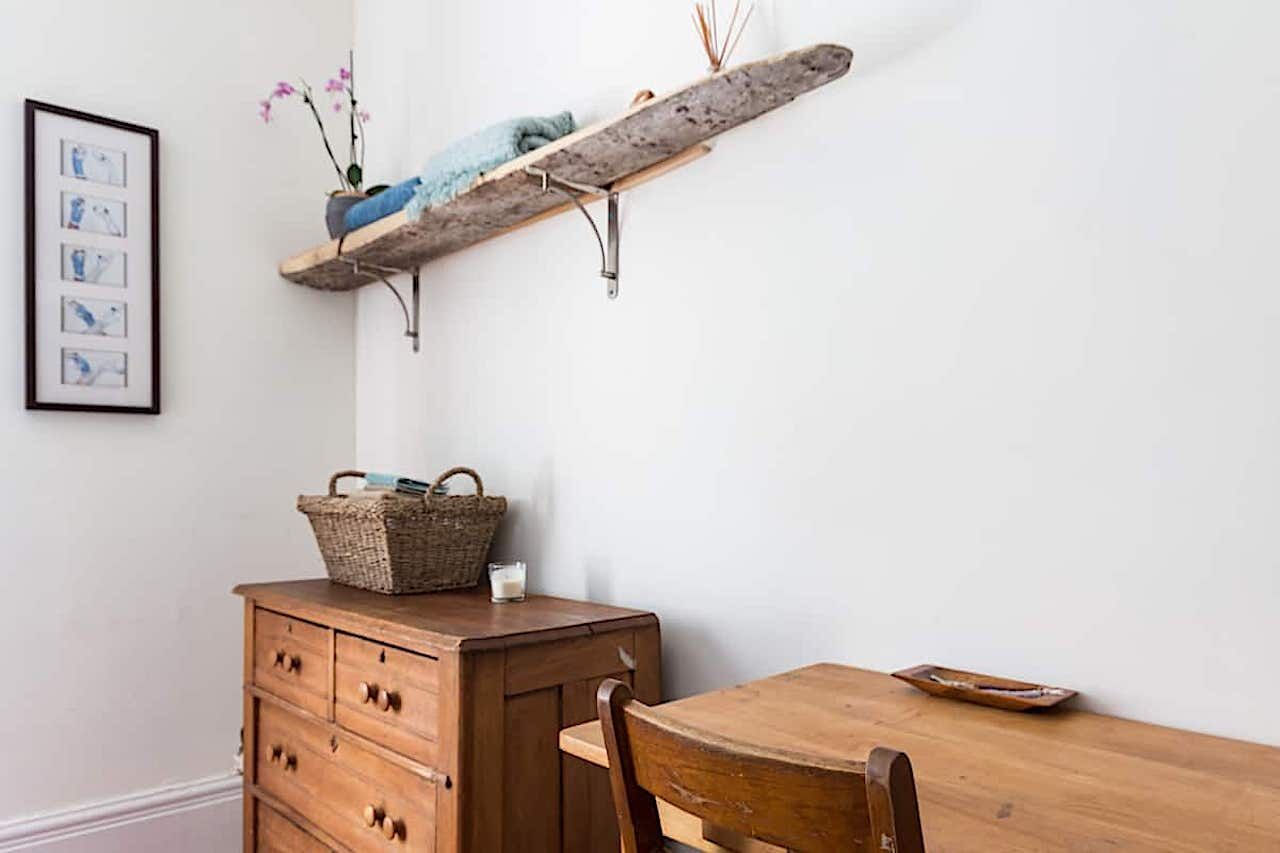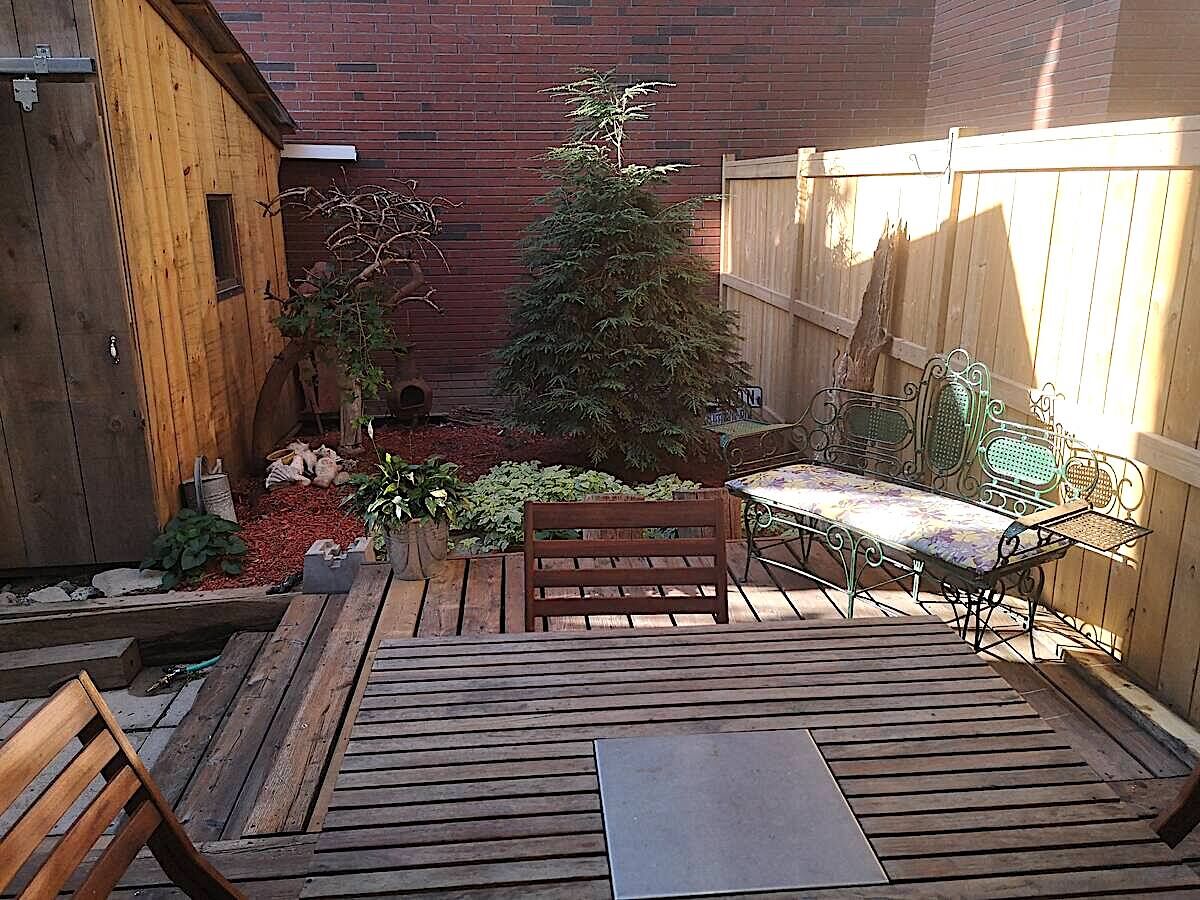 Buzzing with activity on weekend evenings, this is Toronto's playground, centered around Queen and King streets, just west of the Financial District. From your room in this arts-centric home, easily access the trendy shops, have dinner at The Queen Mother (or anywhere else that looks good), catch a Broadway play or a movie, then hit a bar or a nightclub to round up the night. For something a little more laid-back, keep walking west on Queen Street past Bathurst Avenue to hip West Queen West for art, culture, and fun. Relax in spacious Trinity-Bellwood Park, and have a full meal and live music at The Drake or The Gladstone hotel. On the way, check out Graffiti Alley, squeezed between Queen and Richmond Streets, west of Spadina.
Price: $72 per night
CN Tower view from affordable high-end loft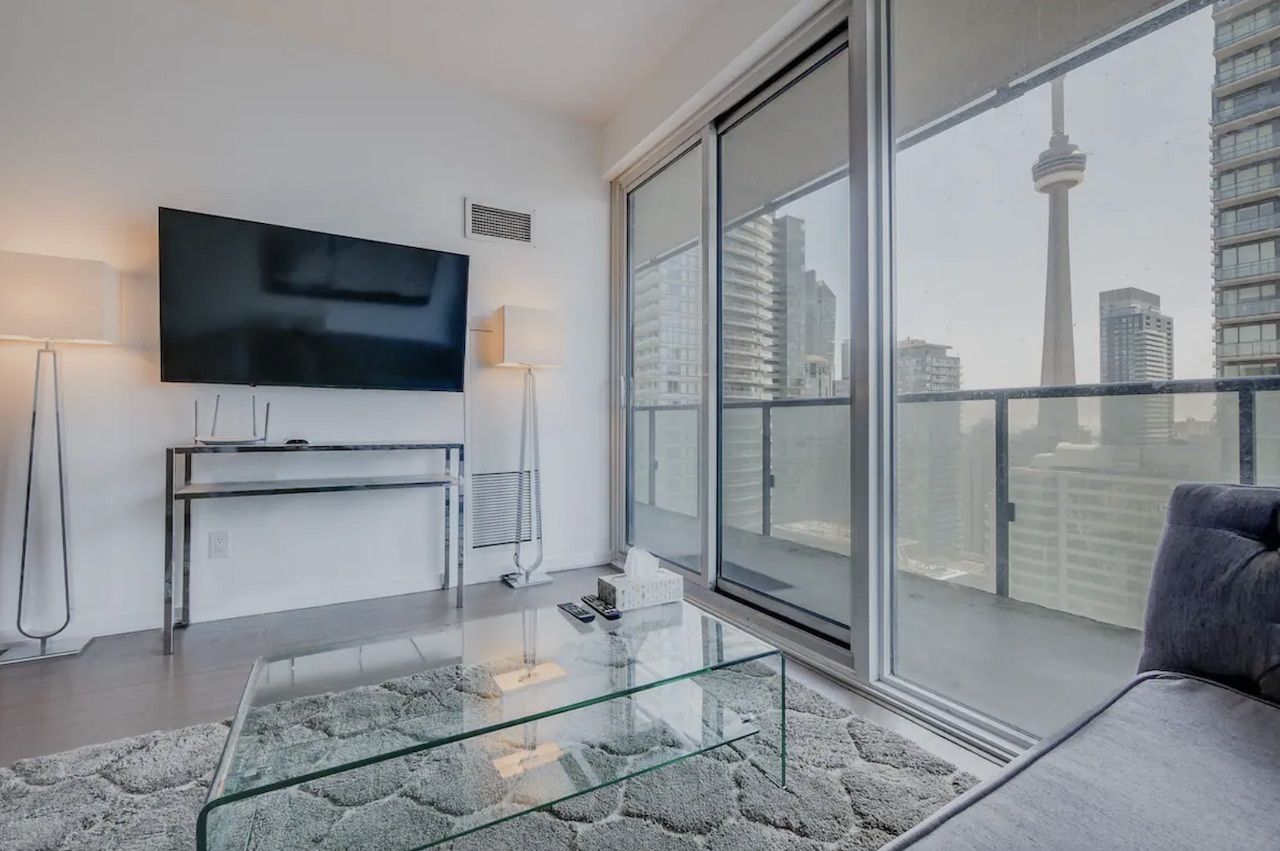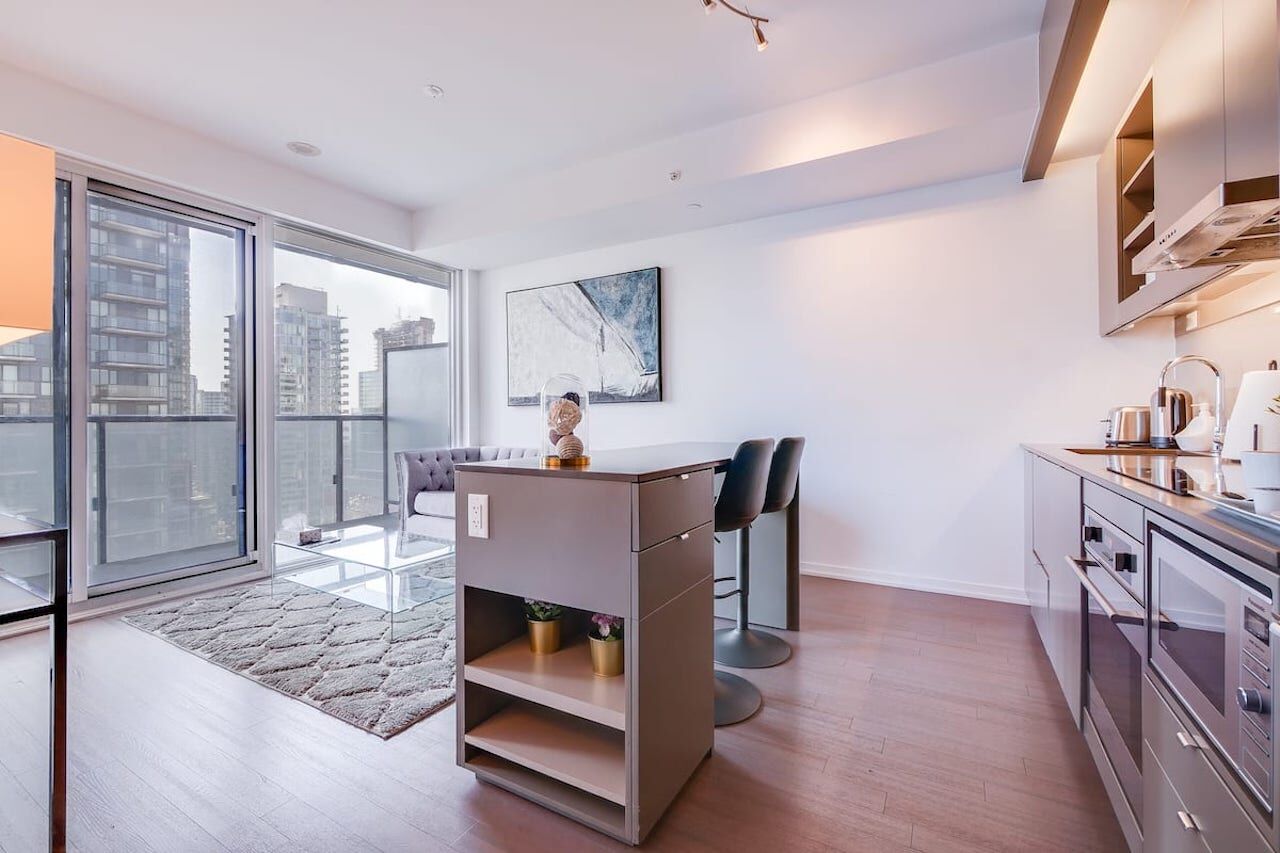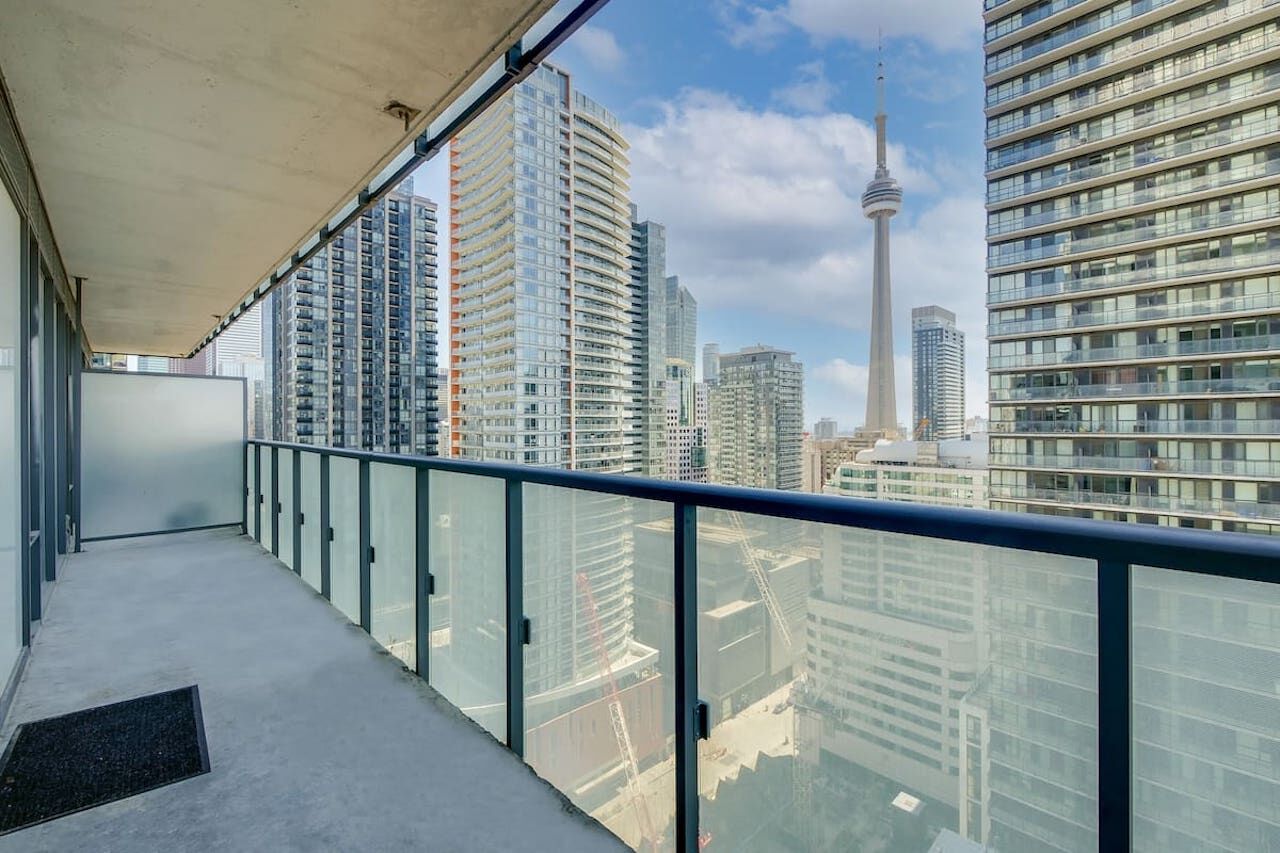 Here's the thing about this high-rise unit — it delivers BIG TIME on its promise of an epic view. If you're like us, you're itching to get to Toronto just so you can stay in this apartment and hang out on the balcony. If you do manage to take your eyes off the CN Tower, the inside of the unit is trimmed nicely with a modern kitchen and bedroom. You can walk through the streets of Chinatown and Kensington Market easily while taking advantage of the dining, nightlife, and other epic scenes of downtown Toronto from throughout the neighborhood.
Three guests, one bedroom
Price: $162 per night
Sunny downtown apartment near Harbourfront and Toronto Islands, CN Tower view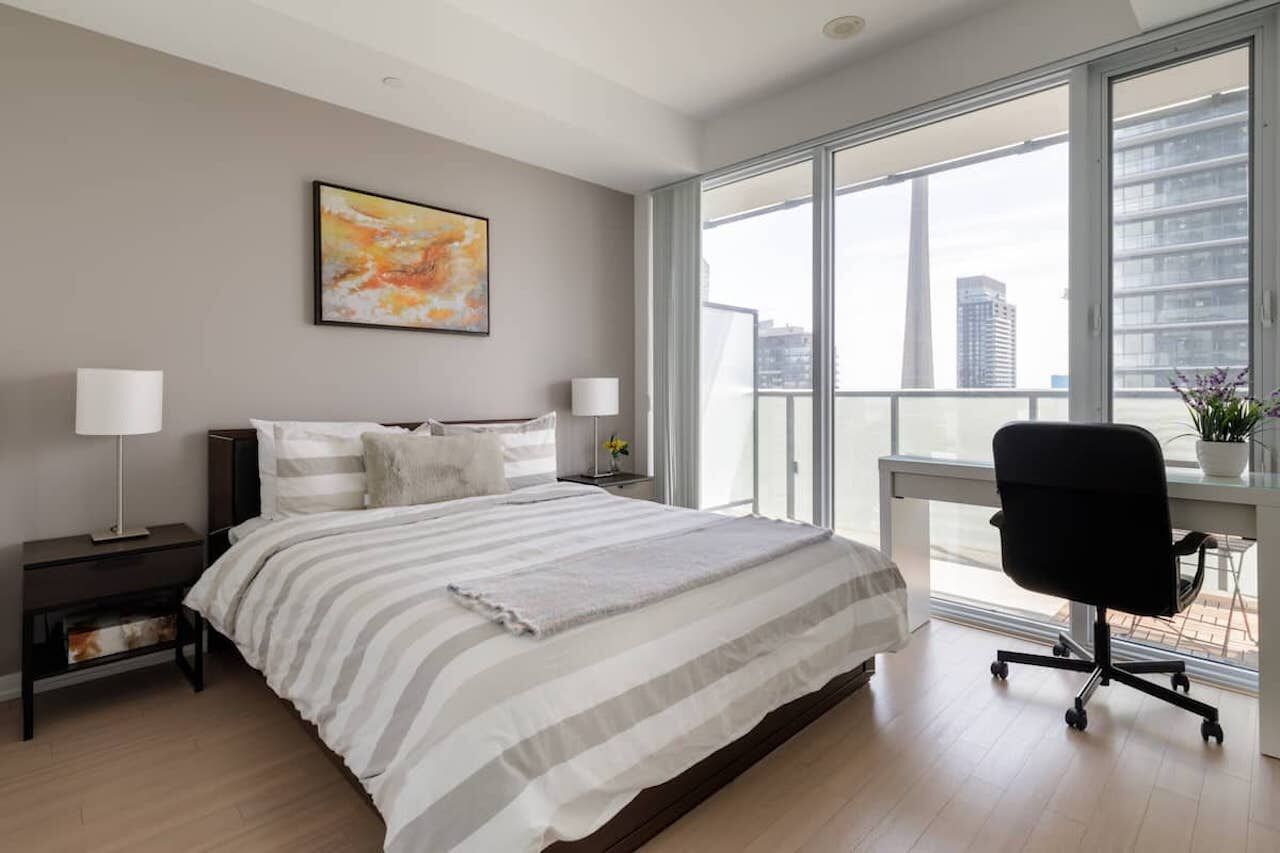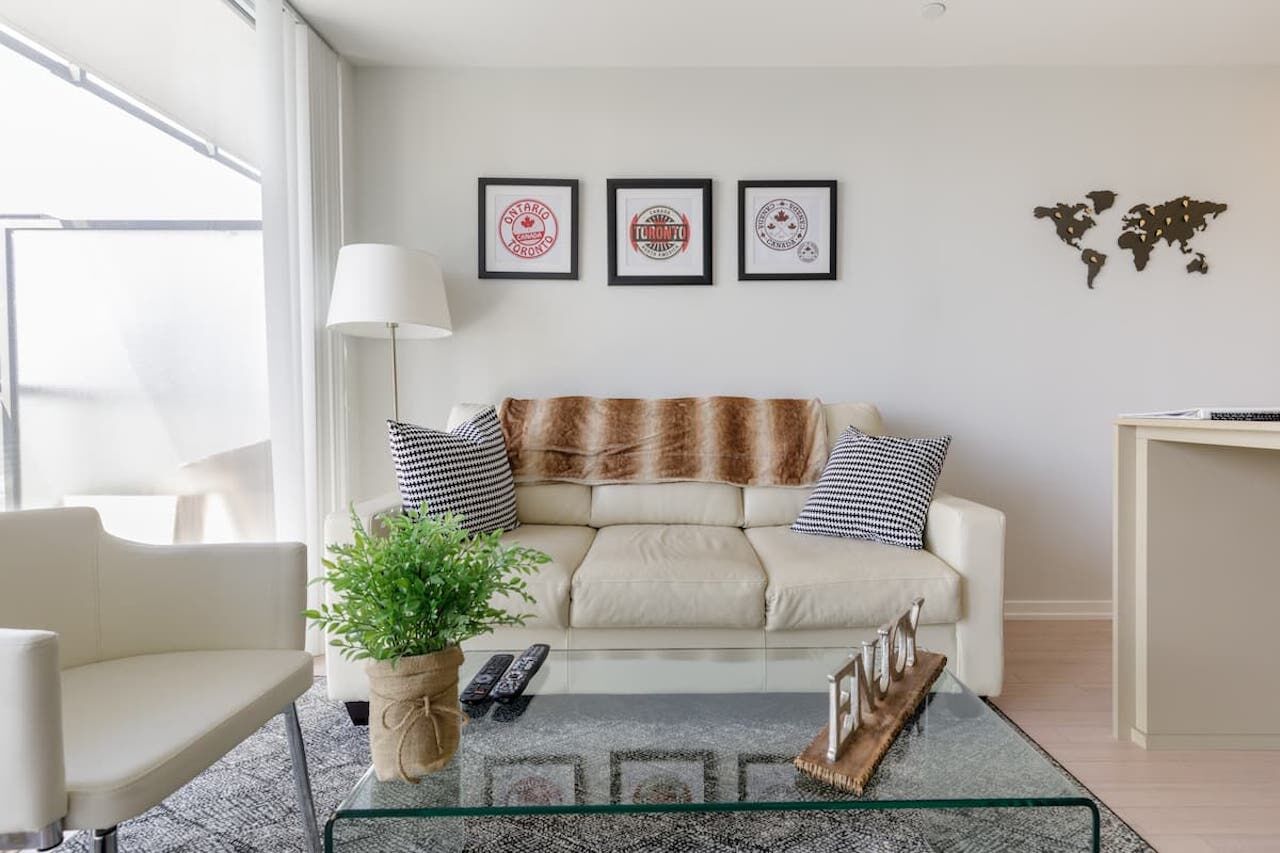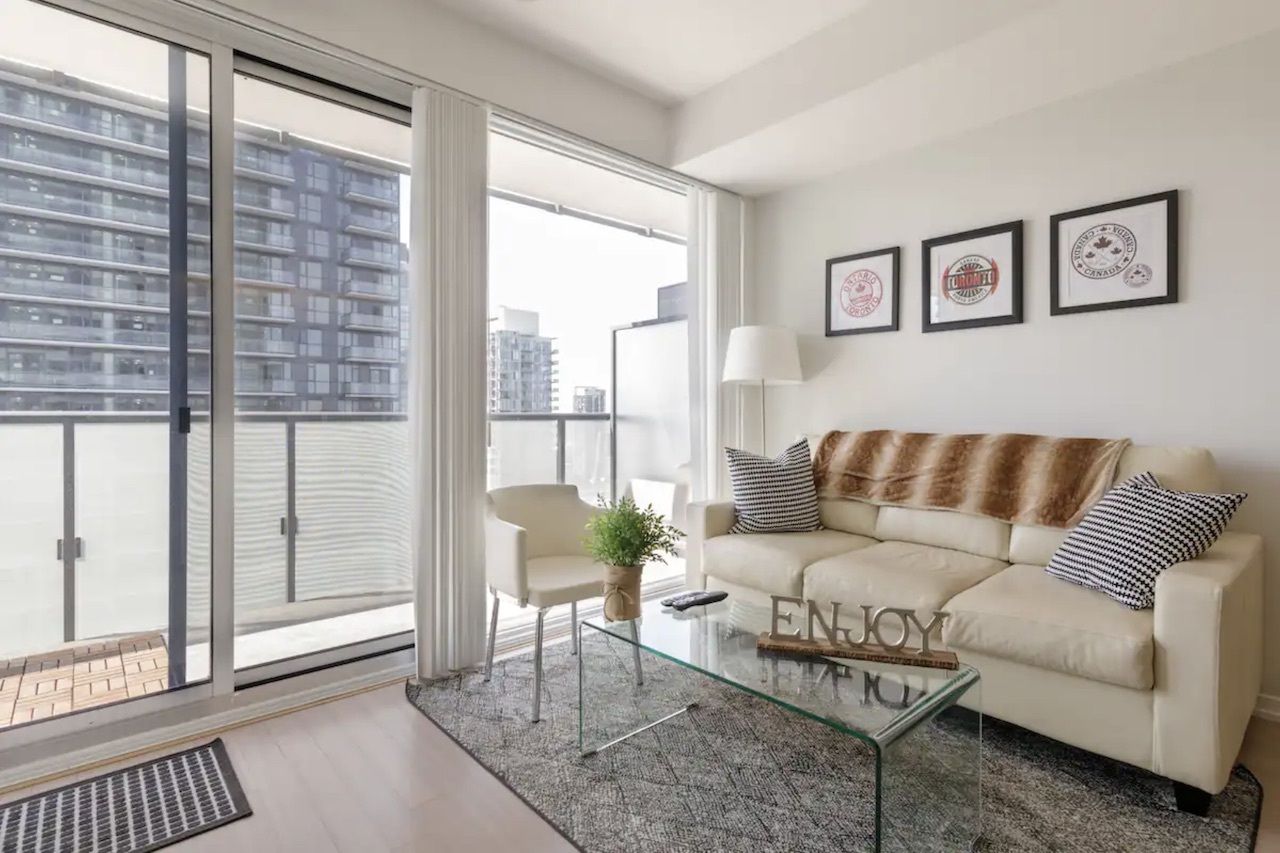 This apartment has open views of downtown and toward Lake Ontario, and the surrounding Harbourfront area is where all downtown sites and tourists converge on a warm sunny day. Start early to avoid the crowds and take the ferry at the foot of Bay Street to Centre Island. Rent a bike or walk to Hanlan's Point and its clothing-optional beach, or take a shorter walk to Ward's Island. Have a bite to eat on the shady terrace of The Rectory Café on the way to Ward's old-fashioned residential community. Back on the mainland, head west along the lake to Harbourfront. Take a cruise on tall ship Kajama, enjoy the buskers or a free show on the open-air stage, then try some tasty snacks at the food stands (summer only). If you can afford the admission price, go up the CN Tower (on a clear day).
Three guests, one bedroom
Price: $119 per night
Private loft with balcony at boutique hotel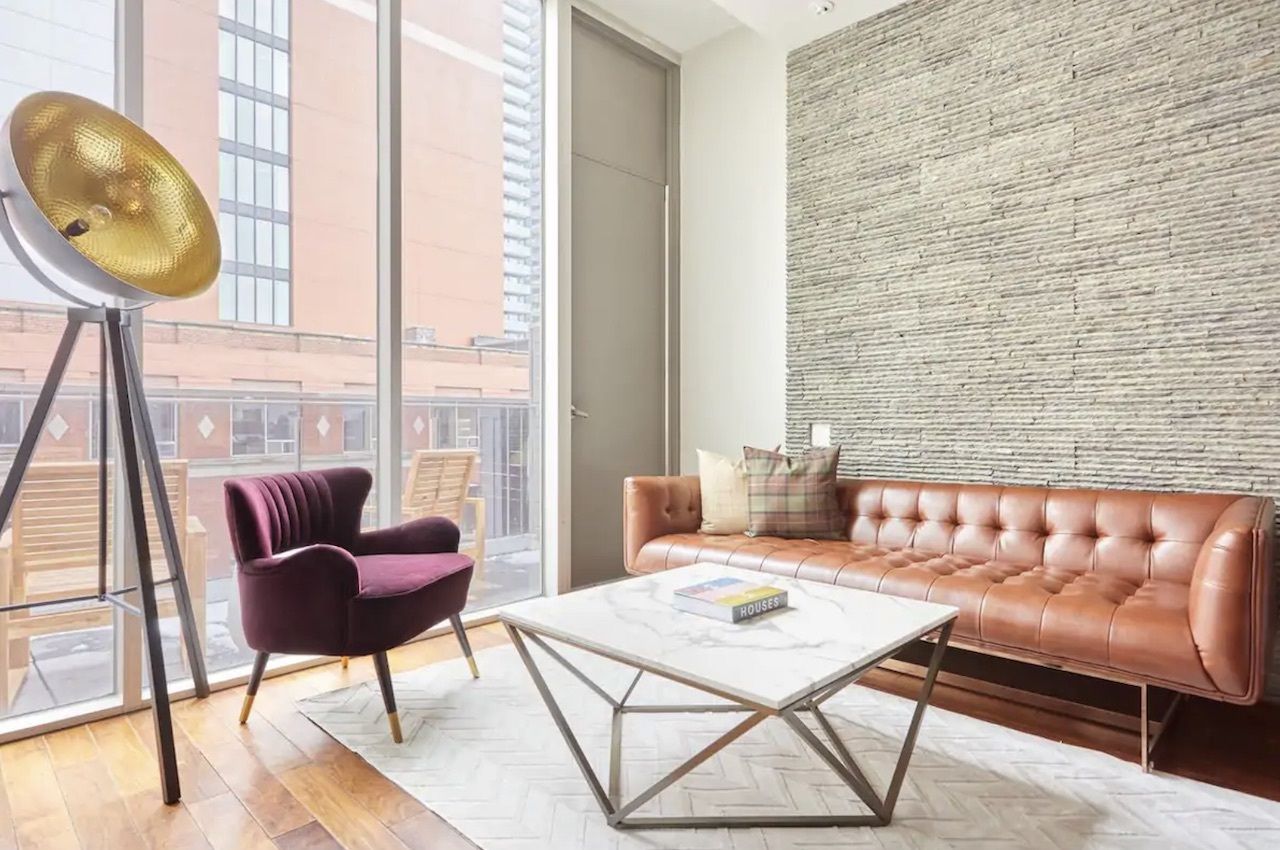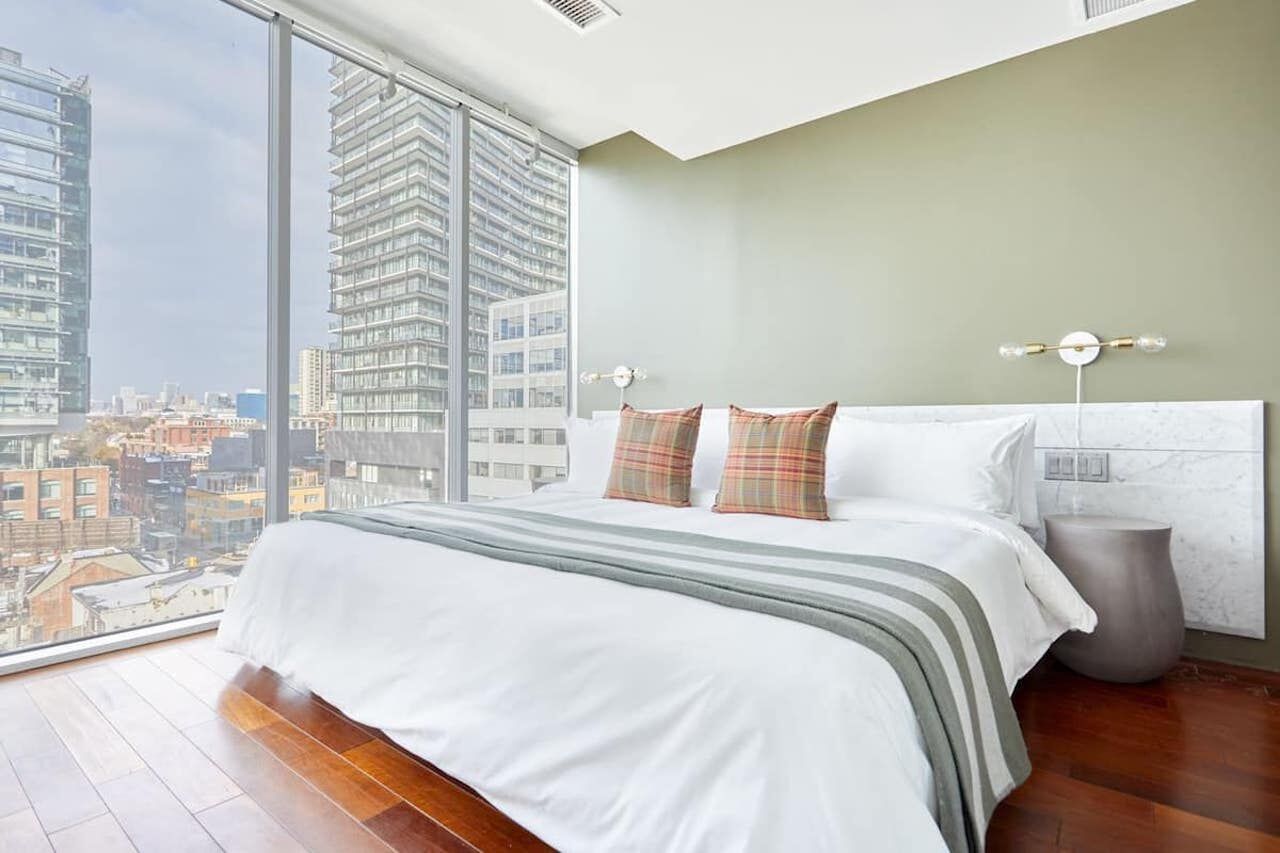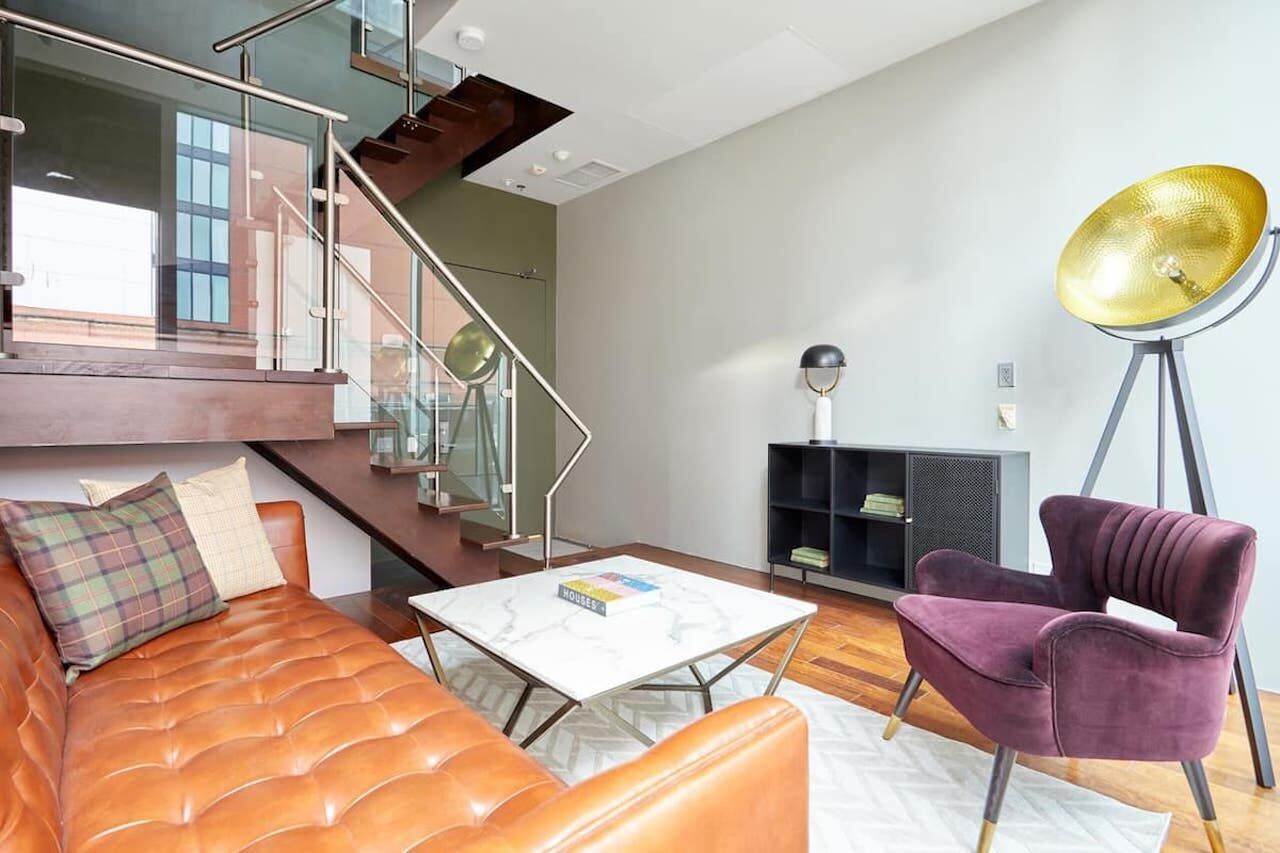 The Sonder Toronto is among the city's most elevated hotels, a boutique establishment that offers a refined downtown aesthetic while still remaining quirky and personable. This room shows exactly why — trimmed to hipster perfection and with easy access to the best of the Financial District, Old Toronto, Chinatown, and the neighborhoods closer to the waterfront. Walk the streets, popping into cafes and bars wearing your best outfit — this is the financial district after all — and experience the casual elegance that Toronto is known for.
Two guests, one bedroom
Price: $376 per night
Airbnbs in Toronto With a Pool
One-bedroom Toronto Airbnb with a pool and terrace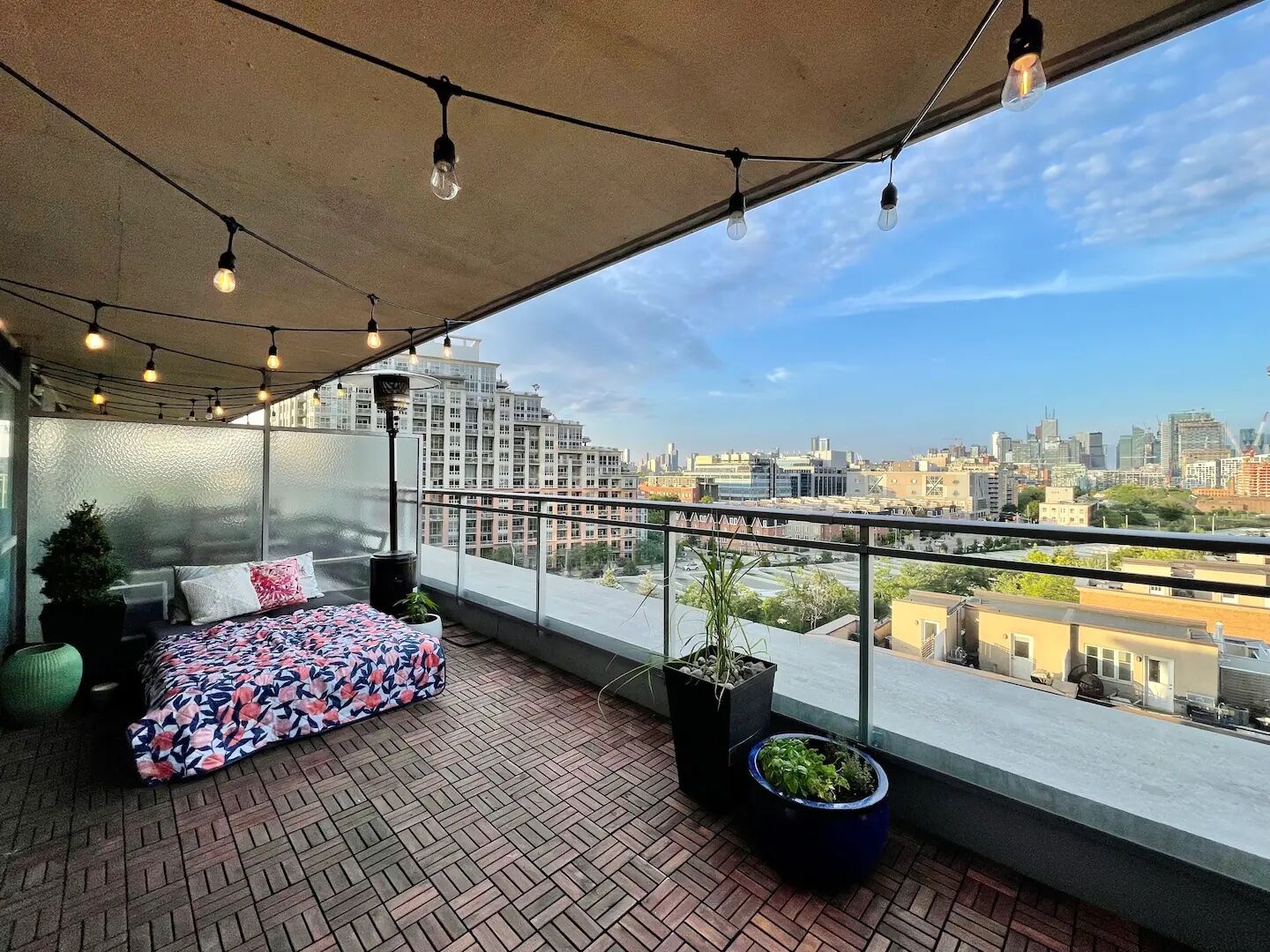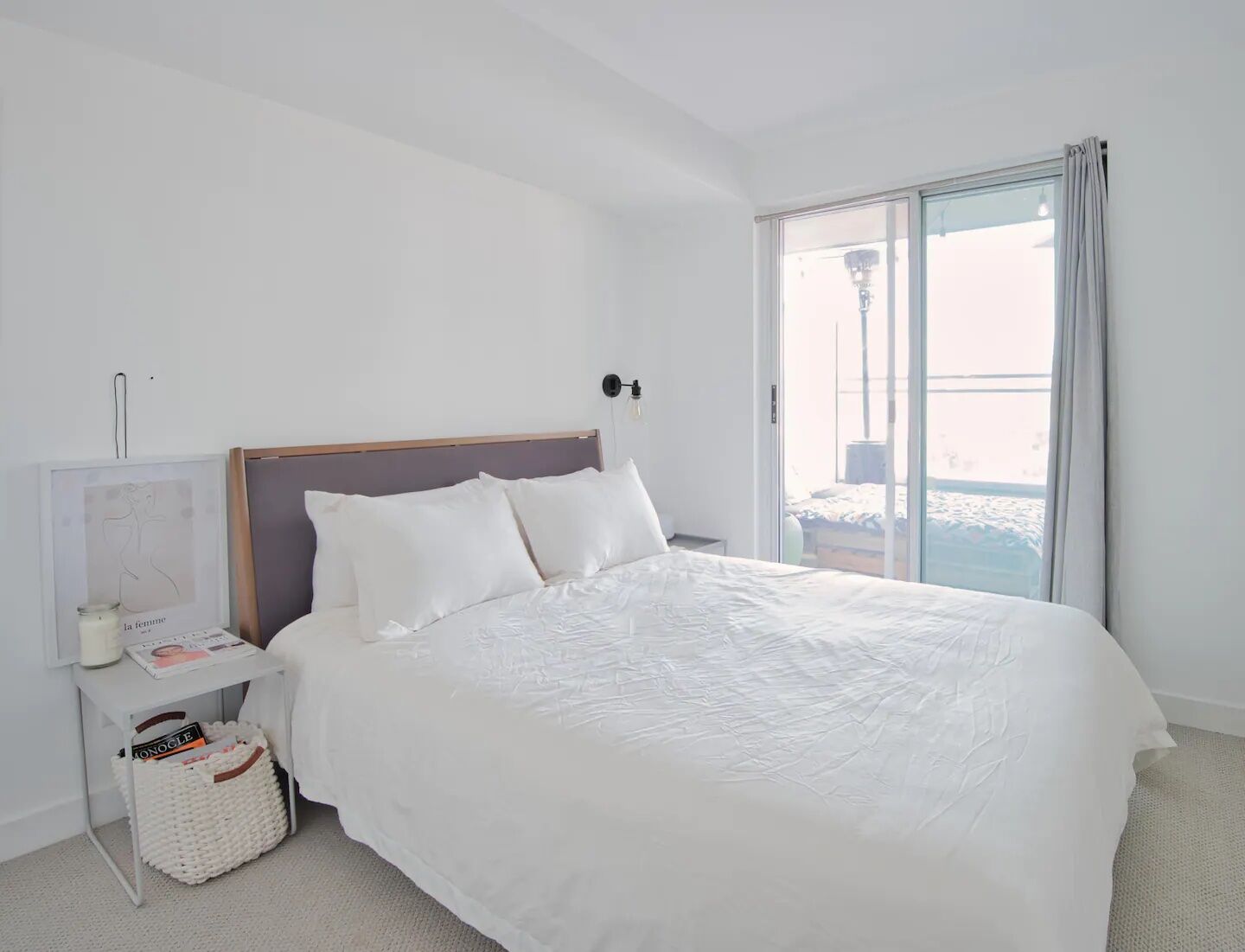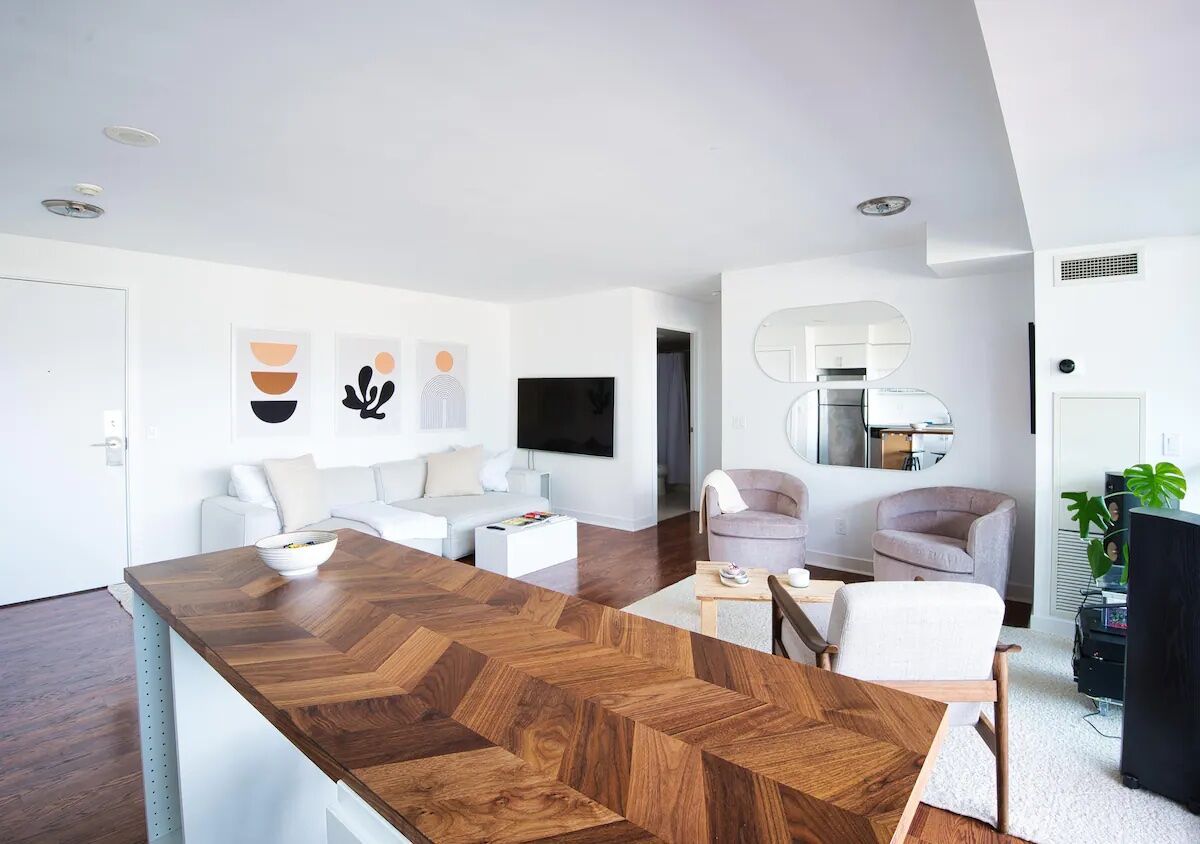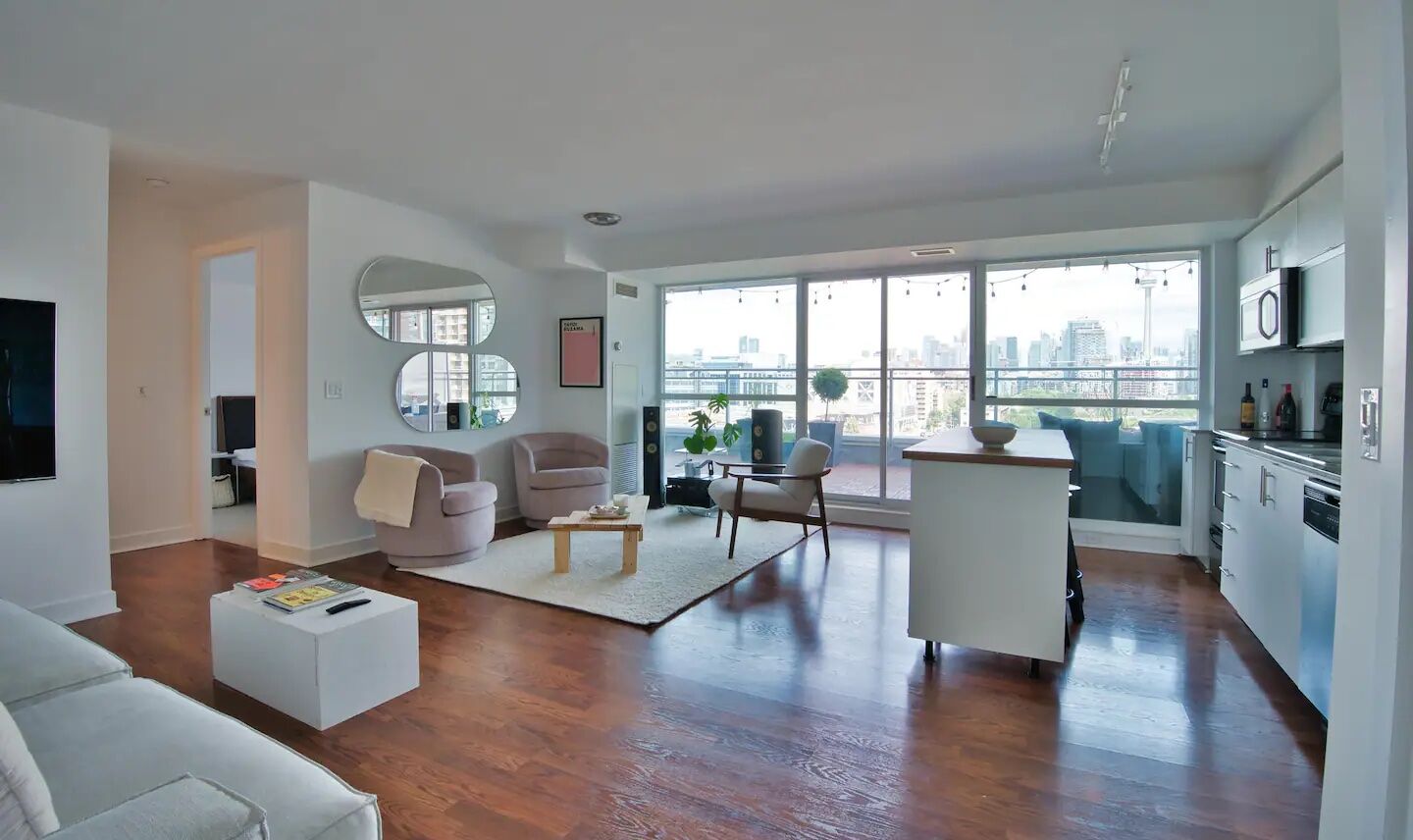 This Airbnb in Toronto is perfect for small groups and remote workers to stay on an upcoming trip. Located in the heart of downtown, it is just steps away from restaurants, shops, and attractions. It features one bedroom and one bathroom with air conditioning and heating. There is also free Wi-Fi throughout the space. Guests can enjoy a fully-equipped kitchen and the community has a shared pool which guests have access to.
Three guests, one bedroom
Price: $203 per night
Luxury penthouse in CN Tower with a shared pool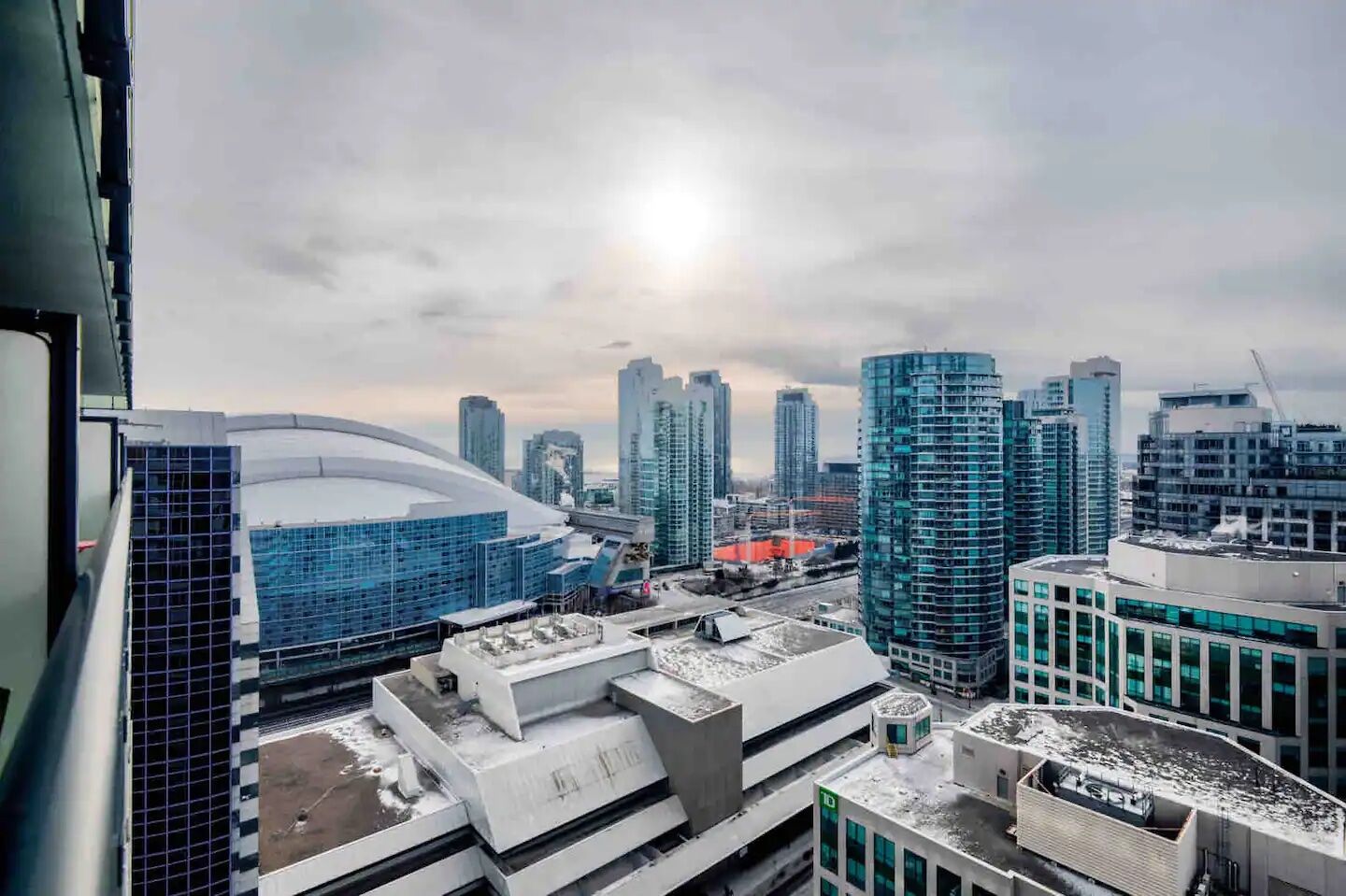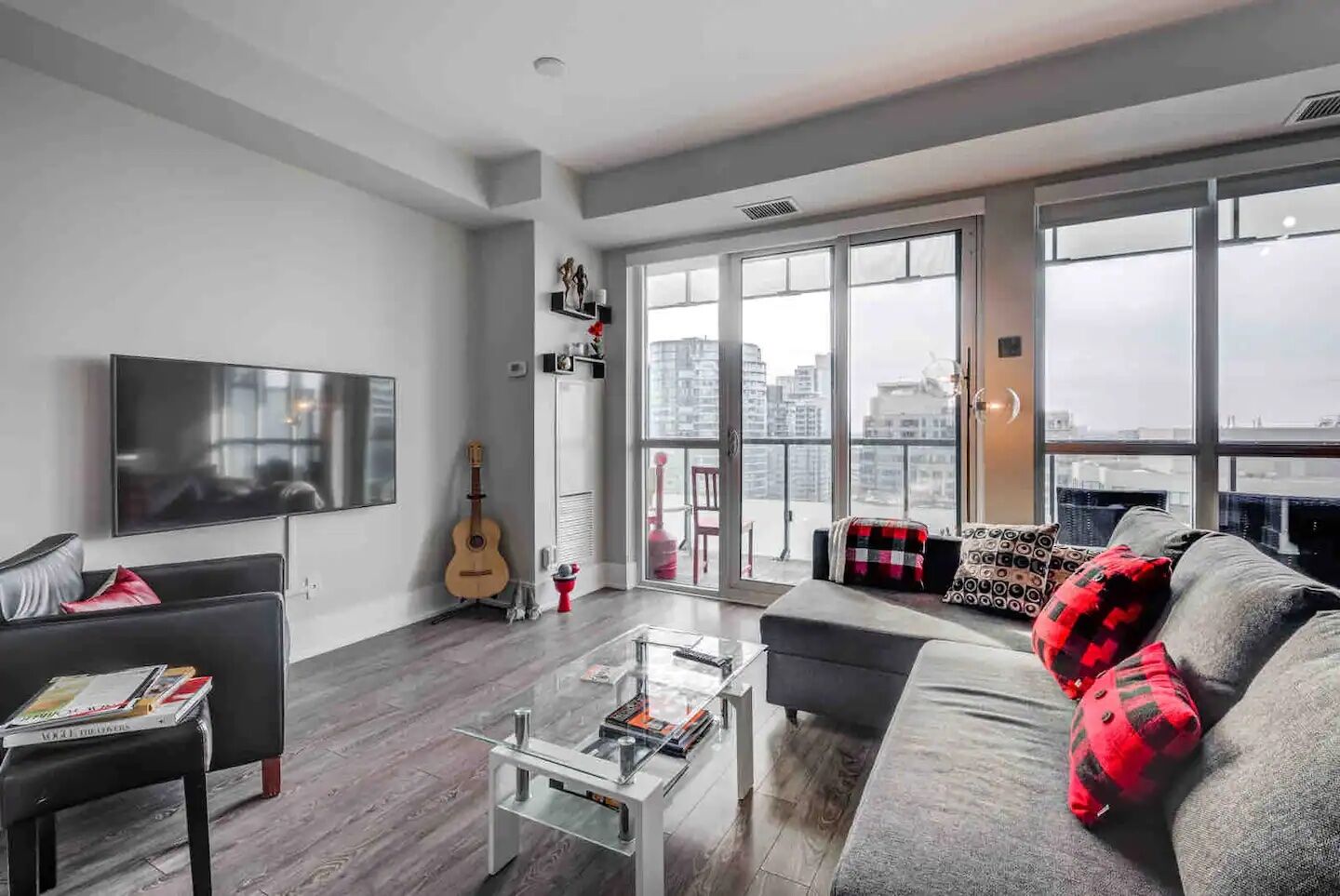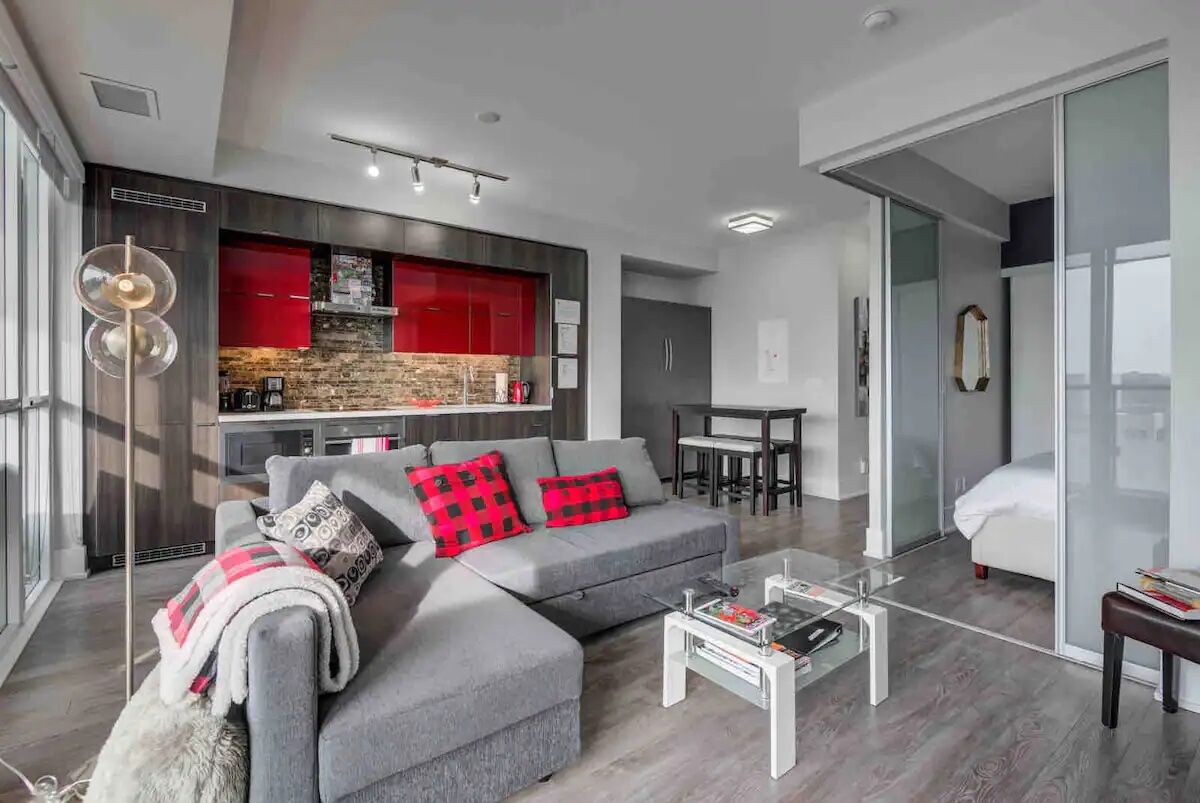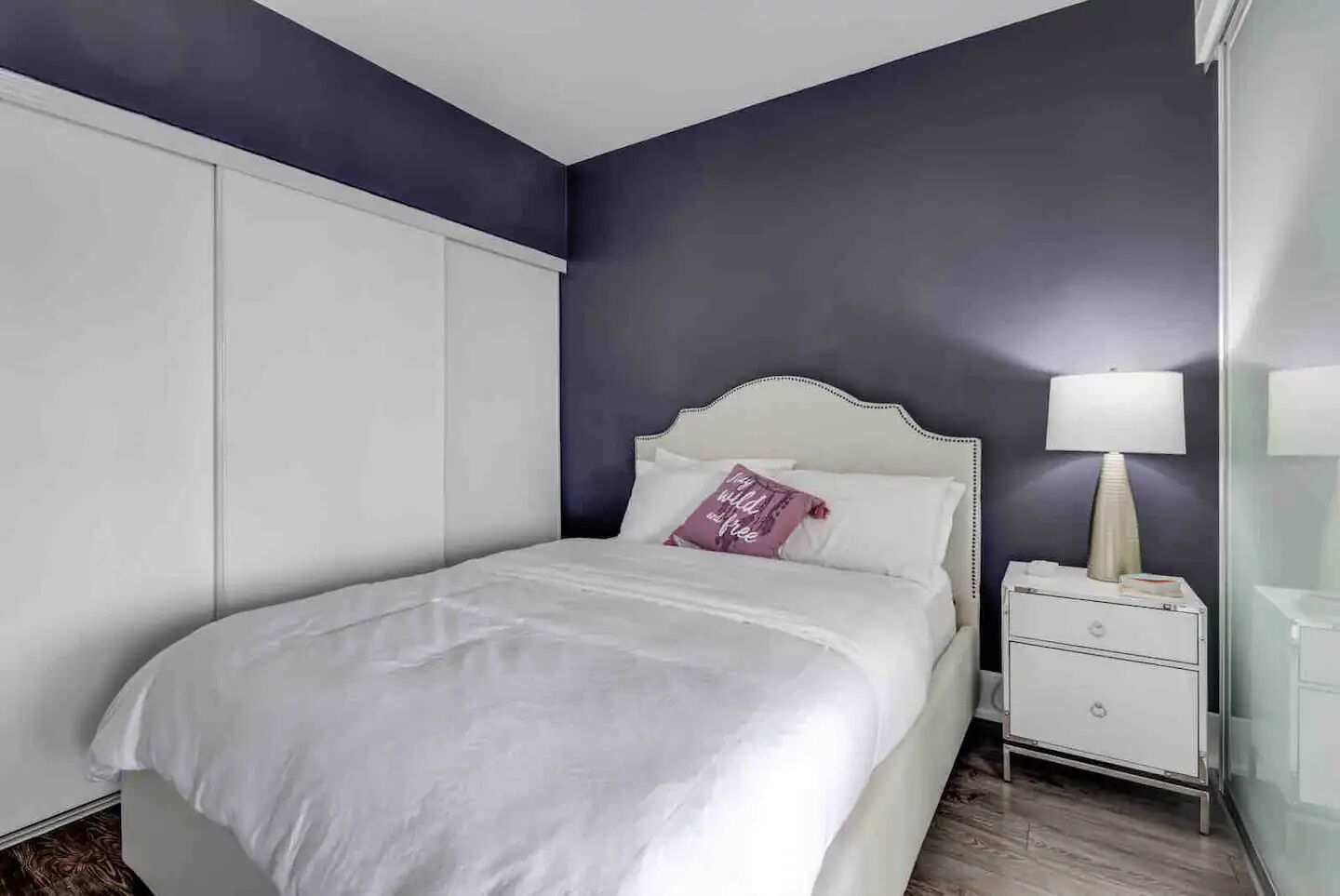 This one-bedroom Airbnb in Toronto is perfect for groups seeking a short-term stay near the city center. It offers air conditioning and heating, free Wi-Fi, and a fully equipped kitchen. You'll love the location as it is just steps from the CN Tower and all of the city center. Nightlife, restaurants, cultural attractions, and public transit are all right out the door. This is a great spot to "wow" family, friends, or clients.
Six guests, one bedroom
Price: $240 per night
Million-dollar view from this Toronto Airbnb with a pool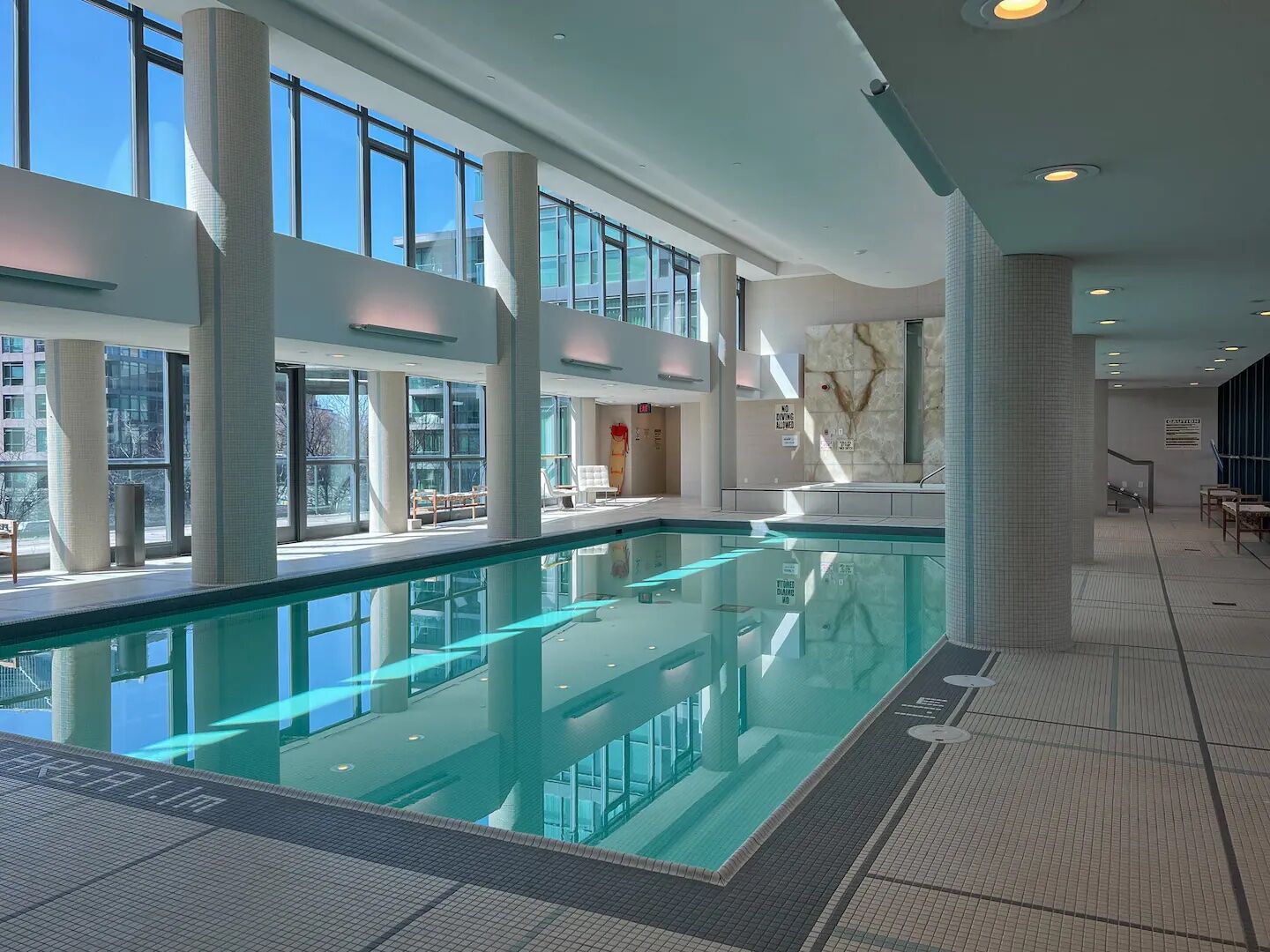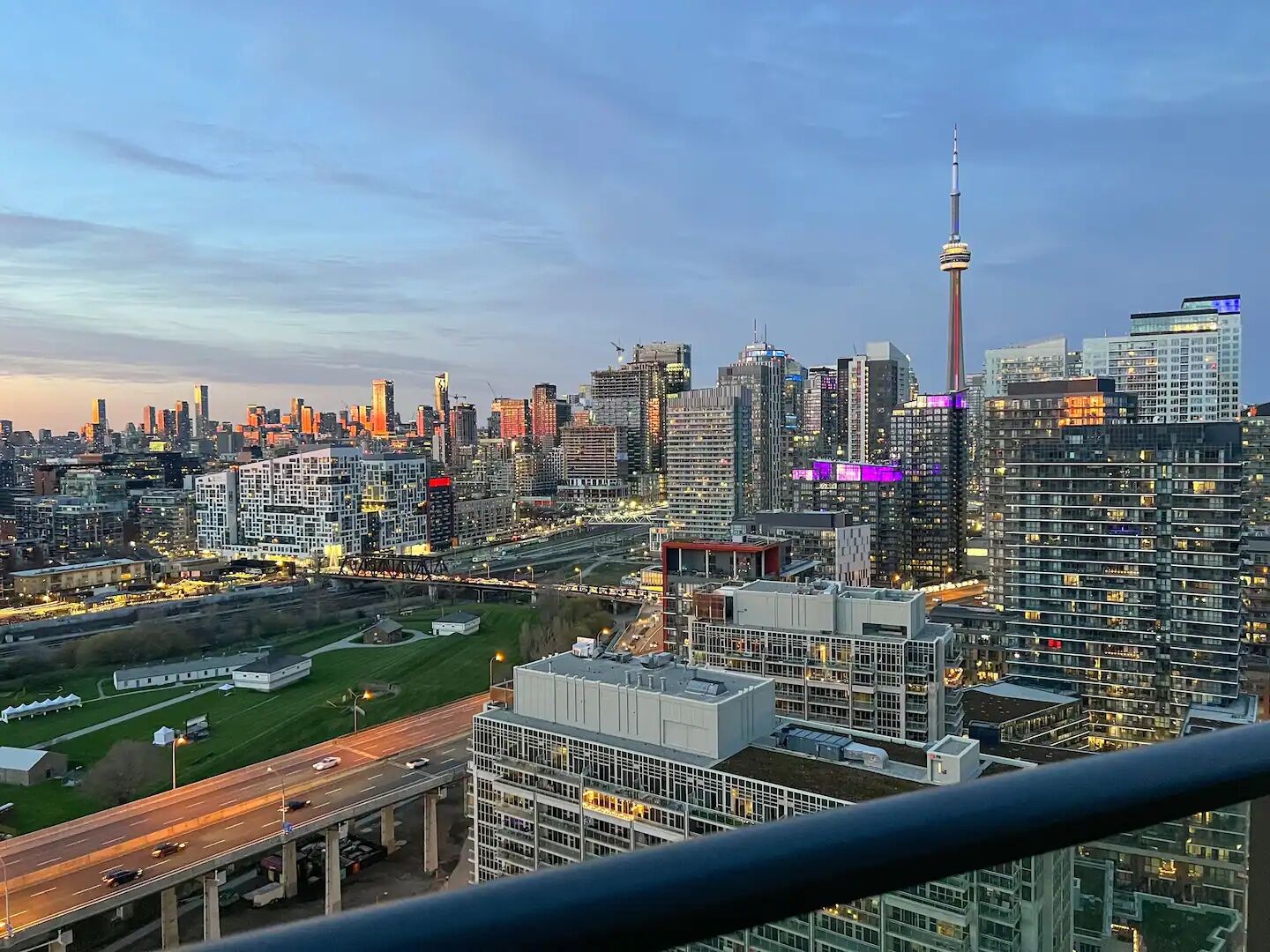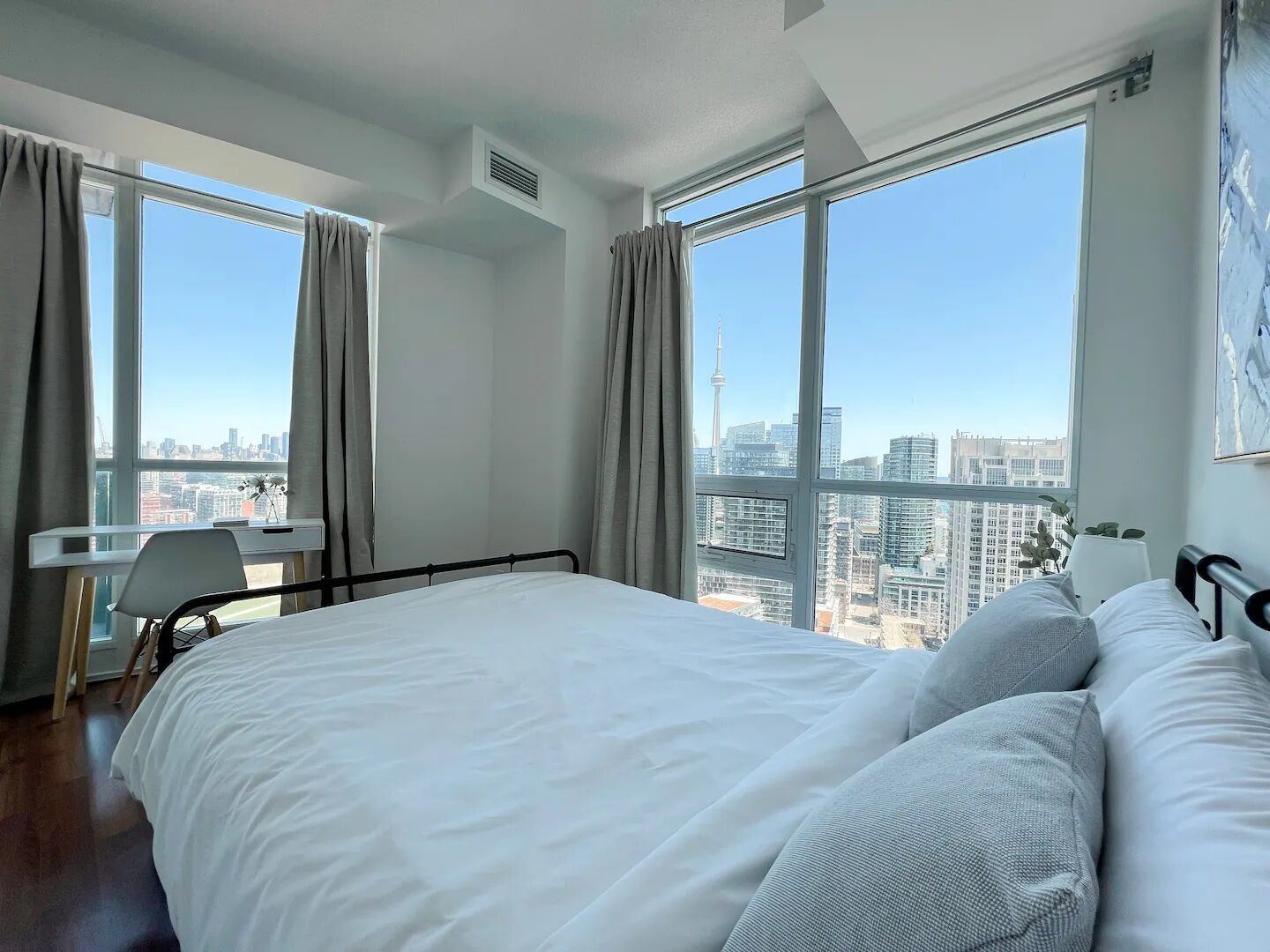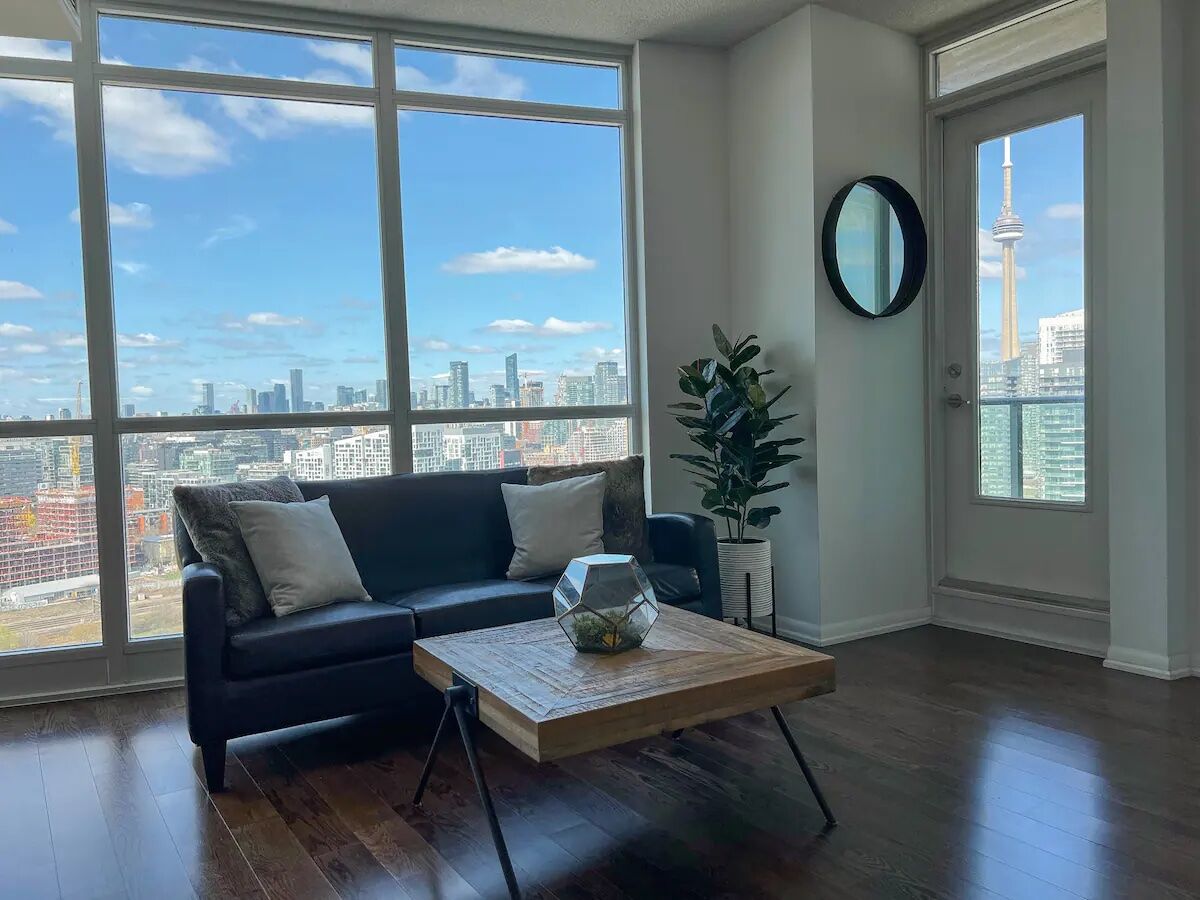 This Toronto vacation rental is the perfect spot for a unique and luxurious getaway, particularly if you enjoy a dip. This two-bedroom apartment is located at the top of a downtown high-rise, providing you with spectacular views of the cityscape. There are air conditioning, heating, free Wi-Fi, and a fully equipped kitchen to make your stay comfortable. Guests can also take advantage of the community pool and other shared amenities.
Four guests, two bedrooms
Price: $217 per night
Luxury apartment Airbnb with a sauna just outside downtown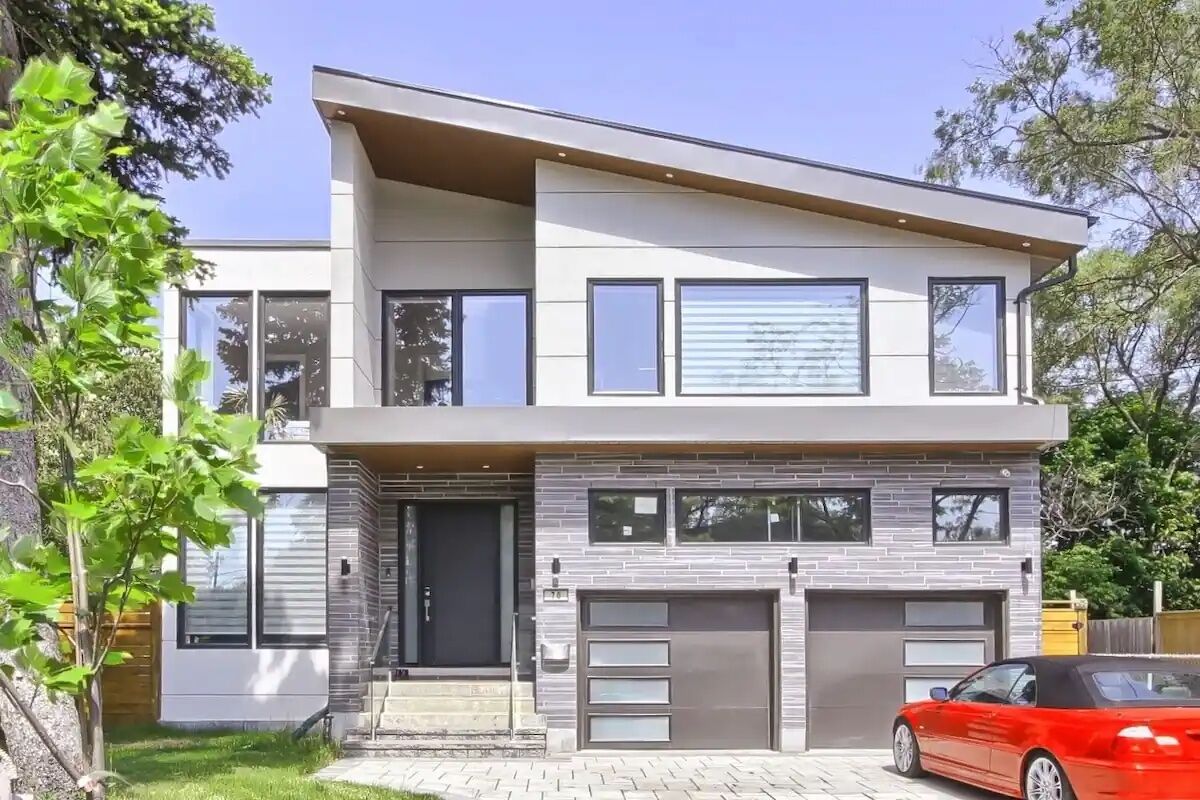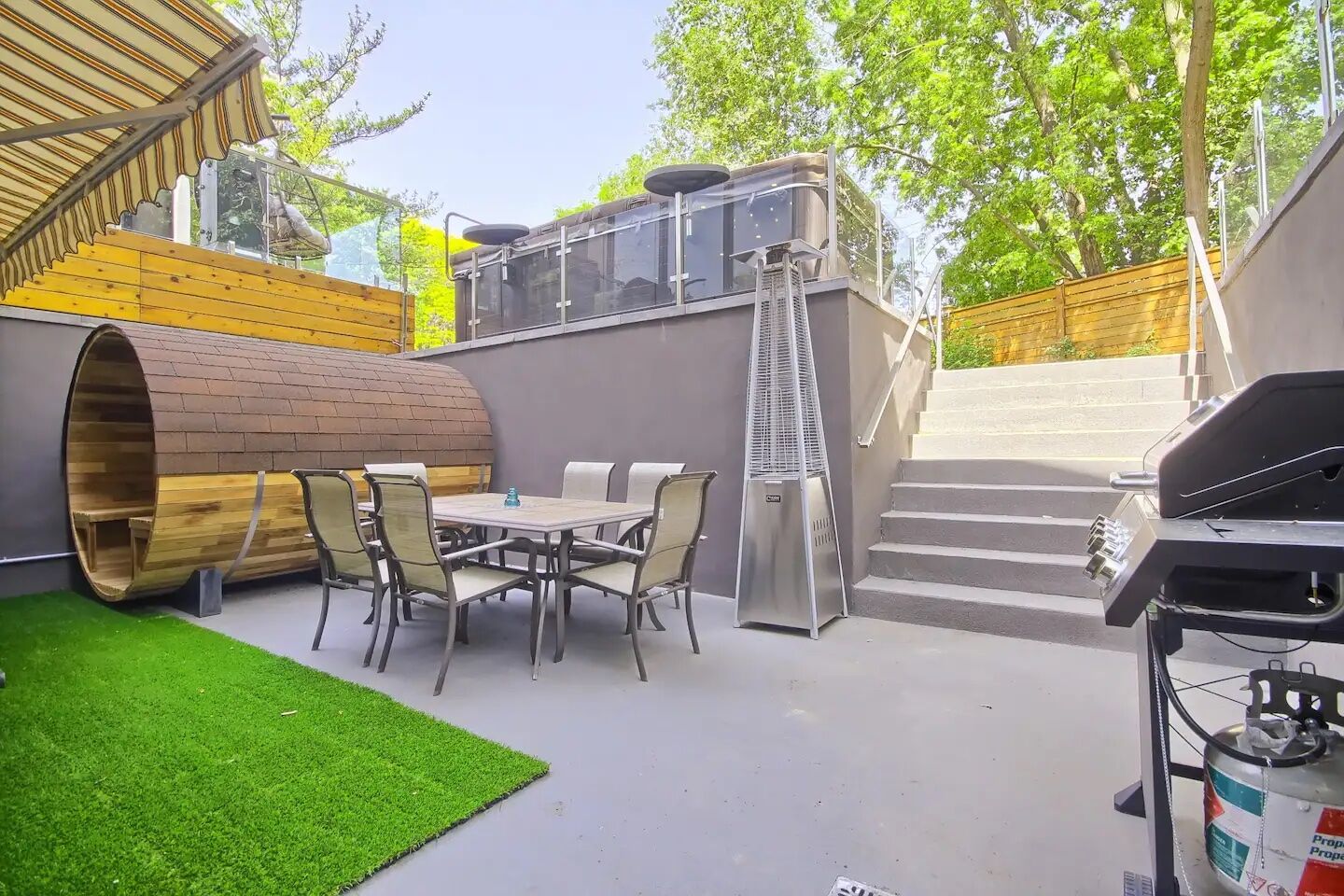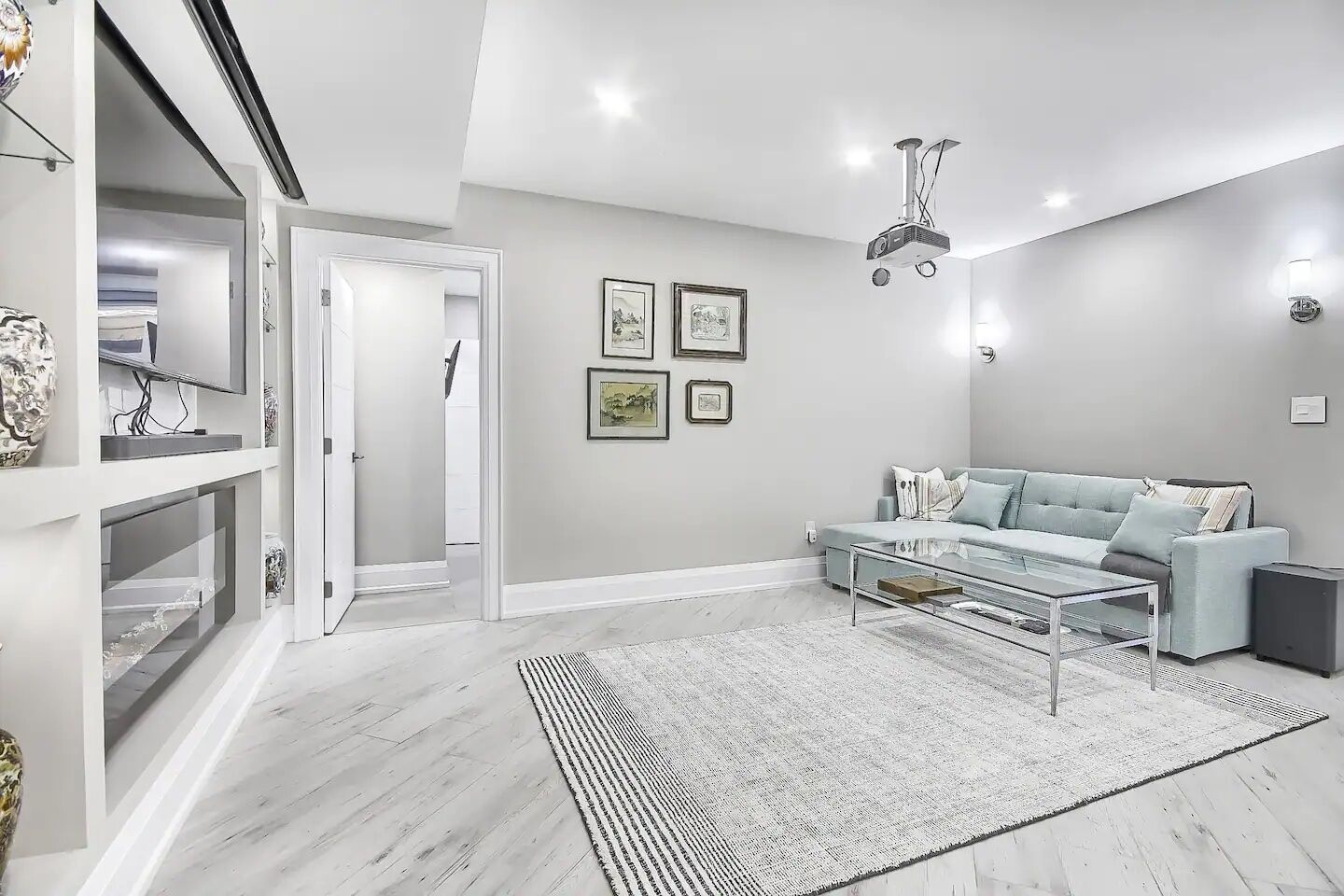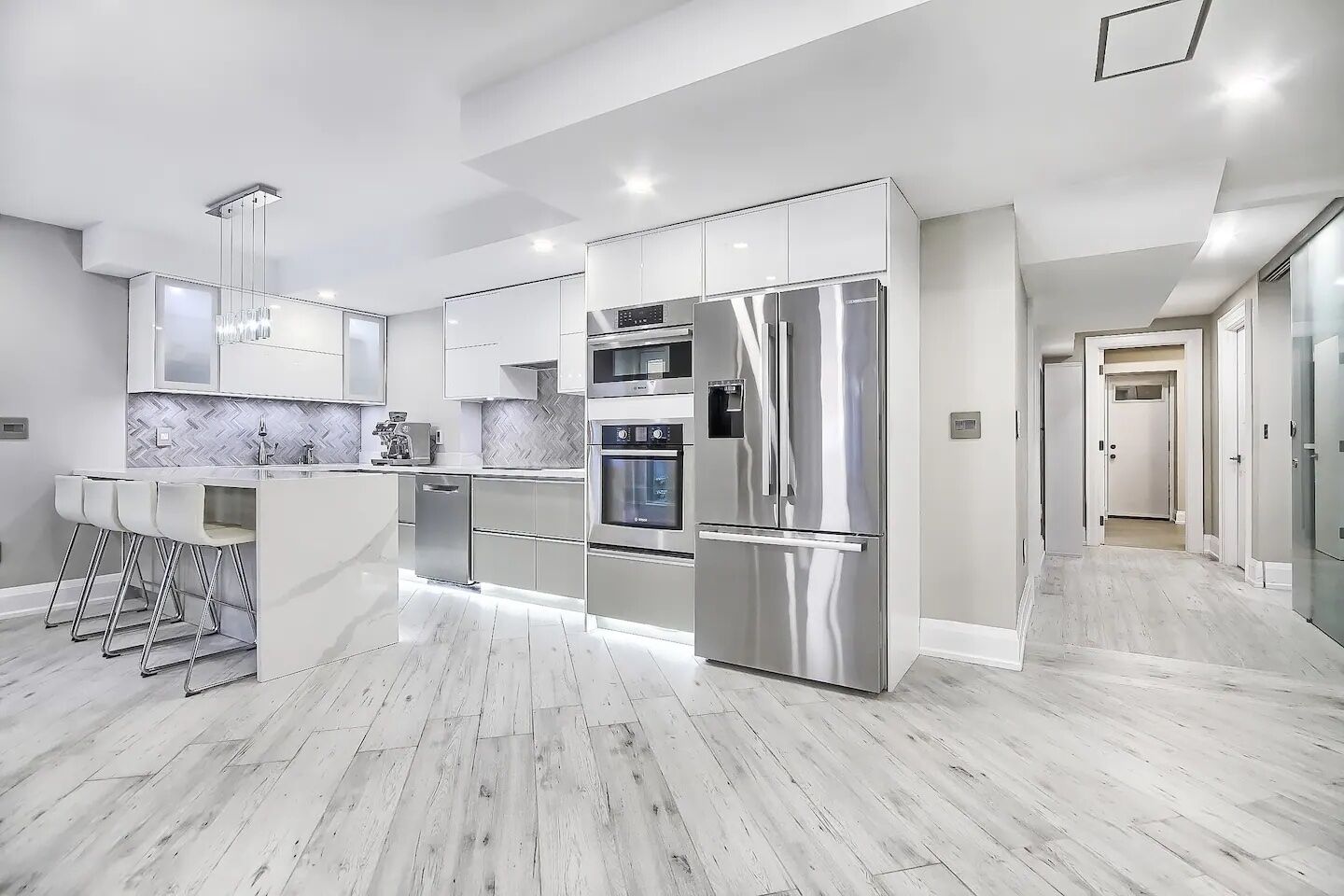 This Airbnb in Toronto is a great option for groups of up to six seeking accommodation just outside the city center. It offers one bedroom and one bathroom, air conditioning, heating, free Wi-Fi, and a fully equipped kitchen. It's located in a modern house with top-notch facilities and you'll be able to grab an Uber in minutes from the property. You'll also love the outdoor hot tub.
Six guests, two bedrooms
Price: $289 per night
Toronto Penthouses on Airbnb
Old Town waterfront penthouse overlooking Lake Ontario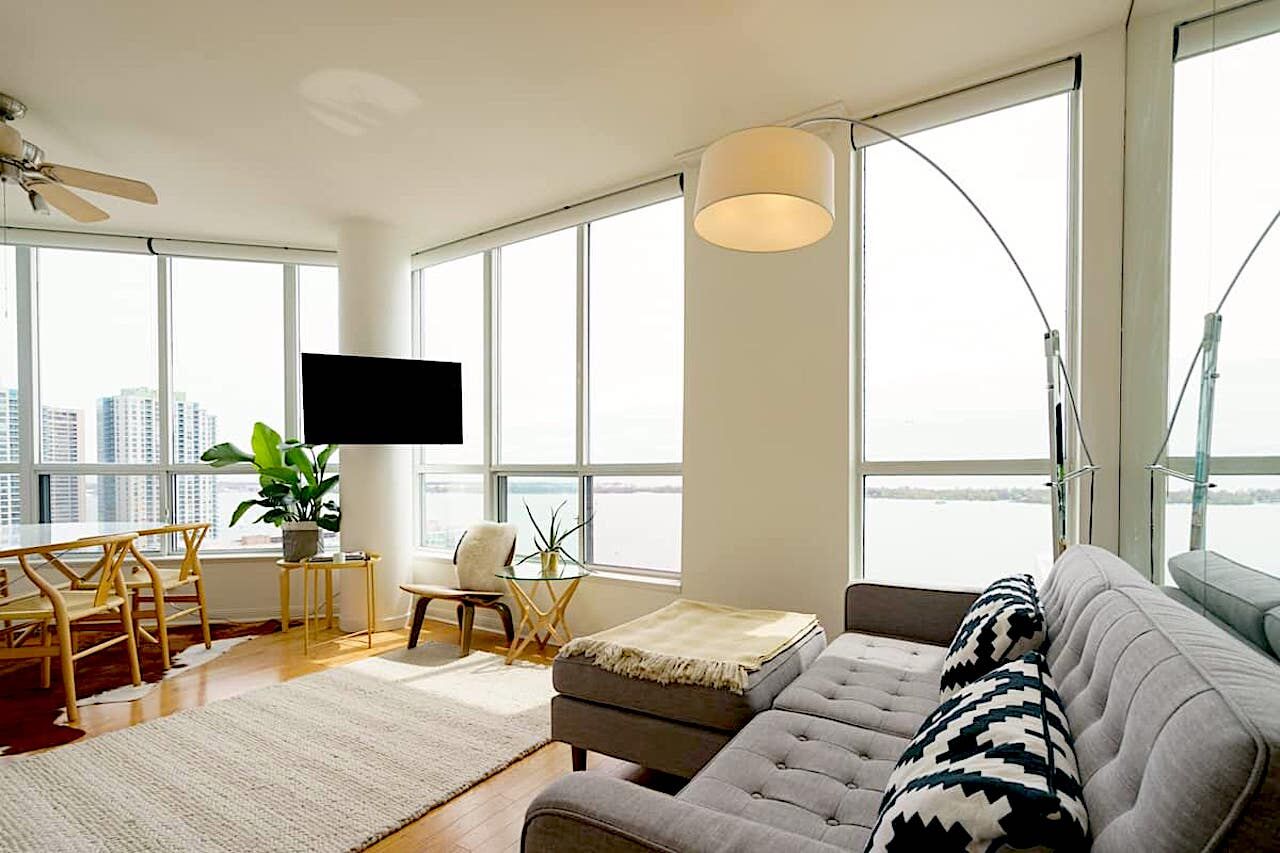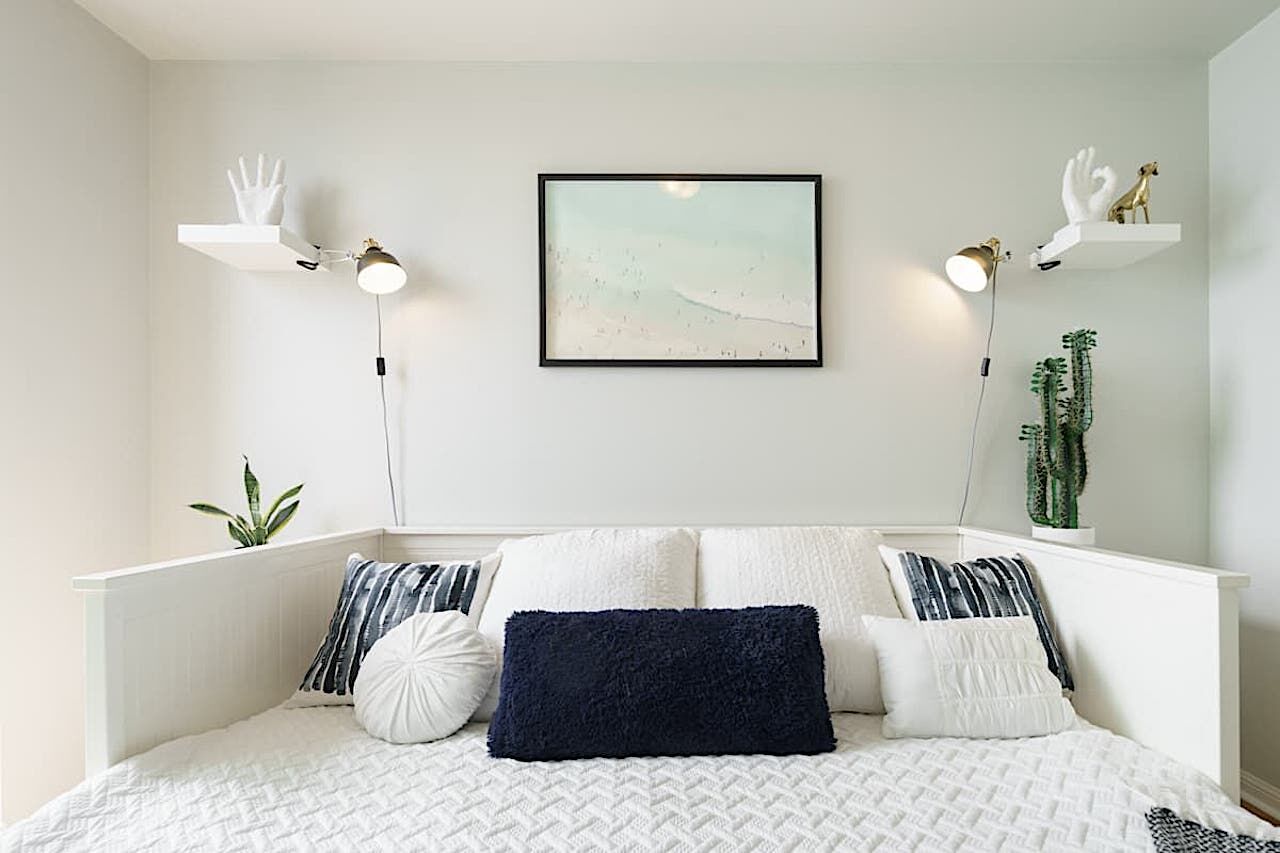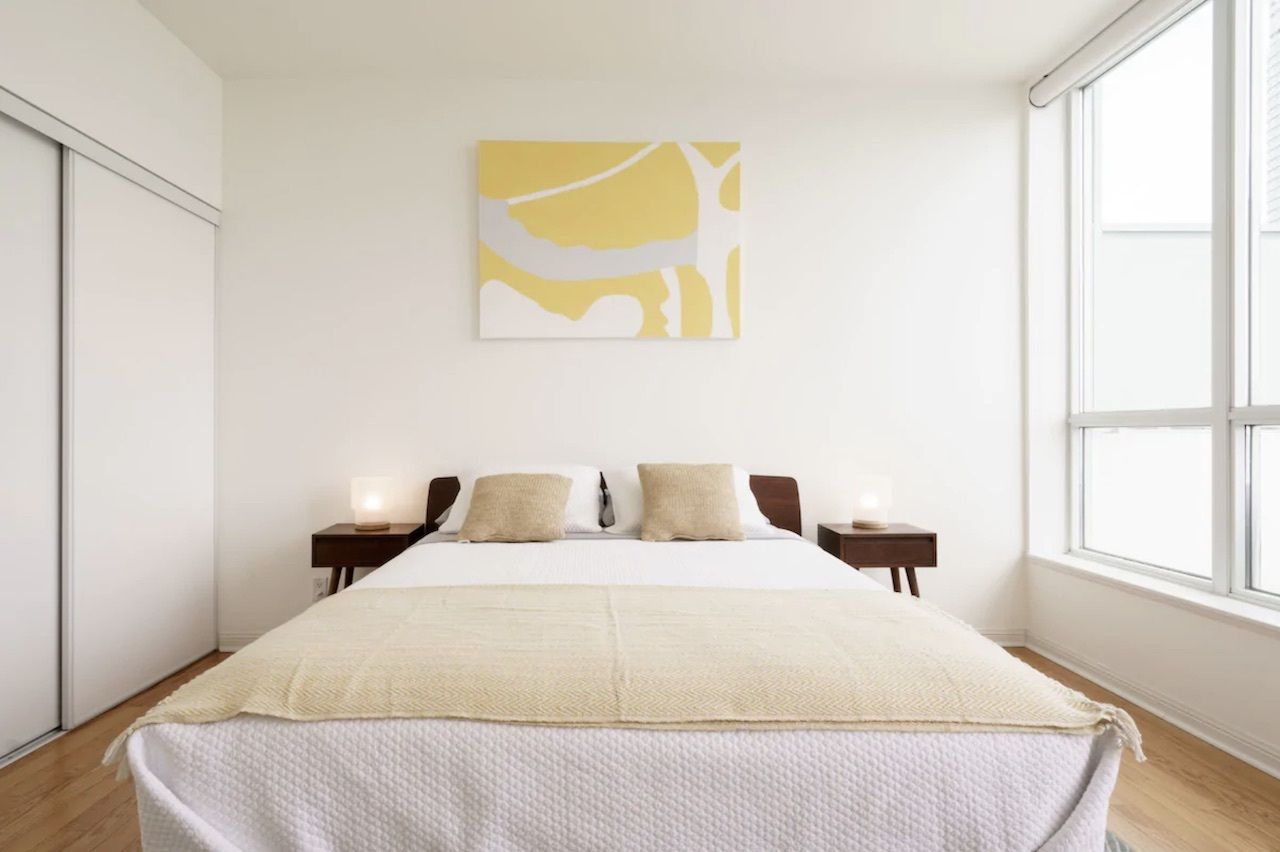 If you only have time for one neighborhood, make it Old Town, the birthplace of the city. From this waterfront penthouse, grab breakfast or lunch at St. Lawrence Market (Tuesday to Saturday). Then follow the tree-lined Esplanade to the Distillery District, a pedestrianized area of Victorian industrial buildings converted into high-end shops, galleries, restaurants, and cafes. Make your way back along King Street East and take in the old red-brick buildings, many of which date back to the mid-19th century. Admire the gardens in St. James Park next to its eponymous cathedral before walking down Church Street to the Flatiron building. Don't forget to check out the mural and small park at the back.
Four guests, two bedrooms
Price: $268 per night
Stylish and modern fully furnished Toronto penthouse Airbnb in Yorkville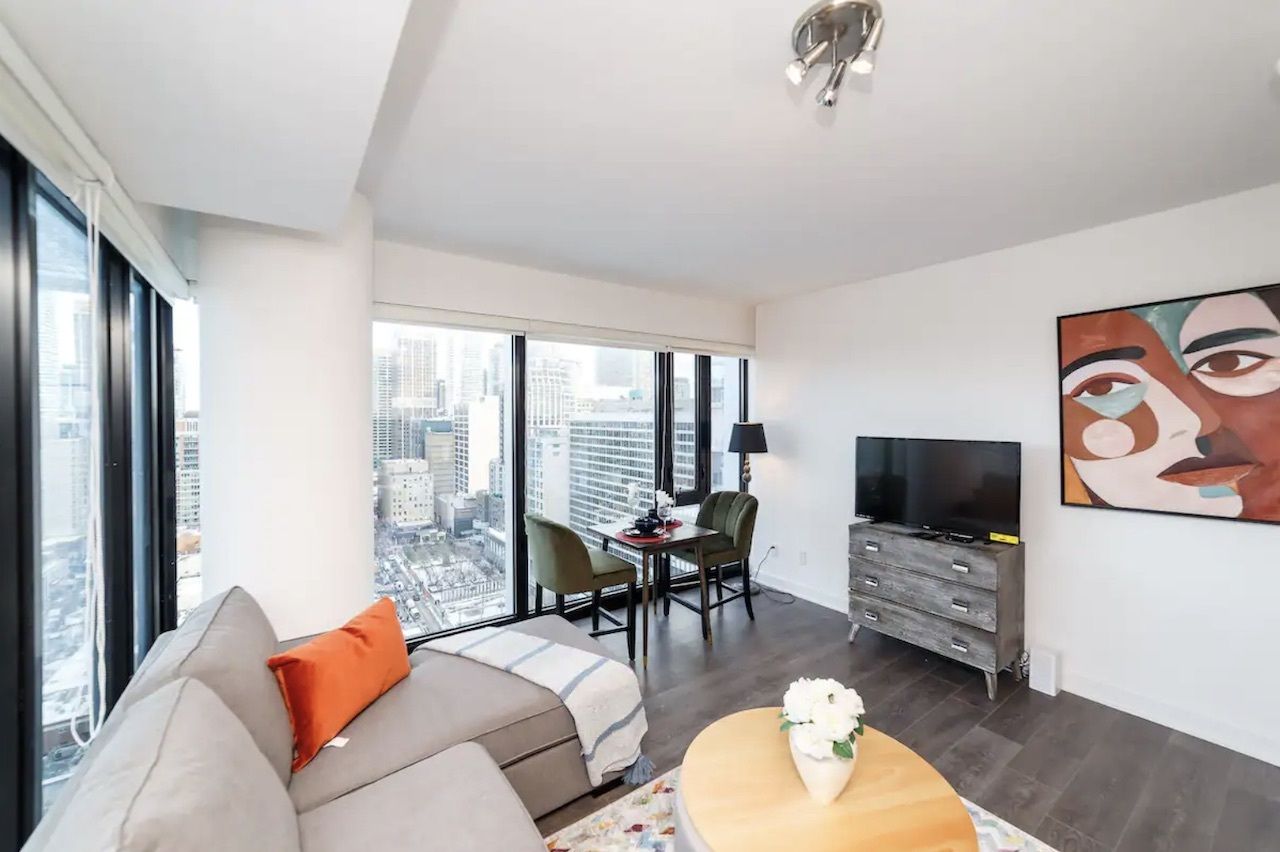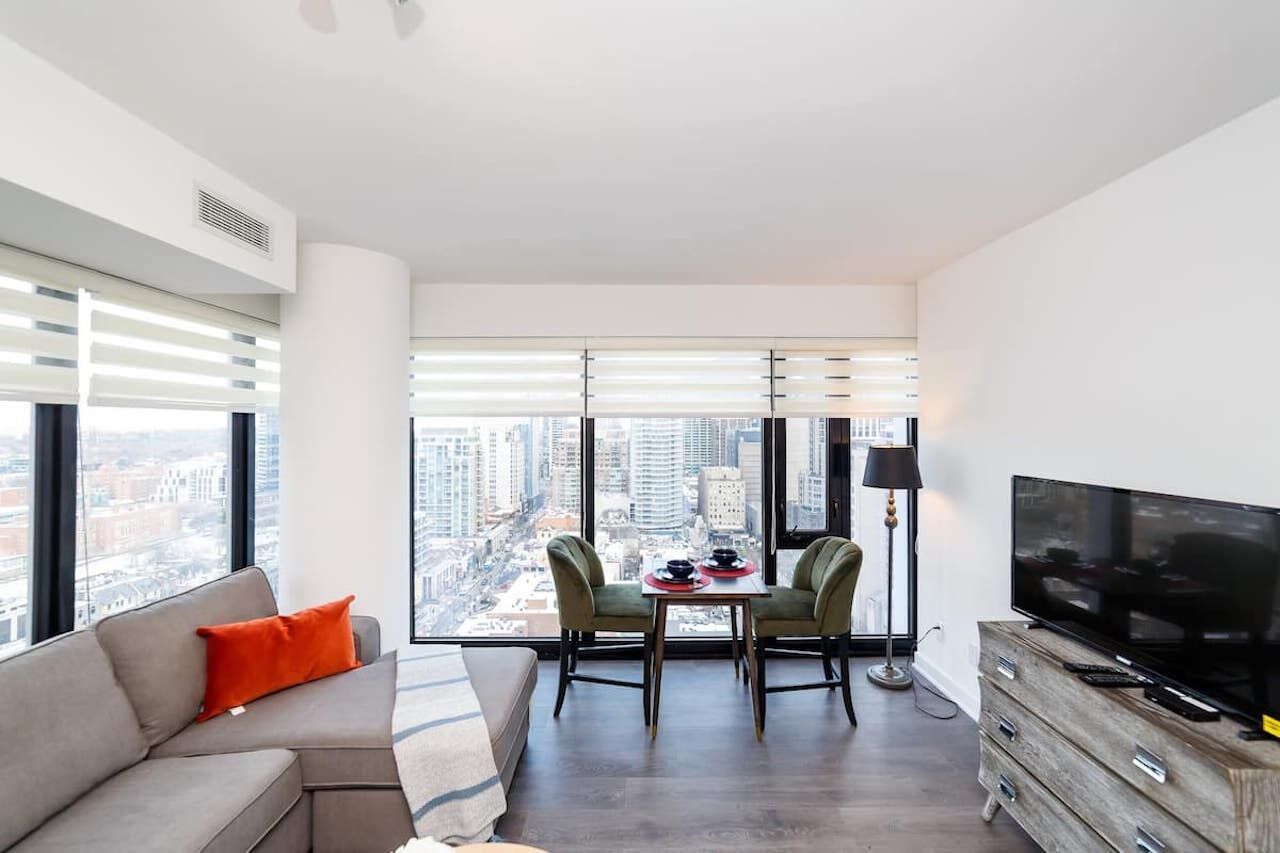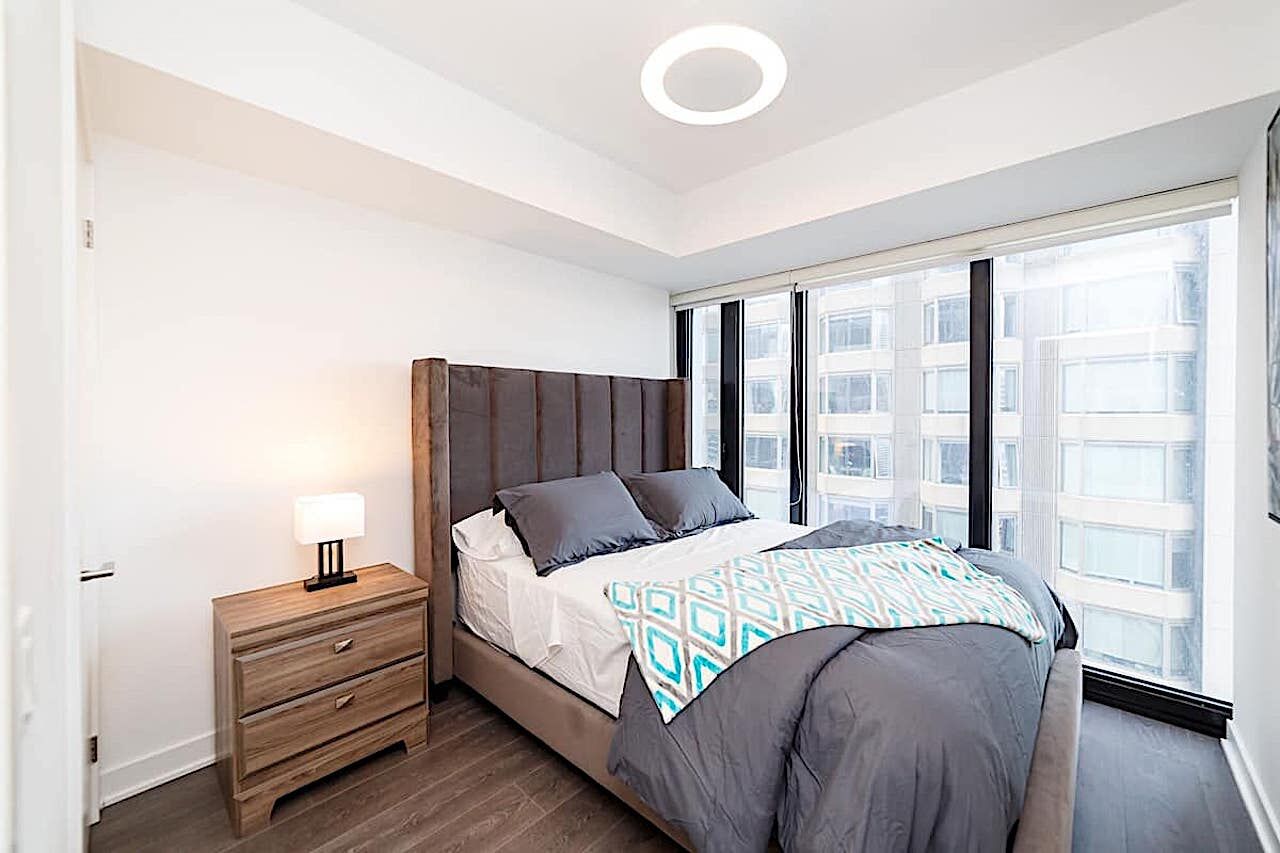 This apartment is above Yorkville and offers easy access to the entire neighborhood. Start at Yonge Street and walk west on Bloor, window shopping at the upscale boutiques and department stores. Pop into the Manulife Centre at the corner of Bay Street and have a drink at The One Eighty on the 51st floor for amazing views of the city. Pay a visit to the Royal Ontario Museum and its jaw-dropping architecture or the unusual Bata Shoe Museum. In the early evening, people-watch while sitting on "The Rock" in Cumberland Street's urban park, and see how many luxury cars you can spot on Yorkville Street. Wrap up the day with a meal or a drink on the rooftop patio at Hemingway's or with sushi at Asuka.
Price: $307 per night
Luxury Toronto penthouse near Rogers Centre and CN Tower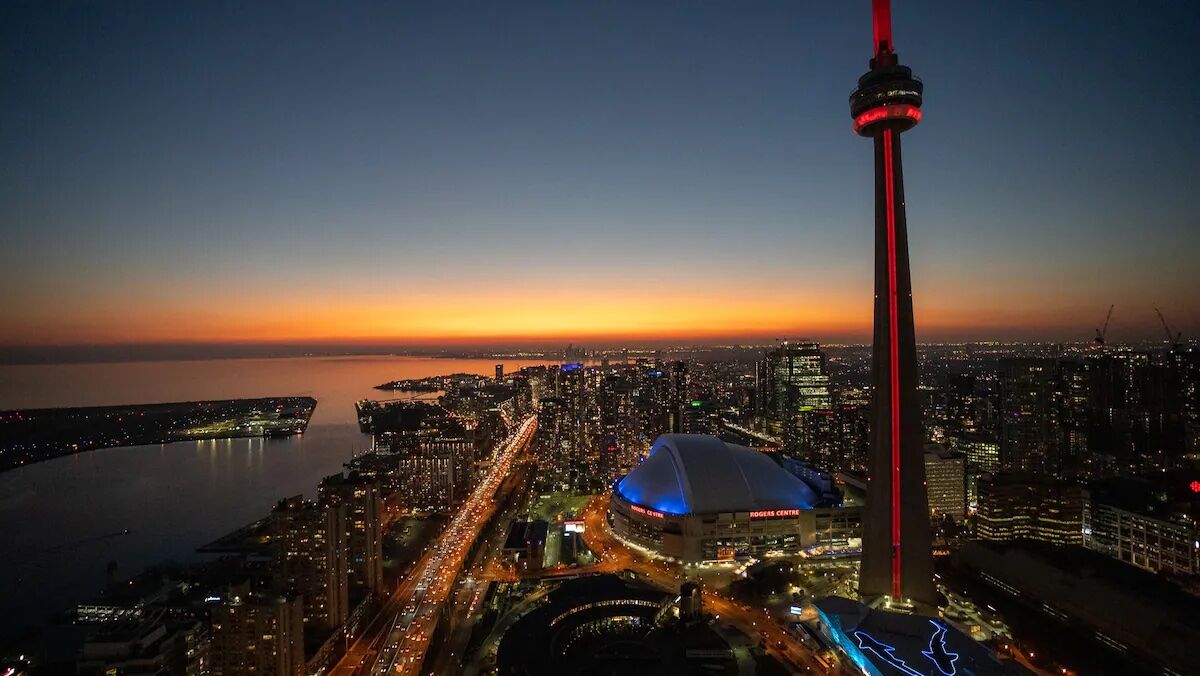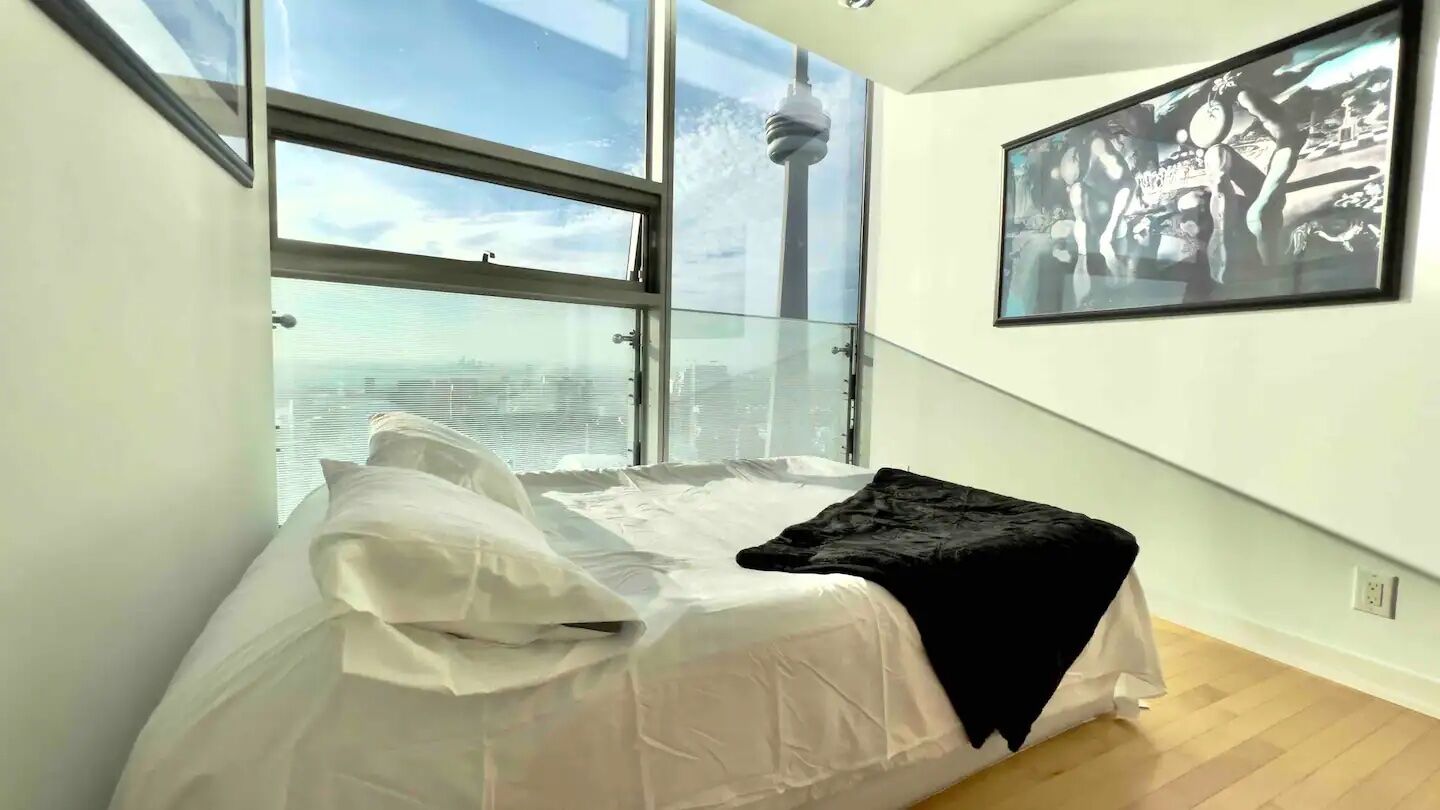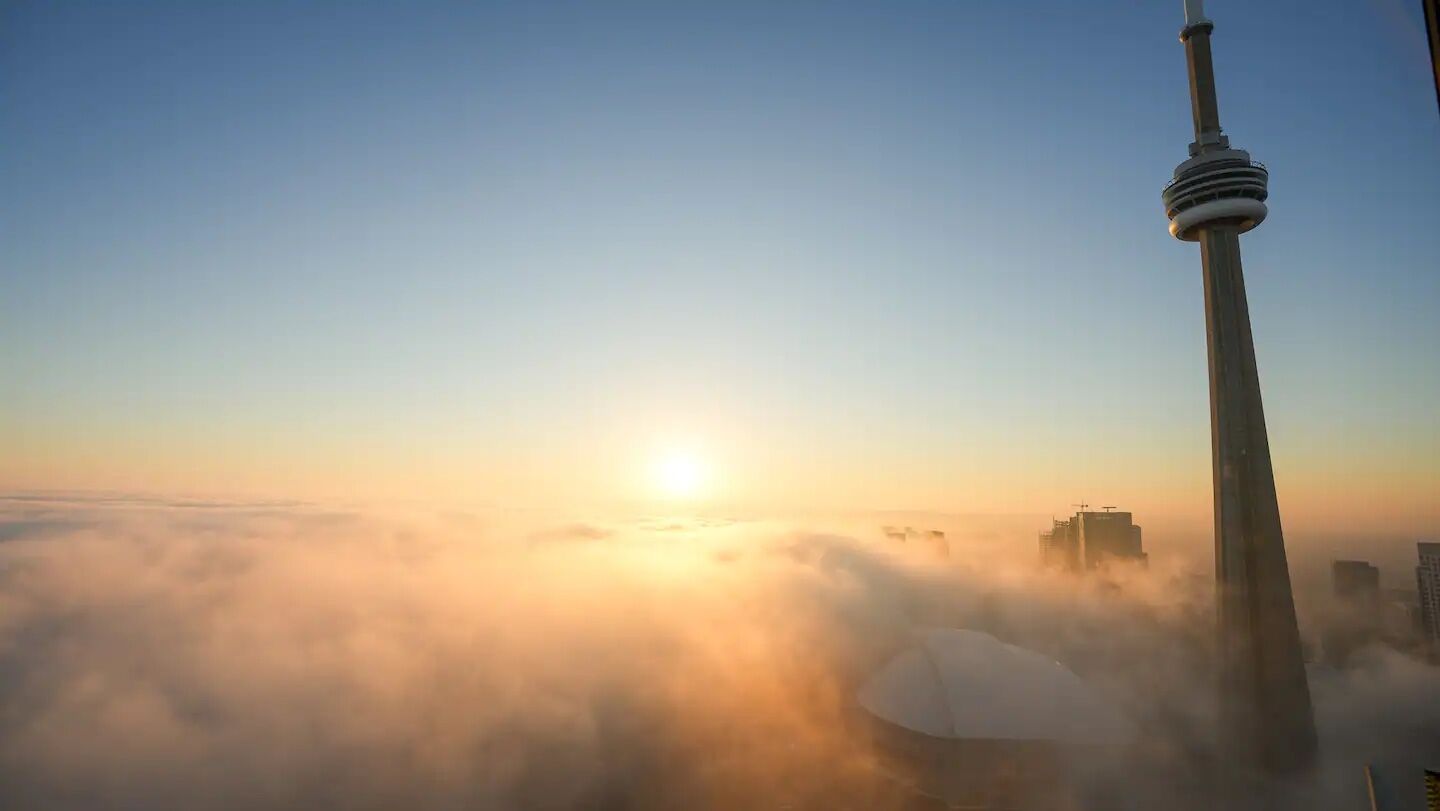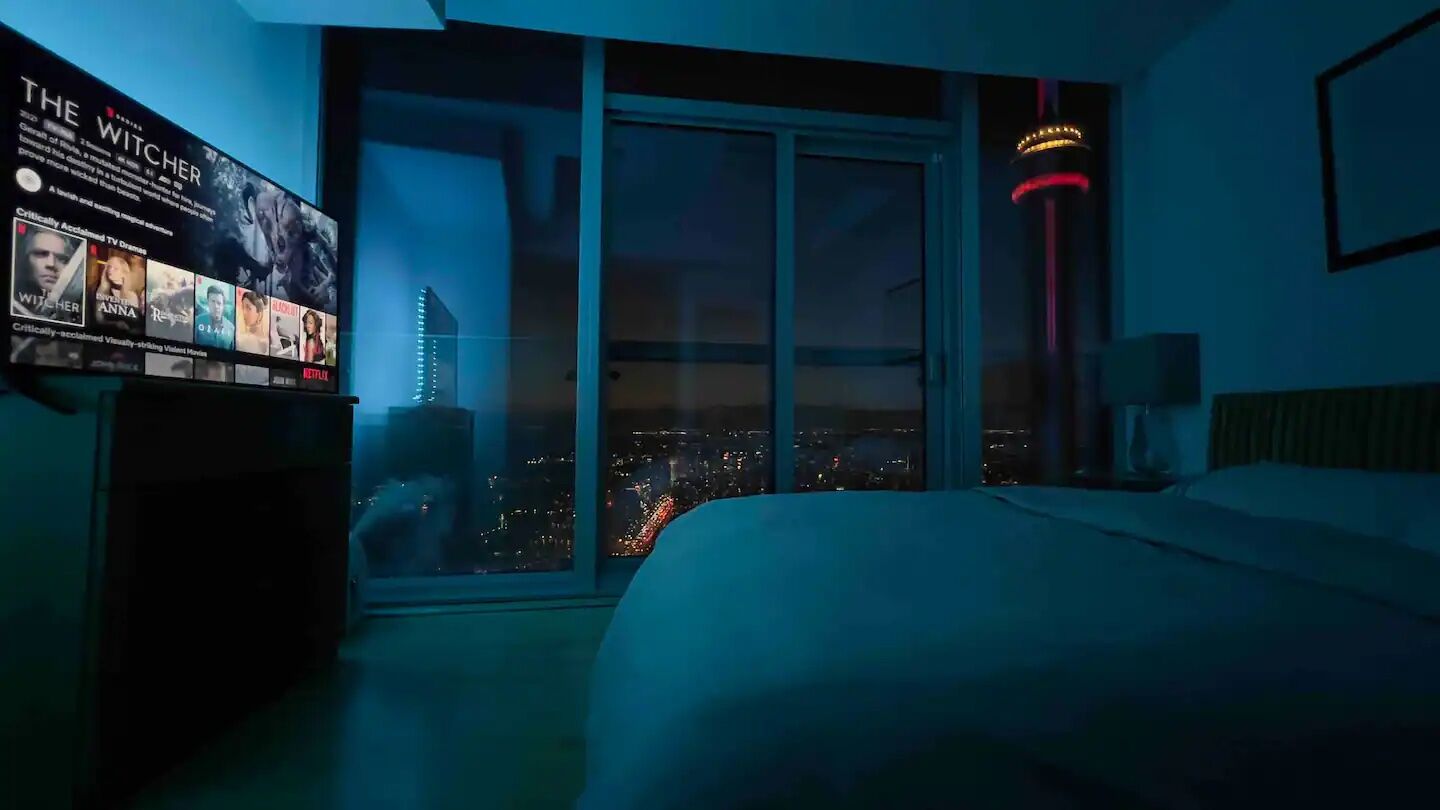 This luxury Airbnb in Toronto is the perfect spot for a mid-sized group or family looking for an escape. Located near both Rogers Centre and CN Tower, you'll be able to take advantage of all that downtown has to offer. It includes air conditioning, heating, free Wi-Fi, and a fully equipped kitchen. You can also enjoy the balcony, perfect for happy hour as well as morning coffee.
Eight guests, three bedrooms
Price: $285 per night
More like this
What did you think of this story?