7 Stylish Nashville Hotels To Stay at in 2023
Deep in Middle Tennessee, Nashville is a vibrant and diverse city packed with fun things to do, world-class restaurants, and music scene. Also known as Music City, due to its long-standing reputation as a hub for country music and other genres such as gospel, rock, blues, and jazz, the city is home to numerous venues that host live performances from both local and international artists. It is also one of the most stylish cities in the United States, and Nashville hotels attribute to this reputation.
From luxury boutique hotels to stylish budget-friendly accommodations, the hospitality scene is hot here. Exciting developments and businesses that challenge the typical cookie-cutter accommodation offerings have changed the city skyline in recent years. Guests can enjoy top-notch cocktails, swanky rooftop pools, and pet-friendly rooms throughout the city. The hotels here offer the very best service, and amenities for a Music City getaway to remember.
Traveling to Tennessee? Check out Matador's top Tennessee accommodation guides:
We hope you love the Nashville hotels we recommend! Just so you know, Matador may collect a small commission from the links on this page if you decide to book a stay. Listed prices are accurate as of the time of publication.
The best time to visit Nashville
Nashville, Tennessee is a great place to visit year-round. With mild temperatures and plenty of attractions, it's easy to see why this city is a popular destination. The best time to visit Nashville depends on what you're looking for. If you want warmer weather, the summer months are the best time to go. During the summer, temperatures usually range from 70°F — 90°F with plenty of sunshine. However, if you're looking for cooler temperatures and fewer crowds, then the spring or fall months are ideal.
The Hermitage Hotel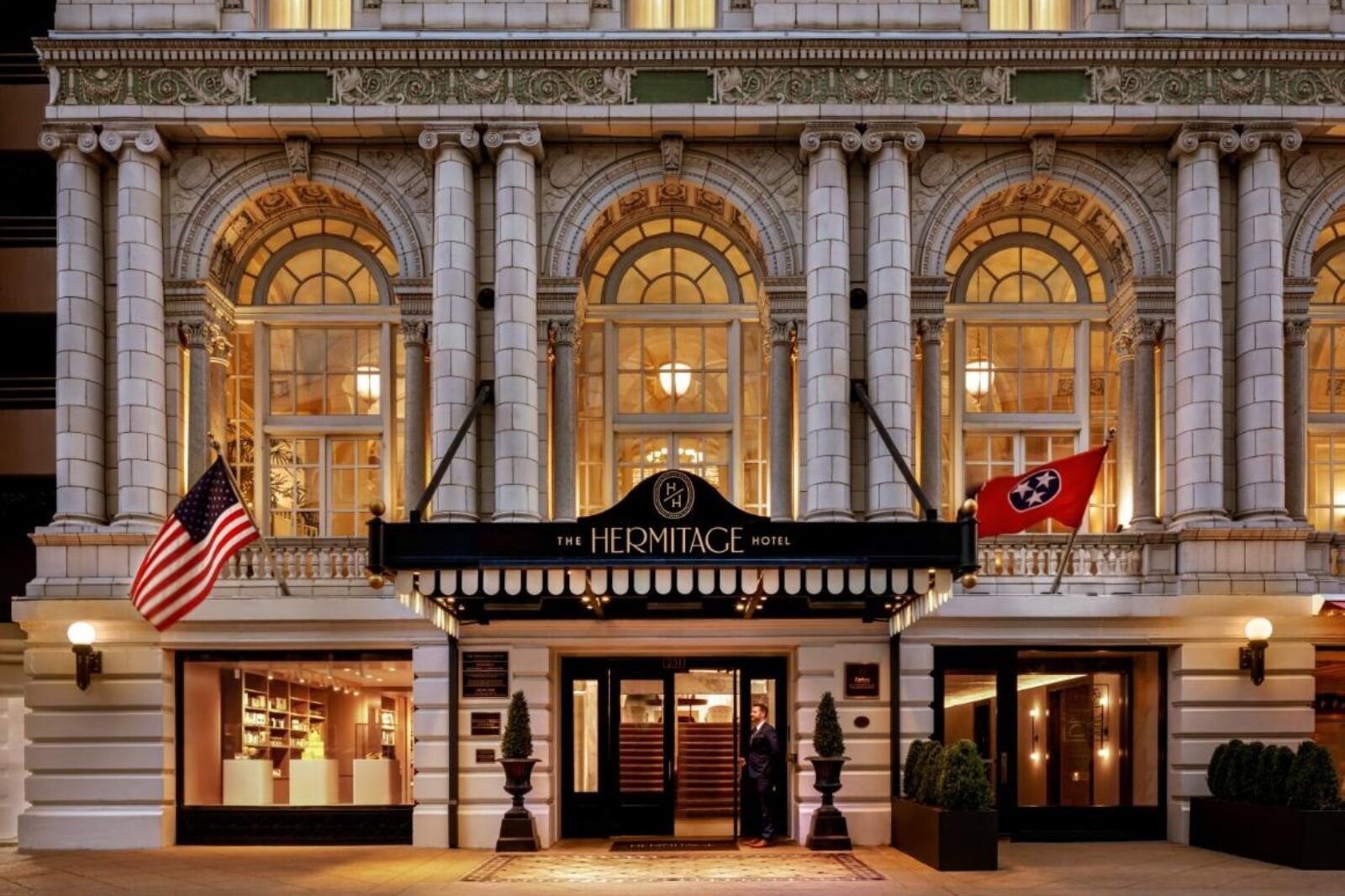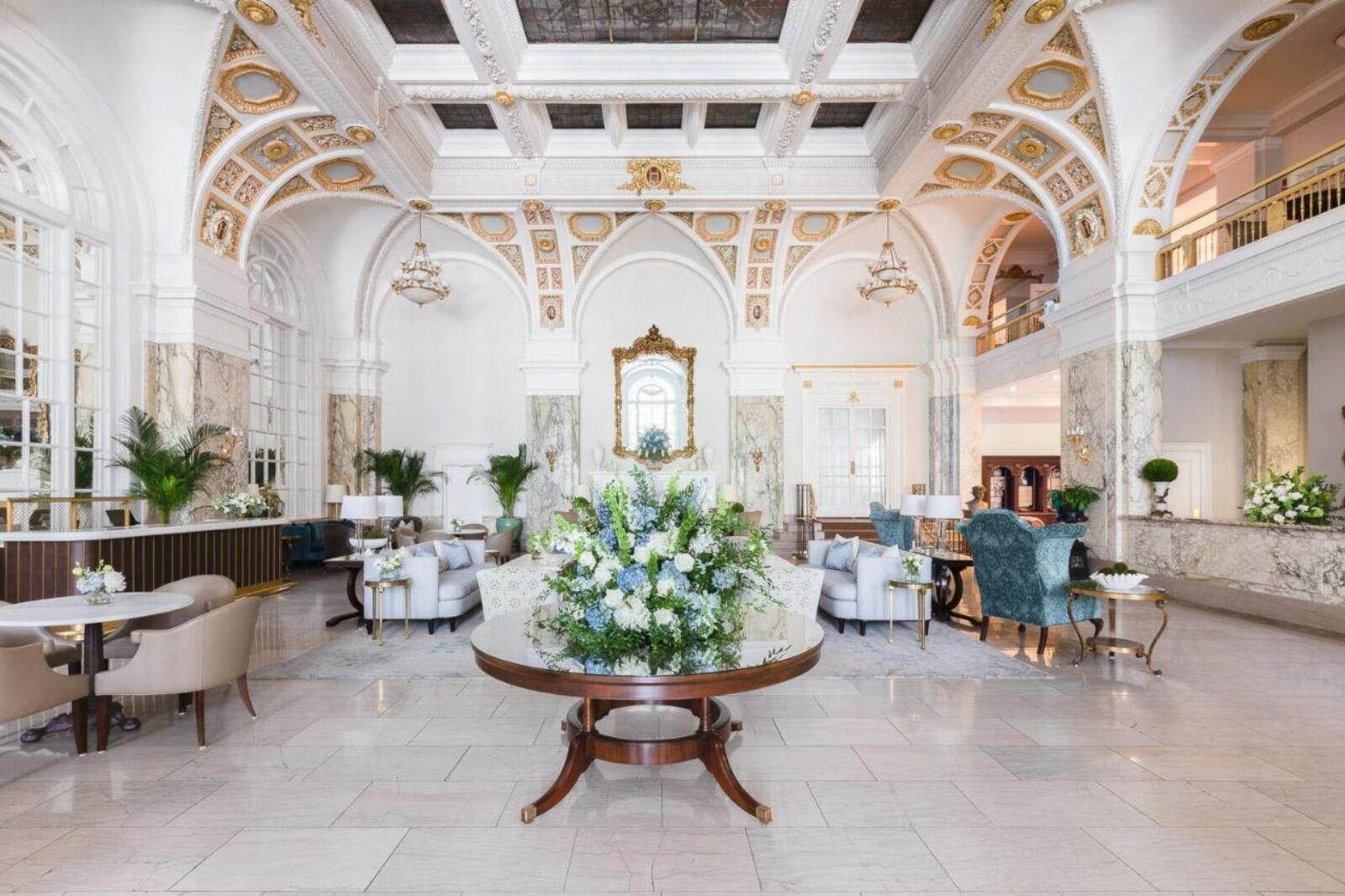 See more photos
The Hermitage Hotel has been a part of the city's history since 1910. Since its inception, it has been a popular destination for locals and visitors alike and is now an iconic landmark in the city. It sits across from the Tennessee State Capitol and the Tennessee Performing Arts Center and is within walking distance of many other attractions.
The décor is thoroughly high-end throughout the hotel. It is elegant yet inviting, with historic details like marble floors and grand chandeliers that bring a sense of sophistication.
Price per night: $550
The Hermitage Hotel: 231 6th Avenue N, Nashville, 37219
Book Now
Noelle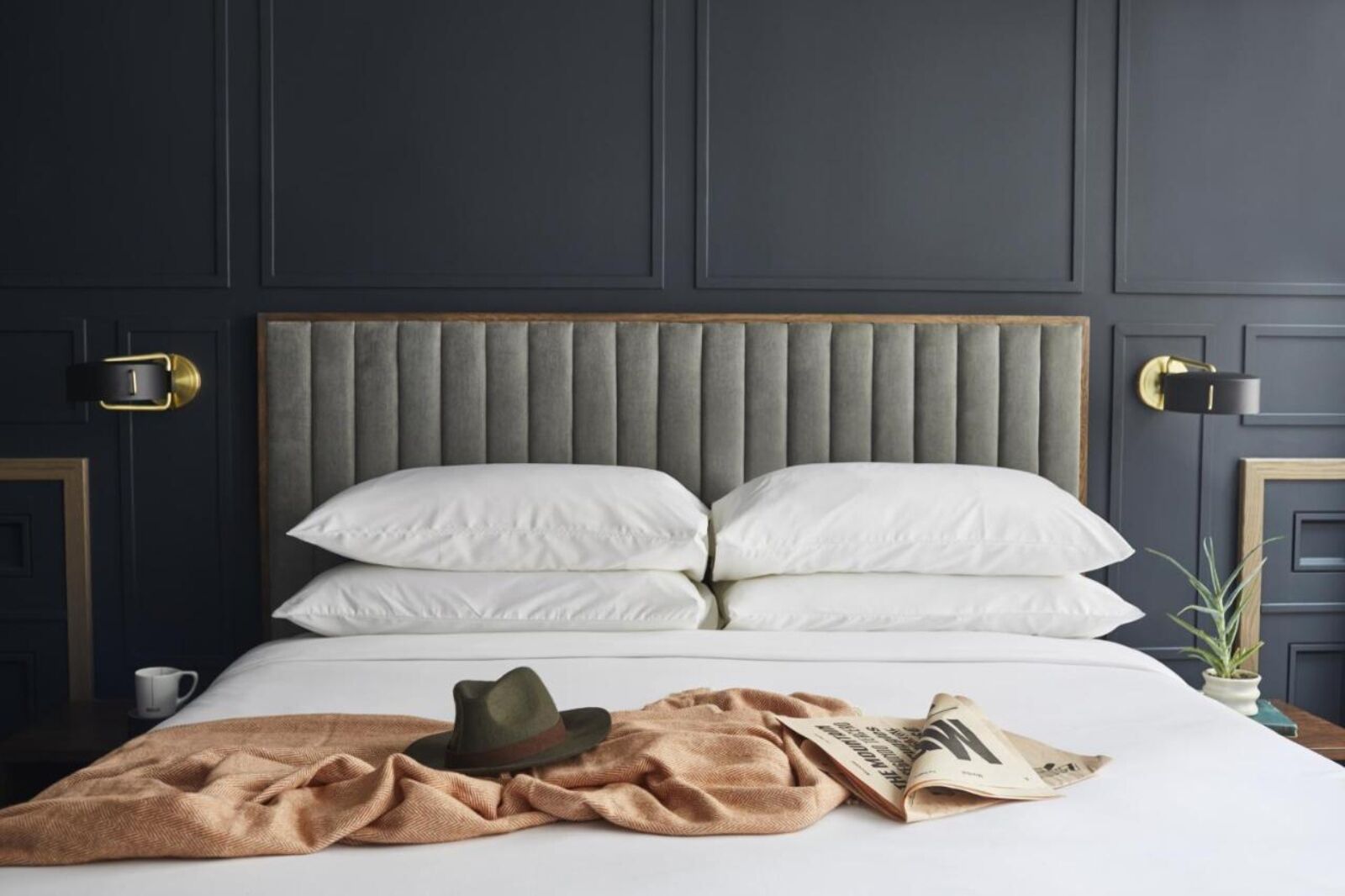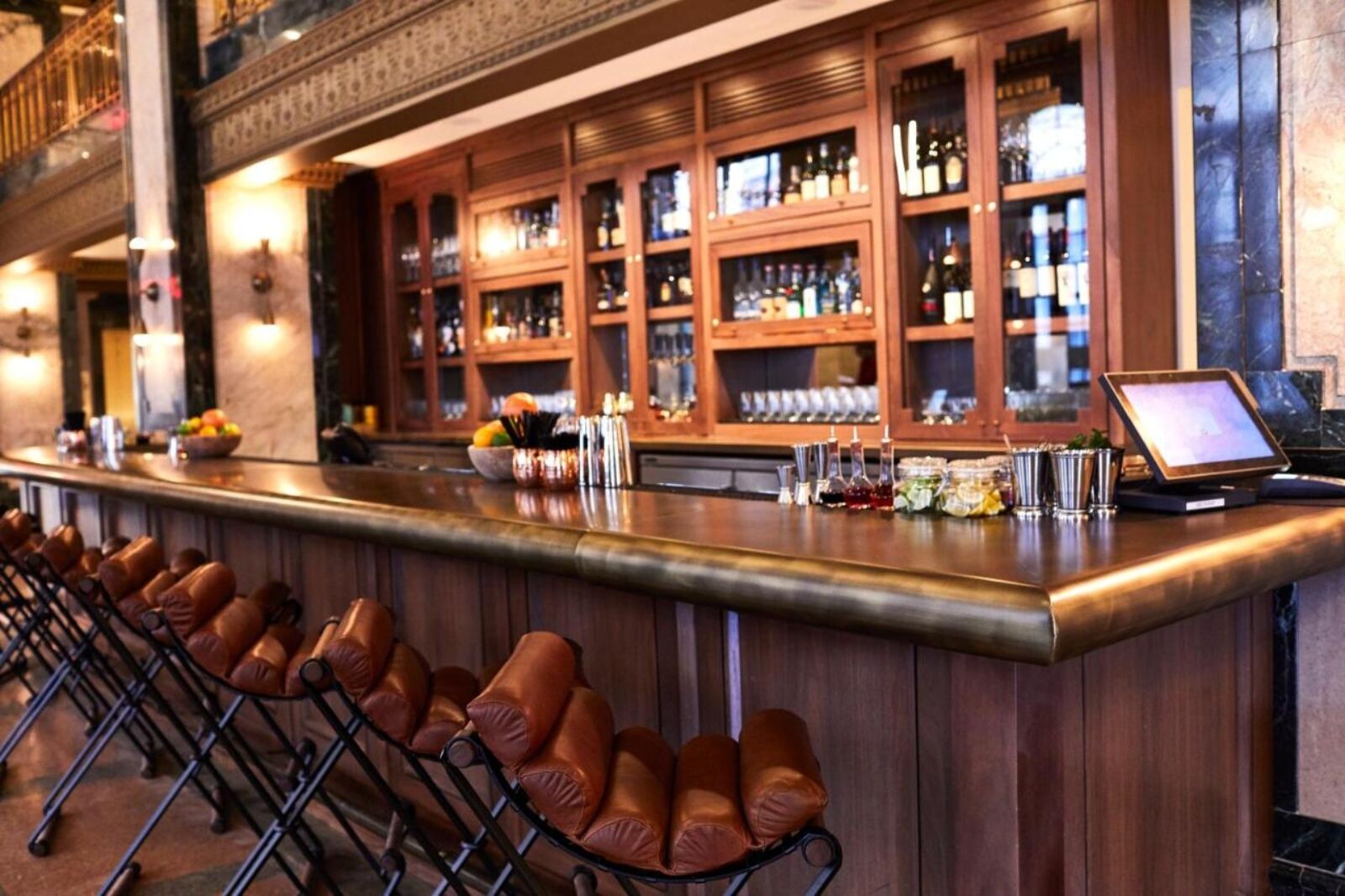 See more photos
Located in the heart of downtown, Noelle is an art-centric hotel and creative gathering place for both the Nashville community and visitors.
The 224-room hotel offers guests modern amenities and luxurious accommodations, as well as access to three restaurants and two bars (including one of the best rooftop decks in town). It sits a few blocks from The Ryman Auditorium, Lower Broadway honkytonk bars, the riverfront, and other downtown attractions. The beautifully designed rooms feature stylish furnishings, artwork from local artists, plush bedding, and top-of-the-line technology.
Price per night: $460
Noelle: 200 4th Avenue North, Nashville, 37219
Book Now
Fairlane Hotel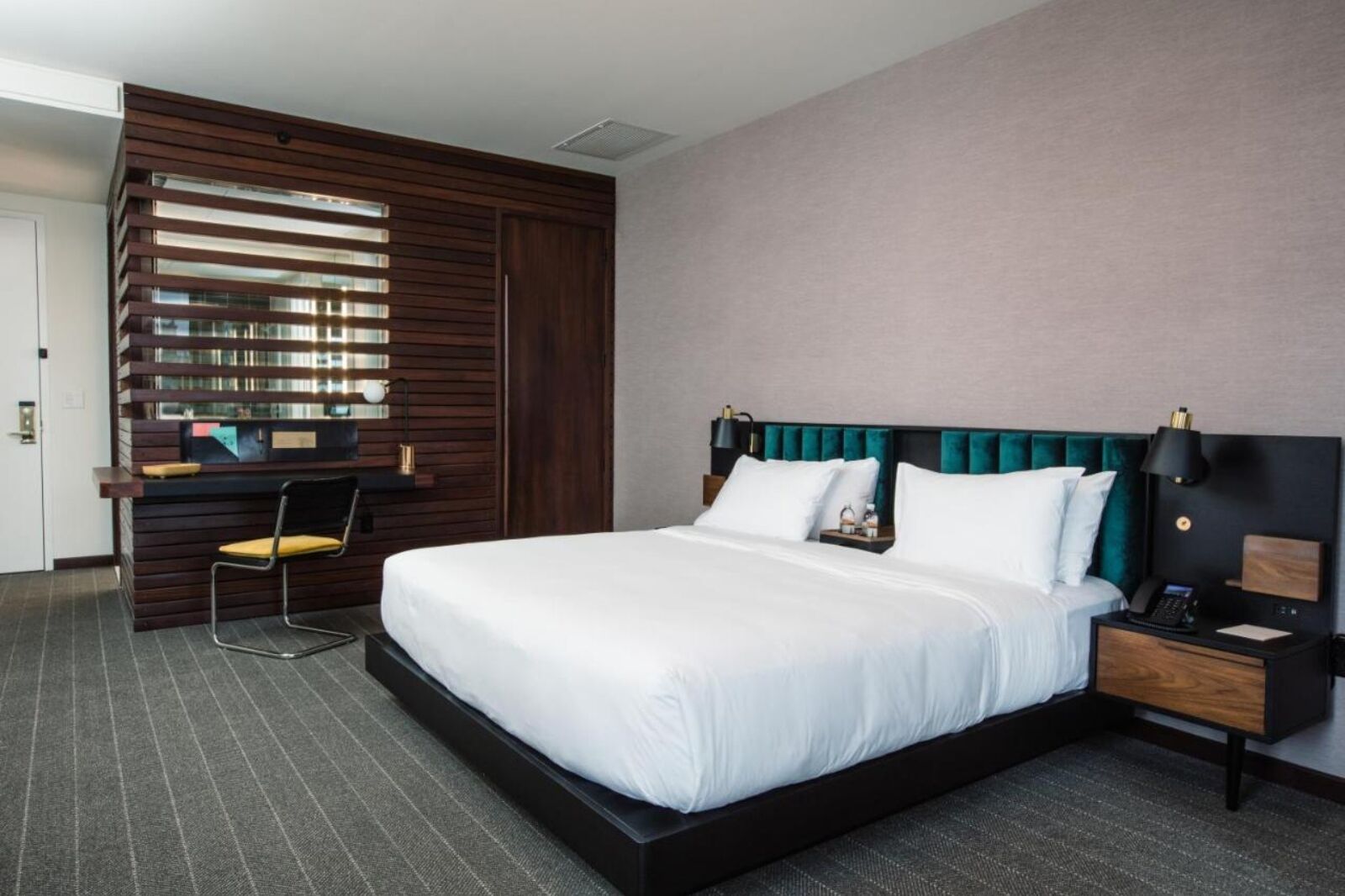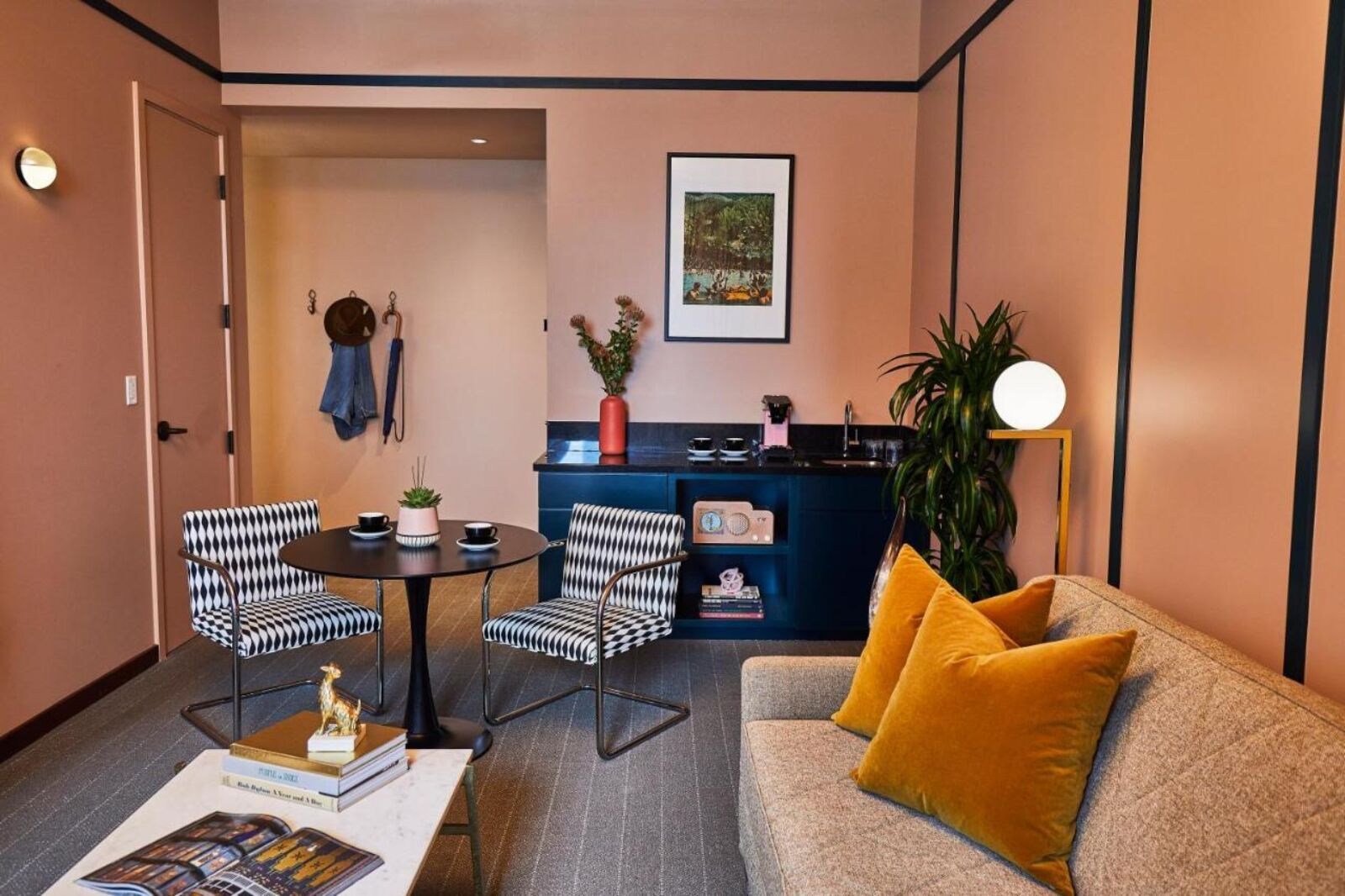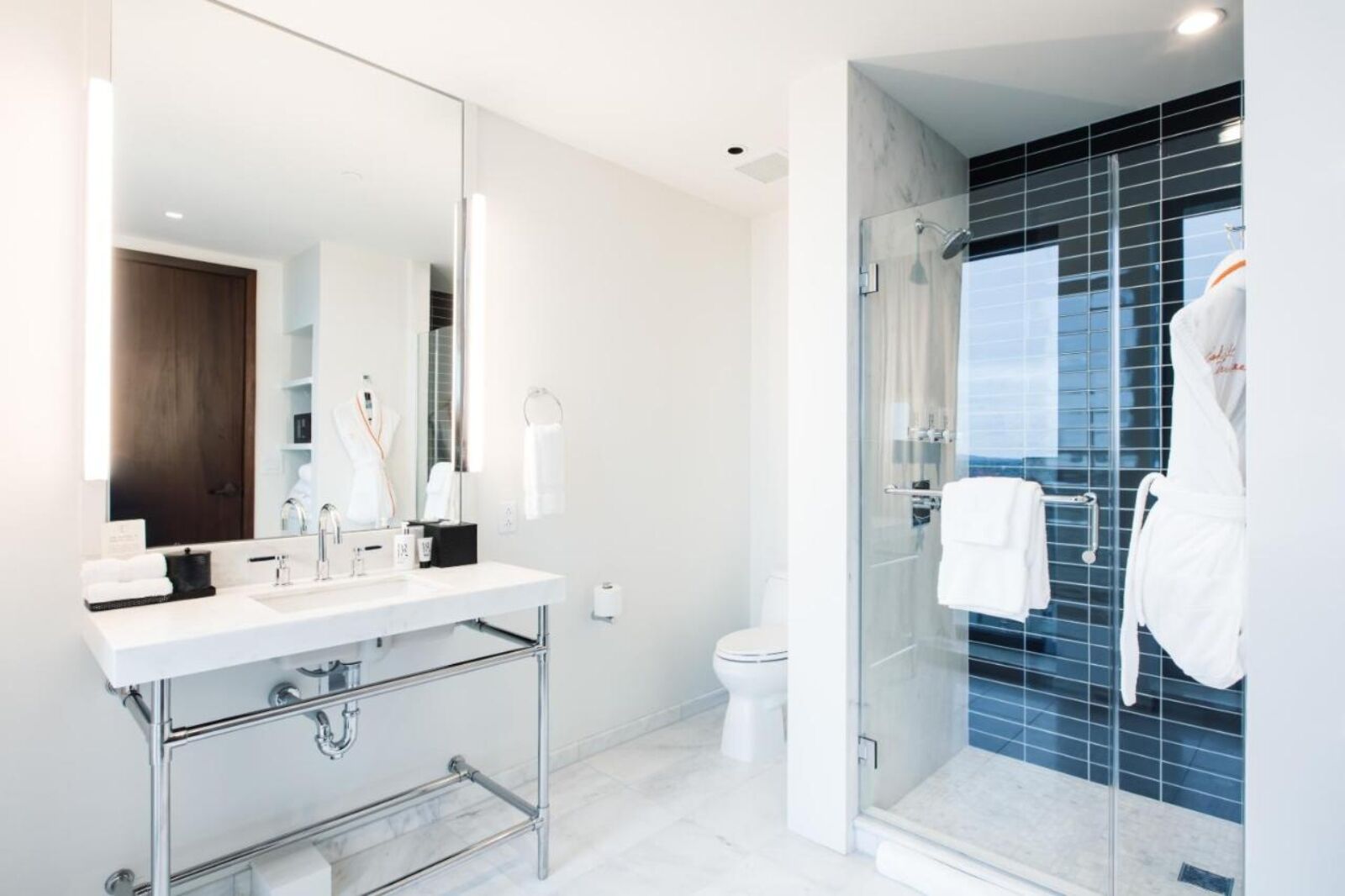 See more photos
The Fairlane is a luxe hotel that brings back the décor and personality of the 1960s and 70s. It's smack-bang in the center of downtown, steps away from the live music and entertainment on Broadway Avenue. The boutique hotel is renowned for its detailed driven midcentury décor, extensive room service menu, well-equipt fitness center, and all round five-star service.
Featuring 81 rooms, each filled with bespoke furnishings such as Kate Spade-inspired polka dot armchairs and cherry red leather sofas, plus an exclusive cheese shop — Cheese Gal — the Fairlane is hands down one of the best and most stylish Nashville hotels.
Price per night: $450
Fairlane Hotel: 401 Union Street, Nashville, TN 37219
Book Now
21c Museum Hotel Nashville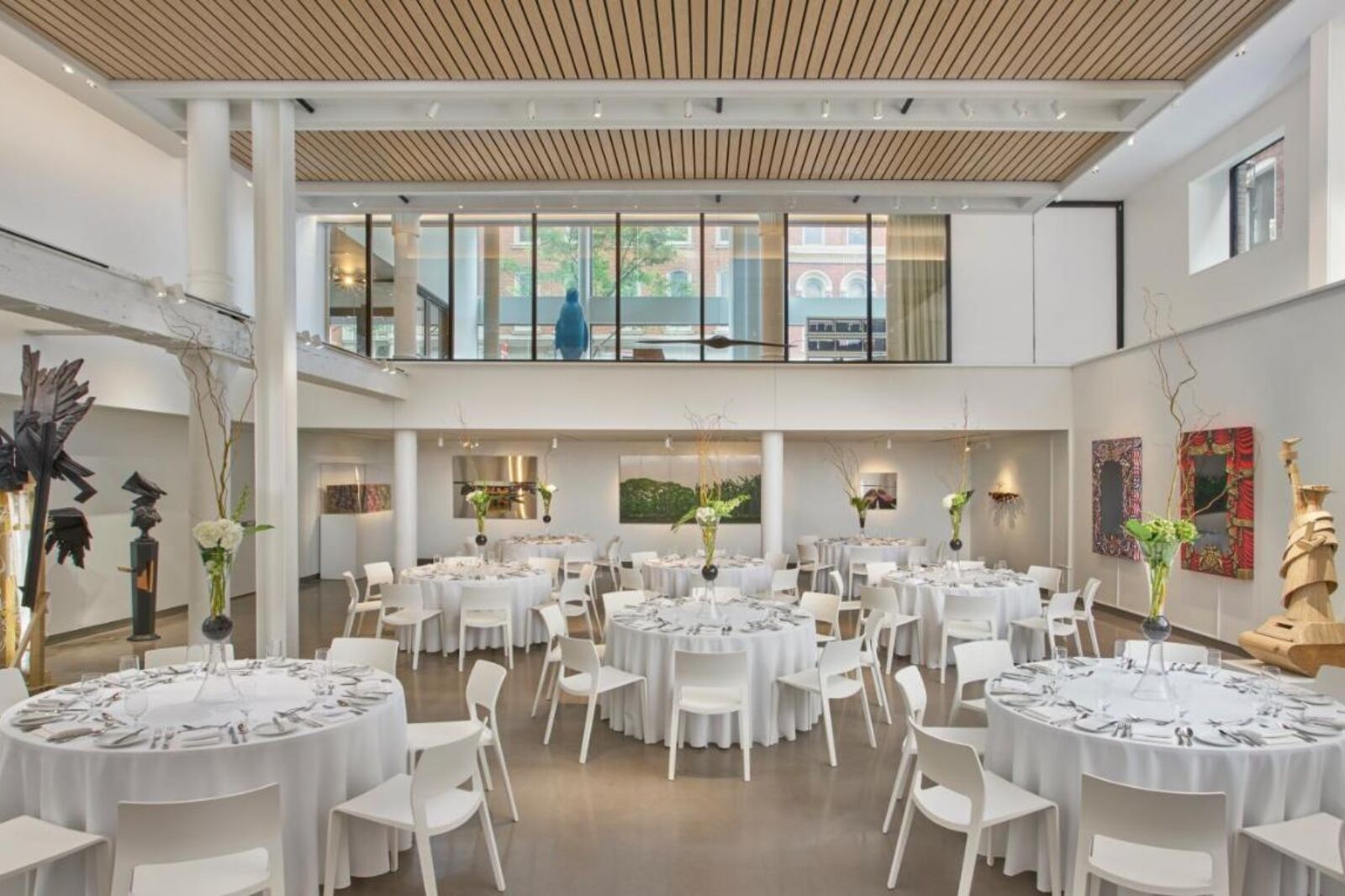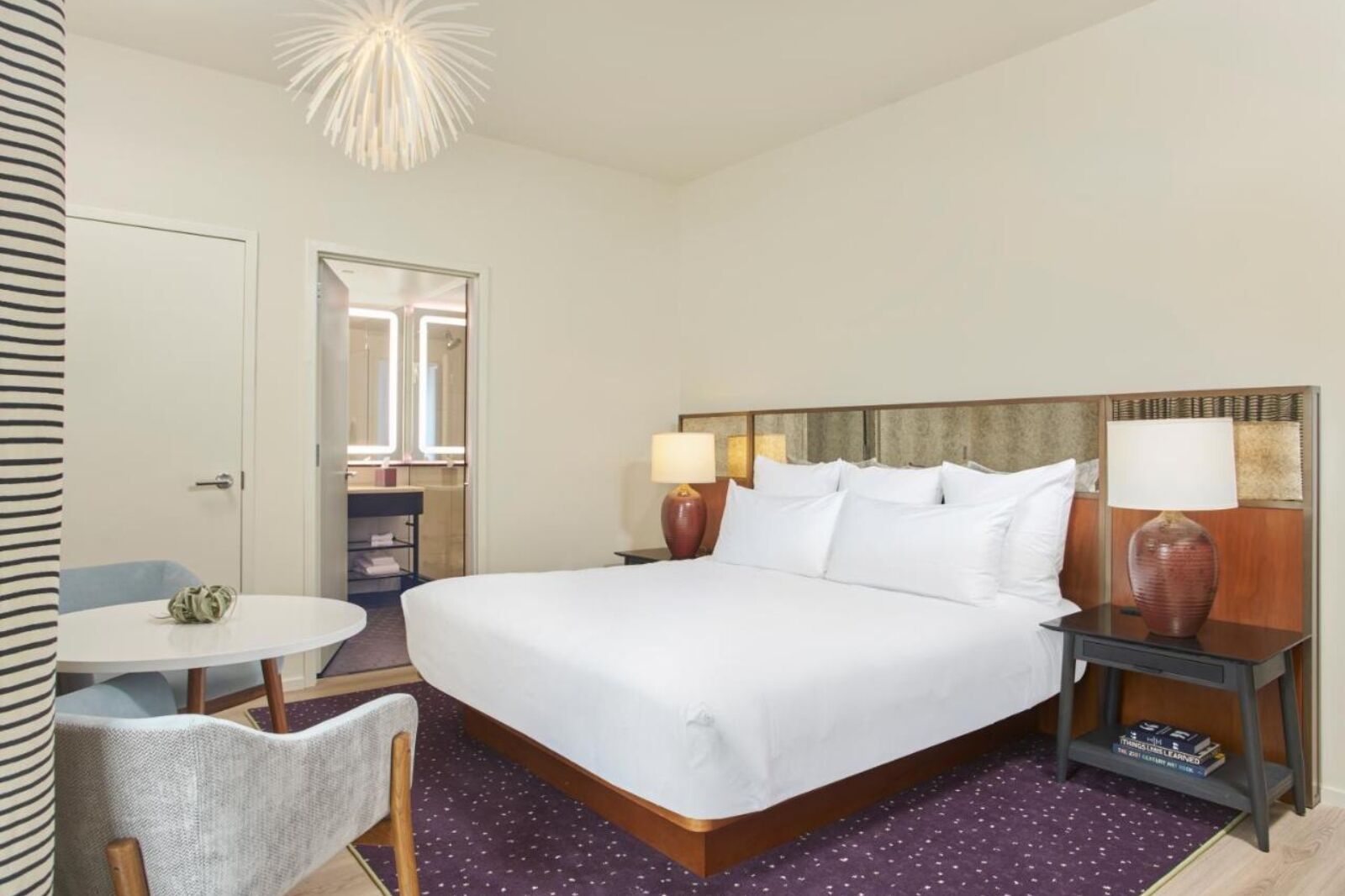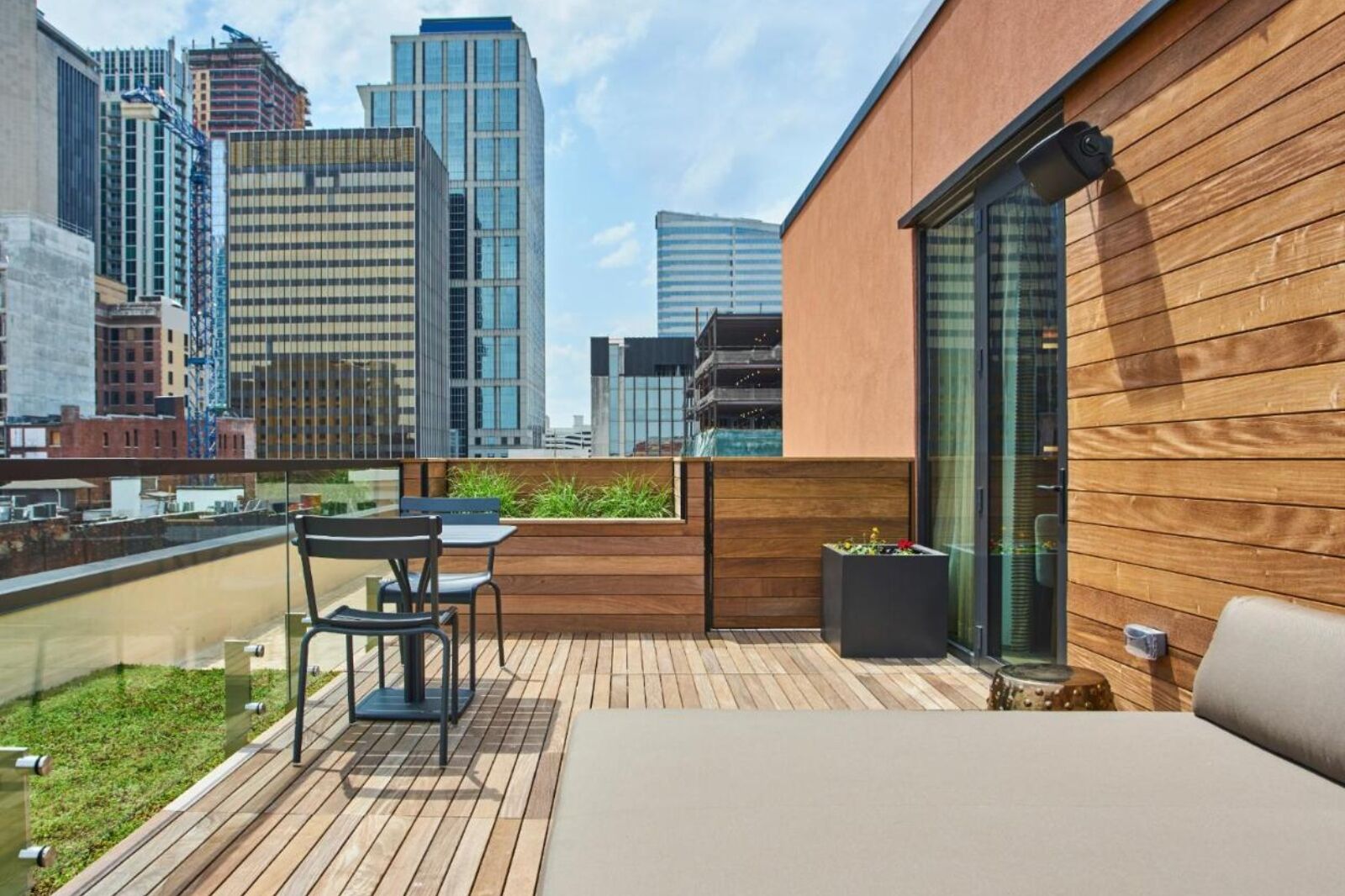 See more photos
This hotel is — quite literally — a contemporary museum with modern art exhibits on every floor. 21c Museum Hotel is situated in the historic Gray & Dudley warehouse on 2nd Avenue, two blocks from the riverfront. The original property has been reimagined to provide guests with an unforgettable experience combining luxurious accommodations and curated exhibitions.
Each of the 124 exquisite rooms and suites features rich hardwood flooring, soaring high ceilings with expansive windows, and is stylishly appointed in a sophisticated purple and grey color scheme.
Price per night: $400
21c Museum Hotel Nashville: 221 2nd Avenue North, Nashville, TN 37201
Book Now
Vandyke Bed & Beverage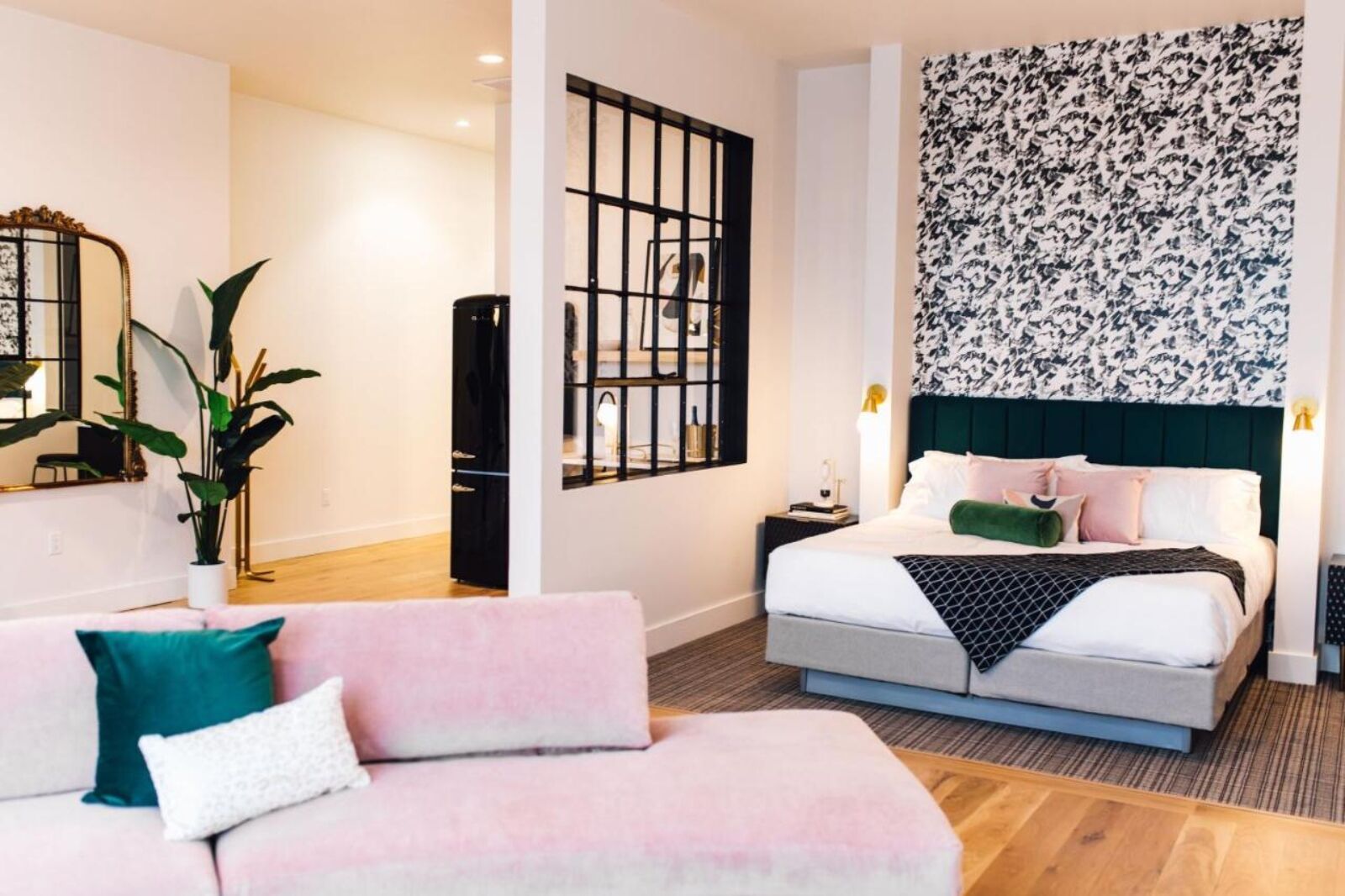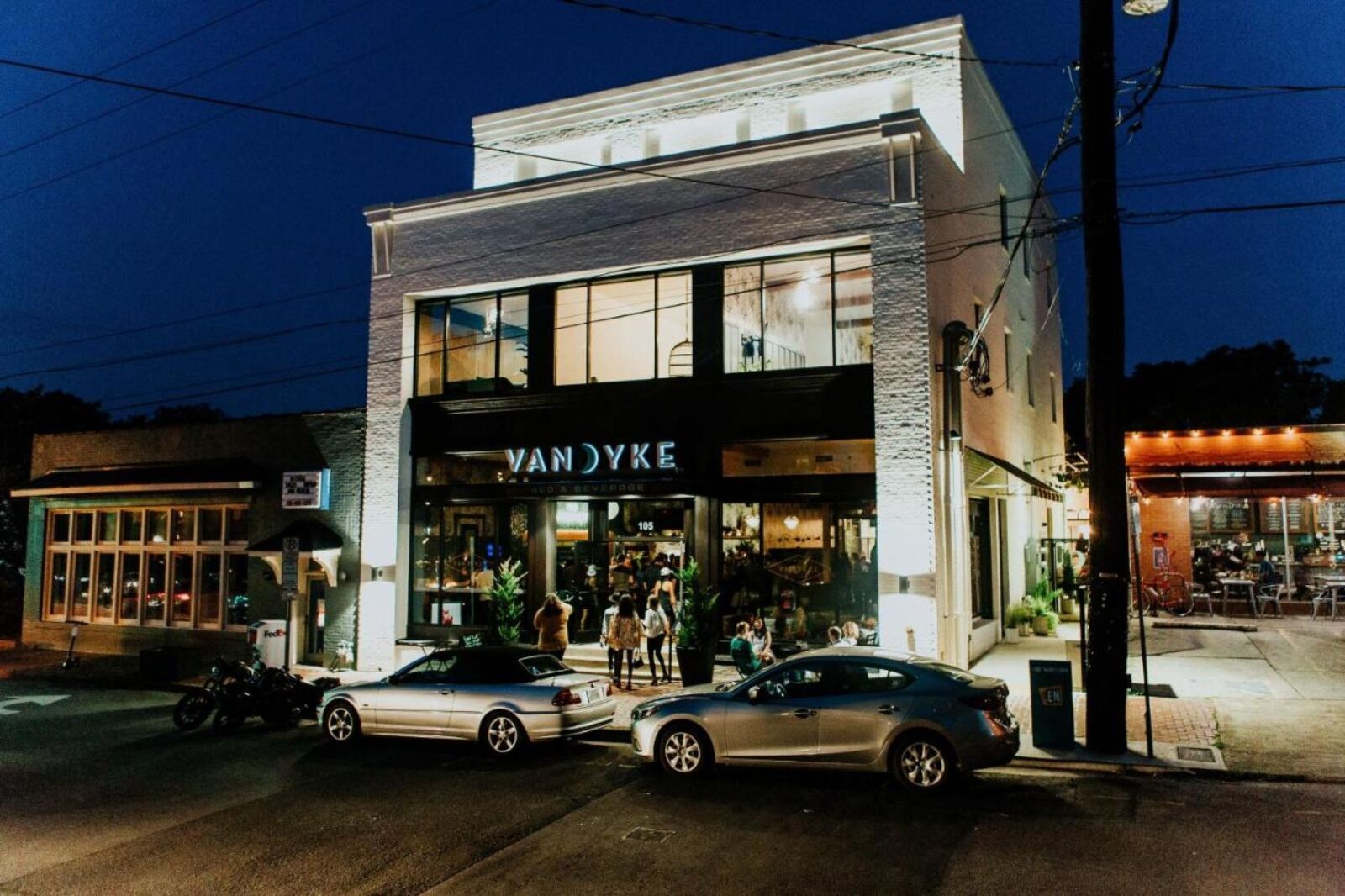 See more photos
You can indulge your inner mixologist in this luxurious bed and breakfast. Featuring eight modern guest rooms, each one draws from the spirit that it's named after — opt for "Tequila" for a taste of desert-chic or "Rum" with tropics-inspired décor. Whether you're an experienced cocktail connoisseur or just looking for something different, Vandyke Bed & Beverage is a very fun hotel.
It is also close to Broadway, Ryman Auditorium, Nashville Municipal Auditorium, and numerous other popular destinations. The convenient location provides guests with easy access to dining, shopping, and entertainment options that can be enjoyed within a short walk. You can also take advantage of public transportation which is readily available right outside the door.
Price per night: $345
Vandyke Bed & Beverage: 05 South 11th Street, Nashville, TN 37206
Book Now
Hutton Hotel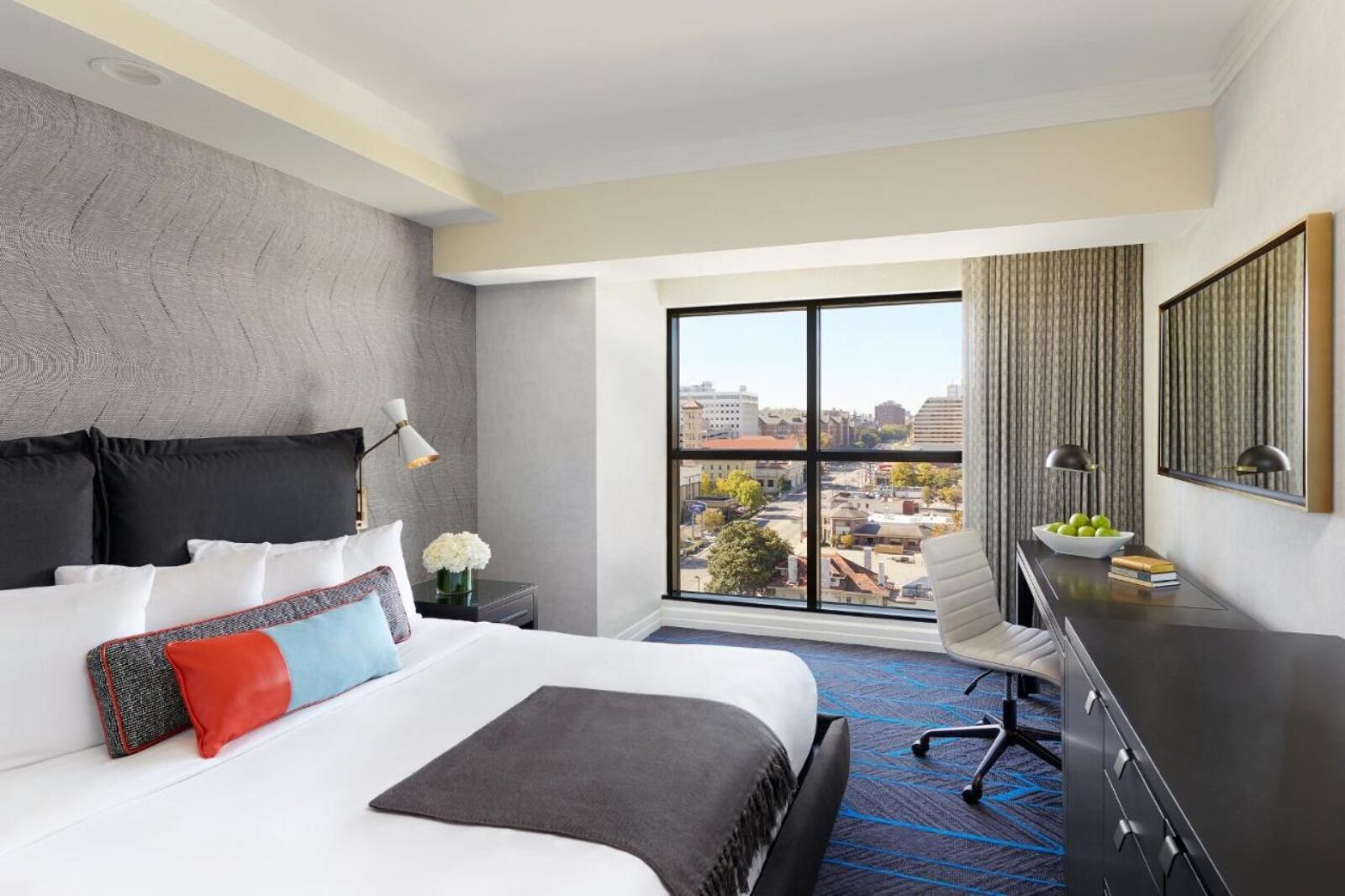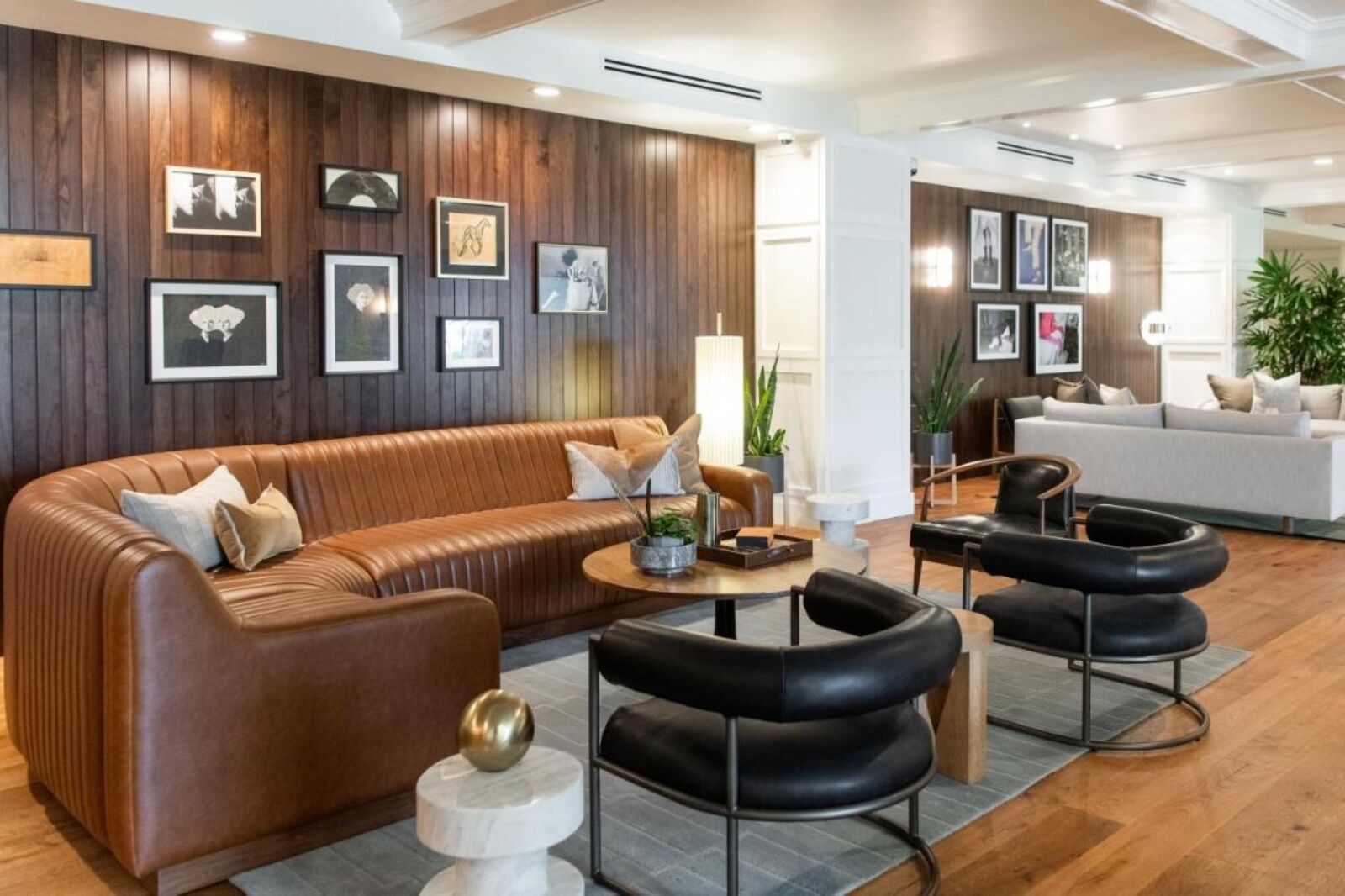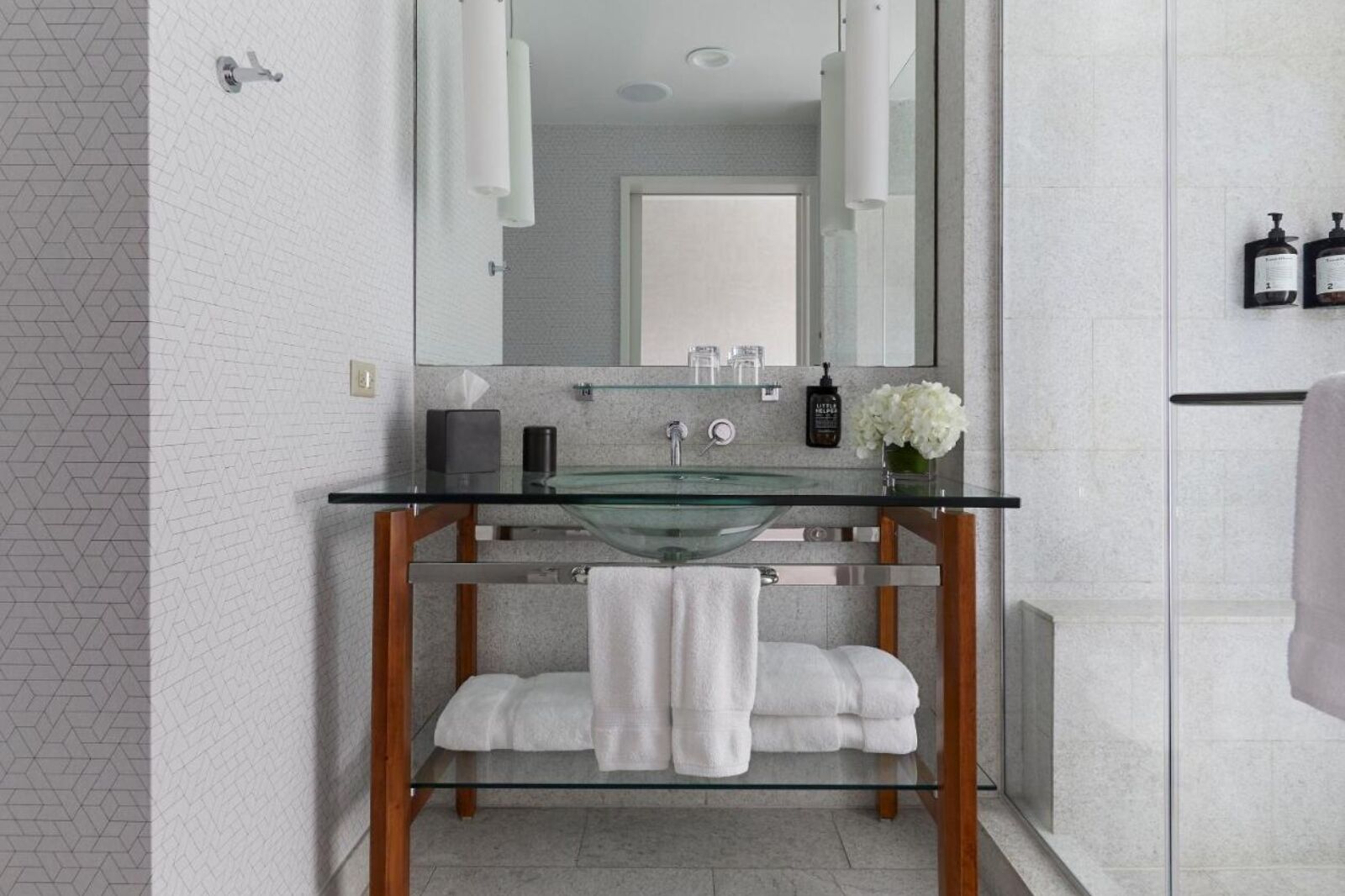 See more photos
Established in 2008, the Hutton Hotel was one of the first boutique hotels to open in the city. Located in Nashville's Midtown neighborhood, it is just a 10-minute walk away from Music Row and The Gulch.
Hutton offers 195 bright and airy guest rooms and 52 suites with custom wallpaper and music-themed decorations. And the musical influence does not end there. It also caters to creative professionals with its writers' rooms and recording studios that offer 24-hour room service so guests have space to focus with no interruption.
Price per night: $310
Hutton Hotel: 1808 West End Avenue, Nashville, TN 37203
Book Now
The Russell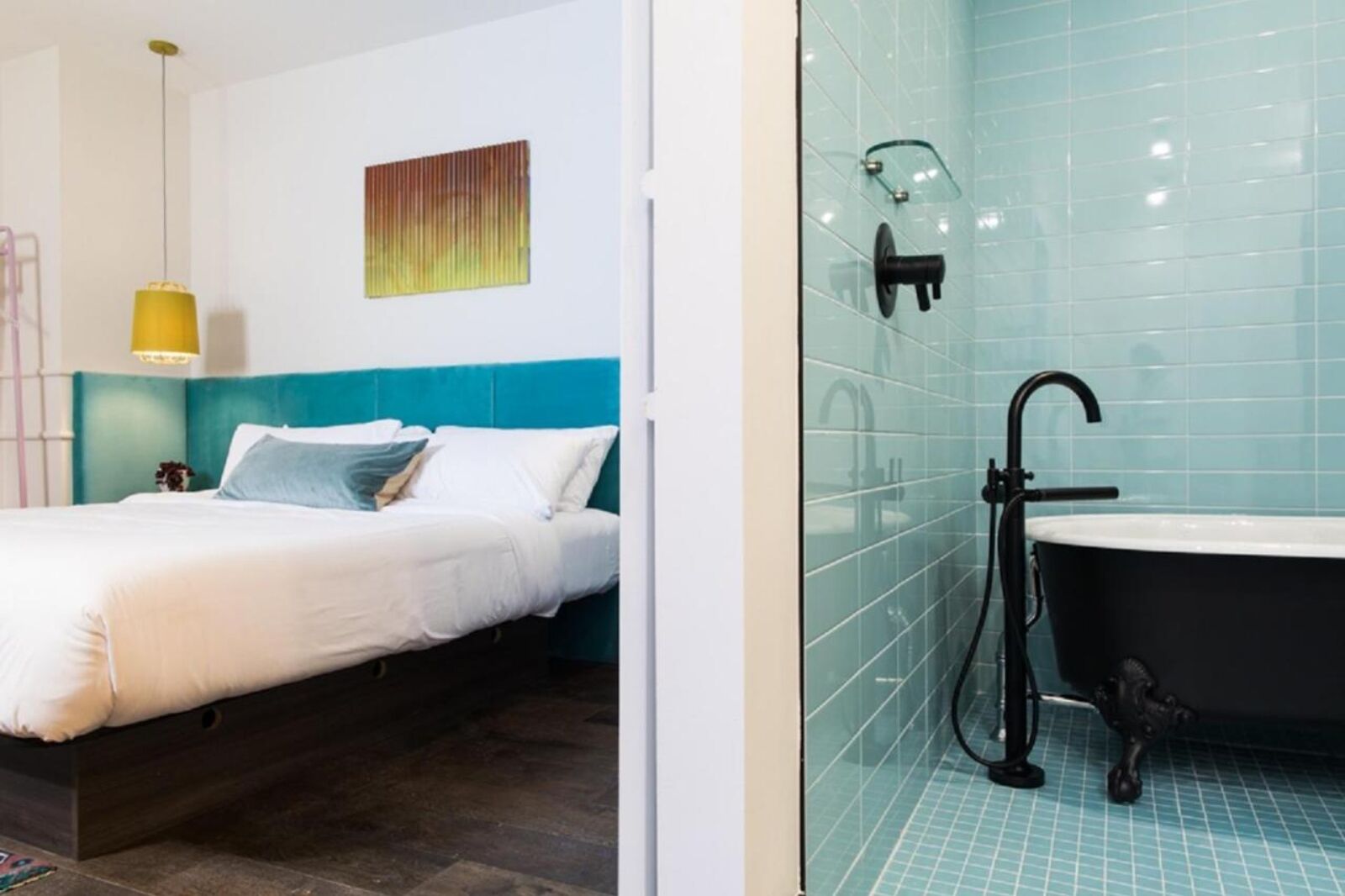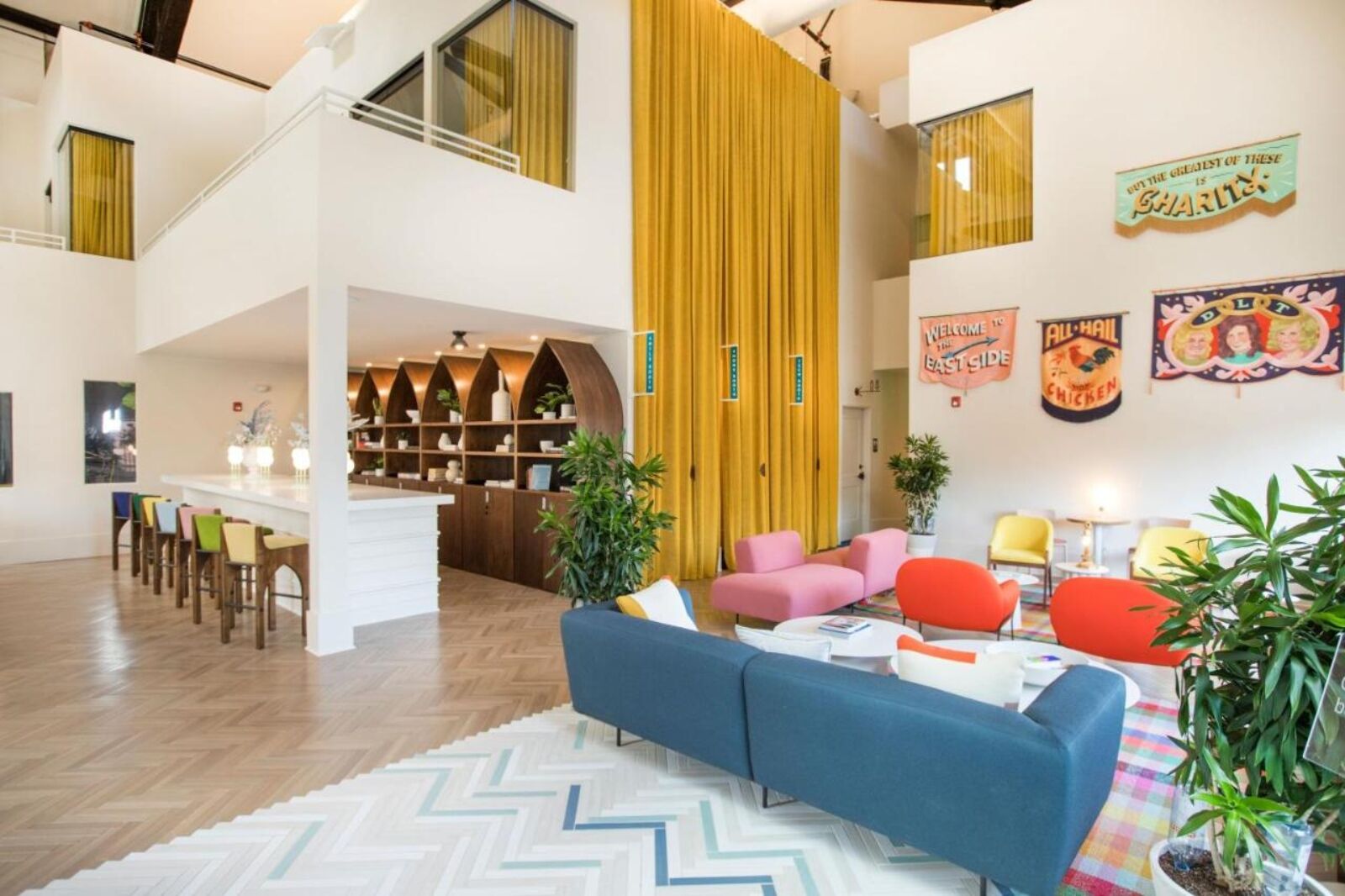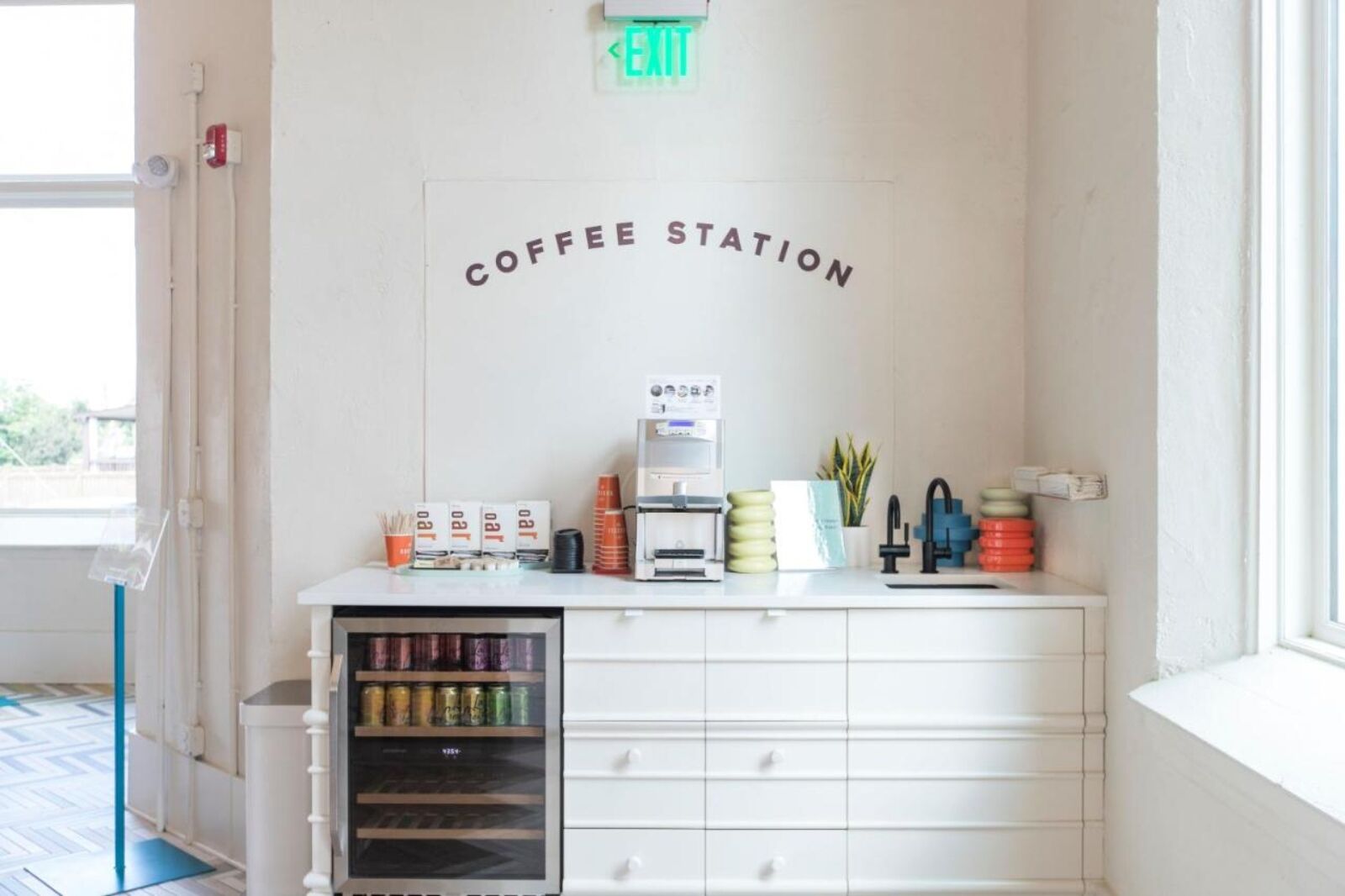 See more photos
This 23-room hotel is a restored neighborhood church — think historic accents like tall ceilings, stained-glass windows, and interior brick walls. Features such as intricate red-tiled showers, accent walls painted a dreamy sky blue and petal pink, arch mirrors to resemble an altar, and repurposed pews that have been turned into headboards can be found in every room at this hotel.
The Russell is just a few city blocks from East Nashville's shopping areas, with bars and restaurants within in a five-minute walk. In a nutshell, it's a quirky, affordable hotel in a prime location.
Price per night: $290
The Russell: 819 Russell St., Nashville, TN 37206
What is the best area of Nashville to stay in?
If you're looking for the best area to stay in Nashville, then you should consider Downtown, Midtown, West End, Hillsboro Village, The Gulch, East Nashville, and Music Valley.
Downtown is the heart of the city and has a wide variety of attractions like music venues, delicious restaurants, and historical sites. Midtown is home to Vanderbilt University and many trendy bars and shops. West End is an up-and-coming neighborhood with unique boutiques and eateries. Hillsboro Village is another charming area with plenty of cafes and independent stores. The Gulch is a hip district full of chic restaurants and bars. While East Nashville offers a more bohemian atmosphere with its honky-tonks, hot chicken joints, and music history. Finally, Music Valley is great for those who want to be close to the Grand Ole Opry House.
Is it better to stay Downtown Nashville or Music Row?
Downtown Nashville is the tourist-welcoming strip of honky-tonks and bars, while Music Row is mainly music offices with a few bars and restaurants. If you want to explore the city's music scene and check out recording studios, then Music Row is the place to be. On the other hand, if you prefer a more touristy atmosphere with plenty of attractions and activities, then Downtown Nashville is your best bet.
What is the cheapest month to go to Nashville?
If you're looking for a cheap trip to Nashville, the best time to visit is from November to March. During this period, you can find great deals on flights and accommodations.
What did you think of this story?