These Panama City Beach Airbnbs Put You Close To the Beach and City Amenities
Panama City Beach is a stunning resort town located on the Gulf of Mexico coast in Bay County, Florida. Almost 30 miles of sugar-white sand and an average of 320 days of sunshine each year makes Panama City Beach one of the most popular coastal cities in the United States.
The crystal clear water here is home to amazing marine life and there are some excellent snorkeling, fishing spots, and paddle routes. There are also two state parks close by — St. Andrews State Park and Camp Helen State Park — which offer outdoor recreation opportunities such as hiking trails and nature walks. For those looking for entertainment, live music, and DJs can be found every night of the week and the more low-key, Tiki Bar at the Sandpiper Beacon or The Alibi Beach Lounge & Grill offer great views of the beach and delicious food and drinks.
When it comes to choosing a place to stay, Panama City Beach has a great range of Airbnbs. From luxurious beachfront condos to cozy studios with a view, you'll find something that suits your needs and budget. These Airbnbs range in size and amenities, but all have rave reviews and everything you want for a home-away-from-home vacation rental.
Traveling to Florida? Check out Matador's Florida accommodations guides:
We hope you love the Panama City Beach Airbnbs we recommend! Just so you know, Matador may collect a small commission from the links on this page if you decide to book a stay. Listed prices are accurate as of the time of publication.
New luxury one-bedroom condo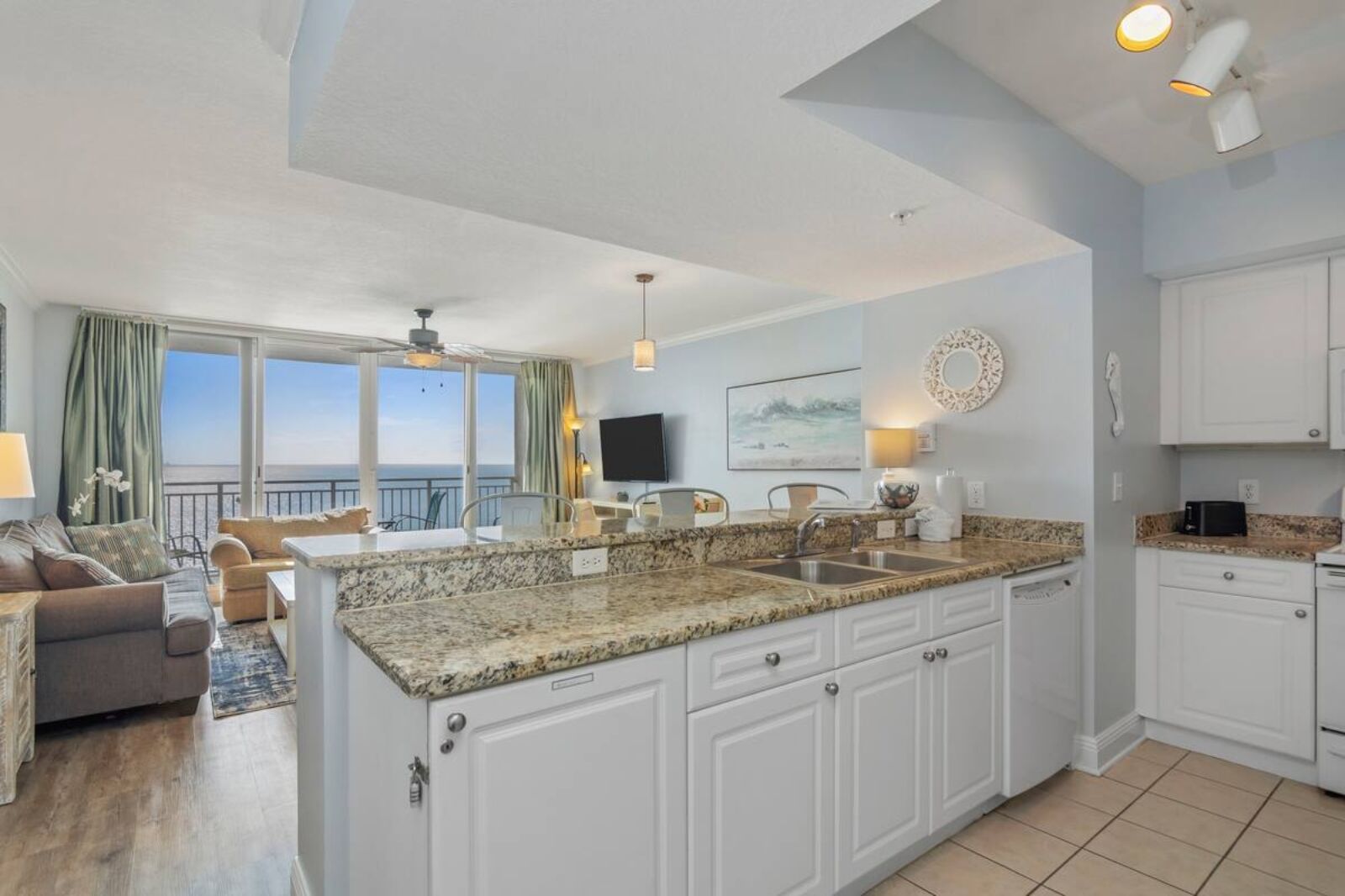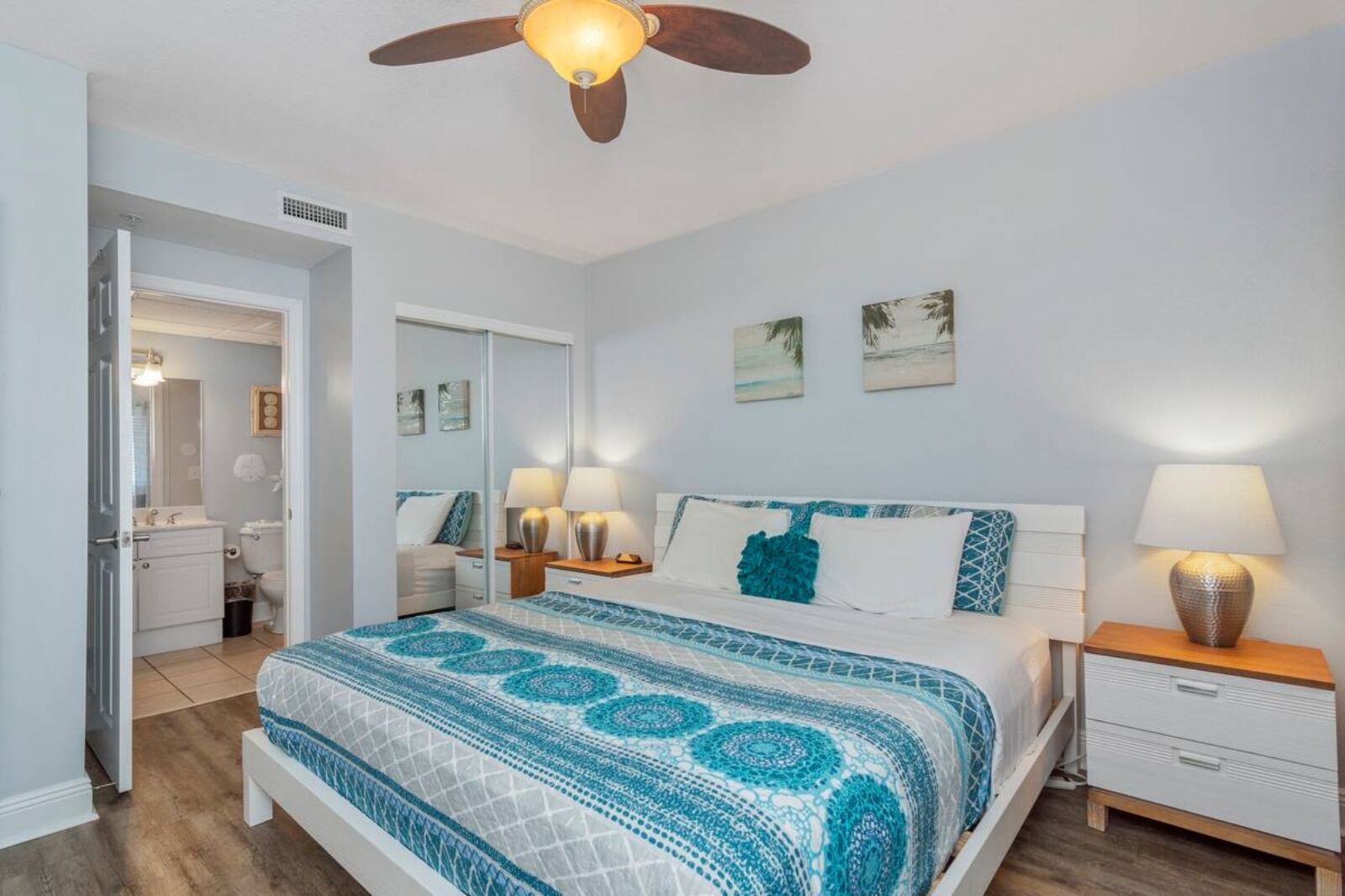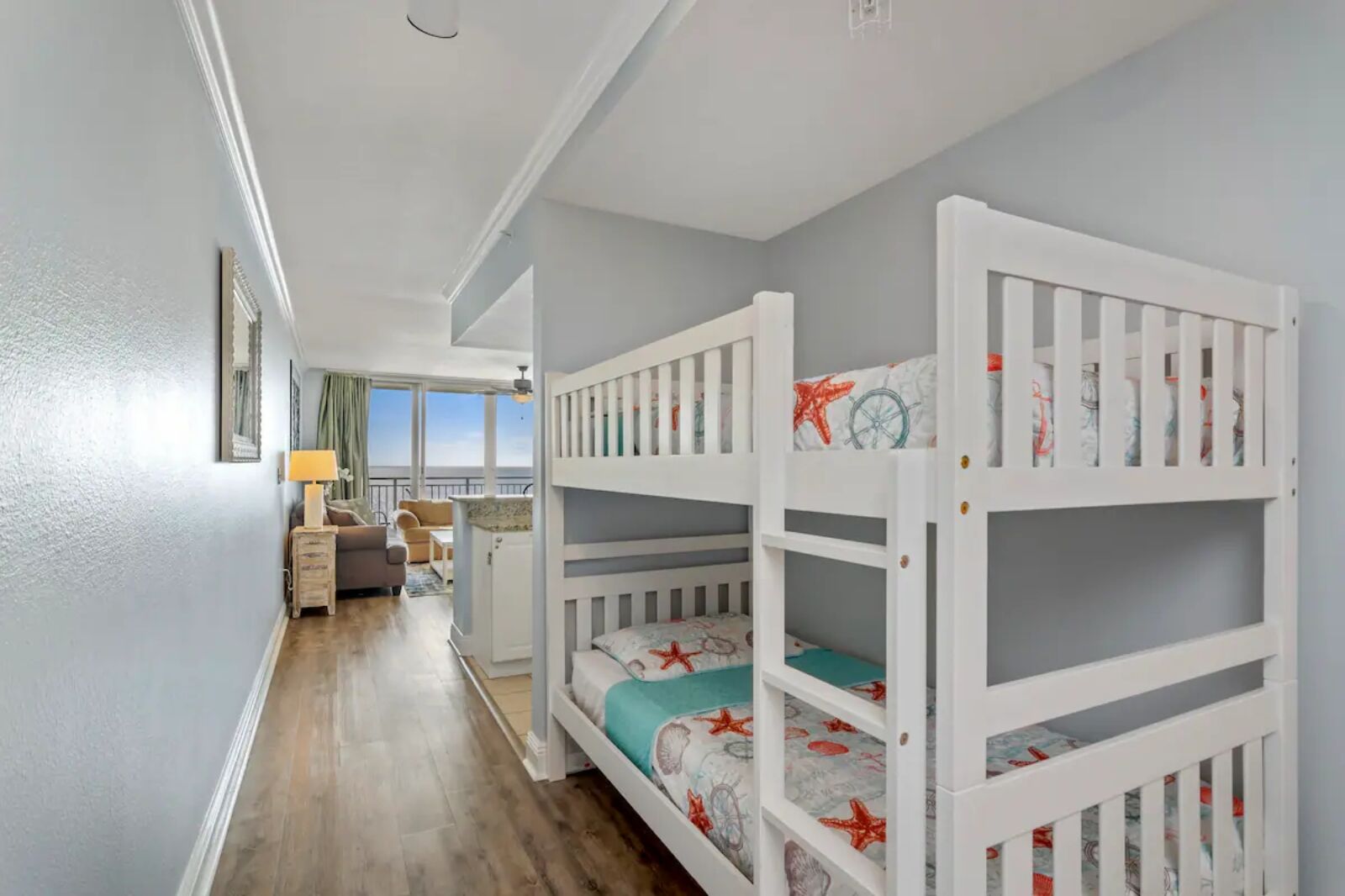 See more photos
Modern and comfortable with access to shared amenities, this is listed as a one-bedroom but sleeps six. As well as a king-sized master, the ocean-view property has two bunkbeds tucked into an enclave of the open-planned living area and a queen-sized pullout couch. So as long as you have a tight group of friends or you're traveling with family for a short getaway, the condo is a superb beachside option.
Guests also have access to Emerald Beach Resort's two outdoor pools, an enclosed baby pool area, two large hot tubs, a fitness center, enclosed parking, on-site bars, and a Starbucks. The owner is personable and has other rentals in the same unit, so if you're traveling with a larger group, or this condo is not available on your travel dates, they encourage reaching out to enquire about alternative options.
Six guests, one bedroom
Price per night: $151
Book Now
One-bedroom apartment with Gulf front balcony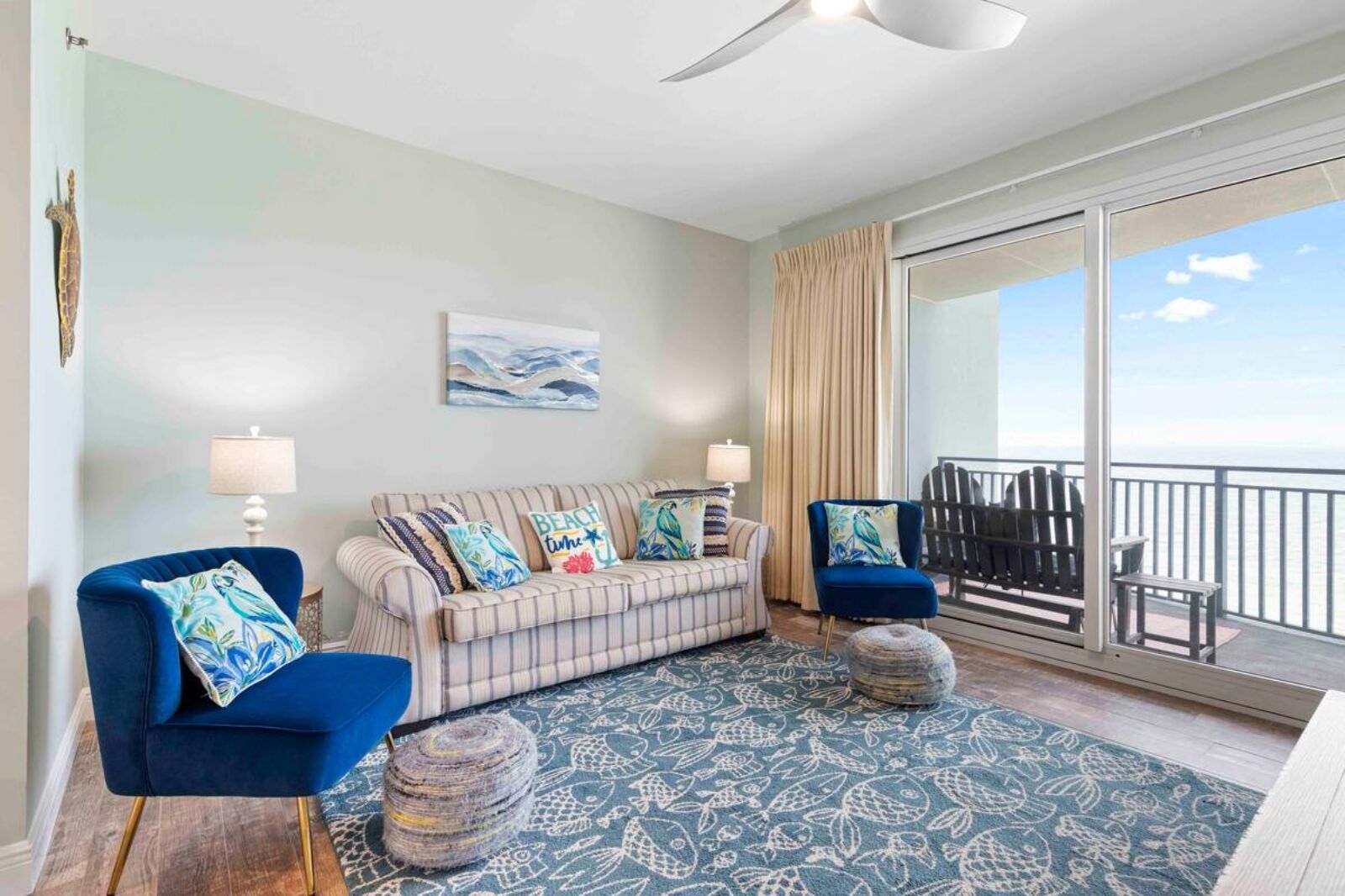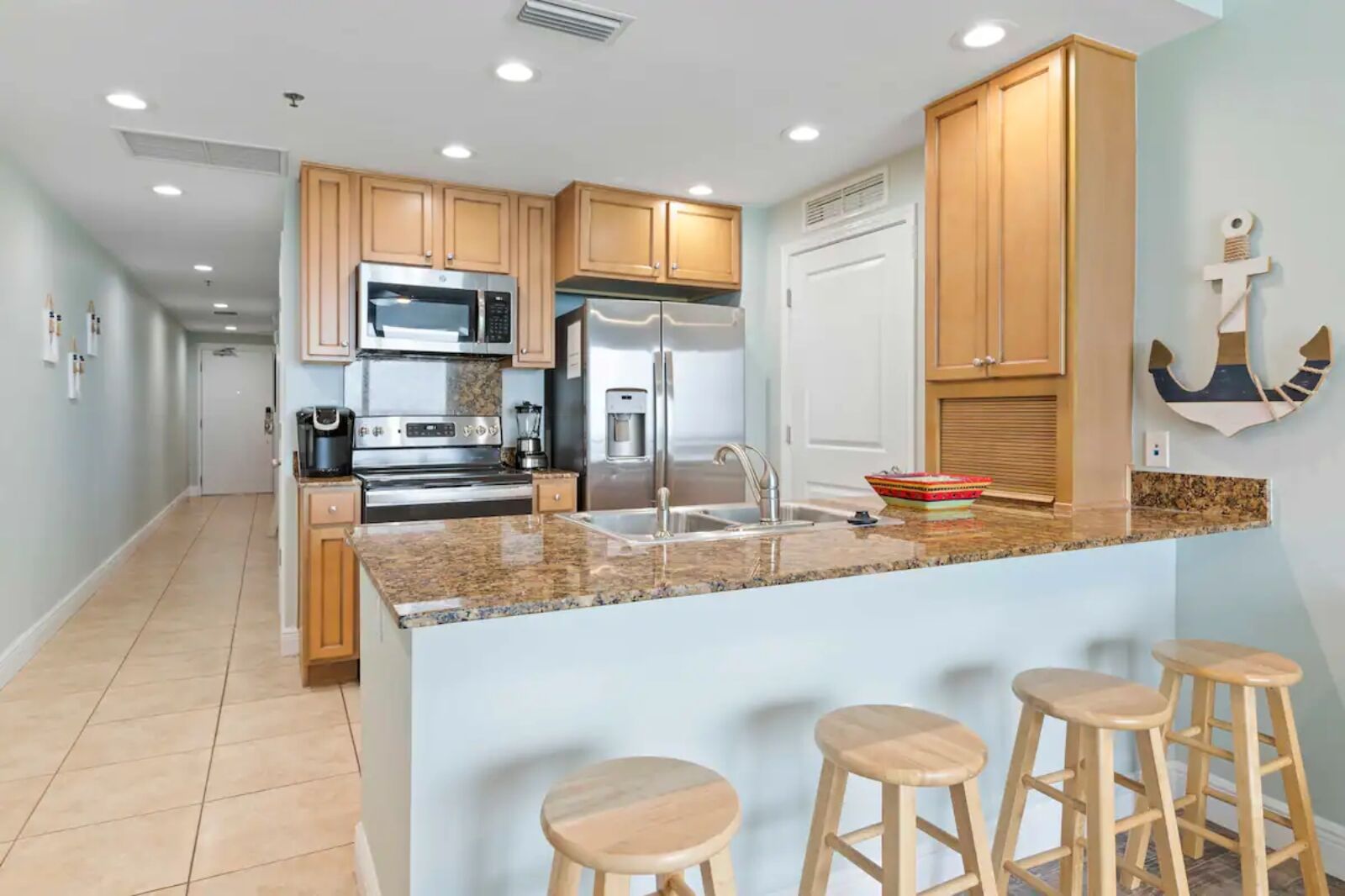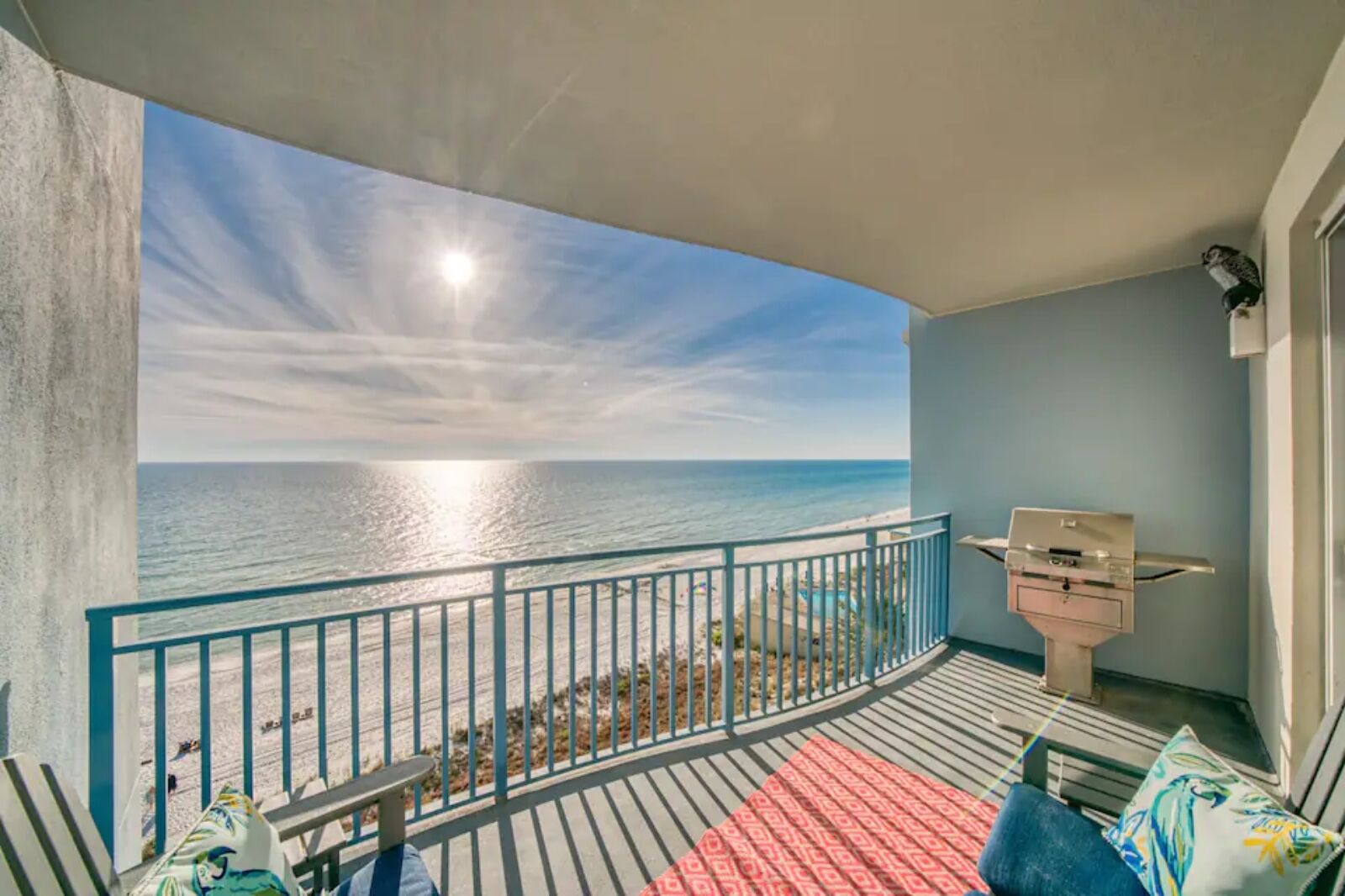 See more photos
With a similar layout as the condo above — a master, hallway bunks, and a sofa sleeper — this sixth-floor apartment is directly on the beachfront with a private balcony facing the Gulf of Mexico. There's a grill on the outdoor area, and a fully-stocked kitchen, and guests can stroll to nearby stores, bars, and restaurants.
Six guests, one bedroom
Price per night: $149
Book Now
Two-bedroom corner unit with beach views for miles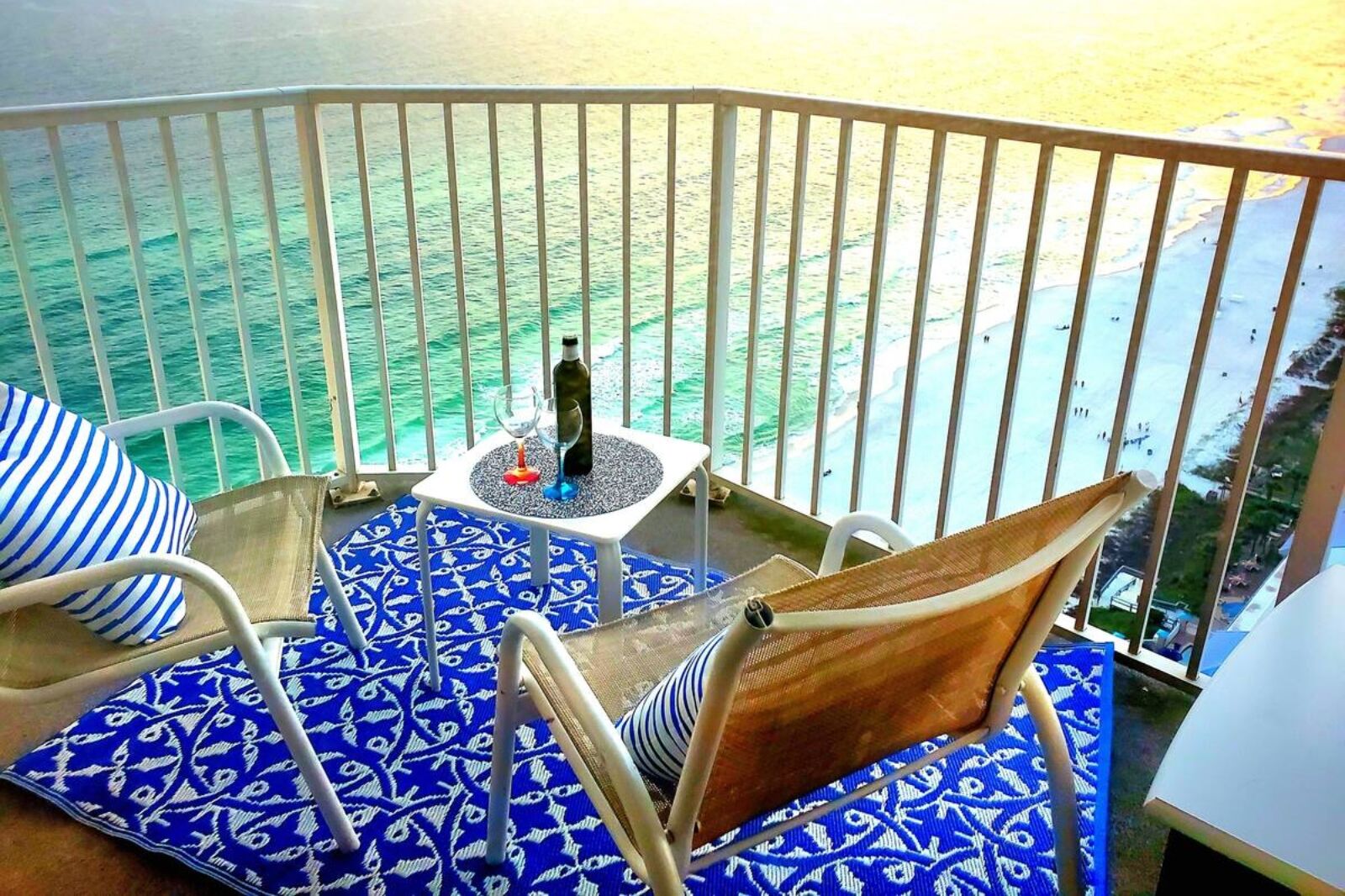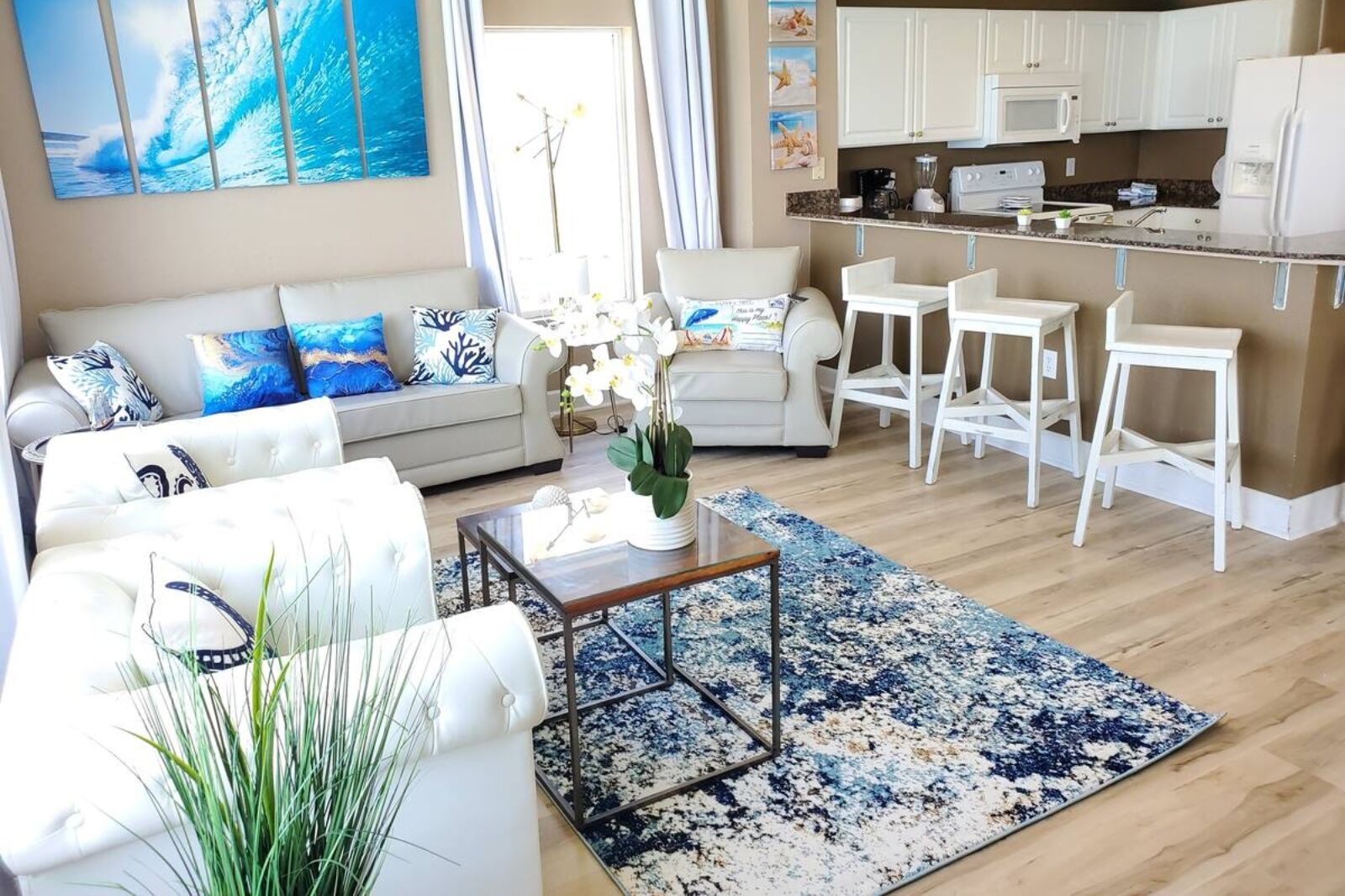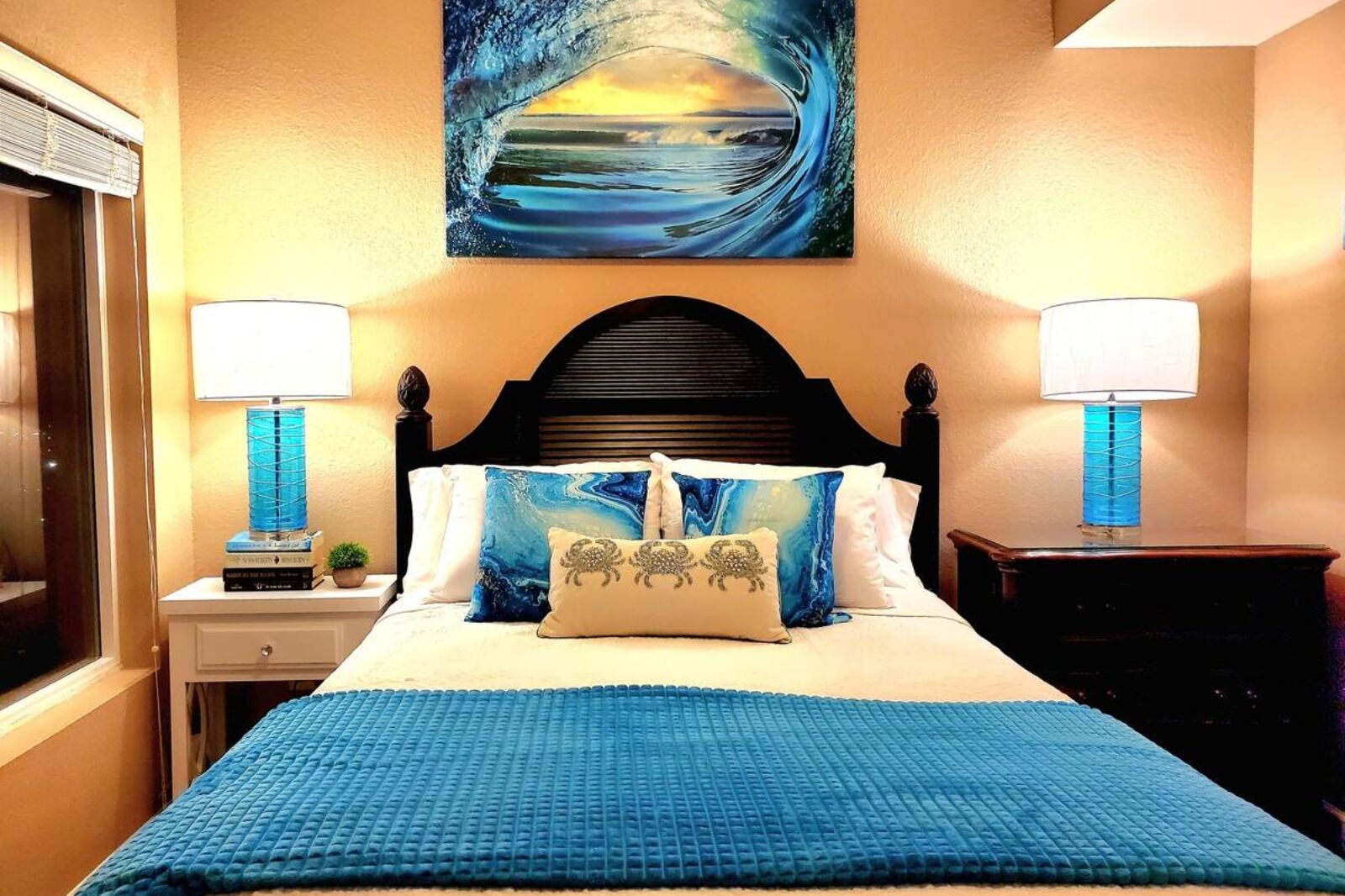 See more photos
This Airbnb is in the tallest building in Panama City Beach on the 25th floor. You can enjoy sunsets from the living room couch or kitchen table. The resort is a few minutes from Pier Park, the premier shopping, dining, and entertainment complex.
The master bedroom has a king-sized bed with a skyline view and a full bathroom with a bathtub. The second, queen-sized bedroom, also has an outlook over the city lights and a separate bathroom with a walk-in shower.
Eight guests, two bedrooms
Price per night: $131
Book Now
Beautiful 25th floor two-bedroom appartment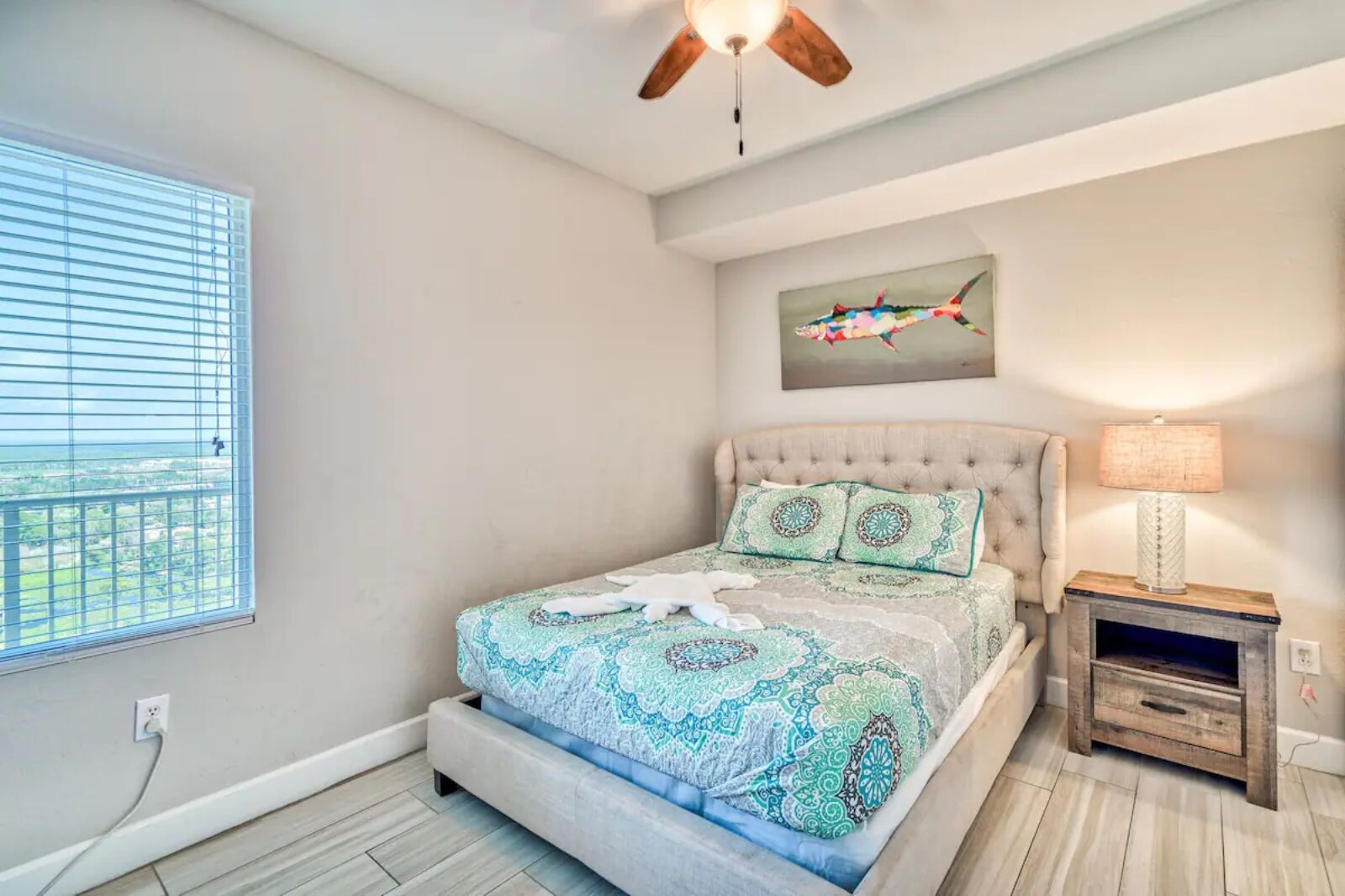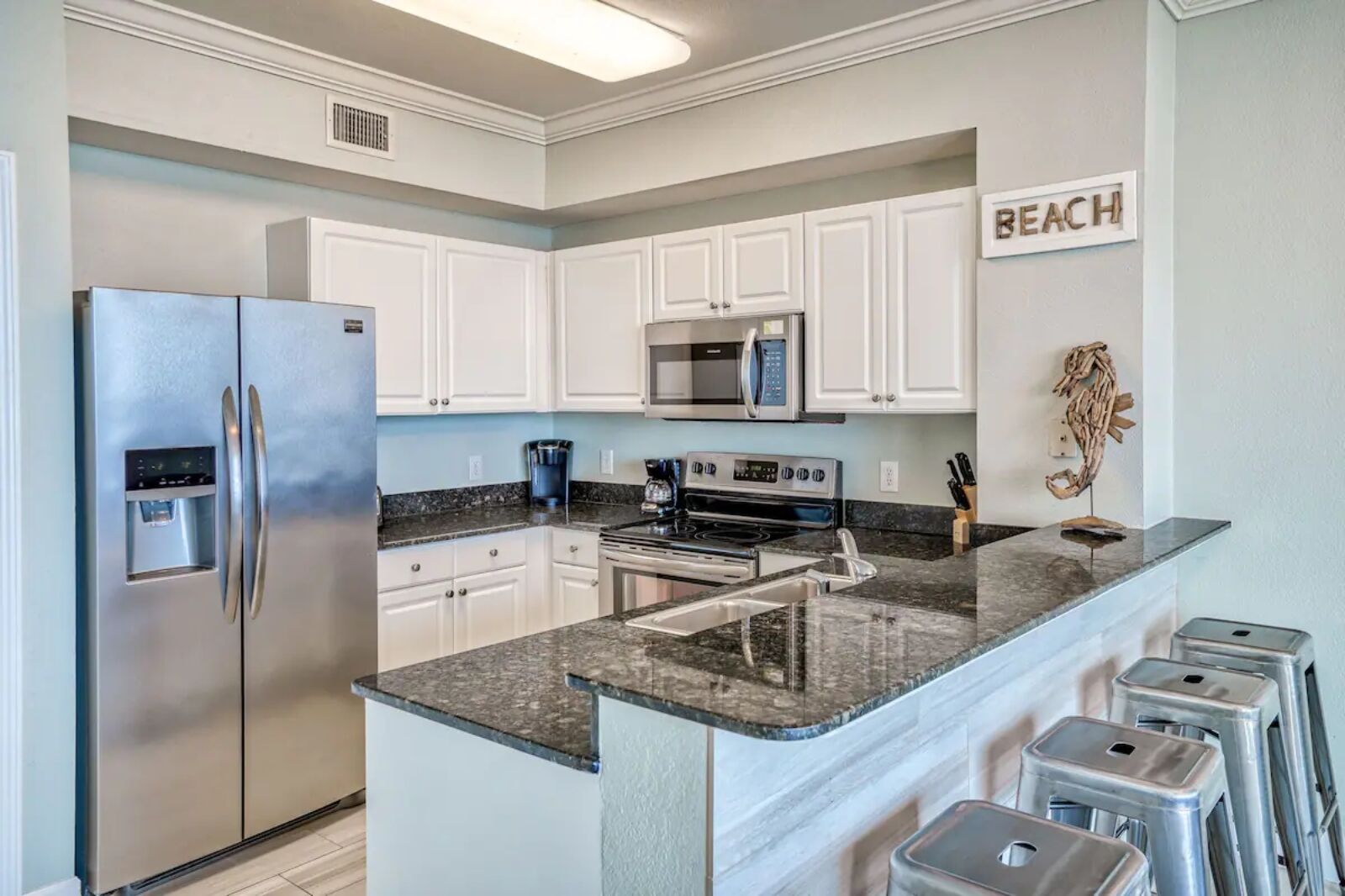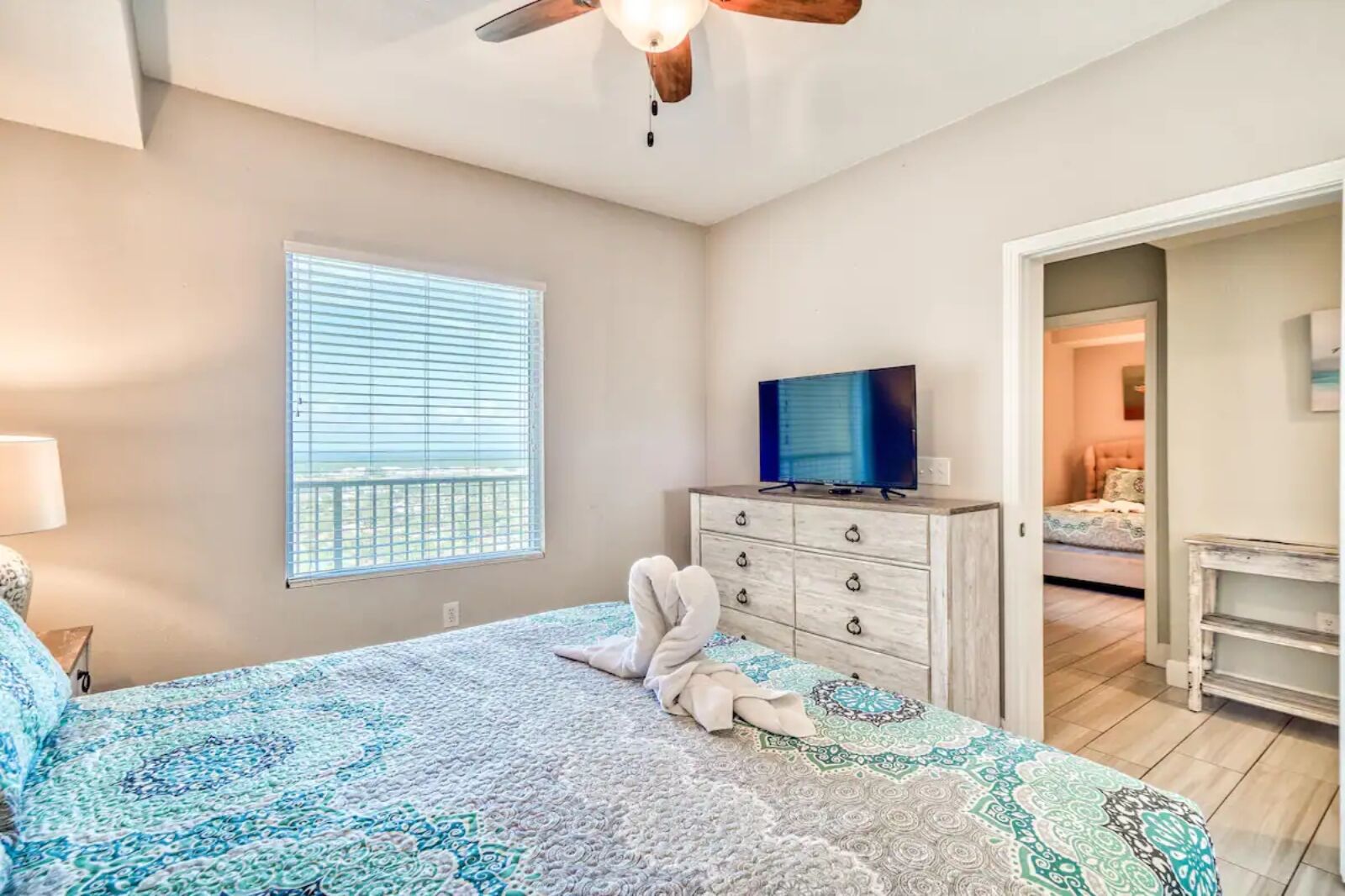 See more photos
With stunning views of The Gulf, this two-bedroom, three-bathroom has been recently renovated. Ideal for families, the complex has two outdoor pools, a heated pool, a games room, a fitness center, four hot tubs, and steam rooms.
Past guests mention how good value this Airbnb is, remarking on its superb location and the quality of amenities for its cost per night. The decor is beach-chic and is more elevated than most other rentals for this price point.
Eight guests, two bedrooms
Price per night: $112
Book Now
Stunning beach-theme studio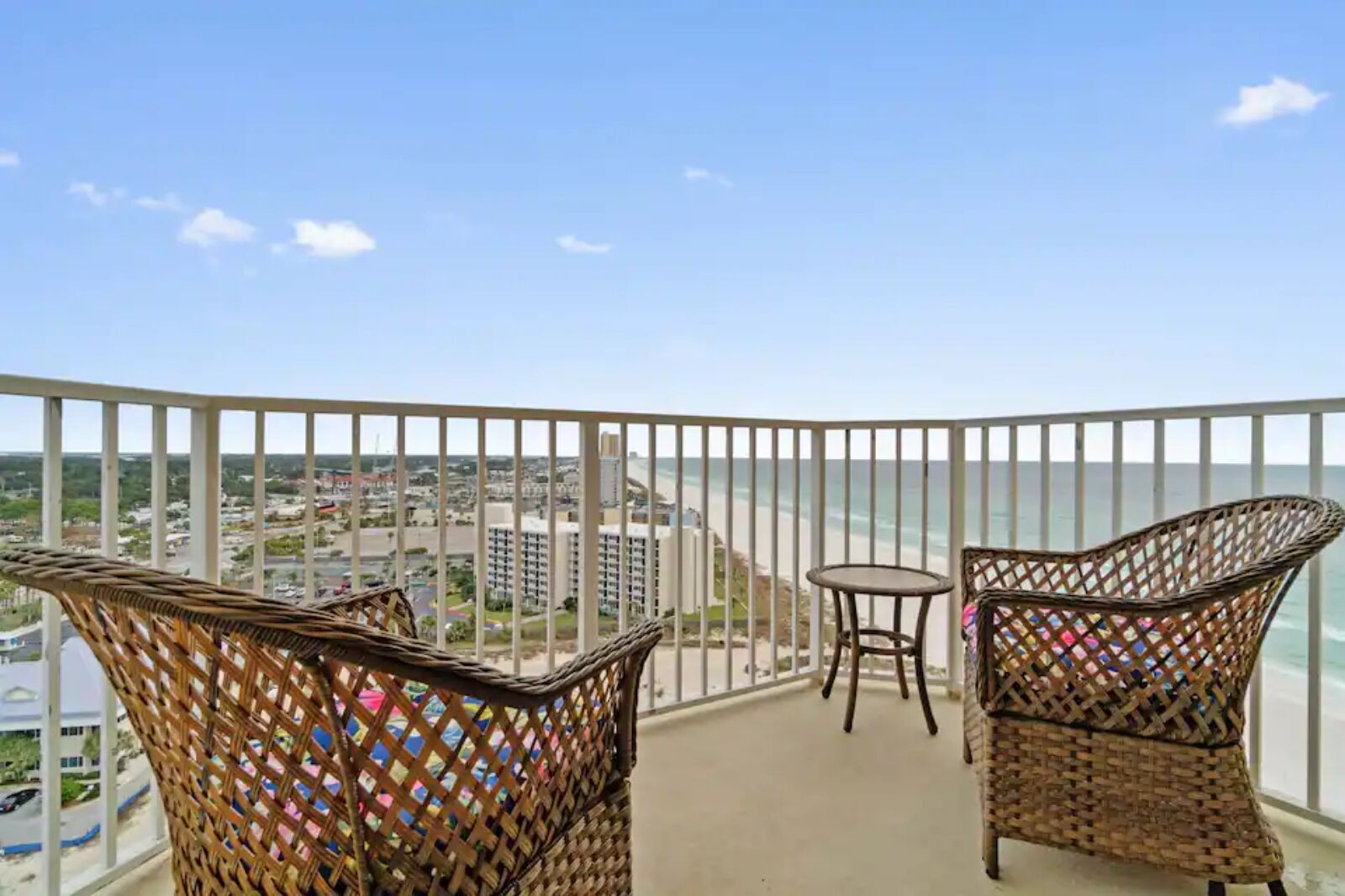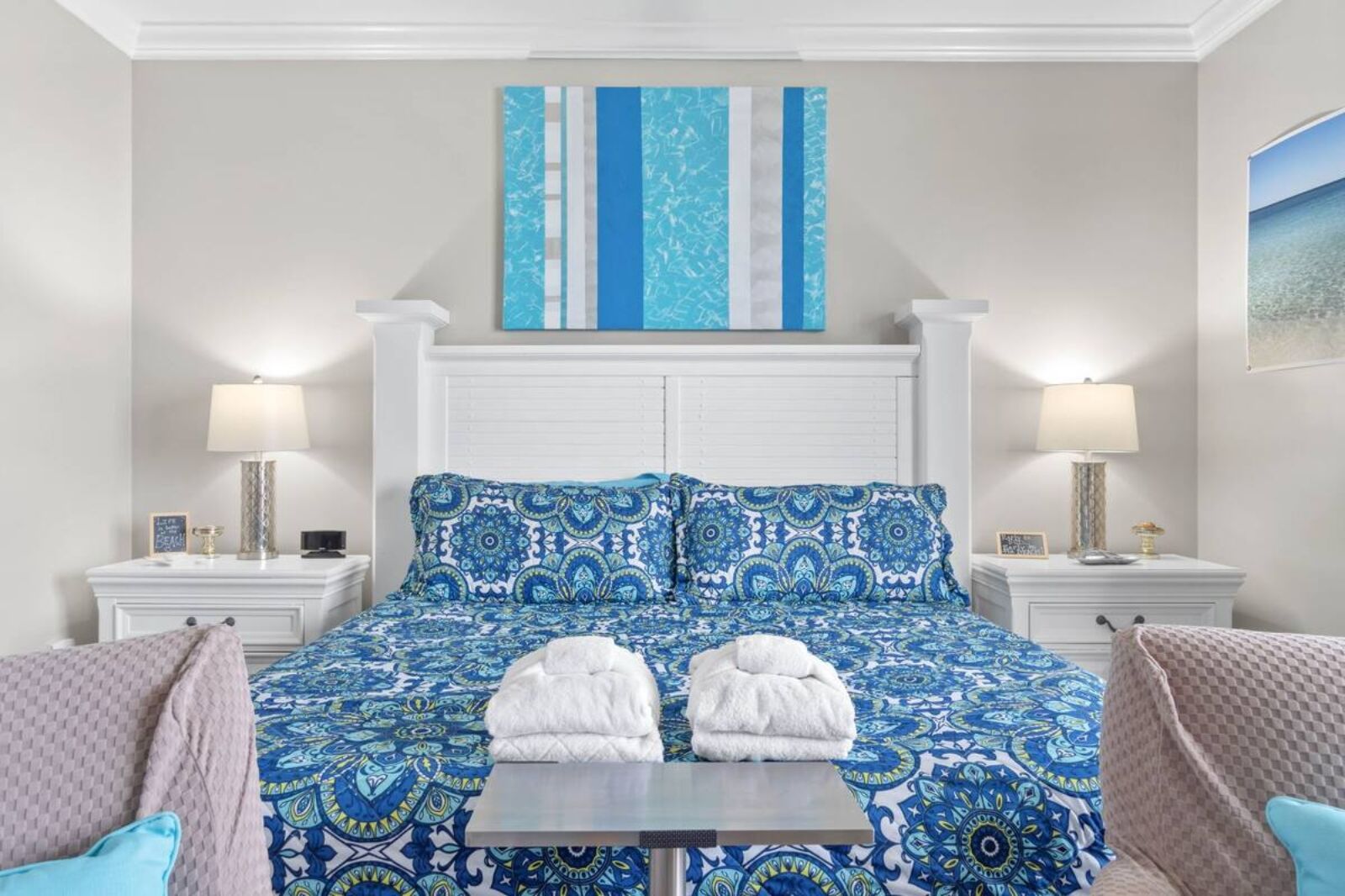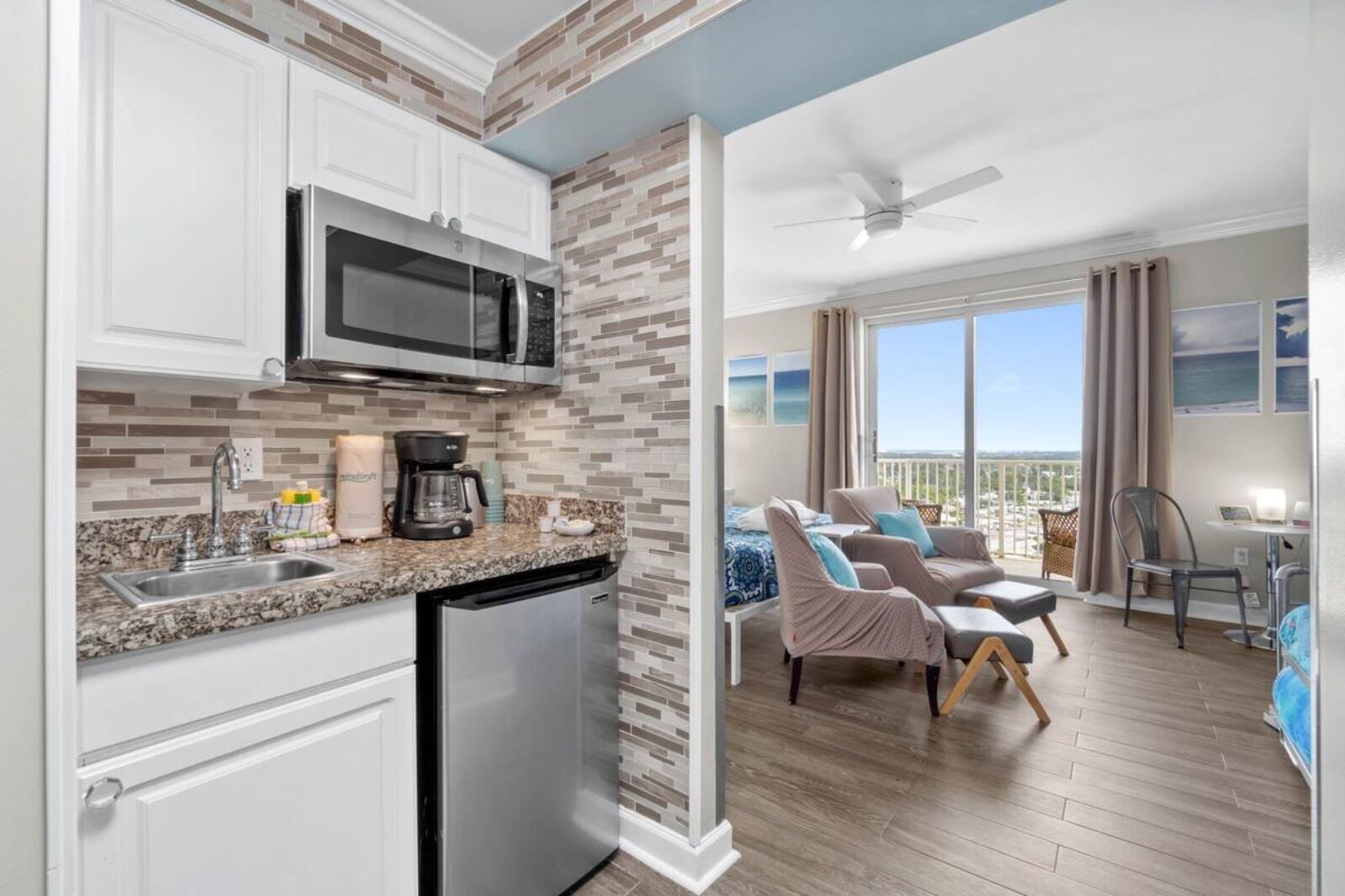 See more photos
Renovated and beautifully decorated, this beach-theme studio brings the outside in with its seascape color pallet and ocean-inspired artwork. The ocean-view resort has superb amenities, including hot tubs, swimming pools, and a fun Tiki bar. The studio is open-planned, so it's another rental best suited to those traveling in a tight group.
Four guests, studio
Price per night: $110
Book Now
Immaculate studio with resort facilities
See more photos
With everything you need for a beach weekend, the studio is located in Top of The Gulf resort. The open-planned rental has two queen-sized beds, a small but efficient kitchen, a dining table, and a balcony with outdoor seating.
The decor is simple, but if you are planning on spending more time on the beach, rather than at home, this Airbnb studio is affordable and has great reviews. The resort has a huge pool with plenty of comfy lounge chairs, and the pool area also has a snack bar.
Four guests, studio
Price per night: $93
Book Now
Tropical retreat-style townhouse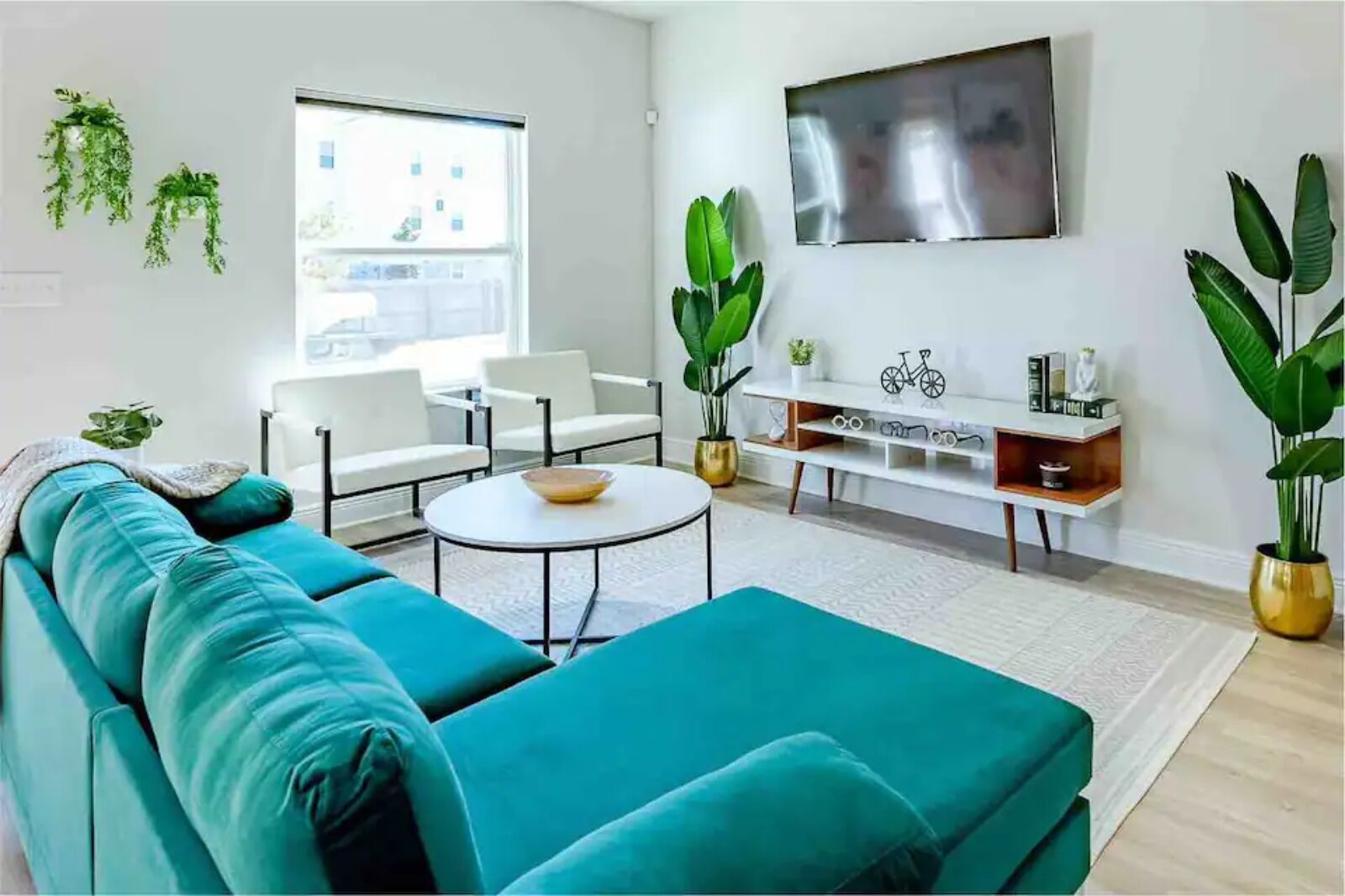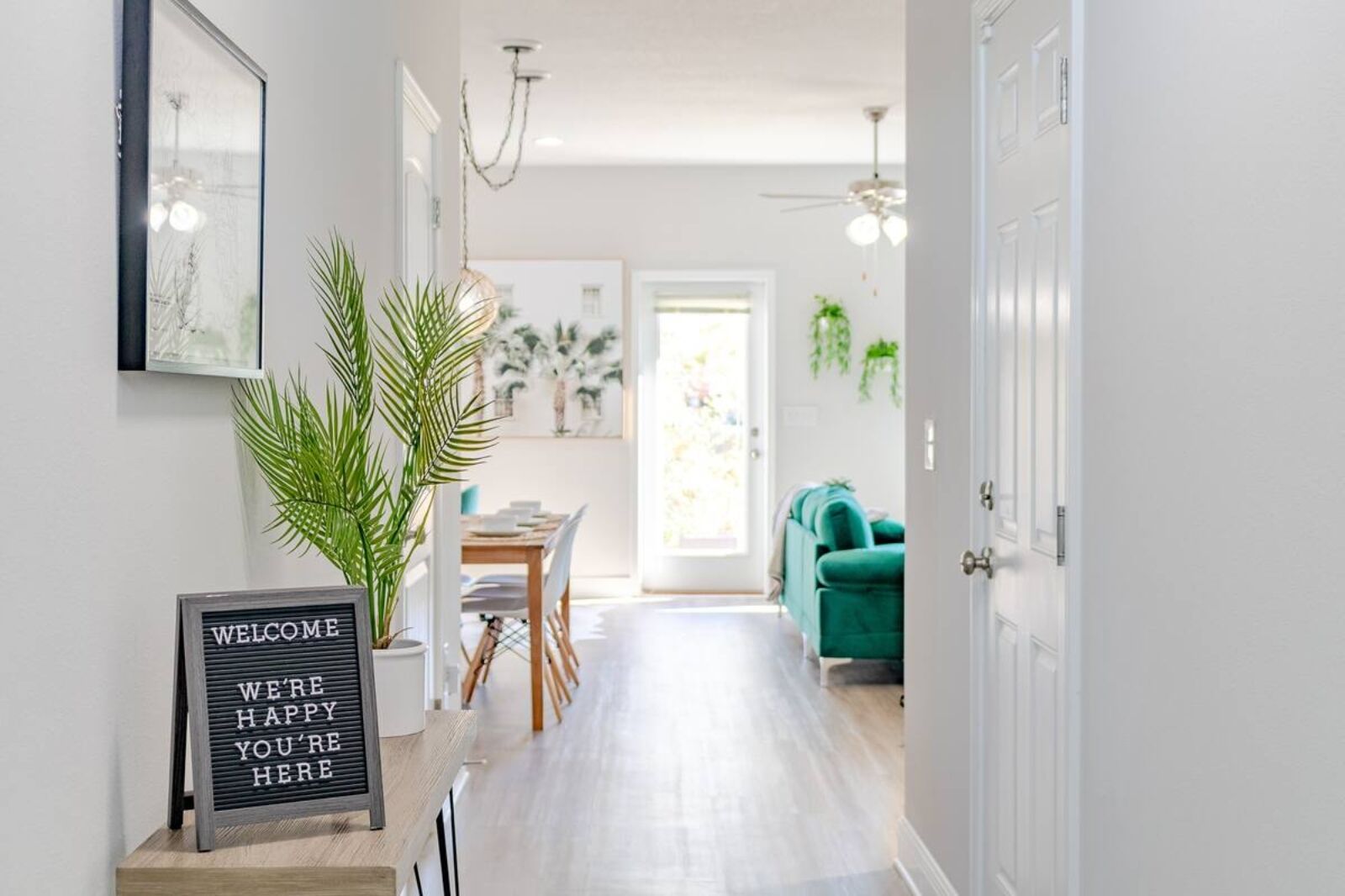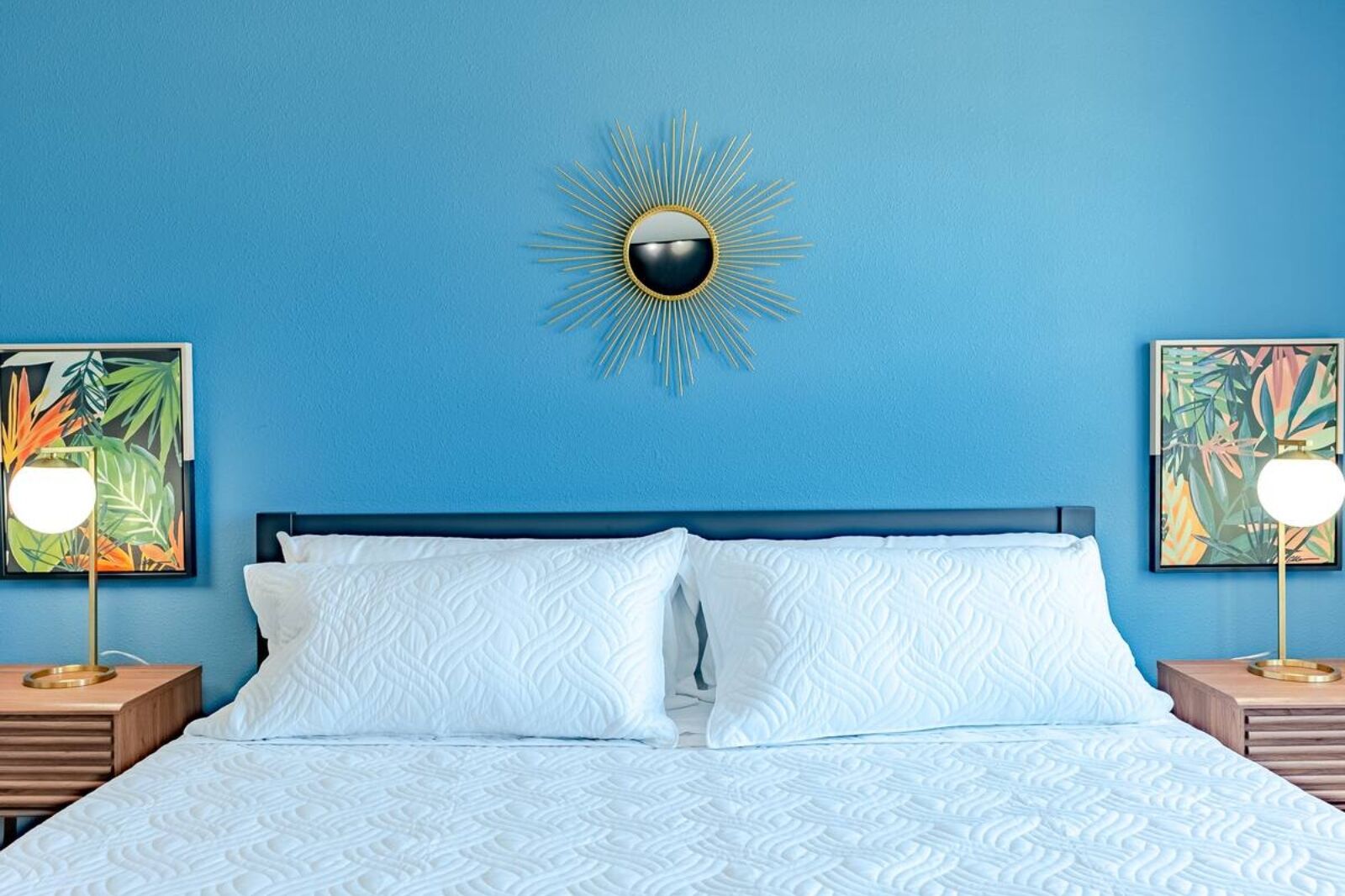 See more photos
This townhouse is situated a little further from the ocean, but it's centrally located and under three miles from the sand. The stylish home is in one of the best locations for anyone looking to explore beyond the beach. It's a maximum 15-minute drive to just about everything.
The thoughtfully designed and decorated home has an open-planned layout with three bedrooms and plenty of room for groups and families. There's also a communal pool within walking distance and secure parking for three vehicles.
Eight guests, three bedrooms
Price per night: $89
Book Now
Two-bedroom house close to all major attractions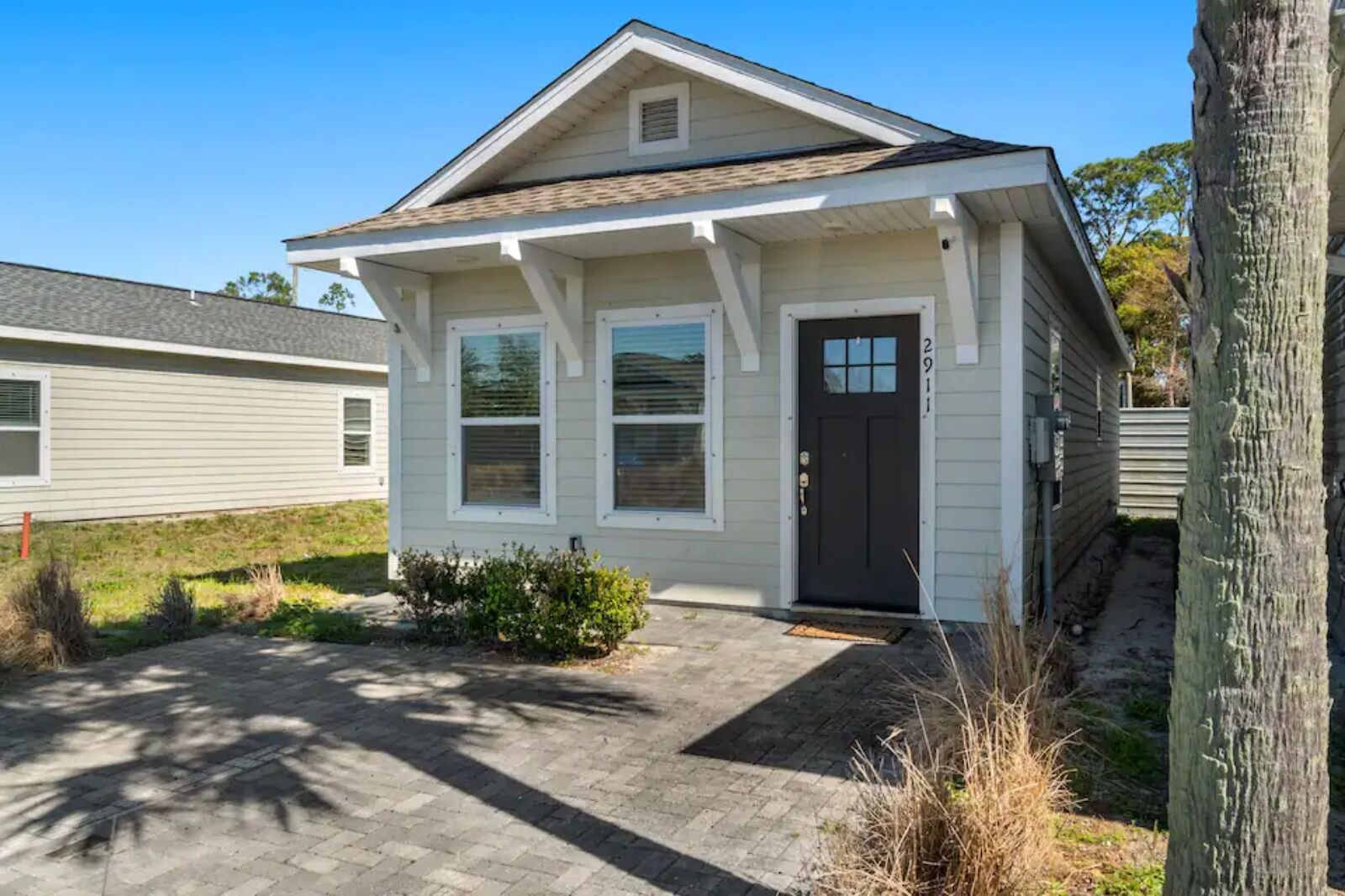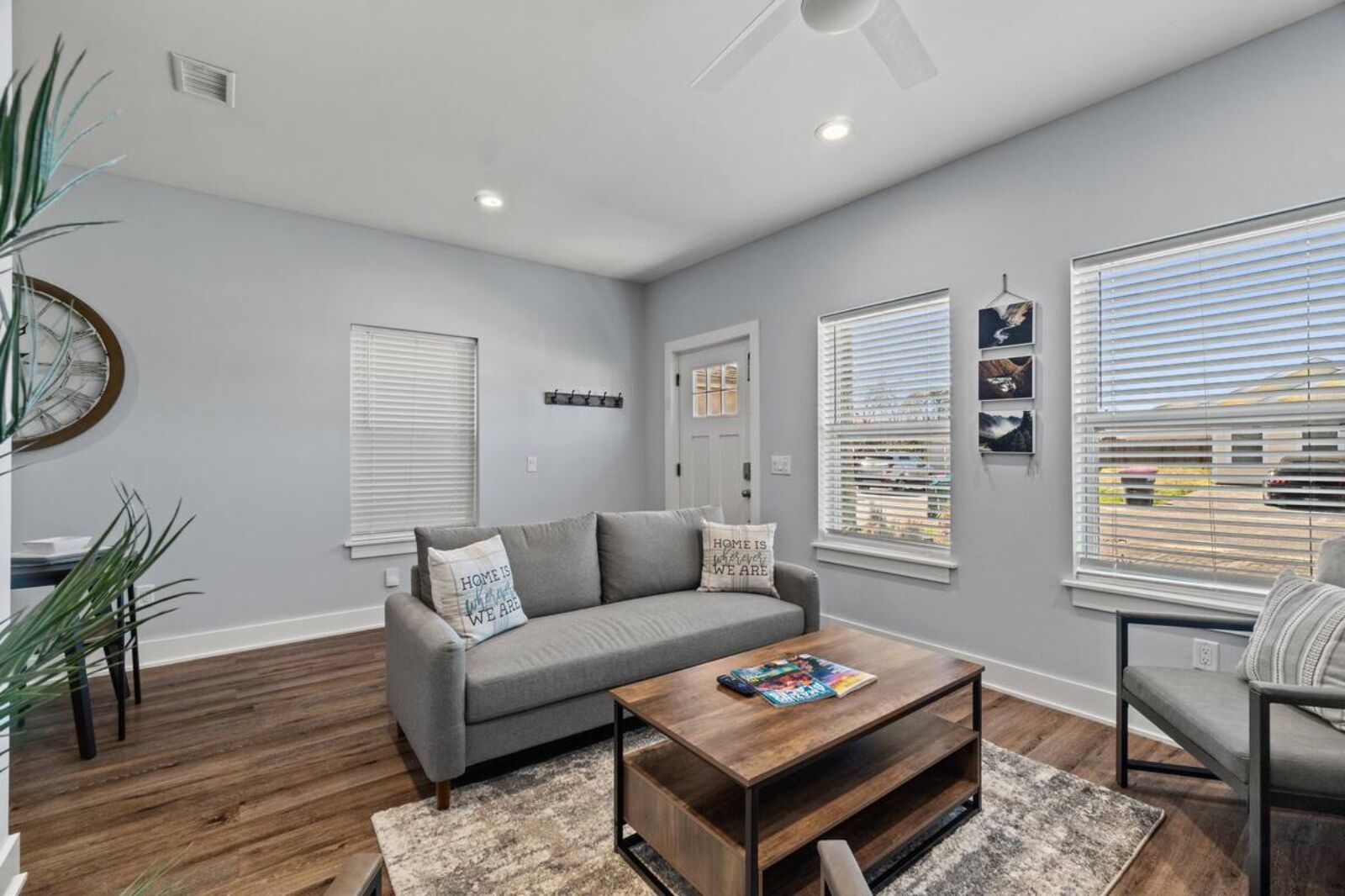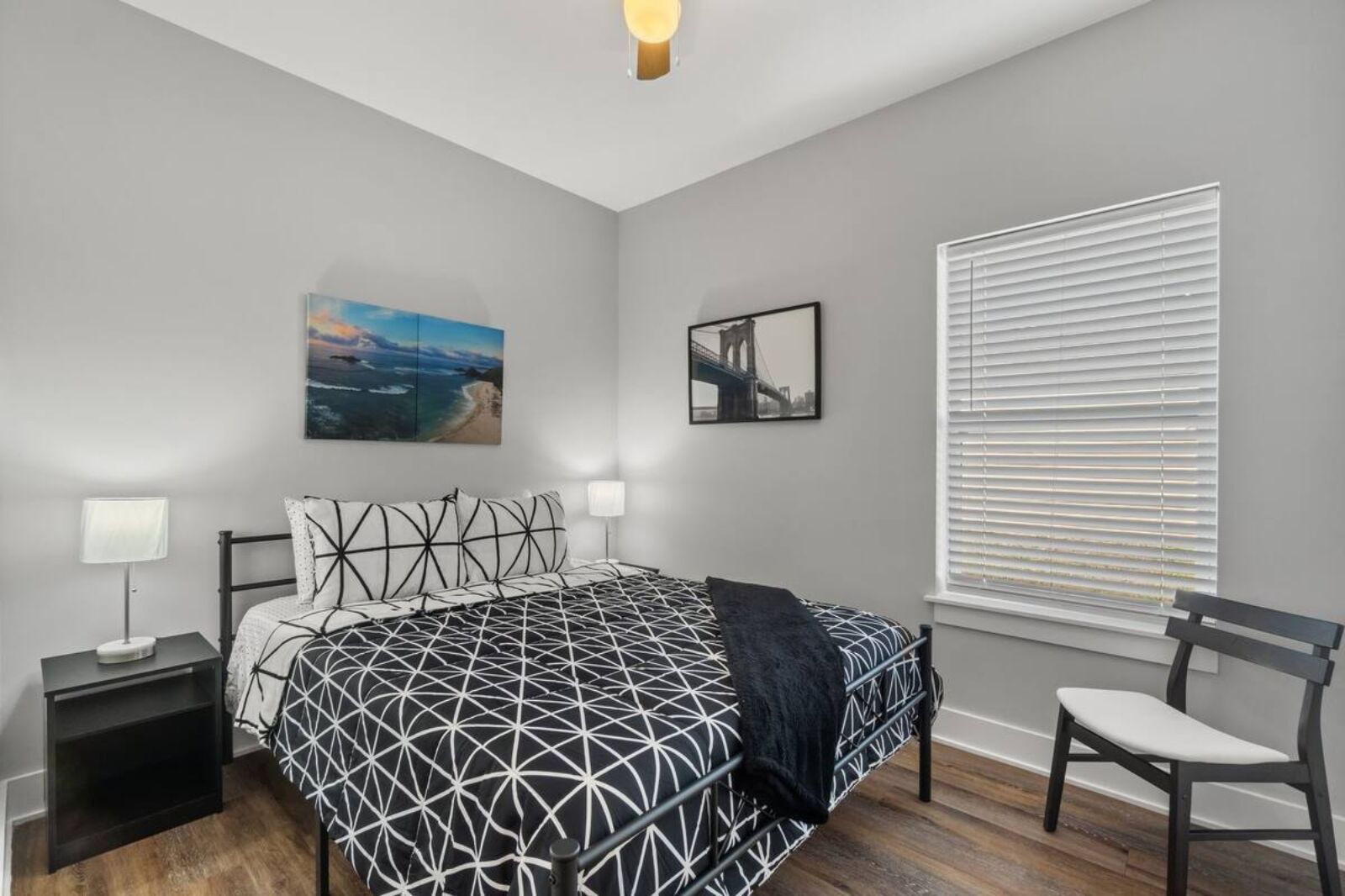 See more photos
This modern two-bed house is ideal for a family vacation. It's close enough to the beach but located in a quiet residential area. A safe parking spot is a real bonus in Panama City Beach and there's space for one vehicle on the premises. It's also pet-friendly, so no one needs to stay at home. The kitchen is modern with gorgeous granite countertops and stainless steel applications and all other essentials such as a washer and dryer make this house a great all-rounder.
Four guests, two bedrooms
Price per night: $79
Book Now
The best things to do in Panama City Beach
Soak up the sun on Shell Island — Just off the coast of Panama City Beach is Shell Island, with its sugary white sand, clear water, and plenty of sunshine. Guests have to take a boat ride to get there, but it's worth it for the perfect beach day.
Explore St Andrews State Park — This 1200-acre state park offers plenty of wide open spaces and nature trails for exploring. You can also go swimming, snorkeling, dolphin-spotting parasailing, and jet skiing there.
Get your coupons ready — If you're looking to save money during your stay in Panama City Beach, be sure to cut coupons from local businesses. You can find discounts on food, drinks, and activities.
Pack a picnic lunch — Instead of eating out every day, pack a picnic lunch and head down to the beach. Enjoy the beautiful views while you eat your meal.
Take advantage of hotel balconies — Many hotels in Panama City Beach have outstanding beachfront restaurants and bars with stunning views of the ocean perfect for brunch or an evening sundowner.
What did you think of this story?